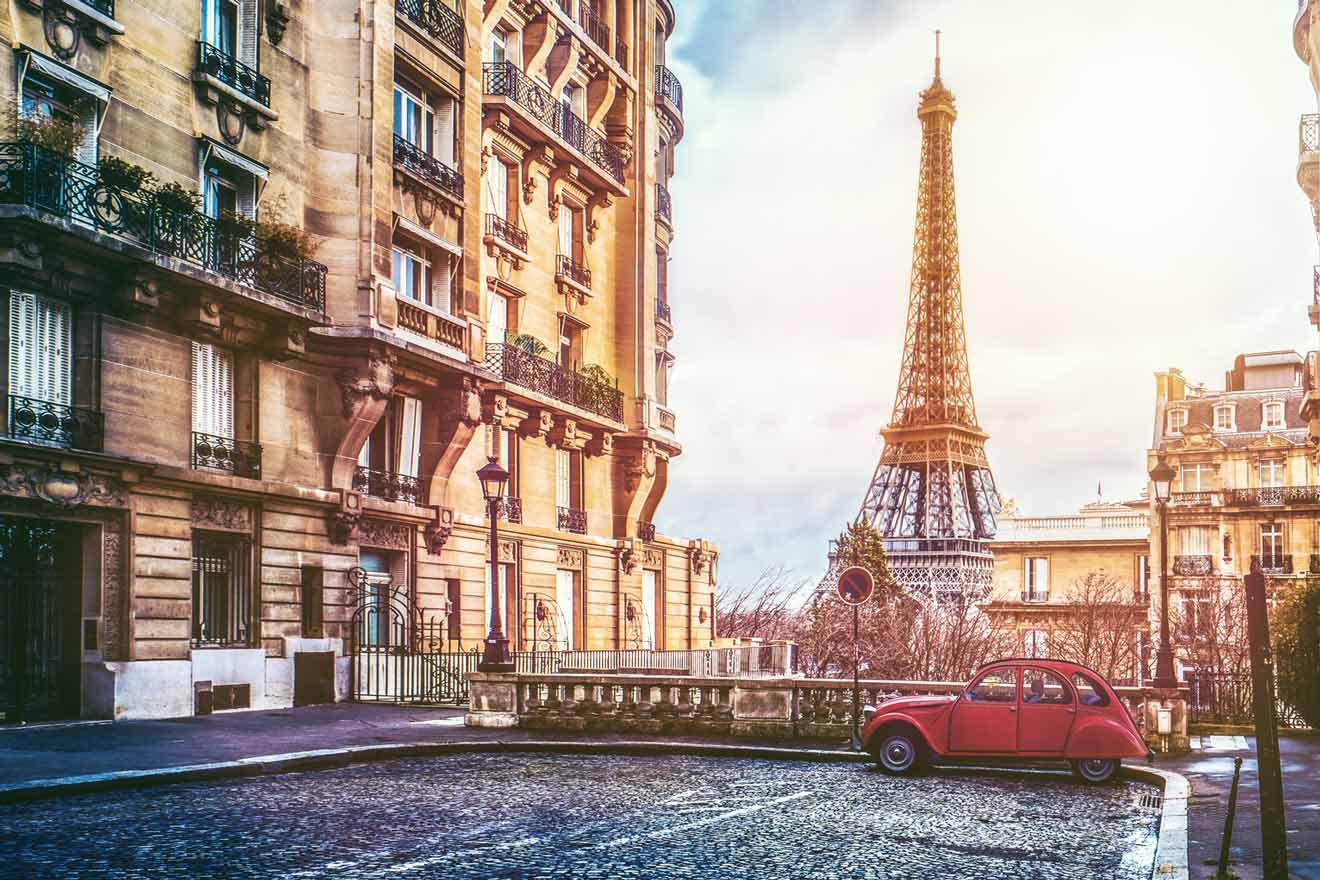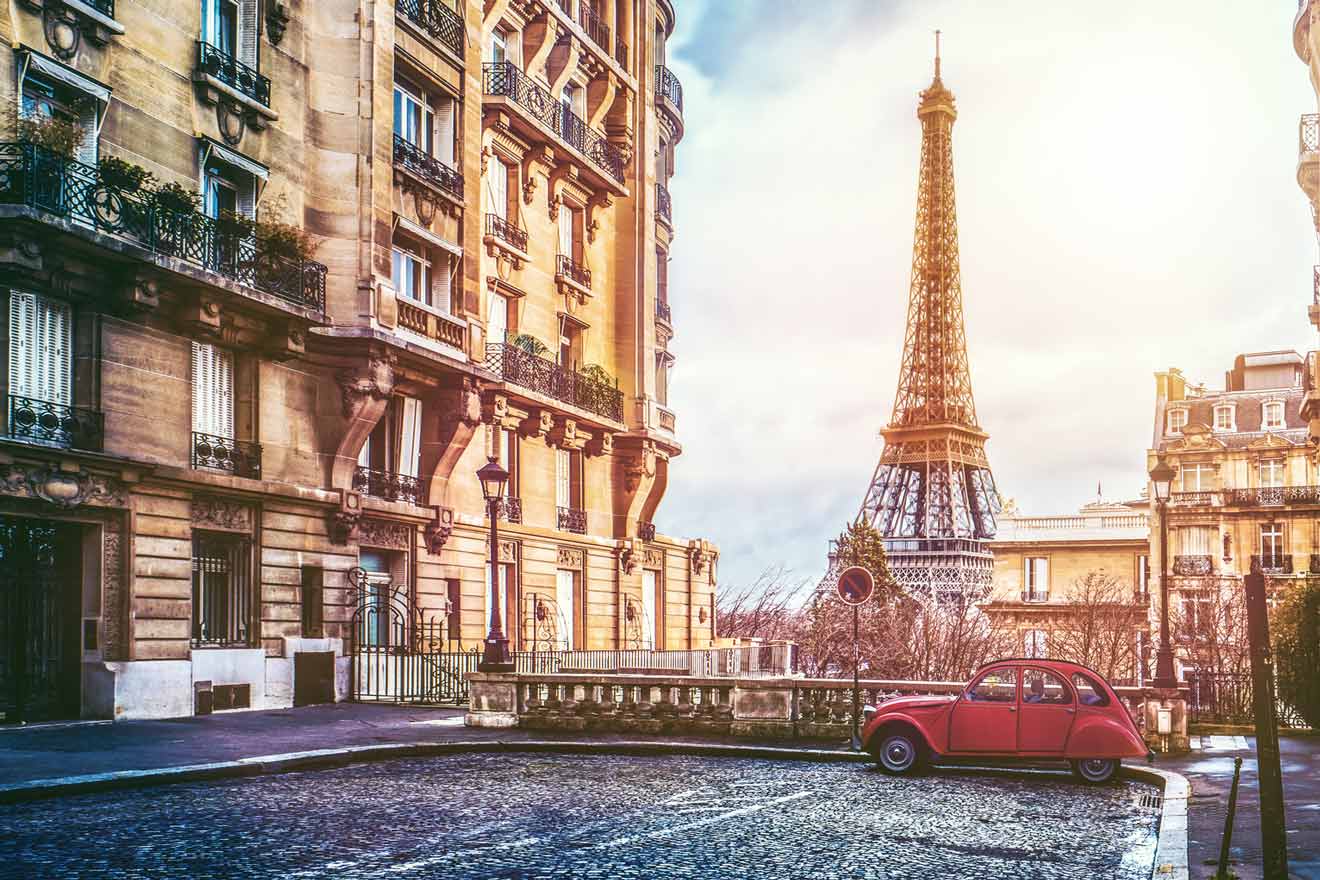 Who's ready for the adventure of a lifetime? Get ready for 2 weeks in Europe filled with amazing countries, delicious food and historical sites!
In this post you'll find a super comprehensive guide on how to best organize your 2 week trip to Europe! I've carefully sculpted the ultimate itinerary including everything you need from accommodation in each country, things to do during your stops, and how to travel from one city to the next.
All that is crucial information but make sure you don't take off right after you finish the itinerary itself because you'll miss out on 2 amazing bonuses I've added for you. The first one has an extra country that you could visit if you've got some time left, and the other one has some important information to make sure your trip to Europe goes as smoothly as possible (including how to budget)!
It's definitely a lot but you'll need all the information to help you organize this 2 week Europe itinerary.
But before we begin, one thing that I think everyone should know is that booking in advance is crucial (especially if you are visiting during summer)! Hotels, flights, and attractions tickets, make sure you buy them as soon as you decide on your itinerary and budget because trust me, the prices will only increase and the places will sell out.
Since you've got such a widespread area to check out, I recommend using the map below to help you visualize the cities and stops in this itinerary: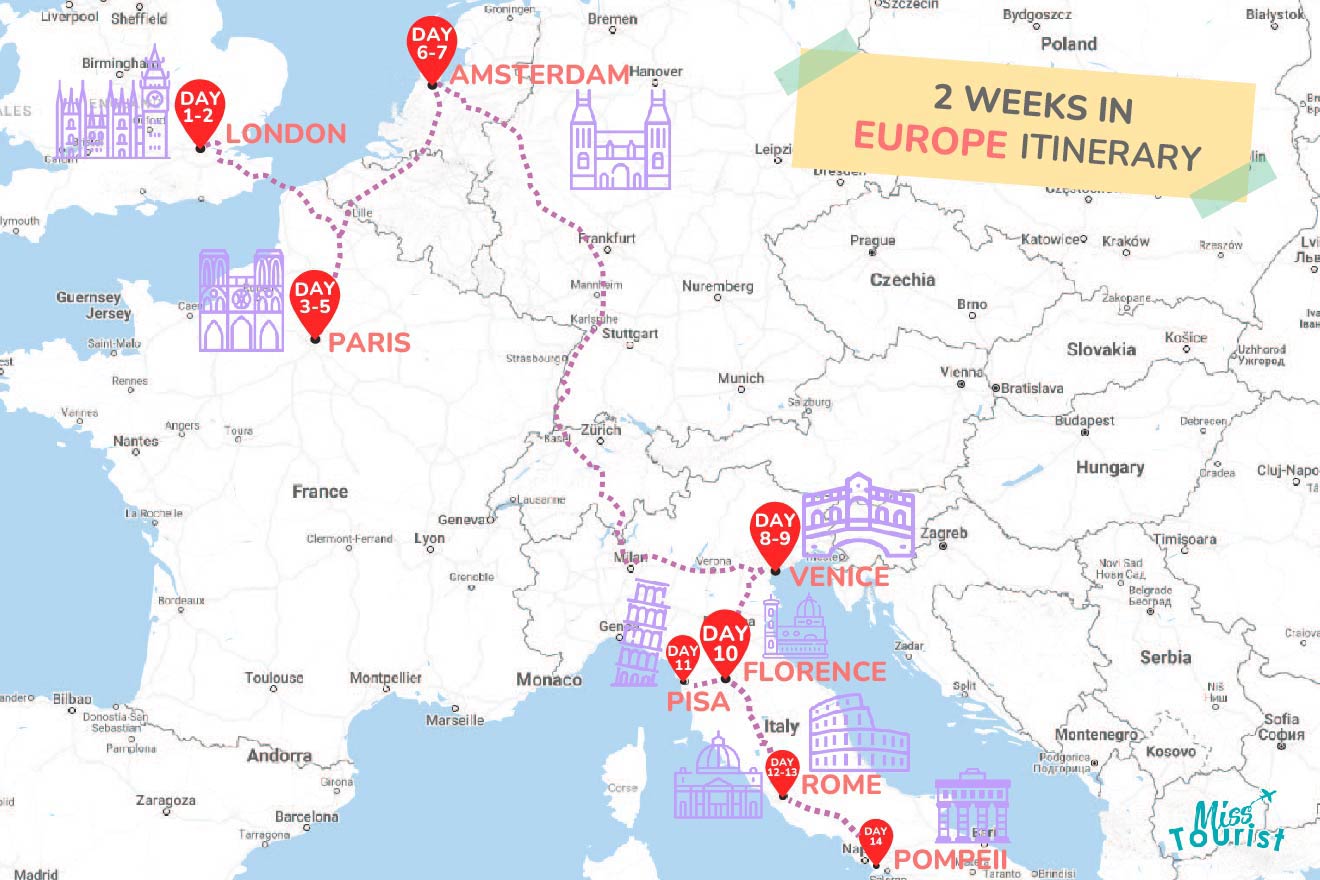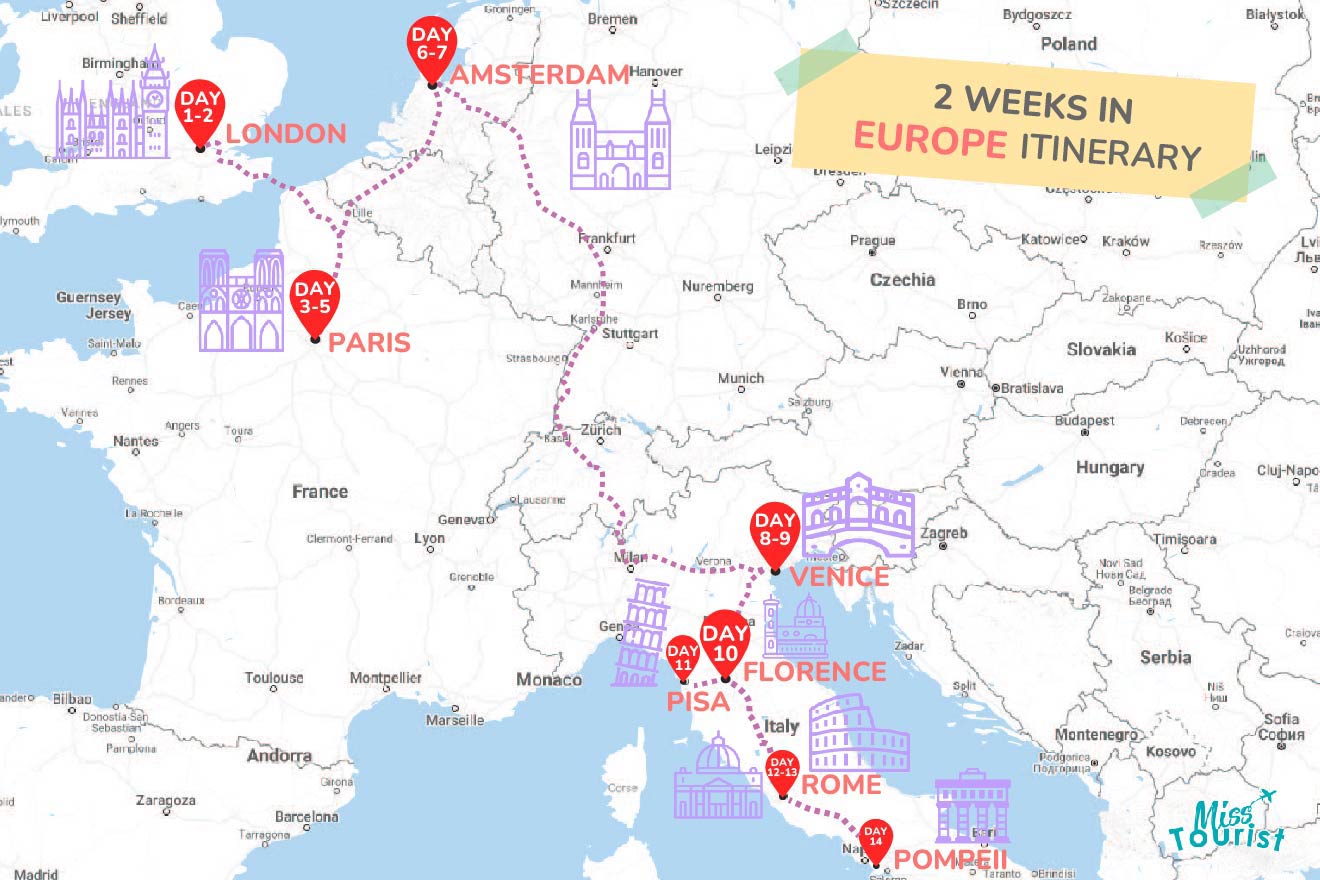 Day 1: Arrive in London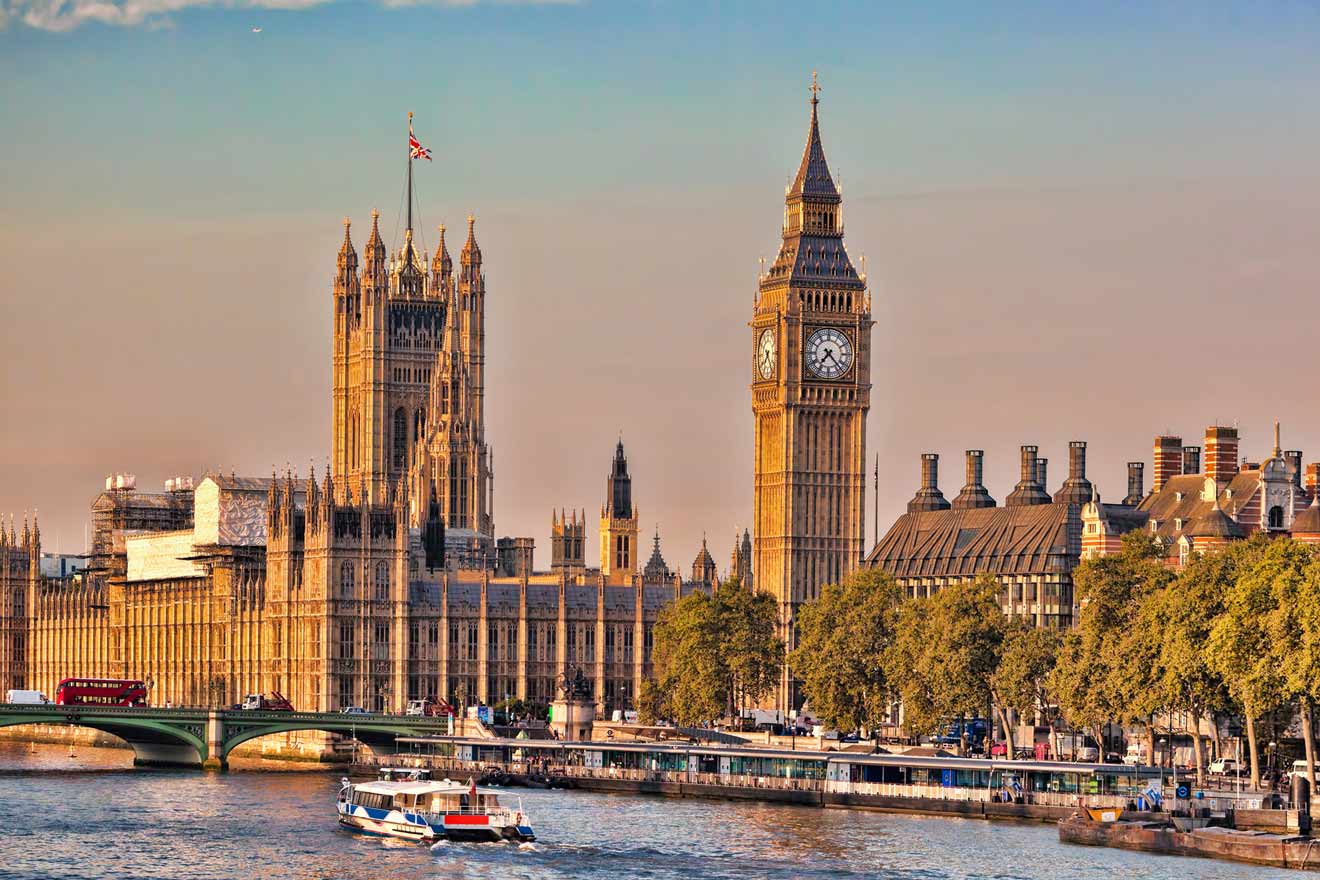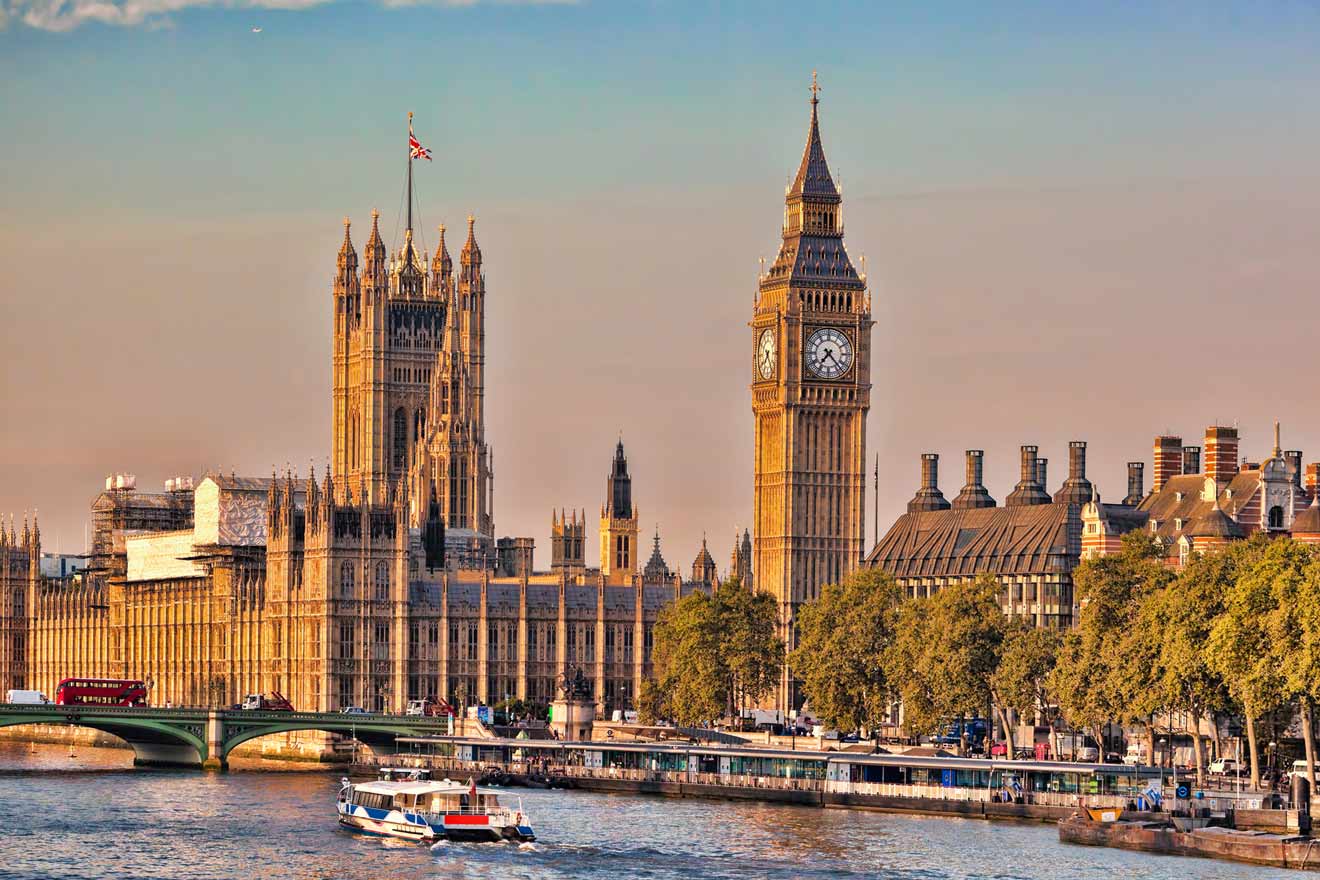 One of the most popular destinations in Europe (and a personal favorite) London is a place that you shouldn't miss when visiting Europe! Although you'd need at least a couple days to see all the sights, you can definitely catch the main ones in just a few.
I lived here for a while and I loved every minute of it! Especially the unpredictability! You never know when you can stumble across an impromptu music or dance performance on the
London streets. All the buzz, the history and contemporary spots will make you feel like you've entered a whole different world (especially if this is your first trip here).
I recommend booking a flight which arrives super early so you can save as much time as possible for exploring! There are so many attractions here but on the first day I think staying in Central London will help you minimize travel time and seeing as many sites as possible.
So start with the Westminster area where you can see the Big Ben, the London Eye, the Parliament buildings and the Cathedral. Afterwards you can head to Buckingham since it's just a 10 min walk away. Visit the Palace then head to Soho for a few drinks (there are many pubs there).
Top things to do in London on day 1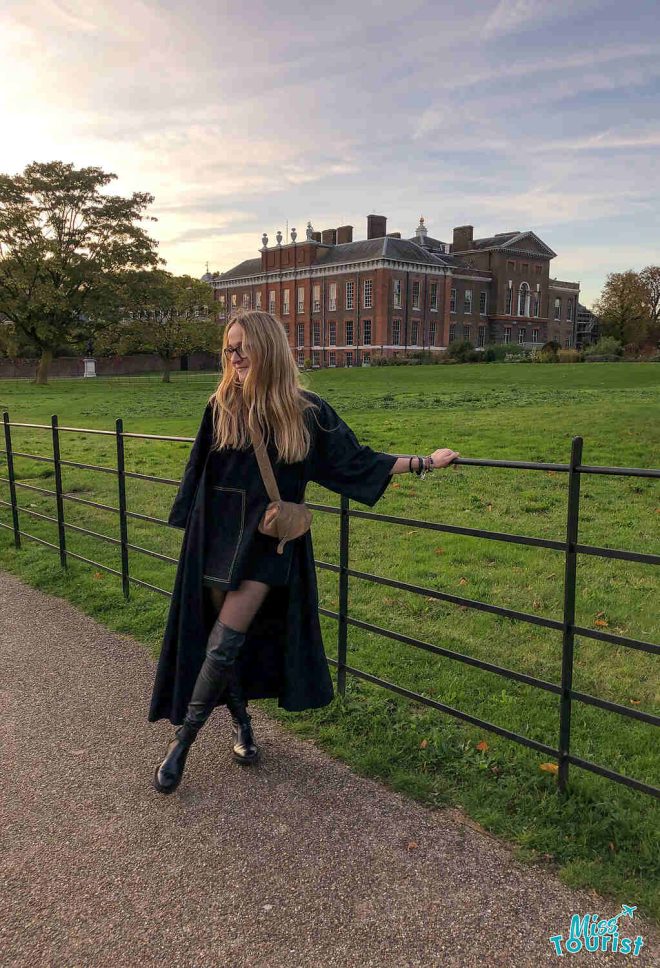 Snap a pic with the Big Ben
Admire the views on the London Eye
Visit Buckingham Palace
Grab some drinks in Soho
Check out Westminster and the Parliament buildings
Where to stay in London (2 nights)
Luxury (€400 and up) : Covent Garden Hotel – A fabulous hotel right in the city center (close to all attractions including Oxford Street), that offers breakfast in the room, family suites and a bar.
Mid Range(€130 – €180): Z Hotel Covent Garden – Simple and modern rooms, close to a few places and important attractions. The accommodation has family rooms with private bathrooms, and free wifi.
Budget (up to €100): The Z Hotel Holborn – If you're looking for something a bit more affordable but with a good location in the city center, then I recommend this place. It has fully-equipped rooms with free wi-fi and a private bathroom.
Day 2: Explore London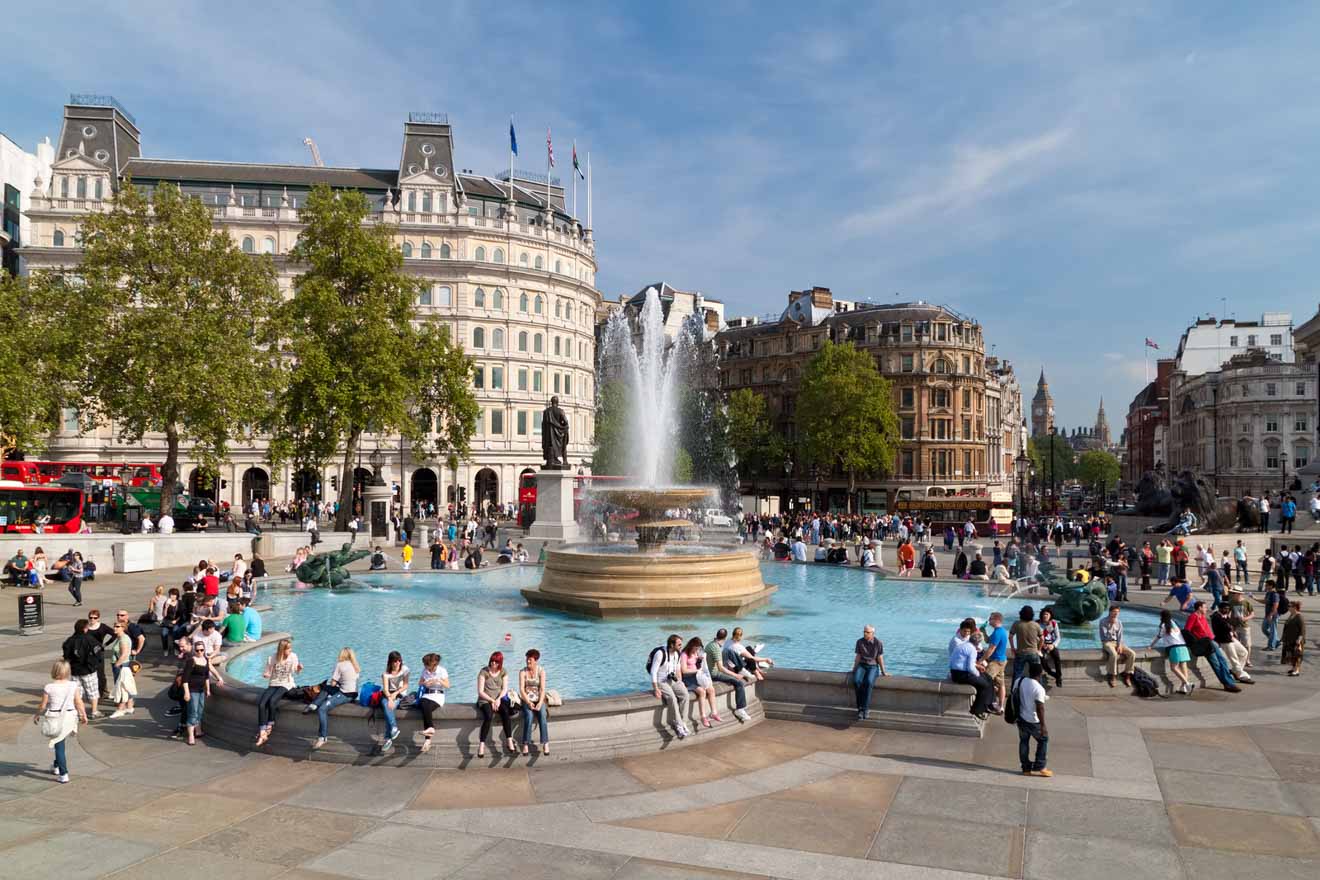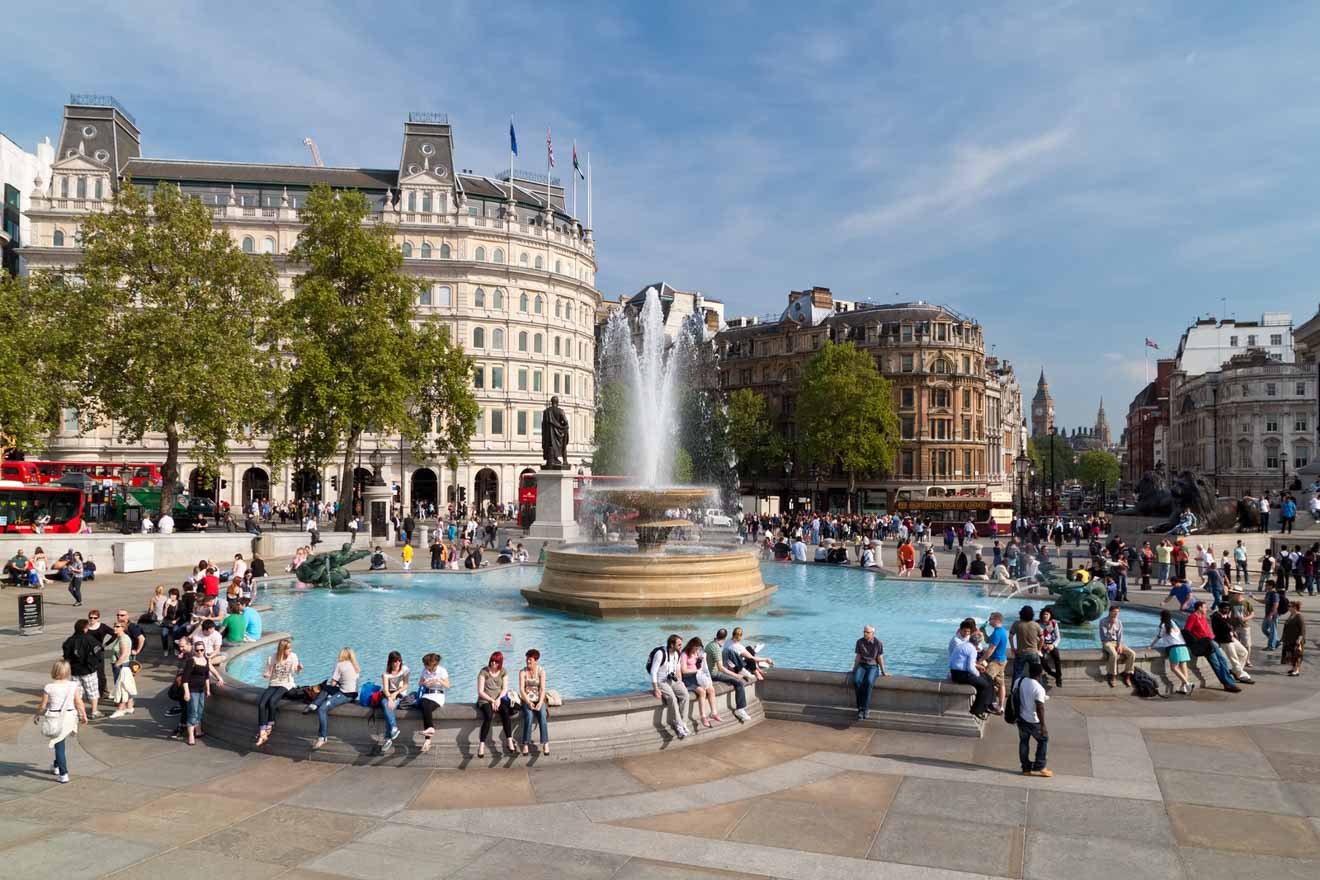 Now that you've had some rest and already got a bit acquainted with the city, you're probably ready to continue this great trip to Europe in this fabulous capital!
I would suggest starting again in Central London, there are many amazing streets here plus a few more attractions that you definitely need to see! St. Paul's Cathedral would be one of the main ones that's left from my list.
And before we move on to other areas. If you've got some time left you can also stop by the Tower of London, it's such a cool attraction!
Next, jump on a tube like a true Londoner or book a hop-on hop-off tour to see more of the city while heading to West London. Here you'll find the beautiful Kensington Palace and gardens (which are absolutely amazing in the autumn) and the Notting Hill area.
Depending on whether you want to actually go inside Kensington or not, I would maybe add in the Victoria & Albert Museum, but I would definitely pick out of the 2 since both require a lot of time.
Top off the perfect London day in Notting Hill with a drink and some fish and chips at the pub!
Top things to do in London on day 2
Day 3: Take a train to Paris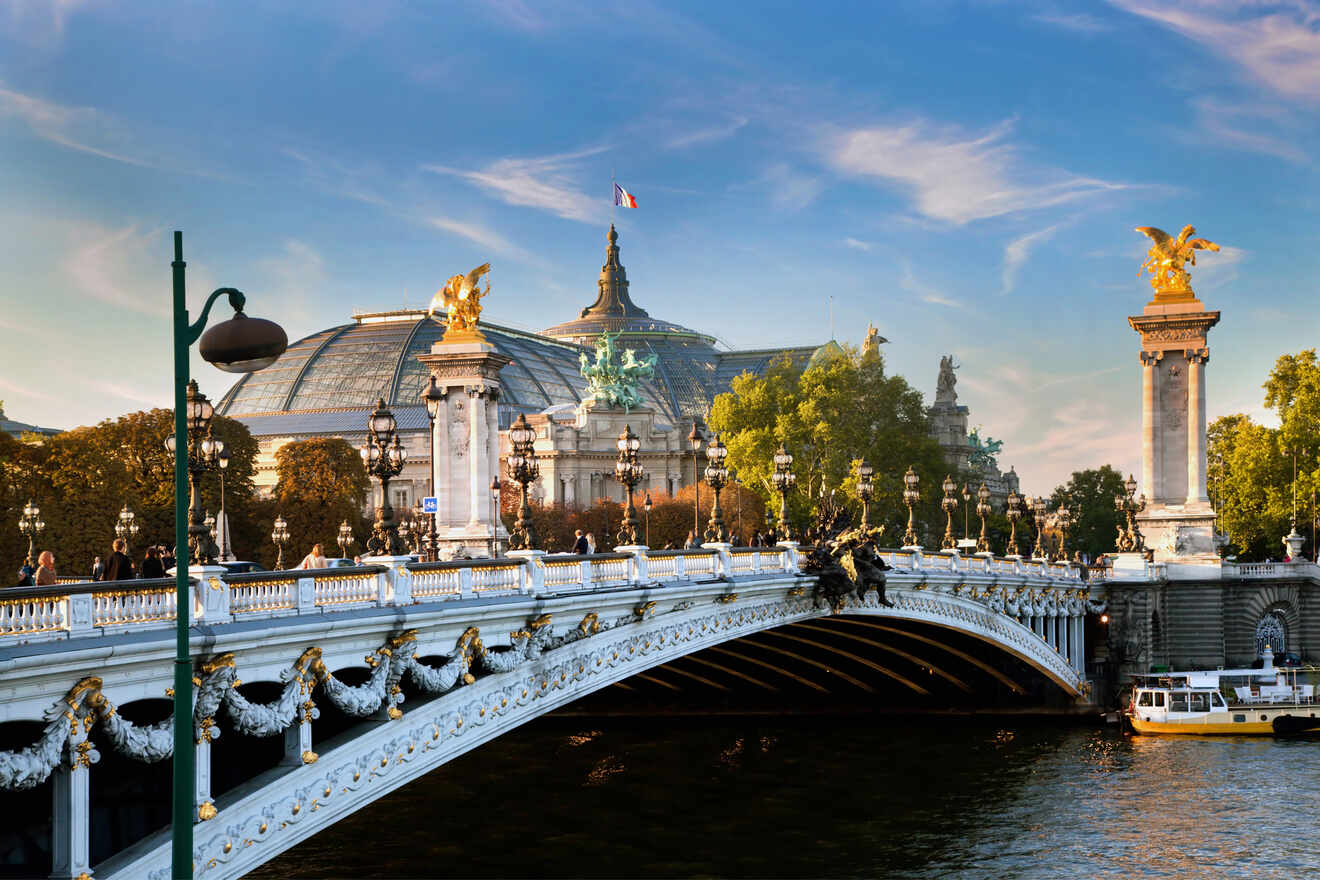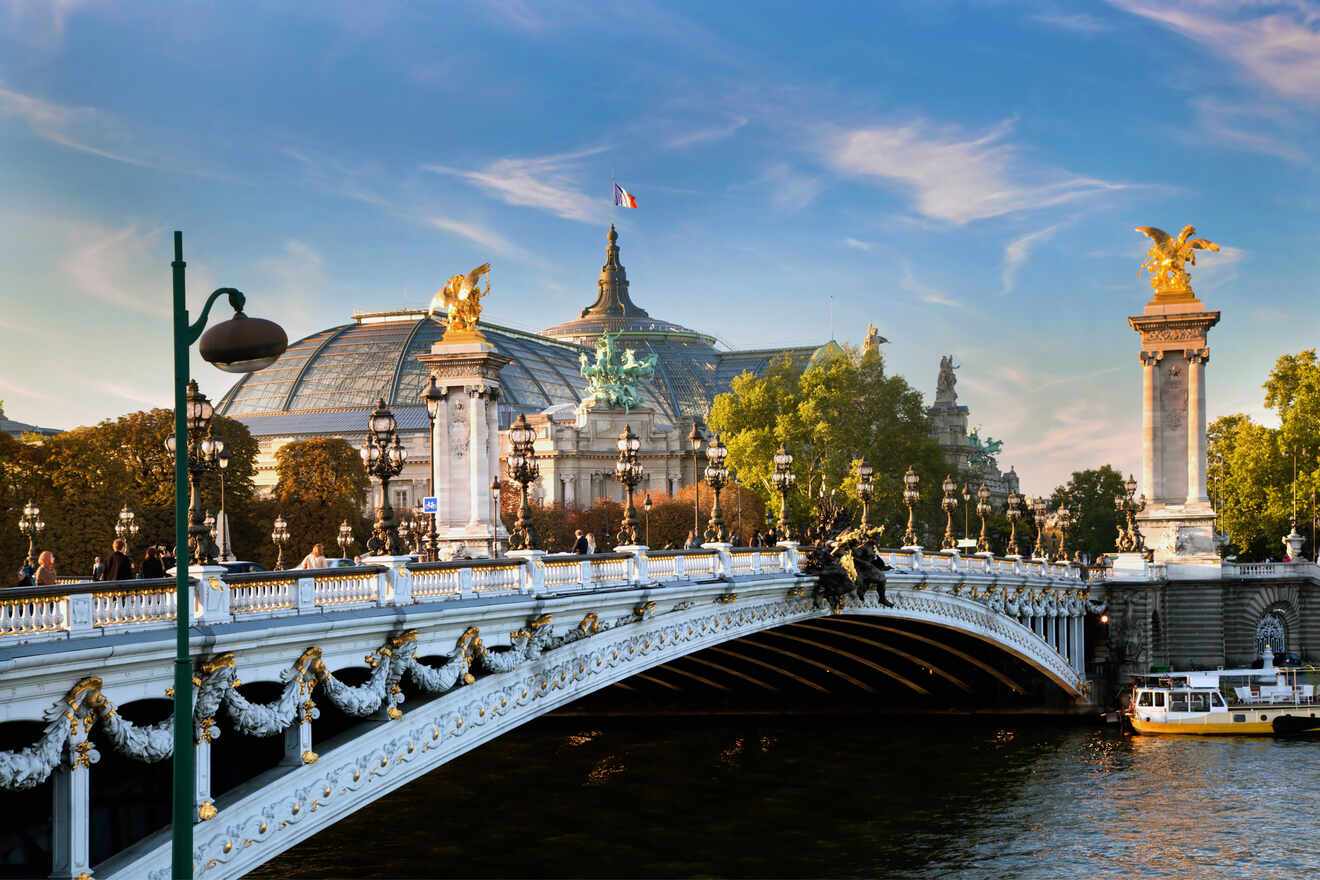 I hope you're ready to stay bonjour!
The fastest way to get to Paris from London is by train (2 hours)! So I would leave your hotel super early and head over to St. Pancras International Railway Station, where you'll find the Eurostar (which runs services to Paris and Brussels).
The train is more expensive than the other options, but hey if you're considering buying the Interrail/Eurail Pass (we've got a whole post on that) you may save a lot of time and money. Plus you can't miss the chance of going on the Eurostar! Train travel will never feel the same after you get to go under and through the channel tunnel at high speeds!
NOTE: If you're looking for something a bit more budget friendly you can take the bus. That's what I did twice. It's super convenient because you can travel at night and get there in the morning, but it's definitely super tiring.
Or if these 2 options don't really suit your own trip just buy a plane ticket. The flight is just 1h and you can get something super cheap if you buy it in advance.
Whichever way you choose to travel, welcome to the city of love! I hope you're ready to fall in love with its quaint streets, vintage boutique and yummy food plus my favorite part: their wine!
There are so many attractions and areas in Paris that you should check out! And since this is your first day I'd definitely head to the Louvre and the famous Eiffel Tower!
Transportation & Distances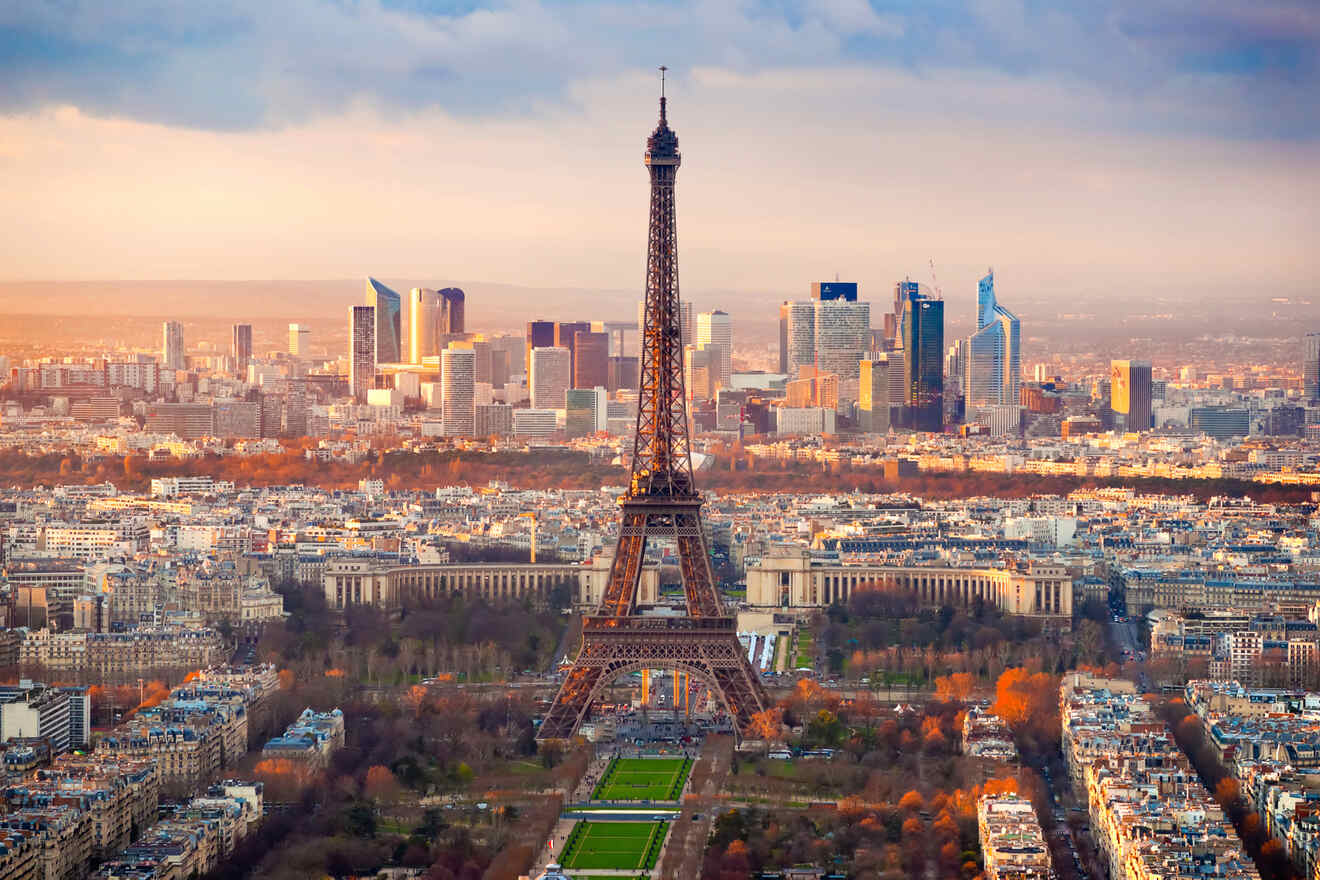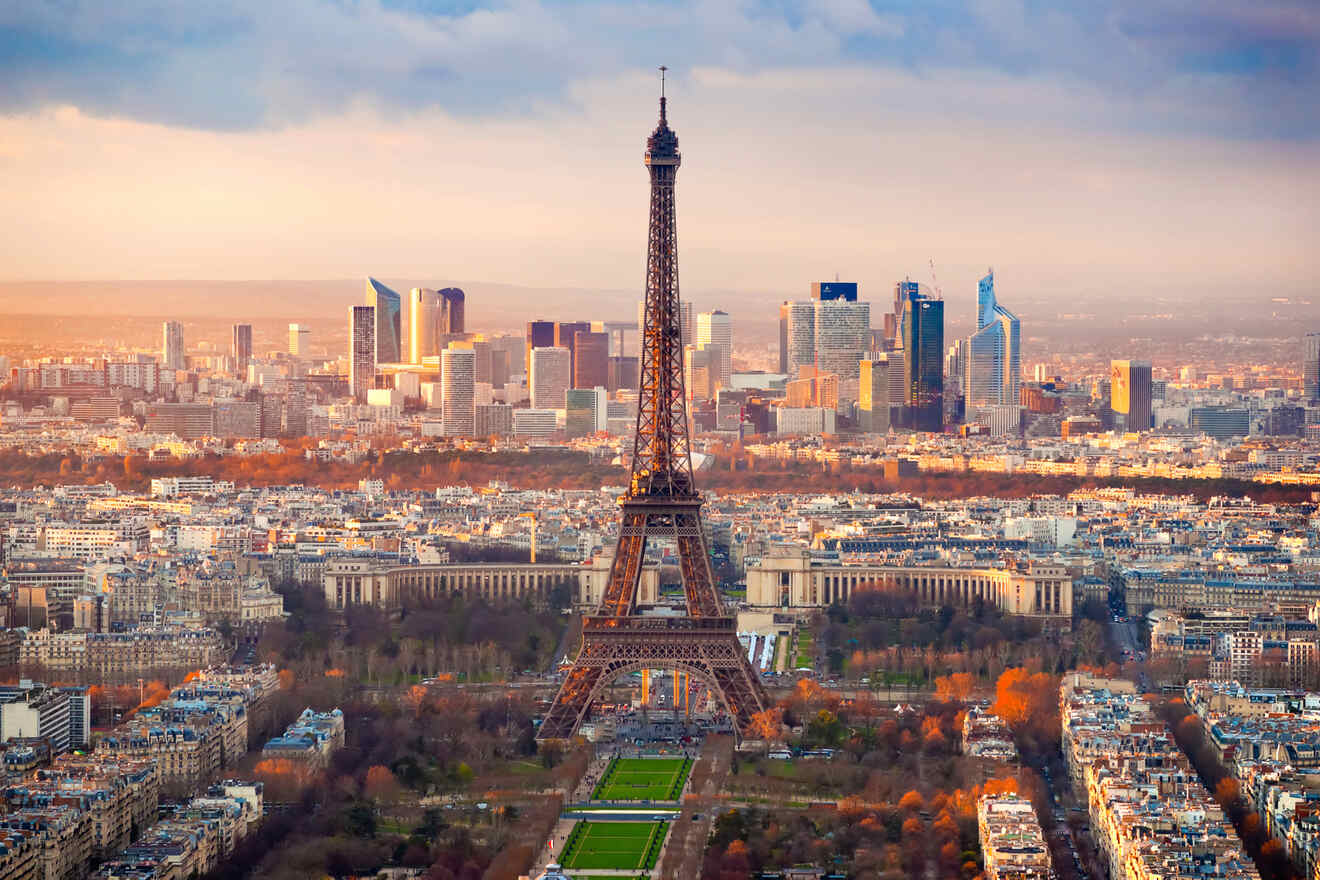 Top things to do in Paris on day 3
Where to stay in Paris (3 nights)
Luxury (€300 and up) : Hôtel du Rond-point des Champs-Élysées – Rest in the comfortable rooms of this fabulous hotel that has an indoor pool and a relaxation area with a hammam. Start your morning with a yummy breakfast and some coffee then get ready to explore Paris!
Mid Range (€250 – €300): Hôtel du Danube Saint Germain – Set close to the Louvre Museum, this accommodation has elegantly-decorated rooms with lots of space. Plus, the accommodation offers room service and free wi-fi.
Budget (up to €180): Best Western Au Trocadéro – A super affordable place, located within walking distance of the Eiffel Tower. This hotel comes with family rooms with a private bathroom, and offers a buffet breakfast in the morning.
Day 4 & 5: Visit Paris and its attractions
All settled in your new temporary home? Good, because we've got many things to see in this city in Western Europe!
If you got to see both the Eiffel Tower and Louvre Museum on the first day then you've managed to save time! If not definitely make sure to squeeze them into the next 2 days!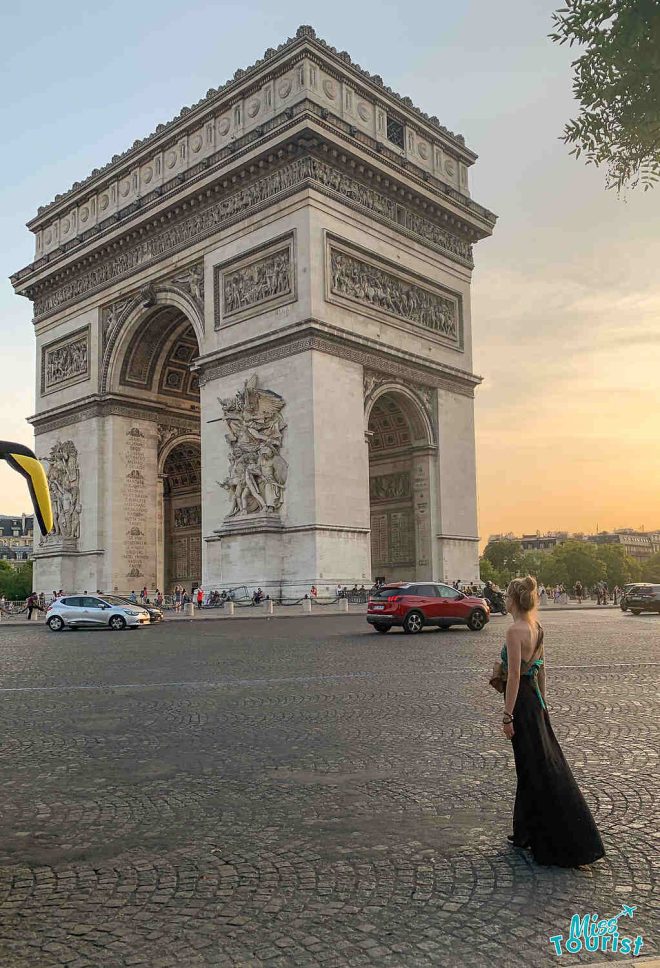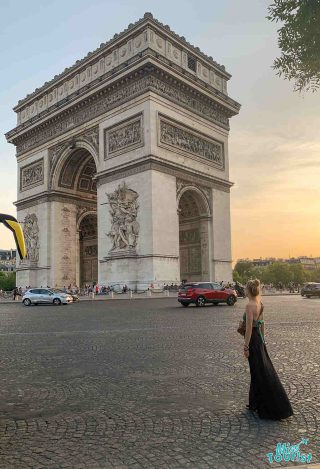 Presuming you visited these 2 then next I'd make my way to see the beautiful Notre-Dame Cathedral, which is close to Le Marais area, an incredible neighborhood where you'll find plenty of bars and restaurants.
Afterwards, jump on the metro to visit the Arc the Triomphe. From there you can start walking towards Champs-Élysées for some shopping and dinner for the perfect Parisian day out!
If you're one who loves food (who doesn't?), then I recommend going on a food tour that will take you through the bohemian area of Montmartre. And by the way, since we're on the food chapter, I highly recommend trying some of the French traditional dishes while you're here like the onion soup, and of course all those yummy types of cheese!
After your tour has ended, make sure to explore around by yourself and go to visit the mesmerizing Sacré-Cœur Church and admire the panoramic city views of Paris (I recommend sunset for the most romantic experience possible in the city of love!)
Top things to do in Paris on day 4 & 5
Stop by the Notre Dame
Explore the Le Marais area
Visit the Picasso Museum
Take a food tour
Walk down the Champs-Élysées
Snap a pick of the Arc the Triomphe
Enjoy the views at Sacré-Cœur Church
Day 6: Head to Amsterdam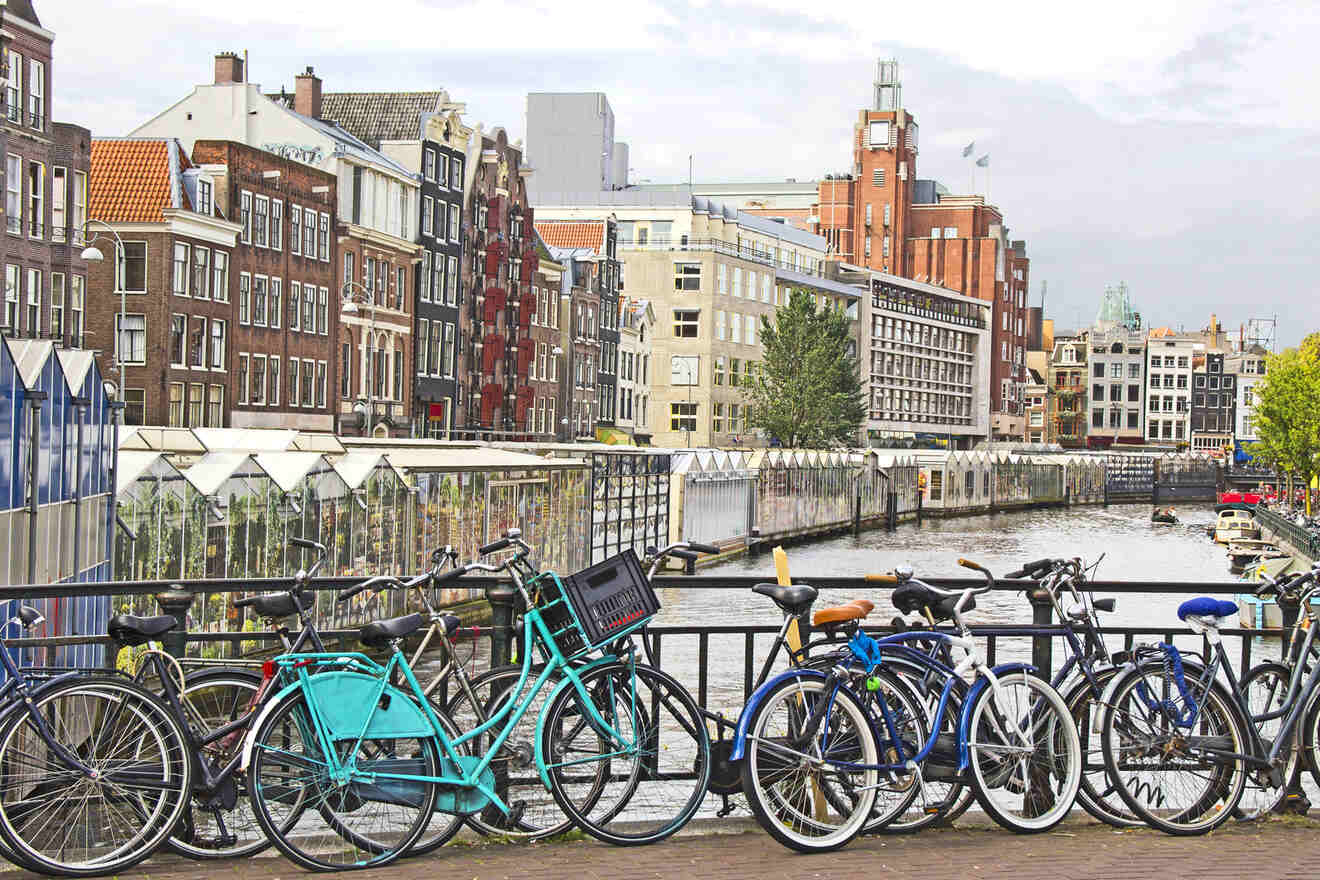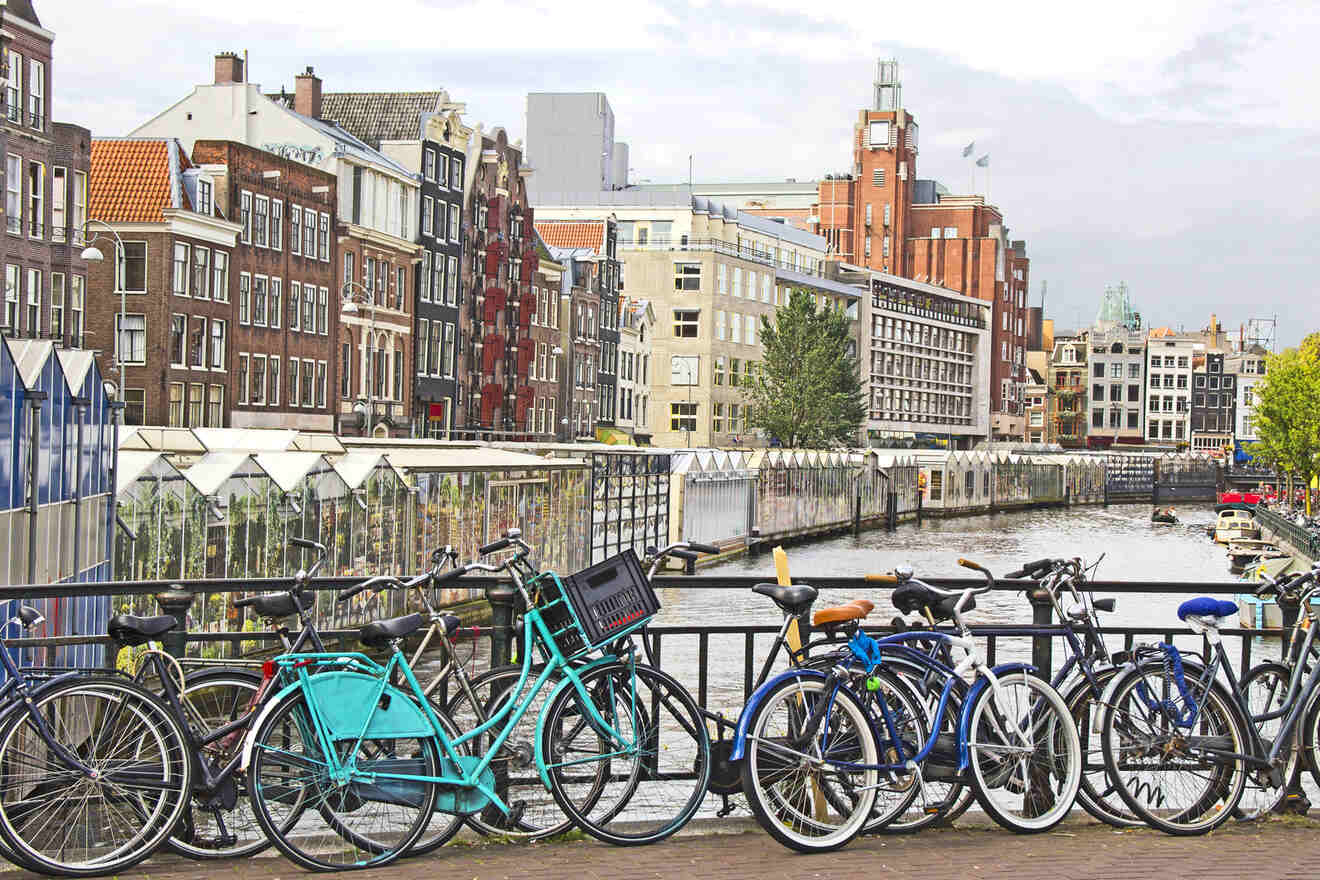 Well, now that you've had enough of Paris (if that's even possible) let's check out the third city from your 2 weeks in Europe itinerary!
Amsterdam is mostly known for its coffee shops and nightlife and while those are great there are also many other things to do in this town! Plus its vibe is so nice and chill that you'll never want to leave!
There are lots of direct flights with budget airlines from Paris but if you're looking to save as much time as possible I would buy some train tickets, since you don't waste any time on going to the airport, security check and all that.
So head to the Gare du Nord train station (or airport although that is definitely more time consuming), and in only 3 hours you'll be in Amsterdam! You can go to your hotel, check-in and then off you go to explore the city!
I recommend getting a hotel in the Old Town or nearby since most attractions are there.
Then spend the rest of your day in this area where you can see the Amsterdam canal belt, a Unesco World Heritage site, and a pretty picture spot. And if you're up for it maybe even join a bike tour, which will help you in getting to know the city! Alternatively, book a tour of the Heineken factory to see how this icon beverage is brewed (while enjoying the results of course).
Transportation & Distances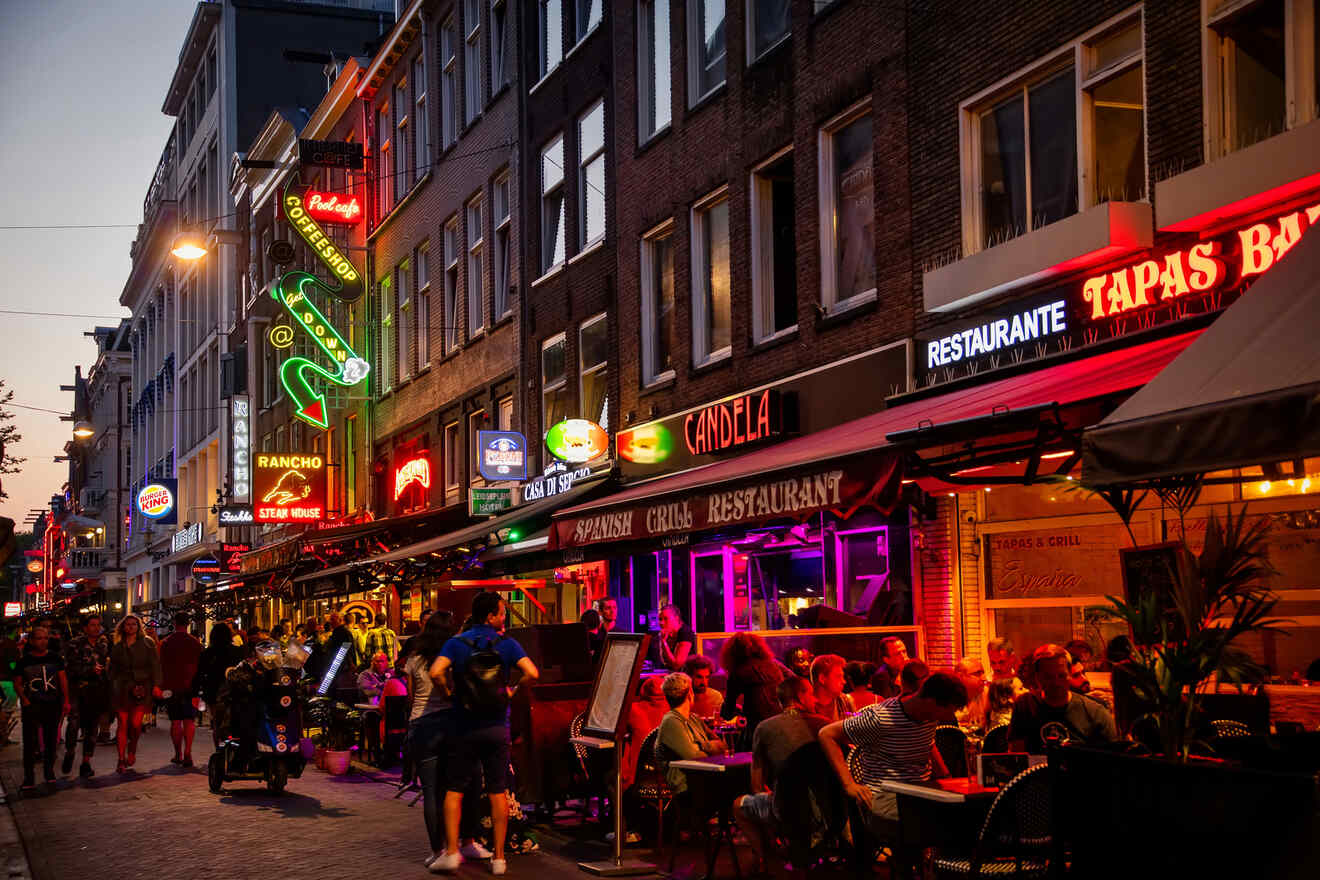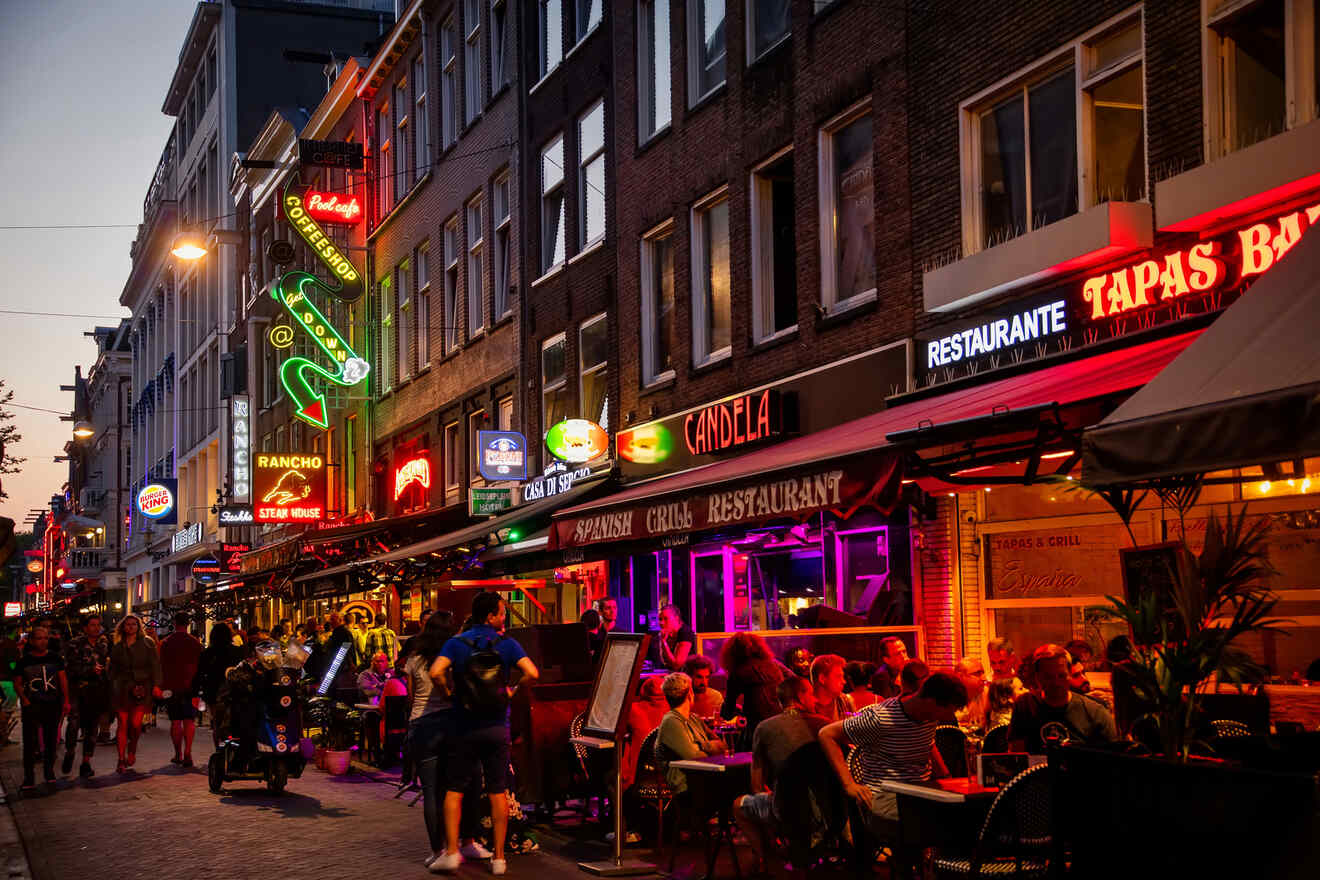 Top things to do in Amsterdam on day 6
Where to stay in Amsterdam (2 nights)
Luxury (€200 and up): Luxury Suites Amsterdam – This fantastic 5 star hotel has such elegant decor! Each room has soft colors, lots of space, and some even come with a balcony.
Mid Range (€110 – €160): Hotel Asterisk – A cozy family-run hotel set in a 19th century building that has comfortable rooms, a swimming pool and lots of restaurants nearby.
Budget (up to €110): The Flying Pig – Located super close to the train station, this hostel offers a private and shared room equipped with all necessary facilities like a private bathroom and free wi-fi.
Day 7: Explore Amsterdam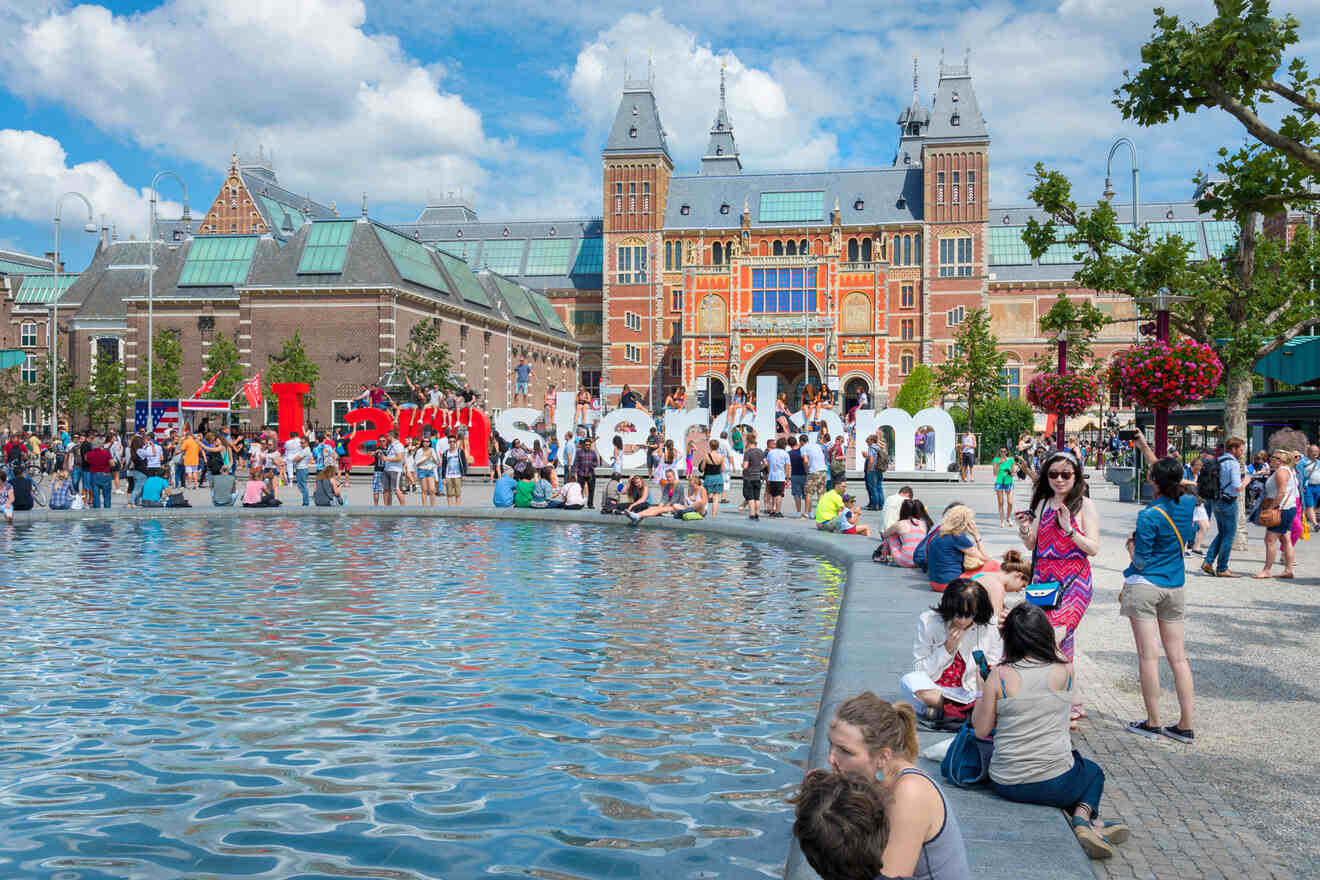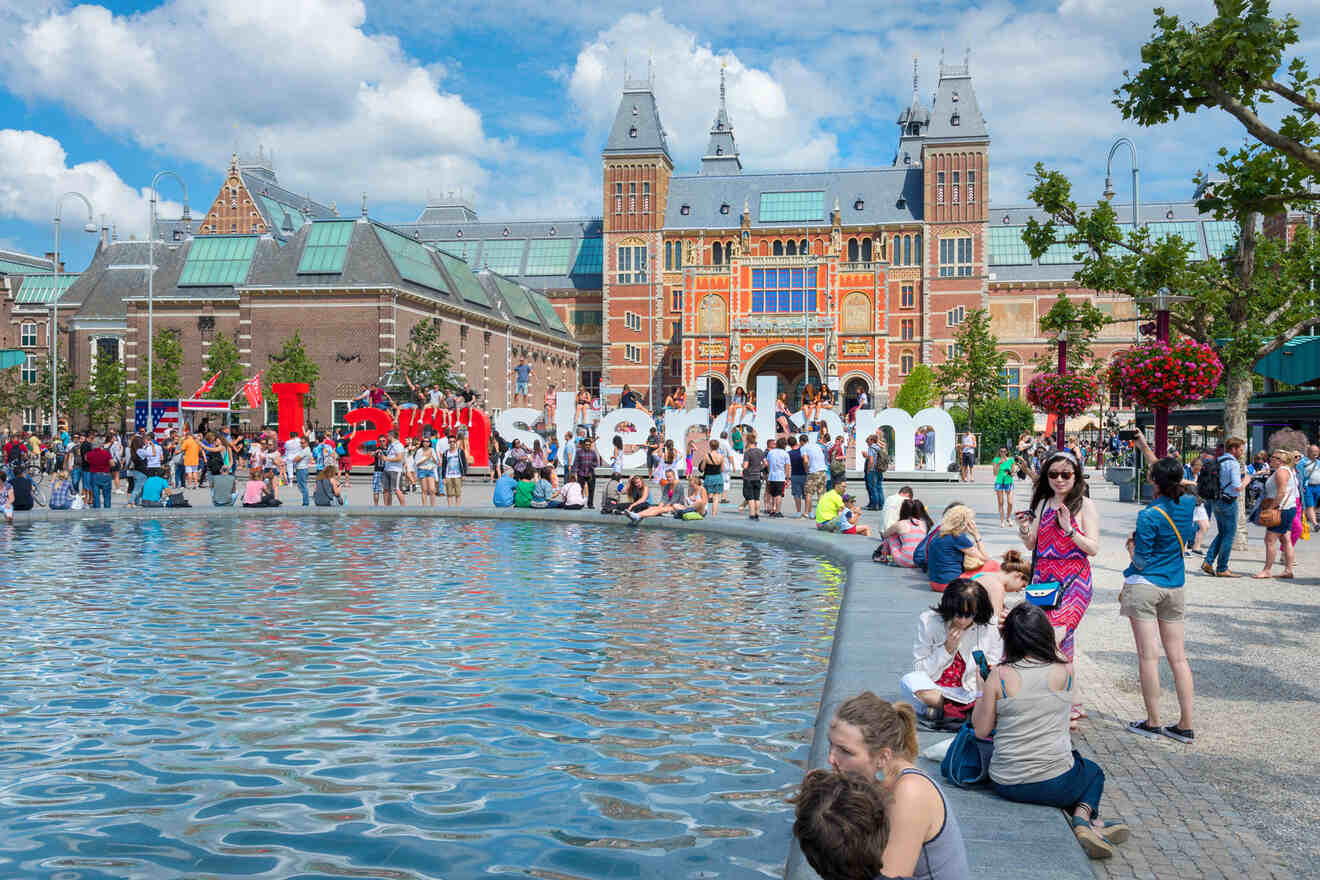 Whether you're coming during the summer months or in winter I'm sure you'll have a wonderful trip here. You can spend your day exploring all the neighborhoods in Amsterdam, eating some yummy food, and taking lots of pictures of course.
On your last day in this city in Western Europe, you can check out some of the art museums like the Van Gogh Museum, the Rijksmuseum and the Anne Frank House Museum. A friendly warning here that the tickets to the Anne Frank Museum sell out immediately so make sure to book yours months in advance.
After lunch you can join a boat ride on the canals. There are many tours that you can try and most of them last around 1h. Which gives you enough time to maybe check out some of the city's parks! (No one does city parks quite like Amsterdam!)
There are many but I think Vondelpark (the largest in the city) will probably be the best choice. Finally once you reach the end of your day you can experience Amsterdam's nightlife!
Top things to do in Amsterdam on day 7
Day 8: Hop on a flight to Venice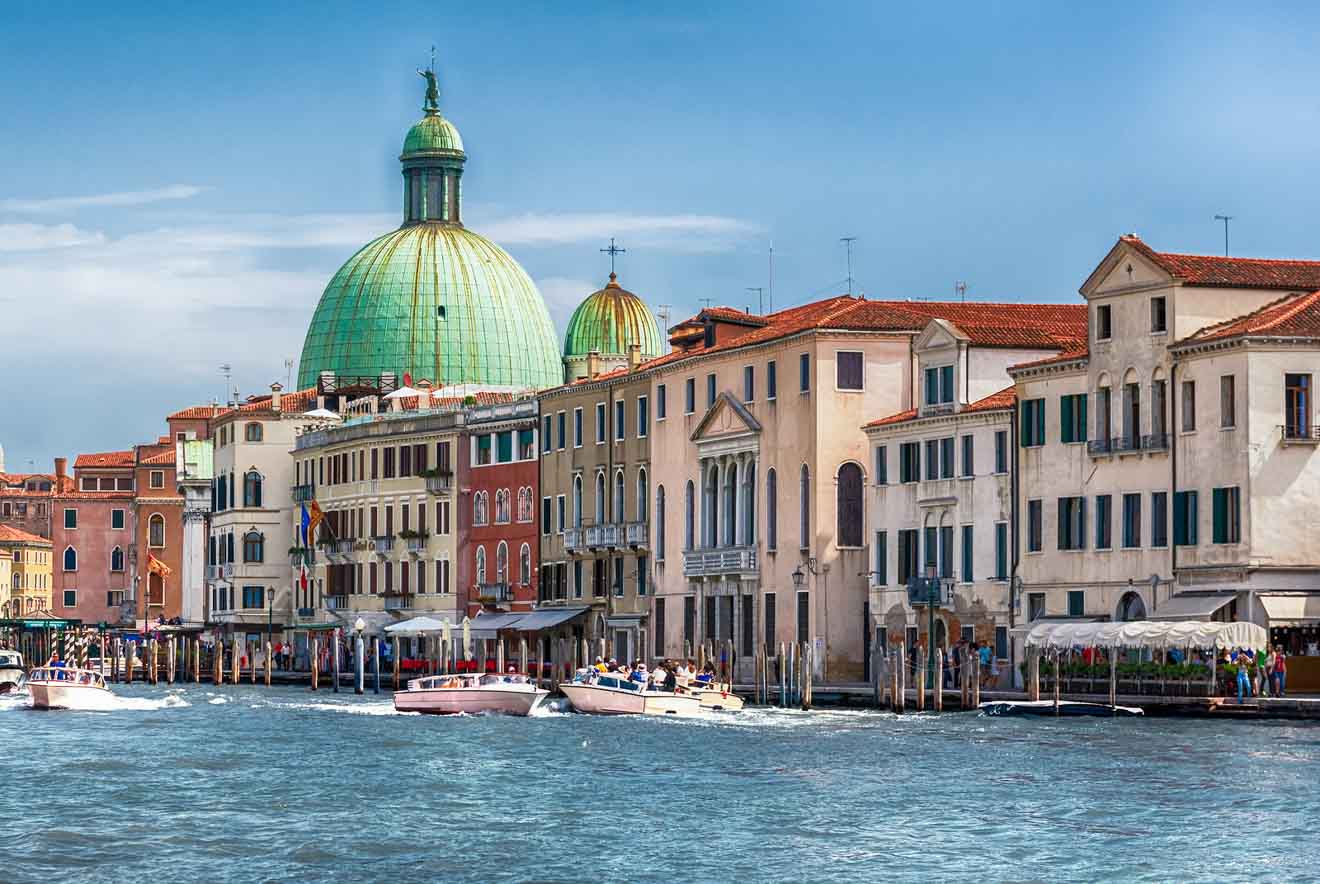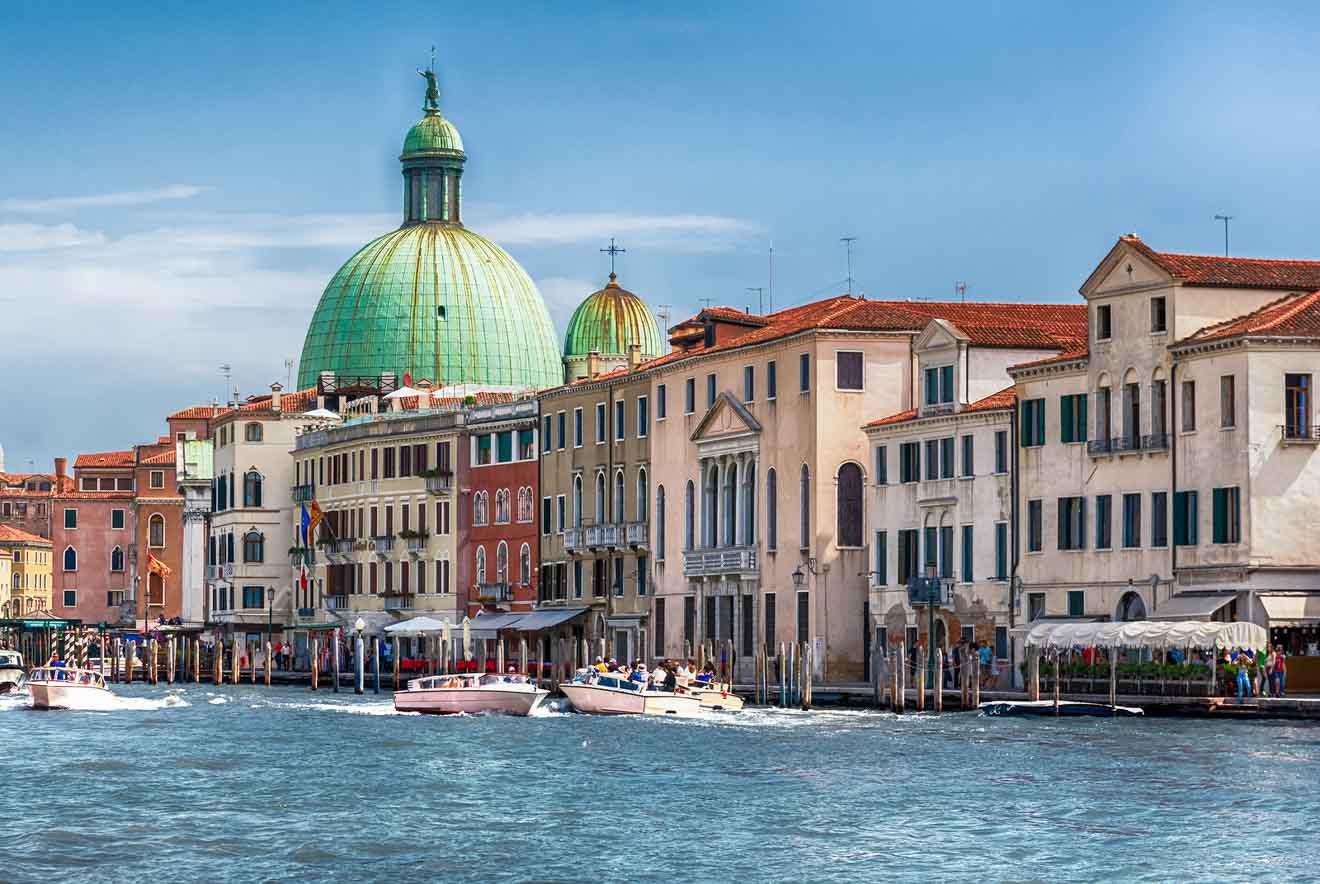 I hope you didn't party too hard in Amsterdam's clubs because now you have to get on a flight (preferably an early one) to Venice! But the flight is just 2h which is perfect since you still have time to visit some of the attractions after you arrive.
So welcome to Venice! This romantic city is filled with so much beauty, mystery and special spots! I recommend watching the movie Dangerous Beauty before heading to Venice, it's one of my favorites!
Art lovers will want to move here and foodies will leave with their bellies full, that's for sure! Let me know after you go there, but I'm sure you'll never have enough of Italian history, cuisine and culture!
Since it's your first day and you're probably a bit tired, I'd stick to exploring St. Mark's Square, then if you feel like it you can also see the Basilica di San Marco, and wander around the streets to look for souvenirs!
One thing is for sure, this trip to Europe will definitely be marked by all the destinations you visit in Italy! That's why I decided to add a few cities in this country. And if you're looking to visit more during your next holiday in Europe, check out our post on the top 10 towns to visit in Italy.
Transportation & Distances
Plane: 2h flight from Vienna to Venice from €100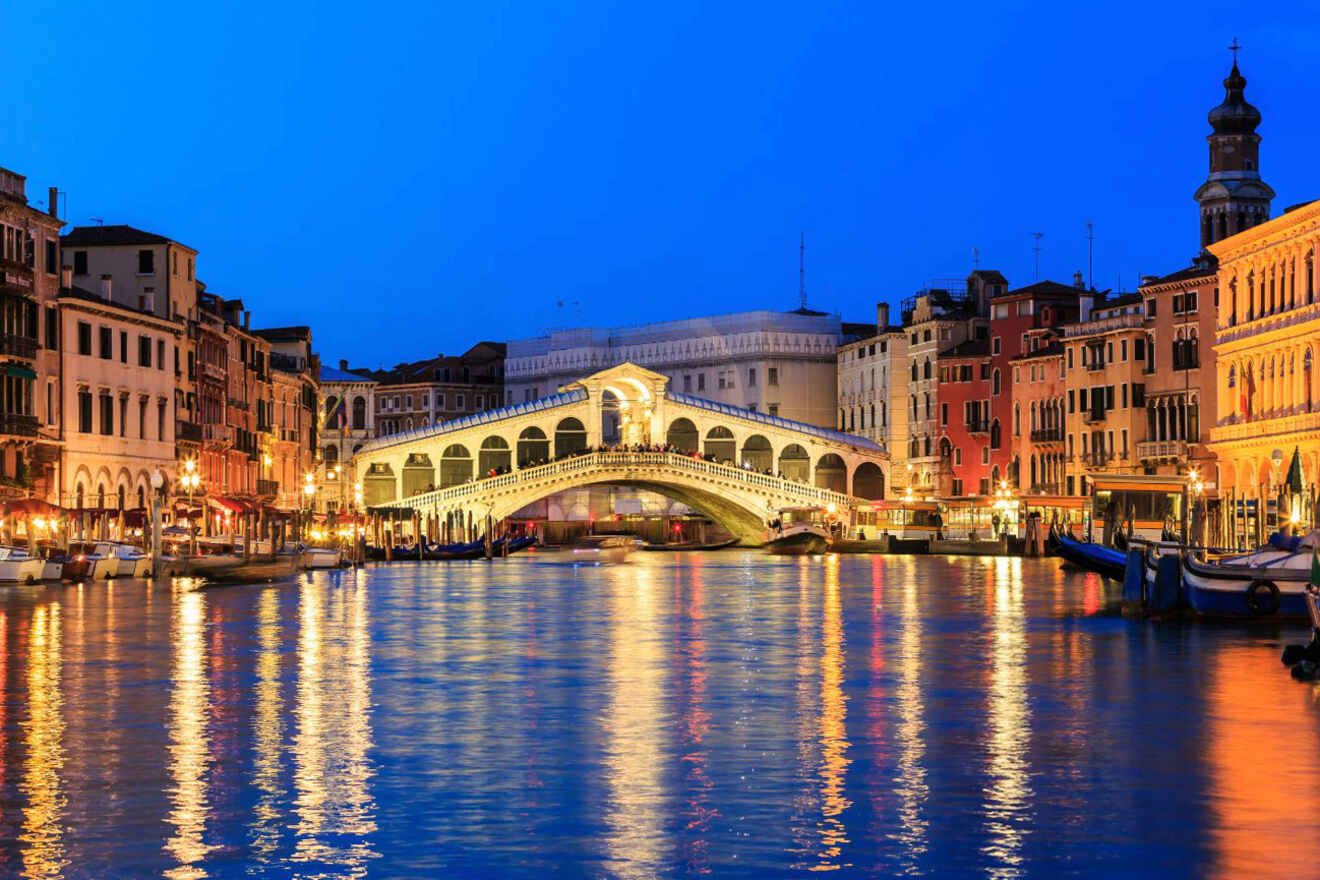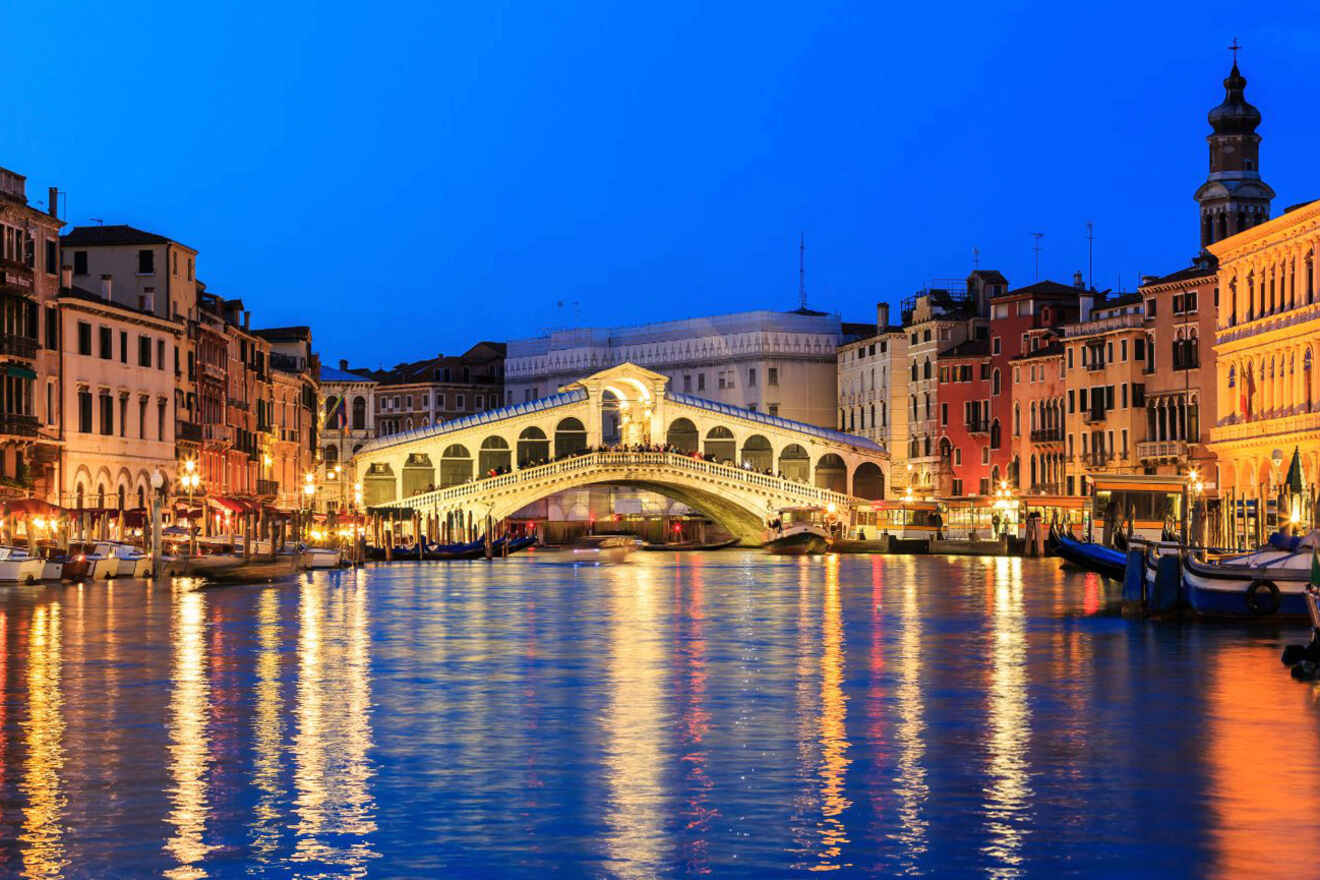 Top things to do in Venice on day 8
Explore St. Mark's Square
Snap a picture of the Rialto Bridge
Visit Doge's Palace
Enjoy a delicious Italian dinner
Where to stay in Venice (2 nights)
Luxury (€200 and up): Ca Maria Adele – Feel like you've traveled back in time and you're a member of the Venetian court at this hotel that offers vintage decor, spacious rooms with antique furniture and room service.
Mid Range (€130– €190): Rosa Salva Hotel – Perfectly blending the old with the new, this historic hotel offers family suites with lots of space, room service and a paid airport shuttle.
Budget (up to €100): Apostoli Palace – Such a cute and affordable place! This accommodation offers unique decor and en suite rooms, with a flat-screen tv.
Day 9: Explore Venice on a gondola tour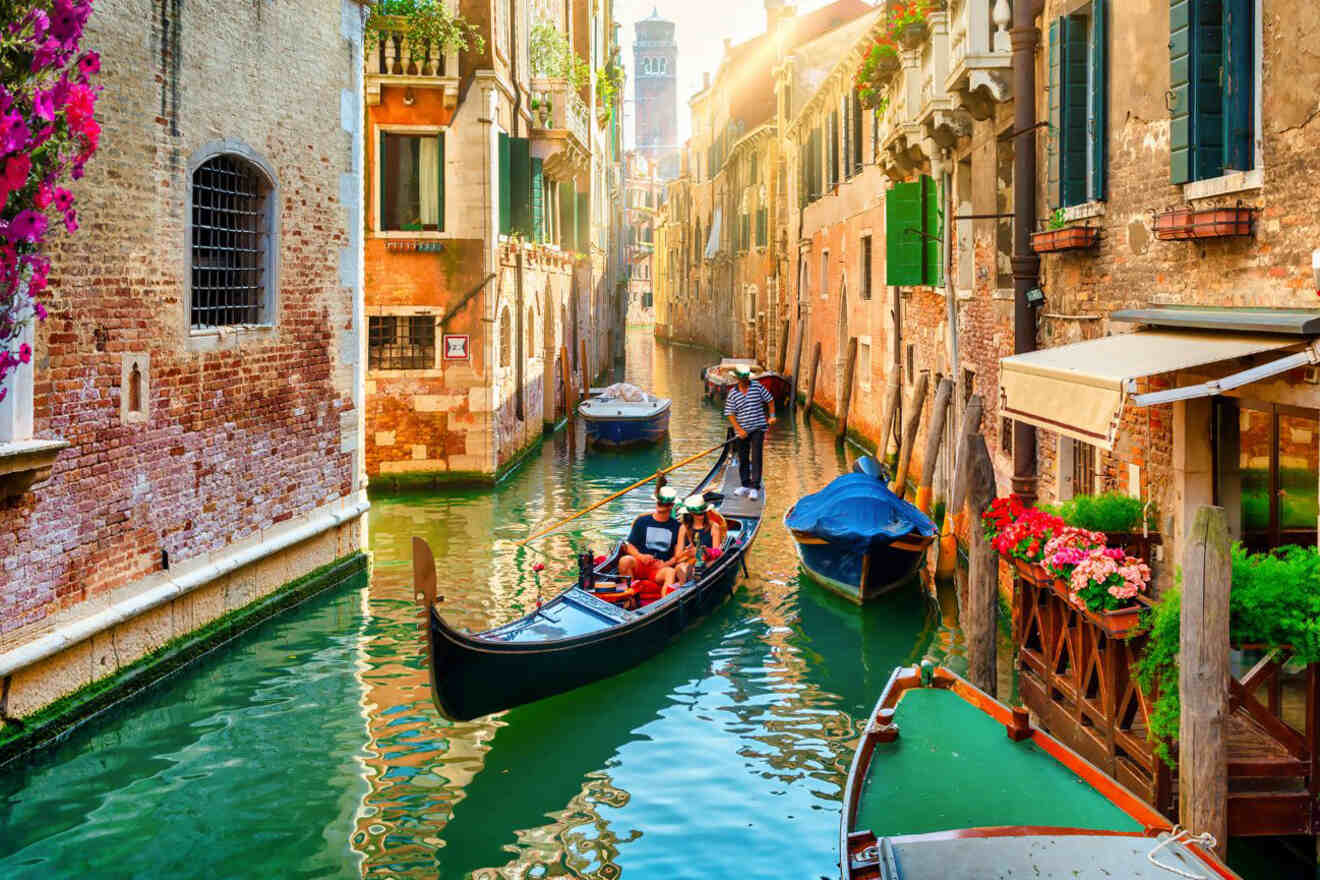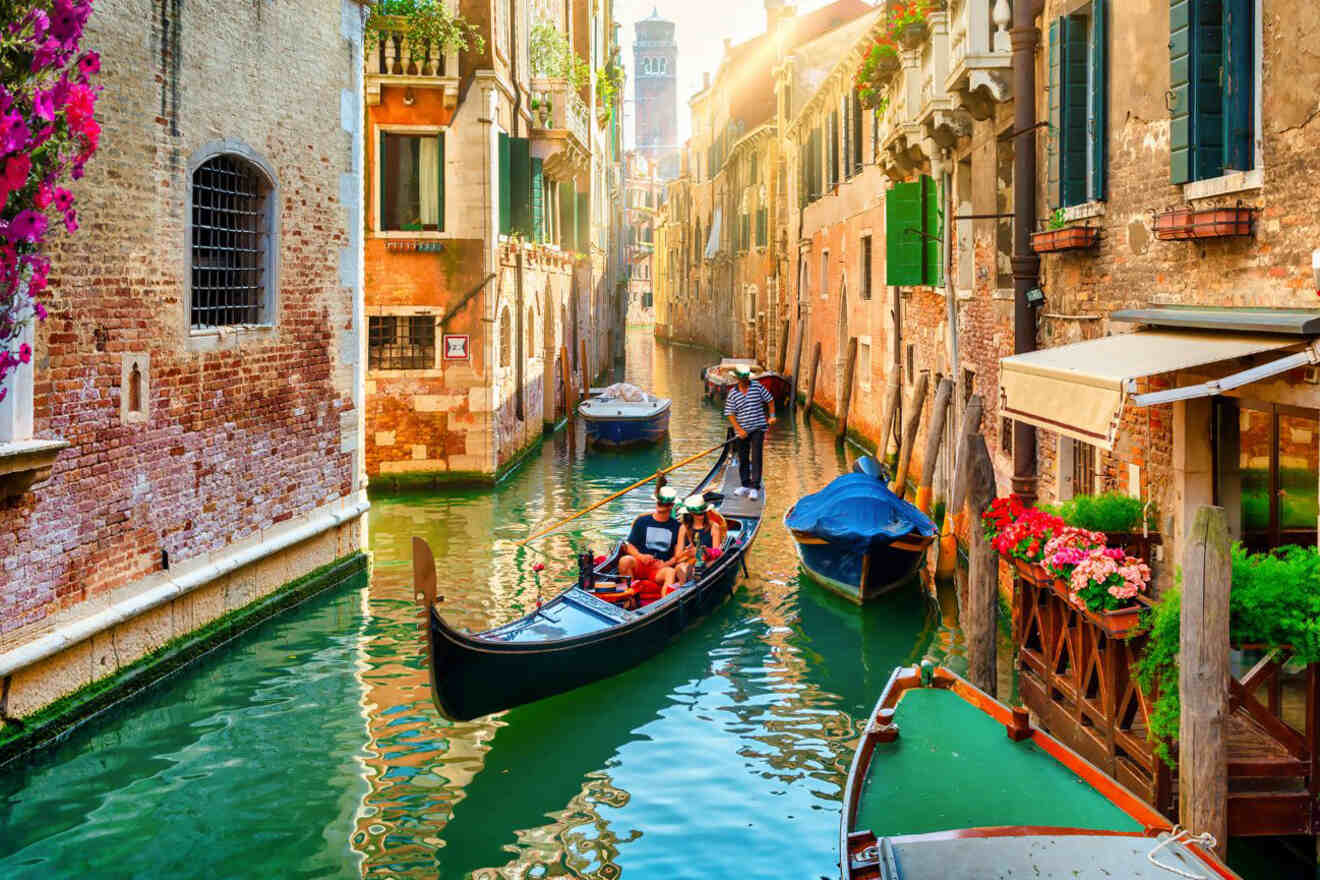 If you've managed to see the attractions I told you about earlier on your first day, then you can start your second day in Venice with a gondola ride on the Grand Canal. Your Europe trip wouldn't be complete without that!
Plus it gives you a chance to admire a large part of the city in an efficient time!
After your boat ride, take a relaxing walk around the city and stop to see some of its landmarks such as the Bridge of Sighs, Rialto Bridge and visit the Ca' Pesaro International Gallery of Modern Art.
Of course after all the walking and exploring so many major cities you'll probably need a lot of food to keep you energized. Well my friend, you've hit the jackpot because nothing feels as good as Italian food when you're hungry! And you should definitely try some authentic Venetian dishes like sarde in saor and risotto al nero di seppia!
Top things to do in Venice on day 9
Drink lots of Venetian wine
Admire the Grand Canal while on a gondola ride
See the Bridge of Sighs and Rialto Bridge
Eat some traditional food
Visit the Ca' Pesaro International Gallery of Modern Art
Day 10: Travel to Florence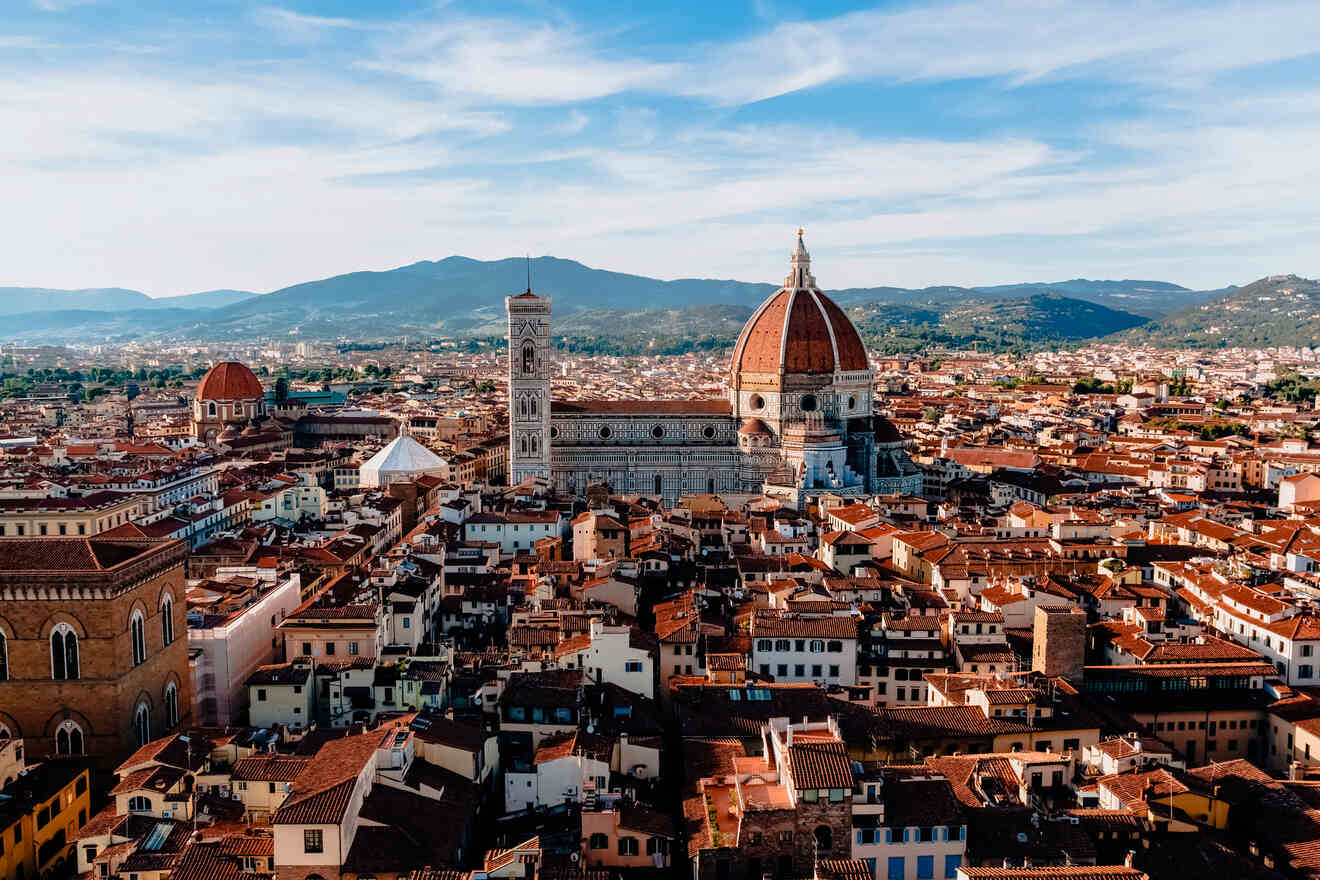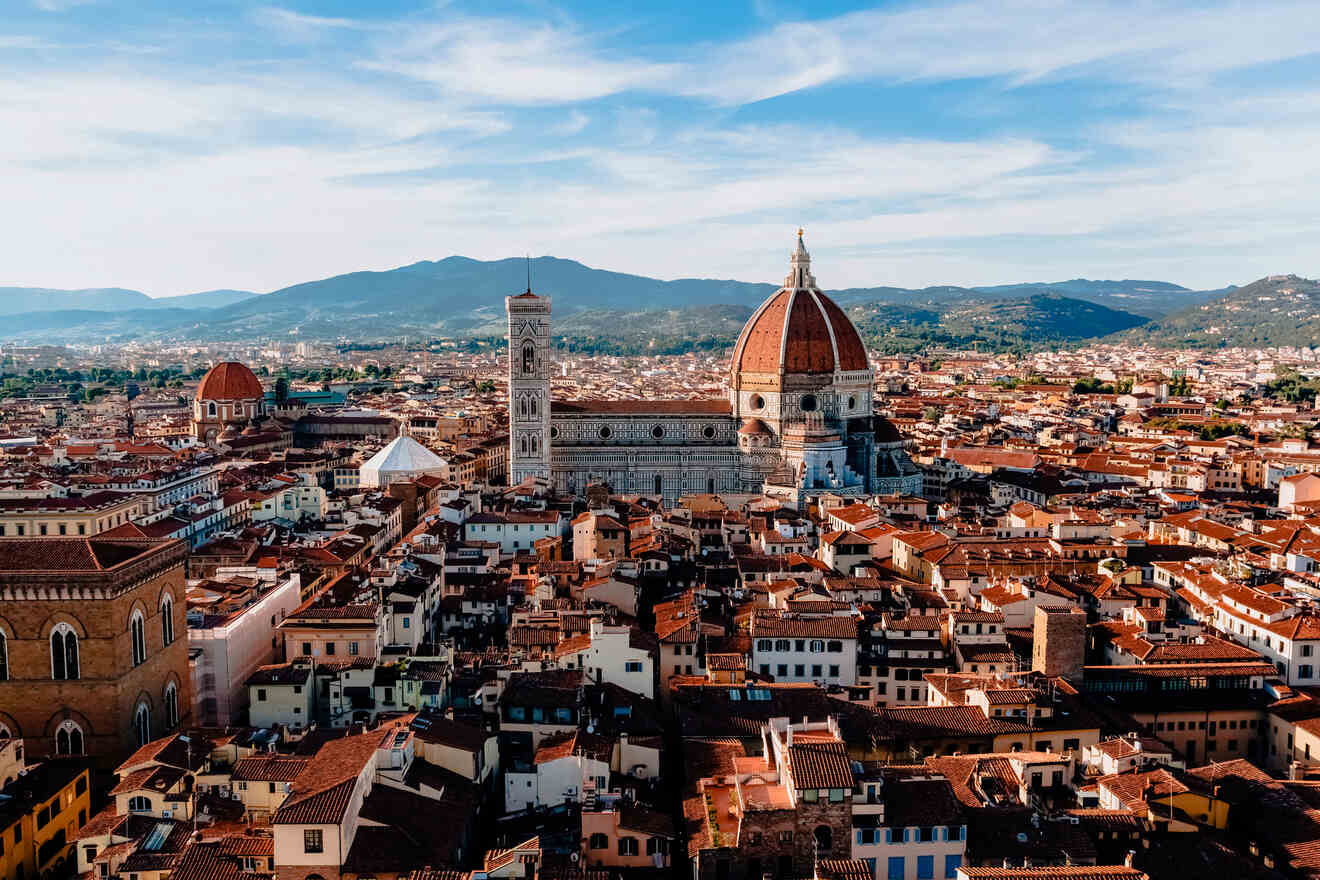 We're continuing this 2 week Europe itinerary with one of my favorite European cities in the whole world! But first we've got to get there…
If you're wanting to rent a car for any part of your trip, this would be it! Since you'll spend quite a few days of your European itinerary in Italy you can easily rent it from Venice and drop it off in Rome when you leave (without having to drive in another country). The distances are not so long, plus the Italian countryside is so magical! But if you prefer not to rent a car, I will also give you all the details for taking the train for this portion of the itinerary.
Welcome to Florence, a beautiful city in Tuscany, where art, food and history combine to offer tourists an epic and unforgettable experience! So you better prepare because there are many things to do in Firenze!
Start with some pizza and pasta at one of the restaurants in Florence, before you head to visit all the attractions. And since your time is limited here, I recommend immediately visiting the unique Uffizi Gallery (make sure you buy your tickets online in advance for this one to avoid wasting time).
All the cities in Tuscany are magical and filled with things to do, but I think Florence is definitely the most special one! If this is your first trip to Europe you'll definitely want to come back here. Wander the streets, buy cool jewelry (Ponte Vecchio is the perfect spot for that) and eat gelato day and night. That's what I did while I was here, and it was the best!
Transportation & Distances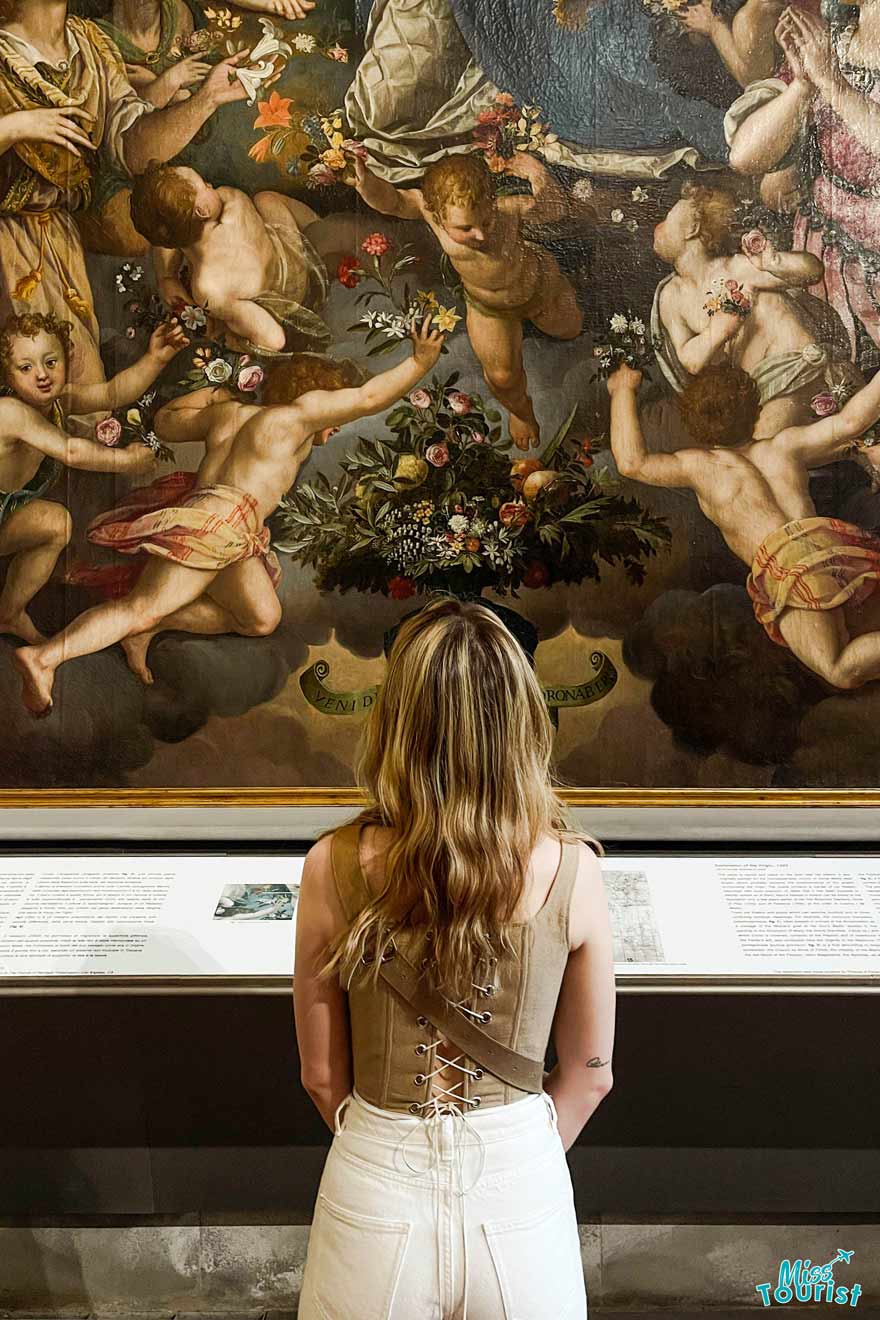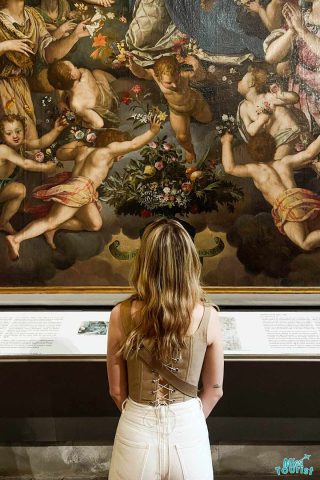 Car: Drive 3 hrs south via the A13
Train: Take a 2h train with Italo Treno from €10
Top things to do in Florence on day 10
Admire the art at Uffizi Gallery
Walk around Piazza del Duomo
Eat yummy food at Mercato Centrale
Shop for souvenirs on Ponte Vecchio
Catch a sunset in Piazzale Michelangelo
Where to stay in Florence (2 nights)
Luxury (€230 and up): Relais Santa Croce – This 5-star hotel is set in a-18th century building and it's beautifully decorated with vintage furniture. Set in the city center the accommodation offers a restaurant and spa facilities.
Mid Range (€110– €170): La Grancontessa – I've stayed in this place when I visited Florence and it's super close to all the attractions. The rooms are spacious and they come with a private bathroom.
Budget (up to €90): Palazzo Lombardo – A clean and comfortable hotel that offers spacious rooms with modern amenities, including a flat-screen tv.
Day 11: Take a day trip to Pisa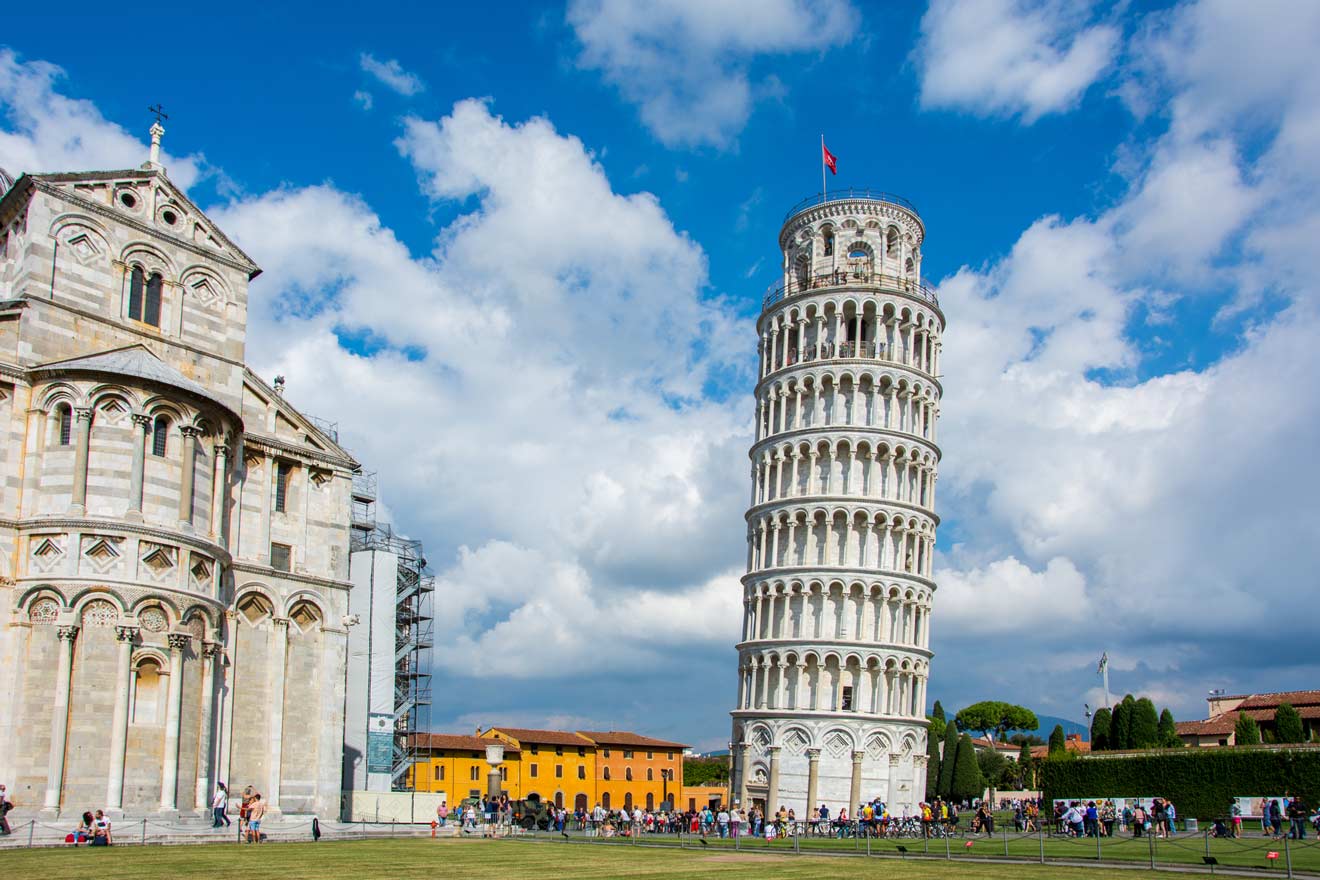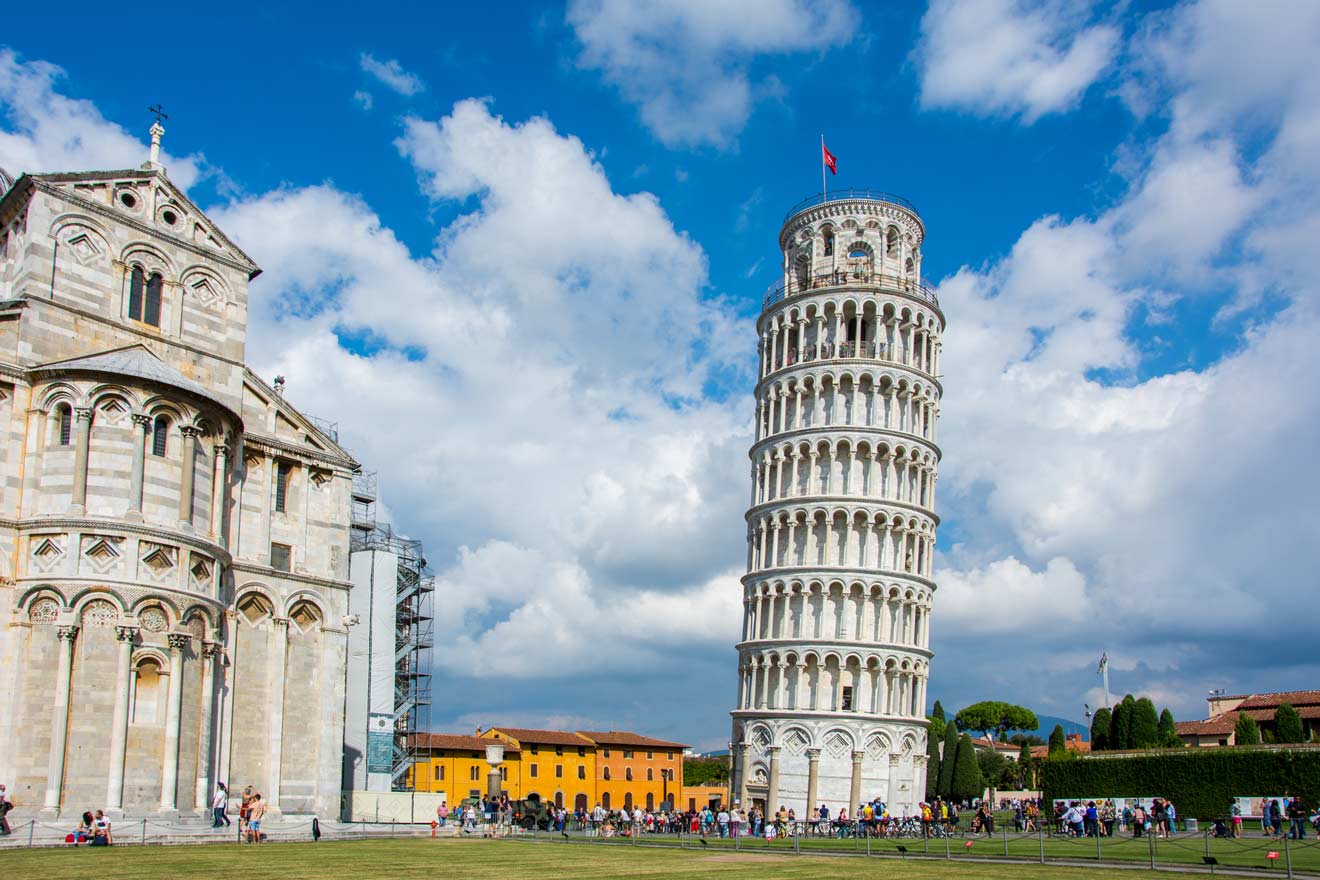 Since Tuscany is such an amazing area I've decided to add 1 more city in the region, which is easily reachable from Florence.
Pisa is a fascinating town, and not only because of the leaning tower (although it's one of the main attractions). It also has so many unique areas and fabulous restaurants!
A day trip from Florence will give you plenty of time to wander around the streets, take lots of pics in Piazza del Duomo, and visit some of its old Churches.
To get there you can take the train or drive yourself, but if you really want to see the whole region, I recommend jumping on this group day tour which will take you to explore 3 towns in the Tuscan countryside including Pisa.
PRO TIP: If you choose to buy train tickets you'll see that there are 2 options. One where the trip is around 2h and one where it is just 1h. I went with both of these trains and although the longer one took more time it took us through some amazing villages where the views were so amazing. So you might consider that if you want to see more of Tuscany, even if it's just by train. The 1h train is a high speed one and it mostly goes in and out of tunnels.
And while I'm giving you all my tips, I'm sure you're going to come back to this country sooner or later (it has that effect on people) if you are, and looking to spend more time, check out our 2 weeks in Italy itinerary, it will help you organize a great trip!
Transportation & Distances
Car: Follow the A11/E76 for 1h and 30 min
Train: Take a 1h train with TrenItalia from Florence from €10
Tour: Join a Tuscan day trip from Florence with transport and guide for €60
Top things to do in Pisa
Snap a picture of the Leaning Tower of Pisa
Walk around Piazza del Duomo
See the unique frescos at Camposanto
Eat some yummy pizza
Admire the architecture of Battistero di San Giovanni
Visit the beautiful Palazzo Blu
Book a day tour to Pisa, Siena & San Gimignano
Day 12: Make your way to Rome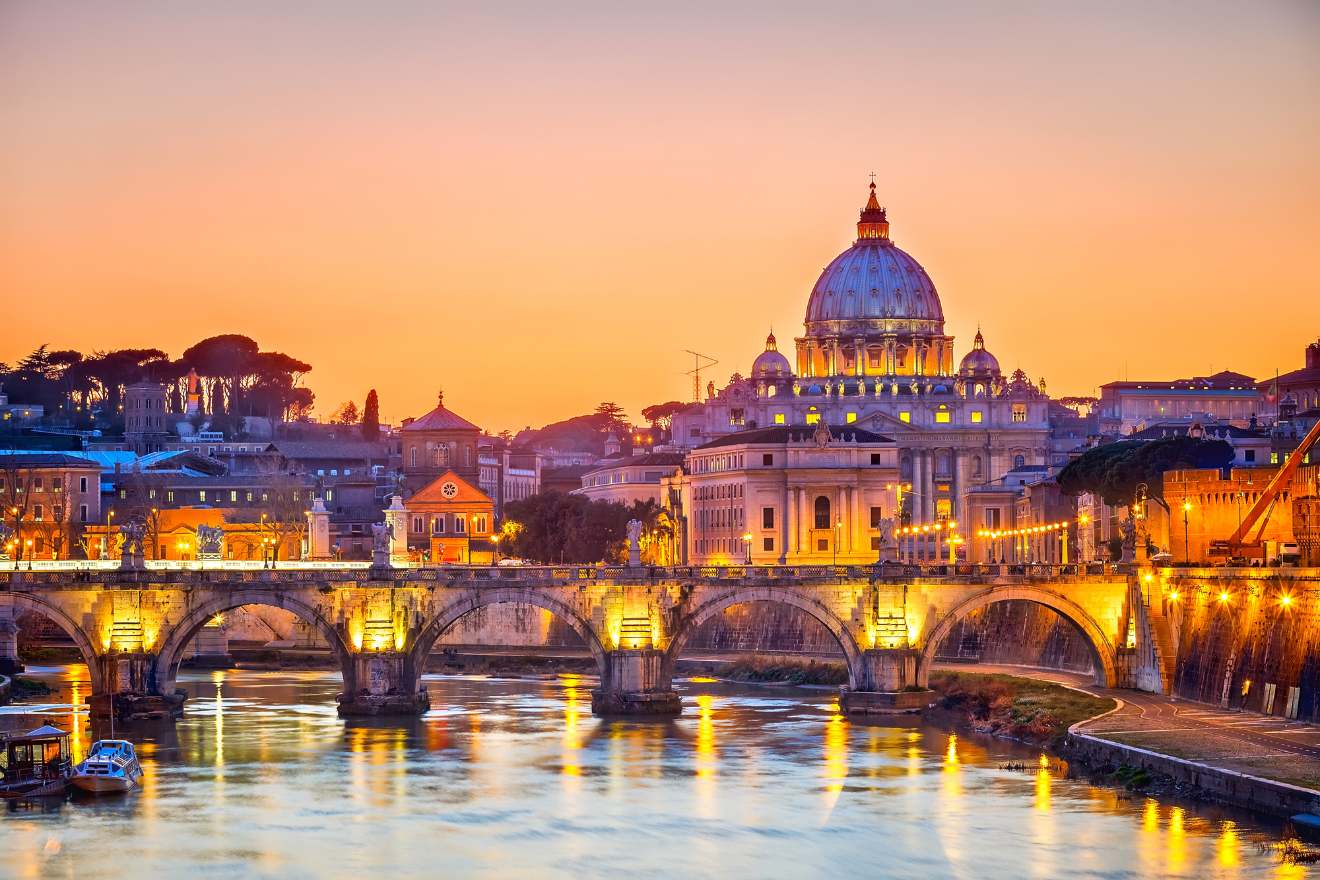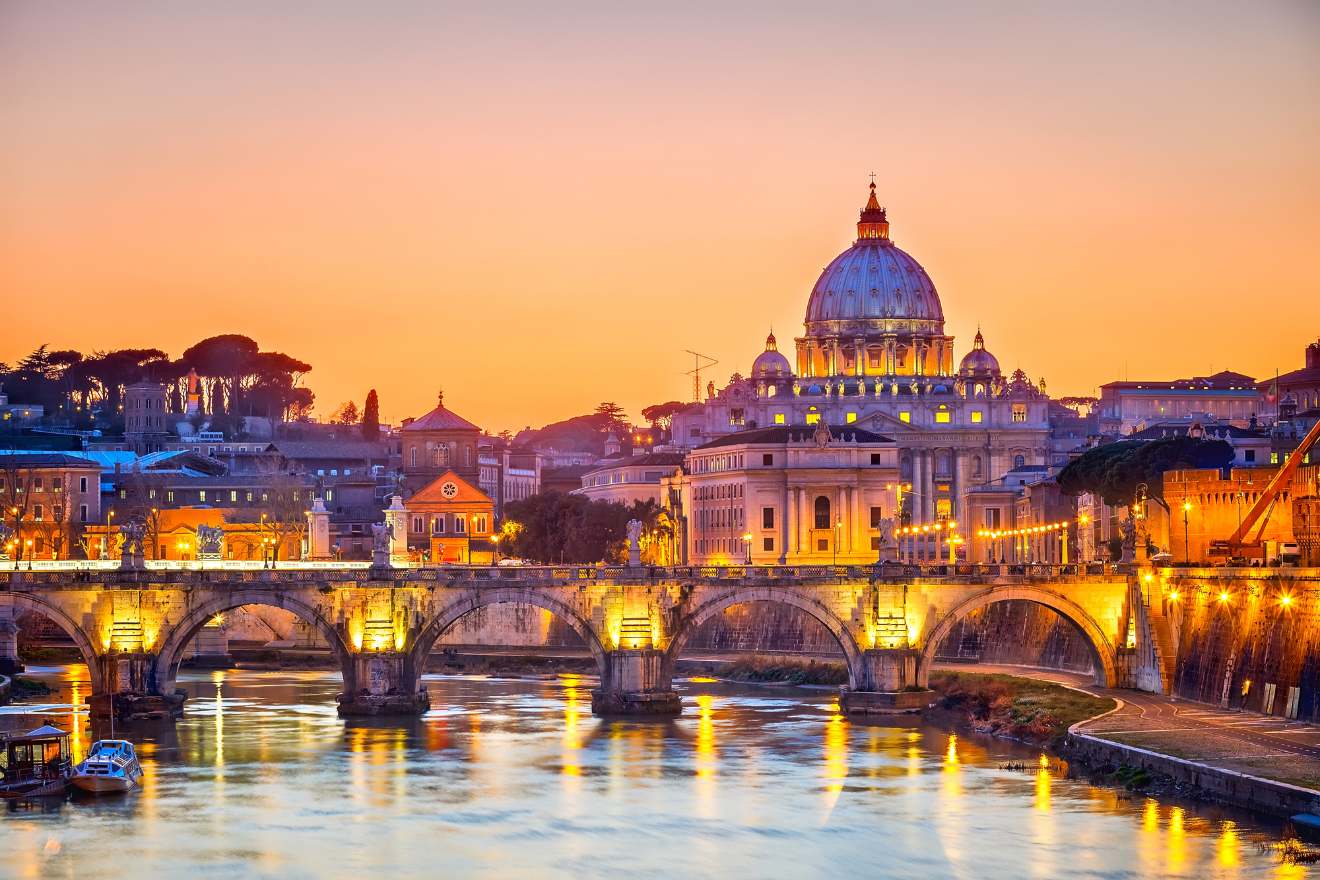 I thought we'd end this 2 week Europe itinerary with a bang! Technically with 2 bangs but we'll get to that in a moment!
As the capital city of Italy, Rome is bathed in so much history (and tourists most of the time) but hey, I wouldn't dream of missing this city during your trip to Europe!
Rome is a fascinating city, and it's located only a 1h 30 min train ride from Florence! I'd definitely leave for Rome early. Arrive there, head to the hotel, leave the bags and then go out.
Start your day with a delicious meal and lots of coffee to keep energized through the day. There are many amazing restaurants in Rome, and cute cafes where you can drink a quick espresso.
Then you'll be ready to visit. On the first day I recommend visiting all the major attractions since your other 2 days are going to be pretty full exploring the Vatican and Pompeei. So I'd start with the Roman Colosseum, then the Pantheon and the Roman Forum.
PRO TIP: If you want to save some time and do some sightseeing then you could rent a scooter, which will save you a lot of time!
Transportation & Distances
Car: Drive 3.5 hrs south via A1/E35 or 4.5 hrs via the E80 for a more scenic route
Train: Take a 1h 30min train with Italo Treno from Florence from €10
Top things to do in Rome Day 12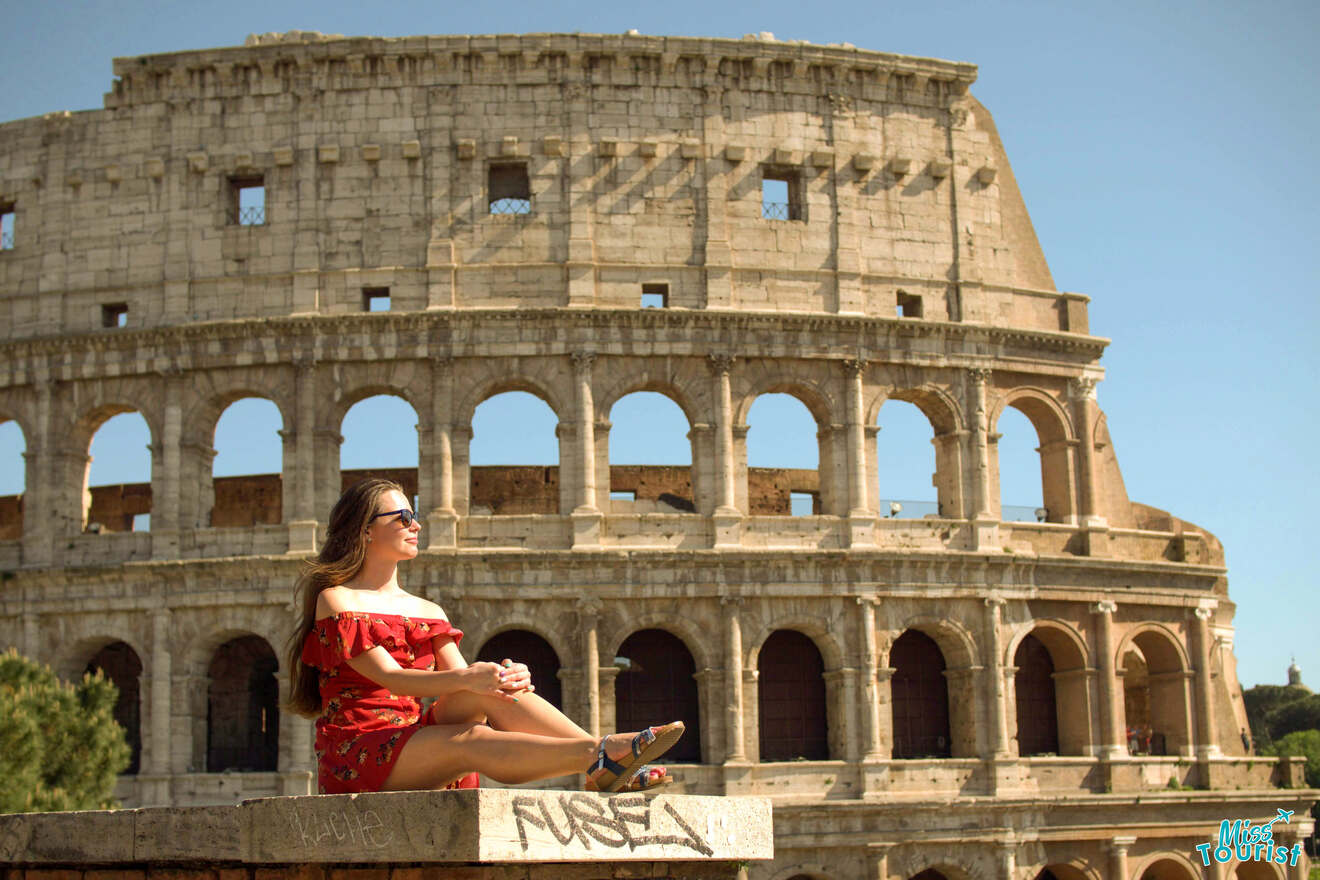 Visit the iconic Roman Colosseum
Snap a picture of the Pantheon
Explore the Roman Forum
Enjoy a glass of wine in Piazza Navona
Where to stay in Rome (3 nights)
Luxury (€200 and up): H10 Palazzo Galla – Featuring incredible views of the city from its rooftop terrace this luxurious hotel offers a great location, rooms with modern facilities and a free breakfast!
Mid Range (€140– €190): Xenia Guesthouse – Simple, chic yet equipped with all the facilities you need for your stay in Rome. This accommodation has air-conditioned rooms with free wi-fi and a flat-screen tv.
Budget (up to €100): Adelina Guesthouse – Looking for something a bit more budget friendly? This guesthouse offers lovely rooms with a nice decor, comfortable beds and a private bathroom.
Day 13: Eat yummy food and visit the Vatican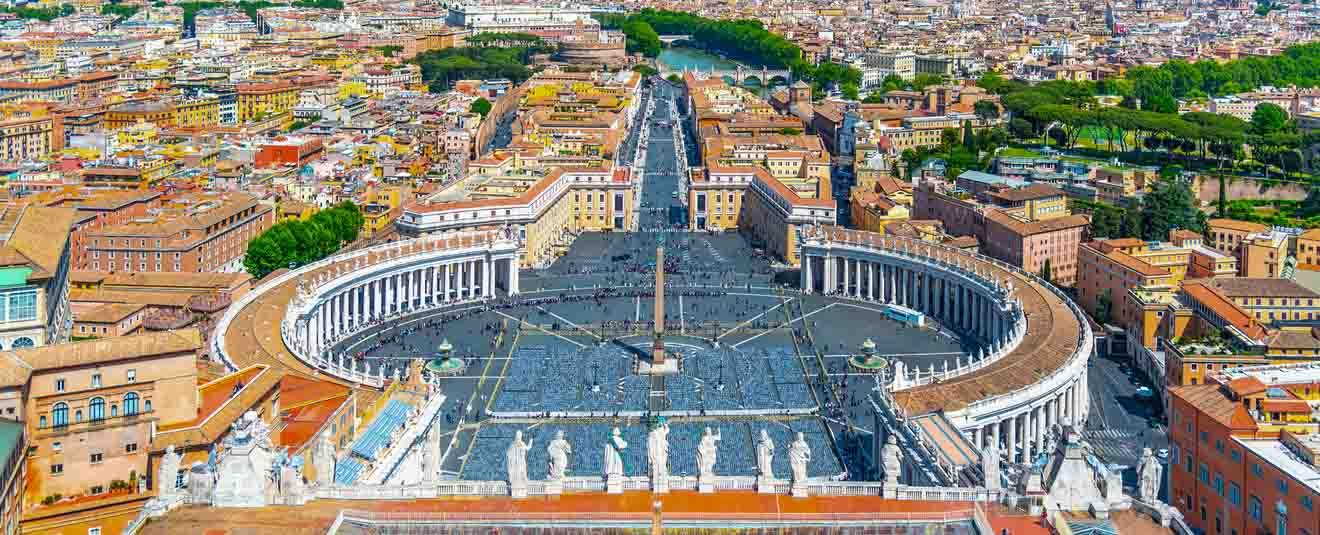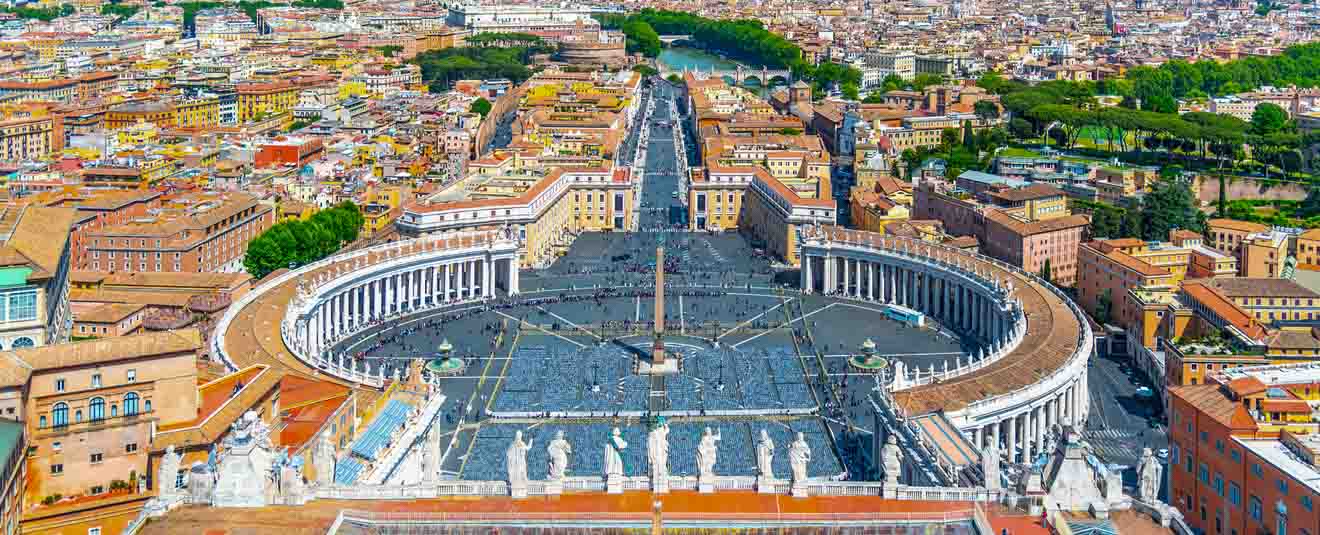 There are so many things to do in Rome! But know this, a trip to the Vatican will probably take most of your day, since this famous place is absolutely huge!
NOTE: Since Rome is packed with tourists most of the time, I recommend getting your tickets for the attractions you want to visit in advance. Otherwise you'll waste precious time sitting in long, neverending lines.
Probably, one of the most valuable places in the Vatican is St. Peter's Basilica, which was built during the Renaissance. Up to this day it remains the biggest church in the world and a beautiful piece of architecture.
Then you've got Saint Peter's Square which you'll probably recognise from all the postcards, this one is a lovely place to explore and take lots of pics before you move to the next attraction.
The Sistine Chapel? Where you'll probably recognise one of Michelangelo's masterpieces on the ceiling: the last Judgment!
Of course these are just some of the attractions, you've also got the Vatican Museums, the Vatican Gardens, the Raphael Rooms, and many others.
Now you probably understand why it takes so long to visit the Vatican, but it's totally worth it!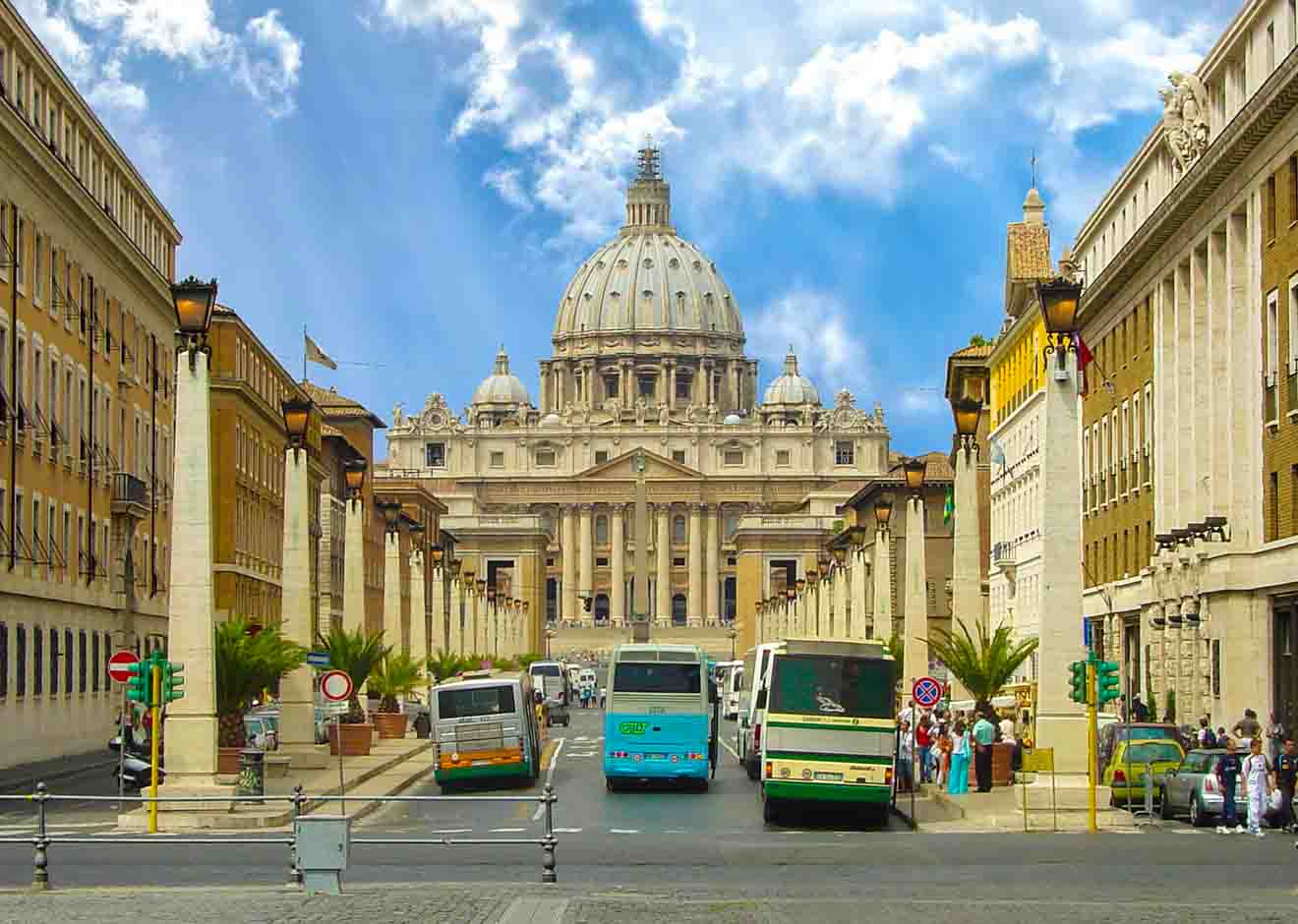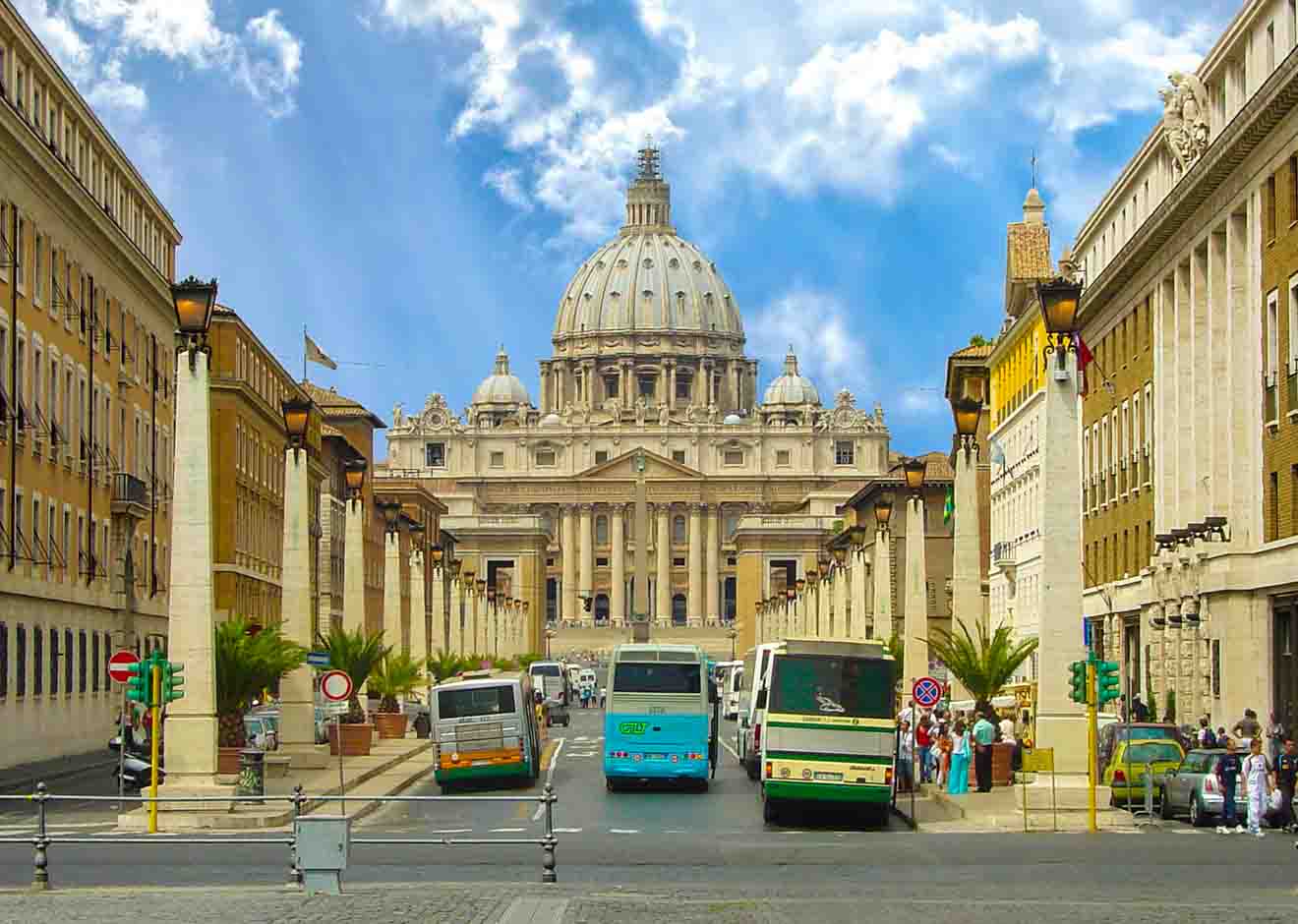 However if you've got some time left and you got lucky with a small crowd there, then you might have time to see some attractions. Of course, I'd go for something that doesn't require you to wait in a line like the famous Trevi Fountain (famous for the way it was designed) or the Spanish Steps (which is considered the widest and longest staircase in Europe).
Top things to do in Rome Day 13
See St. Peter's Basilica in Vatican City
Admire Michelangelo's art in the Sistine Chapel
Explore Saint Peter's Square
Learn new things at the Vatican Museums
Take a walk in the Vatican Gardens
Throw a coin in the Trevi Fountain
Snap a picture on the Spanish Steps
Day 14: Take a day trip to Pompeii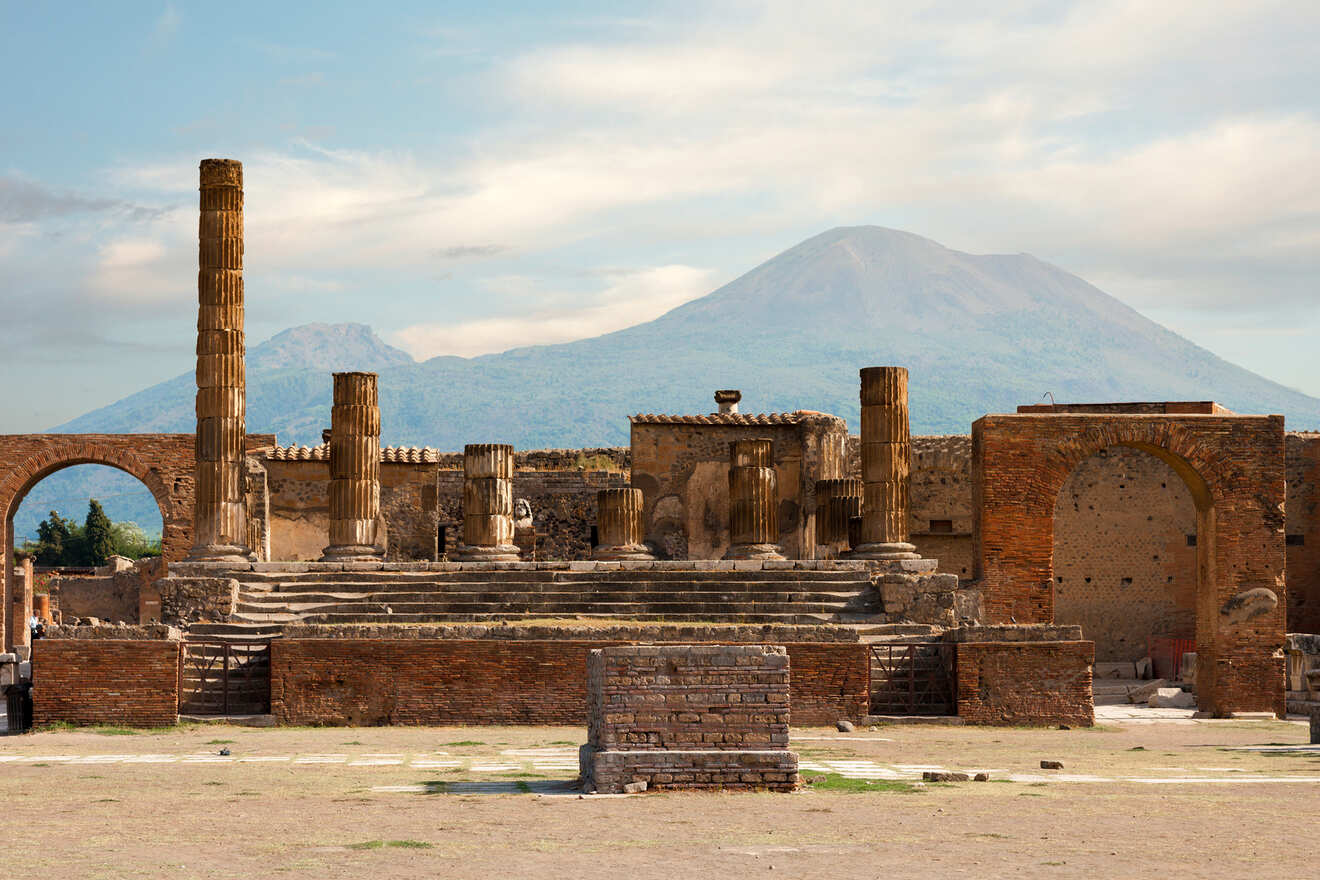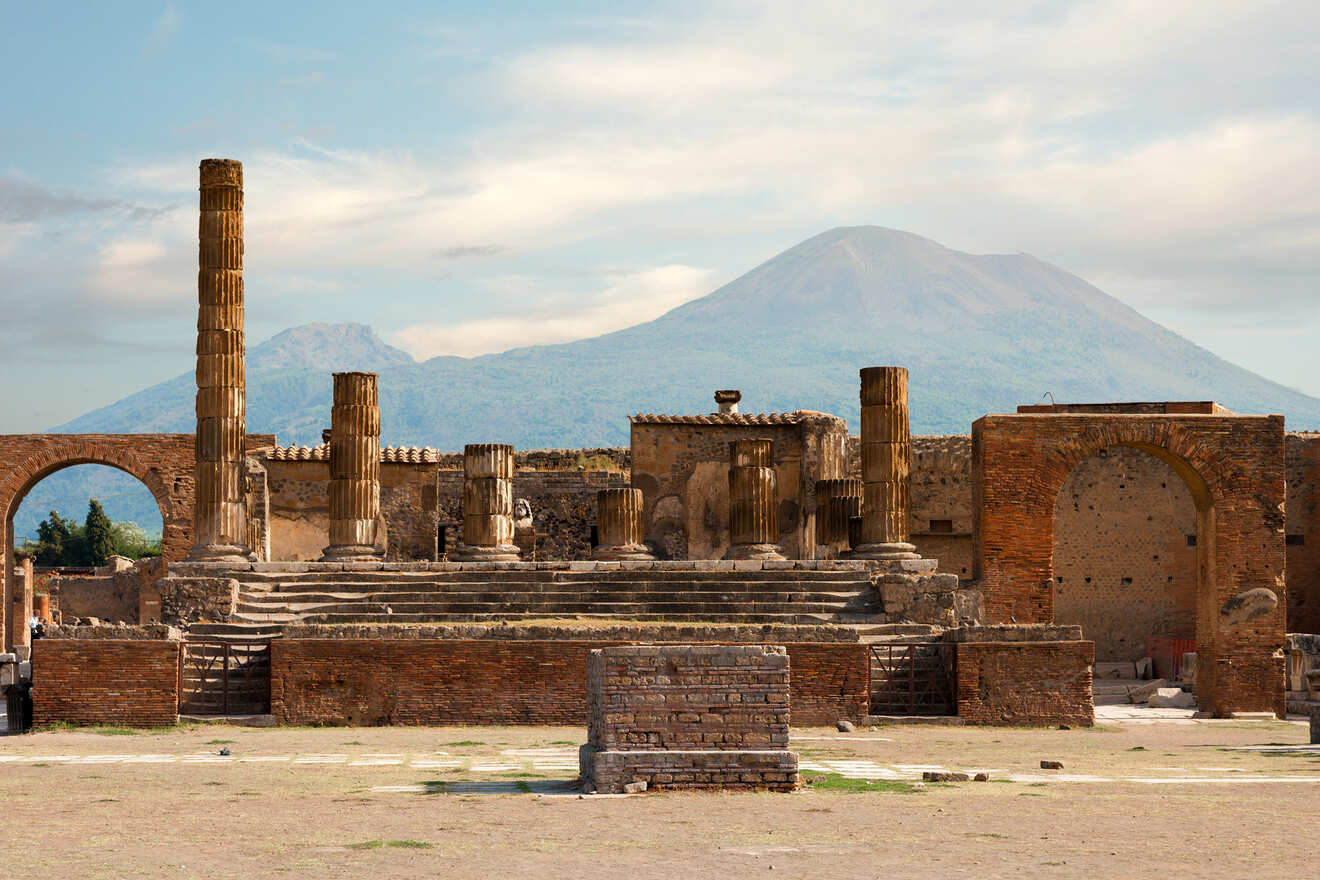 I know there are millions of places that you can see in Italy like the Amalfi Coast, Naples and others (even more reason to come back and visit Europe) but since time is of the essence here I thought I'd point you to one of the best day trips you could take from Rome!
Yep, I'm talking about Pompeii! This historical place that's just a 2h train ride away from Rome definitely needs to go on your Europe itinerary!
I know that some of you would prefer to take the train or rent a car and go there on your own, but if you prefer not to lift a finger (you are on vacation after all), there are lots of organized tours that can take you there! This is one of the best day trips as it will take you to Pompeii, Positano and the Amalfi Coast!
Pompeii has such an interesting history and I'm sure your guide will have lots to say about the horrible eruption of Mount Vesuvius which happened more than 2000 years ago!
I hope you're ready to be blown away by everything you see here from the Roman villas (some of them still have the original frescos) to the Archeological Park of Pompeii and the temples.
It's surely one of the most exciting day trips that you can take during these 2 weeks in Europe, especially if you're into history!
Now that's what I call ending your trip with a bang! Sadly it's time to go home if your two weeks are up. But if you have a couple extra days up your sleeve, make sure to check out my bonus section, I have a special surprise for you!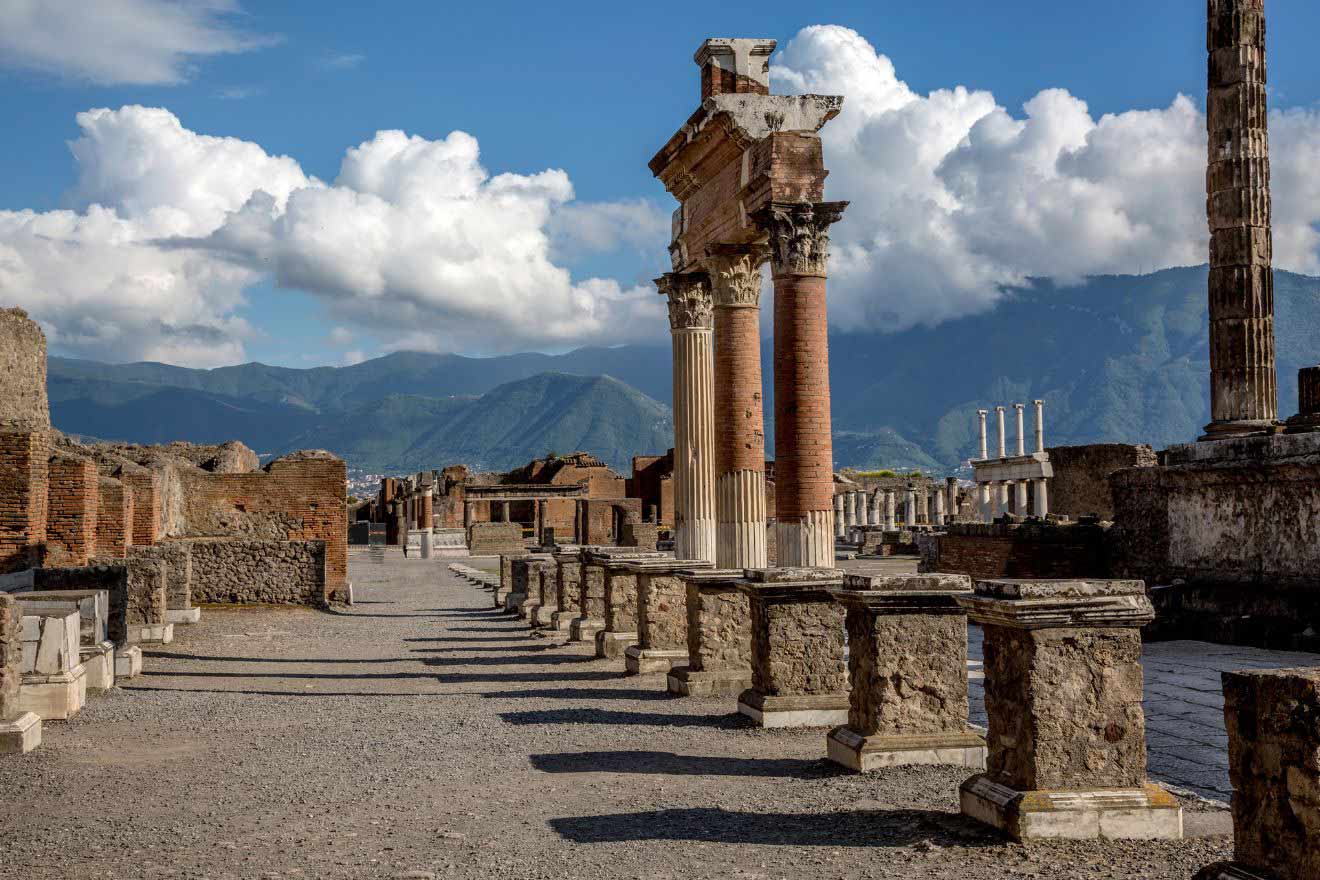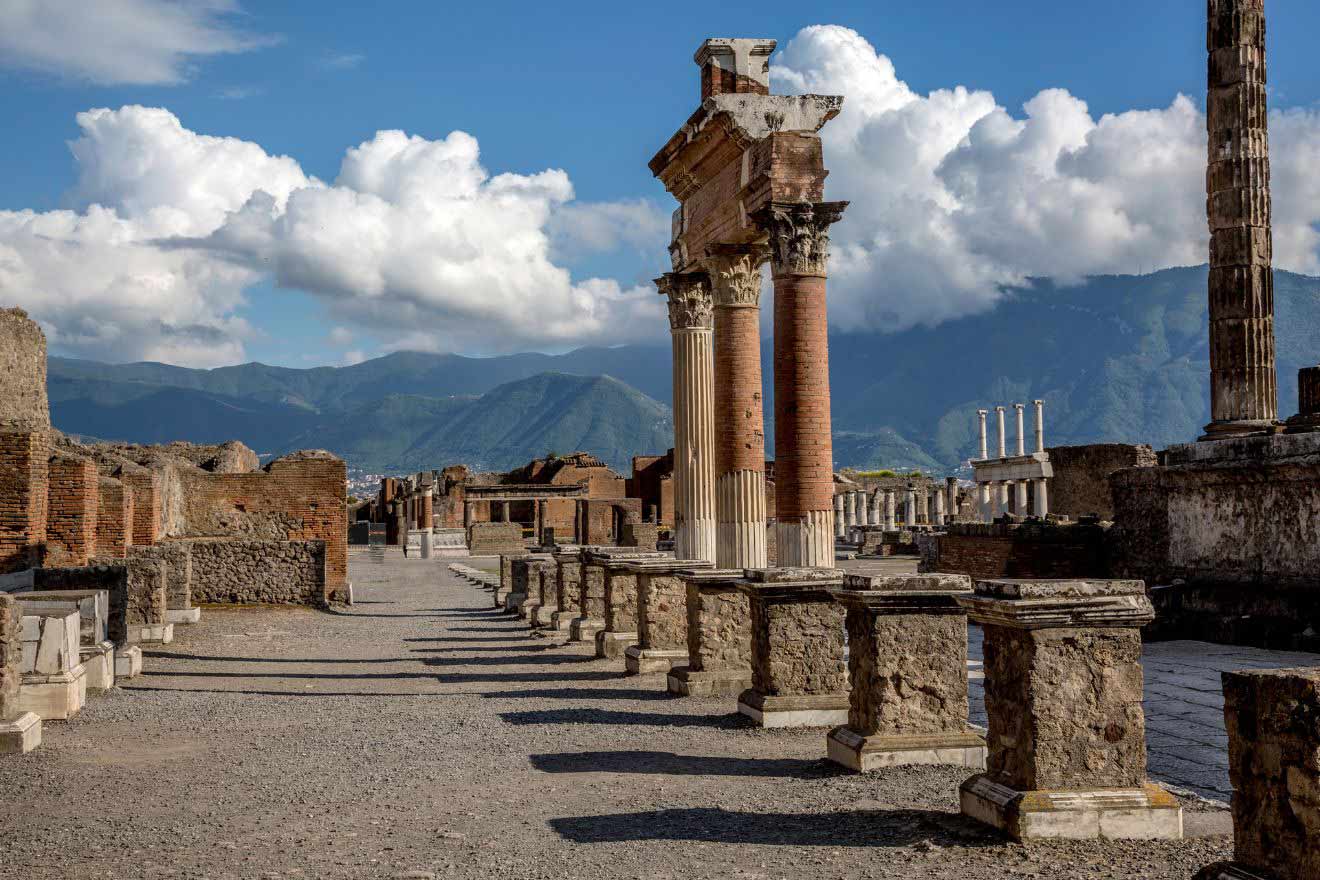 Transportation & Distances
Car: Follow the E45 for 2h 30min
Train: Take a 2h train with TrenItalia from Rome from €15
Tour: Join a full day tour with transport & a guide from €134
Top things to do in Pompeii
See the unique frescos in Villa dei Misteri
Explore the Archaeological Park of Pompeii
Visit the House of the Faun
Catch the sunset at the Amphitheater of Pompeii
Snap a picture at the Temple of Isis
| | |
| --- | --- |
| 🤩 Range of activities: | Large |
| 👪 Family-friendly score: | High |
| 🌹 Most romantic city: | Paris |
| 🍲 Top city for foodies: | Rome |
| 👯 Best city for nightlife: | Amsterdam |
| 💰 Dinner for 2: | €50 |
| 🍴 Must-try food: | Onion Soup |
| ✈️ Cost of traveling: | Medium |
BONUS 1: Add 2 more days to your trip for Barcelona, Spain!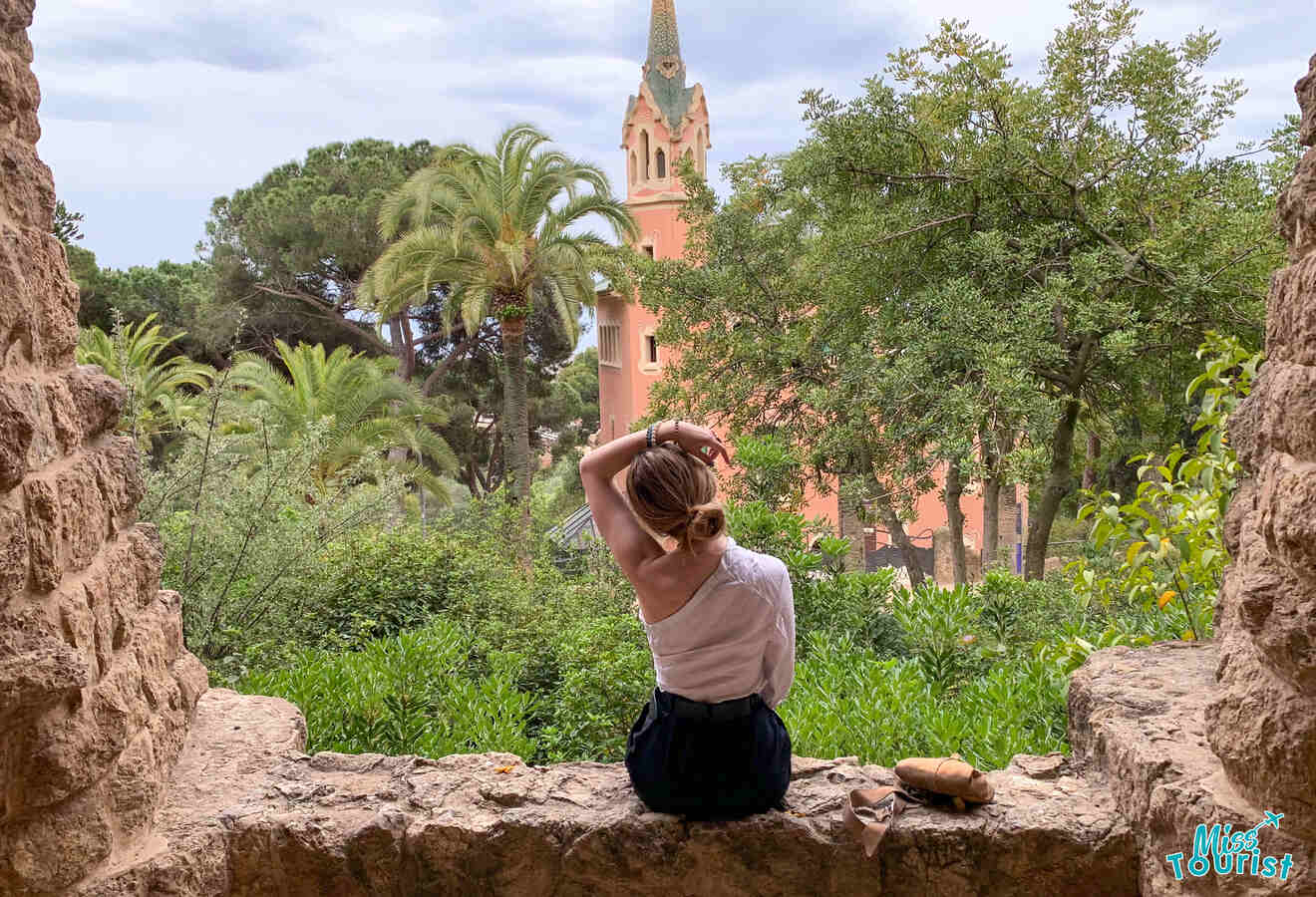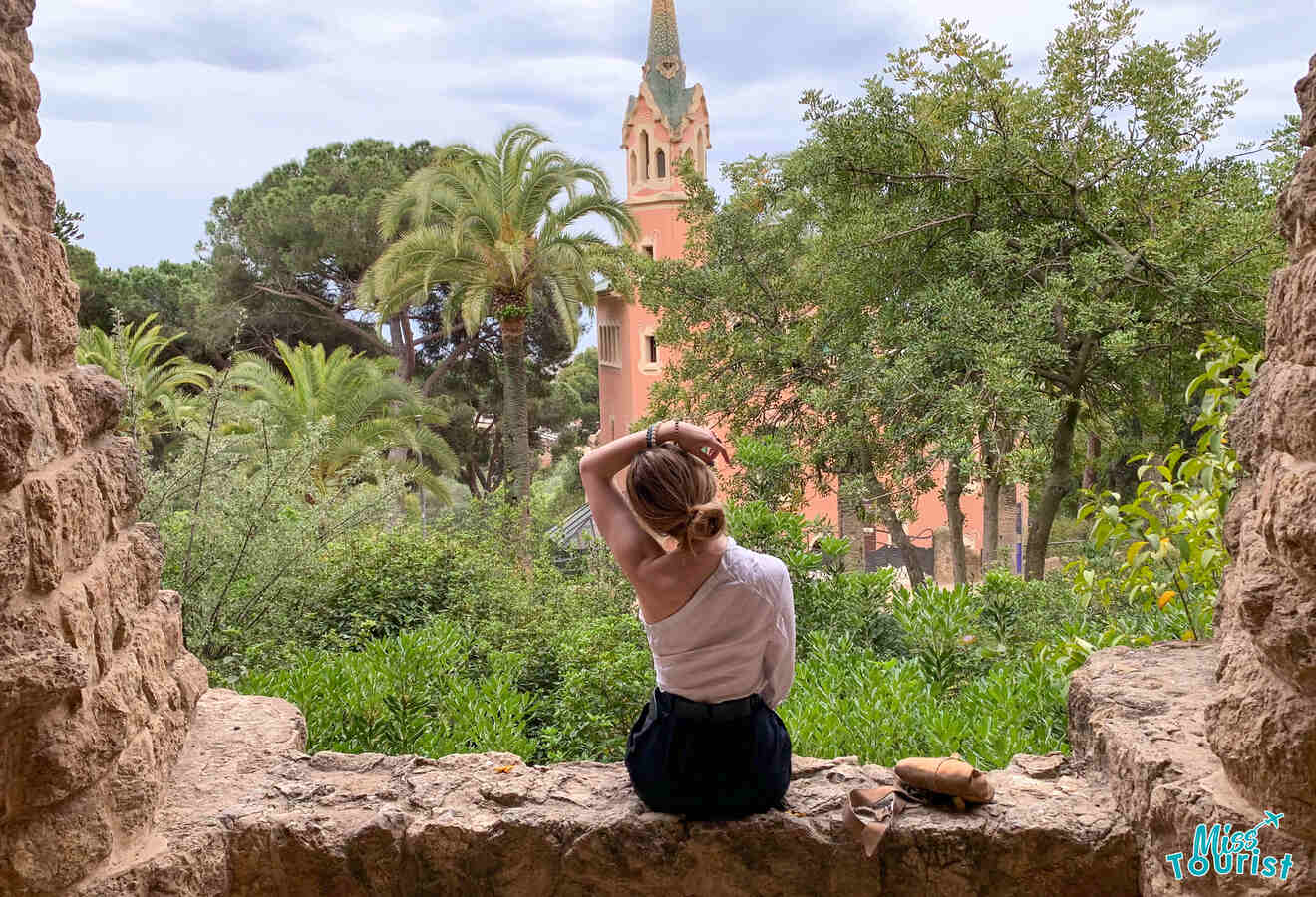 I know we've finished our European itinerary for the ultimate 2 weeks of traveling, but I felt like adding a bonus with one more city. Maybe you've got a couple of extra days to spend or maybe you want to skip a city on the list above, either way, I recommend heading to Barcelona, Spain!
It's your own trip so you get to call the shots but hey, Barcelona is one of the best places to see in Spain. I've been here and I've got to tell you, this city offers so many things to do!
Fabulous attractions, the beach, amazing restaurants plus many others that I could talk about for hours!
I loved the Spanish capital, the atmosphere is super chill, but at the same time you can just go around the corner and find yourself in a big crowd of people! And yes, the beach just makes everything better! Who doesn't love an urban city with a beach?
When it comes to attractions, Barcelona doesn't disappoint! Park Guell (my favorite), Casa Batlló, and of course the famous Sagrada Familia are some of the main ones, but there are many others!
Transportation & Distances
Plane: 2h flight from Rome from €40
Top things to do in Barcelona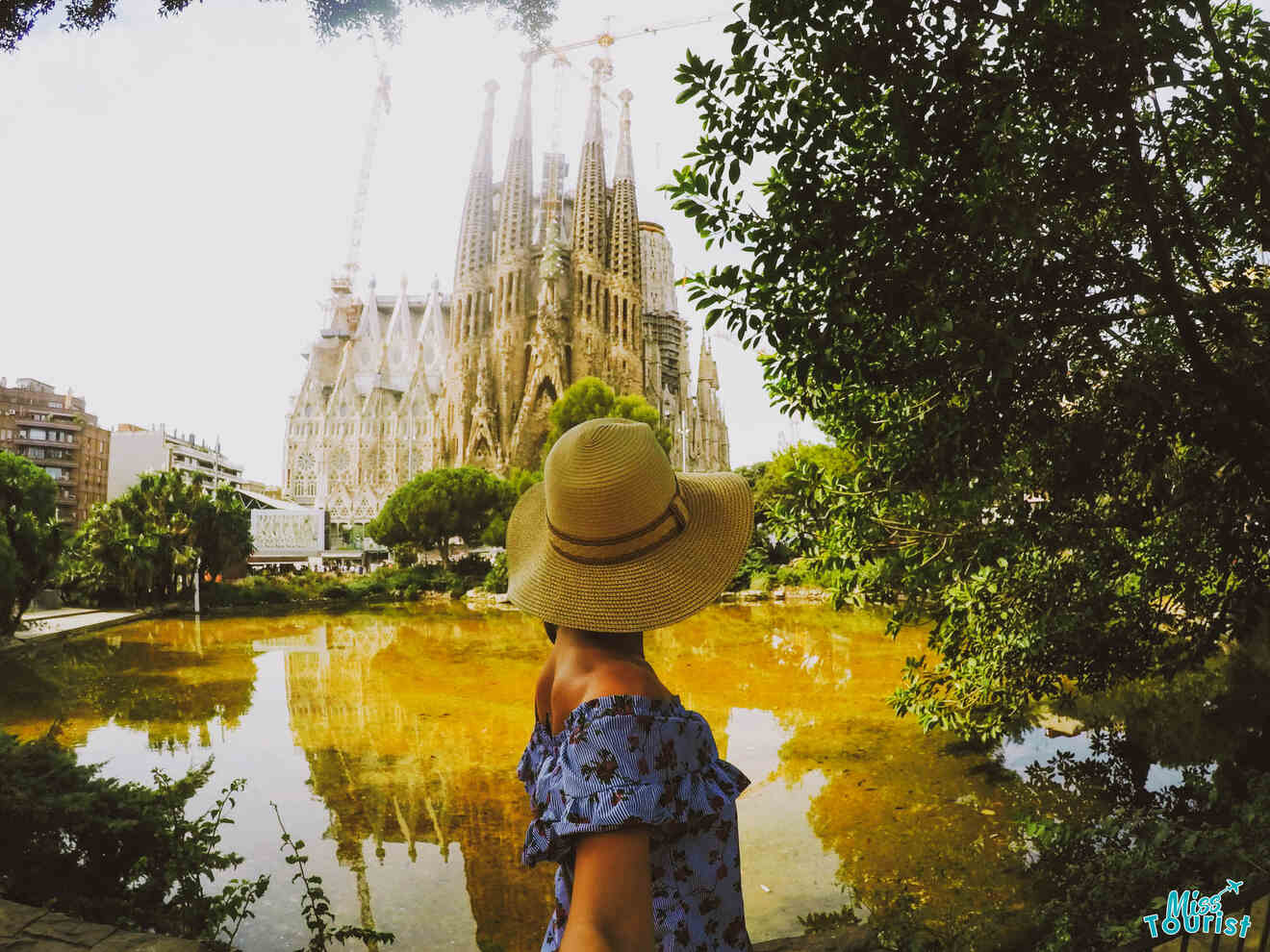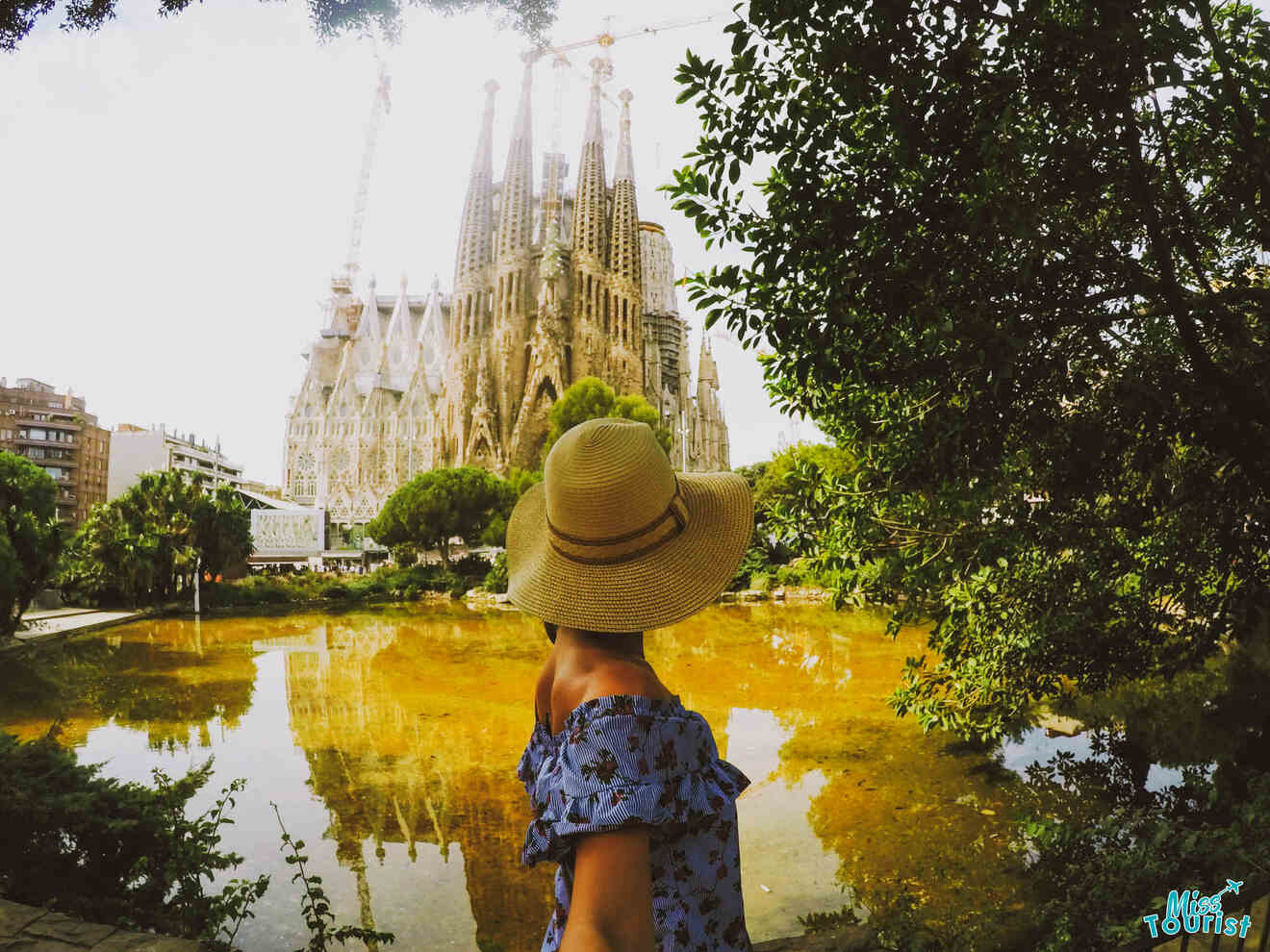 Visit the beautiful Sagrada Familia
Explore the unique Park Guell
Shop for souvenirs on La Rambla
Eat yummy food in Mercado de La Boqueria
Enjoy the sun on Barceloneta Beach
See the famous Casa Batlló
Where to stay in Barcelona
Luxury (€250 and up): Hotel El Palace – Loving the fancy decor of this fabulous hotel! All the rooms have a soft color palette and they've got so much space (some even have a balcony). The accommodation also offers a pool and spa facilities!
Mid Range (€140 – €190): The Corner Hotel – A modern hotel with an amazing rooftop terrace. This place offers rooms with a simple and minimalistic design and a private bathroom.
Budget (up to €110): Acta Antibes – Affordable hotels are a rare thing in Barcelona. But I've found this one at no extra cost than you'd pay for a budget place in another city, and it has comfortable rooms with free wi-fi and a bathroom.
BONUS 2: Things to consider when planning your trip to Europe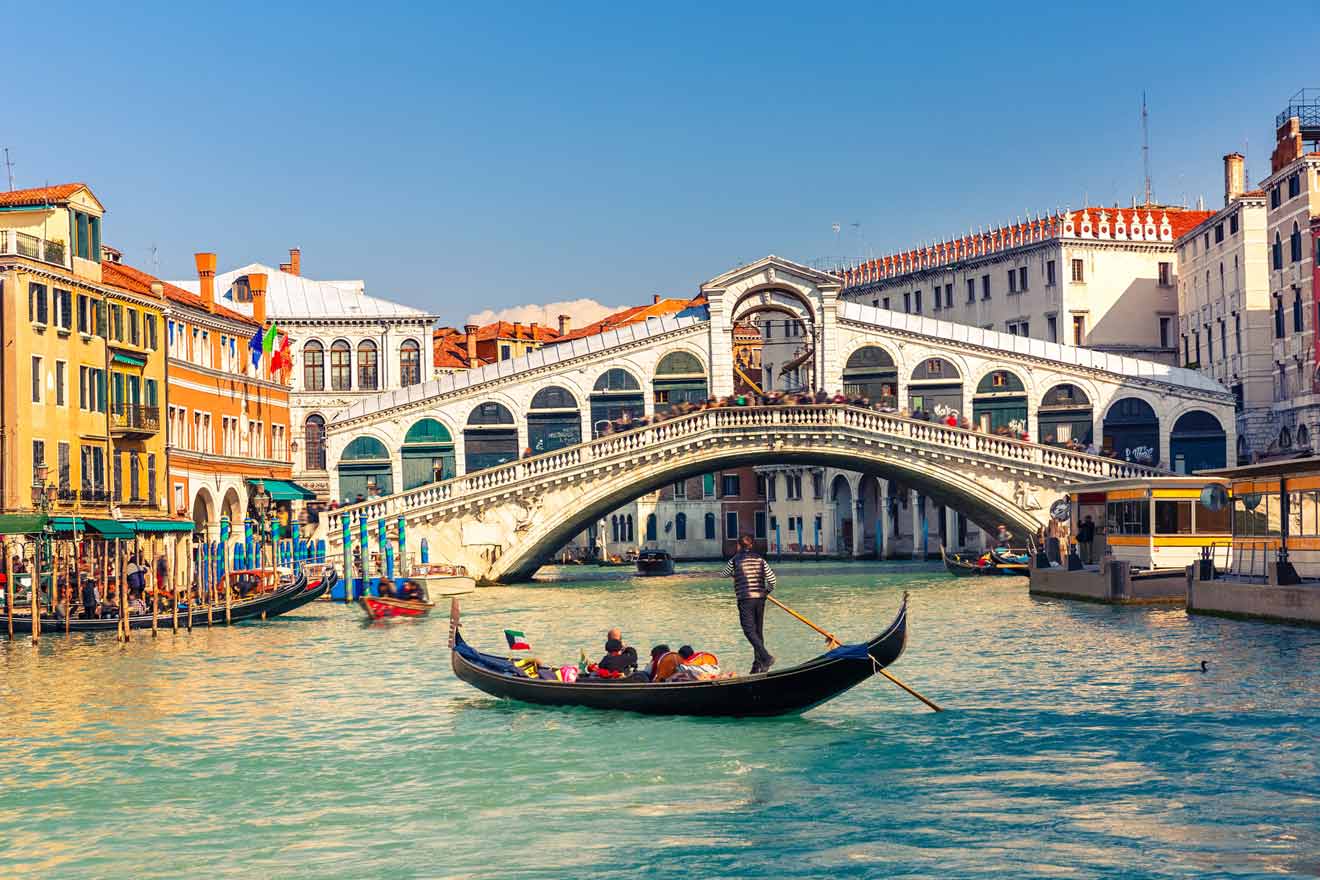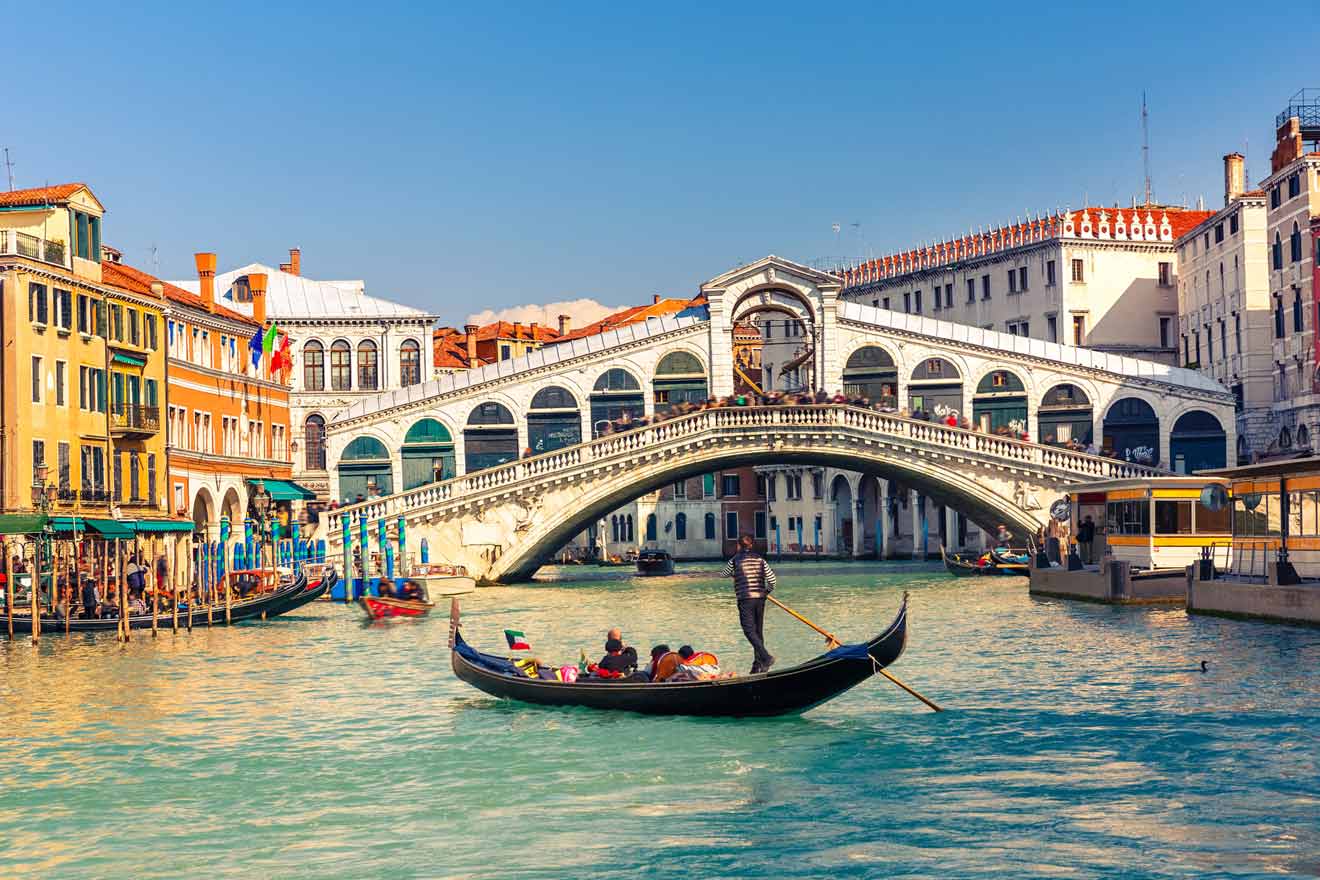 Well, now that we finished this very comprehensive 2 week Europe Itinerary, I think it's time for you to really start thinking about the logistic details of this trip (other than all the specifics I have already given you)
But, I know some of you may want to customize your trip for your budget and/or time frame. So here I am going to give you all the extra details you might be interested in like how to get around all the countries, things to pack with you, costs and stuff that you may need at all times.
Transportation
As you've noticed in this 2 Week Europe Itinerary I've mostly added trains and planes, since they're the most efficient ways to travel the long distances between these cities.
But of course there are other options like buses and renting cars and I'll go through each one in this section so you can easily customize my itinerary to suit your needs!
By Train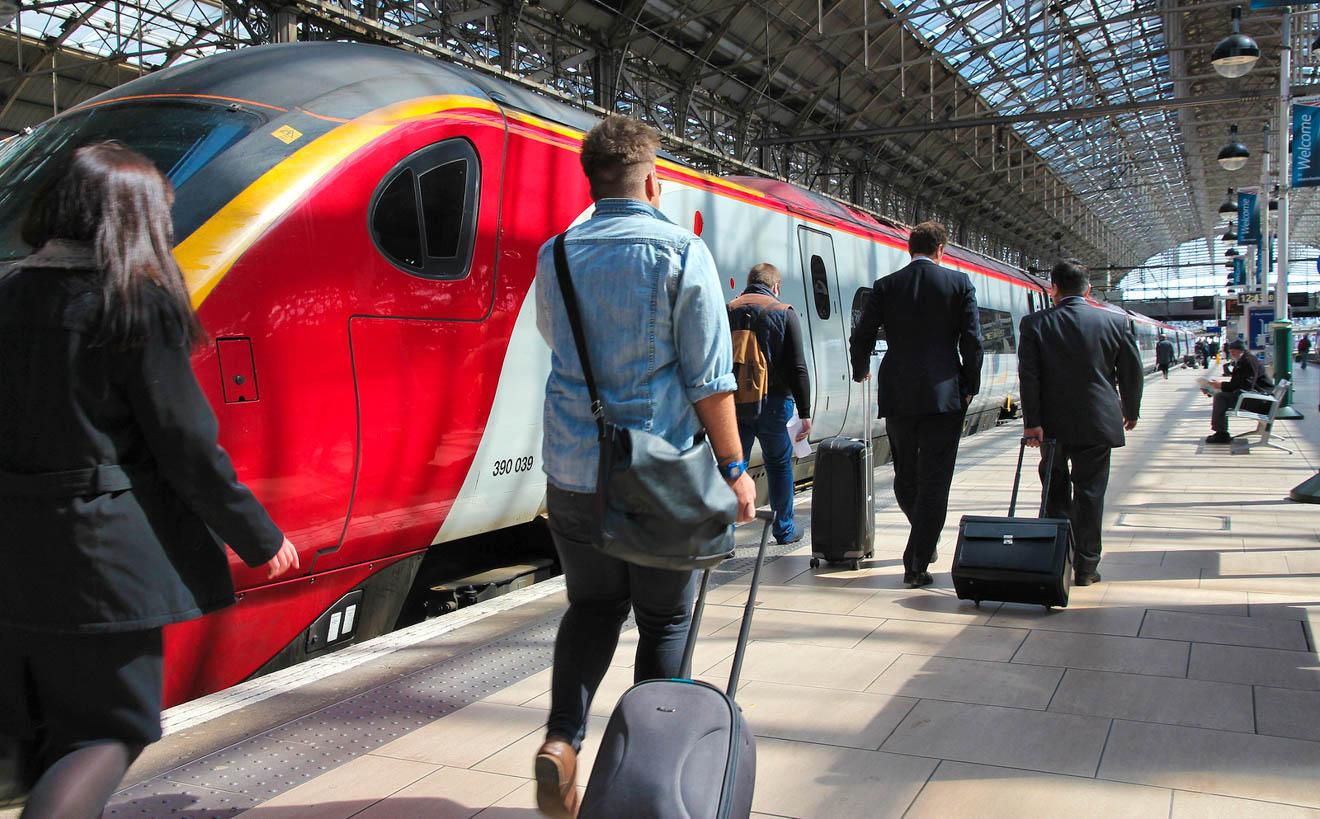 One of the best ways to travel around during this Europe trip is by train. Of course there are times when this is not possible or it takes too long, but usually it's a great deal.
Depending on what you want to do you can buy individual tickets for each destination or get the Interrail/Eurail Pass. We've got a whole post on whether this pass is worth it or not and I'd definitely give it a good read before deciding.
NOTE: It's important to know that these passes only let you travel on certain trains, so it's super important to check at the train stations before you hop on one. Usually the high-speed and overnight trains require an extra fee.
You can go on their official website and plan your trip easily to see how much it would cost you to get one of their passes when you visit Central Europe and the other parts.
Pros:
Super comfortable
Usually take you in the city center
You can save by buying a rail pass
Cons:
Can take longer in terms of travel length
Tickets can be expensive
By Plane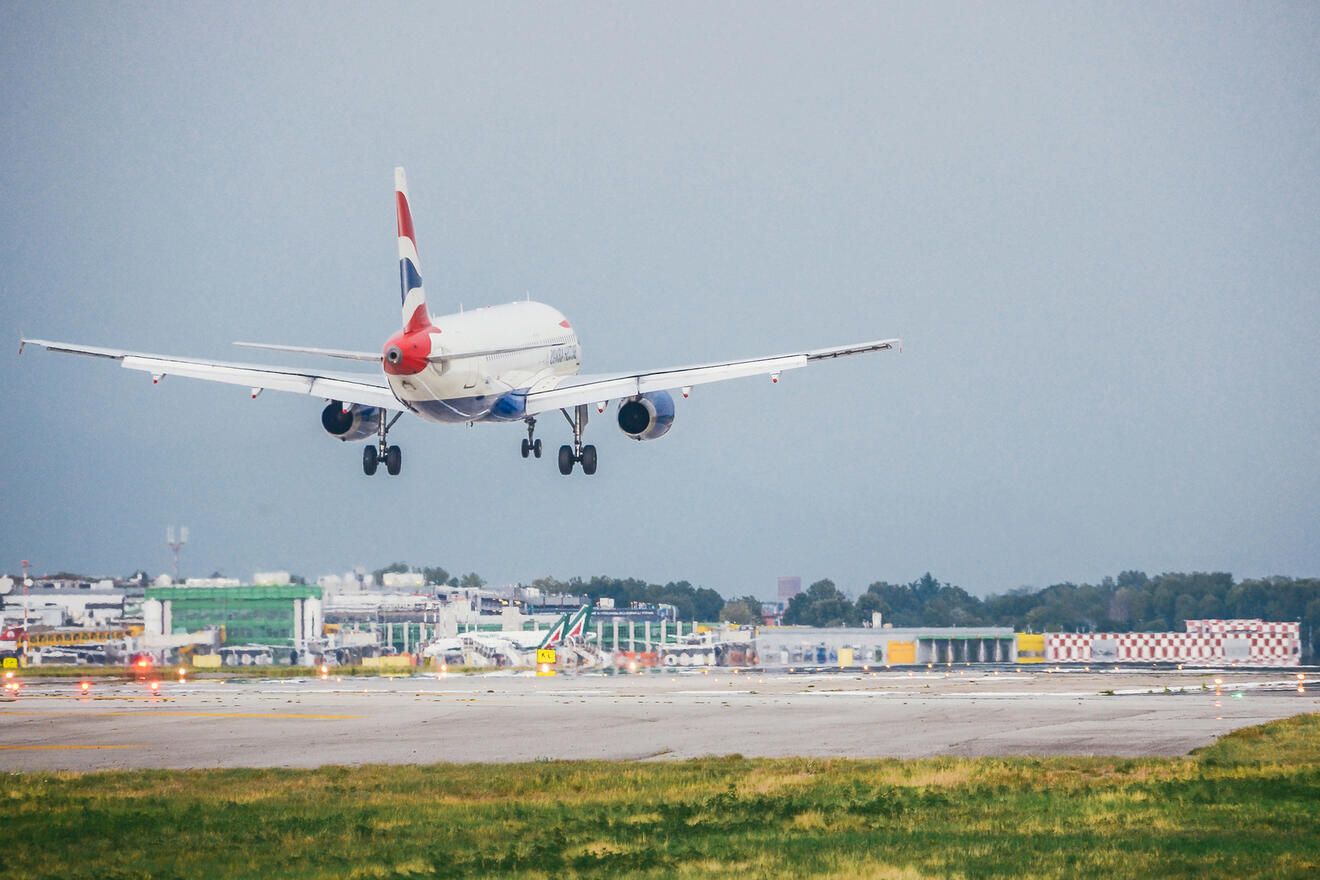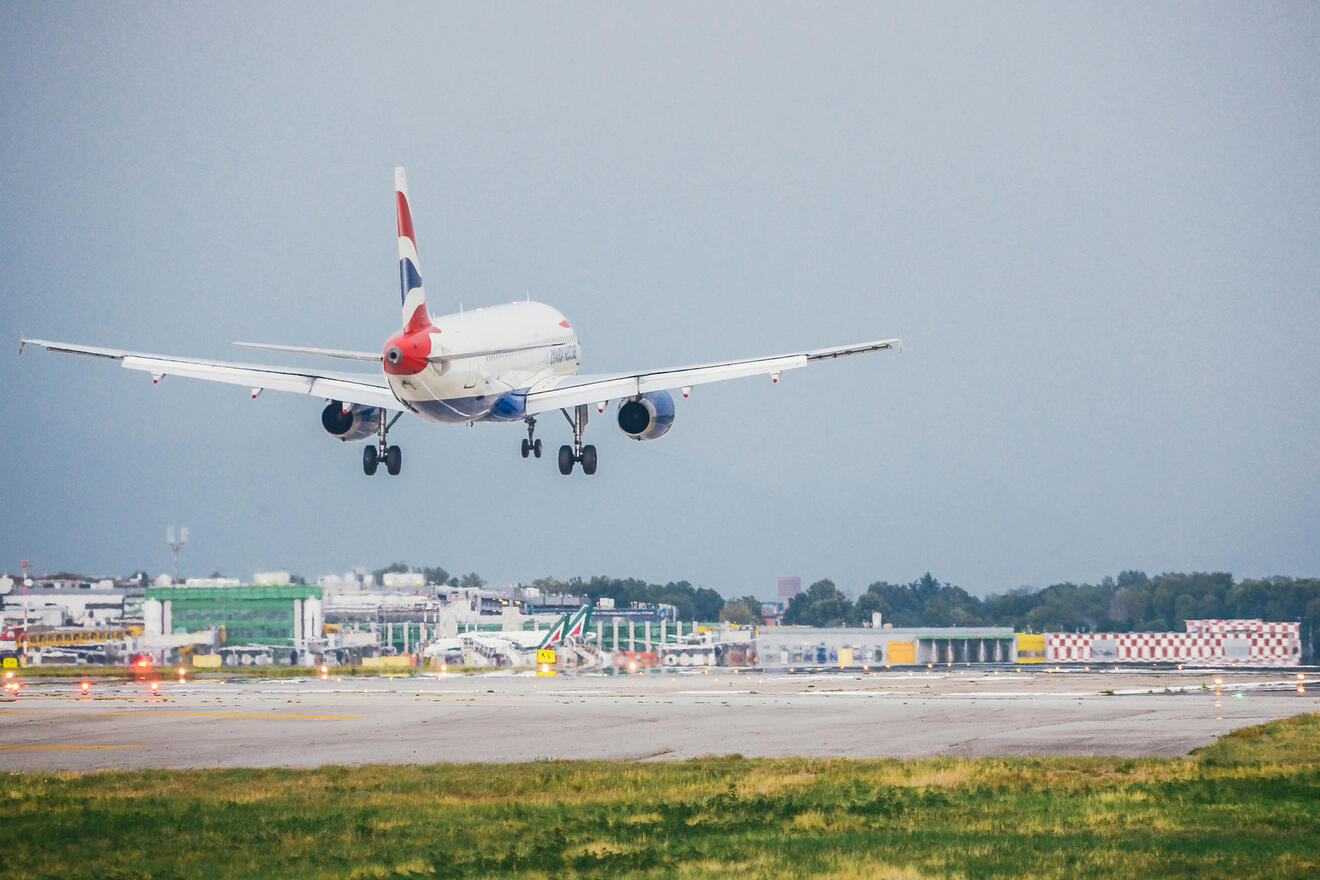 If you buy your tickets early and from budget airlines, you can get a very cheap price for your tickets.
For the 2 weeks in Europe itinerary that I've written above I've only added plane travel only where the distance would be too long for trains.
The most common budget airlines are Ryanair and EasyJet. I fly with them most of the time at a fair price.
PRO TIP: You can use Skyscanner to find all the deals and prices which you can easily compare to find the cheapest ones.
NOTE: Make sure that you take into account the other taxes and baggage fees that you'll have to pay. That's why sometimes trains are more convenient, you don't have to deal with any of that.
For this particular Europe itinerary, I've only added 1 plane ride, from Amsterdam to Venice. If you bought your ticket in advance that would cost you around €100.
Pros:
Quickest in terms of travel length
Cheap tickets if you travel only with a carry on
Cons:
Airports are usually outside of the city
You have to arrive 2h early (wasted time)
Last minute tickets are expensive
By Car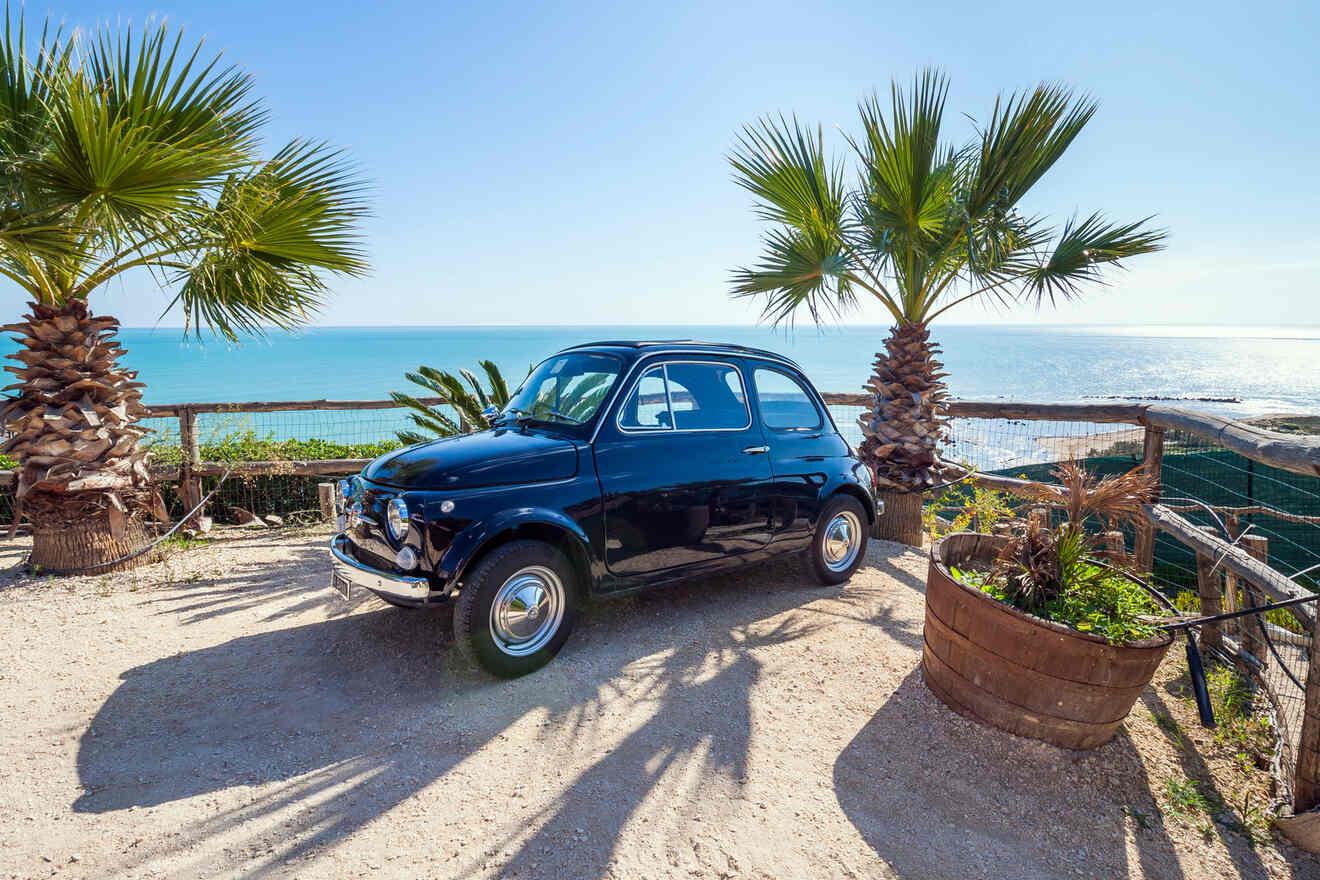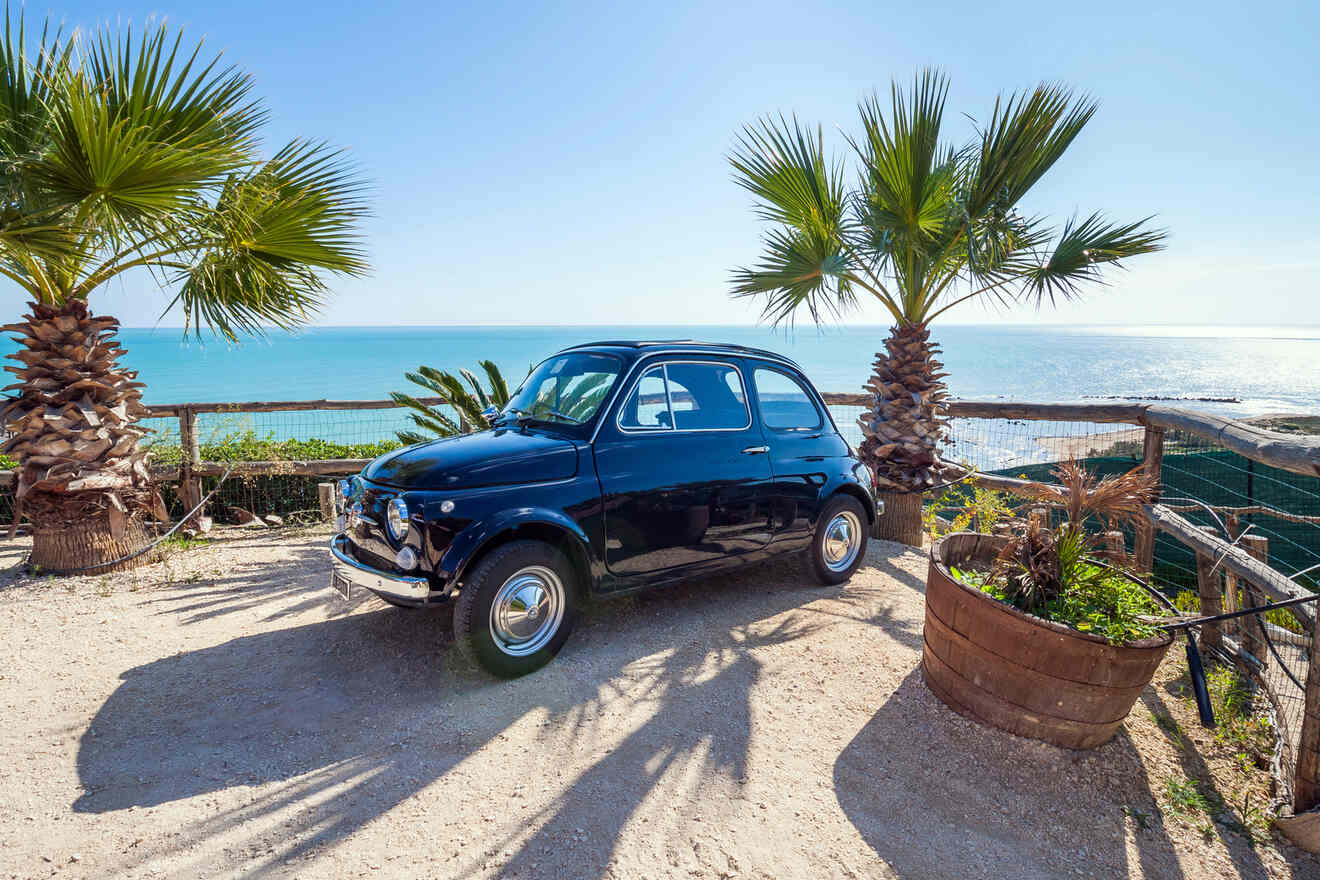 If you're a confident driver, have a little more time and you don't mind driving through the capital cities during this trip to Europe then renting a car may be for you.
It's definitely more comfortable when it comes to luggage, space and flexibility. You can leave a place whenever you want. Plus you can visit unique places like the Amalfi Coast on your own!
However it's super important to think about all the little details. For example most capital cities are usually pretty hectic and if you're not used to an environment like that, it could really delay your schedule.
If you only have 2 weeks and want to follow this exact itinerary, the driving will most likely take a lot of your time that you could spend visiting attractions. That's why I recommend only renting a car in Italy for the above itinerary.
NOTE: You'll probably have to pay an extra fee if you rent your car from a different location to where you drop it off, and this fee will be exponentially higher if the two locations are in different countries.
Pros:
Great for flexibility (can leave when you want)
Super comfortable
Cons:
Probably more expensive
Higher costs if your drop off the car in a different country
Parking in small cities can be difficult and expensive
By Bus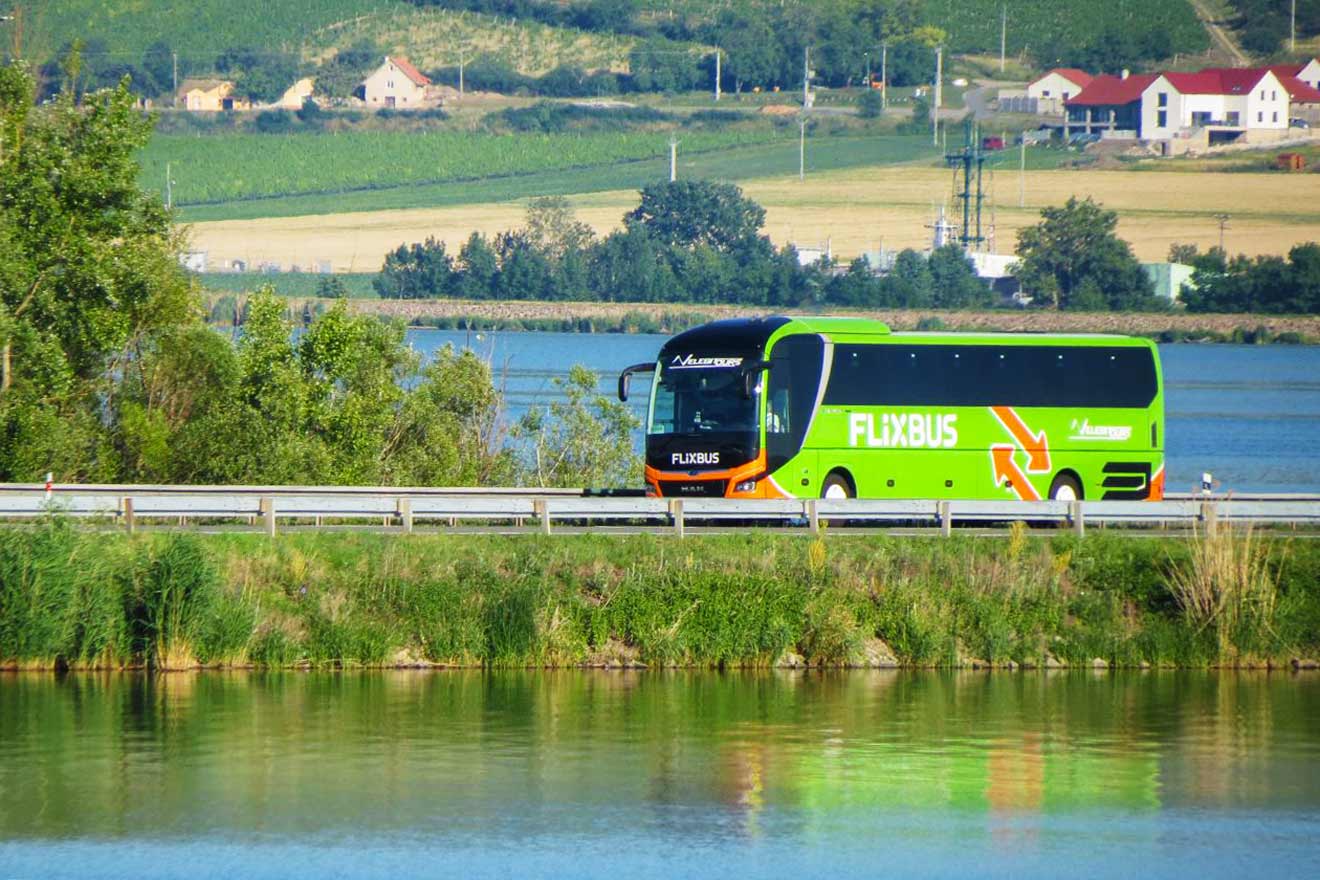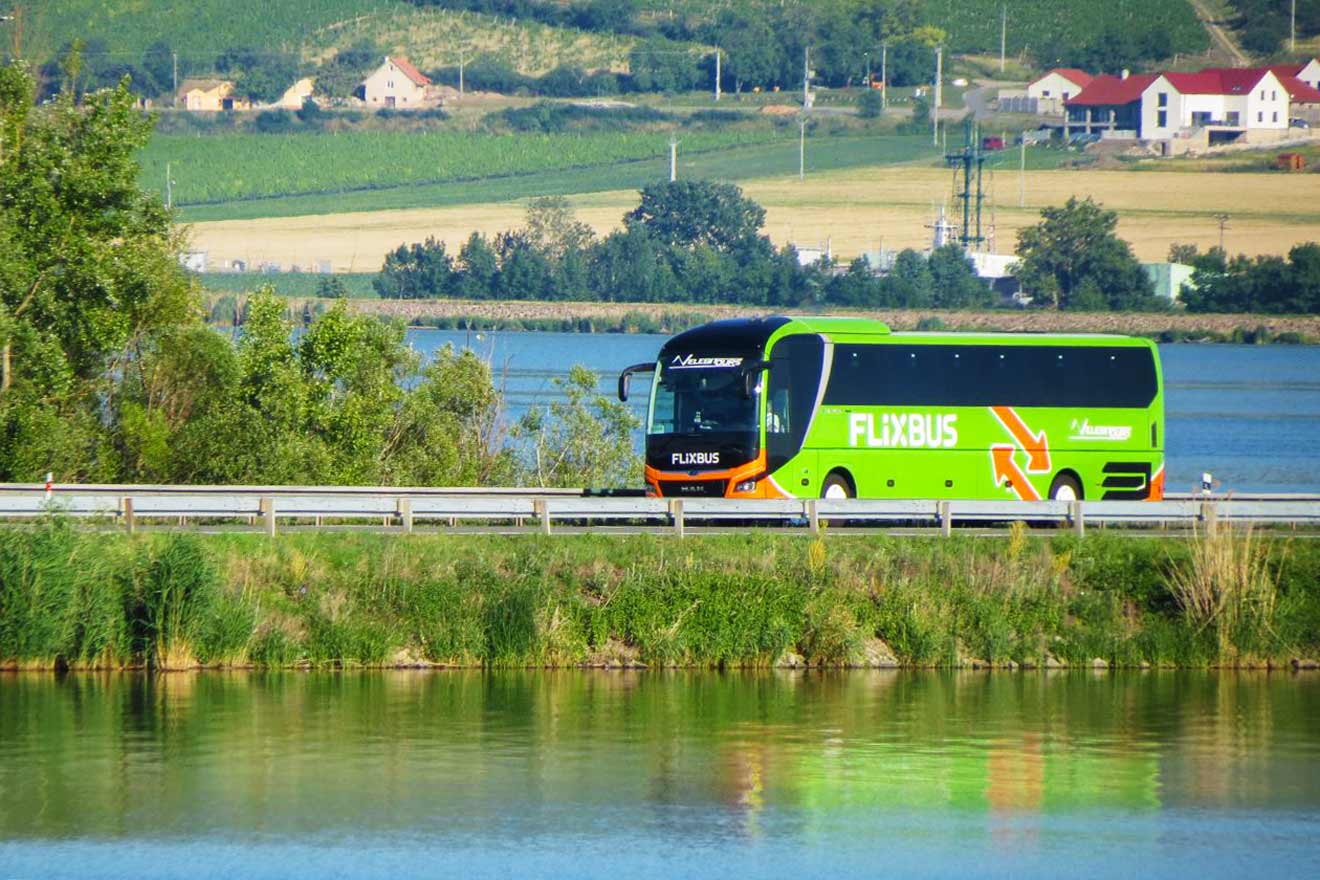 Traveling by bus is the cheapest option for this 2 week Europe trip, but it also takes the longest.
Most people (including myself) use Flixbus to get around as their tickets are pretty cheap but there are lots of things to consider.
Firstly, you'd have to travel at night so you won't waste full days (that you could spend visiting attractions). That would also mean you'd be pretty tired the next day to do anything, so think about that as well.
Pros:
Super affordable bus tickets
Get to see the countryside while transiting
Cons:
Many hours wasted on traveling
Not very comfortable
Money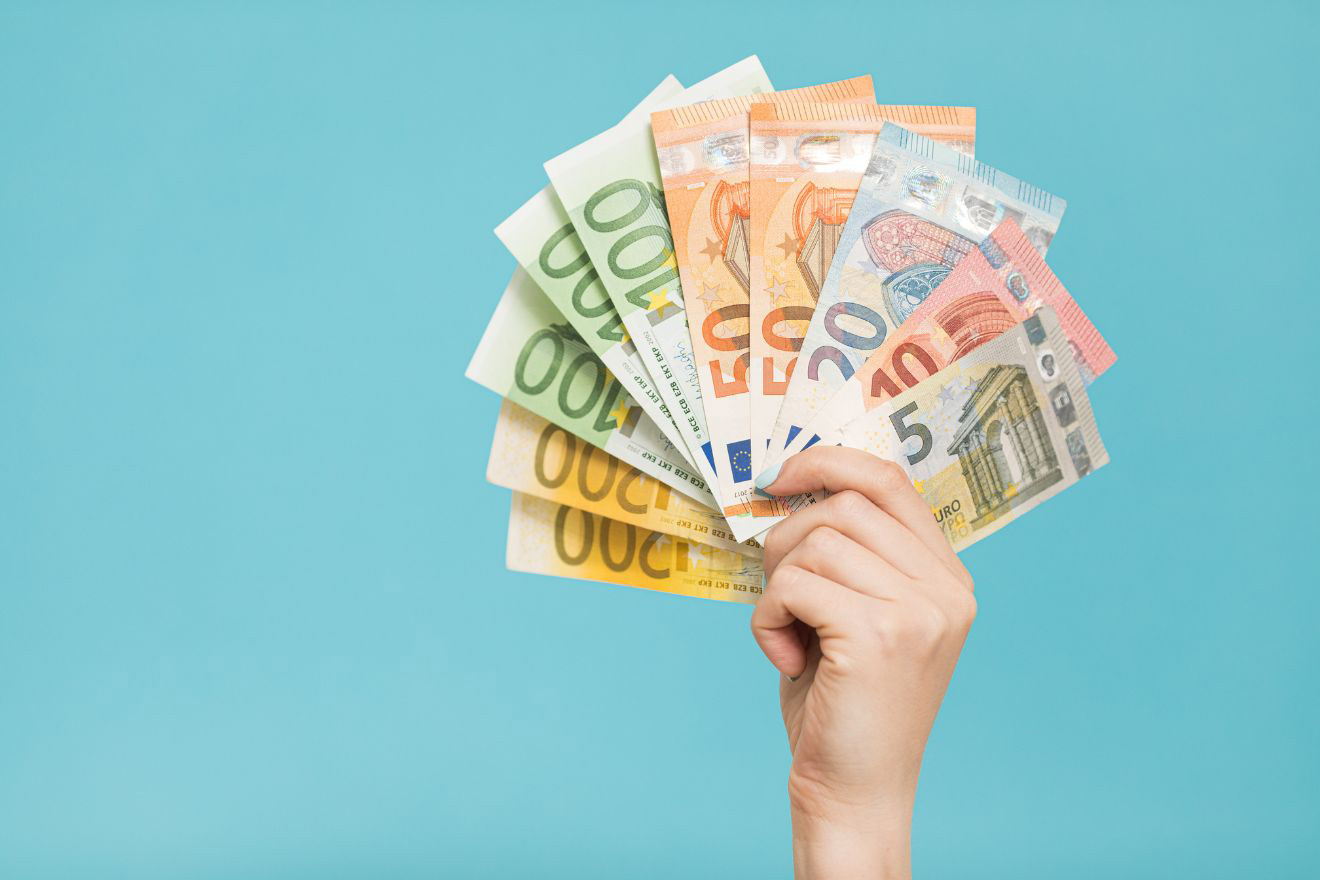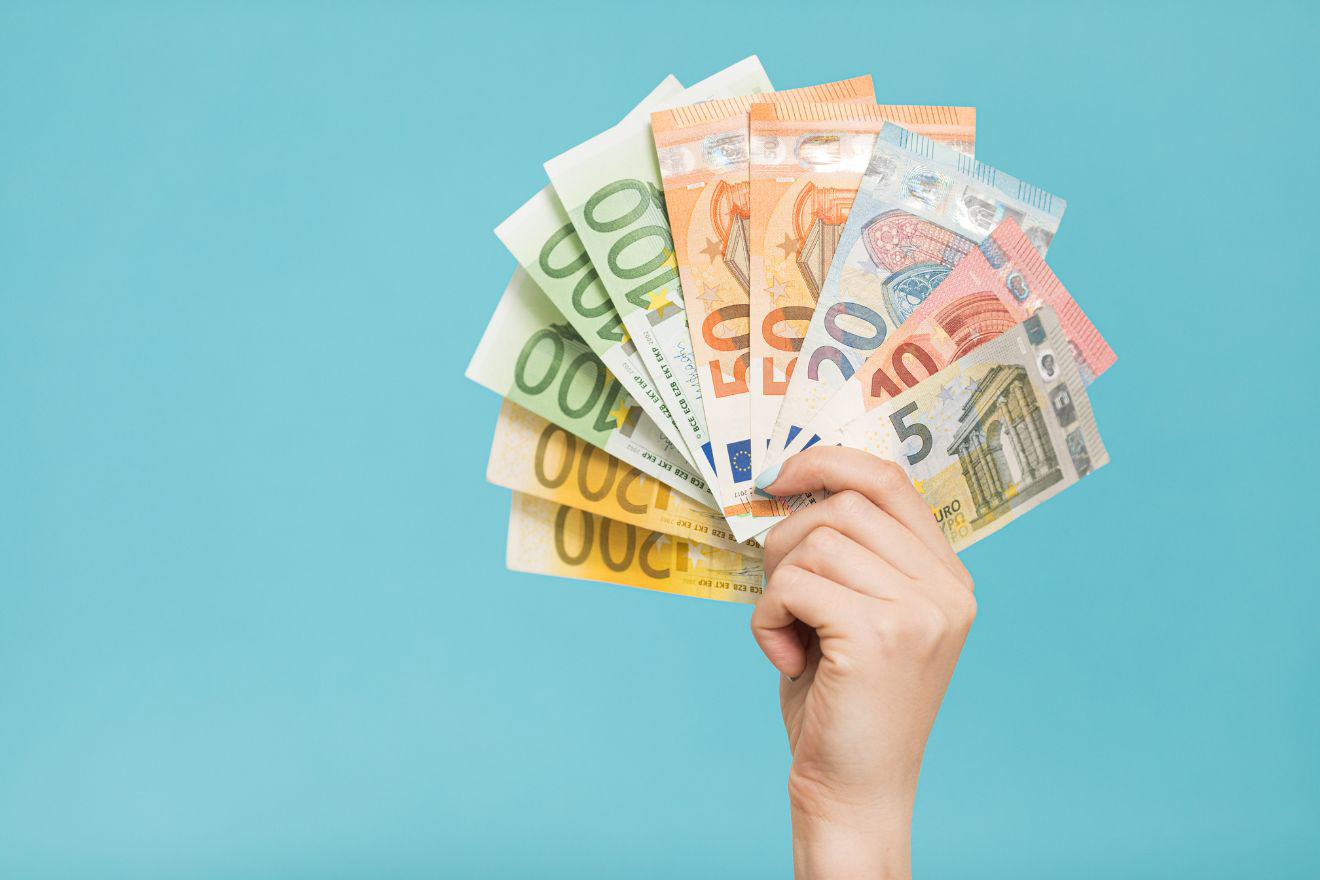 The 2 currencies that you'll need for this trip are pounds (for London) and euros (for everywhere else)
In most places you should be able to pay by card, however I'd always bring cash with me just in case you need it for small purchases or places that don't accept cards, tipping, or emergencies. If you are planning on mainly using your credit card, I think €50 and £20 in cash should be enough to bring as a start and then if you need more you can use the ATM to withdraw cash.
NOTE: Visa and Mastercards are usually accepted everywhere they have card facilities but know that American Express is less accepted so if you have one then I'd recommend bringing another Visa or Mastercard with you or extra cash.
As I mentioned, you can always withdraw money from the ATMs, however remember that most of the time that would imply a fee, so having some cash with you will help you in any circumstances when you visit Europe.
PRO TIP: If you need to withdraw money while in Europe, try to use the ATMs which are attached to the outside of banks wherever possible. Many of the ATMs that you find standing alone in places like convenience stores will charge even higher fees for withdrawing money.
Cost of a 2 week trip in Europe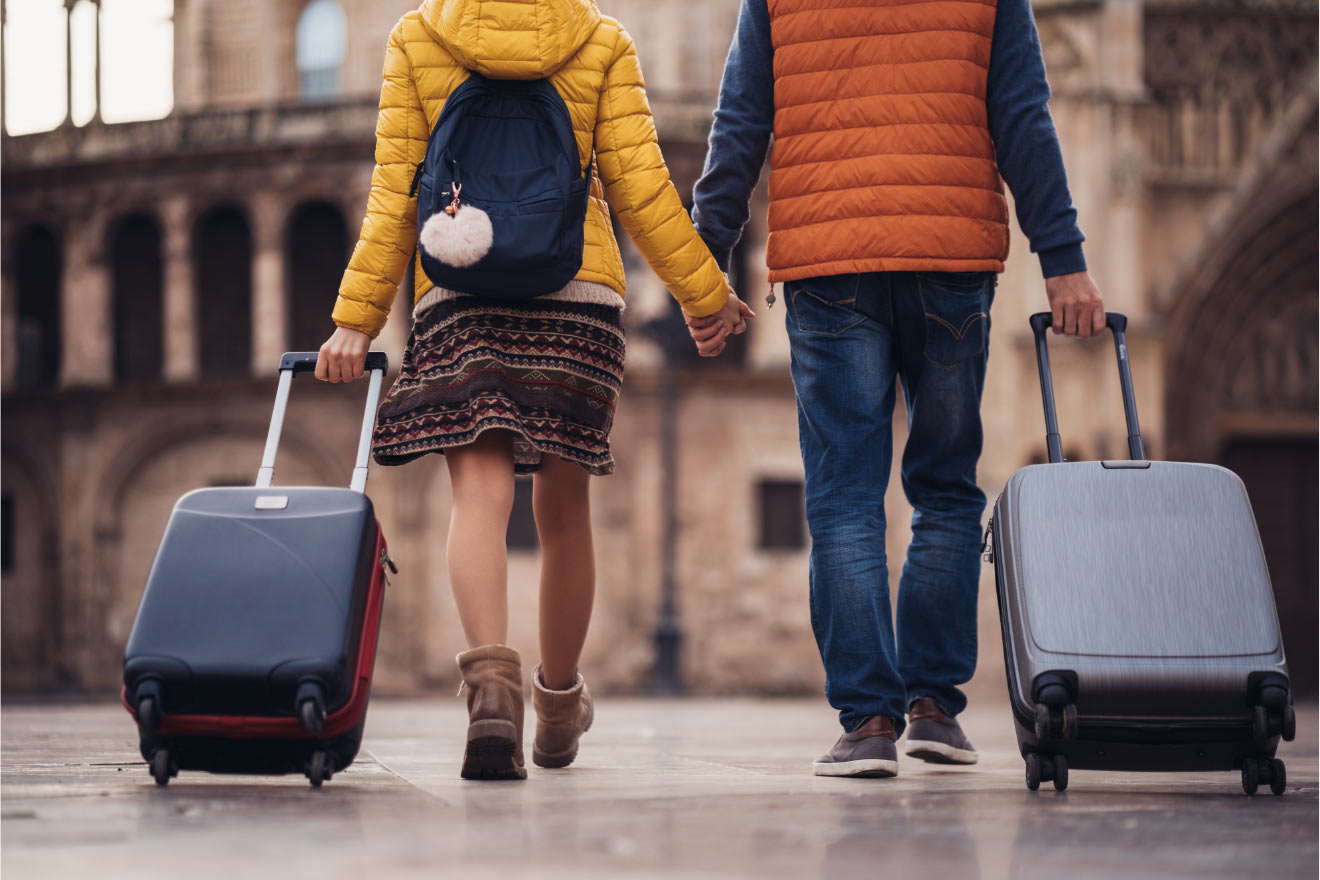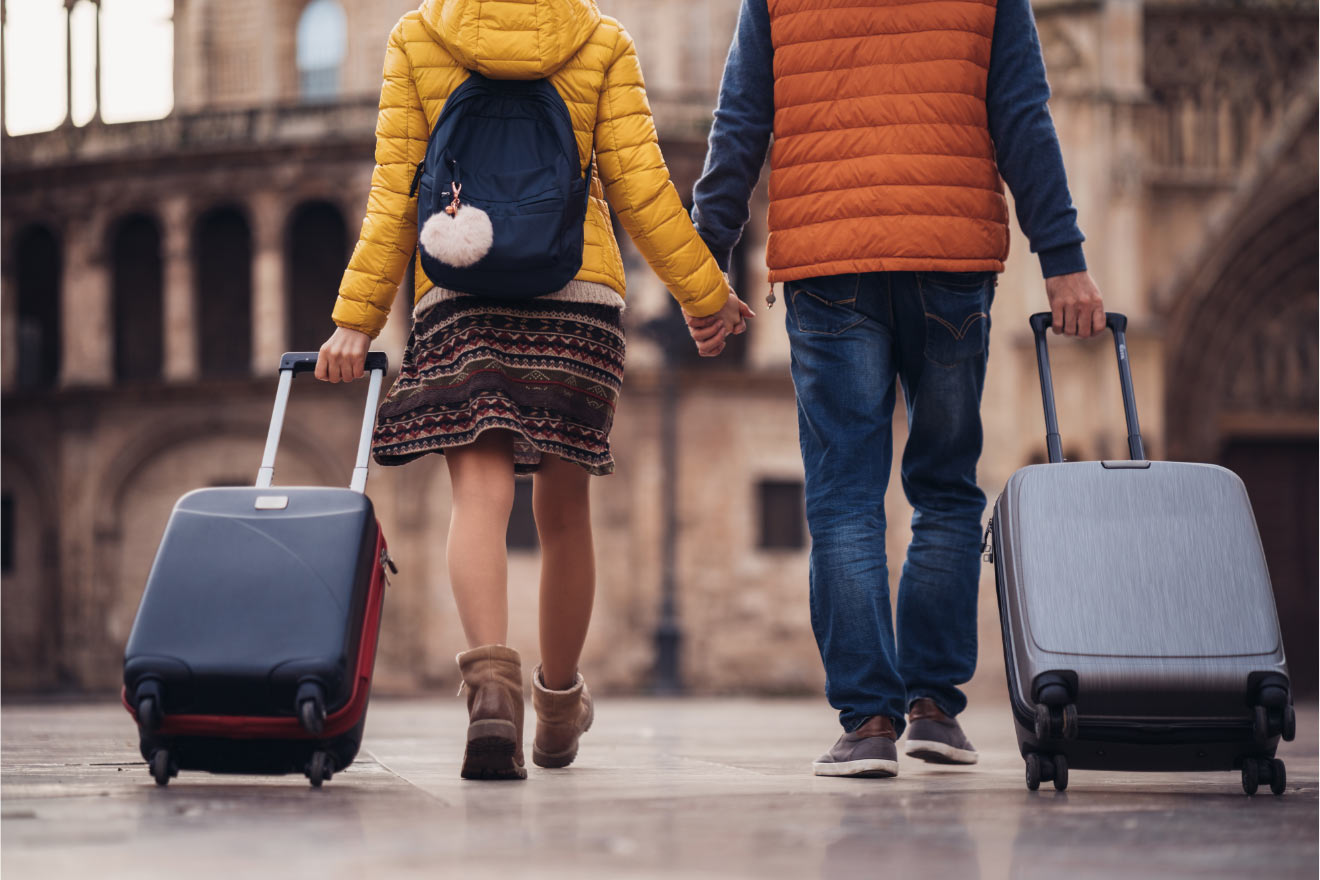 I know many of you will want to know how much money you need to see all these tourist destinations!
So I've made a rough calculation of how much you'd pay on average for 2 people for transportation between each city, mid-range hotels in each location, food budget for each day plus some attractions that you'd see to give you an idea.
Mid-price hotels: 14 nights x €140 per night = €1,960
Transportation (trains & planes): from €240 per person = €480
Tuscany & Pompeii Day Tours: €194 per person = €388
Food budget: 14 days x €60 per person = €1,680
~5 attractions per city x 2 people = €800
Total costs for 2 people: €1,960 + €480 + €388 + €1,680 + €800 = €5,308
€5,308 ÷ 14 = €380 per day for 2 people
FAQs about traveling in Europe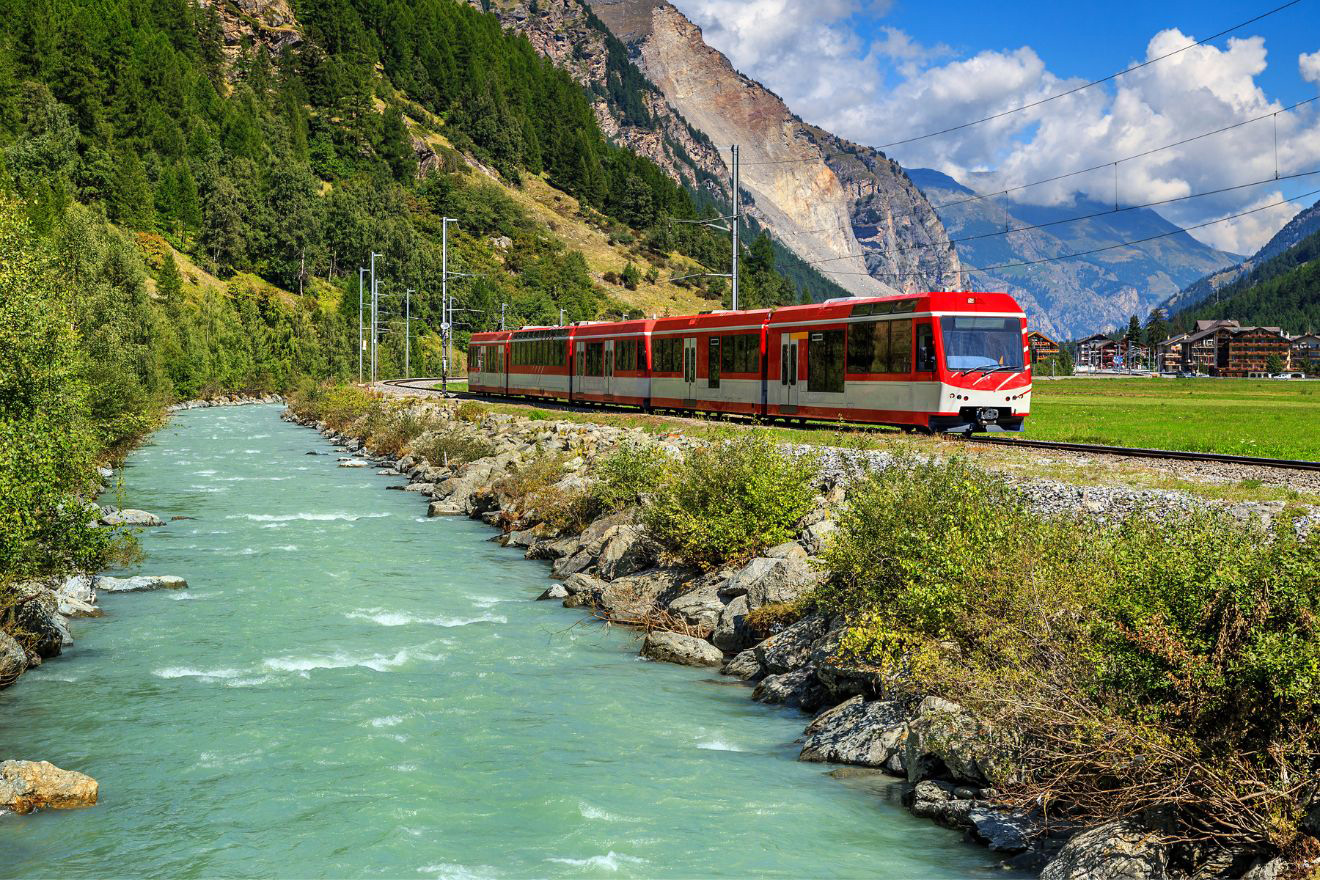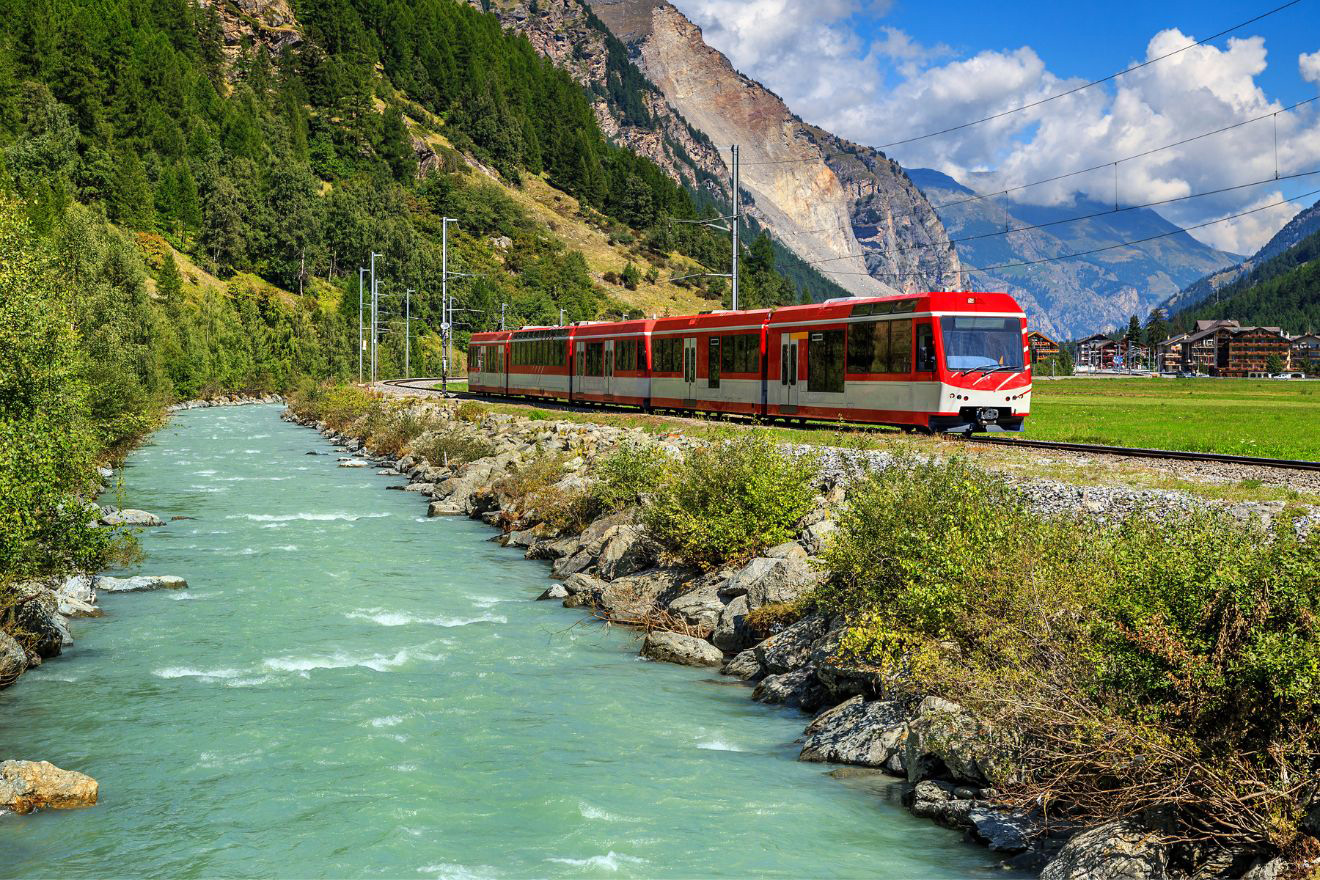 🤔 How many European countries can you visit in 2 weeks?
Realistically I'd say you'll get to visit between 5 to 6 countries during this two weeks trip to Europe.  
📅 Is 2 weeks enough for a European trip?
Yes, you can visit many places in Europe in 2 weeks. Of course you'd probably need a lifetime to visit them all, but hey I think this itinerary is perfect for your first trip there.
🤓 How do I organize my trip to Europe?
Start planning! Decide which countries you want to visit during this trip to Europe, what's your budget, how much time you have and then look for a realistic itinerary.
🚆 What is the best way to tour Europe for the first time?
I'd recommend trailing either by train or plane. Trains are super convenient as they are fast and efficient, however sometimes planes can save a lot of your time and money.
Conclusion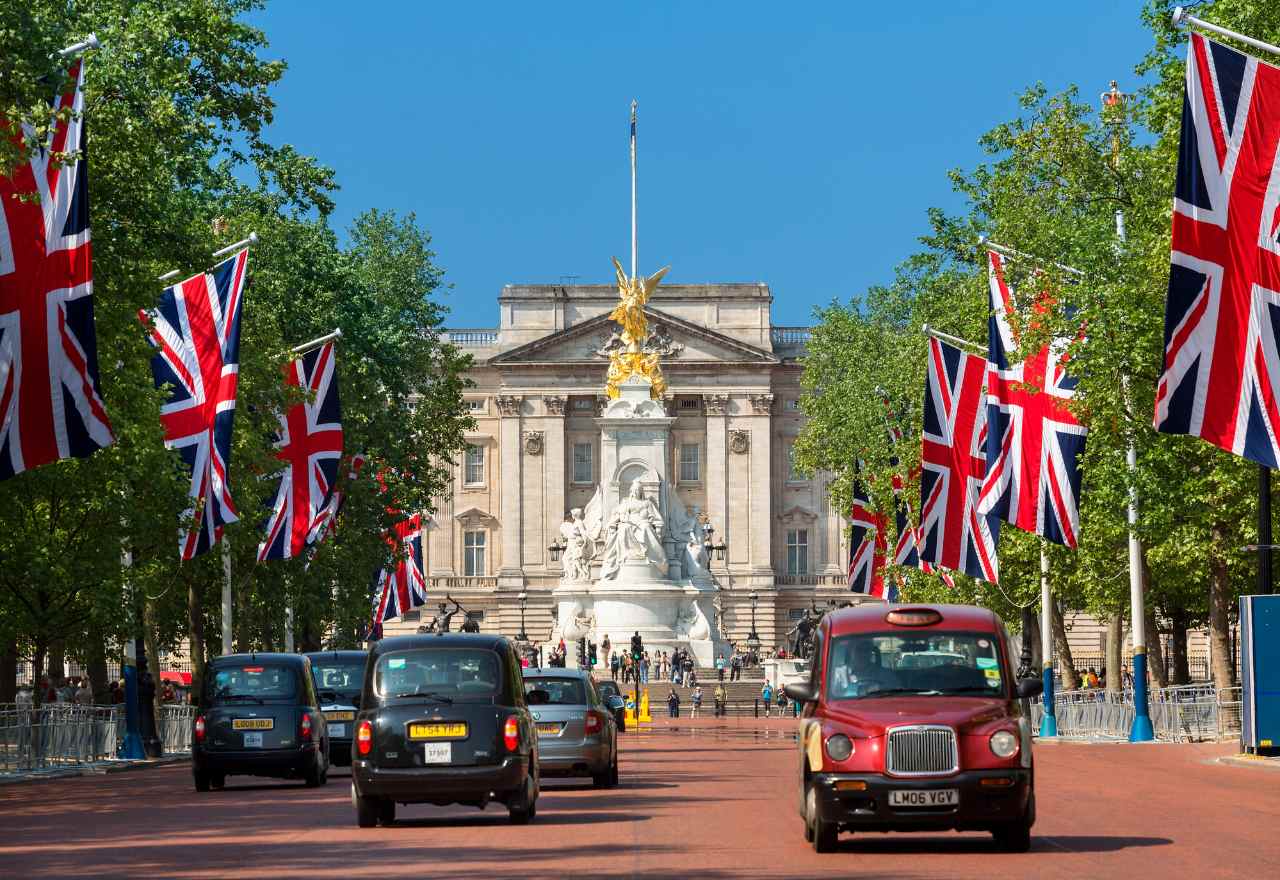 That was a lot! But I'm sure you're already feeling more confident about this trip! Before we wrap up and you go away to buy all your tickets, let's do a quick recap.
This post has given you the best 2 weeks in Europe trip itinerary, with all the countries to visit, hotels and attractions in each, plus a section on how to get around. At the end I also added 2 bonuses. One has an extra city to visit, and the other some things to consider before your trip.
That's a lot of information I know, but you'll need to be informed about everything before going on this adventure! Plus you can always check out all our other posts on Europe which will help you learn everything you need to know about the cultural differences, and other countries in places like Central Europe and Eastern Europe.
And don't forget that the earlier you book everything (planes, hotels, attractions) the more relaxed and chilled you'll be knowing that you won't have to pay extra for booking late, or wait on those never ending lines at museums and waste time.
Well, it has been a pleasure to plan this itinerary for you! I've added all the important information but if I missed anything else just leave me a comment below and I'll help you as soon as I can!
Happy Exploring,
Victoria
---
Pin it for later!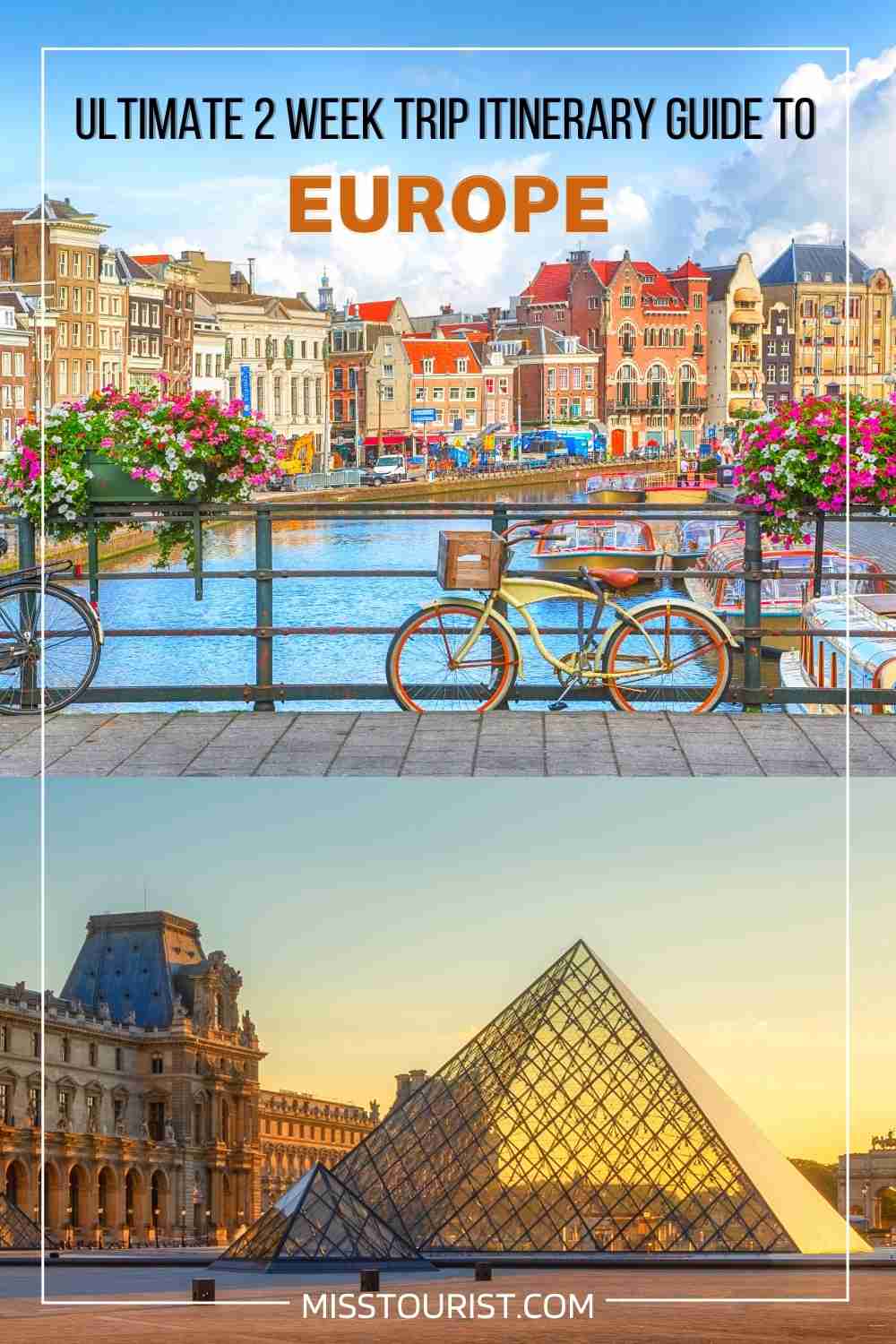 Pin it for later!