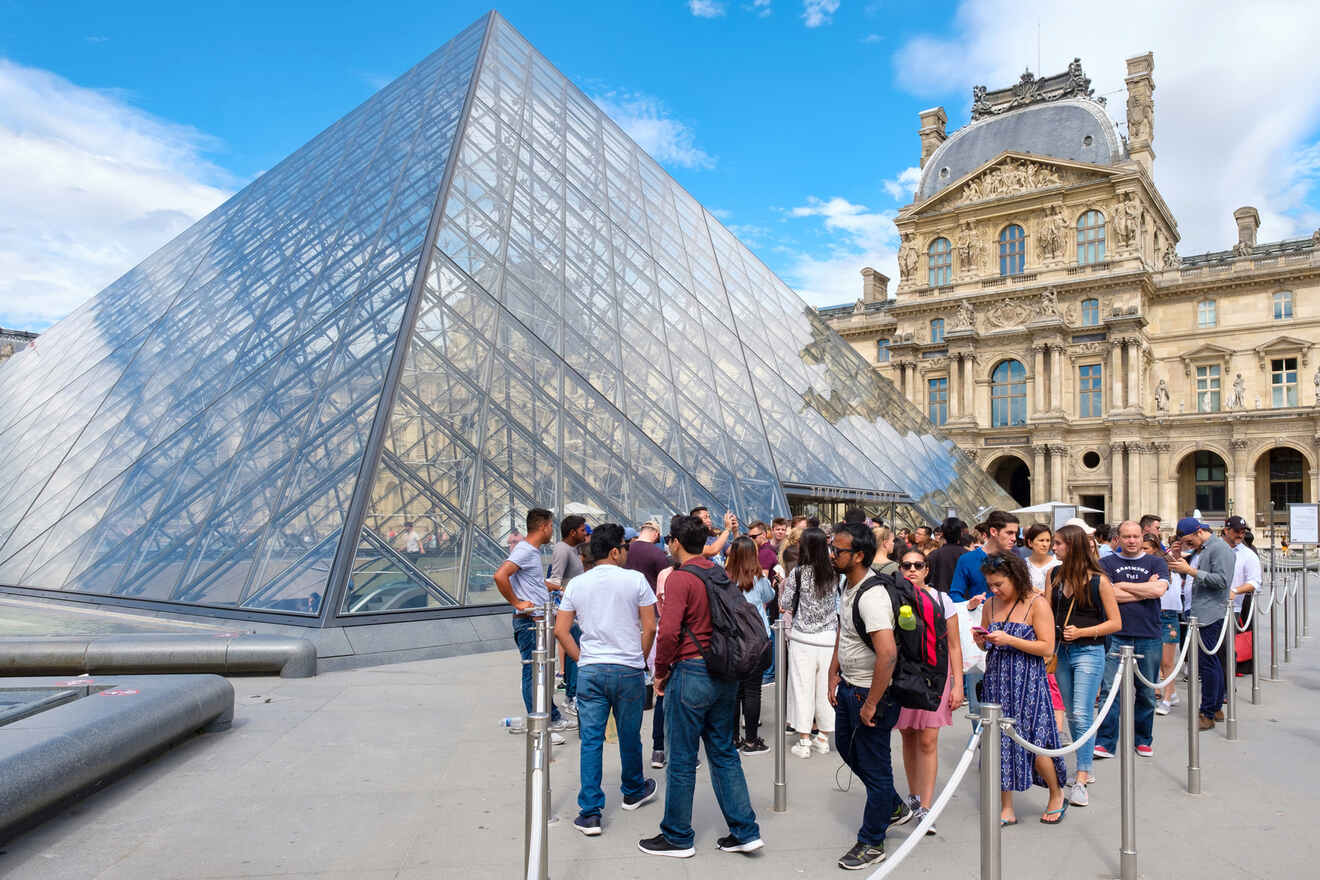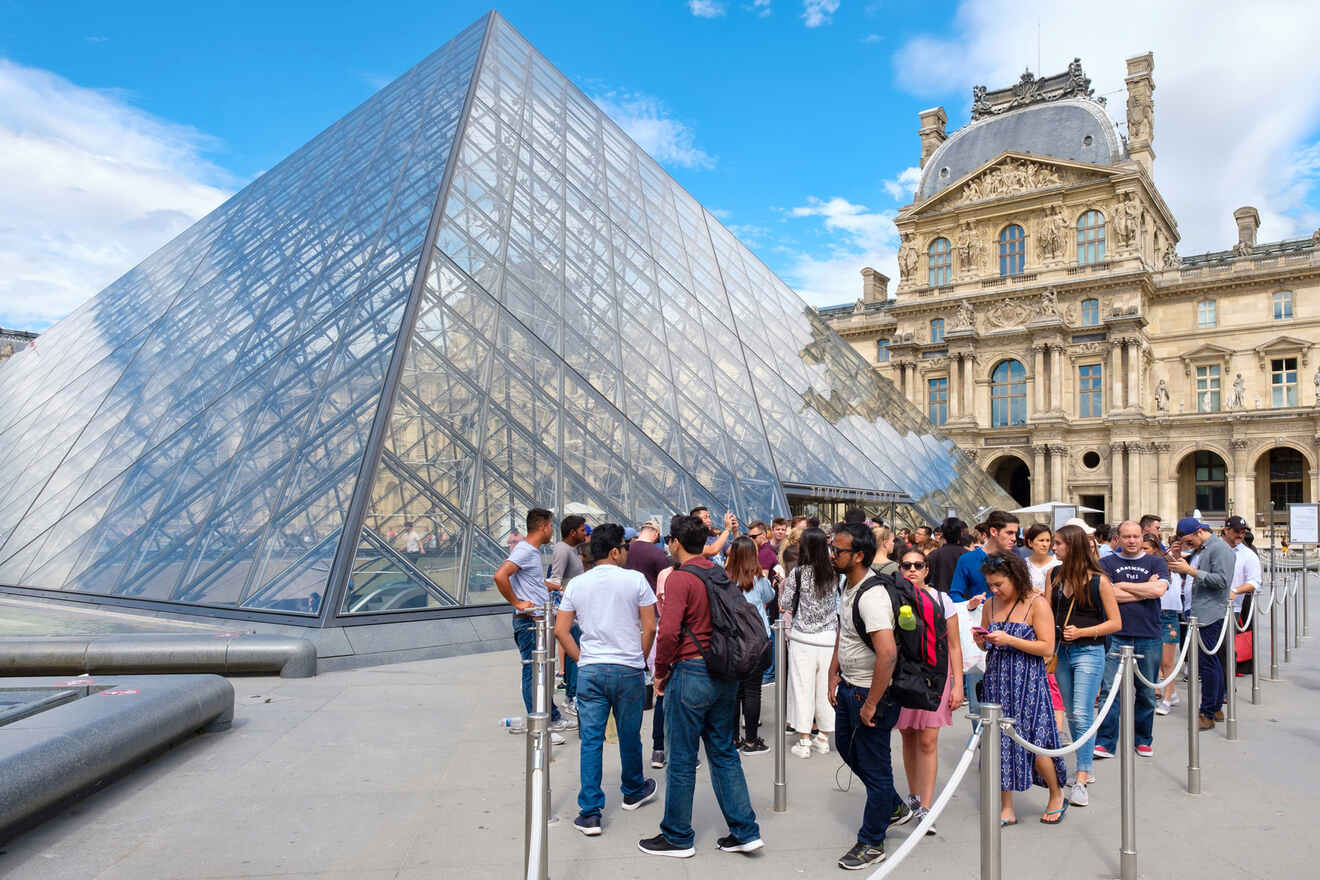 This attraction surely doesn't need a long introduction! As the largest and most visited museum in the world, the Louvre is in itself a masterpiece that you shouldn't miss out on your trip to Paris!
With 9.6 million visitors per year, tickets at the Louvre Museum are sold out most of the time! It's been a while since I went there, but not much has changed in the last few years, and the tickets are always gone super fast!
But fear not, I'm here to help you with all the details about Louvre ticket prices plus help you find all the possible ways to buy tickets for the Louvre Museum even if they're sold out!
Do stick around after you've found your tickets because I've gathered the best tips and information that you should know before buying your tickets, like how far in advance you should book, opening hours, entrances, and the top artworks that you should see while visiting!
Let's get this show on the road!
If you are in a hurry
If you are here just to get your tickets, here are the best links to do so:
Normal ticket – €17 (Official website) or €20 on GetYourGuide (if they run out on the official site)
Guided Tour – €26 (1.5hrs) from the Official website or, €59 (3hrs) with GetYourGuide
Free tickets – for students (bring your ID with you), people with disabilities (you need to go to the counter), children under 12, job seekers, and professionals
| | | | | | |
| --- | --- | --- | --- | --- | --- |
| | Adult Entrance | Kids Entrance | Guided Tour | Cancelation Policy | |
| Official Website | €17 | Free | €26 | No Refund | Book tickets |
| Get Your Guide | €20 | Free | €59 | +€3 for 24hr refund option | Book tickets |
| Tiqets | €23 | Free | €69 | >24 hours in advance | Book tickets |
| Headout | €20 | Free | €68 | No Refund | Book tickets |
Why buy in advance?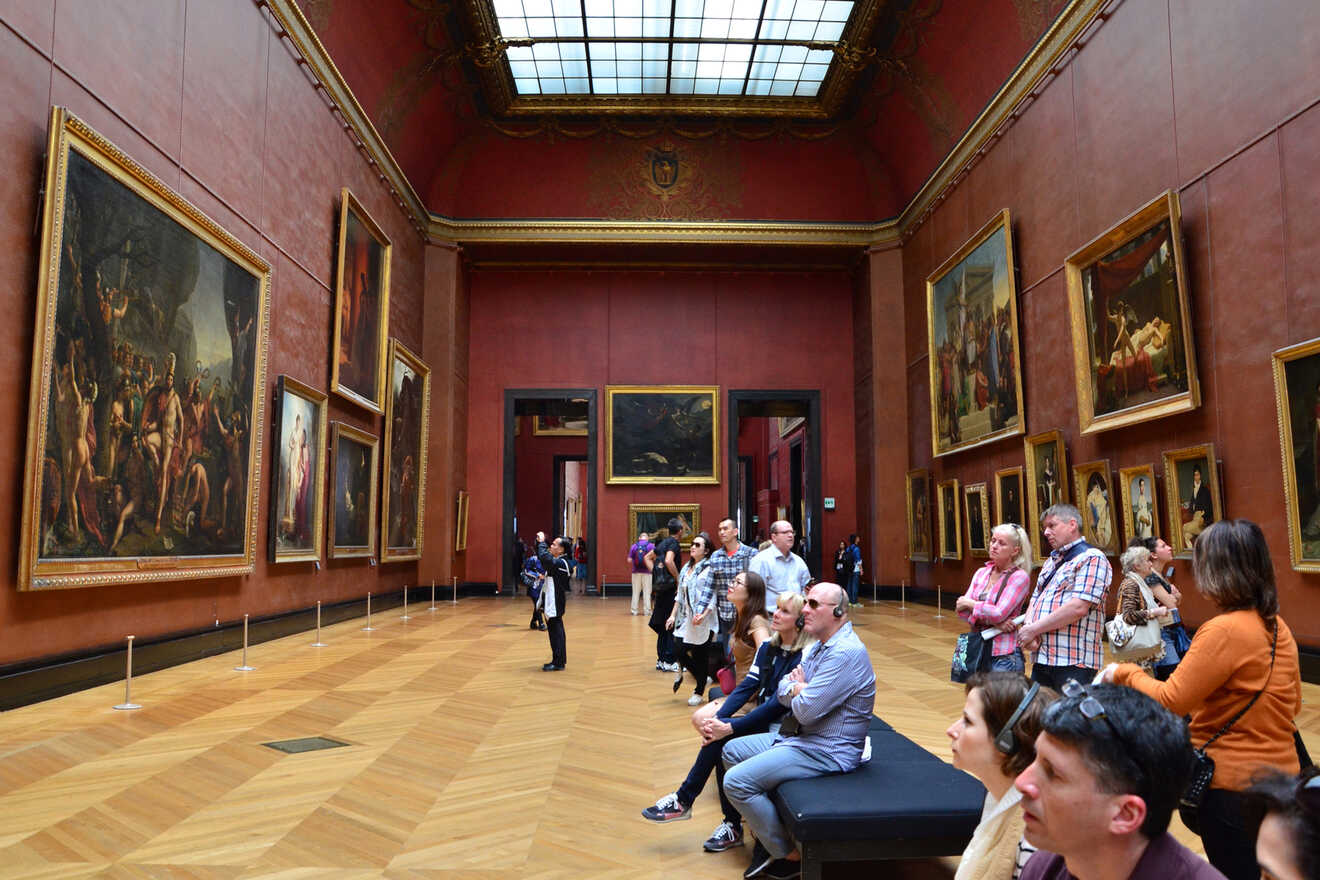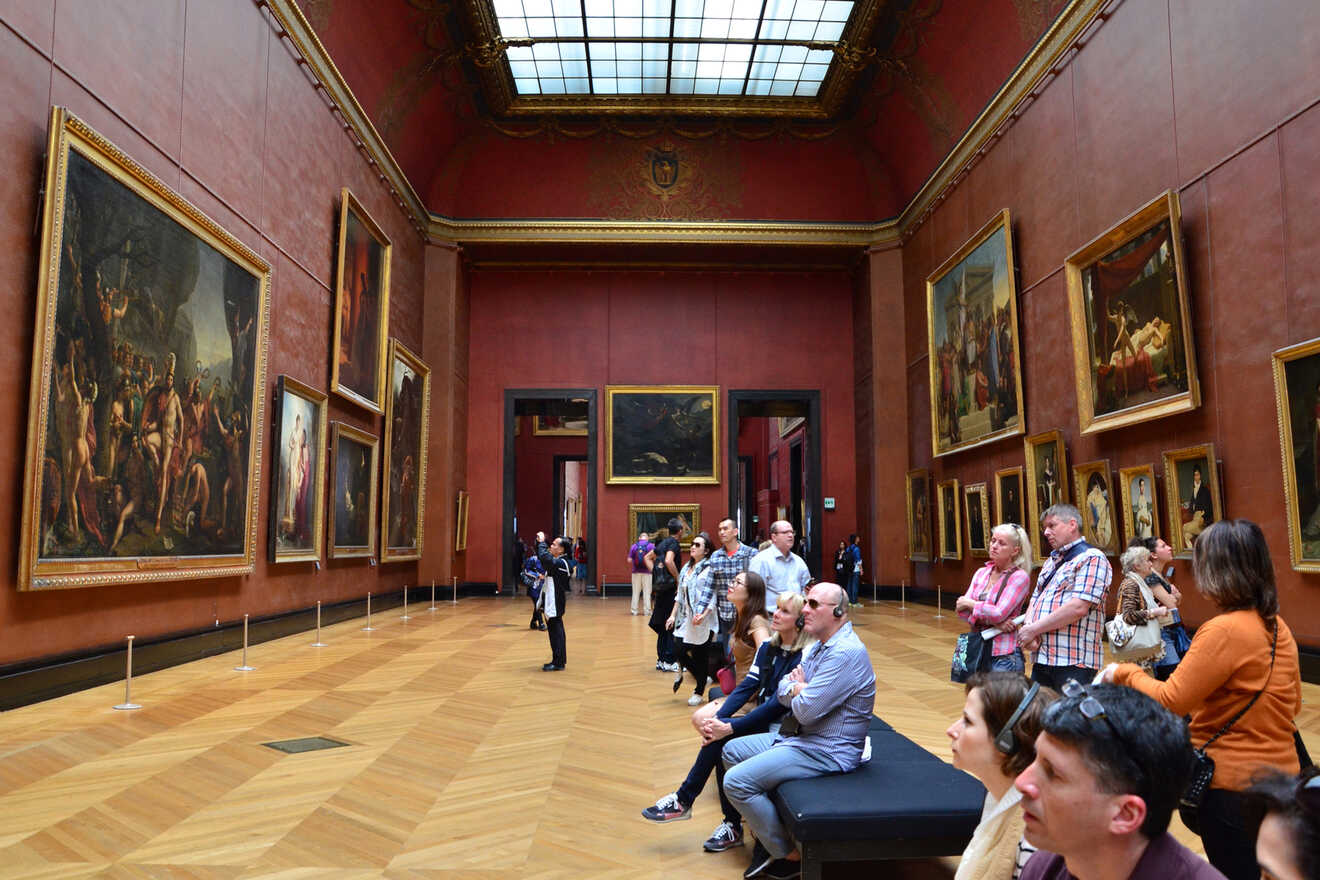 A simple ticket to Louvre currently costs €17 for adults (€15 if you buy it at the entrance), the guided tours start from €26 per person.
As one of the most famous museums in the world, the Louvre is packed with tourists all day, every day! Yes, you can buy your tickets at the entrance (and pay €15 instead of €17) but trust me, you'll regret that decision! 
The lines are so long that you can spend even 2 hours waiting to get your ticket and on a hot Parisian day that's the last thing you'd like to do!
If you buy your ticket in advance, you'll not only save a lot of time (it takes around a maximum of 30 minutes to get inside because of security checks) which you can spend exploring the museum, but also you won't have to stand for hours waiting to be let in!
1. Different types of tickets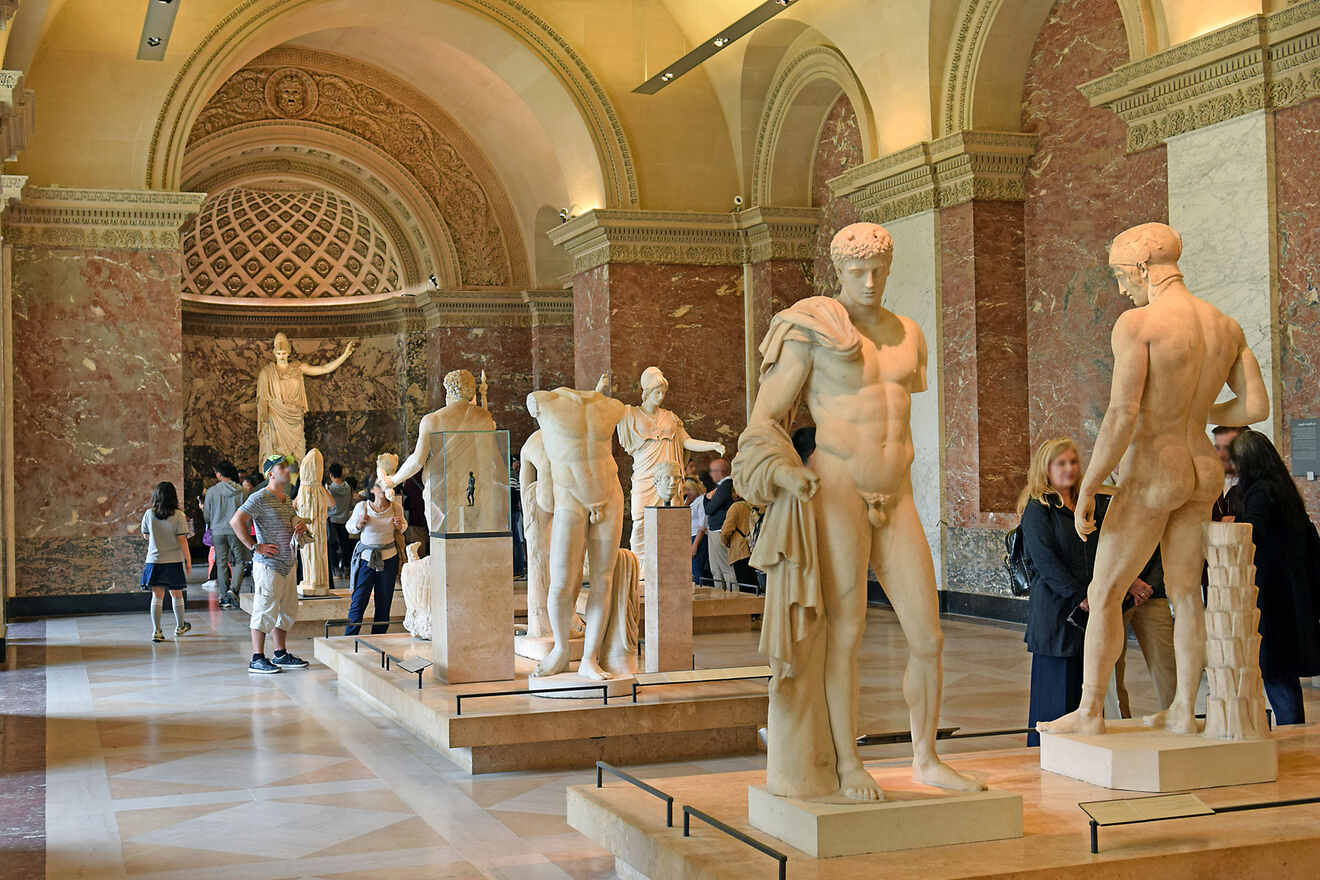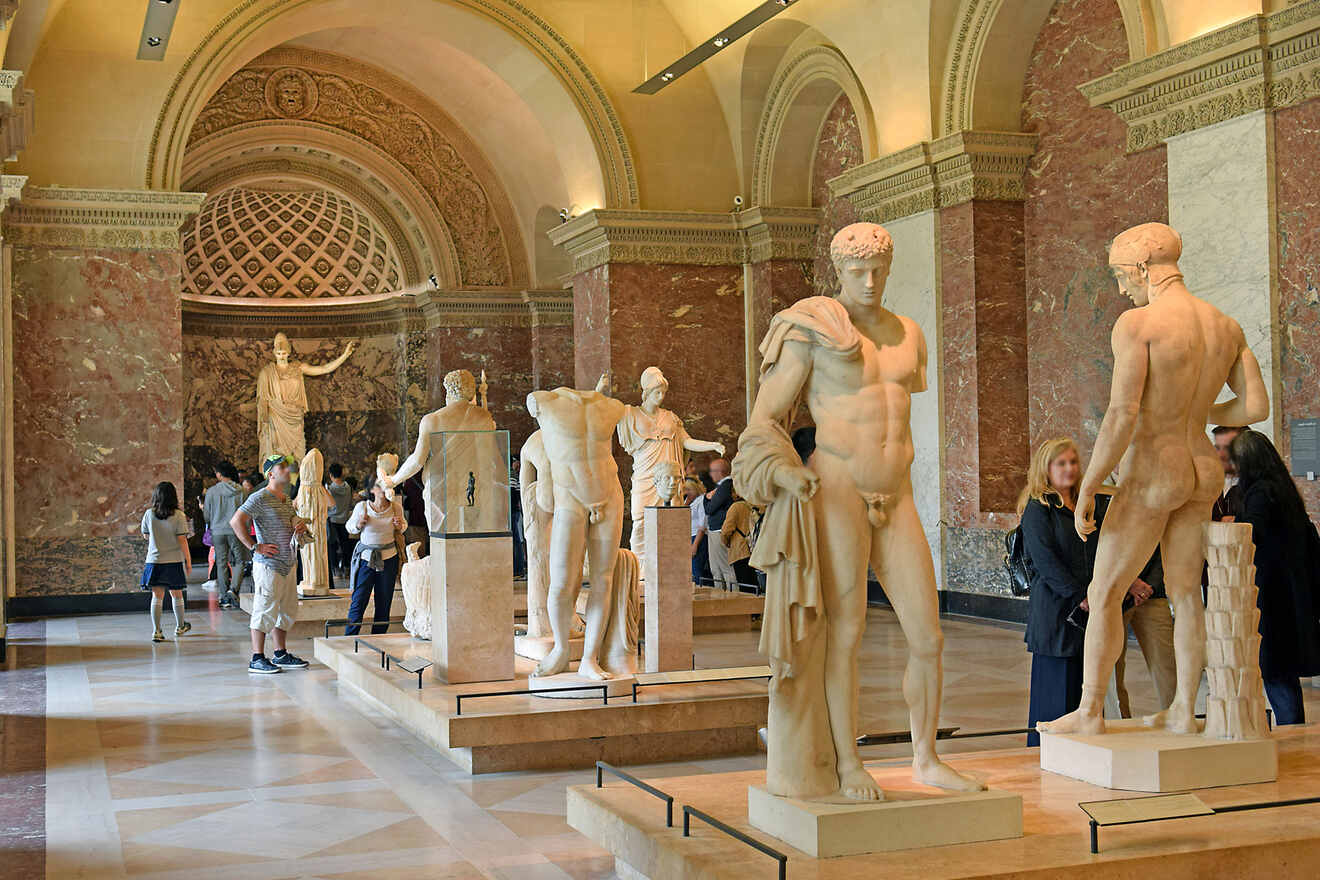 Let's dive into all the different types of tickets that you can buy to visit the Louvre. Below I'll add all the details you need to know so you can make the best decision and buy the right ticket for you!
Did you know that the Louvre is the largest museum in the world? That's right! That's why I've written this whole post to help you learn all the logistics before buying your tickets!
All the websites selling tickets to the Louvre have a timed entrance, so double-check the time you choose so you won't miss out! The time slots are every 30 minutes, starting from 9 AM (when the museum opens) to 4:30 PM (the museum closes at 6 PM). I will go over all the details about the best slots to choose later on in the post.
NOTE: It's super important to respect the designated time slot. Otherwise, you'll have to queue up in line to enter the museum
PRO TIP: For all types of tickets, you may be required to show your ID, so don't forget to bring it with you.
1.1 General Entry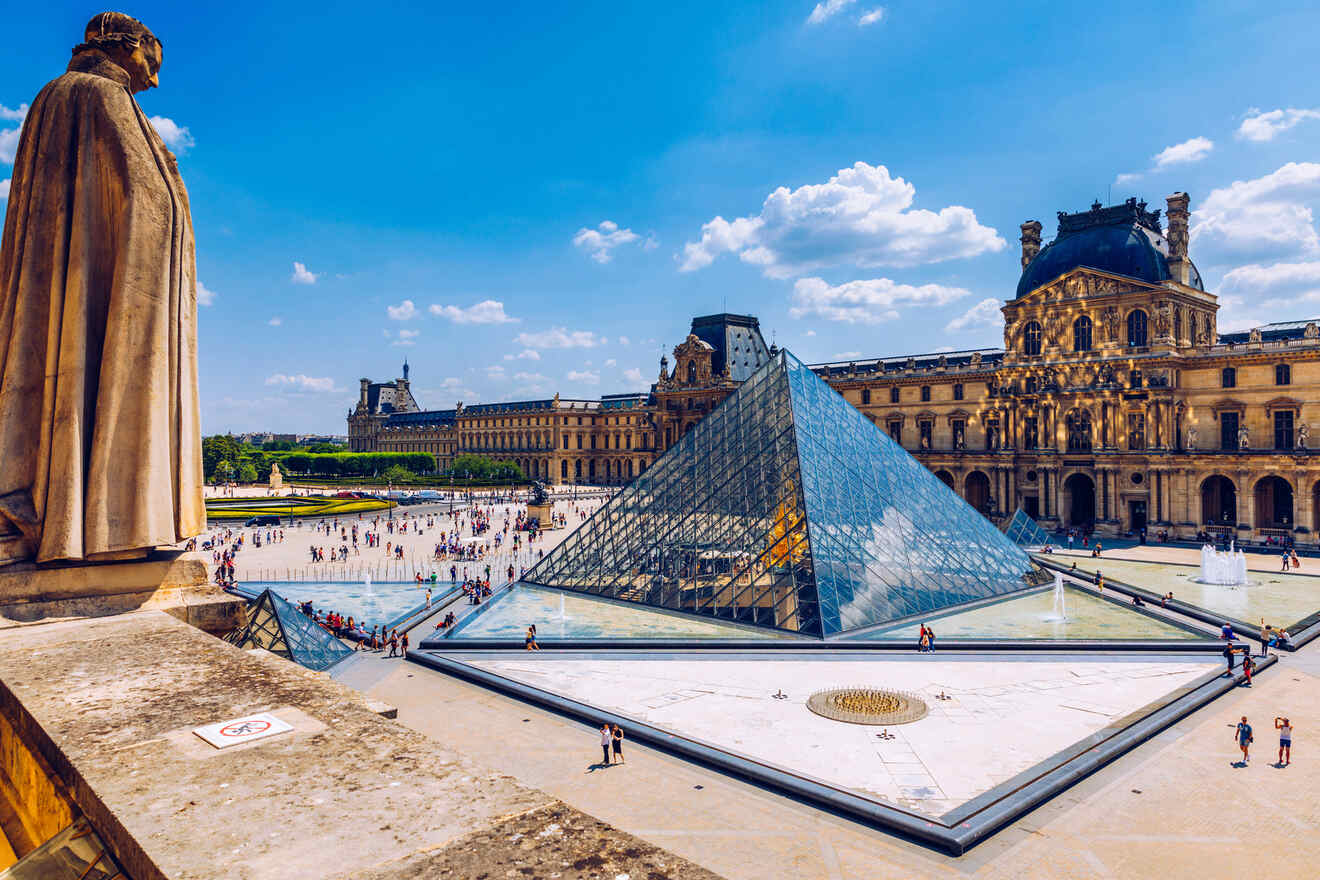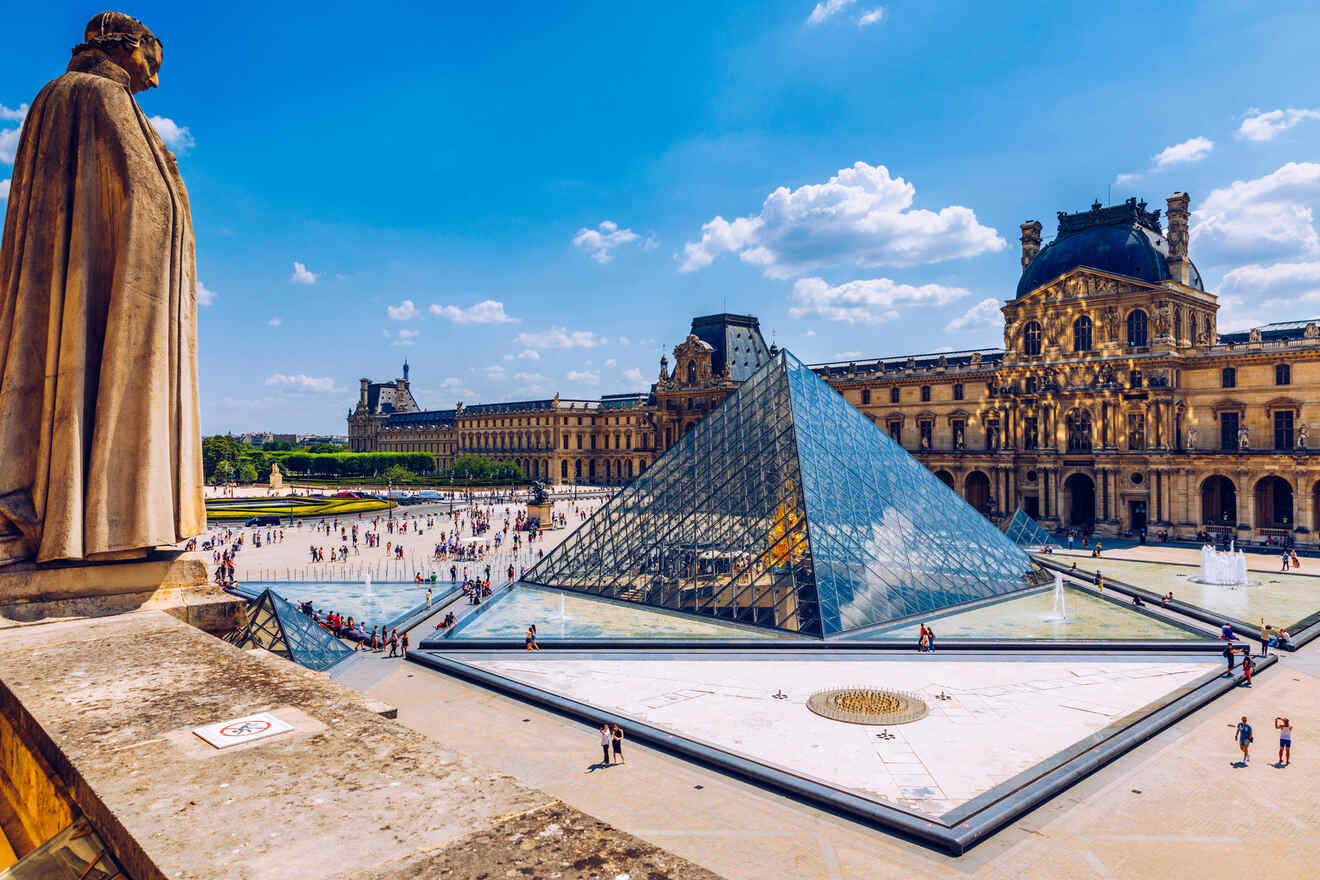 The cheapest ticket to Louvre gives you general entry to the museum, and, when bought online, allows you to skip the long ticket queue. From the official website, the ticket costs €17, including a €2 booking fee. But if they are already sold out for your chosen dates, check out Get Your Guide, Viator, Klook or Headout for more.
Once you buy your ticket, you'll get a confirmation email with a link. Click on the link to download your tickets in PDF format. You can print them or use the electronic version to enter the museum.
NOTE: If showing the ticket on your phone, make sure your phone can show PDF files as the museum doesn't accept pictures and screenshots of the tickets.
Audio Guides: You can add an audio guide to your booking through the official website of the Museum for €5, so along with the entrance ticket you'll pay €22. If you are not taking a guided tour, I recommend getting one so you can have an explanation of what you're looking at. I'll talk more about this in the Important things to know section later on!
Cancelation Policy: Sadly, the tickets from the official website are non-refundable. However, the Museum states that if a person who bought a concession rate ticket has made an "honest mistake" or for some reason you didn't enter the museum at the designated time because of something they did, you'll be entitled to a refund. Requests should be sent within 1 month of the date of the visit by email to [email protected].
P.S.: If you're unsure about your dates and looking for a better cancellation policy, you can book refundable tickets here.
PRICE: €17
1.2 Join a group tour of the Louvre Museum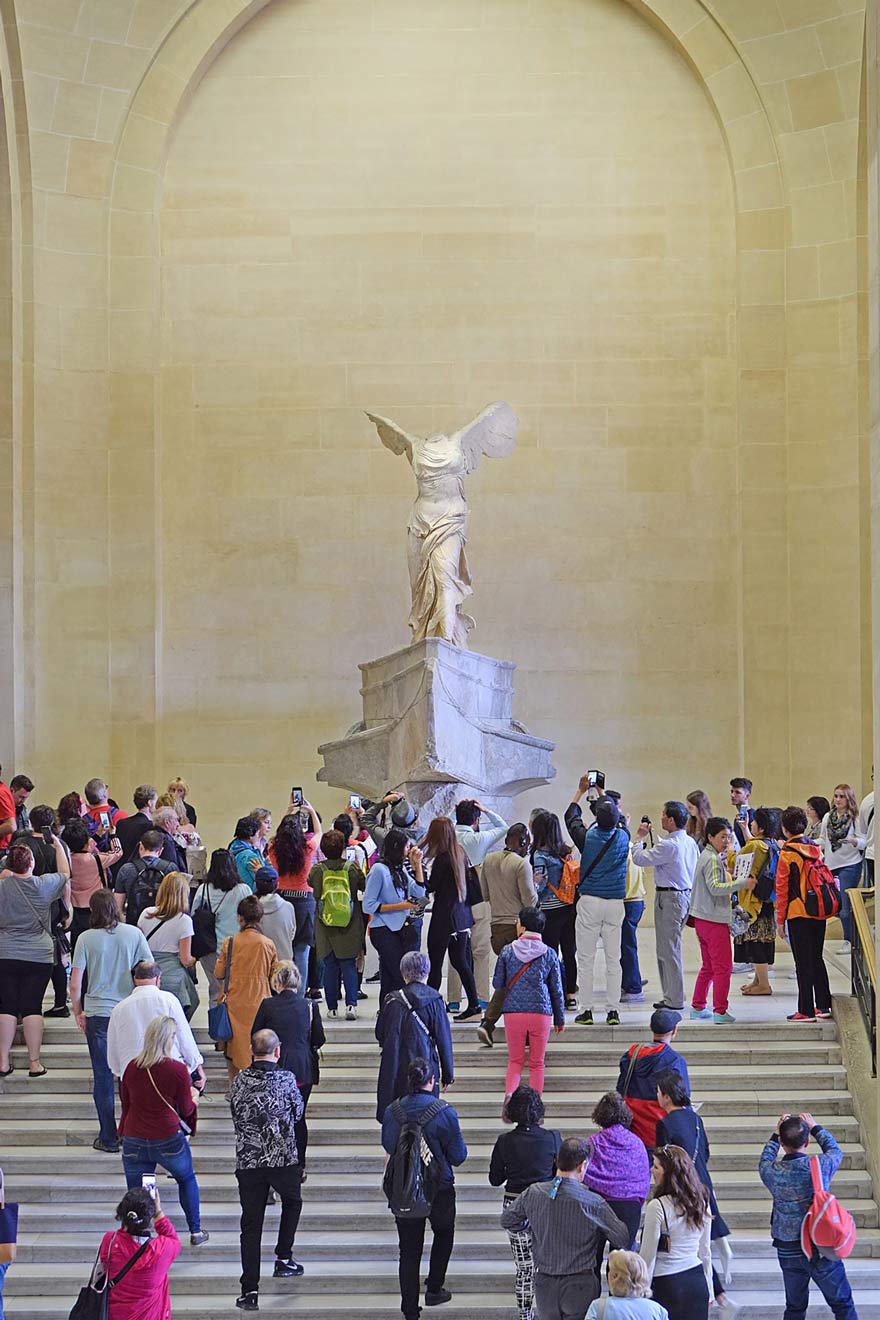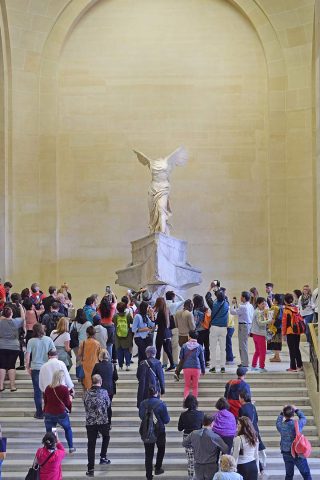 Let's face it, this museum is so big! With around 35,000 pieces of art on display, it's impossible to see everything in a few hours so you'll definitely need someone who can guide you through and point out the most important paintings and sculptures.
Fun Fact: The Mona Lisa was actually stolen from the Louvre in 1911 and an attempt was made to give it to the famous Uffizi Gallery in Florence. Uffizi claimed the painting and returned it to it's rightful home in Paris.
It's stories like these that really make a tour super enjoyable and luckily there are so many guided tours offered to the Louvre! These are perfect for anyone who wants a more interactive experience with a professional tour guide who can tell you about each piece and answer all your questions! Plus, you won't risk wasting time if you get super confused about where you should go.
Official Louvre tour
The Louvre Museum offers a 1.5 hr guided tour in French, English (Spanish and Italian only during the summer). Usually, a guided tour has around 20 participants, and after the tour ends, you're welcome to explore the museum for as long as you like until it closes.
They don't offers a specific number of guided tours per day, it really depends on how many people sign up or buy the tickets to visit the museum but you can see the times available online while booking your tickets.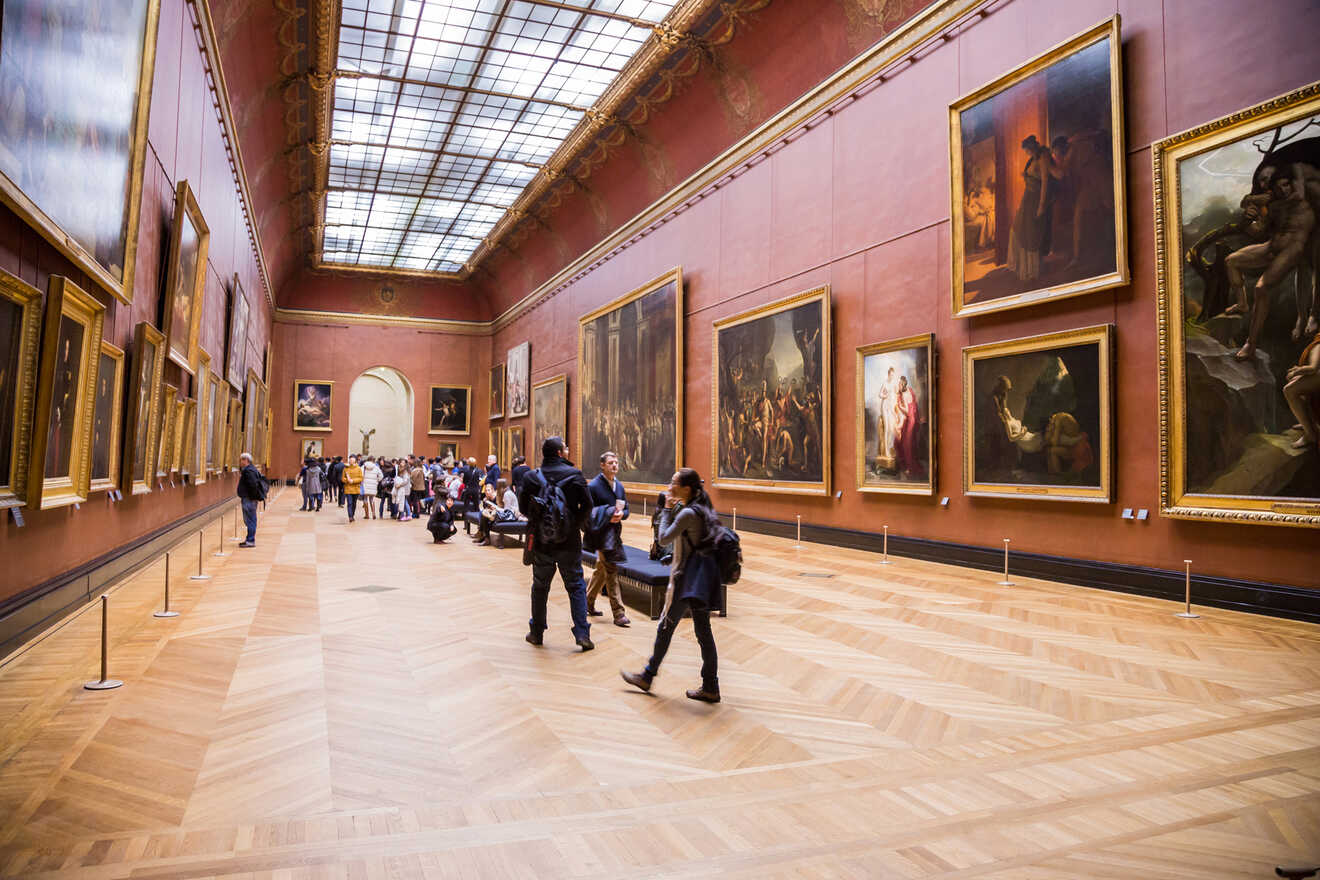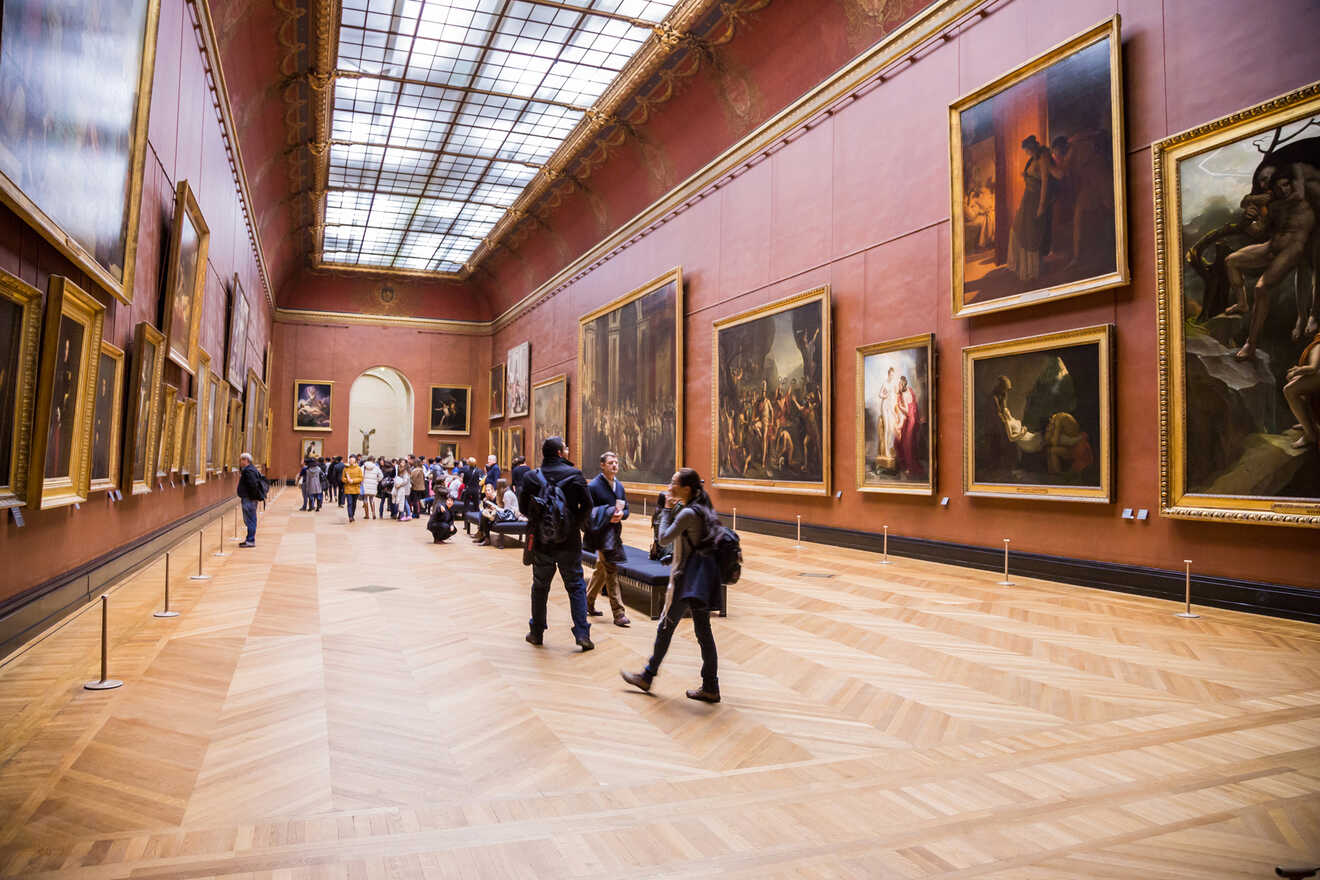 When booking the ticket through the official website, you'll have the option to buy your guided tour and the entrance to the museum together for €26. But you also can buy the guided tour separately for €12 on top of the €17 entry ticket if you decide later you would like a tour. But remember, just like the entrance tickets, these guided tours sell out super fast, so I highly recommend booking asap!
PRO TIP: If you opt for a guided tour, I recommend buying it together with your entrance ticket as you'll save €3 and won't run the risk of the tours being sold out.
NOTE: If you are entitled to free entry, you'll still have to pay if you join a guided tour. It will cost you €9. You'll still have to book a certain time slot, so just go through the same process as buying a normal ticket and simply pick the right category for your discount (Under18s, 18-25 year old etc).
As I mentioned, the Louvre's cancellation policy doesn't offer any refunds if you decide last minute that you can't visit at the chosen time, and this also applies to tours. However, if you are unsure about your dates, there are other companies that offer guided tours with a free cancellation policy which I will talk about next.
PRICE: €26 (1,5 hours)
Alternative tour operators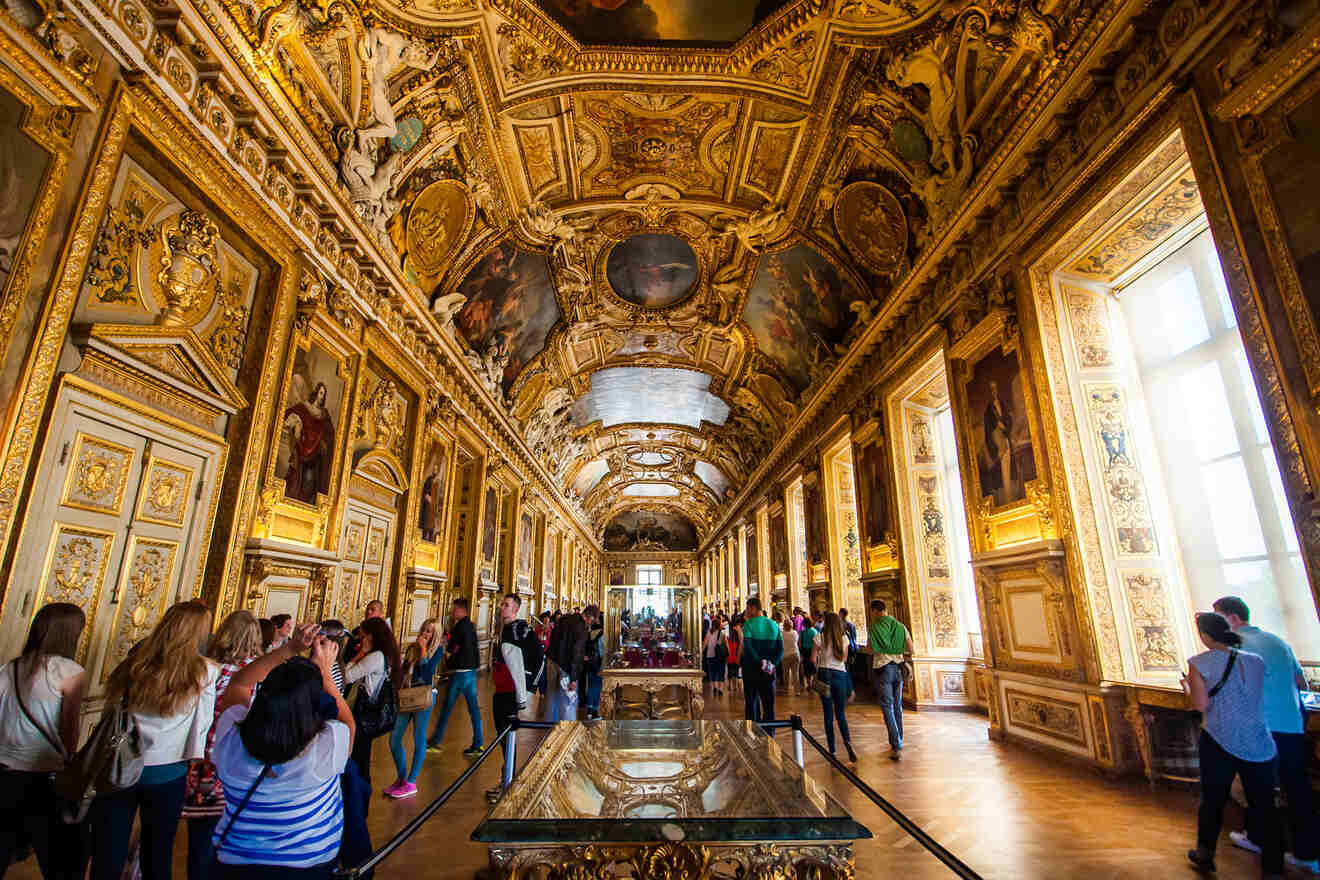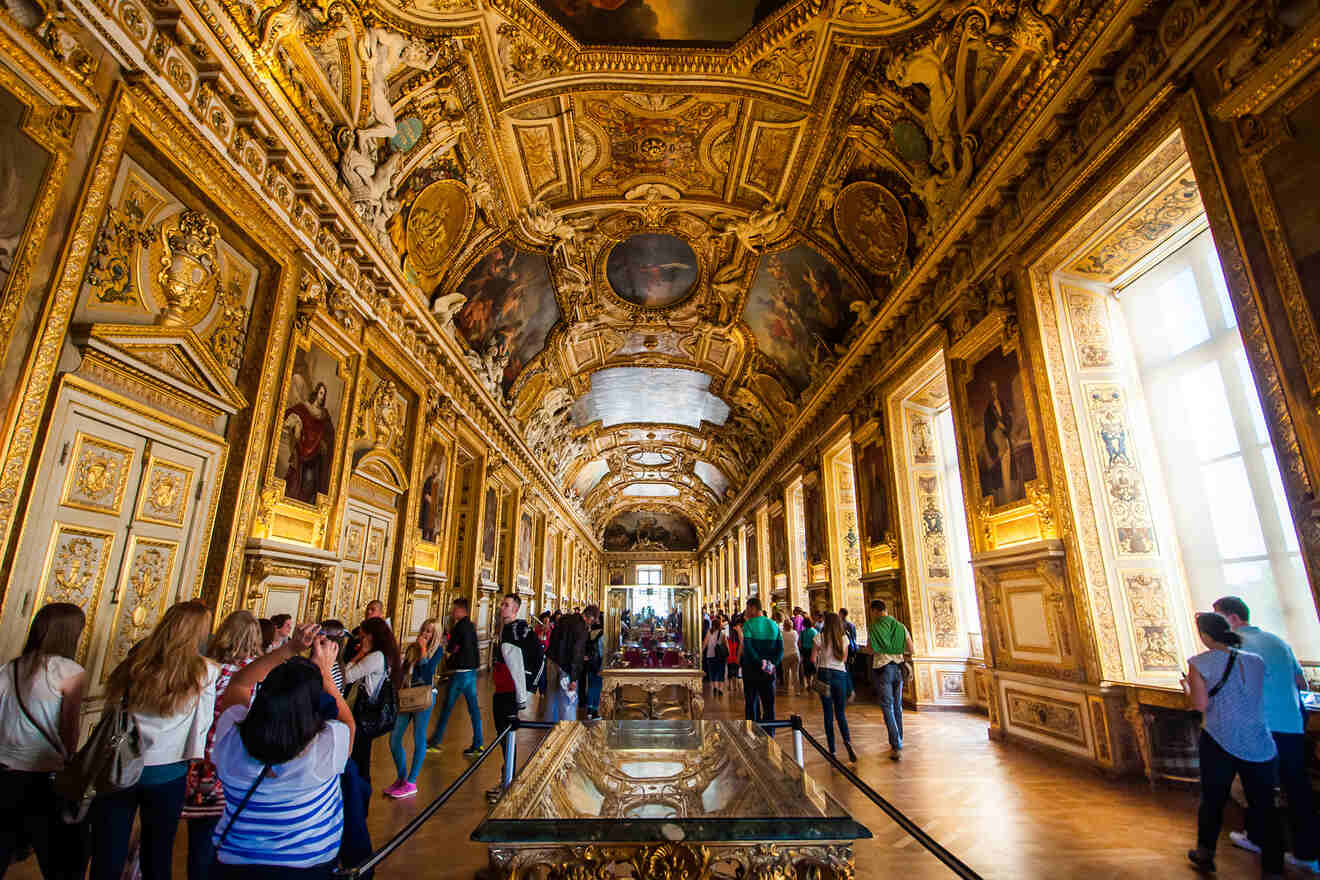 Since the official tour is quite short, you can only get a very quick overview of the main pieces in the Louvre. So if you're looking for something a bit more substantial, I recommend looking at some other available tour options.
Although these tours tend to be more expensive than the ones the museum offers, in addition to longer durations, these tours also have a free cancellation policy up until 24h before your visit.
This 3-hour guided tour offers an entry ticket to the museum, a knowledgeable tour guide, and the option to cancel your visit up to 24 hours in advance and still get a full refund. The tour is also available in additional languages; English, Spanish, French, Italian, and Portuguese. And after the tour ends, you can explore the museum furthermore!
Depending on your preference, you can choose what size tour you want to join (10, 20, or 30 people groups) for either 3 hours or 2 hours.
P.S.: If all the tours above are sold out, check Viator, Klook, Headout, or Tiqets for more.
PRICE: from €59 (2 hours) or €62 (3 hours)
1.3 Take a private tour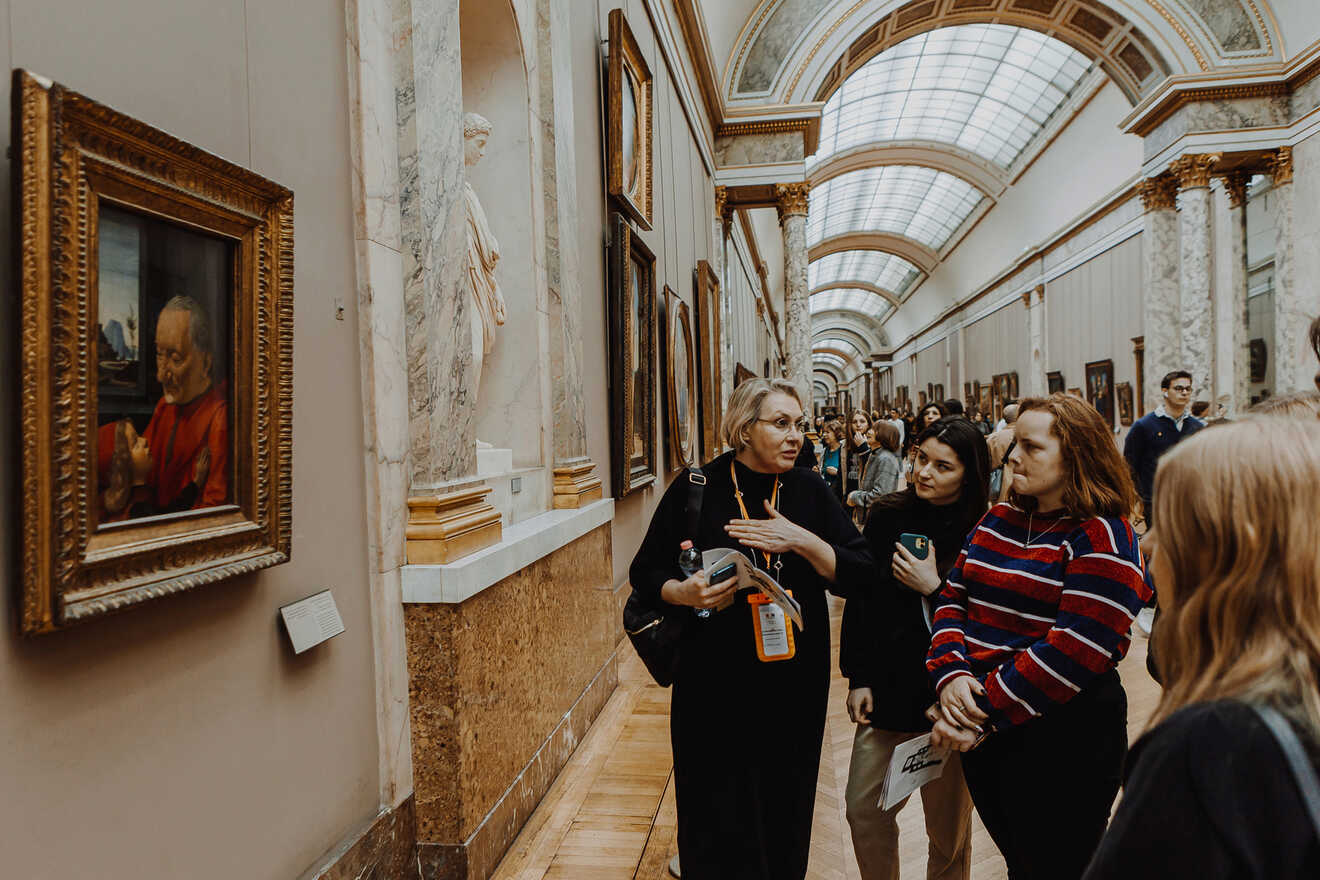 If guided tours are the cake, private tours are for sure the cherry on top of that cake!
Why? Well, the experience is super unique! You'll get to ask as many questions as you want without being interrupted by others. You'll also get a super in-depth explanation regarding all the art pieces with a professional who'll tell you all details and important facts.
Fun Fact: It would take you 200 days to see all the artworks in the museum!
Plus, with the help of a guide, you'll see the museum's main highlights on a perfectly curated route and not waste any time getting lost trying to reach a particular painting.
On this private tour of the Louvre for 2 people, you'll get to explore the museum accompanied by a tour guide for either 2h (€200) or 3h (€355), depending on your preference. The languages available are English, French, German, Italian, Spanish, Russian, Polish, Portuguese, and Chinese.
After your tour, you can stay in the museum to check out your favorite painting and explore other corners!
If tickets are sold out on GetYourGuide, you can check out Viator, or Tiqets.
PRICE: €200 / €355
2. Last-minute tickets – how to find tickets if they're sold out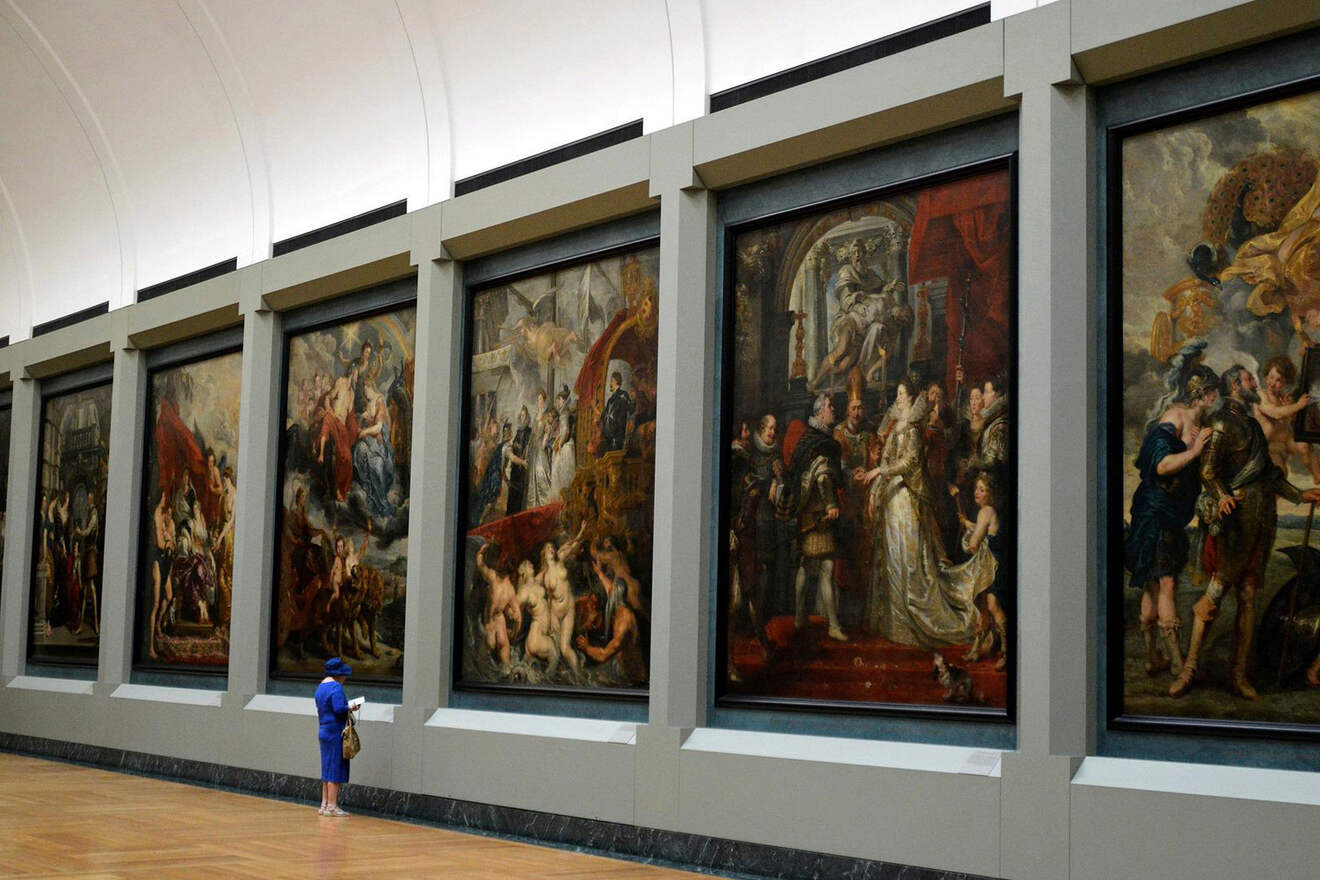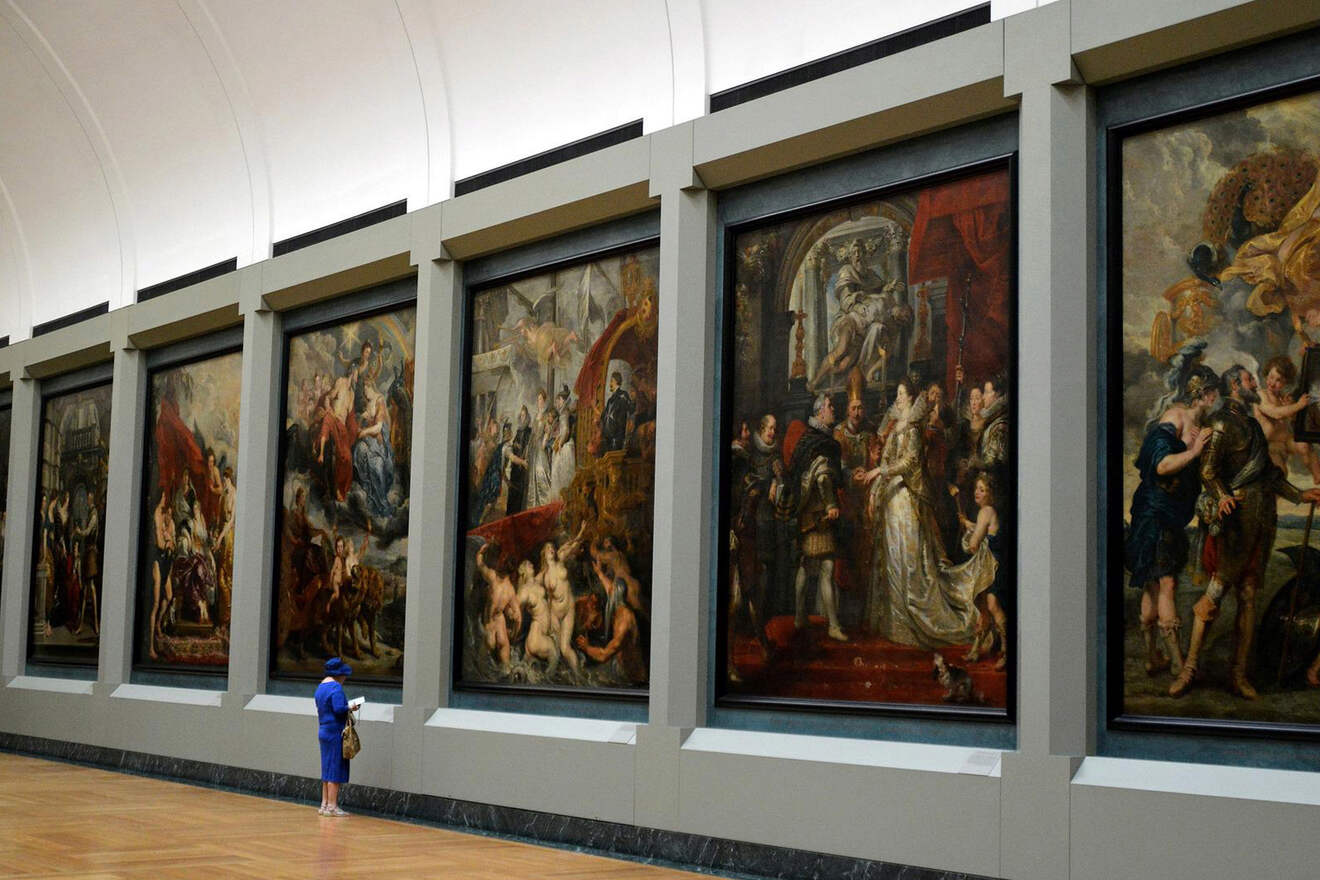 Unexpected journeys are bound to happen, and as much as we want, we can't always book in advance. However, that means we might not find any tickets available, especially in a place like the Louvre Museum.
Luckily, I've discovered along the way that there are many solutions to that problem. Now your holiday is saved!
Even if all the tickets are sold out for a particular day or time slot on the official website, you can still find other tickets on other trusted ticket websites. I went through all the options and found that Get Your Guide is the best alternative ticket seller for Louvre Museum.
On this website, you can find all the types of tickets that I've mentioned above, including the general entry, which is only €3 more than the official ticket. They also offer a refundable ticket for just €6 extra with free cancellation, no questions asked, up to 24h before the event.
The extra fee is for sure worth it as you will not only have access to enter the museum at your preferred time, but also get the fantastic free cancellation policy that the museum doesn't offer.
So if all the tickets are sold out on the official website of it you're looking for something a bit more flexible, this is the perfect option for you!
P.S.: If the tickets on GetYourGuide are also sold out, check out Viator, Klook, Headout, or Tiqets for more!
PRICE: €20
Difference from the official website: + €3
3. Combo tickets to the Louvre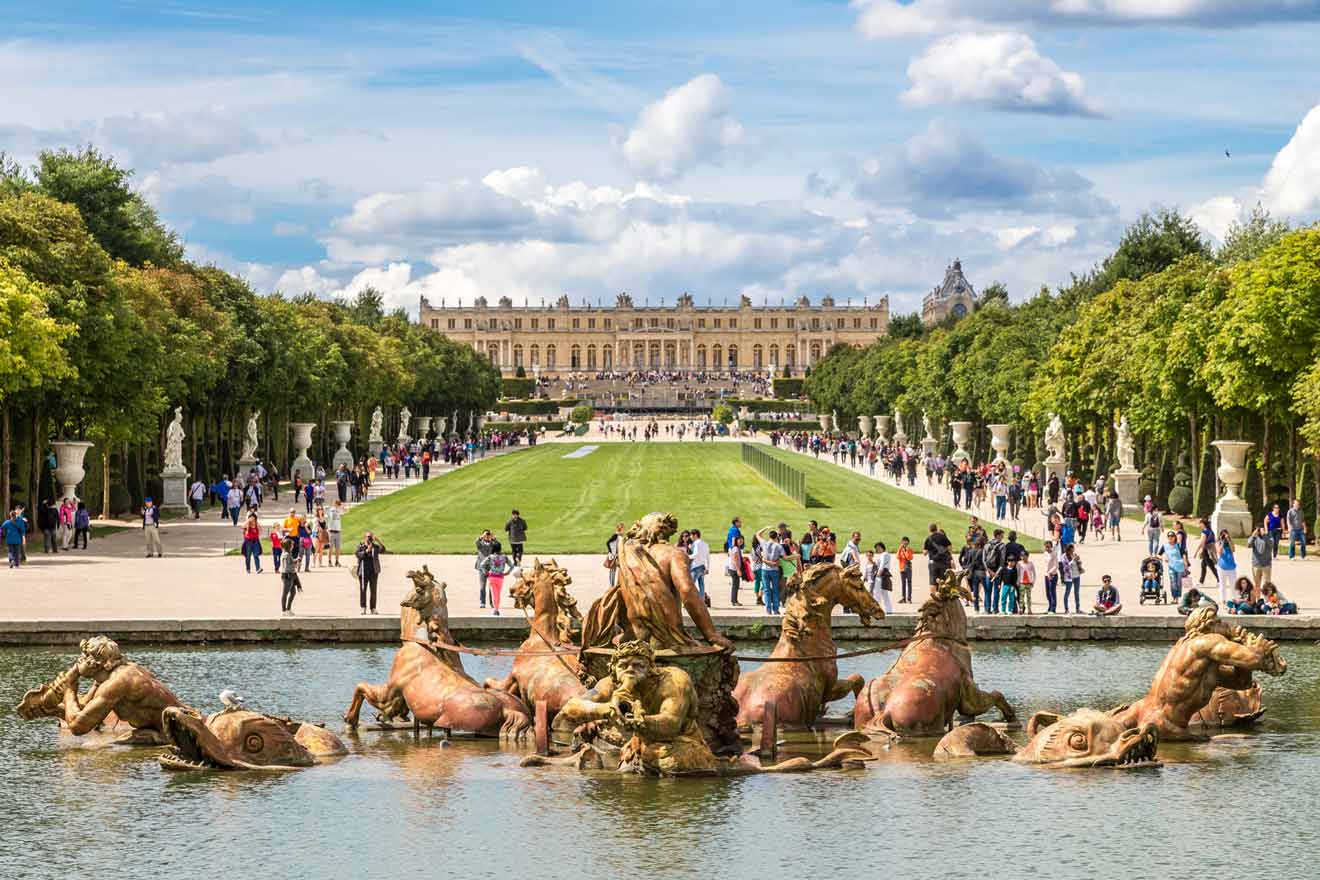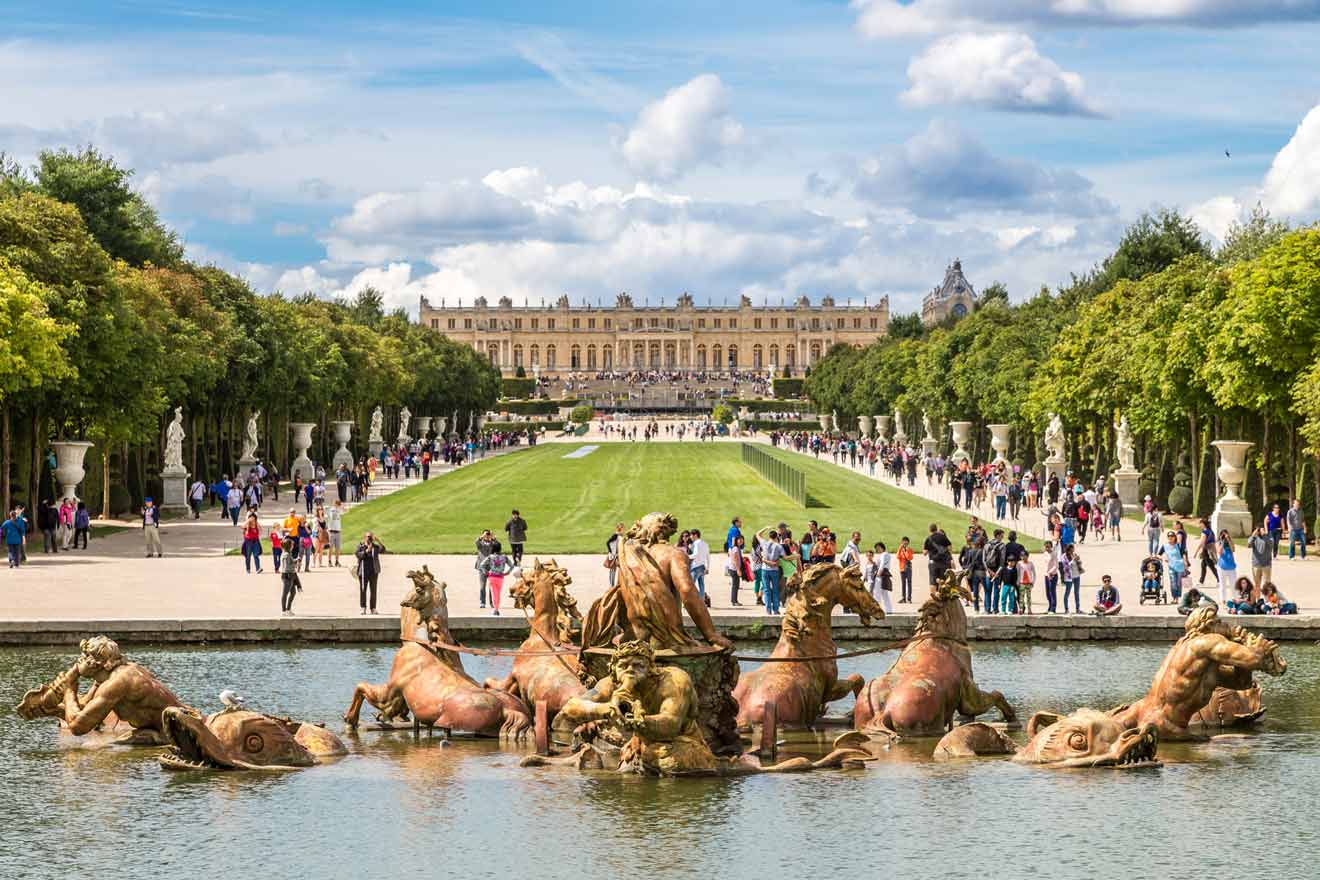 I'm on a quest to help everyone find tickets to the Louvre, so if everything fails, and you can't find the tickets you want even on the other website, fear not, there is always another option!
I've looked through lots of websites and found some great combo tickets, which basically give you access to 2 or 3 different Paris attractions combined with the convenience of only having to go through the booking process once!
Some of them cost the same as what you'd pay to buy them separately, and some cost a few euros extra, but I'm sure it's worth it for the convenience and security of grabbing tickets even if they are sold out!
Here are the best ones:
Louvre Museum + Grevin Wax Museum Tickets – Thought your holiday to Paris would be ruined? Here is the best ticket combo if all the others are sold out. For €42, visit the Louvre Museum and the famous Grevin Wax Museum.
4. Multi-attraction passes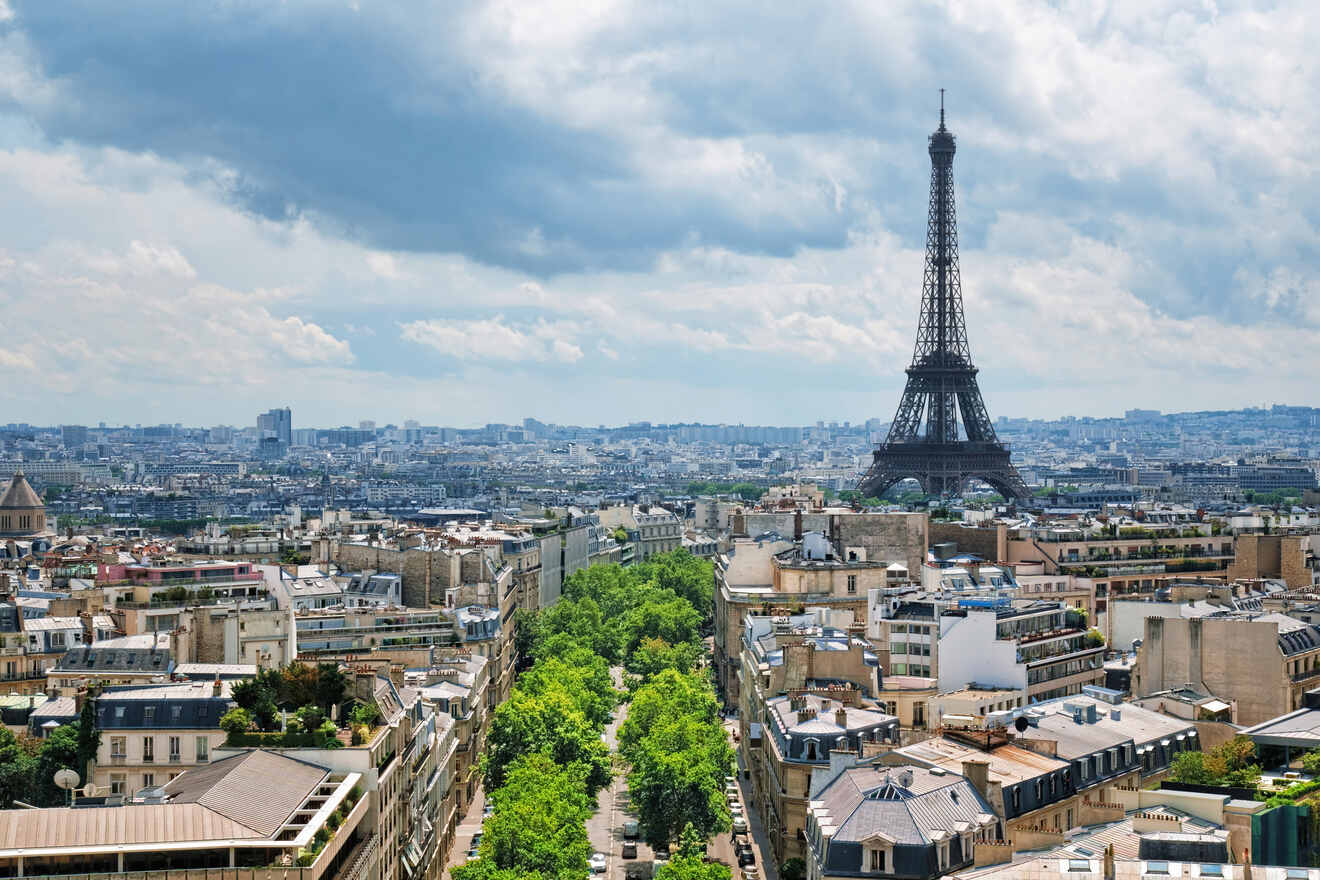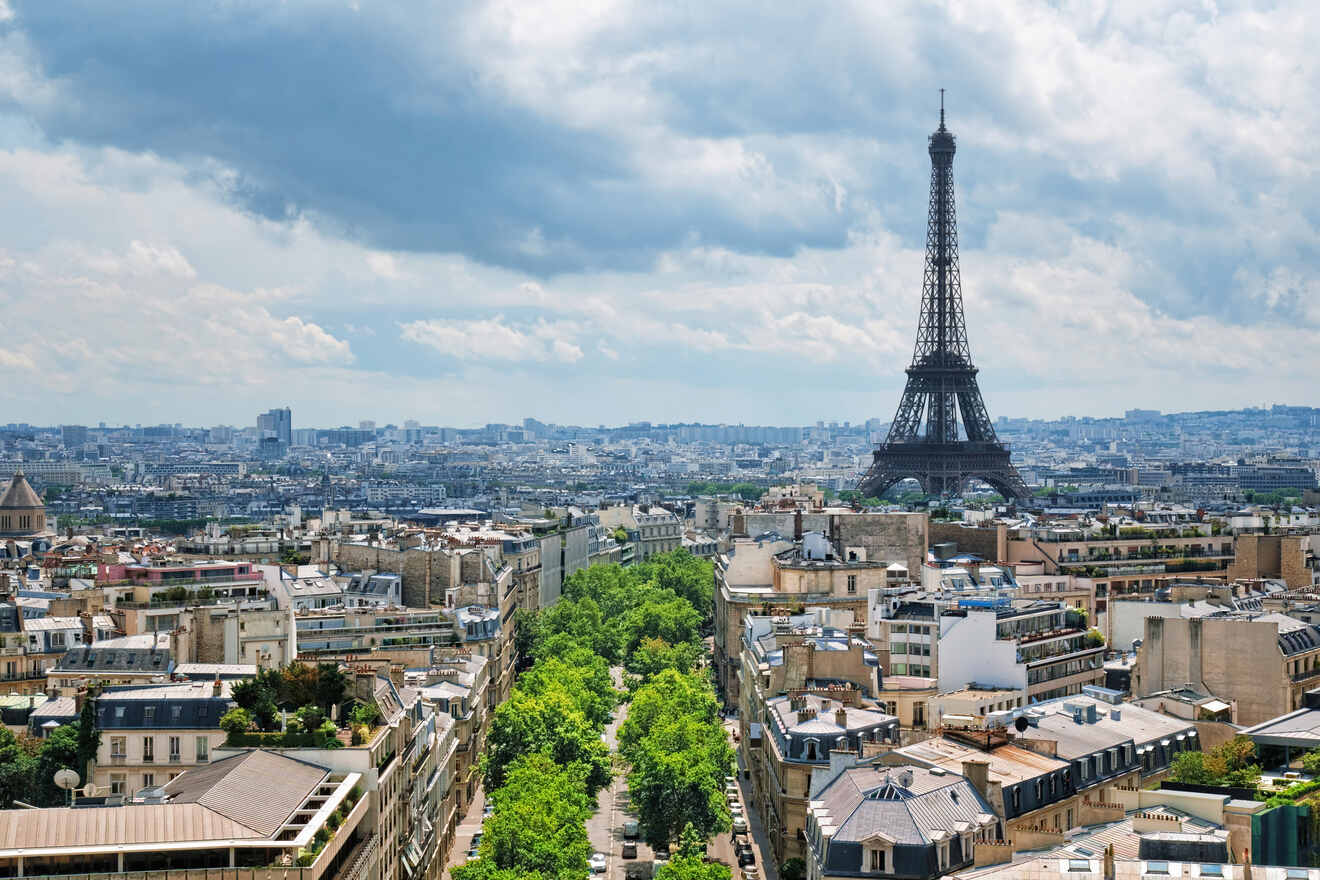 Paris is one of the most visited cities in this world, and it has so many attractions!
Fun Fact: Legend has it, that there is a mummy called Belphegor who is said to haunt the museum! Let me know if you see him!
If you want to visit as many as possible, you may have to spend quite a lot of money. But don't worry, I've got just the solution for you!
In this section, you'll find the best attraction passes in Paris so you can save some money while checking off as many things on your list as possible!
Below you'll find the 2 different passes available in Paris:
4.1 Paris City Pass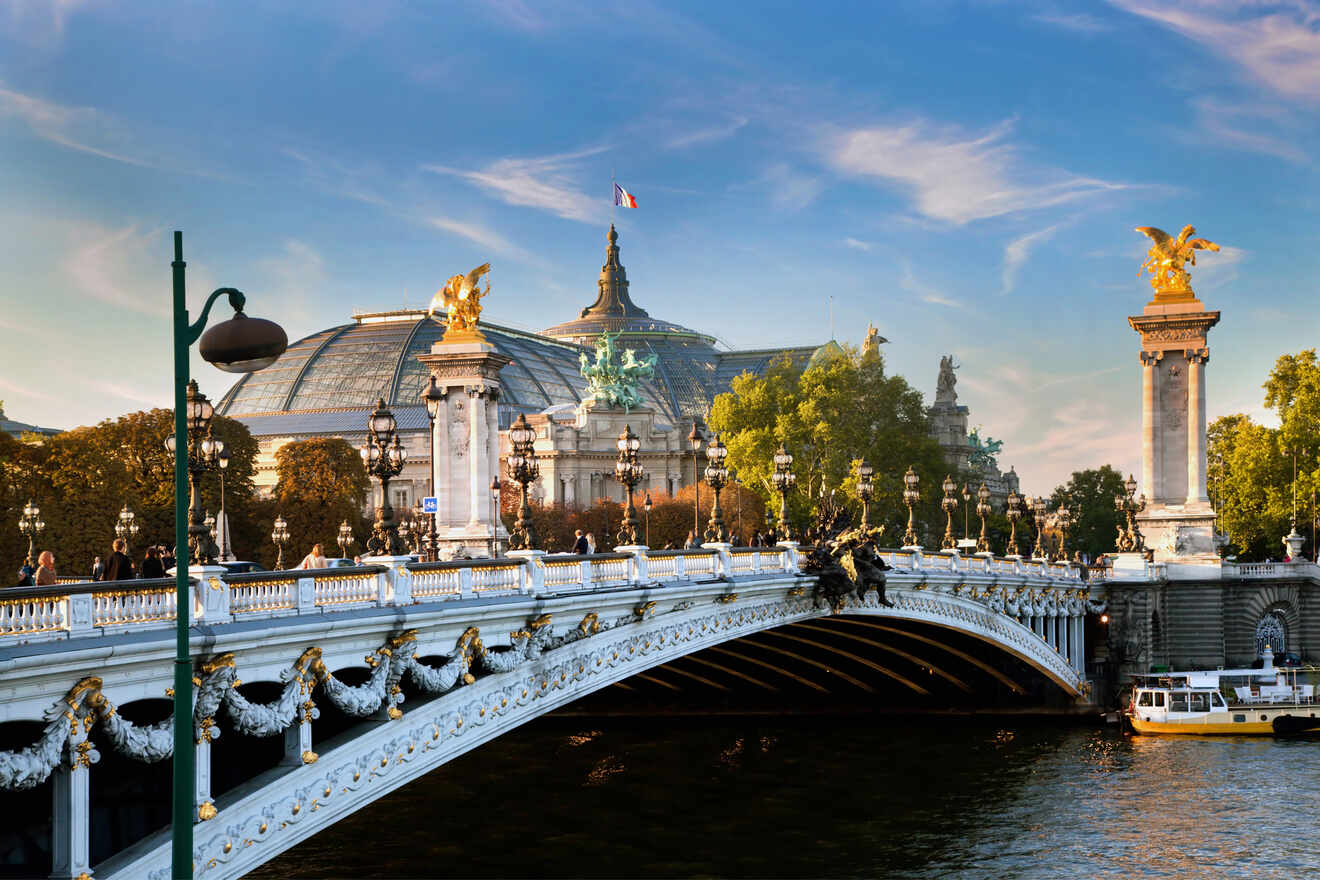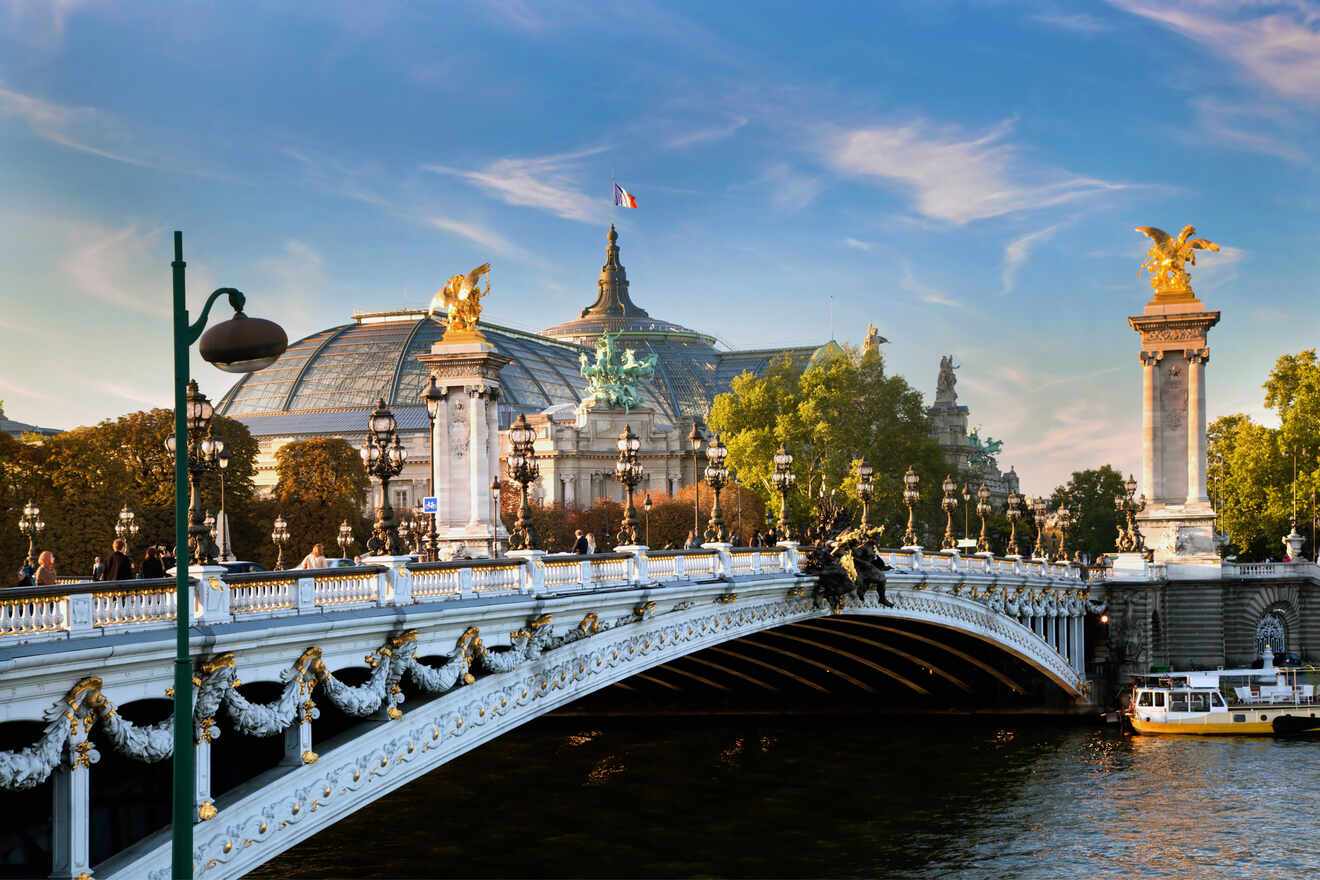 I think it's fair to start by explaining what a city pass is! It's basically a ticket that gives you access to many different tourist attractions for a singular reduced rate. Usually, these passes will save you some money as they're made to help you visit as many sites as possible!
But I don't want you to get tricked by all the marketing because sometimes the passes are not actually worth it. So today, I'll help you find out whether it's worth it to buy the Paris City Pass or not.
You can buy passes for 2,3,4 or 6 days of validity for different prices depending on how much time you have:
2 Days: Adult €124
3 Days: Adult €149
4 Days: Adult €169
6 Days: Adult €199
There are 86 attractions including museums, tours, food, and castles included in the Paris City Pass, but as much as we'd like to have a time machine to be able to visit all of them, it's pretty impossible to do that. So here's a list of the individual prices for the most popular ones so that you can decide if the pass is worth it for you or not:
Louvre Museum – €17
Arc de Triomphe – €13
Eiffel Tower Guided Climb – €34
Grevin Paris Wax Museum – €20
Versailles – €20
Orsay Museum – €16
Seine River Cruise – €16
1 Day Big Bus Hop-On Hop-Off Tour – €42
Cheese Tasting Tour – €20
Champagne Gourmand in Montmartre – €18
French Sweet Crepes at Bistro Marbeuf – €18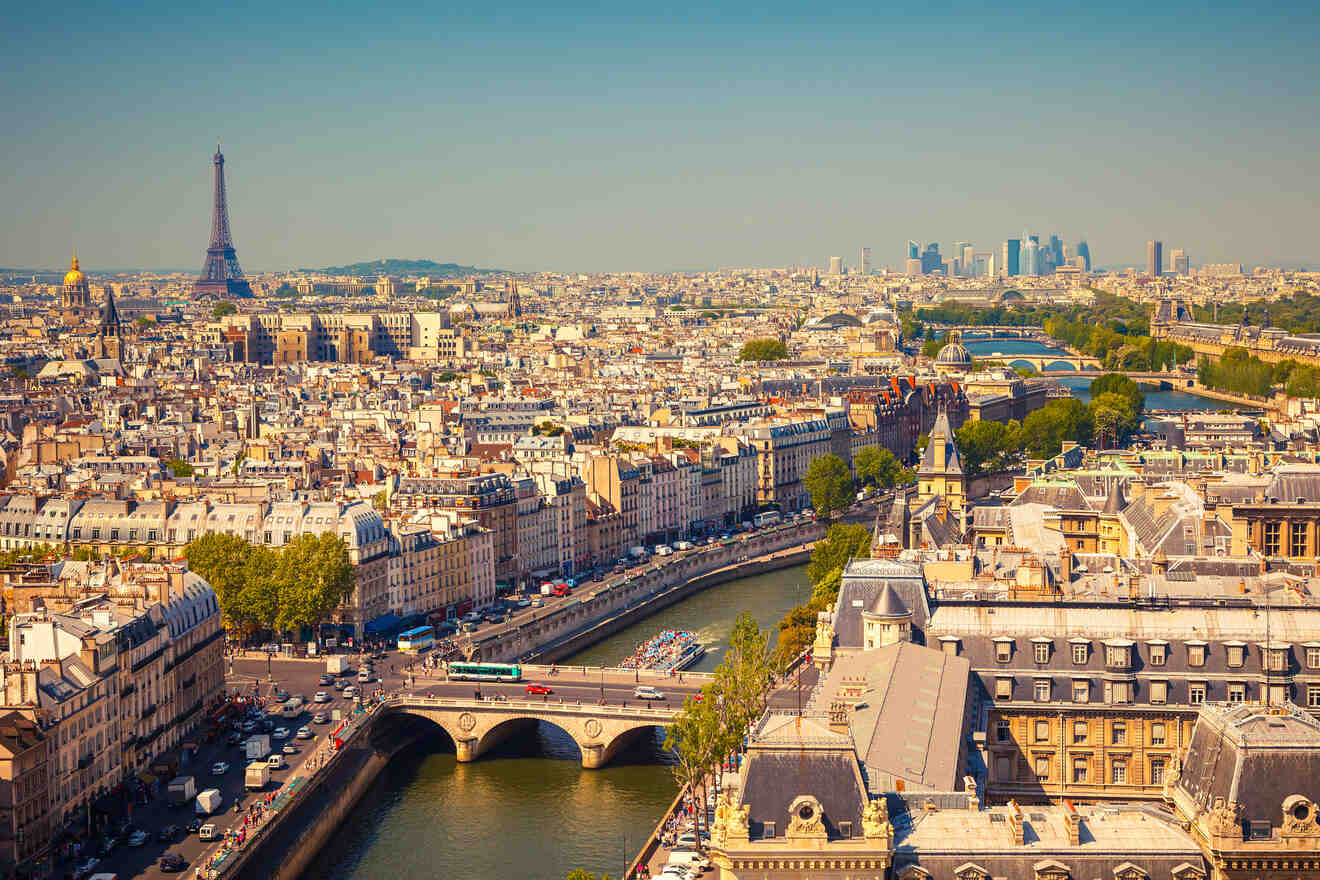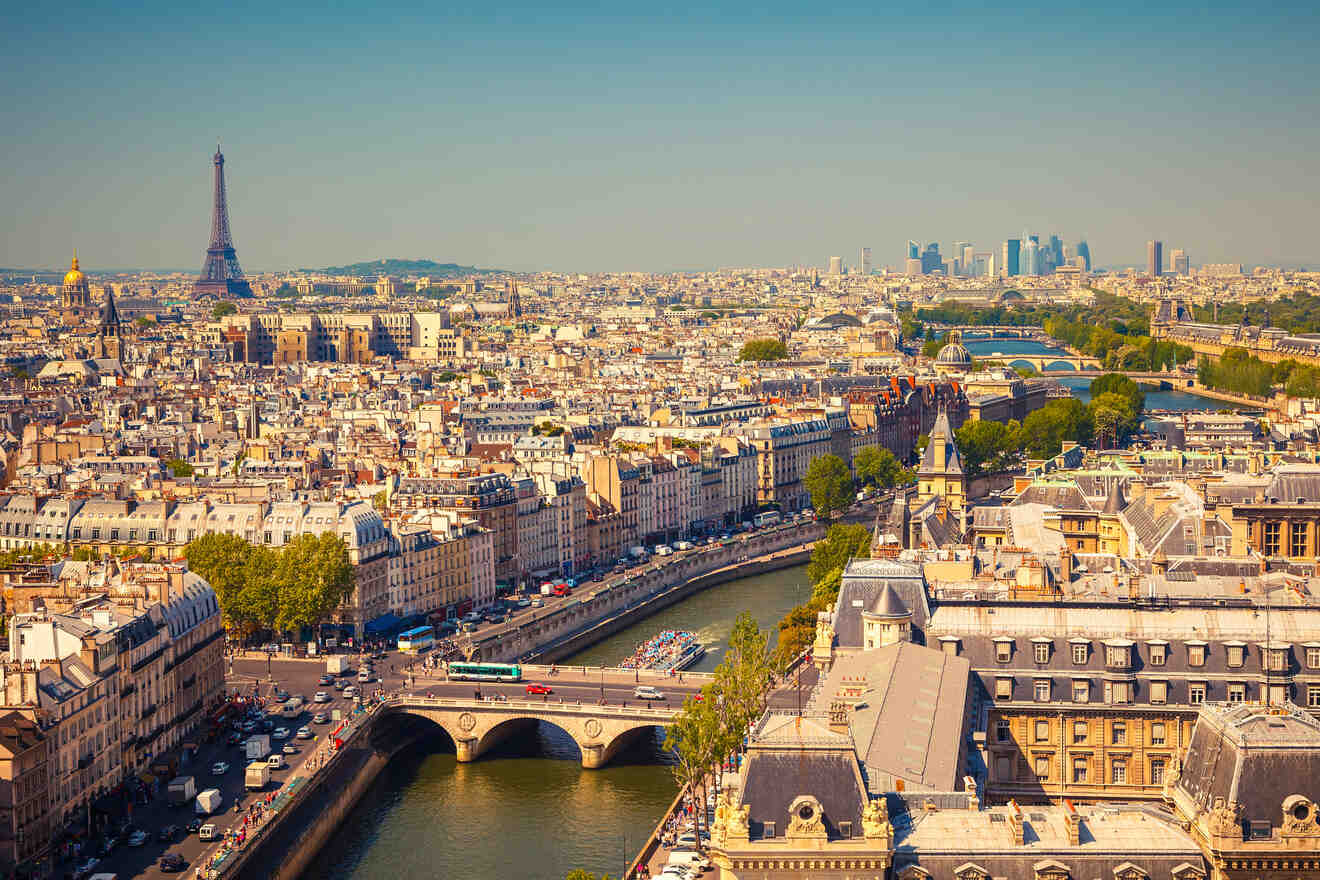 By my calculations for the pass to be worth it, 3 days is the minimum length that you can get value out of the card without being too rushed. Alternatively, if you want more time, you can also buy the 4 days or 6 days one as the savings generally goes up the more days you use the pass.
Here are my calculations to show you how much money you will save if you visit the main attractions included in the pass in 3 days:
Louvre Museum (€17) Arc de Triomphe (€13) Eiffel Tower Guided Climb + (€34) Grevin Paris Wax Museum (€20) + Versailles (€20) + Orsay Museum (€16) + Seine River Cruise (€16) + 1 Day Big Bus Hop-On Hop-Off Tour (€42) + Cheese Tasting Tour (€20) + Champagne Gourmand in Montmartre (€18) + French Sweet Crepes at Bistro Marbeuf (€18)
17 + 13 + 34 + 20 + 20 + 16 + 16 + 42 + 20 +18 +18 = €234
You save €85 (234 – 149 = 85)
Since the 3 days pass is €149 you would need around 13 activities to make it worth it, but since it includes some meals, you can get great value out of it! You could also pick the 4 days or 6 days pass and have more time and more activities of course, but you'll also pay more money.
4.2 Paris Museum Pass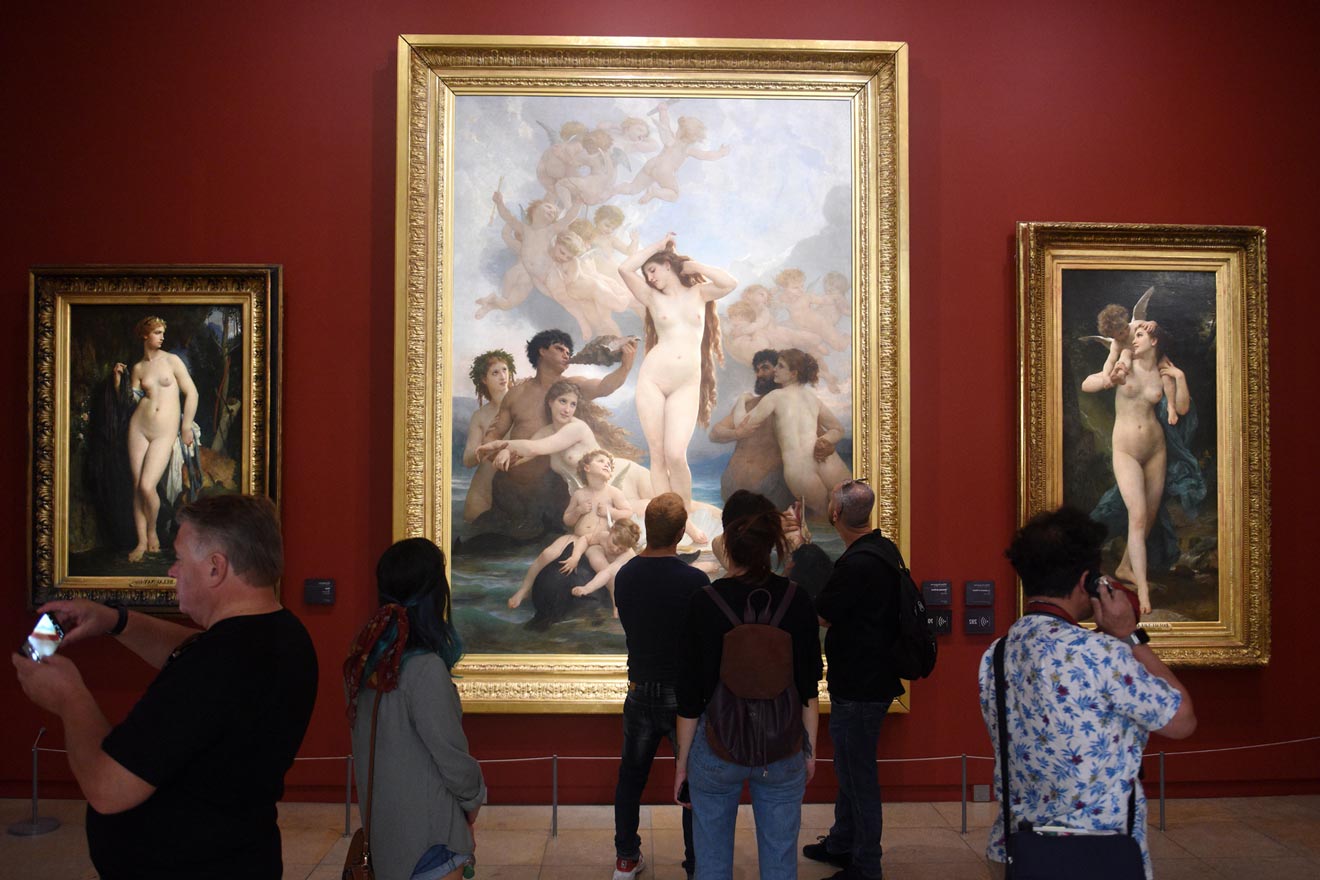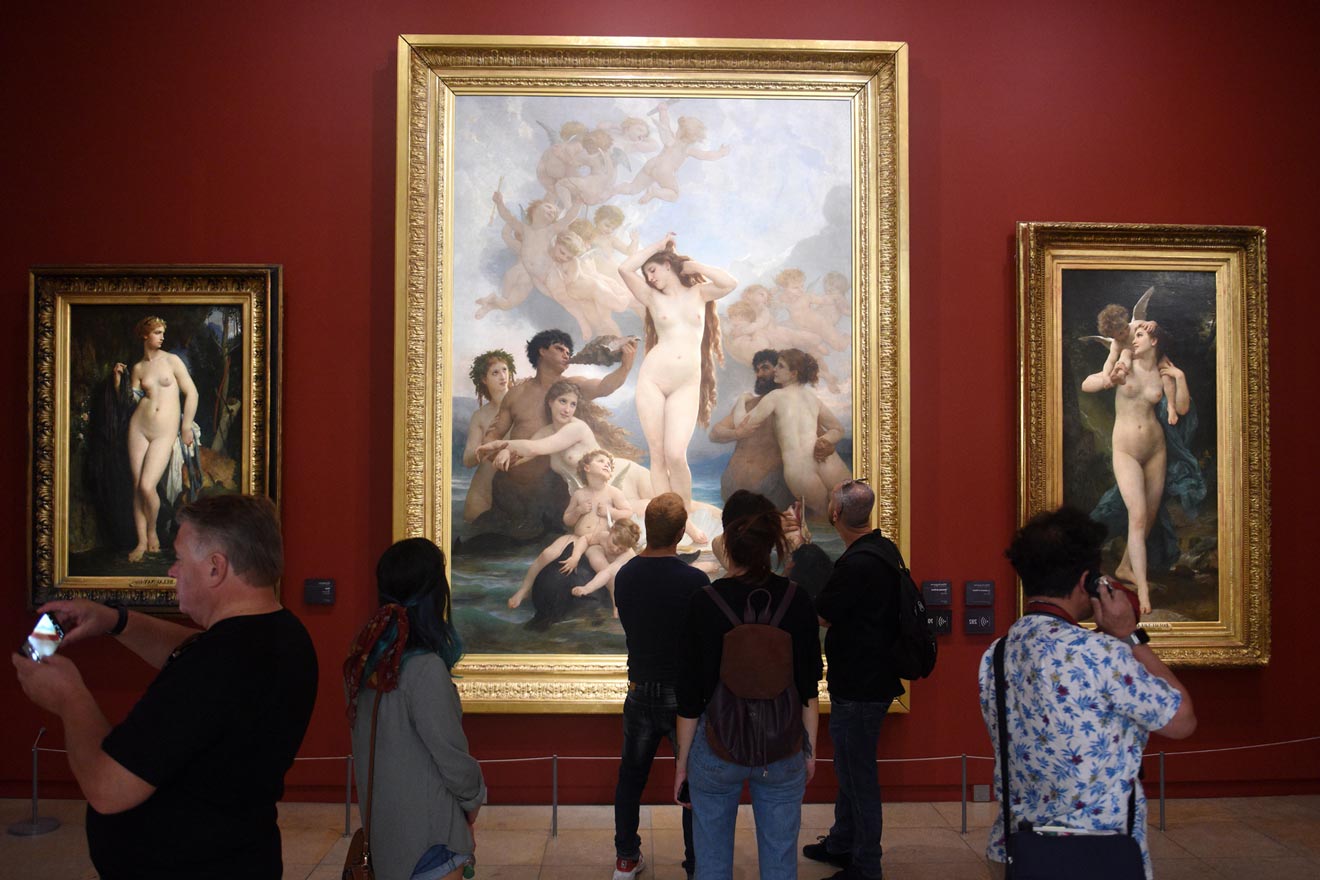 If you're planning to visit as many museums as possible while you're in Paris but not bothered by the other attractions, then consider this Museum Pass instead. Unlike the City Pass, this one offers access only to the museums in the city for one singular price.
It has the same system and of course the more attractions you get to visit the more you save, but let's see exactly if this pass is really worth it or not:
Just like with the Paris City Pass You can buy passes for 2, 4 or 6 days of validity for different prices depending on how much time you have in the city:
2 days – €52
4 days – €66
6 days – €78
There are 34 museums included in the Pass and although we'd like to visit them all, that isn't really an option. Below you'll find an individual list of the main museums in Paris so that you can decide if the pass is worth it or not:
Louvre Museum – €17
Centre Pompidou – €14
Orsay Museum – €16
Picasso Museum – €11
Pantheon – €12
Musée de l'Orangerie – €13
By my calculations, you can buy any of the passes and get good value out of the card without being rushed. Check out my calculations below to see how much money you would save if you'd visit the main attractions included on the pass in 2 days:
Louvre Museum (€17) + Centre Pompidou (€14) + Orsay Museum (€16) + Picasso Museum (€11) + Pantheon (€12) + Musée de l'Orangerie (€13)
17 + 14 + 16 + 11 + 12 + 13 = €83
You save €31 ( $83 individual prices – $52 2 day pass)
Since the 2 days pass is €52 you would need 5+ museums to make it worth it but it can offer great value. You could also pick the 4 days and 6 days and visit more attractions in more time.
5. Buying tickets at the entrance (not recommended)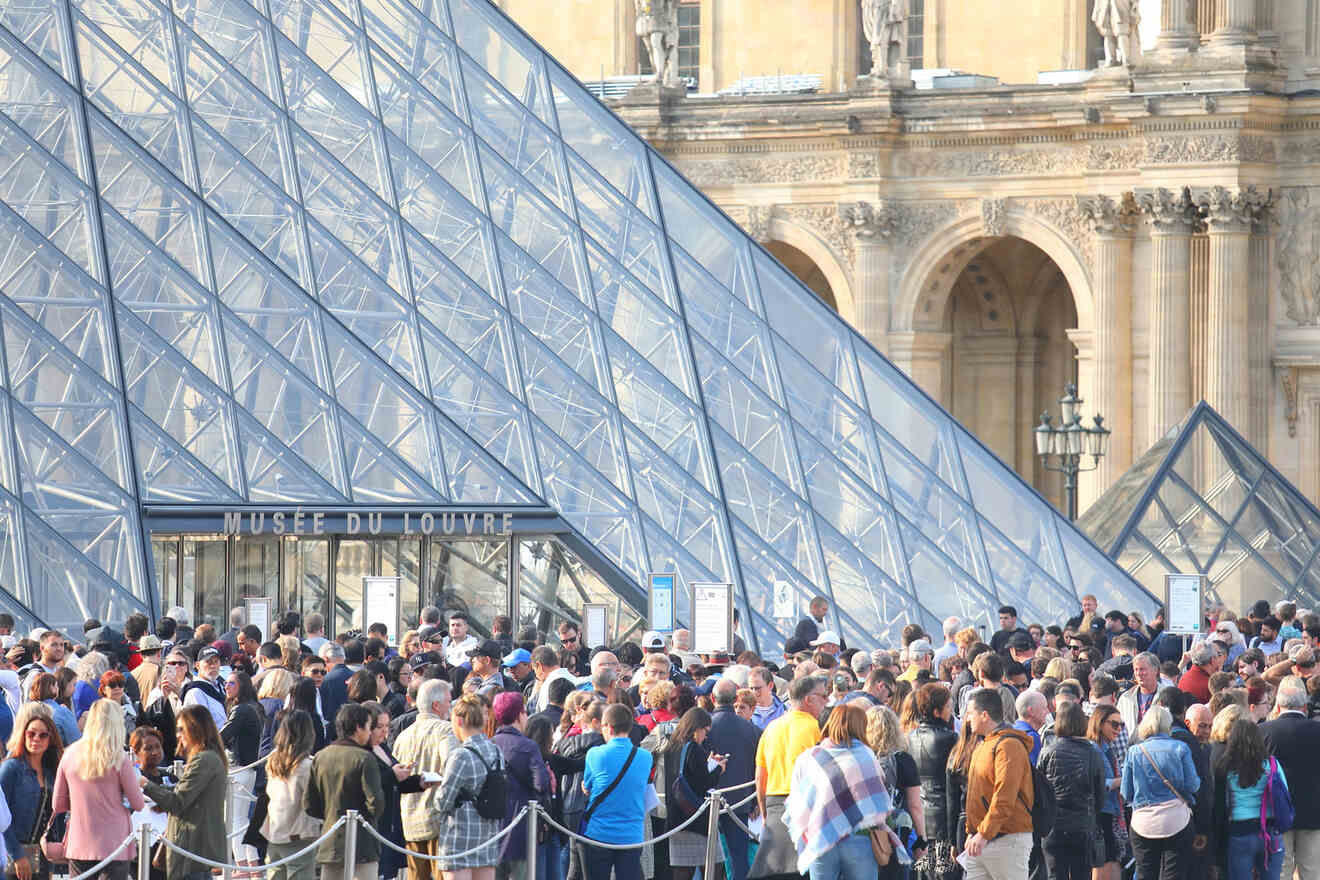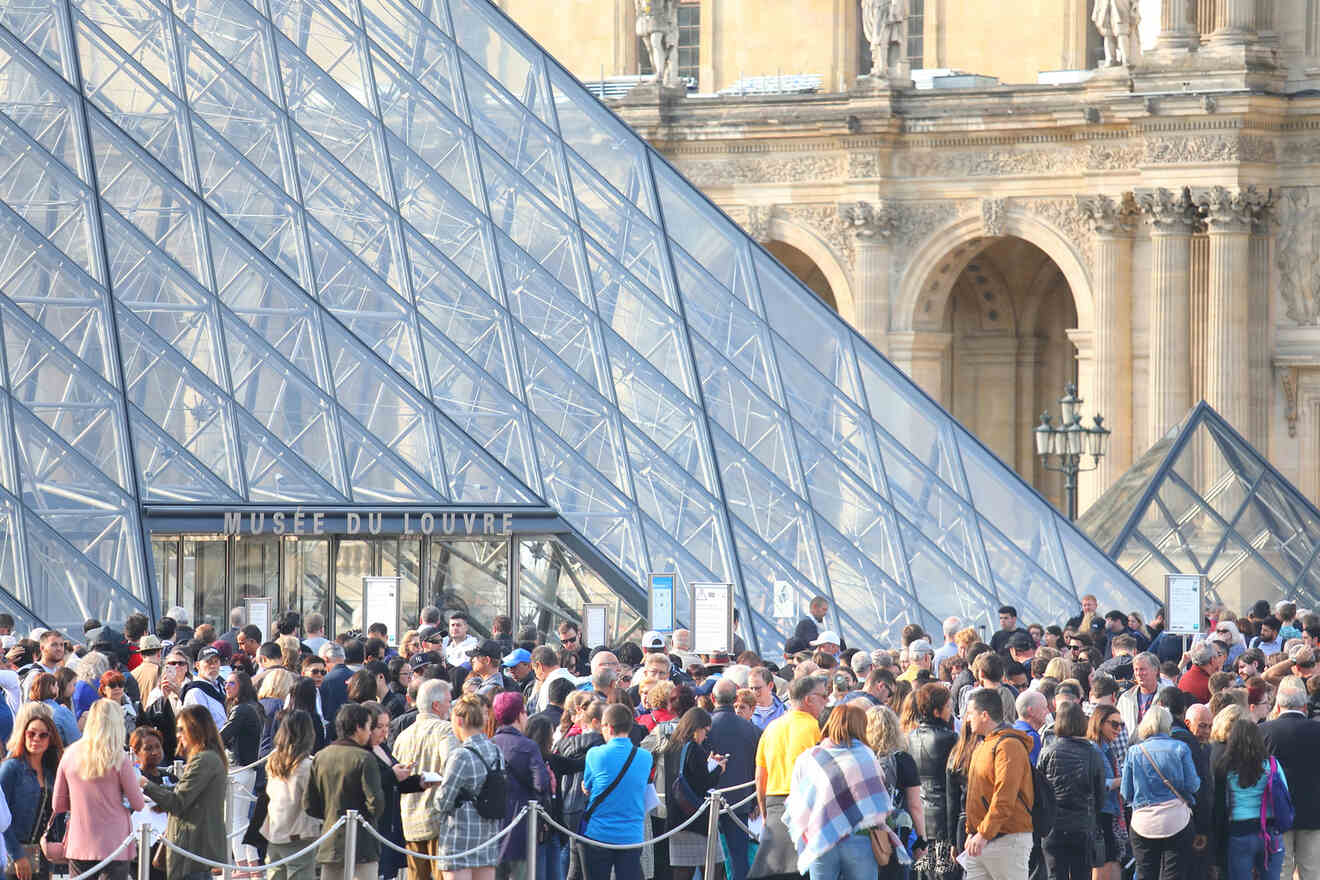 You will find on some websites that state you can't buy tickets at the entrance anymore, and although that was true for some time, recently, the museum started to sell tickets onsite again.
Although I strongly advise you to buy your tickets in advance to avoid staying in a queue for 1-2hrs if you end up doing this, here is where you should go.
PRO TIP: Try the Porte des Lion entrance first as it has way shorter lines. They do have a ticket desk here however, it is not always open as sometimes this entrance is reserved for those with pre-purchased tickets.
If you have no luck here, head to the Louvre Pyramid entrance (the main one), and stand in the yellow queue for those without tickets (see my explanation on the entrances below in the section on important things to know about Louvre). Check out this map will help you find the entrances to the Louvre
Fun fact: The Louvre was once a fortress built to defend the city against an English invasion! That's why you will see a grand building surrounding the famous glass pyramid.
If you do want to buy your tickets at the entrance, I'd recommend coming as early as possible, before the museum opens (especially during peak season). The ticket desk opens at 9 AM, so I'd recommend coming 30 mins earlier to buy the tickets, so around 8:30 AM.
NOTE: At the moment Louvre Museum has only 50 tickets per 30 minutes to sell at the entrance. However, this can change depending on how many people visit
Even if you come super early to buy your tickets at the gate, you'll still run the risk of waiting between 1h or 2h, especially during peak season (May – October). If you're visiting during the off-season (November – March), you may just have to wait up 1h or less, but keep in mind that the tickets at the door are in limited numbers, so you still run the risk of not entering the museum.
If you buy the entrance ticket to the Louvre Museum on-site, you'll pay €15, that's €2 less than what you'd pay if you buy it online in advance as you don't need to pay the booking fee.
6. How to visit the Louvre for free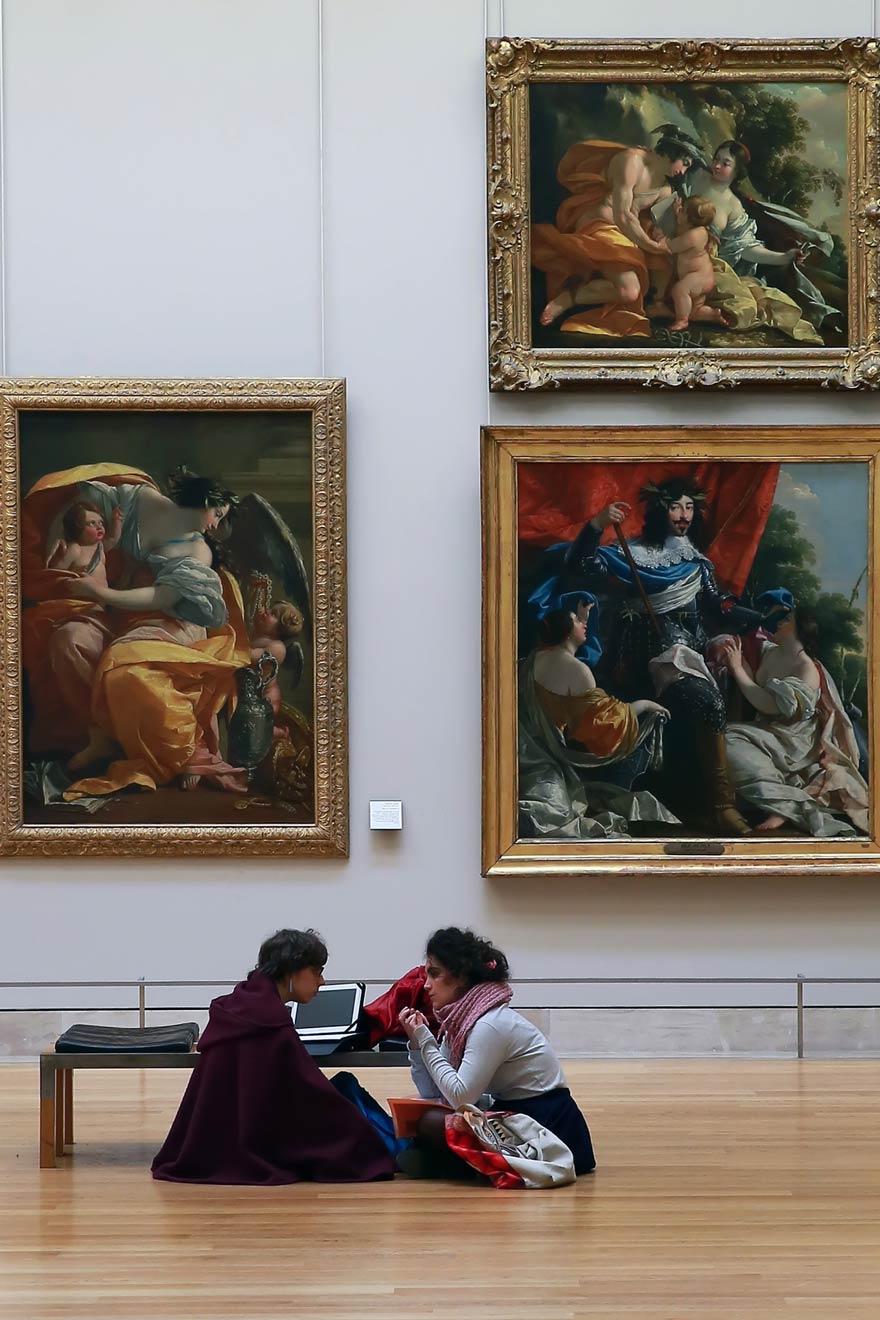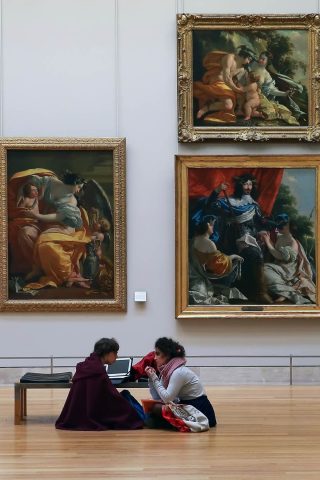 Planning a trip to Paris, but you're on a tight budget? You're in for a really pleasant surprise! On Bastille Day (14th July), the museum is free for everyone!

NOTE: The Louvre Museum used to offer free entrance on the first Sunday of each month, but this program stopped in January 2019.

Now, the only chance to visit the museum for free is on Bastille Day (14th July). Although I think this is an awesome opportunity if you're on a really tight budget, if you can afford a ticket, I would avoid this date due to the crowds. With such a famous museum, thousands of people will jump at the chance to visit it for free, meaning you would have to deal with sharing the space with a lot of others.

How to get your free tickets:

You'll still need to register on their official website to get the tickets. Just go to their site, where you'll find the "July 14" option, click on it and then pick your desired time slot. You will need to head to the Pyramid entrance to use your tickets at the designated time.
Important things to know about the Louvre Museum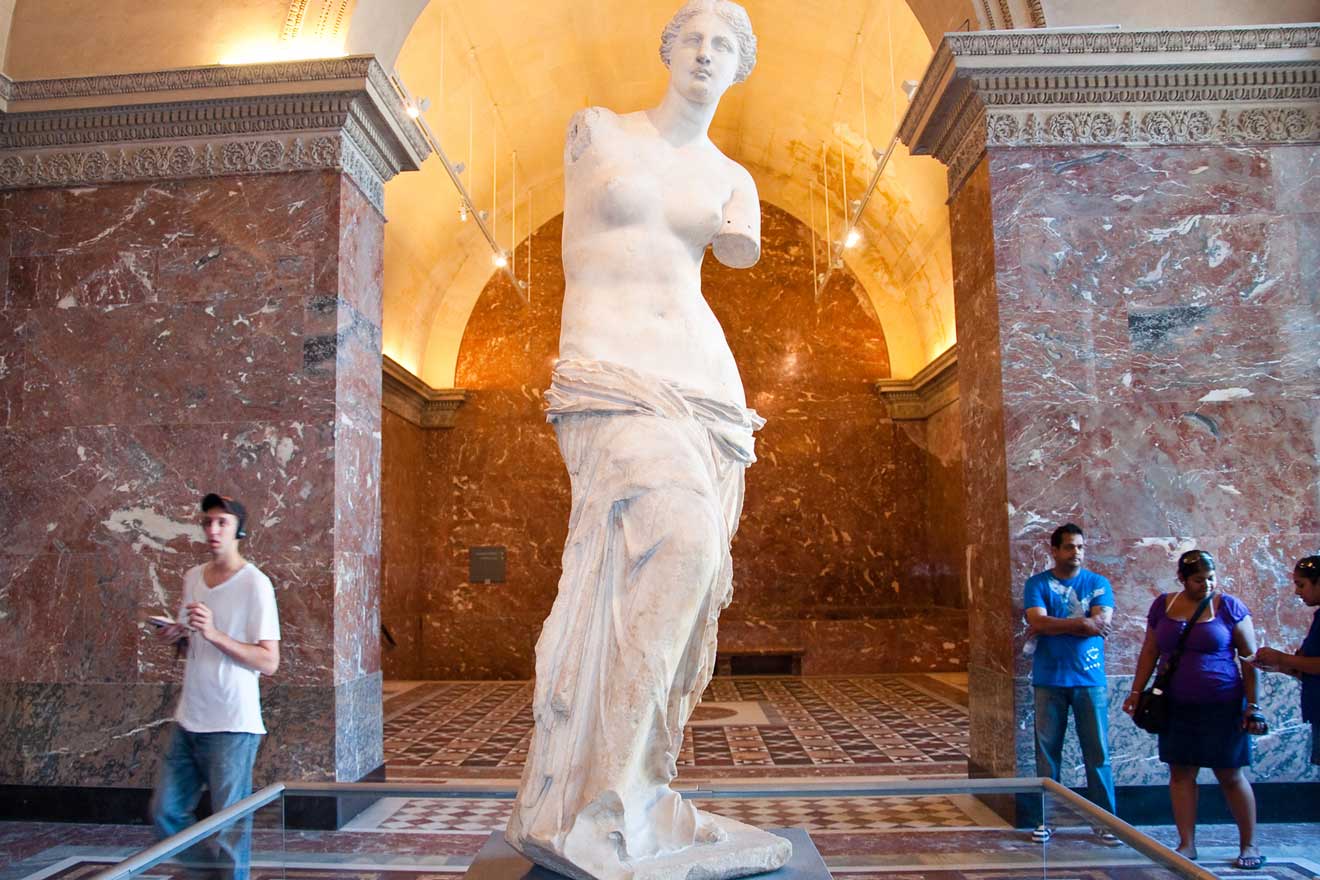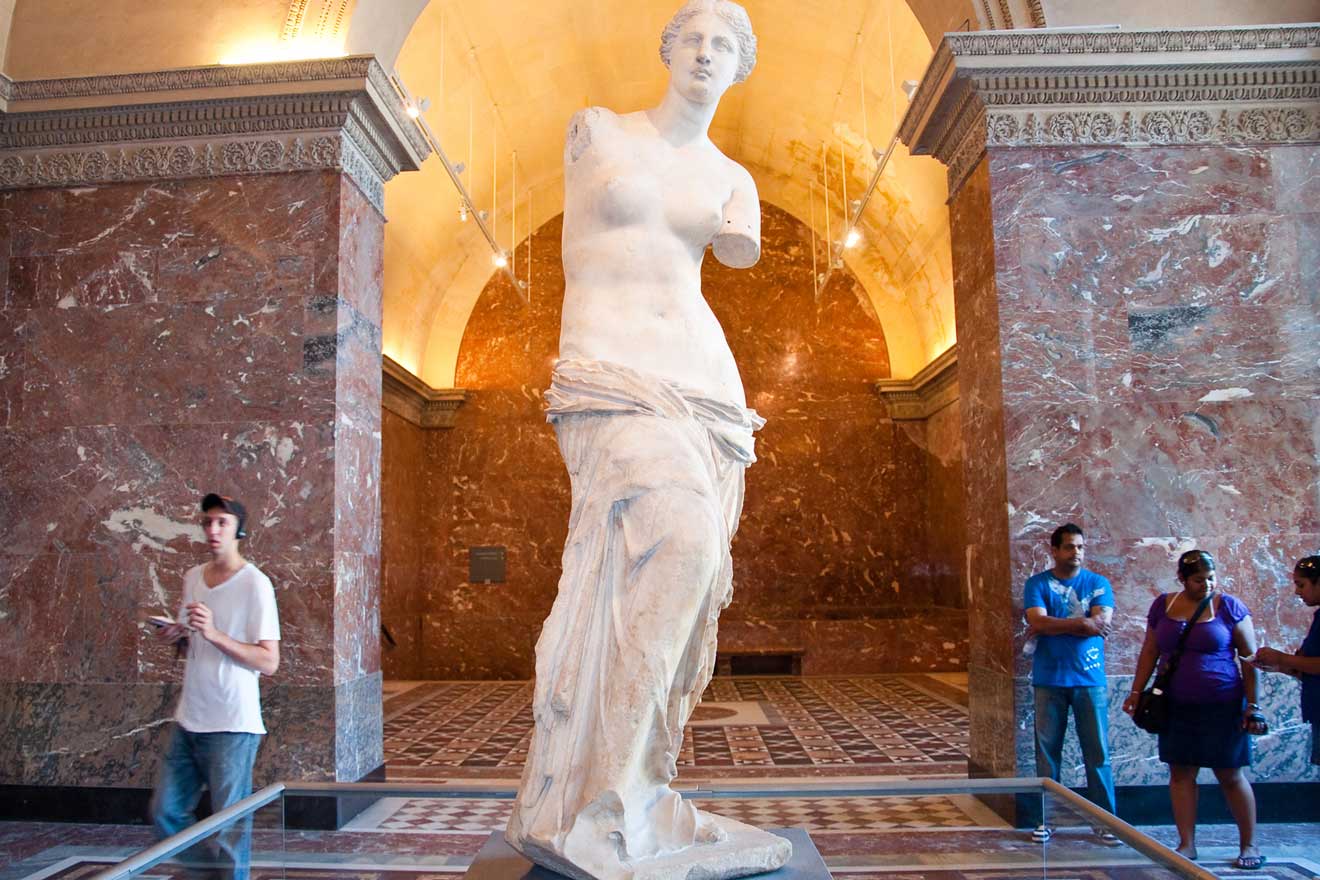 Thought we finished our "little" guidebook on Louvre tickets? Well, there are many other crucial things to know before buying your tickets and heading off. I've gathered all the important ones, so have a look below:
1. How far in advance do you need to buy your tickets
As early as possible! That's a general rule, but I would recommend buying your tickets 1 month in advance during high season or 2-3 weeks in advance during the off-season. That way, you can rest assured that you've secured your spot.
2. Opening hours & best time slot to choose
Make sure you don't forget that the museum is closed every Tuesday, besides that, you can visit whenever you want during open hours:
Mon/Wed/Thurs/Sat/Sun – 9 AM to 6 PM
Fridays – 9 AM to 9:45 PM.
When booking your tickets, you'll have to pick a 30-minute time slot, and you should be at the museum ready to enter at the beginning of the time slot.
Usually, the peak time is at noon. Most tourists, including myself, will go there between 12 AM and 3 PM. If you're hoping to avoid all the big crowds, I recommend going early, as soon as the museum opens at 9 am.
You could also pick one of the last time slots however you will not have a lot of time as the final entry is just 2 hours before closing.
3. Audio Guides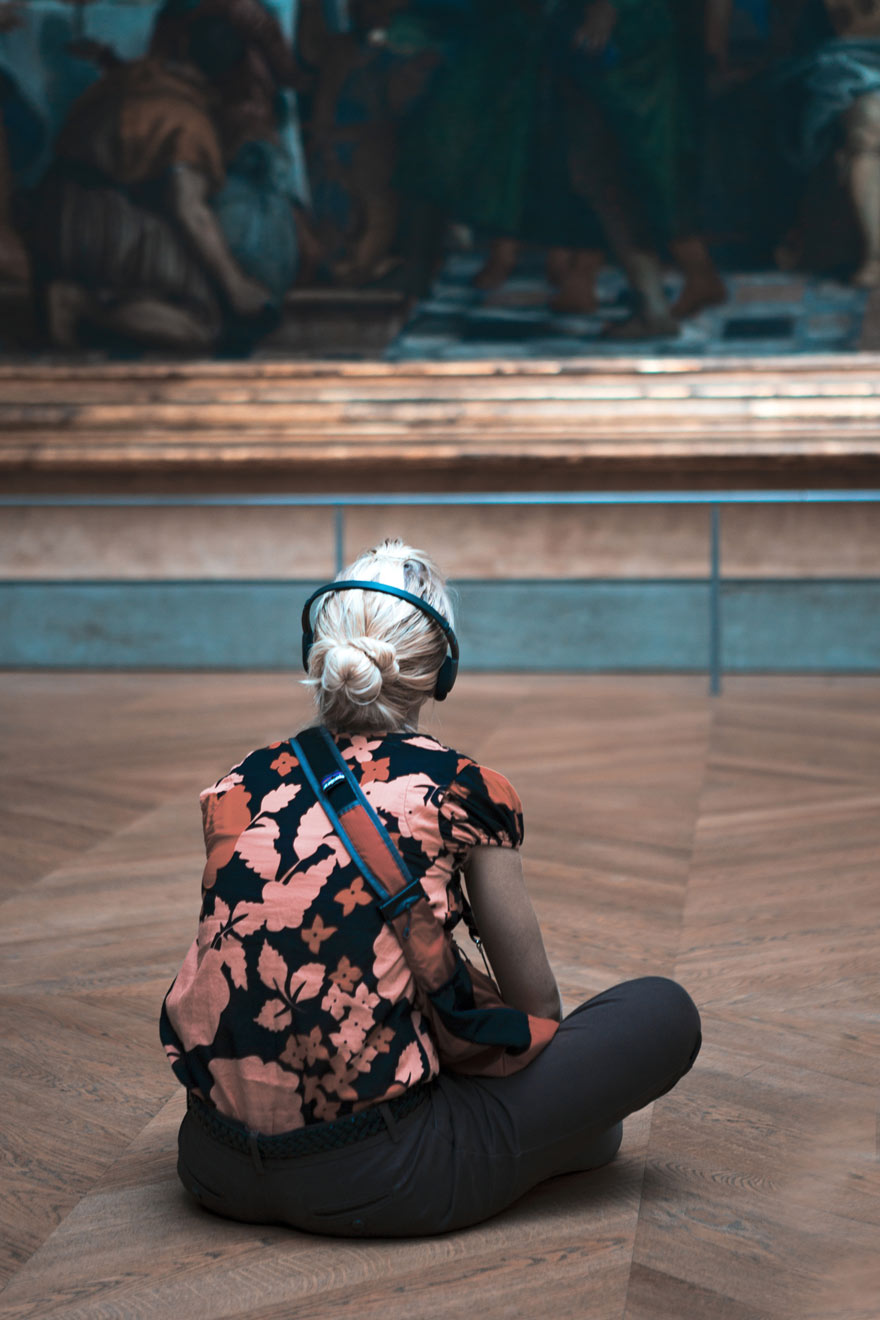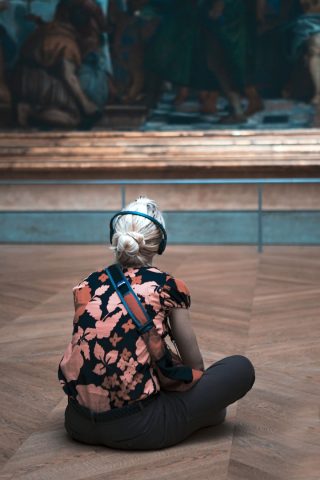 You can book an audio guide through the official website of the Museum by simply clicking on the "audio guide booking" on the site.

NOTE: You'll have to be super careful and choose the same date that you chose for visiting the museum!
The audio guide costs €5 and is perfect for people who want to learn more about the pieces in the museum with information available for 300 rooms!
PRO TIP: You'll have to pick up your audio guide before 4 PM so keep this in mind if visiting in the afternoon.
4. Museum Entrances
There are 4 entrances to the Louvre Museum that tourists can use, and they're categorized by the type of ticket you have or want to buy:
Pyramid Entrance – This is the main entrance (and most crowded) for visitors and it's divided into 4 different lines. Each line has a specific color depending on your needs.
○ Yellow for visitors without tickets.
○ Blue for visitors needing assistance.
○ Green for visitors with specific time-slot tickets.
○ Orange for visitors with tickets or Paris Museum Pass
Carrousel Entrance – This entrance can be used by all visitors who bought the ticket in advance, who are in groups, or people with membership cards
Richelieu – This entrance is reserved for groups and visitors with membership cards (Amis du Louvre, Louvre Pro, Ministère de la Culture, Pass Education, ICOM)
Porte des Lions – This entrance is not always open, and it's usually closed on Fridays. They also don't have any lockers here, so if you have a big bag or helmet with you won't be allowed to enter. There is a ticket office here as well but it is not always open. If it's closed that means this line is reserved for the people who already got their ticket online.
PRO TIP: Don't head straight for the Pyramid entrance if you already have your ticket as this one is the most obvious and always has the longest lines! Try the Porte des Lions first as this one is practically a secret and barely anyone knows about it! If it is closed, try the Carrousel Entrance next.
Make sure you stand in the right line and don't forget that there are always members of staff who'll help you if you have any questions!
5. How to get to the Louvre Museum
There are different ways to reach the Louvre Museum, depending on which means of transport you use, here are the main ones: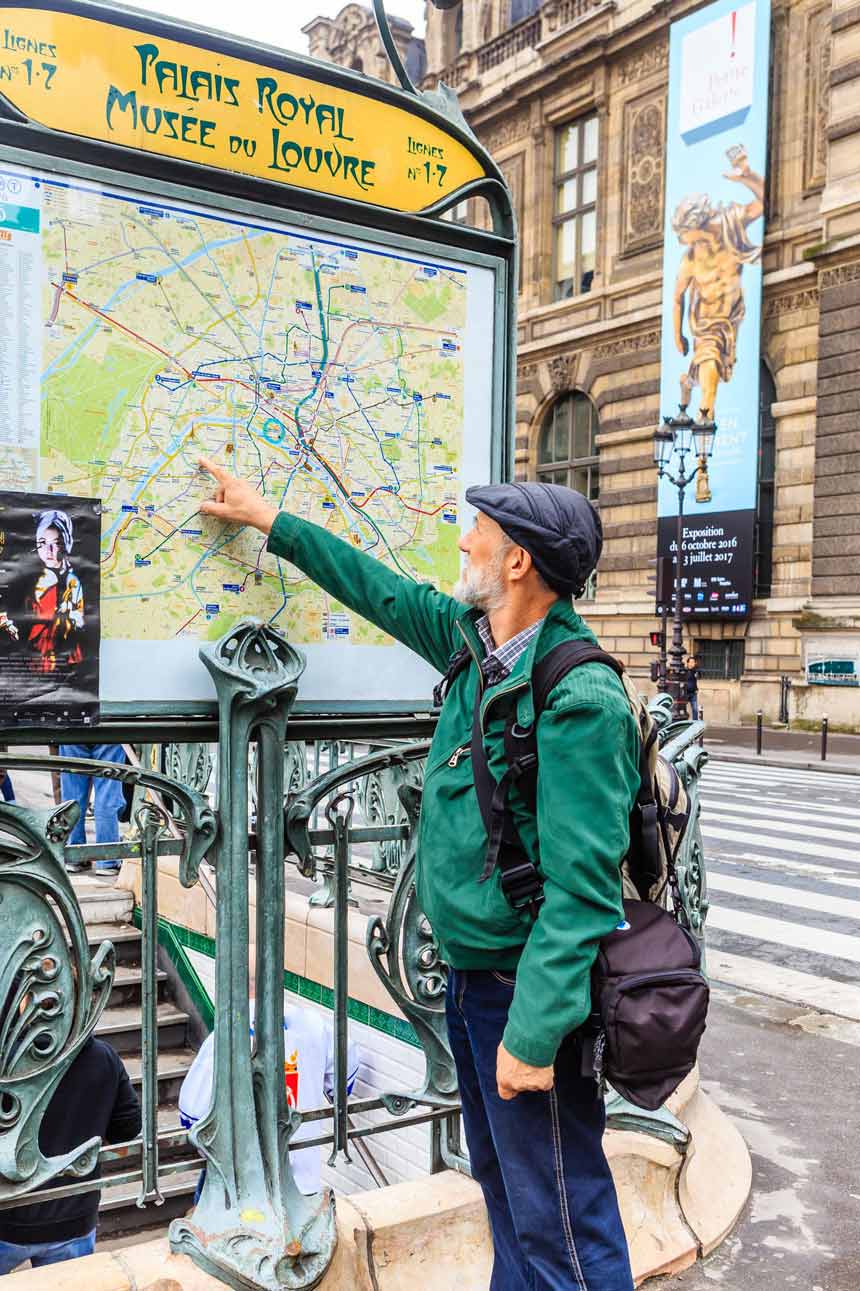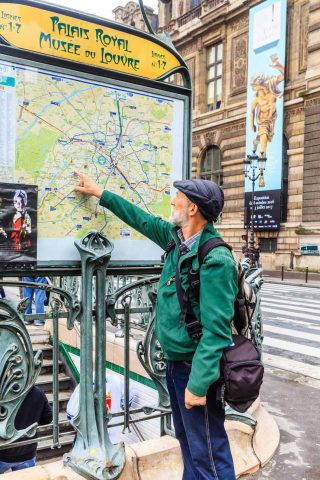 By Metro: Take lines 1 or 7 to reach Palais Royal – Musée du Louvre metro station which is located only a 3 minutes walk away from the museum, or take line 14 to Pyramides metro station which is located a 6 minute walk away from the museum
By Bus: You can take the following bus numbers to reach the museum: No. 21, 27, 39, 67, 68, 69, 72, 74, 85, 95
By Car: The museum has an underground car park located at 1 Avenue du Général Lemonier, from which you can access the museum via the Galerie du Carrousel entrance which is opened daily from 7 AM to 11 PM. Prices start from €4.20 per hour. Check out their website to learn more.
By Bicycle: You can leave your bicycle in the following stations: No. 1015, 2 place A. Malraux, No. 1023, 165 rue Saint-Honoré, No. 1014, 5 rue de l'Echelle, No. 1013, 186 rue Saint-Honoré
By cab / Uber: Stop at the Carrousel roundabout
6. What to bring to the Louvre Museum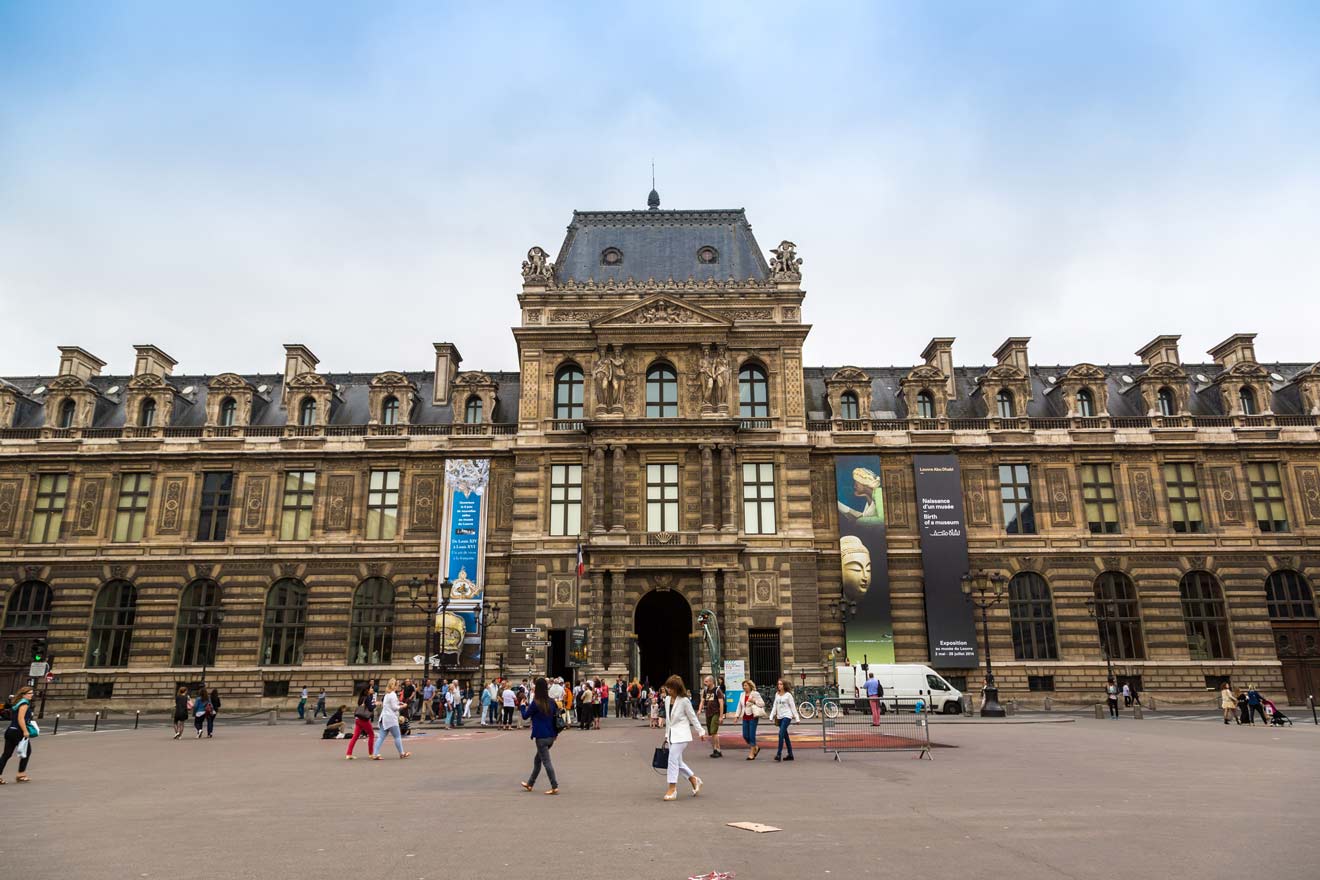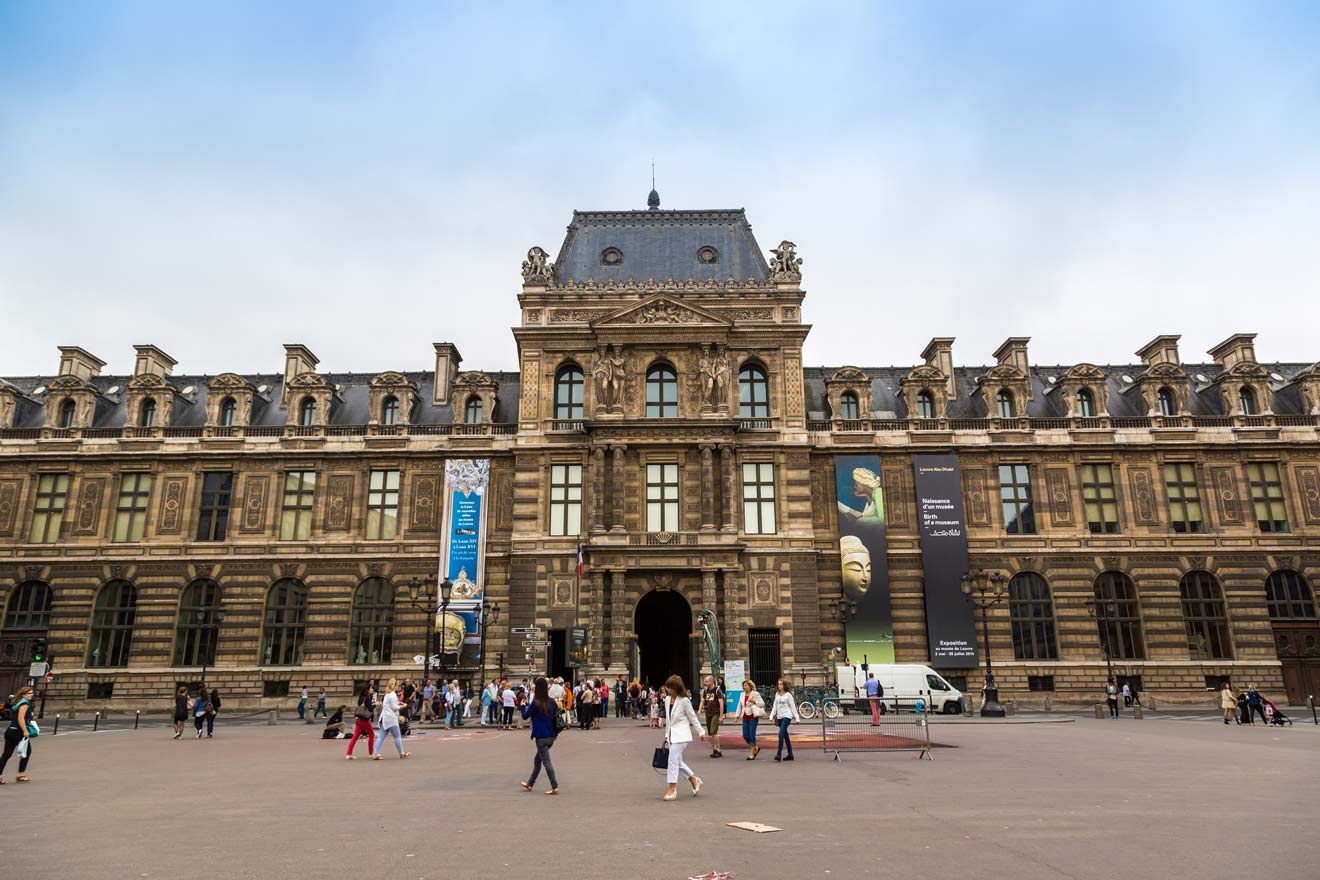 I like to keep my readers as informed as possible, so below you'll find a list of things that you should or shouldn't bring with your when visiting the Museum:
Tickets – You don't have to print out your tickets (but you can if you want to). You'll have to download the PDF tickets from the confirmation email and bring them with you. Please don't forget that you shouldn't take screenshots of your tickets, as they won't accept them (you need to show the actual PDF).
ID – You may be required to show your ID along with the tickets, so have it with you just in case, especially if you are buying reduced-rate tickets.
Food & Drinks – You're not allowed to bring drinks inside the museum, but small snacks are allowed, however, you can't eat them in the exhibition rooms.
Photo policy – You can take photos and videos in the permanent collections (if you're visiting a temporary collection, photos and videos may be prohibited), if they're for personal use. However, you're not allowed to use flash, lighting, or selfie sticks.
Personal Items – You can't bring large bags or a suitcase inside the museum. You will find lockers inside the museum, which are free of use to leave your larger items.
7. Top pieces to see inside the Louvre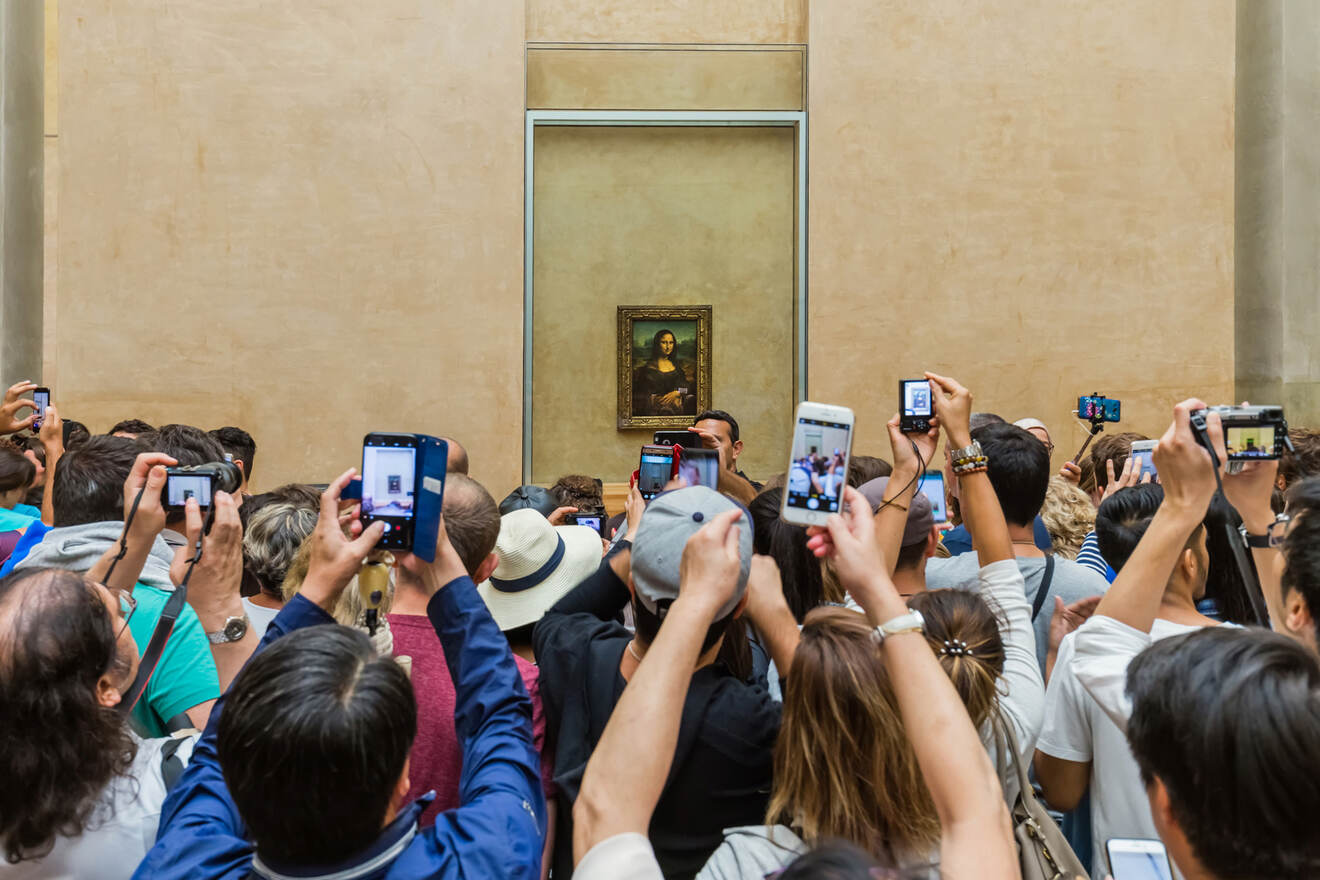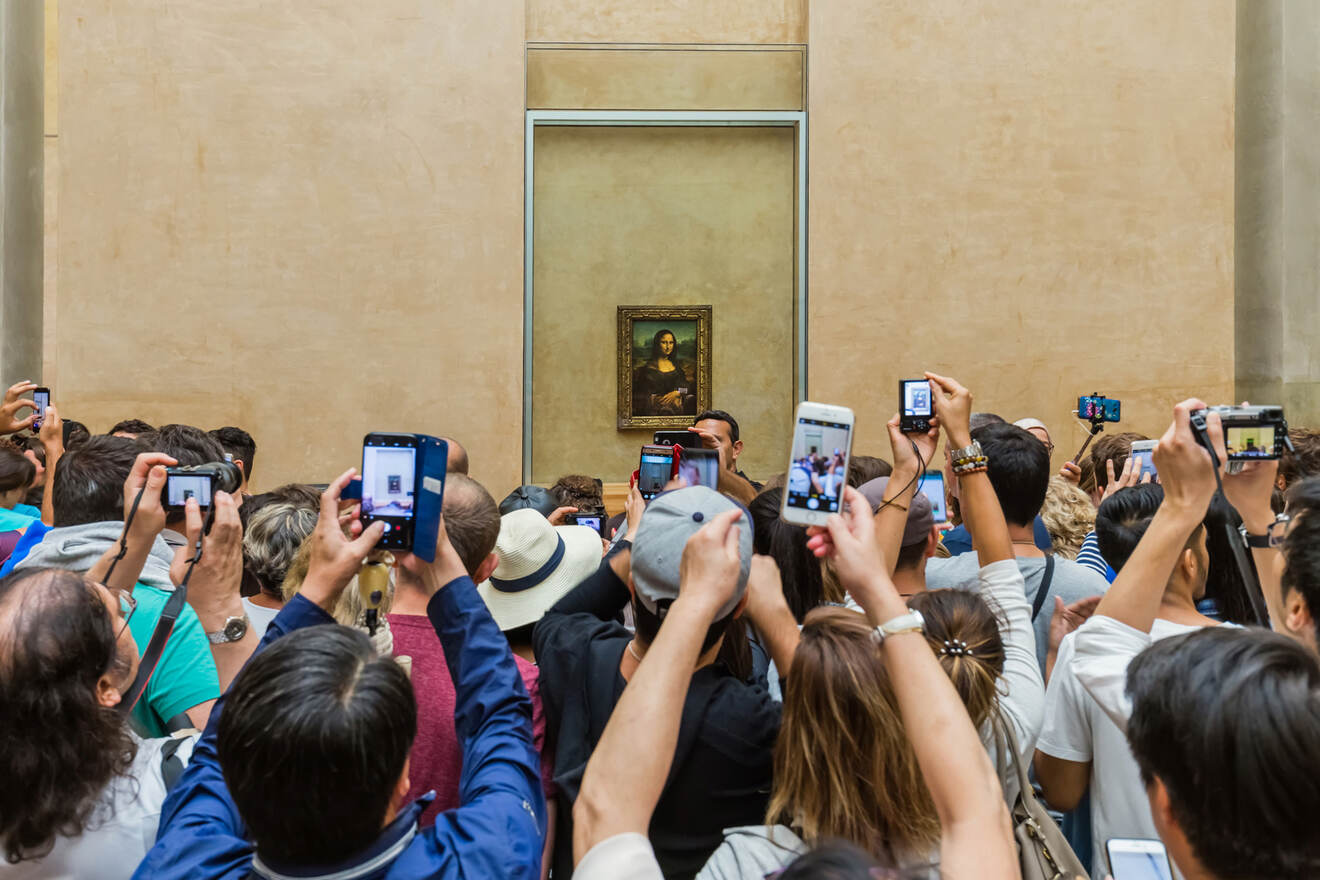 As much as I would like to, it's kind of impossible to see all the artworks inside the museum in just 1 day (you couldn't even see everything in a whole week)!
There are around 35,000 things to see here, so it would take you about 200 days to see everything if you would only glance at each artwork for 30 seconds!
All of them are incredible, but there are a few super important artworks that you shouldn't miss out on.
So here's a list of the most important pieces inside the Louvre with their room number:
Venus de Milo by Alexandros of Antioch – Gallery 16
Triumph of the Virtues by Andrea Mantegna – Room 371
The Raft of Medusa by Théodore Géricault – Room 700
Liberty Leading the People by Eugène Delacroix – Room 700
The Coronation of Napoleon by Jacques-Louis David – Room 702
Death of the Virgin by Michelangelo Merisi da Caravaggio – Room 710
Mona Lisa by Leonardo Da Vinci – Room 711
The Wedding at Cana by Paolo Veronese – Room 711
David with the Head of Goliath by Guido Reni – Grande Galerie
The Virgin and Child with Saint Anne by Leonardo da Vinci – Denon Wing, Grand Galeriè
8. Facilities inside the Louvre Museum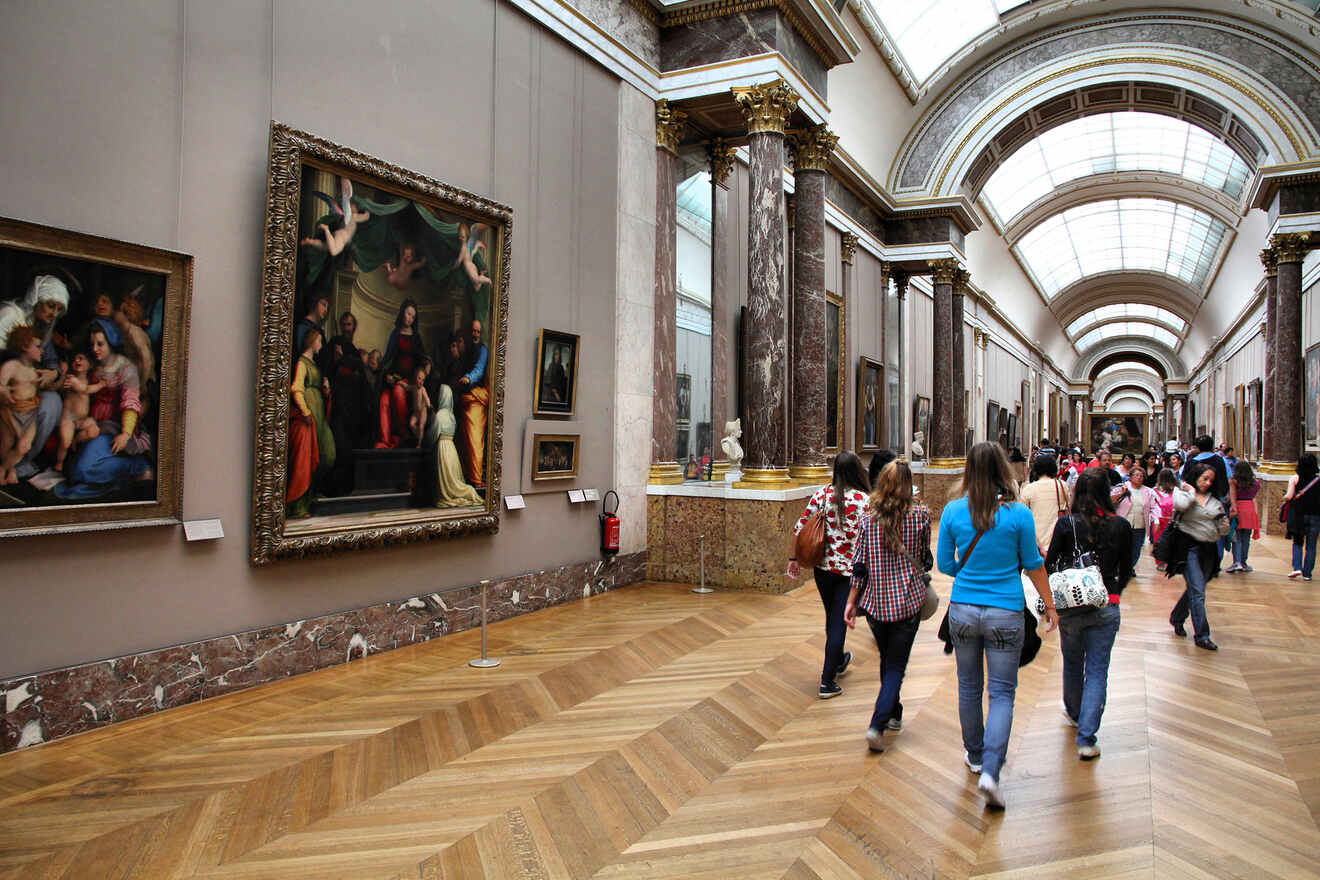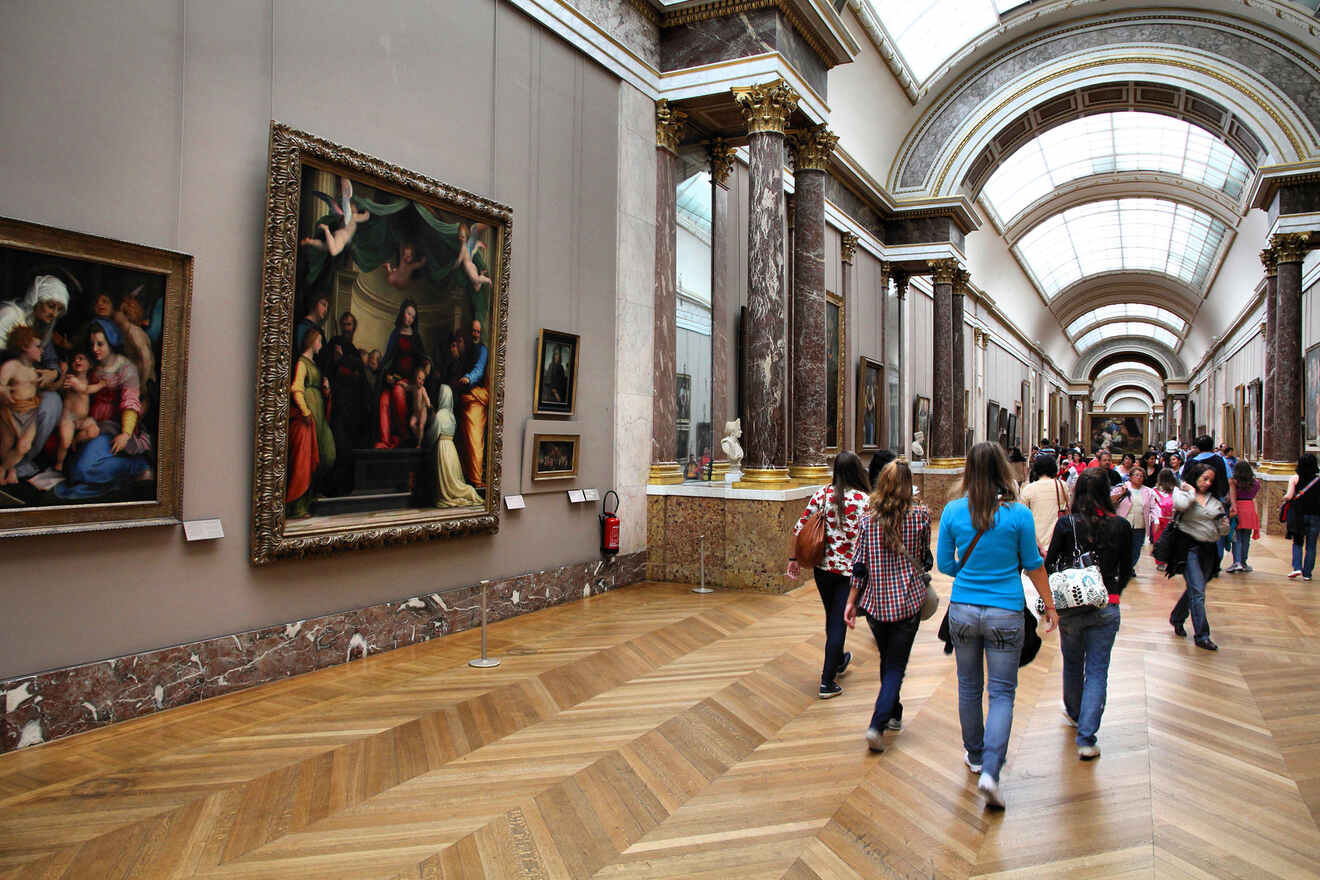 Cloakrooms – You'll find the self-service lockers which are free of charge beneath the Pyramid
Free Wi-fi – You'll have free access to the wi-fi network "Louvre_Wifi_Gratuit" which lasts 1h and can be renewed as many times as needed
Free Phone Charging Service – You can charge your phone at the phone charging lockers under the Pyramide
Baby Space – On the ground floor of the Richelieu wing you'll find "the Studio" an area designated for families which has baby space equipped with a bottle warmer, a microwave oven and a nursing chair
Equipment to loan – If you need walking sticks, folding stools, strollers, baby carriers, and wheelchairs you can find them in the visitor assistance area (located beneath the Pyramid), and you can borrow them for free in exchange for your ID.
Books & Gift Shop – There are 4 books & gift shops inside the museum: Boutique Du Louvre (Allée du Grand Louvre), Salon Denon (Denon wing – Level 1), Denon Counter (Denon Mezzanine, under the Pyramid), Hall Napoléon Counter (Hall Napoléon)
Cafes & Restaurants:
Bistroit Benoit (Level -2 under the Pyramid)
Starbucks (Level – 1 Richelieu Mezzanine, under the Pyramid)
Goguette (Level – 1, Richelieu Mezzanine, under the Pyramid)
Paul (Level – 2, under the Pyramid)
Denon & Richelieu Takeaway Counters (Level -1 Denon Mezzanine, under the Pyramid)
Cafe Mollien (Level 1, Denon wing, next to the red French paintings rooms)
Cafe Richelieu Angelina (Level 1 Richelieu wing, near Napoleon III Apartments)
Cafe Marly (93 rue de Rivoli, opposite the Pyramid)
Colbert Terrace (Level 1 Richelieu wing, accessible via the Café Richelieu Angelina)
FAQs about the Louvre Museum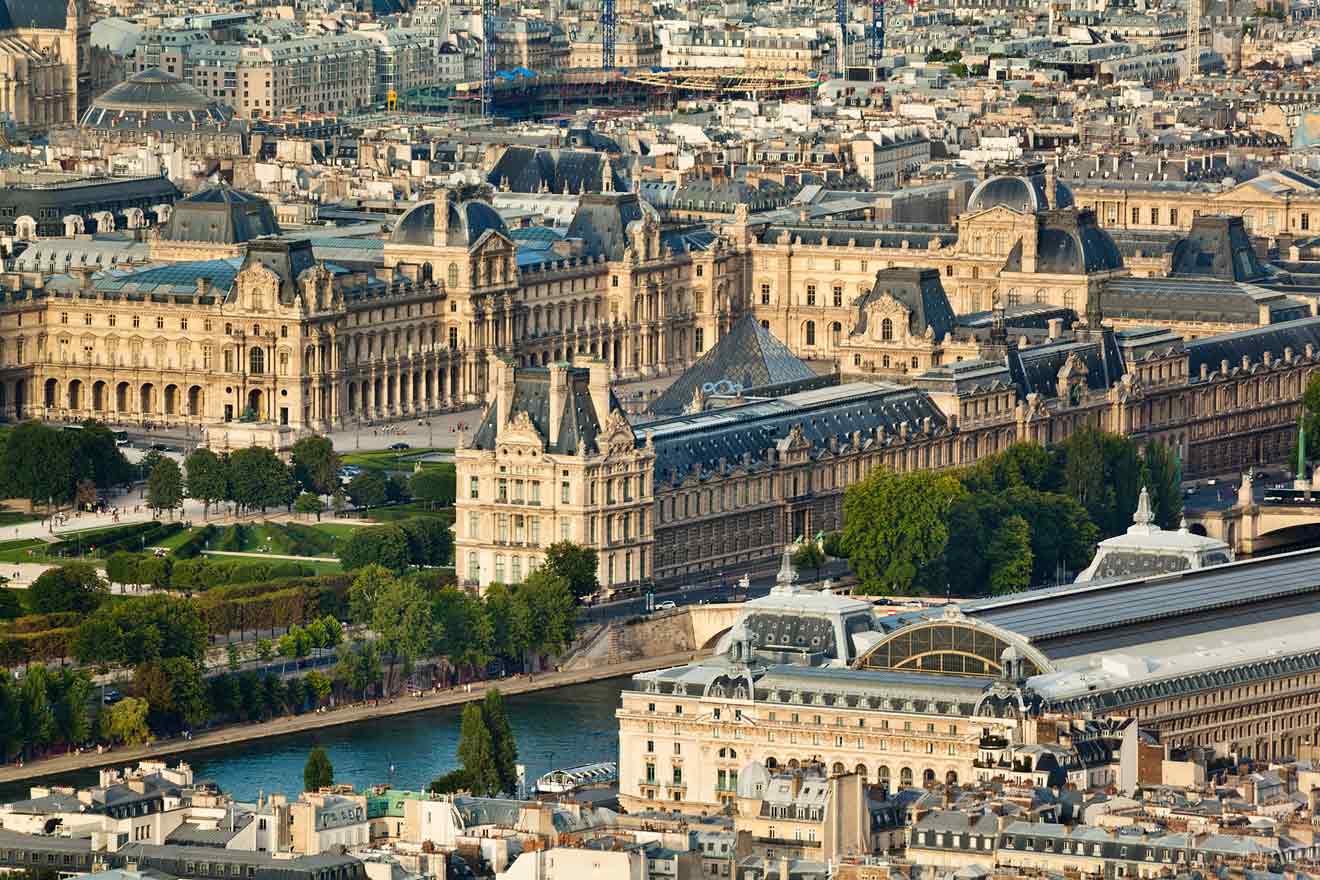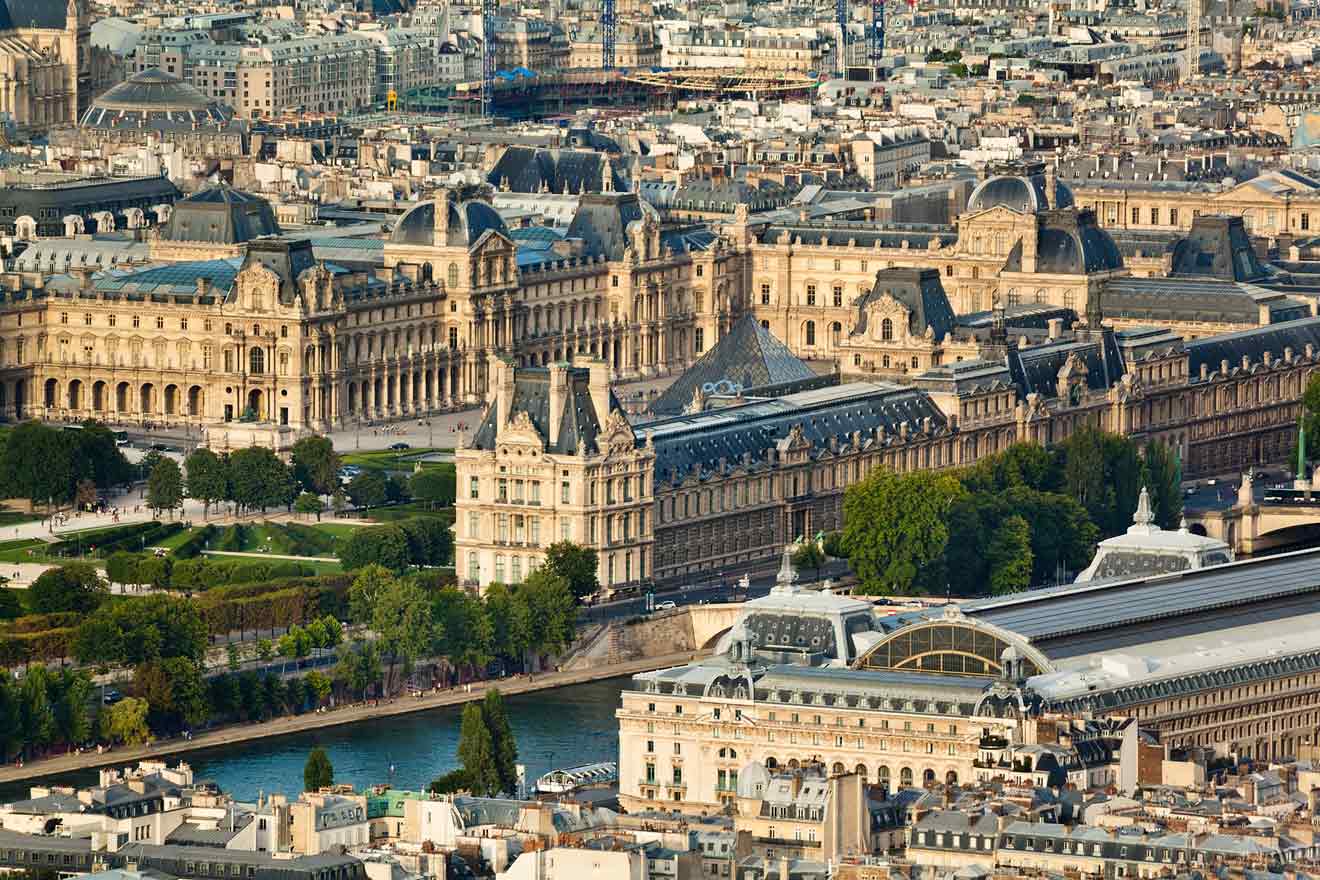 💰 What day is the Louvre museum free?
Louvre Museum is free on Bastille Day (14th July) but you still have to go on the website and reserve a timeslot! 
🎟️ Should you buy Louvre tickets in advance?
Yes! Buy your tickets in advance for the Louvre. If you buy your tickets at the gate you'll risk waiting around 2h in lines, and sometimes you won't get to enter as the number of tickets at the door are limited. I
🕛 How much time do you need at the Louvre?
I recommend reserving at least 3 hours for visiting the museum! Although you won't see all the pieces, you'll get to see the main ones. 
🤔 What is the best day to visit Louvre?
The best day to visit the Louvre is Friday evening when the museum is open until 9:45 PM.
💲 How much do Louvre tickets cost?
General entrance tickets to the Louvre cost €17 per adult and are free for EU students and kids.
Conclusion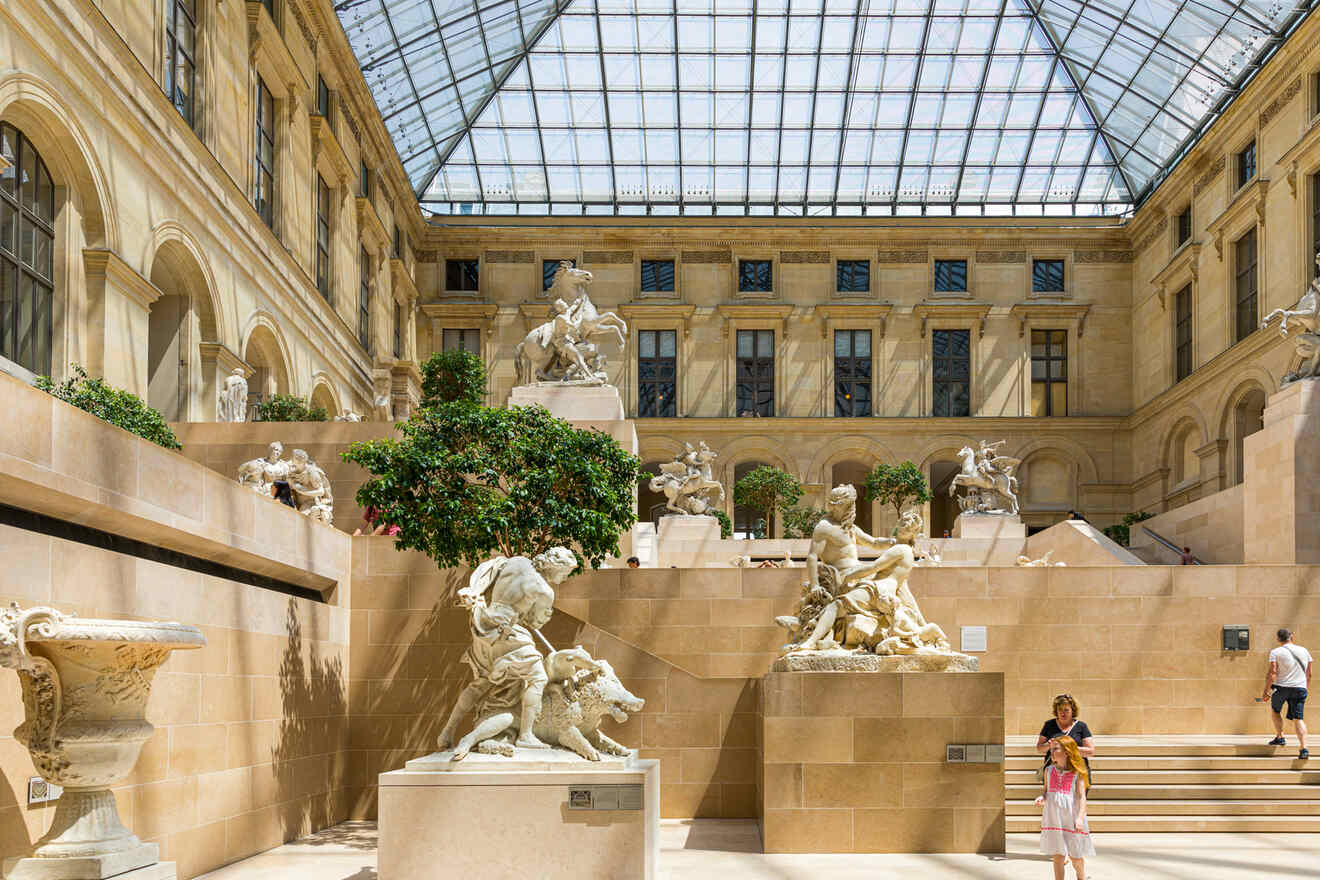 Well, that was a long one but by now I'm sure you all are experts in buying tickets for the Louvre Museum!
Let's do a quick recap and remember that the cheapest tickets to buy for the museum are through the official website but keep in mind that these sell out months in advance!
No need to panic! You've got lots of other options on GetYourGuide, Viator, Klook, Headout, or Tiqets (plus some of these sites, a much better cancellation policy). If these are also gone, I've offered other alternatives, so you can still visit without the queues!
Enjoy your time at the Louvre (you won't forget it)! I know I covered most topics here but if I've left any questions unanswered just pop them below and I'll help you with all the information!
Safe Travels,
Victoria
---
Pin it for later!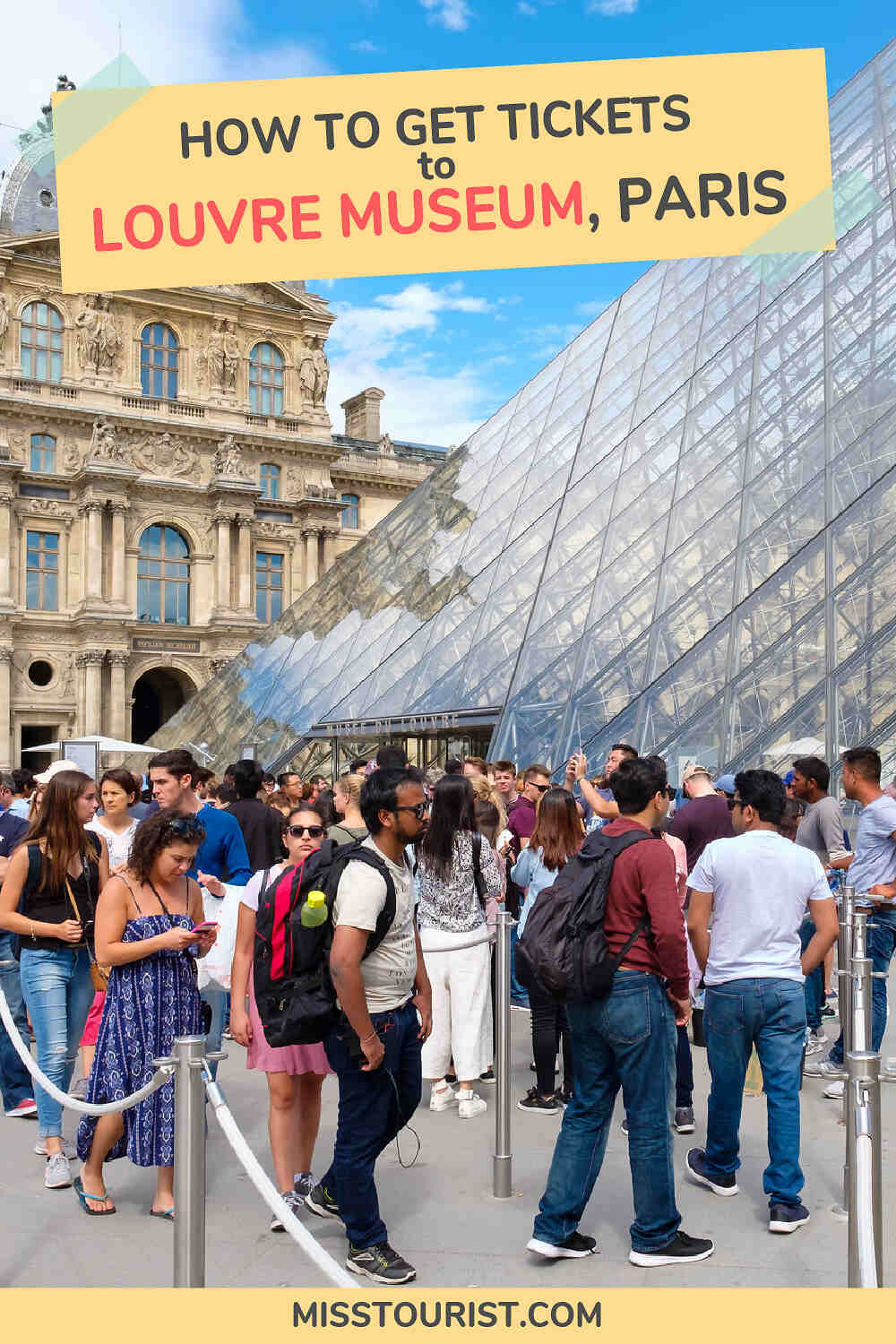 Pin it for later!