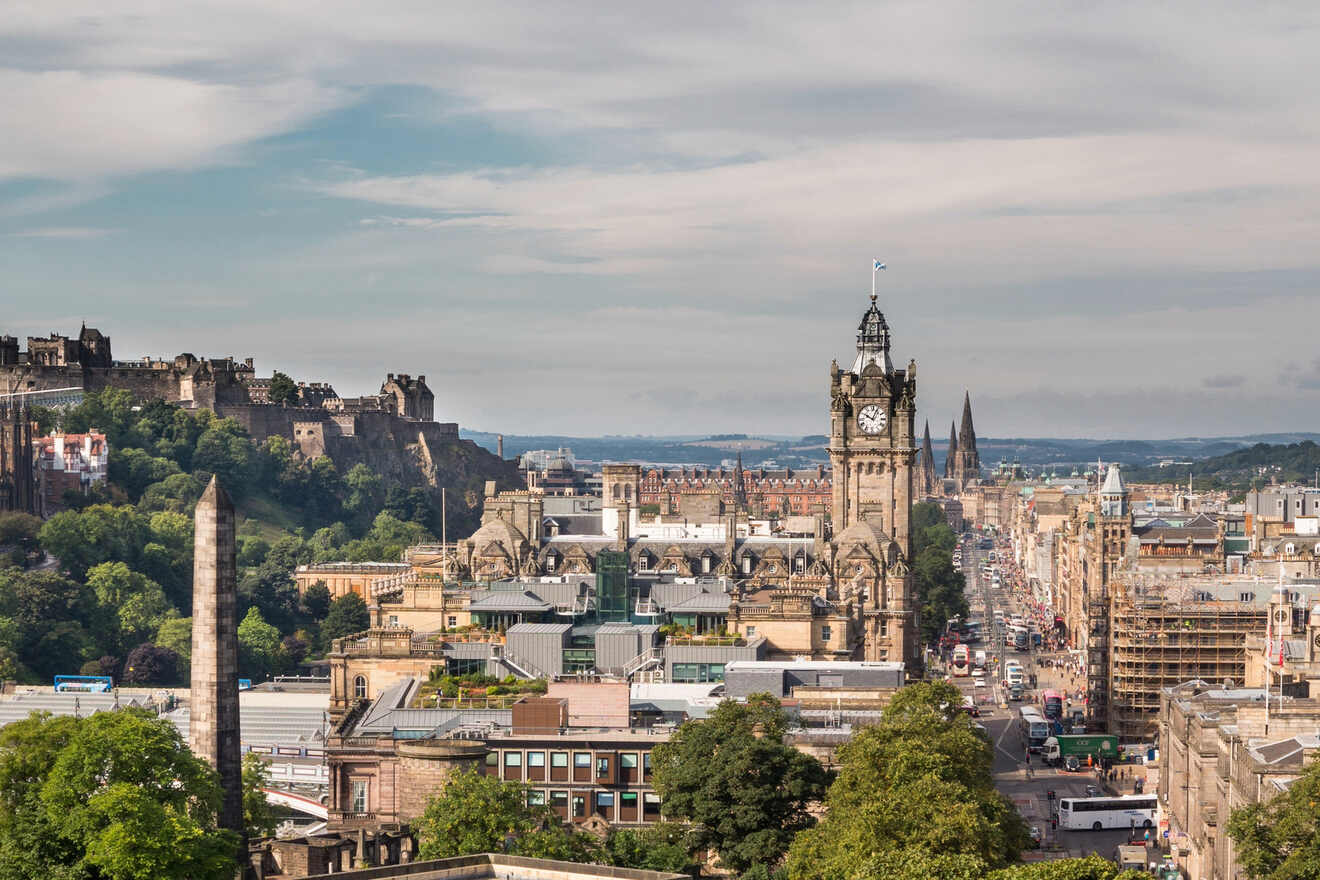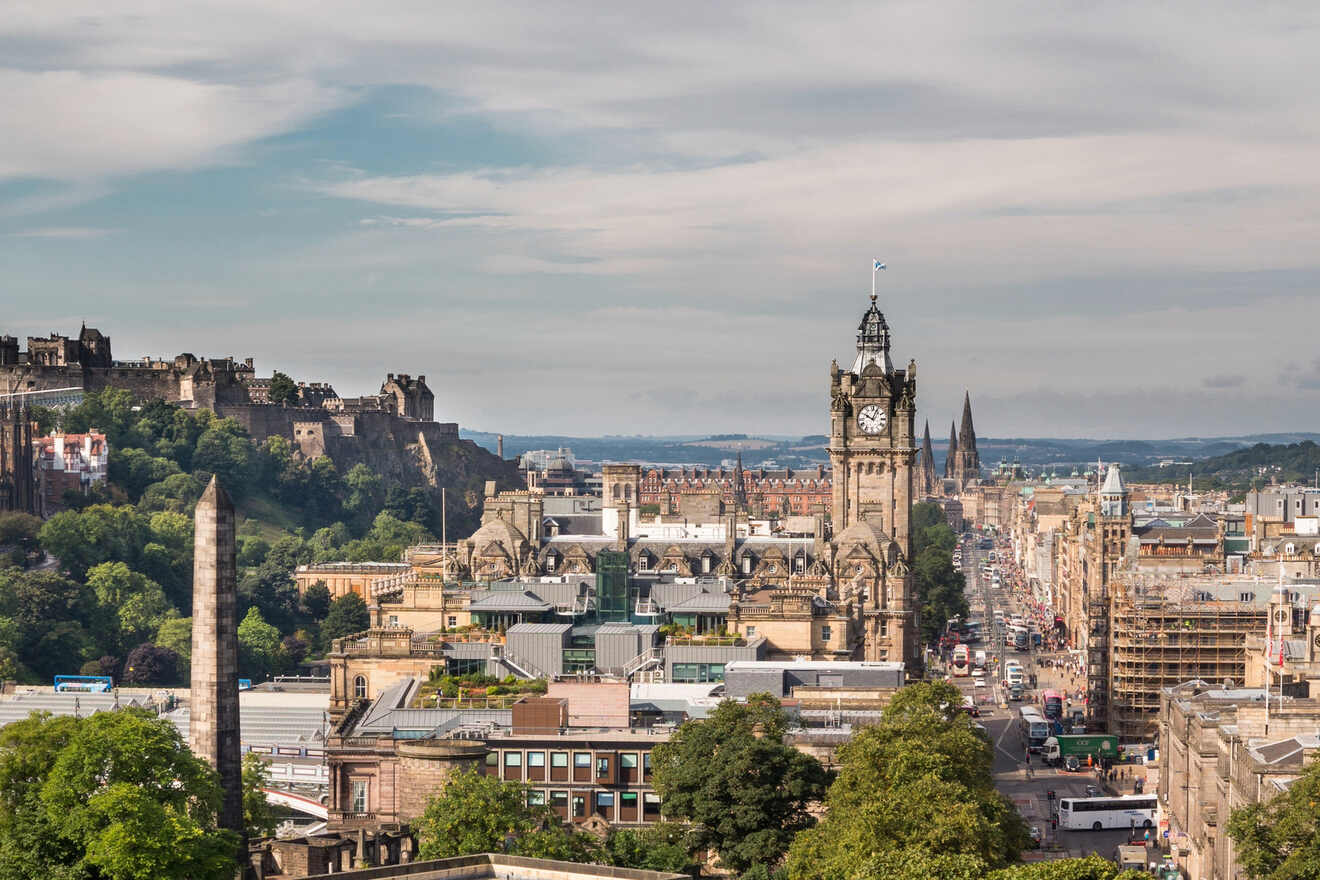 Are you ready to walk along a medieval cobbled street, see infinite green parks, and experience true Scottish culture and the food scene? If you already started to hear bagpipes you are in Scotland's capital, Edinburgh!
Edinburgh, Scotland is many travelers' desired location with its unique landscapes and traditions. This city is home to many famous festivals, award-winning restaurants, and the best bars! The most known attraction in this lovely city is Edinburgh Castle. You will have a great time discovering the spectacular castle and watching the amazing city view that combines history and green nature.
Apart from its historical side, in Edinburgh, there are so many museums, bohemian shops, the best international restaurants and of course Scottish bars. The beauty of the city is you can spend a day at a nice park relaxing and enjoy the colorful nightlife as well from any location. There are plenty of things to do in Edinburgh for everyone!
Being a very popular tourist destination, I want to let you know that hotels have very high demand in Edinburgh. Best to make sure to book your place in advance not to miss out. Most of the hotels have a free cancellation policy, so do not worry if you change your mind!
So let me give an answer to where to stay in Edinburgh, Scotland!
If you are in a hurry
Here are some of the best hotels in the top areas to stay in Edinburgh sorted by price. All of them have fabulous reviews, too:
Here is a map of where to stay in Edinburgh with all the 6 neighborhoods I will be talking about in this post, so you can easily visualize them: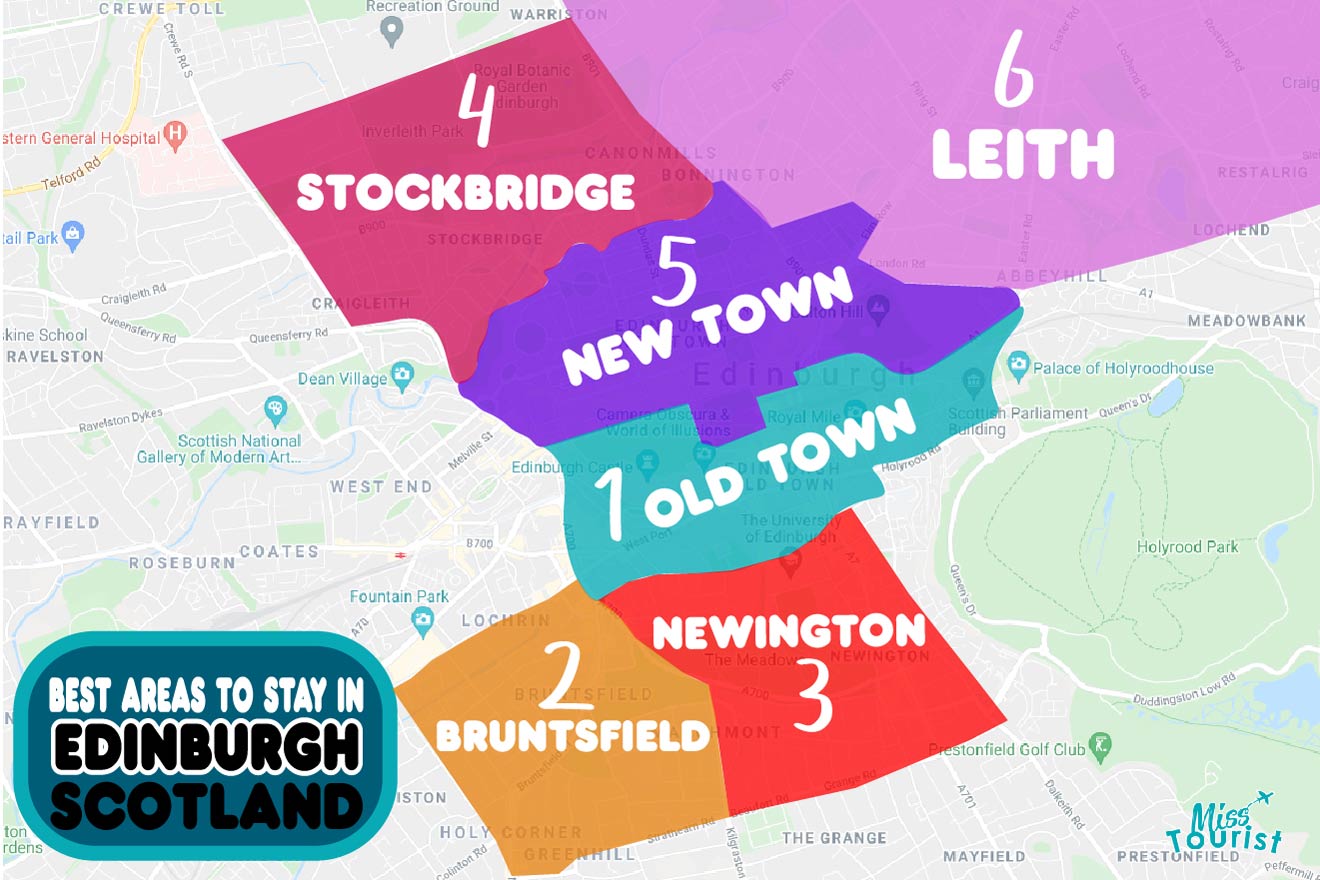 1. Old Town / Royal Mile – where to stay in Edinburgh for the first time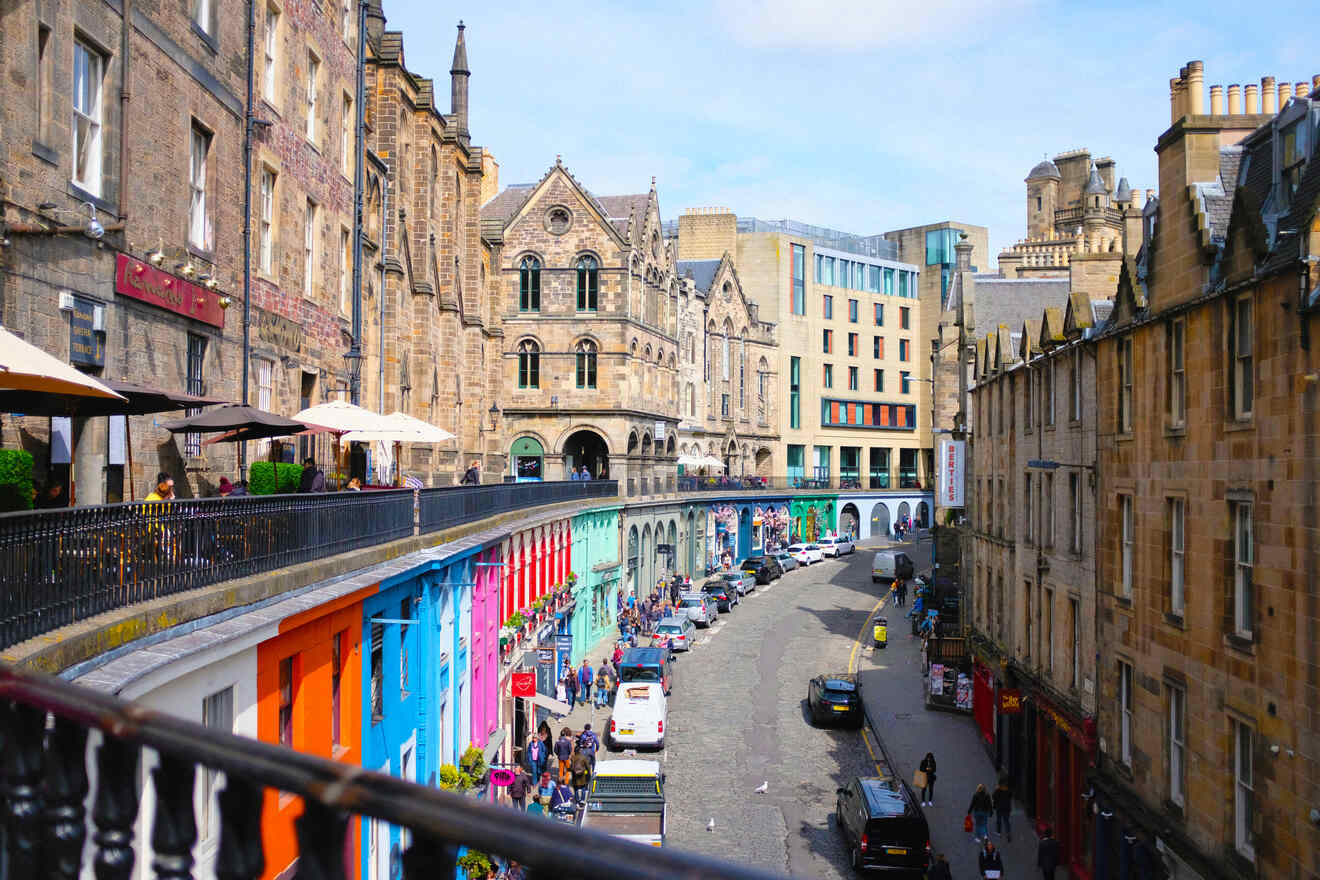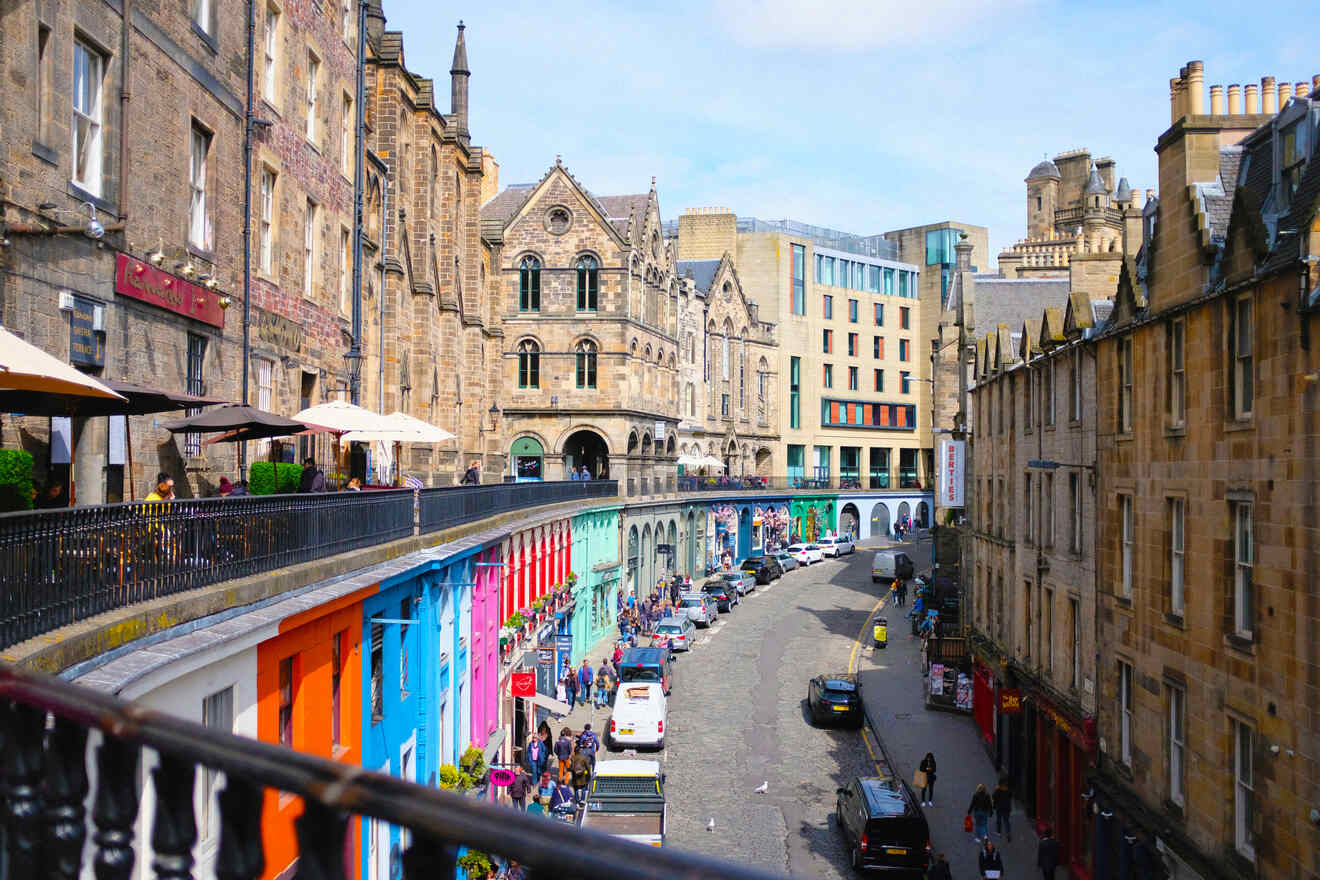 Old Town Edinburgh is the historic center of the city and a UNESCO World Heritage site. The street connecting two royal residences, the Edinburgh Castle and the Palace of Holyrood House is called Royal Mile. Once you start strolling on the cobbled streets amongst the buildings with medieval architecture, you will surely feel the historic atmosphere of Edinburgh and let me tell you, you will be very impressed!
In Old Town, you will be able to see most of the main attractions and museums such as the Scottish Parliament Building, National Museum of Scotland, Writers' Museum, and Museum of Childhood which is why I recommend the Old Town for first-timers.
FUN FACT: Old Town is where the famous Harry Potter books were written and you can actually find many of the characters' names on tombstones in the Greyfriars cemetery, where J.K Rowling got her inspiration from!
Old Town Edinburgh is a great base to start exploring the city and the best area to stay in Edinburgh if you are visiting for the first time. As Old Town is the most popular area in Edinburgh you need to make booking months in advance. Let's check out the places to stay in Edinburgh Old Town and the famous Royal Mile.
Luxury hotel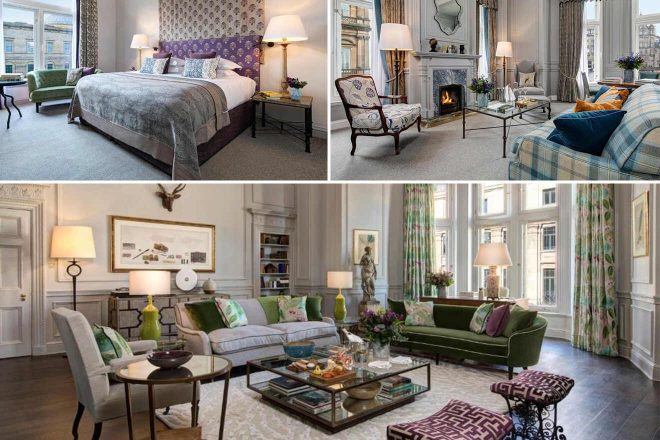 Located on Princes Street, this luxury hotel has a Michelin-starred restaurant, a swimming pool, and a gym. The gorgeous hotel has spacious rooms with views of Edinburgh Castle and the Old Town plus, The Balmoral Hotel's bar offers an amazing whisky experience with more than 500 types of Scottish Whiskies. You can actually stay in the room where JK Rowling finished writing the last of the Harry Potter books at this hotel. One of the best luxury hotels to stay in Edinburgh!
Other accommodation in Old Town / Royal Mile
mid-range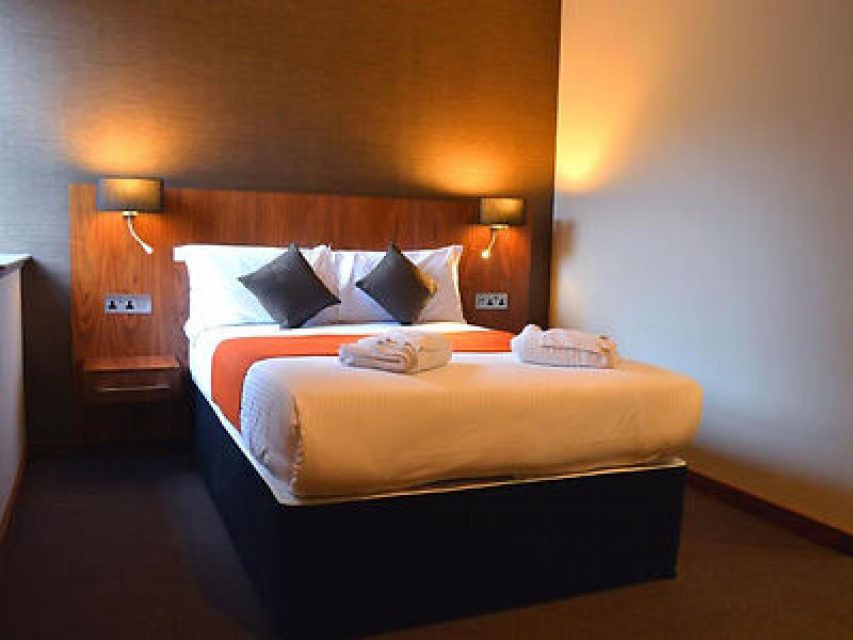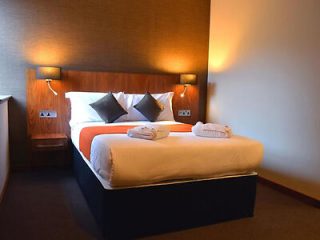 Located in Edinburgh Old Town/Royal Mile, the hotel is within walking distance to Princes Street and city center
budget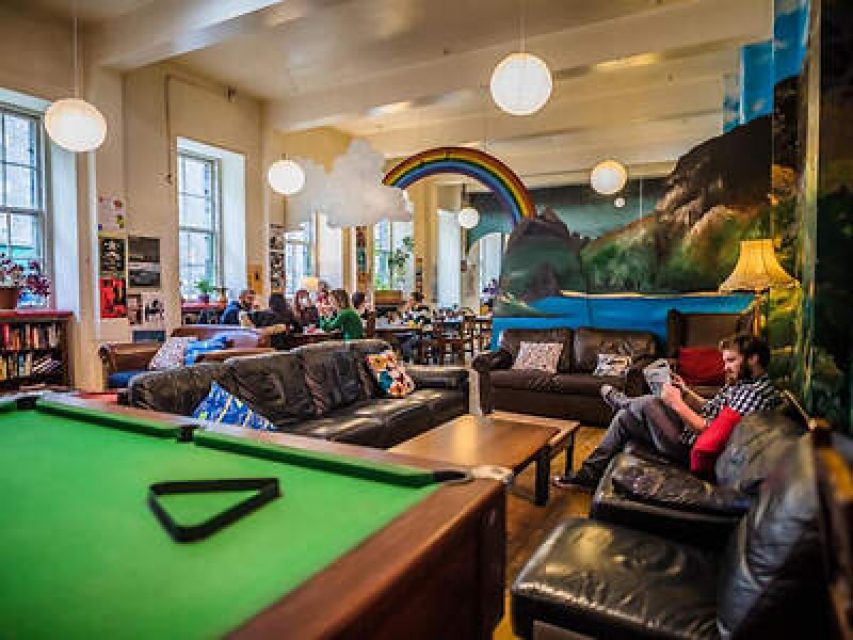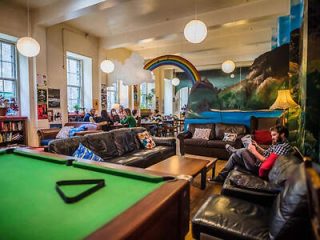 Right on the Royal Mile, this hostel offers a good breakfast with tea and coffee and free wifi
airbnb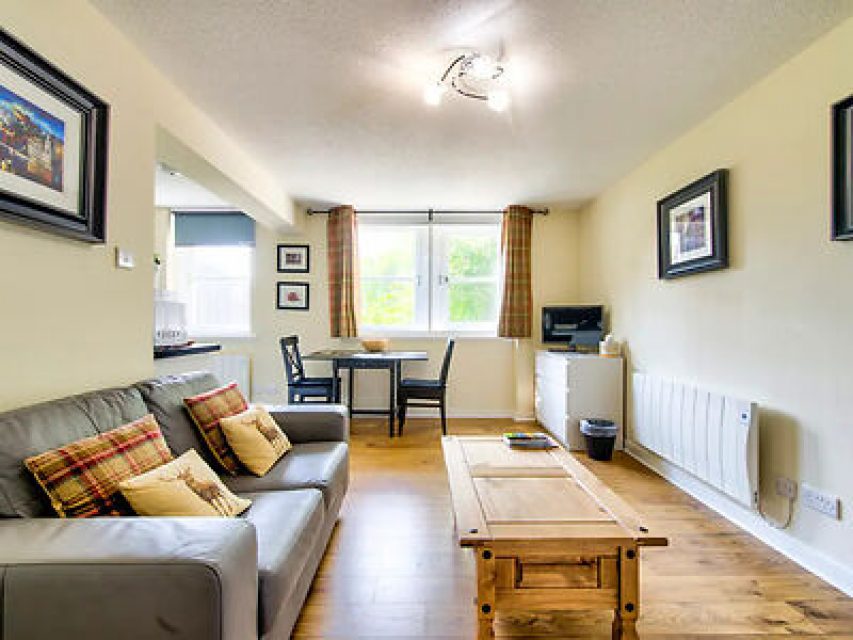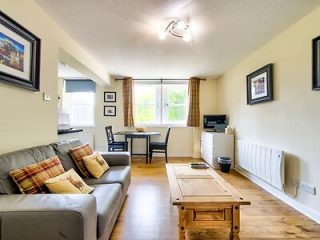 Located in the heart of Edinburgh Old Town/Royal Mile,the Airbnb offers a fully equipped kitchen and a double bed
Things to do in Old Town / Royal Mile
2. Bruntsfield – the coolest neighborhood in Edinburgh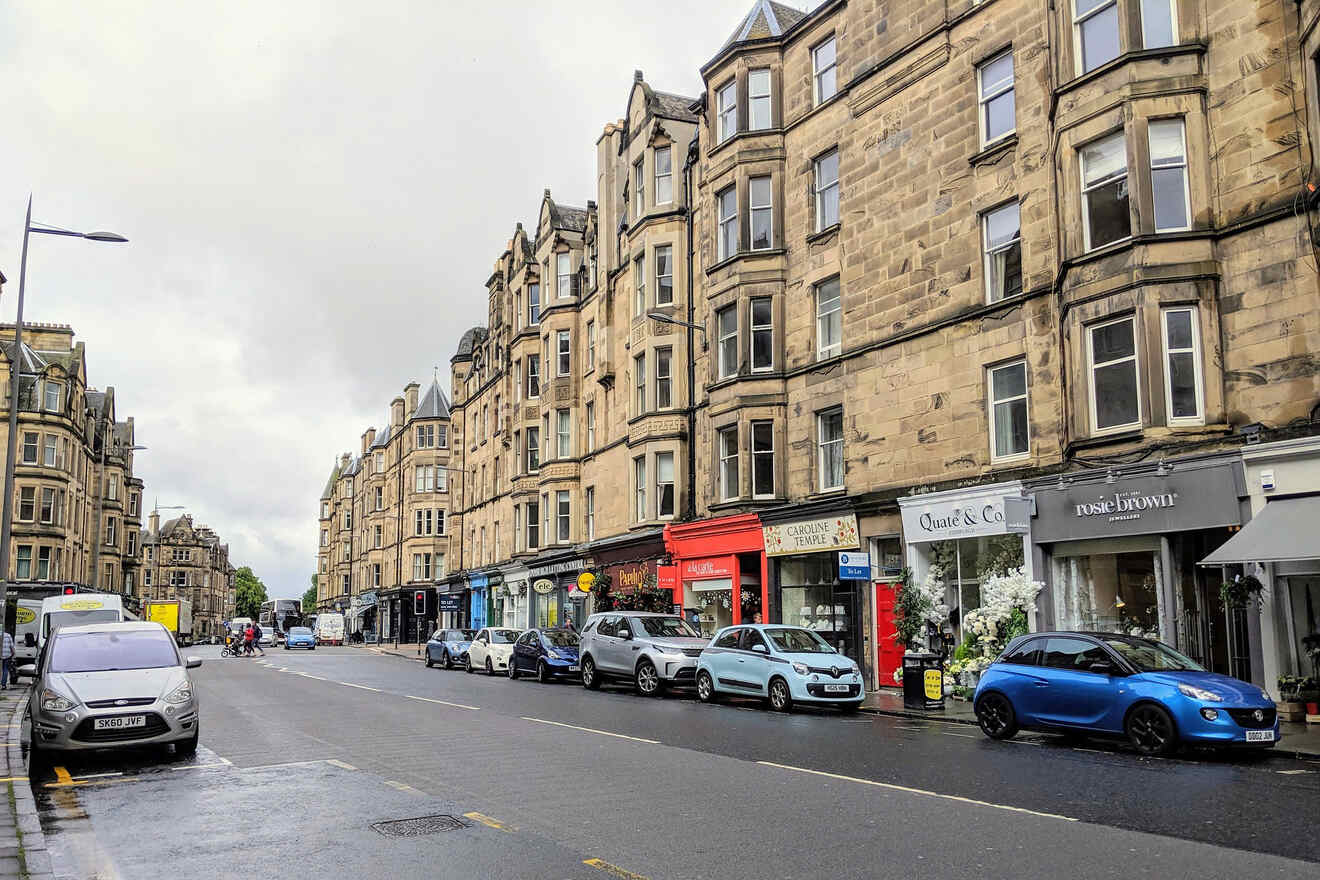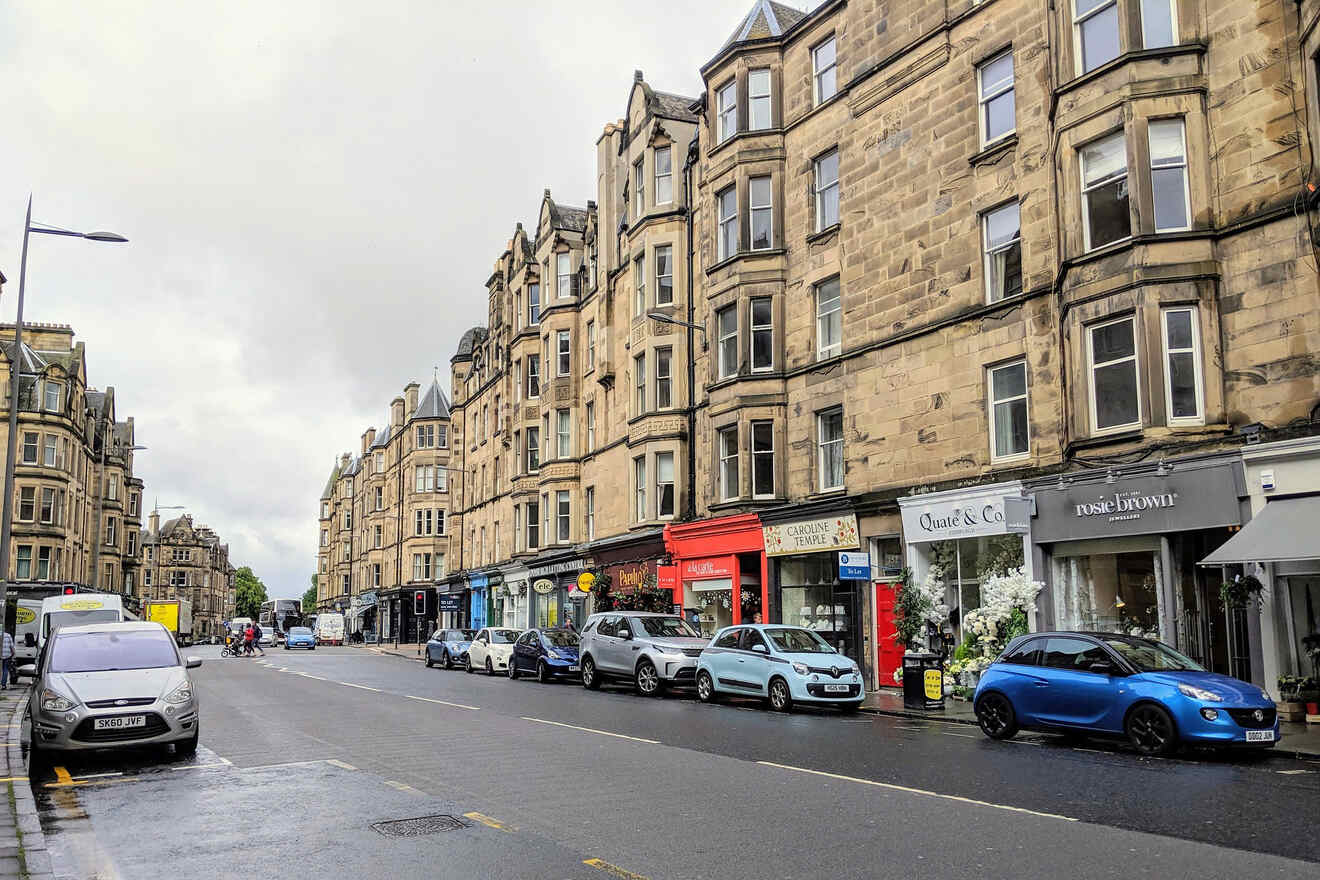 Located a little over 2 km (1 mile) from the southeast of historic Old Town and just next to West End, Bruntsfield is a nice neighborhood with a bohemian vibe that combines the historic and contemporary sides of Edinburgh.
Bruntsfield is more secluded than the downtown and offers plenty of great things to do and see. Here you will find many nice cafes, restaurants, the best bars, and vintage shops. If you want a more modern vibe with interesting attractions this cool area is great for you!
As it can be very difficult to find hotels near the historic Old Town at the last minute, Bruntsfield is a very good alternative with its proximity to main landmarks. Whilst, even in this area, accommodation options can still be filled up very quickly. That's why I highly recommend you make your booking in advance.
Here are the best places to stay in this area:
Luxury hotel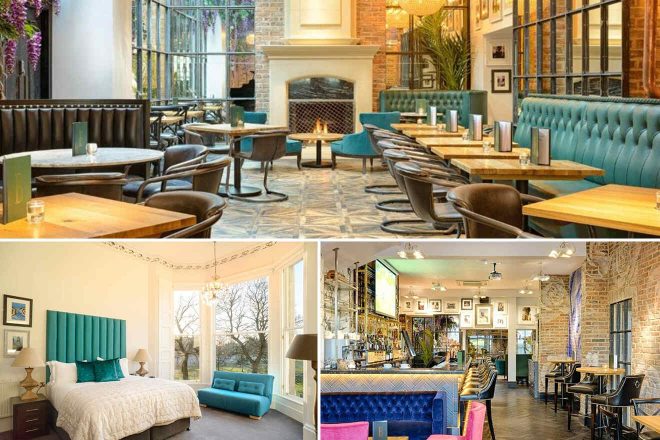 Located a 15-minute walk from Edinburgh city centre, this luxury hotel offers spacious rooms, a bar, a restaurant, a very good breakfast, and private parking. Edinburgh Castle is just a few minute's walk from the hotel. One of the best places to stay in the area. 
Other accommodation options in Bruntsfield
mid-range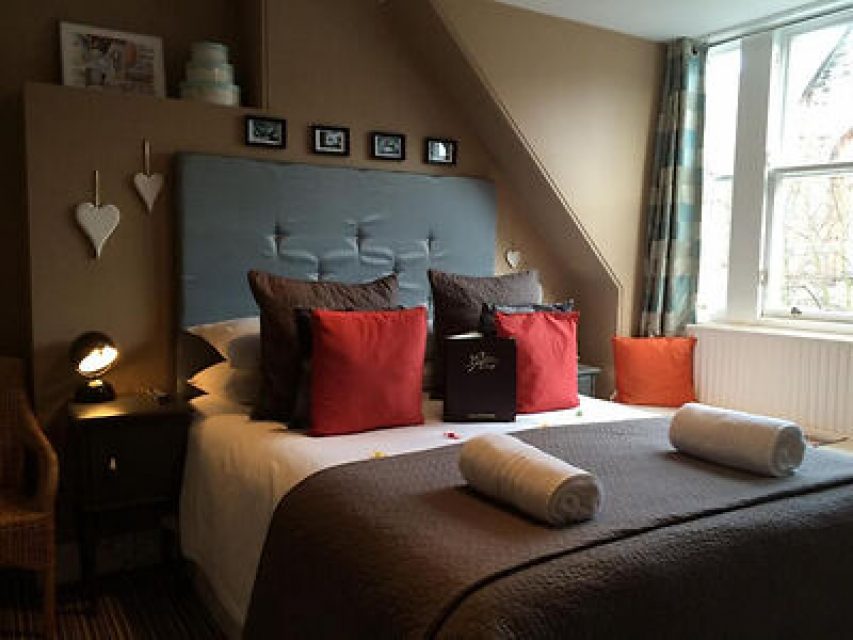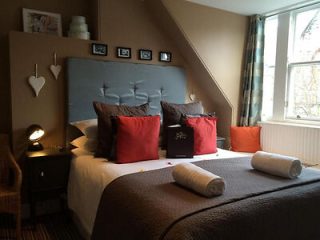 The 4-star hotel in Edinburgh offers a nice Scottish breakfast, private parking, and free wifi
budget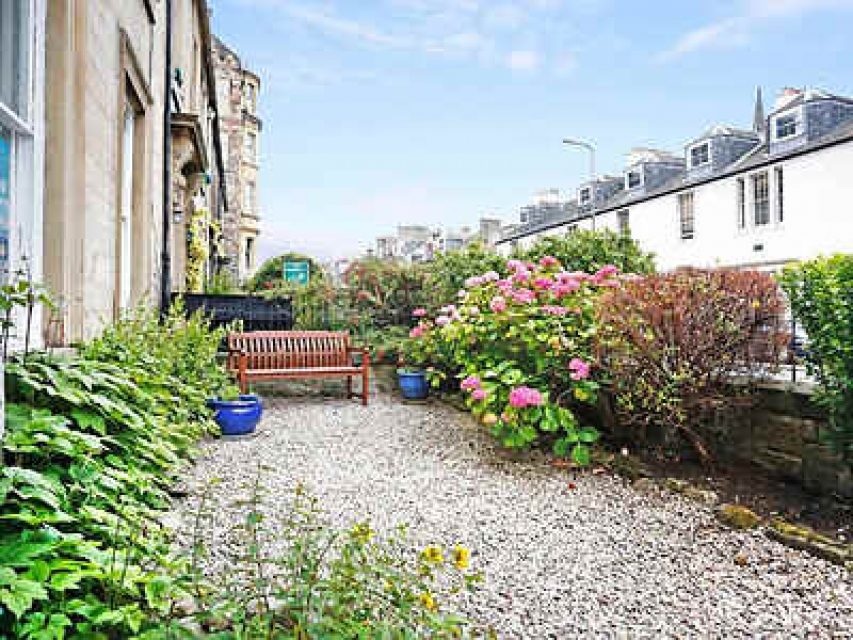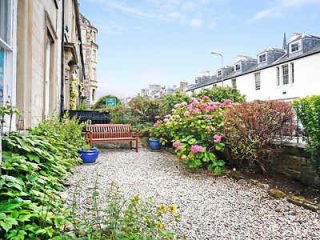 Centrally located in Bruntsfield, the hostel is within walking distance to the best bars 
airbnb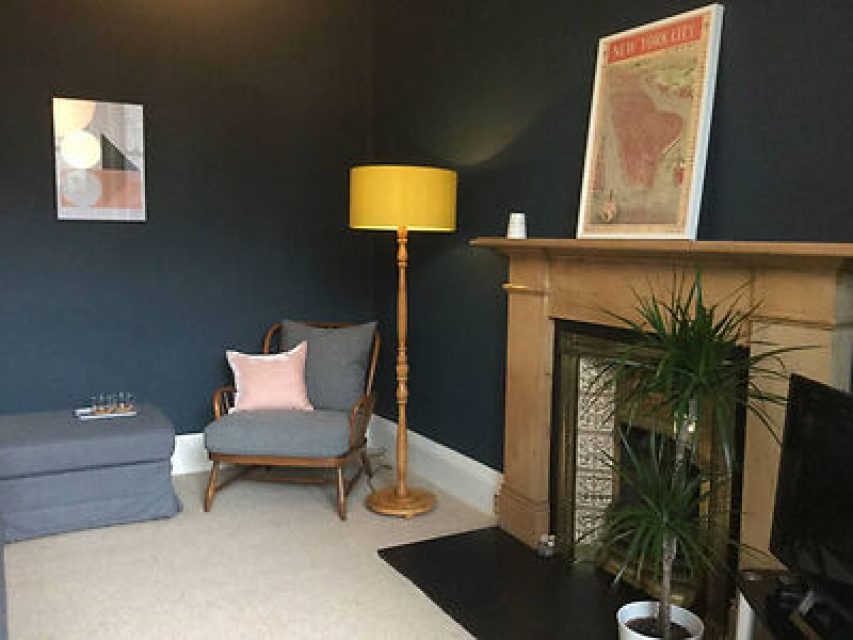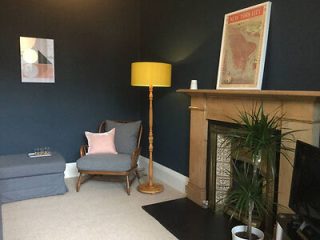 Located in Bruntsfield, this Airbnb offers nicely decorated rooms, a modern fireplace, and street parking
Things to do in Bruntsfield
3. Newington – for those looking for local experiences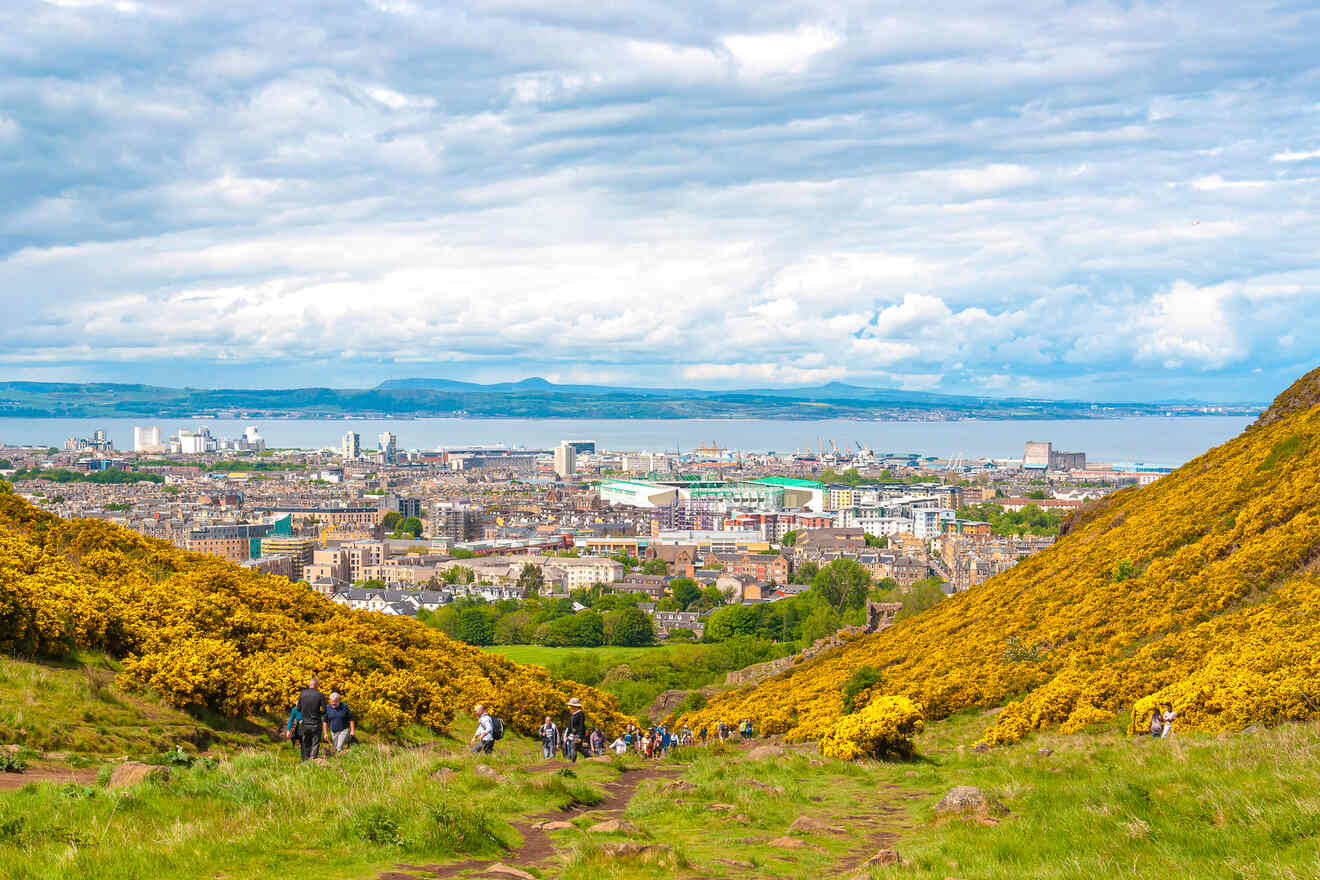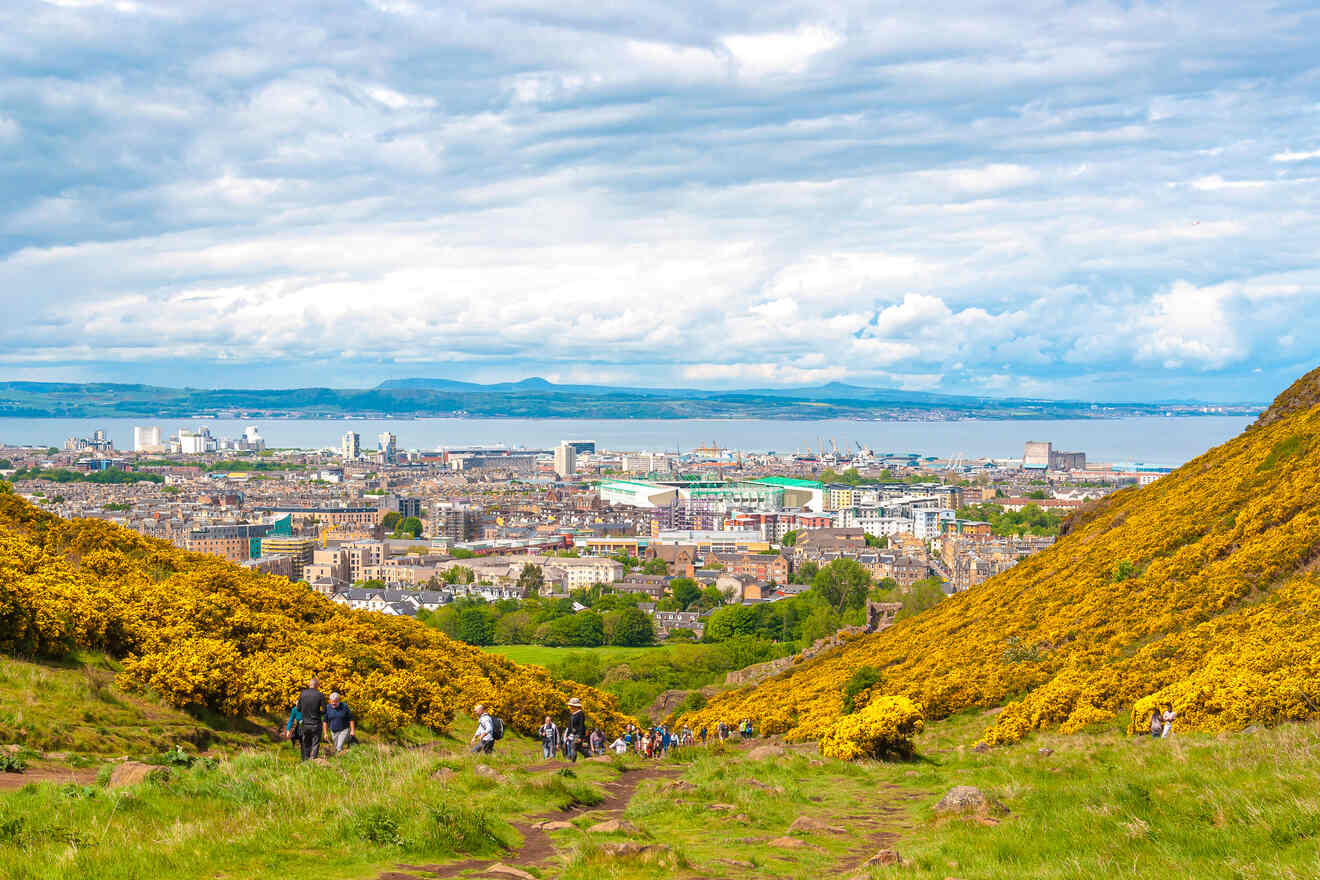 Located a 20-minute walk south of the Royal Mile, Newington is an attractive residential neighborhood where you will see beautiful Victorian architecture and large natural green areas with a charming vibe. As in many of the neighborhoods in Edinburgh, you can enjoy strolling through amazing parks and having a picnic in the nice gardens.
Apart from excellent choices of shops, bars, award-winning restaurants, and cafes, in Newington, you will also find fine art exhibitions, music performances, and famous Gin distillery houses too. So there certainly is something for everyone! Newington is also home to The well-known Edinburgh International Magic Festival and Edinburgh Science Festival so make sure to check out the schedules if you are visiting at the right time!
Newington is the calmer part of the city and the best area to avoid tourist crowds. If you want to stay in a local area, Newington is the answer to where to stay in Edinburgh. Let me list Edinburgh's best hotels near this neighborhood.
Luxury hotel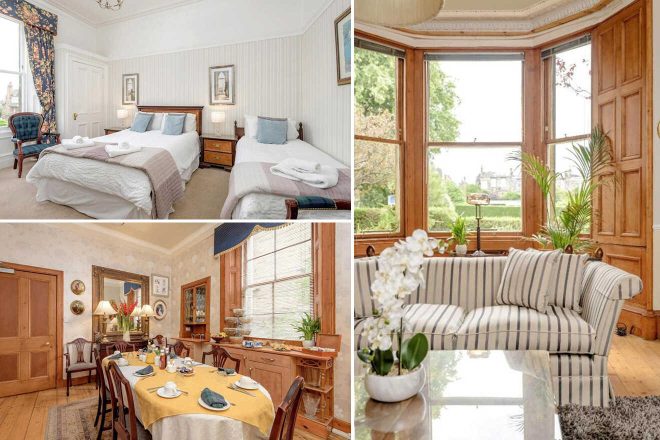 Located very close to the Old Town city centre, this romantic hotel features a superb homemade Scottish breakfast, traditionally furnished rooms, free parking, and wifi. Cafes and restaurants are just a short walk away – this boutique hotel is a great place to stay in Edinburgh.
Other accommodation options in Newington
mid-range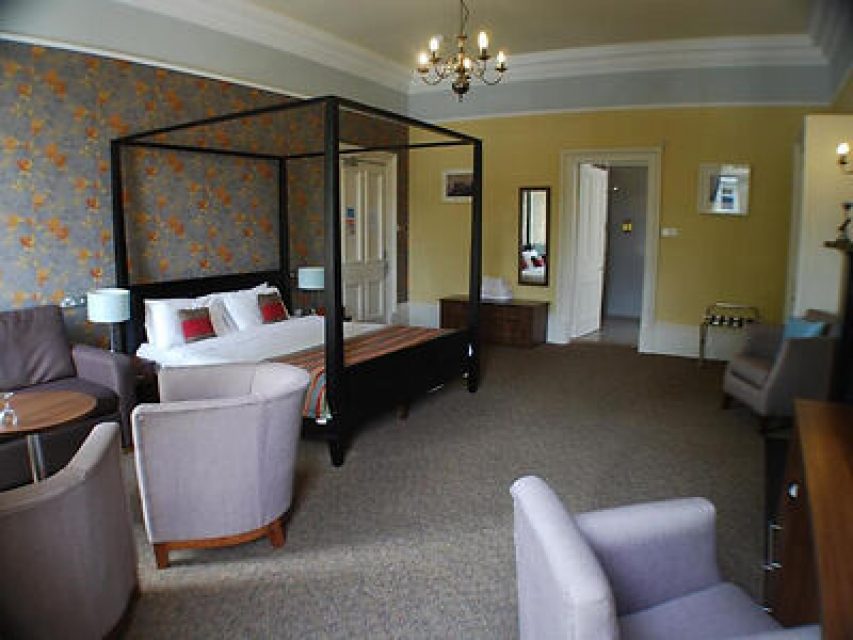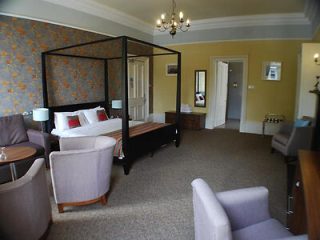 Located in one of Edinburgh's quiet areas, this great Edinburgh hotel offers a very good breakfast and a restaurant
budget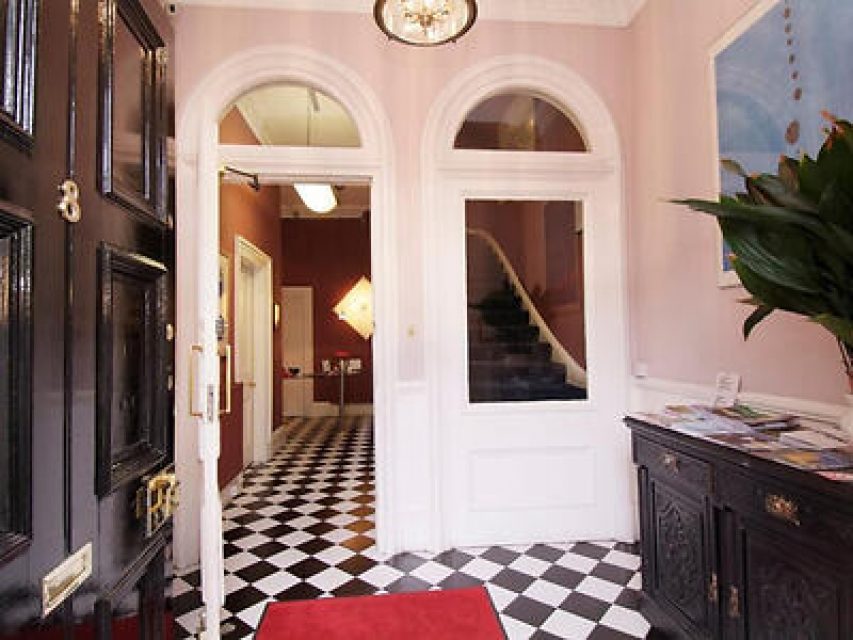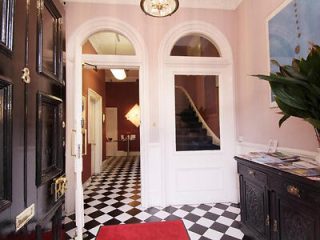 Situated close to Edinburgh city centre, the hotel features a nice breakfast and easy access to public transport
airbnb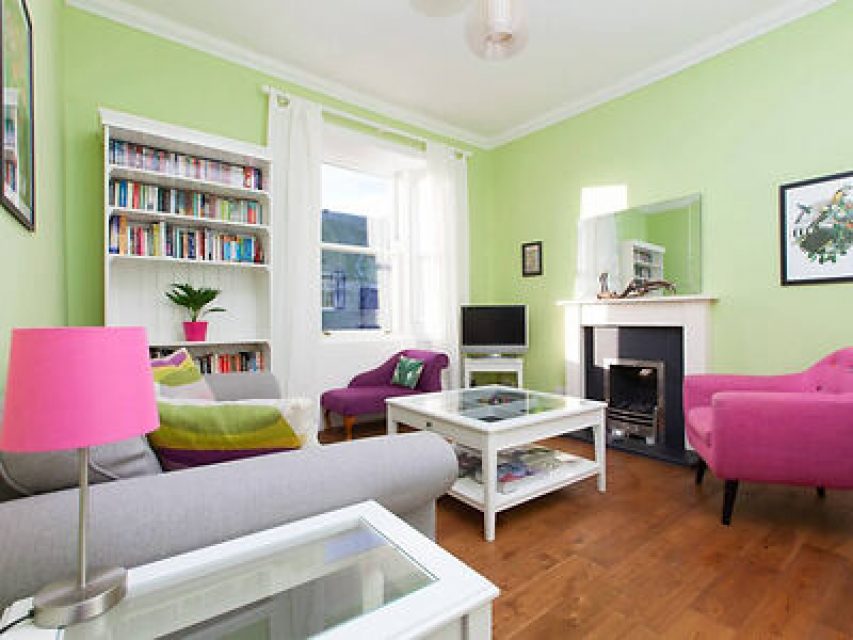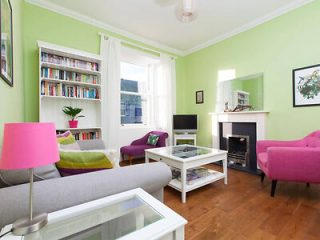 Centrally located Airbnb which has fully furnished modern rooms. Restaurants and bars are just a short walk
Things to do in Newington
4. Stockbridge – where to stay in Edinburgh for families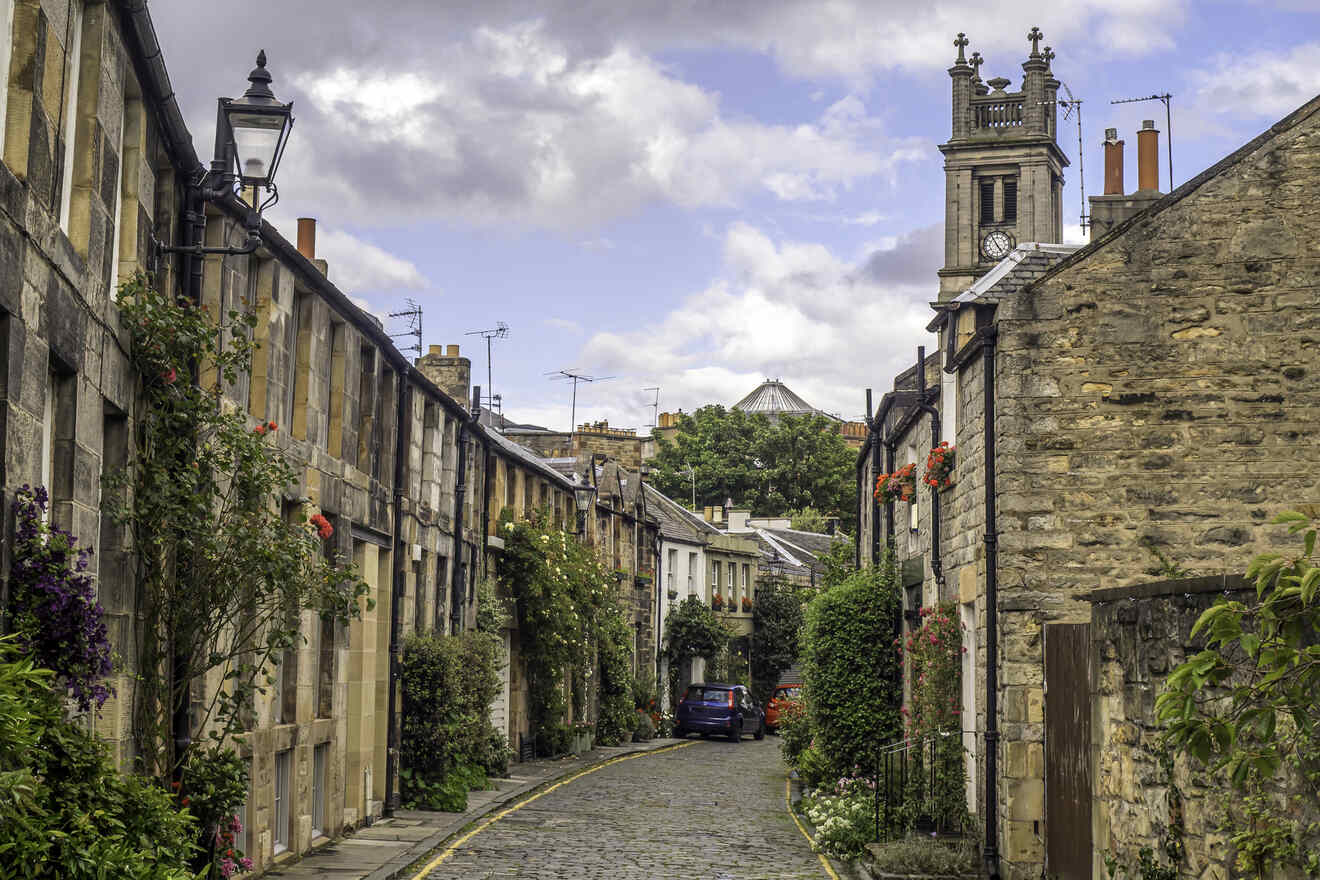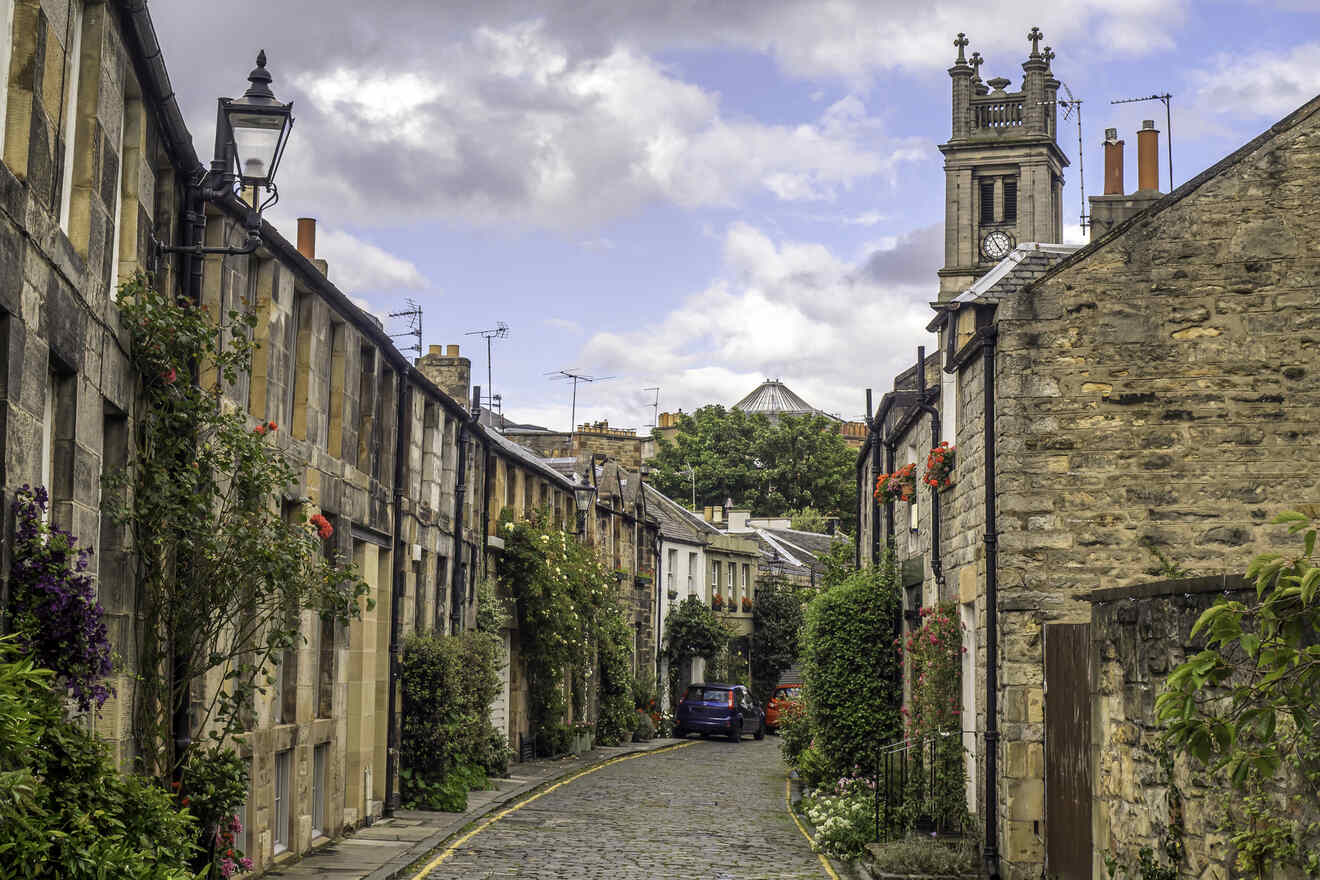 Stockbridge is a 15-minute walk northwest of New Town at the end of West End. It is a very lovely and safe area to stay in Edinburgh for families. By staying in this area you will still be close to the main attractions but away from the noisy downtown and party scenes, plus you can also enjoy nice activities within the area.
Start your day by walking along the Water of Leith, then check out the beautiful houses with Georgian architecture, later, visit the amazing Royal Botanic Garden and National Gallery of Modern Art and relax at one of the nice parks in the area with your families.
Stockbridge offers many nice cafes, charity shops, bars, and restaurants as well as family-friendly accommodation options. On Sundays, you should definitely check out the lively farmers' and street food market by the Water of Leith!
Luxury hotel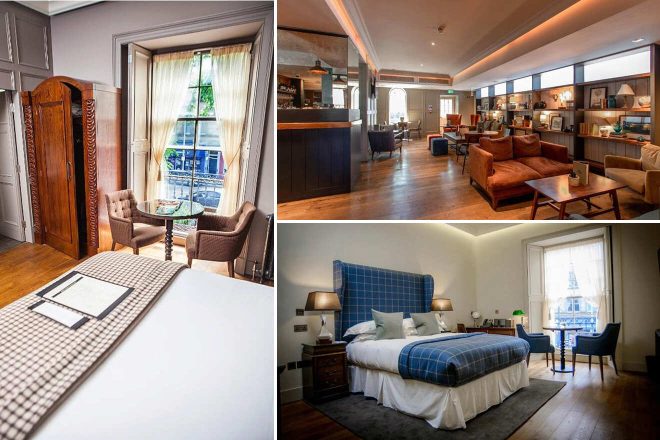 Located in a charming area of Edinburgh, this luxury hotel has Georgian architecture and beautiful rooms decorated with traditional Scottish furniture. Princes Street and the New Town are 20 minutes' walk from the hotel making this a great place to stay in Edinburgh with families. 
Other accommodation options in Stockbridge
mid-range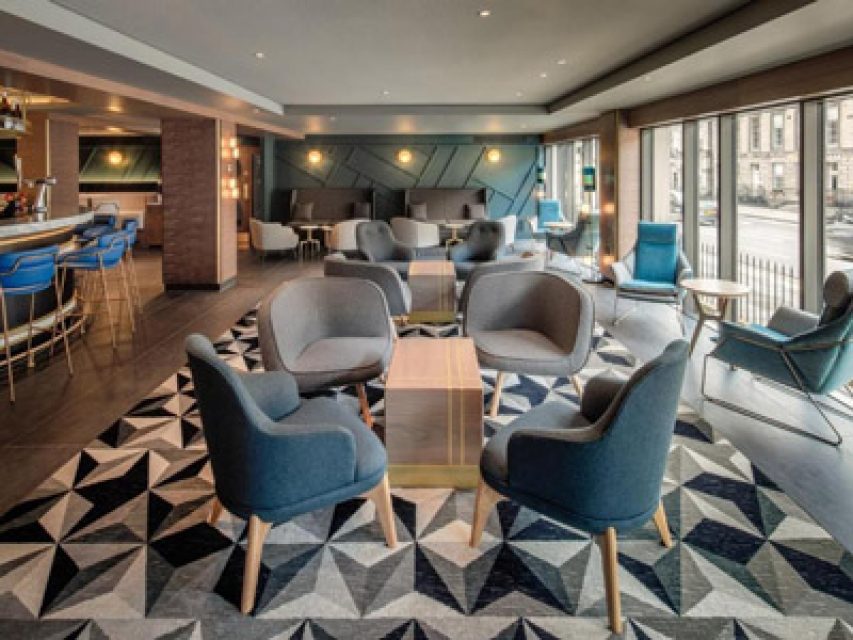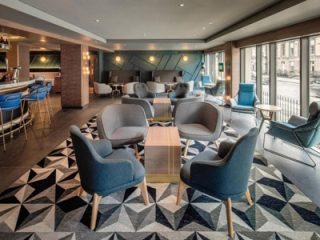 The hotel offers spacious rooms with a modern design. A great stay in Edinburgh
budget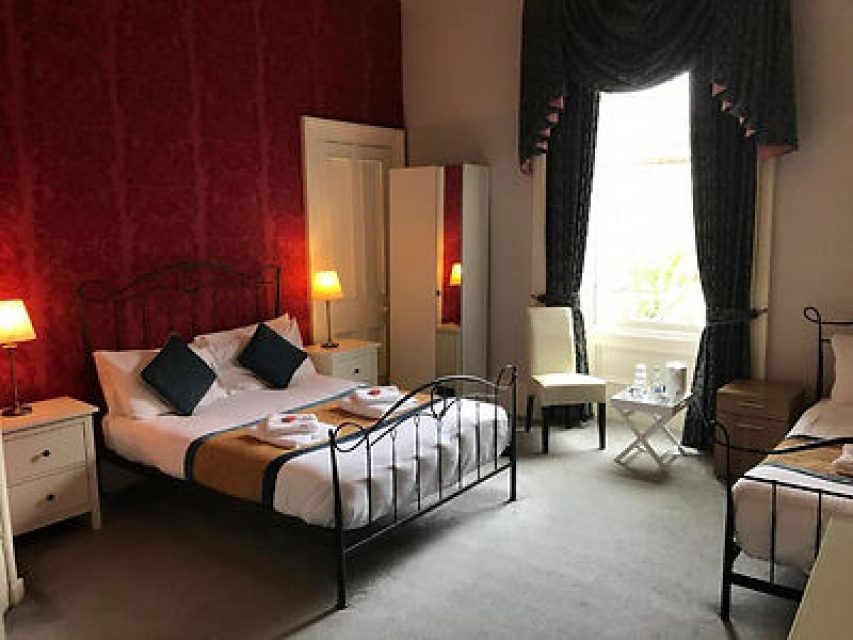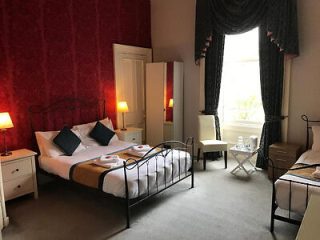 A nice Edinburgh hotel close to New Town featuring a good breakfast and free wifi
airbnb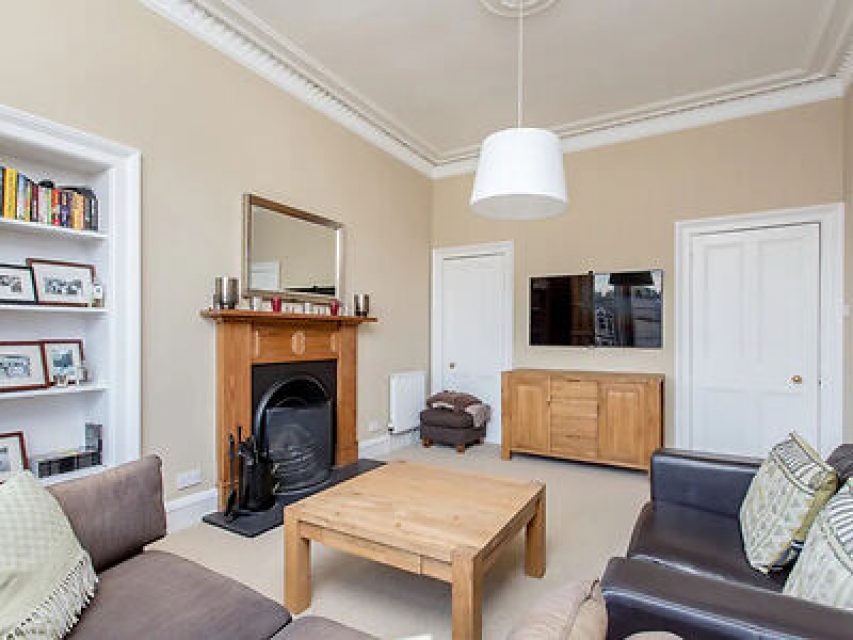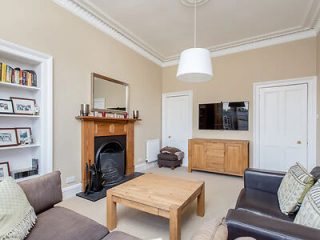 Airbnb offers fully furnished modern rooms. Also a short walk to the city center
Things to do in Stockbridge
5. New Town – where to stay in Edinburgh for sightseeing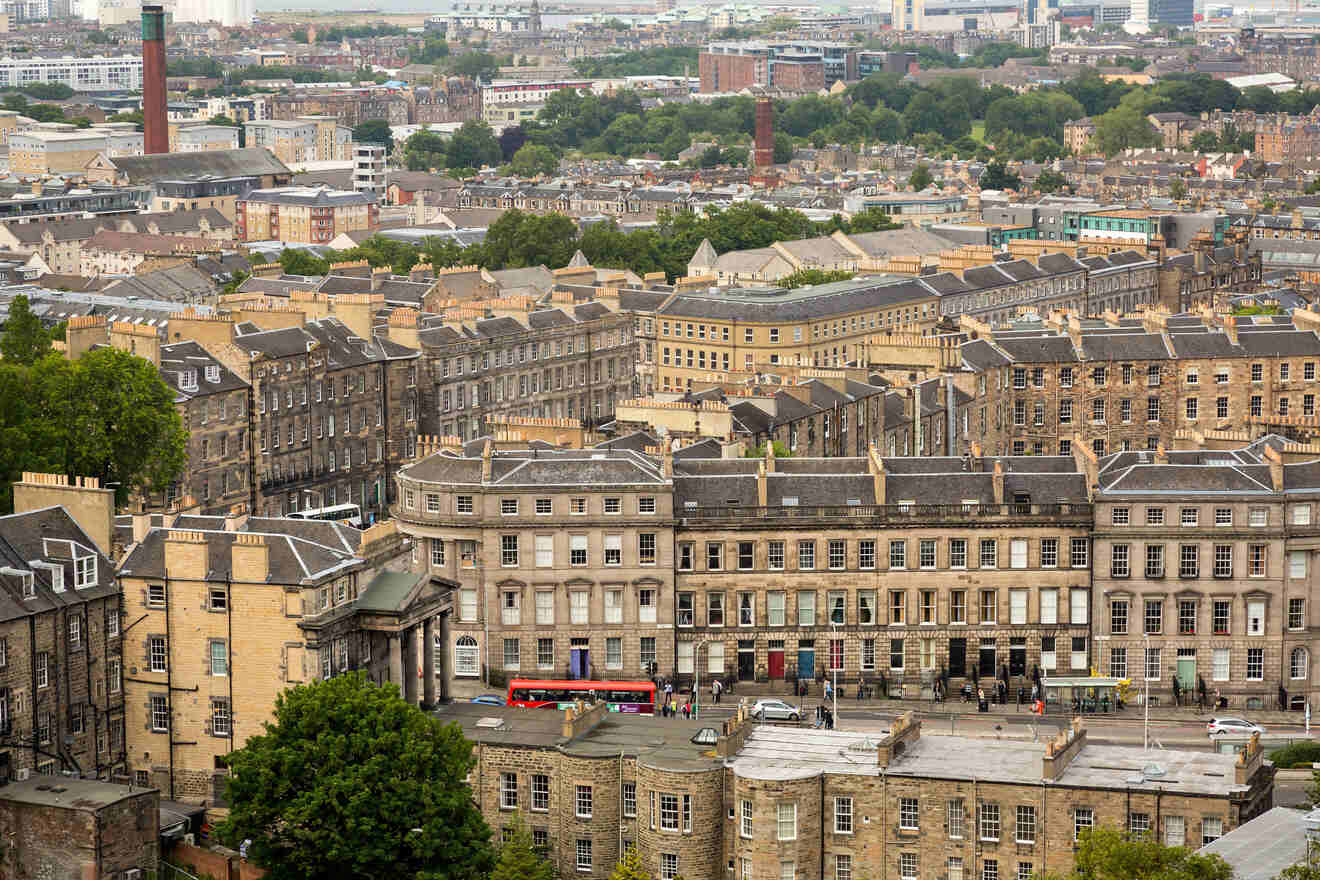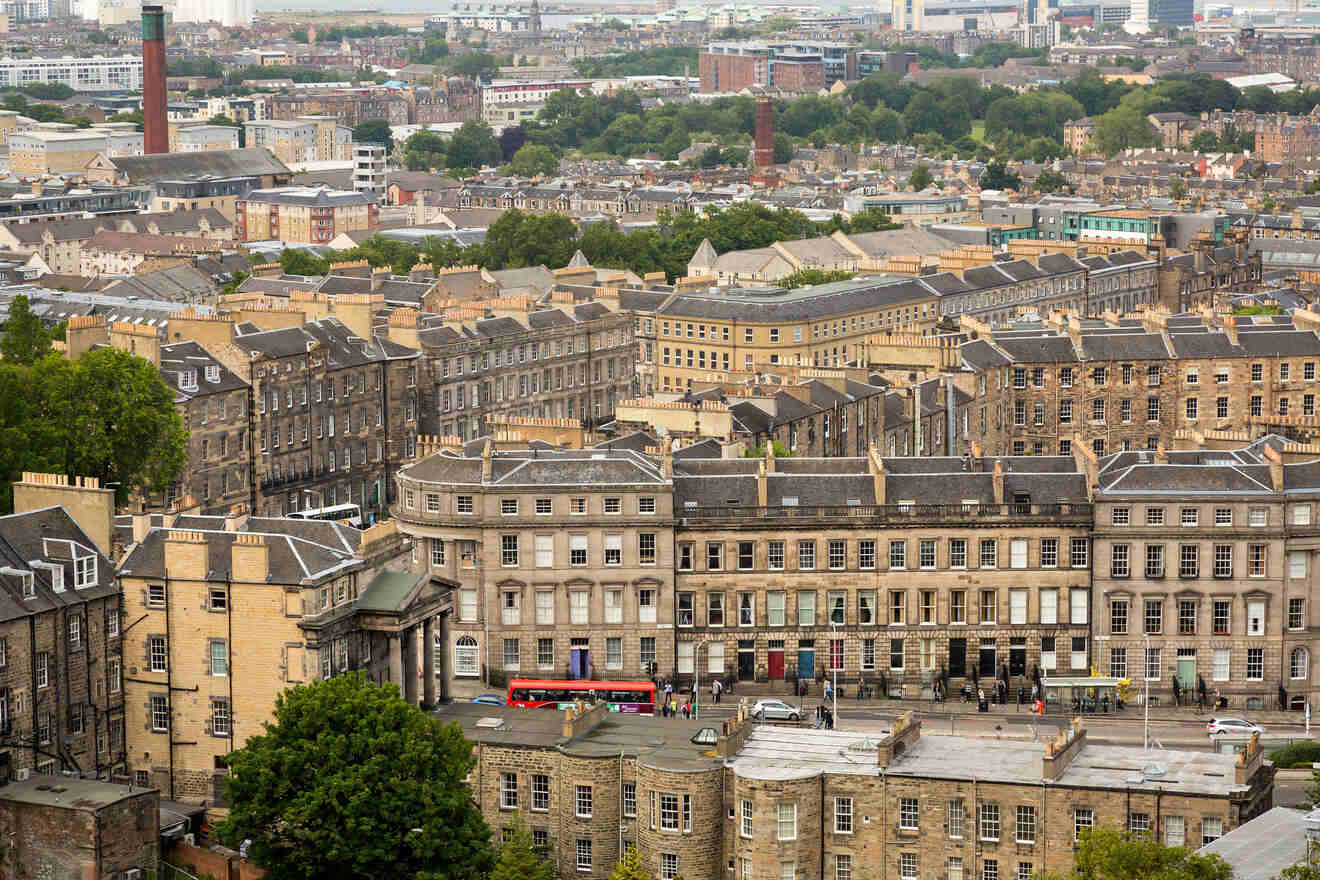 In Edinburgh, there are two parts of the city center: Old town and New Town. The old and new areas are divided by the Princes Street Gardens and within walking distance from each other, making New Town the best area to stay for sightseeing.
In New Town, you will find cool designer labels, antique shops, nice bars, restaurants as well as vibrant nightlife. Start your night by having an amazing dinner at a gourmet restaurant in New Town and then check out the chic Scottish bars along George Street which is the center of entertainment in Edinburgh.
There are also great shops in New Town. In the famous shopping area of Princes Street, you won't realize how much time has passed while strolling the stores!
New Town Edinburgh offers easy access to popular sites of the city on foot and also has a great public transport system to reach other parts of the city thanks to Waverley train station. If you want to be close to major tourist attractions like Edinburgh Castle, beautiful Princes Street Gardens, and also into shopping and fancy dining, I recommend New Town as a great place to stay in Edinburgh for you.
Luxury hotel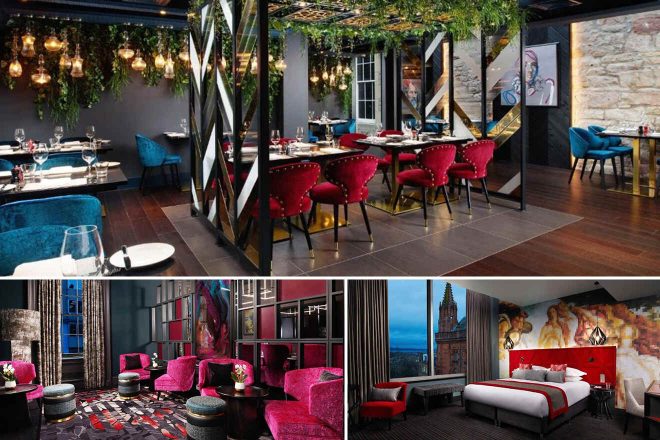 Located in Edinburgh New Town the lovely hotel offers a nice restaurant, a bar, spacious rooms with a coffee machine, fabulous breakfast, and free wifi. Edinburgh Castle and Waverley train station are within walking distance – one of the best hotels to stay in New Town!
Other accommodation options in New Town
mid-range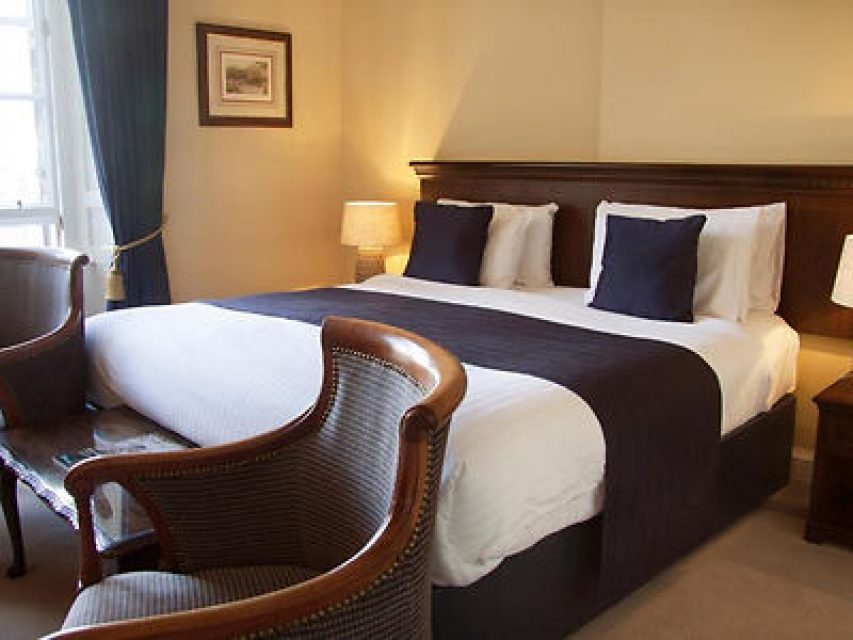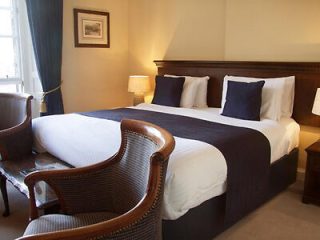 Situated in New Town, the hotel offers a very good breakfast, a bar, and free wifi
budget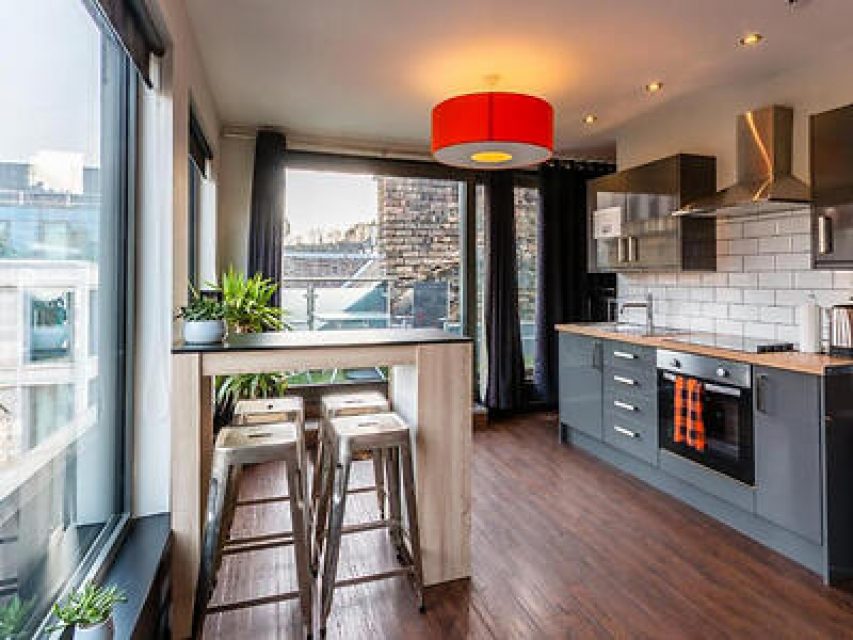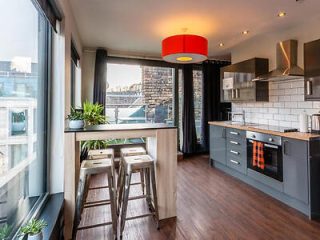 Located in the heart of New Town, the hotel has a shared kitchen and a communal area
airbnb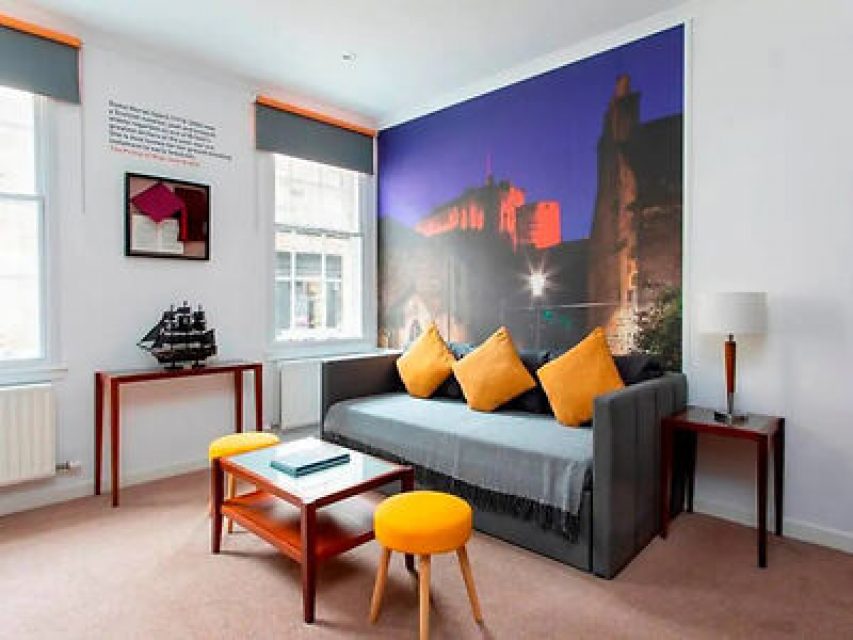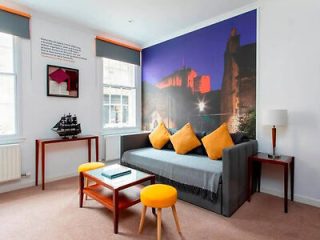 This Airbnb in New Town features a living room and a spacious bedroom with great amenities
Things to do in New Town
6. Leith – where to stay in Edinburgh for foodies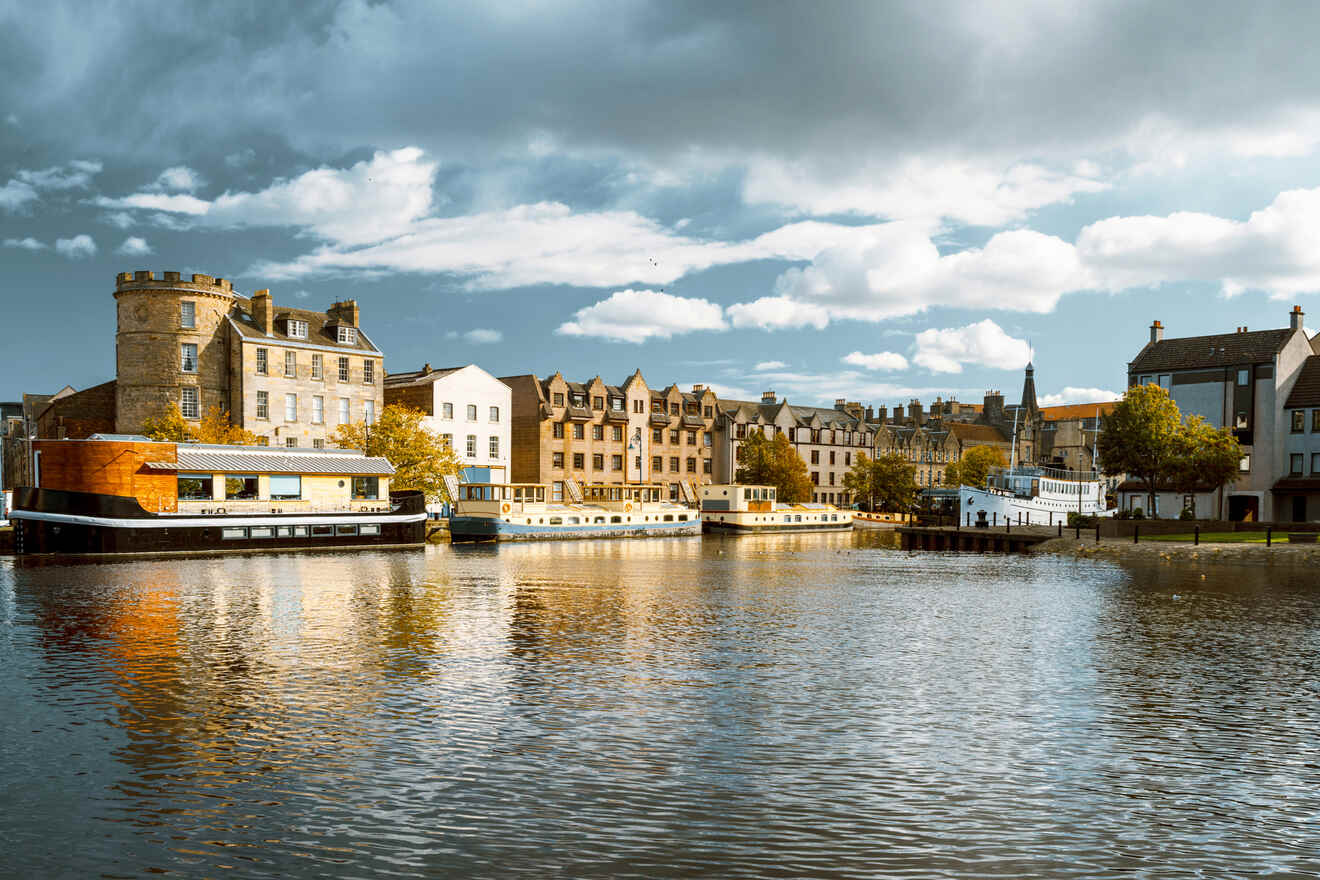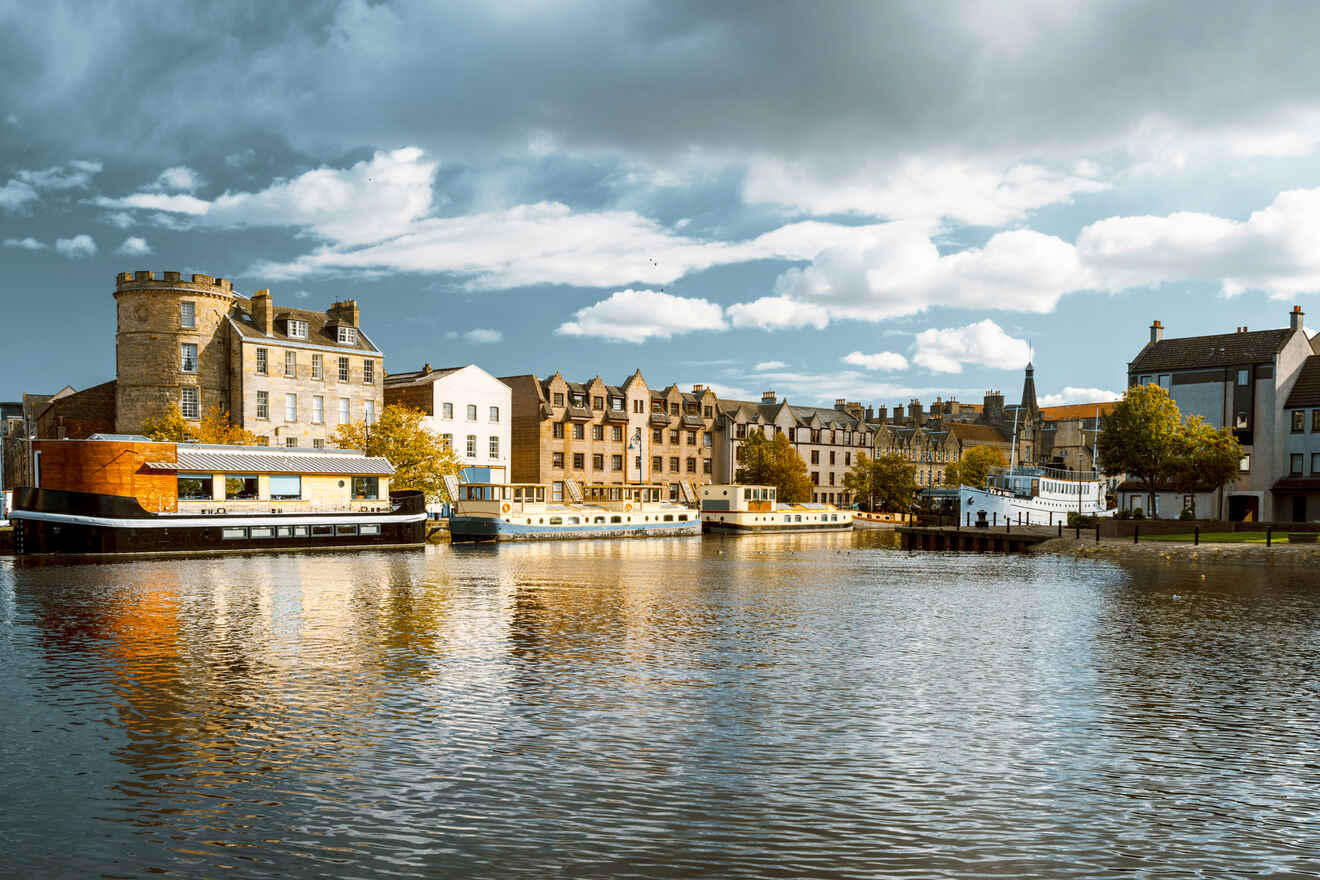 Leith is located 5 km (3 miles) north of the Old Town and at the end of Princess Street. If you are into delicious and interesting foods here you will find the best food in Edinburgh. Leith is a very international part of Edinburgh where you will find cuisines from Thai to Japanese and Indian, Turkish or Middle Eastern, plus, even a Michelin award-winning restaurant! You will also find nice craft beer bars, very good bakeries, and boutique shops.
After walking on cute cobbled streets for a food hunt, you can cycle at Waters of Leith walkways nestled under trees to explore this nice neighborhood. Leith is also a great area to base if you want to save on accommodation. Here you can find better deals on hotels.
Let me mention some of the best places to stay in this area I have hand-picked for you:
Luxury hotel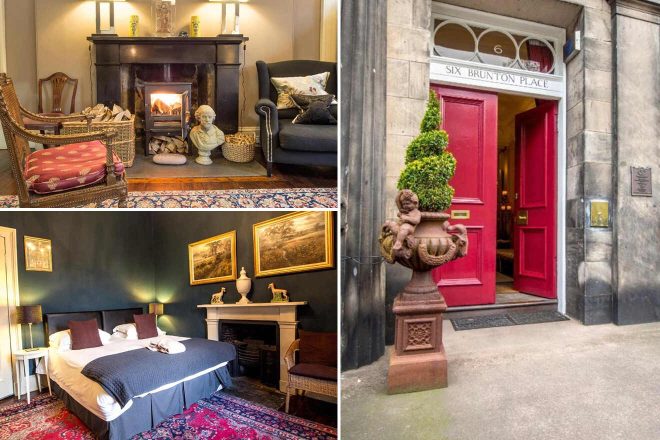 The centrally located romantic hotel is one of the best hotels in Edinburgh. The 5-star hotel offers nicely decorated rooms with a coffee machine, an excellent breakfast, a shared lounge, a nice garden, and free wifi. This is definitely a great place where to stay in Edinburgh if you are looking for ultimate luxury!
Other accommodation options in Leith
mid-range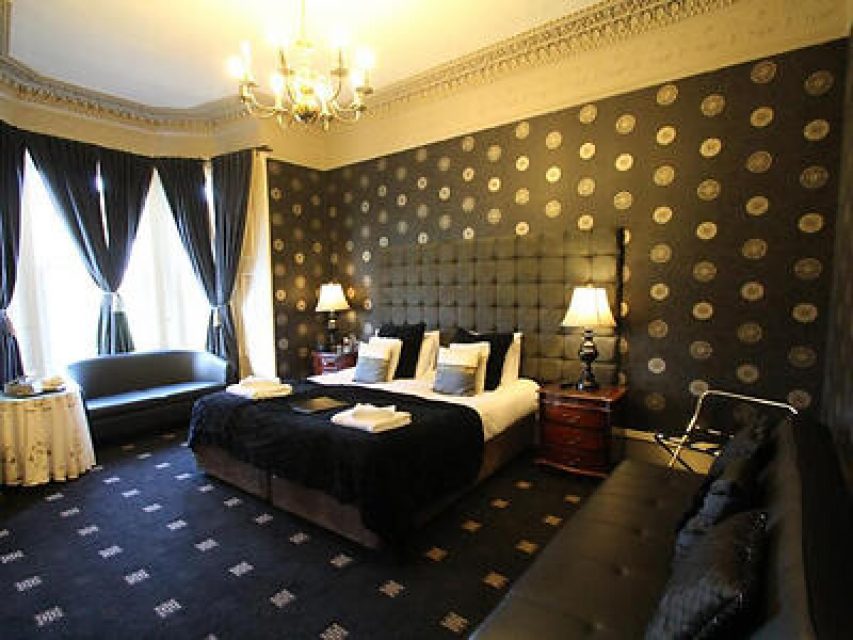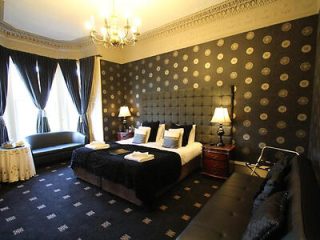 Centrally located in Leith, the 4-star hotel features a great breakfast and free private parking. Spacious hotel rooms have great decoration
budget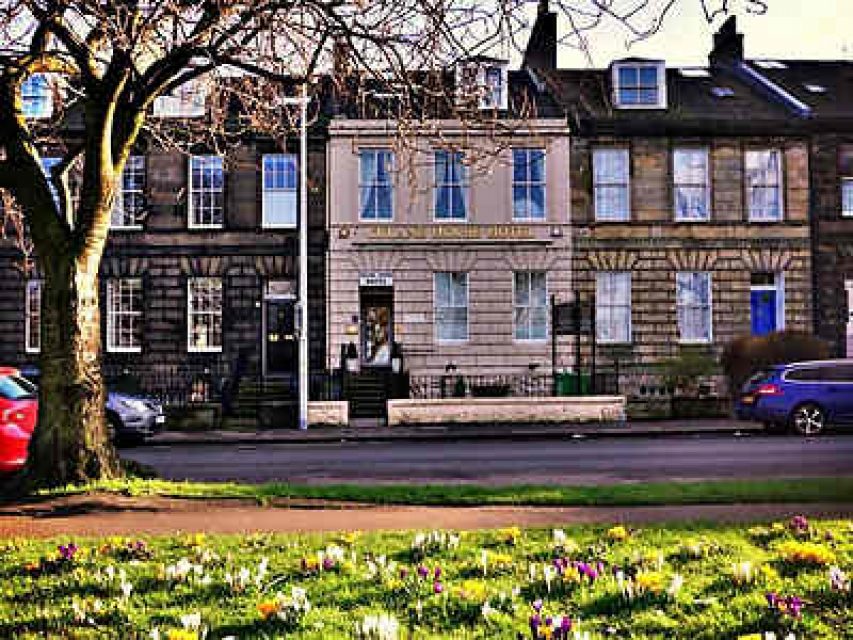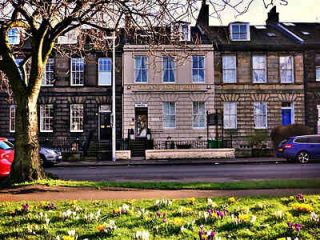 A 10-minute bus ride from Edinburgh city center, the hotel offers a nice breakfast and free wifi. One of the best places to stay near the center
airbnb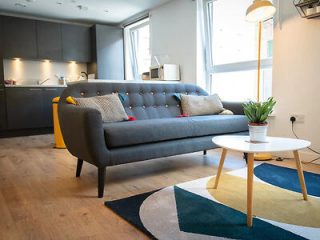 Situated at the heart of Leith this Airbnb is just a 10 minutes drive from Waverley Station. A nice place to stay in Edinburgh
Things to do in Leith
| | |
| --- | --- |
| 👑 Luxury price: | £150 |
| 💵 Mid-range hotel: | £90 |
| 🛏️ Budget: | £65 |
| 🏠 Airbnb: | £110 |
| 💰 Accommodation prices: | Medium |
| 📍 Best Area: | Old Town |
| 🛎️ Best luxury hotel: | The Balmoral Hotel |
| 👛 Best budget hotel: | High Street Hostel |
BONUS 1: 5 cool facts you should know about Edinburgh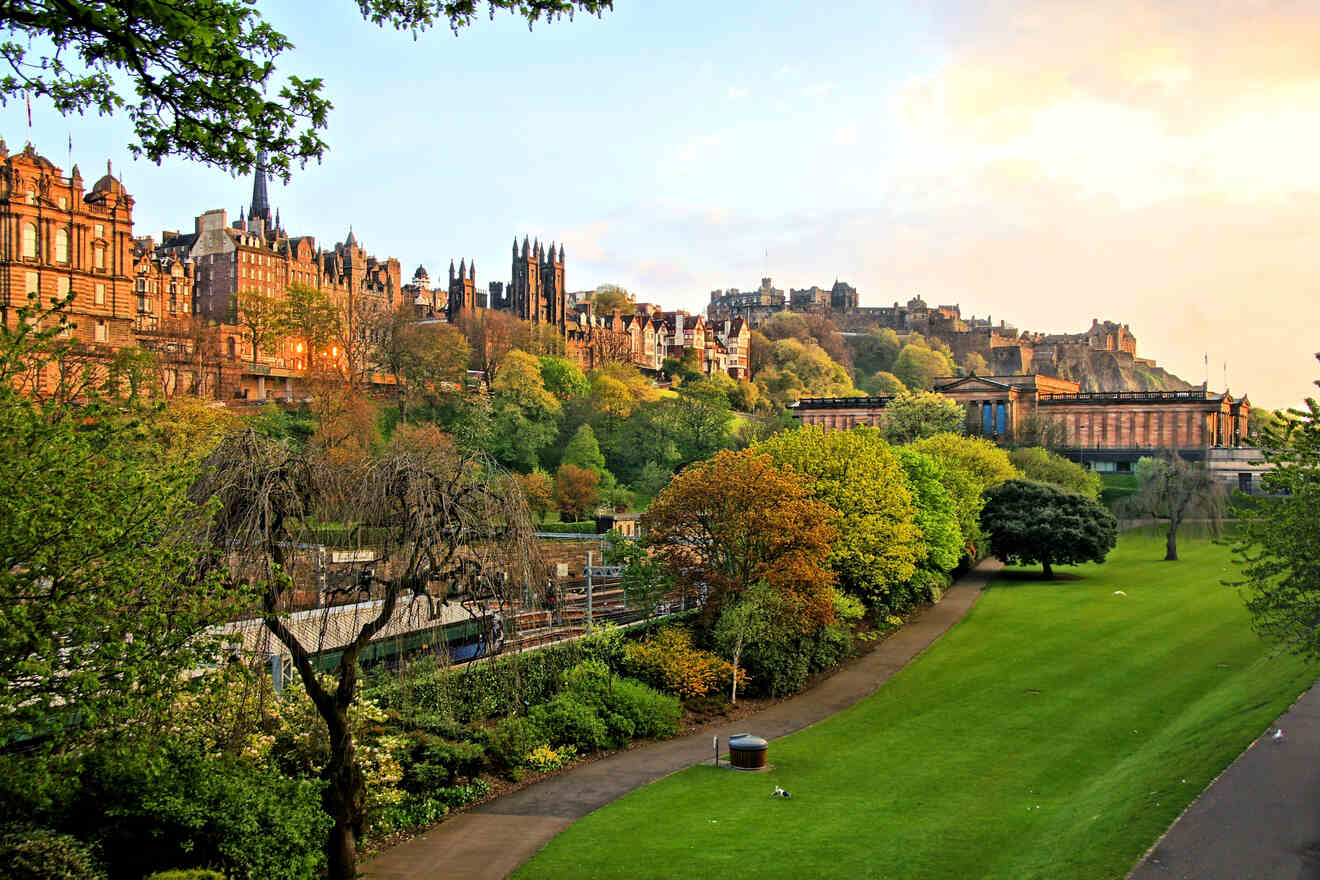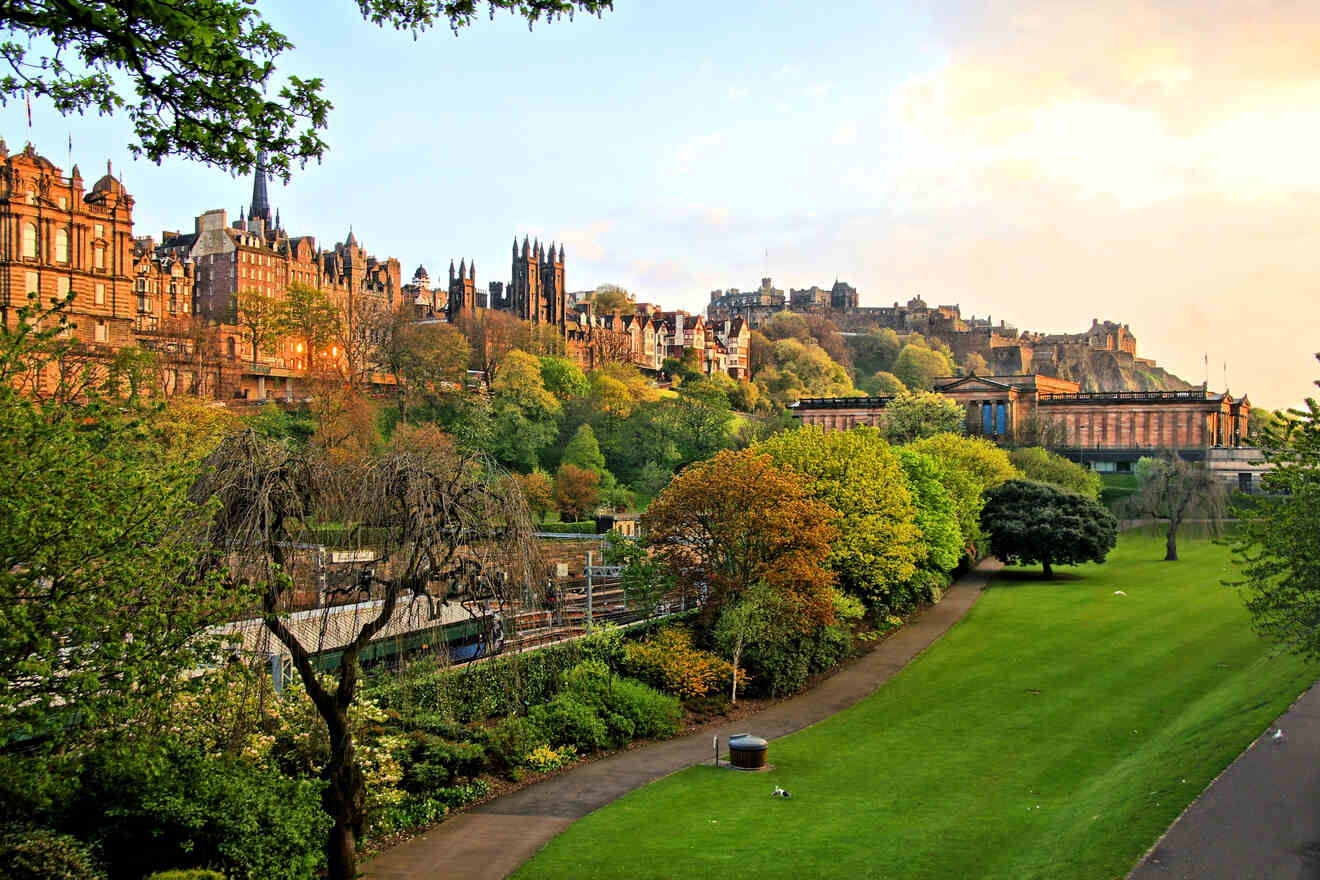 Knowing more about the Scottish culture will make your trip more unforgettable and definitely more interesting! Here are some cool facts you might want to know before visiting Edinburgh:
1. Edinburgh is home to famous festivals
The Edinburgh Festival Fringe is the world's biggest arts festival, which lasts about 25 days with more than 55,000 performances, 3,000 different shows, and over 300 venues, the Fringe Festival takes place annually in Edinburgh, Scotland in August. The Festival has become the world's most famous celebration of arts and culture.
Its popularity surpassed the Olympics and the FIFA World Cup in terms of global ticket sales!
During the Edinburgh festival seasons, the city's population increases with many guests looking for theater, music, and dance in a lively climate. If you want to be part of this amazing celebration make sure to make your booking months in advance!
2. Harry Potter films were dreamed up in Edinburgh
A lot of JK Rowling's motivation for the Harry Potter books came from Edinburgh, did you know?
Indeed, she composed most of the Harry Potter books while living in the city and you can visit a portion of the bistros and lodgings, for example, Elephant House and Balmoral Hotel where she invested energy composing the books. You can join a guided tour and visit the film areas including Greyfriars Kirkyard and Victoria Street, or take the Potter Trail, a visit that takes you through the important locales.
3. Scotland is famous for bagpipes
The traditional music instrument the bagpipes can be heard all over Edinburgh and Scotland in general. You will be able to see a man in a kilt blowing away on his bagpipes everywhere. Snap a photo, dance, and get involved with the city's culture and tradition!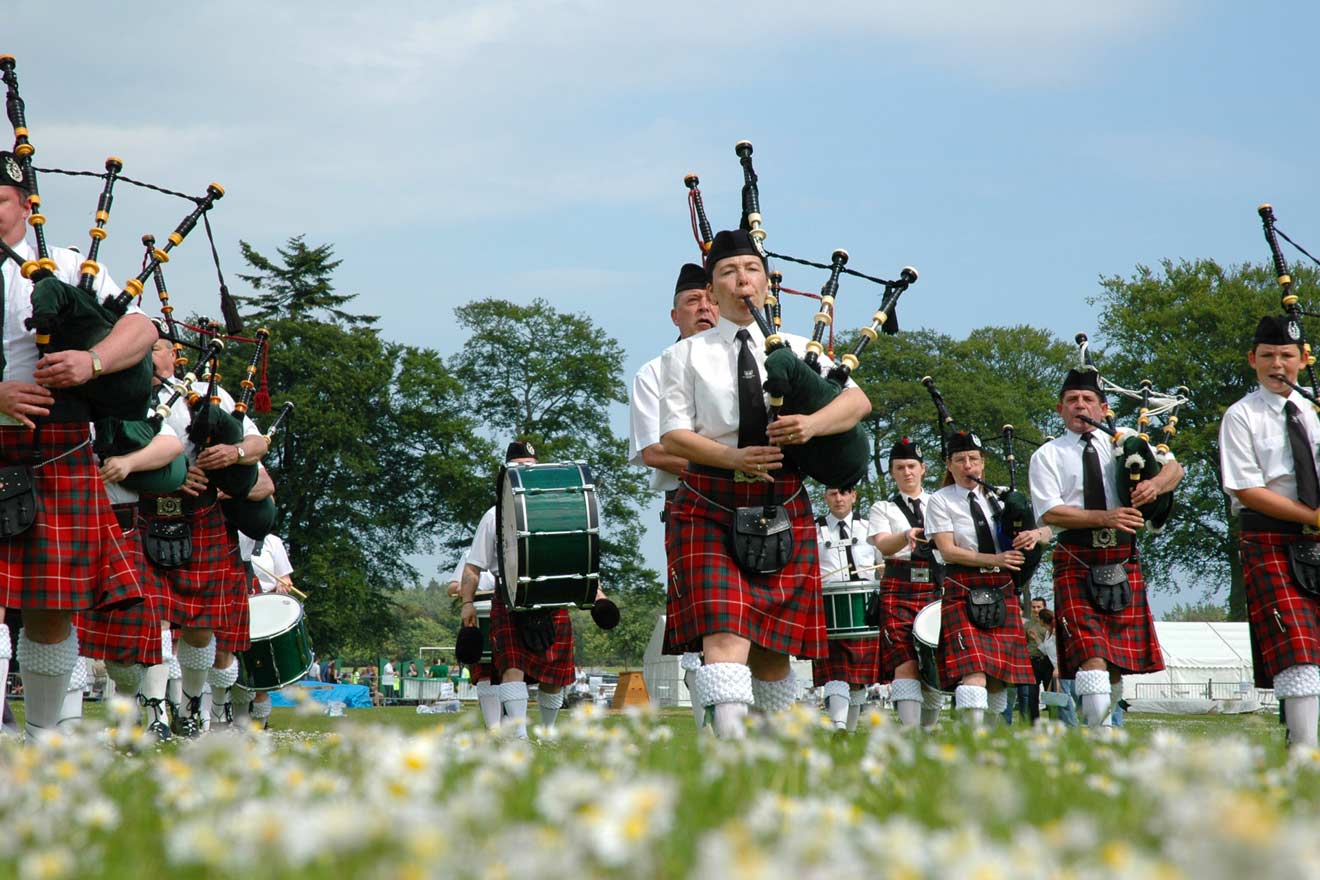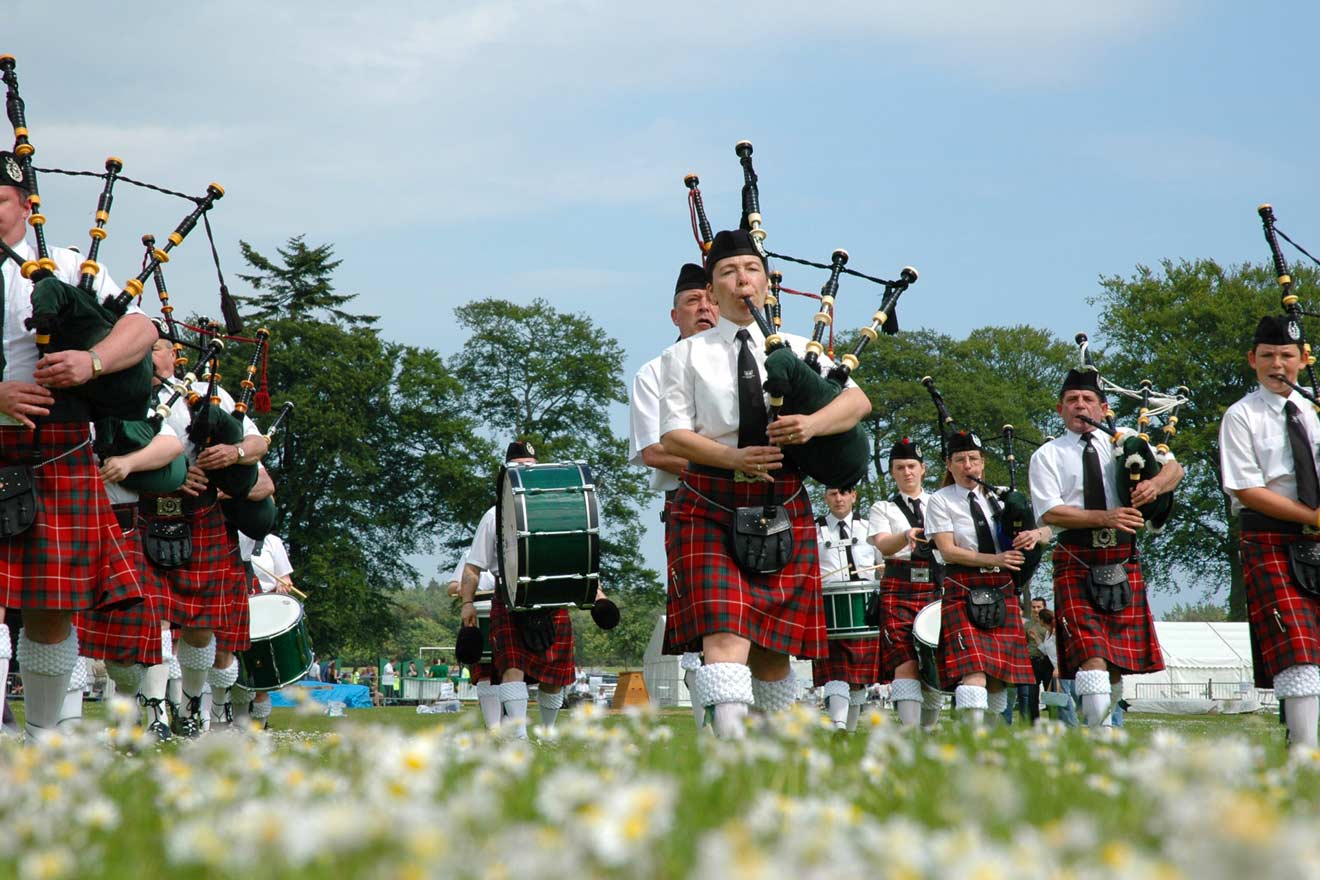 4. Some men wear kilts in Scotland
Well, this one you probably already knew, didn't you? This is pretty much a Scottish trademark! 🙂
Some men in Scotland sometimes wear the traditional kilt, a thick, creased skirt made of wool in plaid checkers. It's rumored that true Scotsman don't wear anything underneath their Kilts so if a man in a kilt tells you he is a Scottish through and through, you know what he is talking about!
Nowadays, kilts are generally worn for weddings, formal events, or by busking bagpipers. Yet, some of the time they are worn essentially on the grounds that they can look great. The outfit starts in the plaid shrouds of Highland Scotland, apparel that was prohibited after the loss of the Jacobites in 1745. Queen Victoria, reallowed to wear the traditional kilt and it is still a part of Scotland's culture.
5. Britain's second-largest train station – Waverley Station
The famous Waverley Station serves great connections within England and Scotland. It is also the only train station named by a novel from Sir Walter Scott Waverley Novels. It is an enormous train station. The station's roof refurbishing took 27,400 new panels of glass which equal to 14 football pitches. Waverly is also the first Scottish station to have a Christmas tree.
If you like traveling by train you can check out the connection cities and timetables at Waverly Station's website.
BONUS 2: Edinburgh for nightlife – Grassmarket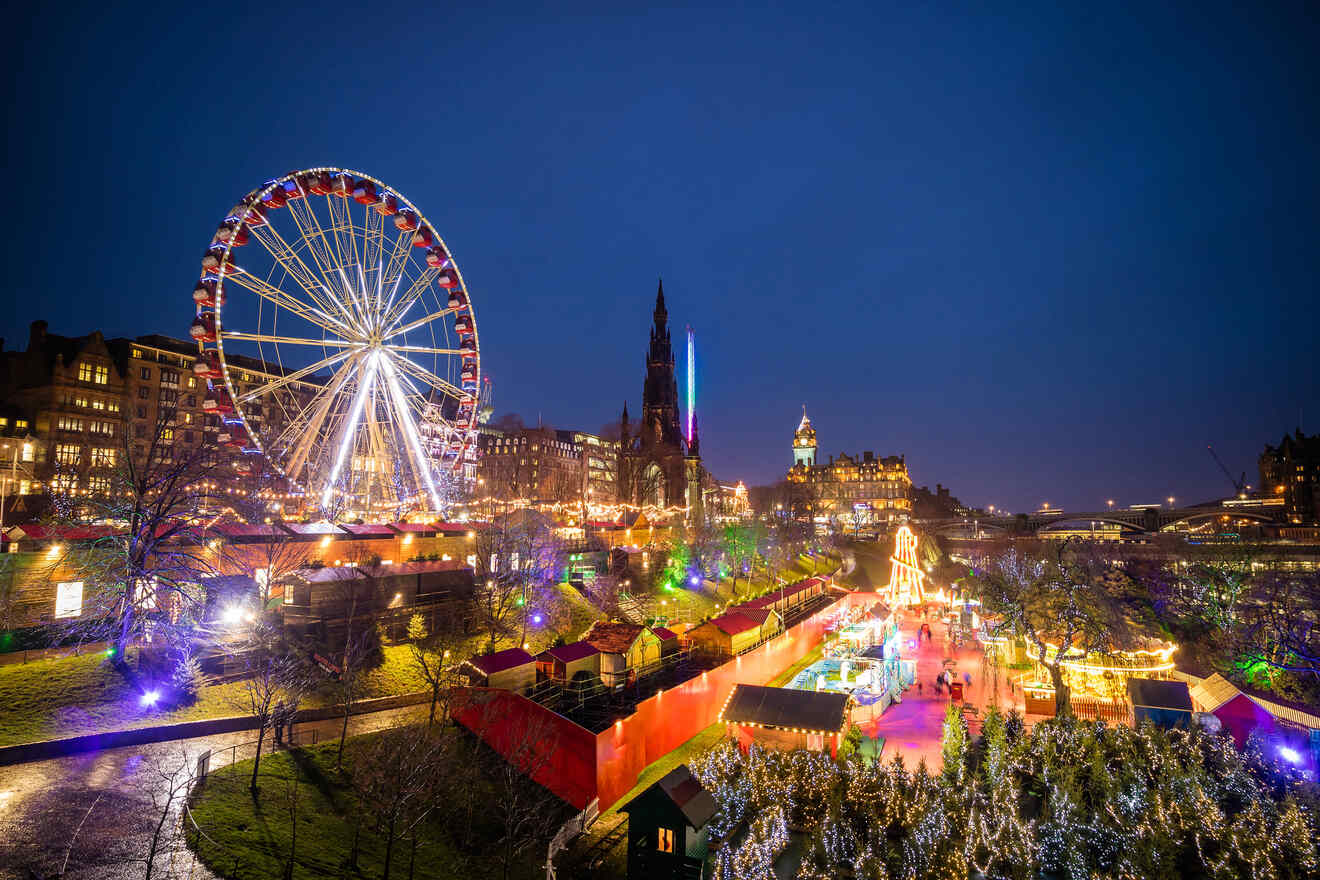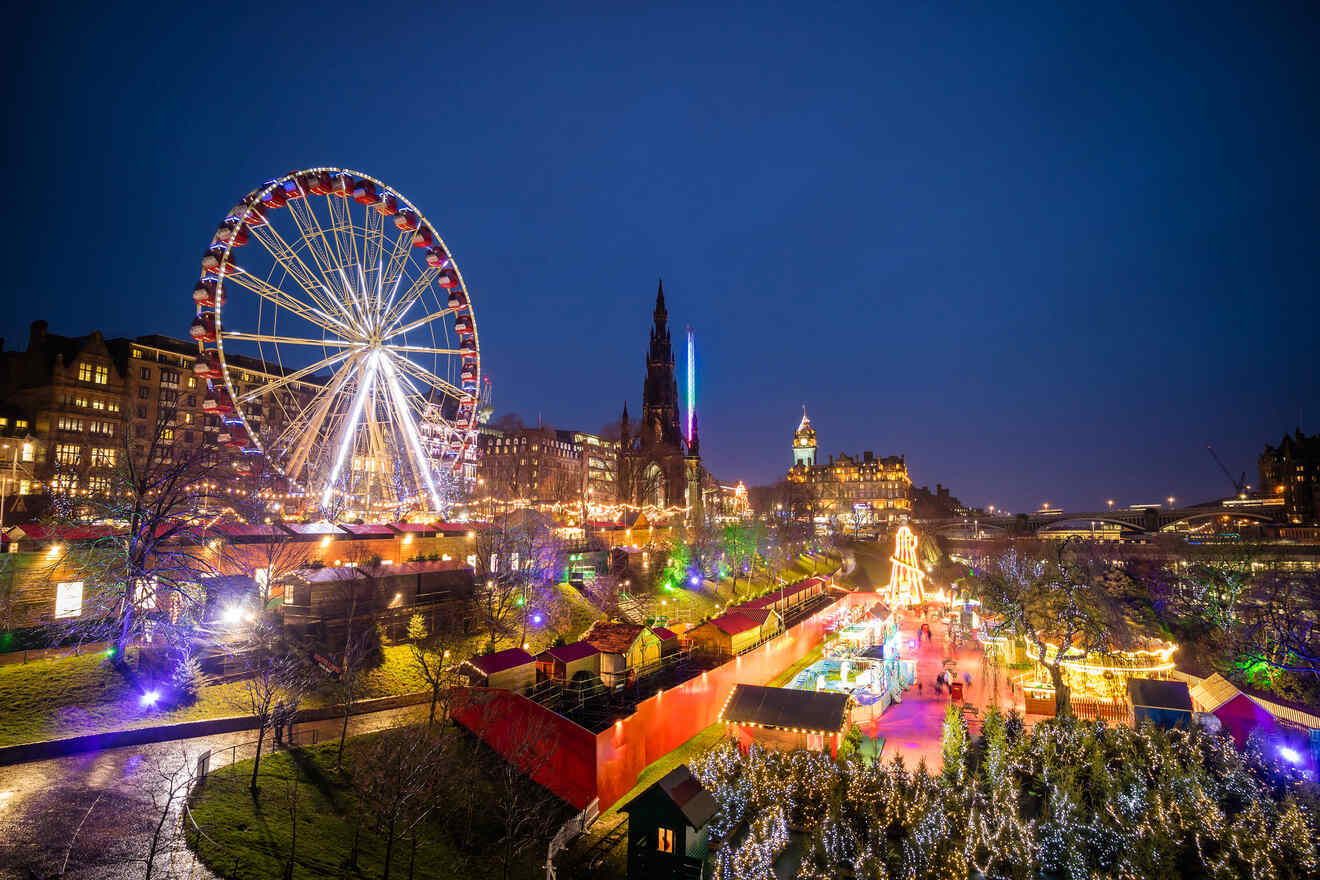 Grassmarket is a small part of the city located at the heart of Edinburgh. Although it is a part of Old Town, Grassmarket has a unique atmosphere and is where to go in Edinburgh for nightlife. Offering so many nice pubs it is a gathering place among the local people as well as tourists, so if you want to have a good time at night in Edinburgh, here are some great places you should check out in Grassmarket:
1. Join an entertaining Edinburgh Literary Pub Tour and visit the pubs favored by famous authors and learn about their and writings history. It is an award-winning pub tour where you will see performances of actors reciting from the books. It runs daily in summer and Friday-Sunday nights during the rest of the year. Very fun and interesting pub tour!
2. Go to one of the oldest and most historic pubs in the city, the White Hart Inn, which was a favorite of poet Robert Burns back in the day. It is one of the oldest pubs in Edinburgh with a really nice friendly atmosphere. Have a couple of pints and enjoy this historic pub open 12-10 pm daily!
3. Enjoy some snacks and drinks on a traditional Scottish pub night at The Last Drop. You can enjoy watching a football game while having a Scottish beer and enjoy the local atmosphere. It is one of the must-see Pubs in Edinburgh and is open 12-10:30 pm daily.
4. Go clubbing at the Hive which is home to six of Edinburgh's famous underground caverns with different music styles and dance all night long. The Hive is open 7 days a week and has signature cocktails. Depending on the nights you catch Dj performances playing Hip Hop, R&B, Pop, Rock, Indie, and Retro music.
5. Enjoy live music at Whistle Binkies with a great atmosphere. Various bands are playing in this lovely venue, and most of the time it is very crowded. That's why it might be difficult to find a place, so make sure to show up early. It's open from 11 am till late!
Frequently asked questions about Edinburgh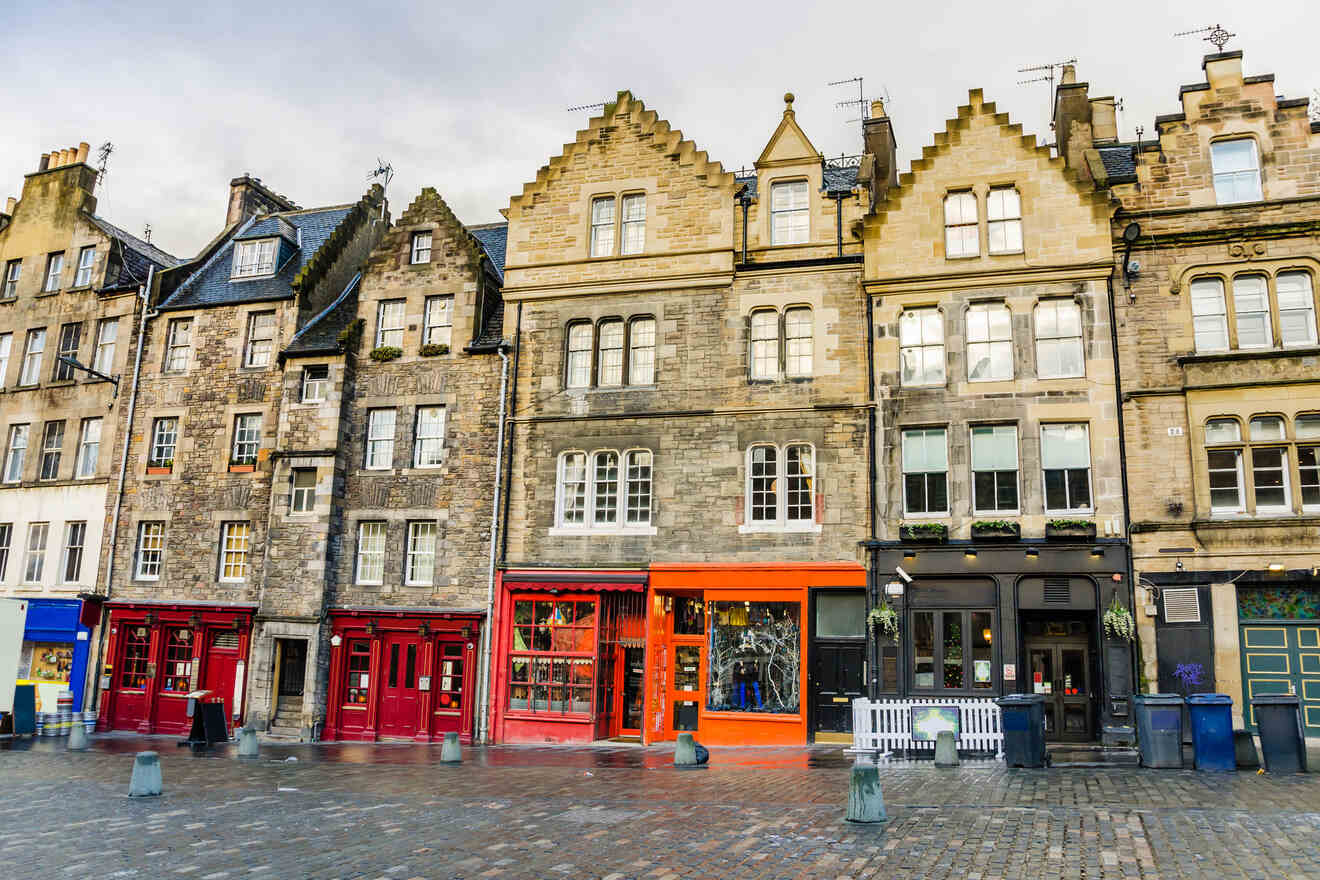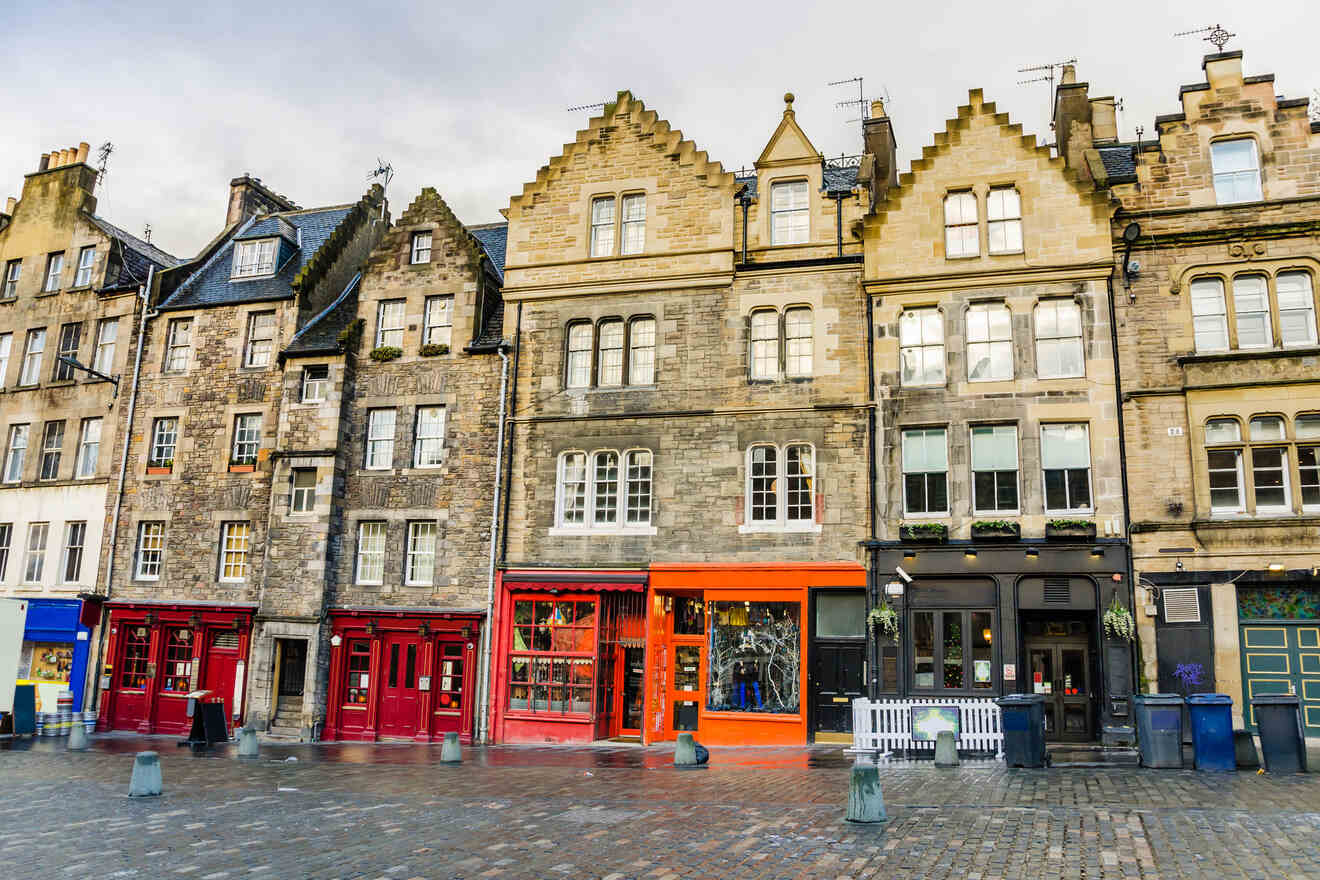 🗺️ Where should I stay in Edinburgh for the first time?
If you are visiting Edinburgh for the first time, the best areas to stay in are Old Town / Royal Mile or New Town. They are both within walking distance to Edinburgh Castle and to main sites. 
🙇🏻‍♀️ What are the bad areas of Edinburgh?
Niddrie, Pilton, Granton are deprived areas of Edinburgh, best to avoid. However, all touristy neighborhoods such as Old Town and New Town are safe in Edinburgh.
⏱️ How many days do you need in Edinburgh?
For first-time travelers, I recommend spending at least 2 or 3 days in Edinburgh, to explore the New Town and Old town and see the main attractions.
📷 What should I not miss in Edinburgh?
Edinburgh Castle, Princes Street, Royal Botanical Garden, Dean Village, St Giles' Royal Yacht Britannia, Arthurs Seat, and Sir Walter Scott are some of the main attractions you should definitely see.
💰 Is Edinburgh expensive to visit?
Edinburgh is relatively expensive compared to other European tourist destinations. It is also the second most expensive city in the UK but you can still easily find a place to stay on a budget.
🏰 Can you walk around Edinburgh Castle for free?
You can walk around the outside of the castle including the cemetery without paying a fee. You can buy a pass for a reduced fee to see both Edinburgh Castle and Stirling Castle.
Conclusion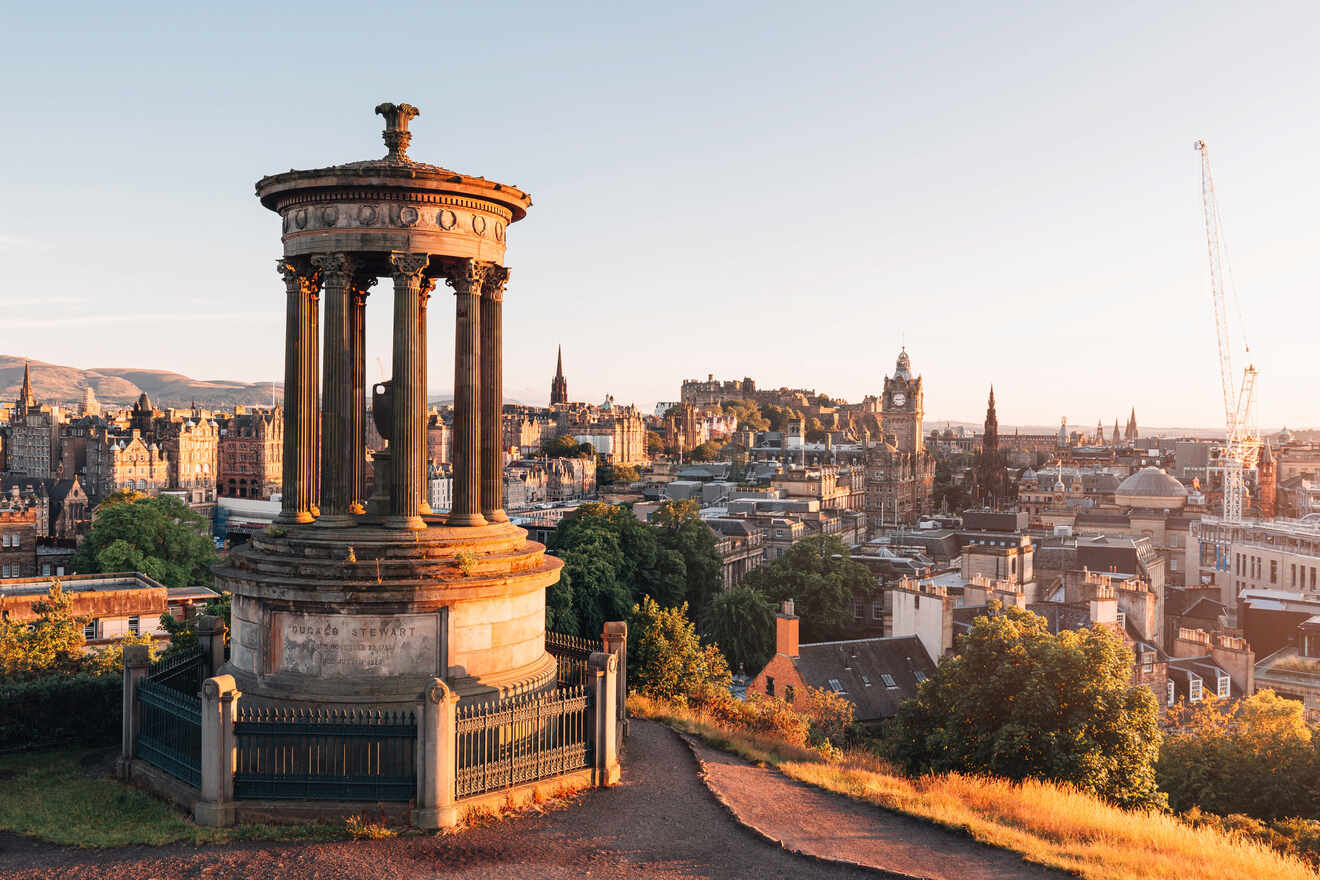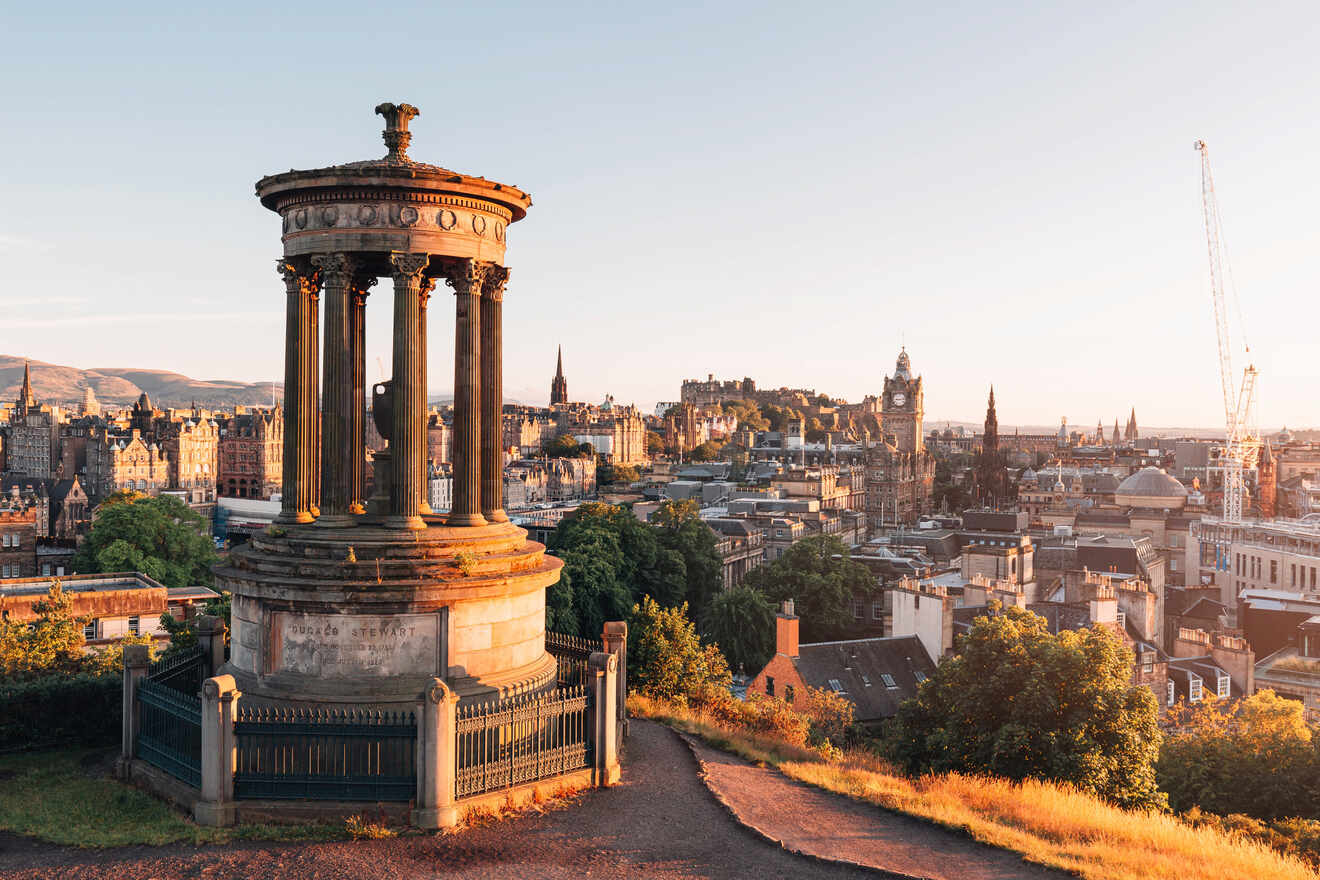 Now you must have an idea why beautiful Edinburgh with a spectacular castle, amazing food scene, and fun bars, is a very popular destination. I hope I helped you to find an answer to where to stay in Edinburgh. I have no doubt that you will have an amazing time in Scotland!
In this blog post, I covered the best areas to stay in and mentioned the best hotels as well as Airbnbs in each area.
Edinburgh is visited all year round by travelers and that's why it might be difficult to find a hotel at the last minute. Having known that, if you've already made your holiday plan, I highly recommend you make a booking now! If you have little time left for your trip and haven't found a place yet, I suggest you look for hotels near the train station as Waverley Station has great connections to many towns!
To wrap up, here are the best hotels for where to stay in Edinburgh in the nicest neighborhoods where I would definitely recommend you to stay. They both have good locations and great reviews too!
I will be happy to hear your experiences about your stay in Edinburgh so don't forget to leave a comment below if you have any other suggestions or questions about Edinburgh or Scotland! I'll be happy to leave a reply!
Have fun in Edinburgh city!
Eylul