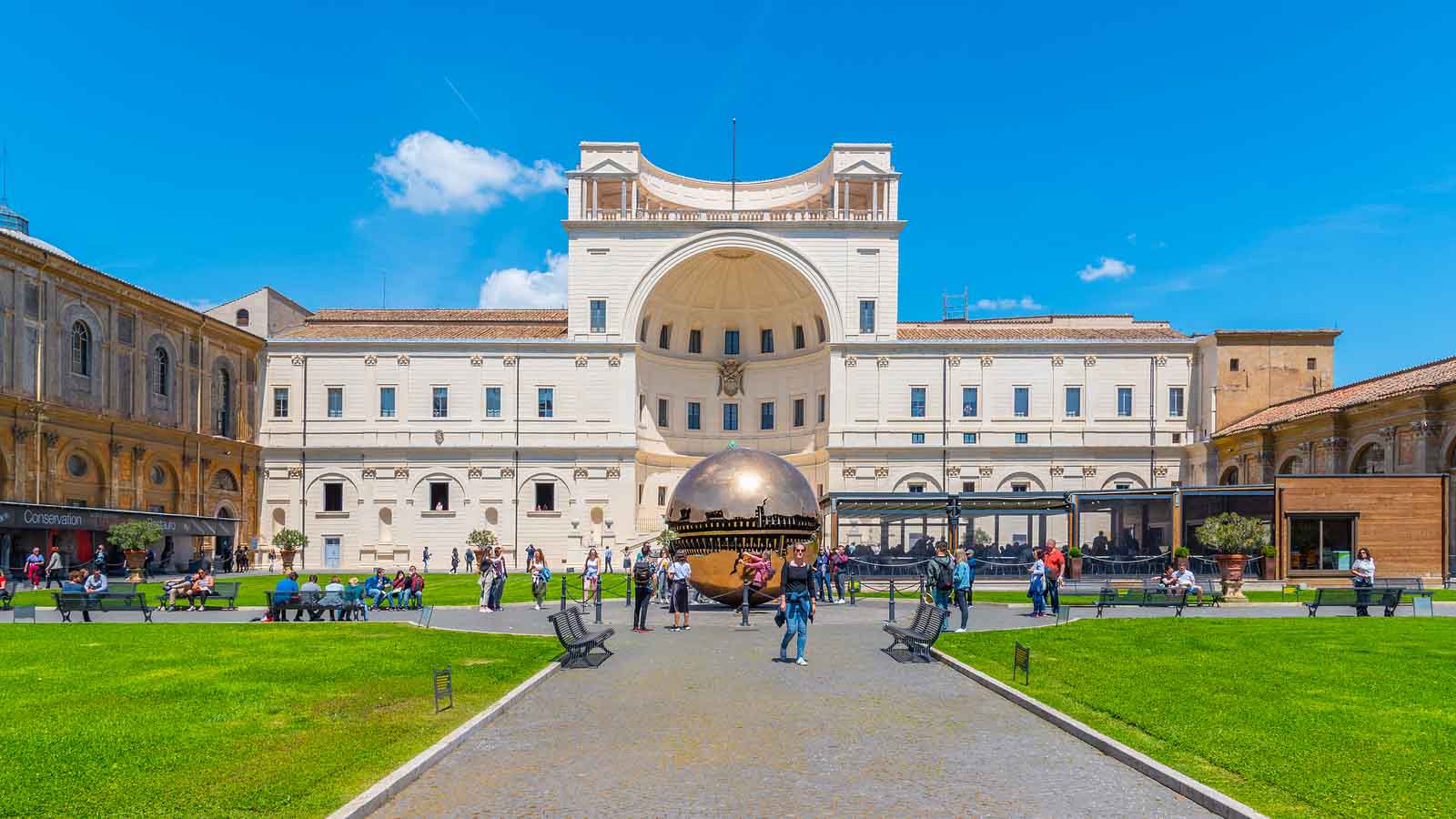 Vatican Museums (or "Musei Vaticani" in Italian), one of the most famous points of interest in Rome is, of course, no exception. The Vatican Museum is one of the most well-known museums worldwide and it is located in Vatican, a city-state right in the heart of Rome.
The Museums bring together under one roof one of the biggest art collections in the entire world such as the famous Sistine Chapel by Michelangelo.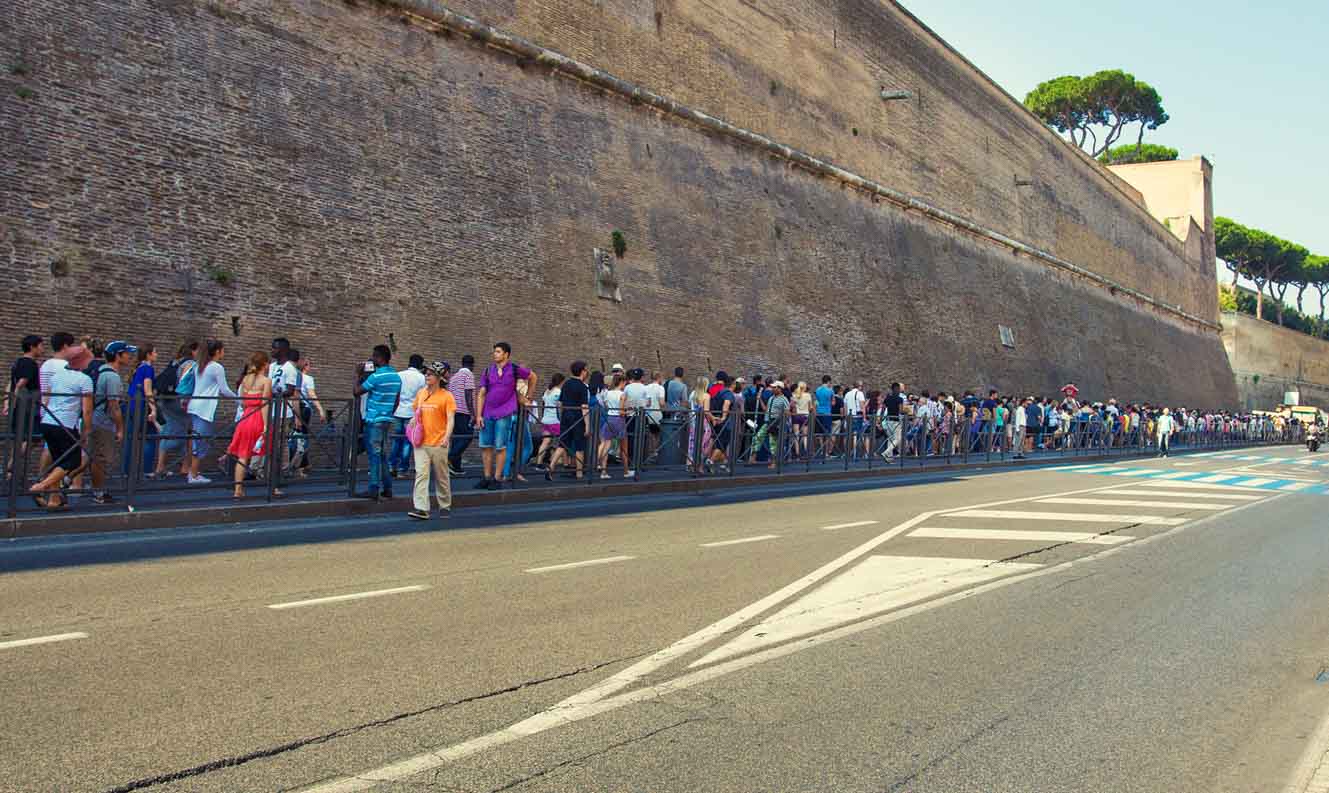 Even if you are not much into museums, with works of art created by masters such as Caravaggio, Leonardo da Vinci, Raphael and Titian, visiting the Vatican Museums is a must-do in Rome!
There are more than 6 million visitors at Vatican Museums every year! Can you imagine?
The lines at the entrance are so long, you can sometimes wait up to 4 hours until you get inside! But no worries, I have some useful tips and tricks for you that will help you save precious time and avoid the queues at Vatican Museums.
Let's discover my tips and tricks on how to avoid the long lines at Vatican Museums, plus a bonus on how to see the Sistine Chapel with no people:
If you are in a hurry:
Here are some fast links to buy your general admission tickets if you are not keen to read the whole article: (the cheapest price tend to sell out VERY much in advance these days)
We will talk about this and all other ticket types as well as reductions and practical info below.
1. General admission tickets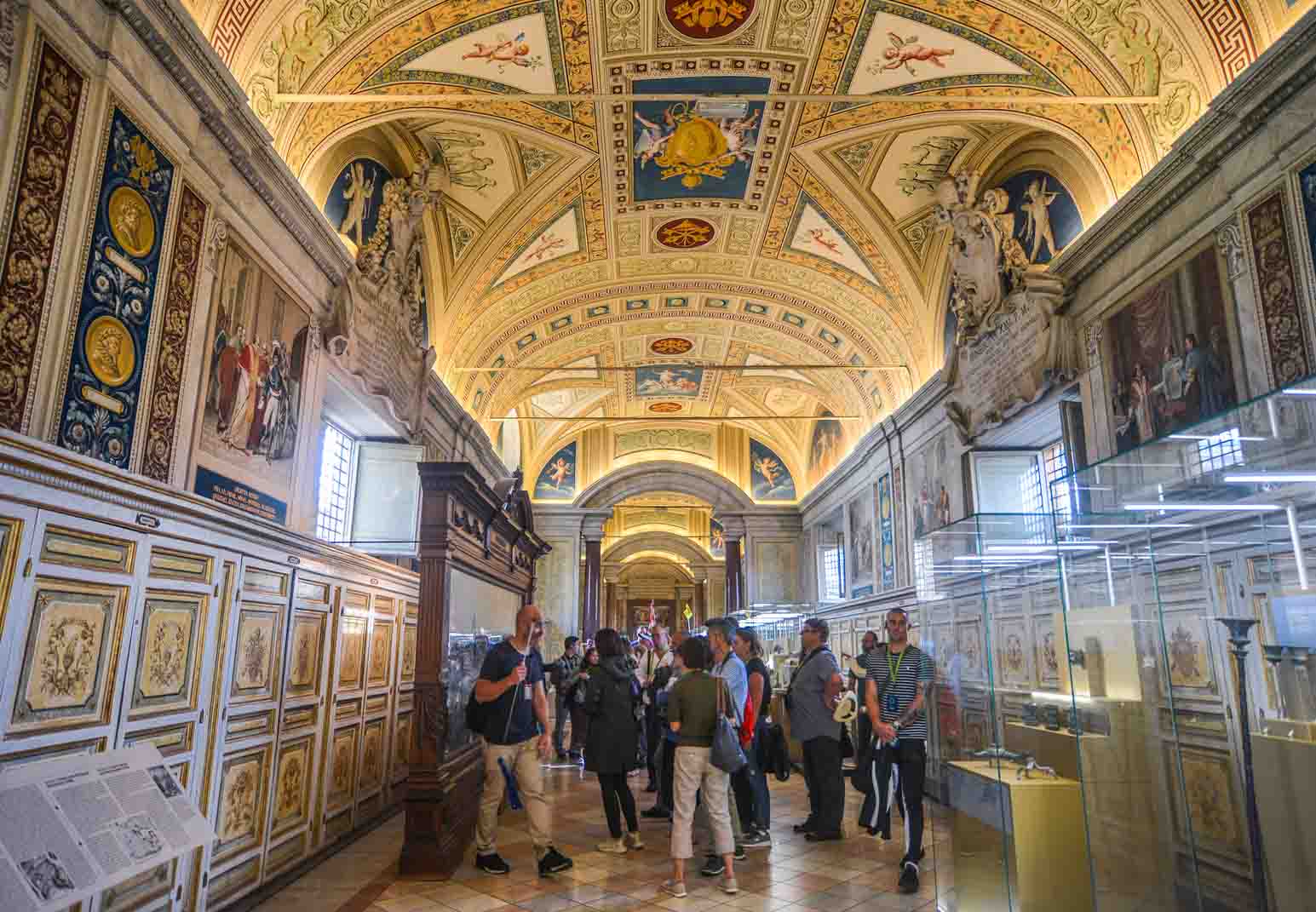 FUN FACT: Officially Vatican Museum ticket price is actually 17€ BUT you would have to physically stay in the line and there is a big chance you would reach the end of the line just to learn there are no more tickets available. Trust me, you do not want to ruin your vacation in a multiple hour line just to learn there are actually no tickets.
On the other hand, if you buy your ticket on the official website waaaaaay in advance, it will be 17€ + 5€ (online booking fee) = 22€ per person.
At the moment of writing this post, the earliest tickets available on the official website are 1,5-2 months in advance!
I know, mostly no-one in their right mind buys their museum tickets that much in advance, but well, that is Rome. It is absolutely marvelous, but damn crowded (read my post on 6 most crowded places in Rome with tips on skipping those lines!).
No worries, there are always ways to get in the museum (and not waste hours under the scorching sun in the queue). But it gets exponentially more expensive depending on how long in advance you are planning to go.
If you are getting your ticket 1-2 weeks in advance – get this skip-the-line ticket! (29€). If there are still no available tickets there, check this site, they usually have a bit more dates, but this one does not have an audioguide included and costs the same or more (28.5€-35€ depending on the date and time).
Want to go today but everything is sold out everywhere? I have a solution for you – Tiqets offers same day tickets option, but it comes with a price. Click here to buy. (60€).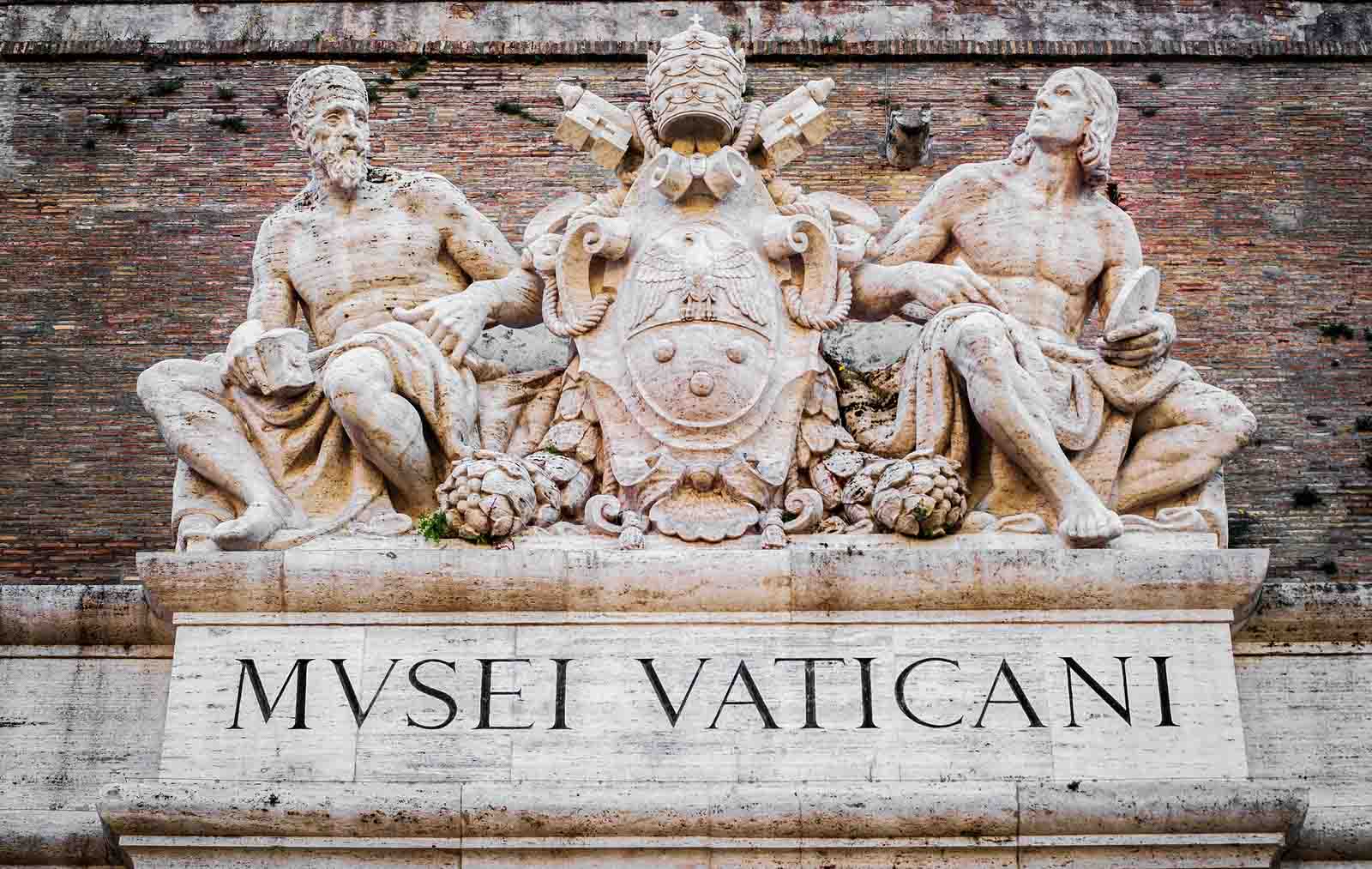 PRO TIP: if you want to buy an audioguide as well (highly recommended, you will learn so much about the masterpieces present there!). It costs extra 8€ and it can be bought directly in site once you enter or beforehand on all the sites I mentioned above.
Cancellation policy: All of the tickets mentioned above are non-refundable
Reductions: buying through the official website – 13€ for students (ID required at the entrance), free for kids younger that 6yo, last Sunday of the month (not recommended there will be SO many people), disabled visitors
2. Guided tour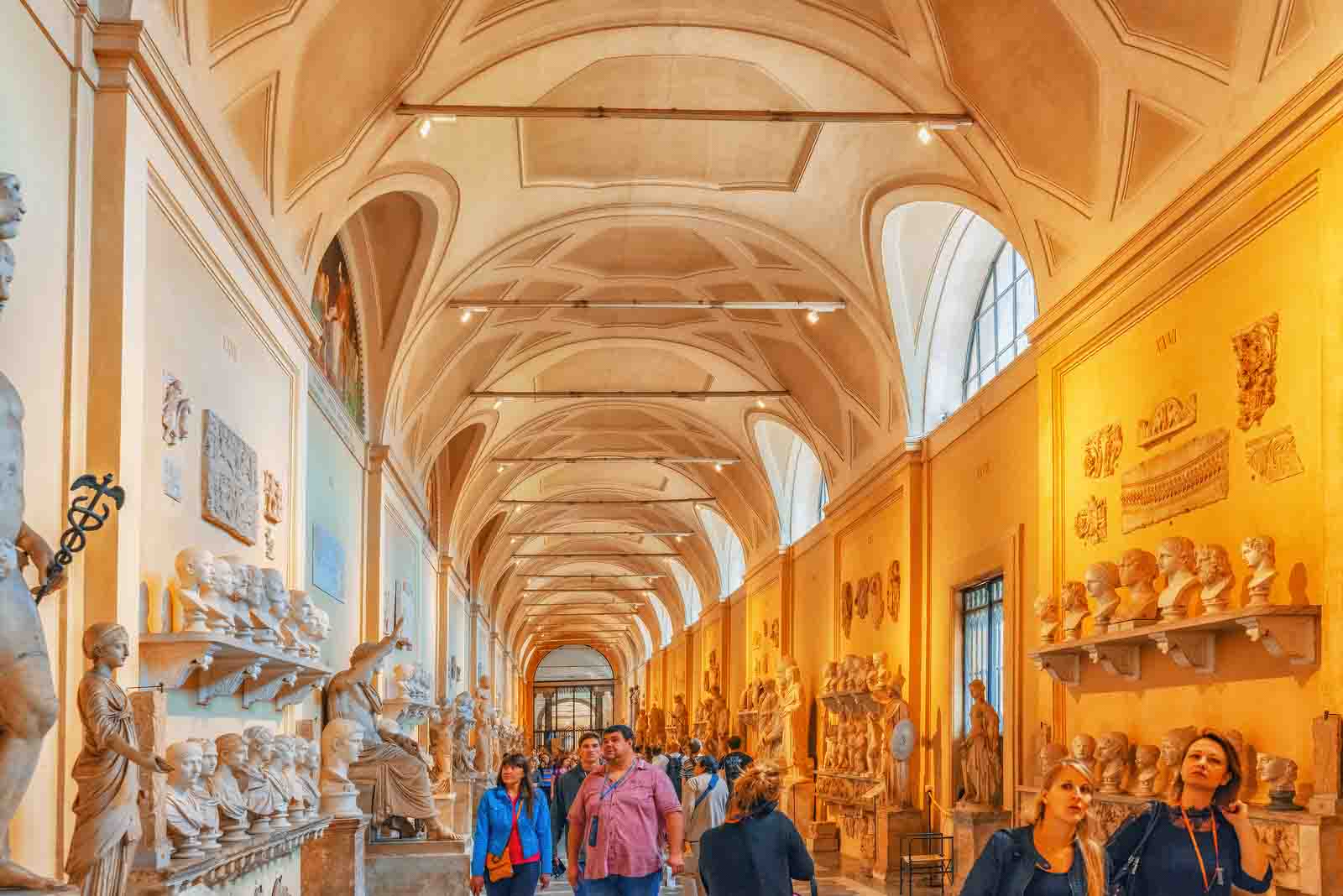 Visiting the museum with a guide will enhance your experience and will help you learn so much interesting information! Moreover, the guide will take the group directly to the Vatican Museum entrance and will skip the lines!
On their official website you can find guided group tours for 35€ per person. The tours take 2 hours and they're available from Monday to Saturday, in English, Italian, French, German and Spanish.
It seems like you need to book this option at least about a month in advance if you are visiting during the summer and 2-3 weeks in advance in off season.
As usual, if they don't have your dates on the main website, check this authorized reseller, the pricing starts from 75€ per person and they have more dates available (but still aim for at least a week in advance). The tour is 2.5-3 hours, it does not include St. Peter's cathedral (we will later talk about the ones that do) and you can cancel up to 3 days in advance.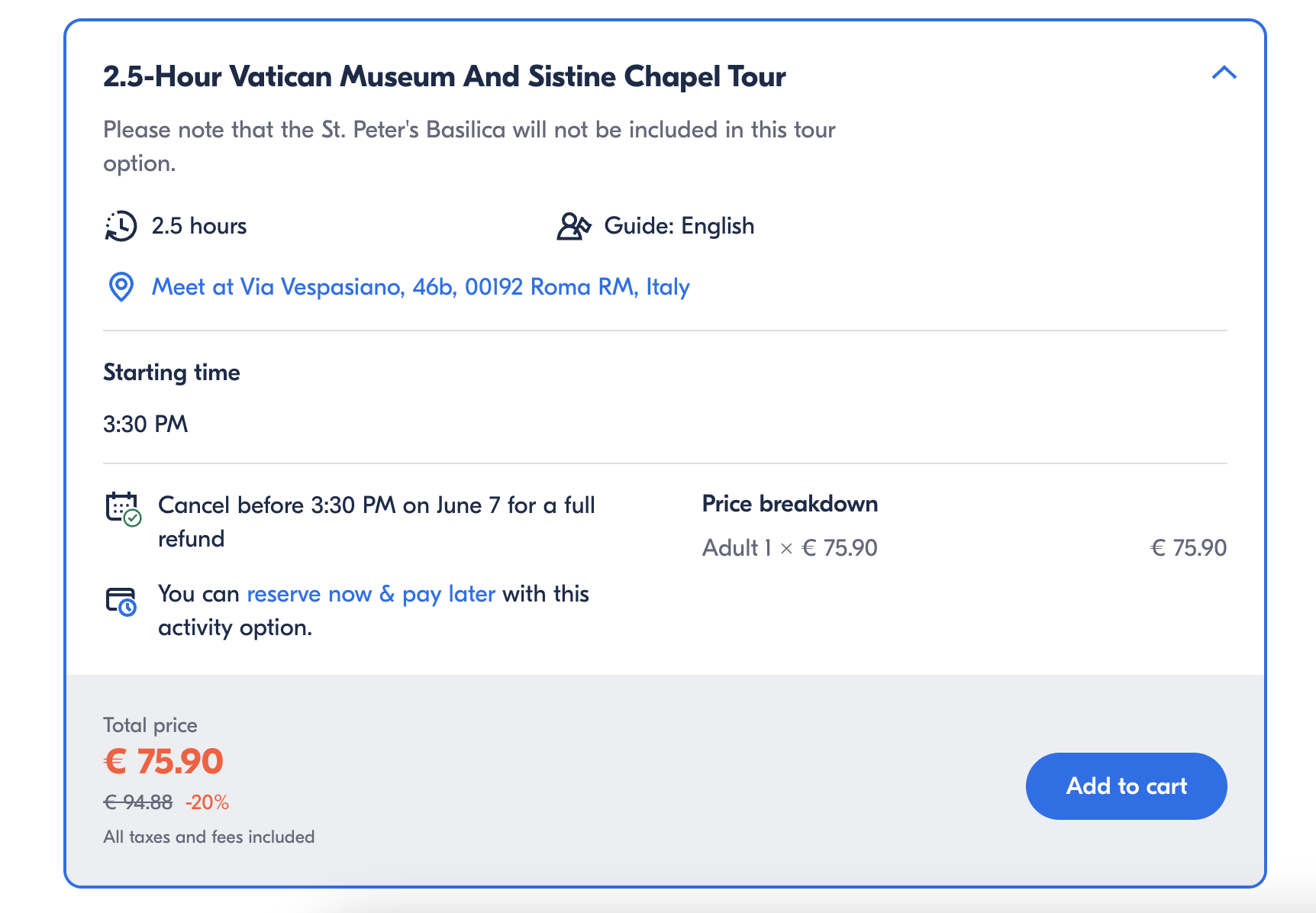 In order to see all the tour options (I know it can get confusing), you need to choose your dates, click "Check Availability" and you will be given a list of all tours available. we are looking for this one:
PRICE: 35€ for the guided tour on the official website, 75€ for a longer tour with free cancellation
3. Private tour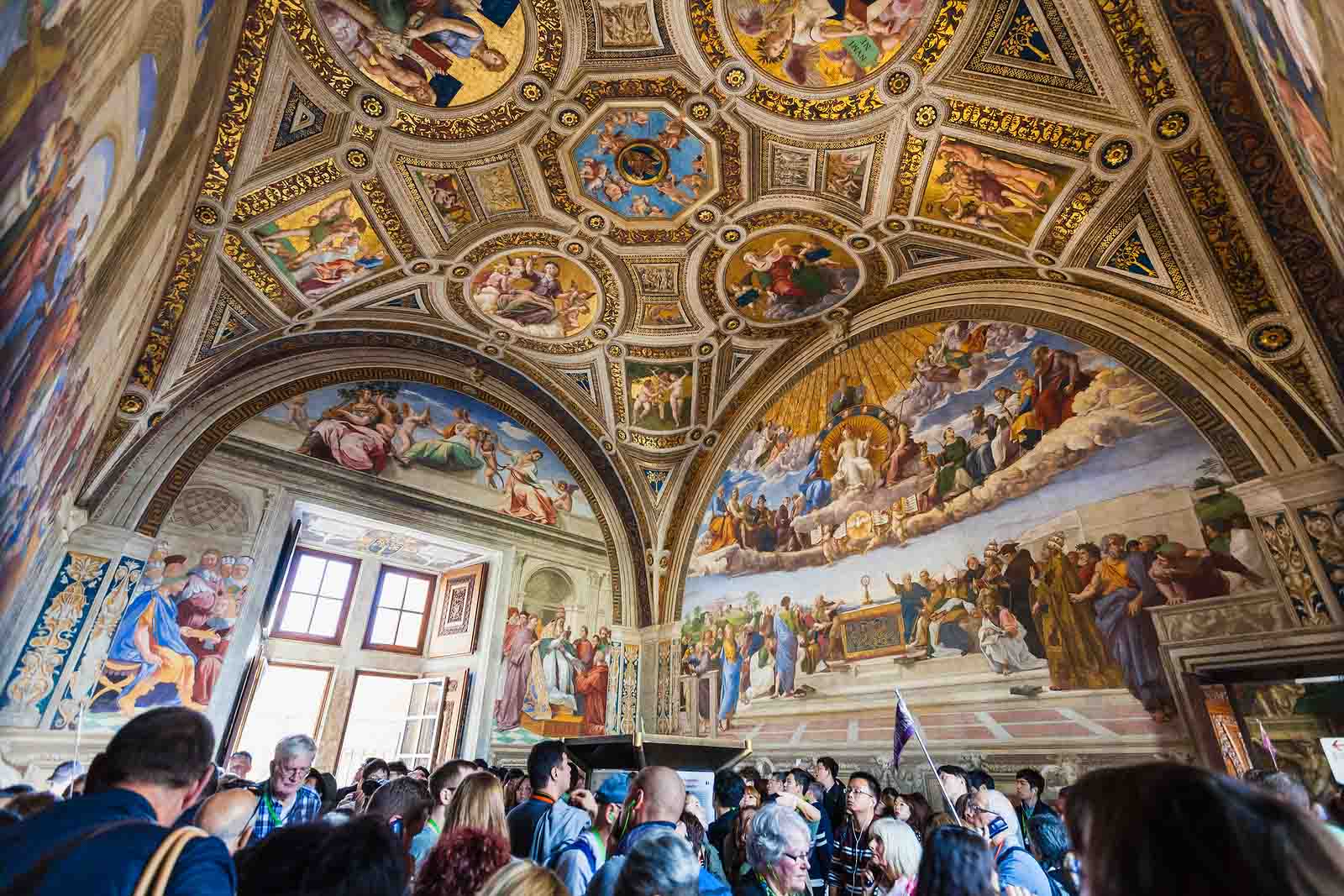 Although it is, of course, more expensive to get a private tour, in general, you will get to experience the place without being part of a big group and you can directly communicate with your guide and ask all the questions you want!
This one is the most classic one and, depending on the size of your group, it is about 350EUR per person for a 3 hour tour.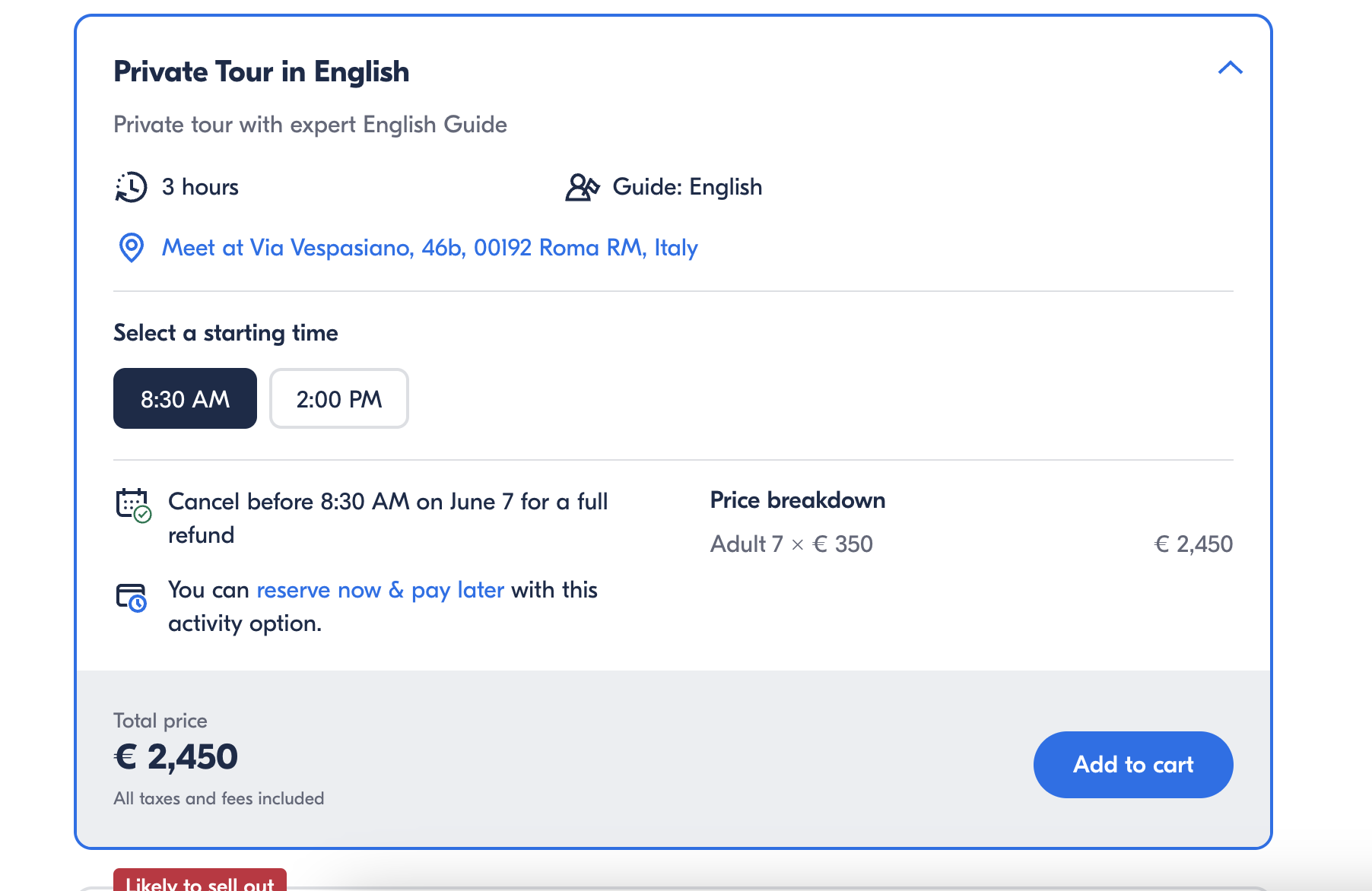 And this is a kids friendly tour, so you can be sure your little ones will also be entertained and will learn a lot of interesting facts about the place! It also includes an entrance and a guided tour in St Peter's Basilica, how cool is that? (189€ per person).
PRICE: 189€ for adults and 79€ for kids
4. Visit in the morning/after-hours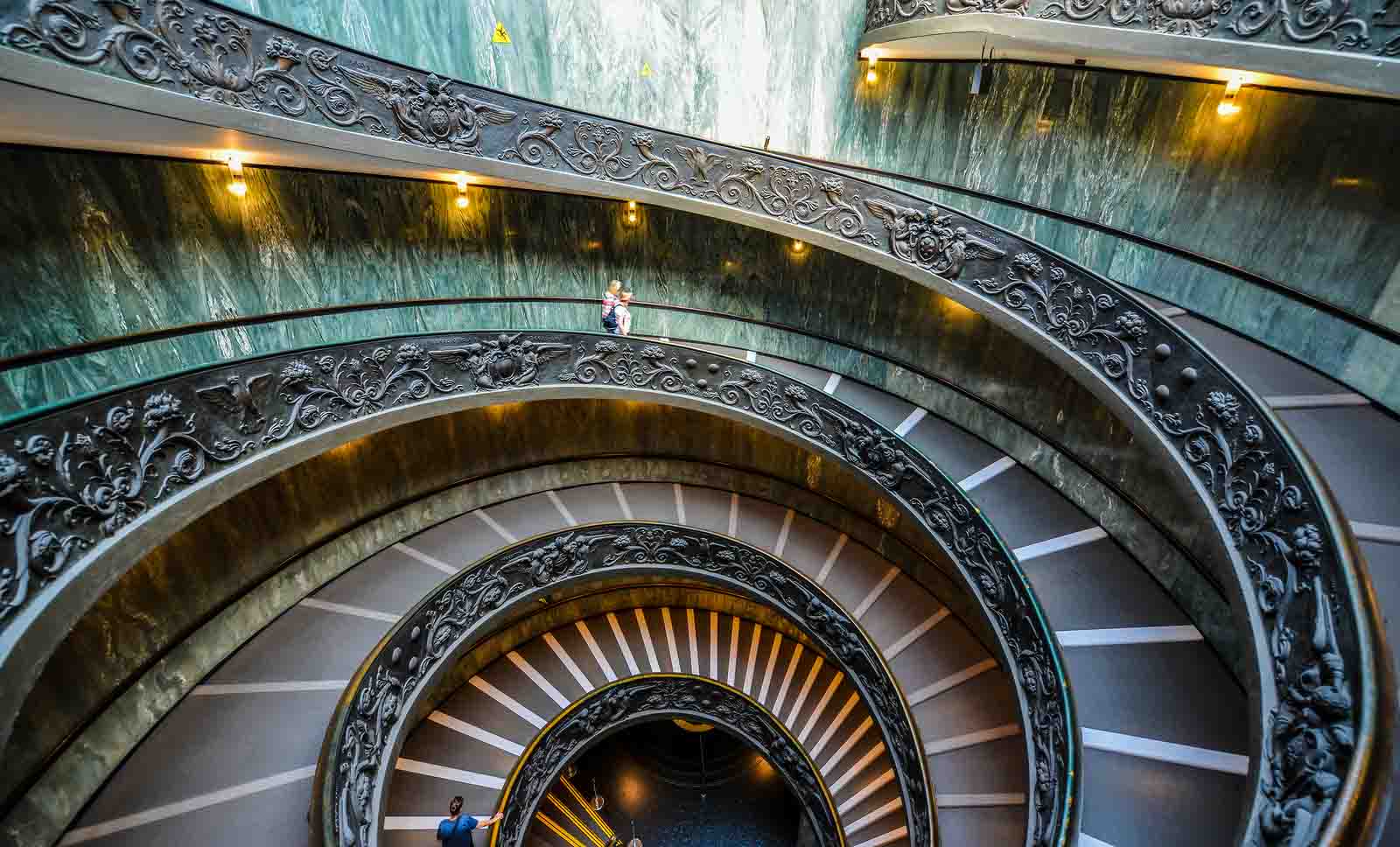 Would you like to visit the museum after its official closing time or before it is open? It is possible!
4.1 Morning tour
Imagine entering the grand halls before the crowd rolls in, having all the time in the world to soak up the vast tapestry of art and history, all guided by an expert who knows the Vatican City like the back of their hand. Isn't it breathtaking?
Then check out this tour, it is for a group of max 6 people and it also include the access to the basilica! (from 80€ per person)
If you are also looking for a breakfast option to go together with that (considering it starts at 7 am, you might just want that), go for this tour, it is well organized and have super fun and knowledgeable guides!
4.2 Night tour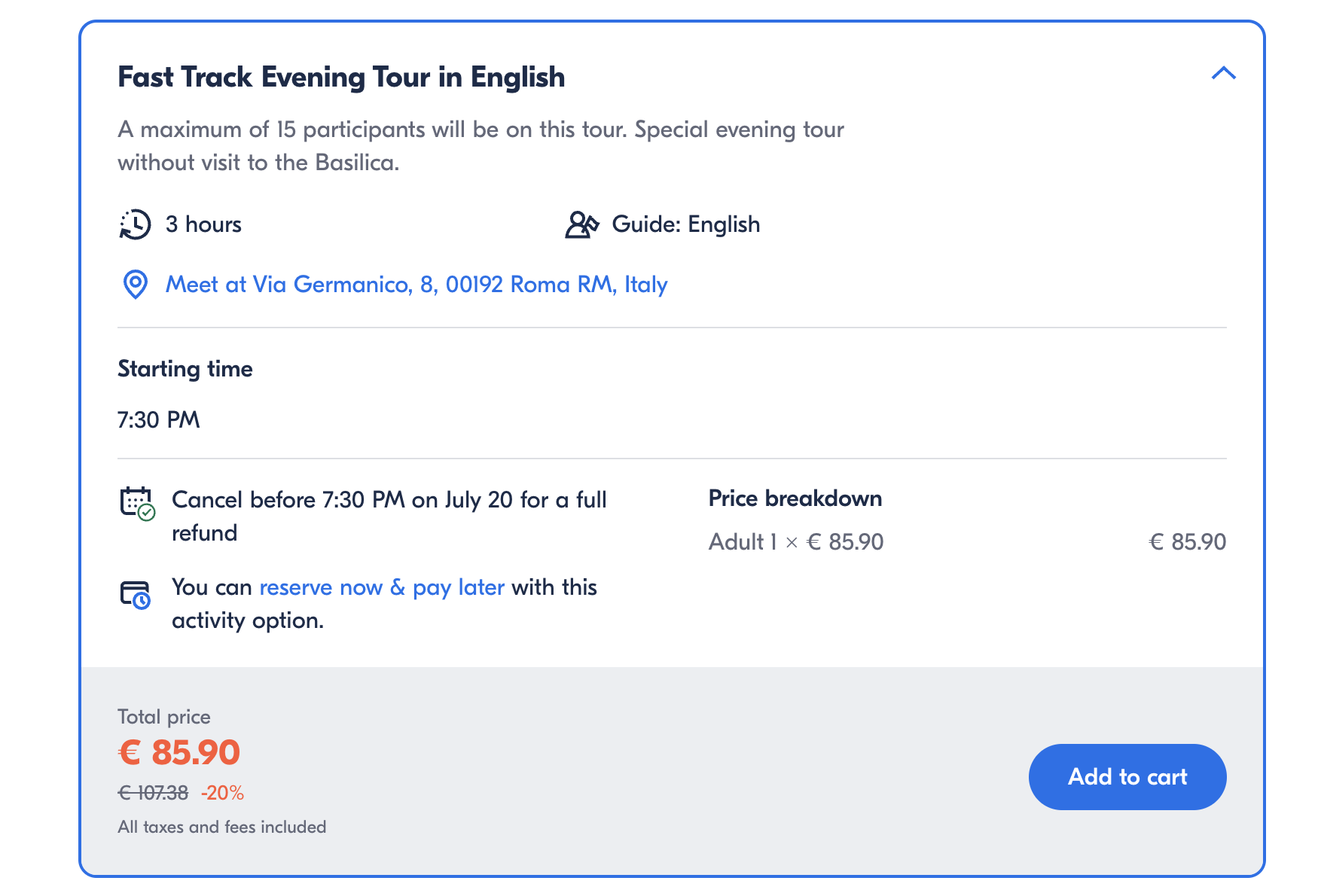 Now, this one is for my night owl pals! Picture this – the Sistine Chapel, shrouded in twilight, with Michelangelo's celestial masterpiece gazing down at you with NO CROWDS.
if this sounds like your cup of tea, I again have 2 tour options for your:
This one starts at 7 30pm, takes 3 hours and costs from 86€ per person (again, I recommend booking waaaay in advance. Considering it has a free cancelation of 1 day in advance, I think it is a pretty safe option!).
Otherwise, try this one (starts at 5 30pm), it is a bit more expensive (92€), but it seems to have more available options.
5. As part of a ticket bundle
Ready to unlock the secrets of the Vatican without breaking the bank? Here's a hot tip for you – consider diving into the world of ticket bundles.
For instance, a bundled ticket could include both the grandeur of St. Peter's Basilica and the mesmerizing Vatican Museums. I found a couple of really cool options for you, let's take a look:
5.1 Vatican Museums + St. Peter Basilica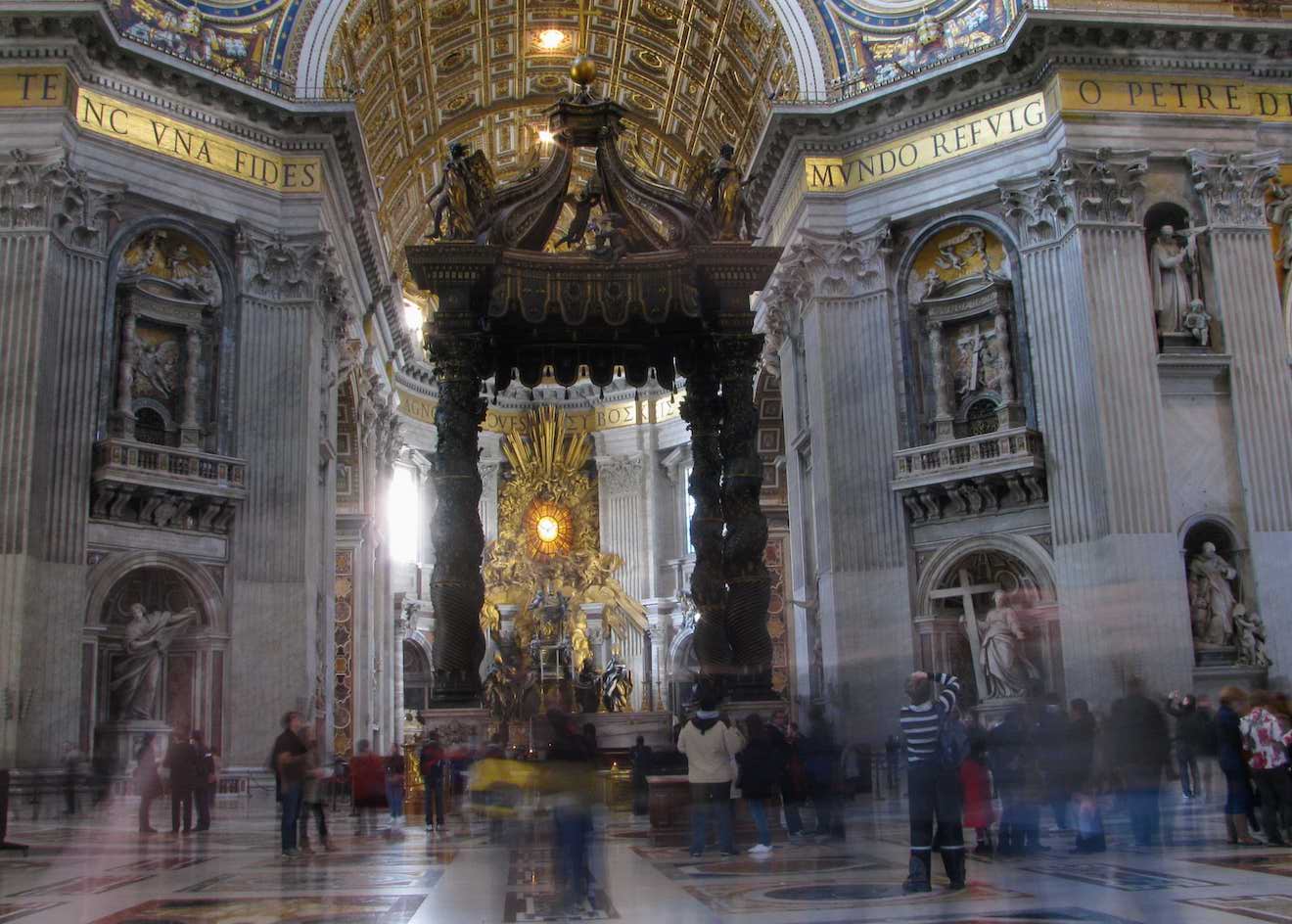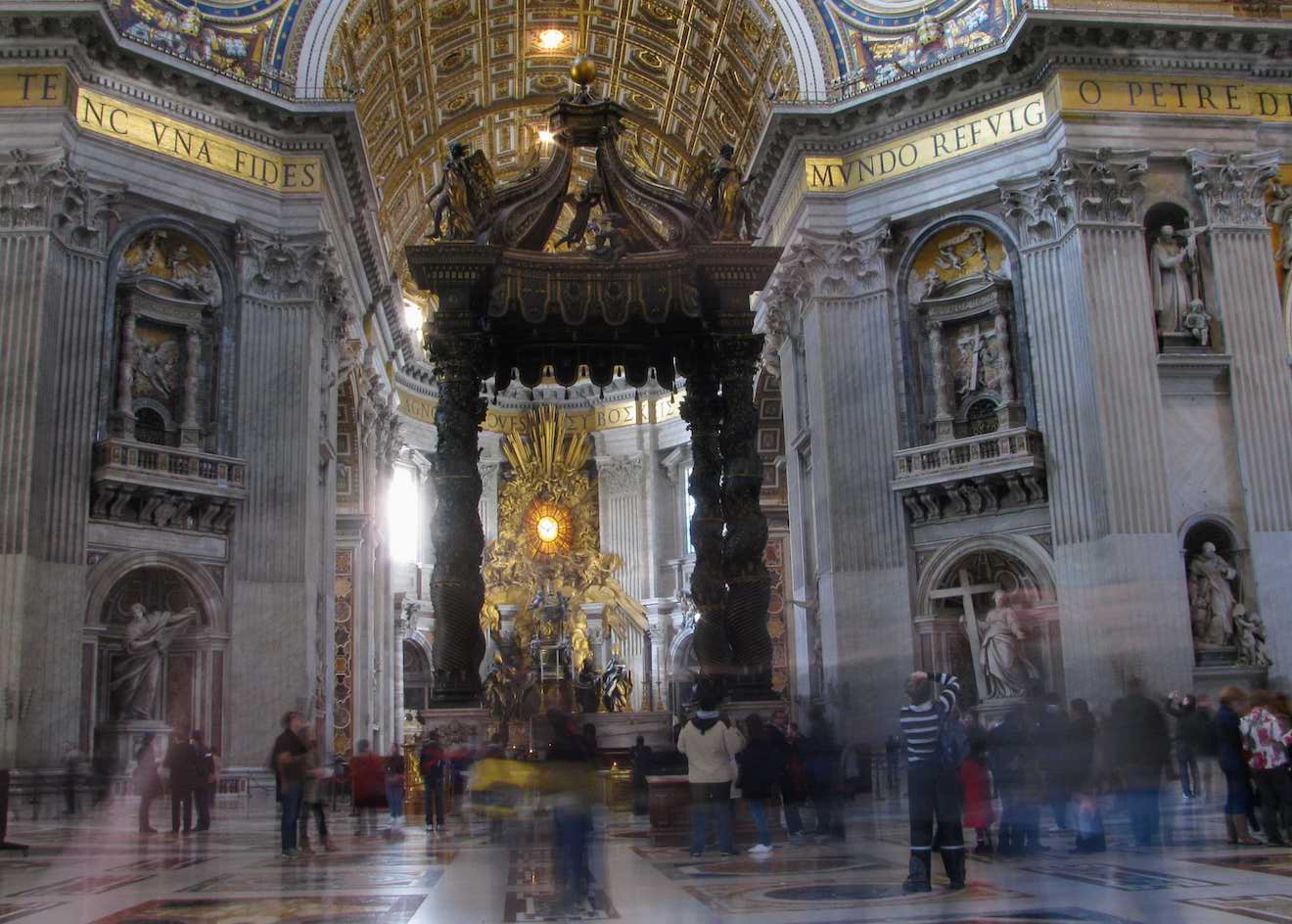 Getting into the Basilica is another huge challenge by itself (it is free, but the lines are notoriously long), so do yourself a favor and get this skip-the-line ticket (from 85€ per person).
OR, if you also want to climb St.Peter's Dome in the same time, I can recommend this tour – in 5 hours you will get to see and know everything there is to see and know about Vatican! (from 102€ pp but sells out fast as well).
5.2 Vatican Museums + Vatican Gardens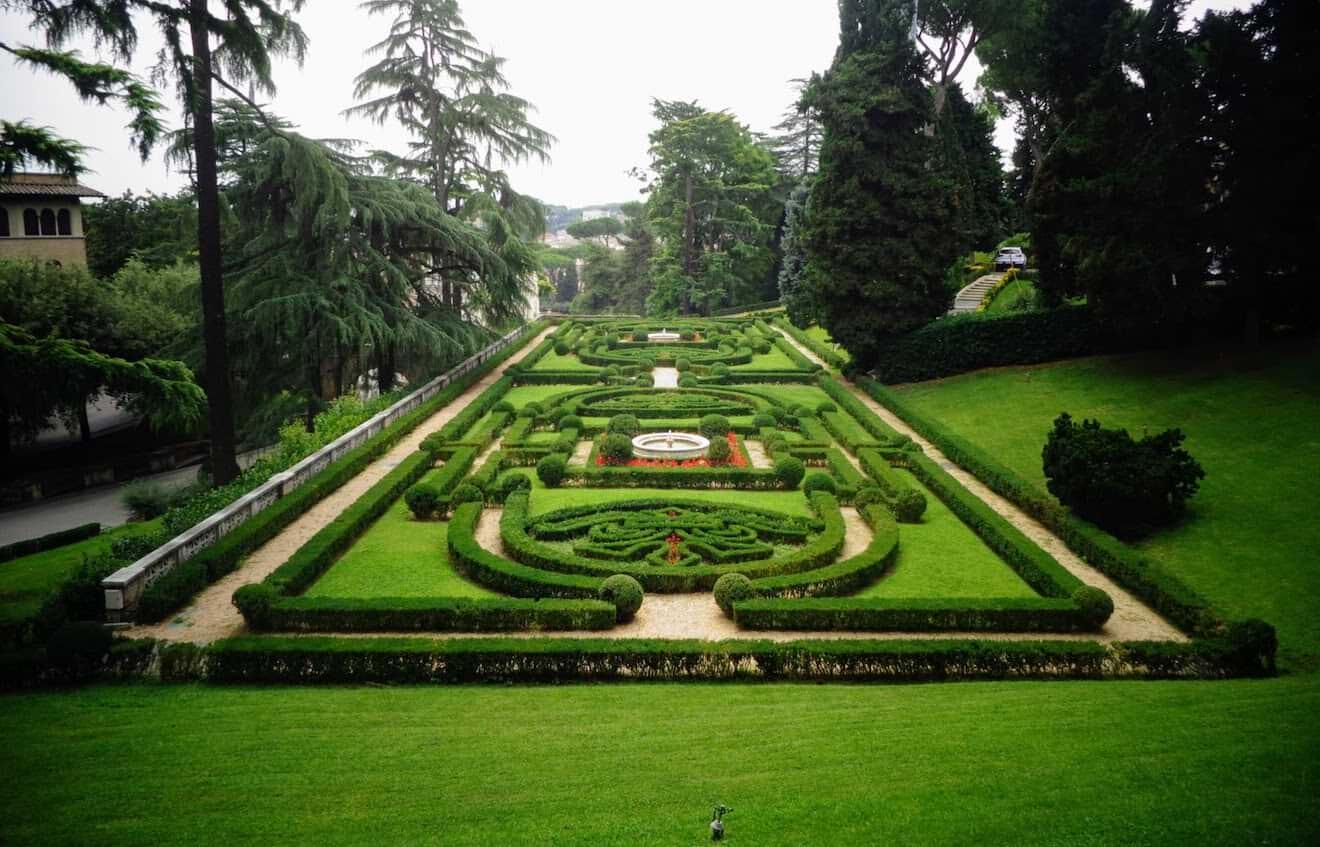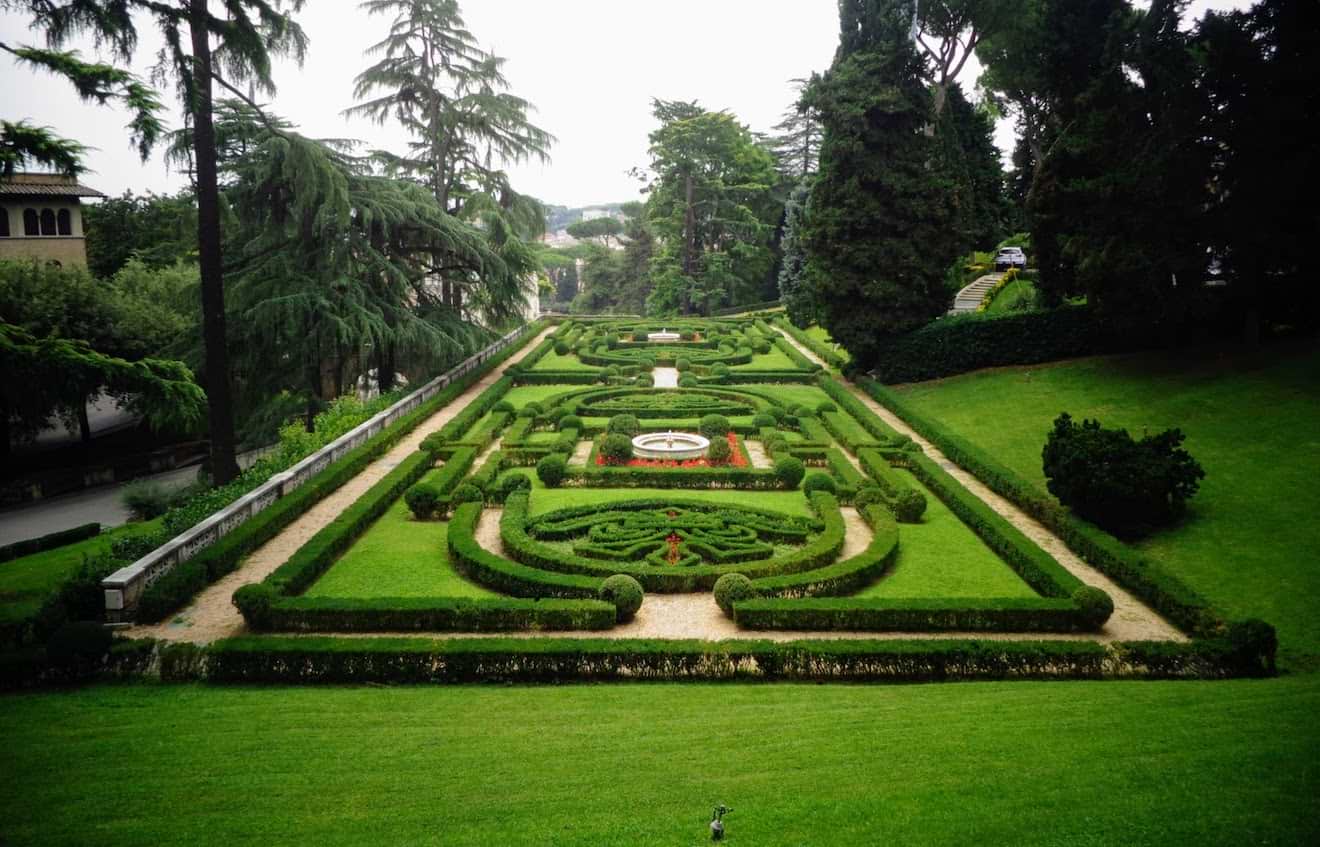 Is it even worth it to visit the Gardens? I lived in Rome for years and I only managed to visit the museums after my 3rd-4th visit of the museums.
It depends on how much time you have, but ultimately, I would say YES. it is a very beautiful place, less crowded and is simply perfect if you want to relax after the overload of information and beautiful art that you got to see in the museum.
This tour includes a skip-the-line ticket to the museum and a bus tour of the Vatican Gardens (45€ for adults).
6. With a tourist pass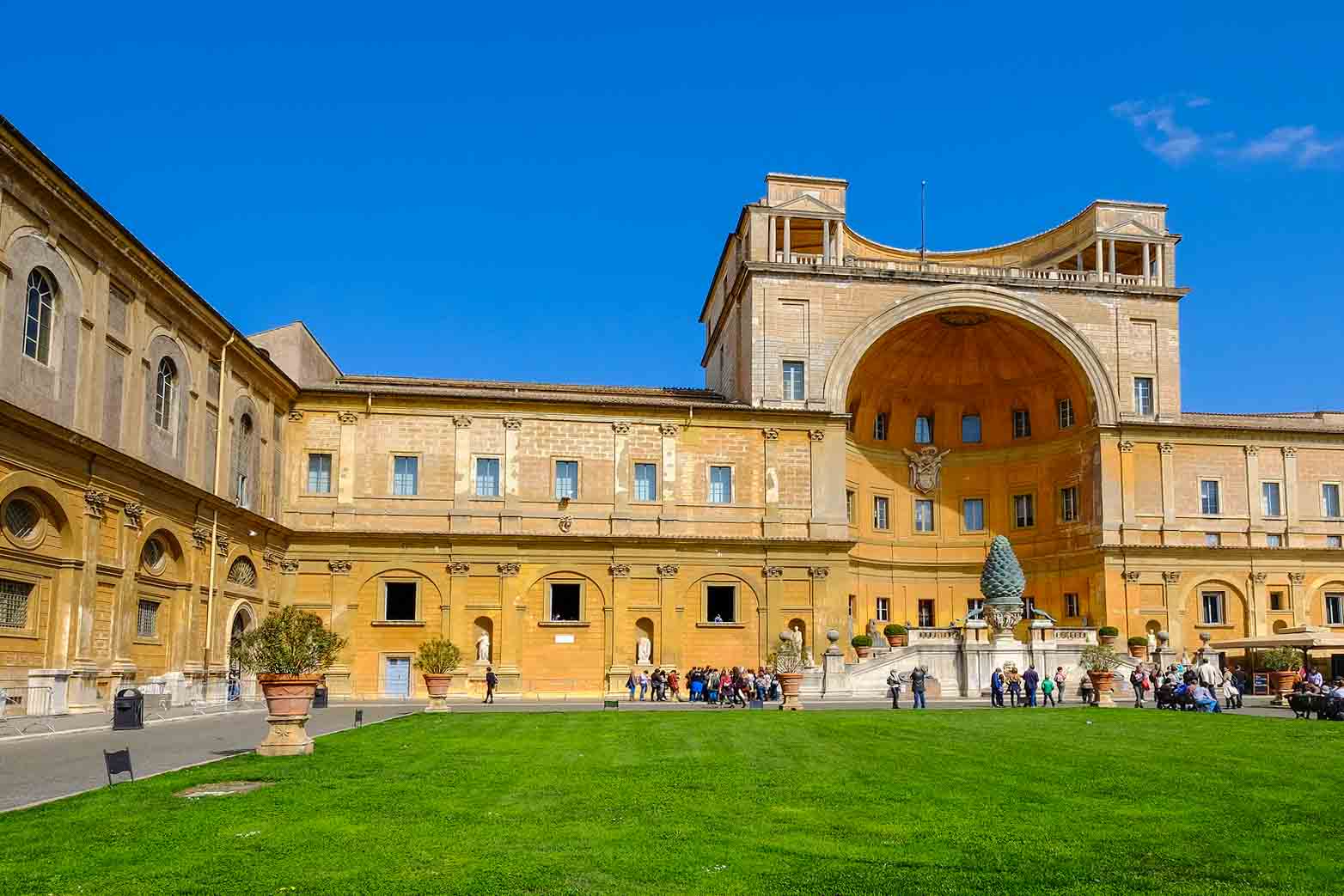 A tourist pass can save you some serious bucks if you're planning to visit many attractions. Now, there are many on the market and it is quite complicated to calculate if it would actually worth it in your case.
Sometimes it might not even be about the money saved but about the actual ticket (you would be able to buy it as a part of the pass, but not as an individual ticket – so, a good workaround if you really want to visit an attraction and there is simply nothing available).
I scouted the internet for all possible passes on Rome and Vatican and here is my sample calculation for each of them:
6.1 Vatican pass
PRICE: 62€
INCLUDES: Vatican Museums + Audioguide (37€), St Peter Basilica + Dome + Audioguide(30€) 37+30=67€
YOU SAVE: 5€ (67-62). Plus it also gives you discounts to other attractions
6.2 Rome Tourist Card
PRICE: 119€
INCLUDES: Colosseum (18€) +Vatican Museums + Audioguide (37€), St Peter Basilica + Dome + Audioguide(30€) 18+37+30=85€
YOU SAVE: With the current pricing you do not save anything. I am only including it in case they change the price and/or there will be last minute tickets available through it
| | |
| --- | --- |
| 🎟️ Adult price: | €22 |
| 👧 Kids price (6-18 years): | 8€ |
| 💲 Cheapest guided tour: | €29 |
| 🎤 Guided tour: | GetYourGuide |
| 🕖 Best time to visit: | Early morning |
| 🌜 Night tour: | Vatican museum |
BONUS: How to see the Sistine Chapel without the crowds?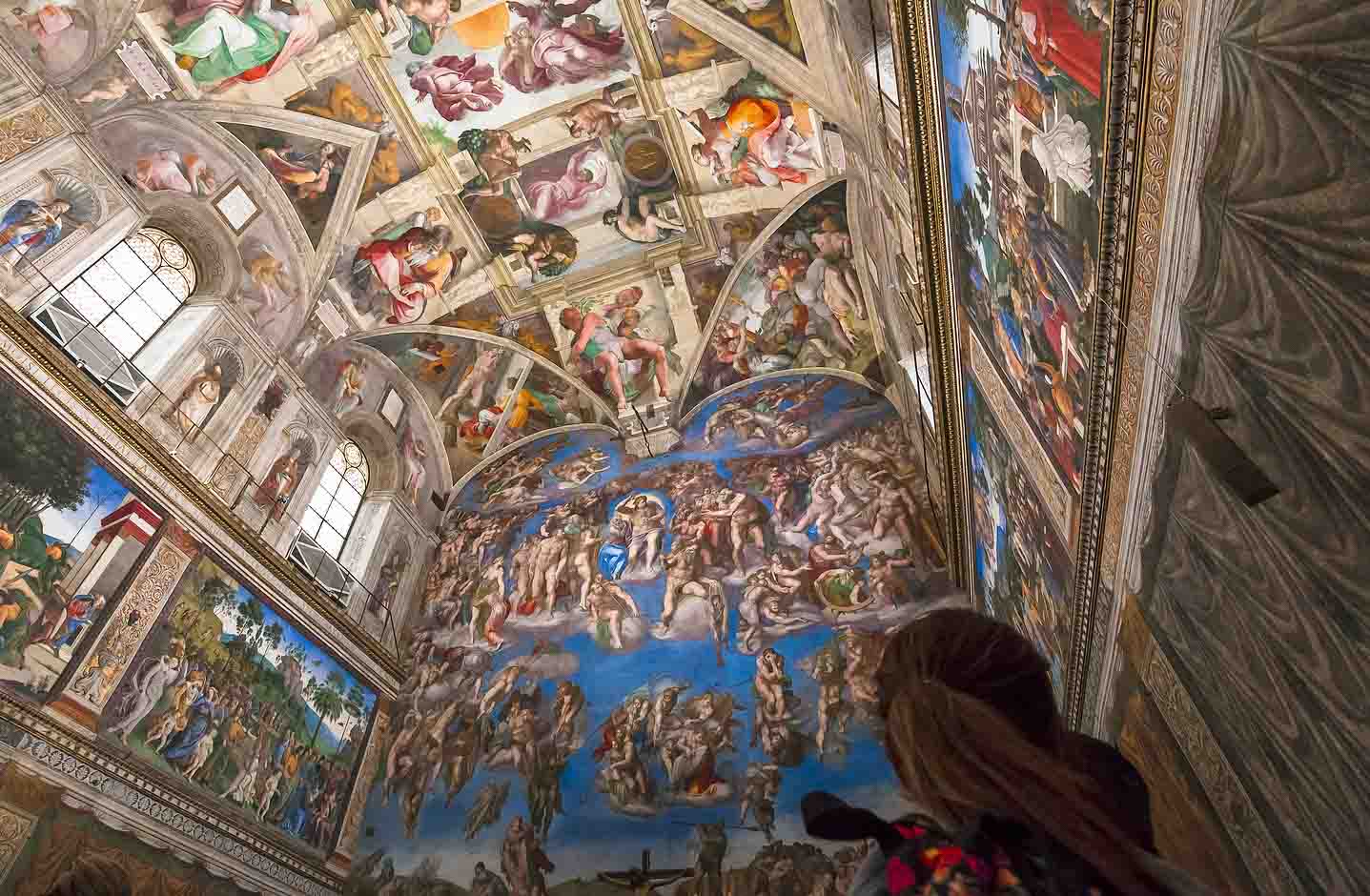 I want to share with you one more trick – how would you like to visit the Sistine Chapel without any crowds!
The solution is very simple (plus, it is free as well!):
If you are going for a general ticket, book the earliest ticket you can, enter the museum and then go to the exit right away.
I know it does not make sense and sounds counter-intuitive, but Sistine Chapel is located at the end of the visiting route, so you will have the place all to yourself to admire without any people. Afterwards, you can go back to the entrance and visit the museum as you would normally do.
NOTE: Here is the official map of the museum where you can check the visiting route and see where the Sistine Chapel is located.
PRO TIP: You can listen to this free audio guide while visiting the Sistine Chapel, it is very useful!
---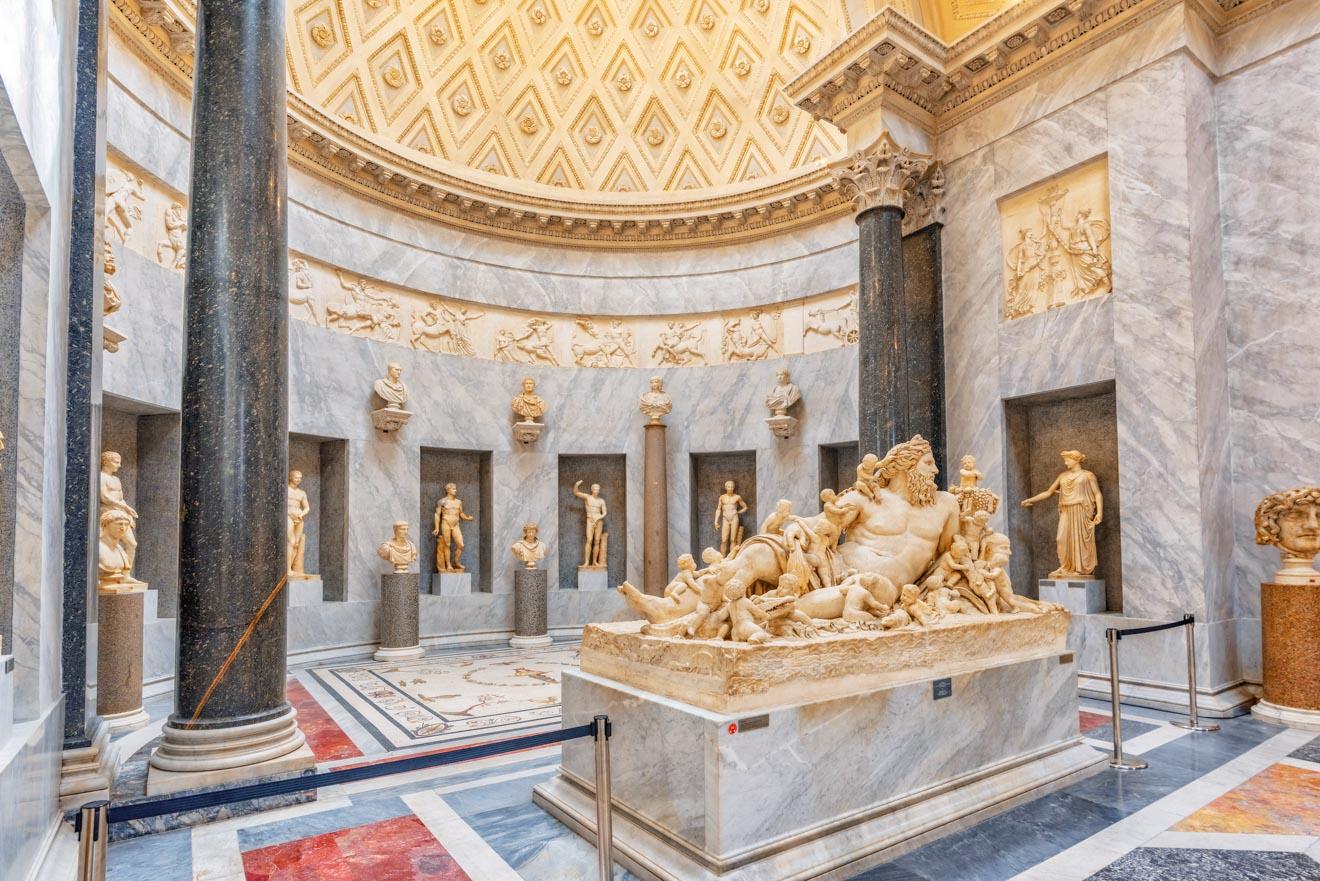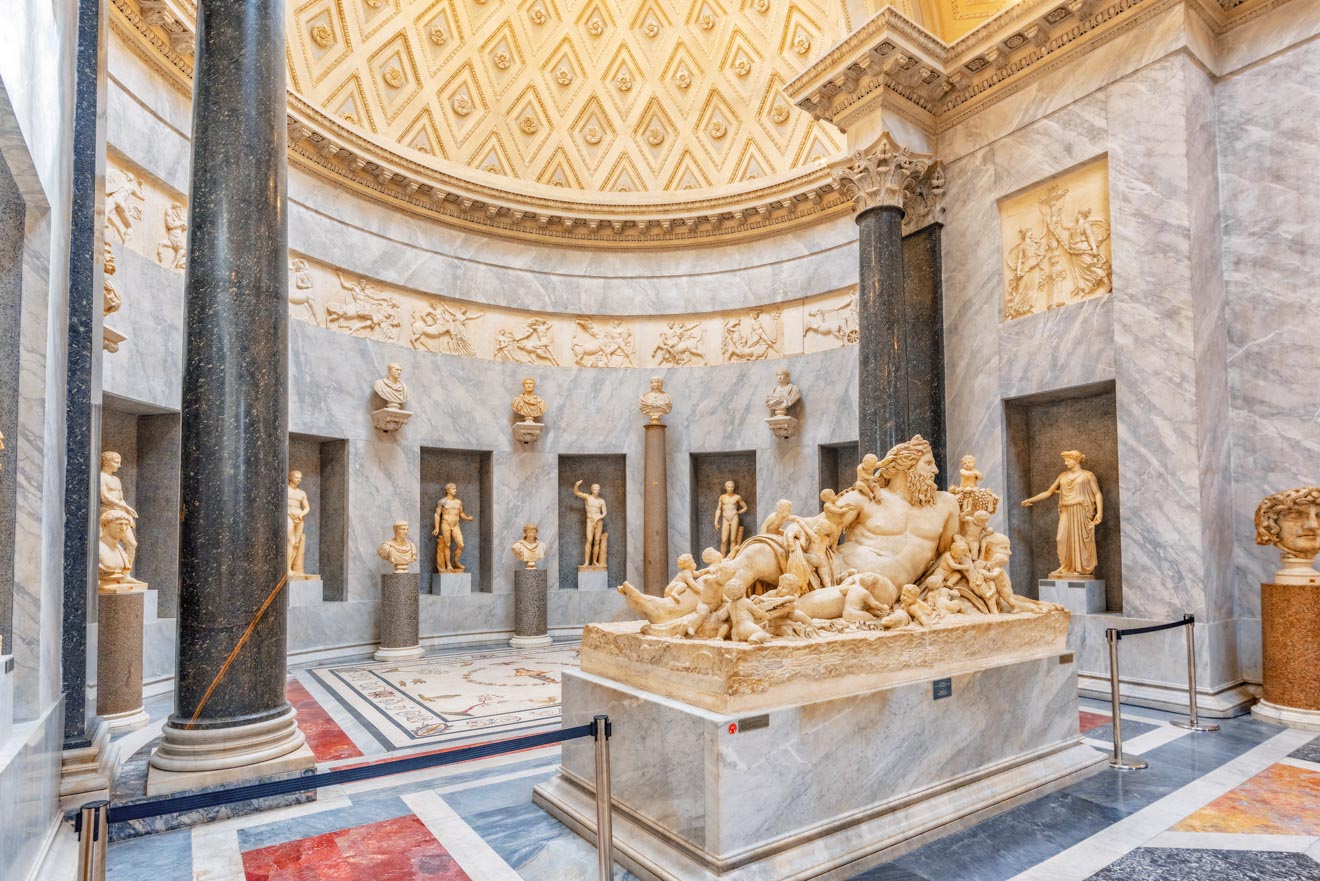 Practical information about Vatican Museums
Dress code
If you want to enter the Sistine Chapel as well as some other parts of the museum complex, please make sure that you are covered and dressed appropriately.
They have strict rules and you may not be allowed to enter if you are dressed in tops with no sleeves (or very short ones), short skirts, shorts, short dresses, and hats. It is better to respect these rules – you can take a summer scarf with you in case it is too hot for long sleeves. Better safe than sorry!
Opening times
Even though the schedule states that the museum closes at 6:00 PM sharp, it is better to arrive before 4pm, as the museum is big and 4pm is officially the last admission time. At around 5:30 PM you will be required to head to the exit, so make sure you plan your visit carefully so you will have enough time for everything!
NOTE: Except the last Sunday of each month (when access is free for everyone), Musei Vaticani is closed every Sunday. Because it is free on that last Sunday of the month, there will be tons of people crowding to get inside, so I definitely do not recommend going then as you won't be able to enjoy anything!
---
FAQs about Vatican Museums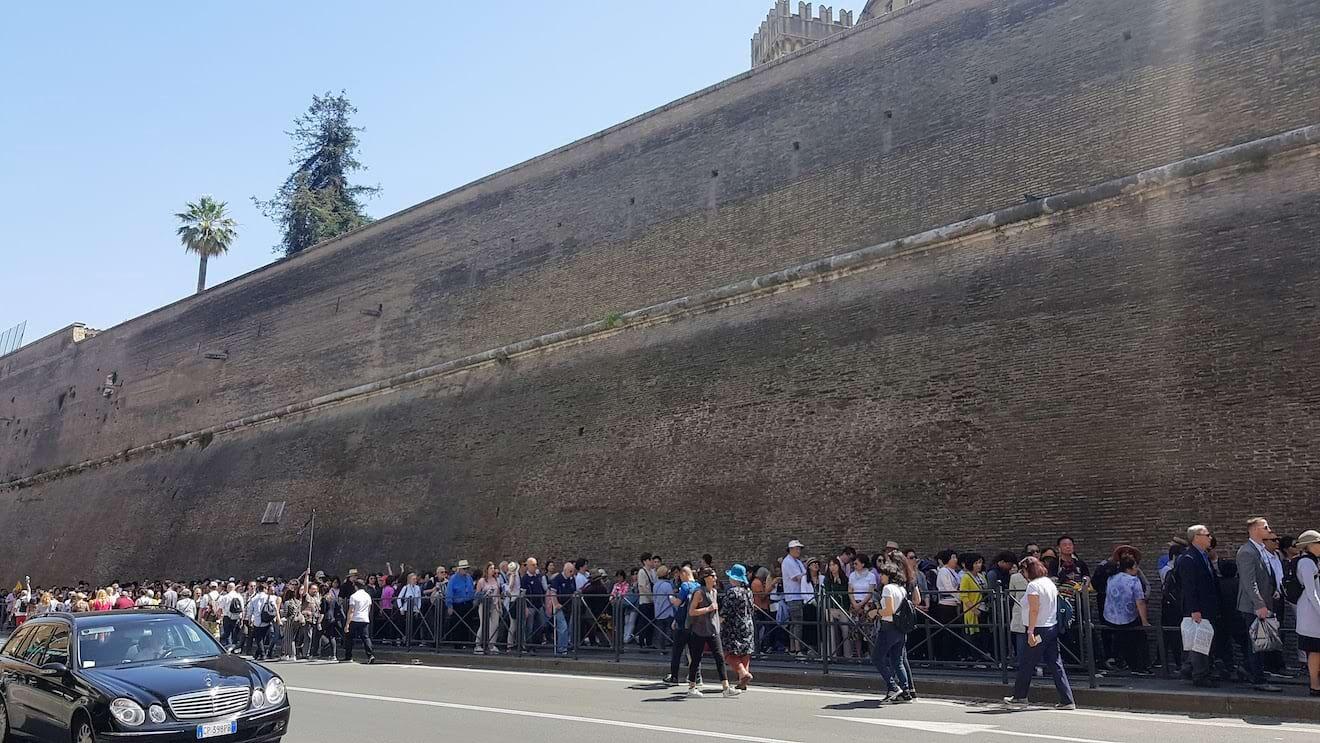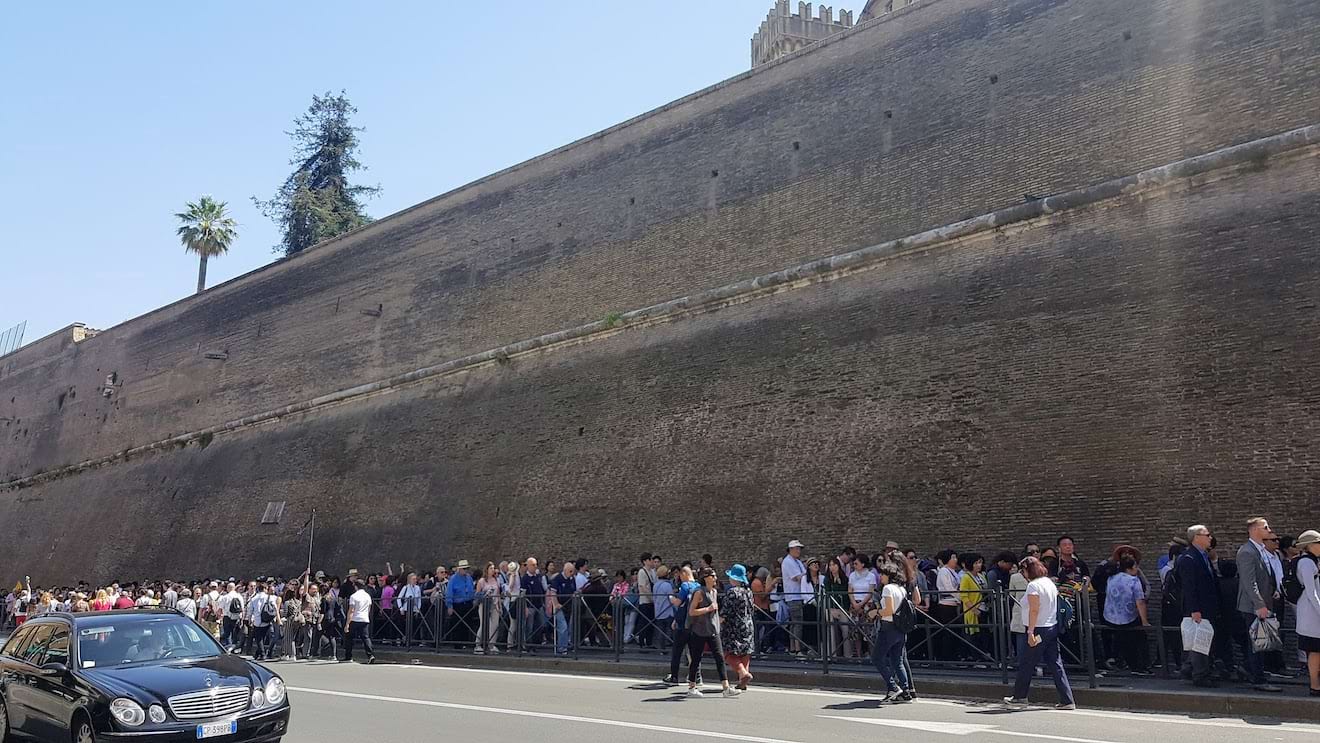 ⏰What is the best time to visit Vatican Museums?
The best time to visit the Vatican Museums is early morning or late afternoon, avoiding peak tourist hours and hot summer sun.
🎟️How do I buy tickets to Vatican Museums?
🎨Do I have to buy tickets to the Sistine Chapel separately?
No, Sistine Chapel access is included with your Vatican Museums ticket – there's no need to purchase separate entry.
🚌How to get to Musei Vaticani?
Musei Vaticani is easily accessible by Rome's Metro Line A, stopping at Ottaviano station, or by bus lines 49 and 32.
👗Is there a dress code to enter Vatican museum?
Yes, Vatican Museums enforce a dress code: shoulders and knees should be covered, and no hats are allowed inside. Also, no big bags.
Conclusion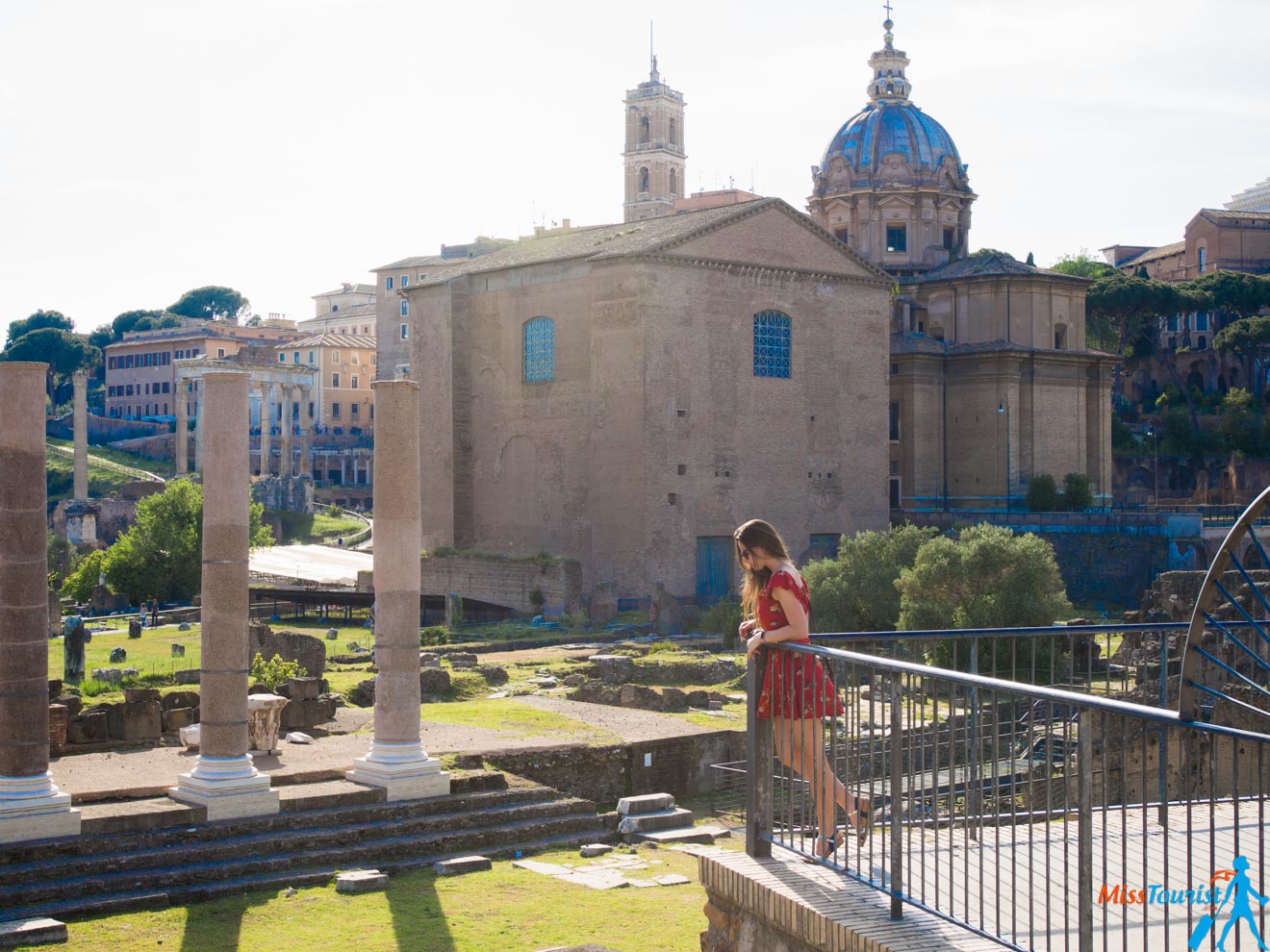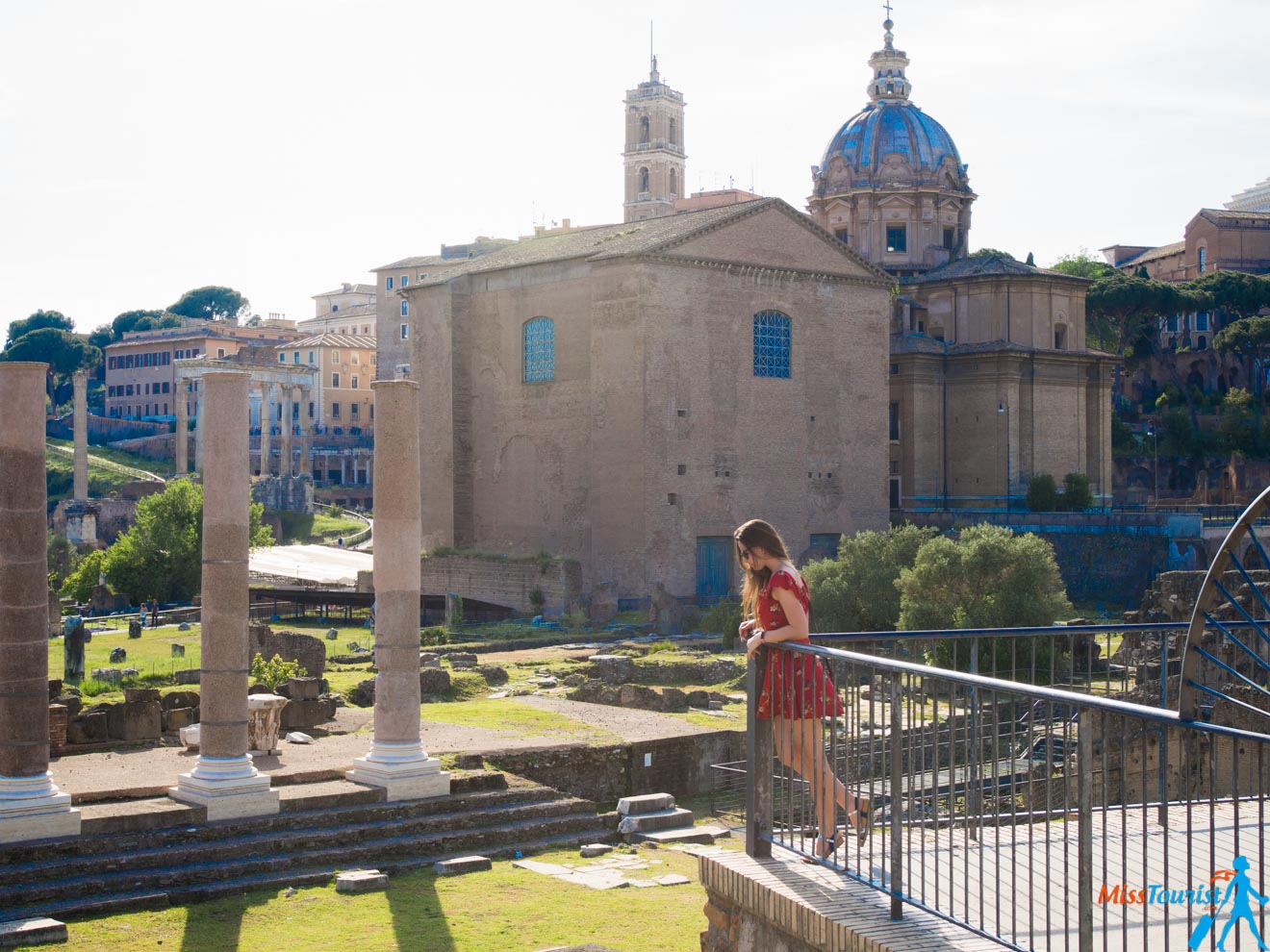 UPDATE: There is a new blog about the best neighborhoods and hotels to stay in Rome, check it out here!
The lines for the Vatican Museum in Rome are usually very long, but you can avoid this problem very easily if you plan your visit beforehand!
In this article I have provided you with 5 amazing solutions on how you can skip the long line to Musei Vaticani – you just need to choose the one that fits you best! Plus, I am giving you my tip on how to see the world-famous Sistine Chapel without any people – pssst: it's free!
I hope that you will have a great time in Rome and that you will get to save some precious time using my tips!
In case you have further questions, do not hesitate to tell me in the comments below. I love hearing from my readers!
Yulia
---
Pin it for later!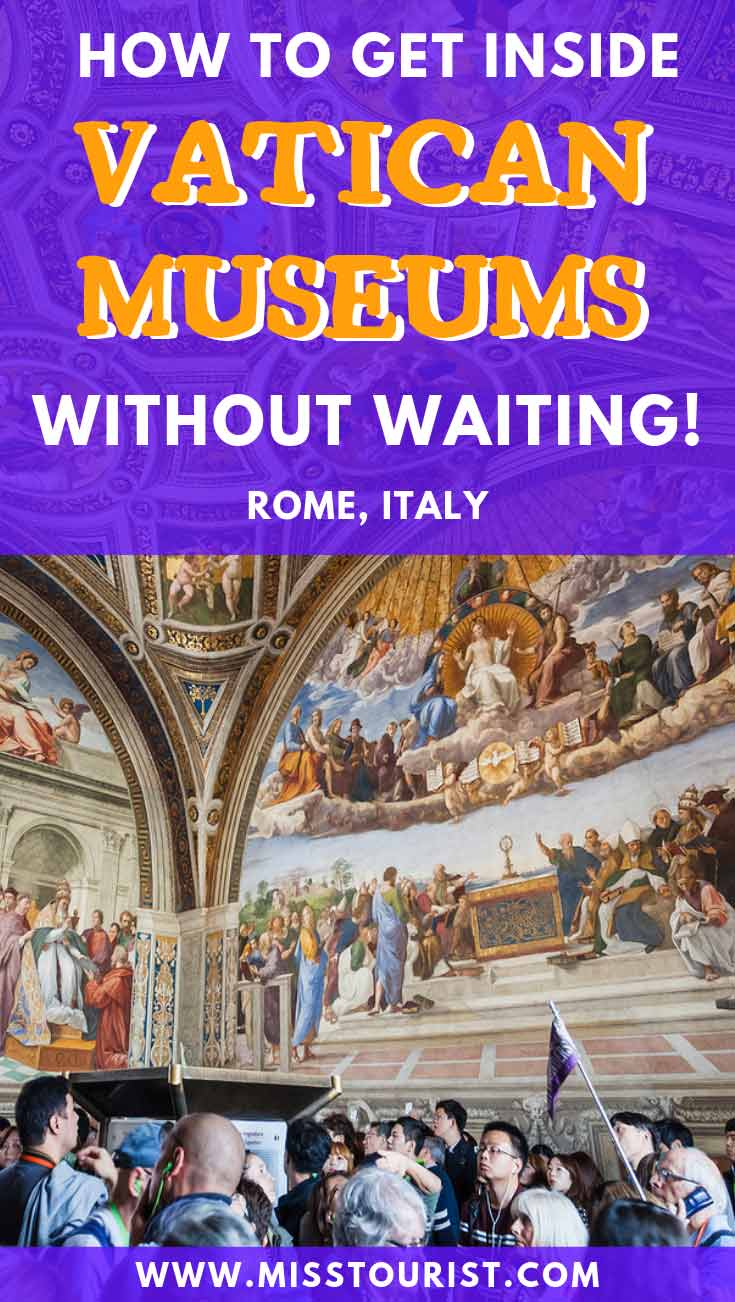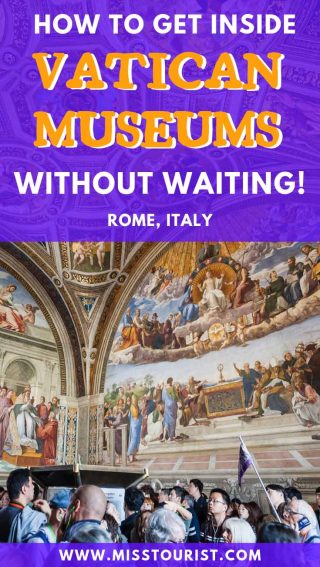 Pin it for later!