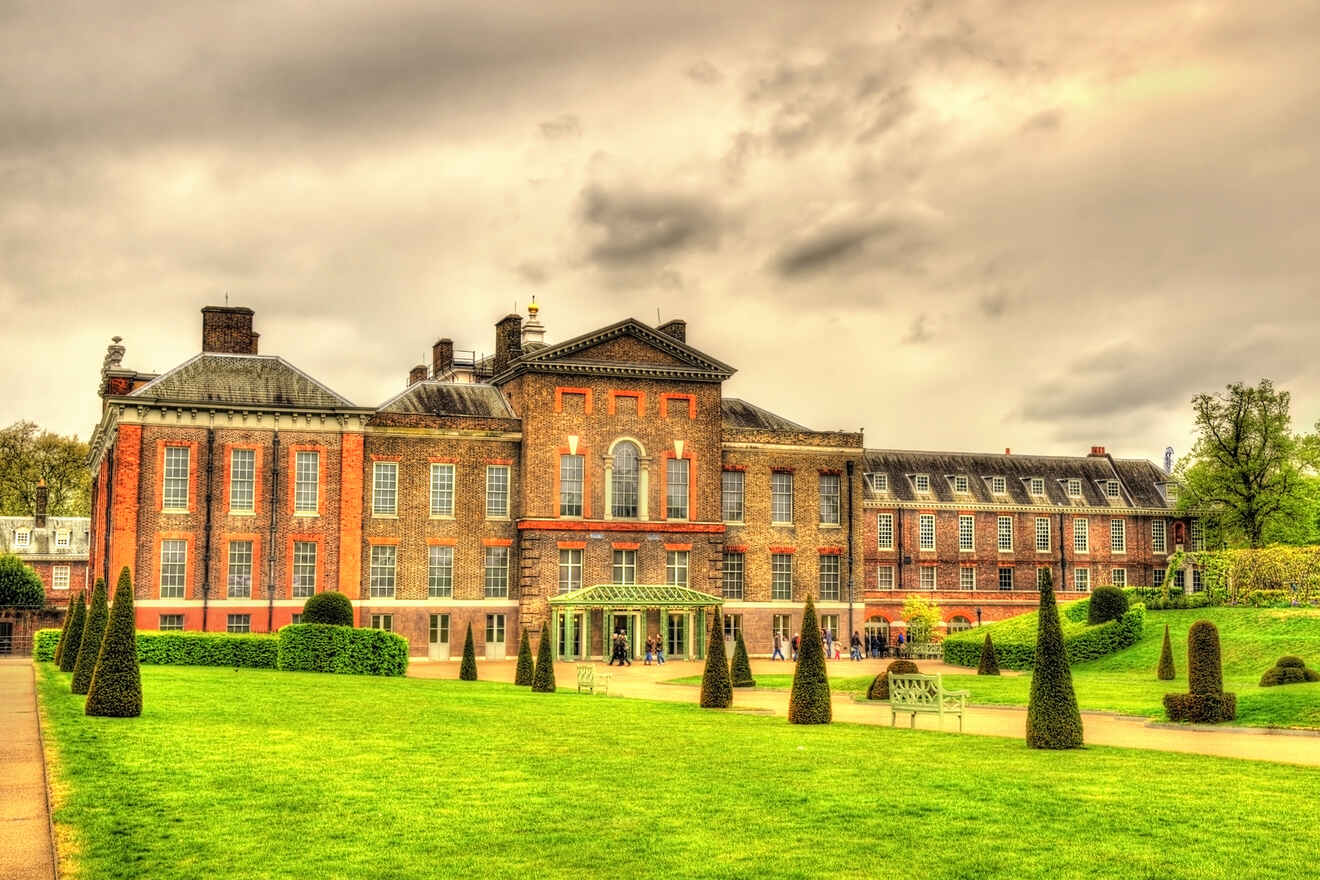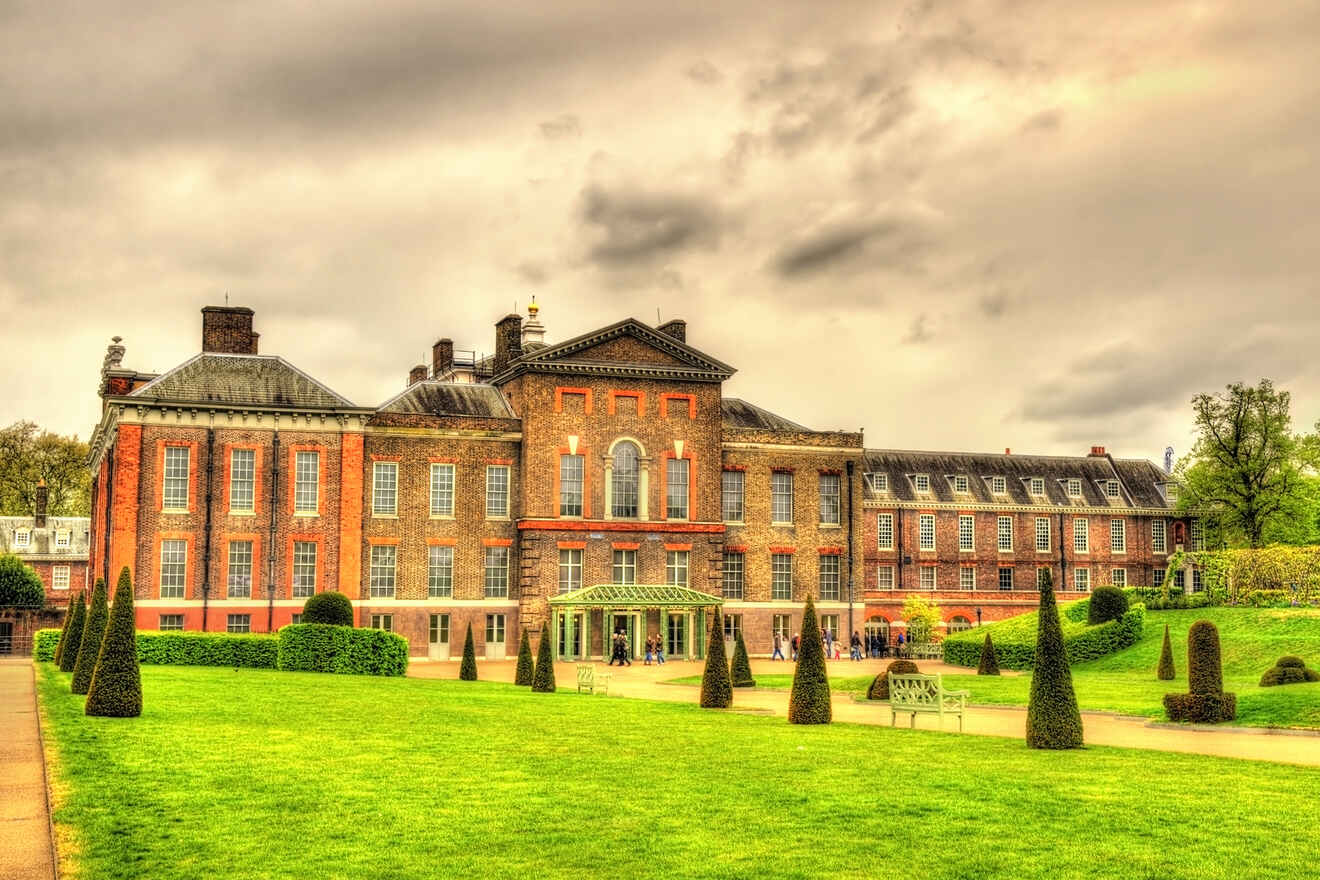 Working on your list of places to visit in London? I'm sure Kensington Palace is right at the top of that long list! Finding the best tickets for all the city attractions can be a long and annoying process, but I'm here to make it easy-breezy!
I visited this iconic attraction when I lived in London and I've searched the web for all the important details that will help you find the most convenient Kensington Palace tickets!
In this super detailed guide you'll find the different types of tickets you can get, discounts plus many other tips that you should know before booking. Plus I made sure to compare all the options and prices below so you can find the best deal for you!
Once you finish the first section don't run off to get your ticket, because you'll miss out on some super insightful information and things to know before you buy the tickets.
Ready to start?
Let's go!
If you are in a hurry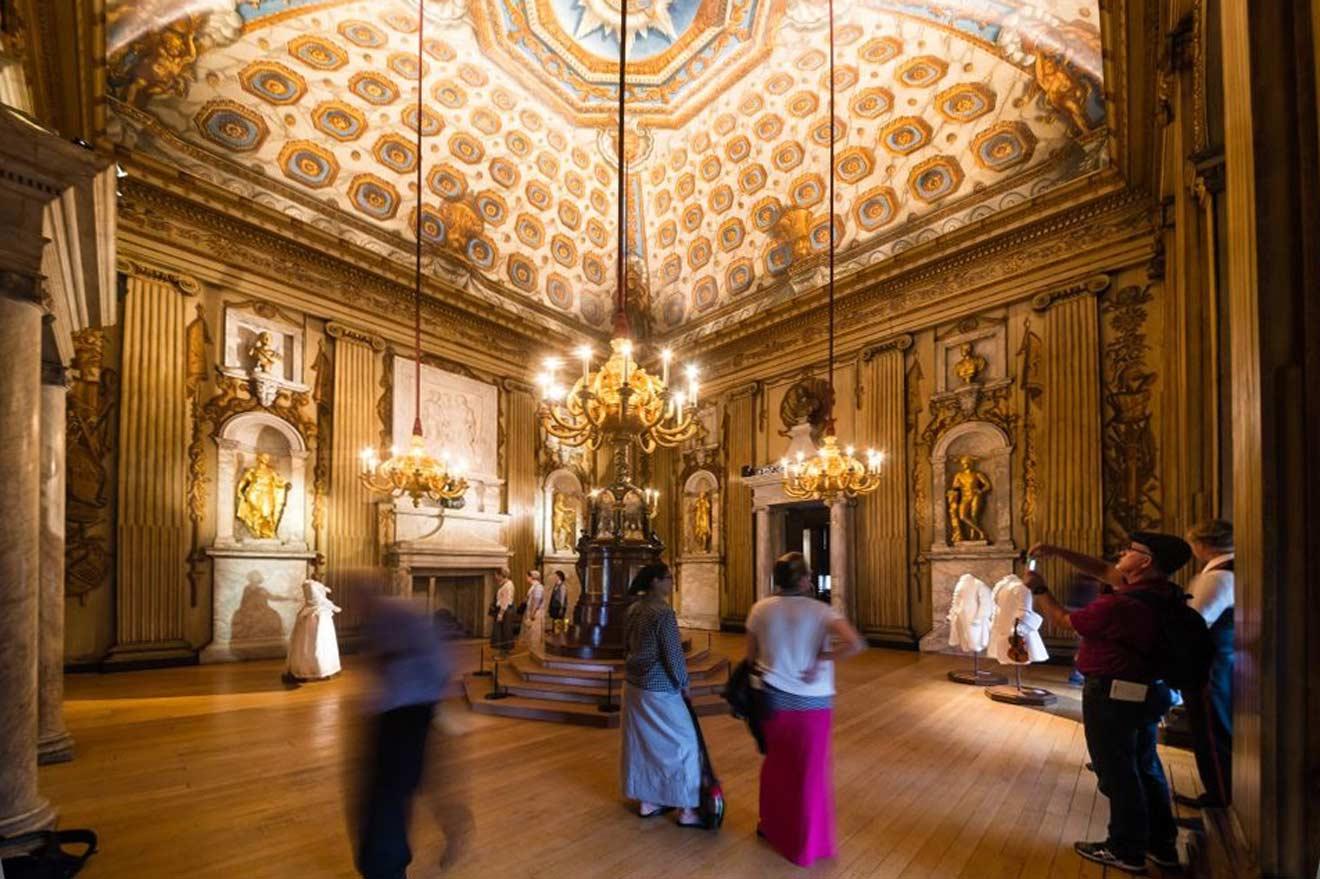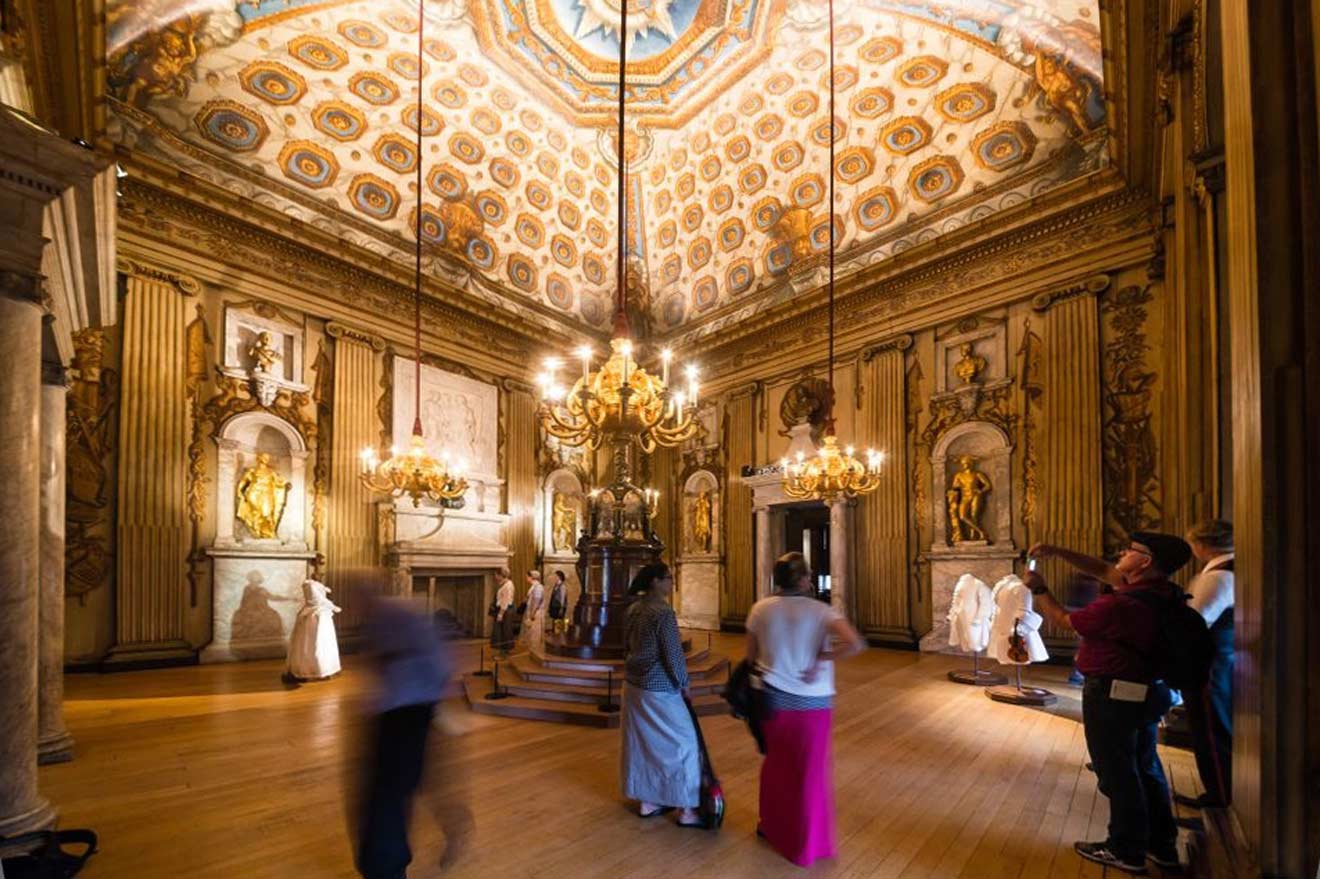 If you are here just to get your tickets, here are the best links to do so:
Adult ticket – £20 Official Website non-refundable or GetYourGuide refundable
Family ticket – £55 (2 Adults + 2 Kids)
Discounted ticket – £10 for kids (from 5 to 15 yrs old)
| | | | | | | |
| --- | --- | --- | --- | --- | --- | --- |
| | Adult entrance | Kids entrance | Family pass | Guided tour | Cancelation policy | |
| Official Website | £20 | £10 | £55 | – | Not refundable | Book tickets |
| GetYourGuide | £20 | £10 | – | – | >24h free cancellation | Book tickets |
| Klook | £20 | – | – | – | >24h free cancellation | Book tickets |
*You can get different family tickets depending on how many members you're bringing. In the table above I only added the tickets for 2 Adults + 2 Kids, if you're looking for other options and more details check out section #1 where I talk about all the tickets.
1. Different types of Kensington Palace tickets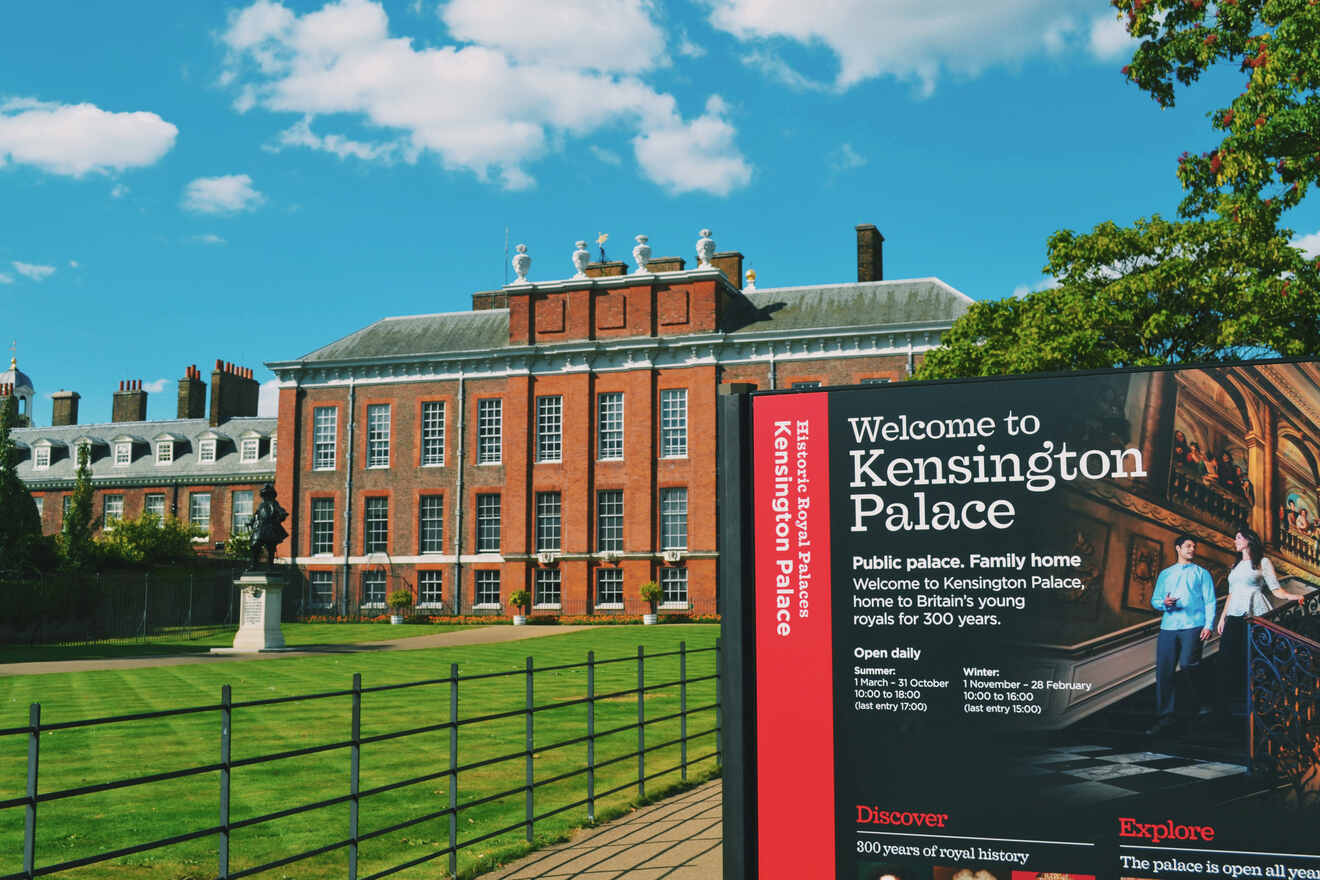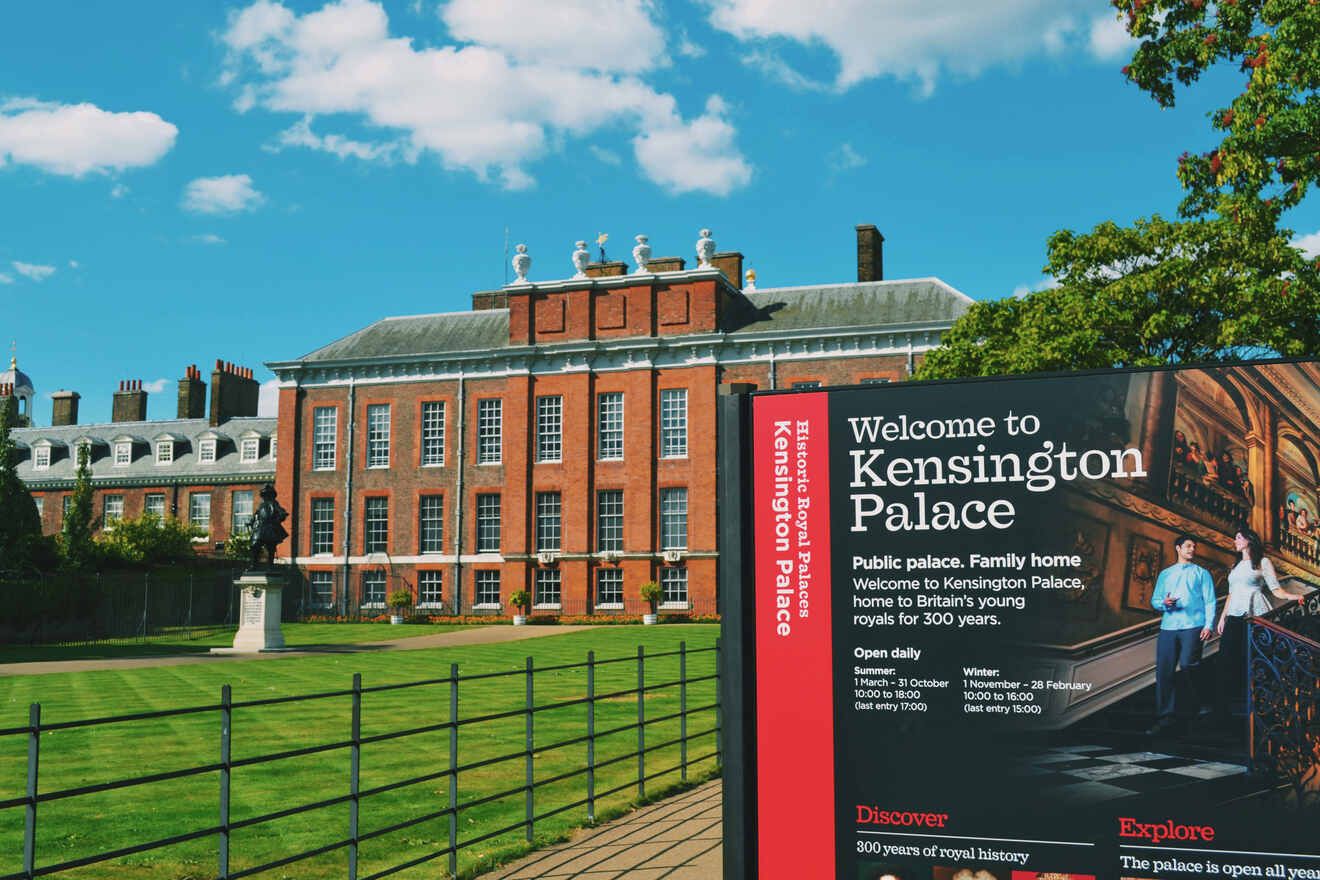 You can't miss visiting this iconic attraction while you're staying in London! Kensington Palace is a stunning piece of architecture and the home of members of the Royal Family! And today I'll help you find the most convenient Kensington Palace tickets for you!
There are a few things to consider before purchasing your tickets and I'm here to offer all the details!
Firstly you should know that these tickets grant you access only to the areas open to the public, not the actual apartments where members of the Royal family live. So during your visit, you'll get to see the King's State Apartments, the King's Staircase, the Queen's State Apartments, the Jewel Room, the Palace Gardens, and the Sunken Garden.
Plus some exhibitions that I'll talk about in the section on Things to see inside Kensington Palace.
Fun Fact: Did you know that you can rent out Kensington Palace for a day? Yep, the Palace can host auctions, concerts, charity events, and even weddings!
Now let's see how tickets work. If you decide to book online in advance then you'll have to pick a day and a time slot. The slots are every 30 min, starting from 10:00 AM to 4:30 PM. You have that 30 min window to go to the entrance, get your ticket checked, and go inside.
If by any chance you're late and miss your time slot then you'll have to see if there's room for you on the next one. Luckily you won't have to pay a fee to join it, but you may have to wait in case there's no room for you. So I recommend trying to get there on time.
1.1 General Entry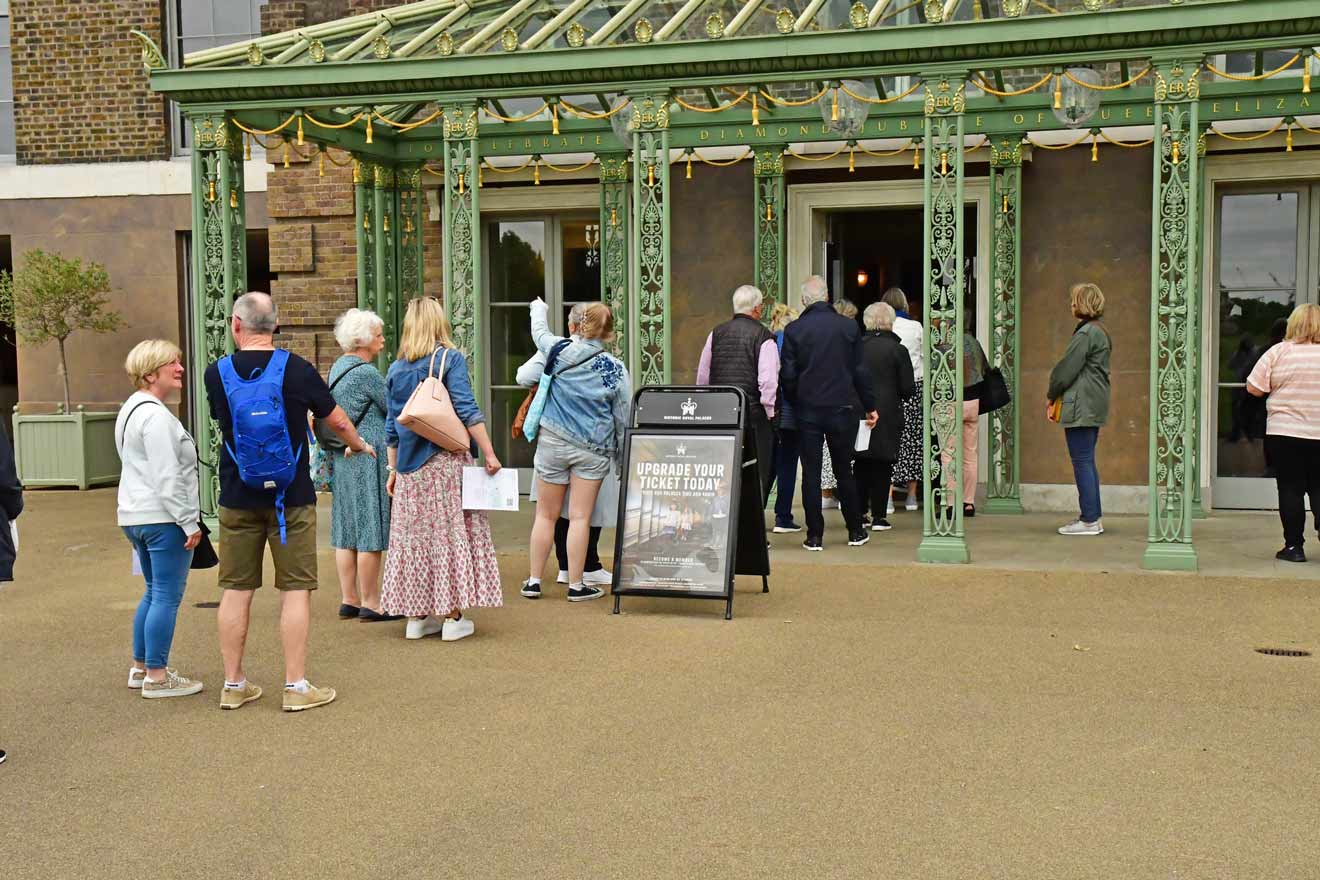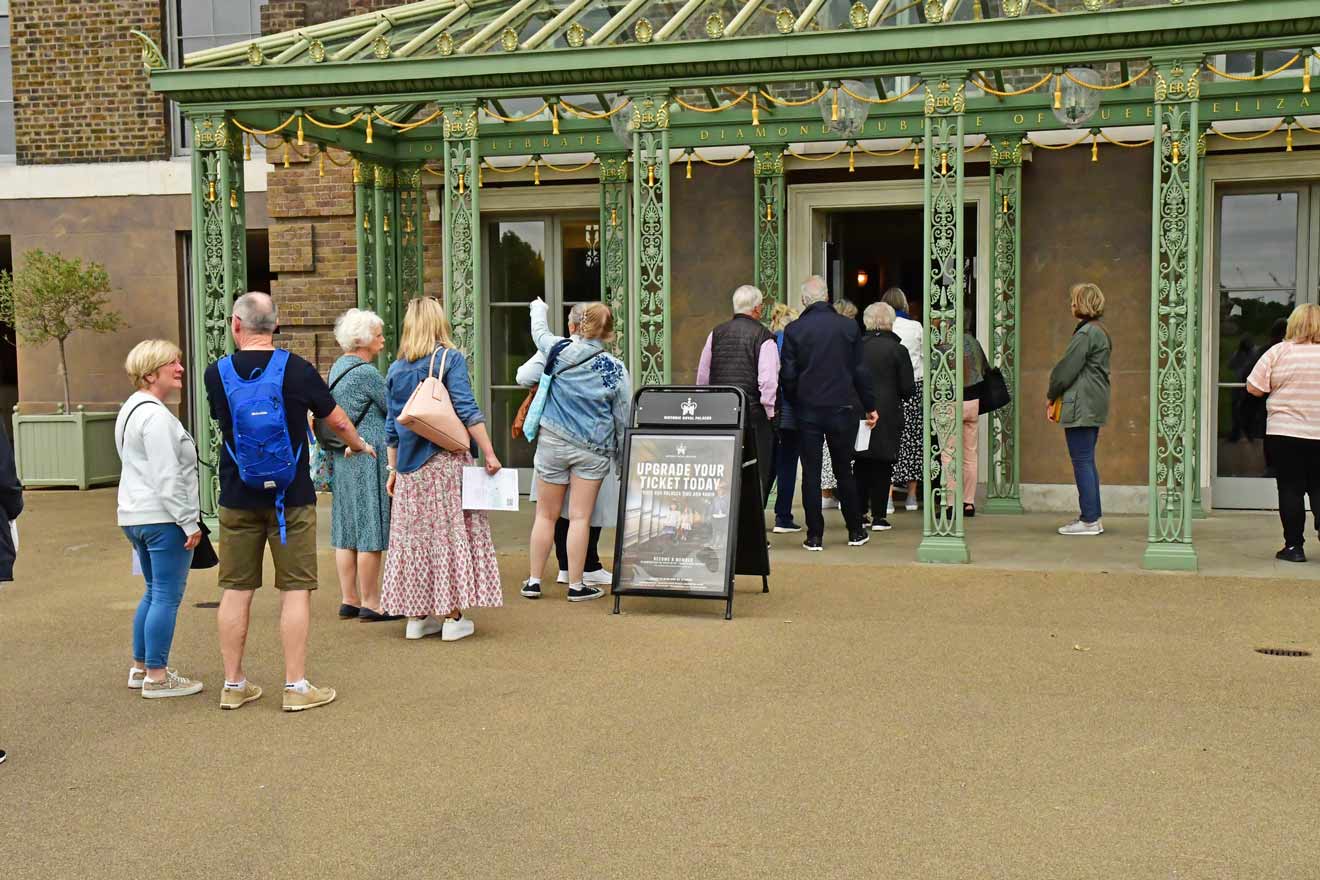 You can find the cheapest Kensington Palace tickets on their official website, however, these are not refundable, so if you can't visit on the day you pick, you won't get your money back. But I've found the perfect solution, GetYourGuide, they sell these tickets at the same price, but they offer the amazing chance to cancel at least 24h before your visit and get a full refund!
NOTE: Both the official website and GetYourGuide sell peak and off-peak tickets. The peak season is usually from April to October and the off-season is from November to March. During the off-peak season, the tickets cost £16 instead of £20, so if you're visiting during those months, you'll get the cheaper ones!
PRO TIP: Sometimes, GetYourGuide will offer 1 day per month when you can buy your tickets during peak season for a discounted price of £16. There is only 1-time slot available for this one, at 4:00 PM, and the day usually varies but most of the time is at the end of the month.
I'd definitely recommend getting your tickets from GetYourGuide since you get a much better cancellation policy and a chance to find a cheaper ticket during the peak season!
Once you decide which website you'll use, buy your ticket. You'll then get a confirmation email that has your PDF ticket that you'll have to download and present at the entrance when you arrive along with an Identity card, so make sure to bring one. You can also print out your tickets if you want, but it's not mandatory.
PRICE: £20
1.2 Family Tickets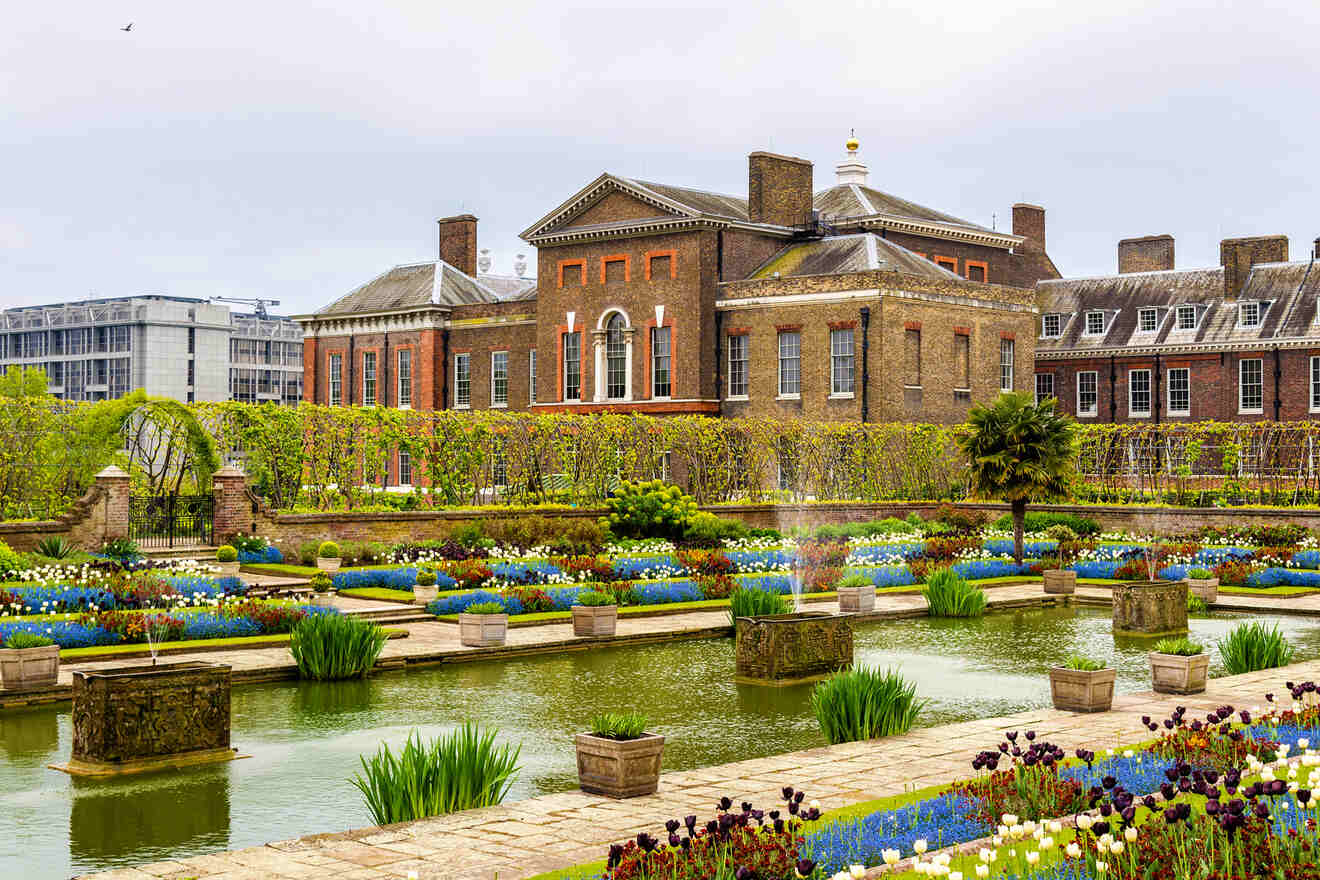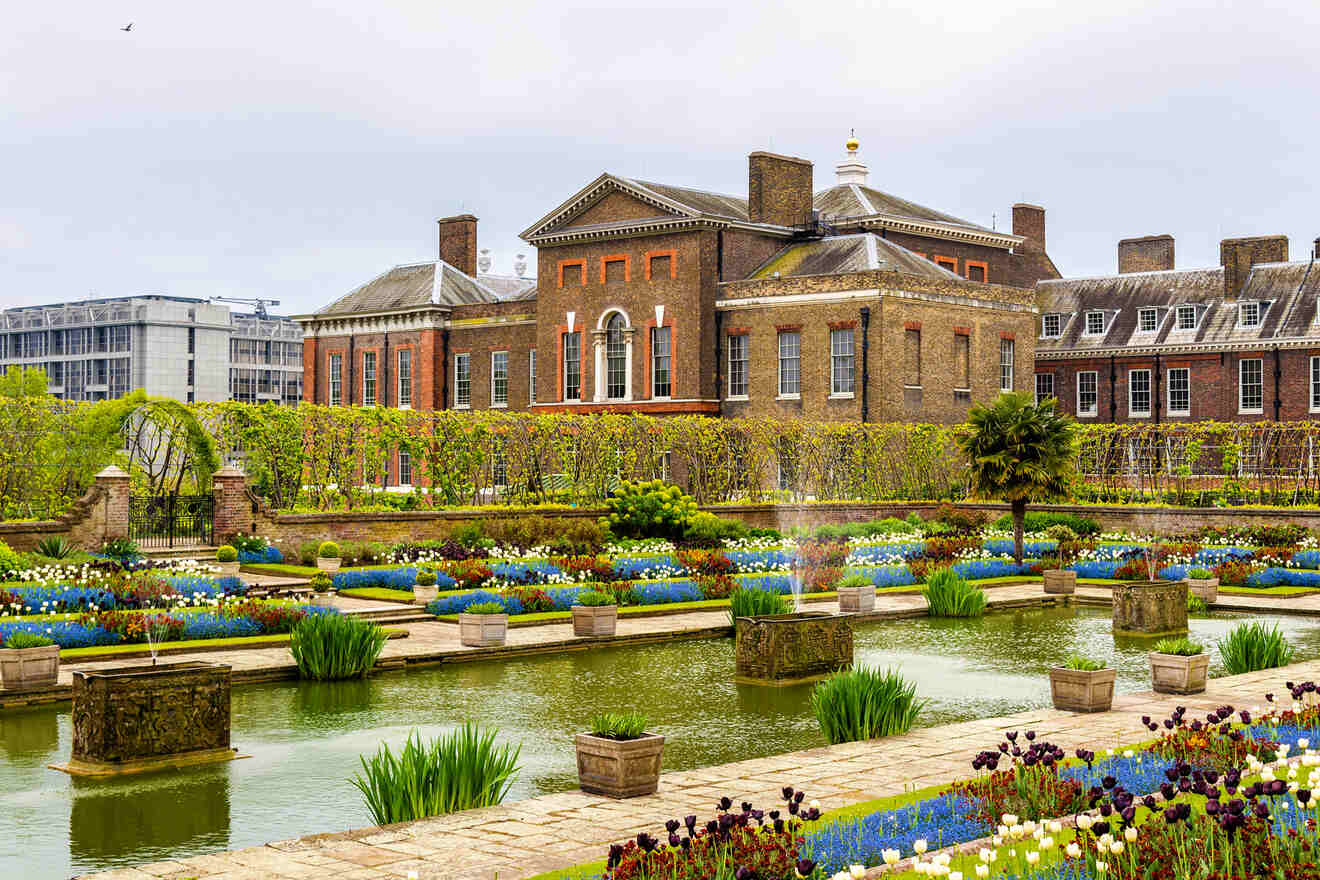 Trying to find the perfect option to get tickets for all your family members? I'm here to help you with that, and I've looked through all the websites so that I can find the most convenient options!
Fun Fact: Princess Victoria was told that she would become the Queen of England in this Palace!
There are 4 different bundle options for families, depending on how many members you have and you can get them from the official website or from Tiquets:
1 Adult + 2 Kids: £35 (20 + 10 +10 = 40: you save £5)
1 Adult + 3 Kids: £35 (20 + 10 +10 + 10 = 50: you save £15)
2 Adults + 2 Kids: £55 (20 + 20 + 10 + 10 = 60: you save £5)
2 Adults + 3 Kids: £55 (20 + 20 + 10 + 10 + 10 =70: you save £15)
You can find the same 4 deals on Tiquets, and they also offer a 24h free cancellation policy, only if you pay 12% more per bundle. That would be £4 for the £35 bundle and £6 for the £55 bundle.
If you're looking for something super flexible, I would go with Tiquets, although you pay a few extra pounds at least, you can know for sure that you may get your money back. However, if you're certain you're visiting on that day and don't need any sort of way out, then just get them from the official website since you'll save more.
2. Special tours at Kensington Palace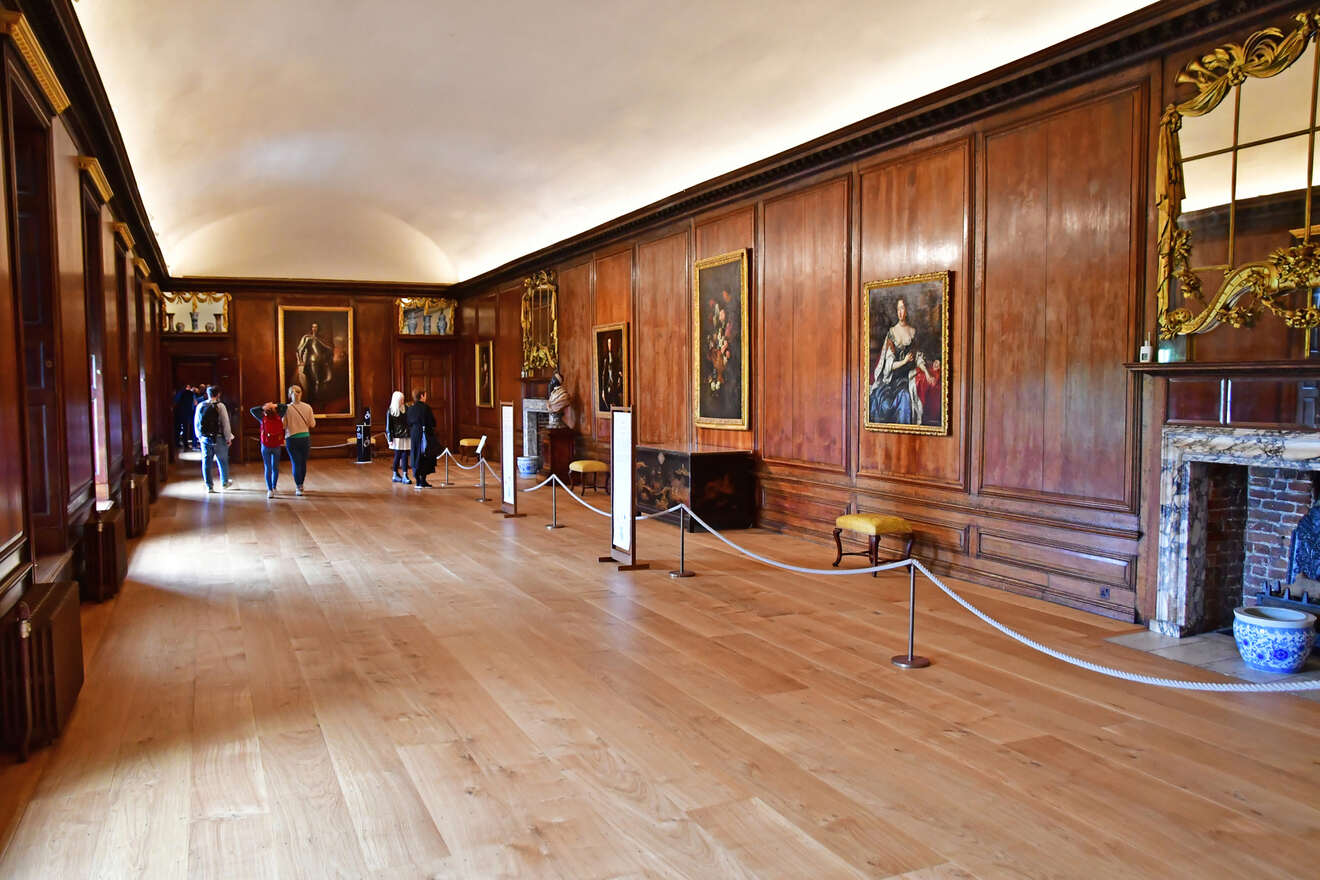 Although there are no official tours offered by the Palace, I've managed to find this amazing activity, so let's check it out:
Kensington Palace Gardens Tour with Royal High Tea
This fun activity includes a traditional British high tea overlooking the Sunken Garden and a tour of the palace!
For £99, you'll get to tour the palace with a super informed guide and learn interesting historical facts, and of course, enjoy a yummy tea in a really special place. Although the tour cost doesn't include the entrance, I think this is a super unique opportunity, especially for anyone who really wants to go on a tour!
3. Combo tickets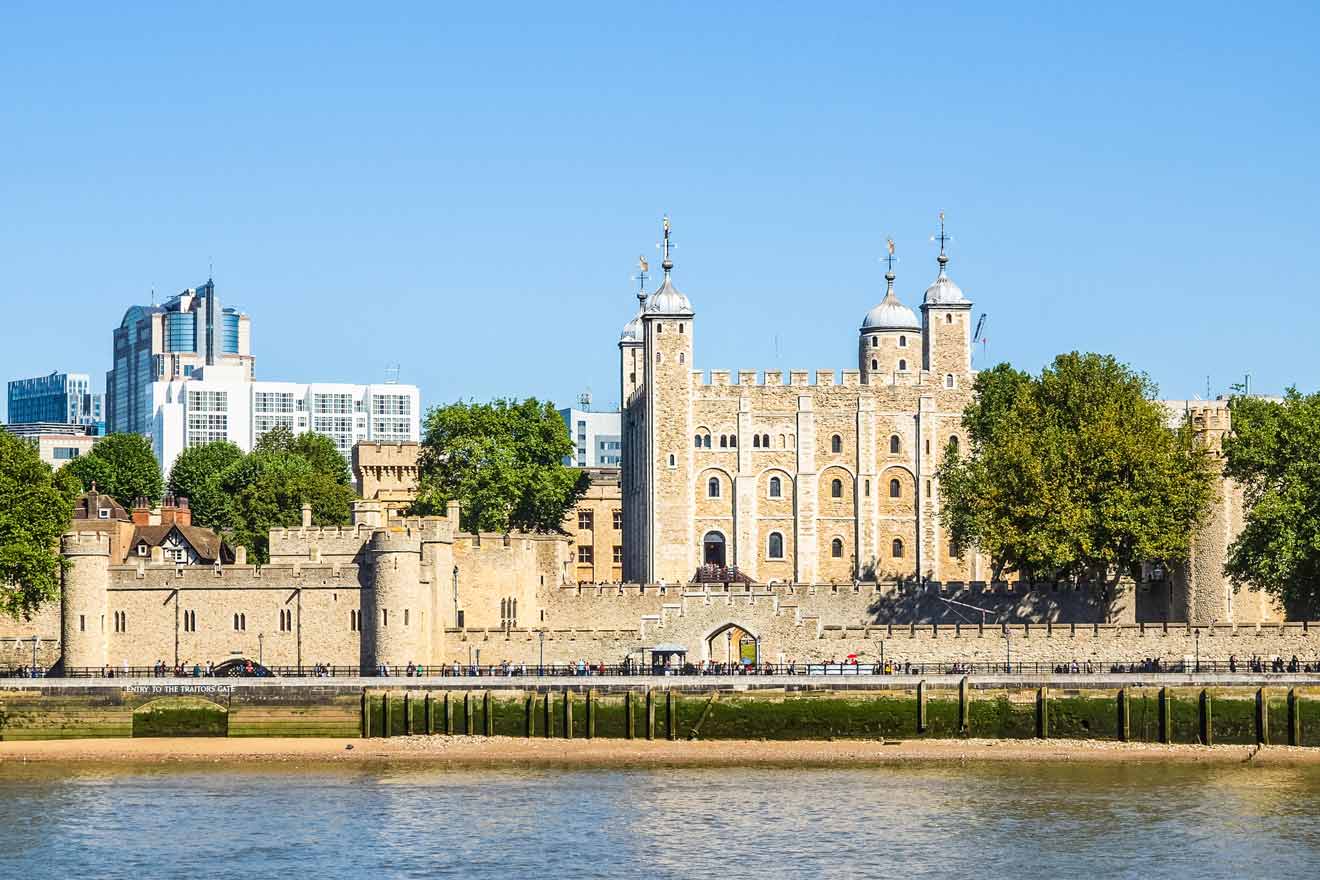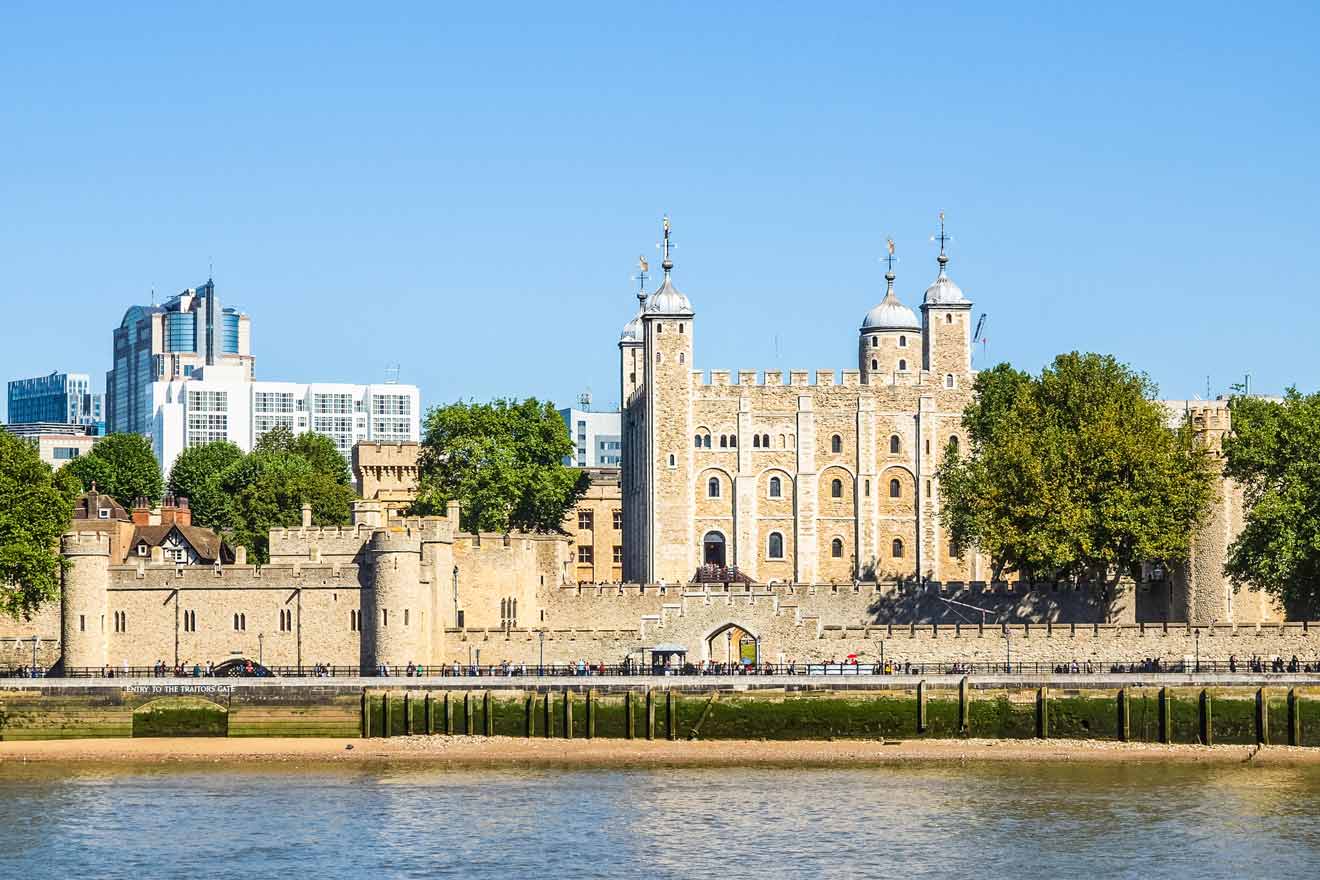 Fancy saving some money and visiting a couple of attractions in London, including the famous Kensington Palace? I've got some good news for you!
Fun Fact: Rumor has it, the Palace is haunted by the late King George II!
I've searched the web and found 3 amazing combo tickets that offer discounts! Depending on which combination you pick, you'll end up saving a few pounds, but let's see exactly how much so you pick your favorite or favorites:
4. London City Pass – Is it worth it?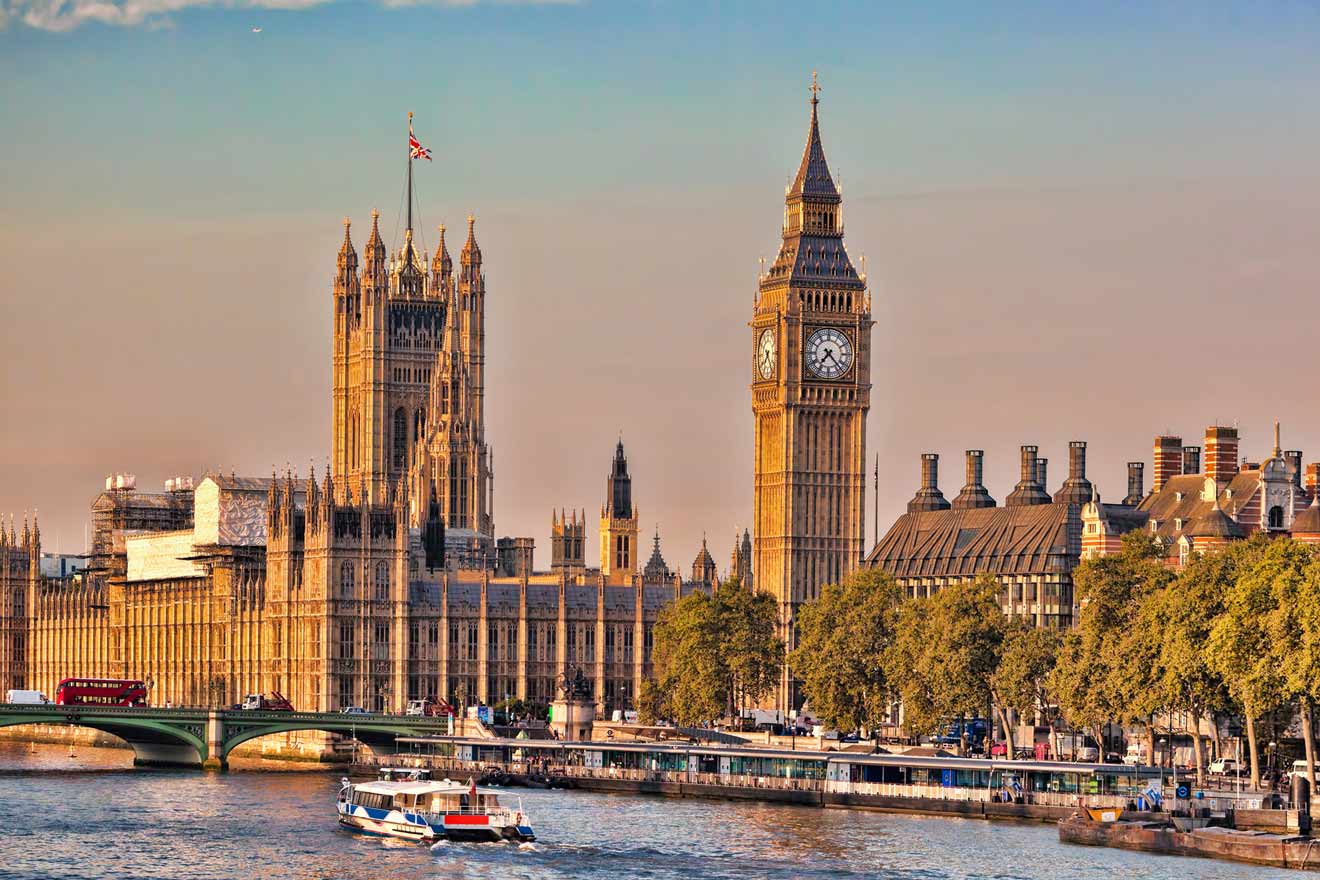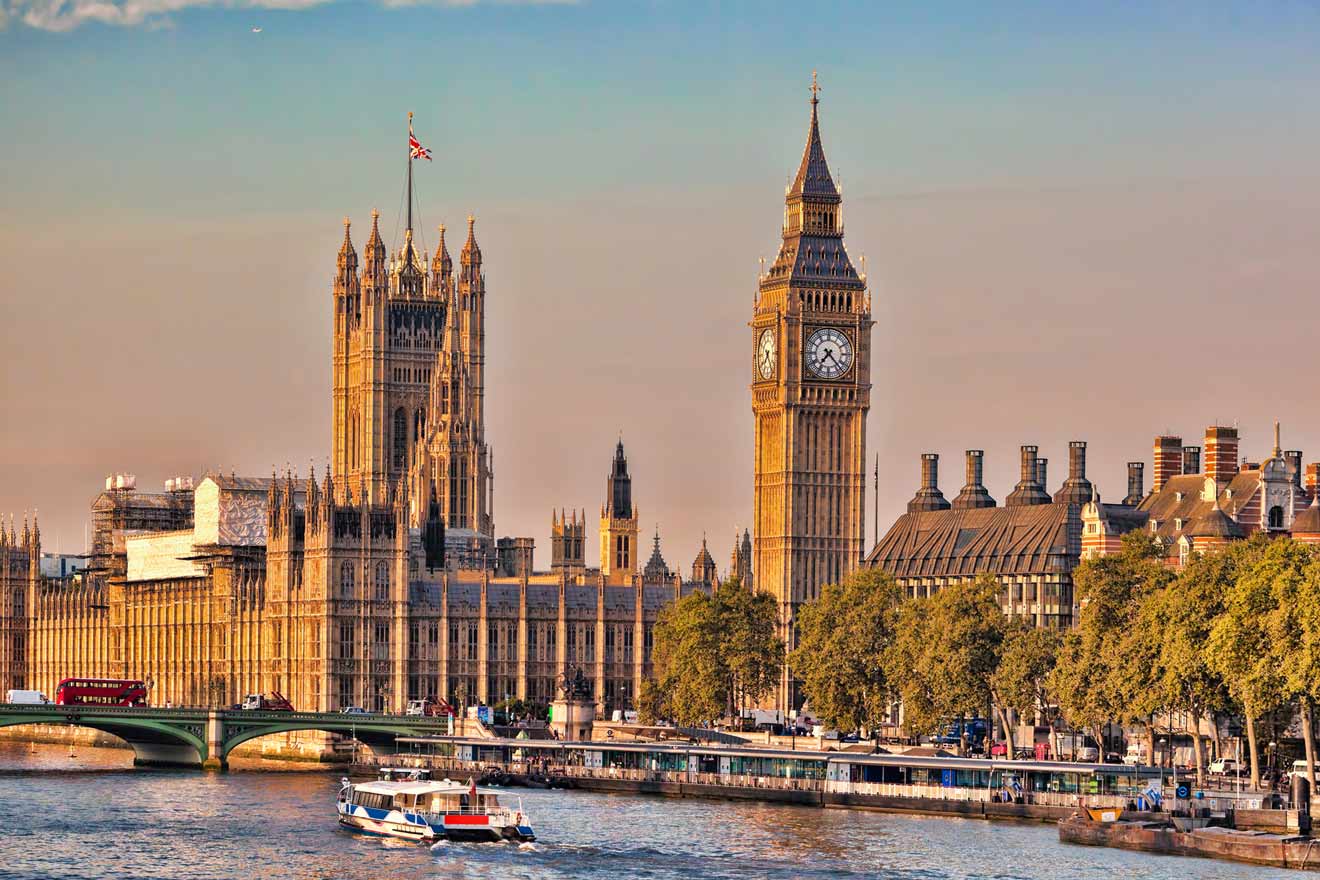 I think we should start by explaining what a city pass is before we move on and find out if it's worth your money or not.
So a city pass is basically 1 ticket that offers access to most of the major attractions in the city and a big discount depending on how many you're visiting and the number of days. It sounds like the dream option for tourists, but you have to be careful as sometimes these passes are not particularly helping or saving you any money.
Fun Fact: In 2020 a theatrical show called United Queendom took place within the palace's premises. It told the story of King George's wife, Queen Caroline, and his mistress Henrietta Howard, in 1734.
You need to do some calculations, but today I'll spare you another thing to do on your list as I'll help you find out if the London City Pass is worth it or not.
Here's what you need to know:
You can get different passes from 1 to 7 or 10 days of validity, all cost differently depending on how much time you have.
Check out all the adult prices below:
1 Day Pass: £84
2 Days Pass: £110
3 Days Pass: £130
4 Days Pass: £149
5 Days Pass: £161
6 Days Pass: £168
7 Days Pass: £173
10 Days Pass: £190
The London Pass grants access to 86 attractions, which is a lot and definitely a lot for any tourist. That's why I narrowed down the list to only a few super important sites that I think you shouldn't miss out on: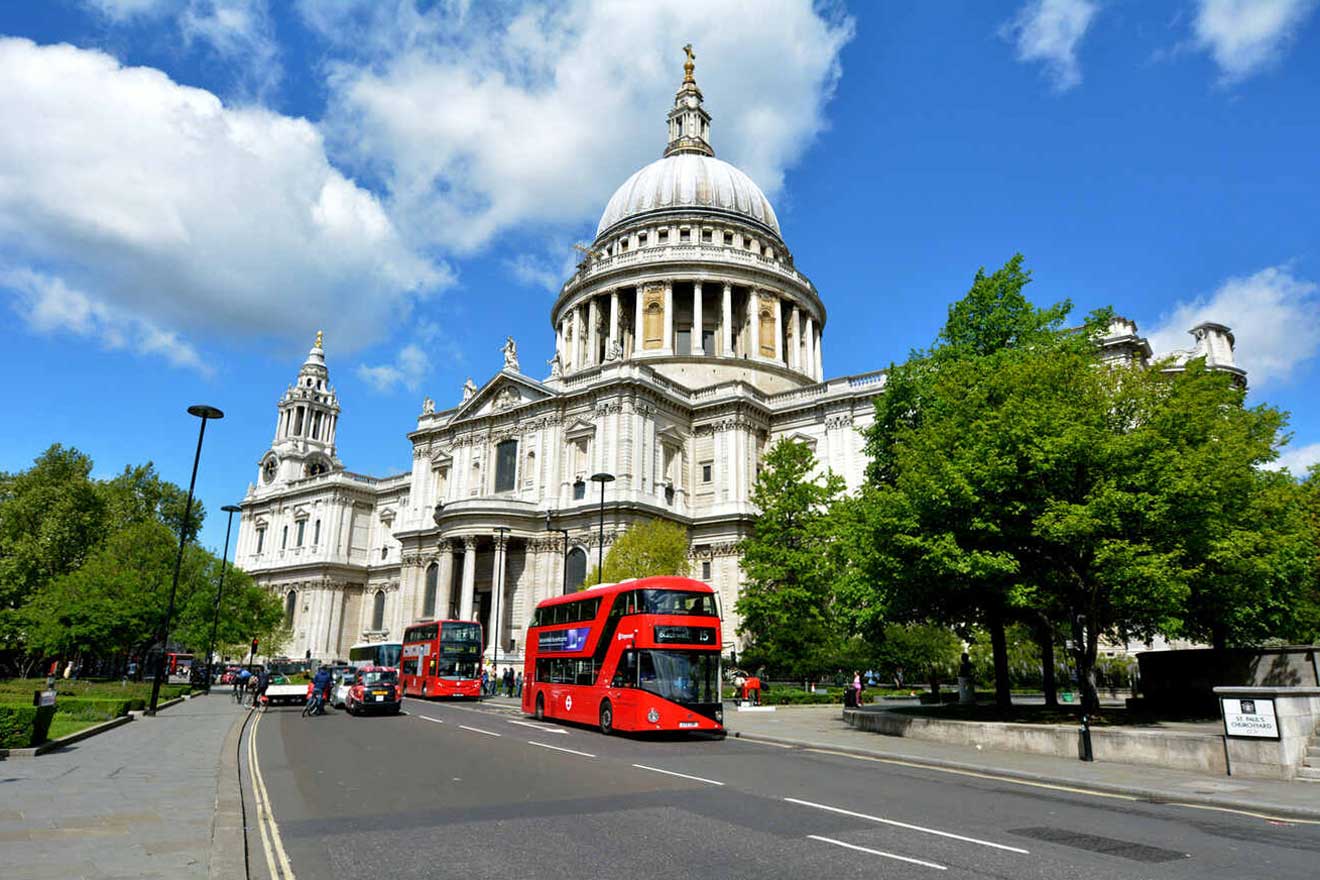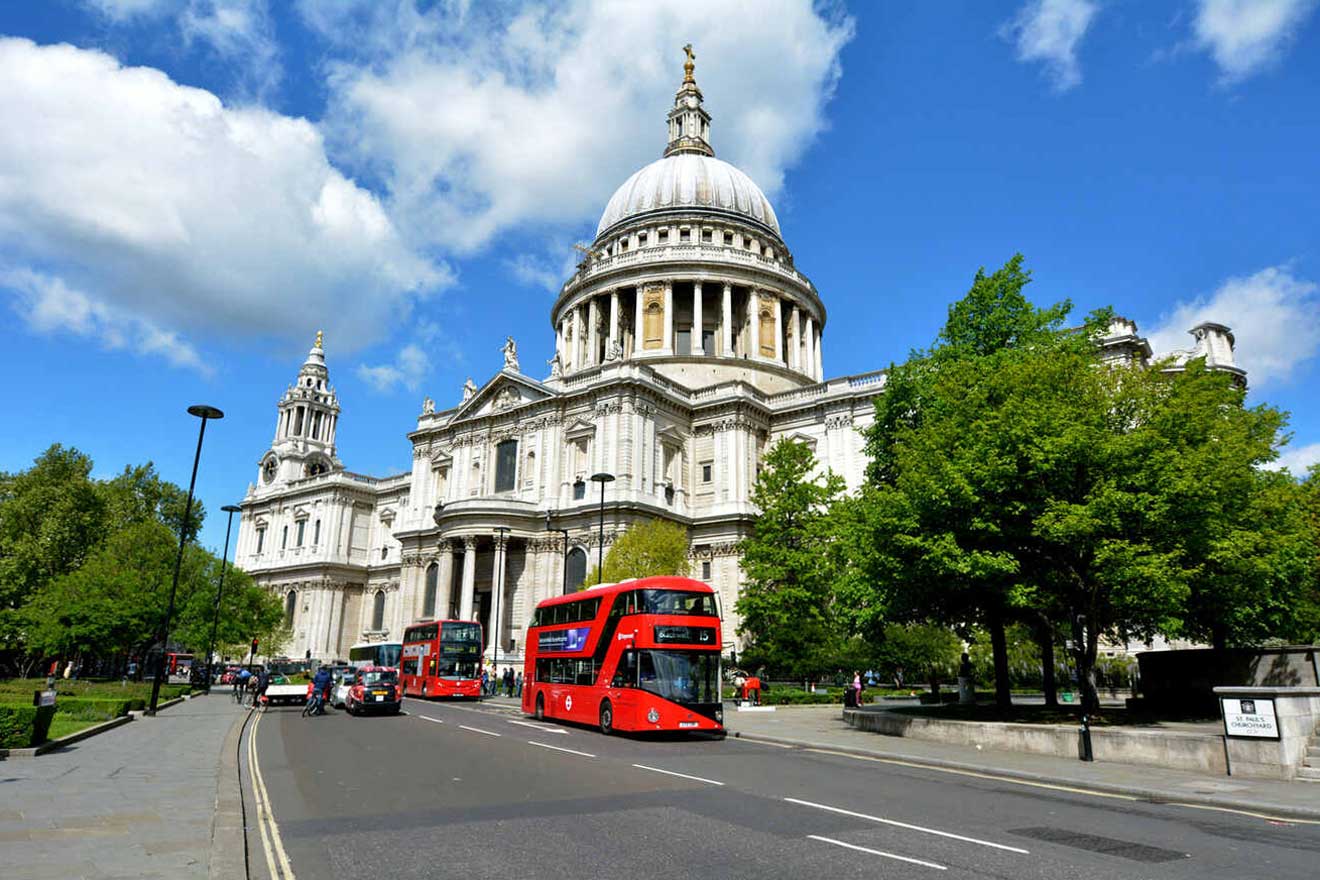 Kensington Palace – £20
St Paul's Cathedral – £18
Westminster Abbey – £25
Hop-on-hop-off bus tour – £37
Royal Botanic Gardens – £20
Shakespeare's Globe Theatre – £17
The Shard – £28
Hampton Court Palace – £26
London Zoo – £36
Brit Music Tour – £15
Windsor Castle – £27
Tower of London – £29
After calculating to see how many days you'd need to visit these places, I'd recommend buying the 5 days pass. That's how much time you'd need to explore all these attractions without running to get to the next one and not enjoying this experience to the fullest.
Have a look below. I've added all my calculations to show you how much you'll save if you get the 5 days pass:
Kensington Palace (£20) + St Paul's Cathedral (£18) + Westminster Abbey (£25) + Hop-on-hop-off tour (£37) + Royal Botanic Gardens (£20) + Shakespeare's Globe Theatre Tour (£17) + The Shard (£28) + Hampton Court Palace (£26) + London Zoo (£36) + Brit Music Tour (£15) + Windsor Castle (£27) + Tower of London (£30)
20 +18 + 25 + 37 + 20 + 17 +28 +26 +36 +15 + 27+ 30 = 299
You Save £138 (299 – 161 = 138)
As I mentioned the 5 days pass costs £161, that means you'll have to visit 6+ attractions in order for the pass to be worth it. Of course, if you want more days and time to visit more sites you can pick the 6 or 7 days passes, but that will cost you more money.
Now, to answer the question I asked earlier, I think the London Pass is definitely worth it, and if you're planning to check out a lot of attractions in any way, I'd definitely go for it!
5. Buying tickets at the entrance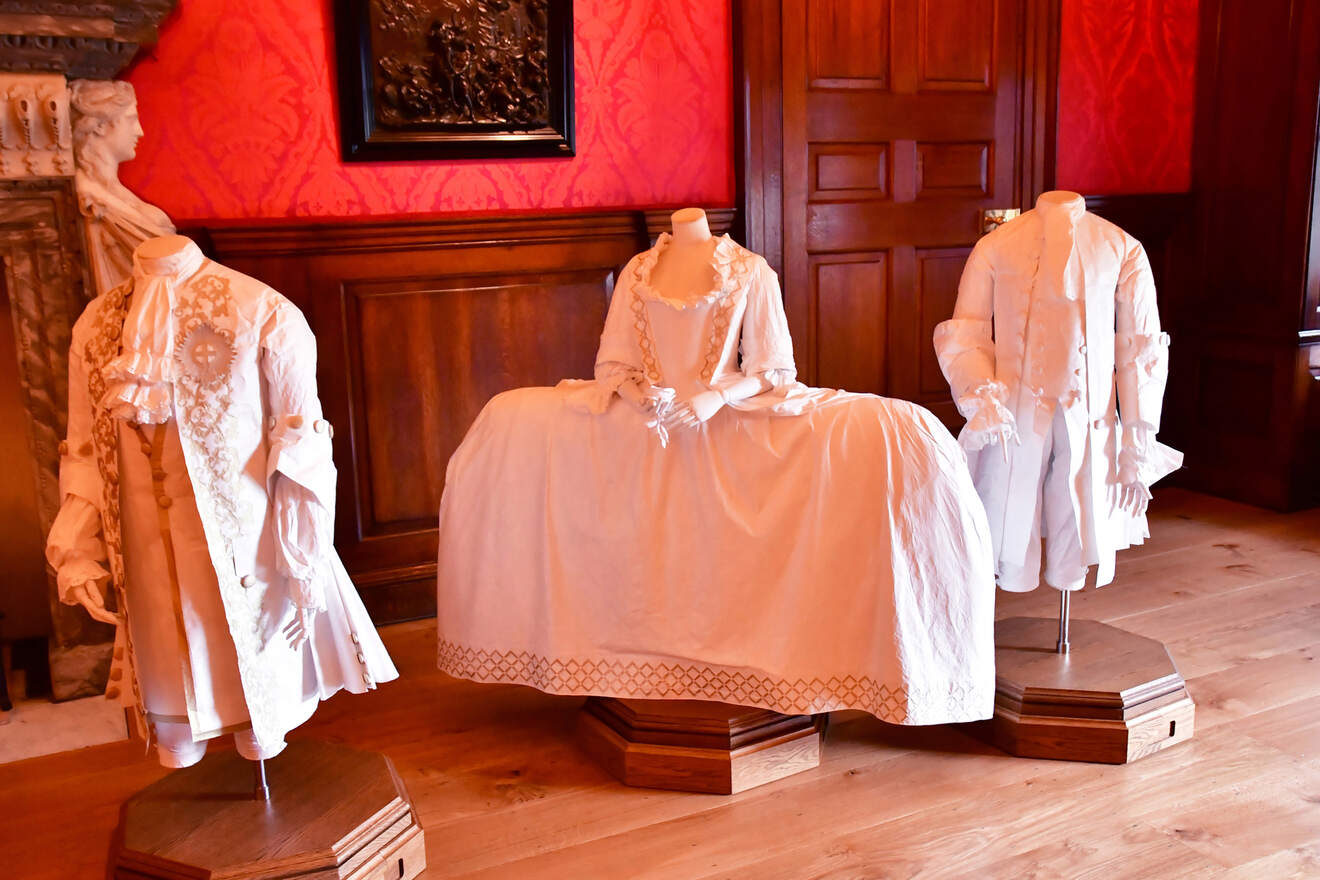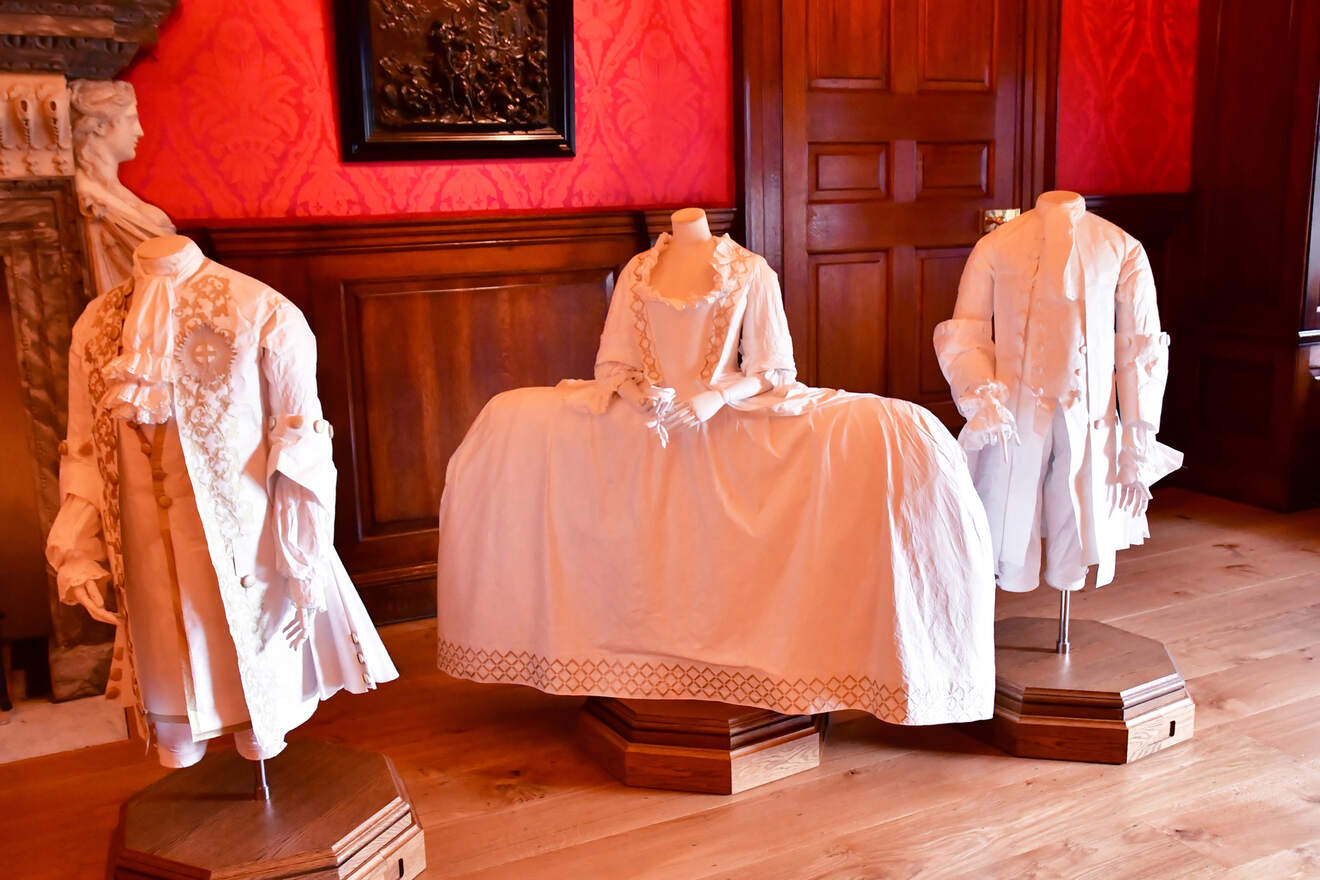 Unlike other attractions in London like The Shard or the London Eye where you run the risk of not finding tickets or end up spending more money if you buy them on-site, Kensington Palace doesn't sell the tickets at a higher price when you buy them there, nor do they have super long lines!
This means that you can show up on the day and just get them! Usually, you won't find any lines, and if there is one, it'll move pretty fast, so you won't have to wait.
However, if you want to get in at a specific time, I'd recommend booking your tickets in advance. That's because sometimes (especially during peak season between April to October), certain time slots can get fully booked, and you risk not getting in at the time you want.
That can be super annoying, particularly for people who have other attractions already booked for that day.
Important things you should know about Kensington Palace tickets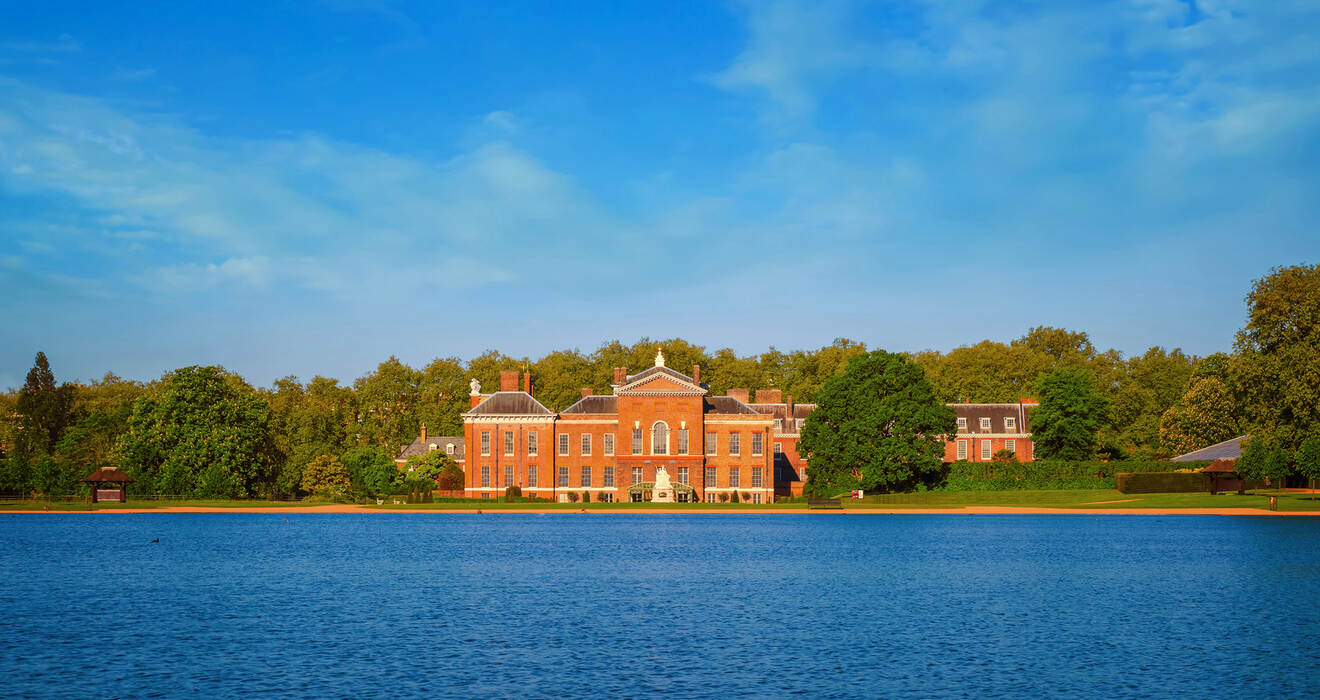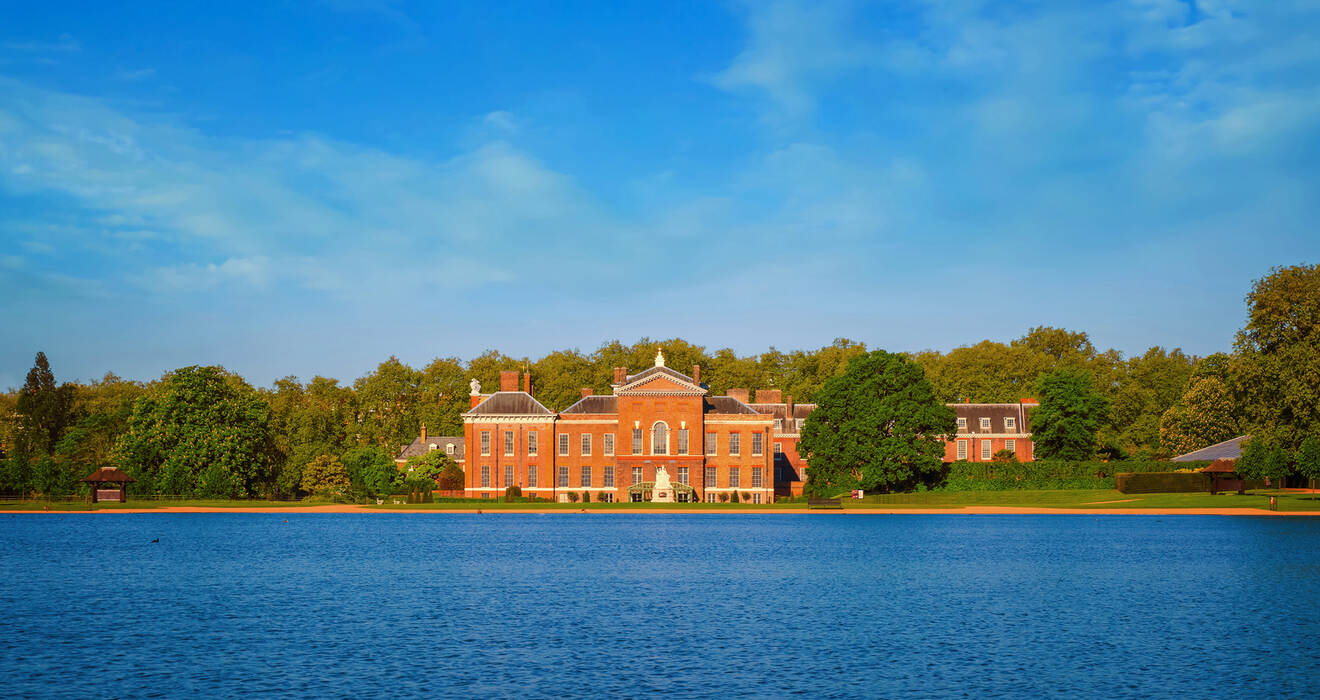 1. How far in advance do you need to buy your tickets
As I mentioned above, unlike the other important attractions in London, Kensington Palace doesn't have interminable lines or charges extra if you buy your tickets on-site or 1 day before from the website.
So it's safe to say that you can buy your tickets, when you can, even at the entrance, as the price will stay the same.
NOTE: The only thing I'd have to say is that if you're visiting other attractions on that day and you want to see the Palace at a certain time then you run the risk of not finding any more available spots. So make sure you check your options if you have to be there at a certain time.
2. Opening hours & the best time to visit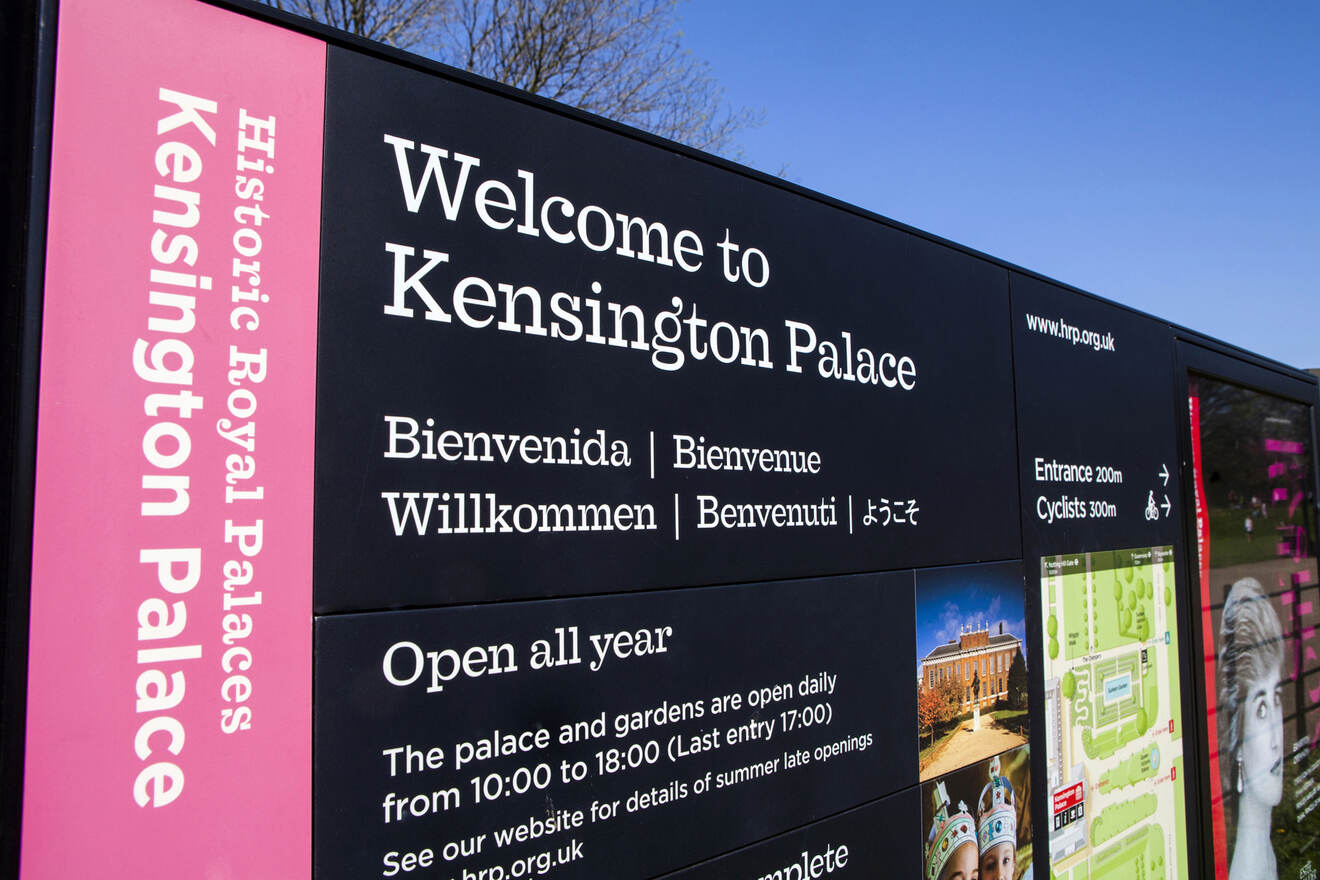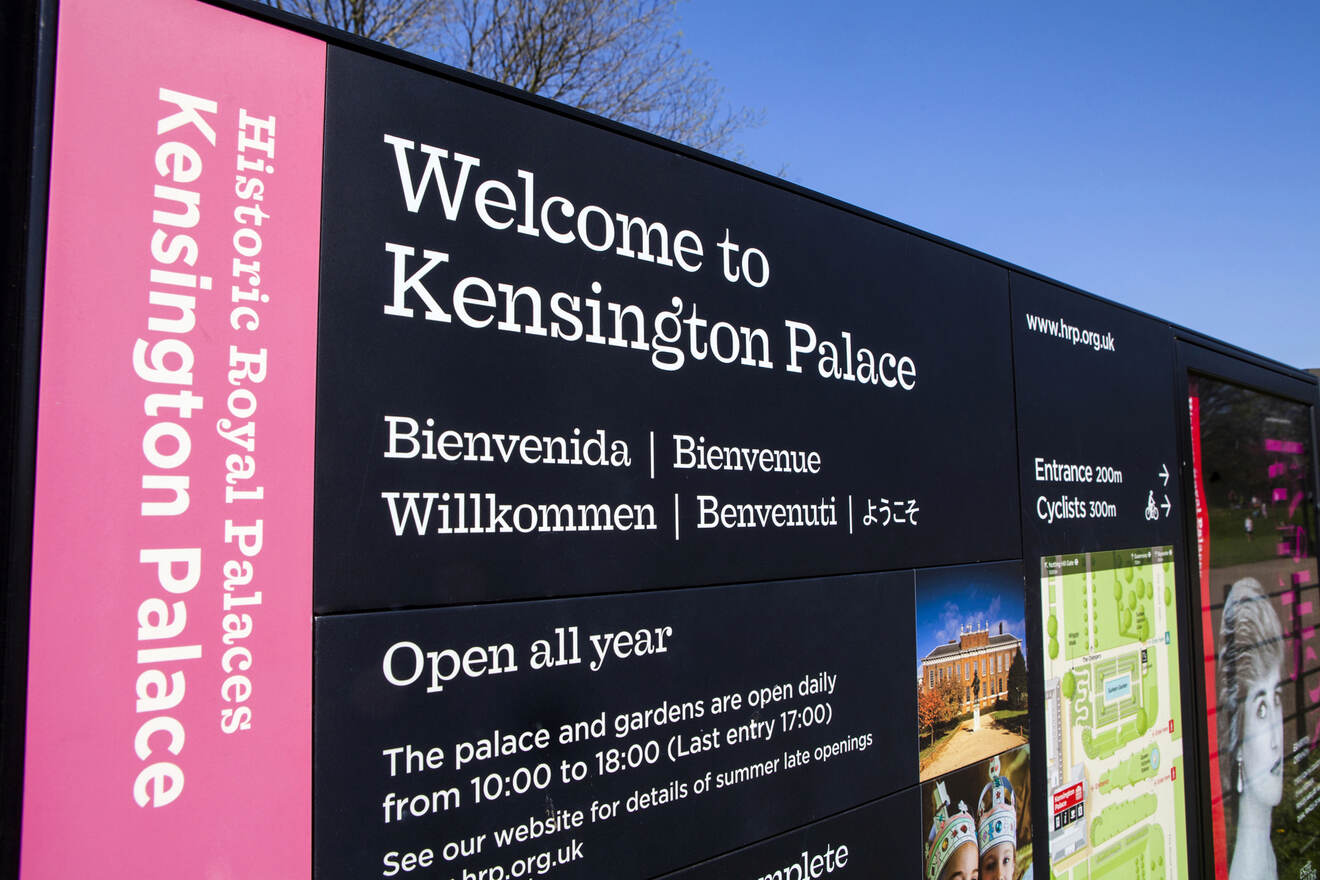 The Palace is open from Wednesday to Sunday from 10 am to 6 PM during summertime and 10 AM to 4 PM during winter. The last entrance is 1h before the closing time during both seasons.
NOTE: Kensington is closed for tourists on Mondays and Tuesdays.
Here are the opening hours for Kensington Palace tickets. You can check their website for any changes or closures:
Summer (March – October) – Wednesday to Sunday: 10 AM – 6 PM
Winter (October – March) – Wednesday to Sunday: 10 AM – 4 PM
Monday & Tuesday – Closed
Usually, the best time to visit the Palace is in the morning, as most people come around midday and sometimes it gets crowded around that time.
3. Audio guides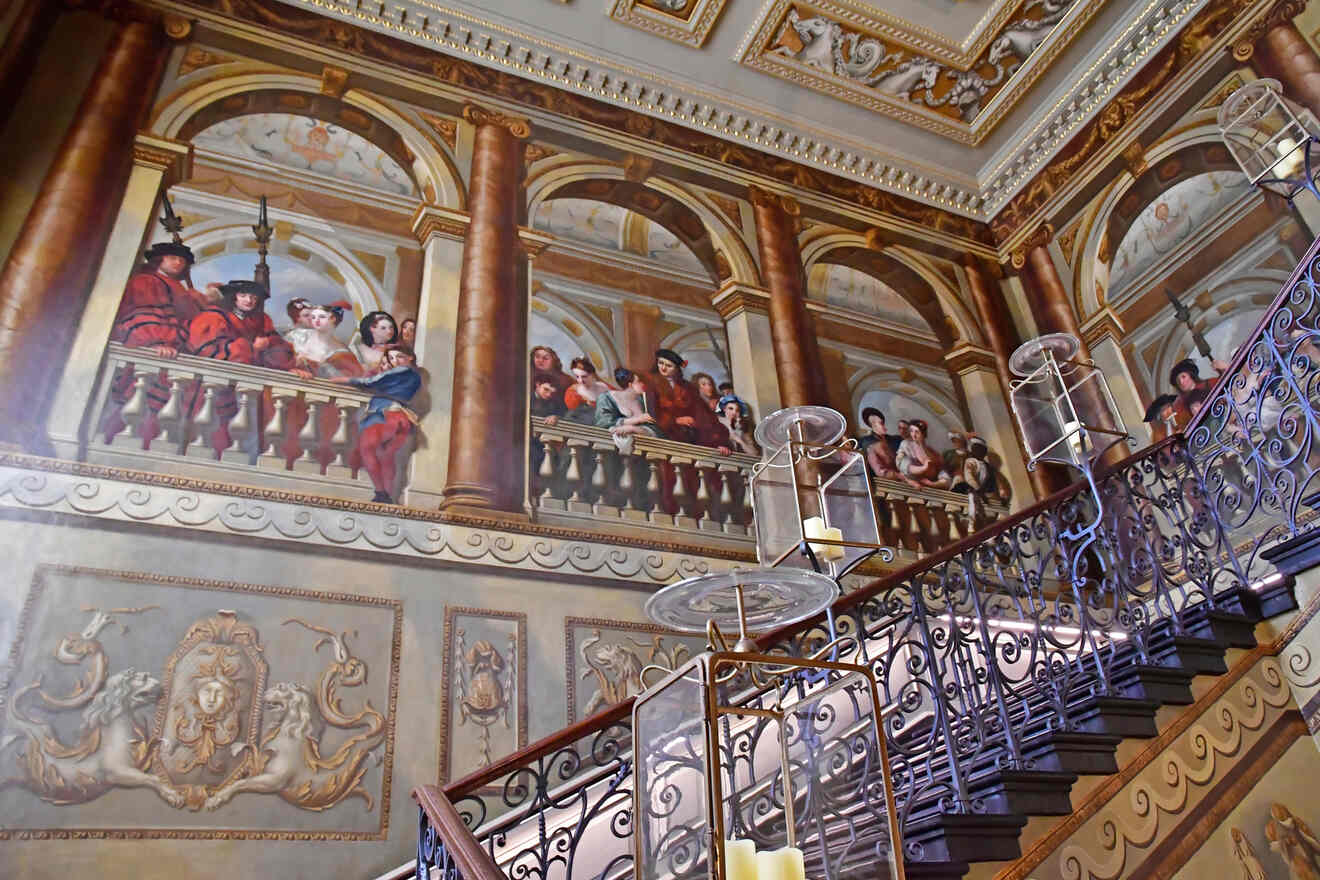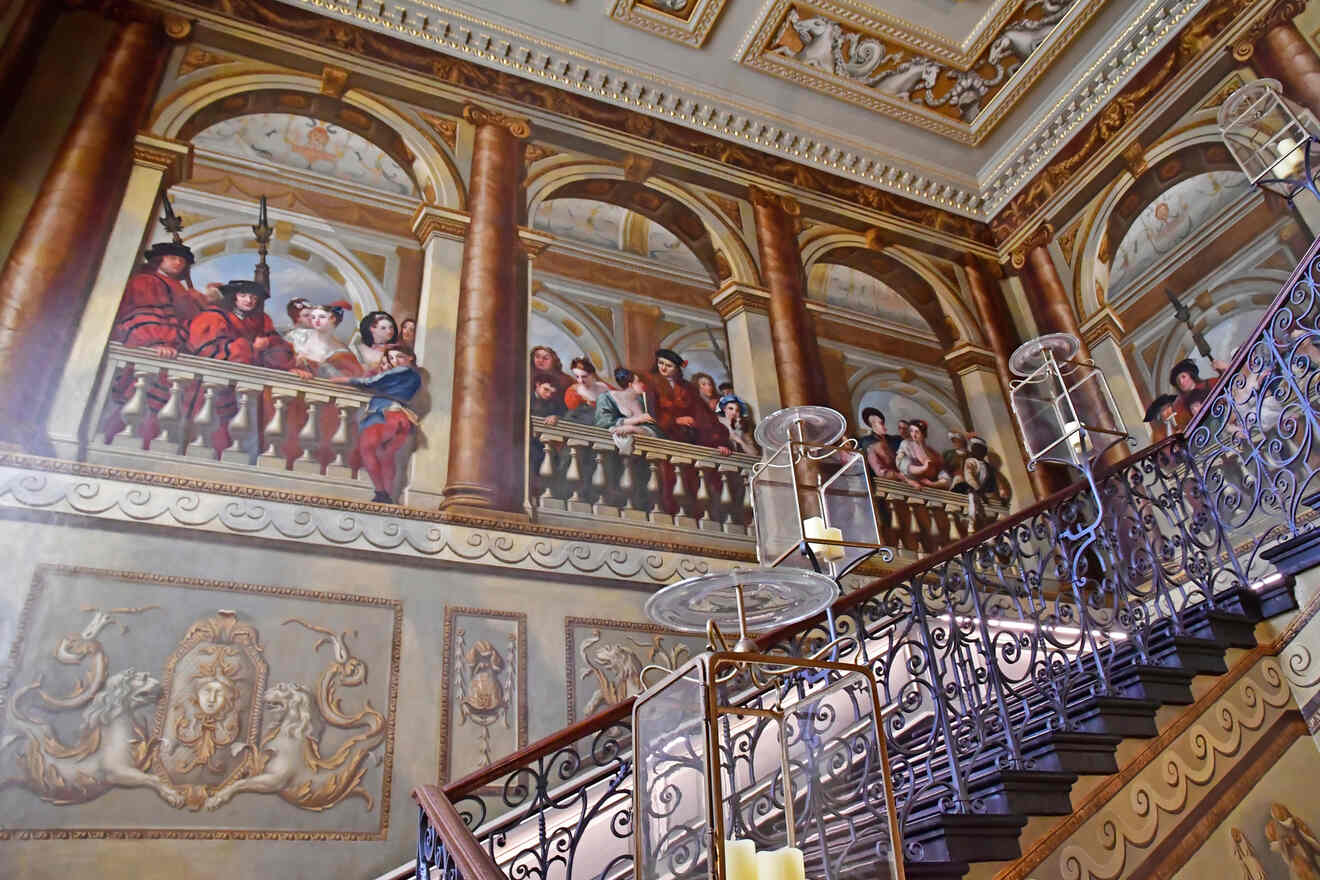 Good news: the audio guides are included in your entry ticket to Kensington Palace!
Yep, you won't have to pay any extra money! When you go to the entrance to present your ticket, ask for an audio guide. Remember that they work on a first-come, first-served system, so if they don't have one available when you arrive, you may have to wait for a bit.
NOTE: They have headphones, but you can bring your personal ones if you want, just know that they'll have to be the type that plugs into the handset, rather than using Bluetooth.
P.S.: The audio guides are only available in English.
4. How to get to Kensington Palace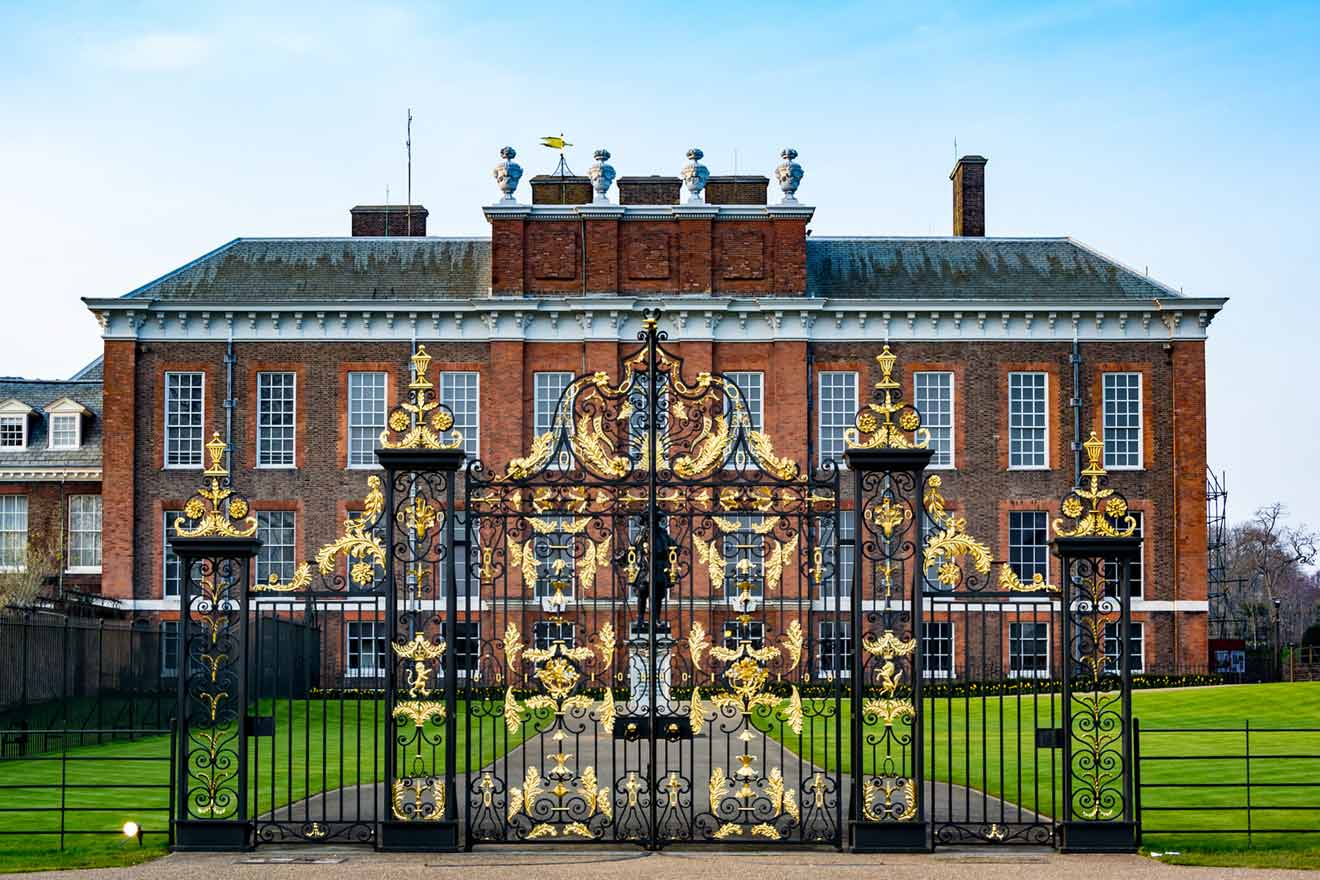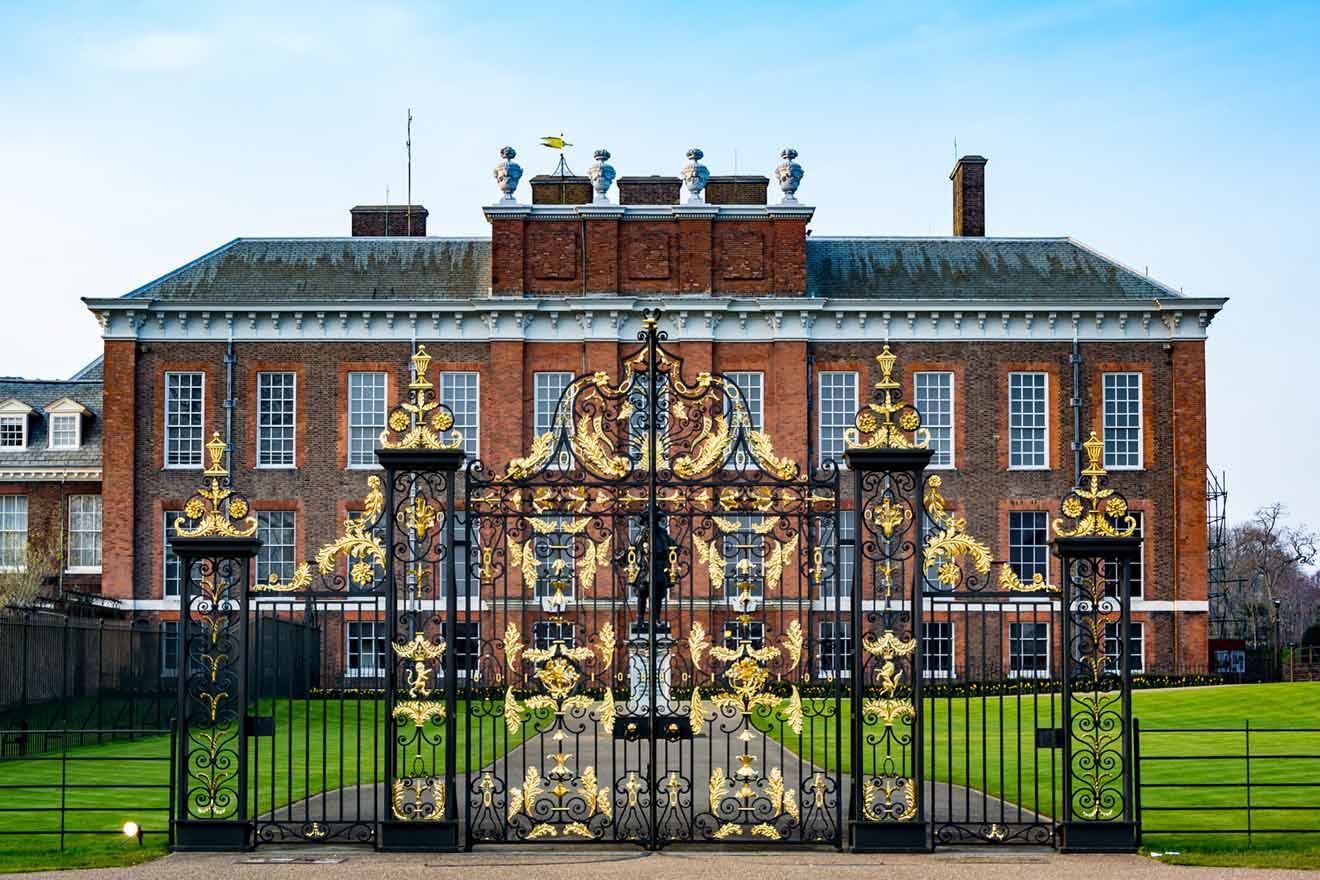 Want to find out the quickest way to get to Kensington Palace on London's busy streets? Then check out this section, where I lay out all the possible ways to get here in a London minute:
5. What to bring (and not to bring) to Kensington Palace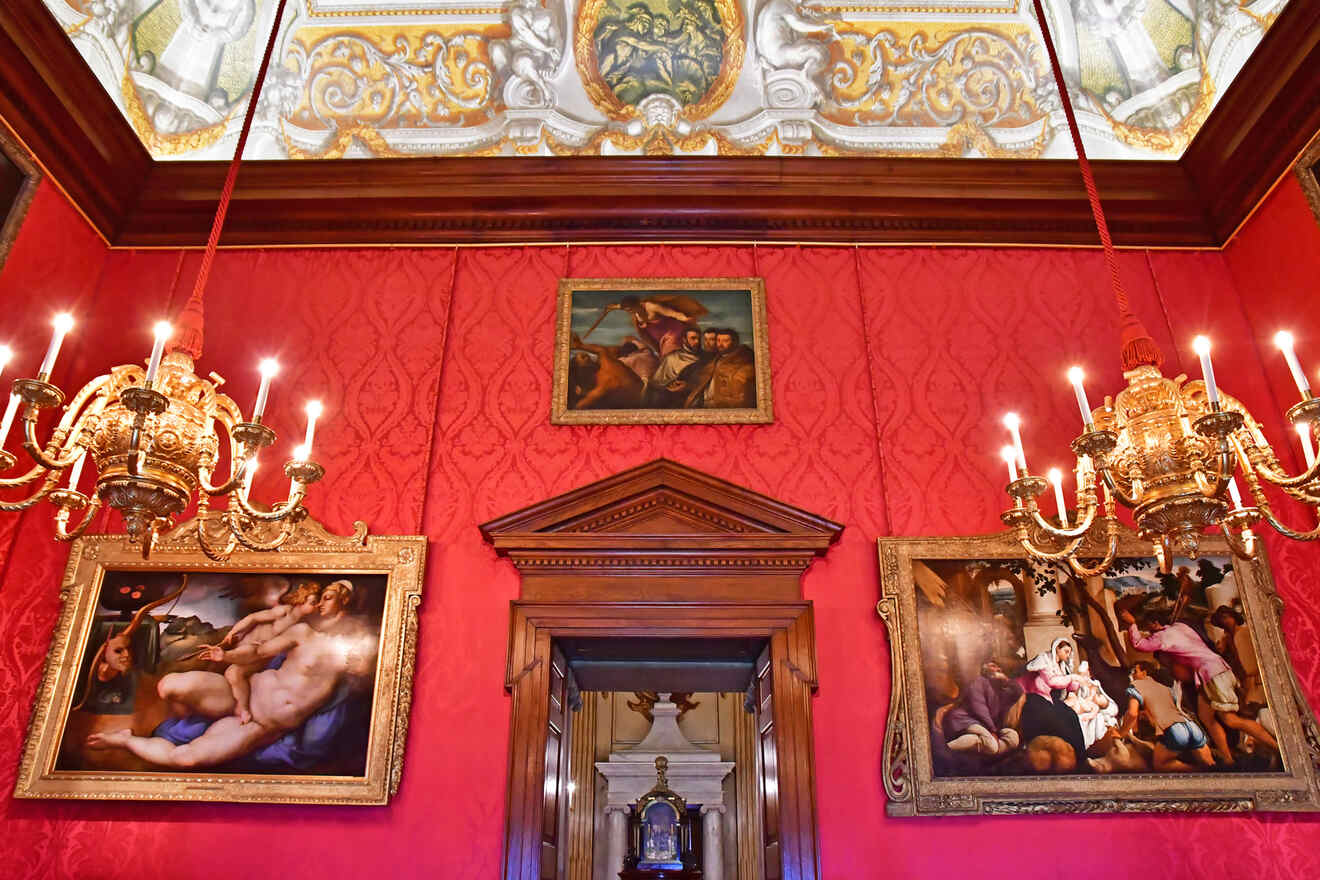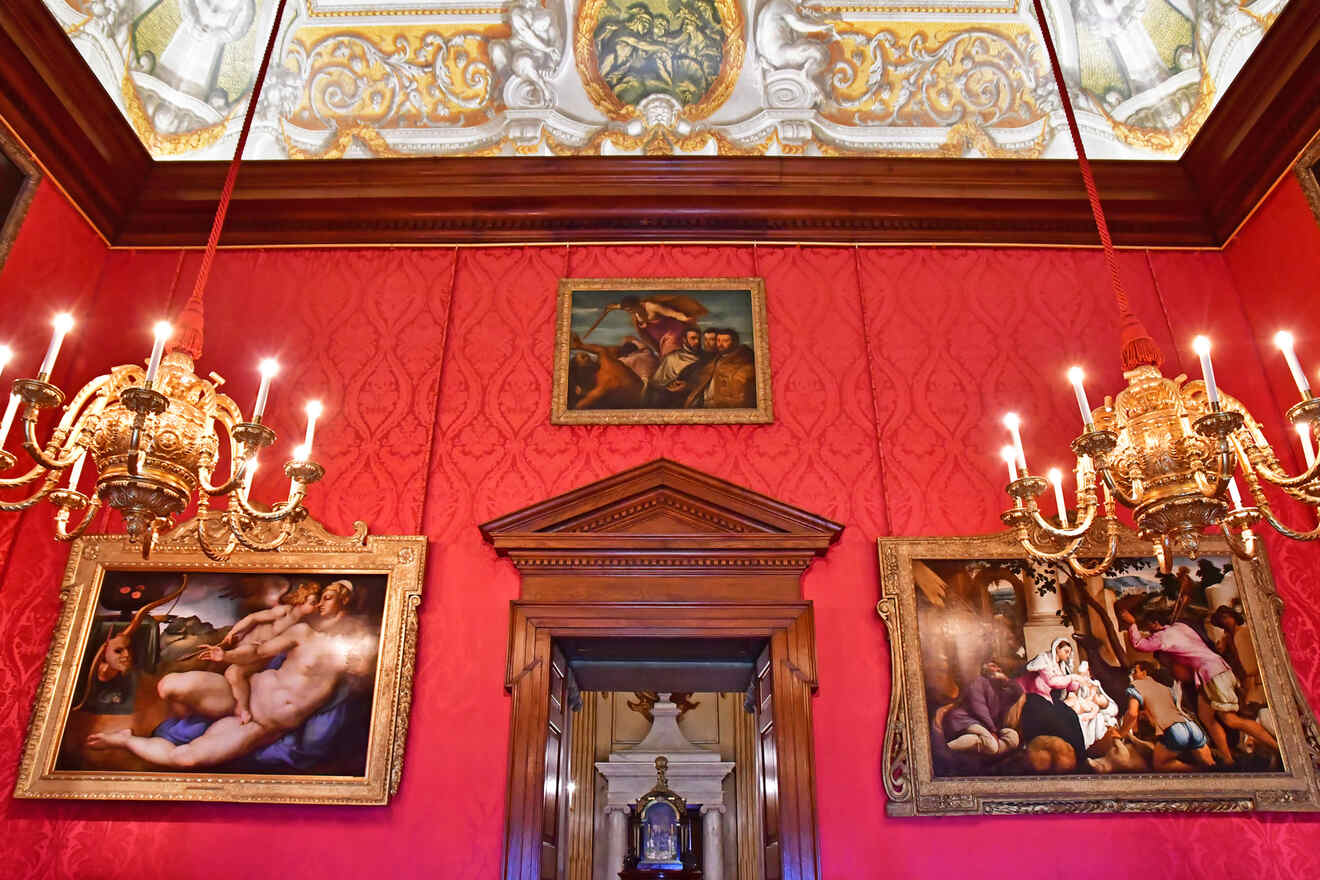 Better safe than sorry! It's easy to slip out one and bring something that you can't take with you inside the palace or, even worse, forget something super important.
But I'm here to help you with all the small details, so check out this list below of things you should and shouldn't bring while visiting Kensington Palace:
✅ Tickets – There's no need to print out your tickets but make sure you've downloaded the PDF file from your email so that you can present it at the ticketing office
✅ ID – Bring your photographic ID with you, as they'll probably check it along with the ticket
✅ Photo Policy – You can take no-flash pictures inside the Palace, however filming is not allowed. You also can't bring tripods and selfie sticks inside.
❌ No Large Items – There is no bag storage inside the Palace so any suitcases, large bags, and any rolling luggage won't be allowed inside
❌ No food & drinks – You're not allowed to bring any food or drinks inside the Palace
6. Things to see inside Kensington Palace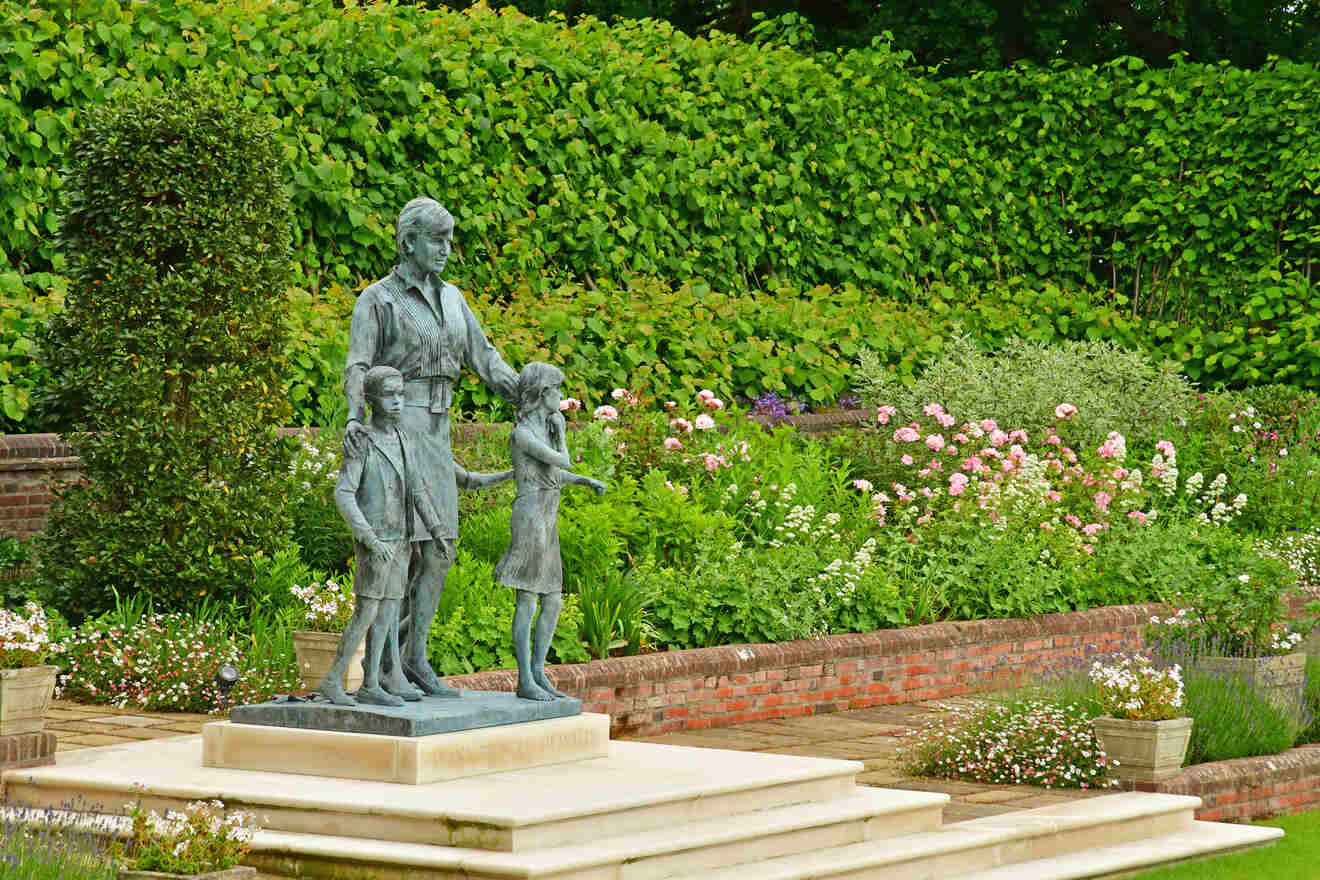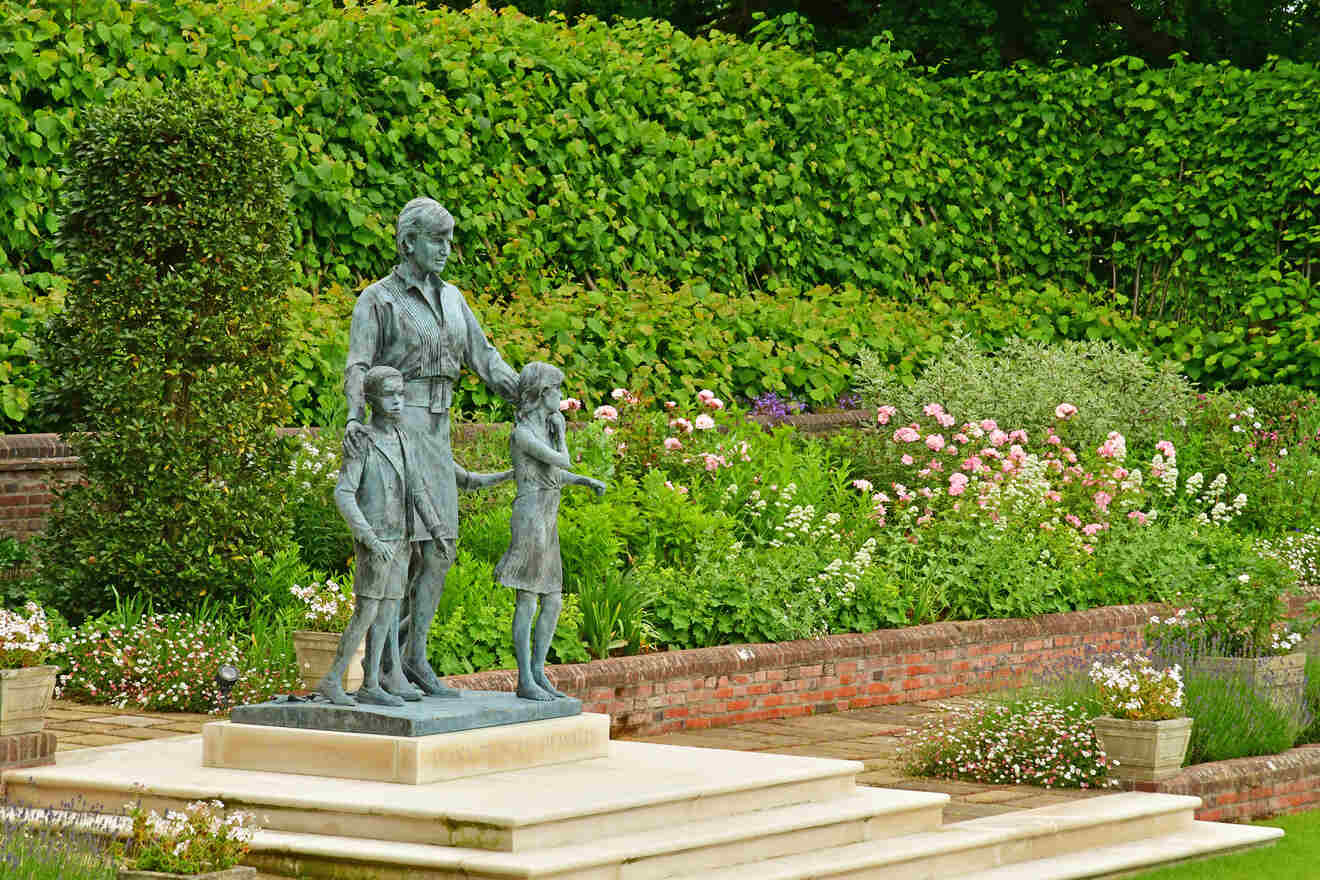 I like to visit attractions with my research done in advance! If you want to know which things to look out for while you're inside the Palace, check out the list below:
The King's State Apartments & The King's Staircase – Here, you'll feel as if you've traveled back to Georgian times, the staircase is a great spot for pictures and to admire the palace from above.
The Queen's State Apartment – These apartments once belonged to Queen Mary II and feature a large art collection
Victoria: A Royal Childhood – Before she became the Queen of England, Princess Victoria lived in Kensington, and this art exhibition showcases her childhood
The Jewel Room – If you like shiny jewelry then stop here and admire Queen Victoria's and Prince Albert's collections, it's amazing!
Life Through a Royal Lens – Make sure you stay for this exhibition as it shows a collection of unseen pictures of Queen Elizabeth, Prince Philip, Princess Diana, and other family members
Sunken Garden – Apparently, this was Princess Diana's favorite place at the Palace, and now there is a beautiful statue commissioned by her sons here which you can see but only from afar
7. Facilities inside the attraction
Toilets – You can find toilets at the Stone Hall and at Pigott Galleries (Life Through A Royal Lens)
Accessibility – Pushchairs are allowed inside the Palace, and all 3 floors are also accessible by lift
Wi-fi – There is free wifi for visitors inside Kensington Palace
Gift Shop – You'll find the Kensington Palace Gift Shop right near the Cafe
Cafe – There are 2 cafes on the Palace Grounds: The Cafe & The Pavilion
FAQs about Kensington Palace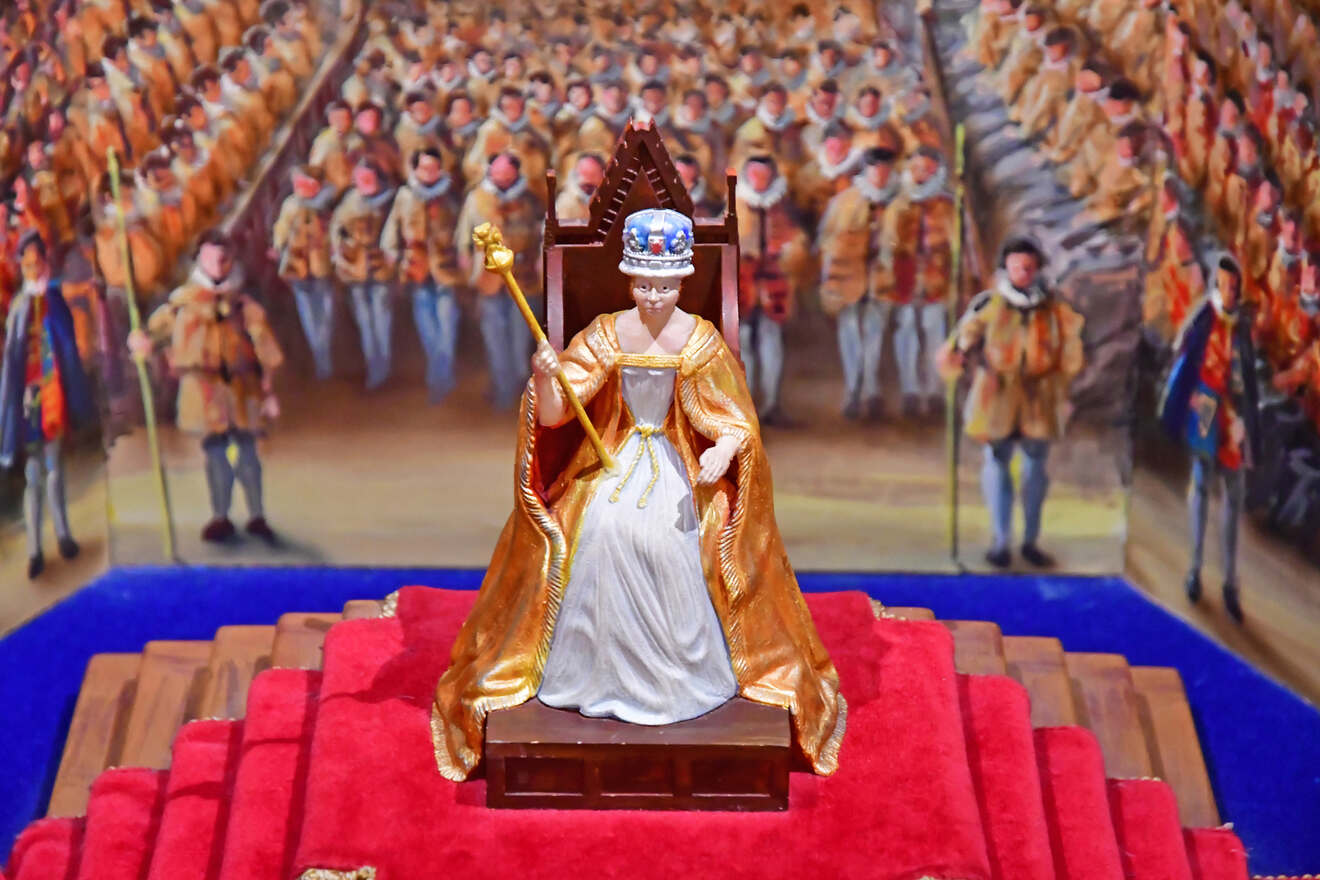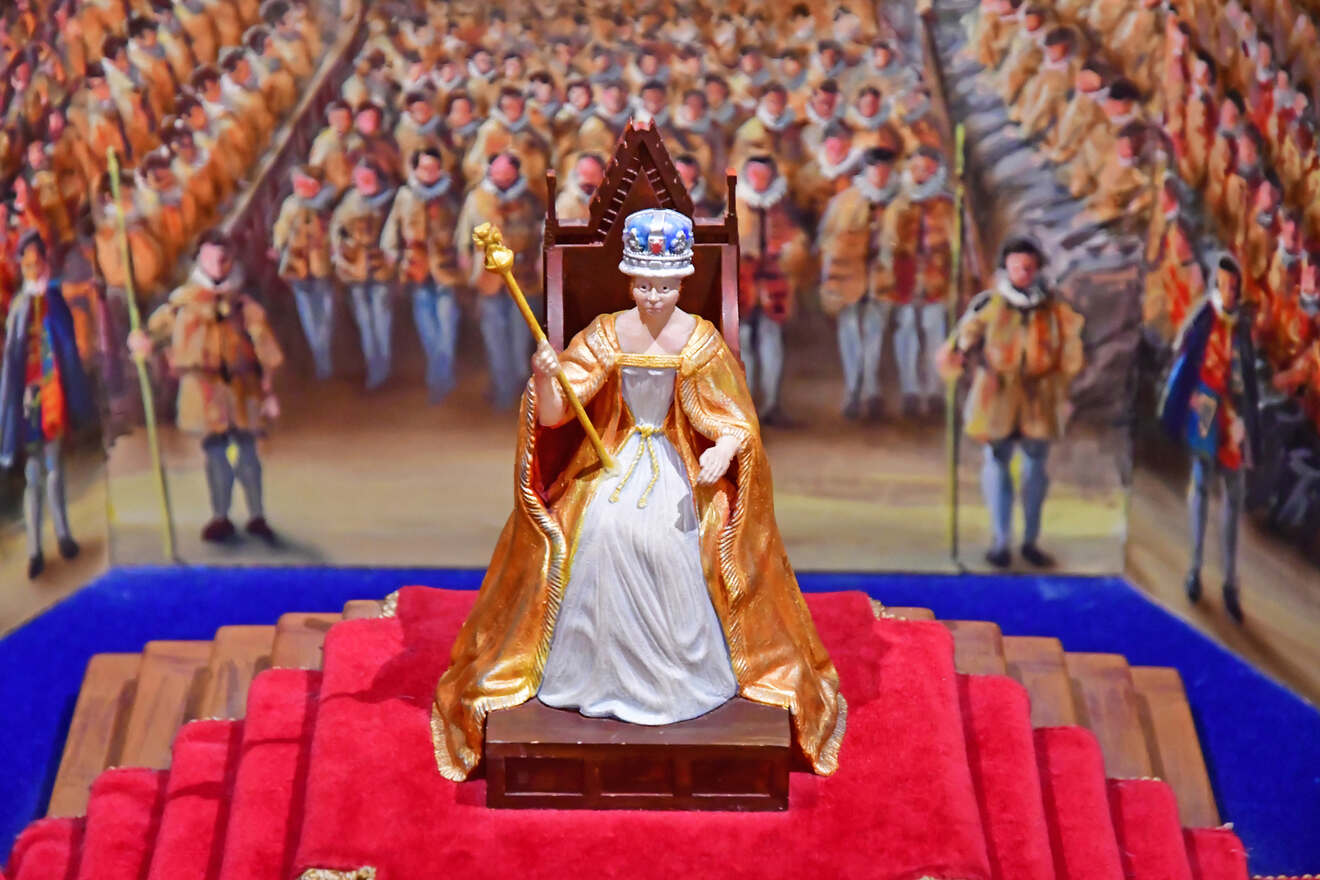 ⏰ How long does it take to visit Kensington Palace?
It takes around 2 hours to go through the Palace and maybe a bit more if you want to explore the gardens or enjoy a drink at one of the cafes on-site.
💰 Can you visit Kensington Gardens for free?
Yes, you can visit Kensington Gardens for free, there's no need to buy a ticket for that.
📷 Can you take pictures in Kensington Palace?
Yes, you're allowed to take pictures inside Kensington Palace but with no flash.
👑 Who lives in Kensington Palace now?
Prince William and his family live in the Palace now, as well as the Duke and Duchess of Gloucester, The Duke and Duchess of Kent, and Prince and Princess Michael of Kent also live here.
Conclusion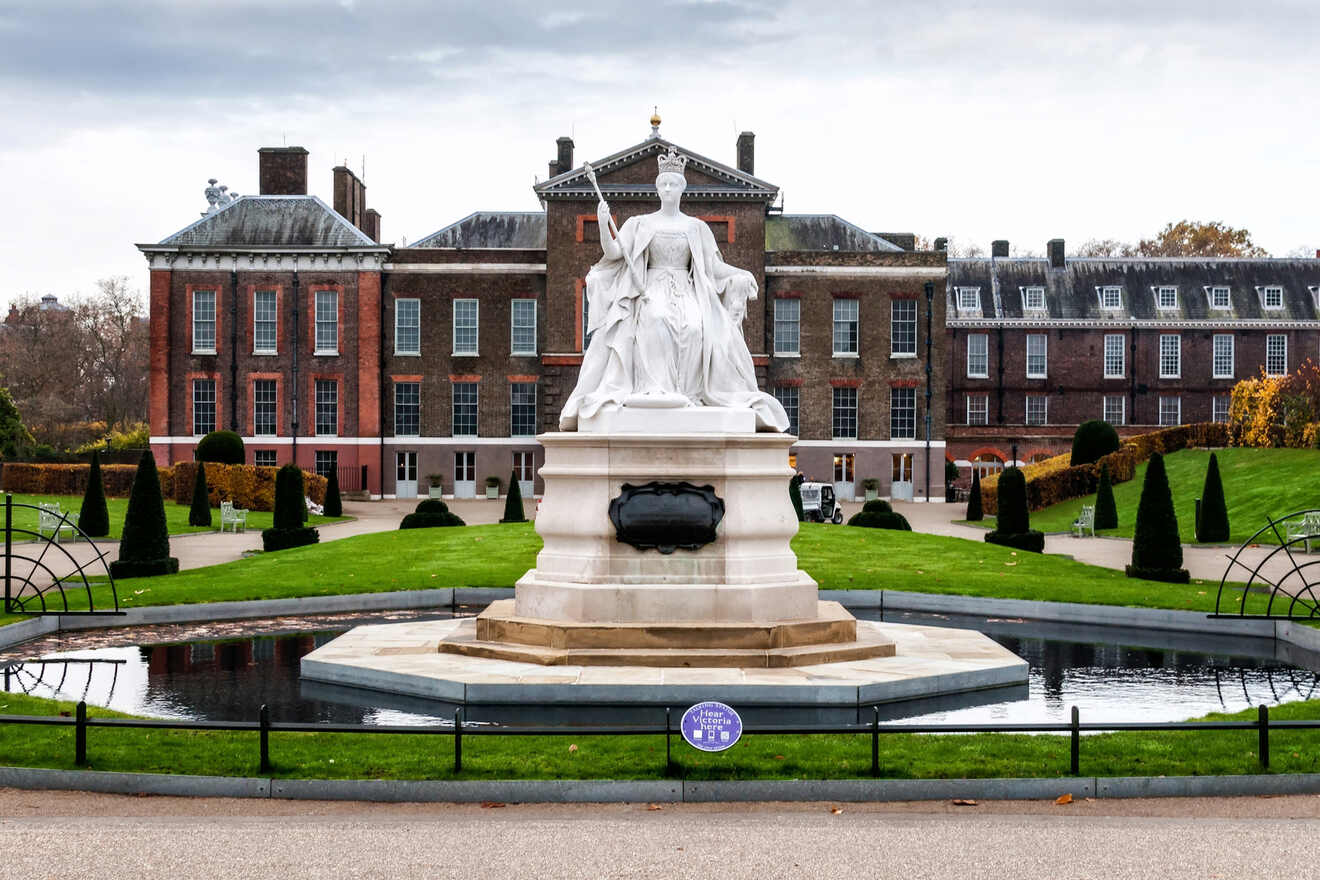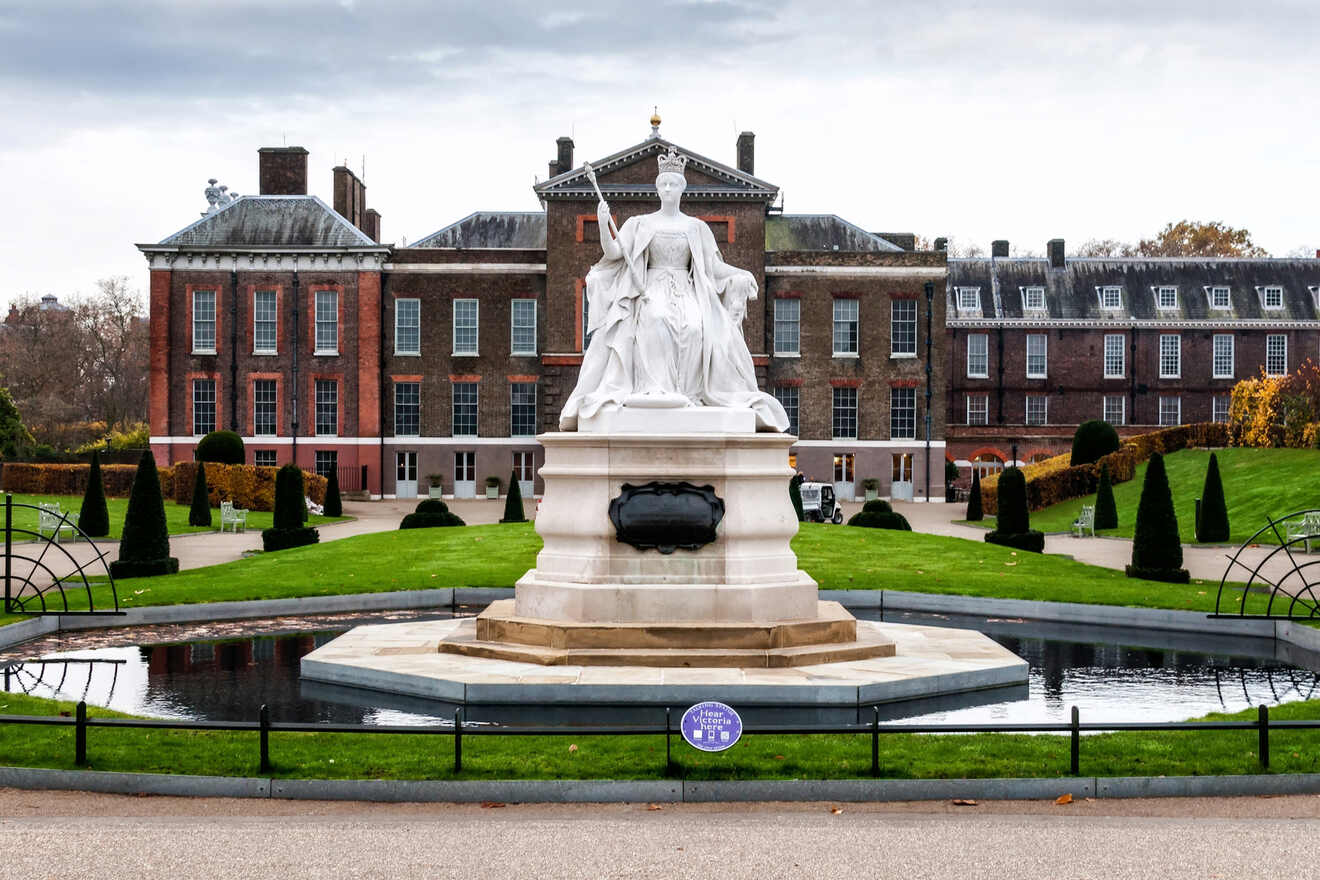 Time sure runs fast when you've got a lot to say! I know there's a lot of information here, so let's do a quick recap to refresh your memory:
You can buy the cheapest Kensington Palace tickets with a good cancellation policy from GetYourGuide. Of course, you can also get them from the Official Website but if you cancel, you won't get your money back!
If you can't find a specific time slot or a specific family bundle on these 2 websites, you can also check Viator, Headout, Klook, and Tiquets.
I tried to make this recap as short as possible and only include the crucial stuff, but there are a lot more things that I mentioned that you should check out! And if by any chance I missed something, just pop a comment below and I'll answer it as quickly as possible.
Looking forward to hearing your thoughts on this amazing place!
Safe travels,
Victoria
---
Pin it for later!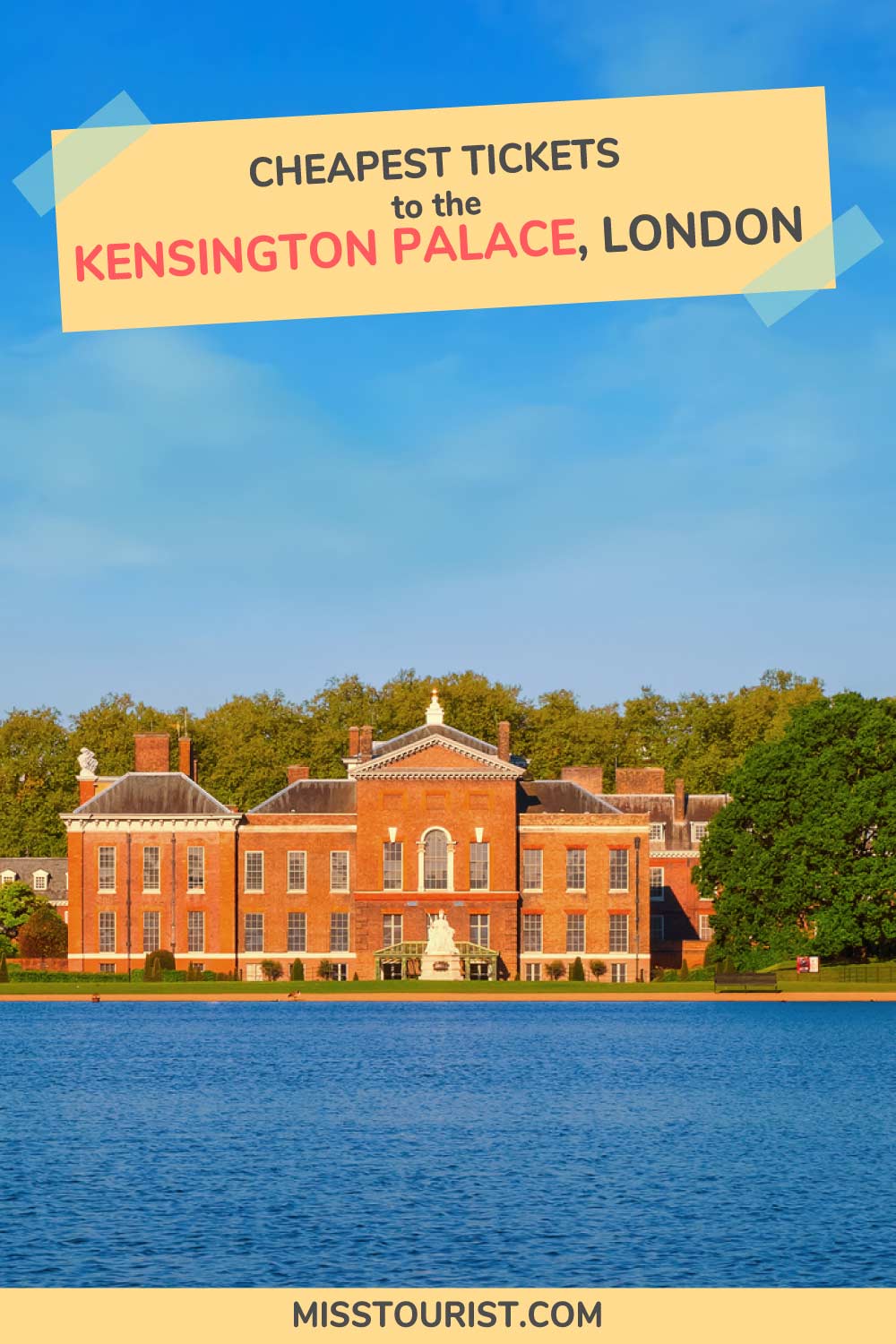 Pin it for later!