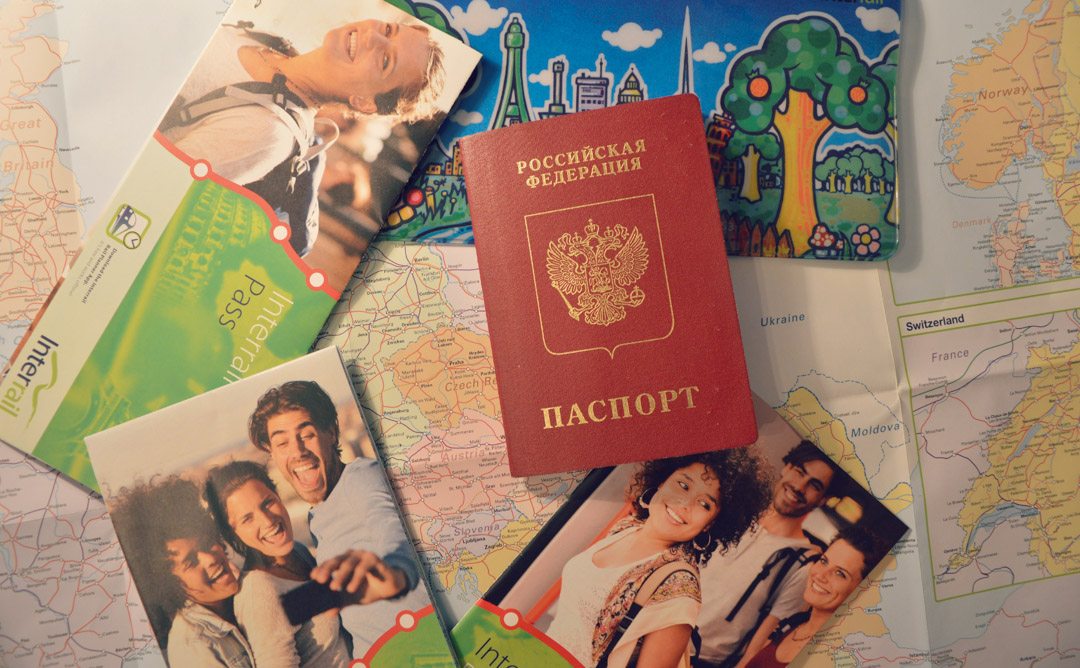 UPDATED: February 2022

Does the idea of doing a European trip sound appealing to you? Have you ever thought about spending some time doing a European tour by train? Then maybe you have heard about the European train ticket pass called the Interrail or Eurail pass before!
If the answer is yes, I know there are probably many questions and much confusion about this subject that you need answers to! But do not worry, I have it all covered in this post! 😉
When I used my 1 month unlimited pass, I noted all the questions and difficulties that I had on the road because I wanted to write a perfect post for you to use on your trip – and here it is! Below you can find all the information you need about this European train pass – including information about prices, reservations, different options and more!
Interrail and Eurail currently offer a great promo with 10% off ANY pass!
Not sure which one to choose? Scroll down a little more, and I will explain everything you need to know!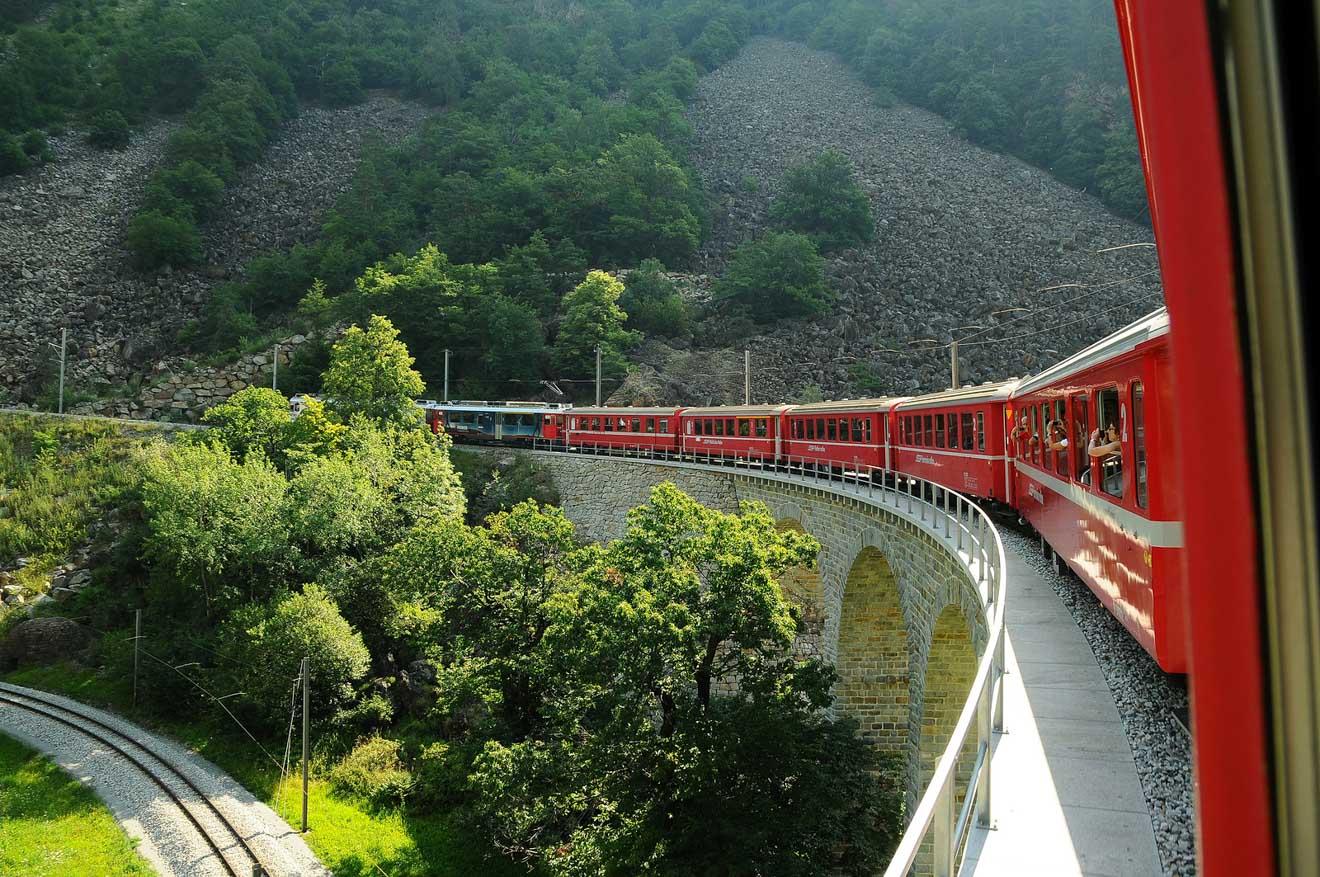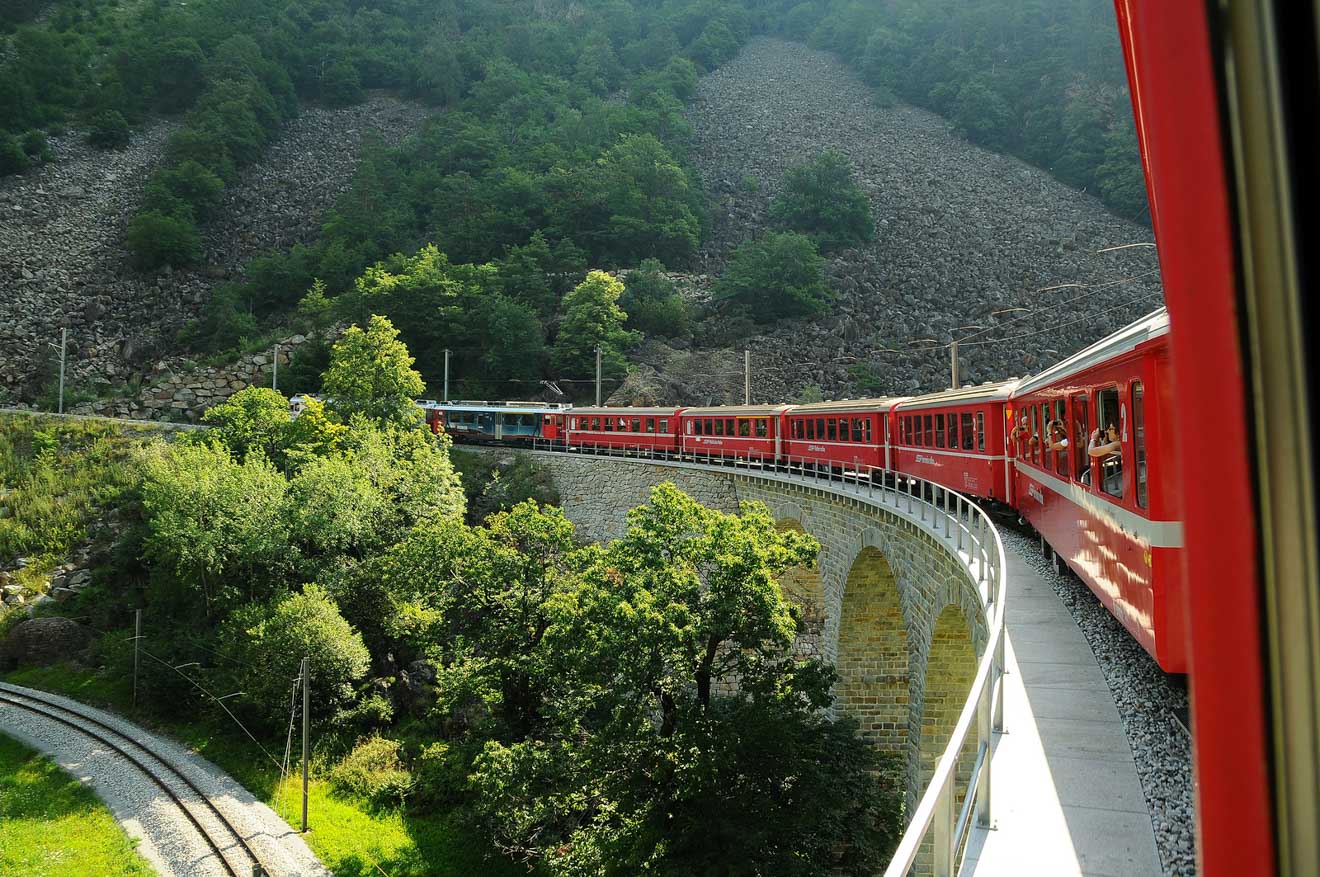 When I was preparing for my Interrail/Eurail train trip across Europe, I couldn't find any good, structured blog post that would answer all my questions.
I had to go through tons of info, and because I still could not find some of my answers, I had to learn through trial and error.
That is why I decided to write this step-by-step guide that will cover all of your questions! 🙂
In this post I will tell you everything you need to know about the following subjects (and more):
is it worth to buying the pass (I will be covering all of that in detail);
how to properly use the pass;
how to make the most out of it;
and how to avoid the most common mistakes that tourists usually make.
Let's begin:
1. Choosing and buying the pass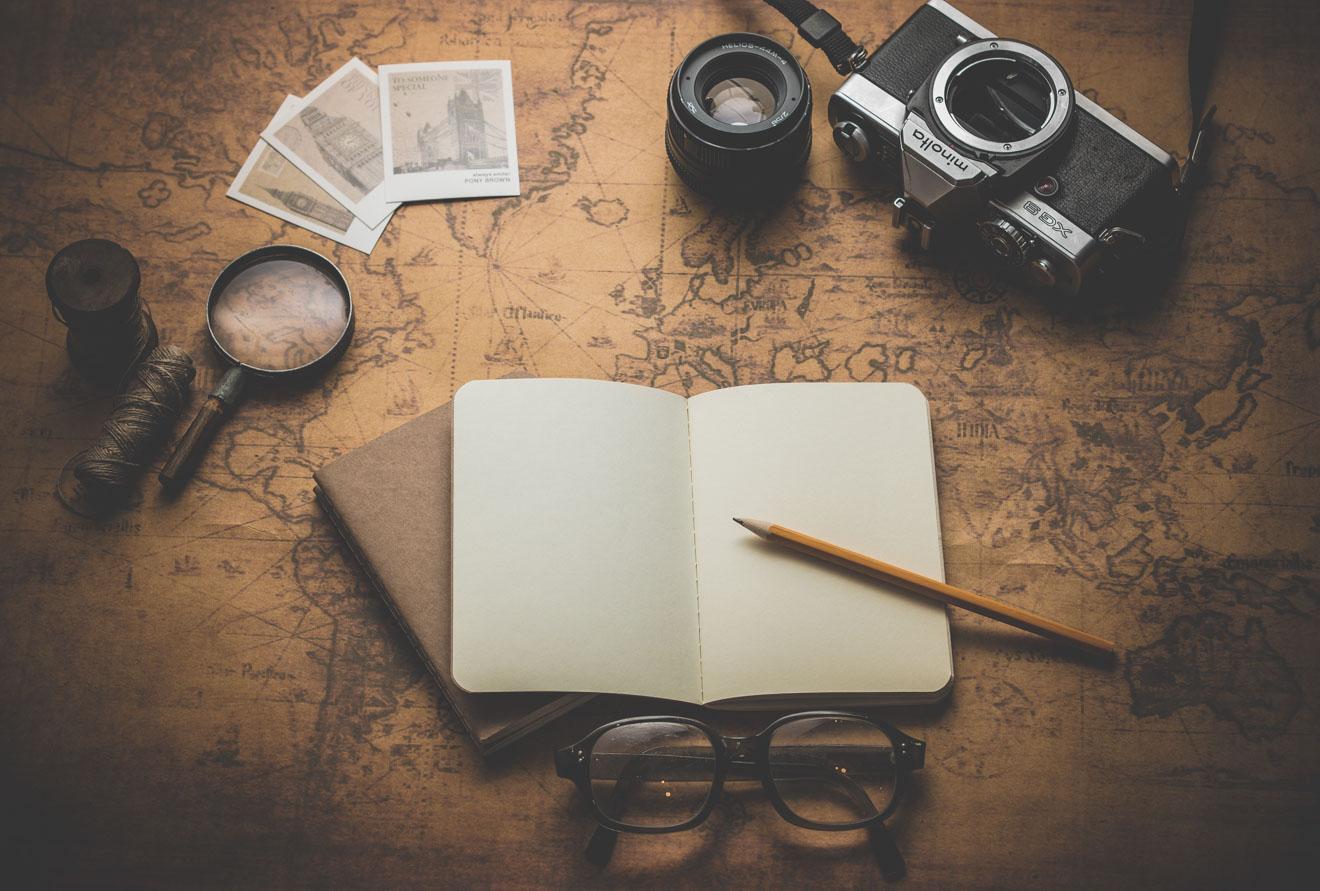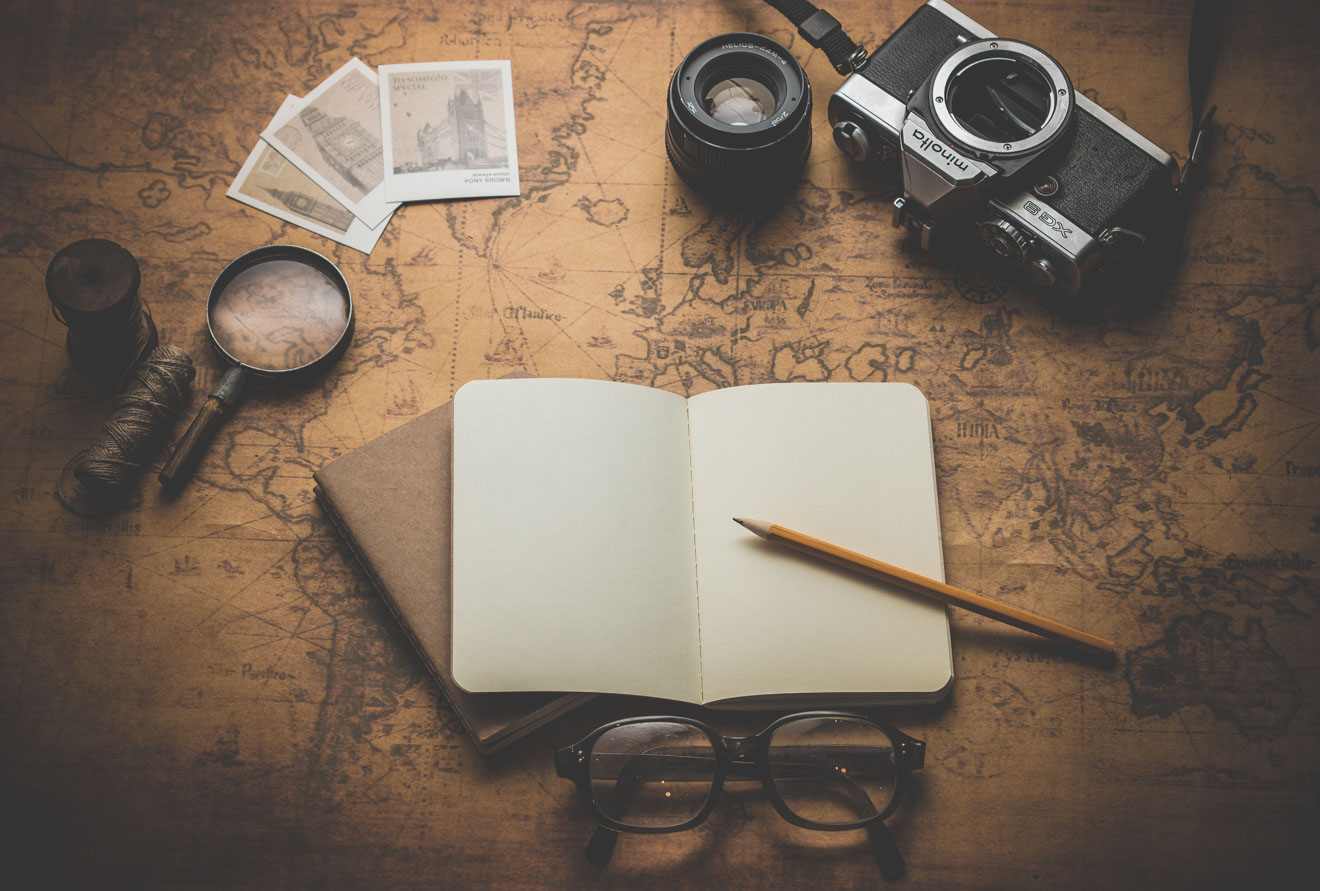 Here is the most important information you need to know about Interrail/Eurail passes if you have never heard about them:
What is an Interrail or a Eurail pass?
An Interrail or a Eurail pass is a travel document that allows you to travel in Europe by train. The main idea behind this European rail pass is that you only have one ticket (which is your pass) and an unlimited amount of options to travel in European countries during the entire period your pass is valid!
Depending on the type of pass you choose, you can buy a pass that allows you to travel only in one specific country of your choice or you can have an unlimited pass that will give you the chance to travel to 33 European countries in a specific period of time.
Interrail vs Eurail – what is the difference?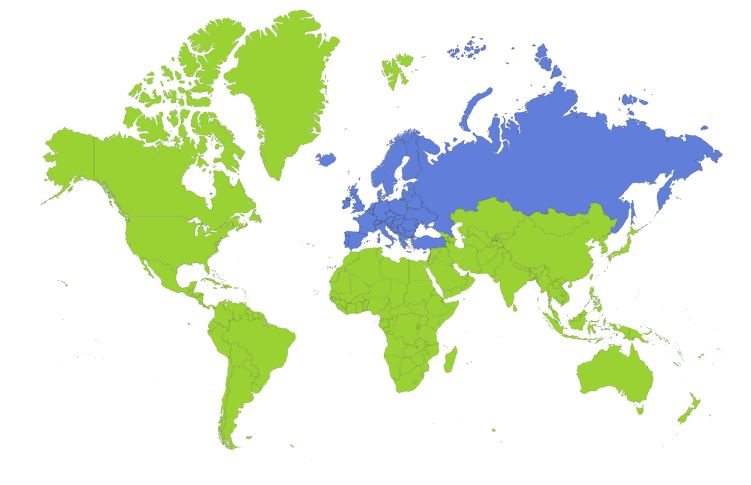 There is no need to be confused, as both are mainly the same thing!
If you are from Europe (citizen or you have residency there), you should apply for an Interrail pass. Your pass will also be cheaper because, as a citizen, you pay taxes in Europe.
If you are not from Europe, you should buy a Eurail pass.
Now let's make it even easier! Take a look at the picture above:
You are from a blue country – buy an Interrail pass
You are from a green country – buy a Eurail pass
As the majority of my readers are non-Europeans, I will call the pass Eurail for simplicity in this post. But remember, if you are a European citizen, your pass will be called Interrail (which, as I mentioned before, is pretty much the same thing – the only difference is the price).
NOTE: if you are, let's say from Italy, and you want to buy the Interrail pass, you will not be able to use it in the country of origin.
If you are still unsure about which pass to buy, you can check if your country is eligible for Interrail or Eurail here.
What are the types of available passes?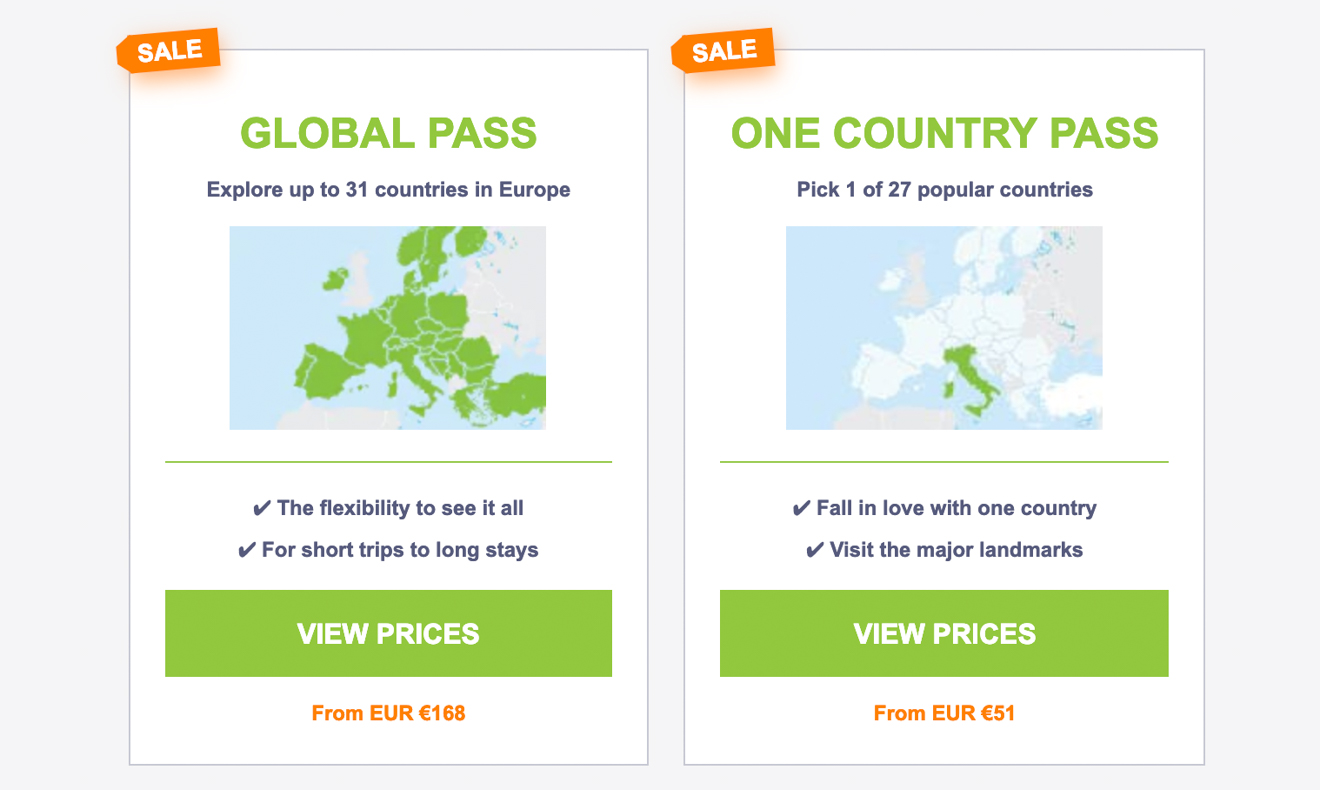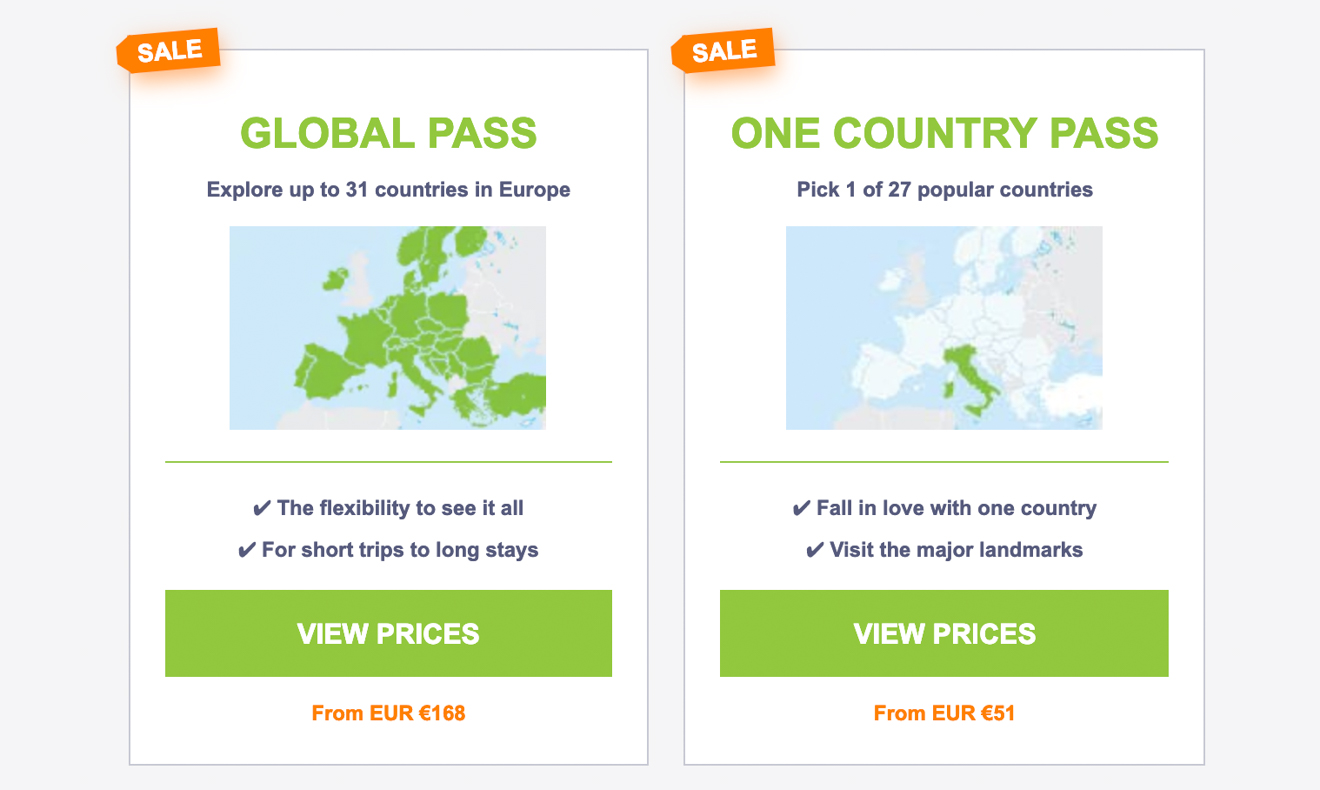 Oh, the good part is that there are so many types of passes! You can select the perfect one for yourself depending on the number of countries you want to visit, the duration of your trip, your age, or maybe you want a family package!
Again, you can check out all the available types of passes here (for Eurail) or here (for Interrail).
Eurail or Interrail One country pass – exactly as the name implies, you can only use this pass to visit one country out of a list of 27. You can use it for a limited amount of days in a set period of time (For example – Italy pass "5 days within 1 month" is available for one month, but you can actually travel with this pass for 5 days of your choice during this month).
Eurail or Interrail Global pass (you can visit up to 33 countries) – This is actually the most popular option and the one that I got, too! If you buy this type of European rail pass, you can take an unlimited number of trains in a set period of time almost everywhere in Europe! For example, if you want to spend some days in the cities you are visiting, you can go for a "5 days within 10 days" travel pass. If you want to make the most out of it and travel daily, you can get a 1, 2 or 3 continuous month pass. The last option is a pretty good deal if you are planning on moving around a lot!
For all the types of passes above, you can choose a "first class" pass or a "second class" pass depending on the quality of service you want to have on the train.
NOTE: If you are 27 years old or younger, you can get the "Youth" option, which is cheaper than the "Adult" pass. The option of choosing between a "1st class" and "2nd class" type of pass is also available (more about this below).
How do I pick the pass that fits me best?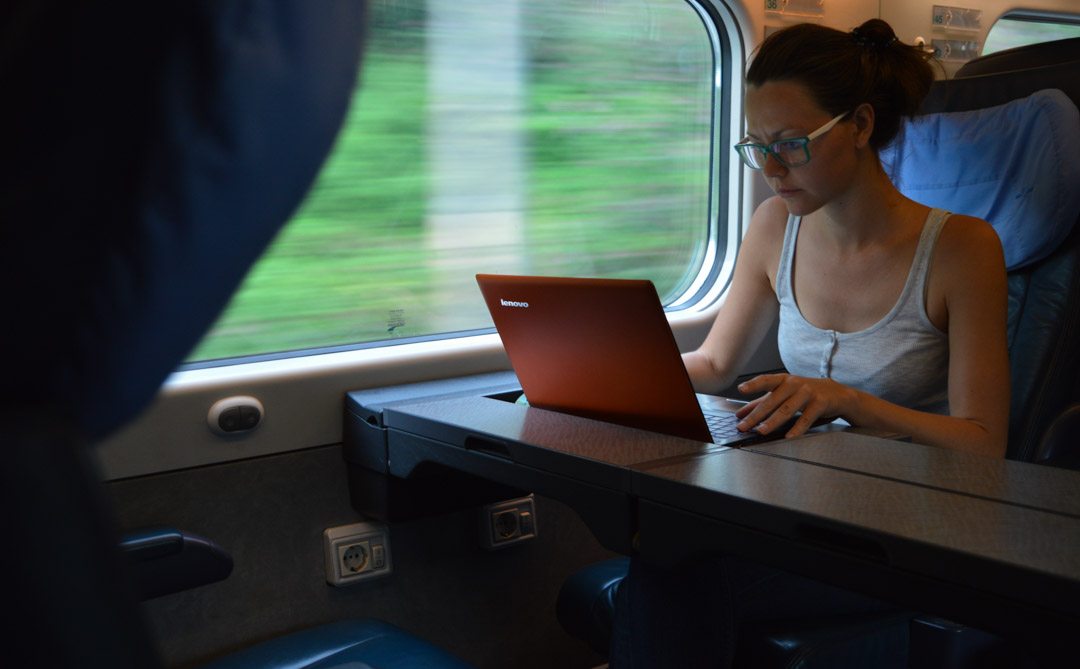 There are different options available and sometimes it is hard to choose the perfect type of pass. So, how can you pick?
In order to understand if the pass will be a good deal for you, you will have to ask yourself some important questions about your future trip and make an estimate.
How many days do you want to travel in Europe? Which countries are you thinking of visiting? And how many cities (more or less)?
NOTE: Here (for Eurail tour) and here (for Interrail tour) are two very useful resources that will help you find the perfect type of pass for you.
How long is the duration of the pass?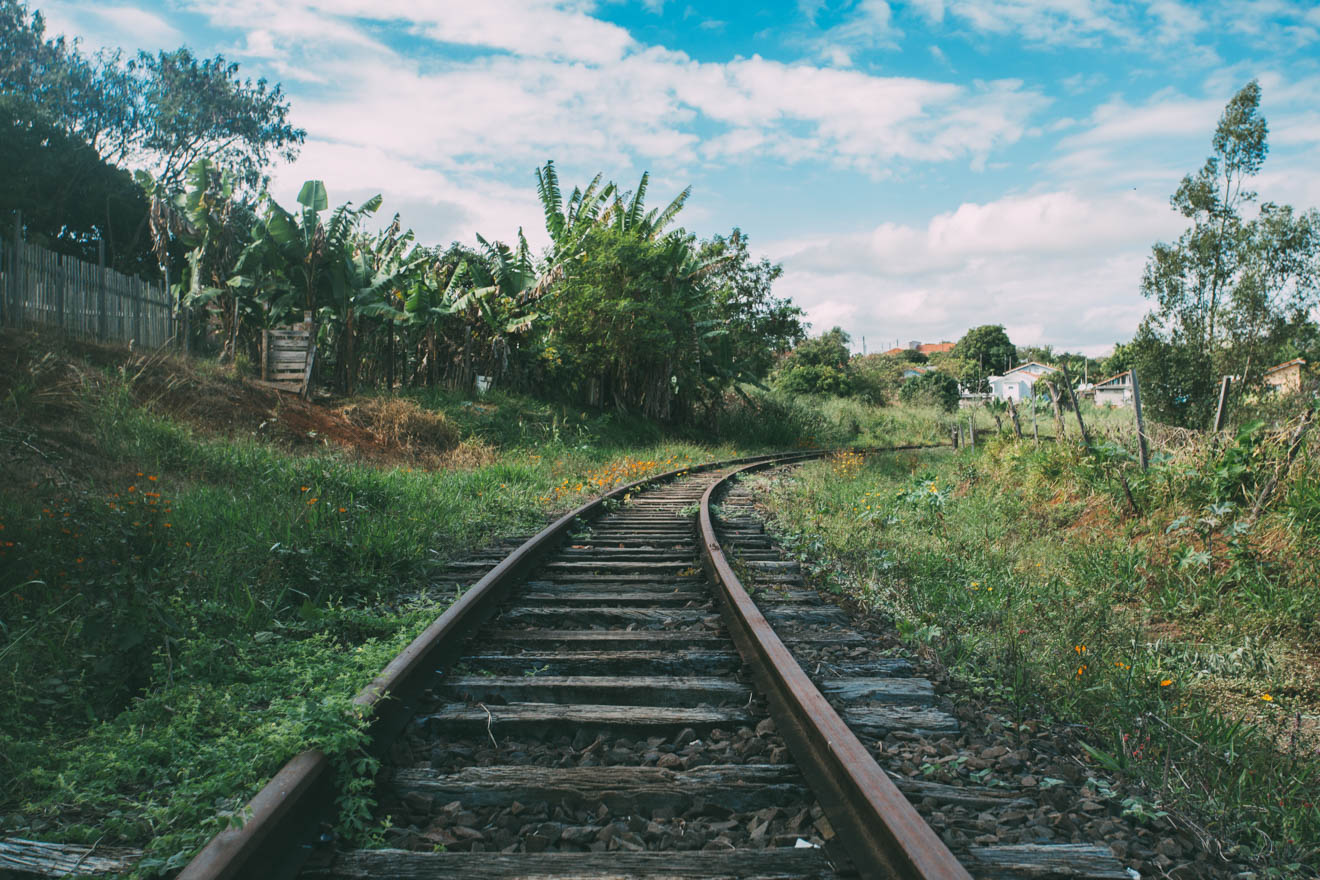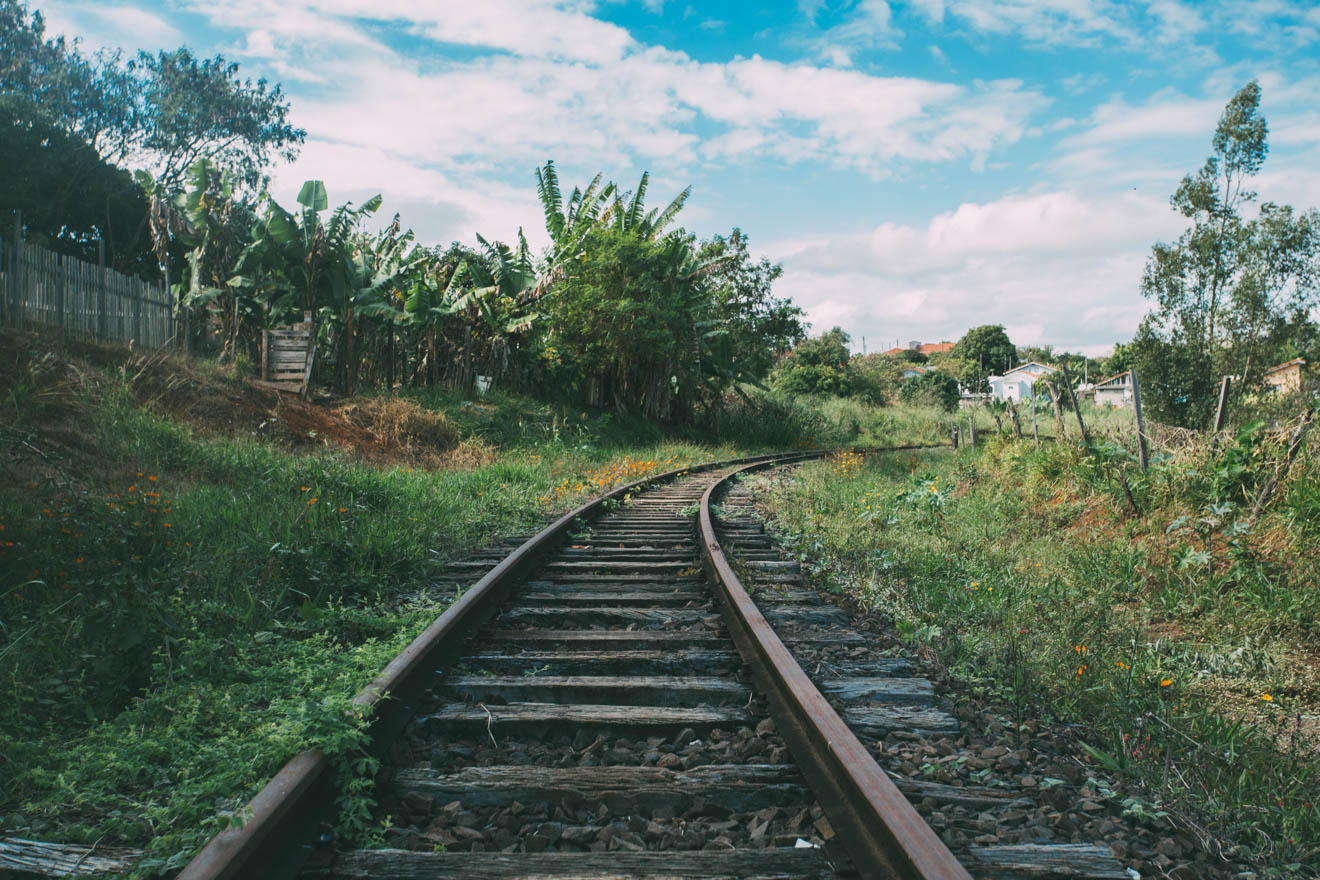 The passes can be bought for different periods of time – 3 days, 5, 7, 10, 15, 22 days or 1, 2 or 3 months. Find more info about these passes here.
NOTE: If you choose to buy the continuous pass for 1 month, the duration of the pass will be exactly 1 month.
EXAMPLE: From the 3rd of September to 2nd of October. From the 3rd of February to the 2nd of March (even if there are fewer days in that month)
Are there any discounts?
Yes, the price for young people from 12 to 27 years old and the price for seniors (60+) is always discounted. If you are not in any of these two categories that are eligible for the Interrail or Eurail pass discount, don't be sad! Just keep an eye on the official Eurail website (or you can ask me in the comments), as they often throw promotions and give from 10% to 20% discounts on the passes! 🙂
What is the difference between first and second class?


As I mentioned before, you can choose between the "first class option" and the "second class option" for your pass. The first class pass is a bit more comfortable and it will make your journey more enjoyable as you will travel in first-class coaches. There is more space between the seats, generally less crowded,there are power sockets available and often even free water!
For example, if you are taking an ICE 1st class train in Germany, you will have free Wi-Fi (German Rail Pass is pretty awesome!). The 1st class train in Austria and the Czech Republic will provide you with free bottles of water too.
NOTE: Remember that some Eurail and Interrail routes don't have 1st class at all. But, in many countries, the 2nd class is really not that bad either!
How do I buy the pass?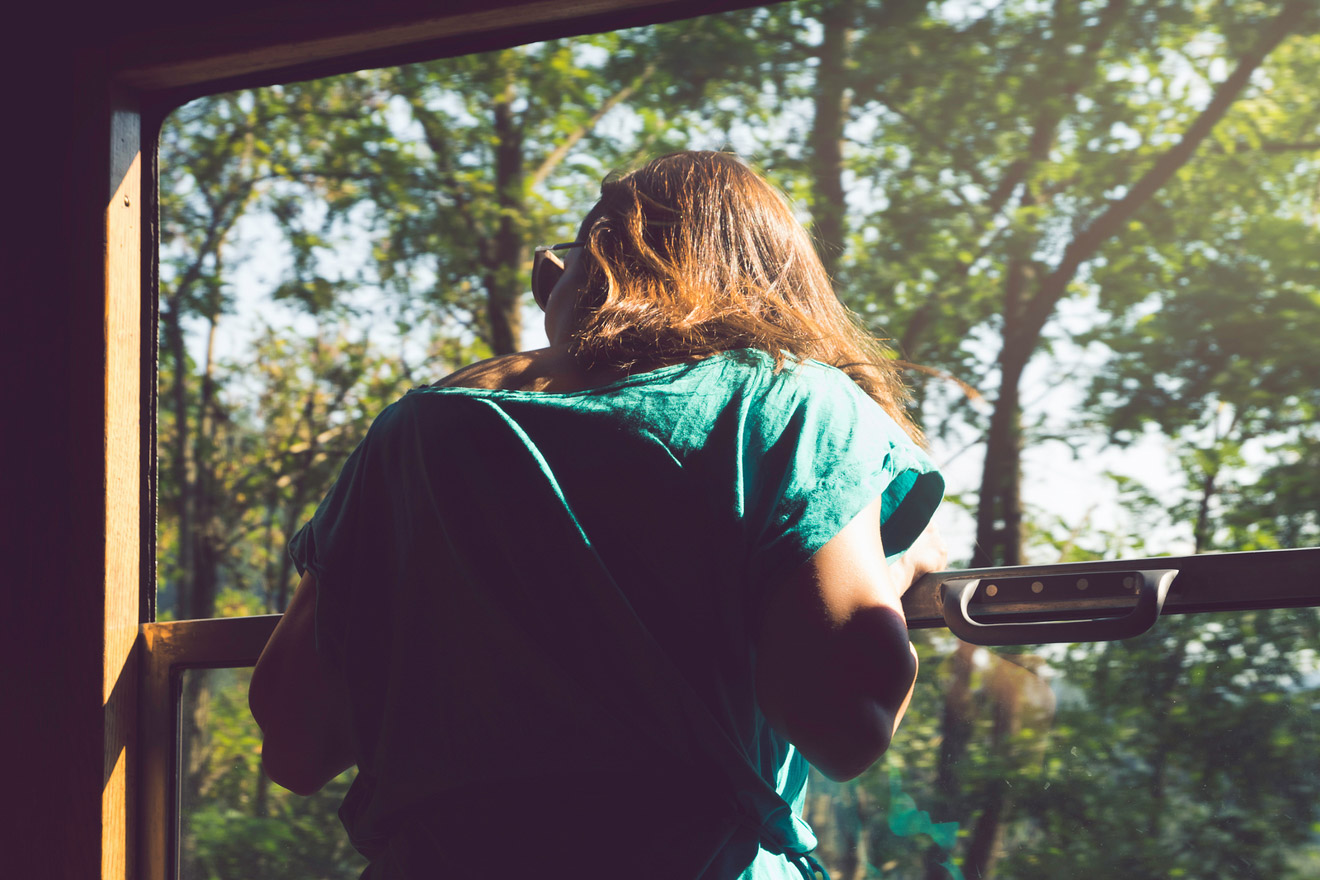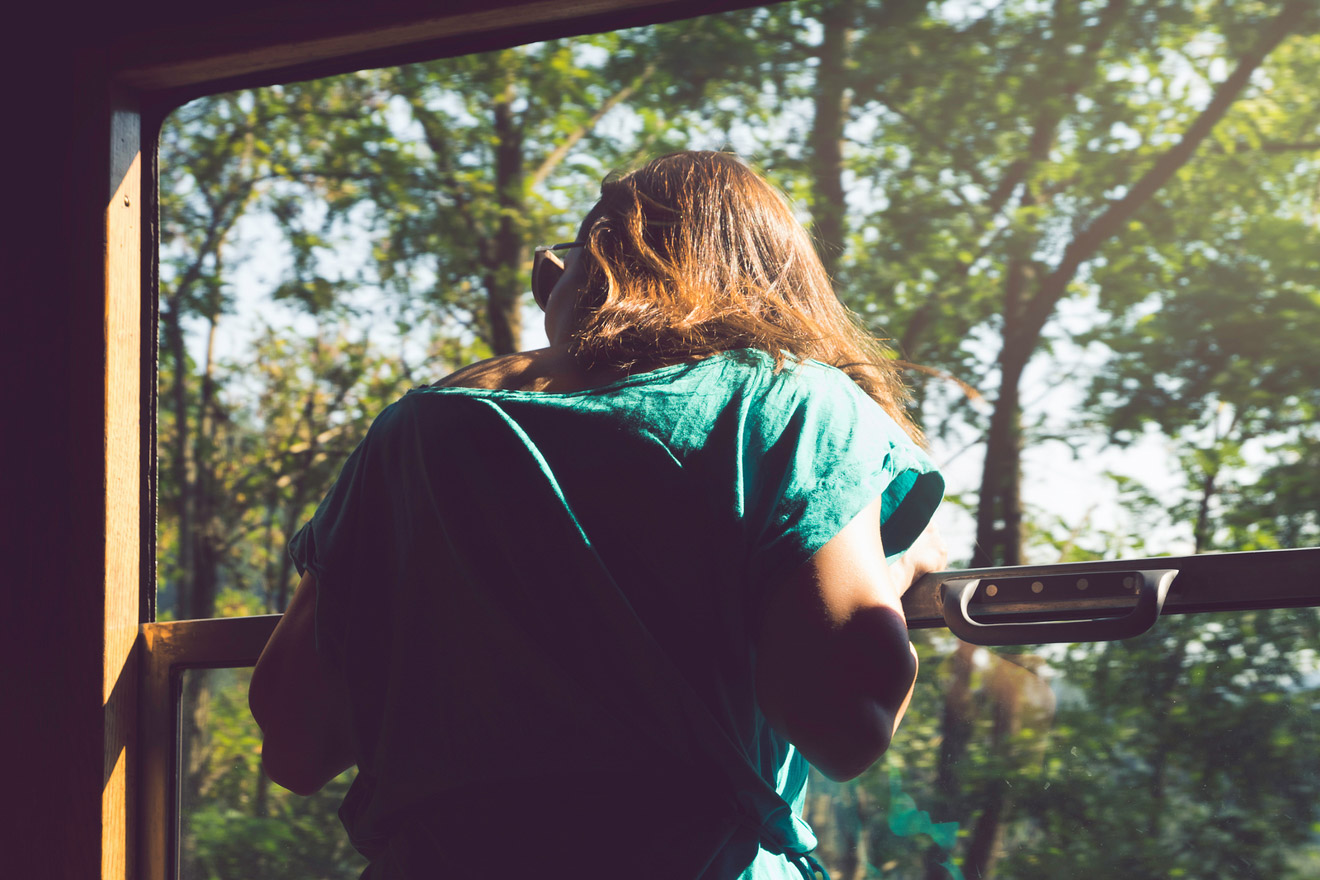 You can buy the pass online, but as the pass itself is a travel document, it will be delivered to you in the mail. It will have your name, country of residence and passport number on it, so it is not exchangeable.
Make sure to order your Eurail or Interrail tickets in advance! My pass was delivered to Romania (that is where I was at the moment) and it only took one day to deliver – fantastic! But the one for my sister was sent to Moscow and, for some reason, it did not reach her on the first attempt. We had to contact the supplier and they reissued it for her again, which took about 5 days to receive.
NOTE: Make sure to ask for the tracking number, just in case you need to track your pass and see when it will arrive at your address.
Alternatively, you can order it delivered to the first hotel you are staying at on your trip.
NOTE 2: You must activate your Eurail train pass before your first train journey. How do you activate your Eurail pass? It can be done at any train station when you arrive in Europe or online using their special activation service at checkout.
Non – Europeans:

Europeans:

2. Planning your trip
I did a 30-day trip by train in Europe where I took over 30 trains and visited 5 countries, 21 cities and spent over 5,000 km on the road! This was definitely an unforgettable adventure for me and I would do it again without thinking twice! 🙂
If you want to check it out more, you can also see my trip on Instagram.
This was my itinerary, by country:
Romania -> Croatia -> Slovenia -> Austria -> Czech Republic -> Germany -> Belgium -> France
Which countries are the best to travel to with the Eurail pass?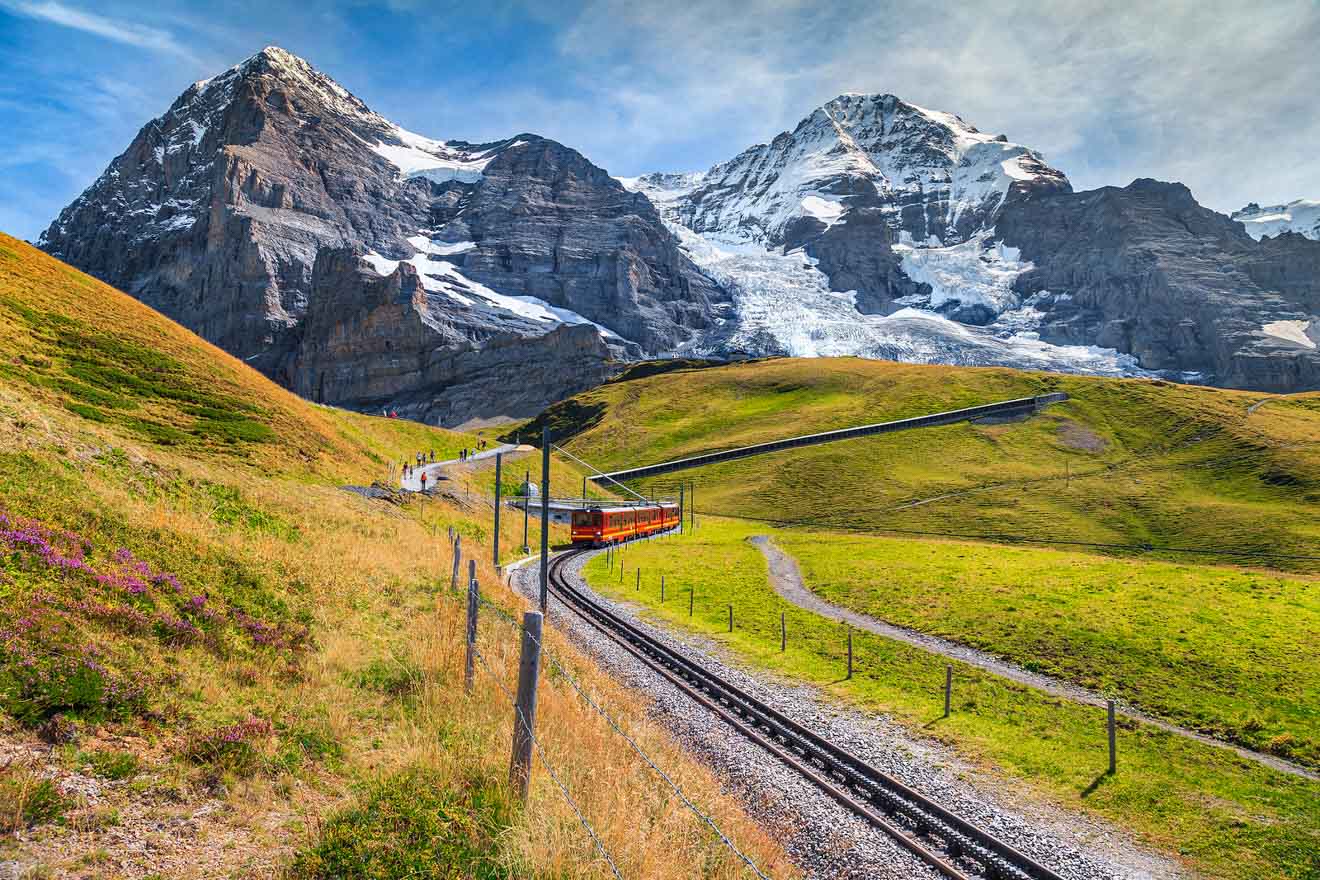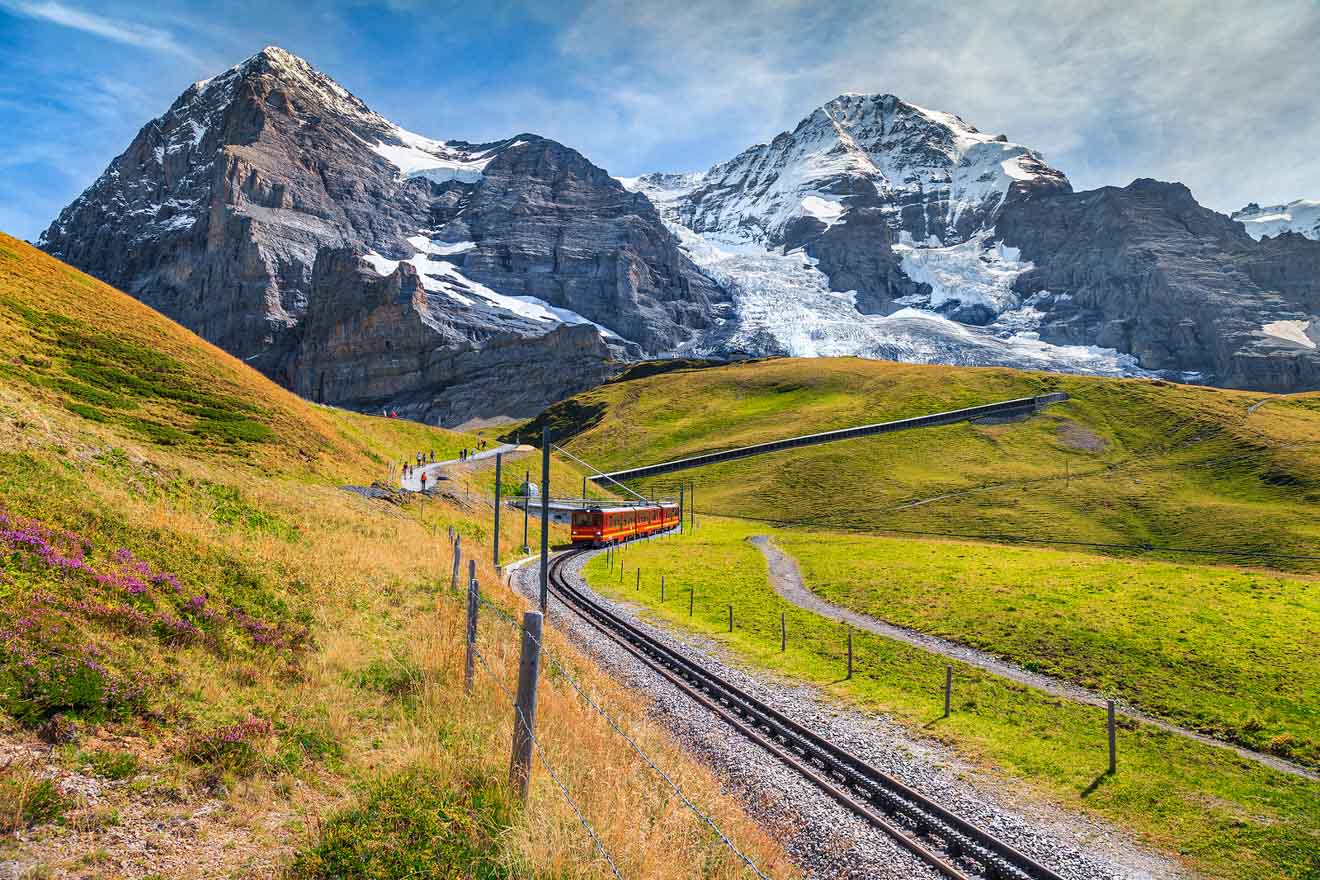 You can travel in almost all of the European countries using your Eurail pass, including Ireland and Turkey! But here are some suggestions in case you need a bit of inspiration:
Great for Eurail pass: Germany, Switzerland, Austria, Belgium, Netherlands, all Scandinavian countries, Portugal. These countries often have fast trains, easy connections to almost everywhere in the country and don't require a reservation fee!
Good for Eurail pass: Italy and France have great, fast trains, but you will mostly have to pay a fee to use them. I recommend you read the "Train reservation section" where I tell how to avoid those fees.
Not recommended for Eurail pass: I would not recommend going to Croatia with the Eurail pass. While the country is amazing, for the moment it does not have many rail routes that are convenient for travelers. If you go to Croatia, you better rent a car!
If you want to make things easier, you can use the route planner on their official website.
I bought the pass, how do I fill it out correctly?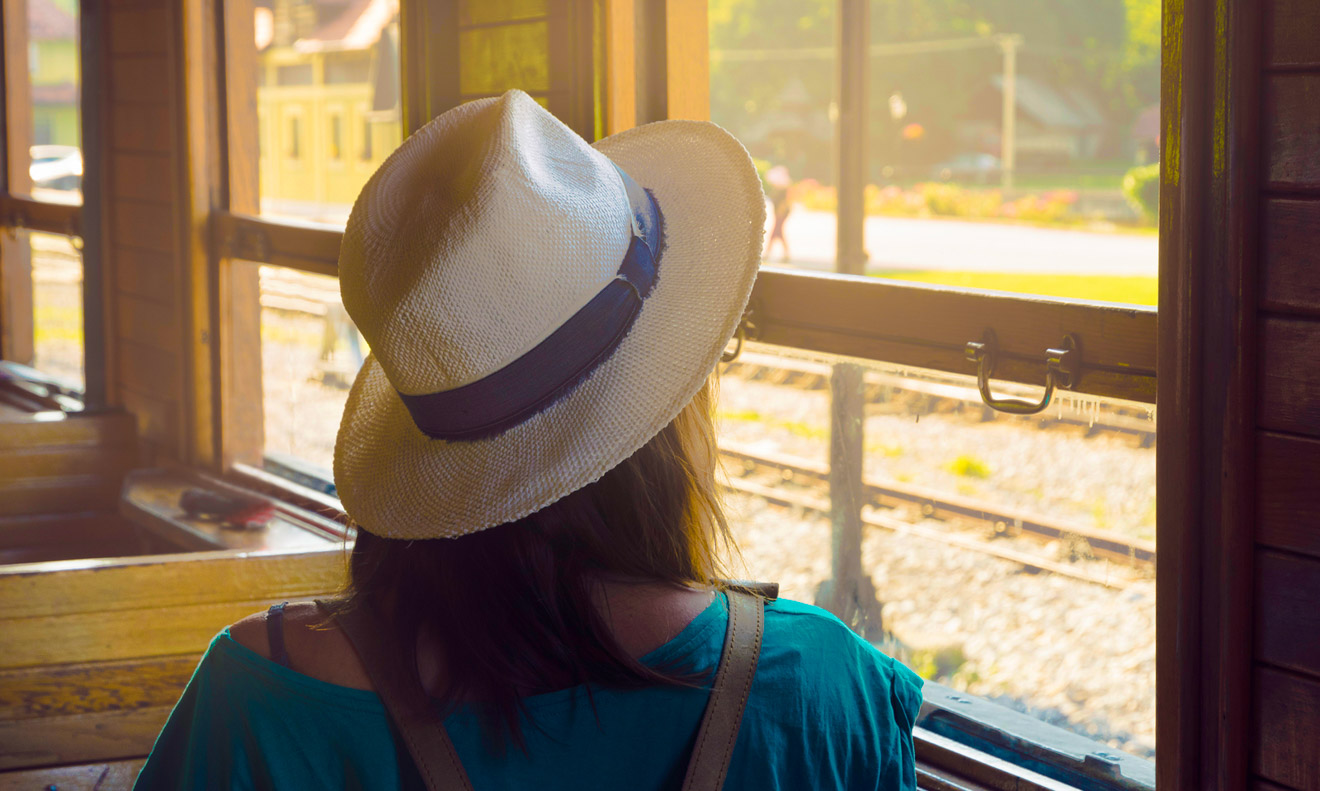 Before you can use your pass for the first time, you must validate it at any ticket office of any European train station.
When on the train, you must fill in the information about your route like it is shown in the picture below in the special "Journey details" table.
You will be checked by a ticket controller who will approach you after you board the Euro train to start your trip. He might also ask you for your passport, but in the 30 days while I was traveling using my European train pass it never happened to me.
ATTENTION: It is very important that you fill in the information about your train ride BEFORE you are checked especially if you have an Interrail/Eurail "One country" pass. That is a very strict rule! Just write down the info right away after you take a seat on the train or, even better, while waiting for it on the platform. I have actually seen a person fined 50€ because he forgot to fill in that information. Some ticket inspectors might be very strict with that, so please make sure to fill in that info!
This is what my pass looked like after I filled it in while traveling non-stop for 1 month: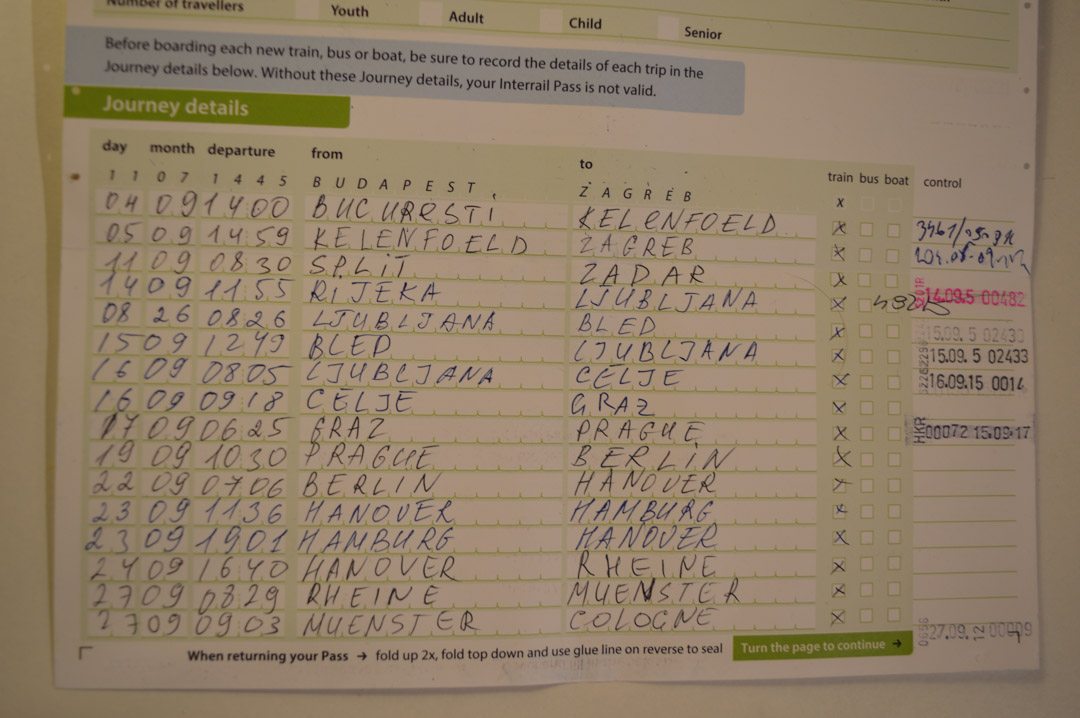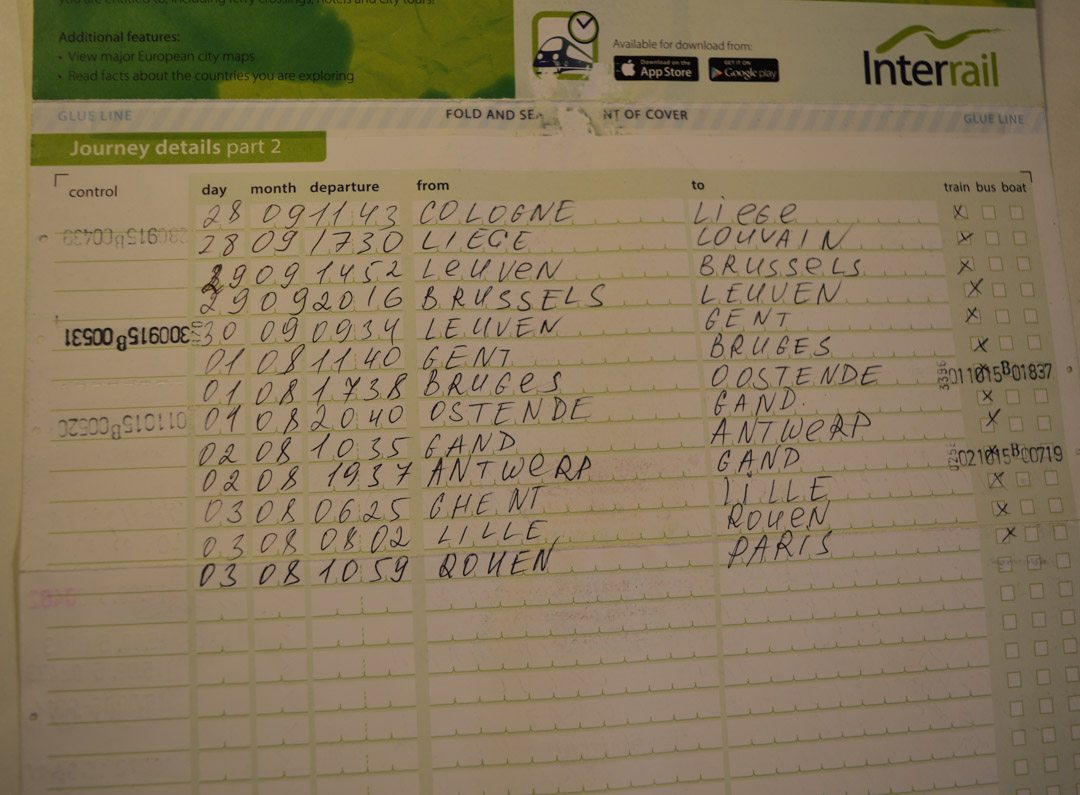 Plan connections and Eurail/Interrail timetable
If you want to make your life easier while you are touring Europe, you can download their official app called Rail Planner – available for iOS and for Android.
Rail Planner works as a great European train planner that will show you the updated timetable for your route, the types of trains you can take, the possible connections for the city of your destination, and if you need to make a reservation for your seat! The app was created by Eurail and the best thing about it is that it is available offline as well! How cool is that?
How do I understand the correct name of the station?
The train stations are usually called central, centrale, centraal, hlavni etc., but I suggest you check a map just in case, as sometimes the name can be different.
The best way to do it is to check the mobile app or a map for the list of stops that you are going to have all the way to your destination station. Also, remembering the name of the station right before yours helps not to miss your stop!
What if I can't find my station in the European train planner?
Normally, it should not be a problem to find the station in the app, but sometimes the station can have a different name than the city it is located in. If you are sure that your city of destination has a railway station, it is best to check what it is called on Google.
EXAMPLE: The train station in the Ghent (Belgium) is called Gand.
3. Eurail/Interrail train reservation
I was mentioning the booking fee before and here I will explain a bit about it. The Eurail/Interrail booking fee is another very important detail that you have to consider before buying the pass.
Remember, just because you are a lucky Eurail pass holder, that doesn't mean you can get on any train for free, whenever you want! Why? Because some of the trains will require you to pay a reservation fee.
Let's talk about it in detail:
When do I need to reserve a seat and how much is it?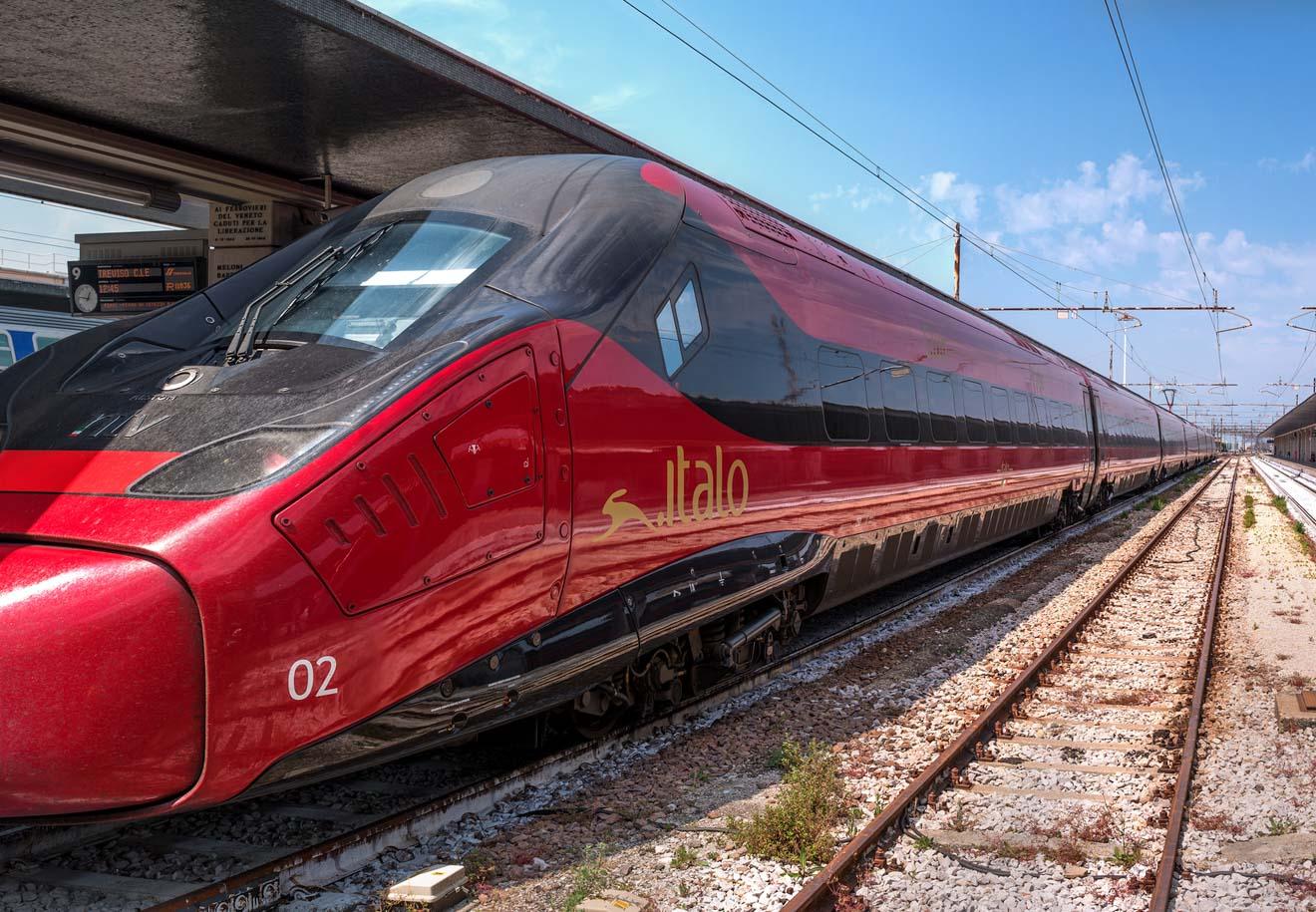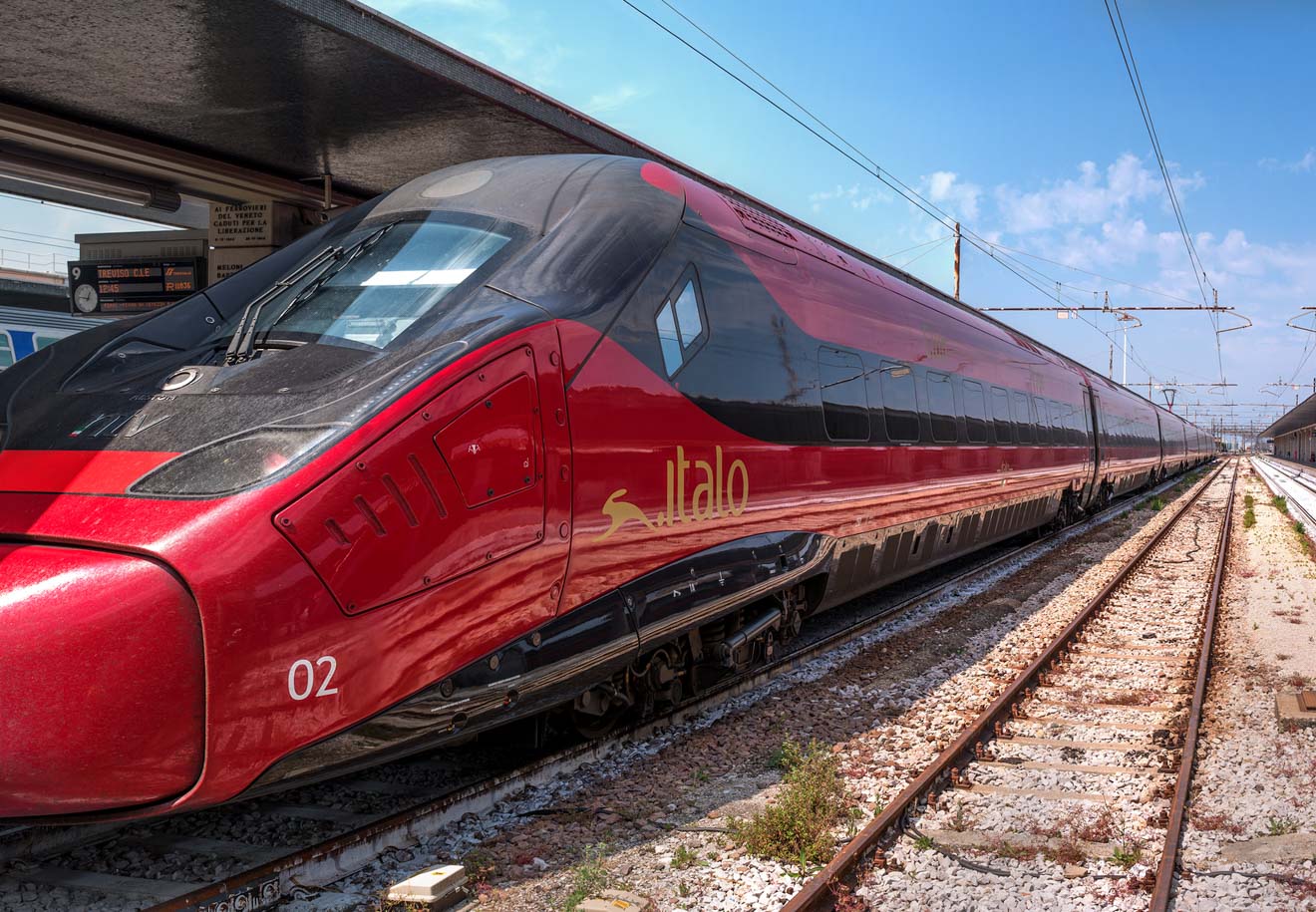 There are 4 cases when you would need to reserve a seat on your trip:
It is mandatory to book your seat on a night train;
You normally have to book your seat when using a fast train (marked R on the app), but there are some exceptions;
Most French trains (except regional trains) require a reservation because they have a limited number of seats;
It makes sense to make Eurail reservations for your seat if you travel on a very popular route in a high season (April-August, December) and you are not sure you will have a place. Chances are, the train will be full if you decide to show up the day of and just board it.
NOTE: You can make a reservation up to 8 days before your train's departure day, but they advise doing it as early as possible if you can.
NOTE 2: You can't reserve first class seats in Germany, only second class.
NIGHT TRAINS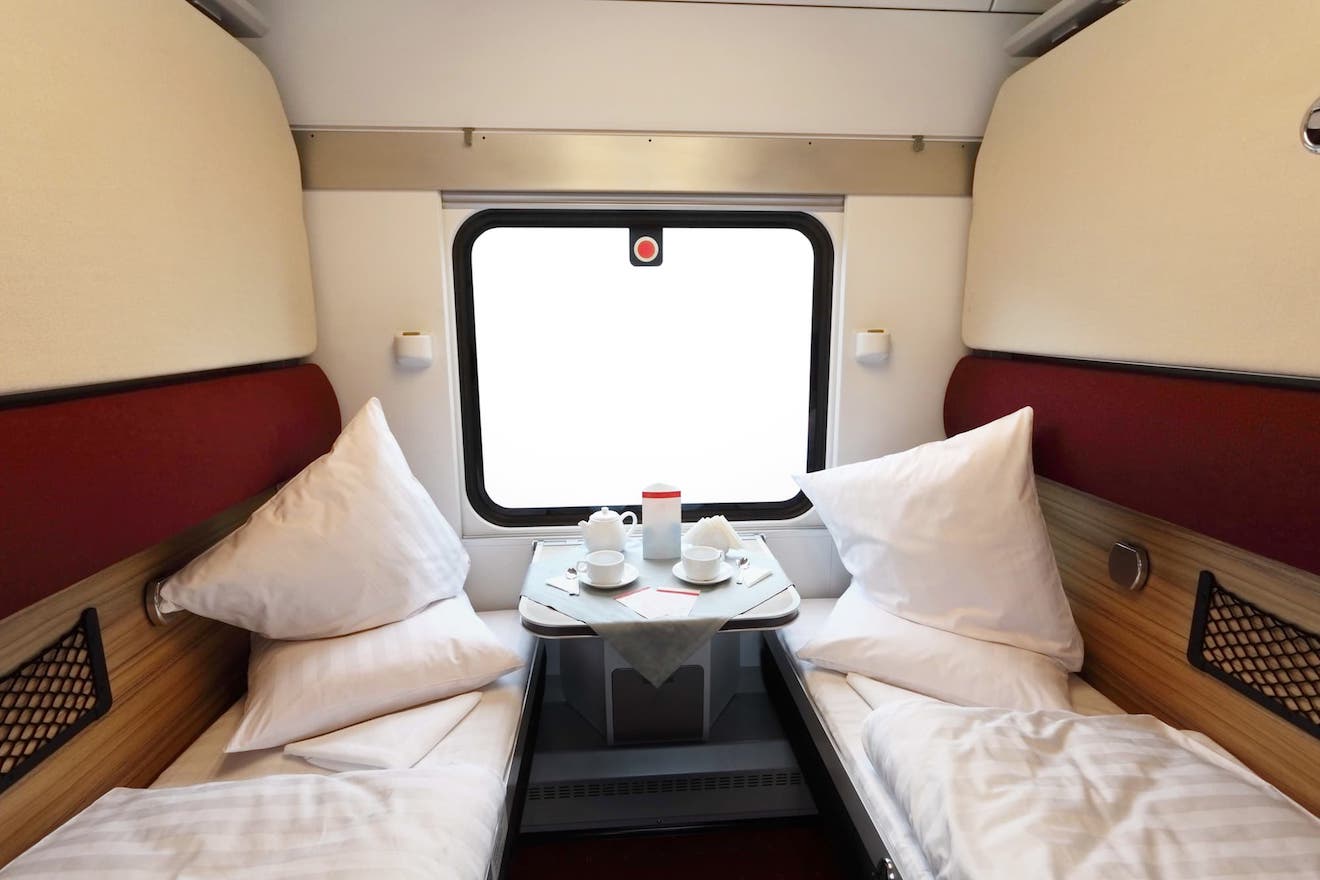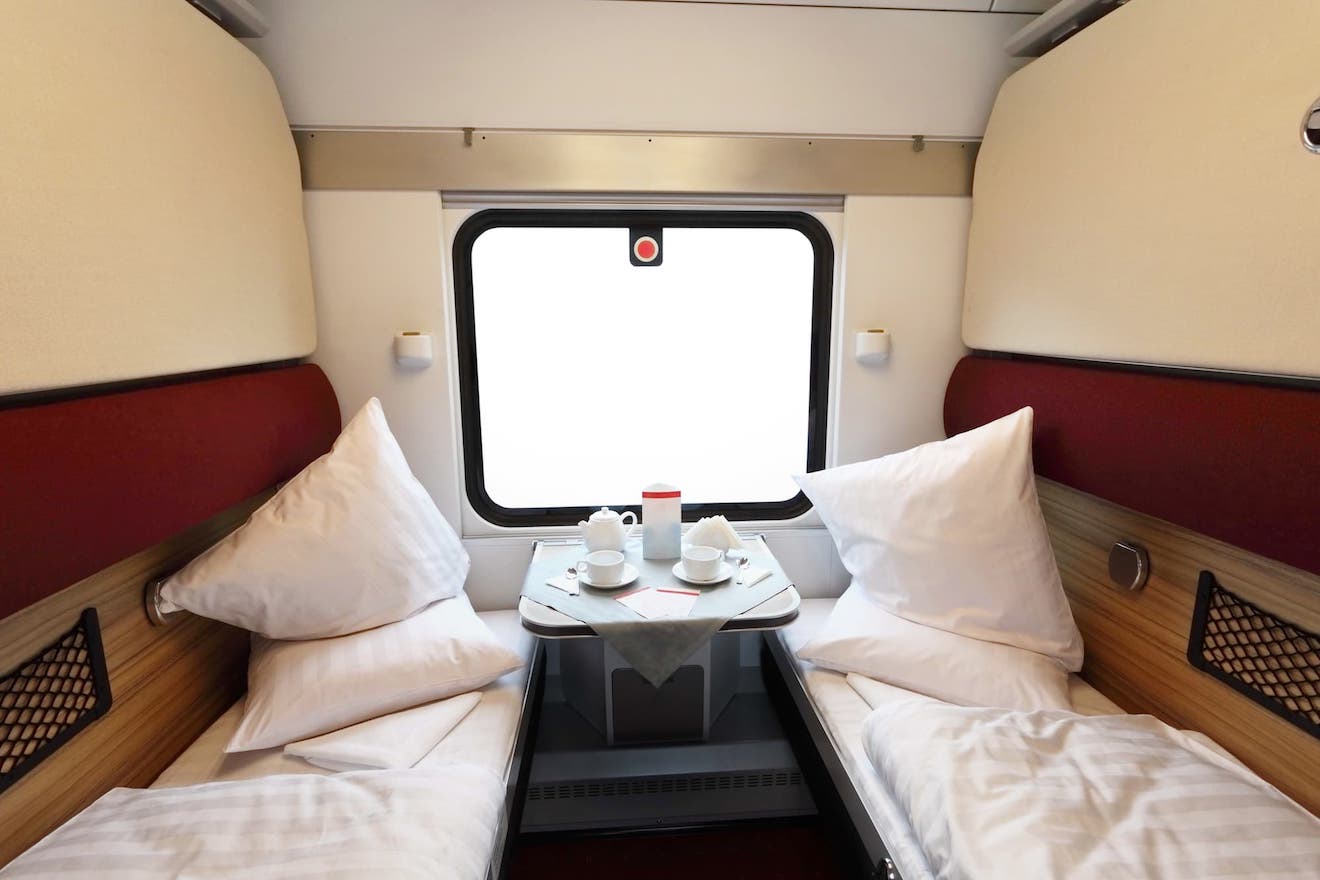 While making a reservation for some of the fast trains is optional, a reservation for the night trains is always mandatory, so make sure to book your spot in advance before taking the night train.
HOW MUCH IT IS – Again, it depends on which country and which route you are going to take. The average cost for a nice, comfy overnight ride by train is 20€, which might be even cheaper than spending your night in a hotel. That means you save both time and money on transportation while sleeping!
EXAMPLE – I took a night train from Bucharest (Romania) to Budapest (Hungary). The trip took about 10 hours and it cost me 26€ for a double sleeper.
You can read more about Eurail night train reservation fees here.
See what a night train ride from Romania to Hungary looks like:
HIGH-SPEED TRAINS
The countries that have many high-speed trains are France and Italy. That is a good thing to consider when choosing a country to visit during your trip!
While a fast train is very convenient because you can cross the entire country in a couple of hours, it will be costly because of the reservation fee. Of course, you can avoid paying that fee by only using slow regional trains, but this solution is usually quite inconvenient as it requires many connections and long waiting times.
Some routes are so popular among travelers and locals, you should try to make sure you have a secured spot on the train!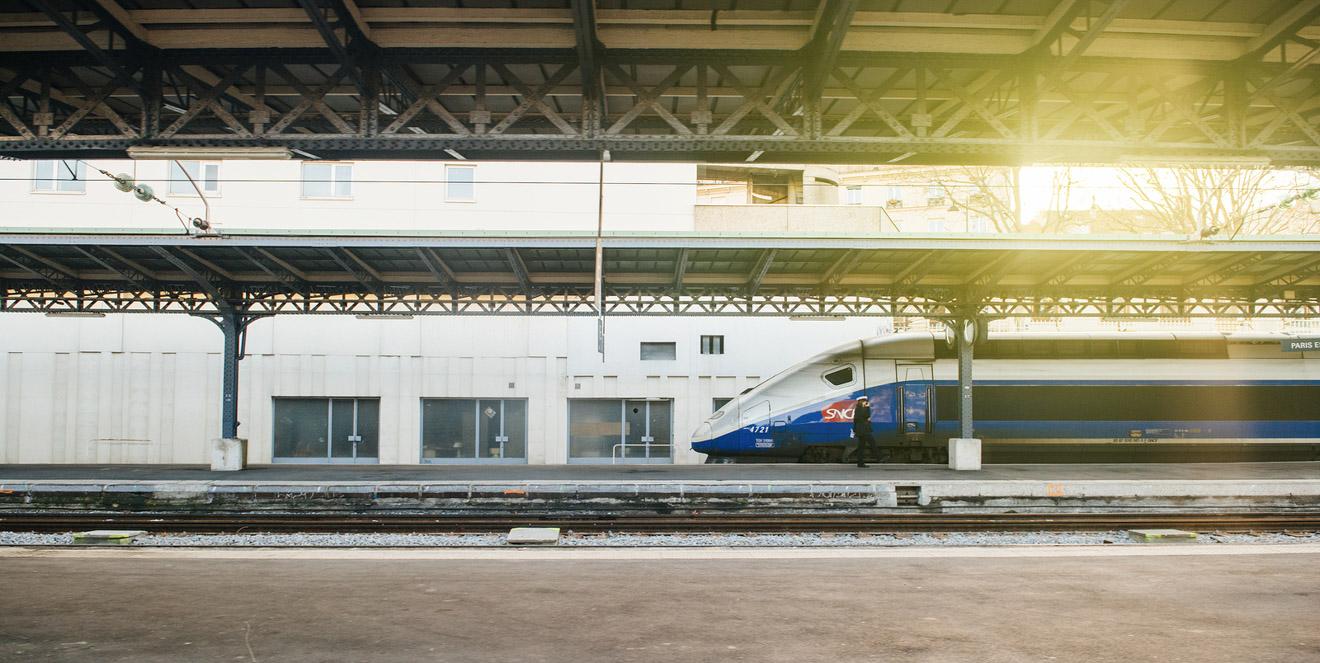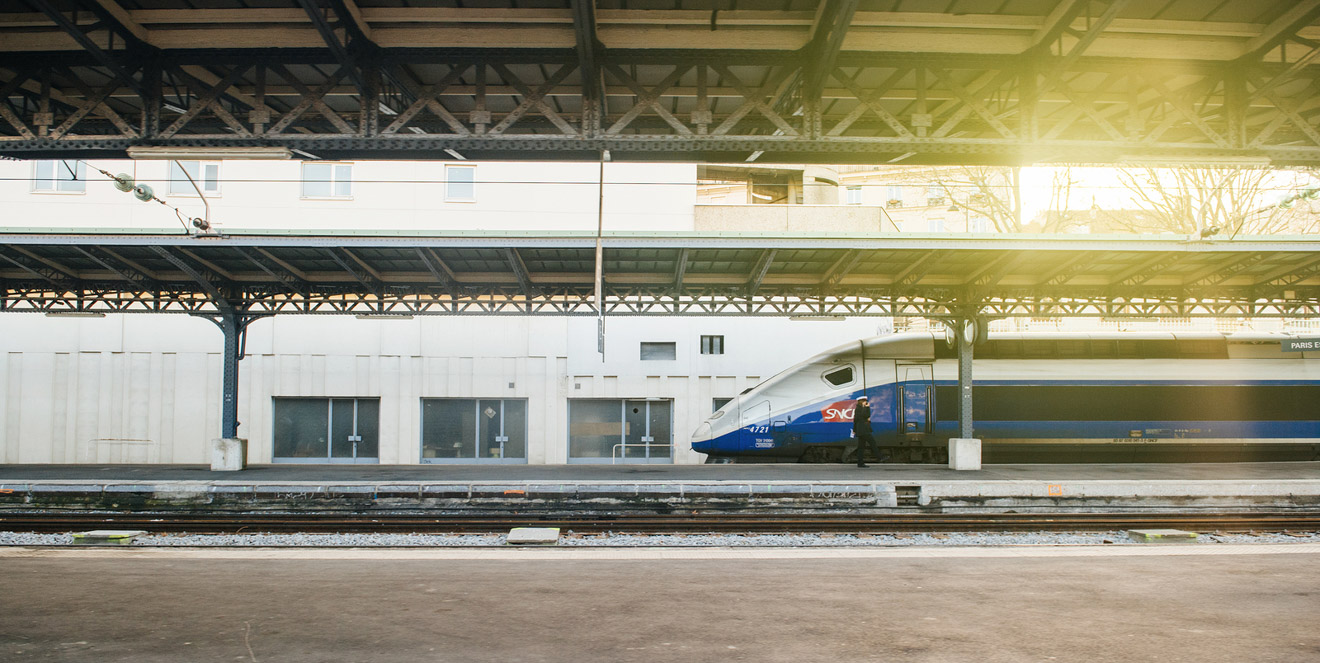 HOW MUCH IT IS – It really depends on the country, route and train you are taking. It can be anything from 3€ to 30€ for a high-speed train reservation.
EXAMPLE – A high-speed Frecciarossa intercity train in Italy will cost you an extra 10€ to book. A TGV train in France is 9€ to book. It gets more expensive if you travel from one country to another (using international trains). To go from Paris to Barcelona, for instance, is 35€ for a first class seat and 27€ for a second class seat.
NOTE: Even if you are a 1st class pass holder you can, of course, book a ticket for second class to save some money.
Why on Earth do I have to pay more to reserve my seat?
I feel your pain! Unfortunately, those are the rules of some countries in Europe and they do not allow you to just hop on the train, even if you have an Interrail/Eurail pass.
How do I understand when I need to reserve a seat?


You can check the Eurail timetable (on their website or in the app) and enter the departure and arrival stations, as well as the dates and times. After the system has found your train route, you can check and if it says R – reservation compulsory, that means you will generally need to reserve a seat.
Why generally? Because for some not-that-popular routes, the guy at the ticket counter told me that I didn't have to do it, even though there was R on it.
In case your train doesn't have an "R" (reservation compulsory), make sure to still reserve your seat if you are traveling in high season and because the tickets might sell out. But, in the worst case scenario, you should still be allowed to board the train and stand the whole trip if you are desperate to go somewhere.
How do I reserve my seat?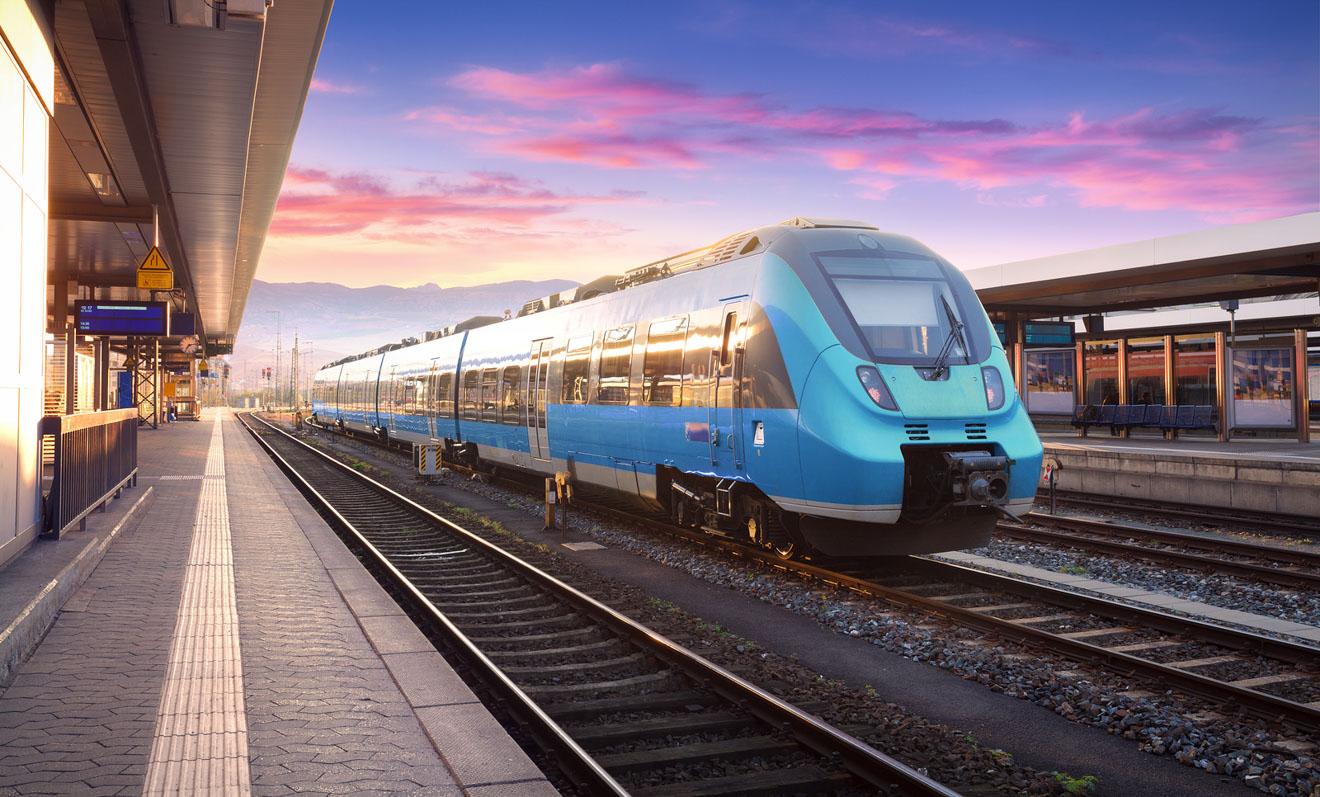 There are different options here:
At the ticket counter – attention! – It may require a lot of waiting. If you want to avoid the queue, do not go to huge train stations at peak times, but choose small ones instead.
On their official website: you can use their Reservation Service (you will have to create an account first).
Using their Rail Planner app
There is also the option of booking your seat over the phone or using some railway companies online for specific countries. Read more about these options here.
Step-by-step tutorial on how to reserve a seat using the Rail Planner app: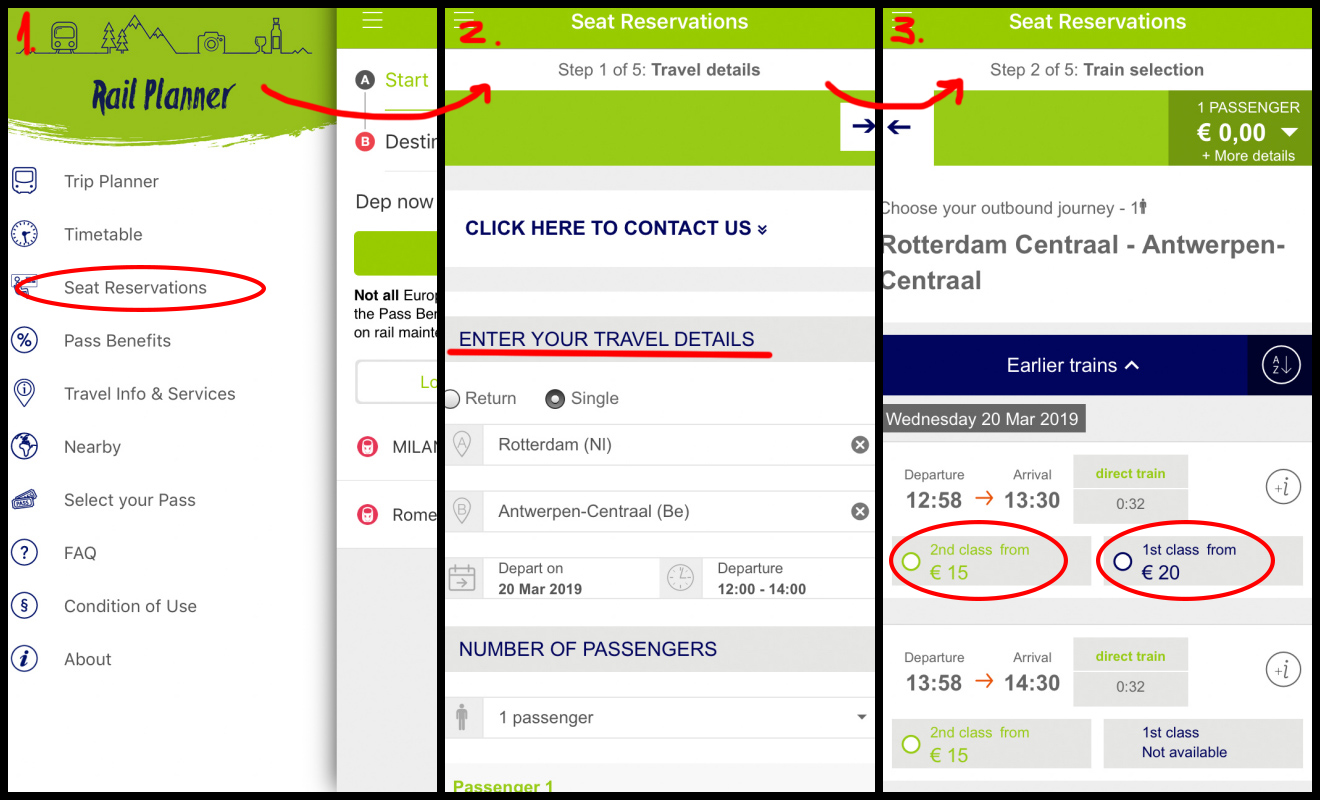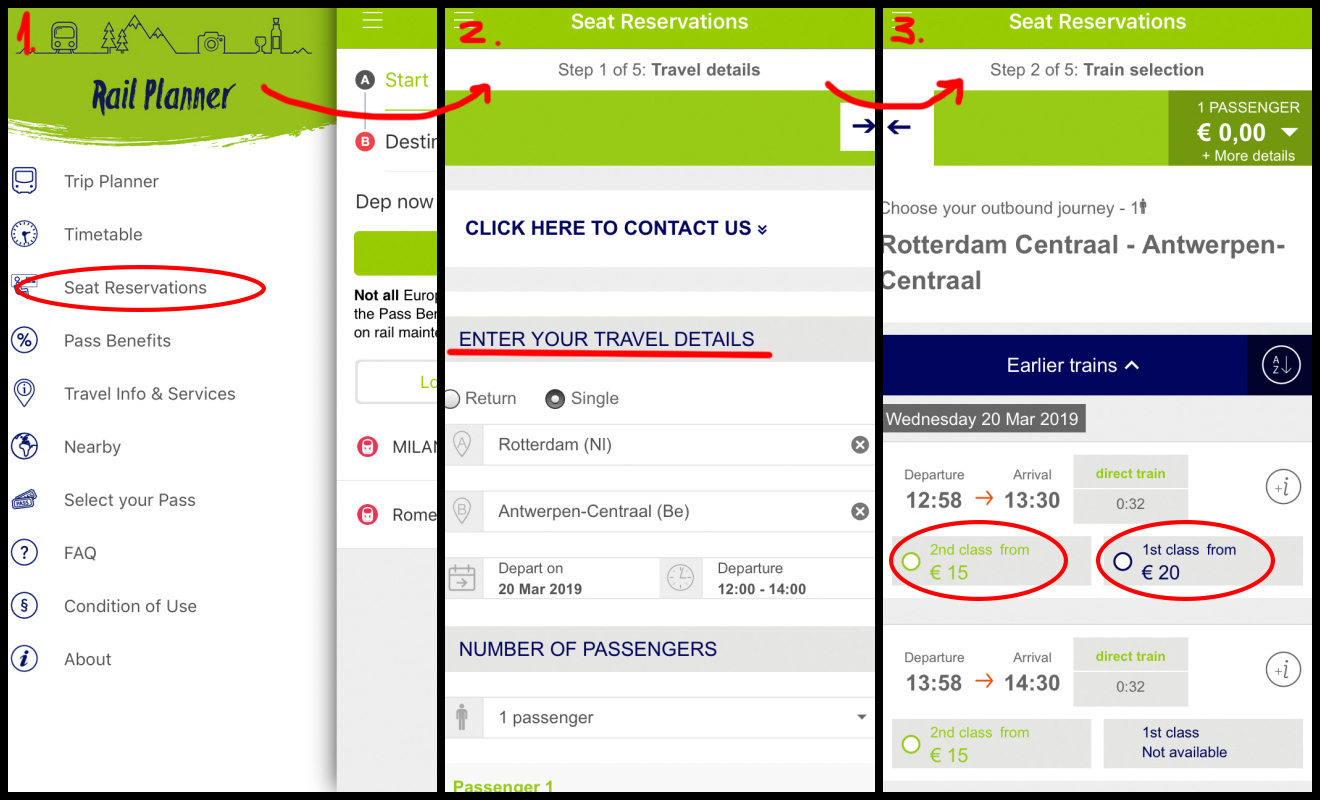 1. Download the Rail Planner app
2. Tap the 3 horizontal lines on the left to reveal the menu. Select "Seat Reservations".
3. Select "International trains"
4. Enter your travel details, meaning the station/city you want to depart from and the station/city you wish to arrive to, the date and preferred time, as well as the number of passengers.
5. Then you will see the available options. Select the most convenient route and time for yourself and choose if you want to make a reservation in first class or second class (if both of them are available).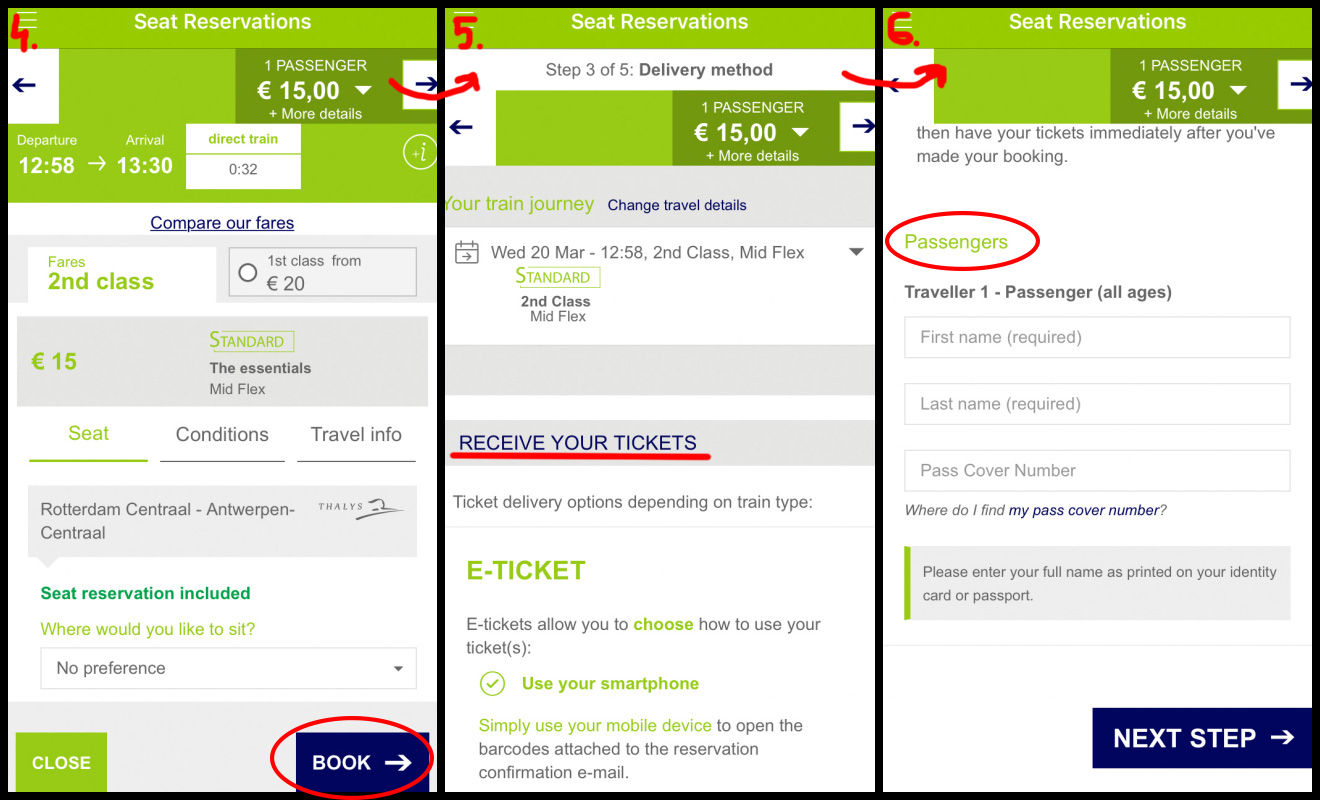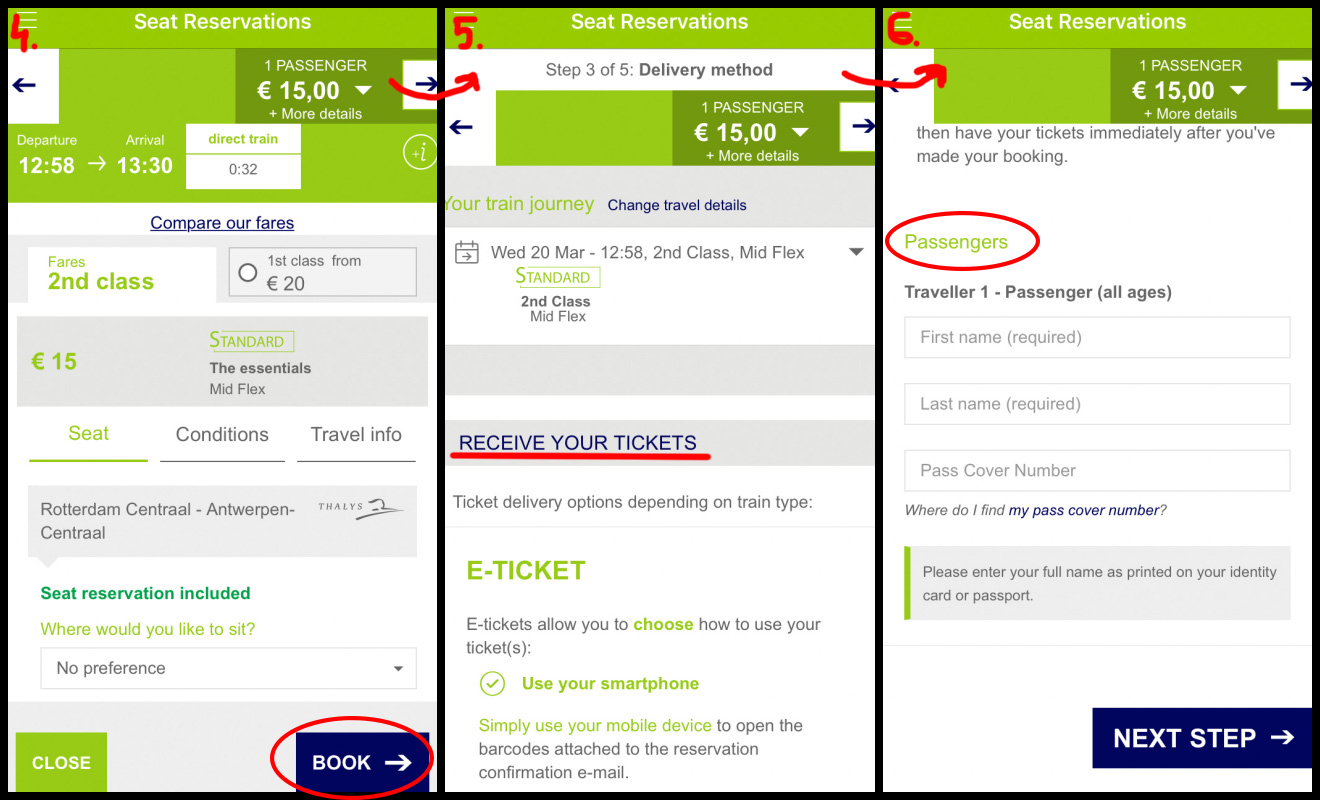 6. Next, you can see what is included, compare the reservation fares and mention where you would want to sit.
7. Next, you have to select your preferred delivery option for your ticket (most of them are e-tickets which don't need to be printed; you can have it on your smartphone).
8. Insert your personal info and the number of your Eurail/Interrail pass, proceed to checkout and done!
9. You will see your digital passholder number in your order confirmation email, or on your Pass in the Rail Planner app.
What if I don't reserve my seat?
If you don't reserve a seat and just seat yourself randomly, it might be someone else's seat who bought the ticket at full price. You might end up without a place and be kicked out by a ticket controller afterwards.
On some trains, there are signs above the seat. If there is a paper or an electronic display with a route or name, it means the seat is reserved. You can sit in the unreserved one and then no one will bother you!
How do I avoid trains that need to be reserved?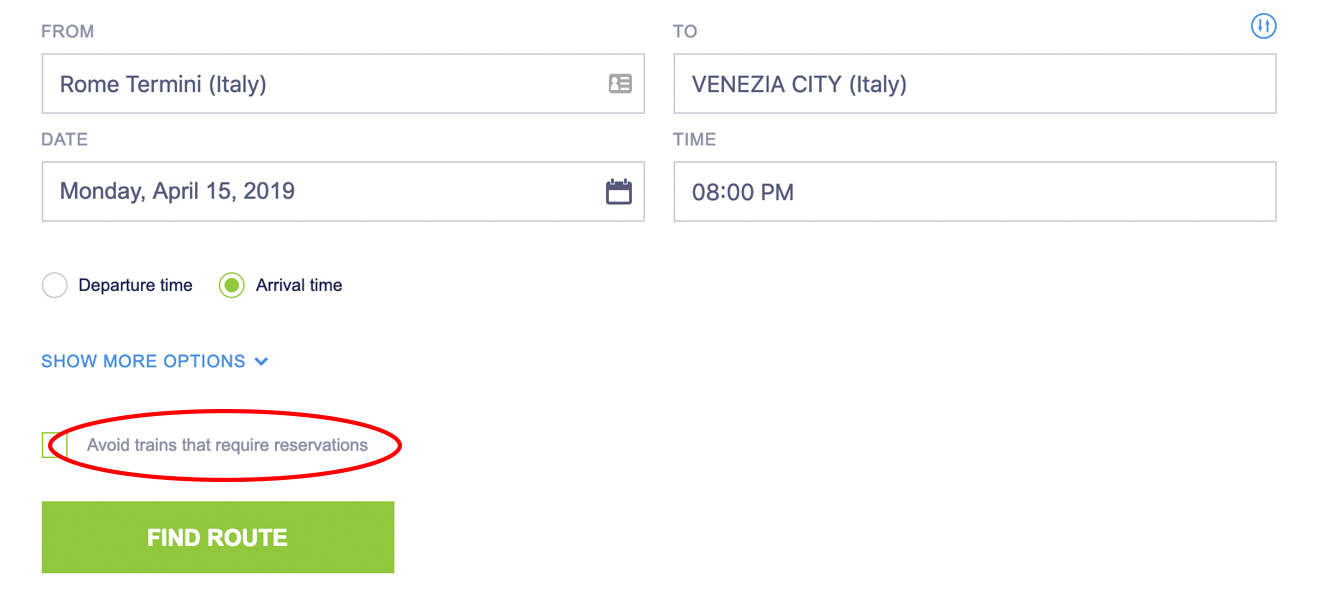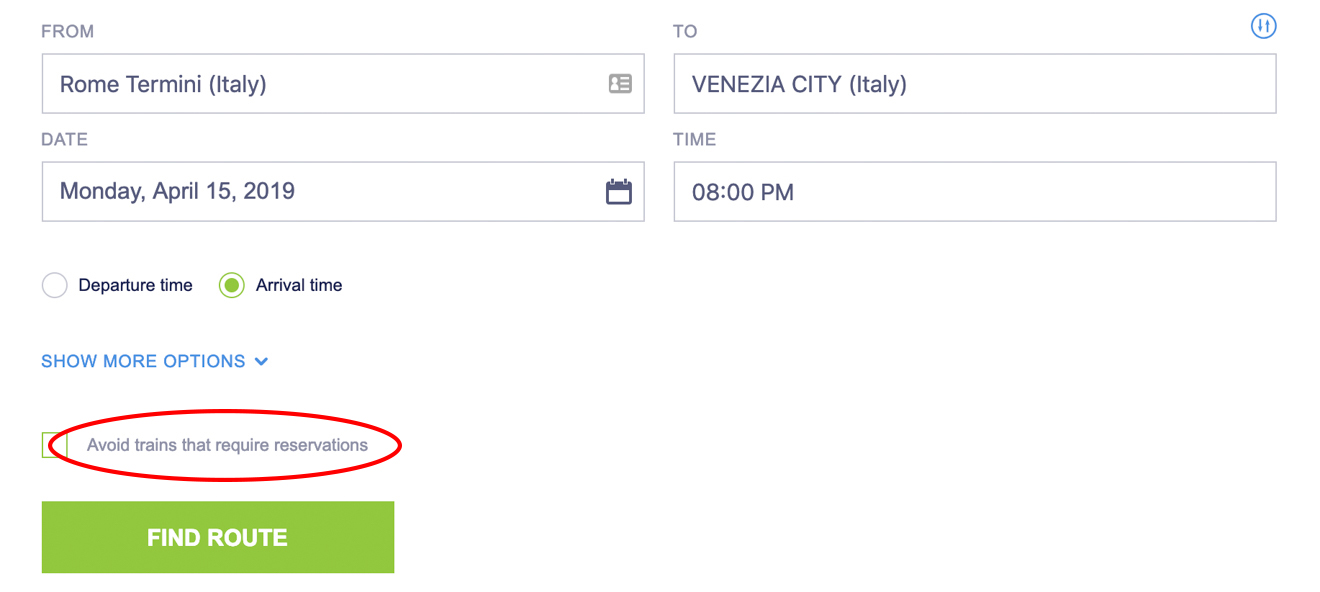 You can totally avoid the reservation fee if you only use regional trains. But how do you plan your trip according to that criteria?
In order to avoid the trains that you need to pay a reservation fee for, I advise you to use the mobile app called Rail Planner App that I mentioned above.
It might not be so obvious how you can set up the app to only show the trains without "R" (reservation required), but here is the way to do it: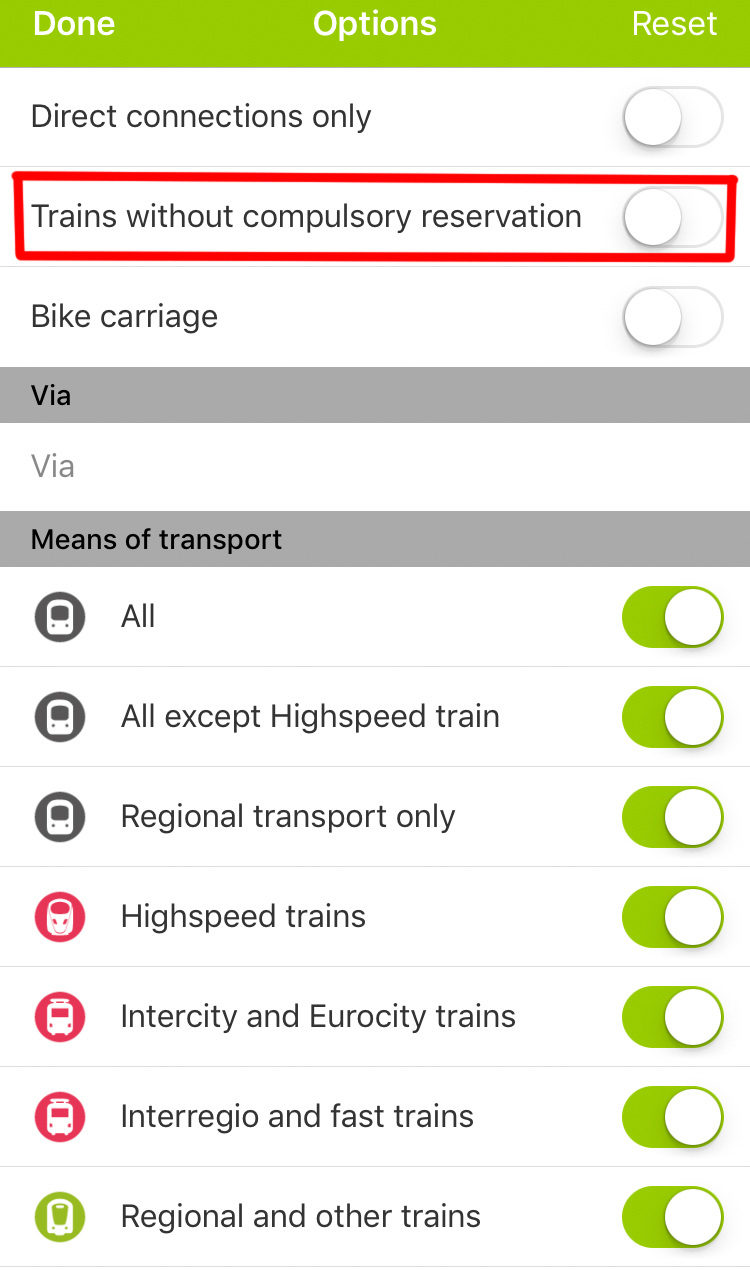 Open the app ->
Go to "Trip Planner" ->
Press the Settings symbol ->
Tick "Trains without compulsory reservation"
And voila! This way, the app will only show you the regional trains, so that you can easily avoid the reservation fee.
EXAMPLE: To go from Brussels to Paris with a direct train for the last leg of my trip, it would take me only 1h20min, but I would have to pay about 30€ for the reservation fee.
If I choose to see only the trains with the "No compulsory reservation" option, the app will give me an option to go with regional trains. In this case, I would have to change trains 2 or 3 times and it would also take me longer – about 4 hours, but this way I could save my 30€!
If I miss a connection train, do I have to pay the reservation fee again?
If this was a train you reserved and paid to reserve a seat beforehand, unfortunately, the answer is yes. It happened to me once because my other train was late.
In this case, you reserve a particular seat on a particular train, so even if the train was late and it is not your fault, you will have to pay again to reserve another seat on your next train.
Thus, I advise you to try and avoid short connections and don't be late for the trains you have reserved!
That said, if you missed a train you were originally planning to take and that one didn't require a paid reservation, you are free to hop on any next train, that is the beauty of using the Eurail pass!
Non – Europeans:

Europeans:

4. Types of difficulties you may encounter
The pass is with no doubt an amazing invention that gives you great flexibility and freedom for doing train tours Europe-wide, but traveling only by train can sometimes mean that things won't go as smooth as you have initially planned.
Here are the most common problems that you can encounter and some useful tips on what to do in each situation:
Missing the train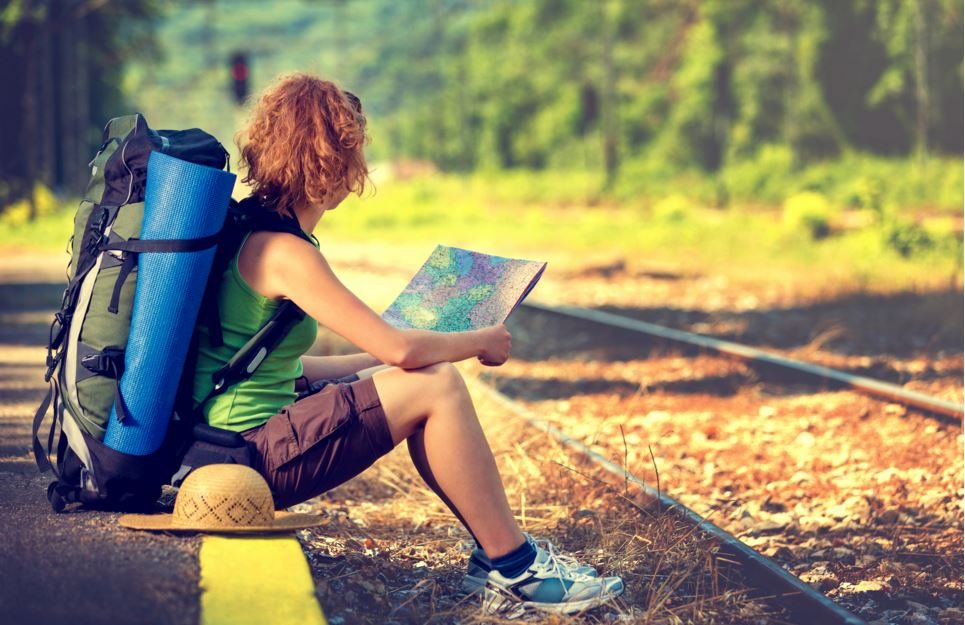 If you didn't have a seat reservation for the train you missed, it is no problem! The great thing about the Eurail pass is that you can take any later train you want at no extra cost!
SOLUTION: If you missed the train you were intending to take, just use your offline app called Eurail Planner to find the next one that has a similar route. Or, you can go in a completely different direction! It is up to you, the pass gives you this flexibility!
Missing the station
Well, my friend, if you were not paying attention or you just didn't realize that you had to get off the train at the destination station, you will have to go back. Again, this is no problem, as you do not have to pay for that – that is what I love about the pass! 🙂
I know that sometimes it can be quite hard to hear the name of the station or even read it, and it is easy to miss your stop, especially if it is not located in a big city.
SOLUTION: In the Planner app, you can press to see the line details and check the times you will arrive at each station. Then write down the name of the station that comes right before yours. This way you will not miss your stop for sure, even if the name of the stop is announced in some weird language or you didn't understand what the loudspeaker said.
Border crossing by train in Europe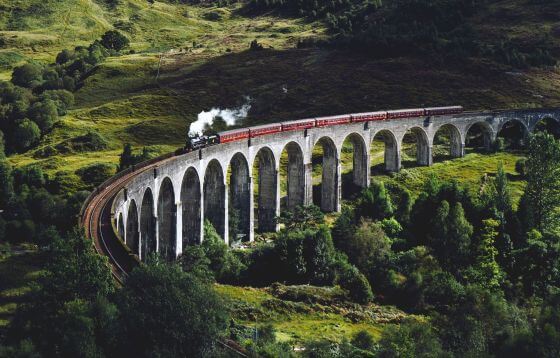 When taking international trains and crossing the Schengen border (and sometimes when you pass by a big city, too), you will be checked for a ticket a couple of times during your train ride. As the ticket inspectors change, you will have to show your ticket again. I was never asked to present my passport but they can ask for it.
As
you are going through the Schengen Area there will be no passport control, but if you cross any non-European and/or non-Schengen countries, you will need to present your passport and a valid visa for that country. Some countries that require this are Romania, Bulgaria, Croatia, Bosnia and Herzegovina, Montenegro, Turkey etc.
Non – Europeans:

Europeans:

5. Price comparison
Here is the price comparison for my trip that you have been waiting for (all prices are in euros)! 🙂
NOTE: During my trip, I sometimes also used buses because there were no trains for some specific routes. These routes are marked in yellow.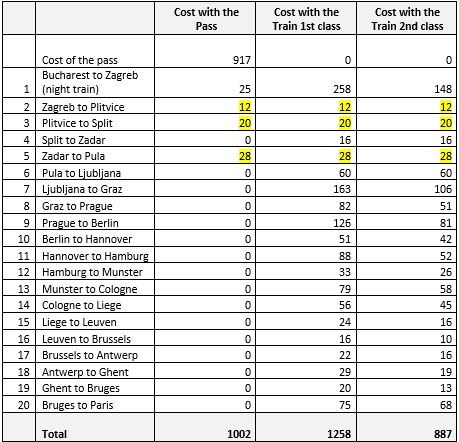 As you can see from the table above, I paid some extra money because I did not do my homework beforehand and did not know there are not many trains in Croatia. So, I had to spend 60€ extra on buses because there were no trains.
If you want to see the list of countries that are perfect for traveling by train using the Eurail pass, you can look at the first section of this post.
The total cost for my trip WITH the pass was 1,002€ (917+60+25) or US $1090, which means that by using the pass I saved 256€. Isn't that a lot?
I can certainly find many ways of spending that money in a better way than just uselessly giving them to the European railway companies! 🙂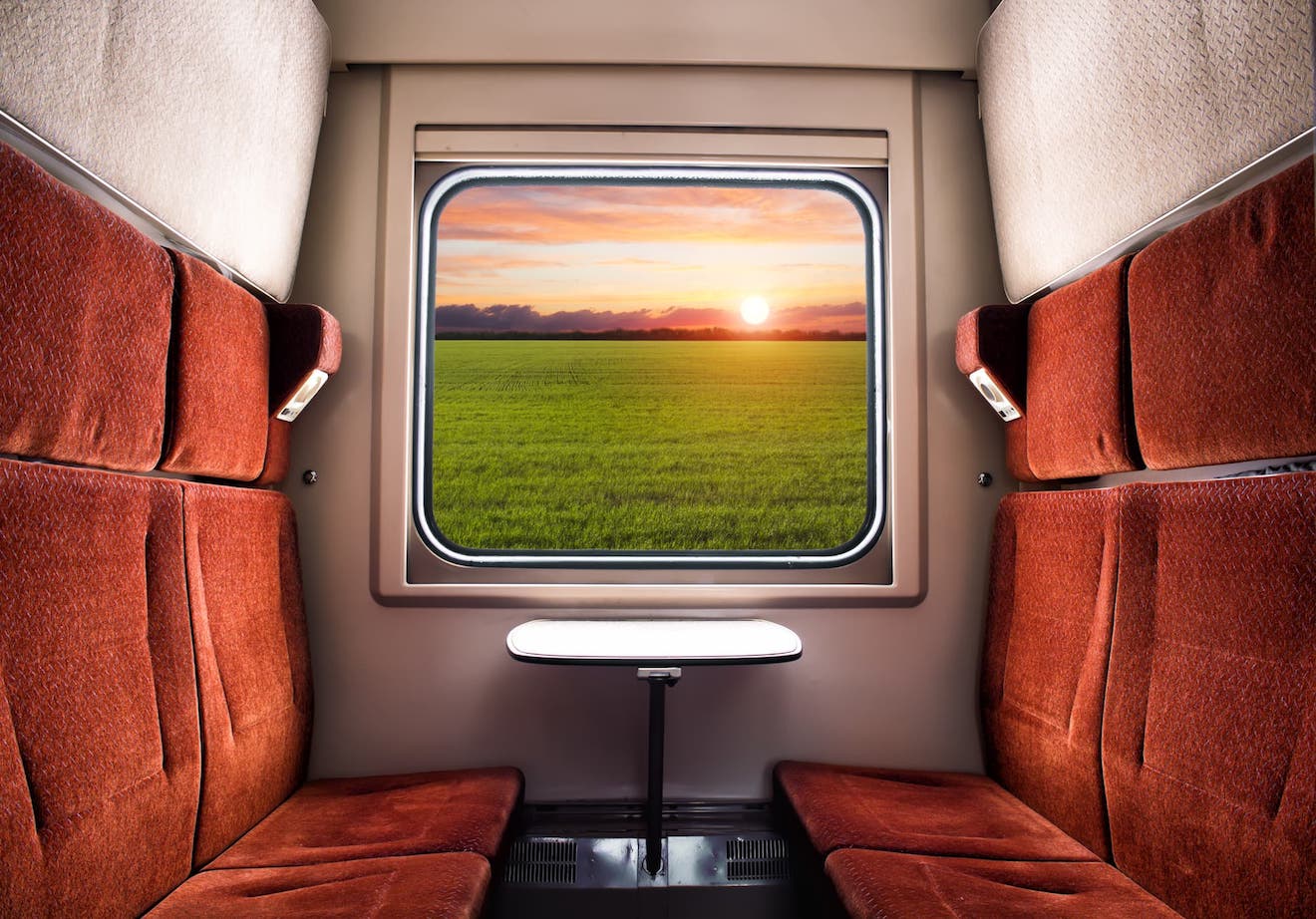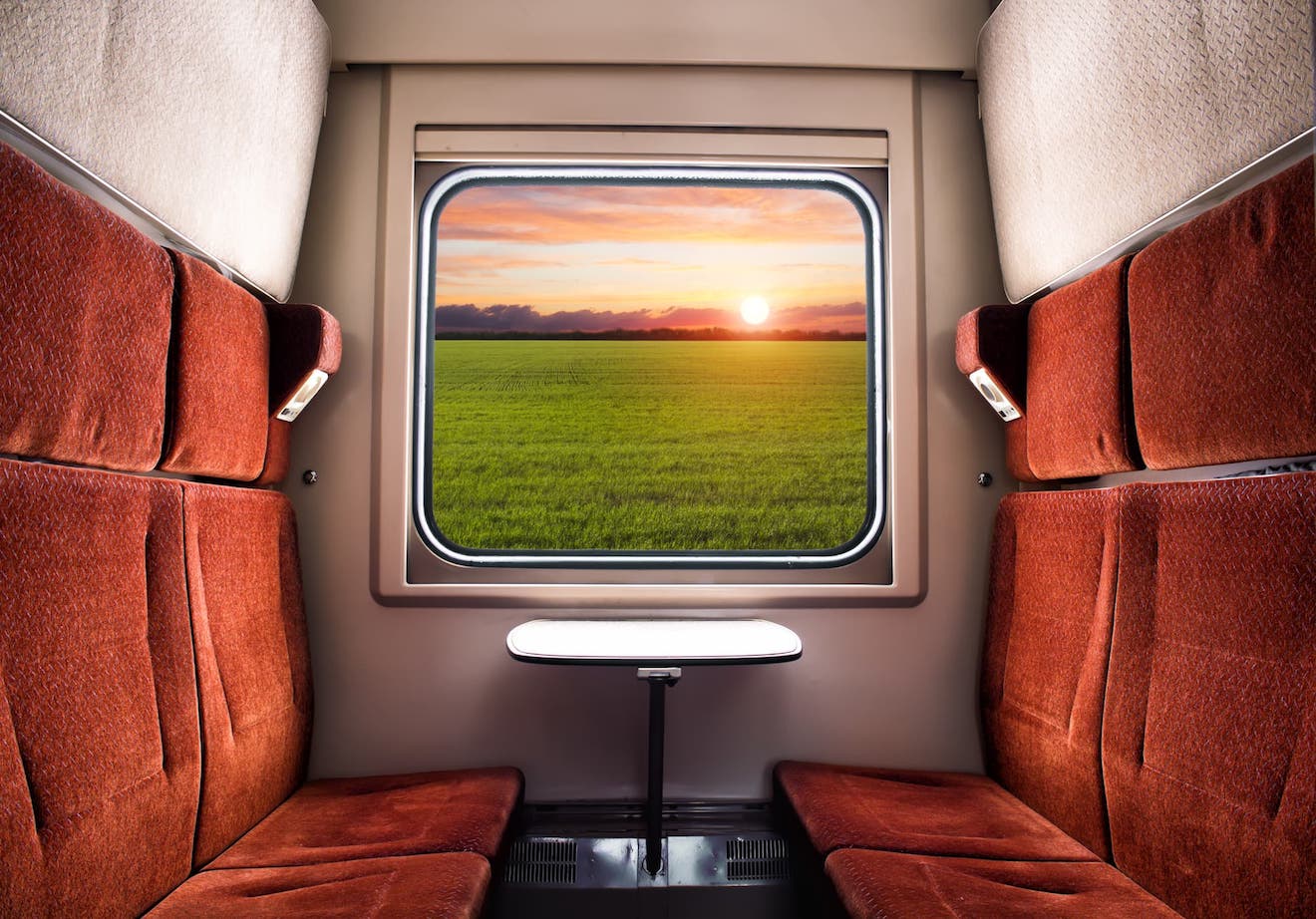 NOTE: If you are younger than 27 years old, you can buy a "Youth" pass, which is always cheaper than the "Adult" pass. For example, at the moment the Eurail Global pass for the second class for 1 continuous month is 600€ for the "Adult" pass and 462€ for the "Youth" pass.
When I did my Euro trip, if I would have been less than 27 years old and eligible for the Youth pass (but shhh, nobody should now I am older!), I would have saved 289€ for the route I took.
Depending on which type of pass you get, this will greatly affect how much you save in the end!
So, did I save money?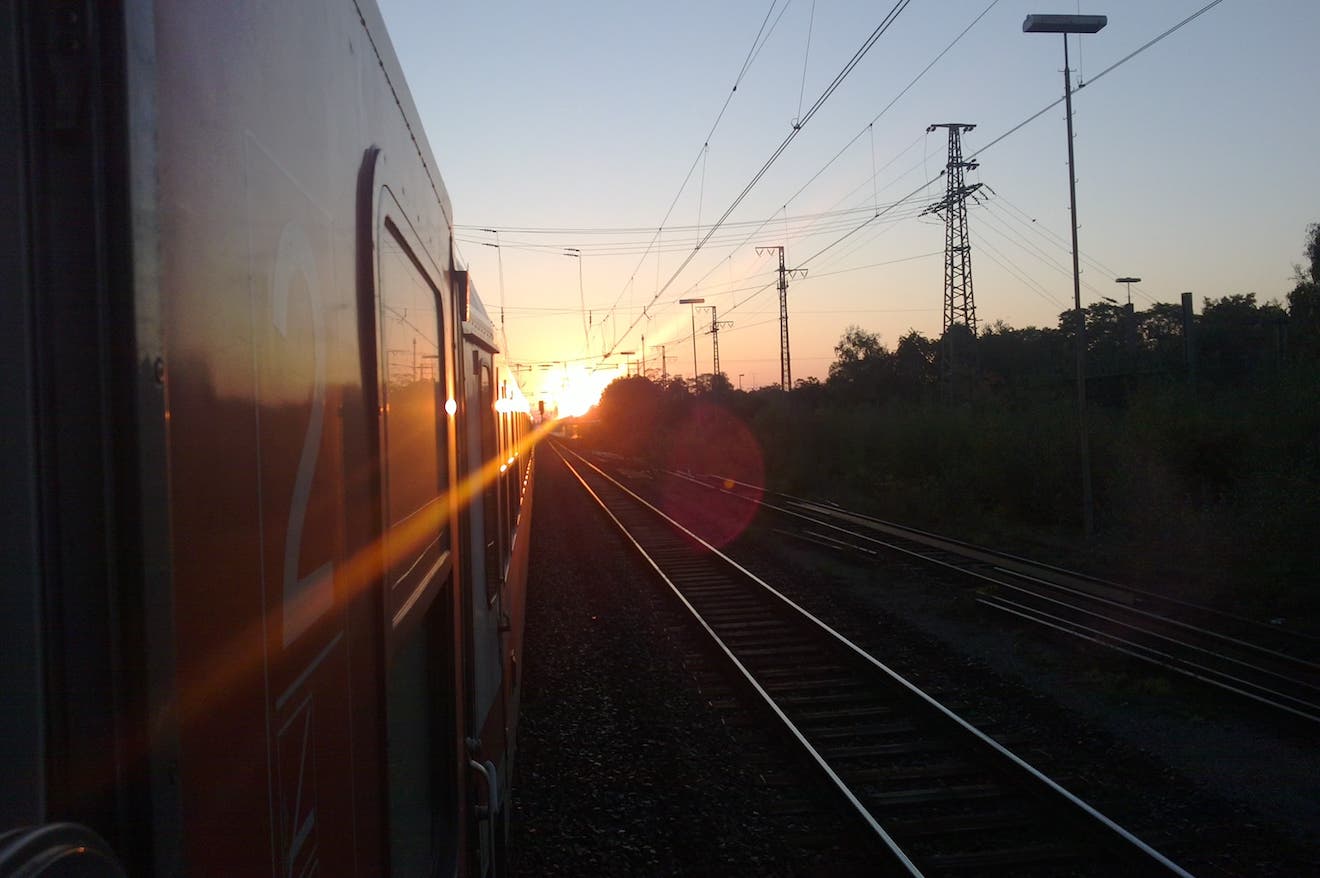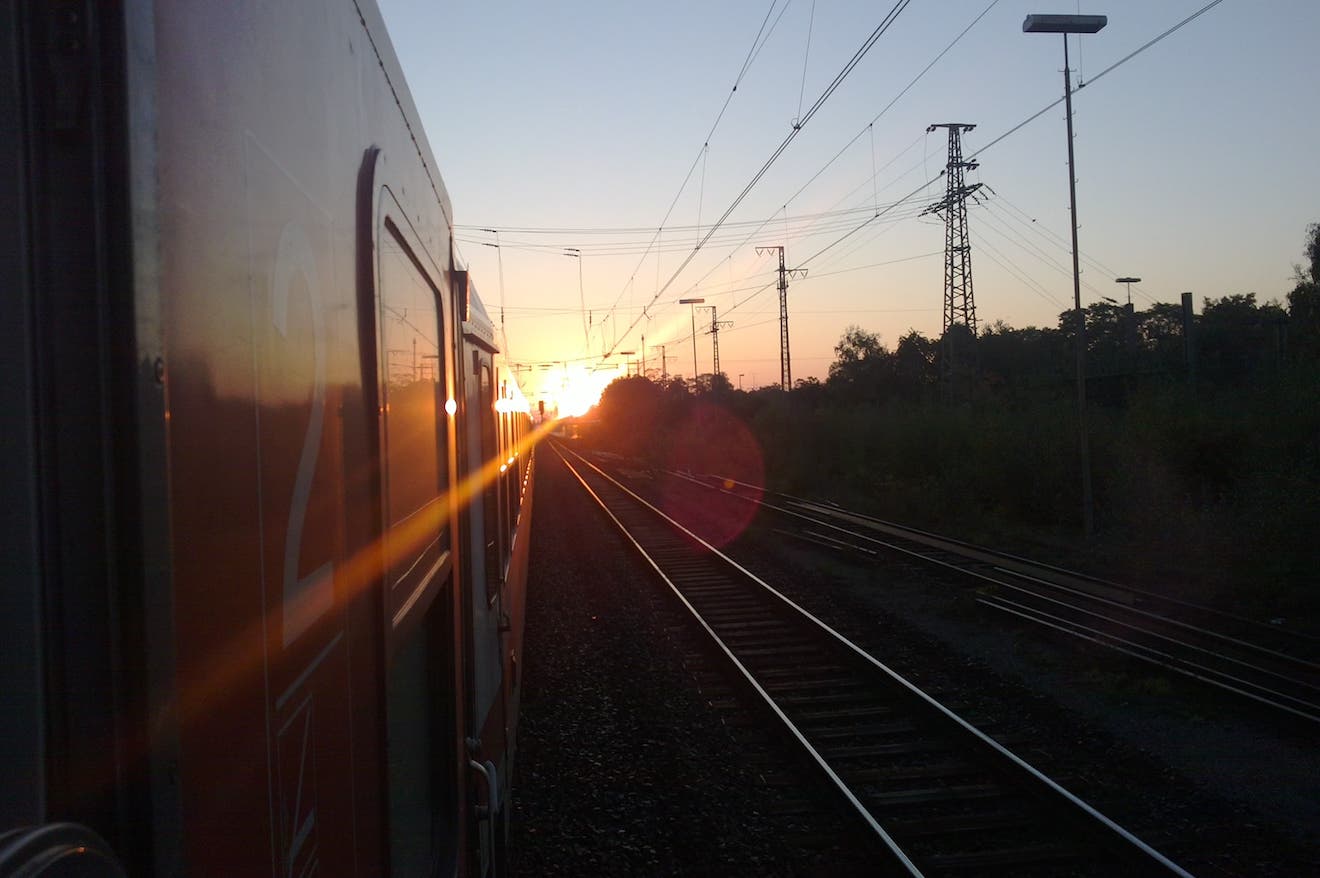 Definitely yes! But you can save even more if you don't repeat my mistakes. Let me explain why:
In my case, I visited many cities that are located close to each other, which means my stops were short distances from each other. When you go on longer distances, you definitely save even more money!
I had to spend at least 60€ in vain – because I paid for my transportation using the bus in Croatia, where there were no trains; I didn't do my research about the train system in Europe beforehand.
But even in this case, as the table shows, I saved 256€ (1258 eur – 1002€) compared to the price I would have paid If I bought each ticket individually.
If I had chosen the same number of countries, but ones that have a more developed train system and if I had traveled to more distant destinations, I would have probably saved more than 400€.
So don't repeat my mistakes – do at least a little research on the country you are going to visit before you leave and try to find the answer to the following questions: Is the train system developed there? If yes, are there mostly high-speed trains there? (don't forget that high-speed trains require a reservation fee)
NOTE: I bought a first-class pass for myself, but if you choose to go for the second class pass, you will save even more money!
Make sure to make a rough estimate of the cost for individual tickets before deciding, then use their "Find the best Eurail pass for you" ssystem to understand if the pass is what you need or it is better to buy the individual tickets yourself.
Non – Europeans:

Europeans:

6. Advantages and disadvantages of using the Eurail pass
Disadvantages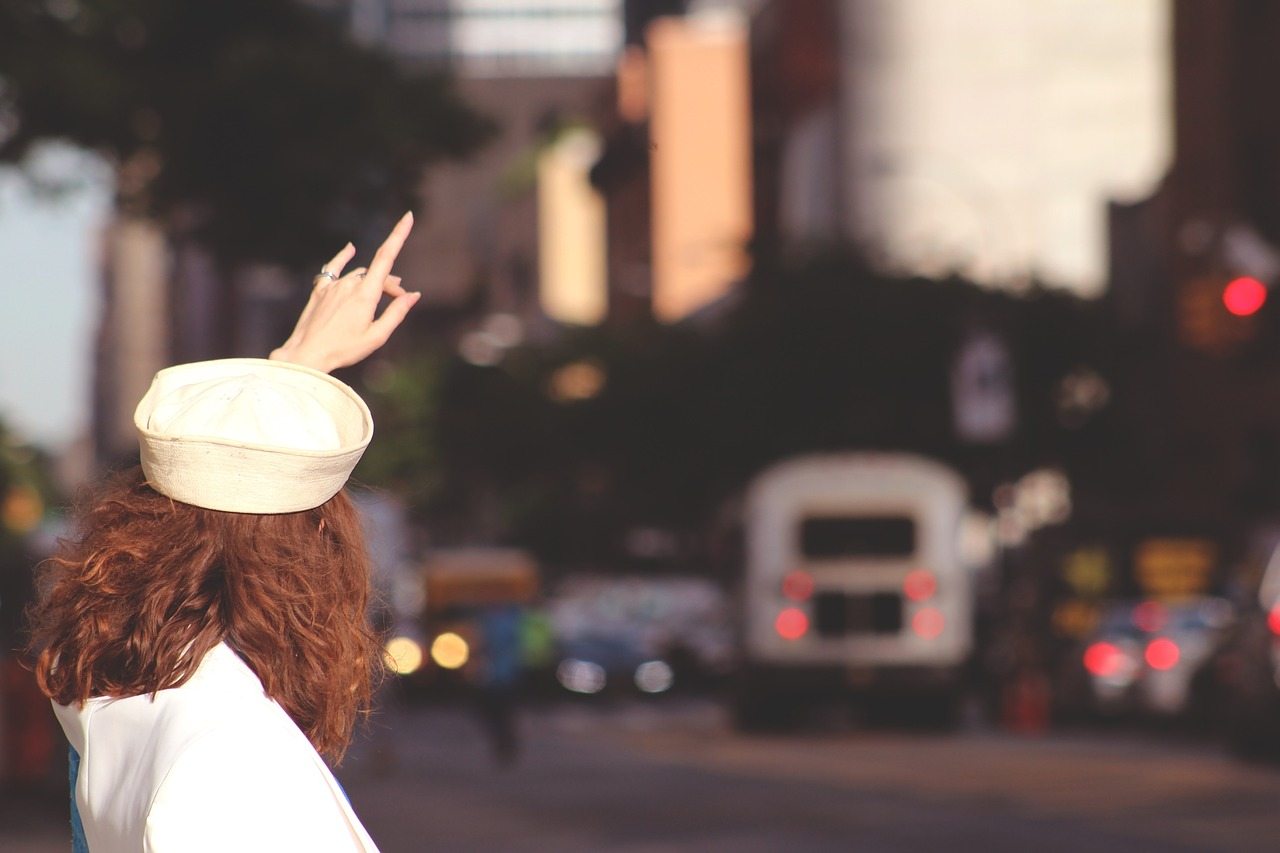 1) Remember, you can't go everywhere by train. While in some countries such as France or Germany almost everything is reachable by train, in some countries you will have to take a bus and pay for additional tickets (like when I had to get to Plitvice Lakes from Zagreb or to Split in Croatia).
2) A disadvantage I had to face were the reservation fees. That, as I said, means you have to add some extra money to the cost of your trip. In some countries, as I mentioned before, it can be ridiculously high.
Advantages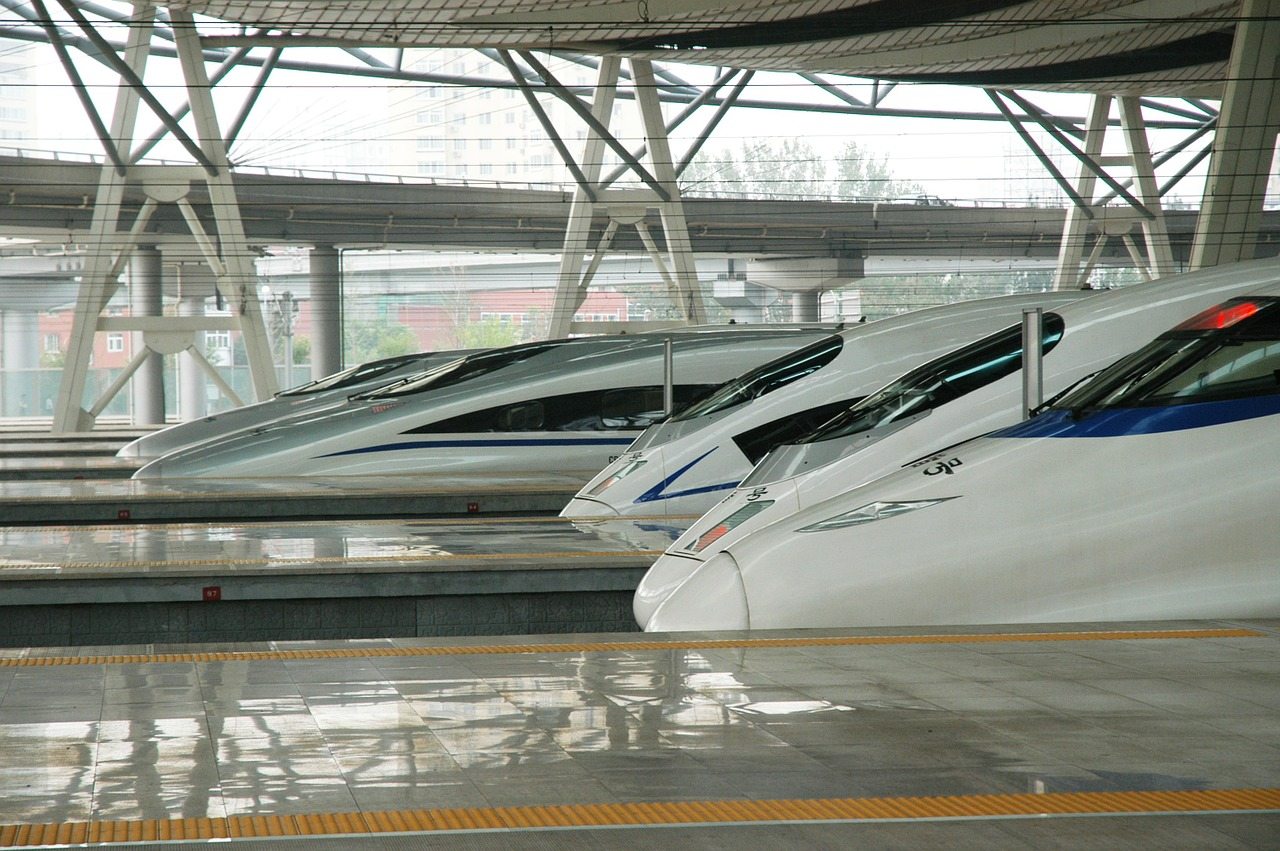 There are plenty of advantages for buying and using the Eurail pass for your trip! Here are just a few of them:
Unlike planes, the trains require no check-in, so you do not need to arrive at the train station hours in advance;
Unlike in airports, there is no need to do the boring passport and X-ray control;
No airlines restrictions – your luggage can be huge and contain all the liquids you want!
All you need to do is sit, relax, and enjoy the fabulous scenery! 🙂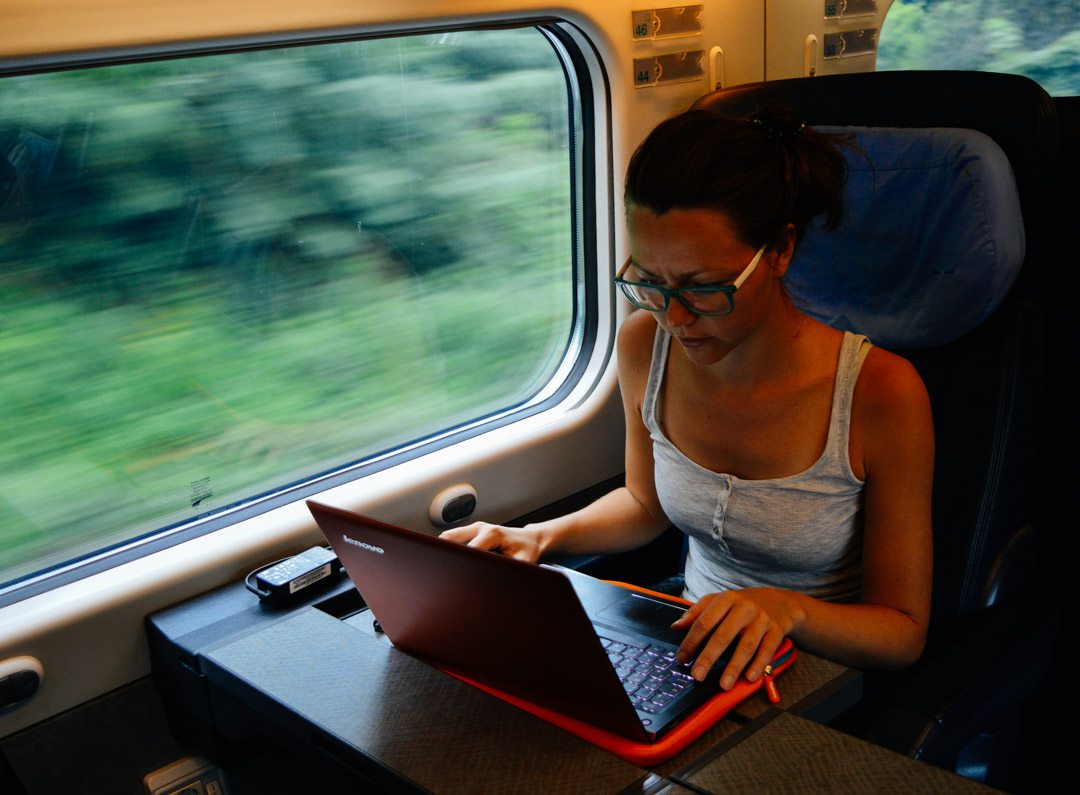 As a person who travels while also working on the road, I sometimes worked on the train. All I needed to do was just open my laptop and use one of the power plugs, as they have them conveniently placed in most of the European trains.
You can watch a movie, read a book or just spend some time over a nice chat with a new friend made during your train travels!
One more great advantage is that the train arrives in the city center, so you do not have to spend time (and money) getting out of the airport to the city. The train stations are usually greatly connected to the rest of the city, so it will be very easy for you to get to your hotel.
And finally, the main advantage of the pass is, in my opinion, the flexibility! There is no need to schedule anything when it comes to Eurail pass!
If you like staying in one city for longer – you can do that!
If you did not like a city – no problem, just board a train and go to the next one!
You wanted to leave in the morning but overslept? You did not lose any money, just hop on the next train!
The trains come often, especially in Western Europe, so you have the absolute freedom to organize your Eurail schedule however you want!
In my opinion, going on a European trip using a Eurail pass is a fantastic way of traveling, as it is much better than buses and often times faster and less stressful than planes!
PRO TIP: Eurail pass holders have some great bonuses, such as many discounts to museums, city cards, special discounts in specific countries and some discounted or even free ferry rides as well!
Check the up-to-date Interrail and Eurail prices here:
Non-Europeans:

Europeans:

7. Other useful tips
Interconnection time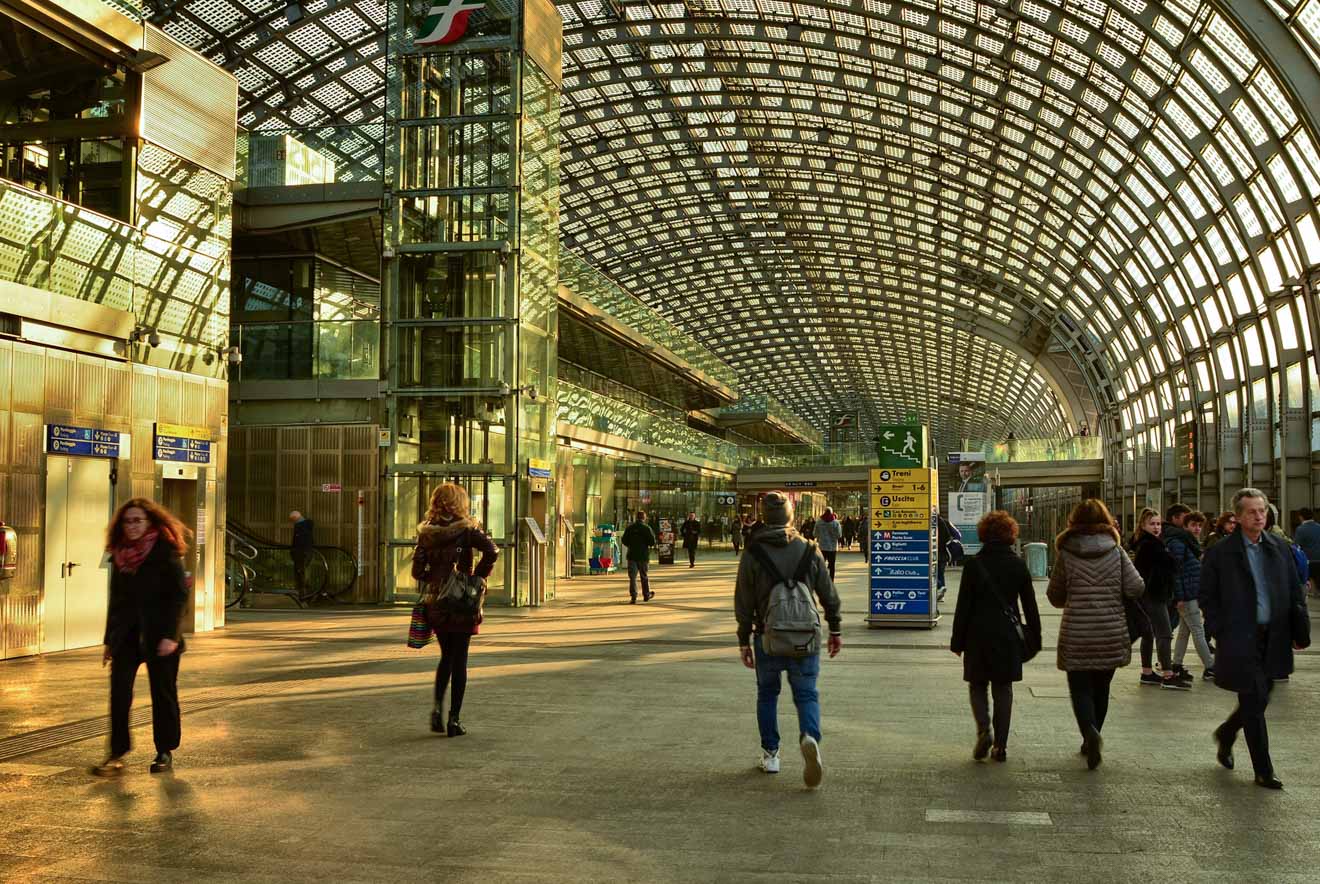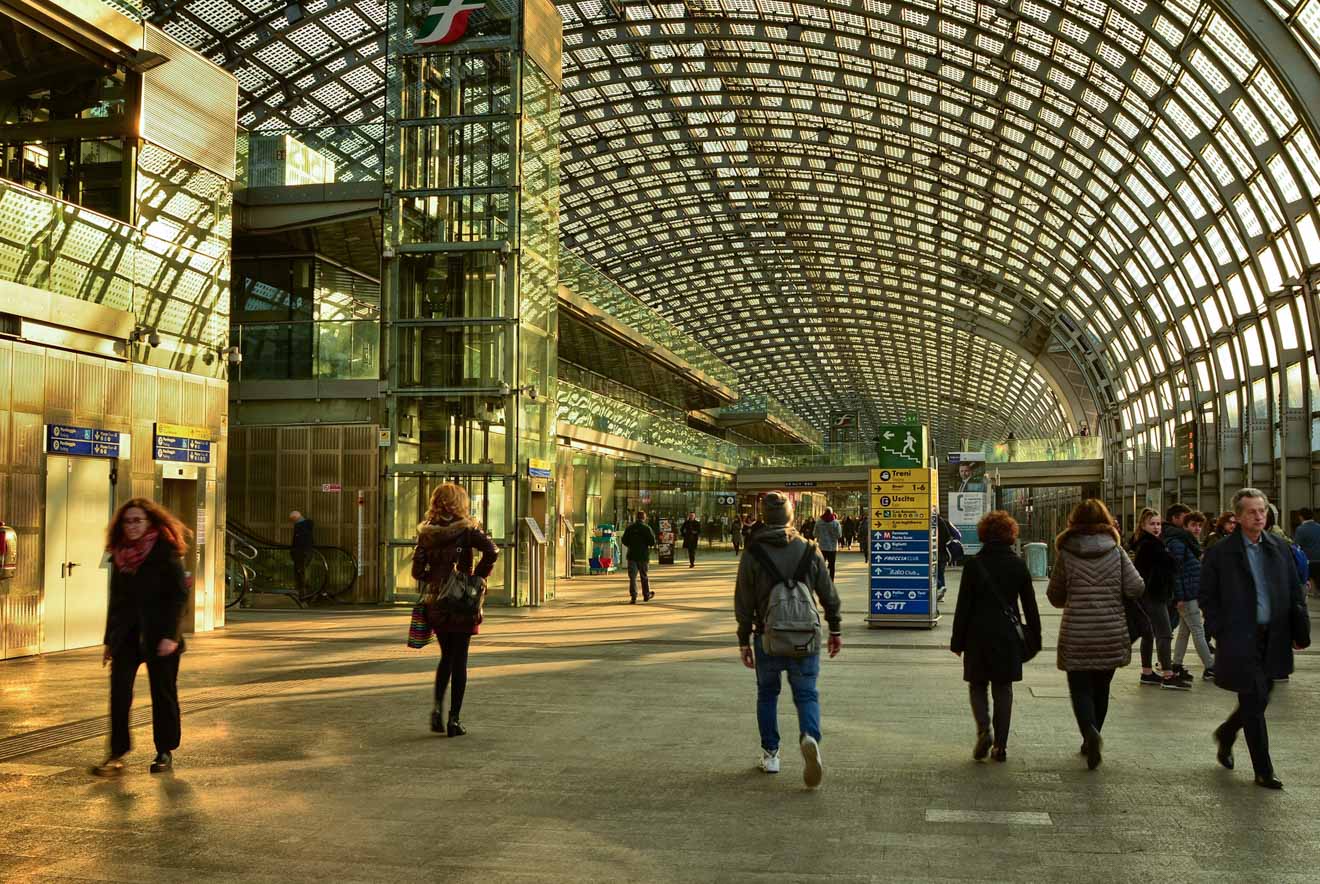 If you need to change trains, make sure to leave at least 20 minutes (ideally 50 minutes) for yourself between train rides!
If you are using the Eurail app to create your route and it tells you that you have to change a train, make sure to check how many minutes the connection time is. Sometimes, it shows some connection times that are as short as 3 minutes, which is unrealistic.
The possibility of your previous train being just a bit late is very high, so do not choose this kind of connection. Or at least check if there is a plan B in case you miss that train!
2 nights in the city are not 2 days in the city!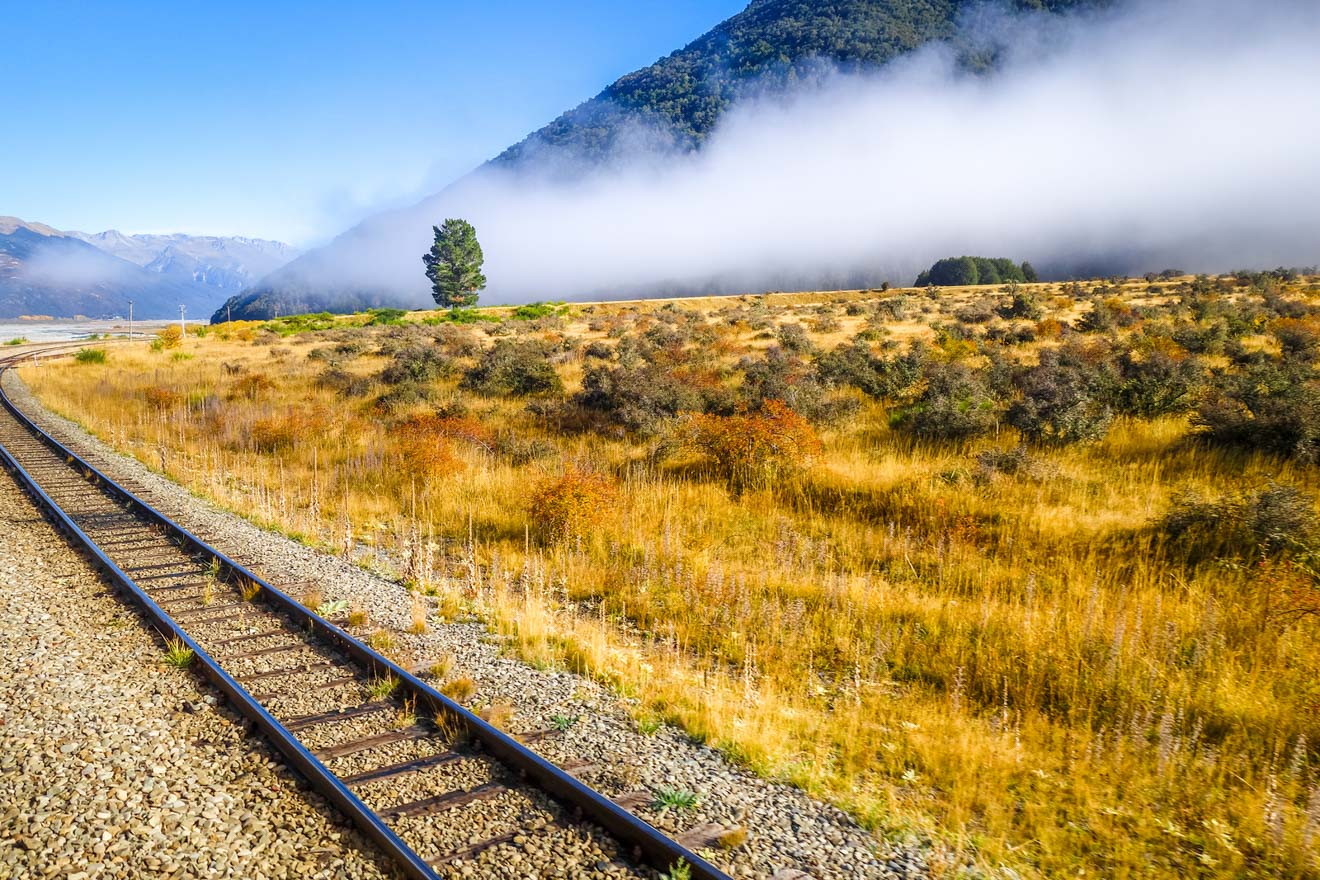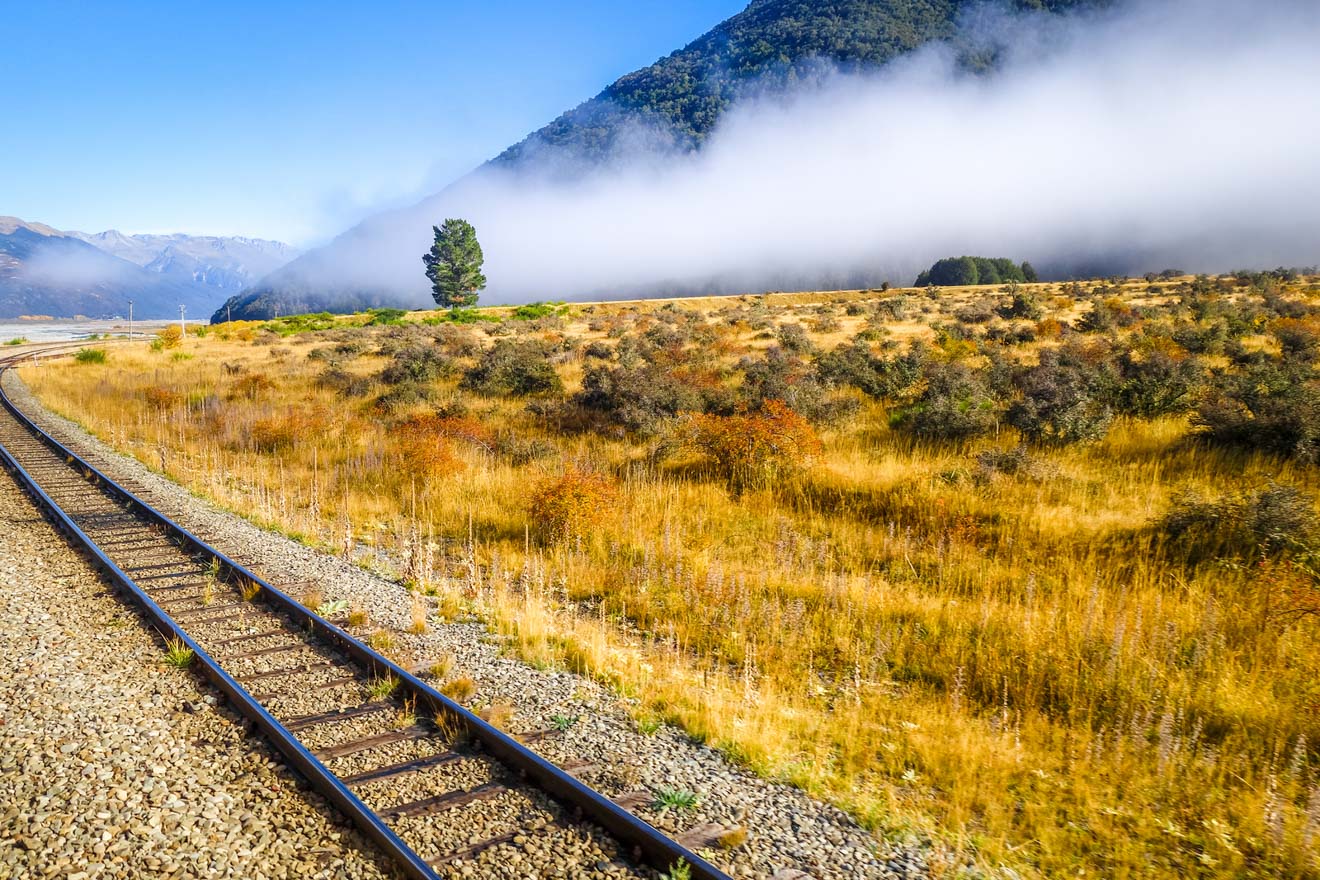 Yes, I know it sounds obvious! But please take that into consideration when planning your trip. I know it is tricky, but do not try to fit in as many cities as possible if you only have a short period of time available!
Please remember that the transportation in-between cities will take you around 4 hours (depending on how far you go, but that is an average), to which you have to add the time to get to your hotel. That will take around half a day and, moreover, it will exhaust you quite a bit.
Saving on transportation INSIDE the cities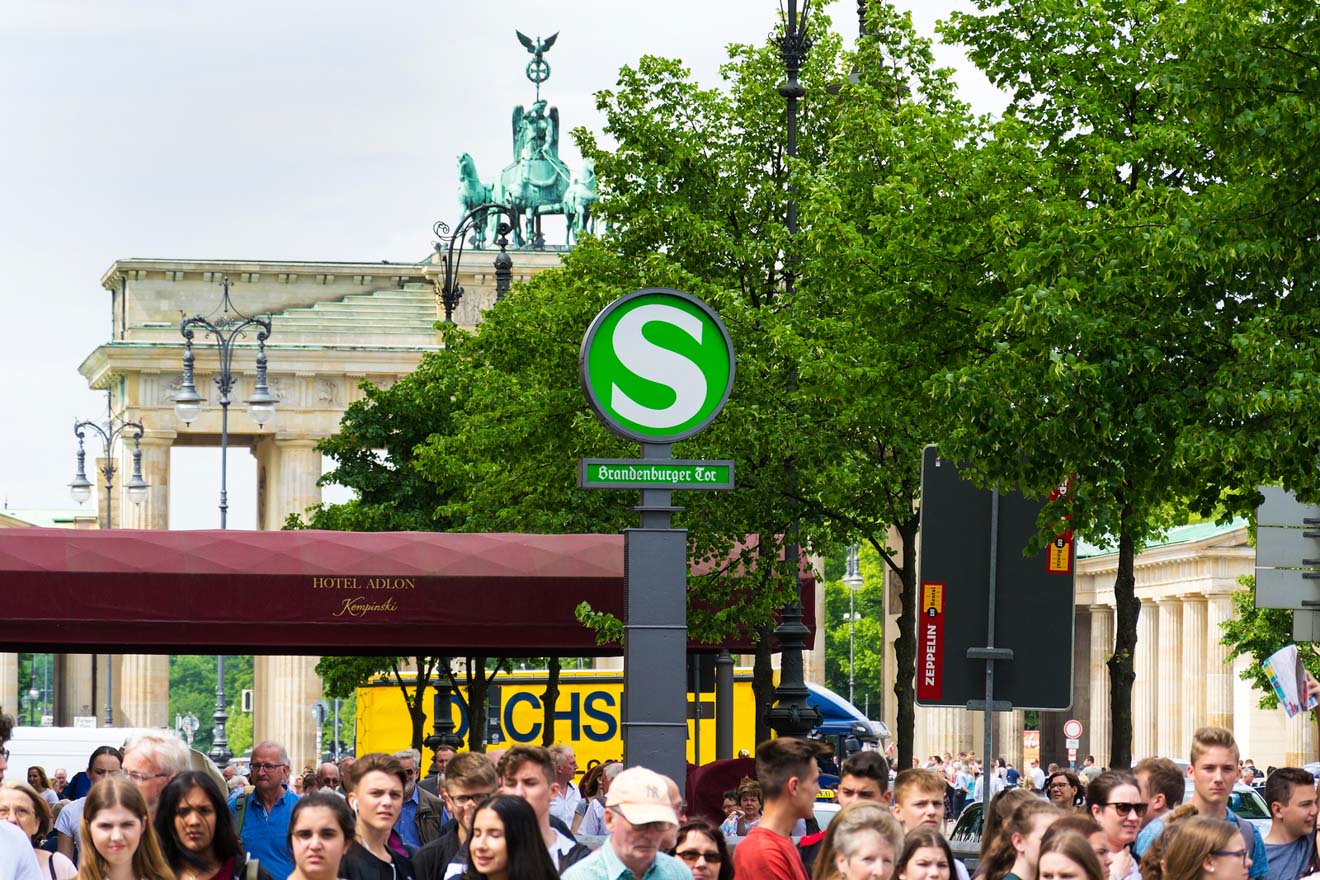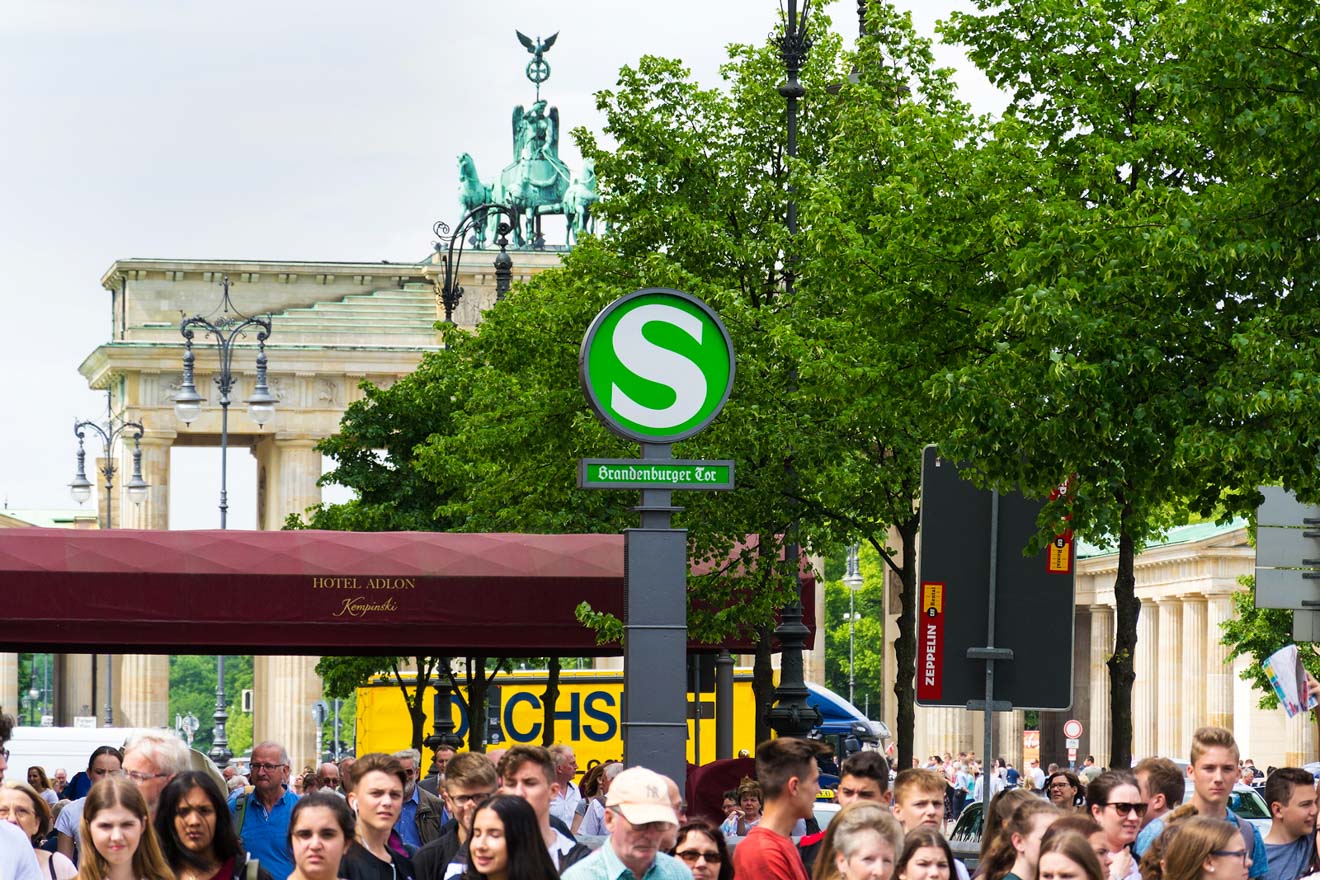 Don't forget that, besides getting from one city to another, you can also use local trains inside the city, which means more money saved!
For example, I could save significantly by using S-Bahn for free in Berlin. The RER in Paris and the French National Railway's bus service is also free for Eurail pass holders. There are many other examples like this and you can check them out by country here.
NOTE: Only the city trains are included in your pass, the metro is not. 🙂
NOTE 2: Besides saving on transportation, you can also save some money on the attractions you might want to visit, as Eurail and Interrail pass holders can buy different city passes for a discounted price (examples: Berlin Welcome Card, Brussels Card, Frankfurt Card etc.)
Non-Europeans:

Europeans:

8. Common myths about Eurail/Interrail passes – debunked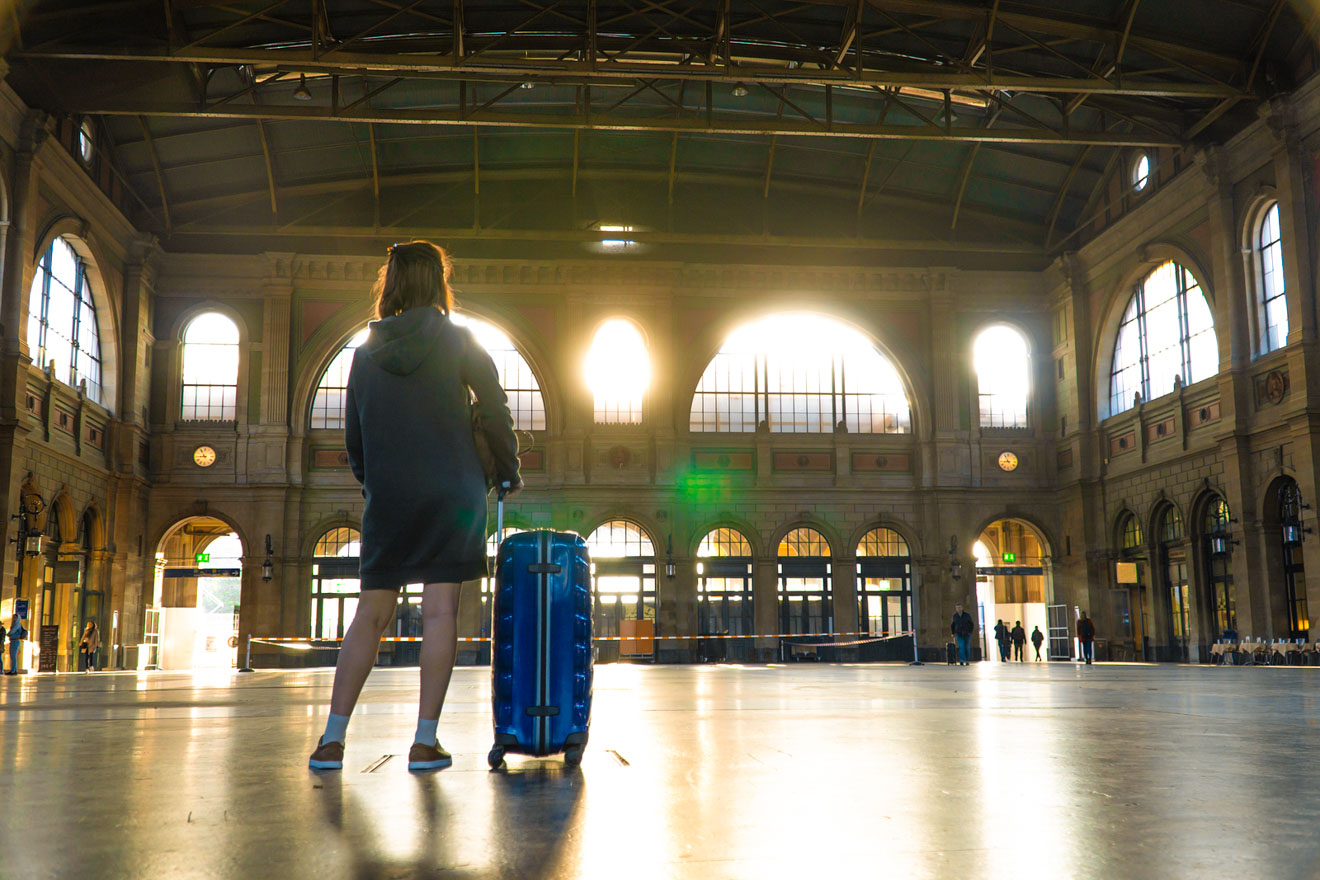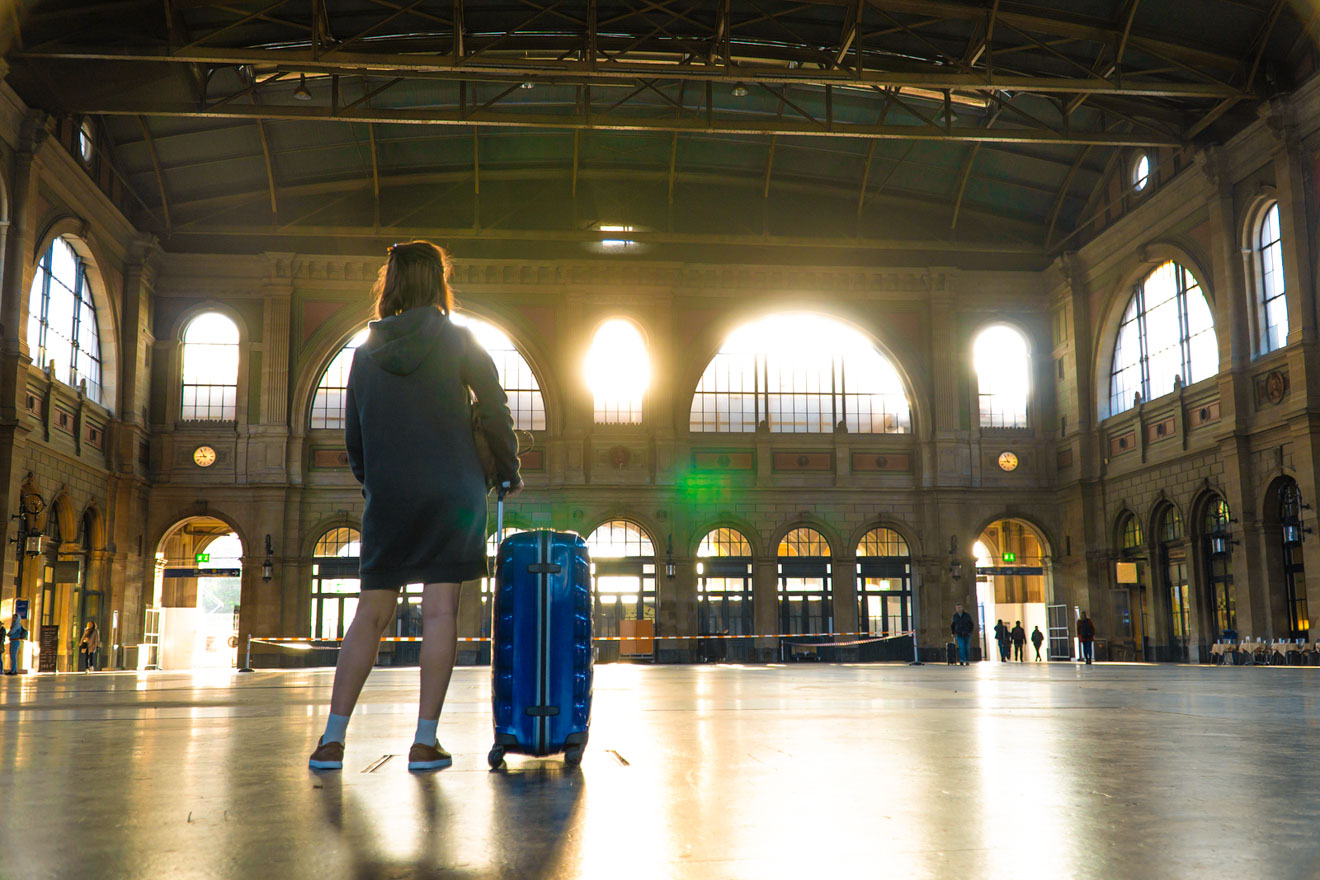 There are some myths about the Eurail pass that I keep hearing from many people, both positive and negative. Most of them are not true – and here is why:
It is hard to cross the border
Even if the European Union has no visa restriction in between its member countries, you might be traveling in the Schengen Area and out of it. And that is where you will be checked by the immigration police officers.
But have no fear as the border crossing while you are traveling by train is actually very easy! There is an immigration officer who will come to each seat and he will put a stamp in your passport that marks the fact that you have left/entered the Schengen zone. Nothing more complicated than that!
It is not good for kids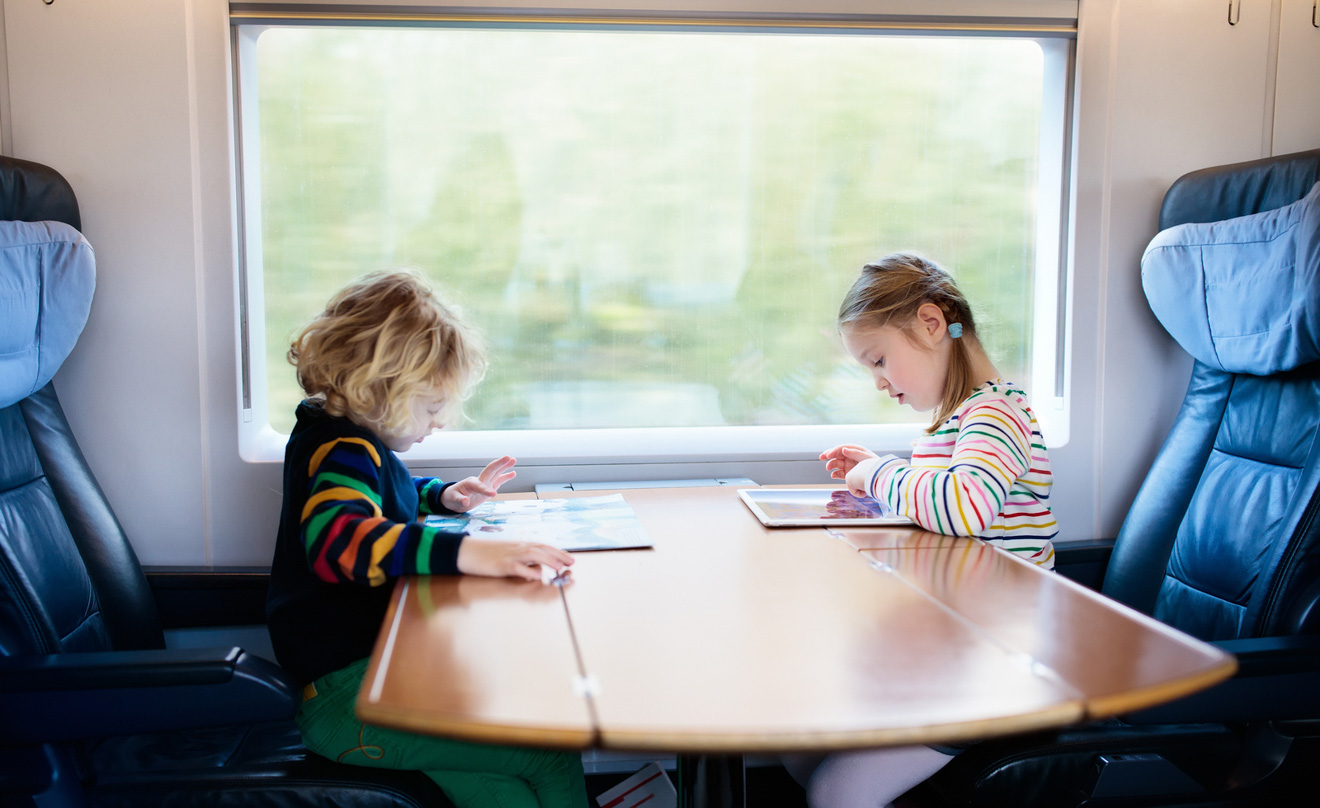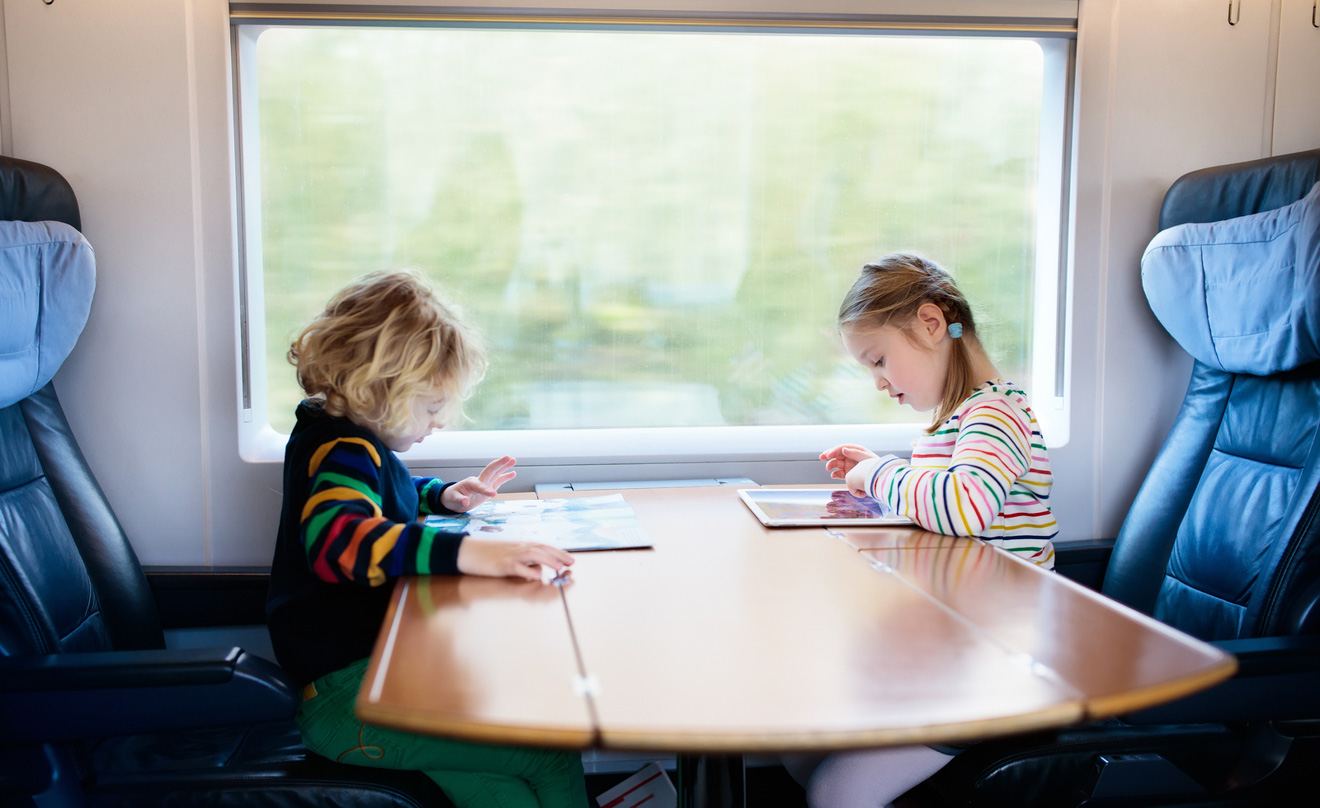 Traveling by train with kids is, in my opinion, way better than buses. In some countries this is even a perfect option, as they have special cars for kids!
The pass only works for trains
This is wrong as well, as there are also some buses that work in cooperation with Eurail and most of them are substituting for trains where there is no railway available to connect the cities. There are also ferries that you can use for free or for a discounted price!
The Eurail App is all you need
It is true that the phone app is very good and useful, especially because it works offline! But, honestly, I would suggest comparing it with some other websites as well such as Bahn, especially when you want to search some complicated routes.
For instance, one of the routes I needed to take could not be found on the app, but I was able to find it on another website!
NOTE: Roaming charges ended in the European Union in 2017, which means that, if you are from Europe, you will pay domestic prices for roaming calls, SMS and data, so it will be easier to use the app!
Non – Europeans:

Europeans:

9. Is the pass worth it after all?
Why the pass worked for me
In my experience, buying the pass was more affordable than buying individual tickets each time.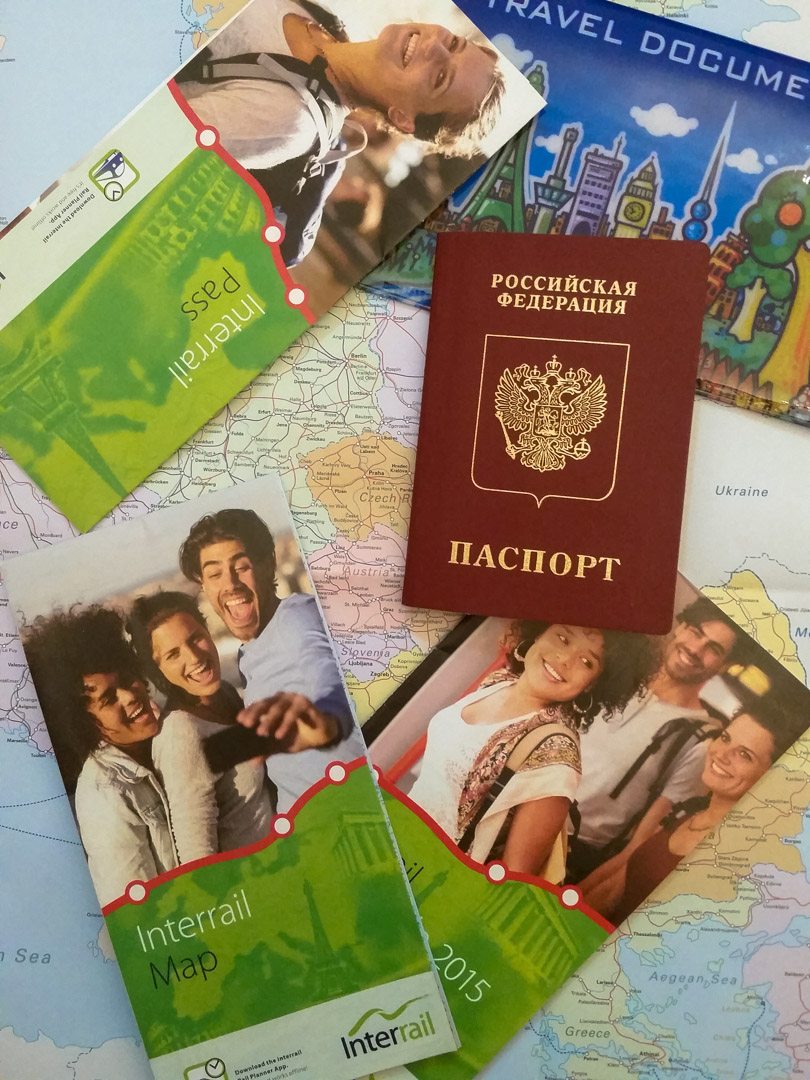 My personal experience showed that even if:
there are those reservation fees,
you are traveling long distances,
you are taking many last-minute trains
you are going with high-speed trains
the Eurail pass is still a good money saver!
After all, the pass would not be so popular if it was a major rip off, right? 🙂
Traveling with Eurail is way more flexible than traveling by bus or plane. It is truly hassle-free – all you need to do is just sit back, relax and enjoy the view of tiny villages and landscapes passing by the train window!
So, to answer the question asked in the title of the article – Yes, it is worth it if you are planning to visit many cities in one country or many countries in Europe!
The main thing you need to remember is that you will have to do a small amount of research beforehand regarding the countries where there are only fast trains (which means paying extra money for the reservation fee) or where the railway system is not that developed. (Please see the list of ideal countries for train travel above in this article).
After all, it is not all about saving your money, it is about the wonderful experience as well!
There is no better way to see and experience Europe than by train, believe me! Seeing those fabulous landscapes and tiny European villages passing by, making friends with people in the seat in front of you, going with the flow and maybe even changing your itinerary completely – this is what the Eurail pass is all about! Flexibility, spontaneity, and fun!
When is it not worth it to buy the pass?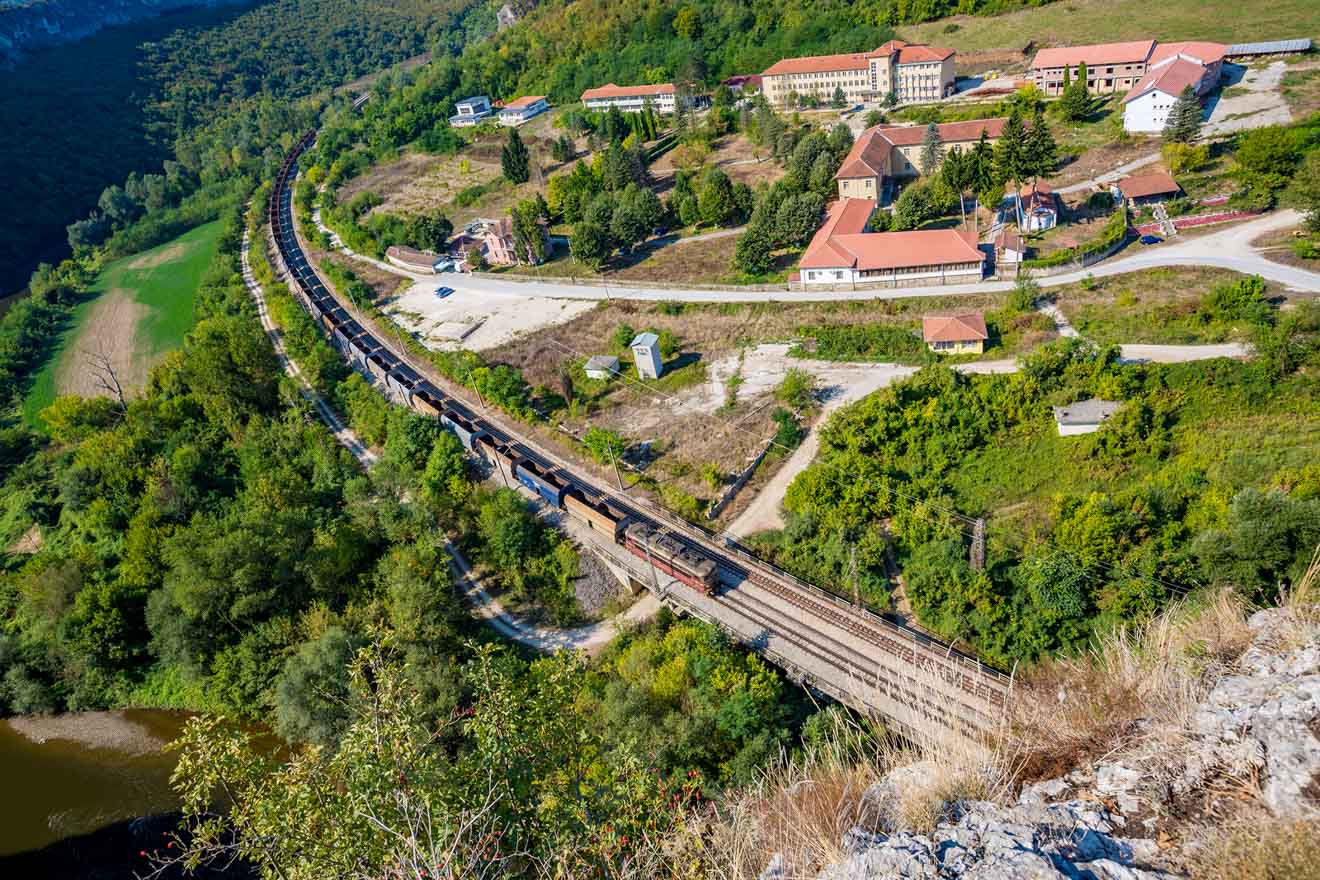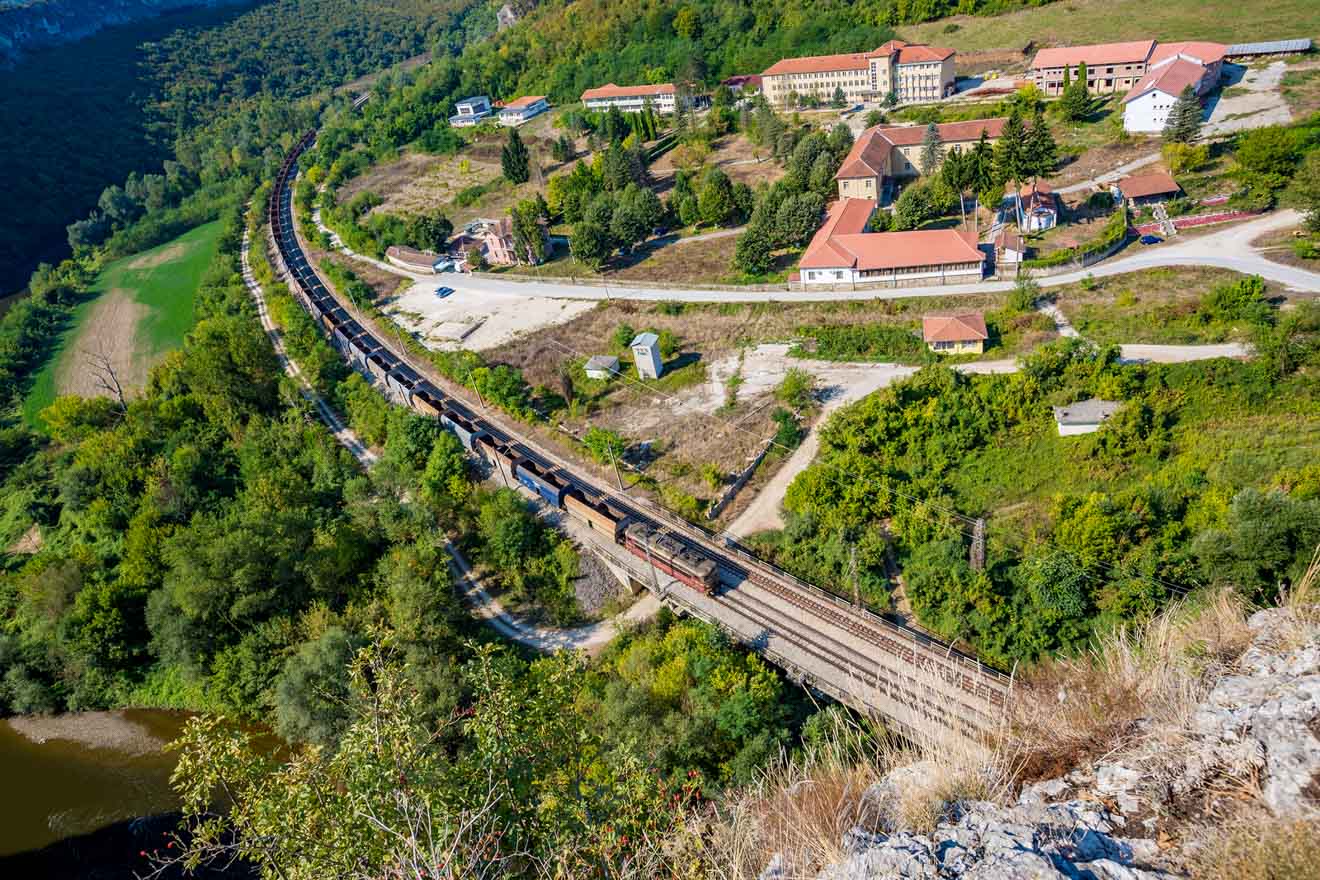 If you are only planning on visiting a couple of cities, there is no point in buying a pass in my opinion. In this situation, buying a simple A to B train ticket (or a plane ticket!) will be cheaper and better for you.
But if you are going to travel a lot in Europe for a period of time and if you want to stay flexible, the pass should save you some money! And this is especially true if you want to visit many cities that are located far away from each other.
So – if you have a lot of time for this trip and you are planning to visit many European cities, you can purchase the Interrail/Eurail Global Pass and you won't regret it!
If you are only visiting one country and your time is limited, don't be lazy, do your research and compare the individual ticket prices with the pass prices. Even if you only save 100€, it still makes sense to buy the pass, as you can use this money for something more fun or productive!
Non-Europeans:

Europeans:

| | |
| --- | --- |
| 🚂 Unlimited pass: | 33 countries |
| 🚄 Specific pass: | 1 country |
| 🔵 Blue country: | Interrail pass |
| 🟢 Green country: | Eurail Pass |
| 💵 Global pass cost: | €168 |
| 💰 One country pass cost: | €51 |
Conclusion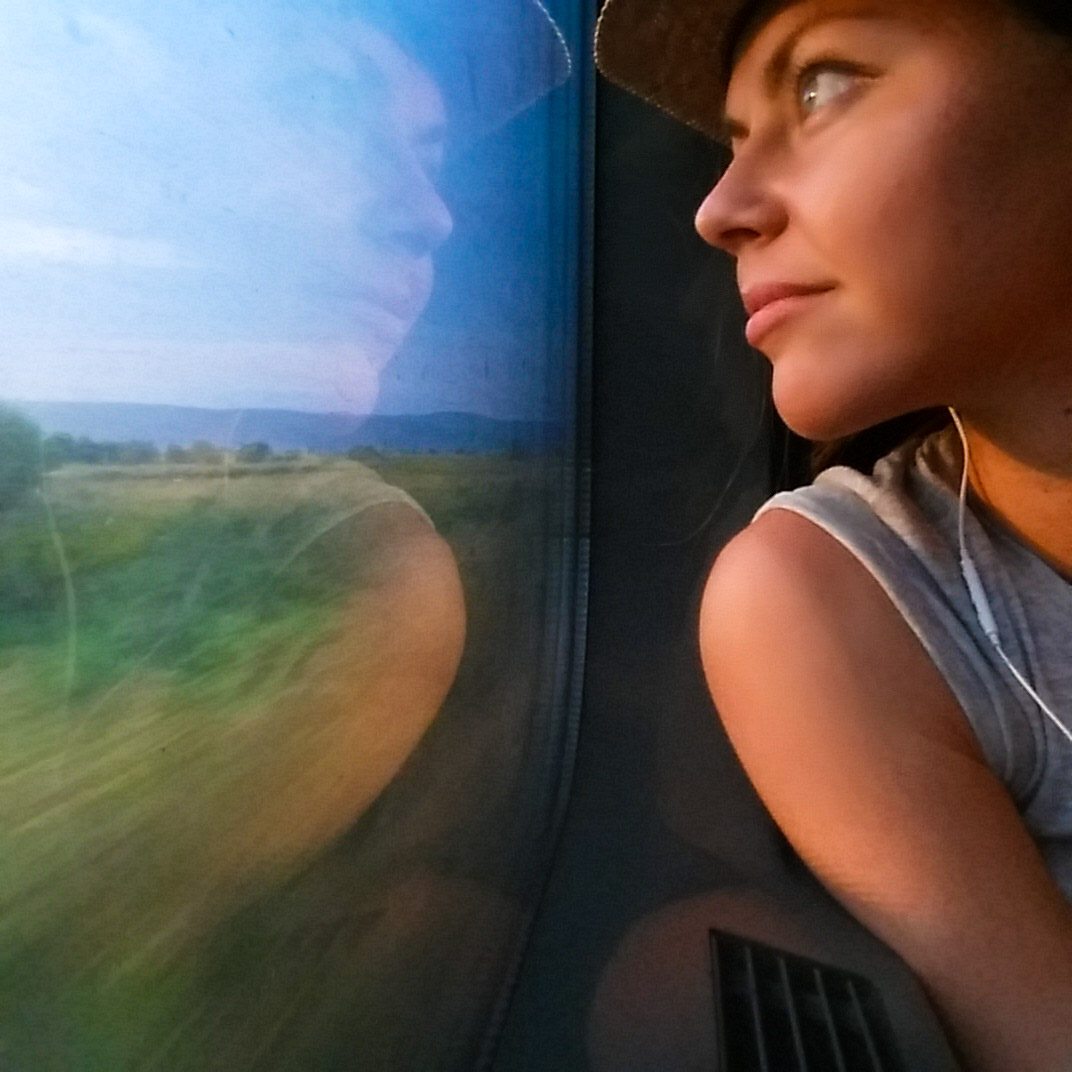 Touring Europe by train is easier than ever with the Interrail/Eurail pass! In this article I covered why I think the pass is worth it, I talked about how to buy it, how to use it, some common difficulties you might encounter and how to fix them right away and, of course, I did a price comparison to see if the pass saved me money.
So, the conclusion is that by comparing the price, I figured that the pass is worth buying in some particular cases, especially because it gives you endless flexibility to change your mind and take the next train or even change your itinerary!
Because the Eurail pass has two different options – the Global Europass and the One Country pass, each of them with different discounts for young people or seniors, it is definitely worth it to do your calculations and see if it is a good fit for you!
Even if I made some mistakes while planning my particular trip, the pass still turned out to save me money!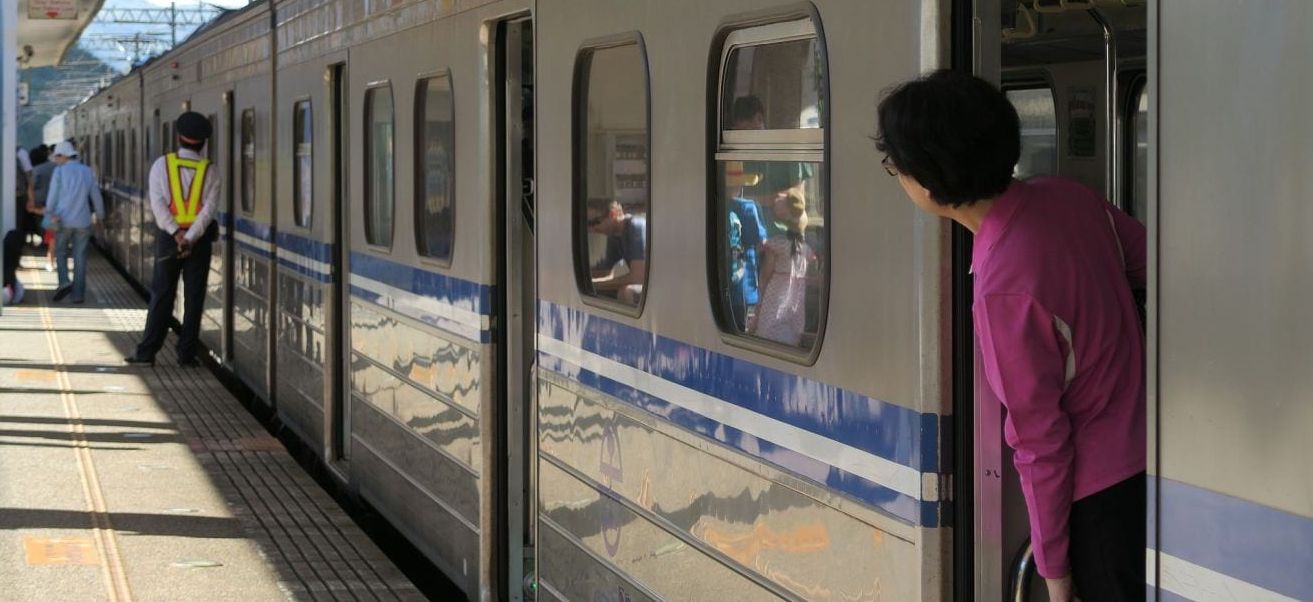 Disclaimer: the pass was given to me complimentary, but I used my own calculations and described my honest opinion from using the pass.
That is it, you have finished reading this loooong post, congrats! 😉
I ended up writing a 5,000 word piece (you are welcome!) that will hopefully cover all the topics and questions you might have regarding your Interrail/Eurail trip. Now you know exactly how cheap train tickets in Europe really are!
If you have any additional questions, please post them in the comment section below and I will be happy to reply!
If you plan on going through Croatia, France, Italy, Spain, Slovenia, Czech Republic or Germany during your Europe train tour, keep on reading my blog, I have some great tips for you!
If you liked this article, please consider buying the pass through this link. That way I will receive a small commission at NO EXTRA cost to you!
Yulia
Non-Europeans need the Eurail Pass:

Europeans need the Interrail Europa Pass

---
Pin it for later!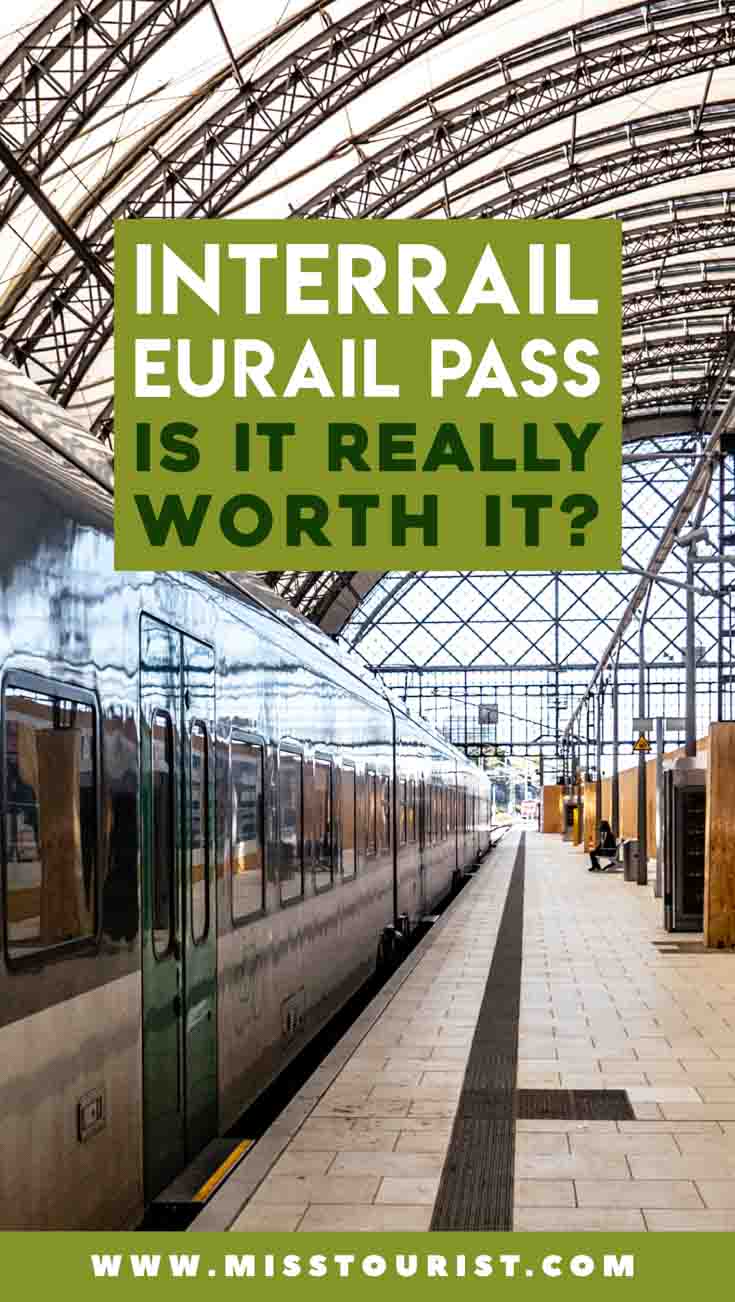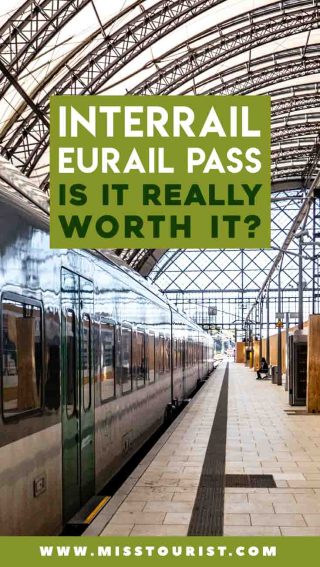 Pin it for later!