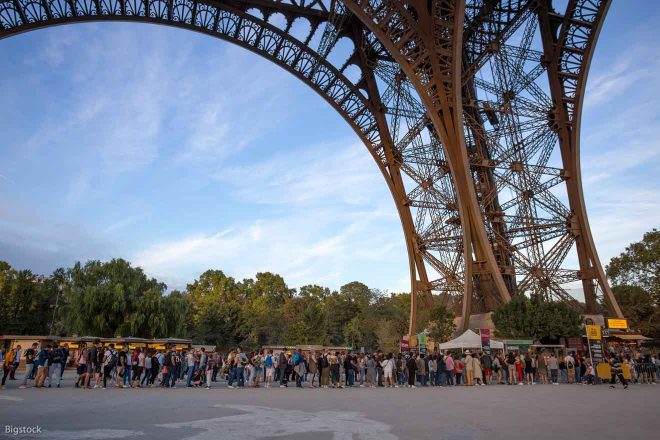 Let me say it right from the start: the Eiffel Tower is an unmissable spot in Paris, France! You definitely cannot visit this city of romance without seeing this famous landmark and, moreover, without climbing it at least once in your lifetime!
But because this is such an important and famous attraction that everybody wants to visit, the lines are usually huge and the waiting time is just plain scary!
In fact, there are more than 6.2 million people visiting the Eiffel Tower in Paris per year, which means around 17.000 people in a single day. Plus, the average waiting time is around 2.5 to 3 hours!
All those hours can only mean one thing: that you'll be losing precious time from your vacation! Okay, but is there a solution to all these, a way to save some time and skip the insanely long lines? Well, luckily for you, there are quite a few solutions and I'll be presenting all of them to you in this comprehensive article!
Are you ready to find out how to skip the line to the Eiffel Tower in Paris? Let's go!
As I mentioned above, there are various ways of saving precious time by not waiting in queue at the Eiffel Tower, but the golden rule is that you should buy tickets in advance!
Below I'll explain about all of the ways in which you can buy your ticket for the Eiffel Tower, which ones I am recommending and which ones you are better off avoiding if possible:
1. Buying your ticket online on the official website
Naturally, the first thing you might want to do before visiting the Eiffel Tower is to check for online tickets on the official Eiffel Tower website.
1.1. Types of tickets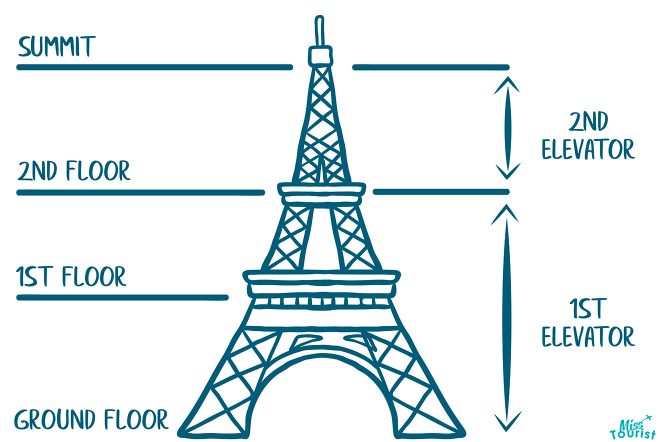 First of all, I think it would be useful to explain about all the general types of tickets that you can buy for the Eiffel Tower, as they differ depending on the level/height you want to go.
By the way, these tickets are always the same regardless if you buy them at the gate or online, on their website. Here they are:
Tickets for the second floor
Tickets for the top (summit)
Now, for each of these two options, you'll have two further options, depending on the way you want to achieve this: using the lift (elevator) or using the stairs.
Here's a table so you can easily understand about all the types of tickets that are available on the official website at the time this article was first written, but make sure to double check the updated price here, as they might change it:
If you buy the ticket for the top/summit, you'll have access to all preceding floors such as the first and second level.
NOTE 1: Even if you want to take the stairs to save some money, it's not possible to go all the way to the top using the stairs only, as the summit is only accessible via lift/elevators. So you can go up to the second level using the stairs, then you have to get the lift with the rest of the people.
NOTE 2: For the reduced rates for Youth, Children and Small Children, please don't forget to bring an ID with you, so you can present it as proof of age; you'll be requested to show it at the entrance.
NOTE 3: Even if children under the age of 4 have free access, they still need to be in possession of a "free ticket", so make sure to add this to your shopping cart when buying the rest of the tickets.
1.2. How does it work?
Here's the step-by-step procedure for buying tickets for the Eiffel Tower online, on the official website
1. First of all, you have to go on the official website, on this page, then click on the button that says "Buy a ticket".

2. Then select "Tickets for individuals" (if applicable).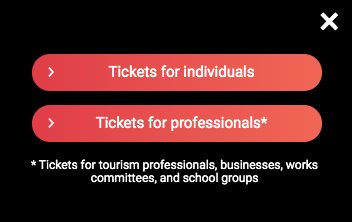 3. Then you have to select your date of visit and the level you want to see. You can choose between "Ticket with access to summit" and "Ticket with access to 2nd floor".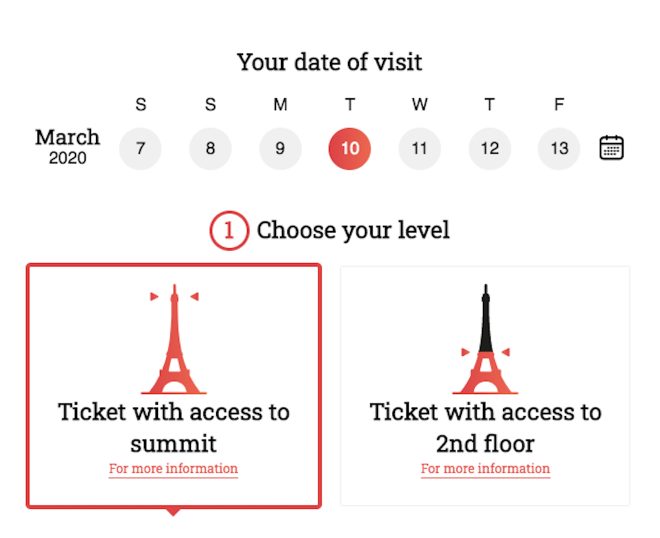 4. Afterwards, you can choose your prefered type of ascension – by lifts or by stairs/stairs + lift. As you can see, for my selected example date (10th of March 2020), there are already no tickets left for stairs + lift access!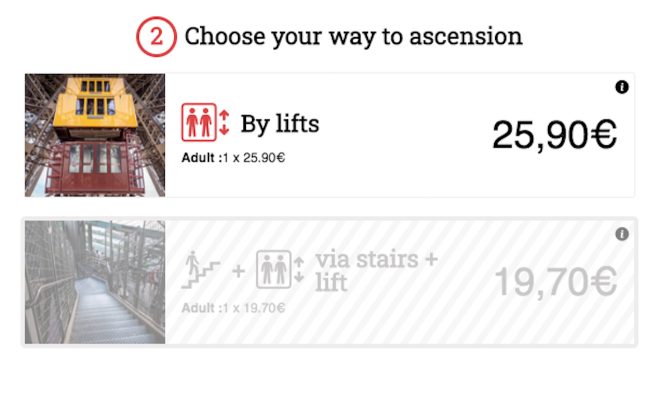 5. Next, it's time to select your visit time. Depending on the available slots for your desired day, you can choose from 9:00 AM until 23:00 PM.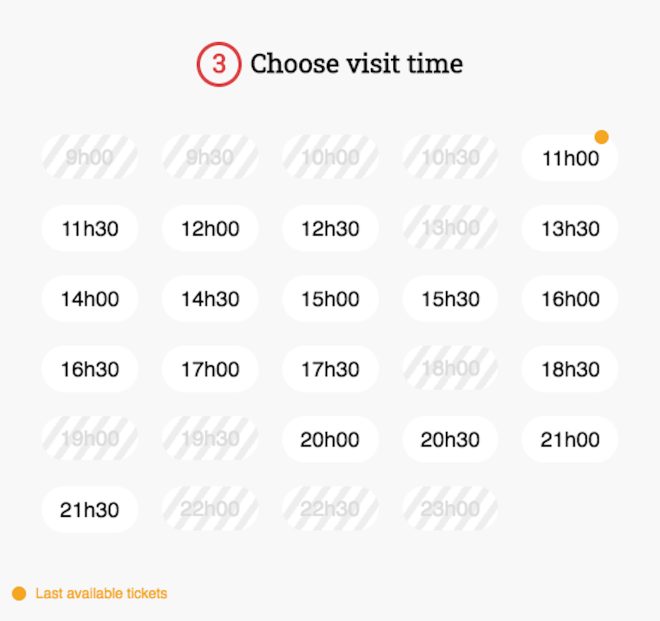 6. Next, click on "Confirm". You'll then be redirected on the summary page. From now on, your selected tickets will be reserved for 15 minutes, so you have plenty of time to pay or change your mind. If you want to change something, you can click on "Edit". Or you can click on "Confirm" and proceed to payment.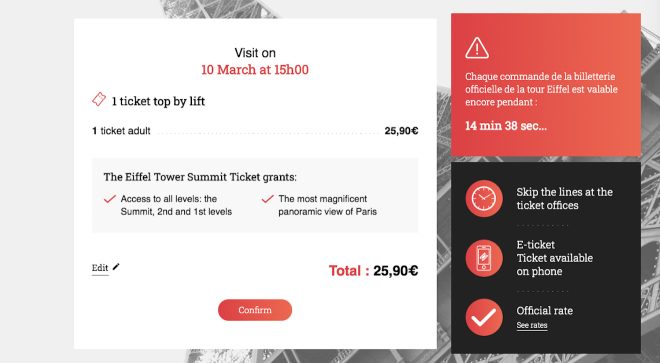 7. Then, you have to insert your personal information – First name, Last name, E-mail and Telephone number. All these are mandatory.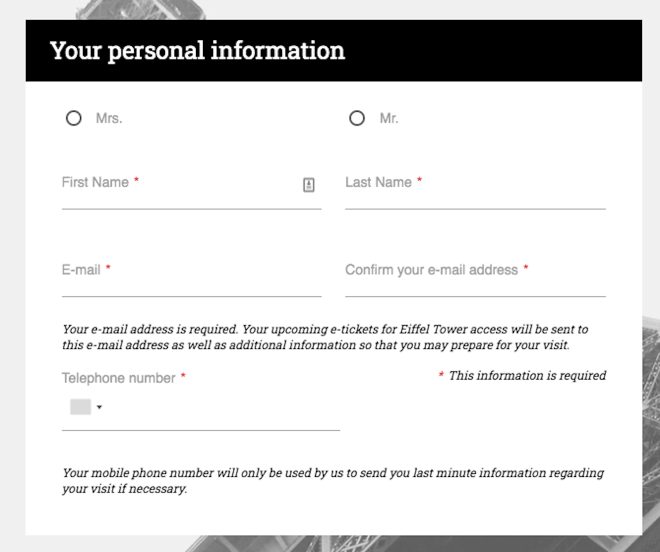 8. Then you need to scroll down to the "Your tickets" section, where you're going to insert the first and last name for each person that you bought a ticket for. Attention! These tickets are assigned and they cannot be modified afterwards.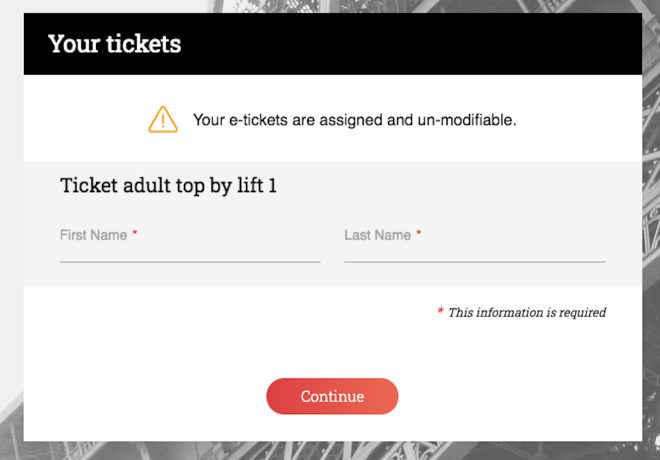 9. Lastly, you'll need to insert your card details and proceed to the online payment. It's not possible to reserve your tickets online and then pay in cash at the gate. After the online payment is finished, you'll receive your tickets on your email, which you'll have to print on a sheet of paper and present at the entrance on the selected date and time.
PRO TIP: I recommend getting your tickets in advance (as far in advance as possible), maybe even two months before visiting, so you can be sure that your desired date and time is still available!
1.3. Advantages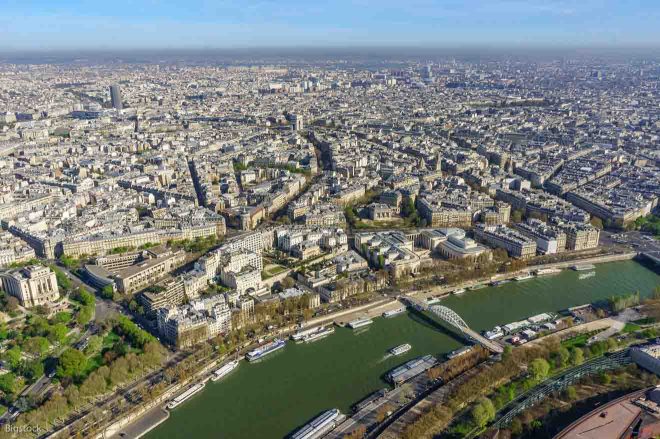 Now, the thing is that the prices are the same if you buy these tickets online or at the gate. The difference?
Buying the tickets online means that you'll secure your spot on your desired date and time in advance and that you won't spend time waiting in line at the ticket booth!
The procedure is very easy and user-friendly
You'll receive your tickets via e-mail in no time
1.4. Disadvantages
There are some downsides for buying the tickets on the official website, though.
Reservations are non-refundable and you cannot change the date and time for your visit once the purchase is completed;
You can buy tickets for a date that's maximum 2 months in advance. So, for example, if it's the 1st of February, you can buy your ticket for any day from 1st of February until the 1st of April, not a day later;
You'll need to print your tickets on a sheet of paper and present them at the entrance; no digital tickets allowed;
If you bought the ticket for the second floor and then you decide that you want to go all the way up to the top/summit, it won't be possible to change the type of your ticket
There is NO audio guide available for the moment, but you can download an unofficial audio guide from here.
You'll need to put in some personal information such as e-mail and mobile phone (I know that it can be an issue to some people)
In short, I recommend buying your tickets online instead of getting them on the spot at the gate (the next section in our list):
2. Buying your ticket from the ticket office at the entrance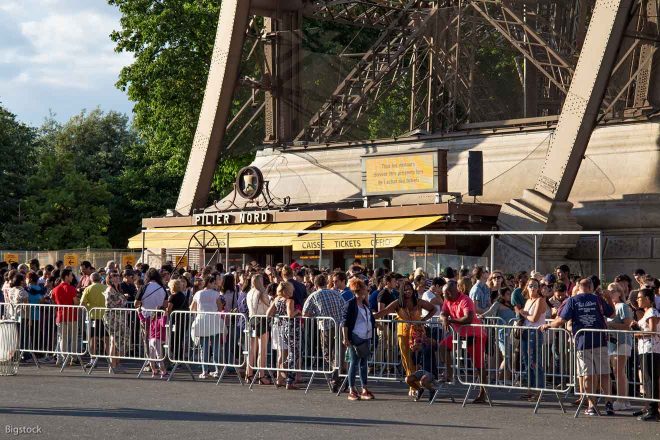 As I mentioned above, the types of tickets that you can buy at the gate are the same as on the official website and for the same prices.
Although there is no price difference, getting your tickets online beforehand is definitely a better idea. Why? Because you'll save time and you will skip waiting in the queue, which can be from 2 to 3 hours long, on average! I'm sure your vacation time is precious, so why waste it by waiting in line on the spot?
In short, buying your ticket at the gate is not recommended, but there are two exceptions:
If you decide on visiting the Eiffel Tower on impulse at the last minute, on the spot and you don't have time to go online and buy your tickets before arriving there (even then, while in the queue I'd recommend checking online on sites like GetYourGuide, it might be much faster this way)
If there are no more tickets available on the official website. In this case, you can risk it and stay in the queue hoping they're going to have some tickets for immediate use on that specific day.
PRO TIP: If you choose the stairs options, the line will usually be shorter than the one for the elevator!
Or, in the same case when all tickets are sold out, instead of waiting in line, you can try the following option:
3. All tickets are sold out? Try buying from trusted resellers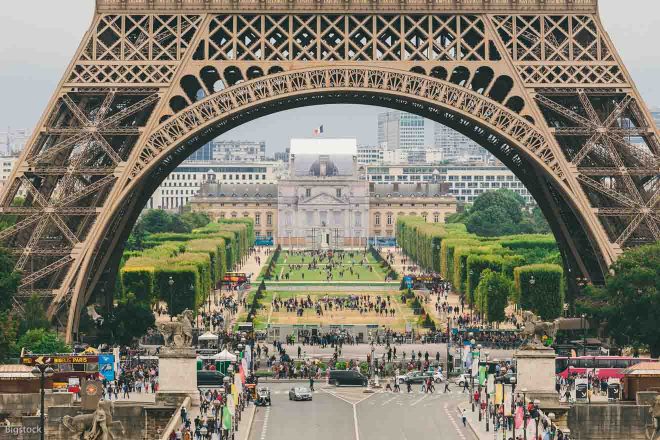 Because the Eiffel Tower is such an iconic landmark, trust me when I tell you that tickets tend to sell out super fast, even if you try to reserve them online in advance! If that's the case for your desired dates and times as well, there's a high possibility you'll still find some tickets on reseller websites if you search for them.
Why? Because the resellers usually buy some tickets in advance, which they put on sale on their platforms. No worries, if you choose a trusted reller, the tickets you'll receive will be 100% legit and working (and also lowest price guarantee!)
One such reseller that I can surely recommend – and that I used myself many times when I found that tickets were sold-out on the official website for places I wanted to visit, especially in Europe – is GetYourGuide.
3.1. Types of tickets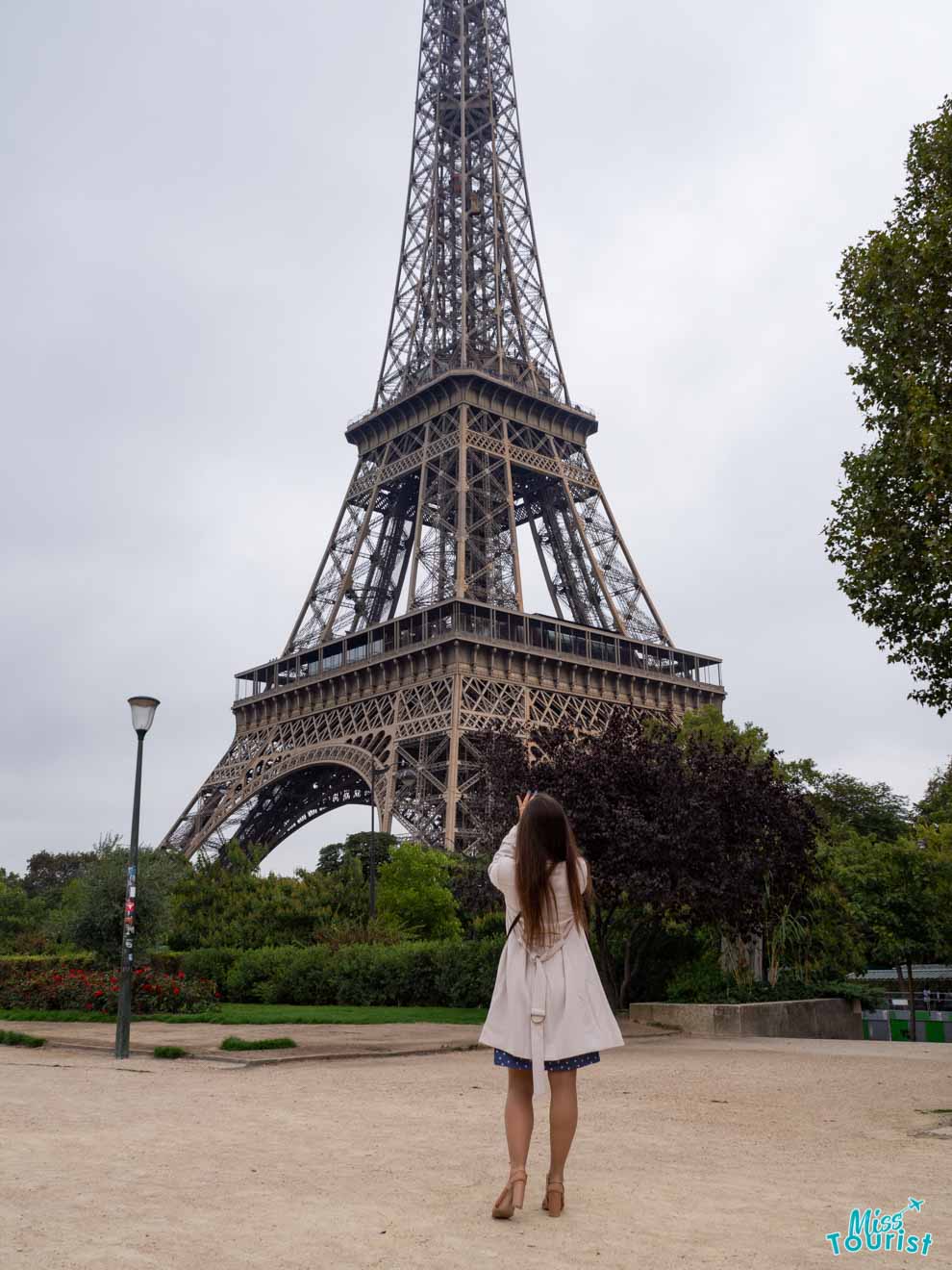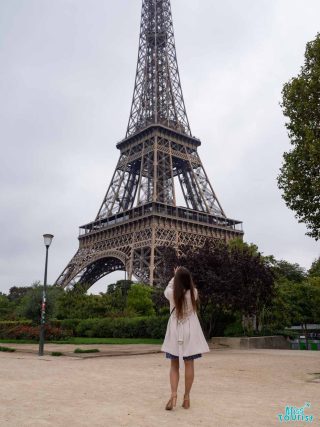 Here are some of the best Eiffel Tower tickets that you can find on GetYourGuide:
Simple skip-the-line tickets
Guided group tours
NOTE: It's true, the tickets are a bit more pricey than the official website, but I think that it's totally worth paying the extra money in case there are no more tickets available on the official website for your date! Better pay a bit more than not get to see the Eiffel Tower, right? Plus, if you want a guide for visiting the Eiffel Tower, it's a great idea to book it on this website; this option doesn't exist on the official website.
IMPORTANT: Ensure to arrive at least 20 minutes in advance so that, even if you get lost, you still have some time left to arrive on time at the entrance. Most importantly, make sure you're not late! The standard tickets are timed and the guided tickets won't wait on latecomers; if you're late, the guide will proceed on entering with the group without you and you won't be permitted any access!
3.2. Advantages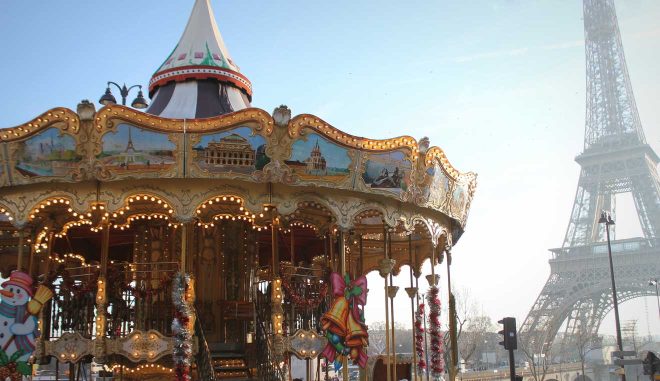 Compared to the official website, there are some perks for these GetYourGuide tickets, which I will state below:
You have a best price guarantee compared to other reseller websites;
You don't need to print your ticket, as they accept the mobile e-tickets you are going to receive via email;
You can buy your tickets/tour more than 2 months is advance, which is the official time limit on the official website;
You'll have lots of different types of tickets and combos that you can choose from, other than the standard tickets offered on their website;
Even though the standard tickets are non-refundable on GetYourGuide either, if you buy a guided tour – such as this English guided option or this morning tour option), you can cancel up to 24 hours before the activity starts and you'll receive your money back. This is not possible on the official website, for example.
3.3. Disadvantages
The tickets are a bit pricier than the official rates. On the other hand, they're great if the tickets on the official website are completely sold-out and you don't want to wait up to 3 hours in line to get them from the gate!
The simple Eiffel Tower skip-the-line tickets are non-refundable, just like on the official website
4. Buying the ticket from the tourist office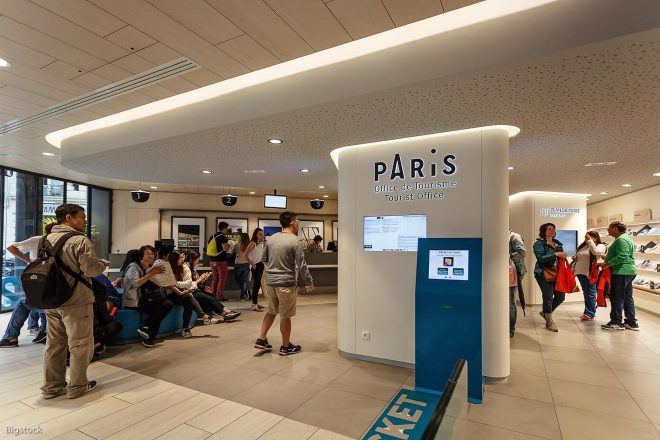 Yes, you may also buy tickets from the Visitors Office in Paris, either from their office or online, up to two months in advance. Unfortunately, they're really overpriced compared to both the official website and to GetYourGuide as well.
The price is the same regardless if you buy it online or on the stop: the top/summit tickets with priority access is 73€ for adults and 63€ for children (4-11 years), compared to the official prices which are 25,90€ for adults and 6,50€ for children. But, compared to the official rates, an advantage is that you'll also get an accompanying guide up until the second floor and an audio guide (which needs a 32€ deposit that you'll get back at the end of your tour).
If you ask me, it would make a lot more sense to just buy it on the official website or GetYourGuide if the ones on their website are all sold-out.
5. Have lunch or dinner at one of the two restaurants at the Eiffel Tower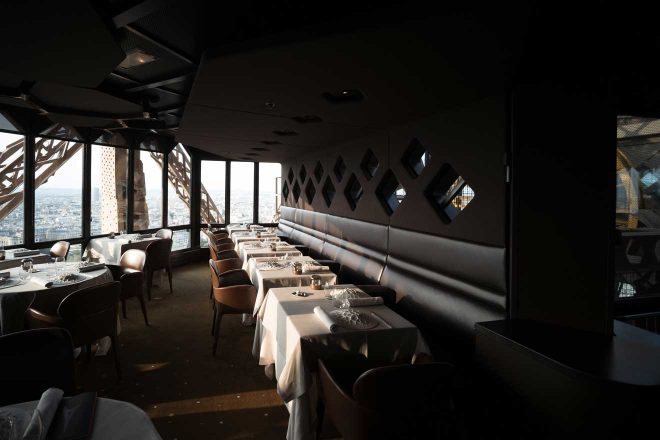 Yep, it's possible to have lunch or dinner (or even an afternoon tea) and get in the Eiffel Tower this way! There are 2 restaurants on-site that give you this access, plus one bar for which you need to have a summit ticket beforehand.
But here's a full disclosure right from the start: this option is waaay pricier than the other ones I'm recommending above, but still very useful for people who want to indulge with the views!
Both restaurants are very good and they have their own private elevator which can take you up to different levels of the tower.
Here are your options:
Jules Verne Restaurant is on the second level of the Eiffel Tower. They have a fixed 135€ a la carte menu for lunch and the dinner at Jules Verne can be even more expensive – 190€ for the 5-course tasting menu and 230€ for the 7-course tasting menu.
58 Tour Eiffel Restaurant is on the first floor of the Eiffel Tower. If you're lucky enough to have a table at the window, you'll have a nice view and you'll also be able to see Trocadero Plaza! NOTE: 58 Tour Eiffel is currently closed and it will reopen in Spring 2020.
Extra: Champagne Bar – This one is on the top/summit of the Eiffel Tower. In order to get there, you need to buy an official lift ticket to the top of the tower beforehand. You cannot make reservations here. The bar is open every day from 10.15 AM to 10:45 PM (or 11.30 PM during the summer)
I think these options are good especially if you would've had lunch or an Eiffel Tower dinner anyway!
PRO TIP: Even if you have a reservation for lunch or dinner at any of the places above, make sure to arrive at least 30 minutes beforehand, as you cannot skip the security line at the entrance to the tower!
6. Get in with a city pass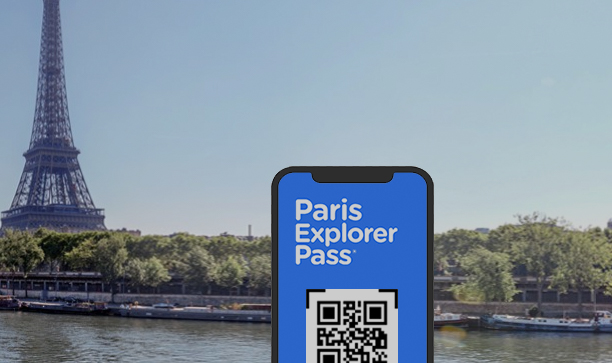 There are different city passes for Paris, but only a few of them include access to the Eiffel Tower.
Here they are below:
IN SHORT: I think that the Explorer Pass is worth it because it has an accessible price, it's easily personalizable depending on what you want to visit and it includes visiting the Eiffel Tower, but only up to the second floor. I wouldn't recommend it if you want to visit the top/summit, as it's not included and it cannot be added as an extra.
7. Choose from the different tour combos available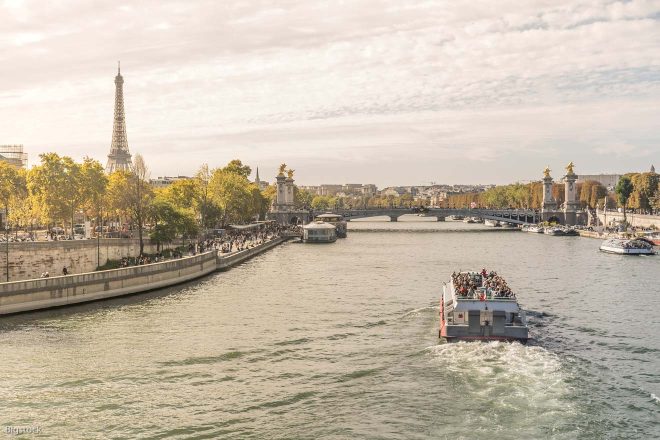 Last but not least, I think that one of the most fun options out there (and also money-efficient if you research it properly) is buying a tour combo! This way, you can make your itinerary easier by booking multiple activities at the same time.
Here are some of the most exciting combo options that I can totally recommend:
As you can see, there are plenty of different options that you can choose from, you just need to pick the one that fits your itinerary and preferences best! 🙂
| | |
| --- | --- |
| 🛗 Lift Second floor: | €17,10 |
| 🛗 Llift The top: | €26,80 |
| 🪜 Stairs Second floor: | €10,70 |
| 🛗🪜Stairs 2nd floor + Lift The top: | €20,40 |
| 🍽️Best Restaurant: | |
| 🎟️ City Pass with access: | |
| 🕖 How long: | 1 hour 30 min – 2 hours |
BONUS: Where to take the best picture of the Eiffel Tower
No visit to Paris or to the Eiffel Tower is complete without the perfect, envy-inducing pictures, am I right? Luckily for you, during my time in Paris I have discovered some pretty unique and awesome spots where you can take those postcard-like pictures of the Eiffel Tower and I'm going to share those with you now (you can click on each name to open the location in Google Maps):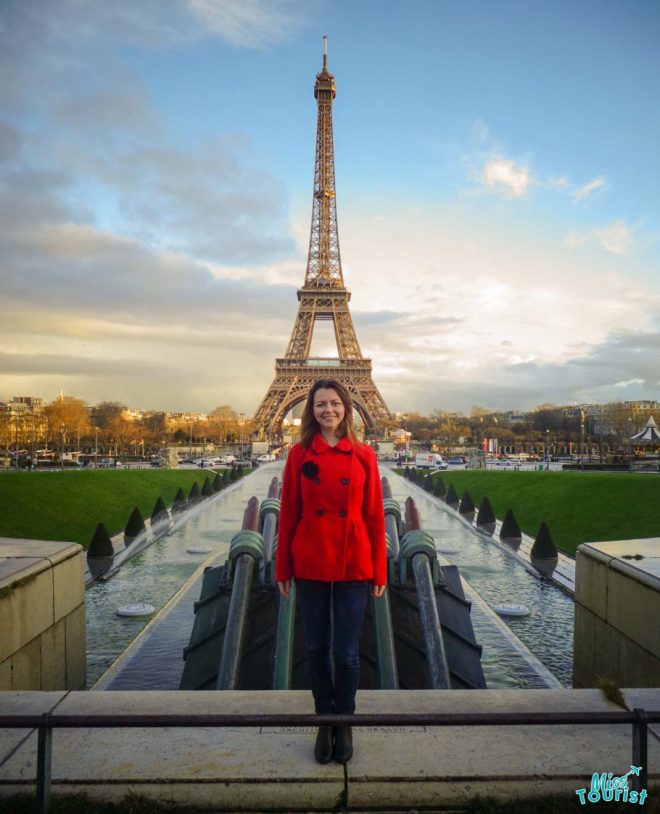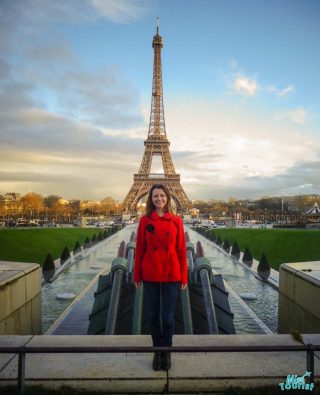 That is all for me for now, but if you know some cool places that have an amazing view to the Tour Eiffel, do share with us in the comments! 🙂
BONUS 2: Practical info for your visit to the Eiffel Tower
Now that you already know how to save precious time during your Eiffel Tower visit, I couldn't let you go without giving you some important information about visiting this iconic landmark, right?
Here are some FAQ and important things to keep in mind:
1. Should you take the elevator or the stairs?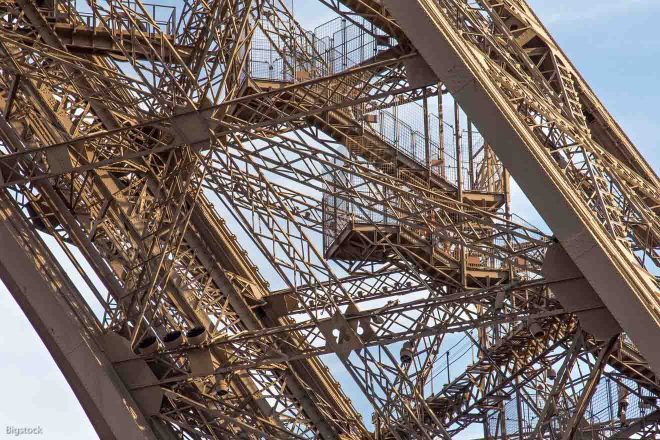 If you are wondering whether you can go inside the Eiffel Tower, the answer is – YES!
You have the option of taking the stairs from the bottom of the tower up to the 2nd level, regardless if you choose the 2nd level ticket or the summit one. There are no more and no less than 674 steps up to the second level (and 1.665 steps in total up to the summit, but that stairway is not open to visitors, so you'll have to get the elevator from the second level up to the very top).
Now, the answer to this question totally depends on your preference (and budget, of course), but here is a little list of pros and cons of taking the stairs, so the decision will be a bit easier to you: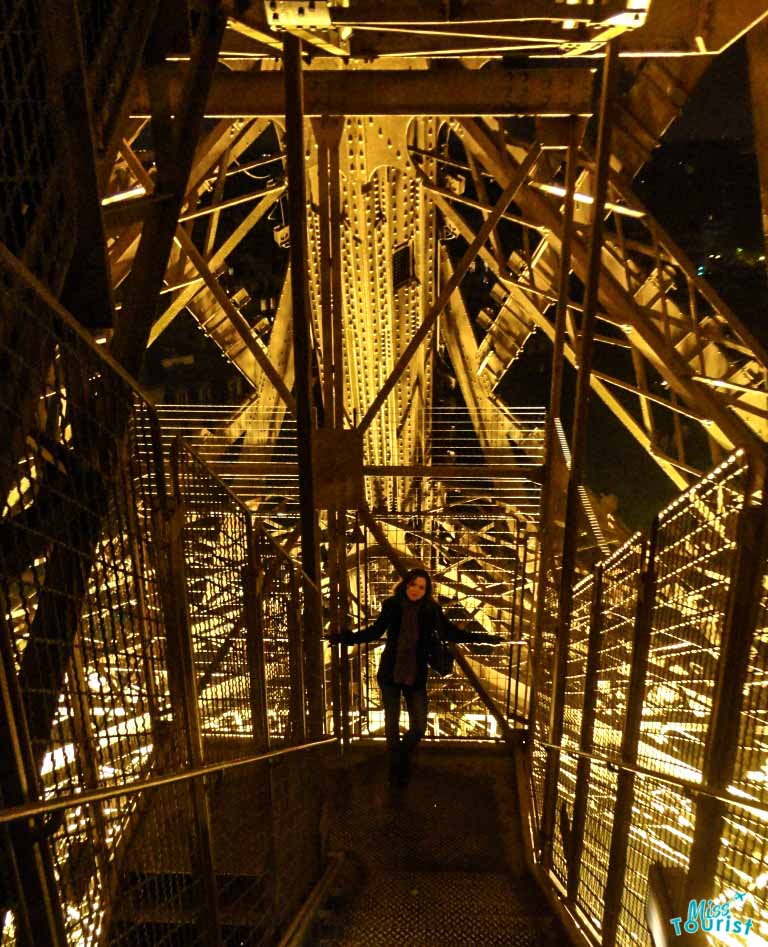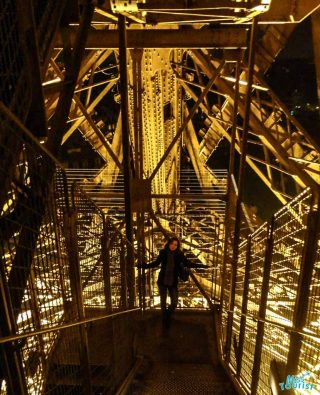 PROS:
It's cheaper: 19,70€ for the top compared to 25,90€ with the lift
The queue is usually shorter for the stairs than for the elevator
The view is beautiful and you can see the perspective changing as you go up, as well as some details of the tower
CONS:
674 might be a bit too much to some travelers
The actual climbing will take longer to get up than just taking the elevator
NOTE 1: As I mentioned above, even if you'd like to take the stairs up to the top, you won't be allowed. This means that you'll still have to queue for the elevator on the second level if you have a summit entrance ticket.
NOTE 2: Even if you decide to go up with the elevator, I definitely recommend going down using the stairs. This way you will see how the landscape changes once you reach the second and first floor and there won't be as many people going down as going up!
2. Should you book a guided tour or can you visit by yourself?
In all honesty, I don't think that a guided tour is super necessary if you prefer documenting yourself before going. It all depends on what type of travel style you have, of course!
A good thing about getting a guided tour is that you'll have somebody explaining the history of the attraction, how and when it was built, some fun facts etc.
3. Safety when visiting the Eiffel Tower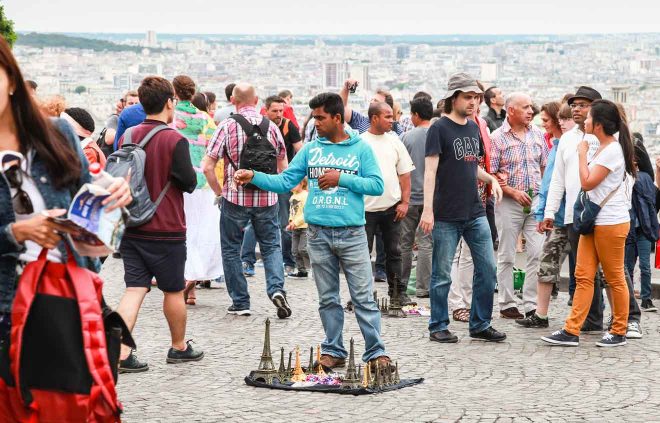 Although the Eiffel Tower is carefully guarded, as with any other place that's heavily visited by tourists, I advise some common safety measures:
Be mindful of your belongings and surroundings at all times, so you can avoid pickpockets
Wear your backpack in the front rather than on your back
Don't worry, as there is no risk of falling over the edge; there are fences that will ensure your safety
4. What are the Eiffel Tower opening hours?
The good thing is that the Eiffel Tower is open all year round. The opening hours differ depending on the season, as follows:
13th of June – 29th of August: from 9.00 AM to 12.45 AM for the lift (last ascent before 11.30 PM for the second floor and before 11 PM for the summit) and from 9.00 AM to 12.30 AM for the stairs.
Rest of the year: from 9.30 AM to 11.45 PM for the lift (last ascent before 11.00 PM for the second floor and before 10.30 PM for the top) and 9.30 AM to 6.30 PM for the stairs.
5. Smart tips to keep in mind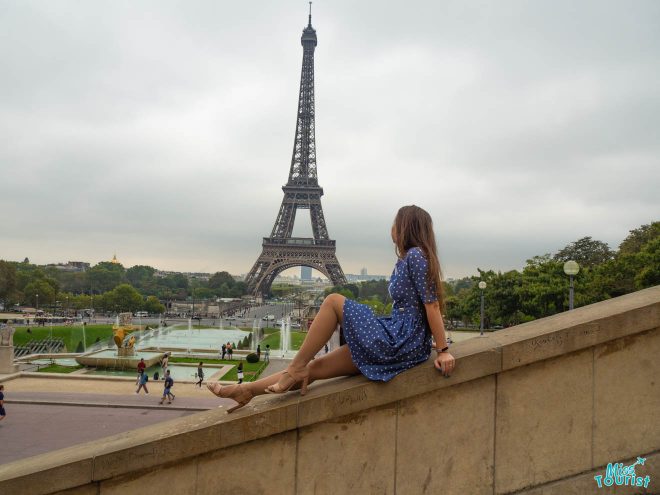 After visiting the Eiffel Tower myself and also gathering some information from other friends and people who have been there, I have compiled this list of smart tips that you might want to know before you go:
If you'll find no tickets on the official website, nor on GetYourGuide, you might want to opt for the last-minute open slots that happen sometimes. I don't really recommend those, as it's not guaranteed you're going to enter and you WILL have to wait in the long line!
The queues are much, much shorter during rainy days, as travelers don't like waiting while it pours (the queueing is outside). If you're brave enough, take a rain jacket and an umbrella and you'll experience shorter waiting times!
A smart thing would be to bring your own bottle of water with you. Attention! As much as I'd love being eco-friendly, the security won't allow you with a glass bottle; make sure to bring a stainless steel one or a plastic one (the glass ones can break and cause injuries);
You can also bring some snacks with you in case you get hungry on the way – why not?
You are not allowed with luggage and, unfortunately, there is no luggage storage on-site either where you can leave your bags or stroller. PRO TIP: You can use NannyBag Luggage Storage or City Locker, which are trust-worthy, cheap and easy to use. I used NannyBag a couple of times and I think it is a fantastic convenient service!
There are restrooms at the Eiffel Tower and a gift shop as well
PRO TIP: I mentioned this before, but I honestly think it's one of the smartest tips I have for you: even if you take the elevator up, make sure to take the stairs down. It's not that hard, you will skip the long lines for the elevator, plus you will get to see the view from different points of the tower, which really adds up to the experience!
FUN FACT: Gustave Eiffel, the architect of the Eiffel Tower, designed an apartment for himself right at the very top (summit) of the tower – did you know that? Although Gustave Eiffel's personal place is not open to visits, you can still see it through a window if you have a summit ticket.
6. What if all tickets are sold out?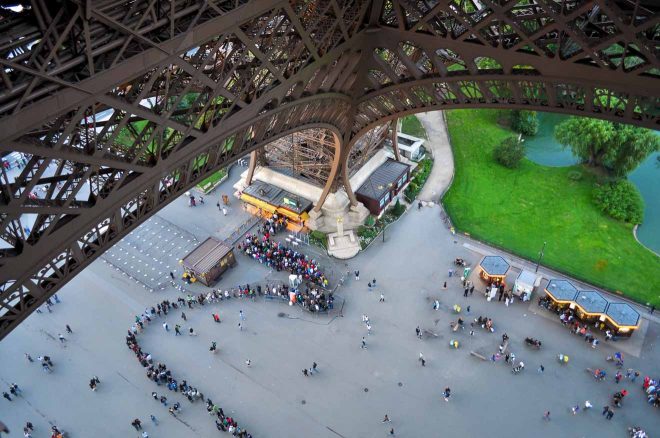 Again, If there are no Eiffel Tower tickets left on the official website for your desired day of visit and you don't want to waste a lot of time waiting in line (and by that I mean 2 to 3 hours, no kidding!), then I recommend heading to GetYourGuide and searching for tickets there. You will be able to find the simple skip the line tickets, guided tours or combo tours. But please, try to book the tickets in advance, at least a couple of days before, that will save HOURS of your vacation time (and a lot of nerves too).
7. How long will your visit take?
It really depends on how long you want to stay, as the tickets are not limited by time (other than the entrance time). But I advise reserving at least 1 hour and a half to 2 and a half hours for your visit to the tower, regardless if you visit in the morning or if you decide to see the tower at night!
8. How to get to the Eiffel Tower
There are many ways of reaching the Eiffel Tower via public transportation. Here they are:
Via metro: Line 9 (stop at Trocadéro), Line 6 (stop at Bir-Hakeim), Line 8 (stop at Ecole Militaire)
Via RER: Line C (stop at Champ de Mars – Tour Eiffel)
Via bus: 82, 30 (the stop is called "Tour Eiffel"), 86, 69 (the stop is called "Champ de Mars"), 72 (the stop is called "Pont d'Iena").
Once you go down at any of the stops mentioned above, you'll only be a super short walk away from the Eiffel Tower (also, it is visible ;).
9. Interesting (and fun) facts about the Eiffel Tower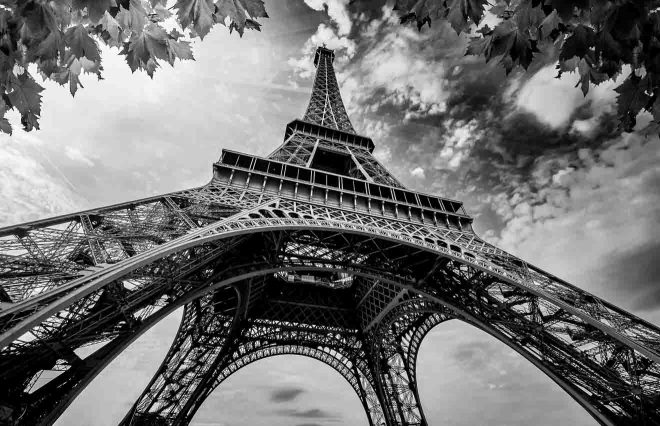 Last but not least, here are some super fun facts that I gathered about the Eiffel Tower – did you know these?
The tower was built by Gustave Eiffel and it is 320 m (1.050 feet) tall;
If it's cold, the Eiffel Tower can shrink with up to 15 centimeters;
It was built in 1887;
Wondering about the weight? Get ready: the iron that the tower is made of weights around 10.000 tons! Moreover, they needed more than 18.000 iron pieces and more than 40 tons of paint;
300 people were needed to construct it;
The entire tower only took exactly two years, two months and five days to be ready. That's an incredibly short amount of time!
The reason why the Eiffel Tower was built was to celebrate the 100th anniversary of the French Revolution. The structure was meant to be an entrance to the fair called "World's Fair" in 1889, held for this celebration
It was actually the tallest man-made building in the world for 41 years, until 1930, before they built the Chrysler Building (New York)!
More than 6.2 million people visit the Eiffel Tower each year and it's actually the fourth most popular monument in the world;
Many important personalities at that time actually despised the structure – such as Alexandre Dumas Jr. They made a petition against the project and they called it "monstrous" and useless". Fortunately, the petition wasn't very effective;
The tower was planned to exist only for 20 years and it should've been taken apart in 1909; they didn't do it because they realized it could work as an excellent telegraph antenna during WWI;
On average, there are around 20 proposals per day that take place at the Eiffel Tower!
---
Conclusion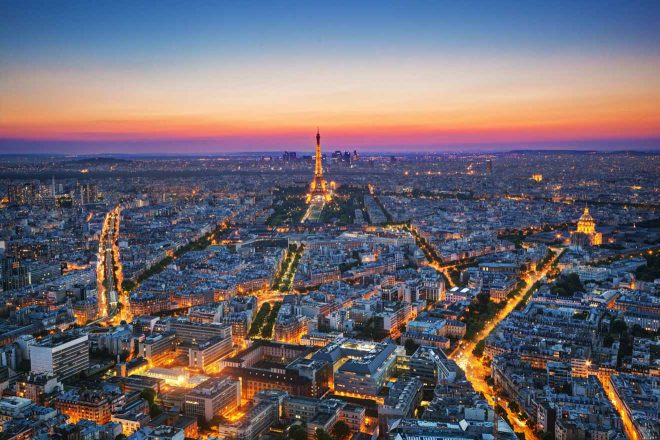 Wow, congrats, you have reached the end of this super detailed article that explains everything you need to know about how to skip the insanely long lines to the Eiffel Tower! In this post I have explained about 7 different ways of getting your tickets, along with which ones I recommend and which ones I don't – especially if you want to save some time.
I hope you found this article useful and that you know the best way of getting your tickets by now!
In case you're traveling to the city of love soon – here you can read all of my articles about Paris! And if you have any questions, you can leave them in the comments below, I'm happy to help!
Enjoy your time in Paris and happy travels,
Yulia
---
Pin it for later!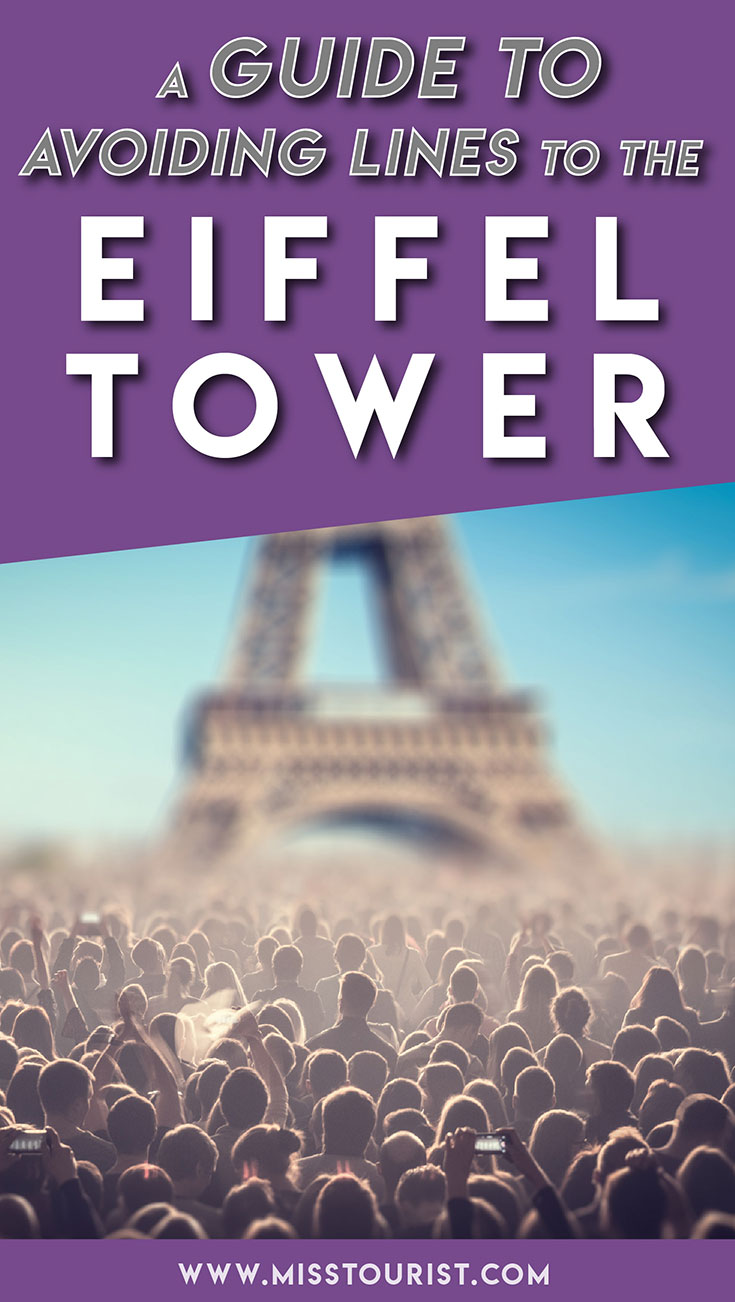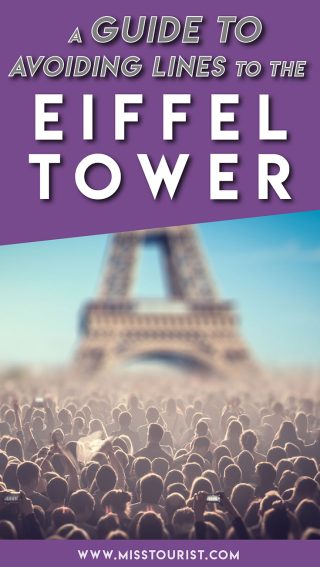 Pin it for later!