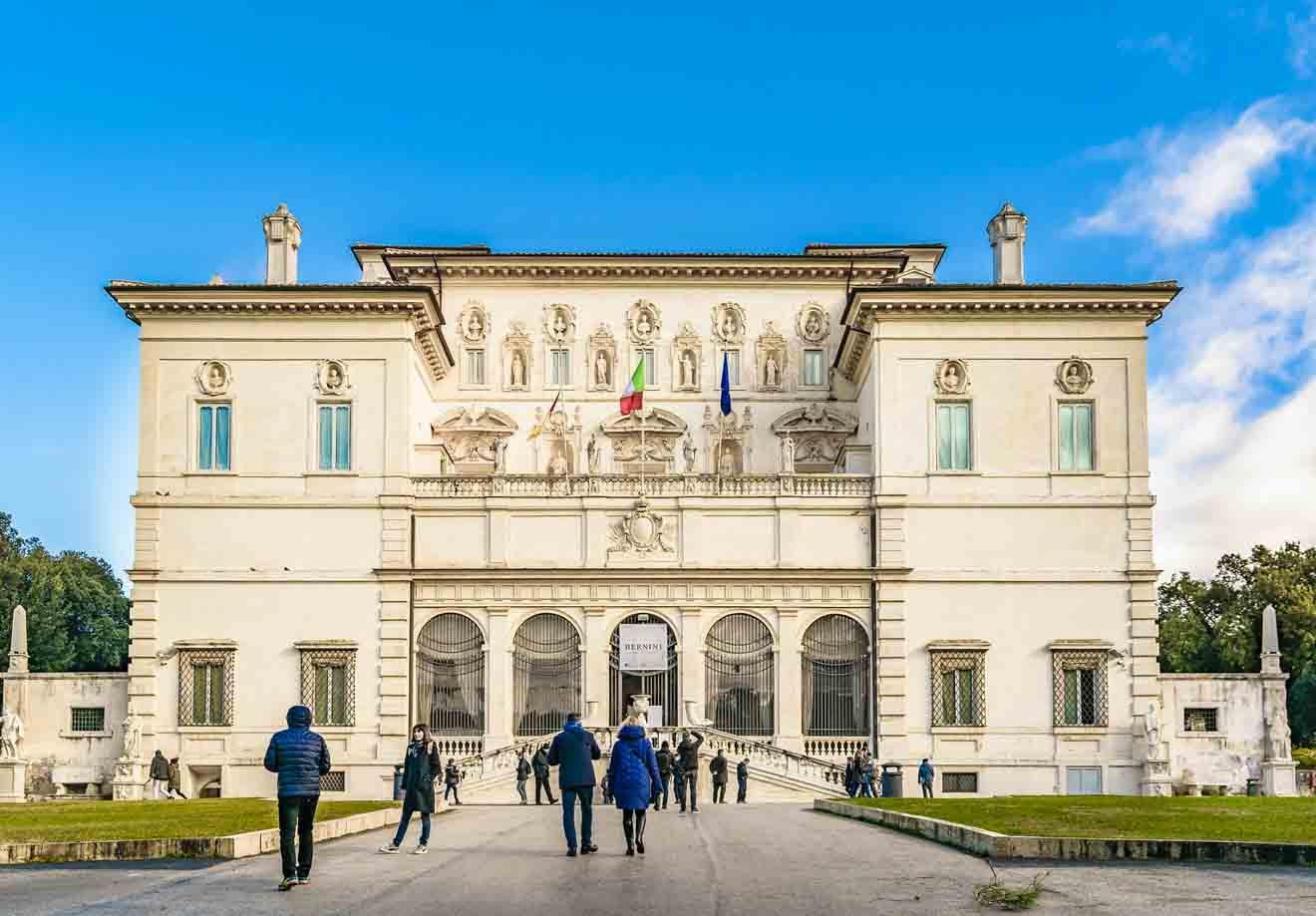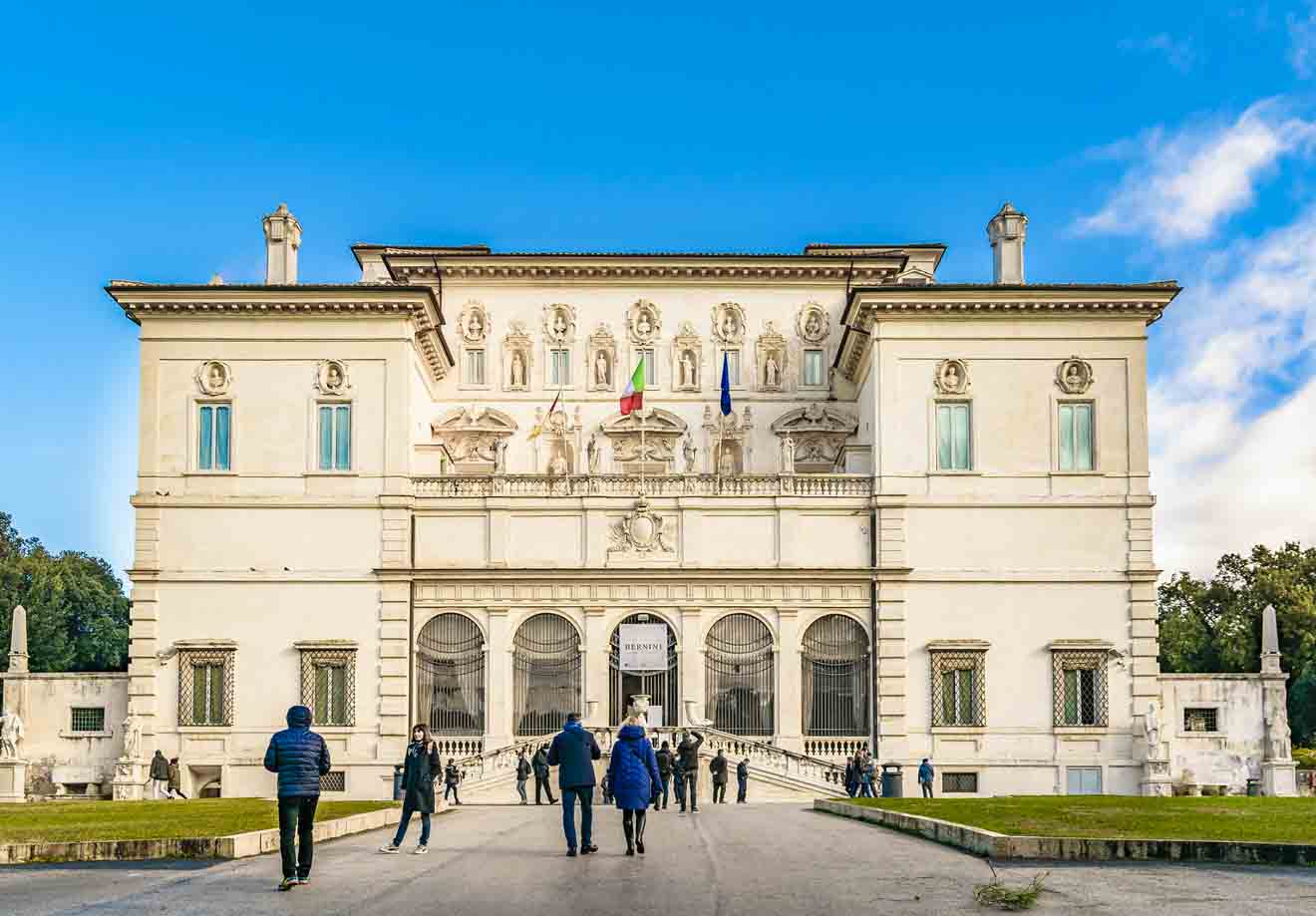 If you happen to be in the historic capital city of Rome, you definitely must visit the Borghese Gallery (or Galleria Borghese in Italian). Keep in mind that it's probably the most visited museum in Rome (after Vatican Museums) and therefore, there are often lines of people trying to get in. But don't worry, I have some tricks on how to get your Galleria Borghese tickets fast!
I lived in Rome for over two years and during my time there I got the chance to learn a few tricks about how to avoid the lines around the famous attractions. As I like to say, don't skip the attraction, skip the line!
In this post I will tell you 4 smart ways of avoiding the lines and getting your entrance tickets fast and painless.
Please keep in mind that you will NOT be able to enter the Borghese Gallery if you don't buy a ticket in advance!
NOTE: Galleria Borghese museum has a strict limit of 360 visitors at once. Your ticket will be valid for two hours in the museum. Once your two hours are up, you will not be allowed to stay any longer.
Read along to find out how to avoid the craziness of buying your Borghese Gallery tickets:
Solution 1: Purchase your Galleria Borghese tickets in advance on their website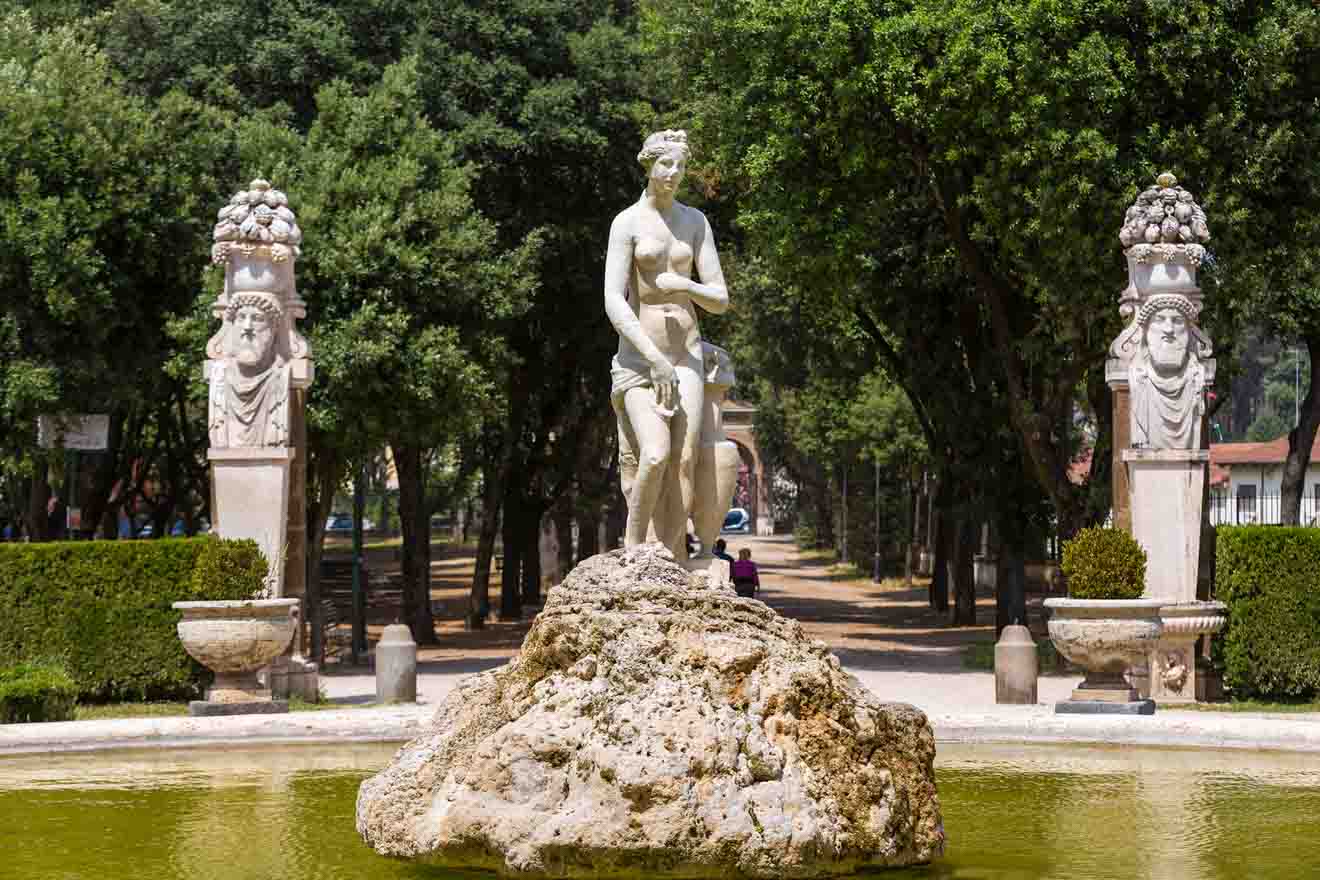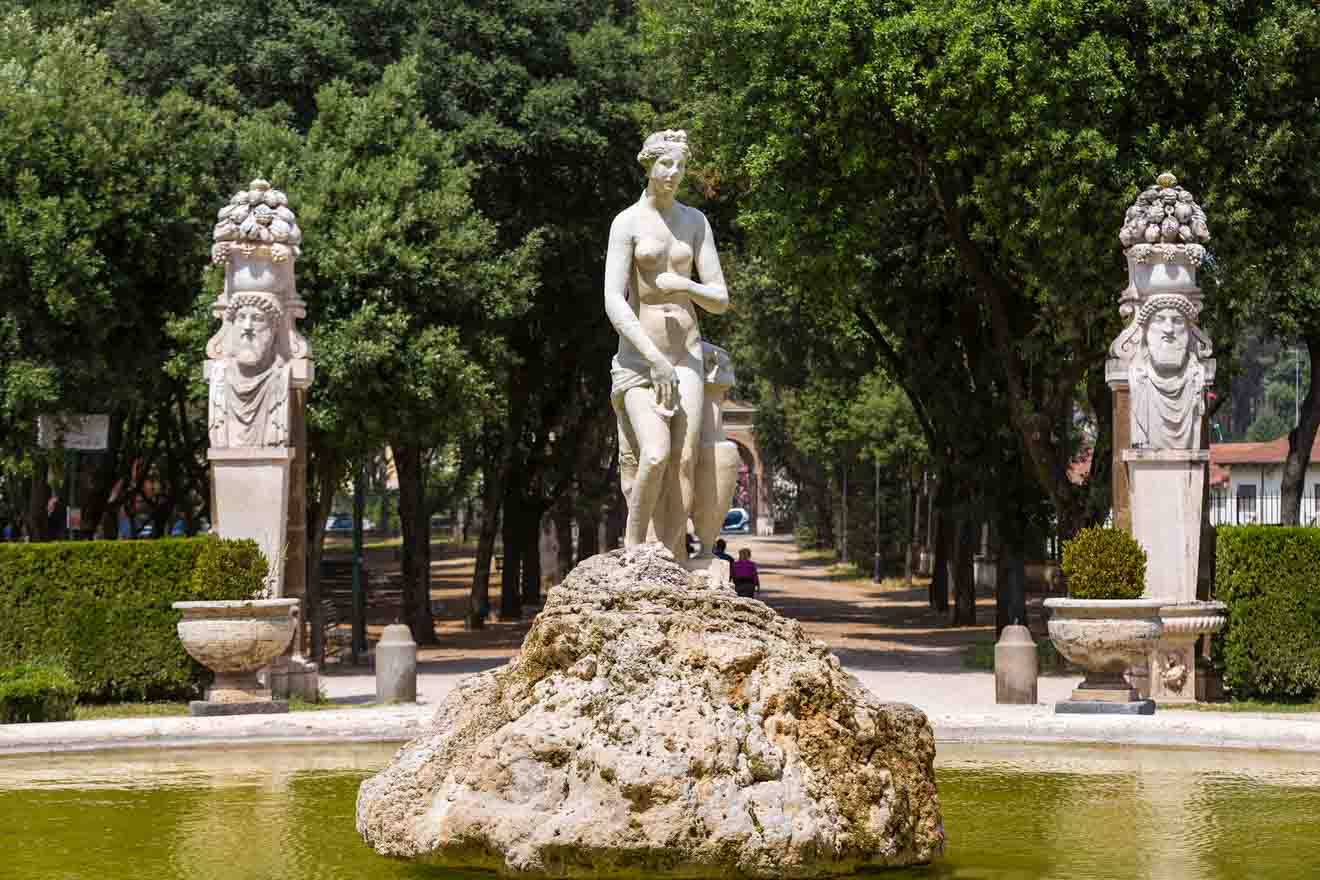 You will have to buy your Borghese museum tickets in advance before visiting. Here is a link to the official museum website (unfortunately, parts of the website are only in Italian, so you will need to use Google Translate).
At the moment, a basic ticket to the museum costs 20€ for an adult, the guided visit is 26.50€. EU citizens aged 18-25 won't need to pay the full price – only 9€ for a basic ticket and 15.50€ for a guided tour at the museum. Visitors under the age of 18 can enter for free in the museum but they will still have to pay the 2€ booking fee for reserving a time slot online. If you are under 18 the guided visit of the museum will cost 6.50€.
PRO TIP: In case you cannot find any tickets for your desired date at Villa Borghese on the official website, you can check for tickets on reseller websites for the same price or a couple of euros more. I recommend checking here and here.
Please note that you will not be able to reserve a Borghese Gallery audio tour in advance. The audio tour costs an extra 6€. Since there is only a 0.5€ price difference between the audio tour and the guided visit, I would definitely recommend the guided version! During my visit to the museum I opted for a guided visit at the museum and this allowed me to interact more, ask questions and learn fun facts from my guide.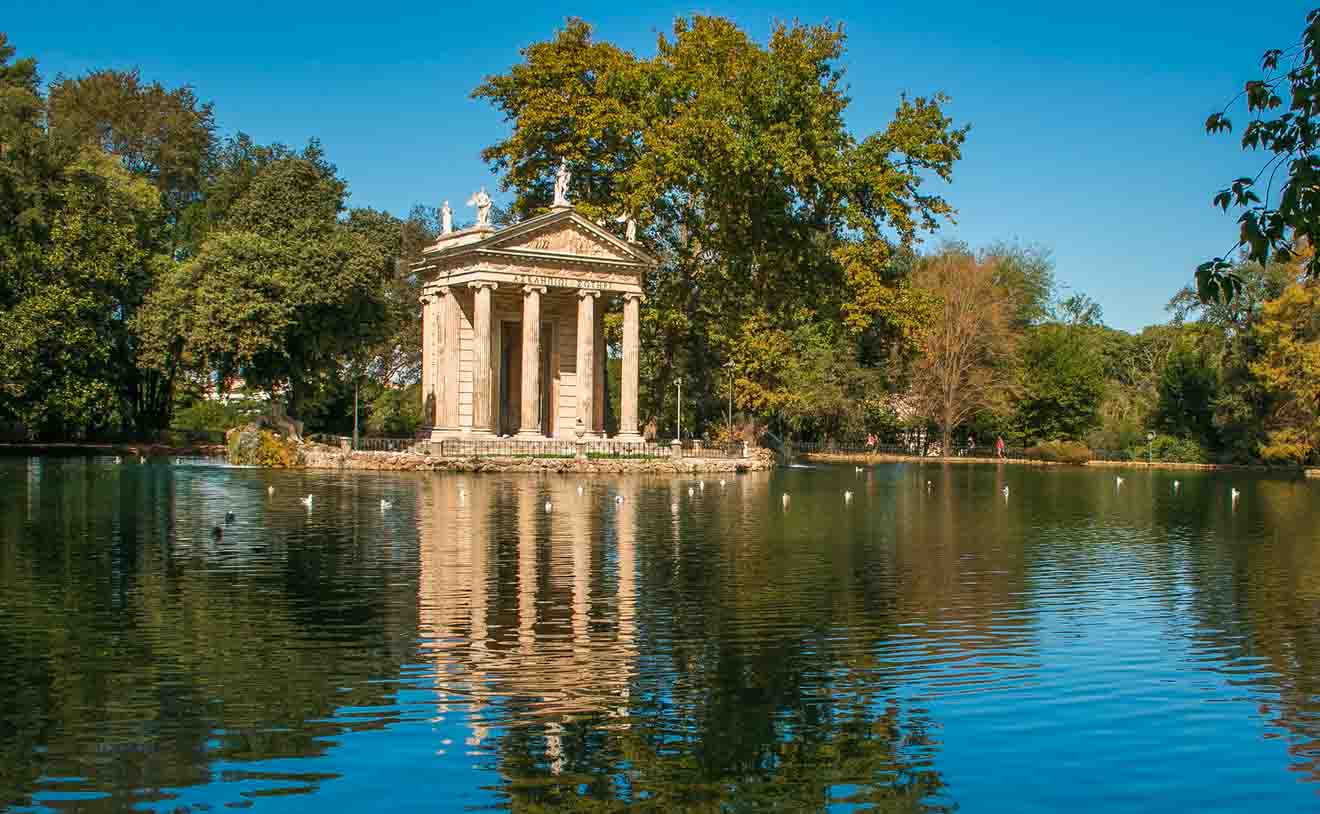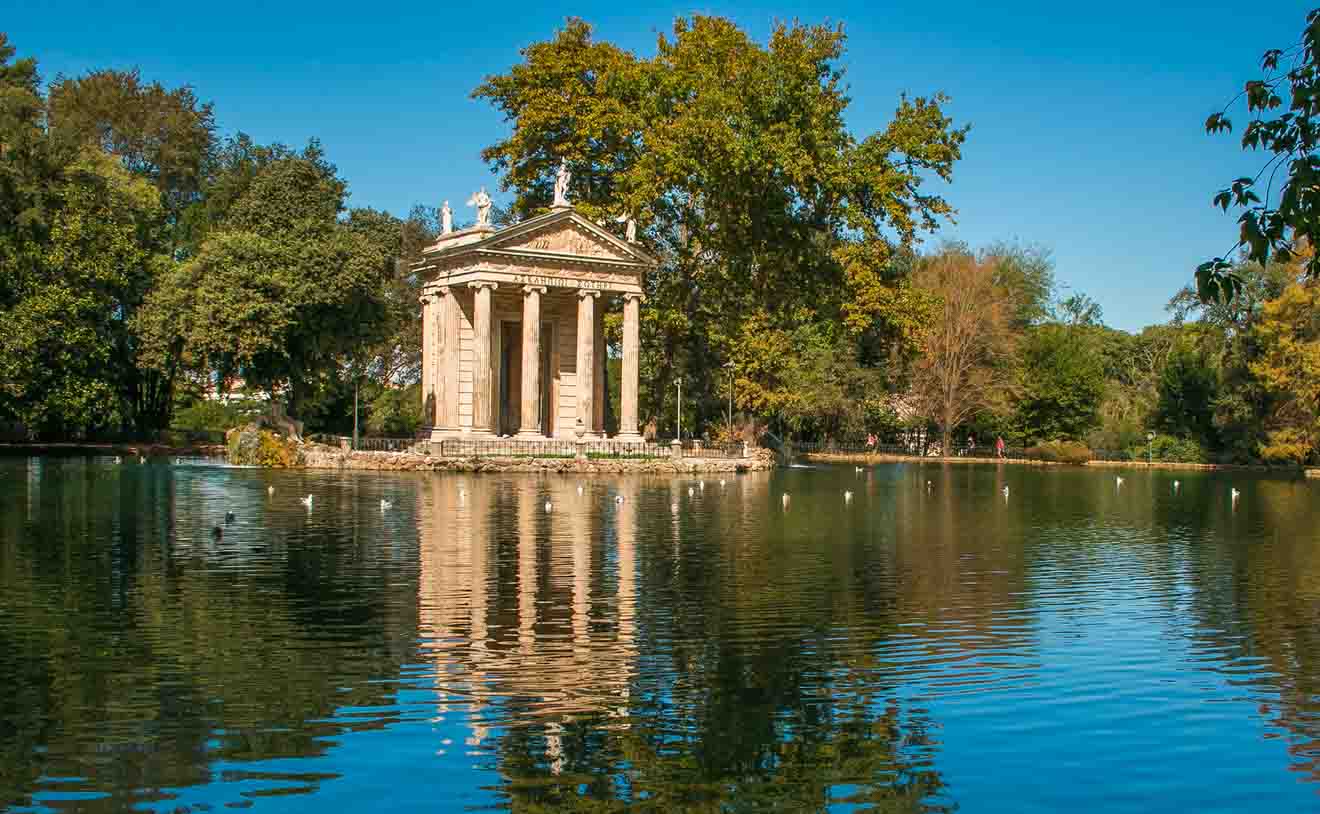 PRO TIP: Since tickets are frequently sold out, it's wise to book them at least 2 weeks in advance.
Yes, during my last trip to Rome, I tried to book tickets to the Borghese museum only 1 week in advance but sadly all the tickets were sold out! Even in late April!
UPDATE: Sometimes you may be able to reserve last-minute Borghese tickets over the phone, but only in the case of cancellations.
PRICE: Standard tickets are 20€ per person (18€ + 2€ online reservation fee). The audio guide is 6€ (optional). Guided visit tickets are 26.50€.
Solution 2: Book a guided tour on GetYourGuide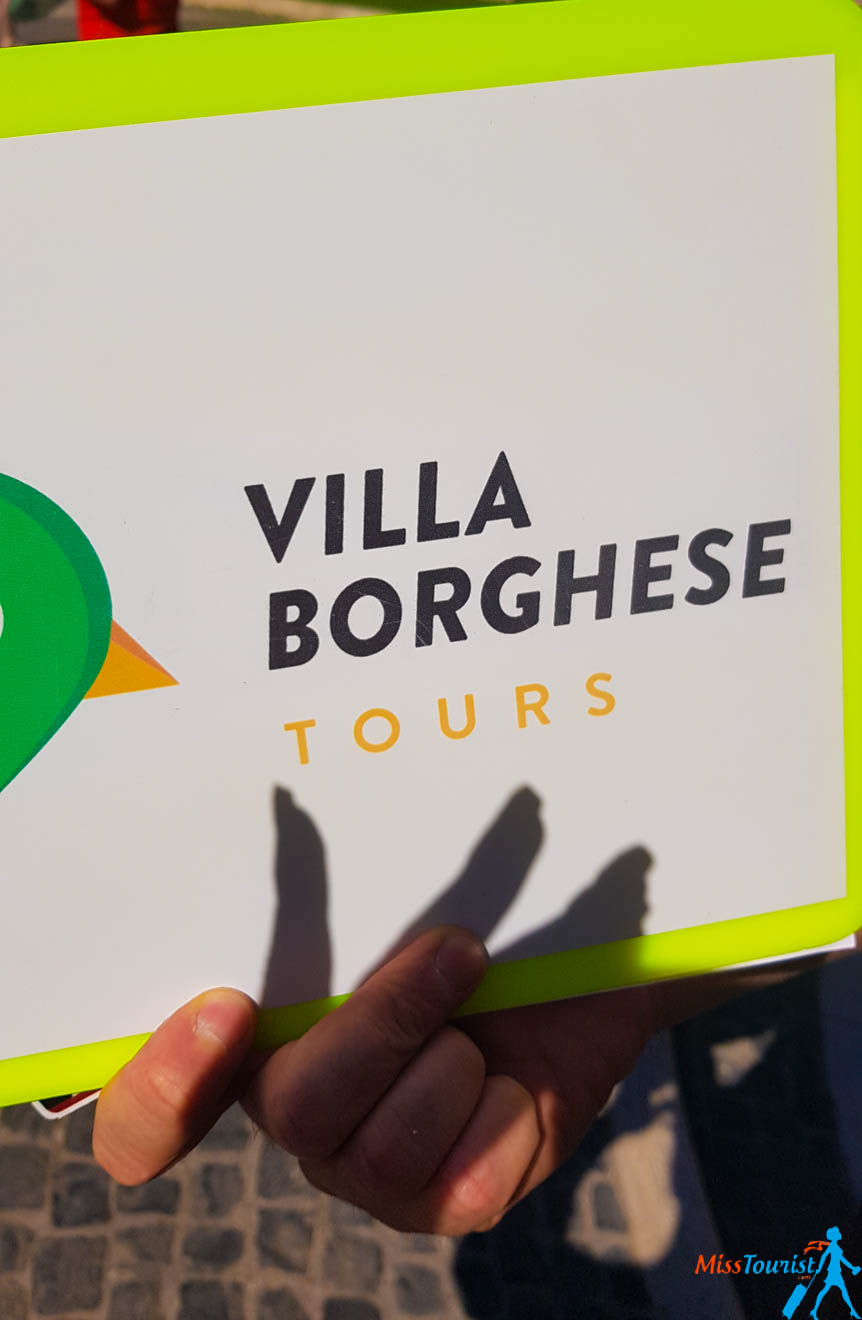 As I mentioned before, I wasn't able to get my tickets from the official website during my last visit. However, when I checked the GetYourGuide website, I was happy to see that there was still a good time slot available that suited my schedule!
If you prefer to tour the museum on your own and not take a Borghese Gallery tour, here is the normal skip-the-line ticket. However, I personally recommend the guided tours at the museum. It's also possible to book a private guided experience for the museum and gardens here.
I would not have fully enjoyed and understood the artwork of geniuses like Caravaggio, Bernini and Raphael for example, without getting the subtle details from a passionate guide.
PRICE: 26.50€ for the skip-the-line tickets and 30€ for the guided tour tickets
Solution 3: Get access with the Roma Pass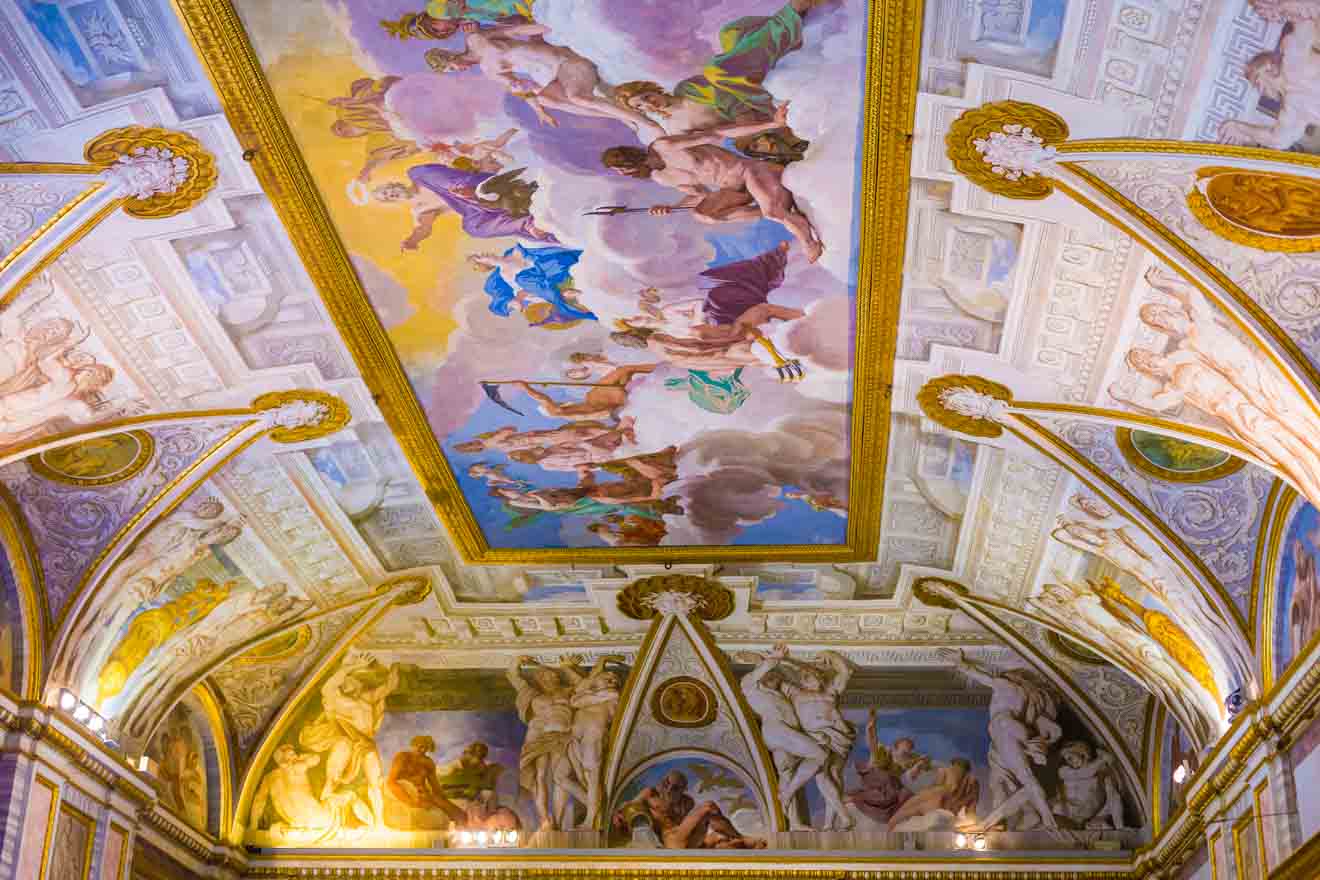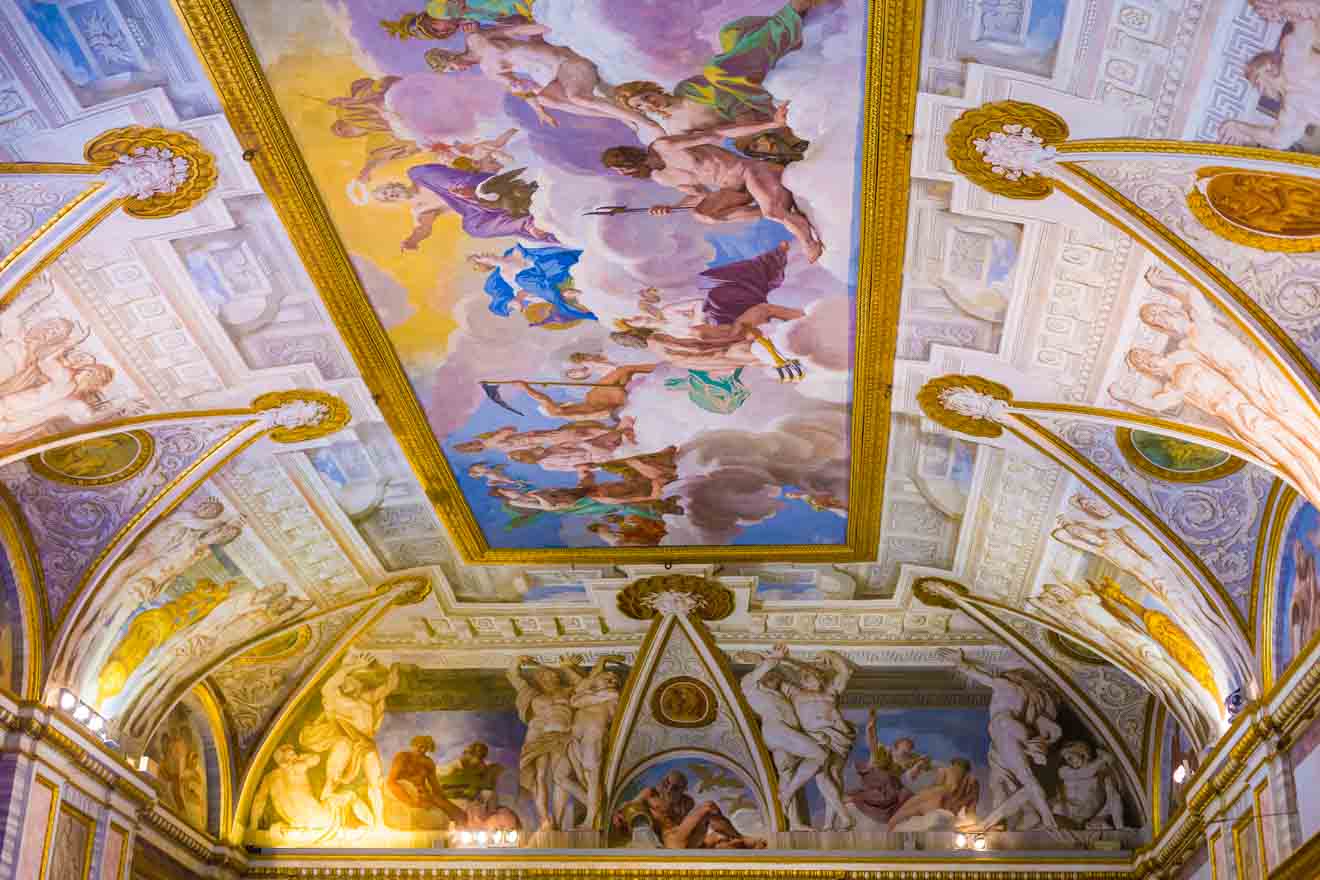 As I mentioned in my post that compares the passes in Rome, the Roma pass cost is 32€ for 48 hours or 52€ for 72 hours. It provides skip-the-line entry to 2 different museums of your choice and unlimited transportation in the city. Luckily, Galleria Borghese is on the list of free museums.
Even if you have a Roma pass, it's important to book your spot in advance! In this case, you will not be required to pay the 2€ online reservation fee that is applicable to booking your Borghese Gallery tickets online.
So, how can you reserve a spot with the Roma pass?
It's simple: either by emailing or calling the museum!
If you decide to call (+39 06 32810 – no worries, they speak English. You could also ask someone from the frontdesk of your hotel to call if you don't have a local sim card). Make sure to keep your pass close by as they will ask for the number written on it.
If you decide to email ([email protected]), this may be a simpler method since you will not have to calculate time zones and working hours. You can also include your phone number in your email in case of any changes. Confirmations usually arrive within 3 working days.
PRICE: Free admission to the museum with a Roma Pass. The pass is 32€ for 48 hours and 52€ for 72 hours.
Solution 4: Get tickets from the resellers at the museum (overpriced and NOT recommended)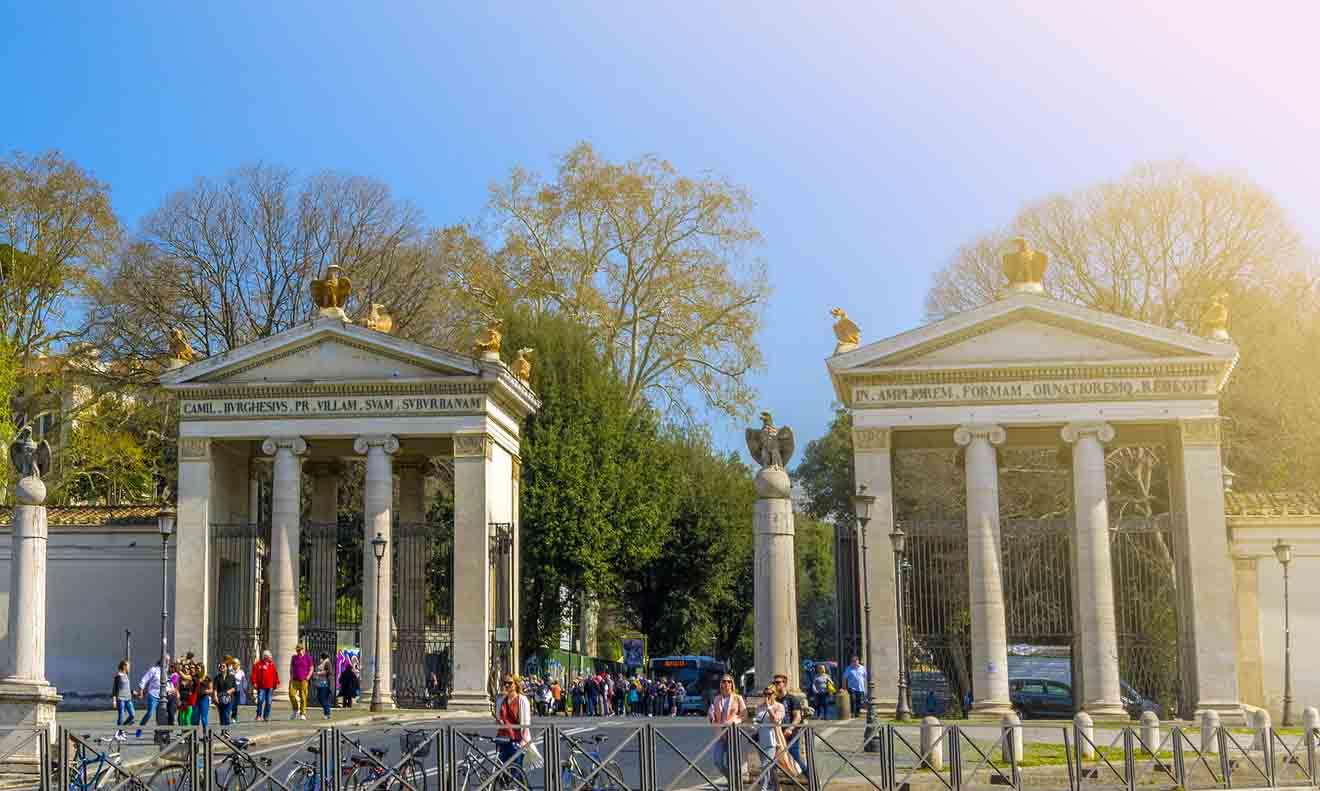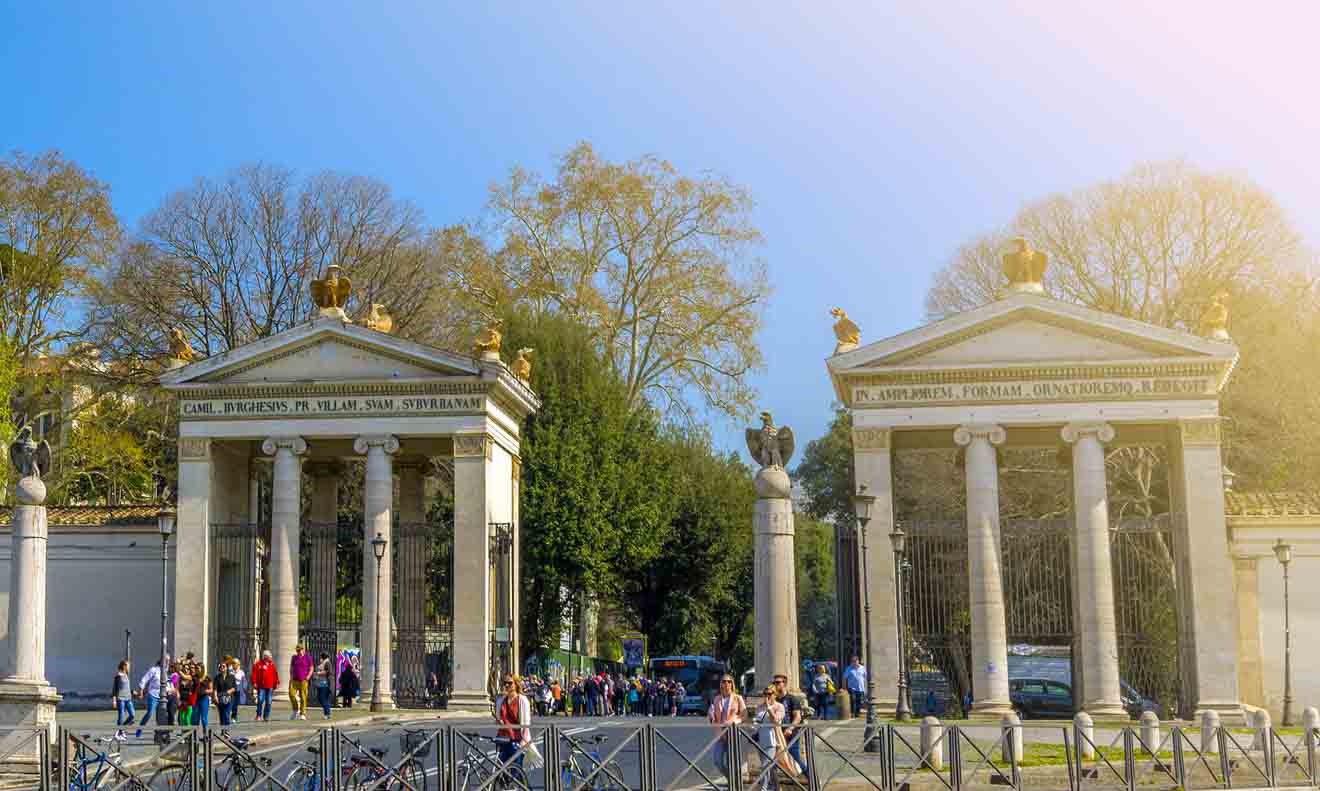 If you were unable to reserve your Galleria Borghese tickets in advance or if you only have a certain day to visit Museo Borghese, you may be able to gain access without a reservation!
Now, how can you do this? There are usually resellers around the entrance and the ticket office at the museum. However, please keep in mind that their Borghese Gallery tickets are much more expensive!
When I was waiting for my own Borghese gallery tour, I could see people buying tickets from resellers. While this is an option, you will be paying much higher prices for the exact same services. In this case, there is also no guarantee that you will actually get your tickets, therefore I would not recommend this option
| | |
| --- | --- |
| 👩‍ Adult Price: | €15 |
| 👧 Kids Price: | €2 |
| 💲 Cheapest Tickets: | Official website |
| 🗣️ Guided tour: | GetYourGuide |
| 🕖 Best Time to Visit: | Early morning (till 11 am) |
| 📍 Location: | Villa Borghese |
BONUS: Practical information about Galleria Borghese
Now that you know how to reserve your tickets in advance, I cannot let you go without sharing with you some important, practical information about the Borghese Gallery:
1. When was Galleria Borghese built?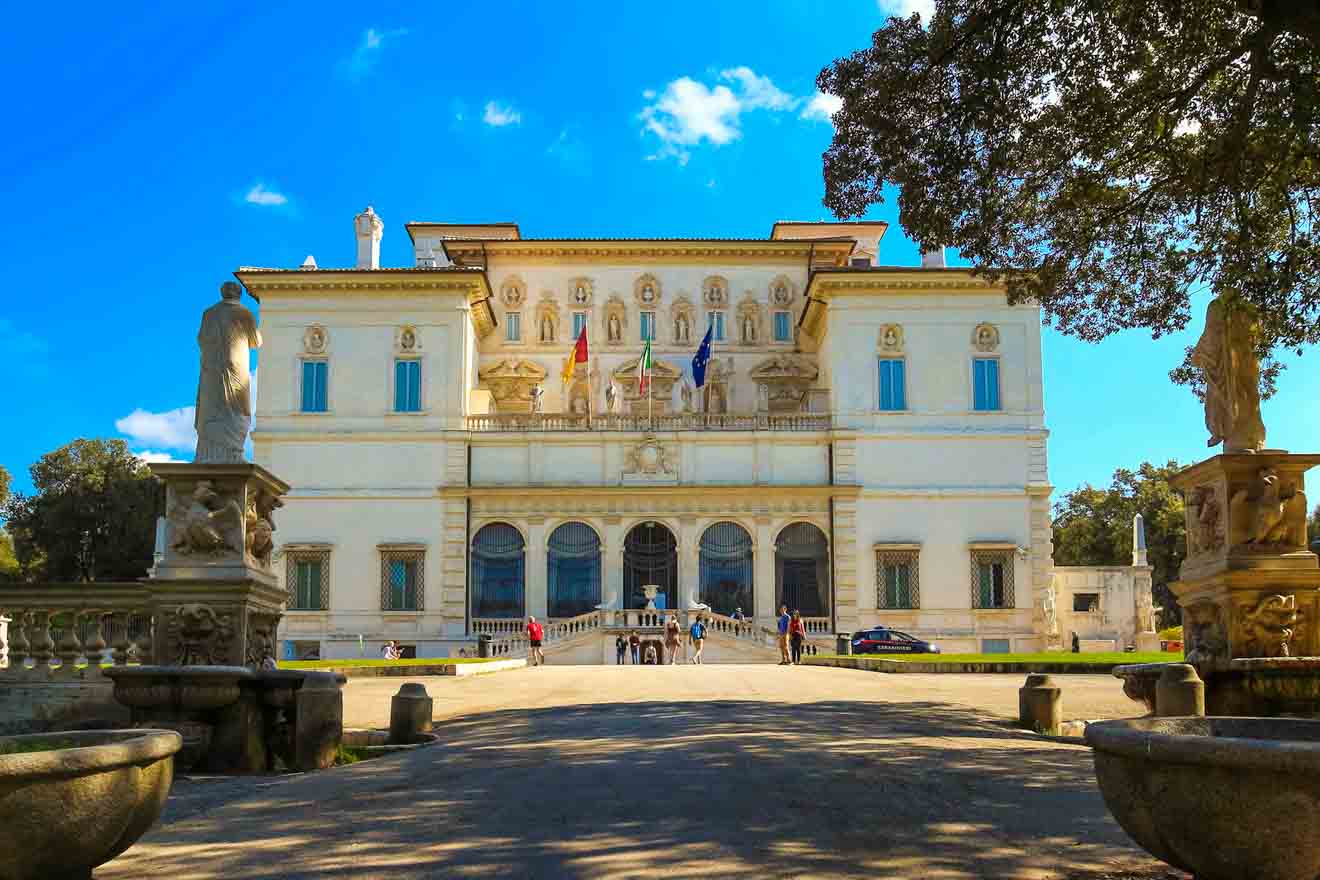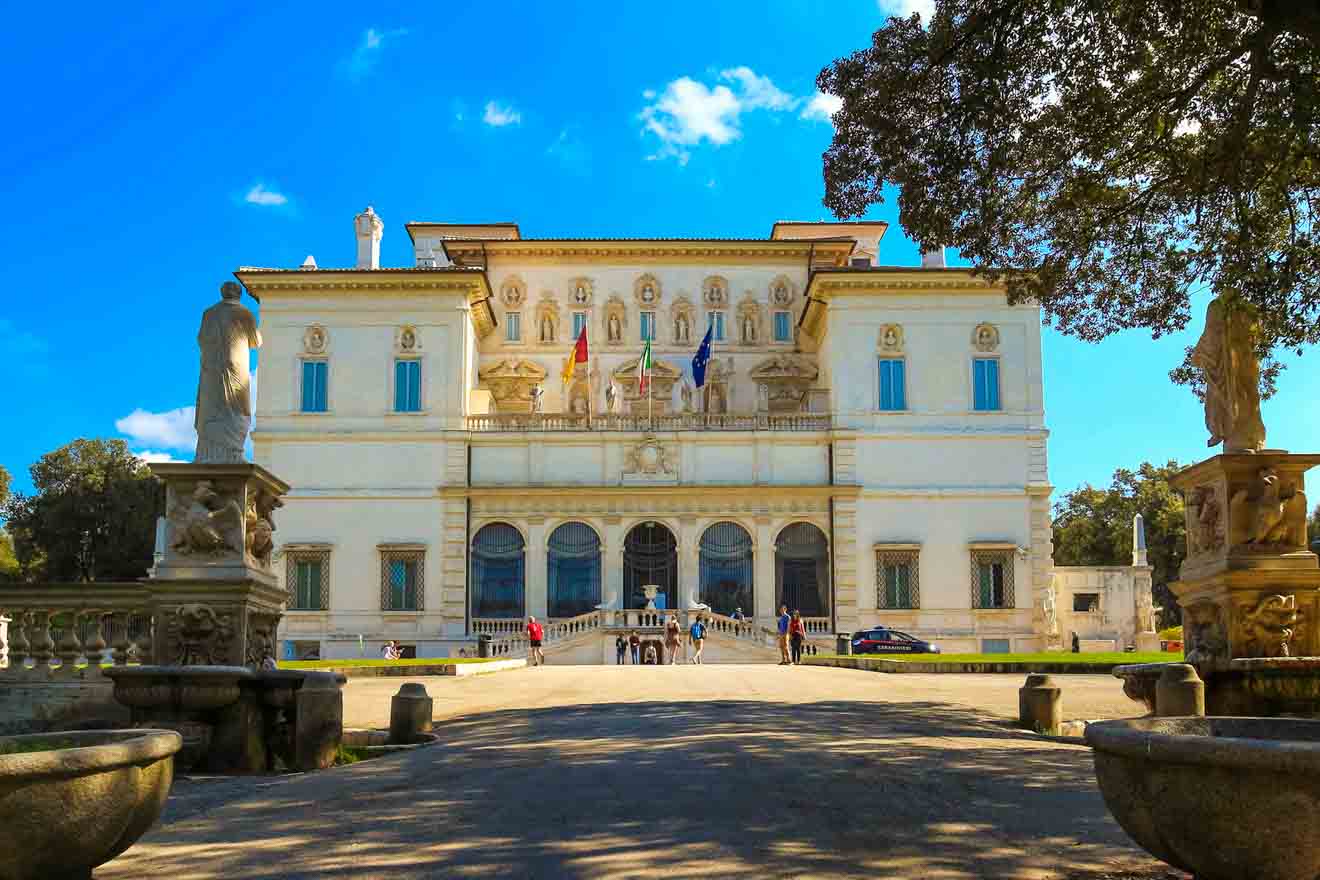 Galleria Borghese was commissioned in 1613 by Cardinal Scipione Borghese who was a passionate art collector. Architects Flaminio Ponzio and Giovanni Vasansio were in charge of designing the building. I wonder if Cardinal Scipione Borghese knew that it would become one of the best museums in Rome, renowned worldwide for its Borghese sculptures and paintings?
2. Galleria Borghese – artworks you cannot miss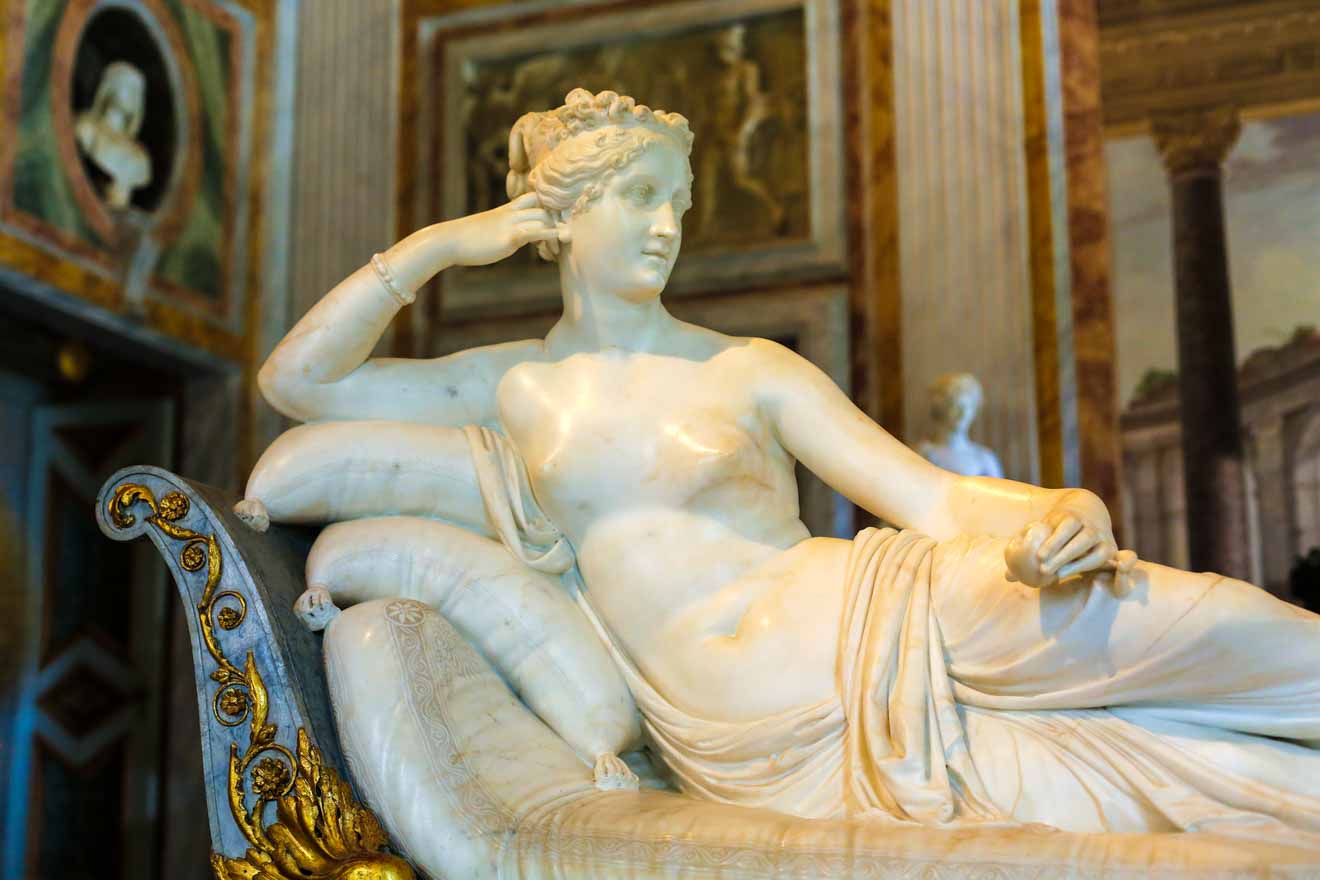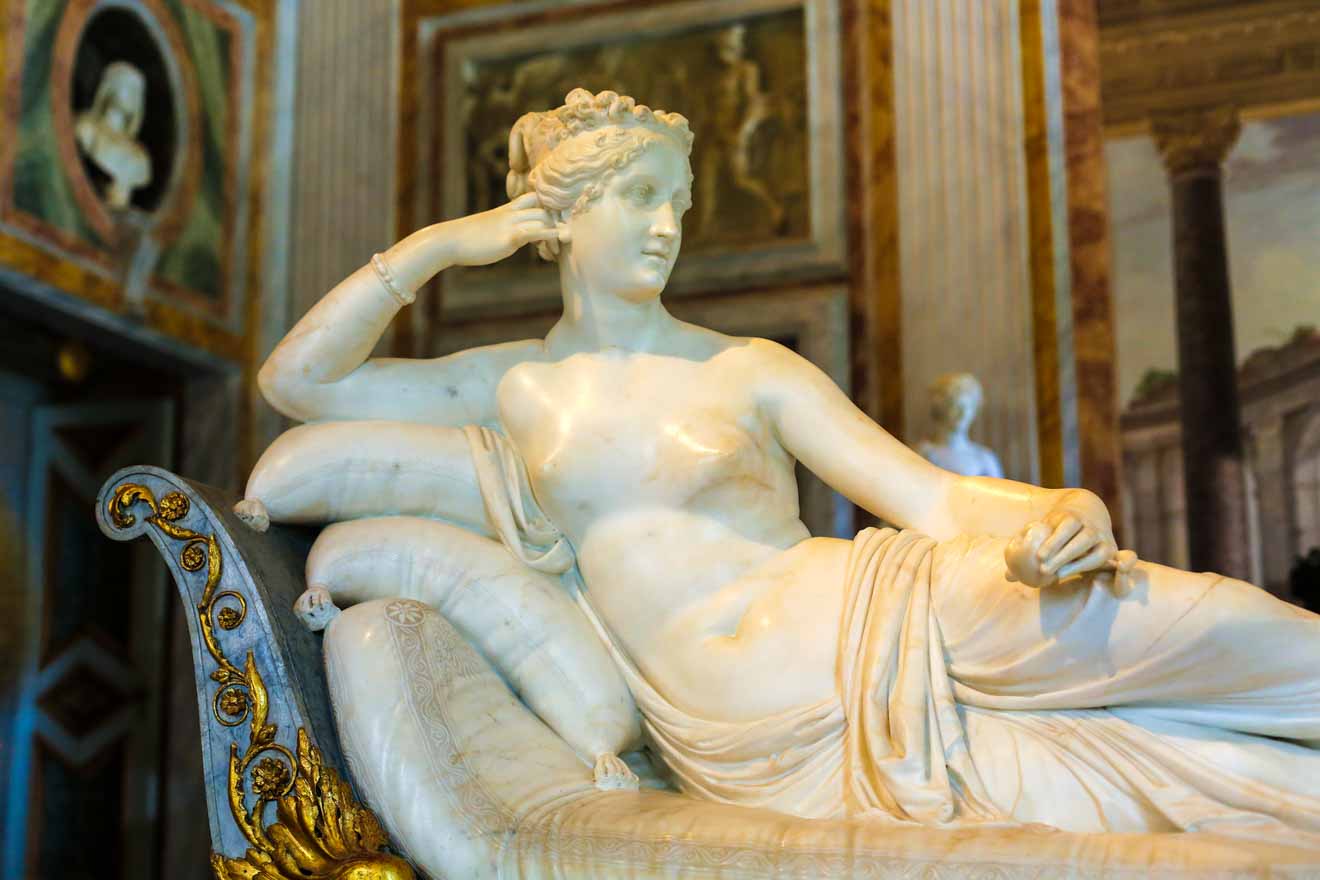 Borghese Gallery Museum has a collection of amazing pieces of art, which makes it one of the most visited museums in the entire country. "Apollo and Daphne" is a Baroque marble statue by Bernini and it is probably one of the most beautiful and famous Borghese Gallery artworks – a mandatory artwork! "Pauline Bonaparte" (who was Napoleon's sister) is another gorgeous sculpture carved by Canova in marble. As for the paintings, Caravaggio's "Basket of Fruit" and "Sacred and Profane Love" by Titian can be admired in the gallery, both of them being iconic works of Italian art!
3. When is the museum open? Are there any days that offer cheaper fees?
Like most museums, it's closed on Mondays.
On working days (Tuesday to Sunday), the Borghese Gallery opening hours are from 9:00 AM to 7:00 PM. However, final admission is at 5:00 PM. Here is the schedule on the official website.
The museum is (practically) free to enter during the first Sunday of the month, but you will still have to book in advance and pay a booking fee (2€) online. If you would like to go on a guided tour, you will still have to pay a 5€ fee.
Address: The museum is located at Via Piazzale Scipione Borghese, 5 (bus 53, 63, 83, 910, 92, train FL5, metro A).
4. What if I am traveling with a child?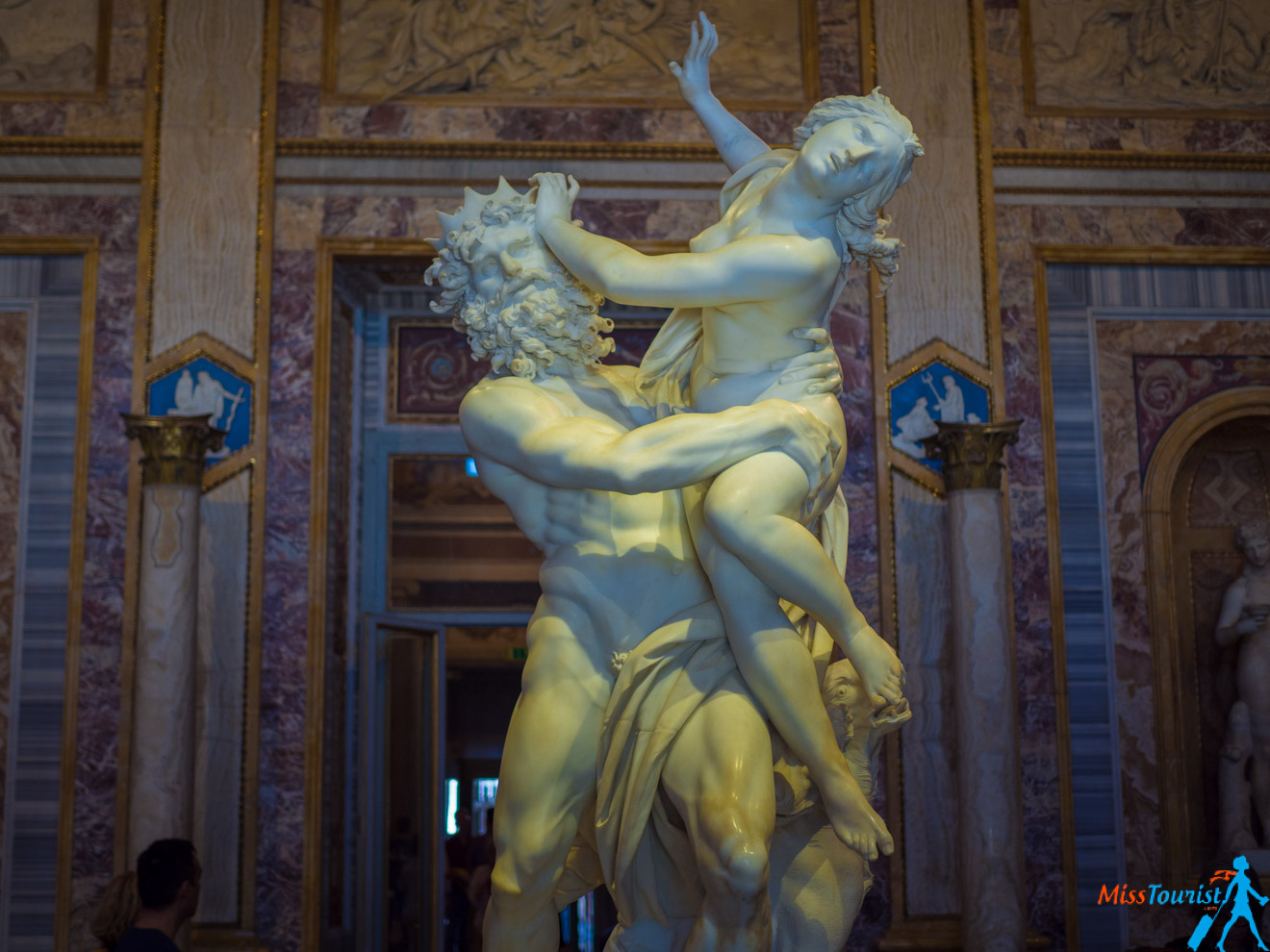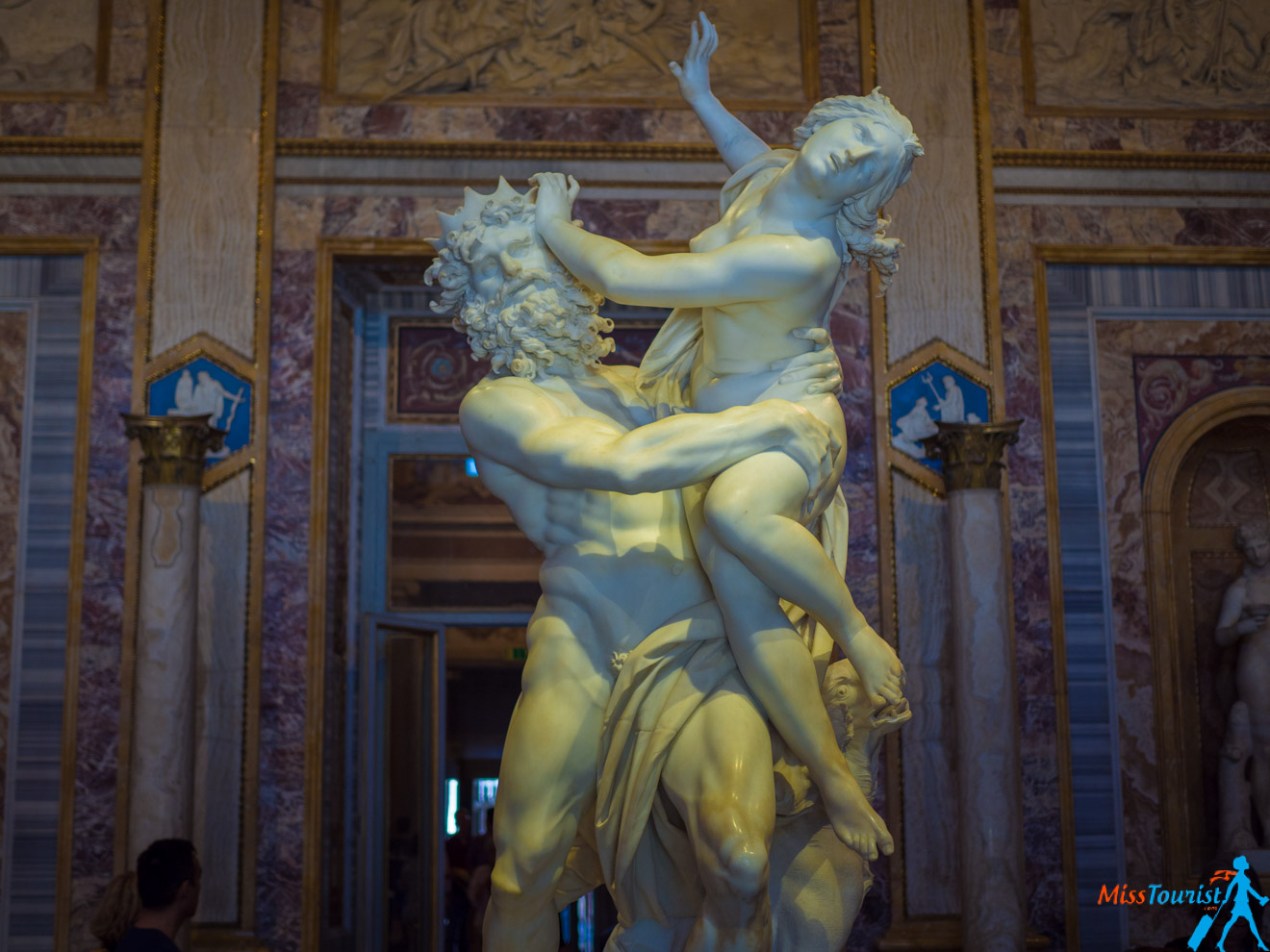 Visitors under 18 years old have free access to the gallery, but they also have to pay the 2€ reservation fee. The online booking fee is only waived in the case of visitors under the age of 6. By the way, the museum is very strict about the 360 people rule, but exceptions are made even if the museum is full for children younger than 6.
Remember to bring your ID with you. Even though they usually do not require it at the entrance, they might ask for it.
5. Is there a dress code for Borghese Gallery?
There is no specific dress code for the Borghese Gallery. Summer is quite hot in Rome, so during my trip it was not odd to see people in shorts and sleeveless shirts.
6. Do they have a bag policy? Is photography allowed in the Borghese Gallery?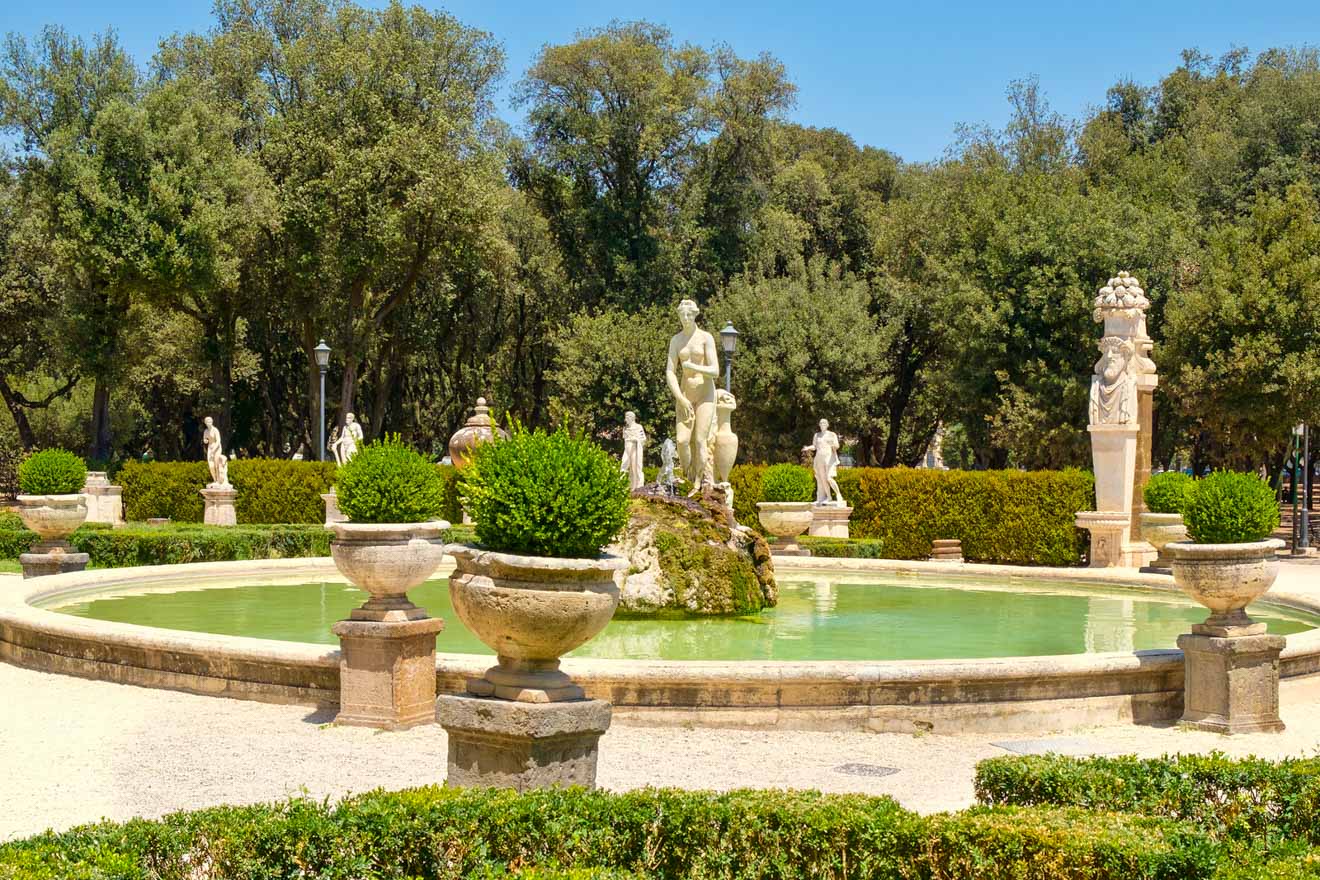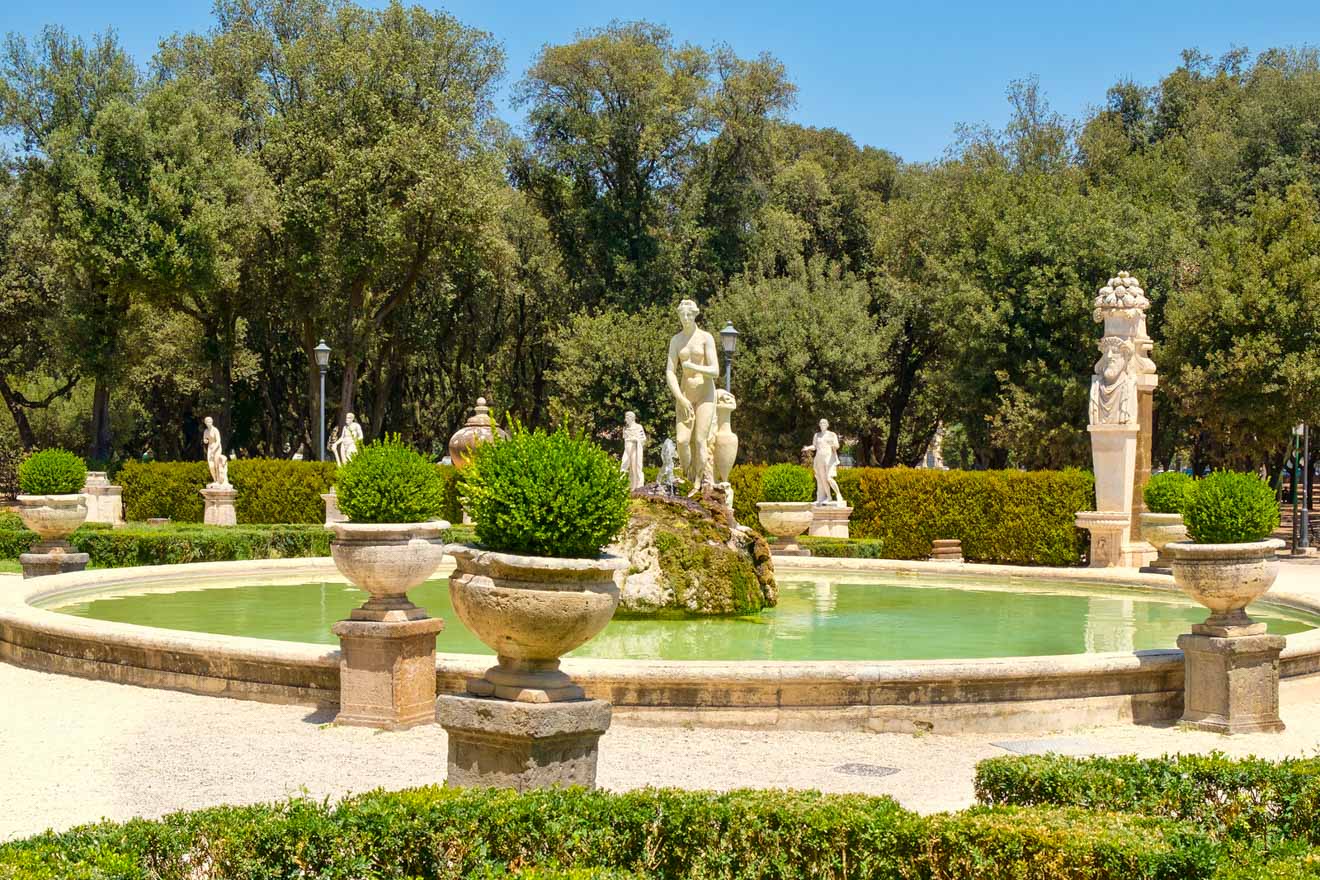 You will not be allowed to bring any bags or backpacks into the museum. All of these items will be left outside in a special locker. You will be able to bring your camera inside, but remember that flash photography is not allowed in the Villa Borghese.
PRO TIP 1: As I mentioned, each time slot in the museum lasts for 2 hours. Therefore, I strongly recommend arriving at least 30 minutes before your slot in order to avoid wasting precious time standing in line!
PRO TIP 2: If you are visiting the museum by yourself I recommend heading directly to the upper floor in order to see the paintings first! 90 people are limited to be in the painting room at once; since most people begin downstairs with the Borghese Gallery sculptures, it may be best to go "off the beaten path" in order to view them at your own pace!
---
Conclusion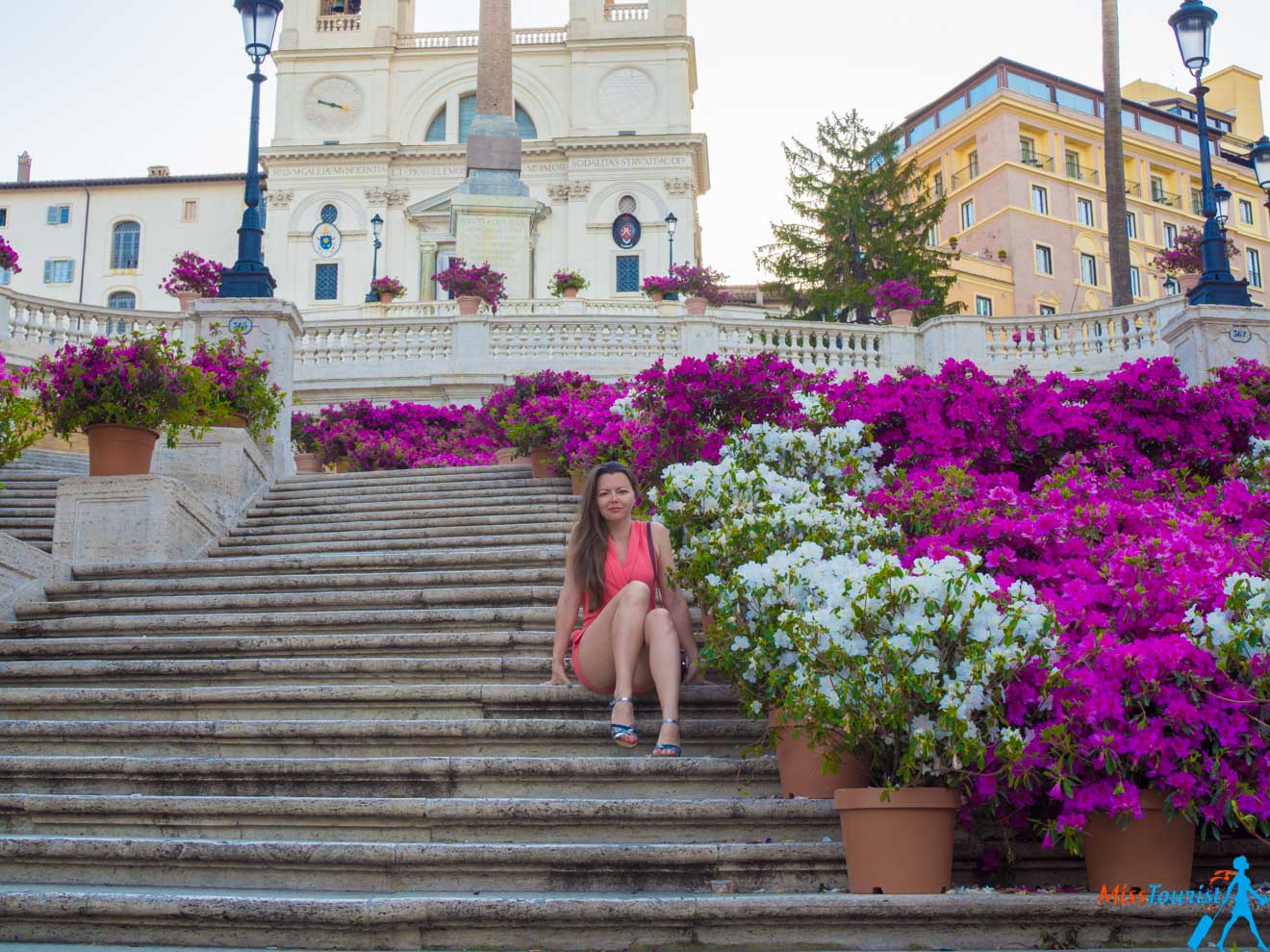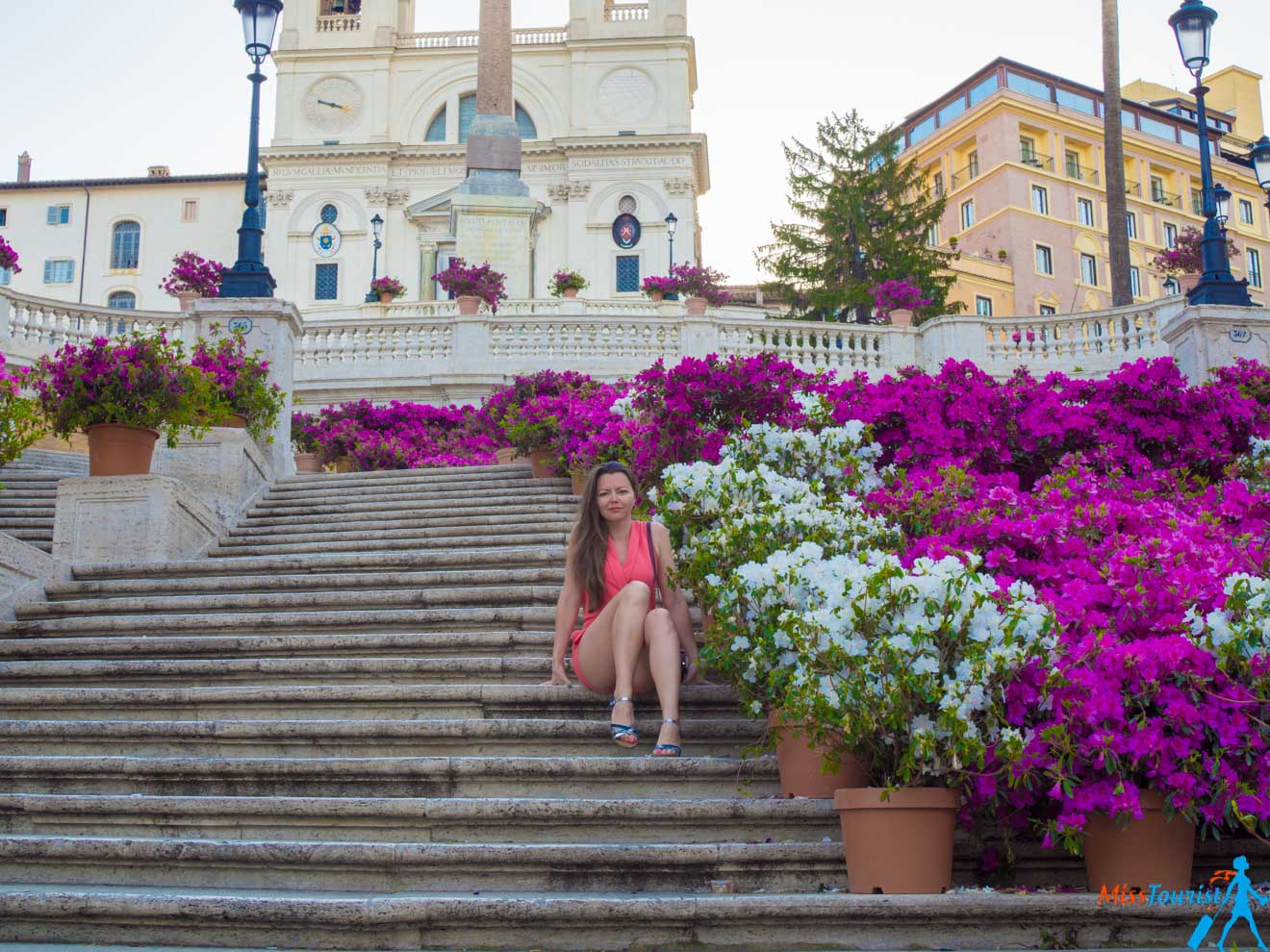 If you want to visit the Borghese Gallery in Rome but you are intimidated by the long queues, don't be discouraged! Try out any of the 4 awesome solutions that I mentioned in this article. You will find that you will be able to enjoy your time taking in the beauty of Galleria Borghese museum rather than wasting your precious vacation time in line!
I truly hope this article was useful but if you need more help planning your vacation in Rome, here you can find all my articles about the city. You can also check the "highlights" section about Rome on my Instagram page, where I am showing you a bit of Galleria Borghese's beauty! Oh, and don't forget to follow me! 😉
I hope you have a wonderful visit to the Borghese Gallery! If you have any questions don't hesitate to ask!
Happy travels!
Yulia
---
Pin it for later!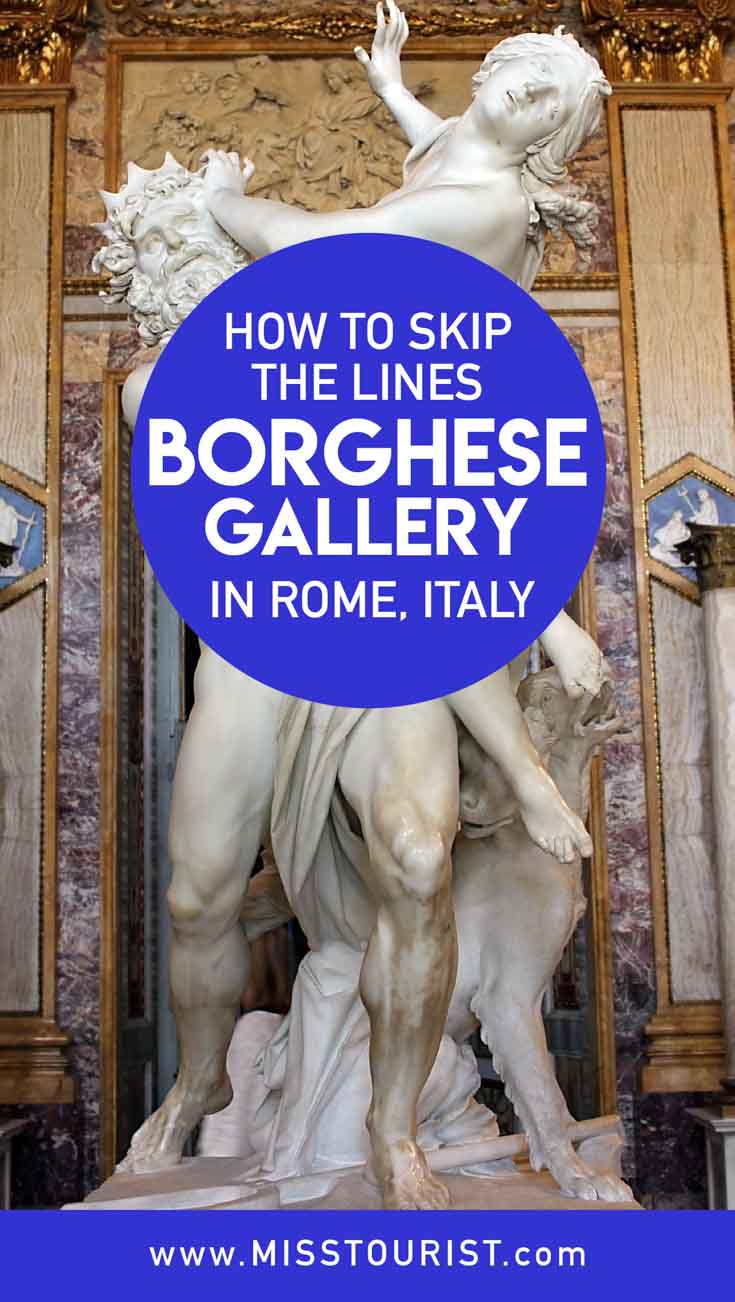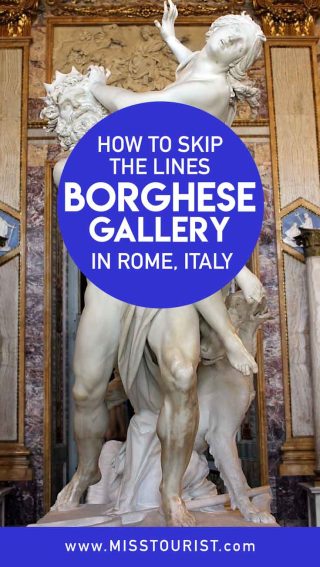 Pin it for later!