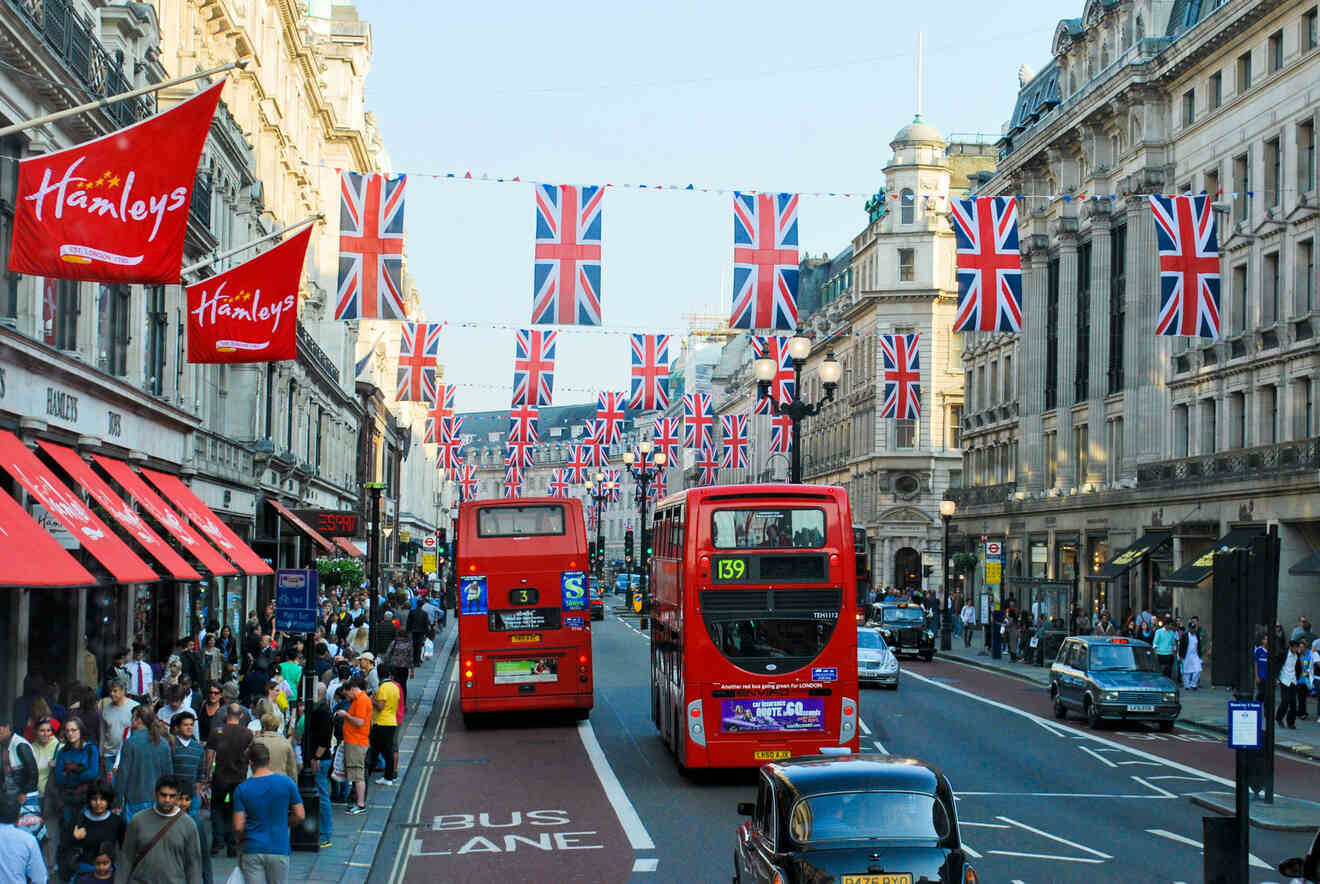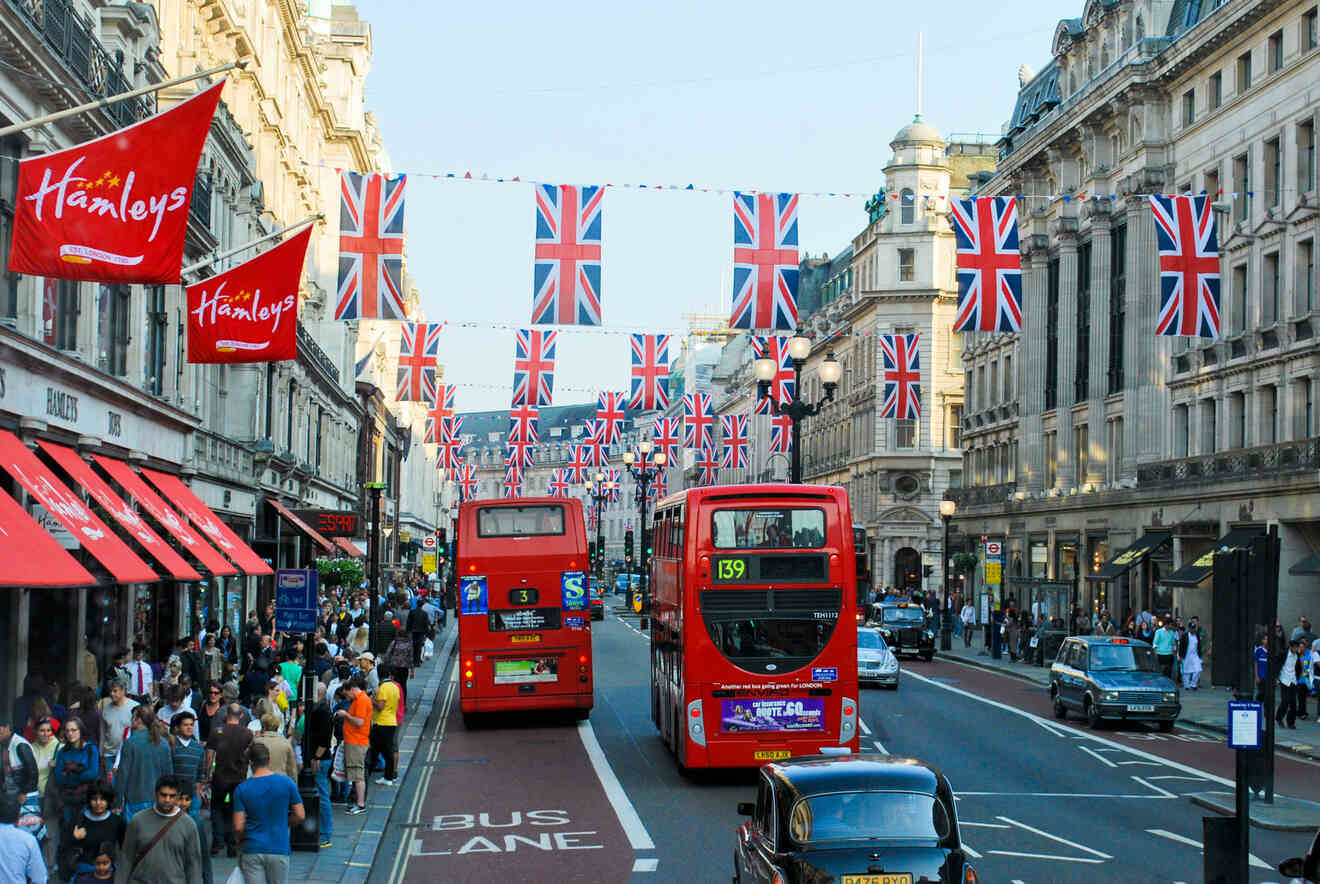 Preparing your London itinerary? Then you probably think there are so many things you want to do and see here! I know the feeling!
This city is so unique that even its streets have something special about them, and some of them are pretty iconic! If you're thinking, "I want to see all of them, " you're lucky!
In this post, you'll find the 24 best streets in London! From super busy shopping streets to some historical roads that have a fascinating past, this article will help you find the most important landmarks and areas during your holiday!
I know London can be a bit overwhelming so I've also added two helpful bonuses for you. The first one has some great walking tours that will take you to see some of the popular and prettiest streets in London. And the second one has a DIY itinerary that will help you visit all the London famous streets in the Central area in an efficient way!
We've got many things to see so let's hit the road!
To help you see where all the streets are located, here is a handy map giving you a visual representation of them all!
1. Oxford Street – best street in London for shopping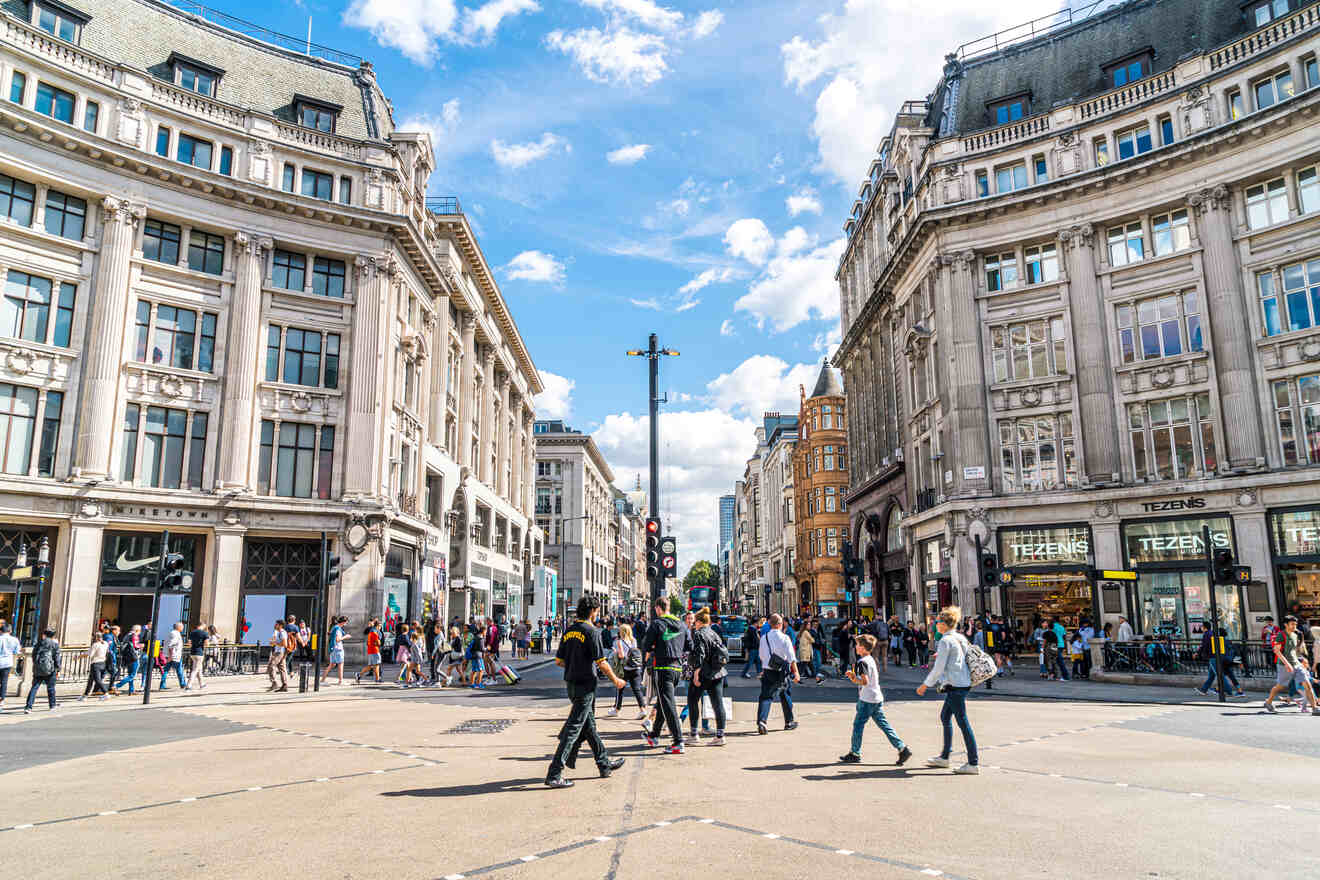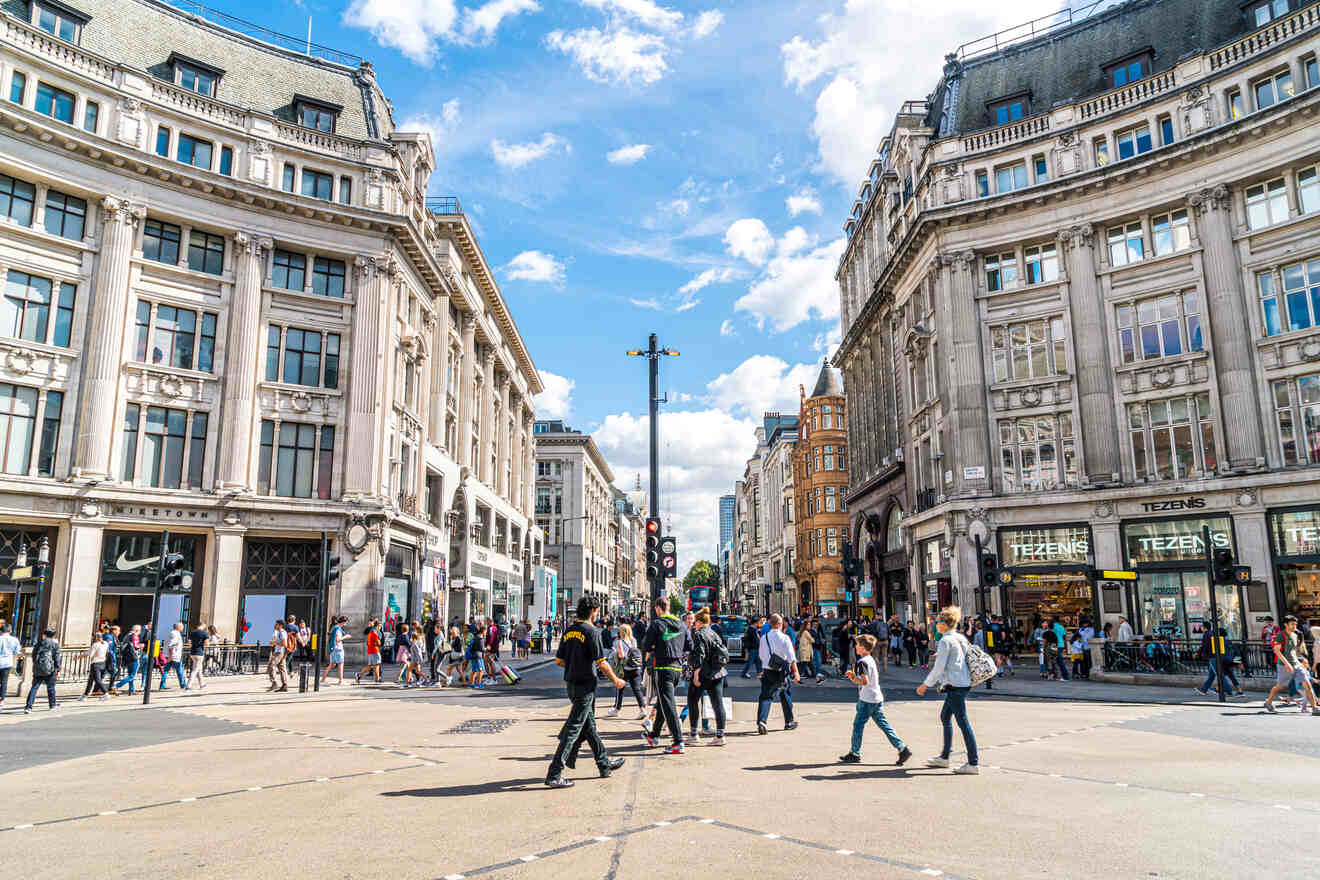 I remember my first time on Oxford Street. I was so taken aback by its superb architecture. But surely, what caught my attention in a second, where all the stores on this street!
Need a place to shop until you drop? Then you go to one of the most famous streets in London: Oxford Street! You'll find many high-end stores, luxury boutiques, and other shops that cater to different interests.
Location: Central London
Closest Tube Station: Oxford Circus Underground Station
2. Abbey Road – featured on the famous Beatles cover
A pretty iconic street, right? Not to mention it's pedestrian crossing (probably the most famous one in the world) which you can find at the south end of the road!
The crossing is just outside Abbey Road Studios, where the Beatles recorded their album in 1969. Little did they know that their ingenious way of sparing a few pounds for an actual shoot would make this street and cover so emblematic!
Location: West London
Closest Tube Station: Kilburn High Road
3. Baker Street – featured in Sherlock Holmes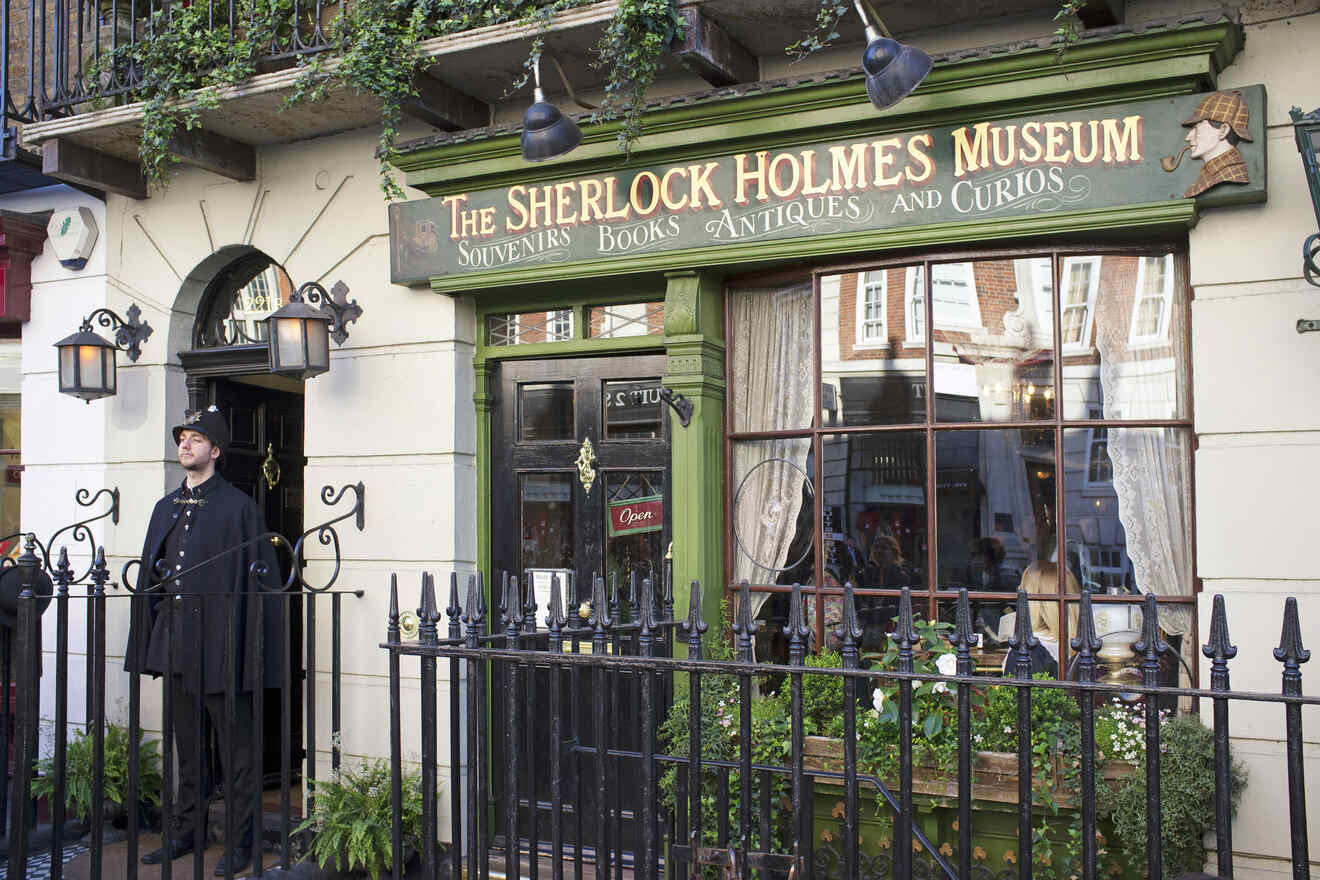 221B Baker Street? I'm sure that fans of the much-loved British detective Sherlock Holmes will know this address! I love the movie adaptations with Robert Downey Junior (let me know which adaptation you guys like in the comments).
As we know, Holmes and his assistant, Doctor Watson, reside on this street. While the actual house never existed, here you'll actually find the Sherlock Holmes Museum, a commemorative plaque, and just around the corner, there's a statue of Holmes on Marylebone Road.
Location: Central London
Closest Tube Station: Baker Street Station
4. Carnaby Street – for fans of the swinging 60s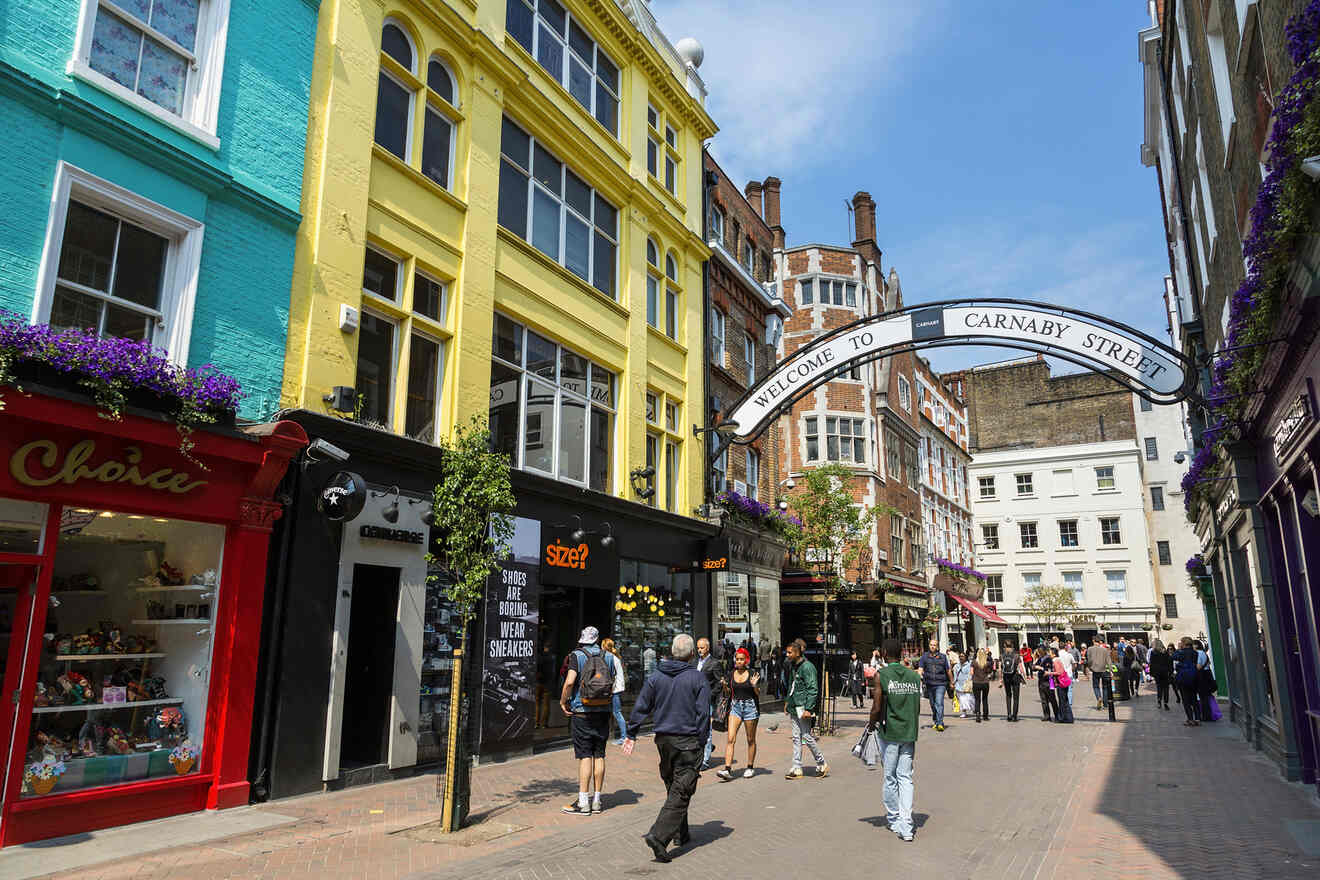 Carnaby Street is one of the most famous streets in London, and back 60s, during the years of Swinging London, everyone would come here to party, shop, and show their newest outfits!
If you're looking for quaint boutique shops and cute cafes then you'll love Carnaby Street! Make sure you drop by the Monki store when you're here (it's one of my favorites)!
Also, at Christmas, it has super unique decorations! But expect a lot of crowds during that time!
Location: Central London
Closest Tube Station: Oxford Circus Underground Station
5. Piccadilly – London's version of Times Square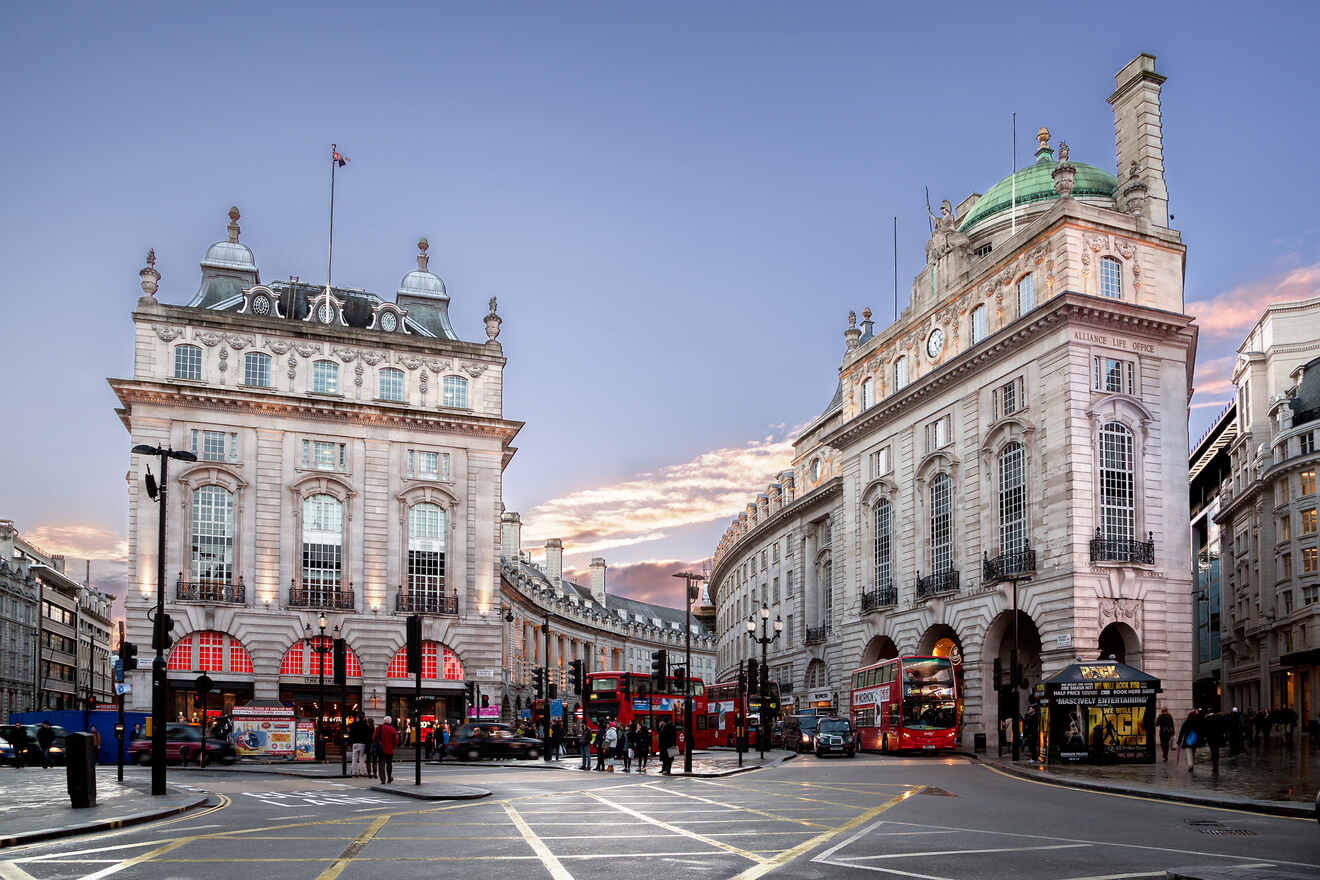 This famous London street is known for its big billboards, the Royal Academy of Arts, and is often compared to Times Square! Most of the action takes place around Piccadilly Circus but the road runs right down to the Hyde Park corner.
It's super busy at all times, and whenever you come here, you'll probably find some performers or dancers. If you want some souvenirs, go to Glorious London Gift Shop, it's massive and it has so many cool things to see. Sometimes they even have a guy dressed up as a royal guard standing out the front!
Location: Central London
Closest Tube Station: Piccadilly Circus Station
6. St Luke's Mews – featured in Love Actually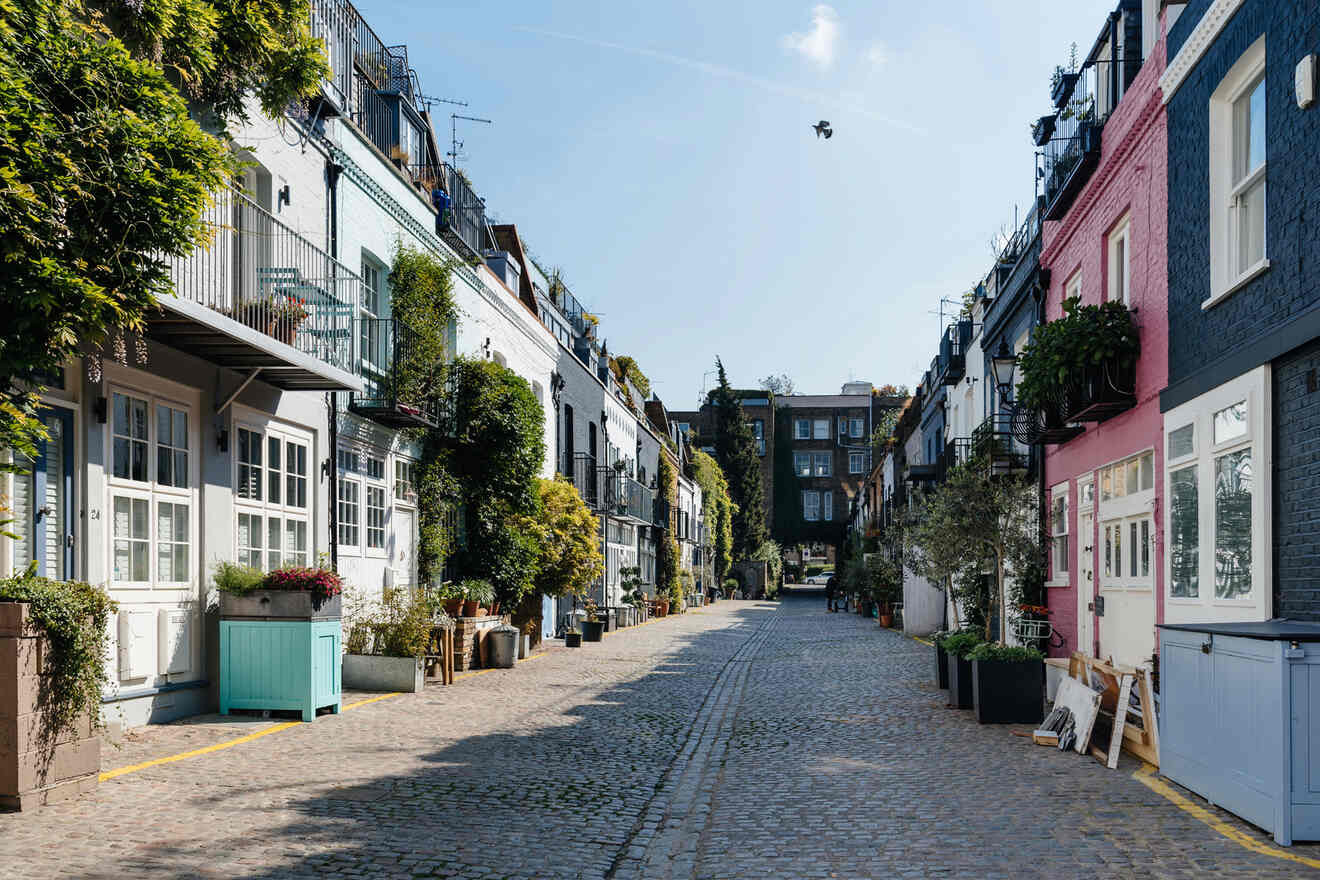 Who remembers the scene in Love Actually when Andrew Lincoln silently declares his love for Keira Knightley?
The scene was filmed on St Luke's Mews in Notting Hill in house number 27! This colorful street should definitely be on your things to see when you visit London. So grab your camera, you'll want to take tons of pictures!
Location: West London
Closest Tube Station: Westbourne Park
7. Neal's Yard – most instagrammable street in London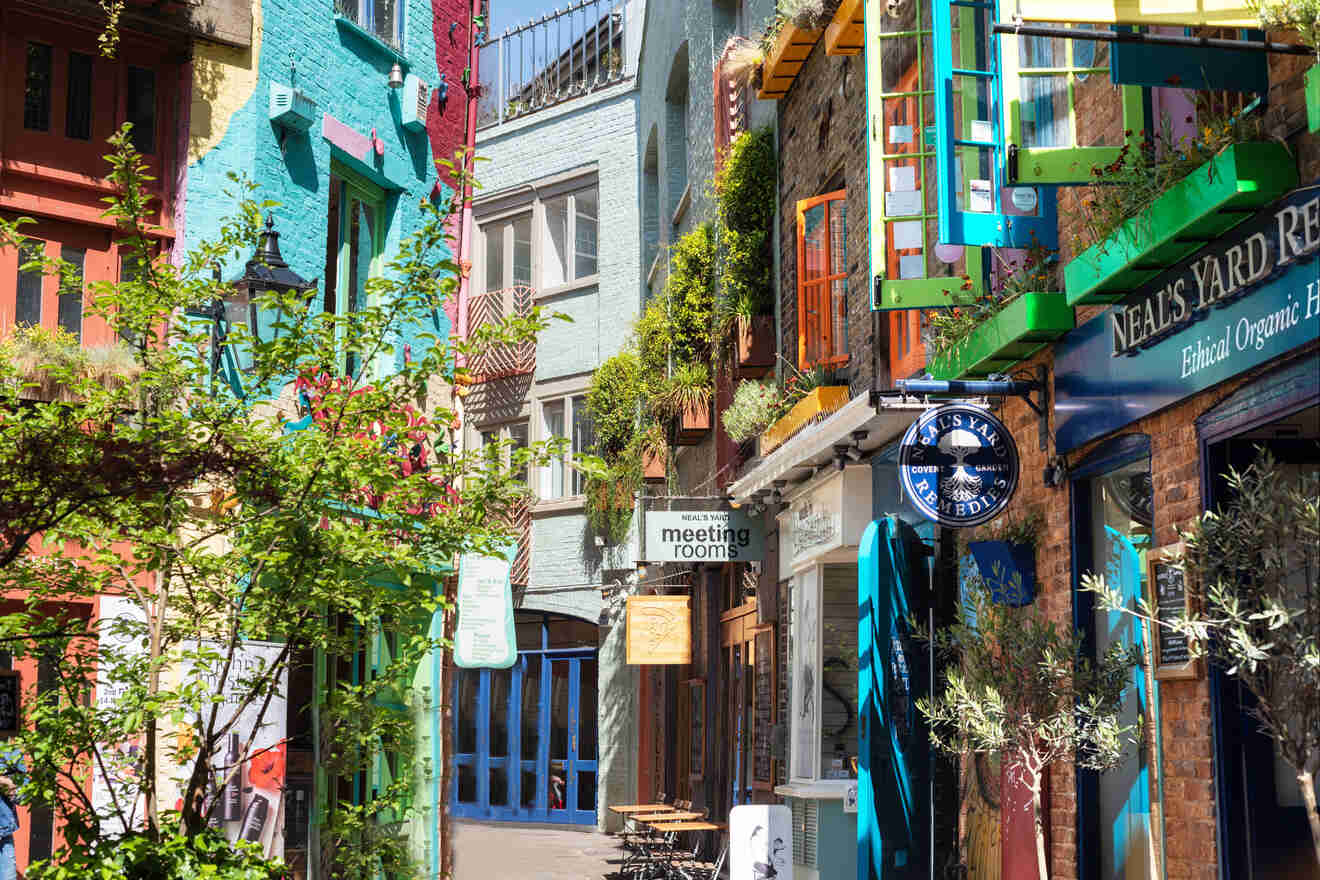 Even if you haven't been to London, you might recognize this street from Instagram. It's one of the prettiest streets and for sure the most colorful one in the city!
Here you'll find a few shops that focus on ethical and sustainable practices, like Neal's Yard Remedies. Once you're done exploring, stop for a coffee at 26 Grains cafe. And if you're looking for more cool cafes in London, check out my post specifically on exactly that!
Location: Central London
Closest Tube Station: Covent Garden or Tottenham Court Road
8. Regent Street – a great place to go with the kids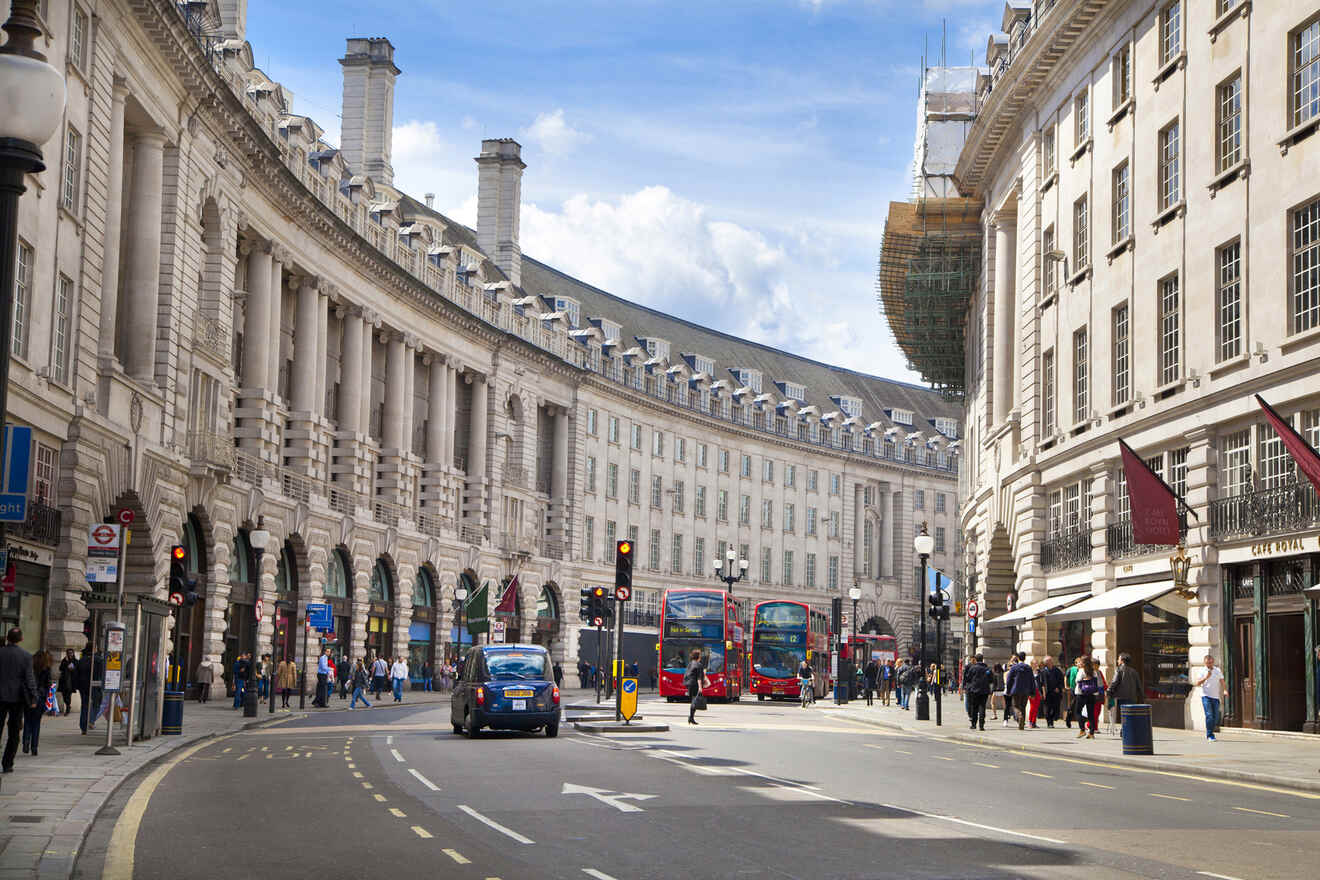 This is one of the most popular streets in London (and a personal favorite)! Regent Street looks so unique and the buildings have super cool architecture.
It's a fantastic place where you can go shopping, even with the kids, as there are some cool shops they would love like Hamley's toy store. And if you're coming during wintertime, make sure you come here to see the lights. They're amazing!
Location: Central London
Closest Tube Station: Oxford Circus
9. Portobello Road – best place for antique shopping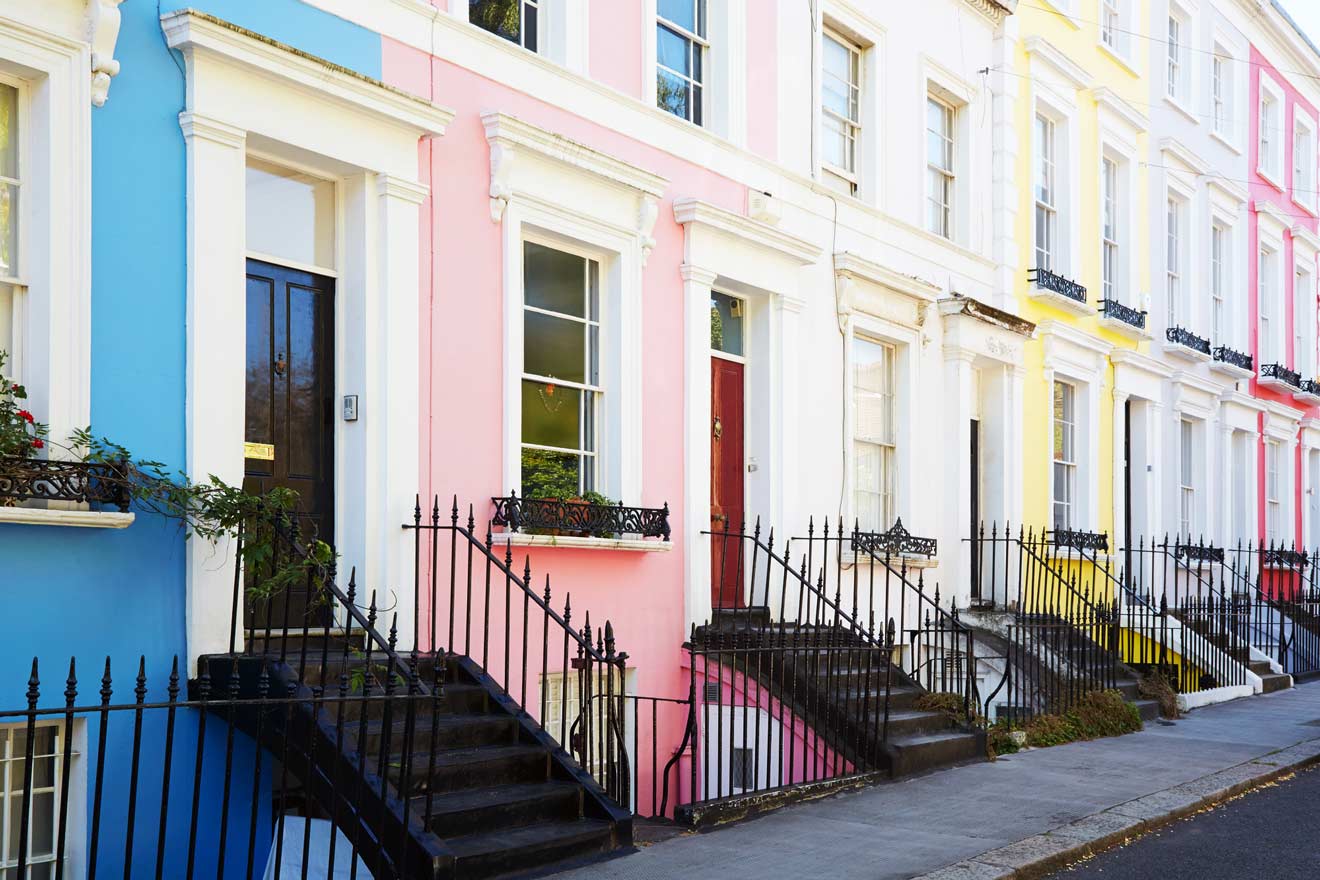 Oh, we've finally reached one of the prettiest streets in London! I'm a big fan of Notting Hill and Portobello Road! Just wait until you see all the antique shops and street food stalls!
This is one of the most famous streets in London and it's known for the Portobello Road Market, that runs from Golborne Road to Westbourne Grove. The best time to check out the market is on Saturday (you'll also find some shops open during the week as well).
Location: West London
Closest Tube Station: Ladbroke Grove or Westbourne Park
10. Downing Street – the residence of Britain's Prime Minister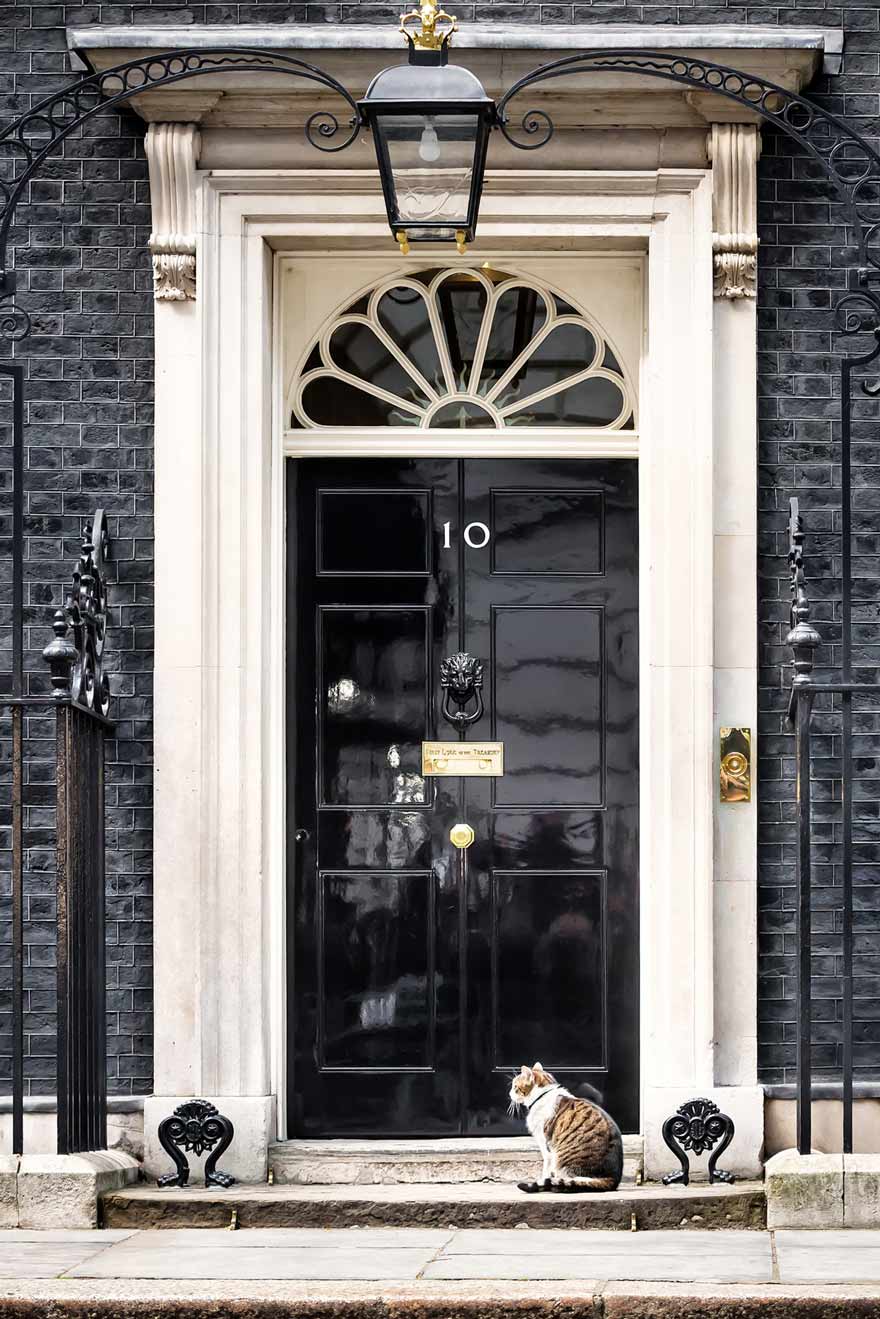 You might've heard of 10 Downing Street, one of the most famous addresses in the City of Westminster, and the office and residence of the Prime Minister of Great Britain since 1735.
Although the gate is guarded by policemen, you can take a few pictures if you want. It's definitely something you'll want to remember!
Location: Central London
Closest Tube Station: Westminster
11. Strand – a historical street in London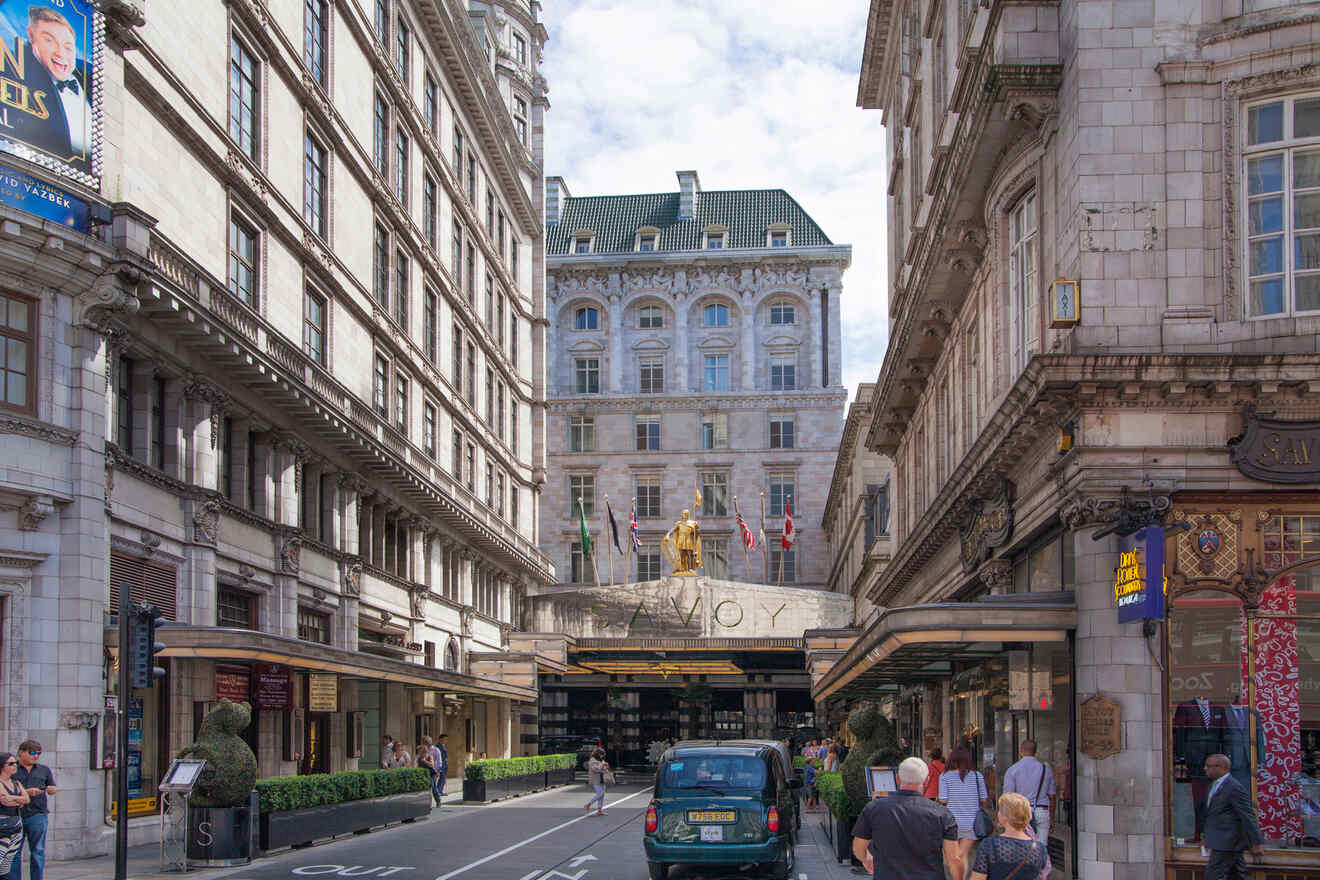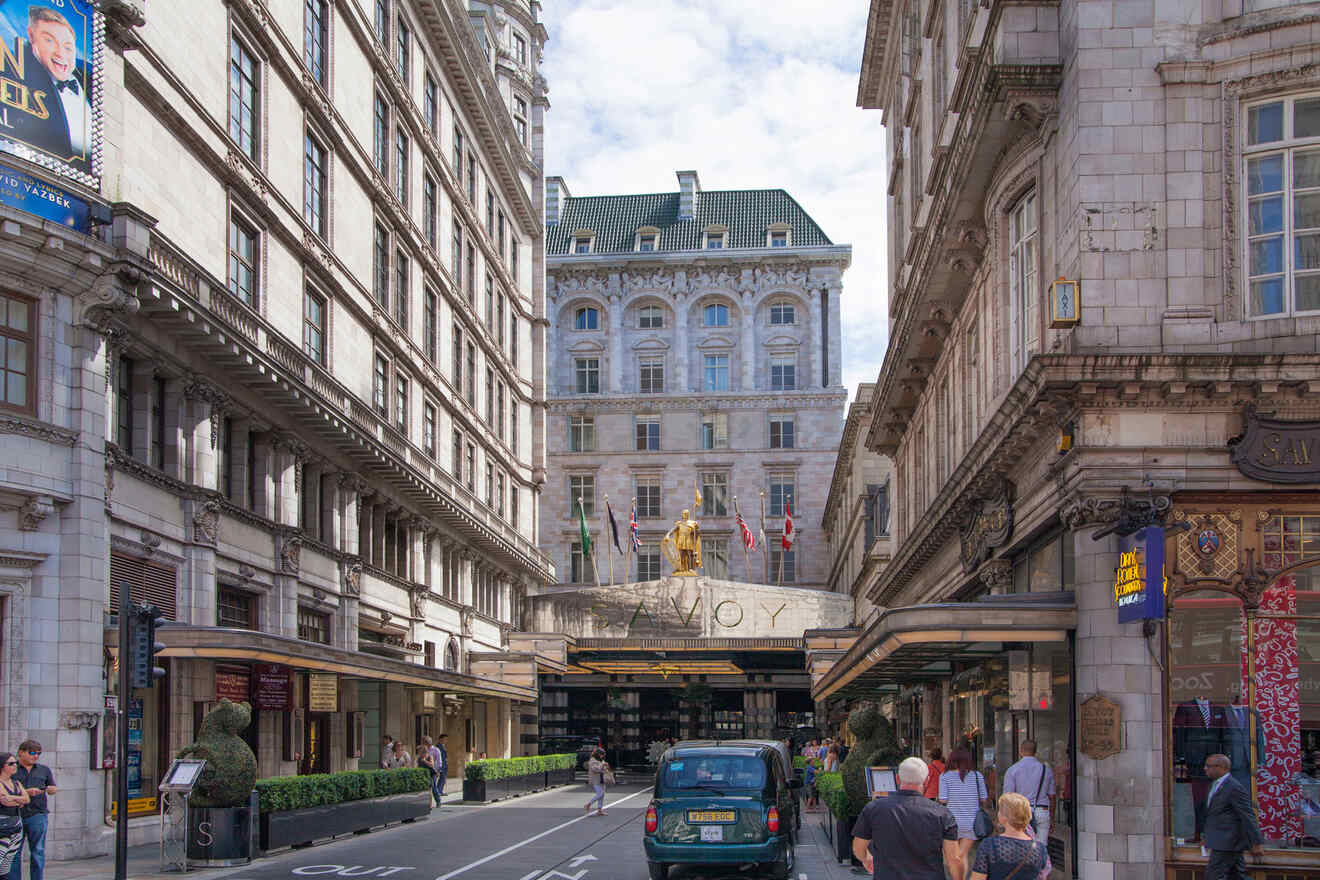 Walking on these famous London Streets will feel like walking inside a history book! During the reign of King Charles II, the Strand was the first street to have a numbered address!
The street runs from Trafalgar Square at its southwestern end to Temple Bar. Around that area, you'll find the beautiful Somerset House which you can visit as it hosts different exhibitions. On this street, you'll also find the famous Savoy Hotel (frequented by famous people like James Bond creator Ian Fleming).
Location: Central London
Closest Tube Station: Temple or Covent Garden
12. Bond Street – the best street for high-end shopping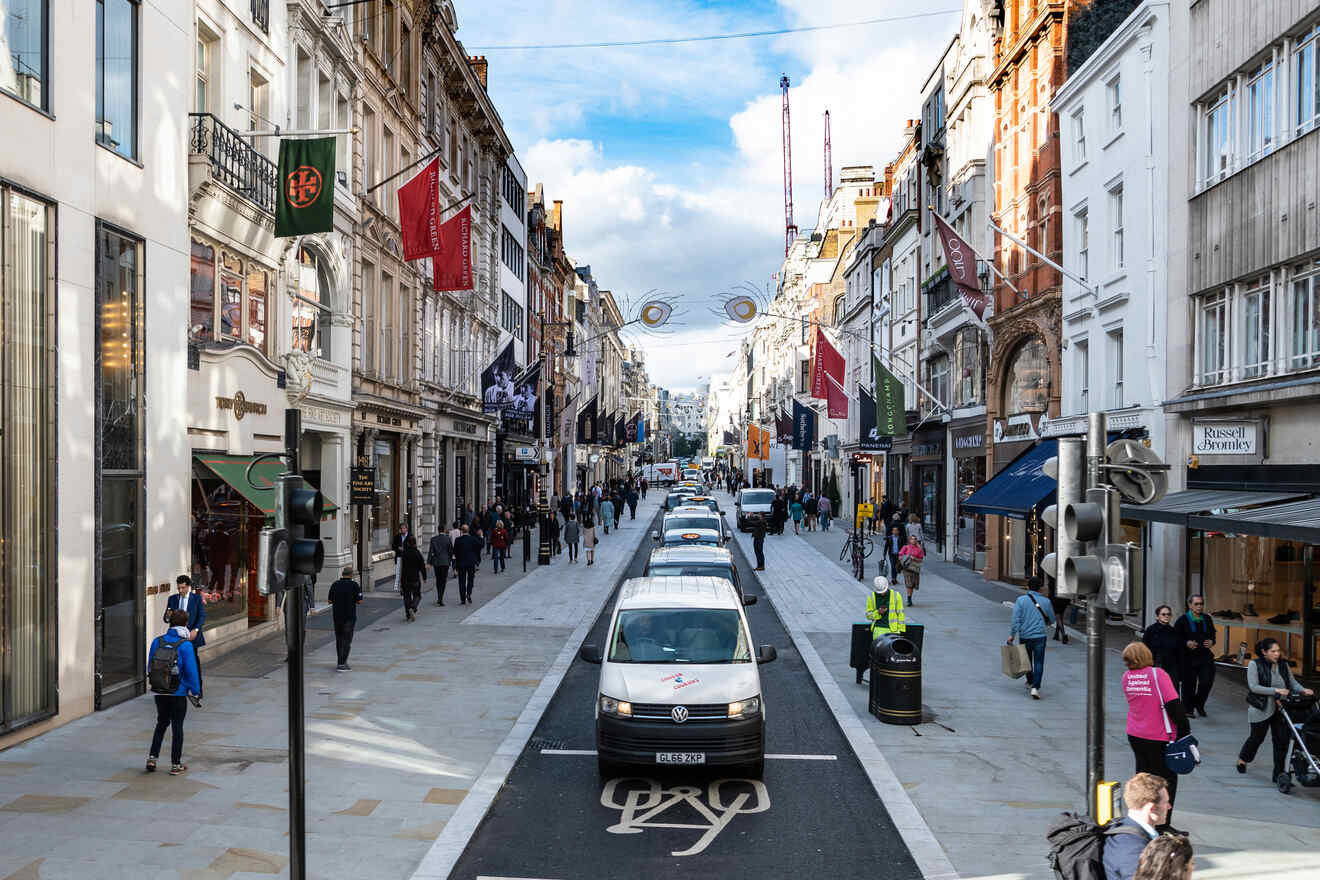 Louis Vuitton, Chanel, and Cartier are just a few on the long list of luxurious stores that you'll find on one of the most famous London Streets for shopping!
This road is actually made up of two streets, New Bond Street and Old Bond Street. So if you're looking for a place to spend some money, you know where to go!
New Bond Street is actually the world's 3rd most expensive street in the world for retailers to rent a place! Wow!
Location: Central London
Closest Tube Station: Bond Street or Green Park
13. Brick Lane – the most artsy street in London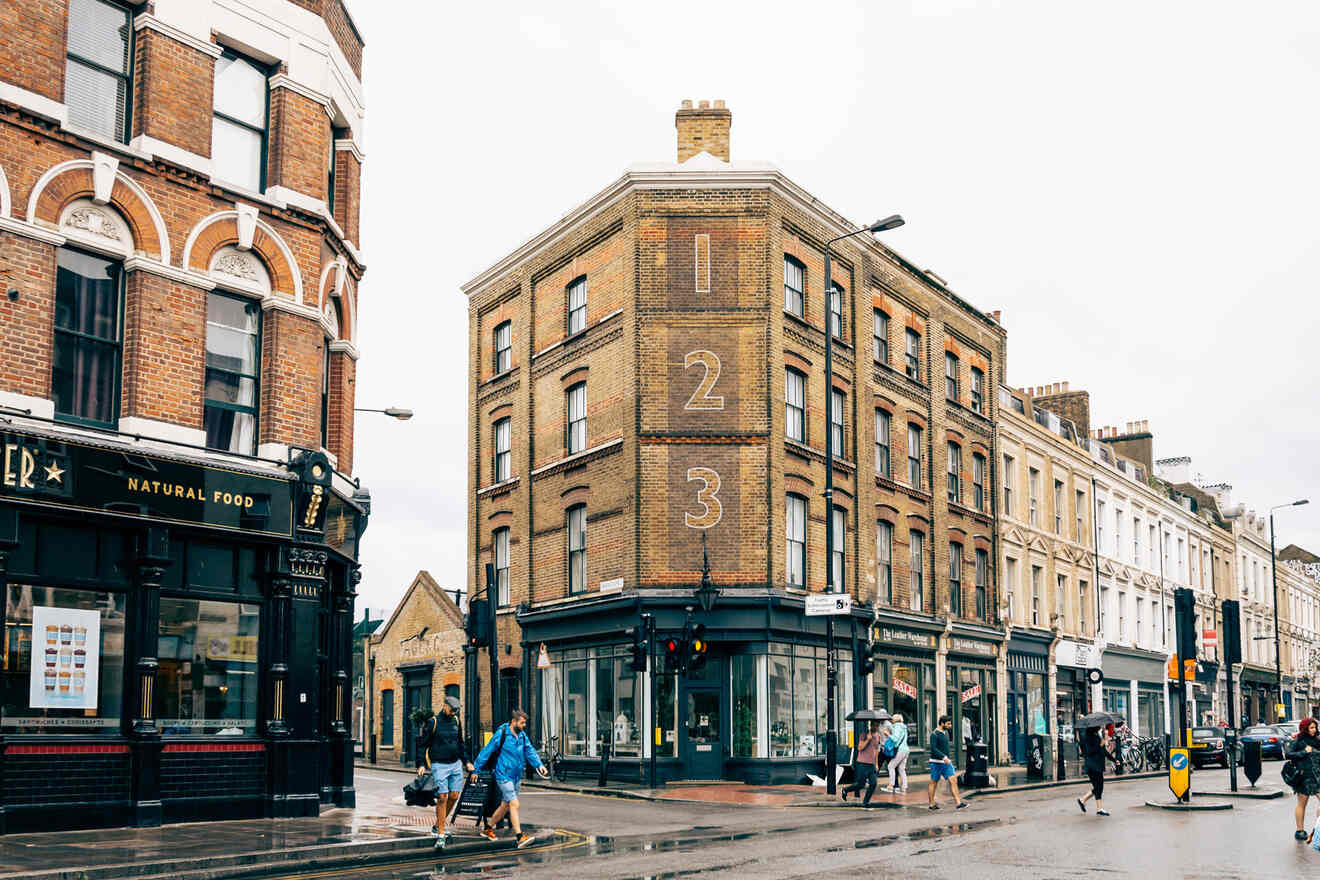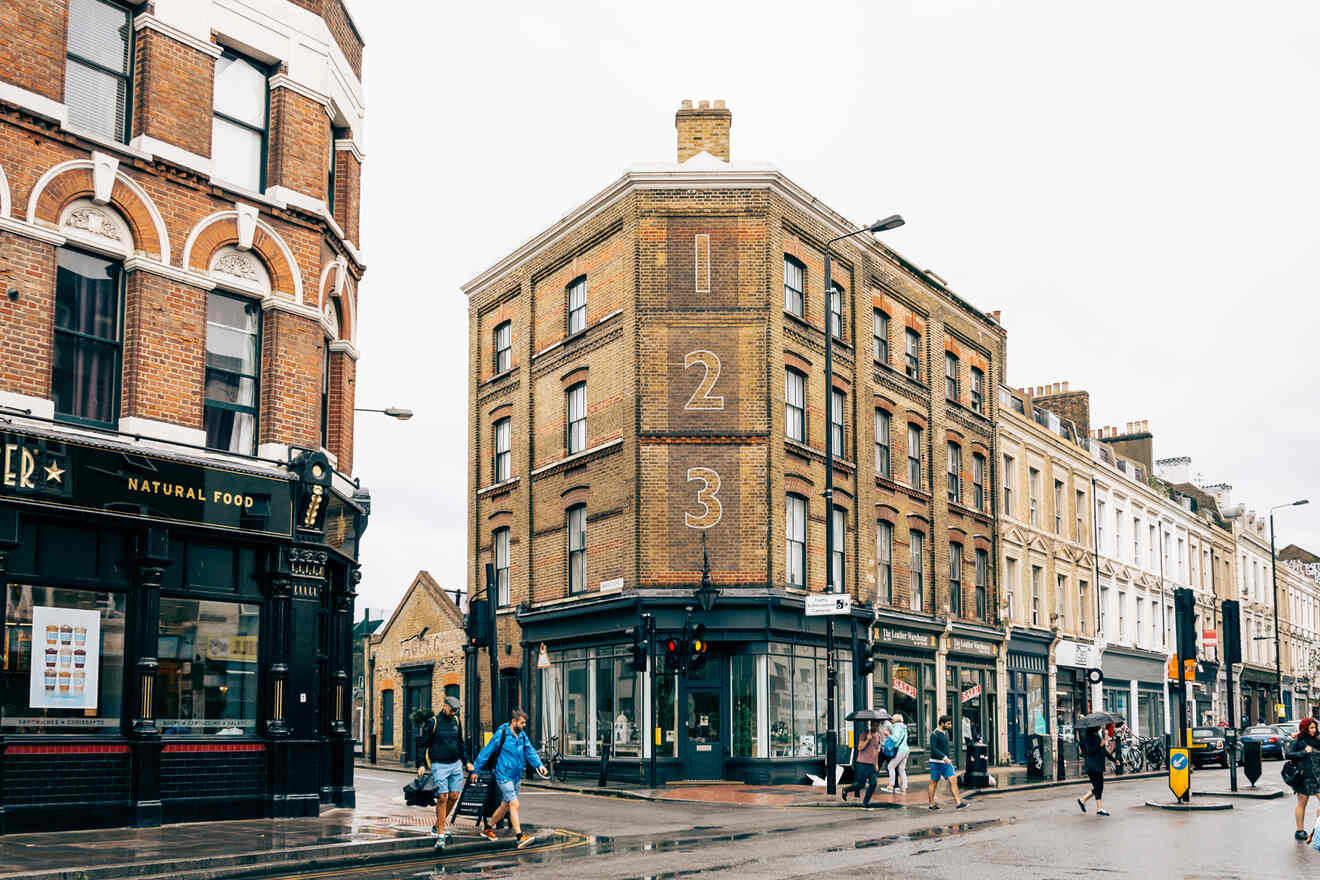 I vividly remember the first time I went to Brick Lake in East London. It was during the weekend when the Brick Lane Market takes place (Saturday 11 am – 6 pm & Sunday 10 am – 5 pm) and I was so taken aback by this famous street!
The amazing street art, the people, and the fashion had such a huge impact! It really is one of the best London streets for artsy people. Put someone else in charge of your purse because you'll want to shop all day long here!
Location: East London
Closest Tube Station: Aldgate East Station (Stop E) or Shoreditch High Street
14. The Mall – an iconic street used for royal ceremonies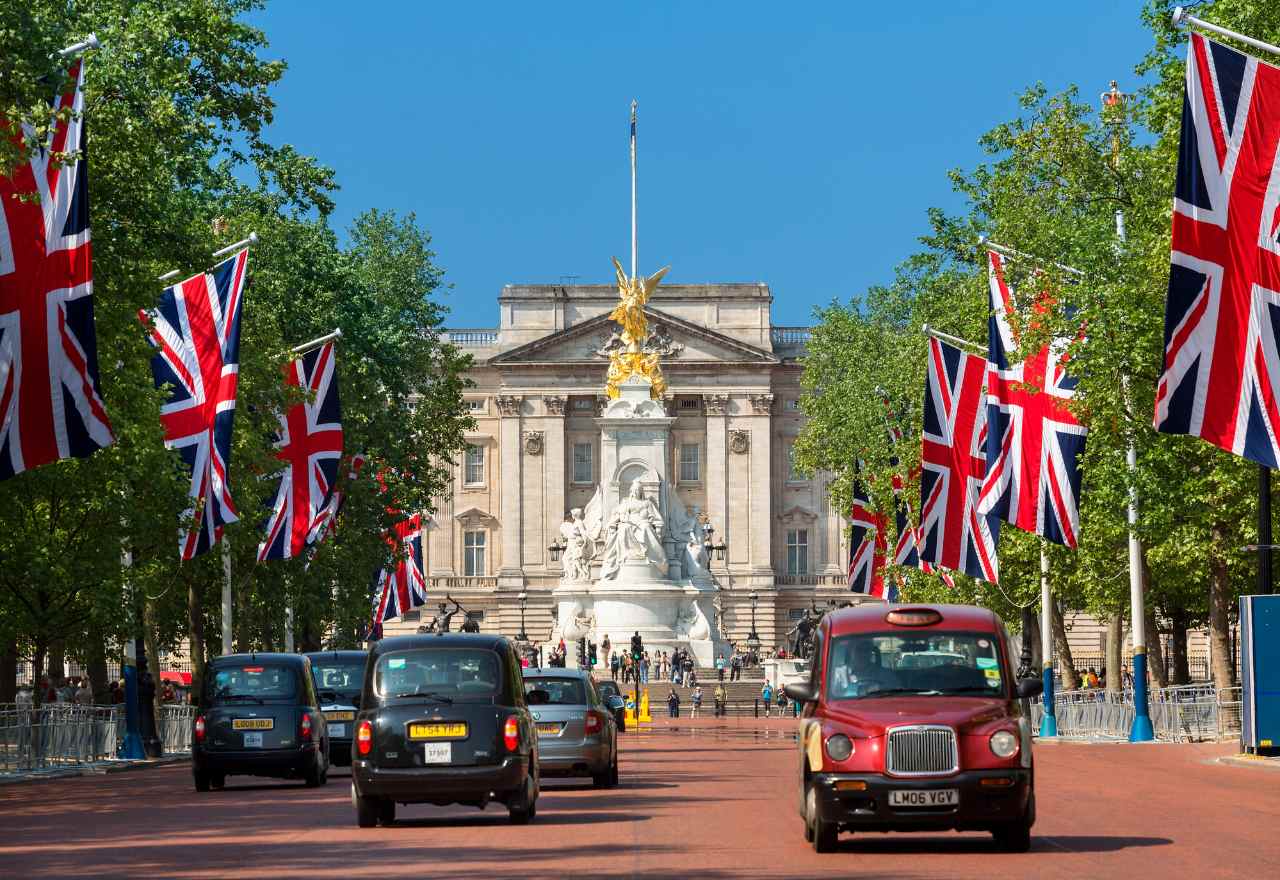 This is a historical street known for its royal parades! It runs from Buckingham Palace (the Queen's London residence) to Trafalgar Square and its surface is painted red to create the effect of a red carpet.
This is one of the most famous streets in London and it's one of the few main streets in London where there is no traffic! If you want to see the famous Changing the Guard ceremony in front of Buckingham, make sure to come around 10:45 am (check the schedules here).
Location: Central London
Closest Tube Station: Charing Cross
15. Westbourne Park Road – a colorful street in London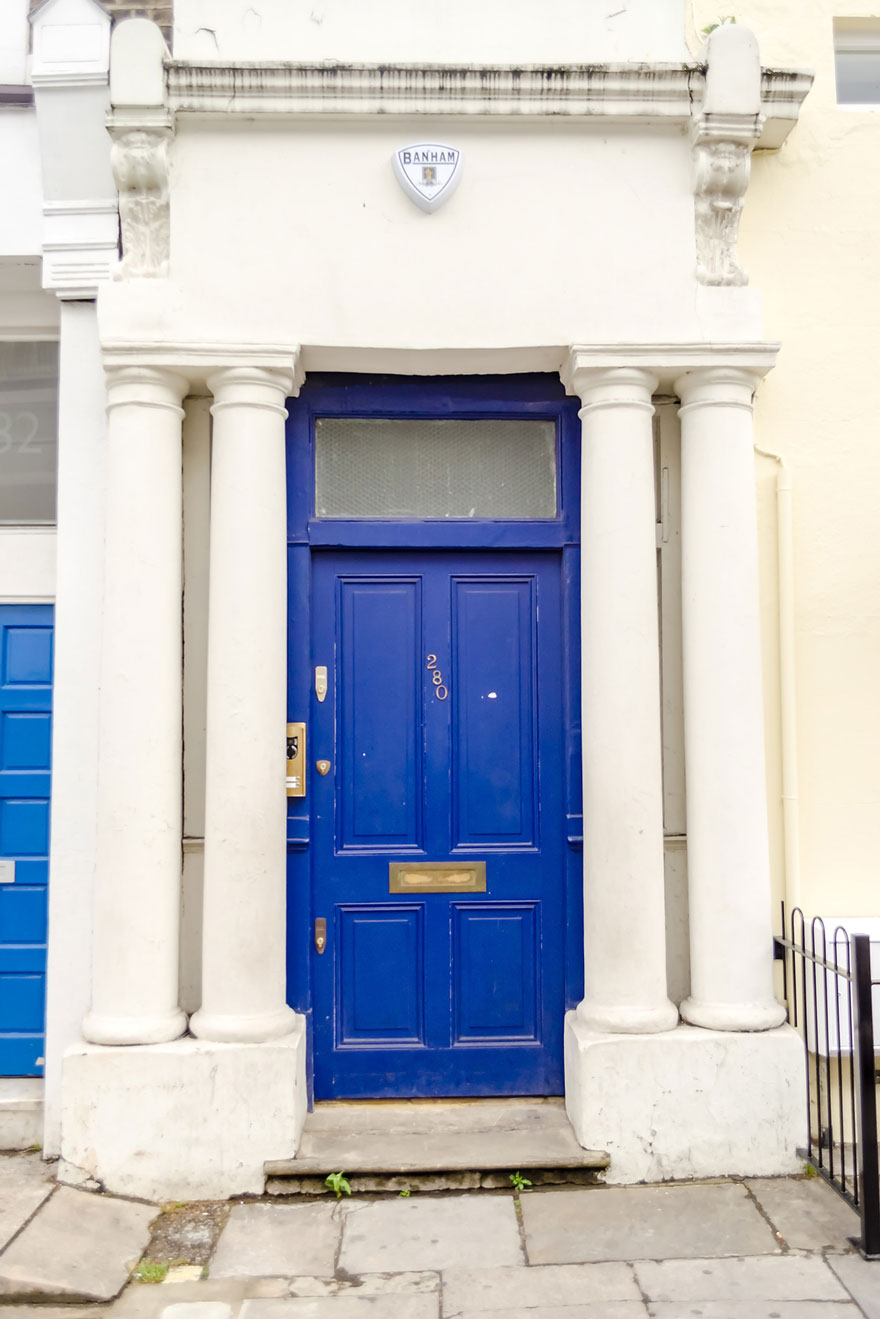 Remember all those colorful streets that you see on Instagram? Well, now you can see them in real life!
Just head over to Westbourne Park Road, one of the prettiest streets in London! But I would make sure to go on a sunny day, that's when the colors will look perfect!
Most of the colorful buildings are located on the western end of the road and around the intersection of Westbourne Park Road and Westbourne Park Villas.
And guess what other cool attraction you'll find here? The famous Blue Door from the Notting Hill film!
Location: West London
Closest Tube Station: Westbourne Park
16. Camden High Street – one of the best vintage shopping streets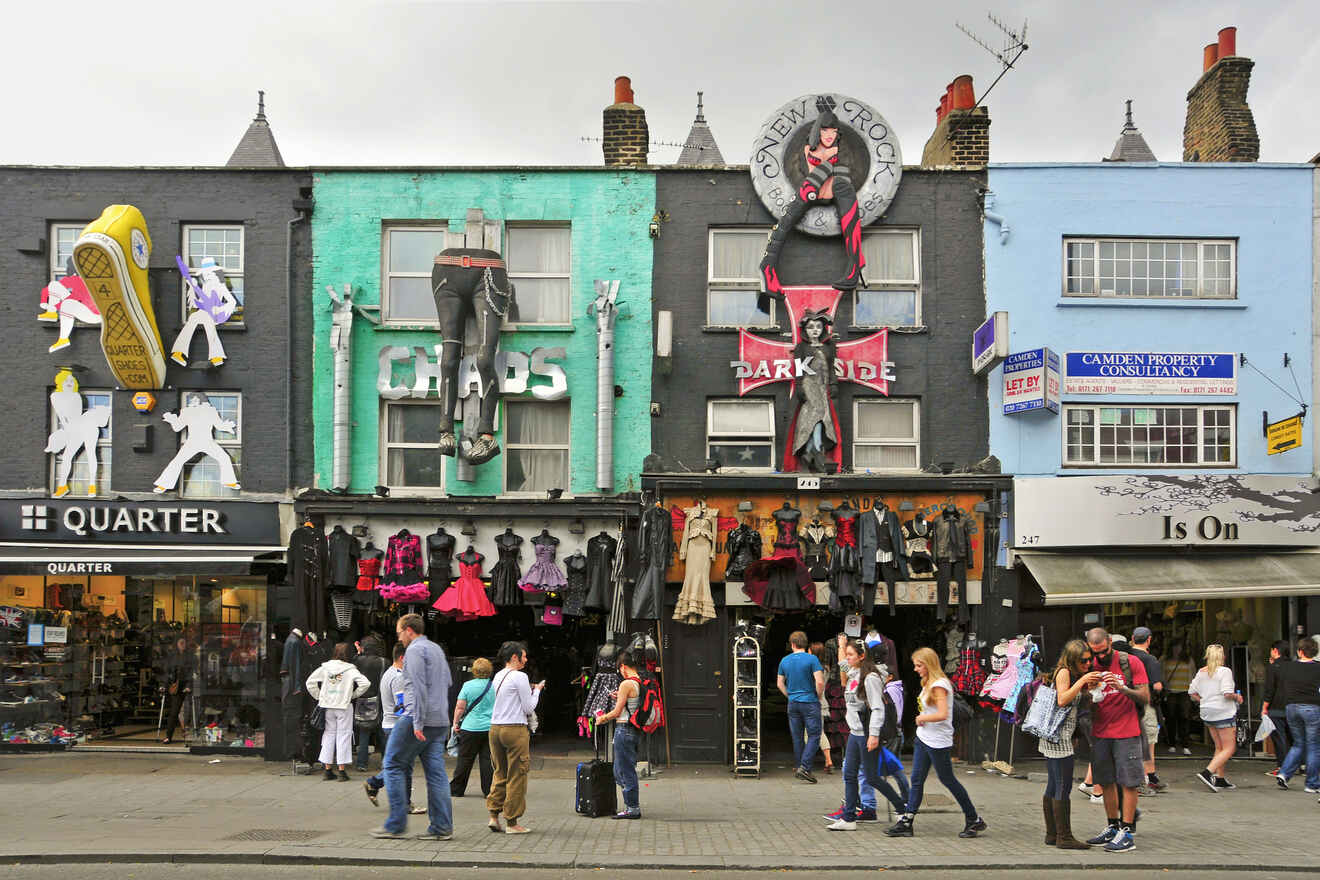 At one point when I was living in London, I became super obsessed with vintage clothes, and of course, my go-to places were Brick Lane and Camden High Street.
It's definitely one of the most eclectic streets in the city and right at its northern end, you'll find the famous Camden Market! The food is so yummy here and after all the shopping you'll need a good meal!

PRO TIP: If you love cheese, you have to stop by The Cheese Bar in Camden. It serves delicious and interesting cheese dishes of all varieties!
Location: North London
Closest Tube Station: Camden Town Tube Station
17. Savile Row – famous street for men's tailoring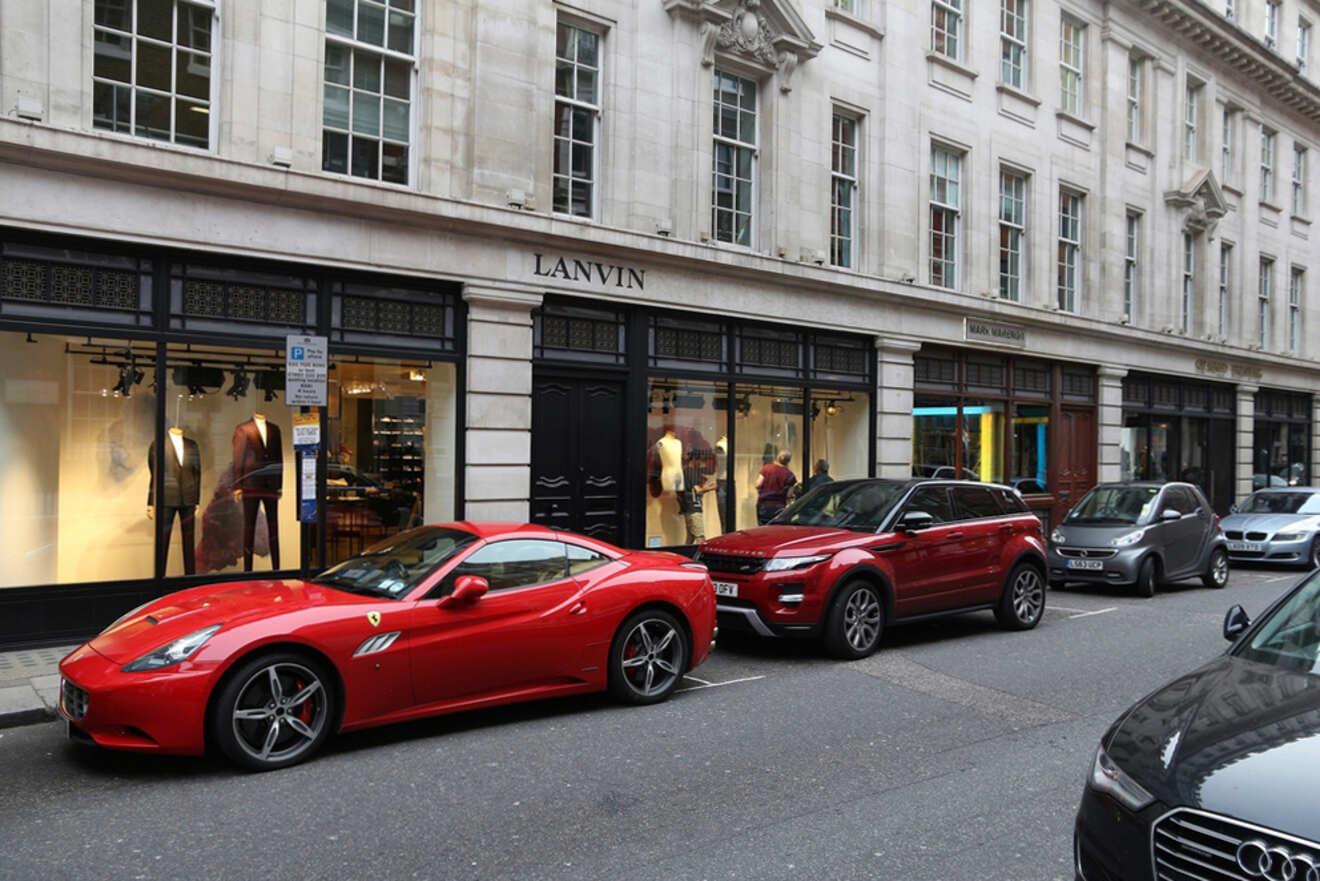 This Central London Street goes way back to the 18th century. It's an iconic street where men usually go to have their suits made from scratch by some of the most famous tailors in the world!
Whether you're looking for a suite or you just want to see how this historic street looks, head over there for a quick walk and some window shopping!
Location: Central London
Closest Tube Station: Piccadilly Circus
18. Fleet Street – historic newspaper hotspot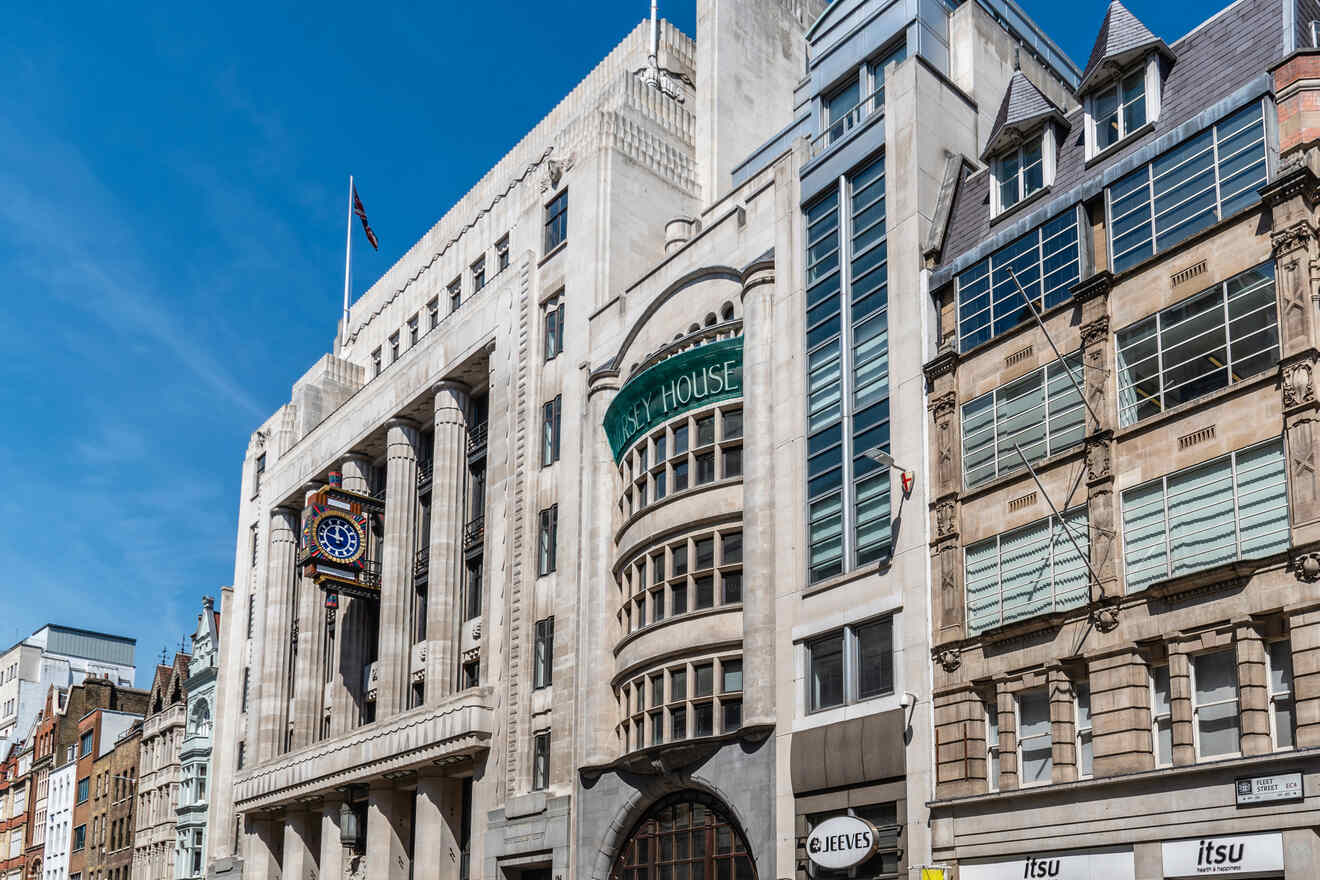 I first heard about Fleet Street in one of my lectures while I was studying Journalism in Kent and was fascinated by its history! This is where the Daily Current, Britain's first daily newspaper, started out, and by the 20th century, most of the national publications had their offices here.
Now, most companies moved out but it's still worth a visit as it is a regal street full of beautiful old buildings to enjoy. Plus you can stop by Old Bell Tavern, a historic pub built by Christopher Wern, the architect behind St Paul's Cathedral.
And don't believe any rumors about the demon barber of Fleet Street! I can assure you that Sweeney Todd is not real!
Location: Central London
Closest Tube Station: Temple Station
19. Jermyn Street – best shopping street for men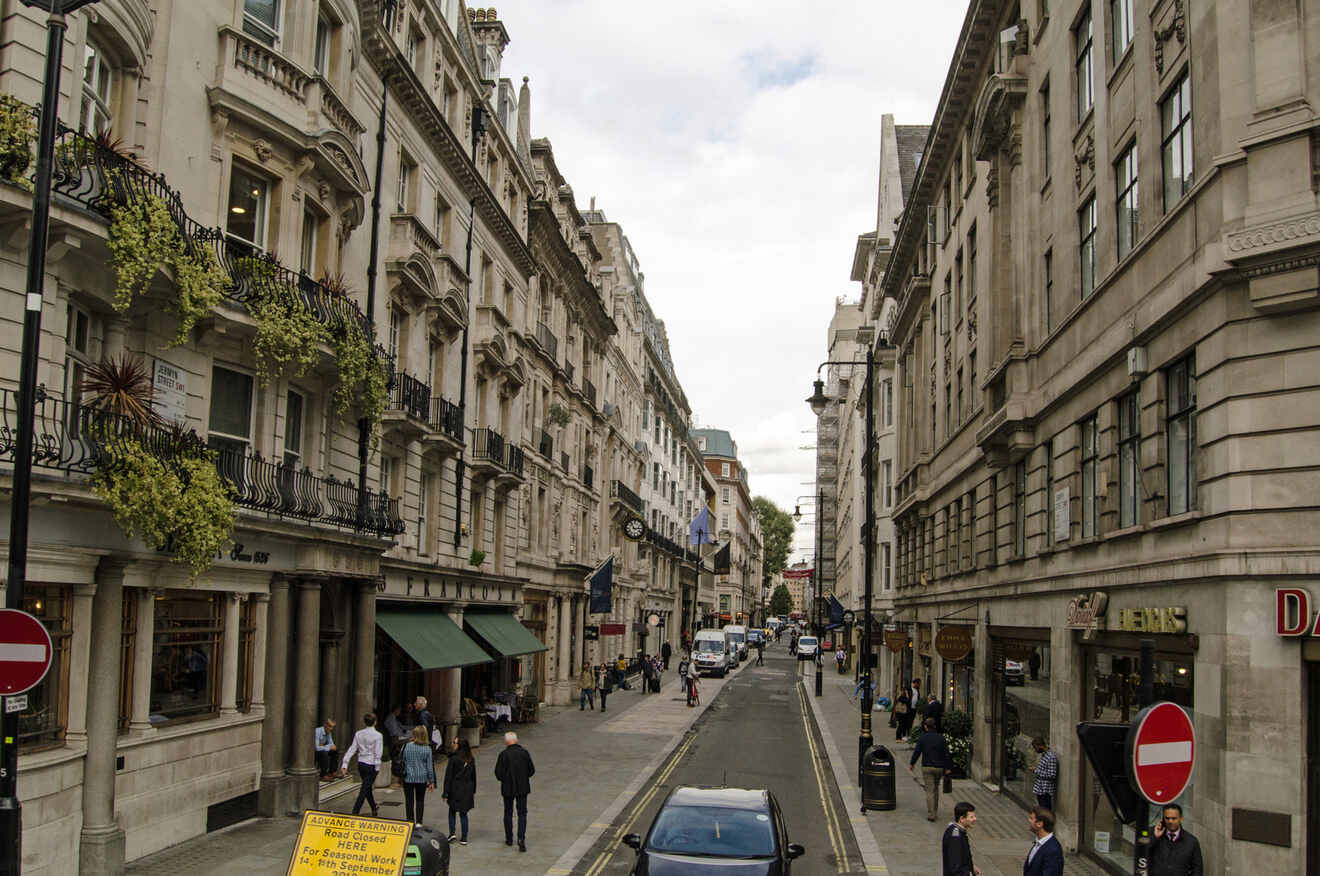 One thing that I know for sure about London is that you can find pretty much anything you want here! And yes, they have an entire street filled with high-end shops just for men like Hawes & Curtis Suit Shop and Harvie and Hudson!
And guess who lived on Jermyn Street long ago, from 1696 to 1709? Sir Isaac Newtown! His old house was demolished but there's a Blue Plaque indicating where he lived, at the new building.
Location: Central London
Closest Tube Station: Piccadilly Circus or Leicester Square
20. Old Compton Street – London's main LGBTQ+ center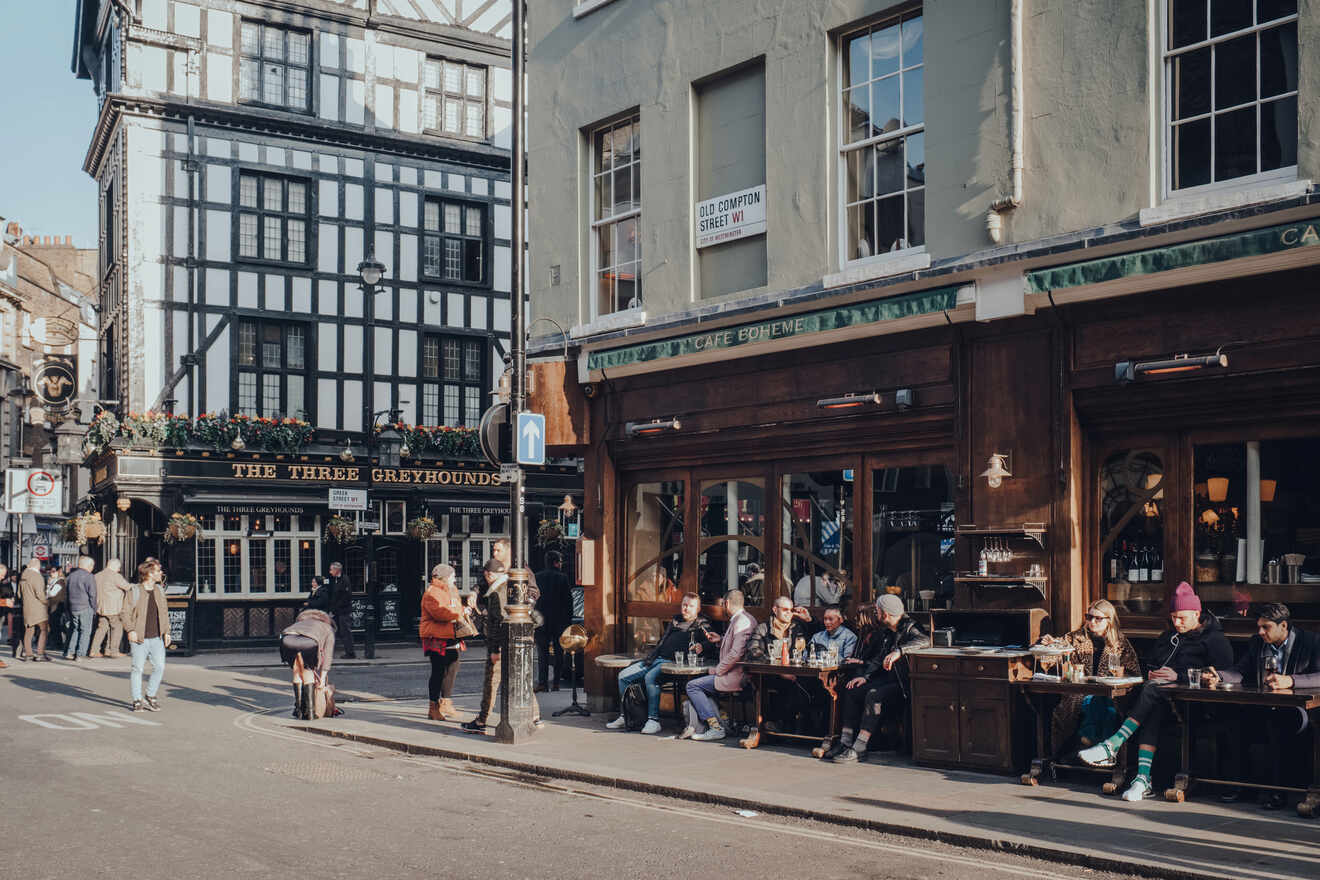 One of the most famous London roads for the LGBTQIA+ community lies in the heart of lively Soho!
Old Compton Street is filled with gay bars, restaurants, and shops! This is where most of the PRIDE parties take place between the 1st – 30th of June in places like G-A-Y Bar and Village Soho.
Location: Central London
Closest Tube Station: Leicester Square
21. King's Road – a cool street known for its punk past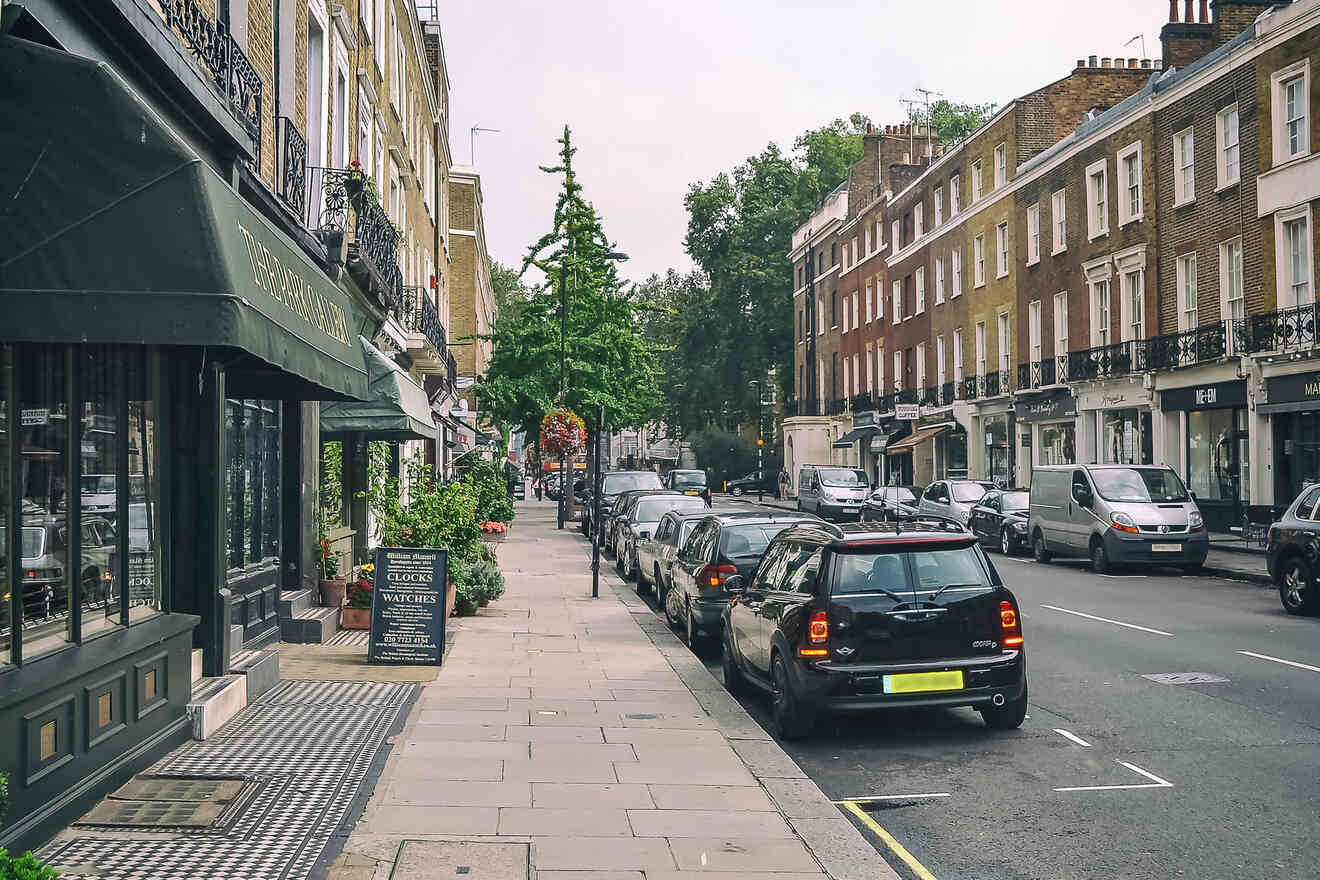 Another famous shopping street in London (there are so many, I know), King's Road was the home of the punks and New Romantics in the 1970s. Designer Vivienne Westwood and Malcolm McLaren, her partner at the time, opened the Let it Rock Store, in 1971.
The shop (which has since closed) sold clothes that basically defined the look of the punk movement. Now you can come here for some quick shopping as there are many stores like Office and Calvin Klein.
Location: West London
Closest Tube Station: Sloane Square Station
22. Harley Street – where to get beauty treatments in London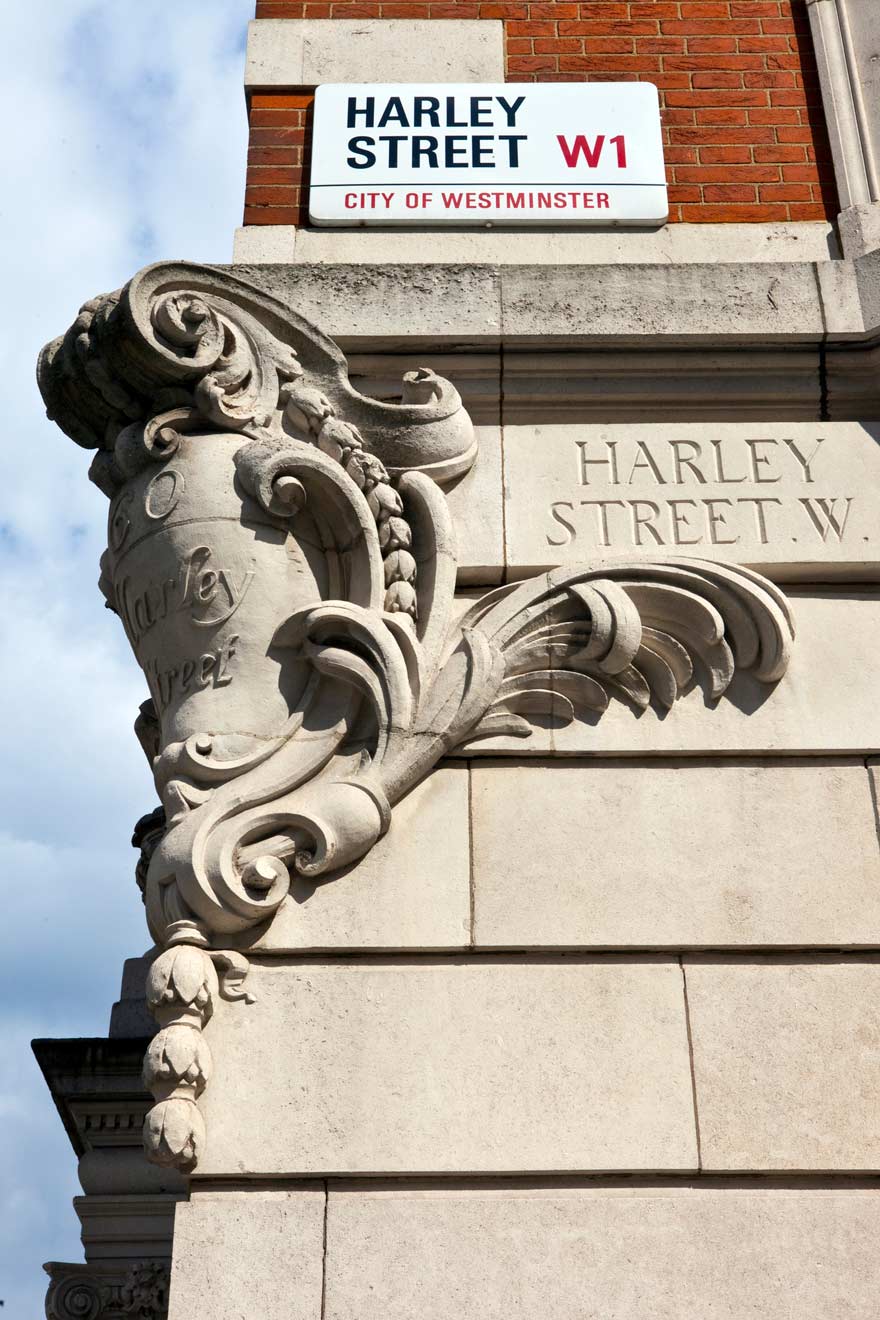 In need of a facial during your holiday? Then head over to Harley Street which is known for its multitude of cosmetic centers and medical practices!
Since the 18th century, many private medical practices have moved onto Harley Street as it's super well-connected to the more affluent streets in London.
Nowadays more than 3000 people work in the health industry here and you can find a specialist for nearly anything!
Location: Central London
Closest Tube Station: Goodge Street
23. Columbia Road – the most famous street for flower lovers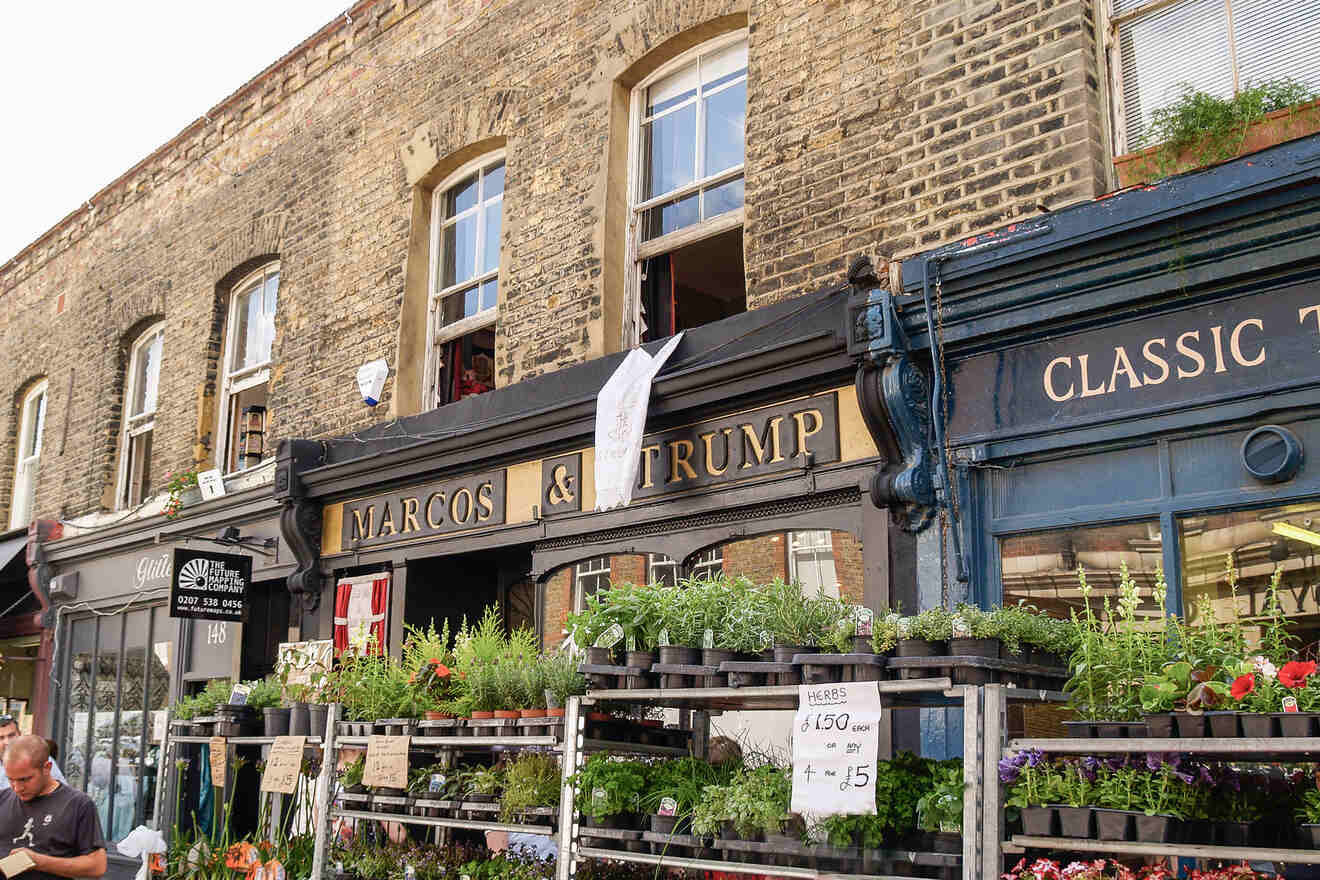 I love this street! Its weekly flower market has put Columbia Road on the map of the best London streets and you should definitely not miss it!
The flower market takes place only on Sundays and is set in the middle of Columbia Road. Make sure you also check out the quirky independent shops and art galleries around!
Location: East London
Closest Tube Station: Bethnal Green
24. Threadneedle Street – for architecture lovers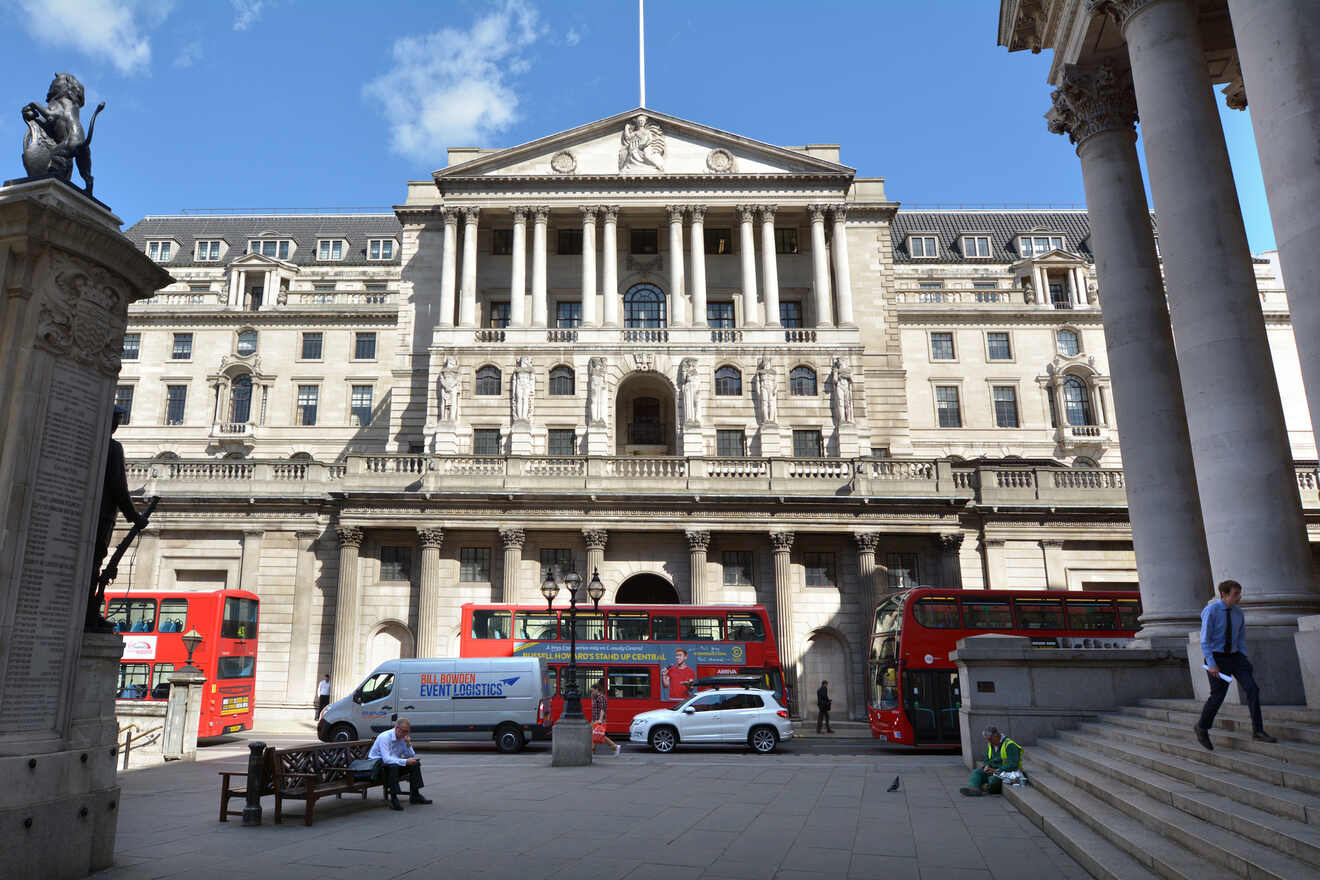 If you're into architecture, I highly recommend visiting Threadneedle Street! This is where you'll find the Bank of England, which has been on this street since 1734! Unfortunately, the building was demolished and rebuilt at the beginning of the 20th century so it is no longer in its original state but it is still a beautiful, grand building to see!
Go during the golden hour, this part of the city looks so magical around that time and you can get some cool shots of the historical buildings like Merchant Taylors' Hall.
Location: Central London
Closest Tube Station: Bank
Bonus 1: The best walking tours in London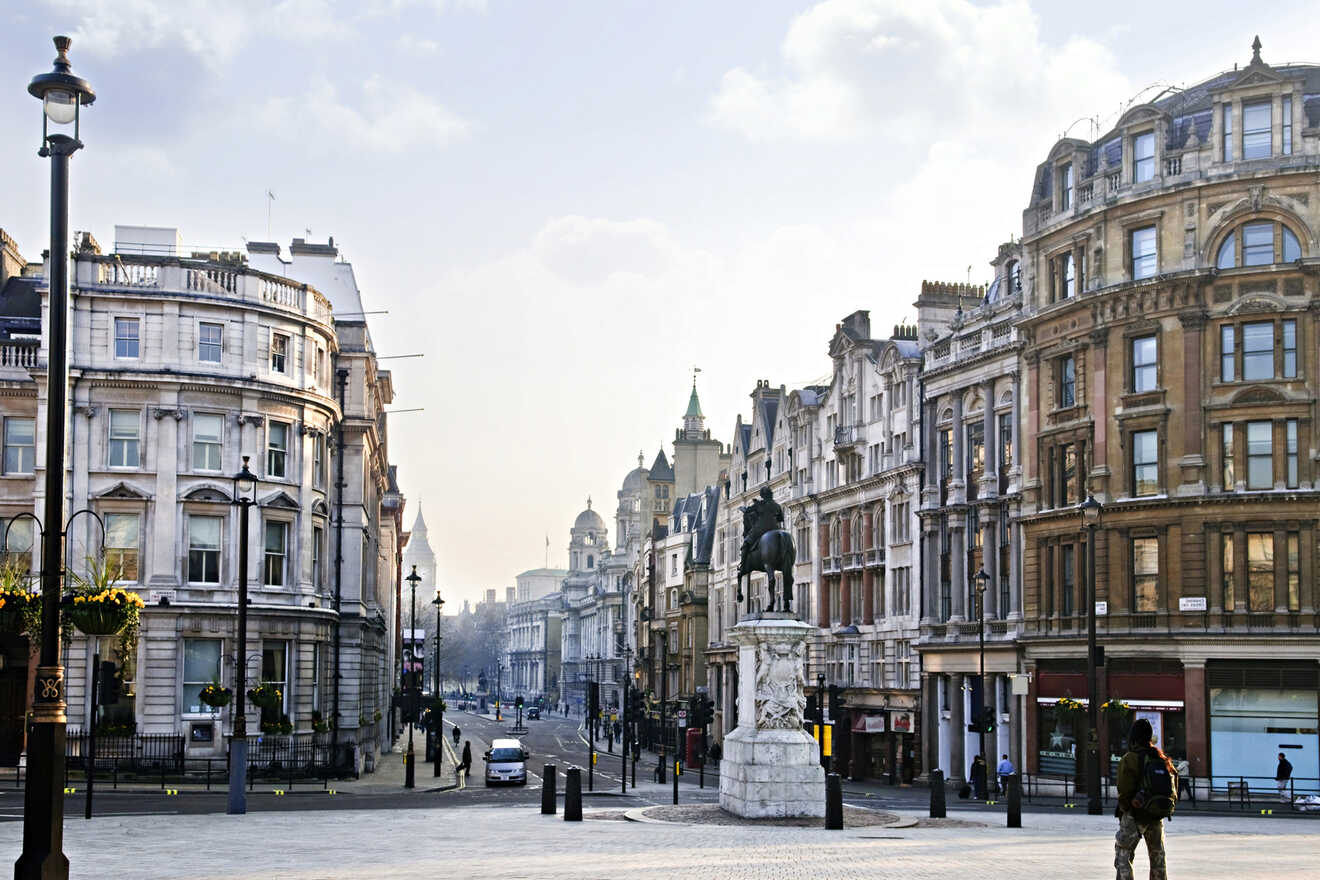 Hey travelers! I thought I would give you an extra hand today (just because London is so big and there are so many things to see) and make a list with some fantastic tours that you can take in the city to see some of the streets on this list!
This is an excellent way also to learn lots of cool facts while having fun (without getting lost)!
Bonus 2: One-day itinerary visiting the best streets in Central London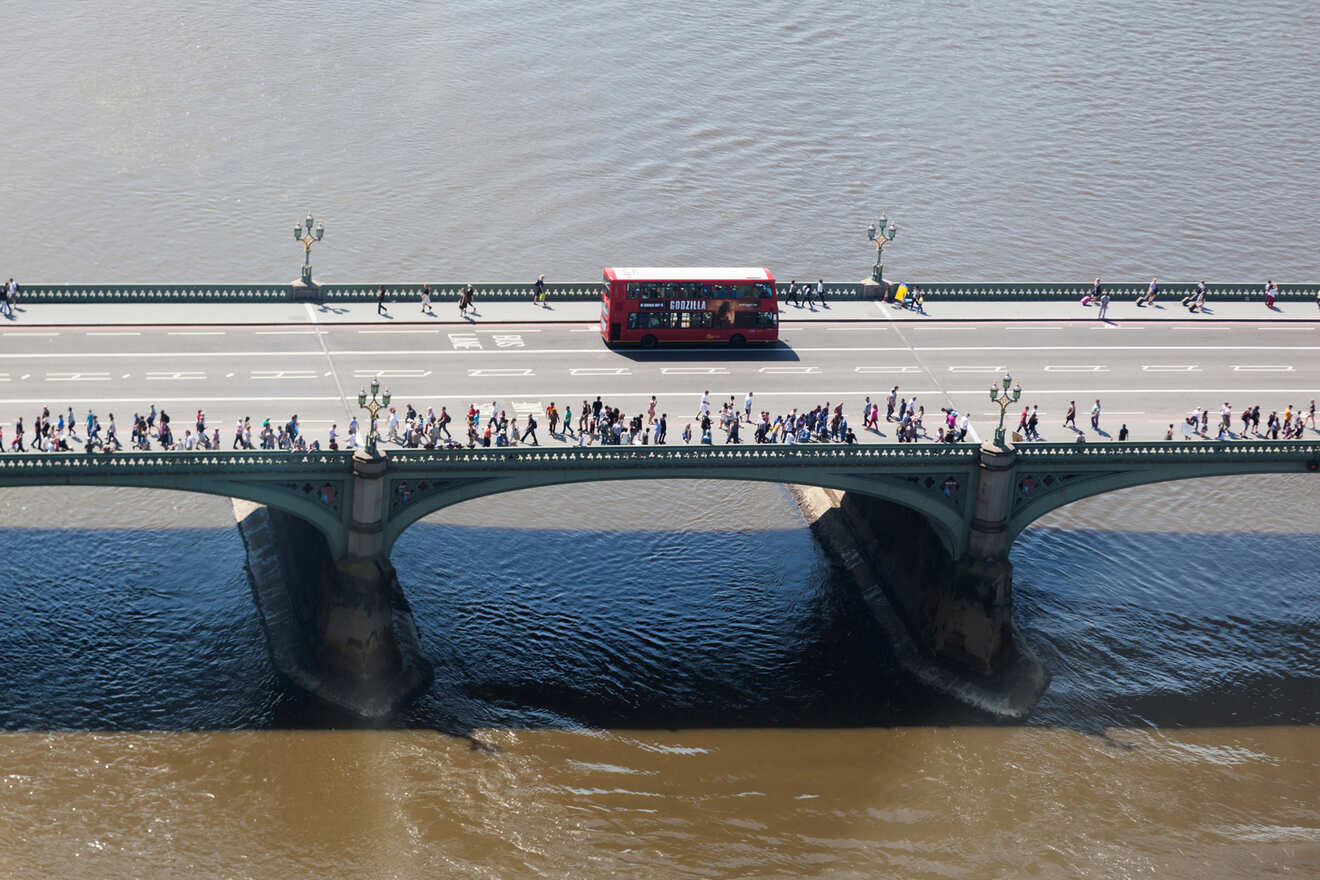 This area of London is usually the city's busiest part, but that's only because there are so many attractions and famous streets located here! And I'm sure that you'll want to explore all of them! To help you with that, I've come up with an itinerary that will allow you to visit all the famous streets in Central London in just one day!
I've grouped all the walkable streets together and split this itinerary up into different parts so you can easily swap sections out for public transport or a cab between streets to reduce the walking if you prefer. Click the map link for each section to follow the path on google maps.
Part 1 (~2.8 Miles):
Take the tube to Picadilly Circus Station.
Head 1 block south and turn right to walk along Jermyn St.
Take any right turn off Jermyn St and then another right on Picadilly Street to return to Picadilly Circus.
From Picadilly Circus, take a left and continue along Regent Street
Turn left onto Vigo Street and take the first right to explore Savile Row.
From Savile Row, take a left on either Clifford St or Conduit street, then turn right onto New Bond Street.
Take a right on Maddox St and turn right again when you return to Regent Street.
Walk south down Regent street and cross the road to turn left onto Beak St.
Carnaby Street will be second on your left and will lead you all the way to Great Marlborough St. Take a left and return once again to Regent Street.
Turn right onto Regent Street and follow it a couple more blocks and turn right onto Oxford St.
Enjoy the shops of Oxford Street all the way to Wardour Street where you will turn right once again.
After 5 blocks, take a left onto Old Compton Street
At the intersection, you will see Cambridge Circus, head east along Earlham st (via Shaftesbury Ave), and continue onto Shorts Gardens at the roundabout
Take a left onto Neal's Yard
Part 2 (~3 Miles):
From Neal's Yard, turn left and then right onto Endell St.
Continue onto Bow Street followed by Wellington St until you read a large junction.
Turn right onto Strand and follow it all the way to Trafalgar Square.
Continue on at the roundabout and you are now walking down the Mall which runs all the way to Buckingham Palace.
From Buckingham Palace, walk back through St Jame's Park and cross over through Horse Guards Parade.
Turn right on Whitehall and look out on your right for Downing Street, for your final stop.
Frequently asked questions about the best streets in London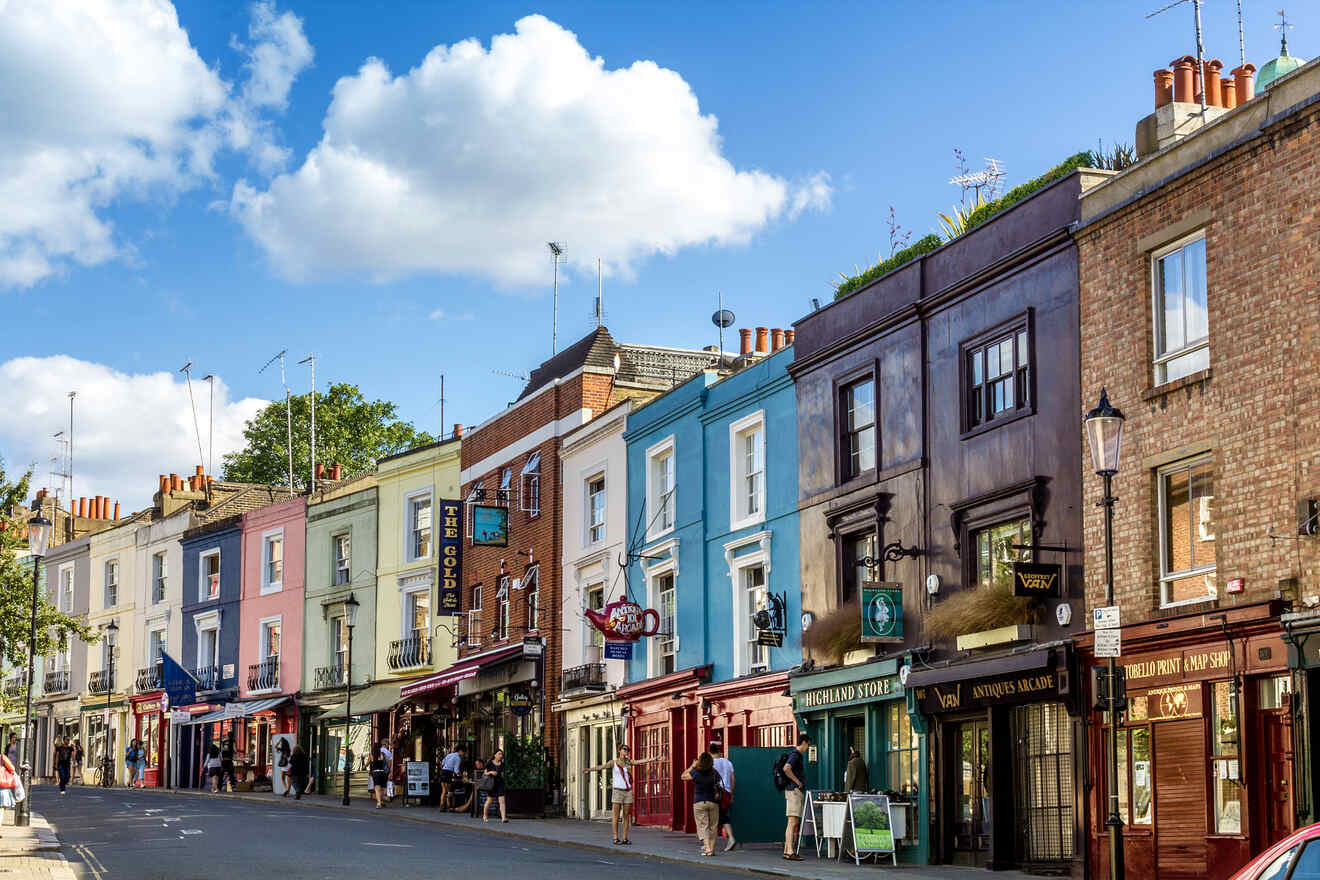 🤩 What is the prettiest street in London?
Neal's Yard, Westbourne Park Road, and St Luke's Mews are some of the prettiest streets in London. There you'll find colorful houses and super intragrammable spots. 
❓ Is there a main street in London?
There is not really one main road in London as there are many important streets in this huge city. But I think Oxford Street (West End) would be the closest thing to the main road. 
📸 What is the most famous street in England?
Oxford Street has become the most iconic road in England and one of the most famous streets in London. It's also the busiest shopping street in the city!  
🚶 What are the busiest streets in London?
Oxford Street, Piccadilly, Portobello Road, and Camden High Street are some of the busiest and most famous streets in London.
Conclusion
What a magical city! I've been here so many times but I always find something new that I want to visit!
Let's do a recap of what you'll find in this post: A carefully curated list of the best streets in London! Plus two really helpful bonuses. The 1st bonus has a list of tours that will take you to visit some of the prettiest streets in London, and the 2nd bonus has a great itinerary that will help you see all the best streets in London in just 1 day!
I wish you a super fun trip to London! Explore the shopping streets, solve mysteries on Baker Street and eat as much as you can on Brick Lane!
If you have any other questions about London, leave me a comment below and I'll answer them ASAP!
Safe Travels,
Victoria
---
Pin it for later!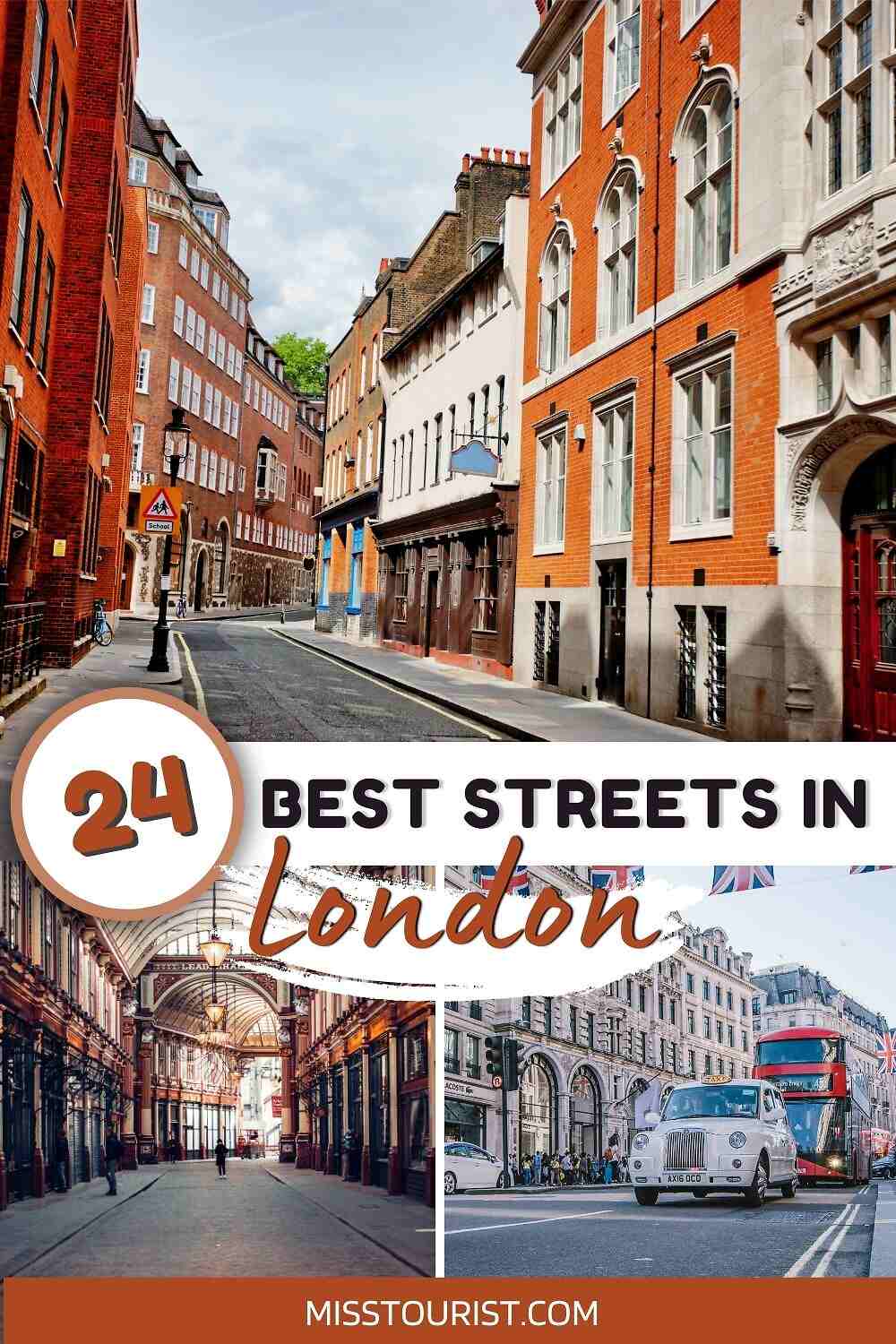 Pin it for later!