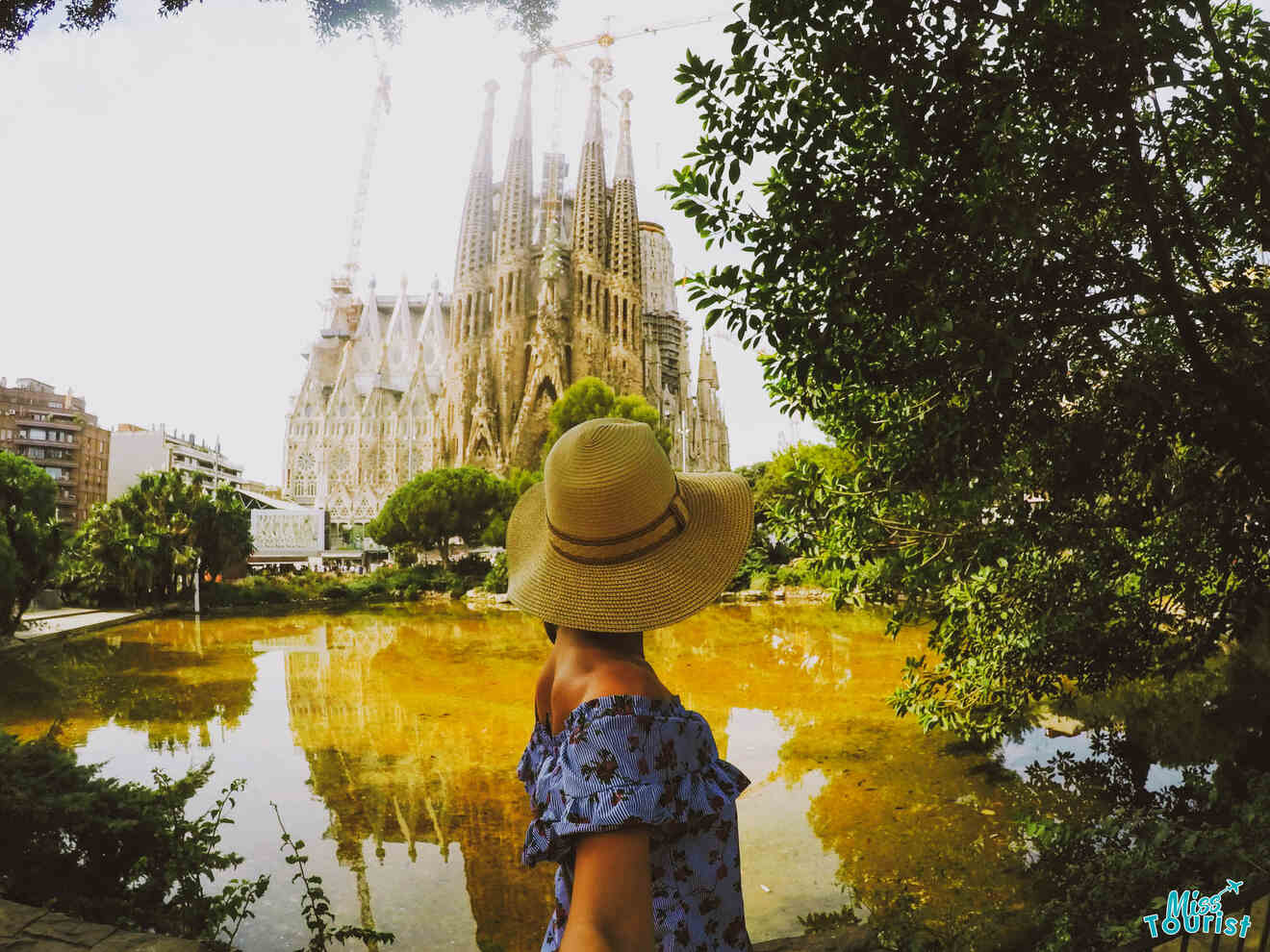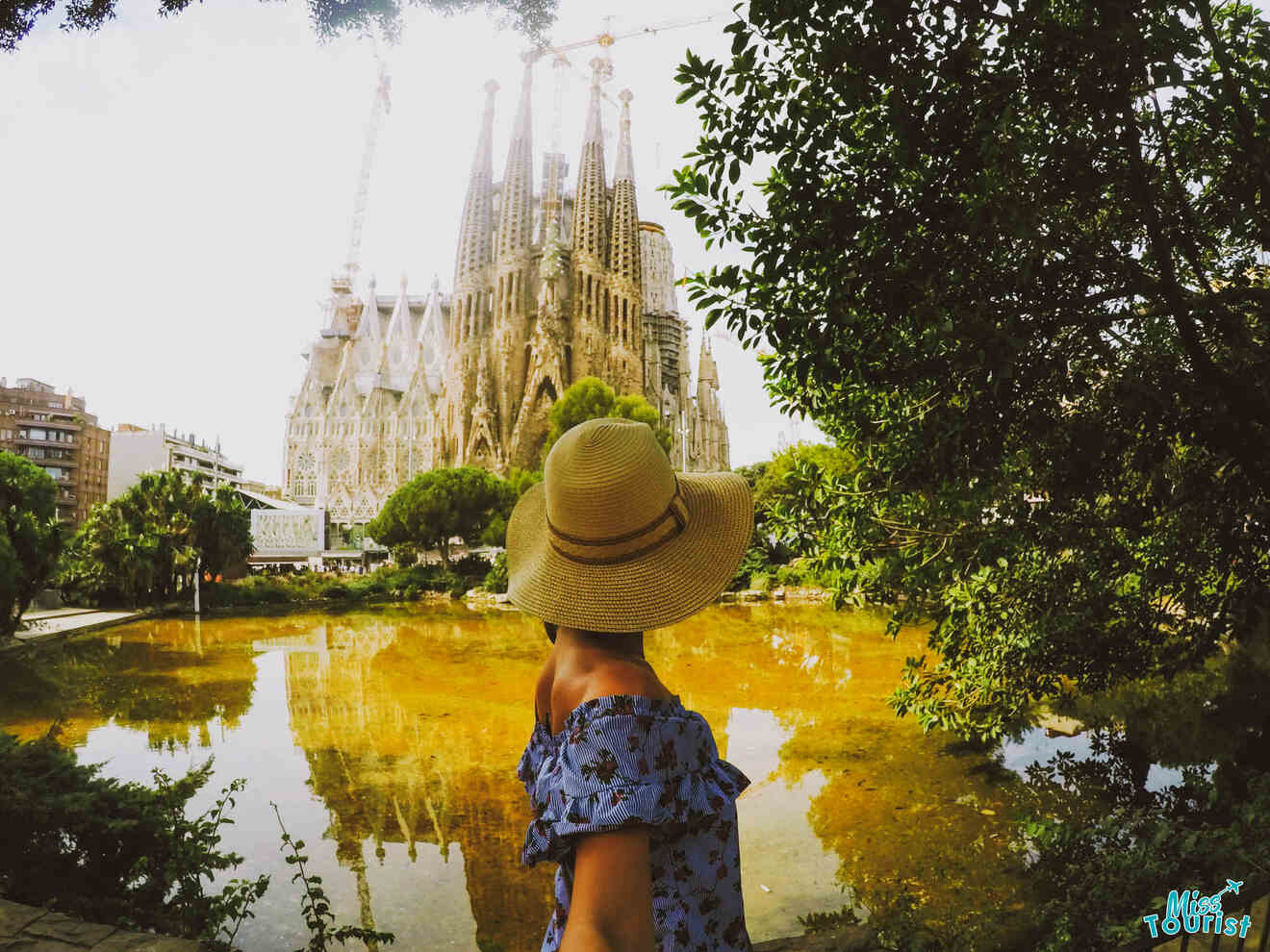 Sagrada Família, the famous unfinished Roman Catholic Church in Barcelona is the biggest attraction in the city and is Gaudí's greatest work. I've been to the basilica many times and saw people making many mistakes while visiting it, so I decided to finally put all my tips together in one post!
Sagrada is one of Barcelona's most popular attractions (5 million people visit it each year!), which means tickets are quite pricey and there are A LOT of people visiting. Just to give you an idea, the normal ticket is 26€, and the ticket that includes tower access is 36€.
In this post, we are going to talk about ways to buy tickets with no lines and how to save some money if possible. I will also guide you through the types of tickets, and prices, add some practical info, and more!
If you are in a hurry
If you are here to just buy the skip-the-line ticket, I have some quick links for you:
Private tour – Exclusive Sagrada Familia Tour ~€100 per person
Discounted tickets – 24€ for under 30yo and students, 21€ for seniors (over 65yo)
Free access – children under 11yo, disabled + 1 companion
Here are 5 ways to get in fast and recommendations on which type of ticket to choose:
1. General admission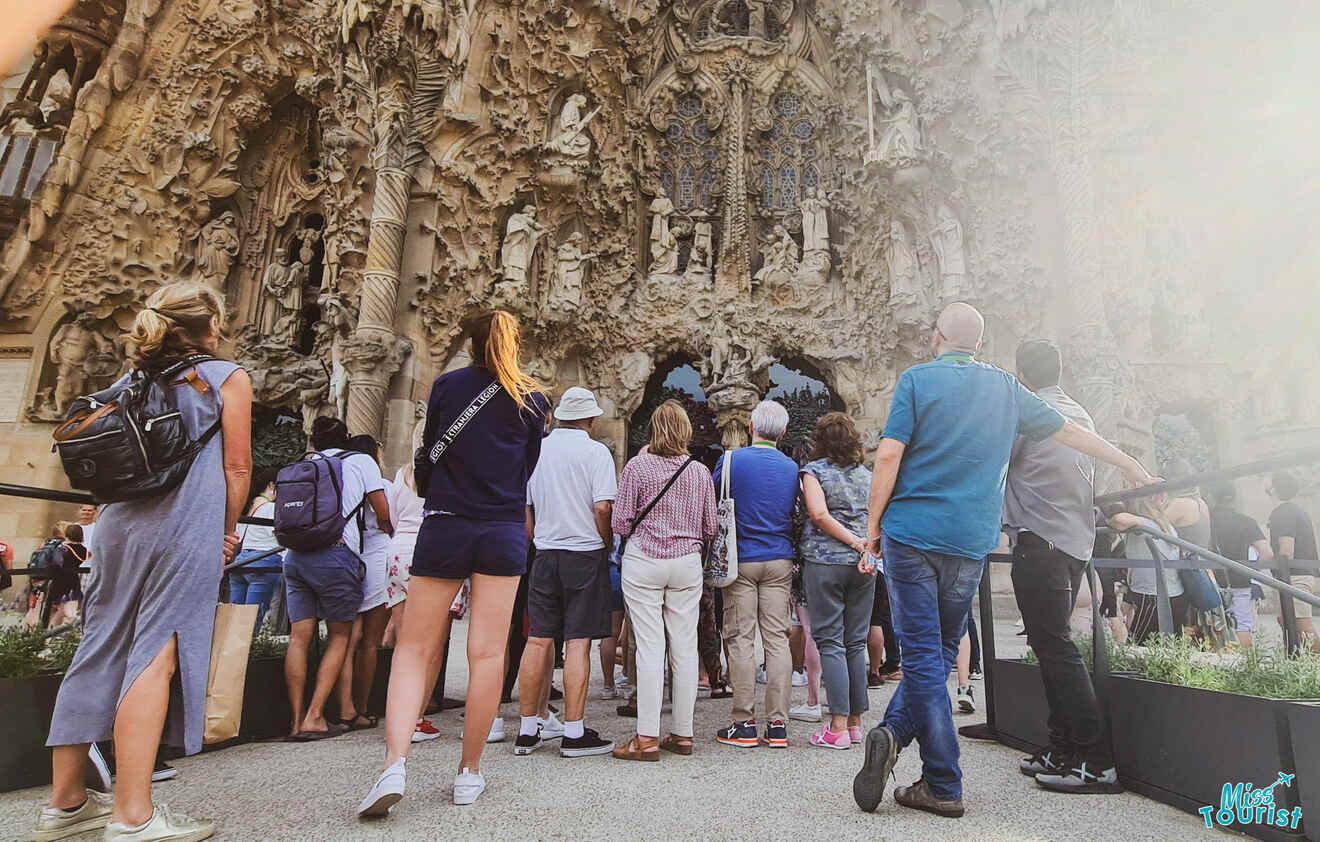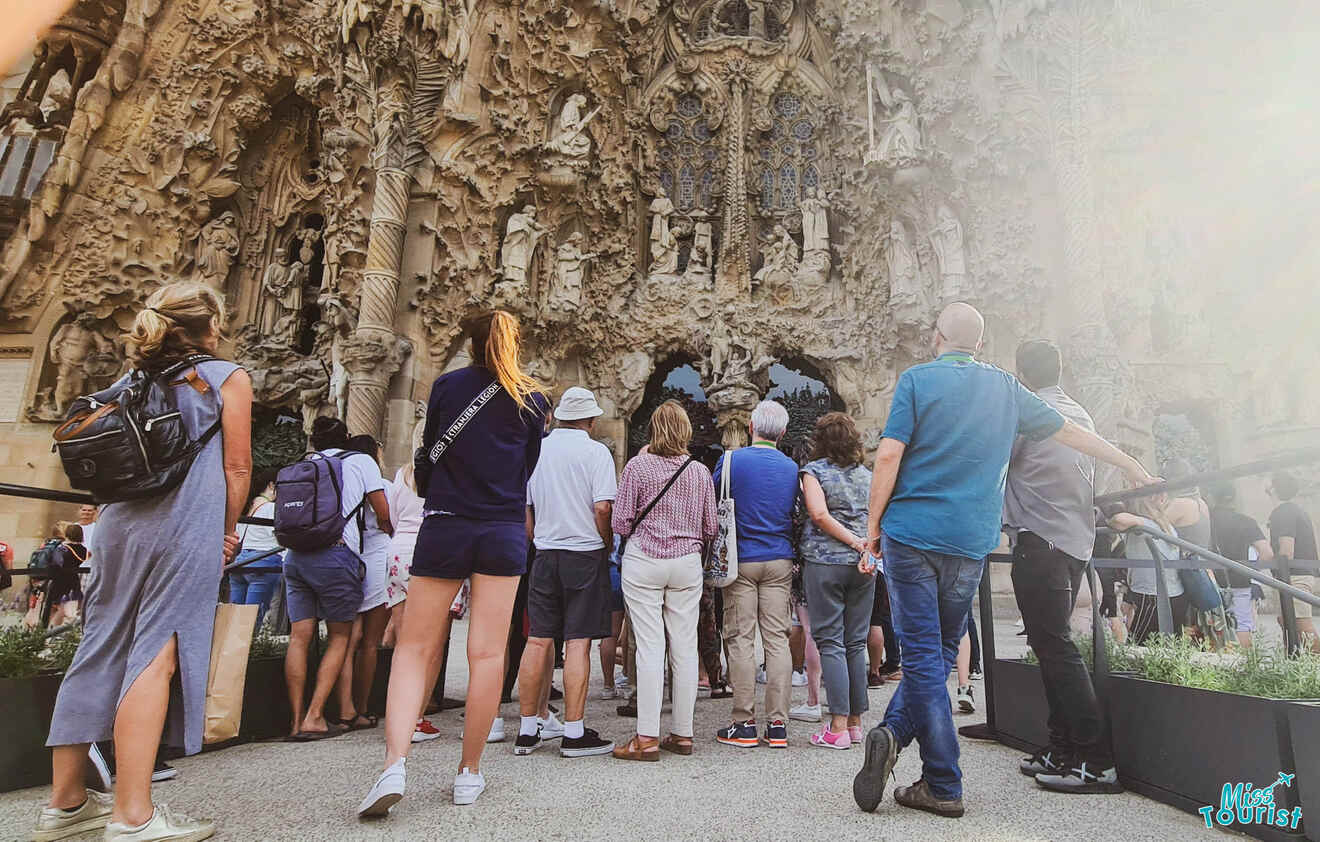 Let me just say it right away – buy your tickets in advance and you will not need to bother with waiting in the line. You can check the prices on the official website or, if it is sold out, try on this official reseller.
Long gone are the days when you could only buy tickets at the entrance (actually now you can ONLY buy it online) and you would have to wait for hours in line. Nowadays you just need to plan your visit a couple of days in advance, choose your preferred time slot (it is every 15 mins, so you have many options), and show up there on time. That's it!
This is the entrance (Nativity facade, Carrer de la Marina, 253). Just show the QR code from your phone to the ticket controller, no need to print the tickets. There will be a security line, but it is generally super efficient, we did not wait there at all, it took like 2 minutes altogether.
The general admission ticket includes the normal visit to the basilica and it is not constrained by time, you can stay as long as you like (until closing that is). If you are looking for a guided tour, click here to skip some text and jump directly to the section.
The audio guide is free for everyone, but you need the internet to download the app (from here). I HIGHLY recommend listening to the explanation, it will not only talk about the history but also the significance of the elements. Take your headphones with you!
PRICE: 26€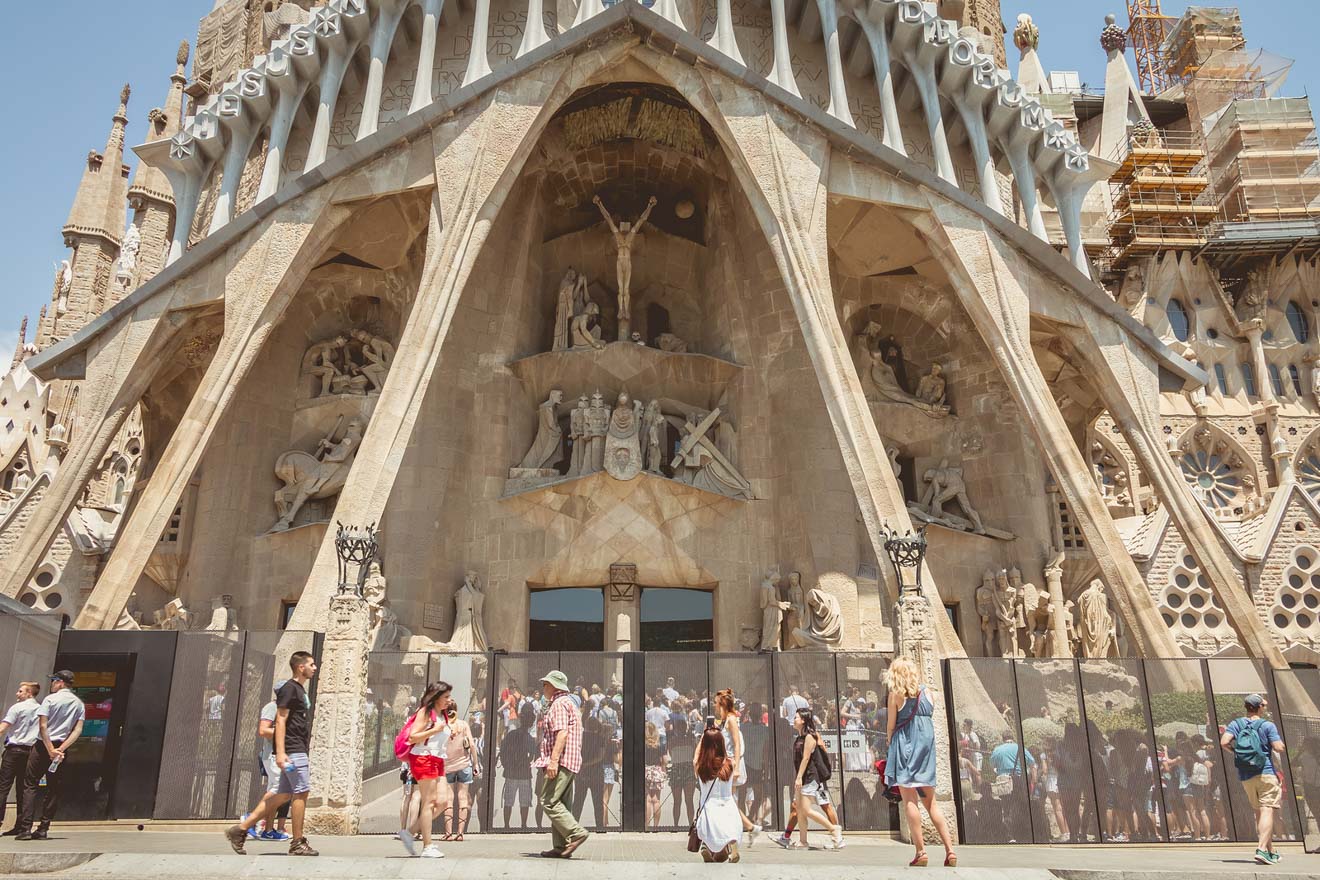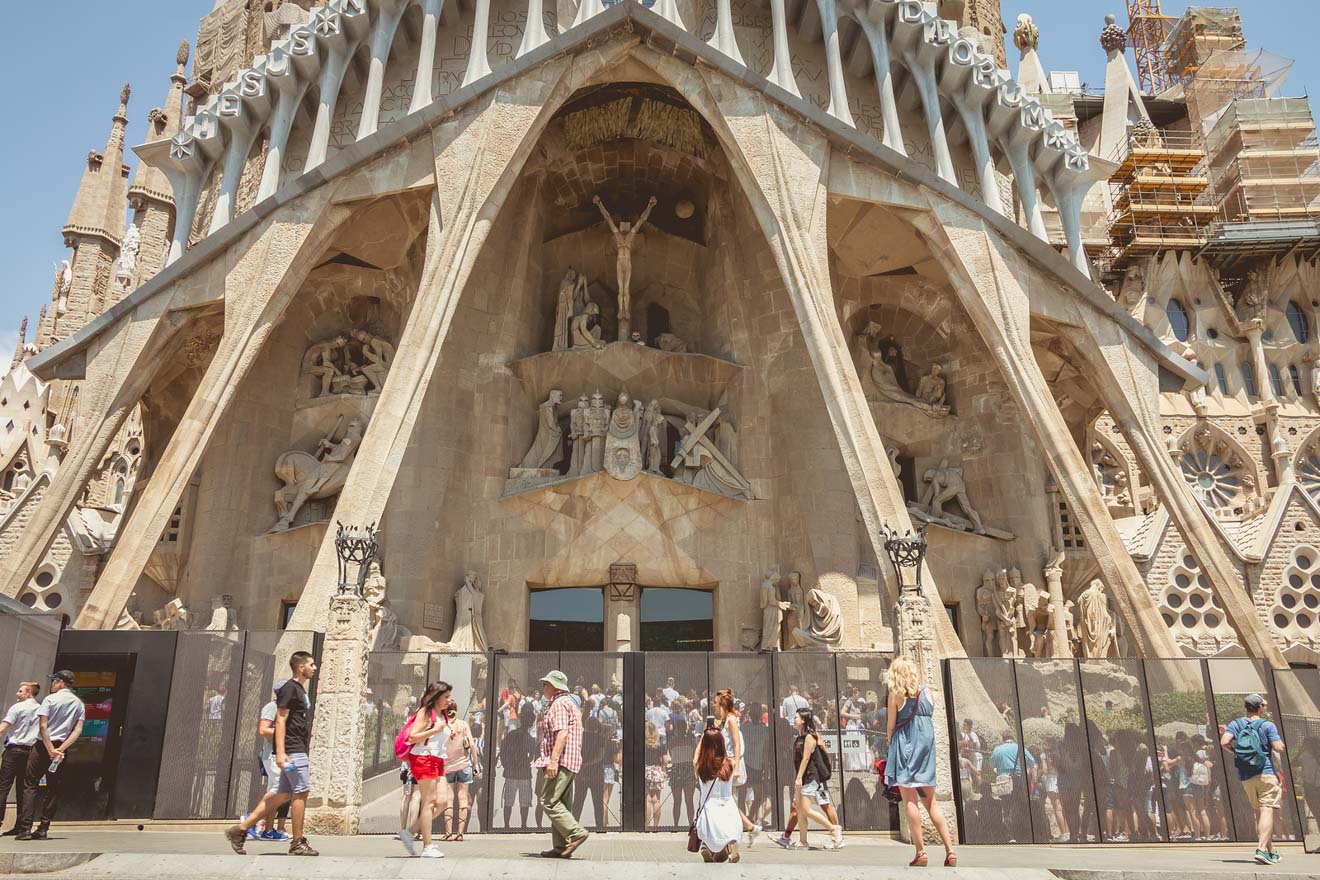 Dress code: As this is a place of worship, you must wear appropriate clothes (it has to cover the shoulders, trousers and skirts must come down to at least mid-thigh, nothing see-through).
How much in advance to buy? You can generally buy the tickets 2 or so days in advance, but if you want to ensure your desired time slot is available (everyone wants to visit during the sunset!), then book 4-5 days in advance and even more in the summertime.
What to do if the tickets are sold out? Try other dates, try getting another ticket type, try third-party sellers, and go with the tour (we are going to discuss all these options below).
Cancellation policy: exchange or returns must be requested at least 48 hours in advance. If you want to cancel, you need to provide proof of the cancellation reason (medical, flight cancellation, personal issues, etc.) Exchange is subject to availability, but generally, the change can be done 15 days before and after your original ticket date. You can read the full policy here.
PRO TIP: If you are not sure which day you are going to go, but would like to book the spot, you can do it through GetYourGuide, a truster reseller. The ticket is a bit more expensive, but they have a full refund policy up to 24h in advance, no questions asked.
PRICE: 26€
2. Tickets with the tower access


I visited Sagrada 3 times before and always skipped the towers because it was unavailable or too expensive. I am so happy I finally got to do it!
Is it worth it? The entrance fee is going to be 10€ extra but if it is within your budget, I personally think it is worth it for the view and just seeing the inside of the naves. If your budget is tight, you can skip it because the most beautiful part is the basilica itself anyway! 🙂 
Just like with the general admission ticket, you will book a particular time slot for your visit. You can first wander around in the basilica, listen to the audio guide and then go up with the elevator to one of the towers (the time slot to take the elevator will be 45 min after your entrance time). You will enjoy the view from there and then go back down (up with the elevator, down with the stairs) and you can stay in the basilica for longer if you wish to.
NOTE: The stairs for your descent are narrow, so it might not be very good for claustrophobic people.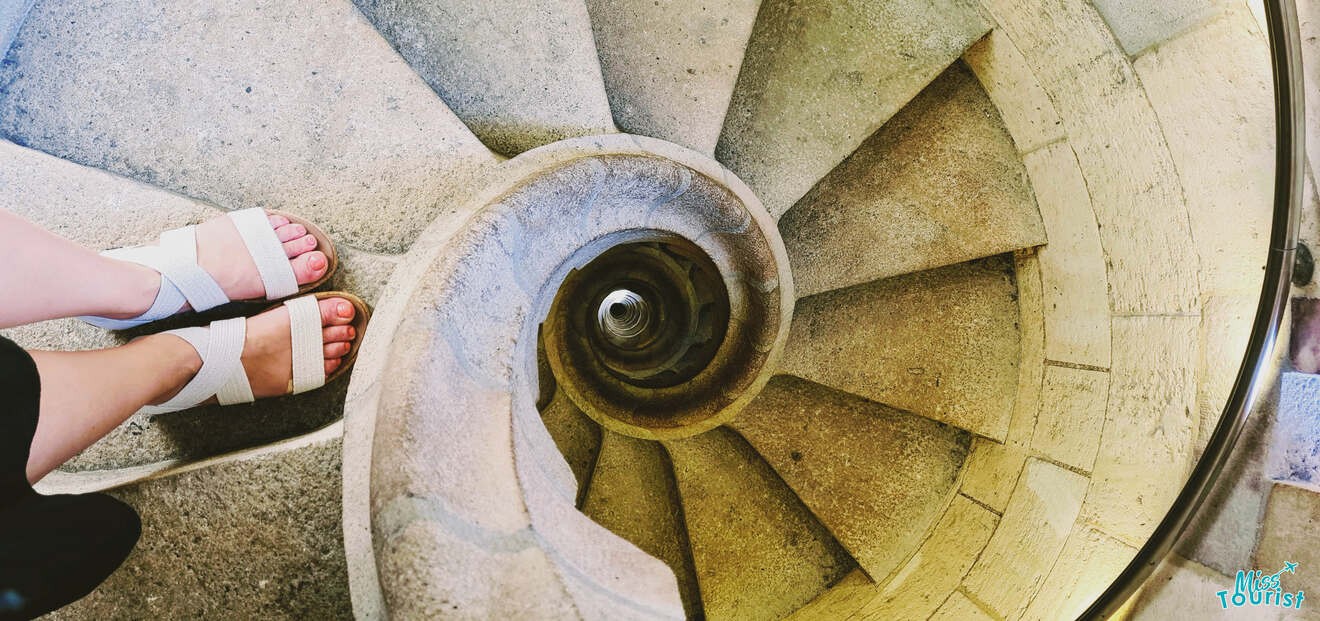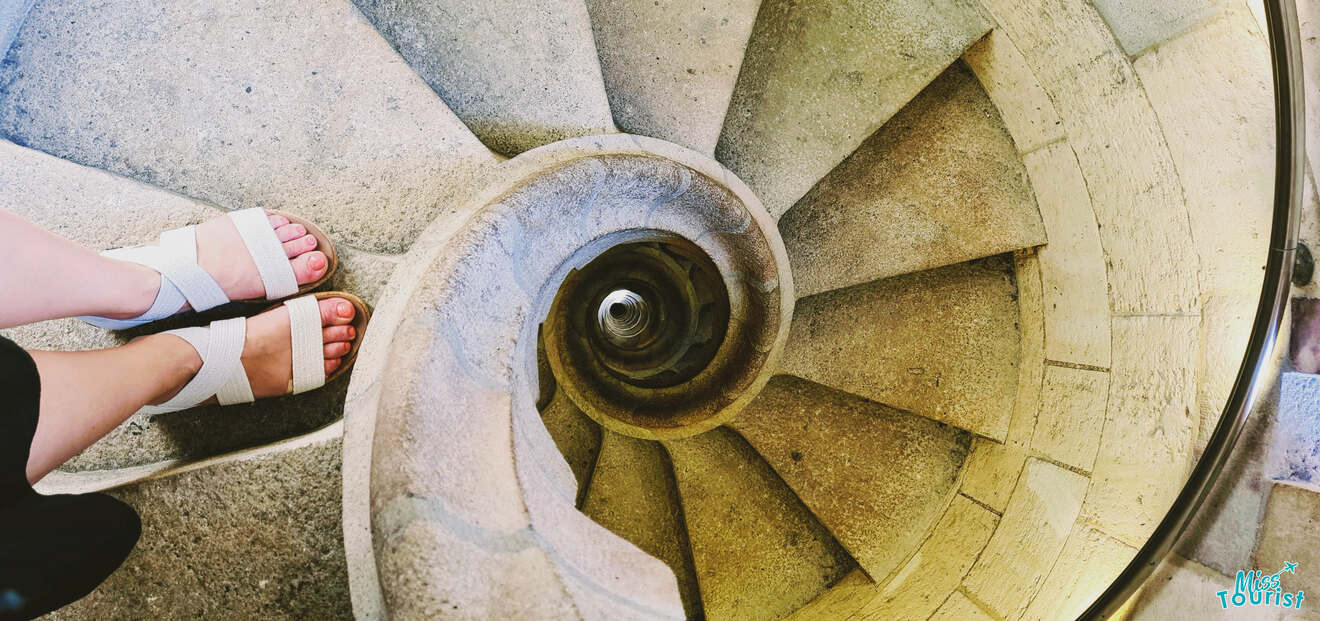 Which tower is better?
Sagrada Familia has two facades with towers that you can go up: the Nativity Towers and the Passion Towers (when you book your ticket you will have to choose one of them). The Nativity Towers are the oldest ones and the only ones Gaudi himself helped with the construction; the Passion Towers are the new ones, completed after his sketches. The Sagrada Familia top view is mesmerizing regardless of your choice!
NOTE: You are not allowed up with backpacks, but there are lockers for you downstairs
PRO TIP: For all ticket types, if you can, I highly recommend visiting during sunset time. You will be mesmerized by the beautiful golden light reflecting from the countless stained glass windows! And it is also nice to see the city during the golden hour, trust me!
PRICE: 36€
3. Guided tour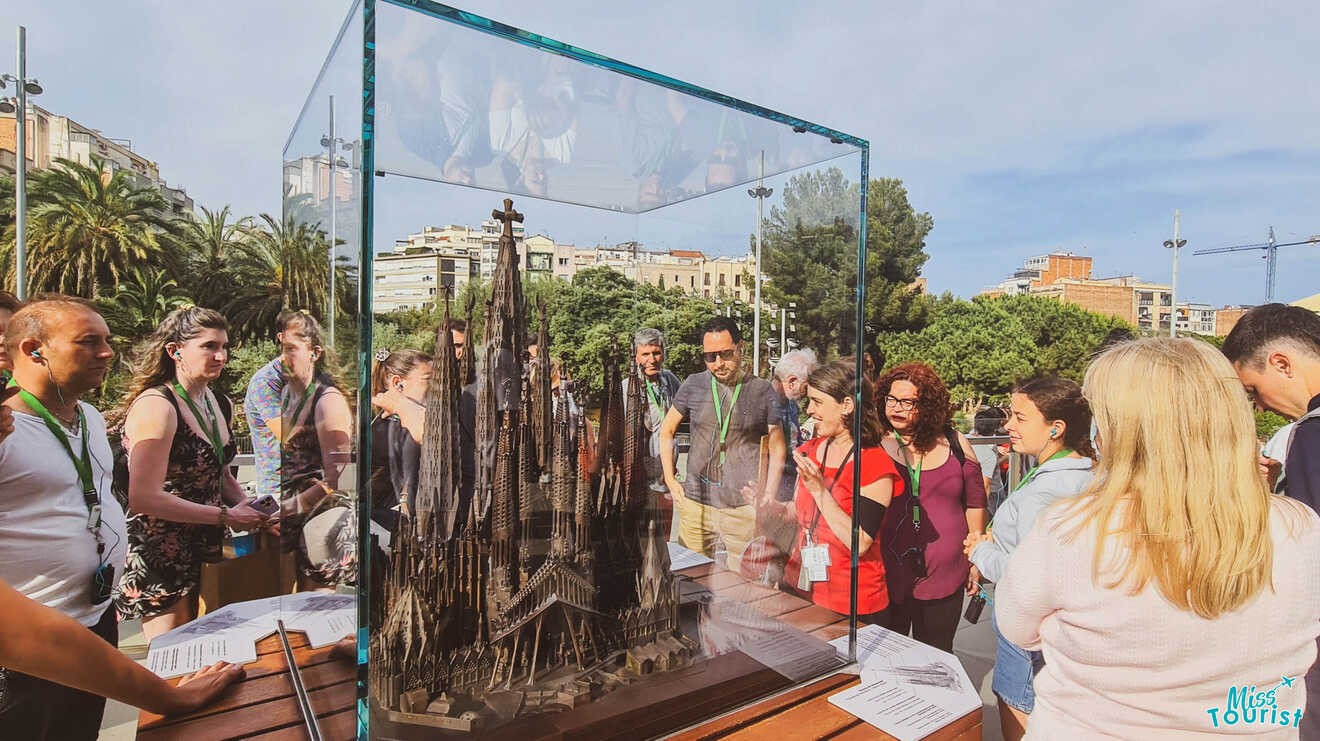 La Sagrada Família is full of secret meanings, tiny significant details planned by Gaudí, pieces of architecture inspired by nature – all reasons why it is really worth taking a guided experience!
You can take a guided tour for both general admission and the tickets with the tower access. The official ones are very affordable (it is just 4€ extra from the original entrance price), but I noticed they are also very fast (50 min) and crowded.
The ones by a trusted partner are 1,5-2 hours so you get to learn more about the place and it is organized in smaller groups. The choice is yours, I am going to provide links and prices for both options below:
Guided tour of the basilica
Official – 30€ (40 min, buy this one at least a week in advance! it has limited availability)
Get Your Guide (small group, 1.5 h) – from 49€
Guided tour of the basilica with tower access
Official – 40€ (same here, tours in English sell out fast, buy at least a week in advance)
Get your Guide (small group, 1,5h) – from 62€
PRICE: from 30€
4. Private tour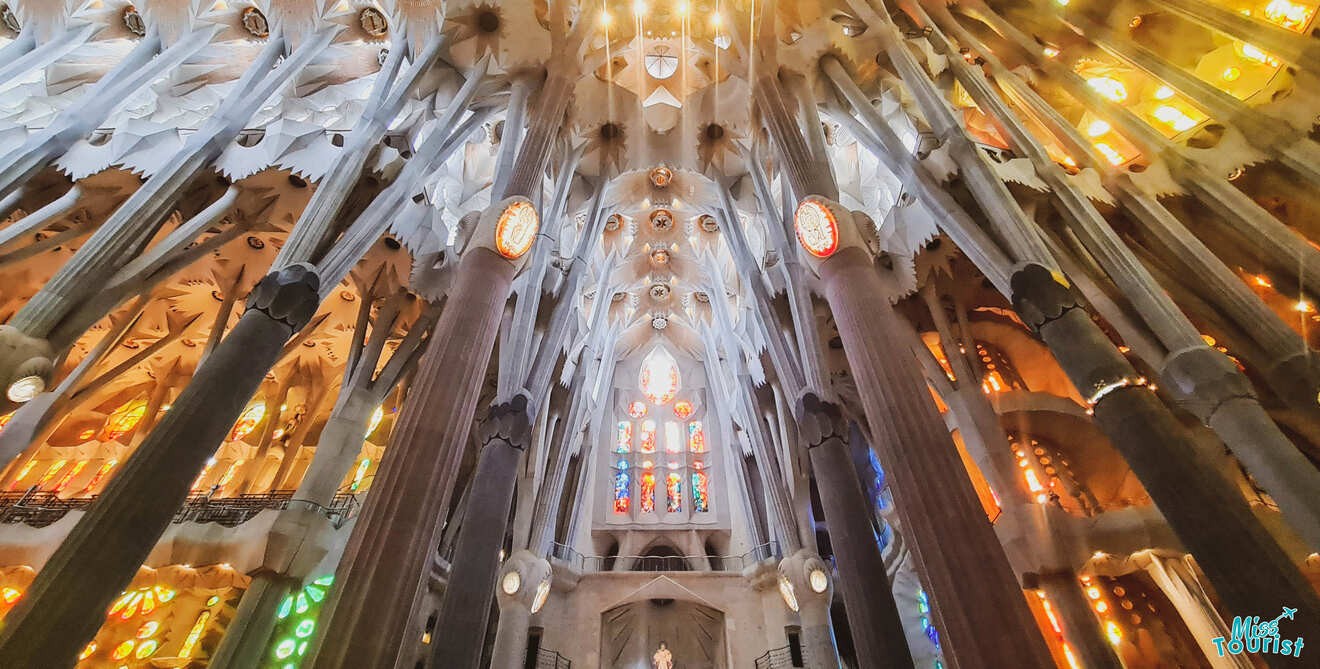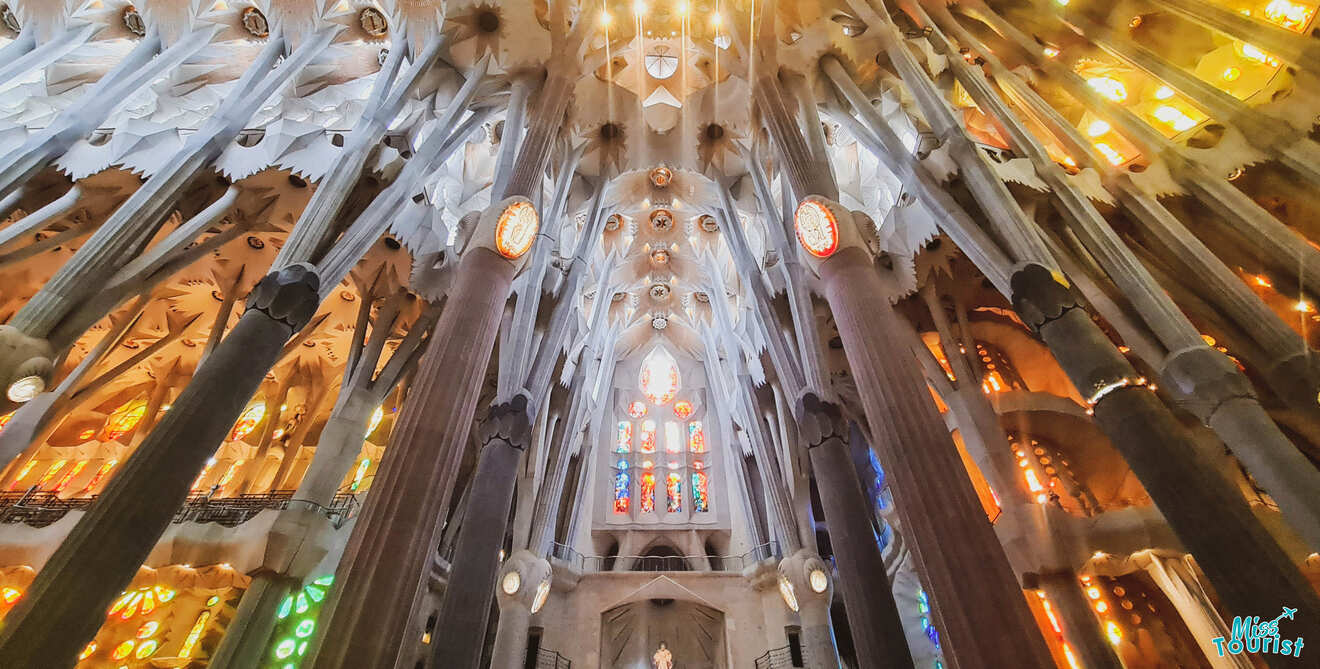 If you are looking for more of a personal treatment where the guide would talk exclusively to you and your friends/family, you should take a private tour!
The official site does not have anything to offer, so I found some good tours for you on trusted websites I use myself. The price will depend on the number of people in your group, but generally can be somewhere between 90 and 130€ per person depending on the duration and extra perks.
This one for example is about 100€ per person for a 1,5h tour with a cava in a restaurant with a view of Sagrada at the end.
Or this one is 75€ per person (if you are 5 or more people) for a 2-hour tour.
PRICE: from 75€ per person
5. Buy with a bundle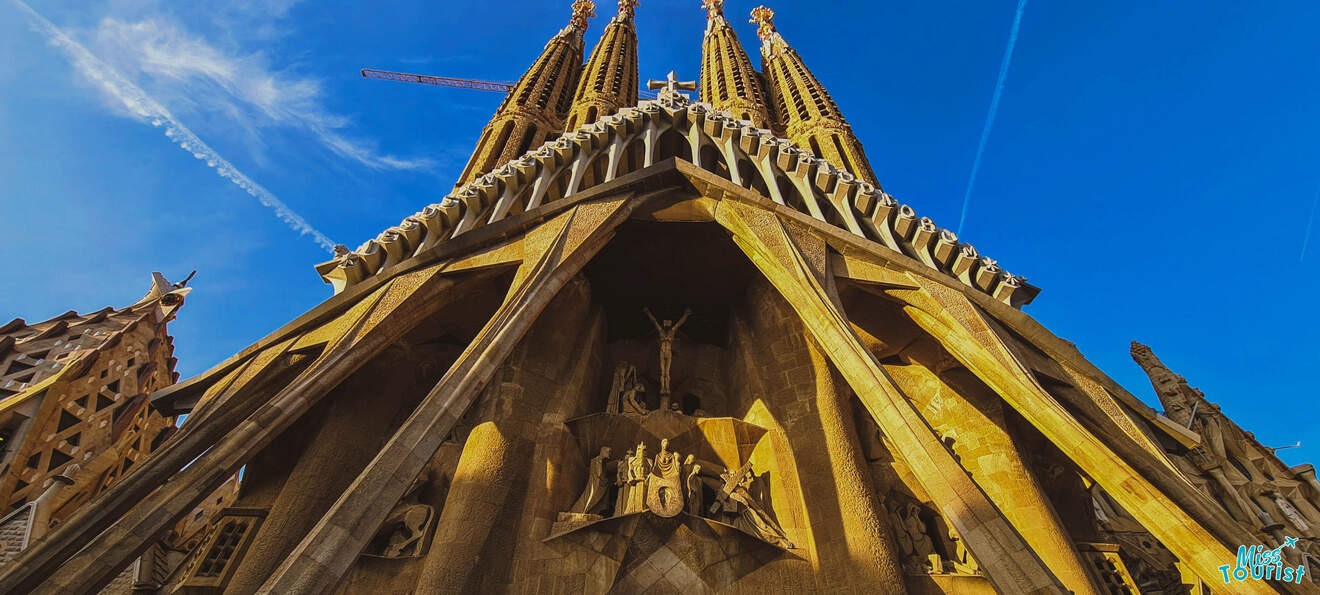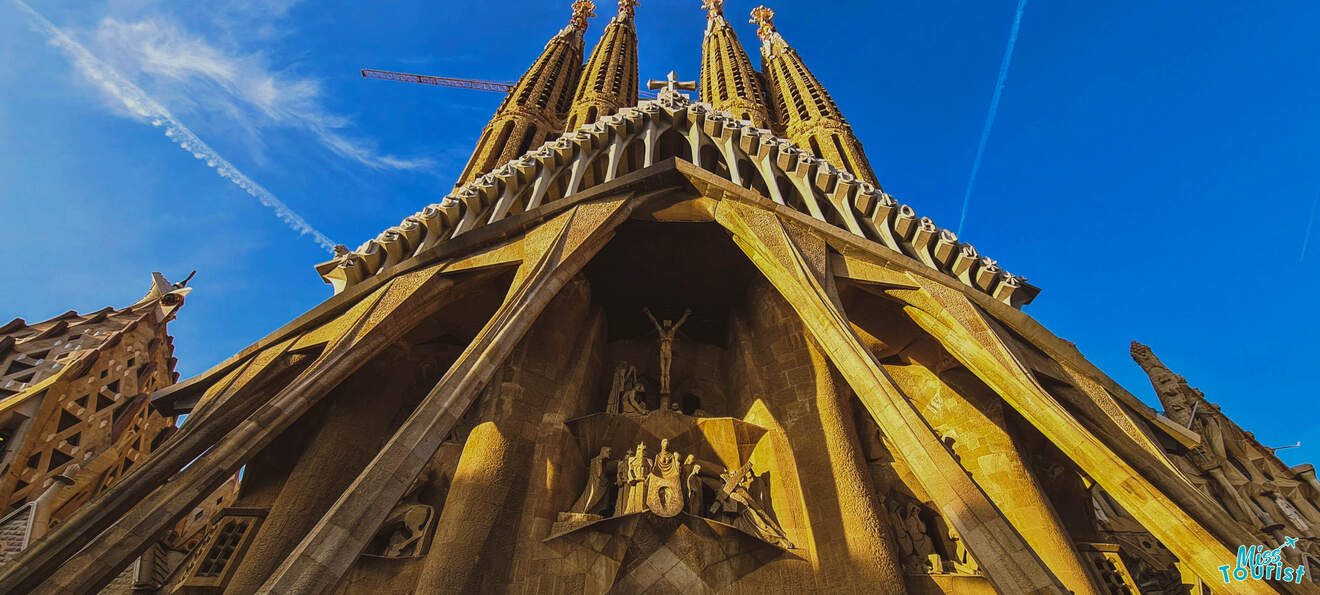 Another great opportunity to save some time and money that no one talks about is buying the ticket as part of a pass.
I don't blame people, it is usually hard to understand the terms and conditions and what's included. But guess what, I've done the research and the calculation for you!
NOTE: The passes are usually worth it if you are definitely going to go to many attractions. If you are only planning to do one or two you will probably be better off buying your tickets separately. 
Let's briefly talk about 3 main ticket bundles that I thought might be interesting for you to consider if you are going to Sagrada Familia:
UPDATE: Currently, I honestly do not think any of the passes really offer any significant savings for Sagrada, but in the past they did, so I will leave the links below for you to check in case anything changes:
Turbopass (it is actually worth it but only if you really use it)
Practical information about Sagrada Familia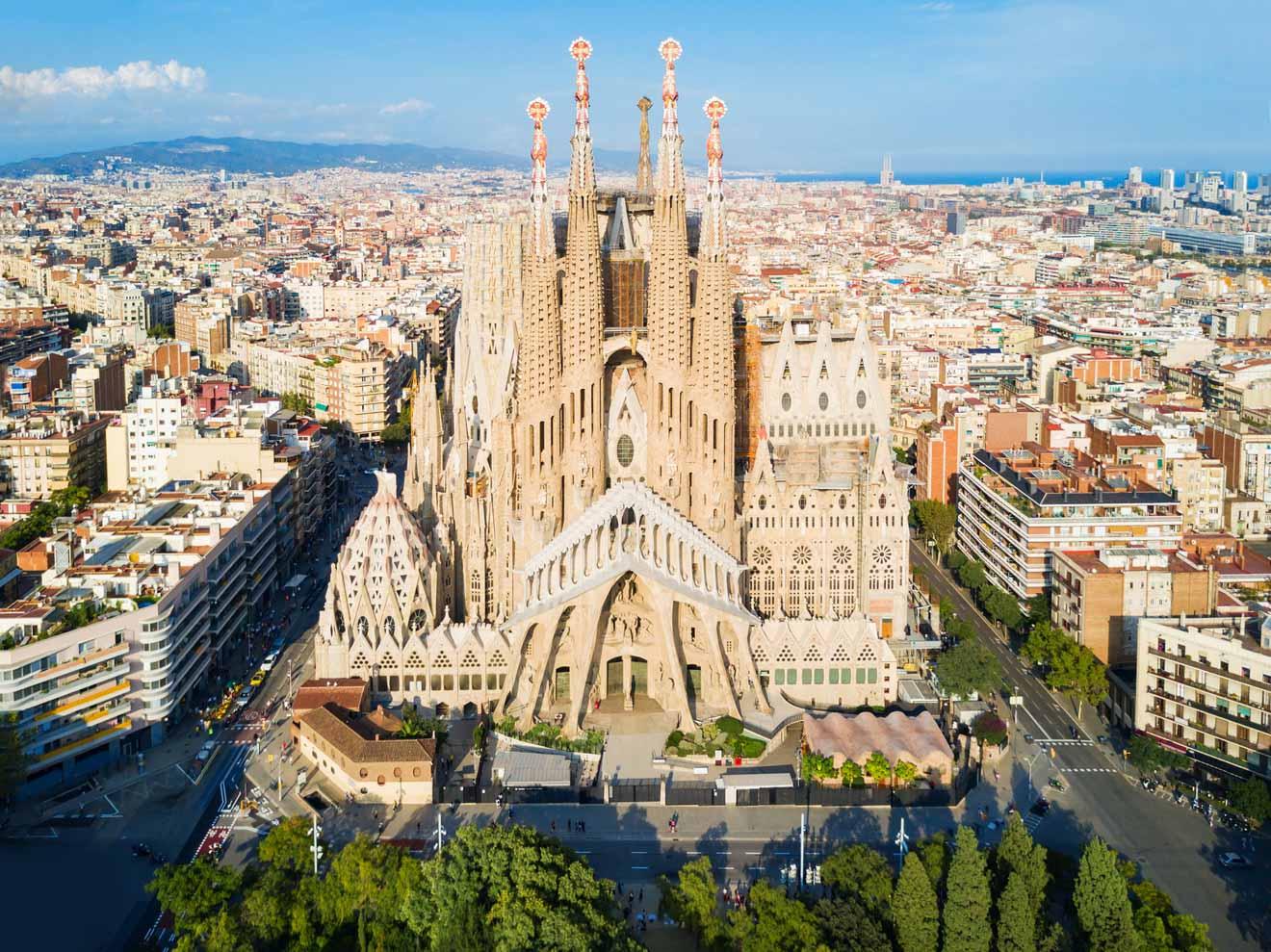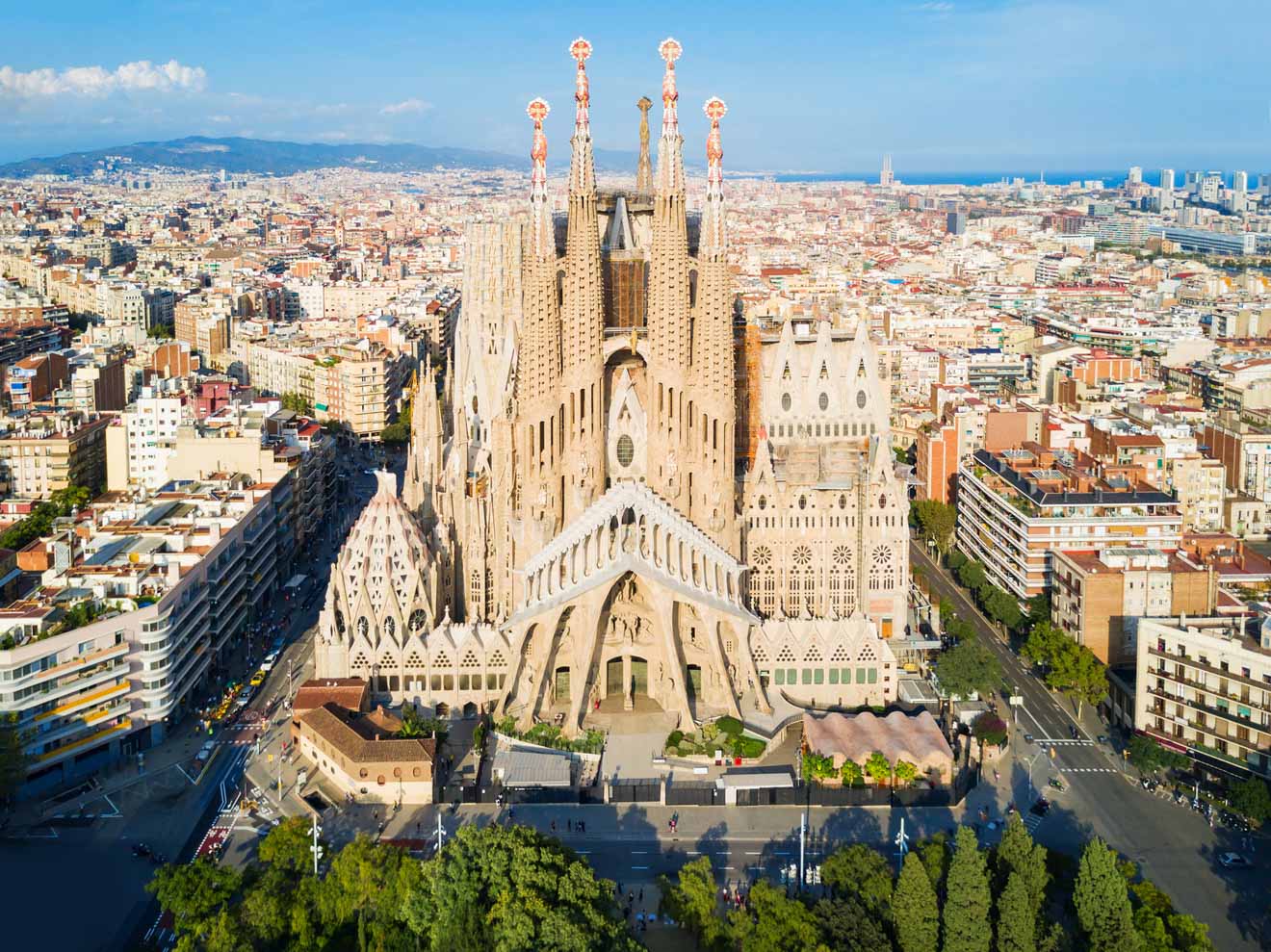 Even though the post was about buying the tickets to Sagrada, there are a couple of things more that I think to deserve your attention:
How to get there
Sagrada Familia is not located exactly in the city center, but it is very close to it, and it is super well connected:
Opening hours
The opening hours vary according to the season, you can see them below or check on the official site: 
November-February: Mon-Sat 9 am to 6 pm, Sun 10:30 am to 6 pm
March and October: Mon-Sat 9 am to 7 pm, Sun 10:30 am to 7 pm
April-September: Mon-Sat 9 am to 8 pm, Sun 10:30 am to 8 pm
NOTE: The Basilica is actually open for visitors also during Christmas and New Year, but the hours are shortened – from 9 am to 2 pm.
How to take epic pictures with no people in Sagrada?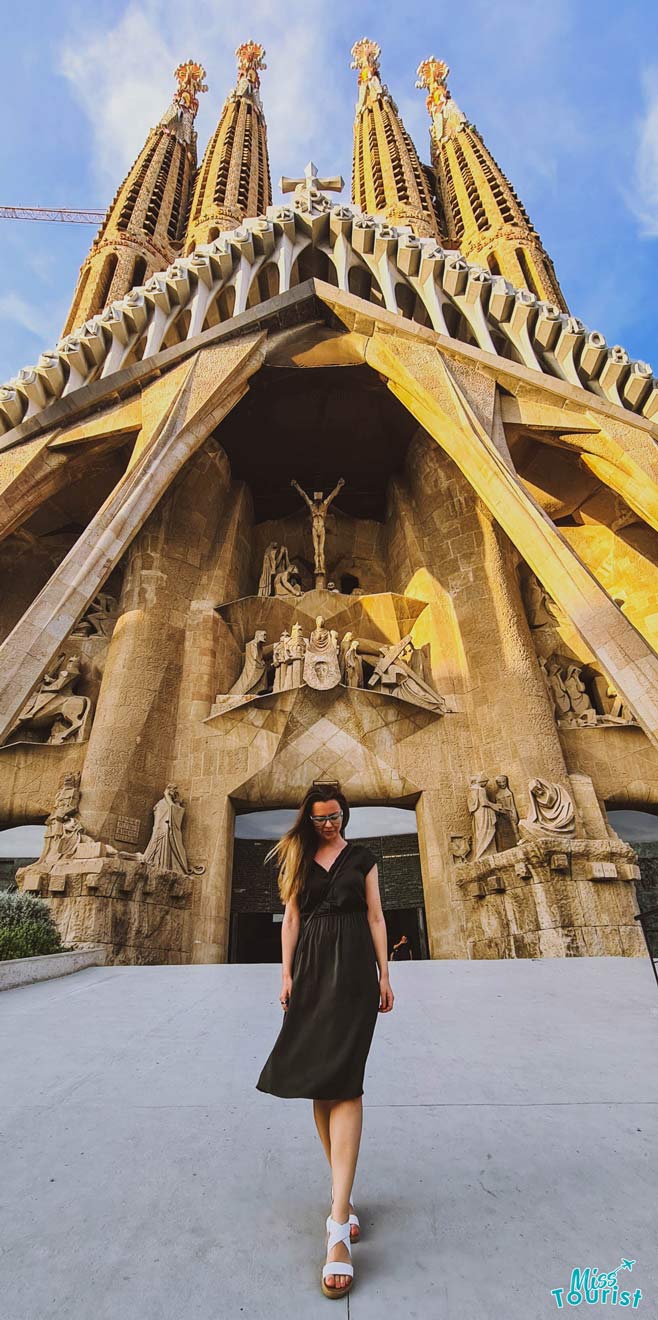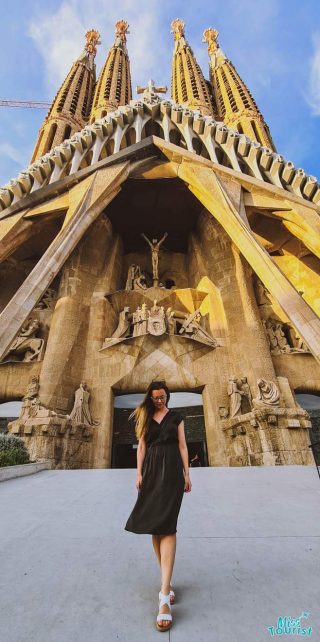 If you want to take awesome pictures inside the basilica, I recommend either arriving right when it is first opens (9 am) or waiting until the closing time. 5 minutes before the closing the guards will start asking people to move in the direction of the exit and there will be almost no people inside. 

So, if you are fast, you can take some amazing pics with no people in the background both inside and of the facade. Above is my favorite pic, I did not edit it, promise, there were actually no people for a brief moment and we managed to snap this shot!

BONUS: There is also a super nice place to take pictures OF the basilica – there is a small park called Plaça de Gaudí and for some reason, there are not that many people there but the view with the lake is super nice! Here is a Google map link in case you get lost 🙂 
How to enter Sagrada Familia for free
Yep, you've heard it right, you could actually enter there for free, but there is a "but"…

Your chance to get into the basilica for free is to attend one of the weekly masses that are held there. There is a 1-hour public Mass every Sunday at 9 am, in different languages.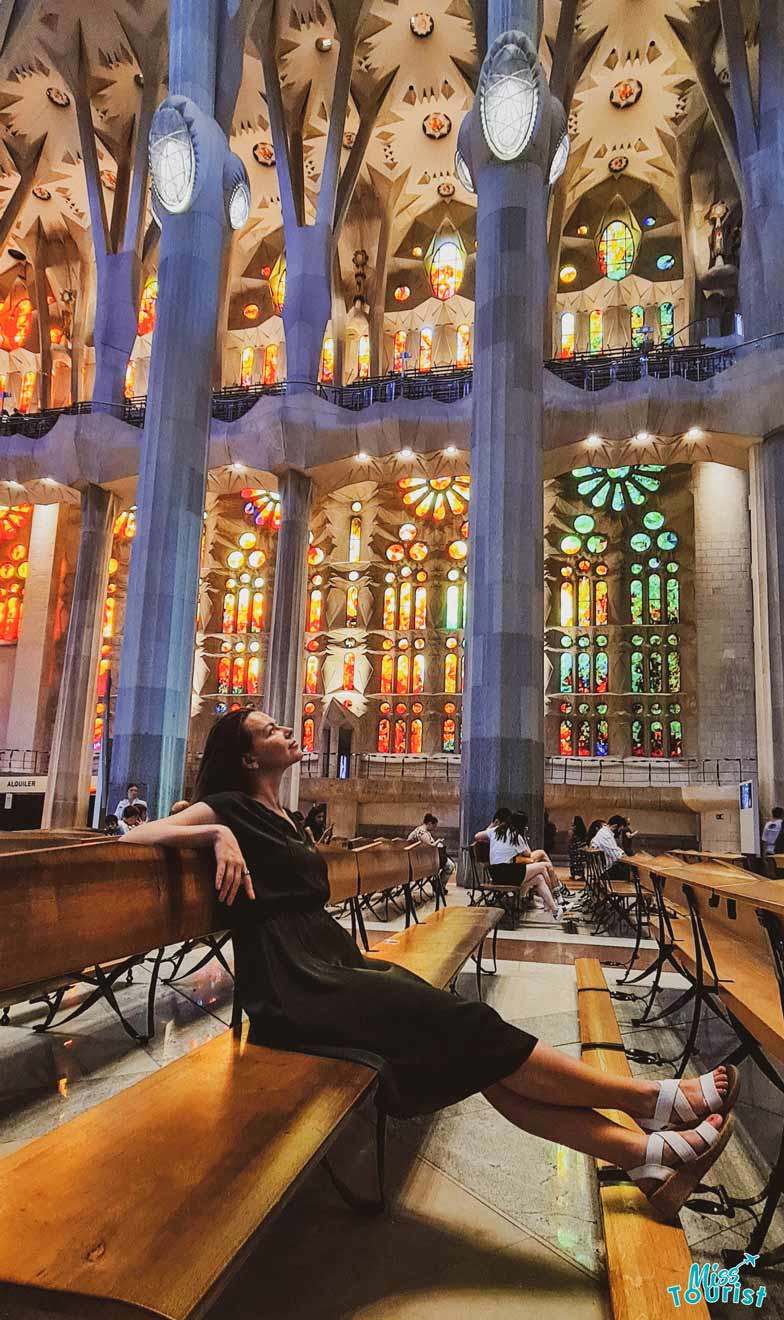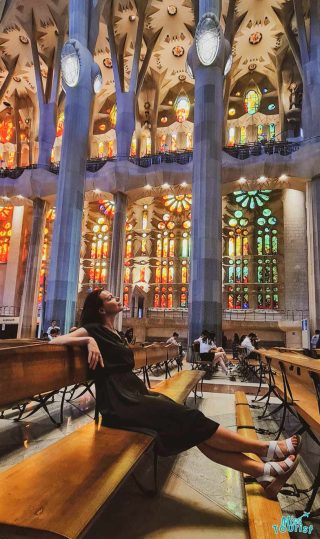 Sagrada Família also holds Extraordinary Masses on certain days: Palm Sunday Mass (in March), the closing mass of the International Congress of Pueri Cantores (in July), and the Thanksgiving Mass (in October). You can check the up-to-date calendar on their website here.

The downside? Well, you cannot really be a tourist and walk around to take pictures – be respectful of the people that are attending, as this is a religious occasion.

NOTE: Being a worship service open to the public, the spaces are limited and the first people in line have priority. Make sure to be at the Nativity Façade entrance at 8:30 am.

PRO TIP: If you are traveling on a tight budget, I recommend taking this free walking tour – it will give you SO MUCH interesting info on the subject (outside only though) and you decide on the price yourself at the end, perfect concept!
Significance of Sagrada Familia elements
Oh, there are so many and I would really prefer you to hear the explanation from a certified guide because trust me, there are A LOT of hidden meanings and elements signifying something everywhere.
The 3 facades signify different stages of Jesus's life:
The Nativity (birth)
The Passion (crucifixion)
The Glory (in heaven)
By the way, did you see a "sudoku"-like stone at the end before the exit? It is a so-called magic square – any row, column or diagonal line always adds up to 33, the age Jesus was when he died. 
Accommodation near Sagrada Familia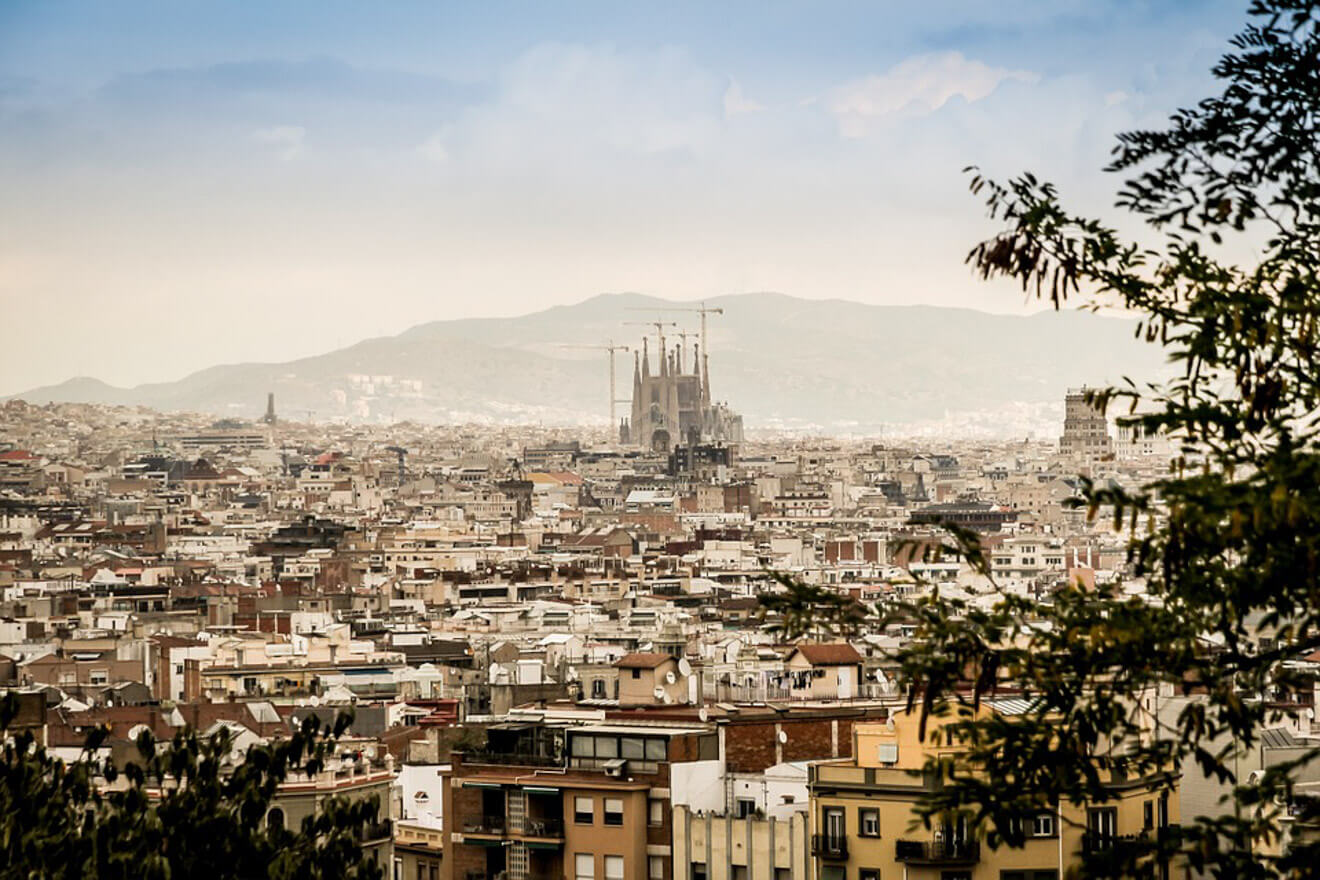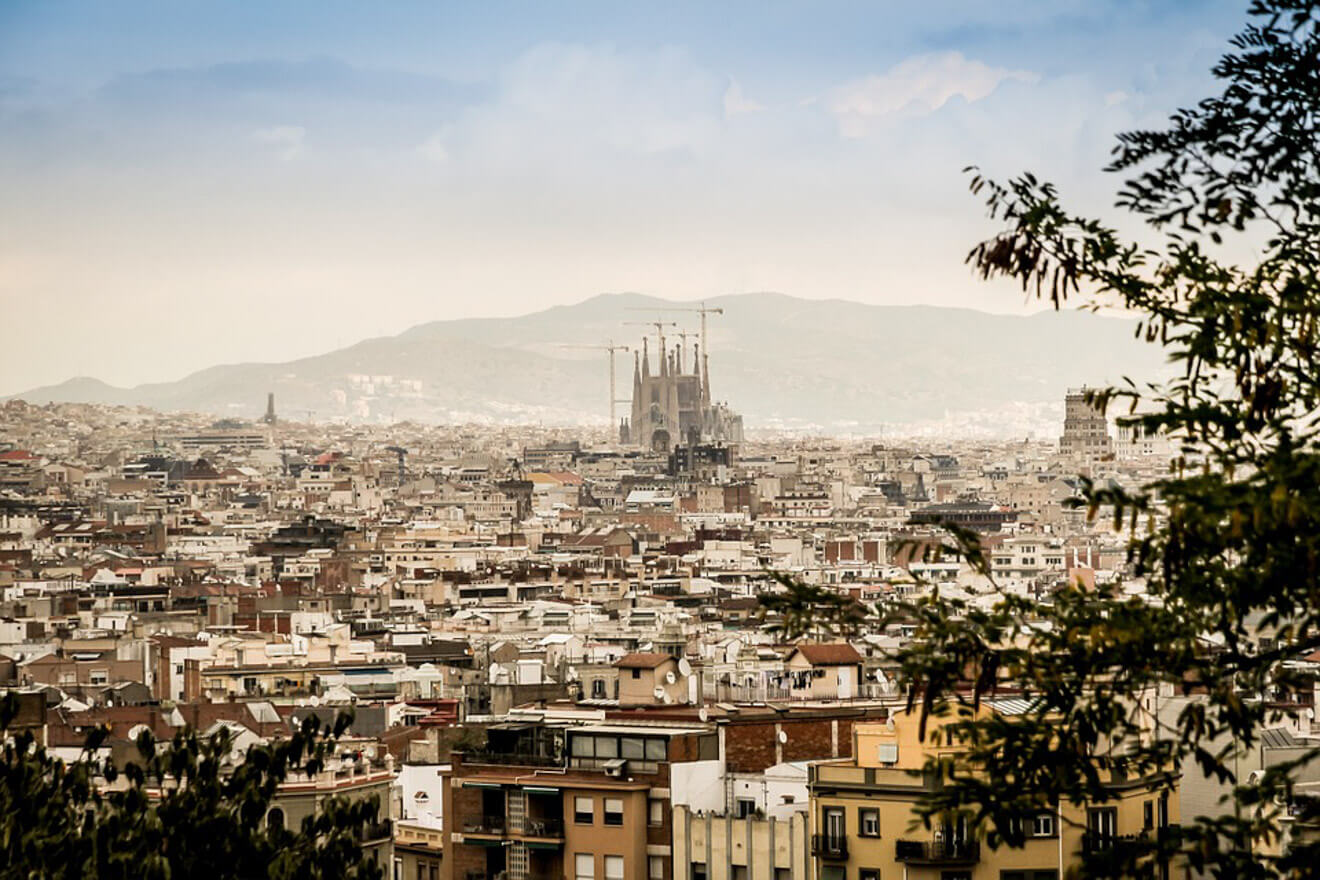 There are actually some pretty amazing accommodation options right close to Sagrada, or even with a direct view of it!
I have completed a list of the ones with great reviews and sorted them by price, but if you are looking to stay somewhere else in the city, check out my post on Where to stay in Barcelona, you have even more options there.
Luxury
Mid-range
Budget
Good restaurants around Sagrada
Finding a good non-tourist-trap restaurant near Sagrada Familia is mission almost impossible, but I still found a couple of good recommendations for you:
Other amazing sites by Gaudi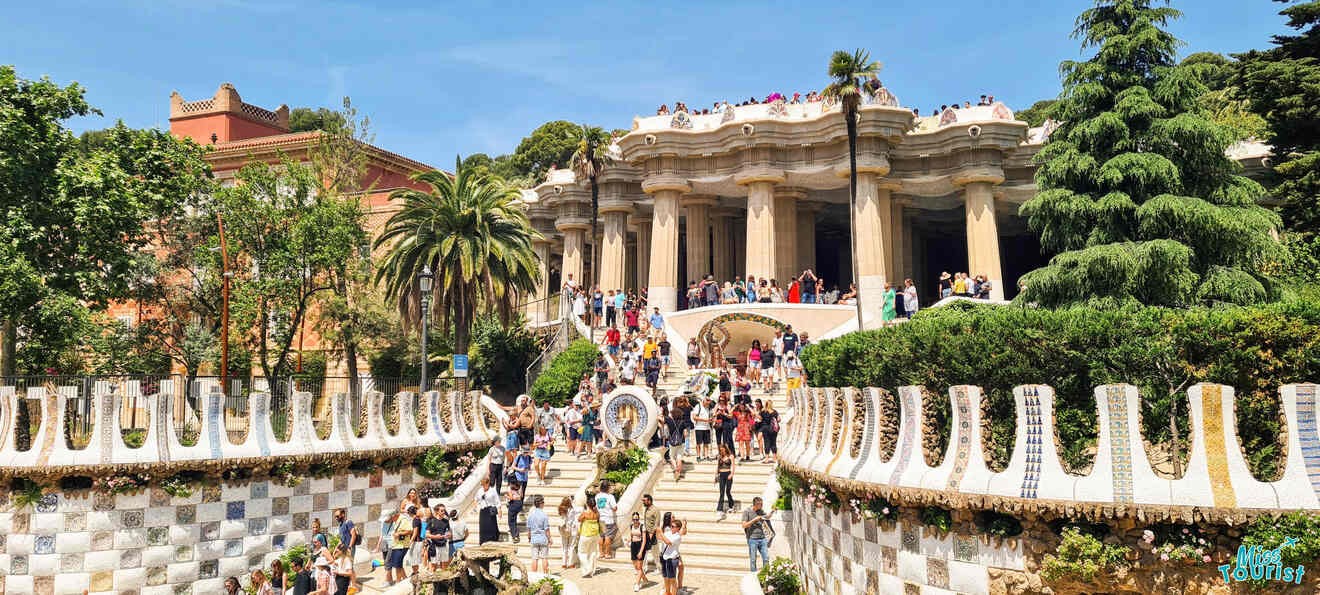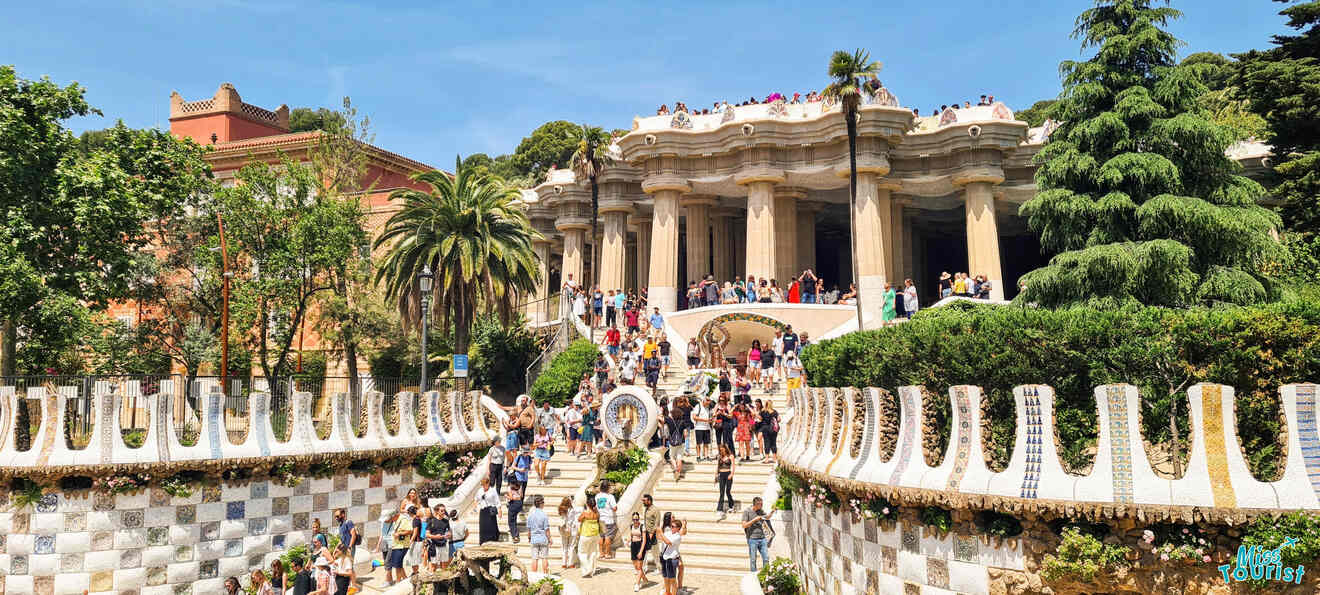 This city has does not cease to amaze with architecture, so if you are interested to see other Gudi's masterpieces, I have created a post on each of them:
Some other amazing modernist buildings you should visit are Palau de la Musica Catalana and Sant Pau hospital.
FAQs about Sagrada Familia, Barcelona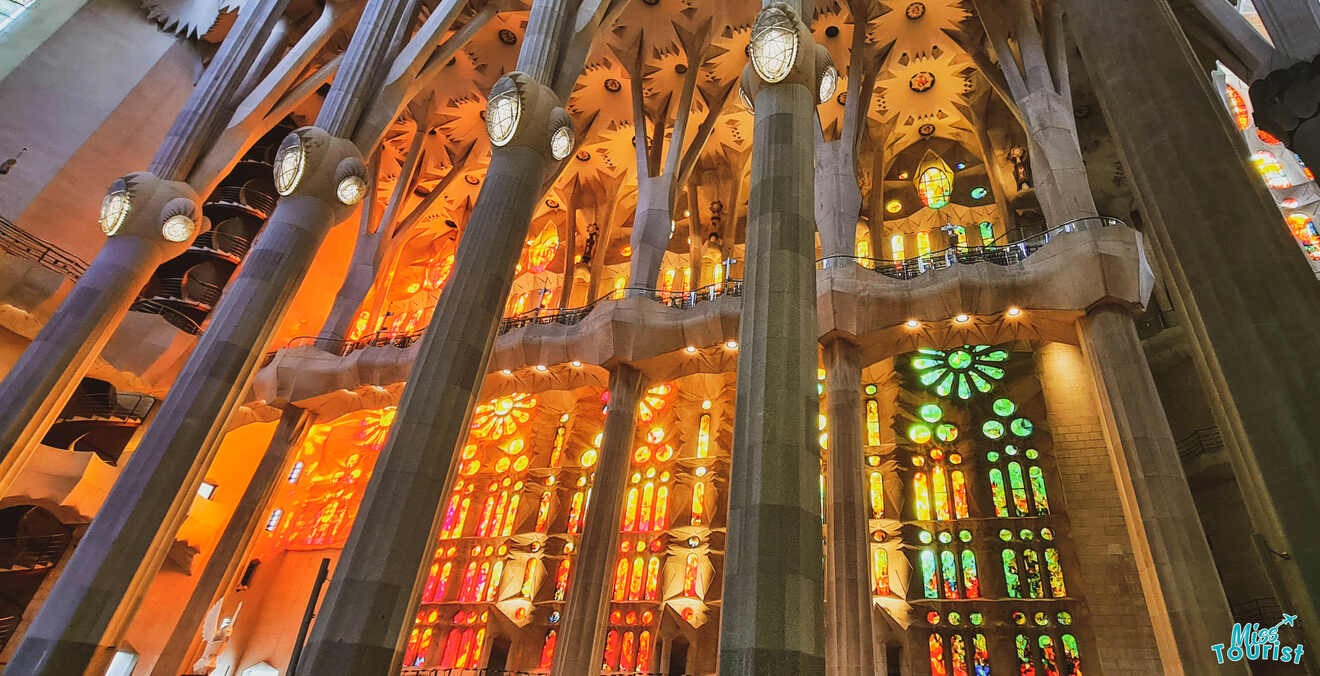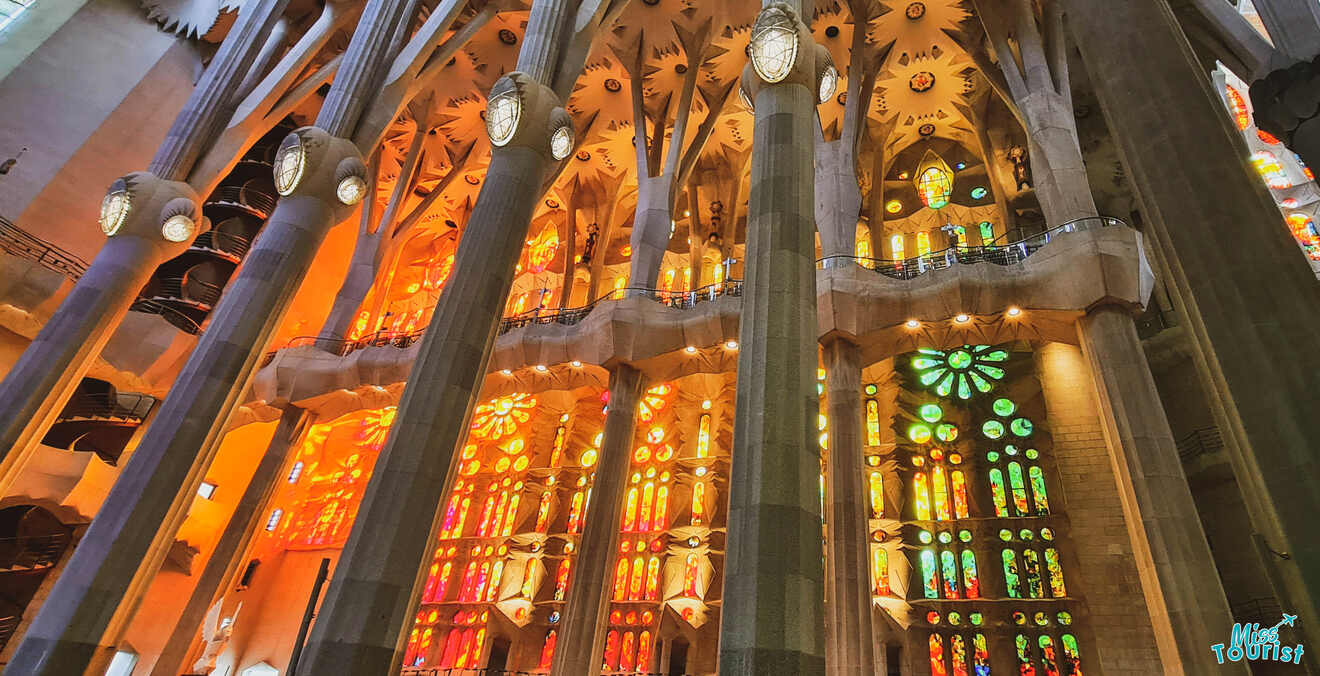 🎫 How much is a ticket to Sagrada Familia?
The prices start from 26€ for general admission and 36€ for the tickets with tower access. Kids under 11 can enter for free.
🕠 How long to spend in Sagrada Familia?
At least 1,5 hours if you want to see everything with no rush. 
♿ Is Sagrada Familia wheelchair accessible?
Yes, all areas of the Basilica are accessible for people with reduced mobility (enter through the Carrer de la Marina entrance), but the towers are not. 
💡 What was Gaudi's inspiration for Sagrada Familia?
Nature was the main inspiration for the maestro – the columns are tree-like and there are no straight lines.
🚻 Is there a toilet inside Sagrada Familia?
Yes, there is an on-site toilet, it is located close to the exit of the basilica.
💵 Can you buy tickets at the gate?
You used to be able to, but the lines were very long. You can now buy tickets from your phone in front of the entrance, but only if there will be available time slots for that time, it is not guaranteed. There is no physical sales point onsite. 
✅ When will Sagrada Familia be finished?
It is one of the longest ongoing constructions in the world (it already takes over 130 years to build!!), Sagrada Familia is scheduled to be finished in 2026. Gaudi, of course, knew that he was not going to see the cathedral finished in his lifetime, but he reportedly said: "My client is not in a hurry". 
Conclusion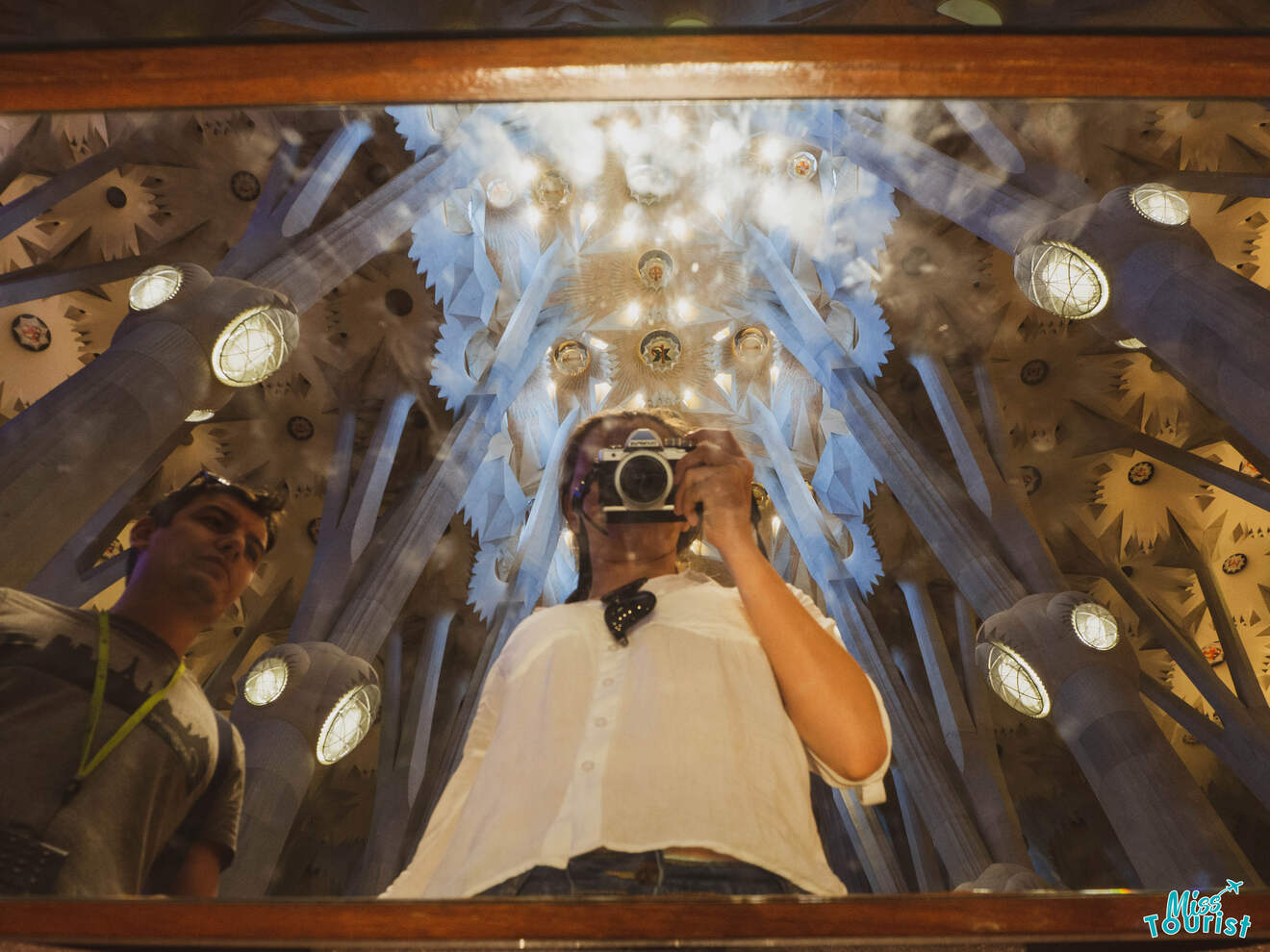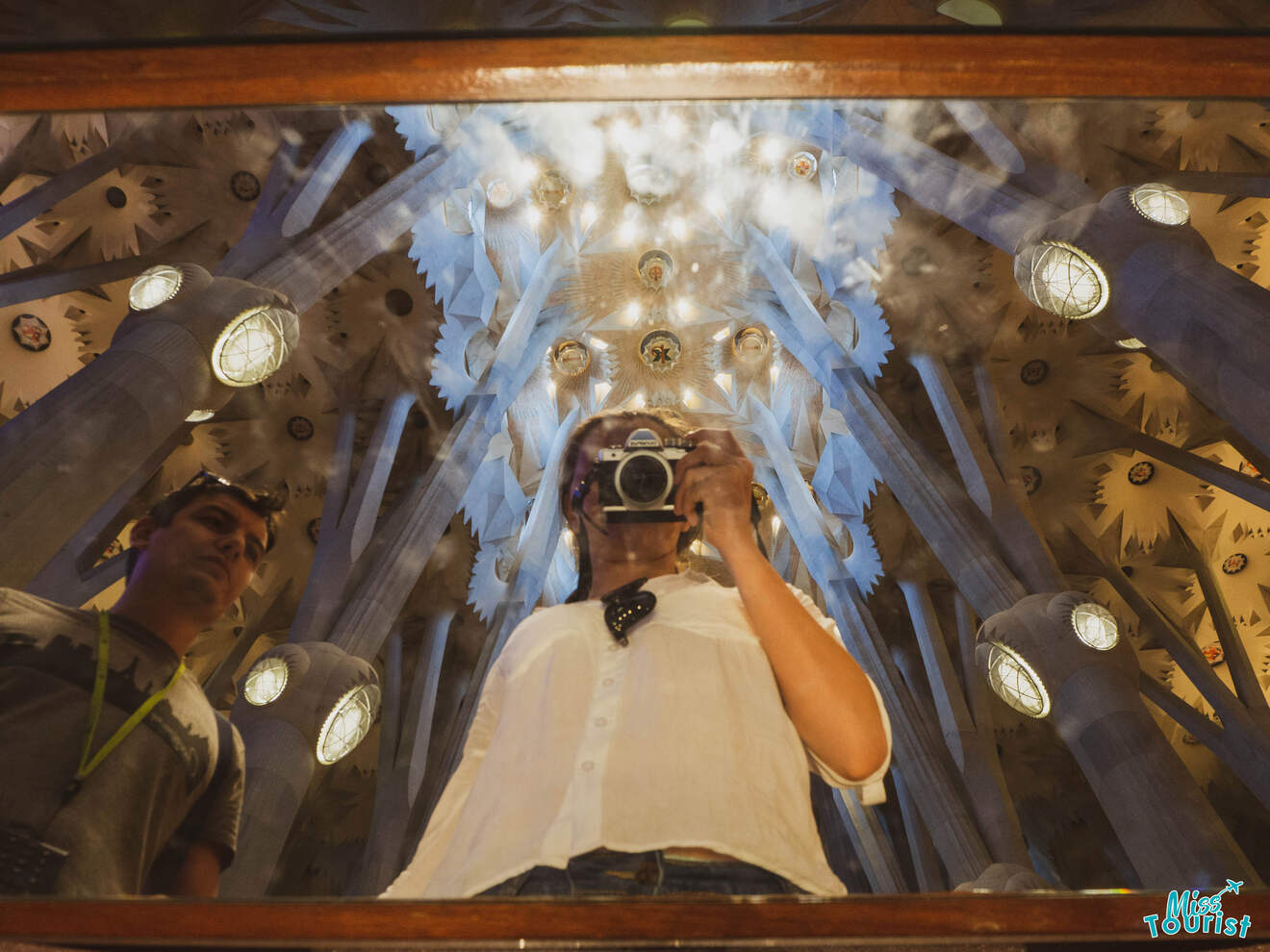 The most visited attraction in Spain, Sagrada definitely does get quite crowded and you should 100% take care of your tickets in advance!
I hope after reading this post it became a bit more clear about what kind of tickets there are, which one to buy and how to skip those lines.
We also spoke a lot about some practical info like how to get there, how long it takes to visit, some tricks on taking beautiful pictures without people in them, how to visit the basilica for free, and more.
I hope you will enjoy your visit, I've been there 3-4 times and I absolutely love it each time I go!
If you still have any questions left, be sure to let me know in the comment section below!
P.S.: I have similar style posts on Casa Batllo and Park Guell, so be sure to check them out too if you are going there!
Have a great time!
Yulia
---
Pin it for later!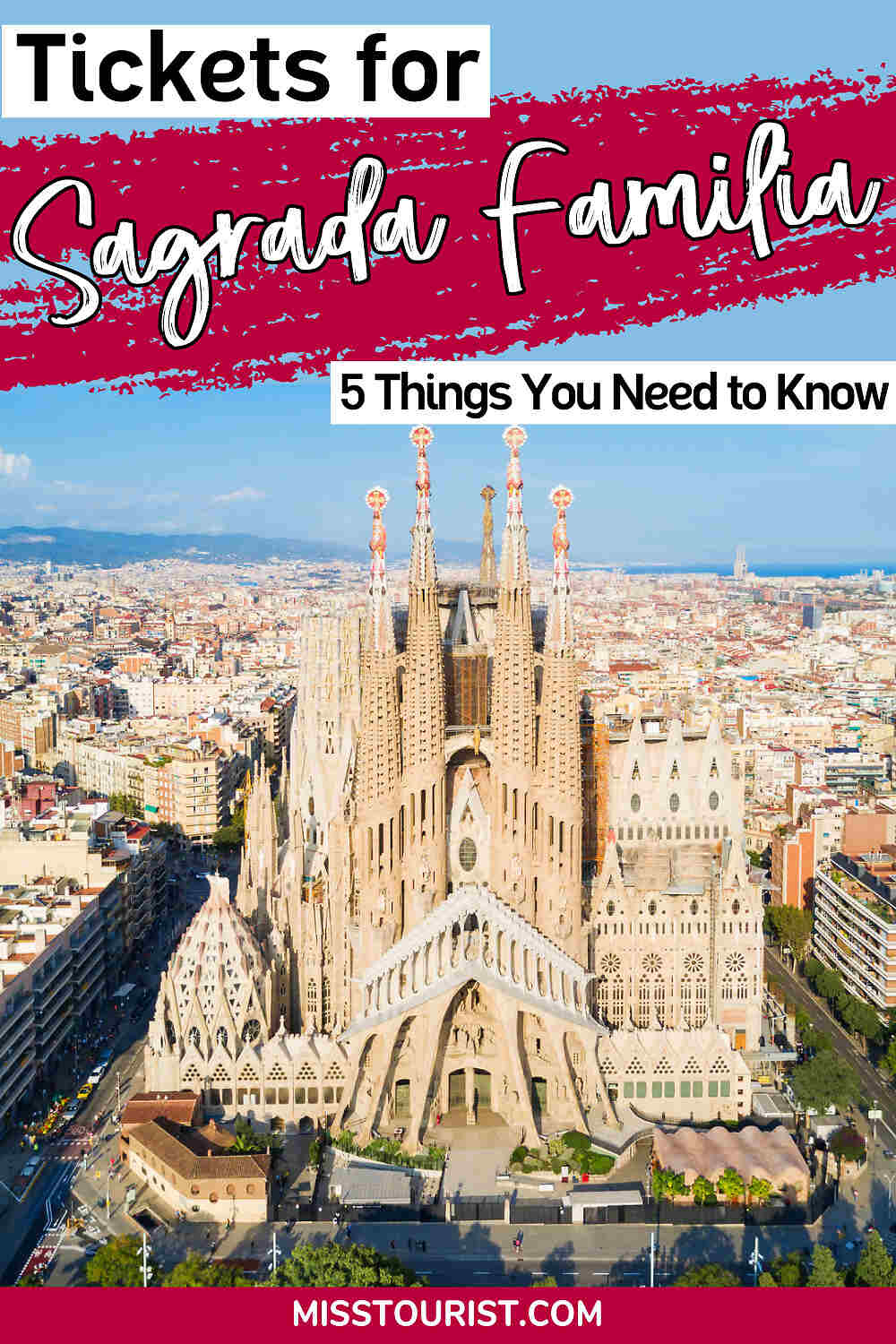 Pin it for later!