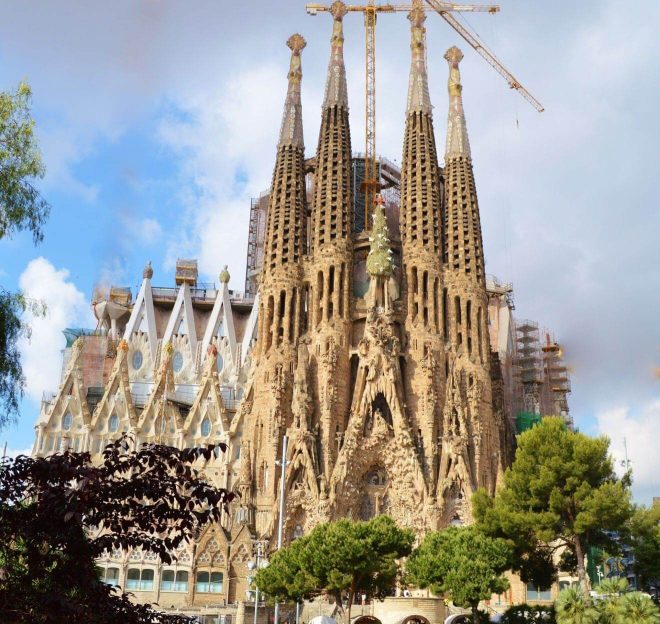 Sagrada Familia is the most visited landmark in one of the most visited city in Europe. The place is a masterpiece and it is definitely worth visiting, and no wonder why thousands of people want to visit it daily.
However, I have also noticed that many tourists make these 6 simple mistakes which in turn makes their visit much less enjoyable than it could have been.
I noted them down here, so that when you go, you do not repeat those mistakes and your visit of Sagrada Familia turns into one of the most unforgettable impressions in the city!
At the end, I also have a very useful bonus for you – tips on skipping the lines to Sagrada Familia!
Here we go, 6 mistakes to avoid before visiting Sagrada Familia:
1. Not booking in advance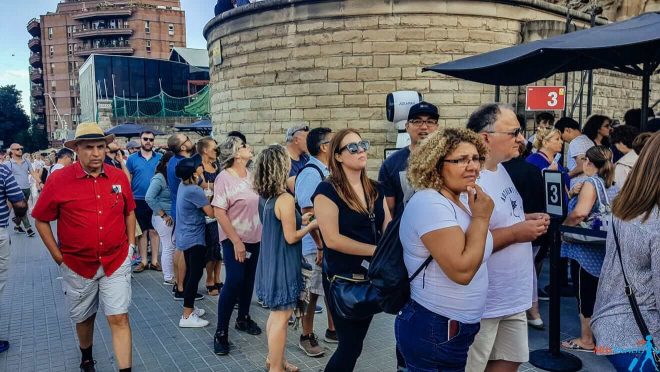 As I said, Sagrada Familia is by far the most visited attraction in the city and in the whole Europe!
Thousands of people queue there every day to see the masterpiece from the inside.
Does that sound terrifying?
Worry not! Just book your tickets in advance online!
I have some questions from you guys on HOW MUCH in advance should you book it. In high season would say at least 5-7 days in advance to make sure your desired day and time are available. (Remember, it is great to visit during the sunset!)
NOTE: The Barcelona Pass will NOT let you skip the lines, it is a common misconception. It gives you free access to some attractions, but you will need to stand in the queue with everyone else.
2. Not taking a guide
Sagrada Familia is full of secret meanings, tiny significant details, pieces or architecture that was inspired by nature – it is really worth it taking a guided tour here!
If the budget does not allow, I recommend at least getting an audio guide, you will not regret, the information is very interesting!
PRO TIP: Take your own headphones with you and you can share one audio guide for two people! 😉
Come at least 15 minutes in advance if you get a guided tour, it is crowded so you will need time to find your guide and usually tickets are not refundable if you are late.
3. Not visiting during the sunset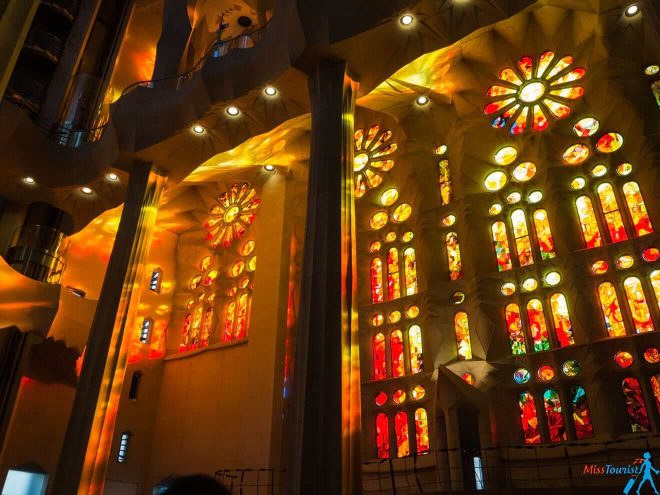 While the cathedral is mesmerizing any time of the day, I think you would regret it if you would miss the beautiful golden light reflecting from countless stain glass windows. I loved the light, it was magical!
4. Not leaving enough time for the visit
Leave at least one hour and a half if you want to discover the cathedral with no rush. Add 30 minutes more if you are going up to the towers to see the view. (This is an extra payment, book it in advance here).
If you are traveling with kids, check out this post.
5. Not taking your camera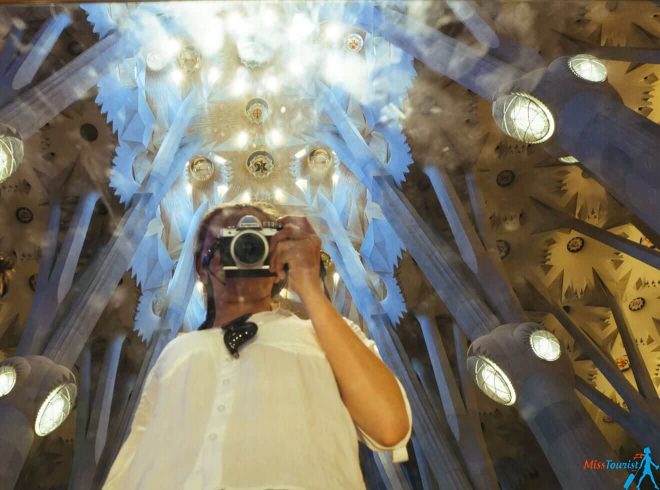 I mean, who the hell forgets a camera when going to the main sight of Barcelona?
You will be surprised!
So, make sure to take your camera and charge your phone. You do not want to leave this majestic place without taking some shots of it by yourself, or maybe being in one of them, right? 😉
6. Not wearing appropriate clothes
Finally yet importantly, even if the rules are not as strict as in Vatican, It is a basilica after all and you should dress modesty. Avoid cleavages and miniskirts just to pay respect to the holy place.
BONUS – 4 Painless Ways To Get In Sagrada Familia Fast
I also hate queuing and I have done all the homework for you so that you do not waste your precious vacation time!
So, listen up, I will teach you how to get in in Sagrada Familia with no stress and waiting involved.
Solution 1: Buy tickets in advance online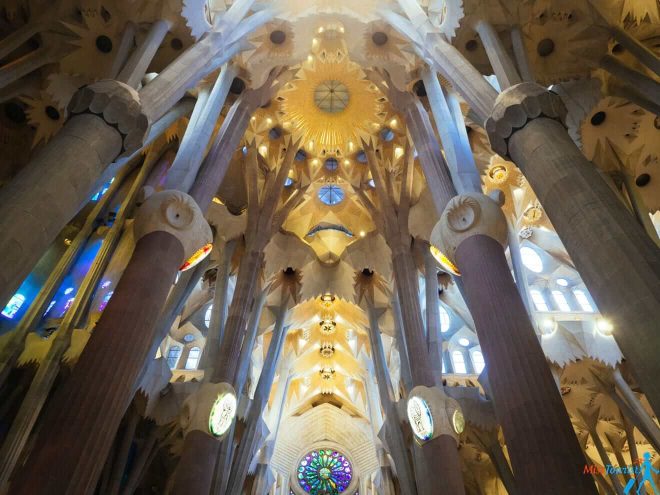 Buy it online and don't be late (the ticket is for a specific time with a 15 minutes corridor). With the pre-booked tickets you will still need to stay in a short line made out of travelers who have the admission for the same time as yours, it can be anywhere from 2 to 15 minutes.
Do not be late, if you miss your time slot you cannot enter anymore.
PRO TIP: if you are younger than 30 or you have a student ID, you will get a small discount (around 2 eur)
PRO TIP 2: If tickets for your dates are already sold out on the official website, try this Skip-The-Line Tour, chances are it is still available at the reseller. It happened to my friends.
Price: 15 EUR or 22 EUR with audio guide
Solution 2: Book a guided tour
You will meet at a different gate and it is also skip the line. The best part? You get a live certified guide who will tell you everything about the cathedral!
Barcelona pass holders entitles you for a free entry, it does not however give you a privilege, you will need to wait in the line with everyone else.
As with the previous solution, arrive 15 minutes in advance, latecomers will not be granted entry.
Price: ~30 EUR and 50 EUR if you want access to the towers as well
Solution 3: Take a private tour
A tour during which you will not be rushed, you will be able to ask all your questions and not be in a group of tourist. This tour is exclusive only for you, you will also be able to spend as much time as you want there.
Price: 380 EUR for a group, or 140 EUR per person for a full day tour of Barcelona with Sagrada Familia and other attractions included
Solution 4: Get a Barcelona City Pass
The Barcelona City Pass combines all the most popular attractions in the city in one. You will still need to tell them your time, but they will book everything for you, you just need to show up in time with your card.
Here is the calculation: for 70 Eur it includes Sagrada Familia fast track and Towers access with an audio guide (worth 29 eur) + Park Guell fast track (7 eur) + airport transfer round trip (around 15 Eur depending on the airport)+ Hop on hop off bus (25 eur) +20% discount to numerous attractions including Casa Mila, Casa Battlo and many more.
You will probably save around 10 eur per person if you will use all of the activities offered.
What is cool about this pass is that you do not need to pick it up, you will receive an email that will contains all the tickets to the attractions plus the code for your 20% discount.
Price: 69,50 eur includes many attractions
Solution 5: Buy your ticket at the place (not recommended)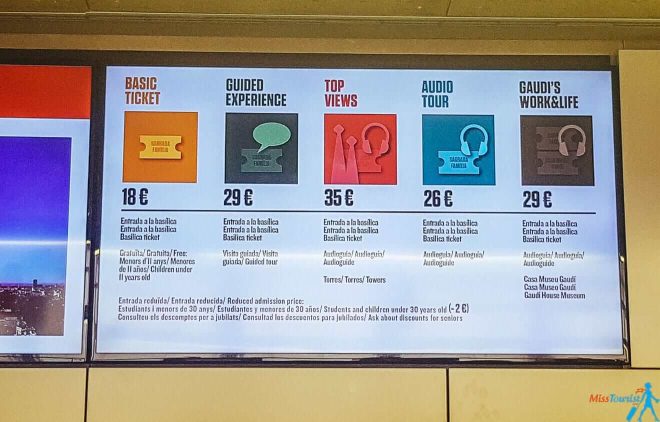 This option is out there, so I am going to mention it, but I have to warn you, it is far from painless.
If you really did not plan in advance and you want to enter Sagrada Familia, you can buy tickets at the cash register right there, BUT!
If you go without a ticket, especially in high season, you might find out that the only available slot is a few hours away or the next day. Do you want to waste your time coming back twice?
HINT: Sagrada Familia is open 365 days a year. Monday might be a bit less busy because some people assume it is closed
Price: 18 eur
Where to stay in Barcelona
Here are the suggestions I have carefully crafted for you. All of them are located in the city center and all have fabulous reviews. They are sorted by price category for your convenience. Click the link to check the rates for your dates.
Luxury (US$ 300 and up): 
If you are a football fan, Hotel Sofia, which is a five star hotel is the perfect choice for you as it is located 5 minutes away from the famous Camp Nou stadium. It offers wonderful rooms designed with a keen eye for details in a modern way which will make you feel right at home. Another five star hotel is Alma Barcelona GL, which features elegant decorations, a spa with an indoor swimming pool, a hamam, a sauna and a gym. A nice feature of this hotel is the indoor terrace, perfect for rest and relaxation after a hard day of sightseeing.
Middle (US$ 100 – 150): 
Vasanta Hostal Boutique is a wonderful establishment which features nicely designed rooms, in neutral tones, and has a shared lounge. Coffee shops, restaurants and a lot of pubs can be found within walking distance of this accommodation option. Another middle priced option is Hostalin Barcelona Passeig de Gracia which has been reviewed by its past guests as clean and an overall perfect choice. If you fancy wines, you will be delighted to hear that it is situated right above vinoteca Torres!
Budget (up to US$100): 
Rodamon Barcelona Hostel is situated right next to the Palau Robert Gardens, so if you fancy nature and visiting the surroundings, this is the perfect budget choice. Another great budget choice is Ten To Go Hostel, which offers a shared day time area and even a pool. La Pedrera is located 2.8 km from the property and if you are travelling by train, Ten To Go Hostel is perfect, as it is located very close to the main train station.
---
Conclusion
I hope I have saved a couple of hours of your precious vacation time and a lot of stress and disappointment of getting to the entrance and not being let in.
P.S. I also have another article where I explain how to get around the queues for 6 most crowded places in Barcelona, click here to read it!
Please let me know if you have any questions,
Have an amazing holiday!
Yulia
---
Pin it for later!
Pin it for later!