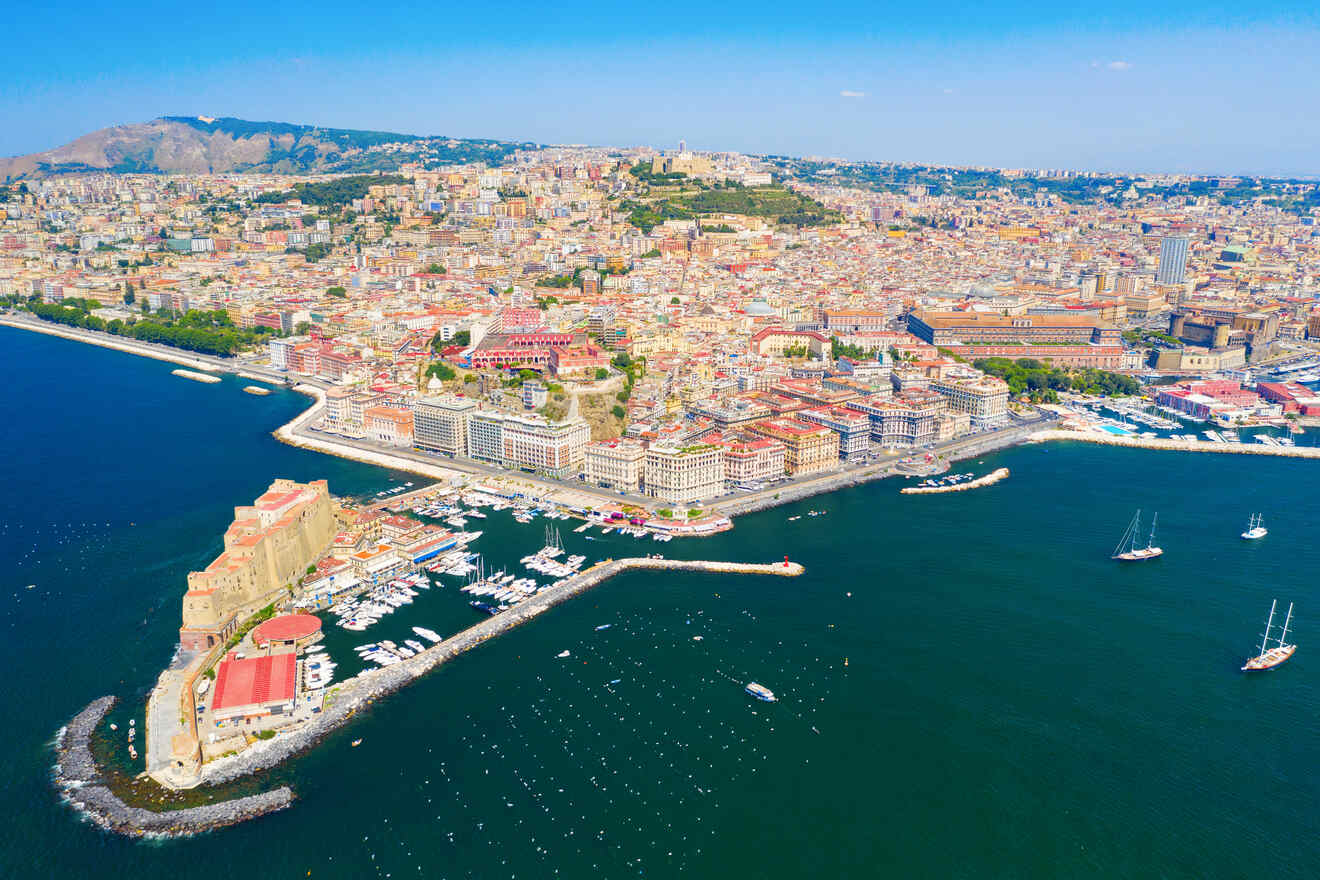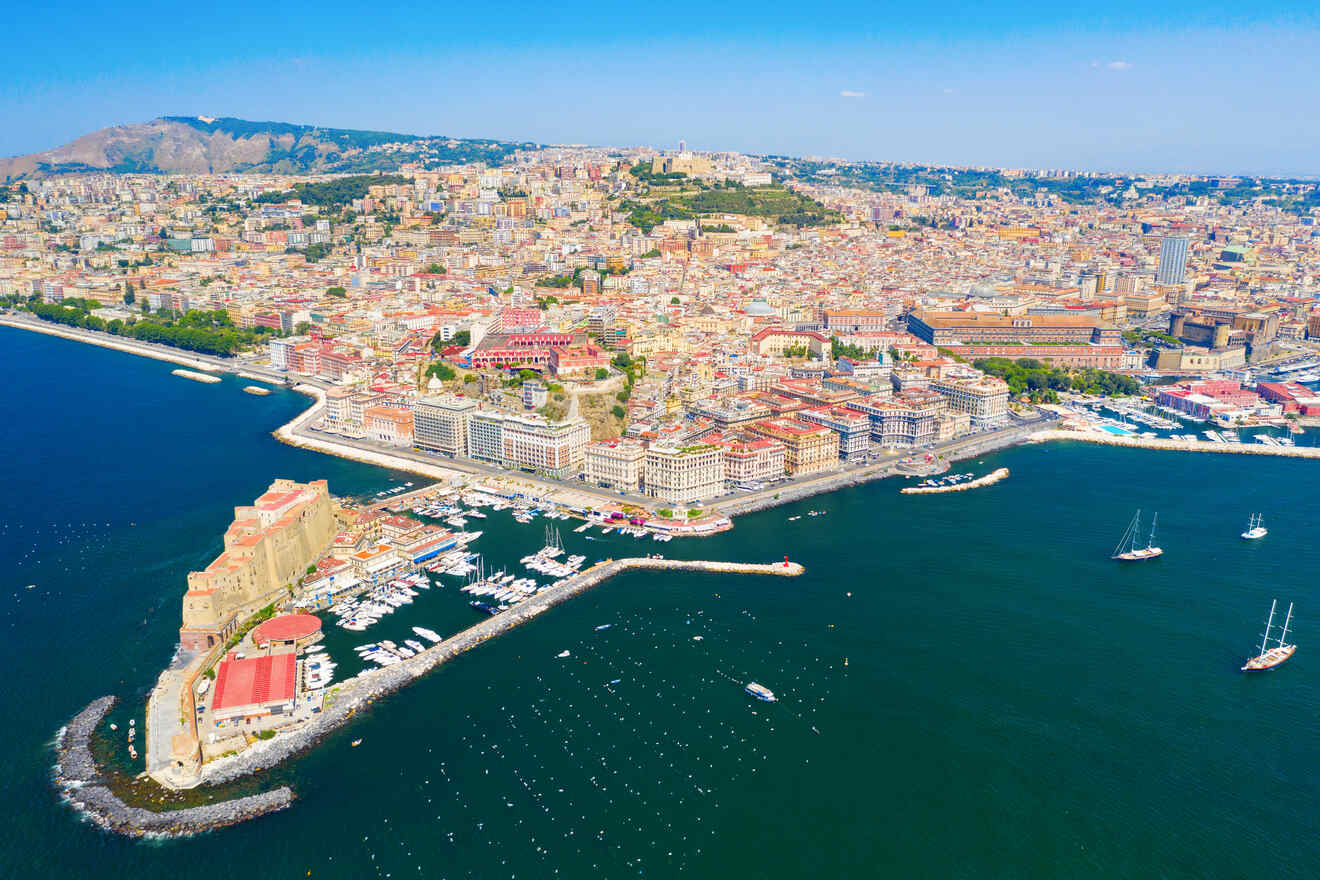 Buongiorno cari amici, and welcome to one of the most iconic historic cities in Italy! You may have heard about the homeland of Neapolitan pizza, but there's so much more about Naples that will blow your mind! Dating back to 3000 years ago when the ancient Greeks founded the city, over the years, a lot has changed, but trust me, its charm has remained the same.
This UNESCO World Heritage Site contains catacombs from the 3rd century, historic churches, and castles built hundreds of years ago! But let's not forget about the delicious gelato and strong aromatic coffee that you must try at least once in your lifetime!
With their beautiful narrow cobbled streets and the romantic squares and castles, you'll love the atmosphere in Naples so much that you'll want to add a few more days to your trip! I know you're already wondering where to stay in Naples, it can be quite difficult, I know, and although the star of the show is the Old Town (the historic center) many other neighborhoods will steal your heart!
I've looked through hundreds of hotel lists to find you the absolute best one for each price range, and I only recommend the best-rated hotels that I would choose for myself! Make sure you book the accommodations, no matter in which area they're located, quickly so you can get the best deals!
Andiamo!
If you are in a hurry
A quick list that will give you an idea of the best hotels all located in the Naples historical center
Here's a map that will give you a clear picture of the districts of Naples that I'll be talking about in this post:
1. Old Town – where to stay in Naples for the first time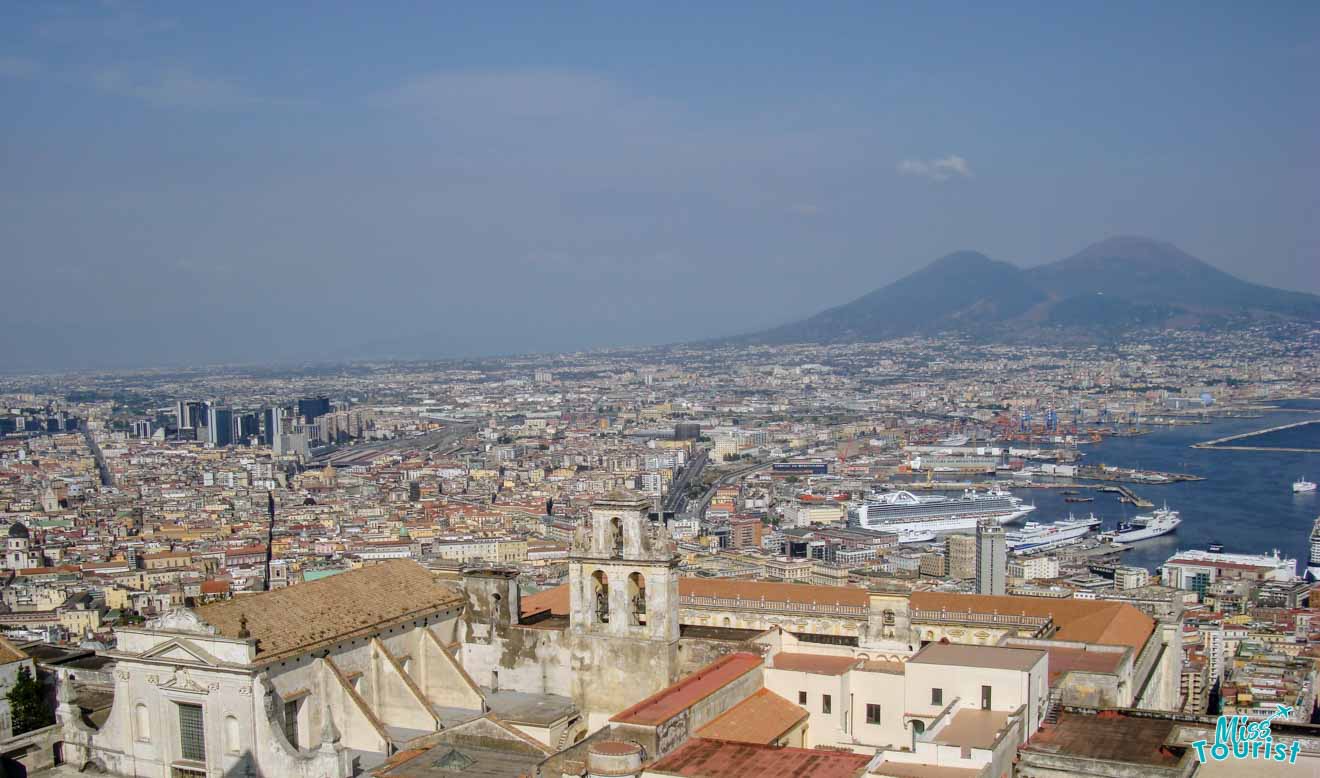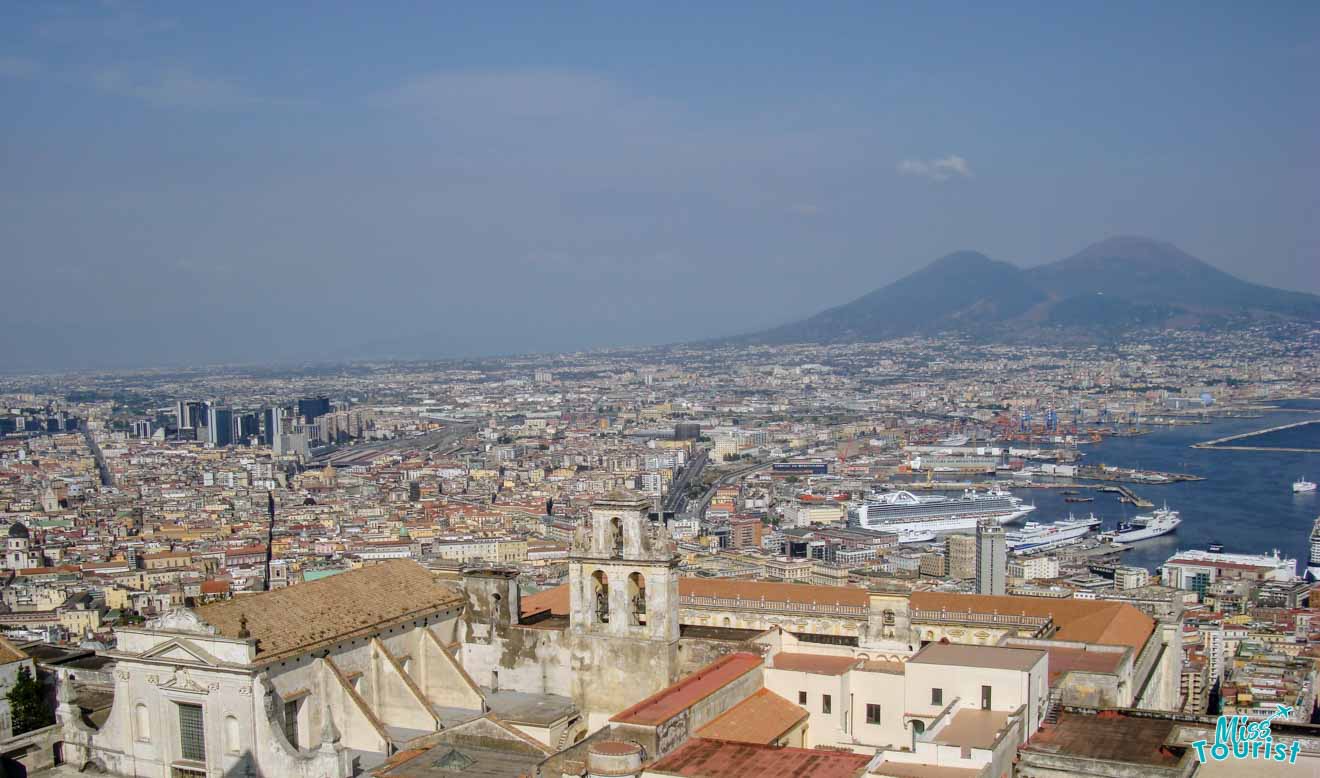 Located on the east side of the city, the "Centro Storico" in Italian is one of the best places to stay if you're traveling to Naples for the first time as it is also known as the "heart of Naples". This means that you will experience all that this town has to offer if you stay here. A stunning UNESCO World Heritage site since 1995, many people fall in love with all the historical sights after just one visit!
You can't blame them, the magic of the small cobbled streets with huge historic buildings and balconies overlooking the city. Seeing where the Italian people hang their clothes will make you feel like you've landed in a chic Italian movie!
This well-preserved area has restaurants at every corner; I always say that their cuisine is one of the best in the world, and I'm pretty sure you're going to agree with me! Most of them are located within walking distance of one another, so you can have the famous Neapolitan pizza in one place and then move to another for tiramisu or a glass of wine! Perfecto!
Trust me; you'll want to stay in one of the most ancient cities in Europe, which dates back to Greek times. The Centro Storico has many attractions that you have to see like the Grand Duomo and the church of Santa Chiara. Located in the heart of the city, this neighborhood still has some underground Greco-Roman historic ruins that you can see, so don't miss this once-in-a-lifetime opportunity! It's so beautiful to see how people lived thousands of years ago!
Other accommodation options in Old Town
Things to do in Old Town
2. Chiaia – best place to stay in Napoli for luxury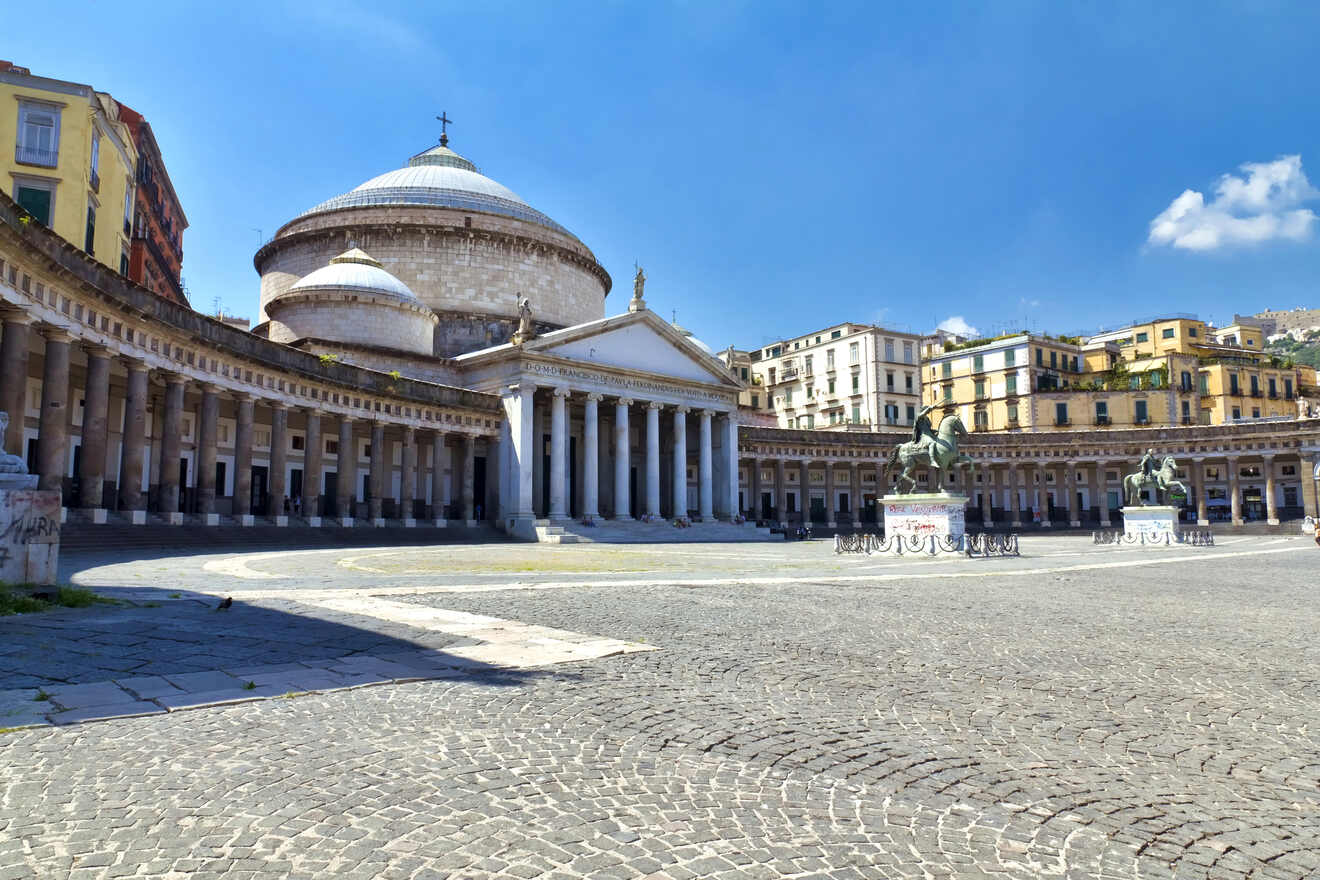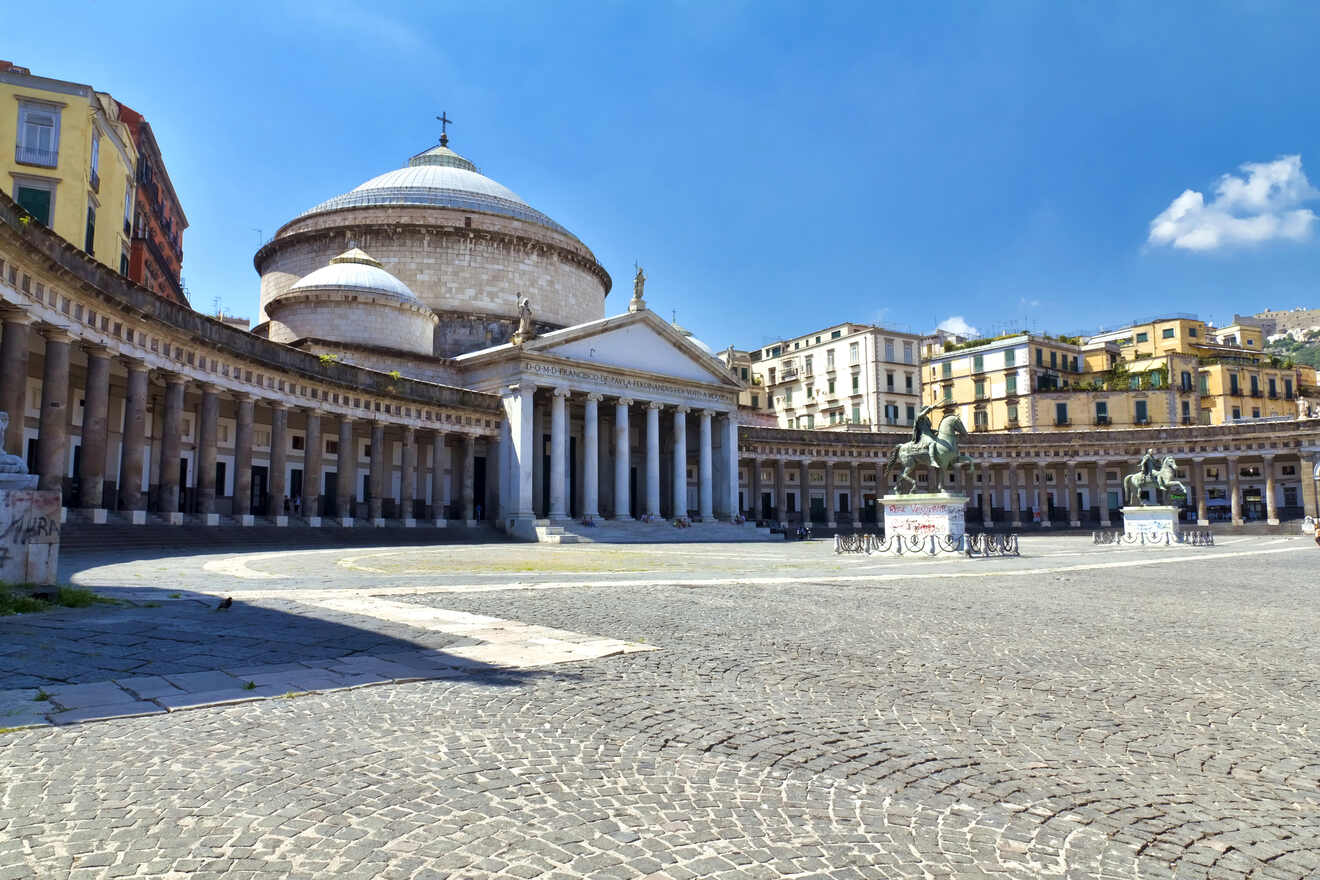 This stylish seafront neighborhood is one of the best places to stay in Naples if you love shopping in high-end shops and treating yourself in the most expensive stores like Louis Vuitton, Prada, and Armani. However, if you're into unique, independent fashion boutiques owned by the local people in Naples, Italy, you'll find tons of those, too, as well as some antique bookshops!
I highly recommend you check out the Naples antique market in Chiaia!
Located a bit further away from the city center, this neighborhood is great if you don't want to be right in the middle of all the street noise. Chiaia has some of the best hotels in old historical buildings with huge rooms and unique sea views. If you're lucky, you might even find one that has a rooftop terrace or a rooftop pool.
If the foodie in you is wondering where to stay in Naples to eat at the best fancy restaurants then Chiaia will be your favorite spot! The places here still have that local authentic vibe but with a twist! I suggest booking all the hotels here in advance as this is a top tourist destination for many people!
If you stay in Naples, in this neighborhood, you'll find many attractions like the Villa Communale, an 18th-century royal garden. You can stroll here at sunset and admire the beautiful views, and if you're in the mood, you can spend a day at the Naples Aquarium, which is located inside the park.
Other accommodation options in Chiaia
Things to do in Chiaia
3. Vomero – nicest part of Naples Italy for a local experience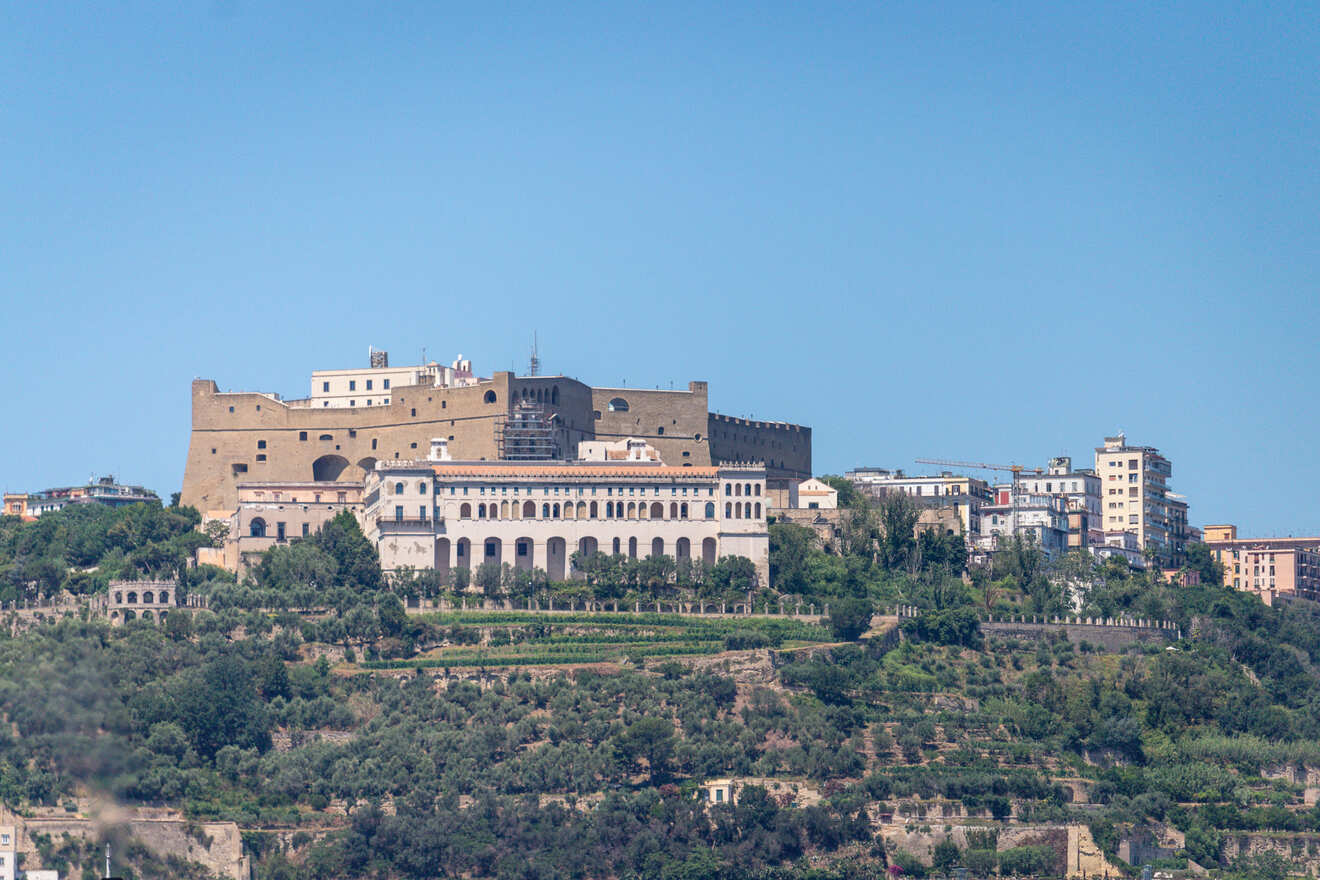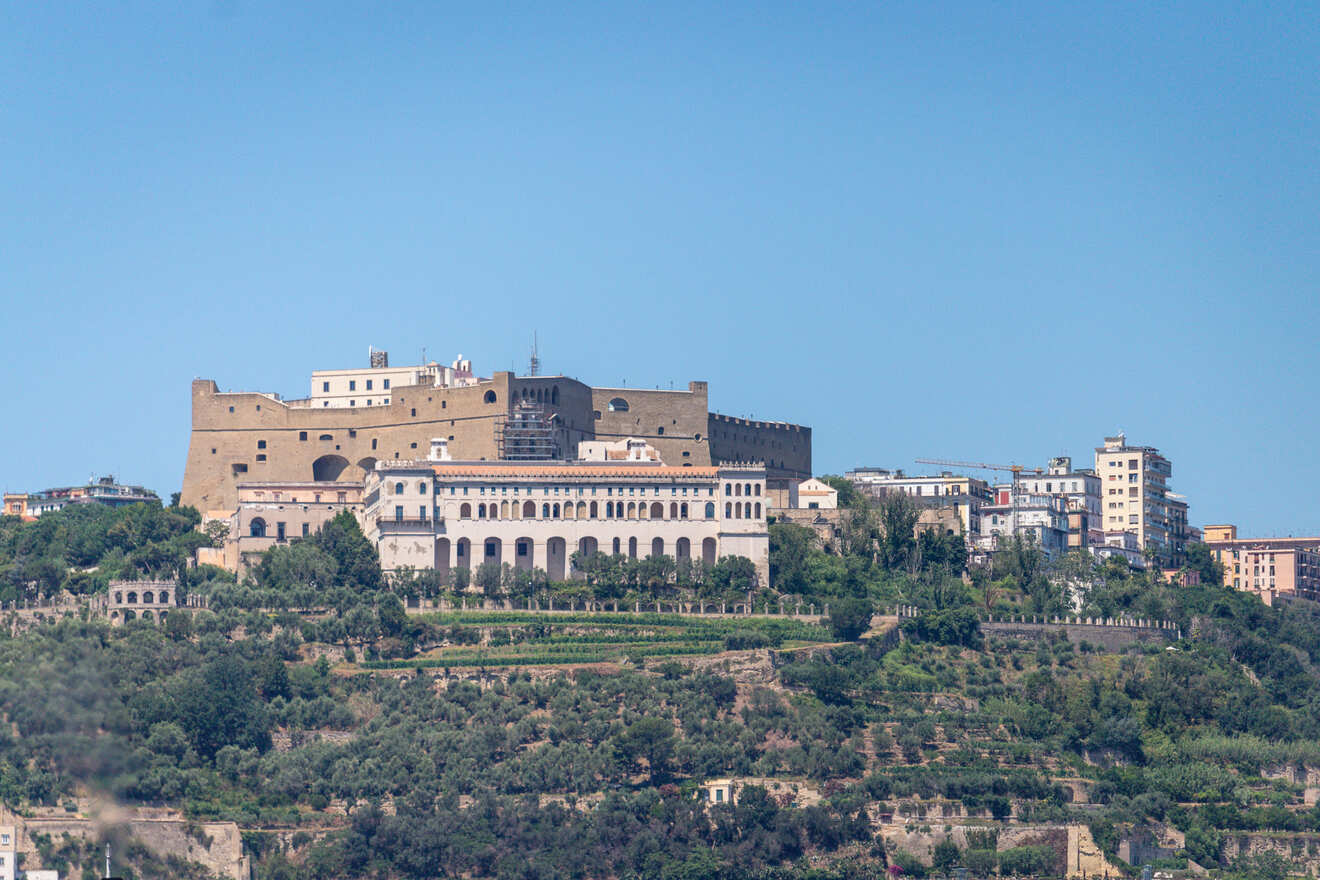 This hilly neighborhood located in the East part of the city is one of the best places to stay in Naples and has the most amazing view of Napoli. You can see the Historical Center, the Gulf of Naples, and Mount Vesuvius! With Chiaia and Quarter Spagnoli in the nearby areas, Vomero is perfect for those who crave that local, authentic experience.
This is an upper-class residential neighborhood so you don't have to worry about safety.
What I love in particular about Vomero is that you don't have any tour guides or big crowds so you get to see the town as it is, with its lovely local people sipping their coffees and enjoying the dolce vita. If you're looking for where to stay in Naples so that you can take the funicolare cable car on a regular basis, then Vomero is for you. To climb up the small mountain, you'll find the base of the cable car in Via Toledo.
There are also numerous tourist attractions like the historic market in the Rione Antignano area and the Castel Sant'Elmo built in the 1200s. It's the 3rd castle in Napoli and you have to reserve at least half a day just to look around it, learn new things about their historical culture and admire the amazing views. Spend the rest of your days walking around the Piazza Vanvitelli, eating some delicious Italian street food and doing some shopping while you're here.
Other accommodation options in Vomero
Things to do in Vomero
4. Posillipo – best neighbourhood to stay in Naples for families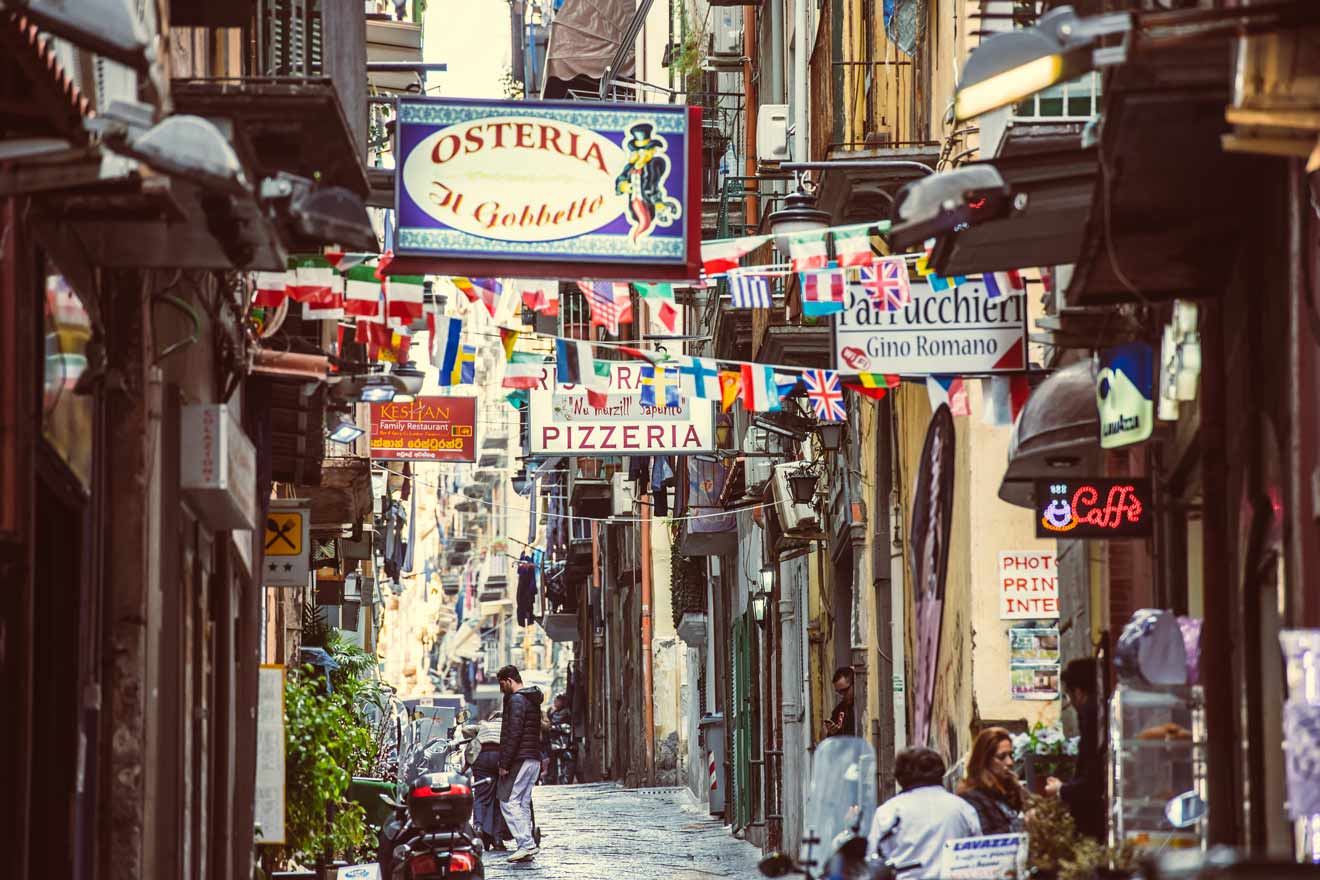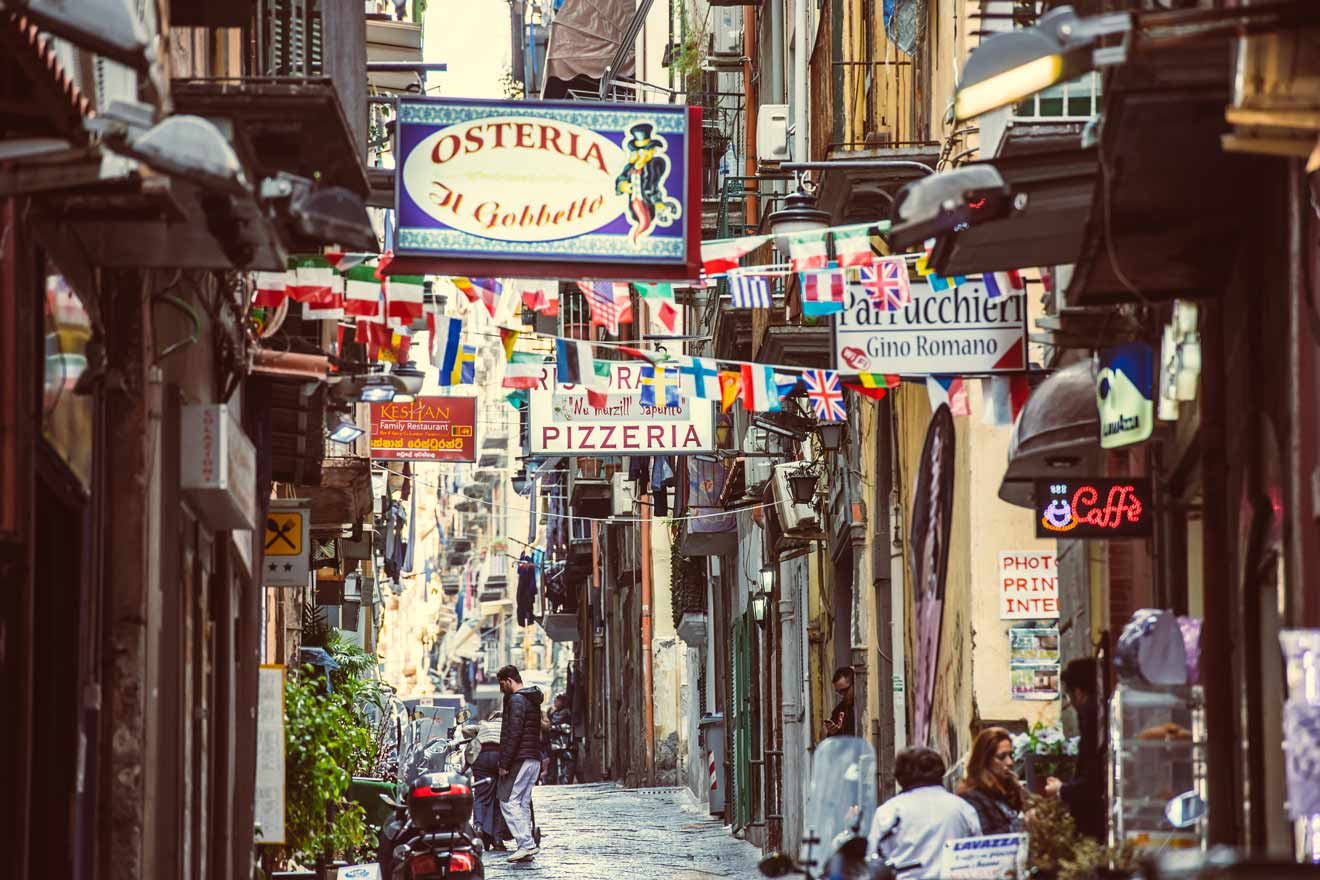 A great place to stay in Naples if you're traveling with the whole crew and you also want to stay in one of the safest areas. Posillipo is located after Chiaia, further west along the coast. Although you can get around the area by public transport, I highly recommend renting a car so you can explore everything.
I love finding new panoramic views of the cities that I'm visiting! I would take a whole afternoon off just to climb the hill in Posillipo and see the sun setting over Mount Vesuvius! You can even hit the beach and have a picnic with the family while you're here or head to one of the great restaurants.
If the kids are in the mood to spend some time outdoors, you can take them to Virgiliano Park. I always say, make sure you check every corner of a new place because you never know what you can find! There's a cute market in the park from where you can buy souvenirs, and the kids might find some cool toys that will always remind them of bella Napoli!
What's nice about Posillipo is that you can combine sightseeing with cool activities like snorkeling or kayaking. La Gaiola island is a place where you can see a protected archeological area under the sea with Roman ruins while doing all those fun underwater activities! I would recommend renting a car to get here super quick! Make sure you book all the hotels you love in advance as this area is very popular, especially for people traveling with other family members.
Other accommodation options in Posillipo
Things to do in Posillipo
5. Quartieri Spagnoli – where to stay for budget travelers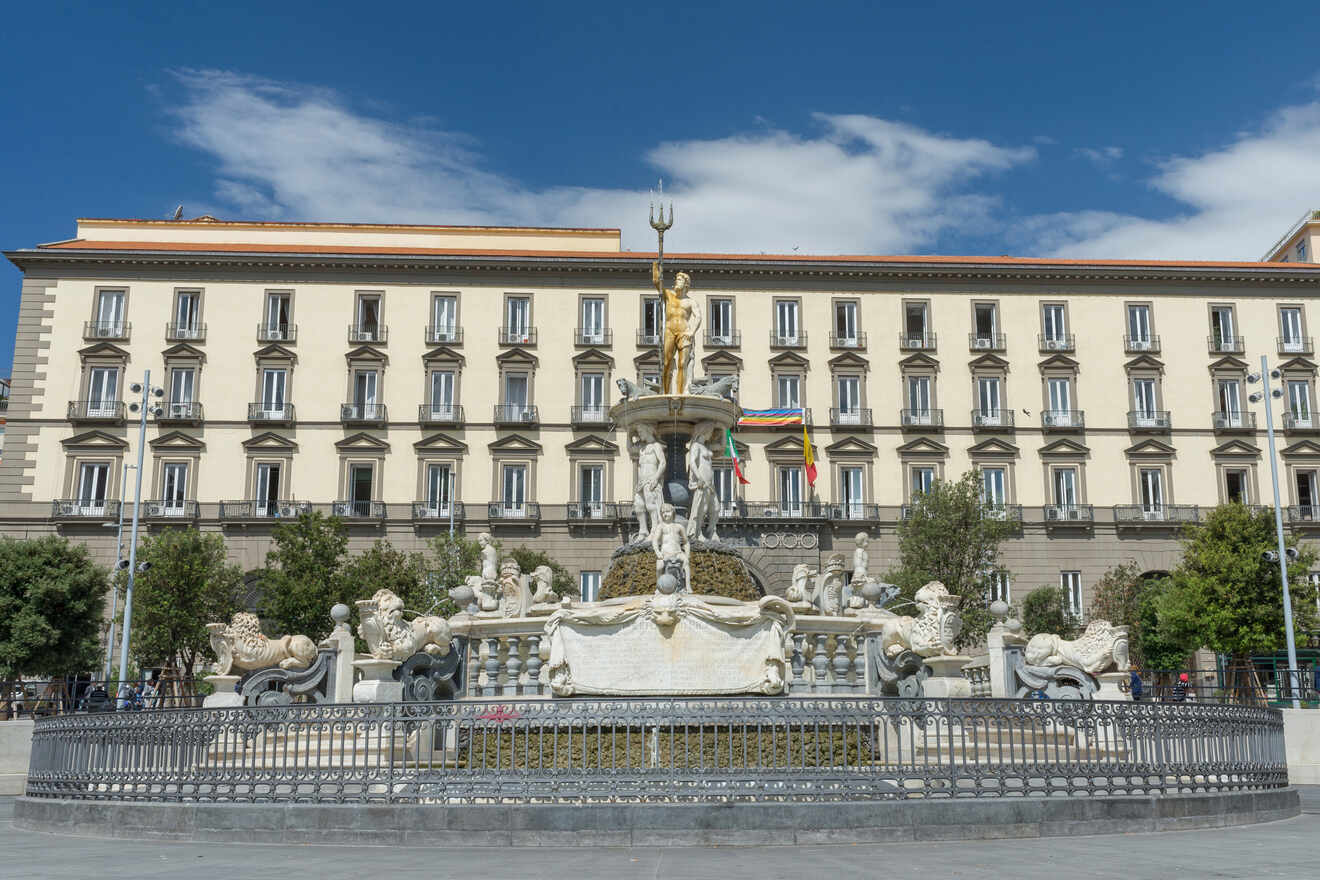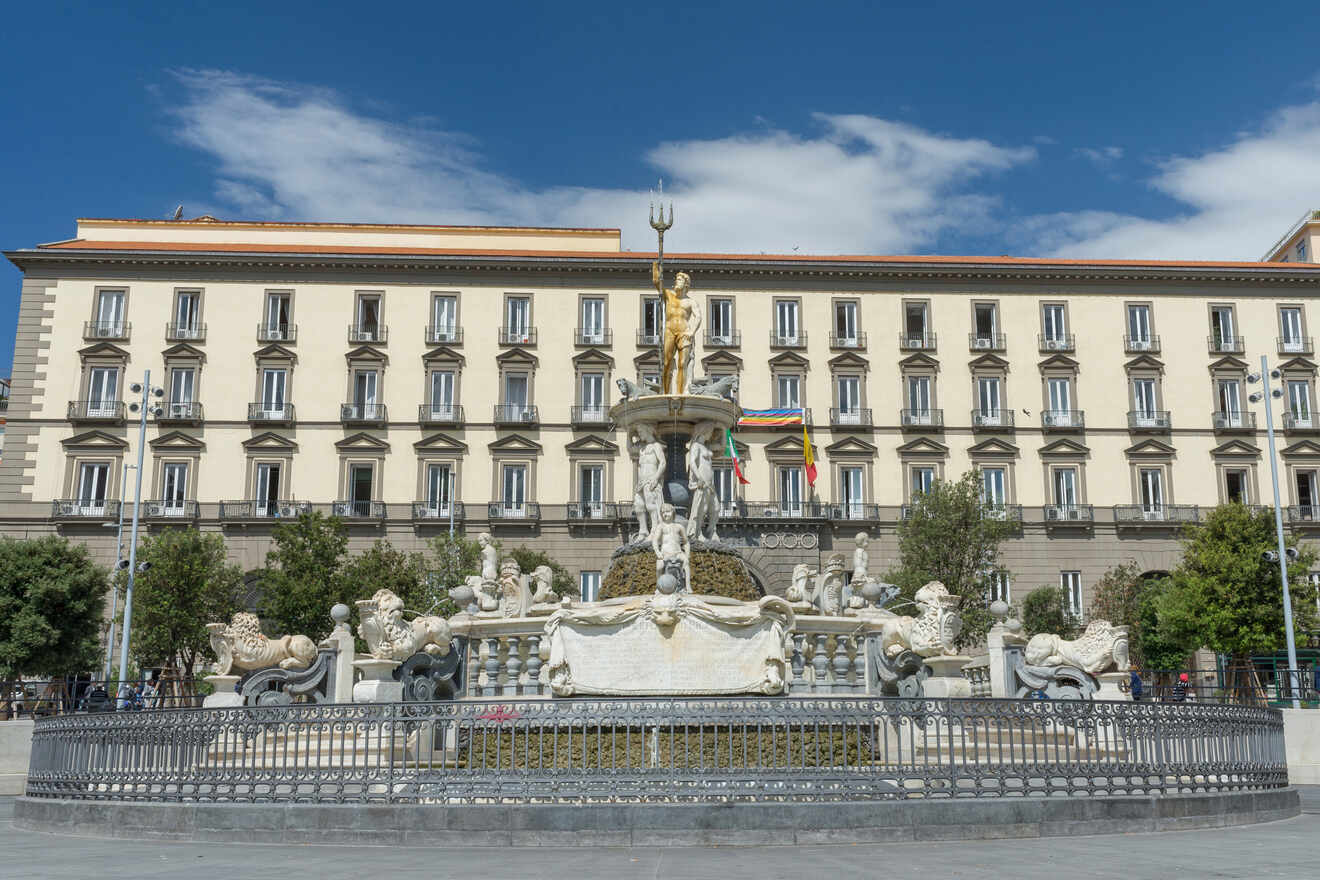 If you're wondering if you can stay in Naples on a budget then you came to the right place. Close to the center of the town, you'll find plenty of budget hotels and Airbnbs on the traditional Italian narrow streets, full of shops and bars.
The food is amazing here, I mean all of Italy offers the most amazing dining options but here you have to try the pizza fritta (fried pizza) at any of the street food trucks. Out of all of the areas we've talked about, in Quartieri Spagnoli, the street food business is very hyped!
Grab your camera because there is so much street art in this neighborhood that you'll stop at every corner to snap a pic for memories. If your location is in the southern part of Quartieri Spagnoli, then you'll be within walking distance from places like Piazza Plebiscito and the Opera House.
However, if you want to explore more around the area, I highly recommend visiting beautiful churches like the Sant'Anna di Palazzo and the 1560 Santa Maria Della Mercede a Montecalvario. Another one is the Maschio Angioino (Castel Nuovo) landmark in Naples Italy, which was built in 1279. The view is stunning here!
Other accommodation options in Quartieri Spagnoli
Things to do in Quartieri Spagnoli
6. Central Station – for easy access to other areas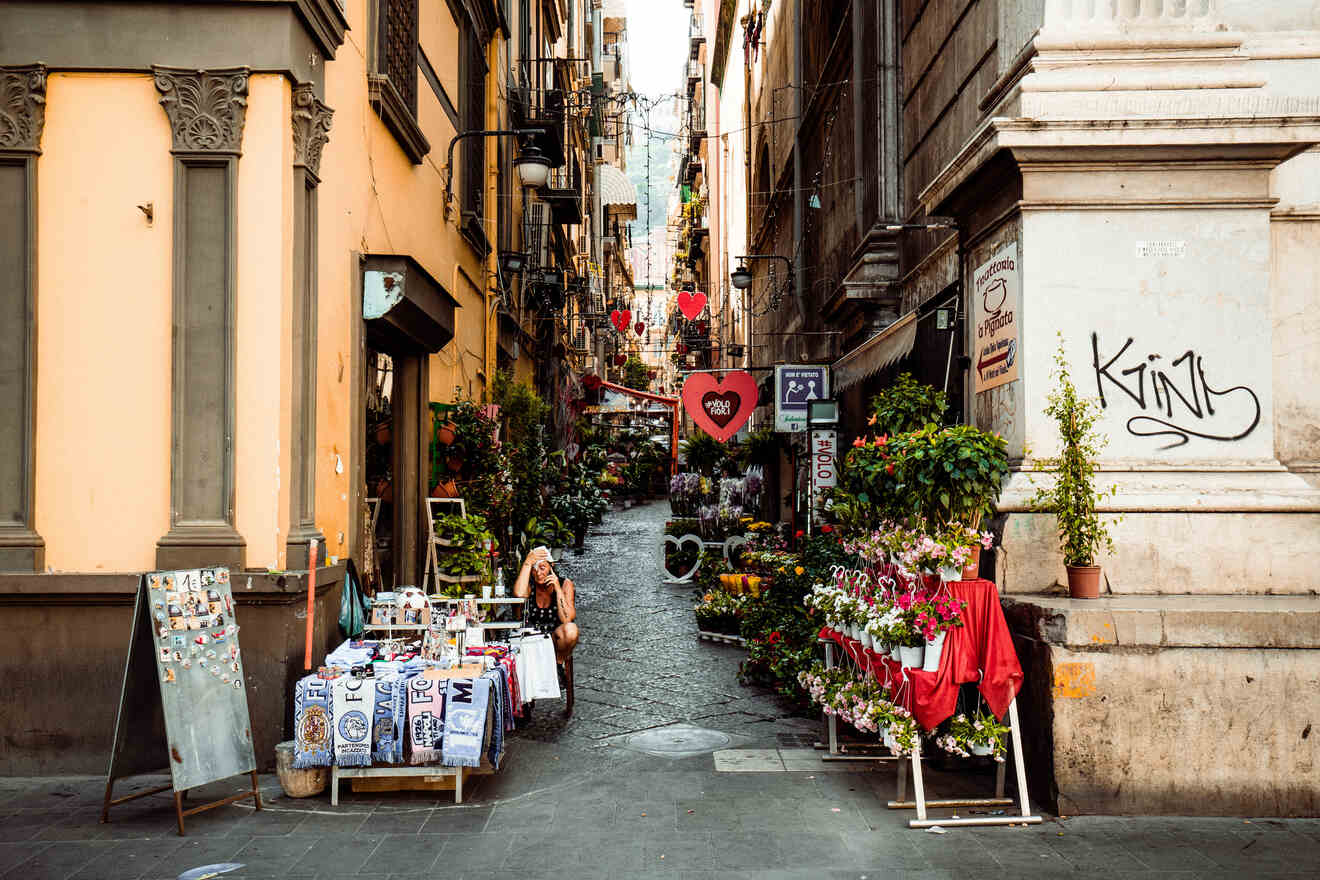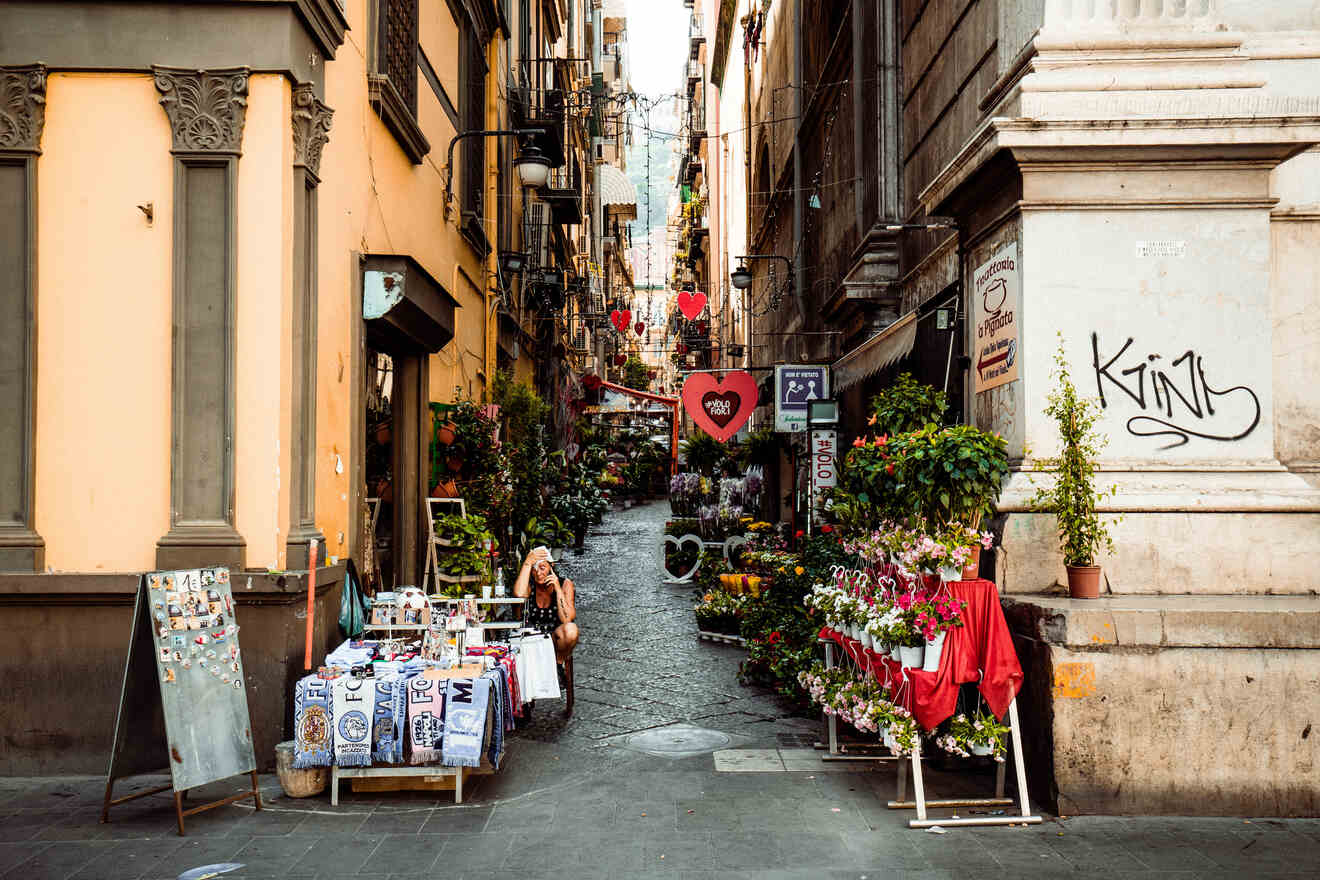 One of the best places where to sleep in Naples if you want to travel around and explore other towns, like Pompeii, by train. Besides the train station, you also have an underground station here, the Napoli Piazza Garibaldi, so you can visit other parts of the city when you're in the mood. 
I highly recommend having your Italian morning ritual (coffee and pastry) in the Piazza Garibaldi. It's so beautiful and you can just grab a coffee from the Bar Mexico, come here early before everyone gets ahead of you, and just sit here with Naples' best beverage and enjoy the atmosphere before you start another day of sightseeing.
Located just east of the Centro Storico and within walking distance, you can go there for a day trip at any time! If you're looking for where to stay in Naples just for a short amount of time, then the area around the Central Station is perfect! You can get around easily and you won't waste time in traffic or in places that are filled with tourists.
Other accommodation options in Central Station
Things to do in Central Station
Frequently asked questions about Naples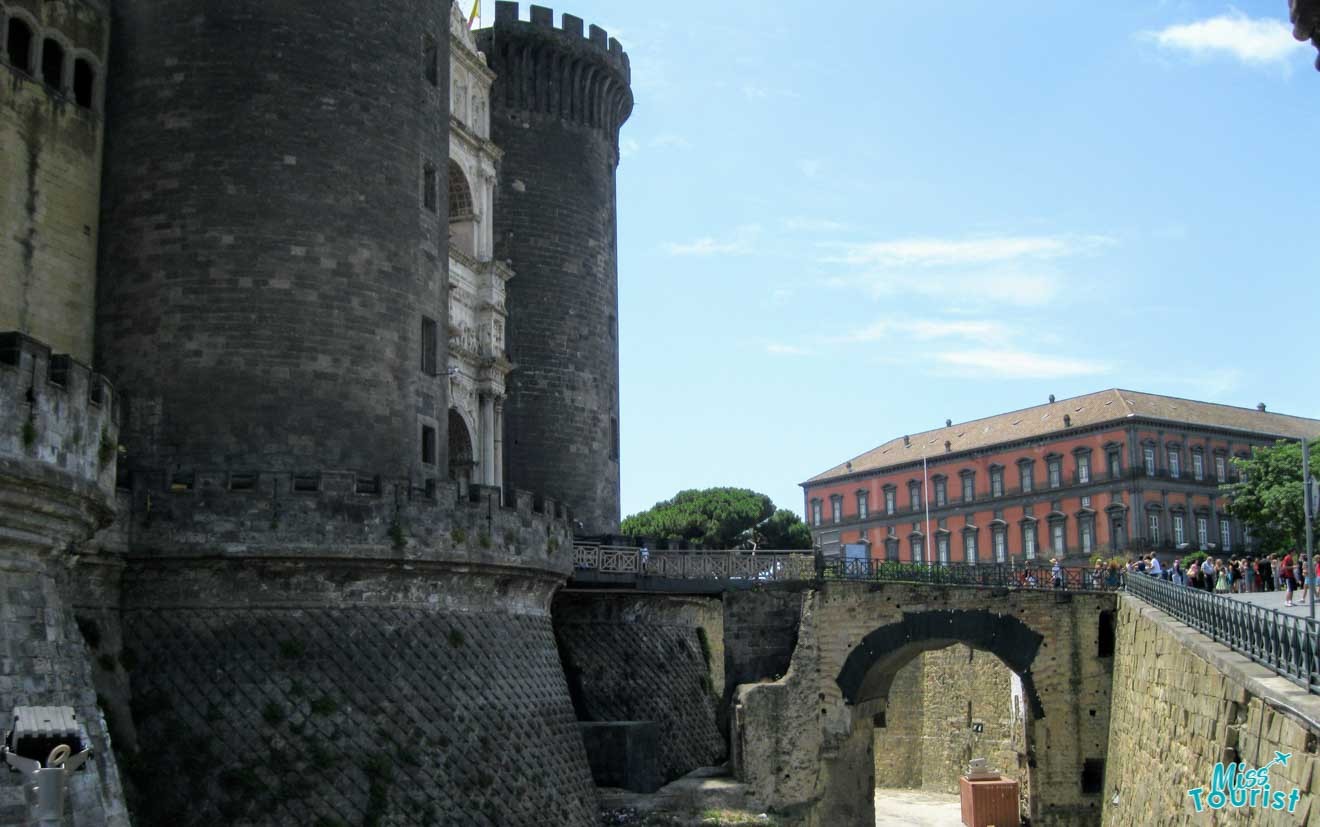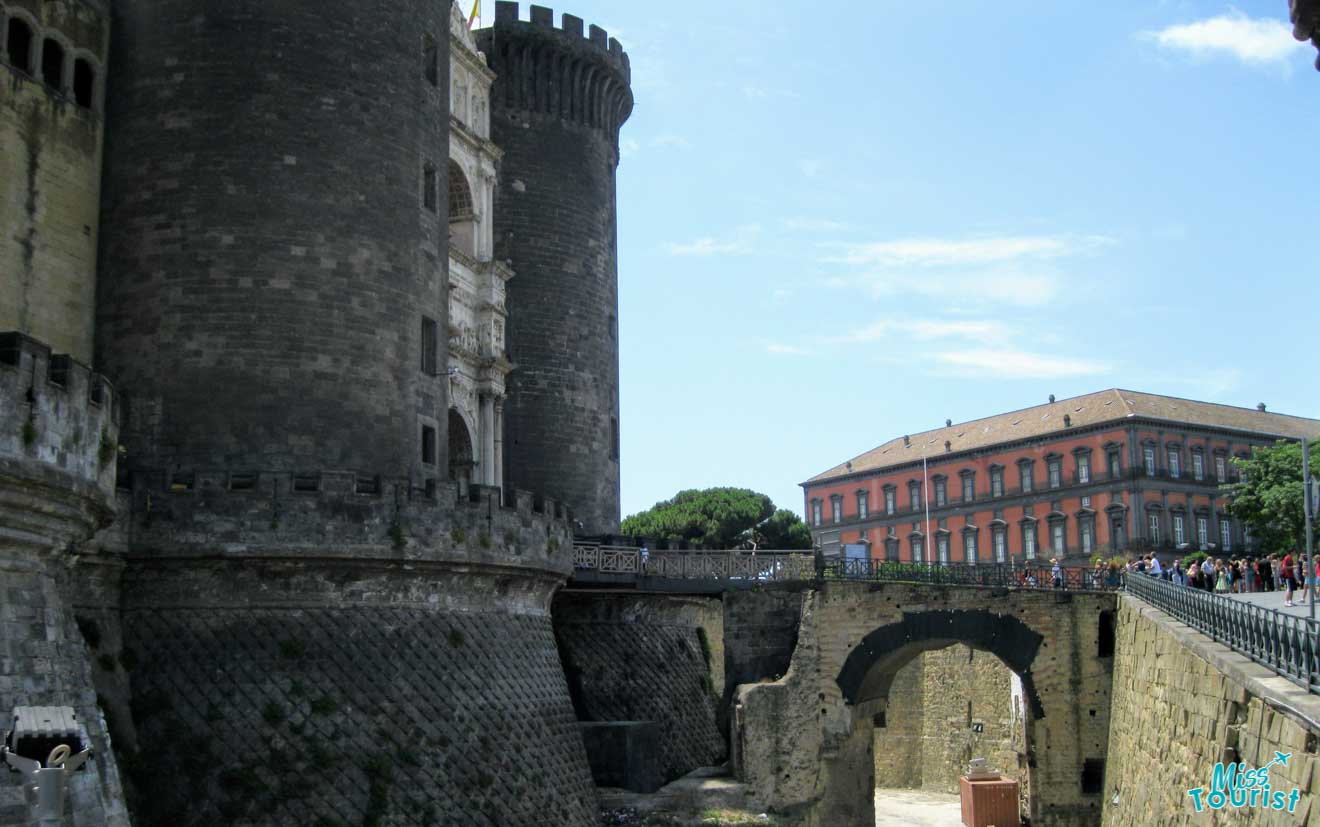 Conclusion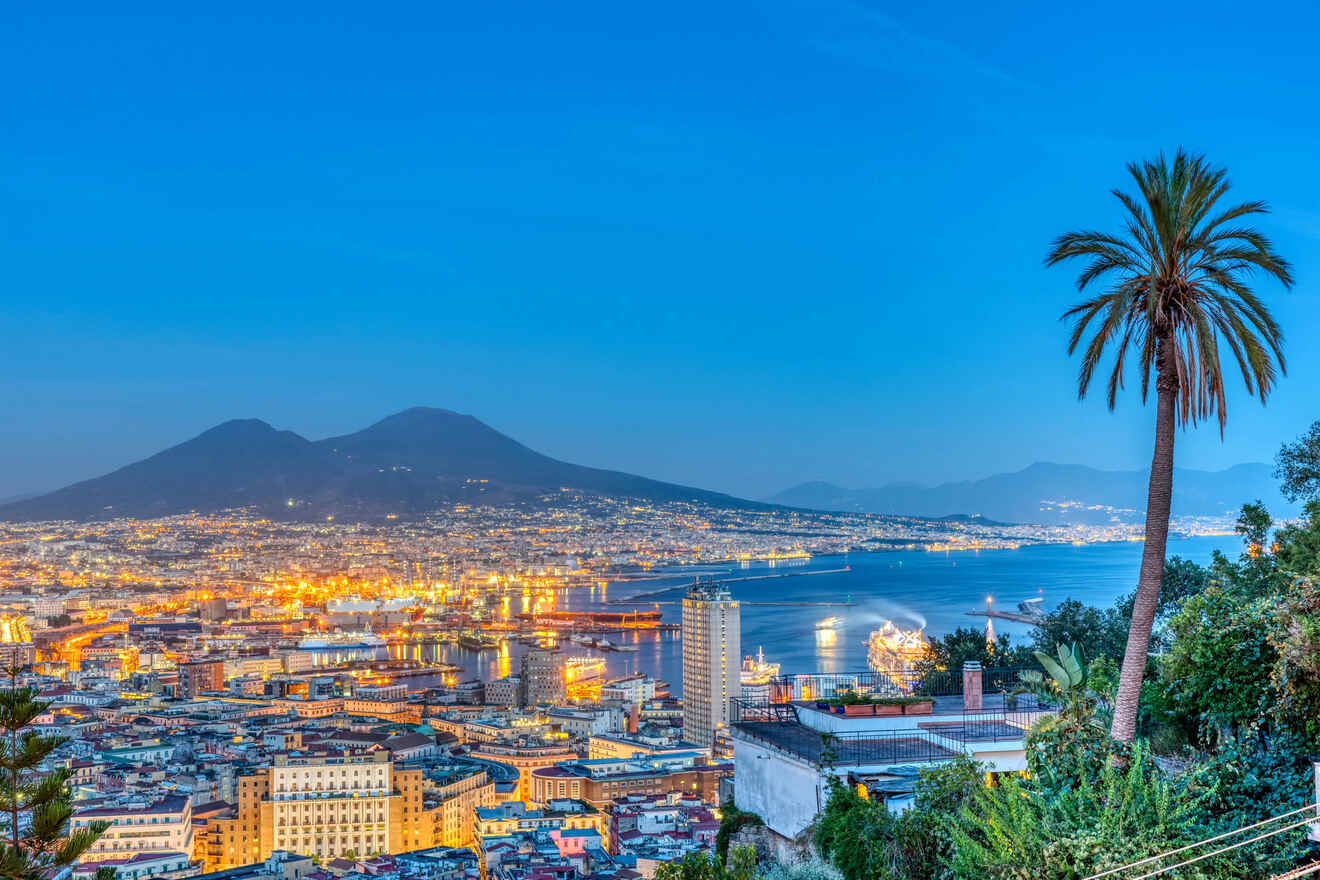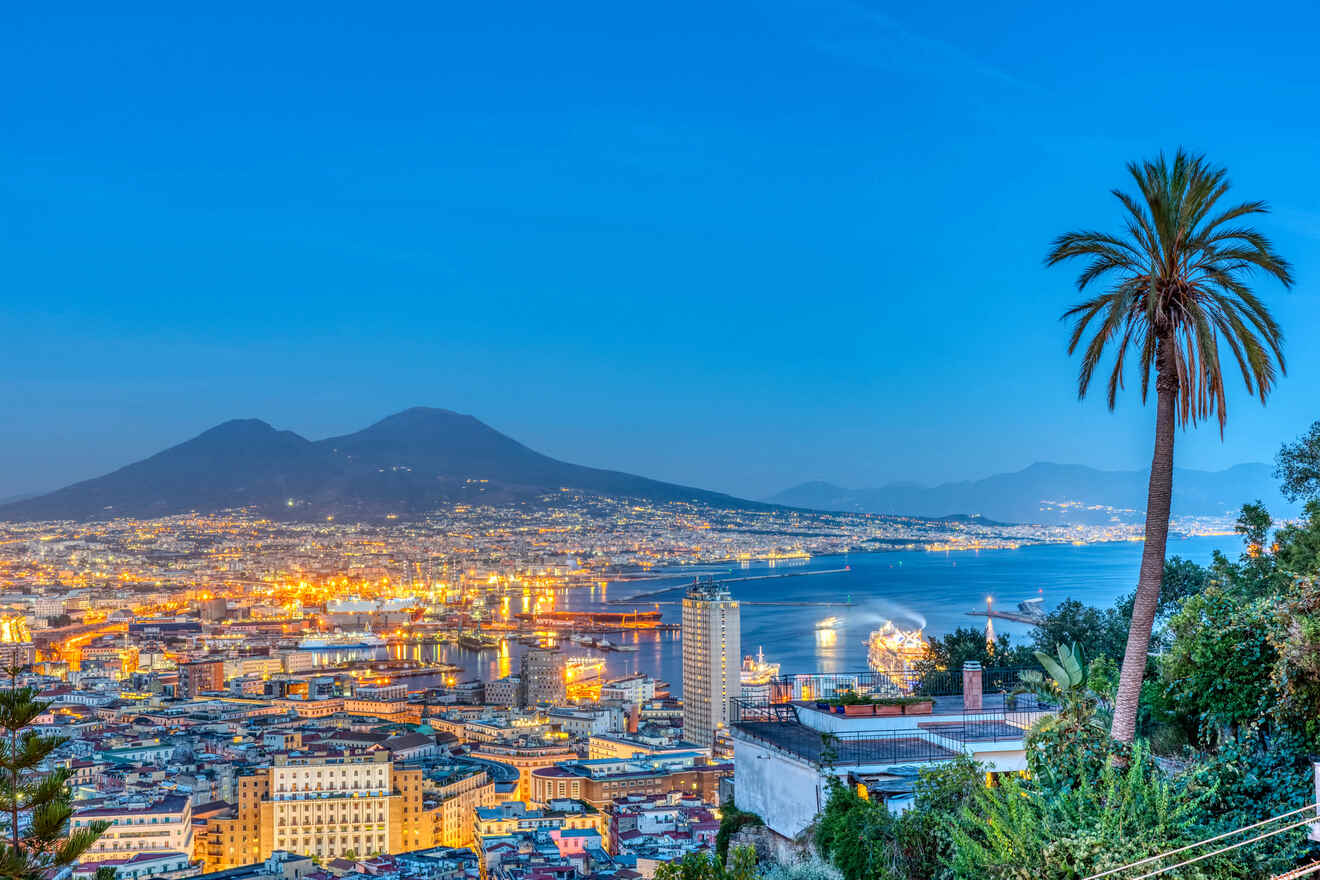 What a lovely adventure! I hope this article helped you decide where to stay in Naples during your next trip to the city. Enjoy the cobbled streets of Naples historic center, the street art, and all the delicious food.
There are so many hotels to choose from for you, from luxury to budget, but here are my top two favorites, both located in Naples historic center (Old Town). I highly recommend booking in advance here as they sell out super quickly!
Make sure you eat as much Napoli pizza as you can, get drunk on Italian wine, and enjoy exploring the cobbled streets of all the cool areas in Naples!
Do leave a comment if you have any questions or suggestions for our fellow readers!
Arrivederci,
Victoria
---