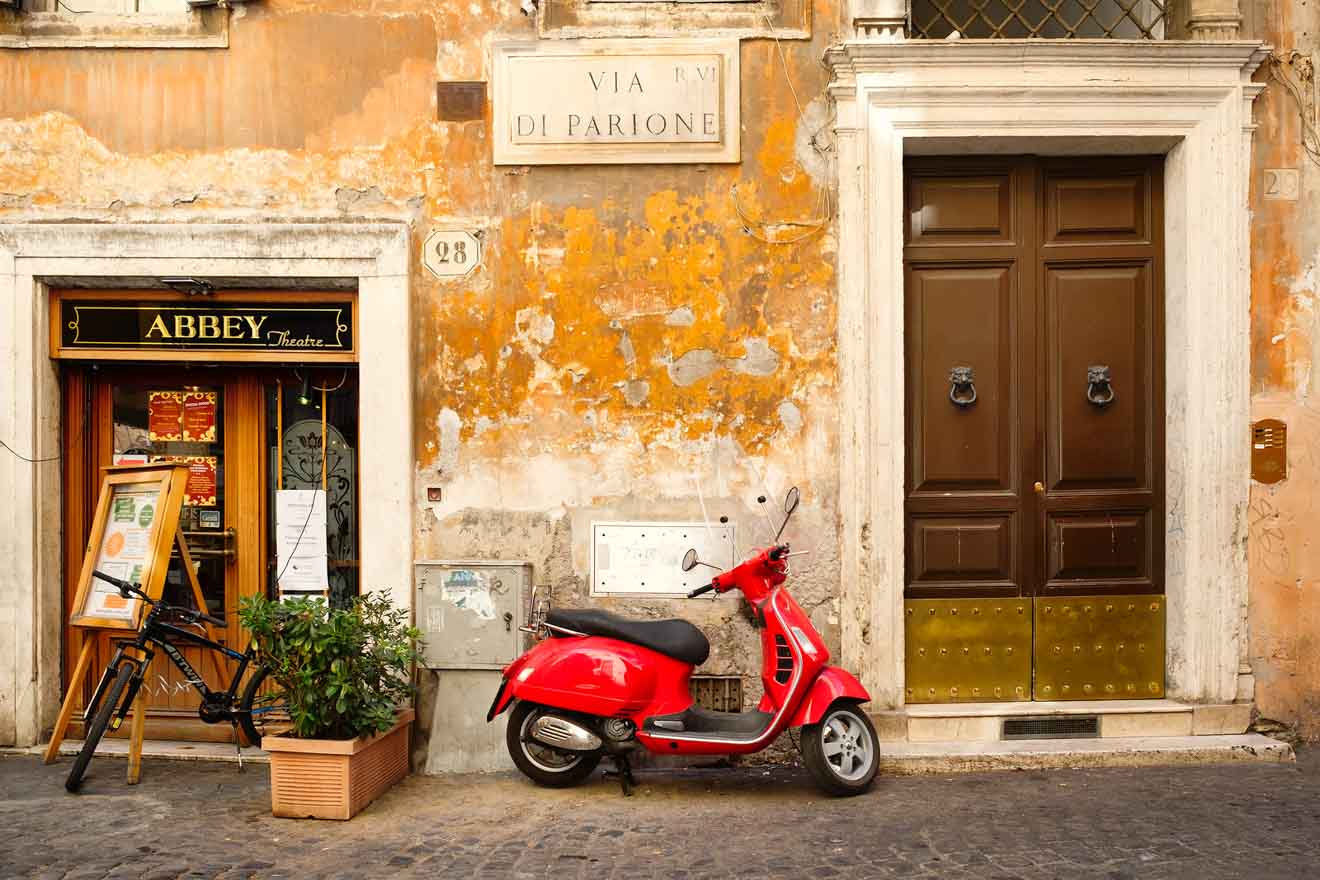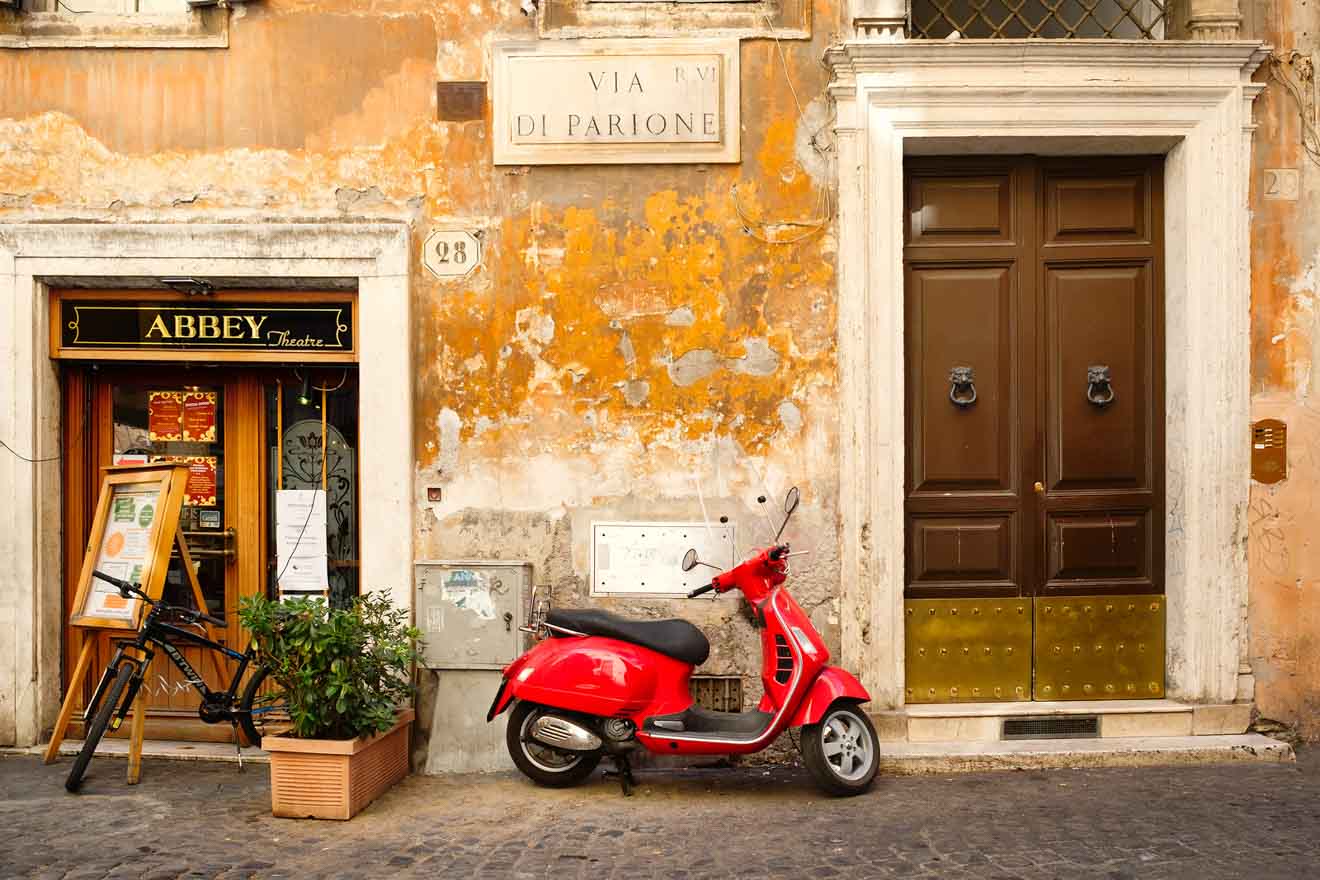 If you're heading on a trip to Rome, the land of "dolce far niente" – congratulations! It is an amazing city with so much to see and do!
If you're planning a visit there soon, you'll need a good way of getting around the city, right? Luckily, I'm here to help by telling you that one of the best ways I've found to get around is getting a scooter rental!
The first reason to rent a scooter in Roma is to feel like Audrey Hepburn in Roman Holiday, obviously. (Although hopefully you'll drive a bit better than her!). Besides just the look, scooters are also one of the best ways to get around Rome because you won't be dependent on public transportation, which isn't always super reliable in over there. In short, you won't have to worry about how you're going to get to all the sights in Rome and places you want to visit!
In this article, I'm going to mainly talk about 7 things you should know when you decide to rent a scooter in Rome! Are you ready? Let's go!
If you've decided to go for a scooter rental, Rome is definitely one of the most popular places for this! But first, there are lots of different things to think about.
Here is all the information and the answers to, hopefully, all of your questions about motorbike or the classic Vespa rental in Rome:
1. Where can you rent a scooter in Rome?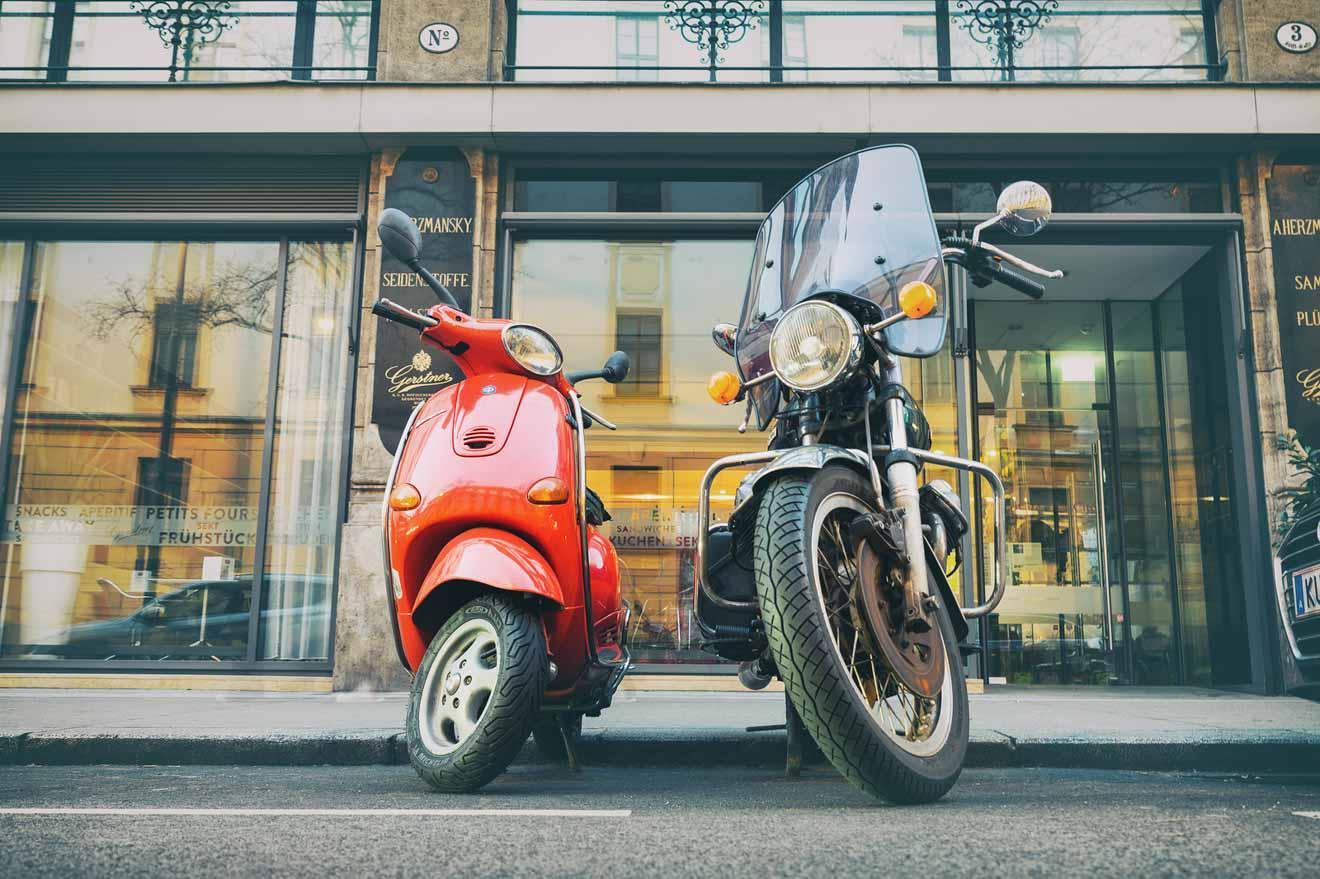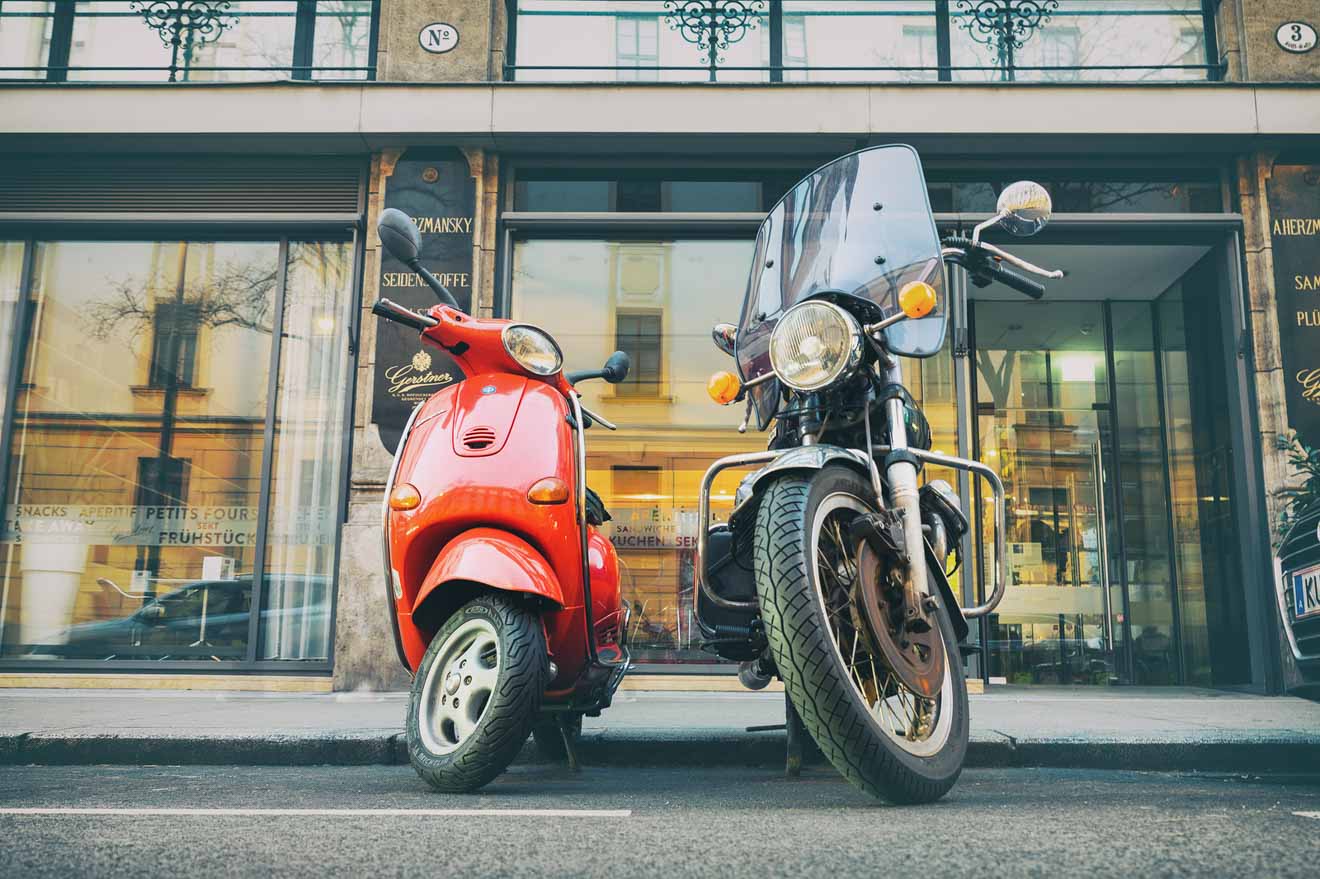 There are a lot of different companies that offer scooter, motorbike, or Vespa rental in Rome. If you want to rent something when you're already there, that's always an option. Or you can search online before you go.
Here are the best website options I could find to rent scooters in the capital of Italy:
BikesBooking.com – An online option that has lots of different Vespa, scooter and motorcycle choices as well as bicycles rentals. It's super easy to use and you can do everything online. They'll also let you change your dates or cancel your reservation online for free if you have a change of plans.
Bici&Baci – This scooter rental place located at Termini Station has four stores in Rome. They also organize some Vespa tours of Rome. They have set prices for the day based on how powerful your motorbike will be.
If you want to rent your scooter quick and fast, I also found some options on GetYourGuide below:
2. What do you need for a scooter rental in Rome?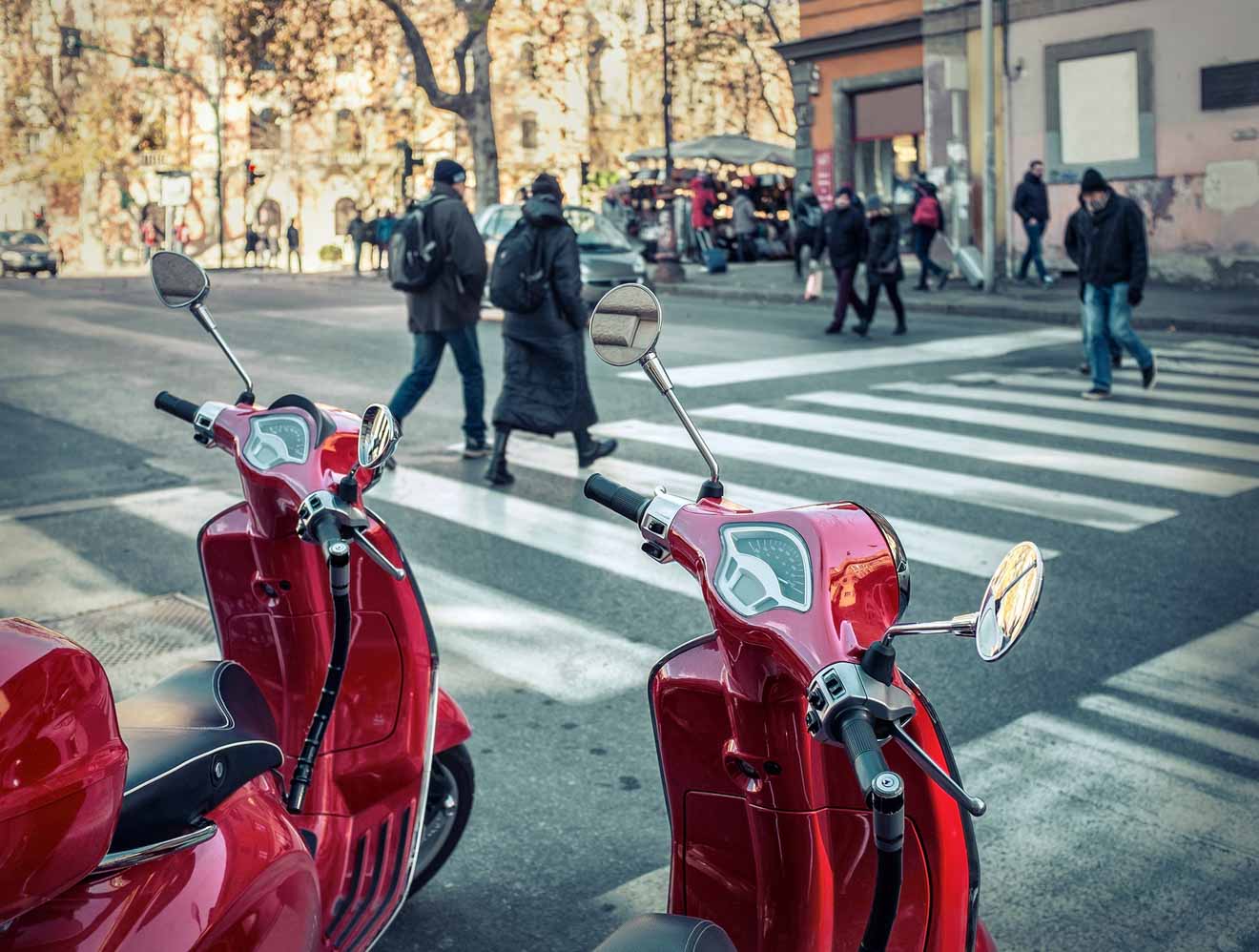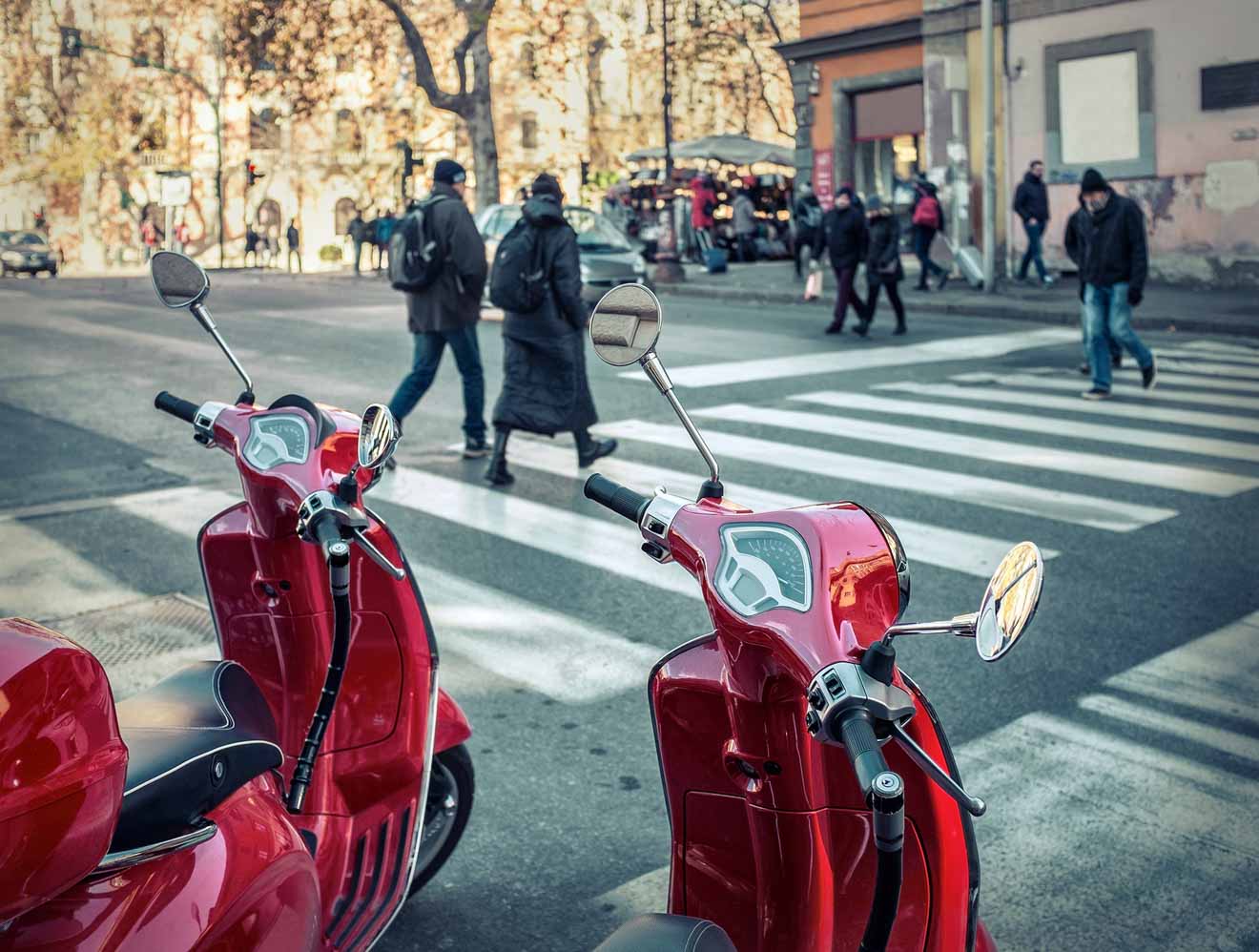 The requirements for a scooter rental vary between rental places, but legally, you'll need:
a credit card for the security deposit;
a European drivers license B (for cars) or
an International Driver's Permit
If you're from outside Europe, you can get an International Driver's Permit before you leave your home country. As long as you have a license in your home state or country, you can get this permit, which is recognized as valid in over 175 countries.
NOTE: Most rental places, even if you have a valid international driver's permit, won't rent a motorbike to you if you are under 18 years old.
3. What should you check for when you pick up your bike?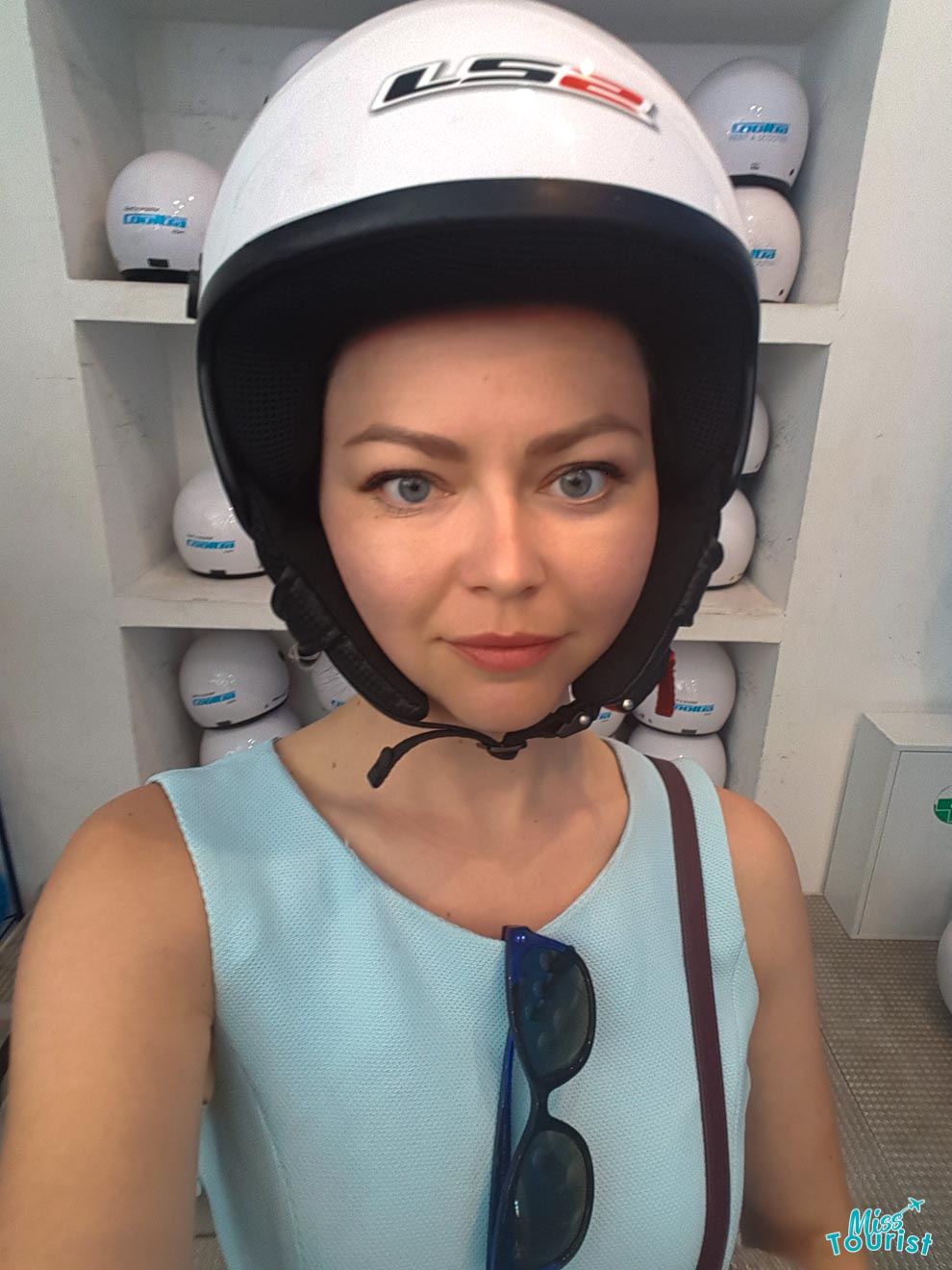 When you go to pick up your scooter, make sure they give you a helmet. Also, do a full review of the bike, checking for any scratches, that all the mirrors are there, and that there isn't any damage. If you find anything, make sure to show the rental agency (so you aren't blamed when you return it!) or ask for a different motorbike.
PRO TIP: I usually take pictures of every scratch even if they are recorded by the agency just in case.
Make sure the gas tank is full as well. With most rentals, the gas isn't included if you have to refill the tank, but you should start out on a full tank. Also be sure to ask what type of gas to put in if you need to refuel.
4. How much does it cost to rent a scooter in Rome?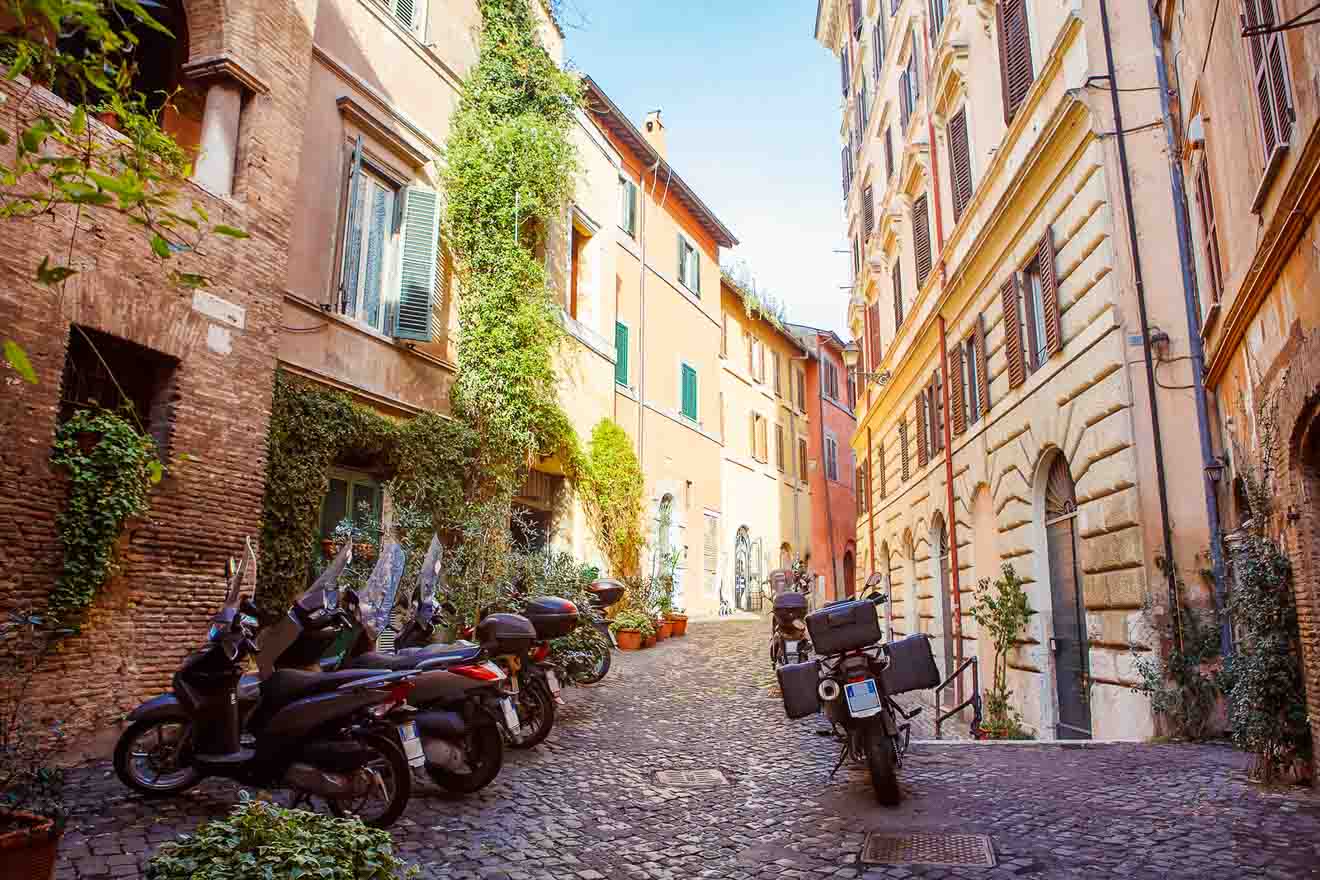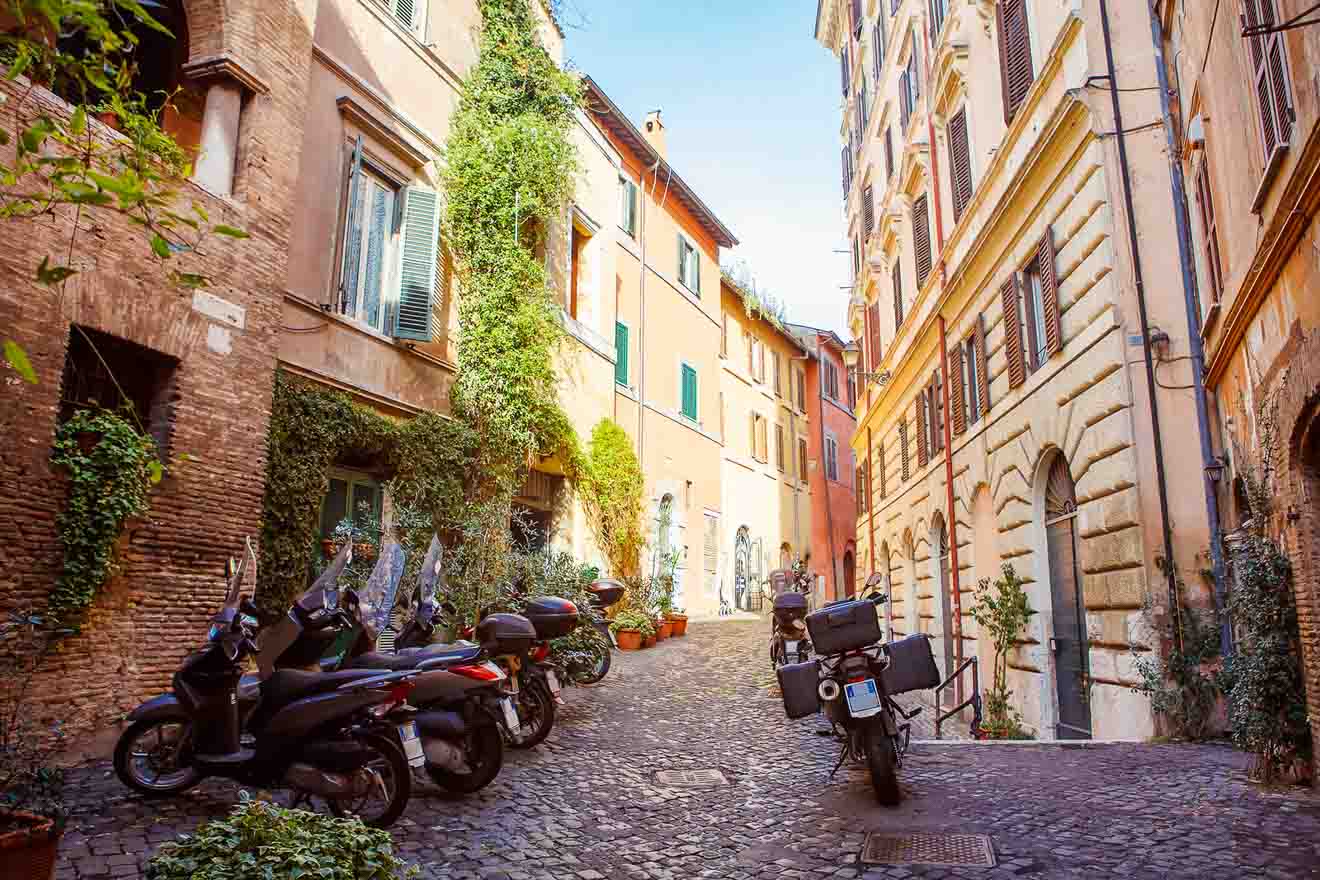 The price all depends on what company you use and what type of motor vehicle you want to rent:
A scooter, Vespa or moped will usually be cheaper – around 45€ to 90€ a day;
Motorcycles cost more – anywhere to 125€ to 350€ a day depending on what model you choose.
Almost all places that rent Vespas in Rome require a security deposit of 250€ to 500€ regardless of how many days your rental period takes. This is unavoidable and usually the company doesn't even withdraw the money from your account unless you return the motorbike with damage. Typically, they just place a hold on the money and then it's back in your account as normal once you turn in the motorbike.
NOTE: Most rental places also don't include gas. Make sure you have 5€ or 10€ change to fuel up your scooter.
5. Where can you park your bike?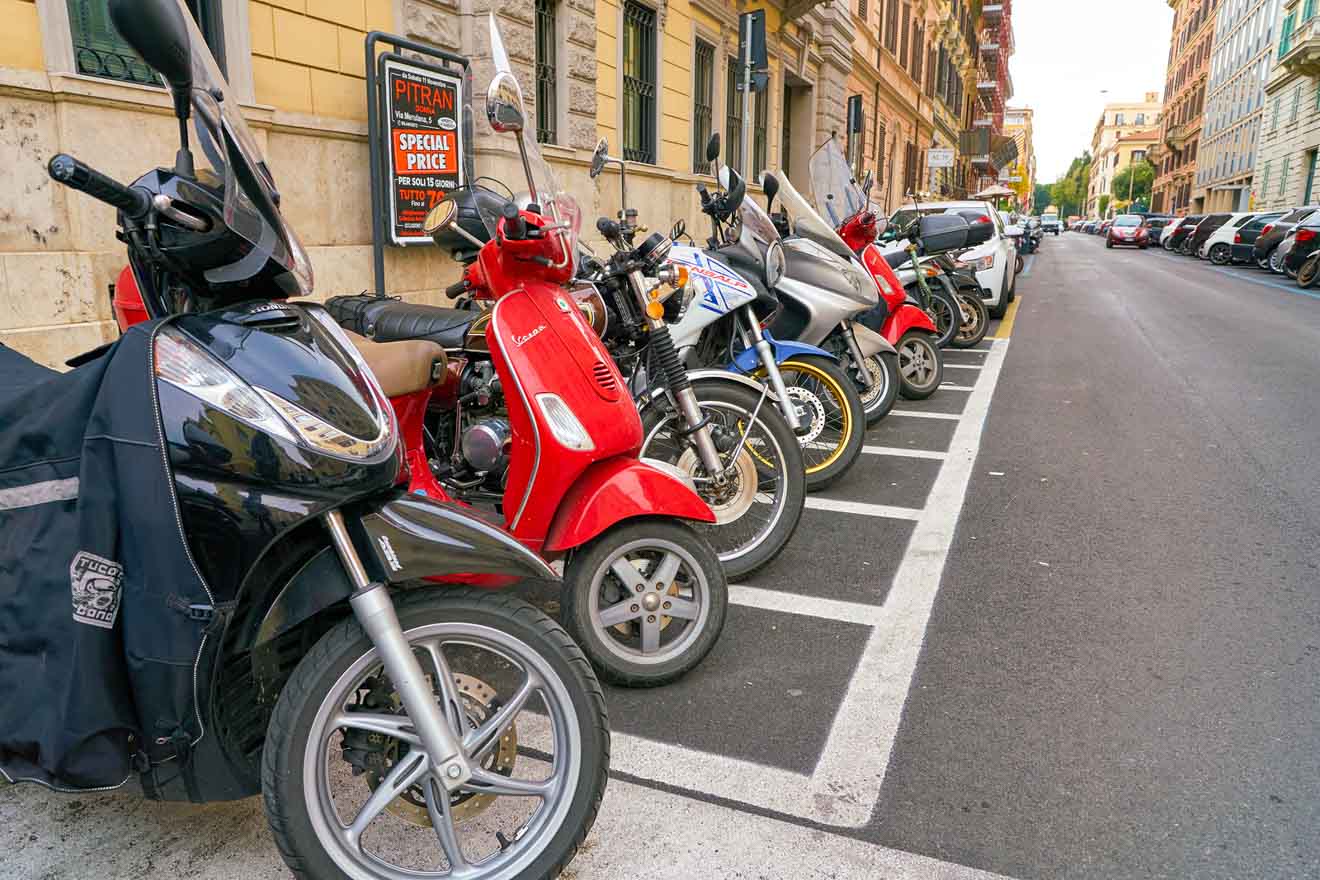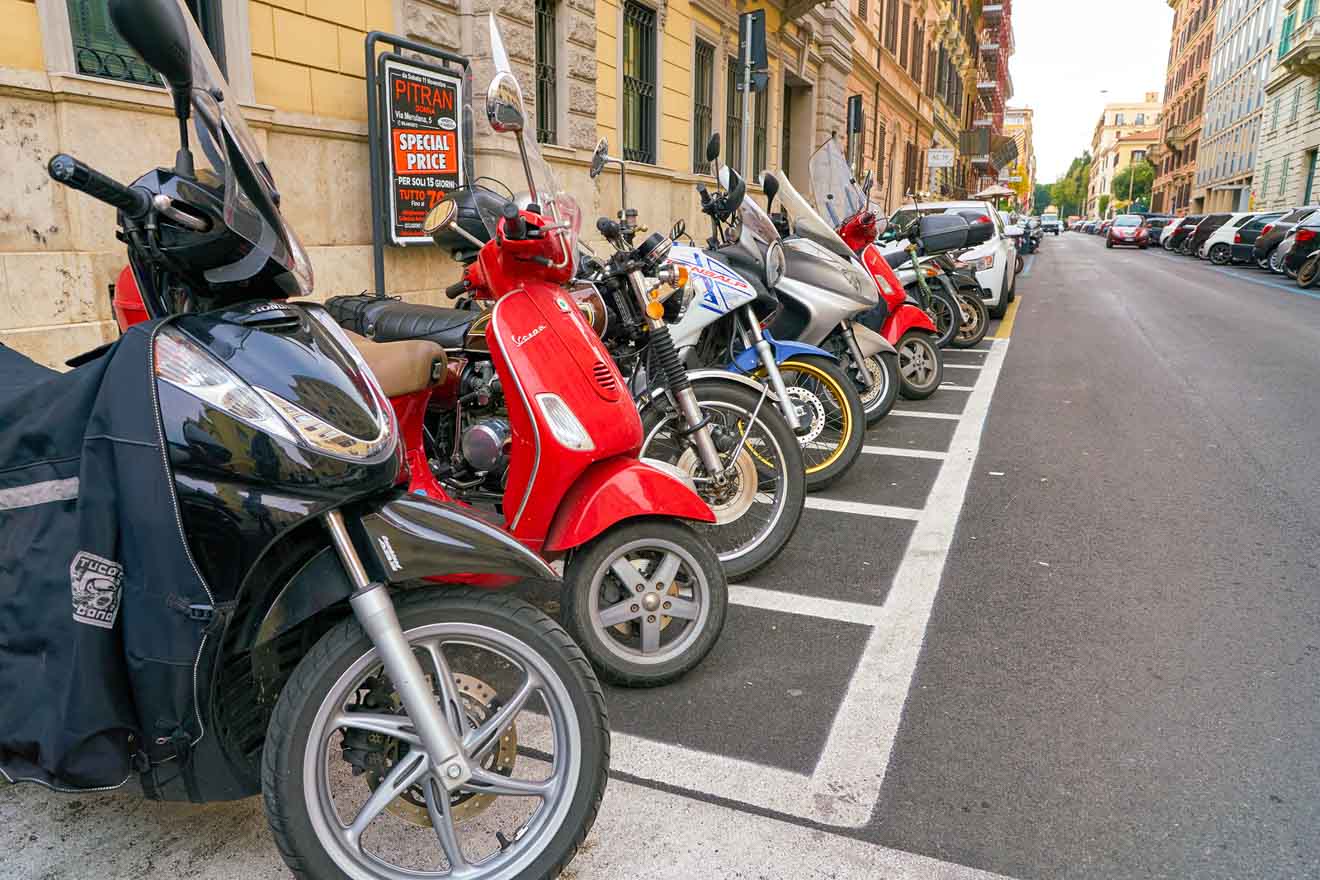 One of the best parts of driving a scooter is that they're easy to park because they're small and versatile. You can leave your scooter or Vespa anywhere in the designated scooter parking spots – they're marked with white or blue lines (but the easiest way to spot them is to see where all the other motorbikes are parked!). There are also no parking fees for bikes, unless otherwise stated.
You can also park your motorbike on some sidewalks – if you see other scooters parked there, you can join them, but make sure you leave enough space for pedestrians, of course.
Just don't park on any yellow lines, which are for public transport, or on a sidewalk where there are no other scooters. You cannot park in spots where there is a "Divieto di Sosta" sign (which literally means "Do not park"); you can usually find these in front of driveways and garages. If you park your scooter illegally, you risk getting a fine!
6. How do you charge an electric bike?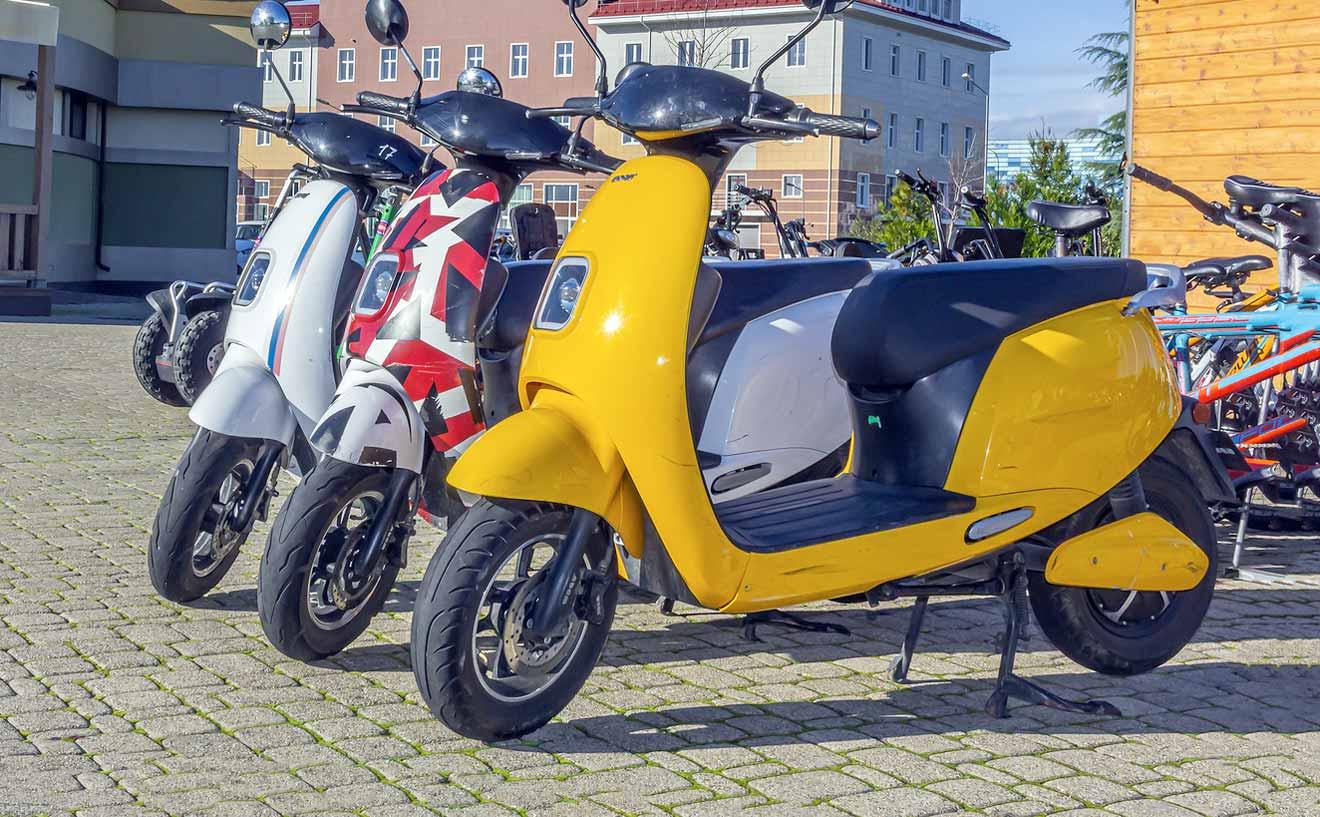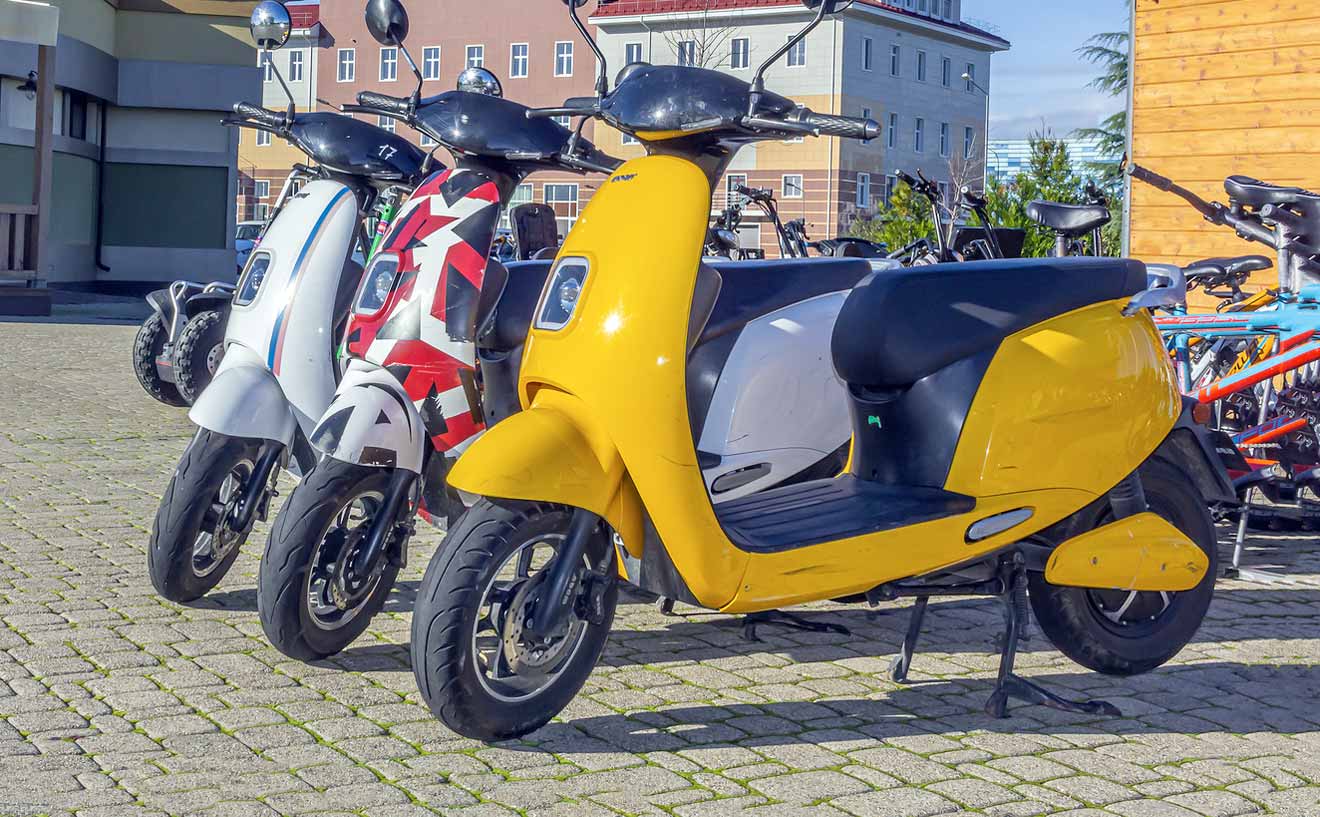 Electrical scooters and bikes, also known as e-bikes, are getting more and more popular in Rome, as they're more eco-friendly and require less effort when driving. Most motorbike rental companies offer the option of getting an electric scooter instead of a "classic" one.
If you opt for an electric motorbike or scooter, you won't pay for gas, but you will have to charge it. Your moped will usually let you know when the battery is running low with a flashing light, but make sure you're keeping track of the battery since you don't want to be stuck somewhere you can't charge it.
Charging usually takes 3-6 hours for a full battery, depending on the battery size (this is something you can ask the rental company). Be careful not to overcharge the battery either (more than 10 hours) since this can damage it.
HOW TO CHARGE IT: To charge the battery, you just need to find the port on the motorbike. Sometimes it's covered by a plastic flap. Then you plug the cord into a normal wall outlet and the other end into the port. There should be a flashing light letting you know the moped is charging.
You don't need to go to special charging stations (such as the ones for Tesla cars, for example), you can just use a normal electrical plug. However, if you want to charge your motorbike faster, you can go to a charging station. You can find the closest electric charging station to you on this website.
7. All in all, is Rome a good place to drive a scooter or Vespa?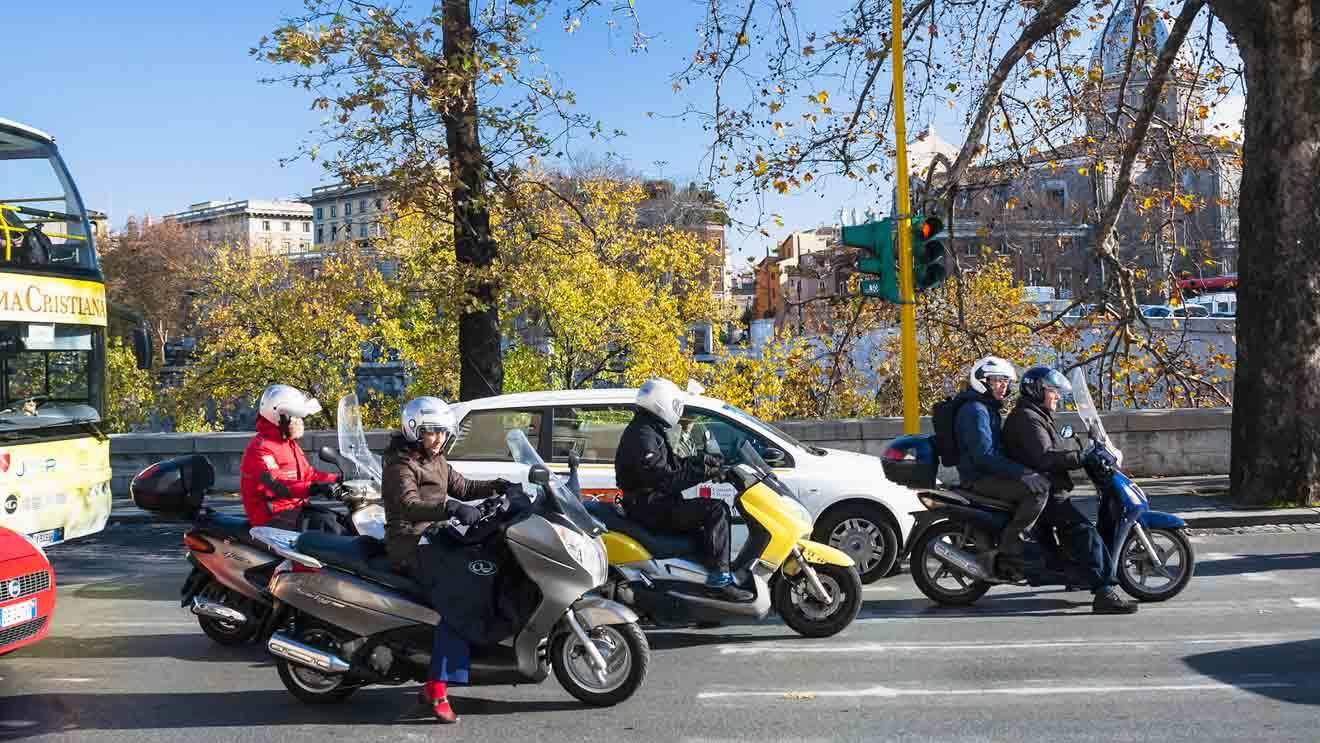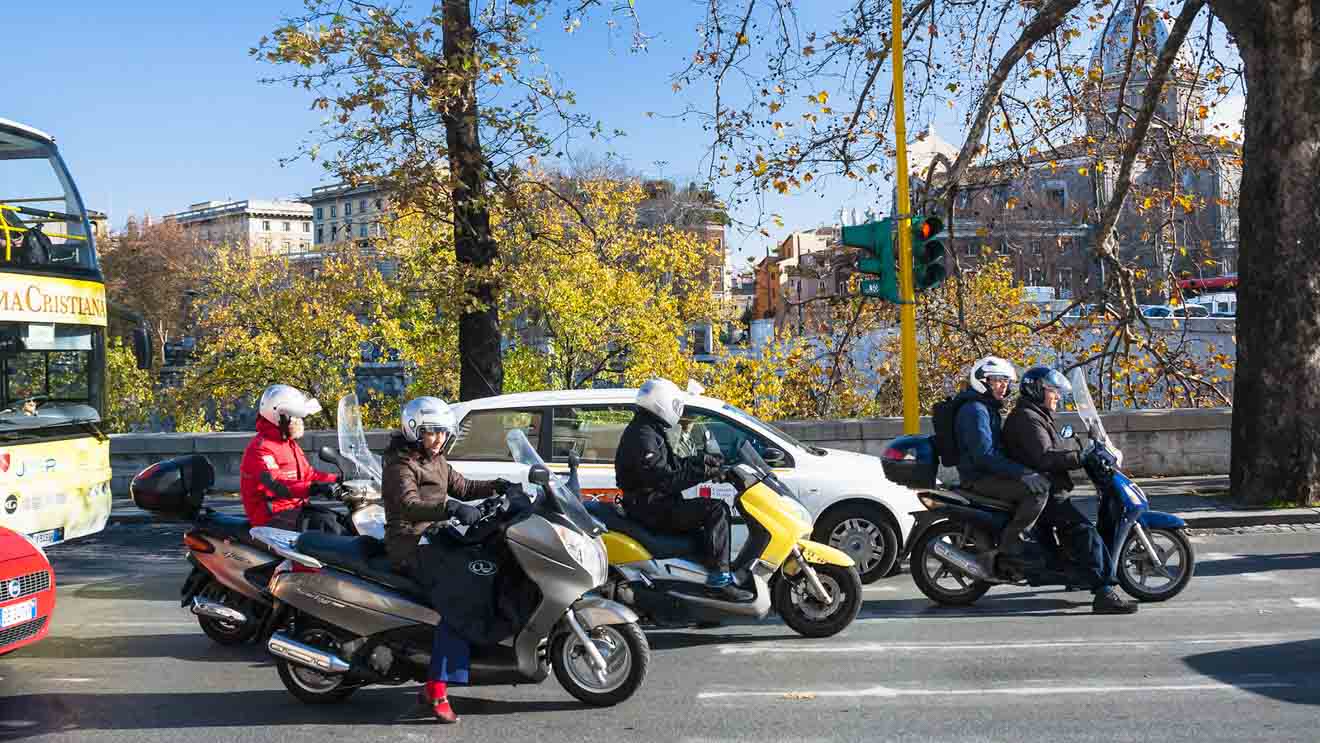 In my experience, everyone is super nice and attentive. However, Rome is a very busy place with a lot of traffic so it might not be the best place to learn how to drive a motorbike. I learned how to drive a scooter in Asia and then I found out that driving them in Europe, compared to Asia, is a breeze! If you've already driven scooters before though, you will find that navigating Rome will be super easy!
Rome is among the cities with lots of motorbikes but, unfortunately, there aren't any designated scooter lanes on the streets, so you'll have to be careful as you make your way around the cars. You'll see many different behaviours in traffic, as the motorbike drivers in Rome are known to sometimes break the rules, especially if they're in a rush. Of course, I instead recommend respecting all the driving rules and red lights, even if you see other moped drivers that don't do the same. Also, make sure to be extra careful when driving on cobblestone streets or wet surfaces!
| | |
| --- | --- |
| 💵 Average Price of Scooter rental: | 60€ |
| 💱 Best rental: | BikesBooking.com |
| 📄 License requirements: | Drivers license B or International Driver's Permit |
| 🛵 Top vespa tour: | |
| 🚲 Best bike tour: | E-Bike Tour |
Other companies to rent a moto in Rome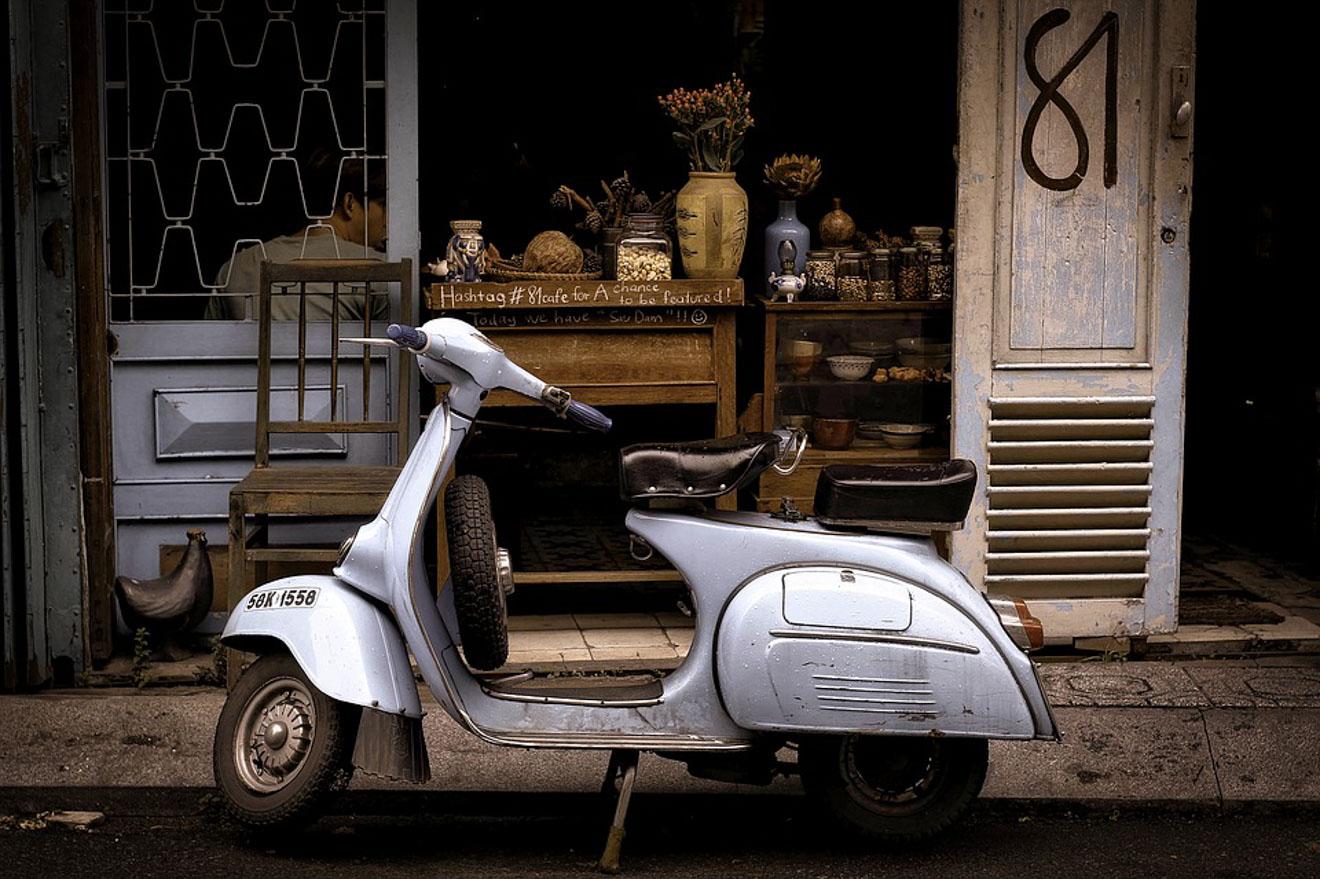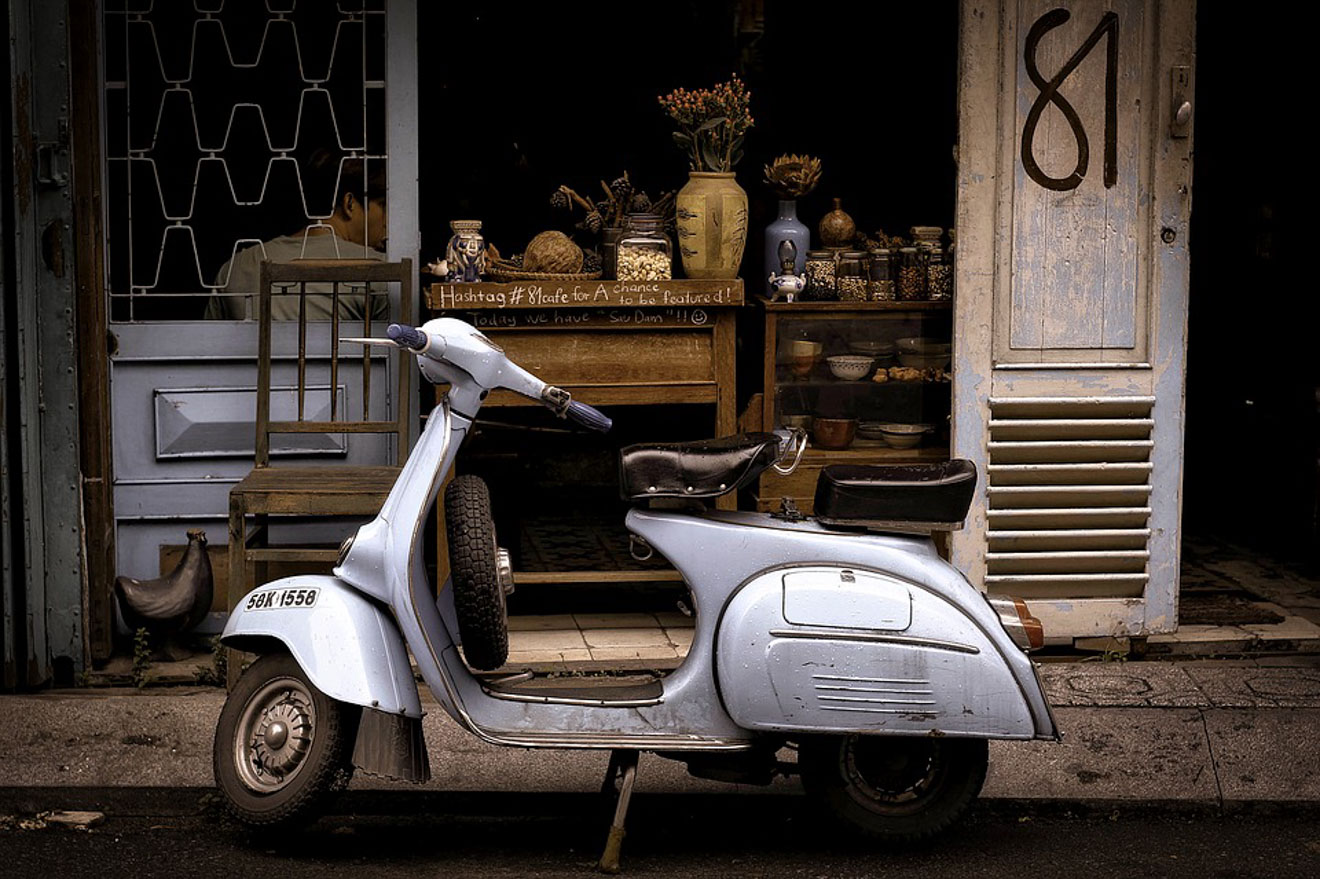 If you are looking for recommendations for scooter rental companies in Rome, here are some of the best ones:
On Movo Rome
One of the most convenient things about the On Movo company is that has 3 locations in Rome for picking up and dropping off scooters that work 24/7.
Apart from that they also offer delivery points where they can deliver your scooter for you including Fiumicino and Ciampino airports, some of Rome's train stations, and Rome beach. This is super practical if you want to rent a scooter from a different location.
Their cheapest scooter price starts from €39 for one day.
Renting an e-scooter or e-bike in Rome
If you are not the type to want to rent a Vespa, you can also rent an e-scooter so that you can make your own route around home. There are two great companies to do that:
Lime scooter Rome
Lime, the largest shared electric vehicle company in the world, is the first company to bring e-scooters to Rome. You can rent any of the many scooters or bikes that you can find across the city immediately.
They've made renting their vehicles fairly easy – all you need to do is download their app, register, and scan the QR code on the scooter. Once you're done riding it, just park it in an appropriate place and scan the code again. The price to unlock the scooter is €1 and then you'll be charged €0.25 per minute.
Bird Rome
Another great and reliable e-scooter company in Rome is Bird. Just like with other companies, if you want to rent a vehicle, you should check their app for one that is located closest to you, and once you find it scan the QR code so that you can start your ride.
The price is the same for renting e-scooters and e-bikes as for other companies -€1 to unlock it plus €0.25 per minute.
BONUS 1. Vespa tours in Rome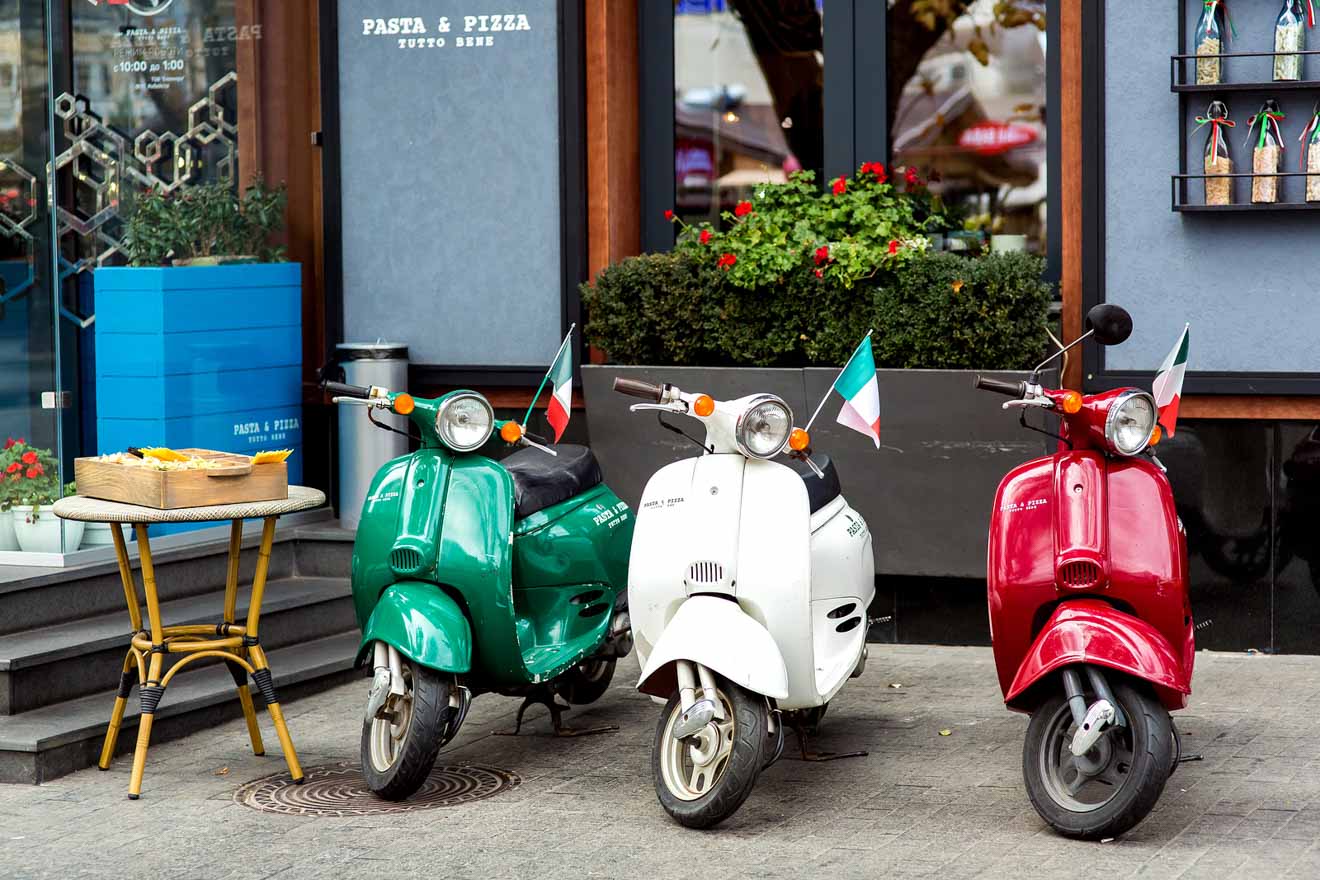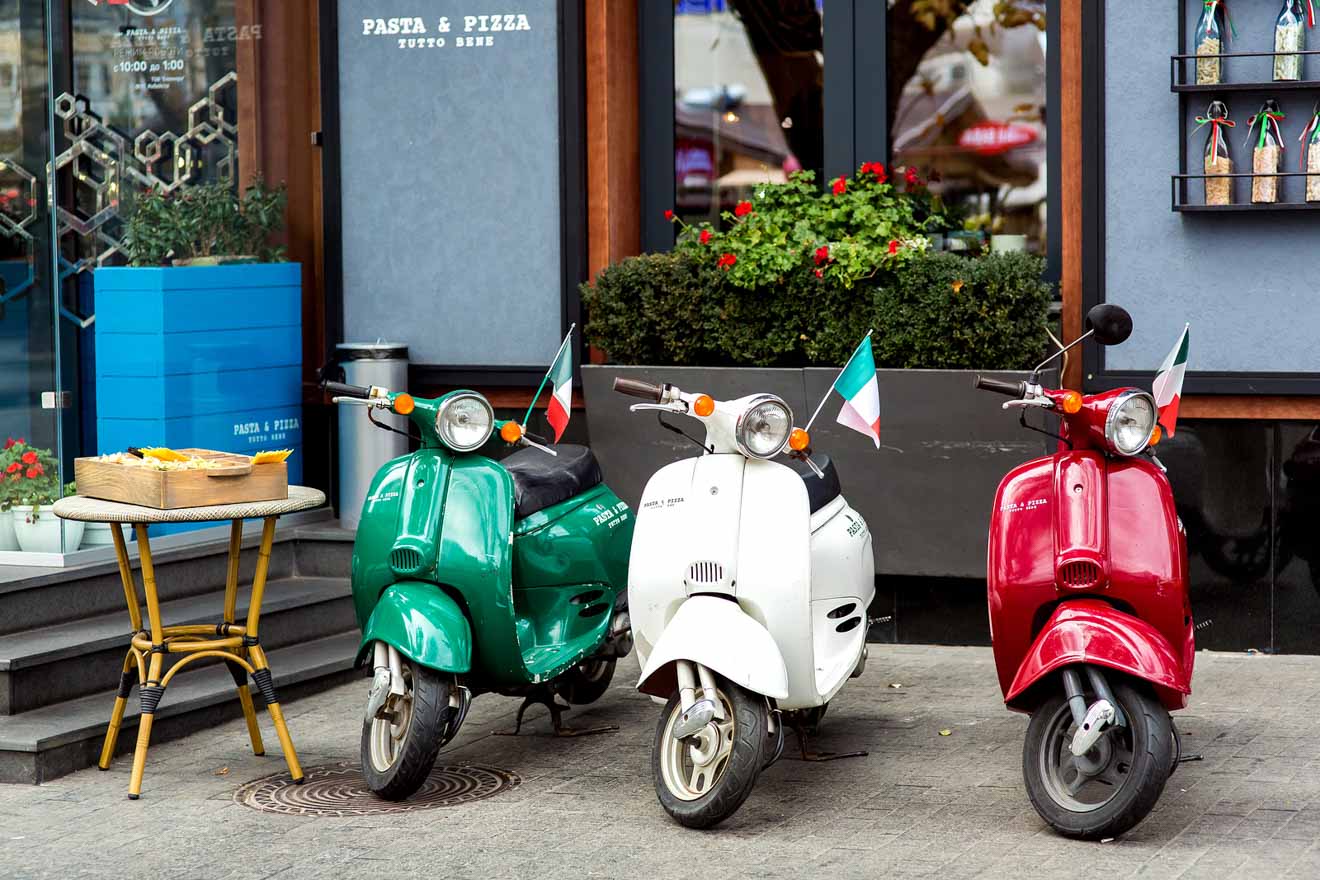 If you ever want to try renting a scooter, Rome is a top place to do it, but if you don't like the idea of driving around a Vespa on your own, you should consider a Vespa tour!
There are tons of tour options based on what you're looking for, but here are the best ones I could find for you:
Self-Driven Sightseeing Tour by Vespa – This tour is 3-4 hours long and will take you places that you can't get to on the tour buses. You'll head to hidden gems of the Eternal City and your guide can even customize the tour based on where you'd like to travel to. This tour costs US $120 per person.
Vespa Tour with Optional Driver – This is another option that will give you some amazing views and great Instagram pictures! This tour costs US $350 for the self-drive option and the same if you book it with a driver included. Really good for people who'd like to drive a Vespa, but don't know how to drive a motorbike! Also, perfect for couples!
By the way, here is a video of Audrey Hepburn driving a Vespa in the movie Roman Holiday, just to get you in the mood:
BONUS 2: Bicycle Rental in Rome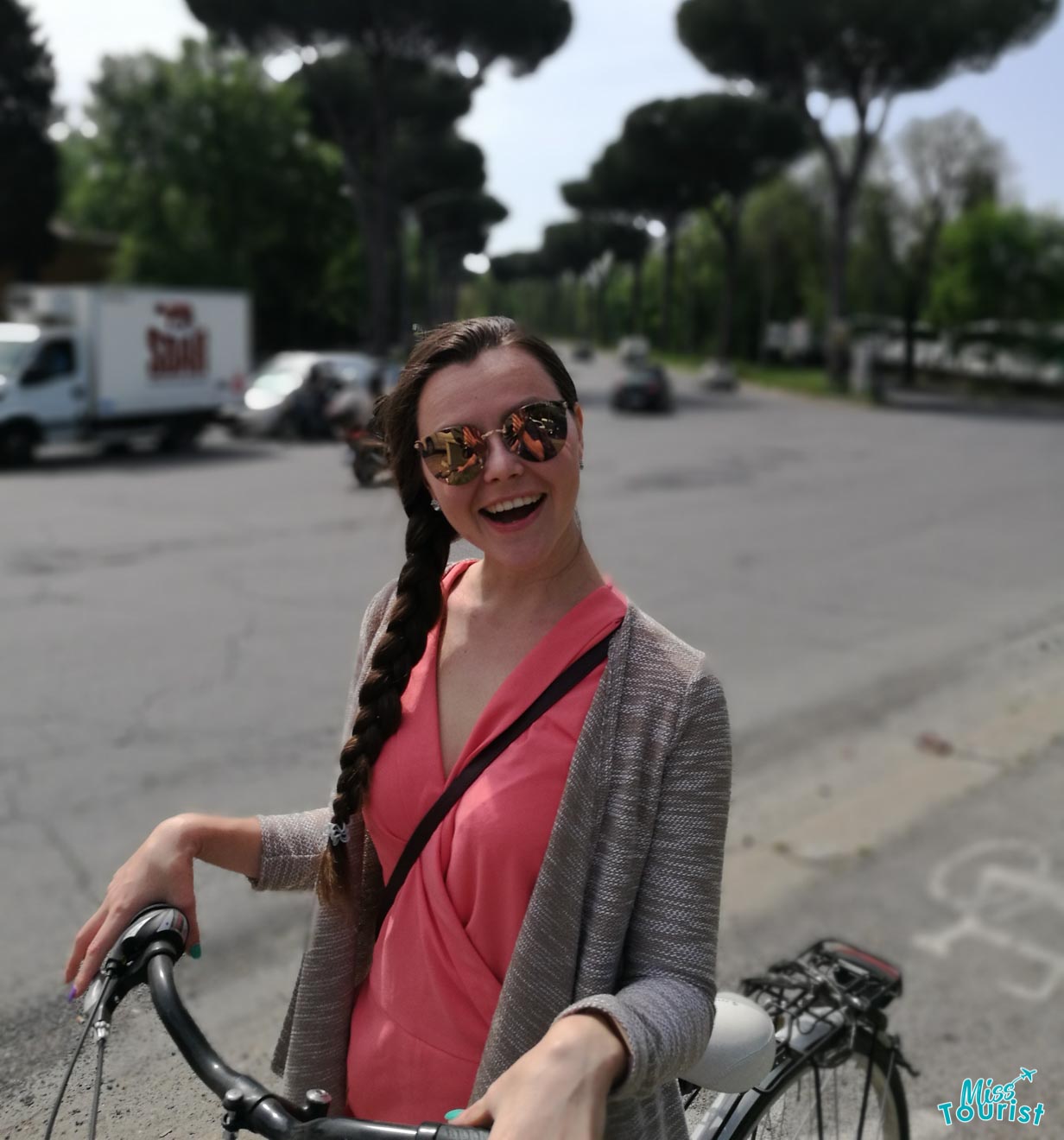 If a rented scooter or Vespa isn't your thing, but you don't want to walk everywhere, another option is biking!
Renting a bike in Rome is pretty easy as there are tons of places that let you rent bikes for a few hours or the day. There are a lot of places near Via Appia Antica (which I highly recommend you visit as it is one of my favorite places in Rome!).
When biking, always pay attention to the traffic and make sure that the rental company gives you a lock to keep your bike safe. Also, bring a bottle of water (it can get HOT in Rome!) and take breaks when you need to. You can refill your water bottles in the numerous water fountains around the city, as the water is drinkable (unless it says "acqua non potabile" on it).
You can also rent an electric bicycle if you're worried about getting too tired during your visit. E-bikes, as they're called, have a motor that helps you on hills or if you're too tired to put in much effort. You still have to pedal, but it's not as hard. These can come in handy if you're trying to get up the 7 hills in Rome!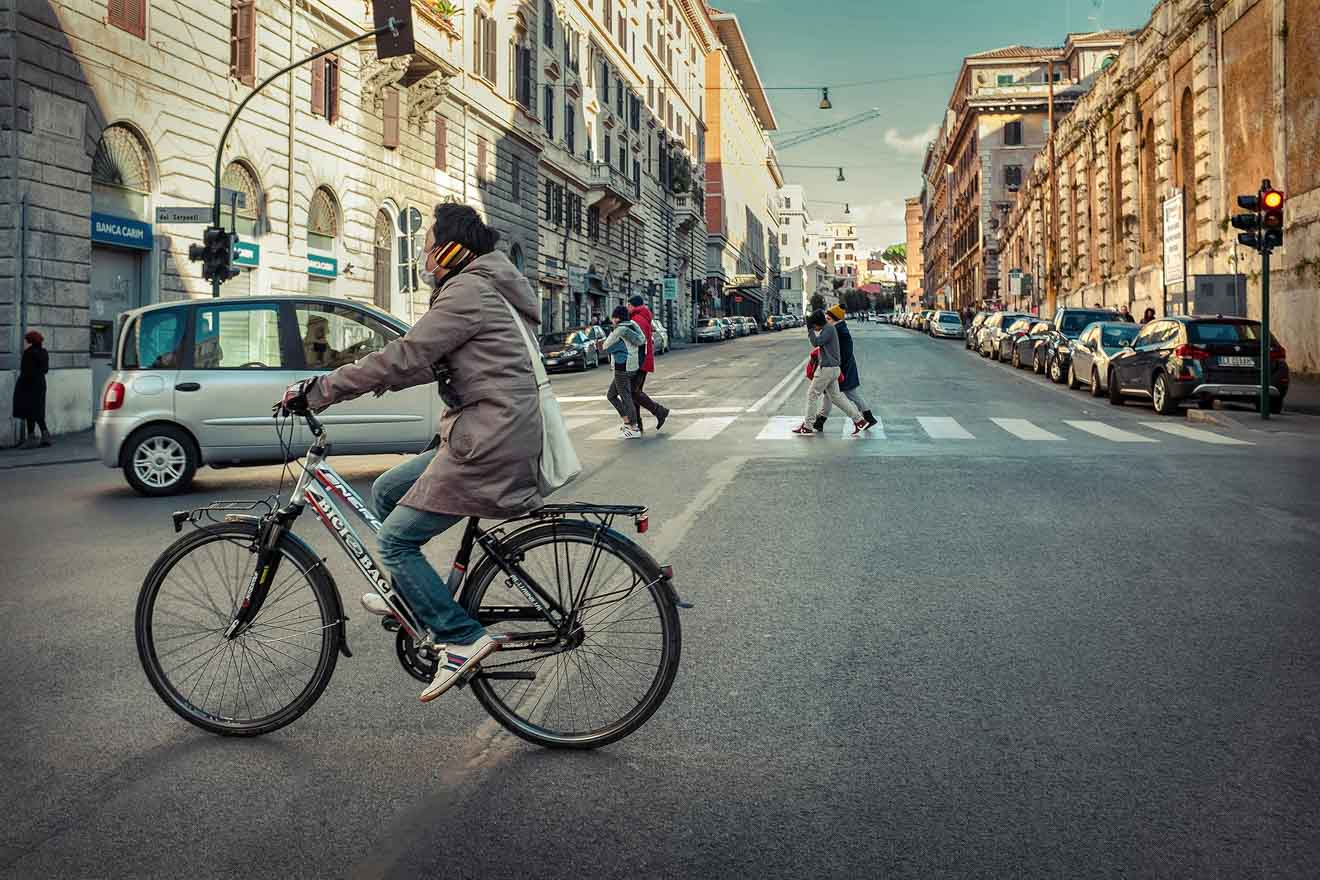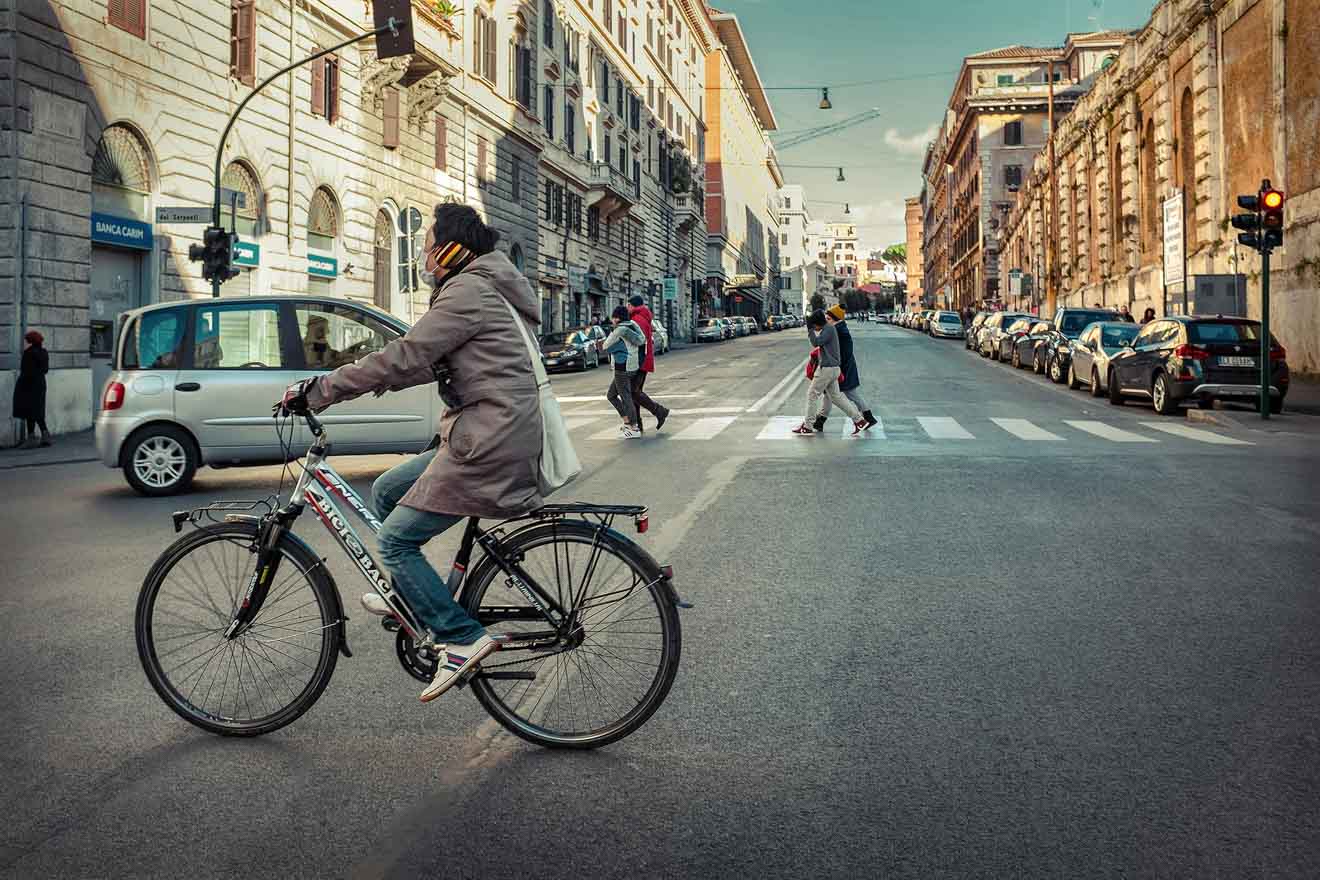 As I said, there are lots of places to rent bicycles in Rome, but here are a few that I recommend:
Wheely Bike Rental & Tour– A company based in Rome that rents both bicycles and E-bikes. You can book online and then pick up your bicycle right by the Colosseum. You can rent the bicycles for one hour for 4€ or for the day for 12€. You can rent an e-bike for the day for 25€.
TopBike Rental & Tours – A company created by Roman bicyclists so they know what they're talking about. You can choose from a variety of bikes, depending on what you're looking for. They also have tandem bicycles if you want to ride with a friend! E-bikes are also an option here as well. You can book online and pick up your bike at their shop, which is down the street from the Colosseum.
BimBim Bikes – A booking platform for bike rentals that rents bikes in cities all over the world. They work with local bike shops and providers to give you a HUGE range of options. The best part is you don't have to go to just one area – you can pick out your bike based on where you're going to be, for example Termini Station or the center!
BONUS 3: Bicycle Tours in Rome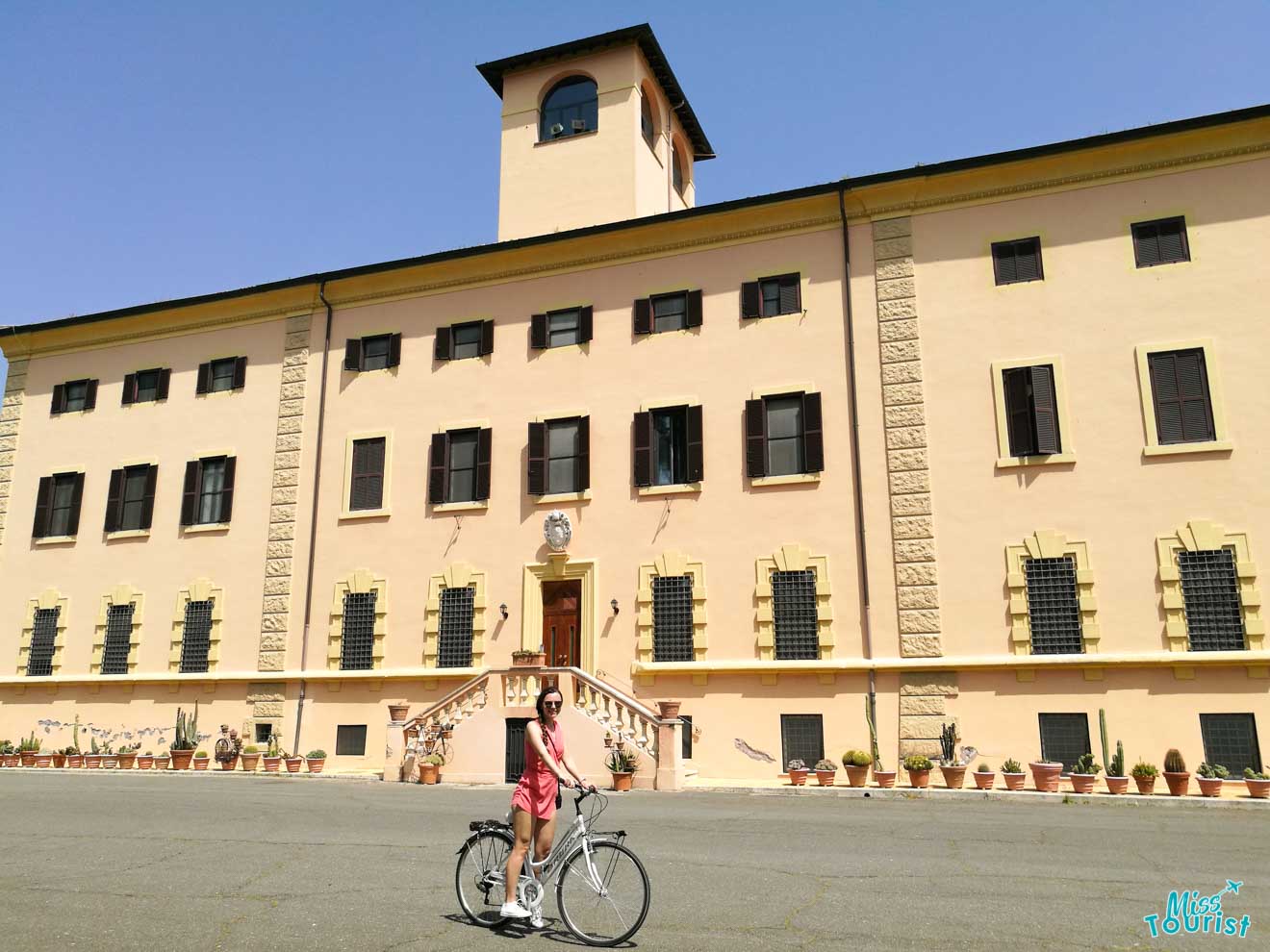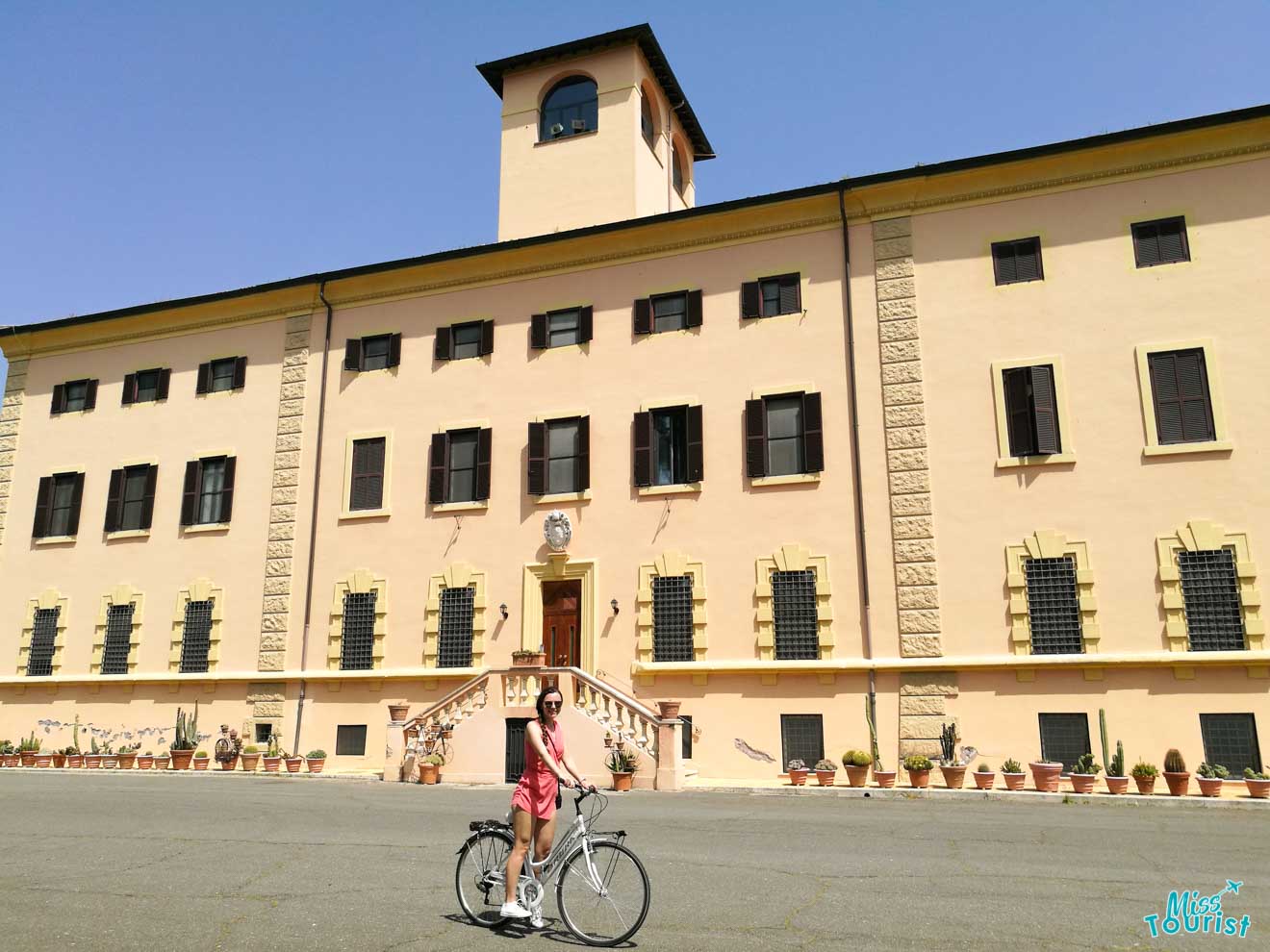 There are so many Rome bike tours that it's almost hard to choose which one would be the most fun! There are also electric bike tours in Rome that take you all around the city or even to the outskirts to visit things tourists don't usually get to see.
Here are a few options for great bike tours I found for you:
Half-Day Ancient Appian Way & Aqueducts Bike Tour: This 4.5 hour tour departs from a place close to Termini Station and it will take you out into the Roman countryside. This isn't something that most tourists get to visit during their time in Rome and what better way to do it than by bicycle? The tour costs US $64 a person.
Roma by Night: E-Bike Tour: You'll zip through at dusk and head to an amazing spot during sunset time. Your guide will tell you about everything you're seeing, but you'll find that nothing can beat watching the sunset over the city. This 3-hour tour costs US $53 a person.
E-Bike Night Tour with Food and Wine Tasting: This tour has a little bit of everything. You get to visit all the sights of the Eternal City and you'll have enough time to enjoy the view at dusk. Then, you get to ride around moonlit streets and through back streets that most tourists never go down. This 4-hour tour costs US $64 a person.
---
Conclusion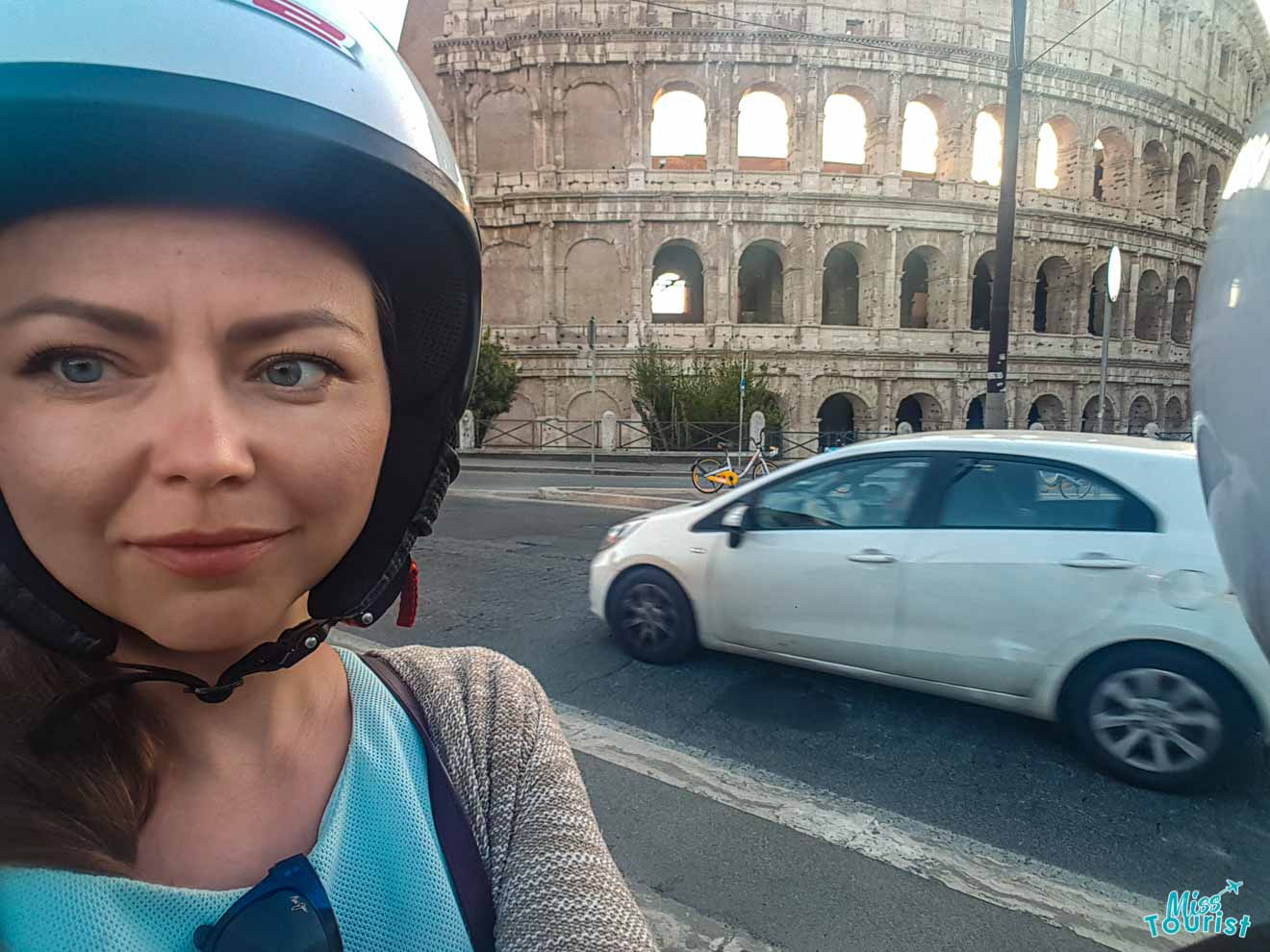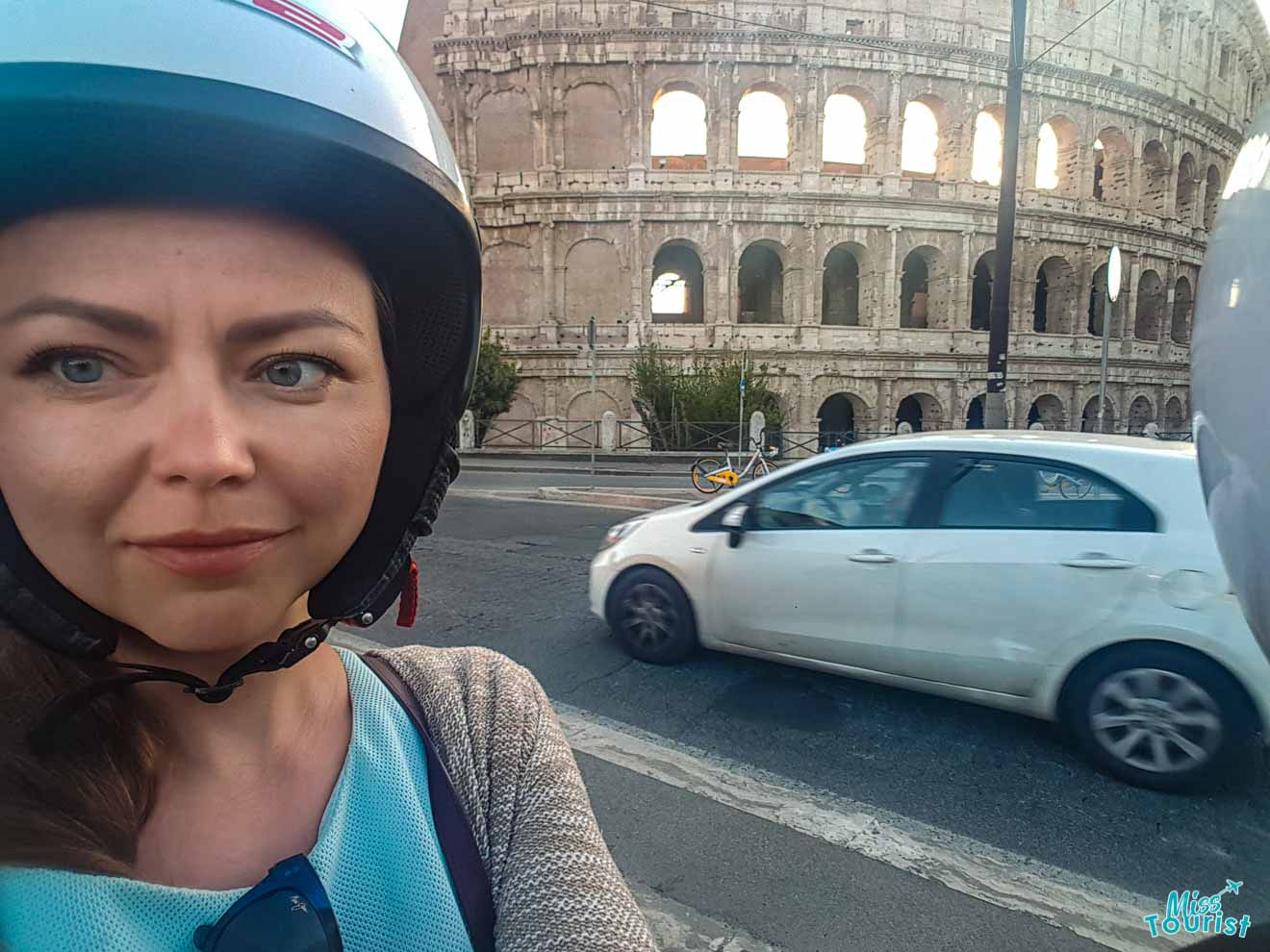 In this article, I've talked about the 7 most important things you need to know when you decide to rent a scooter or Vespa in Rome, as well as the best motorcycle and bike tours in the city.
At the end of the day, it's up to you what mode of transportation you choose for your trip. After all, if you always dreamed of riding a scooter, Italy is definitely one of the top places to do it! Personally, I loved renting a scooter in Rome because of the freedom it gave me – the transportation system does not work really well in Rome especially in the early morning (when all the attractions are empty) or at night, so it gave us fantastic flexibility to go wherever we wanted and whenever we wanted! It was awesome!
Another big plus is that you can get up all 7 hills without sweating like crazy. Trust me, Rome gets HOT and you'll be thanking me when you see people walking up those hills. So if you decide to rent a scooter in Rome during your visit, this article has shown you everything you need to know about how to do it!
Let me know about your experiences renting a scooter or Vespa in Rome! Enjoy your visit!
Yulia
---
Pin it for later!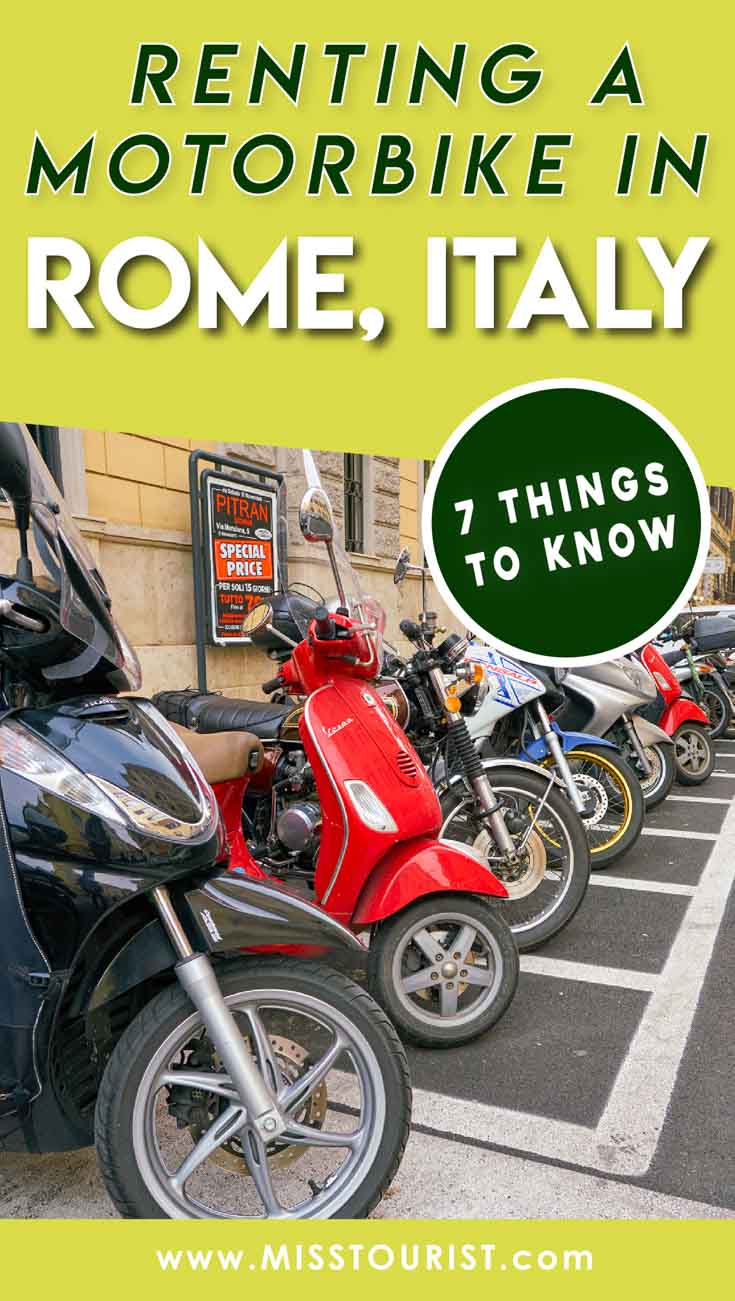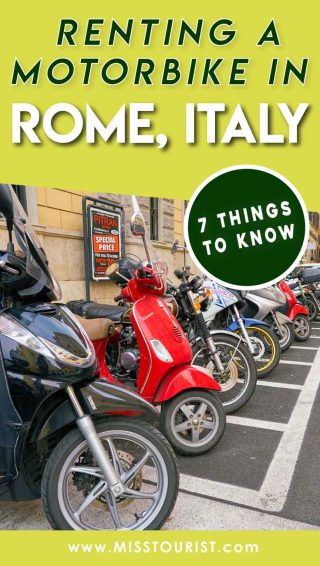 Pin it for later!