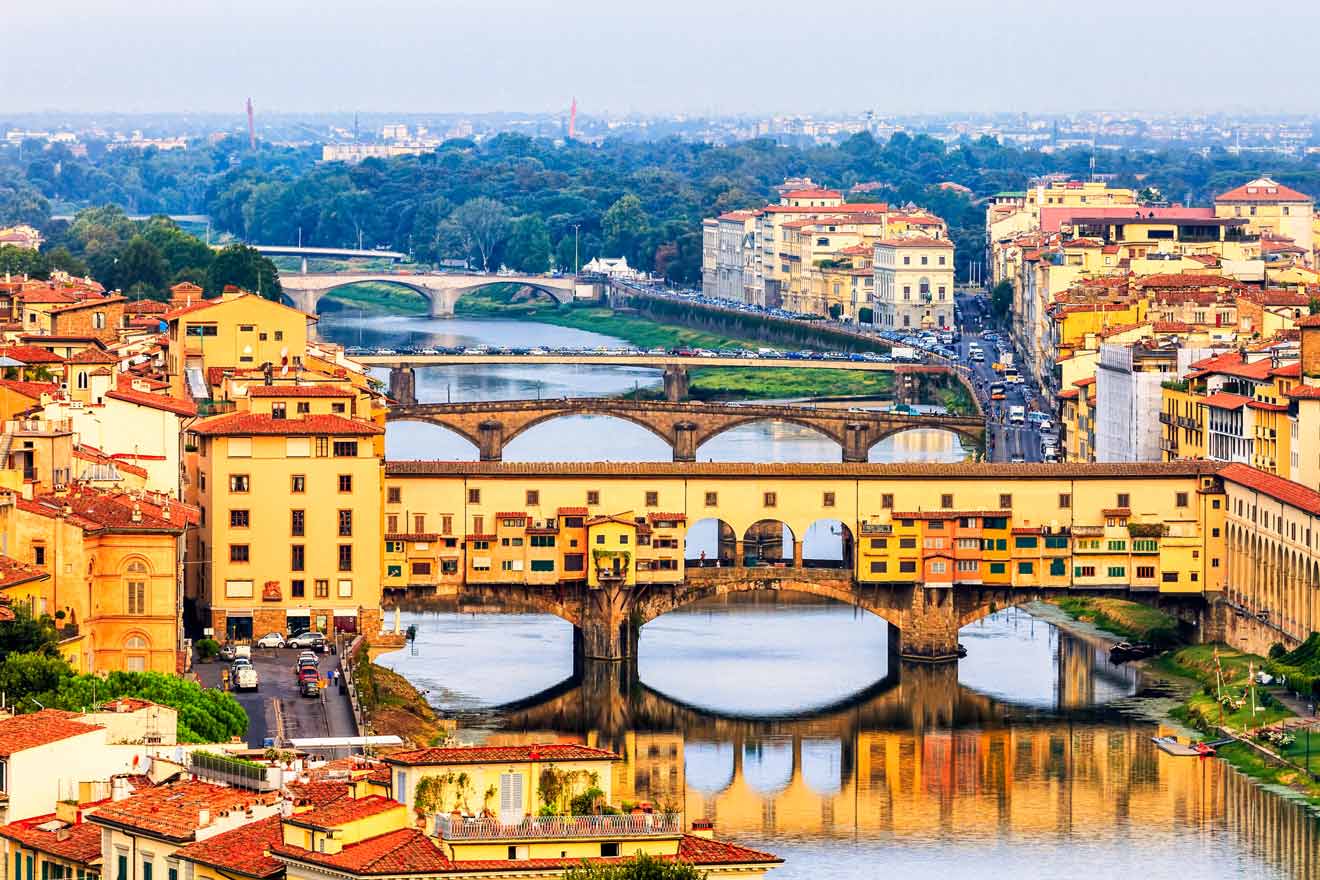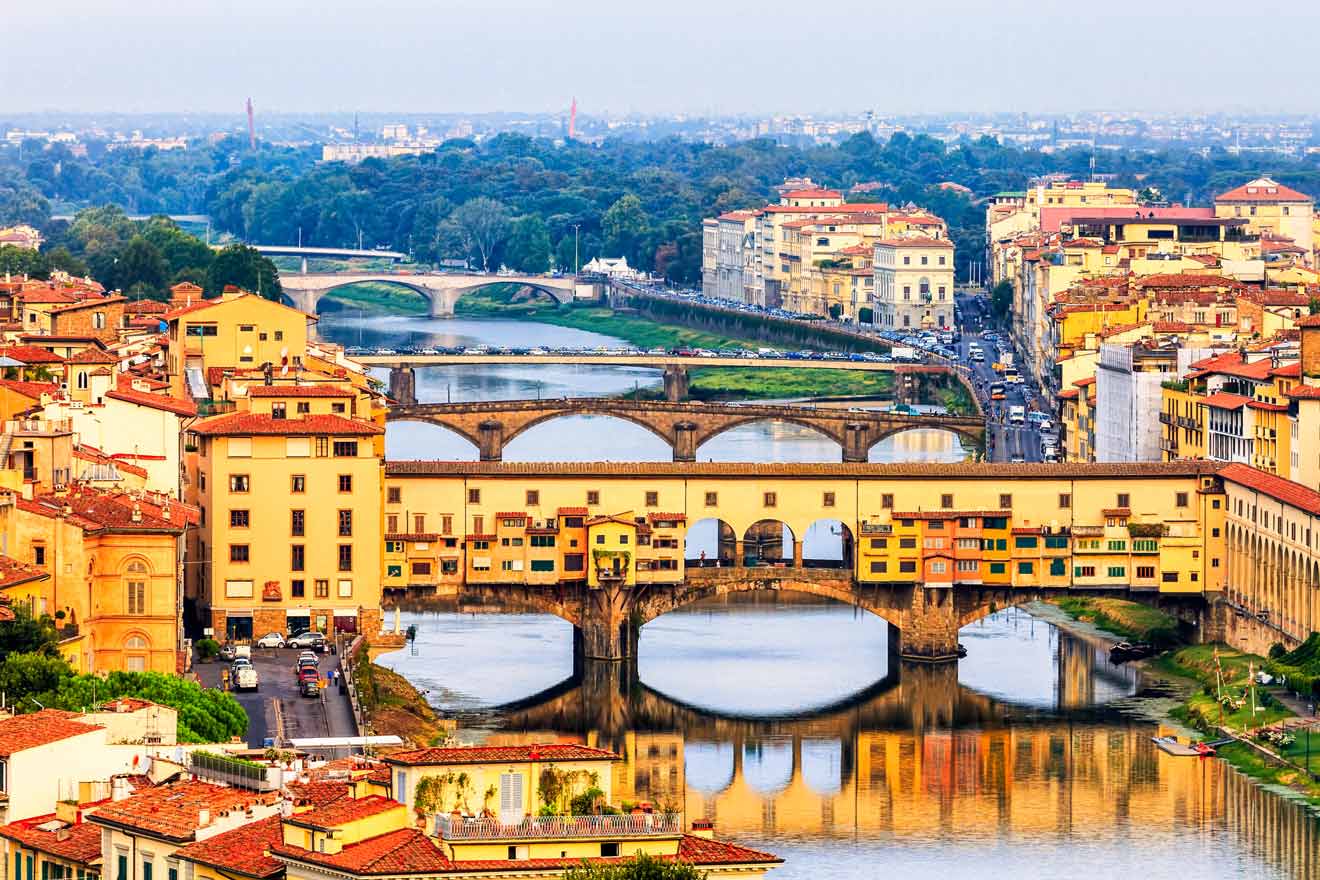 Ready to visit Florence and fall in love with one of the most beautiful cities in the world, to admire centuries-old art, and marvel at the architectural geniuses that managed to create such amazing buildings?
Let's embark on a trip and discover the best things to do in Florence, Italy, together! In this post, you'll find the best attractions in the city, plus super helpful information on where to stay in Florence and some tips on how to get around the city!
I recently went on a trip to this fabulous place in Tuscany, and I've got to admit that I would go back again and again! I was completely taken aback by all the art, gardens, and beautiful Palazzos and came back so eager to tell you about it!
Andiamo, we've got lots to see!
If you are in a hurry
I know some of you don't have the time to read this whole list of things to do in Florence, so here is a quick summary of the main points.
Here are the main things to book in advance:
And here are the best hotels: Relais Santa Croce (Luxury), B&B San Remigio (Mid-range), Palazzo Lombardo (Budget)
1. Admire the art at Uffizi Gallery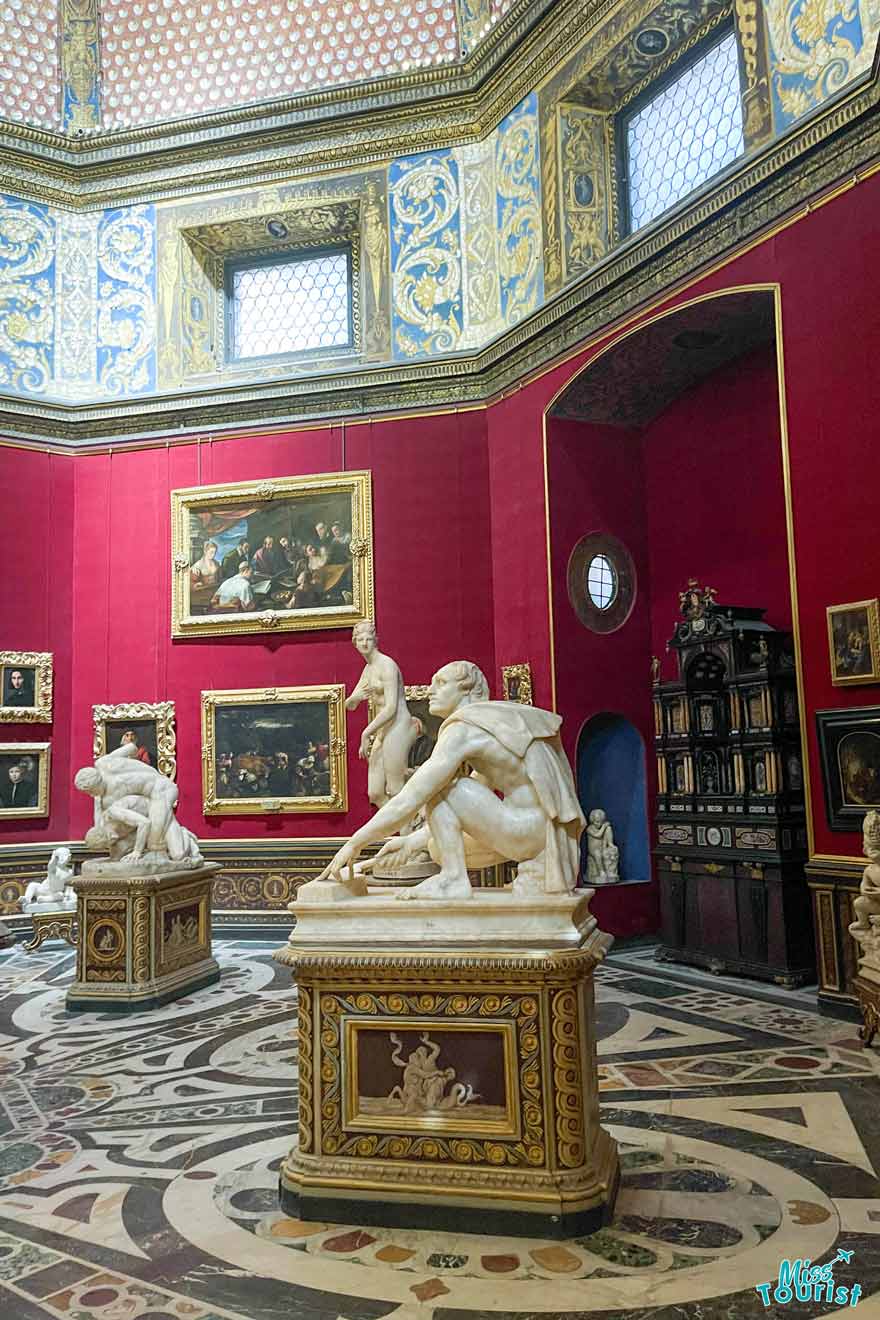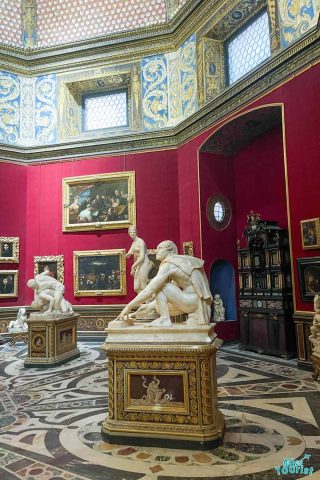 Are you ready to be mesmerized by Botticelli's Birth of Venus and other unique works of art by famous artists from the Renaissance period like Leonardo da Vinci and Michelangelo?
Ufizzi Gallery beats any expectation you'd have about an art museum, and I'm telling you this from experience!!
Located just off of the Piazza Della Signoria and Loggia Dei Lanzi open-air museum, Ufizzi Gallery can be found in a marvelous building with a courtyard, and hosts one of the most famous collections of Renaissance art in the world!

NOTE: I can't emphasize enough how important it is to buy your tickets in advance for Uffizi Gallery (and all the other attractions in Florence). The queues are so long, that you'll end up wasting lots of precious time. Plus the prices are lower when you buy them online.
Once you enter the art museum, you'll be transported to a whole other world. You won't feel the hours passing, the big crowds, or anything else. At least I didn't!
All I could see was the beauty of every painting, the impressive colors, and the art and precision!
PRO TIP: If you're planning to see other attractions on the same day you visit Uffizi Gallery, I recommend picking something that isn't as big as Capelle Medicee or Galileo Museum since you'll be super tired after visiting this Museum
PRICE: €23
2. Explore Piazza del Duomo and all its attractions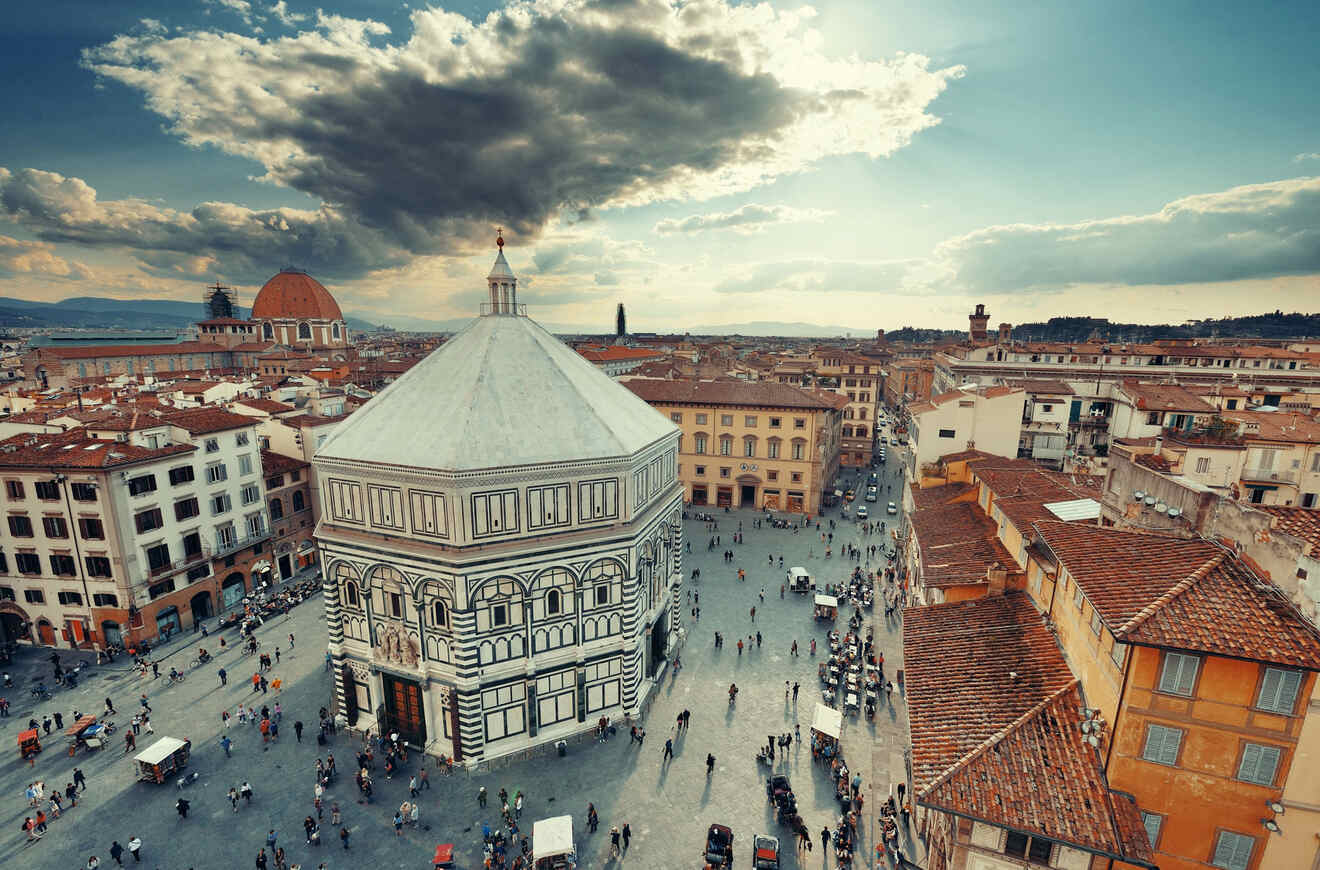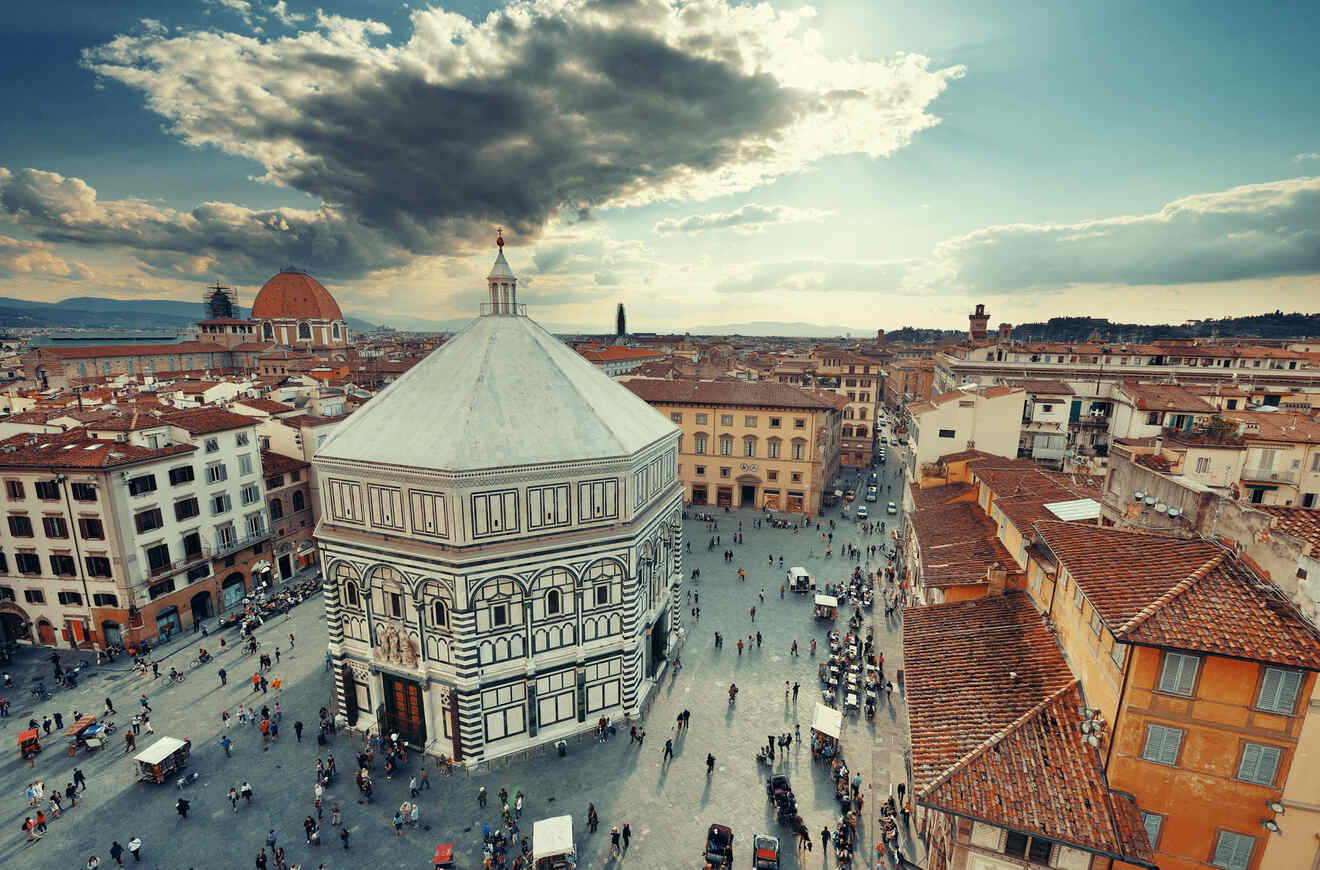 This is a wonderful place to start your Florence visit!
Filled with incredible attractions, amazing restaurants and a fabulous atmosphere, Piazza del Duomo hosts the city's crown jewel: Cattedrale di Santa Maria del Fiore (The Duomo), which you can visit on a guided tour, plus a few more that I'll talk about below!
You can buy different passes from their website depending on how many attractions you want to see. I recommend buying the Brunelleschi Pass, which costs €30, and is valid for 3 days (from the day selected) and gives you access to all the attractions in Piazza del Duomo.
However, if you just want to visit just a particular attraction don't worry I'll offer the separate prices below.
2.1 Cattedrale di Santa Maria del Fiore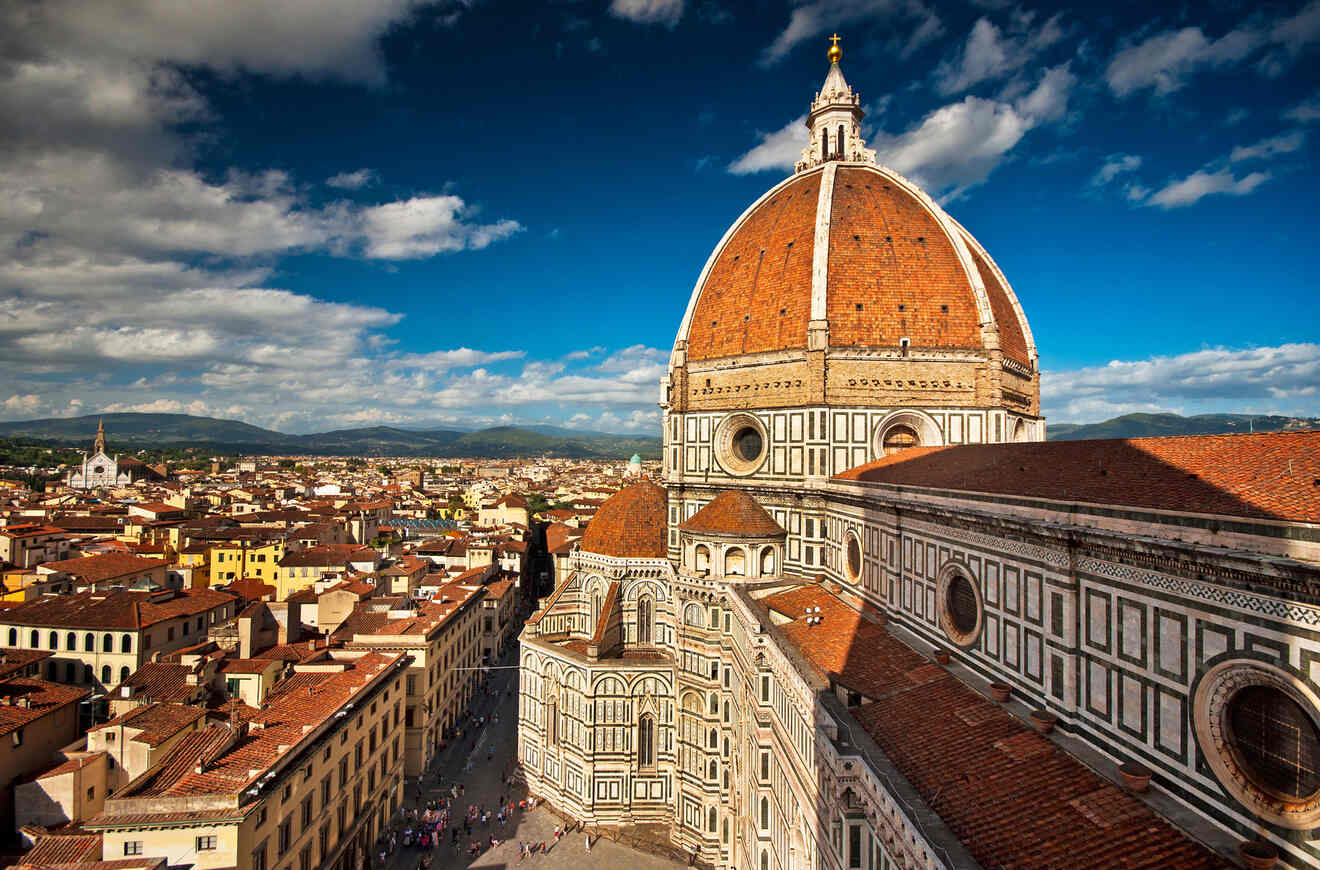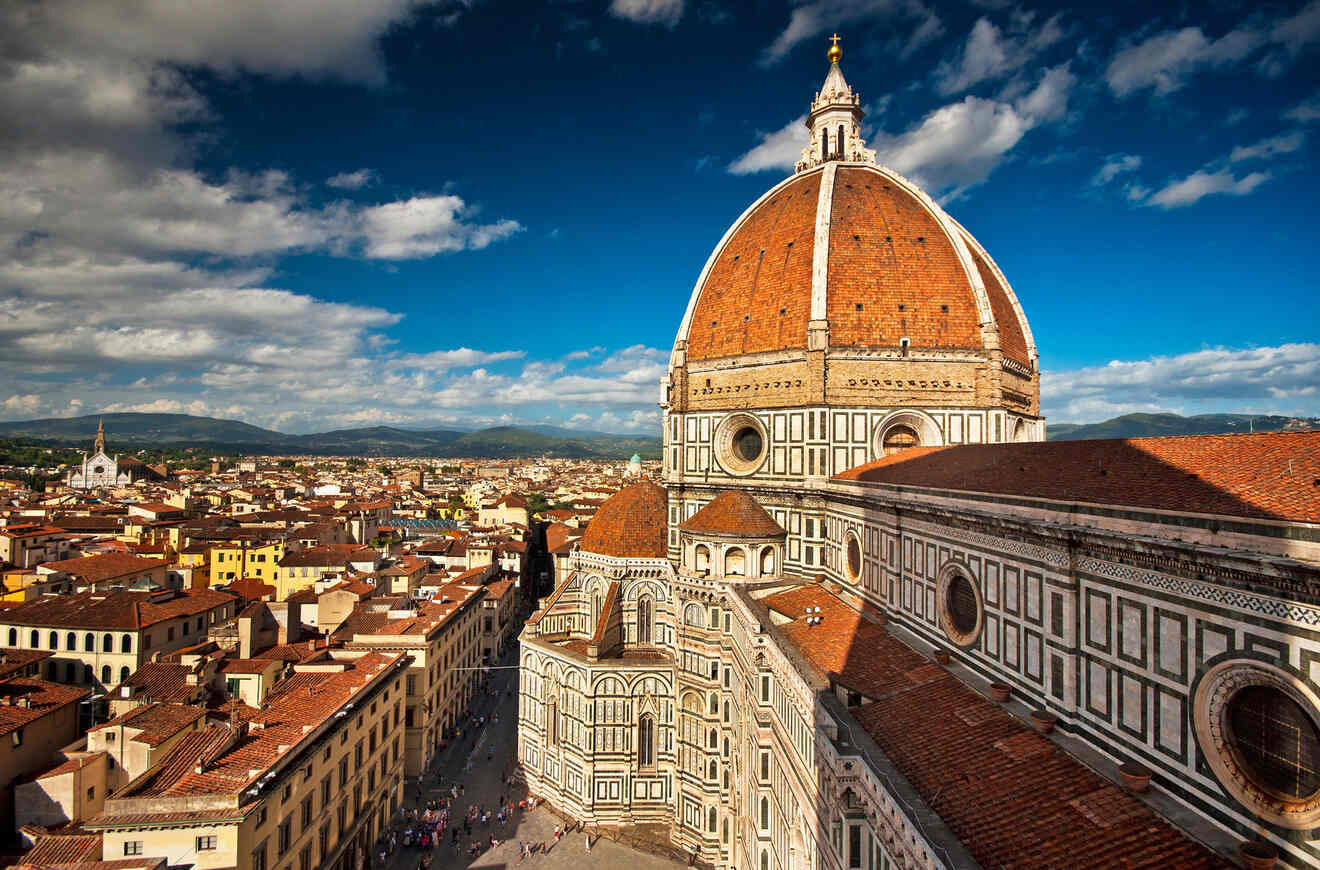 Also known as The Duomo, Santa Maria del Fiore Cattedrale (Saint Mary Cathedral) is Florence's central piece, and simply put, a breathtaking work of art if you ask me.
The whole visit is culminated by climbing the 463 stairs to the top of the dome. This is one of my favorite things to do in Florence and something that I would recommend to anyone who wants to get the best city views and admire the stunning interior of the Dome. Art lovers will love the paintings representing "The Last Judgment," which are incredible!
NOTE: If you've got any type of respiratory problems, you're claustrophobic or you simply can't be in small, dark places, think twice before climbing the stairs. Although I don't suffer from any of that it still felt a bit difficult, but worth it once you get to the top!
Once you climb down, you'll be able to visit the actual interior of the Florence Cathedral. Make sure you do that because the atmosphere is so nice in here, and you can just rest on one of those benches after all that effort!
PRICE: Free for the cathedral, €15 for the Dome
2.2 Baptistery of St. John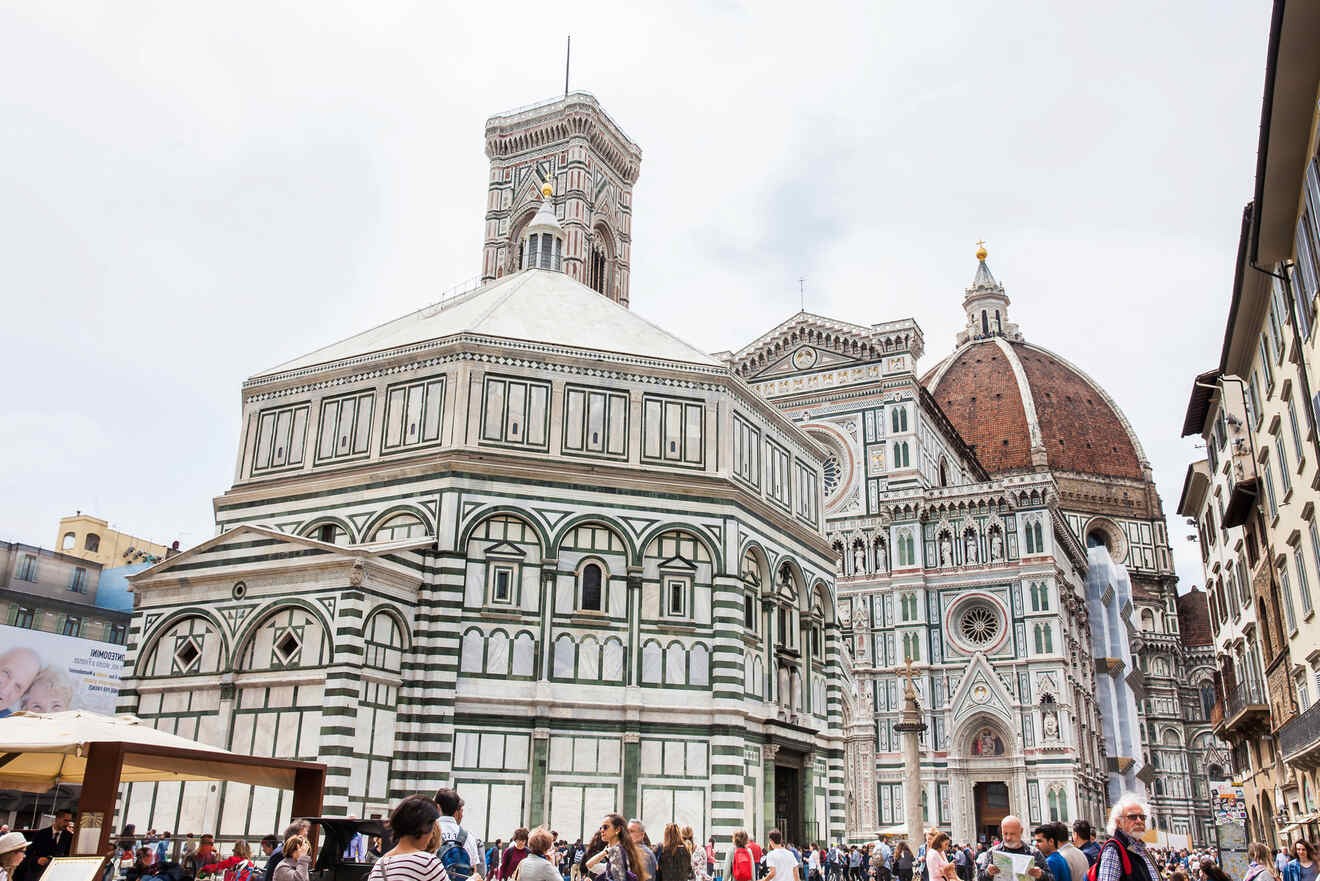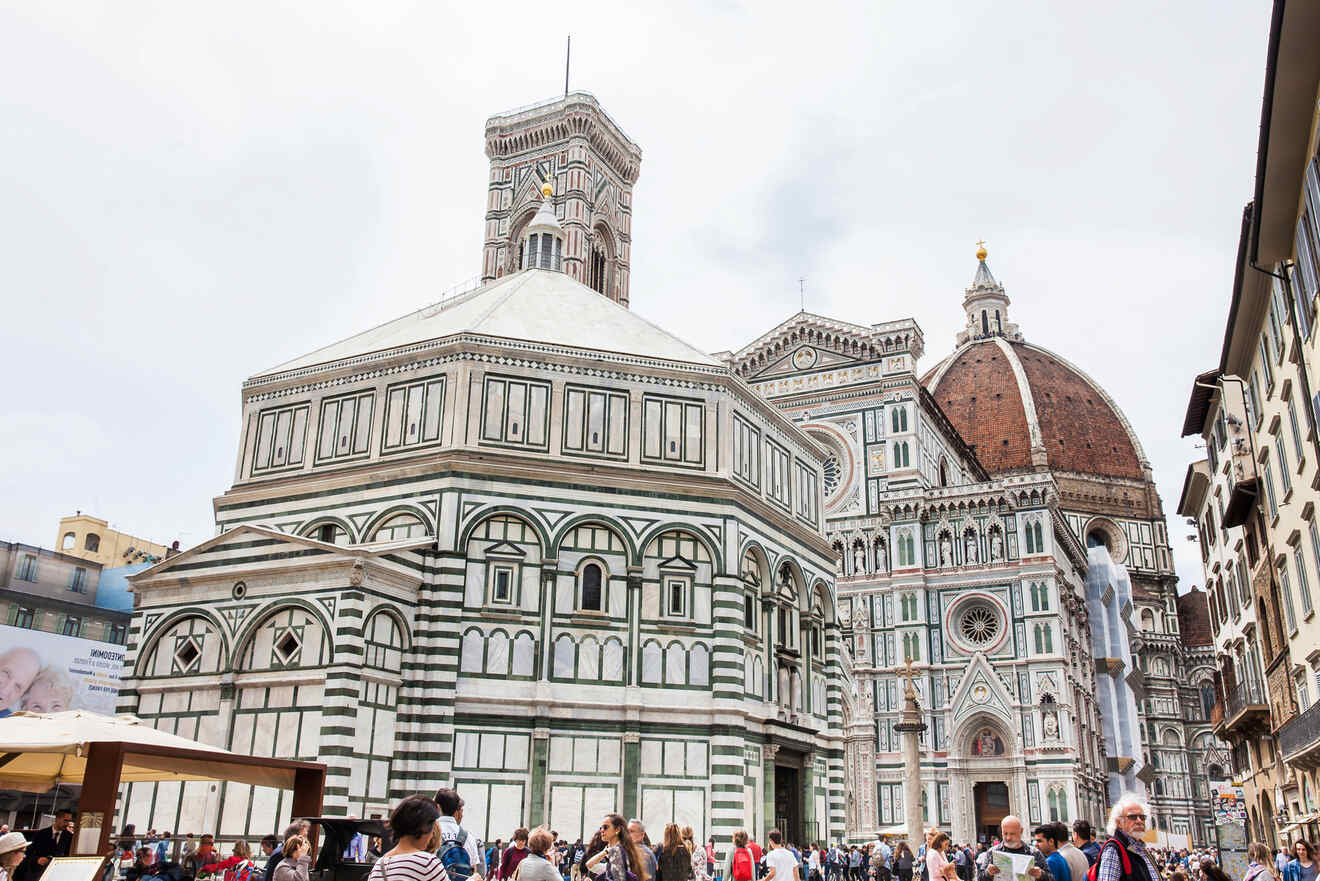 This is one of the oldest buildings in the city and it's located right across from the Florence Cathedral!
You'll notice its giant sculptured bronze doors representing the different religious scenes and the "Florentine design," which resembles the one of the Cathedral.
Go inside the Baptistery to see the beautiful ceiling! It features a golden Byzantine-style fresco that also shows "The Last Judgement" and many other Bible and Genesis stories!
PRICE: €10
2.3 Giotto's Bell Tower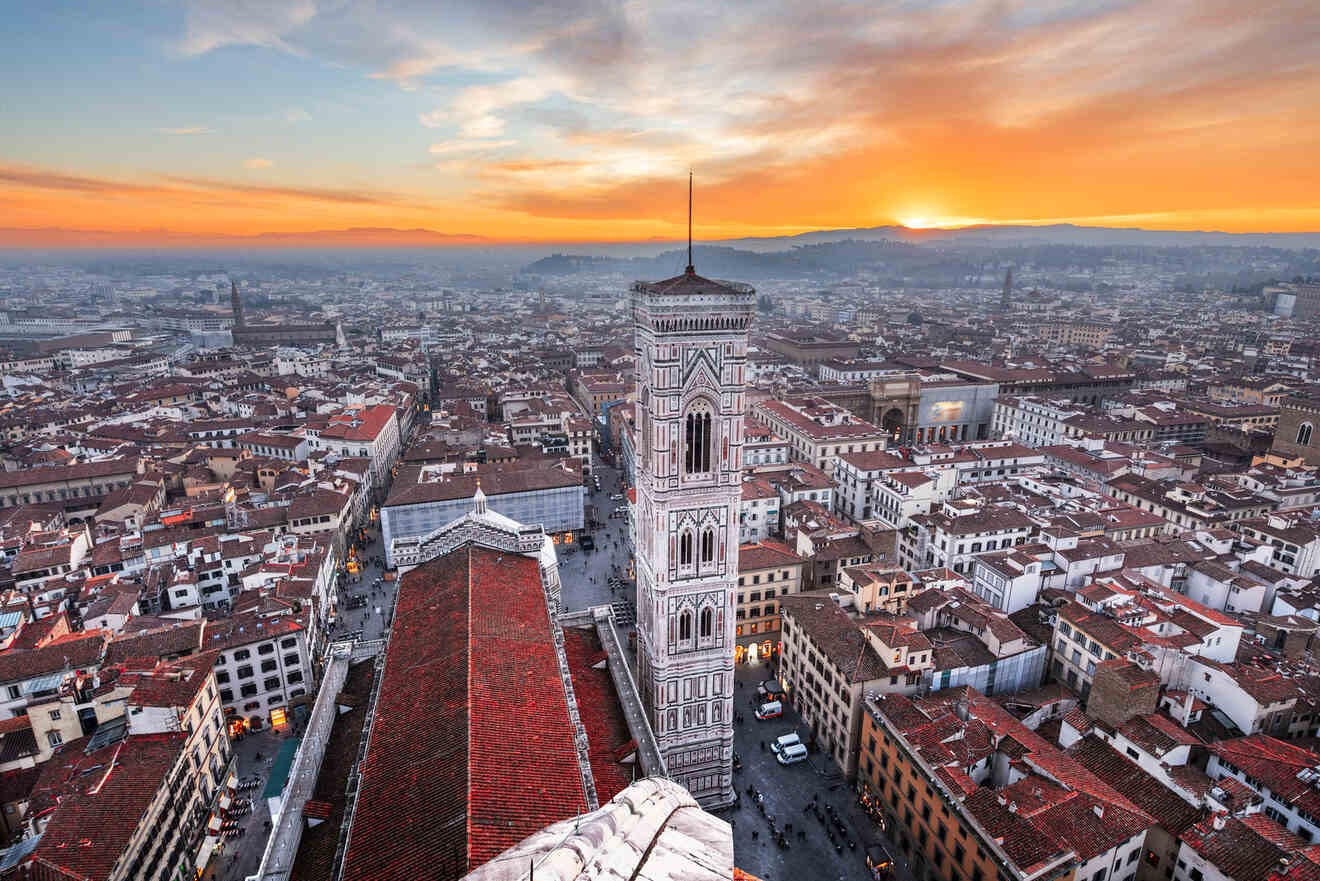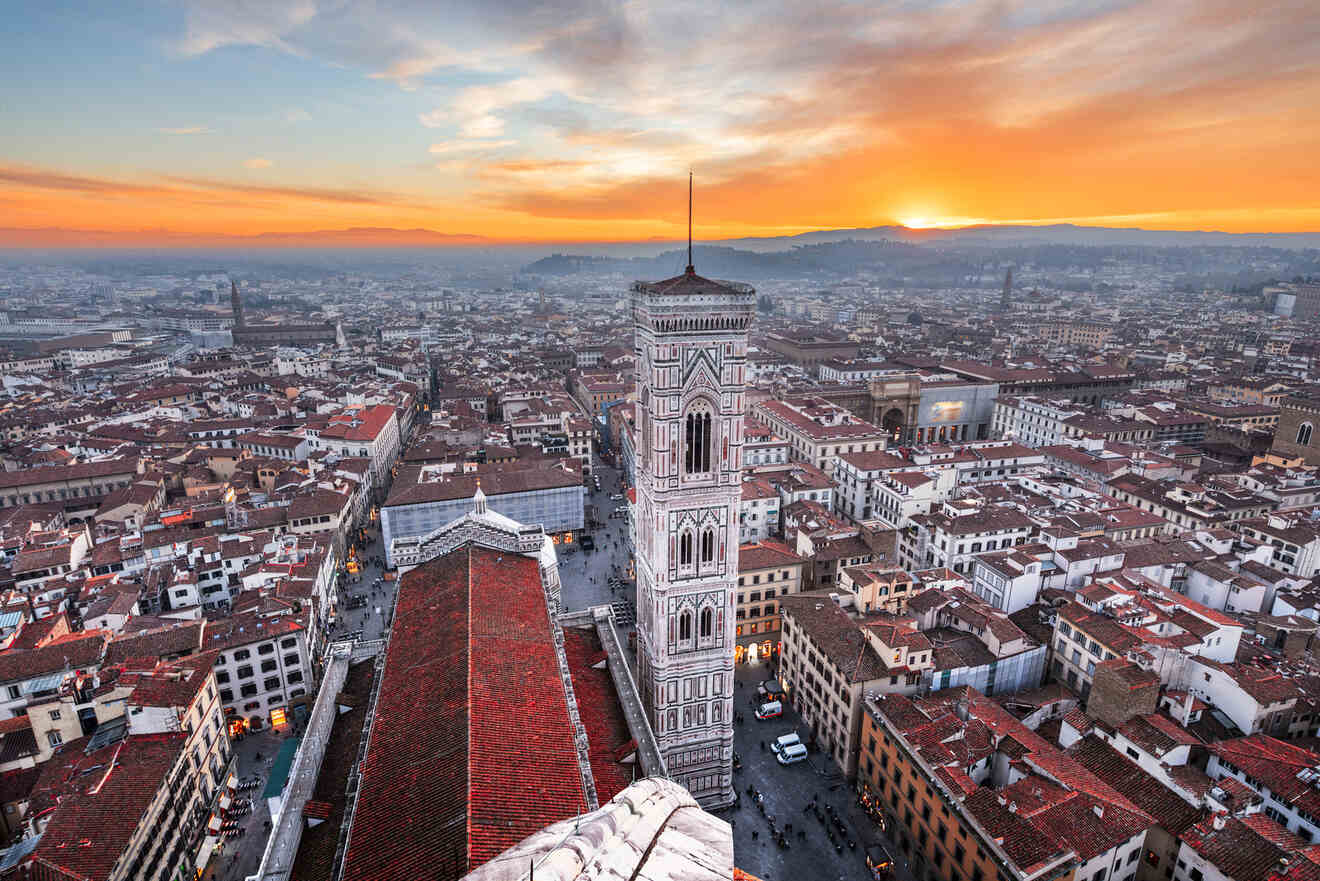 Although many believe that Giotto's Bell Tower is connected to the Florence Cathedral, this is a separate building.
A fine example of gothic architecture, the Tower has an incredible design and you'll see the same polychrome marble decoration that the Cathedral has. The tower is split into 5 different levels and yes this one also has lots of stairs: 414 to be more exact!
PRO TIP: Whatever you do, make sure you visit the bell tower at Florence Cathedral and Duomo on different days because trying to climb almost 900 steps in one day may be too much even for fit people!
PRICE: €12
3. Catch a sunset from Piazzale Michelangelo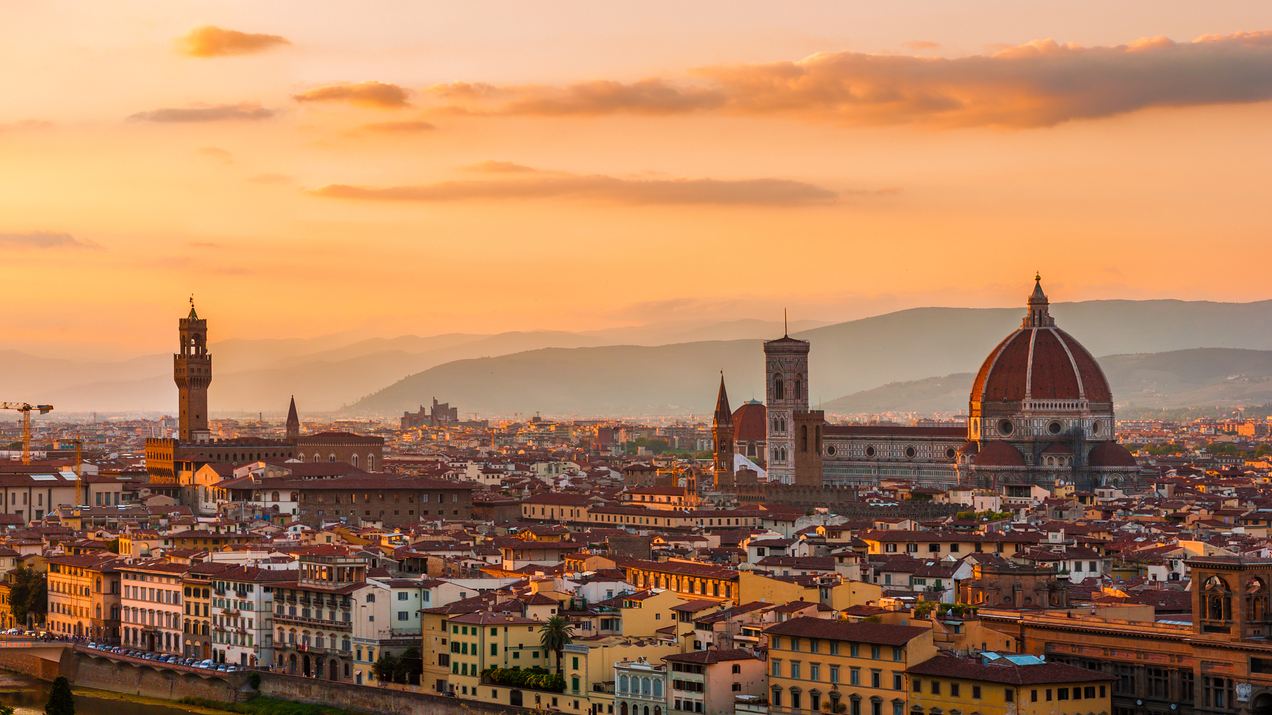 Honestly, the best way to enjoy your time in Piazzale Michelangelo is if you go there at sunset!
Located on the South Bank of the Arno River, Piazzale Michelangelo sits on a hill high above the city and offers a great vantage point over the city!

The whole road to the Piazzale Michelangelo is so lovely and you can make your way there by walking (that's what I did) it takes 30 minutes to reach the Piazza from the city center. Or you can jump on a hop-on hop-off tour and get there quicker!

On the way there, you'll go right through a beautiful rose garden! The square is surrounded by 2 gardens: Giardino Delle Rose and Giardino dell'Iris. I only got to see the roses since the Iris flowers (which live cohesively with an olive grove), were already withered, but it's worth seeing them both if you're coming here!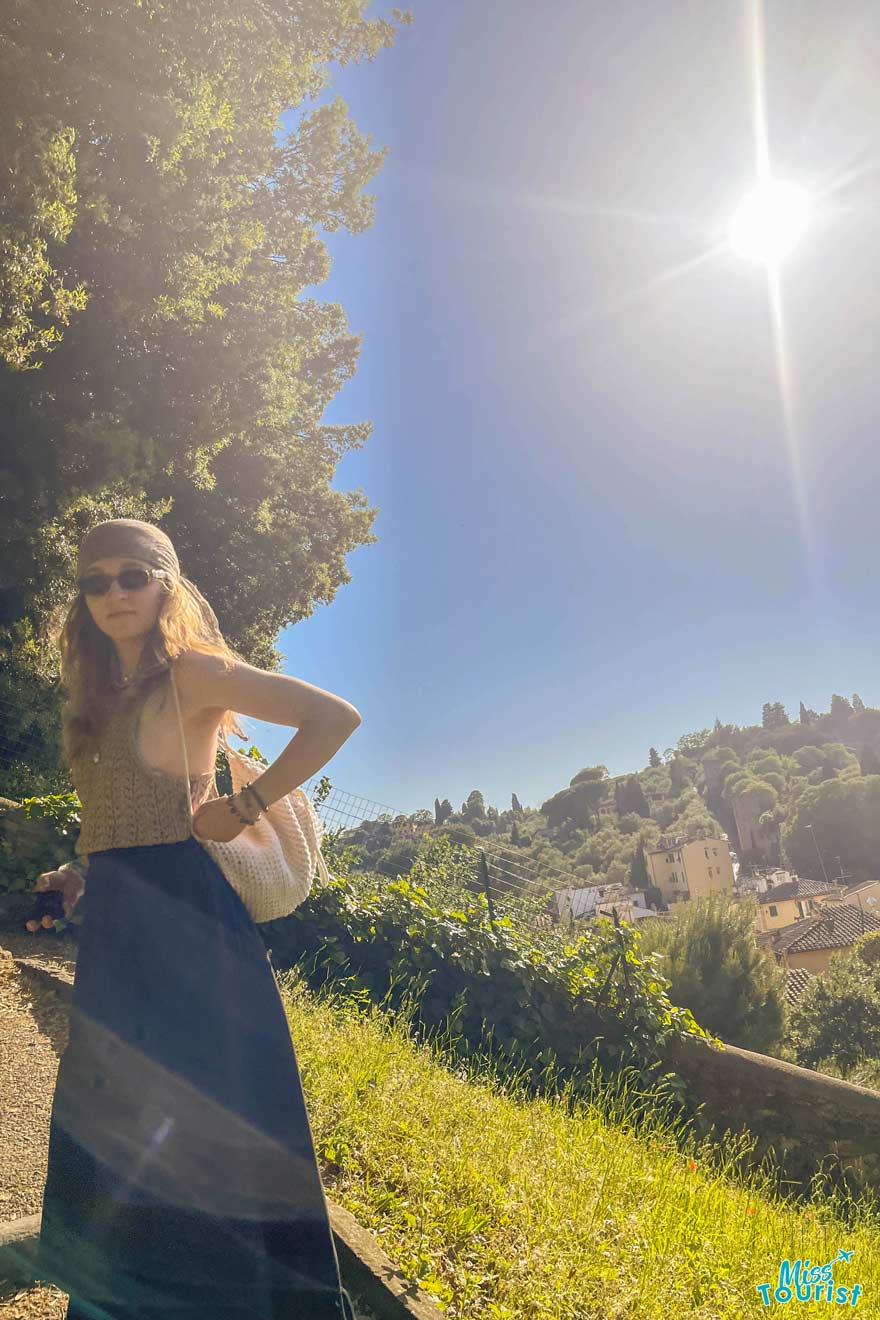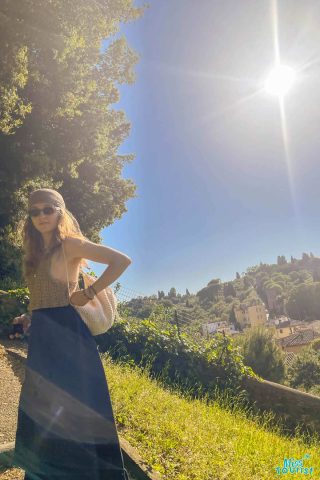 Once you get to the top you'll see a wonderful Bronze statue of David and a few vendors selling their art or other types of souvenirs around the square.
Piazzale Michelangelo isn't super big (I thought it was like Piazza del Duomo), so besides the vendors and a restaurant, the views are the main attraction here.
You'll get to see the whole city, including River Arno, and trust me, Florence turns into an art painting during the golden hour!
4. Learn some history at Capelle Medicee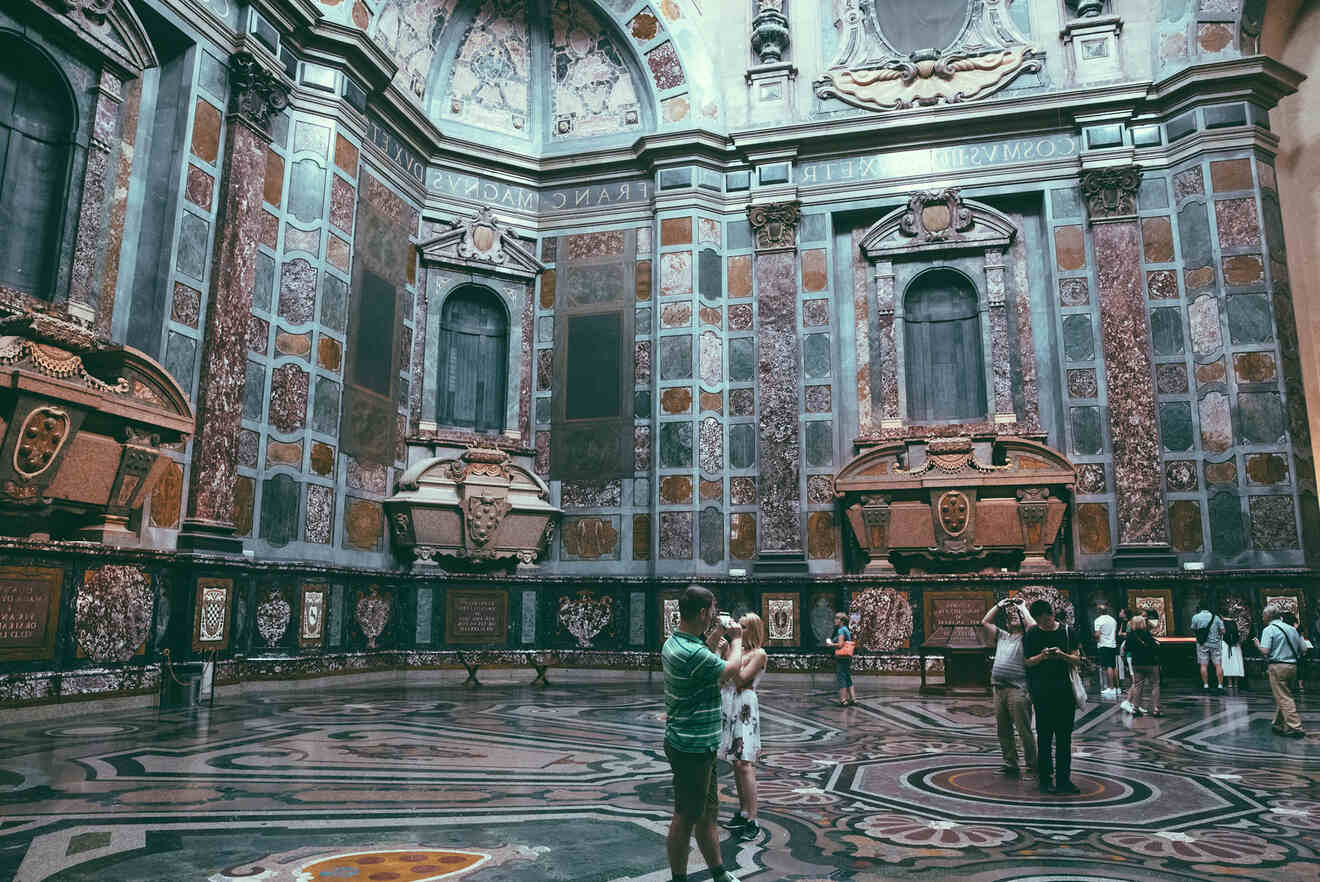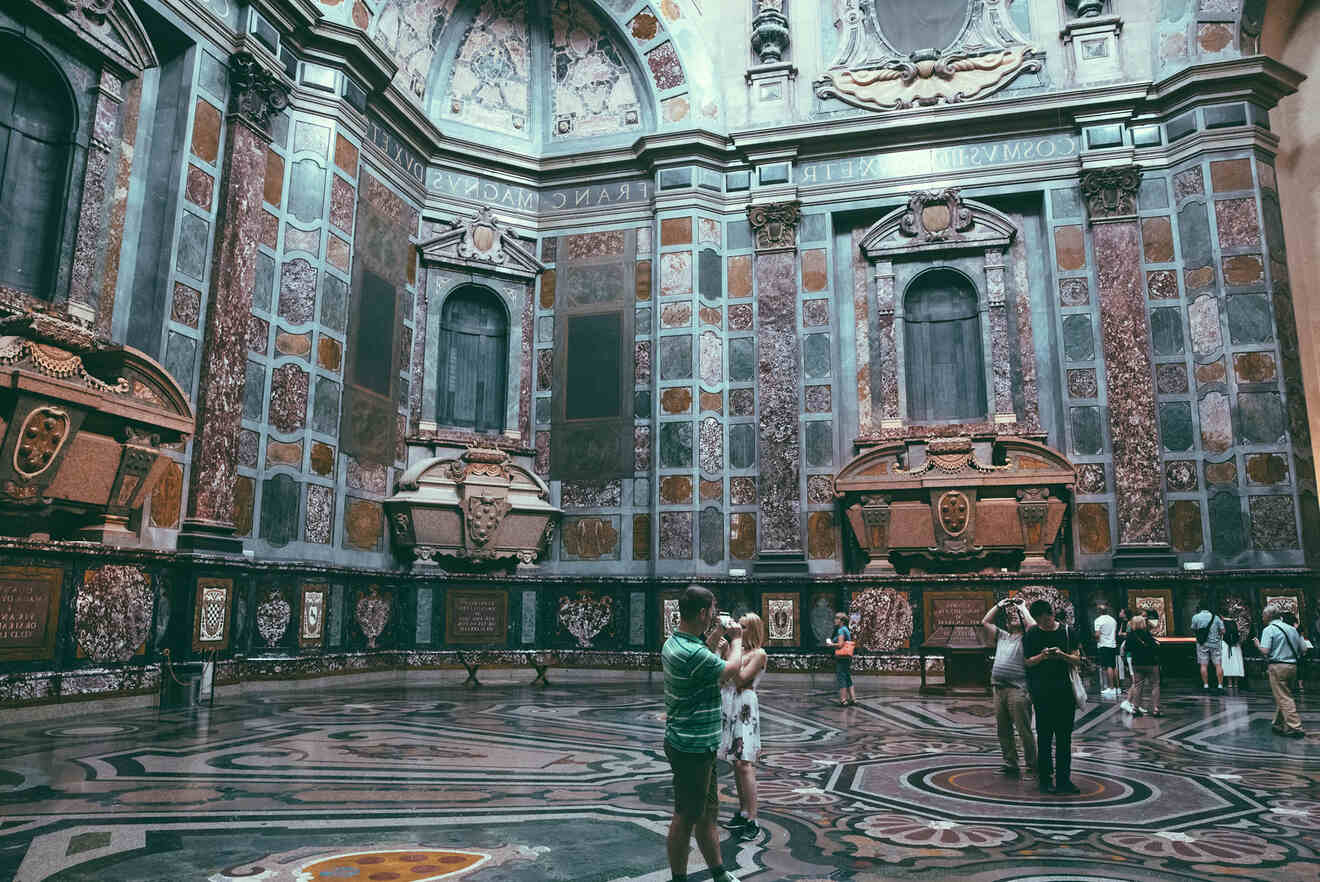 I guess we all know a bit about the Medici family. They were an Italian banking family who ruled over Florence for some time.
The Medici Chapels are the family's final resting place and are split into 3 distinct parts: the crypt, the Cappella dei Principi (Chapel of the Princes), and the New Sacristy. Its Baroque style, the dome, and the materials used to show the family's grandeur and their beautiful pieces of art are worth seeing!
I've got to warn you the atmosphere is a bit weird here, I couldn't stay for too long but it's worth visiting it for The Chapel of the Princes, which has a dome designed by Buontalent and the tombs of 6 of the Medici Grand Dukes.
PRICE: €15
5. Take lots of pictures at Palazzo Pitti & Boboli Gardens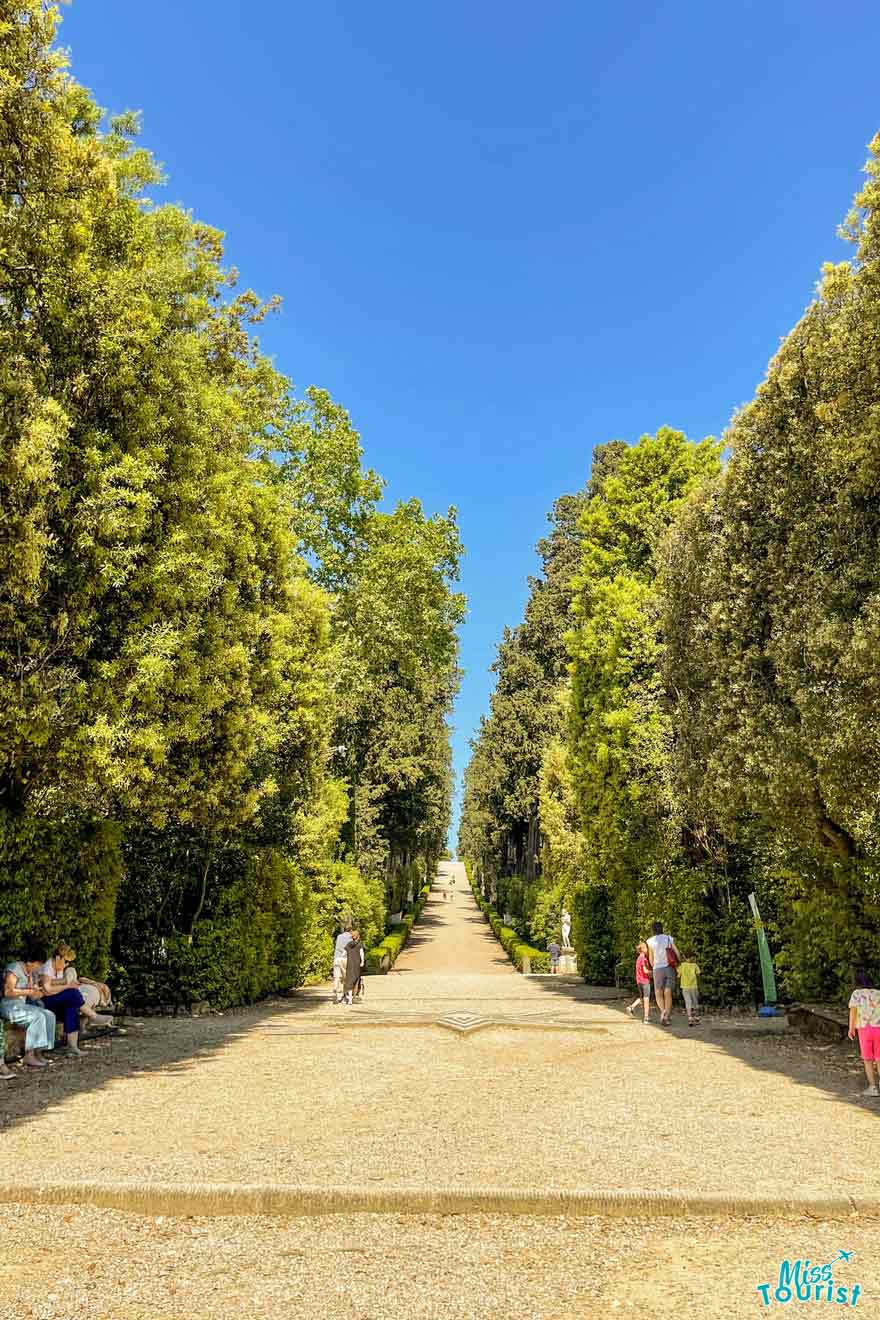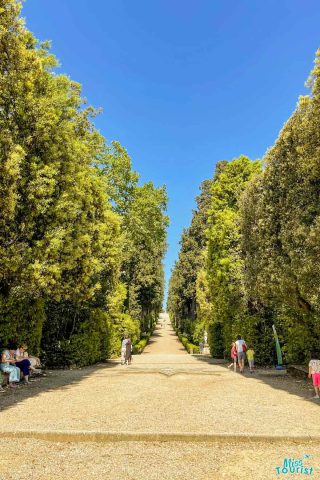 An important landmark for the city, Palazzo Pitti is located on the south banks of the Arno River, near Piazza Santo Spirito, and it should be at the top of your Italy itinerary!

Initially built in 1457 for the Pitti family and designed by Filippo Brunelleschi, the Palazzo Pitti later became the official residence for the Medici Family. Now it hosts different museums, a large art collection, and the beautiful Boboli Gardens in the back.

Boboli Gardens are the largest monumental green area in Florence! Of course, besides all the trees and flowers, there are plenty of unique statues and sculptures in true Florentine style!
I visited Palazzo Pitti and Boboli Gardens on different days, but I think combining them is better since they're basically in the same spot. I would start with the Palace and then go up to the Gardens.
PRO TIP: Bring a bottle of water before you head to Boboli Gardens, they're enormous, and I didn't see any shops or vendors there.
NOTE: If you are visiting each on different days, make sure to double-check the entrance locations because google maps might take you to the wrong gate near Bardini Gardens that isn't open. You'll find the right entrances in Pitti Square or in Porta Romana Square.
PRICE: €16 (Palace only) €21 (Palace and Boboli Gardens)
6. See the Statue of David at Galleria dell'Accademia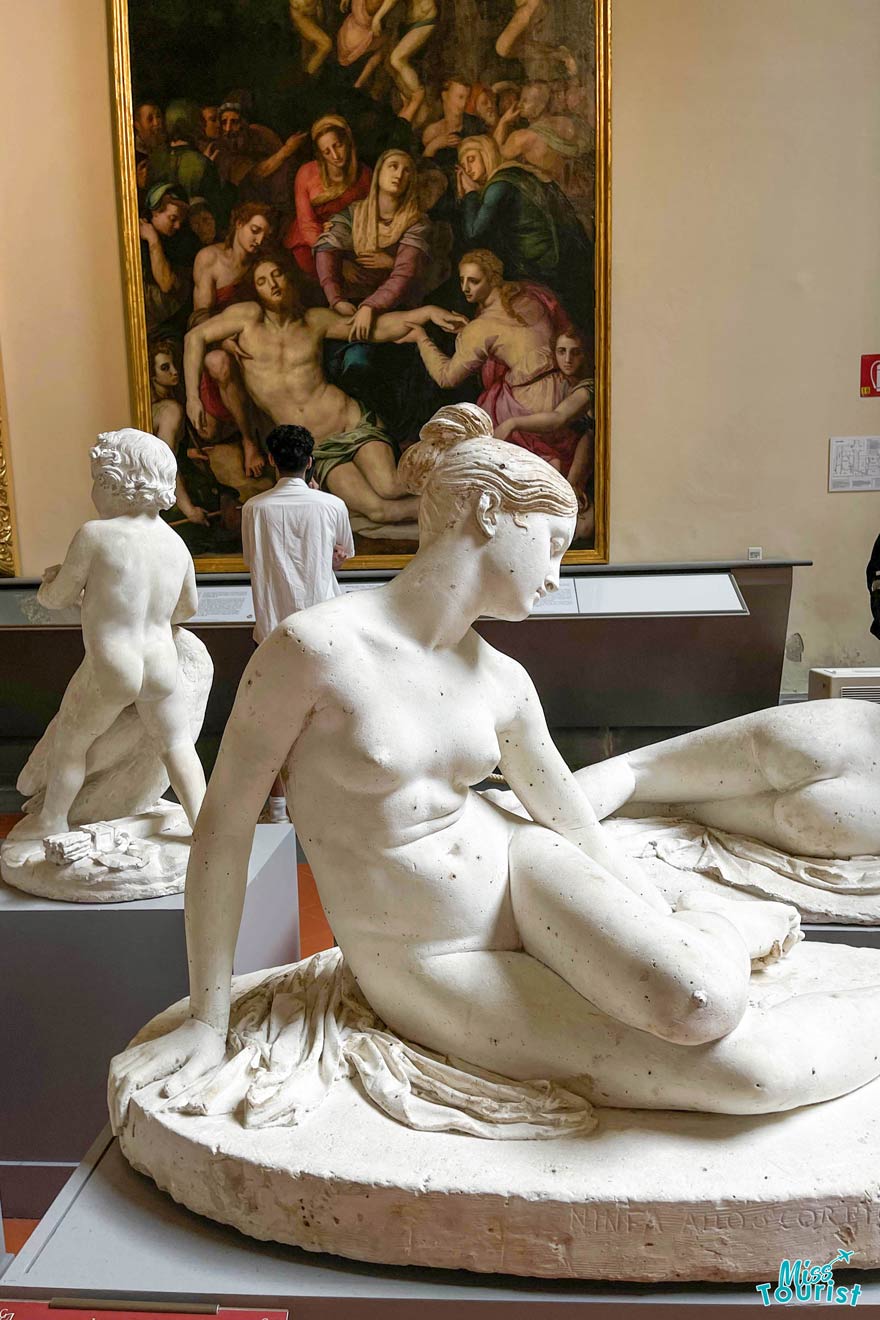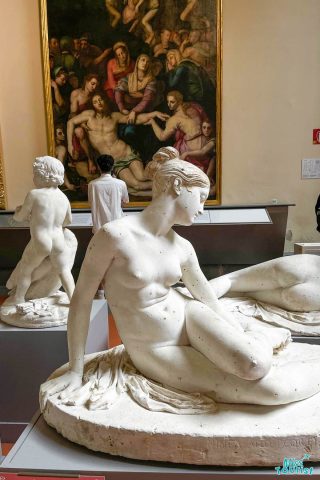 You can't leave Florence without seeing David's sculpture! (But make sure to absolutely book your tickets in advance)!
I almost didn't because I couldn't find tickets anymore (more reason to purchase tickets super in advance) but luckily managed to find one! And I'm so happy I did because waiting in that hot sun in a super long queue would've been a nightmare!
Michelangelo's David is one of the most famous sculptures in the world. He represents the biblical hero David (who conquered Goliath), who was said to be the first king of Israel.

Everything about this sculpture is absolute perfection, and it even has a ball of energy around it that emanates everywhere in the room, and once you enter that space, it's like you're under his spell!
Although David is the main star here, tons of different sculptures and paintings will make you say "wow" every 2 seconds at Accademia Gallery. If you're an art lover and into symbolism, you'll also spend a couple of hours here.
PRO TIP: If you've got some time to kill before your tour of Galleria dell'Accademia, make sure you check out the Libreria Gozzini right in front of the gallery, especially if you're a book lover. They've got so many unique books that look super old from another century.
PRICE: €16
7. Visit Palazzo Vecchio and Piazza Della Signoria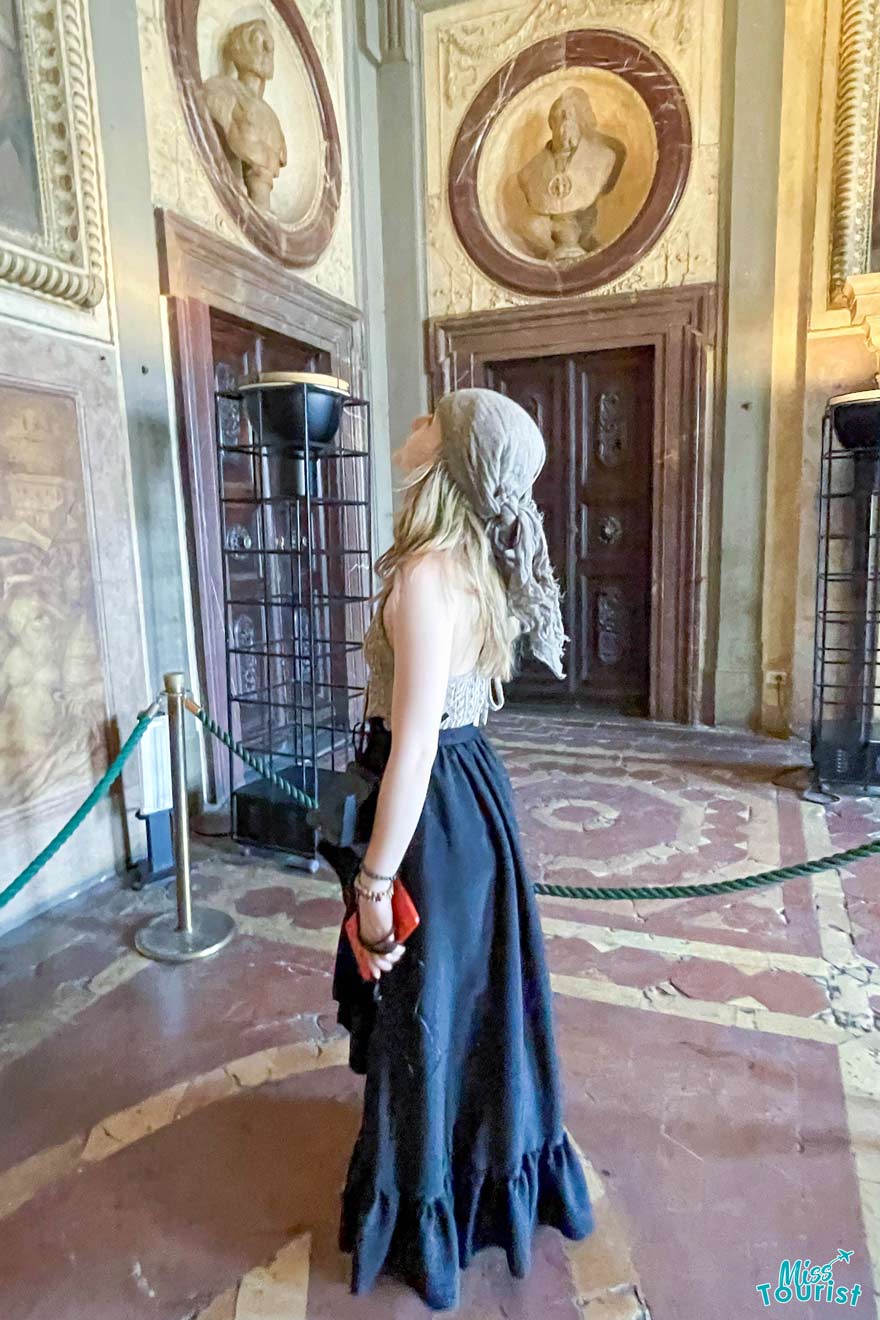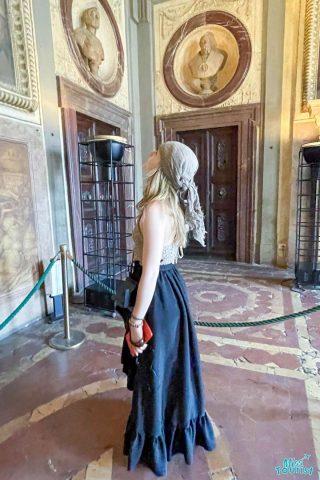 I've got to admit, although Palazzo Pitti (above) is pretty impressive, Palazzo Vecchio stole my heart!
Set in Piazza Della Signoria, near Loggia Dei Lanzi, this Palace, dates back to the Middle Ages, and it's the most important administrative building in this wonderful city! Built on Roman ruins, designed by the same architects who did the Santa Croce Church and the Florence Cathedral, the Palace nowadays houses the city's town hall.

PRO TIP: I got the audio guide for this place, and although at first, it was a bit confusing trying the match the audio with each room, when I got the hang of it, it offered some helpful information that I wouldn't have known otherwise so I highly recommend it!
Alternatively, you can join a guided tour of Palazzo Vecchio and avoid all the fuss!
Piazza Della Signoria is filled with restaurants and small panini places where you can get a quick bite before you enter. I recommend Vinaino Fiorenza. They serve delicious sandwiches and some great vegetarian options as well!
PRICE: €16
8. Eat delicious food at Mercato Centrale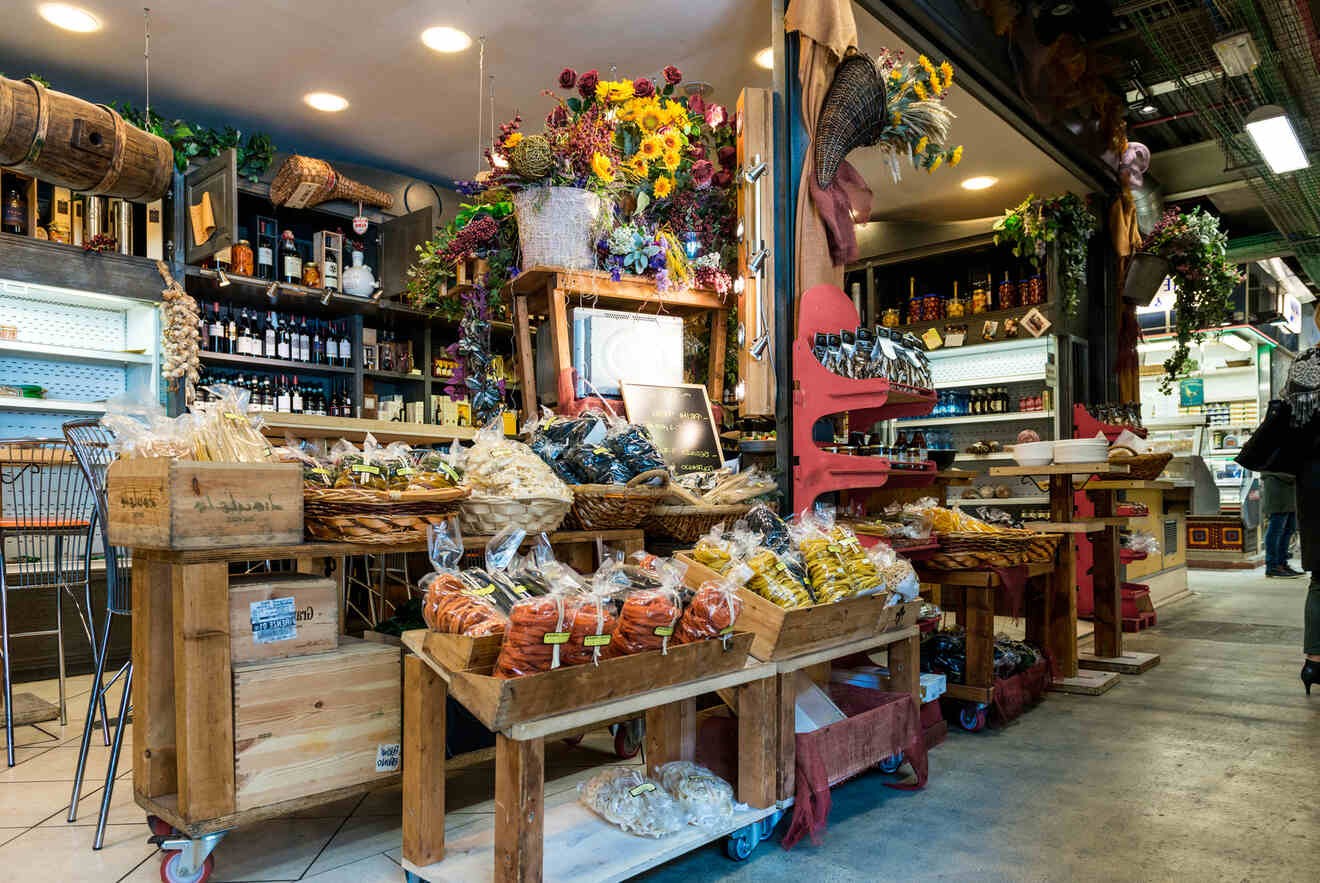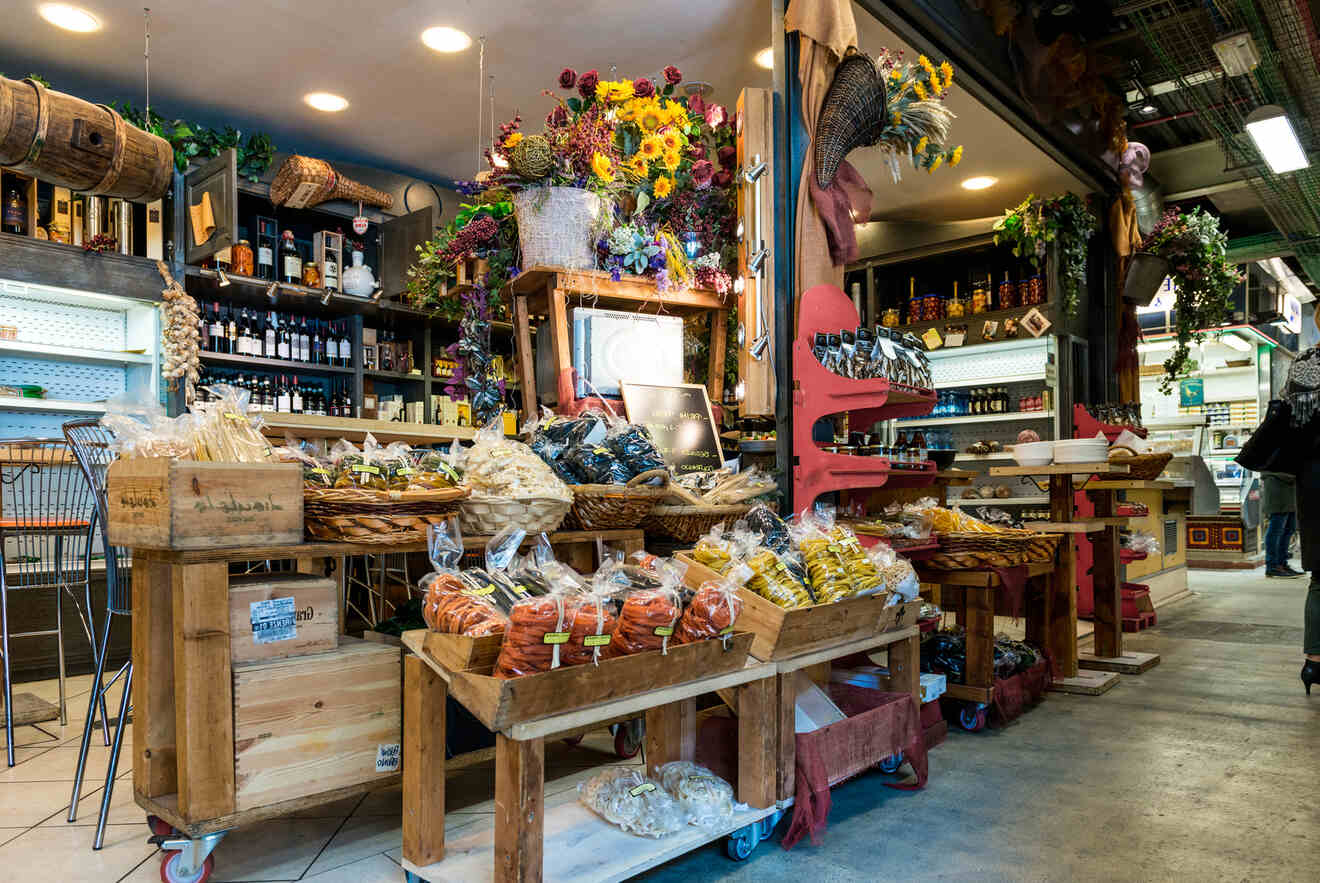 The first thing I had on my mind before visiting Florence was the thought that I'll get to eat so much delicious Italian food! The best place to start your culinary adventures in one of the most beautiful cities in Tuscany is at Mercato Centrale, also known as San Lorenzo Market!
I guess we all love it and to be honest what I liked most about the food scene in this gorgeous city was the fact that no matter which restaurant you picked, the food was yummy!
The market is set in a big building in Piazza del Mercato Centrale, near lots of leather shops, and the 1st floor is where all the food courts open daily from 10 am to midnight. On the ground floor, you'll find the fresh market with all sorts of delicious fruits and vegetables, that's open Monday to Saturday from 10 am – 2 pm.
Definitely go there on an empty stomach and get ready to eat delicious truffle pasta, drink lots of wine (who cares if it's 11 am), and eat as many cantuccini as possible!
9. Escape the city heat and relax at Giardino Bardini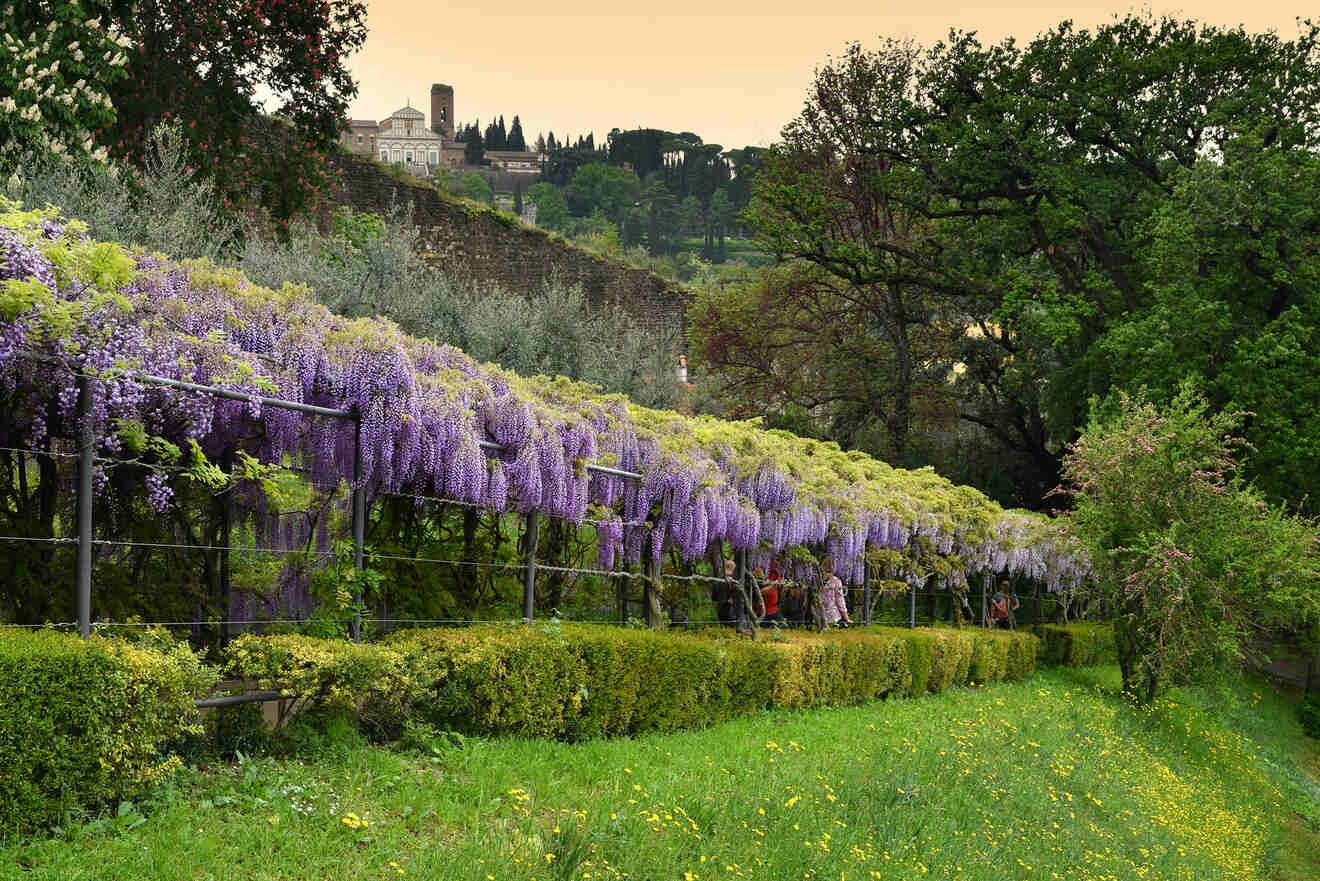 Ready to climb a bit more?
This time we're out in nature, and although it's not like going on hiking trails, it will be more pleasant! Giardino Bardino is a beautiful garden and one of the most spectacular spots in Florence from where you can see the entire city!
Part of the Bardini Villa, this garden is a super romantic place, filled with colorful roses and stunning wisteria flowers that you'll see in all the pictures. Unfortunately, it only blooms in April so if you want to see it in its full glory, you'll have to go around that time.
NOTE: I was a bit confused when I tried to find the place because we were on the street and I couldn't see a garden. The entrance is through this building, and you go out into the garden.
Bardini Gardens is the perfect place to relax after a day of exploring the art museums and Florence's city center. The walk up to the viewpoint is pretty easy, and once you get to the top you can relax at the restaurant there and have a glass of wine, of course!
PRICE: €11
10. Check out the beautiful Basilica di San Lorenzo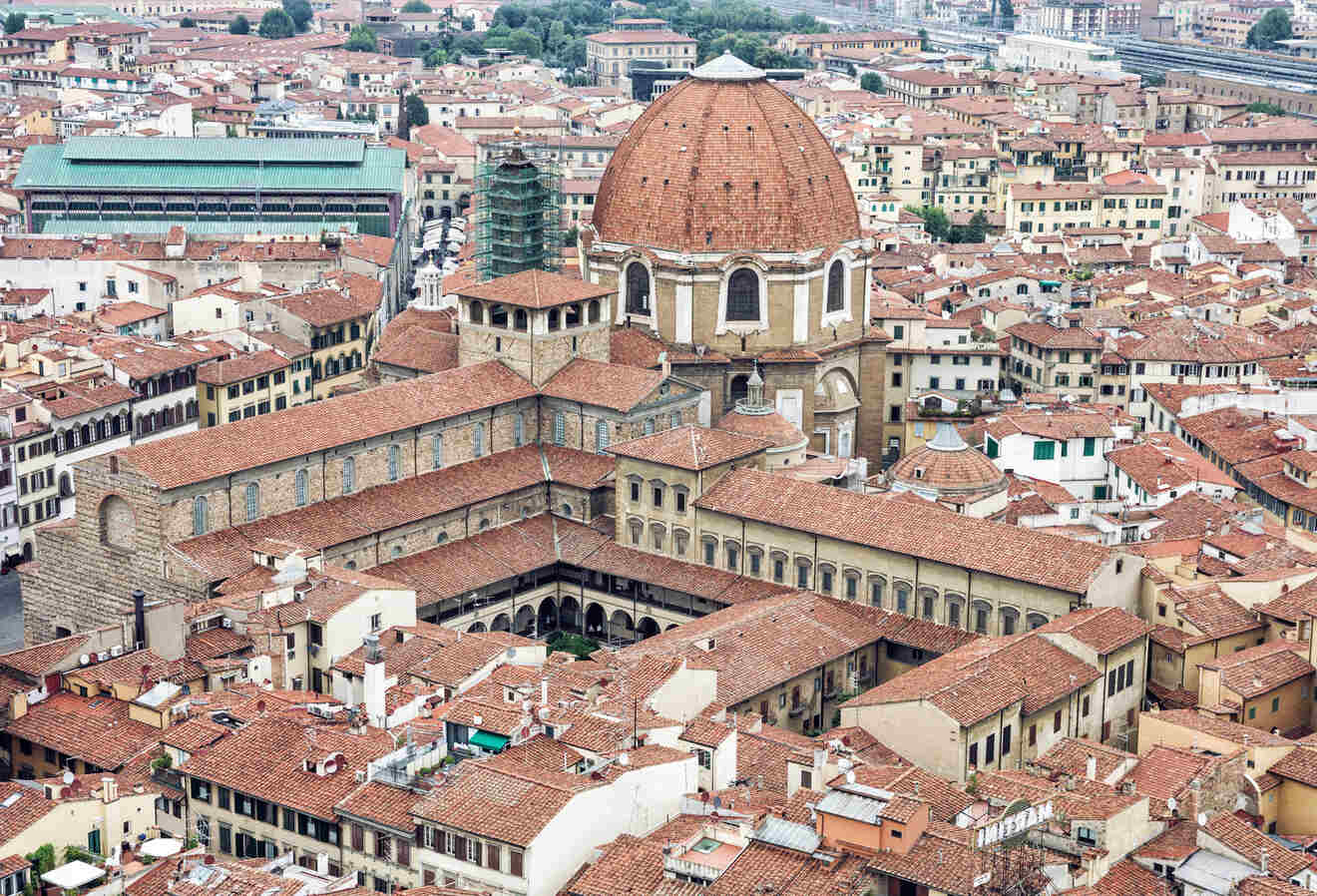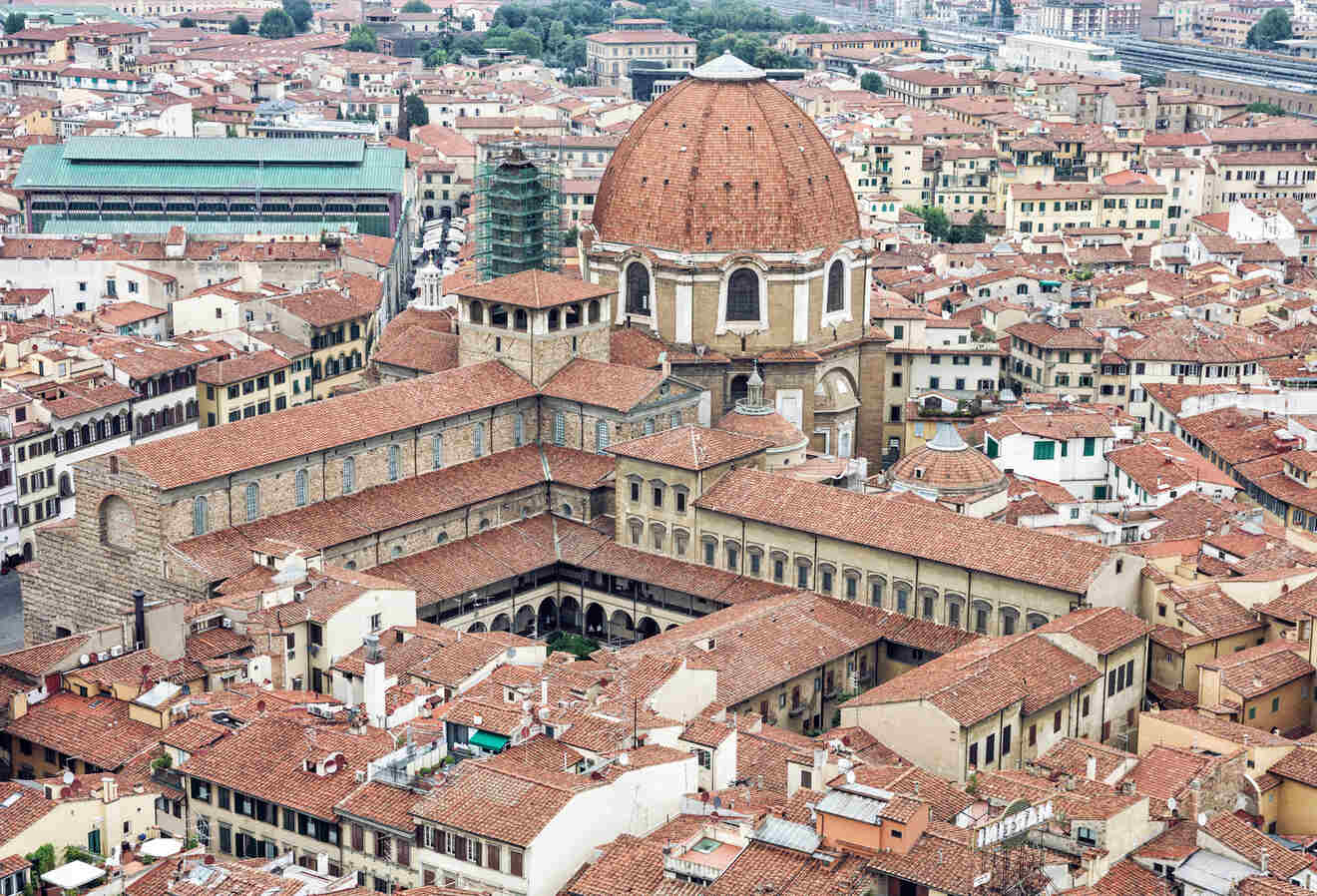 Can you believe Basilica di San Lorenzo was once the Cathedral of Florence?
Basilica di San Lorenzo is one of the oldest churches in the city, and it held the title of duomo for almost 300 years!
Exploring the Basilica di San Lorenzo is an adventure and will take you to different parts of this important landmark. You'll start in the Cloister, a beautiful green space like a courtyard. Then you'll head over to the St. Lawrence Treasure & the Cellar, where you'll also see the tomb of Cosimo di Medici.
But my favorite place has to be The Medicea Laurenziana Library, a beautiful example of Mannerist architecture done by Michelangelo, and of course the main room of Basilica di San Lorenzo which hosts works from Brunelleschi and Donatello.
PRICE: US$18
11. Have fun on a food and wine tasting tour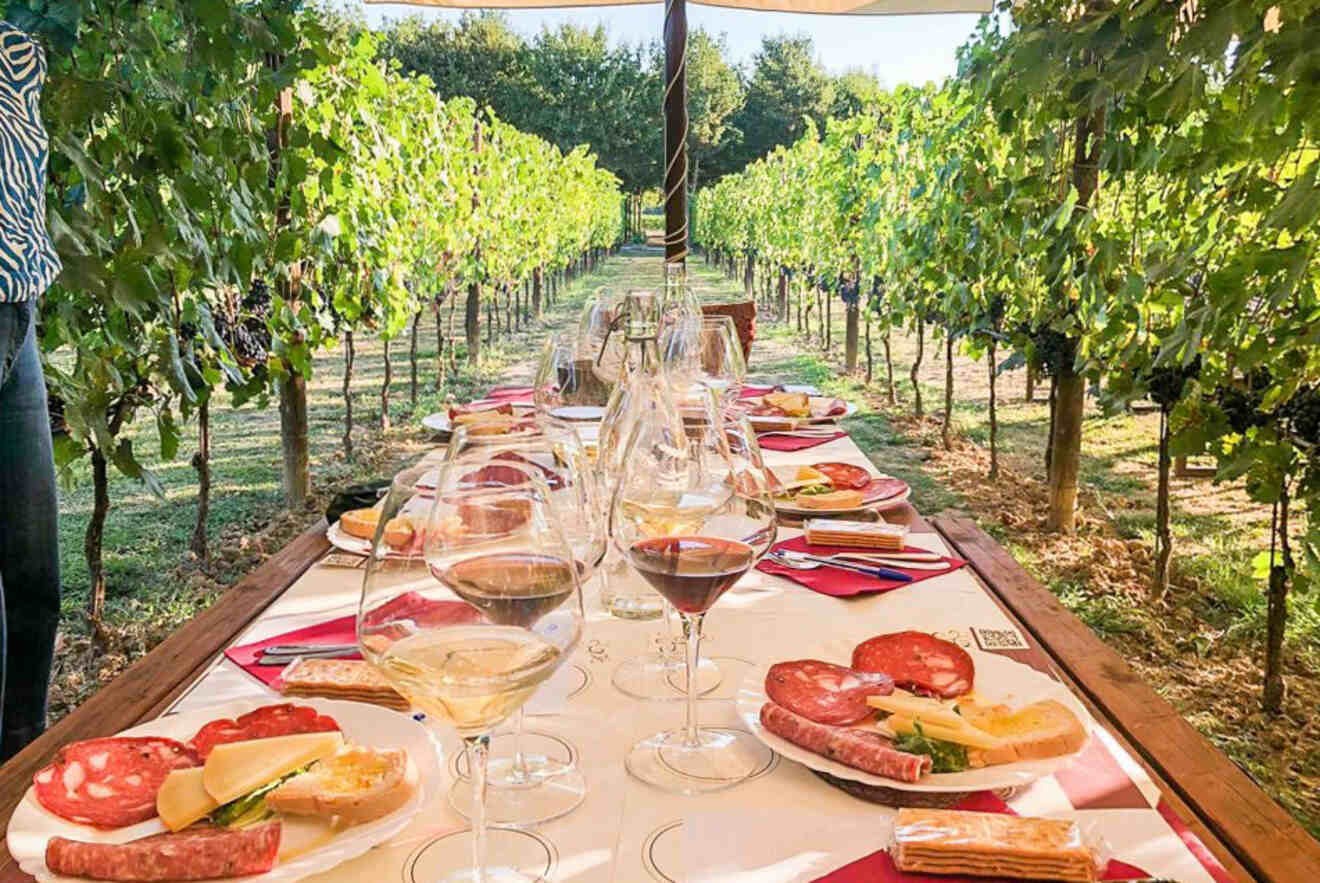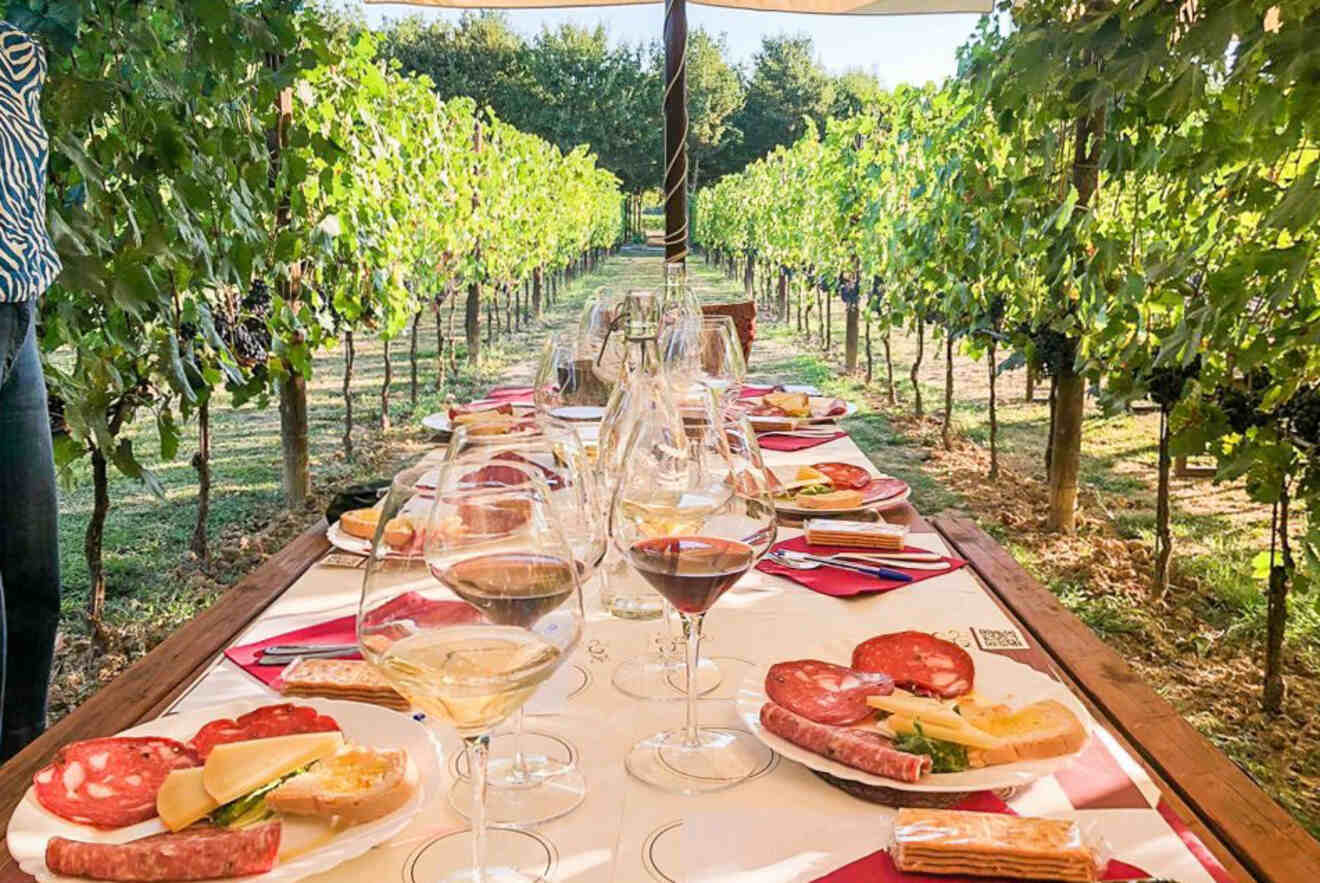 Want to discover the beautiful Chianti hills of Tuscany and try yummy Italian dishes? Then hop on this wine and food tour from Florence and have fun meeting local winemakers and sampling local wines!
The whole tour will last around 5 to 6 hours, and during that time, you'll get to visit 2 authentic vineyards with transportation from Florence.
During the wine and food tour, you'll taste incredible dishes and wine, learn more about winemaking history, and explore the vineyard! A perfect day under the Tuscan Sun!
12. Go window shopping on Ponte Vecchio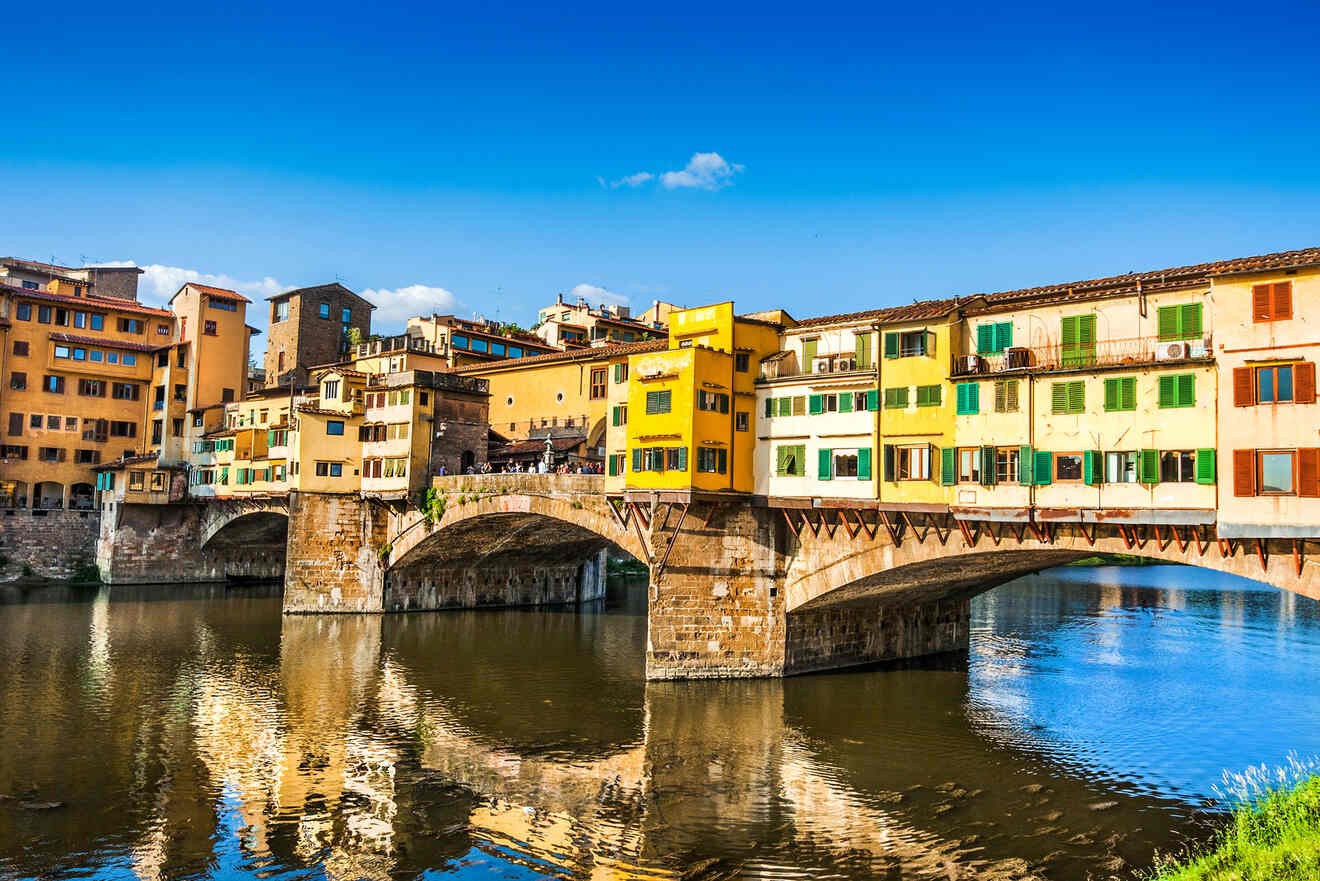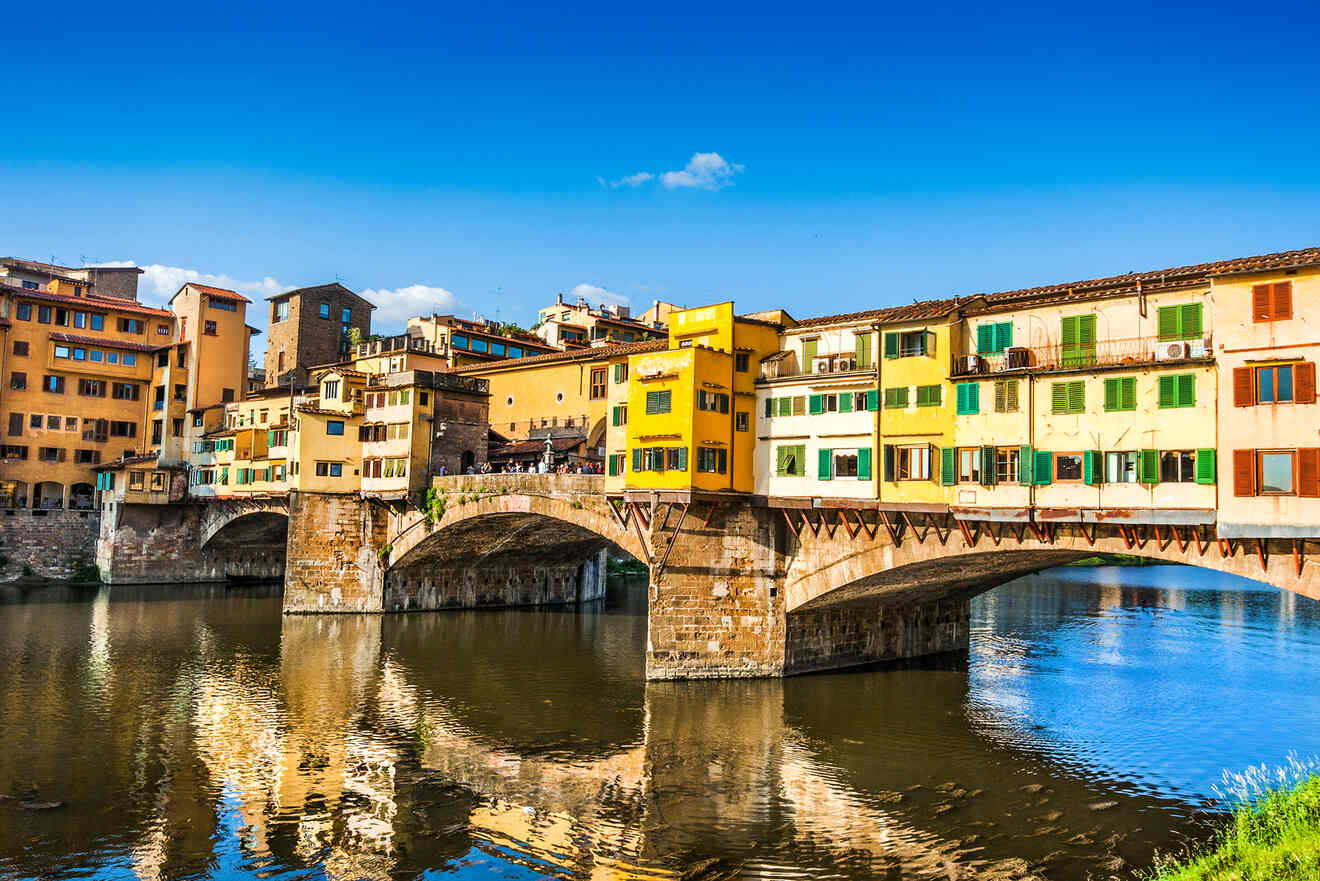 This ancient bridge (whose origin is still unclear, but records show its existence as early as 996) goes over Arno River, and it has a super interesting structure, and you can see that it has been here a long time.
What's even more interesting is that the famous Vasari Corridor goes over Ponte Vecchio! The corridor is an elevated passageway in Florence that connects Palazzo Vecchio with Palazzo Pitti, and it was built for the Medici family to move around the city undetected.
The Vasari Corridor was closed to the public in 2016 for safety reasons, but it was opened again in May 2022. There isn't much information on joining a corridor tour, but you can learn more on their website.
Ponte Vecchio is usually packed with people and filled with jewelry shops from where you can buy beautiful pearls, golden rings, and unique stones. Although most of them are super expensive, you'll find some lovely pieces at a fair price!
13. Try dozens of gelato flavors!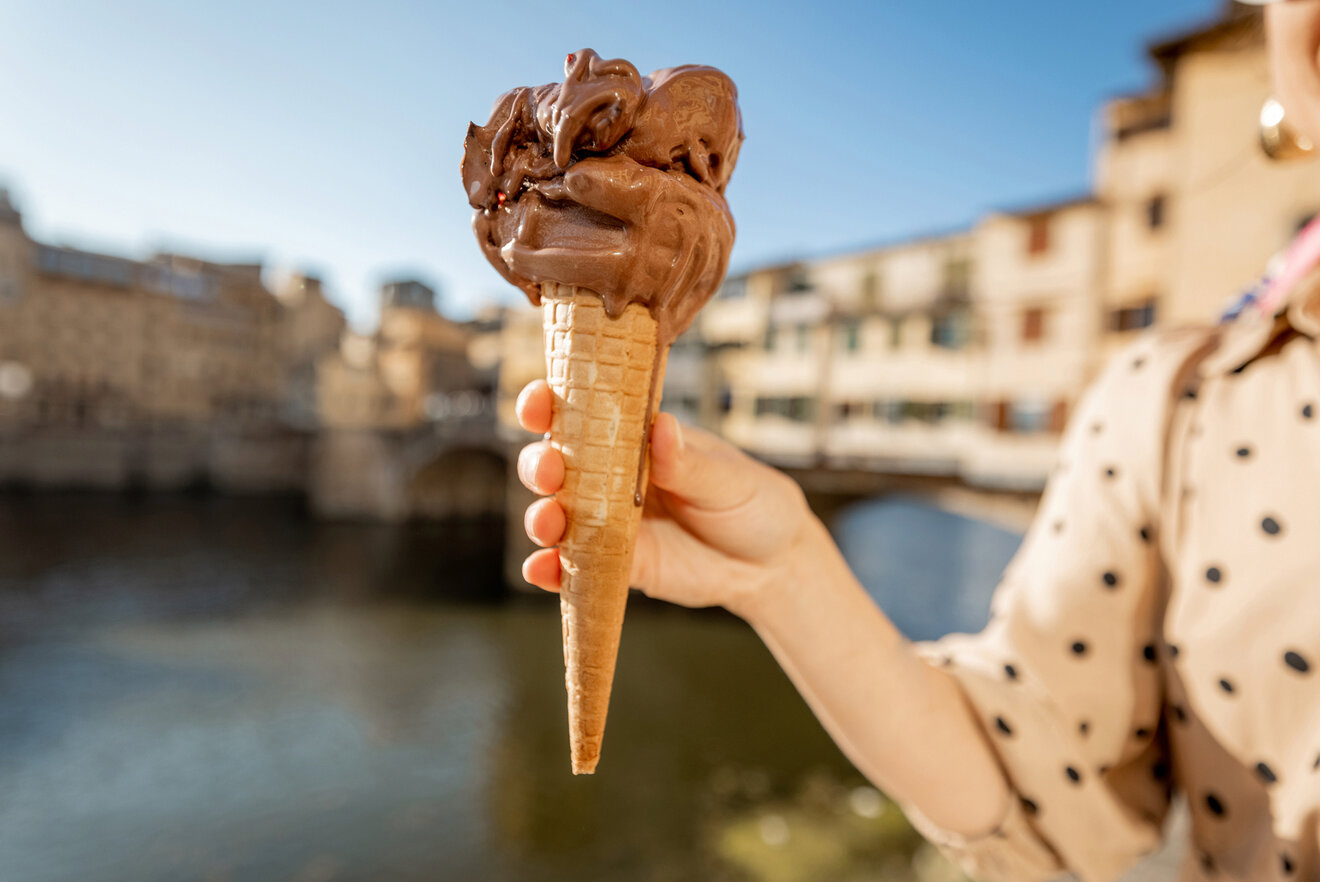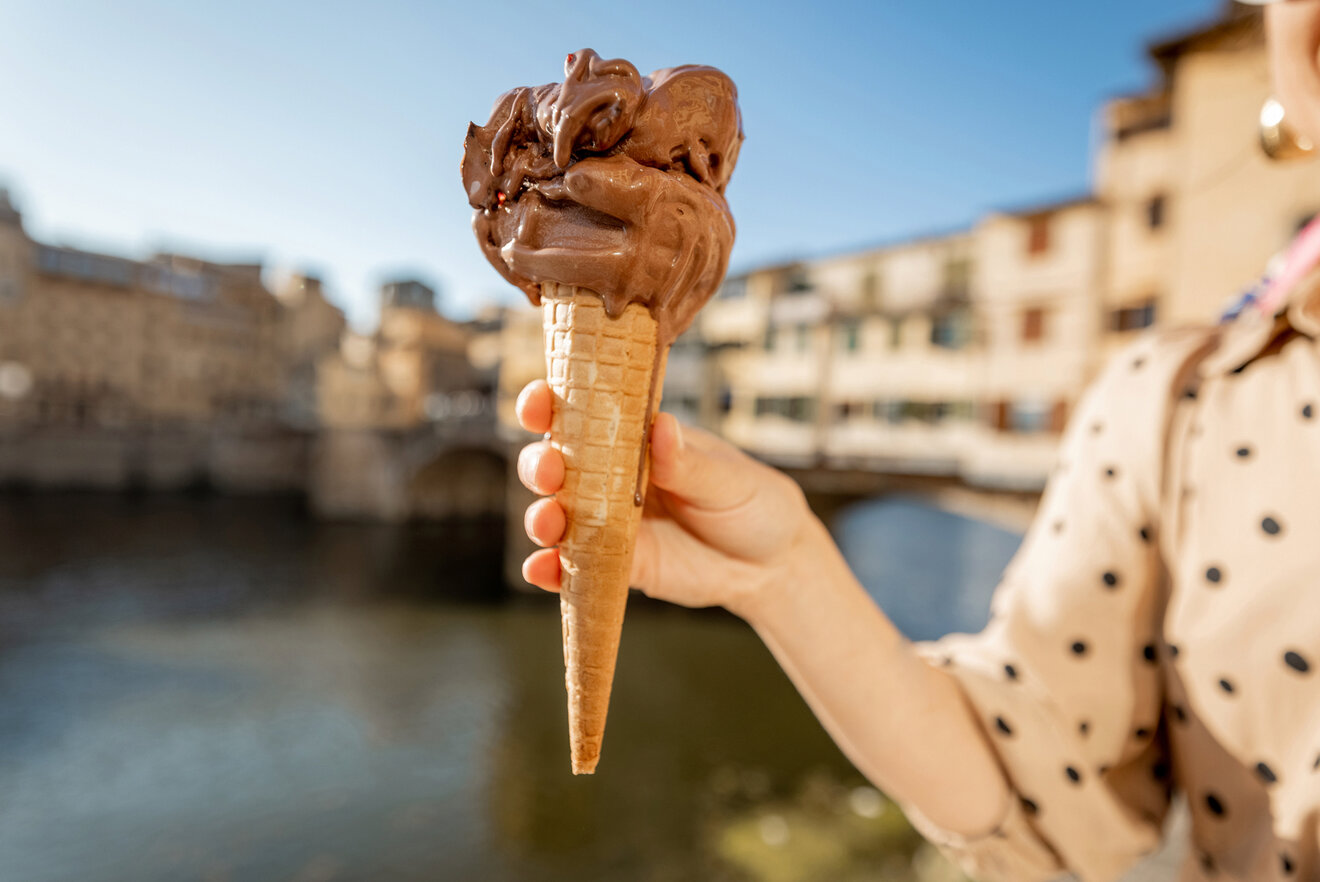 The first thing I did when I arrived in Florence? First I ate the most delicious meal, but the 2nd thing you can probably guess! I ate some delicious gelato!
Although the history of frozen desserts goes way back to ancient Mesopotamia and old Chinese and Arab cultures, the gelato we eat today dates back to the period of the Italian Renaissance.
Apparently, alchemist Cosimo Ruggieri made the first gelato at the court of Catherine de Medici!
Even if we don't know if Florence is the birthplace of gelato, I can vouch that the gelato shops here serve some of the most mouth-watering flavors I've ever tried!
Vivoli is the city's oldest gelateria, dating back to the 1930' so it's definitely a must to try some of their flavors. Other shops that I liked were Grom, Gelateria dei Neri, and Gelateria Santa Trinita!
14. Visit San Miniato al Monte Church to admire the views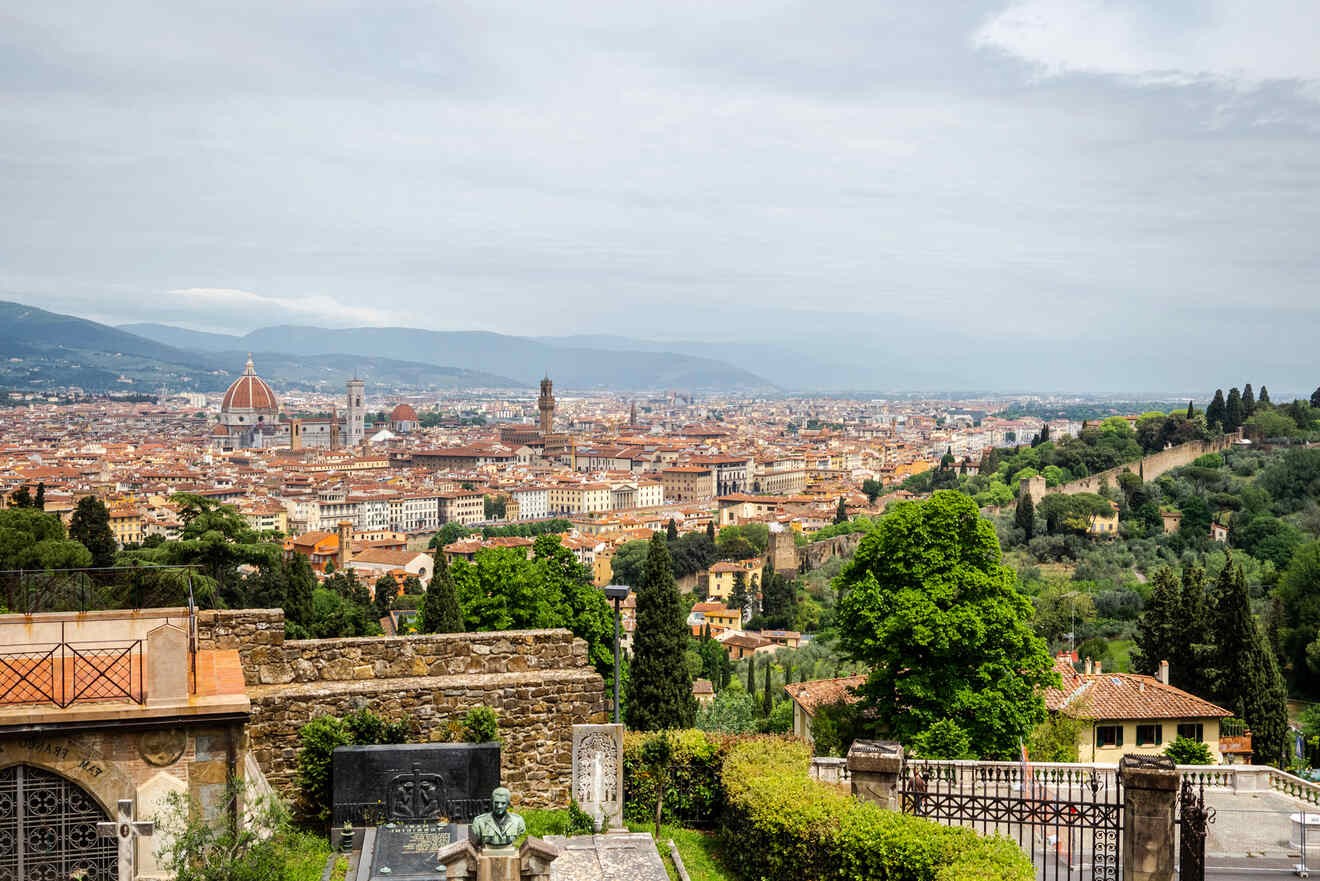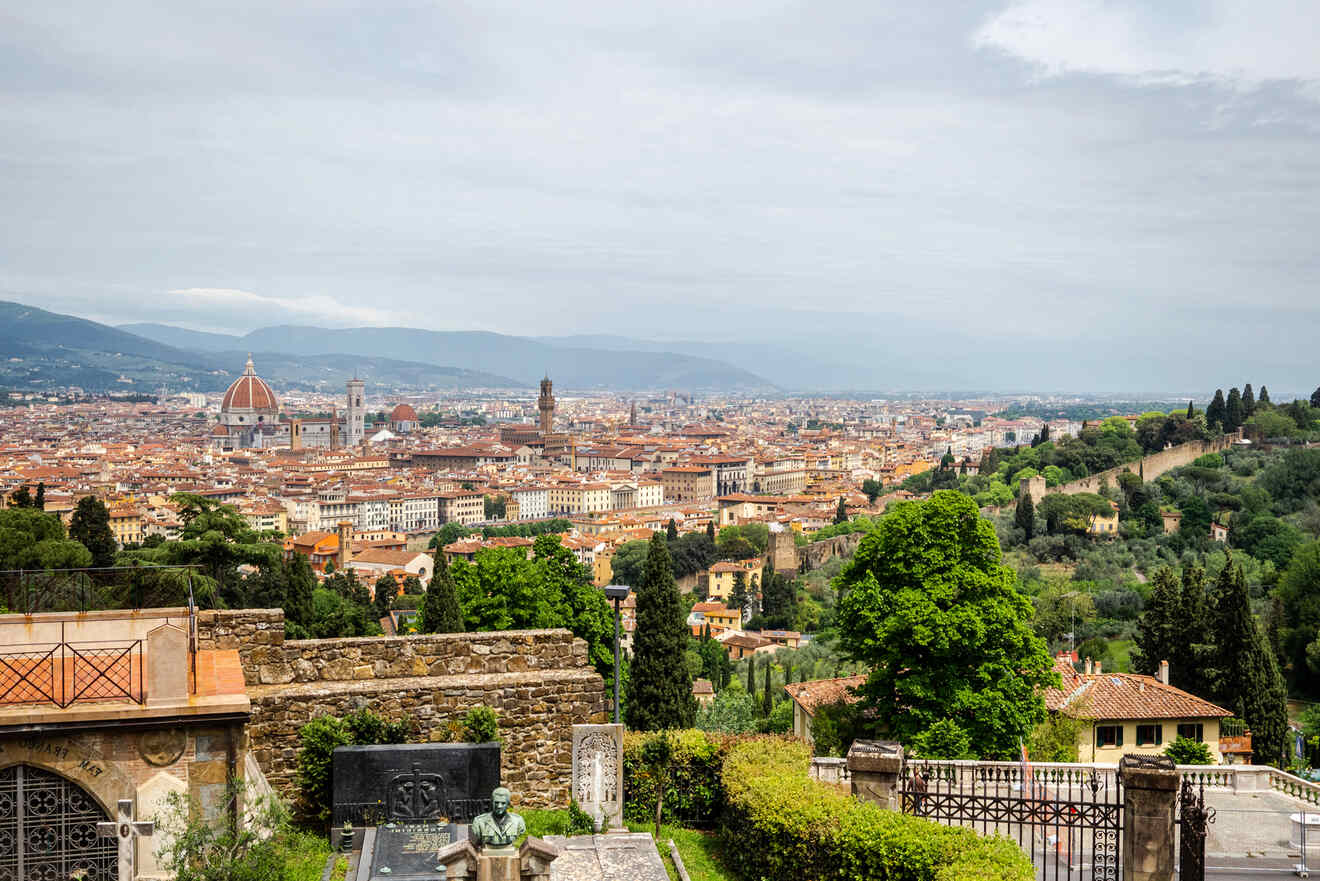 As you've probably noticed, there are lots of spots around the city from where you can admire the incredible panoramic views!
San Miniato Al Monte Church is set up on a hill, even higher than Piazzale Michelangelo, and it offers a spectacular view of Firenze! The 11th-century Church is simply beautiful, and it has a lovely Romanesque facade and medieval interiors.
If you don't mind the climb to San Miniato Al Monte Church, then I highly recommend it! People have often described it as one of the most scenic Churches in Italy!
15. Visit the Officina Profumo Farmaceutica di Santa Maria Novella
You can't miss this place while in Florence, especially if you like perfumes!
Known as one of the oldest pharmacies in the world, Officina Profumo Farmaceutica di Santa Maria Novella was founded by Dominican friars around 1221, who used medicinal herbs grown in their gardens to make medications and balms.
Nowadays, the old pharmacy still continues the ancient traditions of herbal care!
I'm a big fan of natural products with clean ingredients, and I've got to say that the ones in this place smell and look fantastic!
Although it's an actual shop, the whole interior looks basically like a museum and it has painted walls and even a room with the old tools that they used hundreds of years ago to make all the products!
16. Enjoy some tranquility at Santa Maria Novella Church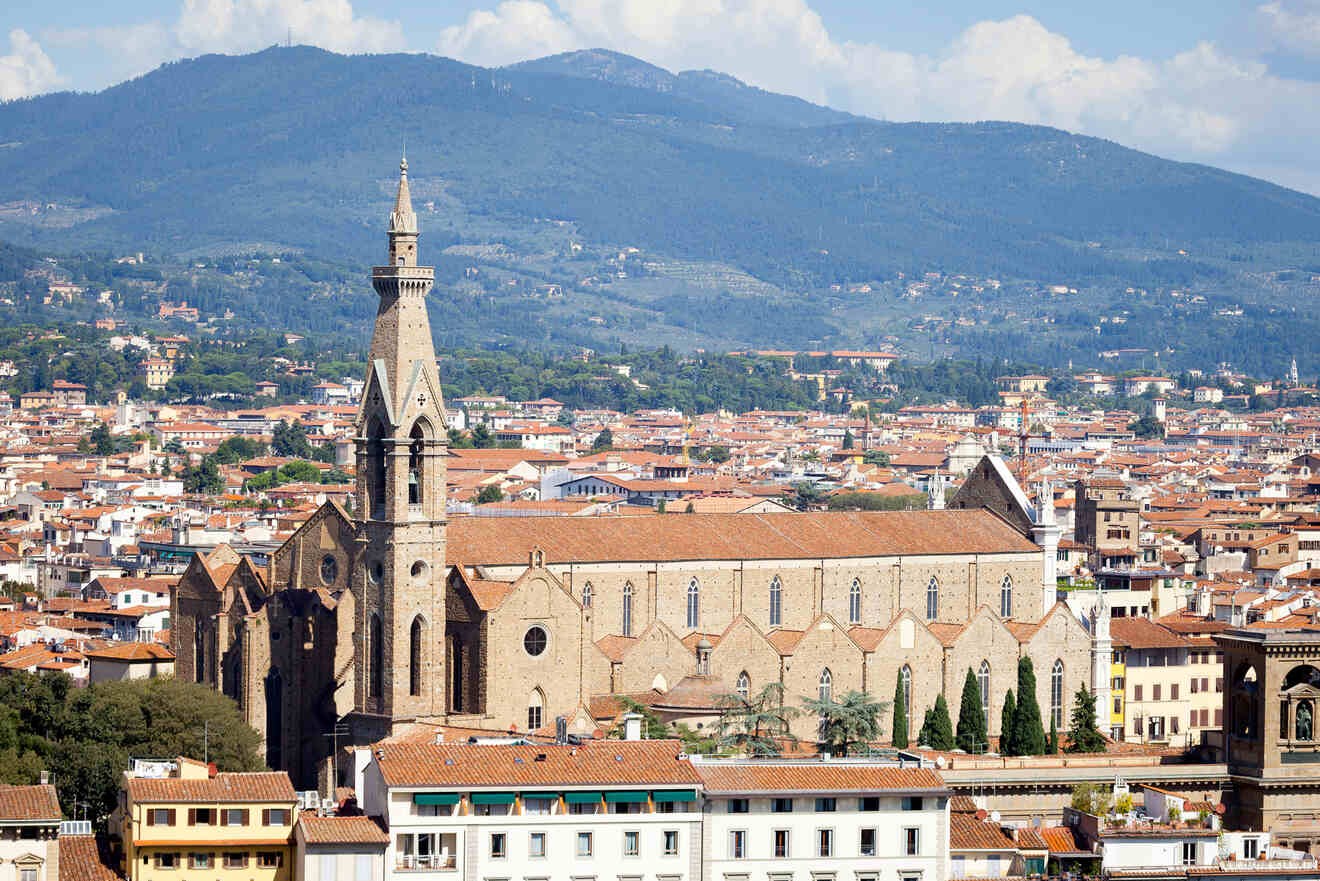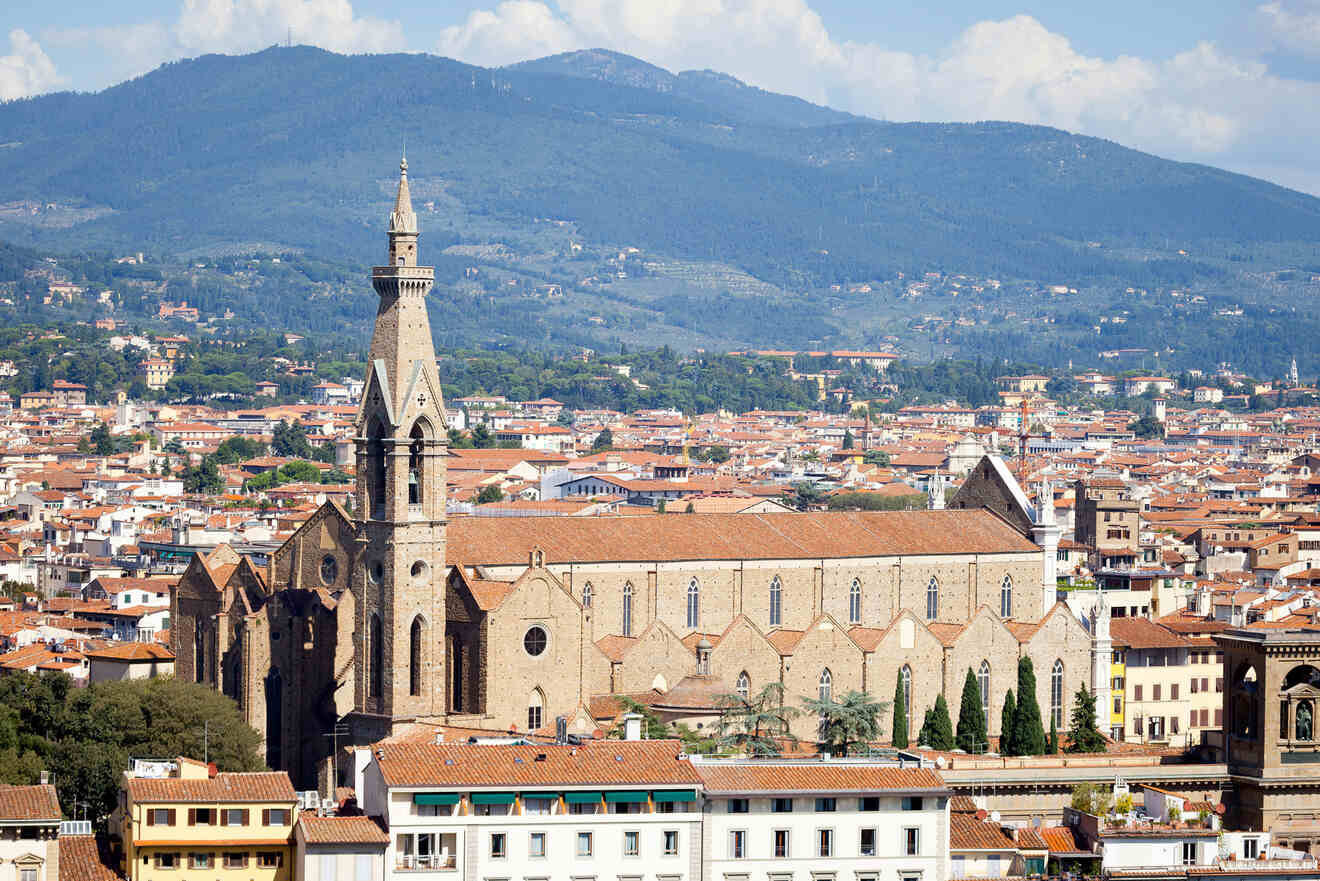 Although Santa Maria Novella Church may not be at the top of your list of things to do in Florence, I highly recommend visiting it! It's probably among the few places in Florence, Italy where you won't have to wait in a queue full of people if you don't buy your ticket in advance.
Santa Maria Novella Church is one of the most important Gothic establishments in Tuscany, and its exterior will definitely catch the eyes of art lovers!
I remember walking on the street and feeling drawn to it after I saw it.
Once you head inside, you'll be mesmerized by its beautiful interiors, and it looks even longer than it normally is, thanks to the central arches. You'll also get to admire works of art like Masaccio's Trinity, Giotto's Crucifix, and Brunelleschi's Crucifix.
Luckily Santa Maria Novella Church isn't usually packed with tourists, so if you're looking to enjoy some peace and quiet you'll love it here!
PRICE: €7
17. Take a day trip to the countryside of Tuscany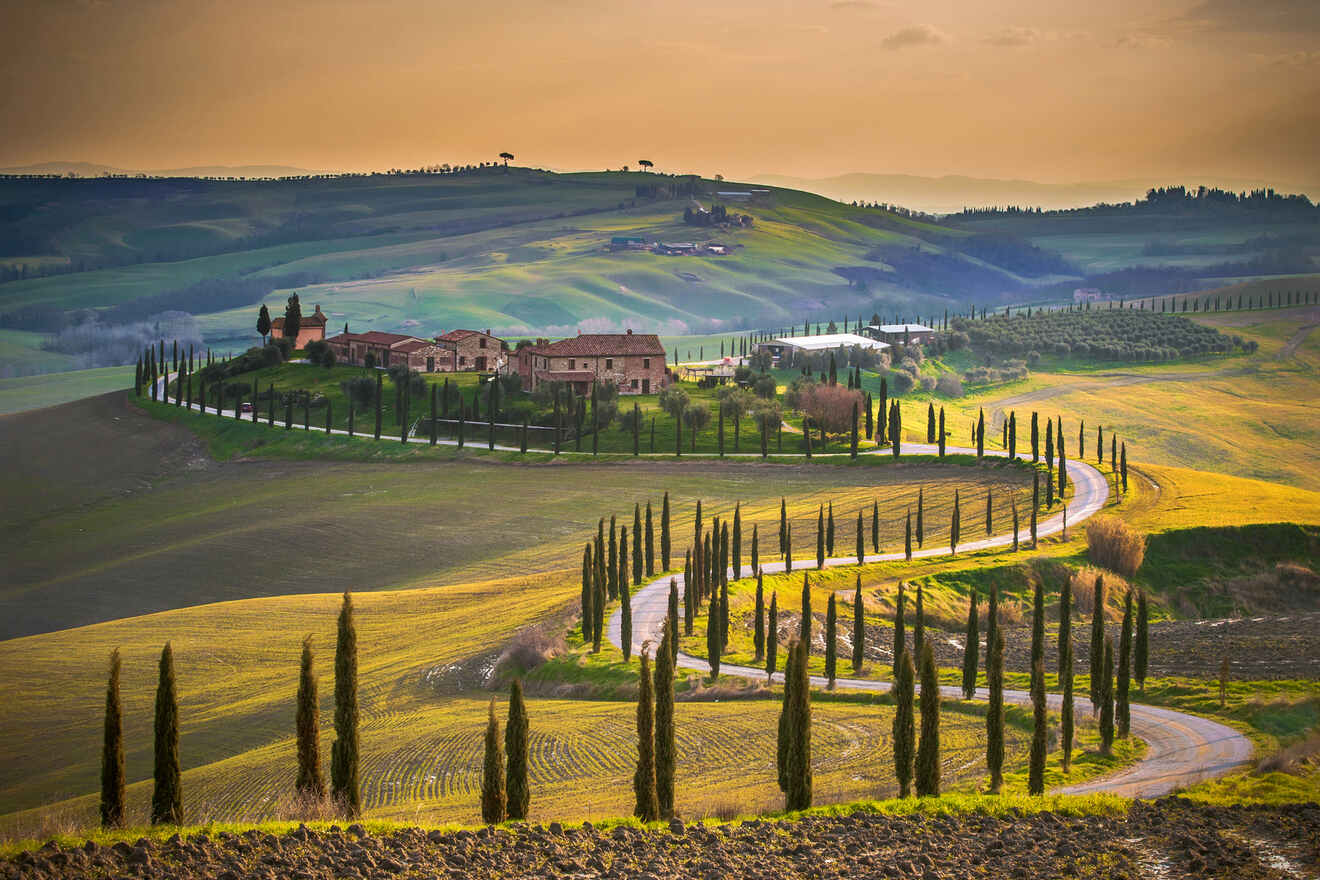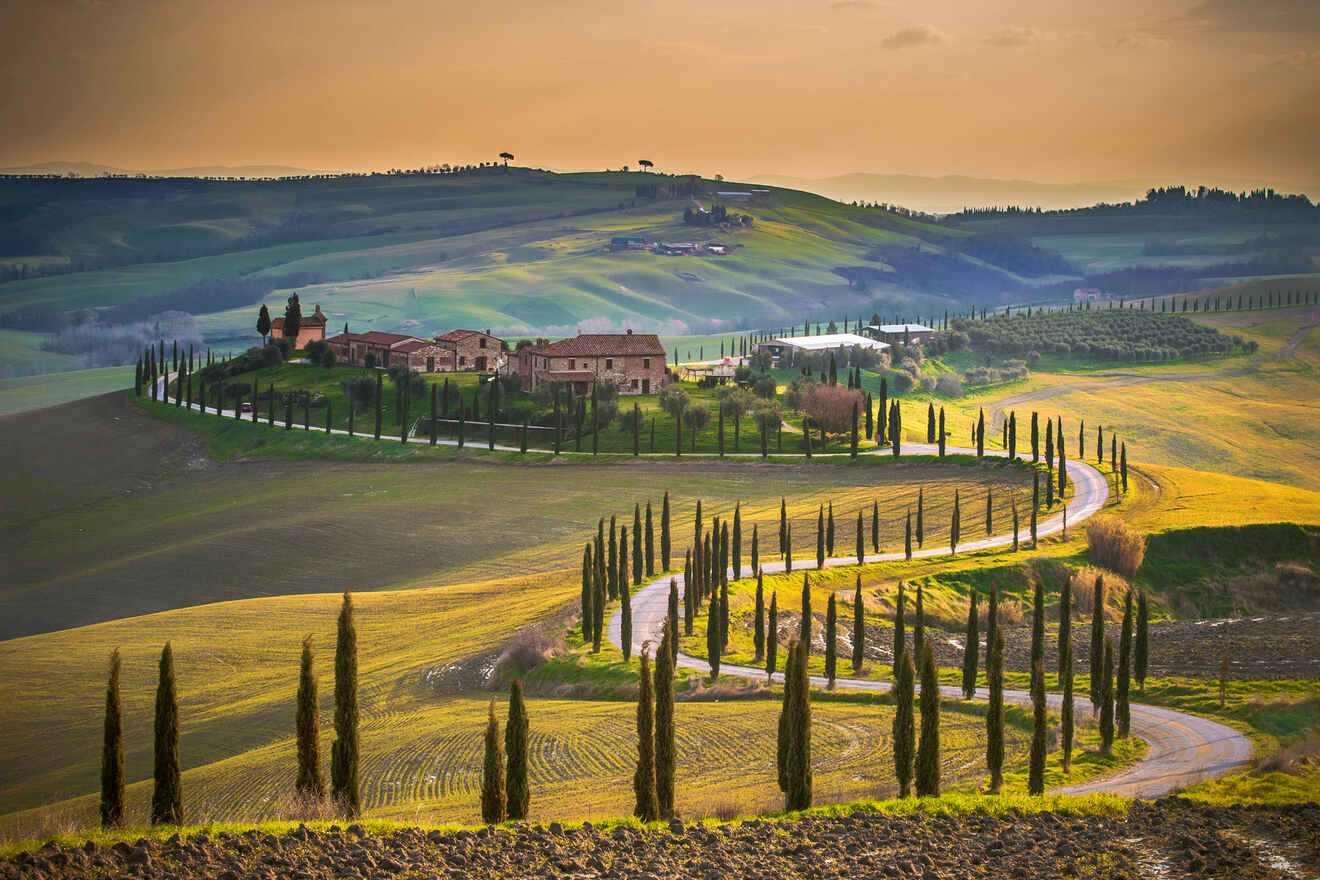 Let's face it, the whole region of Tuscany is simply beautiful! If you've visited Florence, you've ticked off just 1 beautiful town out of the many you'll find here. A great way to explore the other cities is by taking day trips!
There are so many things to do in Tuscany that we have an entire post dedicated to exploring the region full of great info. But if you don't have time to stay in Tuscany outside of Florence, I recommend taking a day trip to visit Siena and San Gimignano! Both places have UNESCO World Heritage Sites and are reachable either by public transport, car, or on a tour.
Siena is located in the rolling hills of Tuscany's countryside, just a 1-hour drive away from Florence Its historical center is where you'll find the main attractions like Piazza del Campo, the Fonte Gaia Fountain, and many others!
San Gimignano sits 50 km (30 miles) southwest of Florence, and it's one of the most beautiful cities in the area! It's surrounded by green gardens and city walls that protected the town over the years. The biggest attraction here is Piazza Della Cisterna, where you can climb the Torre Grossa, the tallest tower in the city with beautiful views!
18. See the burial site of important figures like Michelangelo
Interested to see the burial place of some of the most important men in Florence and history?
Then head over to Santa Croce Church in Florence, where many important characters were buried like Michelangelo, Galileo Galilei, Rossini, and Machiavelli!
Of course, Santa Croce Church is simply beautiful, just like all the other churches in the city! It also has some unique frescos by Giotto and Gaddi!
It might take you some time to explore the whole grounds of Santa Croce Church as it's pretty big and it has 16 chapels, 3 cloisters, and of course all the tombs!
PRICE: €9
Where to stay in Florence, Italy
Yes, you've done it, you got through the whole post of things to do in Florence and now you're in for a treat! As you know, I always want to help you organize the best possible trip, and these last sections will help you with some precious details!
First, let's discover the best accommodations in the city! I've only gathered a few spots, but if you want to see more options check out our post with the best places to stay in Florence!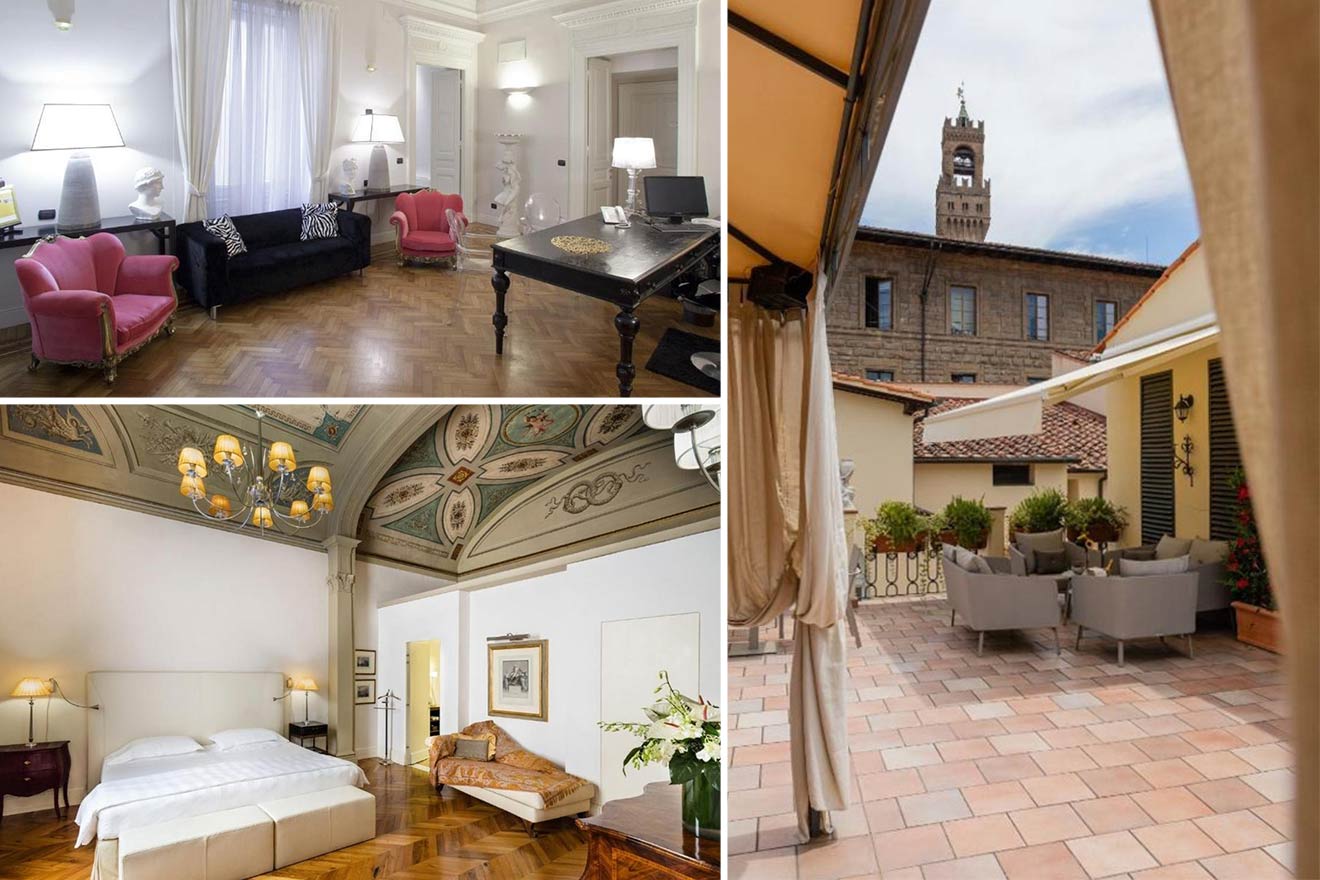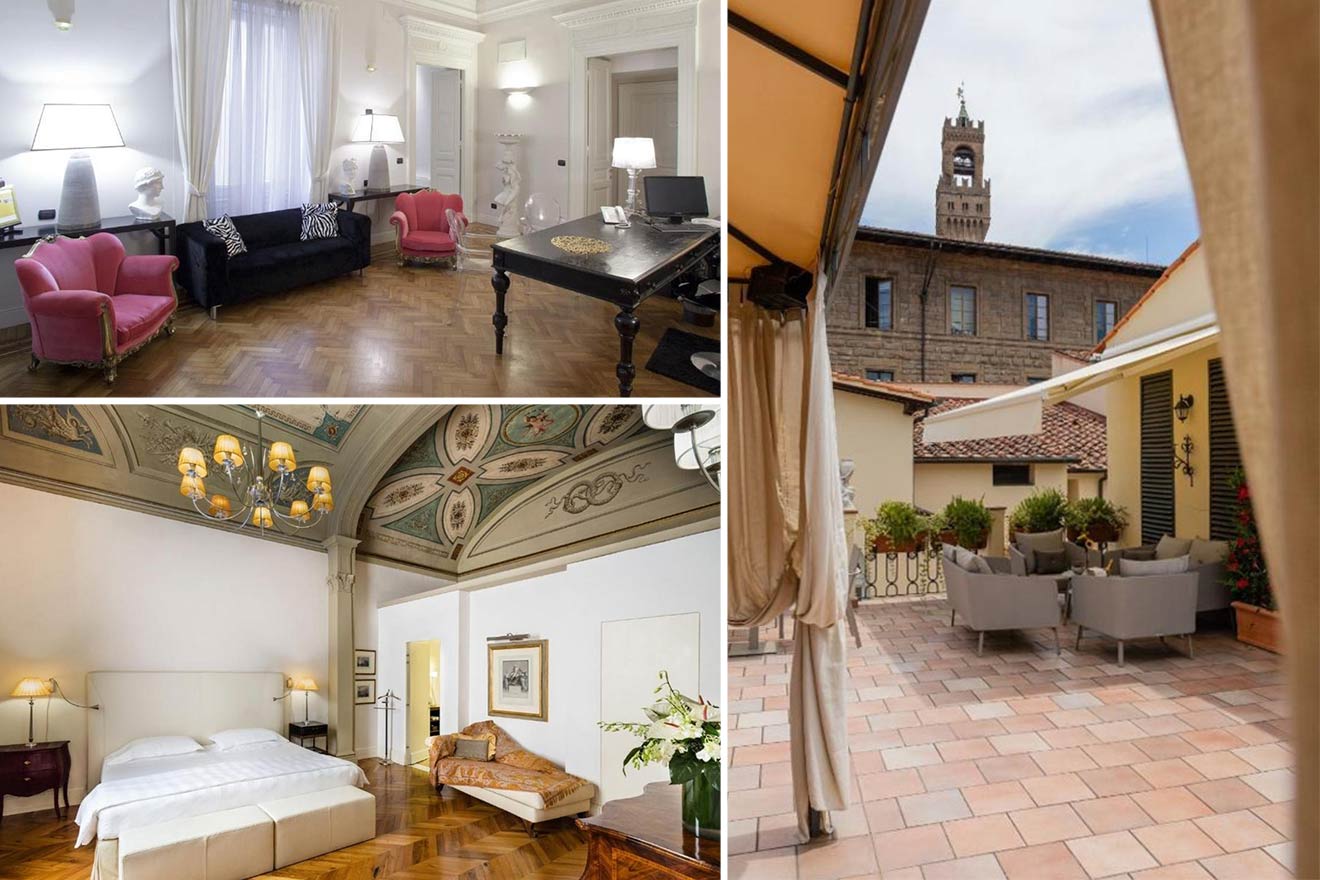 Luxury (€230 and up)
Mid Range (€110 – €170)
Budget (up to €90)
Practical information about Florence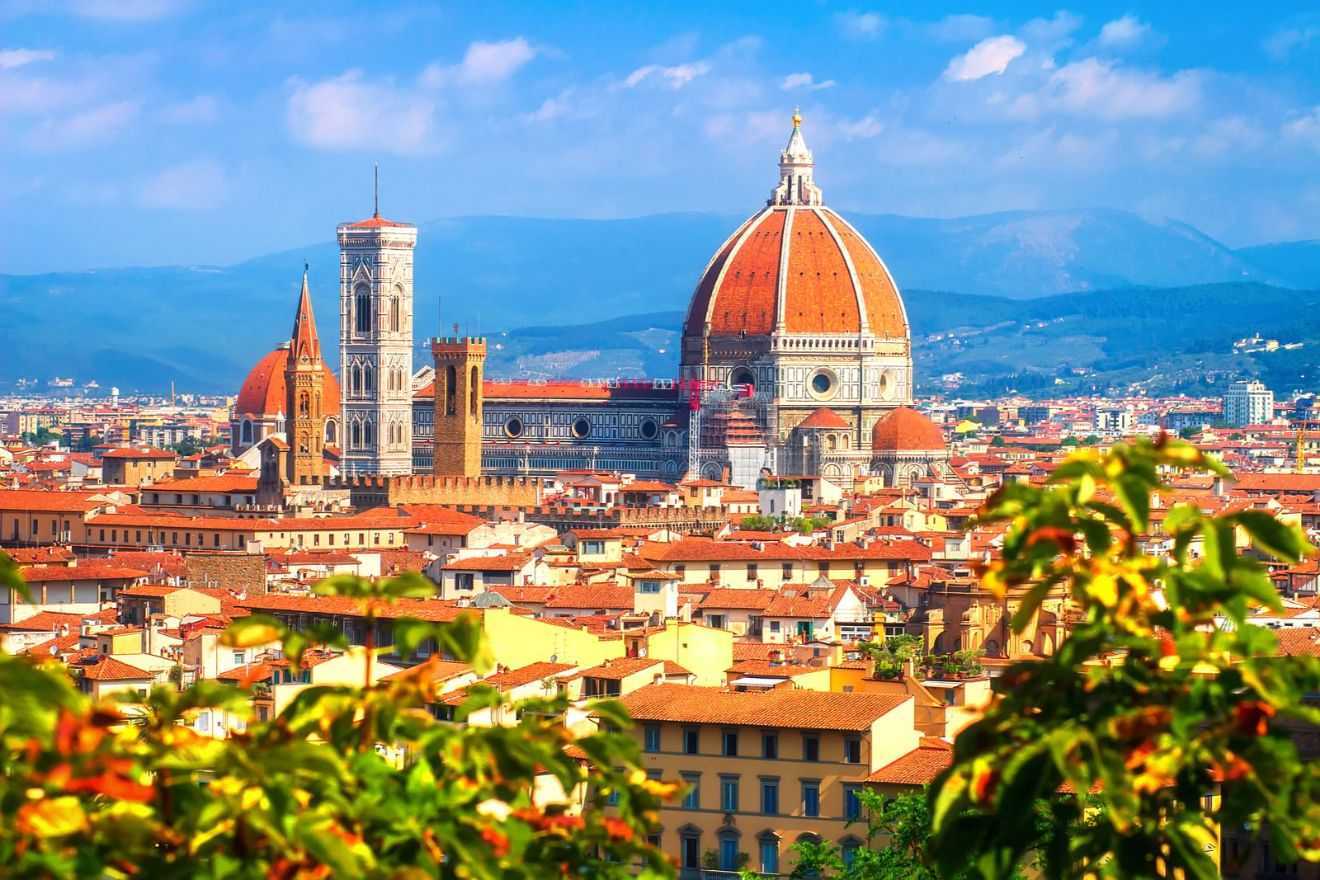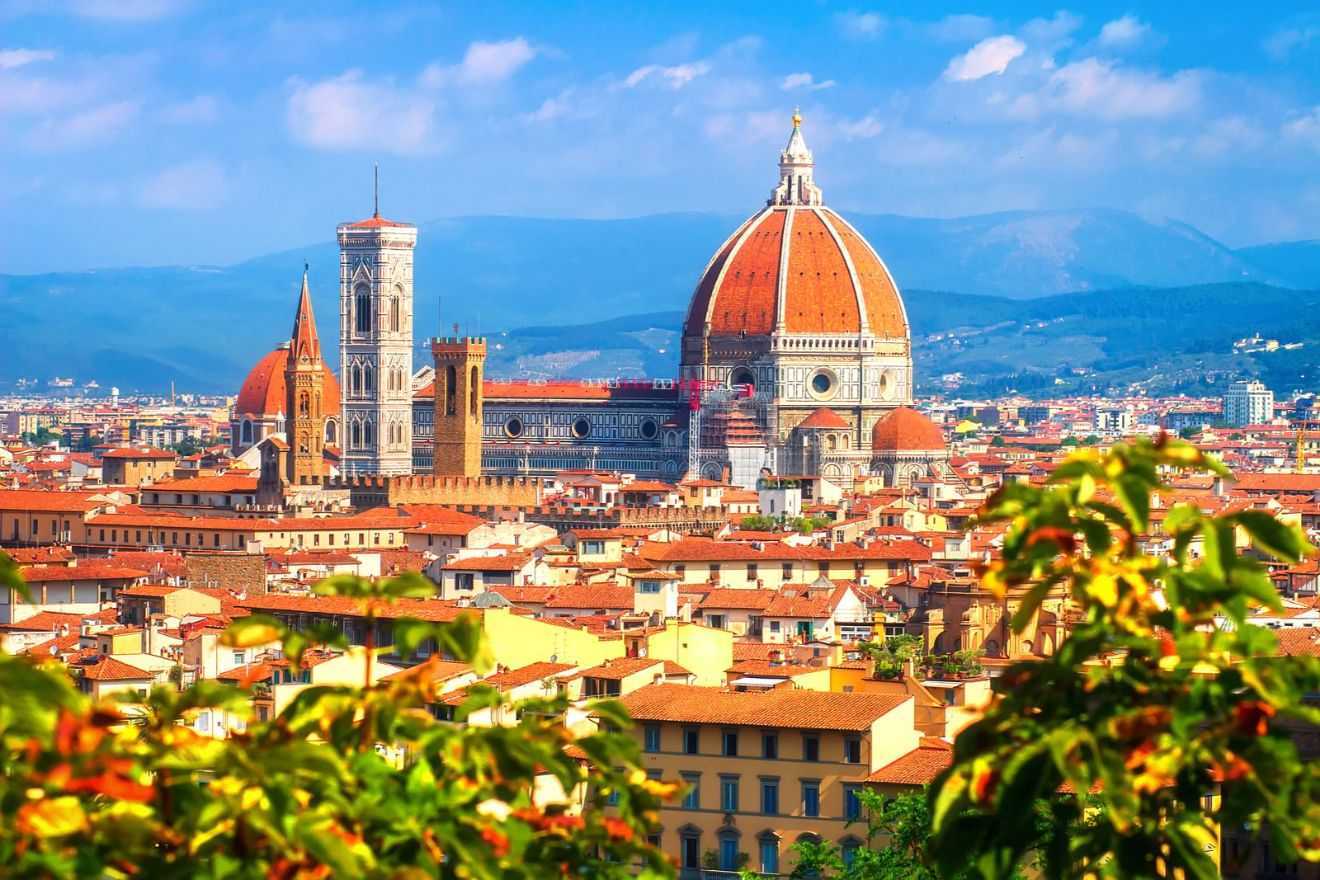 Let's wrap up this fantastic post with the best things to do in Florence with some practical information that will help you organize your trip!
How to get from the airport to the city
Bus – Florence has only 1 airport, Amerigo Vespucci, which is located 20 minutes from the city center. You can take the "Vola in Bus" bus shuttle that runs services between the airport and Santa Maria Novella Train Station in the city center. A one-way ticket will cost US$7.
Taxi – A trip from the airport to the city center by taxi usually costs around US$23 and takes 30 minutes, depending on the time of the day. Taxi 4242 and Taxi 4390 are the 2 major cab companies in Florence.
Getting around Florence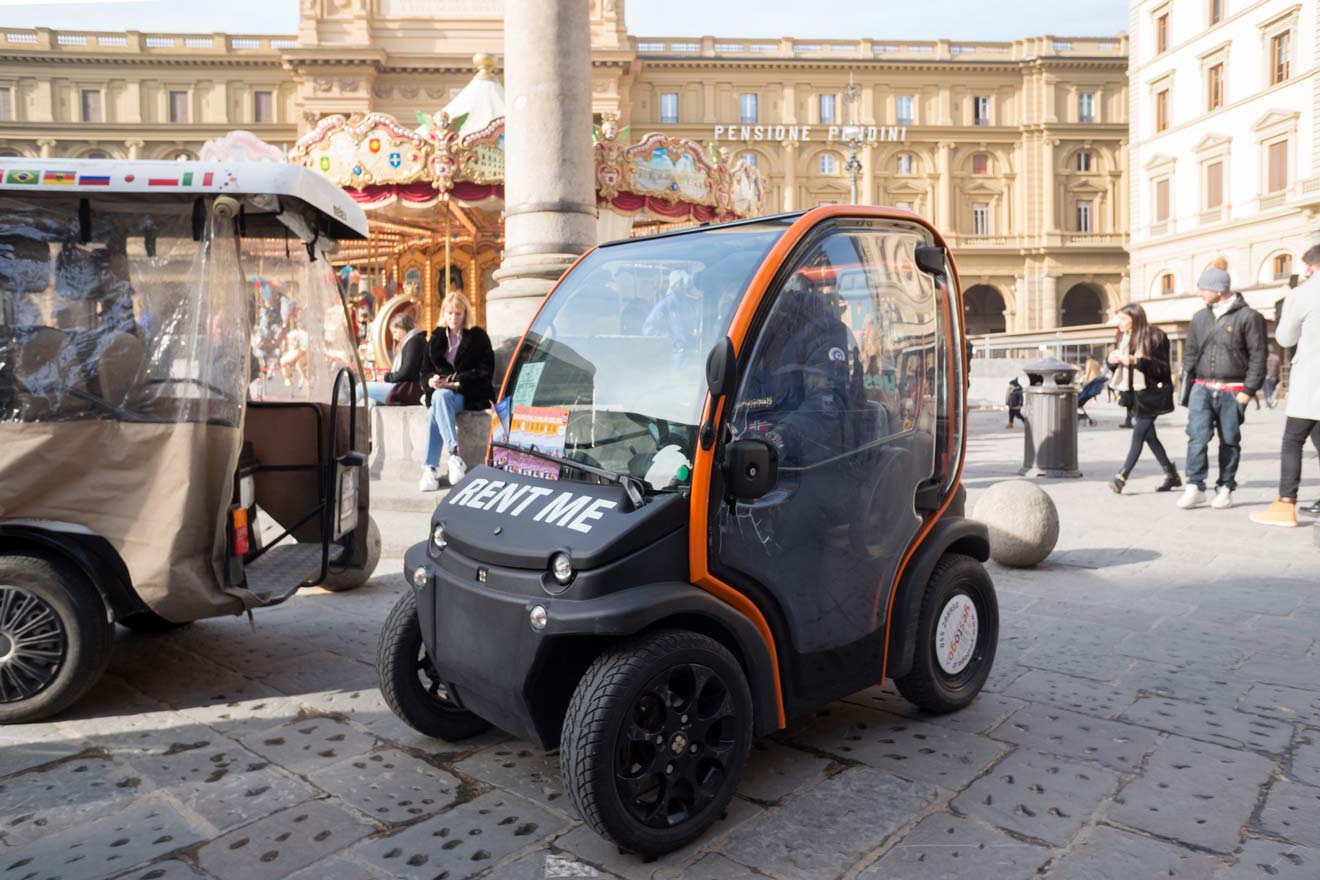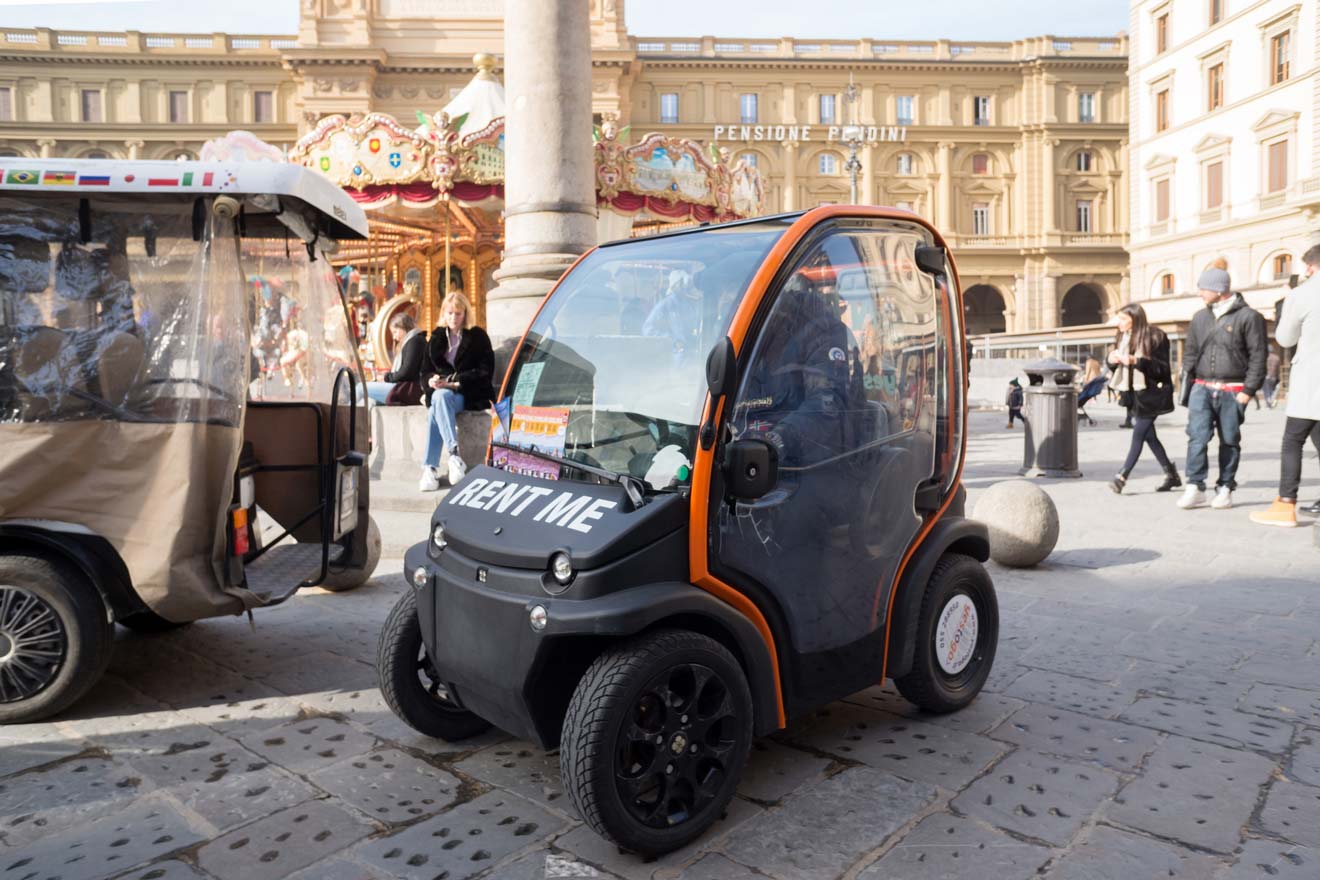 From my personal experience, you can quickly get around Florence just by walking. Luckily the tourist attractions are all close to each other so you can easily get where you want.
If you are planning on renting a car to explore the region around Florence, I recommend you only rent a car for the specific day/s when you take day trips (not for your whole trip).
This is because driving in the city center (ZTL Zone) is not allowed, and parking can be a pain!
But if you are coming by car, you will need to park in a paid parking lot outside the city center. You'll find one under the train station of Santa Maria Novella Station or near Piazza Ghiberti (called San Ambrogio). The price starts from US$4 per hour and it can get up to US$8 in certain areas.
Where to eat in Florence
One thing that I loved about the food scene in Florence (besides the fact that it's simply delicious) was that I could stop at any restaurant without even checking it before, and the food would be delicious!
Here are my top 4 favorite restaurants! This is just a short list, but I've got a whole post on the top restaurants in Florence, so check it out if you need some inspiration!
Frequently asked questions about Florence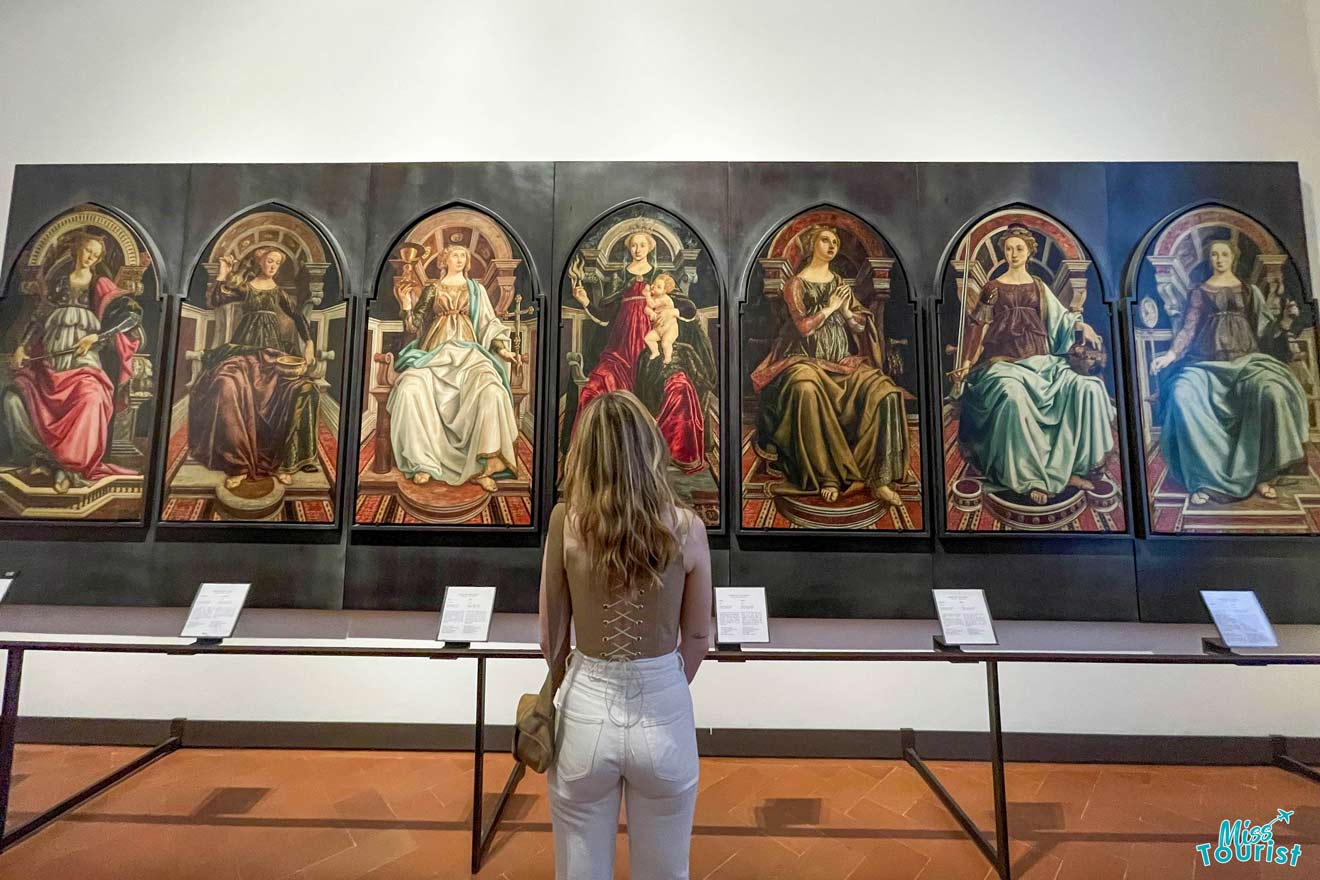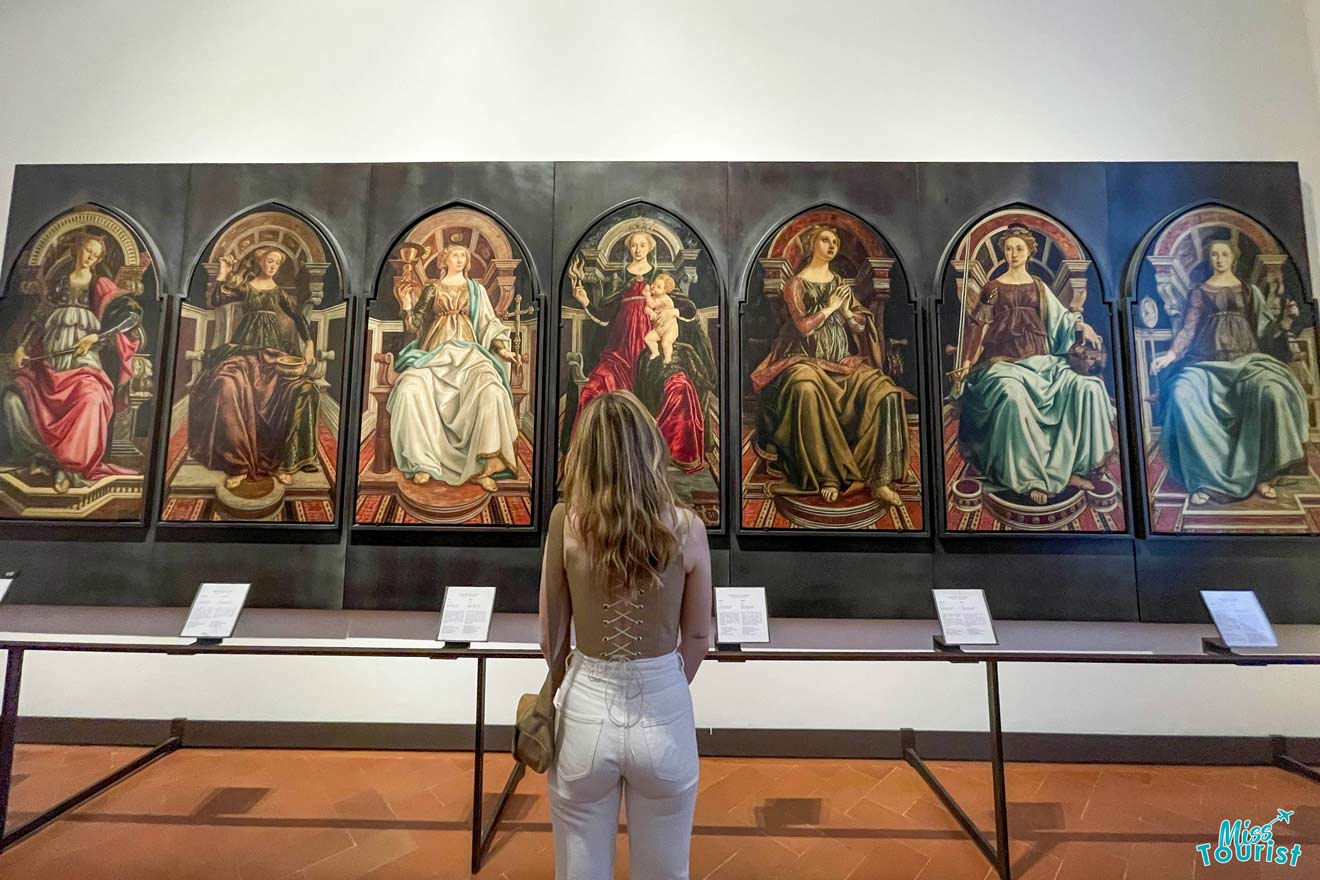 ⛪ What should you not miss in Florence?
The main things that you shouldn't miss out in Florence are the Uffizi Gallery, the Florence Cathedral, Palazzo Vecchio, and Palazzo Pitti. 
🤔 What is Florence, Italy best known for?
Florence is known for its culture, beautiful Renaissance art that you'll find in its world-famous art galleries, unique architecture, and the birthplace of many talented artists like Leonardo Da Vinci. 
📅 Is 3 days enough for Florence?
Yes, you can visit the main attraction on a 3-day trip to Florence.
🌹 What are the best outdoor activities in Florence?
Visiting the Boboli Gardens, catching a sunset in Piazzale Michelangelo, going on a vespa tour, and walking across the Ponte Vecchio are some of the best outdoor activities in Florence. 
Conclusion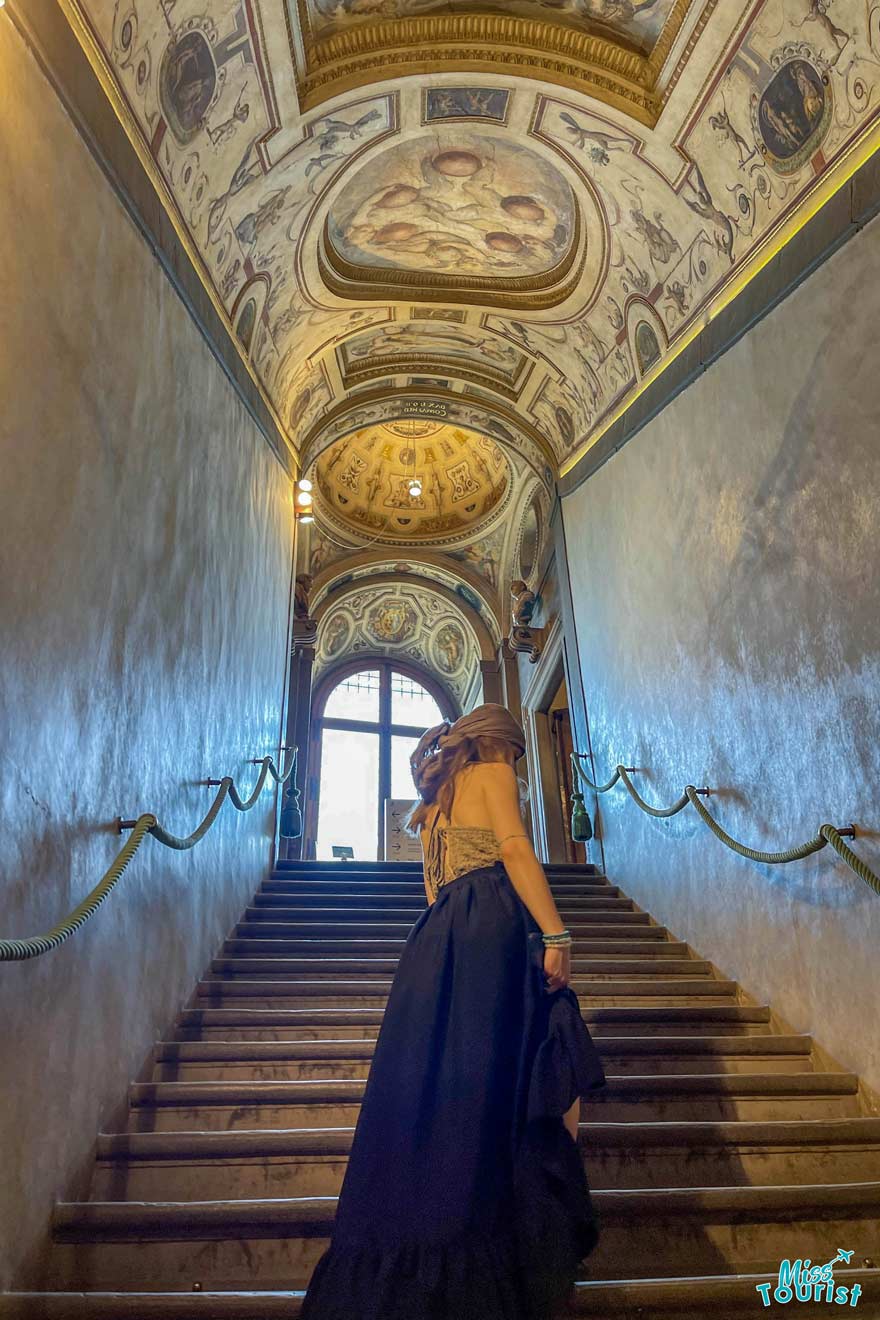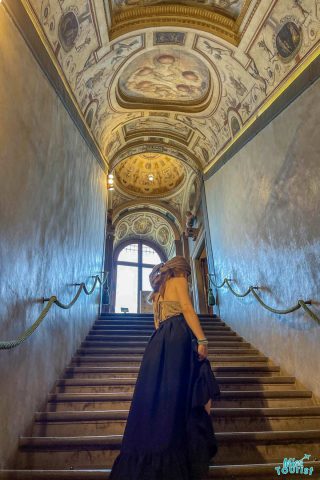 Already booking your tickets? I know how you feel!

I hope this post helped you decide which are the best things to do in Florence, I know there are many, but I'm confident that the article will help you decide which are your favorite ones that you don't want to miss out on!

As I mentioned, besides all the activities you'll also find great hotels where to stay in the city, some practical information on getting around Florence plus a few restaurants that I've been to and that I've absolutely loved!

I'm sure you'll love every minute of your holiday here! I know I did, and I would come back for more at any time so leave me a comment if you have any more questions!
Safe Travels,
Victoria
---
Pin it for later!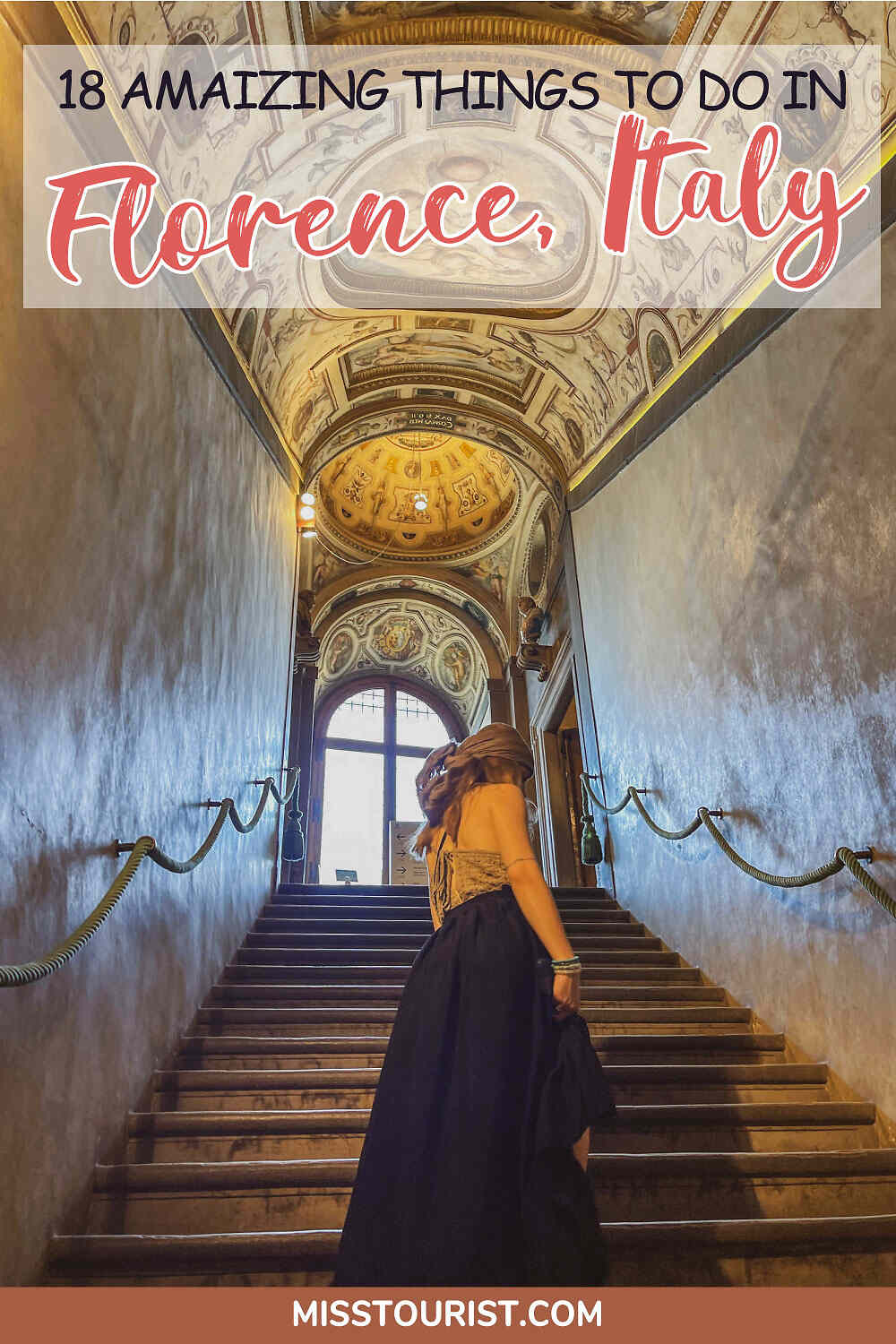 Pin it for later!