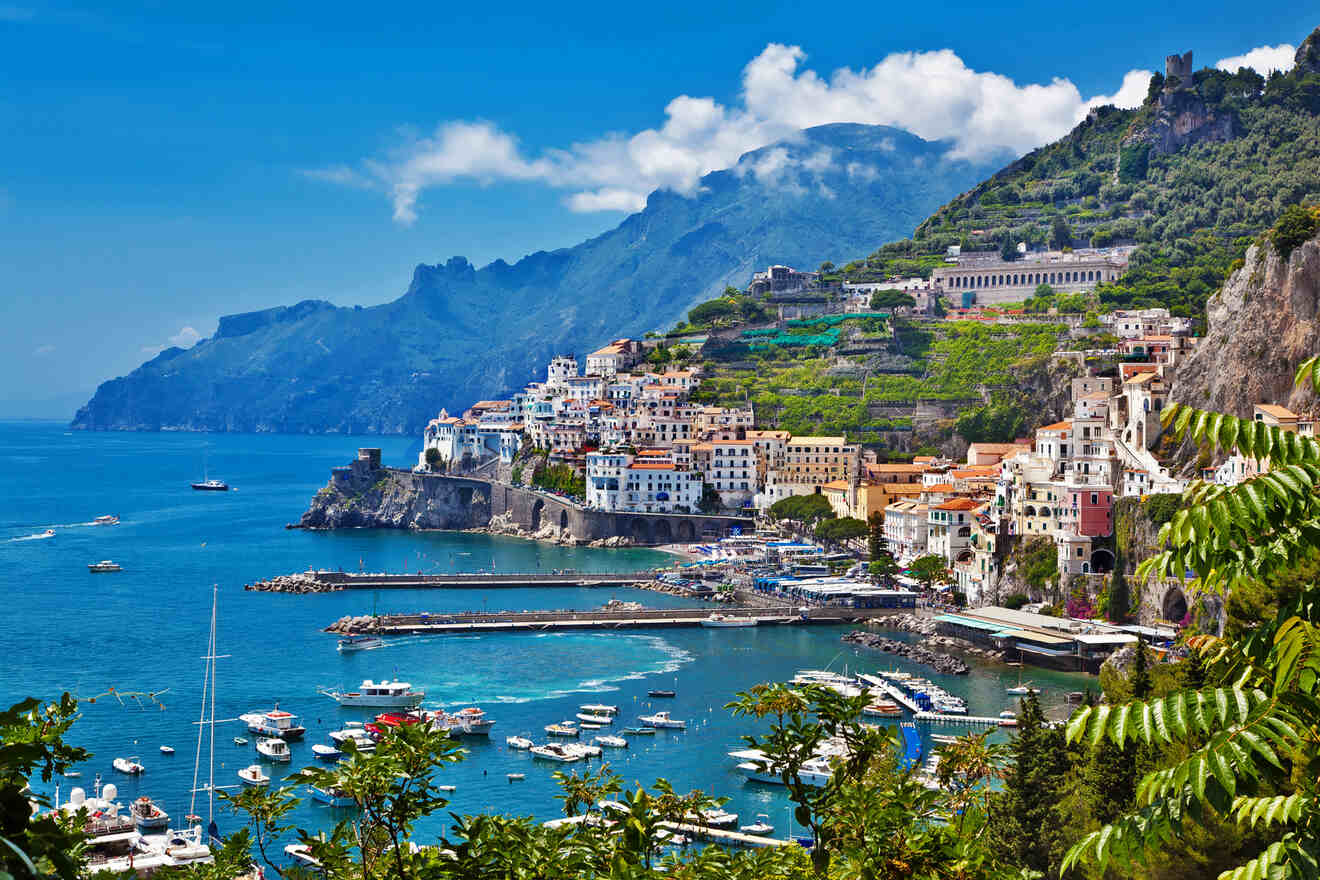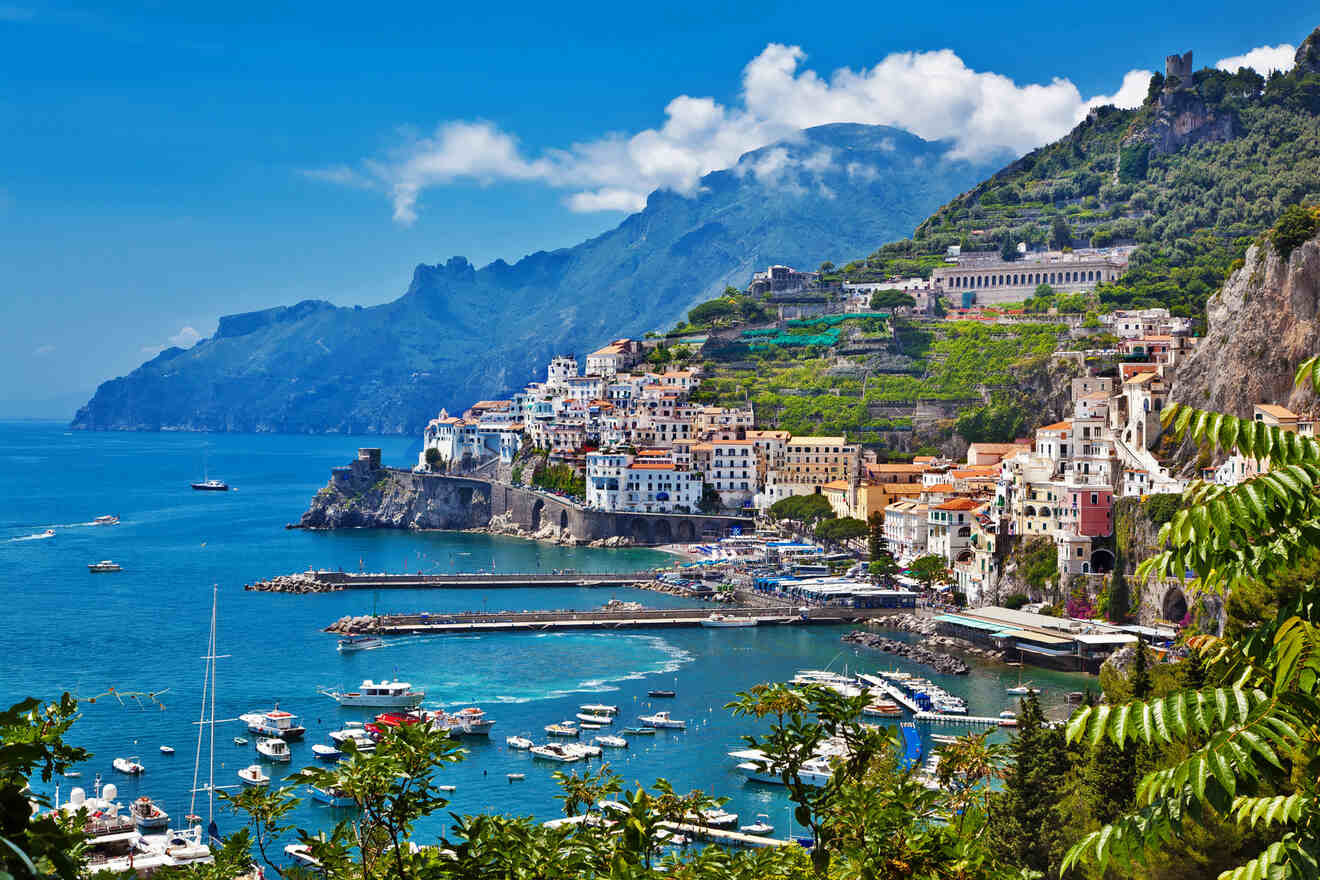 Rome, the beautiful Eternal city, has so much to offer that you could spend months here and still have things to discover!
But during your visit to Rome, after ticking off the Sistine Chapel and Rome's main attractions, you absolutely must explore the other treasures of this amazing country, where I am lucky enough to be from.
Good news for you, Rome's central location makes it a perfect base to reach other incredible cities and historical sites nearby like Naples, Pompeii, and Tivoli, just to name a few…All perfect for a day trip from Rome!
To help you save time, I created this guide with all the best day trips and tours from Rome, including all the places that are well worth visiting and not too far from the capital. Are you ready to explore them all with me?
Let's go!
If you are in a hurry
If you don't have time to read the whole post, here is a quick summary of the top day trips from Rome
Here are the main tours to book in advance:
Here's a map with all the best day trips from Rome, to show you where they're located: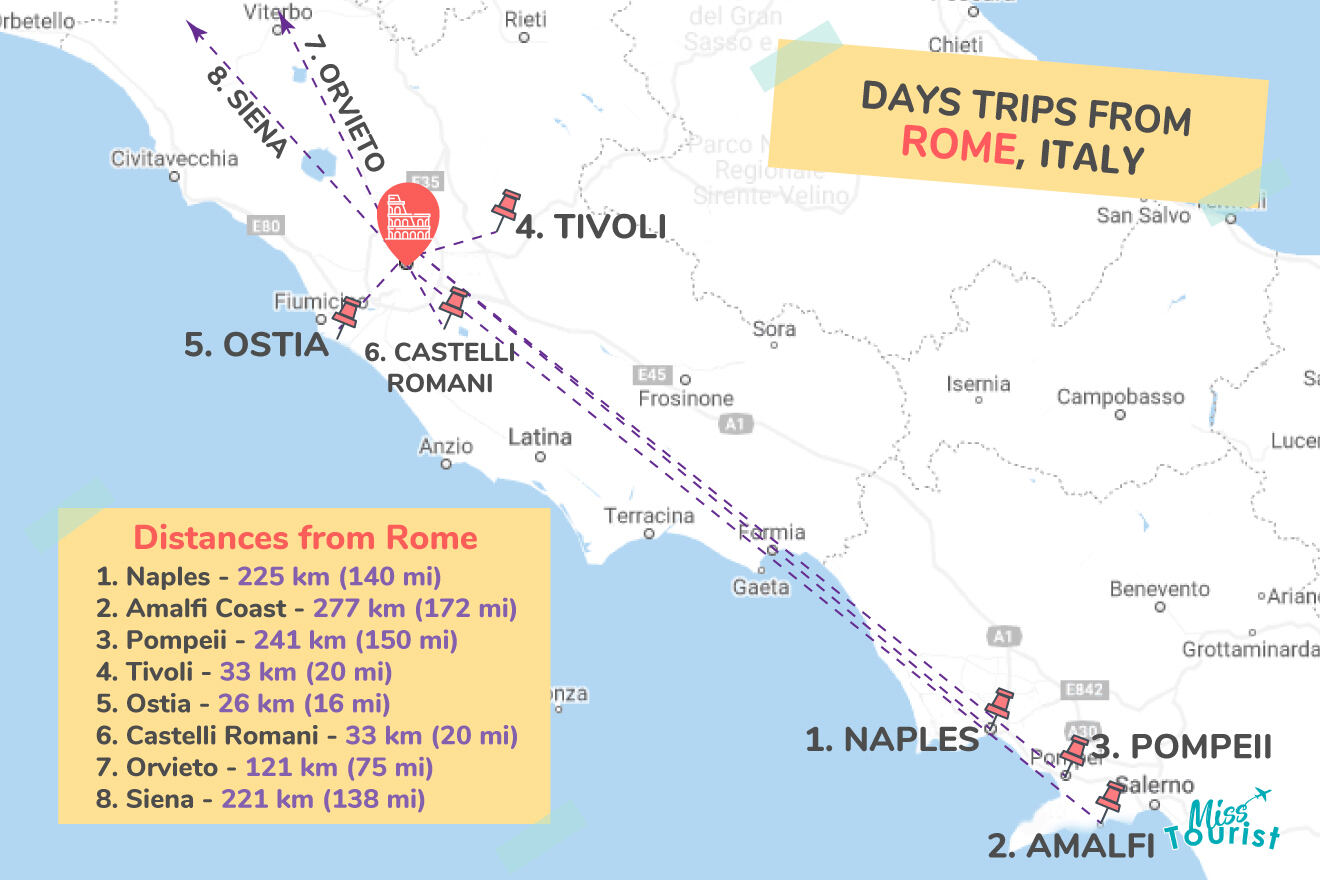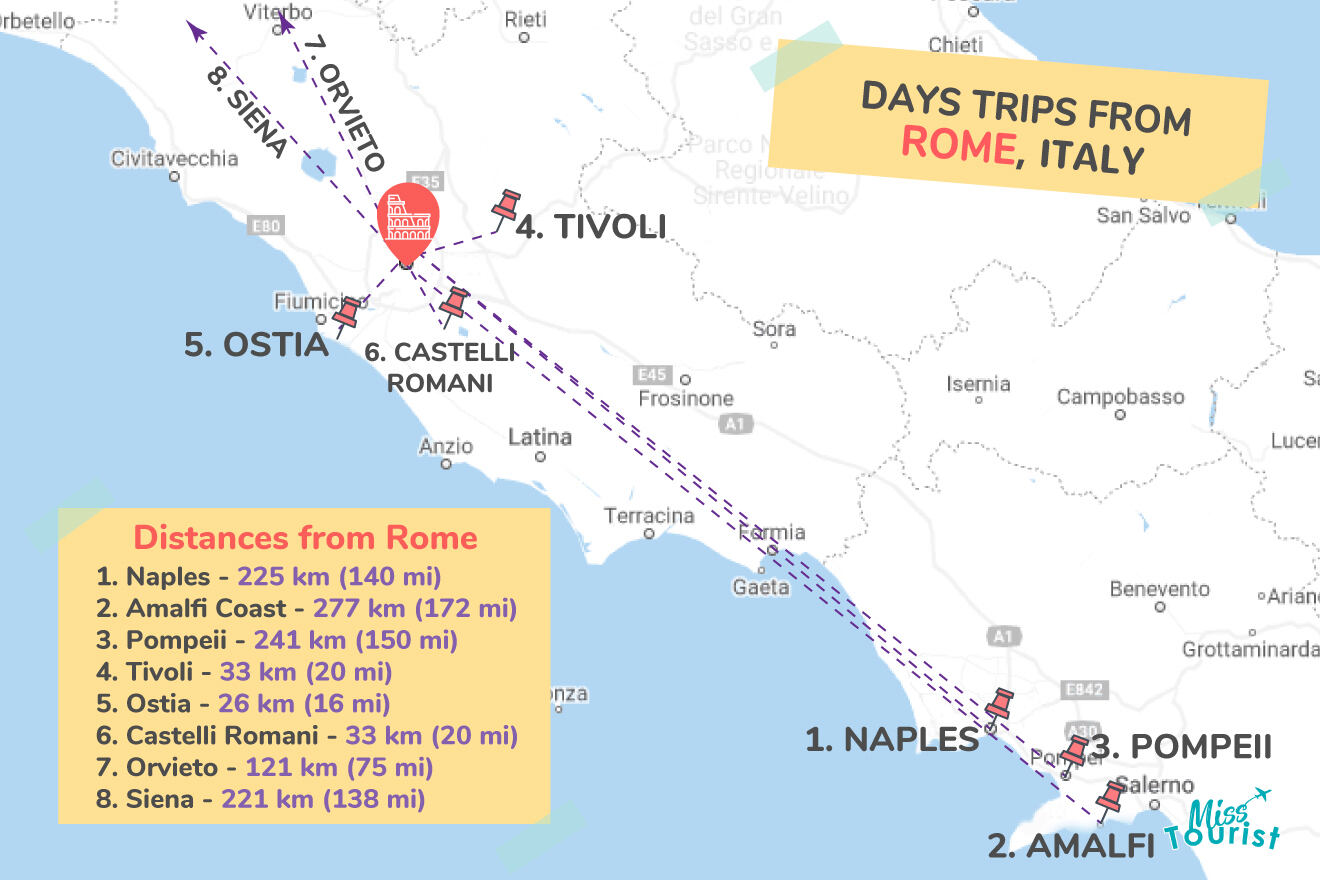 1. Eat the best pizza in Italy in Naples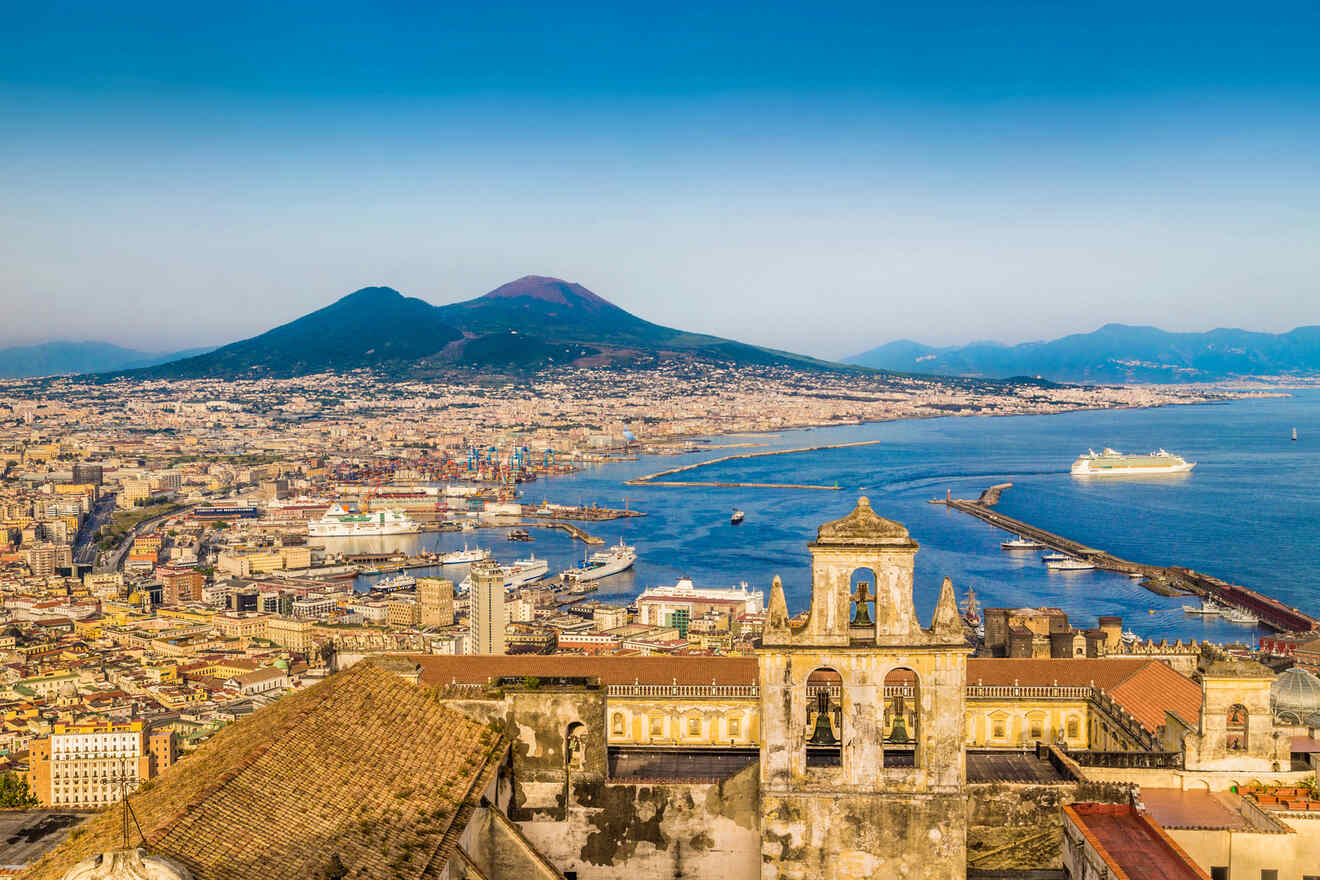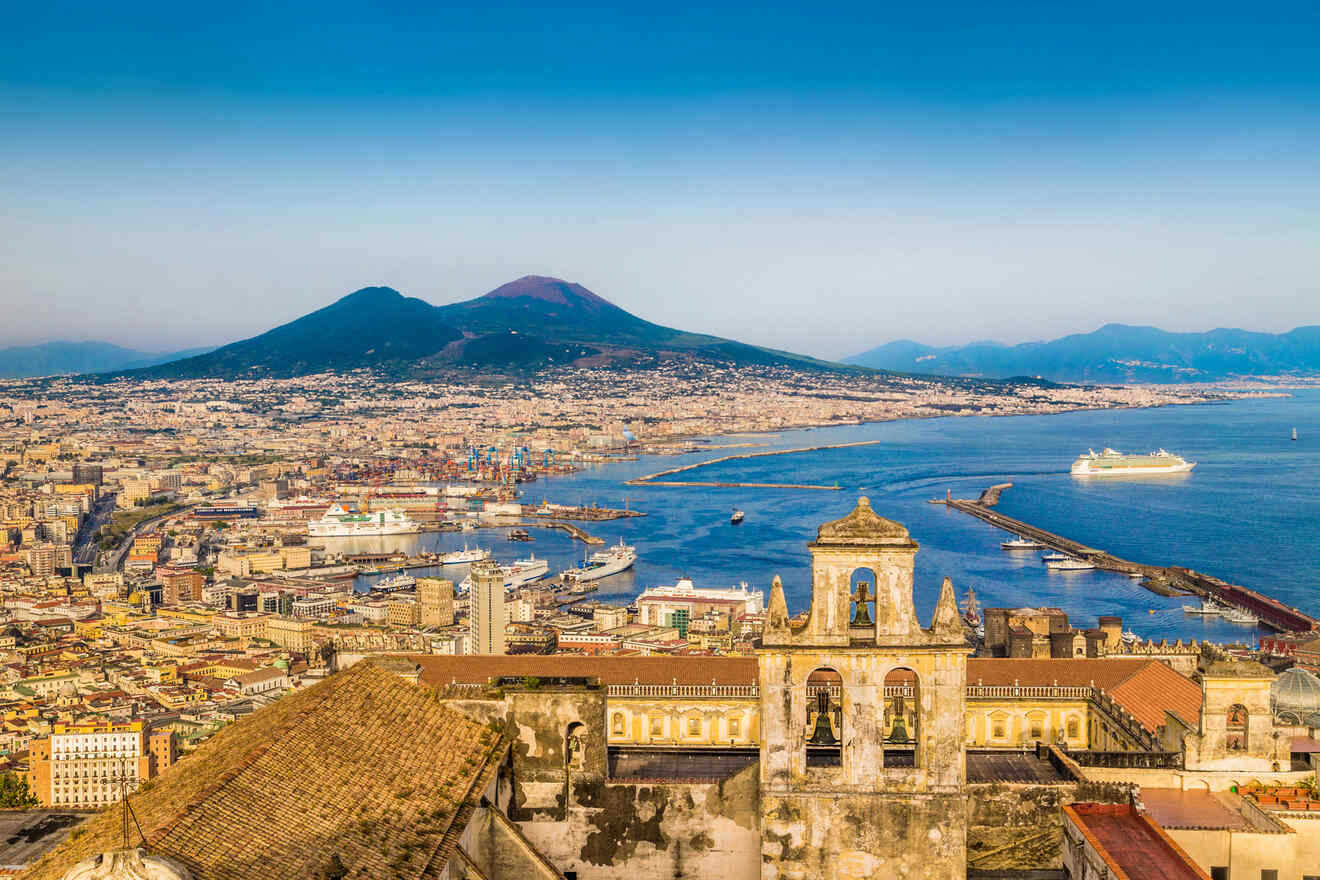 The unique coastal city of Naples is a MUST do day trip from Rome. Offering countless things to do and see whilst being the gateway to Mount Vesuvius and Pompeii (check out day trip #3), you could easily spend a week exploring here!
Naples, the third-largest city in Italy, is a paradise for history buffs hosting an amazing historic city center dating back 2800 years!
Did you know that it was the most bombed city in Italy during World War II?
Here you can visit one of its 400 ancient churches, check out the most extensive collections of Roman Empire artifacts at the National Archaeological Museum and lose yourself in its picturesque streets.
And, of course, in Naples, expect to try the best pizza in all of Italy. I suggest Pizzeria Dal Presidente or Pizzeria Starita, or join a food tour of Naples to sample all the delicious food the city has to offer!
In other words… After visiting Rome's most crowded attractions, the next stop is definitely the magical city of Naples!
Getting there:
By Car: 2.5 hours and 225 km (miles) via the A1/E45
By Train: Take a fast train for 1hr (Trenitalia or Italo) from Roma Termini to Napoli Centrale for about €35. If you want a cheaper option, you can take the slower Regionale (regional trains) for €12, 3h.
Guided Tour: Join this full-day tour from Rome (via high-speed train) combining a visit to Pompeii and to Naples historic streets and the San Gregorio market with a local guide, for €278.
2. Enjoy la dolce vita on the Amalfi Coast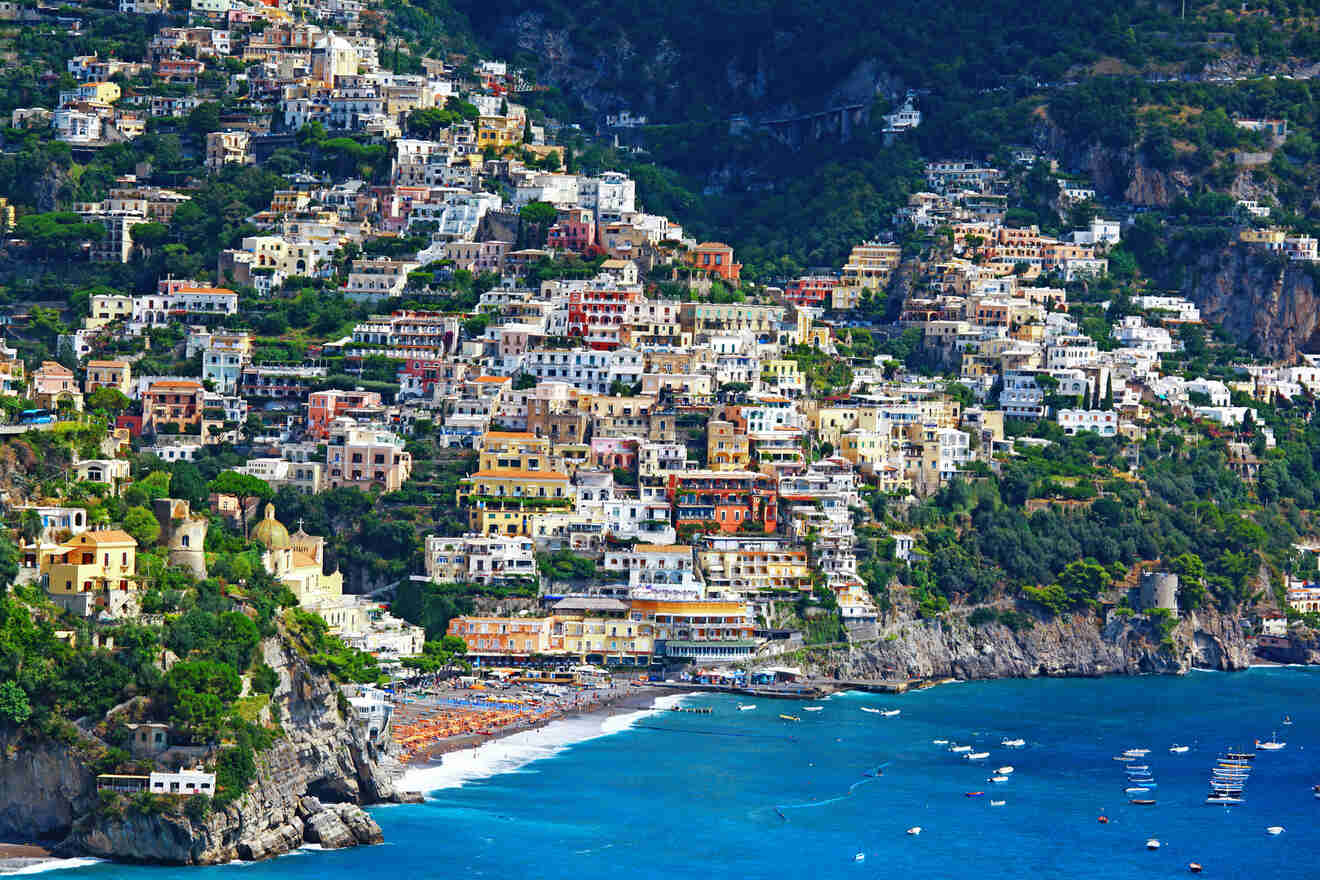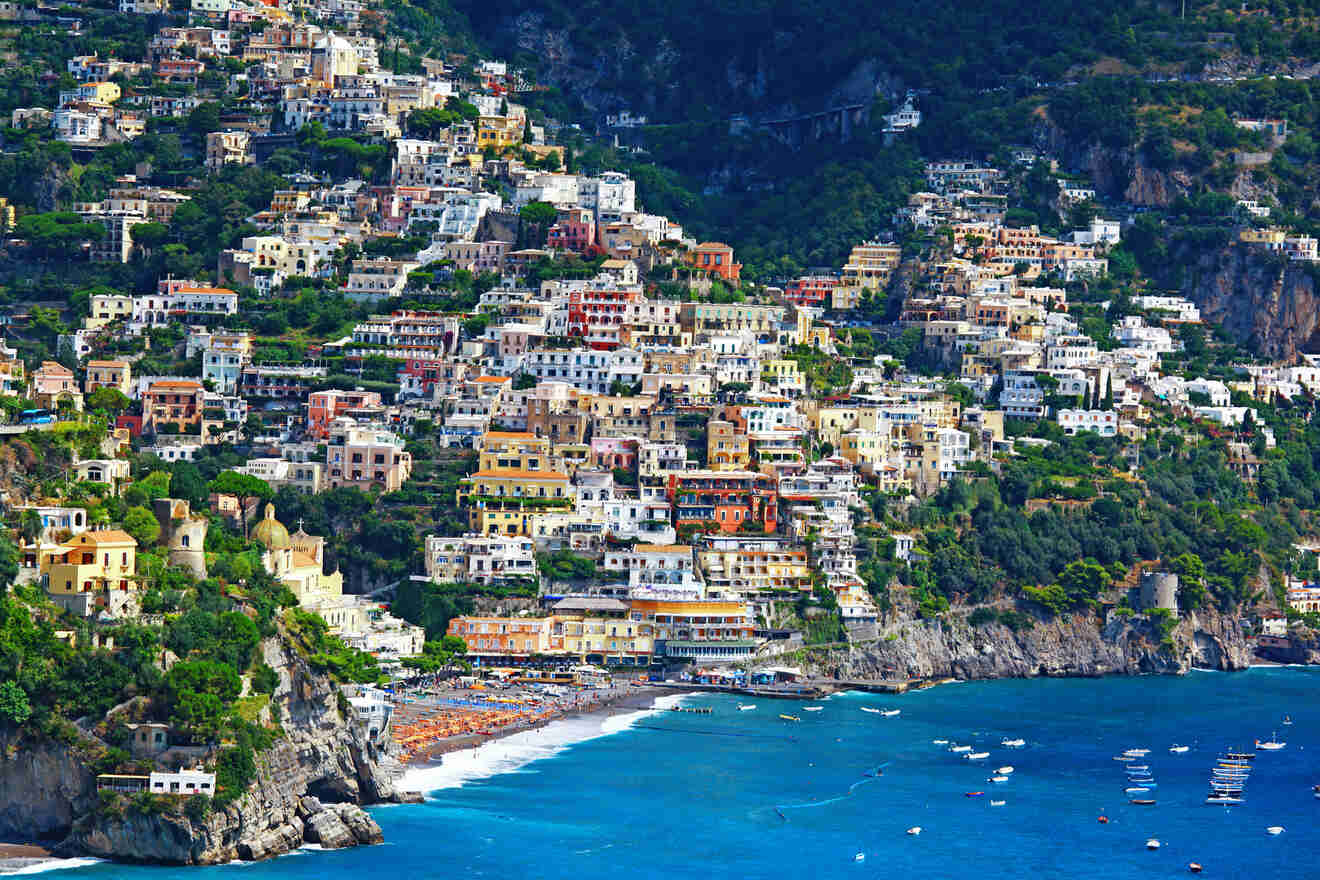 With its picturesque towns built on rolling hills, cliffs facing the sea, and rocky mountains as the backdrop, there's no wonder why Amalfi Coast is one of Italy's most popular tourist destinations… and for sure one of the best day trips from Rome!
Located between the Bay of Naples and Salerno, just the drive to the Amalfi Coast is an attraction itself. Enjoy the very scenic road through the region offering stunning sea views!
During your day trip, you can stop at any of the many quaint villages. You must visit at least one Amalfi hill town! I recommend Positano and Cetara, each with at least one old church well worth visiting, and you can even relax on one of the stunning beaches in the nearby towns.
Needless to say, you cannot leave the Amalfi Coast without trying the traditional limoncello (a liqueur made from Amalfi lemons), and the amazing food in the best Amalfi Coast restaurants!
NOTE: The Amalfi Coast region became popular with celebrities and is one of the most luxurious destinations in Italy, so it's pricier than average for Italy!
P.S.: If you have time to stay overnight, I recommend extending your day trip to Capri to visit the famous Blue Grotto on a boat tour!
Getting there:
By Car: 3.5 hrs, following the A24 Autostrada (highway) to the E45.
By public transport: Take a train from Roma Termini to Naples Centrale Station (about 2h and €35). Walk to Naples Garibaldi station and take the bus to Meta (1 hour). In Meta, change and take the bus to Positano (30mins).
Guided Tour: To make the most of your visit to the Amalfi Coast, join this tour, during which you will explore various towns along this storied stretch of coastline, have a limoncello tasting, and go on a cruise!
3. See the ancient ruins of Pompeii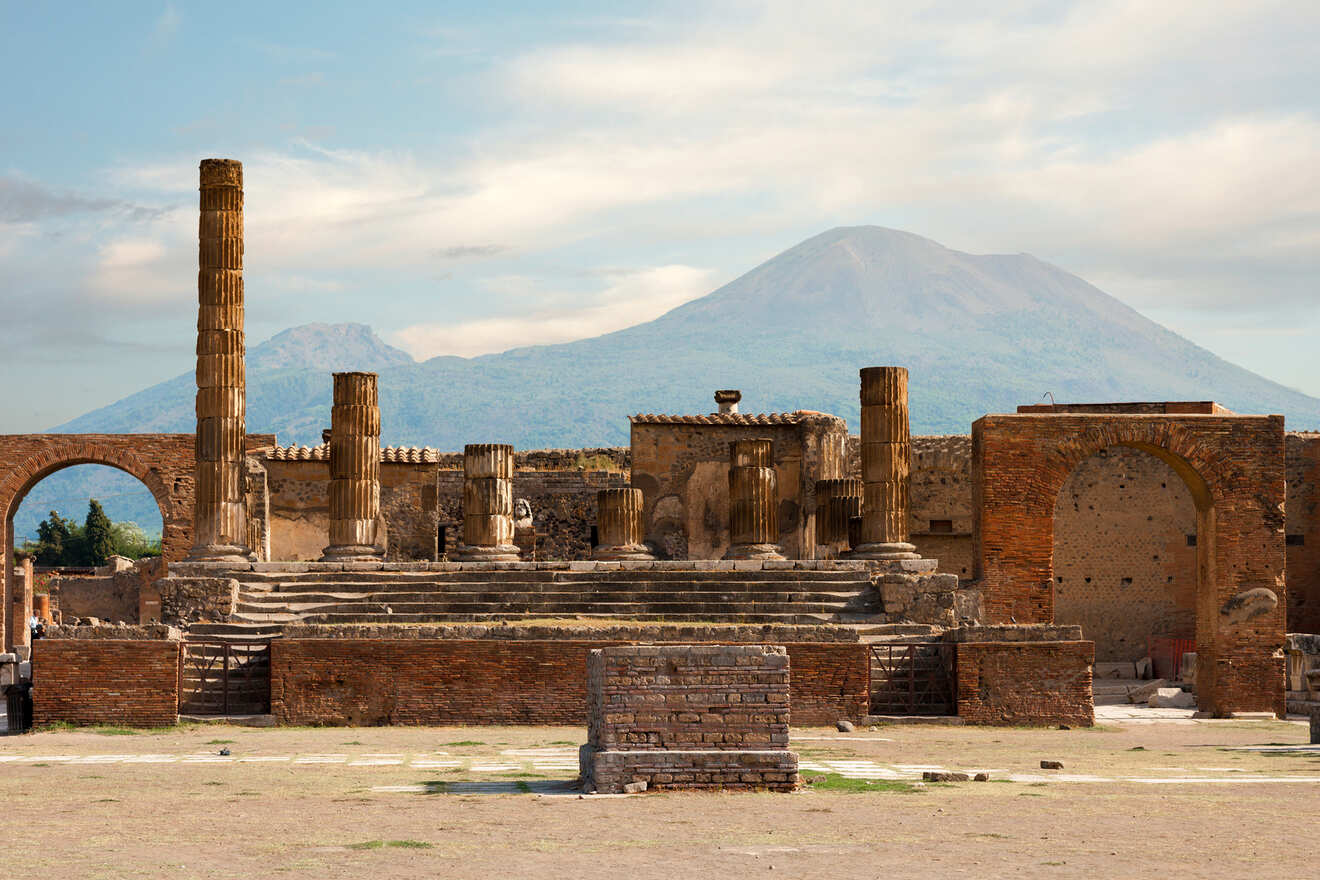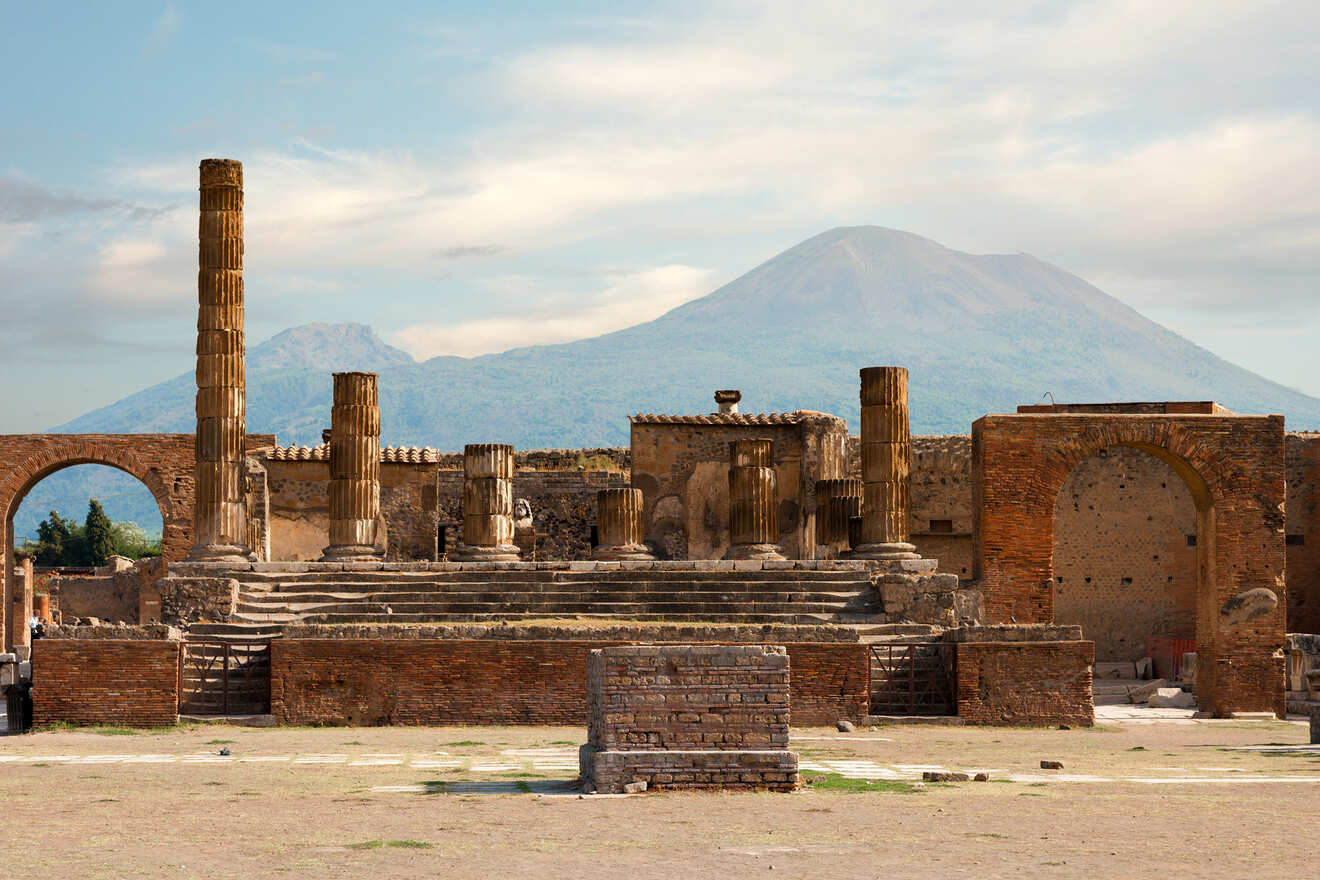 Pompeii is best known as the ruined city for the eruption of Mount Vesuvius, dating back to the 7th century BC, and is one of the oldest historical sites in the whole world… how can it not be a MUST see?
Here you'll walk along the streets of this ruined metropolis and see the remains of 2,000-year-old houses, shops, restaurants, baths, churches, political centers, and even plaster body casts of actual people who died in the catastrophic volcanic eruption. This is a very authentic way of learning how life was in Roman times.
You can either book your tickets online for €16, or go to the ticket offices at Pompeii's main entrances (Porta Marina, Piazza Anfiteatro, and Piazza Esedra) for the same price, but you may find long queues.
From the Pompeii ruins, it is also possible to hike to the summit of Mount Vesuvius, offering you stunning views down into the crater of the still-active volcano, and the beautiful landscapes all around! Reaching the trailhead will take you around 30-minutes by bus and visiting it will cost you €12.
Getting there:
By Car: From Rome will take you around 2.5 hours by car via the E45 road, southbound.
By Public Transport: Taking a high-speed train to Naples from Rome will take you around 1h and cost you about €35. From the Naples Centrale station, take the Circumvesuviana train towards Sorrento for 30mins and stop at Pompeii. You'll see the entrance to the ruins as soon as you get off!
Guided Tour: The best way of learning everything about this UNESCO World Heritage Site is definitely by joining a guided tour. This day trip includes transport from Rome, skip-the-line access, a guided visit to the Pompeii archaeological excavation, and a 2-course lunch at a local restaurant for €135.
4. Visit Villa d'Este & Hadrian's Villa in Tivoli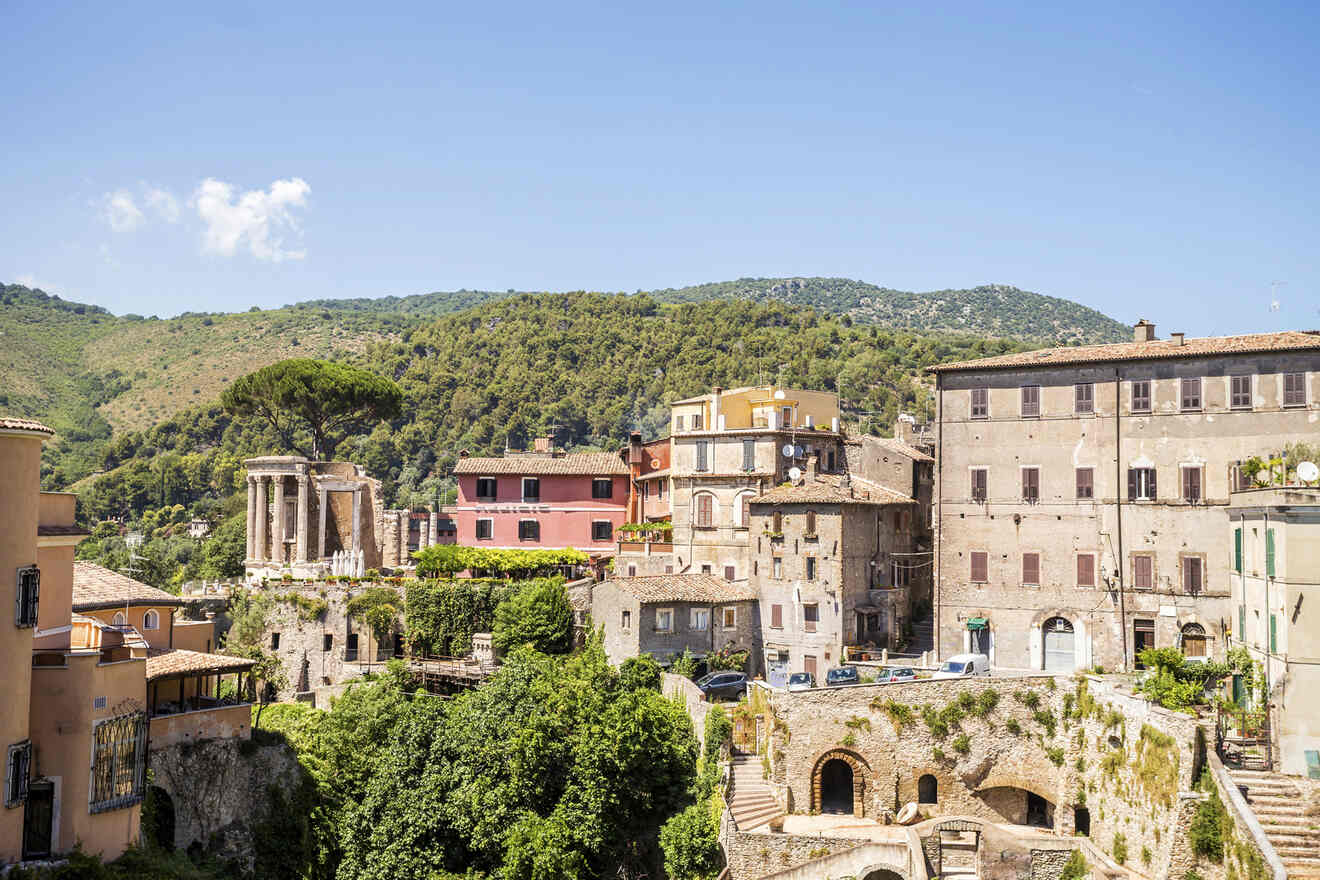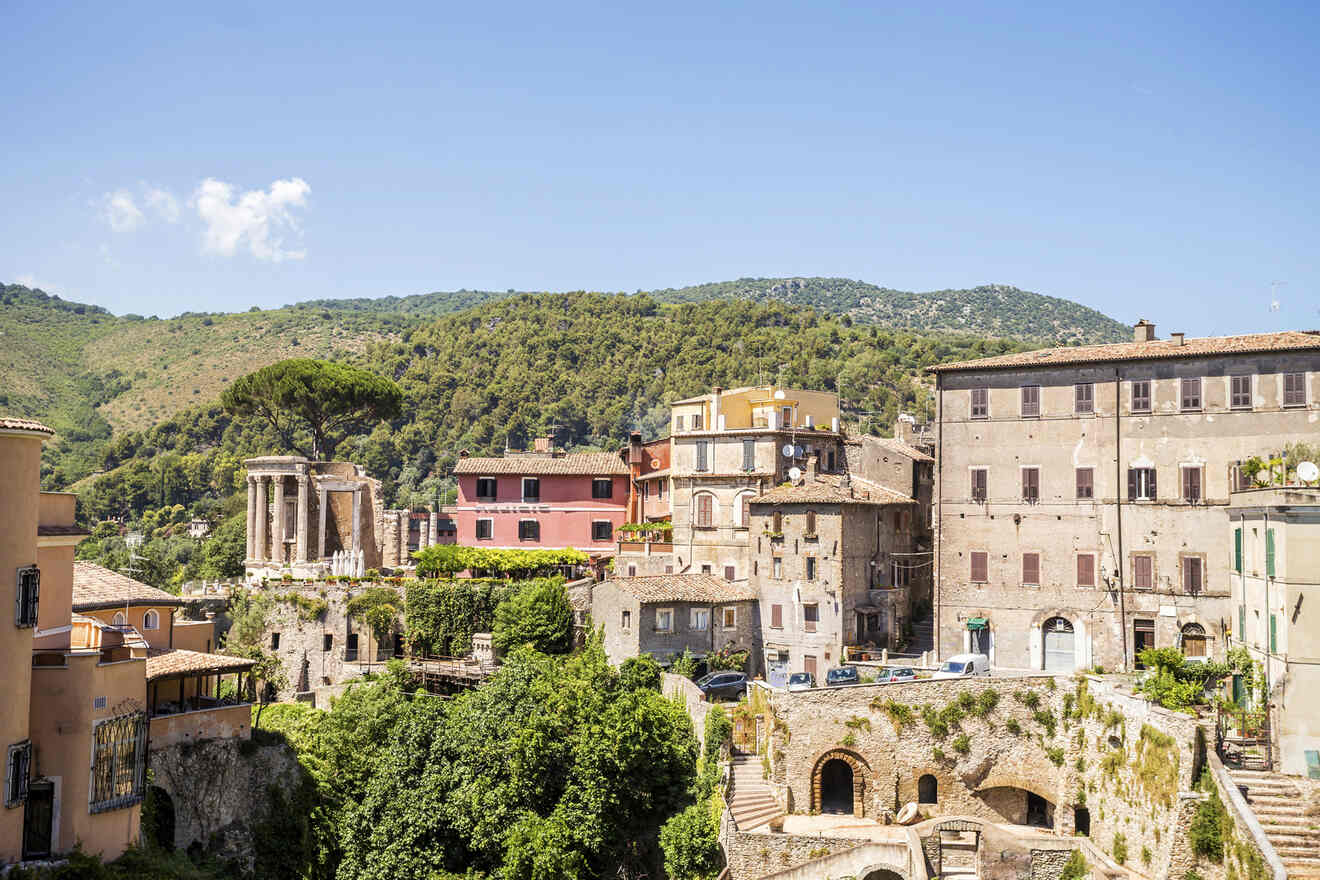 The city of Tivoli, located only 40 minutes east of Rome, is home to two of Italy's most well-preserved Roman villas. Hadrian's Villa and Villa D'Este are both UNESCO world heritage sites and absolutely worth a visit.
The two well-preserved villas can easily be combined on a single day trip from Rome since each one takes around two hours to visit. Since there are many stories to be heard about Villa D'Este, I suggest you visit it with a guided tour guide like on this day trip that combines a visit to both Villa d'Este and Hadrian's Villa for €77.
let's check them out one by one:
Villa d'Este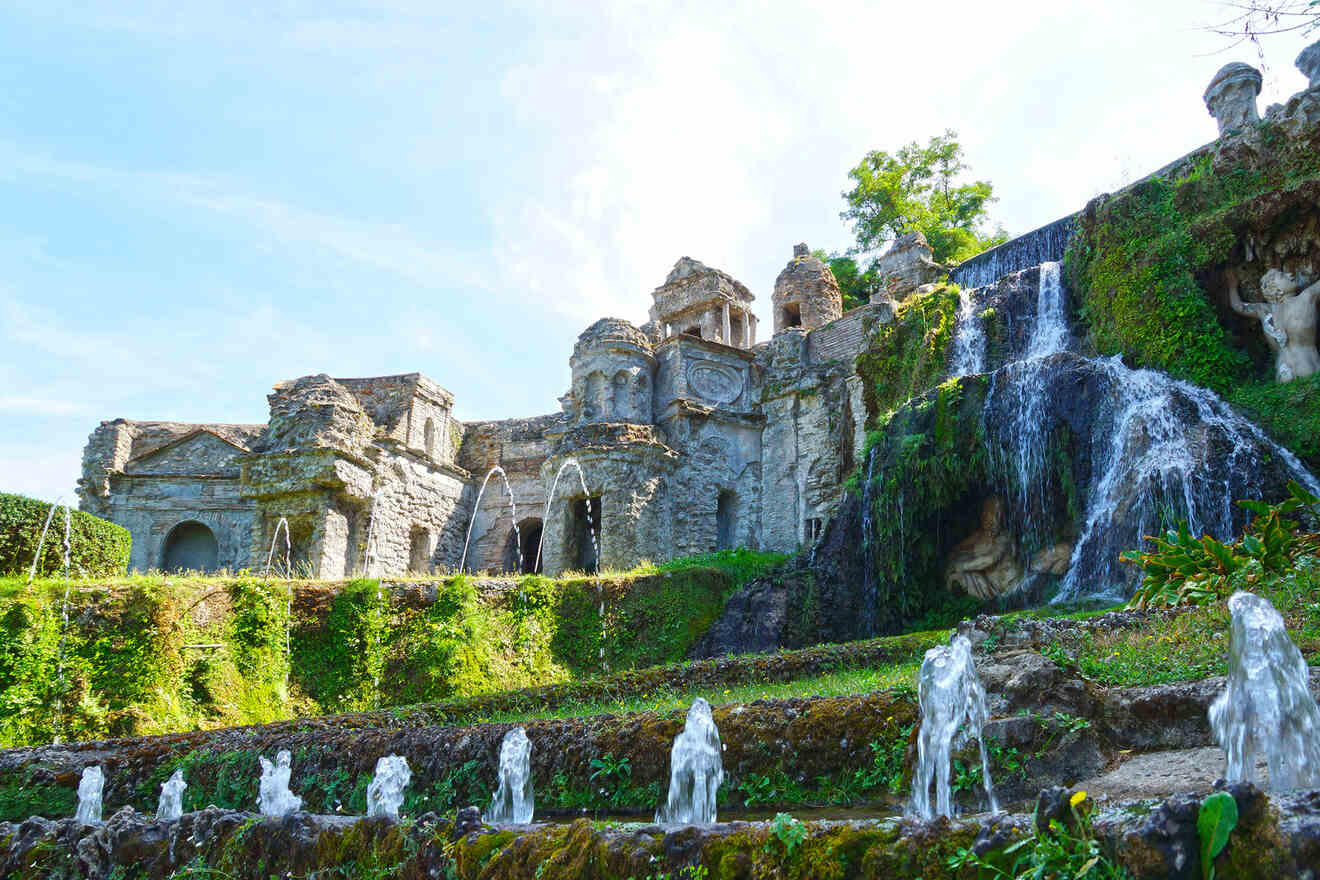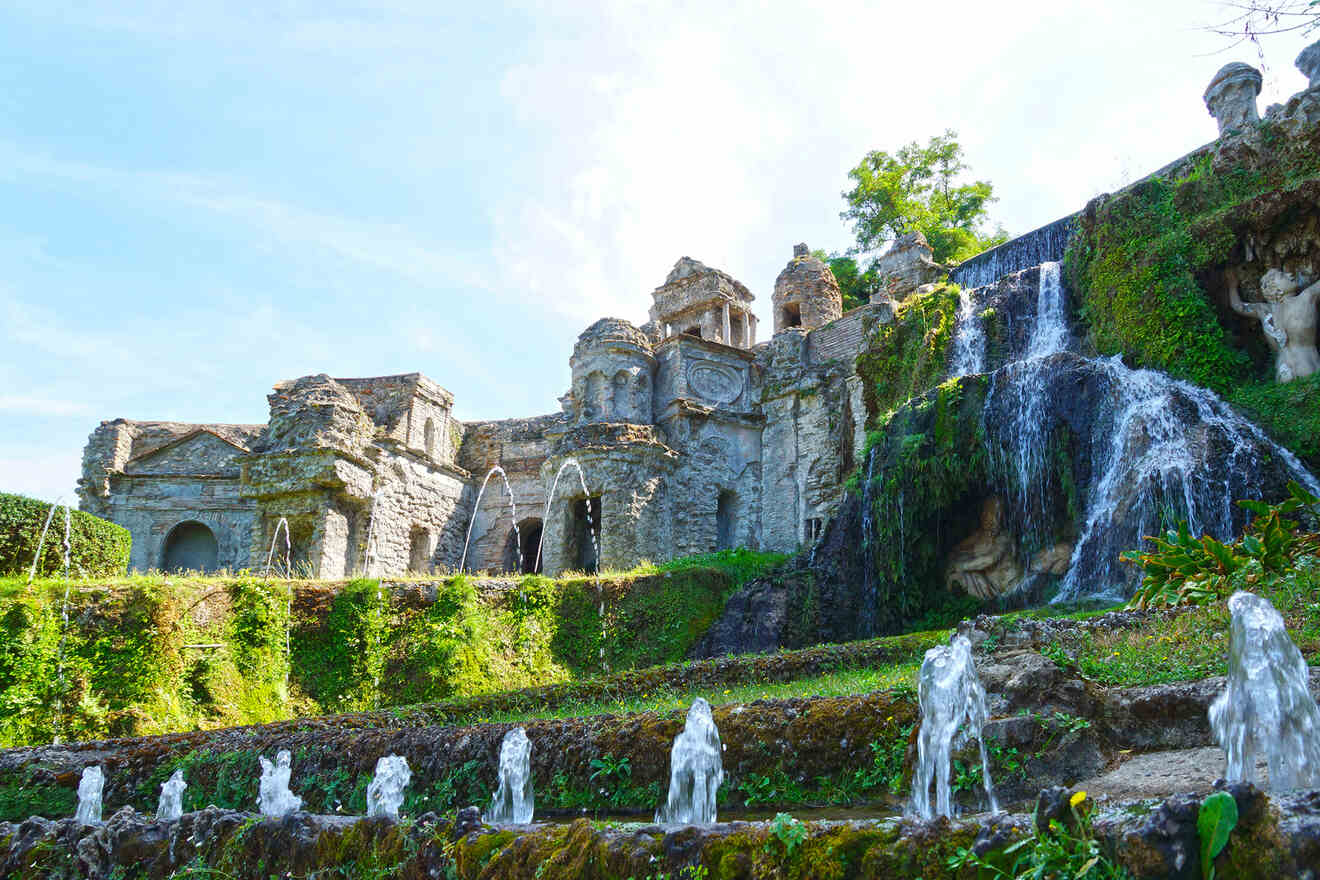 If you love formal gardens, you cannot skip the stunning Villa D'Este, featuring beautiful historic gardens, musical fountains, and waterfalls typical of the Renaissance times.
This is the perfect place to escape the hustle and bustle of Rome and enjoy some peace. Stroll along the villa's secret paths, gorgeous statues, and frescoed rooms… and stop to recharge your energies at the cozy little restaurants in the area.
Entrance: €8
Hadrian's Villa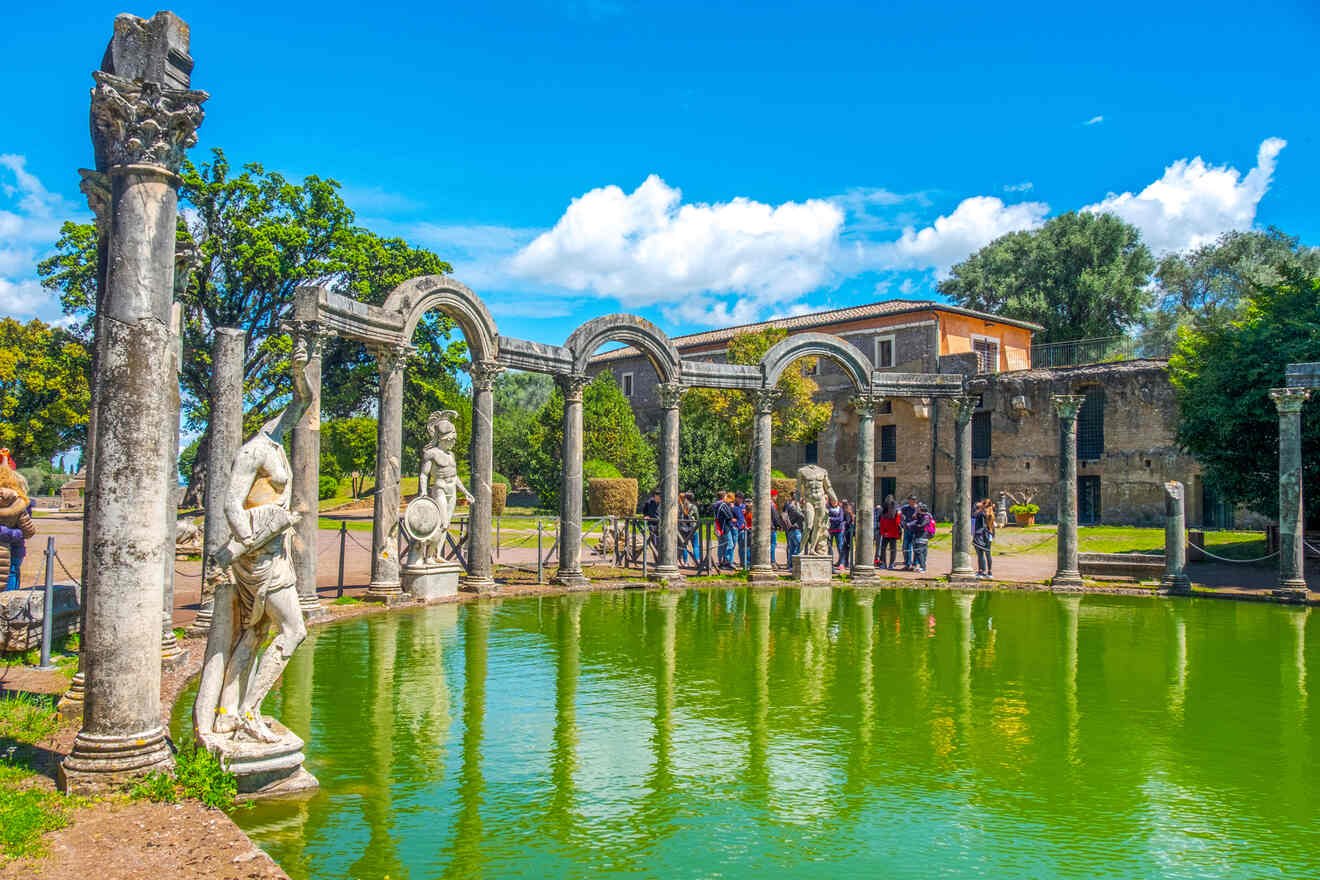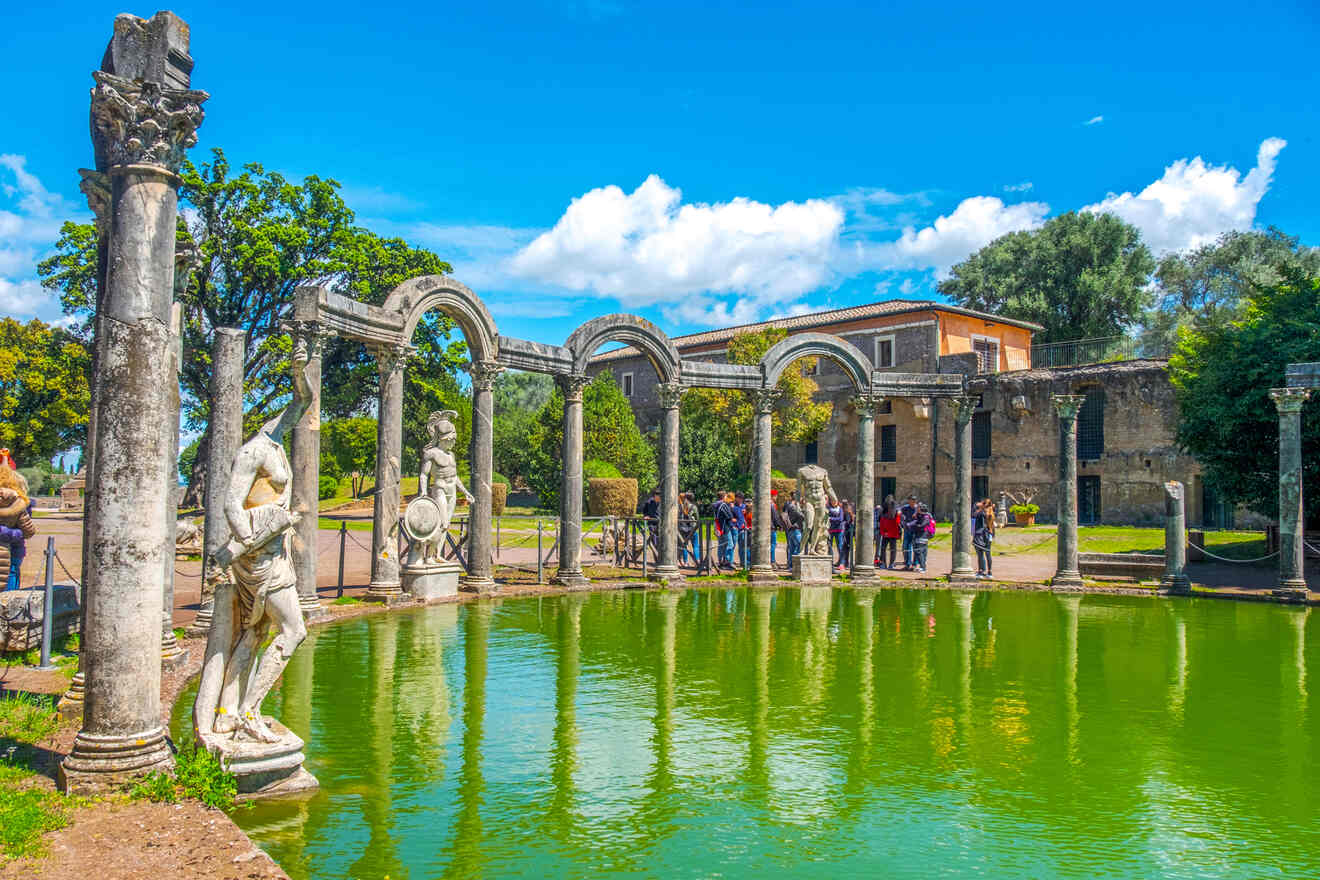 Located on the opposite side of Villa d'Este, at about a 10 minutes drive, you will find the charming Hadrian's Villa. This is an impressive complex of 30 ancient Roman structures built in the second century by Emperor Hadrian as his retreat from the busy Rome.
With its 250 acres of historic palaces, thermal baths, marble pavements, theaters, libraries, temples, and private quarters where the royal guardsman and slaves once lived, this is a history lover's paradise!
PRO TIP: There's a direct bus between Hadrian's Villa and Villa D'Este (get off at the stop Tivoli Piazza Garibaldi), which will cost you €1 and take you 20 min.
Entrance: €12
P.S.: Rome hosts many beautiful villas which now are accommodations for travelers, check them out in this post about the best areas and hotels to stay in Rome!
Getting there:
By Car: 40 minutes on the A24 highway
By Public Transport: 1 hour by train to Tivoli (€3 one-way), then take a bus to Hadrian's Villa, which costs €1 and takes 5 min.
Guided Tour: The easiest way to visit the 2 villas is as a part of this guided day trip from Rome, for €77.
5. Travel back in time at Ostia Antica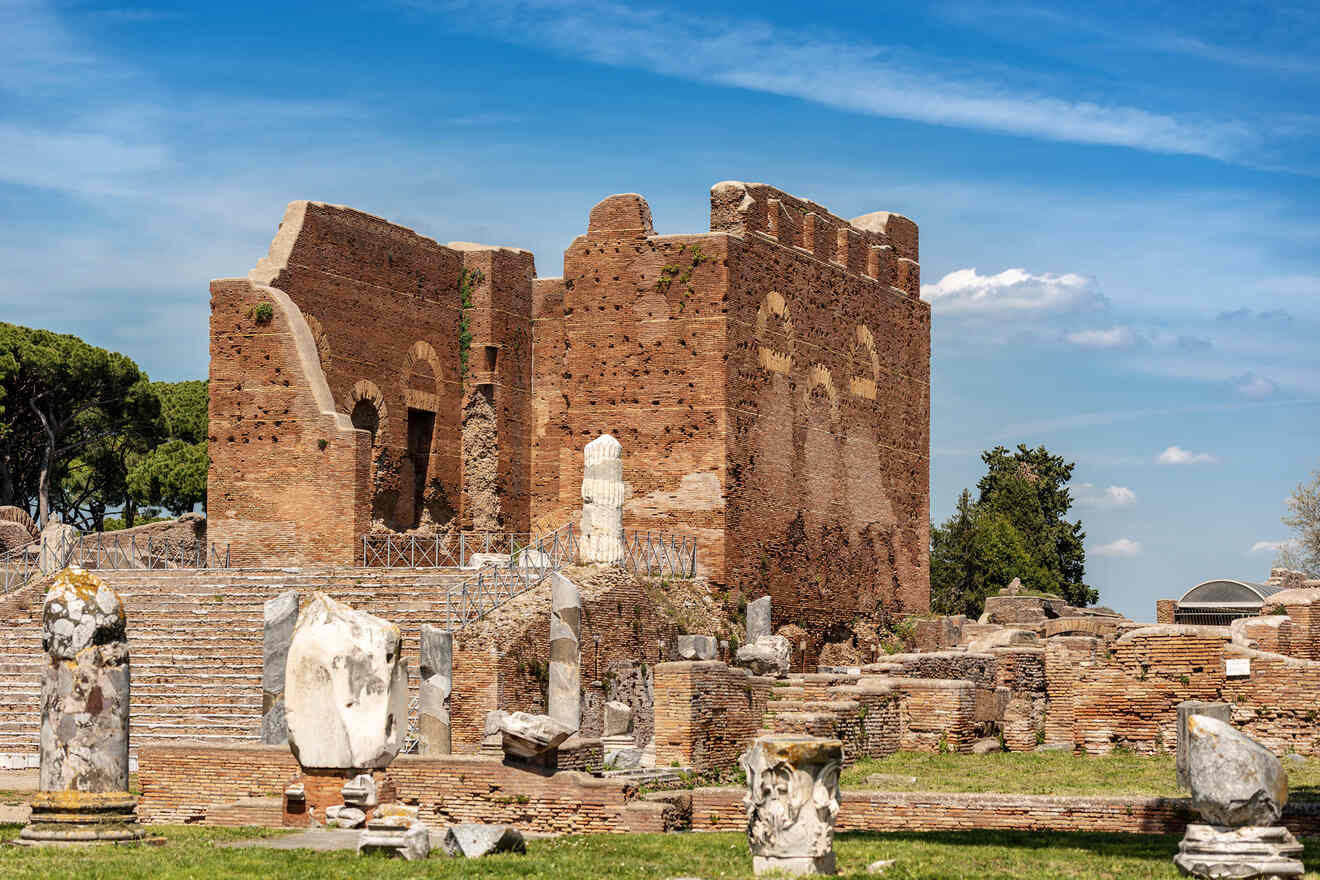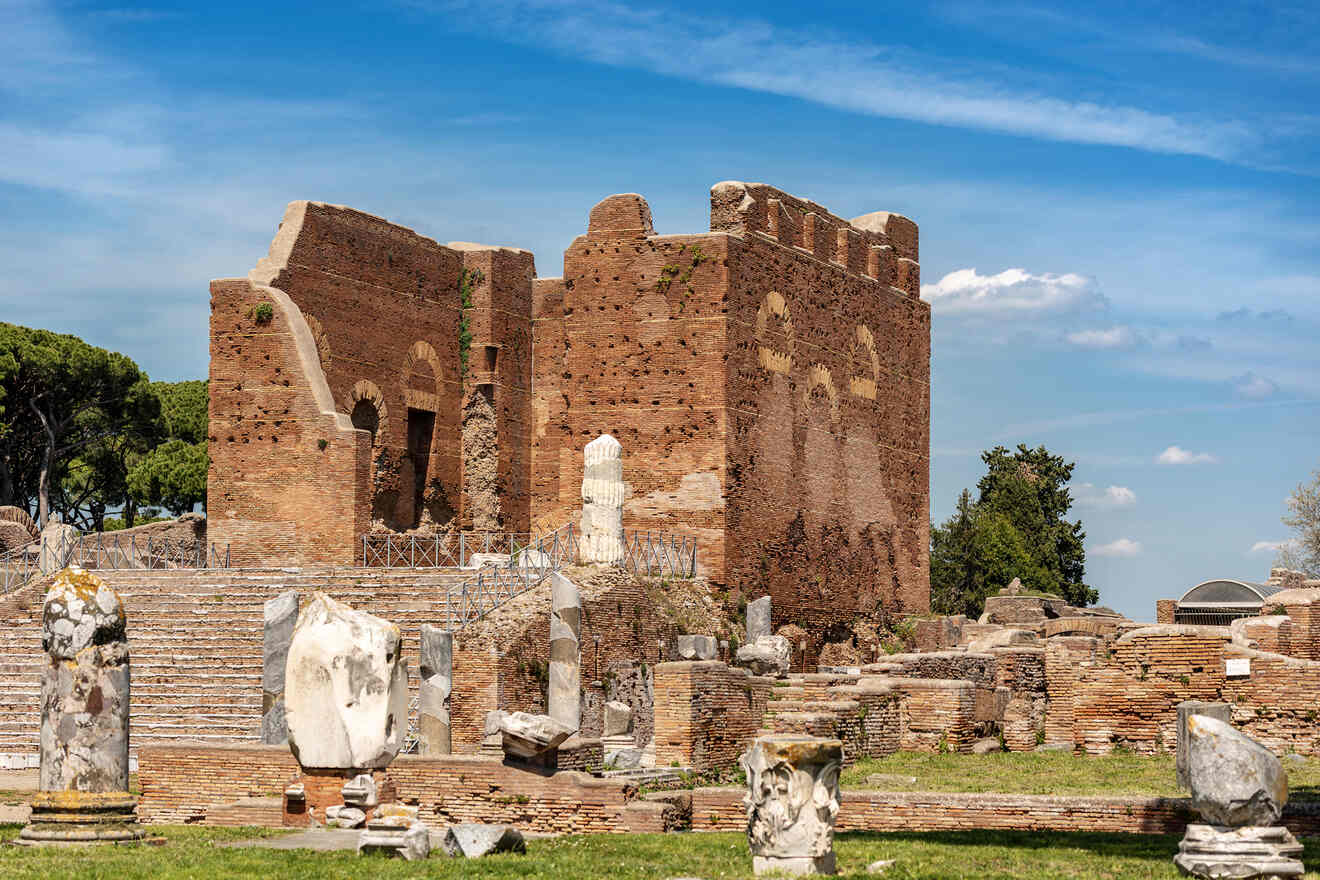 Located at the mouth of the River Tiber just a 45-minute drive from Rome, Ostia Antica was Rome's ancient port city and commercial center. Today it actually lies 2 miles from the sea due to the drop in sea level, but it is still a fascinating place to visit!
Nowadays Ostia Antica is an archeological site featuring ancient ruins, historic apartment buildings and columns, magnificent frescoes, and impressive mosaics. History buffs and art lovers just found their paradise!
Here you can stroll around the Decumanus Maximus, Ostia Antica's main street, where you'll see the ruins of some important temples, like the huge Capitolium and even one dedicated to Hercules.
But the things to explore here are countless, from the Termini Nettuno public baths with their stunning mosaics to the old taverns where locals had wine, and the Agrippa's Amphitheater, hosting theatrical performances for up to 4000 people back in the days.
Entrance: €16
Getting there:
By Car: 40 minutes via SP8.
By Public Transport: Take the metro to the Piramide stop (line B), here change for the Roma-Ostia train (Line RL Cristoforo Colombo) and get off at the 7th stop 'Ostia Antica.' The whole journey will take you around 1 hour, and when you get off at the final stop, in only 5 minutes walk, you'll be at the entrance of the park
Guided Tour: Learn about the life of ordinary ancient Rome's citizens on this half-day trip to the commercial and military seaport town of Ostia Antica for €60 including transport and entry.
6. See the Pope's retreat in Castel Gandolfo, Castelli Romani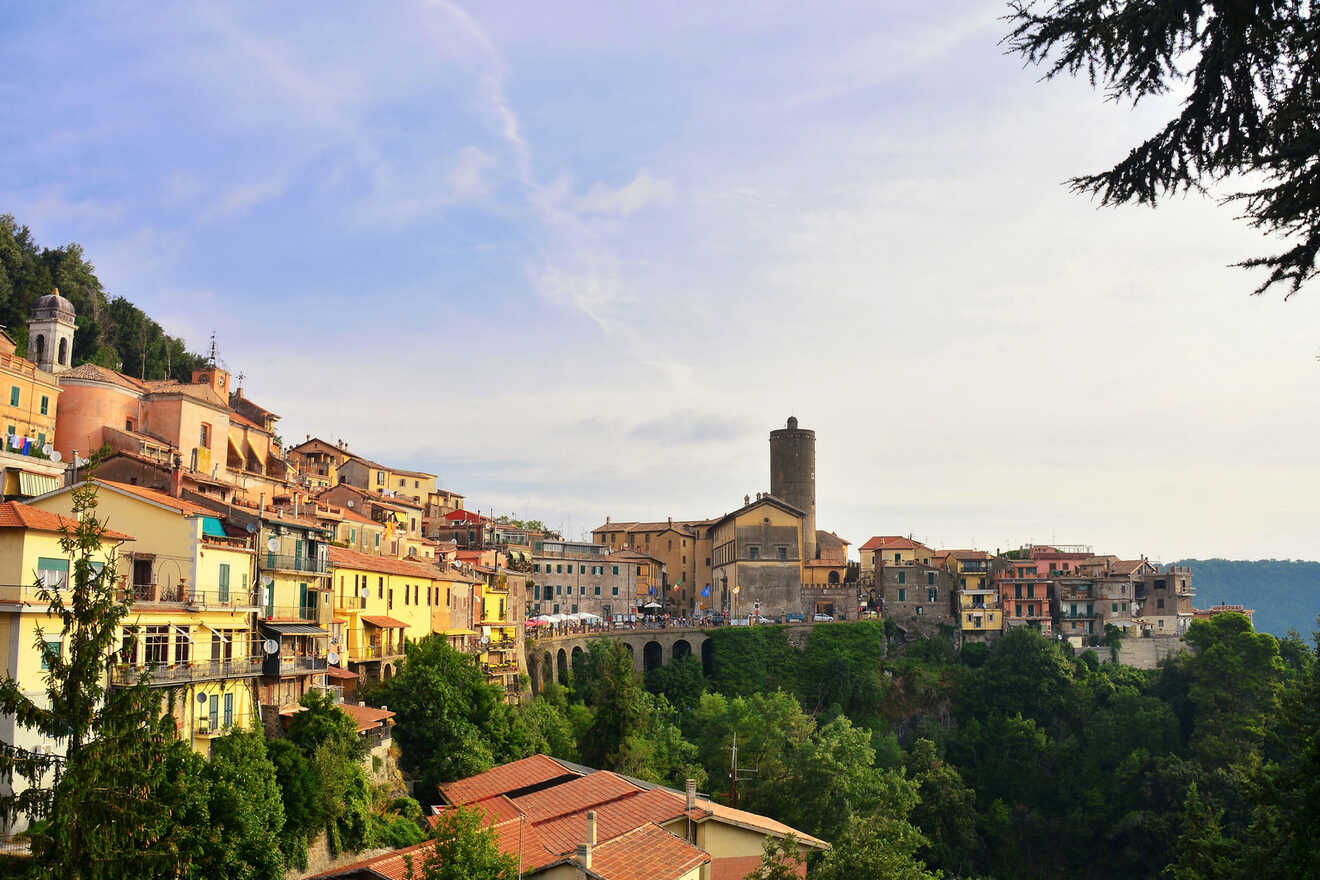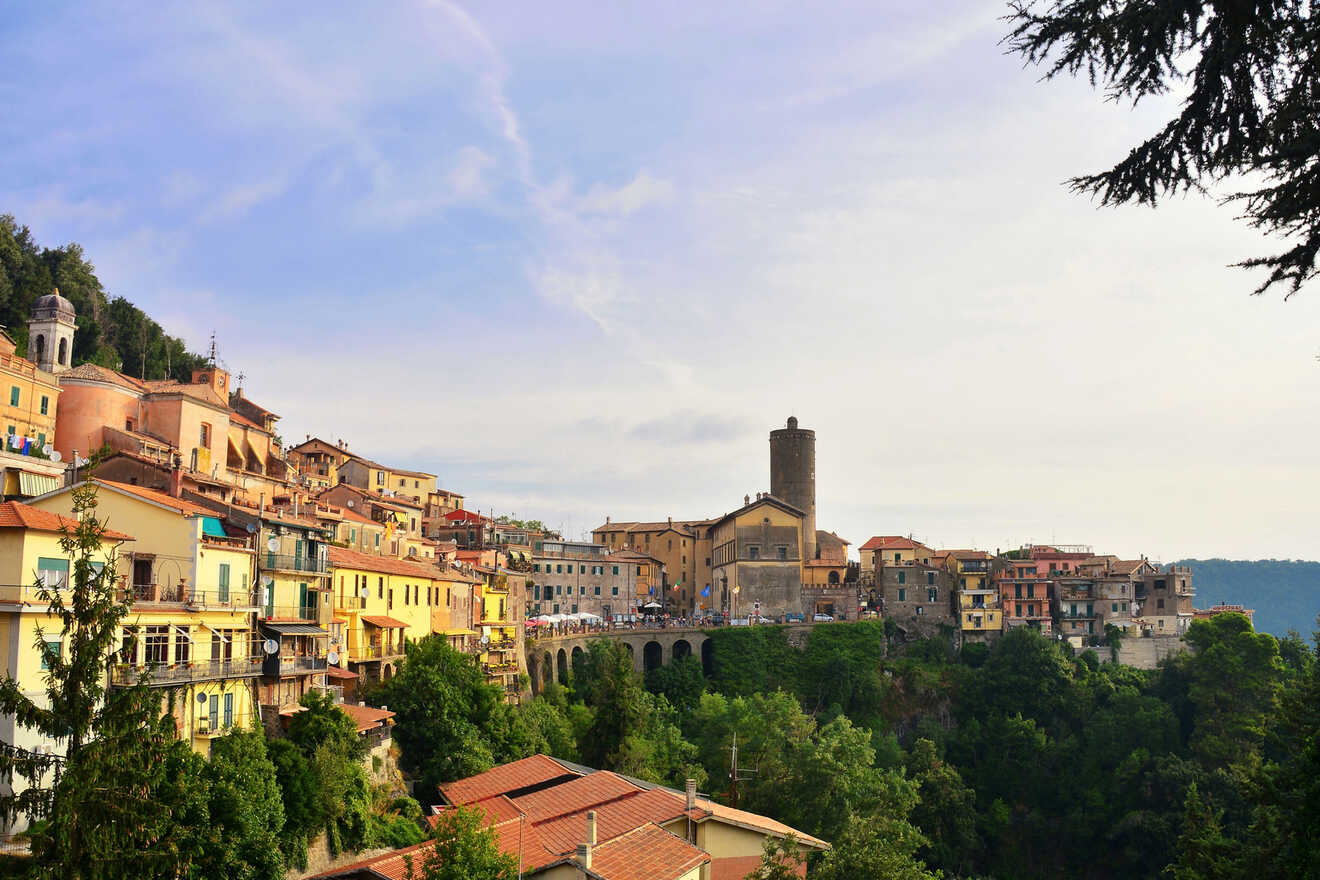 Another must-see day trip from Rome is the region of Castelli Romani, located in the picturesque Alban Hills, just a 1-hour drive south of Rome. The Castelli Romani is a collection of 13 old towns where Ancient Romans went to escape the hustle and bustle and the summer heat of the city (a tradition that modern Romans still have). Plus it is one of Italy's top wine-growing regions!
If you're interested in history, I suggest you focus on the old town of Castel Gandolfo. This is the most popular of the Castelli Romani villages and one of Italy's most historic towns hosting the pope's summer home and incredible gardens.
The town's main attraction is the Papal Palace of Castel Gandolf, a 17th-century villa overlooking the beautiful Lake Albano, which has been a vacation retreat for the Pope but currently is a museum that can be visited for €11. You can visit the apartments, the papal portrait gallery, and even the private bedroom in the museum and even admire several pope mobiles.
This is an opportunity to take now because, with a future Pope, we don't know if Castel Gandolfo will remain open to the public!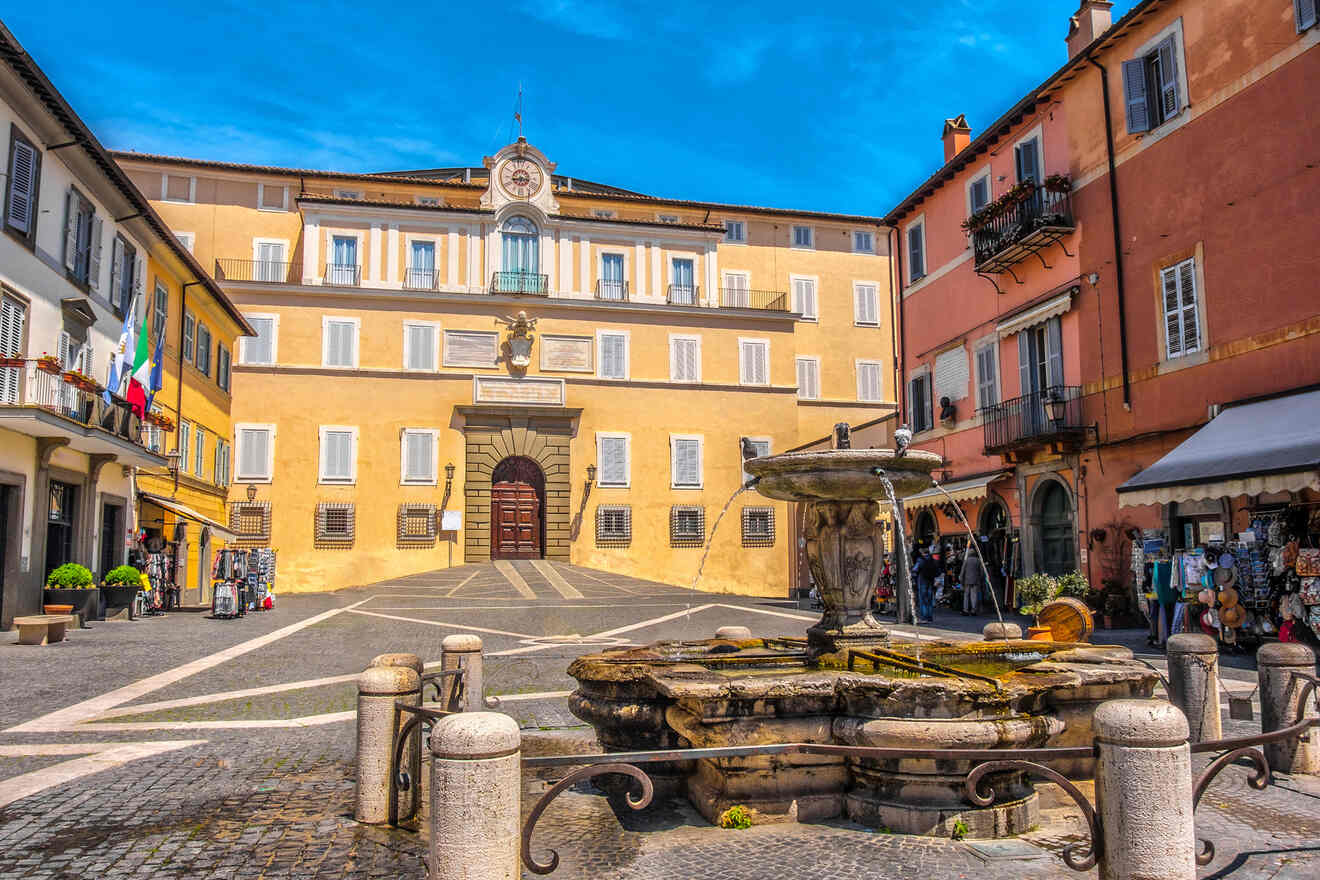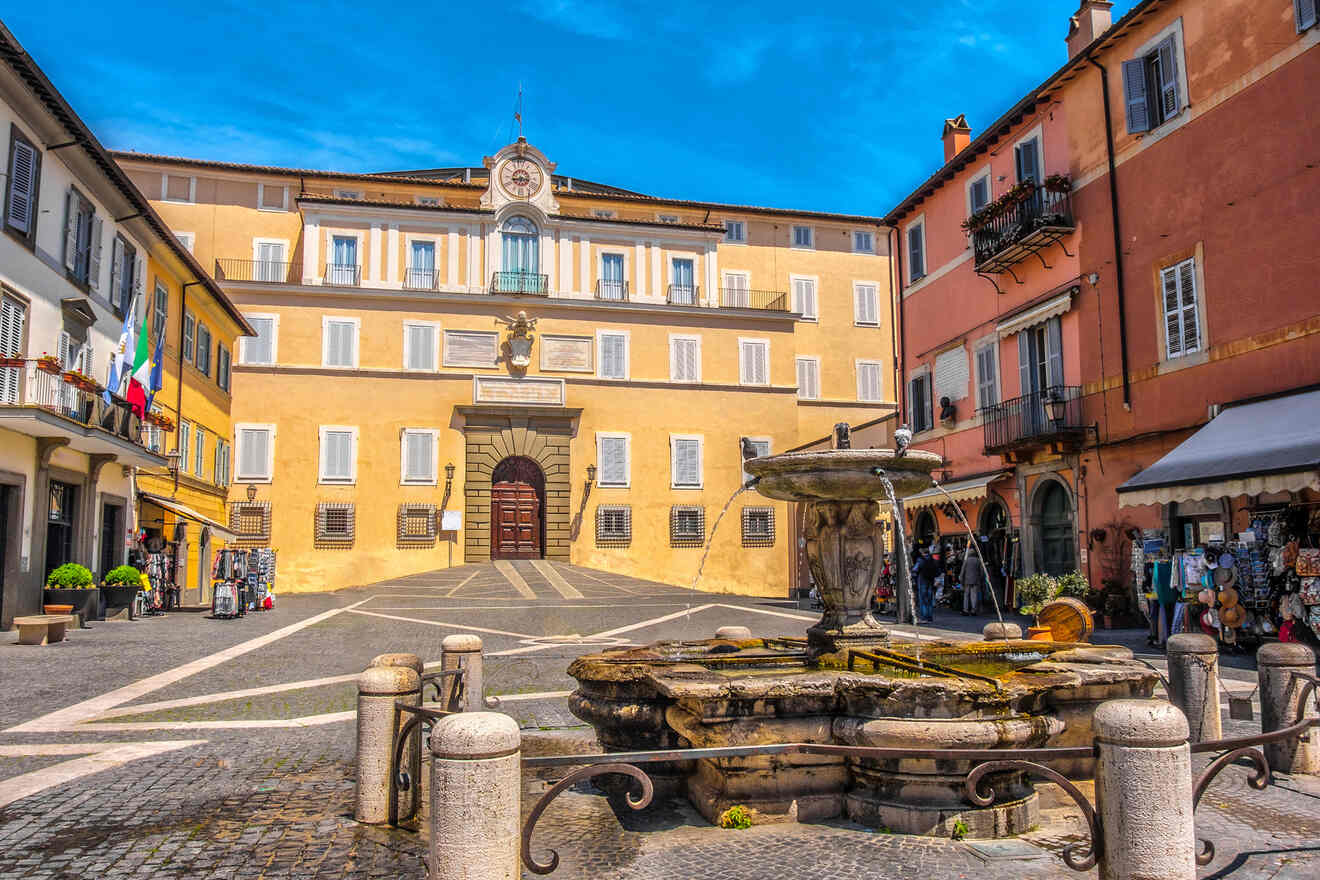 And if you pay extra (€16), you get an audio-guided tour of the magnificent Barberini Gardens on a minibus, featuring towering trees, various flowers, and beautiful fountains in precisely manicured Versaille-like gardens and grottos!
Apart from the old towns, the Castelli Romani region is characterized by scenic caldera lakes like the lakes of Albano and Nemi (the area extends on volcanic soils and is still seismically active!), lush forests, and vineyards.
If you want to take a break from the city and relax in nature, head to the Castelli Romani Regional Park, with many hiking trails, stately structures, beautiful flora and fauna, and a lake for water activities!
Getting to Castel Gandolfo town:
By Car: 1 hour south of Rome via the A90/E80 highway
By Train: Take a train from Termini central station towards 'Albano Laziale'. Get off after 40 minutes at 'Castel Gandolfo' station (€2). Walk 15 minutes towards Piazza Della Liberta and you'll be in Castel Gandolfo Town!
Guided Tour: Combine your trip to the Pontifical Residence of Castel Gandolfo and the Barberini Gardens with skip-the-line tickets to the Vatican Museums and a visit to the Sistine Chapel on this one-day trip for €100!
7. Explore Orvieto churches and labyrinths!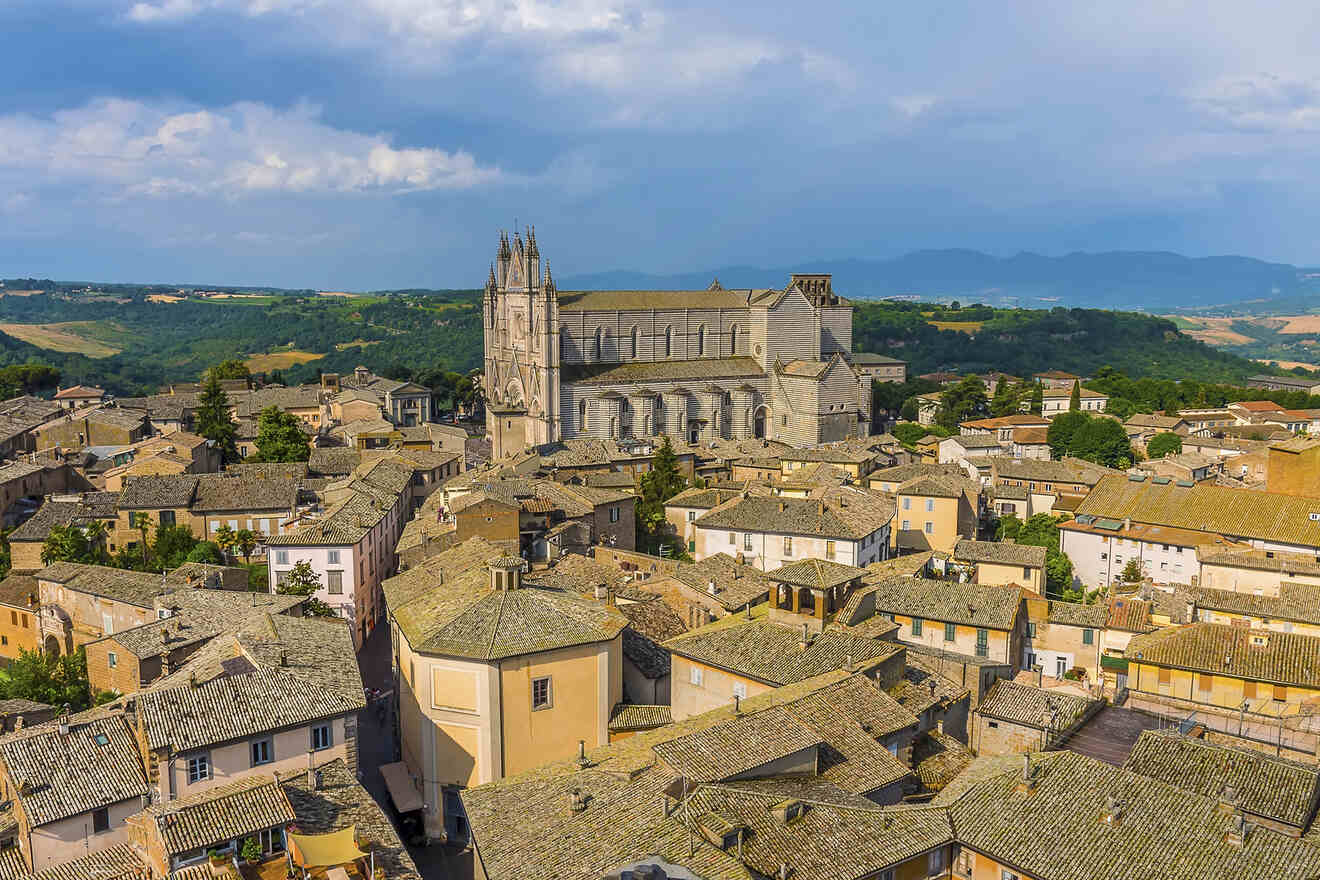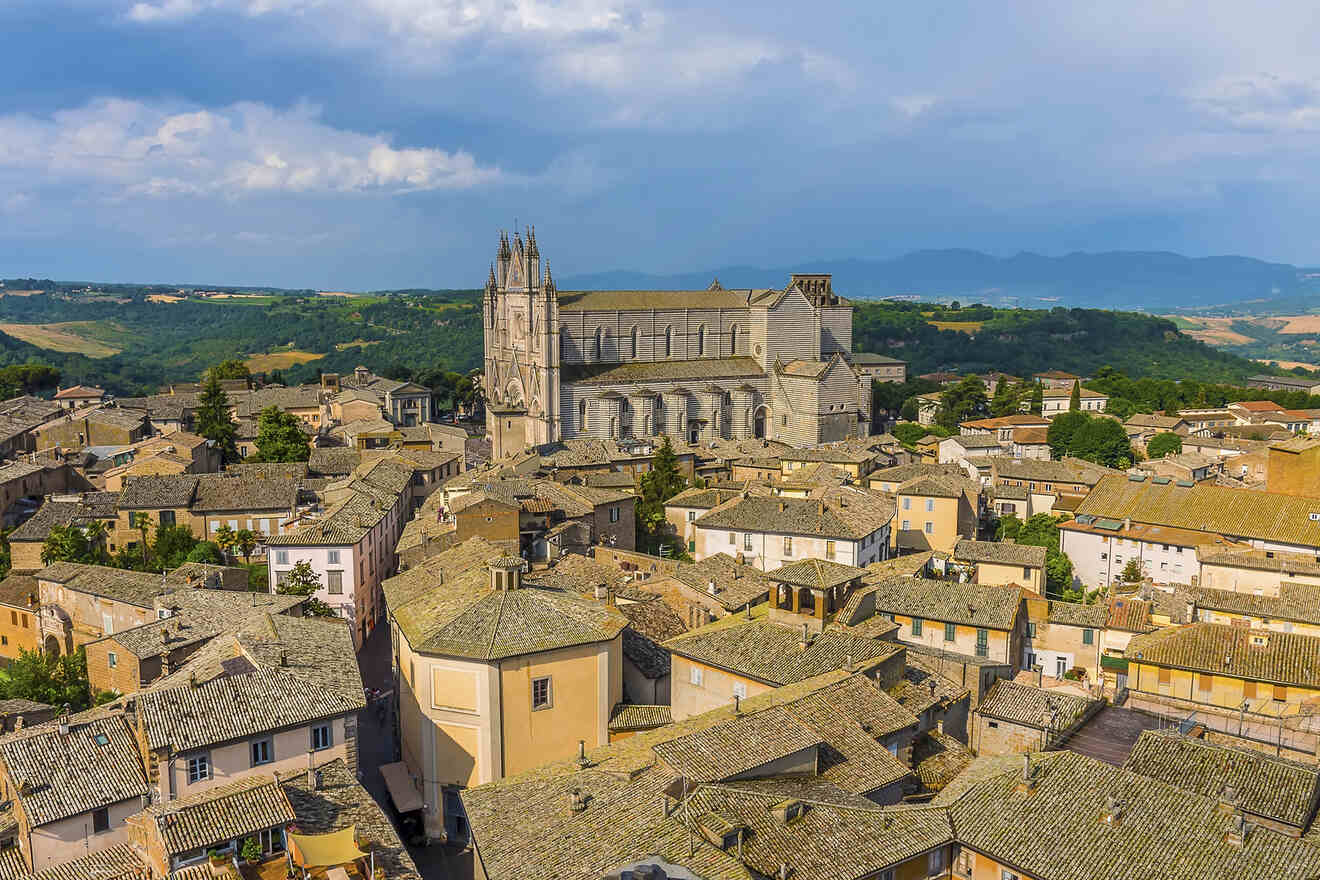 Just 1.5 hours driving north of Rome in the Umbria Region, you will find the charming hill town of Orvieto, majestically located on a big chunk of volcanic rock called the "tuff". This is definitely one of the best day trips from Rome, especially if you love old churches!
In fact, here you'll find the St Francis church, named after the famous Catholic friar, and the Duomo, an impressive cathedral with stunning mosaics and frescoes influenced by Michelangelo's Sistine Chapel. This is considered one of Italy's finest!
Another must-do here is Adrian's Labyrinths, located in the underground tunnels of the city.
The labyrinths were carved by the Etruscans 3,000 years ago from volcanic rock, now here you can explore grandiose rooms, stairs, cisterns, and quarries: you'll travel back in time as soon as you step inside, for only €5.
Getting there:
By Car: 1.5 hours following the E35 highway until you see the "Orvieto" sign
By Train: Take the train from Roma Termini to Orvieto: it takes about 75 minutes and costs €8.
Guided Tour: A convenient way to see Orvieto is on this day trip from Rome, combining a visit to another important urban town of Assisi, a pilgrim destination from the 13th century. During the tour, you'll also have a scenic ride through the Tuscan landscapes and lunch near Lake Trasimeno for €150.
8. Relax in Siena in the Tuscan countryside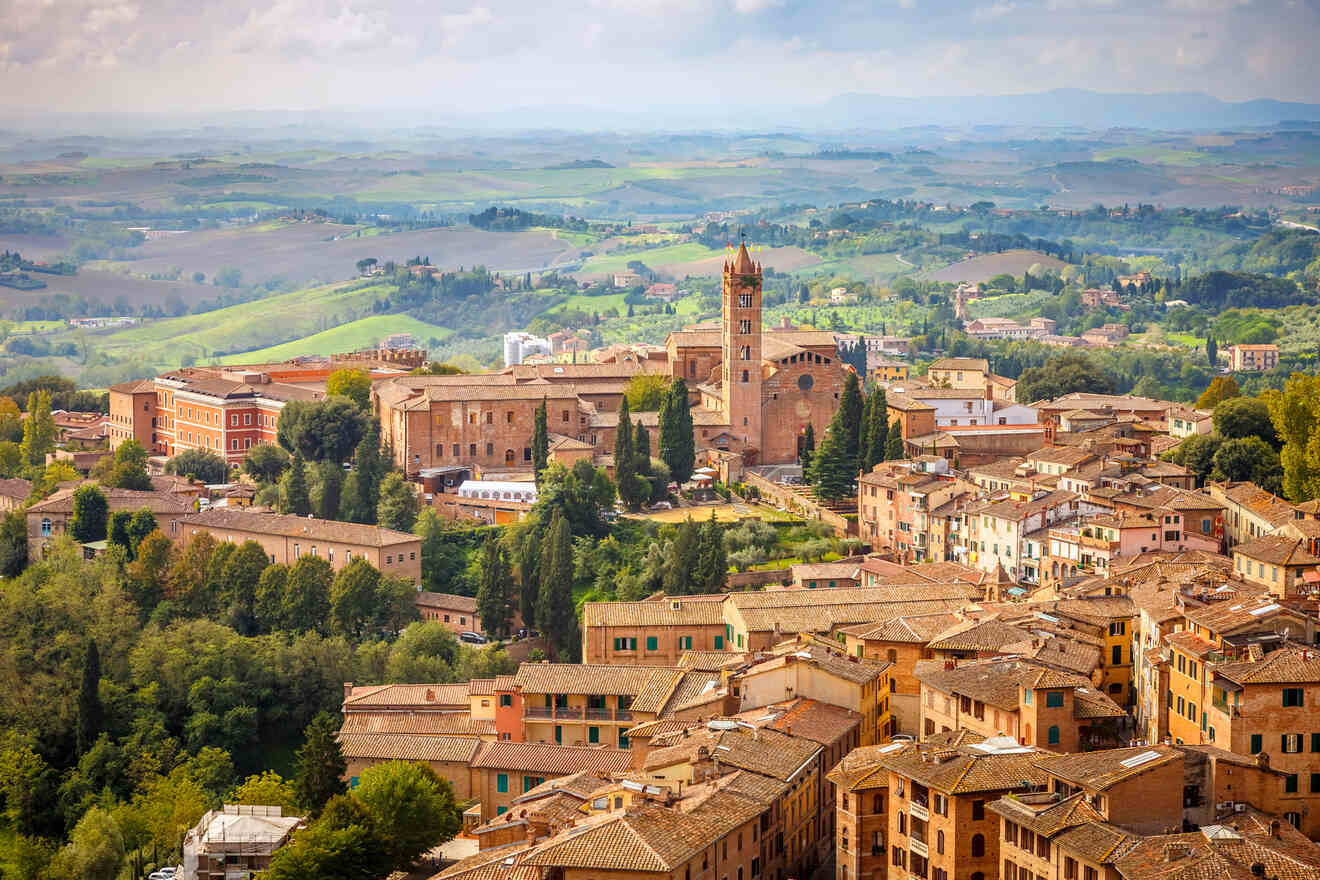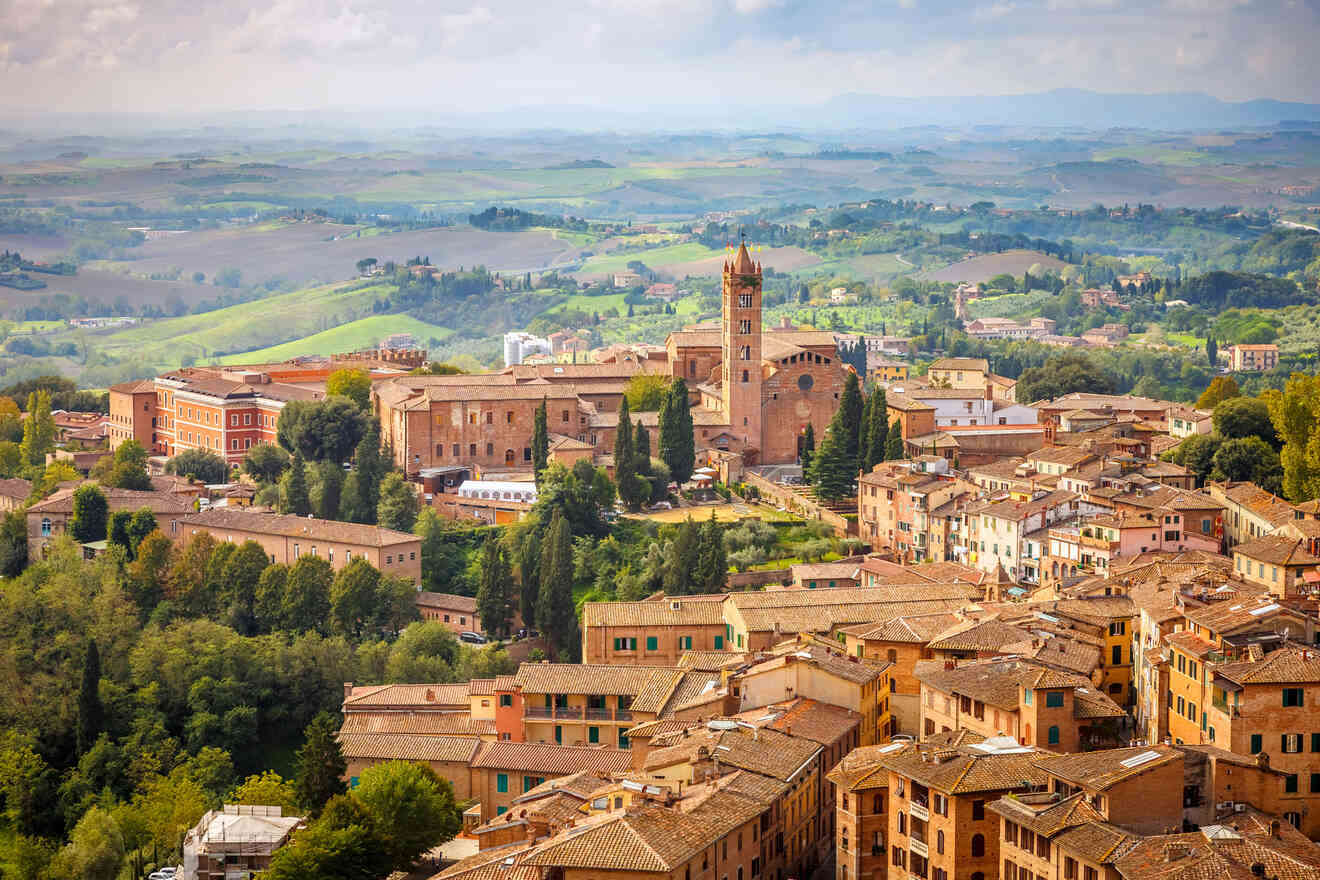 The medieval town of Siena, located in the rolling hills of the Tuscan countryside, lies 2.5 hours from Rome and is definitely worth the ride!
Even if overlooked in favor of the Tuscany capital Florence, this charming city has a lot to offer.
In fact, SIenna hosts a beautiful historical city center, which is a UNESCO world heritage site, where you'll find the famous Piazza del Campo main square. (Plus it's closer to Rome so you will have more time to explore!)
The square is the perfect place to just stroll around and gaze at its medieval buildings, brick paving stones, the impressive fountain Fonte Gaia, browse the many souvenir shops, or just savor a delicious and refreshing gelato while doing some people watching!
And if you happen to be in Siena on the 2nd of July or 16th of August, you cannot miss the city's most iconic event: the Palio di Siena. This incredible horse race is held in the main square, Piazza del Campo, which gets completely packed with a roaring crowd while 10 horses and riders dressed in particular colors represent ten of the seventeen city wards in a bareback race!
Other iconic landmarks of the city are the medieval Torre del Mangia tower and the ancient
Siena Cathedral: a spectacle inside and out, featuring Romanesque-Gothic features… In other words, you don't have any excuses to not visit this incredible town
Getting there:
By Car: 2.30h via A1/E35
By Train: Public transport is not recommended as there are no direct trains here, you will need to go all the way to Florence and then south again to Siena.
Guided Tour: Explore Siena on this day trip from Rome, during which you'll experience also the famous Tuscan countryside, stop to stroll through the UNESCO-listed hilltop village of San Gimignano, and visit a winery in the Chianti region, for €256
P.S.: It is also possible to visit Florence on a day trip if you take a high-speed train, however, as there are so many things to do in Florence and the high-speed trains are pretty expensive, I actually recommend you stay a few nights as it is one of the best cities to visit in Italy!
| | |
| --- | --- |
| 🤩 Range of activities: | Large |
| 🏛️ Best museum: | National Archaeological Museum |
| 🎢 Best for history: | Pompeii |
| 🚶🏽‍♂️ Best free activity: | Piazza del Campo, Siena |
| 🌳 Best for outdoors: | Castelli Romani Regional Park |
| 🍕 Best for foodies: | Pizza in Napoli |
| 🚕 Car rental price/day: | €40 |
| ✈️ Cost of traveling: | Medium |
BONUS: How to get around Italy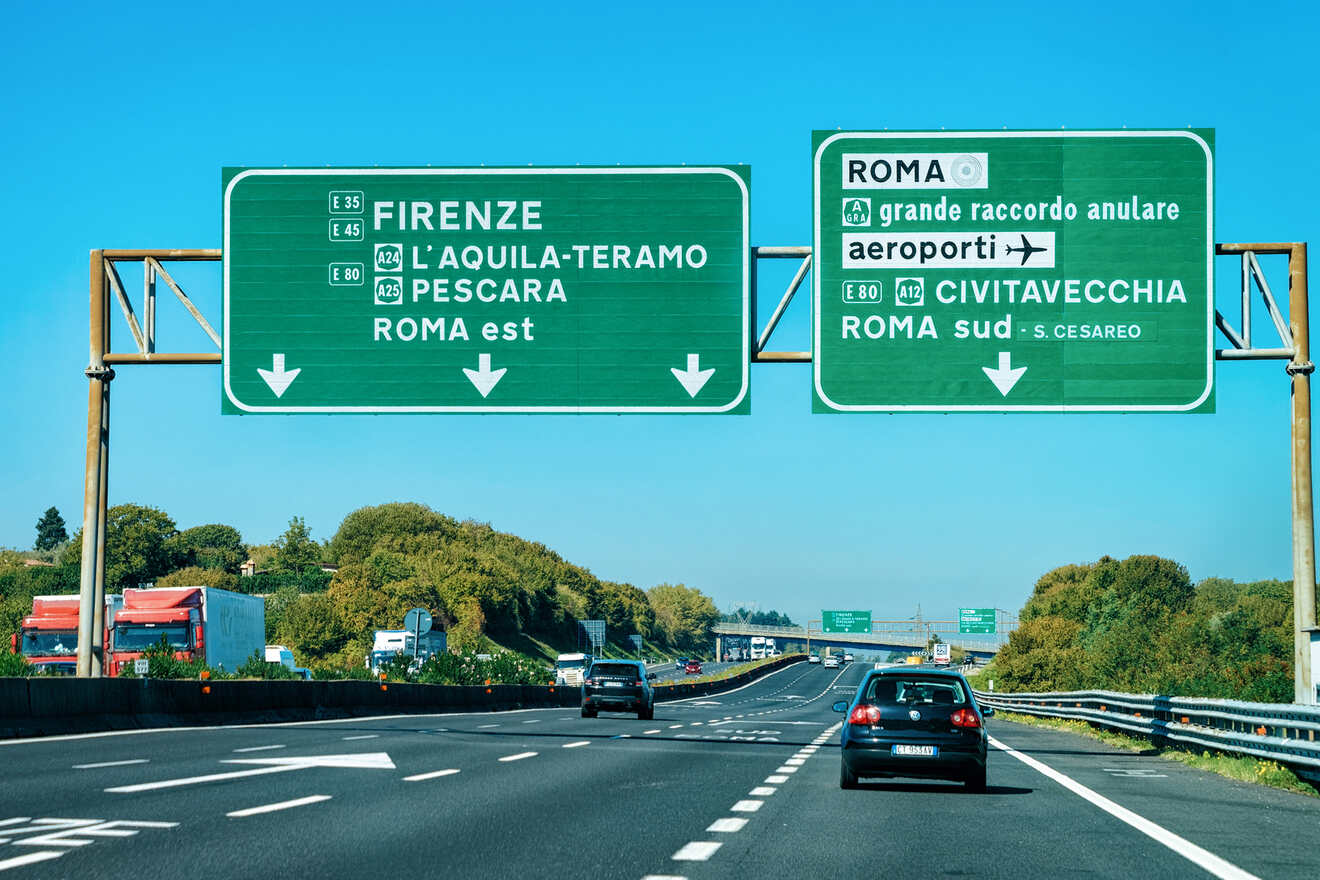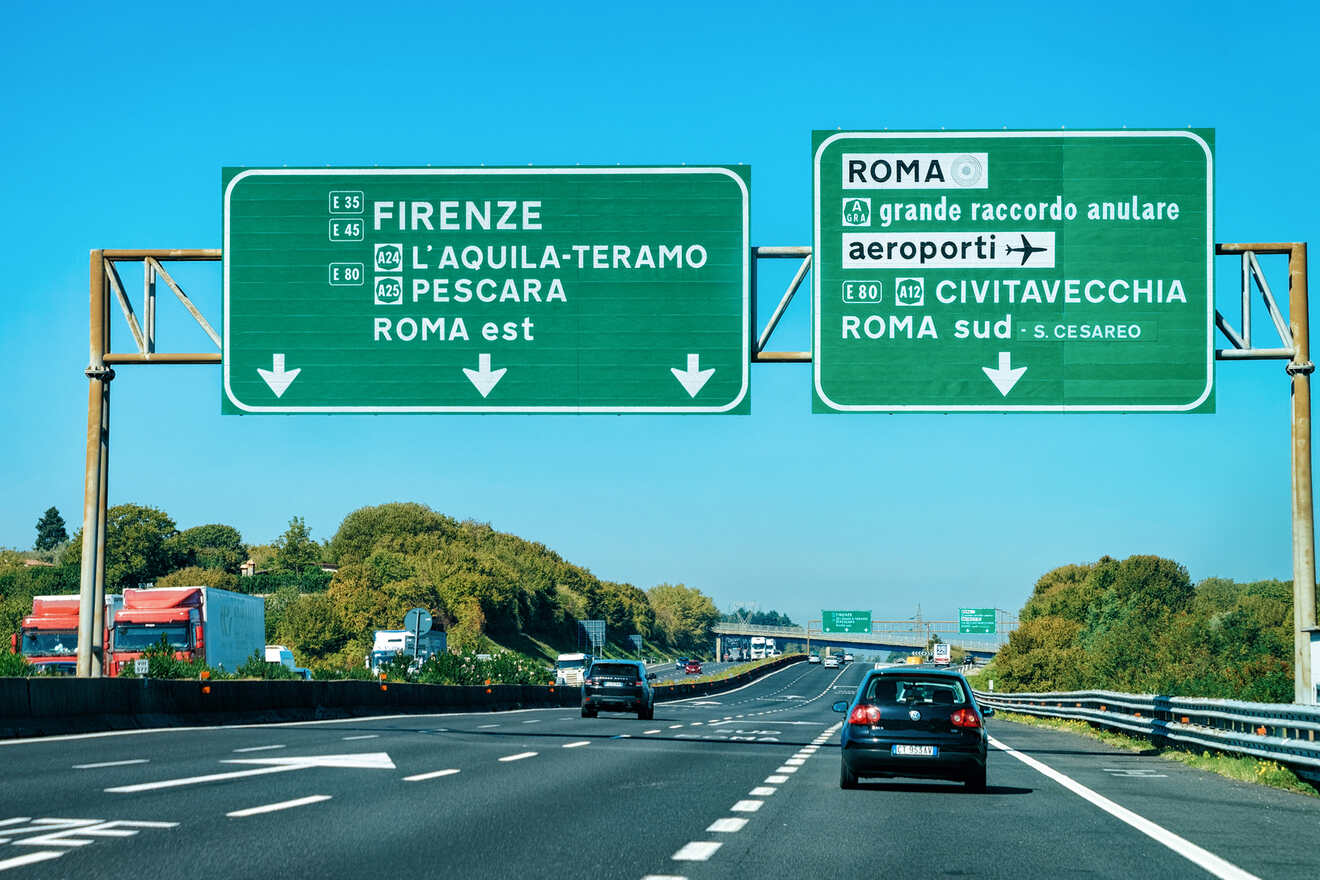 If you are planning on doing several day trips from Rome, the most convenient way of transport is for sure renting a car. Otherwise, if you want to rely on public transport, the train is the fastest and most secure option (buses are not reliable and don't get everywhere).
Another great option for those who are not renting a car is to join one of the many guided tours from Rome. I gave some great suggestions for each of the day trips mentioned throughout the post!
But let's see these other options in more detail:
Renting a car in Rome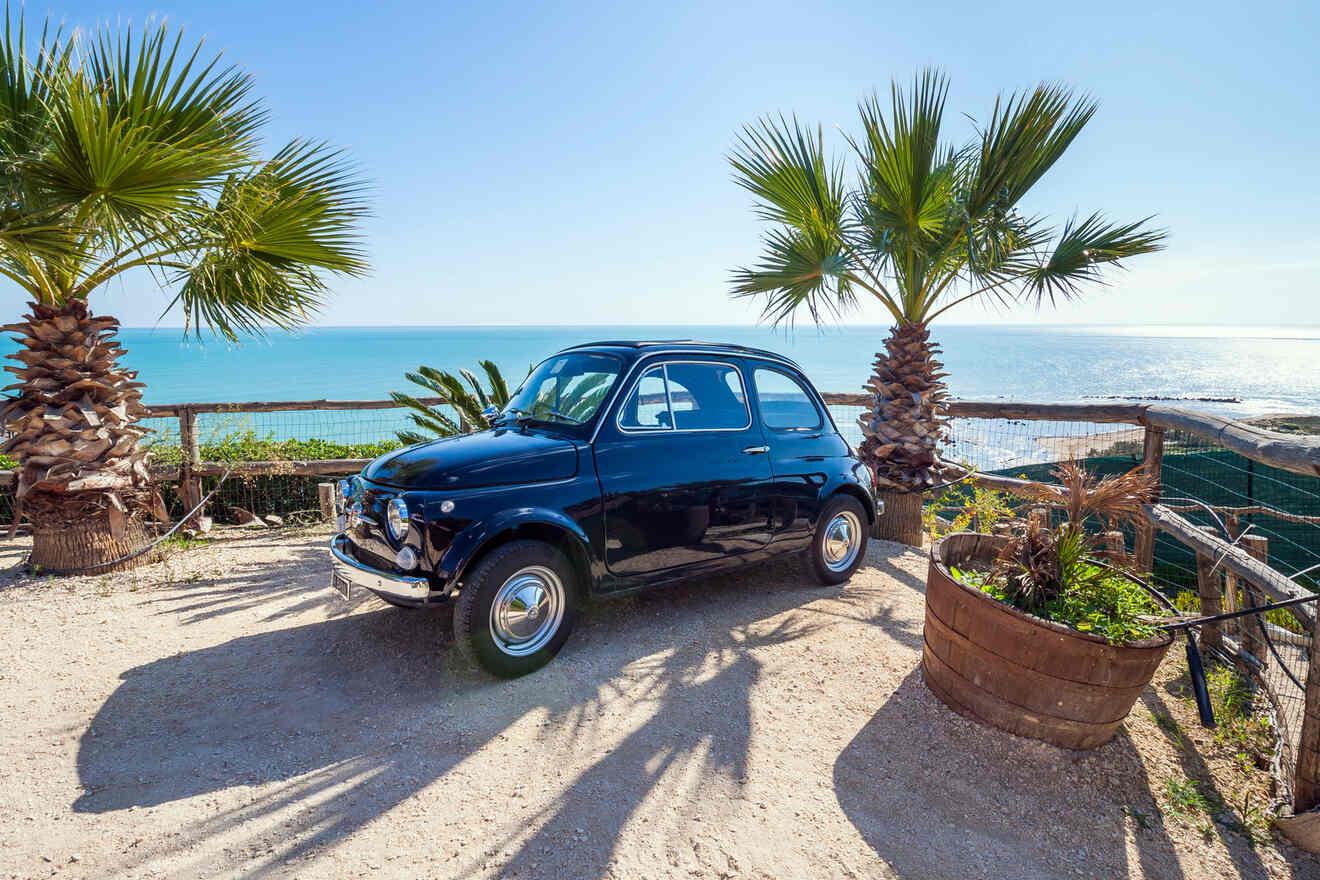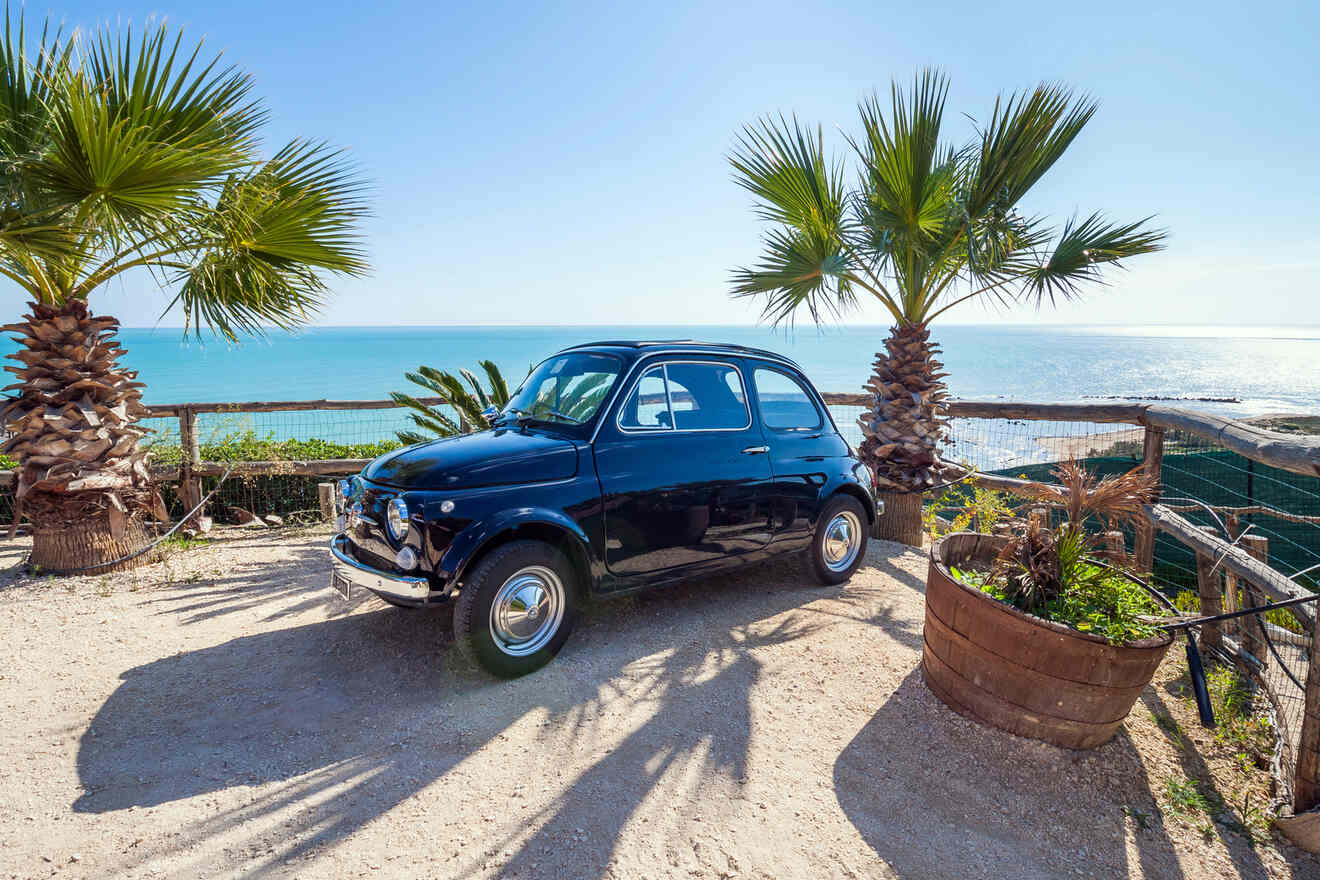 Renting a car in Rome is definitely what I suggest you do if you want to go on several day trips. This will give you all the freedom to make stops along the way and not have to rely on timetables.
You can either rent a car in Rome Fiumicino Airport, Rome city center, or Rome Termini Train Station for around €40 a day (perfect if you are traveling with a group, so you can split!).
Getting out of Rome to reach cities in other regions will require you to drive on Italy highways (autostrada) which usually have tolls. When you come across a toll road you need to pass through a barrier where you can pay with cash or a card (check this website for paid roads).
Once you are out of the city, to get around the Lazio region or from one village to the other one, you can usually stick to free secondary roads.
Public Transport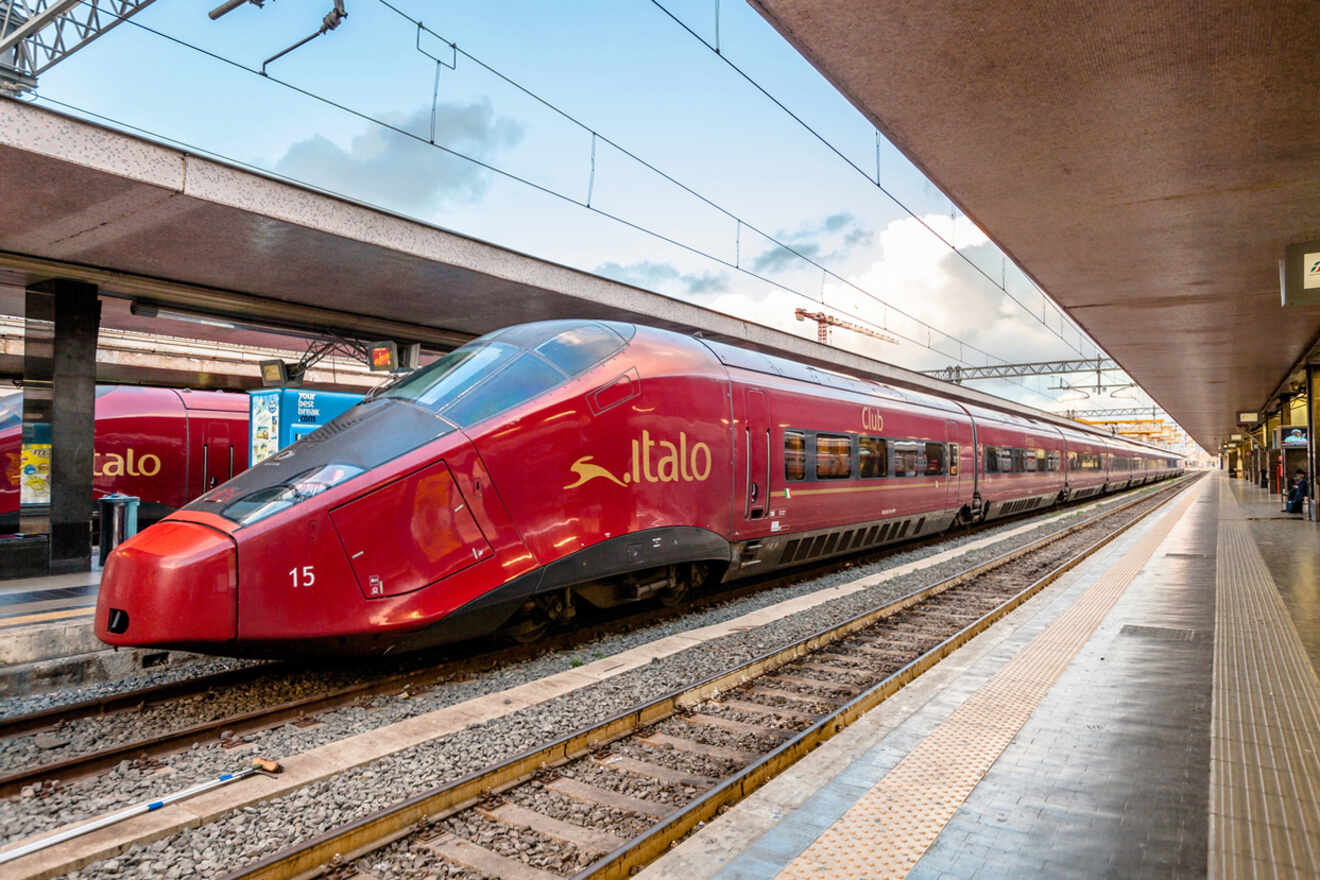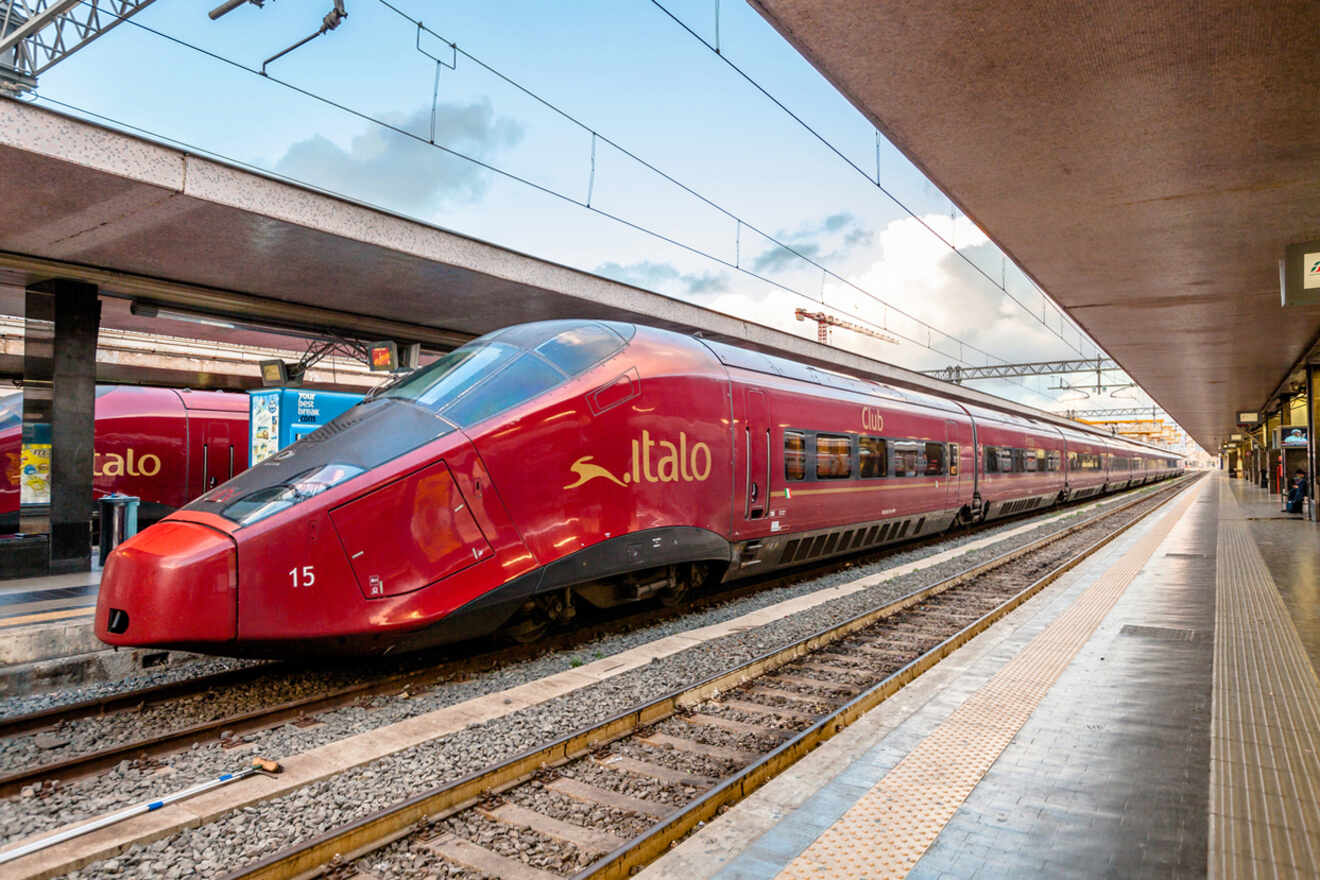 If you prefer to use public transport for your day trips, the best (and only) option is the train. This is because buses work more within the cities and not so much from one city to another. Even if they do sometimes, they're not really reliable.
The train system is quite good in Italy, connecting big cities as well as smaller towns. Most of the time they are direct trains, but for less popular destinations you might need to switch.
The two main train providers in Italy are Trenitalia, offering both regional and high-speed trains between many mid-sized and secondary Italian towns, and Italo, a high-speed train connecting larger cities of Italy. High-speed trains can be quite expensive, costing usually around €40 for a single ride!
If you want to save money, regional intercity trains are the cheapest option to get around, even if they are slower. Prices depend on the length of the trip but they usually vary from 5€ to 20€.
FAQs about day trips from Rome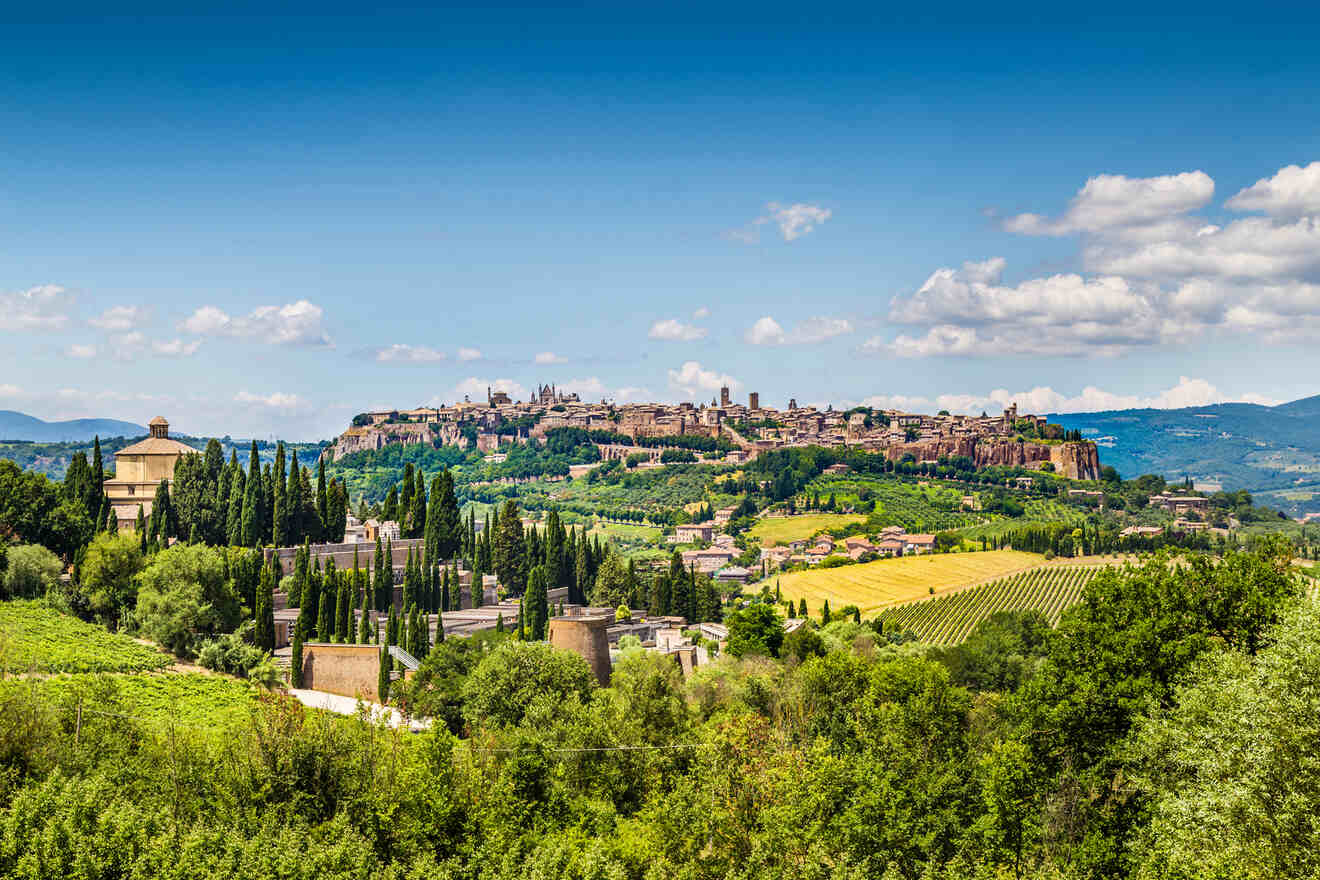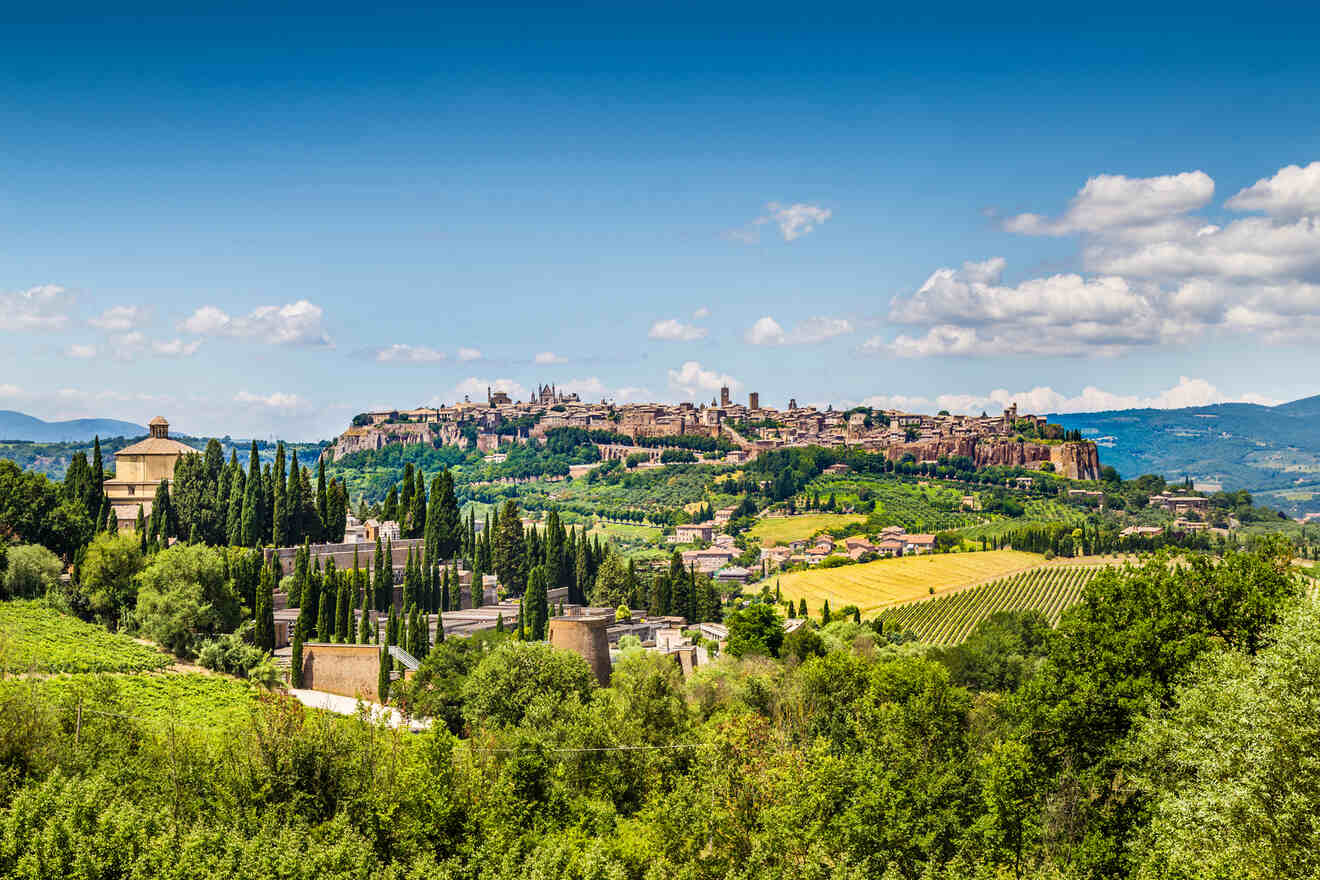 🤩 Which are the best day trips from Rome?
The best day trips from Rome are Naples, hosting a big historic center, and the National Archaeological Museum with the biggest collections of Roman Empire artifacts, Orvieto, located north of Rome, and the Castelli Romani, nestled in the Alban Hills.
❓Can I take a day trip to the Amalfi coast from Rome?
Yes, you can get to the Amalfi Coast in around 3.5 hrs from Rome, and the ride is definitely worth it! Anyways, if you have time to stay overnight it is better, giving you time to explore other attractions in the area like Capri and the famous Blue Grotto.
🏛️ Which are the best day trips from Rome for history lovers?
The best day trips from Rome for history buffs are Pompeii (from the 7th century BC), combined with a hike on Mount Vesuvius, a day trip to Orvieto and Assisi (visited by pilgrims since the 13th century) and the Hadrian's Villa, the former retreat of Emperor Hadrian.
🤔 Is a day trip from Rome to Florence worth it?
Visiting Florence from Rome on a day trip is not really worth it if you travel by car, since it lies at a 4 hours drive from it. But if you take a high-speed train, you can get to Florence's Santa Maria train station in just 1.30 h.
Conclusion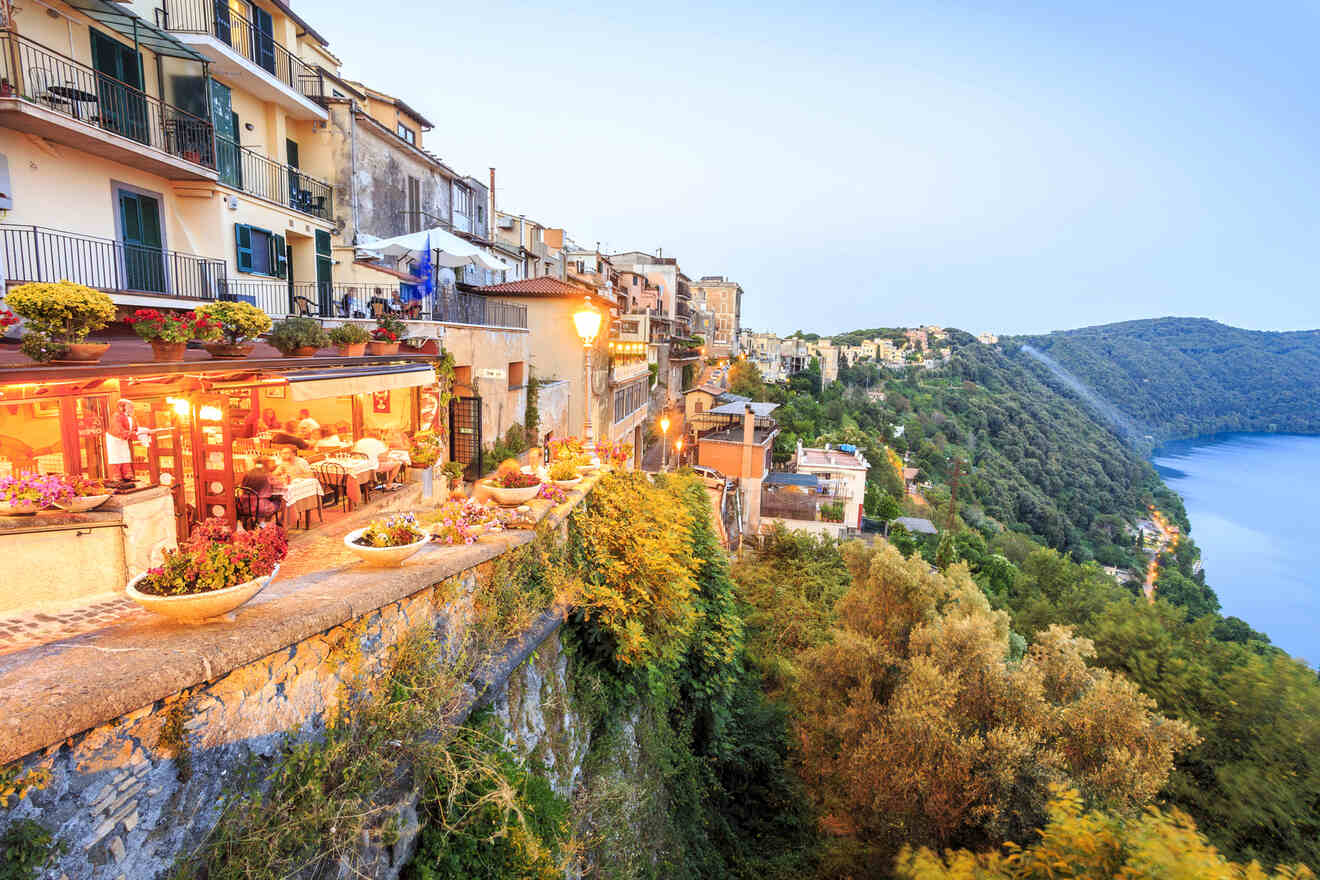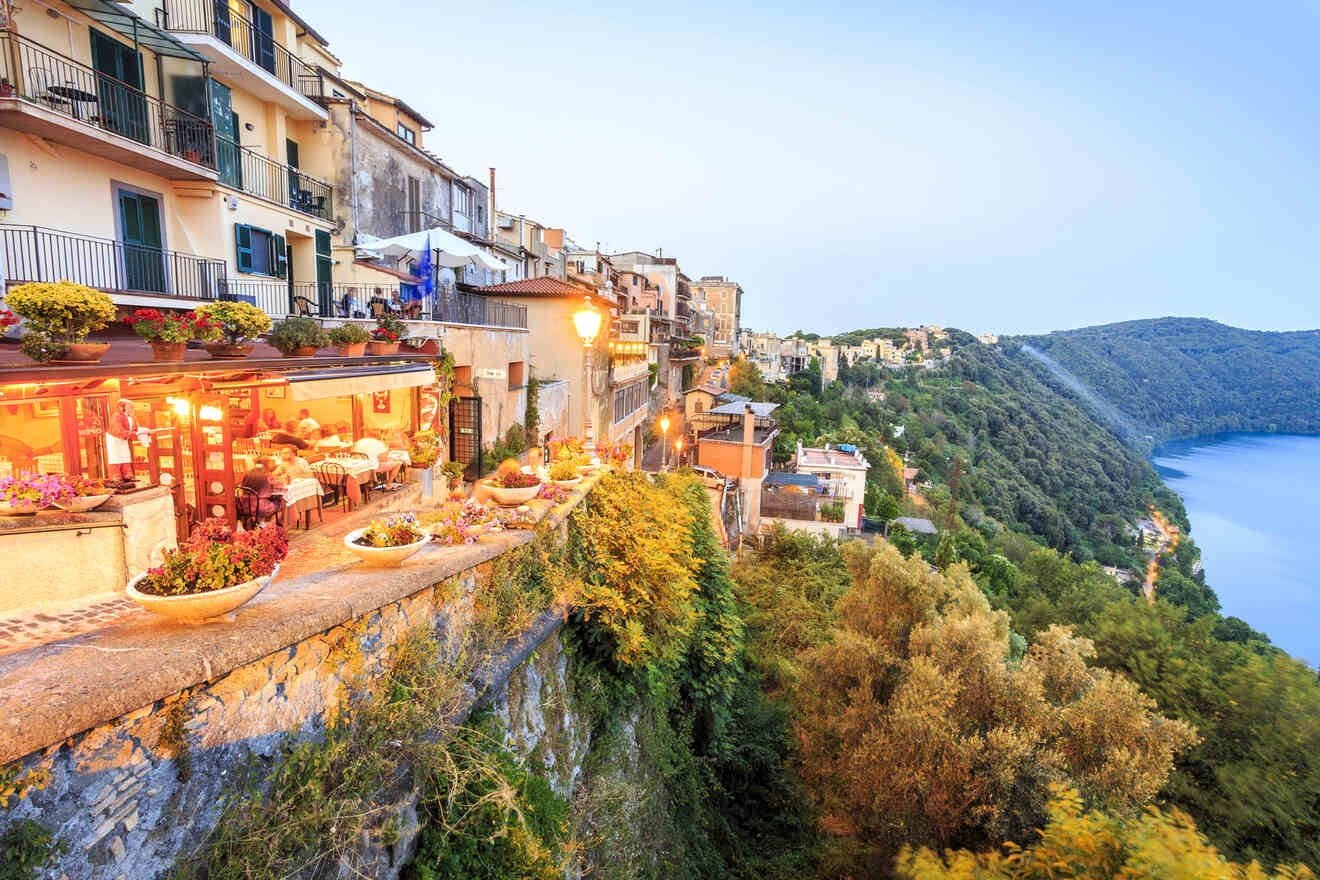 Here we are at the end of this super extensive guide to the best Rome day trips and tours. I also included some practical information on how to get around Italy (my beloved mother country) from its charming capital.
We saw historical sites, charming towns, old churches, interesting museums, and ancient ruins… so there's something for any taste here!
I hope you enjoyed reading my post as much as I did writing it for you, and if you still have any questions for me or you want to share your experience in Italy, please do so in the comments below. I will be super happy to answer you!
Buon viaggio!
Elena
---
Pin it for later!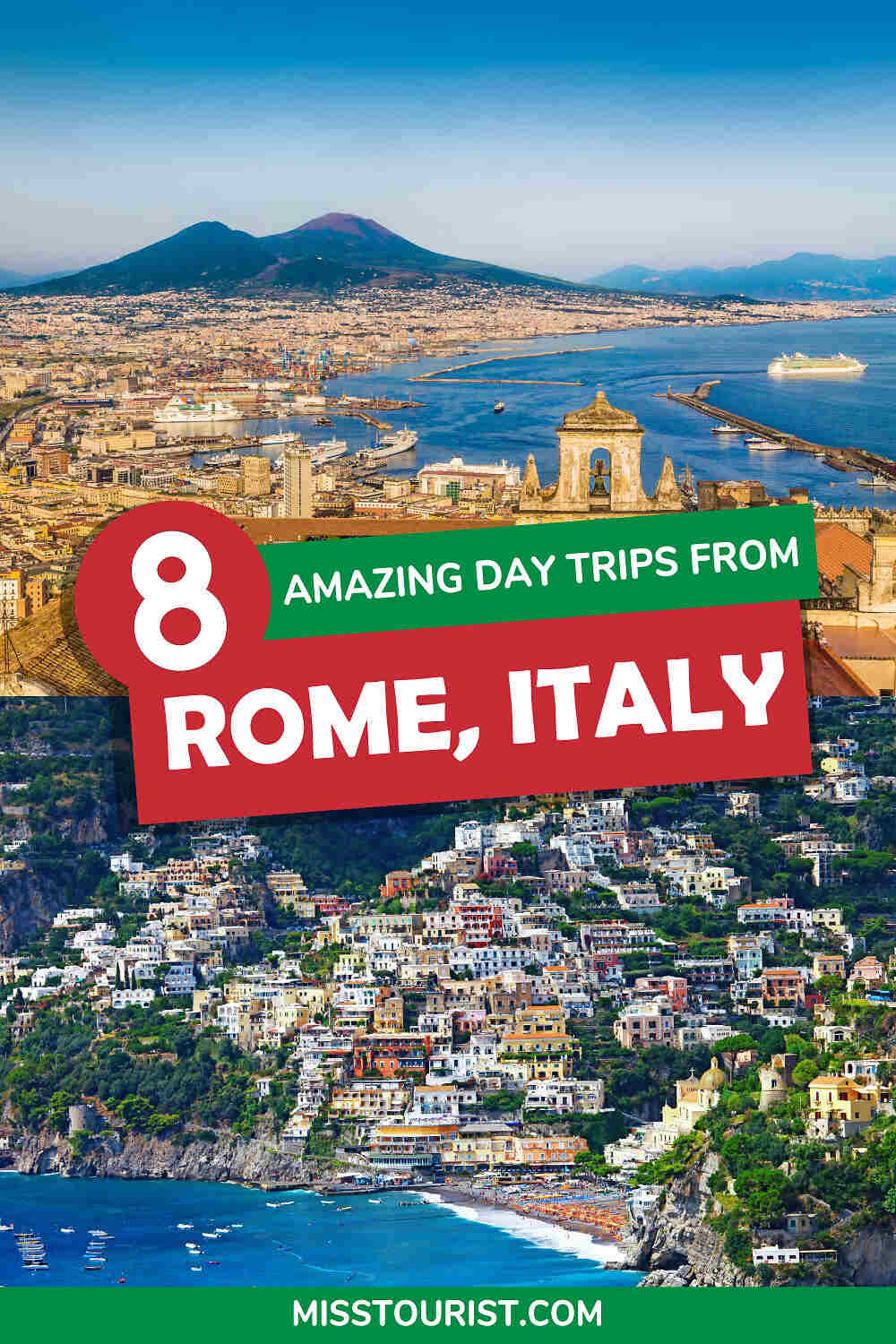 Pin it for later!