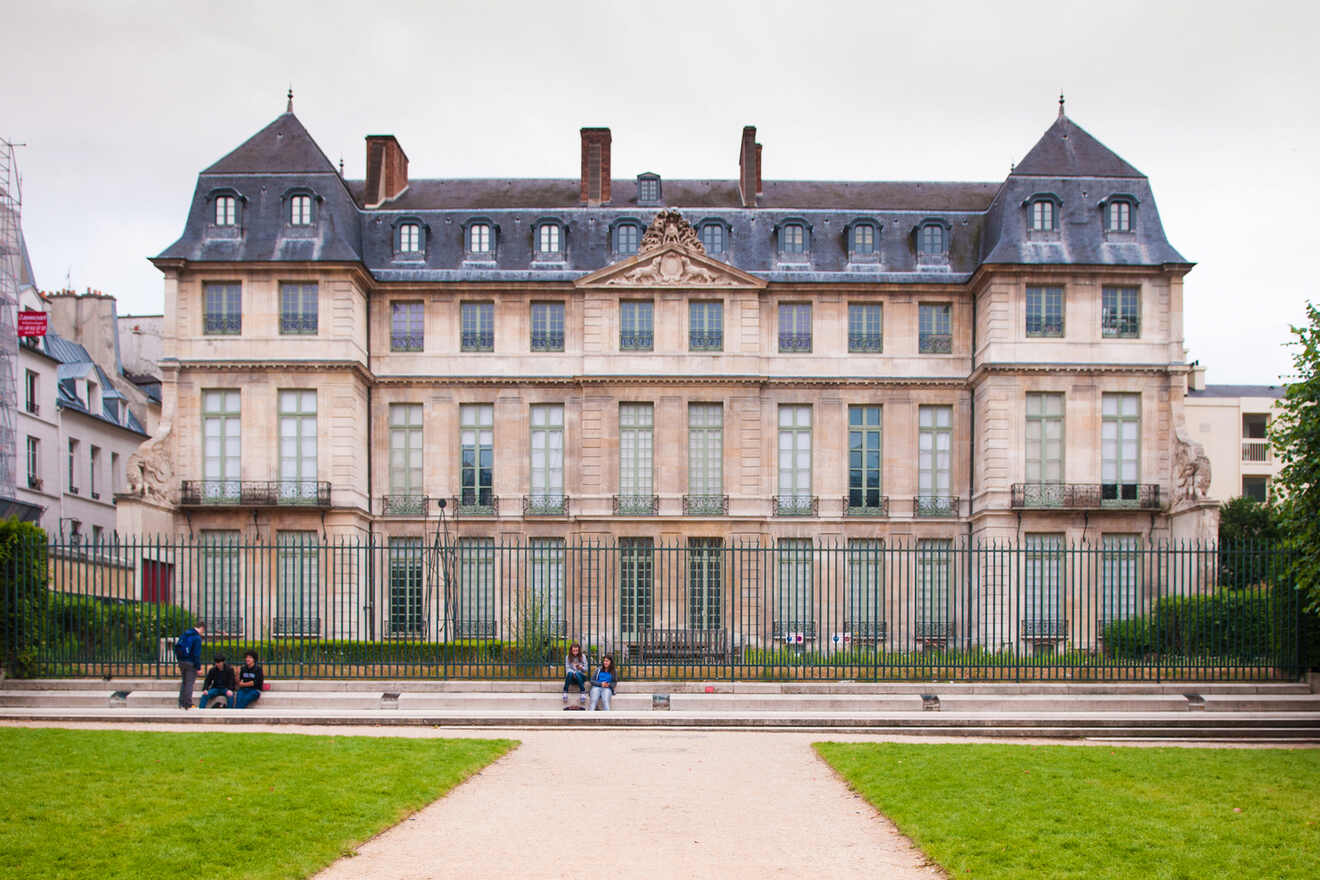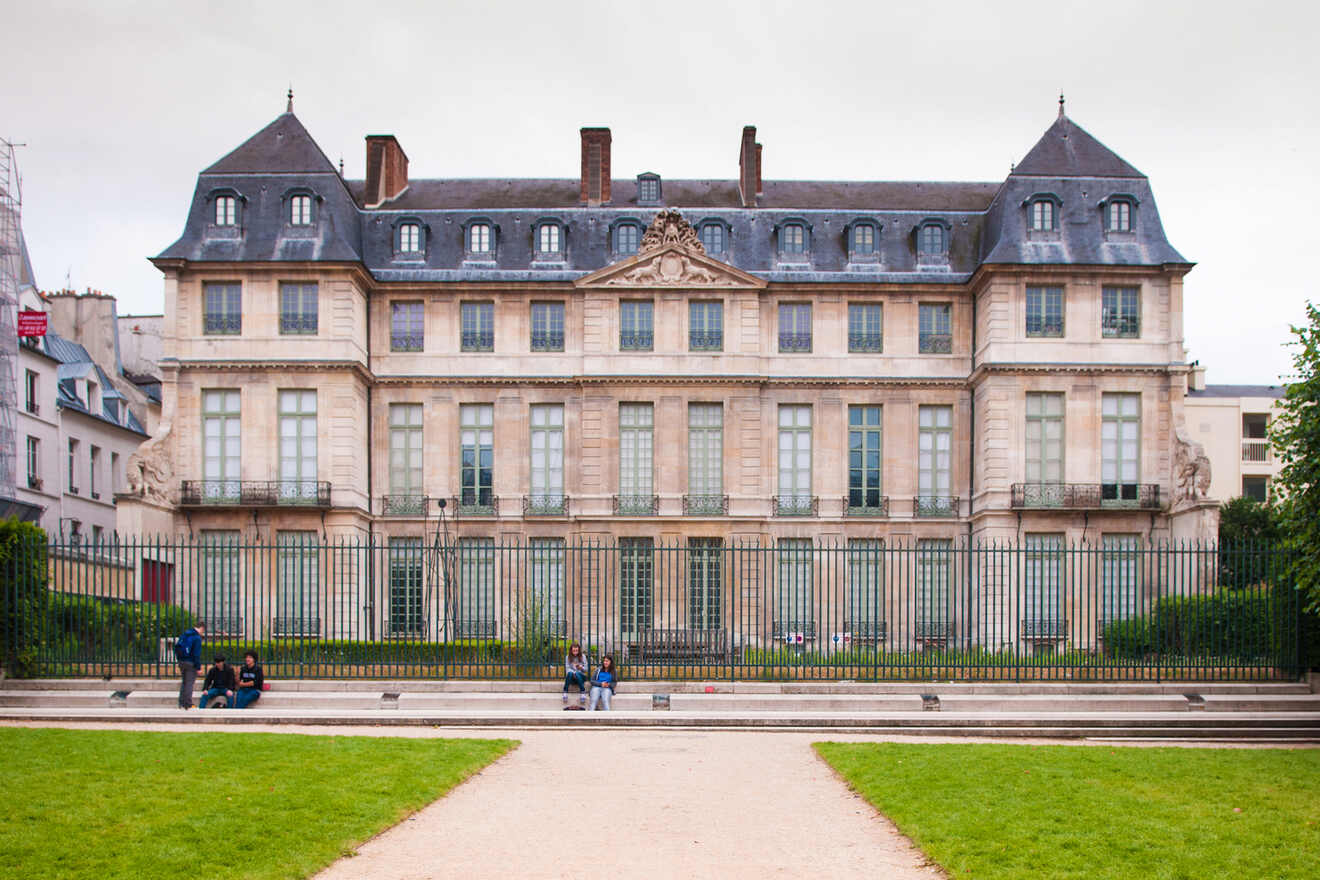 Planning a trip to beautiful old Paris? Well, I'm sure your list of things to do there is pretty long but I know the feeling of wanting to include as many attractions as possible, especaially the ones like the Picasso Museum!
I visited the Museum a few years back and I was so mesmerized by everything from the location, art pieces and atmosphere! However, I do wish I also spent more time looking for ways to buy Pablo Picasso Museum, Paris tickets and maybe even get in for free! But hey I've learned from my mistakes and today I'm ready to offer you the best guide on how to get the most convenient tickets.
In this post you'll find all the information you need on how to buy the most convenient tickets for you, how many ticket types there are, plus many other useful things on guided tours and city passes.
But that's not it, so make sure you stick around after you finish the main section because I've also prepared some tips that will help you plan and enjoy your visit to the fullest!
We've got a lot on our agenda today so let's get started!
If you are in a hurry
If you are here just to get your tickets, here are the best links to do so:
Adult Ticket – €14 official website (non refundable) or GetYourGuide – (refundable)
Family Ticket – €11 (1 Adult + 1 Kid)
Discounted Ticket – Free for kids under 18 years
| | | | | | | |
| --- | --- | --- | --- | --- | --- | --- |
| | Adult Entrance | Kids Entrance | Family Pass | Guided Tour | Cancelation Policy | |
| Official Website | €14 | Free | €11 | +€4 | No Refund | Book tickets |
| GetYourGuide | €14 | Free | | | >24-hour free cancellation | Book tickets |
| Headout | €14 | Free | | | No Refund | Book tickets |
| Tiquets | €14 | Free | | | >24-hour free cancellation | Book tickets |
Get your tickets to Picasso Museum
1. Different types of tickets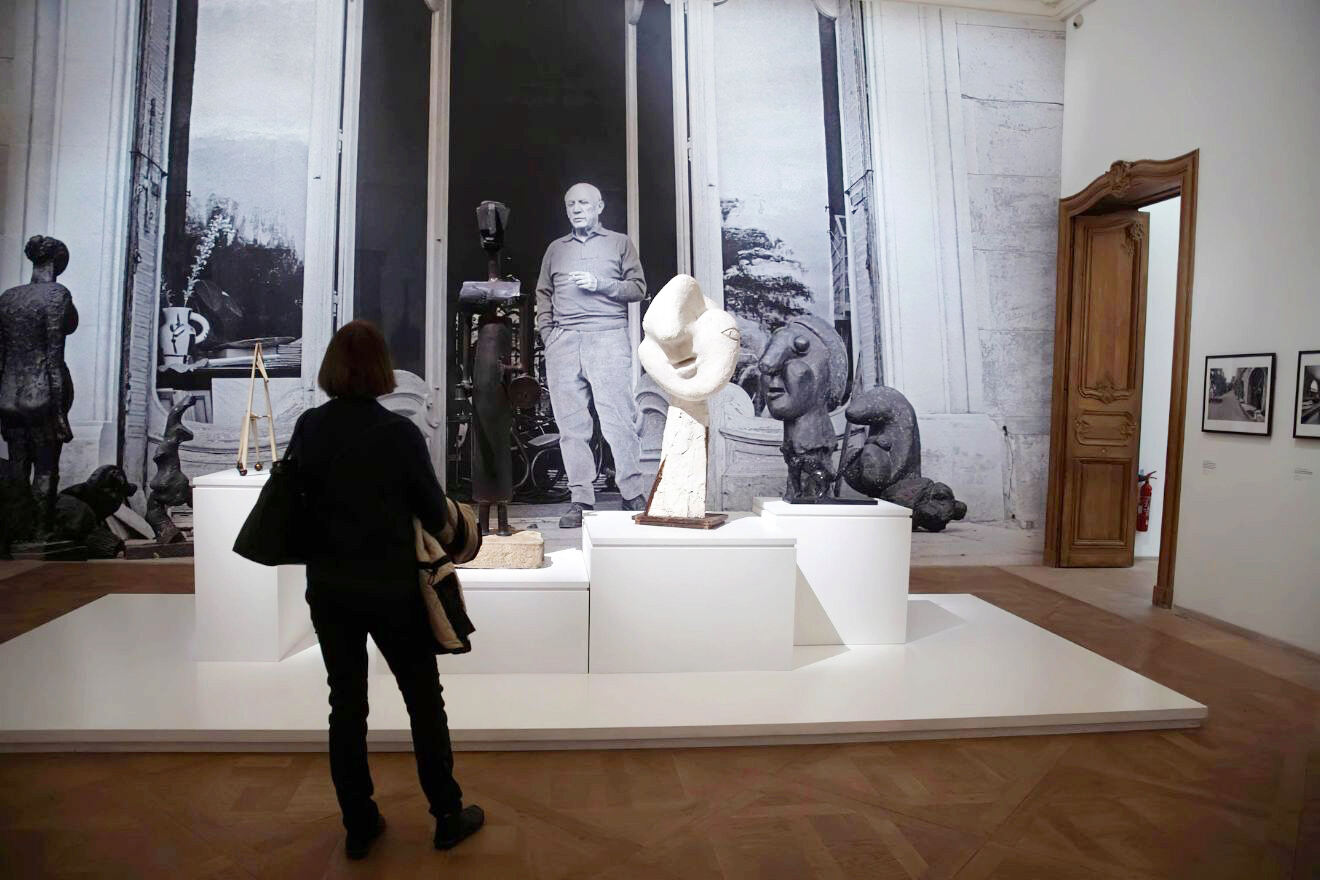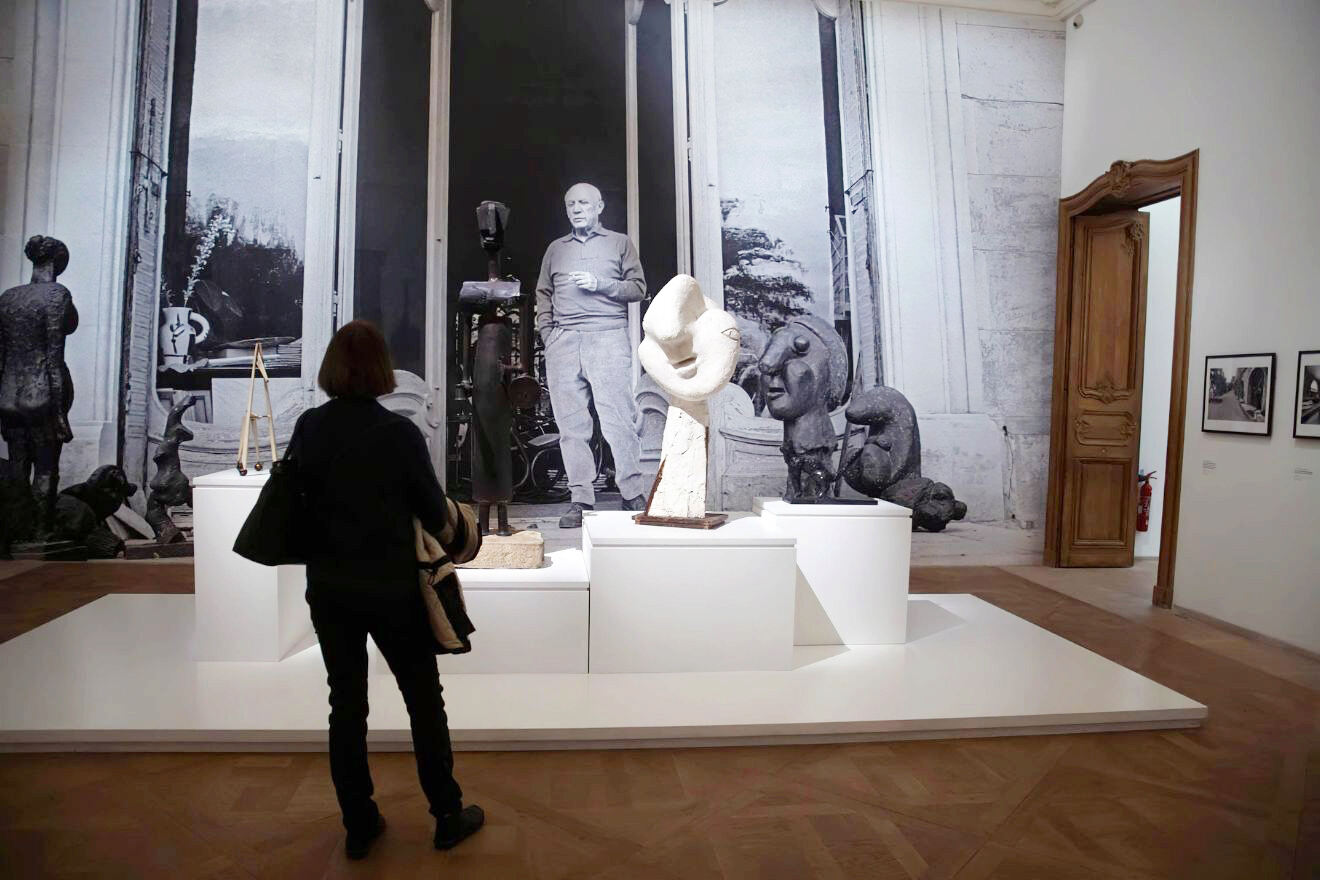 Bonjour everyone! I guess we're all in the mood for some art today, right? Let me tell you, the Picasso Museum was one of the first places in Paris that I saw and I'm excited that you're planning a visit there as well!
After watching Genius with Pablo Picasso (a tv series which I highly recommend watching before going to the museum) I was so happy to be in Paris and see some of his works.
All the tickets below give you access to all parts of the museum and to all the permanent and temporary exhibitions. These change all the time so if you look on their official website you can find all the information on the past, current and future ones.
Entry Times:
The museum works on a time-slot system. Meaning you'll have to pick one when you buy your ticket. They are every 30 min, starting from 10:30 AM on weekdays (or 9:30 AM on weekends) until 4:30 PM.
NOTE: If you want to buy the tickets that also have the audio-guide then know that those are only available from the beginning of the day until 3:00 PM.
Basically you'll have a 30 min window from the start of your time-slot to enter the museum and present your ticket. If you're 1h or 2h late maximum you can still enter the museum, however you may have to wait a while longer for the next available time-slot.
1.1 General entry tickets for the Picasso Museum, Paris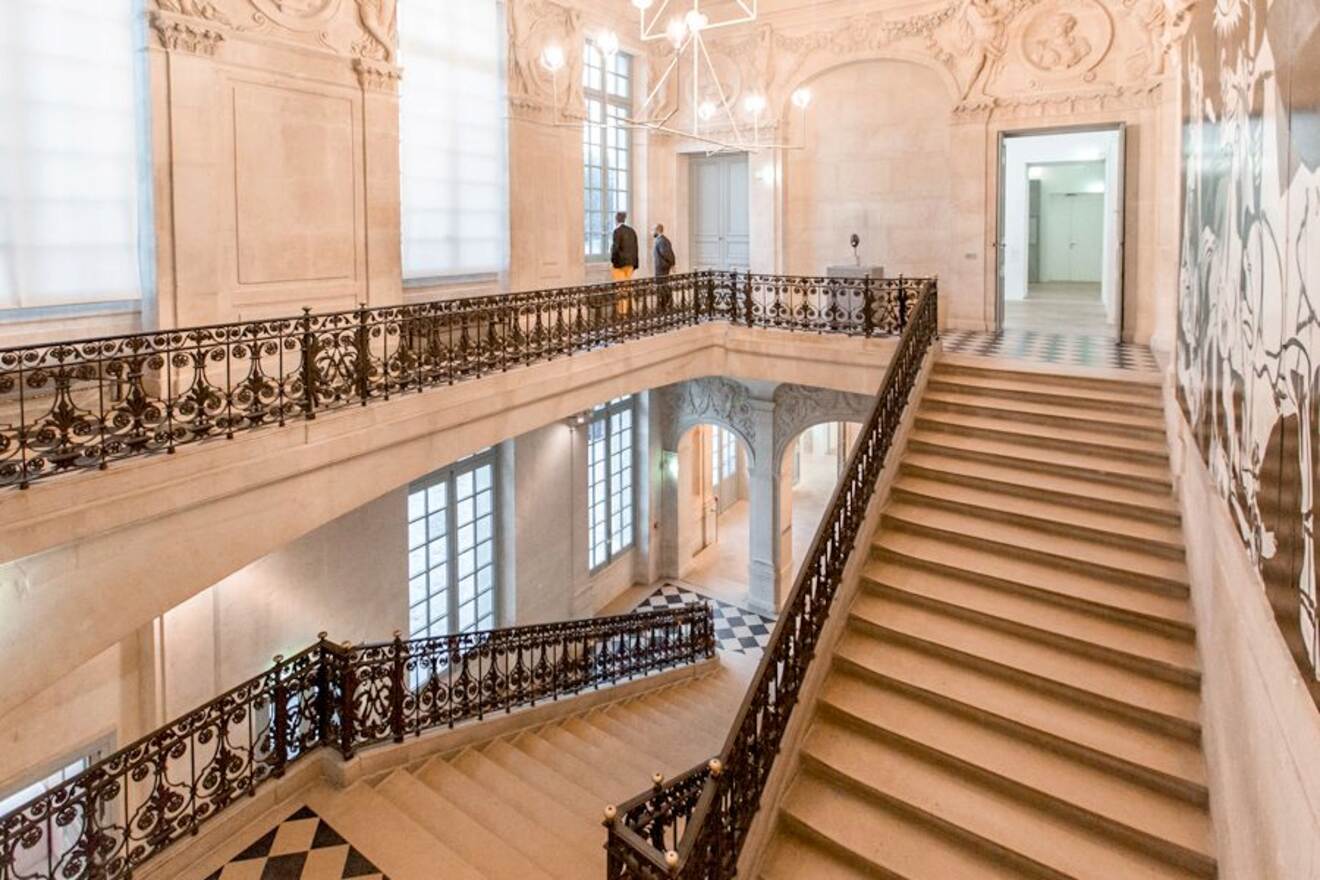 General entry tickets will grant you access to the Pablo Picasso Museum itself plus all the exhibitions (temporary and permanent).
Once you pick a date and time and buy your ticket, you'll receive an email which you must present at the ticketing office upon arrival at the Pablo Picasso Museum.
As you saw in the table above, there are multiple places to get your tickets for the same price. I personally recommend buying them from GetYourGuide, and that's because they are refundable!
Yep, you can cancel whenever you want at least 24h before your visit and you'll get all your money back, no questions asked! Whereas, if you get your tickets from the official website, you won't be able to do that as they have a strict no cancelation policy.
Another reason that I recommend buying them through GetYourGuide is because a lot of the official website is in French, even after you've selected English as your language, which can be super confusing if you don't know what you're looking for!
PRICE: €14
Get your Pablo Picasso Museum tickets
1.2 General Entry + Audio Guide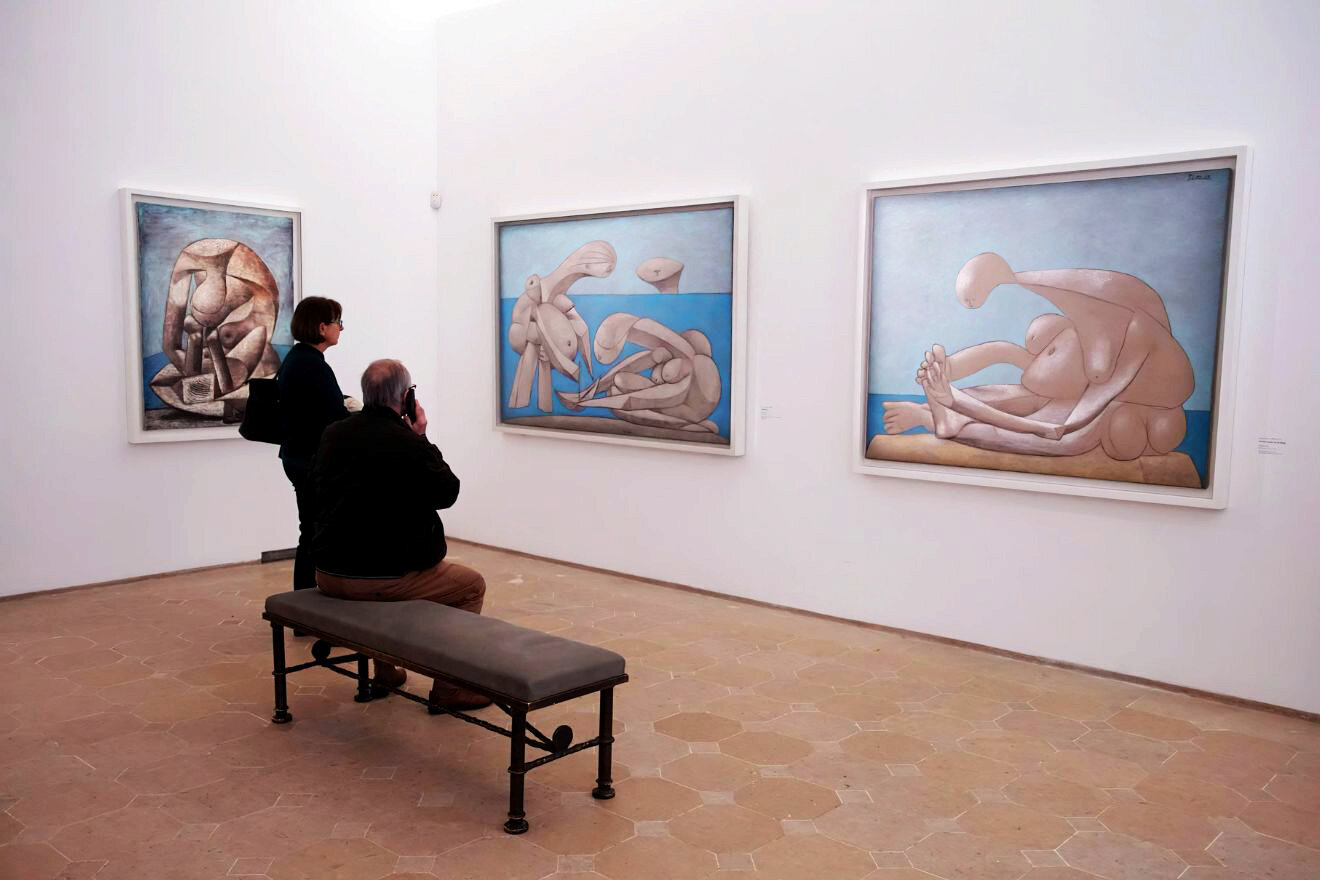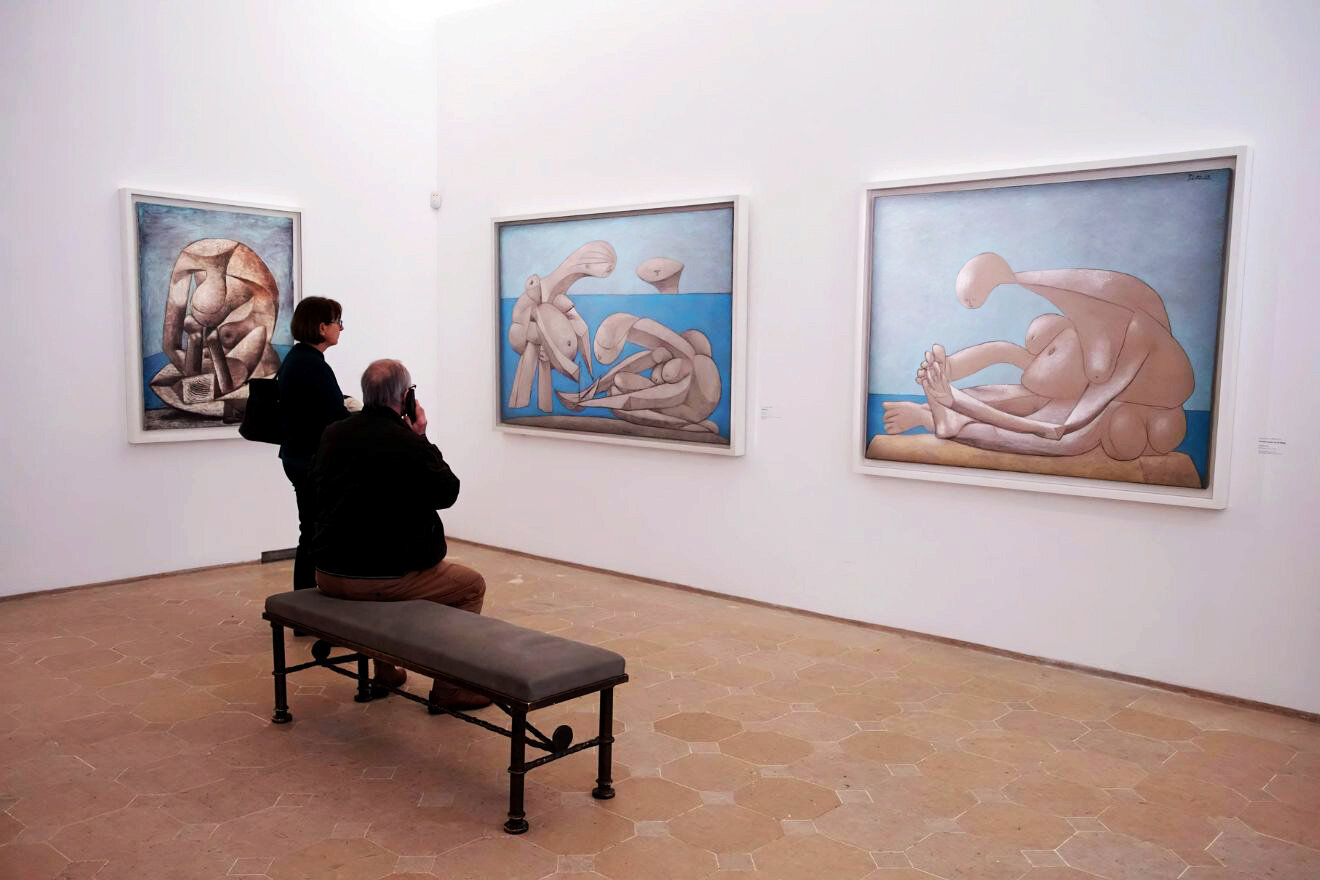 For anyone who knows for sure they want an audio guide, the official website sells a ticket that costs €19 which includes the entry fee and an audio guide.
Basically you're paying the same entry fee, plus €5 extra.
These audio guides are perfect for anyone who wants to learn more about the artist. It also offers a commentary on the pieces available in the museum!
I'd recommend getting it if you're interested in actually understanding the paintings and finding out more about Picasso. For €5 you definitely get some super useful information and they're available in French, English, Spanish, German, Chinese.
But if you're not sure yet about whether or not you want one, they are also available to rent when you arrive for the same price, so you can also just purchase a general entrance ticket and decide later.
I did also contact them asking about availability and they said they've never run out of audio-guides!
1.3 Family Tickets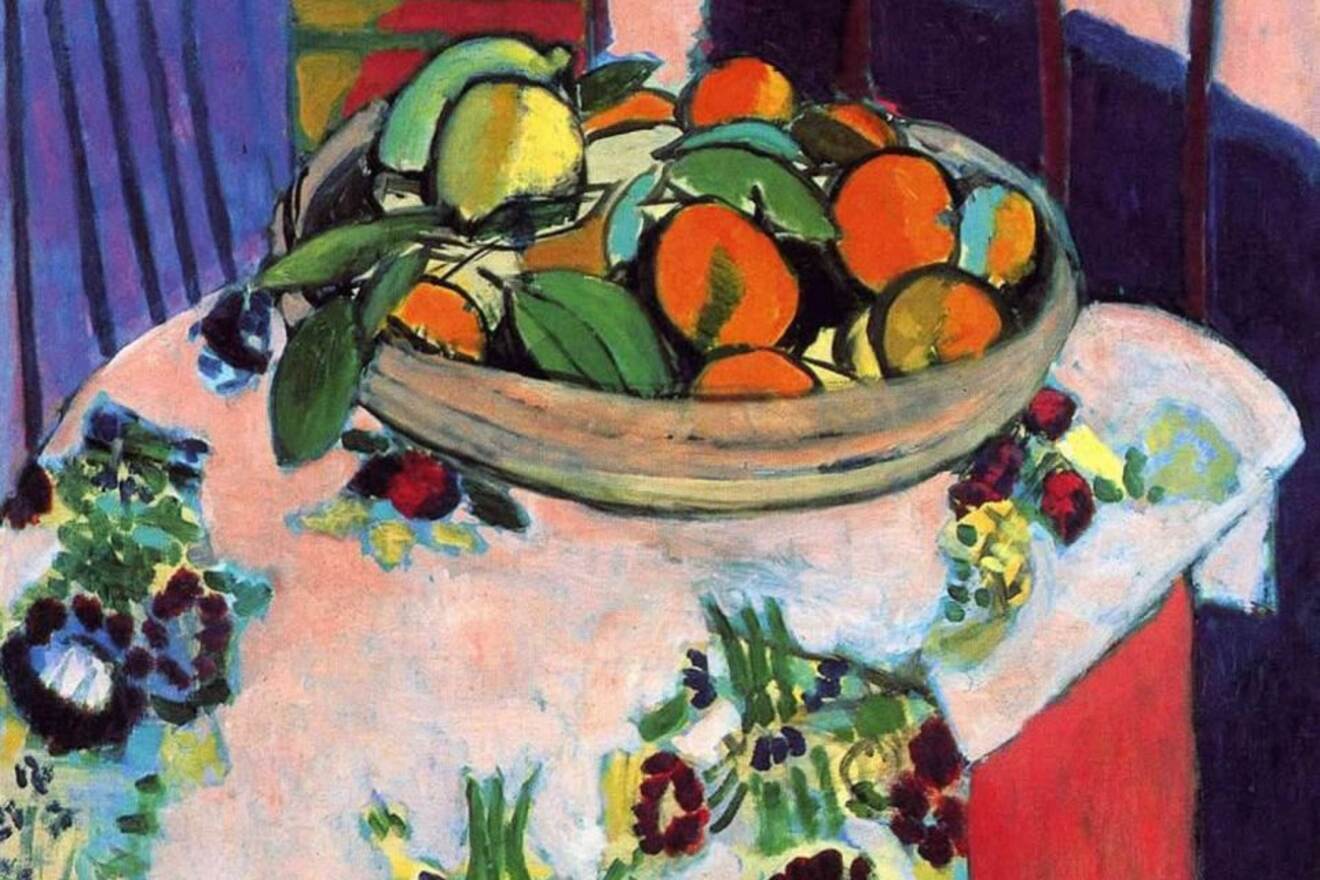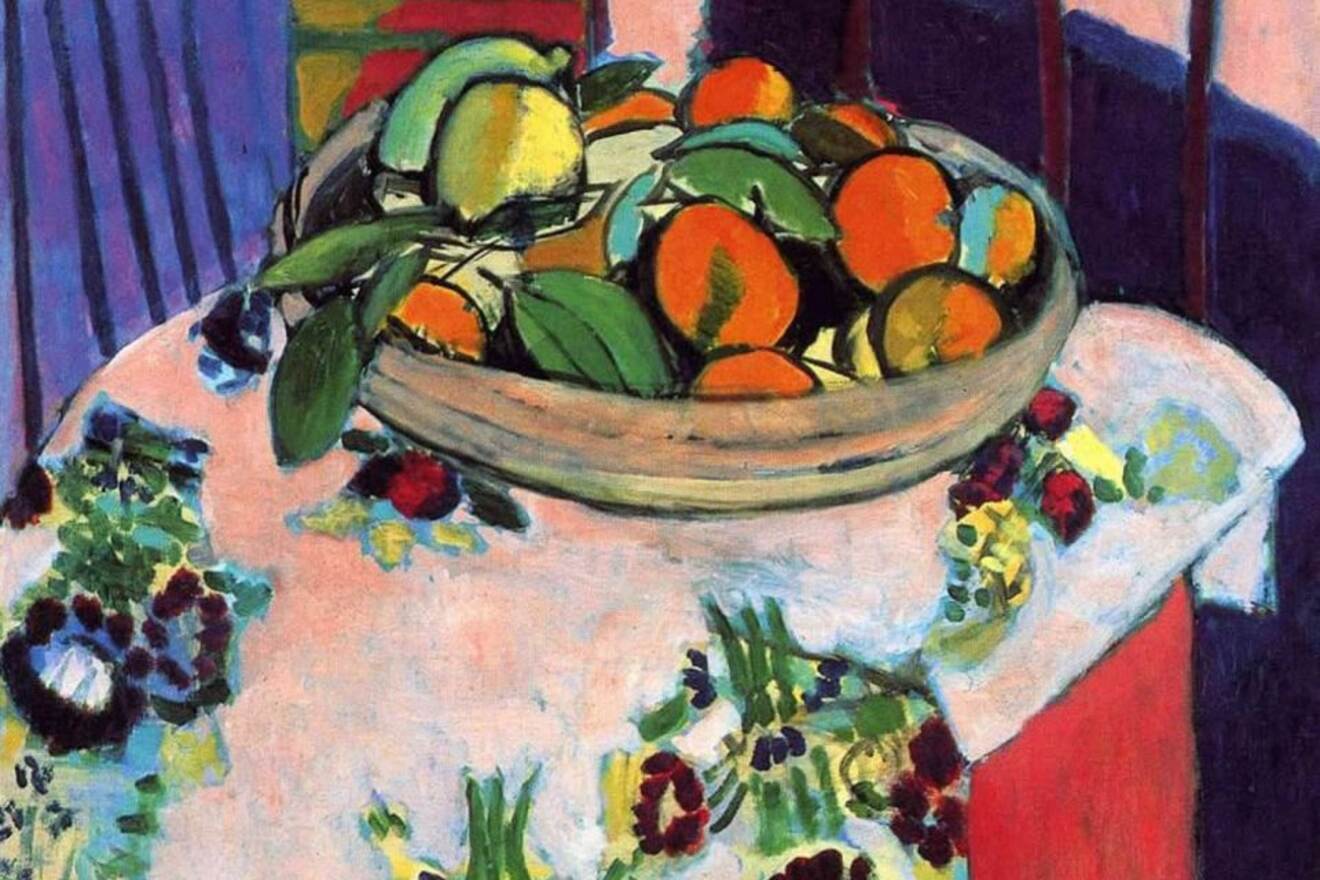 Although the Pablo Picasso Museum doesn't have actual family bundle tickets (since it's free for kids under 18 years old to enter) they do have this cool option that offers parents who bring a child with them a discount.
Instead of paying the full price of €14 per person, both parents can pay €11 when accompanied by your little ones.
Just make sure you add the tickets in the "Tarif Spécial Famille" when adding them to your basket.
If you're thinking of buying the entry ticket & audio guide you'll still get a discount. Just like with the normal ticket you just need to select the "Tarif Spécial Famille" option, and instead of paying €19 per person, you'll pay €15 per person or €30 together.
NOTE: This option is only available on the official website.
2. Take a guided tour or try an activity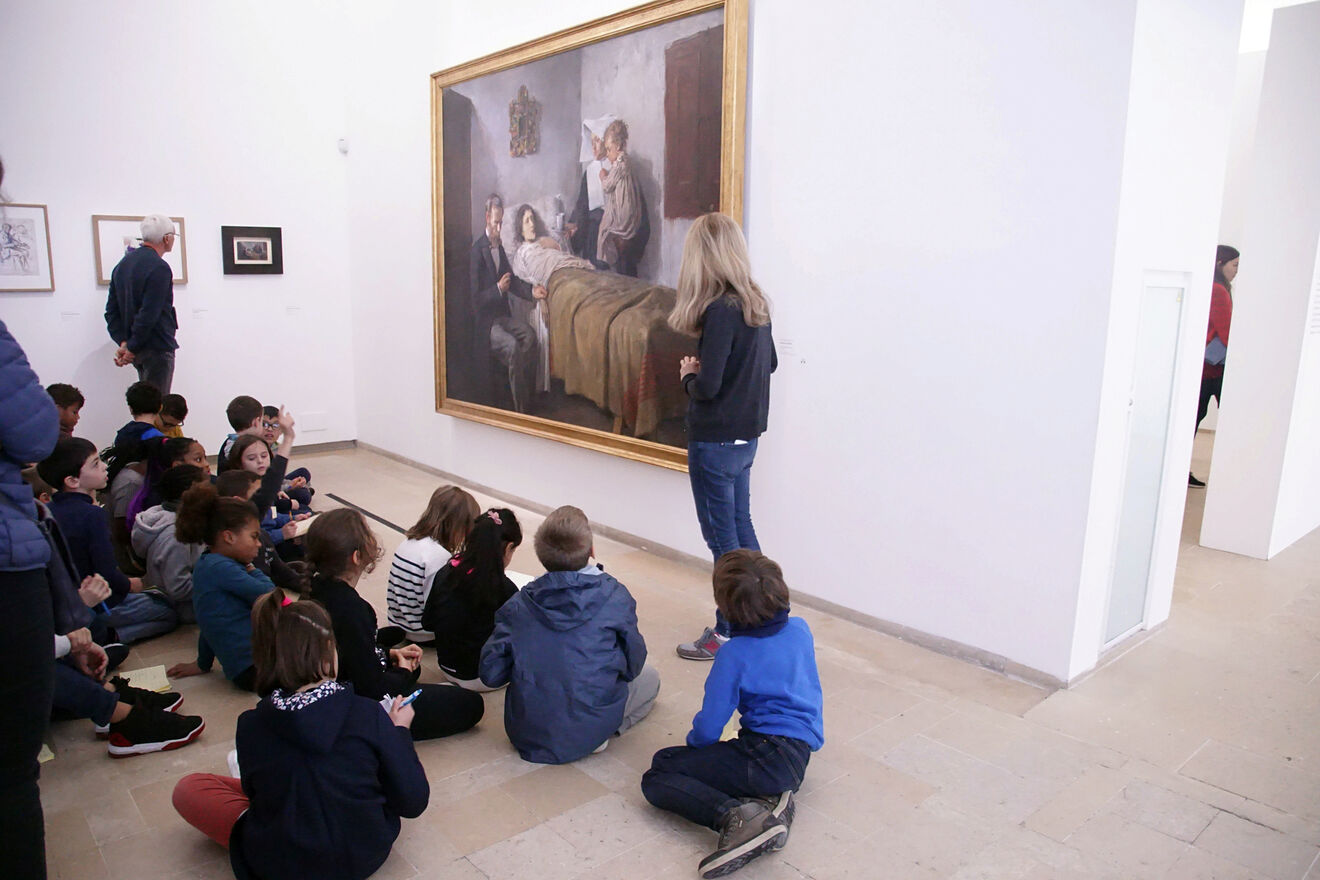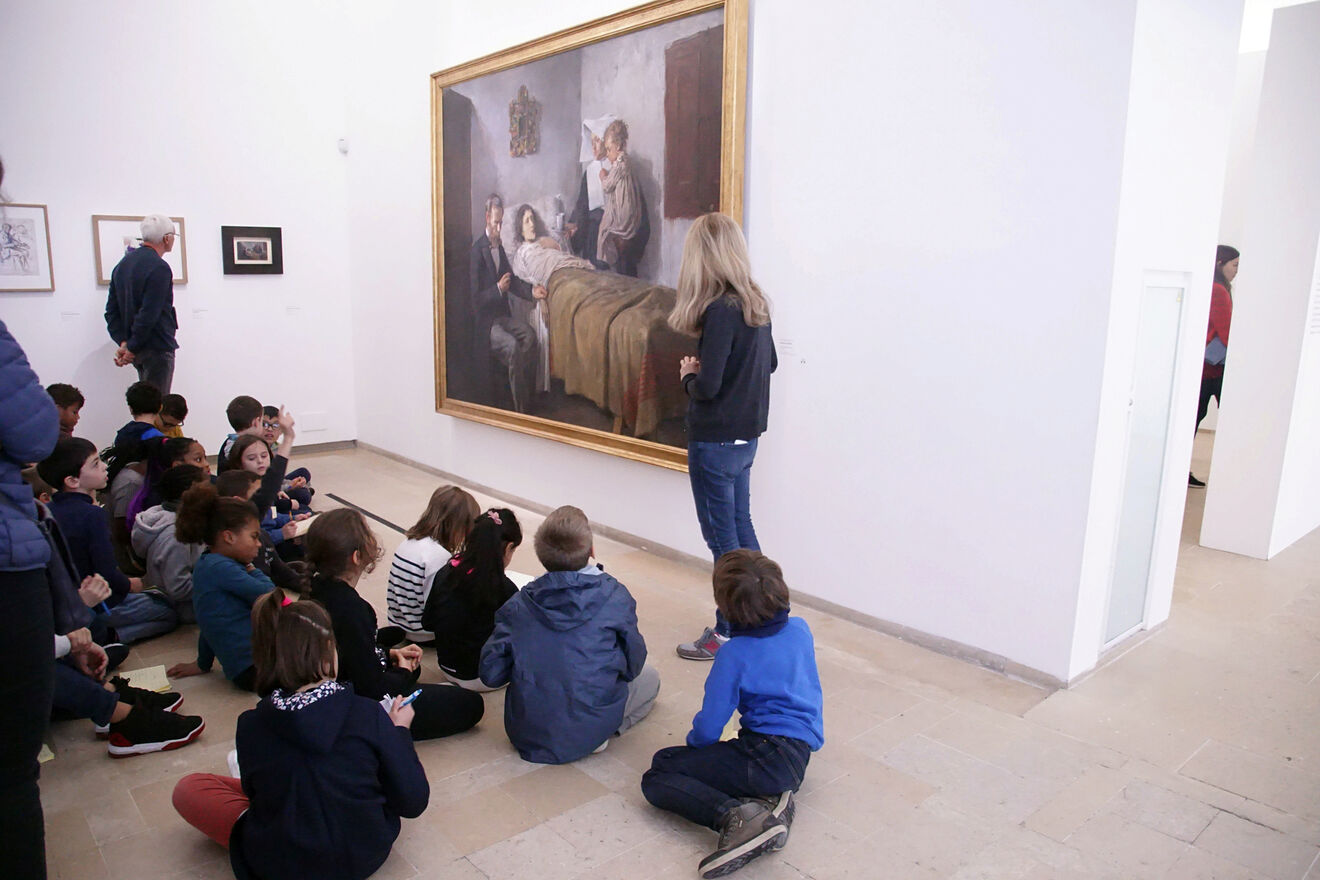 Discovering works of art on your own and trying to decipher the meaning yourself can be so much fun. Especially if you do some research beforehands. However, if you'd like a professional to guide you through Picasso's paintings and tell you more about his life, then I'd recommend joining a tour or trying a unique experience they offer.
Usually the tours held here are temporary, so it's super important to check out their official website before your visit to see what's on. But to give you an idea, here are 3 types of tours and experiences they often offer.
2.1 Guided tours of the exhibitions
Join a guided tour of the exhibitions currently on display in the museum to discover the meaning and stories behind all the paintings from a knowledgeable expert.
NOTE: Sometimes the guided tour is only available in French so make sure to check before booking!
These tours are generally held on weekend afternoons (Saturday & Sundays) and last just over an hour. I think the tours are great value since it is usually only around €4 extra (less than the audio guide) and you are able to actually ask questions and learn about the art from a real person!
2.2 Bite Picasso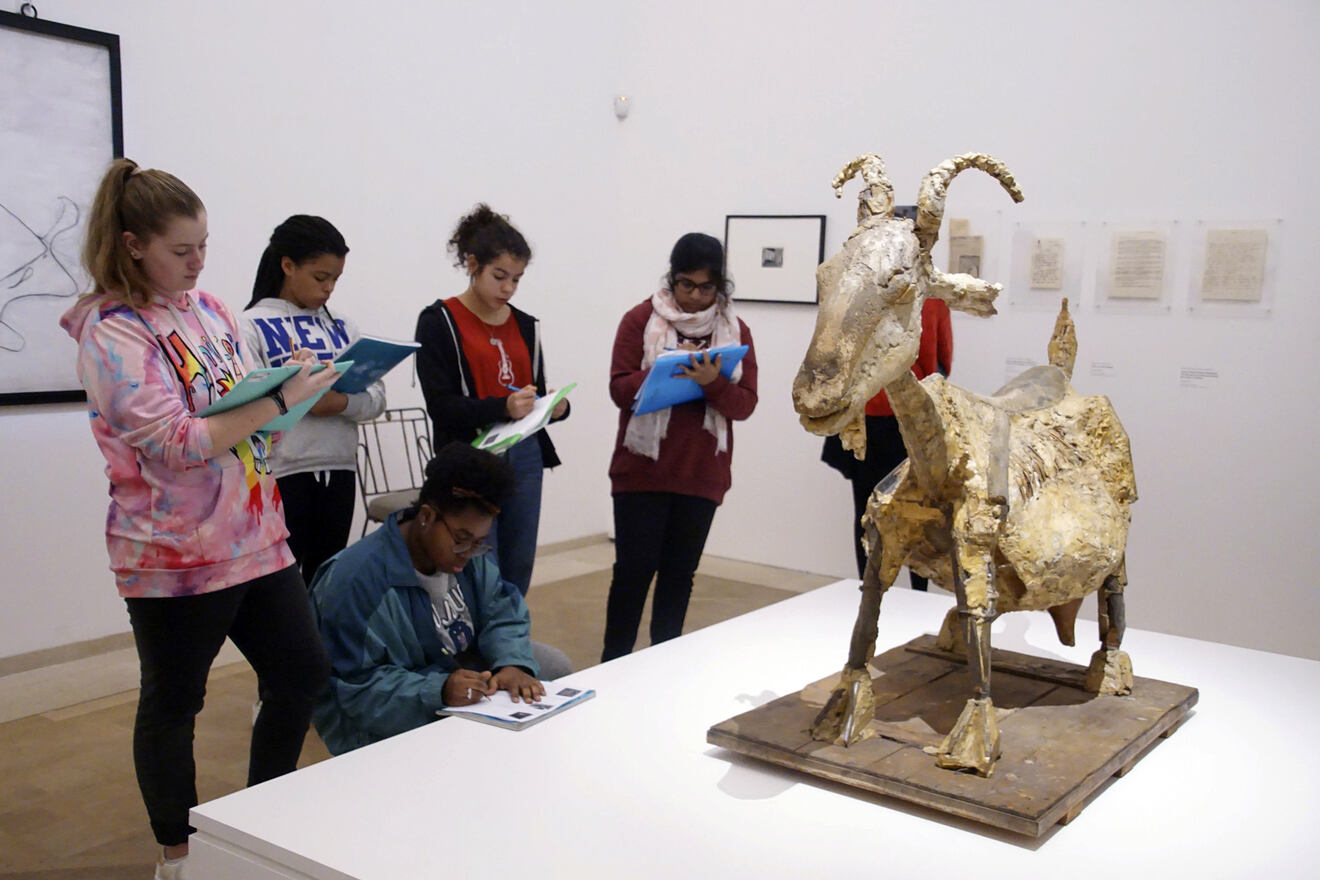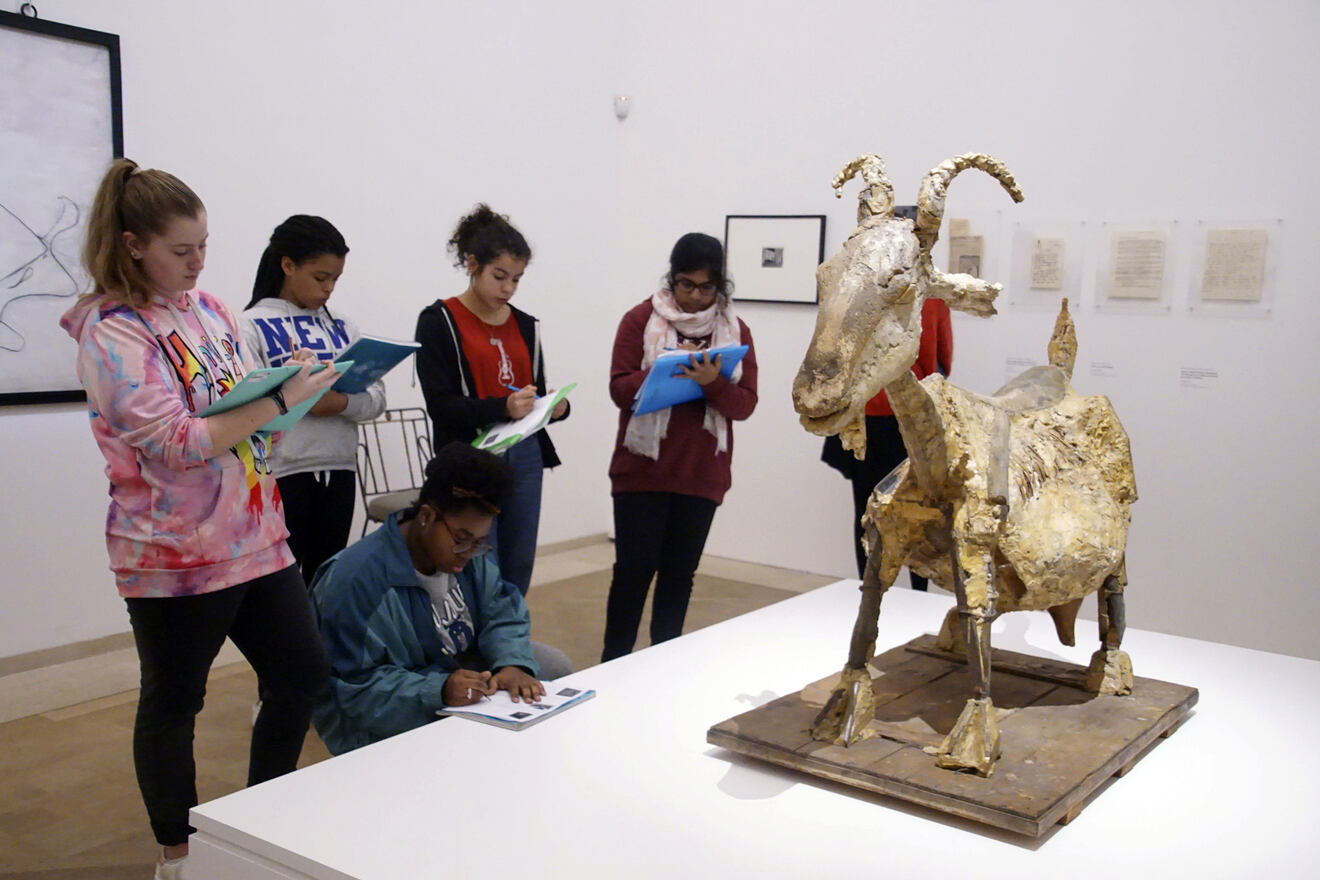 If you're looking for a fun day to spend your Saturday while visiting the museum, I think you'll love this activity!
All you have to bring is your creativity! The workshop offers people the opportunity to spend 2h sketching in a room in front of Picasso's works of art.
You'll be guided by a visual artist and drawing teacher step by step and of course you'll receive all the materials you need. And you can even take your sketchbook at home afterwards!
The workshop costs around €20 (at full price including the entrance fee) and €15 (for under 26s, people with disabilities, job seekers and members).
2.3 Imaginary visit of the exhibitions
This one is super fun! It's actually a theatrical and poetic guided tour of the exhibitions available on-site.
If this is being offered when you visit I would jump on the opportunity! During the poetic and theatrical tour, you'll get to see the exhibitions from the perspective of the dramatic arts while accompanied by 2 actors, giving Picasso's works a super unique angle.
The tour costs around €20 (full price) or €15 (for under 26s, people with disabilities, job seekers and members) and last's around an hour.
3. Combo tickets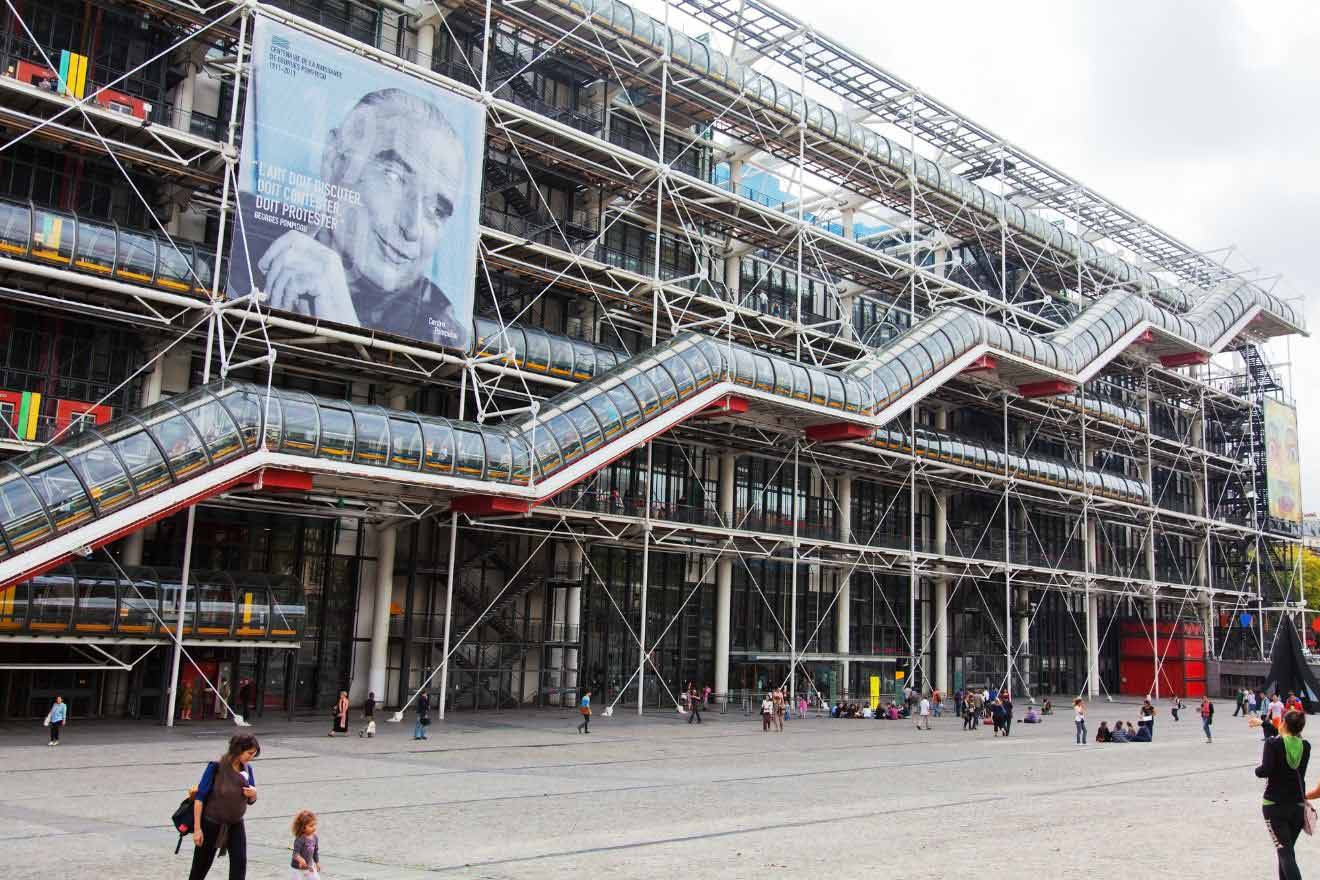 Buying each and everything for a holiday is exhausting, I know! Luckily I've found a way to help you save some time by buying two in one tickets for a couple of different attractions. What's more, these tickets will also save you a few euros!
Below you'll find 3 combo tickets that include entry to Picasso Museum plus 1 more attraction of your choice. I've also made the calculation to see if this saves you any money:
Centre Pompidou + Musée National Picasso Paris – With this €30 ticket you save €3 and get to visit the famous Centre Pompidou and Picasso Museum. Centre Pompidou is a unique building that hosts a library, an art museum and a center for music, it's definitely a must-see!
Musée National Picasso Paris + Musée Rodin – At €28 this one may not save you money, but it does save you time in that you only have to make one booking and get to see these 2 cool places. Rodin Museum is dedicated to the art sculptures of Auguste Rodin and it's set in a beautiful old building!
Louvre Museum + Picasso Museum Paris – Save €3 and get to see one of the most famous museums in the world! The Louvre doesn't need a long introduction but just know that you'll remain in awe with its beauty and this combo ticket is just €31 for entry to both!
4. Multi attraction passes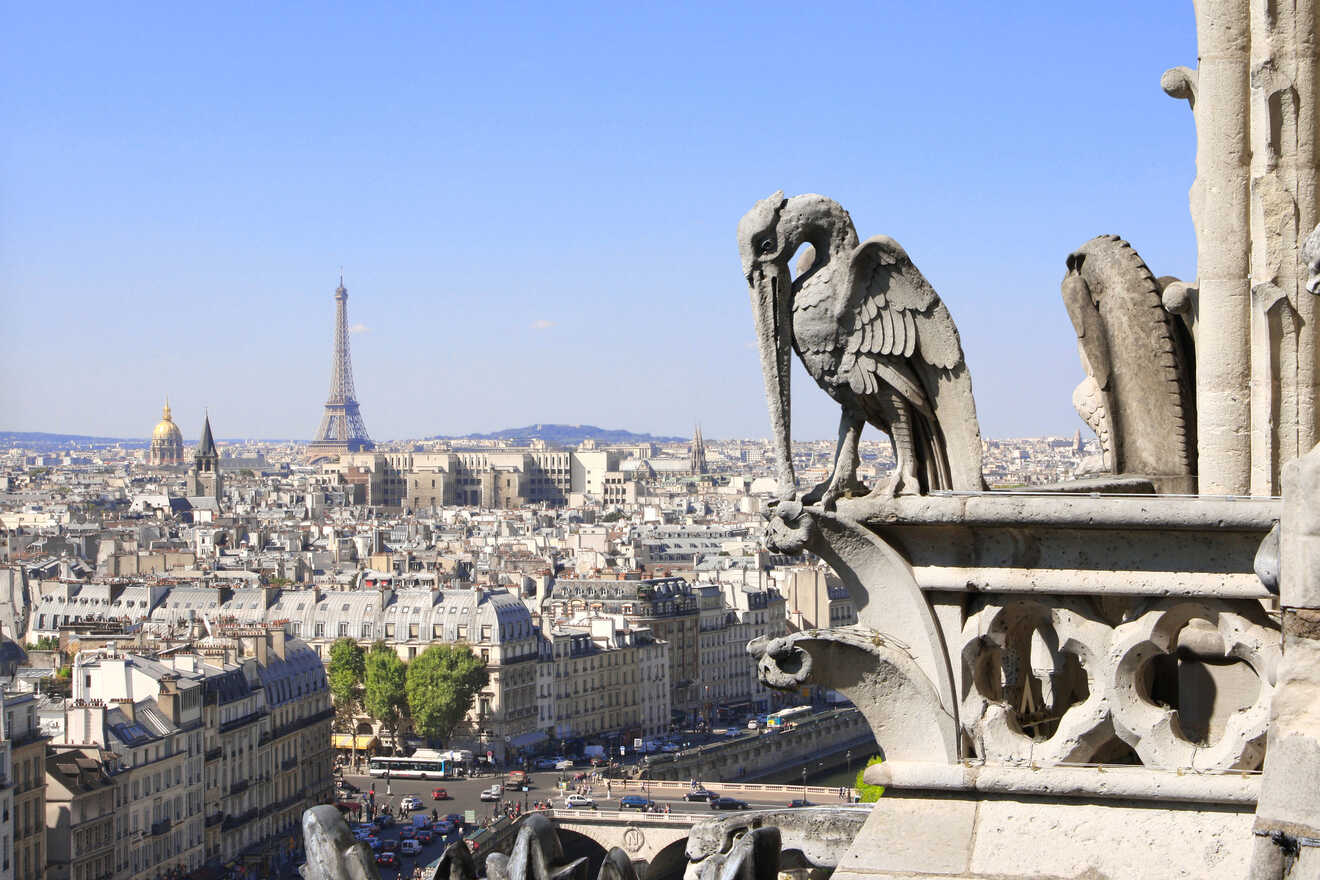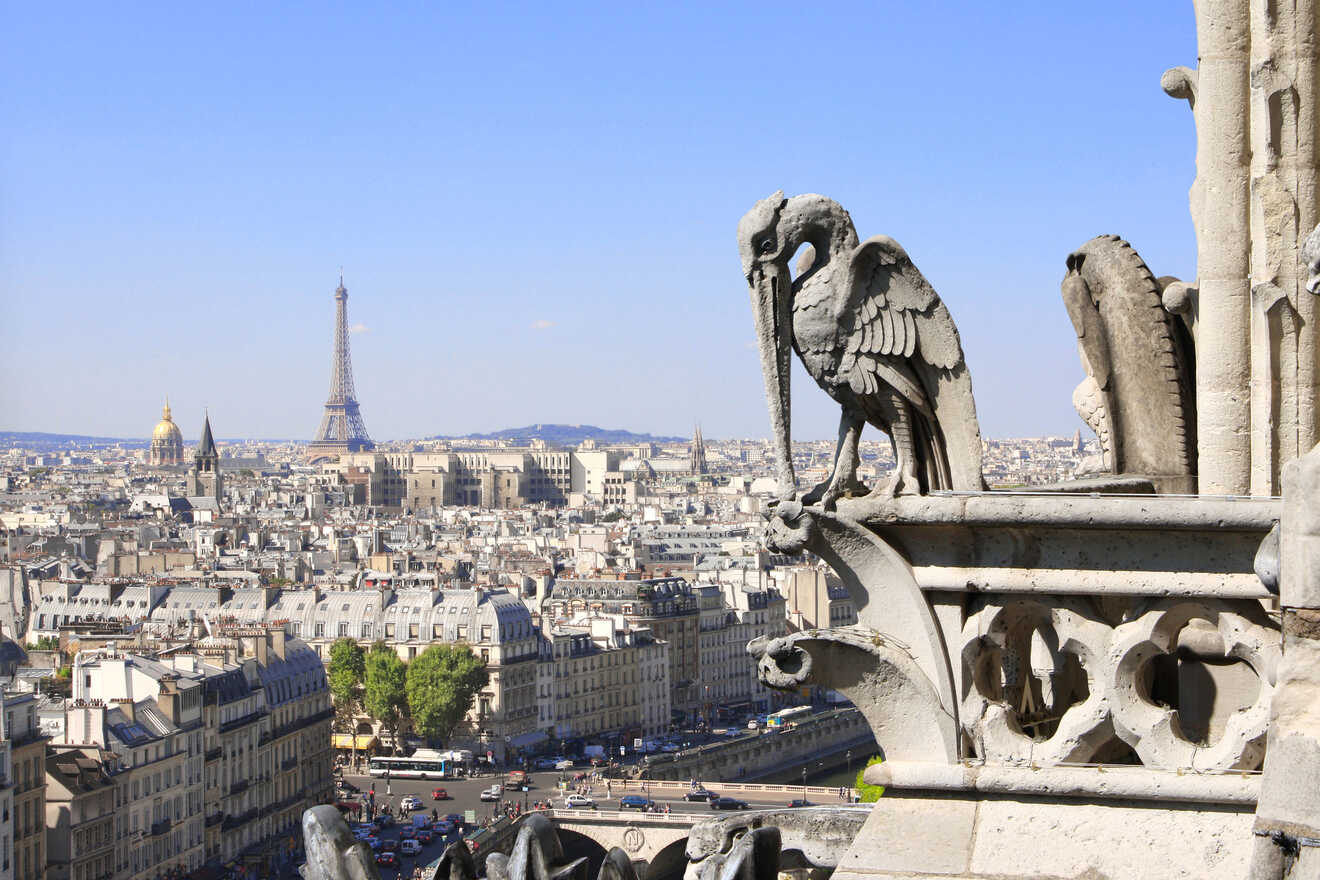 Paris is a city of so many major attractions from the beautiful Eiffel Tower, to the Louvre Museum and the creepy Catacombs! And since there are so many which I'm sure most of you want to see, I think you're going to love these 2 passes that I've found!
4.1. Paris City Pass
Before we get all excited let me quickly explain what a city pass is for anyone who doesn't know. So usually a city pass is made to save you some money! It's basically one big ticket that includes entry to many attractions.
But sometimes the marketing gets the best of these passes and they're not as convenient as they seem. That's why it's important to do a calculation and find out. But that's pretty long and a bit boring but luckily I'll help you today with that!
You can buy passes for 2,3,4 or 6 days of validity for different prices depending on how much time you have:
2 Days: Adult €89
3 Days: Adult €179
4 Days: Adult €199
6 Days: Adult €229
The Paris City Pass offers entry to 86 attractions and that includes museums, tours, food, and castles. I know the feeling of wanting to visit all of them but since that it's pretty impossible unless you want to move up there (which I totally recommend) I'll pick some of the most important ones and show you their individual prices so you can decide if the pass is worth it or not:
Picasso Museum Paris – €14
Louvre Museum – €17
Arc de Triomphe – €13
Eiffel Tower Guided Climb – €34
Grevin Paris Wax Museum – €20
Versailles – €20
Orsay Museum – €16
Seine River Cruise – €16
1 Day Big Bus Hop-On Hop-Off Tour – €42
Cheese Tasting Tour – €20
Champagne Gourmand in Montmartre – €18
French Sweet Crepes at Bistro Marbeuf – €18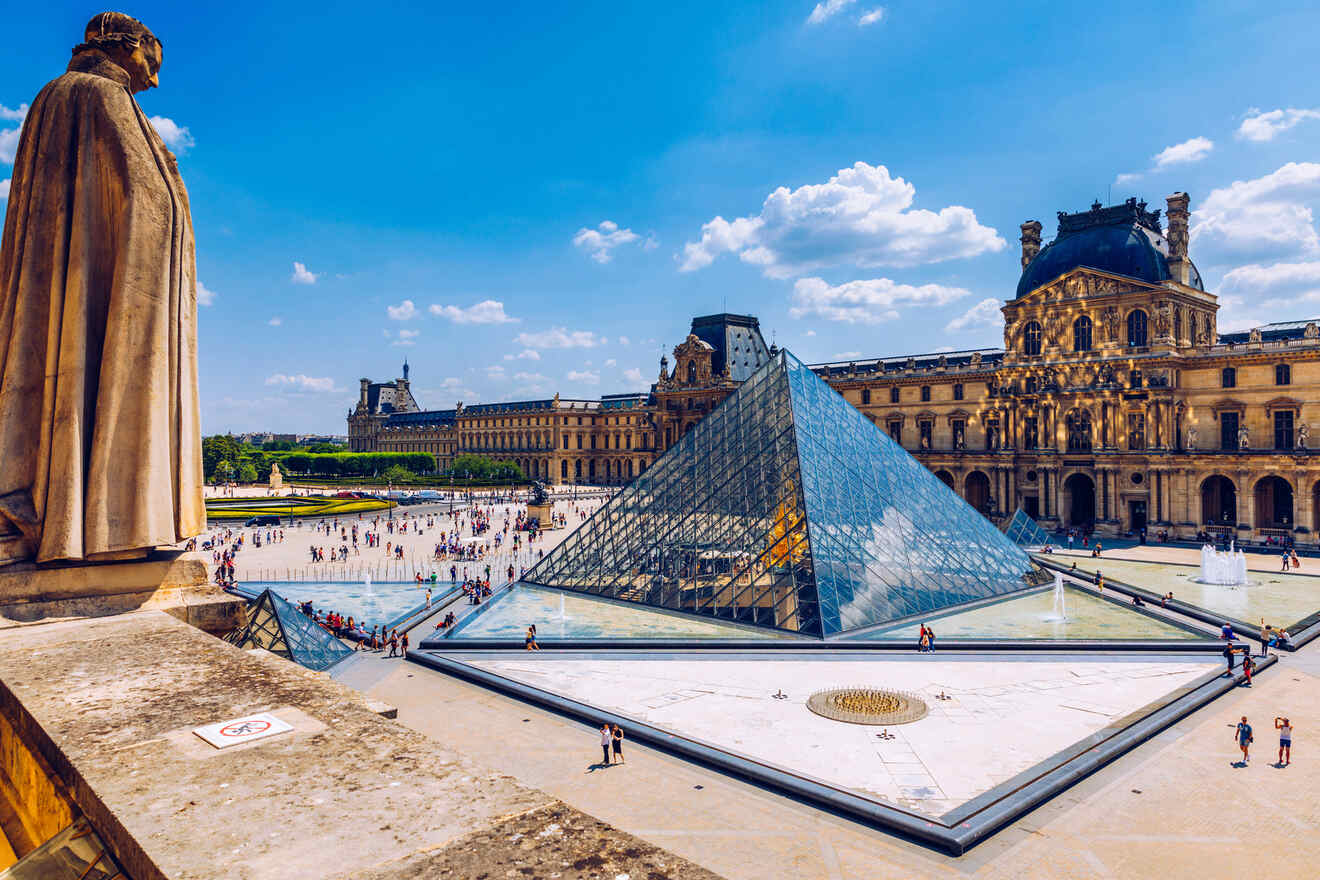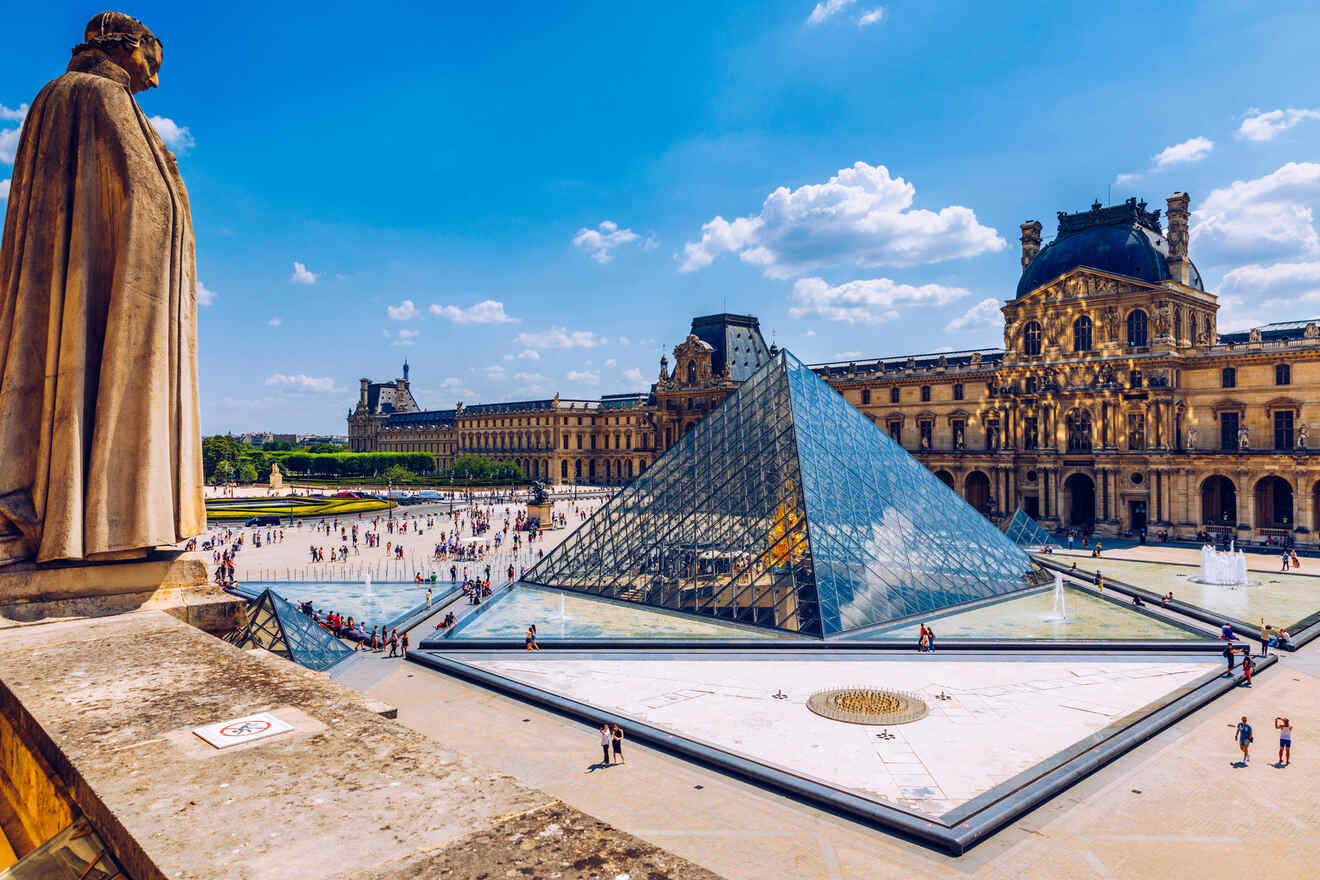 So after doing all the calculations, I came to the conclusion that you'd have to buy the 3 day pass in order for it to be worth it, and so that you can have enough time to visit all these attractions. Of course, you can also get the ones with more days but as you see, they're more expensive.
Here are my calculations to show you how much you'd save if you visit the main attractions included in the pass:
Picasso Museum Paris (€14) + Louvre Museum (€17) Arc de Triomphe (€13) Eiffel Tower Guided Climb + (€34) Grevin Paris Wax Museum (€20) + Versailles (€20) + Orsay Museum (€16) + Seine River Cruise (€16) + 1 Day Big Bus Hop-On Hop-Off Tour (€42) + Cheese Tasting Tour (€20) + Champagne Gourmand in Montmartre (€18) + French Sweet Crepes at Bistro Marbeuf (€18)
14+ 17 + 13 + 34 + 20 + 20 + 16 + 16 + 42 + 20 +18 +18 = €248
You save €69 (248 – 179 = 69)
Since the 3 day pass is €179 you would need around 13 activities to make it worth it. But as you saw above, there are also some bus tours and meals so I think you could get great value out of that! Or alternatively if you still feel like you'd need more time you can buy the 4 day or 6 day pass but yes, they are more expensive (but if you use them to the fullest you will save even more!)
4.2. Paris Museum Pass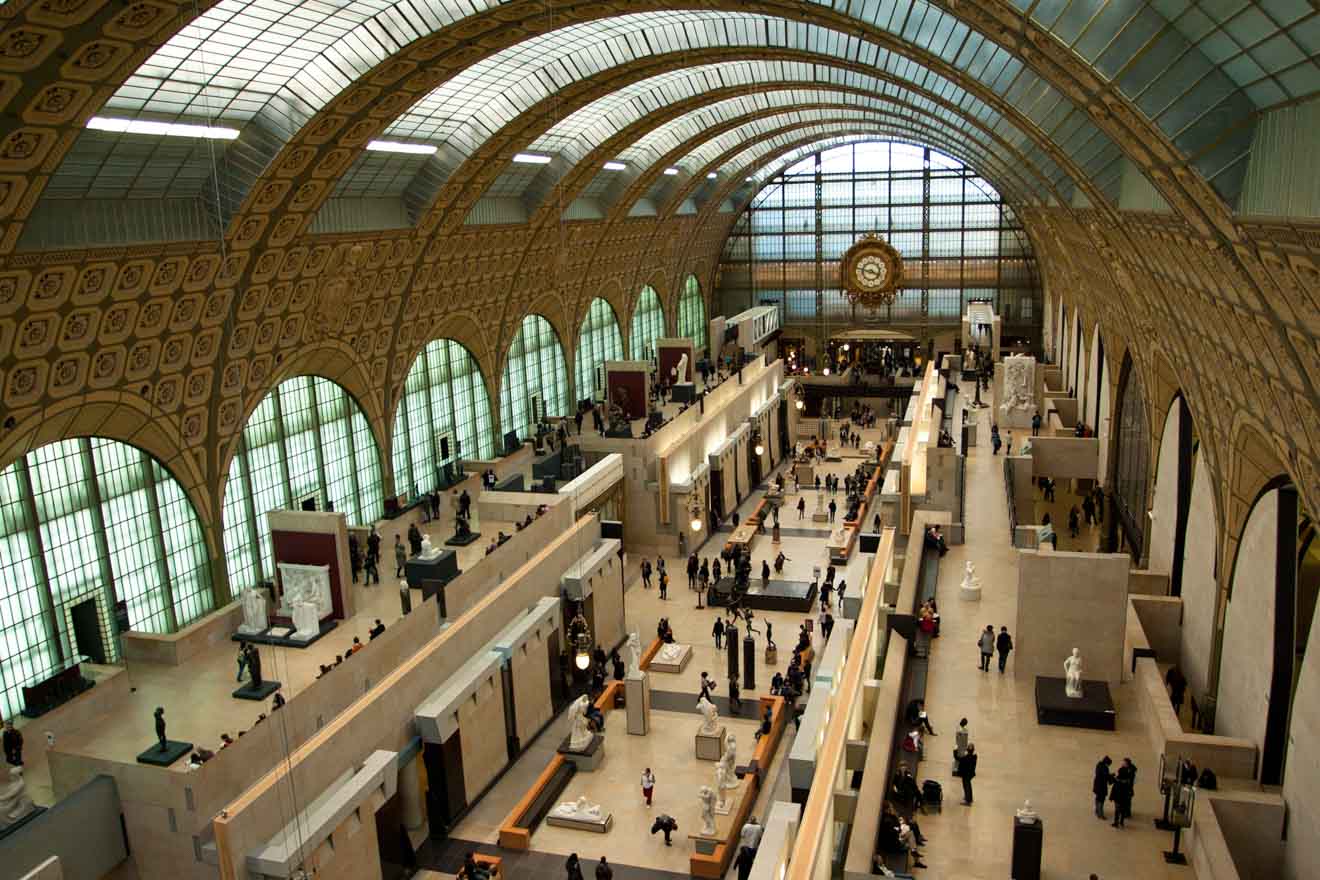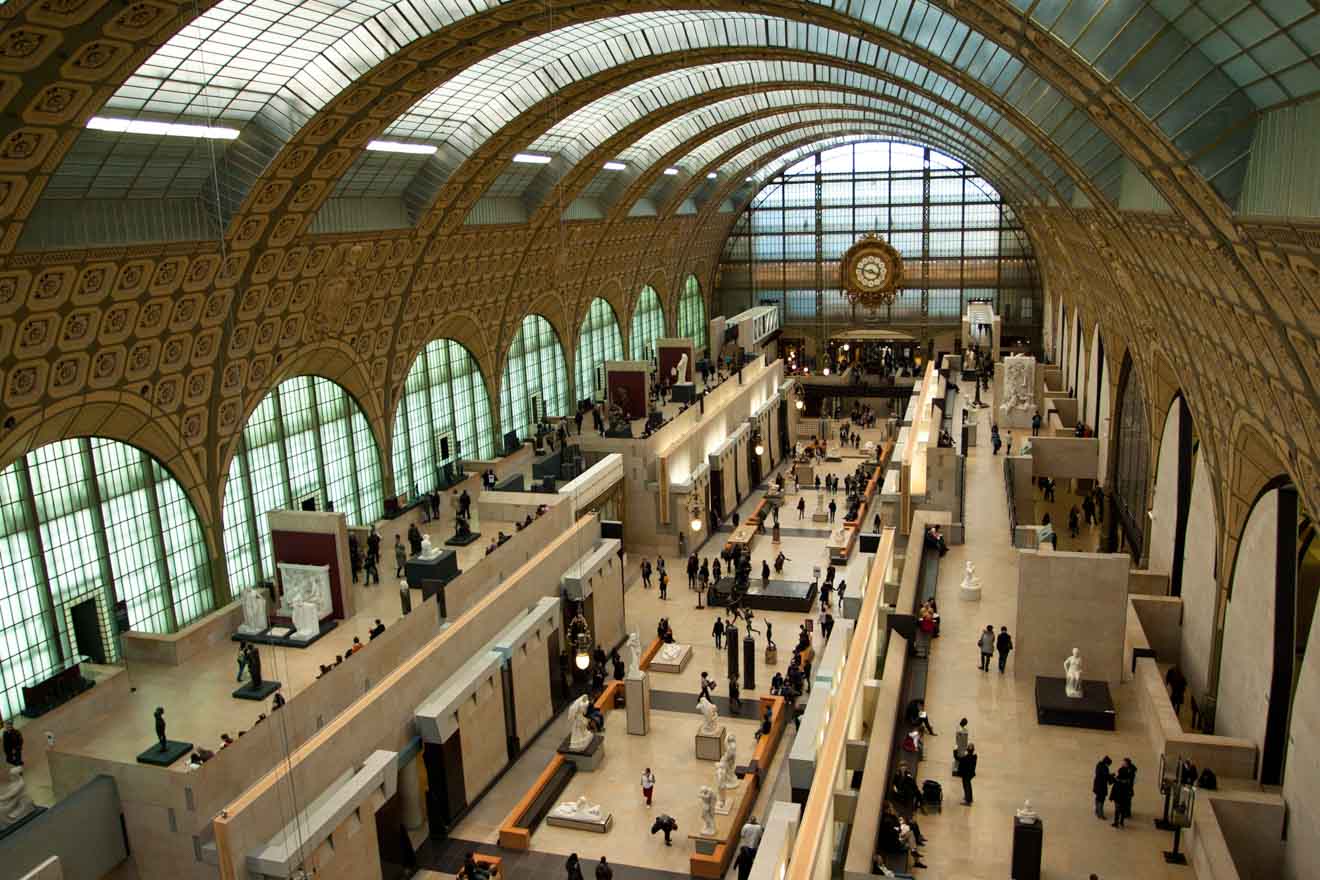 Do we have any museum freaks here? I know we all love museums and what better city than Paris to visit a bunch of them! From the Louvre to the Musee d'Orsay and of course the cool Picasso Museum, you won't find a city with more interesting museums than this one!
So if you're planning to visit just these cool museums while staying in Paris, then I think buying a Paris Museum Pass would be super convenient! Unlike the Paris City Pass, this one only offers access only to the museums.
But that's the only difference. Otherwise it works under the same system and of course the more attractions you visit the more you save. Still, let's do all the calculations and find out if it's worth it or not!
So there are 3 different passes you can buy for 2, 4 and 6 days of validity, each at a different price:
2 days – €52
4 days – €66
6 days – €78
PRO TIP: The pass is cheapest on the official website however it is non refundable, so if you're not 100% sure of your dates you will visit. I recommend booking through GetYourGuide, the past costs €7 more here but you can cancel for free up to the day before your start date with no questions asked.
The pass offers access to 34 museums, which yes it's a lot and pretty impossible to do if you've only had a few days in the city. So I've picked some which I think are for sure the most important ones so that you can decide if it's worth it or not:
Picasso Museum – €14
Louvre Museum – €17
Centre Pompidou – €14
Orsay Museum – €16
Picasso Museum (€14) + Louvre Museum (€17) + Centre Pompidou (€14) + Orsay Museum (€16)
14 + 17 + 14 + 16 = 61
You save €9 (61 – 52)
Since the 2 days pass is €52 you'd need 4+ attractions to make it worth it. Or you can even visit more if you've got the time in those 2 days or otherwise get the 4 days or 6 days passes, which is even better value!
5. Buying tickets at the entrance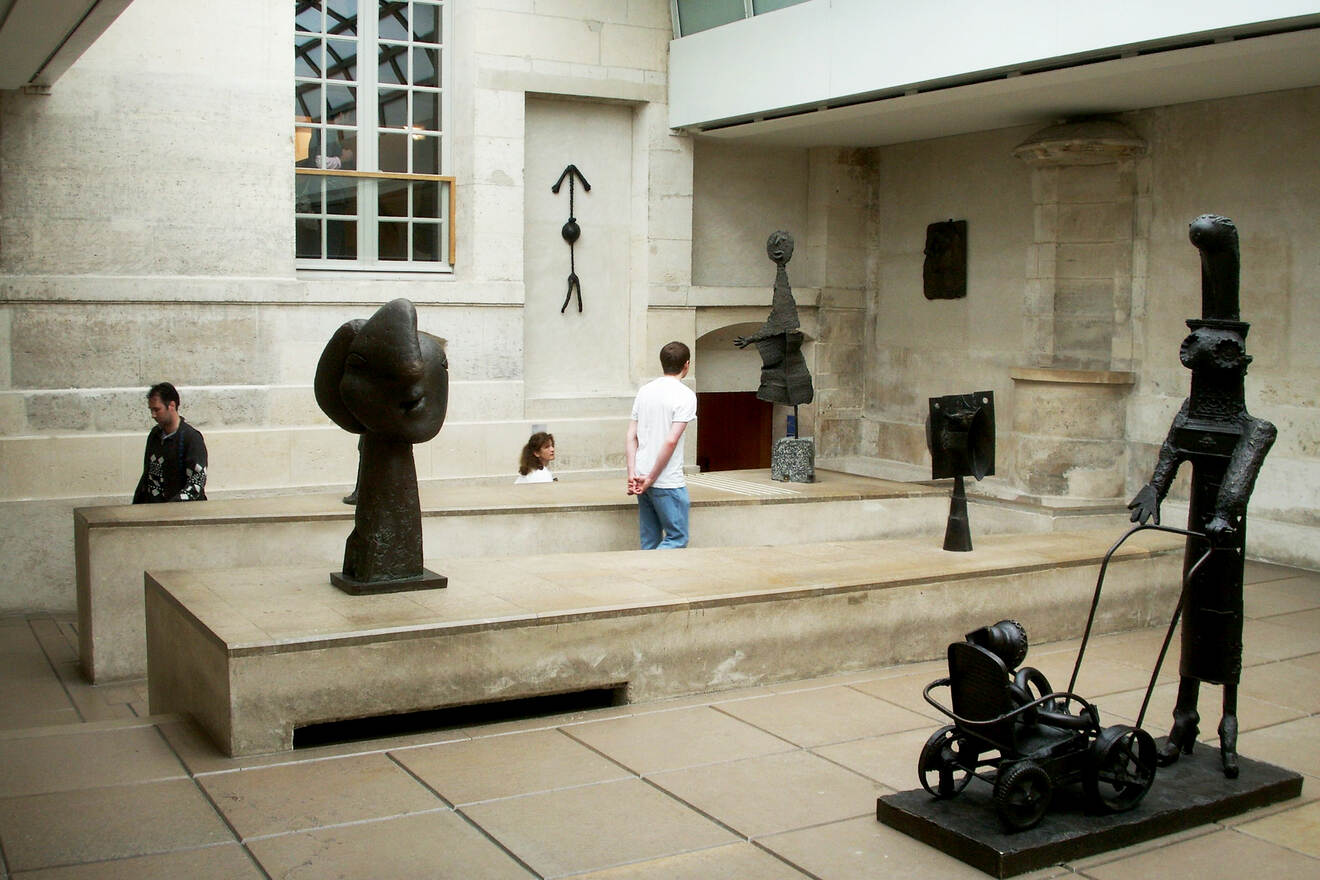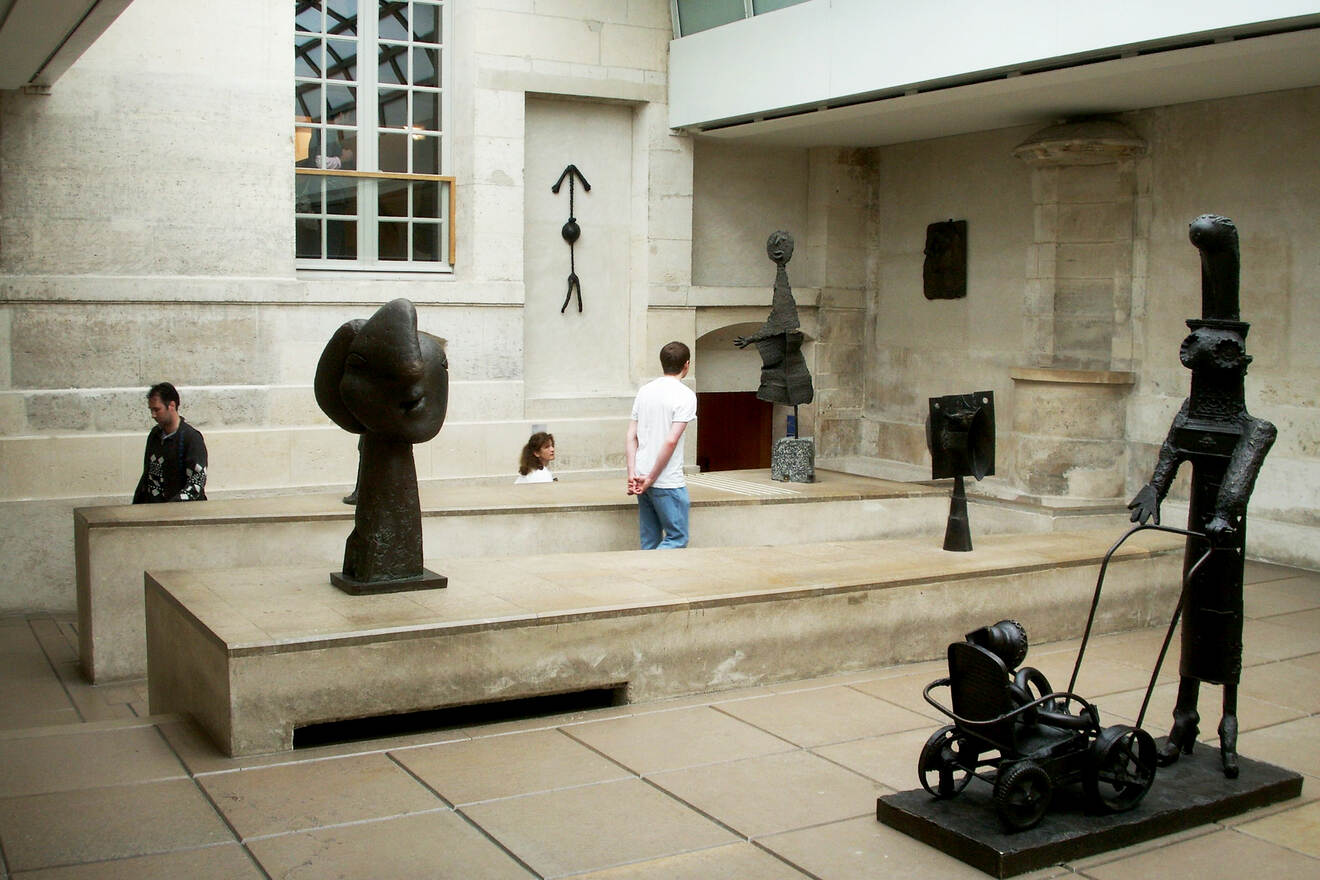 Unlike other attractions in Paris where the waiting time is pretty long, Picasso Museum doesn't have super long lines, nor does it increase the ticket price when buying it on-site. Which means that in a perfect world you won't have a problem getting in.
Plus you'll be paying the same amount of money. However (and this is a big however) you should remember that they work under a time-slot system, which means that they can only let a certain number of people in per person.
So it may happen sometimes that you'll have to wait to enter the museum. Which can mess up a bit with your timing if you have other things to visit.
That's why I usually recommend buying the tickets in advance, especially if you've got any other plans for that day. At least then you'll know you'll get the priority entry, no matter what.
6. How to visit Picasso Museum Paris for free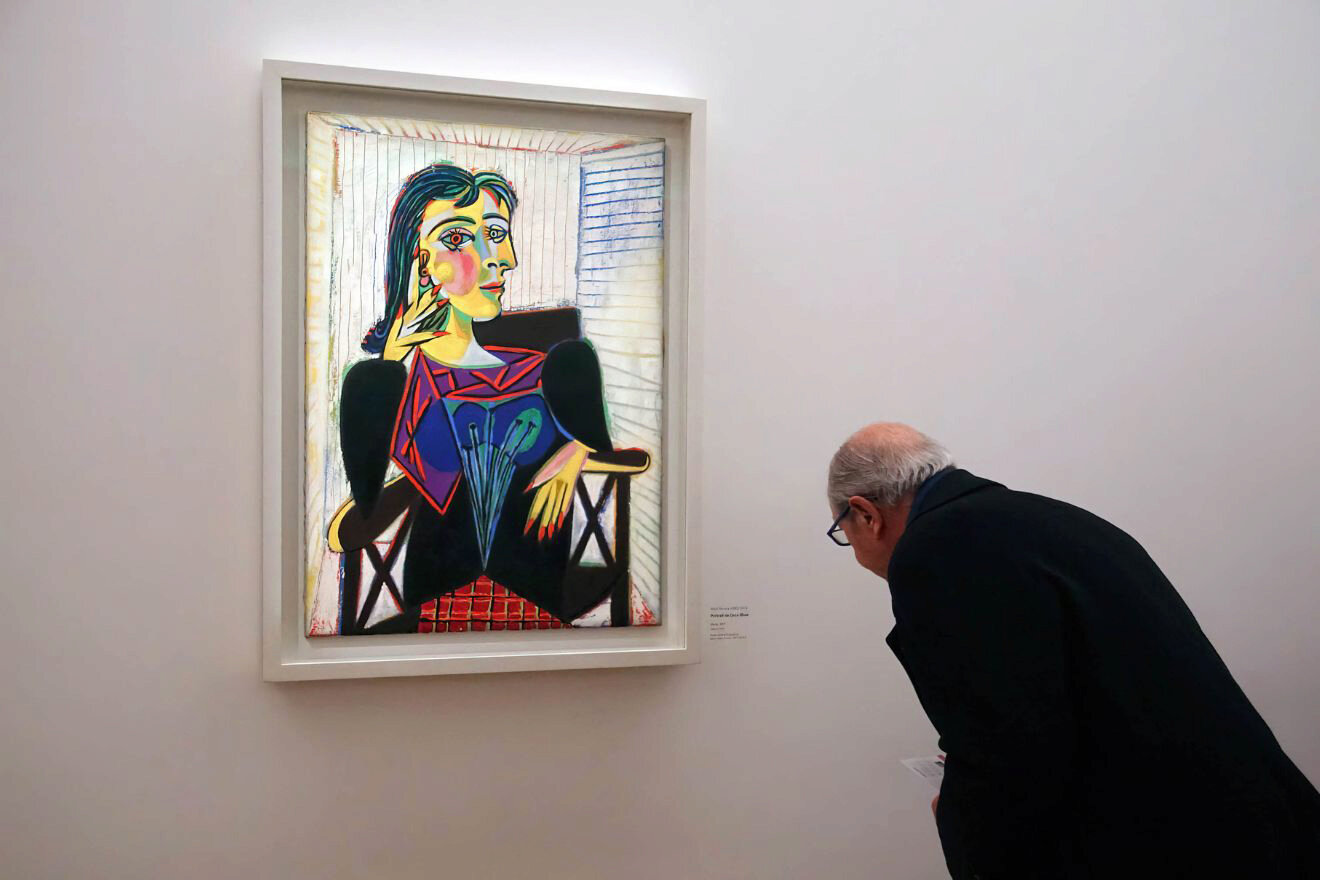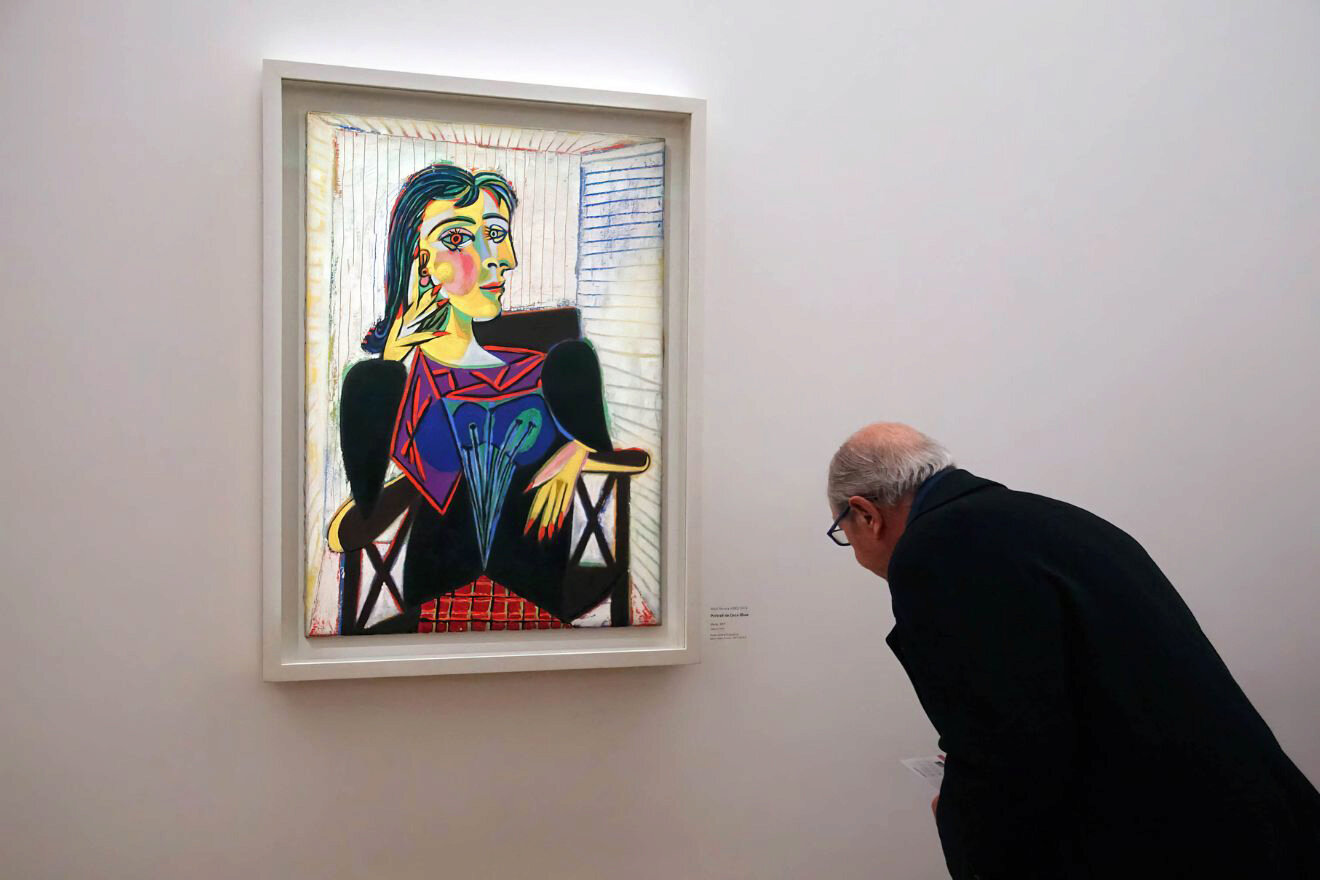 I've got good news for everyone! The museum is free for everyone on the first Sunday of the month!
What's great is that you don't really have to book anything in advance, nor get a voucher or something like that.
But bear in mind that you may have to wait for a long time to enter. The museum still has a restriction on how many people can enter, so if you arrive at a time when it's super crowded they'll definitely make you wait outside.
And with all those people waiting in line, that means that the museum itself will probably be at capacity, which is annoying since the rooms are pretty small so you'll also waste some time waiting to actually see the paintings.
But other than that, if you're lucky or coming during a time when there are not a lot of tourists in town you can enjoy a smooth visit for free!
Important things to know about the Picasso Museum, Paris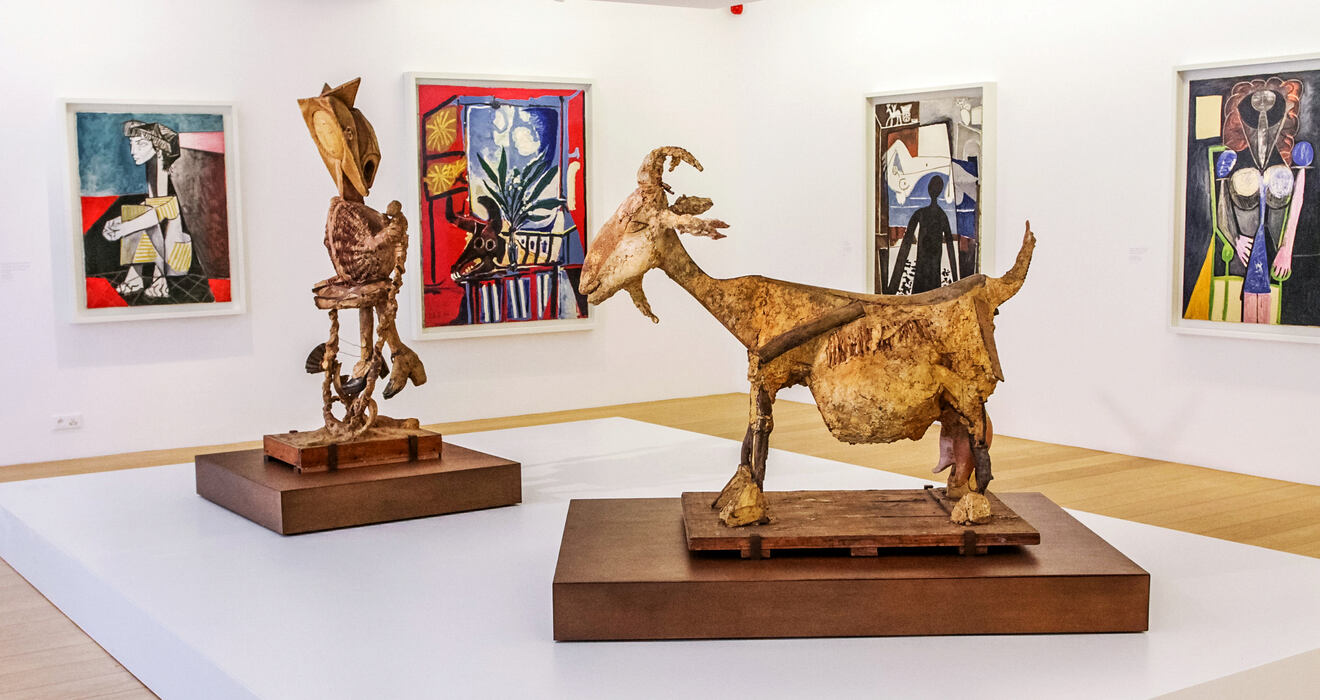 1. How far in advance do you need to buy your tickets
Since the price doesn't increase nor do you risk running out of tickets, you can buy them anytime you want. However I would recommend buying them at least 4 days in advance if you're looking to visit the museum at a specific time as sometimes a certain time-slot can be booked out.
2. Opening hours & Best time to visit
The museum is open from:
Tuesday to Friday (10:30 AM – 6 PM)
Saturday – Sunday (9:30 AM – 6 PM)
NOTE: On Mondays the Pablo Picasso Museum is closed!
The last admission is at 5:15 PM, and they start clearing the rooms 20 min before the closing time
I recommend visiting the museum as early as you can, that's usually when most people are in cafes drinking their coffees and eating their croissants! (Which means there will be less people inside.)
3. How to get to Picasso Museum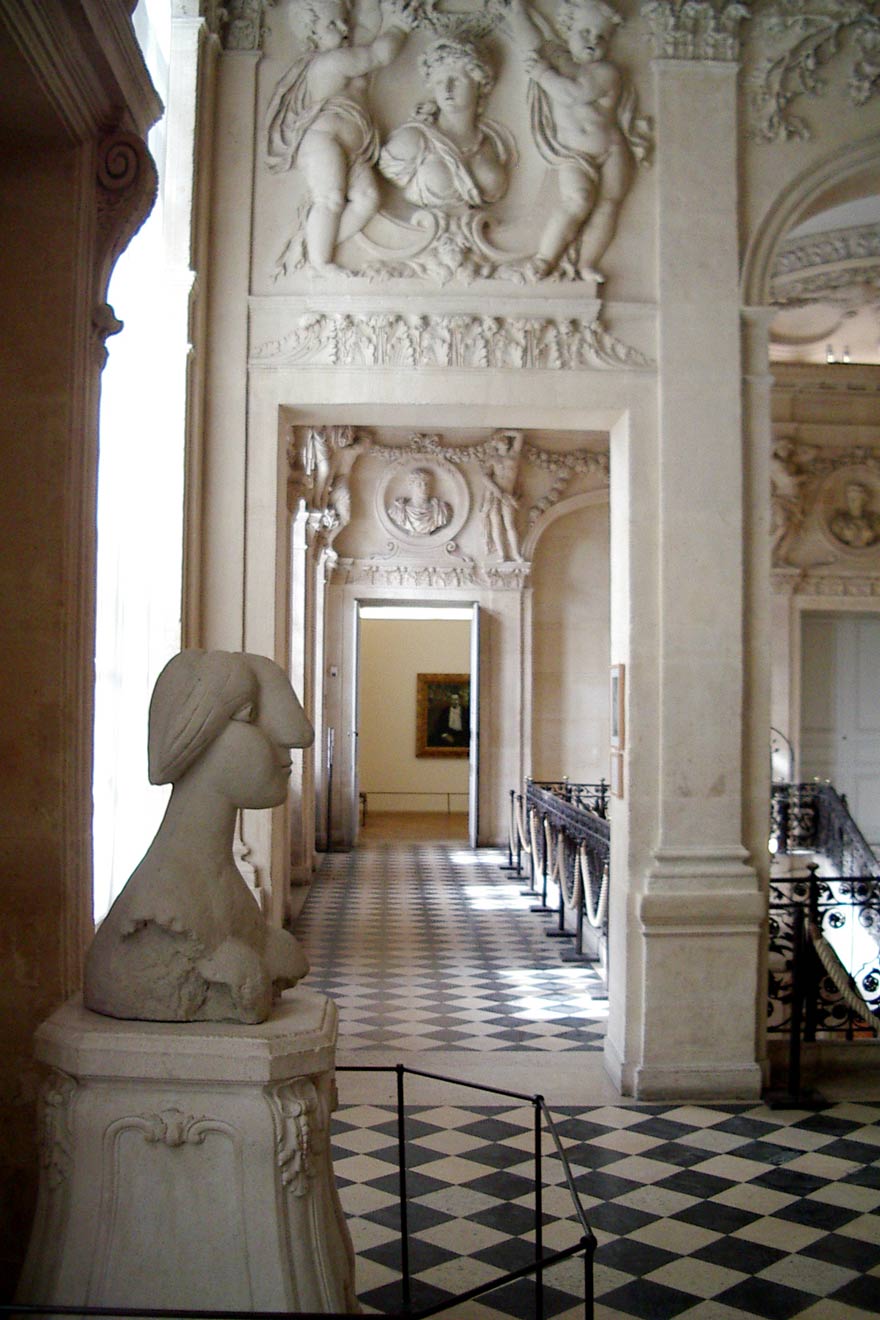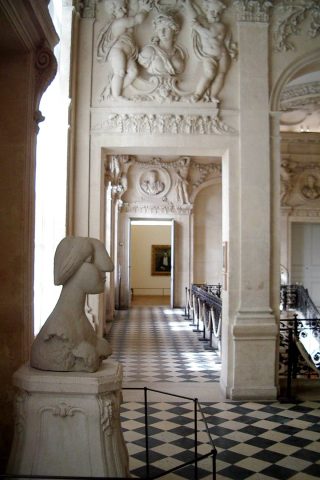 Paris is a big city with lots of cool neighborhoods (also known as arrondissements) and finding the best route to the museum can be tricky but I'm here to help you all the way, and below you can find all the ways in which you can get there:
By metro – The closest metro station to the museum is Saint-Sébastien – Froissart (7 min walk) served by line 8
By bus – Some of the closest bus stations are Saint Claude (2 min walk) with bus 96 and Rue Vieille du Temple (3 min walk) with bus 29
By car – There is no on-site parking but there there's a public one called Parking Public Temple (132 rue du Temple) which is set an 8 min walk away and it costs €22 for 3h (3 hours is the minimum time you can rent a place)
4. What to bring to (and not bring) to Picasso Museum, Paris
Here's a quick checklist of all the things you should bring or not to the museum. Trust me, when you're all busy trying to figure out what you need to take with you on this trip, the list below will come in handy!
✅ Tickets – No need to print out your tickets, you can just show them on your phone
✅ ID – Do bring a photographic identification card with you to present alongside your ticket (especially if you're under 18 and want to enter the museum for free)
✅ Camera – Yes, you can take no flash pictures inside the museum except under the art pieces that have a "no picture sign".
❌ Tripods and professional equipment is not allowed inside the museum
❌ No foods & drinks – You're not allowed to take food and drinks inside the museum
❌ No large items – Suitcases and bulky baggage are not allowed inside the museum and can not be stored in the museum's cloakroom
5. Things to see inside the Picasso Museum, Paris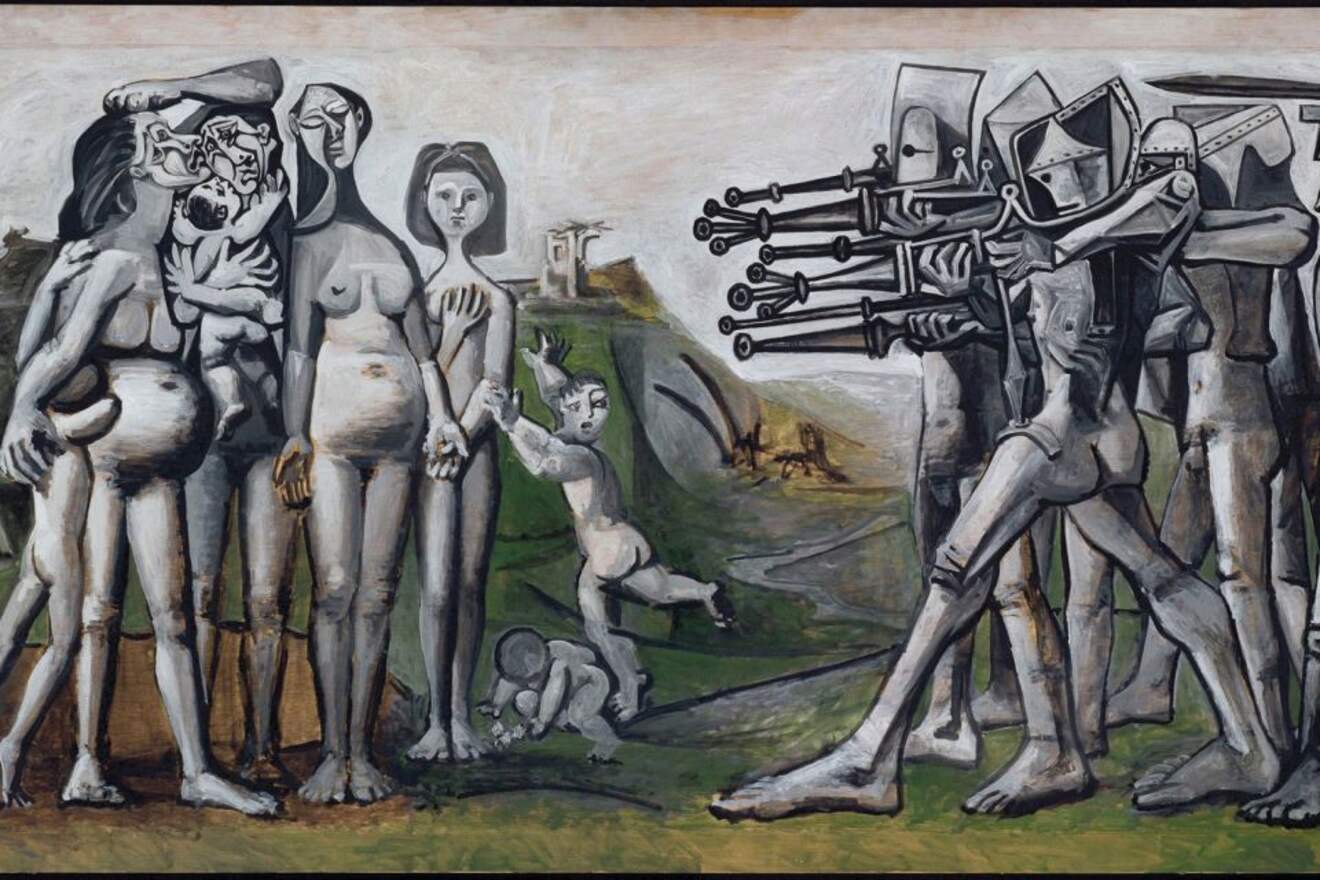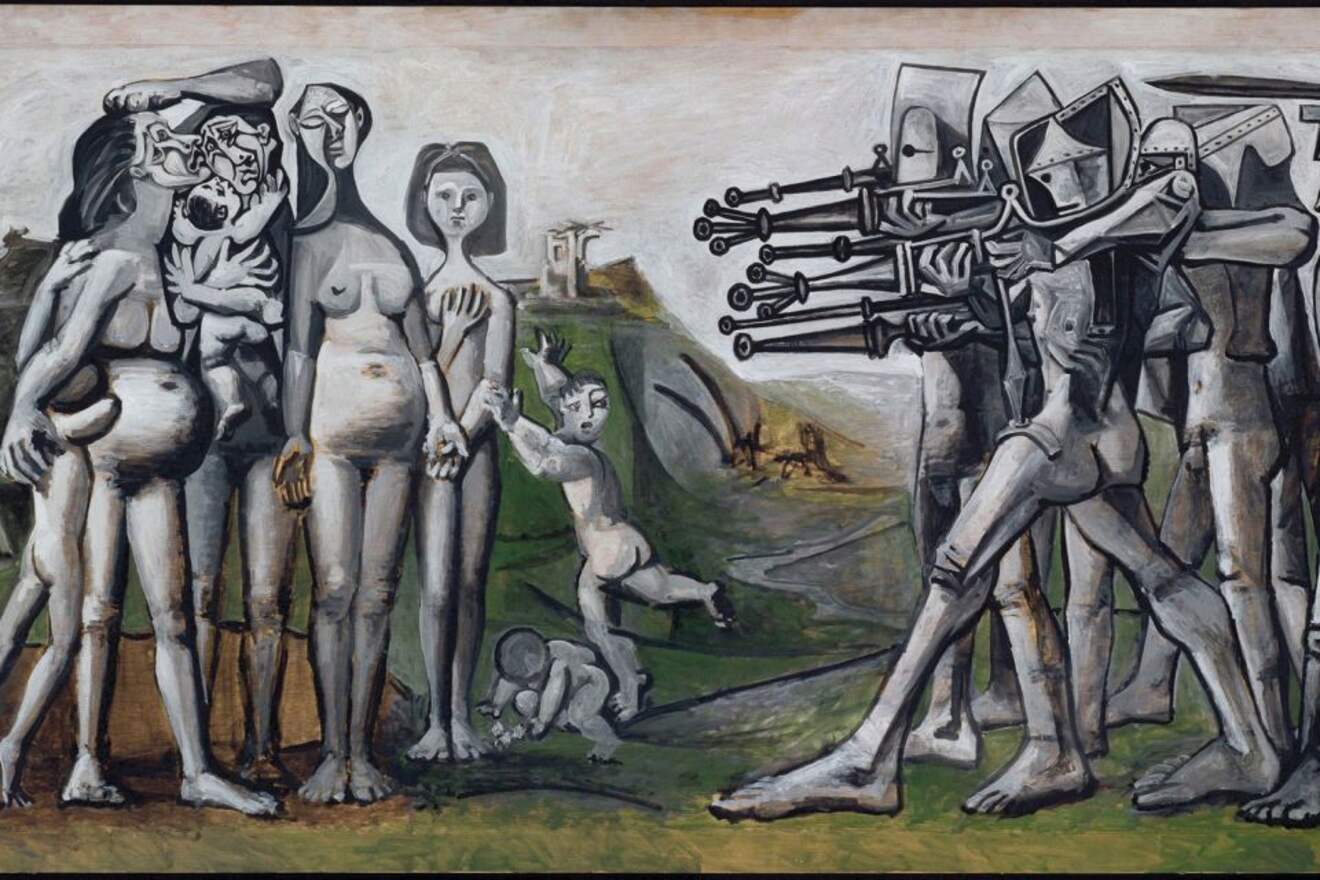 With so much beauty in this museum it's easy to miss some of the most important pieces. That's why I wanted to give you a list of some iconic paintings that you should see while you're visiting (I know I wish I had this while I was there).
So let's check them out:
Massacre in Korea – Another important painting that on mass killing during the Korean War in the Cold War
Grand Nu au Fauteil Rouge – A depiction of the Russian ballerina Olga Khokhlova
Self Portrait – A portrait by Picasso at a fairly younger age
6. Facilities inside the attraction
Toilets – You'll find all toilets located on level -1
Accessibility – The museum had elevators and access ramps which make all areas accessible to people with reduced mobility. You can also borrow wheelchairs and cane seats from the reception
Wifi – There is a €1 internet fee that you have to pay at the museum if you wish to use the wifi
Gift Shop – You'll find a gift shop in the main hall of the museum
Cafe – They have a rooftop cafe at the museum
Cloakroom – You can find the cloakroom on level -1, which is free to use for all museum visitors
Museum Garden – A great place to chill and admire the beautiful building, their garden is accessible to visitors via level -1, from March to September only.
FAQs about Pablo Picasso Museum Paris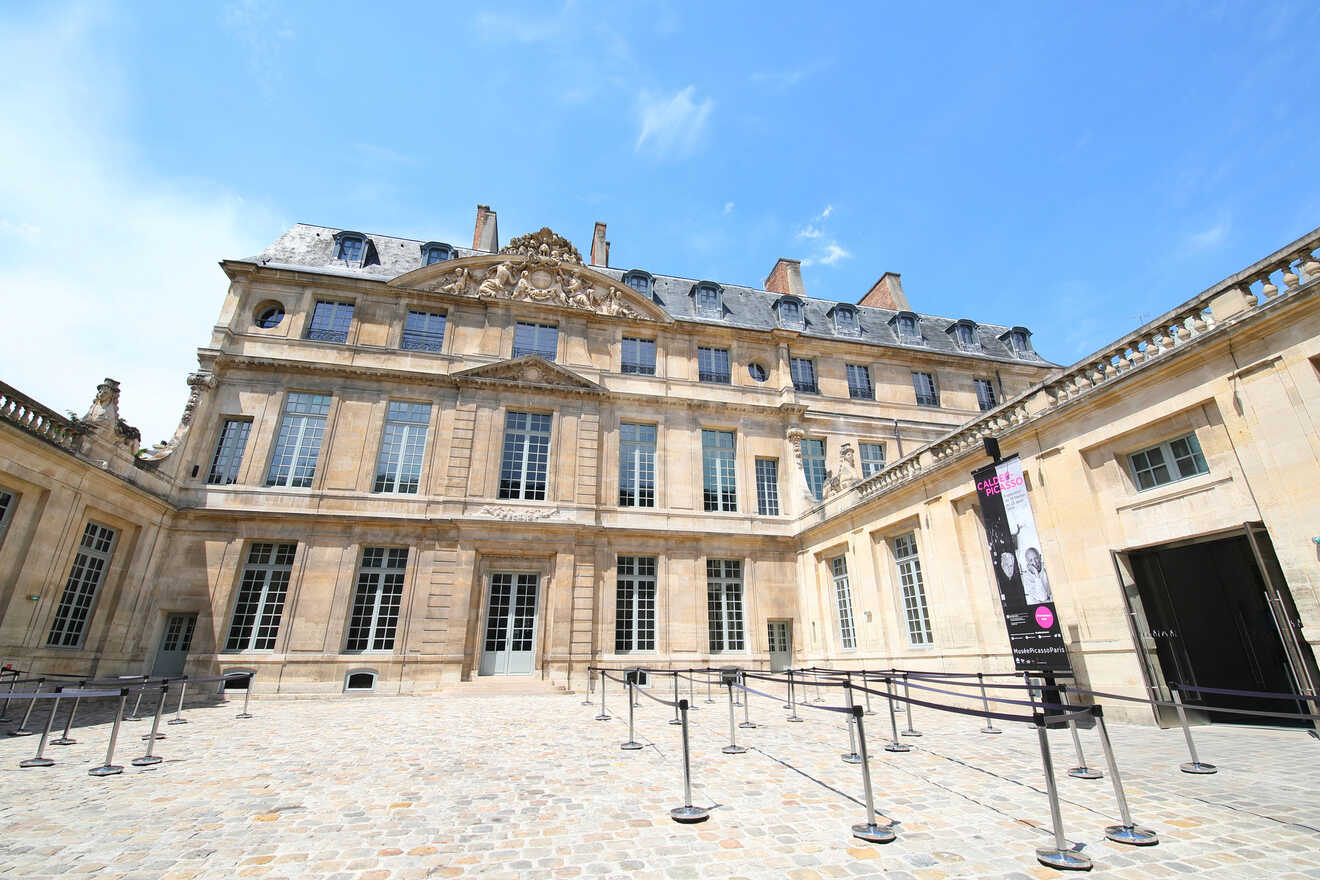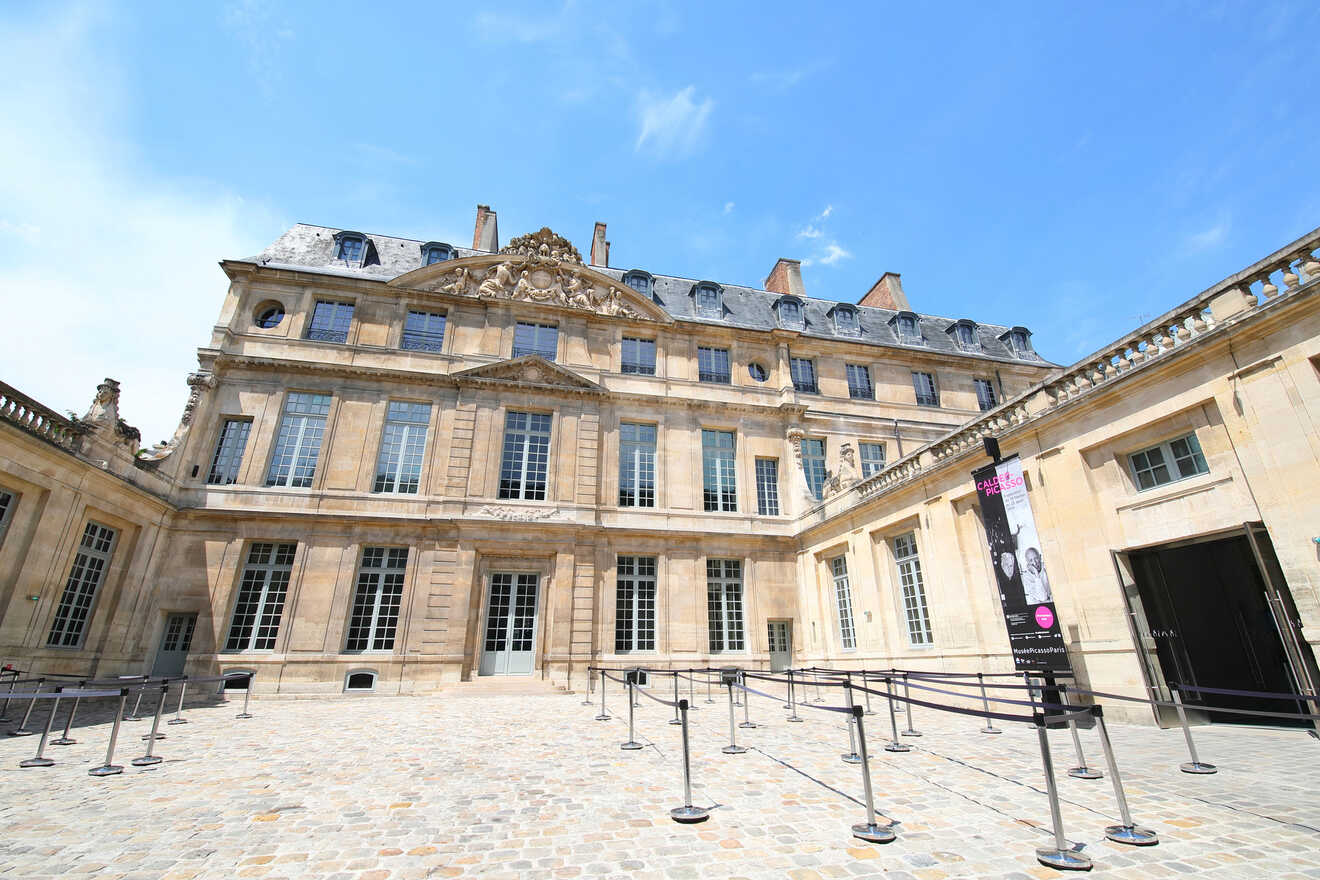 💰 Is the Picasso Museum free in Paris?
The Picasso Museum is free on the first Sunday of the month and for anyone under 18 years old.
⌚ How long does it take to go through the Picasso Museum in Paris?
It takes around 2h to go around the whole museum and see all the paintings.
🎟️ Can you buy tickets at the door of the Picasso Museum?
Yes, you can buy tickets at the door. But you may have to wait to go in as they work under a time-slot system.
💰 How much are tickets to the Picasso Museum in Paris?
It costs €14 to visit the Picasso Museum in Paris, and it's free for people under 18 years old.
Conclusion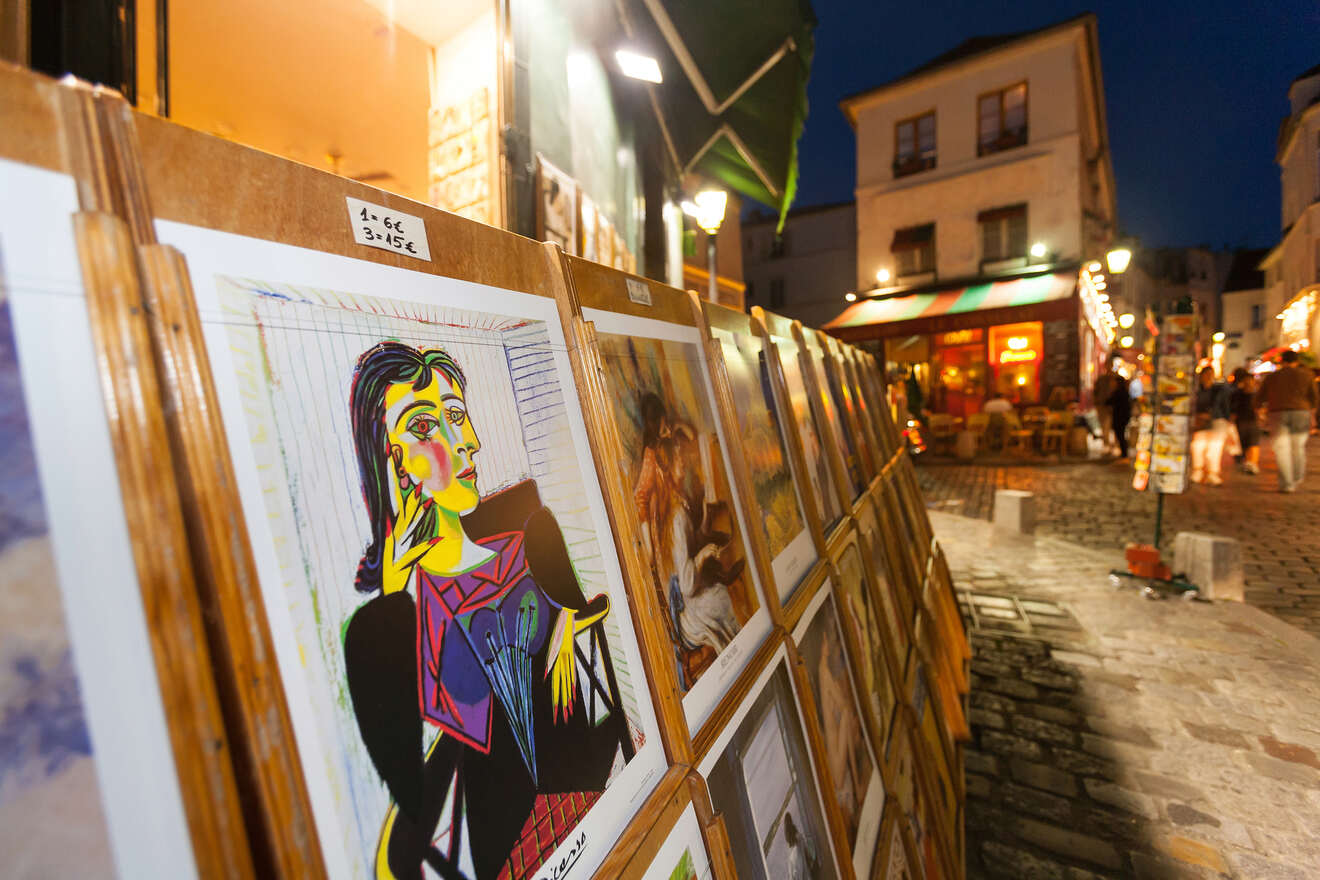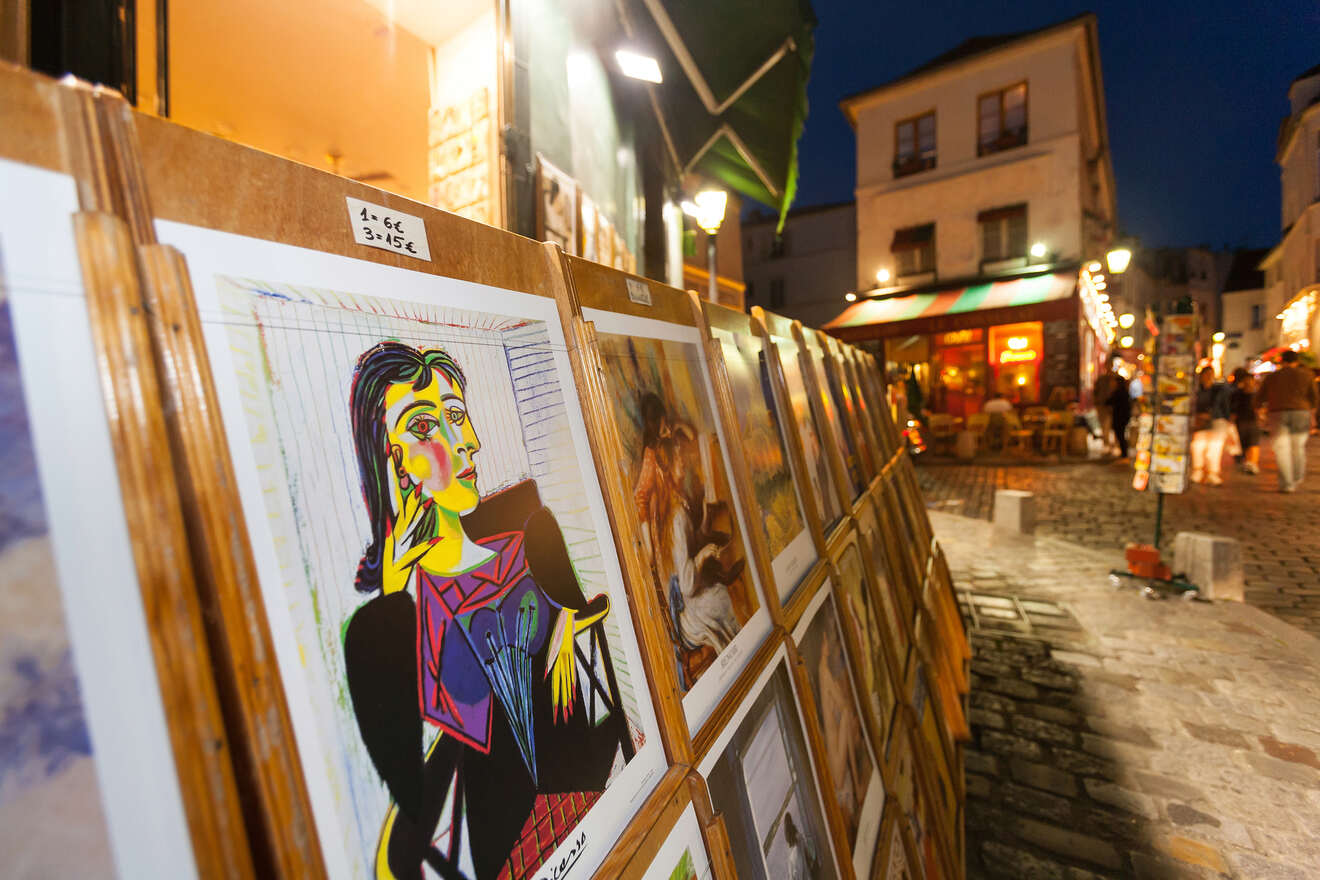 I definitely feel like I've written an entire book on how to get the best Picasso Museum Paris tickets, but at least we know for sure you've got all the information you need. And before we wrap up I think a quick recap is definitely mandatory!
You can buy the cheapest Picasso Museum Paris tickets, with a great cancellation policy from GetYourGuide. Of course you can also get them from the official website but remember that you won't get your money back if you get them from there and you cancel.
That's like the shortest recap but I just wanted to make sure you remember the super important stuff, since there's so much information in the post.
Also, if I missed anything or you have a question just drop me a comment below and I'll make sure to answer it as soon as I can!
Happy Exploring,
Victoria
---
Pin it for later!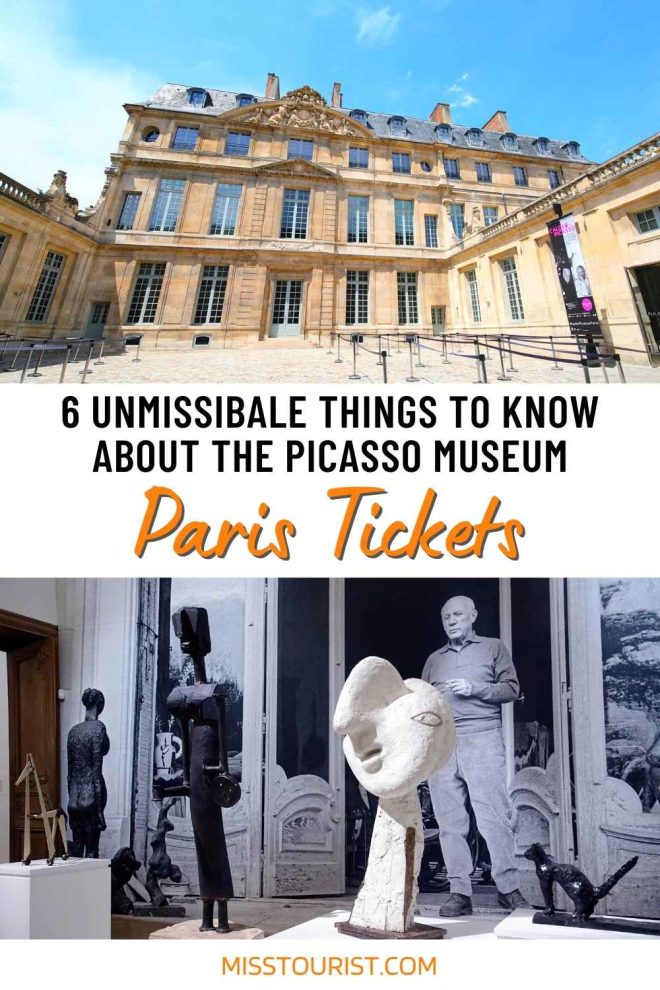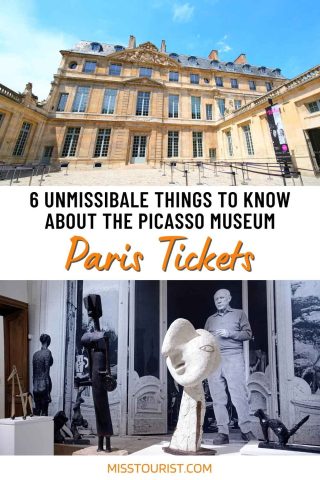 Pin it for later!