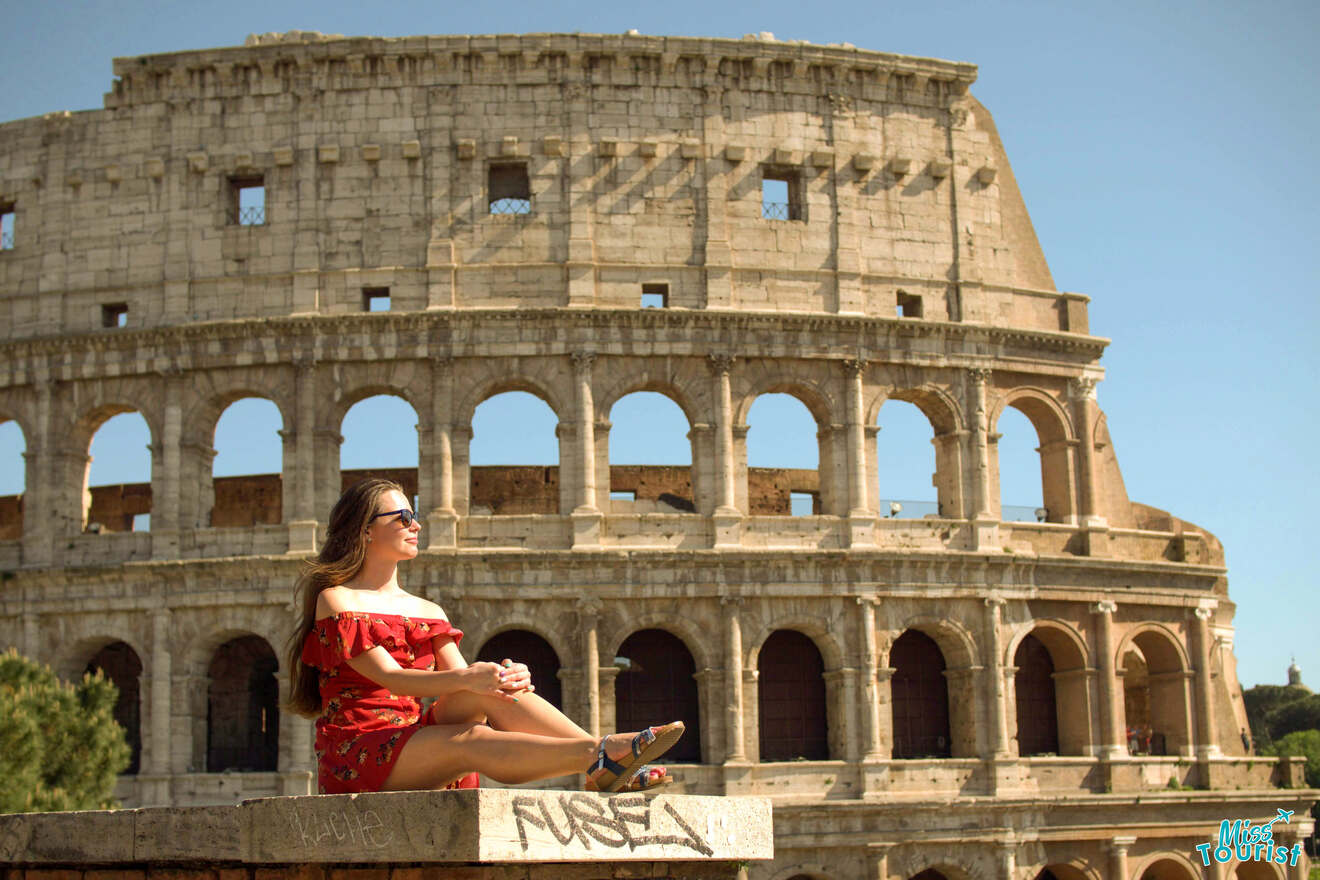 Are you ready for a magical trip to Italy? With all the beautiful cities my mother country has to offer, I bet you are having a tough time choosing which ones to focus on, especially if you don't have too much time during your holiday.
And I don't blame you! Each Italian city is unique and very diverse, so you will have a very different experience depending on where you go! That's why I created this travel guide with the best cities in Italy, including the main things to do and accommodation options for each so you can easily plan your trip around your personal interests!
Get ready to take in incredible art, fascinating history, and ancient monuments of some world-famous places, and to try delicious wine and food… It's time to get some travel inspiration and start exploring the best places to visit in Italy!
Let's jump right in!
Check out this map to understand where all the best cities to visit in Italy are located: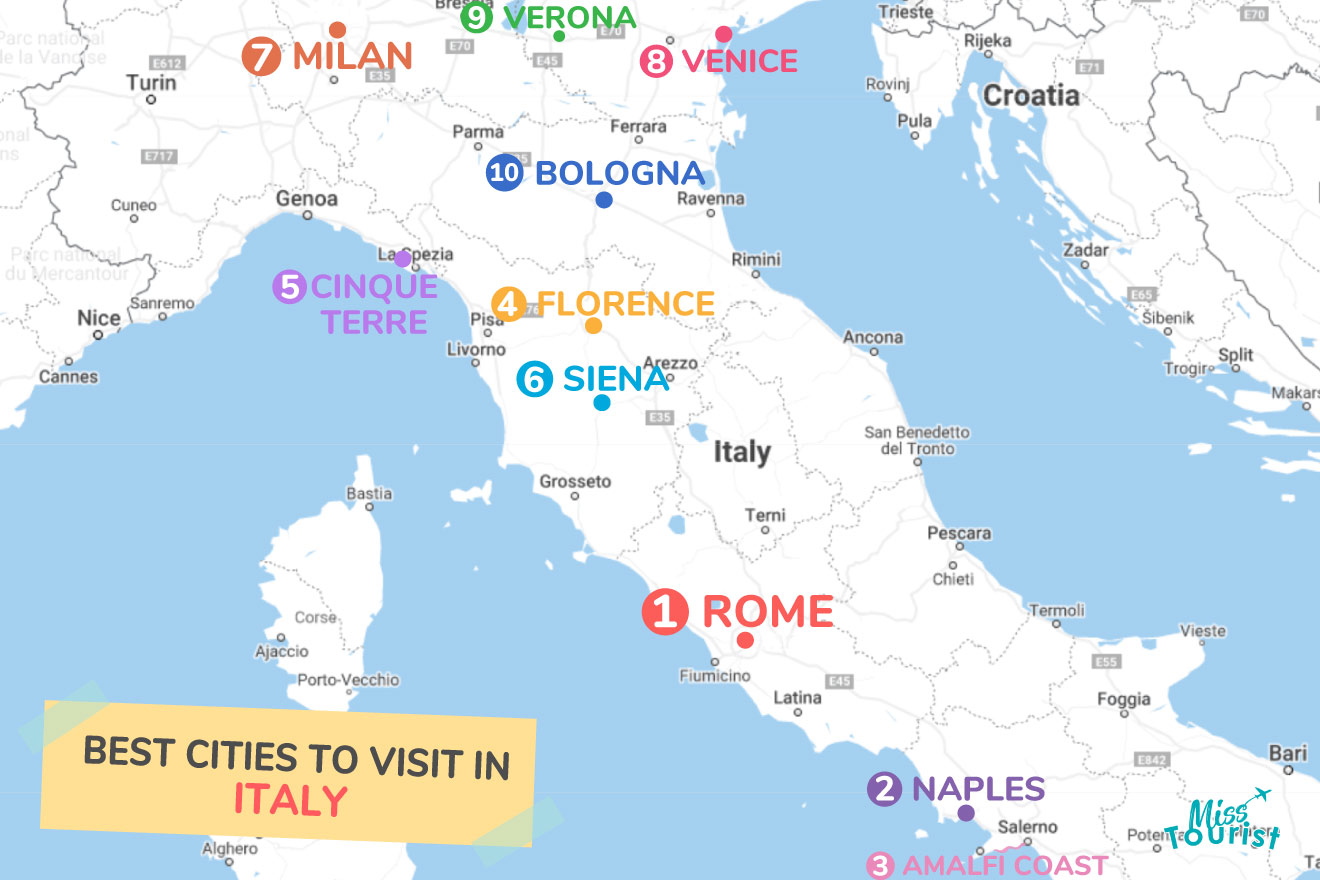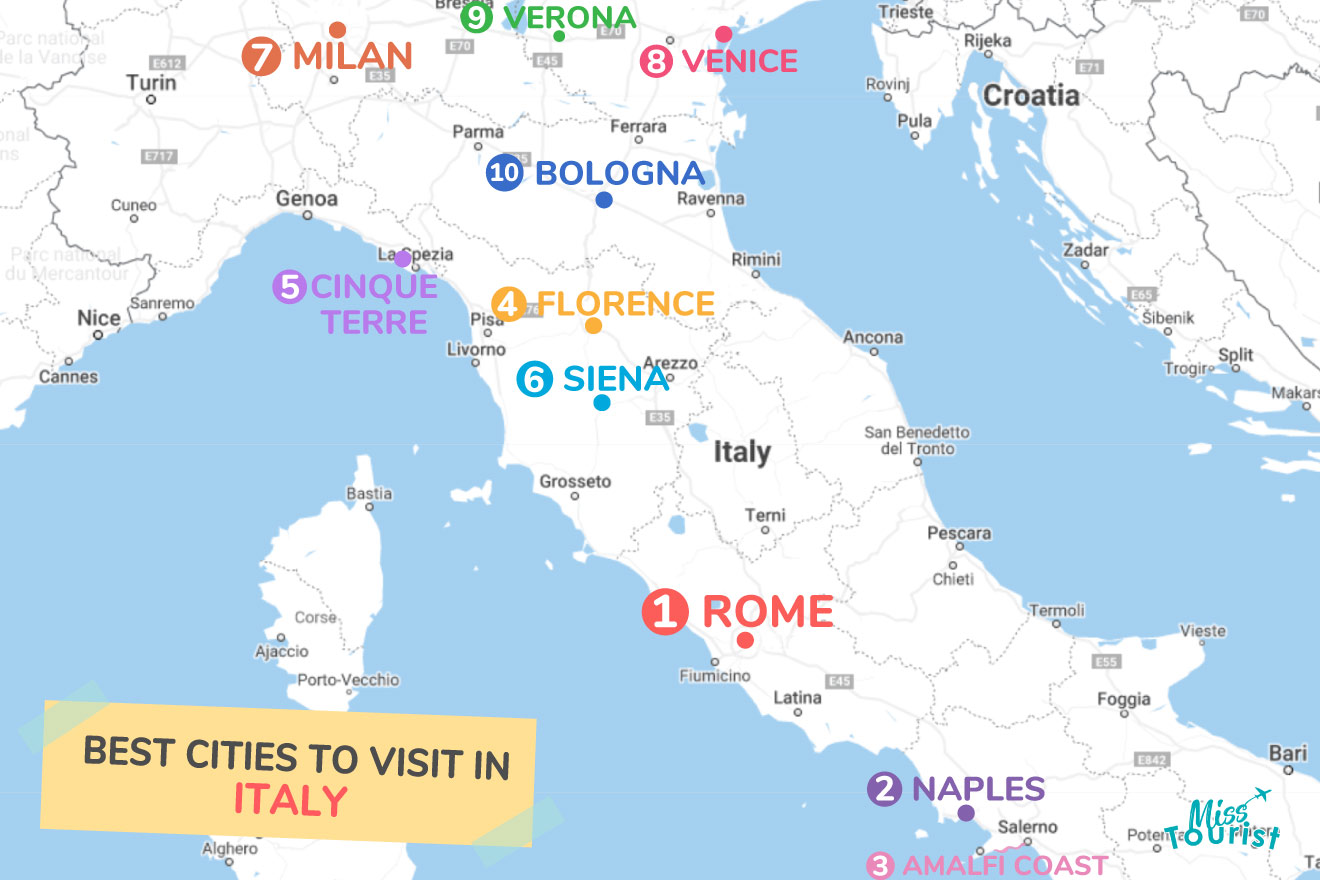 1. Rome – a bustling city full of history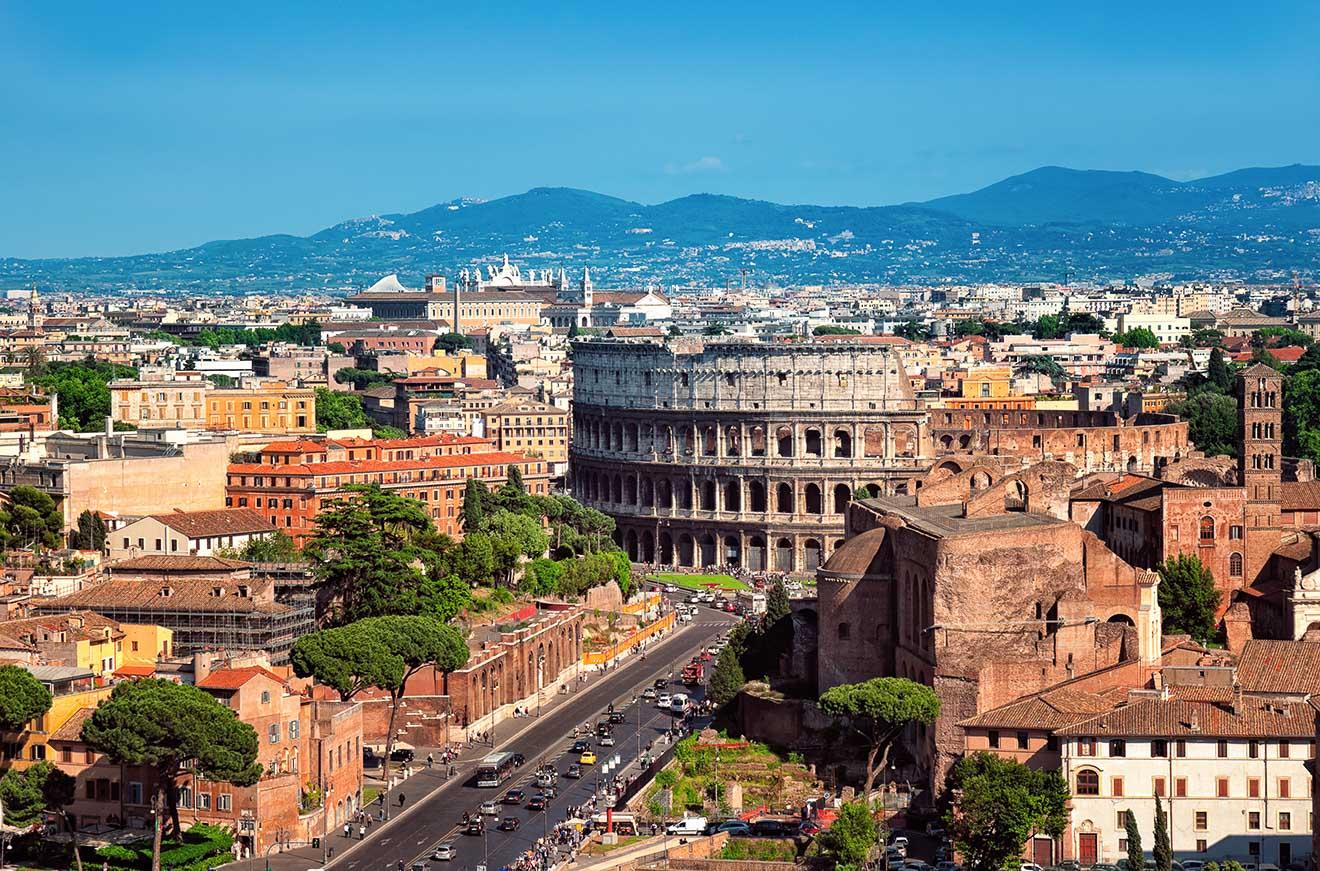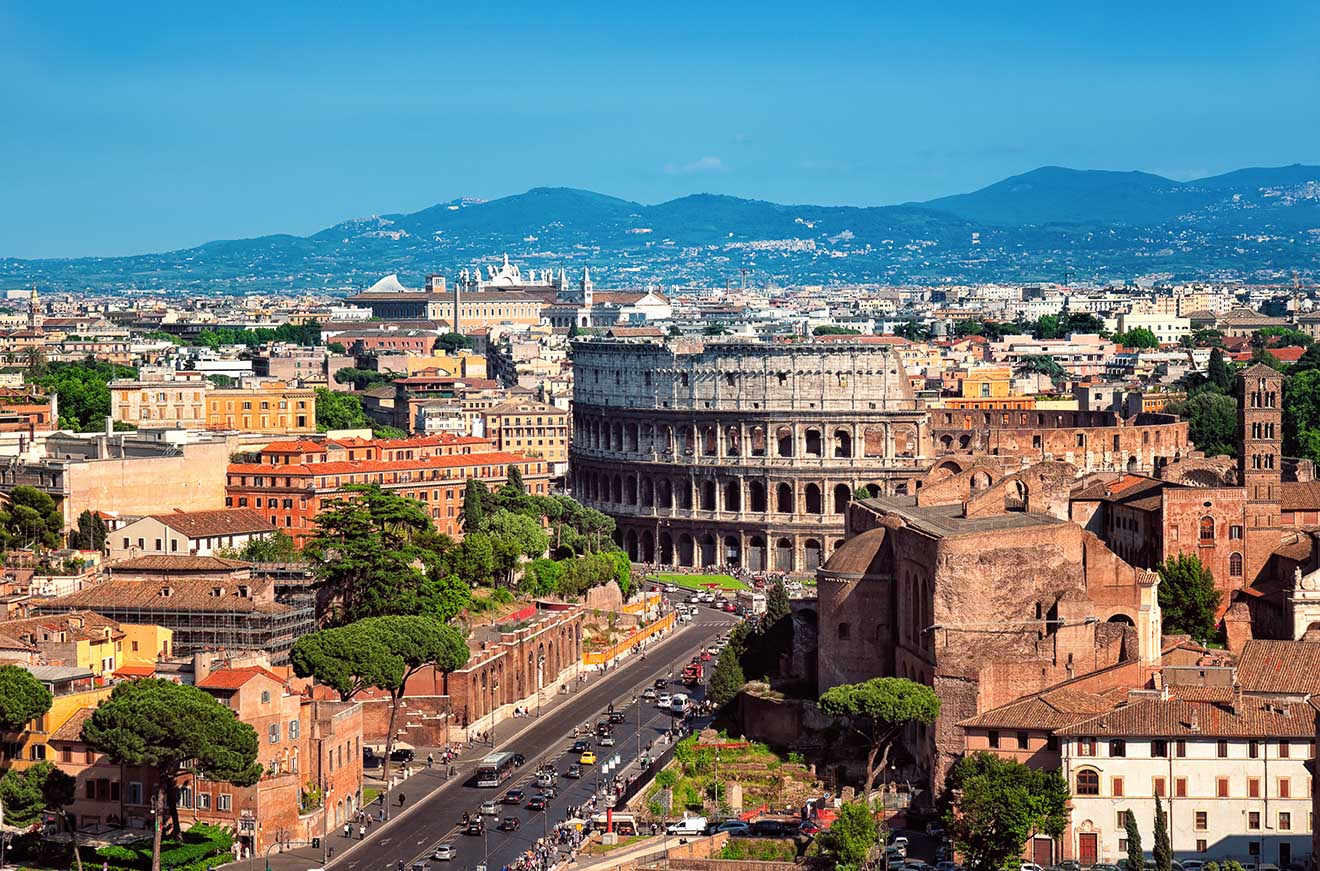 Visit length: 3 – 4 days
Well, how could I not start this list with Italy's capital city, the charming Rome! Located in the central Lazio region, it is also the largest city in Italy, and Rome offers enough historical, artistic, and architectural attractions to keep you entertained for days!
In fact, this beautiful city brims with world-famous landmarks like the Colosseum, the Roman forum, the iconic Trevi Fountain (save some coins for your wishes!), the Vatican, the Sistine Chapel, and the majestic Saint Peter's Basilica.
But if you want to get a real feel of the city, I suggest you join a walking tour or just lose yourself in its ancient streets and wonder at the old ruins… you will travel back to the times of the Roman Empire!
What more can I say? The eternal city is a must-visit in Italy, especially for first-time visitors!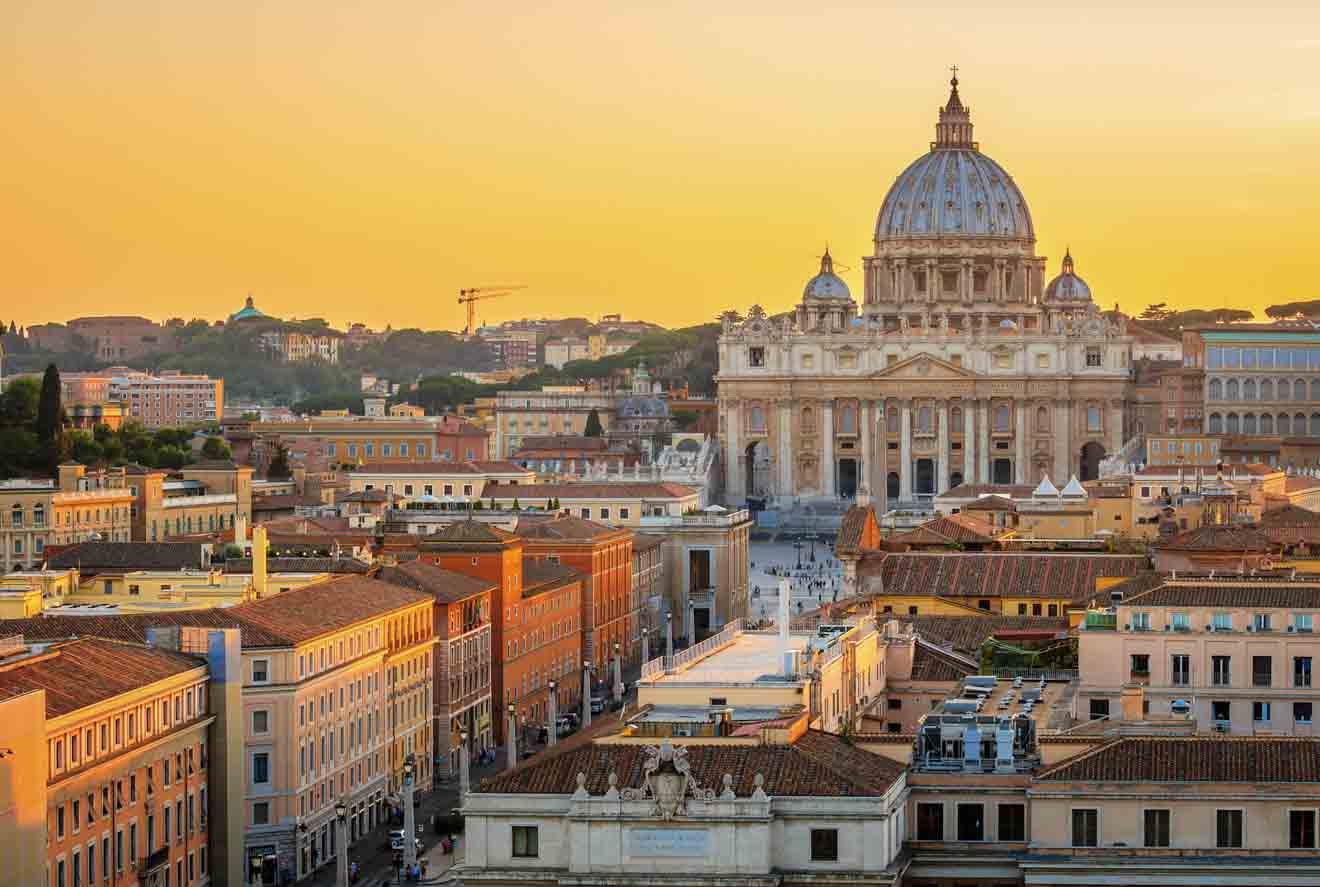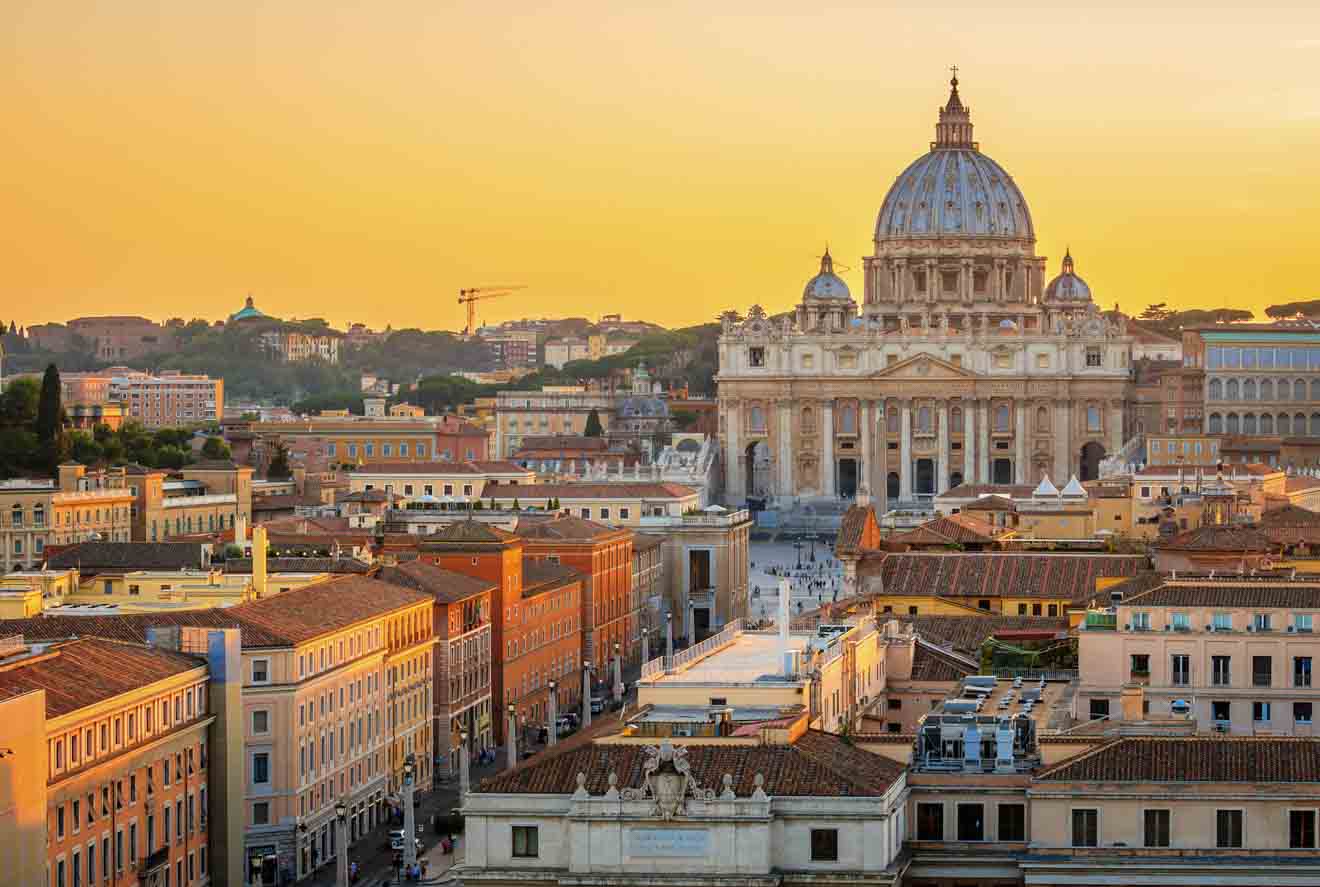 Top things to do in Rome
Where to stay in Rome
Luxury: Trevi Ab Aeterno – Wake up in the best way with some of the most stunning views of Rome from this luxury apartment located in the heart of the city!
Mid Range: Navona Gallery & Garden Suites – This amazing hotel, located in a beautiful garden, offers apartment-style suites and a continental breakfast every morning.
Budget: Day by Day – Save some money at this cozy hotel nestled in the historic center of Rome, ideal for a stay with family, friends, or couples
2. Naples – the birthplace of pizza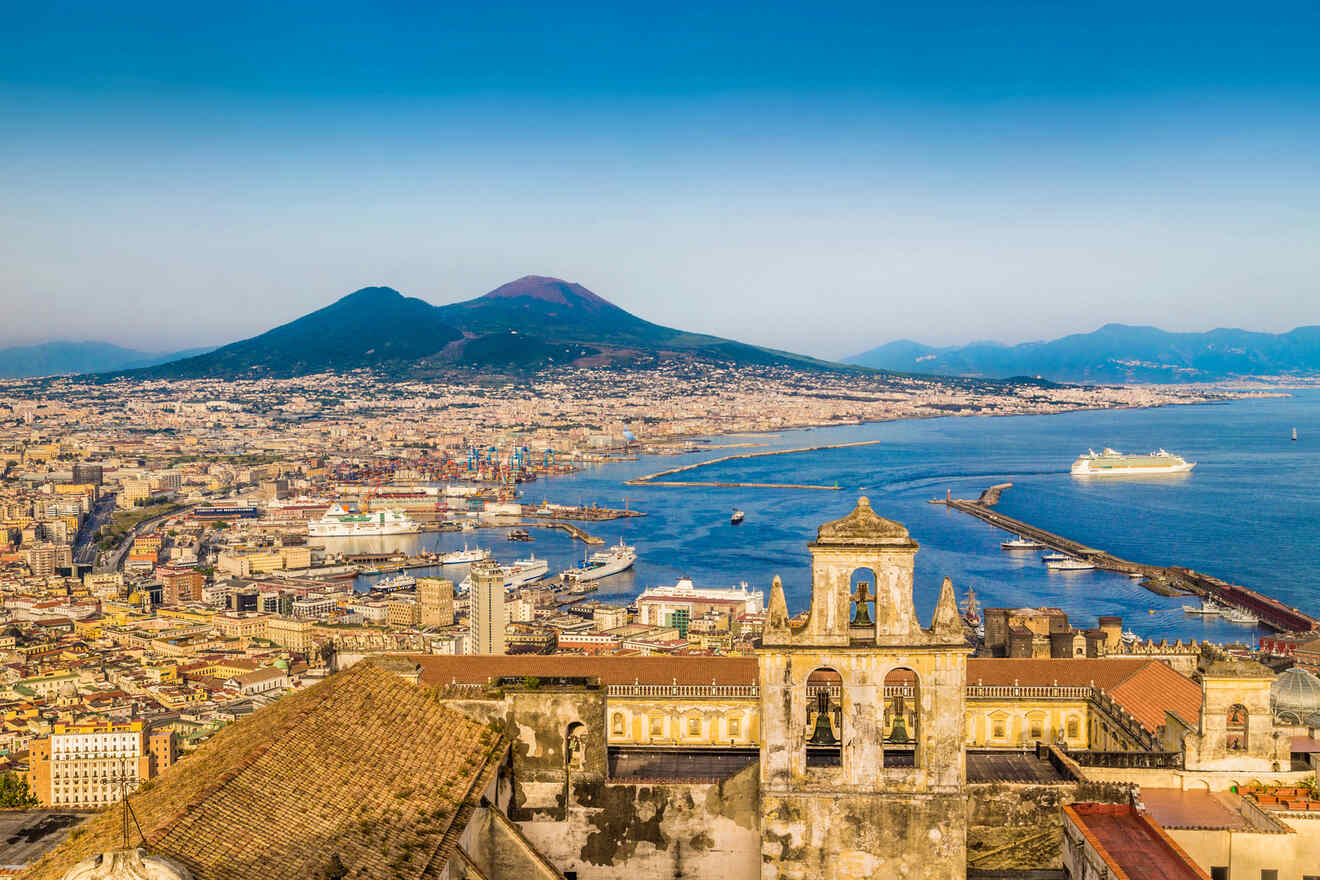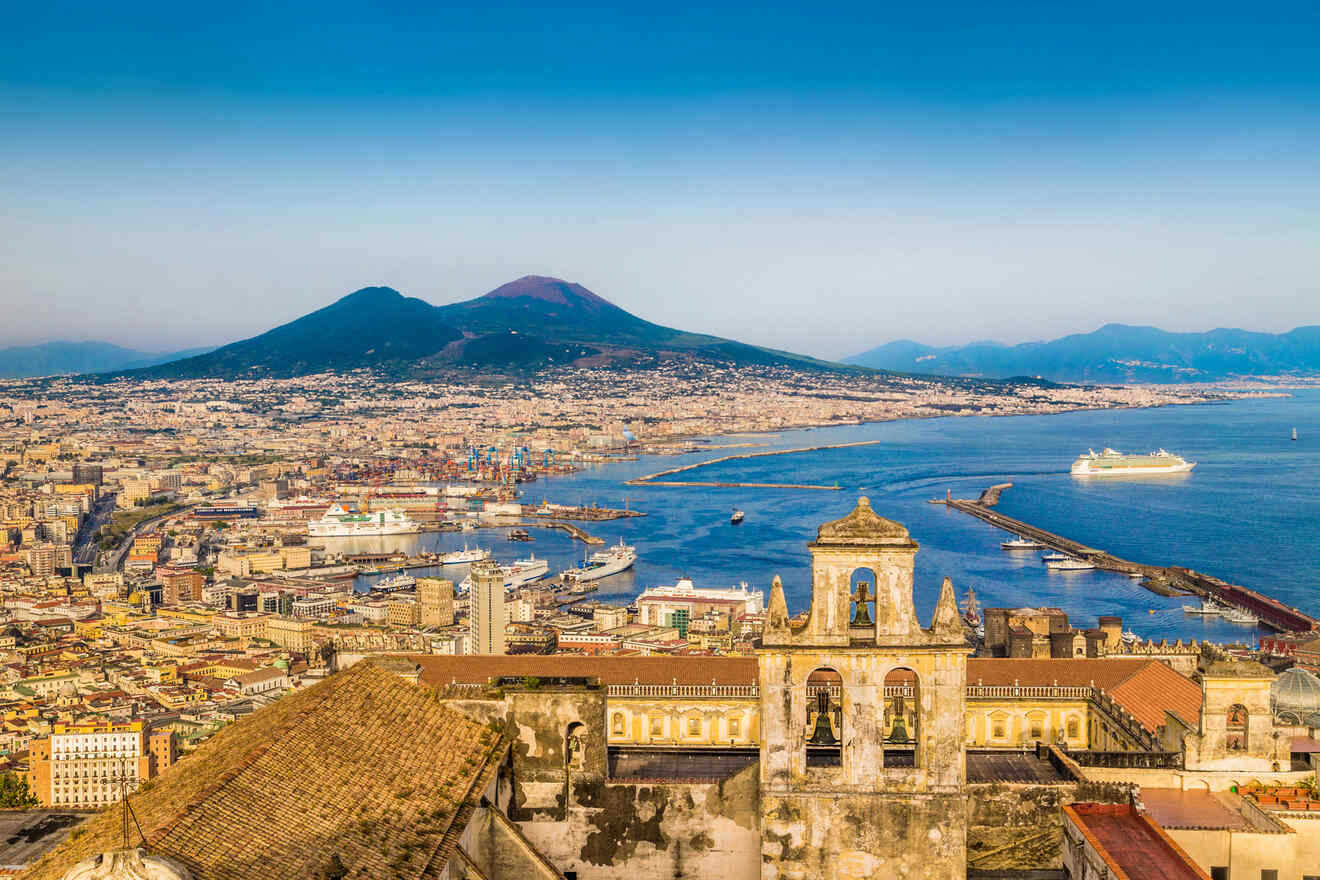 Visit length: 2 – 3 days
Facing the Gulf of Naples, this lively city in Southern Italy will enchant you with its vibrant vibe, cultural and historic sites, and very warm people.
Here you can visit the famous Royal Palace, three castles, and the National Archaeological Museum, which hosts the largest collection of artifacts and ornaments in the world, dating back to ancient Rome.
But you cannot leave the city without trying the best pizza in the entire country and sample some delicious street food like panzerotti, sfogliatelle, cuoppo napoletano and much more… you won't be able to say no!
P.S: If you are visiting this vibrant city, you should dedicate one day to visit Pompeii's Roman ruins, an infamous ruined city located only half an hour from Naples. Here you'll have the chance to see the remains of 2,000-year-old houses, shops, restaurants, and even plaster body casts of real people who died in the catastrophic Vesuvius volcanic eruption!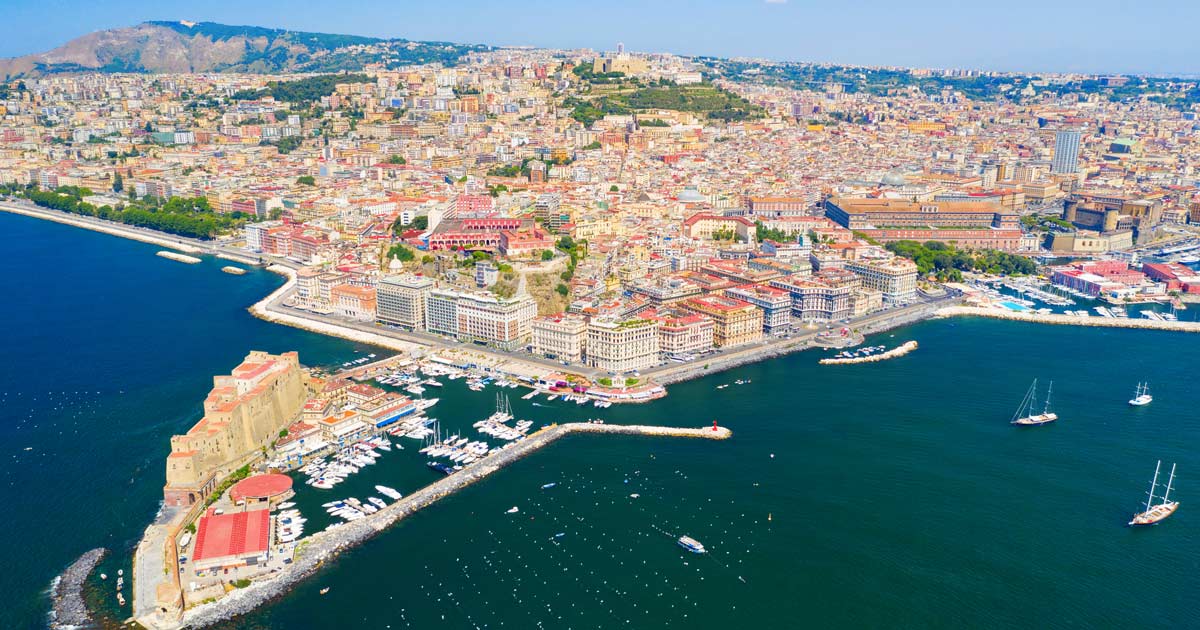 Top things to do in Naples
Where to stay in Naples
Luxury: Il Tesoro – Stay in this luxury hotel located in Napoli's historic city center, offering a relaxing spa, room service, and a delicious breakfast every morning
Mid Range: La Casa Sul Nilo – Check out one of the best value places to stay in Naples, offering breathtaking views of the city, a lovely terrace, and free wifi for guests
Budget: Napoliamo Guest House – Going to Naples on a budget? This affordable hostel has free wifi, spacious family rooms, and a delicious breakfast
3. Amalfi Coast – to feel like you're in a movie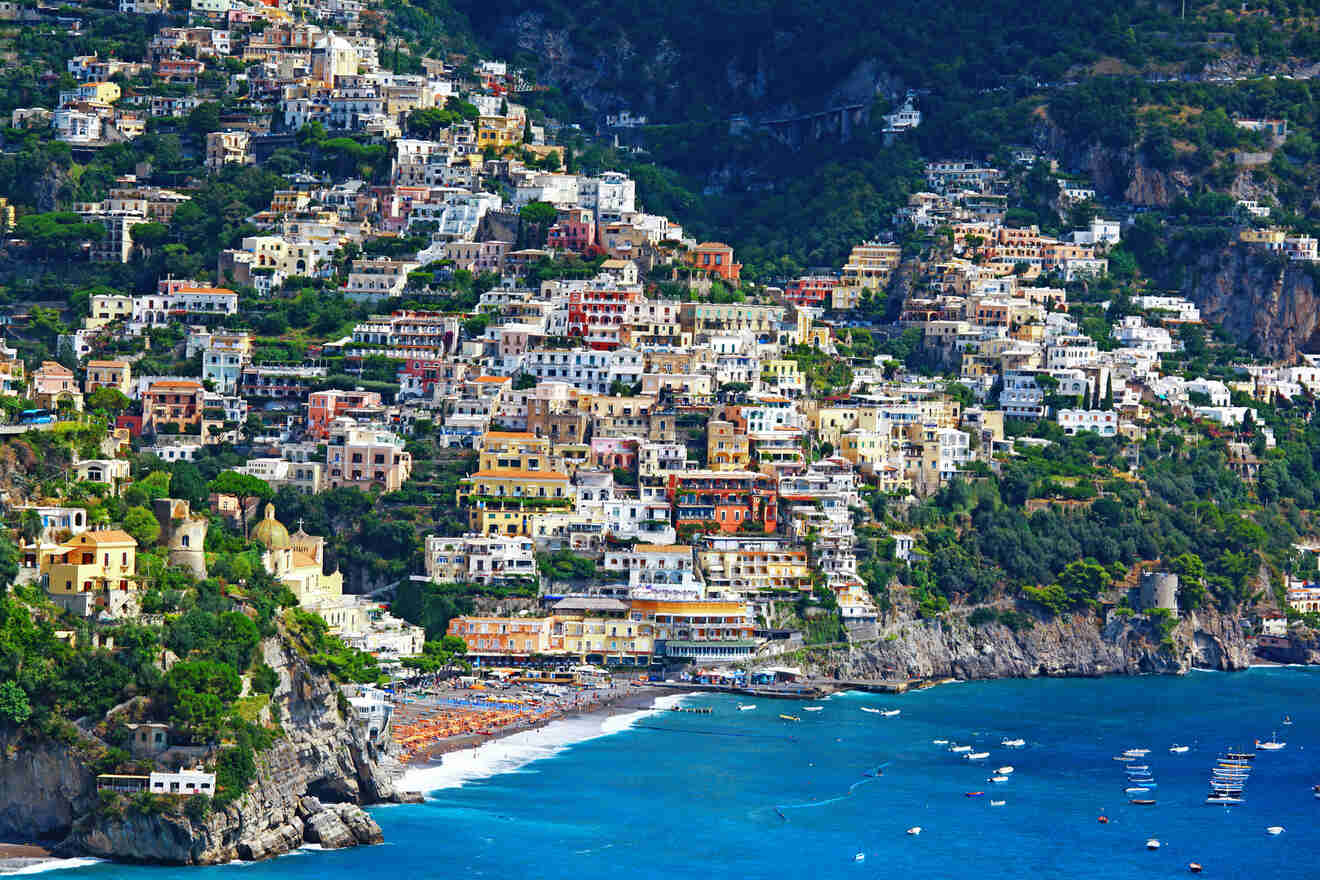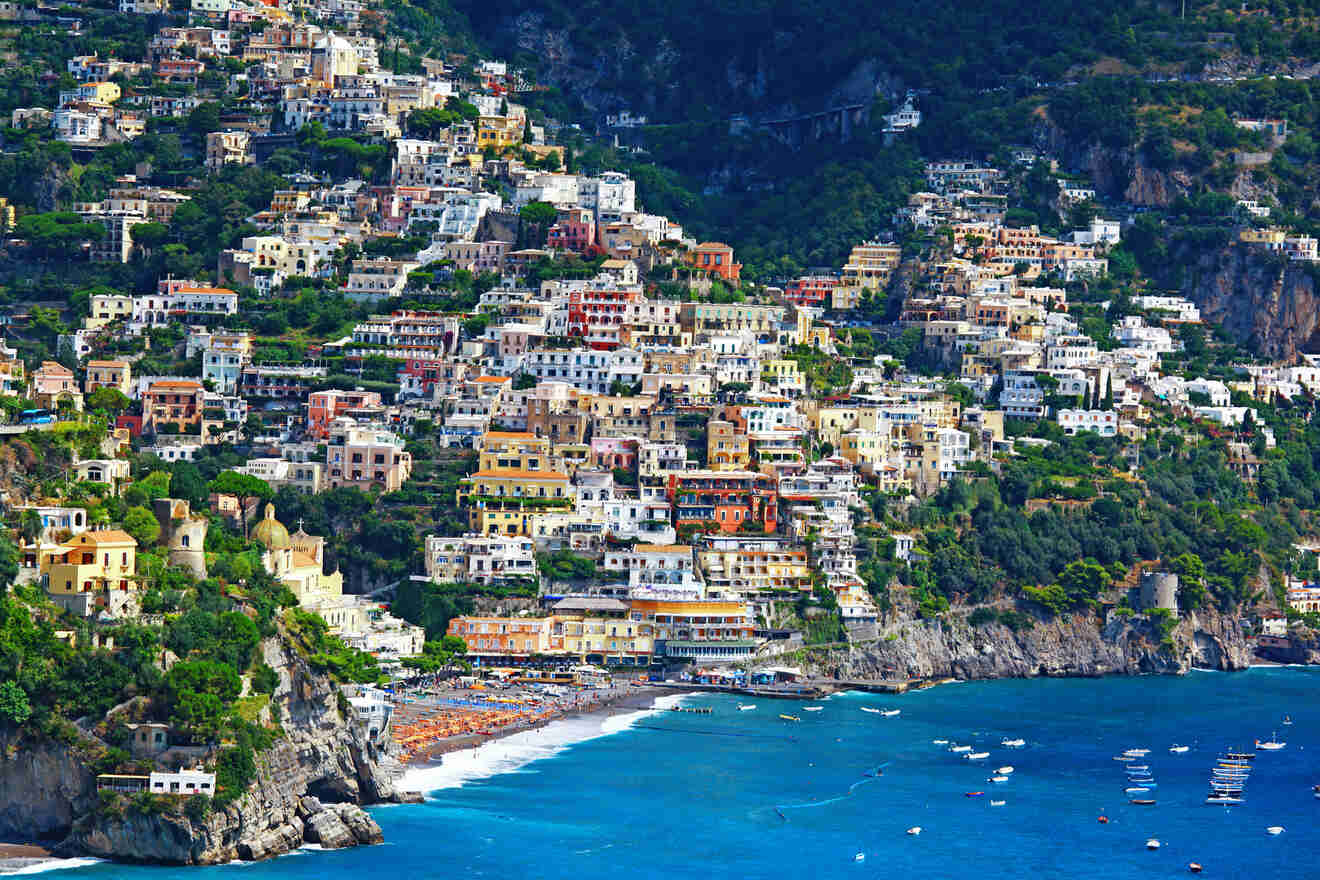 Visit length: 3 – 4 days
With its charming towns right on the sea with rolling hills and rocky mountains as a backdrop, the Amalfi Coast is one of the best places to visit in Italy, located about 1.50 hrs drive from Naples.
This is a favorite holiday destination for the rich and famous, so it has a very luxurious and exclusive vibe!
All the quaint coastal villages are absolutely beautiful, but if you need to choose one, I suggest either the Amalfi hill towns of Positano, where there are many incredible luxury hotels to stay, or Cetara.
Both cities offer picturesque old churches and stunning beaches nearby (for a relaxing day with your young kids).
This area is also THE spot to try the famous limoncello – a traditional liqueur made from Amalfi lemons in the coastal town of Sorrento, just one of the delicious offerings in the best Amalfi Coast restaurants!
P.S: If you plan on staying in the area, you might want to also spend one night at a beautiful hotel on the magical island of Capri!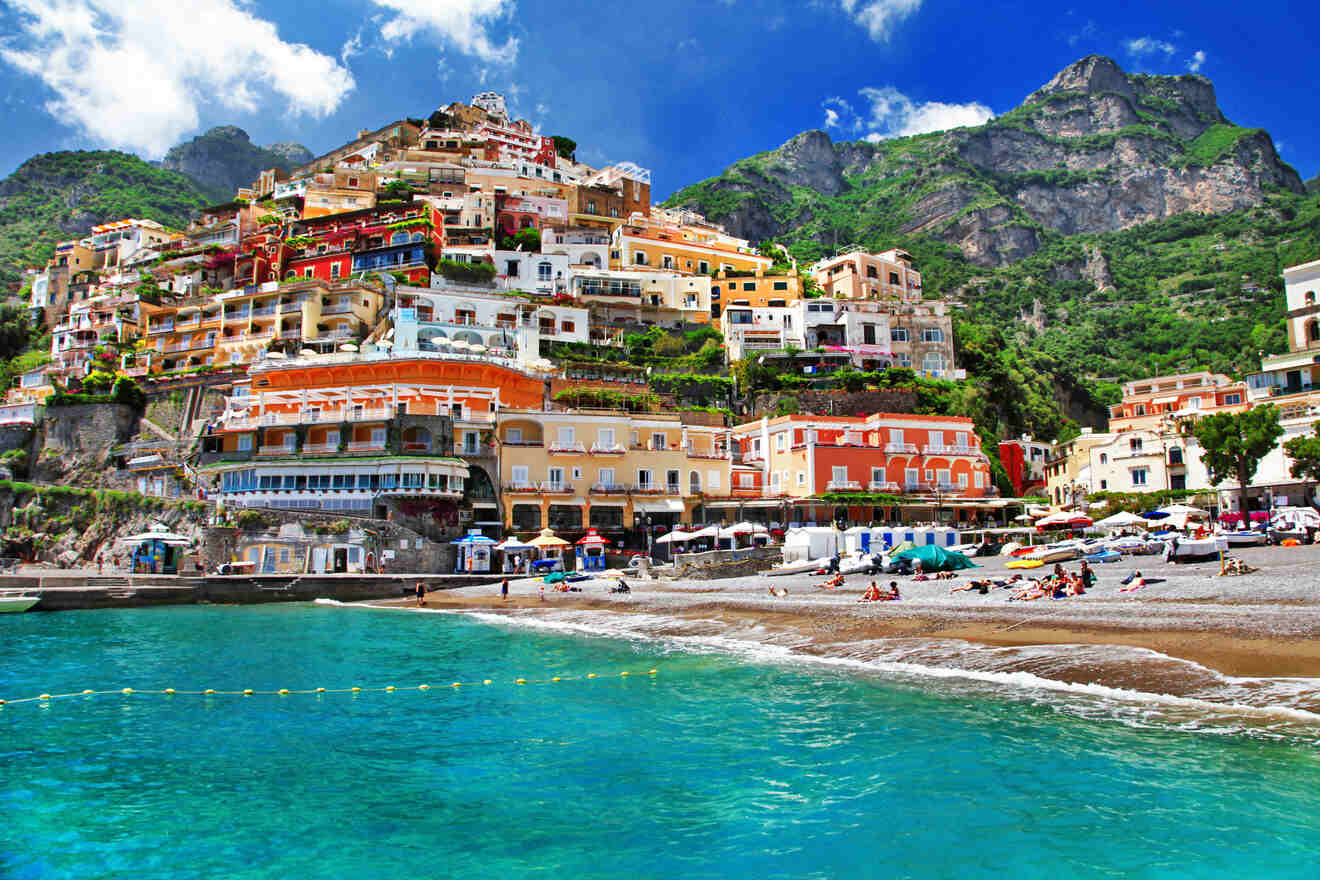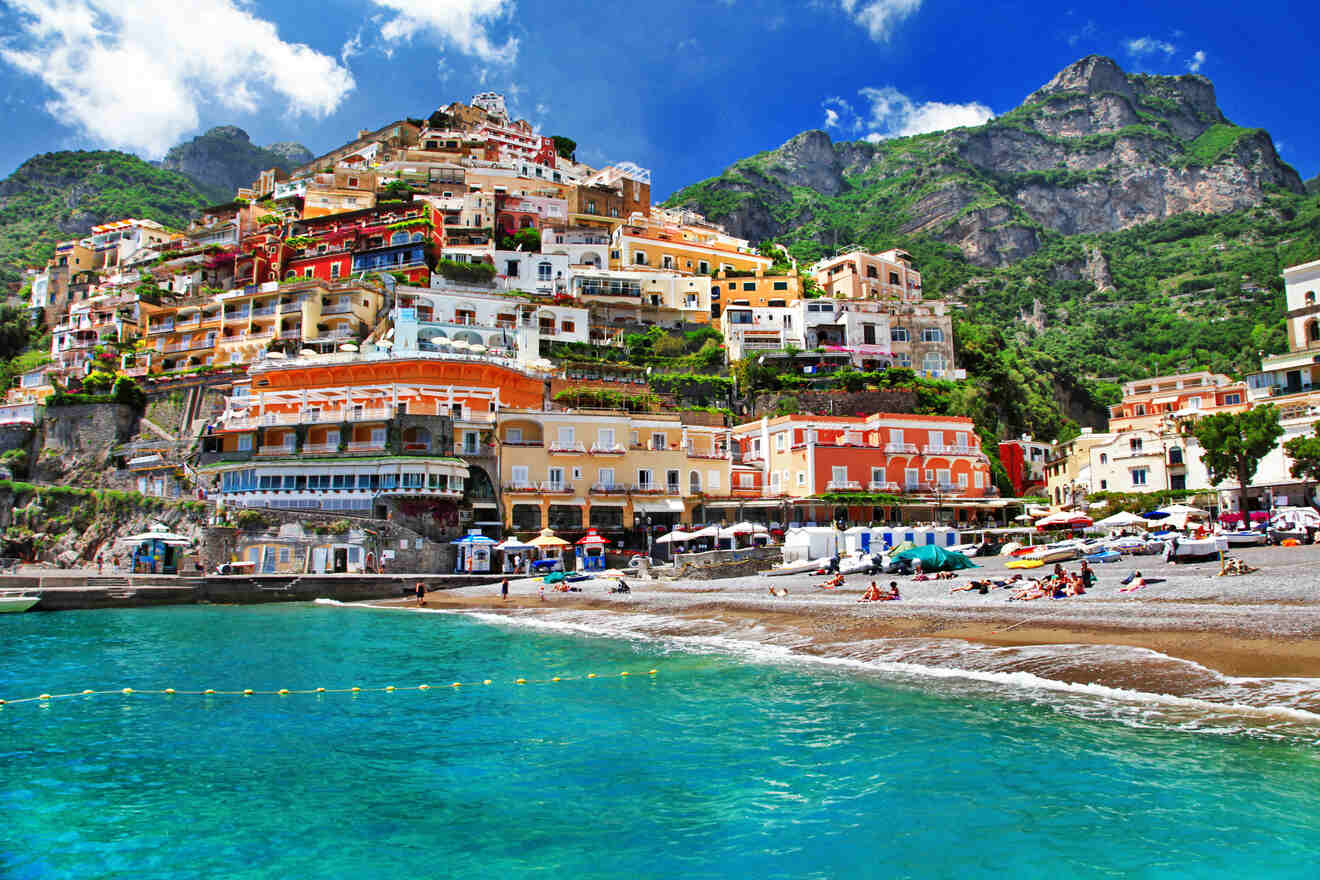 Top things to do on the Amalfi Coast
Where to stay on the Amalfi Coast
Luxury: Hotel Santa Caterina – This 5-star hotel in Amalfi offers all the comforts you need such as a stunning outdoor pool, incredibly beautiful rooms, and outdoor balconies.
Mid Range: La Valle Delle Ferriere – This lovely bed and breakfast is located within walking distance from the beach and offers bright and cozy rooms.
Budget: Domus Gaia – Start your day with a delicious breakfast and views of the blue sea from the terrace of this affordable hotel in Amalfi.
4. Florence – the most artistic city in Italy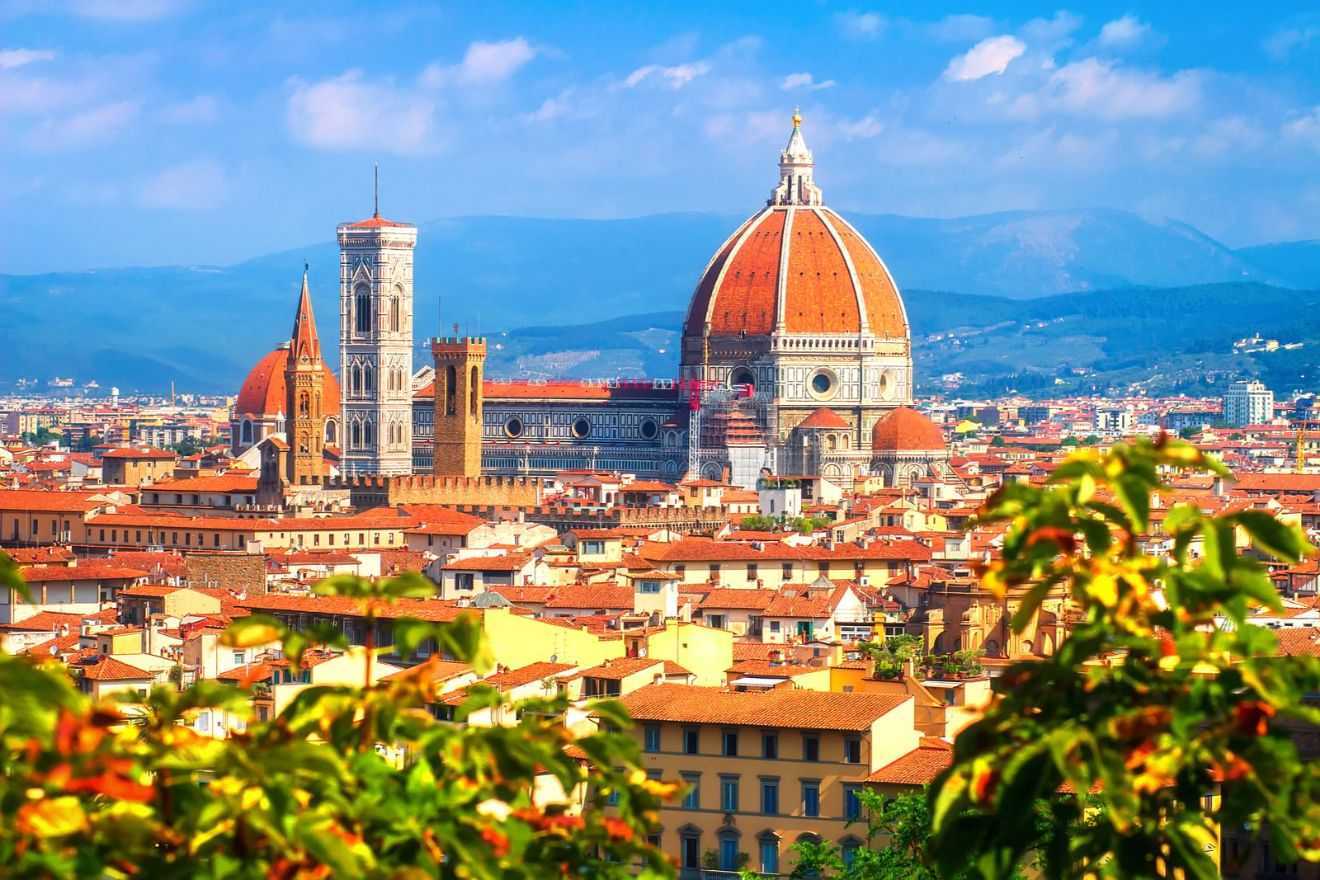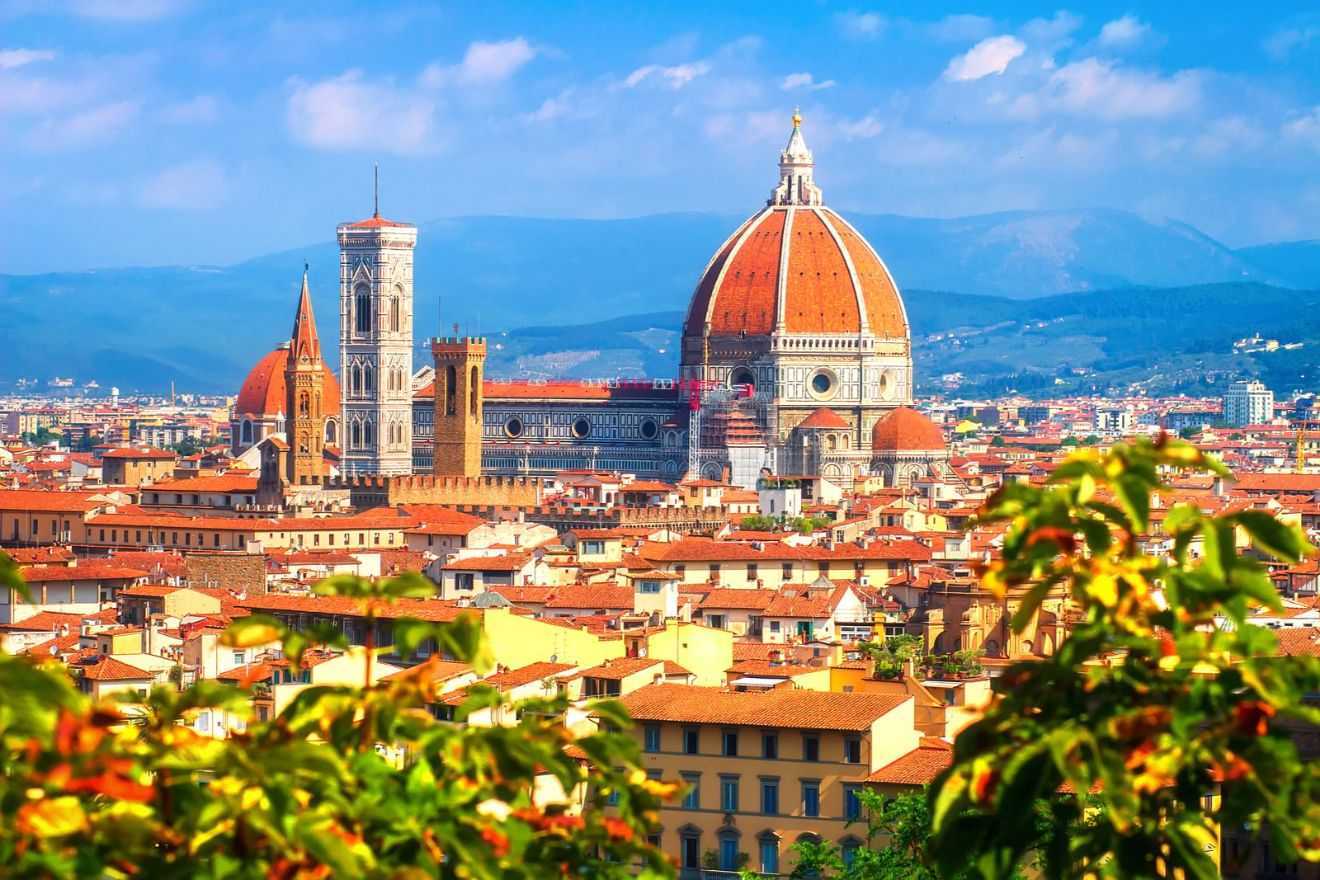 Visit length: 3 – 4 days
Located in northern Tuscany, alongside the Arno river, Florence has one of the greatest artistic and cultural heritage in Italy, and you'll notice that by just walking around its historic center (make sure you cross the Ponte Vecchio bridge)!
This beautiful city has something to offer for any taste, including impressive churches like the famous Duomo and Florence cathedral, charming squares, and fantastic museums showcasing masterpieces by Botticcelli and Michelangelo like the Uffizi Gallery.
There are countless things to do in Florence, but if you just want to spend your leisure time, there are endless cafes and restaurants in Florence where you can try Tuscan cuisine and delicious wines, and amazing shopping options… no wonder why this is one of the most loved cities in Italy!
Once in Florence, you could extend your trip to another fantastic city in the Tuscany region, Pisa, located just a short half-hour drive from Florence! Needless to say, in Pisa, you have to see its famous Leaning Tower, a UNESCO world heritage site standing in the Piazza dei Miracoli, another highlight of the city!
If you plan on spending the night in Pisa, check out this post with the best hotels in Pisa, otherwise, you could visit the city's main landmark on a day trip from Florence.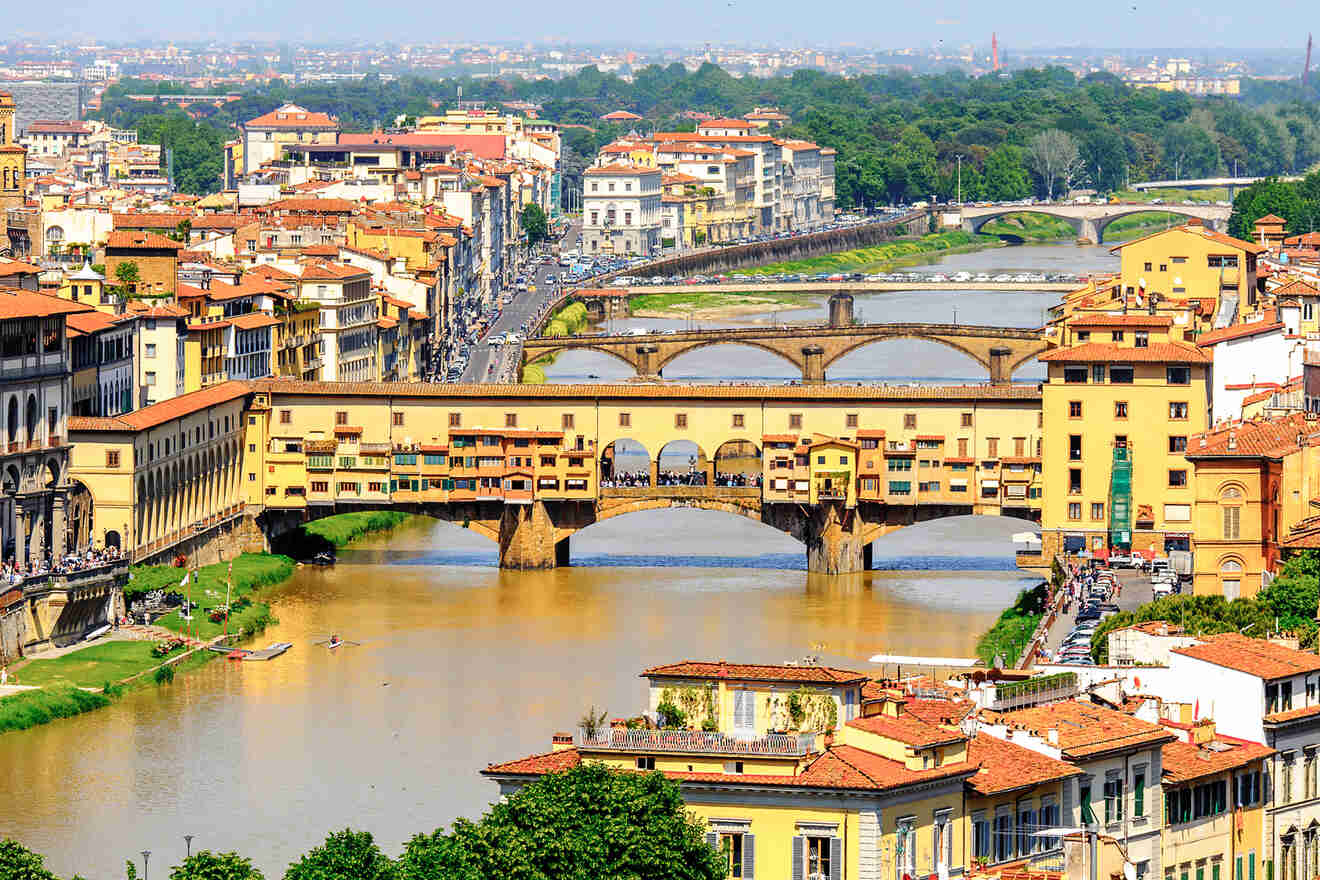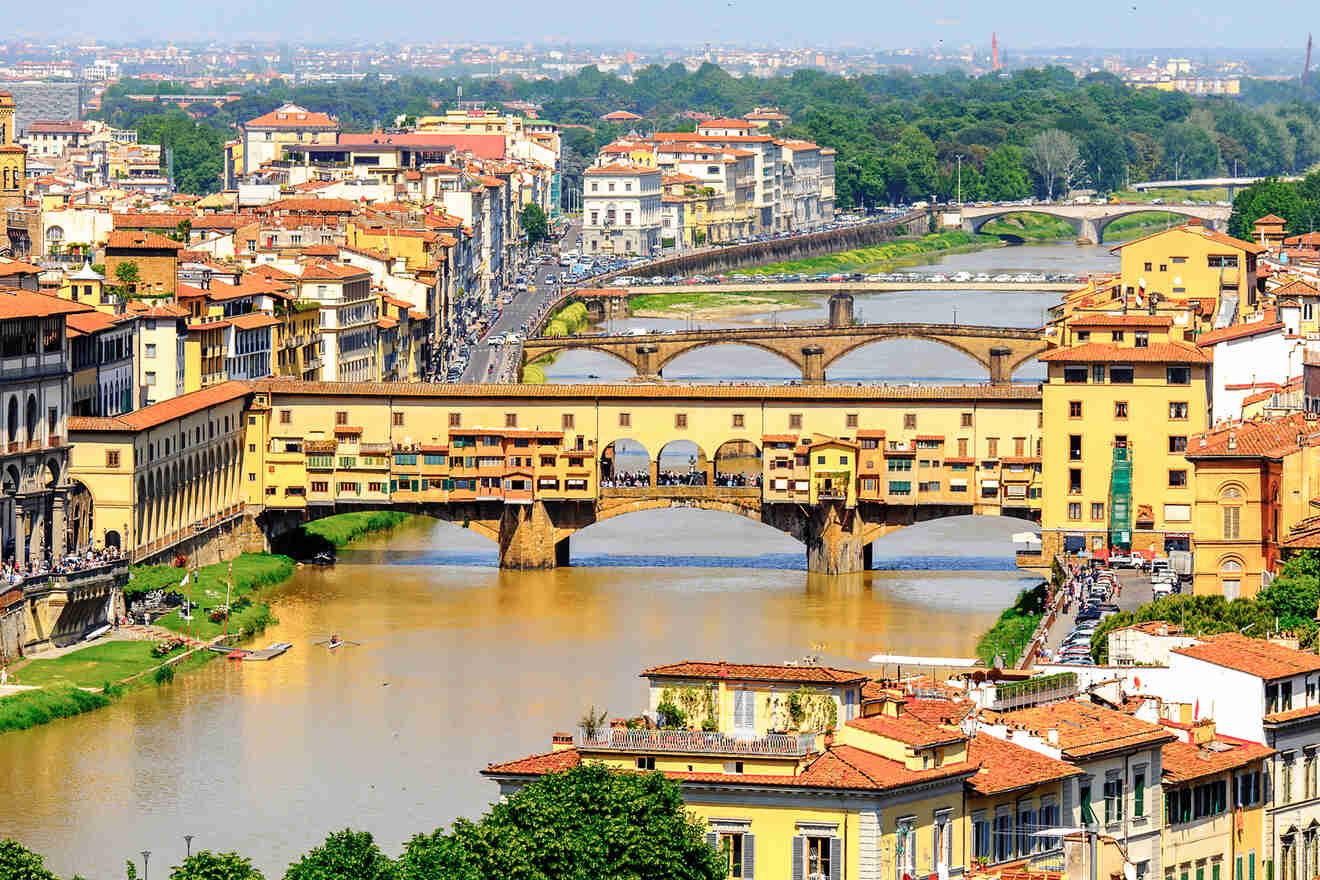 Top things to do in Florence
Where to stay in Florence
Luxury: Hotel Bernini Florence Palace – Check out this incredible luxury hotel in Florence, conveniently located right next to the famous Duomo di Firenze!
Mid Range: Hotel Alessandra Florence – This awesome hotel, located right next to the Uffizi Gallery, offers great service and value for the price.
Budget: Hotel Dali Florence – Are you traveling to Florence on a budget? Then check out this hotel with a great location, friendly staff, and super clean rooms!
5. Cinque Terre – 5 colorful cliffside villages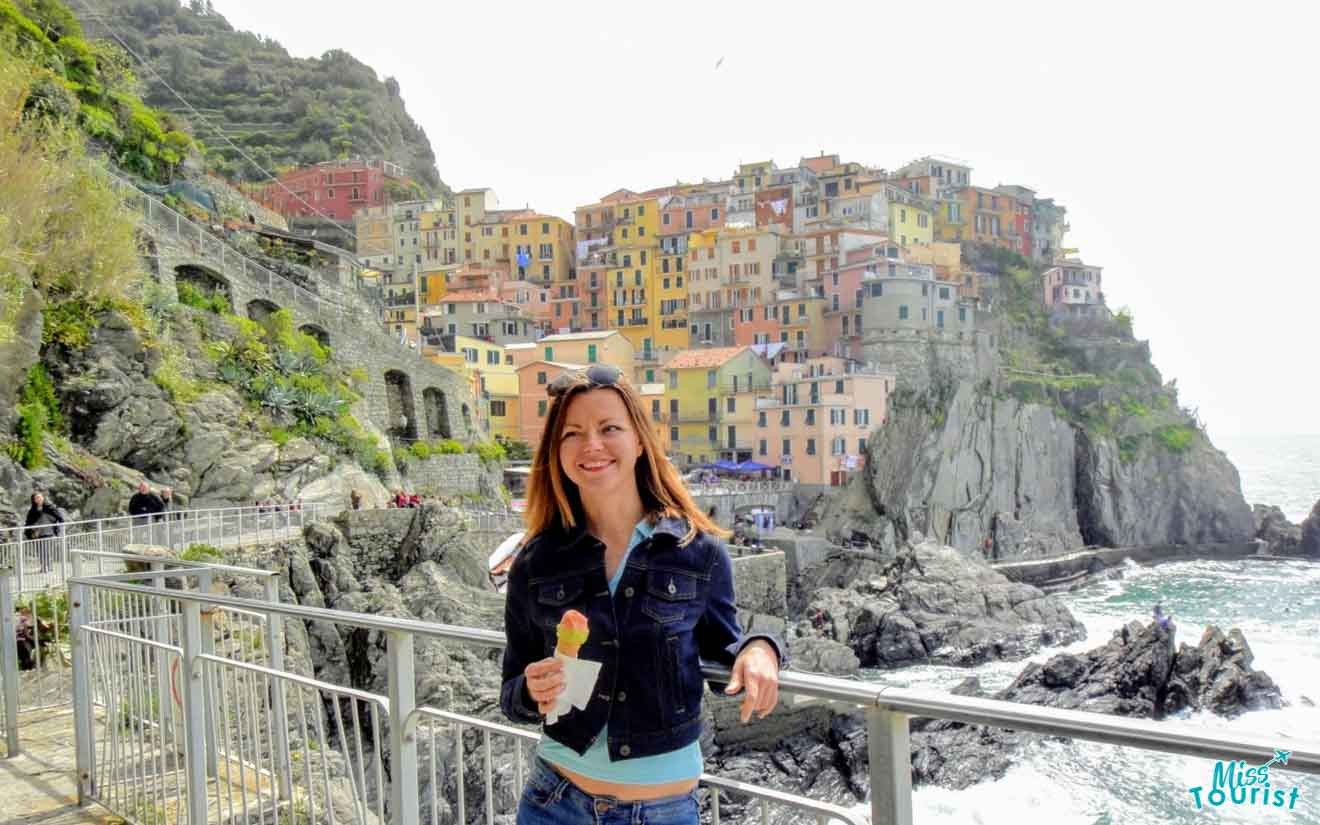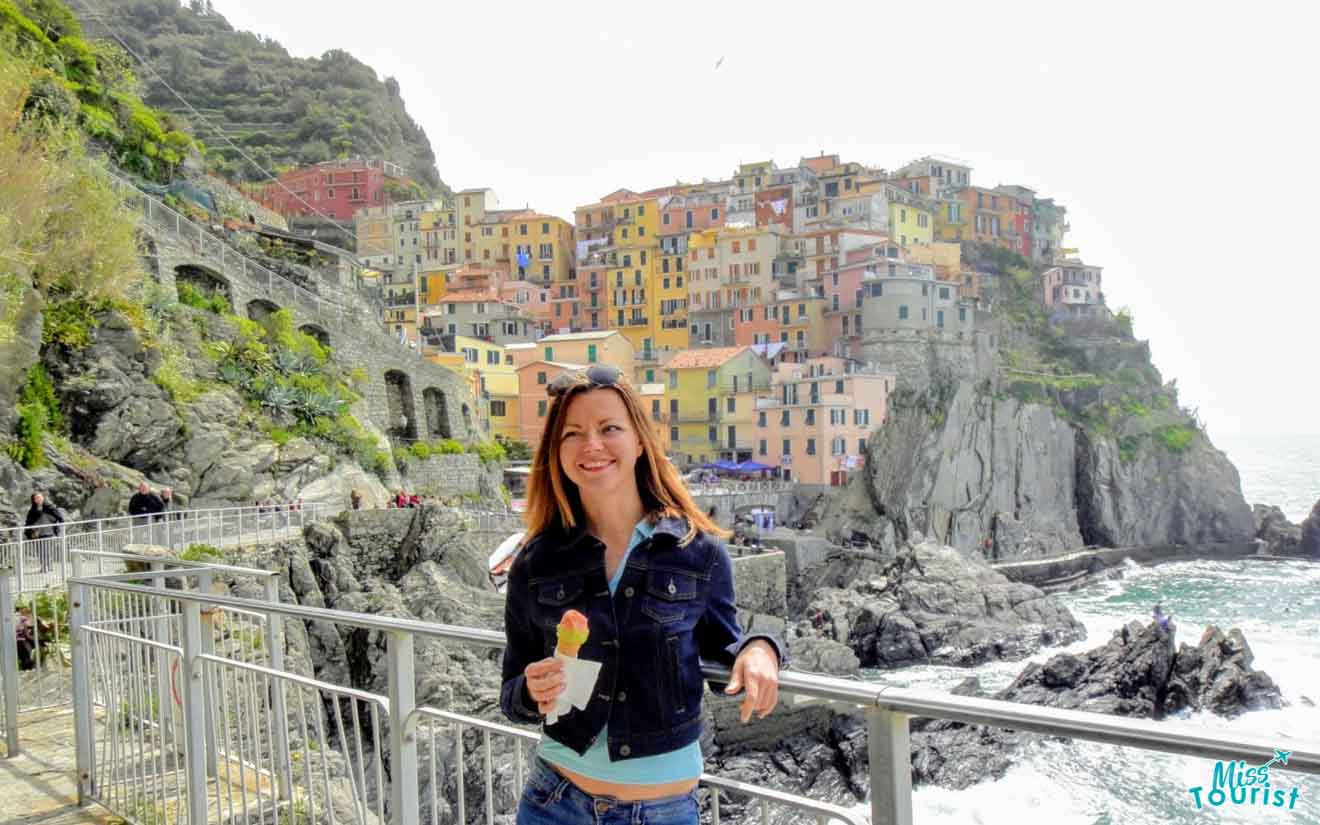 Visit length: 1 – 2 days
Cinque Terre is a group of five gorgeous hilly villages (Riomaggiore, Manarola, Corniglia, Vernazza, and Monterosso) located on the scenic coastline of the Liguria region. This is one of the best places to visit in Italy and definitely one of my favorite ones!
Proclaimed a UNESCO World Heritage Site, all the villages are perfect for exploring with their extremely tiny streets and colorful buildings. Hike between the towns (through the Sentiero Monterosso – Vernazza), or just relax on the beautiful beaches of the area.
As for the other incredible Italian cities on this list, I have to give you some must-try food to have during your breaks (while you gaze at panoramic views of the mediterranean sea): focaccia, farinata di ceci and fritto misto… so simple but SO good!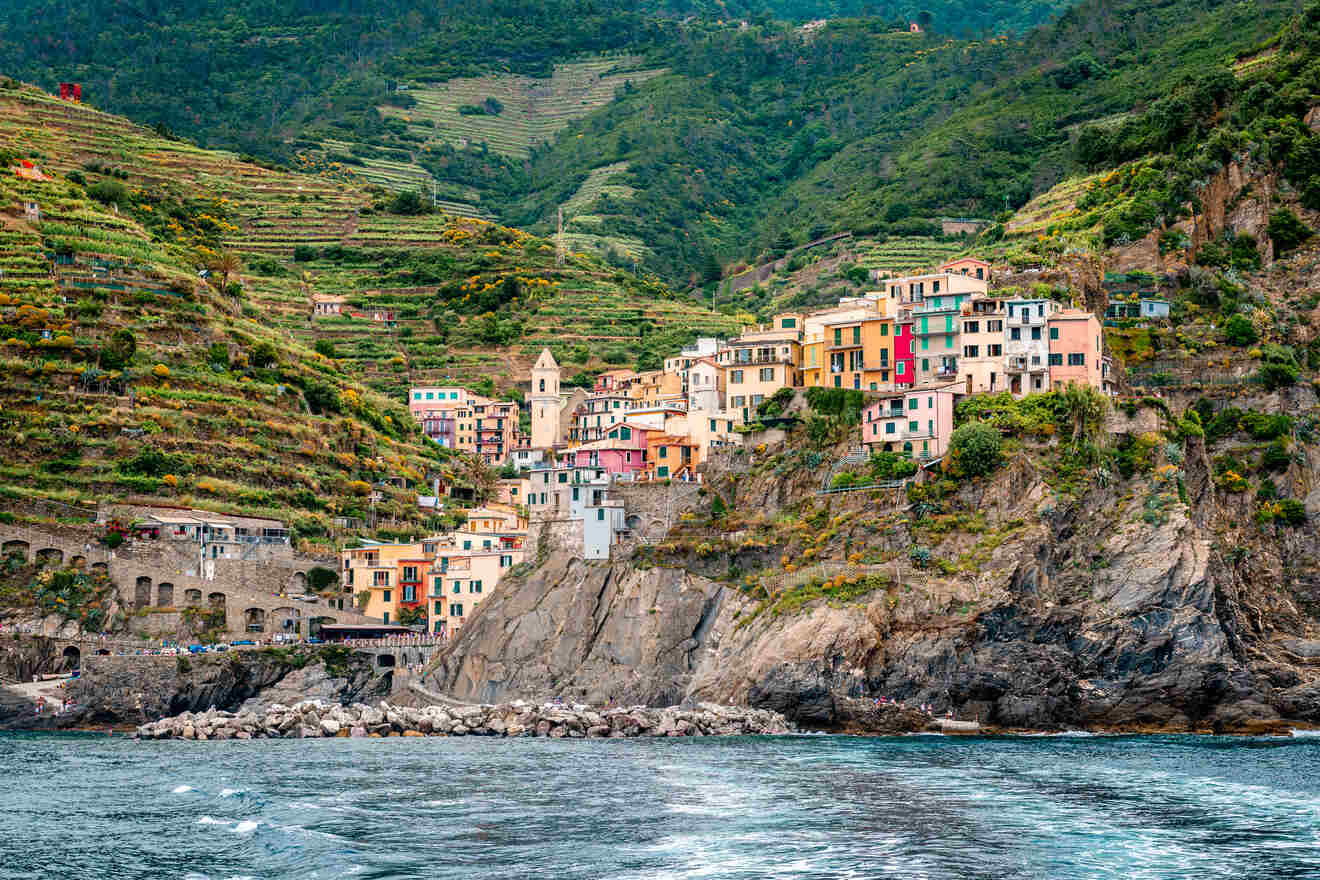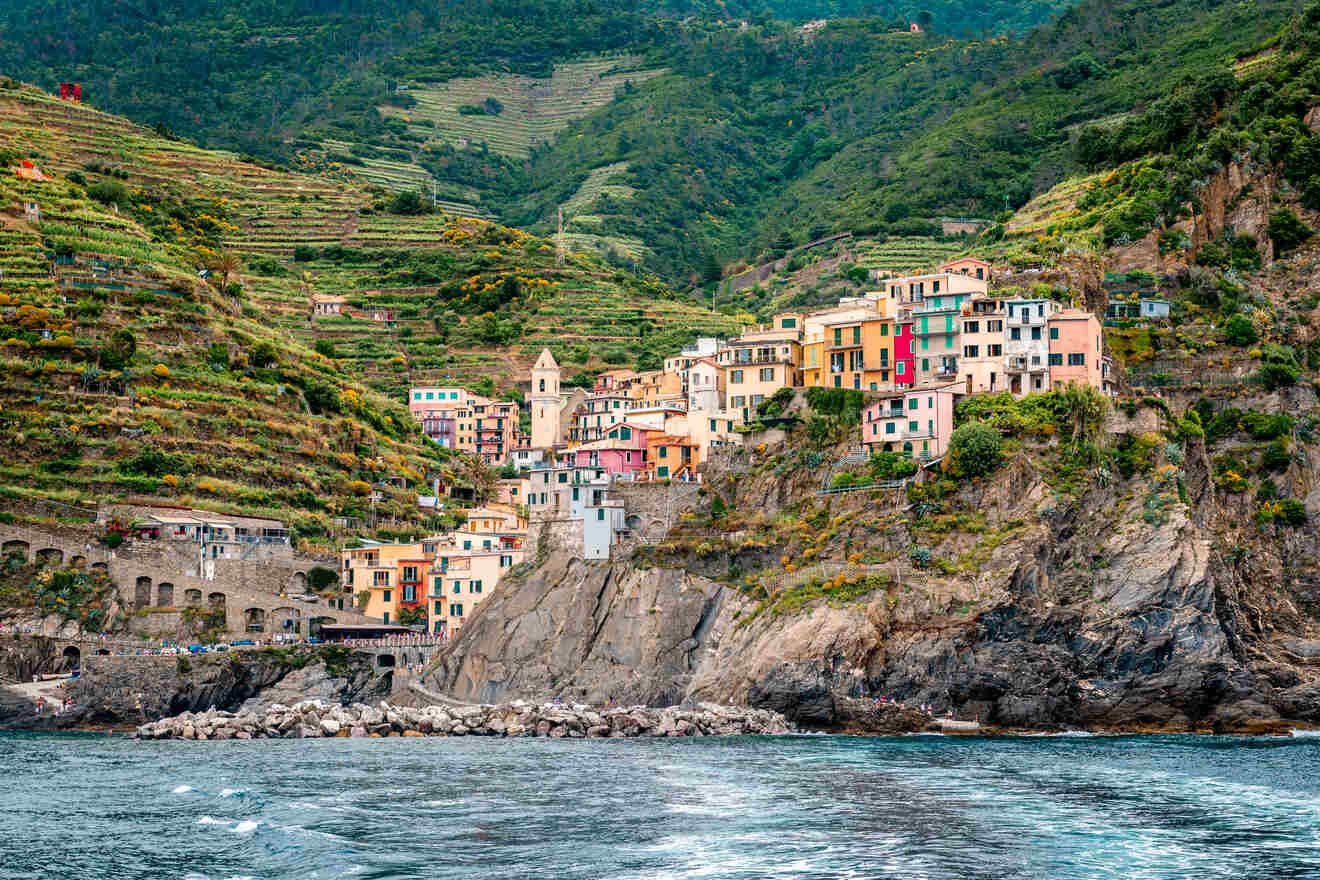 Top things to do in Cinque Terre
Swim in the clear waters of Vernazza Beach or take a boat cruise
Hike the Sentiero Monterosso – Vernazza, linking the Cinque Terre towns
Try the delicious focaccia, farinata di ceci and fritto misto!
Where to stay in Cinque Terre
Luxury: Mada Charm – This luxury hotel is located in Vernazza, one of the best places to stay in Cinque Terre, a few steps from the beach, and offers stunning sea views
Mid Range: Miramare – Check out this lovely hotel in Riomaggiore, offering great value for the price, a balcony and a shared outdoor terrace
Budget: Camere Fontanavecchia – If you want to save money, book a room in this budget-friendly colorful hotel in Vernazza, offering great rooms with air conditioning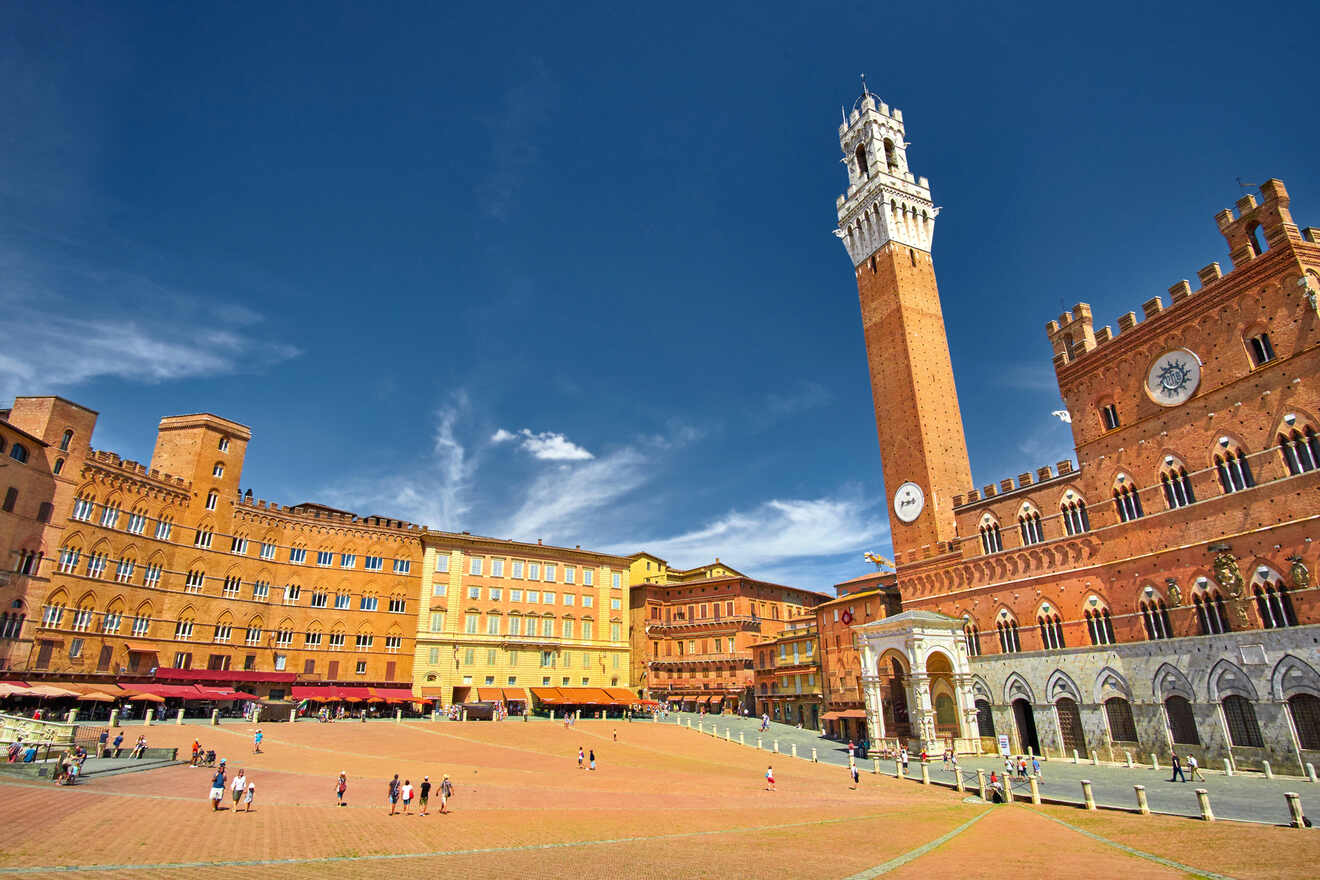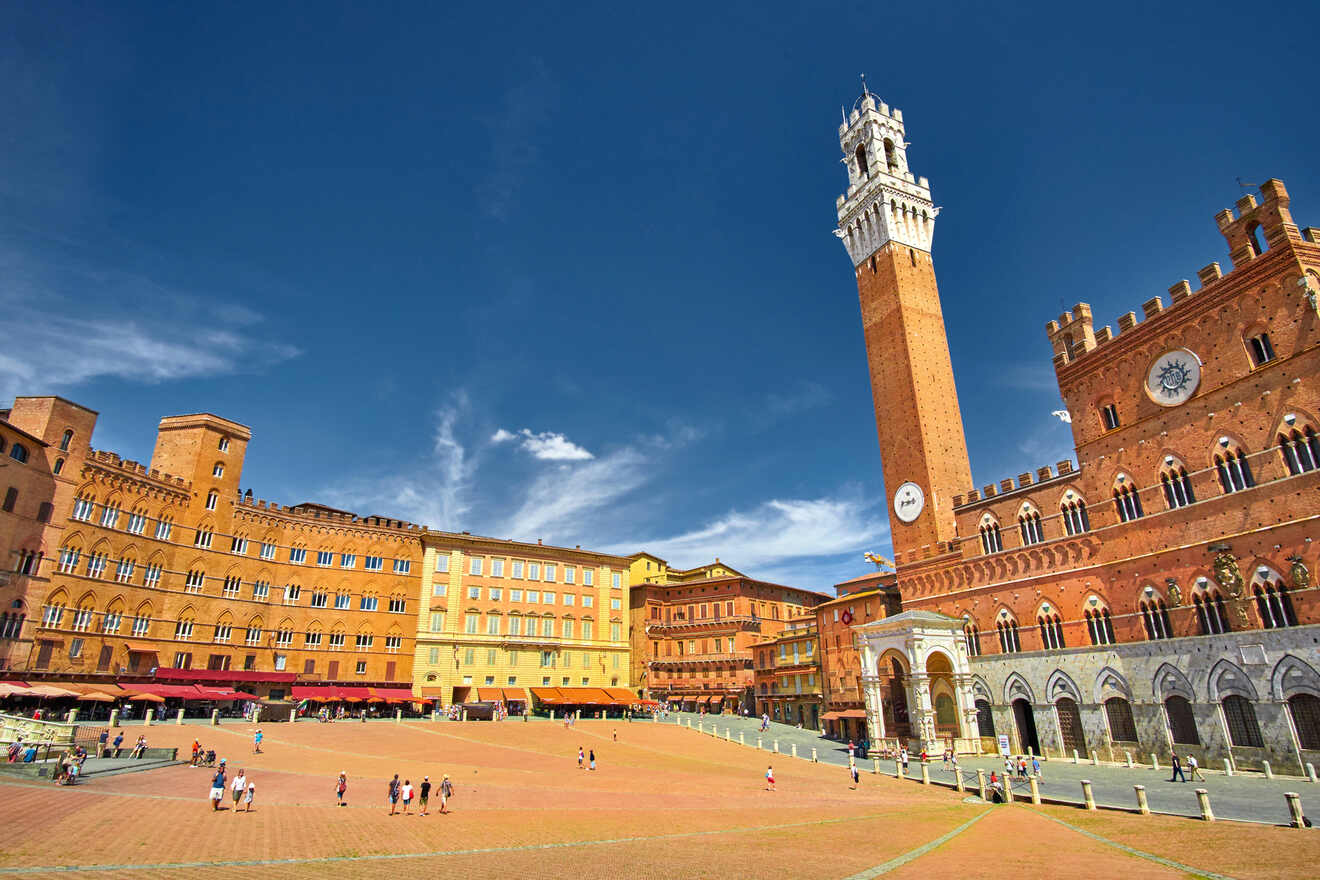 Visit length: 1 – 2 days
Even if not as popular outside of Italy, the medieval town of Siena, located 1.5 hours from Florence in the rolling hills of the Tuscan countryside, is considered one of the most beautiful cities in the entire country, and I have to agree!
This gorgeous city hosts a historical city center with the famous Piazza del Campo main square, where you can stroll around and gaze at its ancient buildings and the impressive fountain Fonte Gaia, browse the many souvenir shops, or just do some people watching!
But one of the main highlights of Siena is the city's most iconic event: the Palio di Siena. This horse race happens on the 2nd of July and 16th of August, hosted right in the Piazza del Campo square… Such a unique thing to see!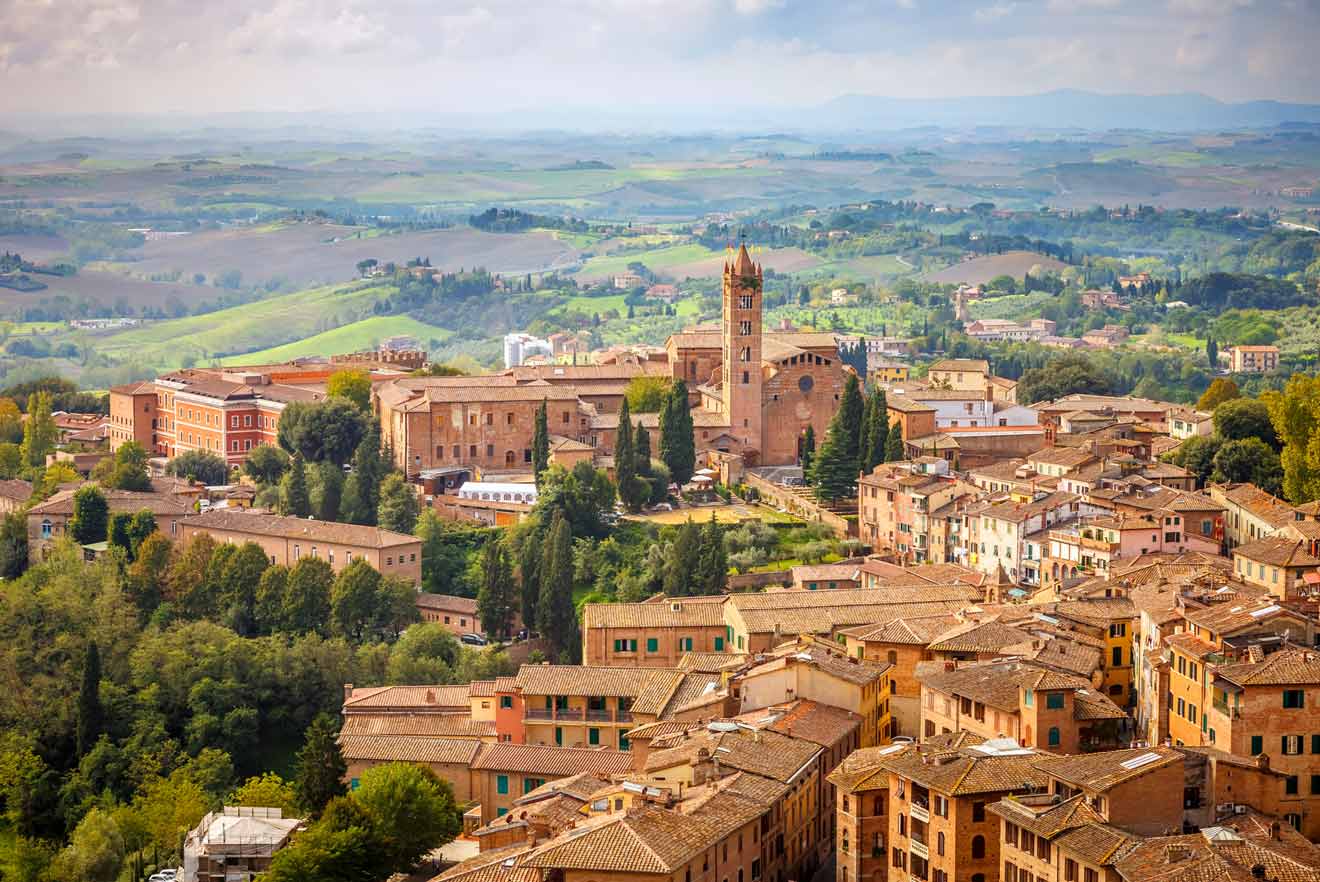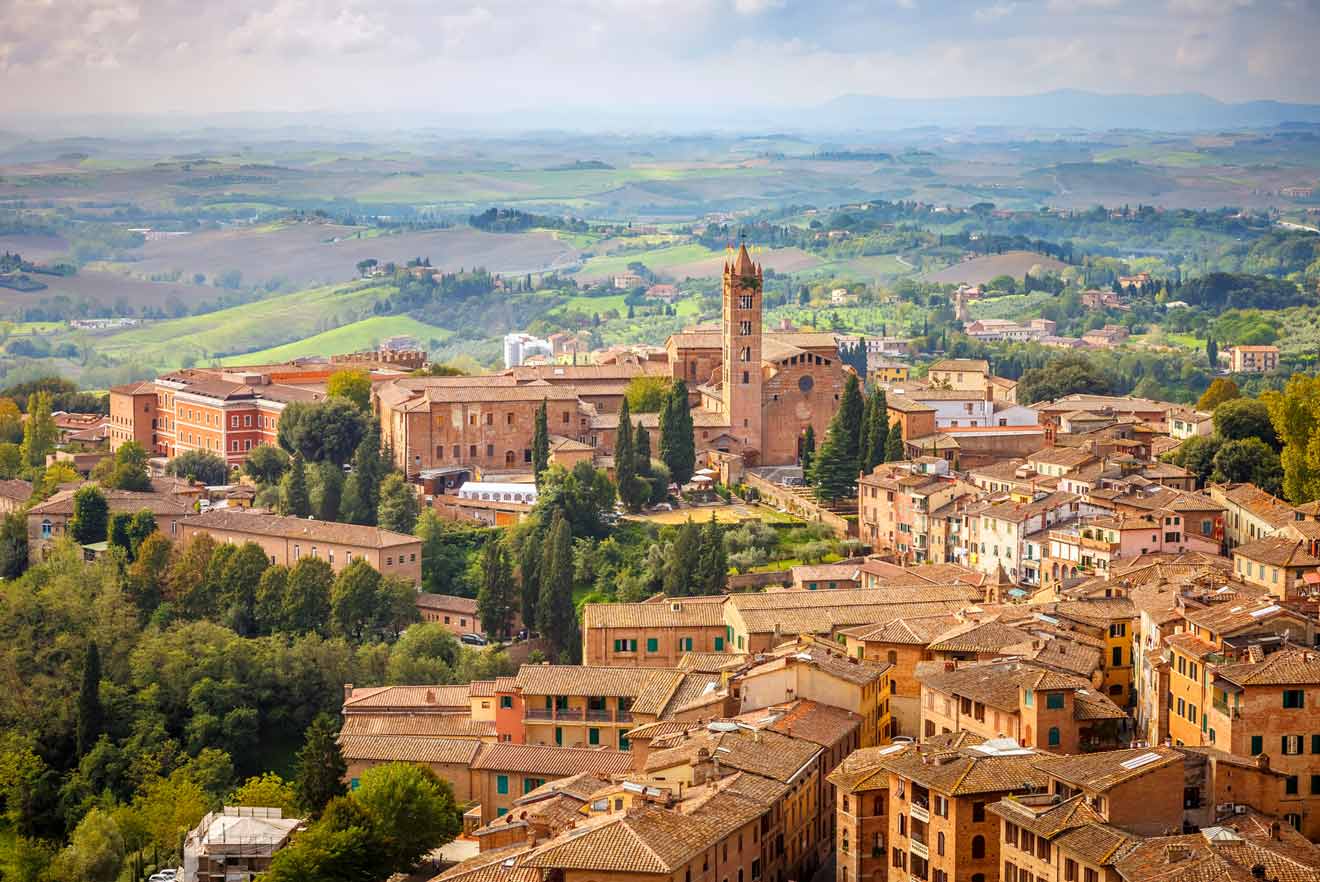 Top things to do in Siena
Where to stay in Siena
Luxury: Hotel Certosa Di Maggiano – This luxury hotel is set in a former monastery nestled in the Tuscan countryside, and offers unique rooms with free wifi
Mid Range: Palazzo Ravizza – Check out this historic hotel right in the heart of Siena, featuring elegant rooms with characteristic 1920s furnishings
Budget: La Coperta Ricamata – Stay on a budget in this charming b&b in Siena, offering air-conditioned rooms with fully equipped kitchens and a delicious breakfast
7. Milan – the fashion capital of Italy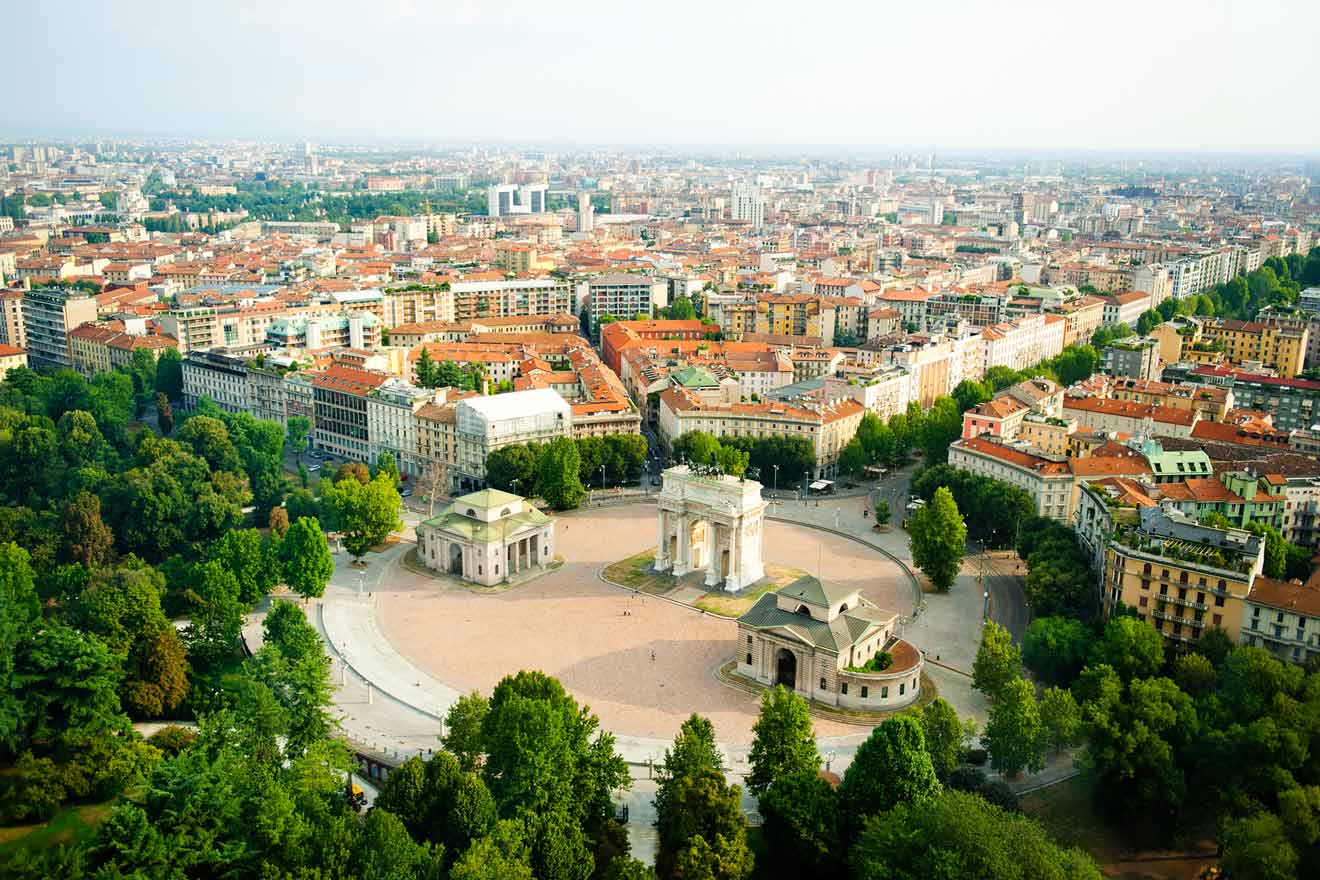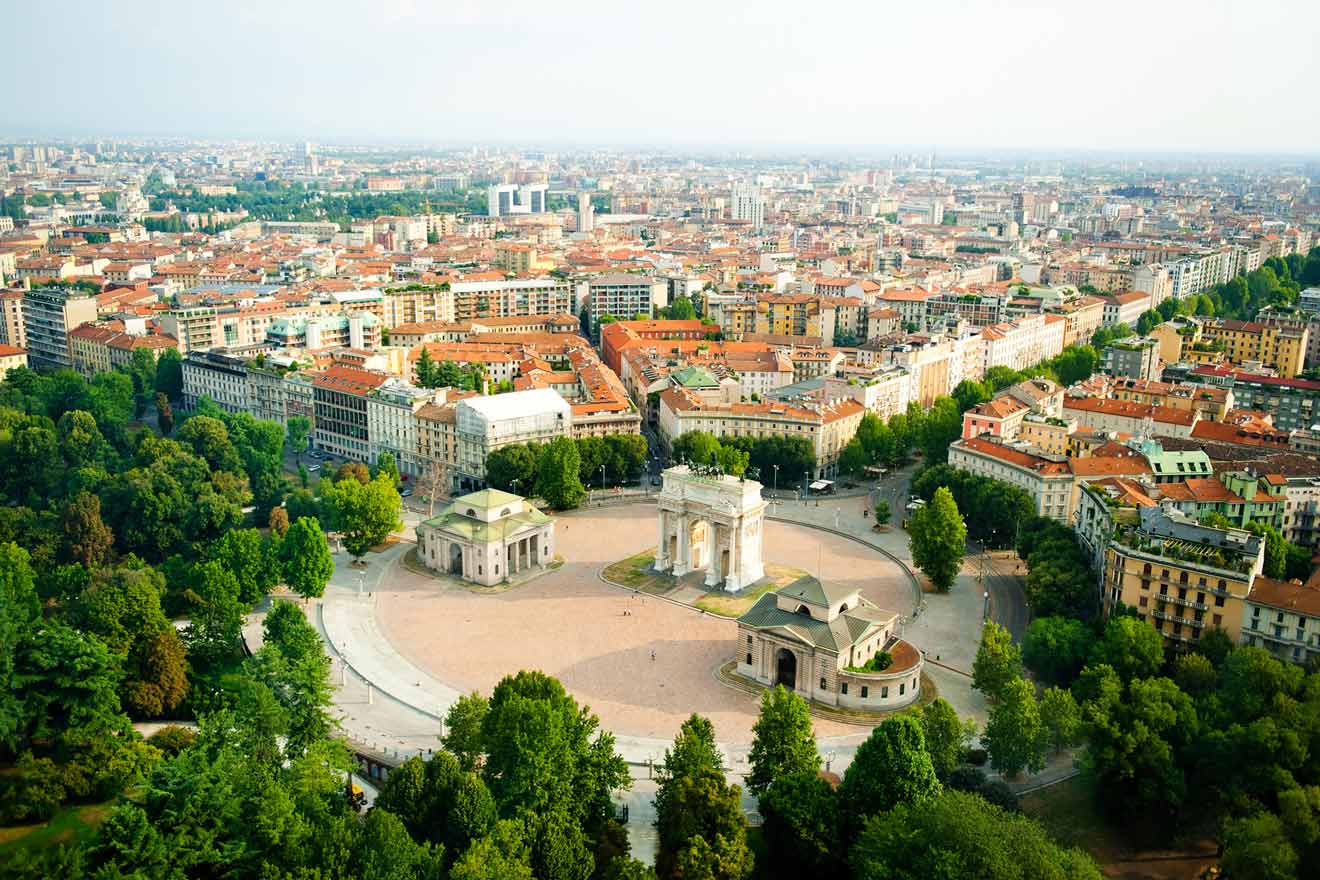 Visit length: 1 – 2 days
Milan is one of the major cities in northern Italy, mainly known for its fashion scene and majestic Duomo church, but this bustling city has much more to offer from rich history to inspiring art!
In fact, you can see the famous Leonardo Da Vinci's Last Supper displayed at Santa Maria Delle Grazie church, go crazy shopping in the many venues, visit world-class museums and
enjoy its crazy nightlife scene!
Milan is also the perfect gateway to visit Lake Como (about 1.5h from Milan), one of the most magical spots in Italy surrounded by lush green trees with the Alp Mountains as a backdrop. A great place to take a break from the hustle and bustle of the best Italian cities.
If you are planning on visiting Lake Como, I suggest you spend at least 1 night in one of these amazing places to stay in Lake Como, where you'll wake up with breathtaking water views!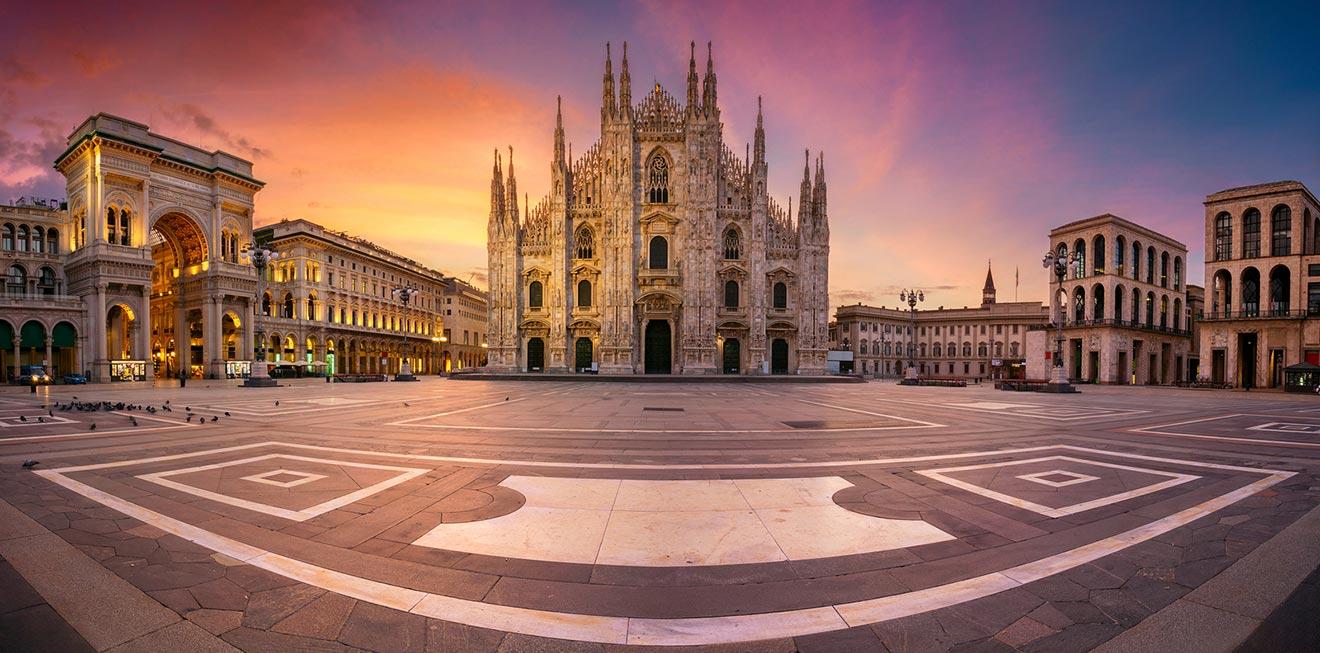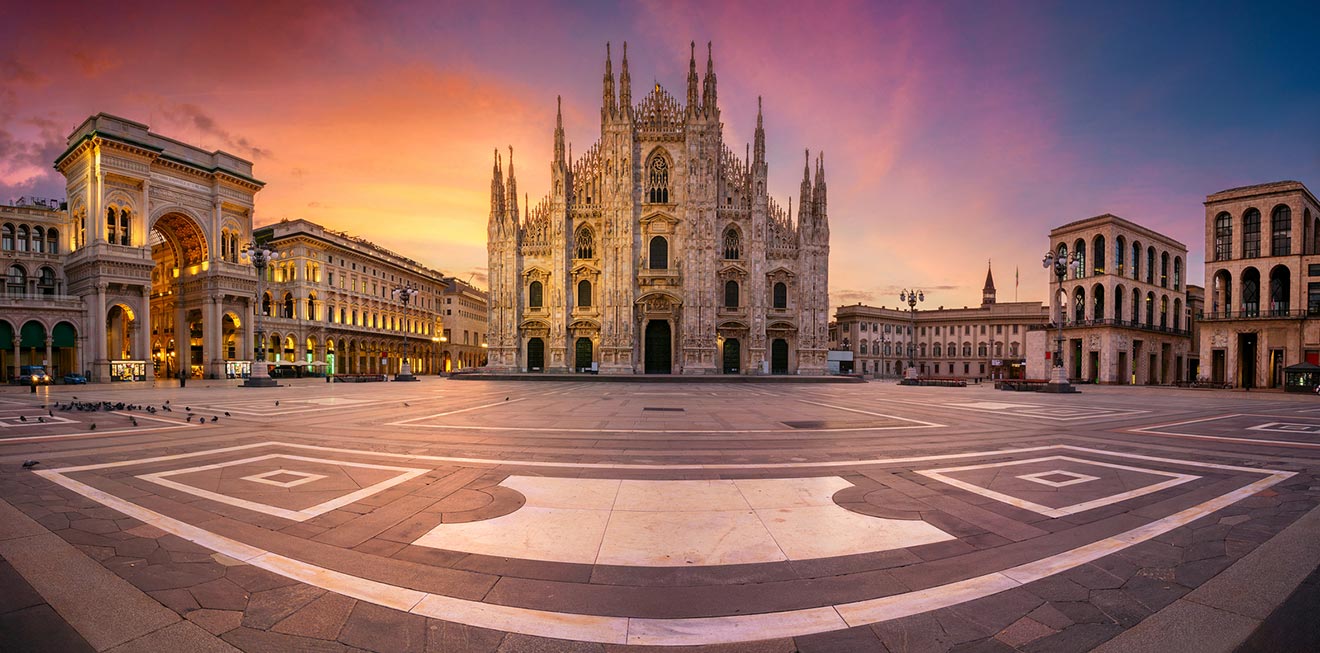 Top things to do in Milan
Take a picture of the iconic Piazza del Duomo!
Have an aperitif with finger foods in the Navigli area
Take a day trip to Lake Como, Lugano, and Bellagio
Where to stay in Milan
Luxury: Park Hyatt Milano – Experience luxury in this 5-star hotel offering a 2 Michelin starred restaurant, conveniently located just near the Duomo.
Mid Range: HeMi Luxury Suites – This Amazing hotel features well-appointed rooms, a shared terrace, a garden and the most delicious breakfast in the morning.
Budget: Torino48 Guest House – If you're looking for budget accommodation in Milan, stop here: this cozy hotel will give you access to all the best attractions in the city!
8. Venice – the most unique of all the Italian cities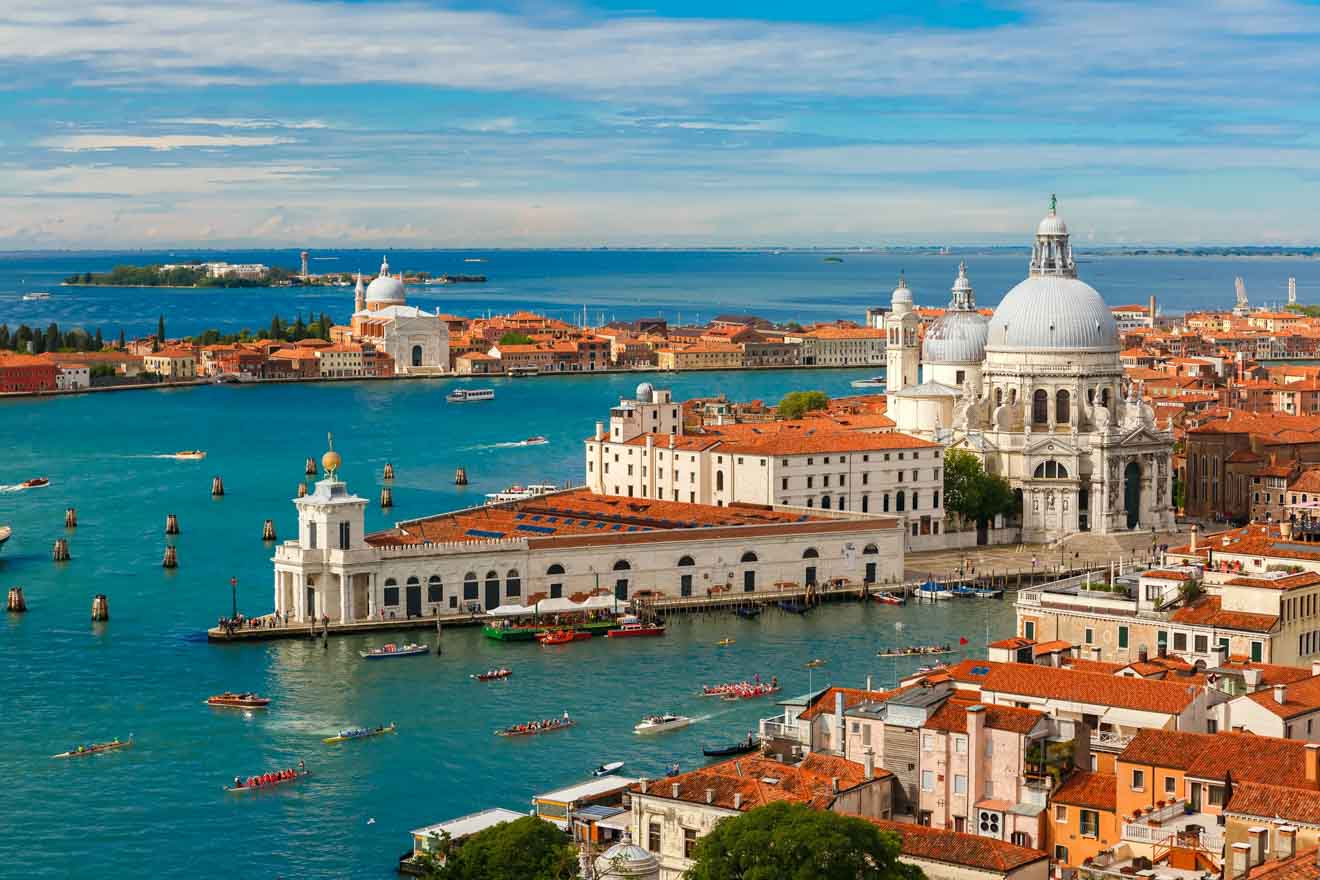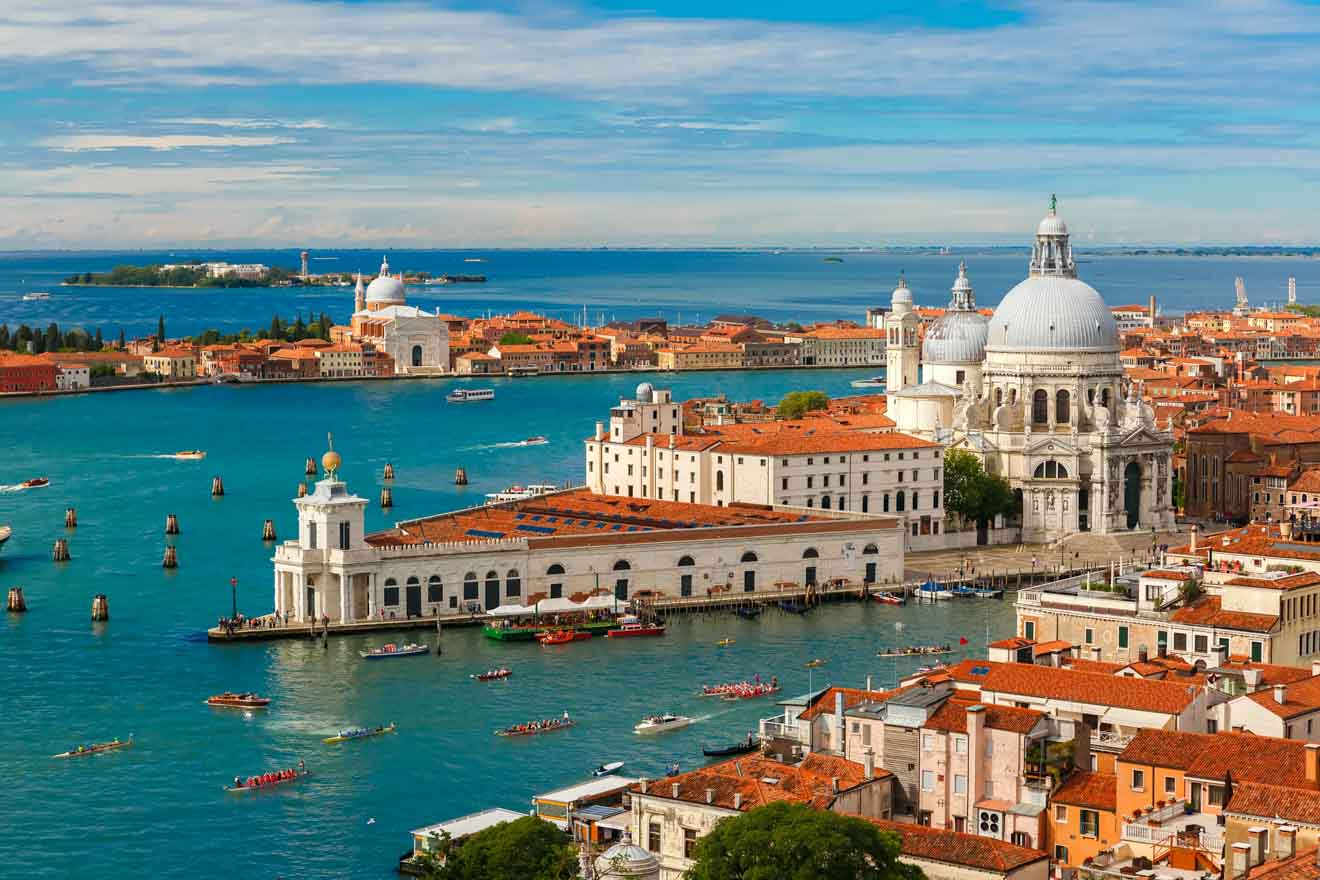 Visit length: 1 – 2 days
Venice (located in the northern region of Veneto) is one of the most unique places and romantic cities on earth… it had to be on the list of the best cities in Italy!
I mean… where else can you have a ride on a lazy gondola while you explore the beautiful canals running through the historical city center, overlooking stunning buildings and ancient churches?
You can also discover Venice's main attractions on foot, since they're all located in the heart of the city, like Piazza San Marco and the magnificent Saint Mark's Basilica. And when you feel like taking a break, stop at the traditional bars (cicchetti) to have an aperitif!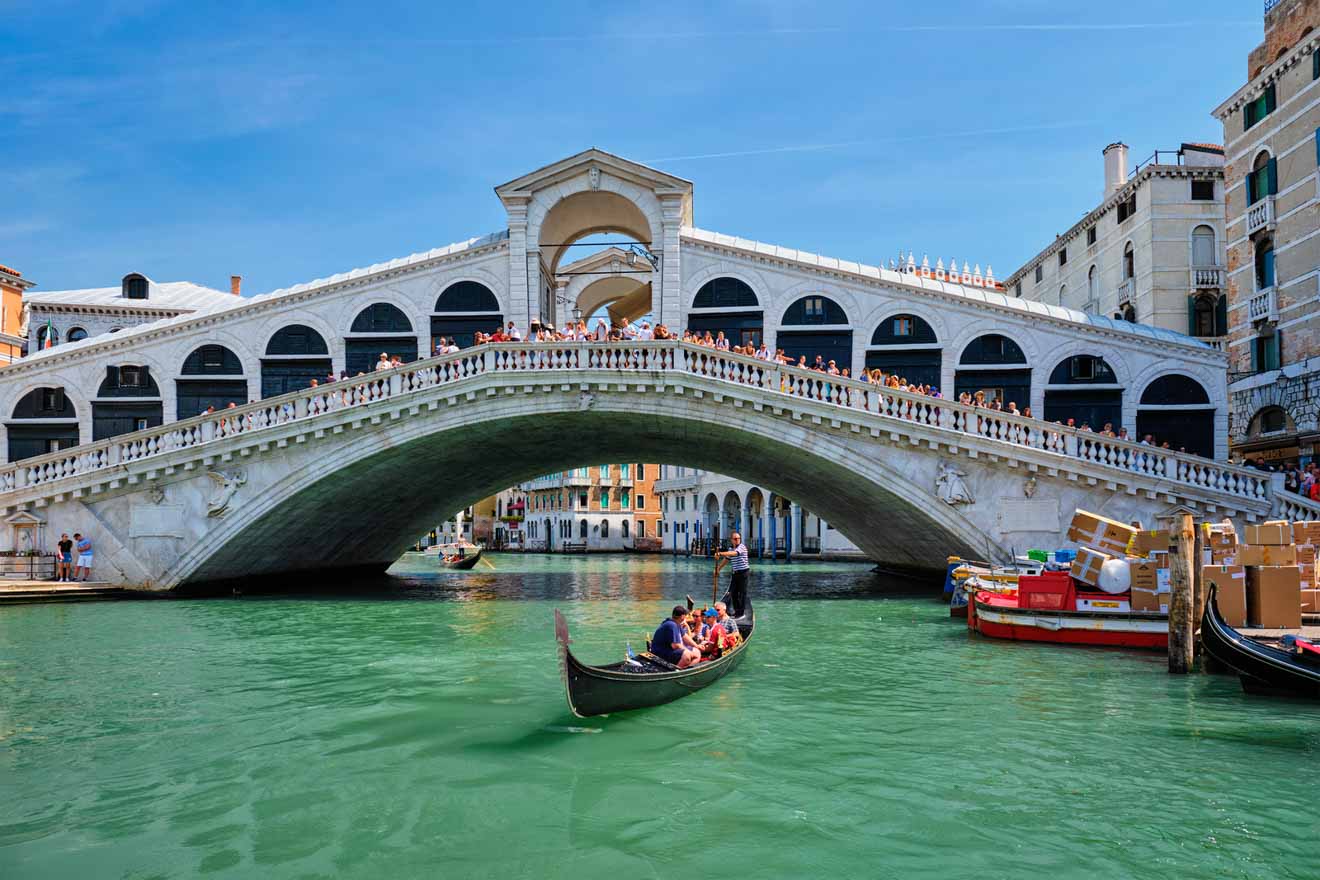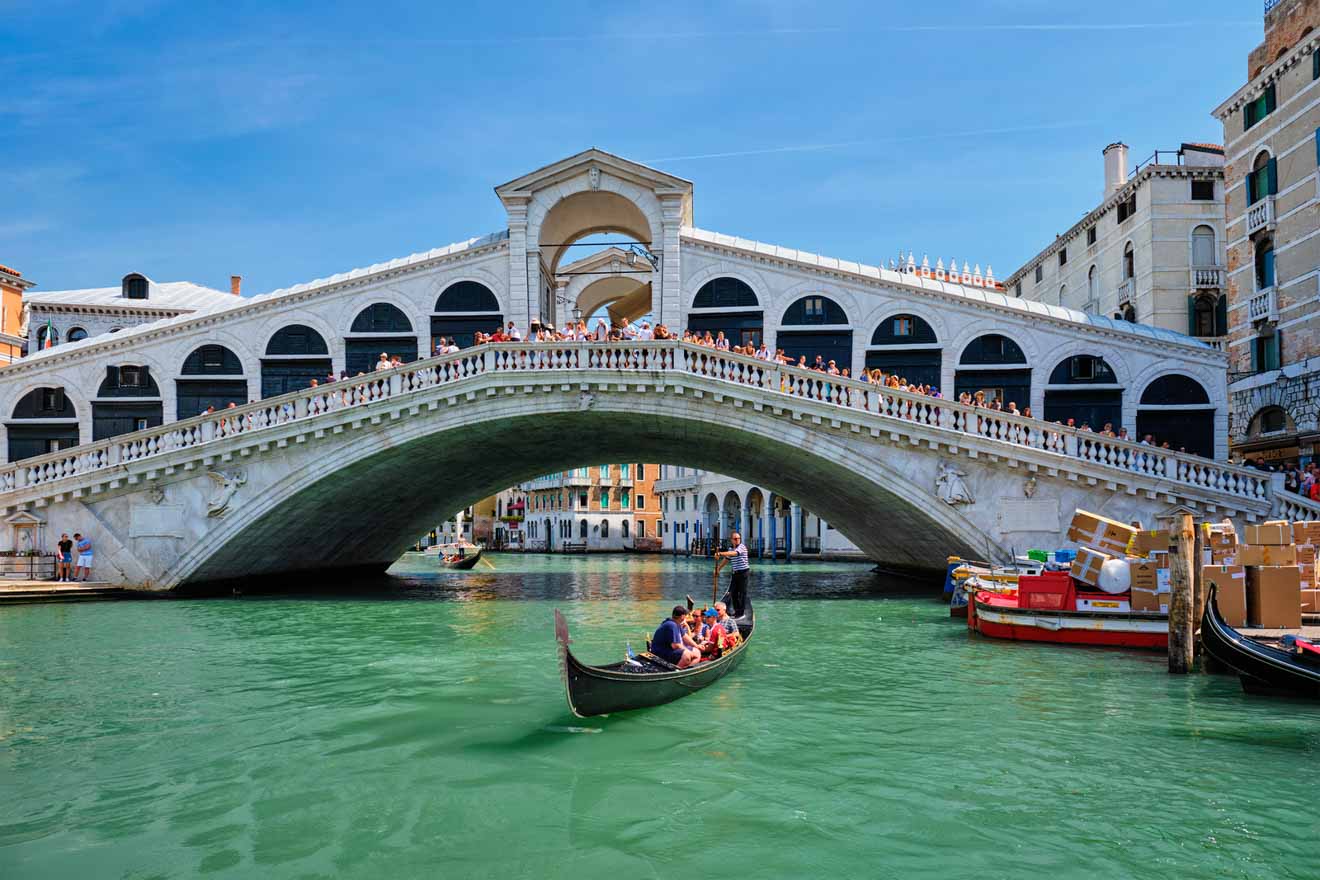 Top things to do in Venice
Stop at 5 Cicchetti and 5 wine bars for delicious tastings!
Visit Piazza San Marco, and the Saint Mark's Basilica
Explore the Grand Canal on a romantic gondola
Where to stay in Venice
Luxury: Hotel A La Commedia – If you want to splurge in Venice, this 4-star property is for you, located a few steps away from Doge's Palace!
Mid Range: Hotel Mercurio Venice – Check out this charming, beautifully decorated family-run hotel featuring Venetian antique furnishings
Budget: Hotel SIlver Suite – Are you looking for an excellent budget hotel? Then look no further than this hotel, located right in the city center near the Basilica San Marco!
9. Verona – the most romantic of the cities in Italy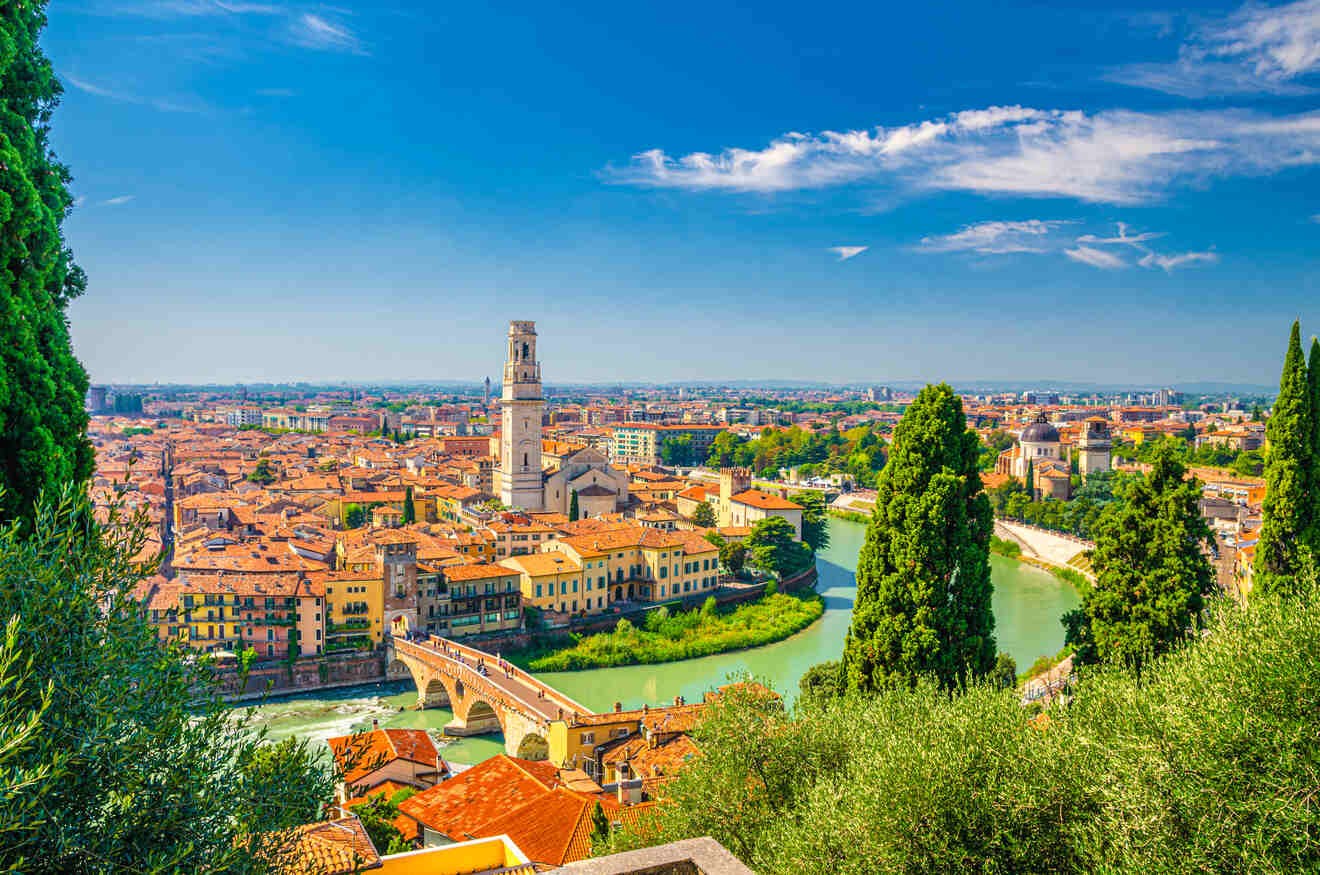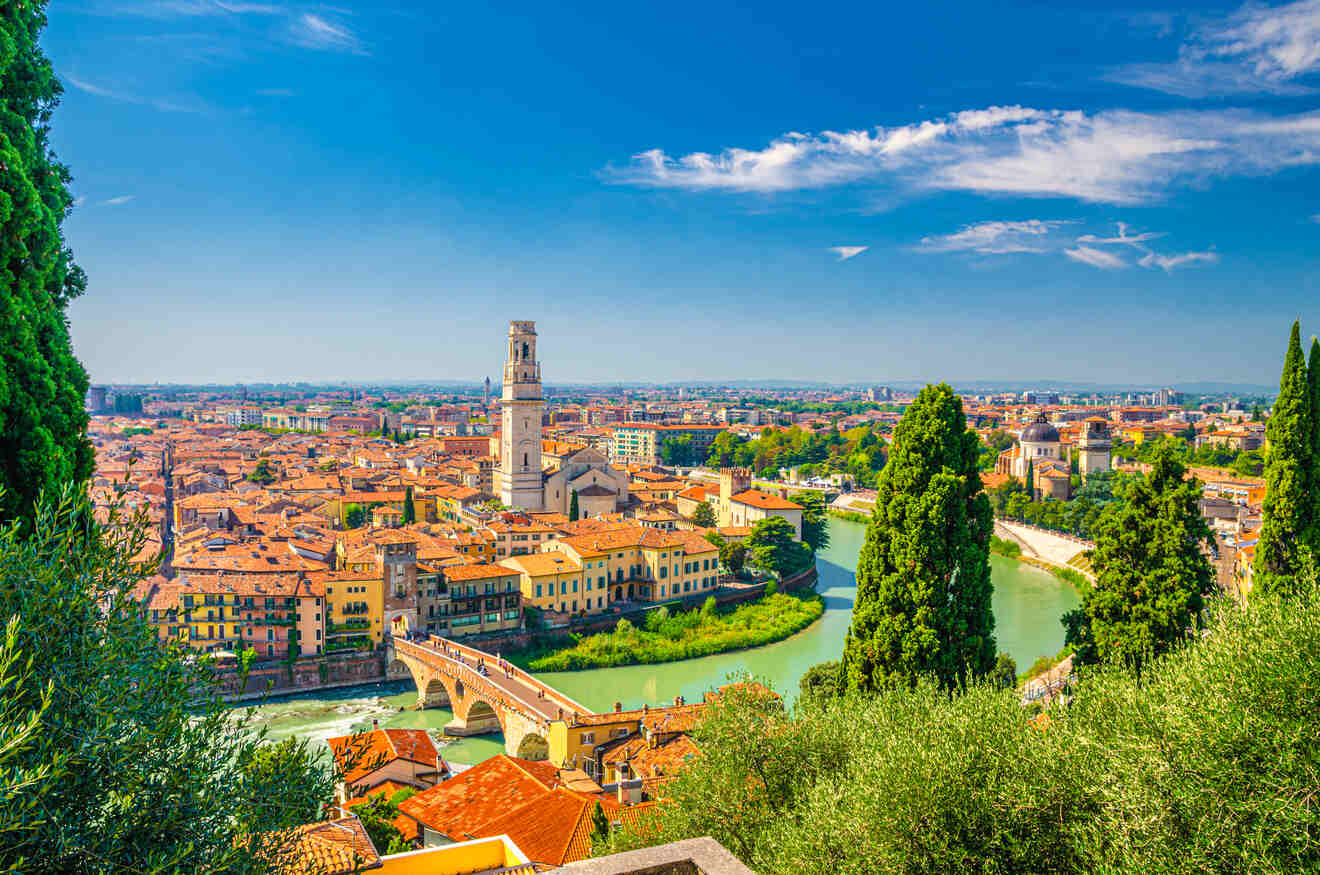 Visit length: 1 – 2 days
We just saw one of the most beautiful cities in Italy (Venice), but its neighboring town in the Veneto region wins in terms of Romanticism. I am talking about Verona, the city where I had the luck to be born and raised!
This charming city hosts a historic town center with cobblestone streets, 2 main squares (Piazza Bra and Piazza Erbe), the famous house of Romeo and Juliet, and a Roman Castle where you can gaze at incredible city views, Castel San Pietro.
Since it's pretty small, tourists usually come to Verona for (half) day trips, but I suggest you spend at least one night here to have the opportunity to attend an opera concert at the Arena amphitheater or any of the other cool things in Verona people don't know about!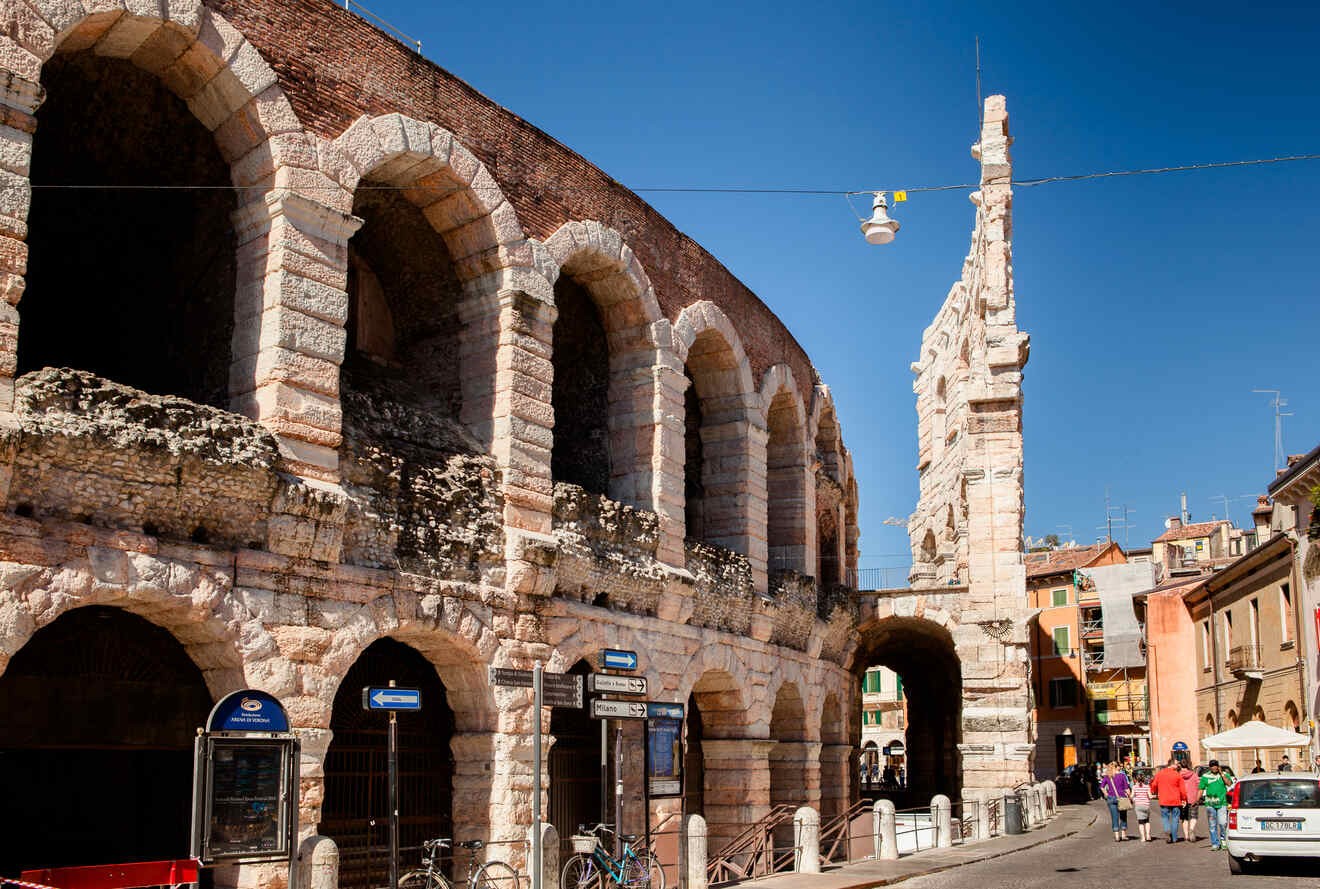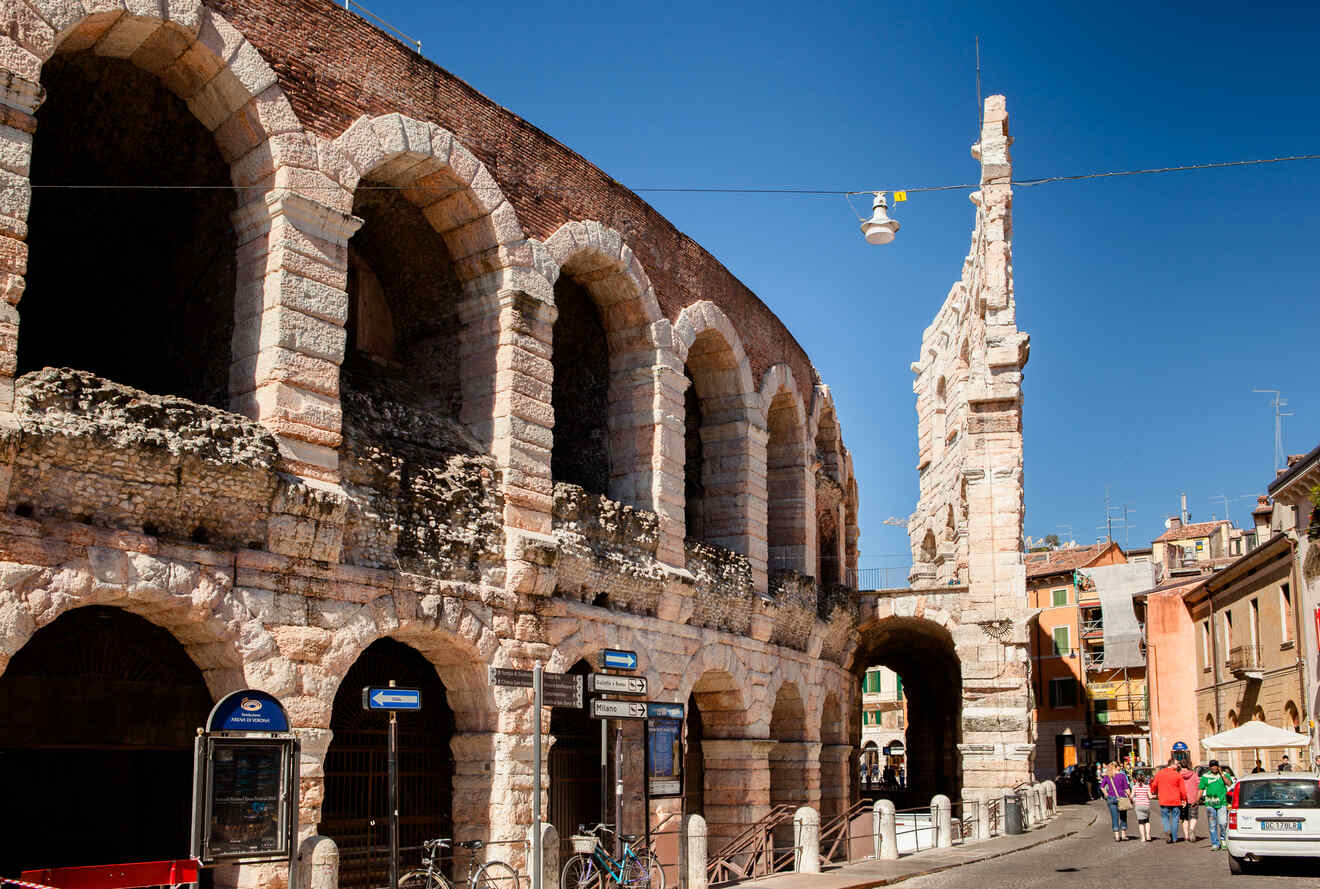 Top things to do in Verona
Where to stay in Verona
Luxury: Palazzo Monga Boutique – Feel like spoiled Italian royalty in this luxury hotel in the heart of Verona, offering spacious rooms with large windows and a relaxing spa!
Mid Range: Verona Suites – Check out this amazing hotel offering modern design, beautiful spacious rooms, and a hot tub for full relaxation!
Budget: Truly Verona – One of the best hotels to stay on a budget in Verona, with a modern room, incredible city views, and breakfast in the morning
10. Bologna – Italy's culinary capital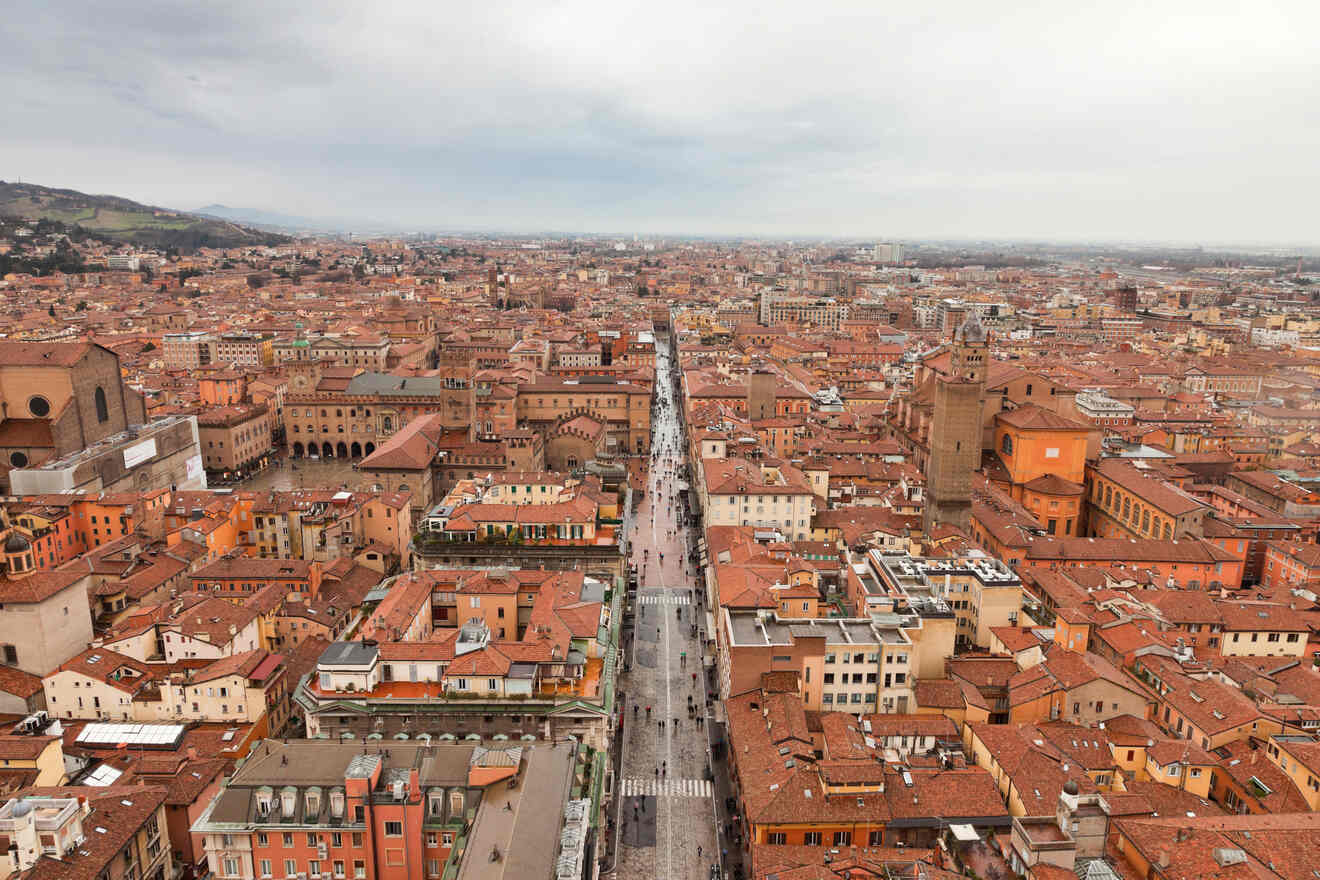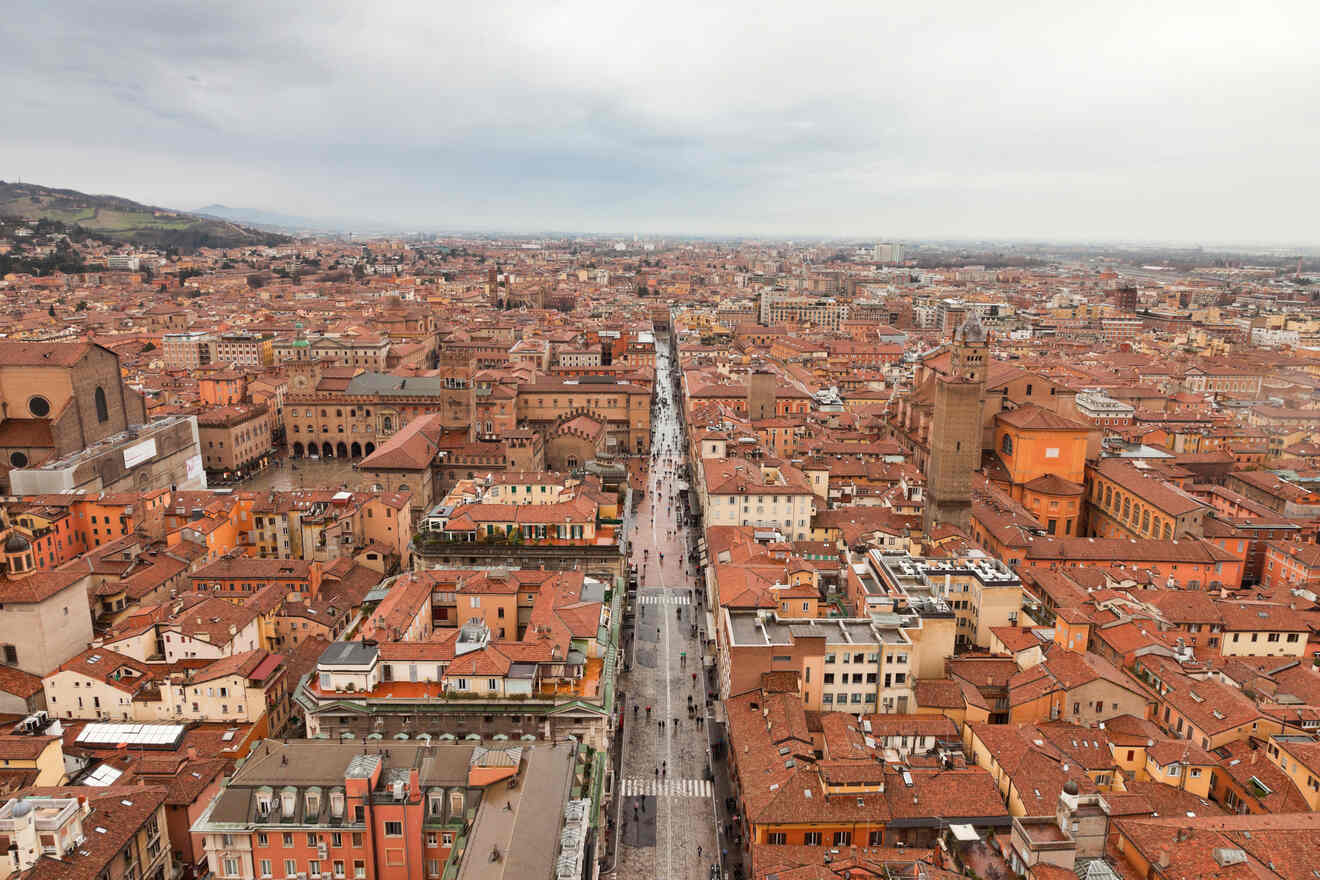 Visit length: 1 – 3 days
Bologna, the capital city of the Emilia Romagna region, wins many titles which make it definitely worth your visit. First of all, the title of culinary capital of the country for its extremely delicious cuisine (tortellini, tagliatelle al ragù, and Piadine just to name a few).
In fact, other than being a foodie paradise, Bologna also hosts the oldest university in the world, the Bologna University, which gives the city a very lively atmosphere, and piazza maggiore, one of the biggest squares in Europe.
Another peculiar thing about Bologna are its old city walls dating back to the middle ages which surround all the city center, the characteristic porticos, and fantastic markets happening here and there… I am sure you will love it!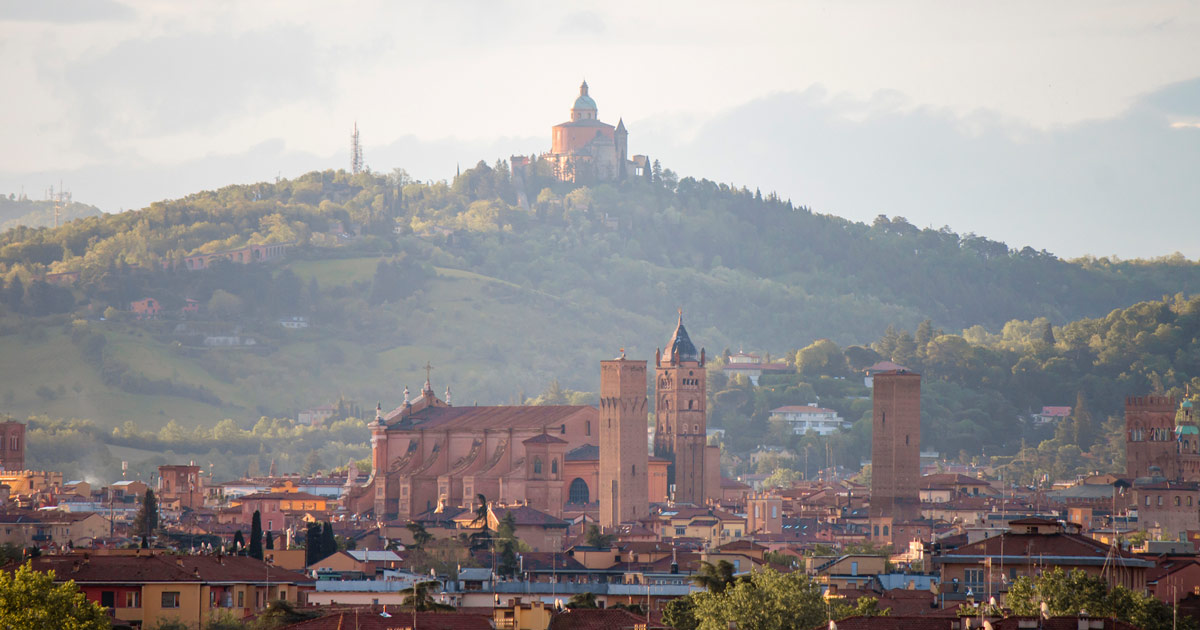 Top things to do in Bologna
Have a taste of Bologna on a private food tour!
Climb the Madonna di San Luca sanctuary
Stroll around Piazza Maggiore main square
Where to stay in Bologna
Luxury: Aemilia Hotel – In this luxurious hotel, you'll sleep in spacious rooms with a chic style, gaze at historical city views from the rooftop jacuzzi, and enjoy a buffet breakfast each morning.
Mid Range: Bibliò Rooms – Check out this amazing hotel located within walking distance to the historic center offering modern-style rooms.
Budget: Santo Stefano – This affordable hotel offers some of the best prices in Bologna, plus clean rooms, a buffet breakfast every morning, and private parking.
| | |
| --- | --- |
| 🇮🇹 Capital City: | Rome |
| 👪 Best place for families: | Amalfi Coast |
| 🏛️ Most historic city: | Naples |
| 🌅 Most relaxing city: | Cinque Terre |
| 😋 Best foodie city: | Bologna |
| 🌟 Most unique city: | Venice |
| ❤️ Most Romantic city: | Verona |
| 🍕 Must try food: | Pizza |
| 🍽️ Dinner for 2: | €30 |
| 👶 Family friendly score: | Good |
| 🚕 Average taxi price: | €15 |
| 💵 Avg hotel price: | €100 |
| ✈️ Cost of traveling: | Medium |
FAQs about cities in Italy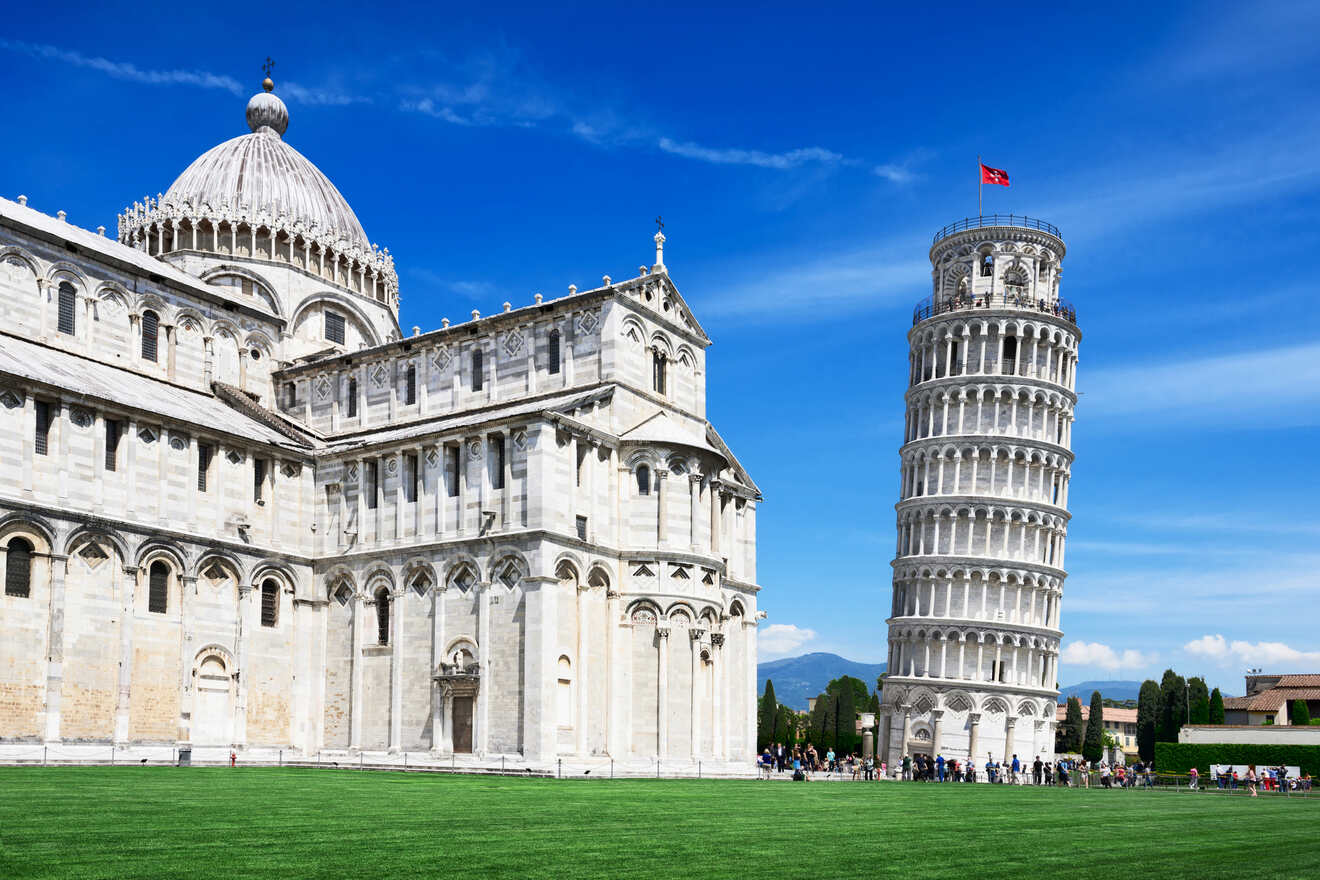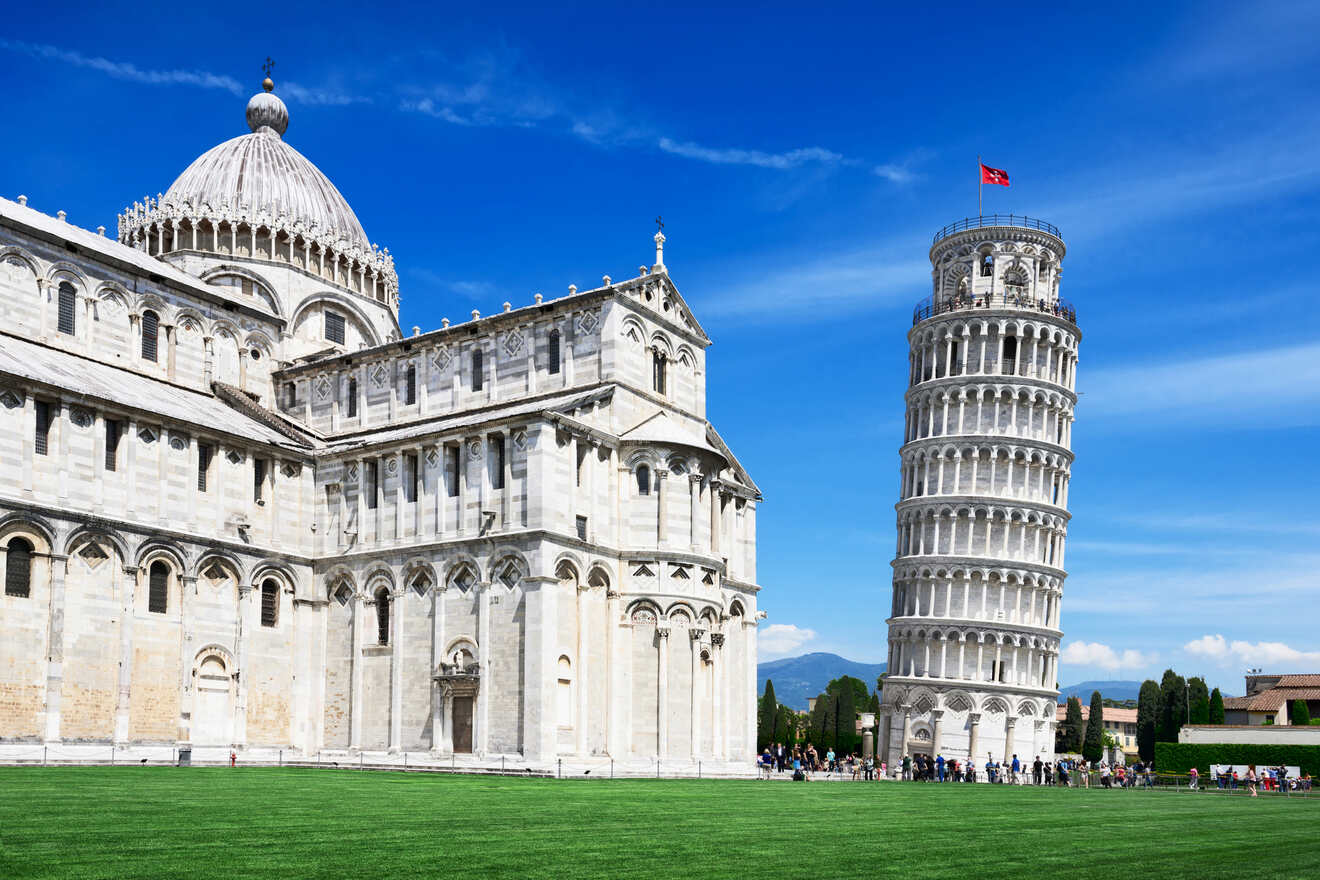 🏛️ Which are the best cities in Italy?
The best cities to visit in Italy are the capital Rome, the ancient Napoli, the artistic Florence (the 3 are also some of the bigger cities in Italy), and the nearby Pisa, with its famous leaning tower.
✅ Which Italian city is best to visit for the first time?
The best city to visit in Italy for the first time is Rome, also called the eternal city, offering incredible historical attractions like the Colosseum, the Roman Forum, the Trevi fountain, and the Sistine chapel.
📅 Which are the best cities to visit in Italy in September?
The best cities to visit in Italy in September are Venice, Florence, and the picturesque Cinque Terre when the weather permits, you to enjoy the place without too much heat!
🍕 Which are the best places to visit in Italy for food?
The best Italian cities if you're looking for food are Bologna, called the culinary capital for its renowned cuisine, or Napoli, offering the best pizza in Italy and some delicious street food!
Conclusion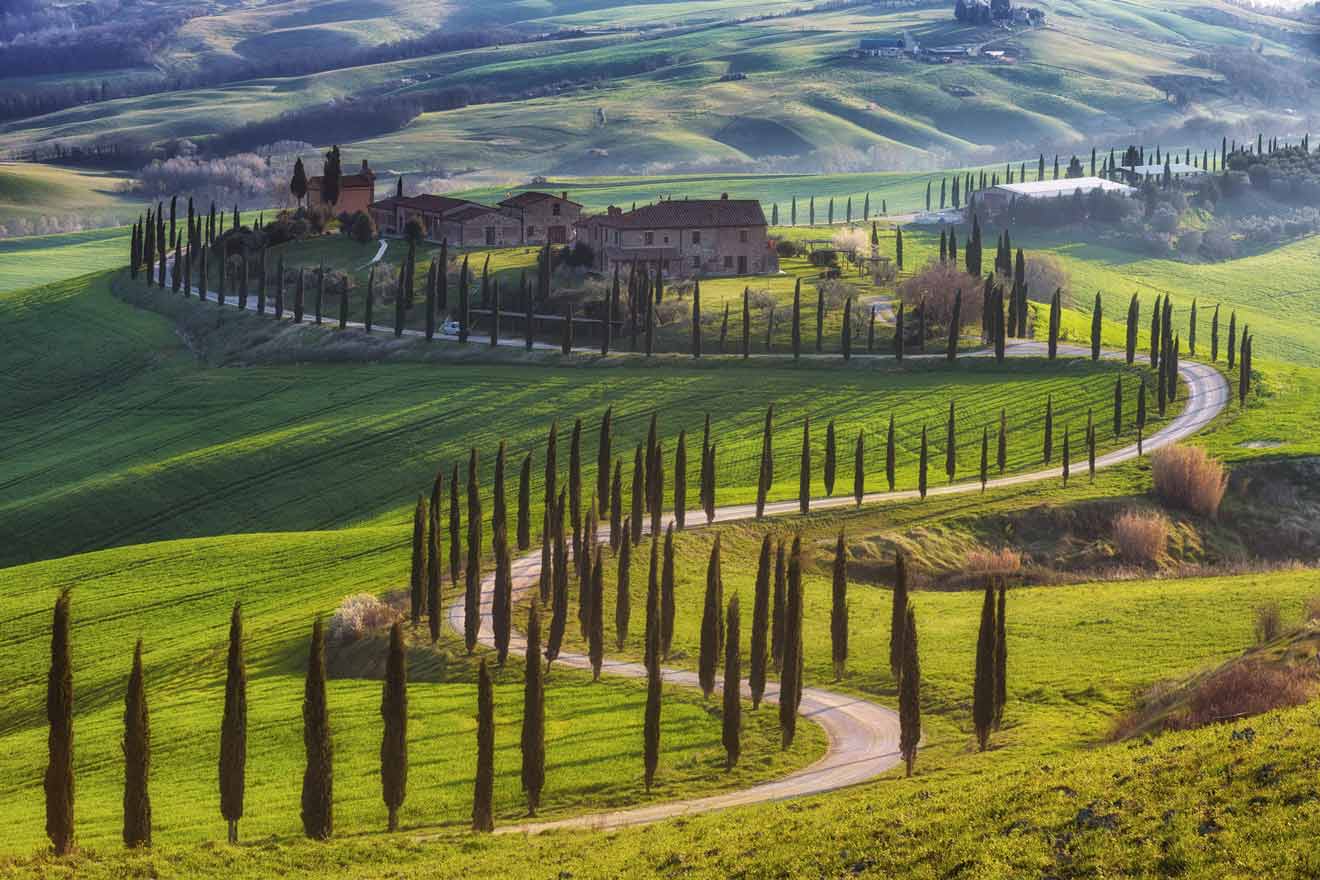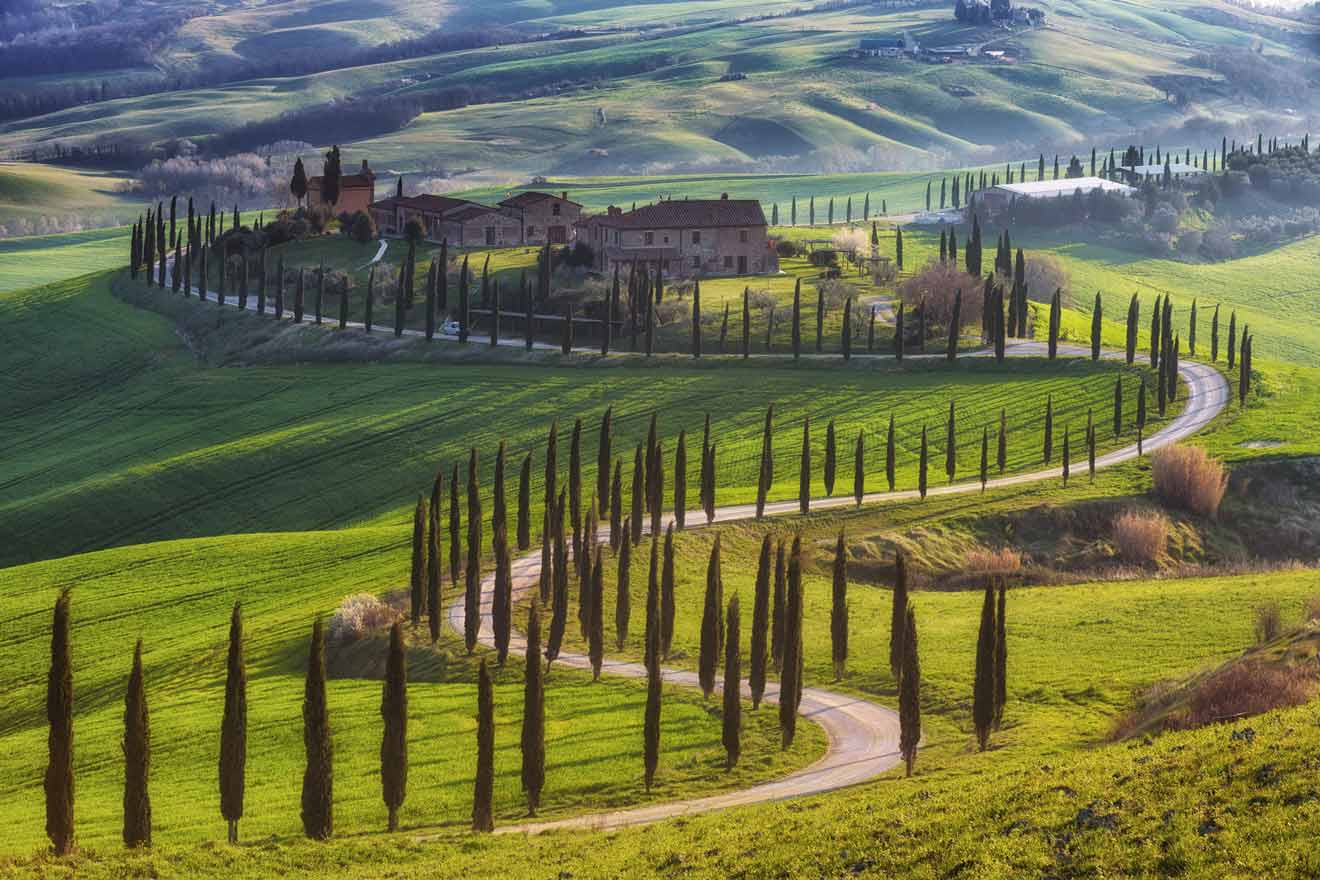 So, which is your favorite city in Italy now? After reading this extensive guide about the best cities to visit in Italy, I bet you already have some of them on your travel list!
Wherever you will choose to go, get ready to enjoy historical sites, world-class museums, amazing art, beautiful sceneries, delicious food and wine, and much more.
I hope you enjoyed reading this post as much as I did sharing the jewels of my beloved country with you, and I am sure you will have a great time there!
Now that you have chosen where to go, make sure to check out all our other posts on Italy full of tips for your trip!
Do you have any questions for me? Then share them in the comments below, I am looking forward to reading them all and answering you.
Have a great holiday!
Elena
---
Pin it for later!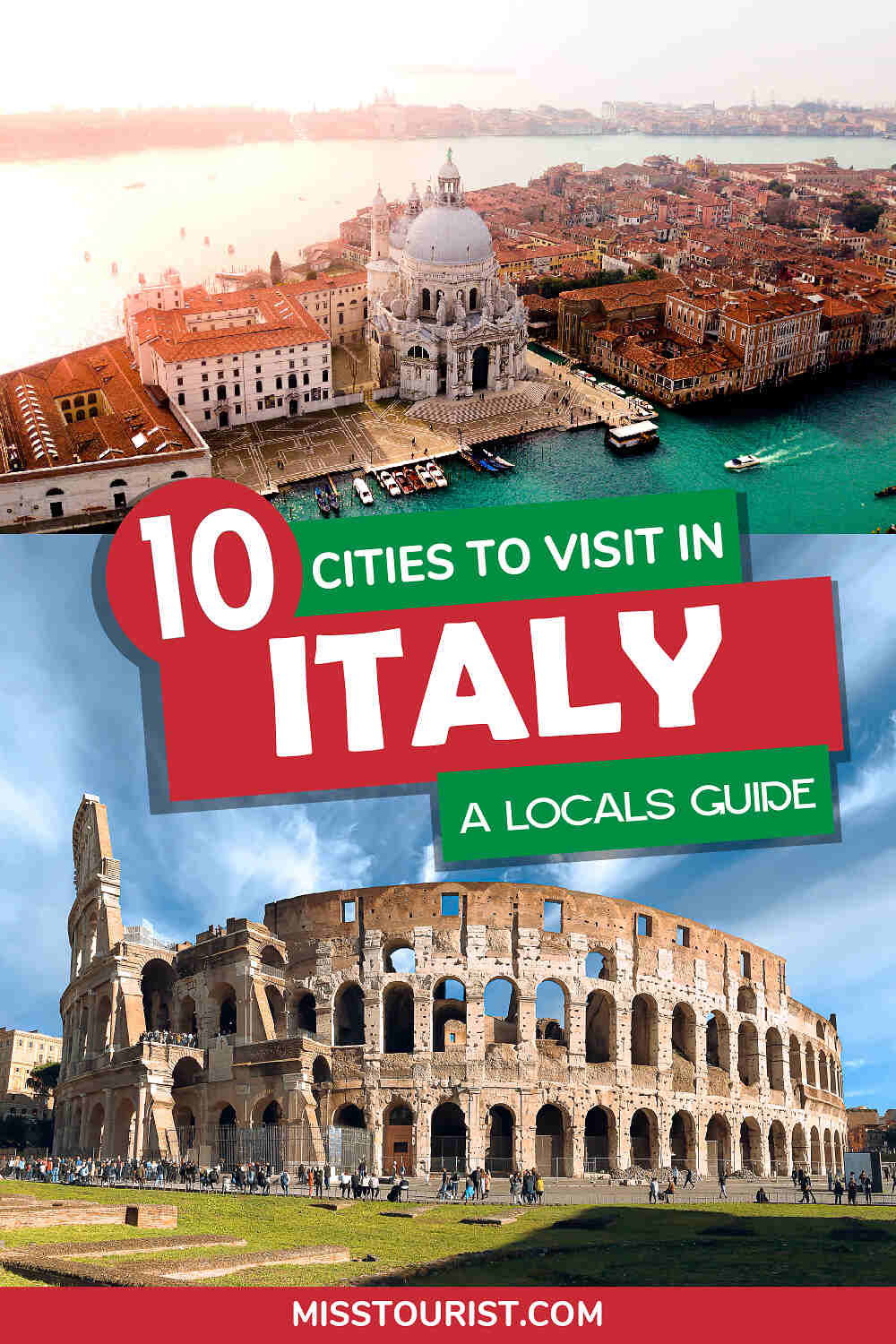 Pin it for later!