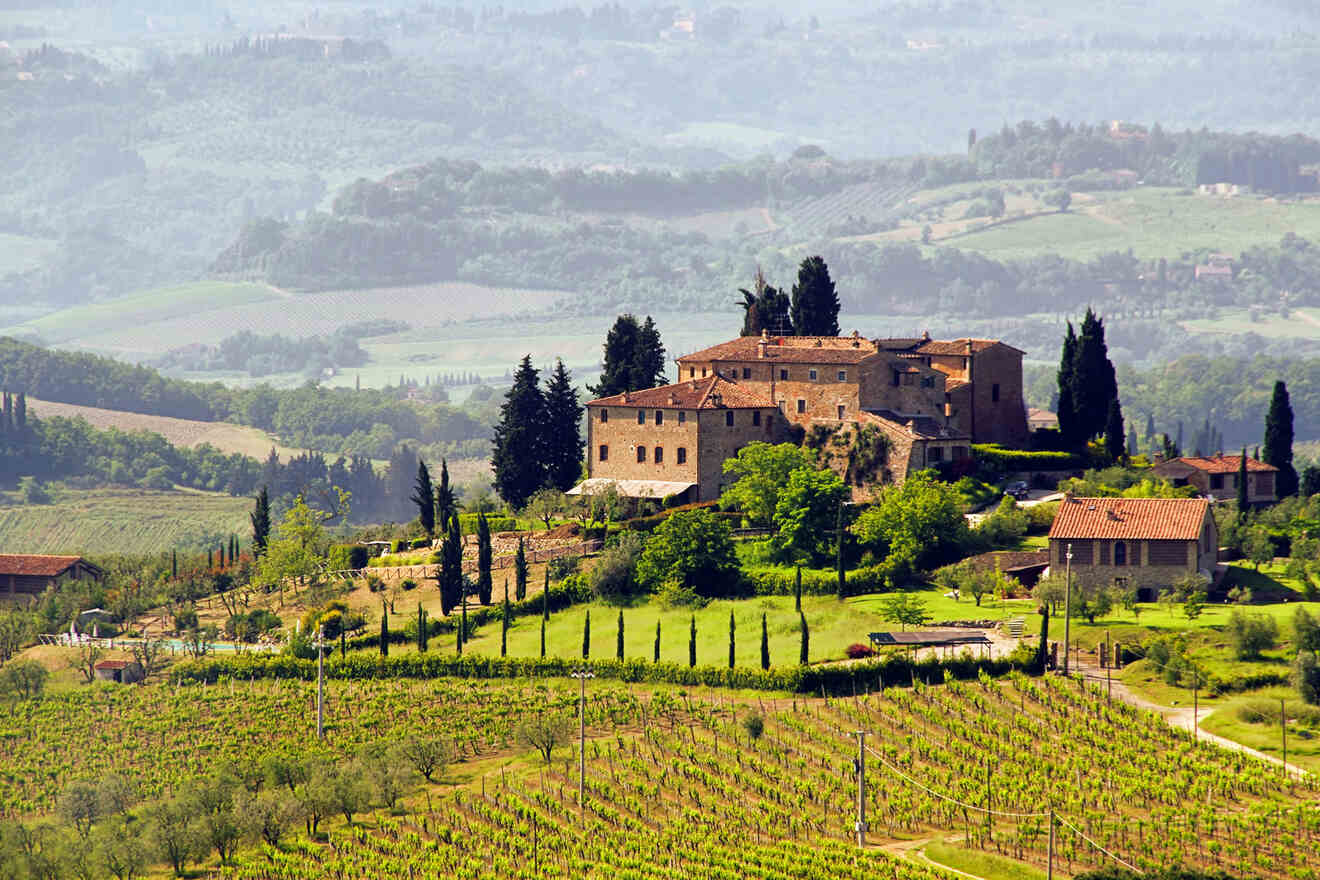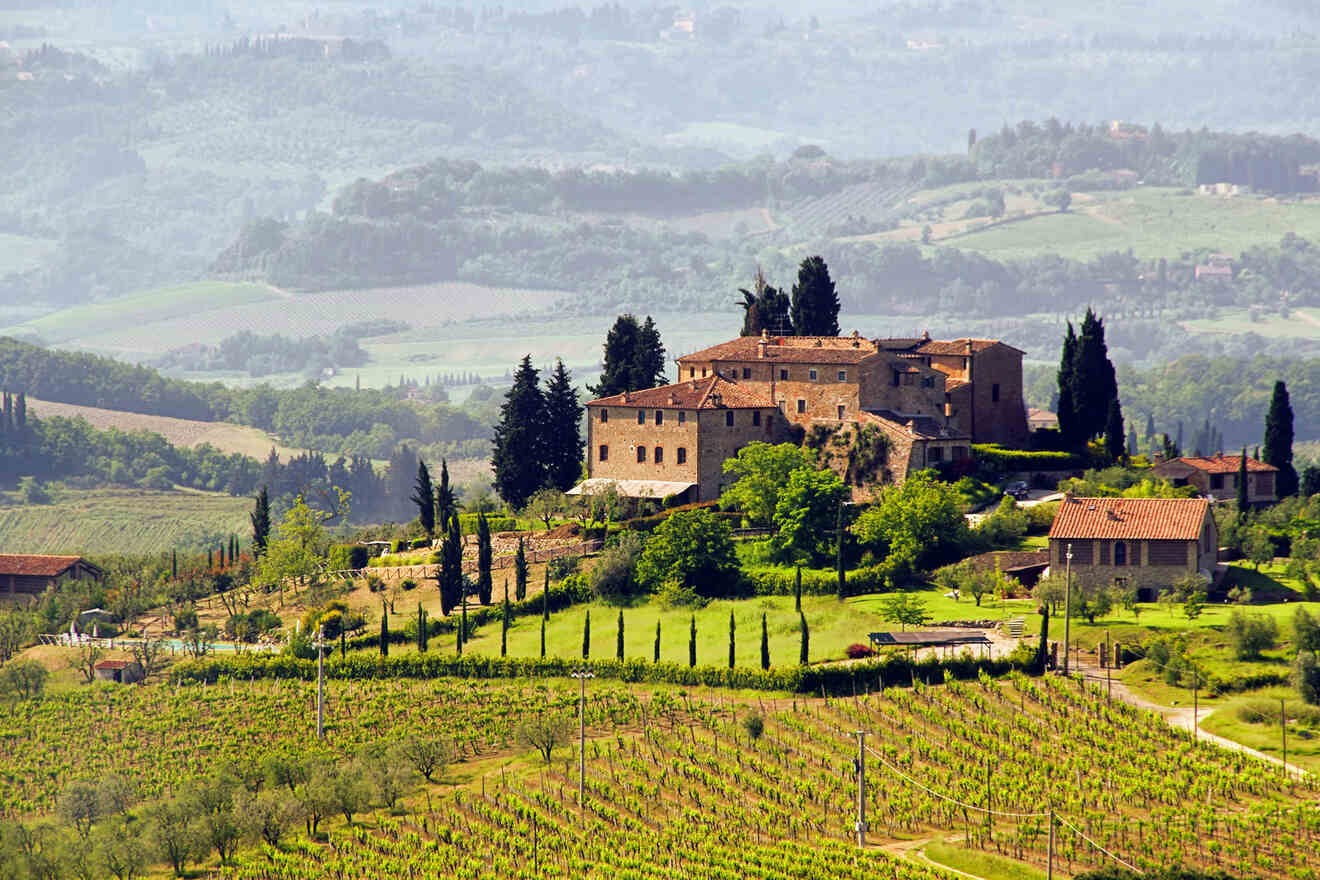 Located in the central-north part of Italy, Tuscany is one of the most beautiful regions of my beloved home country, and definitely one of my favorites! Why?
Even if relatively small, this region has such a wide and diverse offer of things to do that you could spend months here and still want to stay. The picturesque Tuscan countryside, rolling vineyards, renaissance art, charming Tuscan towns, incredible food… and much more!
Since you probably cannot stay here for months, I decided to write this guide for you with the top things to do in Tuscany during your holiday, including the attractions, tours, and food you absolutely cannot miss, so you can narrow down your Tuscany bucket list!
I also included some useful information about where to stay in Tuscany, how to get around, and (the most important thing) where to eat… so you don't have to make any effort. Just get ready to book!
Let's start!
Here's a map of the Tuscany region, so you can see where all the best things to do in Tuscany are located: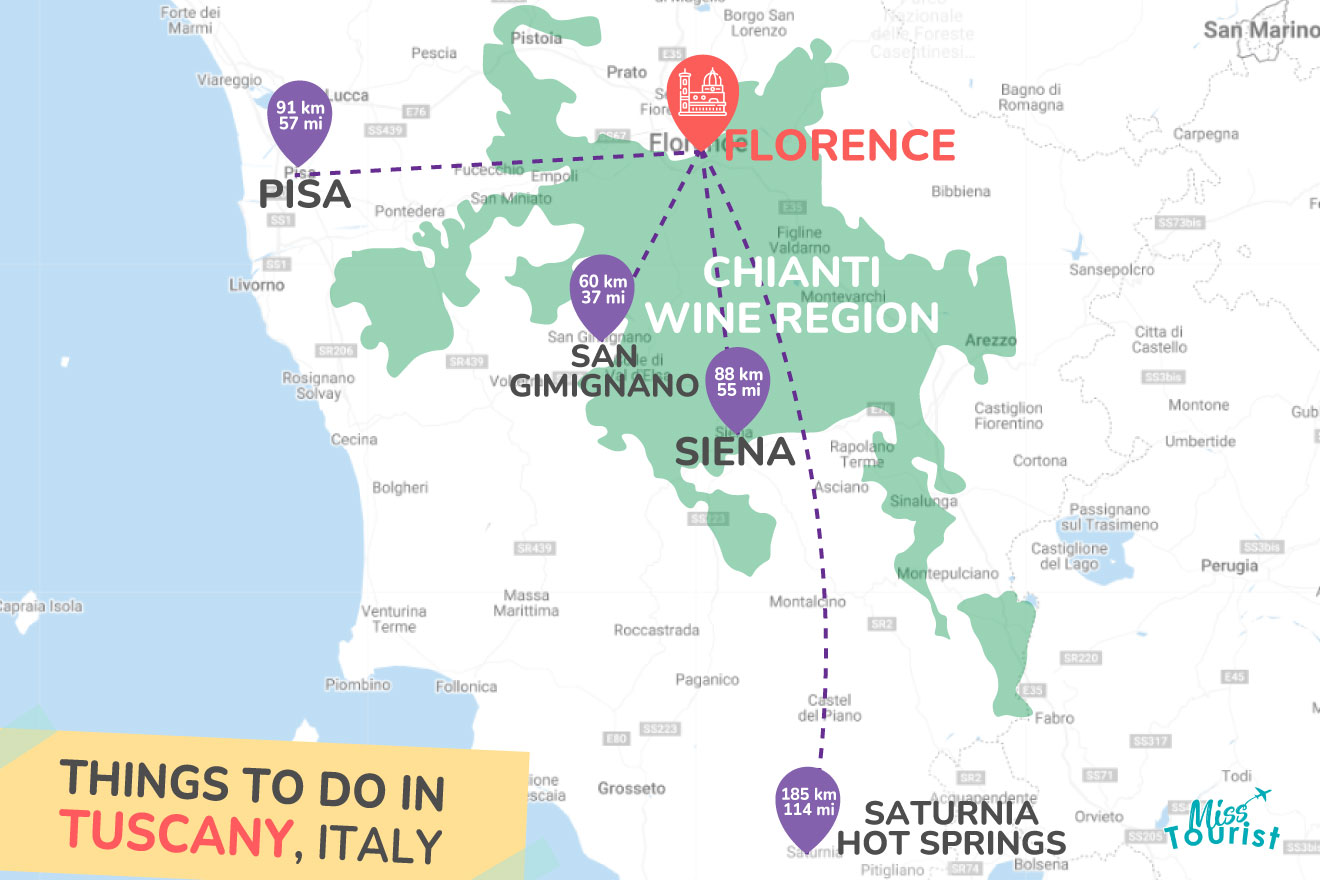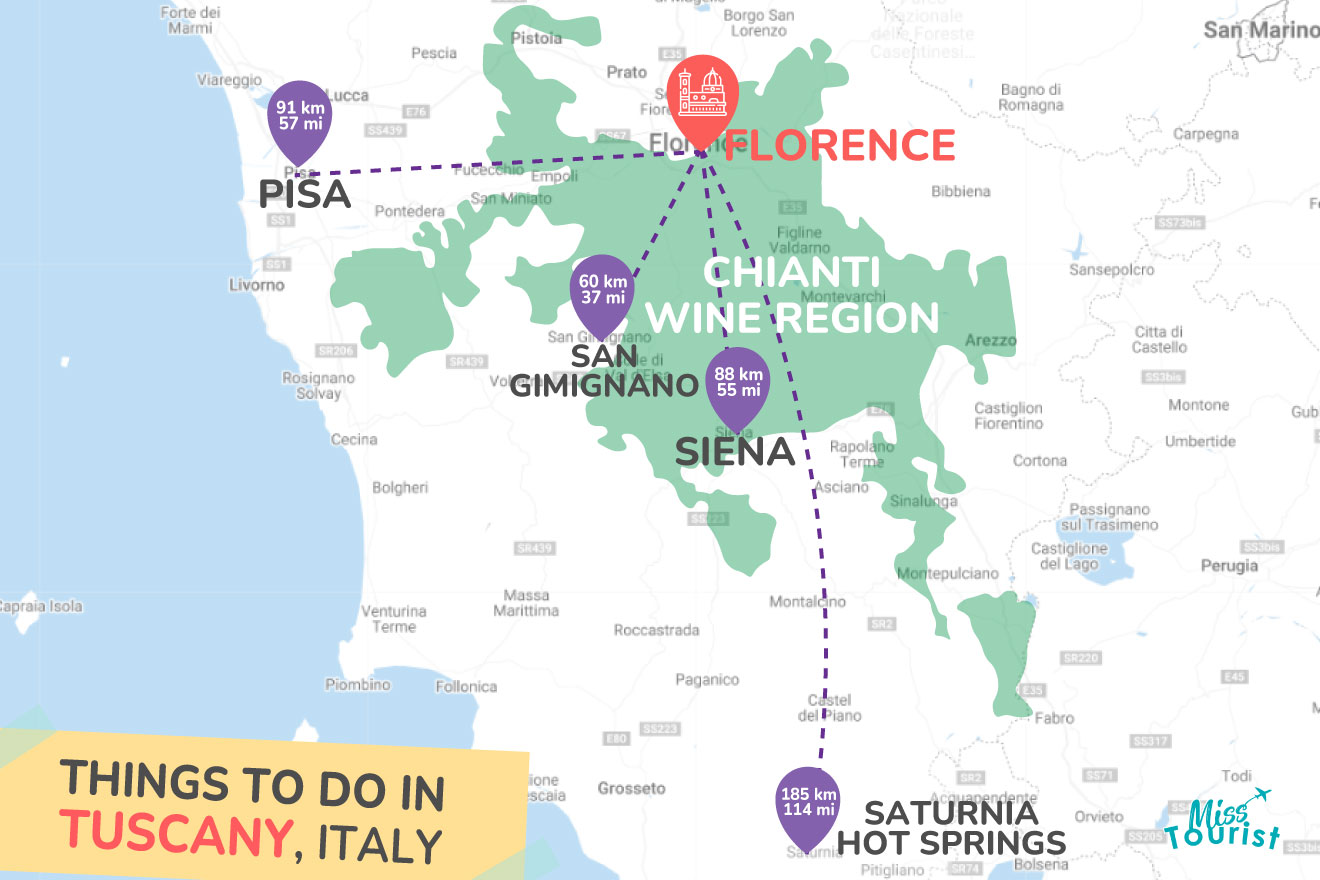 1. Spend some days in Florence, the capital city!
Florence (also known as Firenze), the Tuscan capital city, has to be at the TOP of your Tuscany bucket list: apart from being absolutely stunning, it has an incredible number of historical and artistic attractions to visit, medieval buildings, and delicious restaurants!
For this reason, I decided to separate Florence from the other Tuscan cities: I honestly think you should dedicate at least 2 days to this incredible city, while the other one can be visited on a day trip!
Let's check out some MUST do in Florence:
1.1 Wonder around Florence and see the Ponte Vecchio Bridge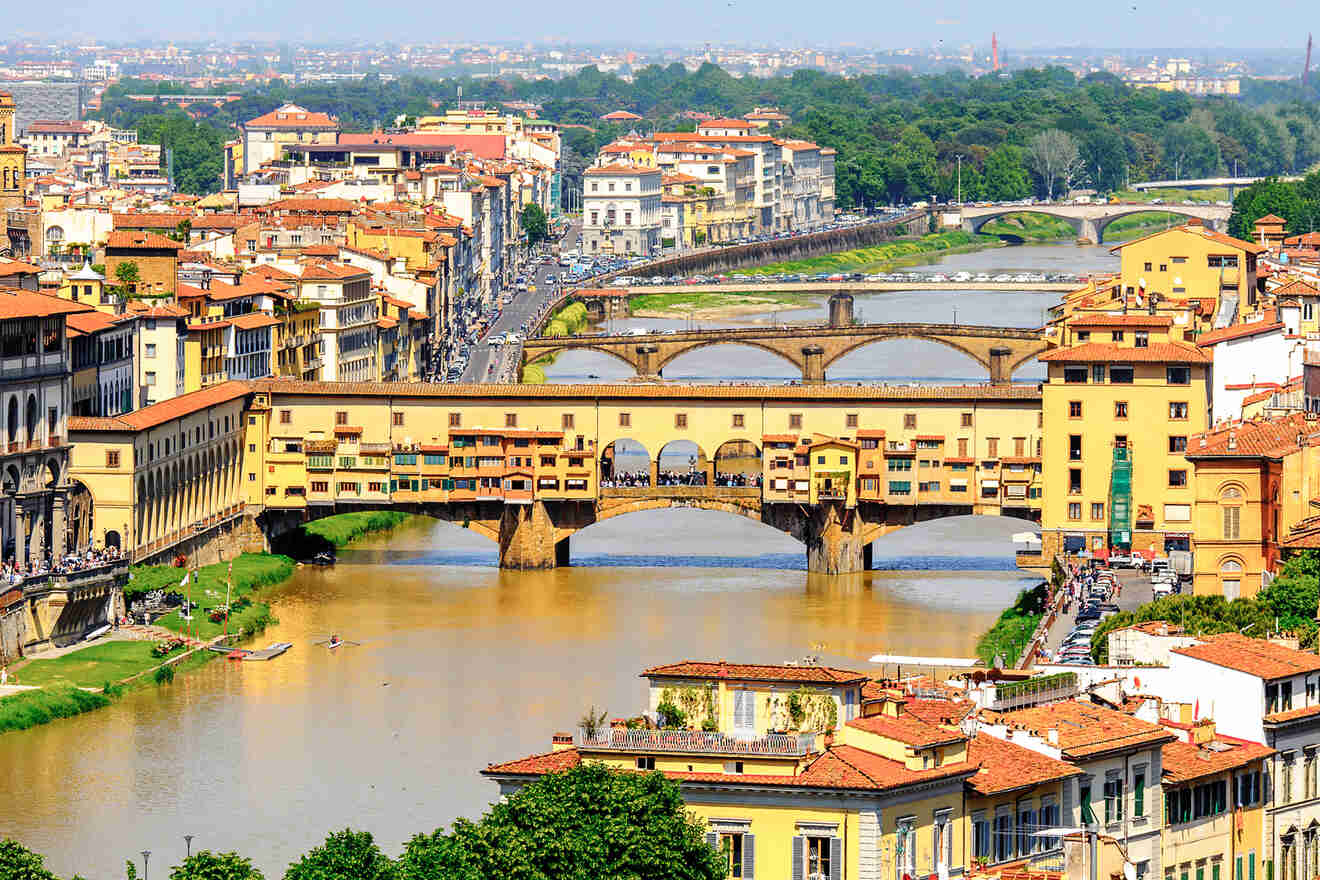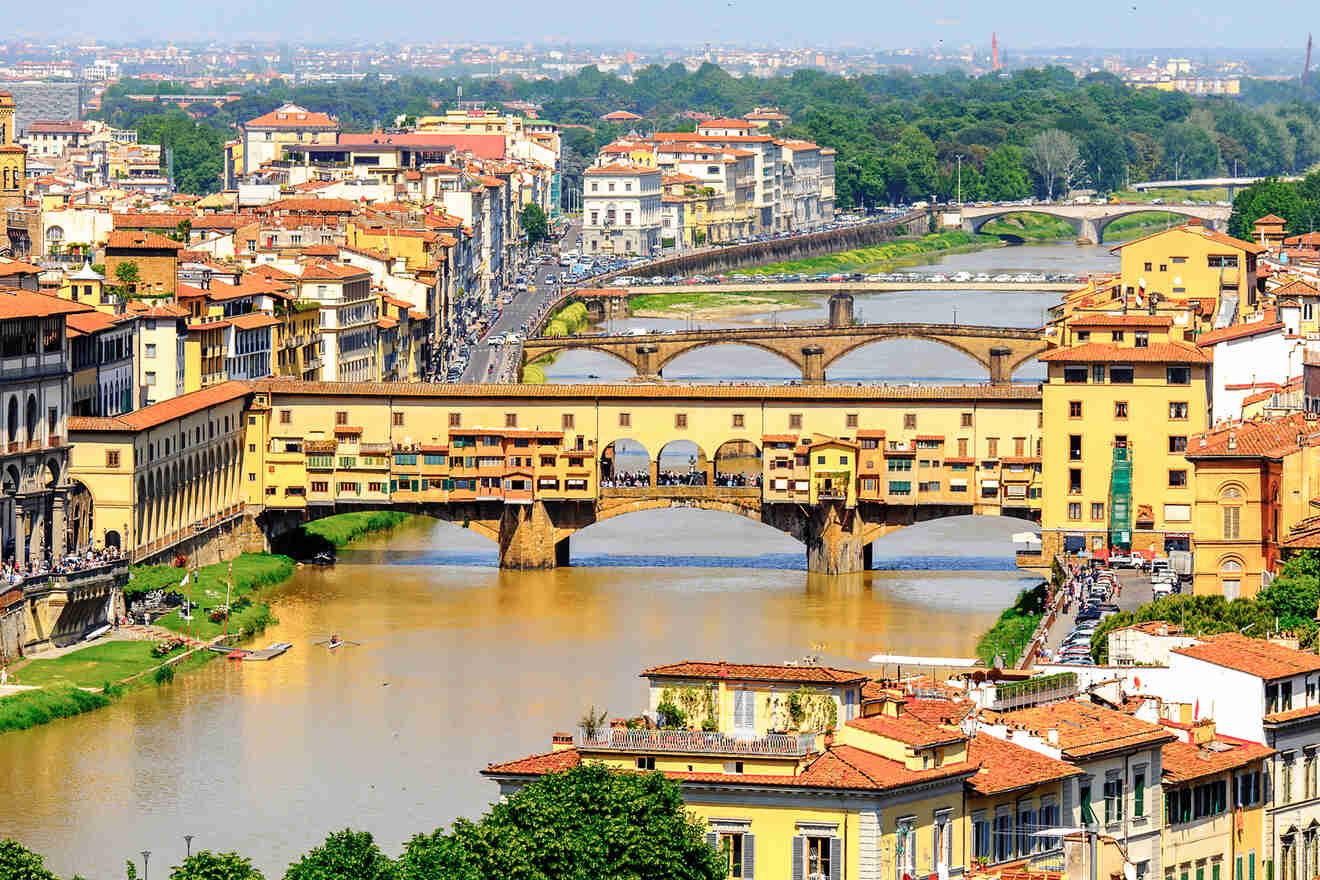 The best thing you can do in Florence is definitely to lose yourself in its cobblestone streets, but there are some spots you absolutely must pass through. From beautiful squares like Piazza della Signoria, where you should stop to have a traditional aperitif (try the Aperol spritz with an olive oil bruschetta!) to the famous Ponte Vecchio bridge.
The Ponte Vecchio, crossing the waters of the Arno river, is one of the symbols of the city!
Apart from being a picture-perfect spot, Ponte Vecchio hosts many goldsmith shops, upscale jewelry shops, and street stands: the right place to buy some cool souvenirs and some memories of your trip to Tuscany!
In the past, the bridge was a passageway for the Medici, the family ruling the city during the Renaissance, in order to go from their home to the offices in the Uffizi, another must-see attraction in Florence (see below for details)!
1.2 Visit the Uffizi Gallery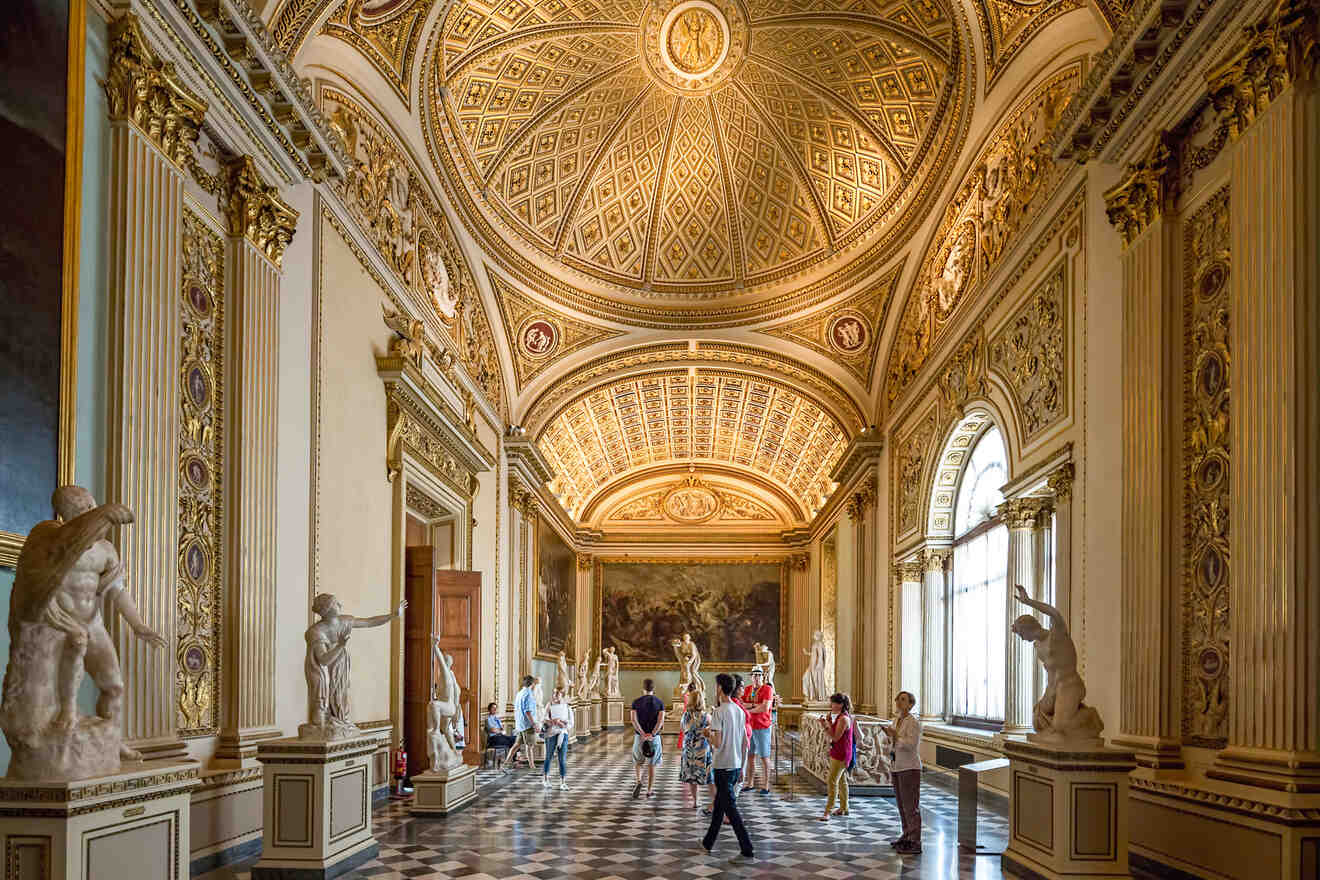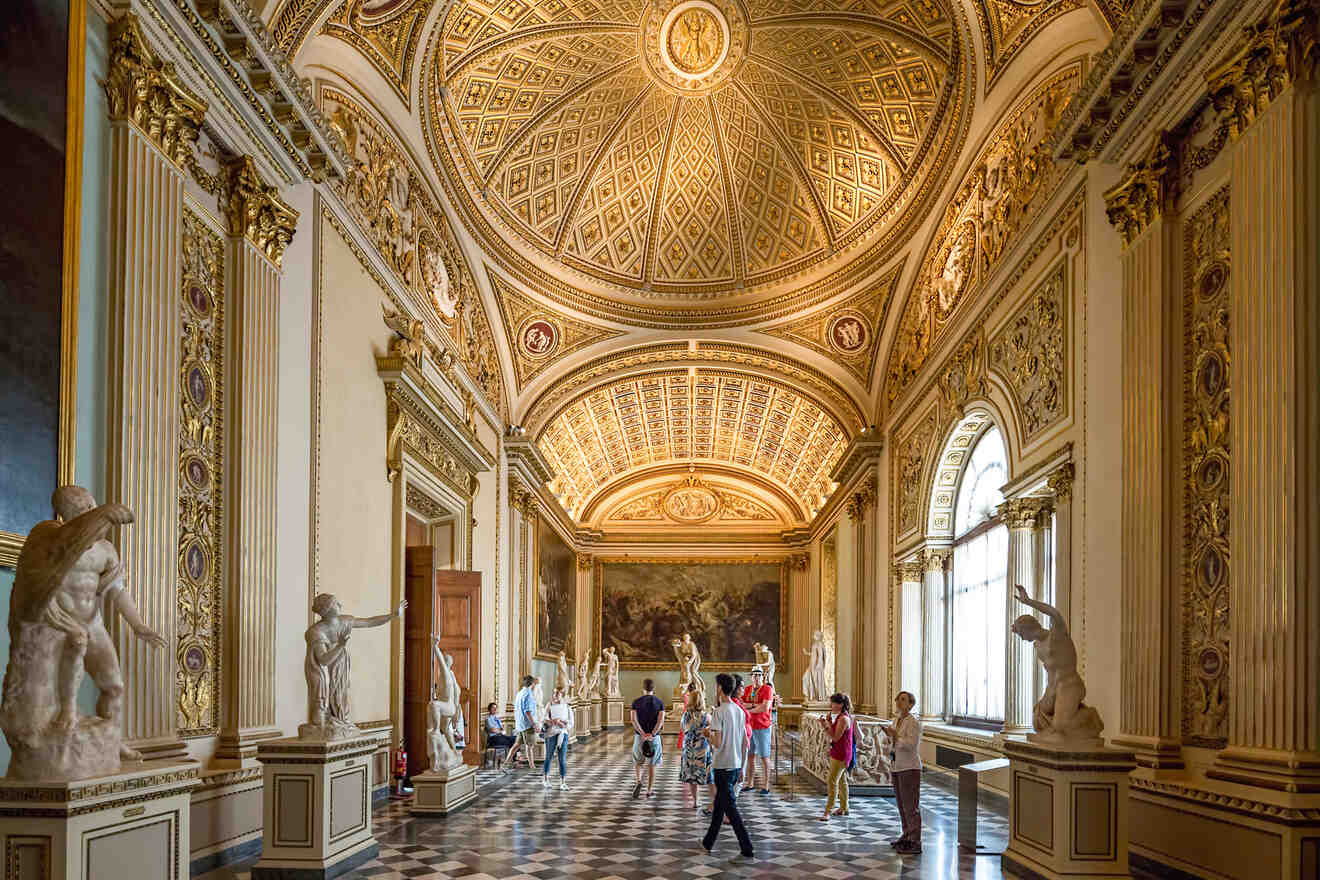 The Uffizi Gallery, also called Pitti Palace, was the former official residence of the Grand Duchy of Tuscany.
Today it is Florence's largest art museum, hosting an immense collection of Italian Renaissance paintings and sculptures from some of the most prominent artists during Renaissance Florence.
Here you'll be lucky enough to see the famous Birth of Venus by Botticelli, the Madonna Enthroned by Giotto, The Annunciation by Leonardo da Vinci and many more!
The Uffizi Gallery is open every day except for Monday, and you could literally spend the whole day there (if you're an art enthusiast, you'll probably do that).
Otherwise, I would allow at least 2-3 hours there, and book a skip the line ticket in advance so you don't lose any precious time waiting! But the best thing you can do is to have a guided tour of the place, so you can actually learn the history behind all the art you'll see!
PRICES:
Regular Entrance: Adults – 20€, Under 18 – 2€
Skip the line ticket: 40€
Guided group tour: 51€
1.3 Get the best views from Piazzale Michelangelo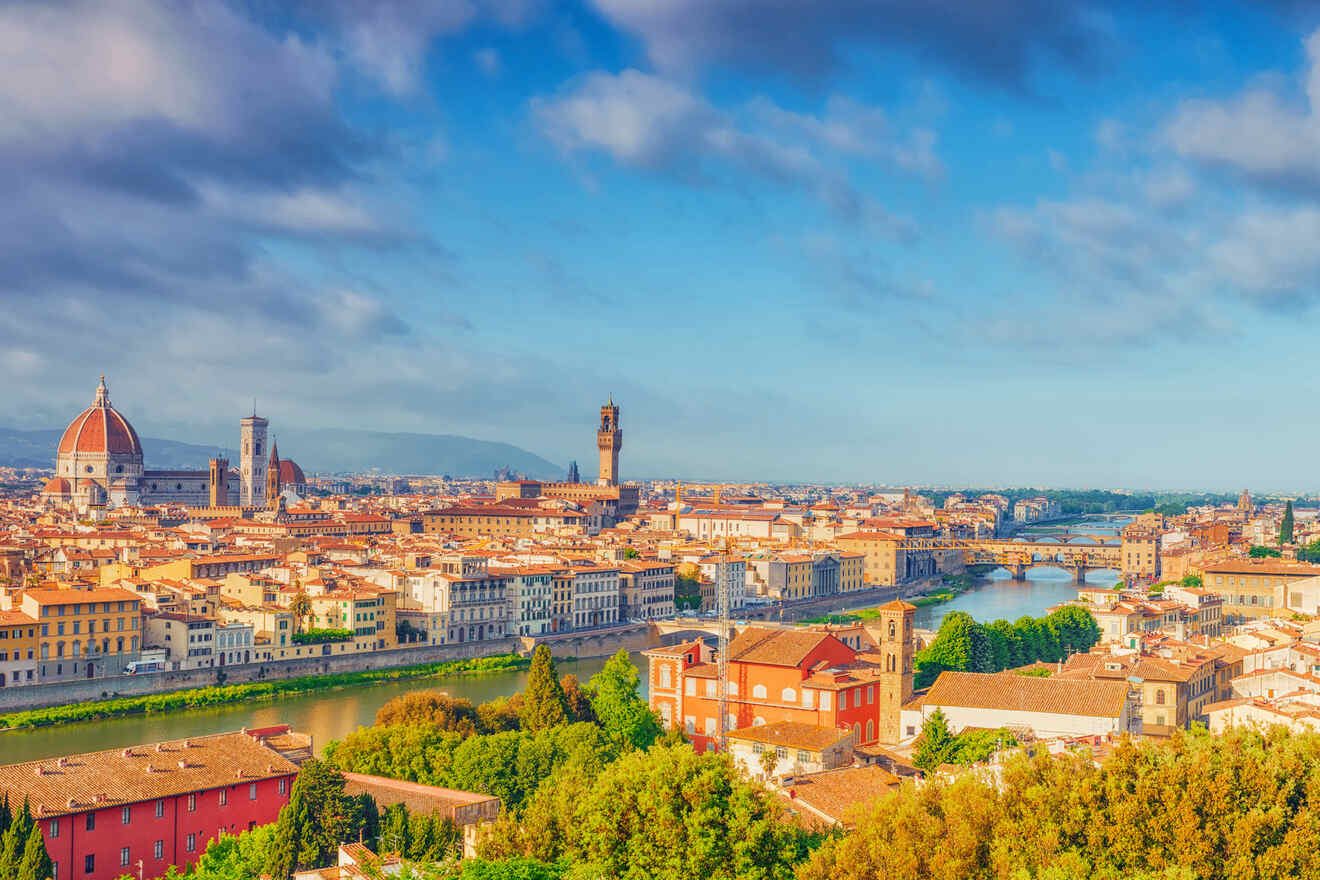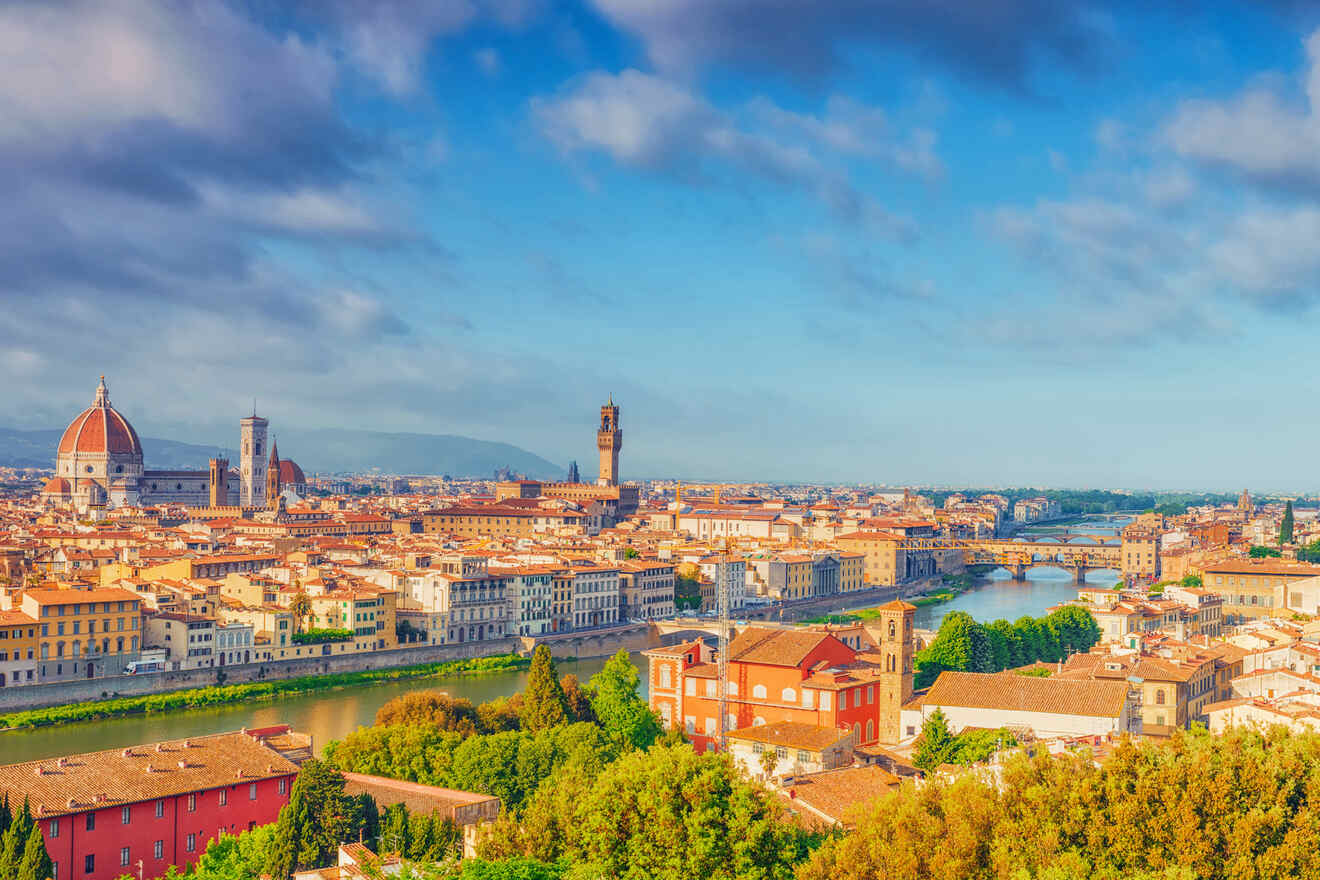 If you haven't fallen in love with Florence until now, you will once you visit Piazzale Michelangelo, a forecourt up on a hill from where you'll have unforgettable views of the city!
Apart from some street vendors and a bronze replica of Michelangelo's David sculpture, no matter what time of day you visit, Piazzale Michelangelo will offer you a stupendous lookout over Florence… But I personally suggest you go during sunset time when the Tuscan sun makes the city shine with a magical light.
The walk to get here could be quite sweaty, but is totally worth the effort!
How to get there:
By foot: The easiest way to get to Piazzale Michelangelo by foot is from Piazza Poggi square, lying right at the base of the hill upon which Piazzale Michelangelo sits. It will take 10 minutes.

Otherwise, If you want to have a more panoramic route, you can start at the Porta San Miniato, (near the bar "il Rifrullo"), and climb up via Scalea del Monte alle Croci and then Scalinata del Monte alle Croci. This historic walk is more charming but still short, taking you around 15 minutes.
By car: Rent a car and drive 10 mins up the hill. You can park right in front of the viewpoint, costing 1€ for the first hour and 2€ every hour after.
By bus: You can reach the Piazzale with bus 12 or 13 from anywhere in the historic center, or even the red two-level sightseeing tour bus. The ride will take you around 30 minutes.
1.4 Join an art class
Since Firenze is the hometown of some of the best world-famous artists such as Giotto, Brunelleschi, Donatello, Michelangelo, and Leonardo da Vinci just to name a few. So there's a chance you might get inspired by all the art you'll see in the museums of the city.
In this case, I strongly suggest you have a different experience and join one of the many art classes like this sculpting or painting class in a contemporary art studio in Florence.!
It costs 180 euros but will help you get in touch with your artistic side, and who knows… maybe discover a new passion. I would give it a chance if I were you!
2. Visit all the other beautiful cities of the Tuscany region
Apart from the regional capital of Florence, there are countless other Tuscan towns that should be part of your list of things to do in Tuscany.
Each one offers unique tourist attractions so let's see them one by one:
2.1 See the Leaning Tower of Pisa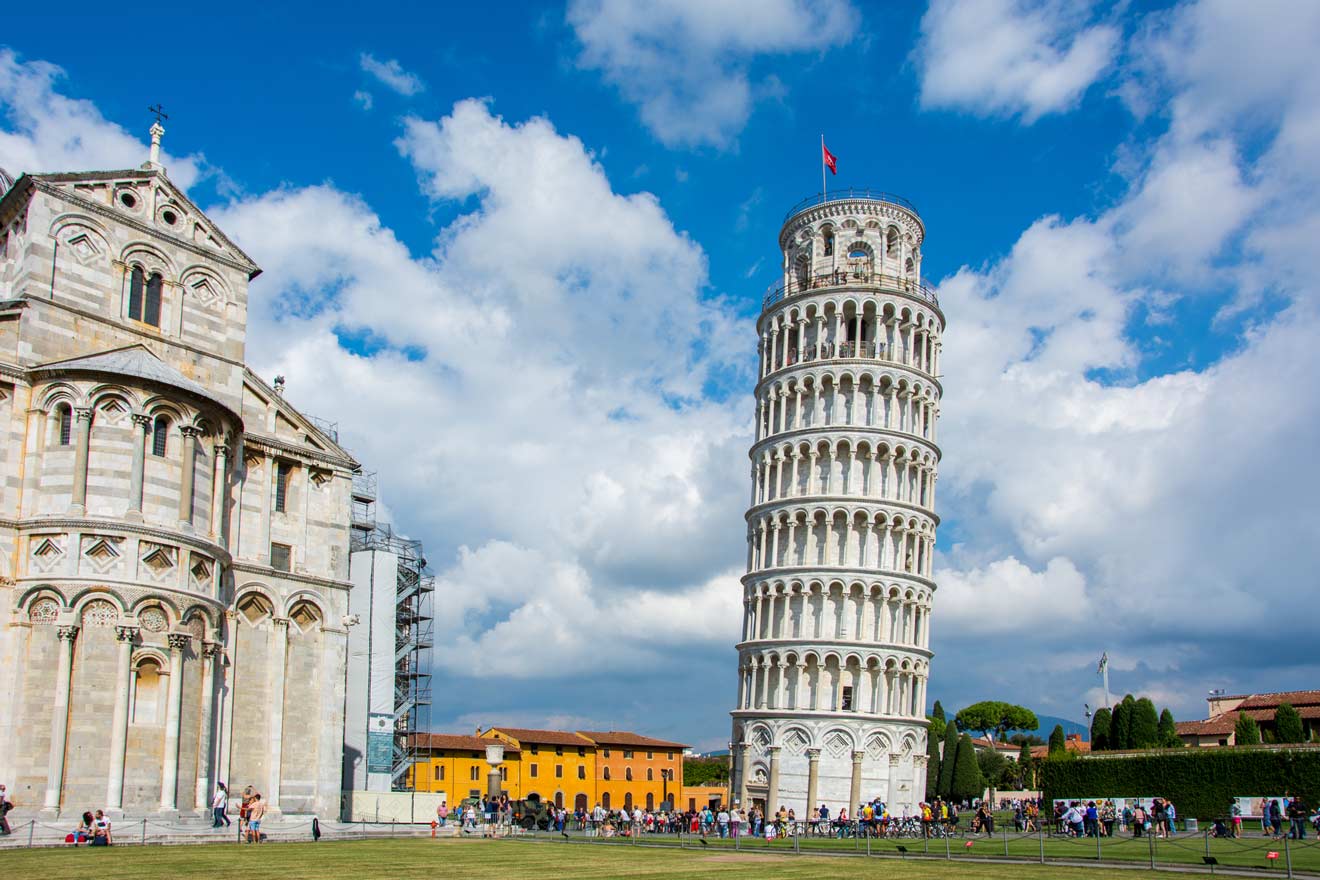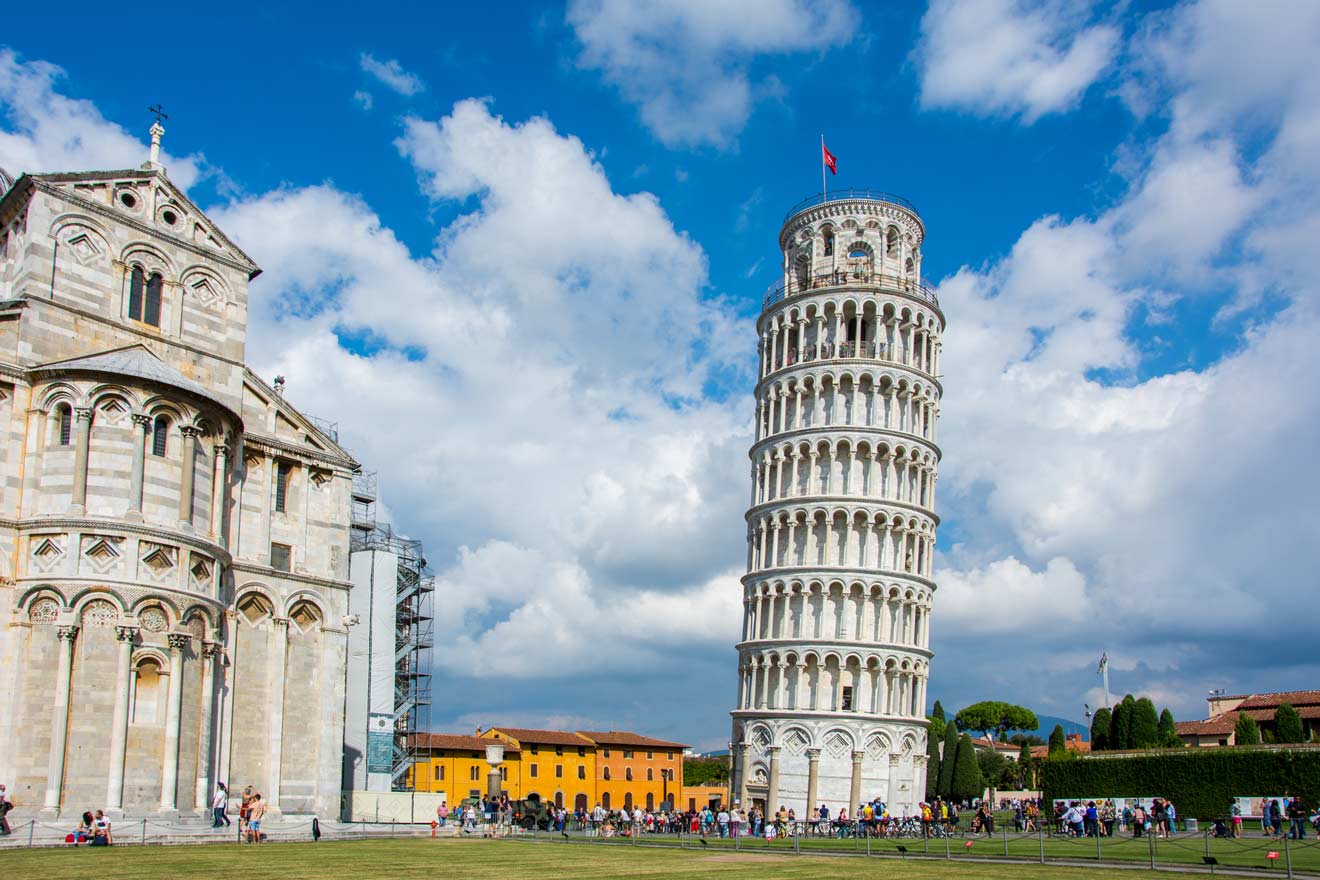 I think we all know Pisa for one main reason: the leaning tower of Pisa (that we call in Italian Torre pendente di Pisa) famous because it's leaning on one side, at around 4 degrees.
The leaning tower stands in the universally renowned Piazza dei Miracoli (campo dei Miracoli) and has this particular position because it was first constructed on soft foundations at the end of the 12th-century.
This bell tower is a UNESCO World Heritage Site and one of the most iconic symbols of all of Tuscany, so if you're in town you should at least see it, and if you can, visit it and climb it.
In this way, you can have a better appreciation of the leaning tower's interiors, and panoramic views when you reach the top after having climbed 250 inclined steps… quite a cool and unique experience!
Taking the famous photo outside the tower is free but if you want to climb it, the visit won't take you more than 1 hour and costs €20 if you book it online, otherwise, you have the option to visit this historical monument on a day trip from Florence.
But if you're in town, and you want to check out all of the other important monuments worth a visit in Pisa, you should definitely join this complete guided tour of the main Miracle Square (Campo dei Miracoli) attractions: the Pisa tower, the Cathedral, and Baptistery.
PRICES:
Entrance Ticket: €20
Day trip from Florence: €53
Full Guided Tour of Pisa: €30
2.2 Travel back in time in Siena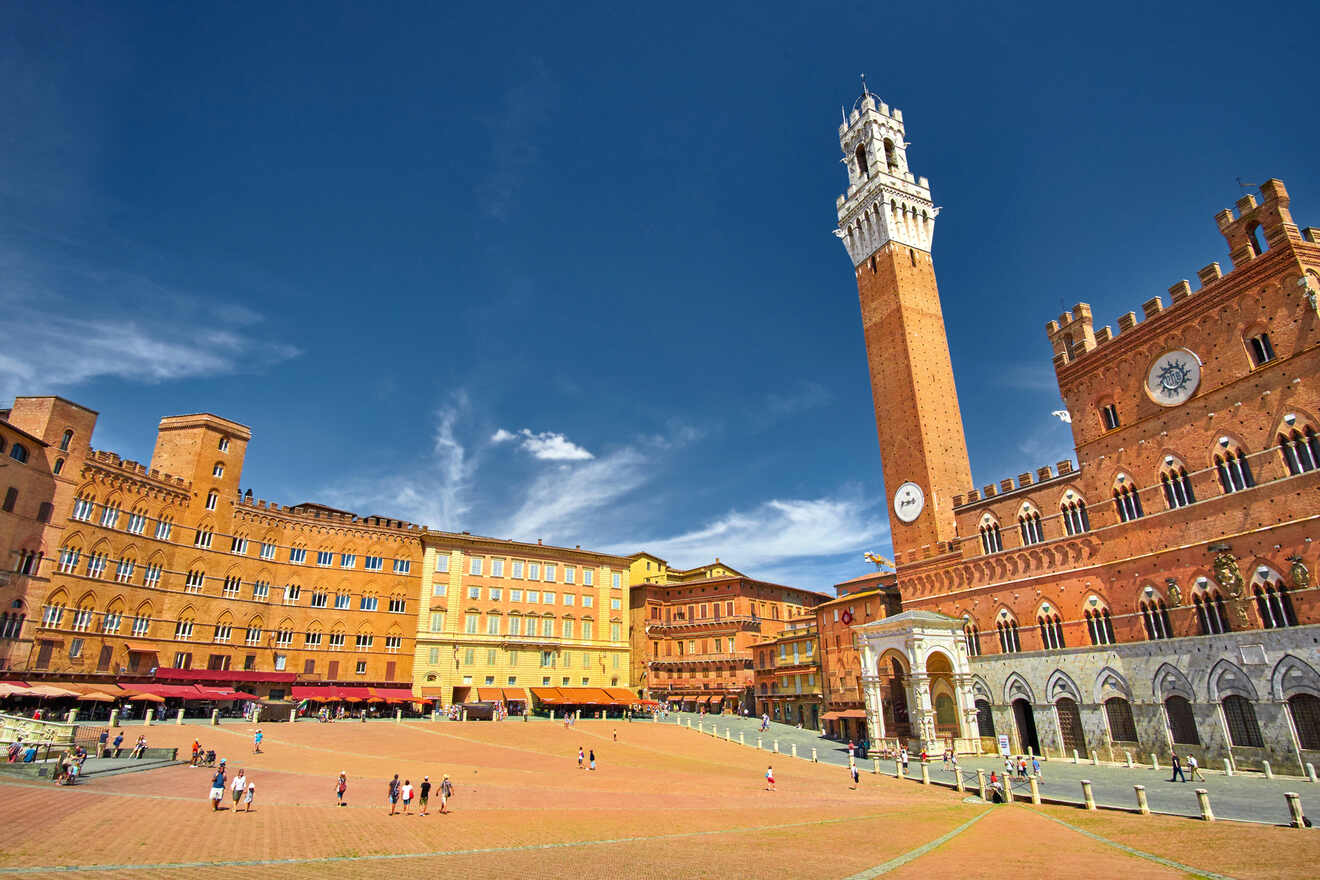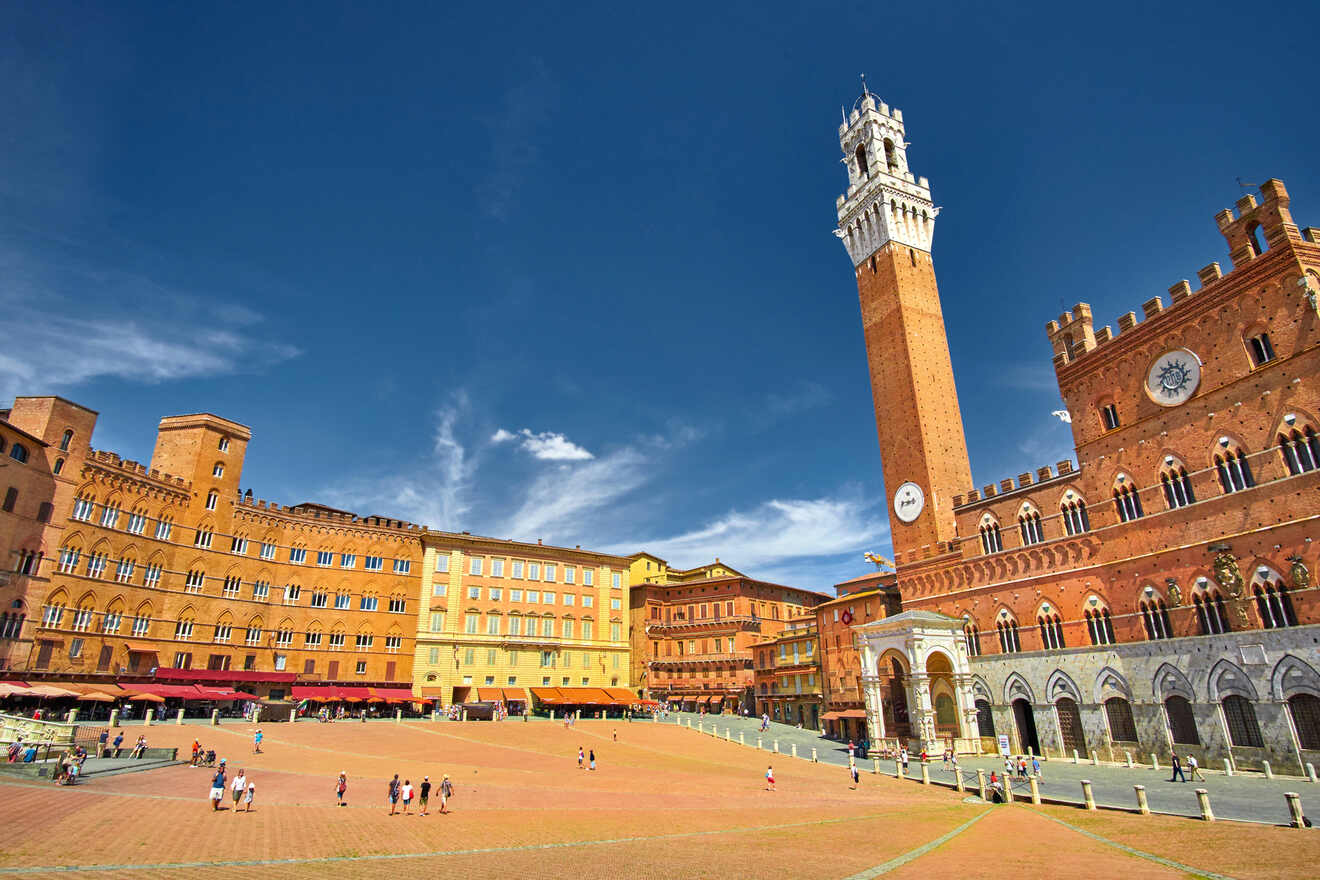 Even if often overlooked in favor of Firenze, Siena (one of my favorite cities in all of Italy) is absolutely a must, located in the rolling hills of the Tuscan countryside!
This medieval town, which is also the second-largest city in Tuscany, hosts an incredible historical city center, proclaimed a UNESCO world heritage site, which is bordered by ancient bastions.
Siena historic center is where you'll find one of the highlights of the city: Piazza del Campo, the main square with medieval buildings, brick paving stones, and the impressive fountain Fonte Gaia… you'll step back in time as soon as you reach it!
Piazza del Campo is also the perfect place to soak up some Tuscan sun, do some people-watching, browse the many souvenir shops, and savor delicious and refreshing gelato!
And if you happen to be in town on the 2nd of July or 16th of August, you'll be lucky to attend a super traditional and iconic event, the Palio di Siena: a horse race held in the main square.
During the race, ten horses and riders, bareback and dressed in particular colors, compete representing ten of the seventeen city wards, and the (relatively) small square gets completely packed with a roaring crowd!
If you don't want to lose any of the town's best attractions and have some useful information about their historical background, you should consider booking the guided walking tour of Siena, including the Siena cathedral and the masterpieces of some Renaissance artists for 35€.
2.3 Go truffle hunting in San Gimignano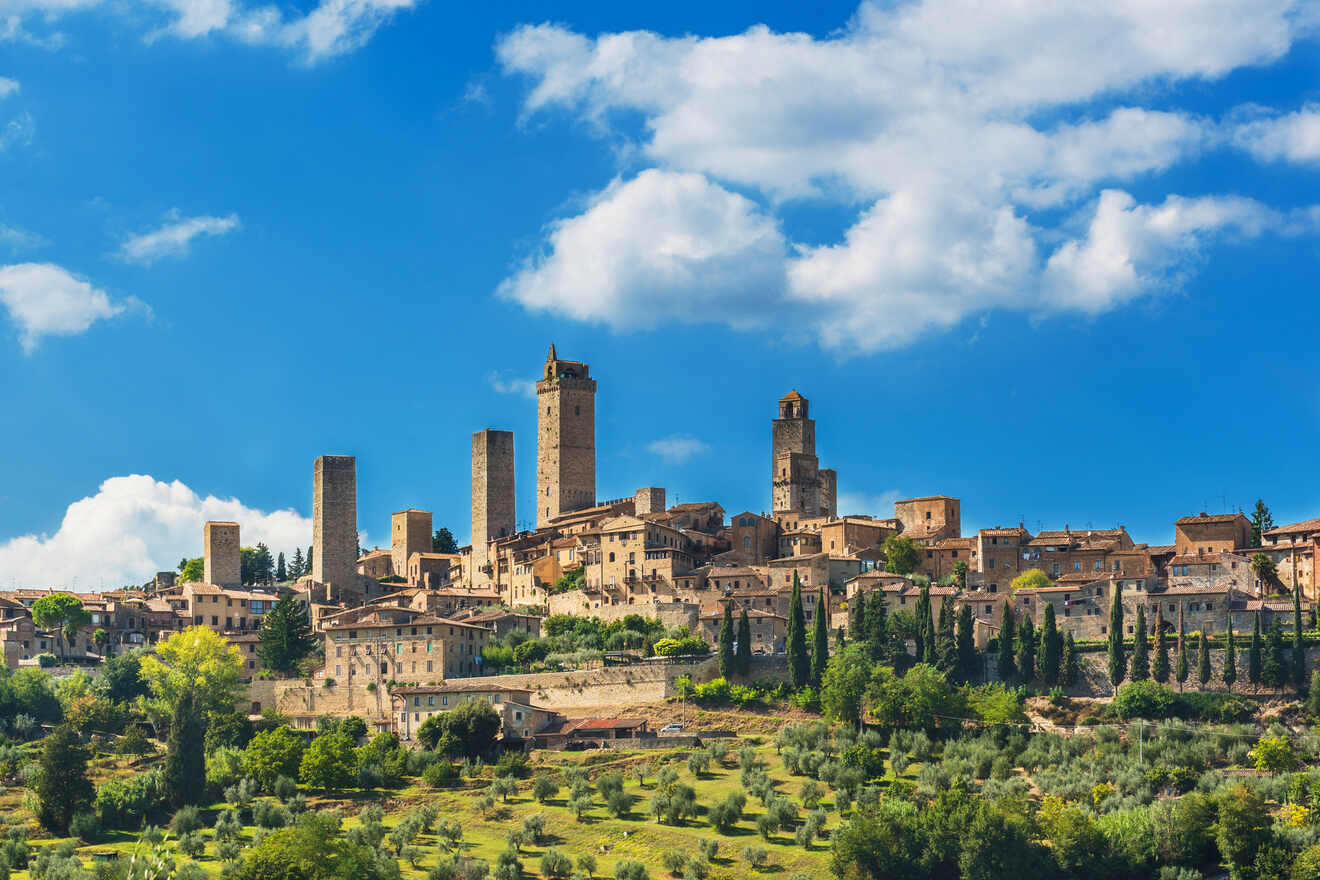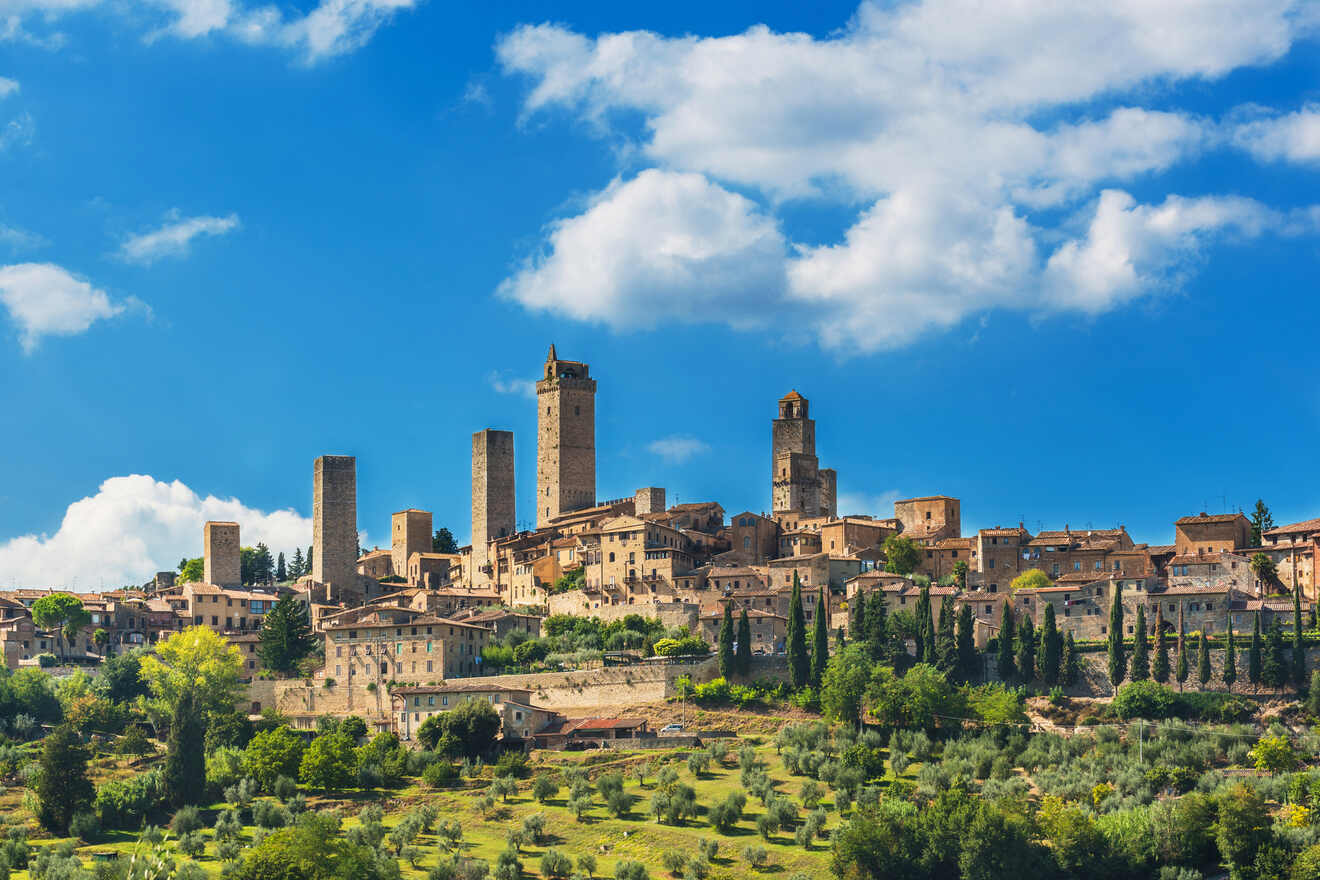 The picturesque small town of San Gimignano is located in Tuscany's rolling hills, about a 1-hour drive from Siena.
This medieval town will offer you charming cobblestone streets and a skyline made of 13 old towers, from where you'll get the best views of the green Tuscan countryside!
Apart from getting lost in its historical city center, the tiny town of San Gimignano is the perfect place to engage in food-related activities… Who's up for it?
Here you will eat the best ice creams in this renowned Gelateria Dondoli, do some wine tasting in the Vernaccia di San Gimignano winery, or even go truffle hunting!
In fact, it's not really known outside of Italy, but in the Tuscany region, you can find luxurious truffles, especially during the winter months!
If you're a foodie, you should definitely take the occasion to go hunting for this secret treasure, since it is impossible to cultivate truffles in an agricultural setting. And what is better than doing that through this truffle hunting tour with wine and lunch in San Gimignano?
If you don't have a car, you can visit San Gimignano on a day trip from Florence, for 53€.
3. Enjoy a yummy food tour of Tuscany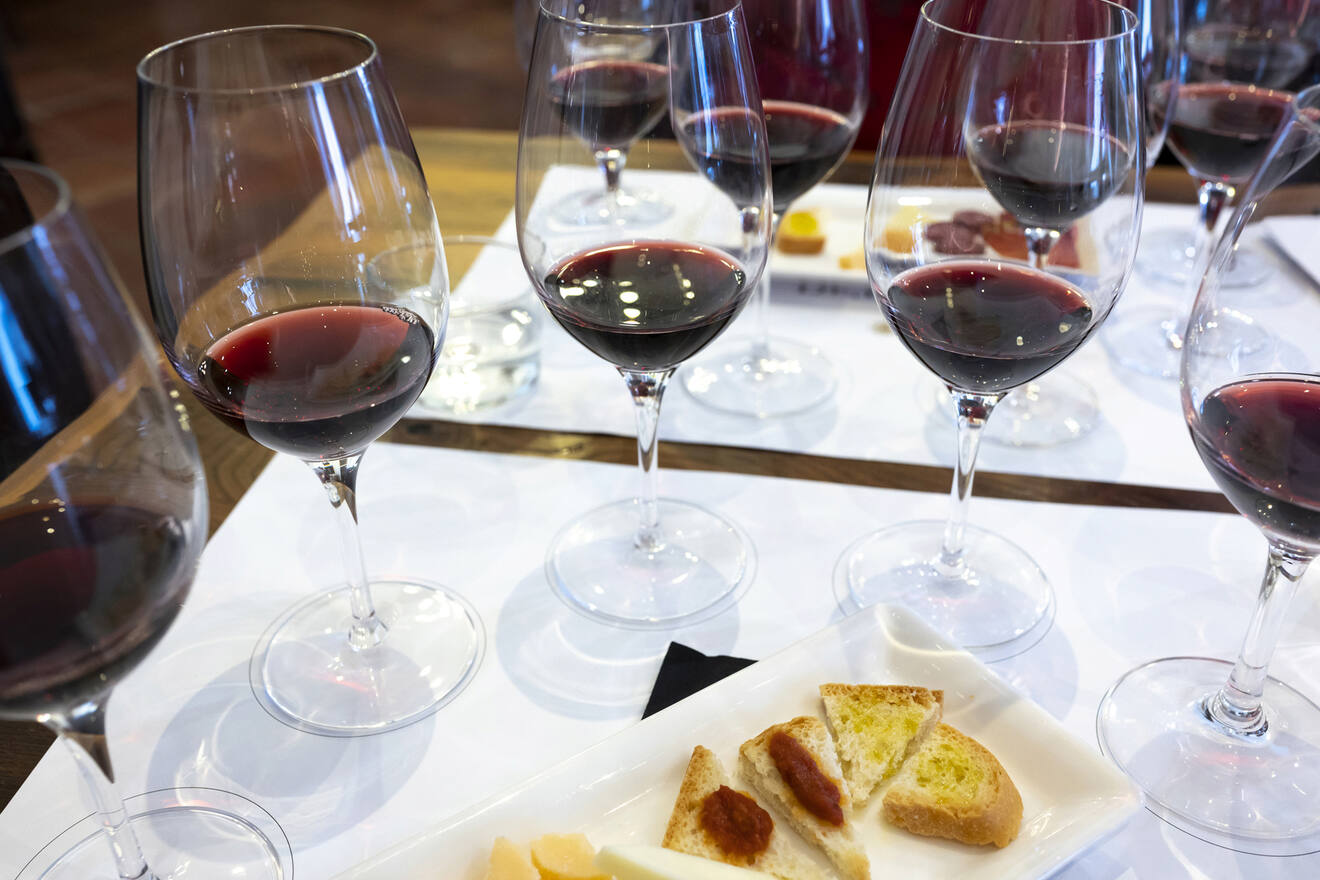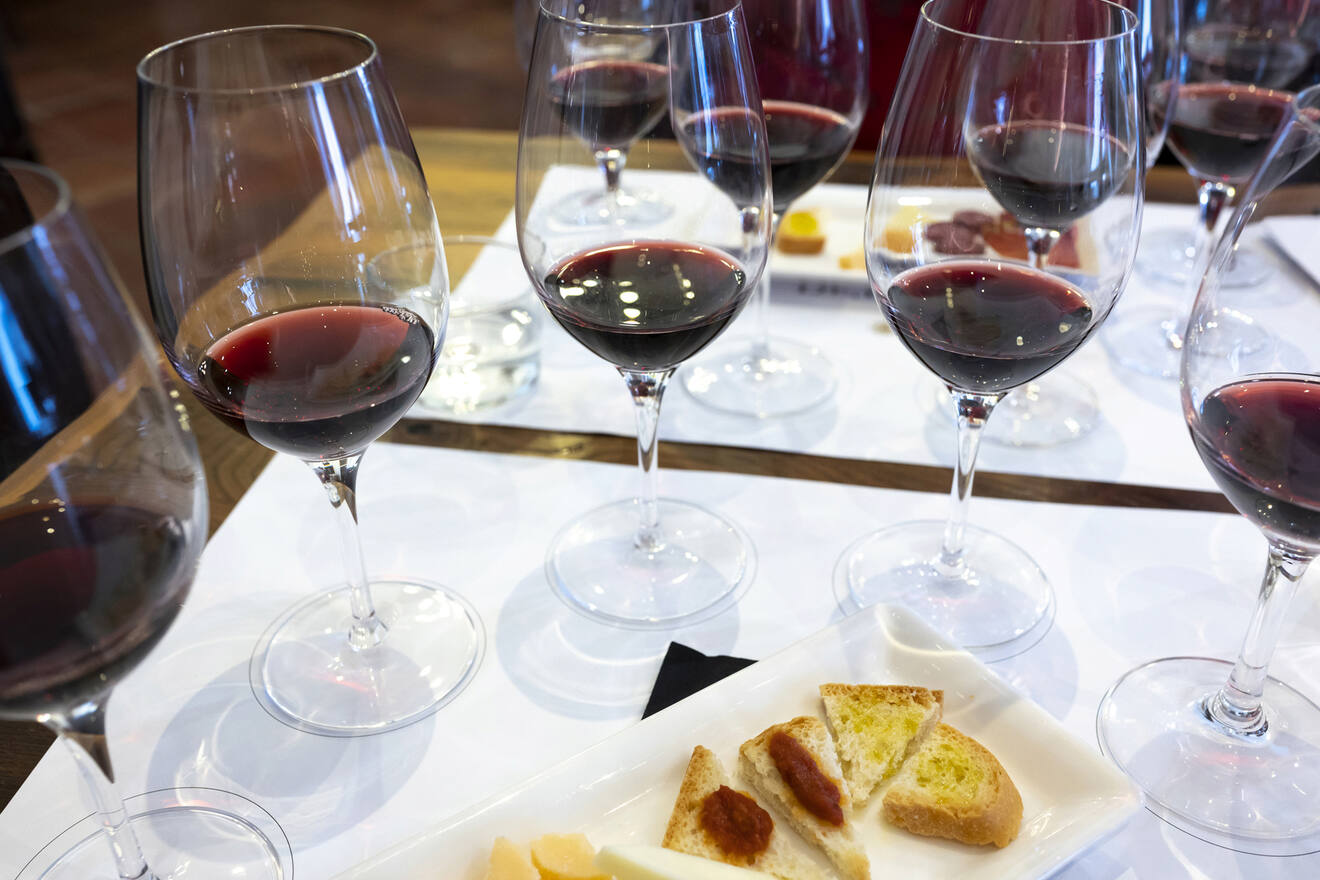 Tuscany's countryside featuring rolling hills dotted with cypress trees, olive groves, and medieval small towns is the perfect setting to engage in some delicious food tours or cooking classes so you can learn to reproduce the amazing plates you'll try once back home (a souvenir which keeps on giving!
It's no secret that Italian cuisine offers extraordinary food and fresh ingredients, but maybe you don't know that Tuscany, in particular, is known in the country for its traditional dishes: pasta with wild boar sauce, Tuscan bread with olive oil, delicious cheeses… you'll fall in love!
Let's check out together the best food tours of this incredible Italian region:
Private Food Tour in Florence: Join this 3-hour private food tour through Florence and discover the most beloved food by locals. Start with an authentic Italian espresso, try fresh pasta dressed with olive oil, and sample Tuscan street food at the bustling Sant'Ambrogio market for 106€ per group.
Pizza and Gelato Cooking Class: Learn how to make pizza and gelato during this cooking class with a professional Italian chef, and finish it with a 3-course feast of appetizers, pizza, and gelato, accompanied by wine and beer. The cooking class lasts 5 hours and costs 70€, and they even give you a recipe booklet to take home!
Chianti food and wine tour: Get a true taste of Italy's famous Chianti region on this wine and food day trip from Florence. You will travel through the rolling hills of the Tuscan countryside and take many stops to sample extra-virgin olive oil, cheese, and wine, plus finish the trip with a 3-course meal. All this for 180€
4. Do some wine tasting in the Tuscany countryside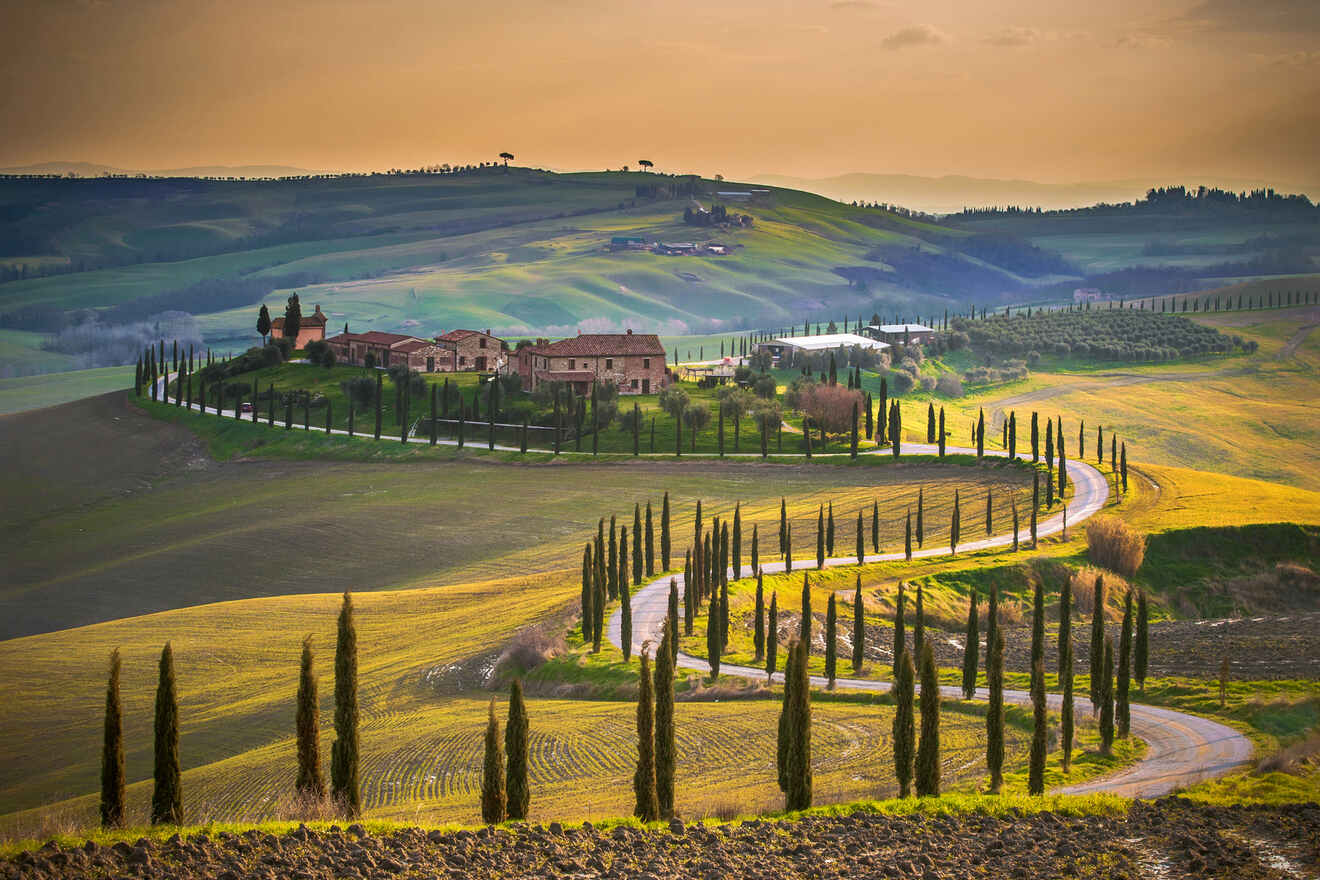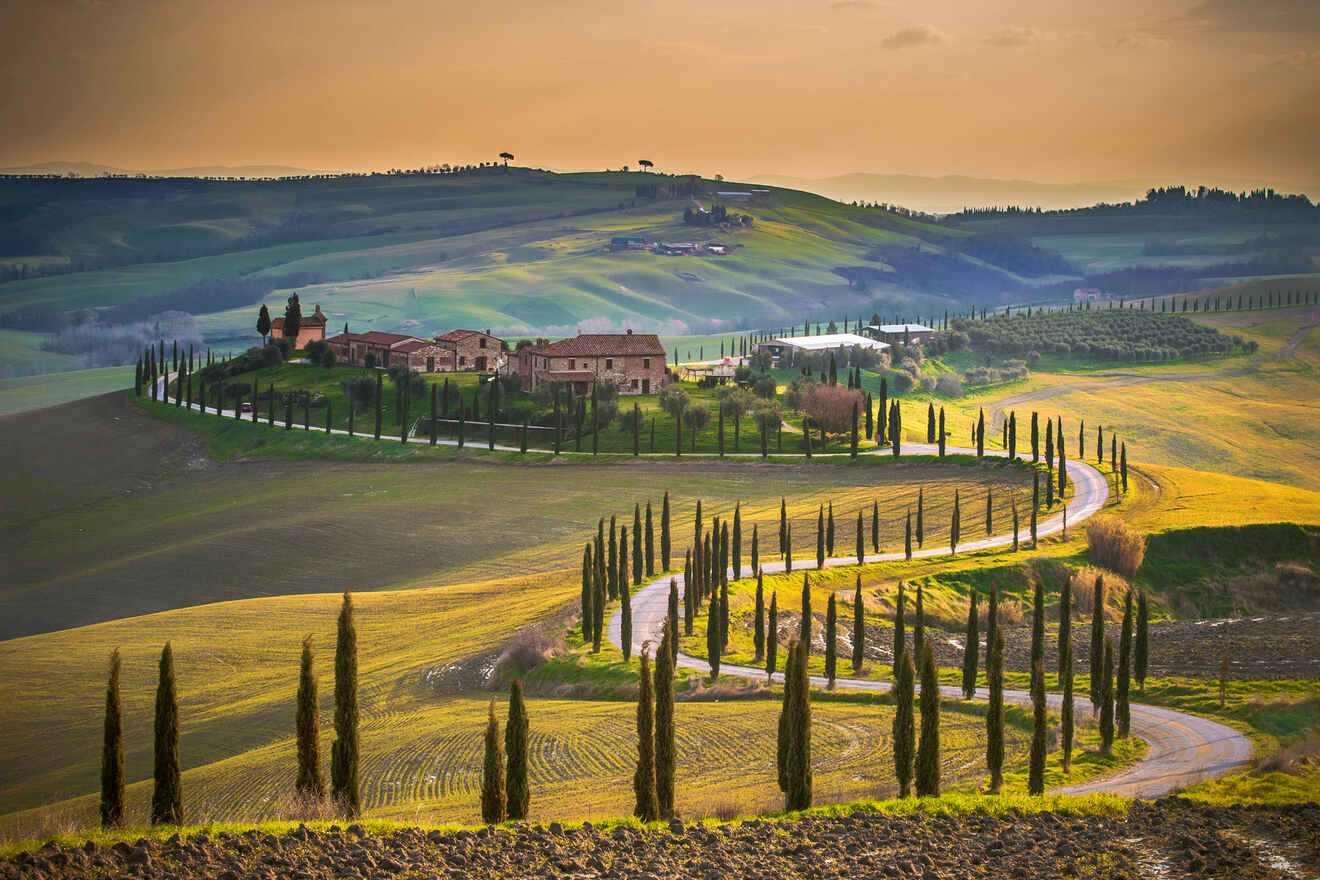 Well as we just saw, a food tour is definitely a must during your Italian holiday… but a trip to Tuscany is not complete without going wine tasting in the Chianti wine region (in southern Tuscany), known for its delicious local wine, one of the most prestigious in the whole world!
It goes without saying that a wine tour is one of the best things to do in Tuscany, so I gathered here a list of the top wine tours in the picturesque rolling hills of the Chianti Countryside: an absolutely beautiful setting for your wine tastings!
Small-Group Wine Tasting: Enjoy 4 hours of wine tasting from Florence as a group when you travel along beautiful hillside roads surrounded by vineyards, olive groves, and cypress trees. You will visit 2 top-rated wineries in the Chianti region, taste different wines and learn how wine is produced using traditional methods… all this for 80€.
Florence to Chianti wine region: With this half-day tour from Florence you will travel through the vineyards and rolling hills of the Tuscan countryside and stop at two estate wineries to taste authentic Chianti wines and snack on regional specialties (bruschetta and cheese… the perfect combo!). The tour costs 45€.
Sunset wine tasting in Chianti: Try the local wines and traditional Tuscan snacks during the golden hours of sunset… the best time of the day! During this half-day tour, you will stop in the charming medieval village of Greve-in-Chianti to visit a local vineyard and its cellars to try Chianti Classico and Super Tuscan wines for 100€.
5. See Tuscany from the air!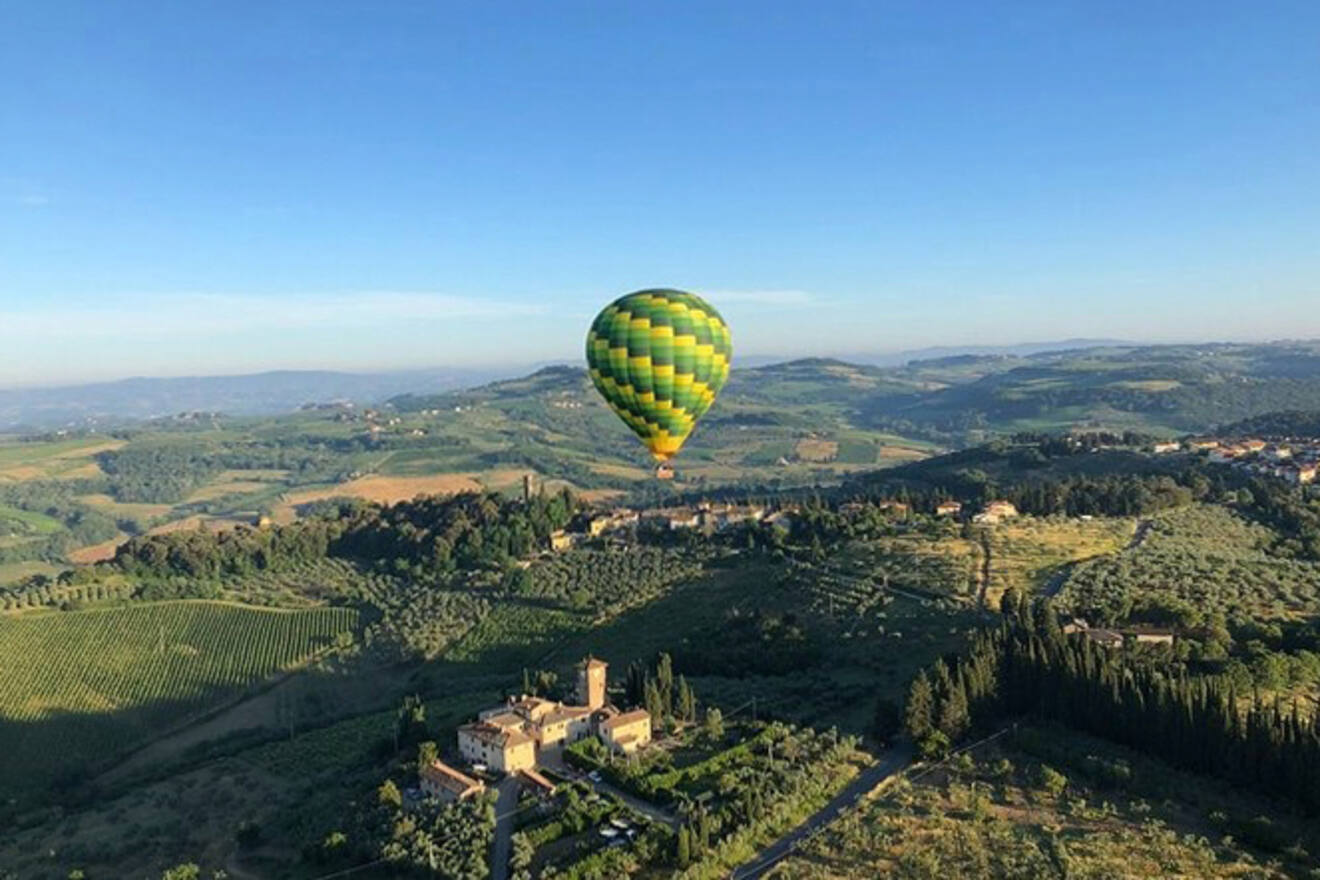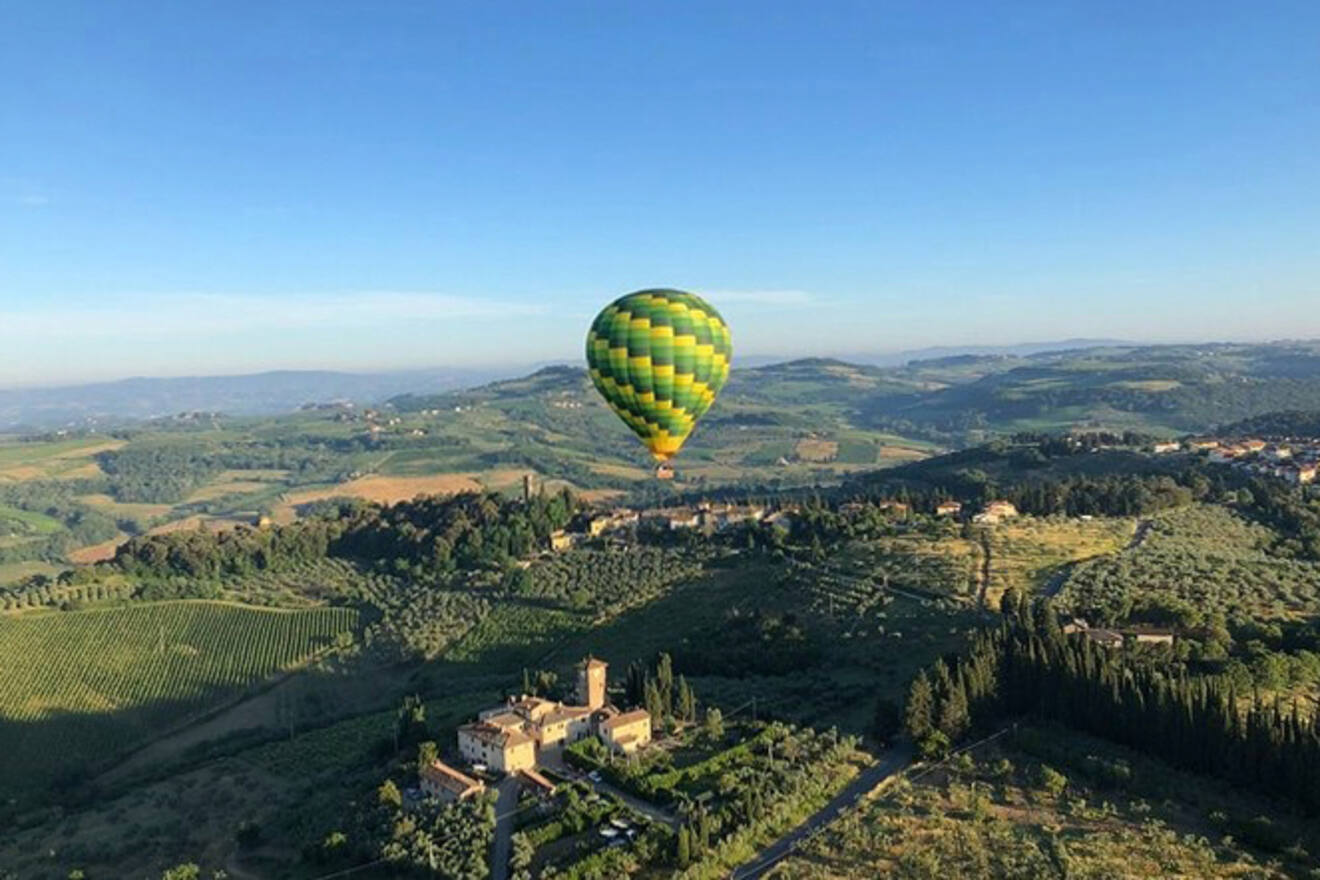 What is better than exploring Tuscany than doing that from the air? If you're up for a unique and unforgettable experience (and you're not scared of heights) you should check out this hot air balloon ride from San Casciano in Val di Pesa, located a 30-minute drive from Florence.
During this hot air balloon ride, you will have the chance to fly over the countryside and see Tuscany from a bird's-eye perspective, from 2,000 feet (609 meters) high! Get ready to take in the most incredible views of Tuscany's vineyards, quaint villages, and medieval castles.
And if this wasn't enough, you will finish this magical adventure with a glass of sparkling wine while you go back down into the countryside… the cherry on the cake!
PRICE: €275.00
6. Relax in the Saturnia hot springs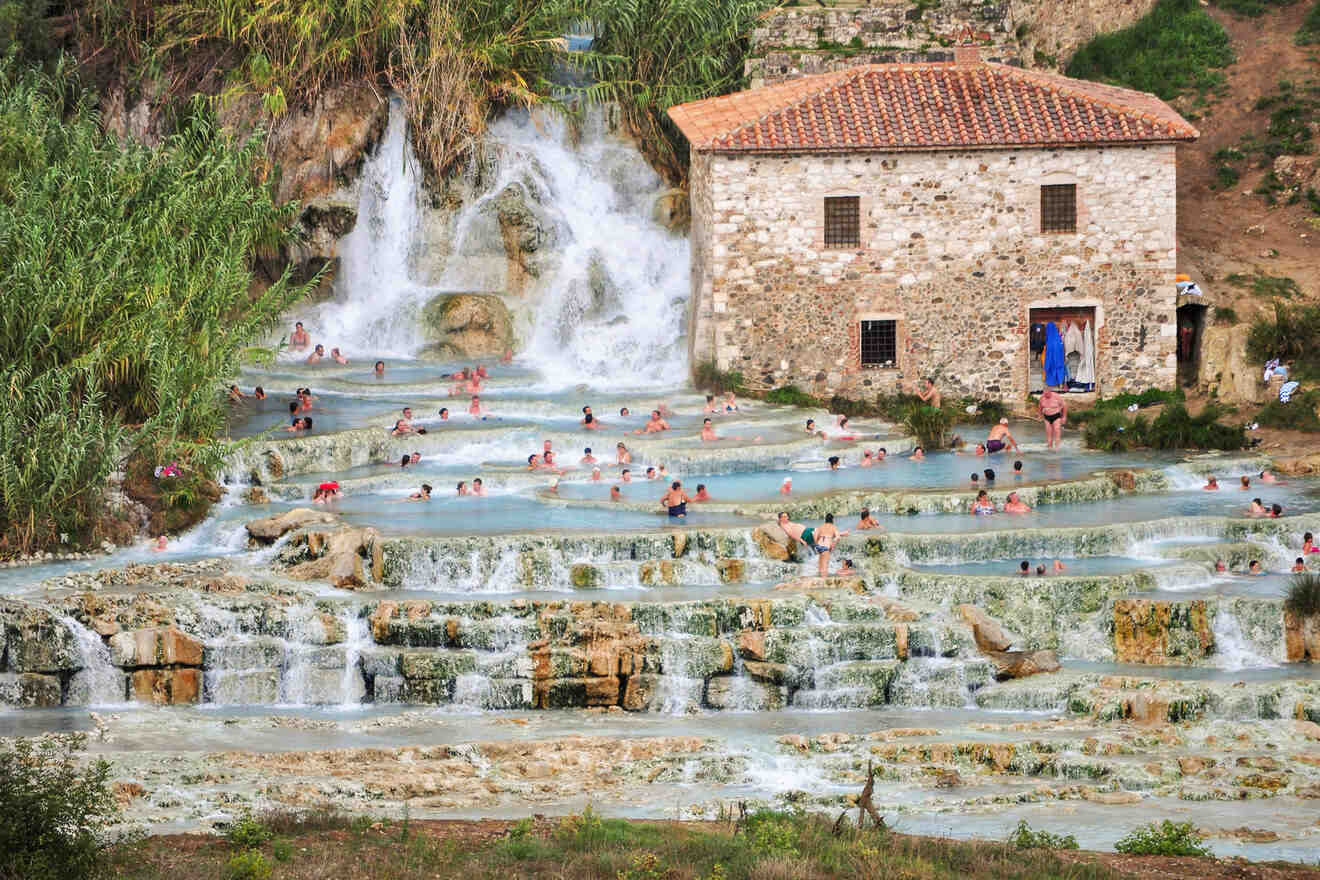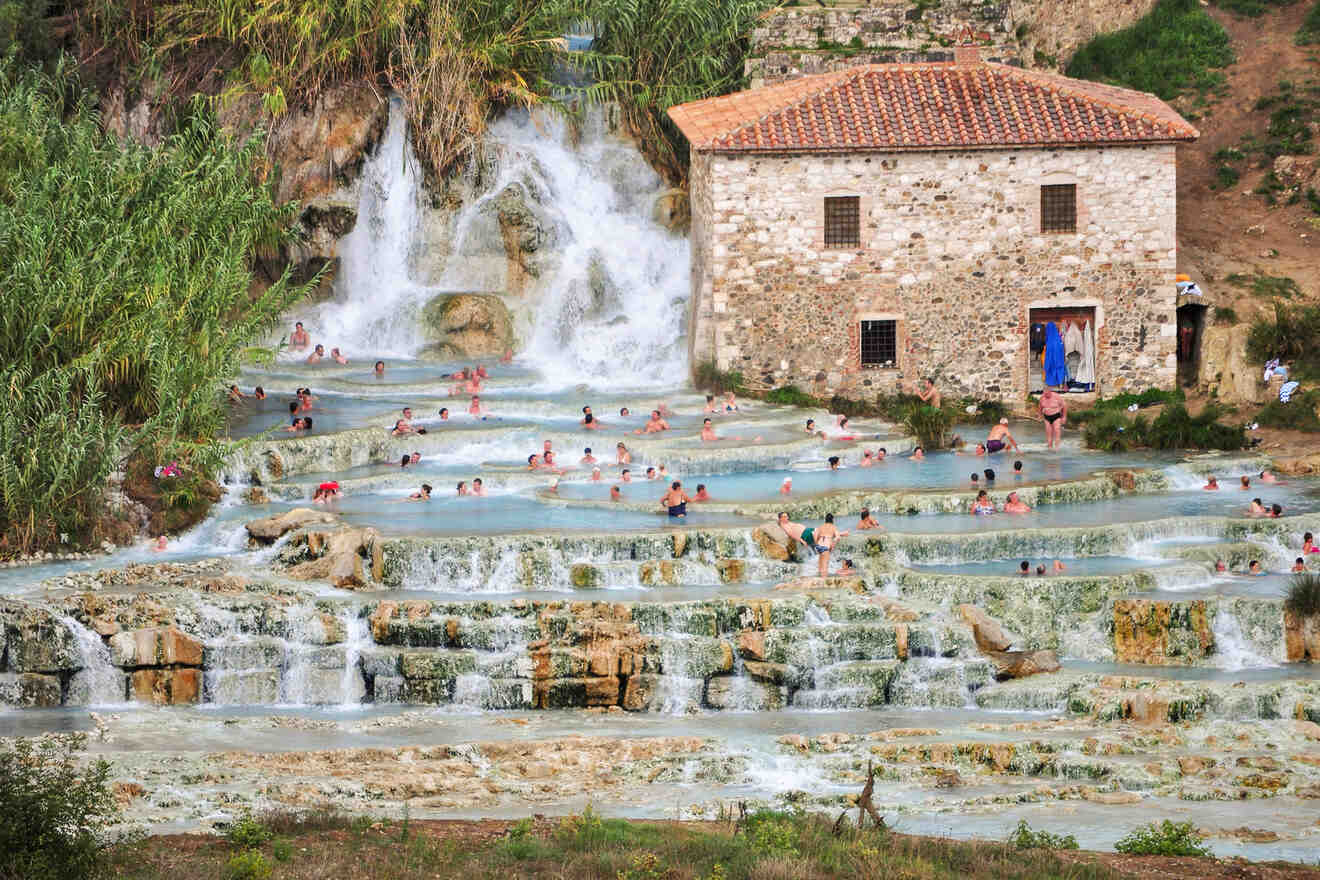 One of Italy's best-kept secrets and TOP things to do in Tuscany is the Saturnia thermal hot springs, located in southern Tuscany in the spa town of Saturnia, 3 hours drive from Florence (or 2 from Siena).
These silk blue water springs, lying on different levels, have a constant temperature of 37 degrees thanks to the nearby volcano. This is the BEST place to enjoy a peaceful bath during sunset or sunrise, when there are just a few tourists, with the peaceful sound of the waterfall.
People commonly mistake the springs as being a part of a nearby spa resort, but they're actually a completely free place to visit 24 hours a day, at any day of the week or the year… how great is that?
PRO TIP: Even if it is open all year round, the best period to visit the Saturnia hot springs are autumn and spring. The springs don't have any shaded area, so in the summer it gets SUPER hot, while in winter it can be very pleasant but you need to come prepared for the moment you get out!
| | |
| --- | --- |
| 🤩 Range of activities: | Large |
| 👪 Family-friendly score: | Medium |
| 🏛️ Best museum: | Uffizi Gallery |
| 🎢 Top paid attraction: | Leaning tower of Pisa |
| 🚶🏽‍♂️ Best free activity: | Saturnia hot springs |
| 👧 Best attraction for kids: | Hot air balloon ride |
| 🍝 Must try food: | Fettuccine al cinghiale |
| 📅 How many days: | 5-7 |
| 📍 Best city: | Florence |
| 🍽️ Dinner for 2: | €50 |
| 💵 Avg hotel PRICE: | €80 |
| ✈️ Cost of traveling: | Medium |
Where to stay in Tuscany
The best base for you to explore Tuscany is definitely the capital of the region, Florence, offering many tourist attractions and activities but also a good position, a few hours driving from all the best things to do in Tuscany that we've just been through.
Check out the list below of the best hotels in Florence for different budgets: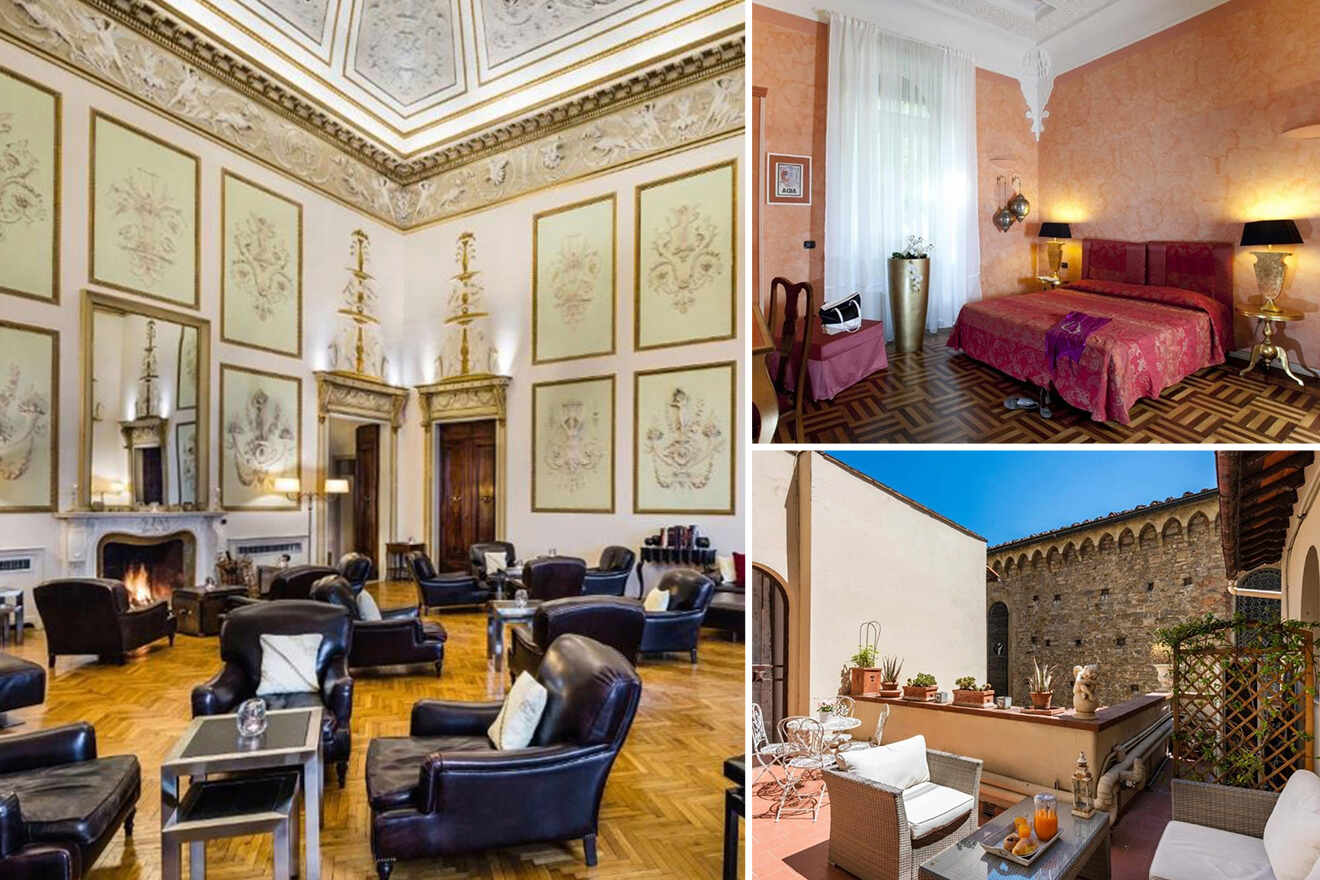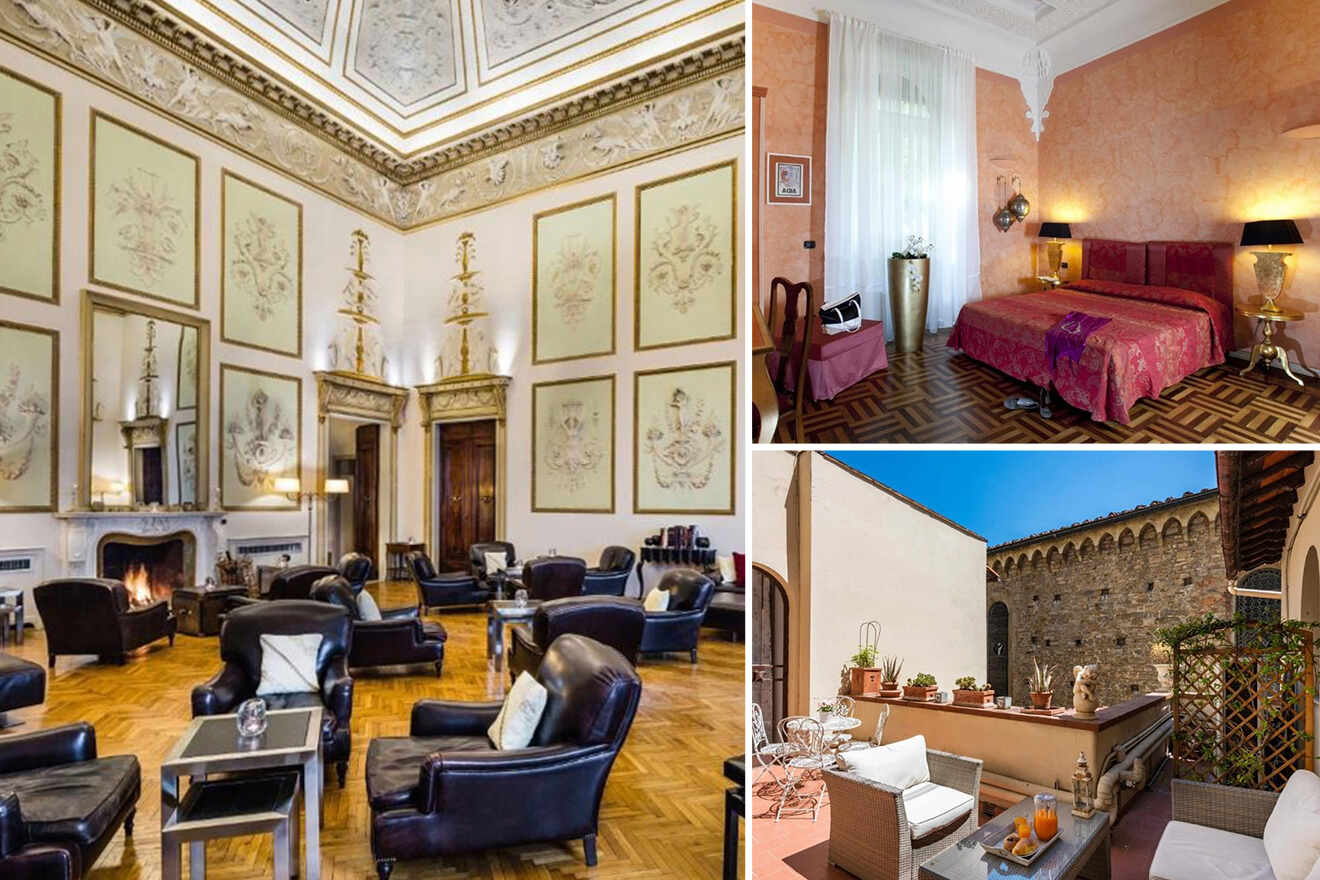 Luxury (€500 and up): Relais Santa Croce – This 5-star hotel set in a Renaissance Palazzo style building is one of the most luxurious and elegant properties in the historic center of Florence, located near the famous Santa Croce Basilica. Here you can have an aperitif in the music room or in your private balcony, looking at the best city views!
Mid Range (€80 – €300): B&B San Remigio – Check out this stunning hotel featuring the most romantic terrace from where you'll have views of Florence's stunning buildings and most famous sights like the Giotto's Bell Tower! The property also offers chic family rooms with air conditioning for very reasonable prices… What else do you need?
Budget (up to €70): Palazzo Lombardo – If you're looking for a hotel where to stay on a budget in Tuscany, you've just found it! This elegant hotel is set in an antique building and is located in a quiet, residential area in Florence, next to a beautiful green park and well connected to the historic center.
Practical Information
Now that we've got all your activities planned, here is some practical information that you'll find useful during your trip to Tuscany, including how to get around the region and the best restaurants where to eat!
How to get around Tuscany
Tuscany is the third-largest region of Italy, and that means you need to plan your itinerary in advance, or at least which way of transport you will use to get around.
The two most practical ways to see the region are definitely taking trains or renting a car, but you can also use the bus (even if I don't personally suggest it). Let's see them more in detail one by one:
By Car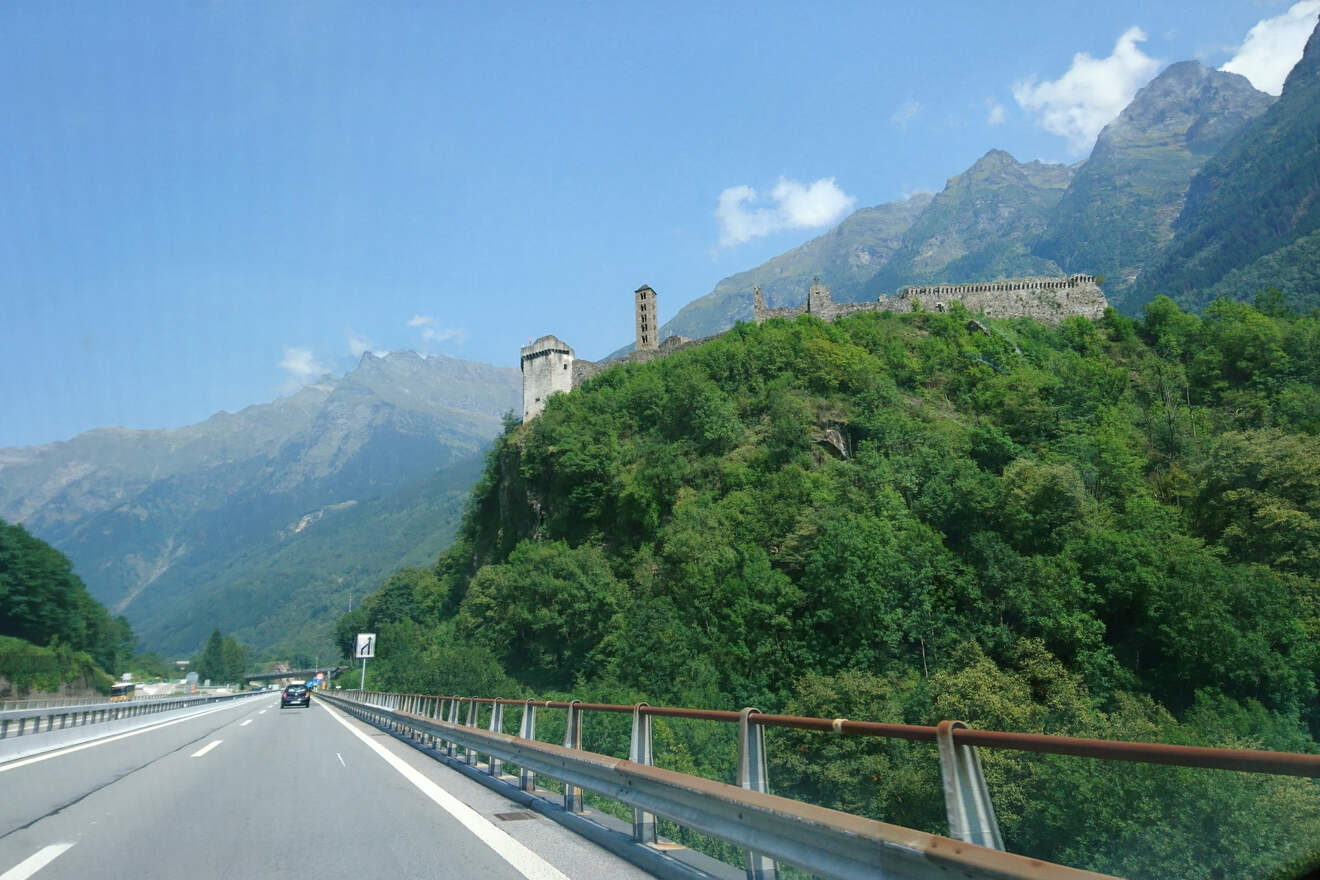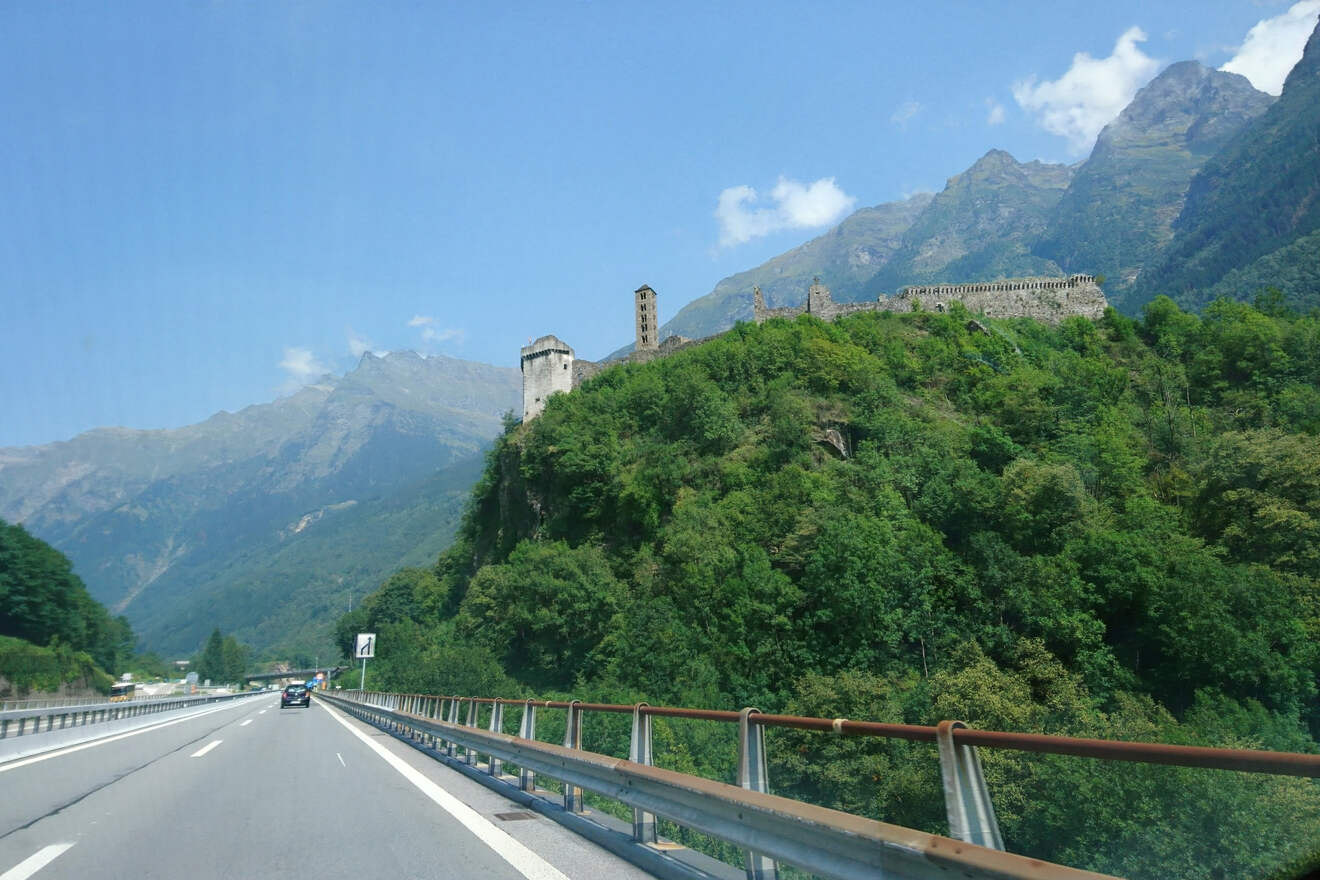 The most practical and enjoyable way to visit Tuscany is definitely by car. You can follow your own schedule and times, stop on the road to take photos, and reach the best restaurants that usually are off the beaten track!
You can either rent a car from Rome's Fiumicino Airport (the closest airport to the region) when you fly in and head straight to Tuscany, or rent your car from Florence, after visiting the city for a few days, and explore the amazing villages around.
Getting out of Rome or Florence will require you to drive on Italy highways (autostrada) which usually have tolls, while to get around the region and from one village to the other one, you will most likely stick to secondary roads which are free and often offer panoramic views!
When you come across a toll road you will pass through a barrier where you can pay onsite with cash or card. Use this website to check your route for paid roads.
Renting a 5-seat car for 1-day will cost you around 112€, while for 1 week it is 500€.
By Train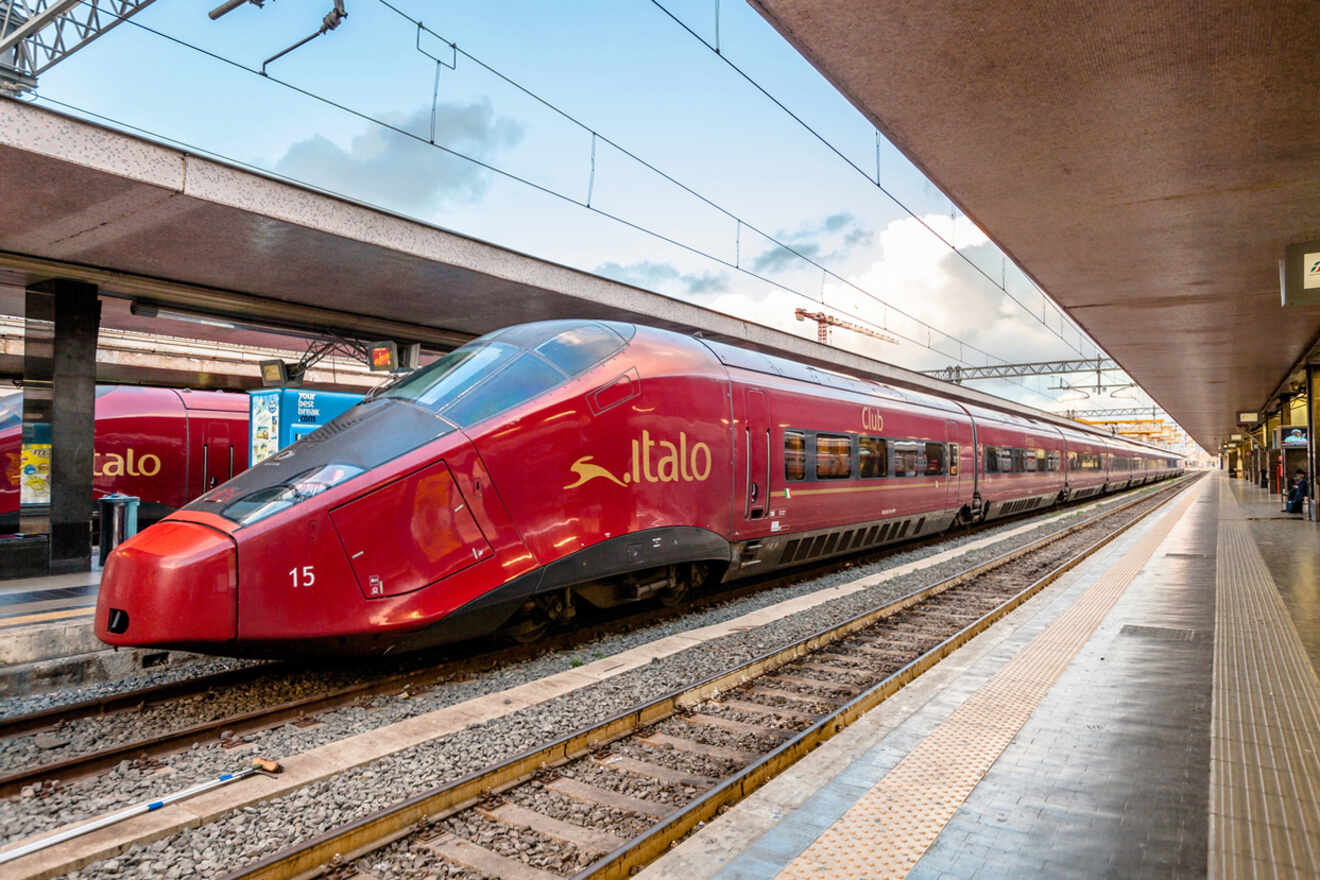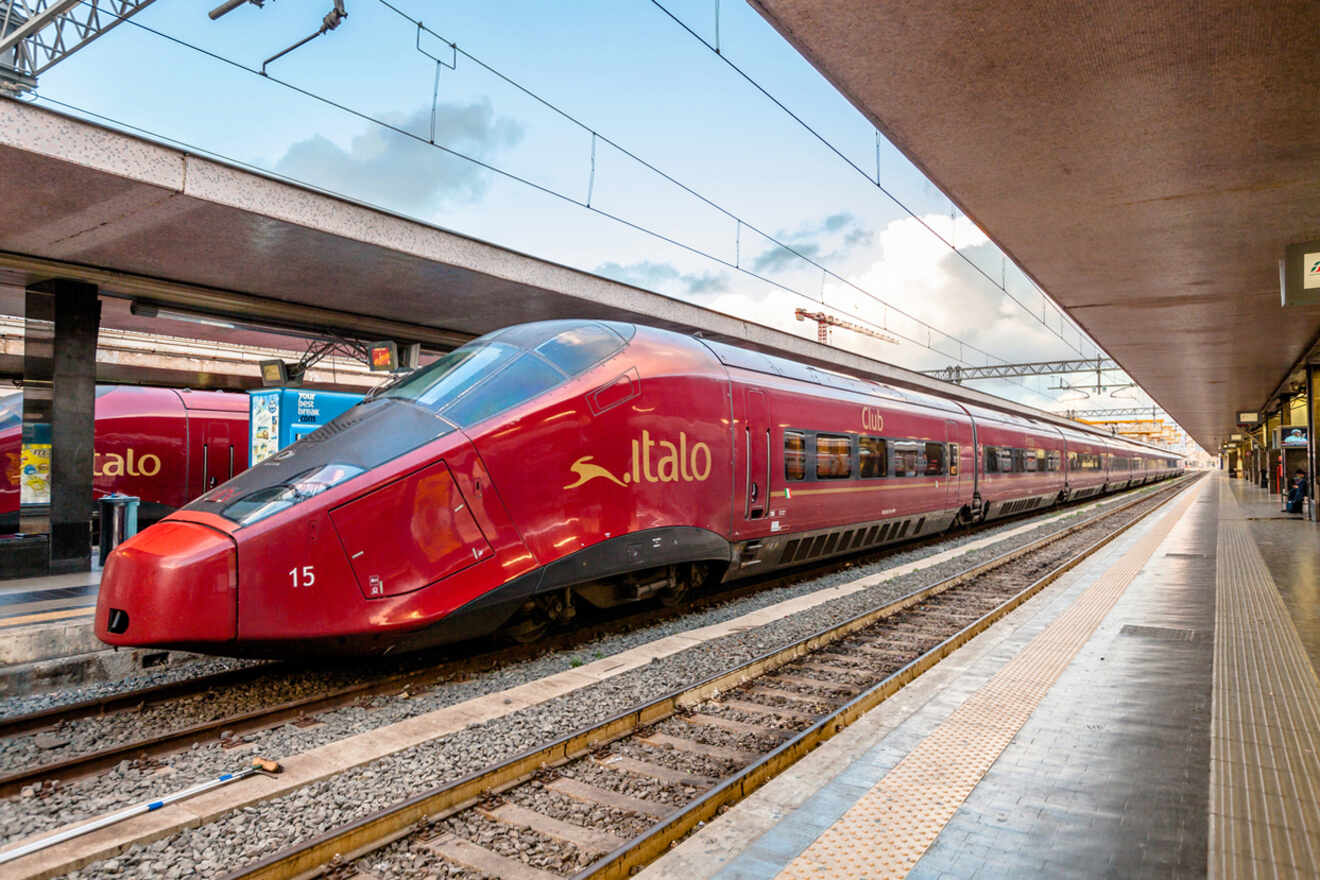 If you want to avoid the stress of driving on Italian highways and tiny secondary roads in the Tuscan villages, the train is definitely the best option!
There is a high-speed train, Italo, connecting Florence with the larger cities and towns of Italy, like Rome in the south and Bologna or Milan in the north, which could come in handy if you land there by plane.
While traveling between the many mid-sized and secondary Tuscan cities like Pisa, Lucca, and Siena you can take regional trains of Trenitalia from Florence… and they even travel along the coastal route!
Regional intercity trains are a little slow but the cheapest option to get around: prices depend on the length of the trip but they usually vary from 5€ to 20€.
The biggest downside of exploring Tuscany by train is that you won't have the chance to reach many small towns as they don't have train stations, like the beautiful San Gimignano but in that case, you could take a day tour instead.
By Bus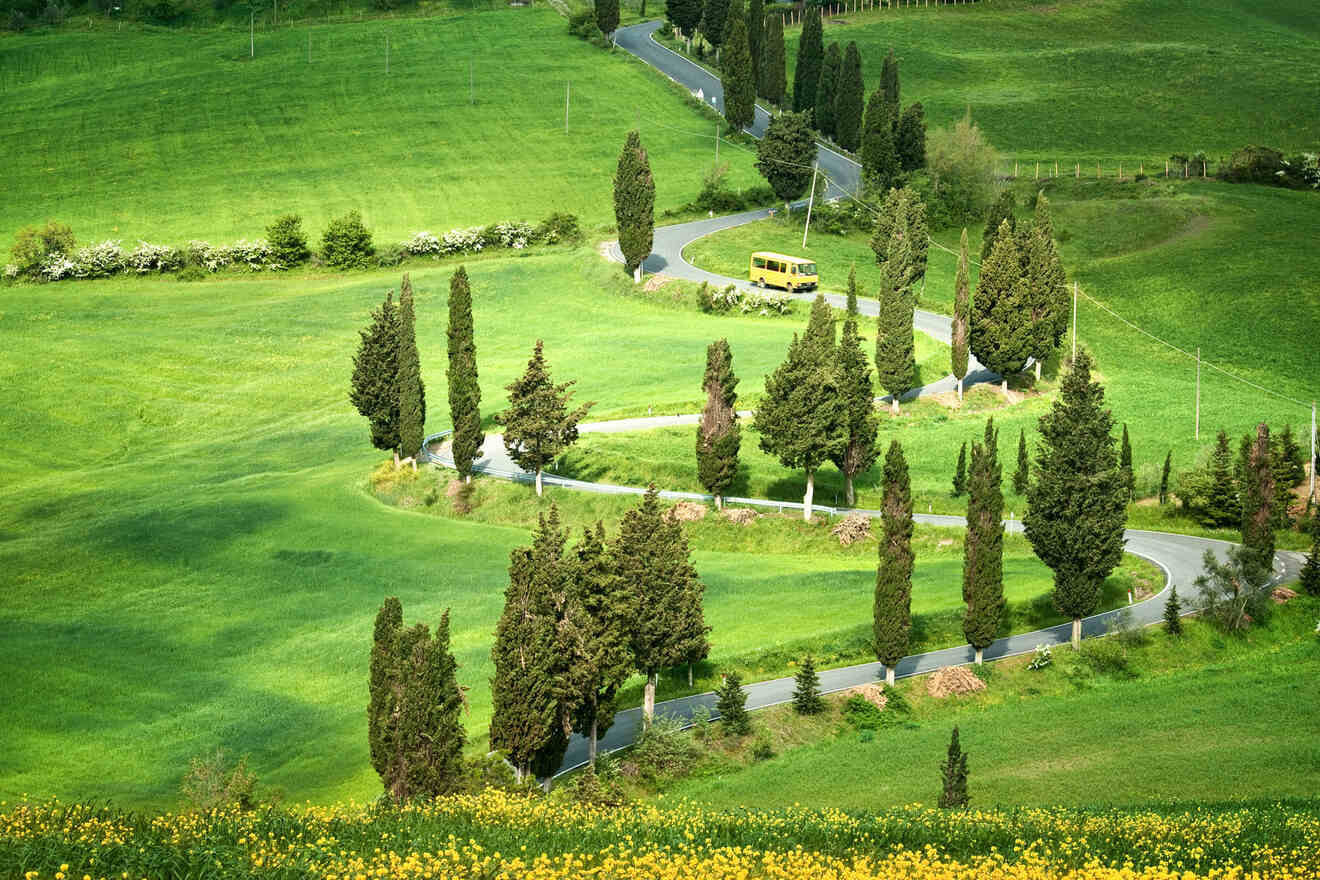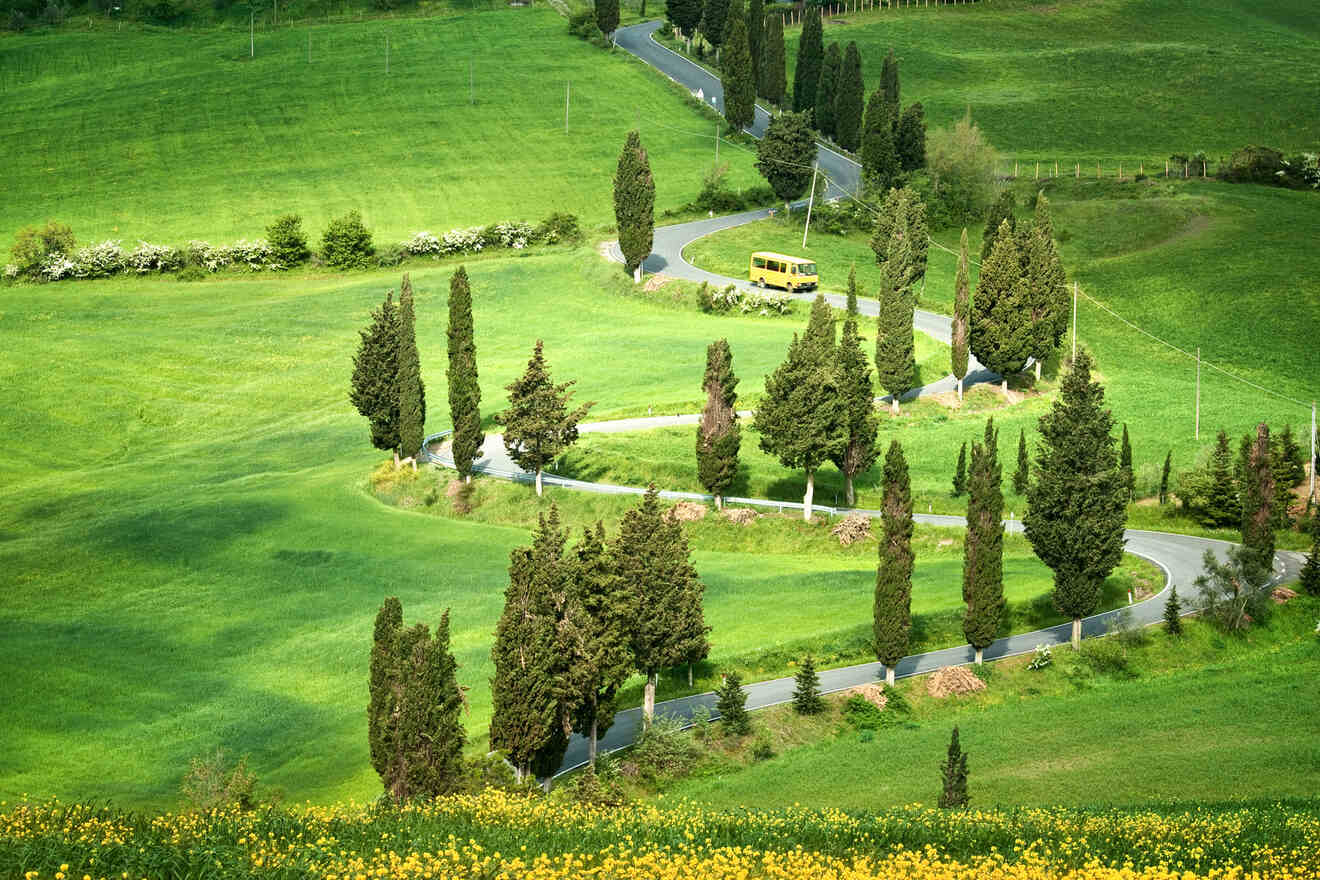 The only way to get to the smaller towns in Tuscany by public transport is by bus, but most of the time you will have to combine them with the train. Usually, the 2 stations are adjacent, so the transfer is pretty simple.
The biggest issue with regional buses in Tuscany is that it is very hard to find reliable bus schedules, as they change quite often and they don't always respect the times, but prices are very affordable, around 3€ per ride!
If you want to check out some time schedules, look at Sita Bus under which most of the regional bus companies operate, or TuscanyBus, a private company offering service between Livorno, Pisa, Lucca, Florence, and La Spezia.
On Tours from Florence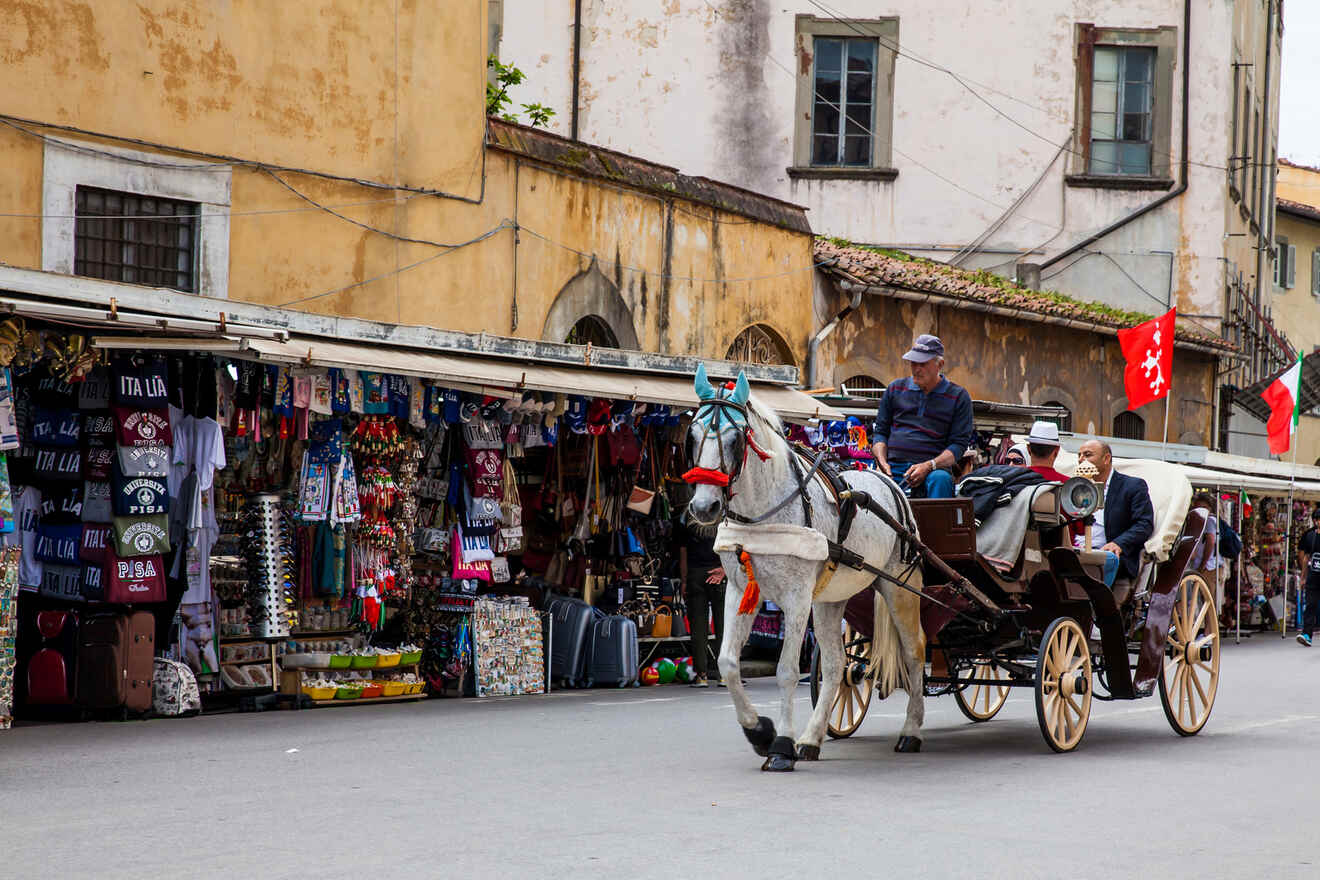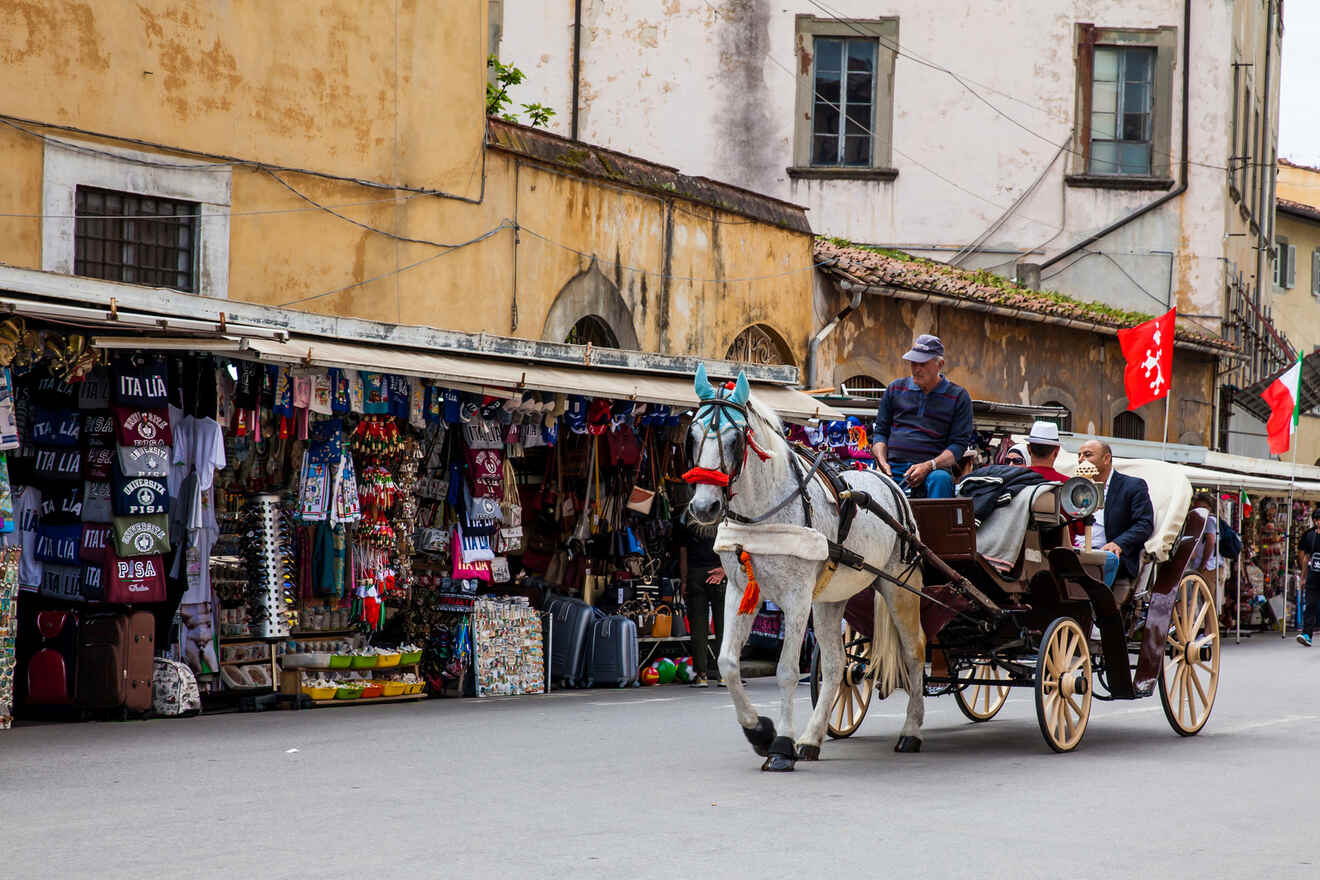 If you prefer not to drive but are also limited on time or don't want to rely on public transport, I suggest you stay in Florence and take day trip tours from here to each of the destinations you wish to visit.
As the capital of the region, Florence provides the most options for visiting different towns and activities during your trip. Here are the top tours I can suggest for you:
Where to eat in Tuscany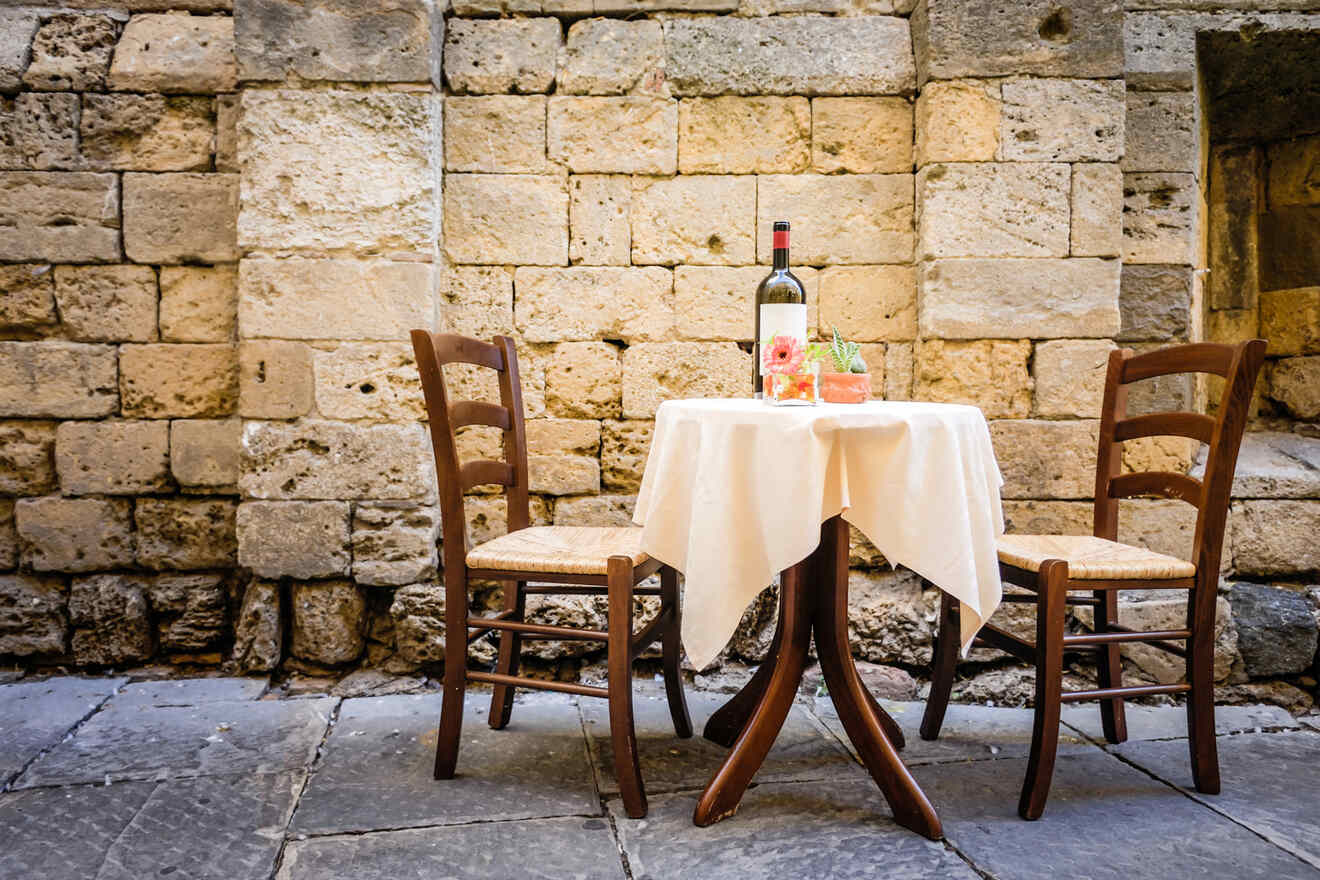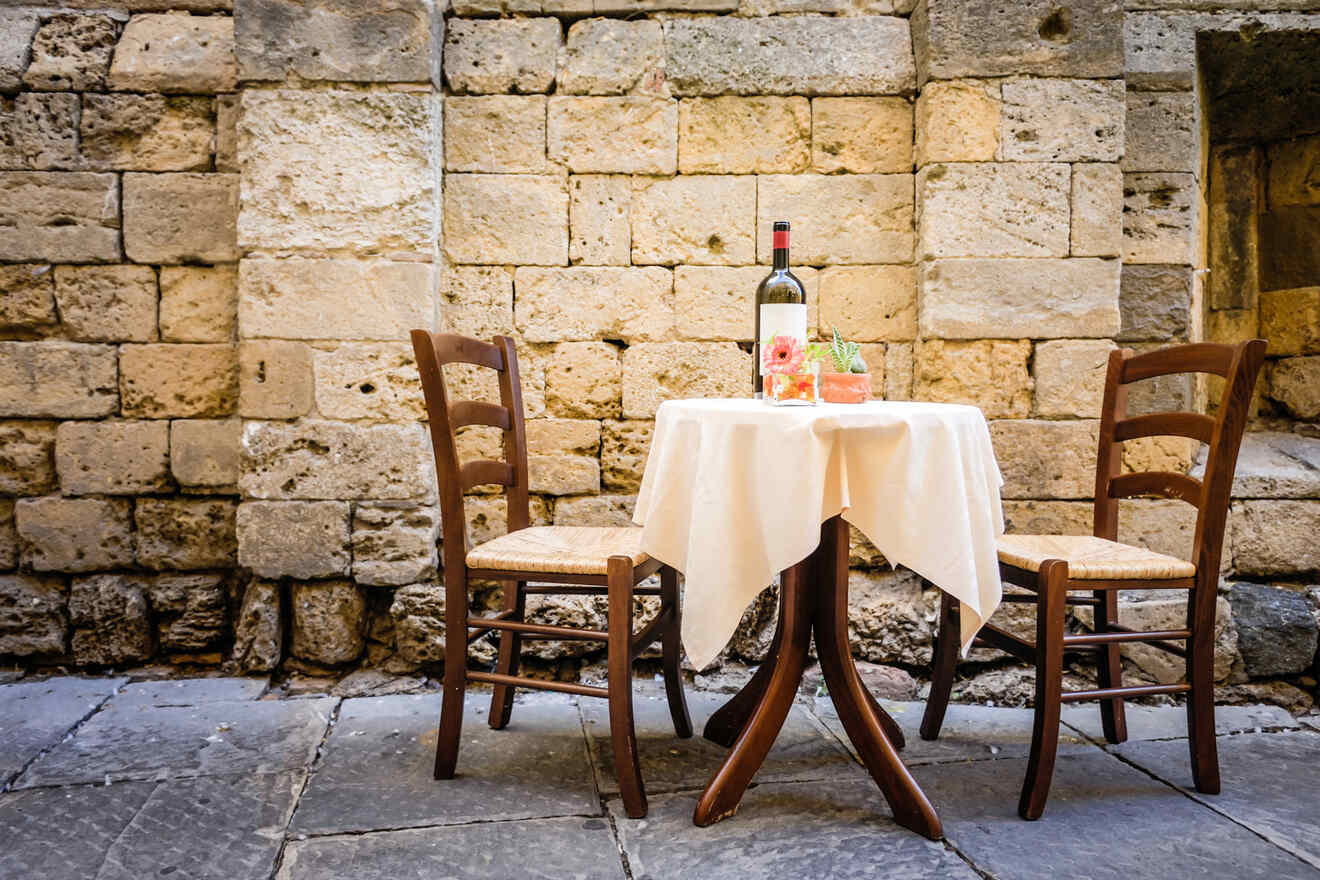 Offering one of the best cuisines in the whole of Italy, the Tuscany region will delight you with an abundance of delicious ingredients (fresh cheeses, cold cuts, virgin olive, Tuscan bread) and show that even simple foods can be so delicious!
Here you will find countless incredible restaurants, from the coziest and most casual ones, to family-owned trattorias or upscale Michelin-starred restaurants, in case you want to have a special gourmet dinner.
I gathered here a list of the best ones, let's check them out:
Frequently asked questions about things to do in Tuscany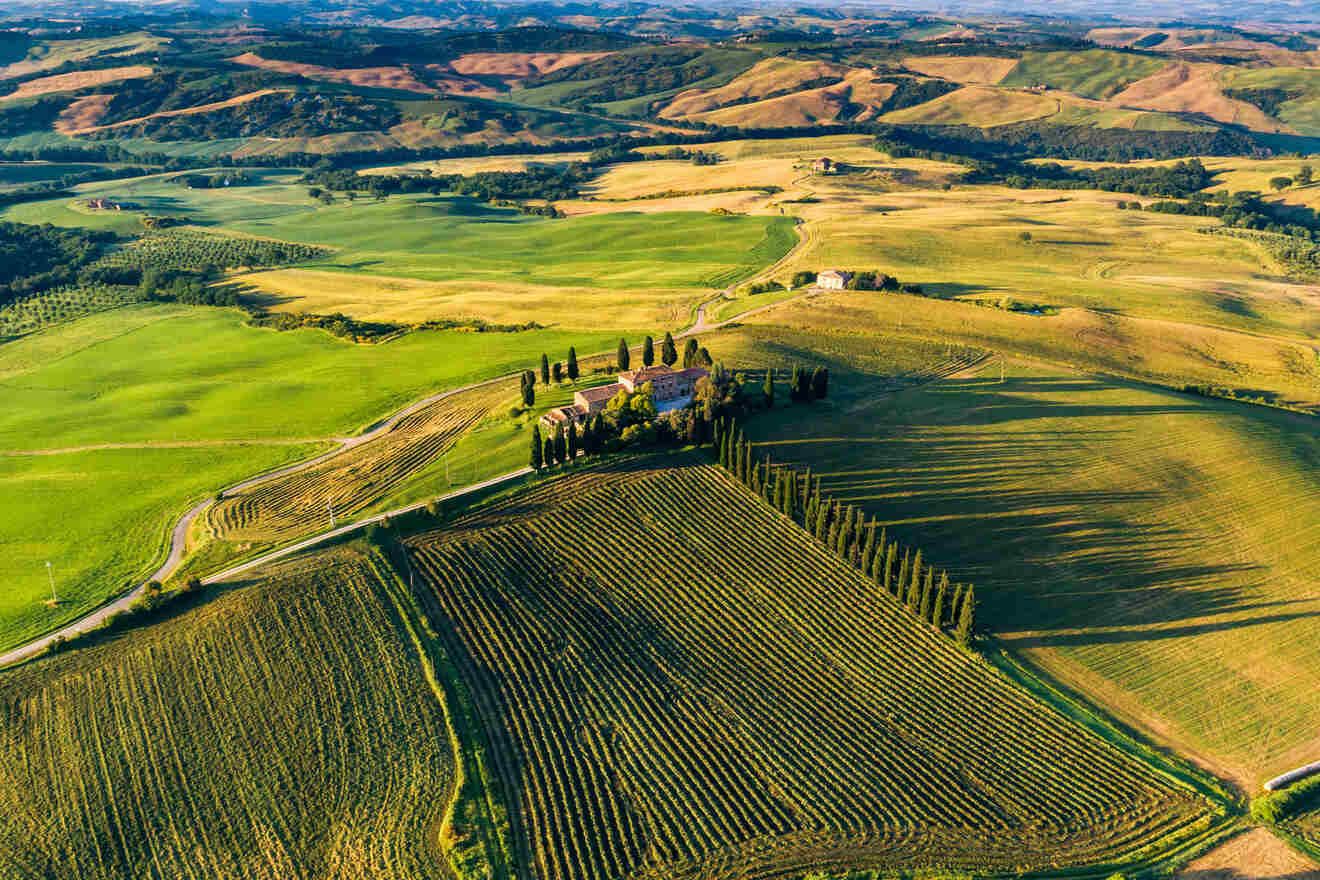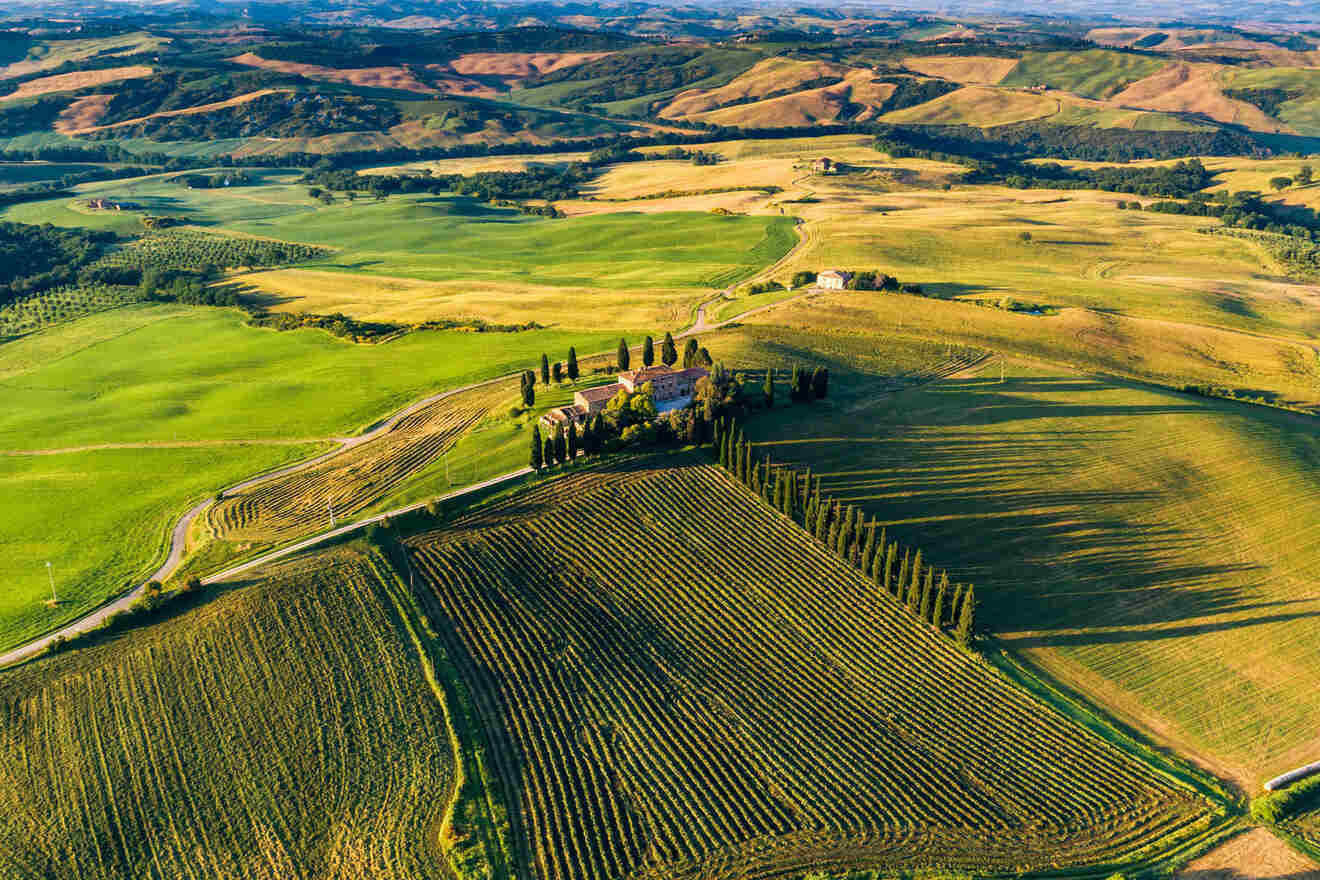 🚶🏽‍♂️What are the best things to do in Tuscany, Italy?
The best things to do in Tuscany are visiting the leaning tower of Pisa, walking around Florence and gazing at its stunning Renaissance architecture, and strolling within Lucca's walls or around Piazza del Campo in Siena, the historical square.
👪 What are the best fun things to do in Tuscany with the family?
📅 How many days do you need for Tuscany, Italy?
You need at least 5-7 days to visit the Tuscany region: so you'll have time to see not only the most famous towns of Tuscany like Florence but also to see the beautiful Tuscan countryside.
🌻What is the best time of year to go to Tuscany, Italy?
The best time of year to go to Tuscany is spring (March-May) or summer (June – August), so you can enjoy the beautiful countryside with more pleasant weather, with temperatures going between 17°C-23°C in spring and 20°C-30°C in summer.
Conclusion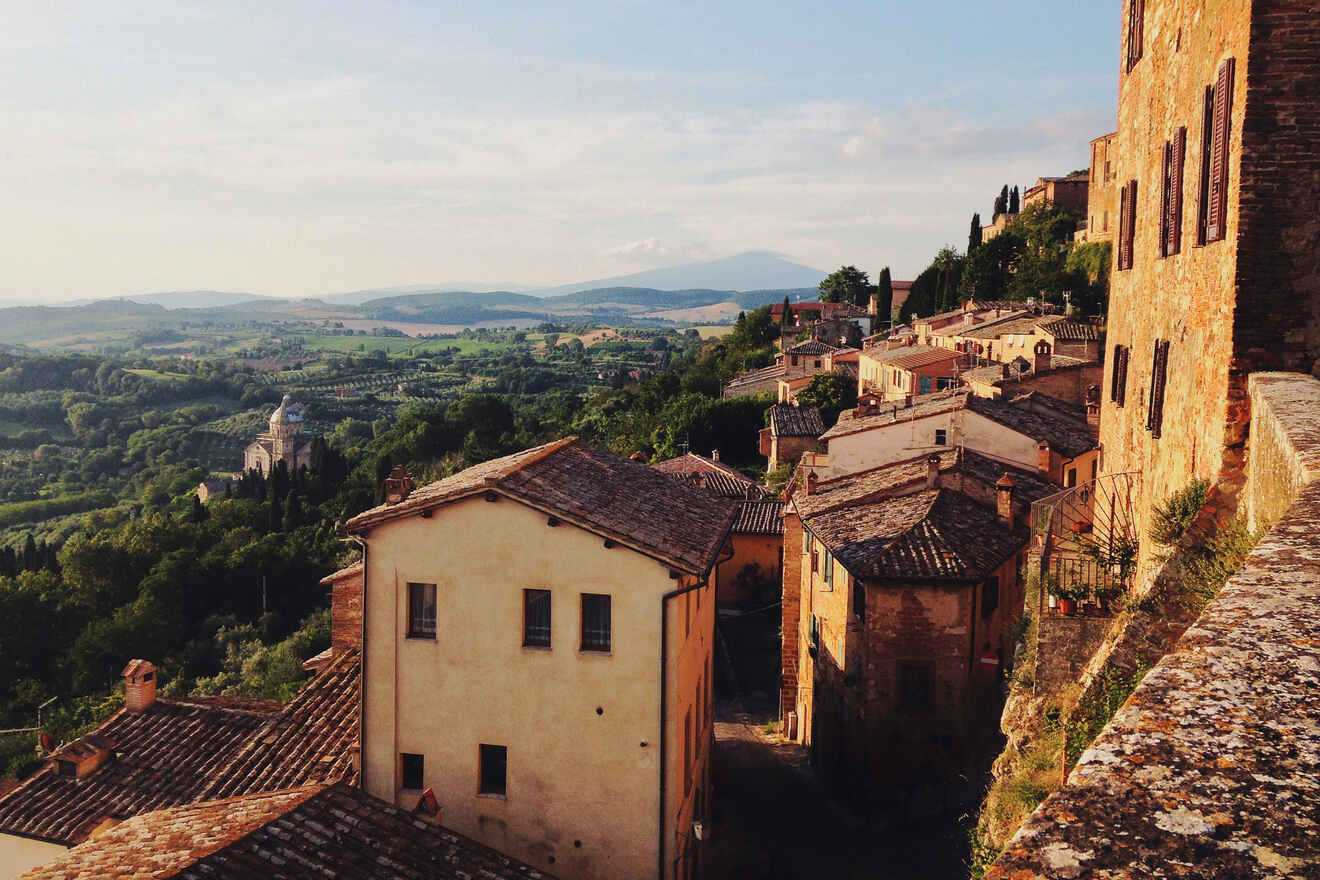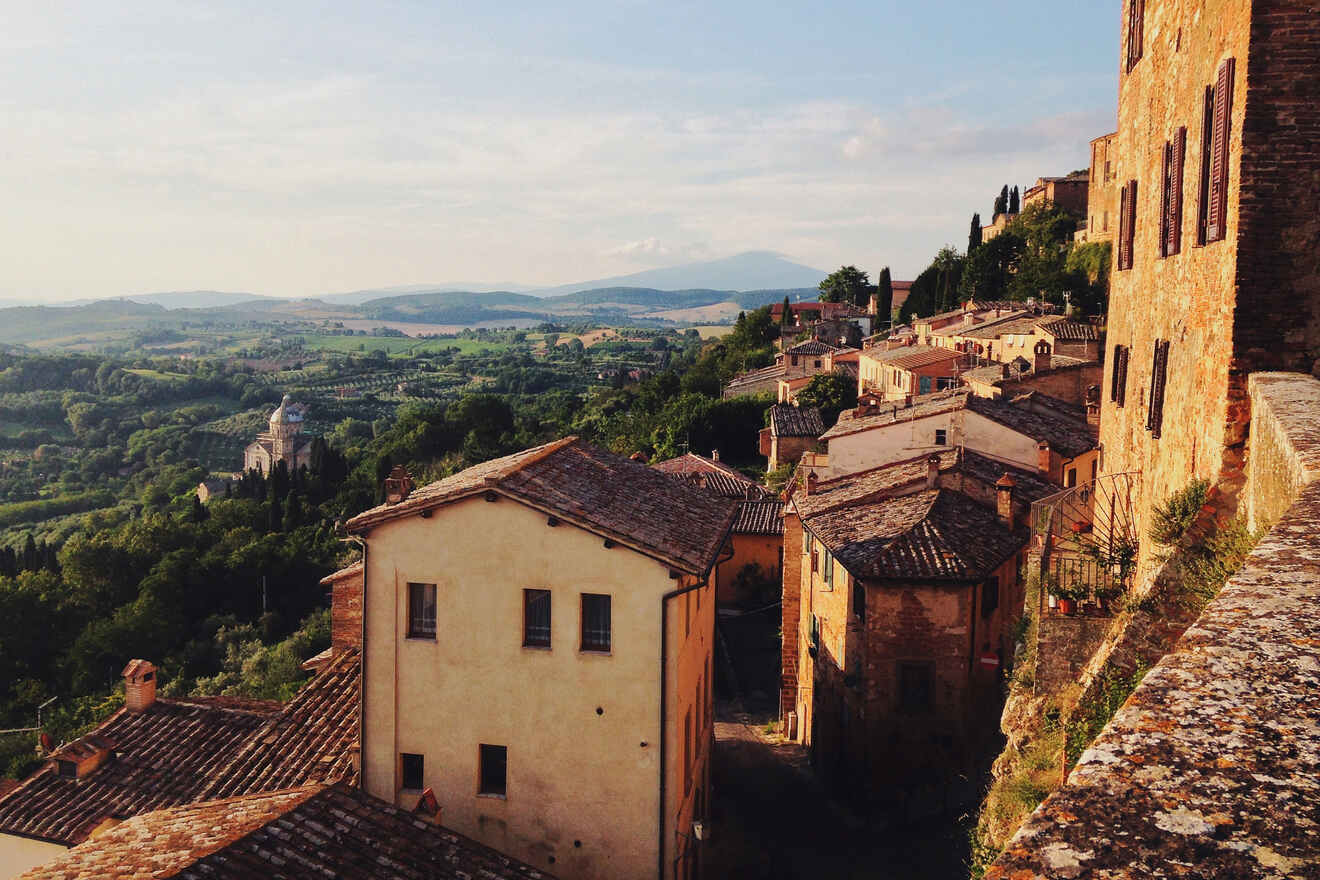 Here we are at the end of this very extensive guide with the best things to do in Tuscany, one of the most beautiful regions of Italy!
Whether you want to visit the picturesque countryside, go on day trips to the many charming towns, join a food tour or fly over the region with a fun tour on a hot air balloon, Tuscany has something for you!
I hope this guide helped you choose what to put on your Tuscany bucket list, and that you enjoyed reading that as much as I did writing it for you.
If you have any doubt or you have been in the region and you want to share your experience, please do so in the comments below, I am looking forward to reading them all!
Buon viaggio!
Elena
---
Pin it for later!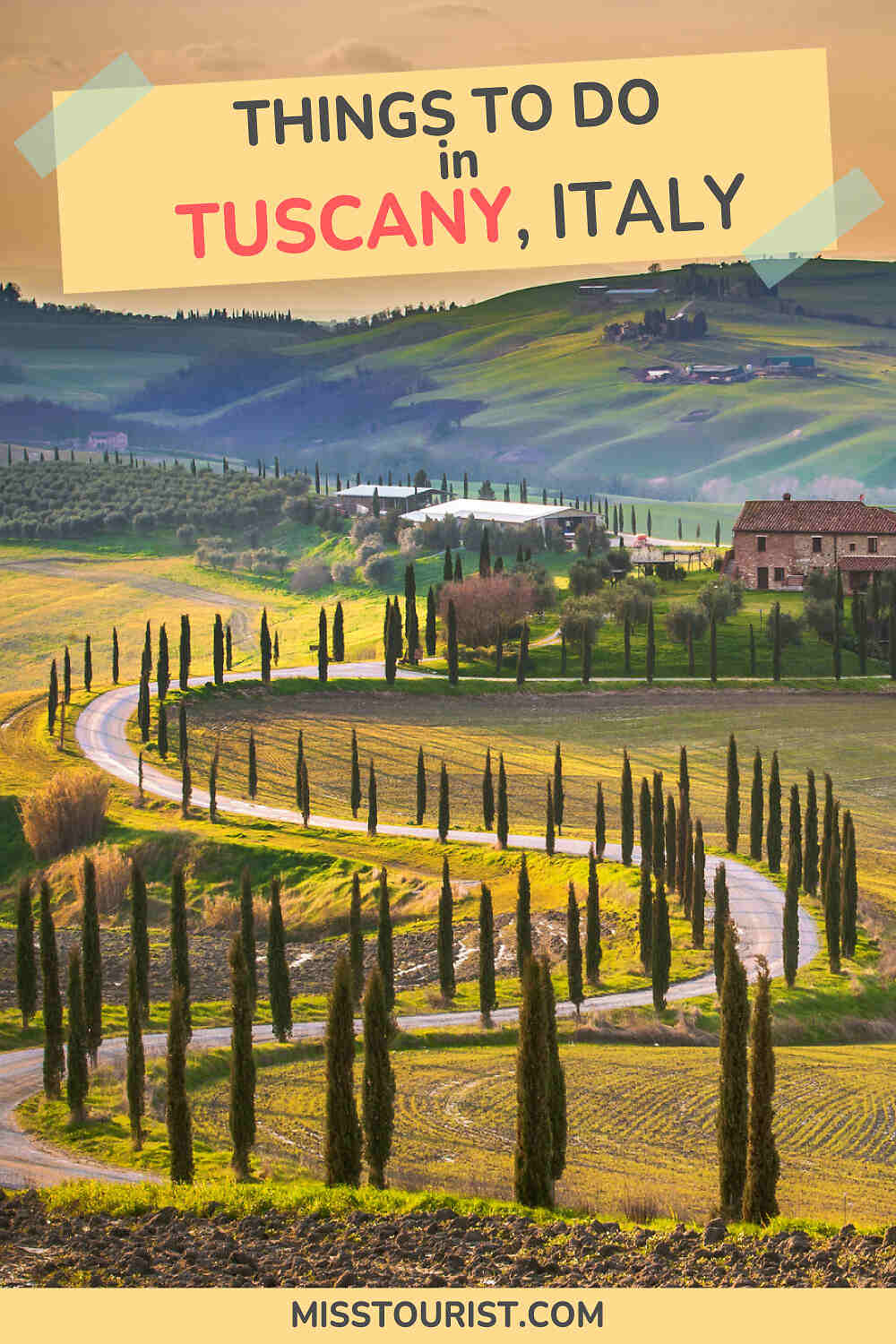 Pin it for later!