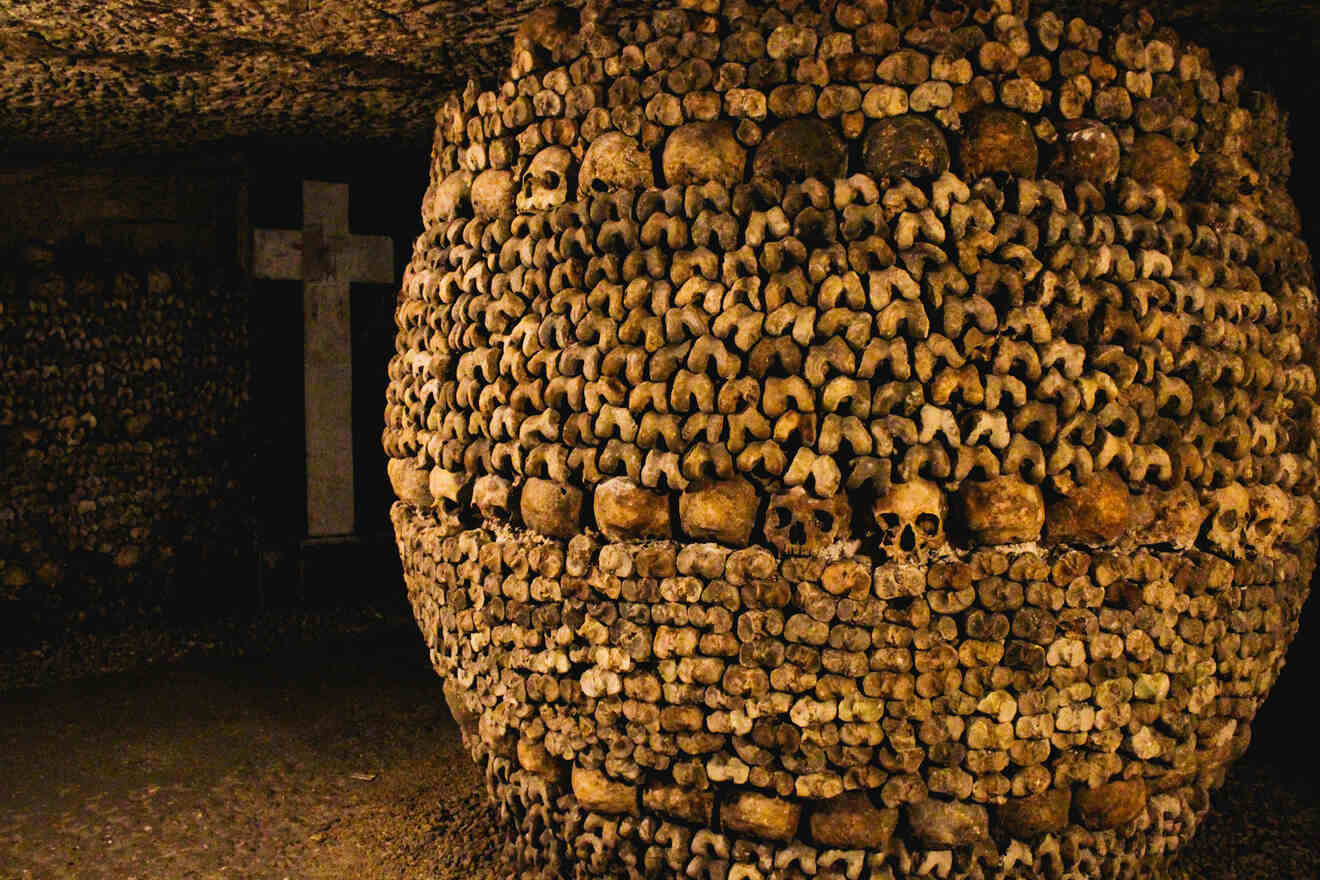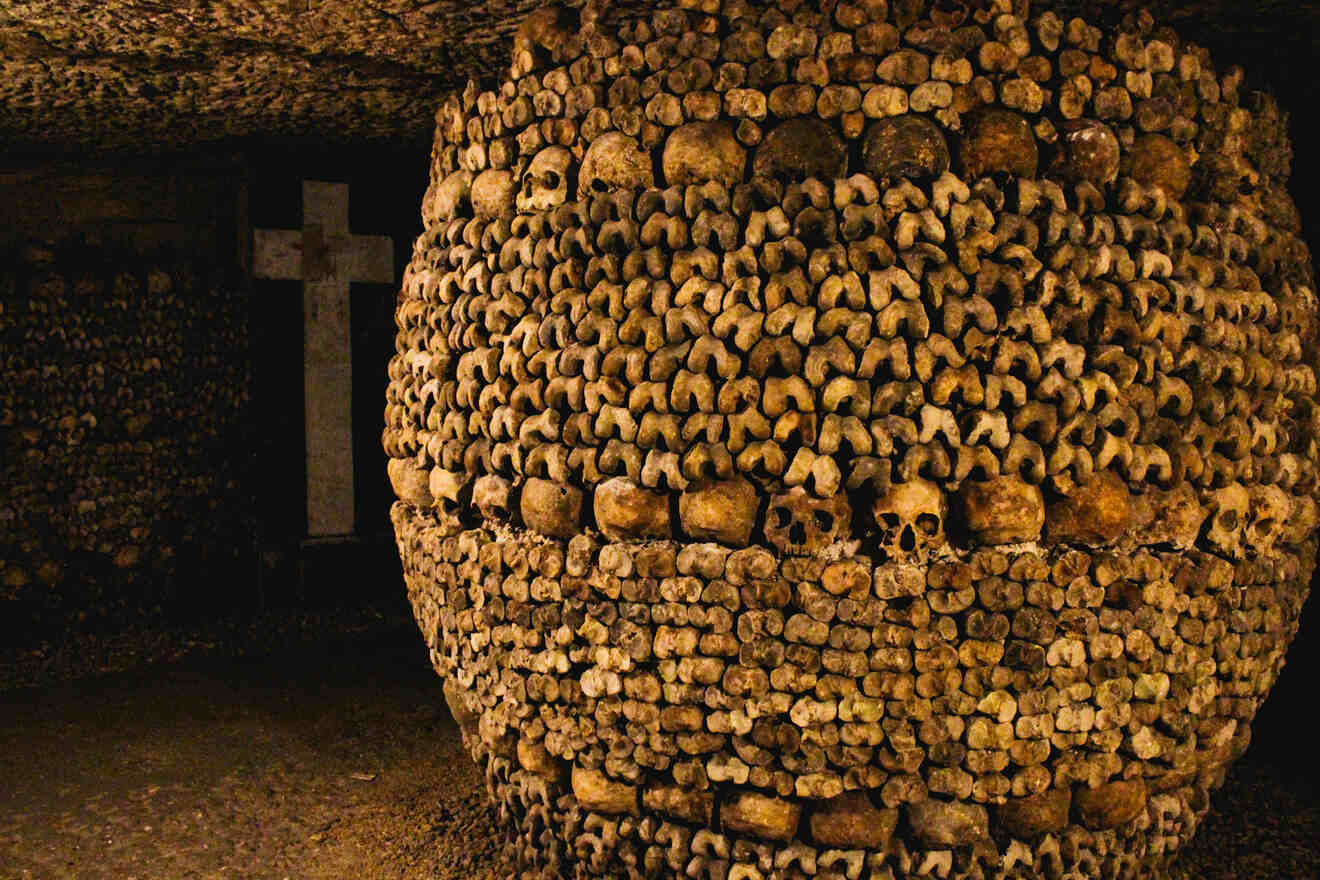 The Paris Catacombs is a hidden and macabre (but still beautiful) attraction in Paris, right beneath the city grounds. Here you'll have the chance to see the skulls of 6 million Parisians while walking around the secret tunnels… A must-visit in France's capital!
If you agree with me and you're planning on visiting it, then there are some useful things you should know before booking your Catacombs Paris tickets, otherwise, you could end up losing lots of precious time on your holiday by waiting in a HUGE line!
That's why I wrote this guide! Here you'll find all the different tickets and tour options offered so you can compare them, and some practical information about opening hours, facilities, and more. I've been there, and I wish I knew all this before!
So, let's start right now!
If you are in a hurry
If you are here just to get your tickets, here are the best links to do so:
Normal ticket – €29 on the Official website
Refundable ticket – €29 on GetYourGuide
Discounted ticket – €27 for students (bring your ID with you), €5 for people between 4 – 17 years old
Free entrance – disabled and their personal care attendant
Why buy in advance?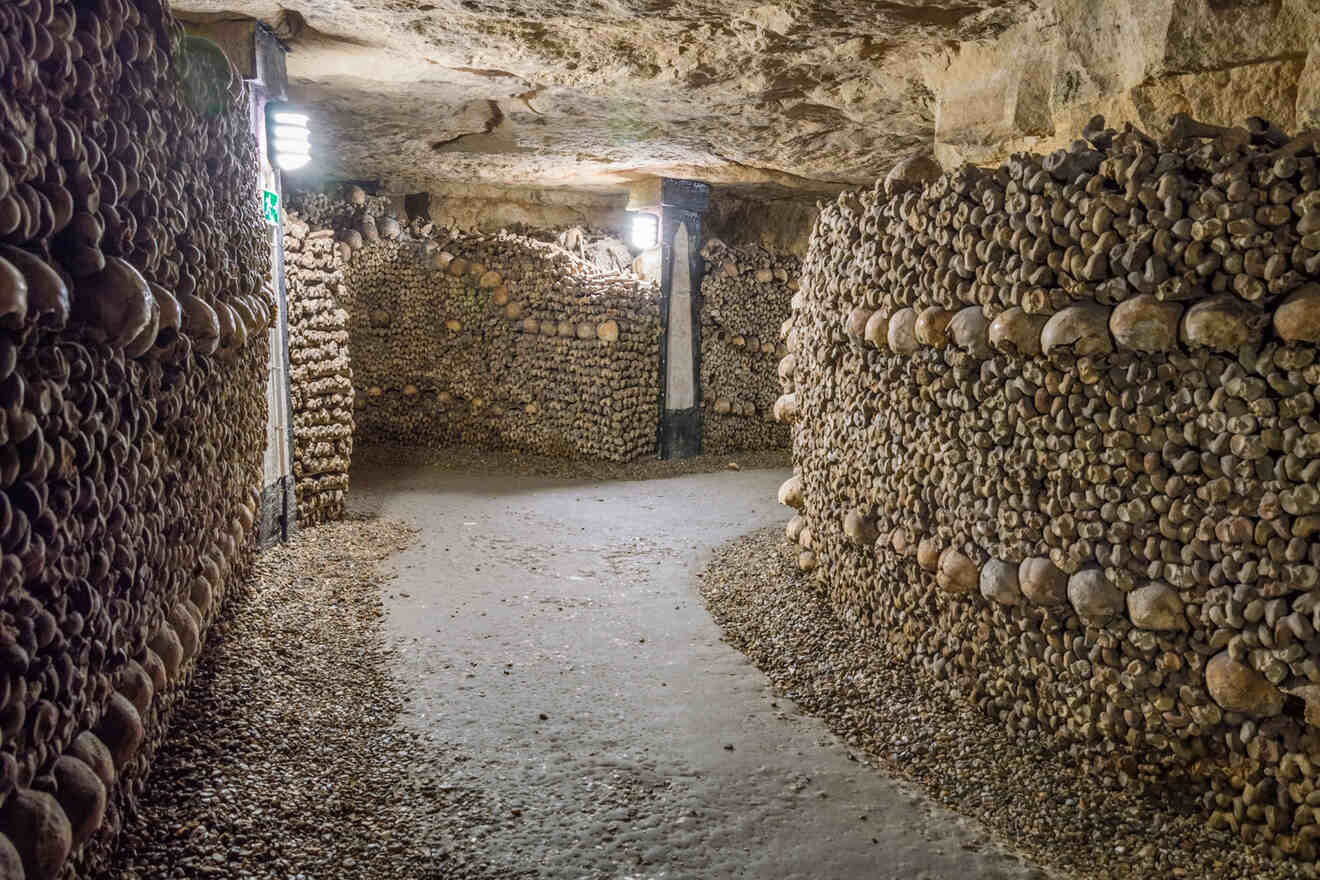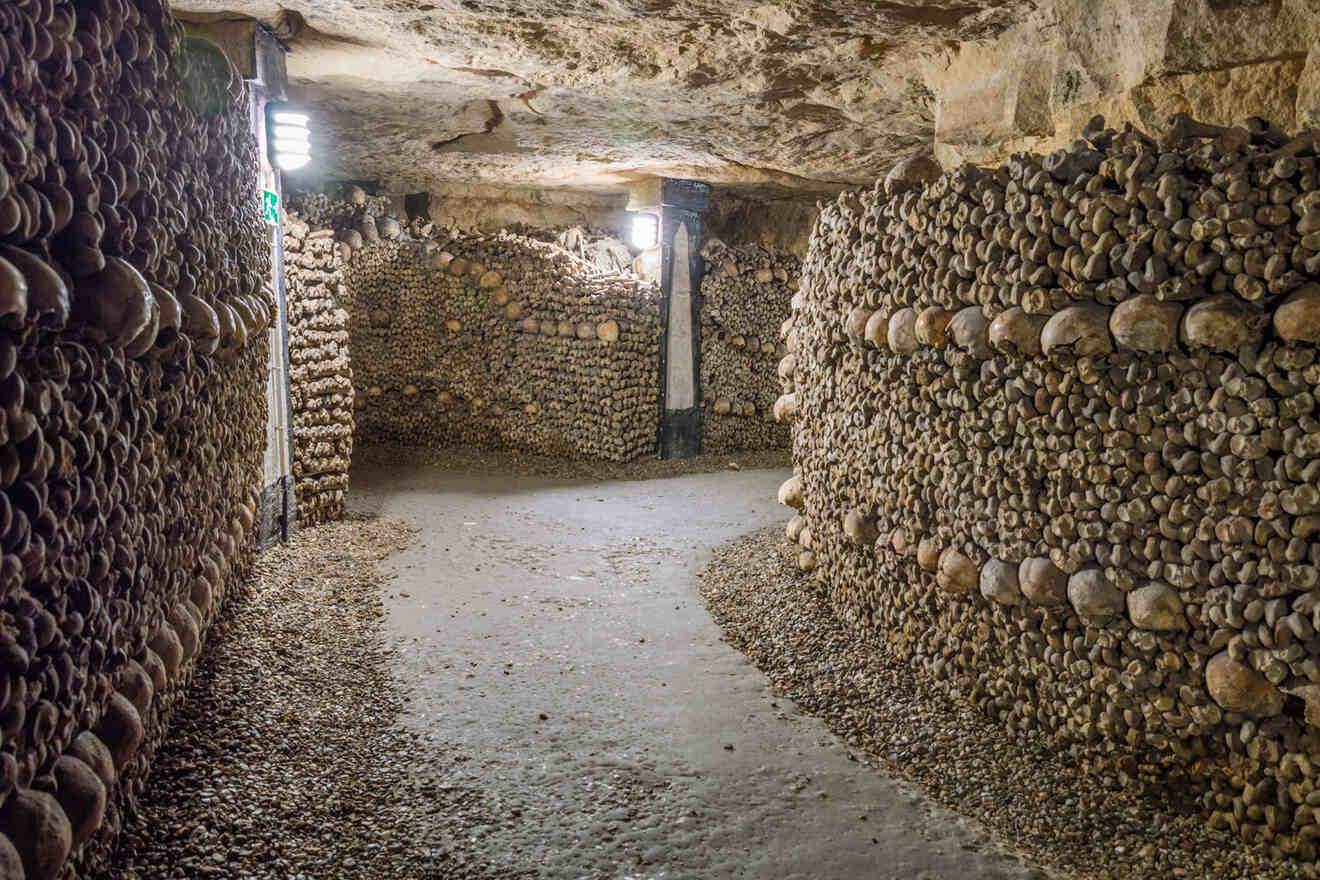 Buying tickets to the Paris Catacombs in advance is for sure the best thing you can do as there are only 200 tickets available per day, and if you wait too long to buy yours, you can easily miss out!
The Catacombs Paris tickets can be booked only one week in advance on the official website (to prevent fraud) and they often get sold out super fast… But keep reading because I have a trick to help you book tickets even before this to ensure you don't miss out.
Moreover, booking tickets online is mandatory for any kind of Paris Catacombs tickets (once it was possible to buy tickets onsite, but not anymore). So you have no choice but to make sure you do it in time!
1. Single entrance Catacombs, Paris tickets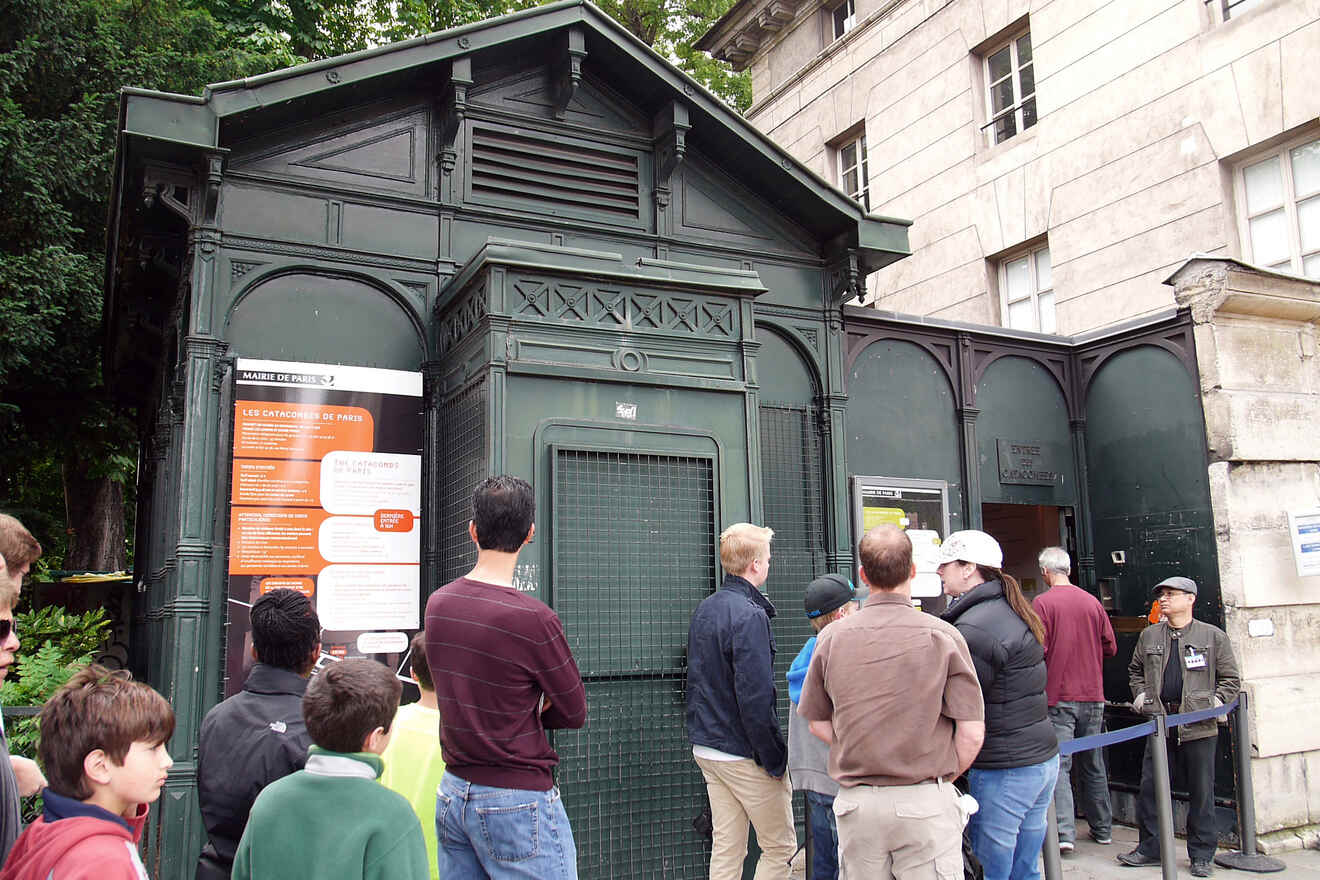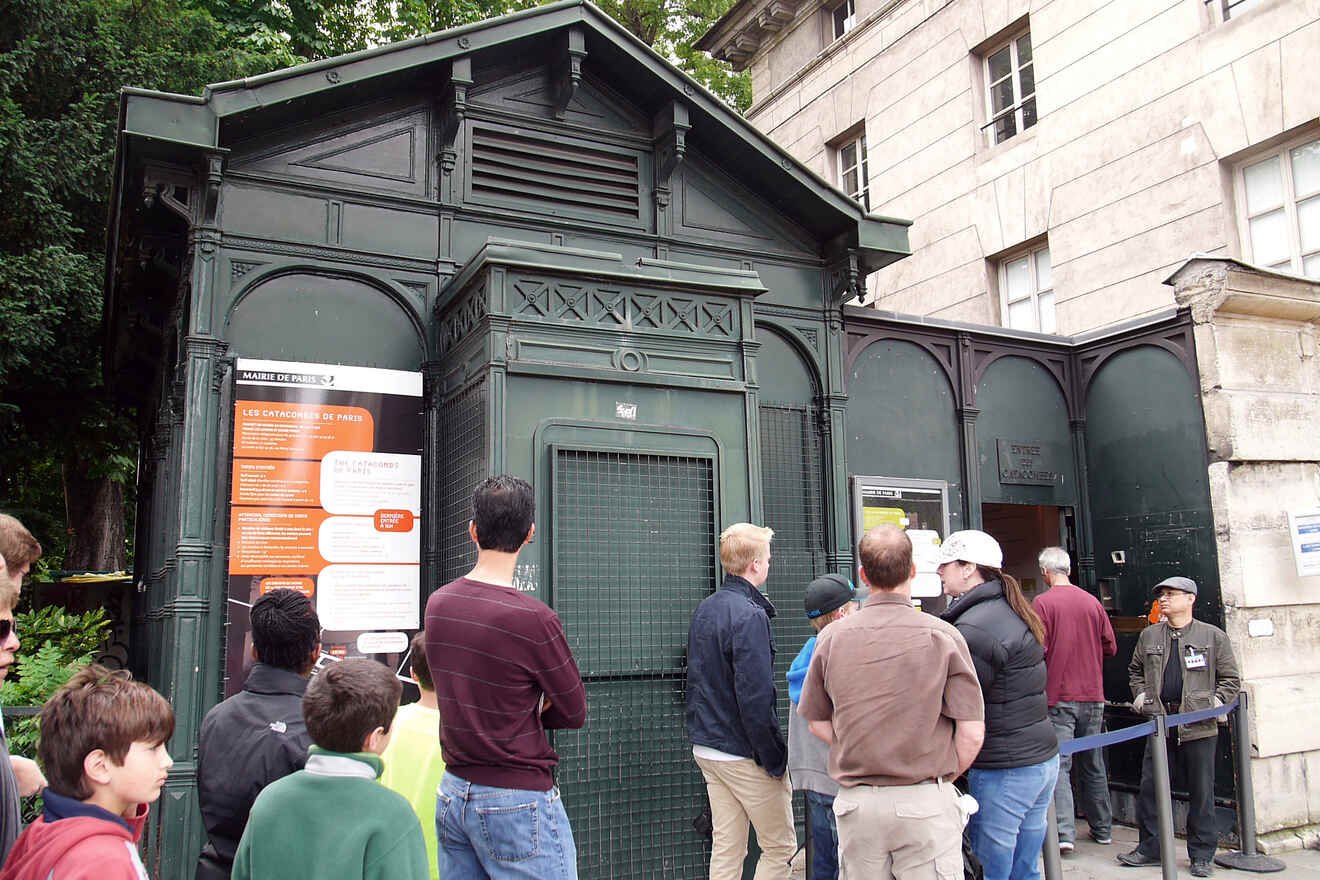 There are two main ticket options to choose from to visit this charming and creepy attraction, the single entrance ticket and a group tour ticket (that we'll see in section 2).
The single official ticket to the Paris Catacombs will give you access to the normal route consisting of a 1.5-kilometer circuit underground, one-way only. You will first go down 130 steps to the actual Catacombs, visit them with your audio guide (included in the price) and then climb 83-steps back up to street level. All this will take you more or less 1 hour.
During your visit to the underground, you will wander around secretive tunnels and municipal ossuary (one of the largest in the world), hosting endless stacked bones and 6000 creepy skulls.
NOTE: Apart from requiring many stairs, the path is pretty slippery, so it is not suitable for people without full mobility.
I personally love skulls, and I found the place's history very interesting, but some people can be affected by such a deadly atmosphere so it's a good idea to consider the reality of such a place before deciding if you will visit.
For this reason, children under 14 years old must be accompanied by an adult (5 is the minimum age to enter), while motor-disabled people, pregnant women, and individuals suffering from claustrophobia or respiratory insufficiency, are discouraged from visiting the Catacombs.
Buying Catacombs, Paris tickets online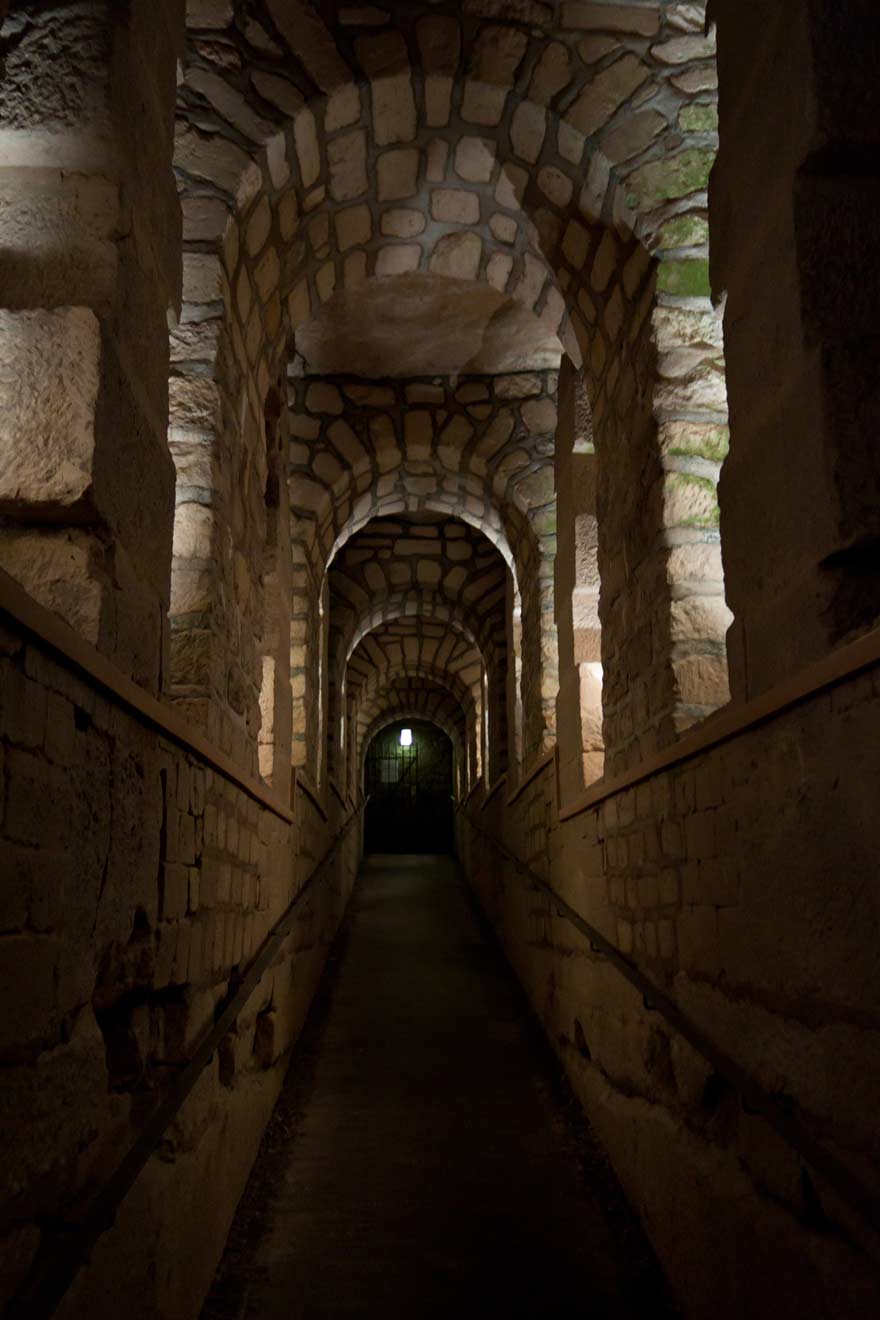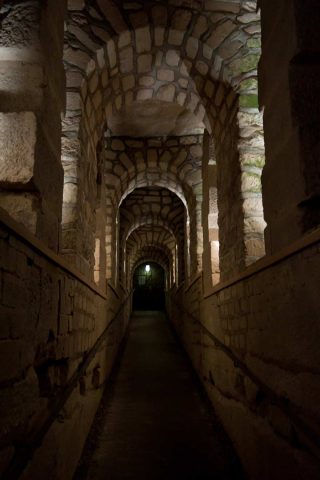 Adult tickets to the Catacombs cost €29 on the official website, however, I don't actually recommend buying them on the official website. This is because not only is the official website pretty hard to navigate (a lot of it is in French only), but the tickets you buy through the official website are non-refundable and you can only buy them a maximum of 1 week in advance.

But, I have found that GetYourGuide is a better place for you to buy them if you're looking for a couple of extra free perks (who isn't?)!

As I mentioned earlier, tickets to the Catacombs often sell out, and in order to avoid missing out, it is recommended you book as far in advance as possible. While 1 week is generally enough (since that is when they release tickets on the official website), no one wants to worry about having to book tickets while they are already on holiday!

So I recommend booking tickets from GetYourGuide where you can safely secure yourself a spot many weeks in advance, with the added security of being able to cancel for a free refund up to 24 hours before your entrance. All this for the same price as the official website (€29)!
Fun fact: Do you know why the Catacombs were built? They were created because of a public health crisis in Paris, in which local cemeteries exceeded their capacity and they needed more space!
Tickets are available for entrance from Tuesday to Sunday but you must book a specific entrance time slot between 9.45 a.m. to 7:30 p.m.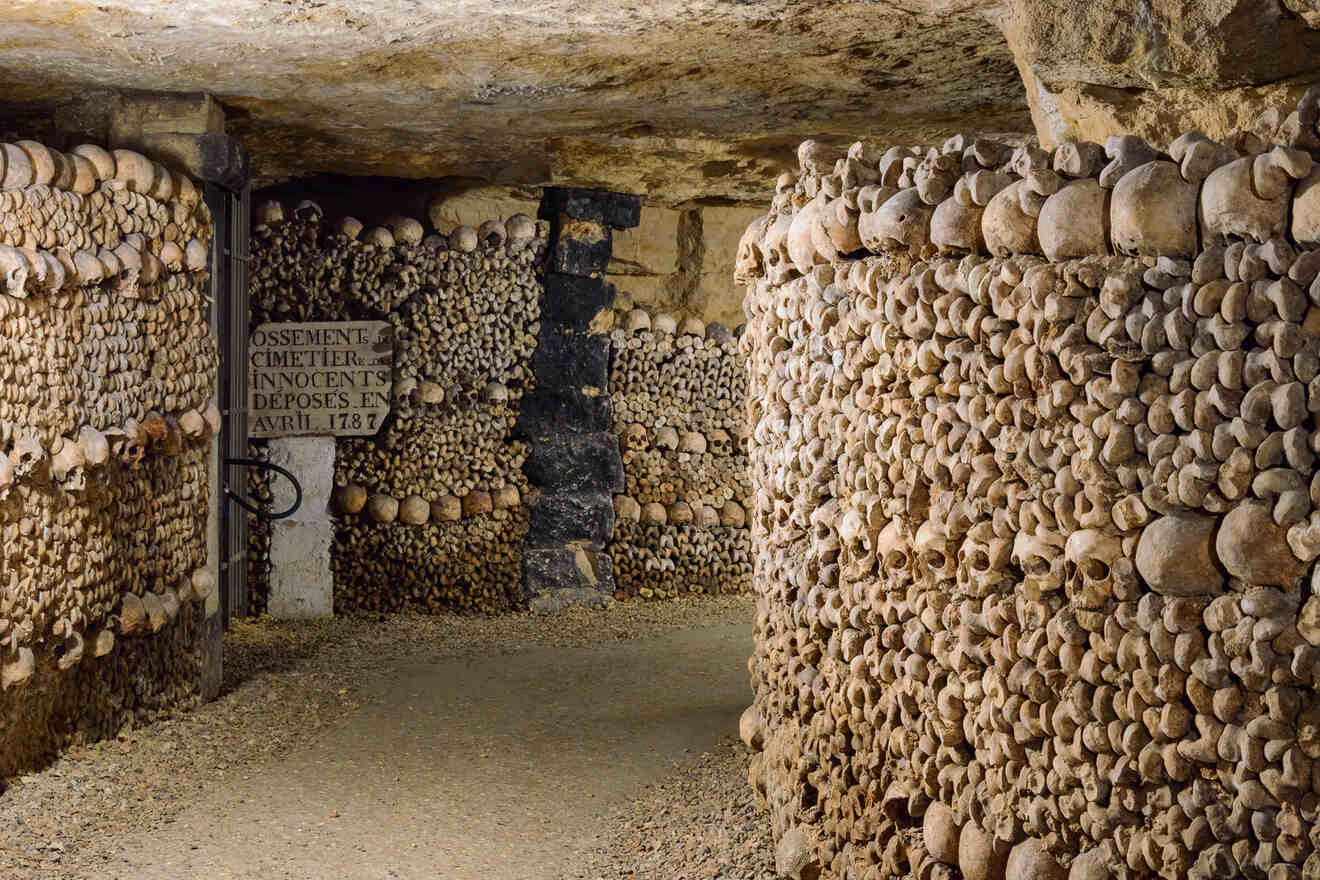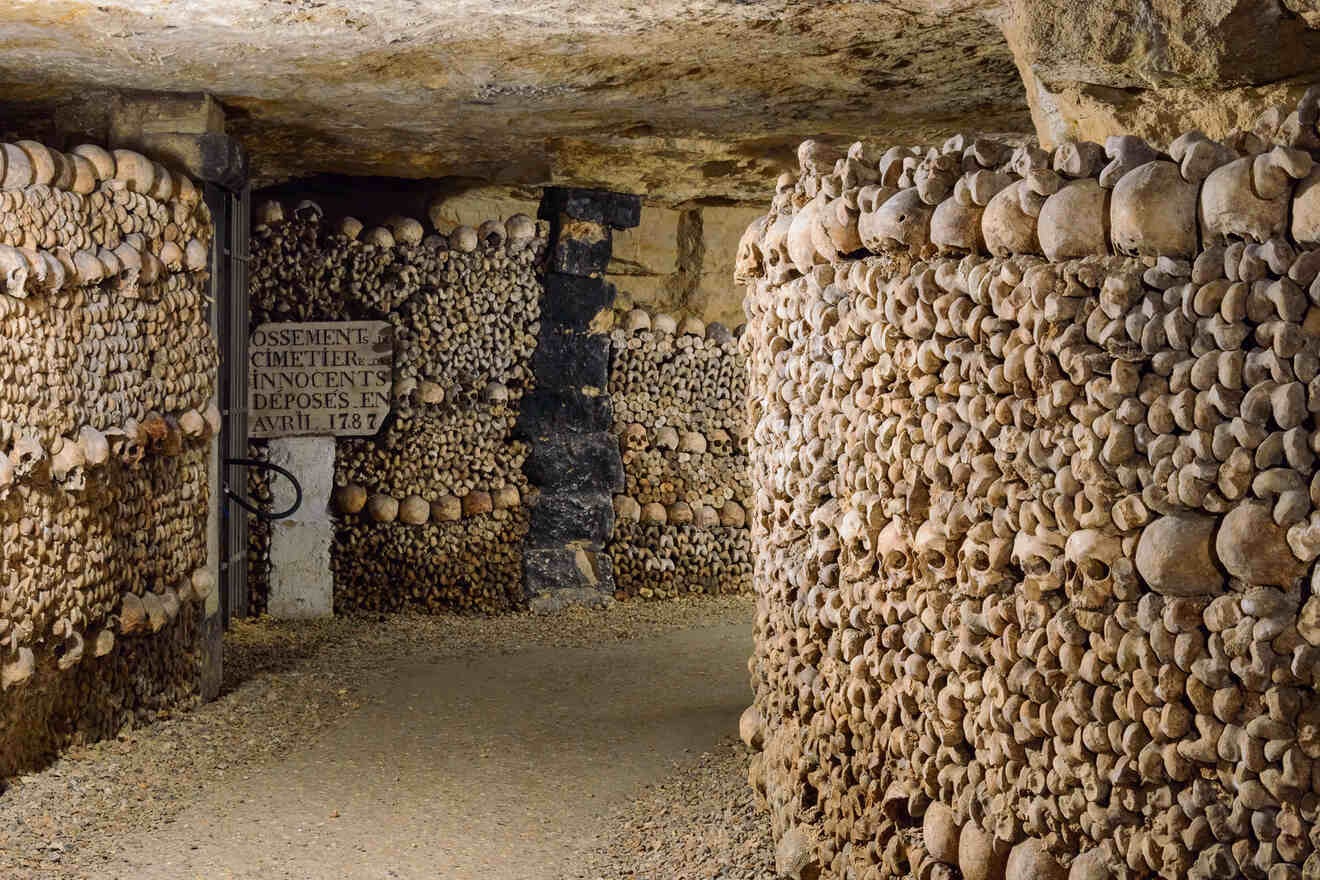 NOTE: Once you choose the time of your visit, you cannot change it. This is another reason why buying refundable tickets is a good choice, as you could potentially cancel your booking and book again if available.
Audio Guide: The audio guide is included in the adult ticket price and is available in French, German, English, and Spanish (but I'll talk about this more in detail later in the post)!
Prices:
Full price: €29 (Audio Guide Included!)
Reduced price: €27 (Audio Guide Included!). For: 18 to 26 y.o people, students, members of la Sauvegarde de l'Art Français, la Société de l'Histoire de l'Art Français, la Société française d'archéologie etc.
Kids (4 to 17 years old): €5 (without audioguide).
IMPORTANT: For kids, there's no online booking, you need to buy them at the front desk, presenting identification proof, but the accompanying adults must have already purchased tickets online.

If tickets are sold out for your preferred time or day, you can check Headout, Viator, or Tiqets for more options!
2. Guided tours of the Paris Catacombs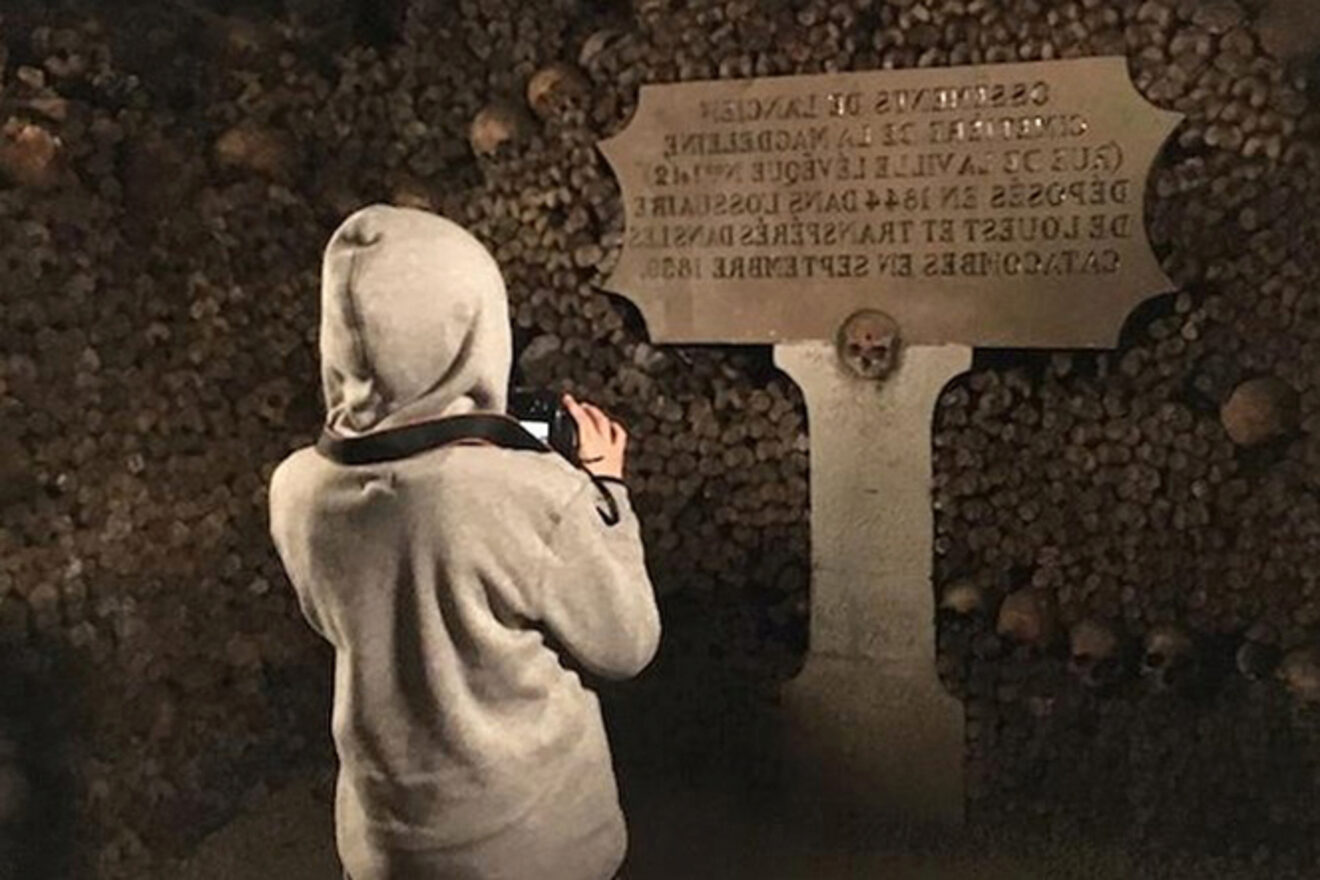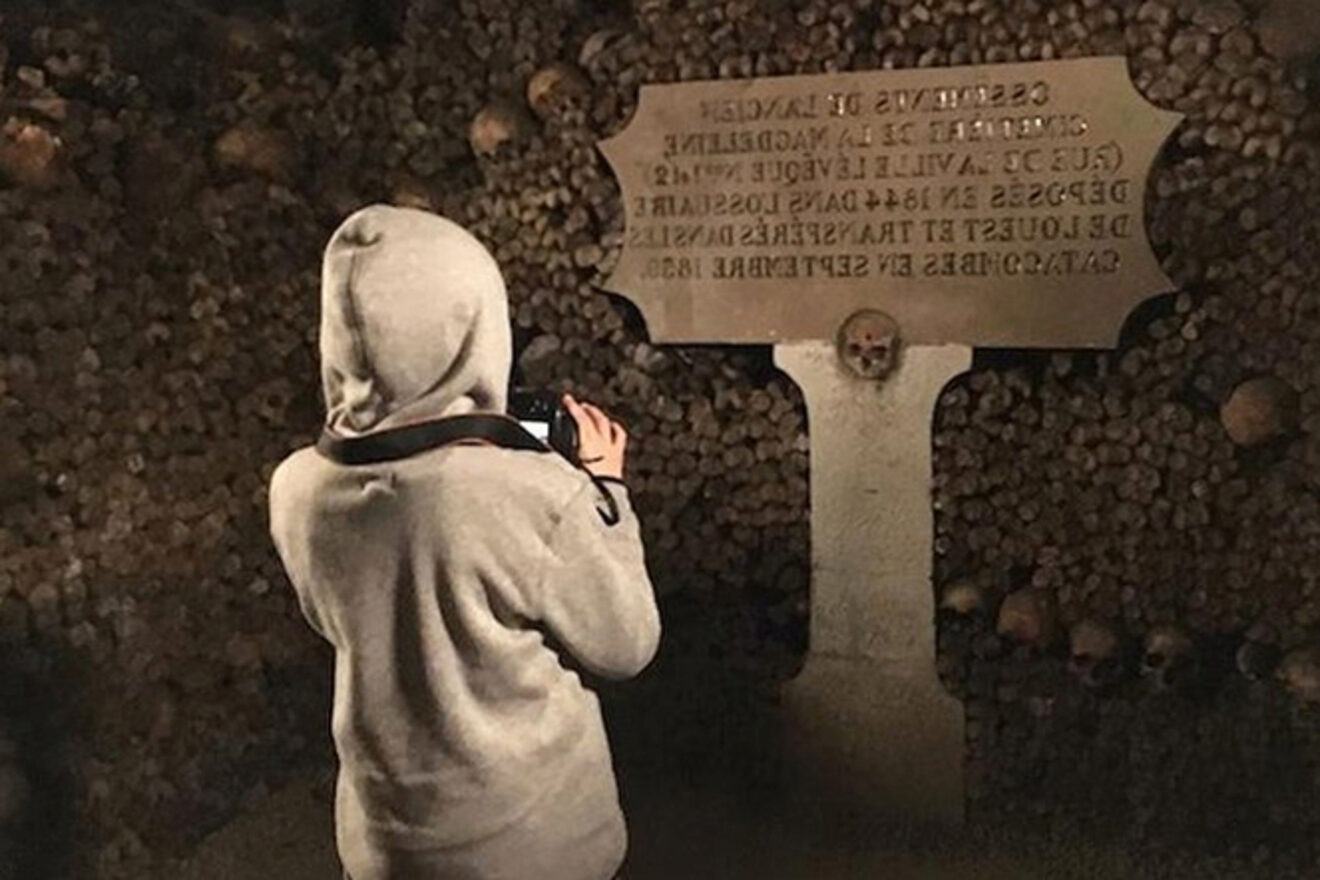 Are you the type of traveler who prefers visiting the attractions with a live guide who explains all the details and to whom you can ask any questions you may have?
Then check out the guided tours below. I included a range of tours to suit different people… Check them out!
2.1 Official group tour (French Only)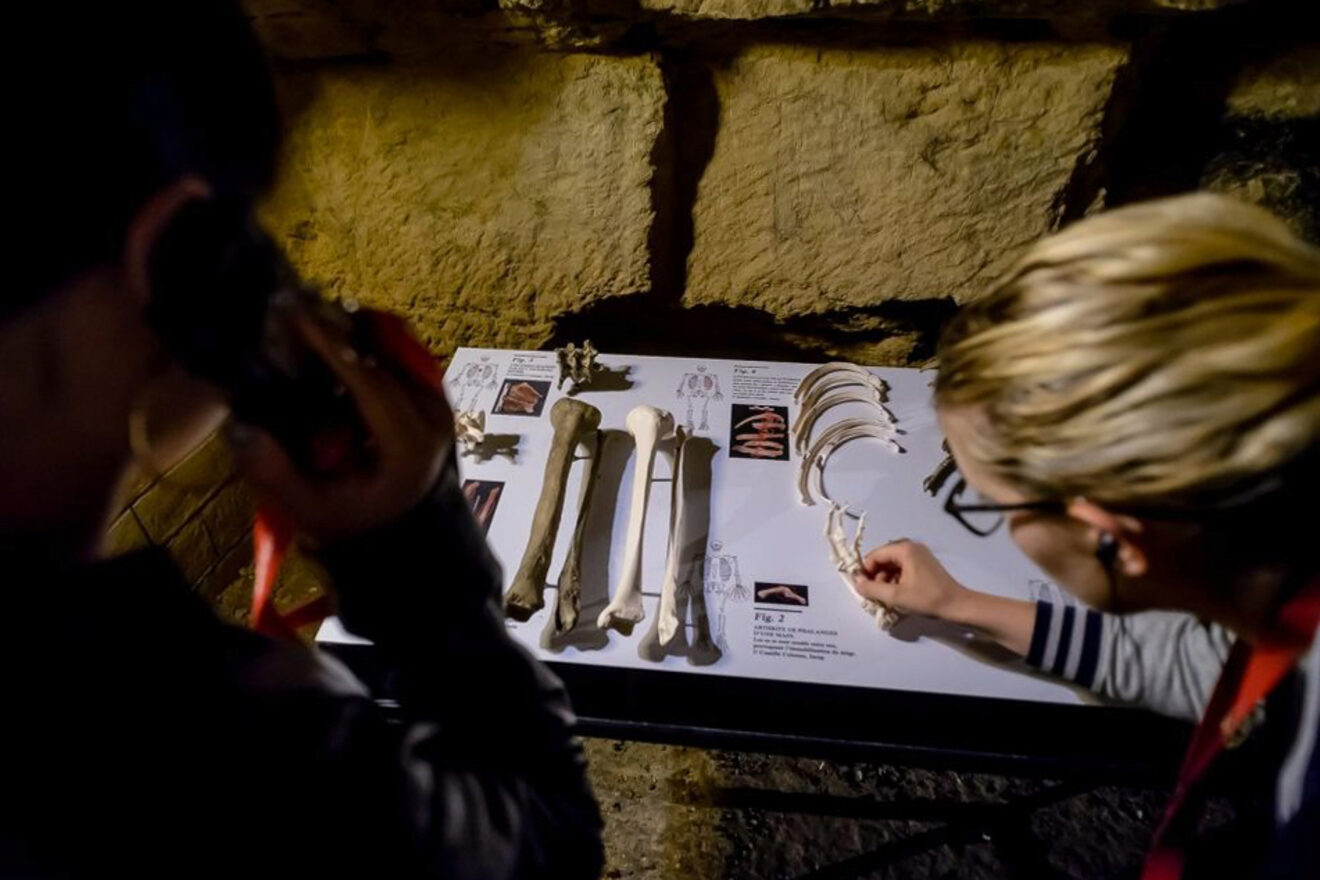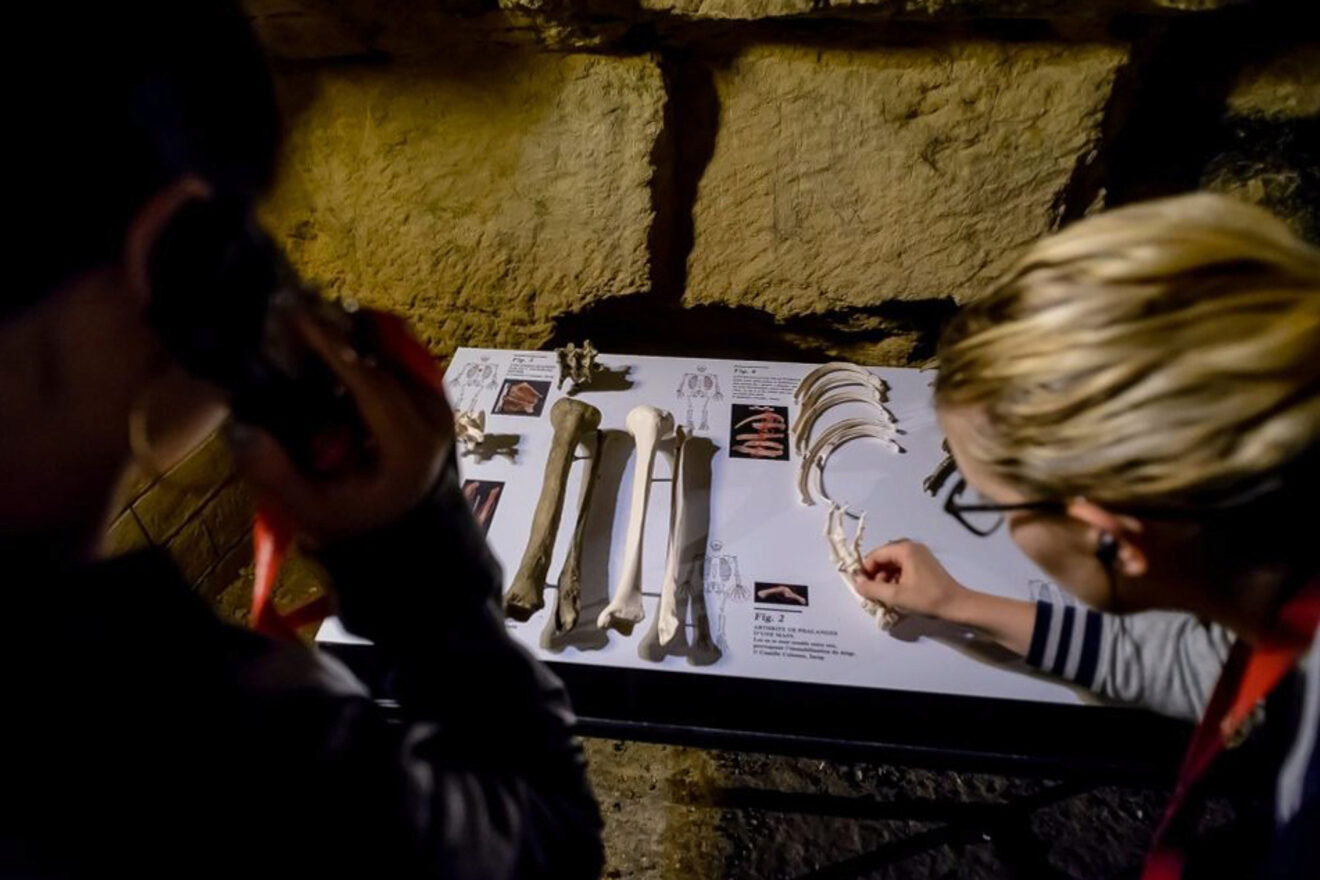 As with the regular entrance ticket, I don't recommend you try and join an official tour of the Catacombs but I will give you the details just in case you speak French and want to go down this route.
The official website also gives you the possibility of booking a 2-hour guided tour of the Paris Catacombs with an expert, so you can learn about its interesting history, the Secure sculptures, the Sacellum crypt, the quarrymen's foot bath, the sepulchral lamp, and Gilbert's tomb. Tickets cost €30 per person.
The downside of the official guided tour is that it is available only in French and once a week (Thursday at 1pm) and is limited to a maximum of 20 people (including the guide!).
If you know French and you're interested in this option, you need to download this form and email it to the official website with your desired date, but make sure to send the request at least 4 weeks in advance as the process takes time, and there's a lot of requests!
Doesn't sound very easy right? Since the conditions to get this group tour are quite strict, I suggest you check out the guided tours mentioned in the section below, they are in English, available much more frequently, and are easier to get!
2.2 Catacombs Tours in English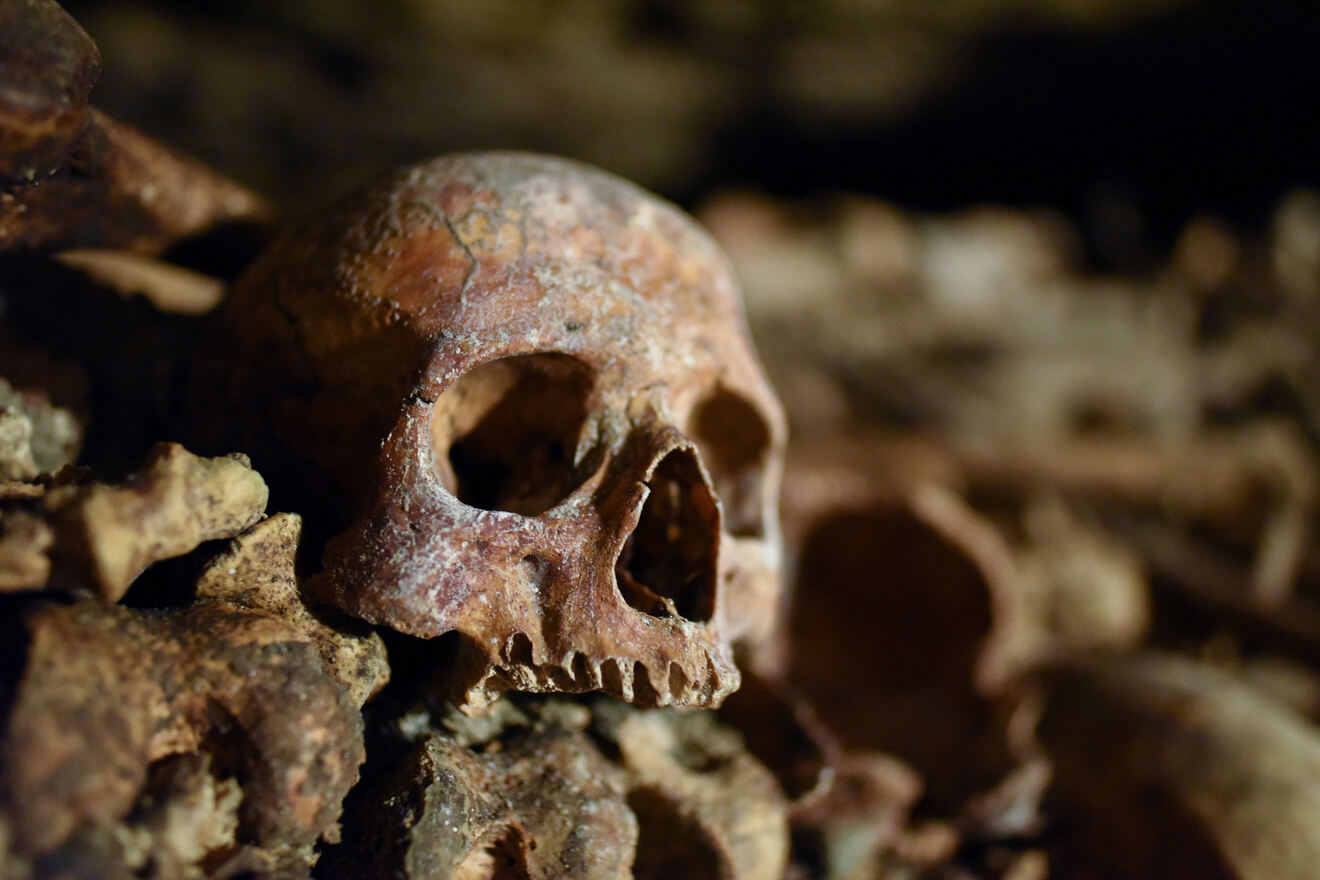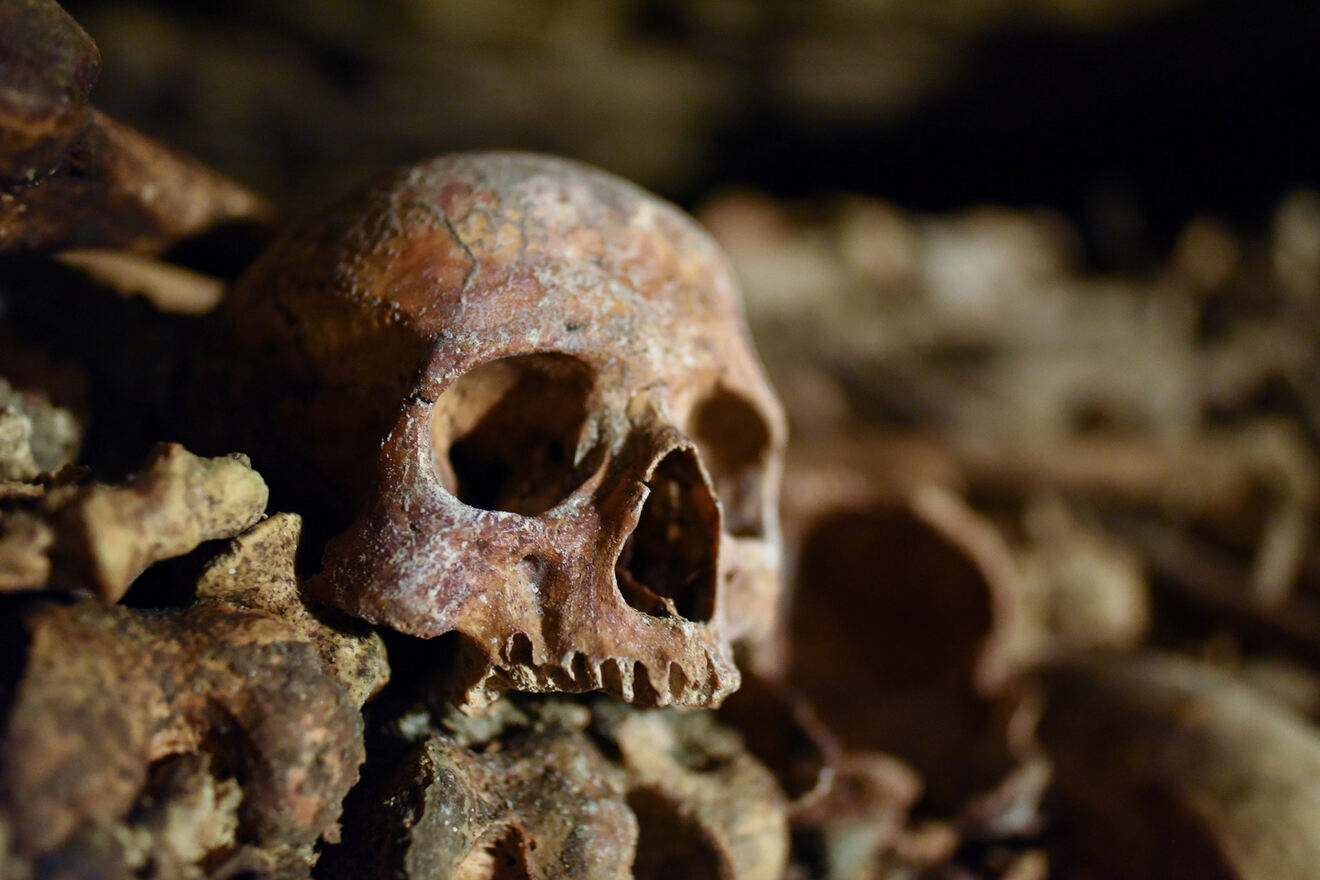 A better option if you want to join a guided tour of the Paris Catacombs, is the one offered by Viator. This tour will help you skip the entrance line, learn about the Catacombs with an expert English guide, and get special access to chapels and chambers closed to the general public.
Fun fact: There are clandestine groups of people in Paris (called cataphiles) who break into the off-limits sections of the Catacombs and go swimming there, have launched a secret movie theater, and even an all-out restaurant… Creepy or cool?
Although you don't get to go into the illegal parts of the Catacombs I just mentioned, on this group tour, you will still get to see extra areas on top of the normal route. The group size is limited to 19 people, and runs at 12:30 pm and 5 pm every day of opening, lasting about 2 hours.
Price: €84
P.S.: If this tour is sold out, you can check out this other option, offering the same conditions as the last one but for a maximum of 14 visitors on weekends and 6 on weekdays for €89.
2.3 Group tours for families with kids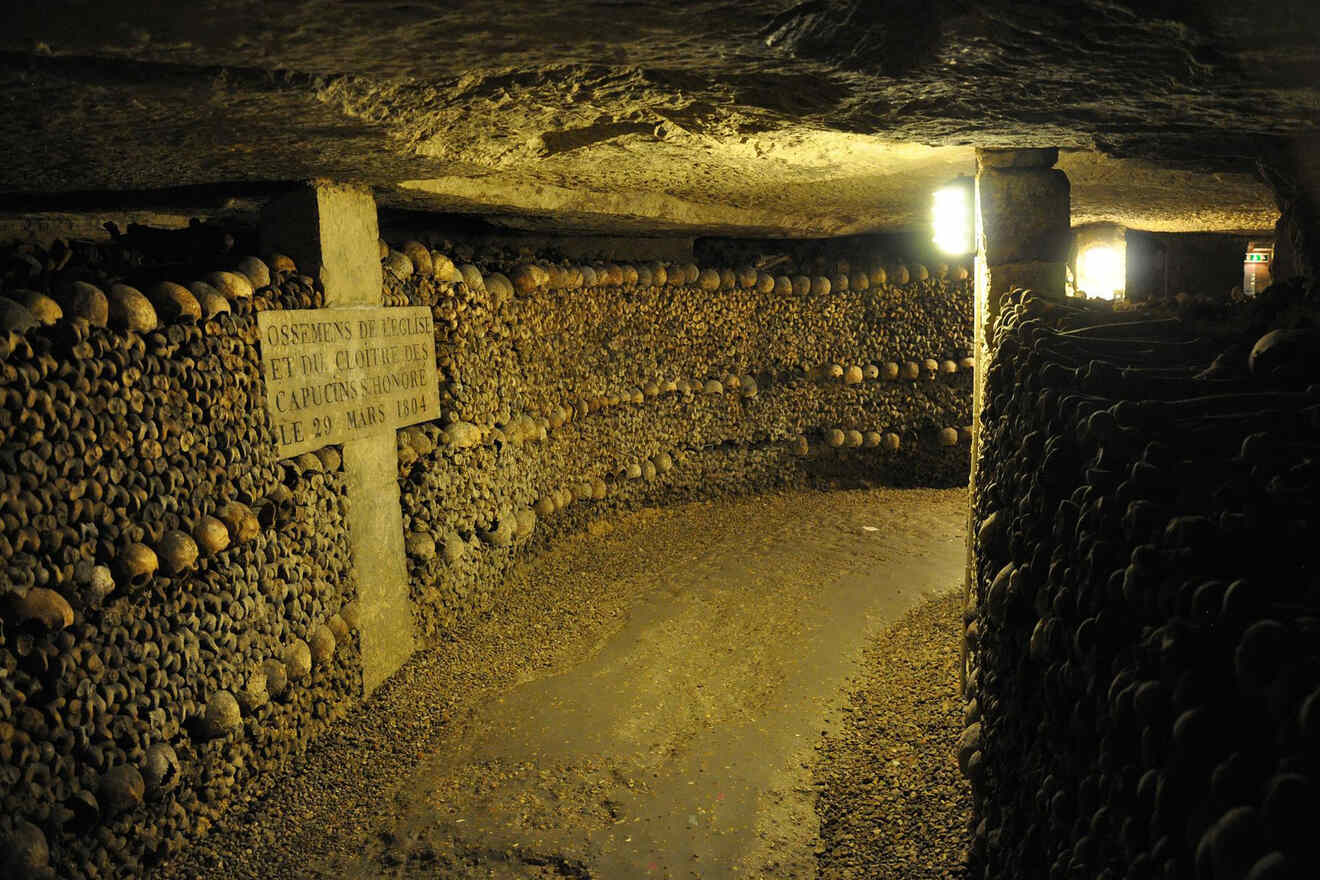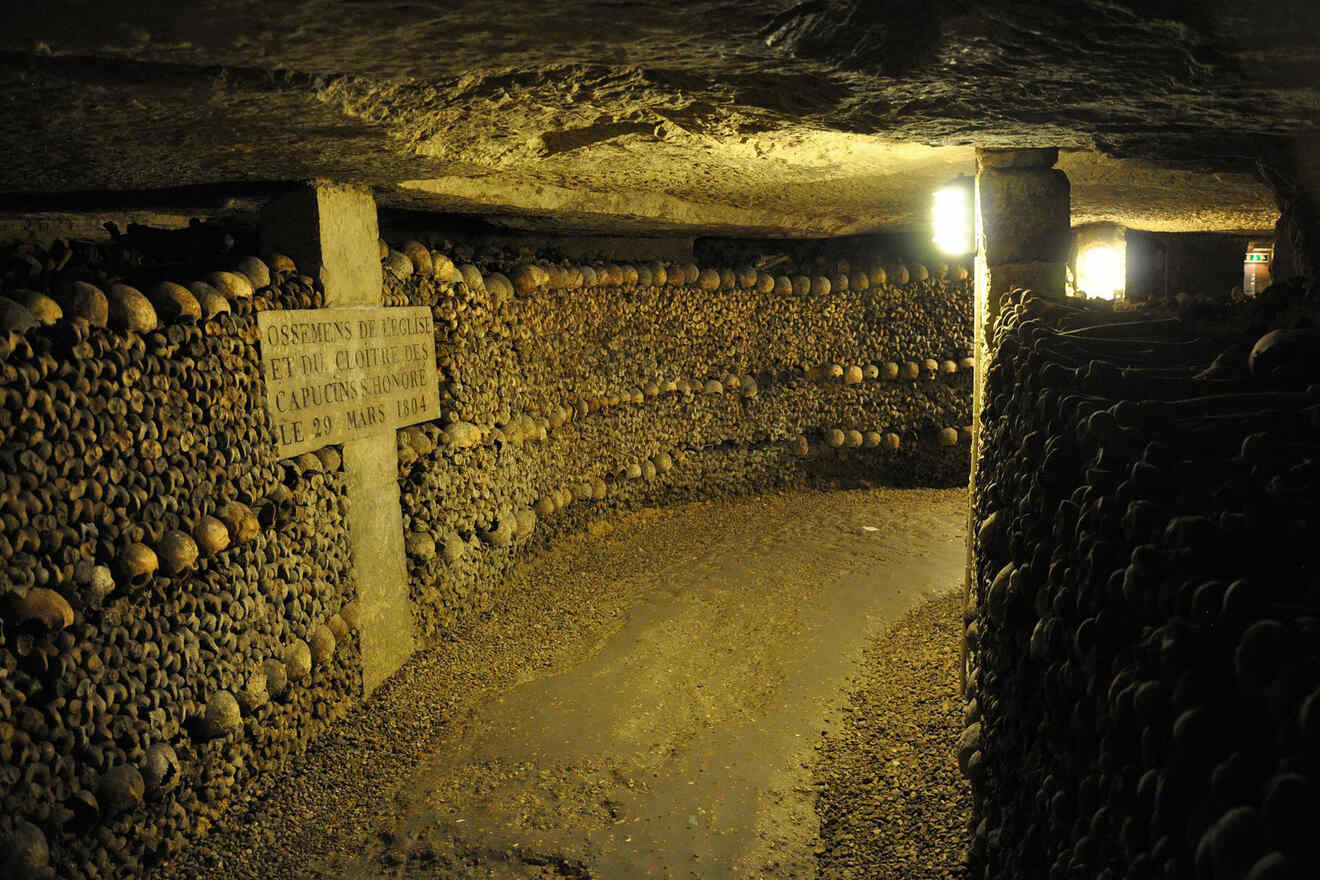 If you are visiting the Catacombs of Paris with the whole family and are worried that your kids will get bored or afraid of the attraction, check out this private tour, customized for families with children of any age!
After skipping the line to the Catacombs of Paris, you will explore the fascinating underground tunnels and tombs while enjoying an entertaining (but educational) commentary from your guide who will make history fun for the whole family!
Check out one of the fun facts you will discover during the tour: in the past the Catacombs have been used to commit serious crimes, like breaking in and robbing a Parisian apartment's wine cellar through the underground tunnels!
The tour can be given either in English or French and lasts about 2 hours. Since it's a private tour, it can be customized just for you and your family, making this the best way to visit the Catacombs for anyone with kids!
The tour costs around €796 for 2 adults and 2 kids, but the price varies based on the group size.
2.4 Private Tours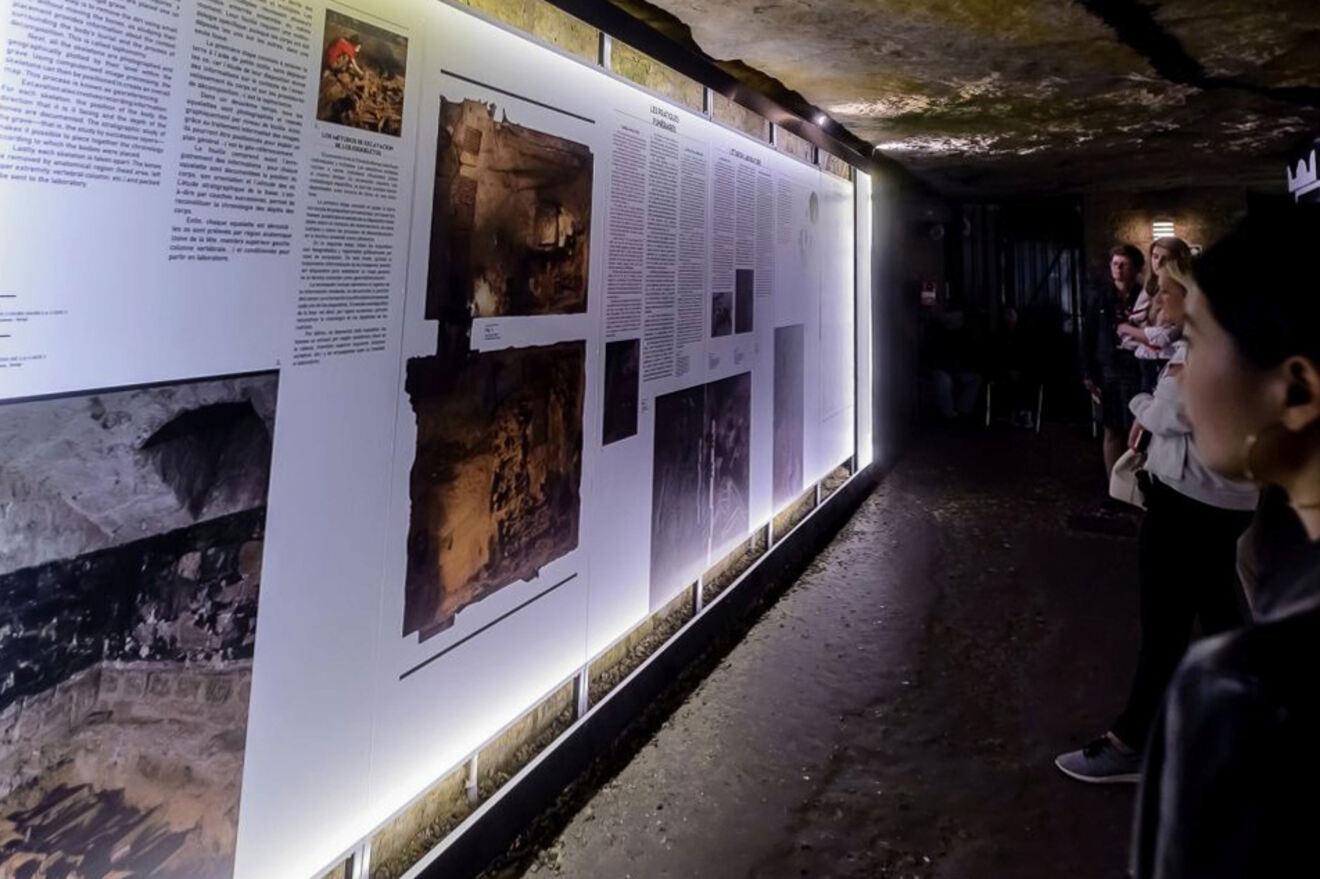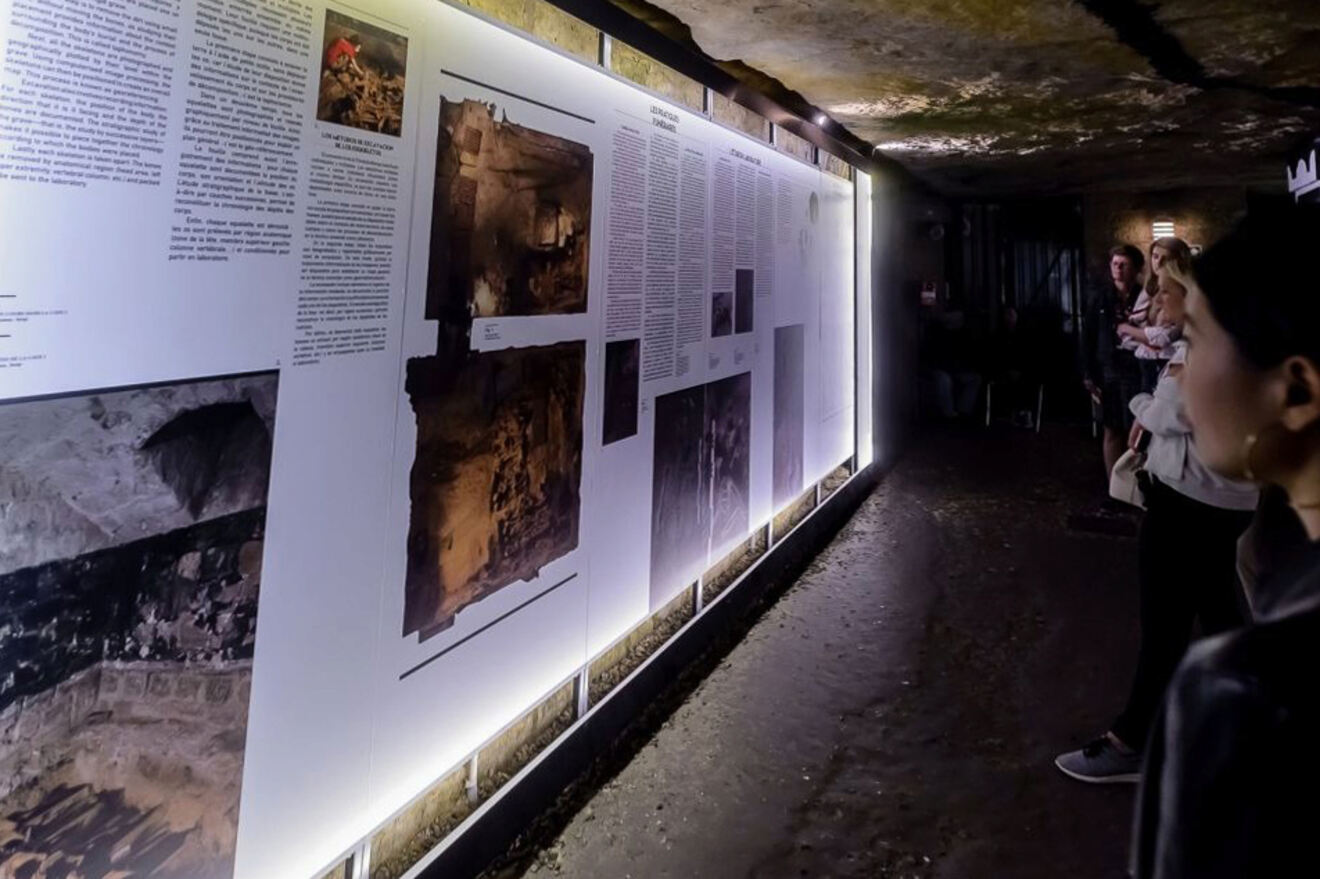 If you want to have a more intimate experience and explore the Catacombs of Paris without being overwhelmed by crowds, check out this private tour with an expert local guide (Alberto is particularly loved!).
They will share their expertise and tell you everything about the history of this fascinating site while bringing you through the underground tunnels and the notorious ossuary (you will also get to know where all these bones come from!).

So this is a perfect option for those of you who have many questions and don't want to share your guide with other people!
Price for 4 person group: €756 (price changes depending on how many are in your group)
3. Combo attraction tickets
If you are in Paris just for a short time and you want to make the best out of your days, you could combine a visit to the Catacombs with another cool attraction in Paris, giving you access to them both at lower prices!
I found 2 valuable options that will make you save money and time, check them out!
3.1 Catacombs of Paris Guided Tour + Montparnasse Tower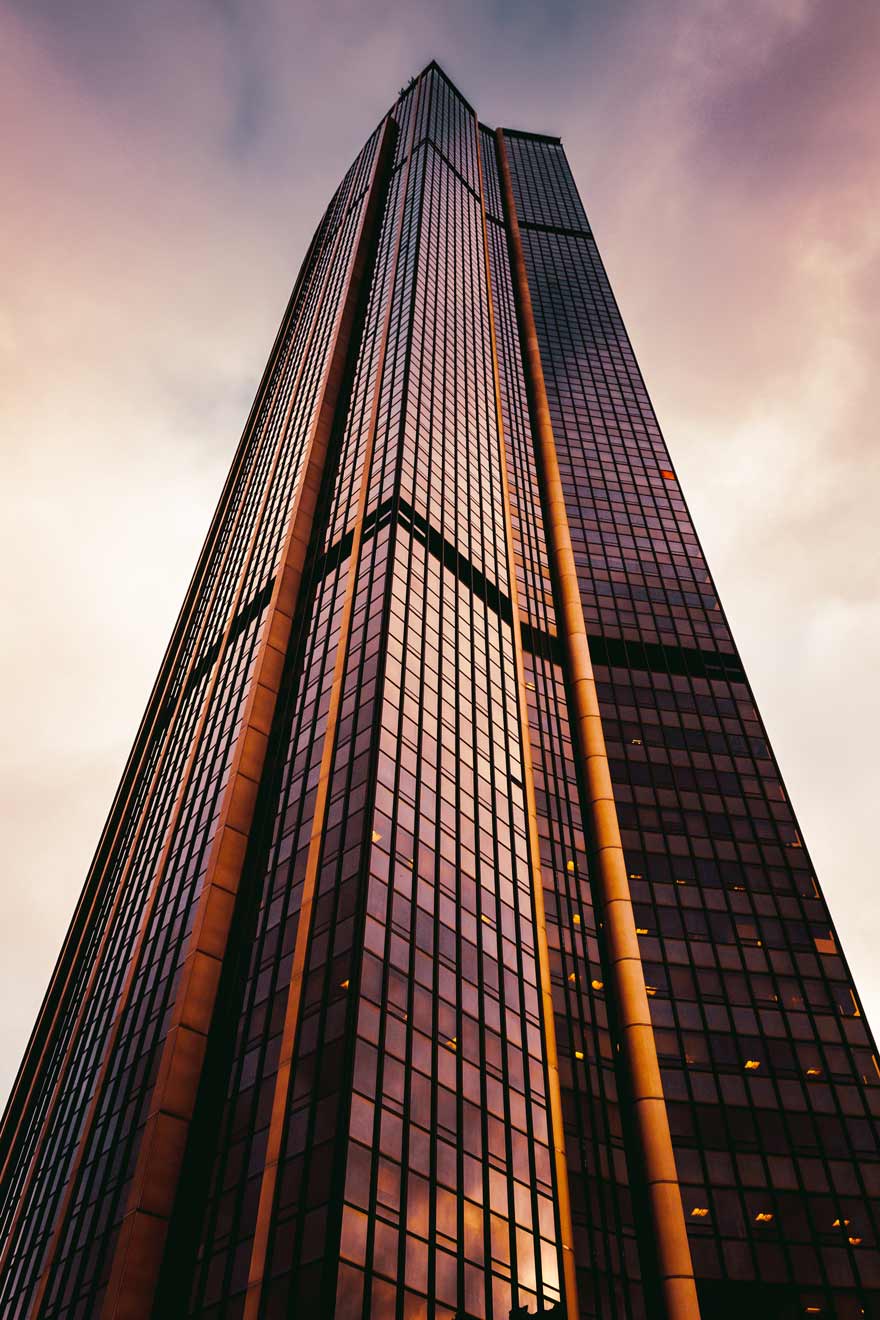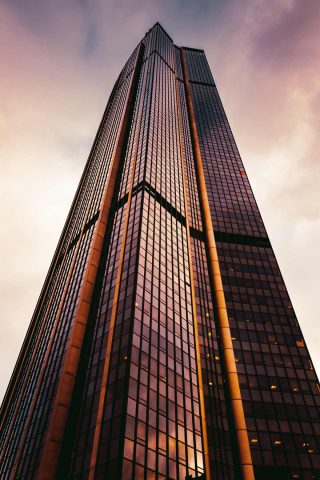 With this ticket, you will get access to an (English) guided tour of the Catacombs limited to 6 participants, plus skip-the-line access to the Montparnasse tower, one of the best viewpoints in Paris!

The Montparnasse Tower hosts one of Europe's fastest elevators, so you'll get to the 56th-floor observatory in just 38 seconds and gaze at breathtaking 360° views of the city. While here you can also dine at Paris' highest restaurant: Le Ciel de Paris, explore touchscreens, films, and exhibitions, learn some interesting facts about the French capital, and head to the very top, 210 meters above street level… If you're not afraid of heights, this is really a unique experience!

Combined price: €132

Savings: €6 per person
3.2 Catacombs of Paris Guided Tour + Eiffel Tower 2nd Floor or Summit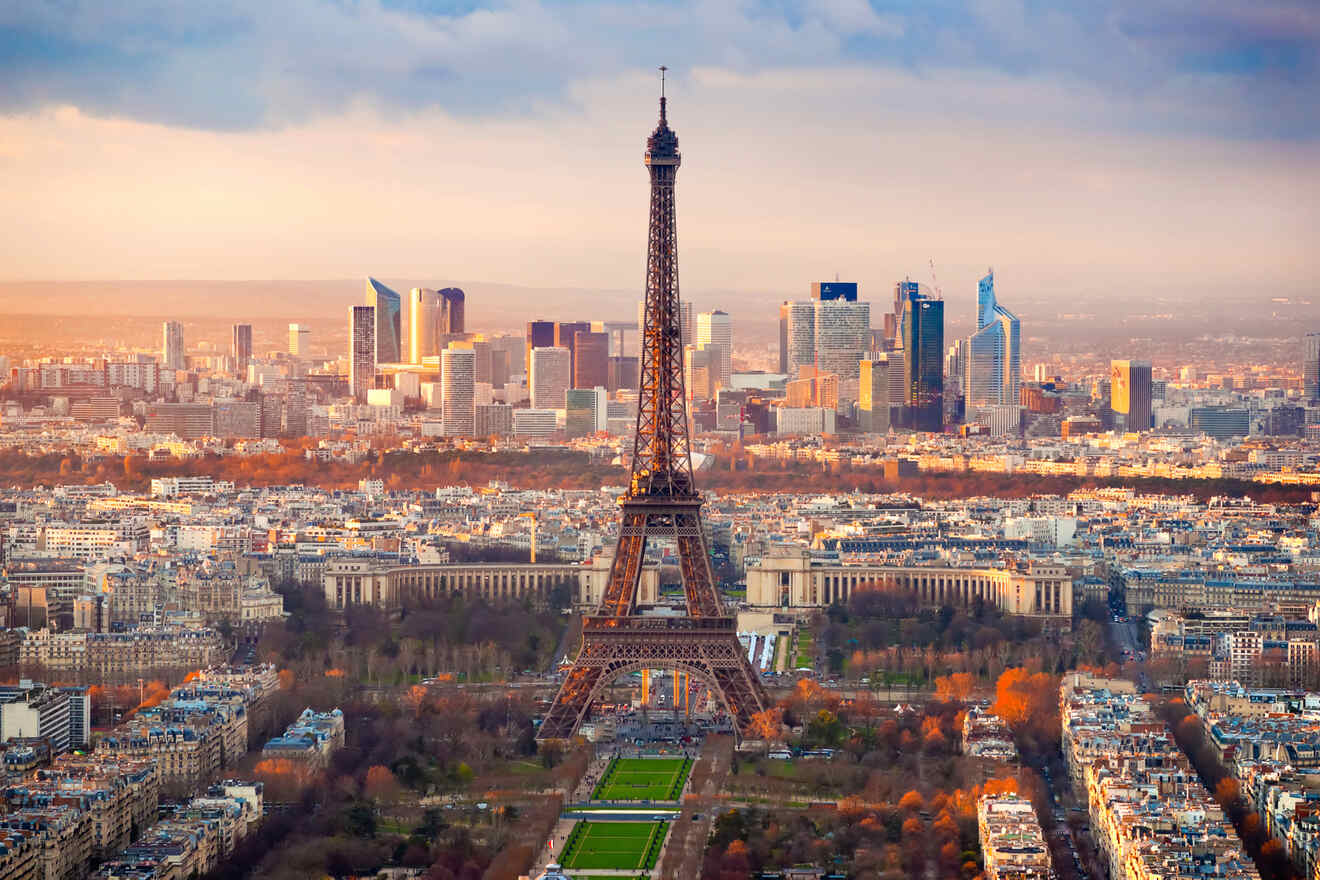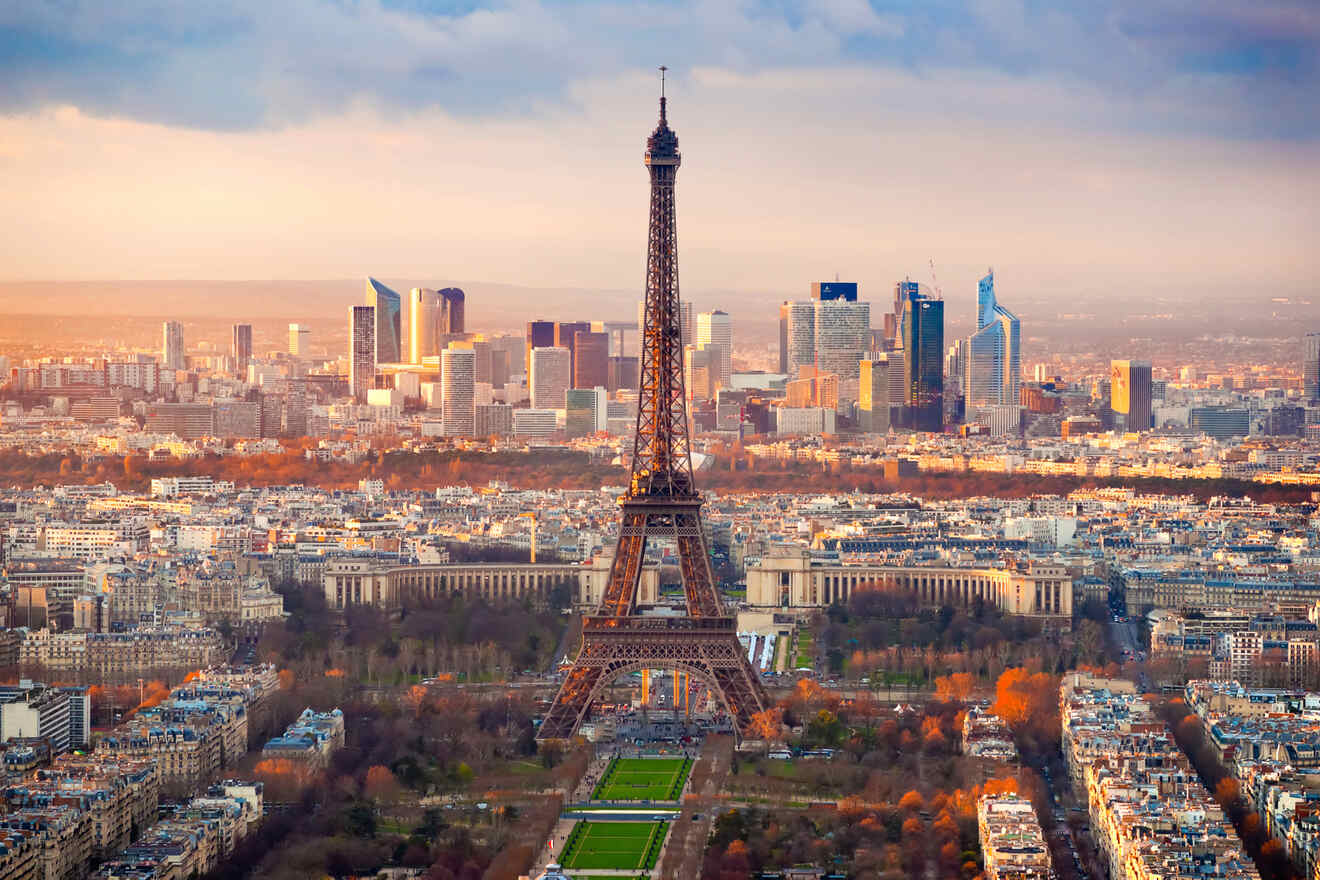 Here's another ticket combining the Catacombs of Paris semi-private guided tour with a world-famous viewpoint in the city, and one of the most crowded attractions in Paris, the Tour Eiffel.
With the Eiffel Tower portion of this ticket, you'll get skip-the-line access to the second floor of the Eiffel Tower and learn more about its history and construction with commentary from your English or French-speaking guide.
Then, you have the option to take the elevator and go up to the summit of the tower for an extra €49.00 (make sure you select it at the checkout), admire views of Paris and beyond, and maybe even take a drink at the bar! For this part, you'll need to wait in the normal line but it is not as long as the line at the bottom!
Are you already excited about the idea of seeing the Eiffel Tower? Then why not see it during the whole duration of your stay? Check out the top hotels in Paris with a view of the Eiffel Tower!
Price: €160
Savings: €8.50 per person
4. Last-minute tickets (how to find tickets if it's sold out)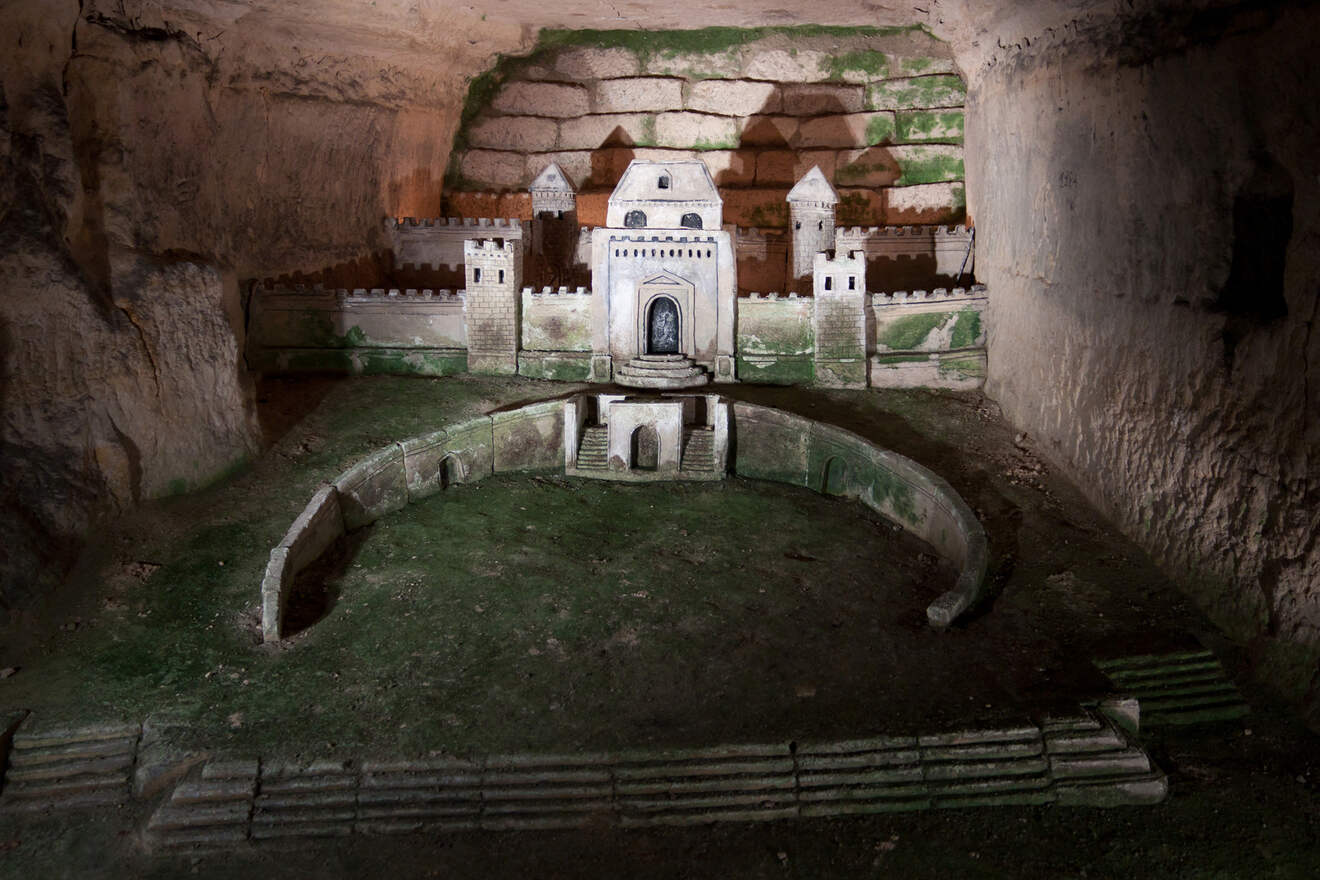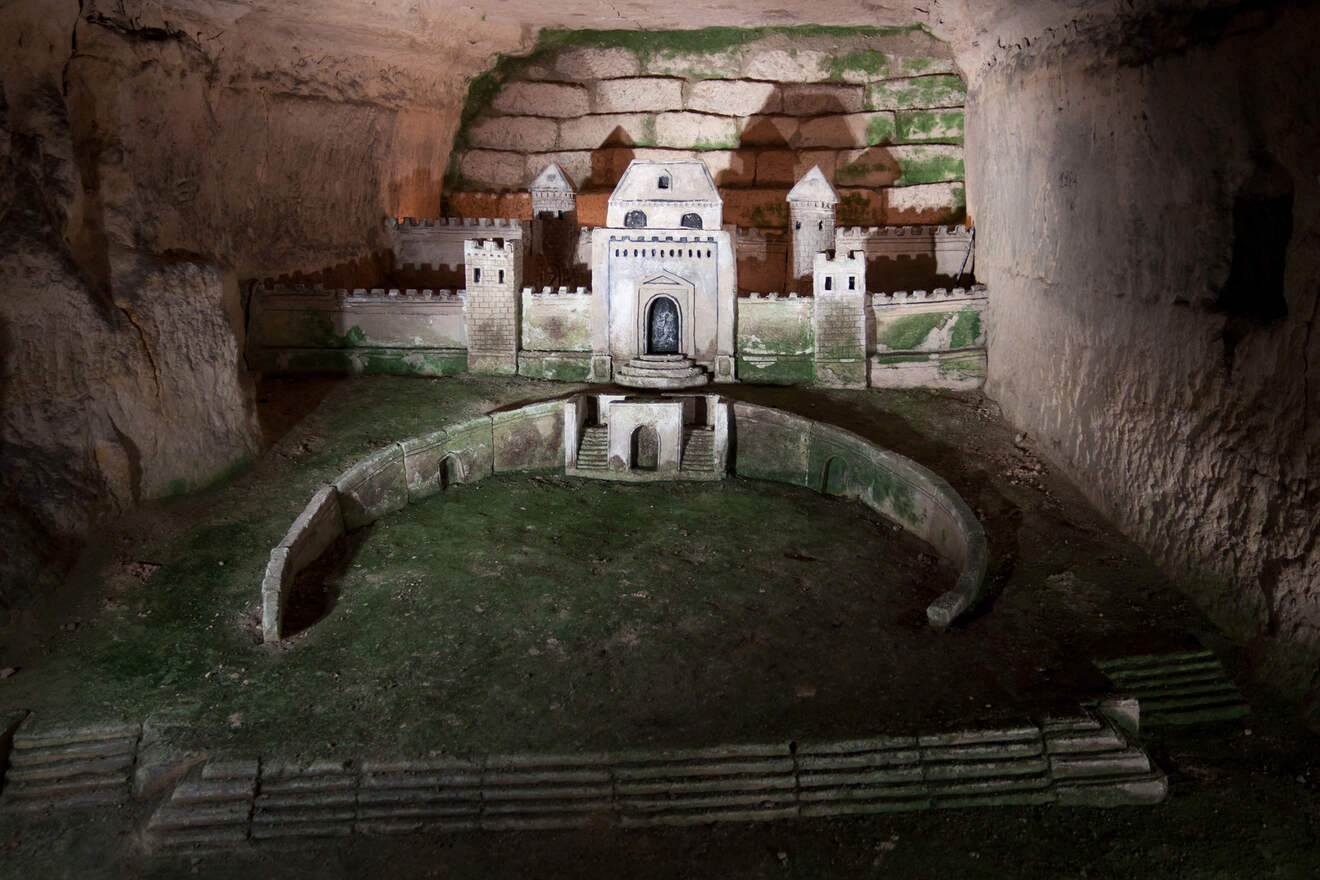 If you can't find tickets for your chosen date or time on the official website or GetYourGuide, as always, remember that you should still check Viator, Headout, and Tiqets as well. Sometimes these websites still have some left, even when sold out via the official channels.
If all the tickets mentioned above are sold out, there is a very last option you can try. Last-minute tickets are available online for same-day purchases in the off-season when they don't sell them all or people don't show up (so the number of tickets changes every day).
This also means that there may be limited time slots with last-minute tickets available, so take your travel time into consideration when booking because if you miss your slot (more than 15 mins late) they won't let you in.
NOTE: This is an option every open day except in summer (June – August)!
So if you are visiting outside of summer, you can check out the website to if they have remaining tickets and snap up a discounted last-minute ticket for the following rates:
Adults – €15
Reduced – €13
Children under 18 – free
But with this option, if you want to have the audio guide explanation you need to buy it separately for an extra €5.
PRO TIP: Check out the availability early in the morning of your chosen date, or you might miss out!
5. Visit the Catacombs Online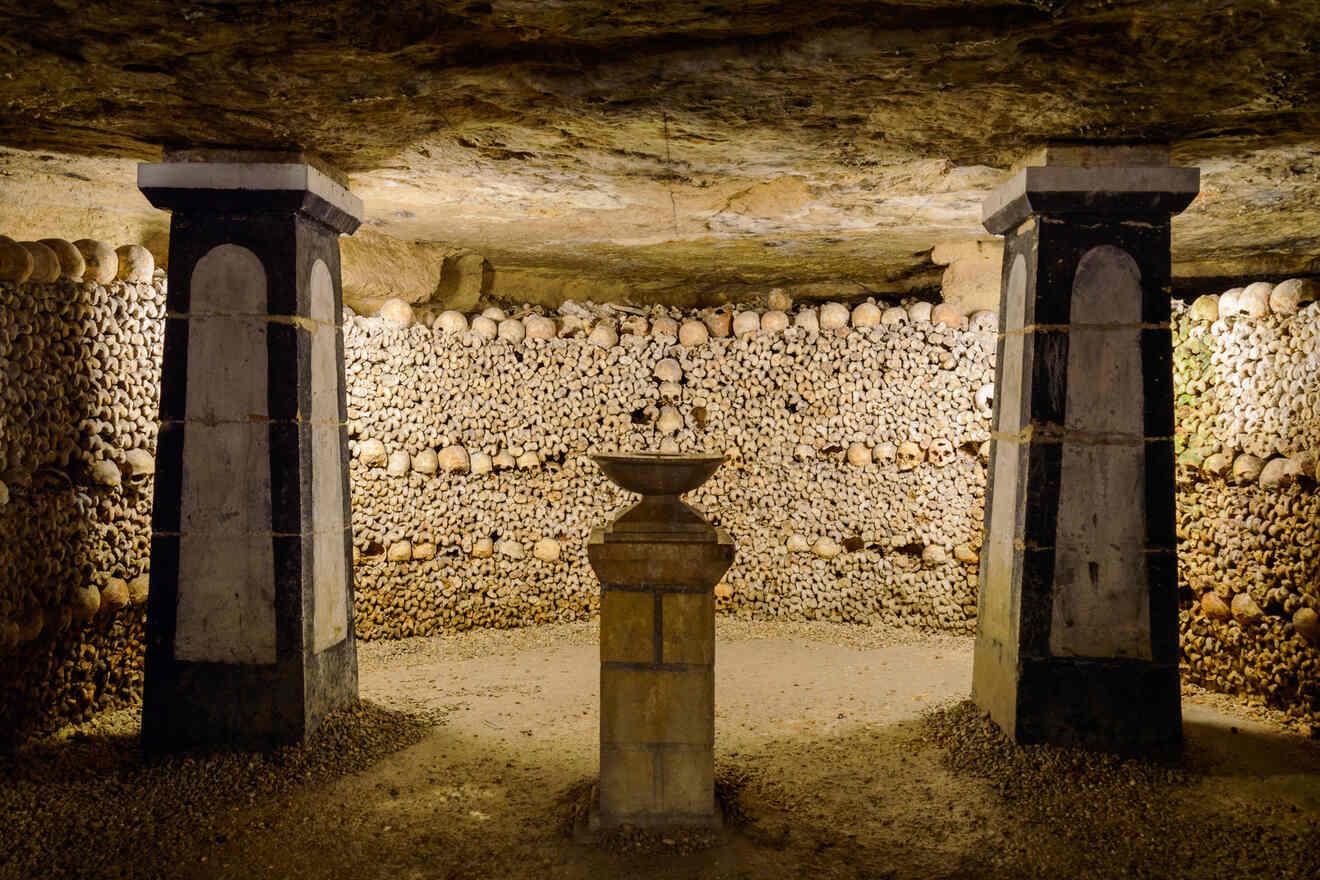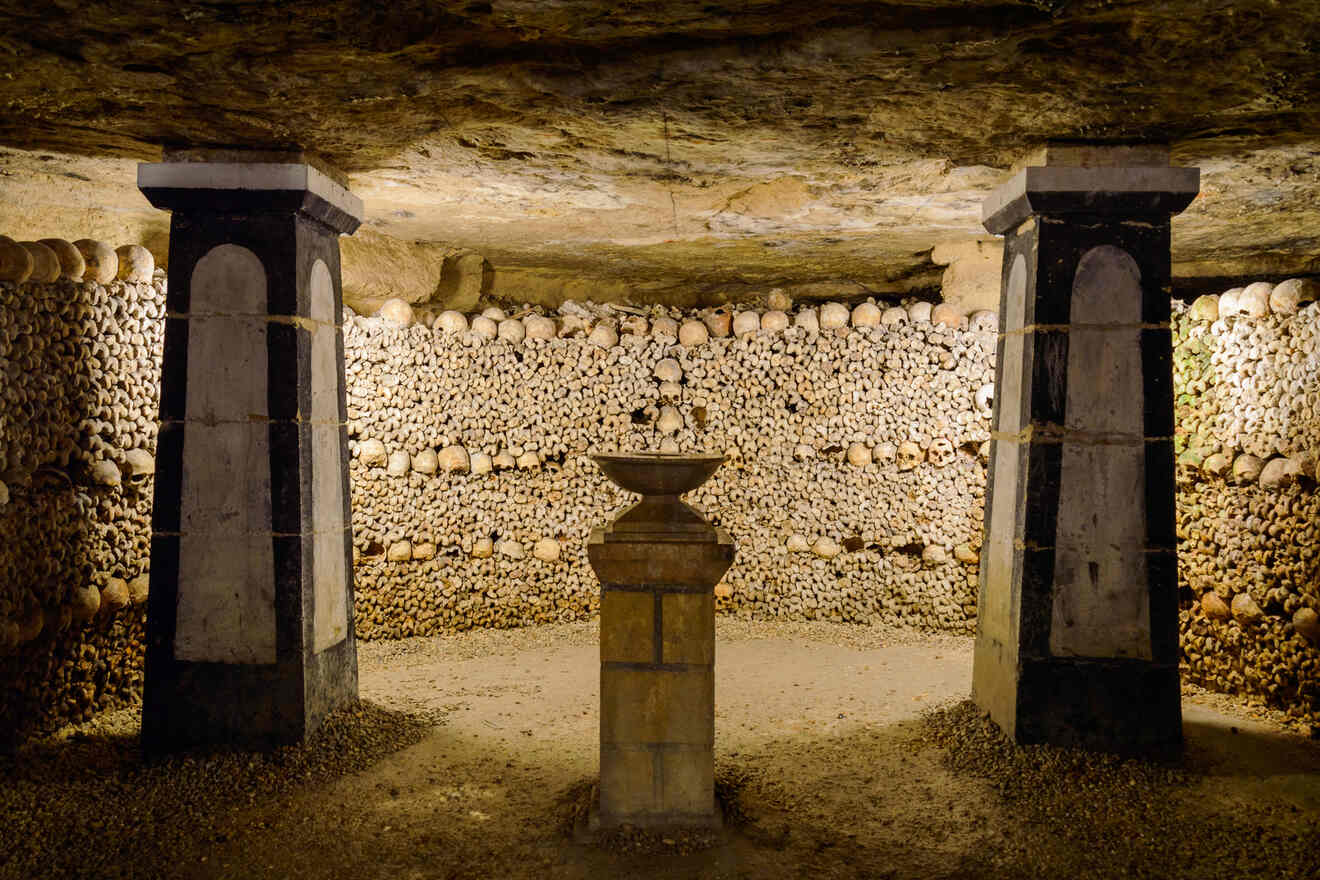 If you find yourself without time (or a ticket) to visit the Catacombs, and you don't want to wait until the next time you go to Paris to see them, you can always have a tour online!

So this is also a good option if you cannot go to Paris or fall into one of the categories who are discouraged from visiting due to the physical requirements.
The virtual visit allows you to discover this incredible attraction in the same way you would do if you were there from the comfort of your own home. The broadcast has English or French audio (& subtitles), so you'll also learn about its history and facts in the meantime!
The tour costs 5€ or 3€ (reduced rate) and lasts 40 minutes, but the ticket is non-refundable, so make sure you buy it when you actually have time to do the tour!
Important things to know about the Catacombs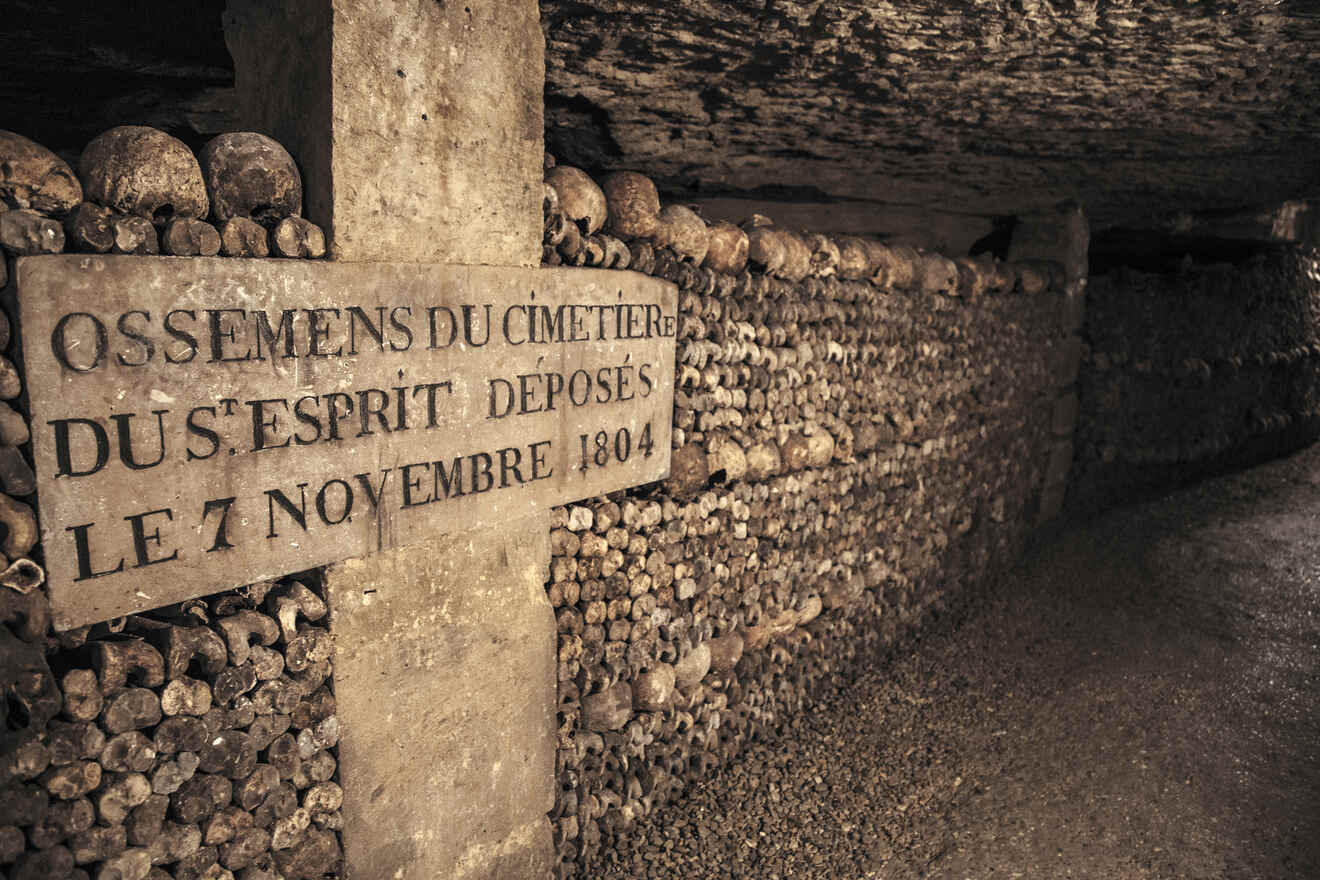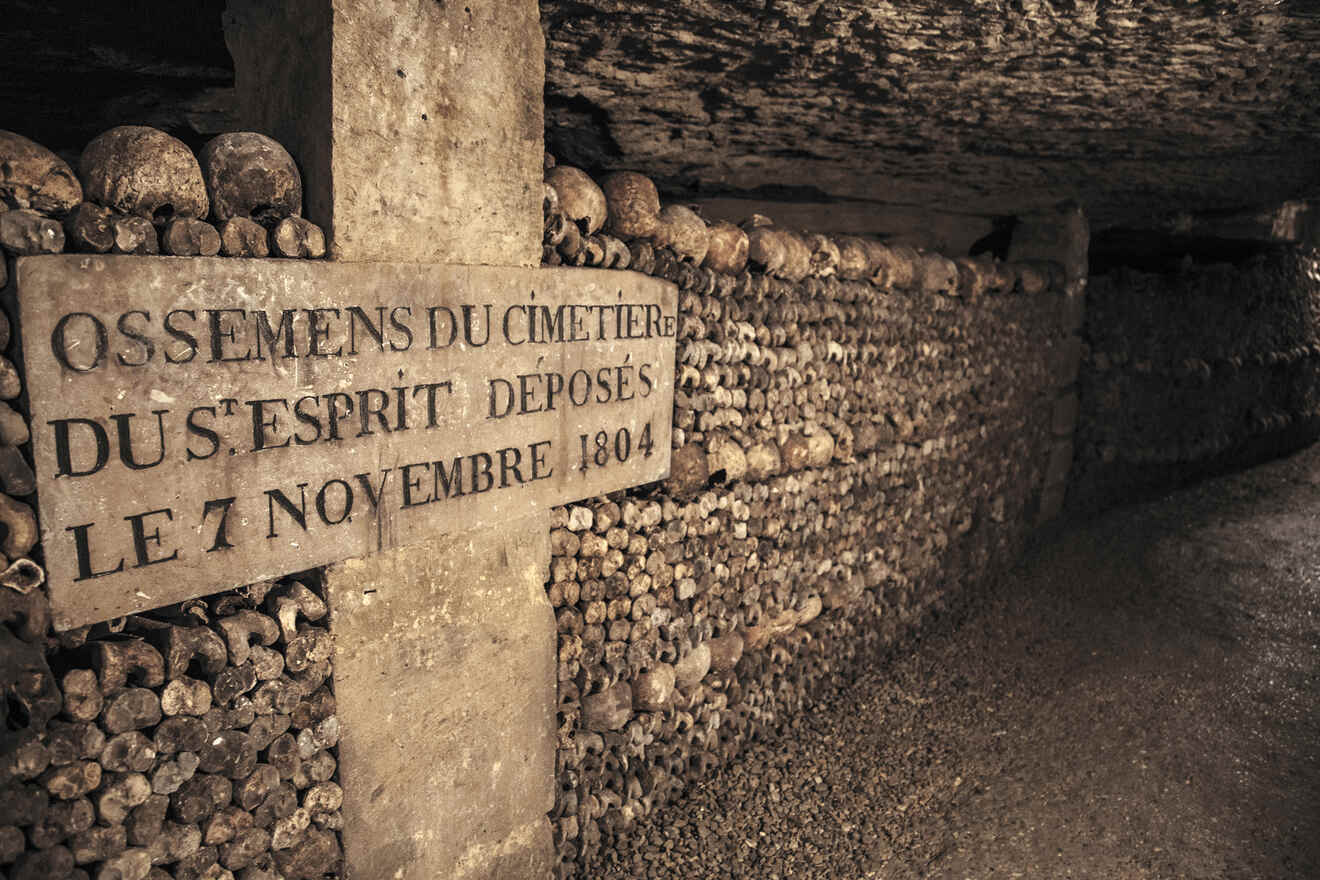 1. How far in advance do you need to buy your tickets
The tickets for the Catacombs are often sold out super quickly as the attraction has a limited capacity of 200 visitors per day.

On the official website, you can only buy them 1 week in advance BUT you can buy them a couple of weeks in advance on the ticket resellers. So I would recommend buying tickets a couple of weeks in advance, before your vacation from GetYourGuide, so you don't have to worry (since it's the same price).

But if you want to buy it on the official site, buy it 1 week in advance as soon as they become available!
2. Opening hours / Best time to visit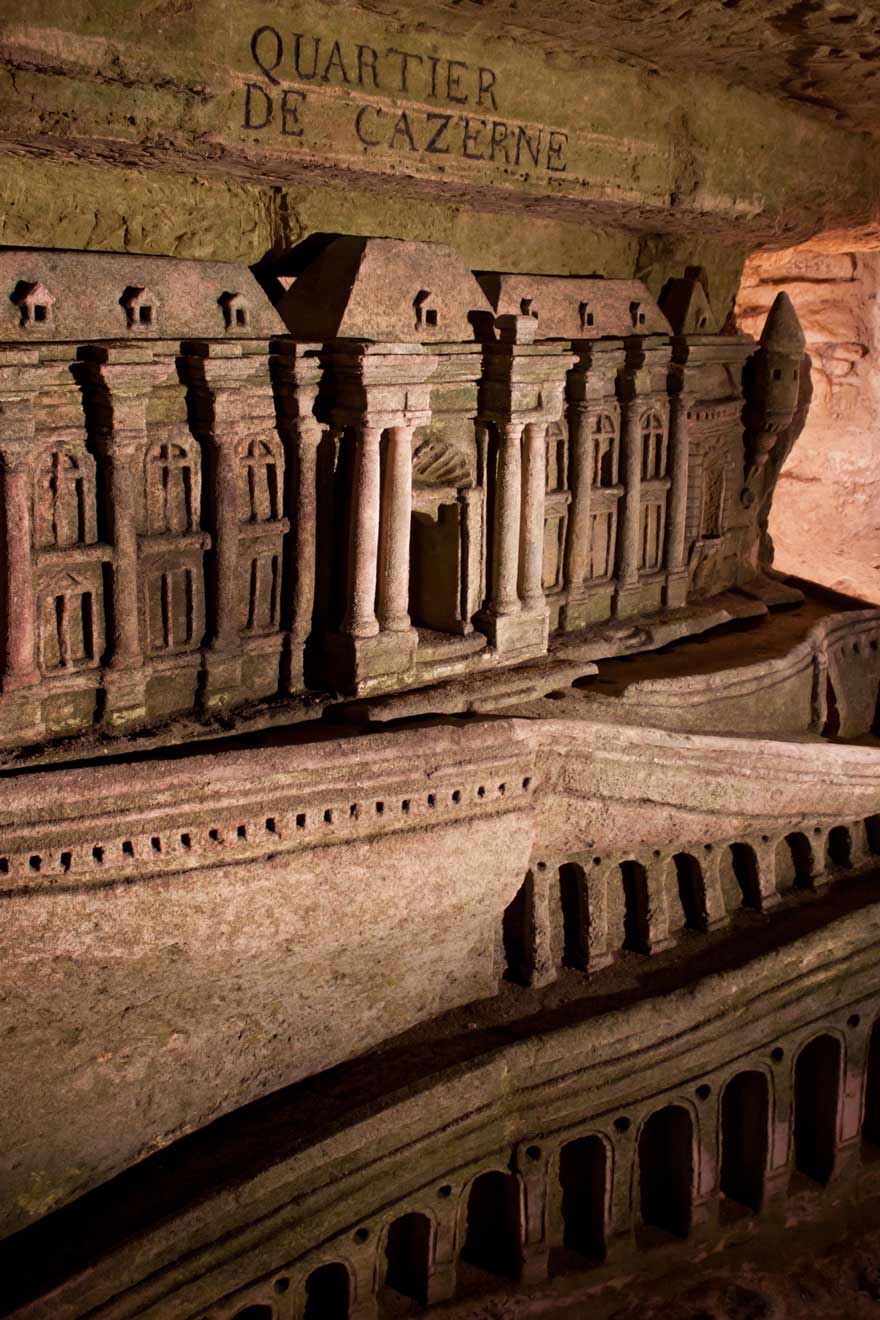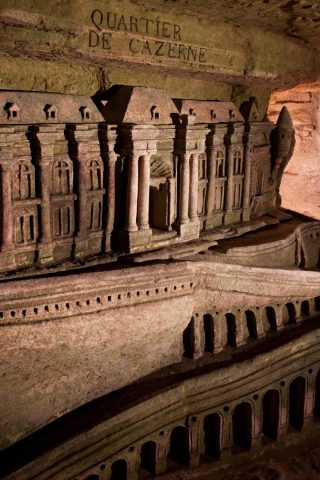 The Paris Catacombs are open Tuesday to Sunday from 9.45 a.m. to 8:30 p.m for most of the year. But it is closed on the following public holidays: January 1, May 1, and December 25.

NOTE: The last entrance is 1 hour before closing at 7:30 p.m.

You will need to choose a timeslot for your visit but not that they will let you in up to 15 minutes after your booked time slot after they don't assure your entrance so don't be late!

Duration of visit: 45 minutes – 1h.

Best time to visit: The Paris Catacombs are always quite crowded, but if you go there in the first time slot in the morning (at 9.45 am) or in the last one in the evening (7.30 p.m) there will be fewer people than average!
3. How to get to Paris Catacombs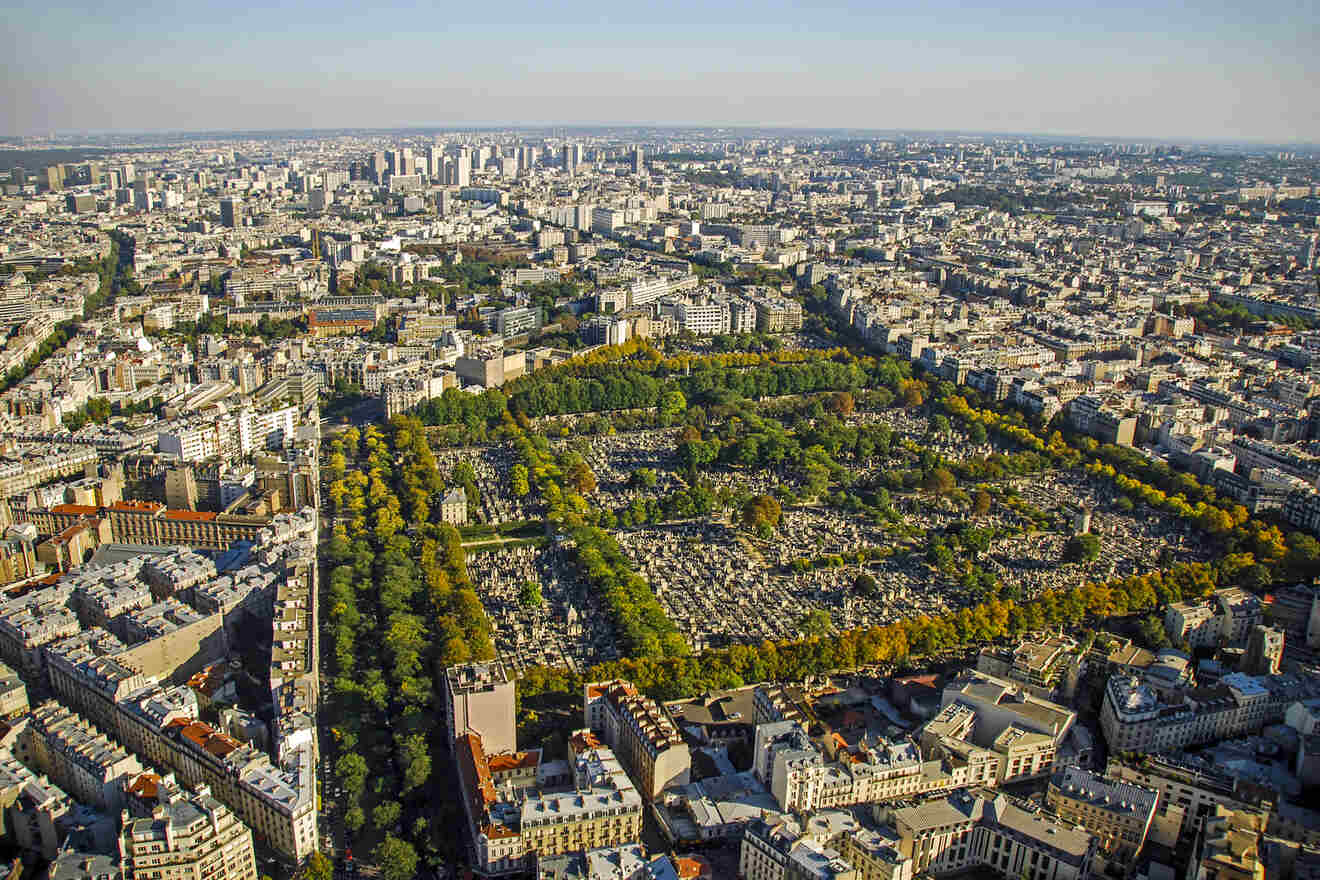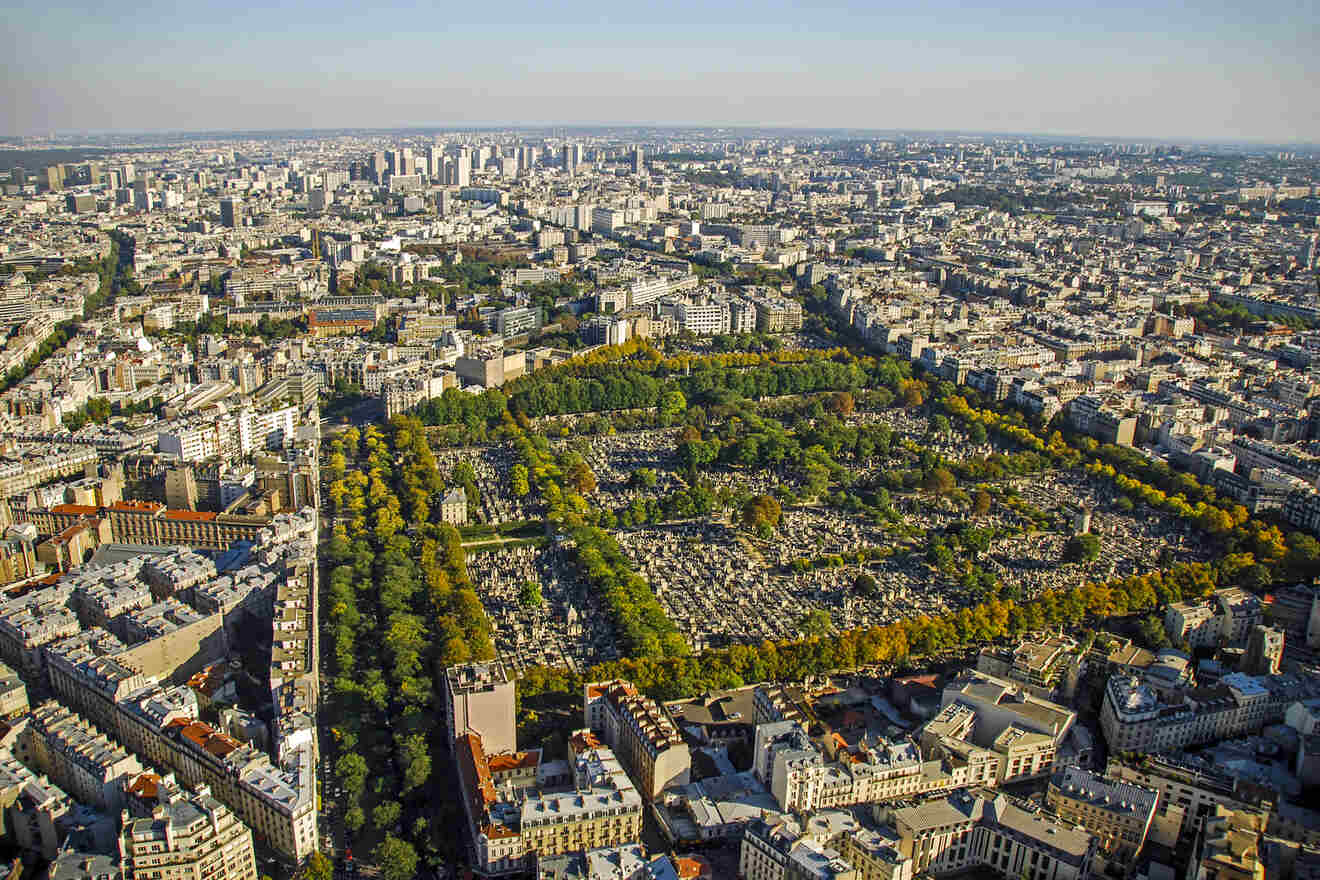 The Paris Catacombs are located in the neighborhood Petit-Montrouge, in the 14th arrondissement south of the city center, precisely about 1-hour walk from the central Place de la Concorde.
The tourist entrance to the Catacombs is right next to the Montparnasse cemetery, on the Avenue du Colonel Henri Rol-Tanguy.
If you don't feel like walking, you have many other options:
By Metro: Take metro line 4 or 6 and get off at the Denfert-Rochereau metro station, which is a 2-minute walk from the Catacombs entrance, for around €2.
By Bus: Take line 38 from Cité–Palais de Justice, or line 68 from Pyramides bus station and get off at the stop near the Montparnasse cemetery and pay €2. The ride will take you about 30 minutes.
By Taxi: Depending on where you take the taxi fare changes, take into consideration that a 10 minutes taxi drive will cost you around €15. (I don't recommend this as there is a lot of traffic in Paris)
Car: If you have a car, you can leave it in the paid parking at Boulevard Saint-Jacques Velib' (on the avenue René-Coty) for €4 an hour.
4. What to bring and not to bring to the Paris Catacombs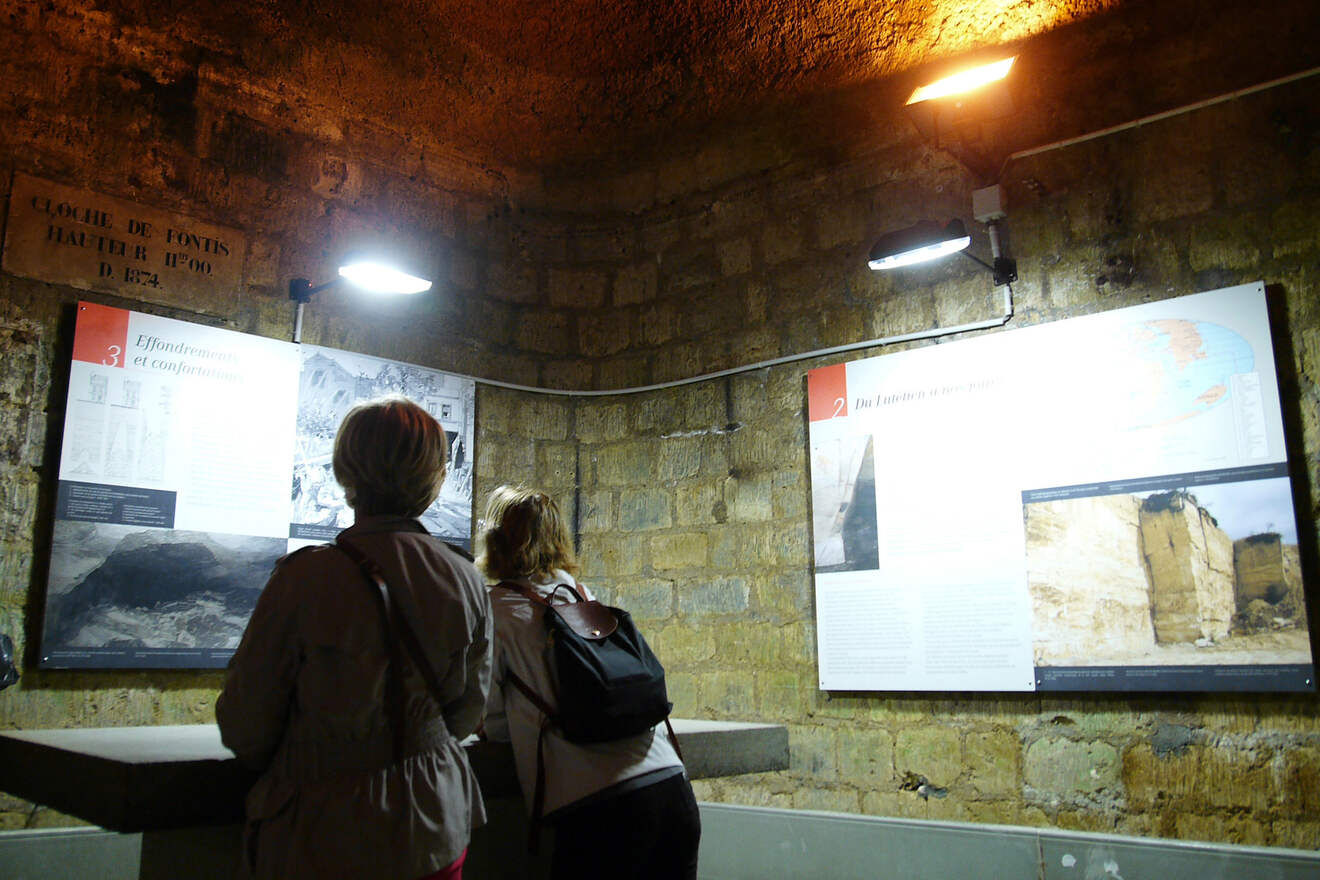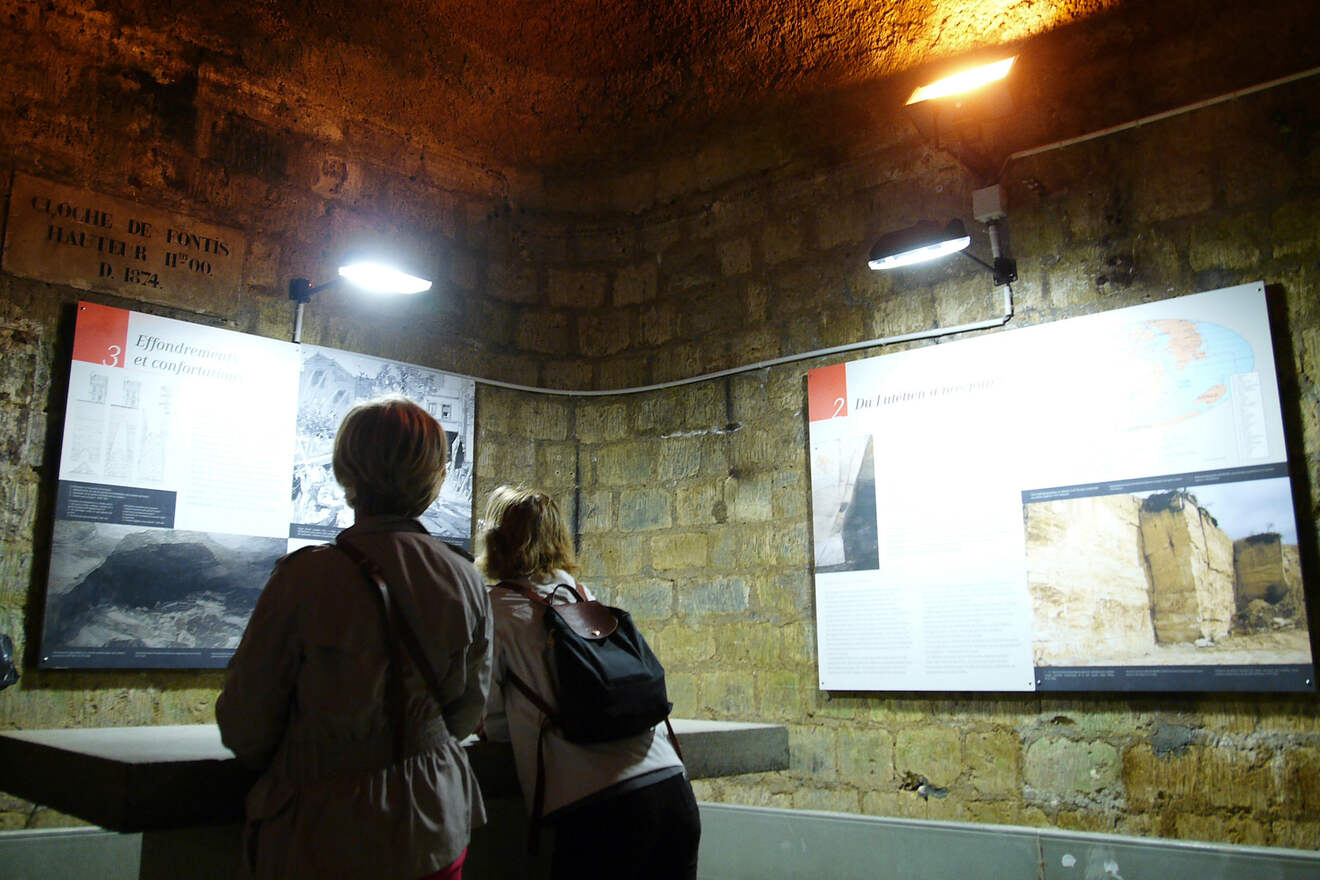 Since the Catacombs are a delicate place, you will need to go through a security check before entering the attraction and follow some specific rules. The most important of which is not to touch any of the remains!
Fun fact: the first human remains were transferred into the Paris Catacombs in 1785… So it's not hard to see why they used extra precautions!
The other things you CAN NOT bring:
Suitcases, large bags, or strollers bigger than 55 cm x 35 cm x 20 (there's no cloakroom or storage, so leave them at the hotel)
Food or drink
Tripods
Animals
On the other side, these are the items you SHOULD bring with you:
Tickets – Either print them out or present them on your smartphone when you arrive
Sweater – The Catacombs are humid and have a constant temperature of 14°C so you will get cold
Good sneakers – The floor is pretty slippery, so proper footwear is how to prevent the risk of falling
Face masks – These are mandatory, but you're NOT required to show your Health Pass anymore
Very small bags – You can bring bags that are smaller than 55 cm x 35 cm x 20
Water – To keep you hydrated (the only thing you can drink inside the Catacombs)
5. Audio guides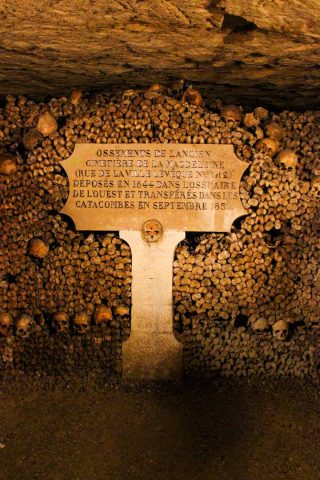 If you buy a single ticket on the official website, you will have an audio guide included in the price. The audio guide is available in French, English, Spanish, and German.

NOTE: The only case you need to buy the audio guide is if you book your ticket last minute at the reduced price, and in that case, the audio guide will cost you €5 extra.

The audio guide lasts about 60 min, as the duration of your visit, so you will have a guided explanation of everything you'll see and the history behind it.

If you prefer, you can bring your own earphones (the connector is a jack port).
6. Facilities inside & nearby the Catacombs of Paris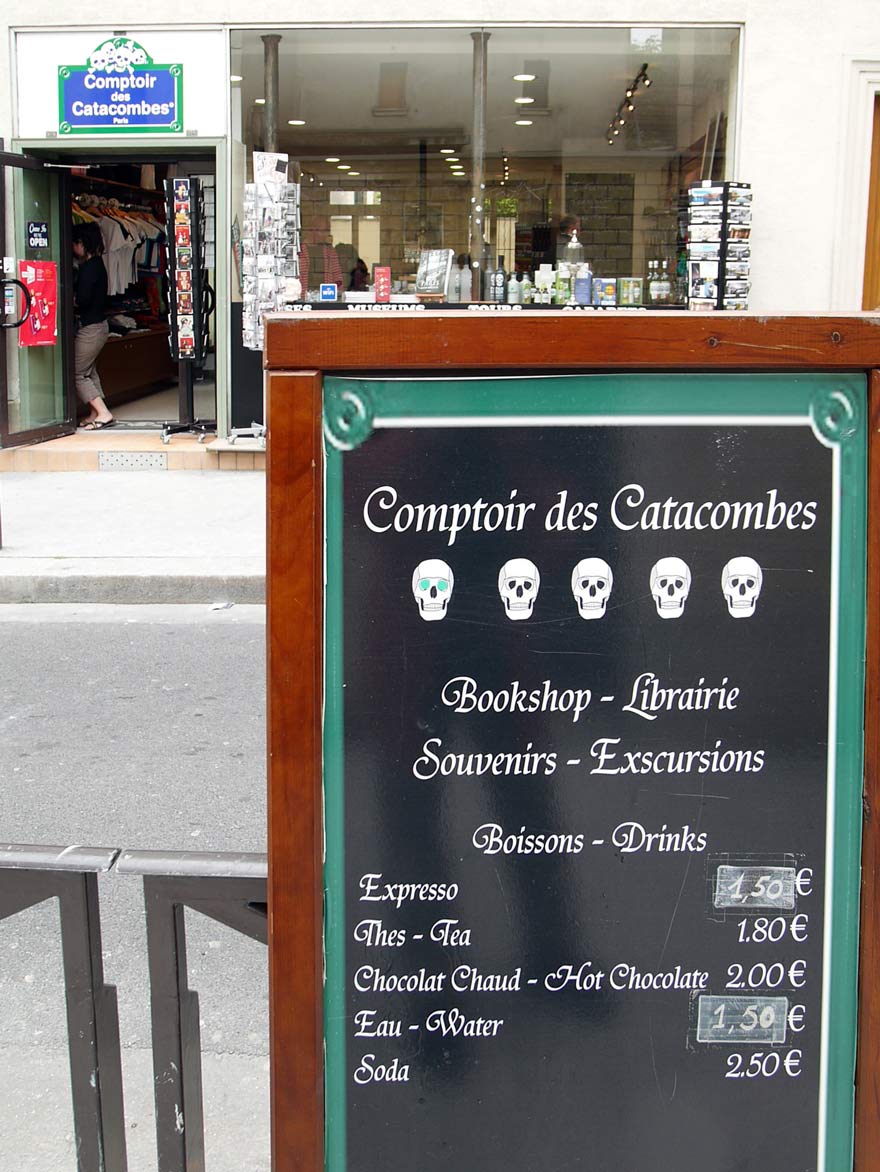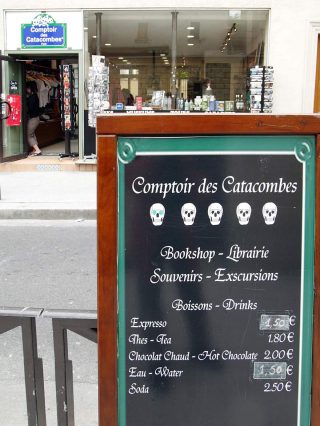 Parking: There is paid parking at Boulevard Saint-Jacques Velib' (on the avenue René-Coty) for €4 an hour, just a 5 minutes walk from the Catacombs
Wheelchair accessibility: The Catacombs are not wheelchair accessible because of the conditions of the site. For this reason, it is not recommended to visit the attraction to people with a motor disabilities as there are no elevators
Toilets: There are toilets outside the main entrance, not inside the Catacombs
Food: There are many cafes and restaurants in the close surroundings of the Paris Catacombs, where you can have a break and eat a delicious snack after (or before) your visit but not inside.
Gift Shops: there is this unofficial gift shop only 7 minutes walking from the Paris Catacombs.
| | |
| --- | --- |
| 👩‍ Adult Price: | €29 |
| 👧 Kids Price: | €4 |
| 💲 Cheapest Tickets: | GetYourGuide |
| 🎟️ Best combo tour: | Catacombs + Tour Eiffel |
| 🎤 Guided Tour: | Viator |
| 🕖 Best Time to Visit: | Early morning / Late evening |
| 🤫 Best Entrance: | Avenue du Colonel Henri Rol-Tanguy |
FAQs about Paris Catacombs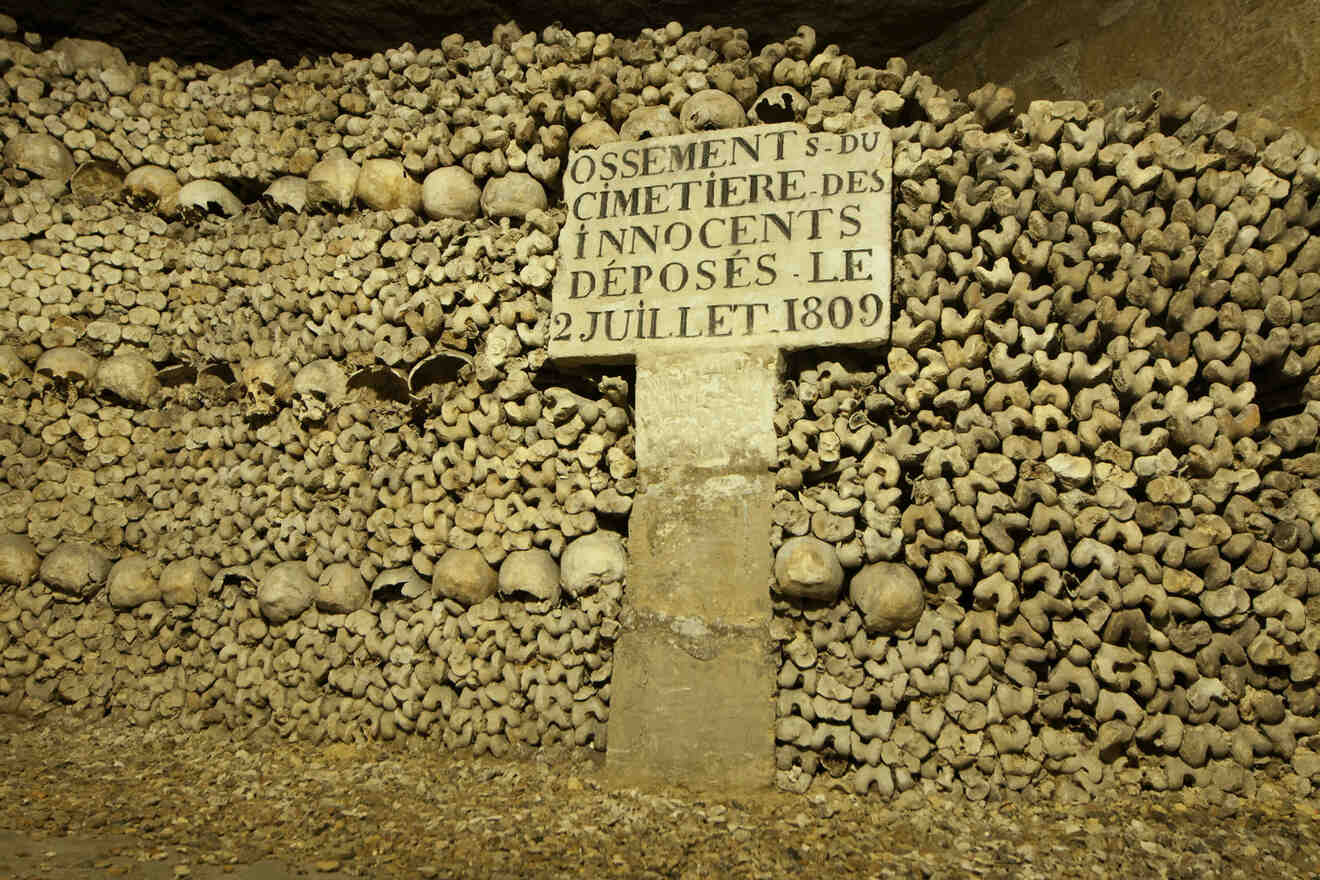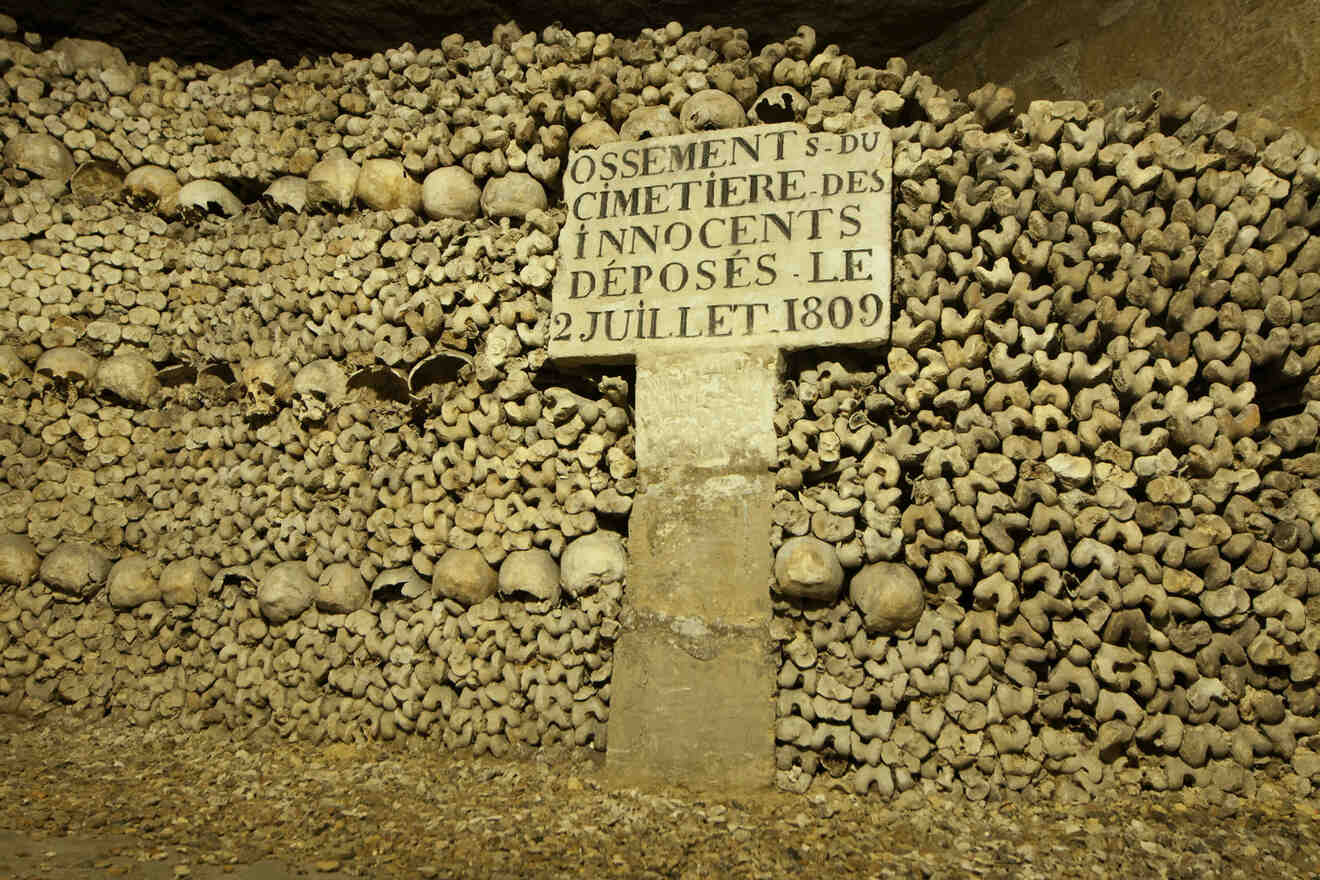 💲 How much does it cost to get into the Catacombs of Paris?
A single ticket to the Catacombs of Paris costs €29 on GetYourGuide, giving you the same price as the official website and some extra perks, like an audio guide and the possibility to get a free refund up to 24 hours before your entrance!
✅ Do you need tickets for the Catacombs of Paris? 
Yes, you do need tickets to visit the Catacombs of Paris. You can buy them online only and the best seller is GetYourGuide as it offers free cancellation which the official site does not, for the same price. 
👧 Are kids allowed to the Catacombs of Paris?
Yes, kids older than 5 are allowed to the Catacombs, but they need to be accompanied by an adult if they're younger than 14 y.o.
🤔 Is it worth it to visit the Catacombs of Paris?
Absolutely yes, the Catacombs of Paris are a unique attraction in the city, hosting one of the largest ossuaries in the world, with skulls of 6 million Parisians and a 1.5-kilometer circuit of underground tunnels.
Conclusion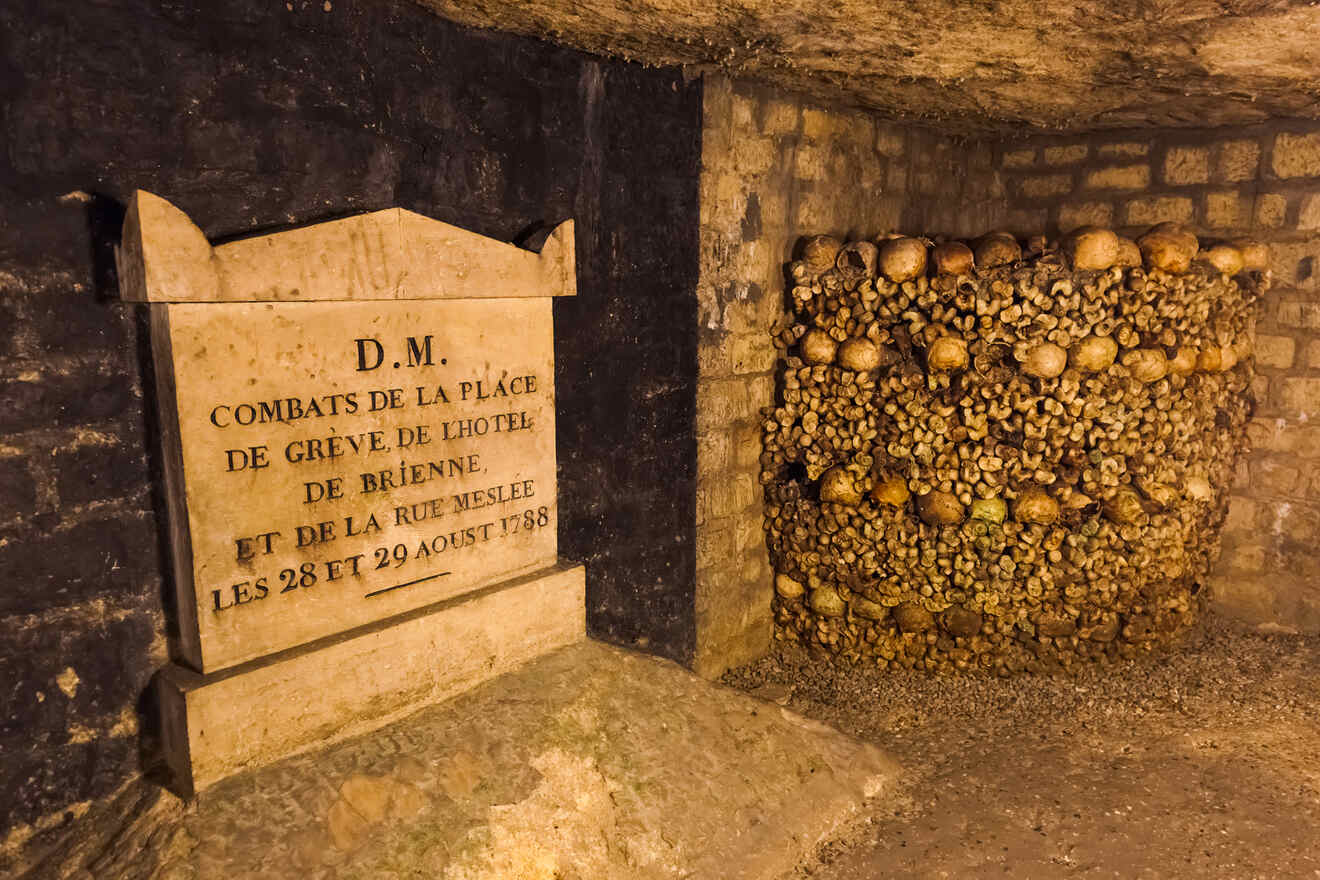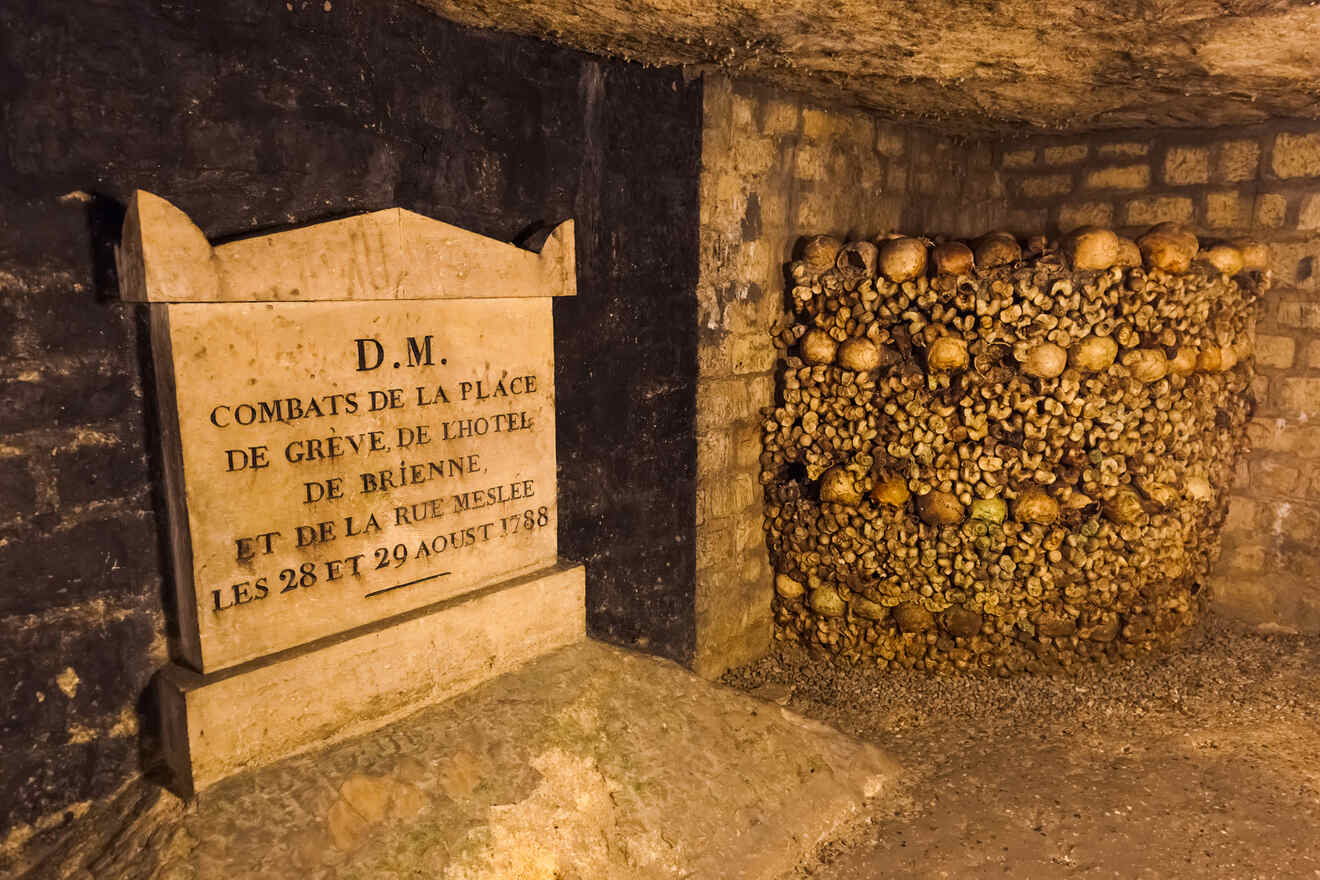 Well, here you have it! I hope I have cleared all your possible doubts about how to get the ticket to Paris and which is the best option for your travel needs.
All the Catacombs Paris tickets are available online only, the safest choice is to book them on GetYourGuide where you will have the added benefit of free cancellation for the same price as the official site (where you will not receive any refund).
But you have many choices from group tours to online visits and combo tickets… Now it's up to you to decide! And if you haven't already, remember to also check out the important information section above, there are some useful tips there for your visit!
I feel like that was a pretty thorough guide to the Paris Catacombs, but if I forgot to cover any topic you are interested in, please write it in the comments below, I will answer you as soon as I can!
Enjoy your visit!
Elena
---
Pin it for later!
Pin it for later!