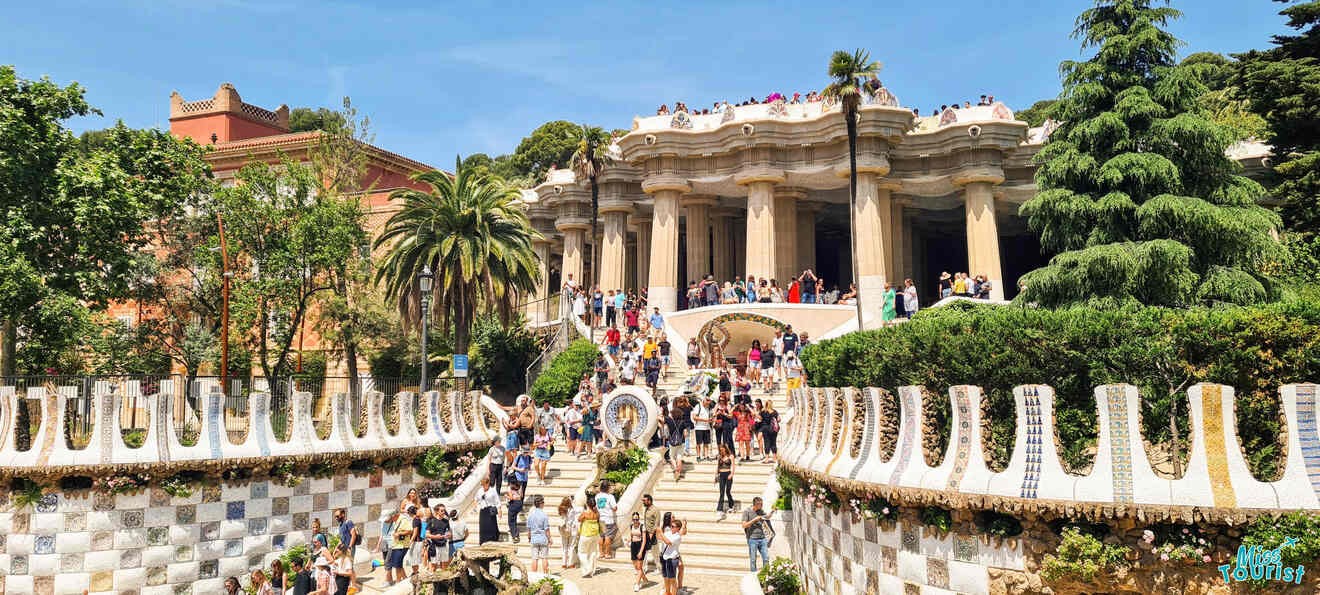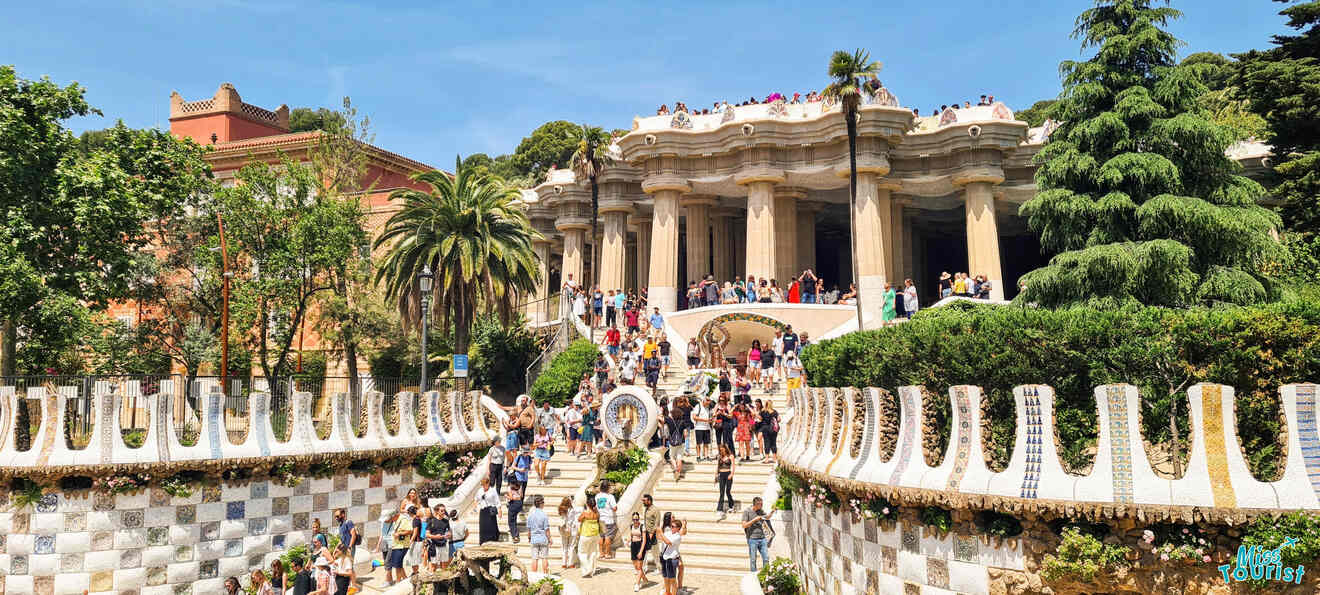 Park Guell is home to one of the most-loved works of Antoni Gaudí, the Catalan architect whose wildly imaginative and wacky style has become synonymous with the city.
FUN FACT: The place was originally planned as a housing site financed by Eusebi Güell, a Spanish entrepreneur, but it turned out to be a financial failure. They planned to build 60 houses in the area, but only 2 were built – they stopped the project since there were no potential buyers and turned it into a park in 1926.
Honestly, I am somehow happy it did not turn out to be a residential complex because the place serves perfectly as a park, and what a treat for the eye that is! The shape of Park Guell includes a series of terraces, ramps, and lookouts – everything is made in a unique intricate Gaudi way, you won't regret paying a visit!
Now, let's talk about the best way to get those tickets and some useful info about visiting the park that you should know afterward:
If you are in a hurry:
Finding tickets to the park can be difficult, especially in the summer months. Fortunately, there is a solution to this problem. Here is a brief summary if you just need to buy the tickets and go:
Normal ticket – 10€ (Official site)
Guided group tour – 22€ (Official site) or 25€ (GetYourGuide – cancellable)
Private tour – from 70€ per person (Viator)
Discounts – children from 7 to 12, seniors over 65, people with disabilities (if guided tour)
Free entrance – children from 0 to 6 y.o, people with disabilities (still need to book a ticket on the website before)
PRO TIP: Sometimes the official site does not work on Chrome, in this case, simply try from another browser and it will work perfectly!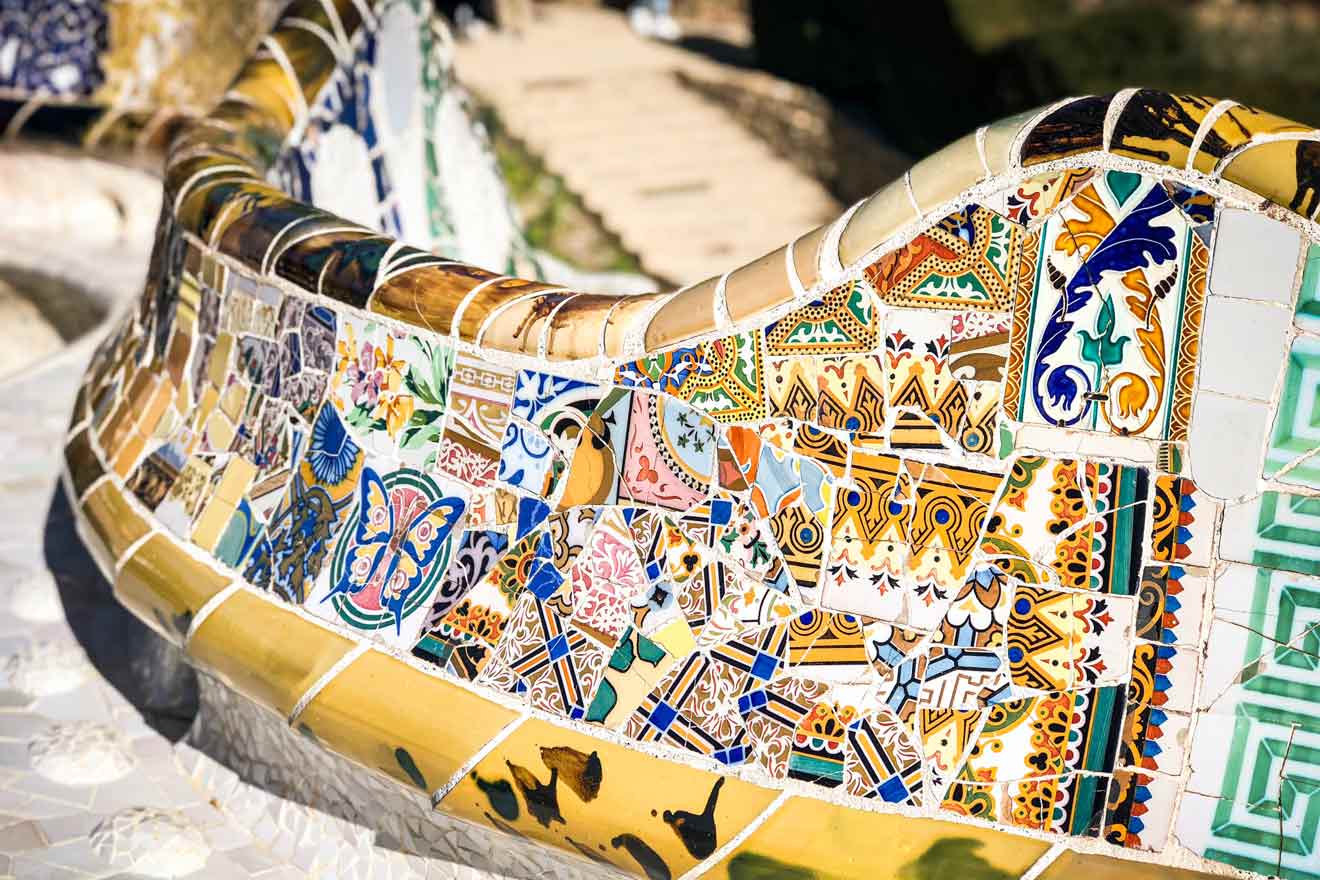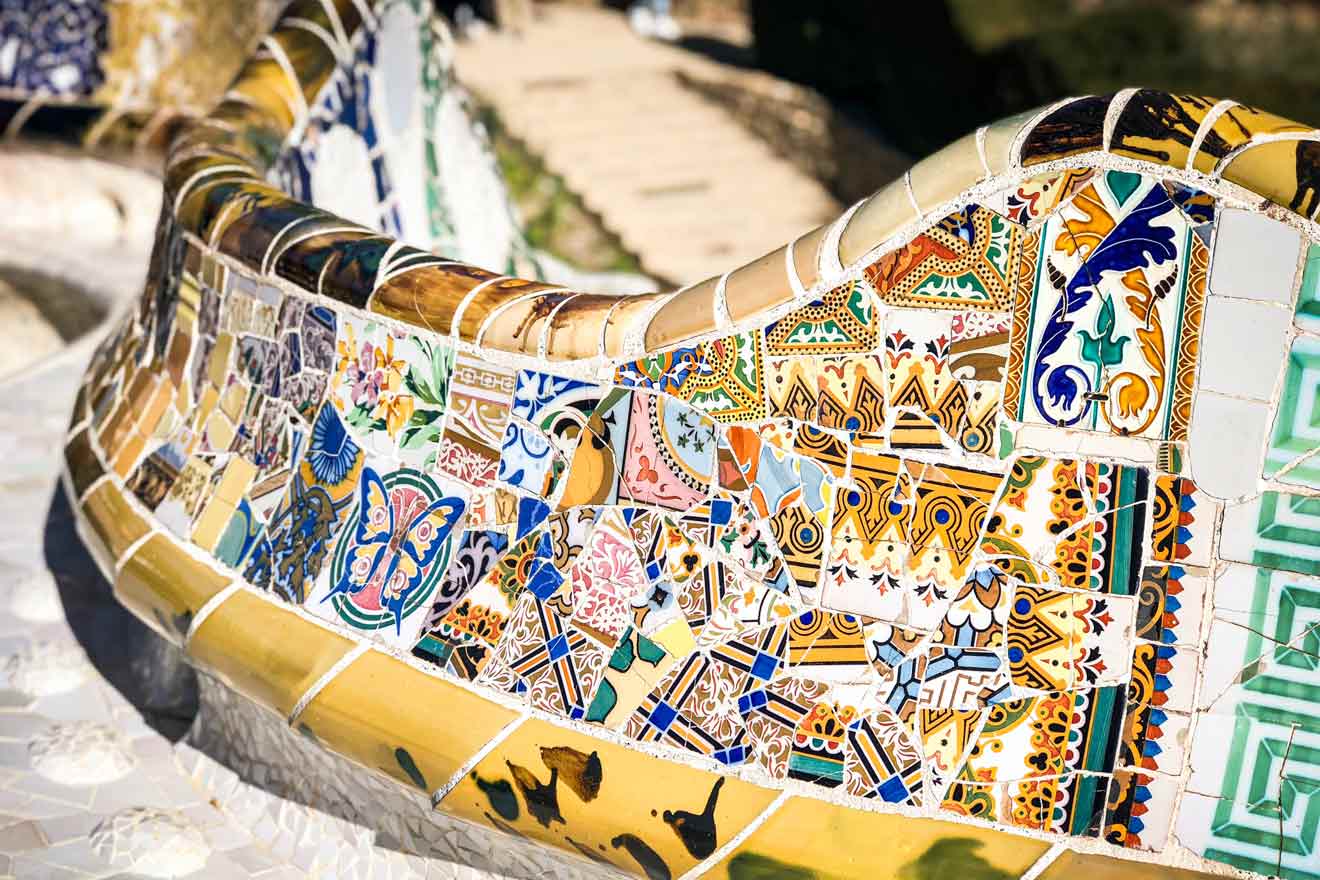 Why buy tickets in advance?
We all like to leave things to the last moment, but I would not advise doing that with Barcelona – it will not only save you time waiting in long lines but also money (most of the sights in Barcelona actually charge you 2-4€ extra if you buy at the cash register).
Only 400 people can enter the park every 30 minutes – and as you can imagine, there are many more tourists visiting the park during the summer (the park is in the TOP 3 Things to do in Barcelona!). This means that buying your ticket at the gate can cause significant wait time (not only because of the line but also because the tickets for your time slot might be sold out and you will need to wait for a couple of hours until some spots are available again).
I hope you are convinced to buy in advance, so here are a couple of ways to do it:
1. Get your tickets online in advance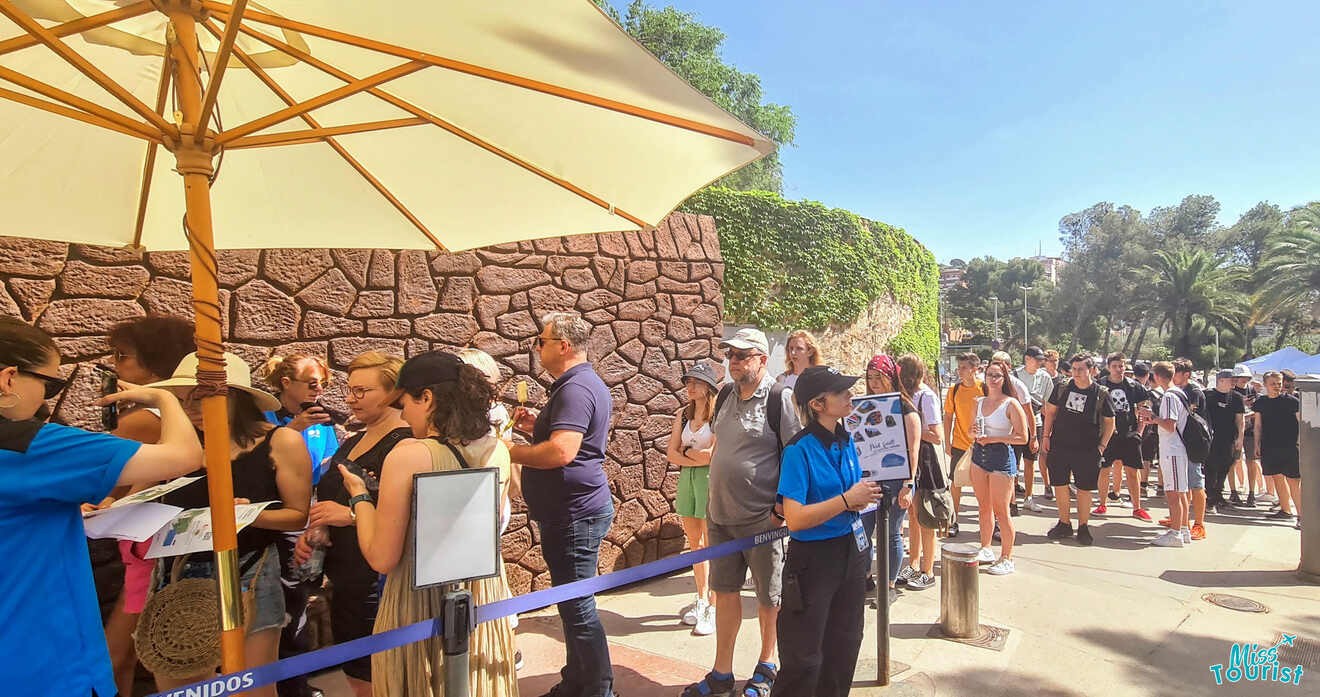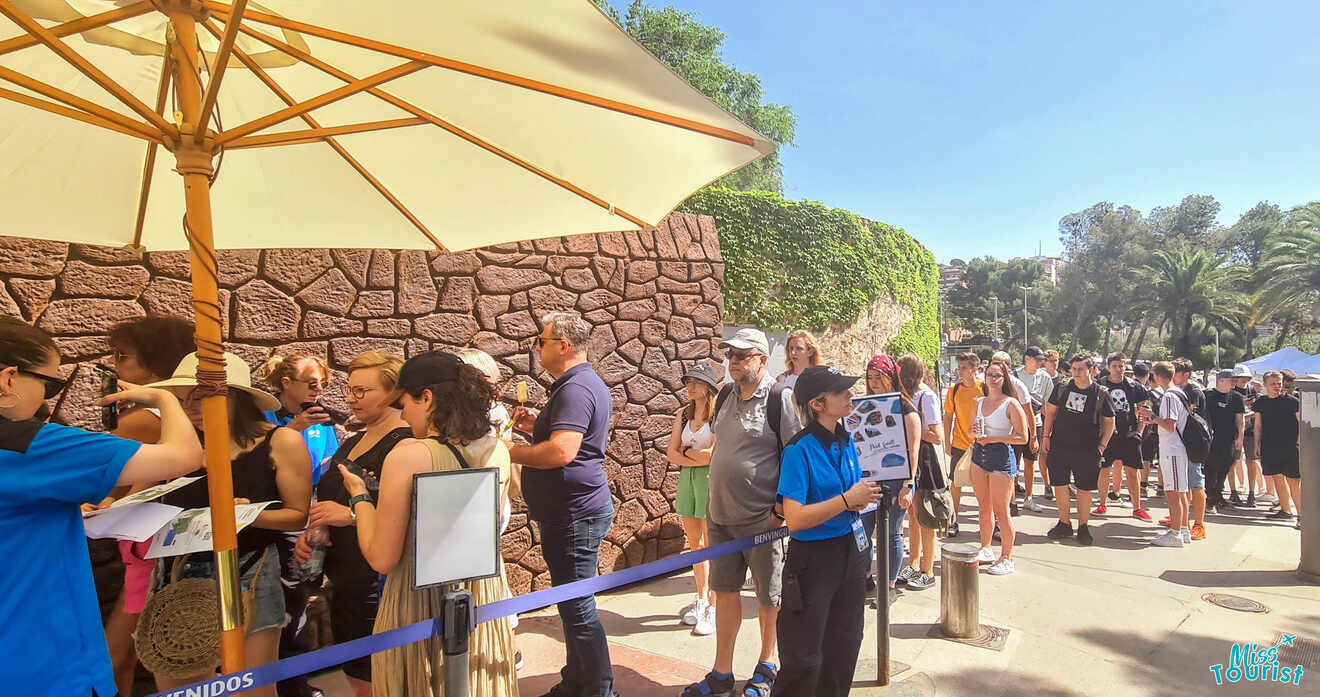 You have a couple of options – a normal entrance or a guided tour (group or private tour).
Most of the time the official site is the cheapest place to reserve your spot (10€ for a normal ticket), but in some cases, you might want to try booking through the resellers too – when the official site is sold out, they might still have some extra tickets!
Check Get Your Guide and HeadOut for more tickets.
NOTE: The tickets bought through the official website are non-refundable (so only buy them there if you are absolutely sure about the date you are going). If you don't mind paying a bit extra, then it is a good idea to buy tickets from GetYourGuide, they have a free cancellation policy up to 24 hours before.
Once bought, you do not need to print your ticket, nor do you need to go to the ticket office – just show your ticket with the QR code at the entrance and you are in!
PRO TIP: The grace period is 30 minutes, please do not be later than that! 🙂
PRO TIP 2: Go as early as possible, there will be way fewer tourists, and the experience will be even more magical!
PRICE: 10€ for an entrance ticket, from 22€ for a guided tour, from 70€ for a private guided tour
2. Use a non-popular entrance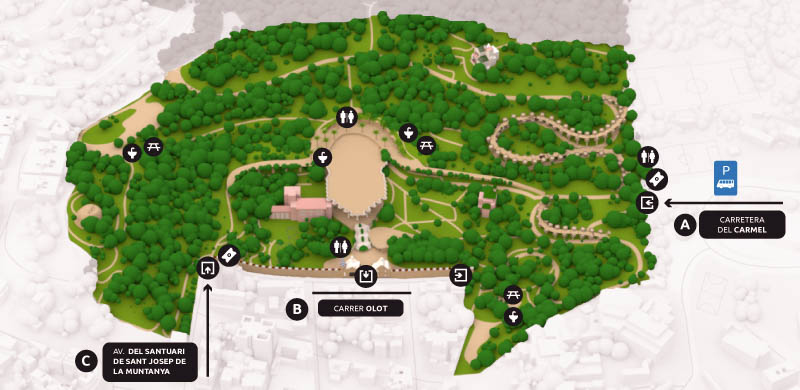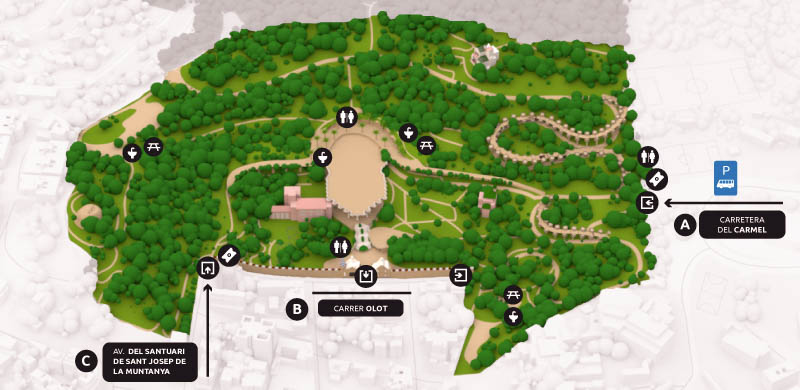 If you could not buy your tickets online for some reason, and you just HAVE TO go visit today, you might want to try entering the park from a less-known entrance.
I can't promise they will still have slots available for your time, but hey, at least the queue of last-minute bookers will be much shorter there! 🙂
Here is a map of all the park's entrances (there are 3 of them):
Carrer de Larrard/Carrer Olot (B) is definitely the most popular
Carretera del Carmel (A) is also very popular because it is the closest to the metro/bus stop
Av. del Santuari de Sant Josep de la Muntanya (C) is the least known of them all, go there!
NOTE: Since the park is so big, and the staff can't possibly guard all the areas, there are ways to enter the park for free through the forest, but 1) I definitely do not recommend doing it 2) they will actually check your ticket at the exit again!
3. Get in before or after opening hours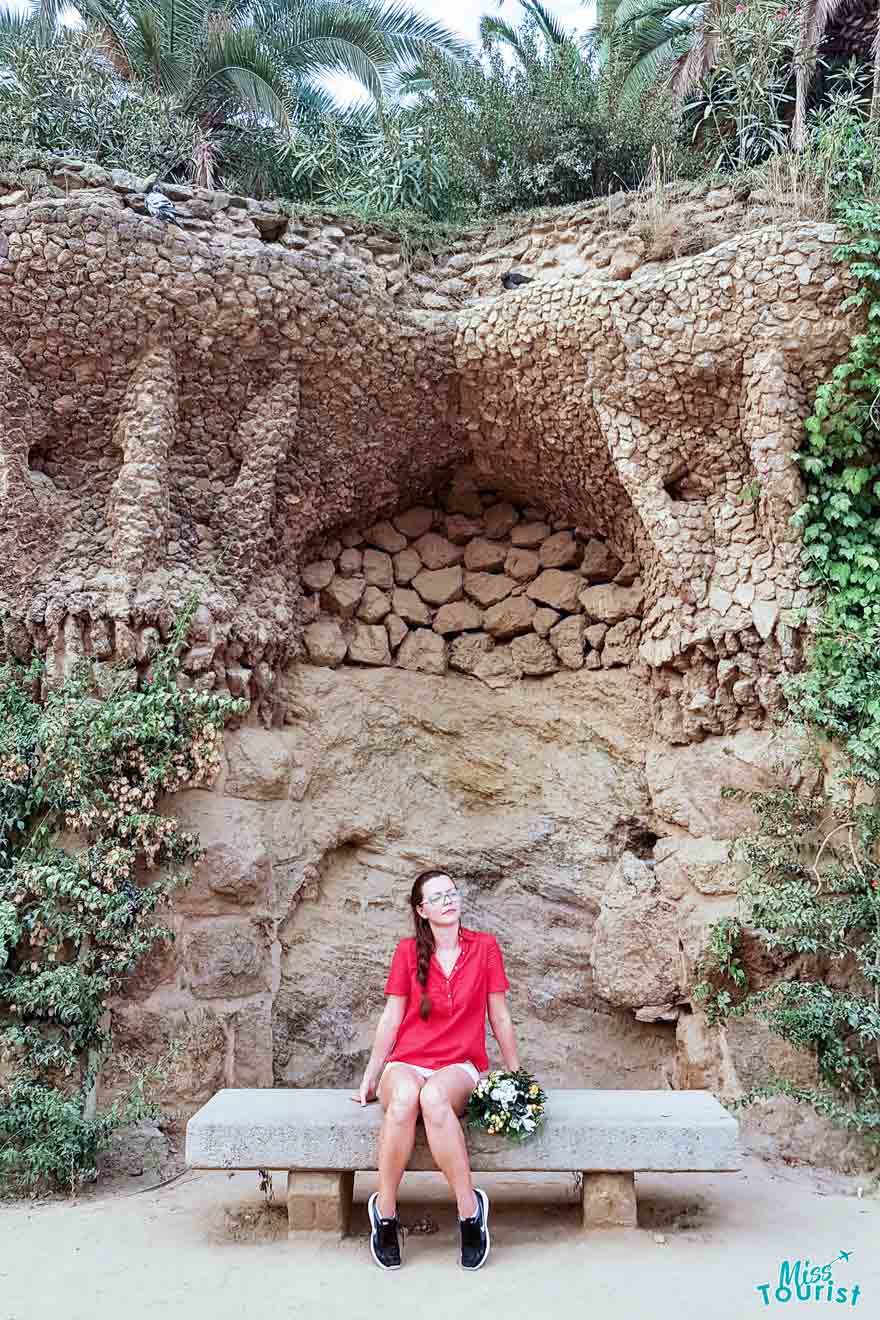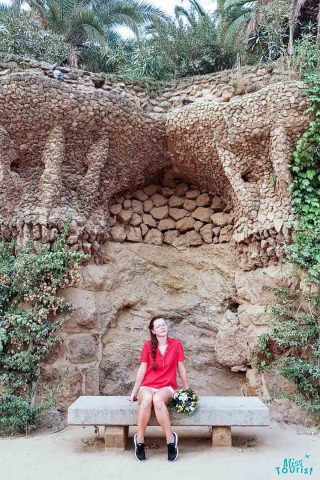 The park actually used to be completely free, and your one and only actually enjoyed the views some 10 years ago without having to book anything!
But guess what, there were way too many tourists destroying the park (at least that is the official reason) and they now charge money for it. But hey, it is still not so much compared to Casa Batllo etc that is easily over 30 EUR!

But the park is still a park (not a museum with walls) and once the controllers' working day is finished, the park is absolutely free for you to wander around (the only disadvantage being that it is not going to be very well lit).
So, if you are very much on a budget, or visiting a second time, you can show up before the opening or right after the closing, there will be no one to check your entrance ticket!
PRO TIP: Visiting in the morning is always better as there are fewer people around!
Here is the schedule that I could gather, but it is always worth it to double-check on the official site in case they changed something:
(27 March to 30 October) 9:30am to 7:30pm
(30 Oct – 11 Feb) 9:30 am to 5:30 pm
(12 Feb to 26th of March): 9:30 am to 6 pm
4. Get a bundle ticket or pass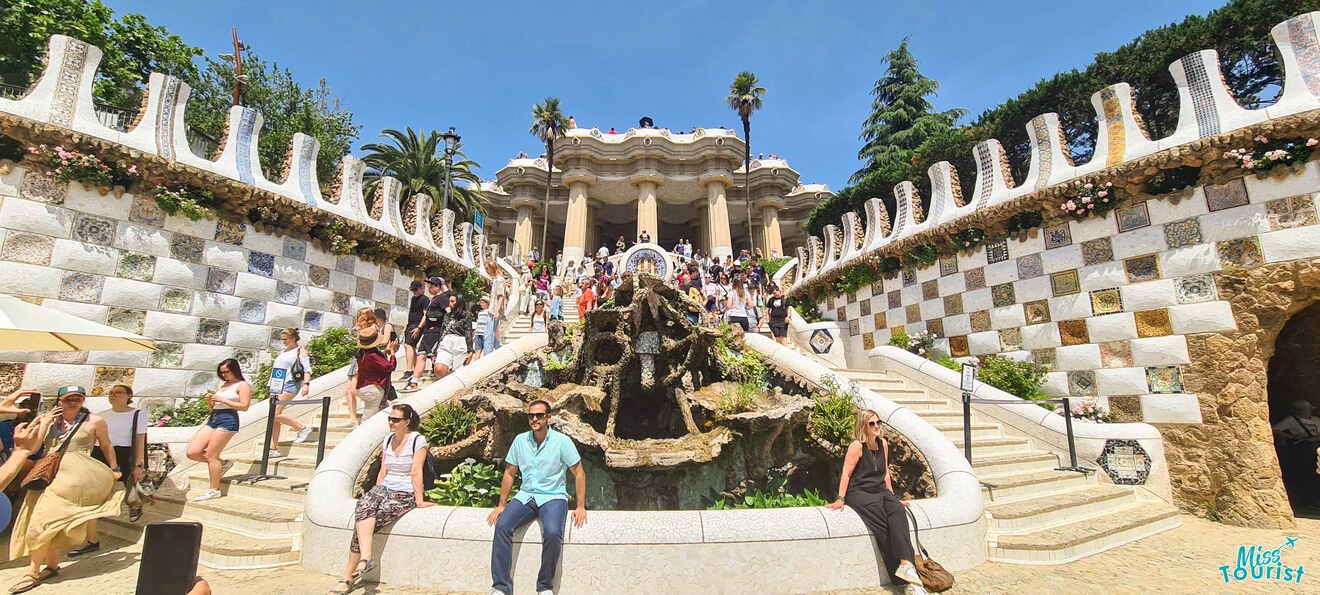 There are quite a few Barcelona tourist cards/passes and we actually have a whole comparison post where we calculated if each one of them is worth it or not. Check it out here.
For the sake of simplicity of this post, let me share the pass with you that is for sure worth the money and it includes Park Guell in the list!
The Barcelona City Explorer Pass does not limit you to a number of days – you have 60 days after the pass activation to use it, you don't have to go anywhere to pick it up (great!) and there is no need to choose in advance – you can decide on the attraction on the go!
Sample calculation on how much you will save:
The 3 attraction Explorer pass is currently 62€. Let's say you go to the most famous places: Sagrada Familia + Casa Mila + Park Guell (you can choose something else, of course, the list is pretty long, I am just choosing the most popular ones from the list):
Sagrada Guided tour (30€) + Casa Mila entrance (25€) + Park Guell Guided tour (23€) =78€
YOU SAVE: 78-62=16€
NOTE: Please note that I am comparing pears with pears here – since the pass offers guided tours, that's the price I calculate with. If you would take just an entrance ticket, it would be slightly cheaper to go individually, but I HIGHLY recommend taking a guided tour, you would miss out on SO MUCH info!
NOTE 2: If you get the pass you will still need to book your visit in advance in the system. Don't worry, you will be able to do it once you purchase the pass (or later).
PRICE: from 44€ depending on the amount of the attractions included
Other things you should know about Park Guell
I know that everyone is most interested in how to get the tickets to the park, but I've been to the park numerous times and there are some things that I myself discovered along the way and I thought it would be cool for you to know them in advance:
1. There is a free museum (included)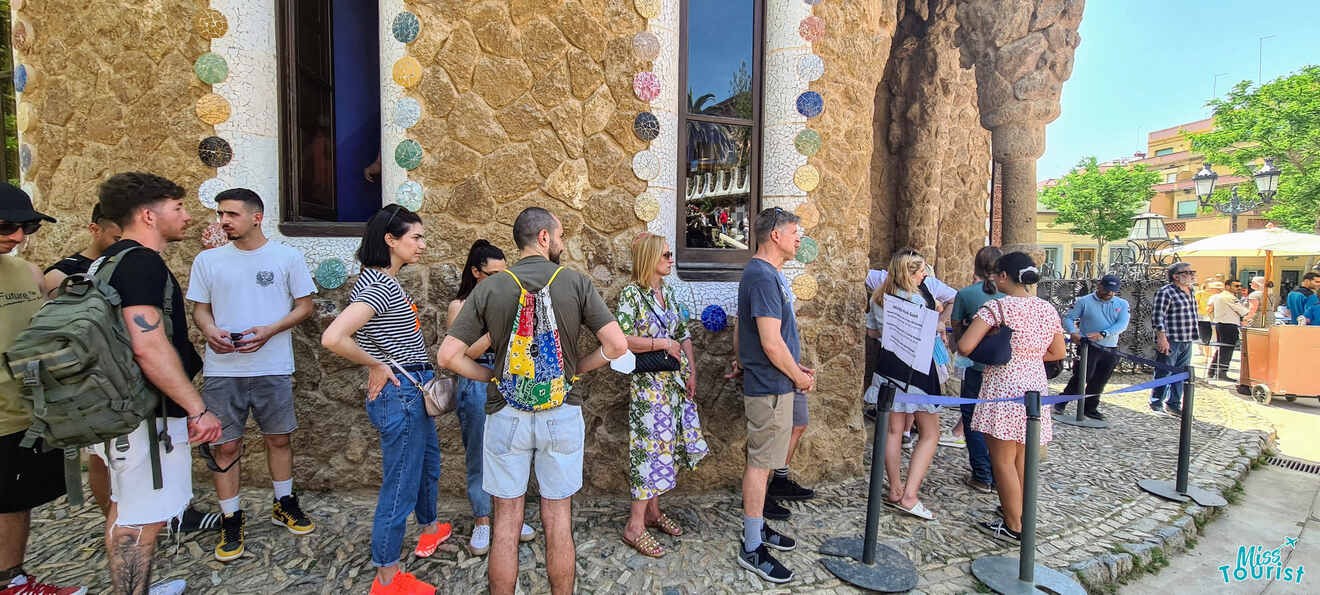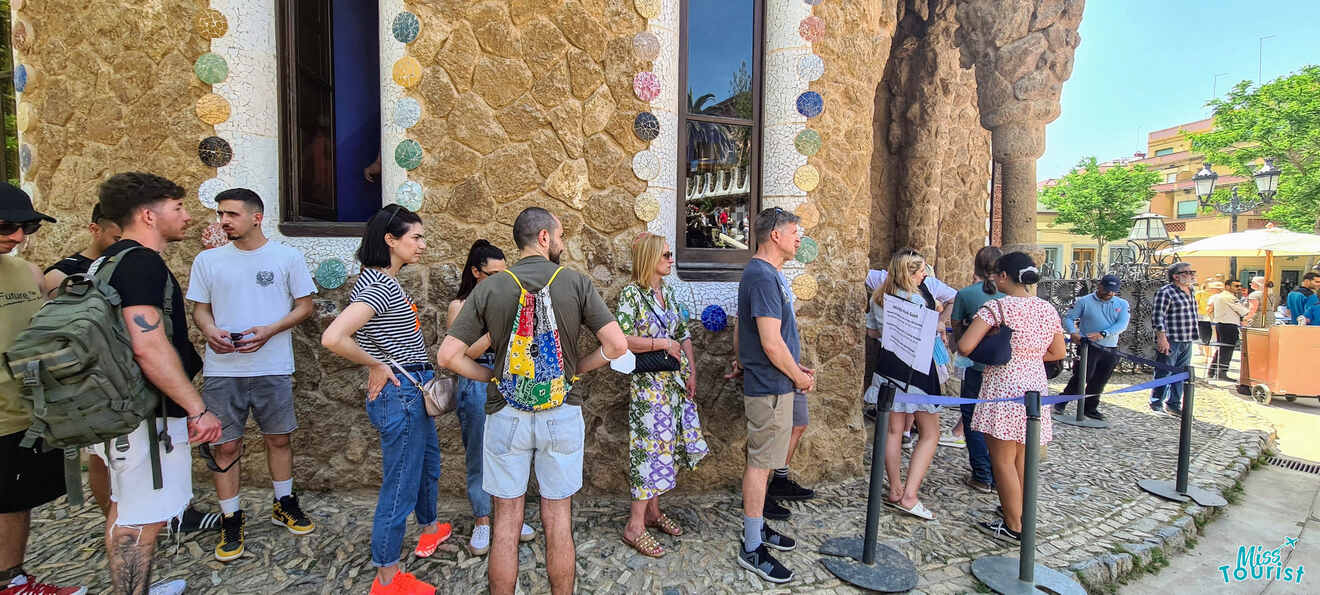 Yes, one of the gingerbread houses (if you are looking at the salamander, it is the one on the right) is actually a museum and you can visit it for free if you already purchased the park entrance ticket.
The house is called Casa del Guarda and just in case you cannot find it, here are the GPS coordinates from Google Maps.
You can read more about the museum here, but it is basically a small museum with a bit of the history of the building and the city itself. There is usually a line to enter but it was not too long for us, maybe 10–15 min maximum.
2. There is a free audioguide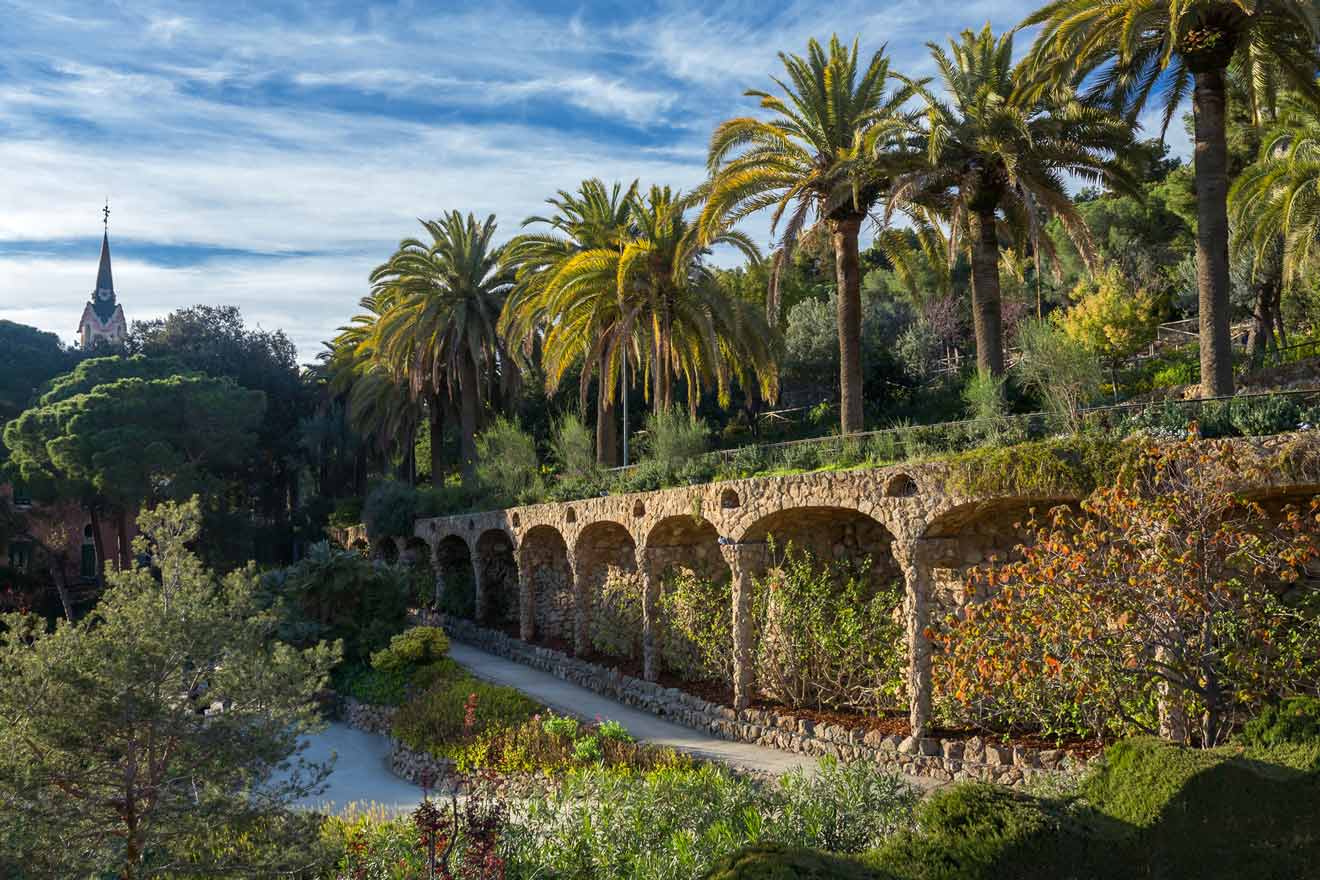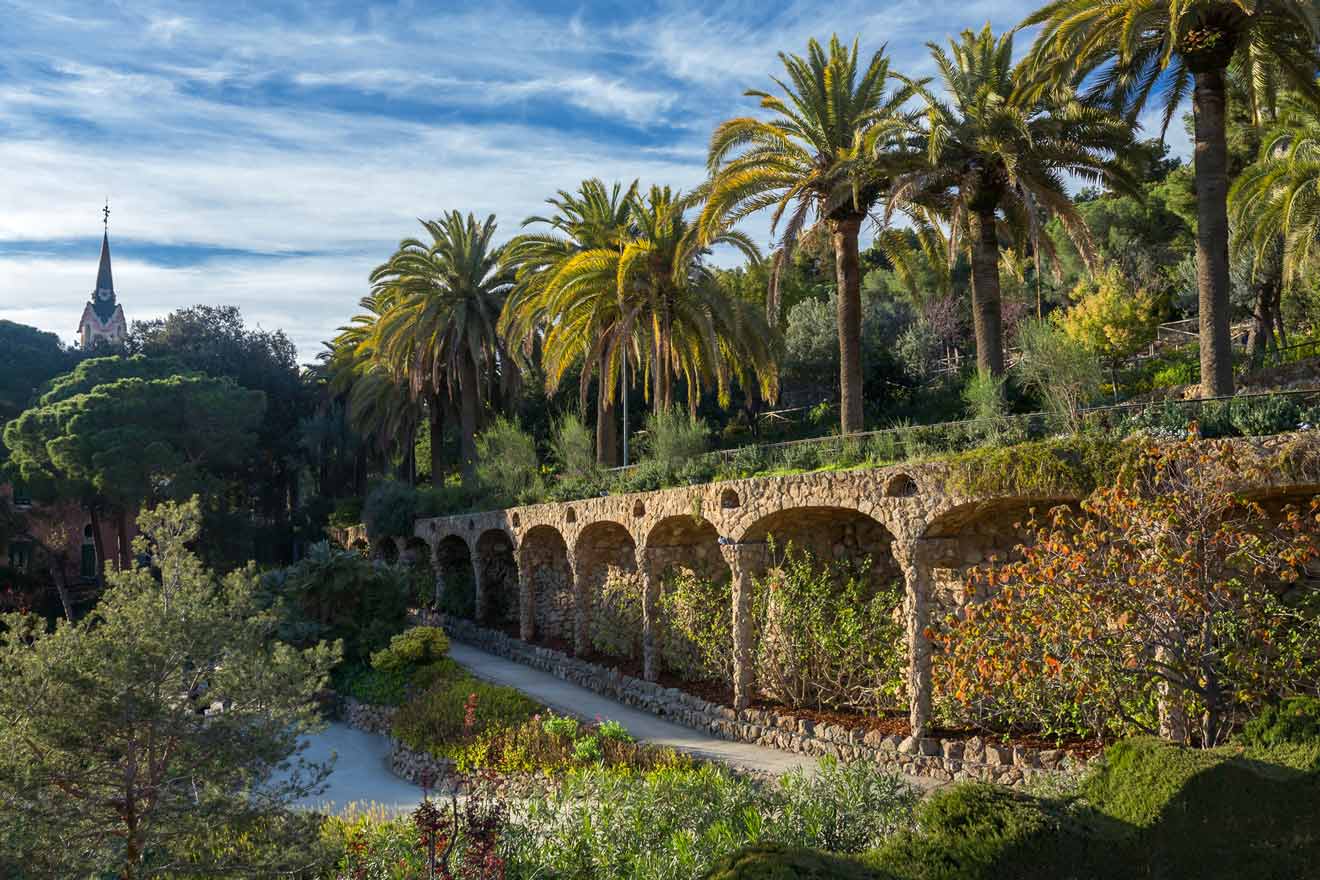 I actually had no idea about this one until I started to write this post for you guys!
When you go to a place similar to this one, it really pays off to have some explanation about the significance and the details used here and there. If you want to do it at your own pace, without a big group and 1 guide, an audio guide would be a great solution.
Now, they have an audioguide here, but in my personal opinion, it still has space for improvement. But hey, it is for free so you might as well benefit from the info provided. You don't need to download anything, it is just a page on the internet, but you do need an internet connection to access it.
PRO TIP: Take your headphones with you to hear the explanations better
3. There is a paid area and a free area
Not a lot of people know it, but you can actually access part of the park for free. Monumental zone (paid area) is only 5% of the park.
True, the free part will not be as spectacular, it is mainly just a big park, but there are still some structures that were designed by Gaudi too.
4. There is a Gaudi House Museum that everyone misses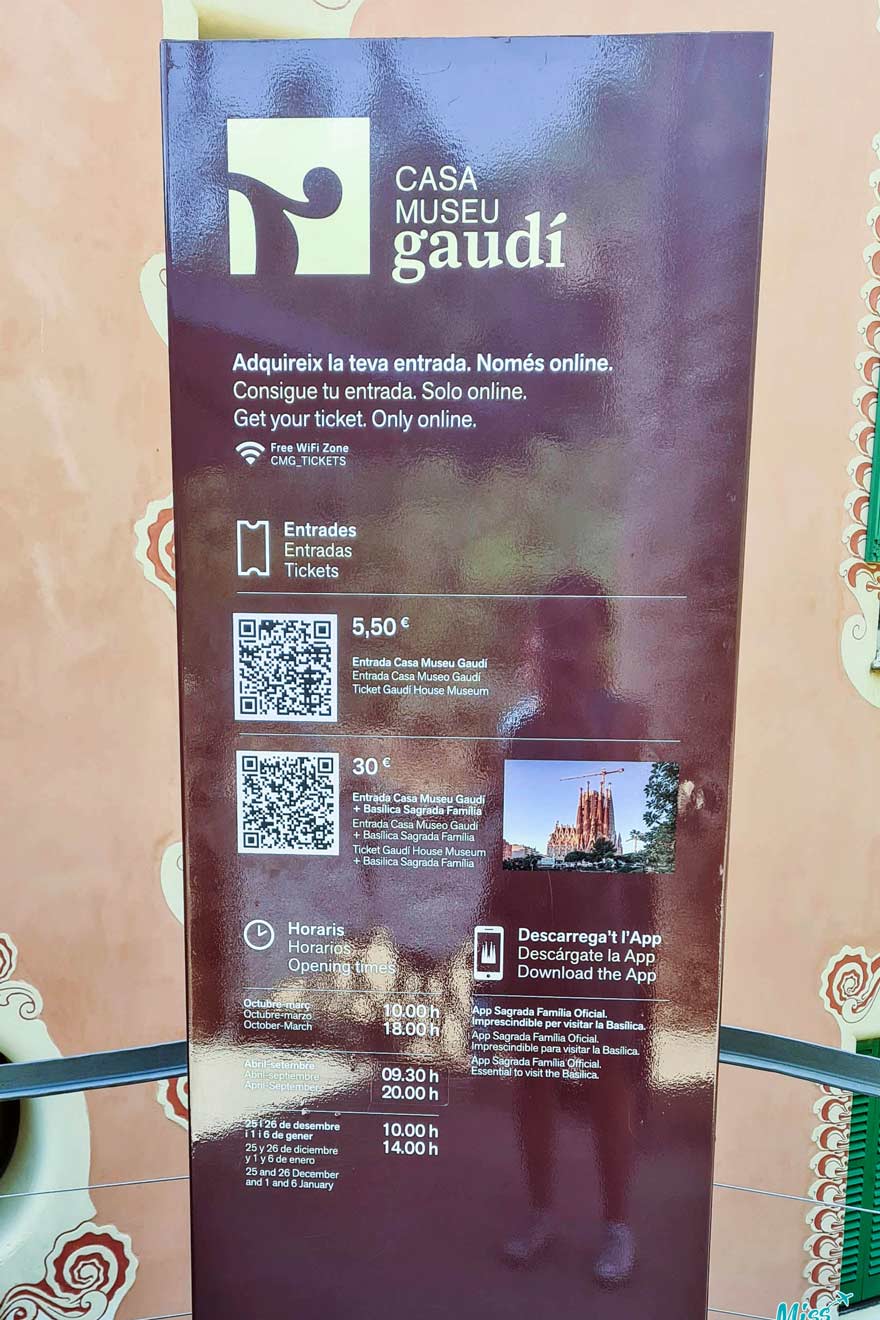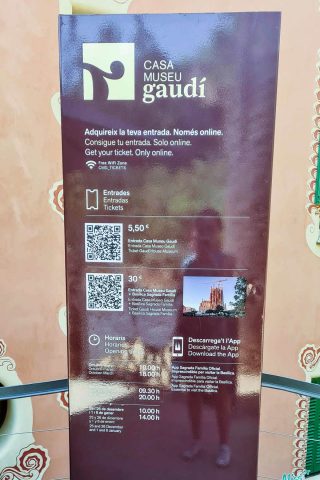 The museum will tell you more about the life of Gaudi and he actually lived in this house for 20 years!
The entrance to the museum is 5,4€ and you can get in after you enter the actual park.
No need to book in advance, you can decide on the spot but keep in mind there is no cash register, so you will need the internet to buy it online from your phone.
You can easily visit it in half an hour and I can only recommend going if you are very much interested in Gaudi – there are some examples of his furniture and some of his personal belongings there.
5. Other things to visit in the park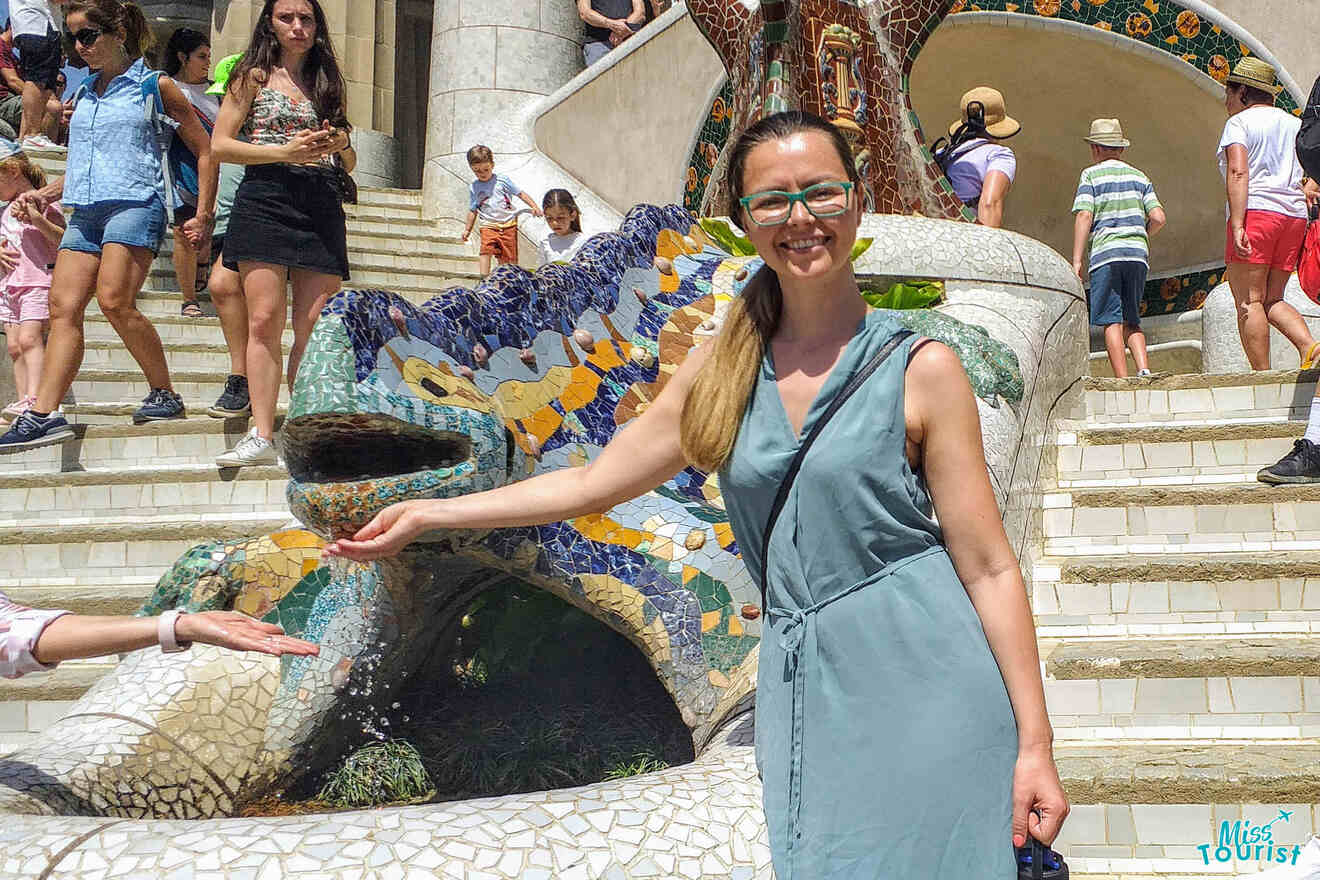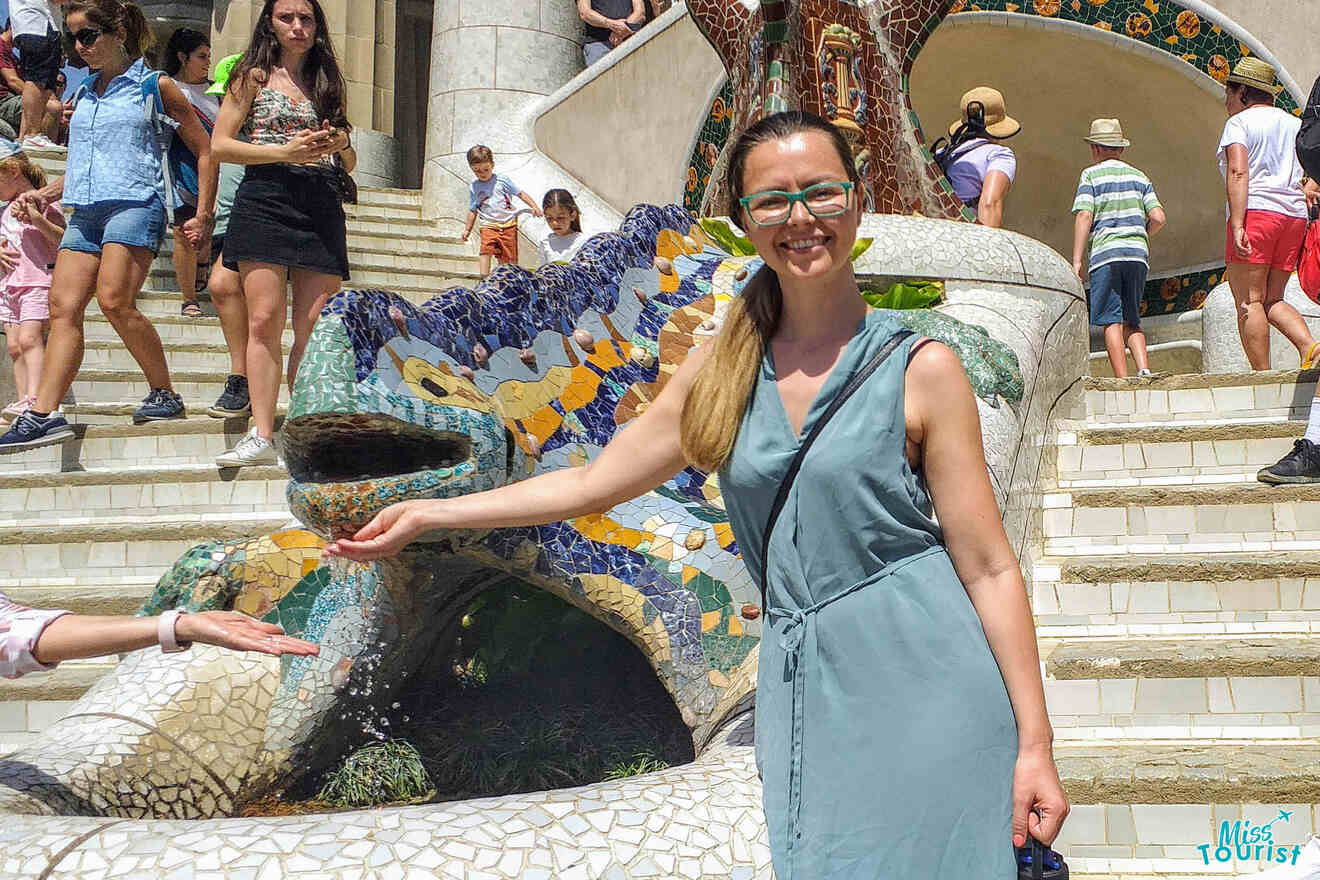 As you probably already know, Park Guell is a UNESCO World Heritage Site, and it is on the list for a reason! The monumental zone is not huuuuge, but it is still big enough and there is a possibility you might miss something.
I come to the rescue, here are the things that you should definitely see there:
The Salamander
The Greek theater
The Laundry room
Hypostyle Room
Austria Gardens
Turó de les Tres Creus
Mirador de Joan Sales
PRO TIP: Take a picture of the map at the entrance – the park is big, you actually may get lost if you go a bit further from the most touristy side.
P.S. There are toilets on site too though there might be a queue
6. Things to take with you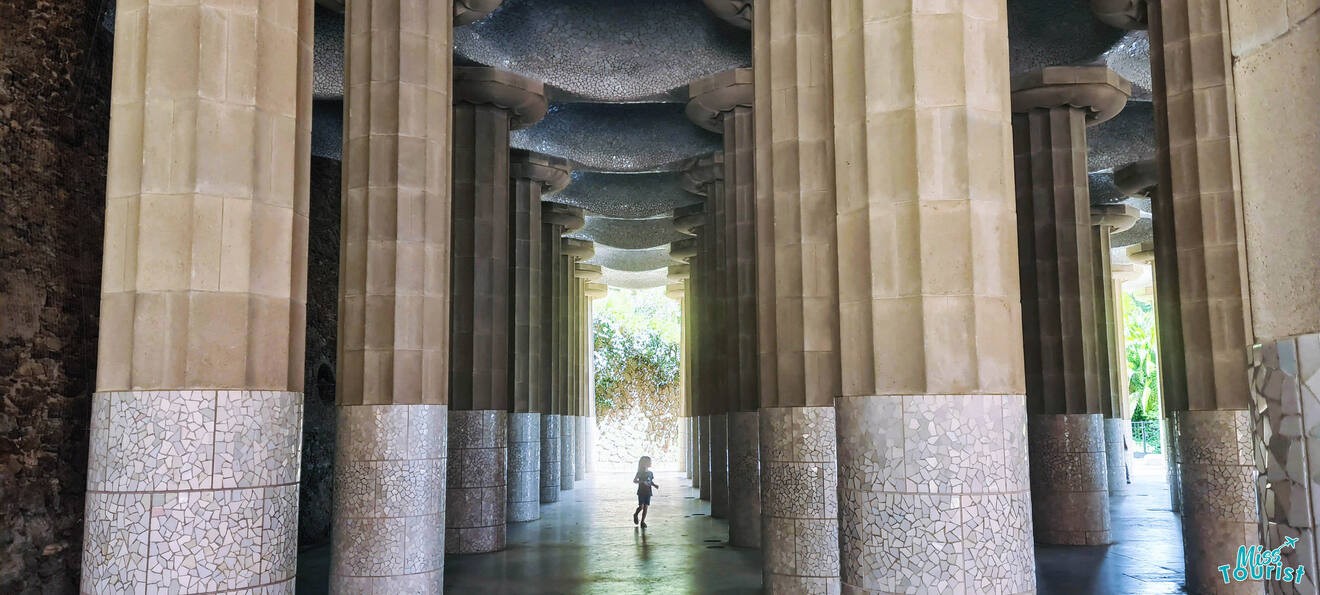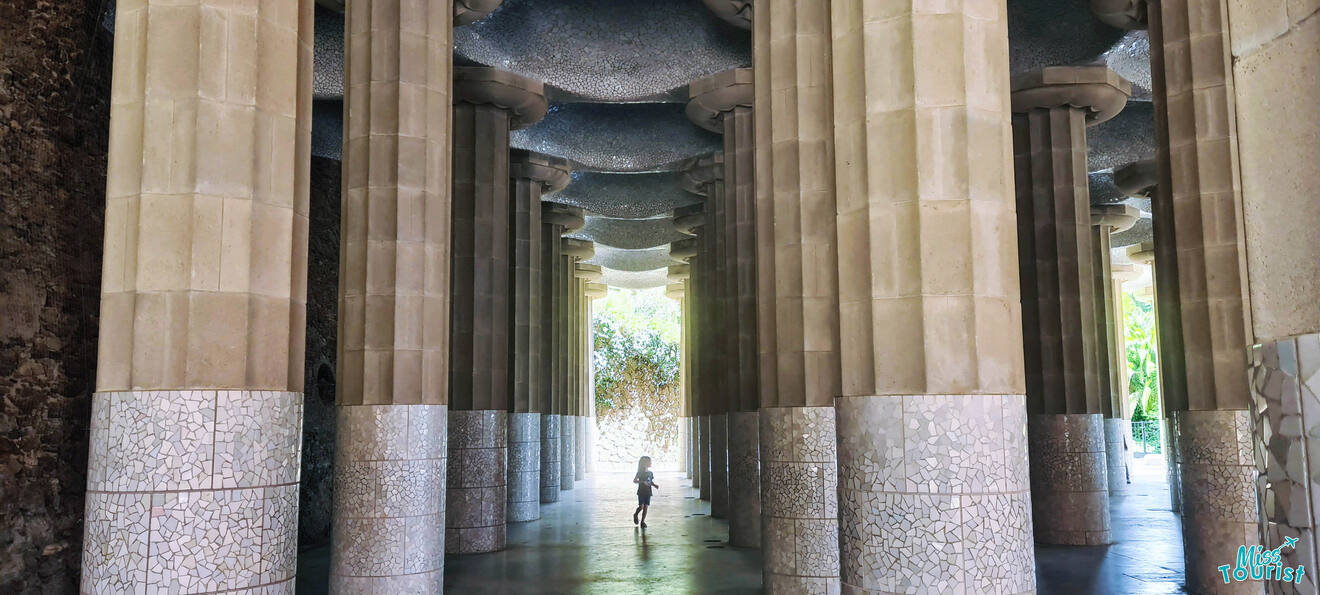 Depending on how long you are going to spend in the park, there are a couple of things I recommend bringing with you:
Water (there are some sellers too in case you forget/run out)
Some snacks (there is one restaurant inside the park, but it has horrible reviews, so just take a snack and get your lunch/dinner somewhere outside)
Wear comfy shoes (this applies to everywhere in Barcelona actually if you are out and about doing touristy things)
Your camera (phone or an actual photo camera – does not matter, you will want to take some pictures for sure!)
Possibly a picnic (if you want to stay longer in the park you can actually have a picnic in the monumental or the free zone, why not?)
7. Continuation of Guell park for kids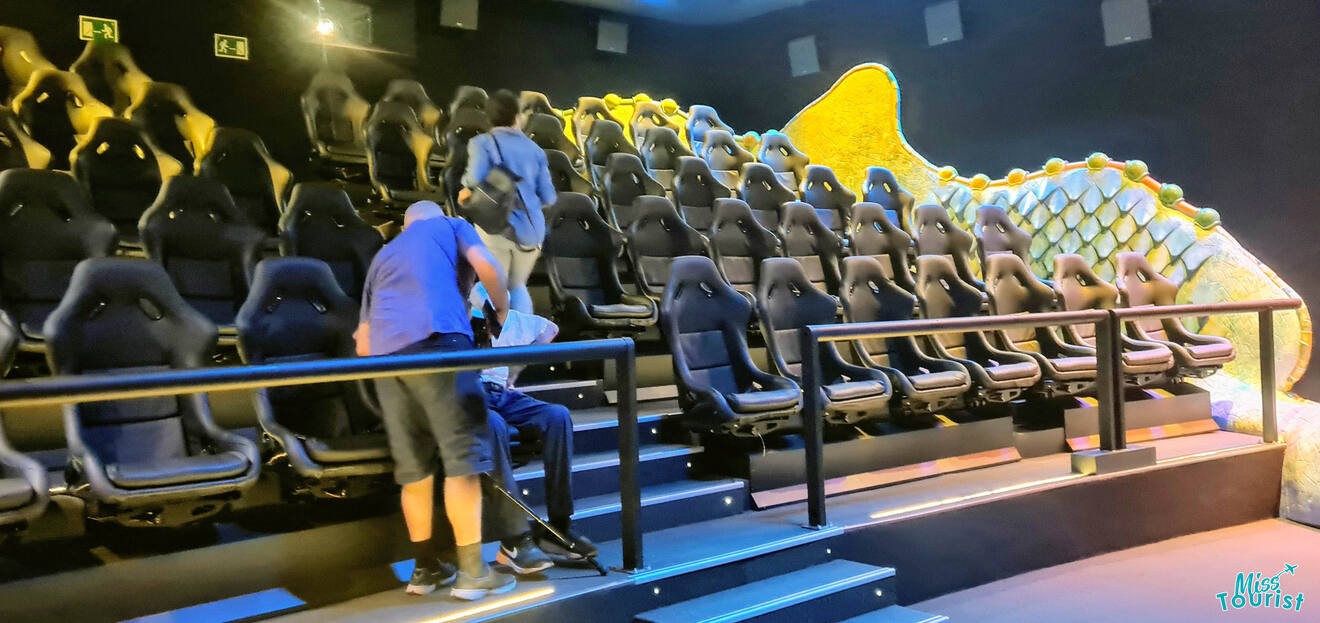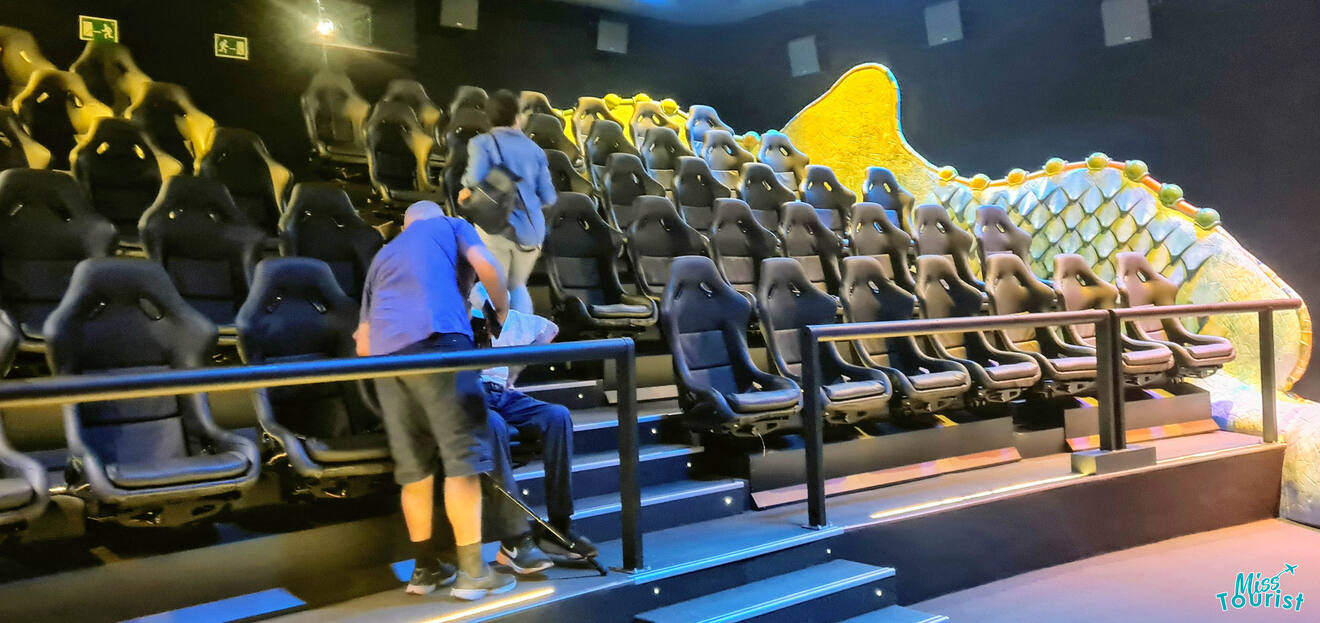 Actually, this is not only fun for kids, I went there and I loved it!
Gaudi 4D Experience is an audiovisual projection of Gaudi's imagination, an epic visual story of all the famous Gaudí houses. Like in an adventure park, you will sit in a special chair (belt on) it will move a bit, there will be some air blowing on you, etc.
I especially loved the "flying" over his buildings experience, you really get to see all the details, and it is simply wonderful! It reminded me of the 4D (or 5D?) "flight" that I did in Park Aventura not far from Barcelona – this was one of my favorite rides in the park, SO realistic!
The whole thing is about 10 min and it is located literally a minute away from the main exit, so if you don't know how to pass some time before or after the Park, this is a great option!
The entrance is 9€ which is probably a bit too much for what it is, to be honest, but if you have small kids that are interested in Gaudi's fun buildings, they would most probably love it!
8. Don't forget to check out the view from Bunker del Carmel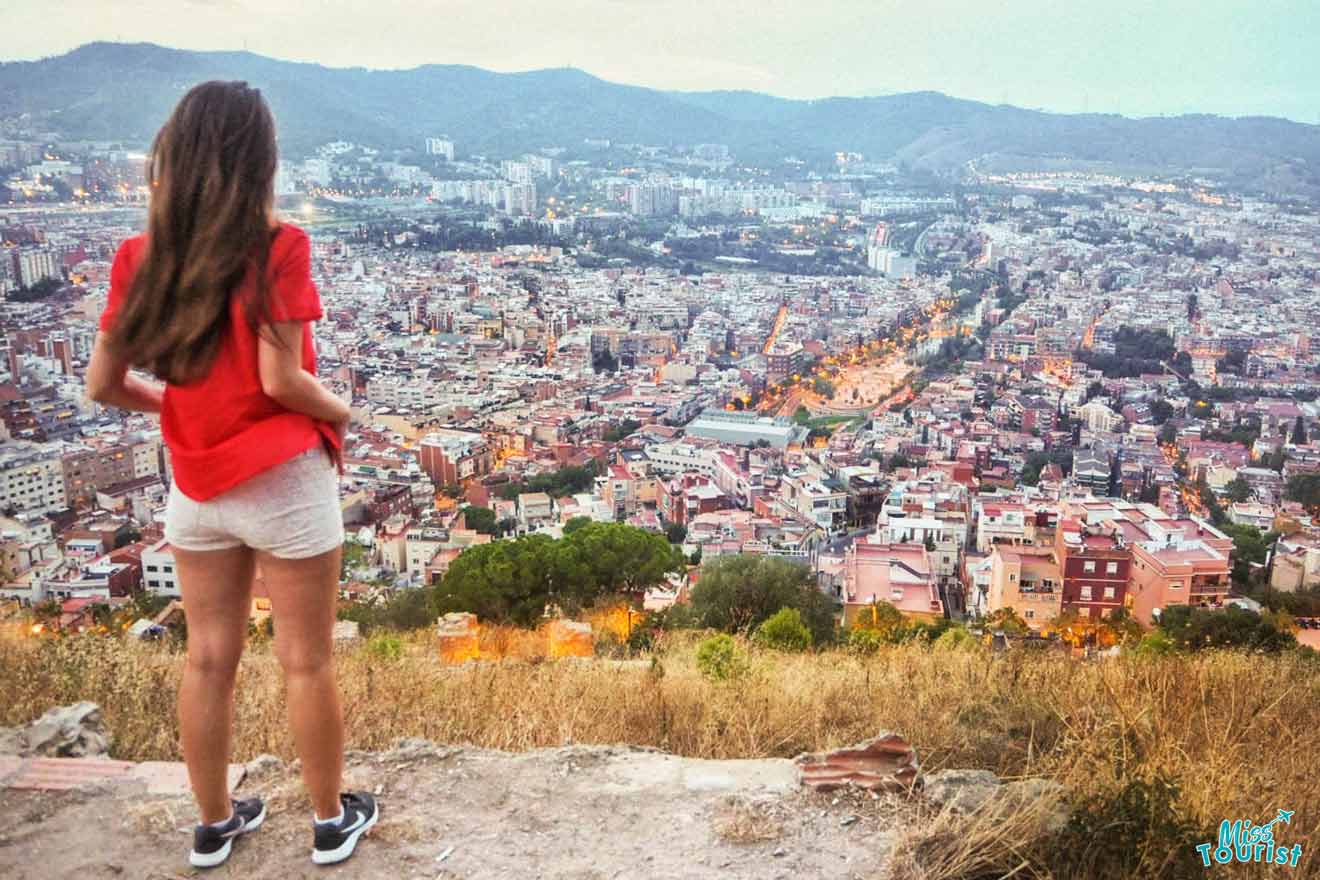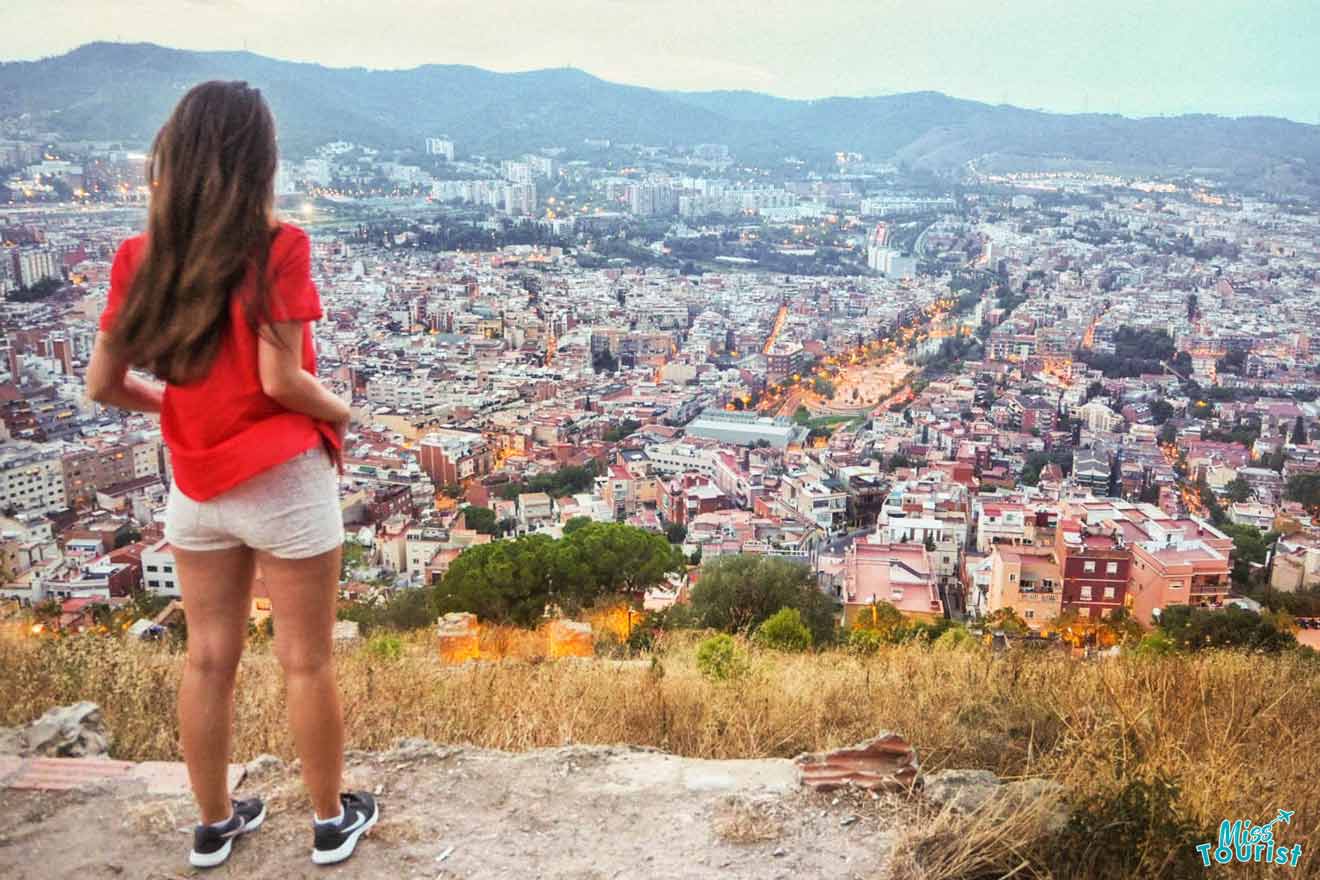 True, you will need to do some walking for this one (about 20 min and it is a bit of uphill), but the view will not disappoint, trust me!
I am not going to talk much about it here since we have a post about it with pictures and info on how to get there, click here to see the post.
If you want to just follow the google maps, here are the coordinates (apparently it is now called MUHBA Turó de la Rovira (Battery Viewpoint)
| | |
| --- | --- |
| 💵 Entry Price: | €10 |
| 👨‍👩‍👧‍👦 Group Guided Tour: | €22 |
| 🗣️ Private Guided Tour: | €70 |
| 🤫 Quietest Entrance: | Entrance C |
| 🕖 Best Time to Visit: | Early Morning |
| 🎟️ Best Ticket Bundle | Barcelona Explorer Pass |
Practical things to know about Park Guell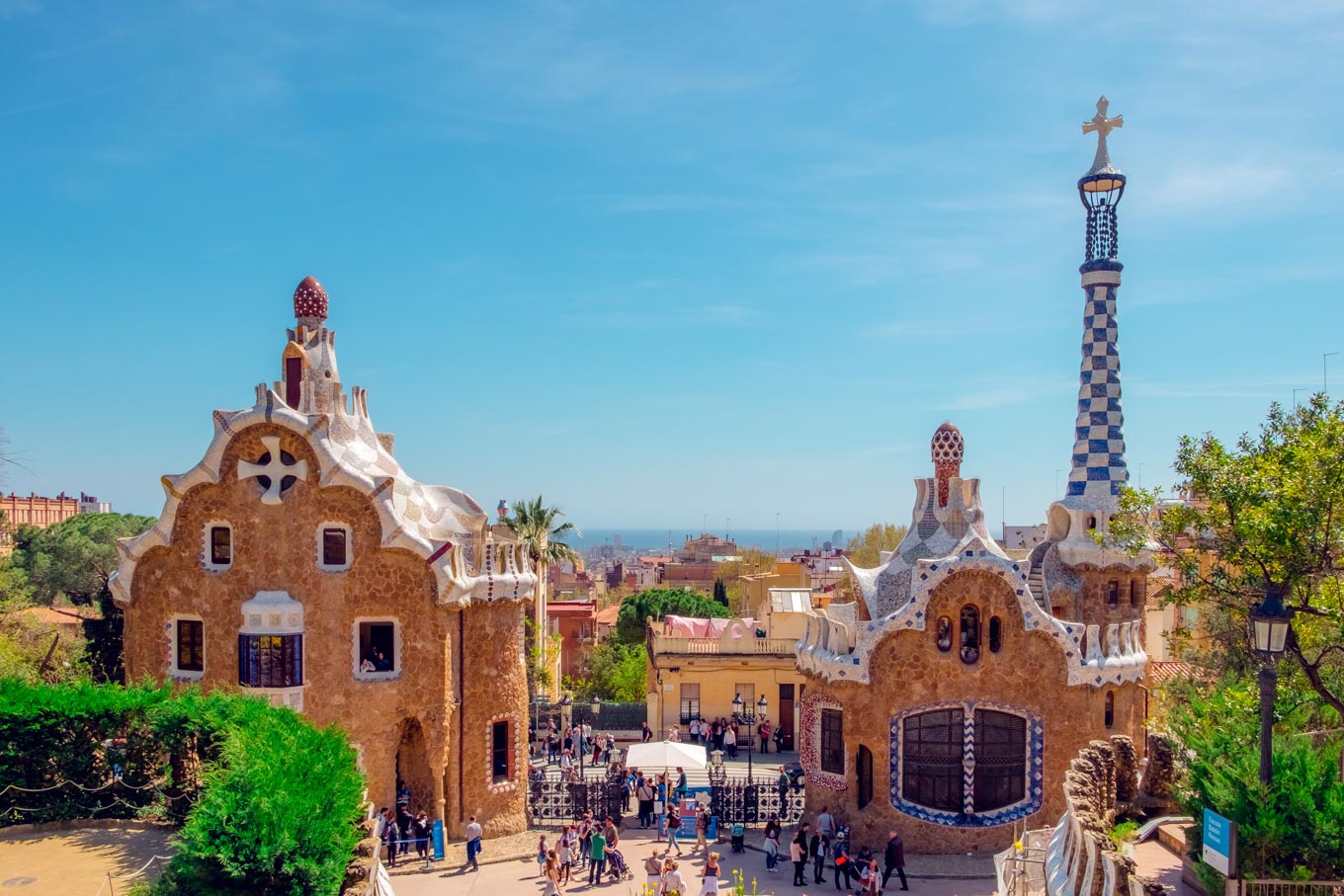 How to get there
Aside from all Gaudi's other masterpieces like Casa Mila, Casa Battlo, and many others, Park Guell is actually located a bit outside of the city center so here is how to reach it by all modes of transportation: 
Bus – take Travessera de Dalt (H6 and D40) + 10 min walking
Metro – Lesseps or Vallcarca stations + 20 min walking
Taxi – take an Uber or its alternatives- Free Now and Cabify, it will take you almost to the entrance, 1 min walking
Hop-on/hop-off bus – this touristic bus gets to the entrance of the park, buy your tickets here
P.S. You can also read information about transportation on the official website.
Park Guell opening times
The schedule of the park adjusts to summer and winter times so it is a bit different. Below are the current times, but please make sure to double-check it again on the official site in case something changes meanwhile:
(27 March to 30 October): 9:30 am to 7:30 pm
(30 Oct – 11 Feb): 9:30 am to 5:30 pm
(12 Feb to 26th of March): 9:30 am to 6 pm
Recommended walking routes in Park Guell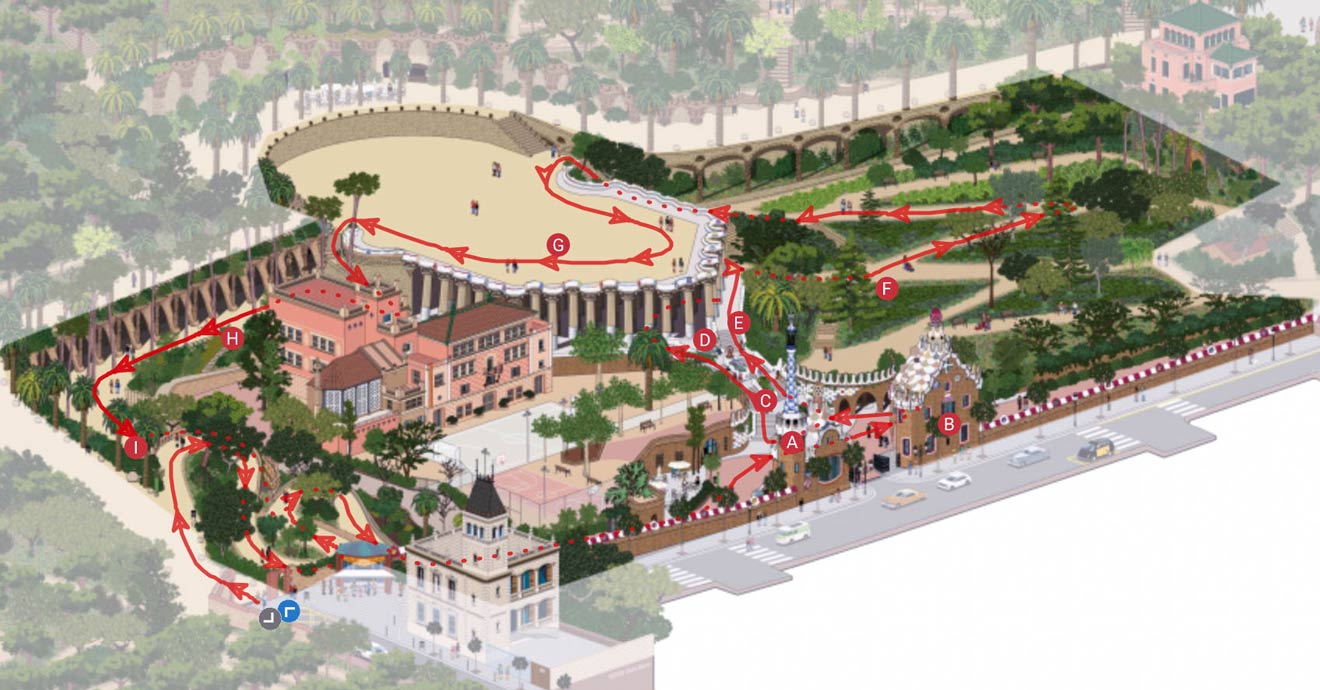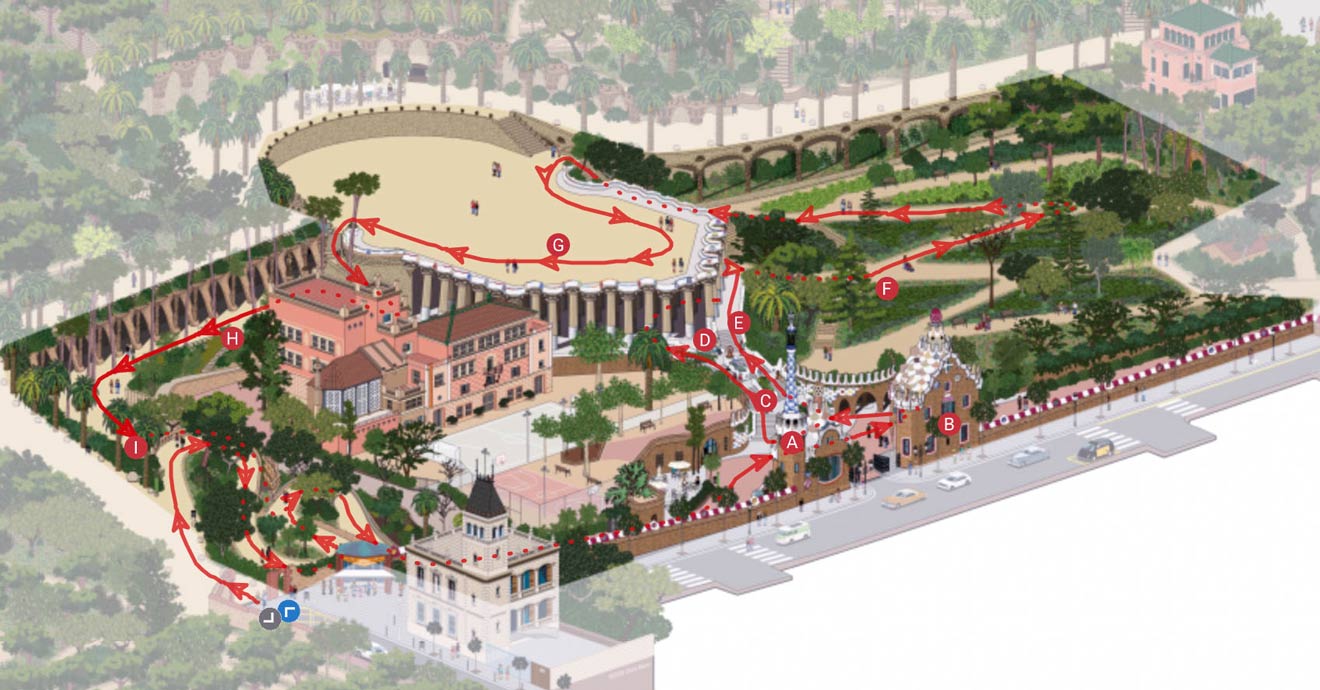 There are a couple of routes provided by the ministry of tourism on the official website and I think they are pretty good!
Check them out here, above is the picture of the most popular route you can take.
Souvenirs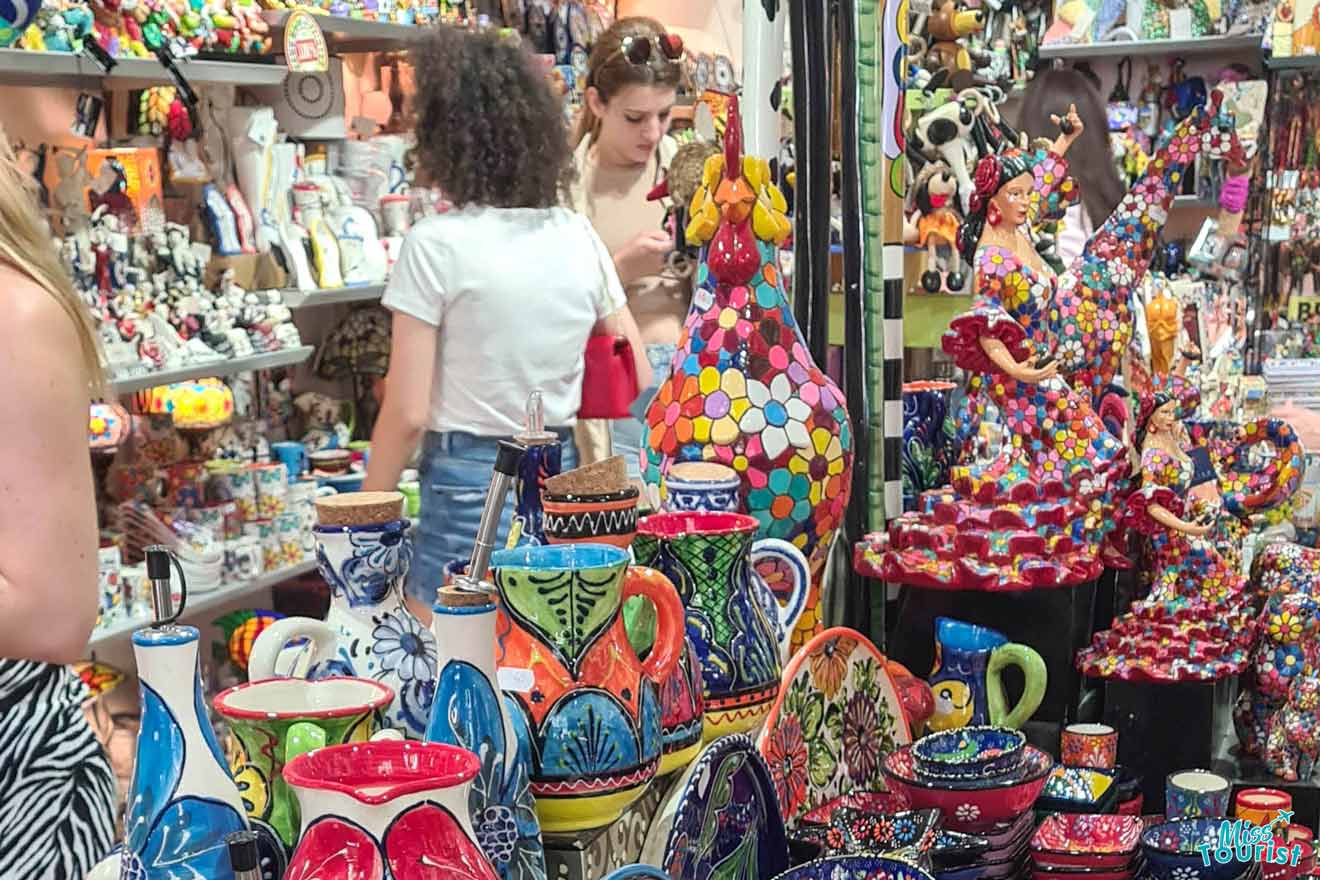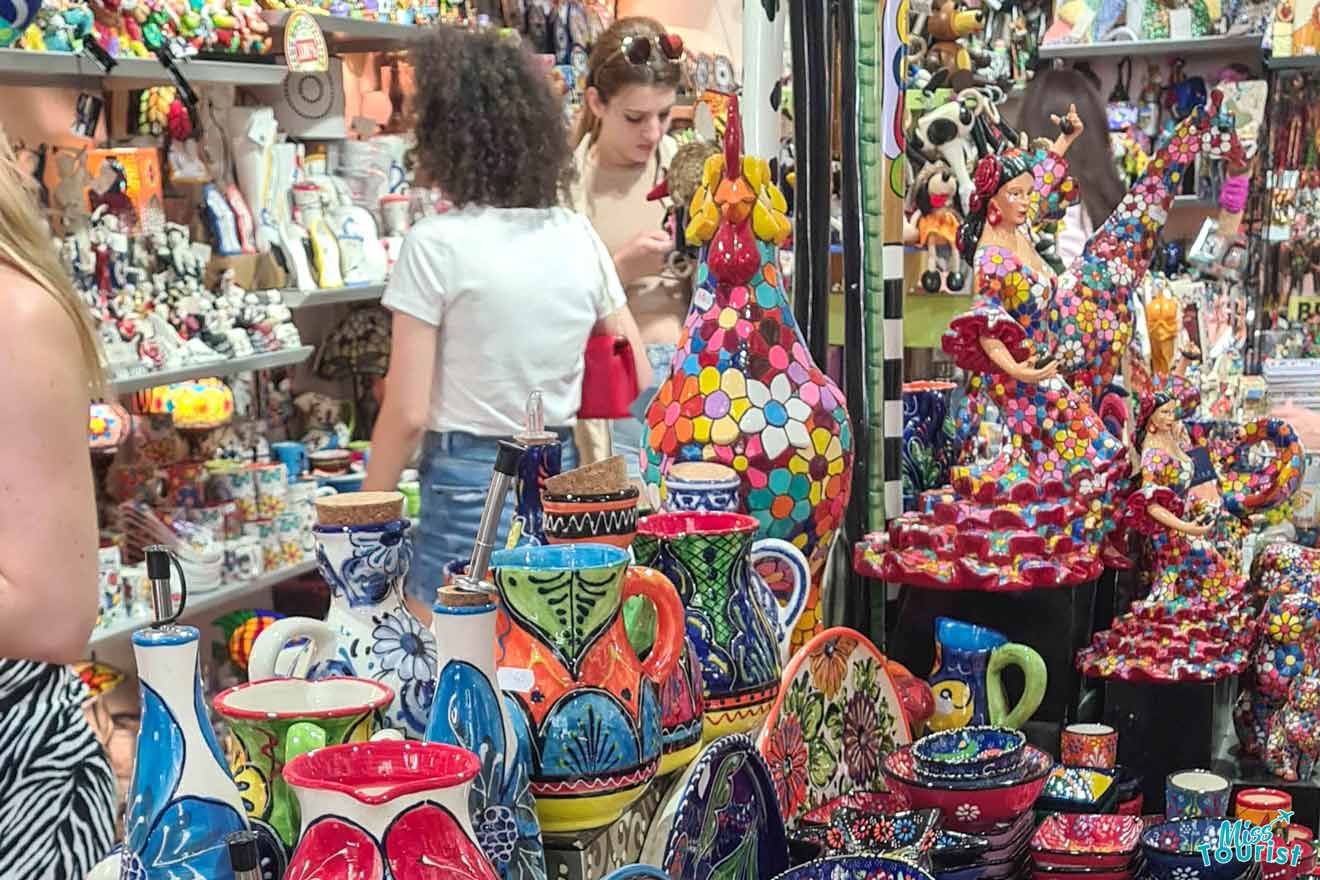 There is a regular gift shop inside the park and sellers in the park with all kinds of Chinese crap, but there is also a charming souvenir shop with pretty authentic (or so it seemed at least) colorful souvenirs from Spain located in one of the gingerbread houses.
Alternatively, when you exit the salamander exit there is another super nice souvenir shop right in front, it felt like good quality tasteful stuff
Other Gaudi Masterpieces you cannot miss
Casa Batllo
Casa Mila (La Pedrera)
Casa Vincens
Frequently Asked Questions about Park Guell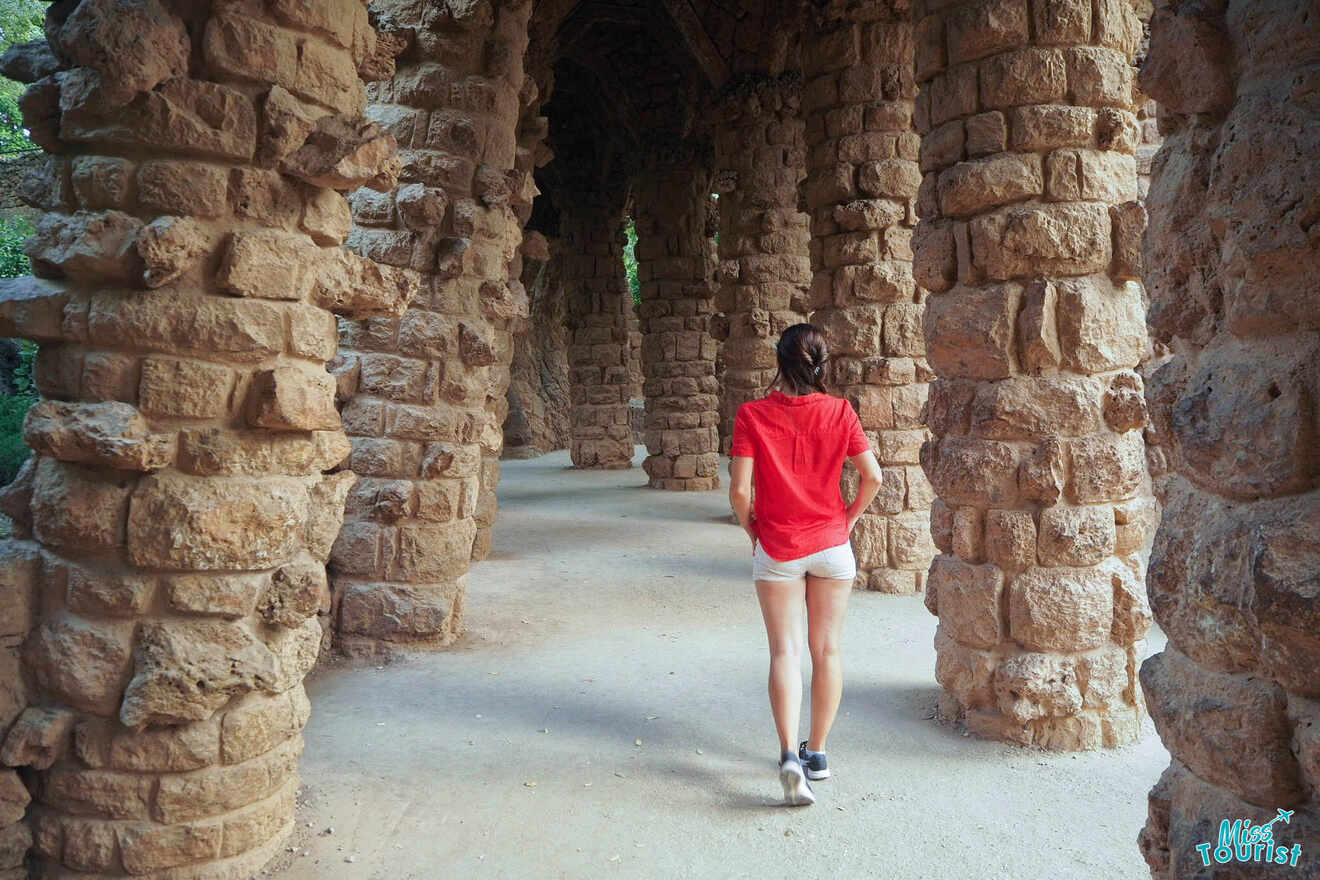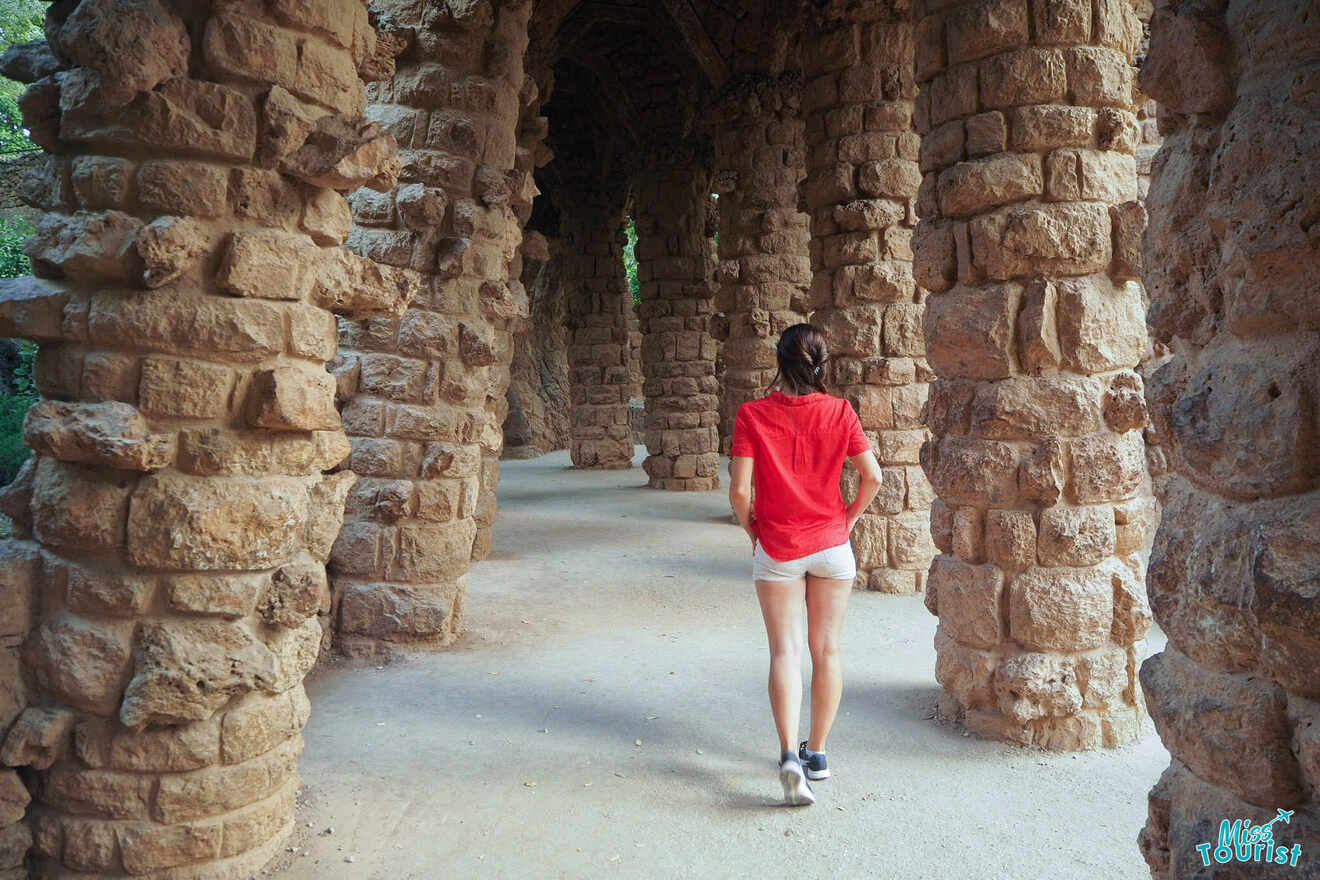 ⏲️ How long is the visit?
A typical visit is 1.5 -2 hours, though you can stay for the whole day and bring your picnic, no one will kick you out.
💲 Can you see Park Guell for free? 
Yes, you can either visit the park outside of the opening time (before 9 am and after 8 pm) or visit the free zones of the park.
🕠 What is the best time to visit the park?
Go as early as possible, when the park opens – there will be way less tourists and the experience will be even more magical!
📅 How far in advance should I buy the Park Guell tickets? 
It is recommended to buy your tickets 5-10 days in advance, especially during the high season. However, please keep in mind that the tickets bought through the official site are non-refundable, the ones on GetYourGuide are.
🎟️ Can you buy Park Guell tickets at the gate? 
Yes, but there is no guarantee that there will still be available time slots plus the line to enter will most definitely be long. It is highly recommended to book your tickets online in advance. 
Conclusion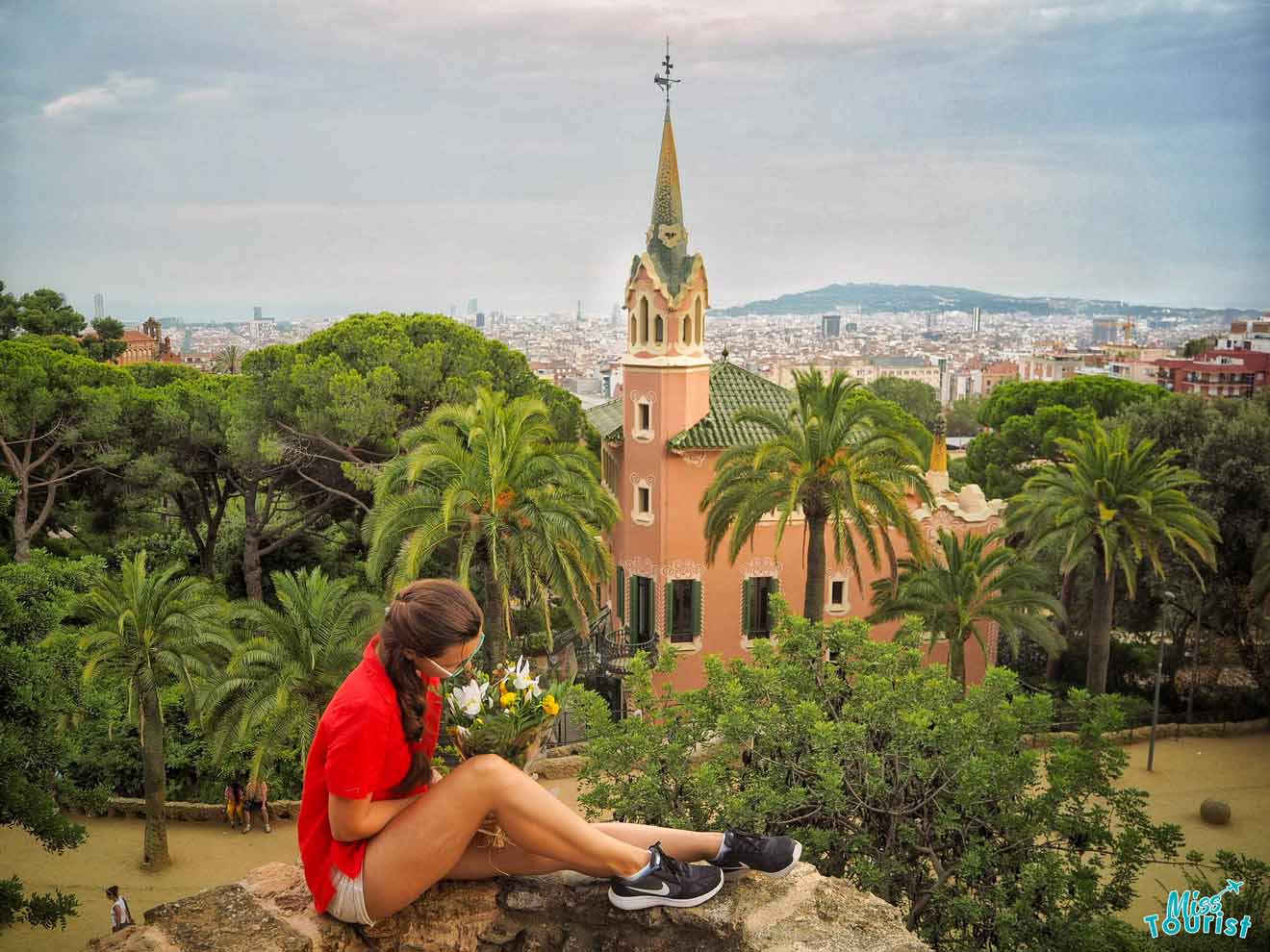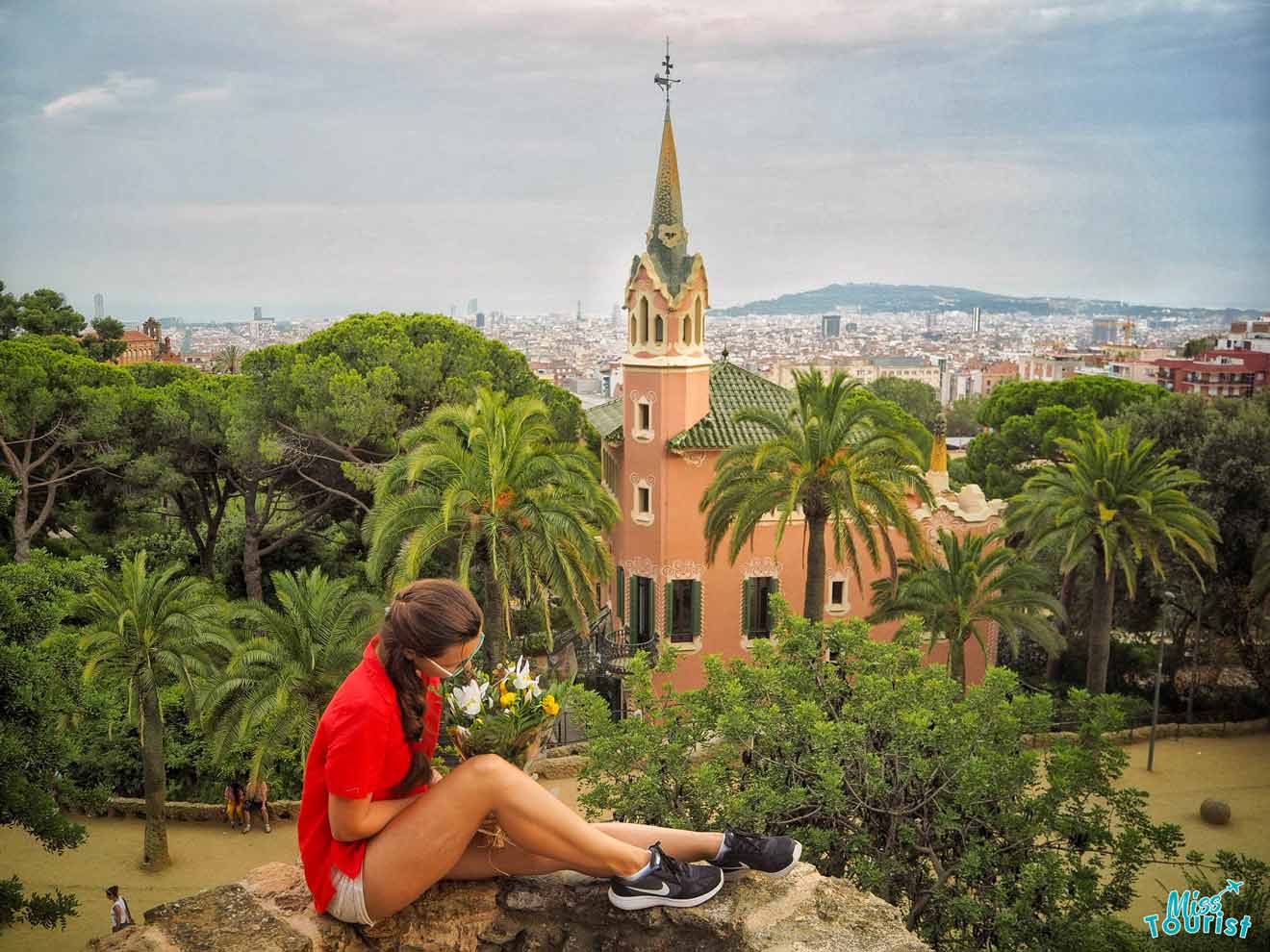 I tried to combine all the most useful information about visiting Park Guell starting from tickets and ways to save, finishing with things to take with you and tips on transportation.
I truly hope that you will have a chance to see this wonderful park and also that my tips will help you to prepare for your visit in the best way possible!
As usual, if you have any questions, be sure to let me know in the comments below,
Yulia
---
Pin it for later!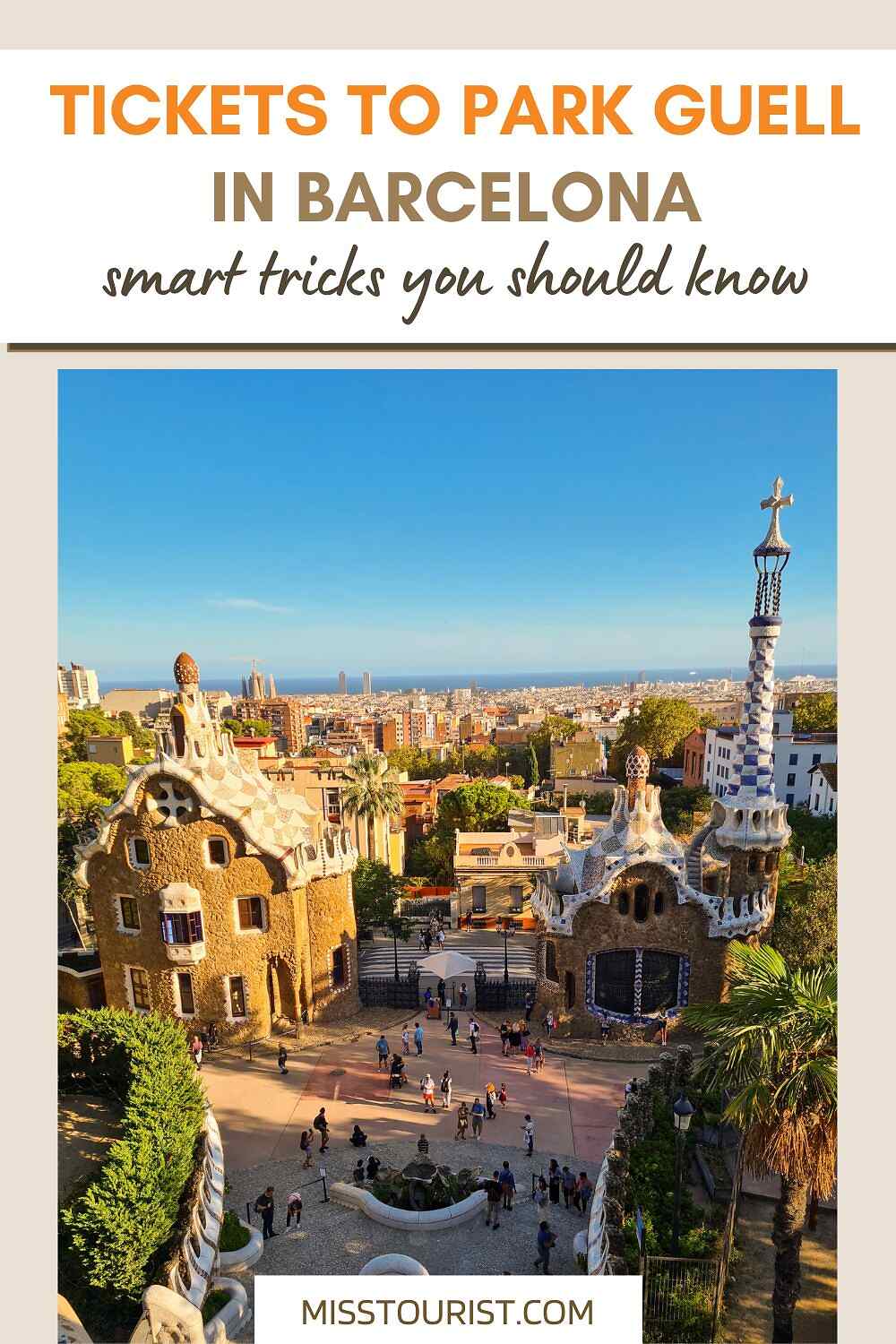 Pin it for later!