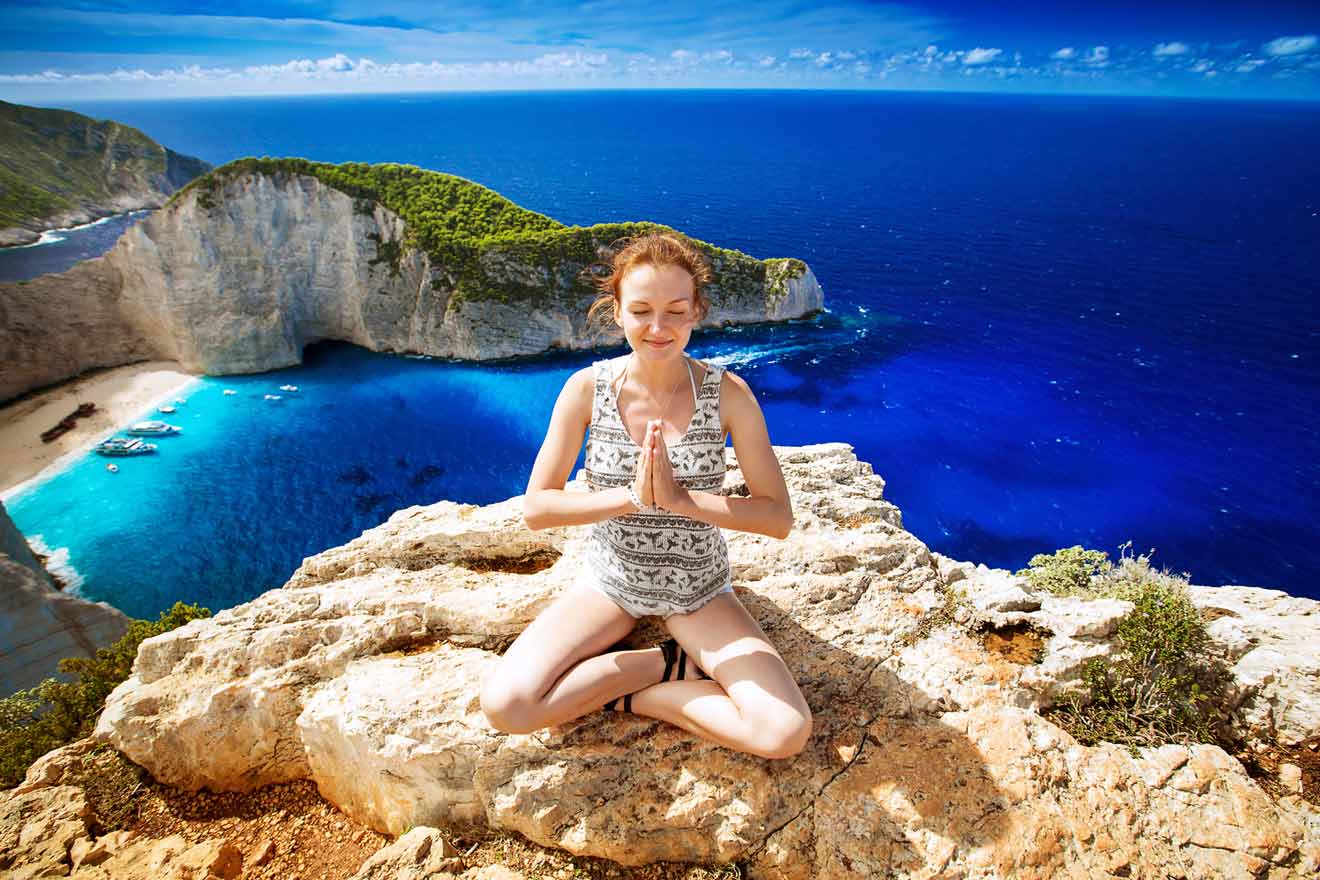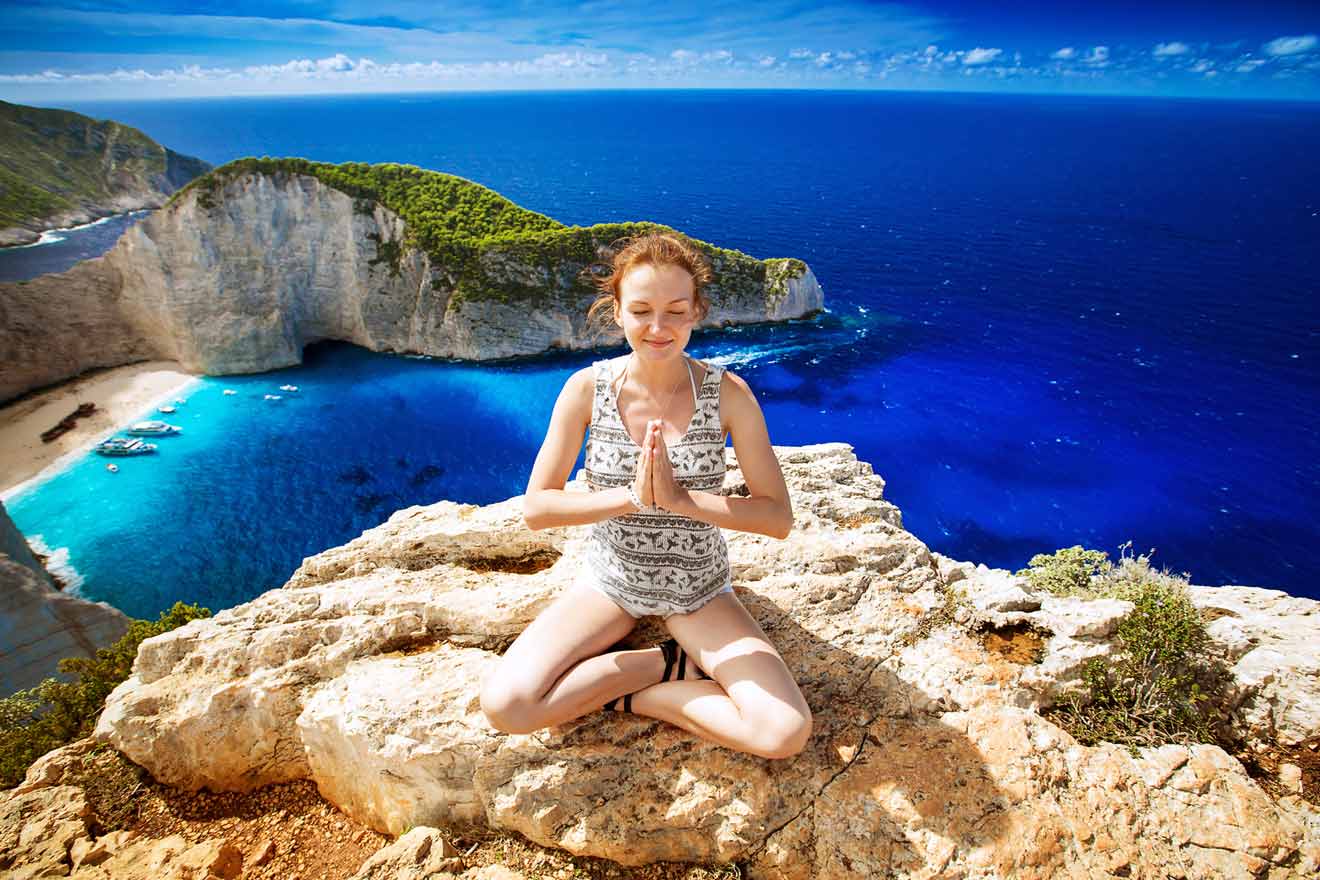 Hello yogis from all around the world! Are you eager to start planning your European holiday and go on a fabulous retreat where you can relax, do your practice and enjoy life to the fullest?
Who wouldn't be? And you've come to the right place because here you'll find the perfect yoga retreat in Europe for you! As a yoga enthusiast for a few years now, I know what most of us are looking for in a retreat, and I've searched the web for hours to make sure I give you a list of the best yoga retreats in Europe!
Whether you're looking for a weekend getaway where you can practice your asanas without any distractions, or a full 2 weeks where you can dive deeper into your inner work, then have a look below because I've got the scoop!
Europe is a popular spot for yoga retreats (especially those that are close to the beach and include surfing) so I highly recommend booking your favorite one in advance, because as you may know, the early bird-prices go super fast and usually the spots fill up quicker than you'd think!
Okay, roll your mat and let's start!
If you are in a hurry
Want a quick answer for today's question? Then check out the shortlist below, it has the best yoga retreats in Europe:
Since we're looking at the best yoga retreats in Europe, you'll definitely need a map to guide you and help you visualize all the locations so check out the one below:
1. Wellness Holiday Retreat – for an island yogic getaway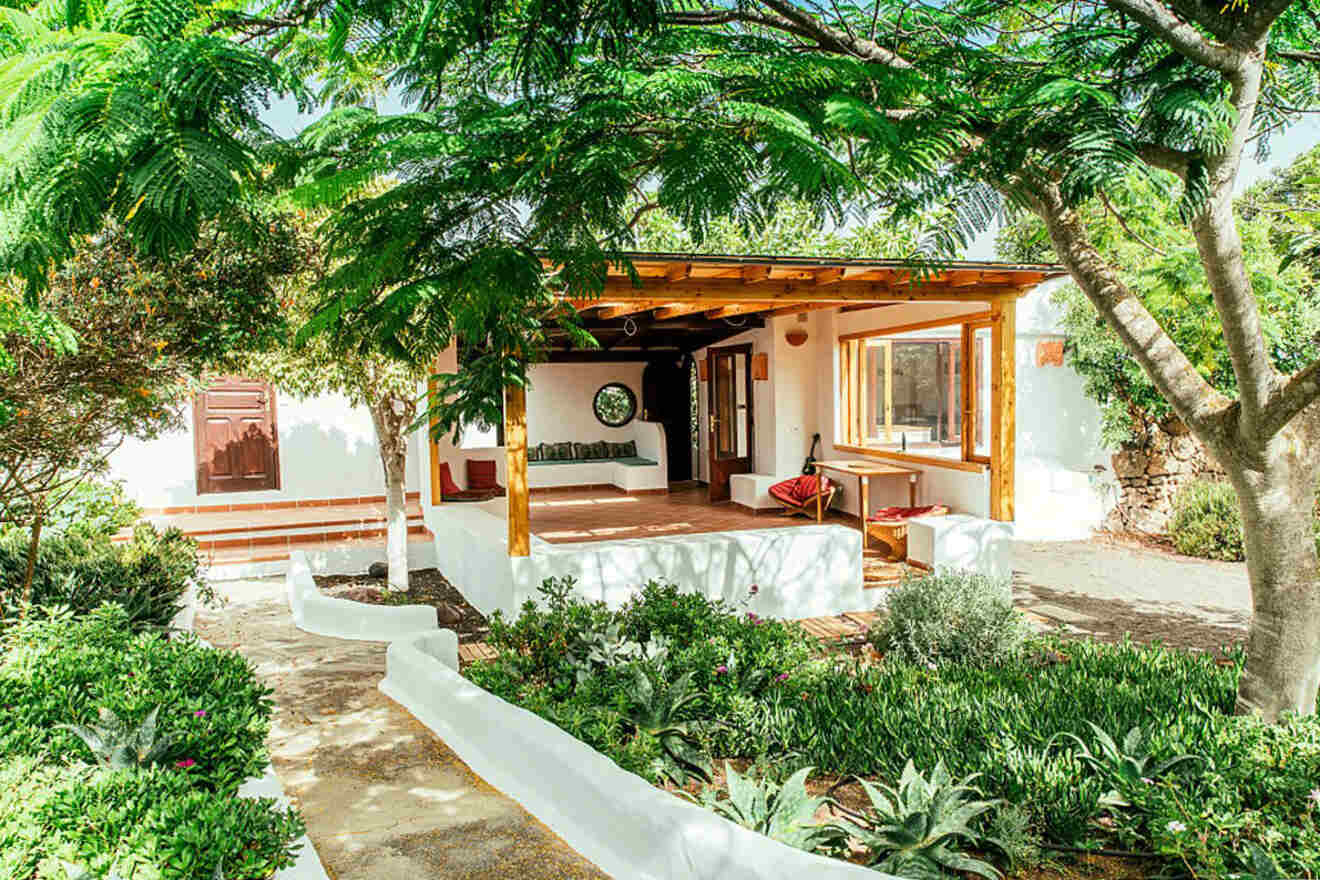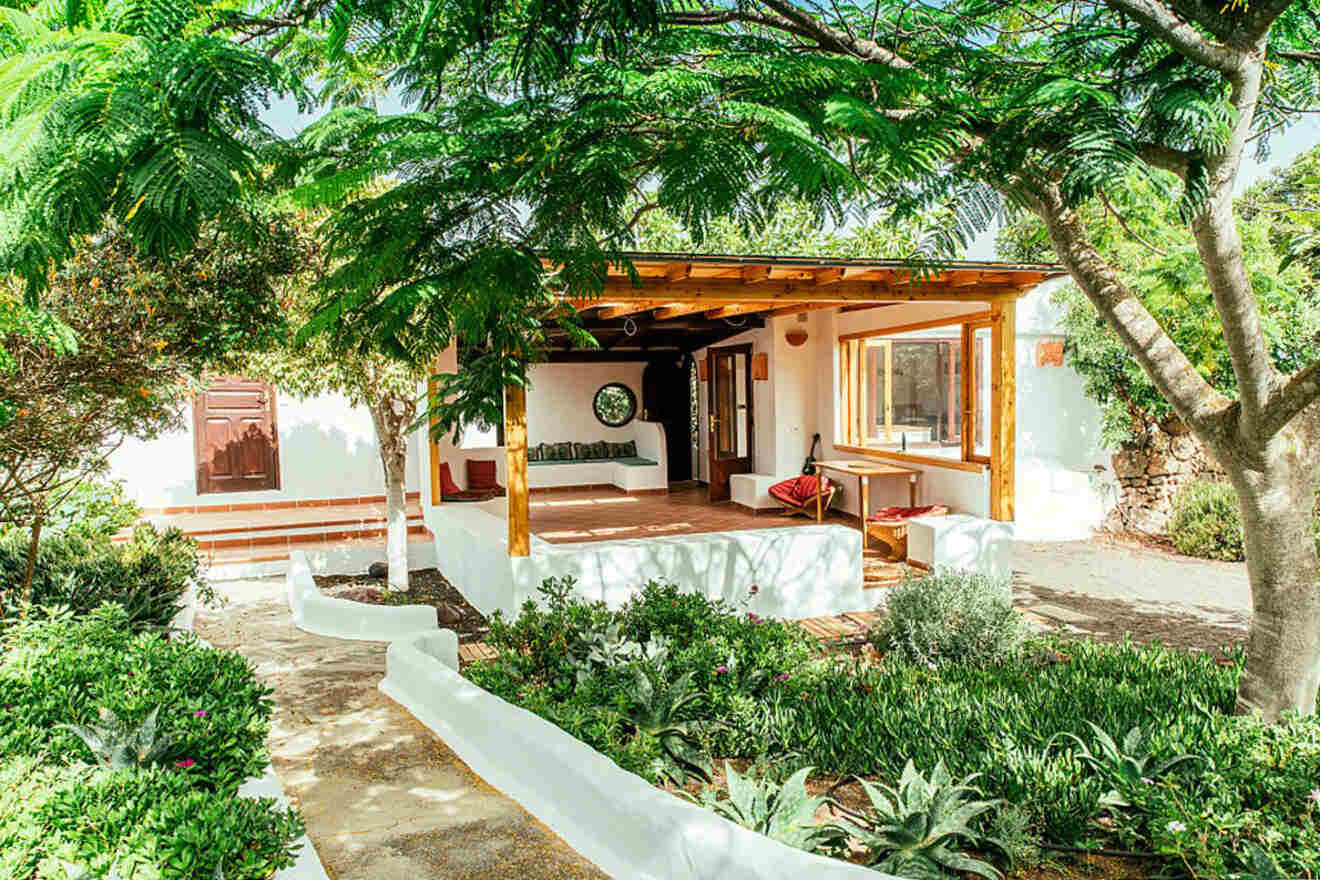 Who's in desperate need of a yoga holiday in a beautiful location? Grab your mat and follow me! This amazing 5 day yoga retreat takes place on one of the best Canary Islands: Lanzarote! Make room in your luggage for lots of swimsuits and yoga gear because that's what you'll wear here!
Offering different yoga styles from hatha yoga to yin yoga and vinyasa yoga, this retreat will help you get back into your body, snooze your mind and enjoy the simple life! You'll start your day with some meditation and a yoga class and then indulge in all the organic vegetarian and vegan food that your Italian Chef will have ready for you!
Length: 5 days
Styles: Hatha Yoga, Yin Yoga, Vinyasa Yoga
Price: from €530
Location: Lanzarote, Canary Islands
2. Island Yoga Retreat – great for outdoor lovers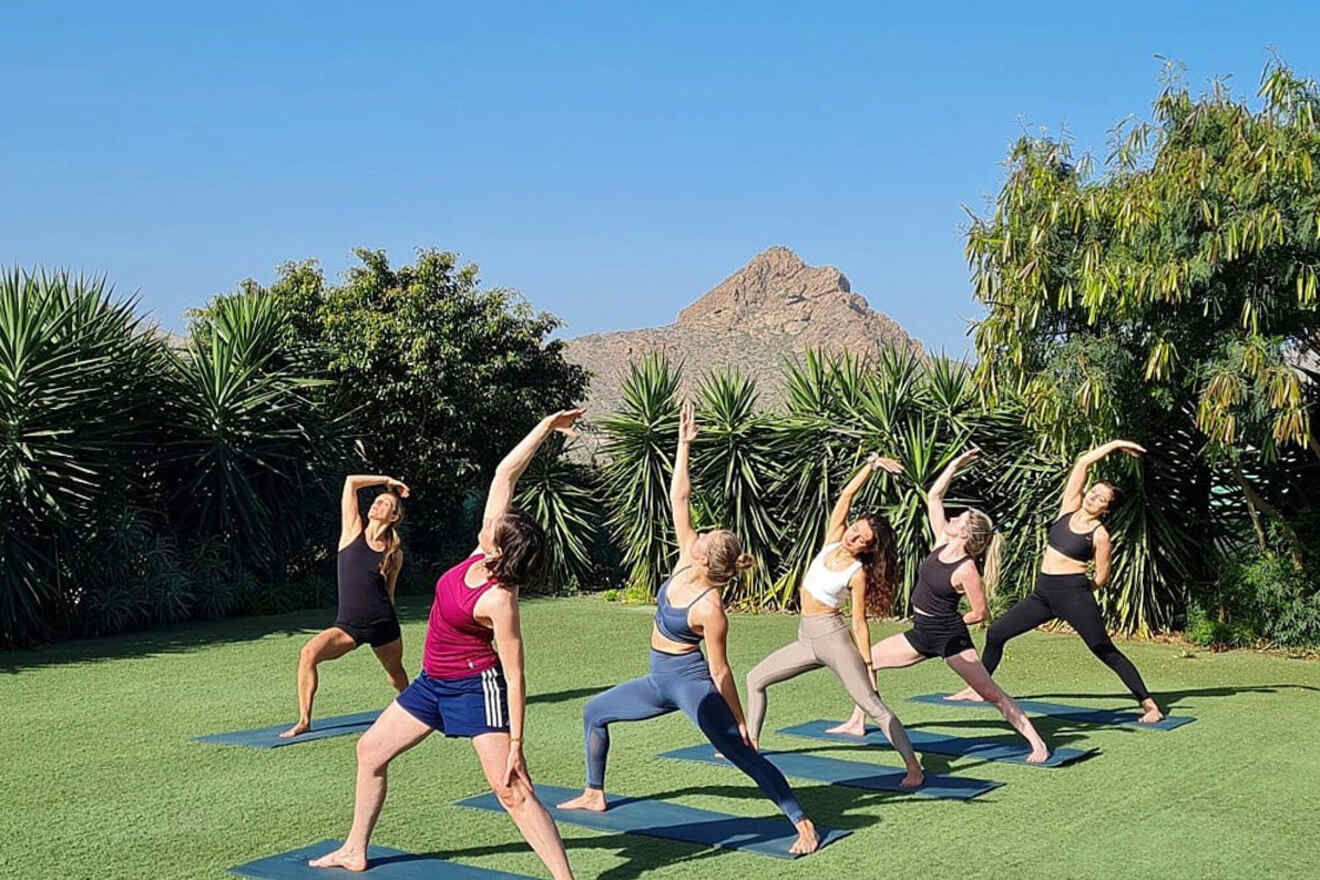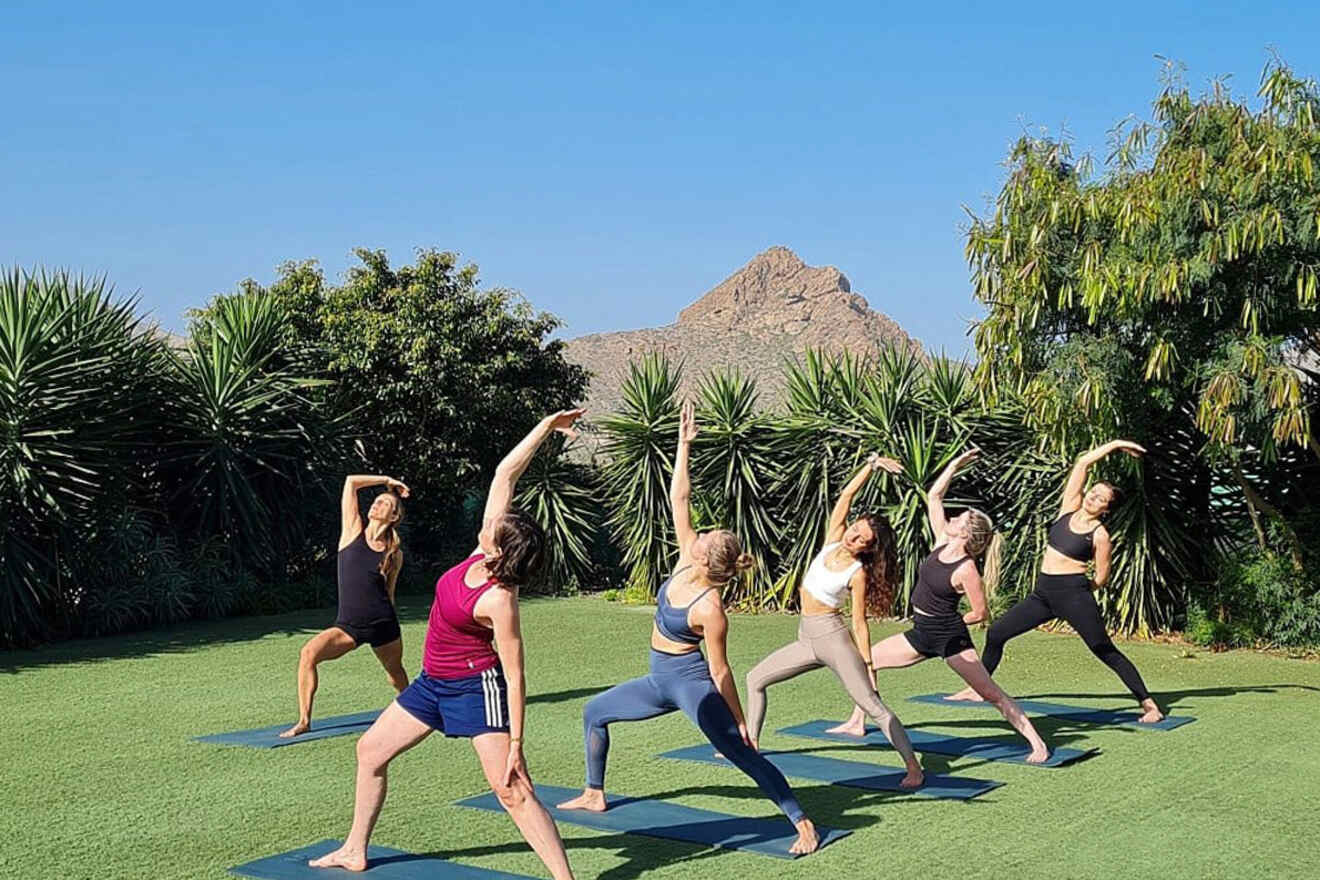 If you want to combine your yoga classes with other activities like guided walks, swimming in secret pools and exploring one of the most popular destinations in Spain with like-minded people then this retreat on Tenerife island is definitely suited for you!
Offering yoga classes for all levels from beginner to advanced, this fantastic yoga retreat will help you relax (especially during those restorative yoga classes) and also work out those muscles during the vinyasa classes! But don't forget you'll also be spending time hiking, sunbathing on the beautiful beaches or by the swimming pool.
Length: 6 days
Styles: Vinyasa yoga, Nidra yoga, Hatha yoga, Restorative yoga, Yin yoga
Price: from €860
Location: Tenerife
3. Tranquil Tuscan Getaway – for a relaxing yoga holiday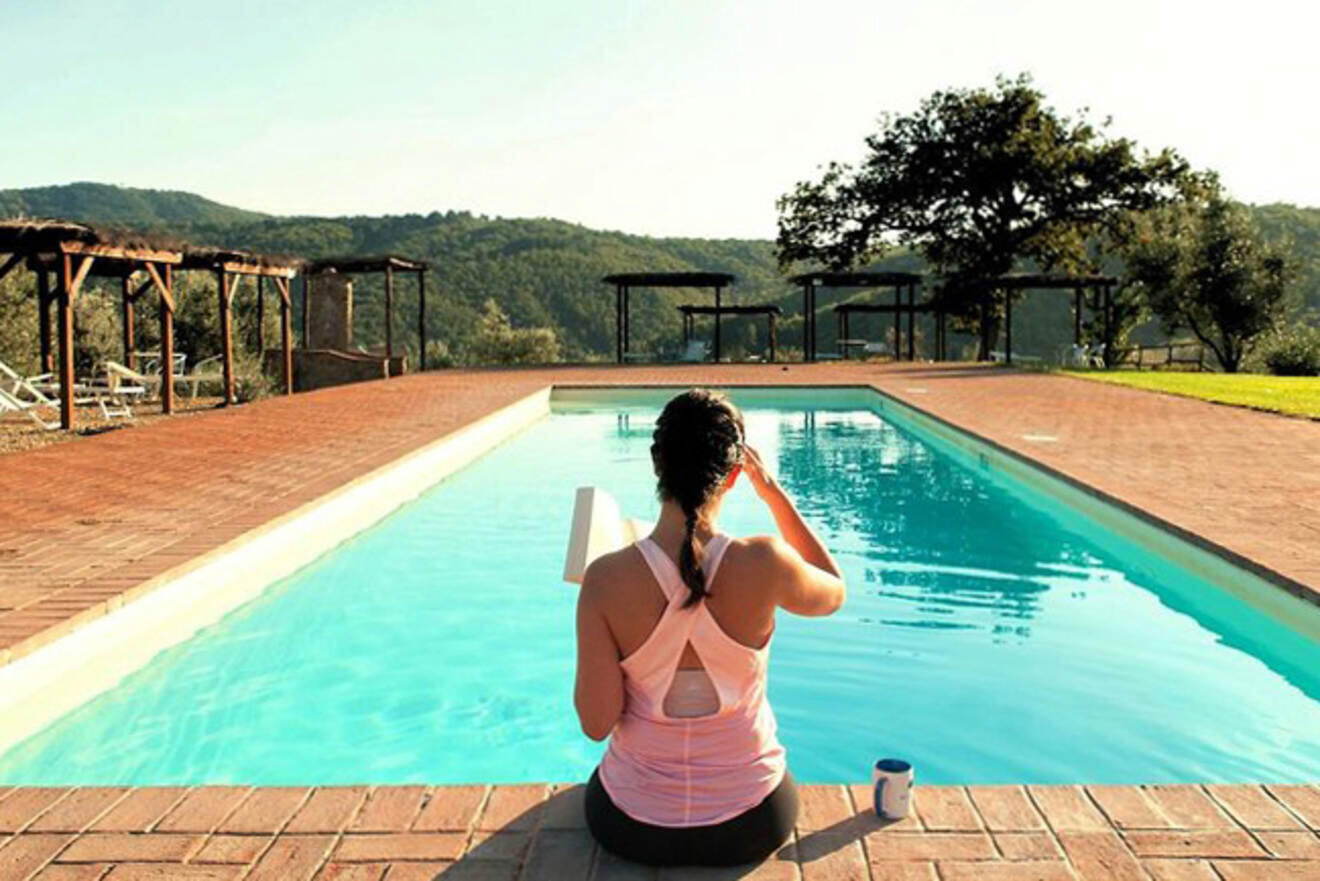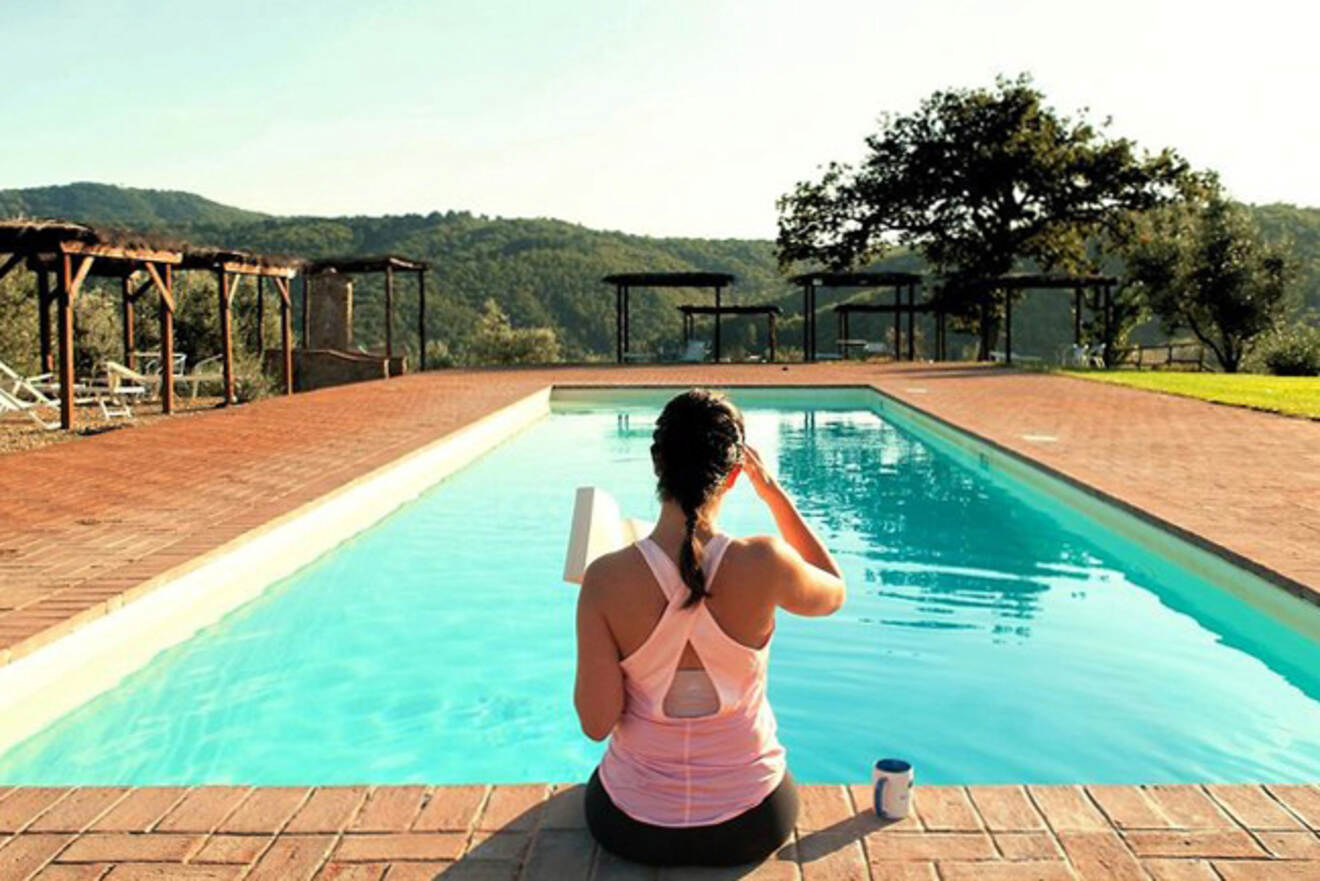 Tuscany's natural beauty, the rolling hills and scenic walks make it the perfect destination for a yoga and meditation retreat, right? But since we're in Italy, a wine tasting, and some delicious meals have to be included as well! This retreat in Arezzo, a province in Tuscany (which should surely be on your European itinerary) will offer a super well-rounded experience!
Salute the sun in the proper yogic way each morning on the outdoor yoga deck, and then sign up for some circuit training sessions and a few meditation classes. Appropriate for all levels, the retreat will give you an insight into Italy's rich culture when you're working those muscles on your mat during the Ashtanga classes. So get ready for the adventure of a lifetime!
Length: 4 days
Styles: Hatha yoga, Vinyasa yoga, Ashtanga yoga
Price: from €920
Location: Arezzo, Tuscany
4. Couple Tantra Retreat – the ultimate couple holiday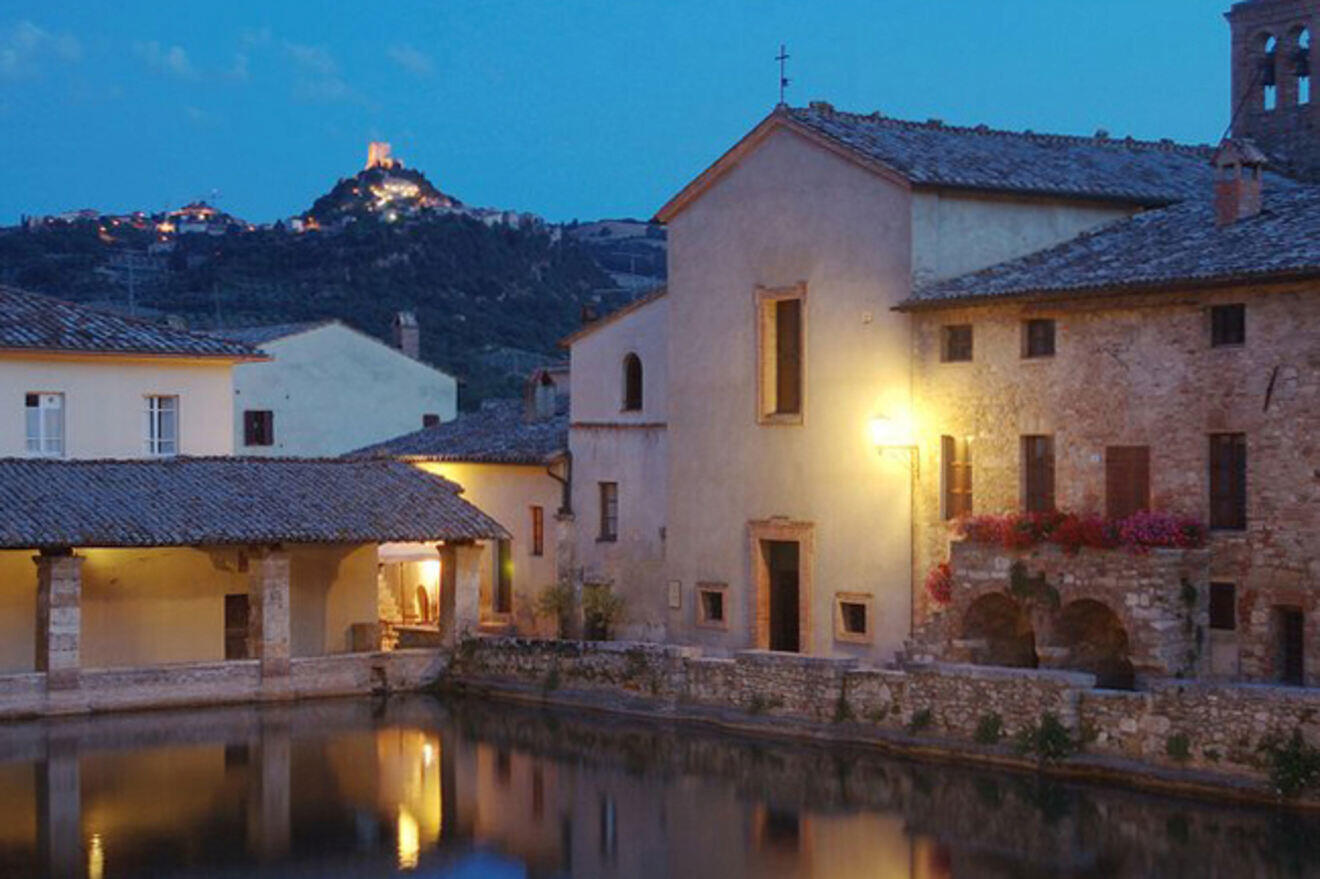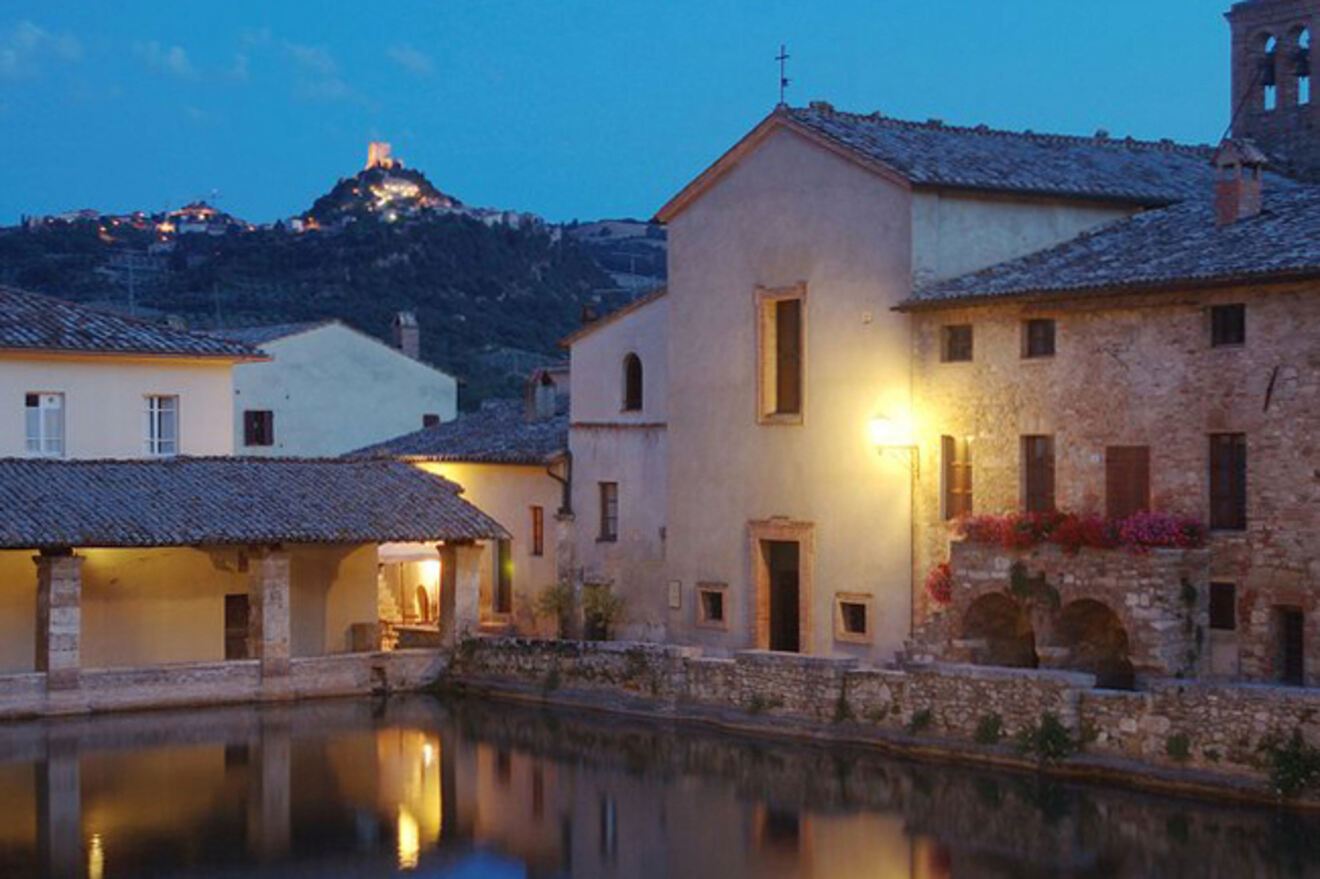 Sure, romantic getaways are cool, but what about a couple's retreat where you can both work on yourself and your relationship while relaxing, taking yoga classes, meditating and unwind in some fabulous thermal hot pools!
This retreat in Tuscany offers personalized programs for couples, which include asana practice, meditation sessions and tantric therapy among many other things. The location is absolutely incredible! We all know there are so many things to see in Tuscany and you'll definitely get some free time to explore or go hiking.
5. The Frogs House Yoga Retreat – for nature lovers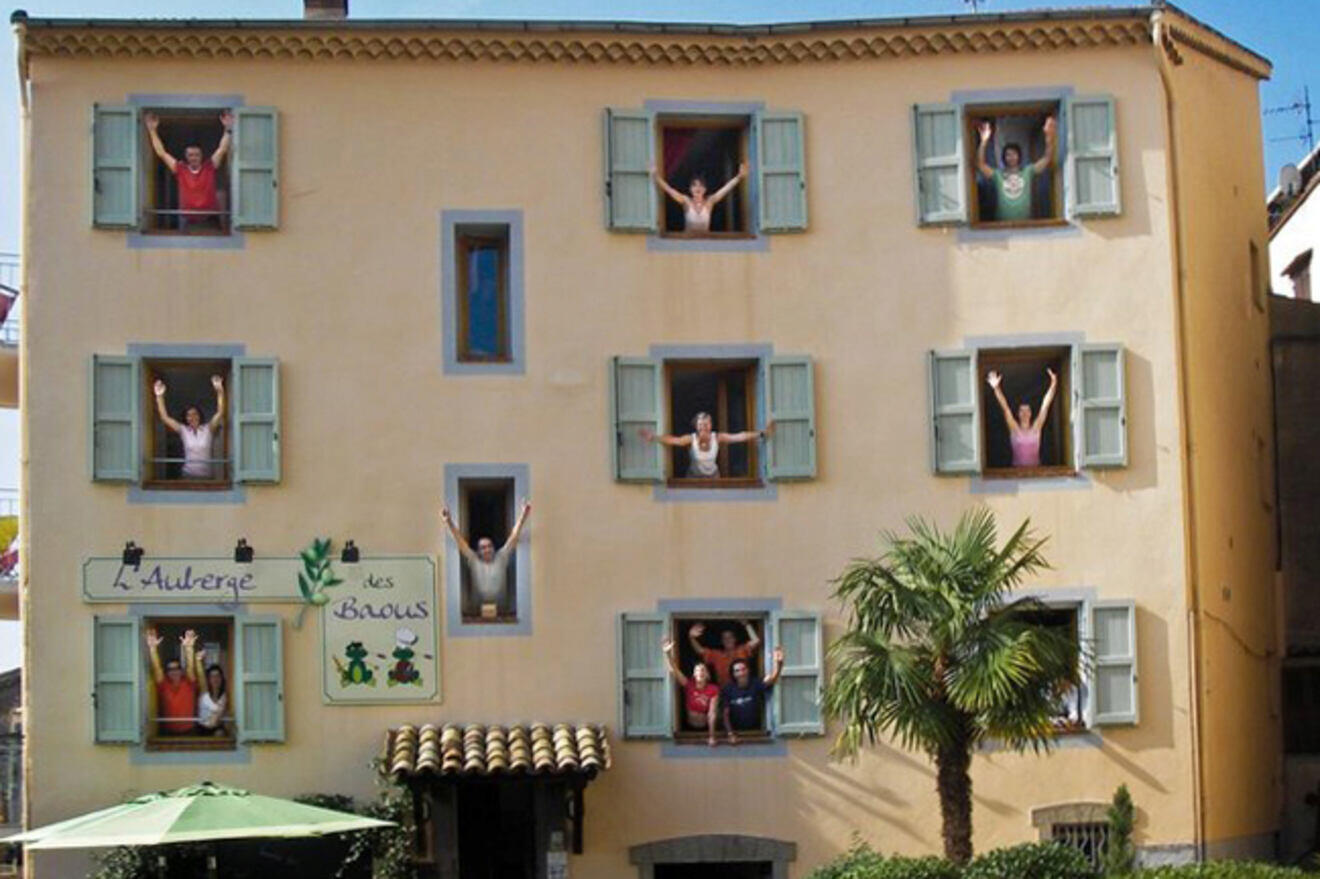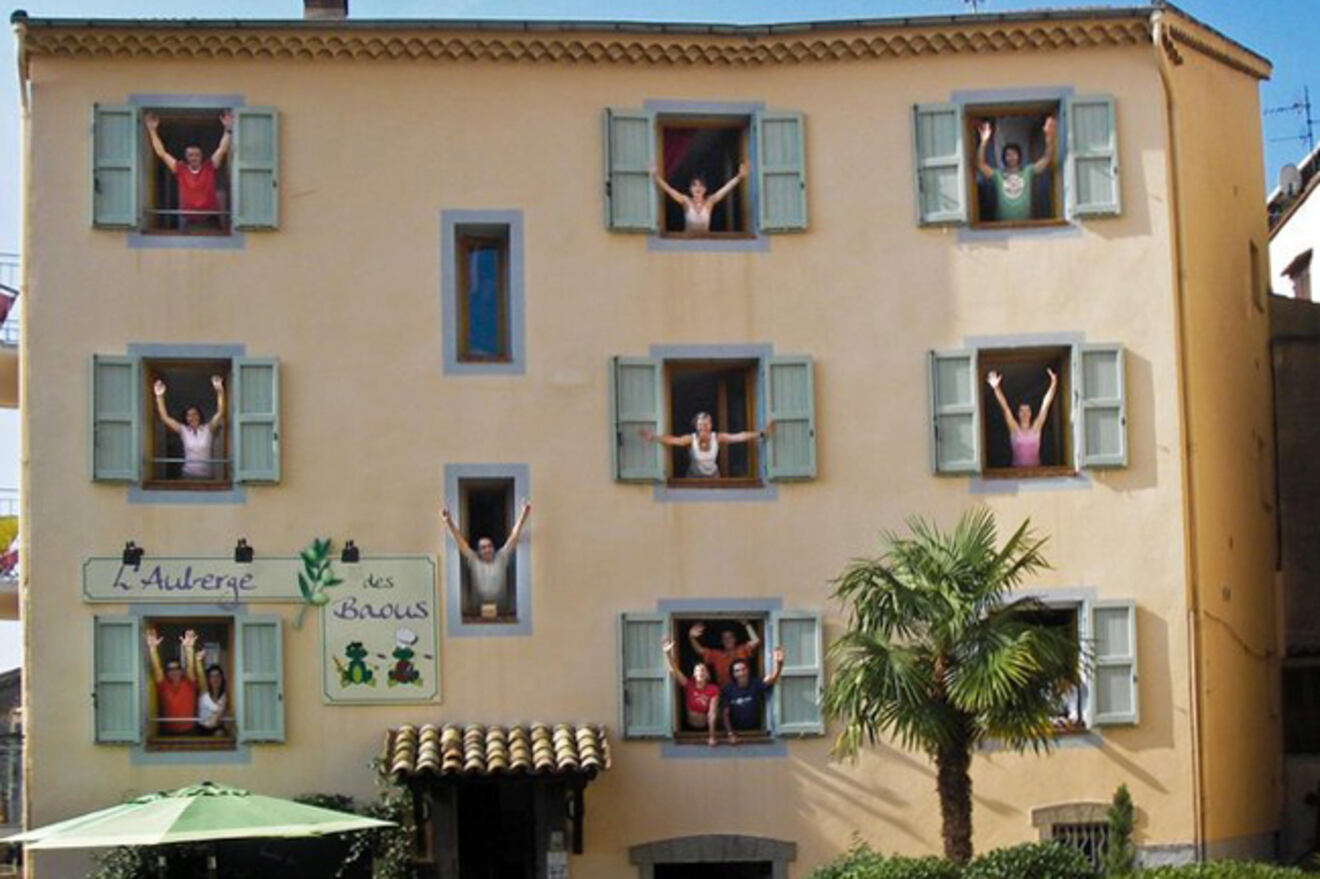 Daily hatha classes in a small town in the south of France? Sign me up! During this amazing yoga vacation you can practice different styles of yoga from Vinyasa to Yin Yoga, eat yummy (and healthy) French food and participate in some cool workshops that will help so much in your daily life!
I always say, the best retreats are the ones that you take home with you! And I'm sure that after you spend some time here exploring the area, practicing yoga and meditation in nature you'll feel inspired to try some of this at home too!
Length: 7 days
Styles: Hatha yoga, Yin yoga, Ashtanga yoga, Kashmir yoga
Price: from €930
Location: Saint-Jeannet
6. Radiant and Blissful Retreat – all-women retreat in Spain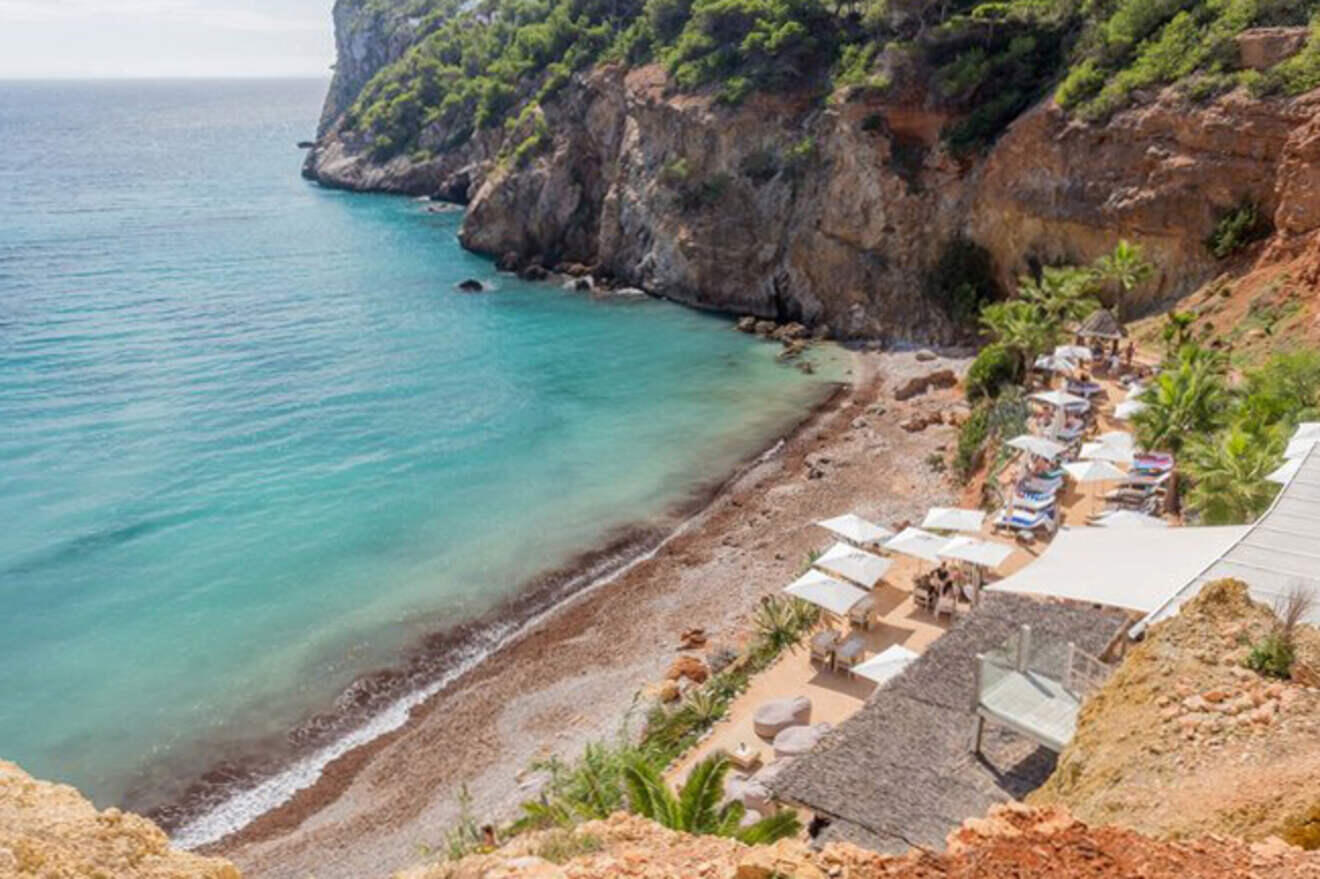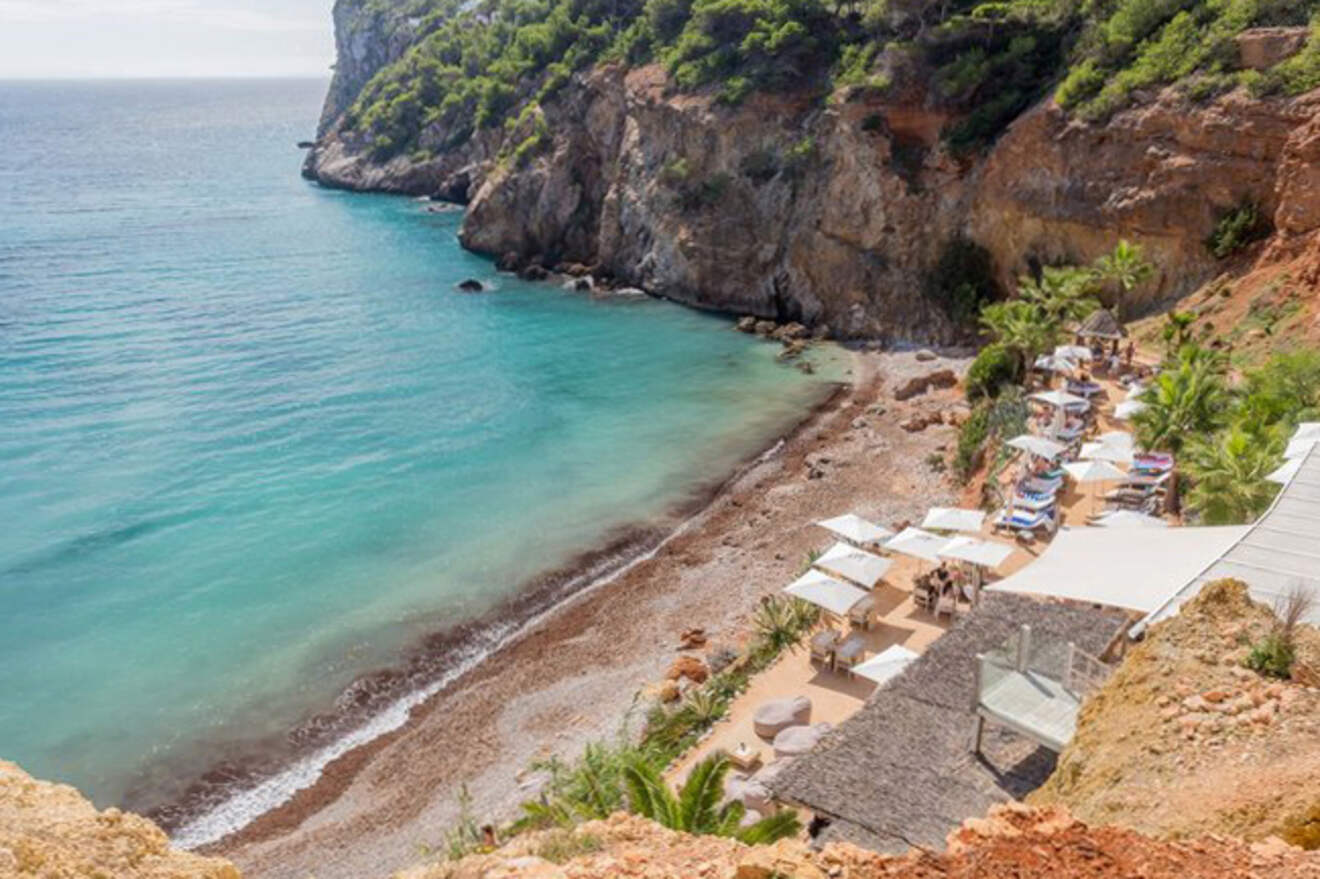 Although known as a major party island, Ibiza is so much more than that! An absolute heavenly location for yoga holidays, the stunning beaches, caves and hiking areas will fit perfectly with your daily yoga classes!
Focusing mainly on practices that will nourish your feminine side and heal any deep wounds that have made a home in your heart for so long, this transformative retreat will leave you feeling much more at peace! During that week you'll have daily yoga classes, you'll dive into special practices like goddess Vinyasa flows, dance sessions and cacao ceremonies accompanied by yummy food!
Length: 6 days
Styles: Hatha yoga
Price: from €1,500
Location: Ibiza
7. Vinyasa Yoga Retreat – for keen yoga practitioners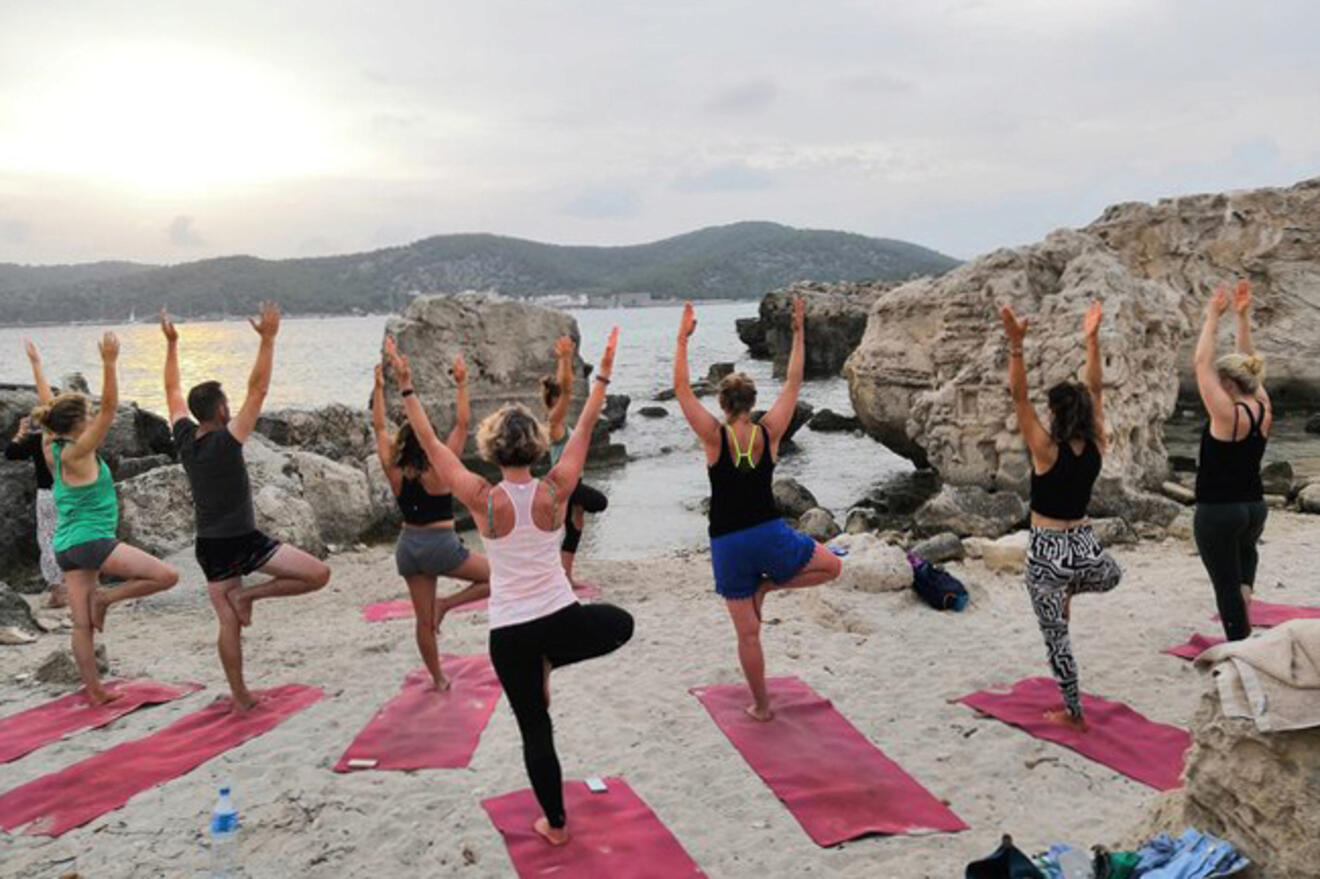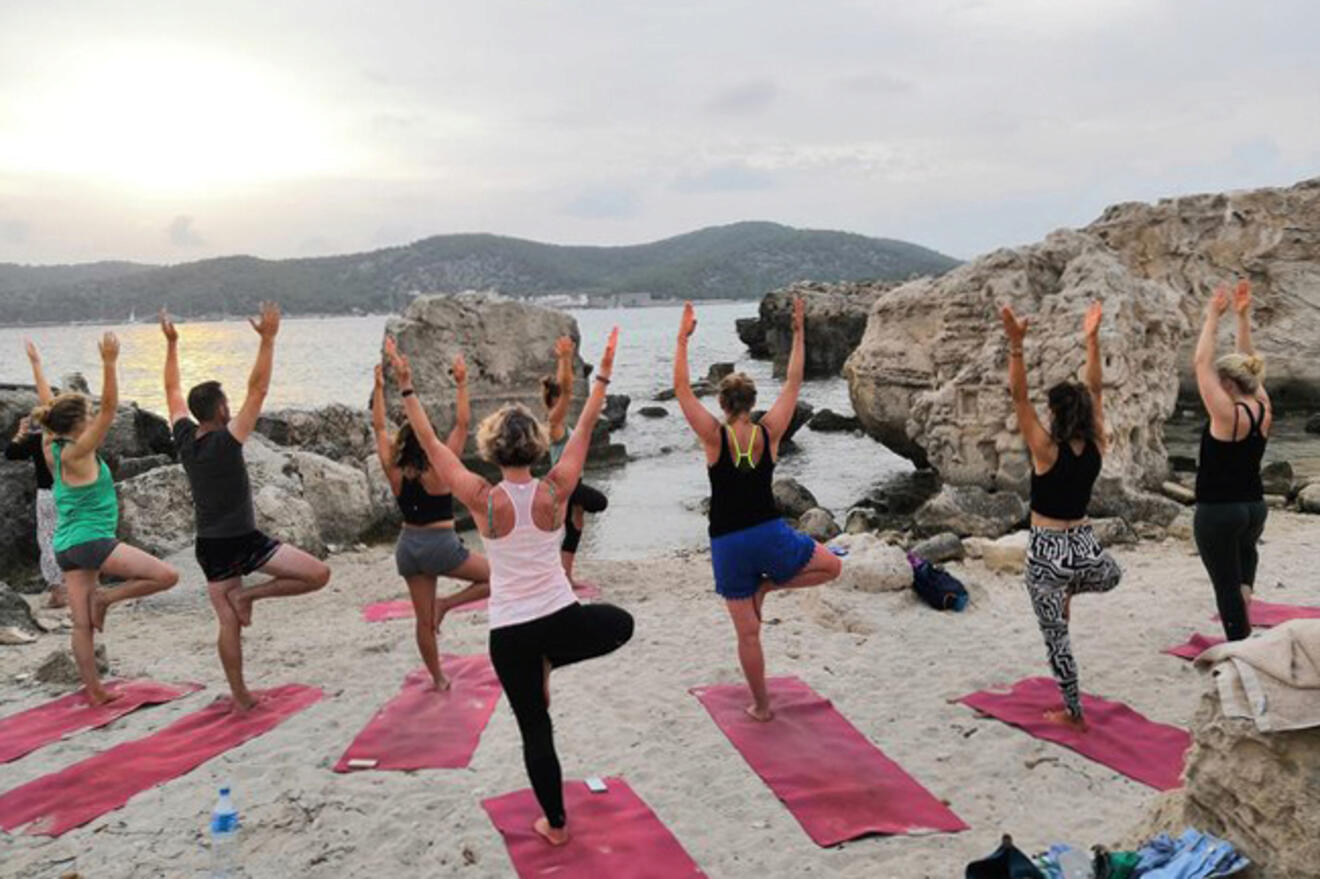 Set within walking distance of the beautiful beach Aguas Blancas in Ibiza, this fabulous retreat is just what you need! Turn off your phone, pack your yoga gear (and swimsuits) and get ready to relax in a stunning Spanish villa! Of course you'll be practicing yoga everyday with a different yoga teacher depending on which style of yoga you want (they offer vinyasa and yin for all levels).
And since you'll be in such an amazing location you'll also get to hang on the beach which is just minutes away from the accommodation, explore around the island and its pine trees, and go for massages! After a day of outings you can calm your mind and body with a meditation class!
Length: 7 days
Styles: Vinyasa yoga, Yin yoga
Price: from €1,230
Location: Ibiza
8. Rejuvenating Beach Holiday – a well-rounded experience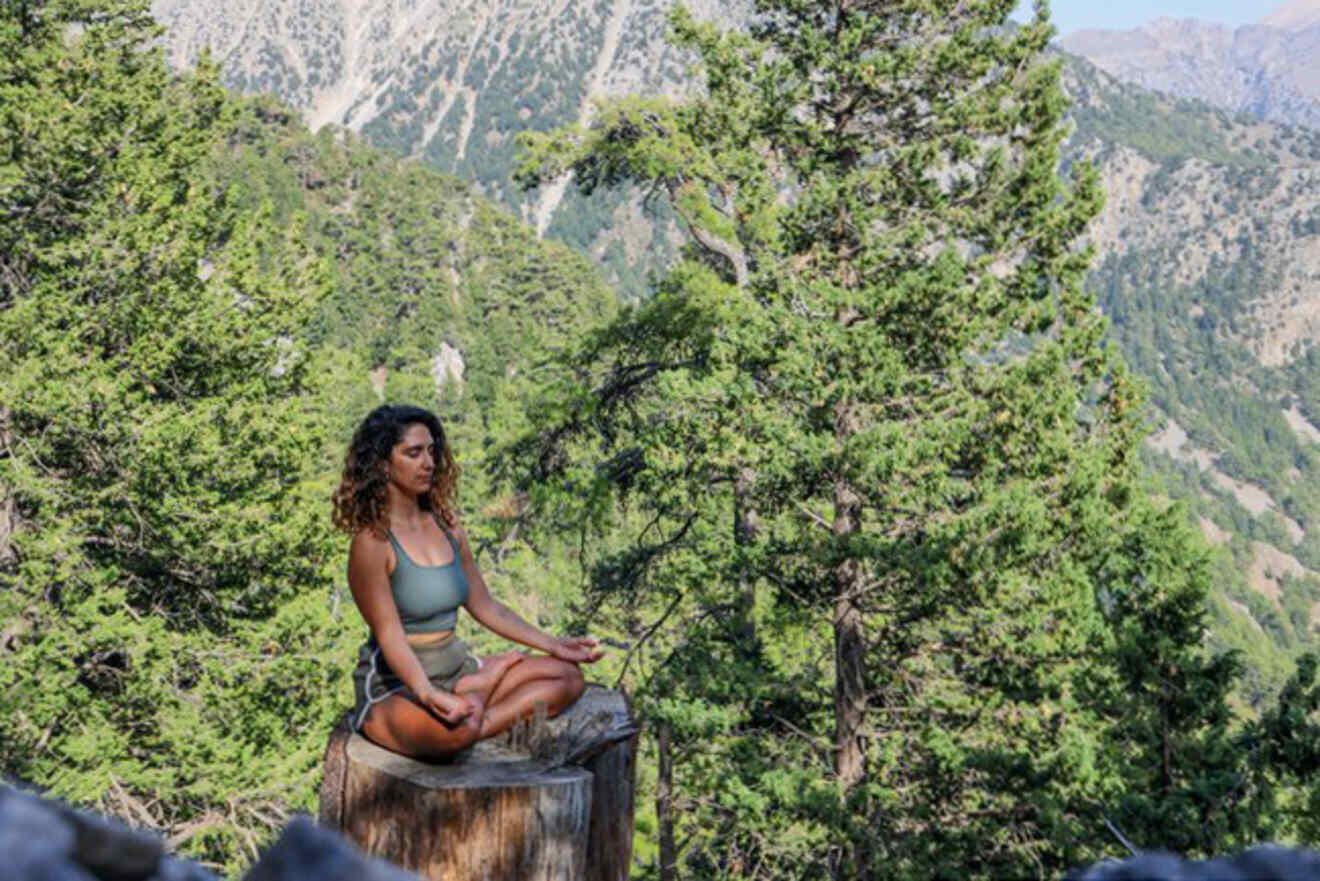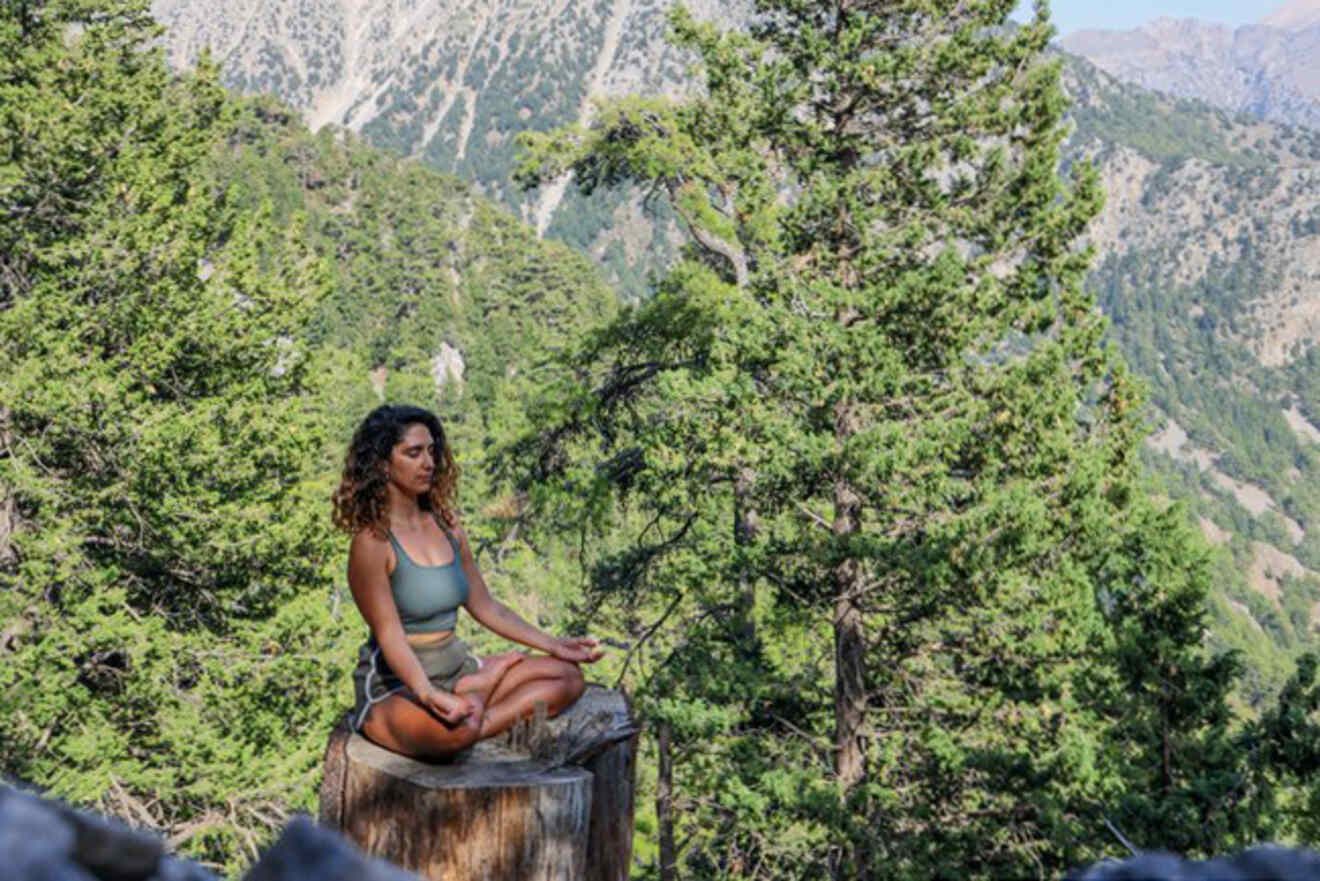 Nothing compares to the Greek Islands! The scenery, the history and myths make places like Corfu the perfect location for a yoga holiday! This 2 weeks retreat offers different yoga styles from hatha, yin yoga classes and even yoga nidra. All this accompanied by walks in the Old Town, organic Greek food, and day trips!
Oh yes, after all those classes where you've stretched and worked your muscles, some time in nature will do you good! And it will help you relax and unwind even more! During the holiday you'll get to go kayaking and hiking around the island. You'll discover so many hidden gems and secret secluded bays so have your camera ready!
Length: 15 days
Styles: Hatha yoga, Vinyasa yoga, Yin yoga, Restorative yoga, Nidra yoga
Price: from €950
Location: Corfu, Greece
9. Country Delight Yoga Retreat – for a tranquil getaway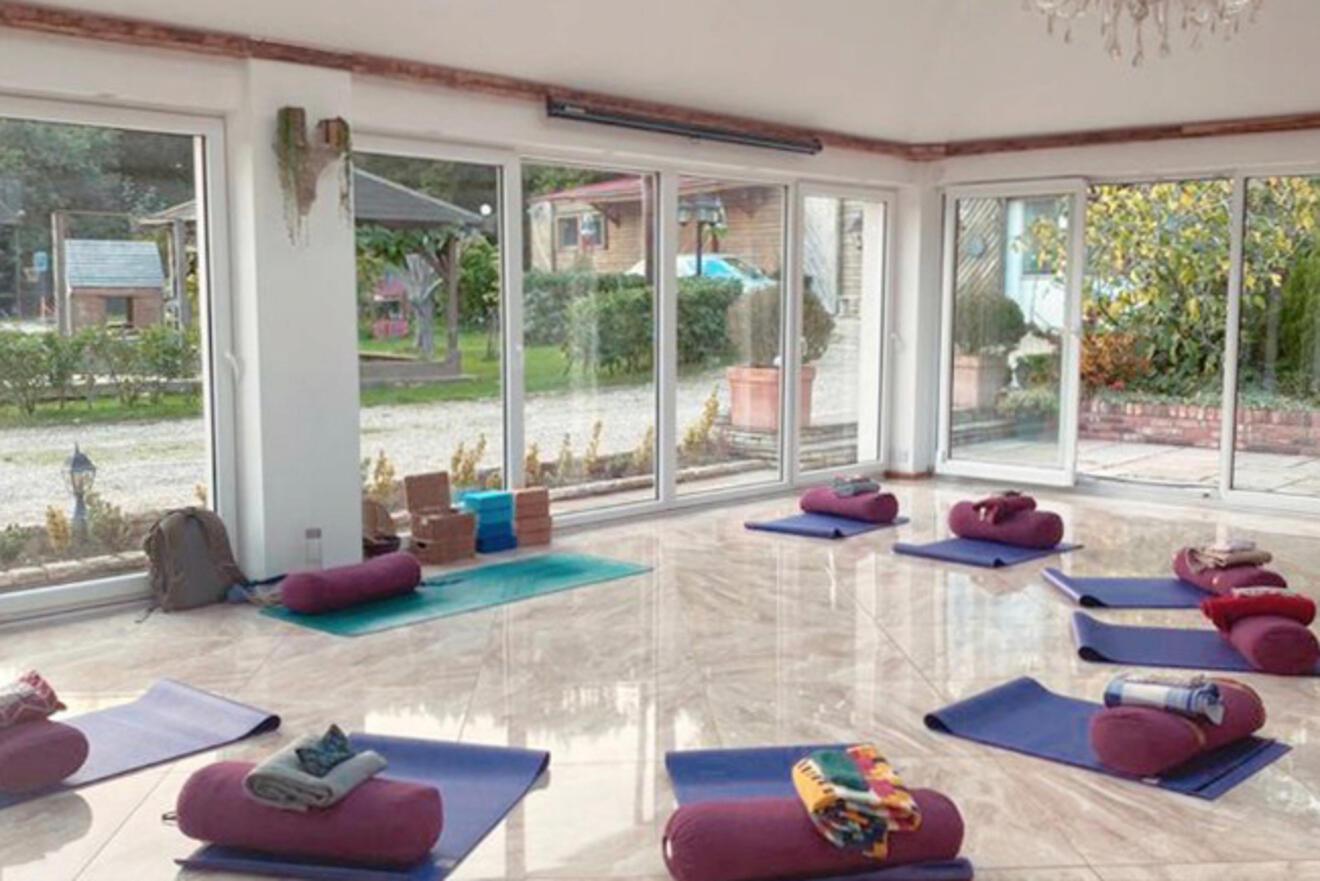 The English countryside is just perfect for yoga holidays! I lived in Kent for a while and I got to see some breathtaking places! But this retreat takes place in East Sussex which is just as beautiful! During this 3 day holiday you'll get to dive deep into your practice and learn new relaxation techniques from your yoga teacher.
Each day you'll learn new things, eat delicious vegetarian and vegan meals, participate in cacao ceremonies and sound healing sessions! All this in a stunning location, super tranquil, away from the city noise and all other distractions.
Length: 3 days
Styles: Hatha yoga, Vinyasa yoga, Yin yoga, Dynamic yoga, Restorative yoga, Nidra yoga, Yin yoga, Alignment yoga
Price: from €450
Location: East Sussex
10. Shanti Som Wellbeing Retreat – for nature lovers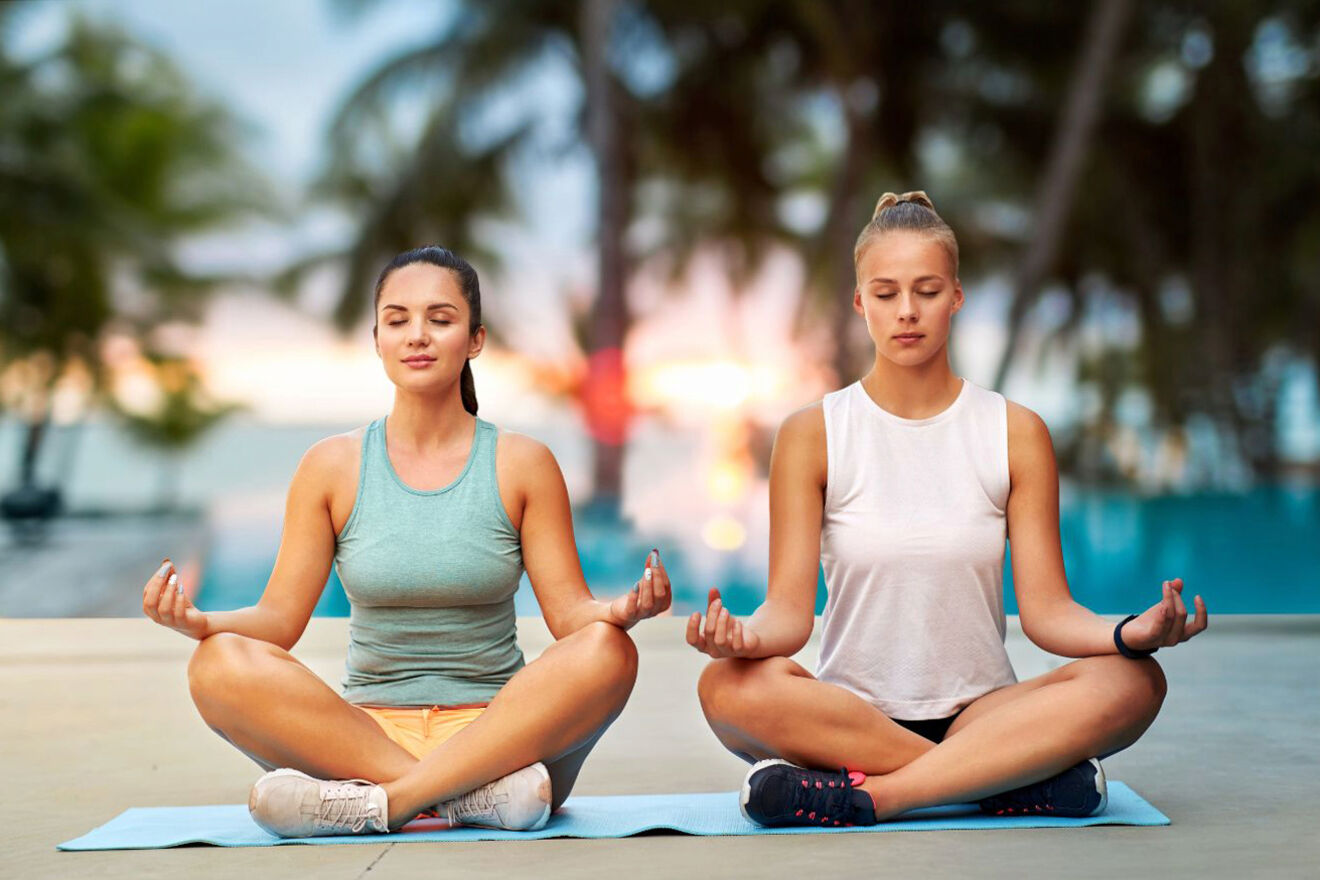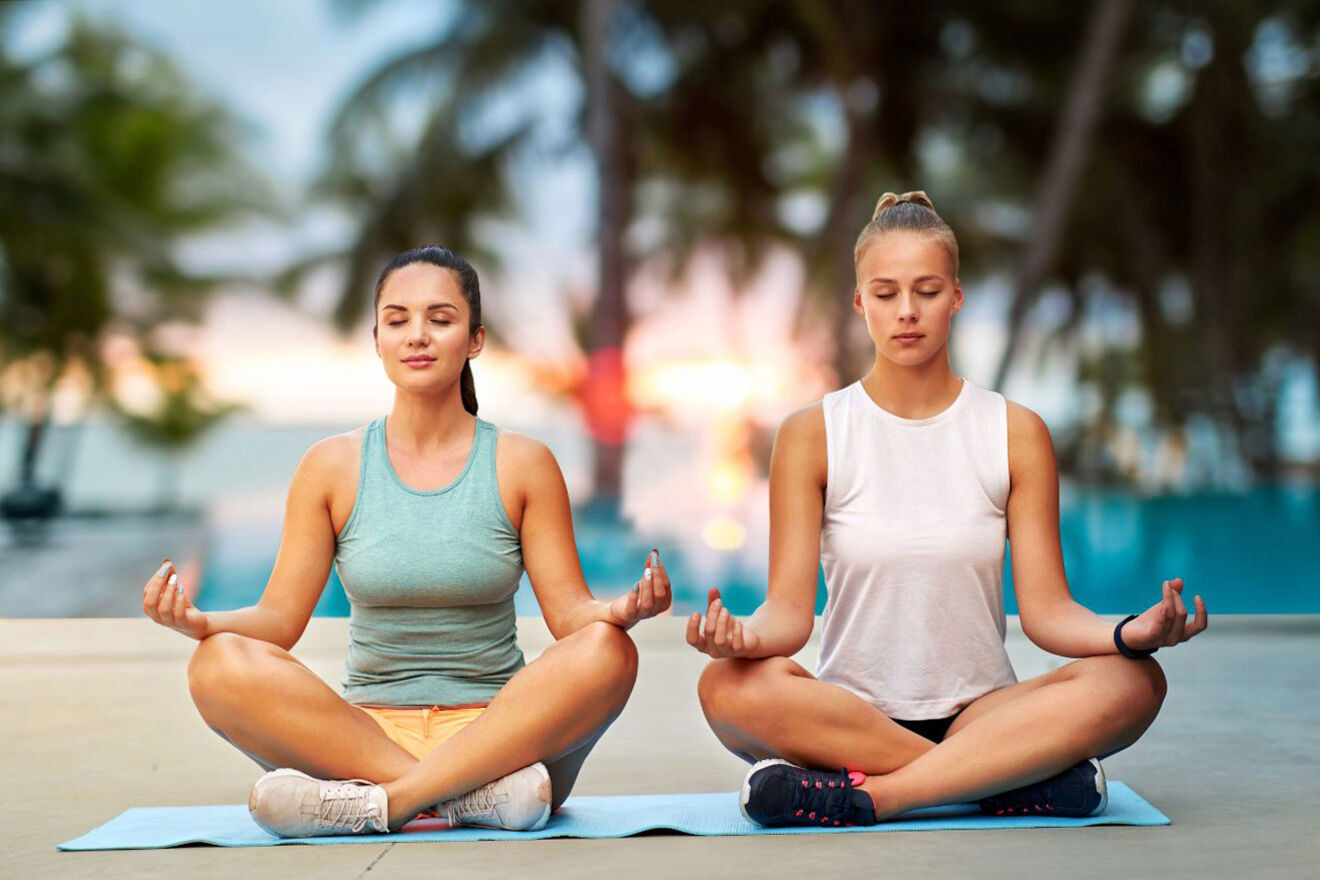 Running multiple retreats including pilates, yoga, detox, relaxation and many others, this center is definitely one that you should check out! The yoga retreat includes meditation classes, hikes, spa treatments and meals in a stunning location near Marbella in Spain.
They welcome practitioners of all levels so you don't have to worry about that! Just bring your yoga gear and get ready to spend some unforgettable days here practicing and exploring (the beach is not too far)! And of course taking advantage of all their fabulous spa facilities! There's nothing like a massage after your yoga class.
Length: 4 days
Styles: Vinyasa yoga, Hatha yoga
Price: from €450
Location: near Marbella
FAQs about yoga retreats in Europe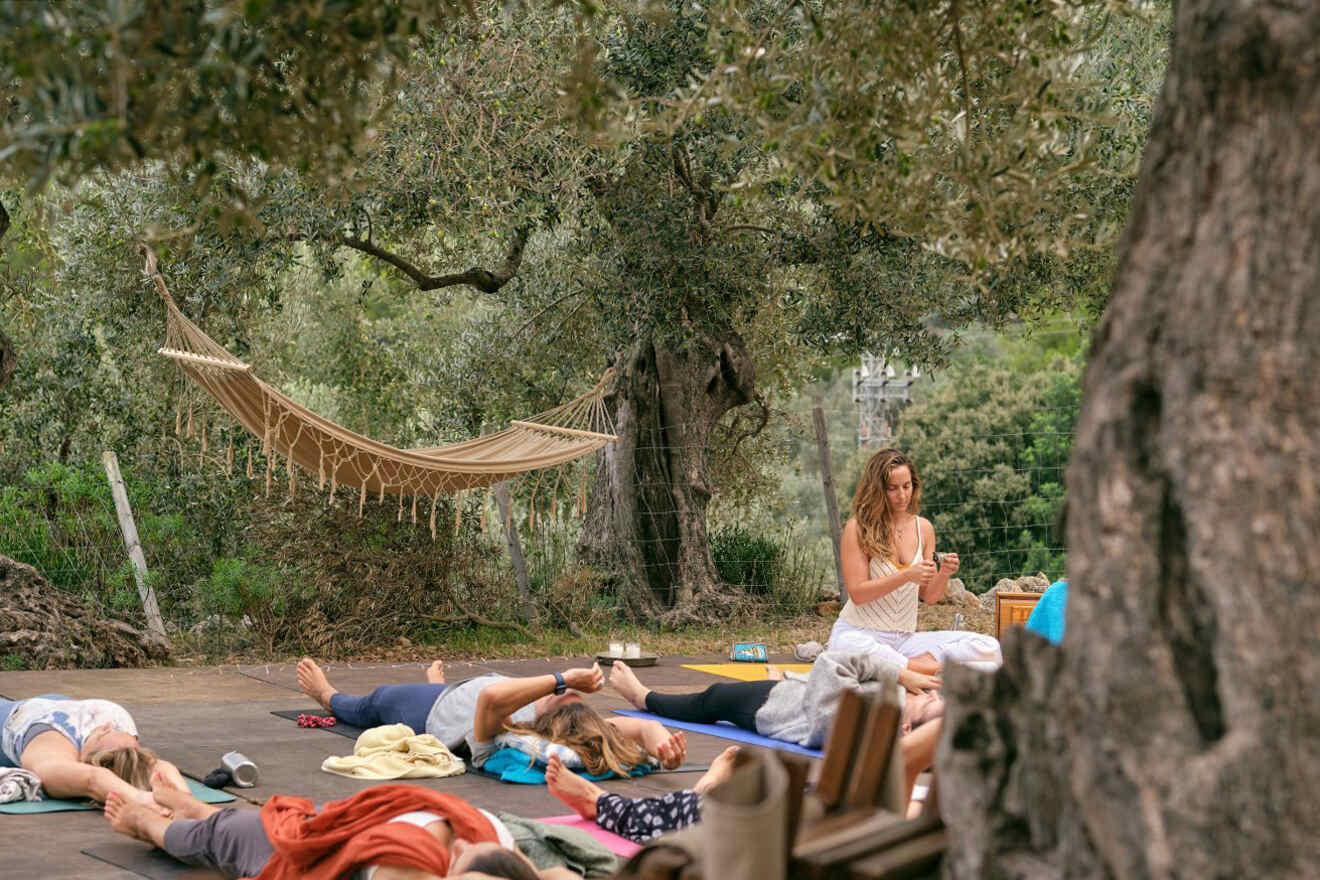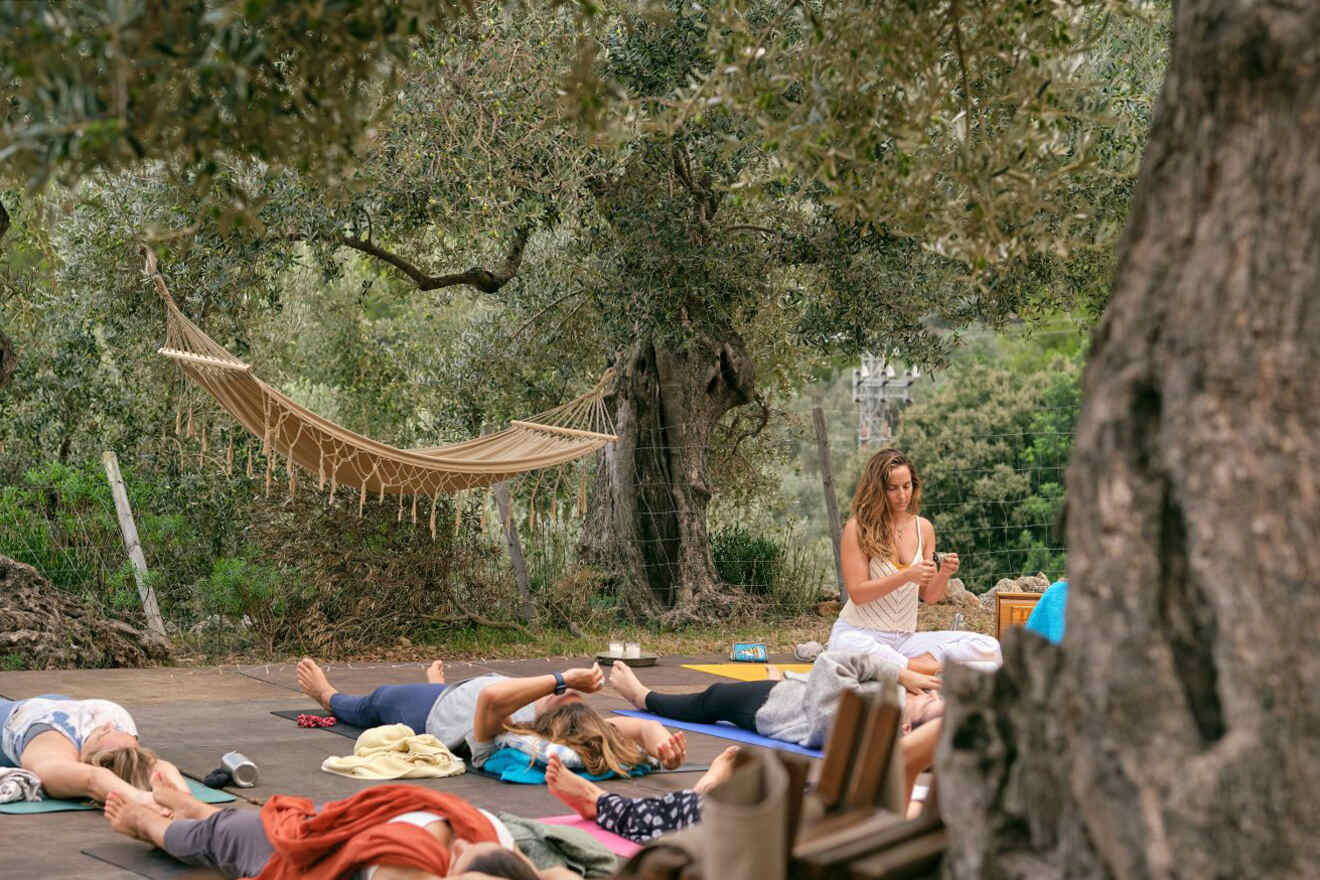 💻 Where to find yoga retreats in Europe?
You'll find a list of the best yoga retreats in Europe in this post, but if you're looking for more retreats, BookYogaRetreats is the place to go!
🧘 What happens at a yoga retreat?
It depends on the retreat but usually, you get together with a group of people and practice different yoga styles, breathwork exercises, meditation, and other outdoorsy activities like hiking.
🌞 Are yoga retreats worth it?
Yes! Yoga retreats are super worth it! They give you an opportunity to dive deep into your practice, without any distractions, and to connect with other people and communities who practice yoga, which is such a thrill!
🌊 Where is yoga most popular in Europe?
Spain is one of the most popular destinations for yoga in Europe and the entire world! The warm weather, scenic beaches, and fabulous cuisine make this country a top place for a yoga holiday.
Conclusion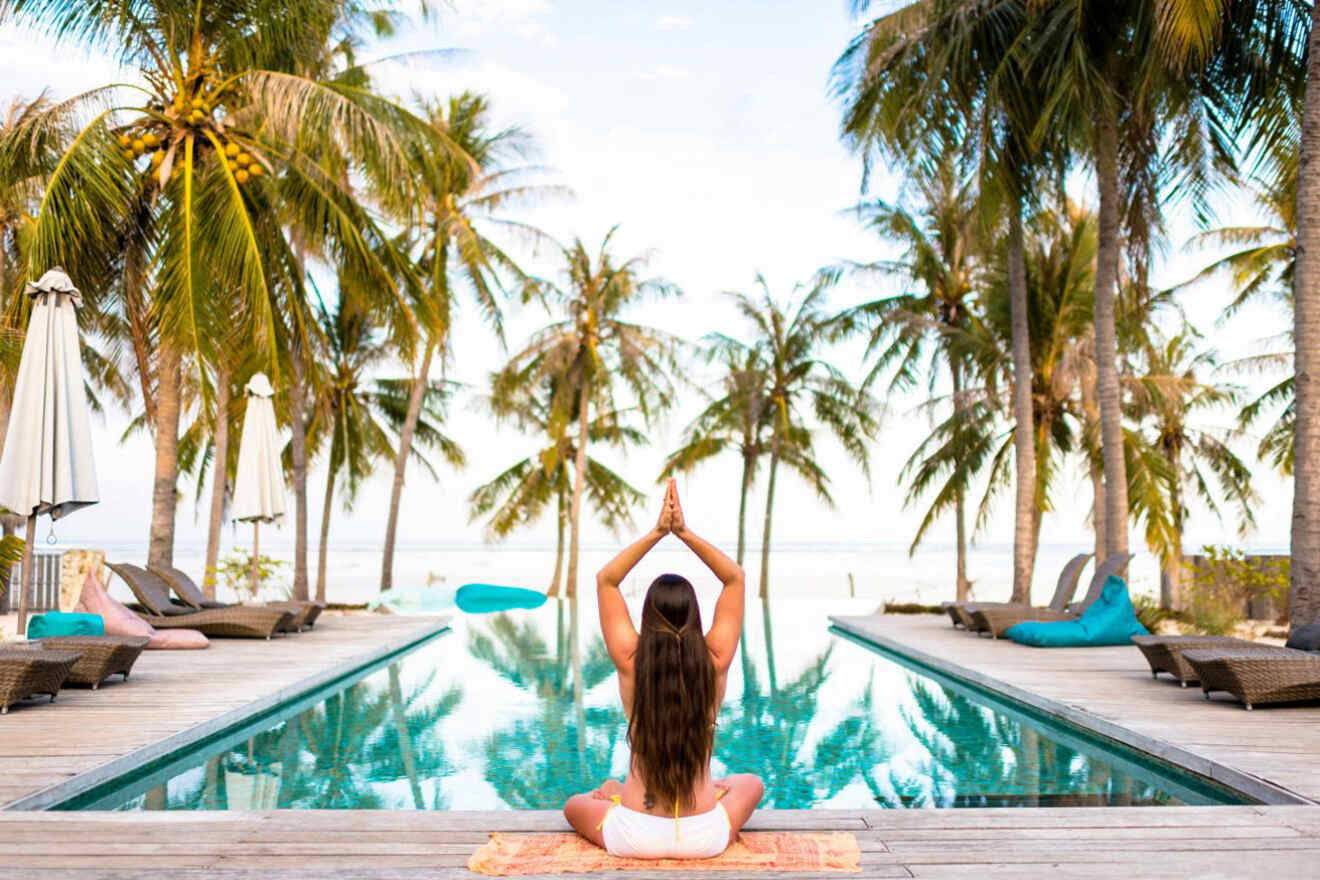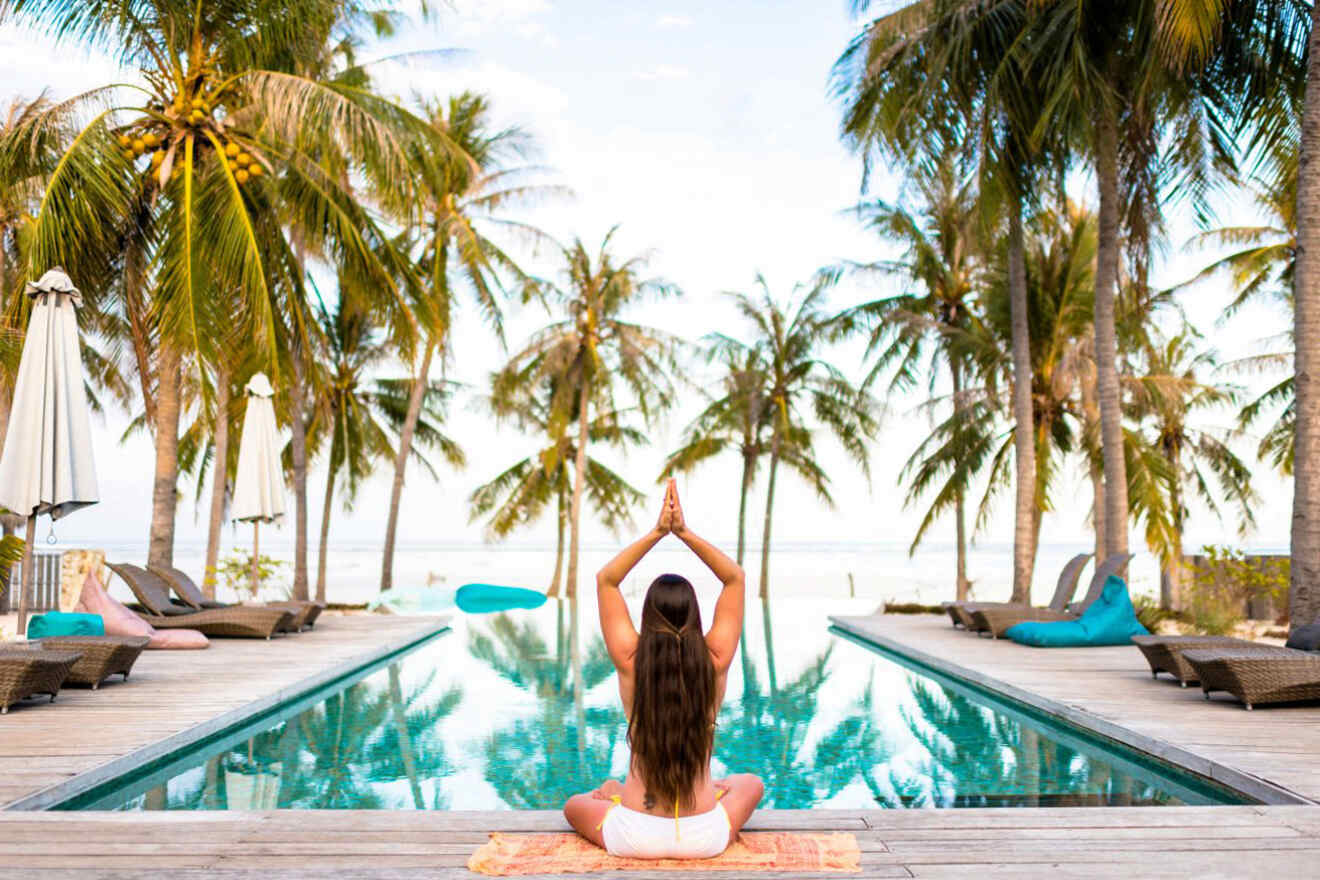 Look at all these locations and yoga holidays! I sure want to head off to the Canary Islands and do my sun salutations as the sun rises right now! Who's with me? Luckily, you might be heading there soon so definitely send me a pic!
Well everyone, this has been fun but I think a short recap is asked for since everyone is probably daydreaming about surfing and practicing yoga on a roof terrace in Tuscany!
This post has a list of the best yoga retreats in Europe, with details on pricing, location and duration. After reading it through I'm sure you know by know which yoga retreat in Europe to pick, but if you need a bit of extra help here are my top 2 favorite options:
Wellness Holiday Retreat – An amazing 5-day retreat in Spain for all-level practitioners where you get to practice different yoga styles, eat yummy food and meditate
Vinyasa Yoga Retreat – Enjoy a yoga holiday with a group of like-minded people in Ibiza, where you can practice yin, vinyasa yoga and explore the island
Don't forget that usually, the spots fill out super fast so I highly recommend booking your yoga retreats in advance so you won't miss your favorite one!
I'm sure you'll have a life-changing experience no matter which yoga retreats you pick but I'd love to hear what your experience was! So don't shy away from sharing with us in the comments section below!
Have a great practice,
Victoria
---
Pin it for later!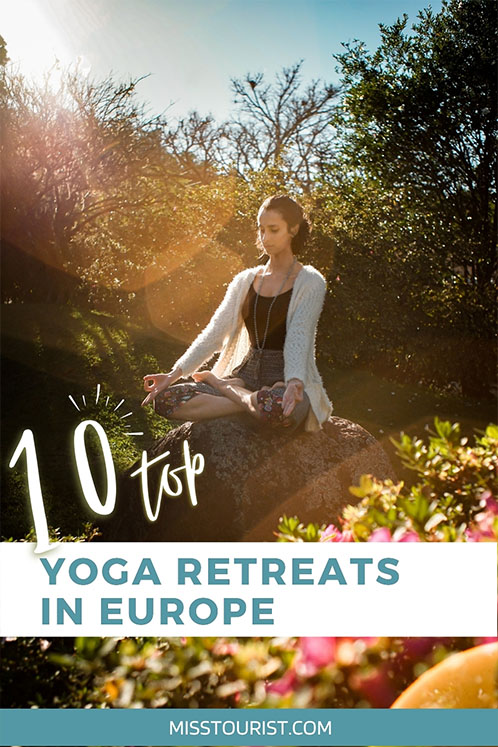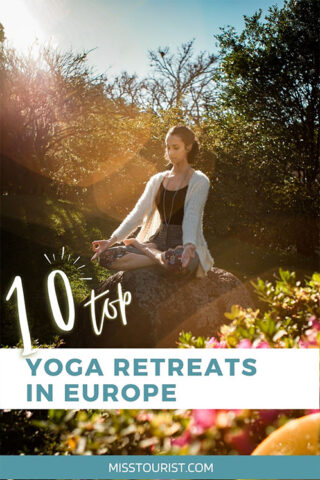 Pin it for later!