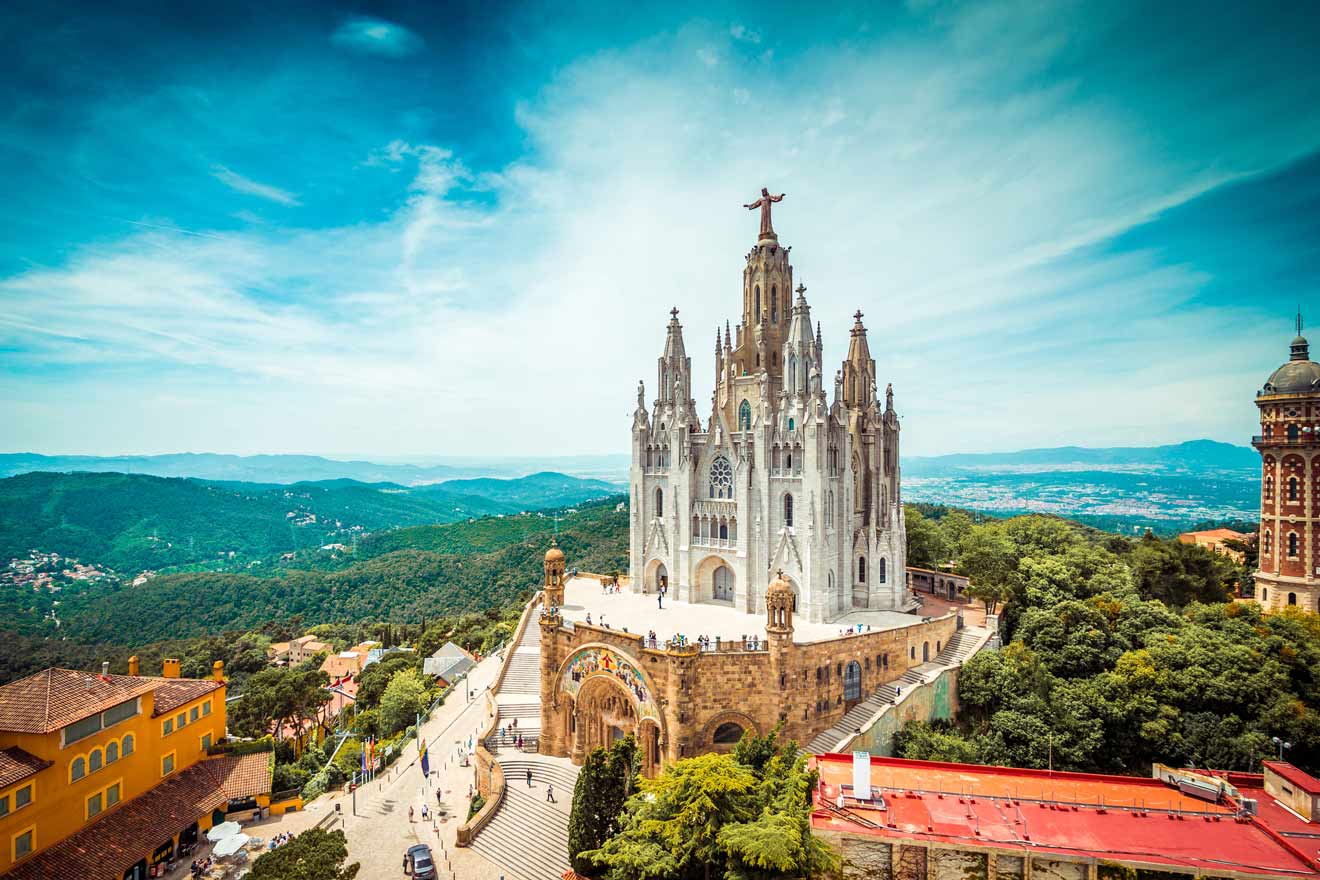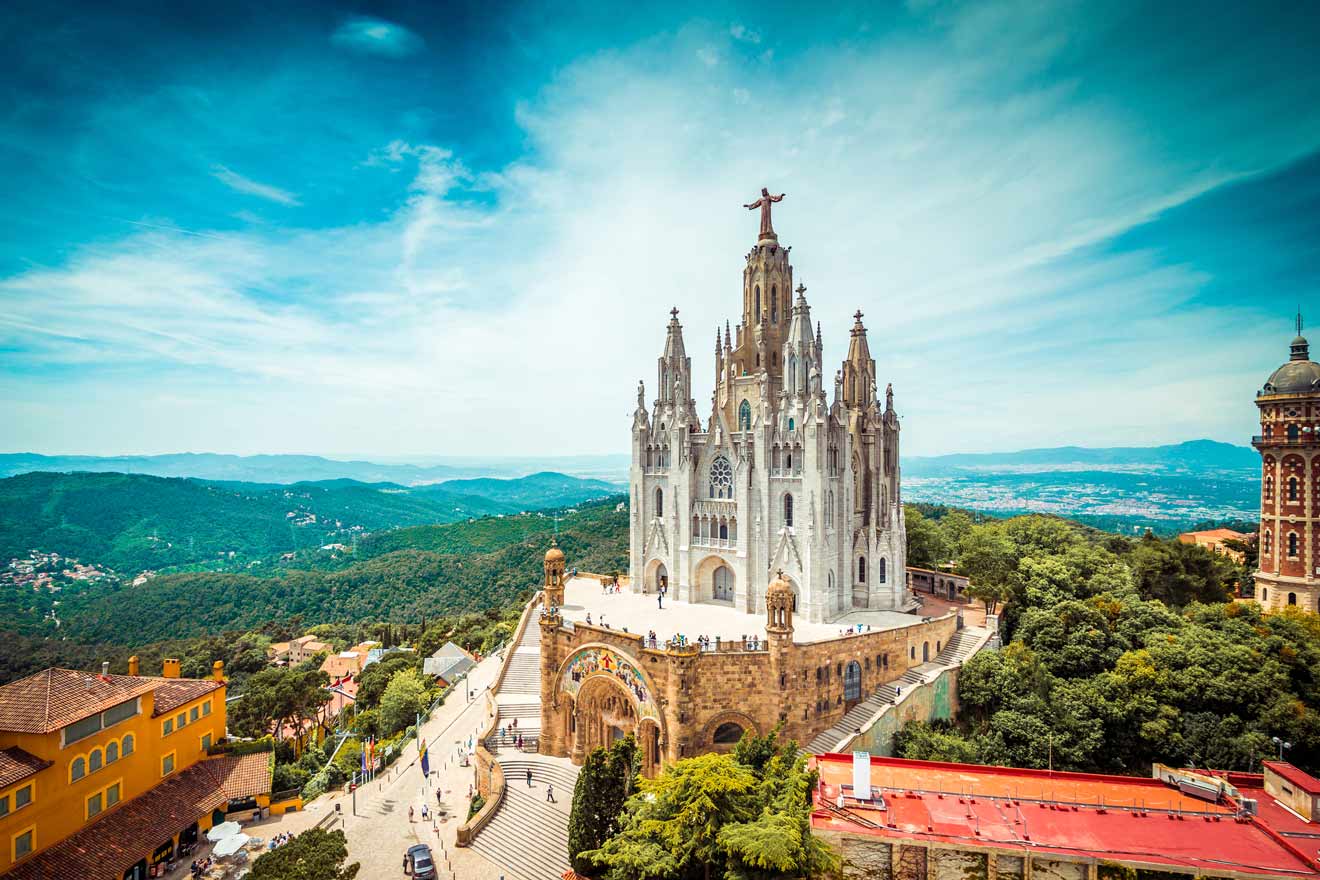 If you've landed here then you must be getting ready for an unforgettable trip to one of the most beautiful countries in Europe! Spain is one big place with many incredible cities so you'll definitely need a super insightful guide to help you decide which place to hit first!
Lucky for you, you've come to the right place! Here you will find a comprehensive guide to the best places to stay in Spain. Barcelona may be the most popular city with its countless attractions, and while it's the perfect place to start your adventures, there are many other towns and islands that you must see!
In this post, you'll find 13 places to stay in Spain, like Barcelona, Seville, Madrid, Granada, Valencia, and Ibiza plus a few others which I categorized by interest so you can easily plan your vacation!
You probably know this already but if you want to save money and get your hands on the best Spain hotels, then I recommend booking super early! I've been to Spain, and trust me, their hotels sell out faster than the best tapas in a bar!
So put some music on and let's start!
If you are in a hurry
I like to keep all my readers happy, so if not really up to read the whole post, check out this list with the best hotels in Spain:
I know you're eager to start already but before we do, have a look at the map below. It will help you visualize all the areas where to stay in Spain that I'll talk about in this post:
1. Barcelona – where to stay in Spain for the first time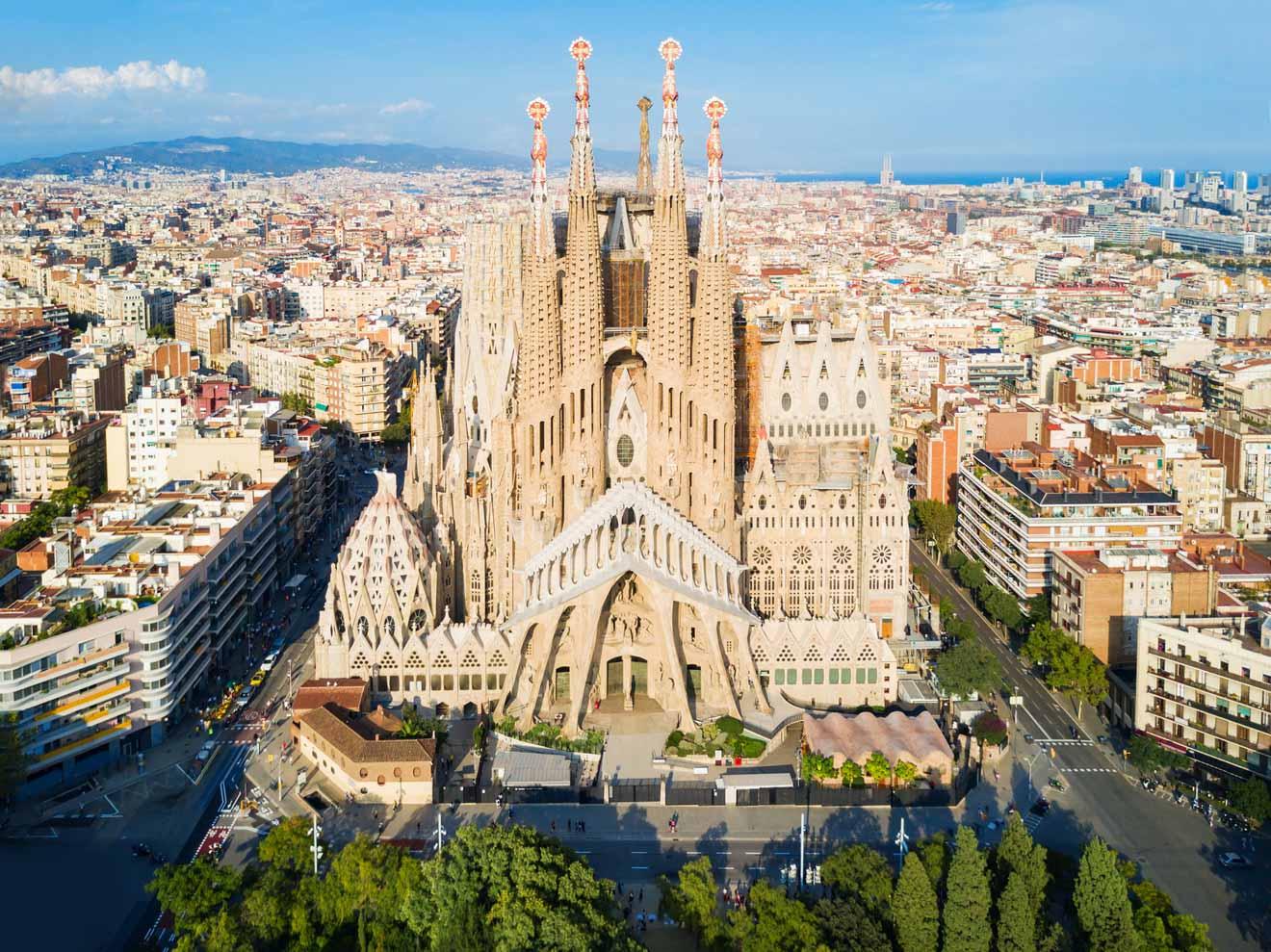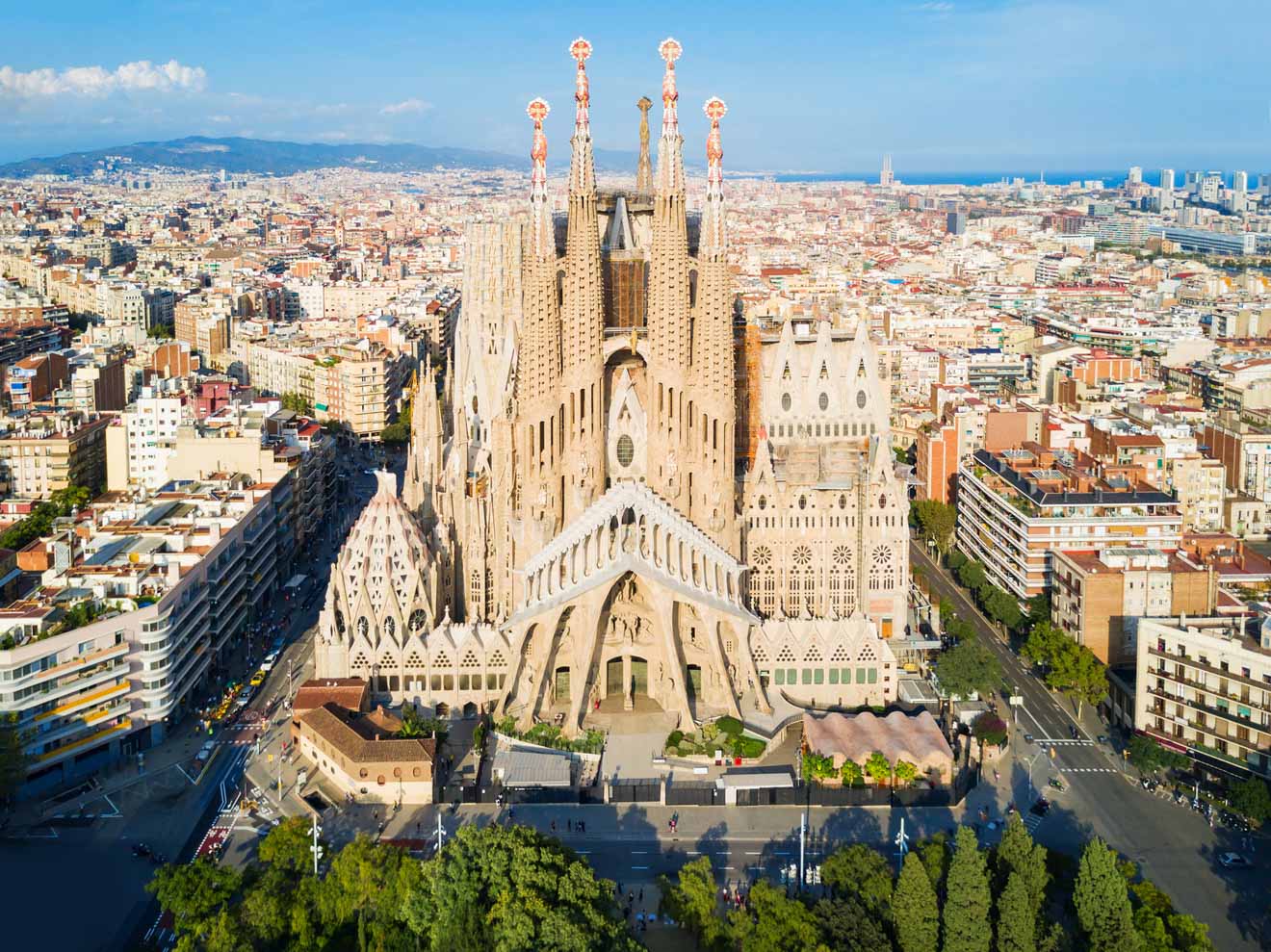 Welcome to the city that has it all! And when I say all I mean sandy beaches, incredible architecture, a rich history and amazing restaurants!
Finding a fabulous place to stay in Barcelona is easy, especially if you do it early (the hotels here sell out months in advance so I'd recommend you do that).
What struck me the most in this city was the atmosphere, everyday is like a party, especially in the popular areas, however at the same time you can escape the crowds and enjoy some tranquility.
Naturally, there are many things to do in Barcelona, and you should surely start with Park Guell (one of my favorites) or Casa Batlló, but let's not forget about the famous Sagrada Familia! These are just some of the attractions but if you're planning to visit as many as possible, you may consider buying the Barcelona City Pass.
Barcelona is surely one of the most beautiful cities in Spain, with its unbeatable food, and places to visit that cater to all interests. Yep, it's not only grown-ups that love this place, there are many things to do with kids as well!
Other accommodation options in Barcelona
Things to do in Barcelona
2. Seville – where to stay in Spain for culture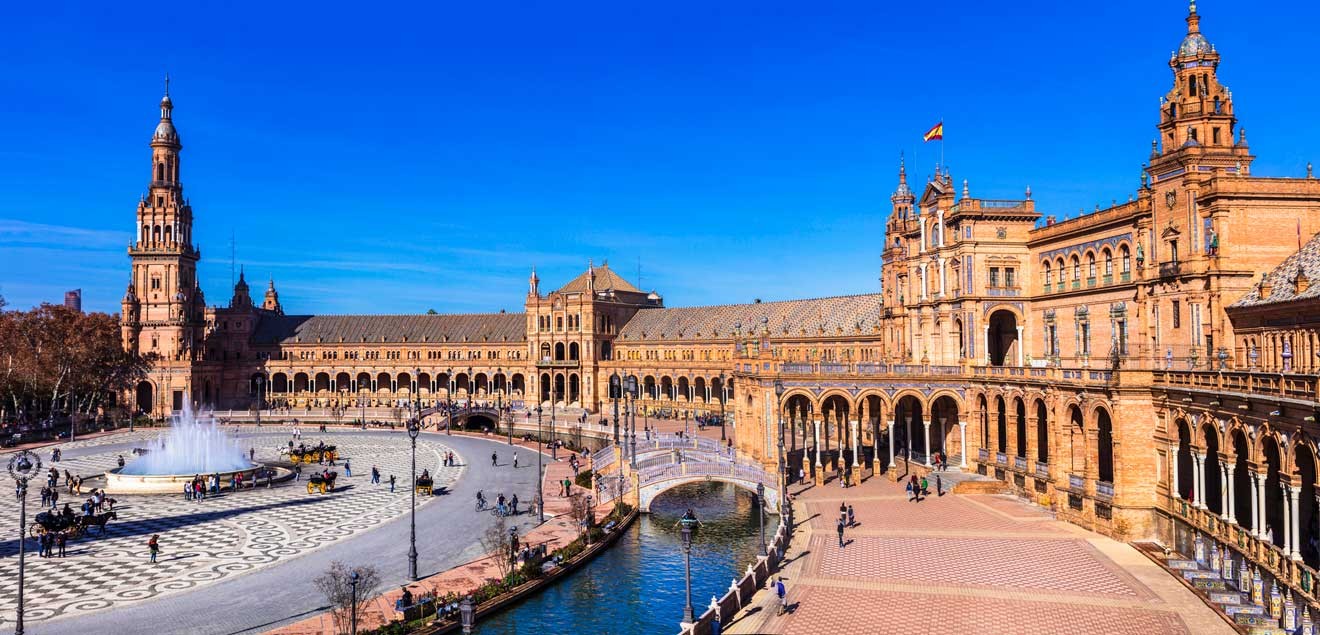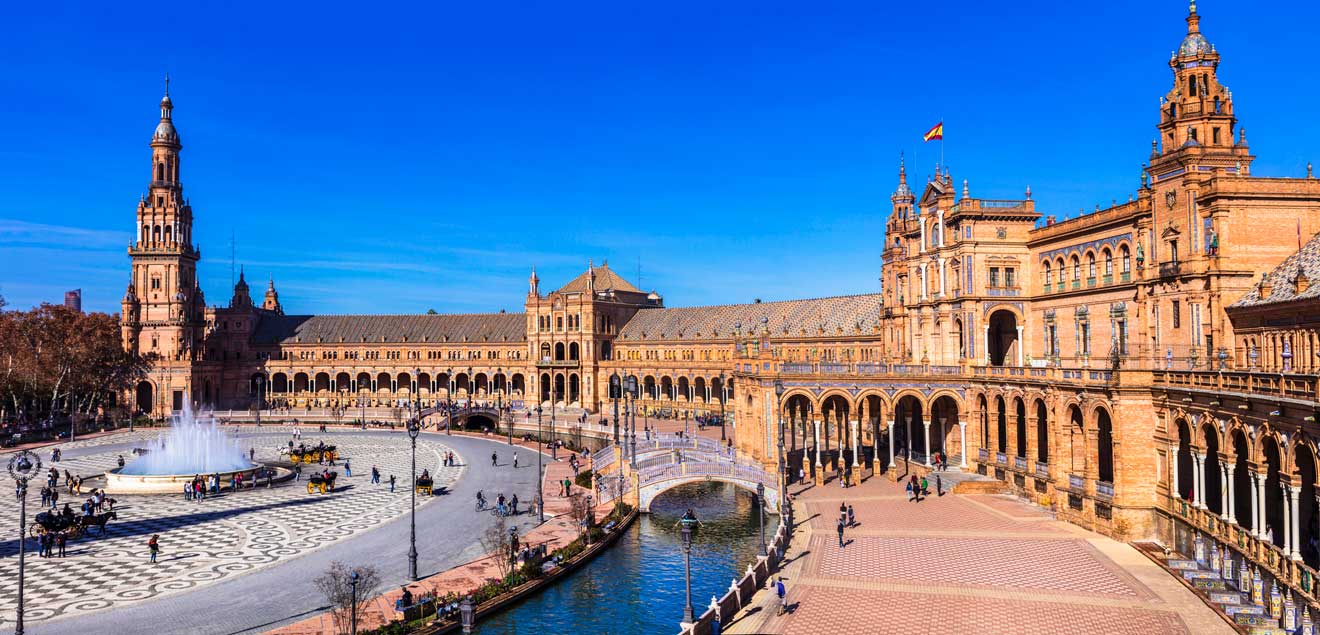 The capital of the Andalusia region doesn't hold back when it comes to its cultural attractions! Often referred to as one of the most beautiful cities in the world (and I'm not surprised) , Seville is perfect for anyone who wants to dive into the country's past!
Set in Southern Spain, the city offers a fantastic mix of Moorish (Muslim) and Spanish architecture! You'll need a few days to discover all the amazing things to do in Seville but trust me, you'll love every minute of it!
Most of its main attractions like the Seville Cathedral, the Royal Alcázar palace complex and Plaza de España are set in the Old Town and Santa Cruz district, 2 of the best places to stay in Seville.
However, the city has lots of other places to discover, especially after dark! Oh yes, you must attend at least one of the famous flamenco shows! And of course, let's not forget about the traditional tapas bars and rooftop bars, they are quite a thing here in Seville, and I'm sure you'll love it!
Other accommodation options in Seville
Things to do in Seville
3. Madrid – best place to stay in Spain for the urban atmosphere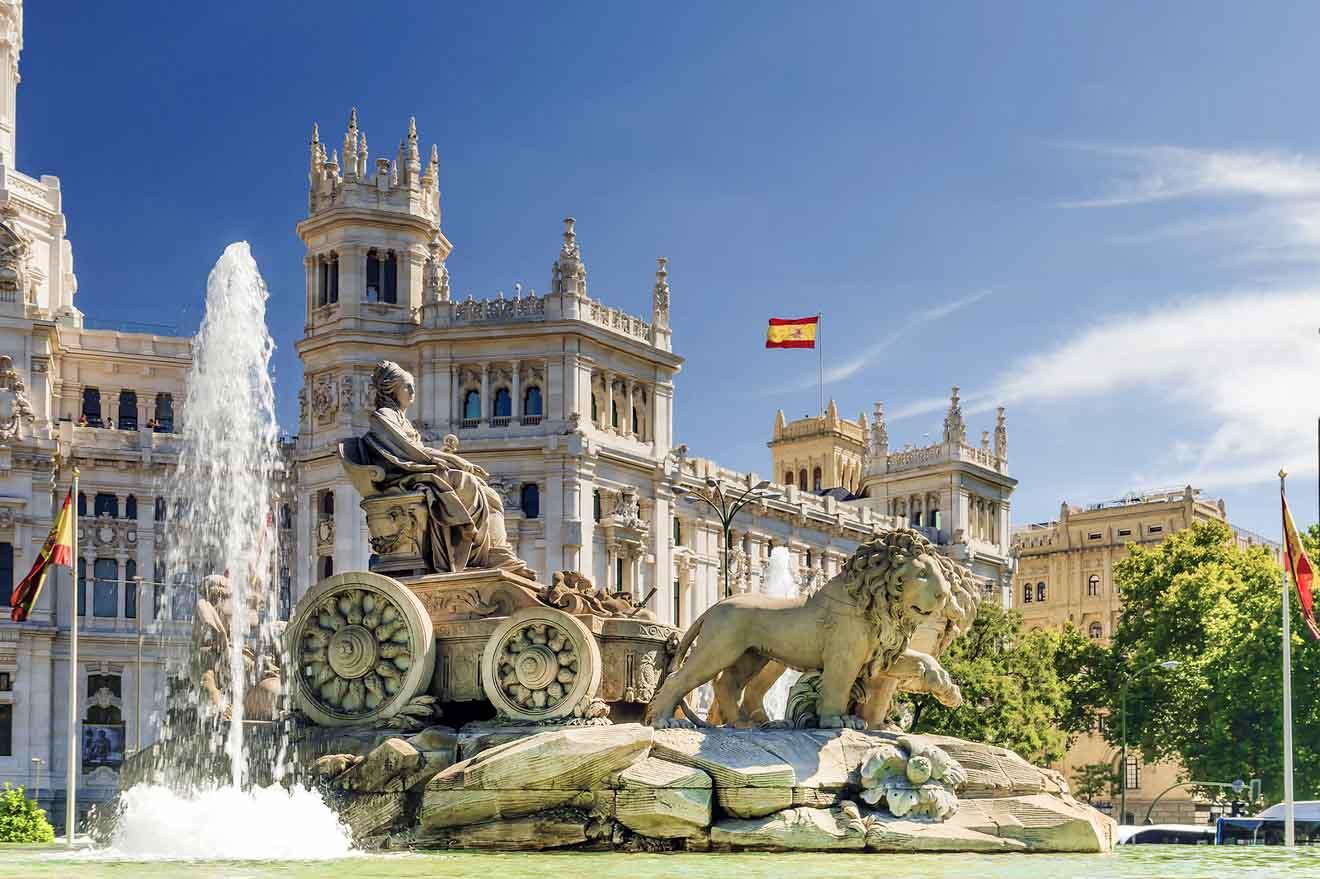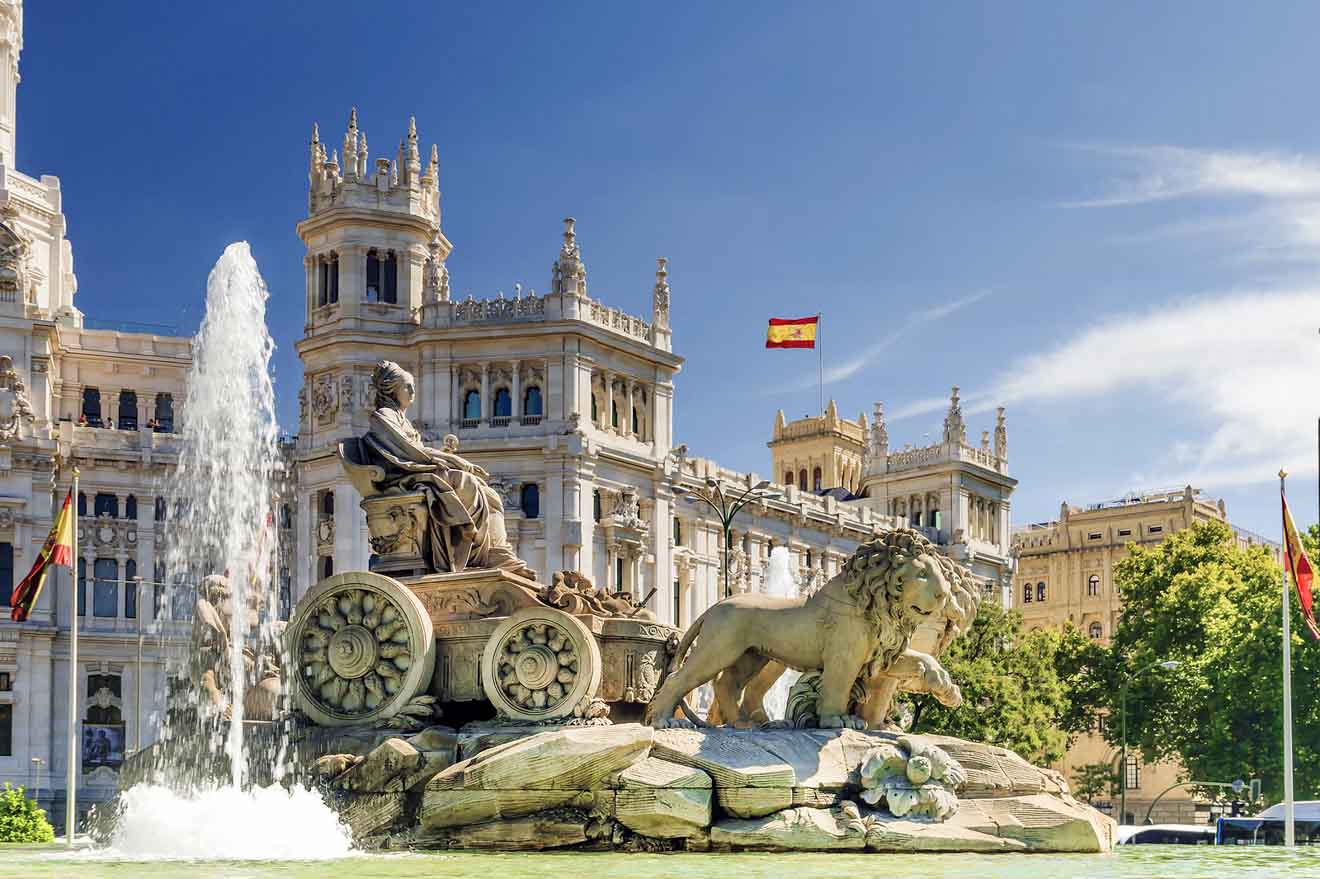 Although Barcelona enjoys much more popularity than the country's capital city, Madrid is a place that you shouldn't miss on your Spanish adventures!
This complex capital city is so big that you'll need a few extra days than you've previously planned to explore it! And before you ask, the answer is yes, there are many unique places to stay in Madrid!
Most tourists prefer to stay in central Madrid, as this is where you'll find all the big attractions, the train station, and a metro station at every corner! Plus there are many restaurants, bars, and nightclubs where you can eat delicious tapas and drink sangria!
As the country's capital city, Madrid is a wonderful place to explore for people who want to visit museums all day long and important cultural buildings such as the Royal Palace of Madrid and the National Museum of Prado.
Everyone is always on the go in Madrid, so if you're a fan of that bustling urban atmosphere and like exploring the crowded city streets, then book your tickets already because you'll love this city!
Other accommodation options in Madrid
Things to do in Madrid
See unique works of art at The Prado Museum
Explore the expansive gardens in El Retiro Park
Visit the Royal Palace of Madrid
Stop by Reina Sofia Museum
Walk around Plaza Mayor
Check out the trophy hall at Santiago Bernabéu Stadium
Enjoy a meal at La Rotonda, a great restaurant
4. Granada – where to stay in Spain to visit El Alhambra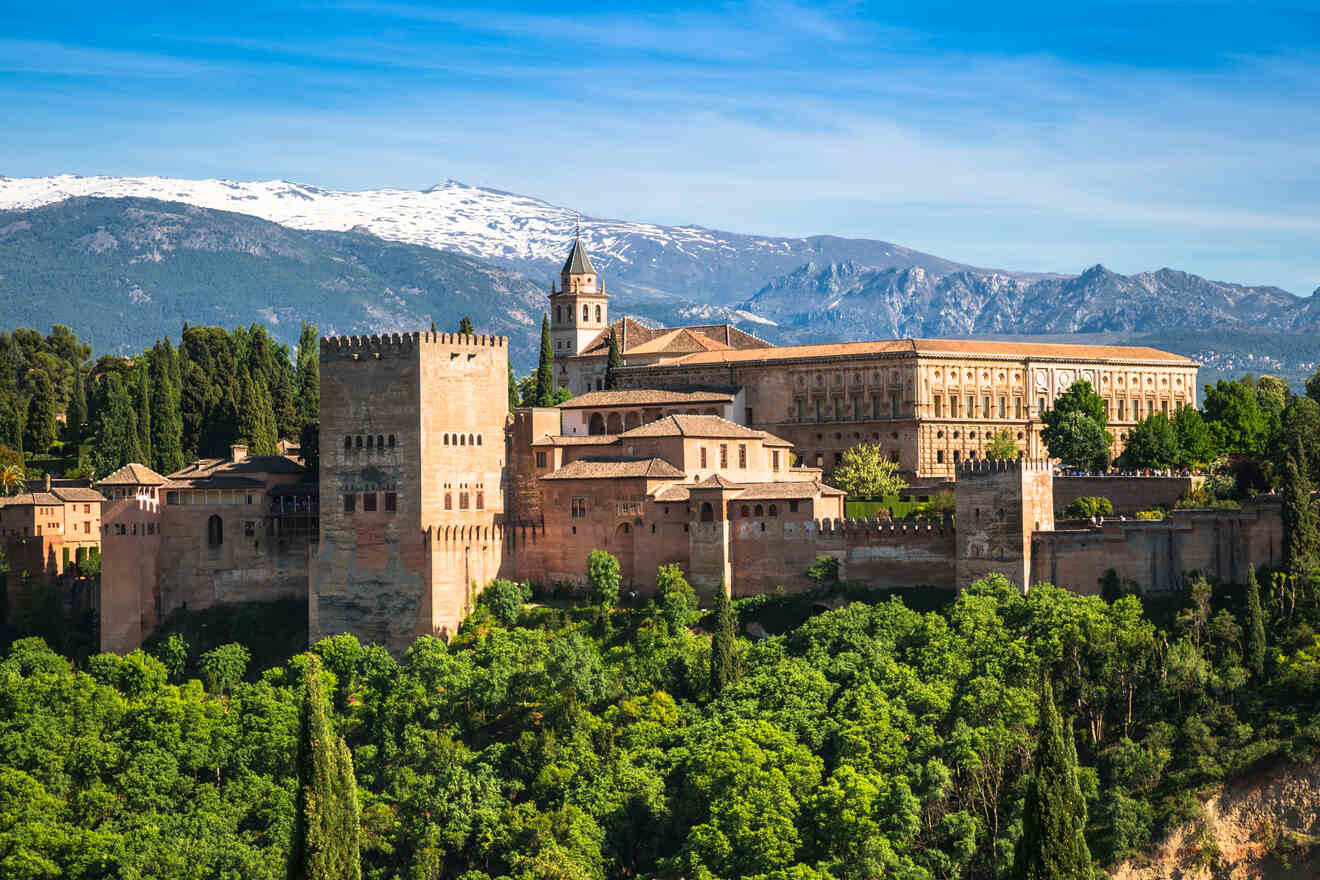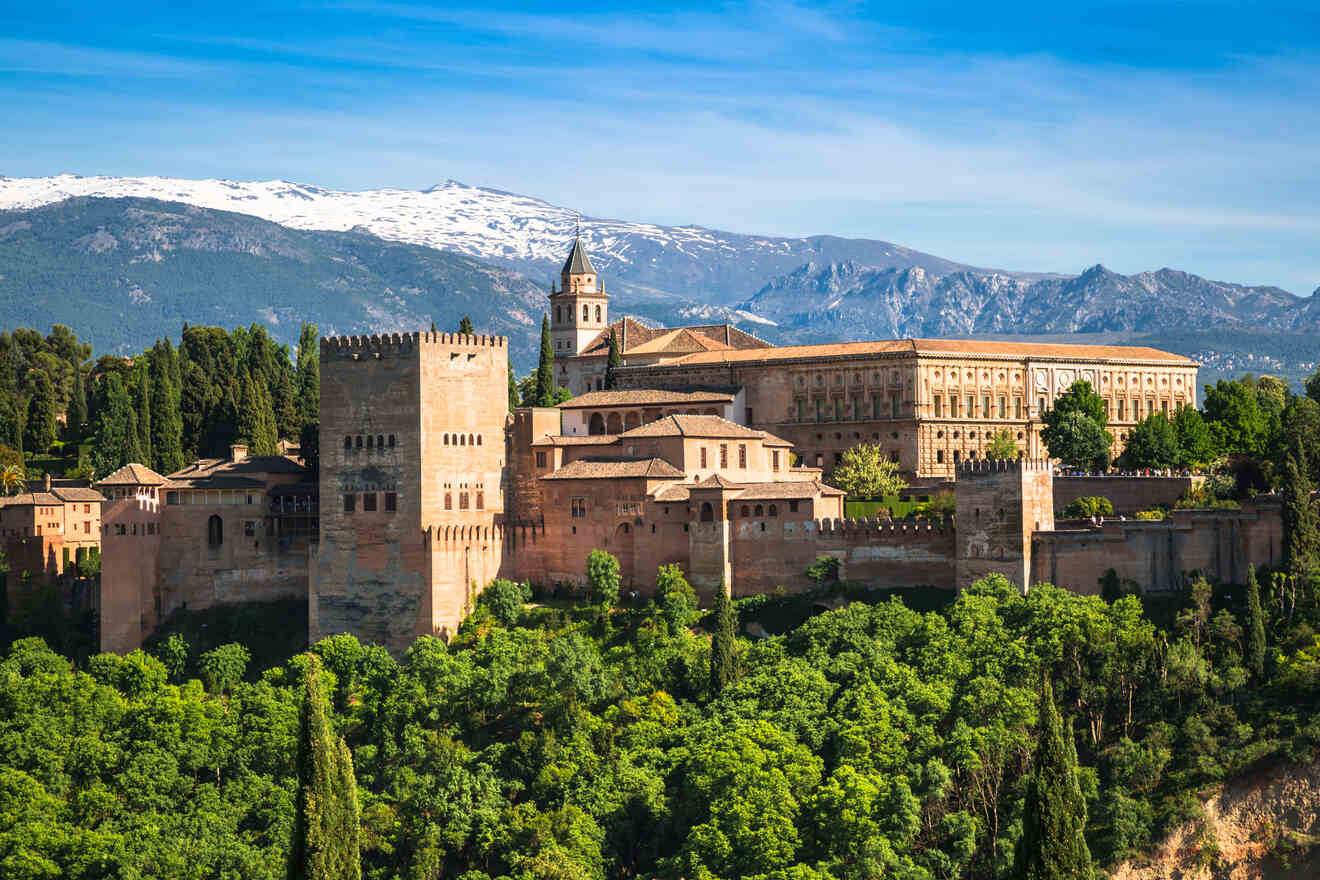 The Andalusia region is full of surprises! We've seen how magical Seville is, but that was only the start!
Now we're moving closer to the sea, and we're touching down in Granada, which is set at the foot of the Sierra Nevada mountains (the views are fantastic)!
FUN FACT: Granada was under Islamic rule for more than 700 years, and that's how the Moorish culture began which you can still clearly see in today's architecture.
You can't walk 2 meters in this town without seeing something old and beautiful! That's why I think history enthusiasts will have a hard time trying to leave this place!
Especially after exploring Alhambra Palace, one of the most visited places in Europe, and a real work of art!
PRO TIP: You can even stay inside the Palace grounds or super nearby if you want. I found 3 great options so have a look at this post with the best places to stay in Granada, you'll find all the details you need!
I recommend taking your time to explore Granada's narrow streets, that's how you'll get to see all its hidden gems, tapas bars and clubs, and of course, all its areas like El Albaicin and El Centro!
Other accommodation options in Granada
Things to do in Granada
Visit El Alhambra, the city's iconic palace
Explore the beautiful gardens at Generalife
Grab a drink at Alhamar 30
Admire the architecture of the Catedral de Granada
Get the best views of the city at Mirador de San Nicolás
5. Cordoba – best place to stay in Spain for history lovers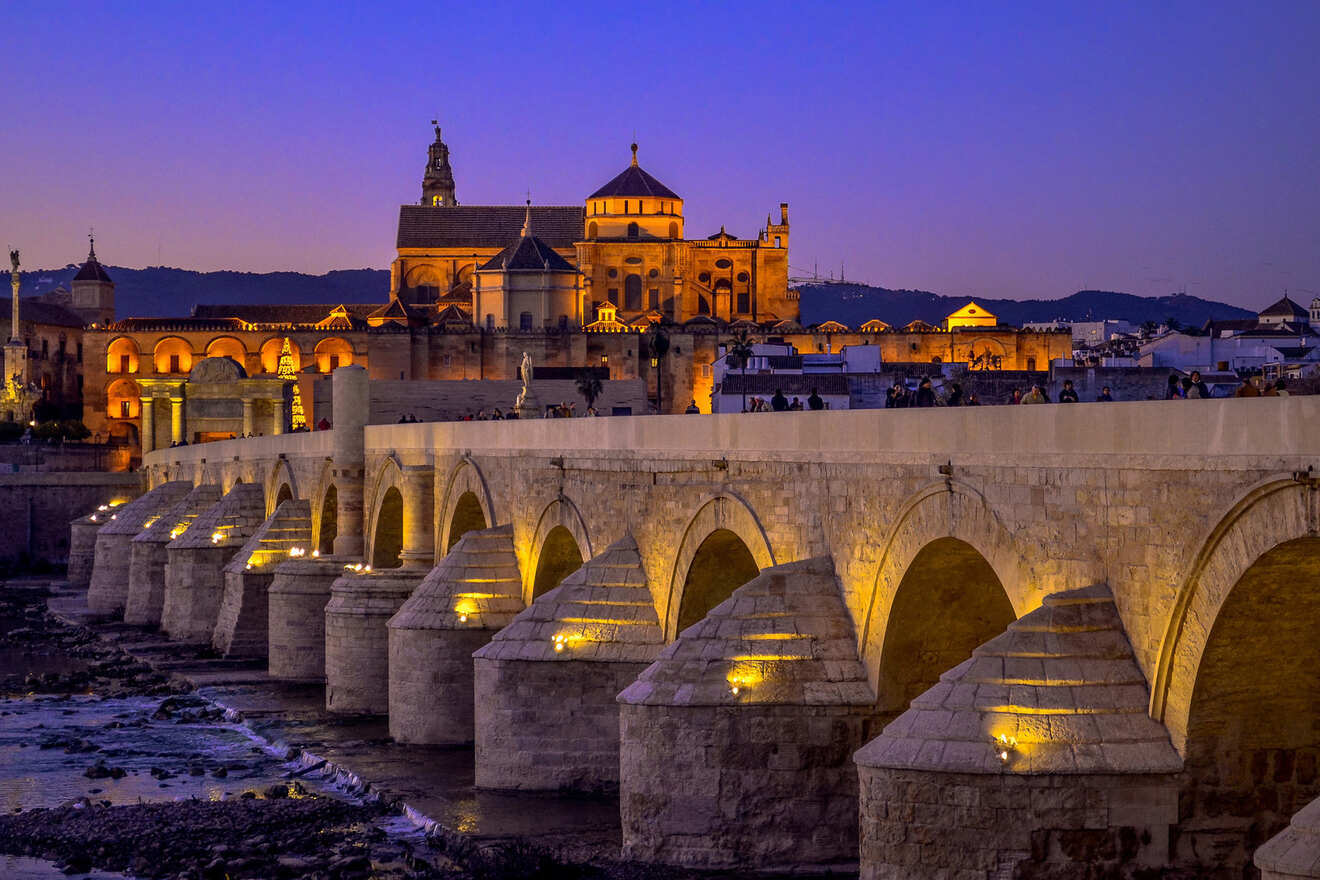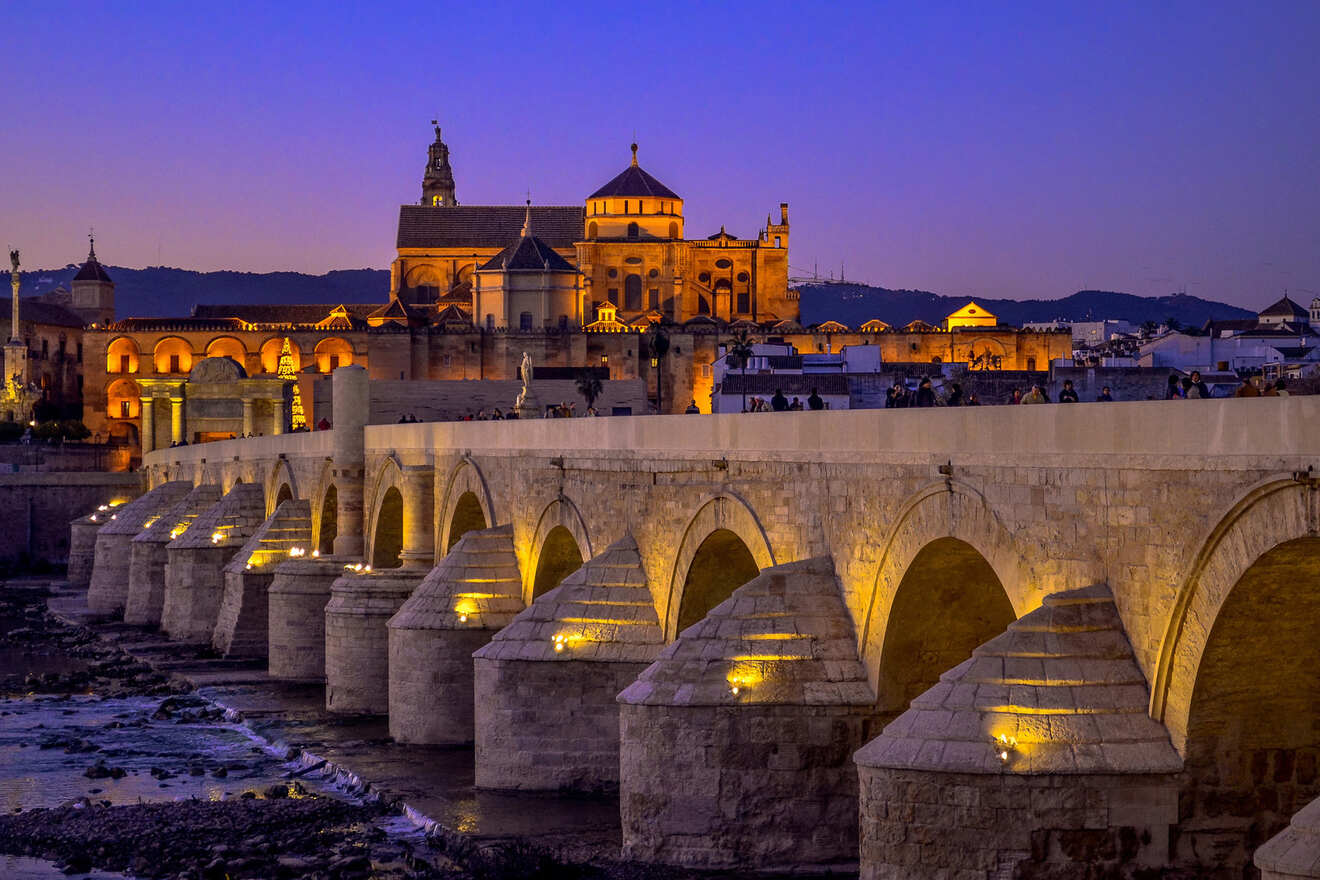 When you look on the map you'll see that Seville, Cordoba, and Granada form this cool triangle with Cordoba sitting right at the top!
As I mentioned Andalusia is a magical region and this city trinity proves my point!
Named a UNESCO World Heritage Site, Cordoba is one of those places you visit and think time stood still here! Luckily its crown jewel, the Mosque-Cathedral, survived all these years! That's not it though. While you're here you'll see unique architecture dating back to the Roman and Moorish periods.
This ancient city is any historian's dream come true, and its white-washed and beige buildings will win your heart and make you want to come back!
It's not only the architecture that evokes the past so beautifully. Cordoba has been a major trading point for a long time and now you can still find many small shops selling their unique crafts. It's so magical!
Other accommodation options in Cordoba
Things to do in Cordoba
Visit the famous Mosque-Cathedral
Cross the Roman Bridge of Cordoba
Catch a sunset at Templo Romano
Relax in the gardens at Palacio de Viana
Travel back in time at the Alcazar of the Christian Monarchs
6. Valencia – where to stay in Spain for foodies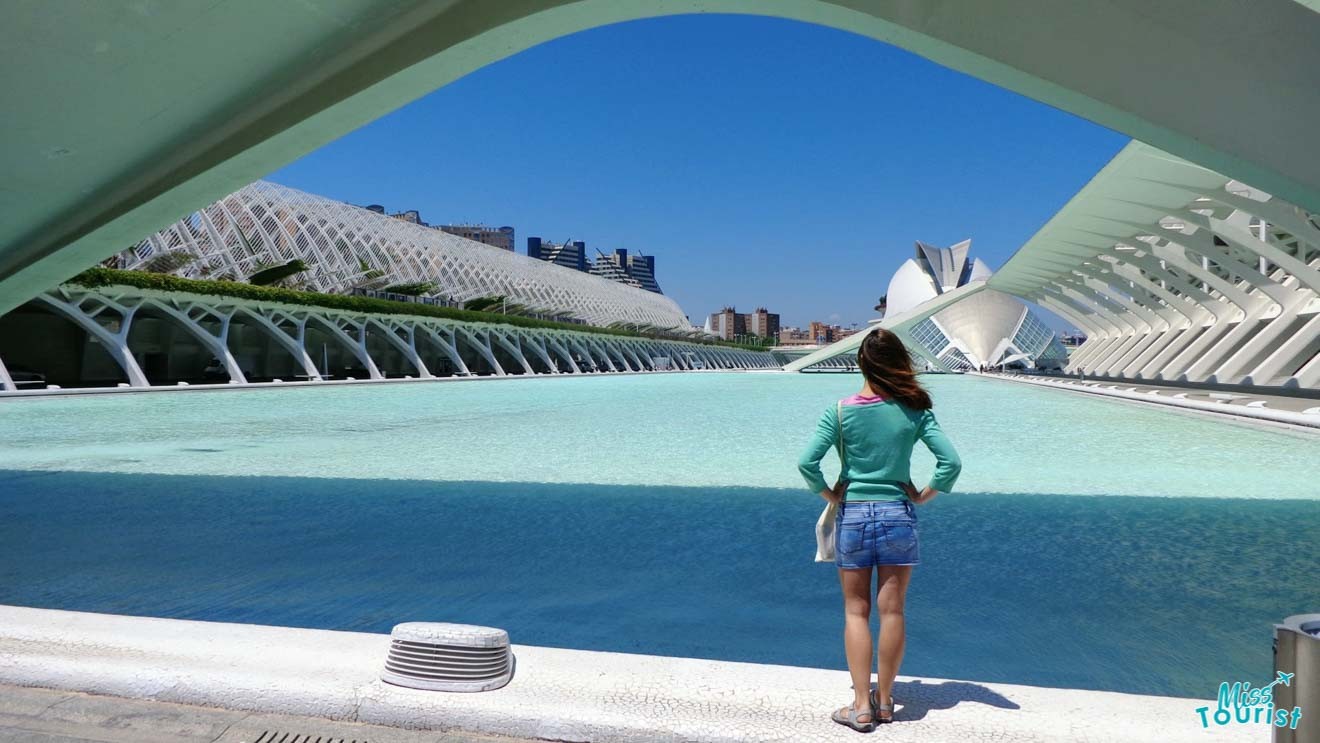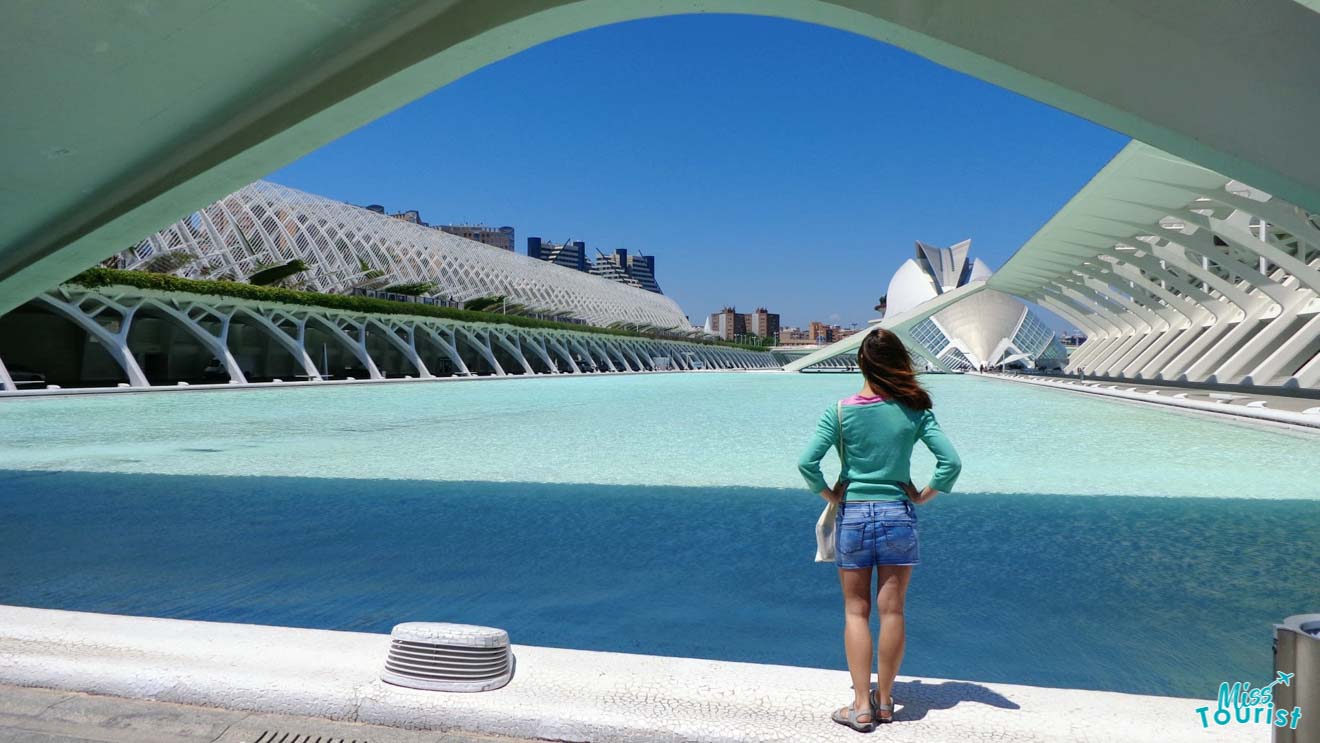 Flamboyant and fun, Valencia is one of the most famous cities in Spain and a great place to visit for those of you who want to enjoy this country's cuisine to the fullest!
Valencia is the birthplace of the mouth-watering paella, and they've got a few more dishes that will have you roaming around the restaurants after every attraction you visit! And yes, there are many things to do in Valencia, from exploring the peculiar-looking buildings in the City of Arts and Sciences to taking a cooking lesson on how to make your own paella!
This city certainly has something for everyone, and besides its historic attractions like its Cathedral (which peacefully guards the one and only Holy Grail), you'll also get a sandy beach.
You'll have no trouble finding a great place to stay in Valencia! There are so many amazing areas with great hotels like the Old Town (where you'll be just a few minutes walk away from many attractions) or Rufaza.
Other accommodation options in Valencia
Things to do in Valencia
Take cool pics at in the City of Arts and Sciences
Learn how to make paella during a cooking class
Eat yummy food at the Central Market
See the legendary Holy Grail at the Cathedral
Admire the street art in Barrio del Carmen
7. Bilbao – best place in Spain for architecture enthusiasts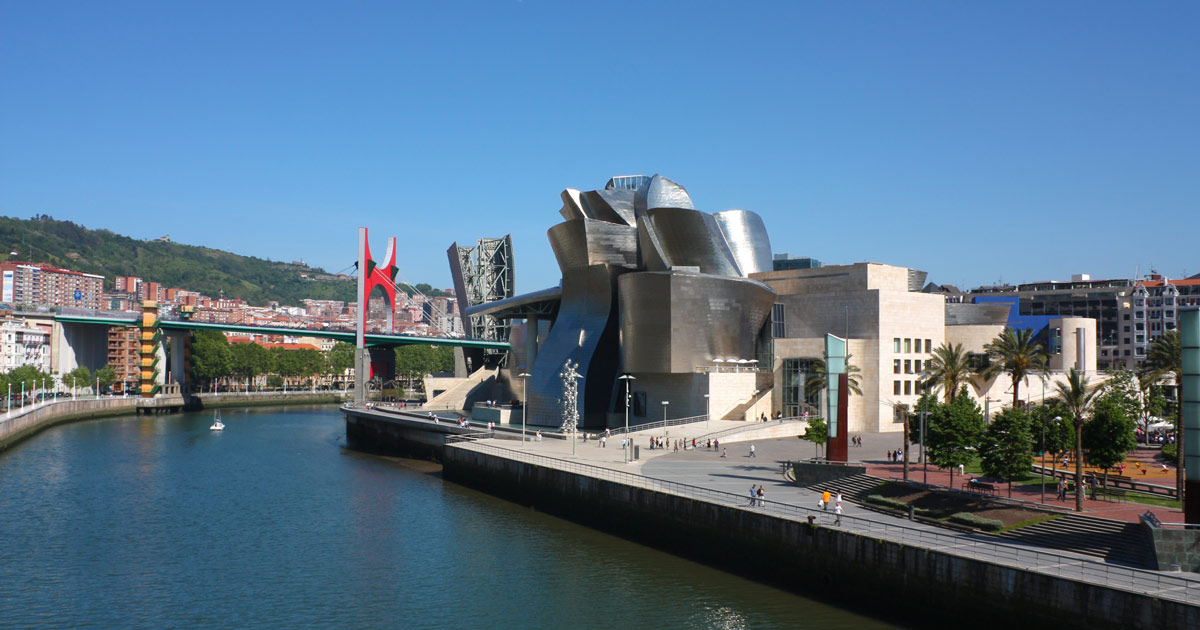 With an opening to the sea, and a lot of ground to cover, Bilbao is the largest city in the Basque country!
Perfect for a city break and maybe some longer stays as well, Bilbao offers a unique combination of old and new architecture, making it the "place to be" for anyone interested in the topic.
The Basque Country is famous for its cuisine so while you're here, you need to try their version of tapas called pintxos!
Bilbao is always filled with eager tourists so I'd highly recommend booking your hotels in advance. Although there are many places to stay in Bilbao, the good ones always sell out fast!
Especially those set around Casco Viejo, the city's Old Town, where you can see a glimpse of how Bilbao might've looked a really long time ago.
And when you're ready to travel back to the future, then head over to Abando, where you'll find the famous Guggenheim Museum of modern and contemporary art, and one of the largest museums in Spain!
Other accommodation options in Bilbao
Things to do in Bilbao
Admire the futuristic looking Guggenheim Museum
Enjoy a coffee in Plaza Nueva
Try some pintxos in Erribera Market
Visit the Santiago Cathedral
Take a pick by the unique Zubizuri
8. Costa Brava – where to stay in Spain for families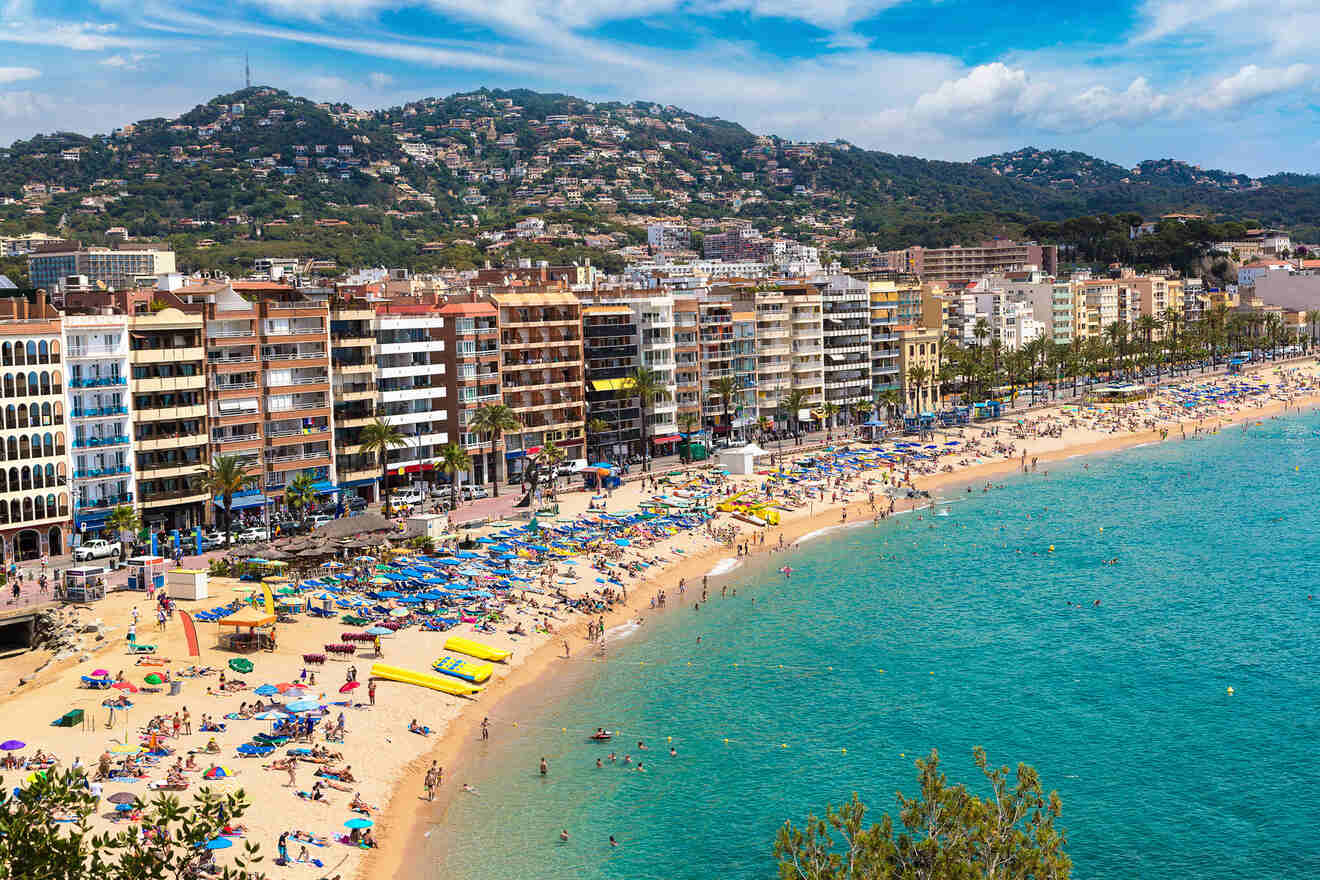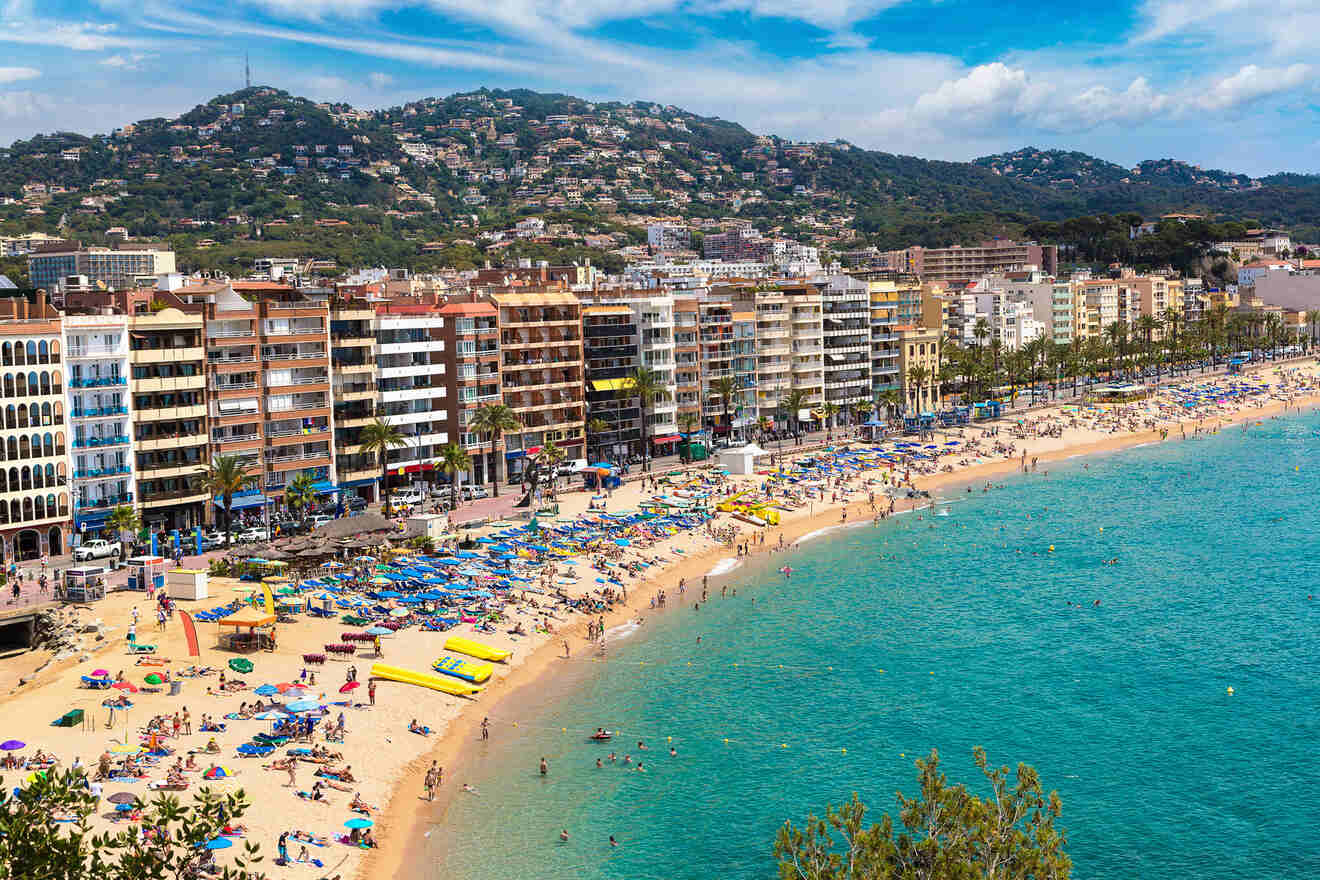 Traveling with the little ones to Spain? While there are a few places around the country that will be sure to make the little ones happy, I think Costa Brava in Northern Spain may become their favorite!
This region stretches from the town of Blanes, which sits just 1h away from Barcelona, to the French border.
Beaches, waterparks, and lots of watersports! That's Costa Brava in a nutshell, at least for the little ones. There are other things that make this place special!
Did you know that Salvador Dali, the famous artist, was born in Costa Brava, in the town of Figures? There are many museums dedicated to Dali and you can even visit his former residence in this little town at the Dali museum in Figures.
So if you can convince the kids to leave the beach fun for later, go on a journey of discovering the late artist!
Other accommodation options in Costa Brava
Things to do in Costa Brava
Visit the Dalí Theater-Museum
Spend a fun day with the kids at Water World Parc
Check out Dali's former home at Salvador Dalí House Museum
Try cool water sports at Playa de Fenals
Admire the scenic views at Jardín Botánico Marimurtra
9. Ibiza – best place to stay in Spain for nightlife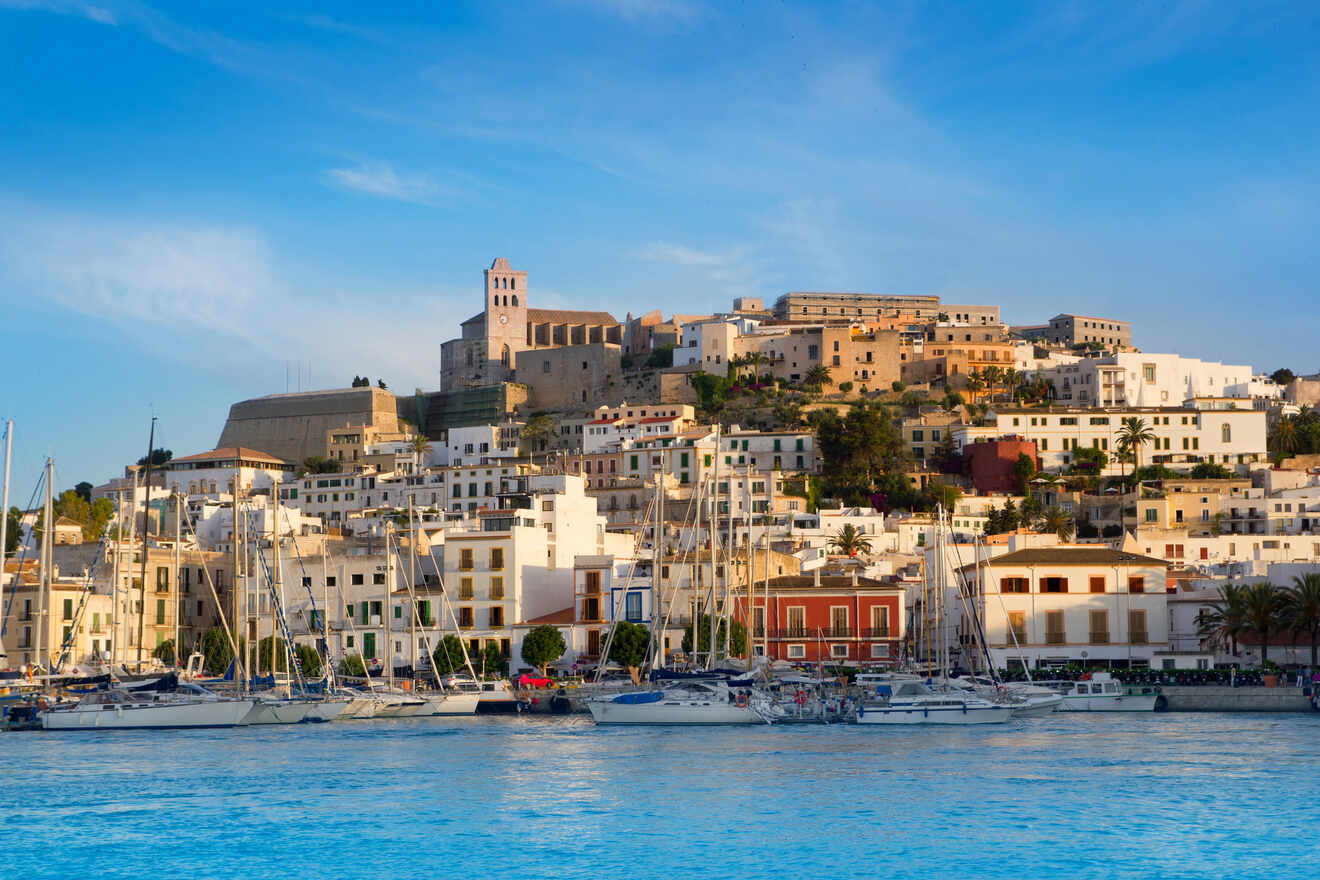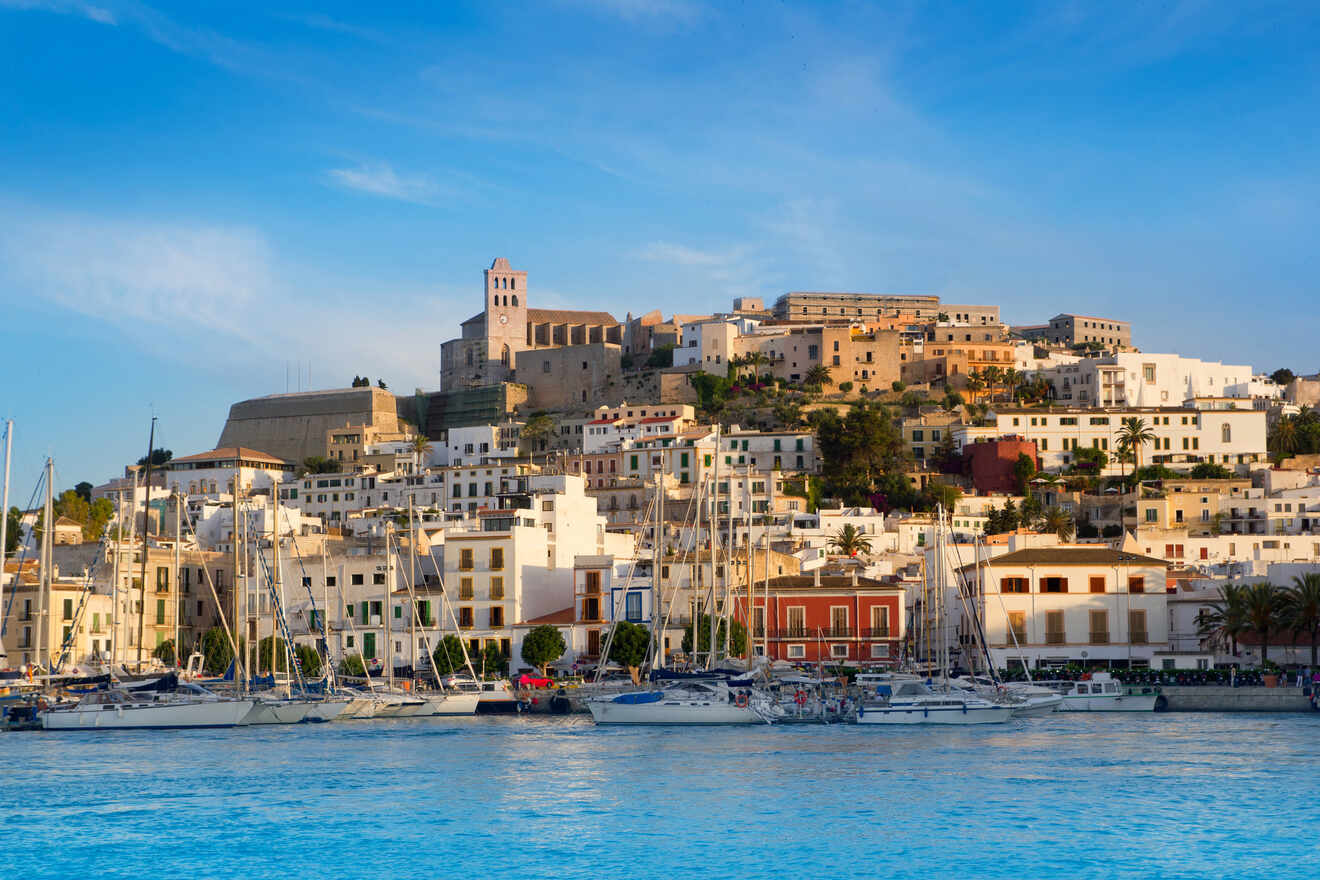 This island's wild party scene is no secret to any of us! Ibiza has long-been known as the ultimate place to visit in Spain if you love being on the dance floor until the morning!
Yes, this island is a paradise for all party-lovers but let's not forget that it's also filled with beaches, nature, and history.
It's super important to choose where to stay in Ibiza wisely. If you're coming solely to party and chill on the beach, then look for hotels in Ibiza Town and Playa d'en Bossa. That's where you'll find the biggest concentration of clubs, and restaurants. Pacha is one of the most popular nightclubs in Ibiza Town, and DJs like Calvin Harris, and David Guetta have played here!
I know that not everyone is coming here just for that. Ibiza is surely much more than just clubs, so if you're looking for something a bit more peaceful, I'd recommend staying in areas like Santa Eularia des Riu and Talamanca.
Other accommodation options in Ibiza
Things to do in Ibiza
Dance all night long at Pacha club
Explore Dalt Vila, Ibiza's fortified old town
Chill on the sandy shores at San Antonio beach
Catch an event at the beachfront Ushuaia Club
10. Marbella – where to stay in Spain for luxury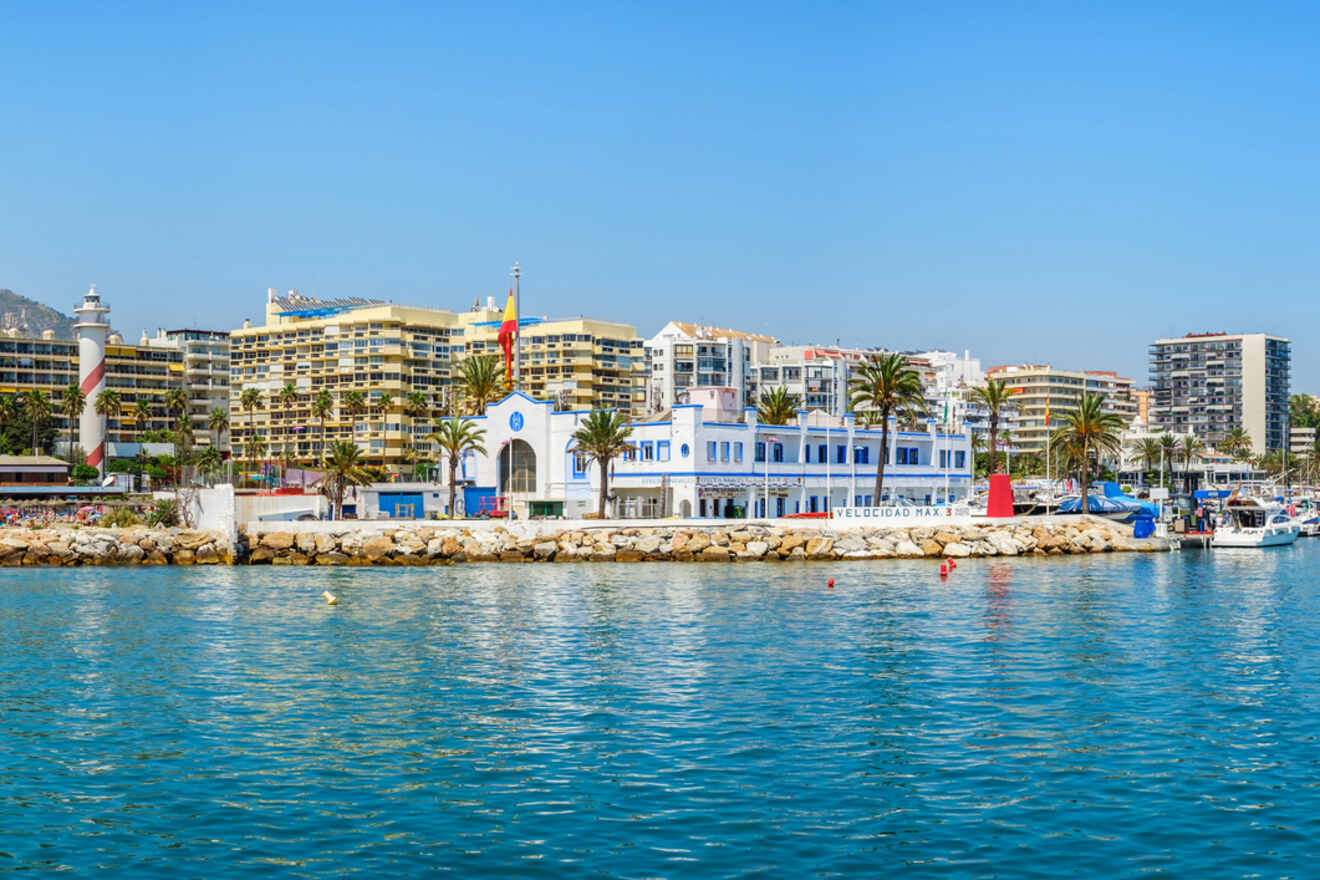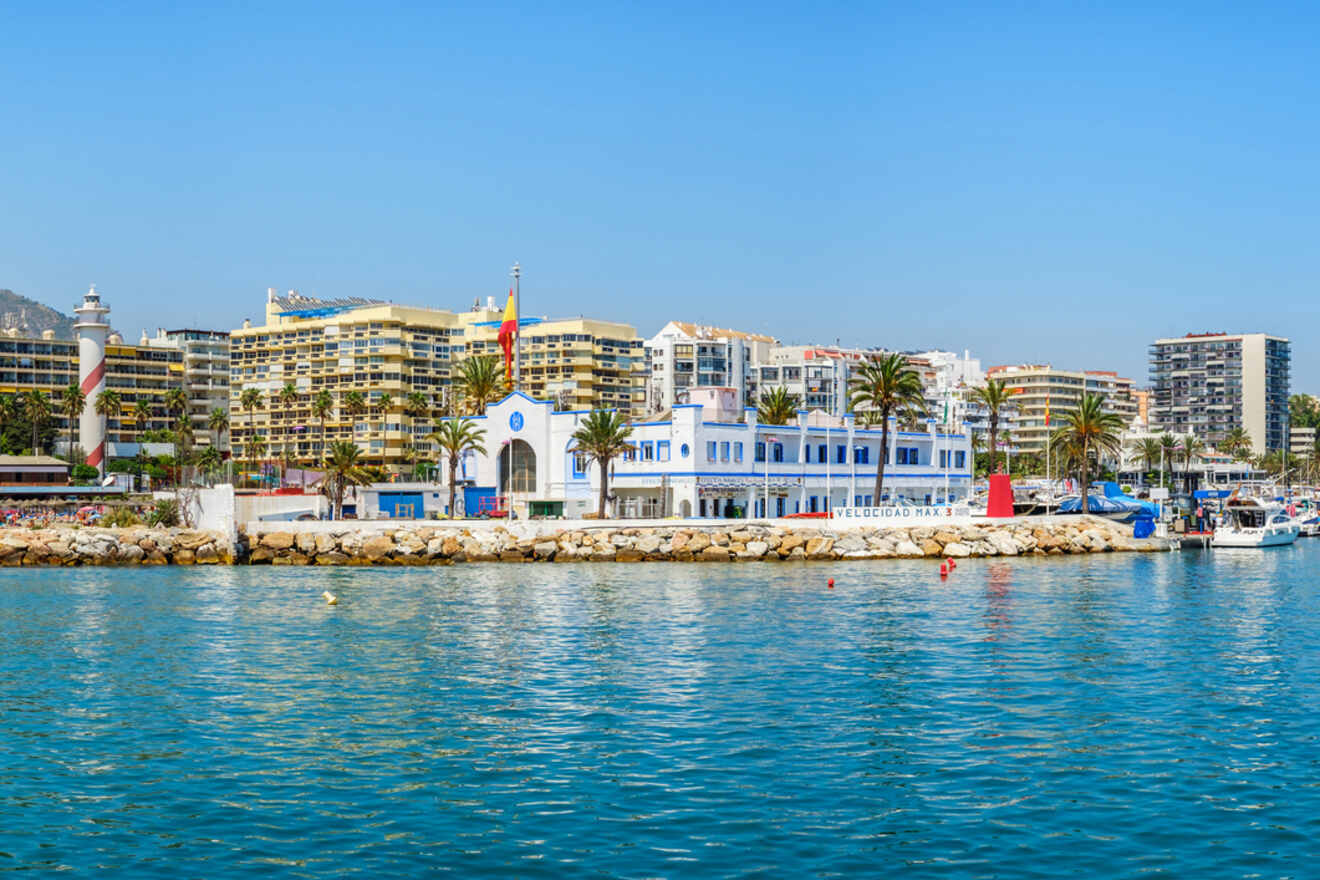 Sitting between 2 famous places, Gibraltar and Malaga, this trendy coastal city is one of the top holiday spots in Spain!
This luxurious resort town has welcomed many celebrities over the years, like Audrey Hepburn, Michael Jackson, and Grace Kelly!
Naturally, Marbella became a hotspot for the rich and famous, and now many come here to for the high-class resorts, yachts, and restaurants!
Still, if you're looking for more budget-friendly places to stay in Marbella, rest assured, there are plenty and of great value!
Puerto Banus is one of the most exclusivist areas in the city, and this is where you'll find all the luxurious beaches, designer shops, and high-end spas! So if you're looking to splurge during this holiday, I'd recommend the hotels here.
Other accommodation options in Marbella
Things to do in Marbella
Take a pick of the Muralla del Castillo wall
Visit La Encarnación church
Go on a yacht trip
Shop until you drop at Banus Marina mall
Explore the quaint streets in the Old Town
11. Alicante – best place to stay in Spain for outdoor activities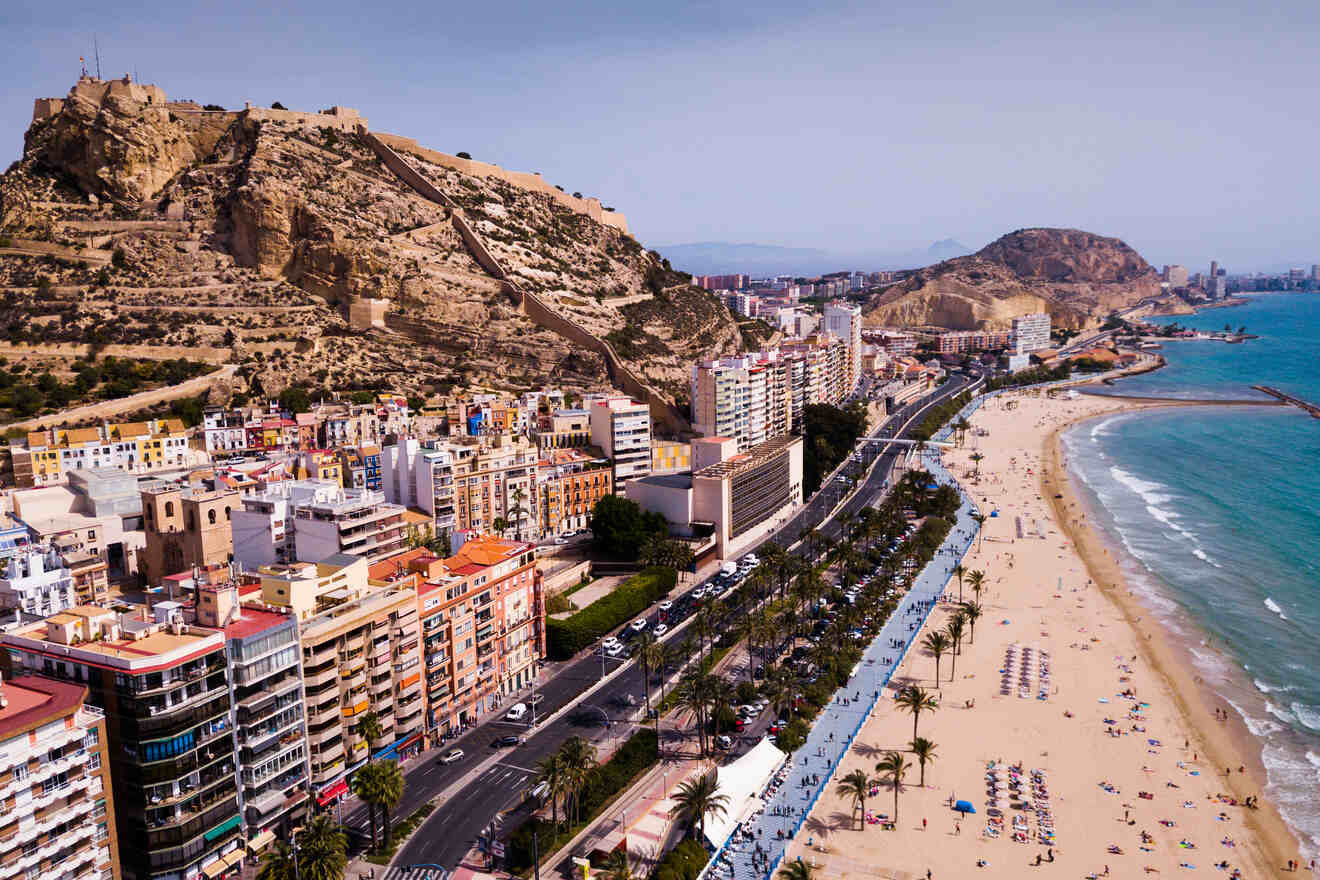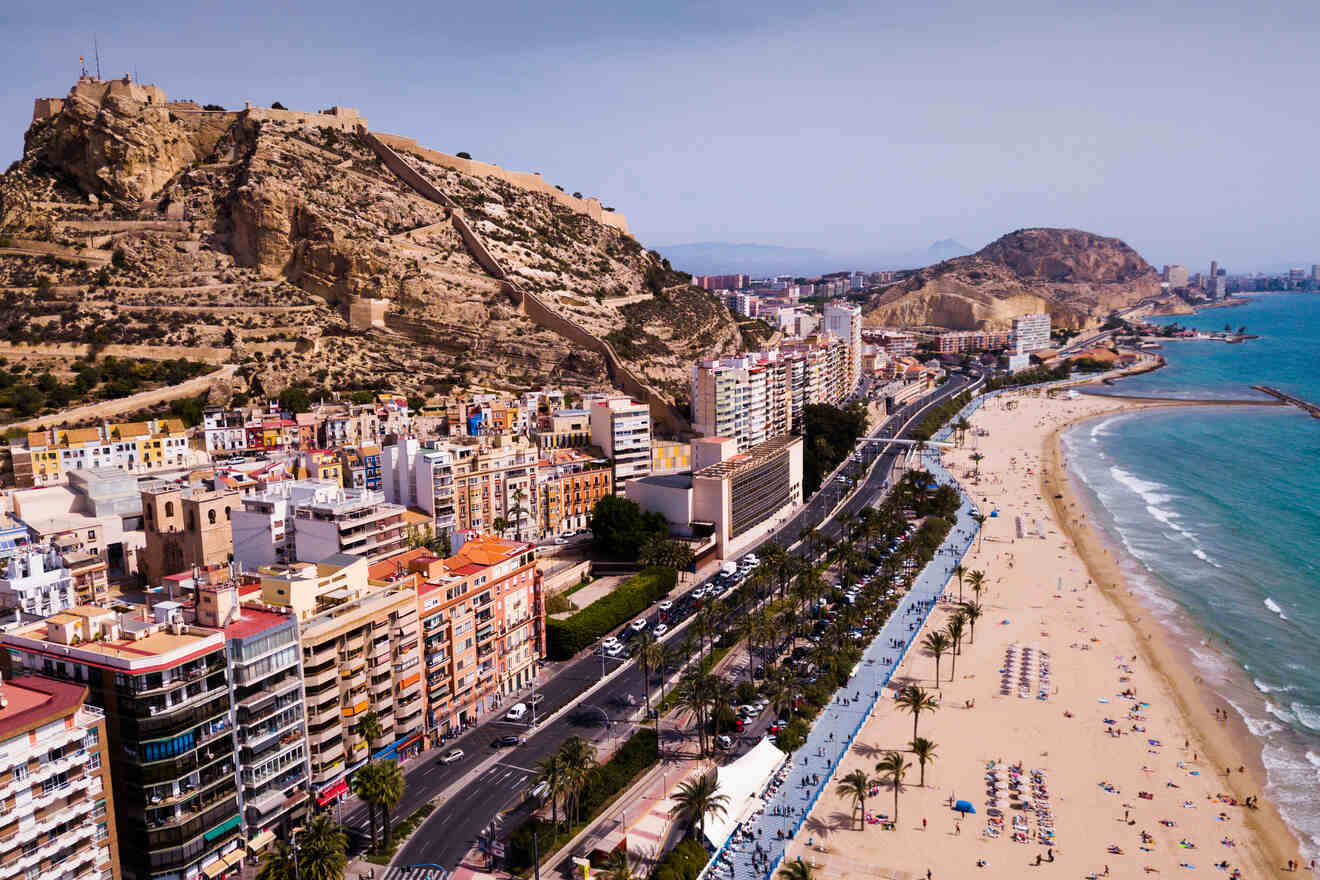 Always chasing the next adventure? Then you'll probably love Alicante! This port city in Southern Spain is the perfect place for anyone who's into outdoor activities by the beach.
Windsurfing, scuba diving, paragliding, you name it! You can find anything your adventurous soul desires in most areas in Alicante, including some of the best hotels in the country!
What's great about this coastal town is that it offers a mix of everything. If you grow tired of exploring under the sea, then head to town to learn more about the city's heritage. Its Old Town is filled with historical attractions.
Or maybe you're coming with the family? There's something for you as well! Plus the fun never stops in Alicante (I guess its location by the sea makes that pretty easy). There's always a new place to party and dance!
Other accommodation options in Alicante
Things to do in Alicante
12. Tenerife – where to stay in Spain for the beaches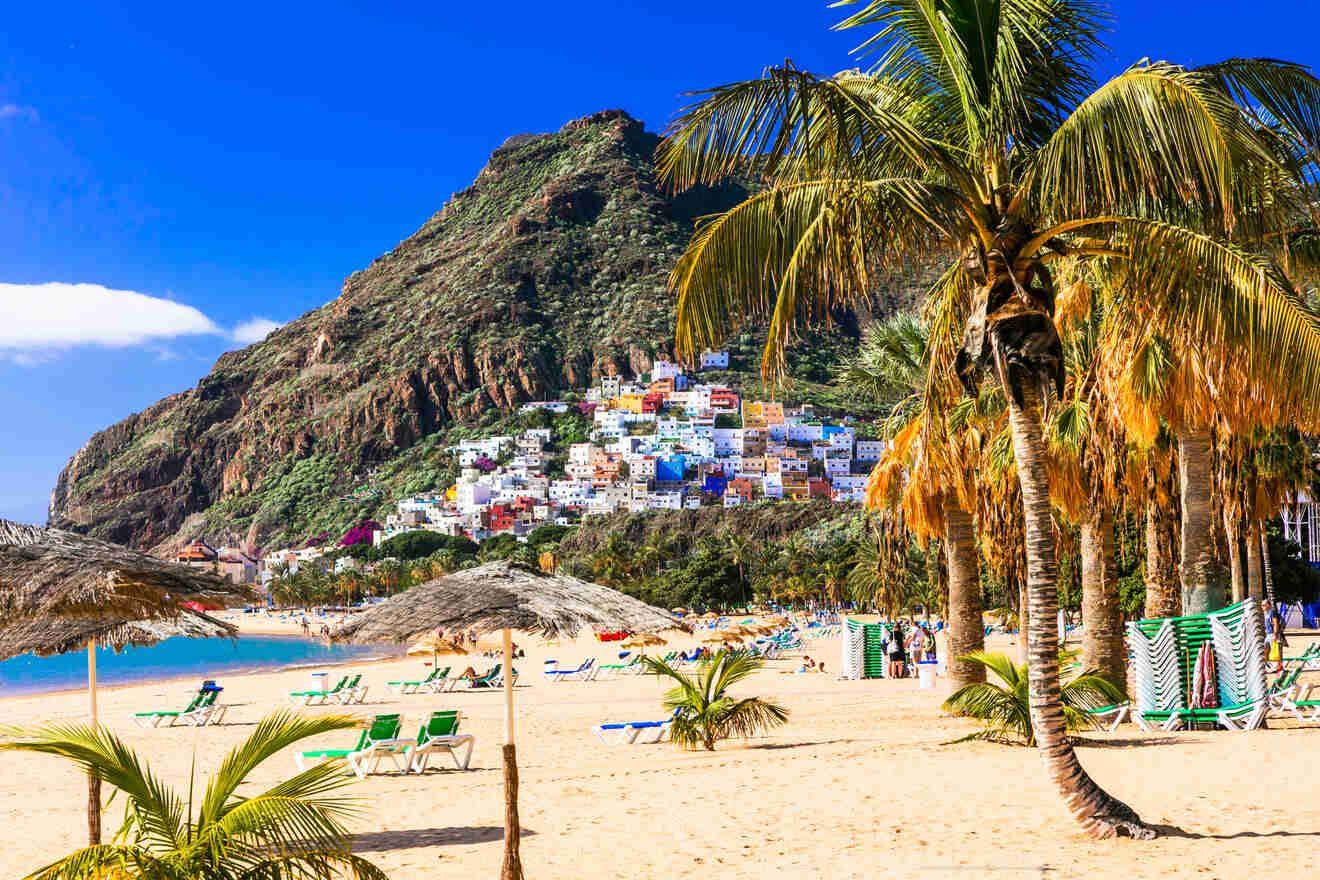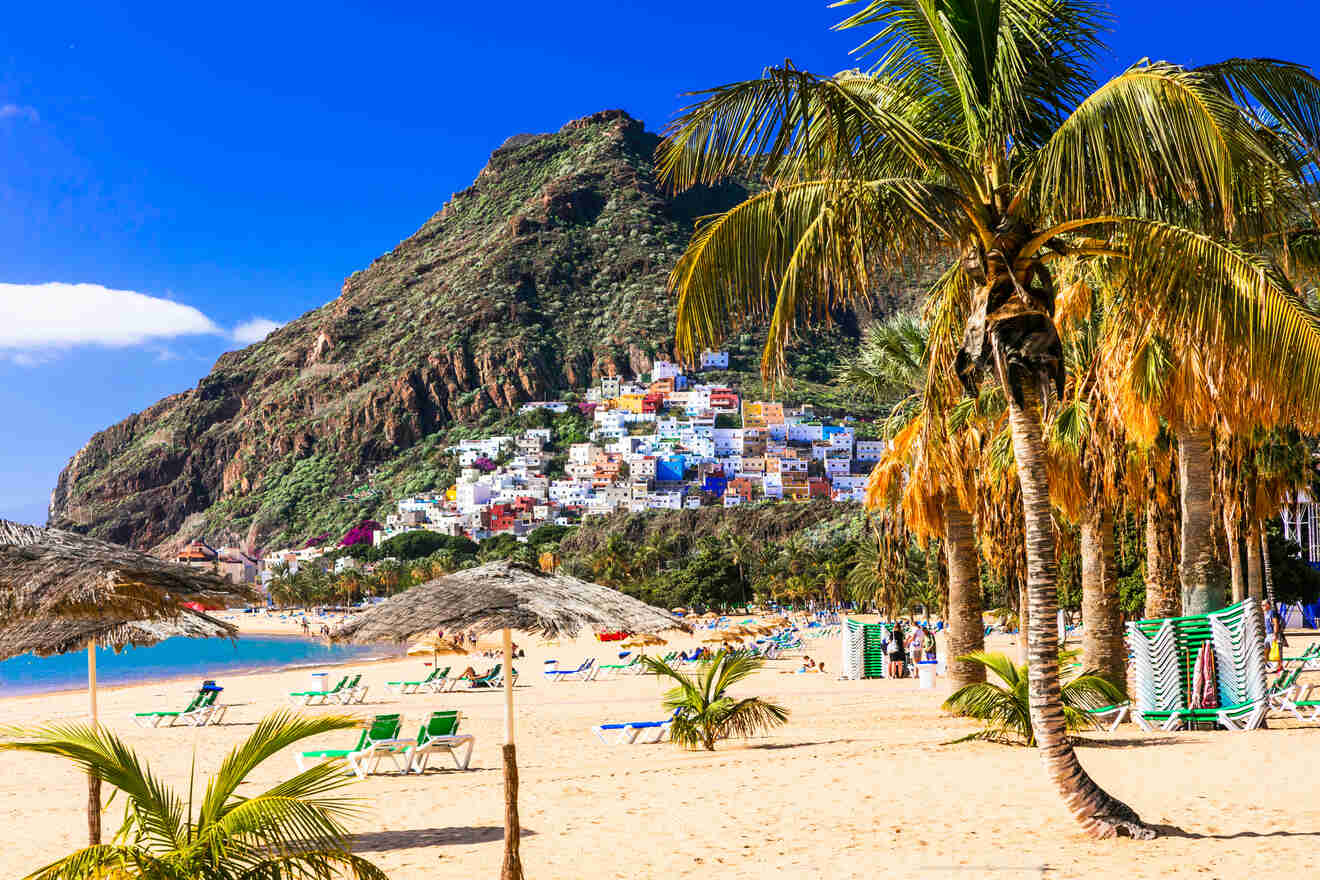 You love the ocean so much that you'd practically live anywhere near it? Then I think you'll love the Canary Islands, and especially Tenerife!
Offering sandy shores, sun all day long and waves that are perfect for surfing!
Tenerife is a fantastic island that you'll never get tired of (maybe you'll even want to move here)! There are certainly many places where to stay in Tenerife, each with its unique assets and great hotels.
The mountainous backdrop and blue sea will make you feel as if you're in paradise. Tenerife's beaches are super famous and once you see them you'll understand why, (hint, they're simply beautiful)!
And don't even get me started on the food, all the clubs and bars where you can party and of course the rocky hiking trails that make adventure junkies super happy! Yep, this place is surely worth a visit (or even more)!
Other accommodation options in Tenerife
Things to do in Tenerife
Swim in the crystal clear water at Playa del Duque
Explore the Puerto Santiago del Teide National Park
Go on a hiking adventure at Barranco del Infierno
Take a day trip to day trip to Callao Salvaje
13. Mallorca – best place to stay in Spain in the summer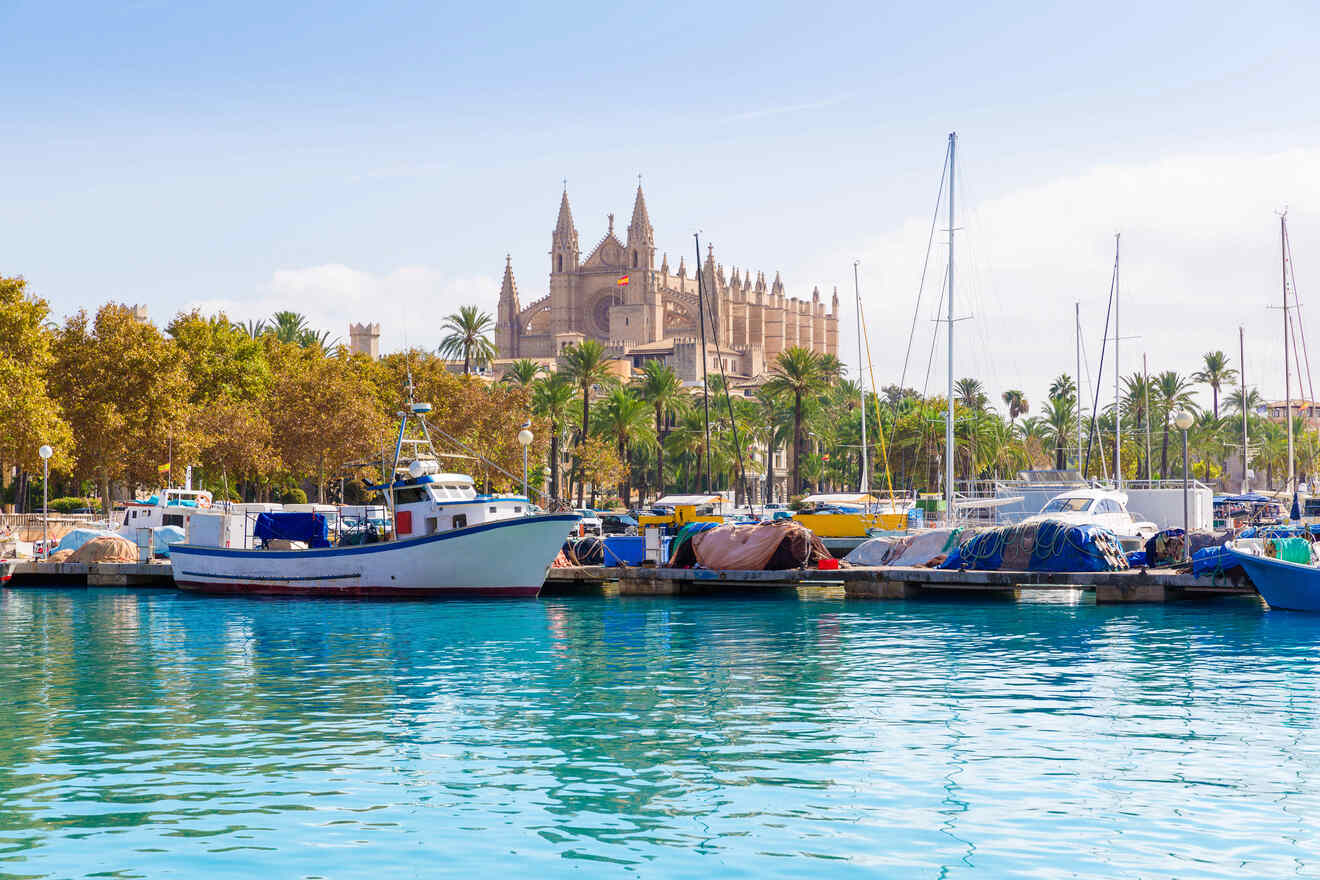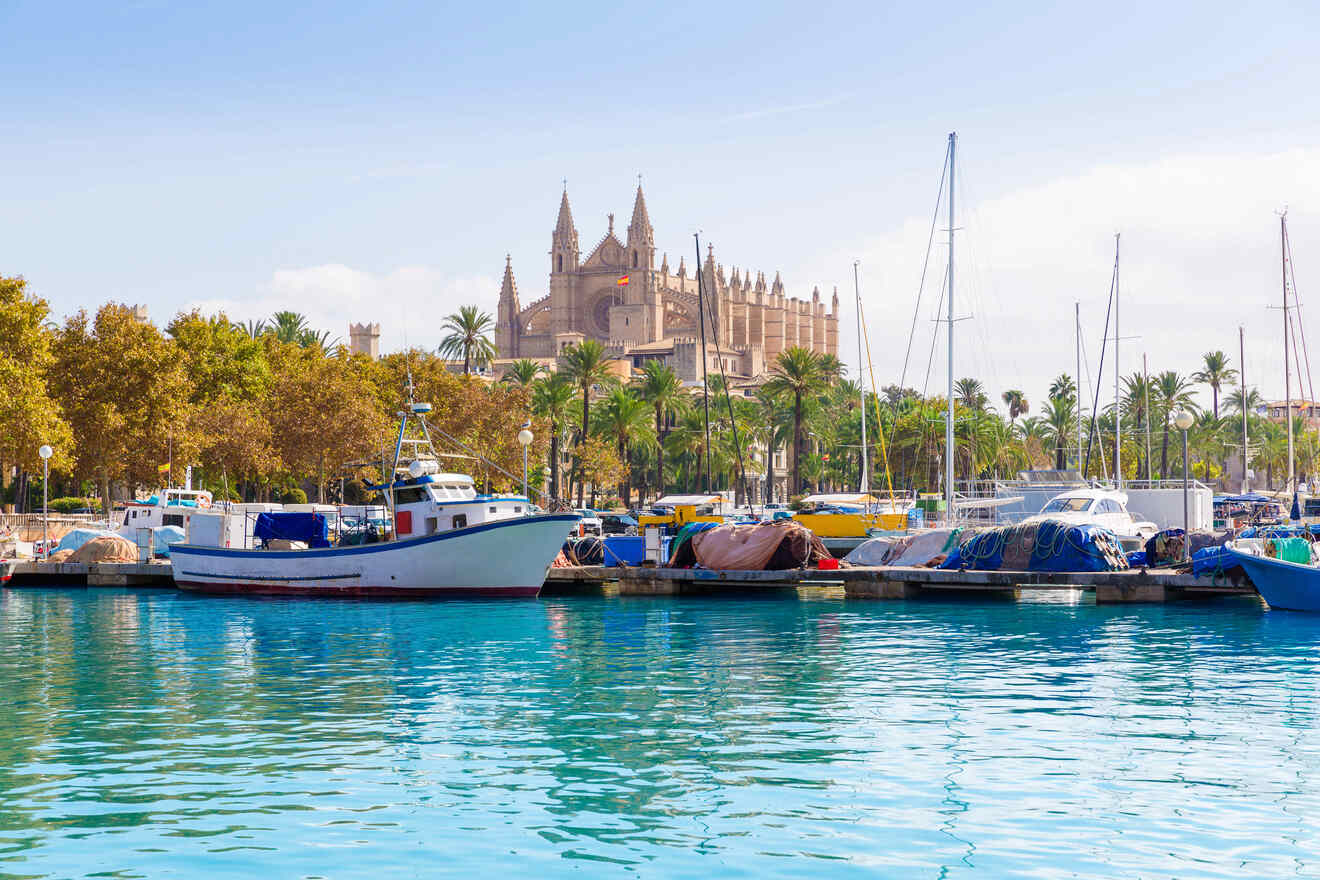 Looking for a fantastic summer holiday destination?
Well, you probably know that Spain is filled with dreamy spots, where you can enjoy a few days (or weeks) of sunbathing on the best beaches, eating mouth-watering food and of course discovering historic sites!
Mallorca surely fits in that description, and I guess we can all agree that nothing compares with the Mediterranean lifestyle! Where every day, you go with the flow and take each moment as it comes.
The largest out of the Balearic Islands, Mallorca (or Majorca as the locals call it) is an island of infinite possibilities! Here you can chase sunsets on the most scenic beaches, explore the mountains, and visit the island's top attractions.
You'll find most of them in Palma de Mallorca, the capital city, and one of the best places to stay in Mallorca! Make sure you don't confuse this place with Las Palmas, one of the areas in Gran Canaria, as it's a common mistake!
But remember you've got a whole island with more sites to discover (that's why I recommend taking maybe more than a few days) like the beaches in Calla Millor and the clubs in Magaluf!
Other accommodation options in Mallorca
Things to do in Mallorca
Chill on playa de Palma or Cala Major beach
Go shopping in Mercat de l'Olivar
See the ancient Catedral-Basílica de Santa María
Visit the Castell de Bellver and the Royal Palace of La Almudaina
FAQs about hotels in Spain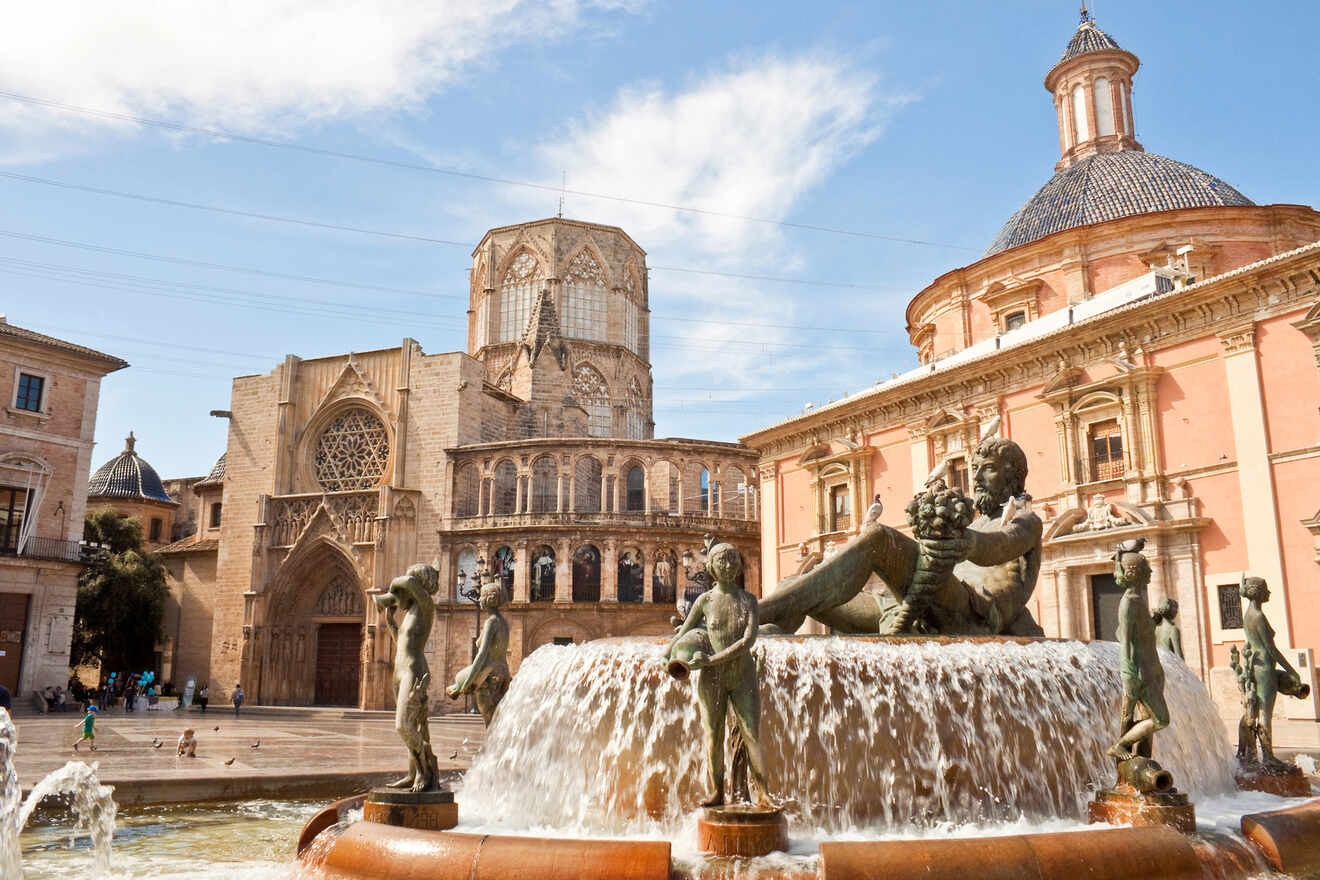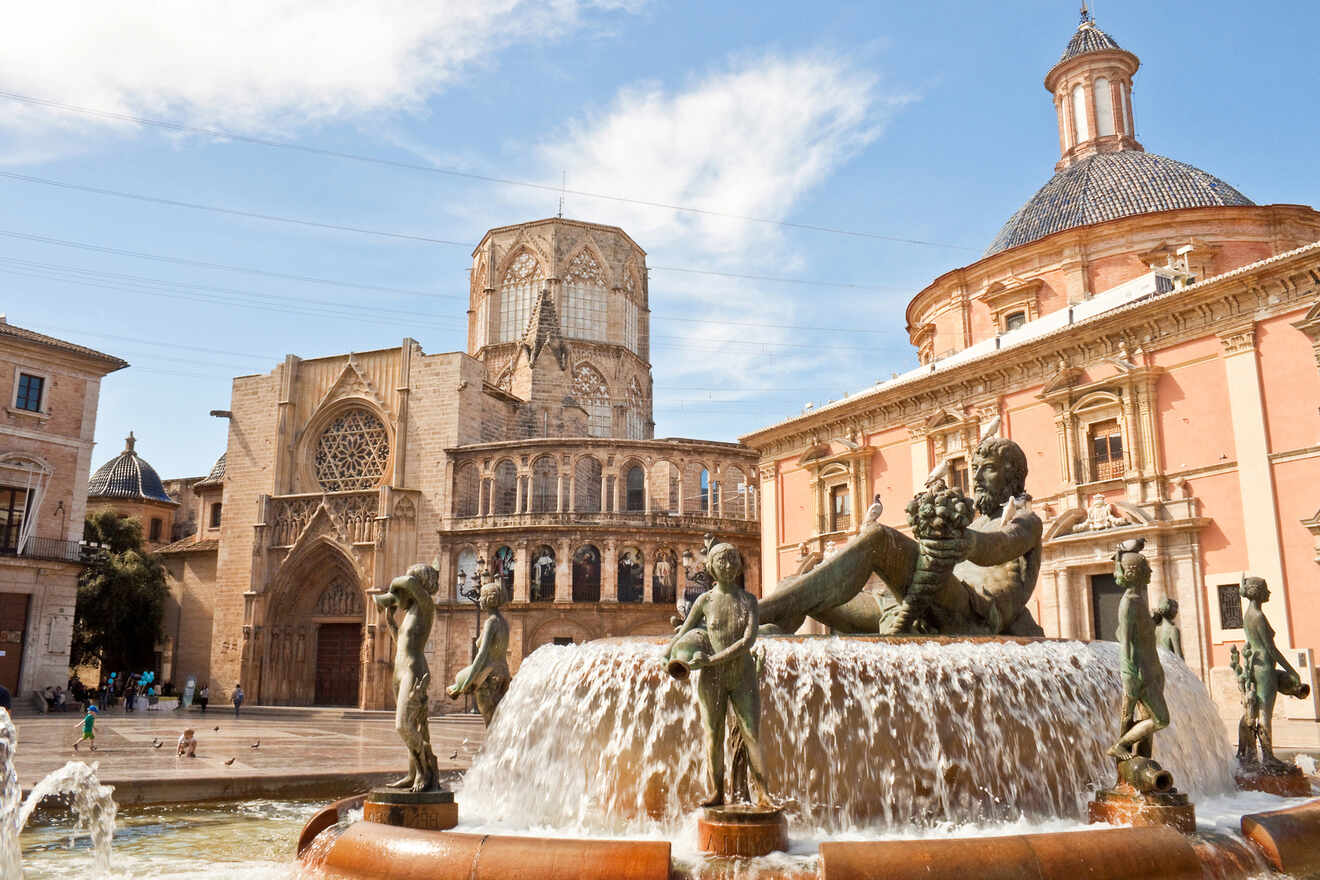 Conclusion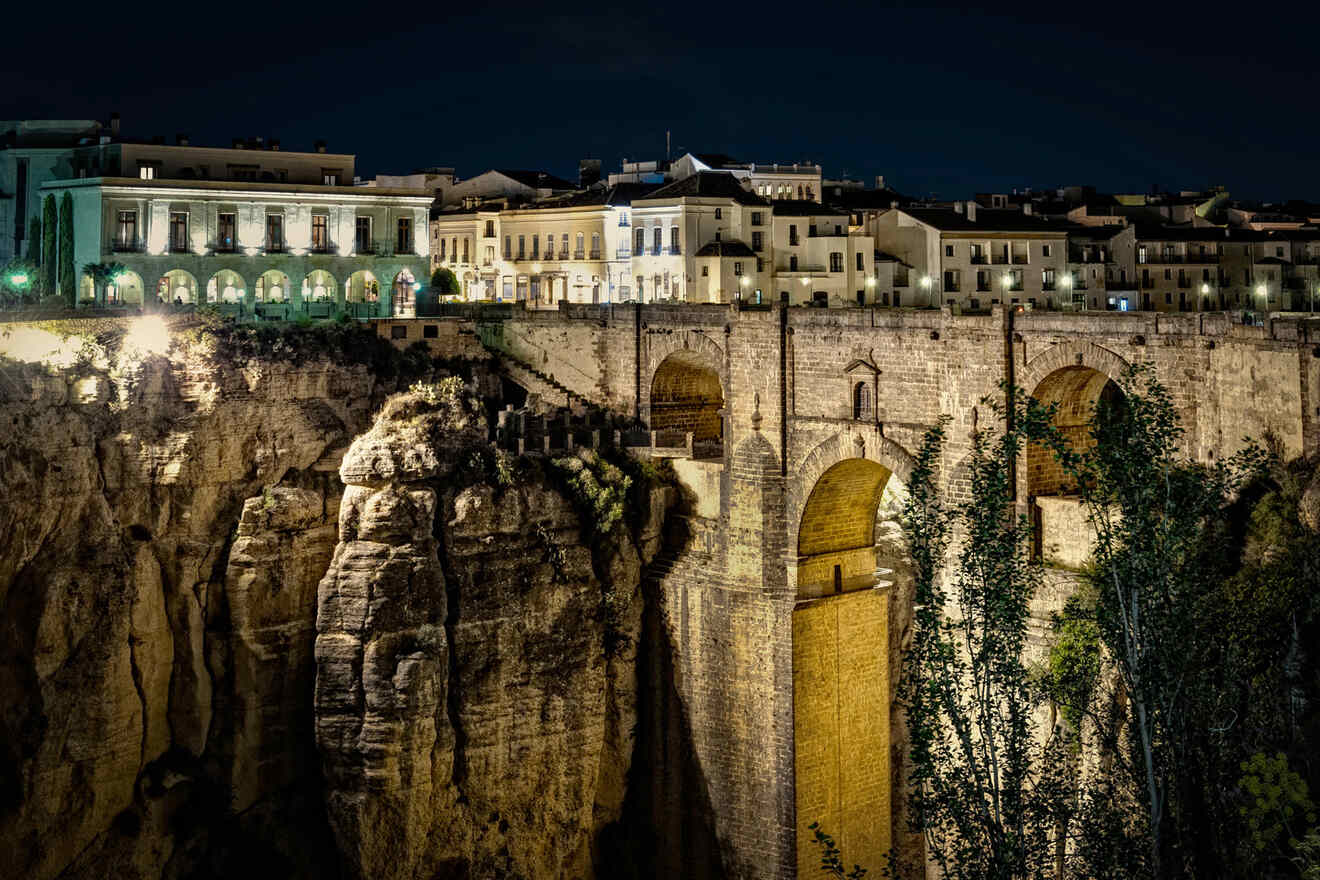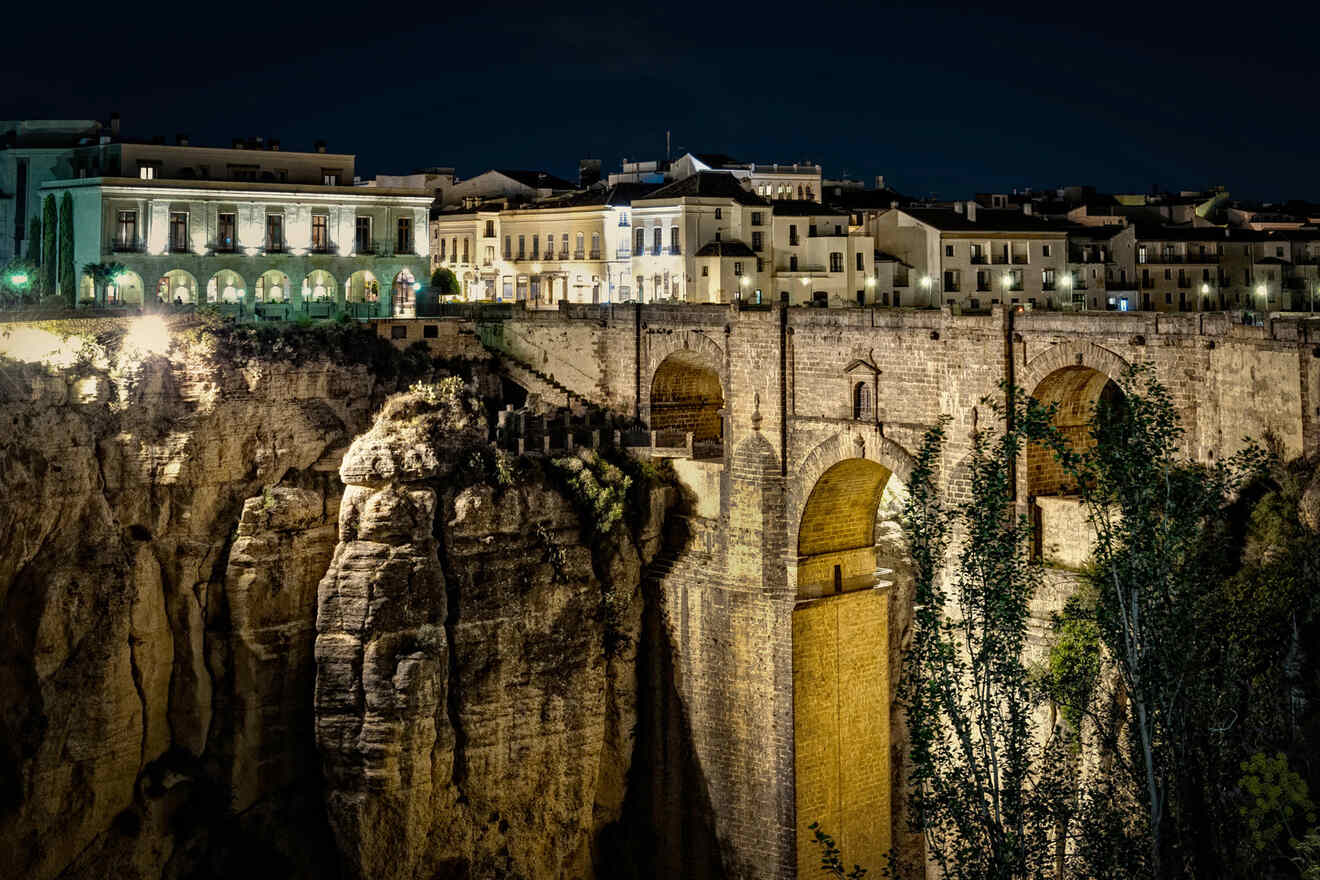 Already have your heart set on some amazing locations in Spain? Well, after reading this guide I knew you'd be prepared to pick your next destination (or destinations)!
Time passed by quickly while we went through all these places in Spain and the best hotels in each city and island.
I know the hardest part starts now. Choosing from so many incredible sites is hard but hey I'm here to make your travel planning much easier so here are my top 2 favorite hotels, both located in Barcelona:
Hotel El Palace – A fabulous hotel from 1919 that has a unique Mayan-style luxury spa and a limousine service with a chauffeur
The Corner Hotel – This stunning hotel has a modern design and a rooftop terrace where you can relax
Book your favorite hotels as quickly as you can! These are the most popular cities in the country and the best accommodations always go first, so make sure you secure your spot!
I had so much fun traveling (virtually) with you guys to all these awesome places to stay in Barcelona! I know I've added the most important things but if I missed something just pop a comment below and I'll answer ASAP!
Happy exploring,
Victoria
---