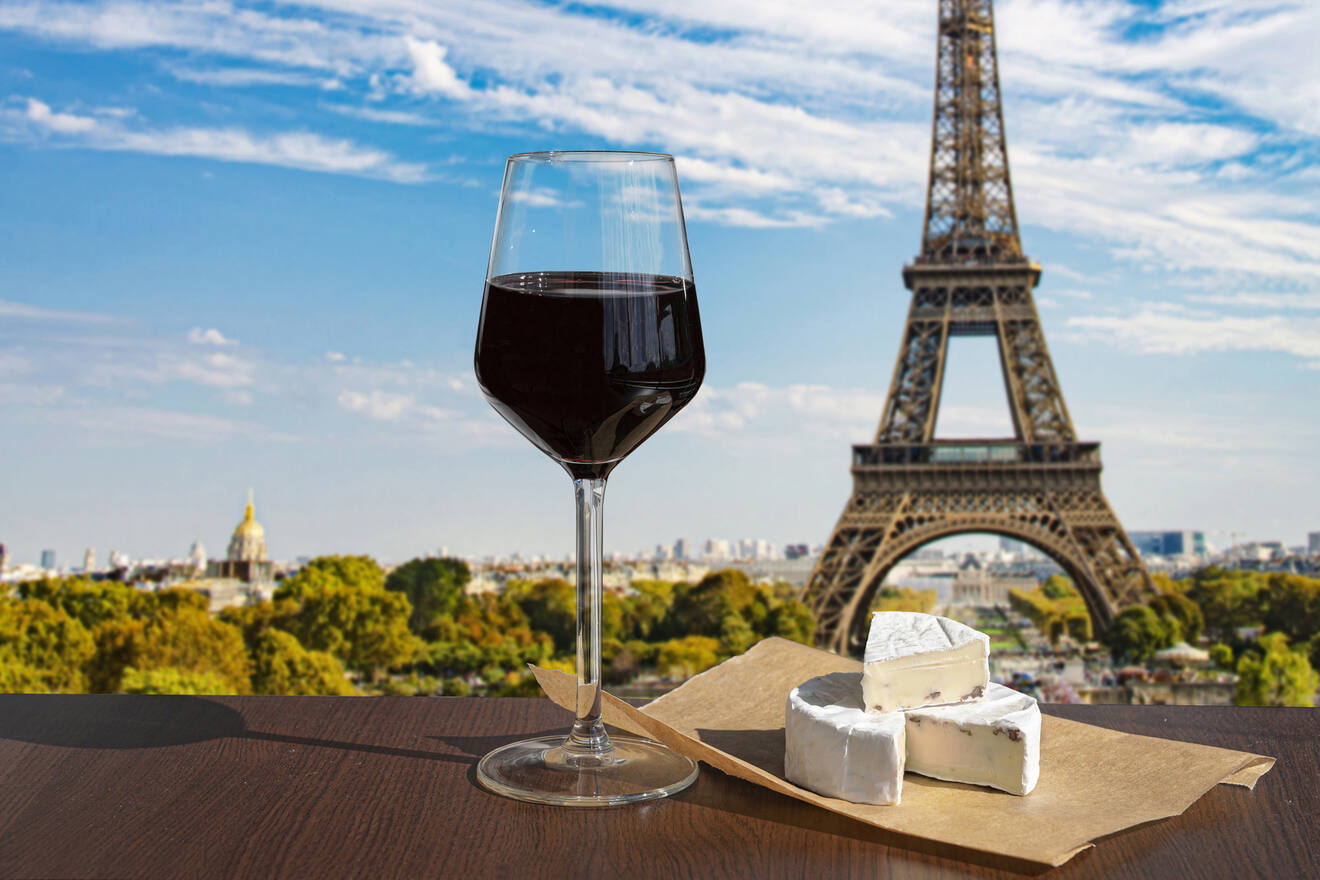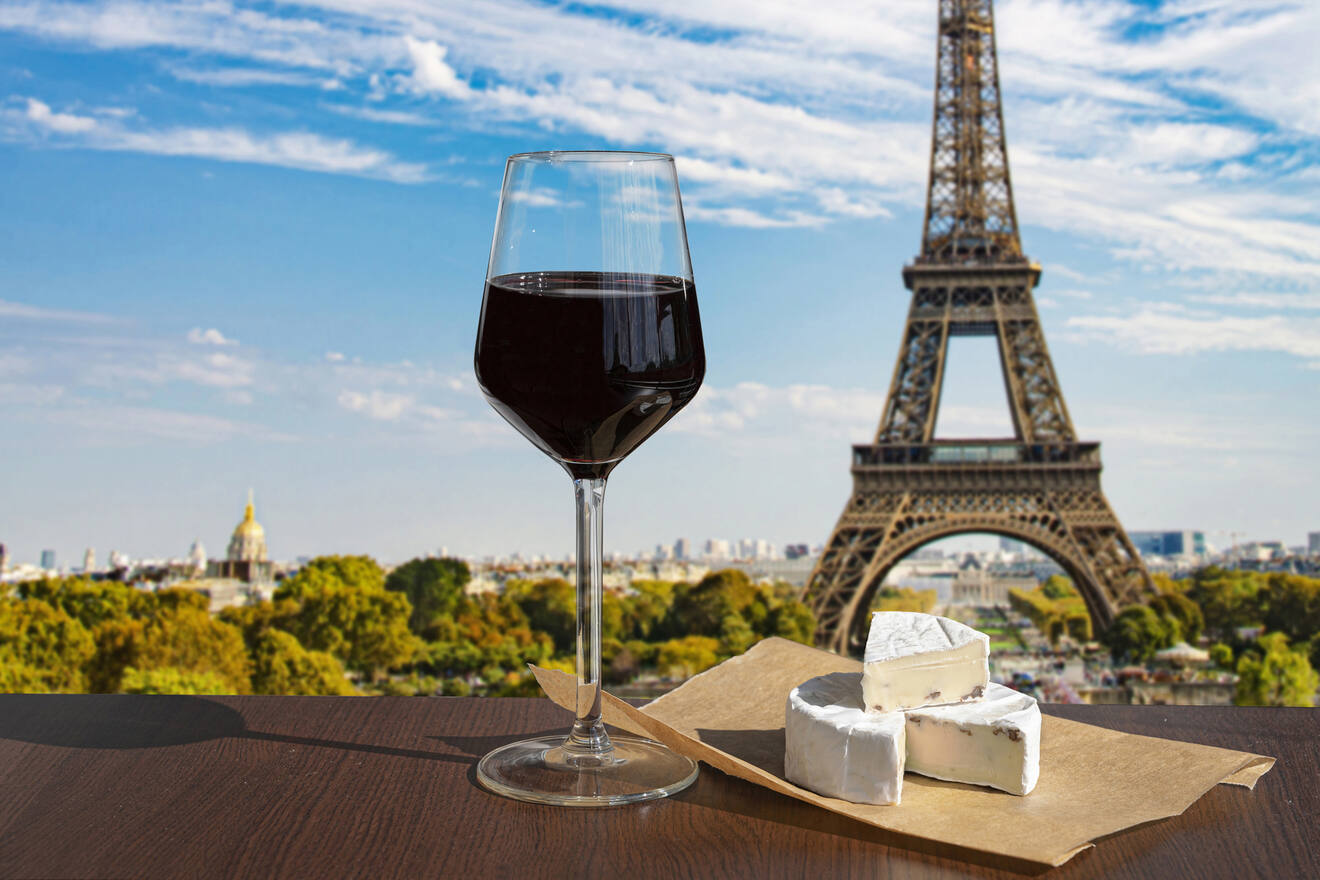 Candle-light dinners, fancy lunches and lots of wine! This could quickly sum up your gastronomic adventure in Paris! And if you're looking for somewhere with the best Eiffel Tower views, then you've come to the right place!
In this post I'll point you to the best restaurants with Eiffel Tower views, which I categorized by interest so you can pick one or more, depending on your mood!
I've been to Paris a few times and let's just say, there's no shortage of restaurants with an Eiffel tower view, but hey, it's hard to know which ones suit you (or your budget). Luckily, whether you're planning a romantic dinner with your partner, or maybe an outing with your friends, there's a place for everyone here. So quickly check this post and get all the information you need!
Now grab your wine glass, and let's find the best Paris restaurants with Eiffel Tower views!
1. Café du Trocadéro – for a budget-friendly lunch date
Most rooftop bars in Paris that have an amazing view of the Eiffel Tower are super expensive. So if you're not really into spending your whole holiday budget on a meal when you visit Paris, then I recommend stopping for a meal at Café du Trocadéro!
This place has an outdoor terrace and indoor seating as well, and you can admire the beautiful Eiffel tower from both places! And do some people watching as well! Make sure you order the famous onion soup (I'd kill for one of those) alongside a few drinks too!
Location: 8 Pl. du Trocadéro
2. Monsieur Bleu – great cocktail restaurant
Got your Eiffel Tower tickets? Now you just need to find the best restaurants with Eiffel Tower view where you can try the classic French cuisine! This place, set inside the west wing of the Palais de Tokyo Museum, offers incredible views of the Eiffel Tower (the best ones are by the window), and an indoor dining area as well which has a beautiful Art Deco design.
At an affordable price you can order some delicious dishes from steaks to cheeseburgers and seafood! And of course, lots of cocktails! Everyone raves about their drinks so make sure you order plenty. Because there's nothing like a glass of wine or martini to help you relax after a hectic day exploring the areas in Paris!
Location: 20 Avenue de New York
3. Le Ciel de Paris – perfect for romantic dinners
If you're planning a romantic dinner then hear me out! This fabulous restaurant that has a modern and plush setting, is set at the top of a skyscraper and it offers the most amazing panoramic views of the Eiffel Tower from its floor-to-ceiling windows! I'm talking about movie-like sights!
This one is also super pricey but hey, their award winning food is totally worth it! Plus their French dishes and wine list will make everything even more magical. It's definitely the kind of place that you need to book in advance, to secure a table with a great view in the main dining hall.
Location: Tour Maine Montparnasse
4. Café de l'Homme – famous restaurant with classic dishes
Okay, I think I'm ready to pull up the big guns now! This is one of the best restaurants with a view of the Eiffel Tower and it has appeared in Netflix's Emily in Paris and it was also the place where Brazilian football superstar, Neymar, chose to watch the Eiffel Tower light show!
The location of Café de l'Homme is also pretty spectacular right on the Trocadéro platform! So you can imagine how the Eiffel Tower view is from there! When you enter, look out for the incredible Art Deco influences (you'll start feeling like a member of the French aristocracy)! Order something from the wine list and be prepared to have an unforgettable culinary experience as you start tasting all the french and international dishes!
Location: 17 Pl. du Trocadéro et du 11 Novembre
5. 6 New York – an elegant fine-dining restaurant
Located along the Seine River, this is one of the best restaurants with a view of the Eiffel Tower where you can enjoy a fancy dinner after a day of exploring all the attractions in Paris! Their extensive list of French wines will definitely be the highlight of the evening, and of course all their dishes.
Using fresh ingredients and organic meats, this Parisian restaurant prides itself with their talented chefs, who are known to come around the table and tell you the latest news on their menus. So get all dressed up and enjoy a pleasant evening of good food while admiring the majestic Eiffel Tower.
Location: 6 Avenue de New York
6. Victoria 1836 – busy but elegant restaurant
Whoever goes to this restaurant in Paris is twice lucky as they'll enjoy views of both the Eiffel Tower and the Arc de Triomphe! It's definitely a touristy kind-of-place but still, it has its charm, plus those views make-up for anything else!
As do the freshly prepared crab ravioli, which are definitely a must-try! Definitely expect busy weekends if you're coming here during that time, but I'd recommend switching to weekdays if it's possible for you. Make sure you also order their signature cocktail "The Old Victorian" which tastes like old France and decadence!
Location: 12 Rue de Presbourg
7. Edmond Restaurant Panoramique – panoramic rooftop
This is the type of place you see in movies! Definitely one of the best rooftop bars and Parisian restaurants with Eiffel Tower view! The panoramic views of the glorious Iron Lady (another nickname for the Eiffel Tower) are just breathtaking, and to be honest I think they look much better at night!
Located in bohemian Montmartre, the restaurant is known for serving yummy cocktails and delicious food. The French cuisine never disappoints and I'm sure you'll feel the same after trying their menu!
Location: 12 Rue Joseph de Maistre
8. Le Bistro Parisien – authentic restaurant with great wine
This is one of the most famous restaurants in Paris with a fabulous Eiffel Tower view! Set on the Seine River, this place is great for grabbing a quick lunch or maybe dinner after a day of visiting all the sites in Paris, like the Notre Dame and Louvre Museum.
The prices are pretty affordable and cheap and you can definitely find the usual (and super yummy) French bread, cheese platters and delicious wines, obviously. Le Bistro Parisien also has a terrace and an indoor dining area covered by a glass roof. 
Location: Port de la Bourdonnais
9. Girafe Restaurant – panoramic sea-food restaurant
Located inside the Cité de l'Architecture Museum, this is one of the most amazing restaurants in Paris! It has that whole Parisian vibe going on! And I think it's mainly due to the open-terrace and of course, the front seat view of the Eiffel Tower.
Specializing in gourmet seafood dishes, and lots of other yummy meals that will offer your taste buds a heavenly experience, Girafe Restaurant is one you won't forget. It will offer you such a beautiful intro into the French gastronomy that you'll want to come back again!
Location: 1 Pl. du Trocadéro et du 11 Novembre
10. Les Ombres – luxurious restaurant with unique dishes
Who doesn't love restaurants in Paris that are located in museums? This one is set on the 5th floor of Musée du Quai Branly, and it looks heavenly! Their view of the Eiffel Tower? Breathtaking! Food? Mouth-watering! And wine? Well, 1 bottle will definitely not be enough!
Les Ombres is one of the fanciest, and most elegant restaurants in Paris, and its name refers to the shade that the Eiffel Tower casts on the terrace. So definitely expect to see a celebrity or 2 while you're dining! Make sure you try their signature dishes: golden scallops with Maltese fennel in a Tangy juice or the Beef tenderloin with bone marrow.
Location: 27 Quai Branly
11. Chez Francis – best place for a quick coffee
This restaurant is a great spot to have brunch with an amazing view of the Eiffel Tower. It's a family-run brasserie with a classical French menu. It's also a pretty touristy spot and although the food is good, I would definitely just come here for some coffee and maybe a quick snack like a croissant.
Chez Francis' proximity to Champs Elysees, makes it the perfect place to sit and relax for a bit, while admiring the Iron Lady, before you head down to shop until you drop.
Location: 7 Pl. de l'Alma
12. L'oiseau Blanc – romantic fine-dining restaurant
Also known as the city of love, Paris is absolutely filled with romantic places! This restaurant overlooking the Eiffel Tower, is not only super fancy but it also serves the most delicious food, and wine!
Offering both indoor and outdoor seating (I'd definitely go for the outdoor terrace, the Eiffel Tower view is amazing), this restaurant has such a classy style and the most elegant ambiance. It's definitely a great place to take your significant other and enjoy a long dinner!
Location: 19 Av. Kléber
13. Maison Blanche Restaurant – perfect place for a summer day
With a fabulous location on the rooftop of Théâtre des Champs-Élysées, this restaurant with a view of the Eiffel Tower is a local's favorite. Many come here for their afternoon tea (or wine), or to have breakfast with an Eiffel Tower view of course.
Elegant, classy and modern would be the best words to describe Maison Blanche restaurant in Paris. It's definitely a bit pricey but hey, you're on holiday, you deserve it!
Location: 15 Avenue Montaigne
14. Le Café Georges – panoramic-views over Paris
If you're planning to visit the famous Center Pompidou, then I've got a great location for you where you can grab a bite, something to drink and of course admire the beautiful view of the Eiffel Tower.
Café Georges is located pretty high, and it's known as one of the best restaurants with a view of the Eiffel Tower. You'll get a fabulous panoramic view of the city and the majestic Iron Lady. It's definitely worth it to book a table here, as it's usually super busy most of the time.
Location: 19 Rue Beaubourg
15. Perruche – Mediterranean restaurant in a luxury store
Who's into shopping? This luxurious restaurant in Paris with a view of the Eiffel Tower is located on the rooftop of the Printemps Haussmann department store. Yep, the views are amazing and you know what goes perfectly after a long day of shopping?
Mediterranean food! This place offers the most amazing combination of dishes, from seafood to truffle pasta and other mouth-watering dishes. It's a pretty luxurious place so expect the bill to be pretty high, but hey, it's definitely worth it!
Location: Printemps De L'Homme, 2 Rue du Havre 9ème étage
16. Bustronome – unique restaurant in a double-decker bus
Who's up for a unique dining experience at one of the best restaurants in Paris? Well, if you're looking for something unusual, I've got just the place that offers a great view of the Eiffel Tower!
But to be honest it's not actually a place, it's a bus! Oh yes, this restaurant is set in a double-decker bus which goes around the city while everyone eats. That means you'll also see the Louvre, Sacre Coeur and other landmarks! It's super important to book your table in advance and arrive 15 min early, so that the bus doesn't live without you!
Location: 2 Avenue Kléber
17. Ducasse sur Seine – cool restaurant on a boat
Fancy a cruise along River Seine, while enjoying a delicious French dinner? Who wouldn't? This fantastic restaurant offers a great view of the Eiffel Tower but not only that… You'll get to see other mesmerizing parts of the city as well.
Designed as an authentic French restaurant, this place serves traditional dishes and the most amazing wines. Book a table here and get ready for an unforgettable evening at one of the best restaurants with a view of the Eiffel Tower.
Location: 19 Port Debilly
18. Frame Brasserie – organic dishes & great views
If organic and healthy food is what you prefer then head down to this restaurant with a great Eiffel Tower view and try their Mexican-American inspired dishes! Offering indoor seating and a fabulous terrace as well.
Sourcing their ingredients from a personal garden, this is one of the best restaurants in Paris for anyone who loves eating fresh food. So after you've finished your visit to the Eiffel Tower and Palais de Tokyo, head here for a yummy lunch and to relax!
Location: 18 avenue de Suffren
19. L'Instant – great restaurant for a casual day out
Whether you're planning a business dinner/lunch or a get-together with your friends, this restaurant with an Eiffel Tower view will offer the perfect setting for your date!
You can enjoy some cocktails, and their yummy dishes while admiring the 360 panoramic views of the city's main landmarks! And of course the food is absolutely delicious! I would definitely go there on an empty stomach so that I can enjoy the food fully!
Location: Bateau Le Paris, 2 Port Debilly
20. Restaurant Forest – chic restaurant with a terrace
I know this list of restaurants with Eiffel Tower view is super long but hey, I always say better safe than sorry! This one is located inside the National Museum of Modern Art, and it looks like the perfect place to have a drink and eat a quick snack before you start exploring the city.
The Eiffel tower views are amazing from here, and what's also great is that you won't have to pay a fortune for your meal! Their prices are budget-friendly considering it's one of the best restaurants with a view of the Eiffel Tower.
Location: 11 Av. du Président Wilson
| | |
| --- | --- |
| 💰Restaurant prices: | Medium |
| 🍽️ Dinner for 2 with wine: | €170 |
| 💲Tipping: | 15% |
| 🥣 Traditional food: | Onion Soup |
| 💑 Best romantic place: | Le Ciel de Paris |
| 🍷 Fine dining: | 6 New York |
| 🥬 Vegetarian/Vegan food: | Frame Brasserie |
| 🧀 Must-try: | French Cheese |
FAQs about restaurants with Eiffel Tower view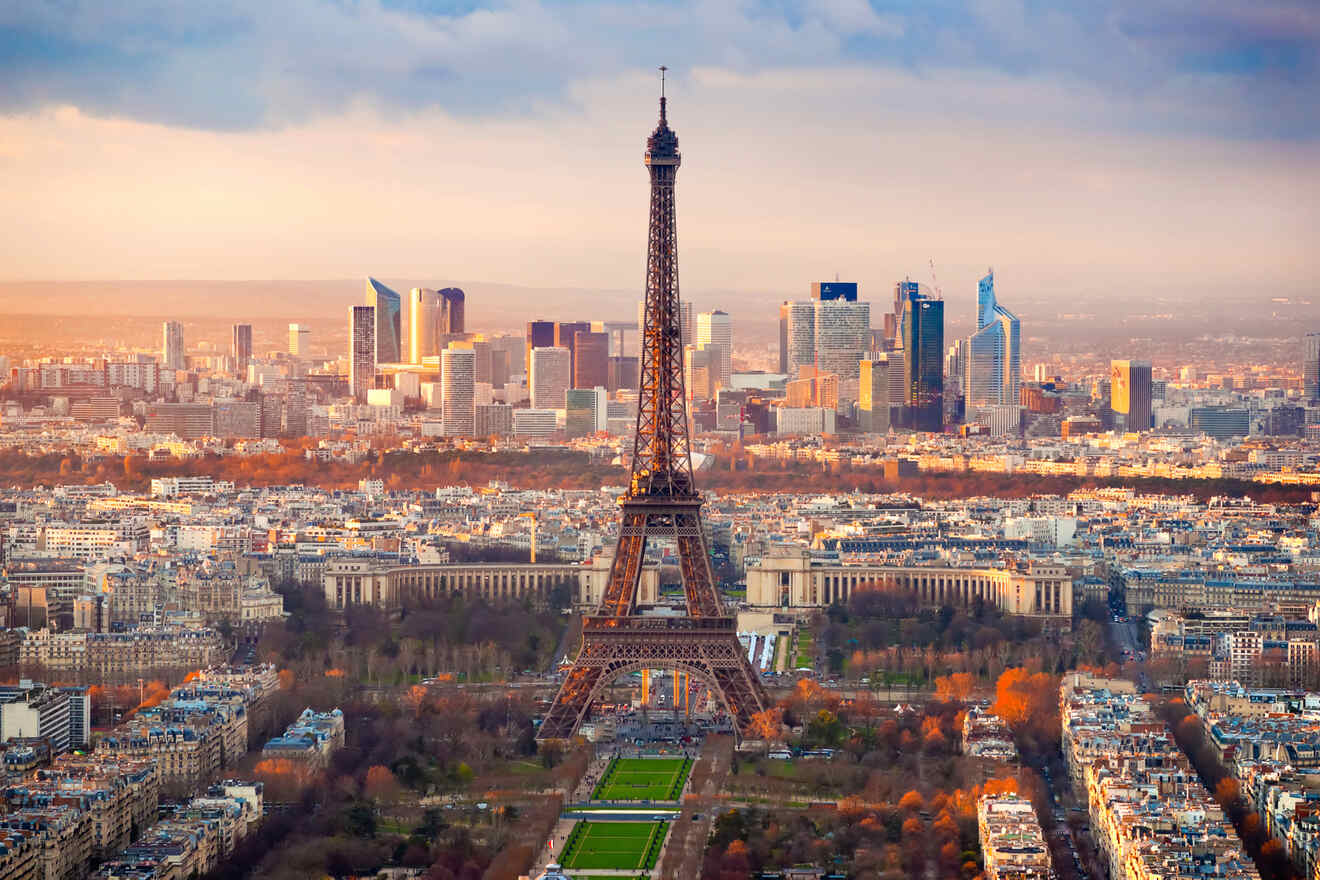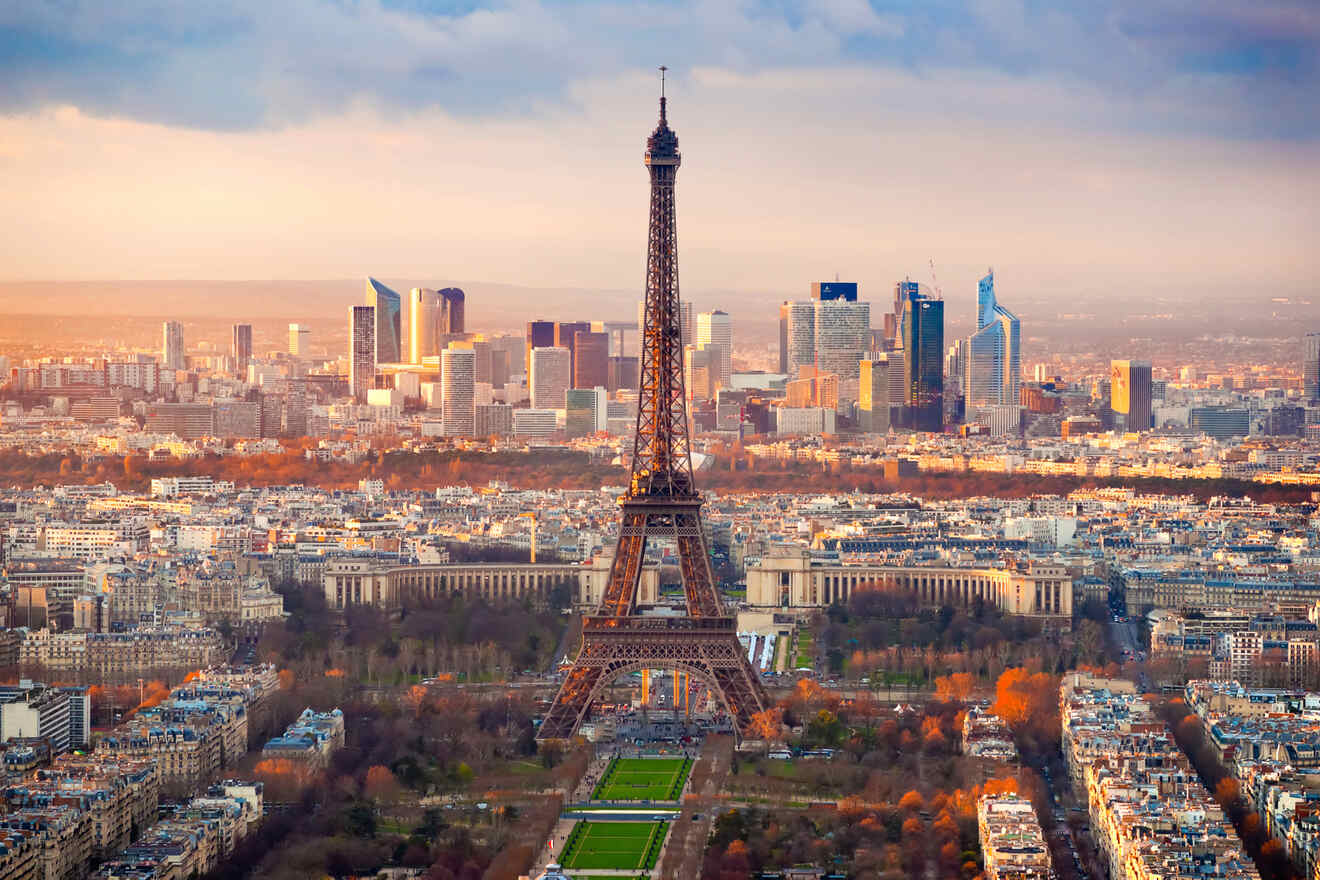 🌆 Where is the best view of the Eiffel Tower?
Pont de Bir-Hakeim offers one of the best views of the Eiffel Tower. The famous bridge (thanks to movies like Inception) has a symmetrical design and the sights of the Seine and Tower are incredible. 
🍽️ Is there a restaurant in the middle of the Eiffel Tower?
Yes! Located on the second floor of the Eiffel Tower, on Avenue Gustave Eiffel, Jules Verne restaurant is super popular and offers incredible city views. 
🤔 Which are the best restaurants with an Eiffel Tower view in Paris? 
💰 How much is dinner up the Eiffel Tower?
A dinner at the Jules Verne restaurant can cost between €135 (for an a la carte lunch) to €190 for a 5-course tasting menu.  
Conclusion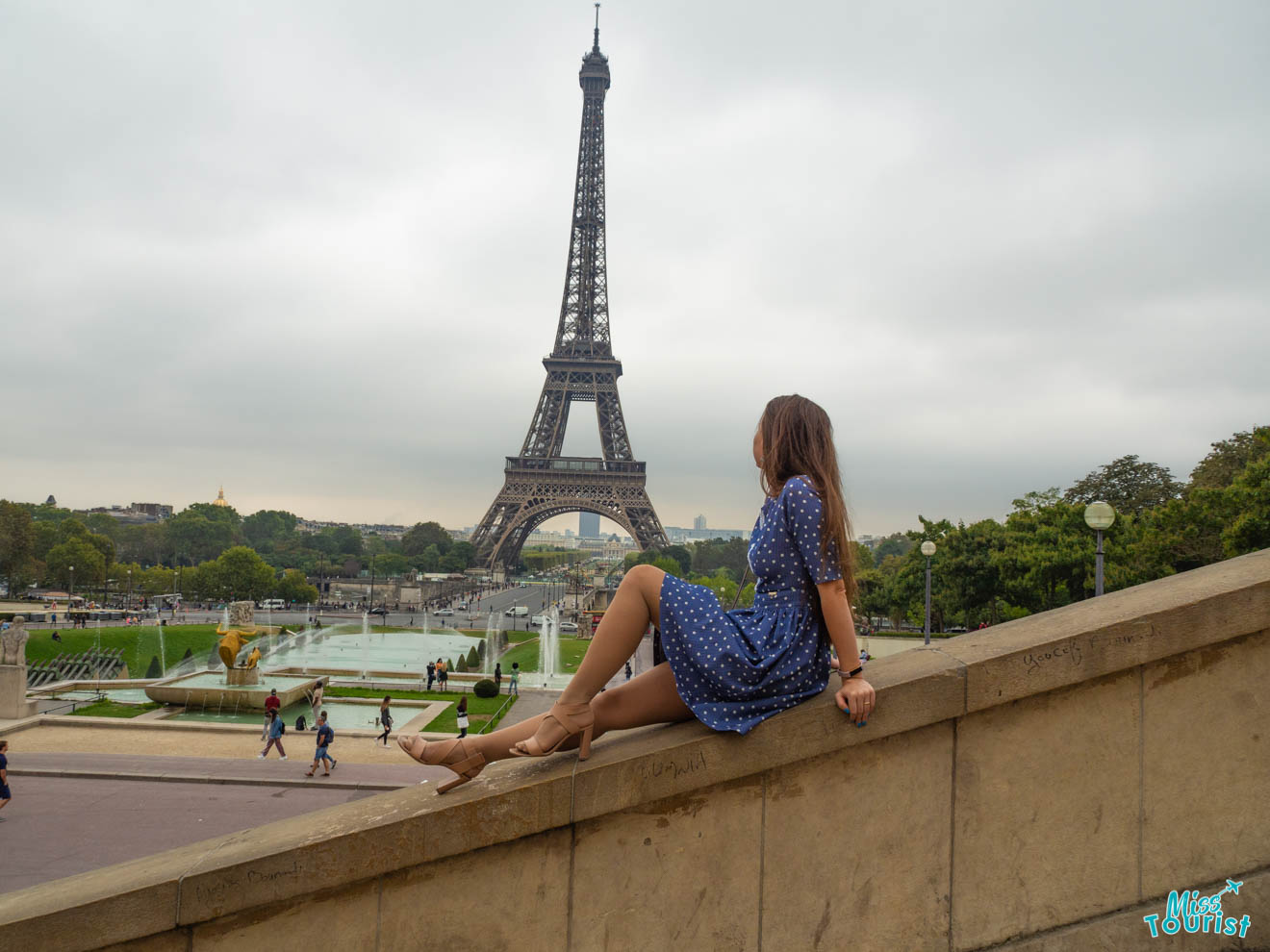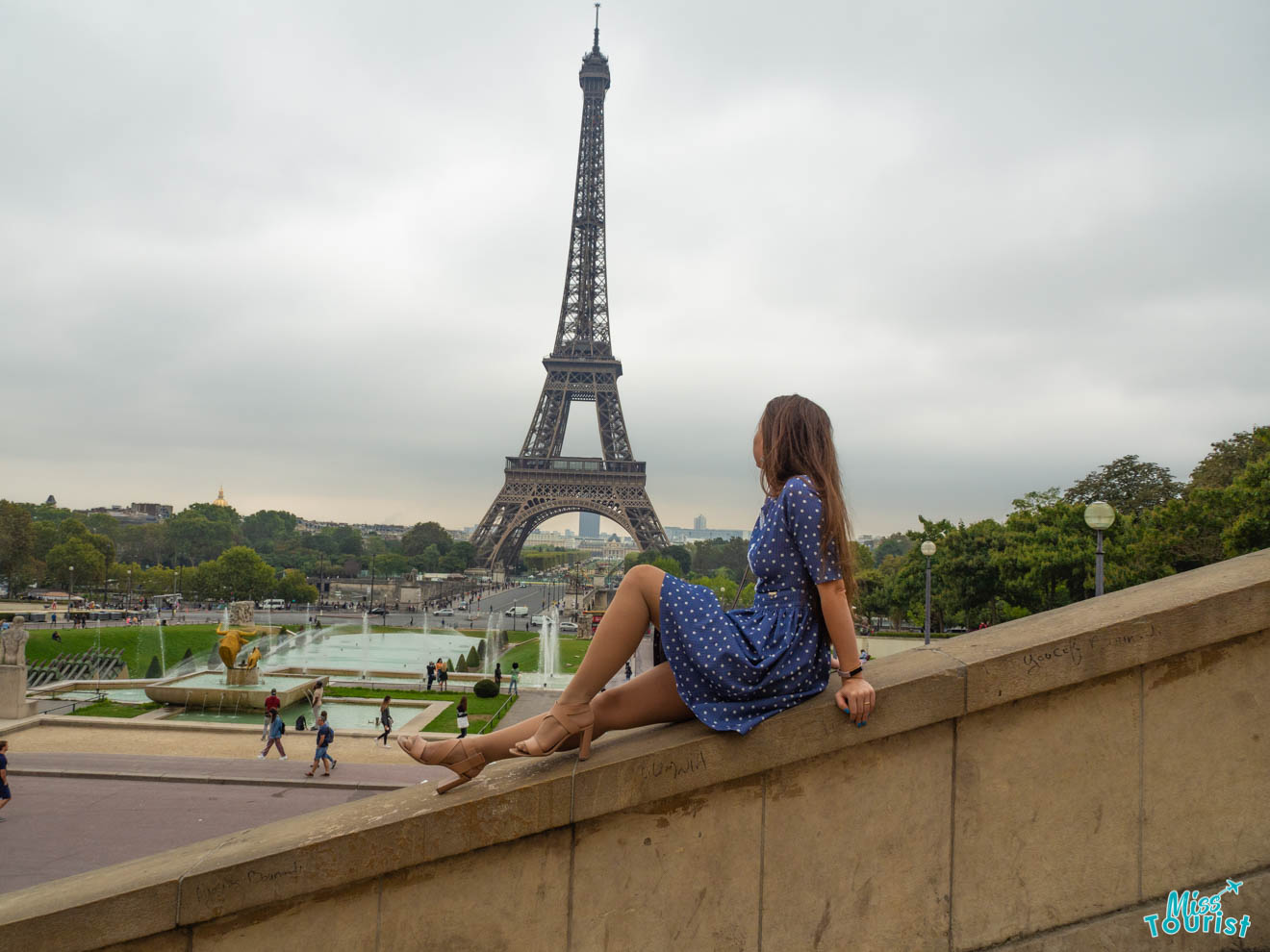 Well, after reading this post I'm sure you won't fall in a tourist trap and head to a restaurant that has an Eiffel Tower view but horrible food!
I wish I'd known all this information on my first trip to Paris, it would've saved me so much time and money! Before we say our good-byes and we all go to raid our fridges after reading so much about French food, let's do a quick recap.
This post has the best restaurants with Eiffel Tower view, categorized by interest. That way you'll know which Paris restaurants you want to hit first depending on your mood, the weather and a million other things that could come up.
I've made sure to include all the details you need, but if I missed anything, or if I excluded a restaurant with an amazing Eiffel Tower view, just pop a comment below. That way, our readers can learn about it as well.
Okay, now I really need to go and eat something because I'm starving after writing so much about food. Enjoy your trip and eat all that fabulous food at the best restaurants with Eiffel Tower view.
Have a great trip,
Victoria
---
Pin it for later!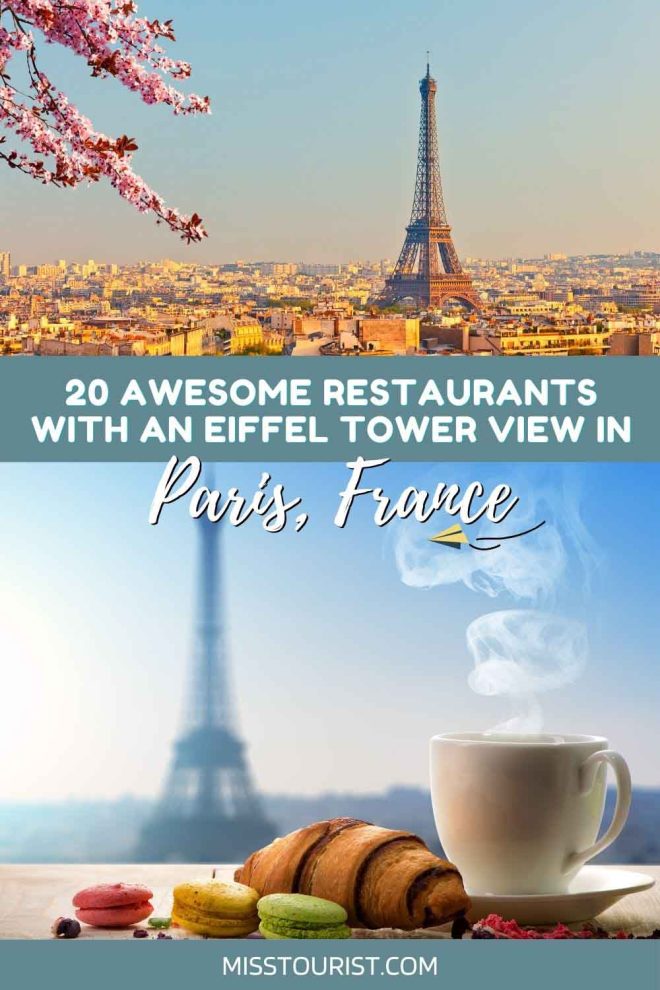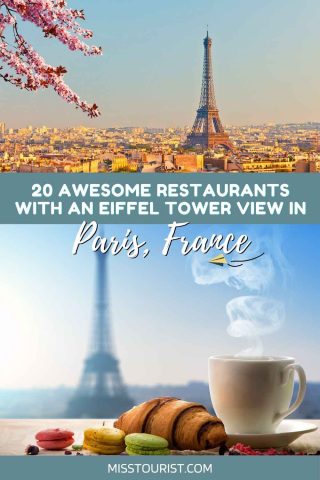 Pin it for later!