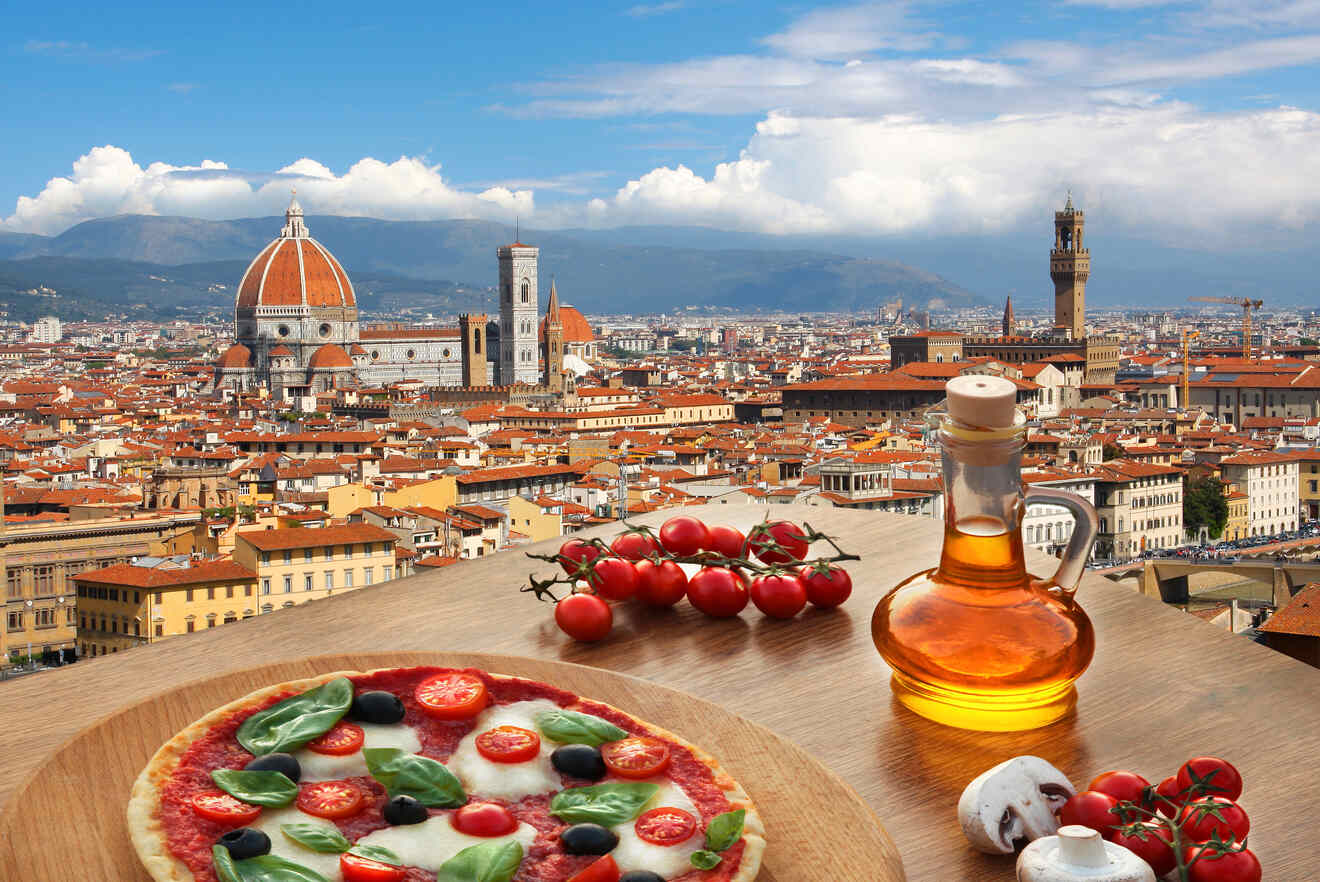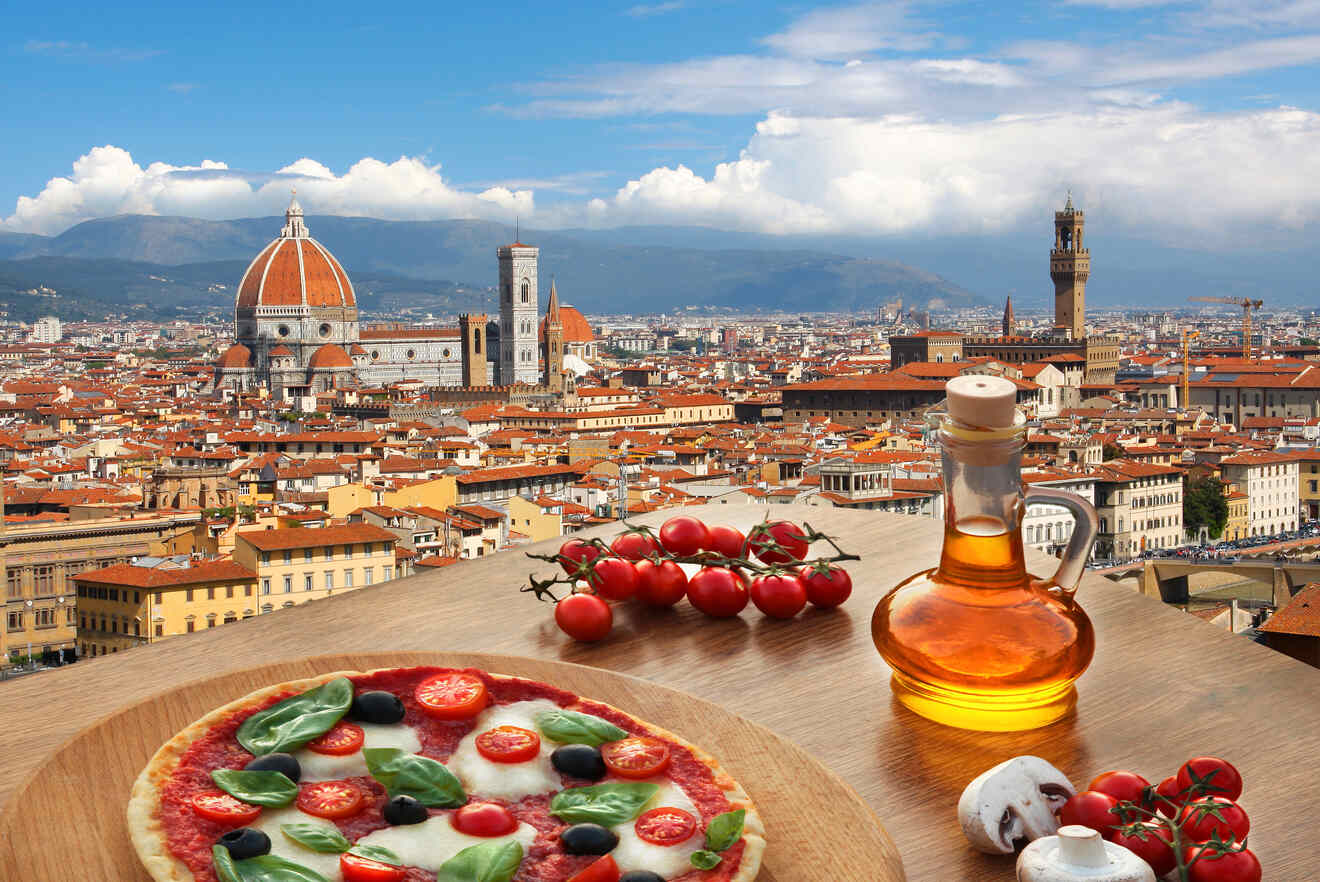 Who's ready to eat pasta at noon and pizza in the evening? I think this was my motto while I was in Florence, and to be honest, it worked out pretty great! Welcome to the land of mouth-watering food and great wine!
In this post, you'll find the best restaurants in Florence. I've divided the restaurants into categories so you can decide much faster whether you need a place for a fancy dinner, somewhere where you can eat traditional food, or any other type of place.
I've also added a Google Maps link to each restaurant. That way you'll know in which part of town you're headed and can check out the menu.
Ready to get super hungry (or thirsty for wine)? I'm already craving some vin santo and some pasta!
Let's go!
1. Best restaurants with outdoor seating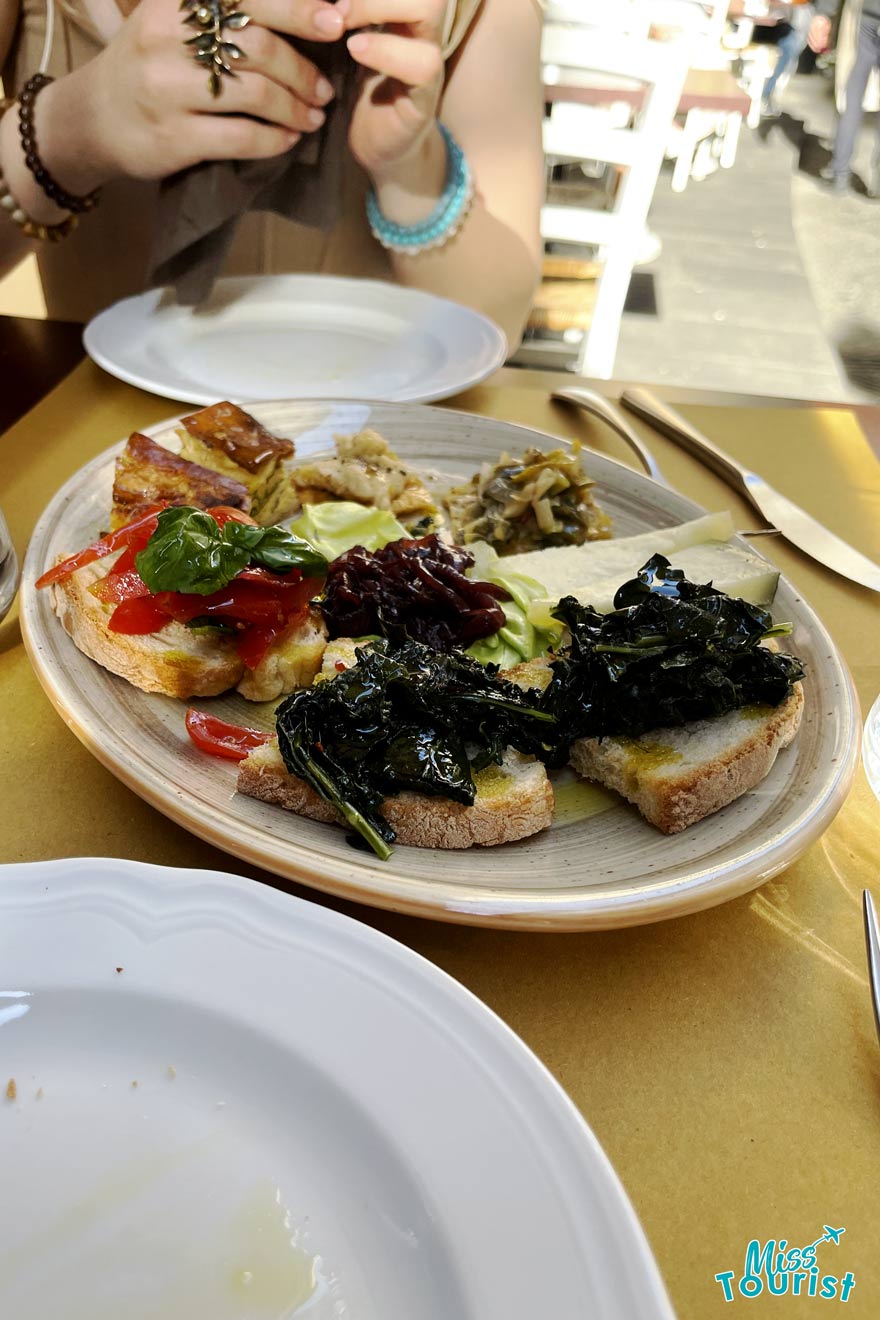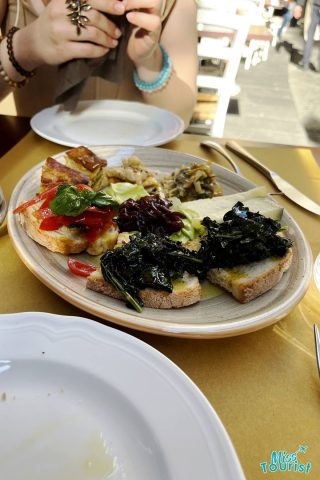 While I was in Florence, I wanted to eat only at the places that had places to sit outside. What better way is there to enjoy my homemade pasta than with a glass of wine and some people watching? In this section, you'll find the best Florence restaurants with outdoor seating.


2. Top places to eat with a view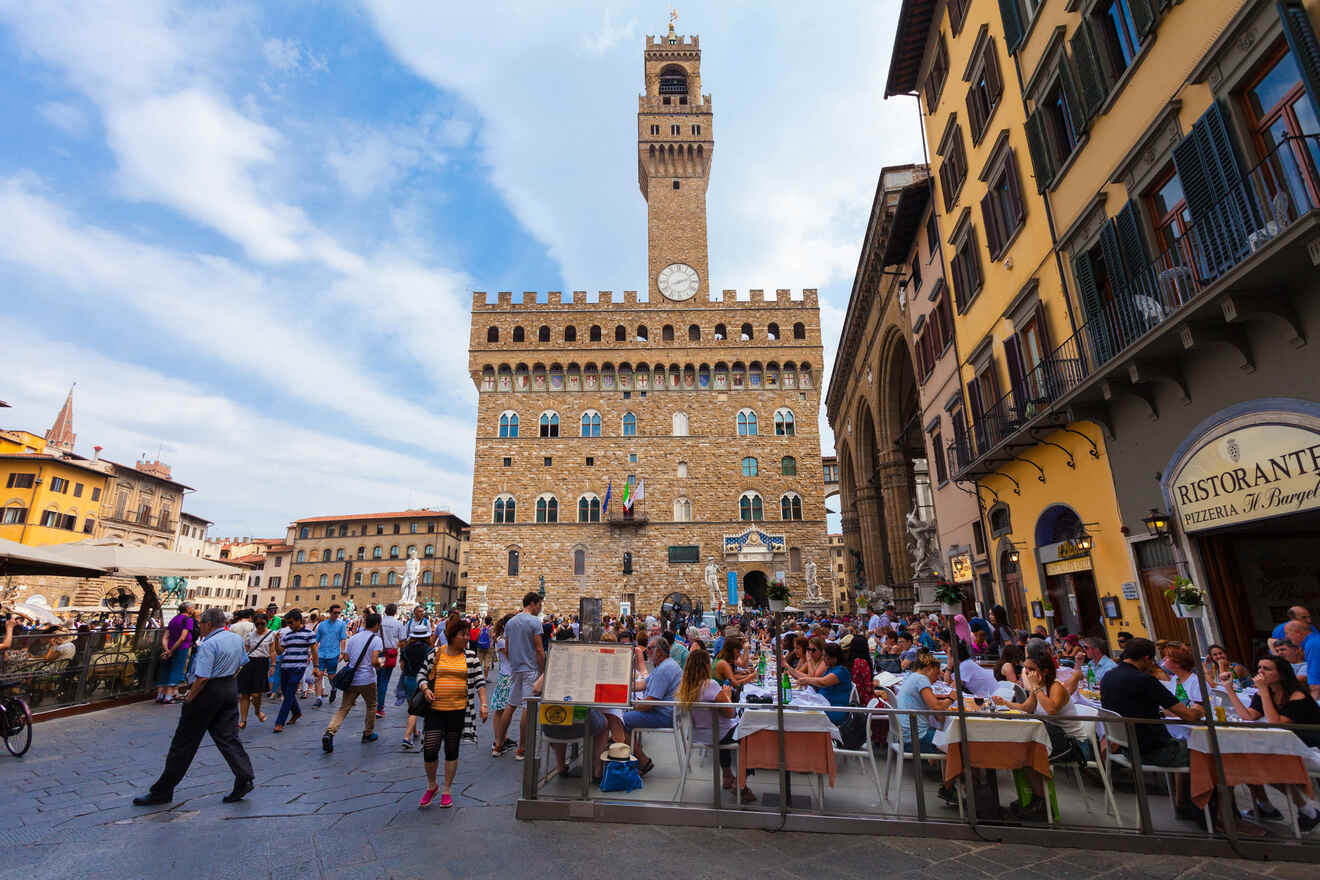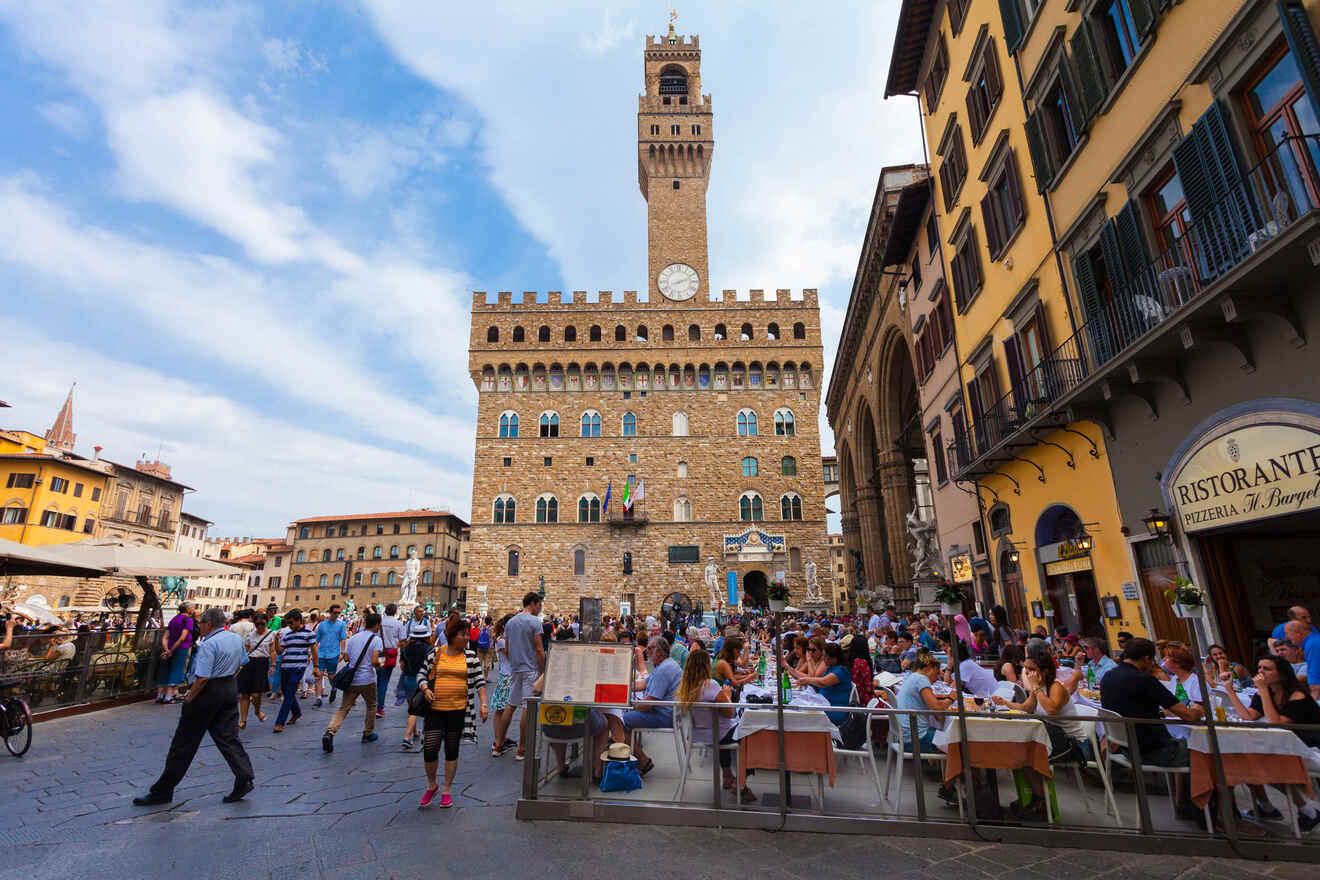 Looking for some fabulous restaurants with a unique view of the city? These are some of the best ones:
Caffe Dell'Oro – Looking for a nice dinner place or just for a spot to get a coffee? This one has one of the best views of Ponte Vecchio, and it's located just a stone's throw away from Piazza Della Signoria! You can start with some appetizers and then continue with some pasta or seafood.
Se-Sto on Arno – Fany a glass of wine at a rooftop bar overlooking the whole city? Set right near Arno River, this place is perfect for catching a scenic sunset! I would recommend getting the selection of Italian cheese served with dijon mustard and honey and for sure one of their delicious desserts!
Angel Roofbar & Dining – Dinner with a view of Palazzo Vecchio? Yes, please! This Mediterranean restaurant has a diverse menu serving everything from burgers to pasta. Order a cocktail or 2 and enjoy those fabulous views and the magical atmosphere!
3. Famous Michelin-star restaurants in Florence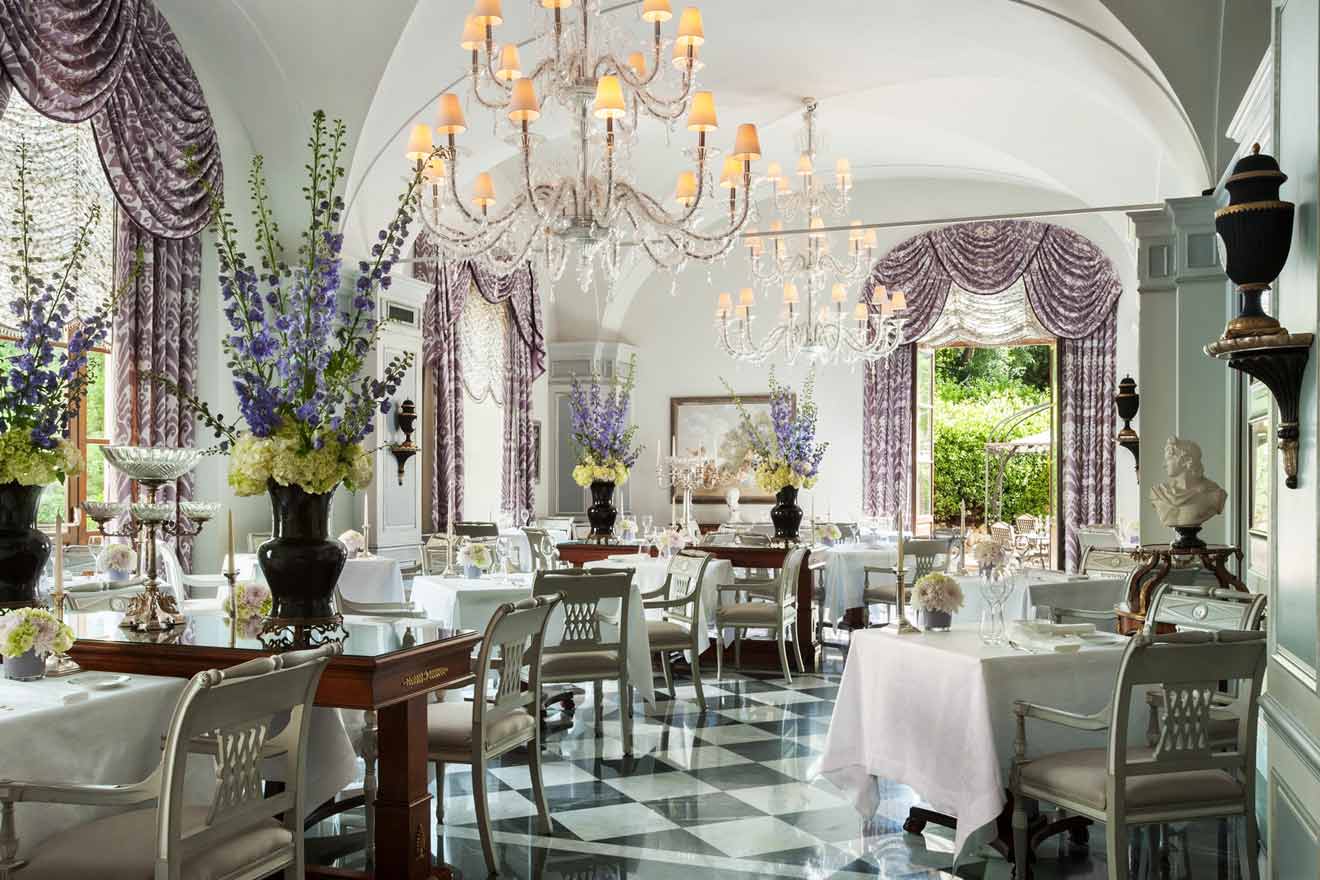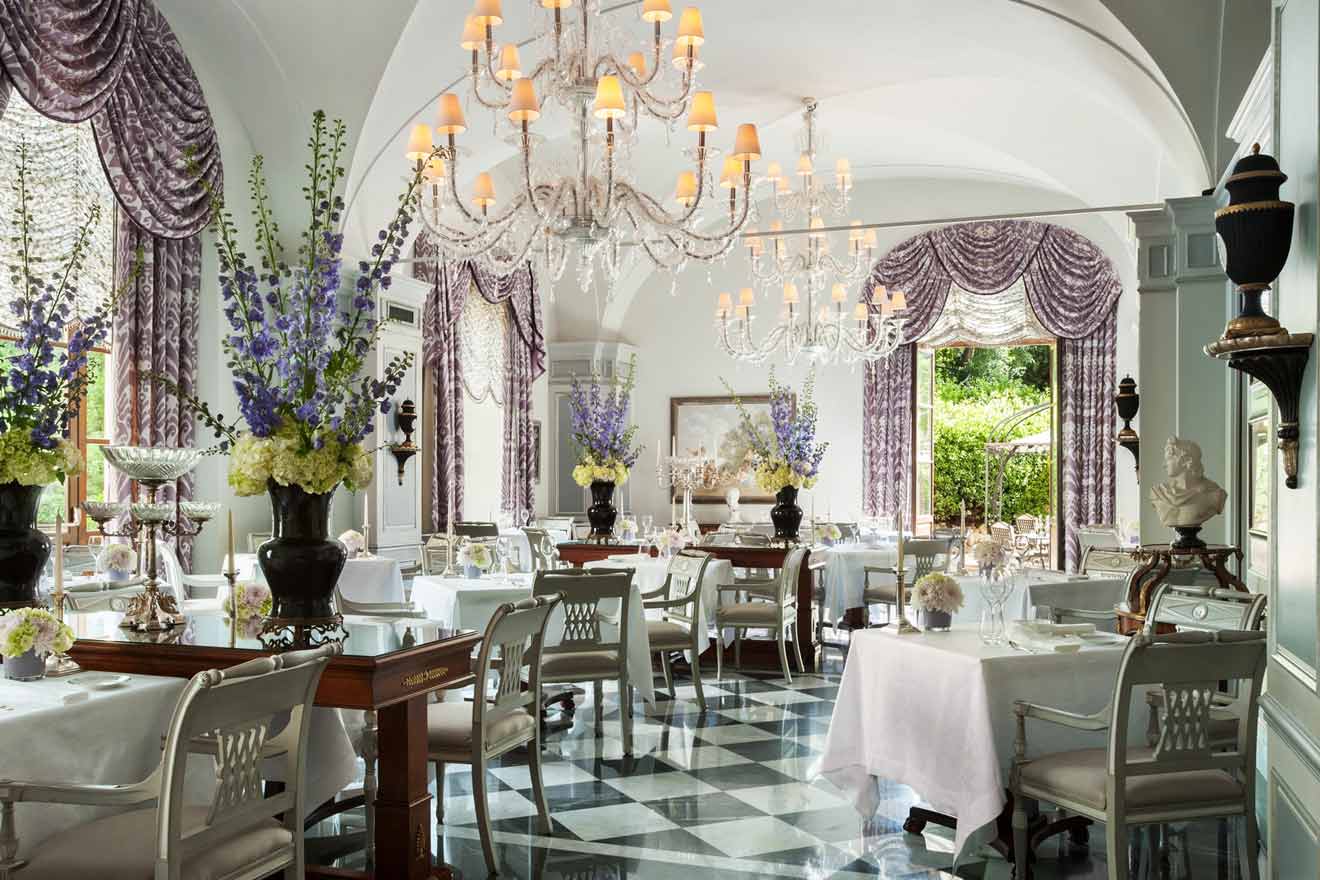 Oh yes, there are many Michelin-star restaurants in Florence, Italy. Each place has a famous executive chef and of course, delicious food. Let's start this Michelin guide and discover the best restaurants:
Il Palagio – I would definitely try the tasting menu in this fabulous dining room at the Four Seasons Hotel Firenze. It even has a terrace that leads into the Giardino Della Gherardesca! This Michelin-star restaurant serves delicious Italian food with a twist… Expect a unique wine list and a fabulous atmosphere that will make you return for more!
Ristorante Santa Elisabetta – Located in Florence's city center, this restaurant has an à la carte menu that will drive your taste buds crazy! The 7-course tasting menu is a favorite for many, but of course, you can pick something else if you want since most of the dishes look like art and taste heavenly!
Ora d'Aria – This Michelin-starred restaurant specializes in refined modern Tuscan cuisine in an intimate and cozy setting. After a day of admiring so much art and unique sculptures, you'll want to eat at one of these fancy places! Their tasting menu features foie gras, burrata, and many other delicates. But it's their main course menu that hooked me: porcini mushrooms, tortellini, and the list could go on! Definitely, a must-try!
Konnubio – You can't leave the city without eating at one of the Michelin-starred restaurants! The dining scene is so vast in this city but trust me, nothing compares to the food here! Creativity is definitely something that the chef at Konnubio strives for. The sea tasting menu looks (and tastes) unbelievable, and just wait until you try the bistecca alla Fiorentina!
4. Best lunch spots in Florence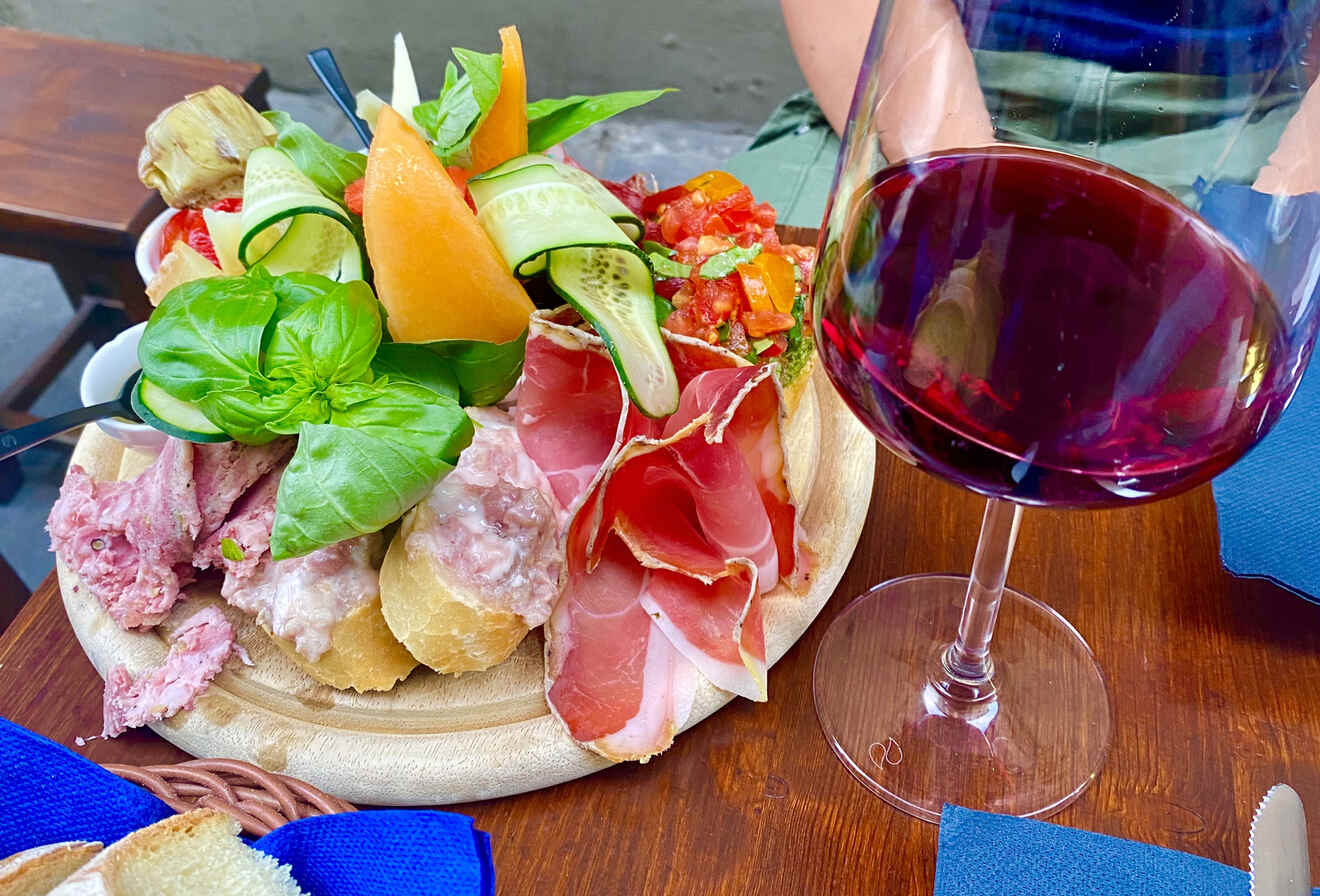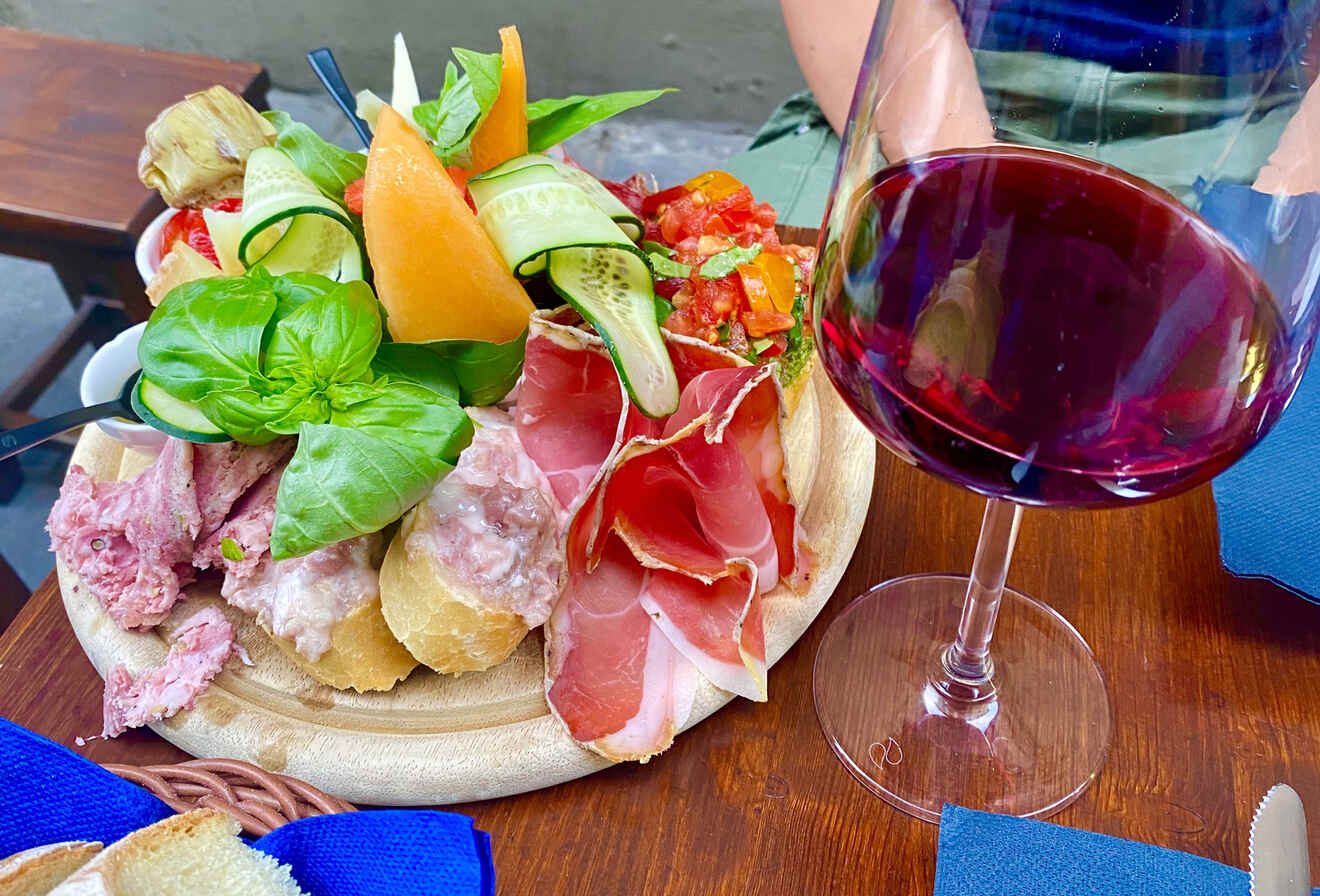 Looking for the best restaurant for lunch in Florence? I've got you covered! While I was visiting, I tried as many places as I could, and ate so much mushroom risotto (too much I would say). So now I'm ready to give you all the tips on the best lunch restaurants in Florence.
Cibreo – Under the guidance of chef Fabio Picchi, this restaurant became one of the best places to eat in Florence! I love their venue. It looks incredible! If you're looking for a fancy lunch featuring truffles from San Miniato, come here! Their endive salad with fennel, celery, and orange dressing is super fresh and perfect for those hot days!
Trattoria Palle D'Oro dal 1860 – Located near Piazza San Lorenzo, this Tuscan restaurant serves delicious pappa al Pomodoro, and don't even get me started on the ravioli with truffled porcini mushrooms! You'll never forget a lunch like this one, especially after you've had one of their desserts cantuci with vin santo or chocolate cake!
Simbiosi Organic Firenze – On my way to visit the Florence Cathedral, I stumbled across this cafe/restaurant. Went in, had one of the best coffees, and decided their restaurant has to be even better (plus, it was already lunchtime and I was so hungry). It turns out I was right, their pizza is to die for, and they have such a cute rustic setting!
I' Girone de' Ghiotti & Gustarium – I'm not such a big fan of street food, but when it looks and tastes like this I can't resist! The sandwiches here are pretty big and super nourishing! I had one before I went to Uffizi, and even after all the walking, I felt pretty full!
Tamerò – After exploring Palazzo Pitti and Piazza del Cestello for a few hours, I was so hungry that I could eat a four-course meal! But luckily, a pizza at this restaurant in Piazza Santo Spirito was enough!
La Ménagère – I love this chic bistro which has a flower shop inside! It looks super cool, and their cocktails are yummy! Of course, the food is great, and it looks super fancy but make sure to end your lunch with an Aperol and tiramisu!
5. Best Pasta in Florence, Italy
I've eaten some good pasta in my life but none of those pasta dishes compared to the ones in Florence. You can taste the fresh ingredients and all the love that they put in preparing the meal. Here are the best pasta places in Florence:
Trattoria Sergio Gozzi – This family-run restaurant is only open for lunch and it's usually packed with locals. That's because the food tastes as an Italian Nonna used to cook it! Expect to eat the most delicious pasta of your life!

Ciro and Sons – Craving some pasta with a side of Neapolitan pizza? This restaurant serves the best one in Florence and many other pasta dishes that will leave you returning for more! The restaurant is located near Basilica of Santa Maria Novella and also has vegan options.
Obica Mozzarella – After visiting even just one big attraction, you're probably famished right? There's nothing like a quick Italian lunch to make you feel better! Set in the historic center, this place serves the typical Italian dishes, plus lots of mozzarella cheese (as you might've known from the name).
Essenziale – Get all dressed up and head over to one of the most popular places to eat in Florence! Under the direction of Chef Simone Cipriani, this restaurant became a hot spot for the young Florentine crowd. The head chef took Tuscan cuisine and modernized it, so expect lots of fancy dishes, fresh pasta with a minimalistic plating, and super delicious flavors, of course!
6. Best places to eat traditional food like Florentine Steak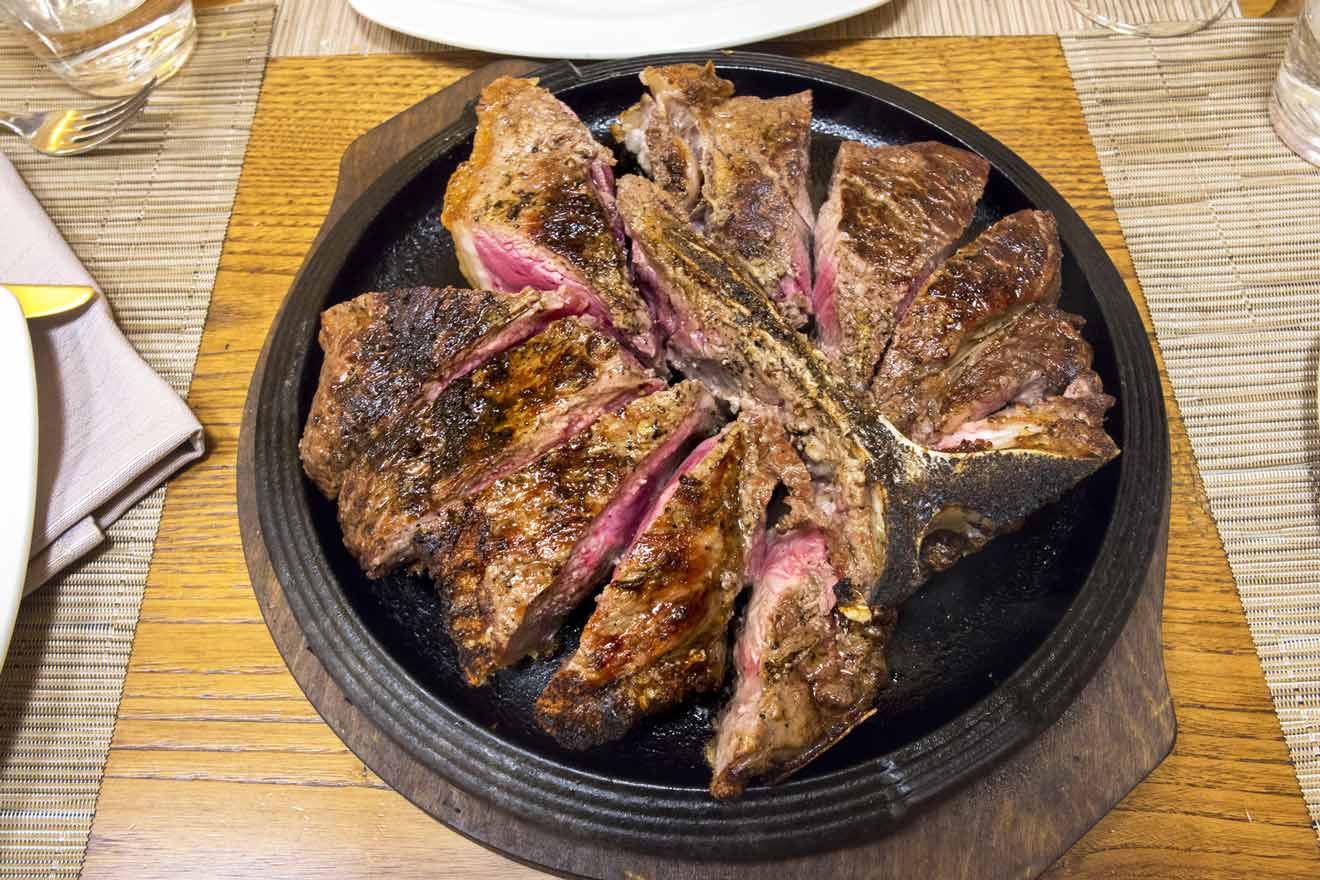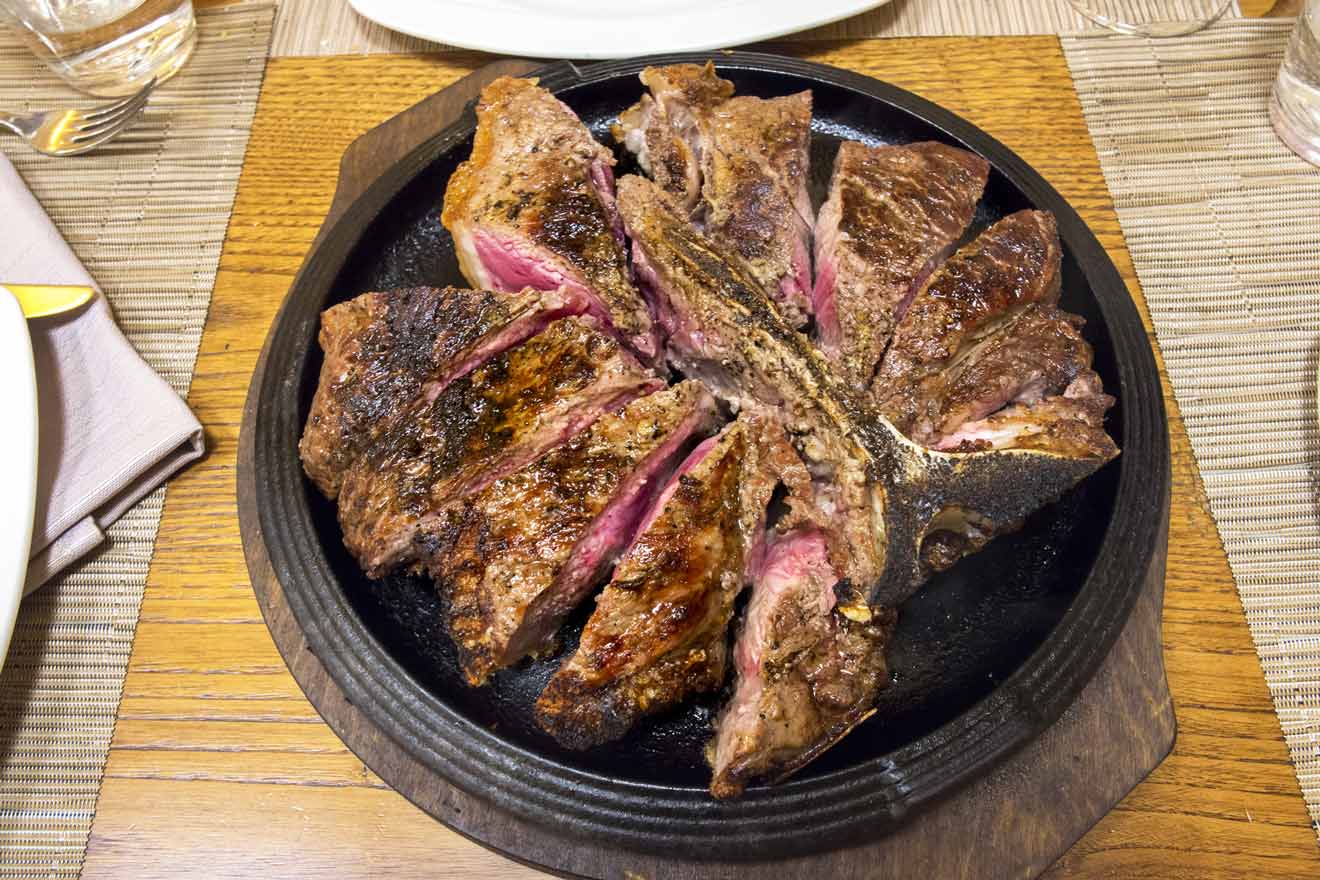 Meat lovers will love Tuscan food! But don't worry vegetarians, there are lots of dishes for you to try as well! So let's find the best restaurants to eat local food in Florence:
Trattoria Da Burde – Far from all the tourist crowds, this traditional Florentine restaurant managed to keep its authenticity, and it still serves some of the best dishes! This is a great spot to try the Florentine steak, accompanied by something interesting off their wine list! Or maybe some truffle pasta? Either way, you'll leave this place feeling full and super happy!
La Bussola – You know what you need after walking for so long to visit all the attractions in Florence? A glass of wine and some good food! When I went, I tried the fried calamari with tartar sauce, and it was so delicious! If you're into fish, definitely check out La Bussola!
Trattoria Sabatino – This family-run trattoria looks so cute, and their food is to die for! Located near Arno River, the restaurant changes the menu every other week, but you can be confident that you'll usually find stuffed chicken, the Florentine tripe, and Tagliatelle al Pomodoro for anyone who isn't into the meat!
La Giostra – Traditional Florentine cuisine appeals more to meat-eaters, but don't worry, vegetarian people, I've got a whole section for you as well below! Set in Florence's city center, this place serves one of the best t-bone steaks, best accompanied by a red wine! If you don't believe me, ask some celebrities, as many including Jessica Alba, were spotted here!
Perseus – One of the signature dishes at this rustic restaurant is the Florentine steak but they also serve the famous Italian dessert torta della nonna. Focusing on traditional cuisine, the restaurant is great for a quick dinner after exploring all the areas in Florence!
Trattoria Cammillo – This cozy restaurant has a long and varied menu that has both traditional Tuscan dishes and lots of other options like curried shrimp and homemade mango chutney! With a rich history, run by the same family for a very long time, this restaurant is one of my favorites!
Enoteca Alessi – This wine bar has sold liquors since the 1950s! It's the perfect place to try different types of wines, and many traditional appetizers with cheese, meat, and many other yummy ingredients!
7. Top vegetarian restaurants in Florence
Although the regular restaurants in Florence which I have already mentioned serve vegetarian dishes, I know some of you don't enjoy your food being cooked where someone prepared roast pork or wild boar sauce. Plus many places only serve 1 or 2 vegetarian options, and you don't get much of a choice. So here are some great vegetarian restaurants in Florence just for you:
Il Vegetariano – Fear not, there are many full-on vegetarian places, including this one that serves a delicious vegetarian lasagna plus many other yummy dishes like pasta, and of course many desserts. Who's up for some cake?
Raw Vegan Firenze – Who's in the mood for a nourishing fruit bowl or vegetable wrap? I love vegetarian food because it always gives me so much energy, and with all the walking that you'll have to do around the city, some veggies will for sure help you. This vegan place has lots of options for every taste and preference!
Brac – With a vegan and vegetarian menu that will knock your socks off, this restaurant offers diverse dishes that look so good! Eggplant, burrata cheese, and even meatless masala. Wow, you should check out this place before it becomes so popular that you won't find a table!
8. Where to eat delicious gelato in Florence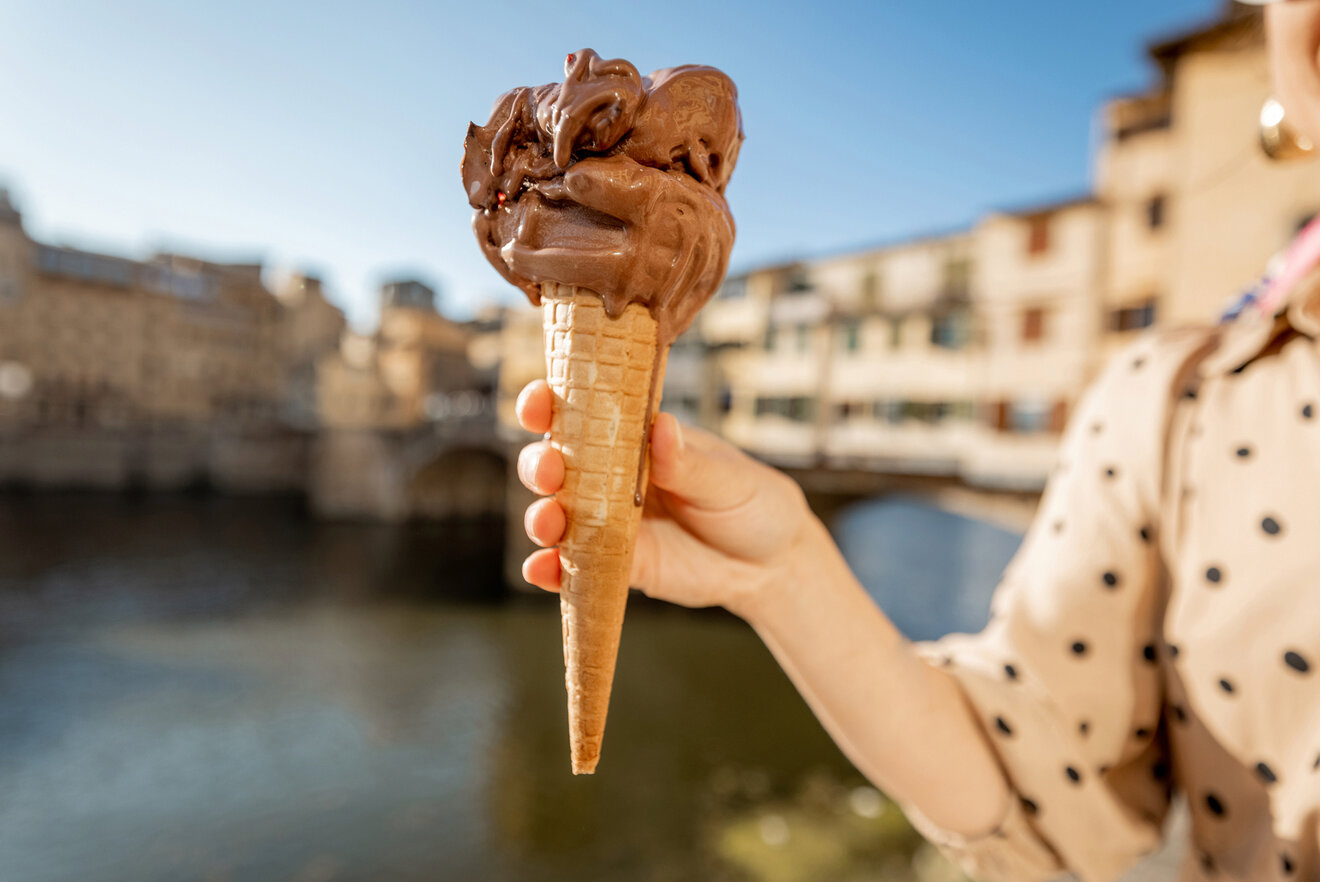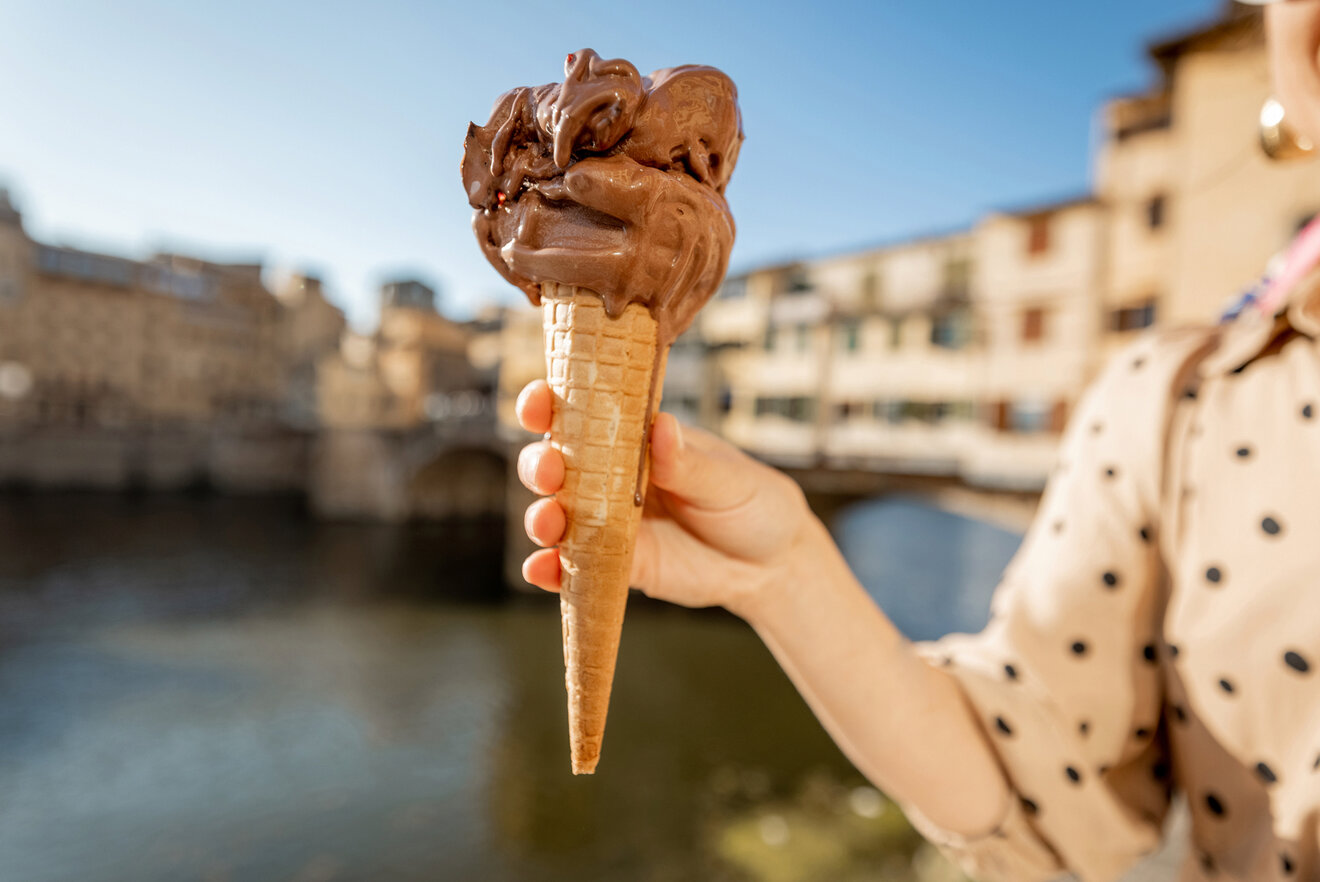 Welcome to the motherland of gelato! I hope you're ready to eat as much ice cream as possible. Below I've included my favorite ice cream shops in Florence, which I'm sure you'll love:
Gelateria De 'Medici – One of the most famous ice cream shops in Florence, Italy! This gelateria is always filled with people, but that shouldn't stop you from trying one of their many flavors. Their ice cream is creamy, sweet, and refreshing!

Artigianale La Sorbettiera – You know what you need during a hot summer afternoon? A delicious ice cream! Fruity flavors, lots of chocolate, and so many other ones will make you come back for more.

La Strega Nocciola – I loved the ice cream here! They've got different types of flavors that are super unique. I only got 2 flavors, but I recommend getting 3 because it's so yummy!
9. Best cafes in Florence
With so many things to do in Florence and attractions to visit, it's necessary to start each morning with a strong espresso or cold brew. Here are my favorite cafes in the city!
Ditta Artigianale – The perfect stop before you head to Uffizi Gallery or Palazzo Vecchio. This coffee shop has places to sit outside, and great coffee which you'll smell from outside. Grab a croissant and a strong espresso and you're ready to go!

Ben Caffe – Set right near the Cathedral in Florence, Italy, this coffee shop serves cold brews, cappuccinos, and lots of different types of coffee. Plus something to go along with your drink like sandwiches or cakes. Yum!

Caffè Gilli – Coffee and cake, anyone? I love starting my days with something sweet. While I was in Florence, my routine was cold brew and a croissant! This place has lots of sweet options so get ready to indulge in all of them!
| | |
| --- | --- |
| 💰 Restaurant prices: | Medium |
| 🍽️ Dinner for 2 with wine: | €60 – €100 |
| 💵 Tipping: | 10% |
| 🥘 Traditional food: | Bistecca Alla Fiorentina |
| 🍳 Best lunch: | Obica Mozzarella |
| 🍾 Fine dining: | Essenziale |
| 🌱 Vegan/Vegetarian food: | Il Vegetariano |
| 🍨 Must-try: | Gelato |
FAQs about restaurants in Florence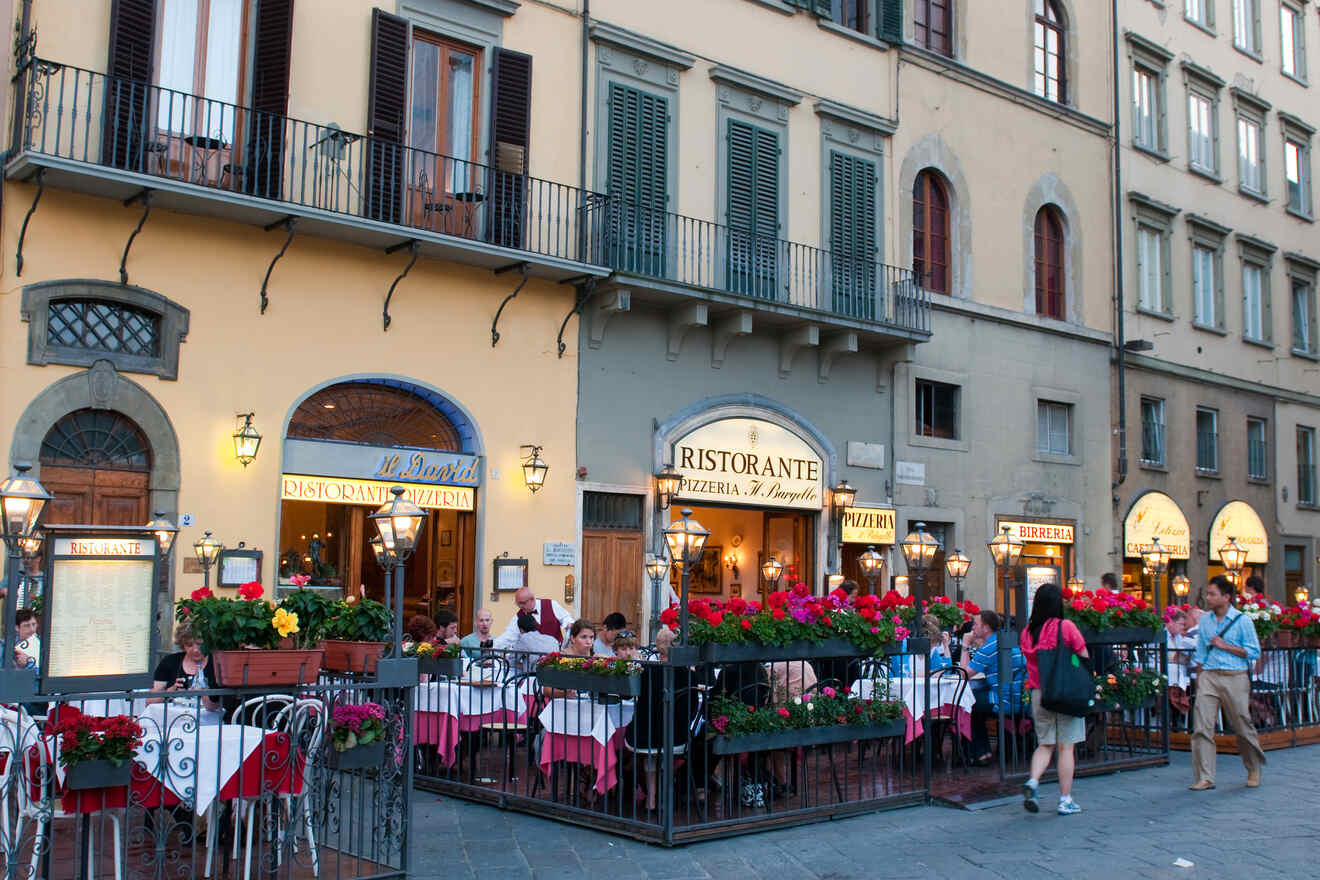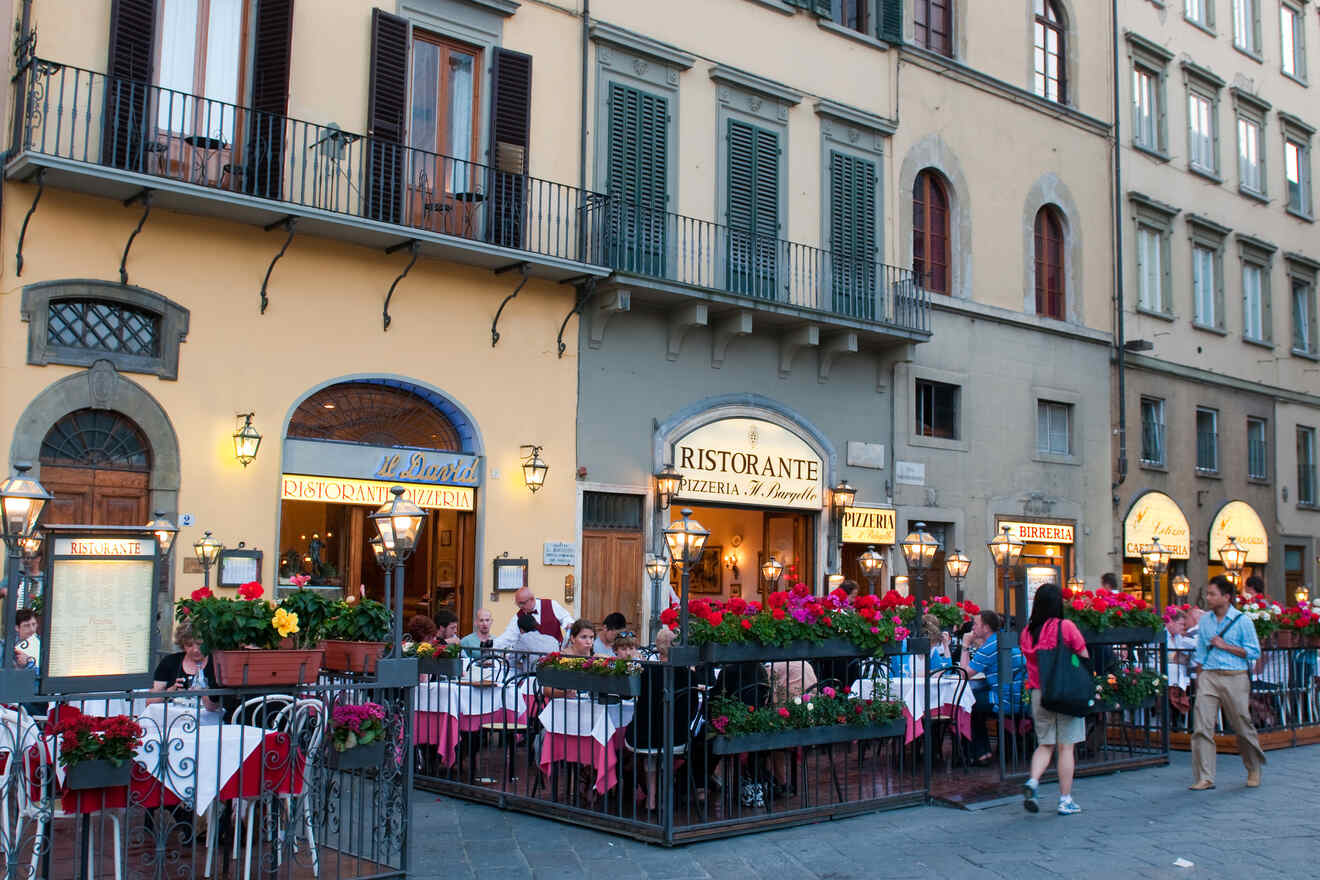 Conclusion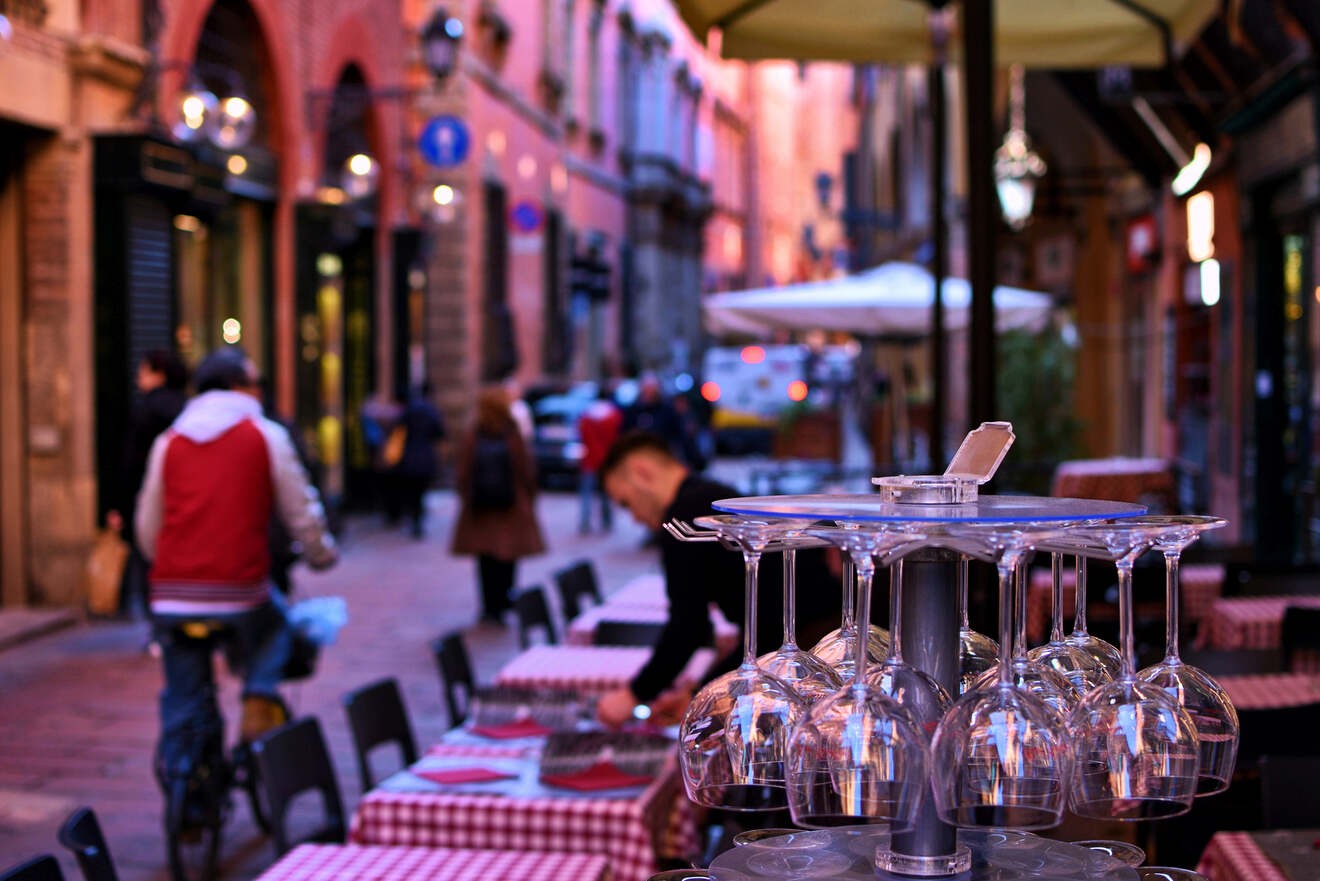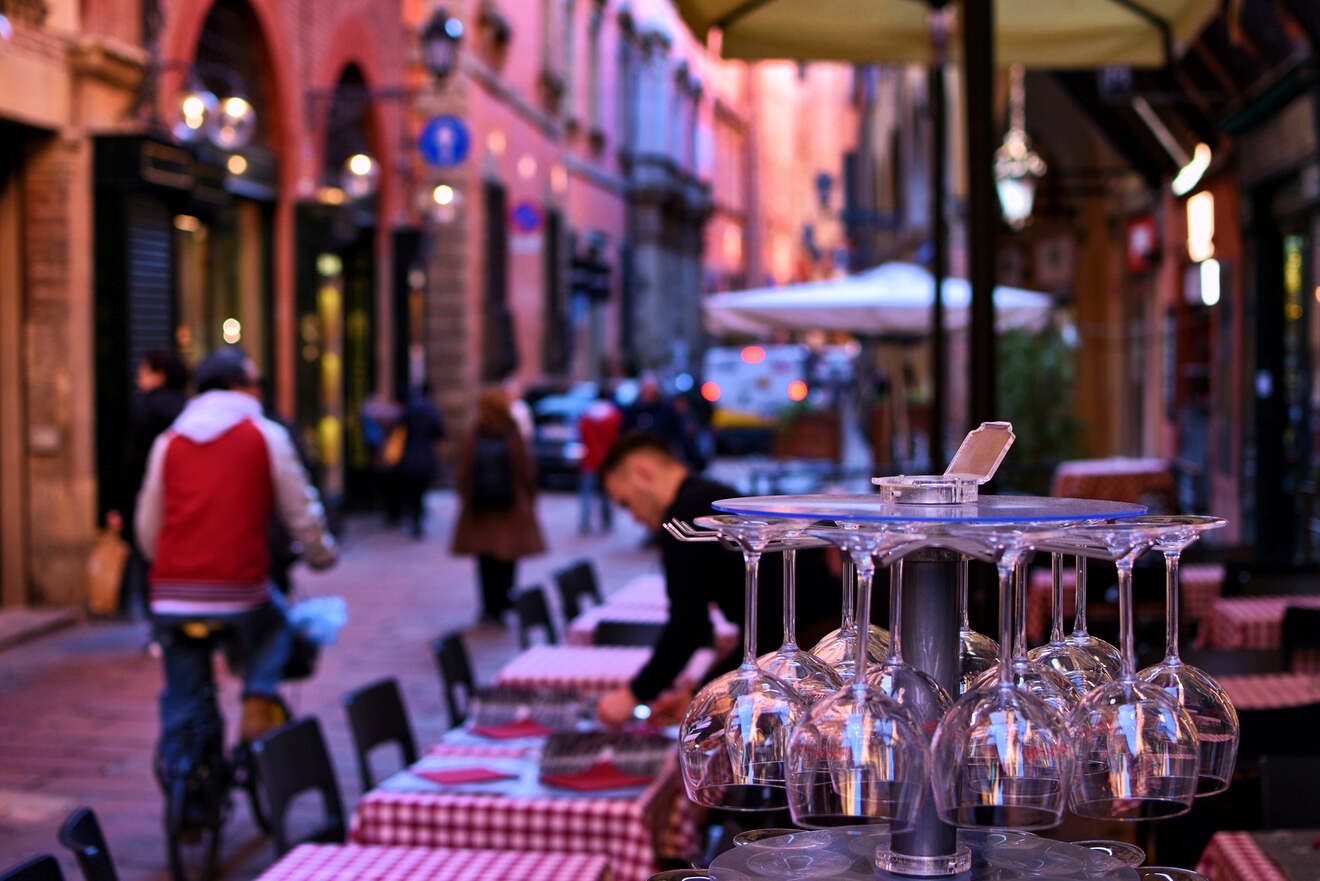 How many trips to the kitchen did you take? I've lost the count to be honest, but too many!
In this post, we've gone through the best restaurants in Florence, which I've divided into different categories. So now you're all ready to start your Italian holiday!
By the way, if you have other suggestions of restaurants or wine bars or maybe questions about the places, leave me a comment below, and I'll help you as soon as I can!
Safe Travels,
Victoria
---
Pin it for later!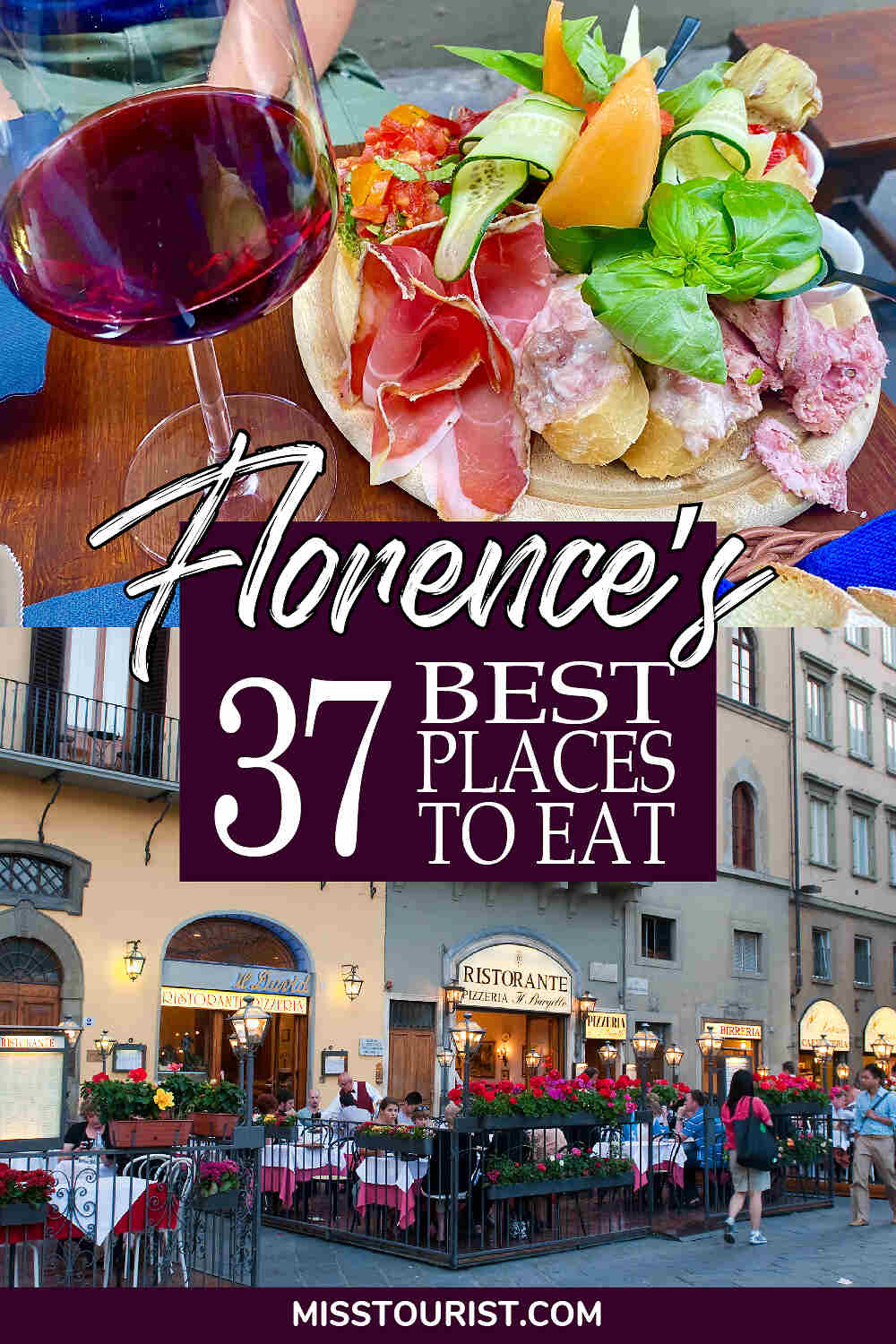 Pin it for later!