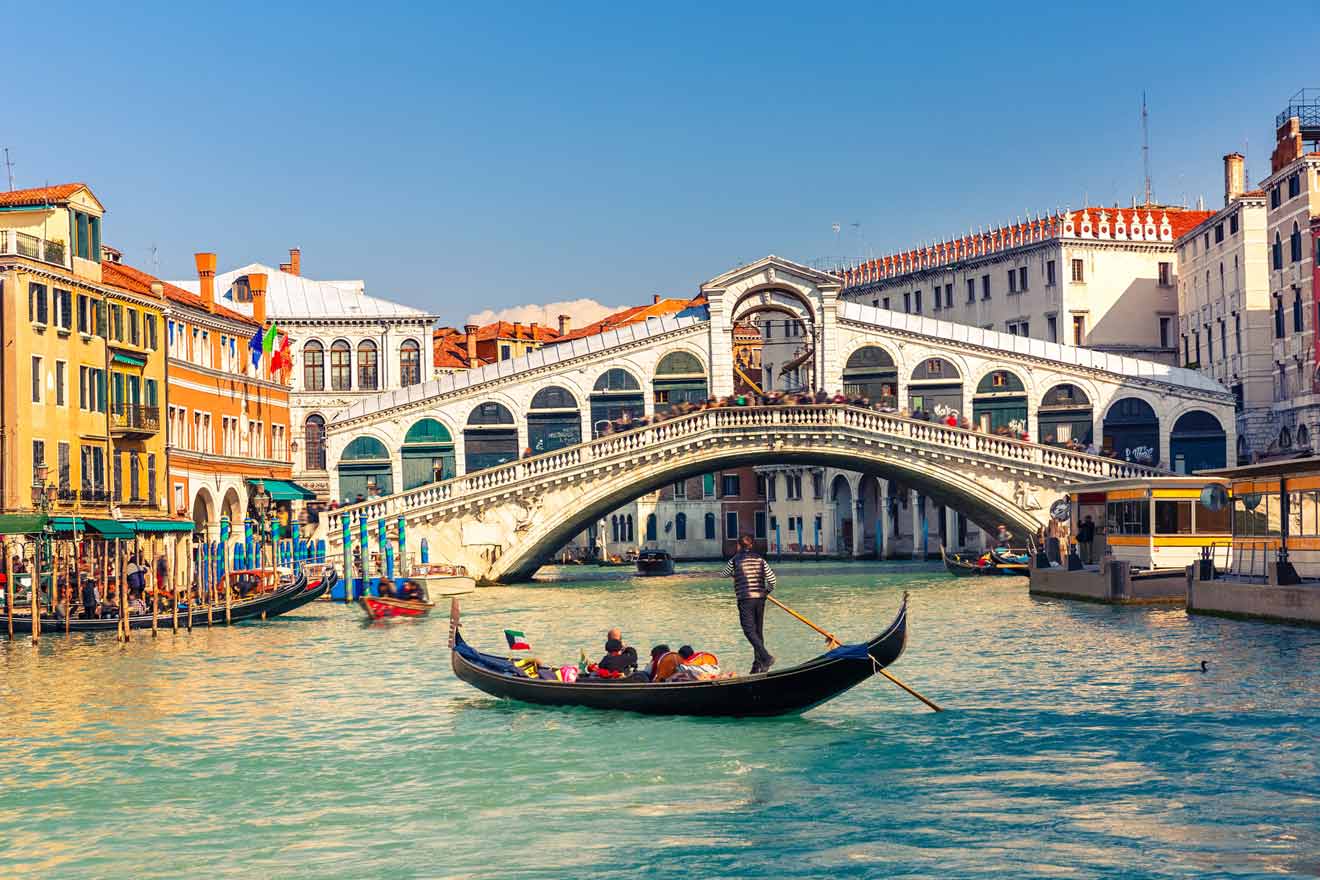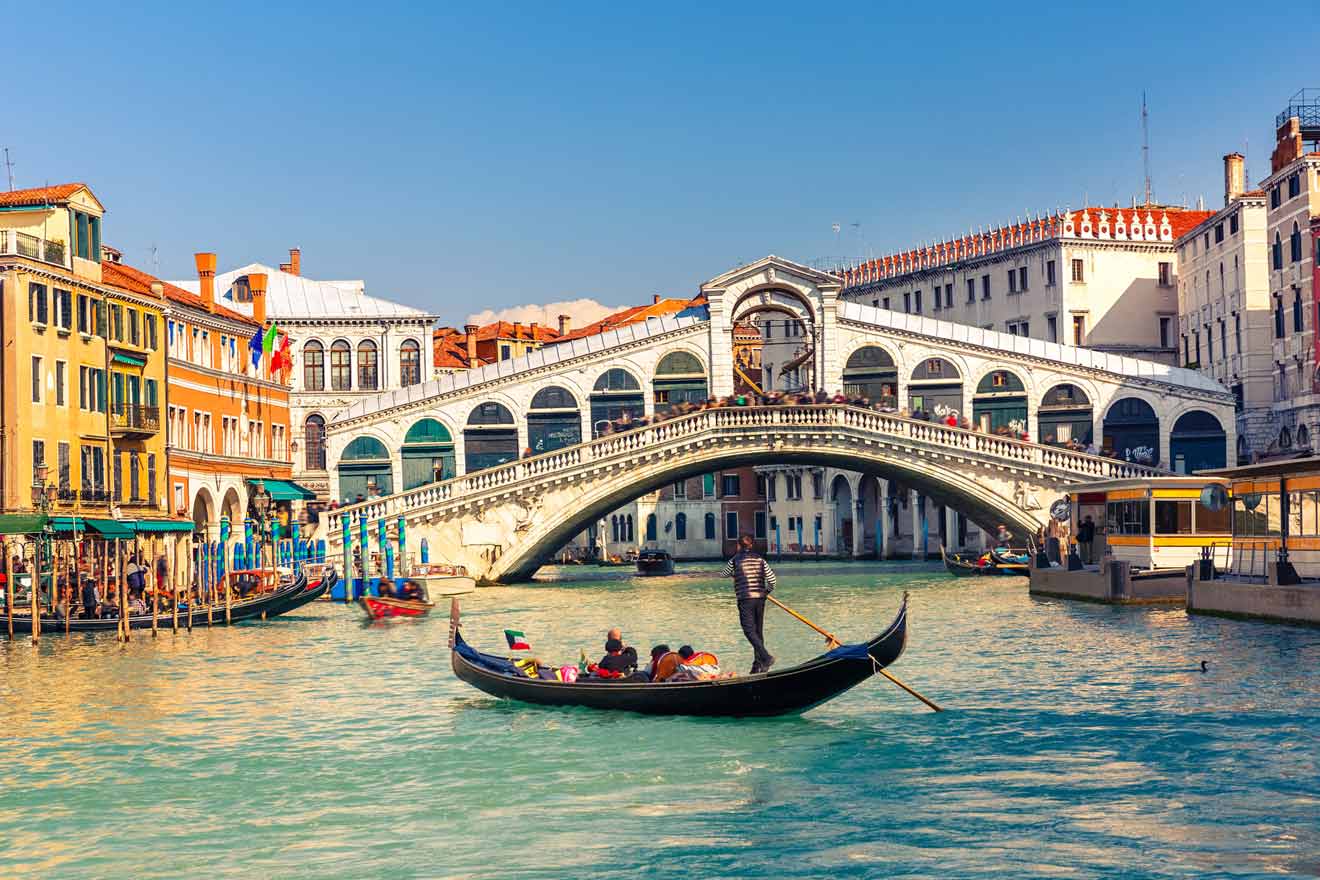 If you are planning a trip to Italy and you have only 2 weeks to visit its famous sights, beautiful cities, and ancient history, it is better to plan an itinerary in advance, especially if it's your first trip!
Even though it is a relatively tiny country, Italy has so many things to see and do. Every region is so diverse and every city so unique… So, where to start and what to focus on?
Since it is my home country, I decided to help you with this and planned an amazing itinerary for 2 weeks in Italy, so you can make the most out of it without having to put in much effort (except making the bookings of course).
The itinerary will take you through 12 beautiful cities, starting from Naples, in southern Italy, and ending up in Venice, in the north. The itinerary is adaptable for any budget and you can easily add or remove cities if you have more or less days for your trip.
For each stop during your Italy itinerary, I also included a few places to stay for any budget, the best things to do, driving distances, and information about train travel so you have everything you need for your trip.
So just take your pen and paper (or computer mouse and keyboard) and get ready… We're starting right now!
If you are in a hurry
If you already have your Italy itinerary but are still wondering what kinds of things you must book in advance if you don't want to miss out, here's a super quick guide for you:
Here are the main things to book in advance for your Italy itinerary:
And here are the best hotels in Rome: Trevi Ab Aeterno (Luxury), Navona Gallery & Garden Suites (Mid-range), Day by Day (Budget)
Check out this map to have a visual representation of where you'll go during your 2 weeks in Italy itinerary: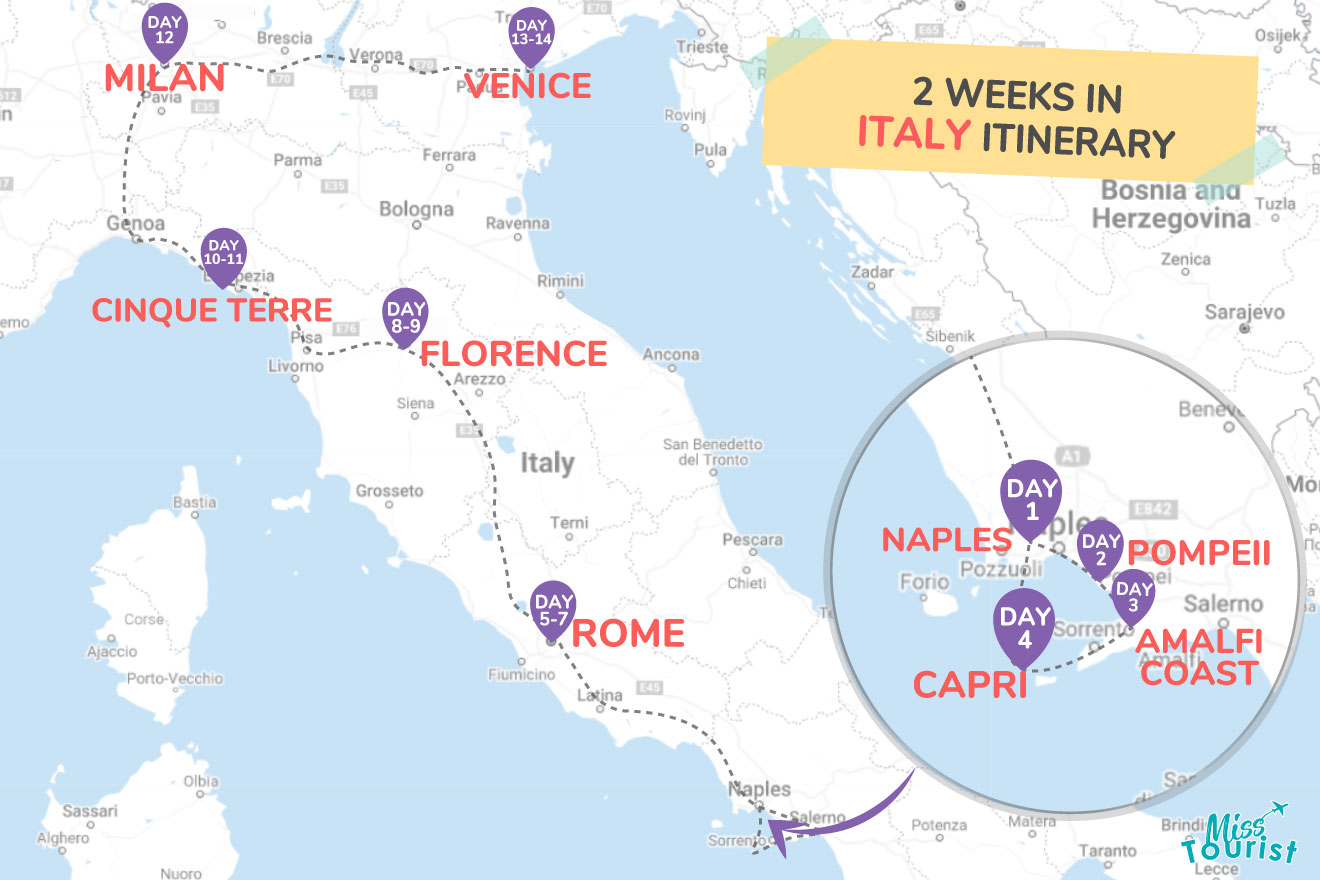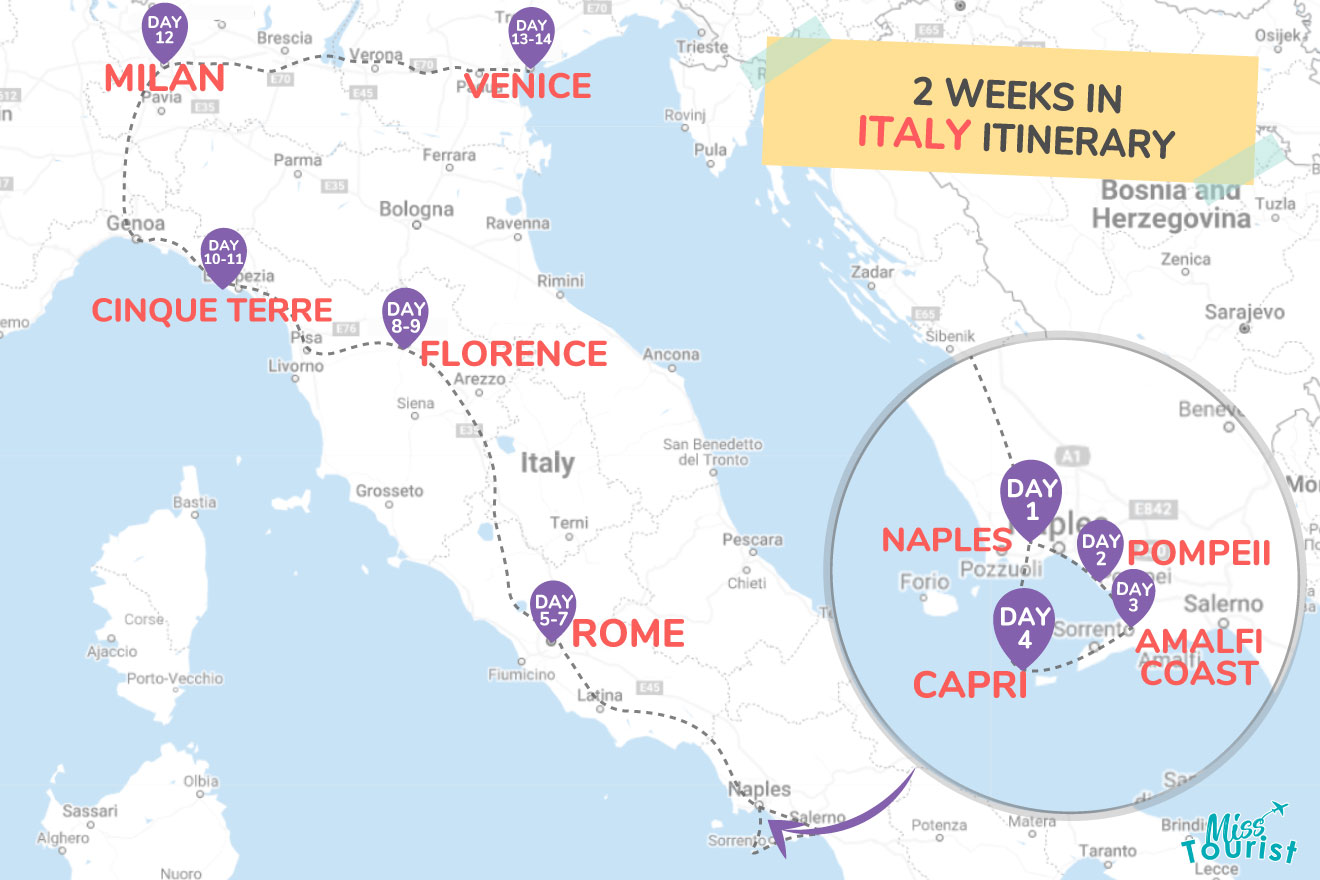 Day 1: Arrive in Naples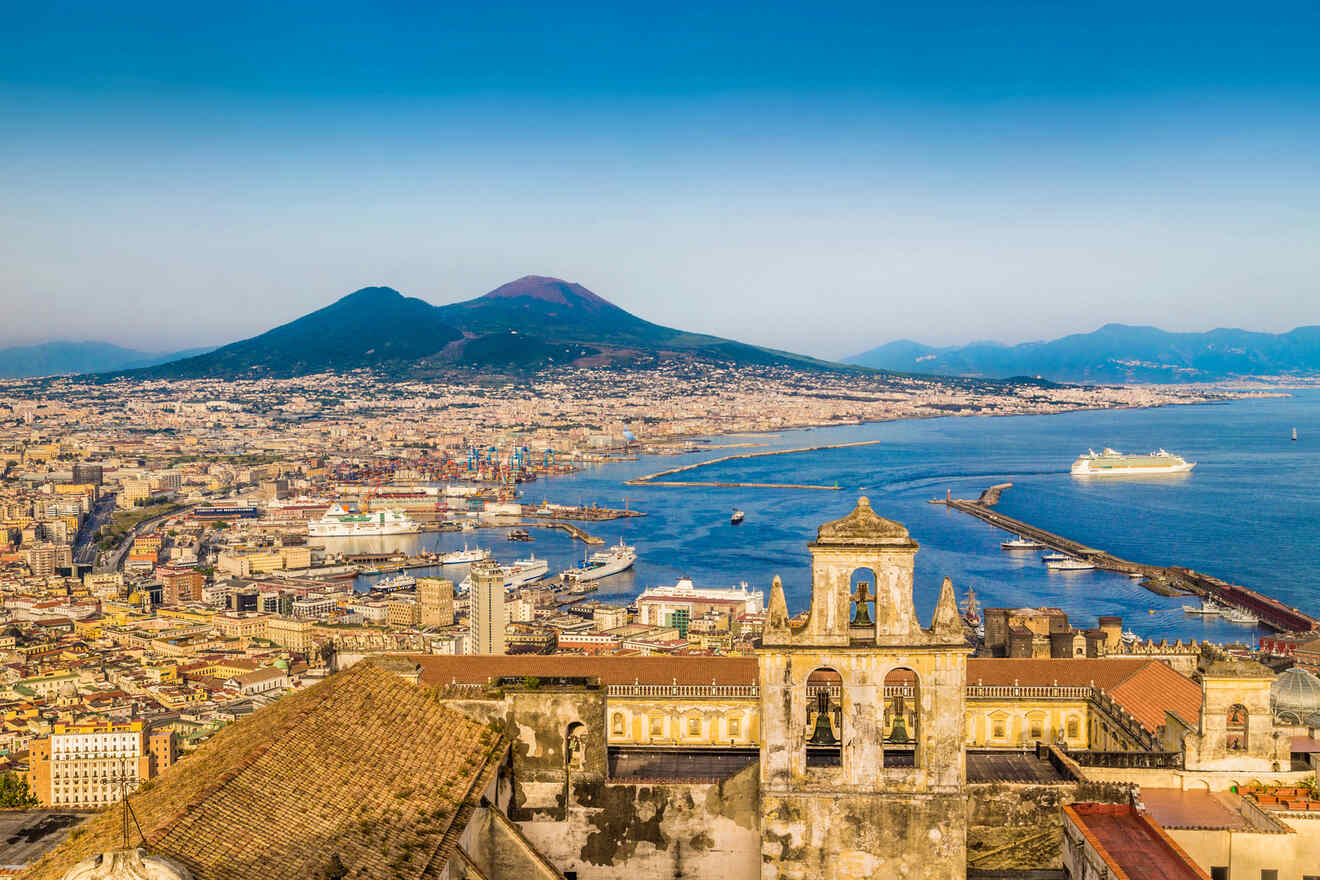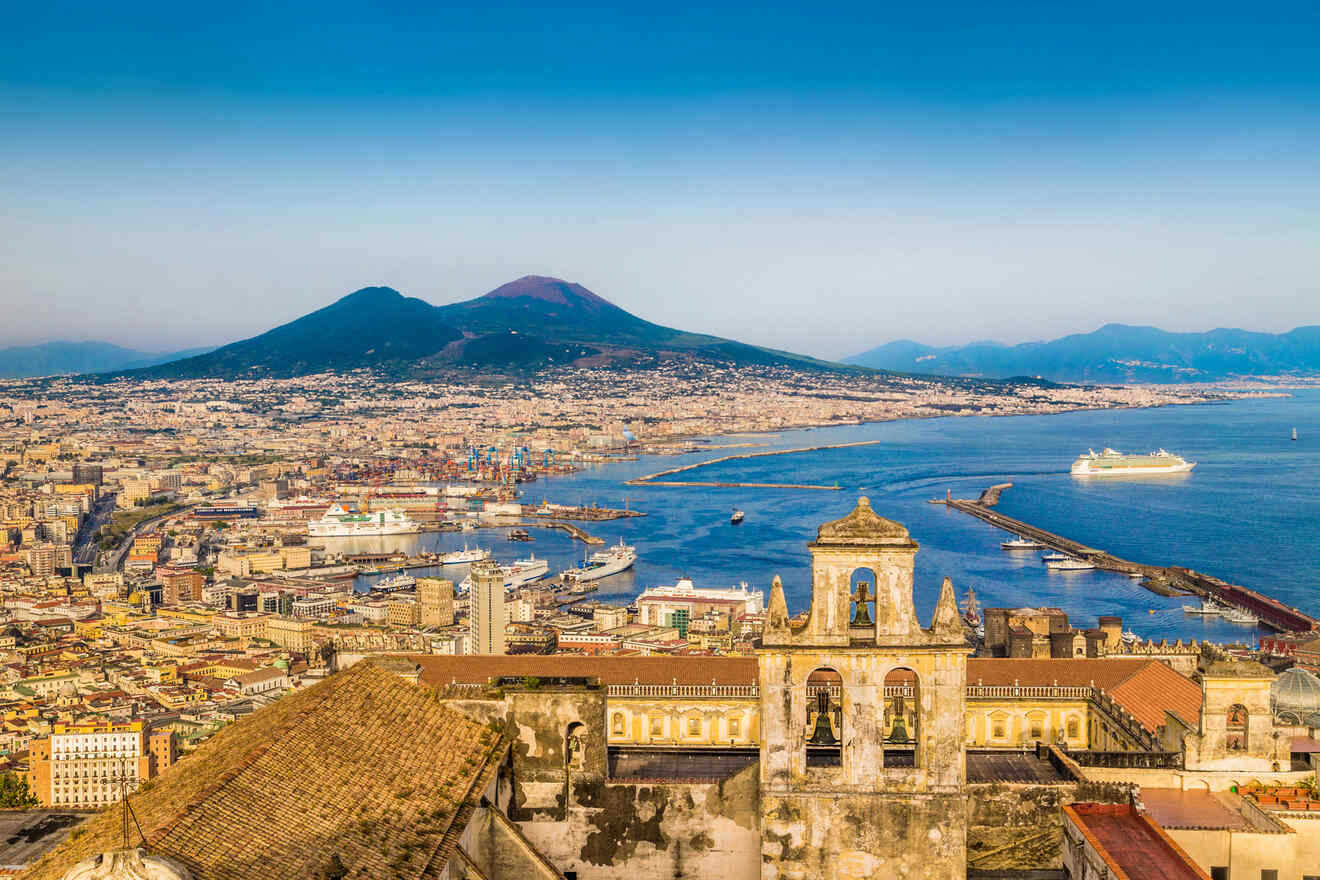 Naples is one of the major cities in Italy, a must-visit in the country, and the perfect starting point for your Italy itinerary. Naples has an international airport receiving flights from anywhere and is the perfect gateway to explore its natural surroundings before making your way up north!
If you can, I suggest you take a flight that arrives early in the morning, so you have all the time to rest and spend the afternoon exploring the historic city center and sample some delicious street food. From panzerotti to sfogliatelle and cuoppo napoletano, this is the foodies' paradise!
Talking about food, you cannot end your first day in Italy without trying the best pizza in the entire country! Try Pizzeria Dal Presidente or Pizzeria Starita to have a traditional one!
Other than the food, there are many attractions you can check out here like the antique Royal Palace or the National Archaeological Museum, hosting the largest collection of artifacts and ornaments in the whole world dating back to ancient Rome!
Since Naples is the starting point of your 2 weeks in Italy itinerary, you can rent a car directly when you arrive at the airport or take a bus into the center if you are planning on traveling by public transport.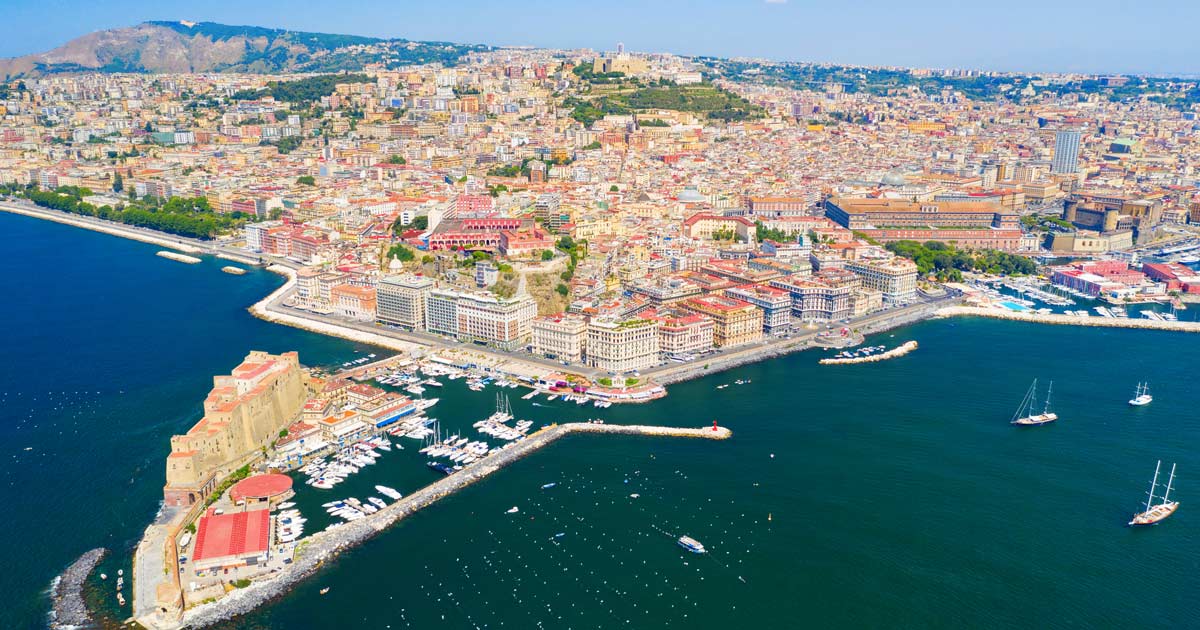 Top things to do in Naples
Where to stay in Naples (2 nights)
Luxury (€130 and up): Il Tesoro – This luxury hotel is located in Napoli's historic city center and will offer you a spa, a delicious breakfast in the morning, and room service
Mid Range (€70 – €130): La Casa Sul Nilo – This hotel has the best value for the price in Naples, with breathtaking views of the city, a cozy terrace, and free wifi
Budget (up to €70): Napoliamo Guest House – Going to Naples on a budget? Then check out this cheap hostel with free wifi, big family rooms, and a delicious breakfast
Day 2: Take a day trip to Pompeii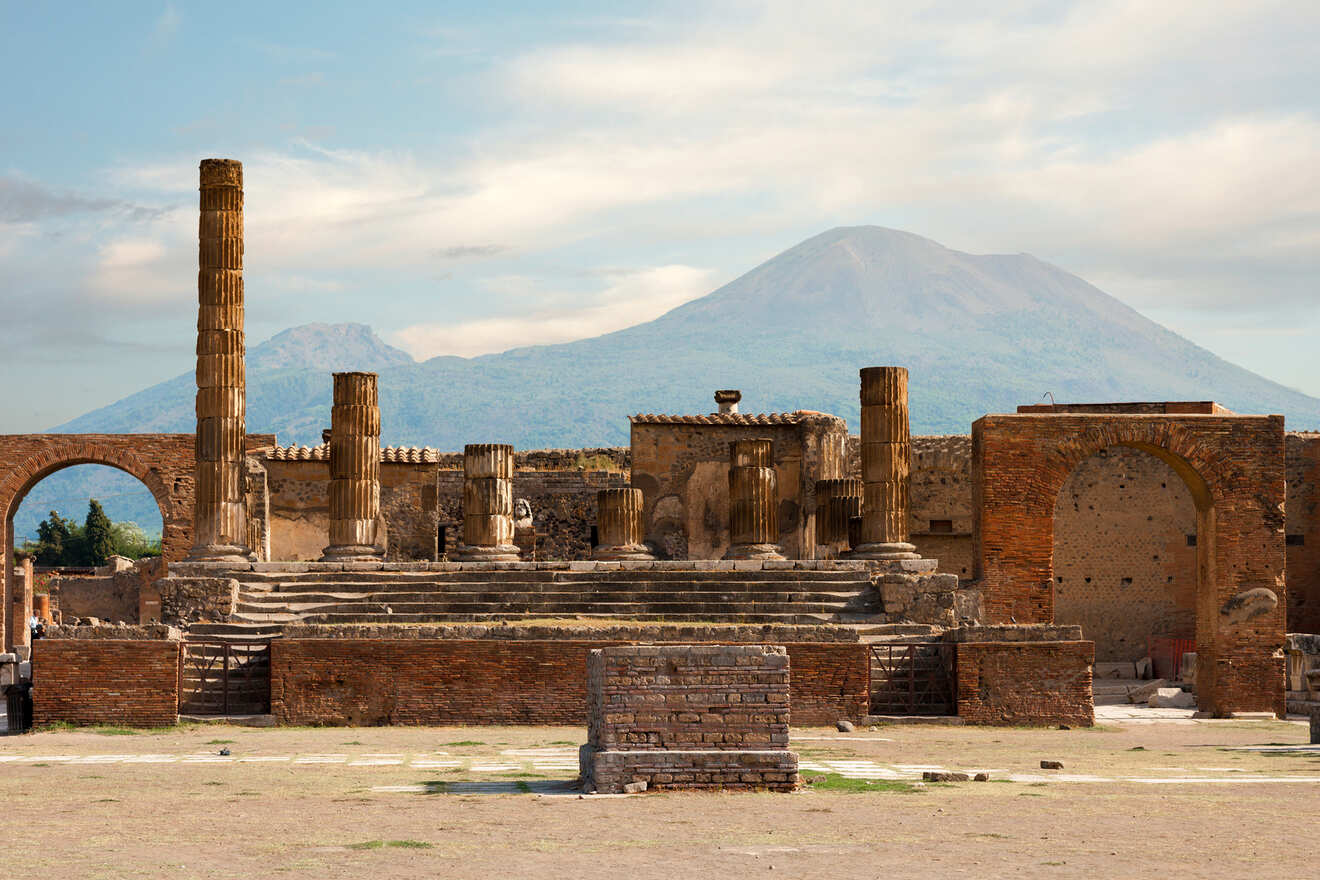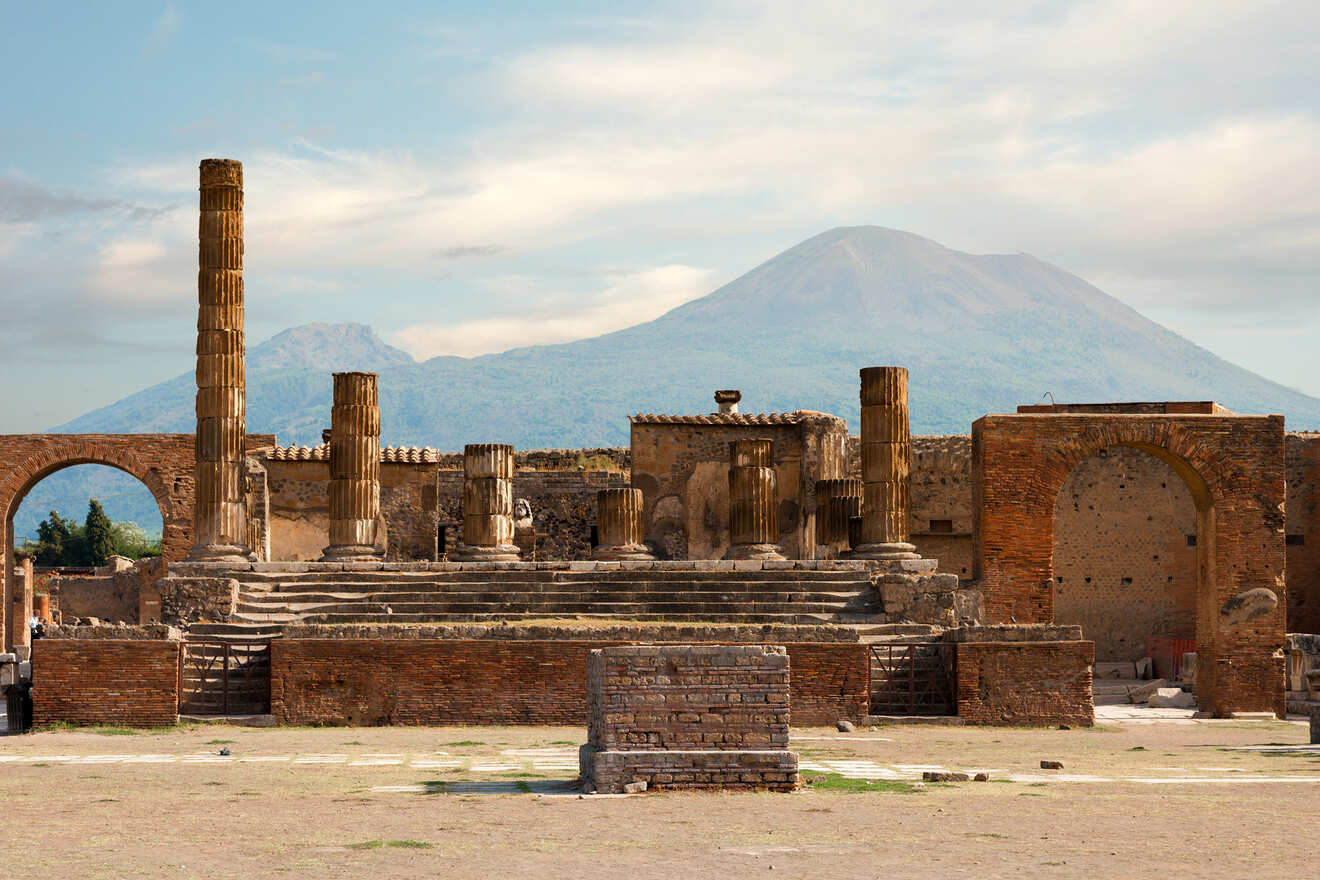 On the second day in Naples, you should definitely go on a day trip to Pompeii, a world-famous ruined city located half an hour from Naples. Since it's so close, it's not really worth it to spend the night here so you will return to the same hotel in Naples for a second night.
In Pompeii, you'll have the unique experience of seeing the remains of 2,000-year-old houses, restaurants, shops, and even plaster body casts of the people who died in the catastrophic eruption of the volcano Vesuvius!
You can either visit on your own by car or Circumvesuviana train (both about 30 mins each way) or join a guided day trip to have everything organized for you.
This day trip includes transportation, a guided tour of Pompeii, and also a hike to the summit of Mount Vesuvius, where you'll get views right into the crater of the still-active volcano, and also of the picturesque landscapes all around… definitely one of the best day trips from Naples and in the whole of Southern Italy!
Driving & Distances:
Car: Follow the A3 highway for 30 mins
Train: Take the Piazza Garibaldi (on the lower level of the Napoli Centrale station). The short train ride of 30 minutes will cost you €2.60 and take you directly to the entrance of the ruins.
Day 3: Drive down the Amalfi Coast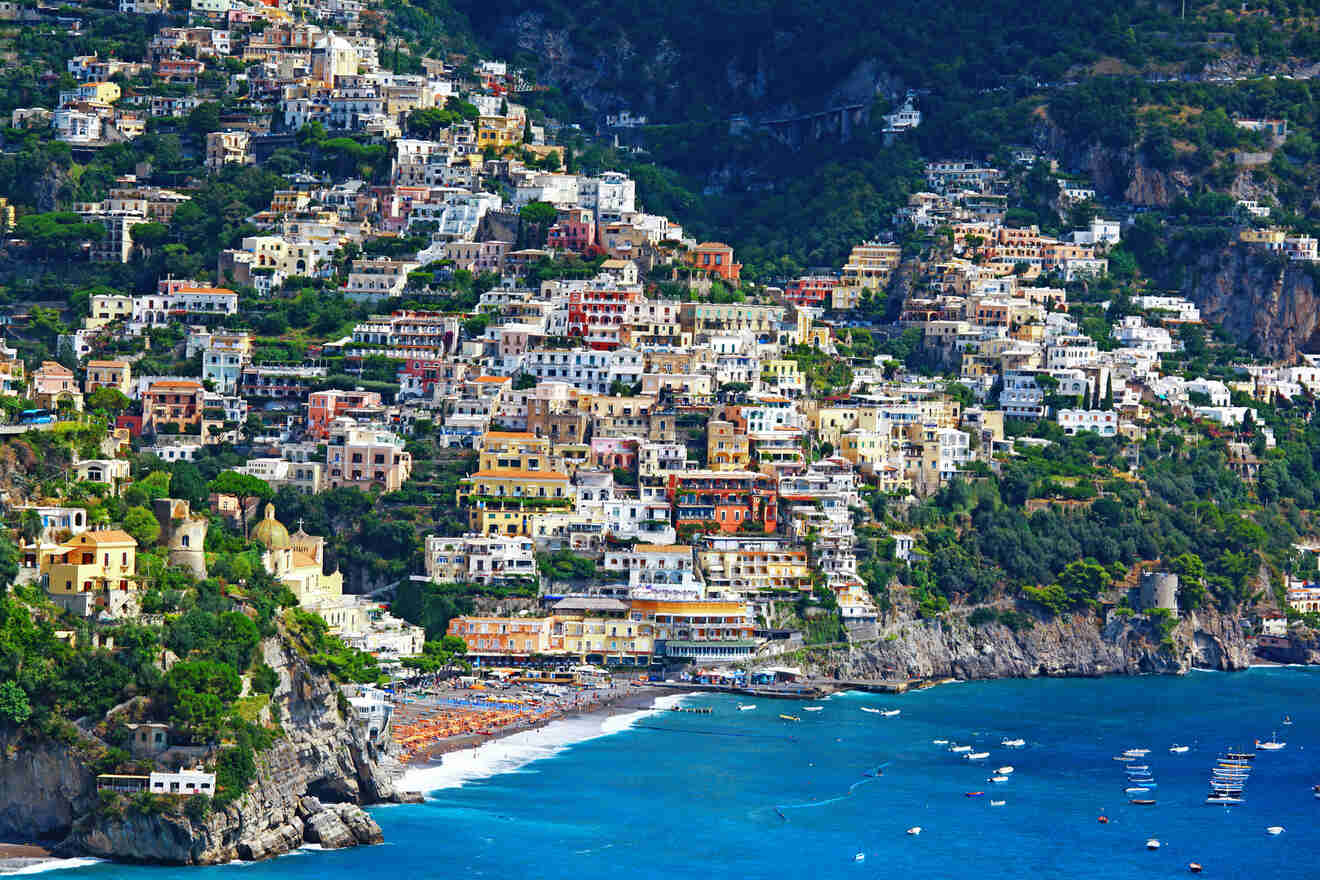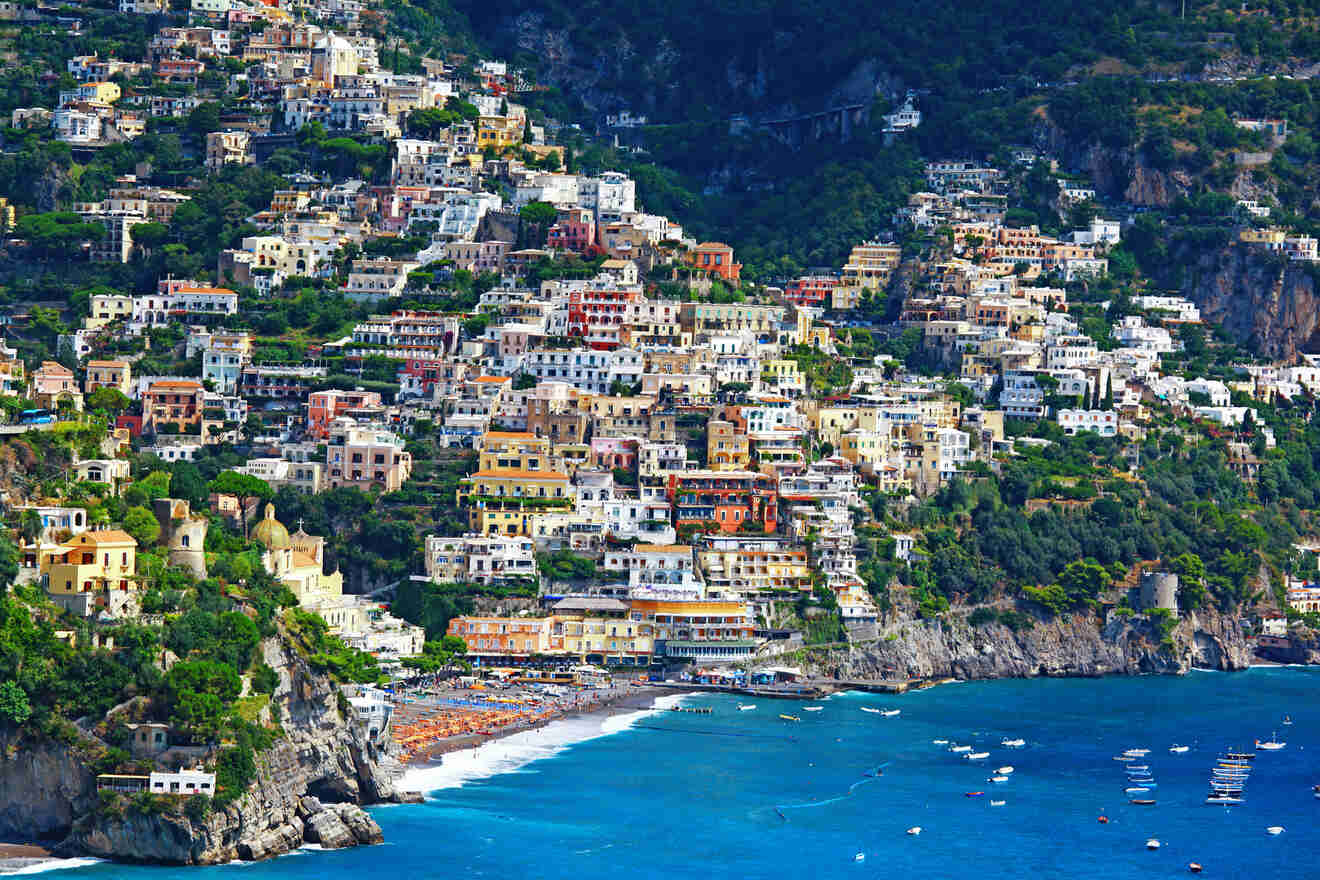 The third day of your 2 weeks itinerary in Italy has to be dedicated to one of the most beautiful Italian gems, the Amalfi Coast! For this leg of the trip we will be going a little further south before returning and continuing north through Italy. But it is definitely worth it and is just a 1.5 h drive from Naples!
This charming coast offers picturesque towns right on the sea, with rolling hills and mountains as a backdrop, so the best thing you can do here is to spend your day driving, taking in breathtaking views, and exploring all its charming villages.
Above all, I suggest you stop in Positano hill town, hosting many stunning luxury hotels, or Amalfi, the Amalfi Coast main town, with its historical buildings and landmarks. Both cities also offer stunning beaches nearby if you want to relax. But if you want to see more choices, check out this post about the best places to stay on the Amalfi Coast.
Wherever you choose to stop here, you absolutely need to try the world-famous limoncello – a liqueur made from Amalfi lemons, typical of Sorrento town, and the delicious food in one of the best Amalfi Coast restaurants!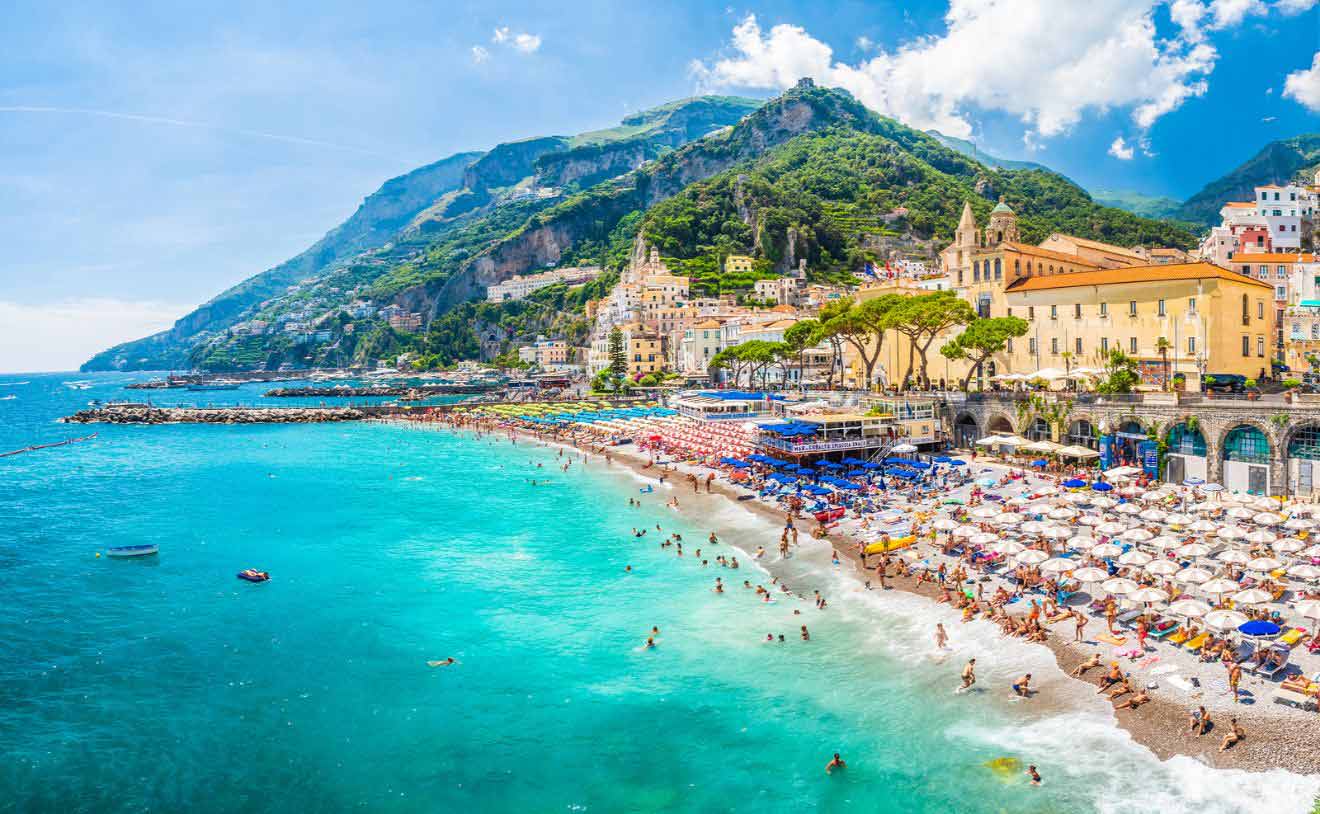 Driving & Distances:
Car: Follow the A3 highway south for 1.5 hrs
Train: Take the regional train either to Sorrento, the closest town from Naples or to Amalfi or Positano, depending on where you will stay! The journey will take you around 2.5h and cost you 20€.
Top things to do on the Amalfi Coast
Drive along the coast and take in the breathtaking sea views!
Visit the S. Andrea Cathedral and the Cloister of Paradise in Amalfi
Hike the Path of the Gods in Positano
Try the world-famous limoncello liquor
Join an Amalfi Coast Tour with Limoncello from Sorrento!
Where to stay in Amalfi Town (2 nights)
Luxury (€200 and up): Hotel Santa Caterina – This luxury hotel in Amalfi offers a stunning outdoor pool, extremely beautiful rooms, and private balconies.
Mid Range (€100 – €200): La Valle Delle Ferriere – This cozy bed and breakfast is located steps away from the beach and offers spacious and bright rooms.
Budget (up to €100): Domus Gaia – This hotel in Amalfi will give you a delicious breakfast every morning and views of the blue sea at very cheap prices!
Day 4: Sail to Capri (from Amalfi) for a day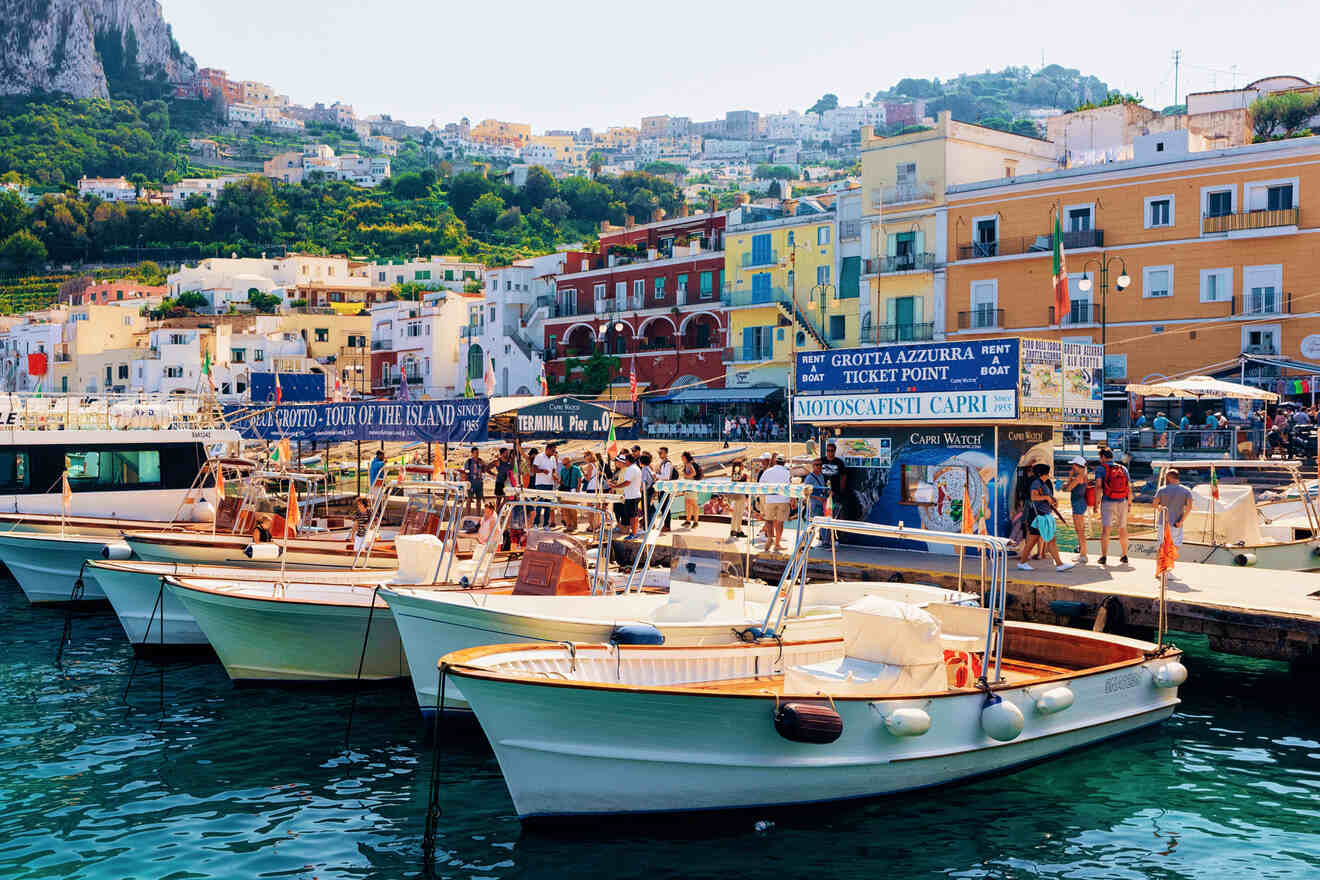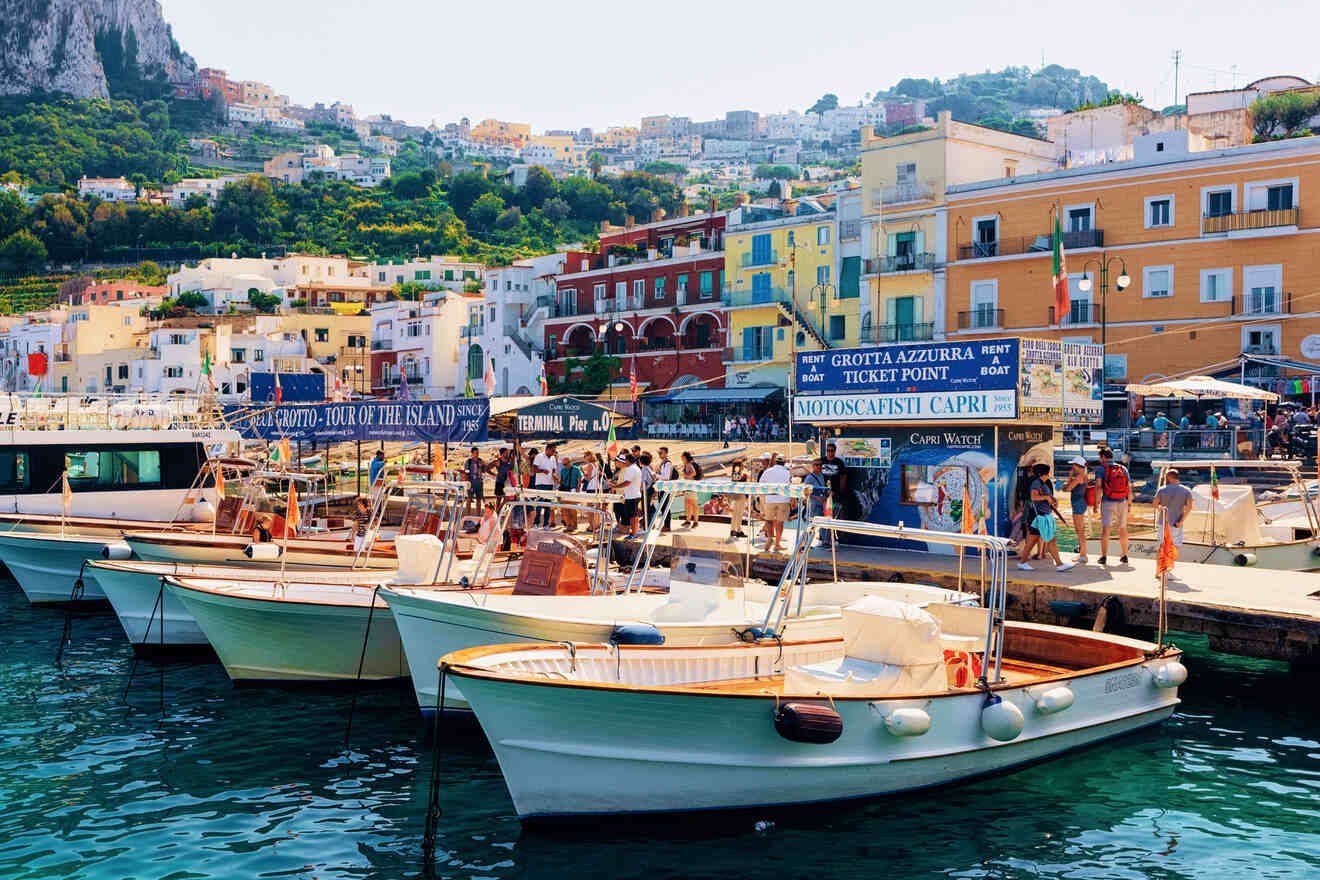 From Amalfi town, you absolutely have to visit Capri, a magical island with sparkling blue waters, cove-studded coastline, hidden grottos, and upscale shops and hotels… Perfect for a day trip!
Some of the best things you can do here include exploring the famous Blue Grotto on a boat tour and visiting the village of Anacapri, hosting the beautiful S. Michele Arcangelo church and its precious majolica floor.
Otherwise, you can take the chairlift to the top of Mount Solaro to take in some incredible views, just wander around Capri's Old Town and do some souvenir shopping, or enjoy some local nature at the Gardens of Augustus… So many things for such a small island!
You can either take the ferry to Capri for 1h (the one-way ticket will cost you around €25) and explore the island by yourself before returning to your hotel in Amalfi, or take a guided tour from Amalfi where they will take you to all the highlights and give you some free time to explore the island, all in one round trip!
Top things to do in Capri
Visit the famous Blue Grotto on a boat tour!
Take The Chairlift Monte Solaro and gaze at amazing views
Lose yourself in Capri's Old Town
Visit the medieval Certosa di San Giacomo monastery
Check out the village of Anacapri, hosting the beautiful S. Michele Arcangelo church
Day 5: Travel to Rome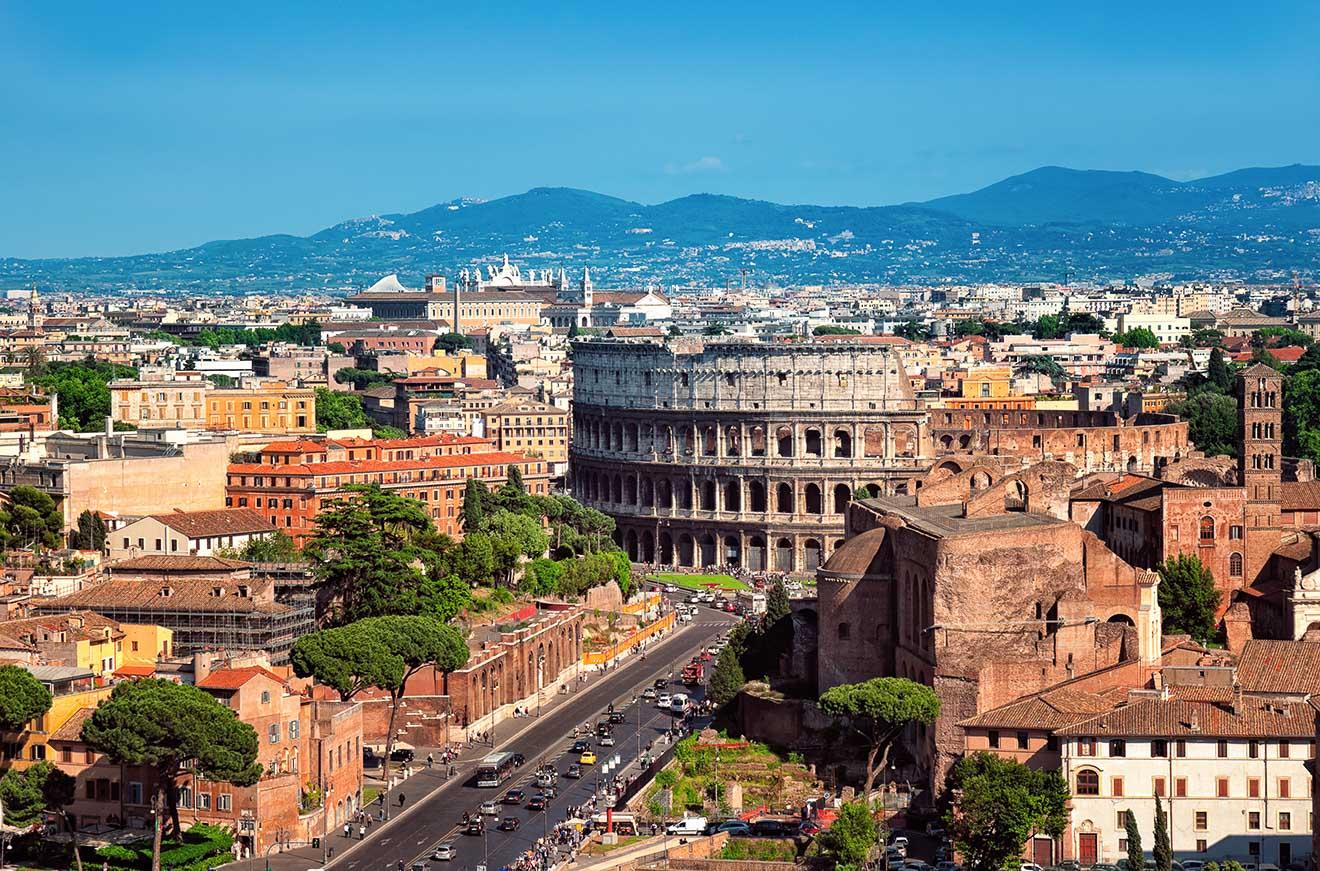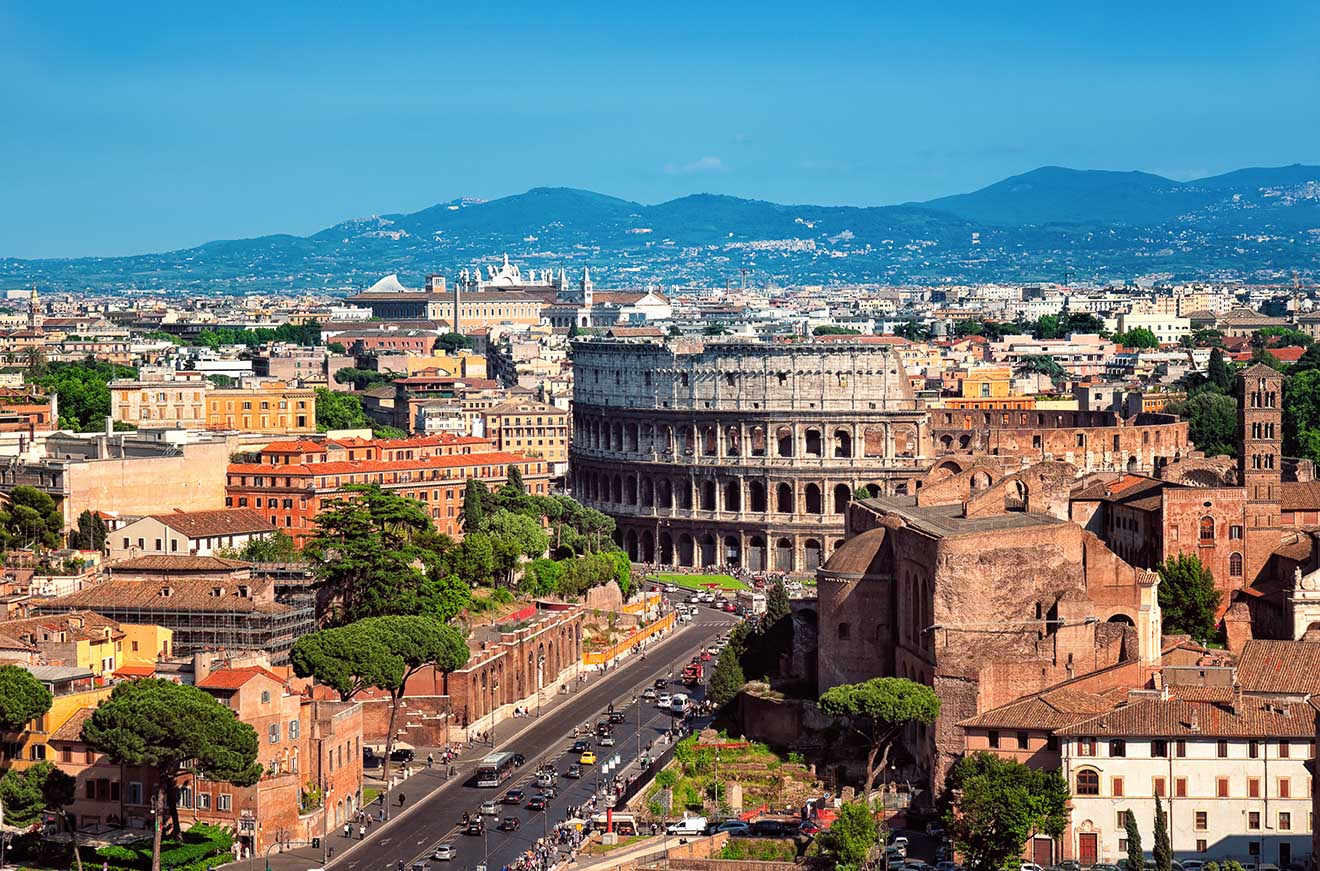 From the Amalfi Coast, the next stop for your 2 weeks in Italy itinerary is the capital city, Rome, located in the Lazio region! To reach it, you will have to travel north, passing by Napoli (so if you simply need to stop for another Pizza, this is your second chance).
The drive will take you around 3.5 h so I recommend leaving early to make the most of your day.
When you arrive, Rome will welcome you with so many historical, architectural, and artistic attractions to keep you entertained for days, but you will have only two… So what should you focus on?
During your first day in the capital city, I suggest you do all the free activities to get a feeling of the city.
Take a walking tour around the historic city center (the tour starts at 3:30 pm so they have time to do it the same day you arrive), throw a coin in the Trevi Fountain, see the Pantheon and walk up to the Spanish Steps… Don't worry, all these things are within walking distance from each other!
I bet you'll be tired after such an intense day, and you'll just want to have a good rest, so check out this post with the best place to stay in Rome or pick something from below!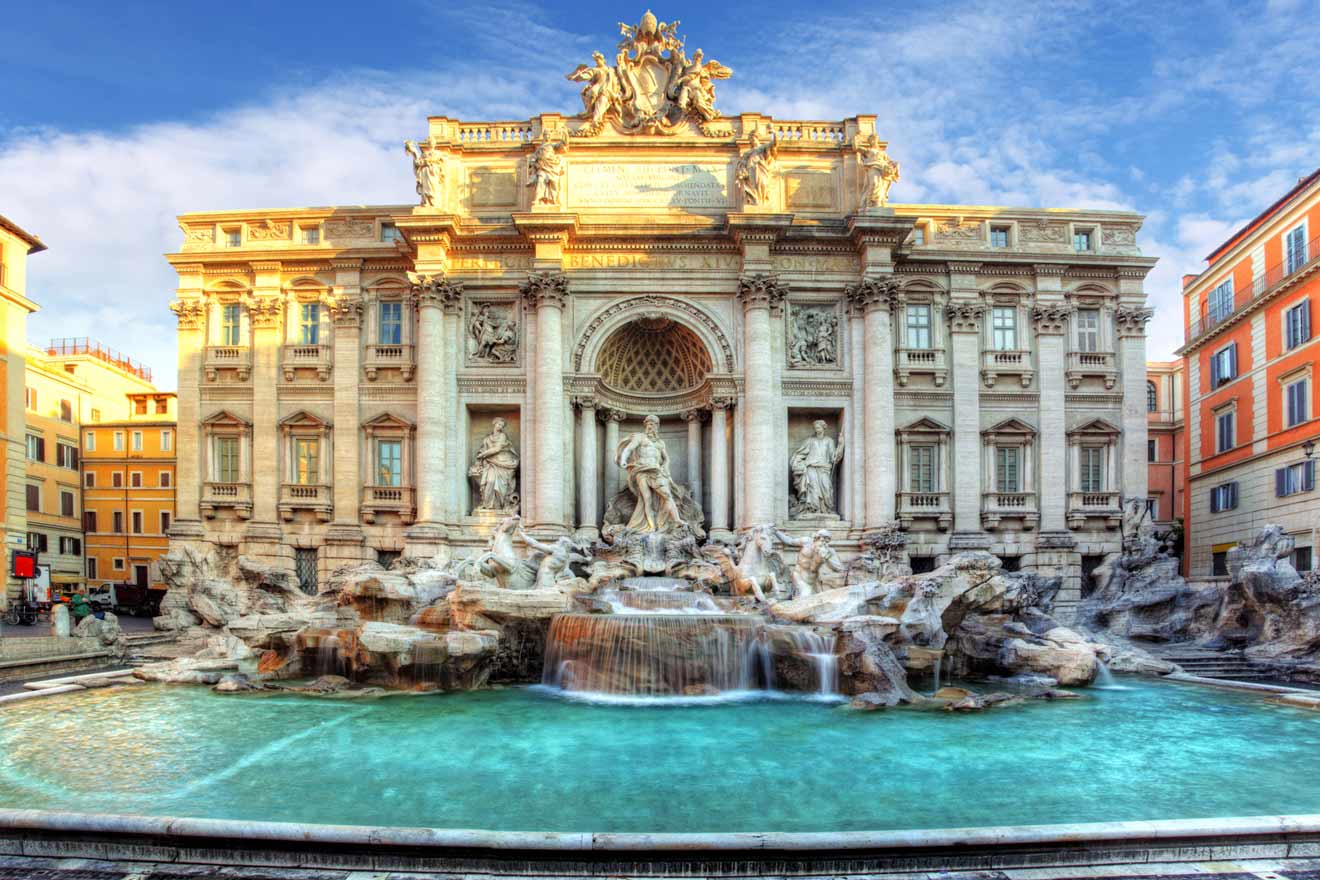 Driving & Distances:
By Car: Follow the A1 north for 3.5 hours
By Train: Take a fast train for 1hr (Trenitalia or Italo) from Napoli Centrale to Roma Termini for about €35. I can also take the cheaper and slower Regionale (regional train) for €12, for 3h.
Top things to do in Rome
Throw a coin into the Trevi Fountain and make a wish!
Get a feeling of Rome on this walking tour
Climb the Spanish Steps to have the best views
Where to stay in Rome (3 nights)
Luxury (€500 and up): Trevi Ab Aeterno – These luxury apartments are located in the heart of the city and will give you the most stunning views of Rome!
Mid Range (€200 – €500): Navona Gallery & Garden Suites – This amazing hotel offers apartment-style suites, and a delicious breakfast served every morning.
Budget (up to €180): Day by Day – Save some money at this lovely hotel located in the historic center of Rome, perfect for a holiday with family, friends, or couples
Day 6: Visit Rome's biggest attractions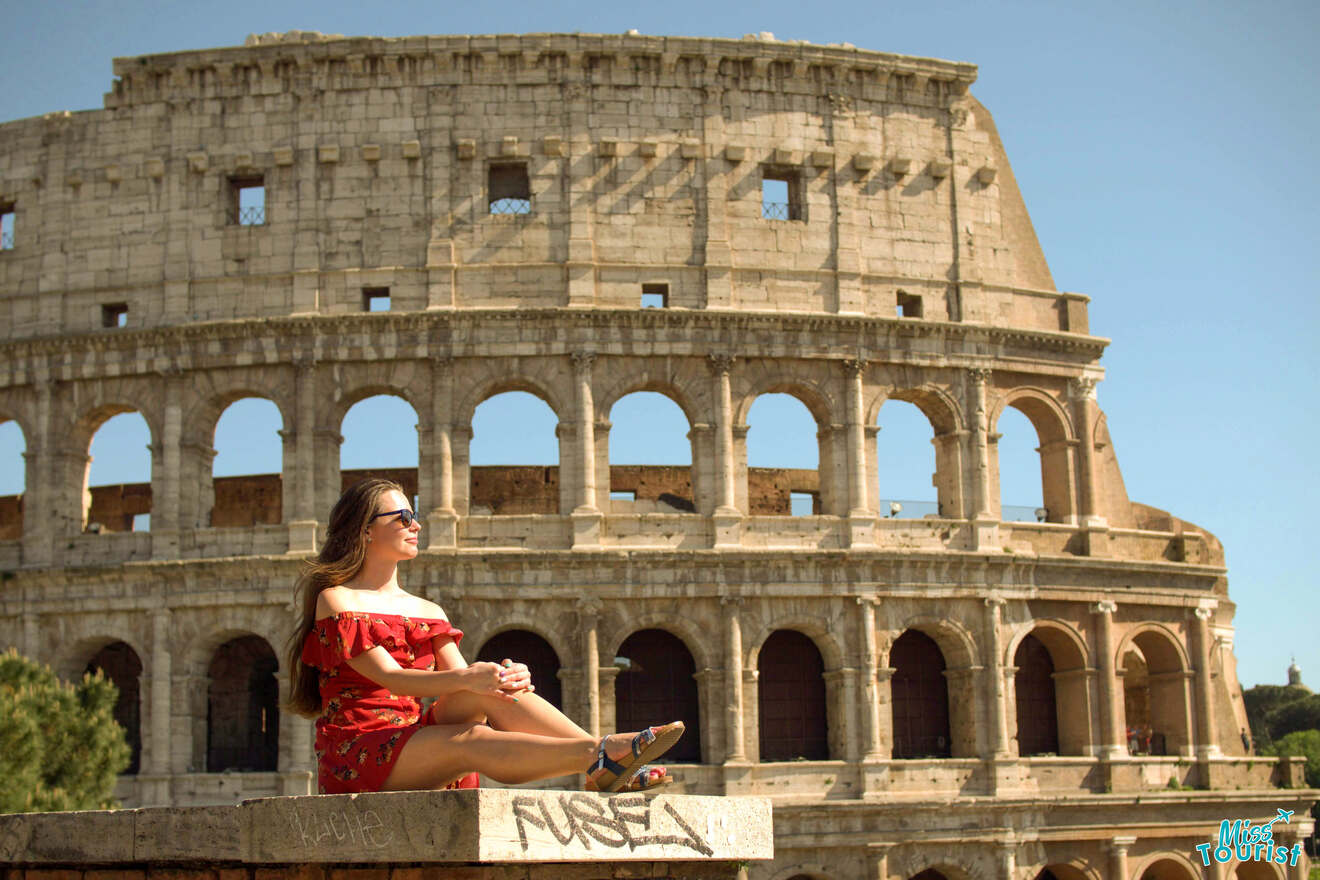 The second day in Rome, you'll for sure be fresher and have the right energy to visit its world-famous attractions!
You can spend your day visiting the Colosseum and the Roman forum which will make you travel back to the times of the Roman Empire!
PRO TIP: Since the 2 attractions are always super crowded, make sure to check out these secret tricks to skip the line for the Roman Colosseum and Forum before you go!
The rest of the day, take it slow, lose yourself in the ancient streets, have an aperitif in Campo Dei Fiori (the local people's favorite place to go out in the early evening), and stroll around the Fori Romani at night, where they do projections and light shows!
P.S.: If you have more than 2 weeks and have a little more time to visit Rome, you can check out Hadrian's Villa & Villa d'Este or Ostia Antica on day trips from Rome. Or read this whole post about the best day trips from here!
Top things to do in Rome on day 2
Visit the Colosseum and the Roman Forum!
Have an aperitif in Campo Dei Fiori,
Stroll around the Fori Romani at night
Day 7: Visit the Vatican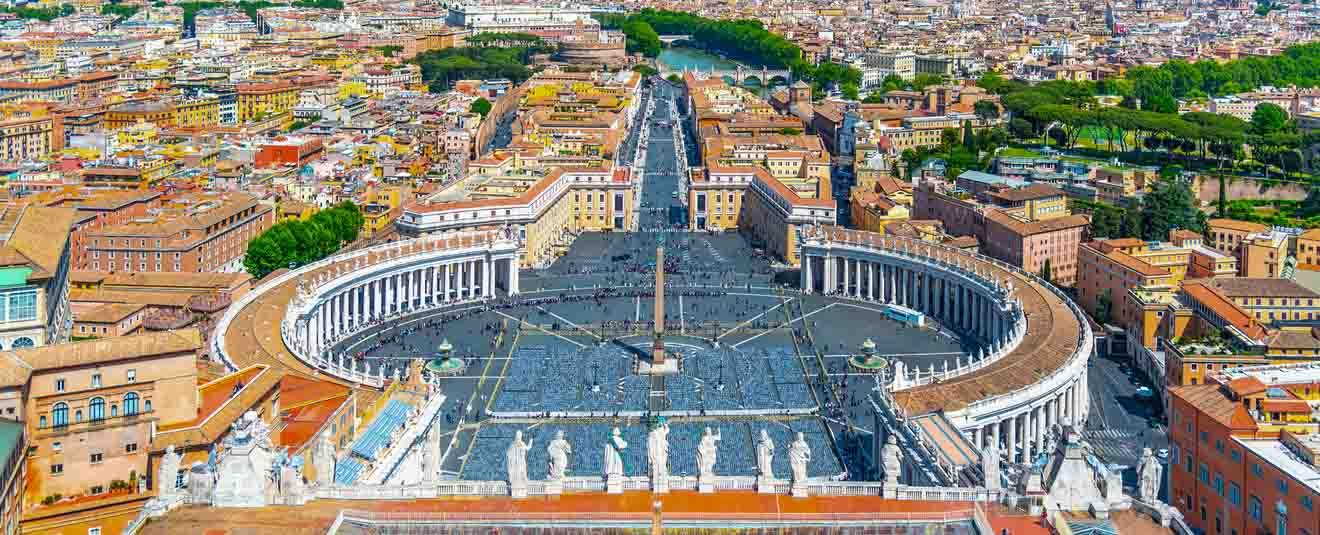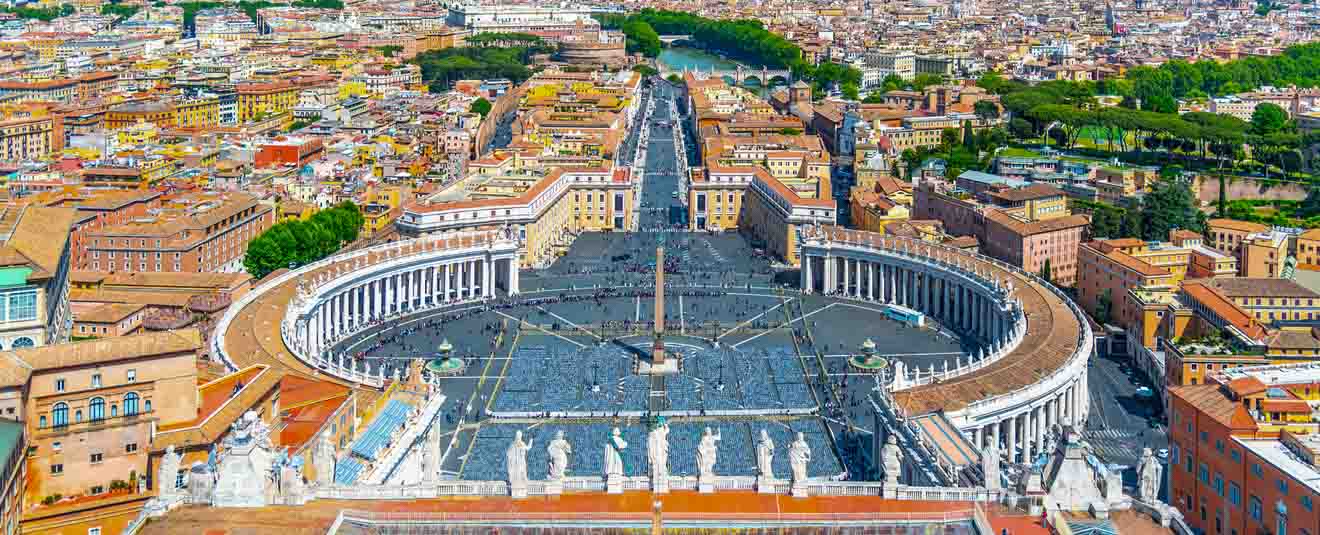 The third day in Rome has to be dedicated to the Vatican city. Even though it may be the smallest City State in the world, it hosts some amazing things to see like the Vatican museum with the Sistine Chapel, and St Peter's Basilica. Visiting them all will take you the whole day!
I suggest you visit the Vatican, hosting the Sistine Chapel with Michael Angelo's masterpiece, with this skip the line ticket. This is a super popular attraction and gets insanely crowded and I don't want you to lose precious time, so check out this post to find out all the details and get the best tickets and avoid the lines!
After that, you must visit St. Peter's Basilica to gaze at its artistic masterpieces and stunning architecture. Get ready to be speechless!
From Rome city center it will take you 15 minutes by car, or you can take the Line A train from Roma Termini for around 15 mins (€3), and get off at Ottaviano-S. Pietro Station, then walk 5-minutes to St. Peter's Square.
Top things to do in the Vatican
Gaze at the masterpiece Michael Angelo did at the Sistine Chapel
Explore the Vatican museum on a small group tour
Check out the majestic Saint Peter's Basilica!
Day 8: Drive to Florence via Siena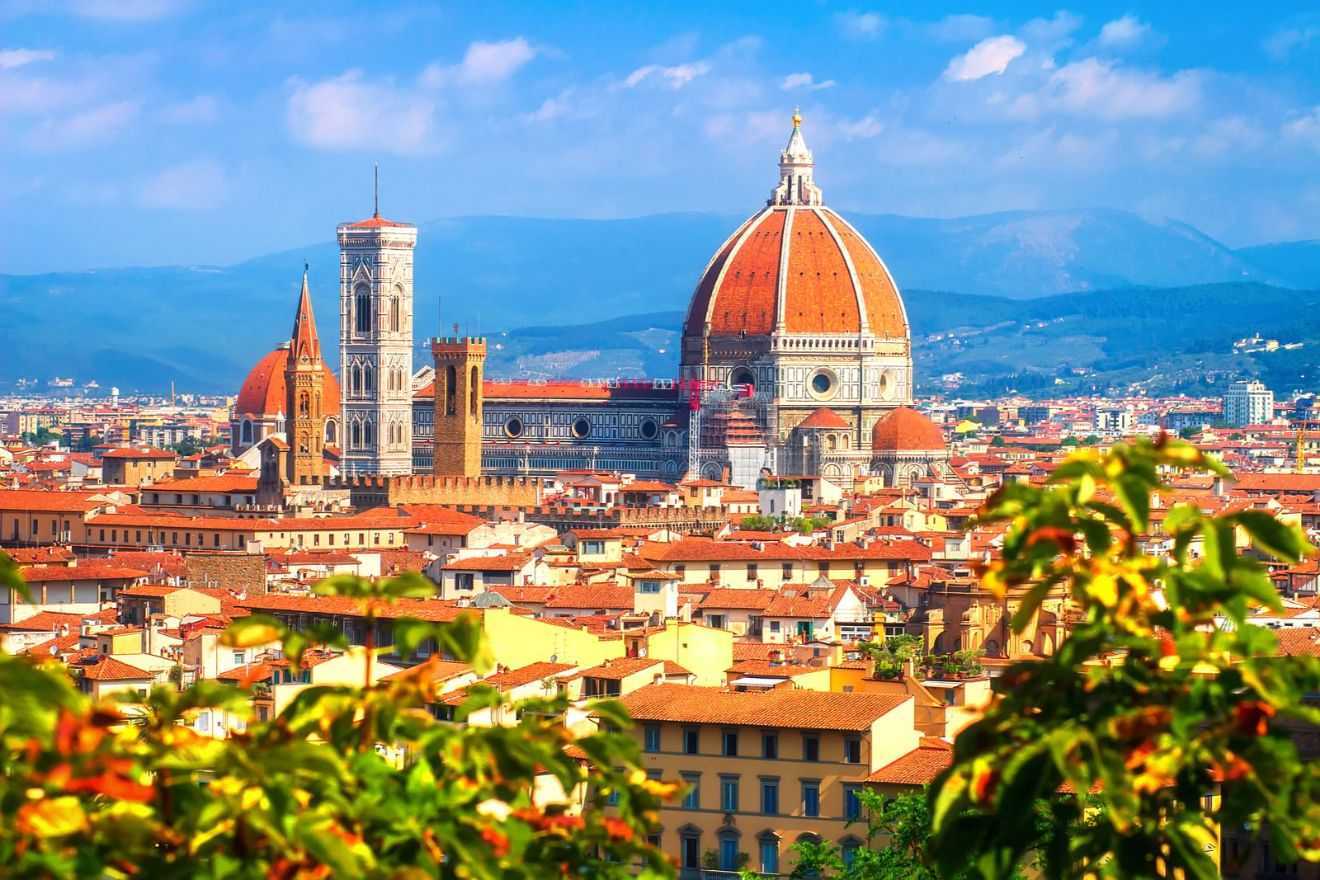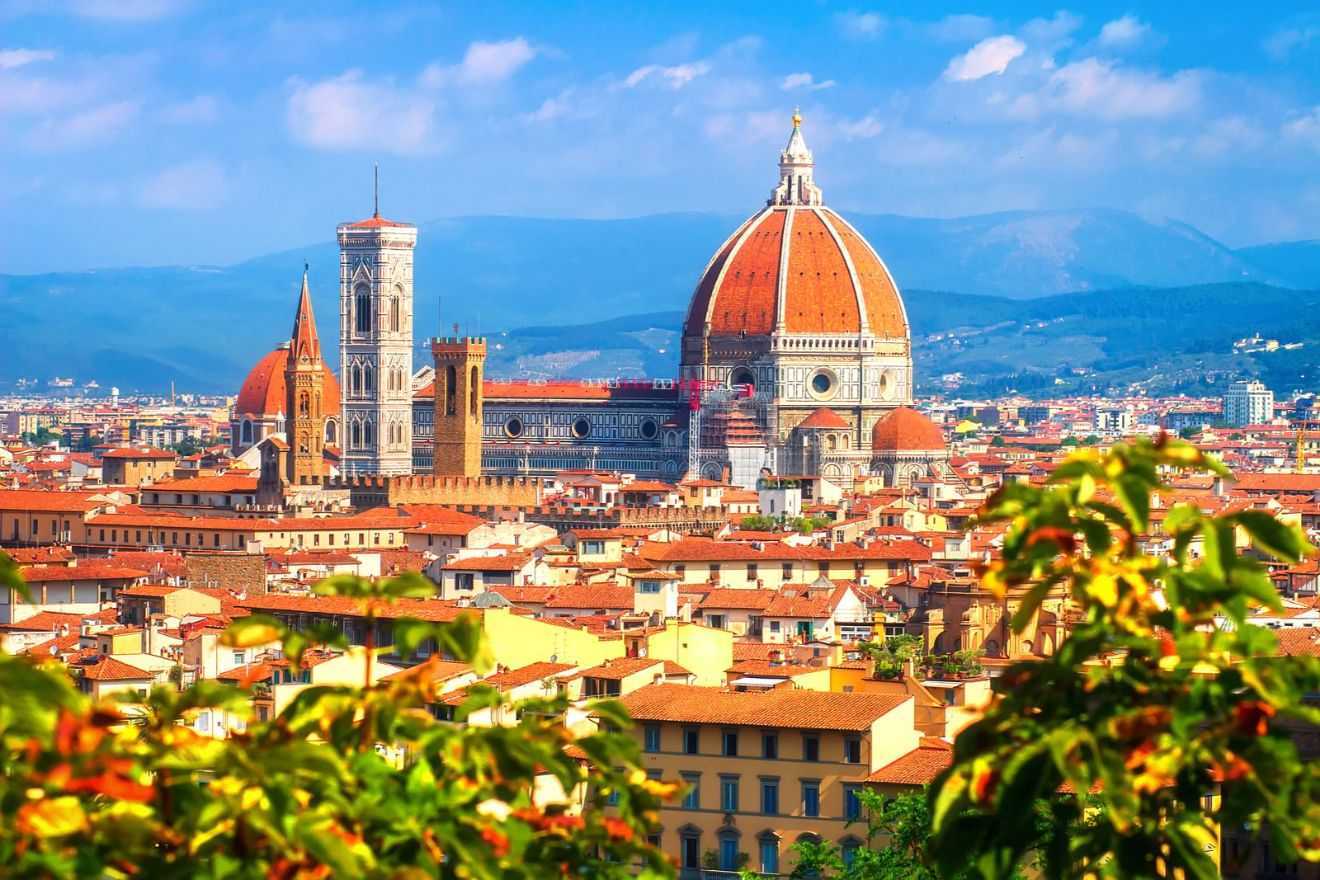 After your third day in the eternal city, it is time to move on to your next destination: Florence, the capital of the Tuscany region! But on the way to Florence, you need to stop in one of the most beautiful Italian cities there is called Sienna, located 2.5 h from Rome.
This charming medieval town, nestled in the rolling hills of the Tuscan countryside, hosts an ancient city center and the famous square Piazza del Campo, where you can stroll around, gaze at its historical buildings, or just sit on a bench and do some people watching!
And if you happen to be in town on the 2nd of July and 16th of August, you need to attend Siena's most iconic event, the Palio di Siena. This is a huge historic horse race hosted right in the Piazza del Campo square where the riders race without saddles! Definitely a unique experience to have!
After you've soaked in the Tuscan countryside, continue onto its capital and get ready for some art!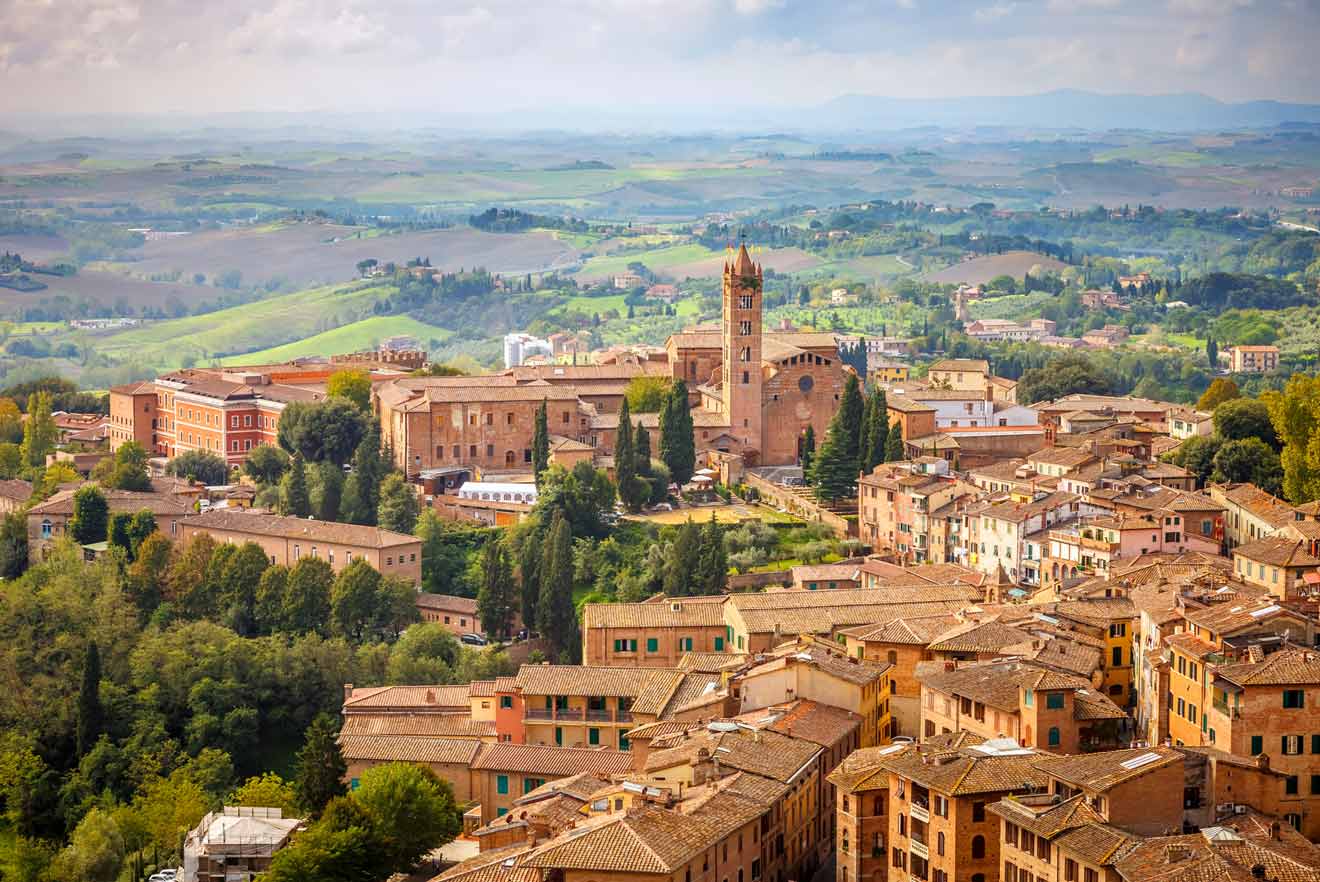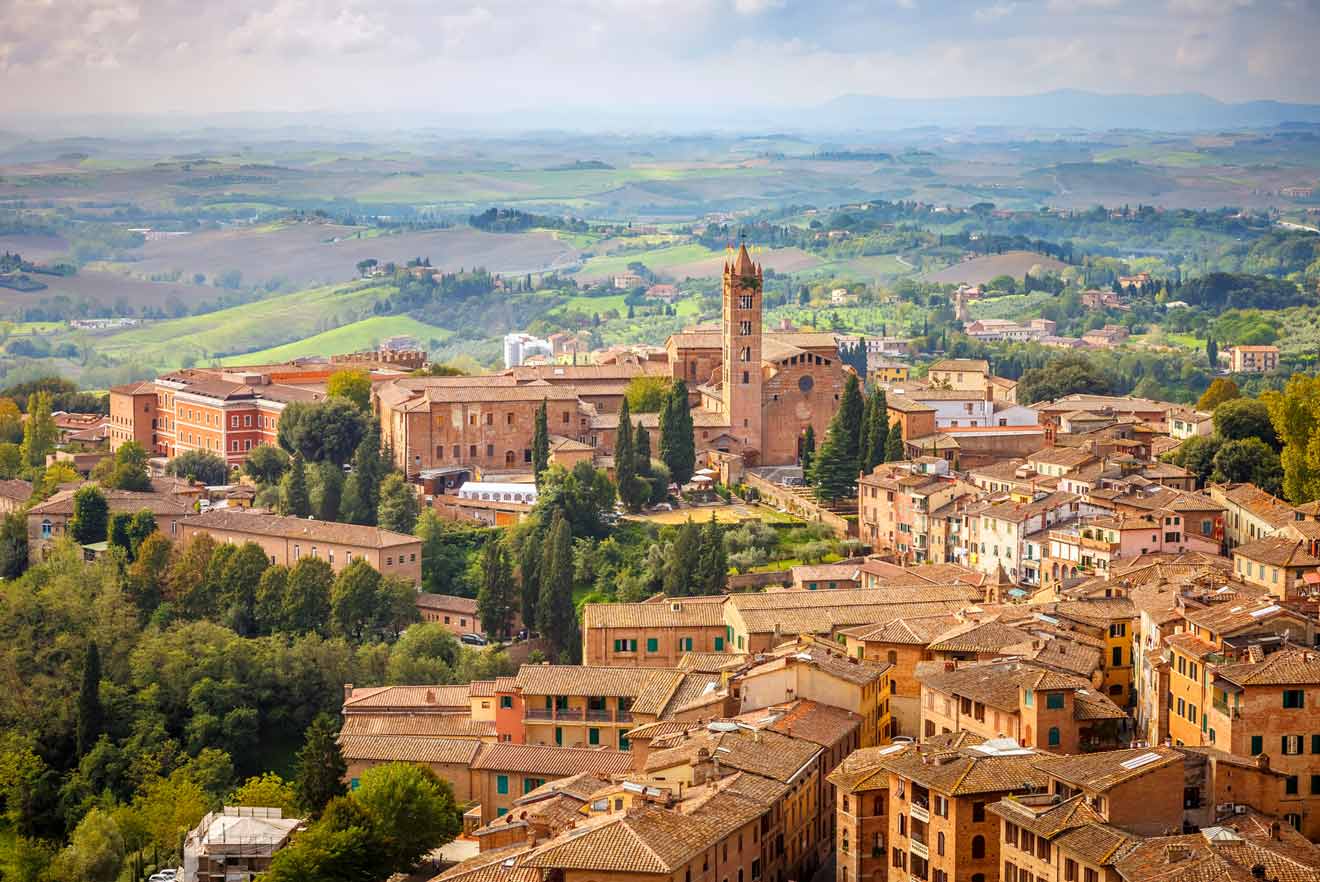 Driving & Distances:
Car: Follow the A1/E35 highway for 3 hrs north until you reach Siena. Then continue on for 1.25 h to go to Firenze (Florence)
Train: Take Italo train (high-speed train) from Roma Termini train station to Firenze SM Novella. The journey will take you around 1.5h and cost you €10. Then take the regional train from Firenze SM Novella to Siena (€10) for another 1.5h.
Top things to do in Siena
Gaze at the impressive fountain Fonte Gaia
Stroll around Piazza del Campo and the city's medieval streets
Go see the Palio di Siena famous horse race
Discover Siena and its attractions on a guided walking tour
Where to stay in Florence (2 nights)
Luxury (€500 and up): Hotel Bernini Florence Palace – If you want to have a luxury experience in Florence, this hotel is for you, located right next to the Duomo di Firenze!
Mid Range (€80 – €300): Hotel Alessandra Florence – This amazing hotel is located right next to the Uffizi Gallery and offers great service and value for the price.
Budget (up to €70): Hotel Dali Florence – Check out this hotel with an amazing location, friendly staff, and budget prices… book your hotel room now!
Day 9: Explore Florence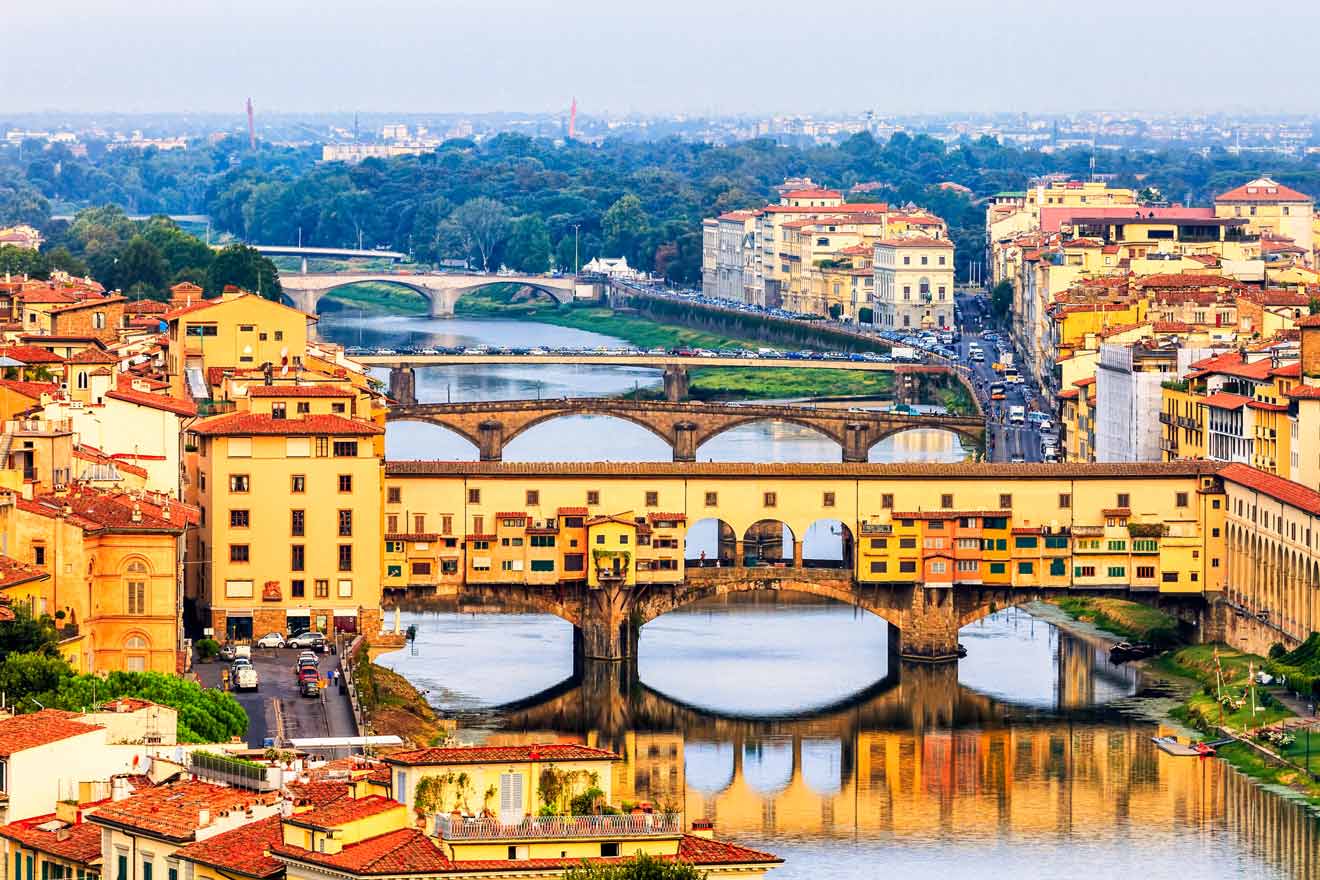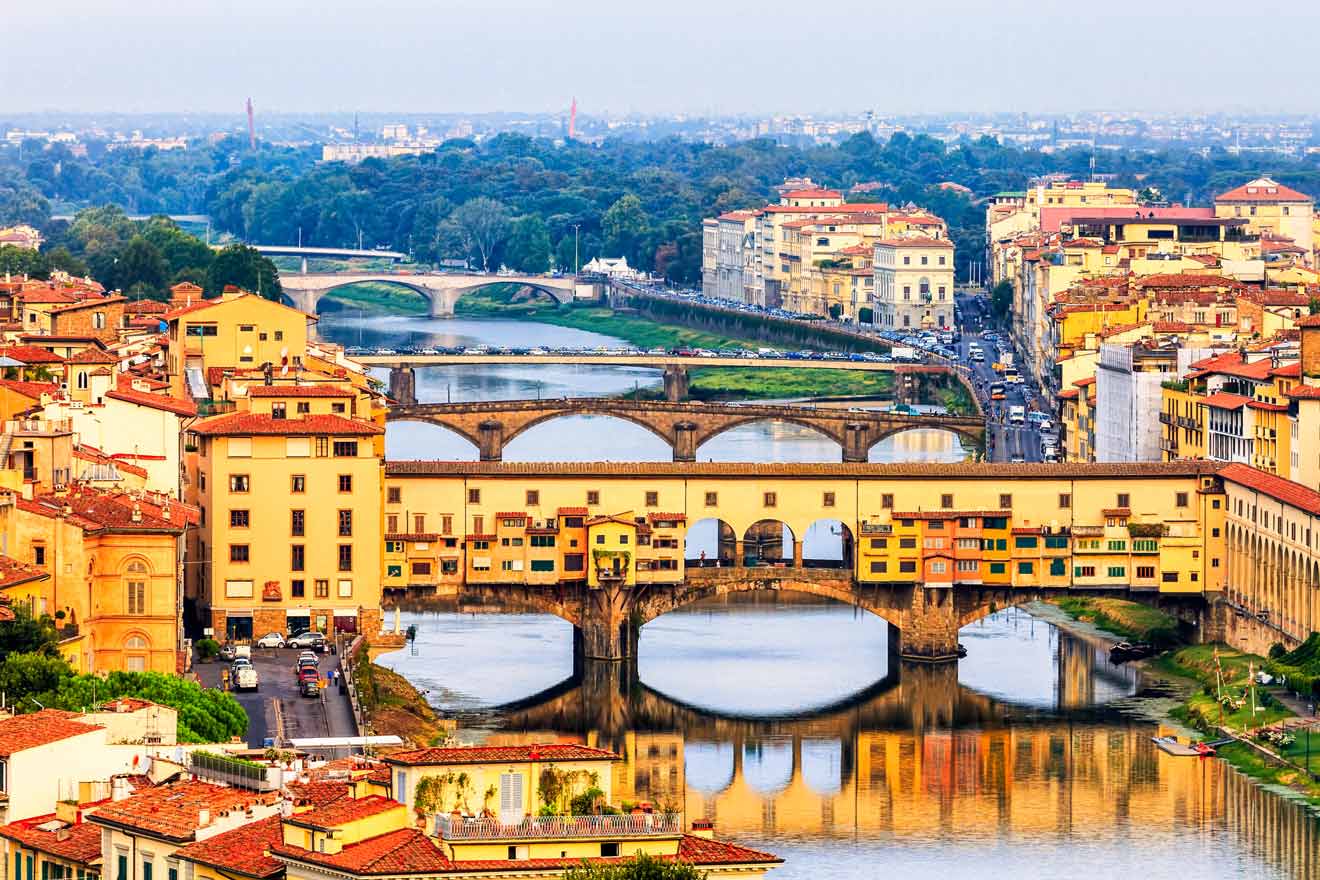 The 9th day is time to check out one of the most important and artistic Italian cities! Florence is located along the Arno river and hosts great cultural heritage and you will notice that from all the Renaissance art, impressive churches like the world-famous Duomo and Florence cathedral, charming squares, and art museums!
During your day in Florence, there are many things you can do such as cross the Ponte Vecchio bridge, and visit the Uffizi Gallery to gaze at some Italian masterpieces by Botticelli and Michelangelo.
And if you want to just spend some leisure time after all the visiting you've done, go to one of the countless cafes and restaurants in Florence to try the delicious Tuscan cuisine and wines, or go shopping in the many stores and souvenir shops of the city center!
If you have a few more days to spend here, I recommend checking out some of the best cities to visit in Tuscany!
Top things to do in Florence
Day 10: Head to Cinque Terre via Pisa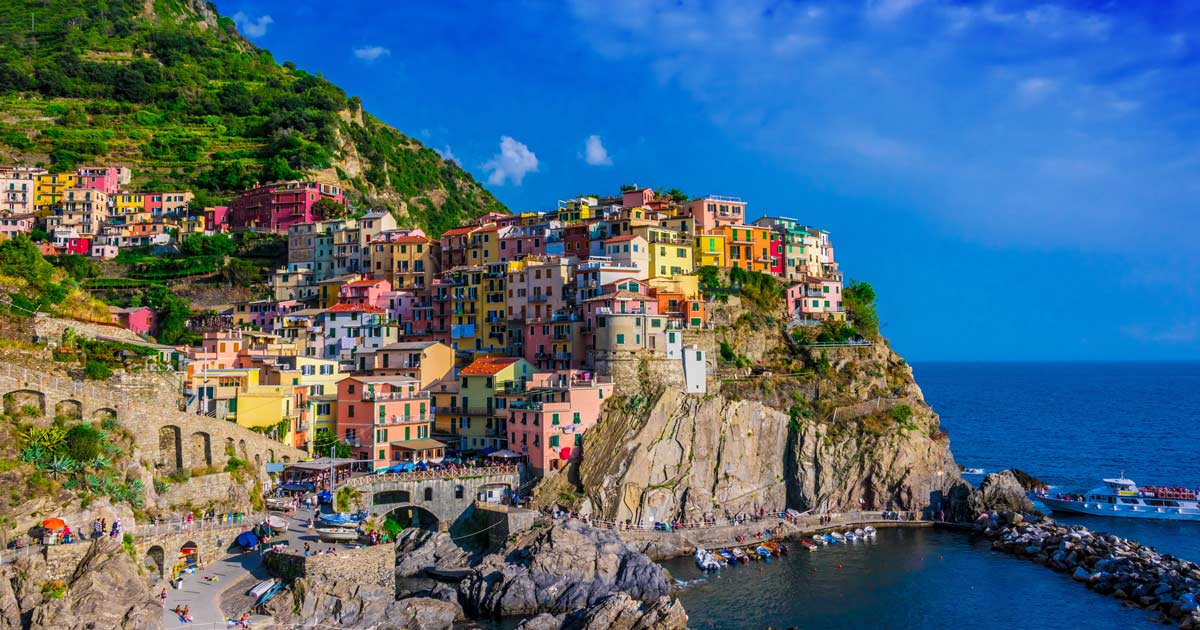 Next, you absolutely have to take the occasion to go to one of the most picturesque areas in Italy, Cinque Terre!
But before you arrive in Cinque Terre, you absolutely MUST make a stop in Pisa on the way. Located a 1.5 h drive from Florence, it's the perfect opportunity to take a break and explore its main attraction!
Well, I think we all already know what I am talking about… The famous Leaning Tower of Pisa! A UNESCO world heritage site standing right in the Piazza Dei Miracoli, a beautiful historic square!
A lot of people just come here to snap a quick picture, but if you want to have a better understanding of the tower and other important attractions in the city, you can take this guided tour, including a visit to the Miracle Square, the Cathedral, and Baptistery.
If you want some more time to explore this city, you could choose to spend a night in one of the hotels in Pisa, but if you are following my Italian Itinerary, it's time to continue on to La Spezia (and then Cinque Terre)!
NOTE: You can't drive all the way to Cinque Terre as you will need to take a train from La Spezia to reach it. So if you are traveling by car, you can either leave it in a secure parking spot in La Spezia (€30 a day) if you wish to stay in Cinque Terre (recommended), or stay in La Spezia and take a day trip to visit the beautiful villages.
P.S.: If you don't have a car, Pisa can also be visited on a day trip from Florence!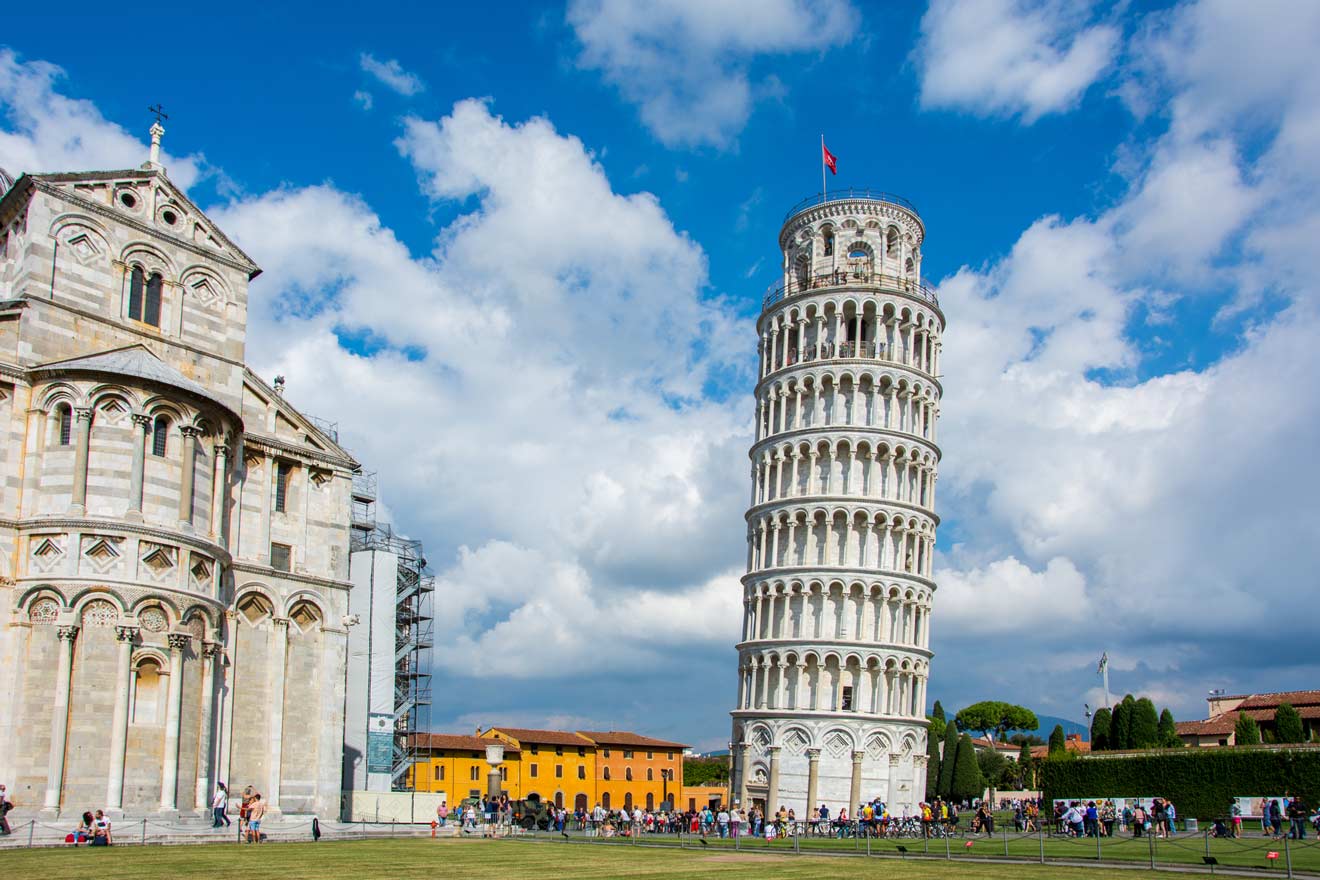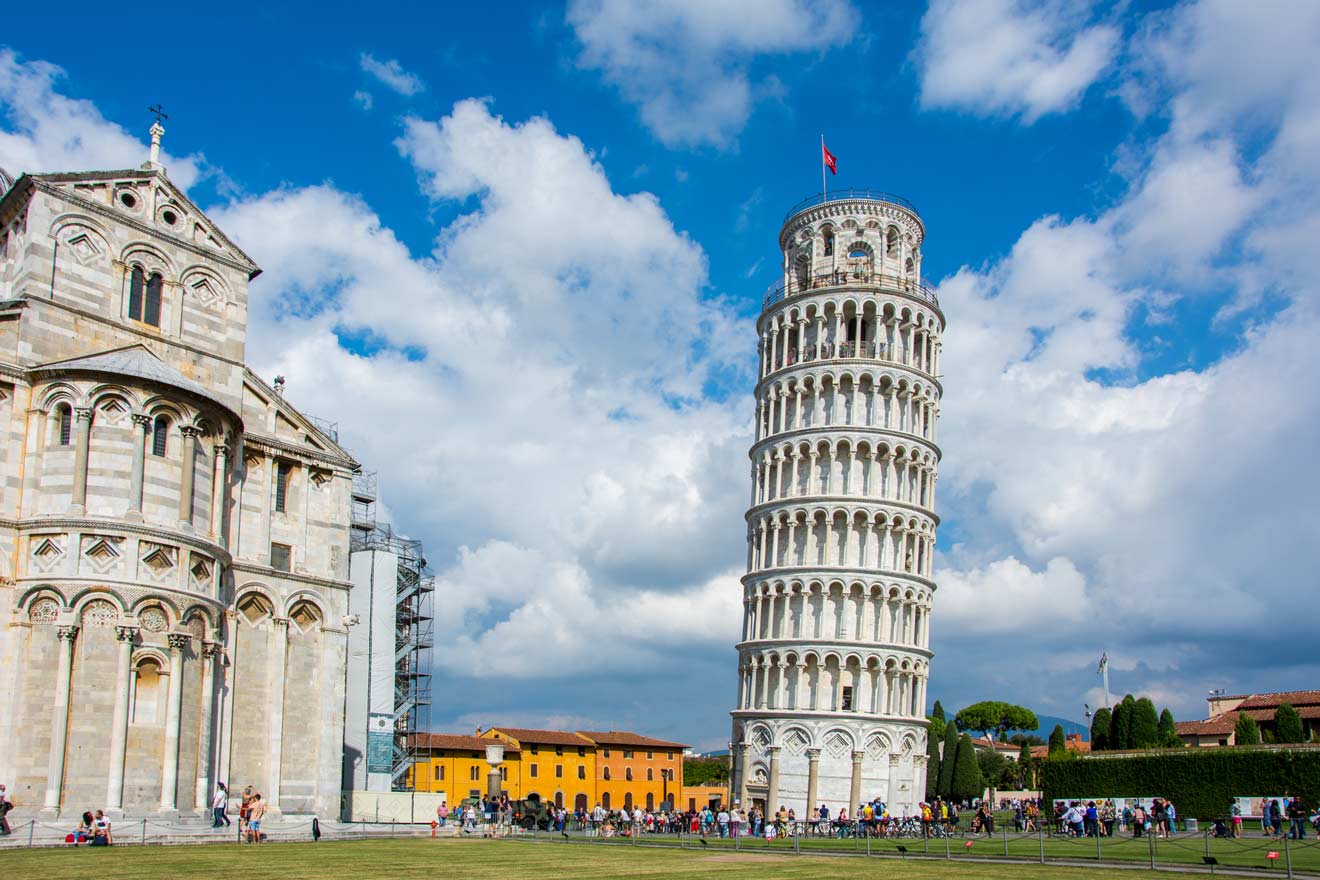 Driving & distances:
Car: Drive for 1.5 h via A11/E76 to Pisa, then continue onto La Spezia for 1 additional hour where you will need to take the train to Cinque Terre (see below)
Train: Take the regional train from Firenze SM Novella to Pisa Centrale train station for 1.5hr and €10. From Pisa, take the train for 1hr to La Spezia and swap to the Cinque Terre Express train for about €5 (you can buy the ticket directly at the train station). Getting to the first Cinque Terre town (Rio Maggiore) will take you around 15 minutes.
Top things to do in Pisa:
Take a guided tour of the best attractions in Pisa
Climb the Pisa Leaning Tower
Stroll around the beautiful Piazza dei Miracoli square
Where to stay in Cinque Terre (2 nights)
Luxury (€200 and up): Mada Charm – This luxury hotel is located in the beautiful village of Vernazza, a few steps from the beach, offering stunning sea views!
Mid Range (€100 – €200): Miramare – You'll fall in love with this lovely hotel in Riomaggiore, featuring a balcony and an outdoor terrace
Budget (Up to €100): Camere Fontanavecchia – Check out this budget-friendly and colorful hotel in Vernazza, offering spacious rooms with air conditioning
Day 11: Explore Cinque Terre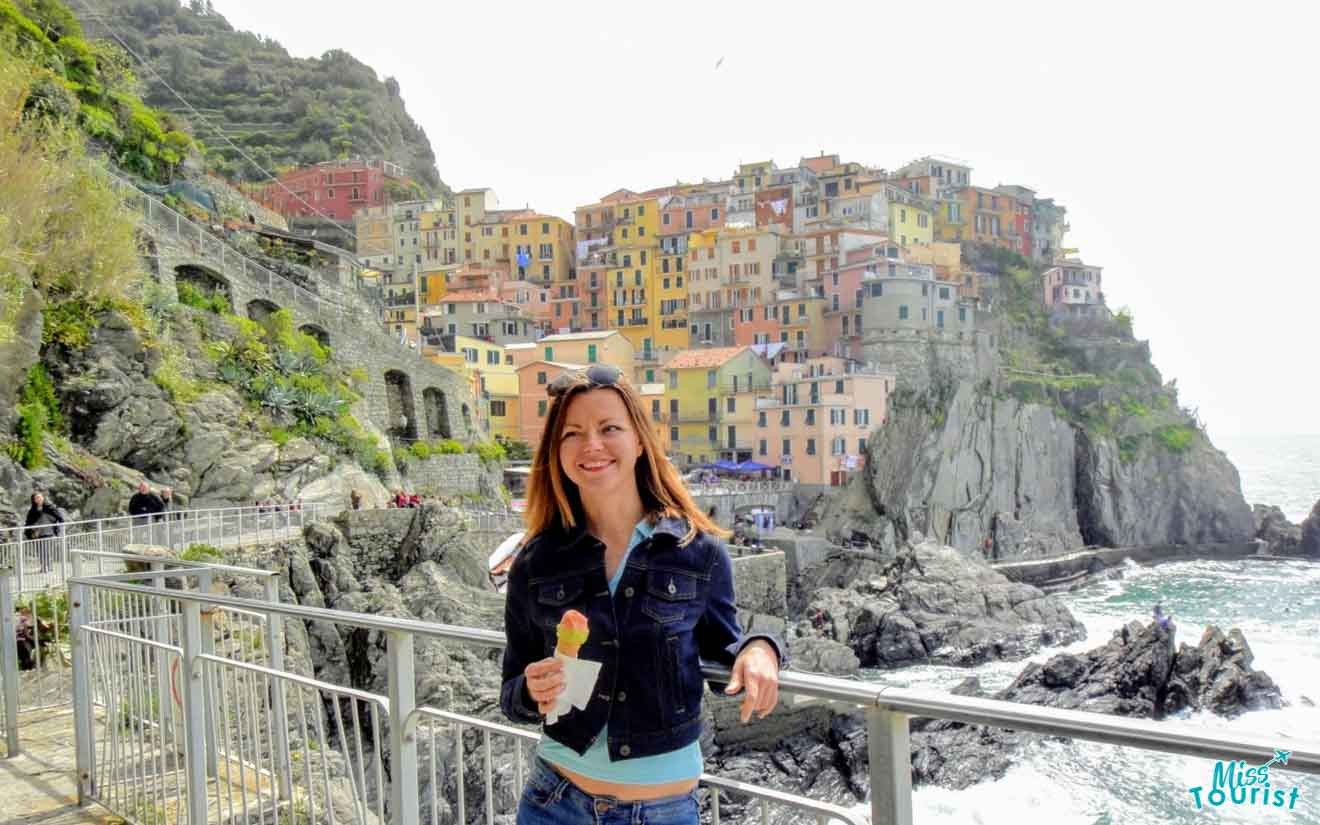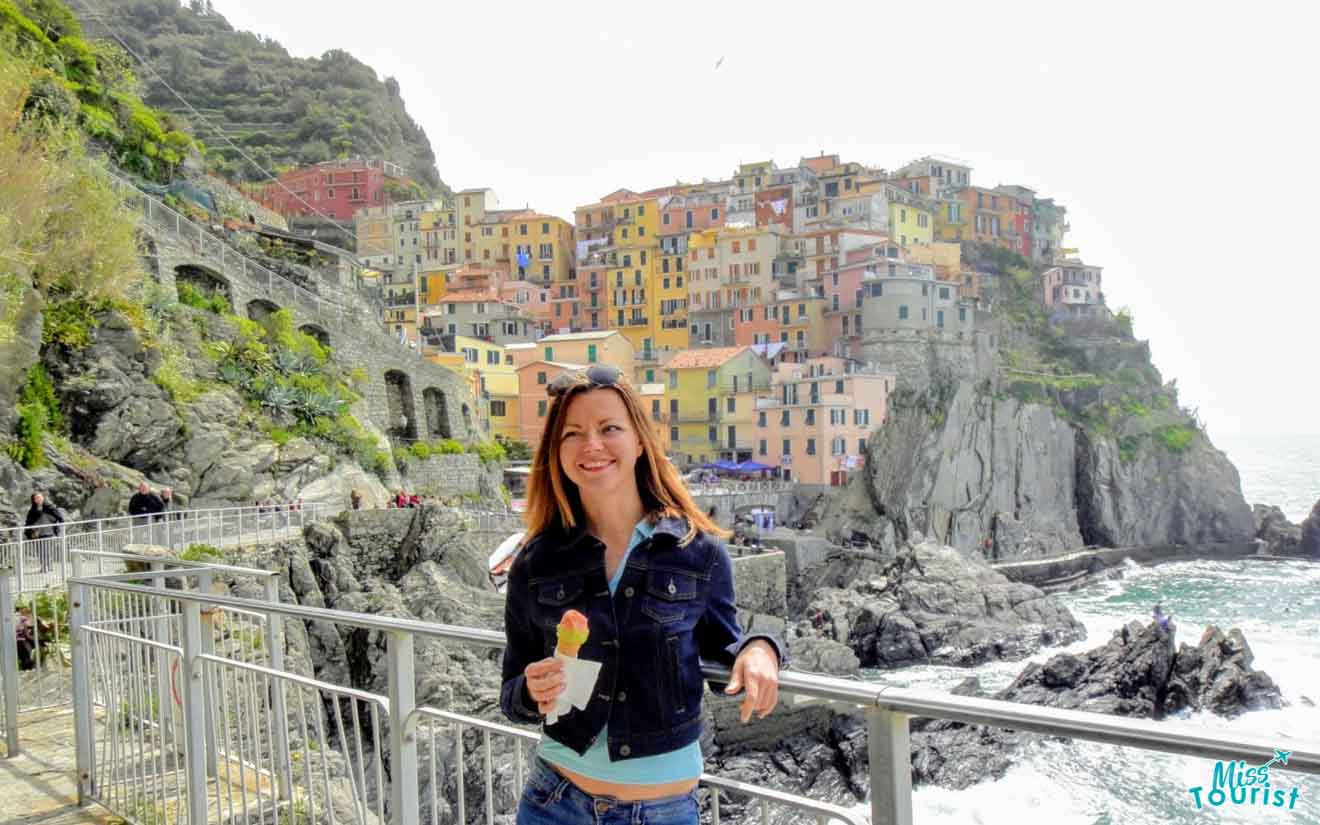 Cinque Terre is one of my favorite places ever in Italy! These five picturesque villages have been proclaimed a UNESCO World Heritage Site, and face the Mediterranean Sea on the scenic Ligurian coast.
This group of gorgeous hilly villages consists of Riomaggiore, Manarola, Corniglia, Vernazza, and Monterosso, all hosting tiny streets and colorful houses and the closest getaway to explore them is La Spezia city.
You can visit them all in one day, taking the train that connects them and stopping where you prefer, or doing a hike (through the Sentiero Monterosso – Vernazza) between the towns if you love the outdoors.
Whichever of the 5 cities you visit, you need to try the delicious street food of Ligury: focaccia ligure, farinata di ceci and fritto misto… All perfect snacks to give you the right energy to keep you going!
Top things to do in Cinque Terre
Swim and relax in Vernazza Beach
Explore Cinque Terre on a boat cruise
Follow the hike Sentiero Monterosso – Vernazza, linking the Cinque Terre towns
Try the delicious focaccia Ligure!
Day 12: Visit Milan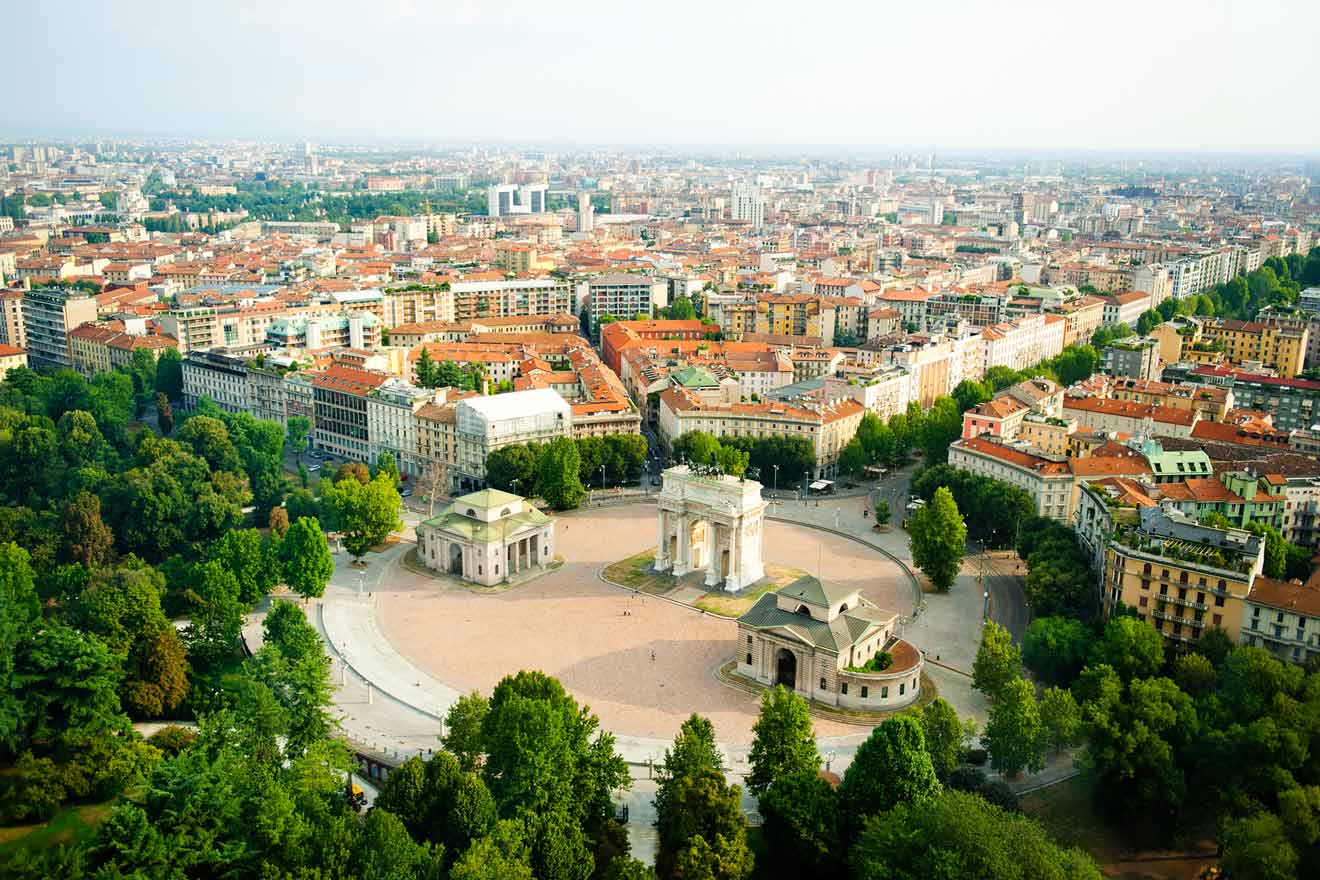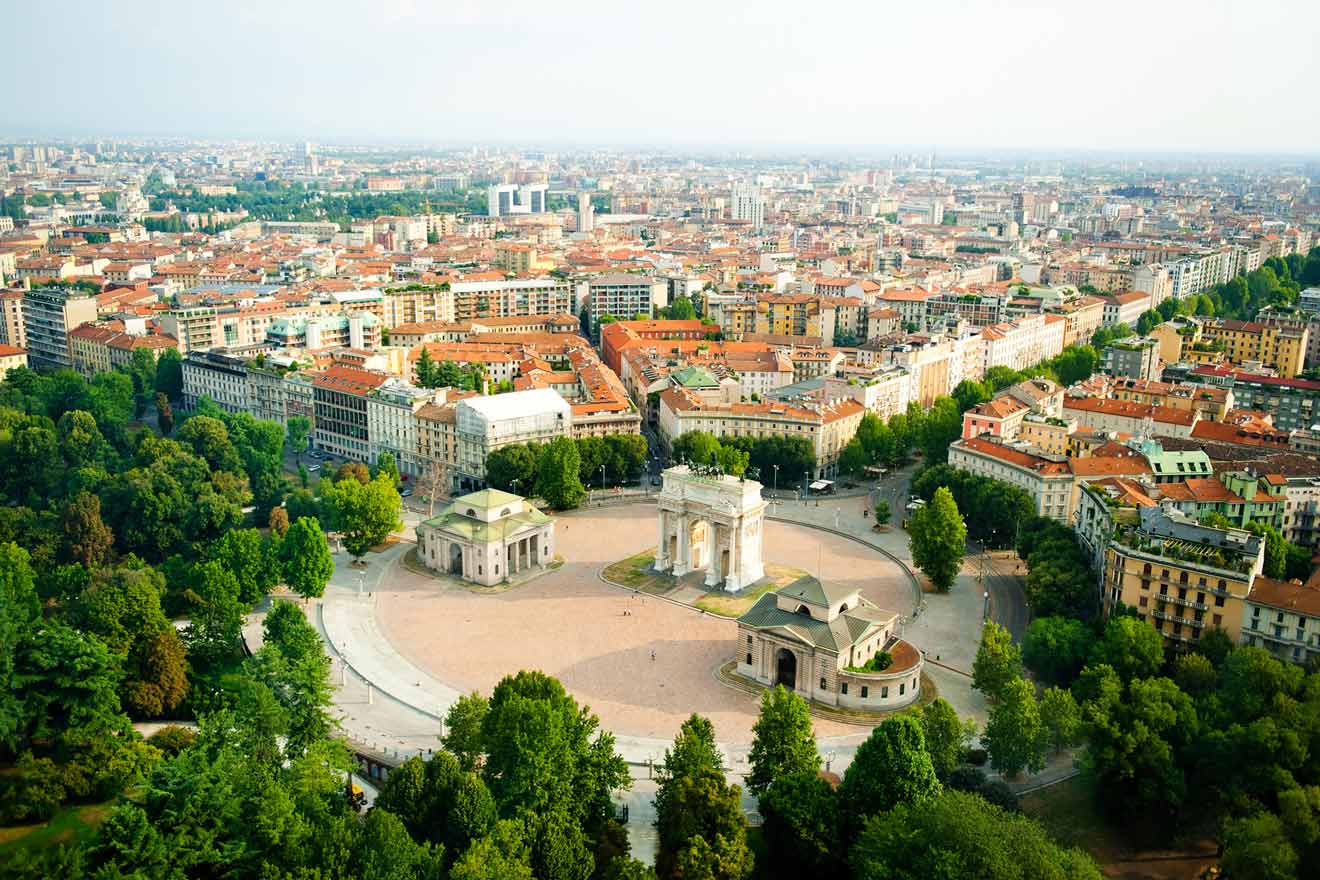 After Cinque Terre, it is time to focus on northern Italy and the first stop will be Milan! This is one of the major cities in this part of the country and is known as the country's fashion capital.
But this bustling city has much more to offer, from historical attractions to inspiring art and very good nightlife. Some examples? The majestic and iconic Duomo church, and the famous Leonardo Da Vinci's Last Supper at the Santa Maria Delle Grazie church.
If you stroll around the city center and you check out the attractions just mentioned, it will be enough for one day, but if you have more than two weeks for your itinerary, a great day trip from Milan is definitely to Lake Como.
Located about 1.5h from Milan, Lake Como is one of the most magical places in Italy, perfect to spend some time in nature with the mountains as a backdrop. If Lake Como is in your checklist, I suggest you spend at least 1 night in one of these cool places to stay in Lake Como, featuring breathtaking water views!
Otherwise, check out all the great things to do in Milan below.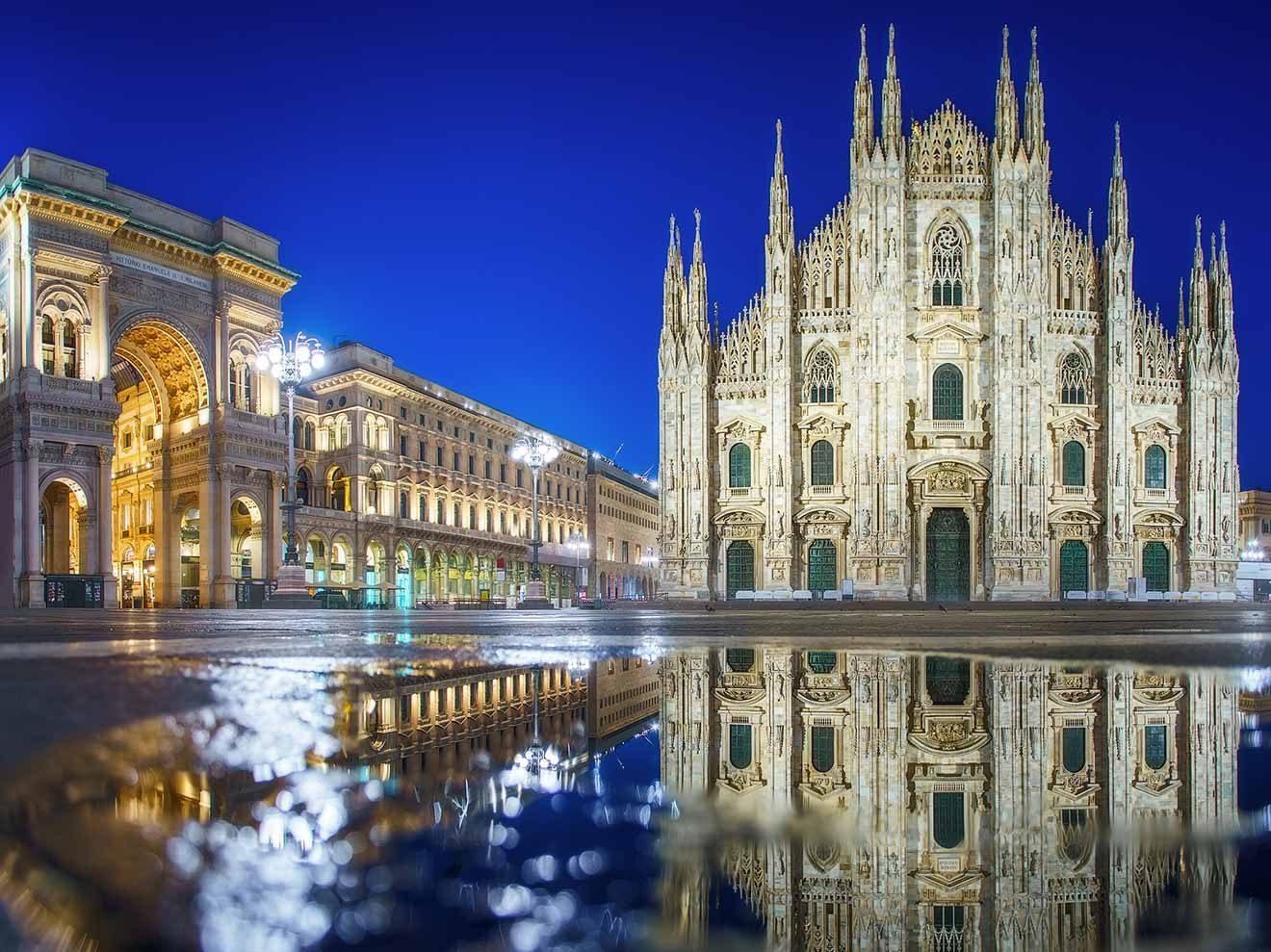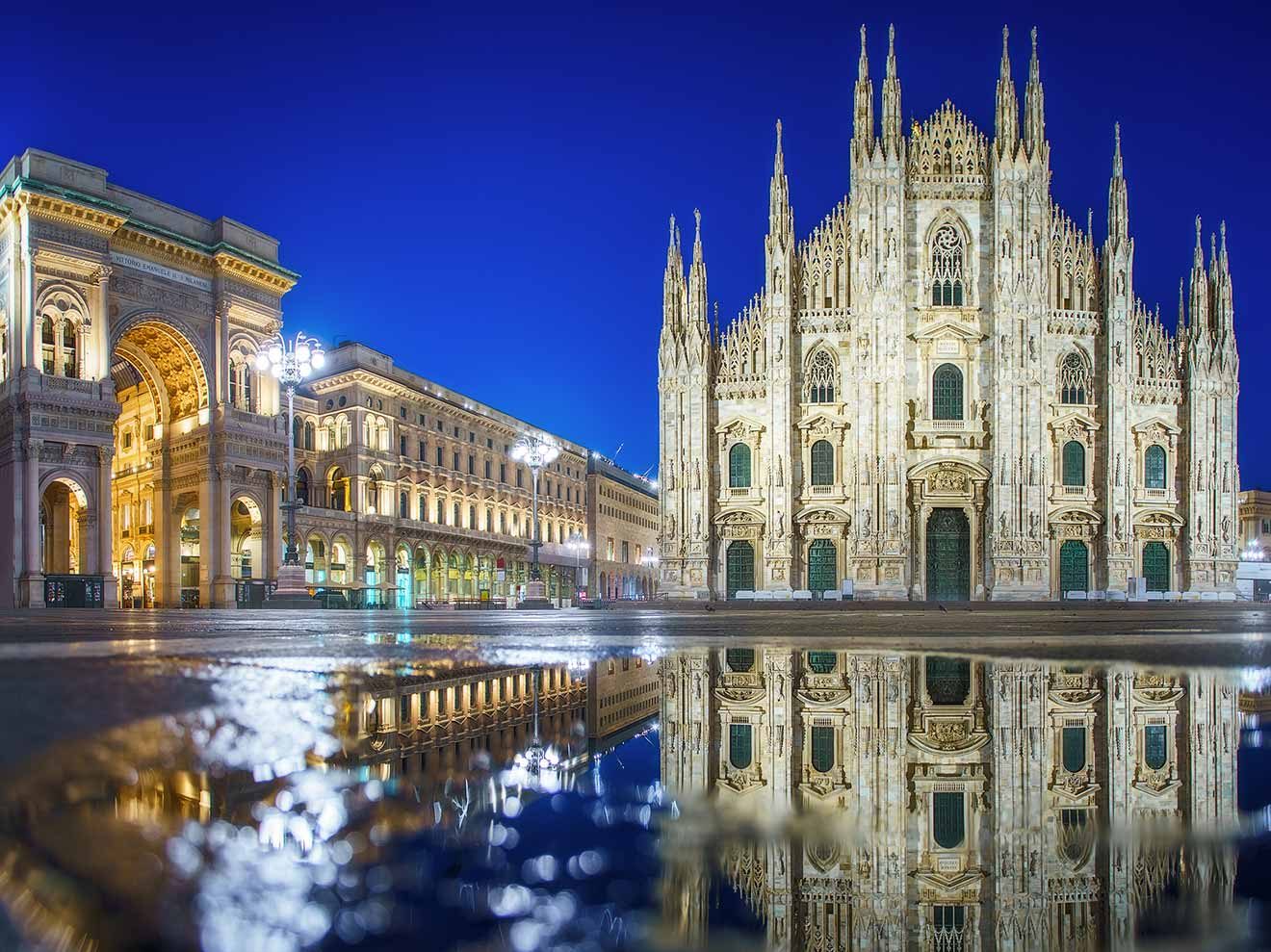 Driving & Distances:
Car: Driving to Milan from La Spezia will take you 2.5h via A1 and A15/E33
Train: Return to La Spezia and take the train from La Spezia train station to Milano Centrale station. It will take you around 4h and cost €30.
Top things to do in Milan
Take a picture of the famous Piazza del Duomo!
Visit the Duomo Church
Gaze at Leonardo Da Vinci's Last Supper at the Santa Maria Delle Grazie church
Have a real Italian aperitif in Navigli in the late afternoon
Take a break from the city life on this day trip to Lake Como
Where to stay in Milan (1 night)
Luxury (€500 and up): Park Hyatt Milano – Check out this 5-star hotel offering luxury facilities like a 2 Michelin starred restaurant, and a great location just by the Duomo
Mid Range (€150 – €400): HeMi Luxury Suites – In this great hotel you will find well-appointed rooms, a garden and the most delicious Italian breakfast
Budget (Up to €150): Torino48 Guest House – If you're traveling on a budget in Milan, check out this cozy hotel, close to all the best attractions in the city!
Day 13: Travel to Venice via Verona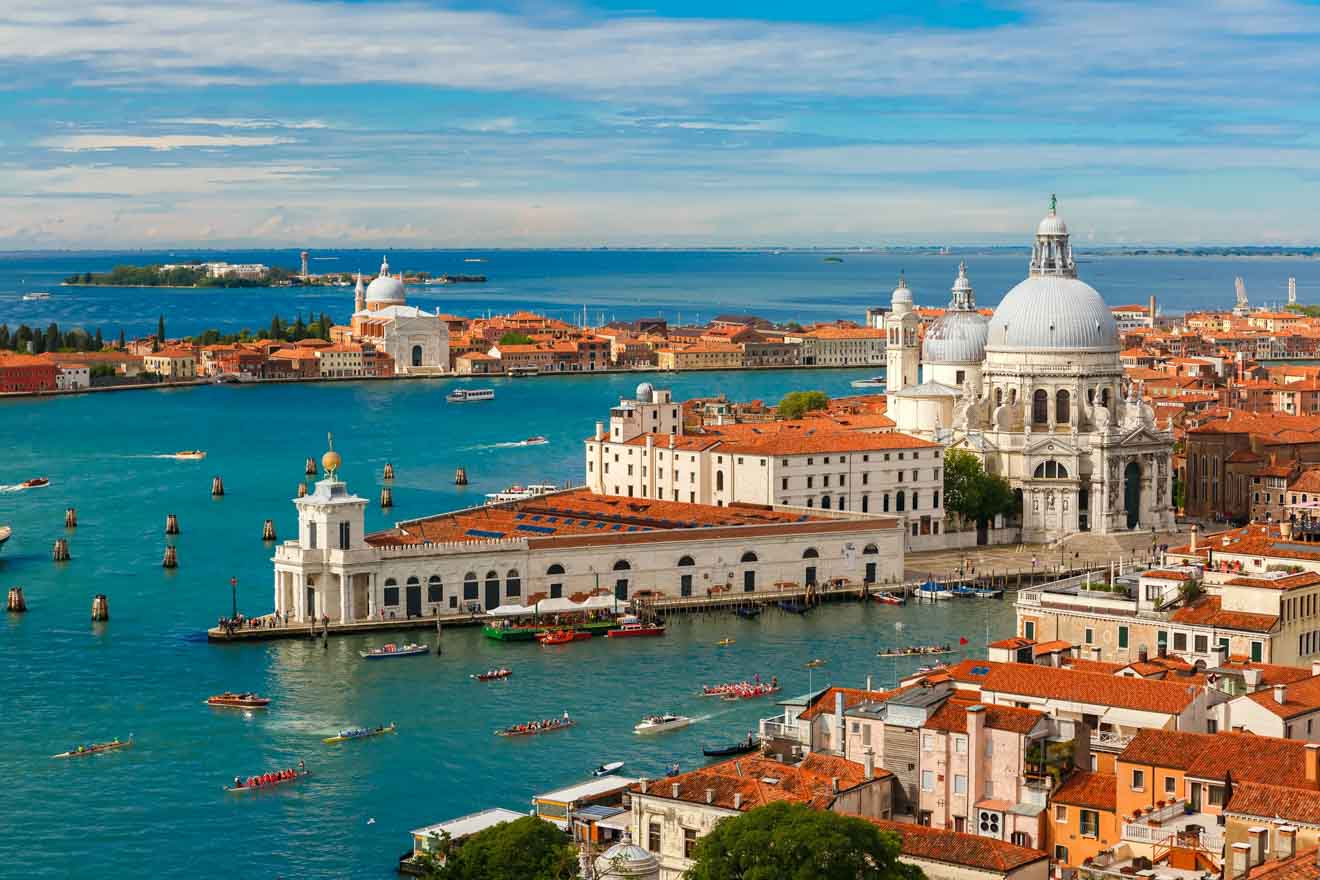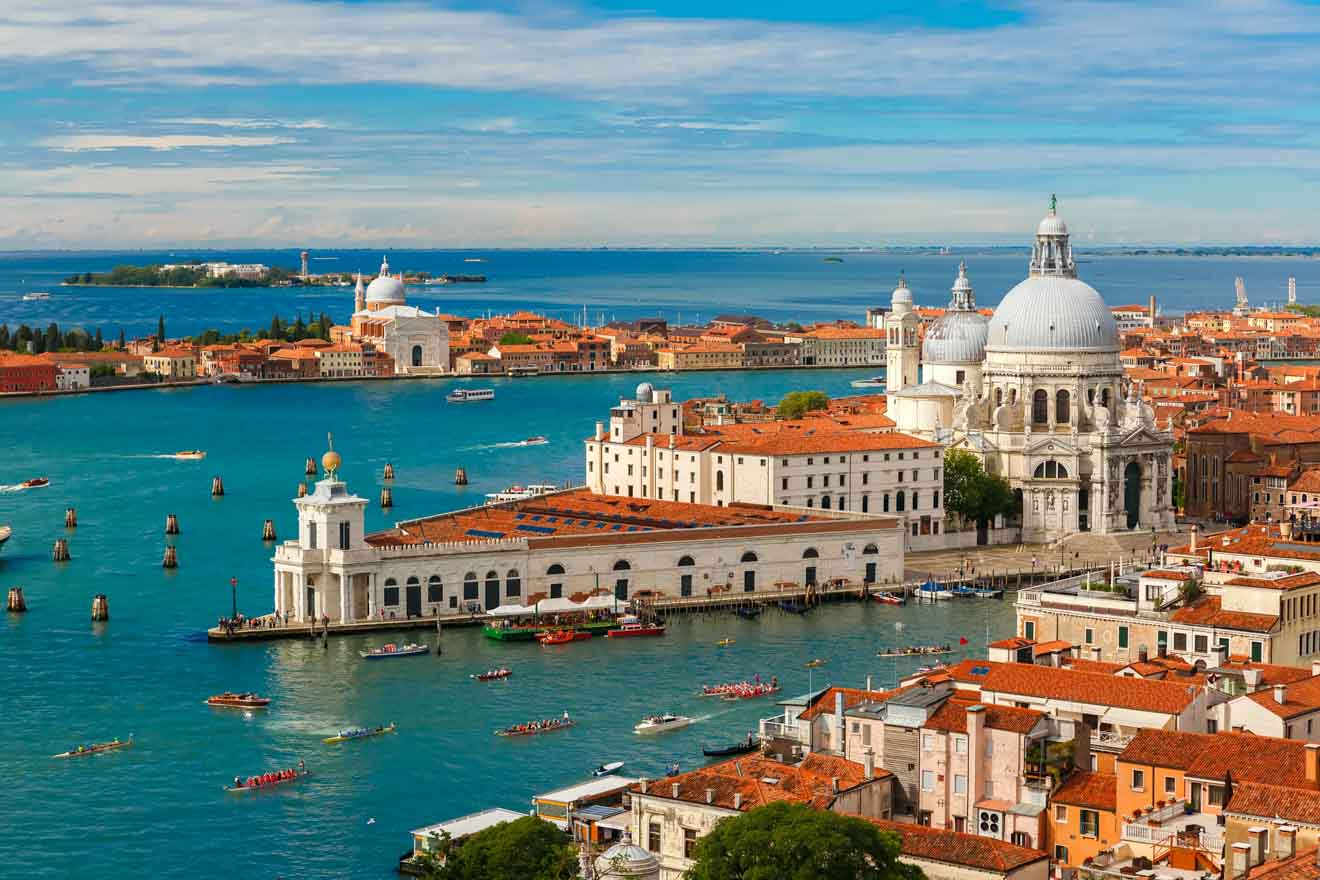 We are almost at the last stop of our two-week Italy itinerary trip, and I think the best way to end it is in the unique city of Venice.
But before getting there, there's another Italian treasure you need to explore: Verona, my hometown around 2 hours from Milan!
This romantic city, located in the Veneto region, hosts a small historic center with many things to see. The main squares (Piazza Bra and Piazza Erbe), the famous house of Romeo and Juliet, and Castel San Pietro, a Roman Castle where you can gaze at incredible city views.
If you are following my itinerary exactly, you will continue to Venice for the night!

PRO TIP: Since you cannot enter Venice city center with your car, I suggest you drop off your rental car in Verona and take an early train to Venice to have the time to explore it all!
If you have more than 2 weeks and you want to spend a couple of nights here, you'll have the time to attend an opera concert at the Arena amphitheater (a small colosseum) or to do of the many cool things in Verona, plus you could even take a trip to the amazing Lake Garda!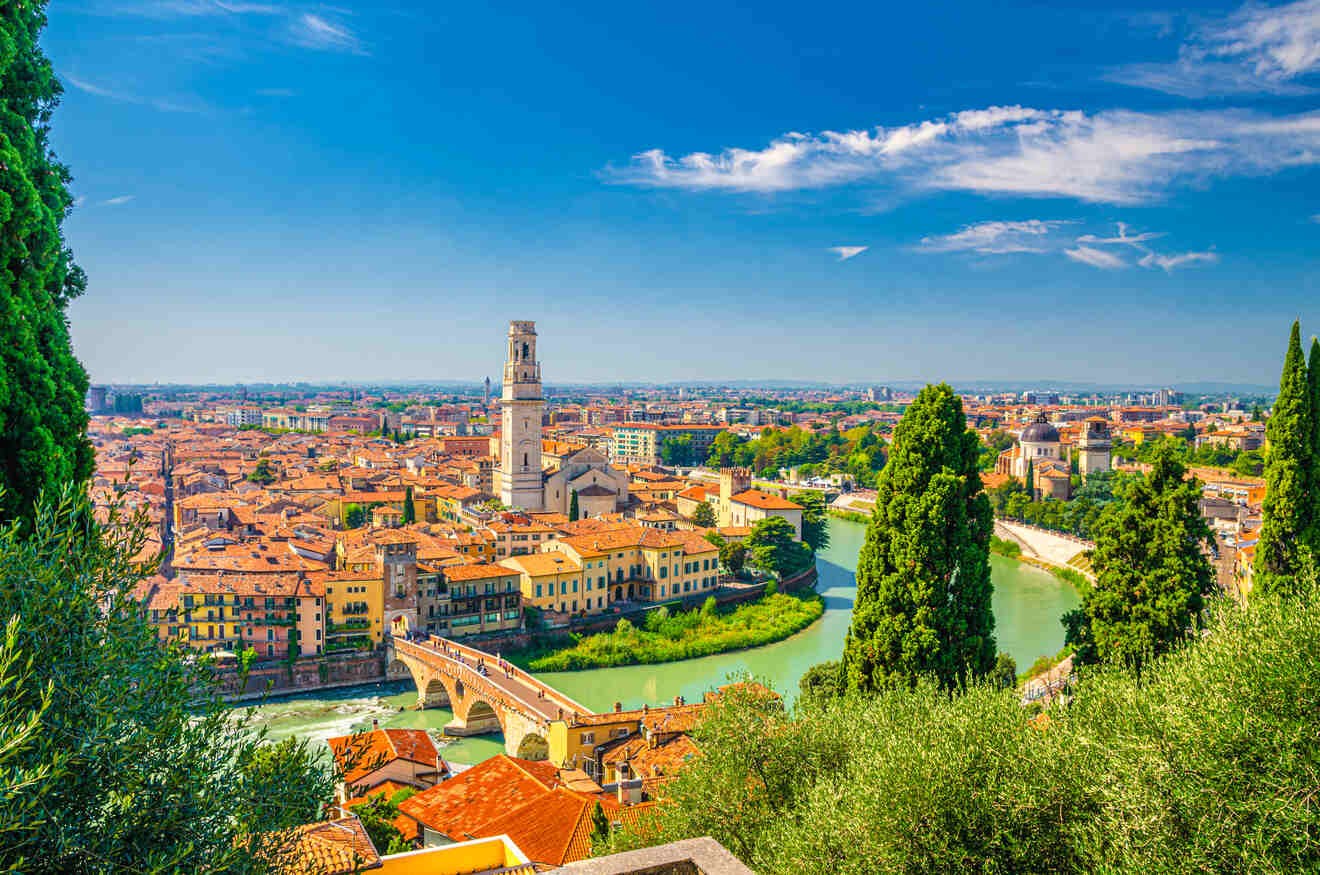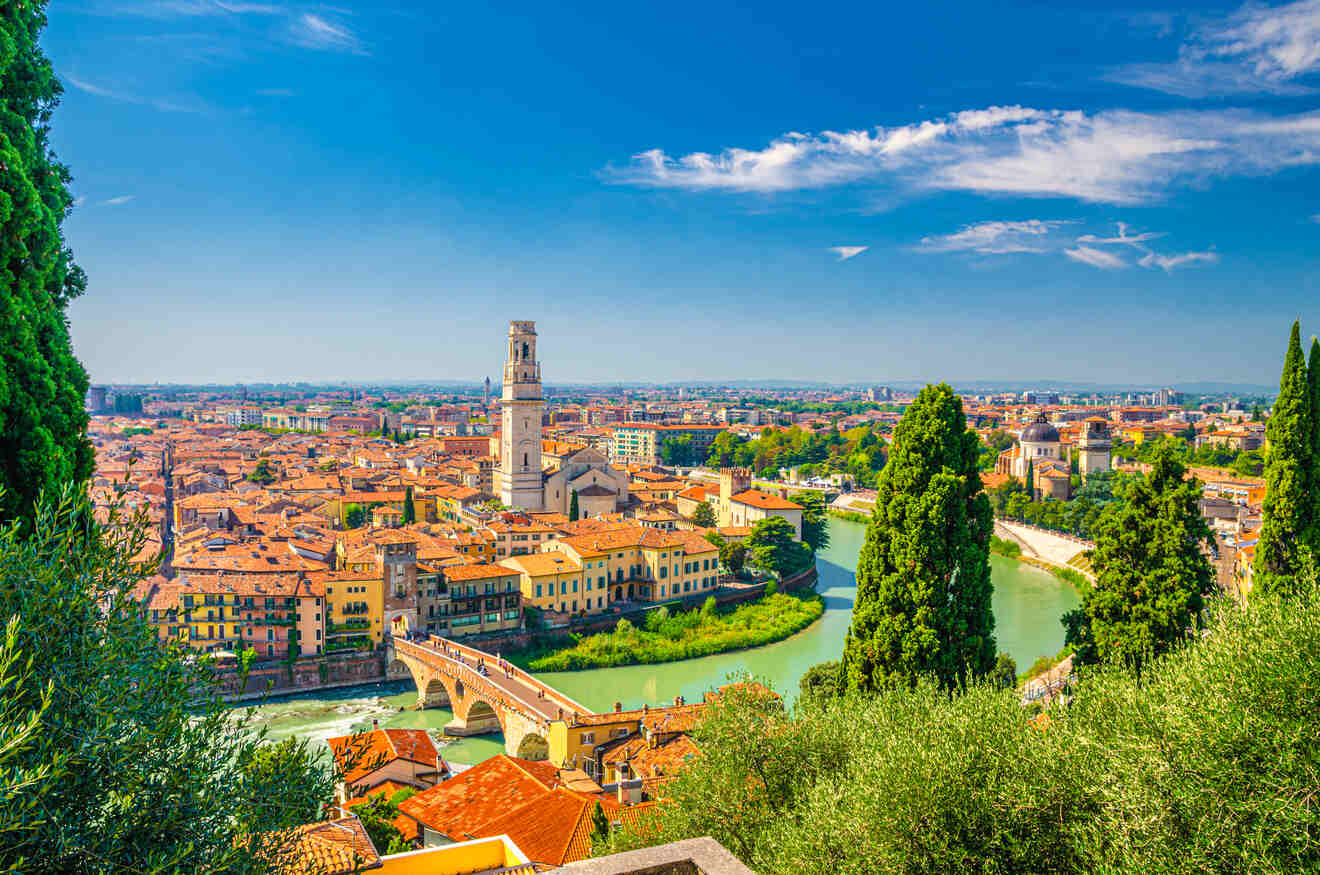 Driving & Distances:
Car: Drive to Verona from Milan for 2h following the A4 highway. Then continue on the A4 to Venice for 1h.
Train: Take the high-speed train Italo from Milano Centrale to Verona Porta Nuova. The train ride will take you 1.15h and cost you €15 ( to get these prices in Italo you need to book tickets in advance!). Then take the direct train Italo from Verona Porta Nuova to Venezia Santa Lucia train station for 1h and €10.
Top things to do in Verona
Where to stay in Venice (2 nights)
Luxury (€250 and up): Hotel A La Commedia – If you want to splurge during your holiday in Venice, this hotel is for you, just a few steps away from Doge's Palace!
Mid Range (€150 – €250): Hotel Mercurio Venice – Check out this charming family-run hotel, with Venetian antique furnishings, it will make you feel immediately at home
Budget (up to €130): Hotel SIlver Suite – Are you looking for a budget hotel in Venice? Then look no more! This hotel is centrally located right close to the Basilica San Marco!
Day 14: Visit Venice and fly back home!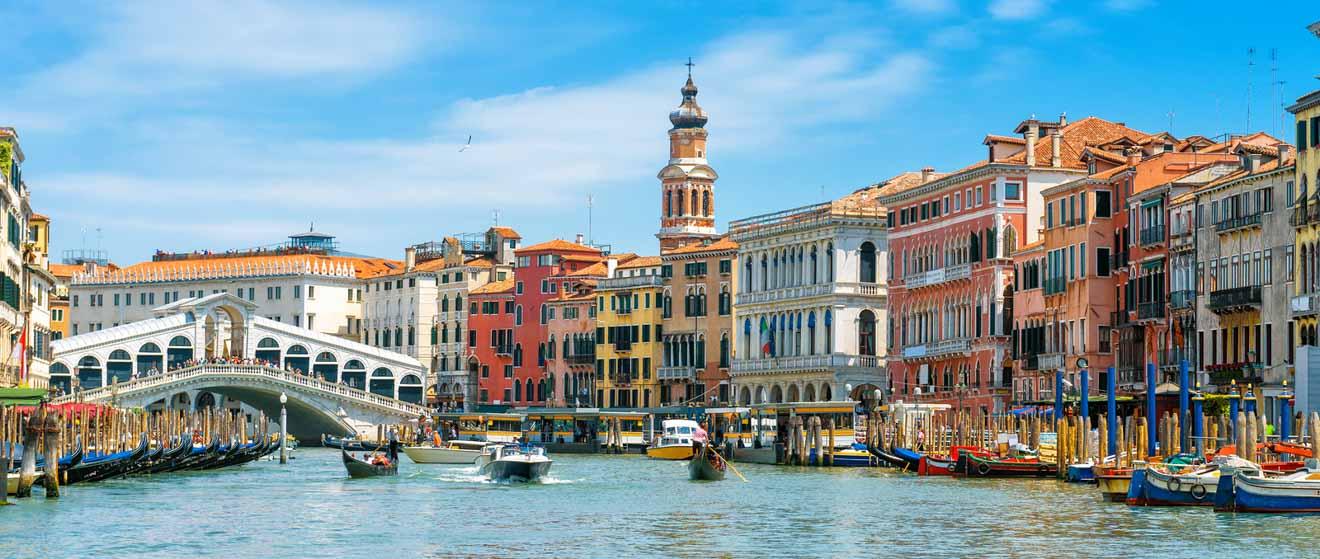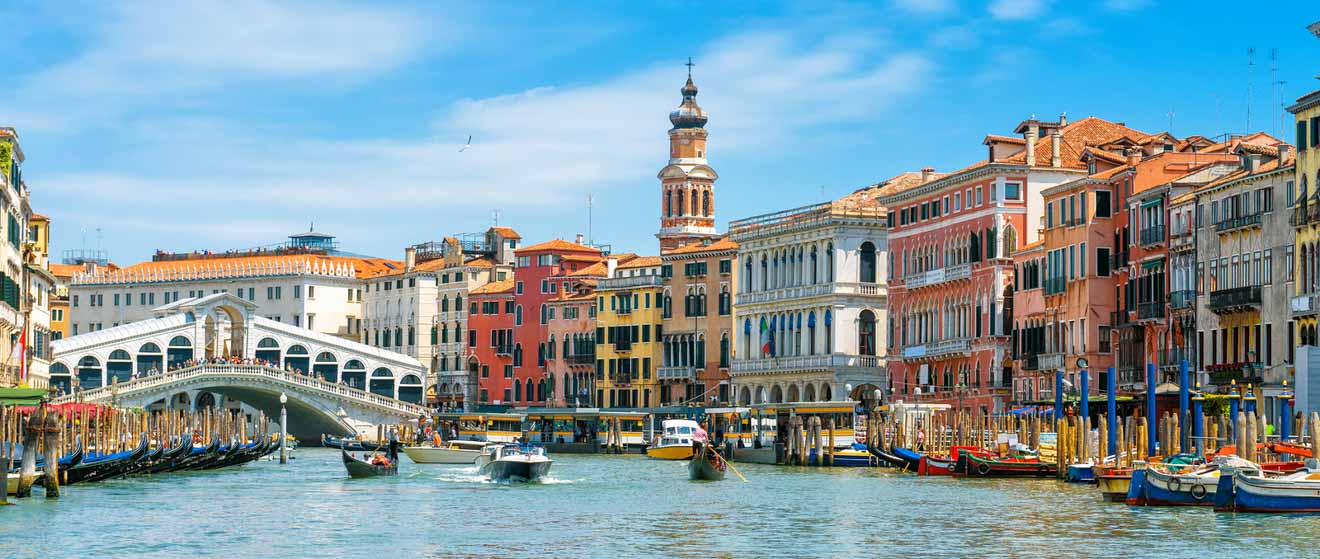 Here we are to the last stop for your Italy trip before you fly home. Venice is the capital of the Veneto region and one of the most unique cities in Italy and in the whole world!
Once you're there, take a private gondola ride exploring the beautiful canals through the historical city center while you gaze at stunning buildings and ancient churches and discover the other Venice attractions by foot (they're all within walking distance from each other!).
Some must-sees when you visit Venice are definitely Piazza San Marco square, the magnificent Saint Mark's Basilica, and the Rialto Bridge, from where you can gaze at amazing views of the Grand Canal.
And to take a break from all this visiting, stop at the traditional Cicchetti: bars serving appetizers and finger foods!
Top things to do in Venice
Do some tastings at 5 Cicchetti and 5 wine bars!
Visit Piazza San Marco and the Saint Mark's Basilica
See the best sunset views from Rialto Bridge
Explore the Grand Canal on a romantic gondola ride
| | |
| --- | --- |
| 🤩 Range of activities: | Large |
| 👪 Family-friendly score: | High |
| 🏛️ Best museum: | Vatican Museum |
| 🎢 Top paid attraction: | Pisa Leaning Tower |
| 🚶🏽‍♂️ Best free activity: | Walk around Venice |
| 🌅 Best coastal views: | Amalfi Coast |
| 👀 Best day trip: | Pompeii from Naples |
| 🍕 Must try food: | Pizza Napolitana |
| 📅 How many days: | 2 weeks |
| 📍 Best city: | Rome |
| 🍽️ Dinner for 2: | €40 |
| ✈️ Cost of traveling: | Medium |
Practical Information
Wow, now that you have your whole itinerary sorted. Here's some practical information for you about car rentals and general prices for your 2 weeks in Italy so you can understand exactly how much you will pay and what to expect!
Renting a car in Italy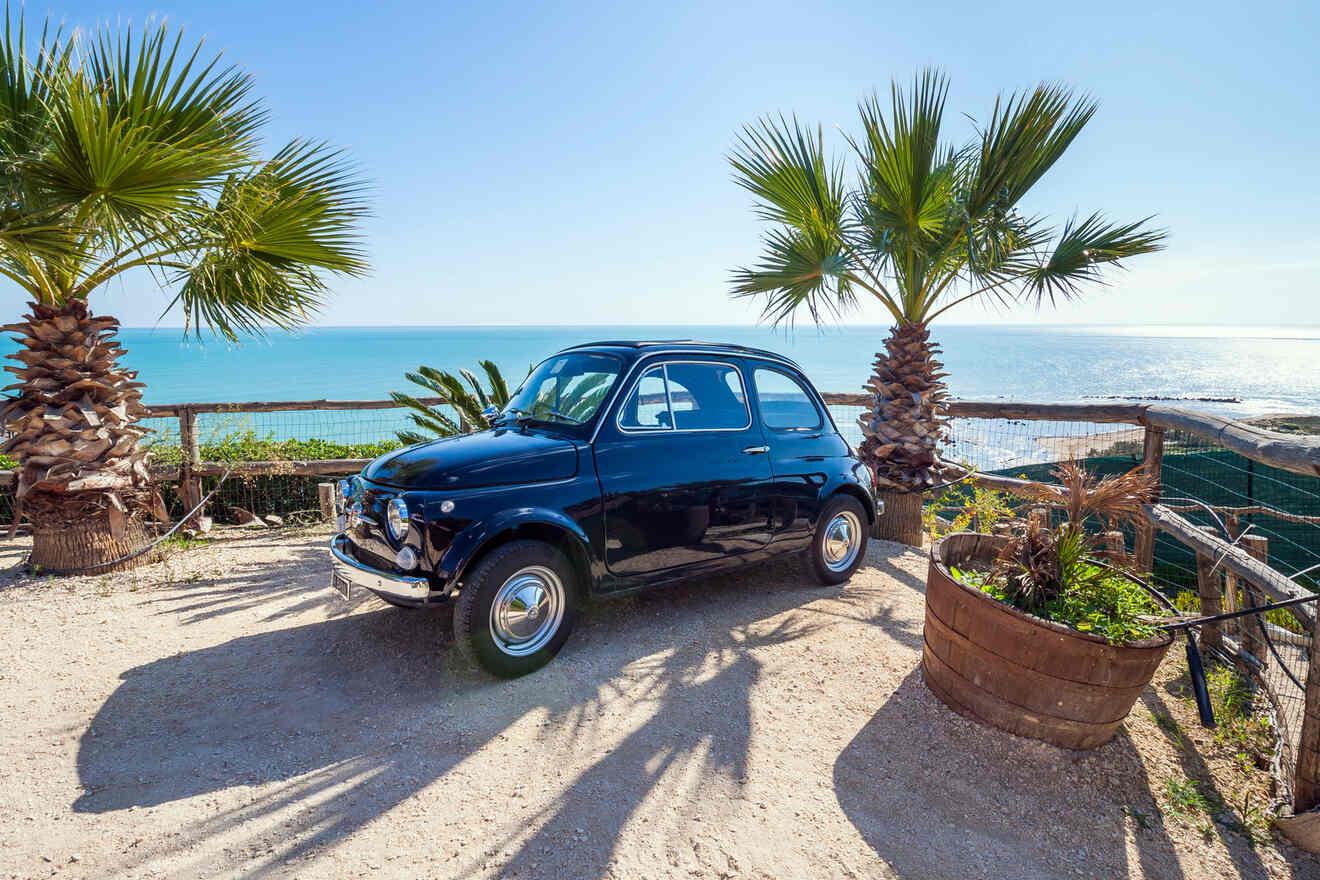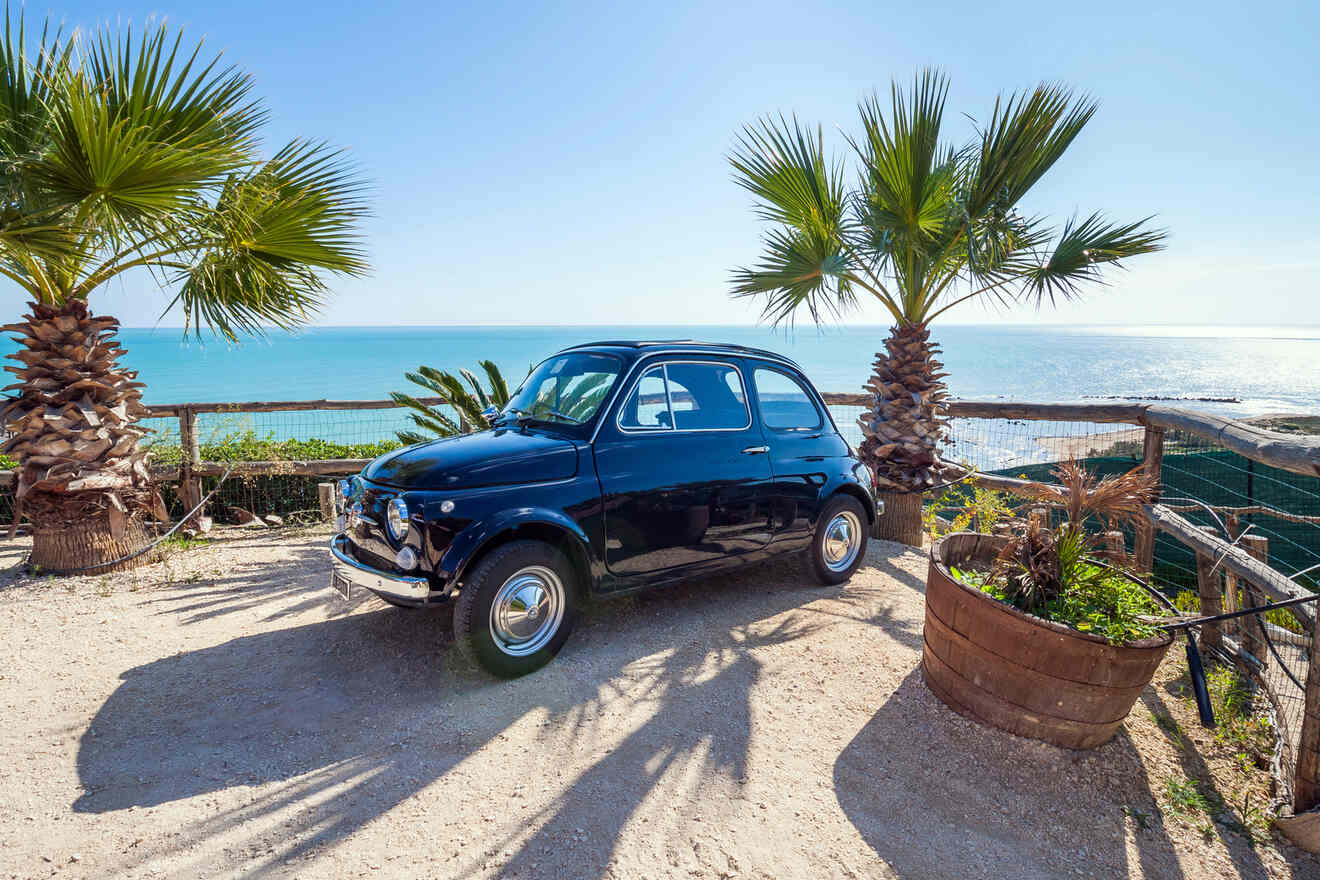 Renting a car for your two weeks in Italy itinerary is a good option so you don't have to rely on timetables, and have all the freedom to make stops along the way. Also, you can pick it up at the airport where you land and leave it when you fly home!
Requirements – To rent a car in Italy, you will need an international driver's permit, and I suggest you also get insurance if your travel insurance doesn't already cover you while driving in Italy.
Tolls – To get from one city to the other one, you will need to take the Italian highways (autostrada), which have tolls. Every time you come across a toll road, you'll pass through a barrier and you can either pay with cash or a card (check this website for paid roads). Prices of course change depending on the route's length but to give you an idea, you'll spend around €7 for a 100 km car trip on a highway.
Prices – To rent a 5-seat car for 2 weeks in Italy will cost you around €800, which is a good price if you share it with your friends or family! (Check out the next section for more detailed info on price calculations).
NOTE: In most of the historical centers of the Italian cities you cannot enter by car, like in Florence, Verona, and Venice, (and if you do you will get expensive fines)! So you will need to find private parking outside the city centers where you can leave your car during your stay or look for hotels with parking.
Cost of a 2-week road trip around Italy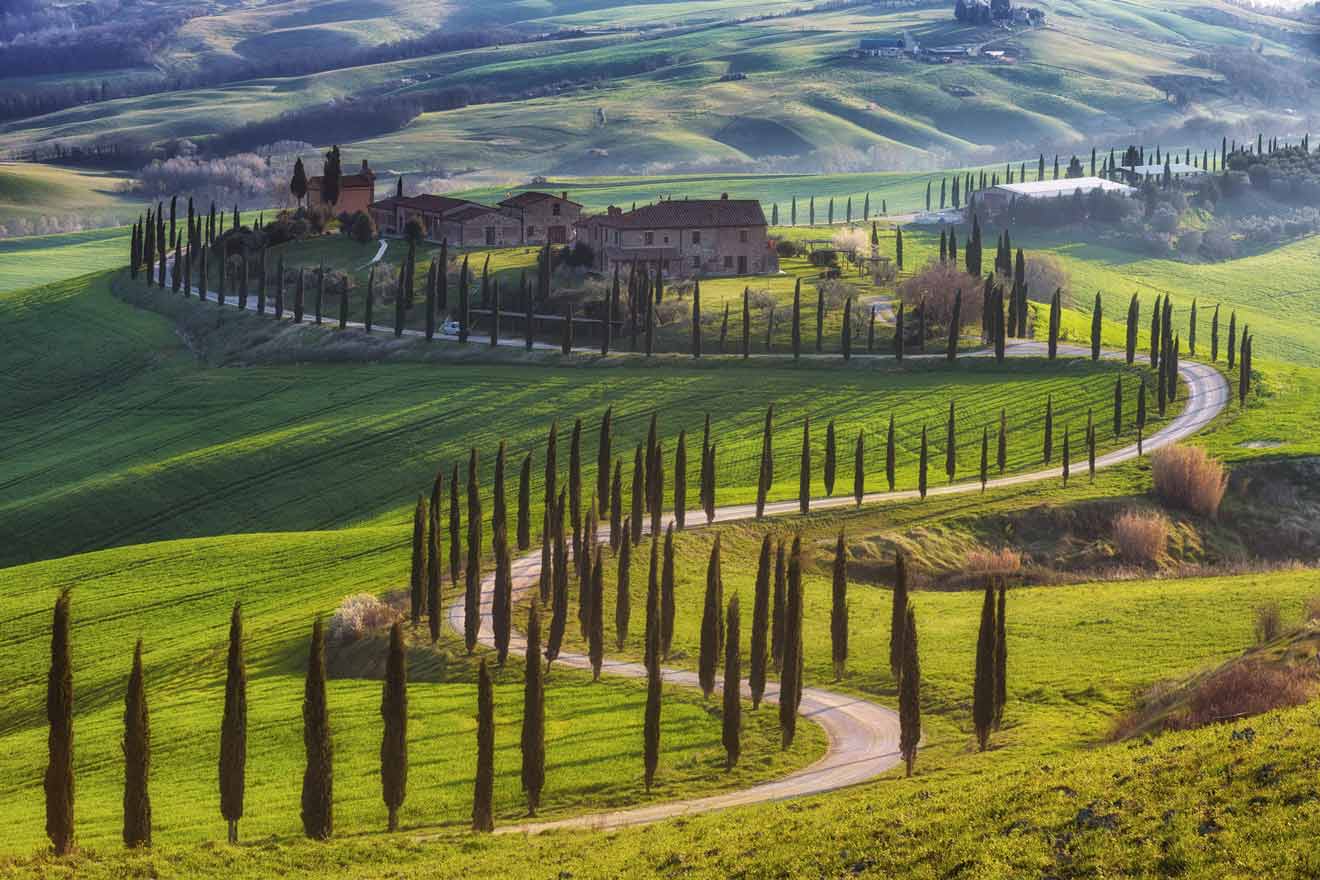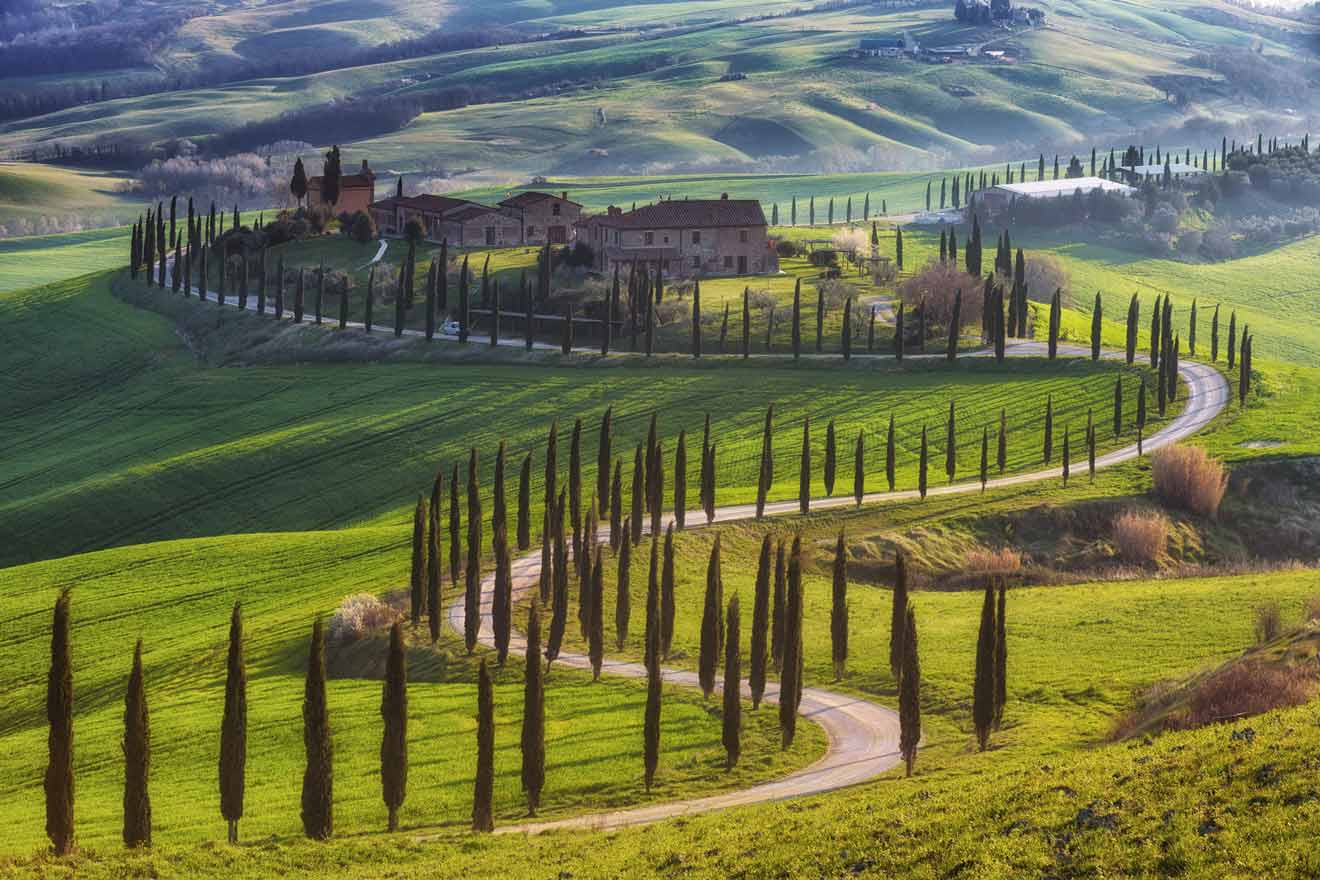 The cost of a 2 weeks itinerary around Italy really depends on many factors: the cities you will visit, the type of accommodation you will stay in (luxury or budget), the way of transportation you will use, the type of restaurant you will eat at, etc.
I calculated the cost for a mid-range trip in Italy (choosing hotels/dining options of this category) with a car, so you can adjust it more or less based on your budget:
NOTE: The prices are for two people and don't include the flight and the paid attractions or tours you'll book!
Car rental for 2 weeks:
Rental price = €800
Fuel = average 0.06L per km, €1.90 per liter: 1,300 km x 0.06L x €1.90 = €148
Tolls = €90
(Note that train travel for 2 weeks will cost you at least half of the price if you travel alone is for sure a better option!)
Food: Eating a fast lunch in a cafeteria and a meal at a restaurant = €80 per day x 14 days = €1,120
Mid-range hotel stay: €100 per night x 14 days = €1,400
€1,038 (car rental and expenses) + €1,120 (Food) + €1,400 (hotels) =
€3,558 for two people for two weeks
Frequently asked questions about Italy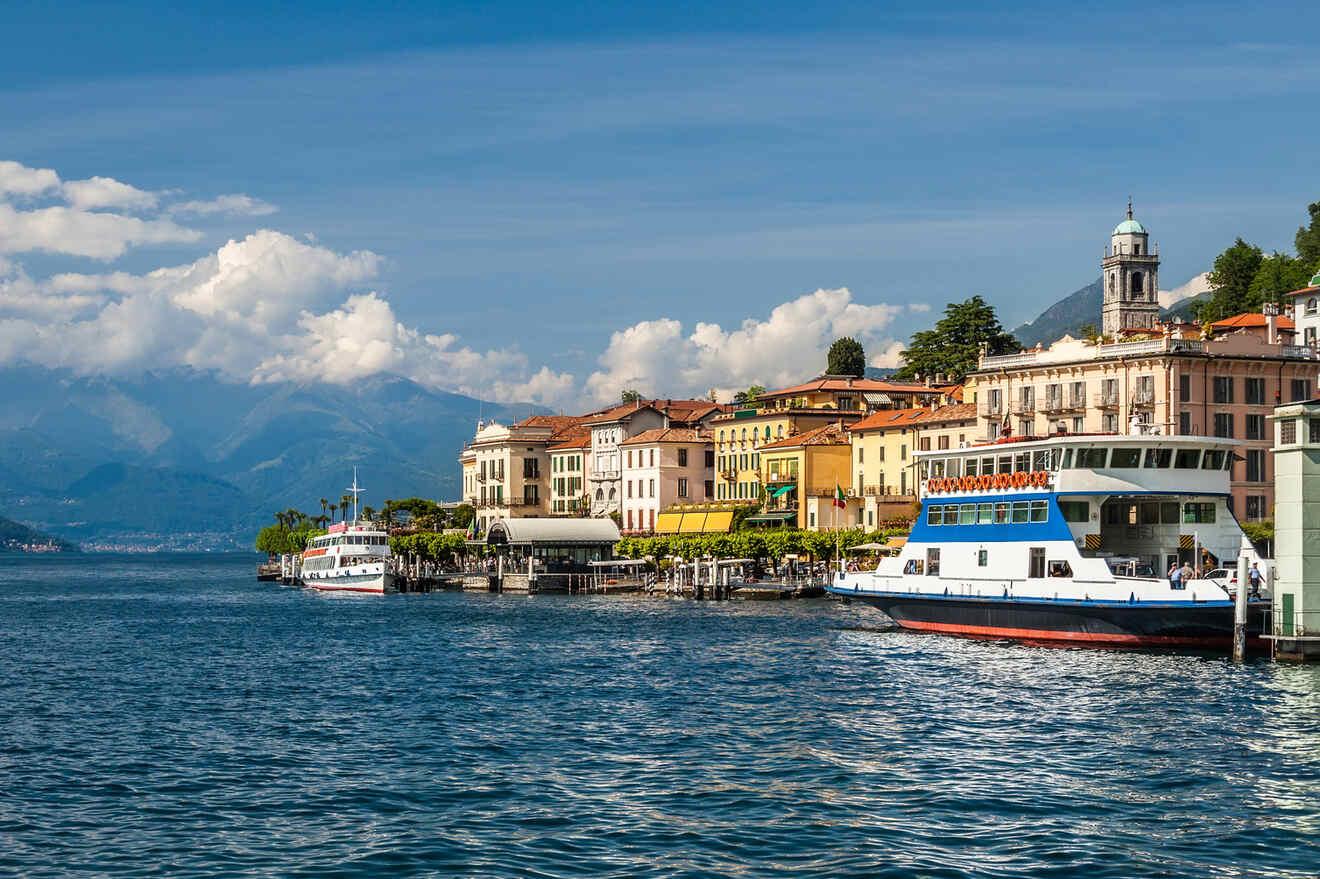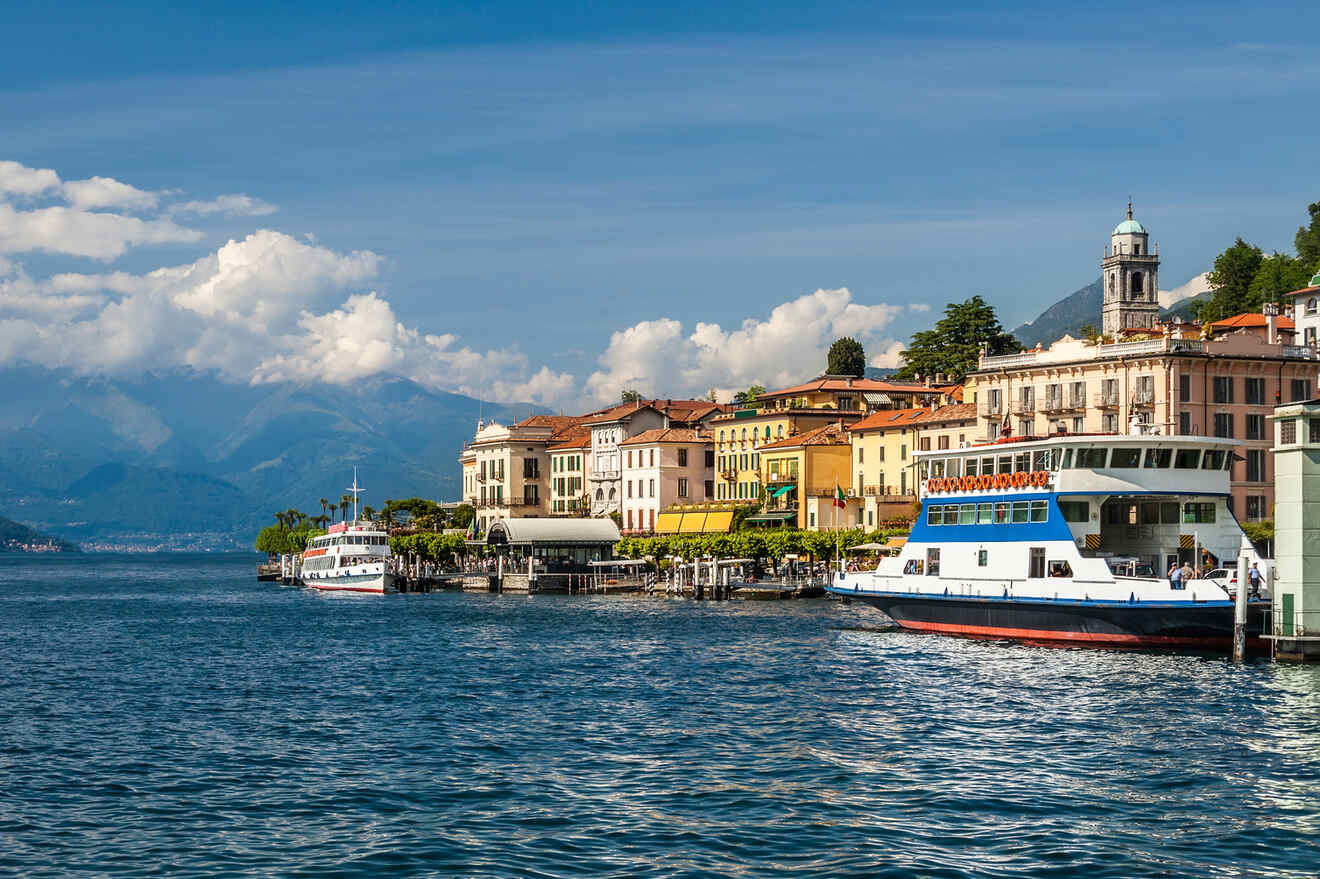 ✅ Are two weeks in Italy enough for a first trip?
Yes, two weeks in Italy are enough to see all its major cities and most important attractions. If you plan your two weeks in Italy itinerary well, you'll be able to get a real feel of this beautiful country and its traditions!
👀 What can you do if you visit Italy for 2 weeks?
During two weeks in Italy, you can see the Duomo in Milan, northern Italy, have a private gondola ride in Venice, eat a traditional Pizza in Napoli, and explore the Tuscan countryside!
💸 How much does it cost to stay in Italy for 2 weeks?
Two weeks in Italy itinerary will cost you around €3,560 for 2 people, including mid-range accommodation, 2 meals at the restaurant per day, and car rental for 2 weeks (+ fuel and tolls). But you can adjust this price to be cheaper and save at least €500 per person.
🚗 How do I get around Italy?
The best way of traveling around Italy, especially during long trips, is to rent a car, so you have all the freedom you need and can also reach more remote places. If it's too expensive for you, there are many regional and direct trains connecting the main cities.
Conclusion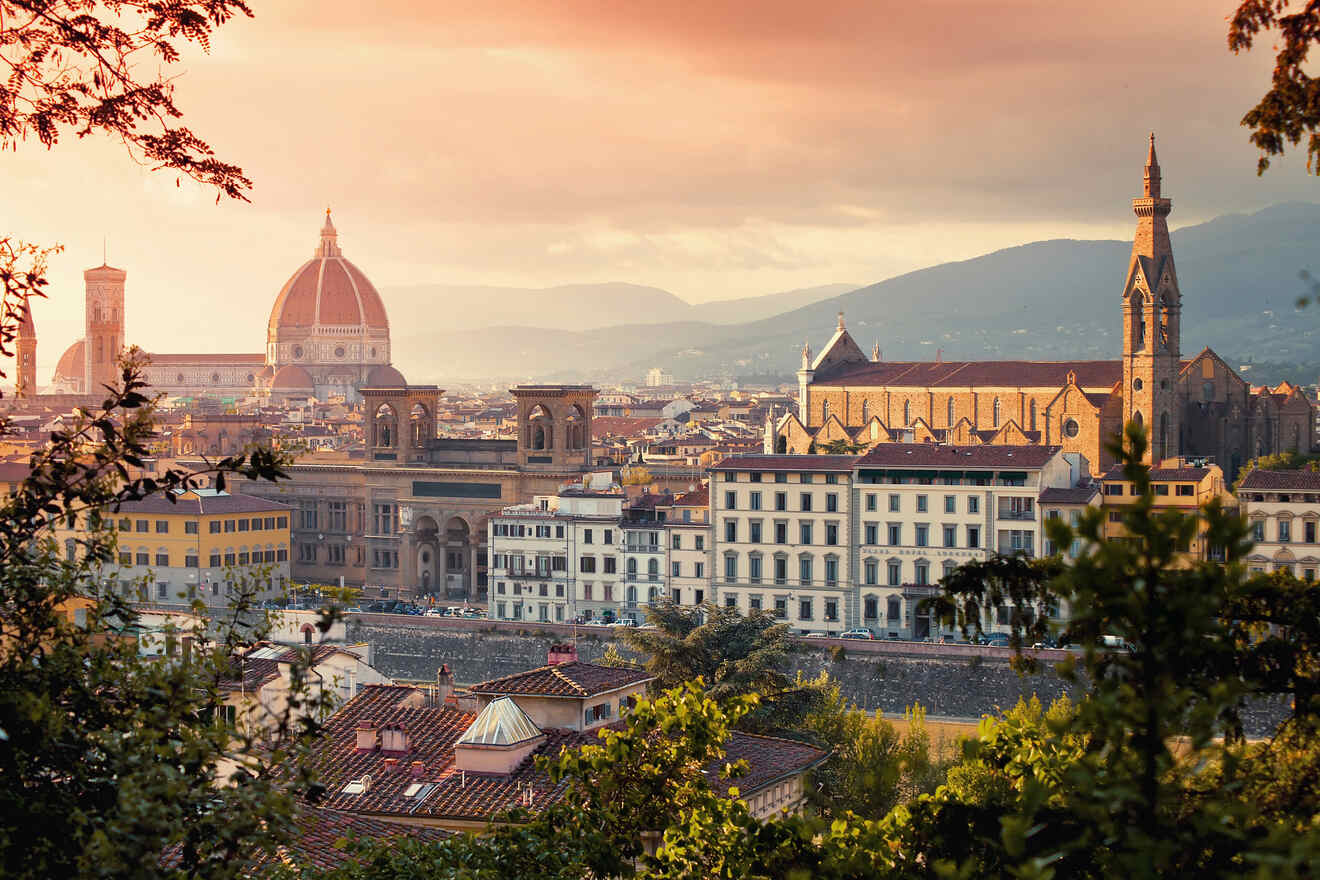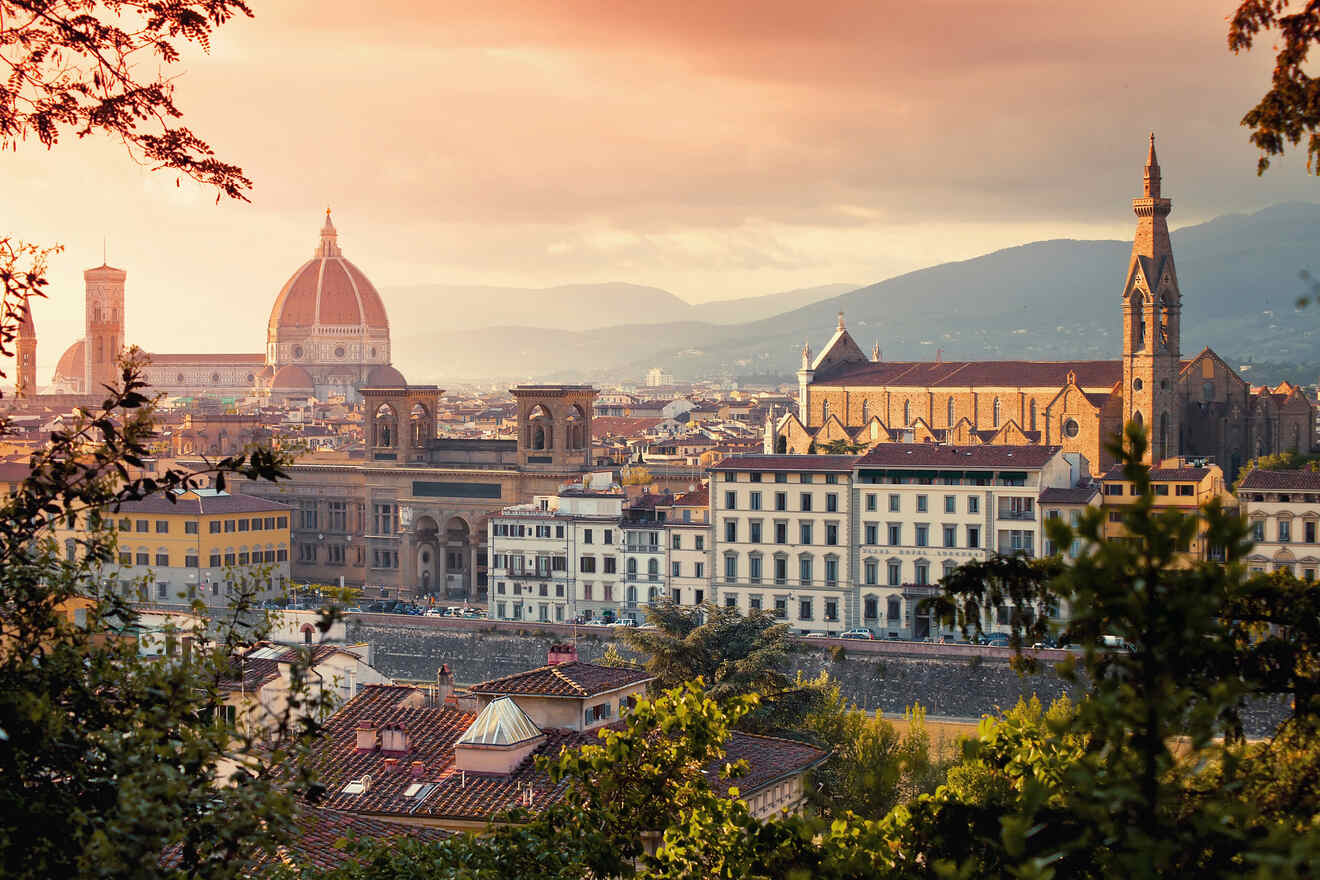 If you've made it this far, by now you have gone through the best Italy Itinerary and are ready for your vacation. I'm sure you know which are the most important cities, the best attractions to learn about Italian history, the top places to stay and much more!
We also saw some useful information about car rentals, train stations, and driving distances. I strongly suggest you book your car rental and all your accommodation right now, so you can find some good offers, because places sell super fast in Italy, particularly in the summer!
Of course, there's a lot more to see when visiting Italy than the destinations covered here, so if you want some more inspiration for your two weeks in Italy itinerary, check out this post with the best cities in Italy.
I hope you had fun reading my post as much as I did sharing tips about my home country with you, and if you have any other questions for me, please drop them in the comments below, I'll be very happy to answer you!
Have an incredible trip!
Elena
---
Pin it for later!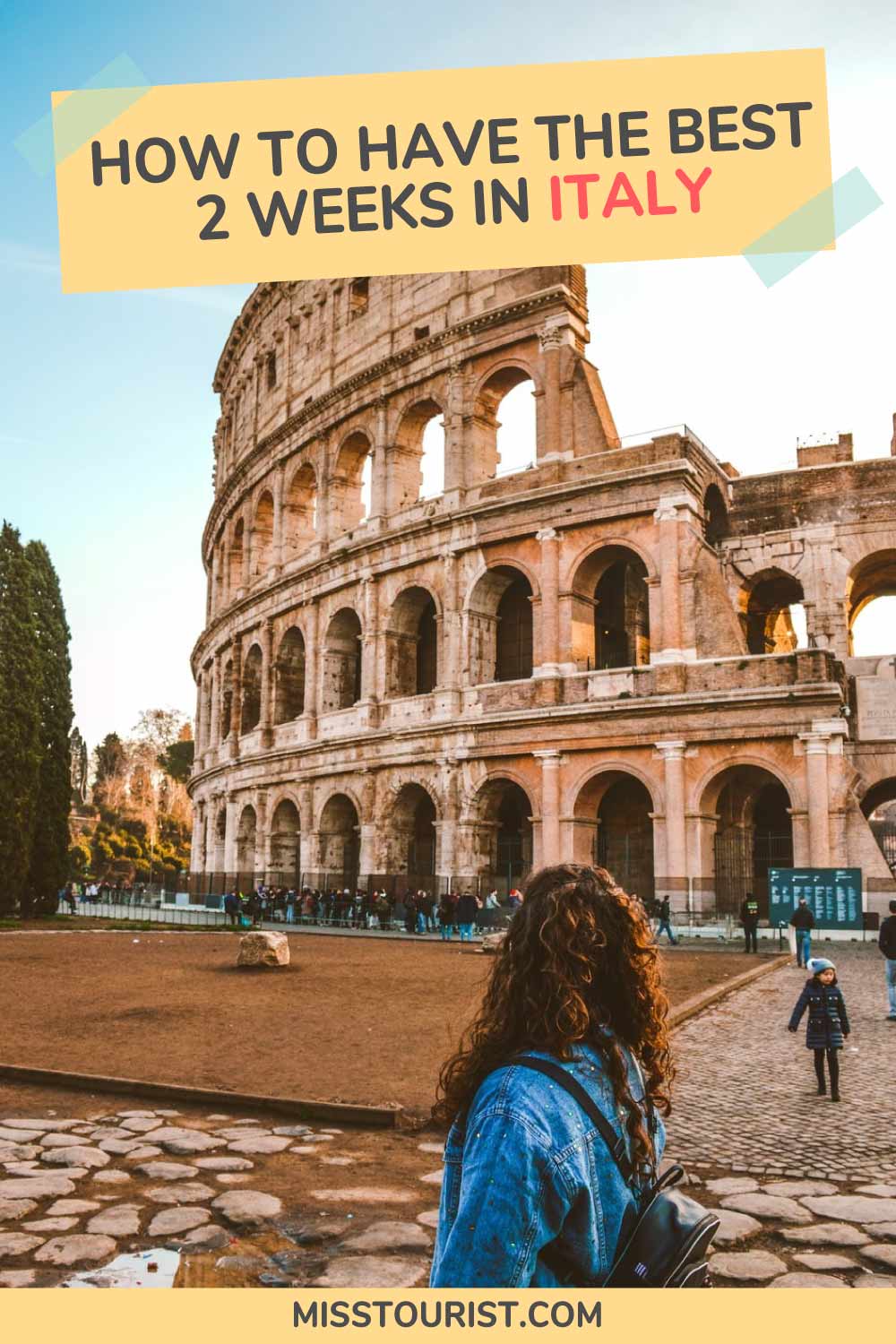 Pin it for later!