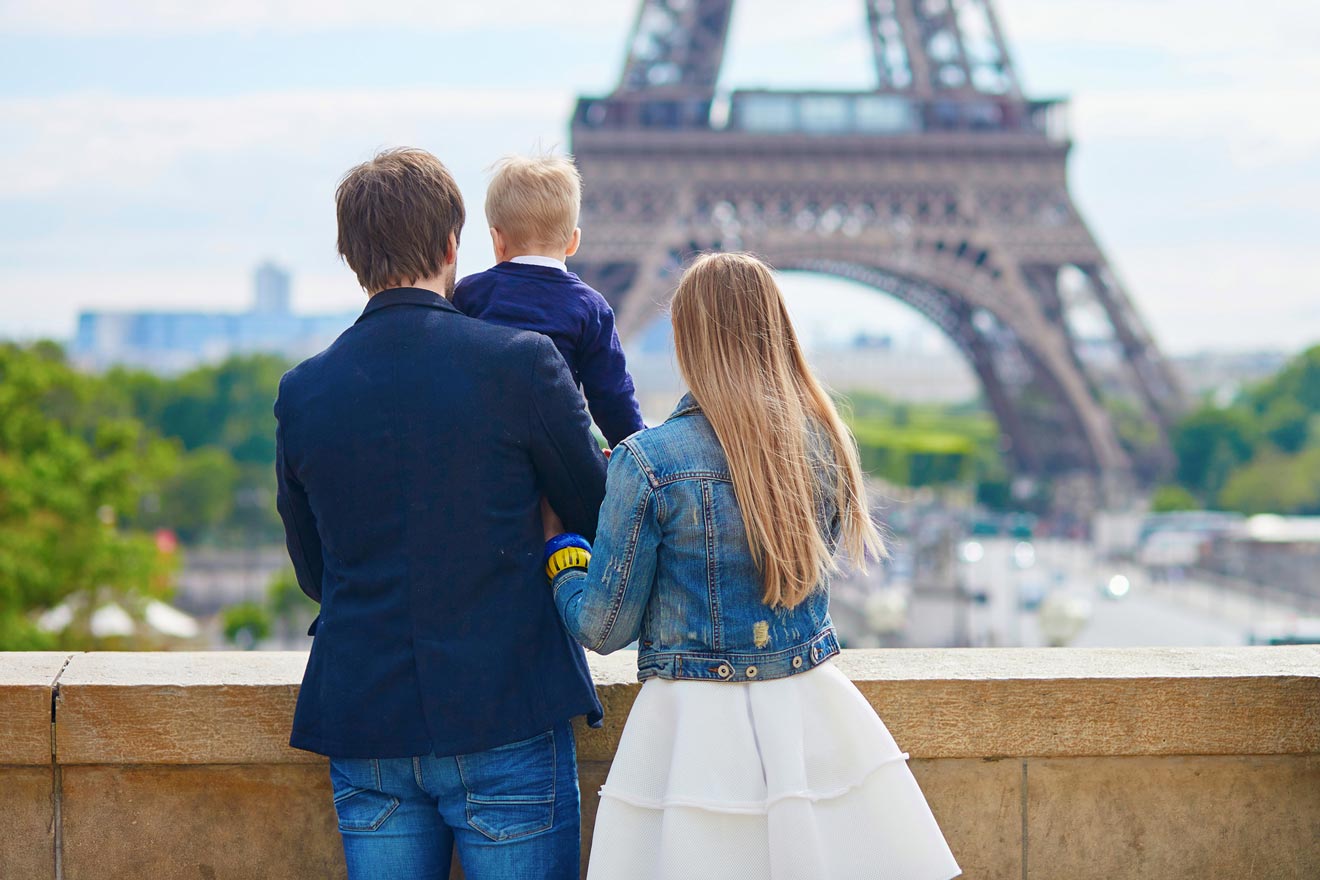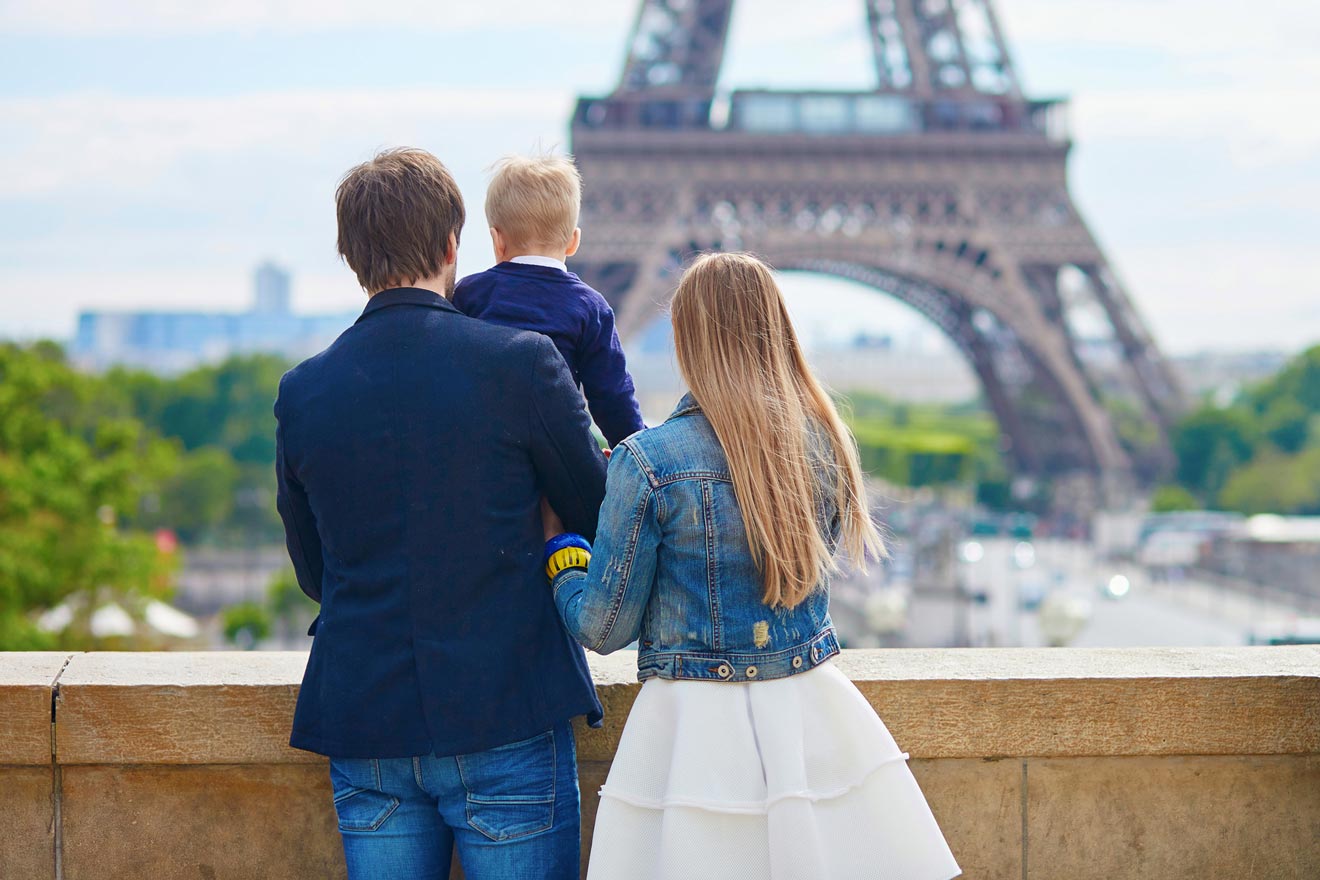 Planning the perfect family holiday to one of the most beautiful cities in Europe? Well, then you guys are lucky because there's nothing like a Parisian experience to brighten your days! Warning though, rumor has it that once you come here, you'll feel compelled to come back over and over again and I can confirm this!
Traveling to a city like Paris with the kids can be scary since it's one of the most visited places in the world, but don't worry, I'm here to take at least one thing off your list, and that's the accommodation part. There are so many family hotels in Paris that have amazing facilities but trust me, they go super fast, so I recommend booking them in advance to get your hands on the best rooms.
Are you guys ready to eat French sweets all day long, visit some of the coolest attractions, and have the best time with your kids?
Then hop on, we've got lots of hotels to see!
If you are in a hurry
If you want to book now, there's no reason to wait, quickly browse through this list of the best family hotels in Paris:
Here's a map that will help you visualize all the hotels that I will be talking about in this post:
Luxury (US$990 and up)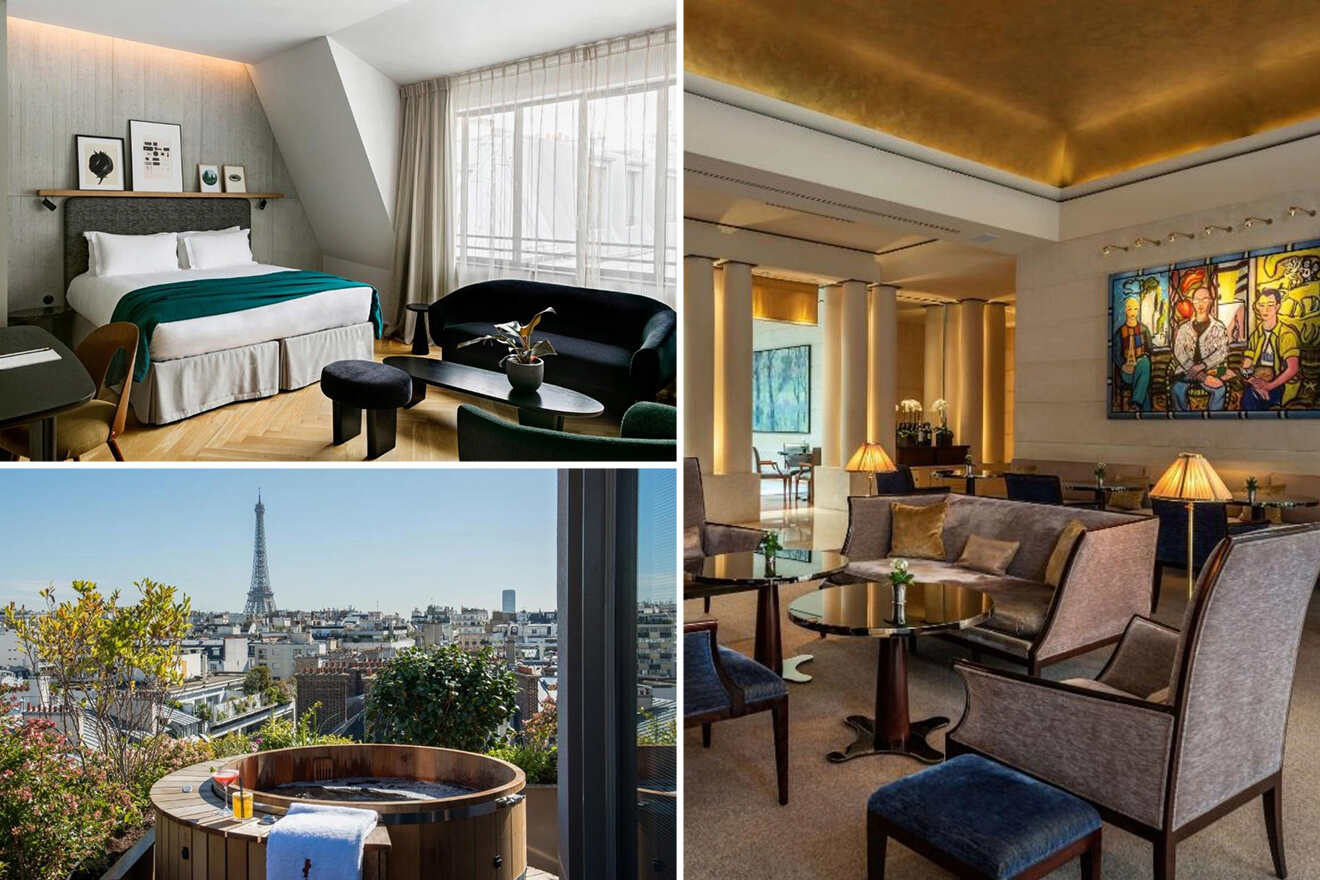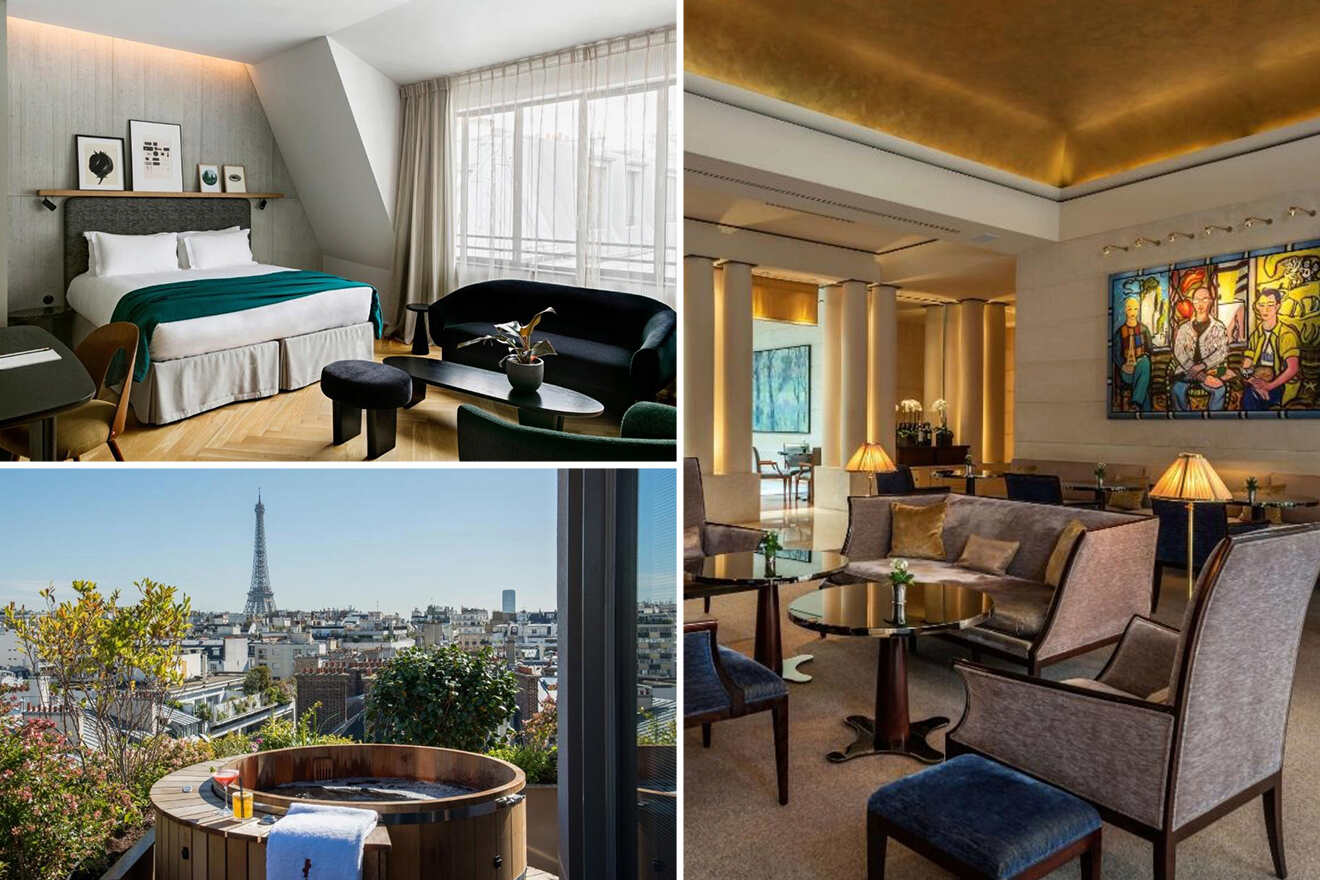 Park Hyatt Paris Vendome – Traveling with your children to a place like Paris can be a dream come true for many families! If you want to do it in style, I highly recommend staying at one of the best luxurious hotels in the city located within walking distance from Opera Garnier! The ambassador suite, which offers a spacious living room, a fireplace, and tv, will be perfect for guys! The hotel also offers babysitting services and has a Michelin star restaurant and a spa center!
Hôtel National Des Arts et Métiers – Such an elegant design! Paris never ceases to surprise me! This hotel is perfect for your family trip to one of the best European cities! After a visit to the Louvre Museum, which is within walking distance, come back to your spacious suite and organize a fun movie night with the children! The hotel offers kids meals, so you don't have to worry about their food so order some room service, including cookies and other movie night supplies, and enjoy!
Brach Paris – Can you believe the views of the Eiffel Tower from the terrace? So stunning! With 2 communication rooms, perfect for you and the children, this boutique hotel has a swimming pool suited for all ages and a restaurant! Enjoy a fun day indoors with the kids playing board games and doing puzzles offered by the hotel. The parents can also attend some yoga or fitness classes when you guys are not out shopping on Champs Elysees, (which is located not too far from here).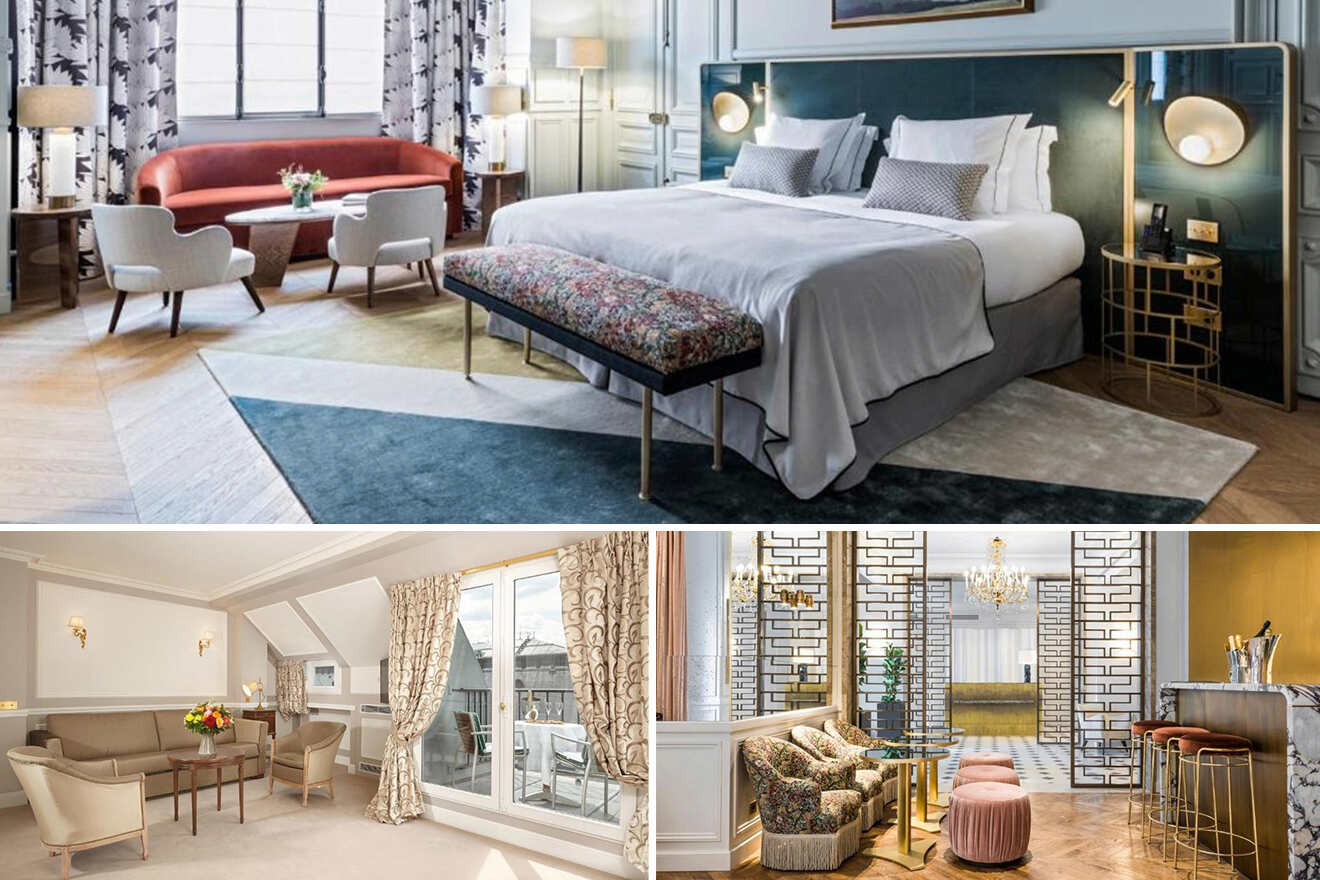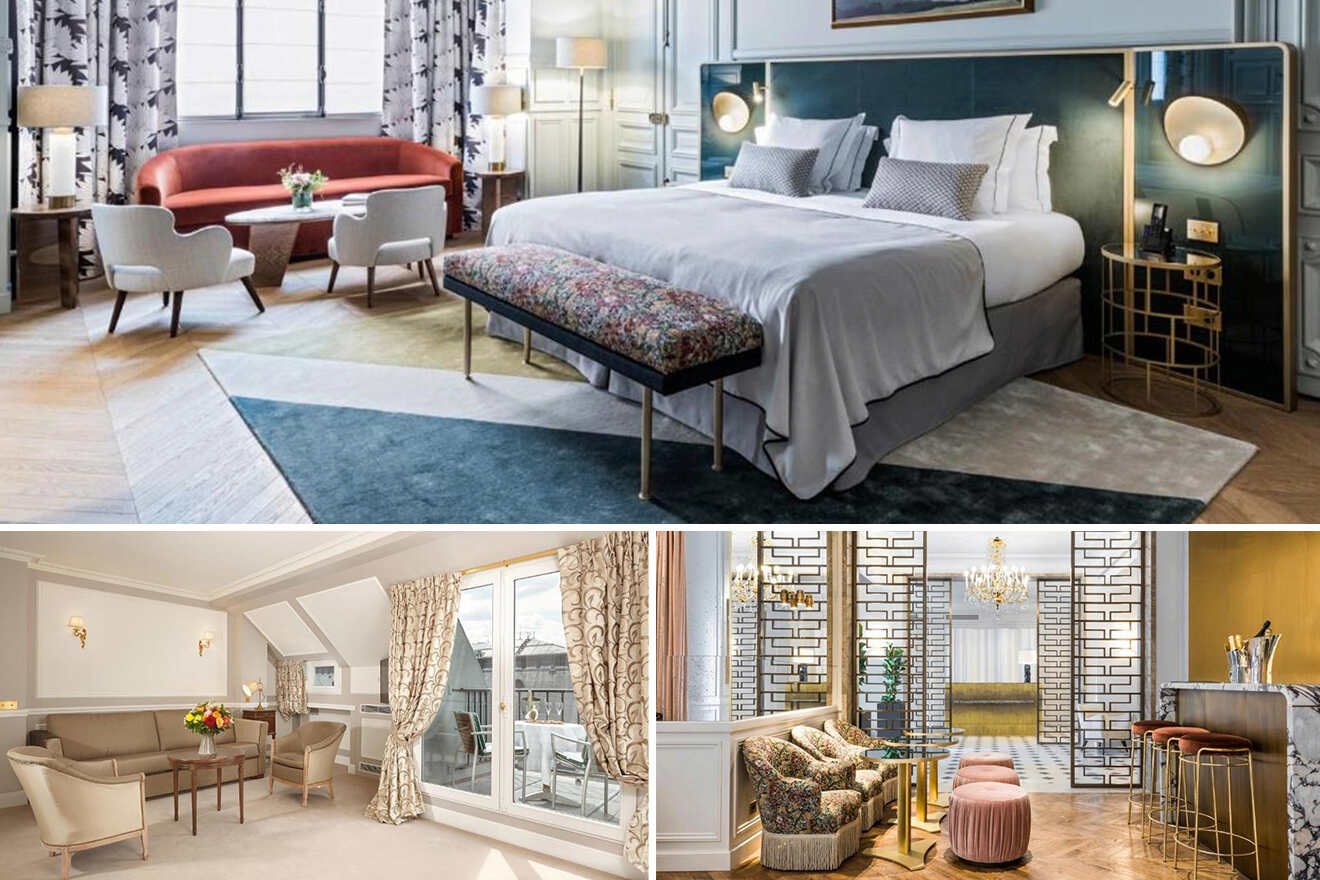 Grand Powers Hotel – Before heading out to explore the Notre Dame Cathedral and Tuileries Garden, take some time to eat at this boutique hotel which offers a children's buffet. I love its modern style and those little balconies that boast incredible views of the Eiffel Tower! And if you're looking for more hotels with a view of the famous Eiffel Tower, check out our post dedicated just to that, they're all so stunning! The hotel has deluxe connecting rooms equipped with air conditioning and smart tv, perfect for some movie nights!
Hôtel Regina Louvre – Join the children and indulge in delicious pastries at the lounge bar of this elegant hotel located in the 2nd arrondissement, within walking distance from the Tuileries Metro Station. Offering a breakfast buffet, reduced for kids aged 6 to 12 years old, babysitting services, and family rooms, this accommodation is perfect for your Parisian holiday! And don't forget to book your accommodations in advance. I can't stress enough about how fast the hotels in Paris sell out!
Mid Range (US$500 – US$790)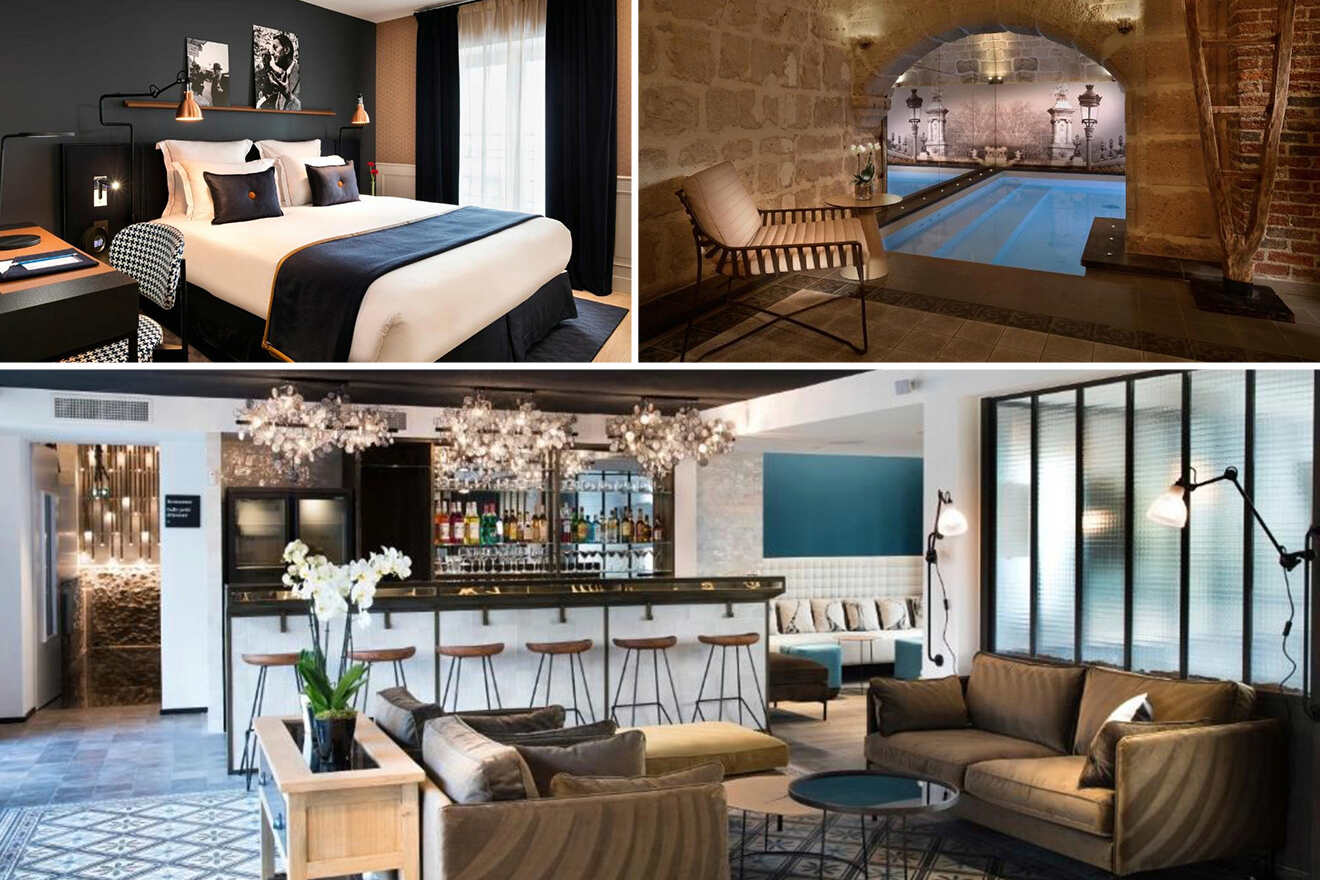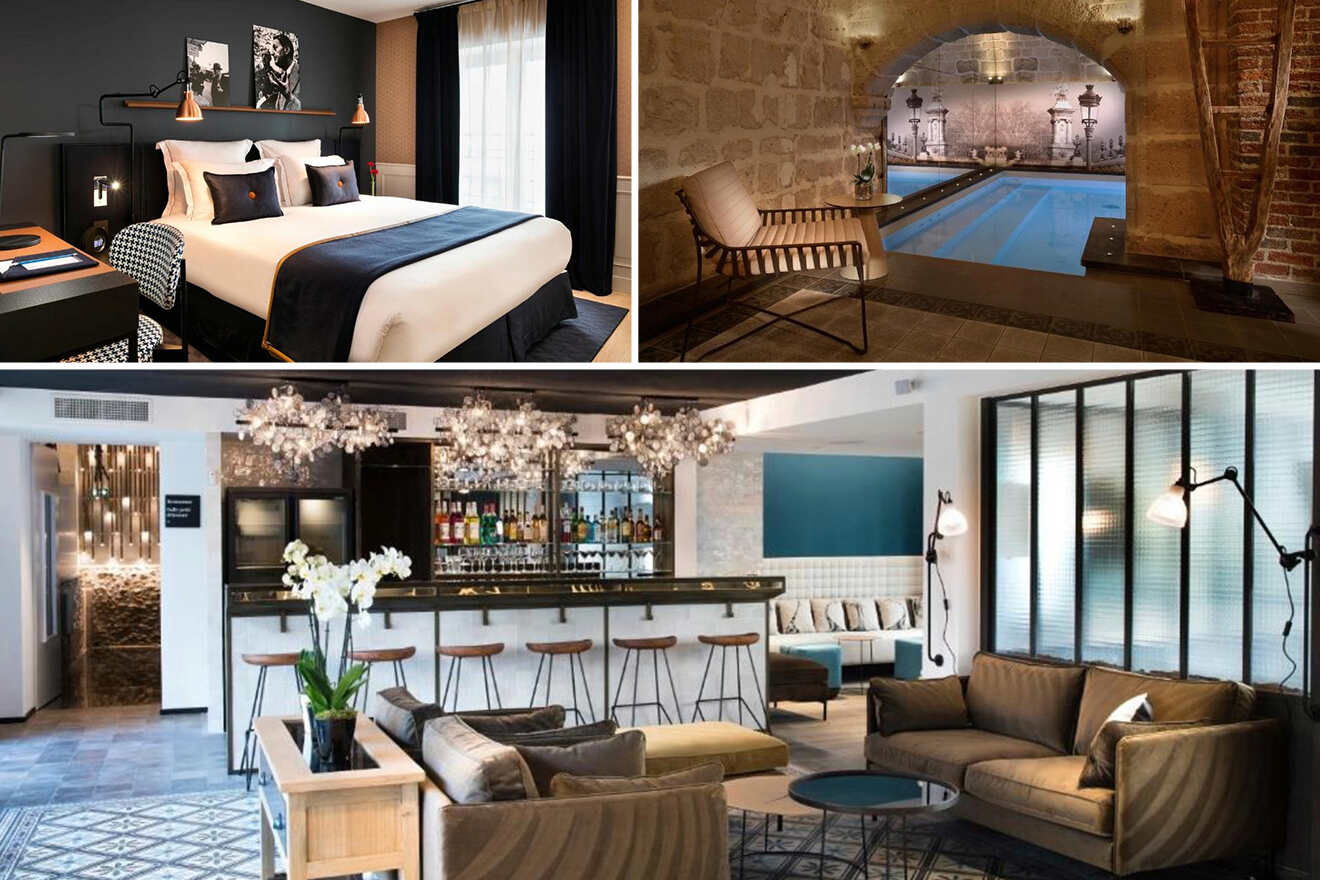 Hôtel Square Louvois – Have fun with the kids by the indoor pool of this modern hotel that has family rooms, and is located in the 2nd Arrondissement, just a 3 minute walk away from Quatre-Septembre metro station. Start your day with some room service and go through today's visiting plans with the children. But make sure you guys don't miss the sweet snack that's offered from 16:00 to 18:00, which includes cakes, chocolate, and tea! I'm sure the kids are going to love it!
Hotel La Lanterne – Located less than a mile from Notre Dame, this family-friendly hotel offers deluxe signature rooms with lots of space to fit the whole crew and also spa access! Spend a whole day enjoying the hotel's great facilities like the swimming pool and the garden. Parents can also attend some yoga and fitness classes if they wish to. The accommodation also offers bike tours and babysitting services for its guests so all your needs are covered here!
Hôtel Les Deux Girafes – Delicious food, great facilities, and a lovely modern design make this kid-friendly hotel perfect for your trip to Paris! The junior suite offers lots of space and tv for you and the children to watch some movies during your stay. After a full day of shopping on Champs Élysées, you guys can order some room service and spend a quiet night in. Take advantage of the garden and terrace and enjoy the sunshine while playing with the little ones!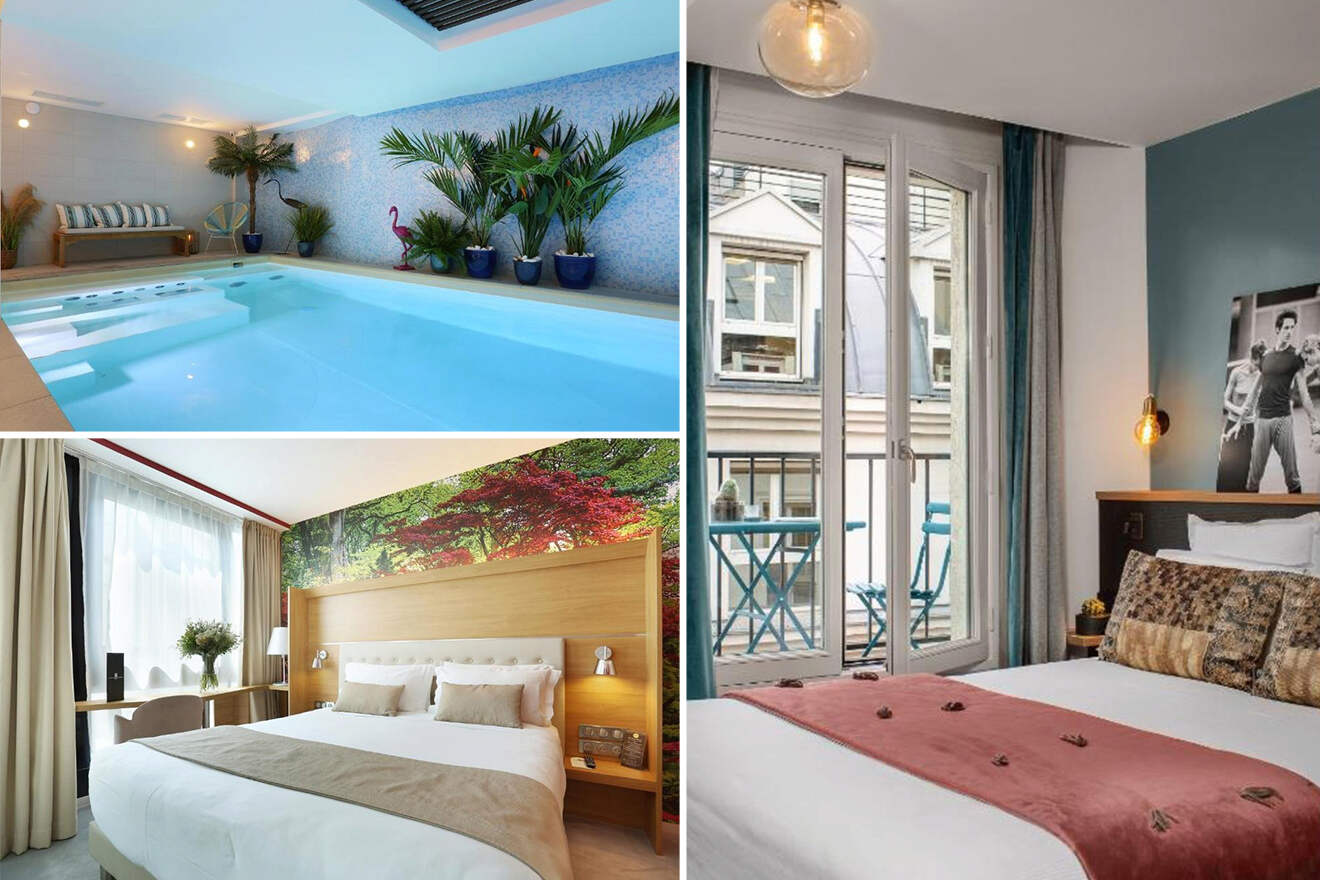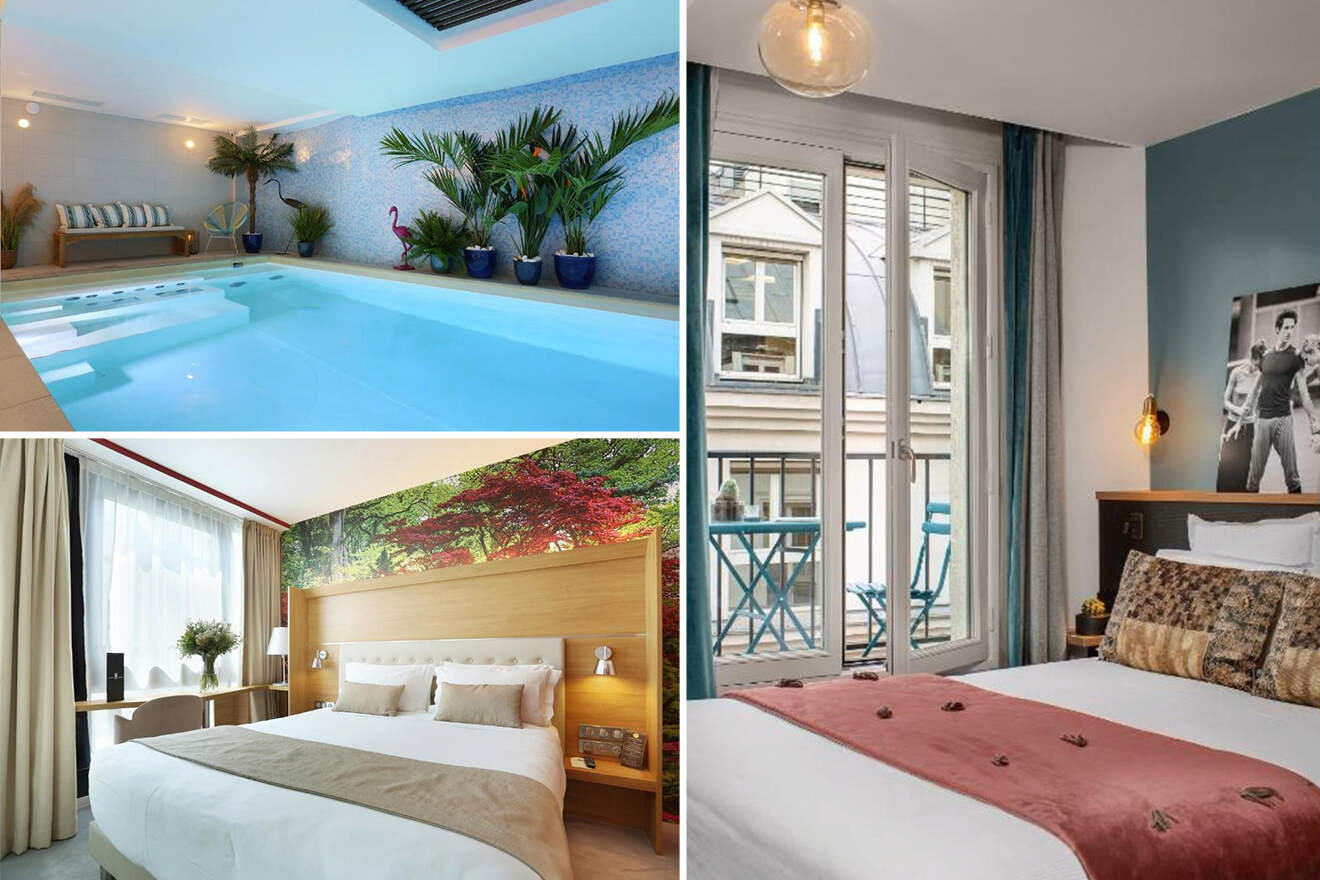 Lyric Hotel Paris Opera – A cool boutique hotel that has a music-inspired theme and has a great location near the Quatre Septembre Metro Station. If you're looking for more options in this area, make sure to check out our neighborhood hotel guide. Enjoy your time in Paris with the children and when you're not out visiting the Arc de Triomphe or the Luxembourg Gardens, relax in the family rooms of this kid-friendly accommodation that has a restaurant and a spa. Make the most of your stay and visit their swimming pool for a fun afternoon!
Jardins de Mademoiselle Hôtel & Spa – Order breakfast in your room and spend the whole morning playing board games and doing puzzles with the children in this family-friendly hotel located in the 15th arrondissement. The accommodation has 2 connecting double rooms equipped with air conditioning and a flat-screen tv. There's also an indoor pool on-site, so grab some swimsuits for you and the kids! And if you're in desperate need of some relaxing time after running around the Eiffel Tower, the services at the spa will make you feel like a brand new person!
Budget (up to US$470)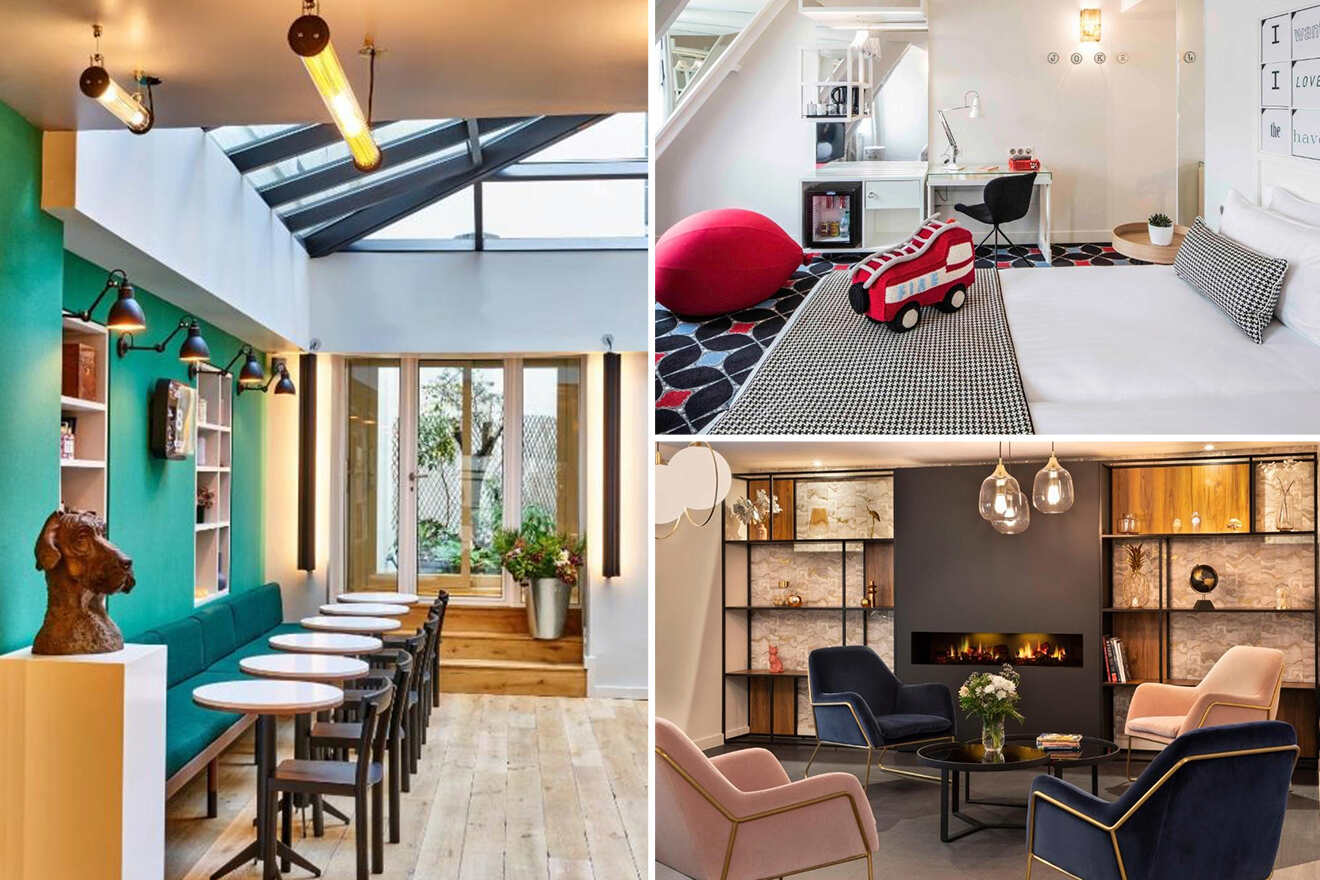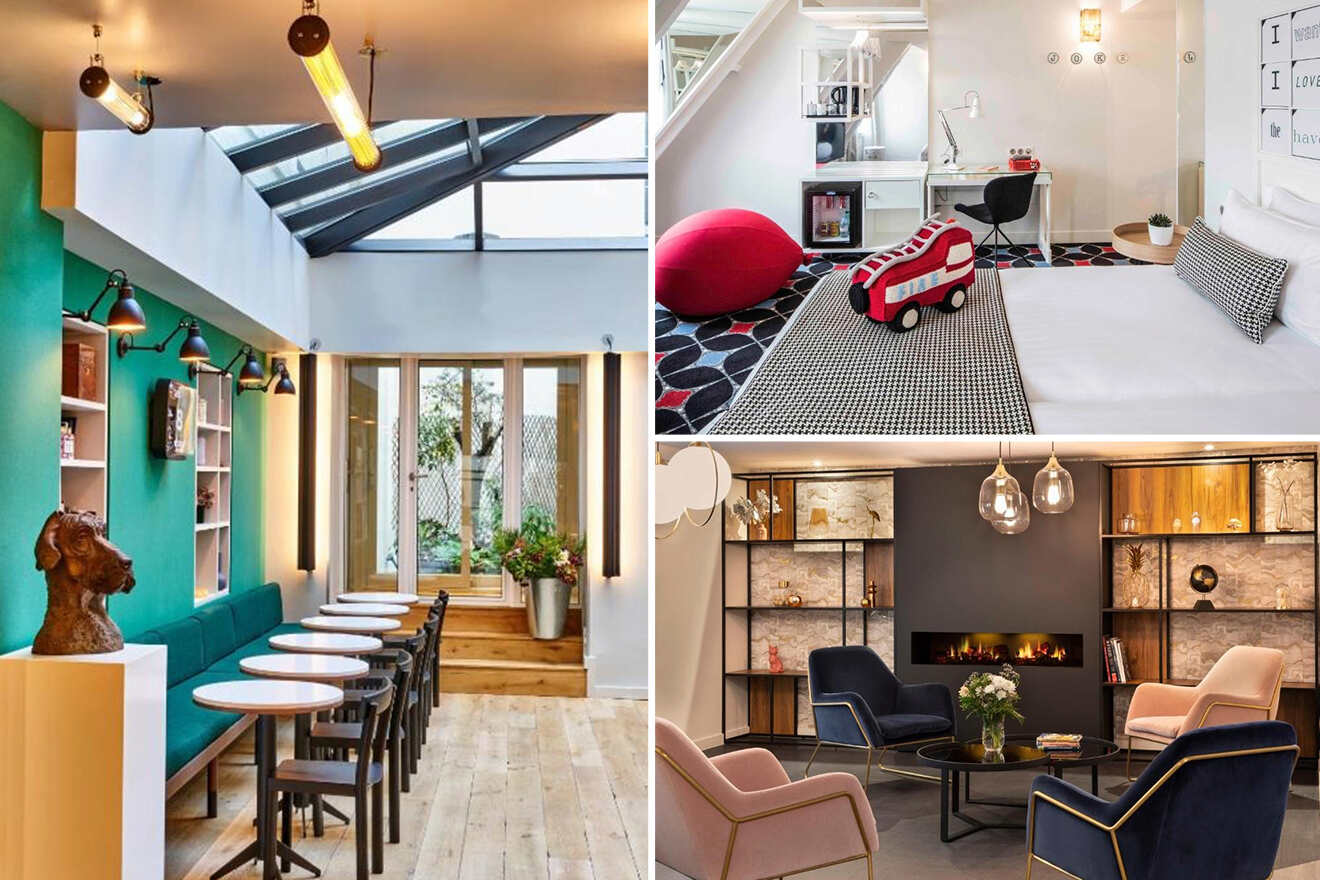 Le Basile Hôtel – If you're looking for affordable accommodation during your Paris holiday that's also family-friendly, fear not! I've got the best options for you! This hotel has family rooms and offers a kid-friendly buffet plus a high chair for the little ones. The suites are equipped with a flat-screen tv and if you're up for some different activities besides the ones you've planned, check with the staff, because they offer things like bike tours and other activities!
Hotel Joke – Astotel – Is this one of the cutest hotels you've ever seen or not? With a super fun and colorful decor that I'm sure the kids will love and spacious connected rooms to fit everyone, this unique hotel is perfect for your stay in Paris! The Blanche metro station near the hotel offers direct access to the Arc de Triomphe, so order some breakfast up to your room, get ready and head out to explore the city!
Citadines Trocadéro Paris – Book an apartment here for you and the children, and you'll enjoy all the privacy you need! The flats are equipped with a kitchen, so you guys can fix up some quick meals if you don't feel like going out, and spend a fun family night watching some movies in the lounge area. You can enjoy your morning coffee and playtime in the little garden and catch up on all the things you'll be doing that day. And if you don't want to venture too far from the accommodation, some big attractions near your location are the Arc de Triomphe and the Eiffel Tower so no need to worry!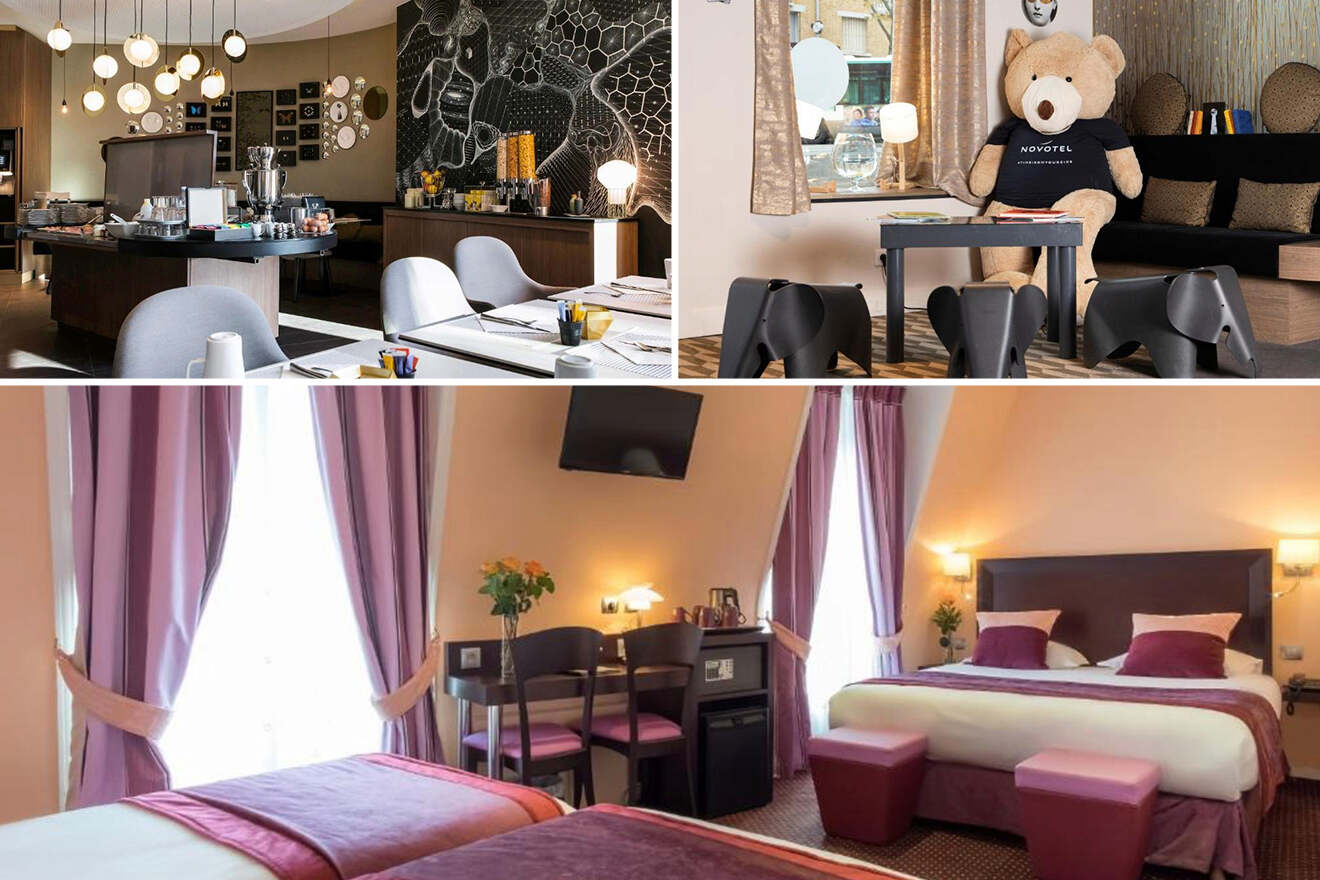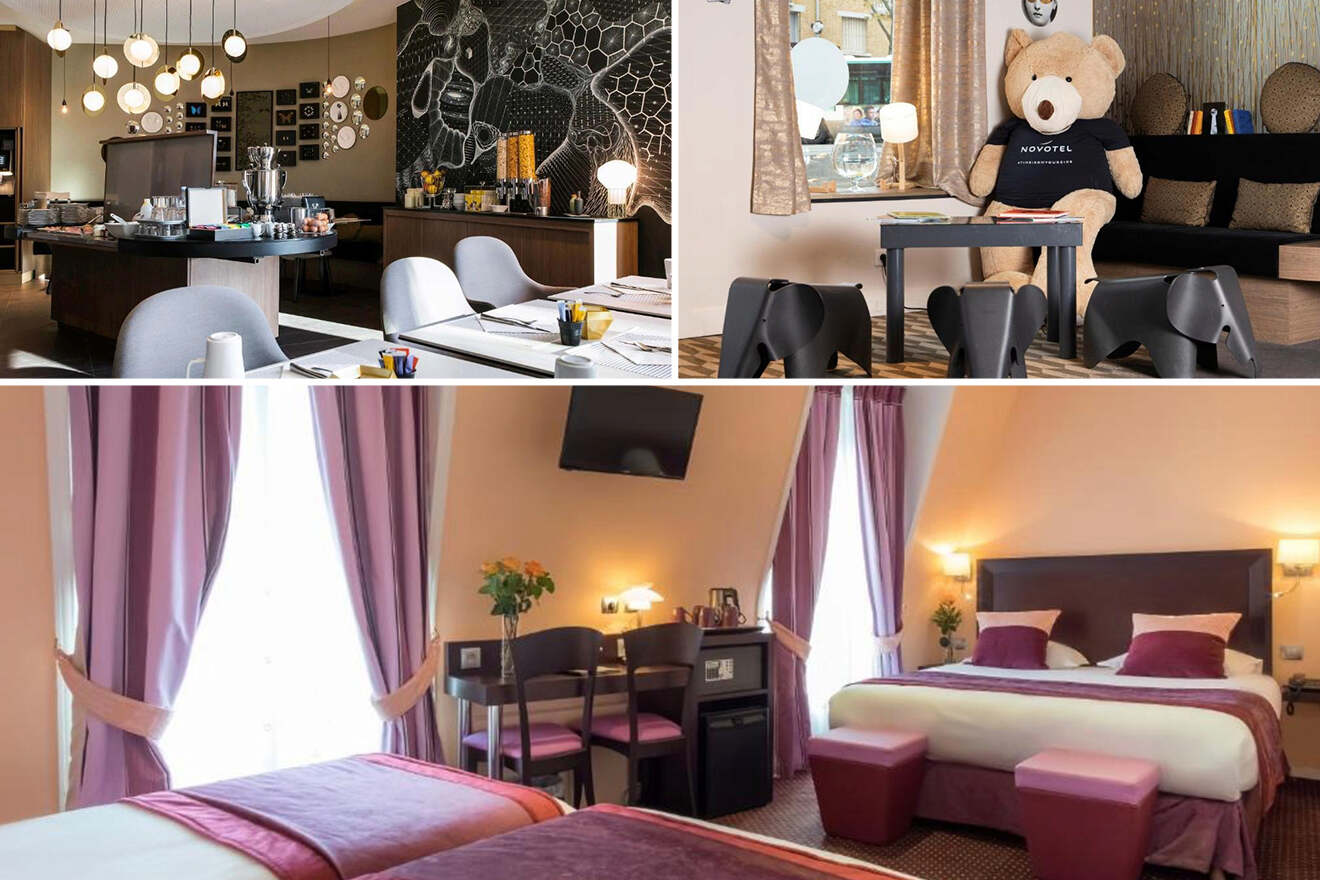 Virgina – A super cozy hotel in Paris that has family rooms and a little area where the parents can catch up on the emails, while the kids play or draw before they head outside. In the morning, head down to enjoy the buffet breakfast and enjoy a cup of coffee. The accommodation is located just a 2-minute walk away from the Porte d'Orléans Metro Station and it also offers babysitting services for its guests.
Novotel Suites Paris – Looking for a hotel that has a children's playground? I've got you! This modern accommodation is located in the South of Paris, just a short walk away from the Porte de Vanves Metro Station that will take you directly to the central part of the city where you can visit the Luxembourg gardens and shop on Champs Élysées! The hotel has spacious family rooms and a fitness center, everything you need for a budget family trip to Paris!
BONUS: Best family hotels in Paris with a pool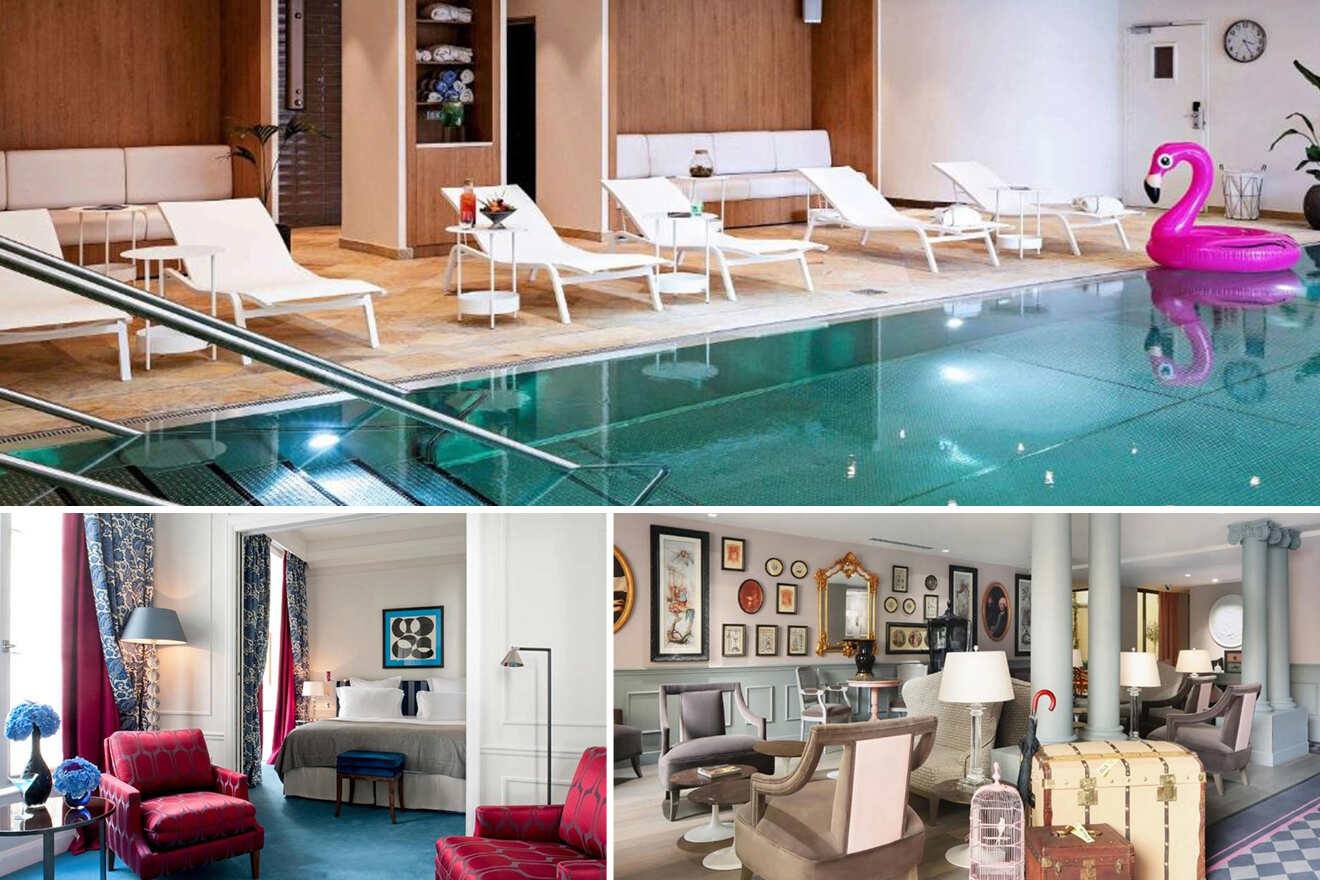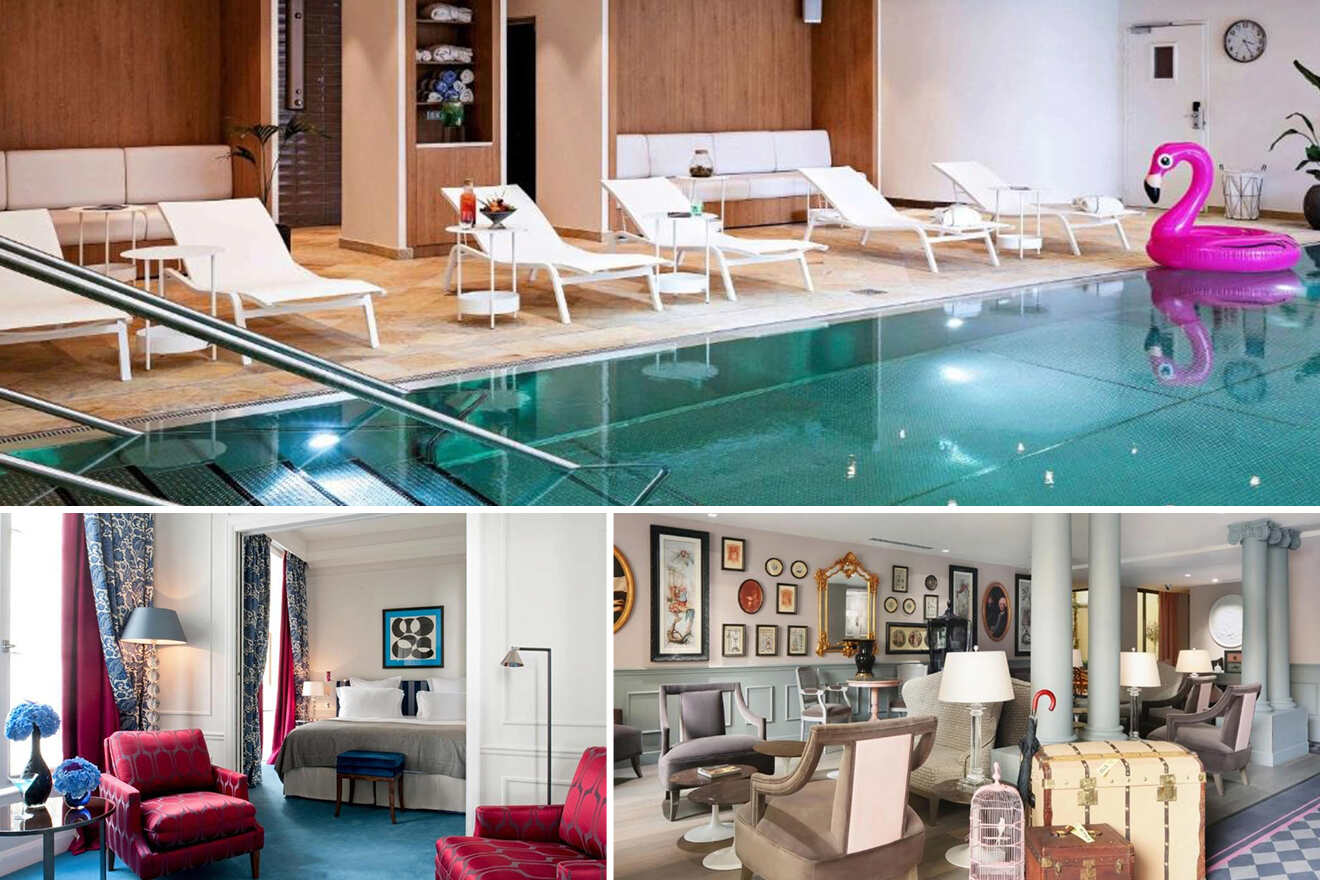 Finding the best kid-friendly hotels in Paris can be a difficult task for any parent. There are so many factors to take into consideration! That's why I thought I would make a top of the best family hotels in the city that will also have a pool!
That way, you can rest assured that even during the rainy days when you can't roam the streets of the Latin Quarter or Saint Germain quarter, you can spend a day in and still have fun!
Frequently asked questions about Paris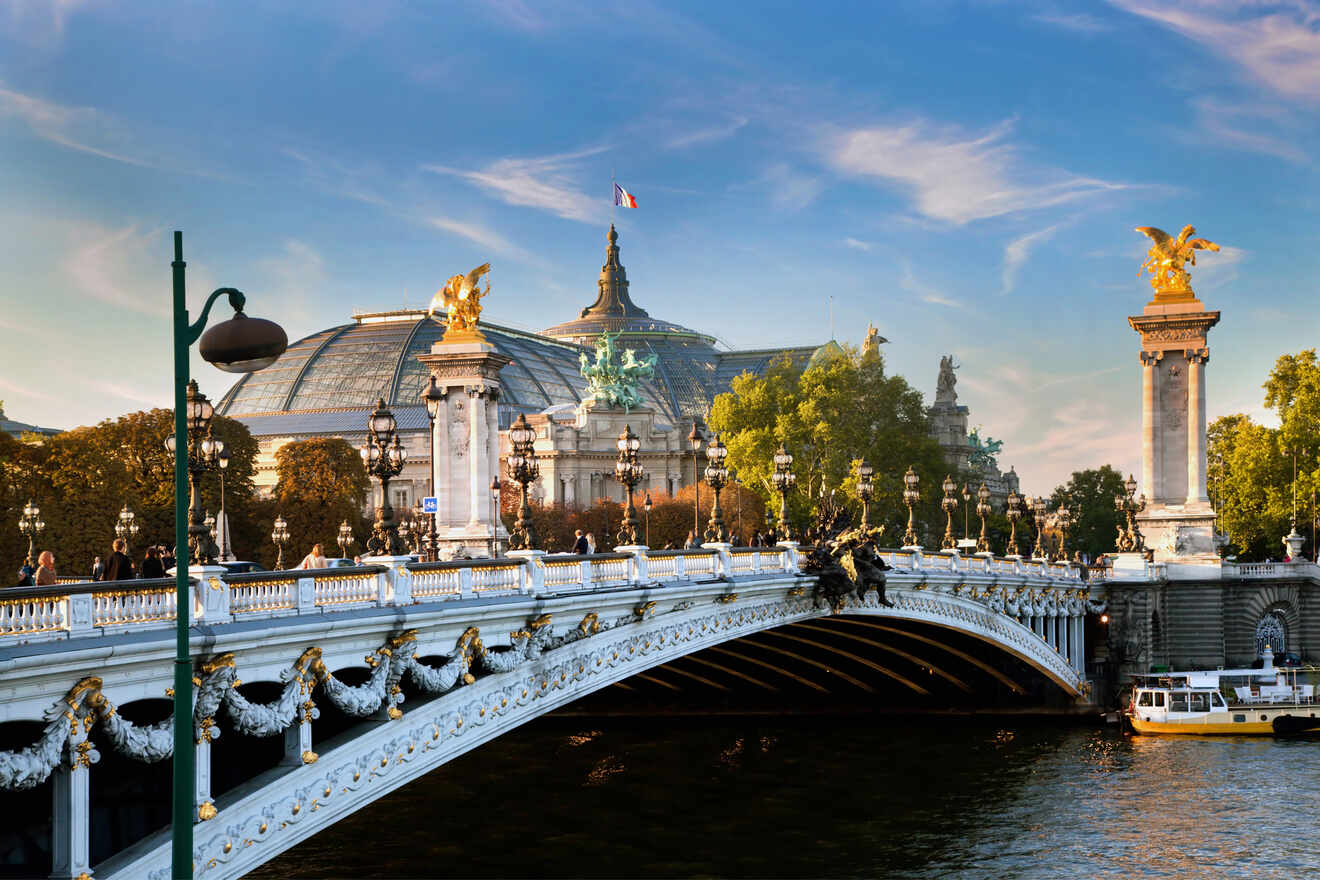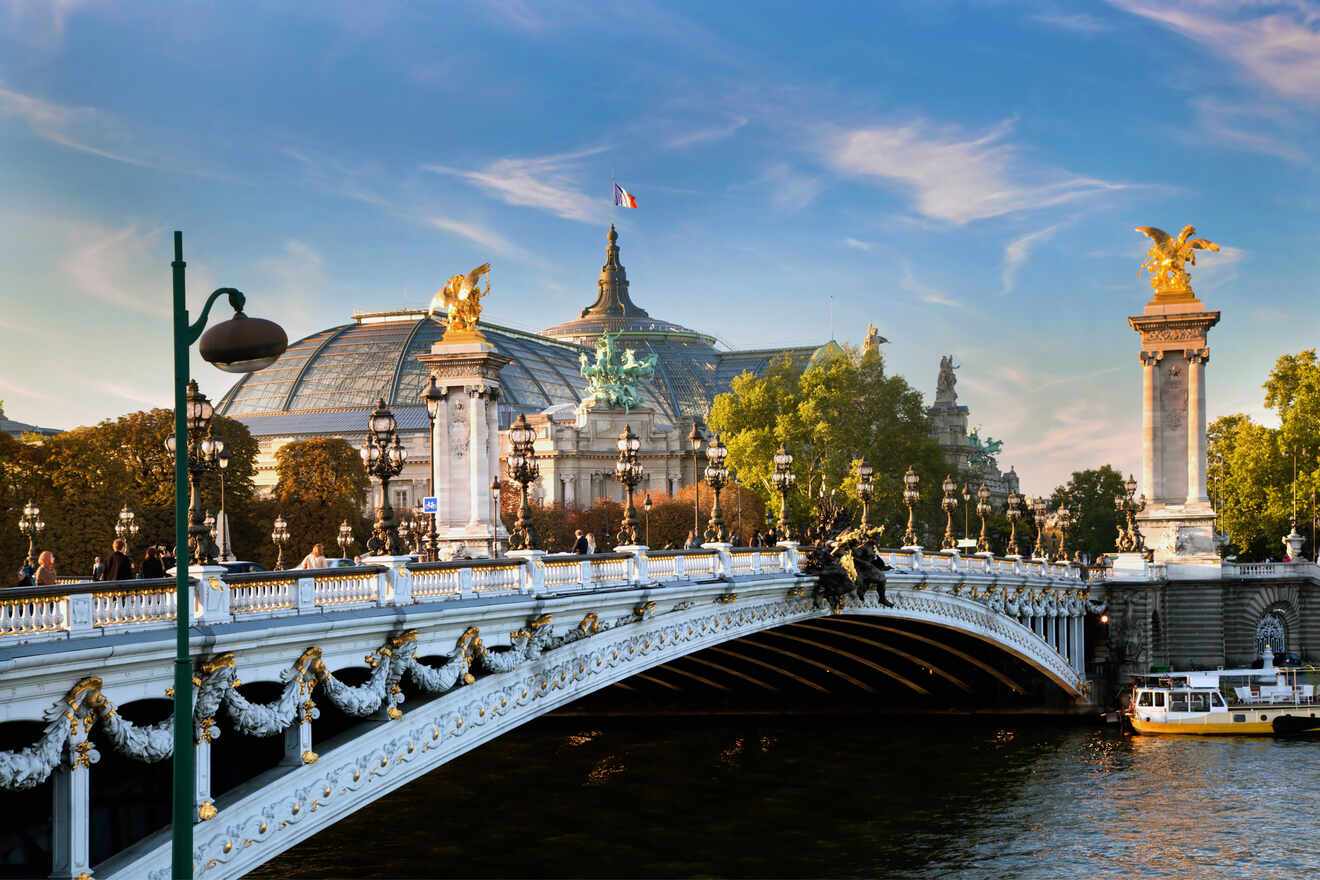 Conclusion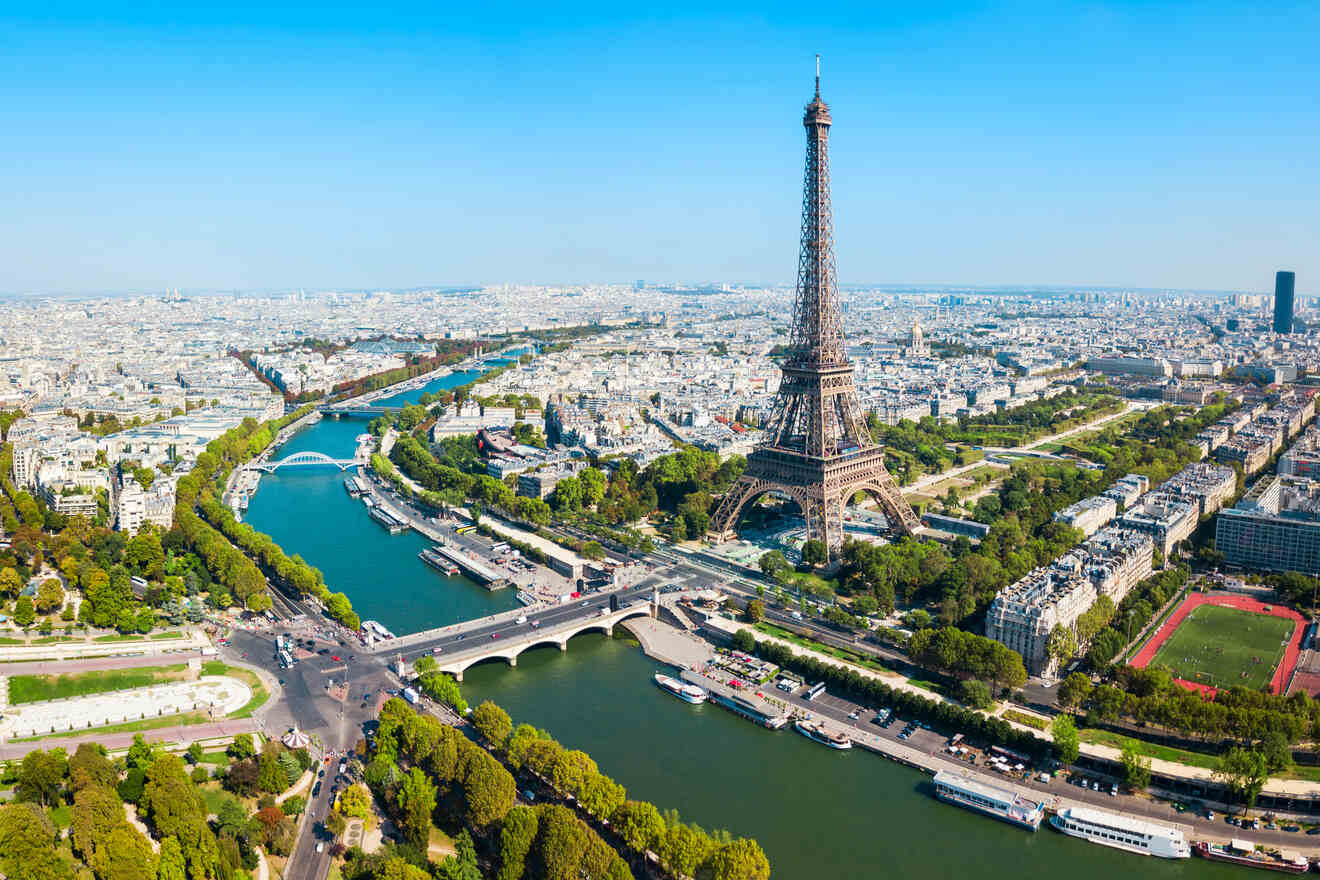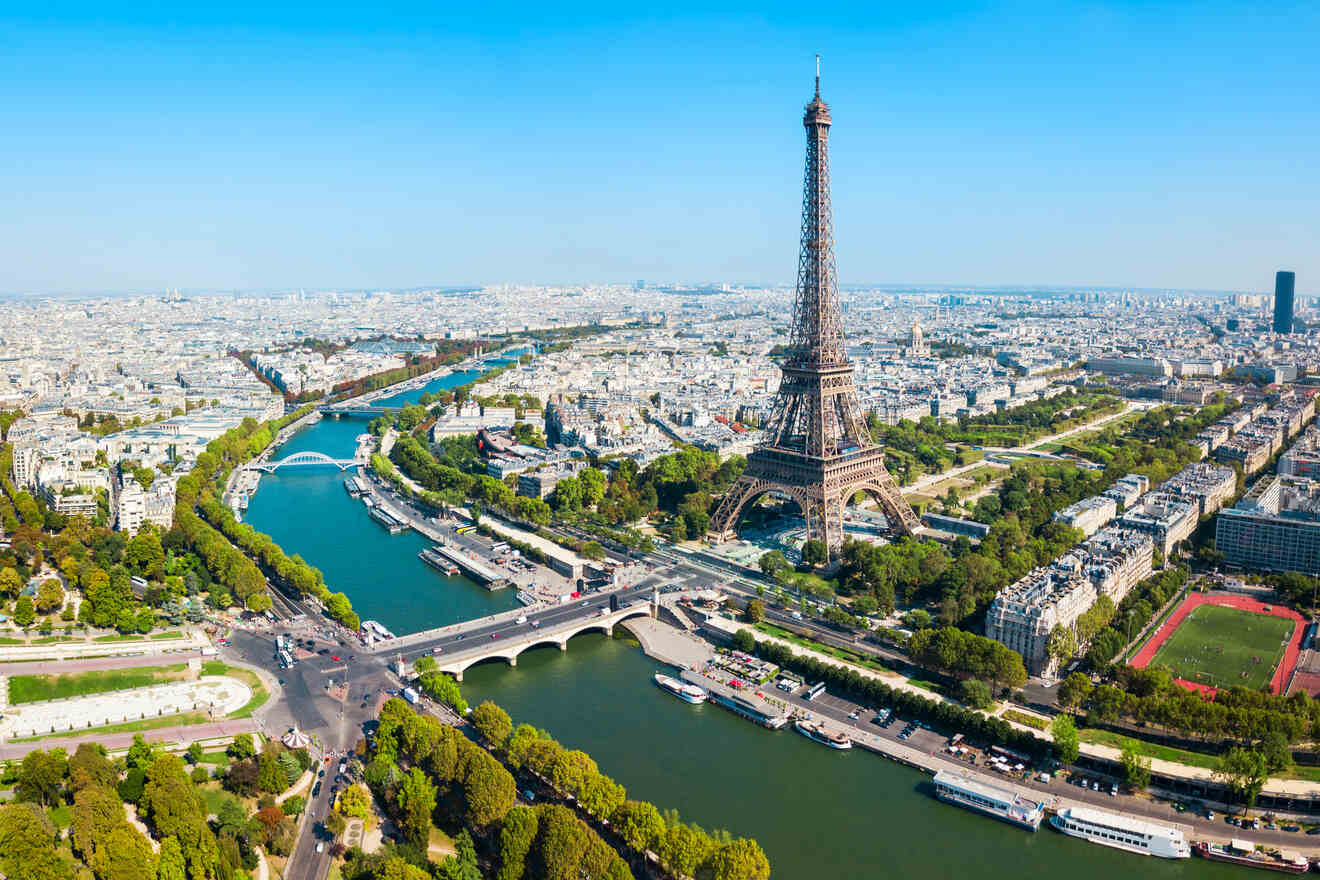 What a fun location! I hope this post helped you decide which are the best family hotels in Paris and which one you and the kids will like best.
There are so many accommodation options in this post and I know how hard it is to decide, so here are my top 2 favorites:
Don't forget that you'll have to book them in advance because we all know how busy Paris can get at times!
I hope you and your family have the best time in Paris, visiting the kids club at Disneyland and staying at the best kid-friendly hotels! And don't forget to leave me a comment below if you have any questions about this stunning location!
Safe Travels,
Victoria