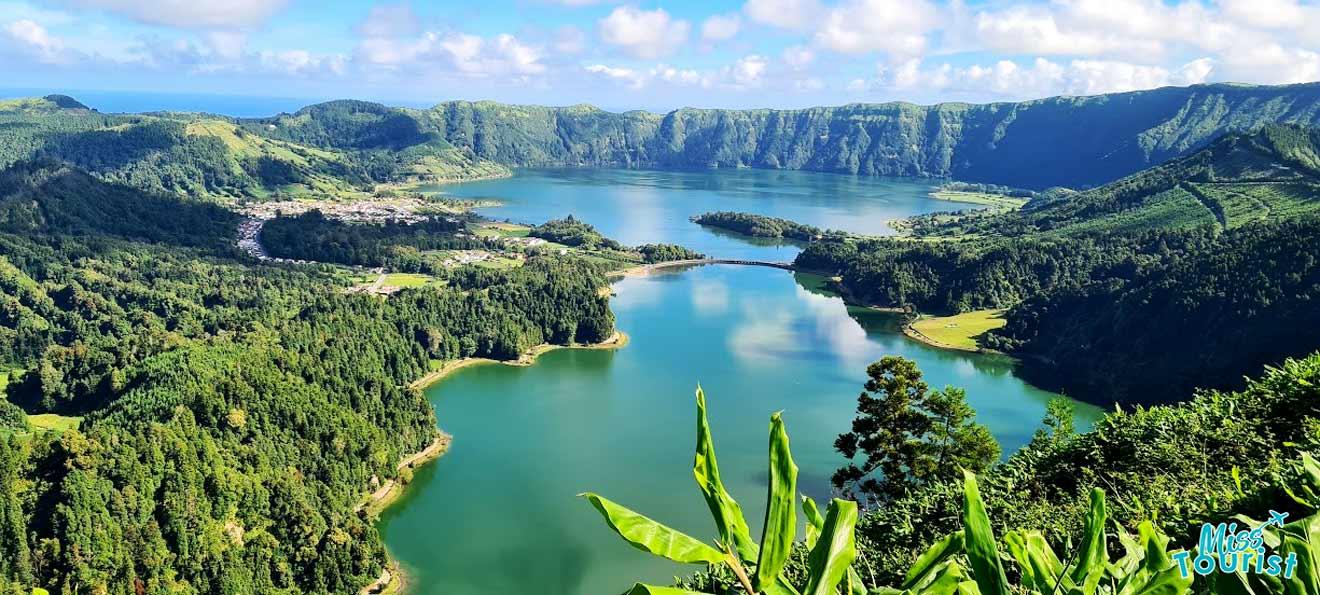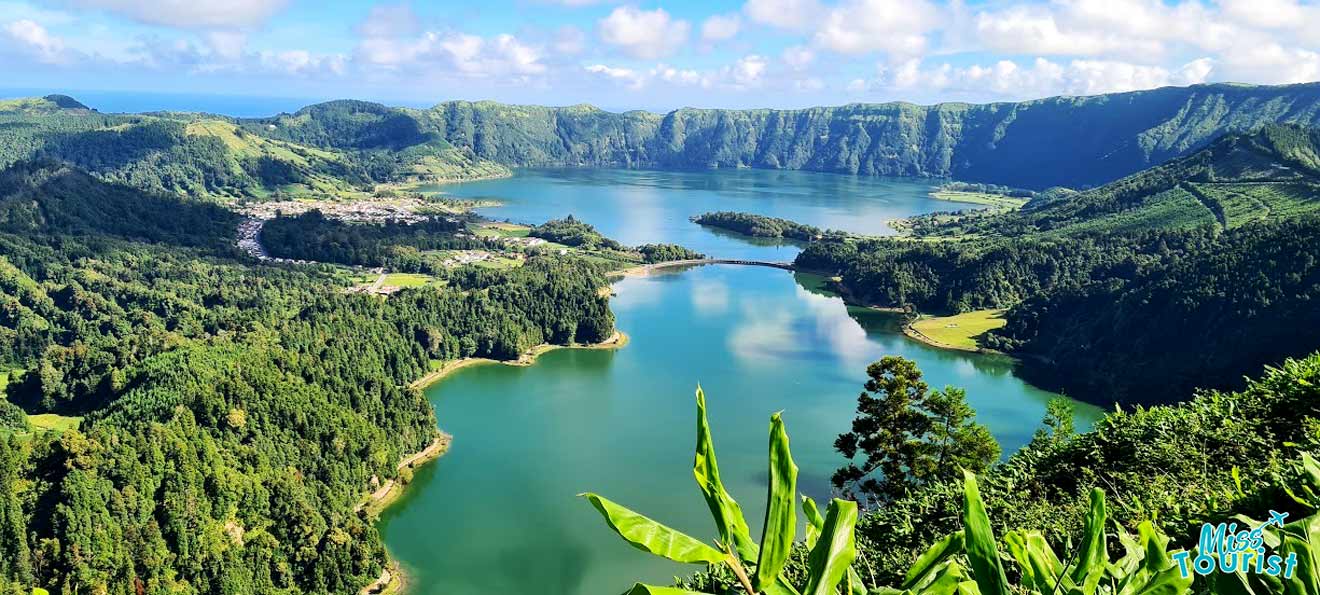 Located in the middle of the Atlantic Ocean, just a 2-hour flight from mainland Portugal, São Miguel is the perfect place to spend a relaxing holiday exploring natural wonders… It's not by chance that it is nicknamed the "Green Island"!
Being the biggest of the nine Azores Islands, choosing a good location to stay in Sao Miguel, will completely make a difference in the attractions you will have access to. I've been there recently, so I decided to write this post with all the TOP areas and best hotels in Sao Miguel.
The best place to stay in Sao Miguel is Ponta Delgada if it's your first time on the island. Alternatively, Lagoa is perfect for history lovers, Ribeira Grande is great for surfers, Sete Cidade has incredible landscapes, Furnas caters to families and Caloura is perfect if you're looking for local and laid back vibes.
NOTE: If you spend just a few nights or less than 1 week in Sao Miguel, I suggest you stay in one of the central areas (Ponta Delgada, Ribeira Grande or Caloura), from where you can take day trips to the different parts of Sao Miguel. Otherwise, if you have a bit longer I recommend you spend half of your vacation on the west side and half on the east side of São Miguel Island.
As you can see, in this post I will tell you everything you need to know about where to stay in Sao Miguel, all you need to do is start reading! But don't forget to book your favorite hotel some months in advance… They get booked super fast here!
So let's start!
If you are in a hurry
If you don't have time to read the whole post, here are the TOP Sao Miguel hotels located in the central and main city of Ponta Delgada:
Here's a map so you can visualize where all the best hotels and areas where to stay in São Miguel, Azores are located:
1. Ponta Delgada – where to stay in Sao Miguel for first-timers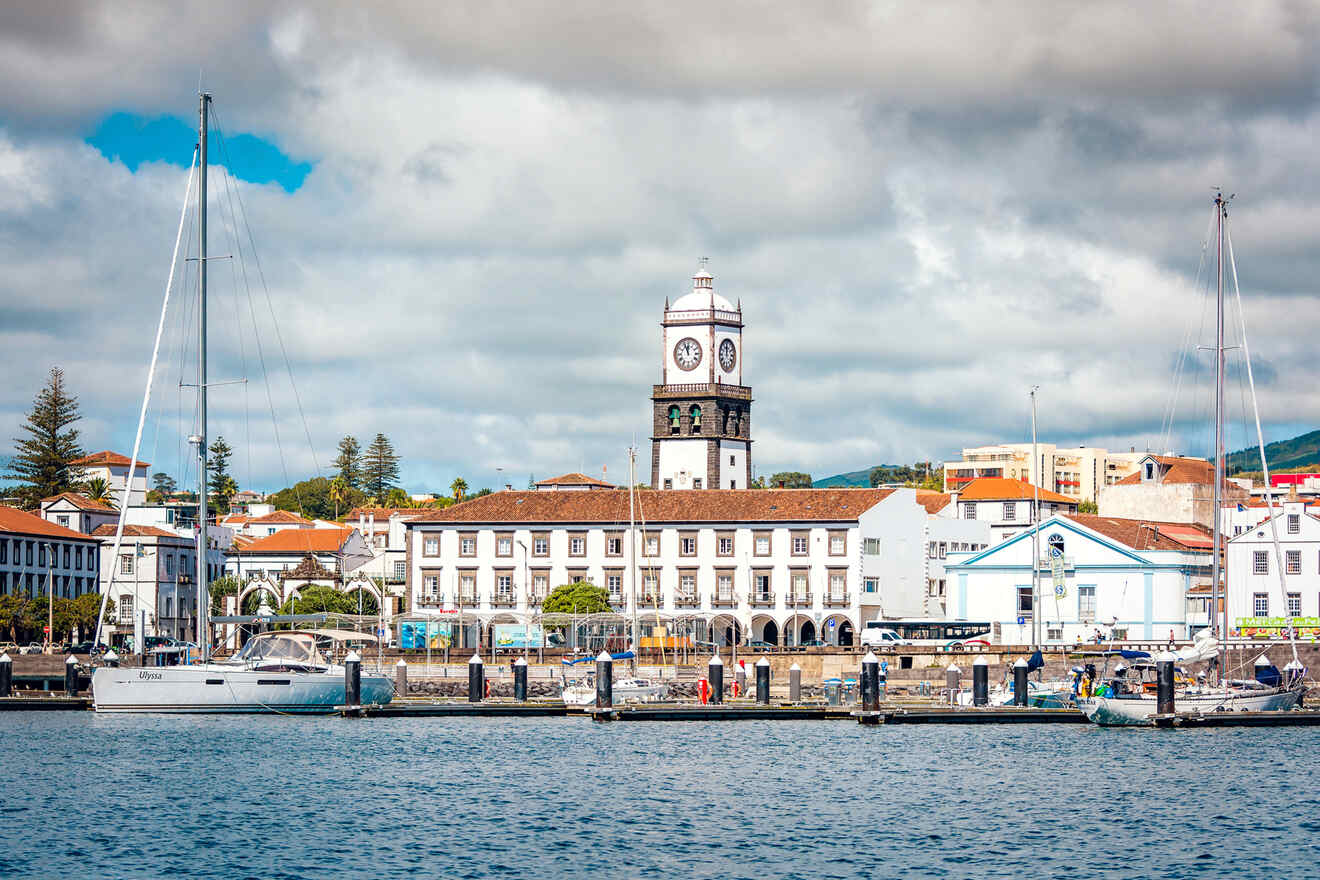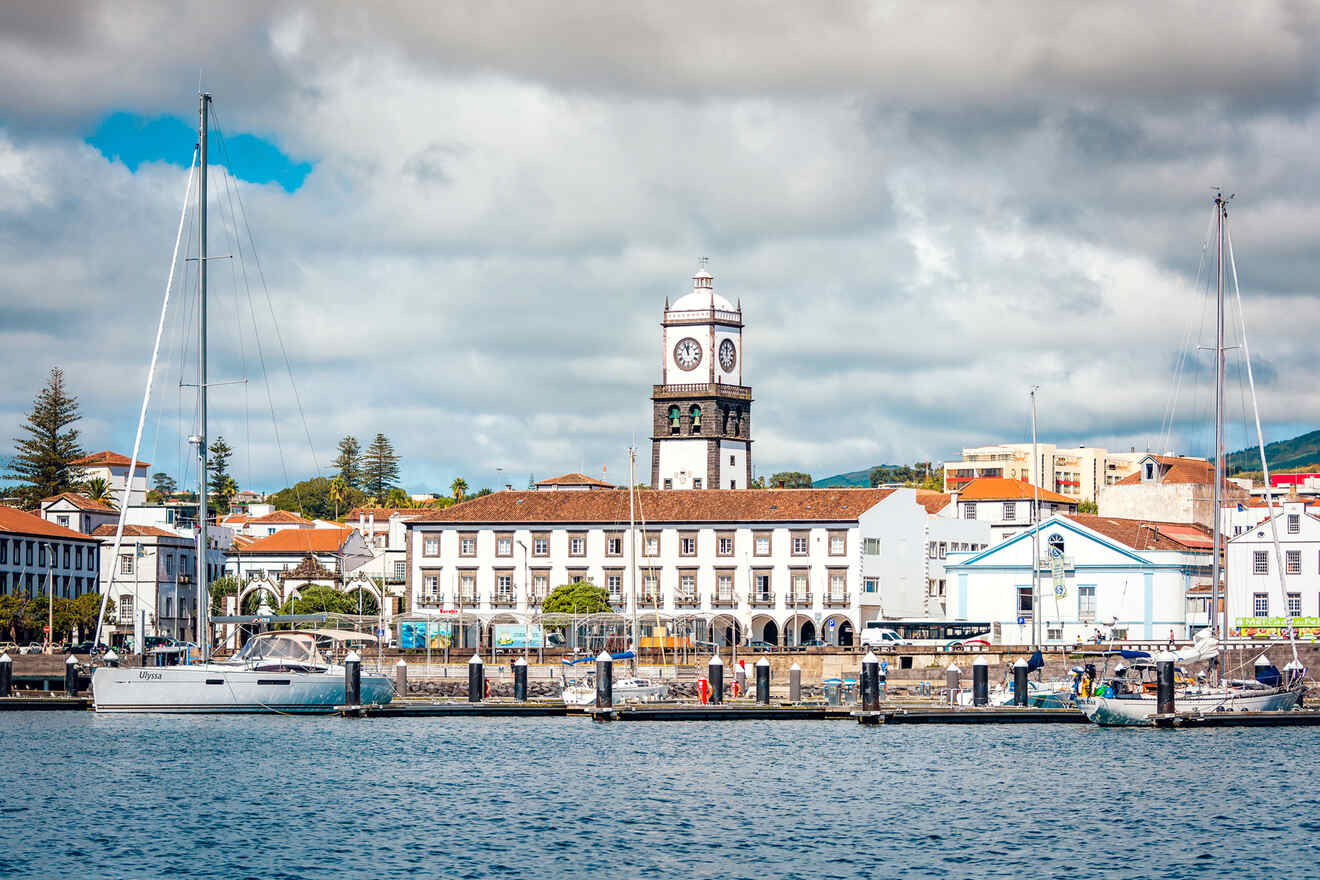 Ponta Delgada is the main city where to stay in Sao Miguel, offering a convenient location right in the center of the island. So you can easily take day trips to pretty much everywhere within just an hour drive or less.
This is also where all the tours to the best attractions on the island start… The perfect place if it's your first time on the island and you don't want to rent a car!
The city itself is super nice to visit, in downtown Ponta Delgada you can wander around its cobblestone streets, check out some historical churches, relax in the Jose do Canto Botanical Gardens, or try the typical food at the Mercado da Graça (the local market). By the way, I talk about it in way more detail in my post on things to do in Sao Miguel, check it out!
And since there is no Uber or Bolt on São Miguel (only prepaid taxis), Punta Delgada is a great option because it lies only 10 minutes from the airport, so you won't have to spend a fortune to reach it (a ride will cost you only €10)!
If instead, you want to explore the island by car, Ponta Delgada offers many car rentals, just make sure your hotel has parking available on site or nearby!
And of course, being one of the most popular towns in São Miguel, Ponta Delgada offers great accommodation options for any budget, check them out below:
Other accommodation options in Ponta Delgada
As I said before, Ponta Delgada is one of the most touristic places where I stayed myself and chances are, you will stay too, so I decided to give you some extra options among the countless hotels you can find in the city: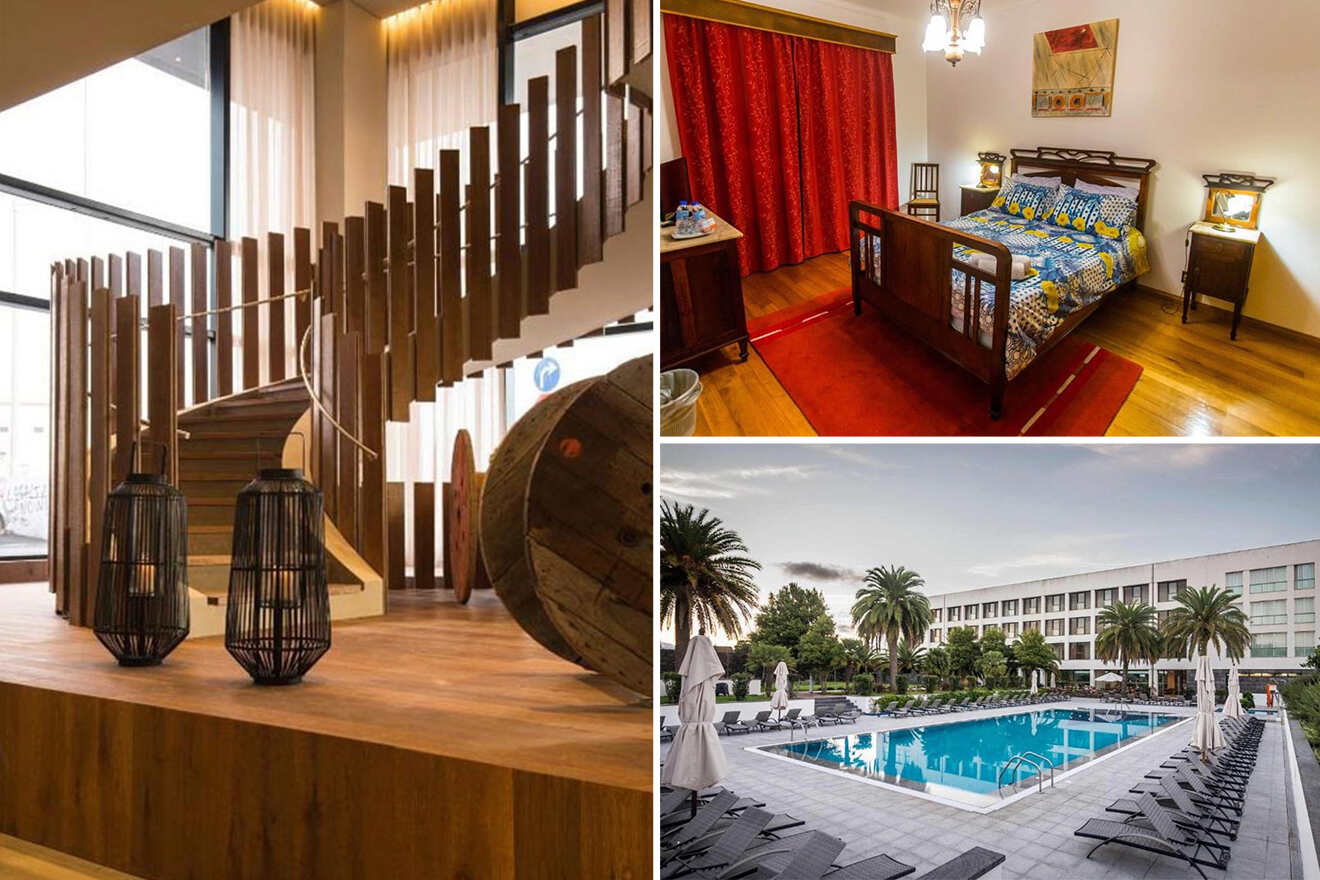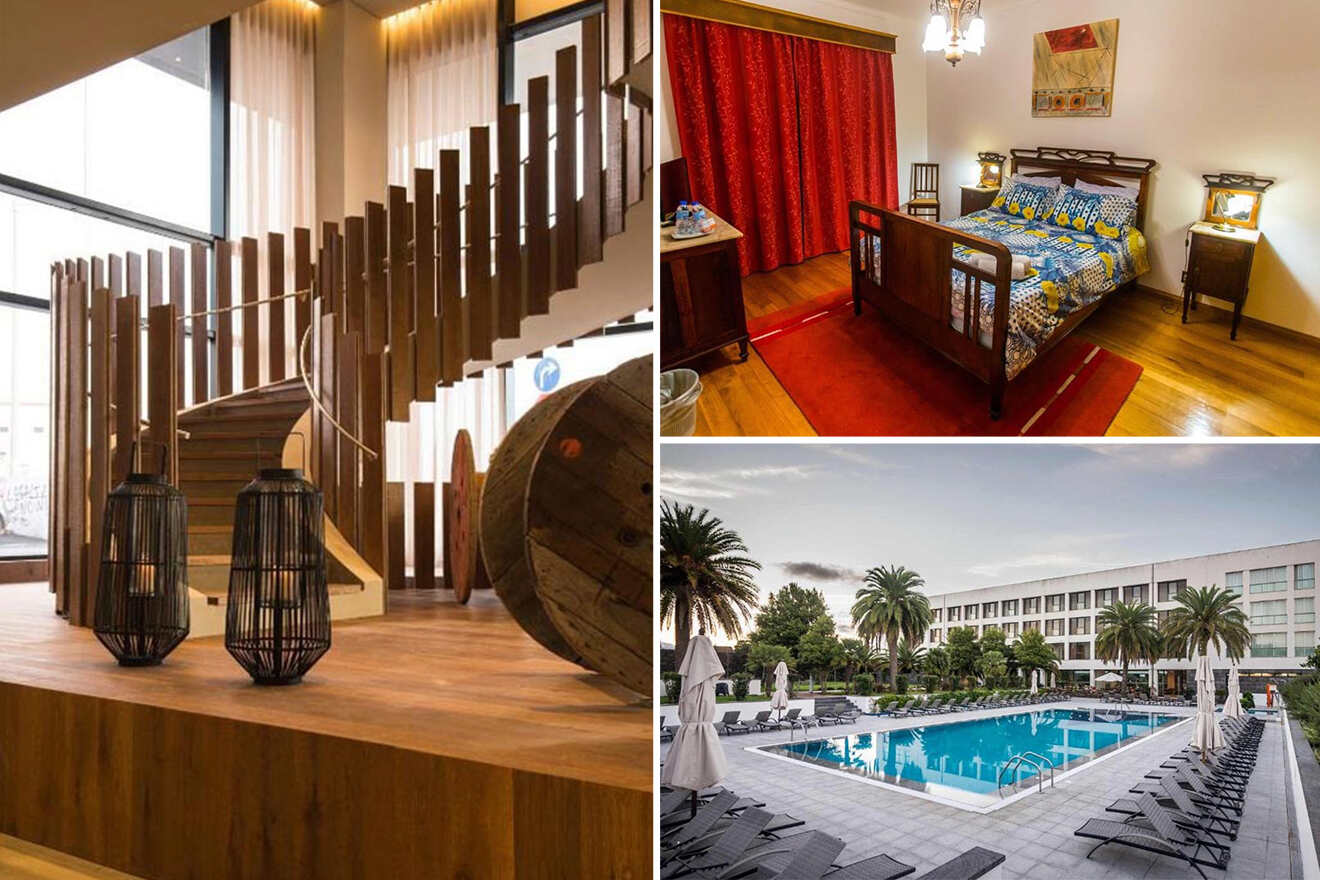 Luxury (€200 and up): Octant Ponta Delgada (Azor Hotel) – Check out this vibrant and cosmopolitan hotel featuring rooms with stunning views of the sea, an outdoor swimming pool and wellness center where you can relax, plus free parking!
Mid Range (€70 – €200): Azoris Royal Garden – This 4-star Azoris Royal Garden is a modern hotel offering great value for money and amazing facilities, among which 2 outdoor swimming pools, parking and a spa center offering massages and treatments
Budget (up to €70): Casa Barão das Laranjeiras – This is where I stayed during my holiday in Sao Miguel, and I definitely recommend it. The hotel is super nice, cozy, and has great facilities like a shared kitchen (there is a huge supermarket right nearby) and an outdoor pool!
Things to do in Ponta Delgada
Visit the Caldeira Velha Thermal pools on this half-day guided trip
Explore São Miguel east on a tour!
Try delicious food at the Mercado da Graça
Relax in Jose do Canto Botanical Gardens
Join this tour to Sao Miguel West
Visit Ponta Delgada on this 4-hours walking tour
2. Lagoa – the best city in Sao Miguel for history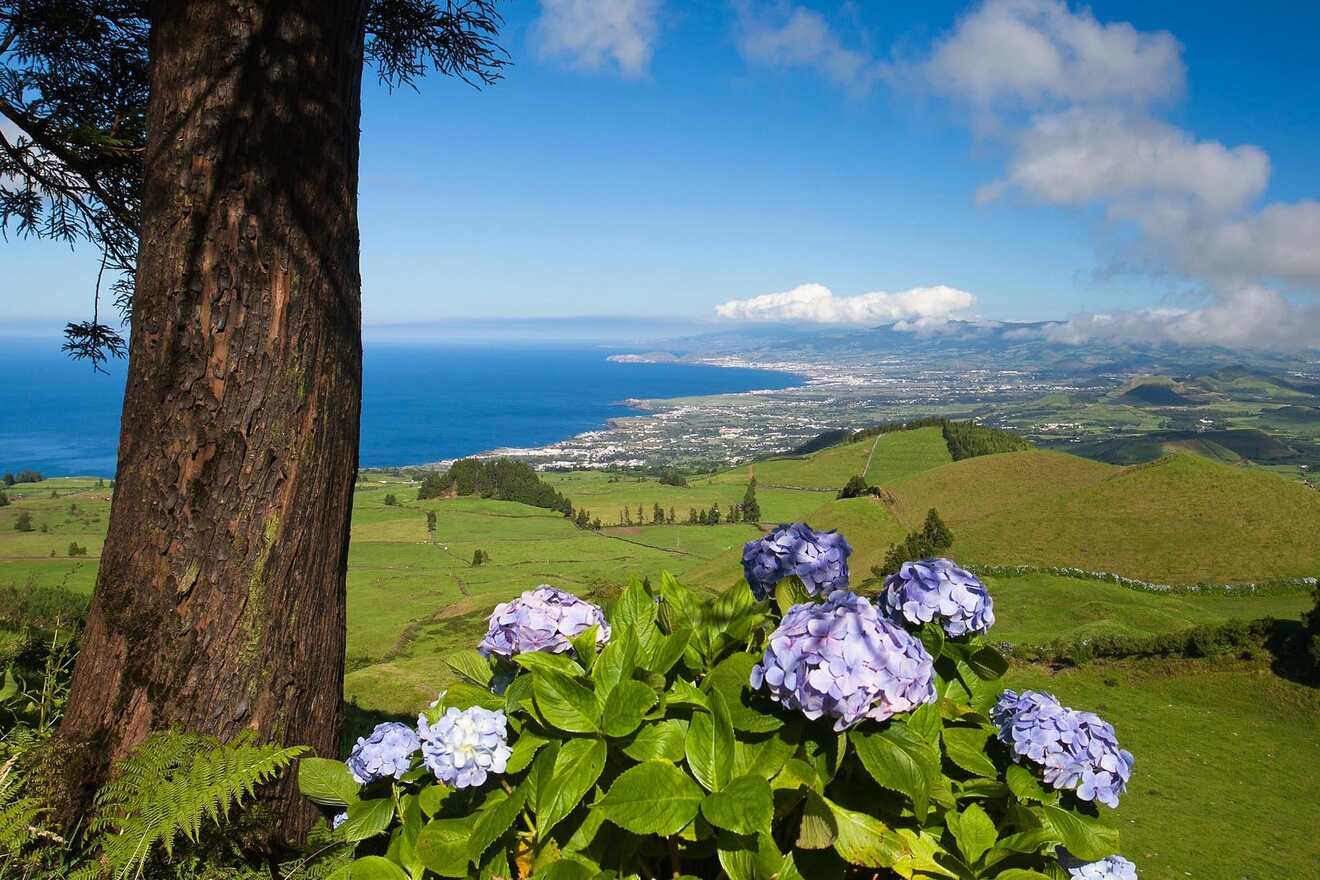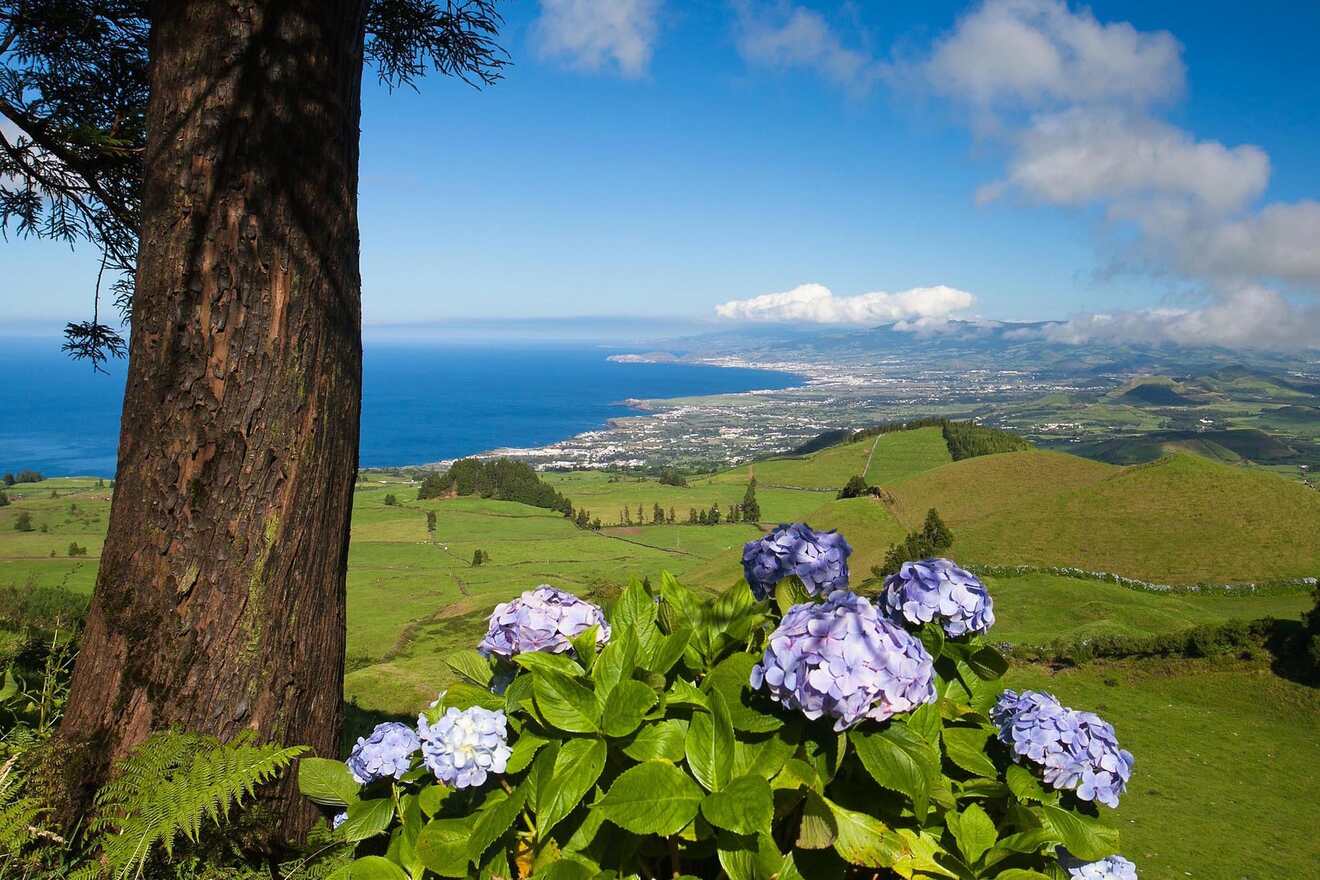 Just a 10-15 mins drive from Ponta Delgada to the East, you will find the beautiful small town of Lagoa. This is where colonists settled after they discovered the island, so it is very rich in culture and history.
Here you can visit the ancient Santa Cruz church or the many museums, like the Expolab Science Museum, dedicated to natural sciences and technology, or the Azores Volcanological and Geothermal Observatory, where you can learn all about volcanoes and seismology.
And if you're wondering about nature, no worries, Lagoa won't let you down! Here you'll have easy access to magical waterfalls, volcanic lakes, beautiful beaches, and natural swimming pools!
So, in other words, Lagoa gives you the perfect combination between nature, culture, and urban life, does it sound like the place for you? Then check out the best hotels in the area here below (I included 2 luxury options):
Other accommodation options in Lagoa
White Exclusive Suites & Villas – The luxury White Exclusive Suites & Villas is a perfect option for couples looking for some privacy and quietness. Here you'll stay in spacious rooms with a balcony and room service available, and you'll relax in the outdoor swimming pool or in the garden. But one of the best things about the hotel is definitely its stunning view just in front of the Atlantic ocean… Check out the pictures!
Things to do in Lagoa
3. Ribeira Grande (and surroundings) – best surfing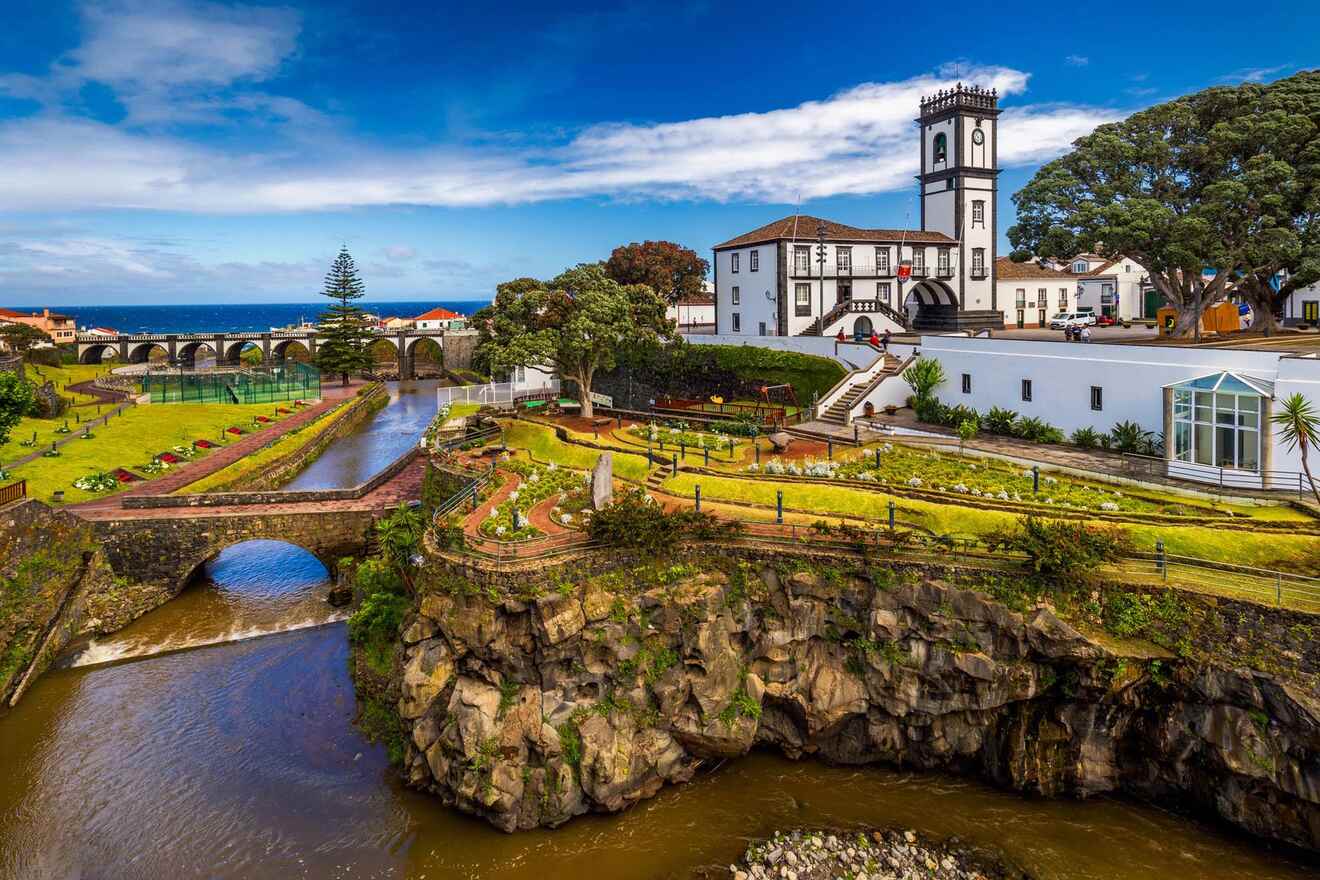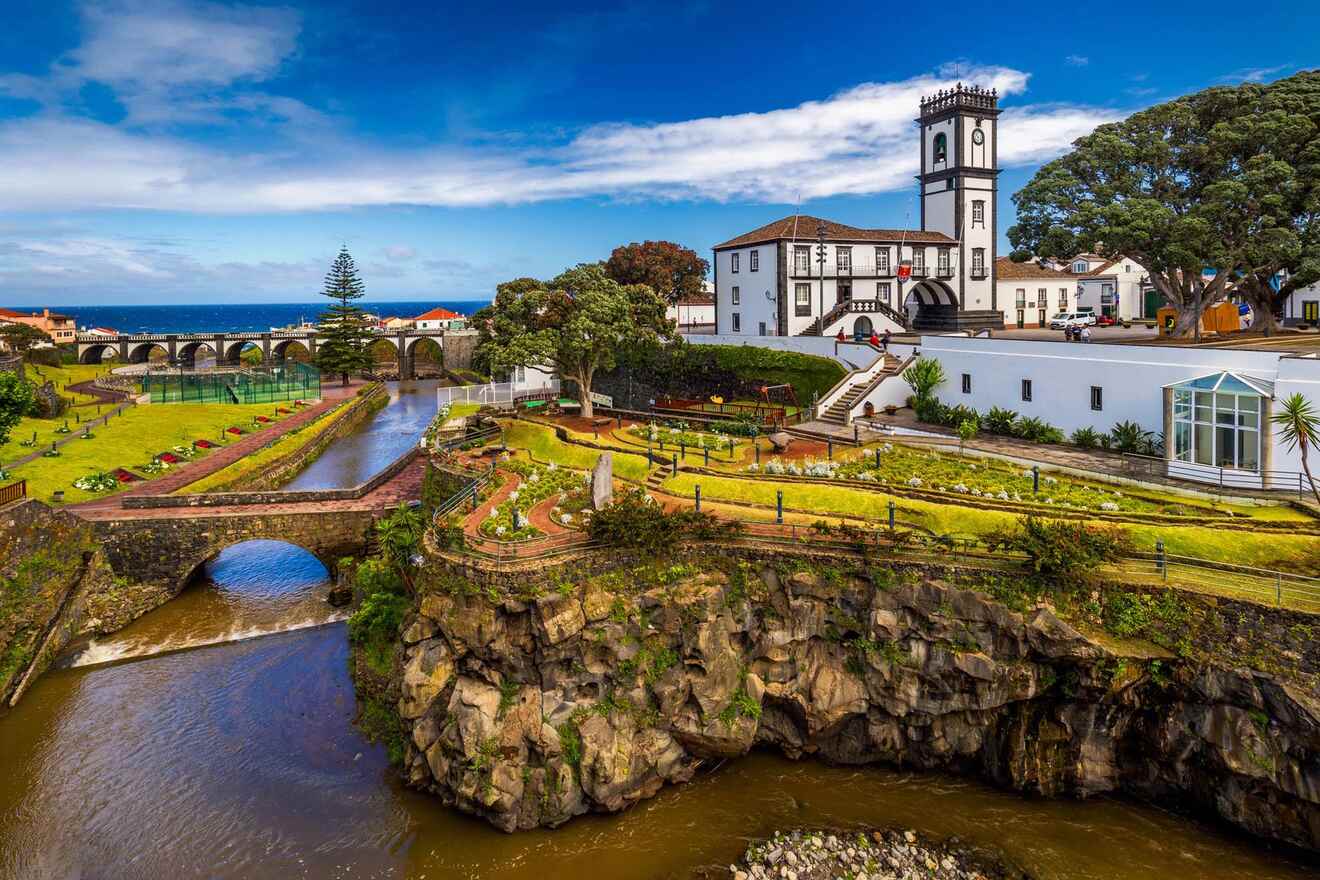 On the north coast of São Miguel you'll find Ribeira Grande, a quiet town with a perfect position to explore the west and the eastern areas of the island, but at lower prices compared to the ones of Ponta Delgada.
Here you'll also find the Praia Ribeira Grande: my favorite beach on the whole island. It's huge, so it never gets too crowded, and is a paradise for beginner surfers!
The waves in the Praia Ribeira Grande area are mellow and super easy to catch, and the water is low until faar away from the shore, this is the reason why there are many surf schools giving lessons here!
Another reason why I love this beach is that it is fully equipped with any facilities you might need: showers, changing rooms, toilets, and lifeguards… But this is a characteristic you will find almost everywhere on the island (isn't it cool?).
If you can't find anything in Ribeira Grande, check just a little bit more west in Capelas and Calhetas – they are about 10 min driving from Ribeira and have decent infrastructure (restaurants etc.) too. I was actually considering staying in Capelas myself as we found something very affordable and with great there (but then changed our mind to Ponta Delgada still).
Other accommodation options in Ribeira Grande
I couldn't resist giving you a couple more incredible luxury hotel options in the Ribeira Grande area: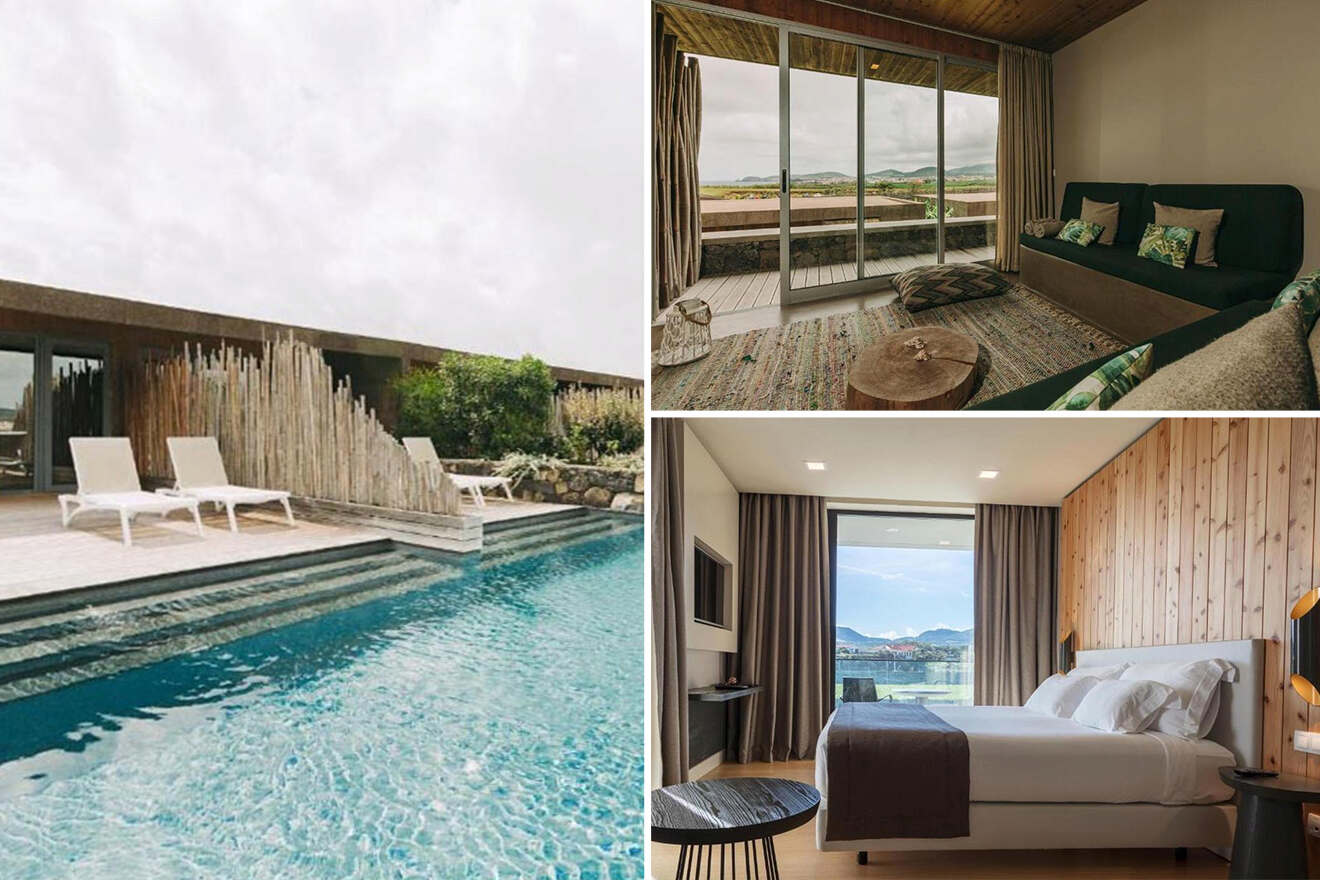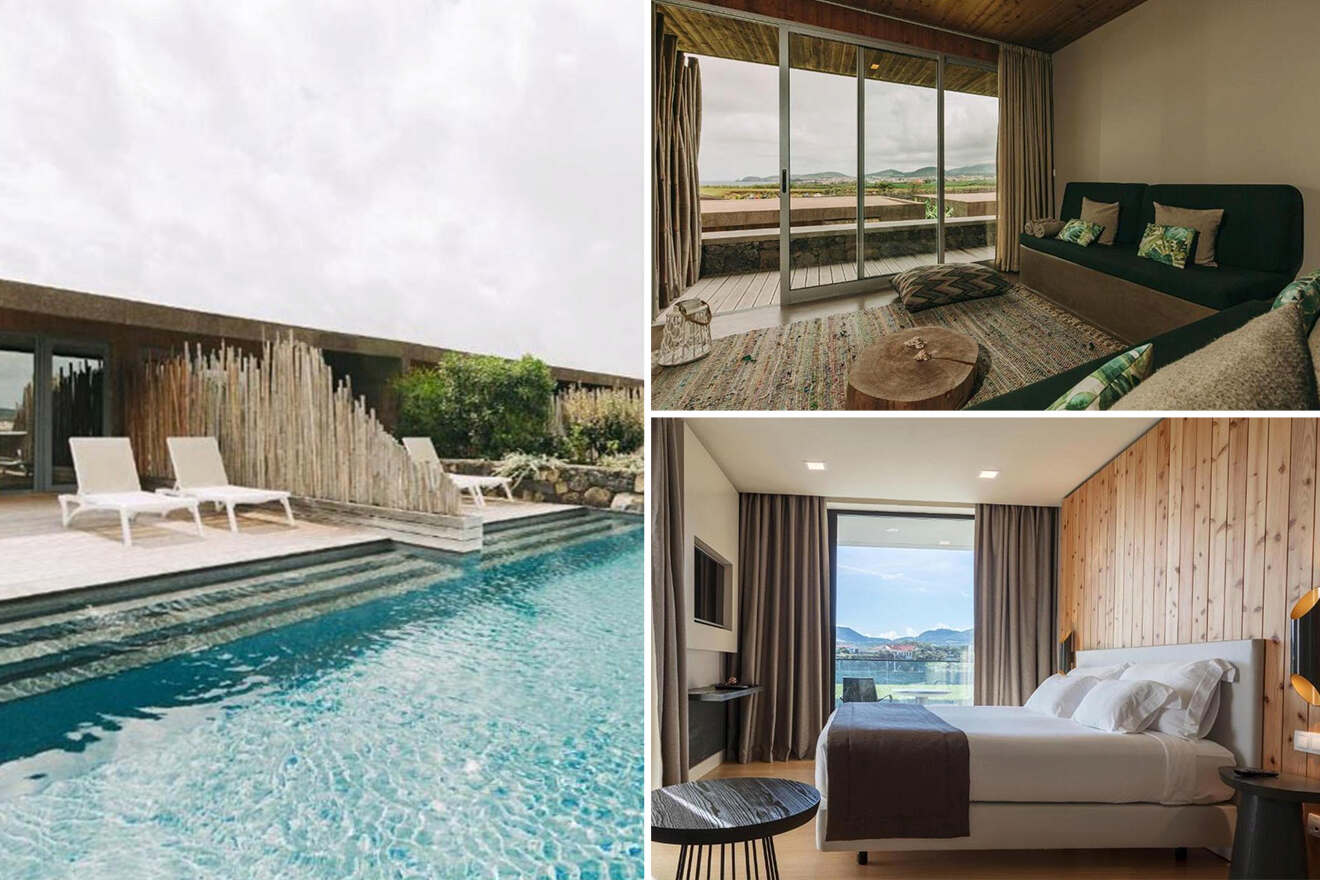 Resort Pedras do Mar Resort & Spa: The exclusive Resort Pedras do Mar Resort & Spa is located at just 20 minutes from Ribeira Grande and offers beautiful rooms and suites, all offering balconies with sea or mountain views, air conditioning and an en suite bathroom!
Santa Barbara Eco Beach Resort: This incredible eco beach resort features comfy and elegant villas made of sustainable materials, with modern and exotic decorations. And the hotel's location is perfect for joining activities like hiking, whale watching, or surfing!
Things to do in Ribeira Grande
Take a surf lesson with one of the many surf schools
Stroll around Ribeira Grande city center
Spend a relaxing day on Ribeira Grande beach
Gaze at amazing water views from Miradouro do Palheiro
Learn about São Miguel's historical and religious heritage at Casa do Arcano!
Watch the sunset while enjoying a drink at Beach Club
Attend some scientific exhibitions at the Astronomical Observatory of Santana
4. Sete Cidade – best natural attraction in São Miguel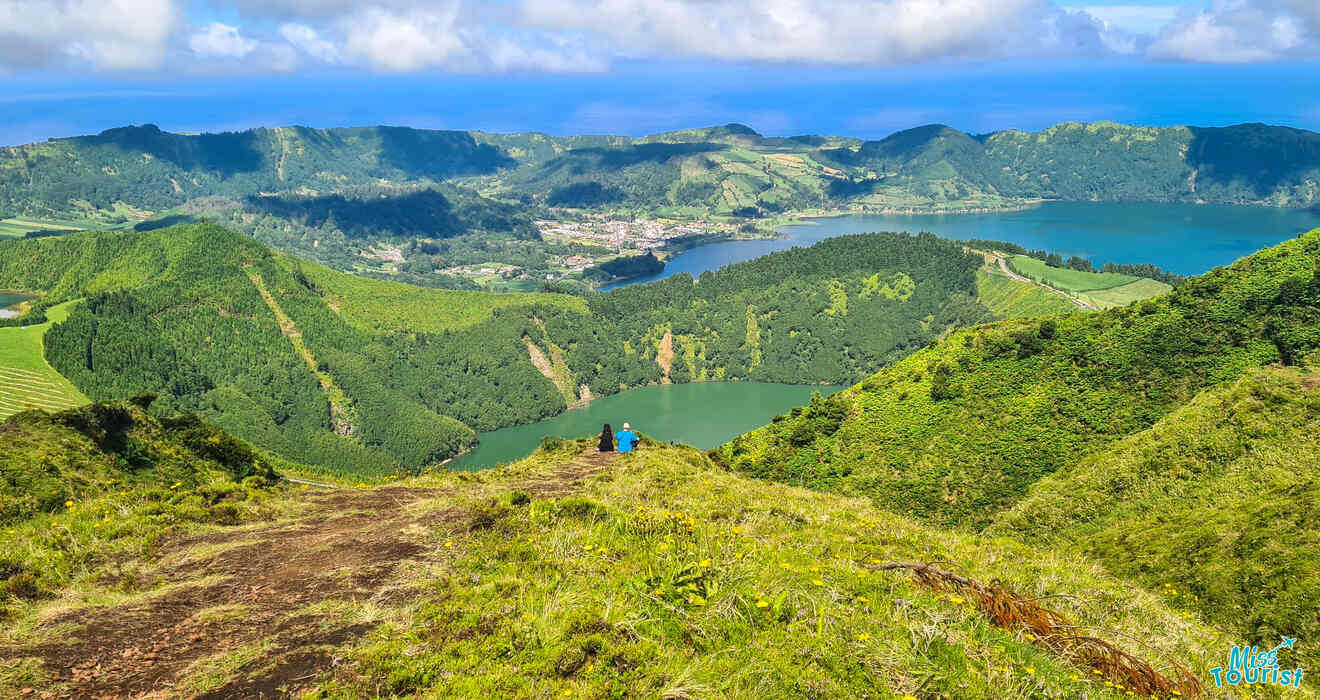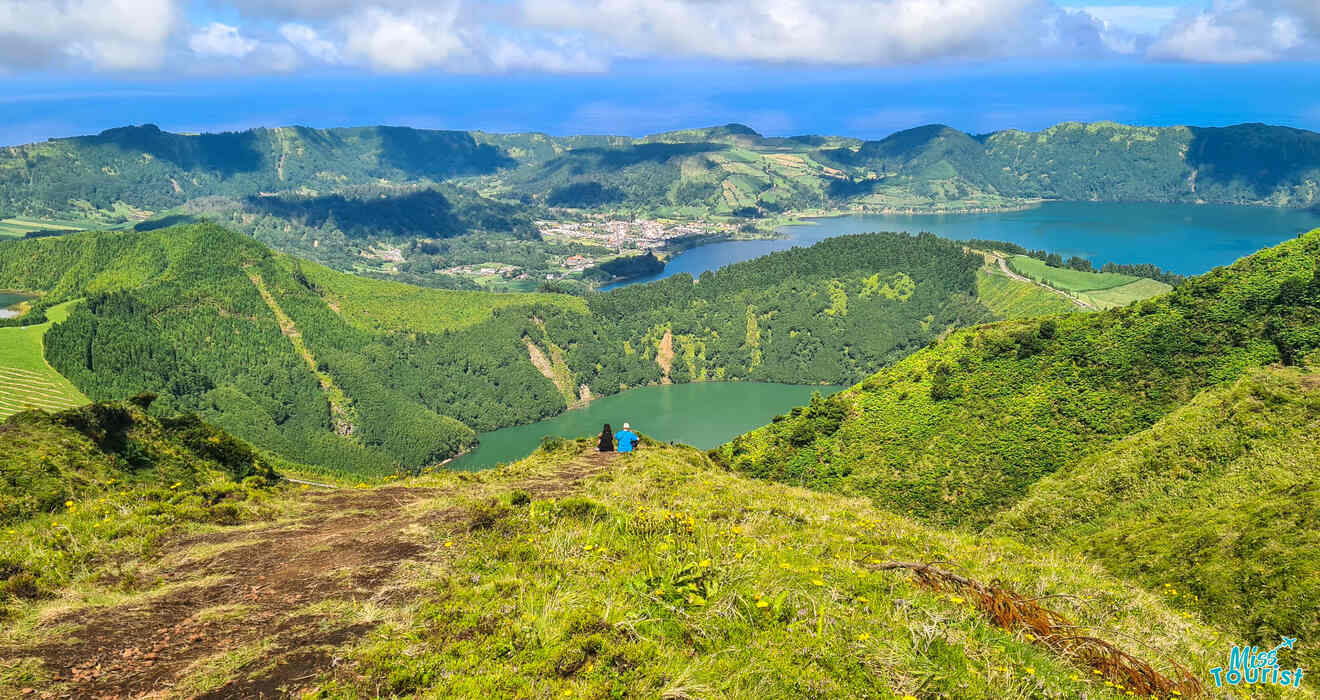 The Lagoa das Sete Cidades (the seven cities' lakes), located on the west side of Sao Miguel, is one of the most popular natural attractions on the island and definitely one of the best things to do in Sao Miguel. But what is it exactly?
The Sete Cidades are seven craters coming from the volcanic eruptions of many, many years ago that nowadays host beautiful lakes: the Lagoa Azul, Verde, Caldeiras Secas, Santiago, Rasa, and Alferes.
Above all of them, the most visited ones are the Green and Blue lakes (also called the twin lakes). They look like 2 different lakes, but they're actually just one lake divided by a bridge. What makes it so amazing is the fact that the lake reflects the sky and the hills, creating a half-blue and half-green visual effect in the water… It is magical!
The Green and Blue lakes are considered 2 of the 7 wonders of Portugal, so it is a must-visit in São Miguel whether you are staying in Sete Cidade or not, but the area is perfect for also exploring other attractions of Sao Miguel west.
On the west of São Miguel Island, you'll find the Ponta da Ferraria natural swimming pools, the dark-sand Mosteiros beach, known for its volcanic rocks and black sand, or the panoramic viewpoint Miradouro da Vista do Rei, offering the best views of the seven lakes!
Other accommodation options in Sete Cidade
Things to do in Sete Cidade
Surf or watch the sunset at the beautiful Mosteiros Beach!
Swim in the warm thermal pool of Ponta da Ferraria
Gaze at the Green and Blue lakes of Sete Cidade
Have the best views of the seven lakes at Miradouro da Vista do Rei viewpoint
5. Furnas – the best area in São Miguel, Azores, for families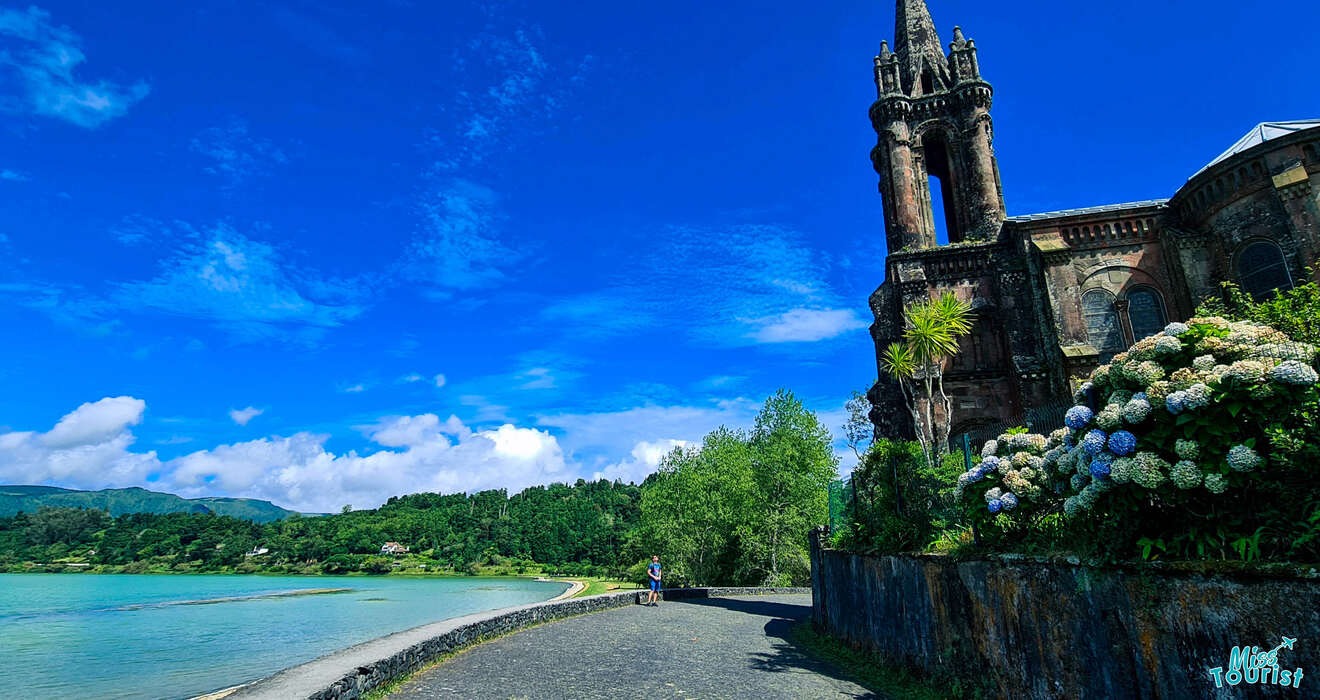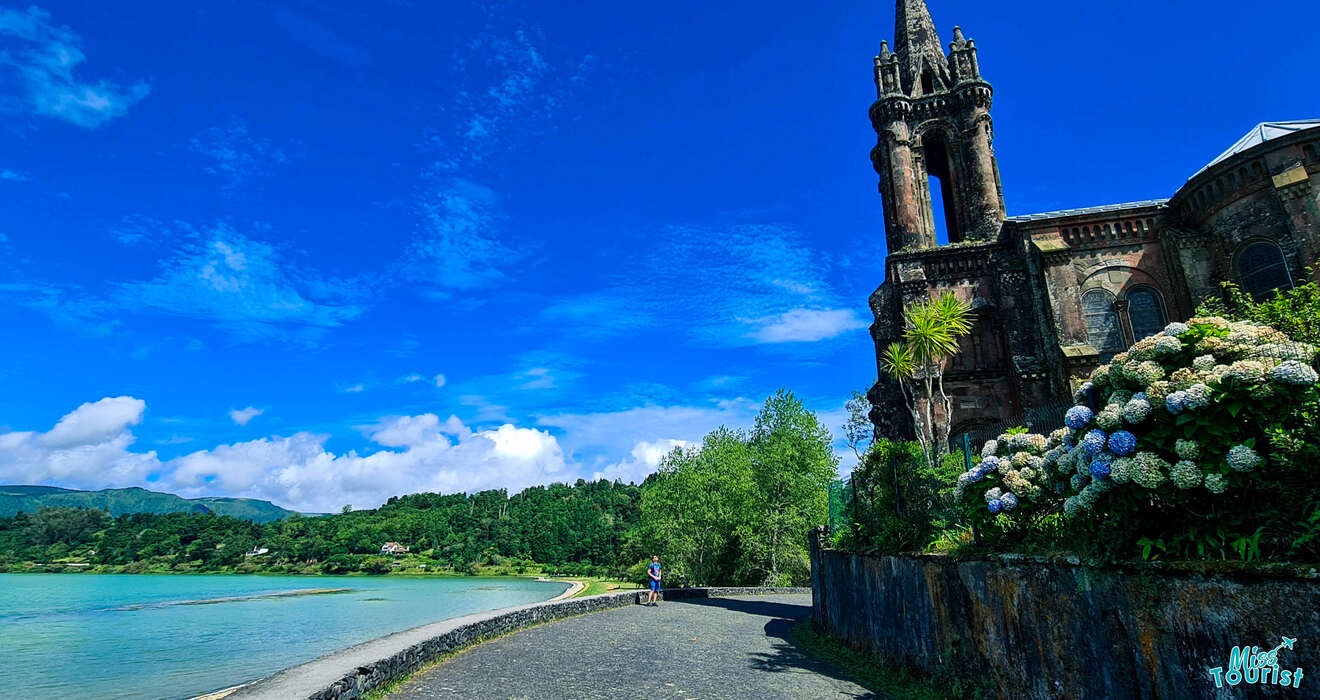 Furnas is a small town located on the east part of São Miguel Island, offering access to many family-friendly activities to enjoy in nature and a peaceful setting when you come back to the hotel after an intense day of visiting!
In fact, at a very short drive from Furnas, on the southern coast of São Miguel Island, there is the tranquil Furnas Lake, where you can walk around its borders, have a picnic while enjoying the water views, or just chill.
And if you keep going north of Furnas lake, you can visit a park with a very traditional attraction: the underground cooking pits (Fumarolas). Basically, the restaurants in São Miguel Island use the heat of the geothermal spring for cooking the traditional stew Cozido das Furnas!
Last but not least, a must in the area is Terra Nostra Park, part of the Terra Nostra Garden Hotel, an oasis of peace where you can soak in the hot springs, lose yourself in its charming gardens, or have the most delicious Cozido at the Terra Nostra hotel restaurant!
Contrary to Siete Cidade, staying in Furnas will also allow you to explore all the best attractions of São Miguel's east coast, like the Poça da Dona Beija hot springs, the many miradouros (viewpoints), and natural parks!
Other accommodation options in Furnas
Things to do in Furnas
6. Caloura (South Coast) – most local area to stay in Sao Miguel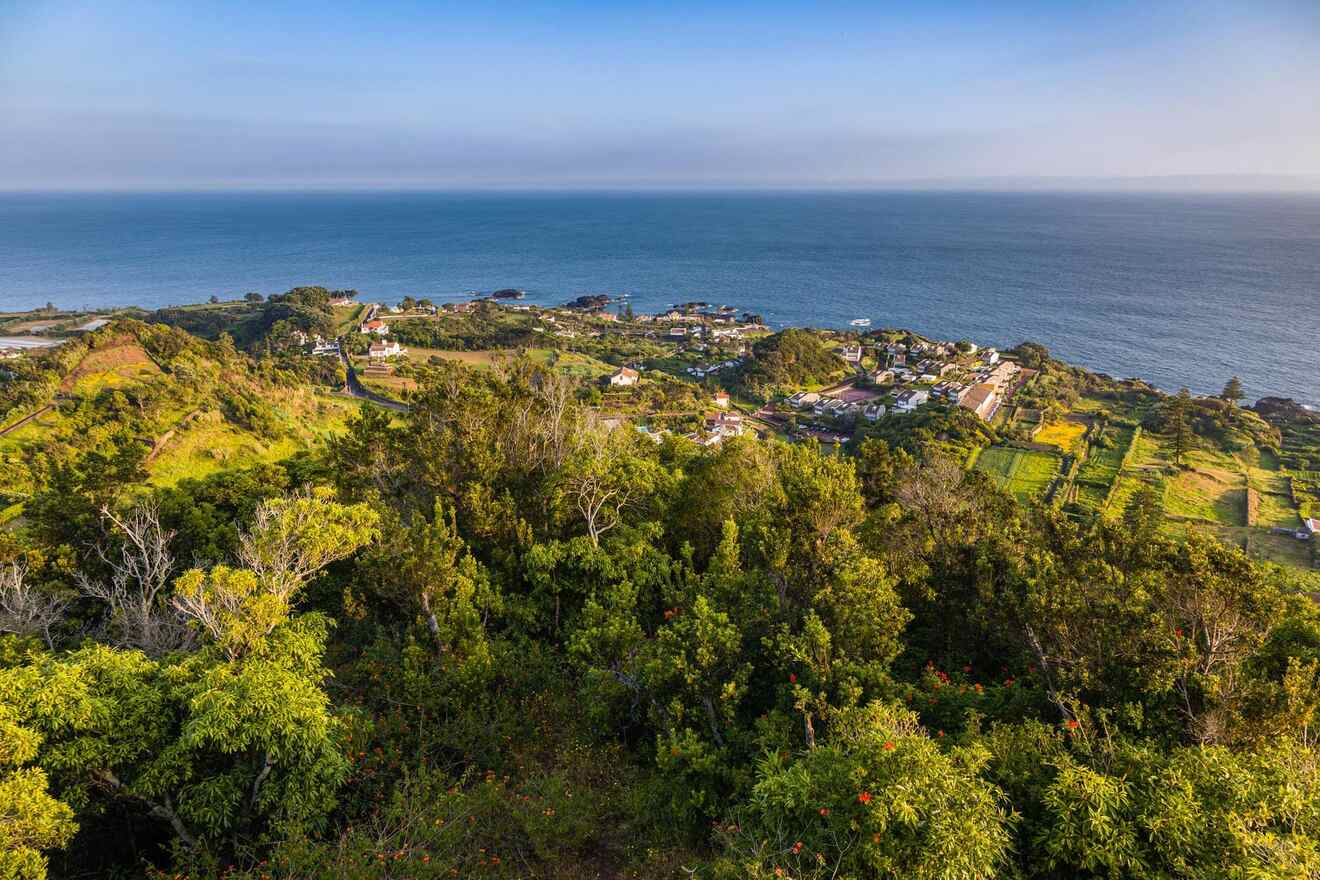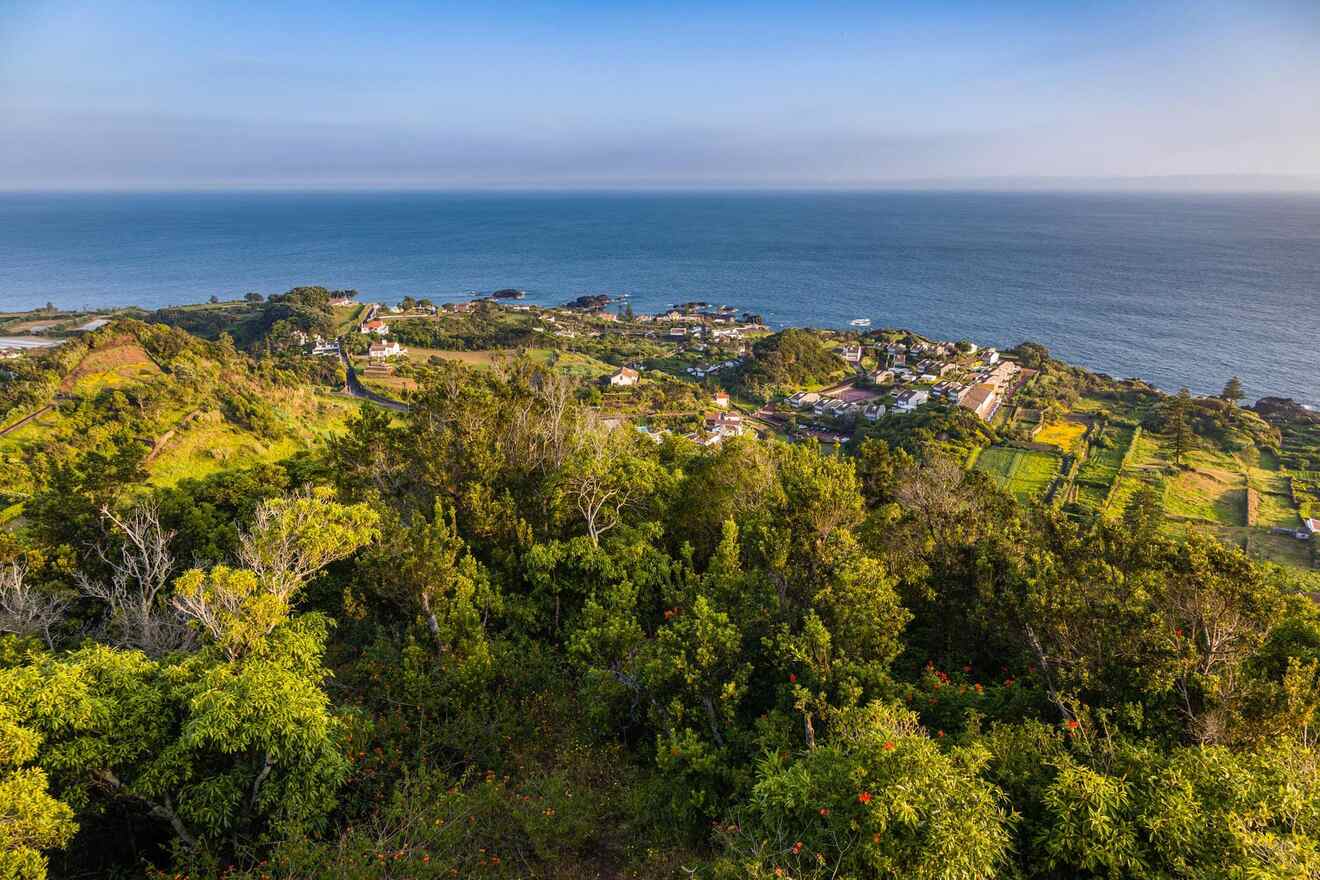 Located in the middle of Sao Miguel's South coast, Caloura is an old, charming, fishing village known for its laid-back vibes, delicious food, and really good weather.
In fact, thanks to its flat ground and low altitude, the town has one of the best microclimates on the island: sunny (the clouds are concentrated on the interiors of the island) and less humid, the perfect place to relax and enjoy the sea.
Its great position will allow you to easily explore any part of São Miguel, Azores, as well as the stunning natural spots nearby: beautiful waterfalls and lakes, thermal water pools, and great beaches such as the small sandy beach Praia da Baixa D'Areia in Água de Pau.
Right above the beach, there is one of the best picnic areas on the whole island, offering barbecues, tables, an overwhelming ocean view, and even some changing rooms… The perfect place to spend a leisure day for families and friends!
Otherwise, Caloura itself offers a bathing area with a small salt water swimming pool for kids and a direct entrance to the sea, where you can chill before having a delicious fish dinner in one of the traditional restaurants in town, definitely a MUST-do in a fishing village!
Other accommodation options in Caloura
Things to do in Caloura
Spend a relaxing beach day at Praia da Baixa D'Areia in Água de Pau
Dine on the best grilled fish on the island at Caloura Restaurant
If you are in town in July, attend the Caloura Blues festival
Enjoy the views and fresh air from Ponta da Galera viewpoint
Have a cocktail with sunset views at Baixa d'Areia Lounge Bar
FAQs about hotels in São Miguel Island, Azores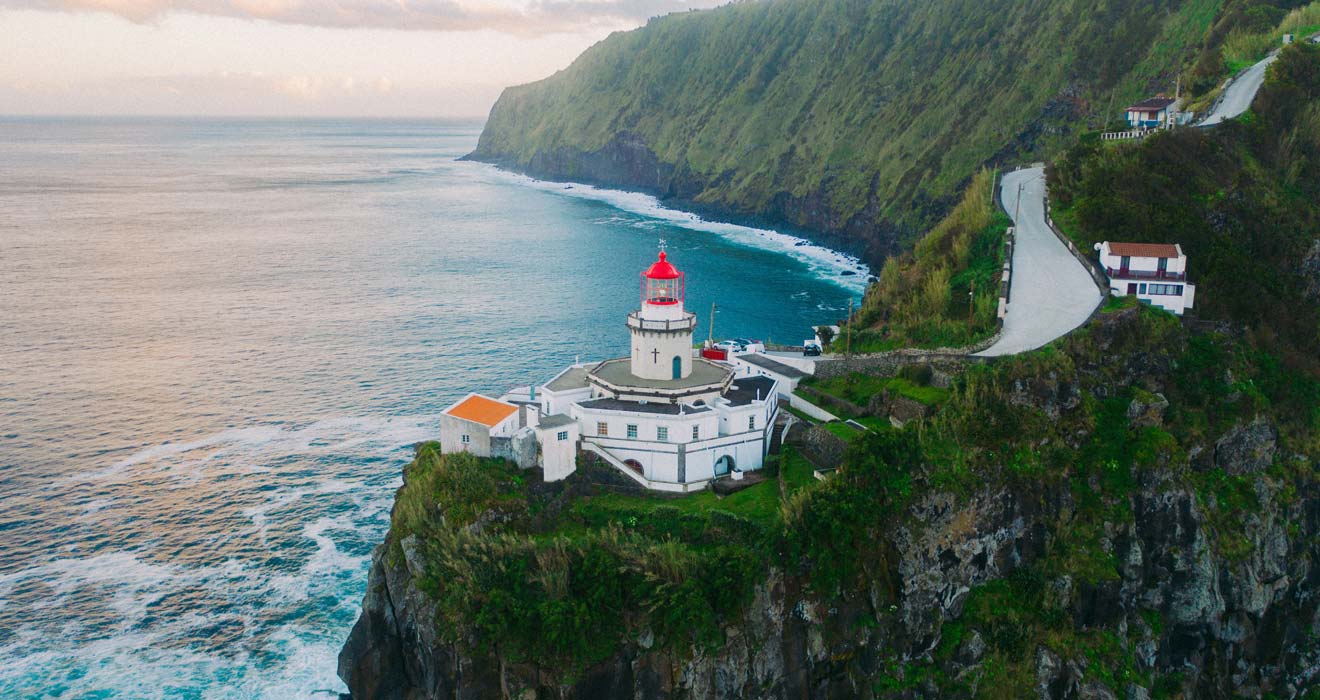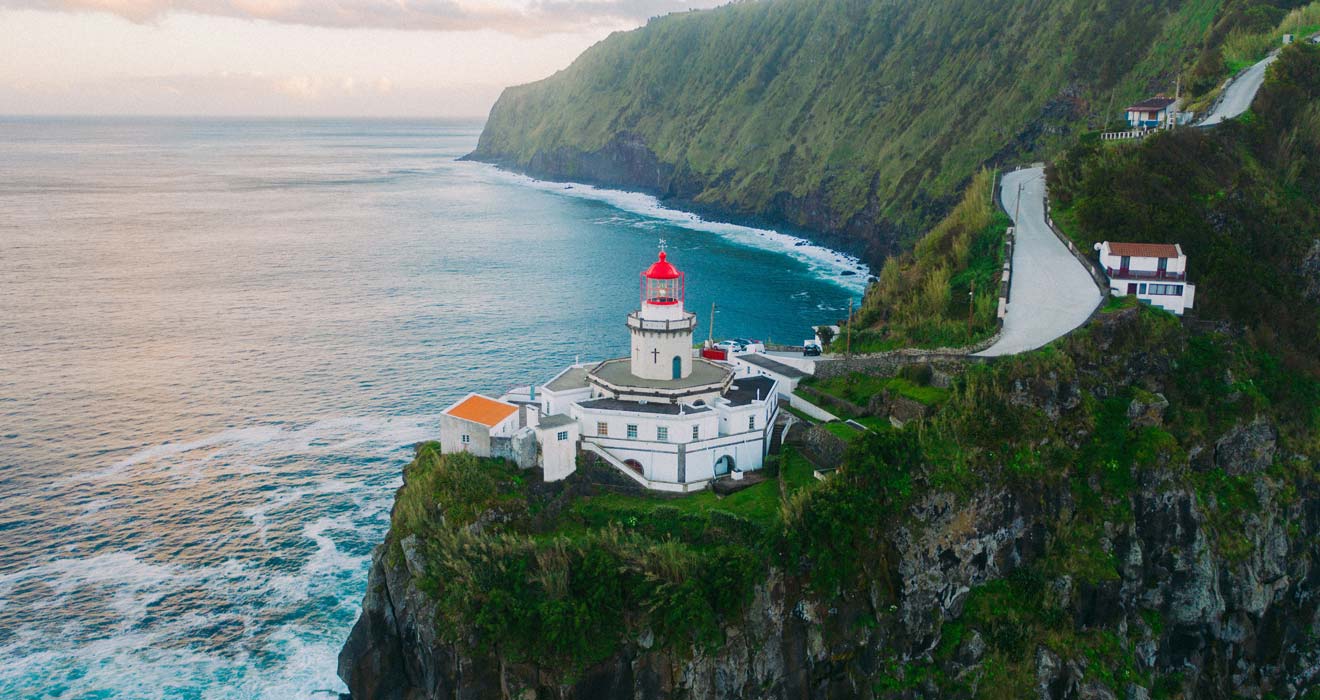 Conclusion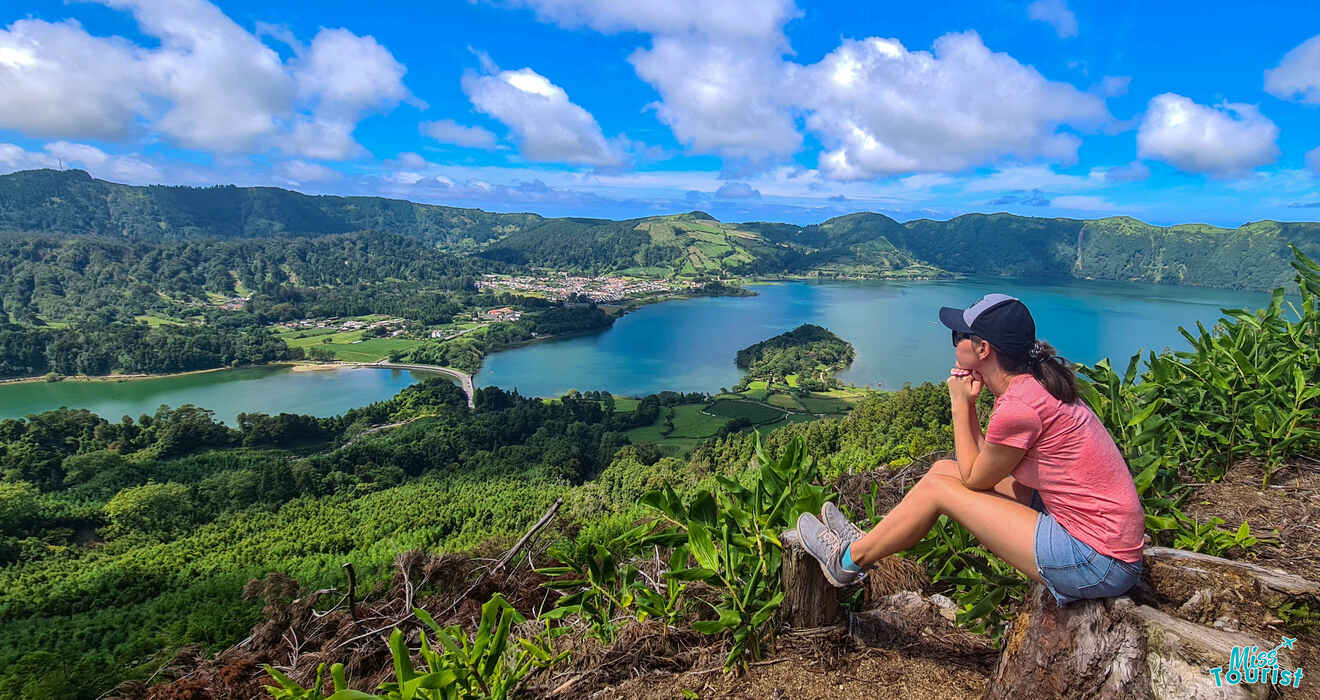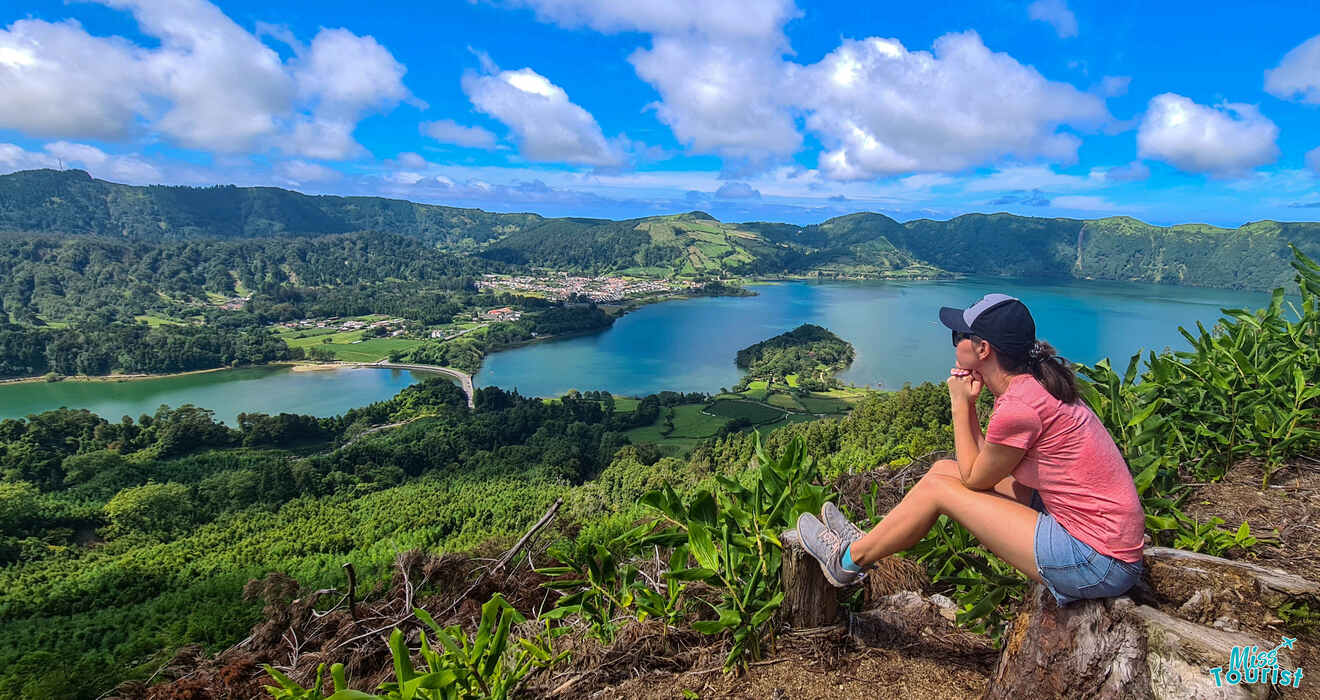 Congrats! You made it to the end of this extensive guide about all the best areas and cities where to stay in Sao Miguel, Azores. As each one gives you access to different attractions on the island, it's important you choose wisely!
If you want to easily reach both the east and west parts of São Miguel Island, I suggest you stay in one of the central areas: Ponta Delgada and Caloura in the south, or Ribeira Grande on the north coast.
We also saw all São Miguel's best hotels, and they were quite a lot, so if you are still undecided about which one to book, here below there are my 2 absolute favorites, located in Ponta Delgada:
Azor Hotel – This is one best hotel in Ponta Delgada if you are looking for luxury, featuring elegant rooms with stunning views of the sea
Hotel Talisman – If you are looking for great value for money, this hotel is for you, offering an amazing rooftop outdoor pool
If you like them, make sure you book something immediately so you reserve yourself a spot and maybe also find some good deals!
And if you still have questions, please feel free to share them in the comments below, I will answer you as soon as I can.
I hope you have a great stay!
Yulia
---