Attention! This blog post is written many years ago when I was not even dreaming about becoming a professional travel blogger. You are warned that the quality of the text and/or pictures might not be the best. 🙂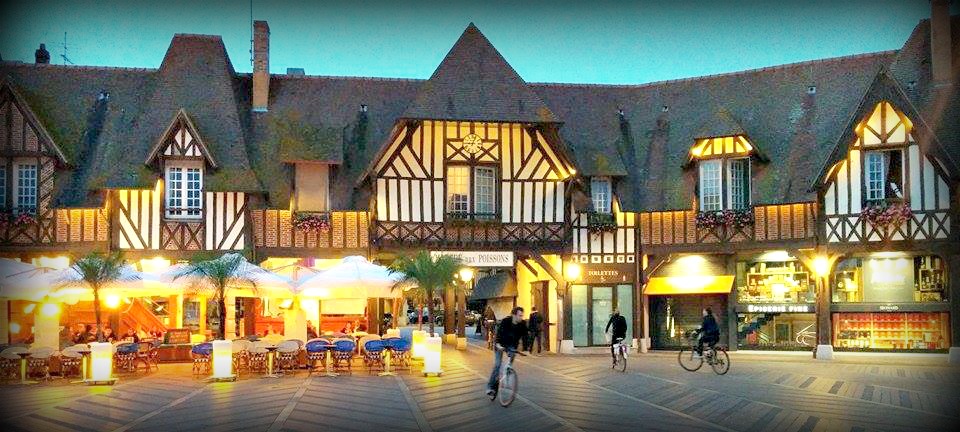 If you happen to be in Paris and have a sudden need for a beach or just want to discover more of France, you can go to Deauville, kind of posh destination where some Parisians have they summer houses.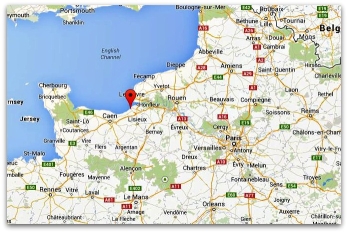 I had a chance to go there very accidentally – a friend of a friend invited us, and I said "Why not?", you know how it goes!

Located 200 km. to the North-West of Paris (Normandy region), it is one of the most prestigious resorts in all of France
Exept being just a fashionable holiday destination, Deuville is famous for its horse races, beautiful harbour and I guess a Grand casino.
The tiny town has just 4000 inhabitants but every September it hosts an Deauville American Film Festival (maybe that is why it had USA flags all over the city?)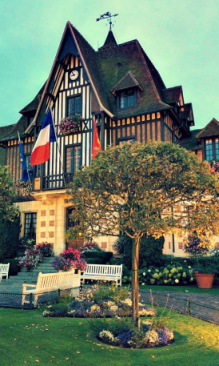 This "petite ville" is so small that I did not even notice when we got to another town called Trouville (you basically just cross the bridge, et voila!) . There they have a street full of restaurants, it is really nice and more alive I would say.
Except eating delicious "moules" (Fr. for "mussels") you should go visit:
Hippodrome Deauville La Touques
Deauville beach

Casino Barriere de Deauville
Therefore, I think it is a perfect runaway destination for people tired of big cities and to feel yourself a high society French class. I'd say 3 days are enough cause after you discover all I mentioned above there is nothing else to do! 🙂
Where to stay in Deauville
As always, I have carefully selected hotels with best rated location and reviews. Here are the recommended hotels depending on your budget:
Luxury ($150 and up) – elegant rooms of Manoir de Benerville hotel is a definition of luxury. Just 15 minutes away from the beach, this hotel is located in secluded and picturesque location. Michelin-listed Hotel Le Trophée is located only 200 m from the sea and the casino, it also features heated outdoor swimming pool!
Middle price ($50 – $150) – Hôtel Barrière L'Hôtel du Golf – as name suggests, this hotel is set on a golf course. Featuring spacious rooms and suites, it has a sunbathing terrace, an outdoor swimming pool and a spa. ibis Styles Deauville Centre – 5 minutes walk from the beach, all rooms are tastefully decorated and equipped with modern amenities.
Budget ($50 or less) – it is not that easy to find budget accommodation in Deauville, you might want to try searching in towns around like Trouville, Villers-sur-Mer or Le Havre However, if you book Sweet Home Appart'Hôtel Deauville Sud in advance, you might also get some attractive rates!
P.S. It is nice to discover the harbor and everything by bike, if you have a chance I recommend you do that! And here is our awesome team! 🙂
P.S.S. Going to Lille in a couple of hours, the next post will be about it! à bientôt! 🙂
UPDATE: We now have a detailed article on best places to stay in Lille, so if you're also thinking of visiting this city, take a look!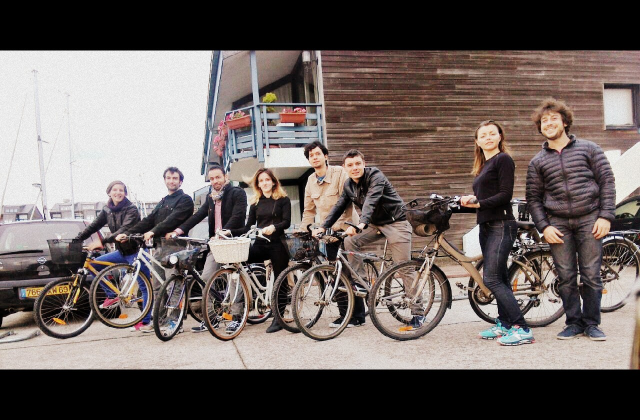 Yulia
---
---
Pin it for later!