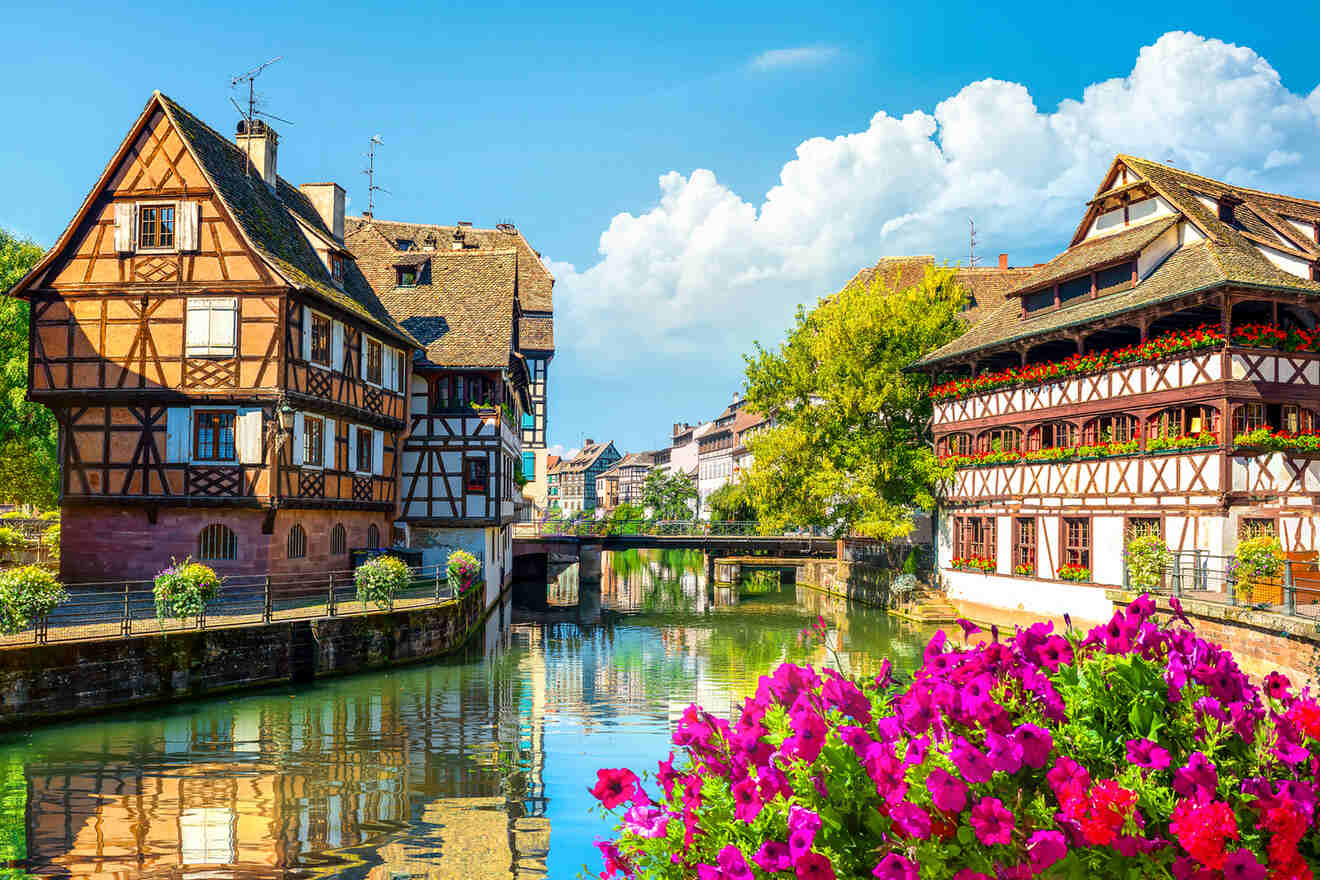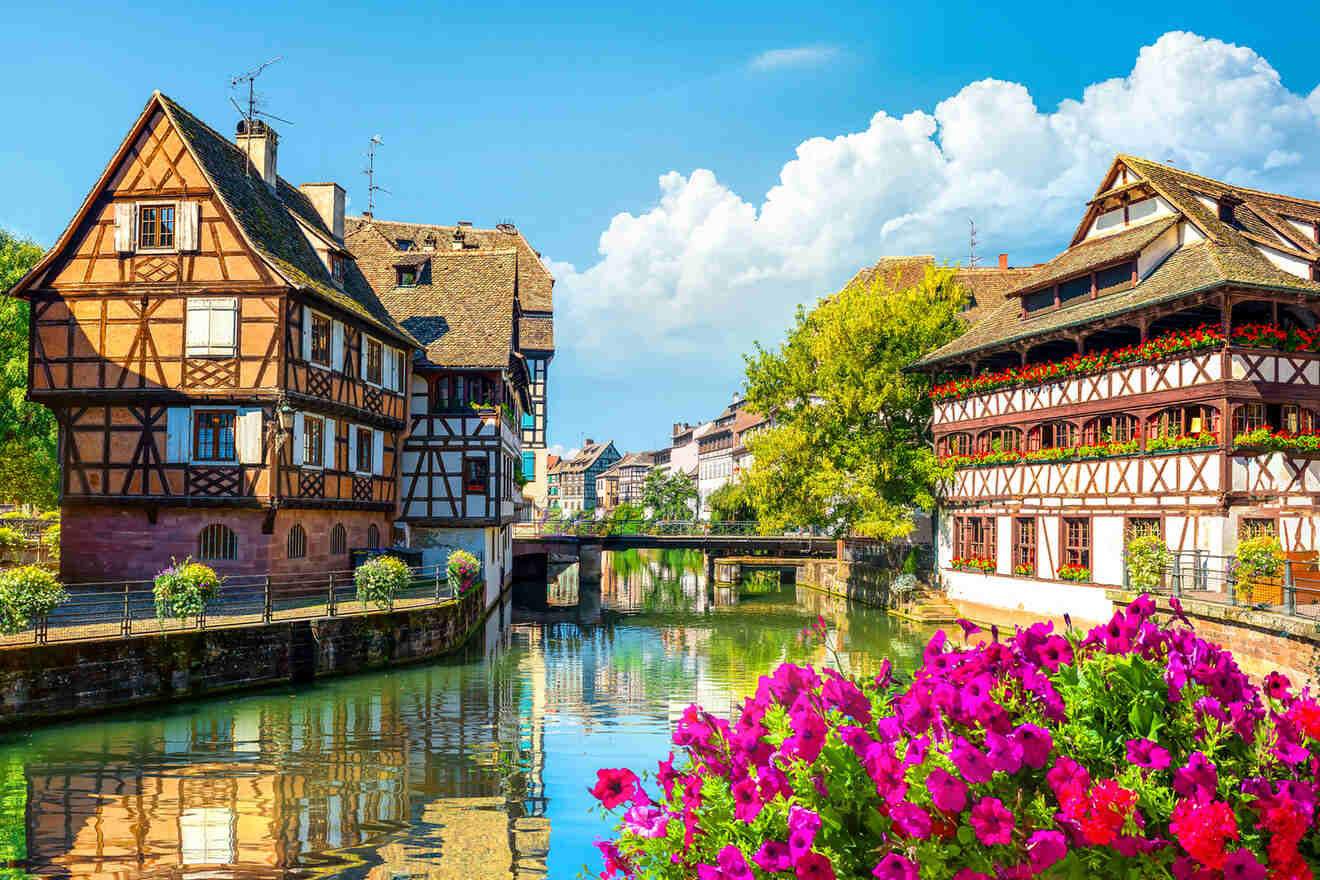 A place where the German and French cultures collide? Oh my! You're in for a treat! Set on the German border, this dreamy town has everything, and I'm here to tell you everything you need to know!
Old Town is the best area where to stay in Strasbourg. Here you'll find the top attractions and one of the oldest Christmas Markets in Europe! Of course, that's not it. I've searched the entire web and found 3 more amazing areas that cater to different interests like culture, relaxation and nightlife; La Petite France, The European Quarter, and Krutenau.
Plenty of options for everyone! And that goes for the accommodations as well. You'll see under each area a list of the best hotels! Old, new, with a spa and other fabulous features.
Since we're on this chapter, I should tell you that Strasbourg is a super popular place. And not so big, so all the hotels will sell out super fast. That's why I recommend booking in advance if you want to get the pretty ones I listed below!
Get a glass of French wine, and let's start!
If you are in a hurry
Looking for the best of the best? Check out this short list, it has the top places where to stay in Strasbourg
Although it's not such a big town, the locations of all the areas can get super confusing. So if you need some help visualizing them, check out the map below: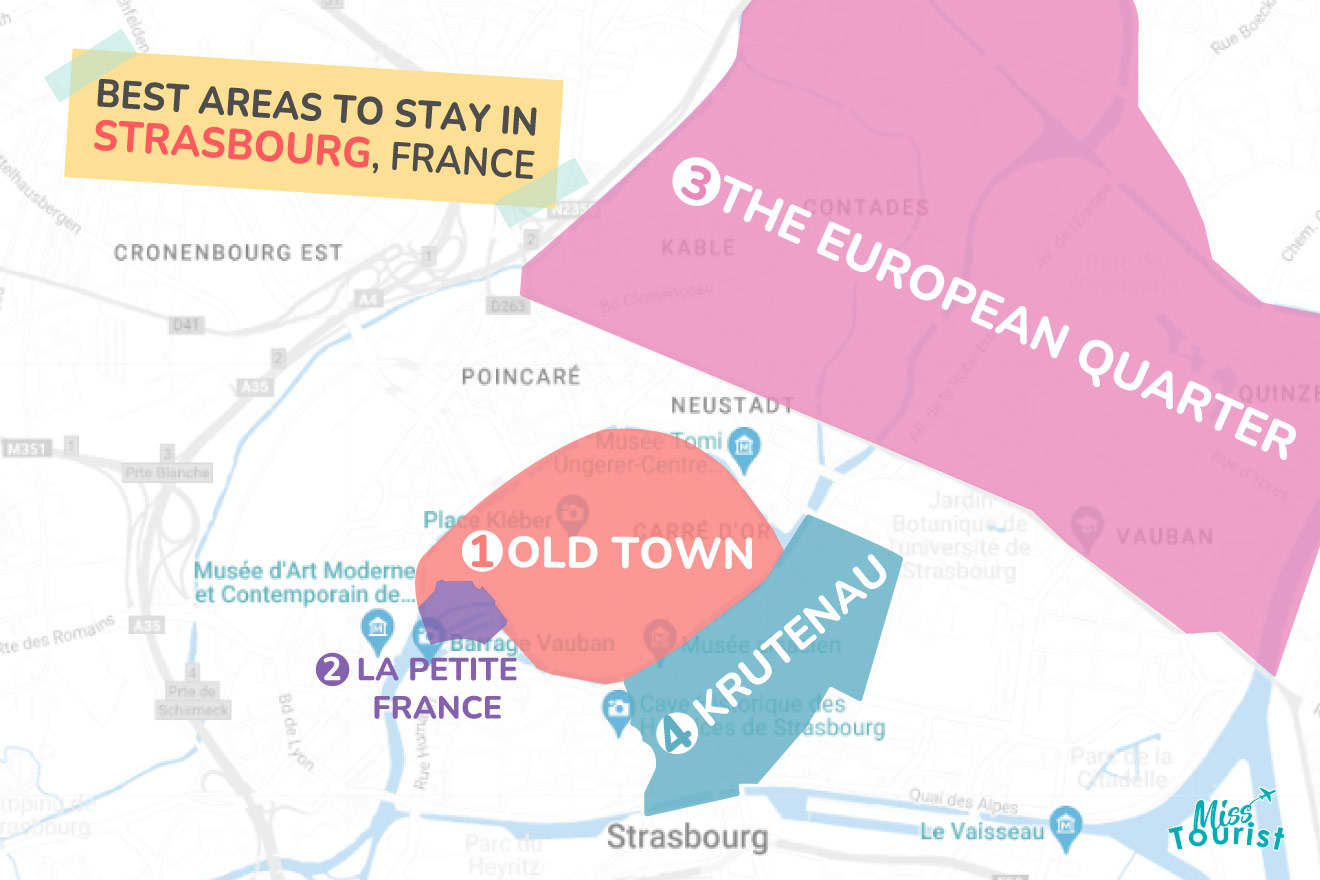 1. Old Town – where to stay in Strasbourg for the first time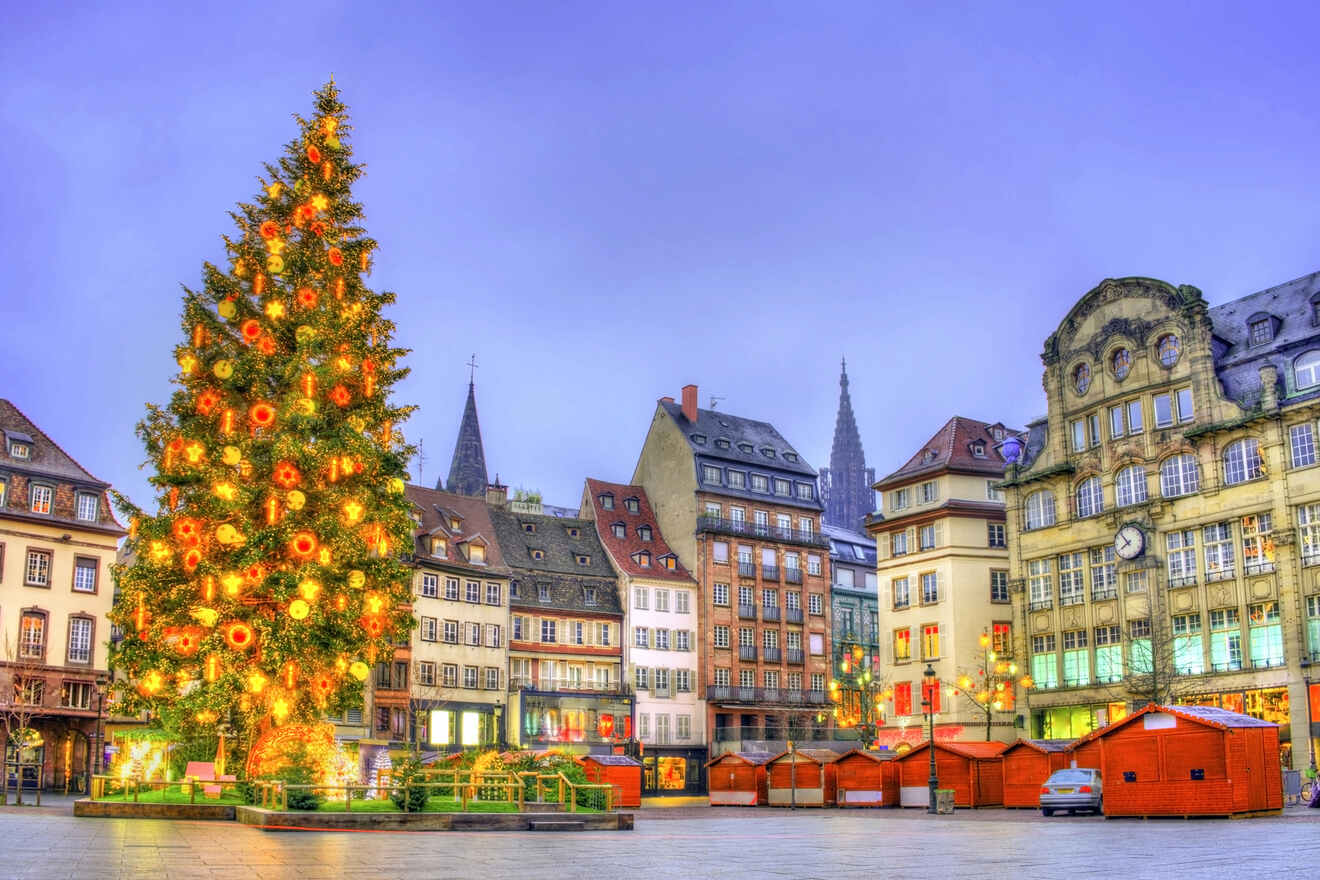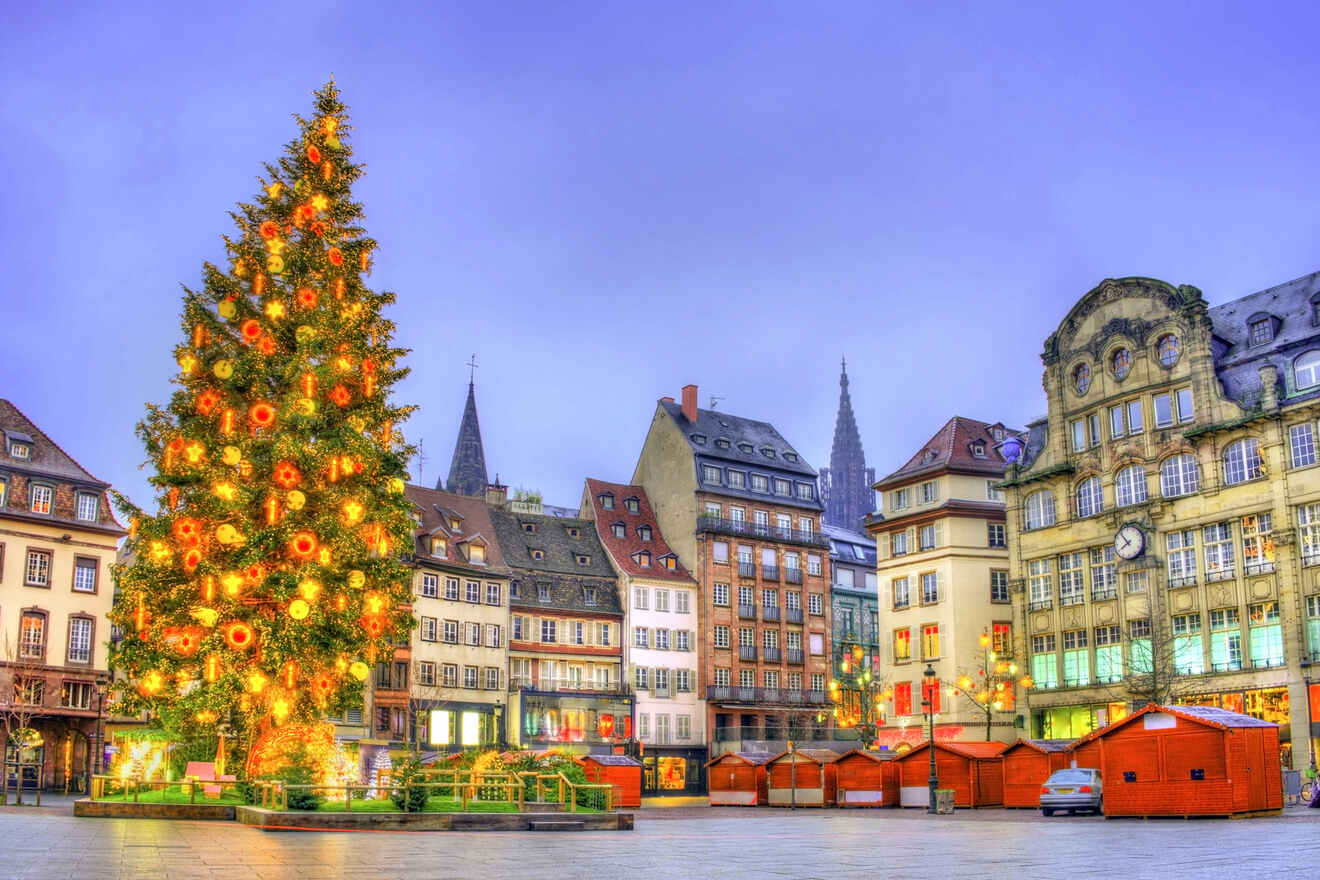 Also known as the Grande Île (the Grand Island), Strasbourg's City Center is a picturesque district filled with architectural wonders and historical monuments which are all within walking distance!
Yep, if you stay here, you'll be in the center of it all (and near the Train Station district) plus let's not forget that some of the best hotels in town are located here.
This is also where you'll find the famous Christmas Market (one of the oldest ones in Europe)! Yep, it takes place here, and every December the Old Town turns into a Winter Wonderland!
Place Kleber, Strasbourg's main square, is also set here, and I'm sure you'll spend much of your time here eating delicious pastries at the cafes and fine wine in a wine bar.
Yep, the city centre is a magical area and it's needless to mention that most visitors will look for a hotel here. Although there are plenty, all of them sell out pretty fast. So I highly recommend booking early if you don't want to be left with the expensive and not-so-pretty options.
Luxury hotel
Maison Rouge Strasbourg Hotel & Spa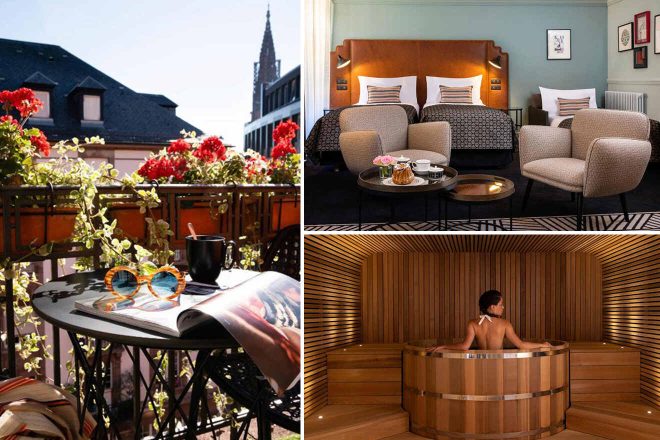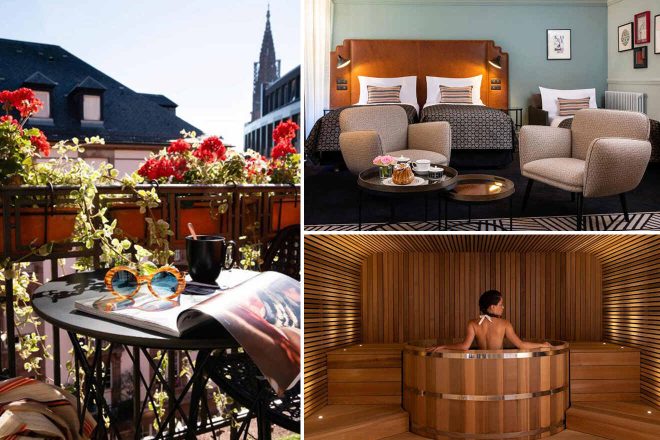 With an ideal location near Place Kléber, this hotel offers such an elegant decor! The gorgeous rooms offer city views and comfortable beds. When you're not exploring the historic centre you're welcome to relax in the spa all day!  
Other accommodation options in Old Town
Mid-Range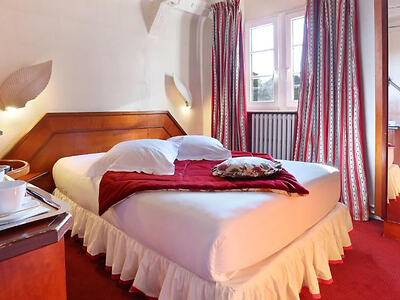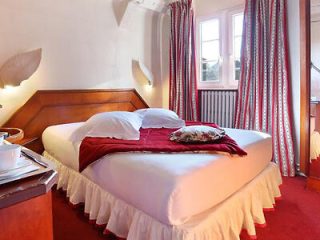 Modern hotel in Strasbourg with a central location that has clean rooms with air conditioning
Budget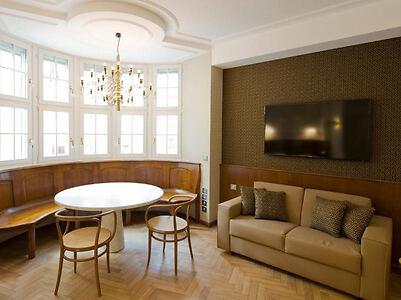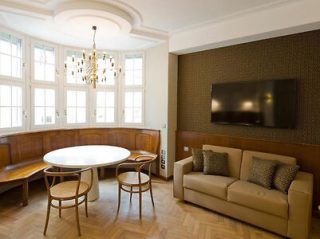 Set near the Central Train station, this hotel offers modern rooms, free wi-fi and a breakfast buffet
Airbnb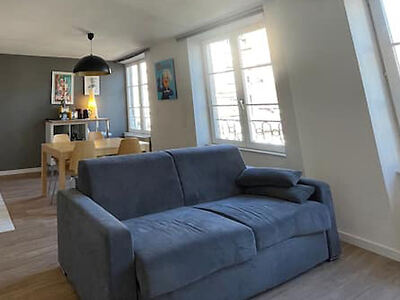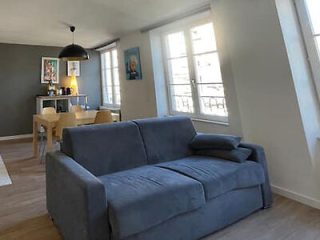 A simple yet well-equipped apartment that has room for 4 people, a kitchen and free wi-fi
Things to do in Old Town
Attend the famous Strasbourg Christmas Market
Enjoy a coffee in Place Kléber
Walk around Place Broglie
Check out the Astronomical Clock
Admire the Cathédrale Notre Dame de Strasbourg
Visit the Strasbourg Museum of Fine Arts in the historic district
2. La Petite France – best place to stay for culture lovers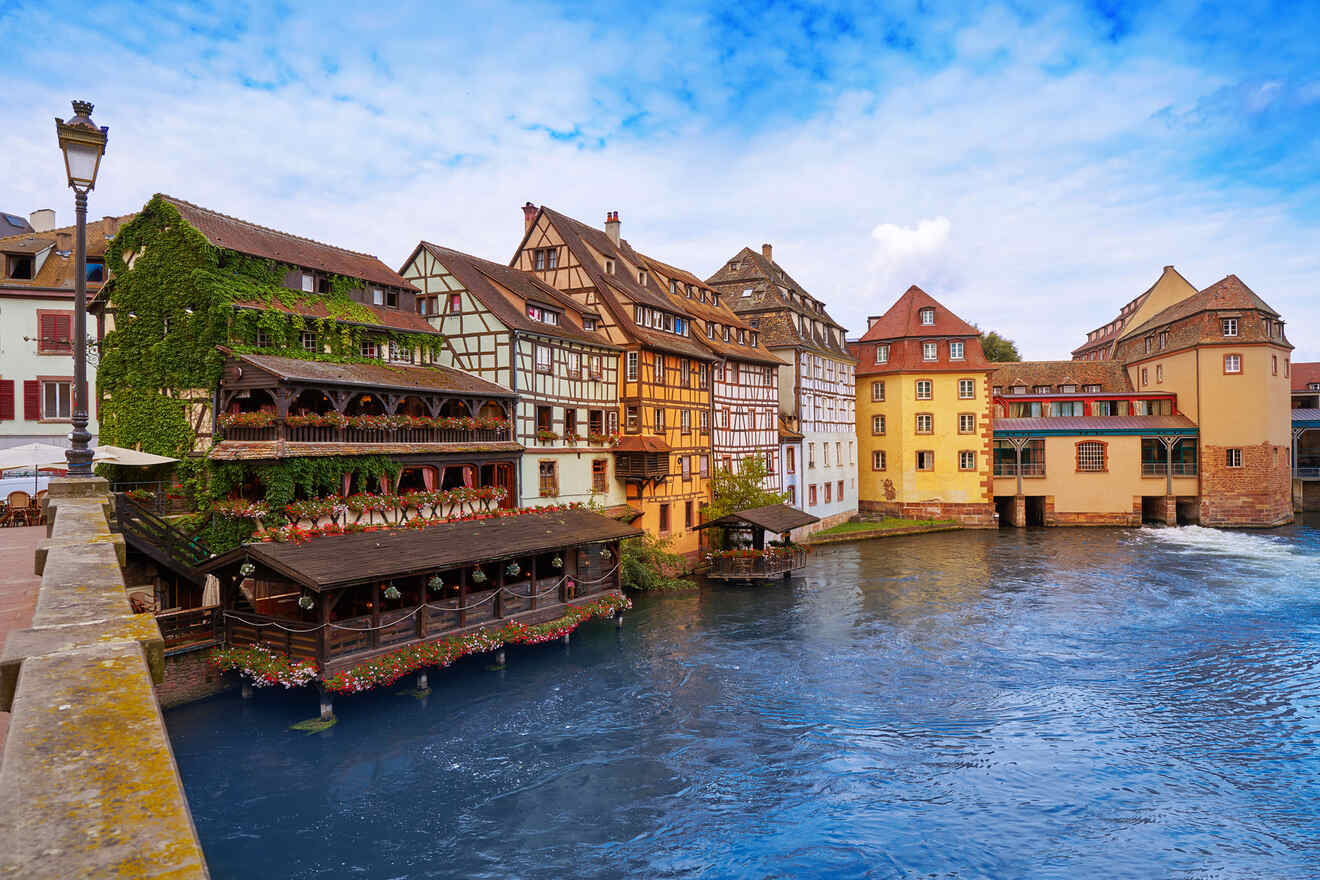 Another fantastic location in Strasbourg which is so charming and scenic that you'll want to spend all of your time here!
La Petite France district was named a UNESCO World Heritage Site, and it honestly looks straight out of a Disney movie or fairytale! Here you can see the famous Alsatian half-timbered houses set on the banks of River Ill, old cobblestones alleys and other historic sights.
The area, which is not too far from the Strasbourg Train station (perfect for anyone who wants to take the train to places like Frankfurt) is ideal for a romantic getaway or for those of you who can't get enough of the Alsatian culture! And there are plenty of luxury hotels that will please even the most demanding customers!
You can even try some traditional dishes of the Alsace region in the La Petite France restaurants, many of them are set on the banks of the Ill River, and offer amazing views of the city's sights!
Luxury hotel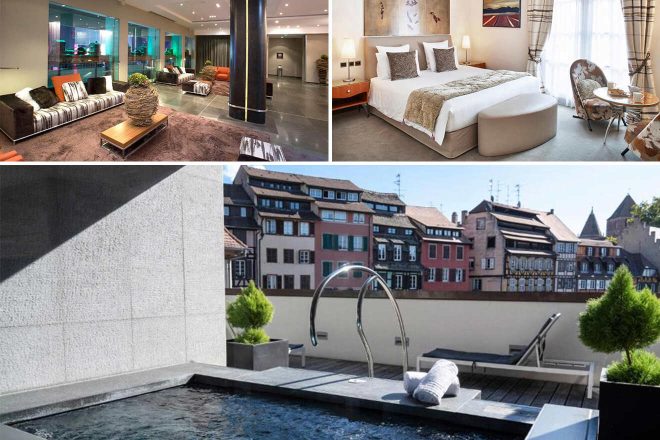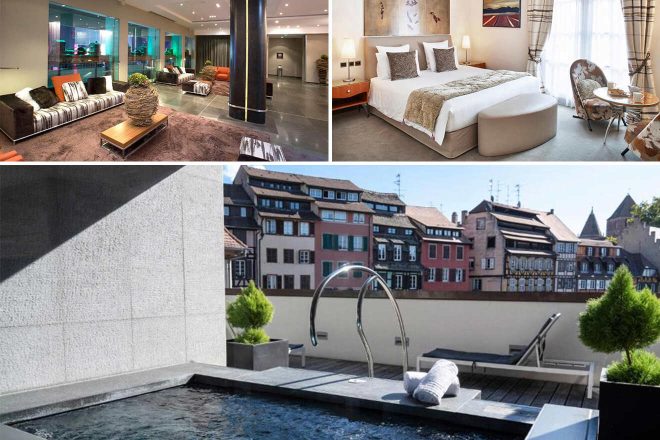 The hotel is set in the heart of La Petite France district and offers the most amazing views of the half-timbered houses from the summer terrace and private parking! The accommodation has comfortable rooms, a spa center, and a restaurant on-site.
Other accommodation options in La Petite France
Mid-Range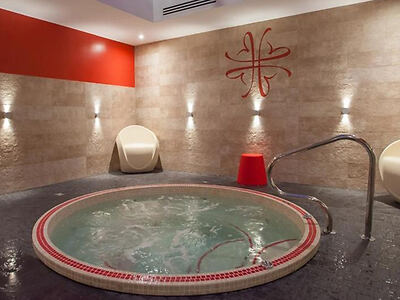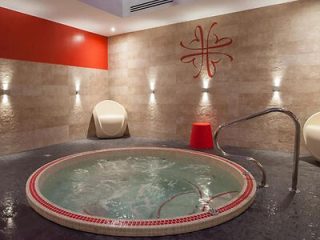 Set in a 16th century building, this hotel offers spacious rooms, a spa center and a buffet breakfast
Budget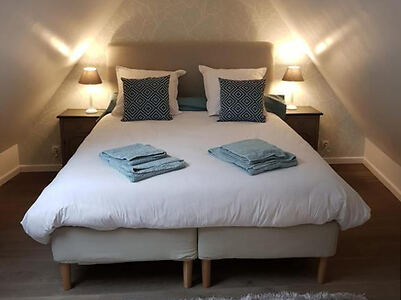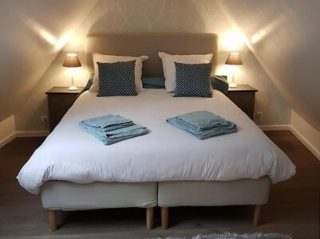 You'll love the compact rooms of this hotel in Strasbourg that offers apartments with a kitchen
Airbnb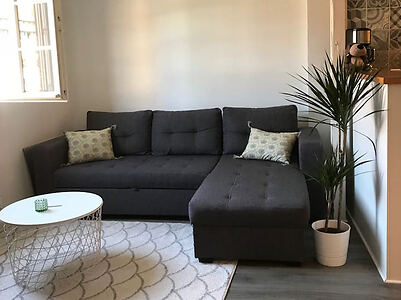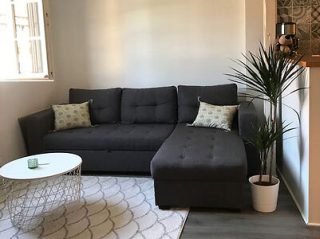 Perfect for 2 guests, this place offers a quiet location, a kitchen, and great views of river Ill
Things to do in La Petite France
See the Ponts Couverts de Strasbourg
Take pics of the half-timbered houses
Walk around the Square Louise-Weiss
Eat a delicious meal at Le Baeckeoffe d'Alsace
3. European Quarter – where to stay in Strasbourg to relax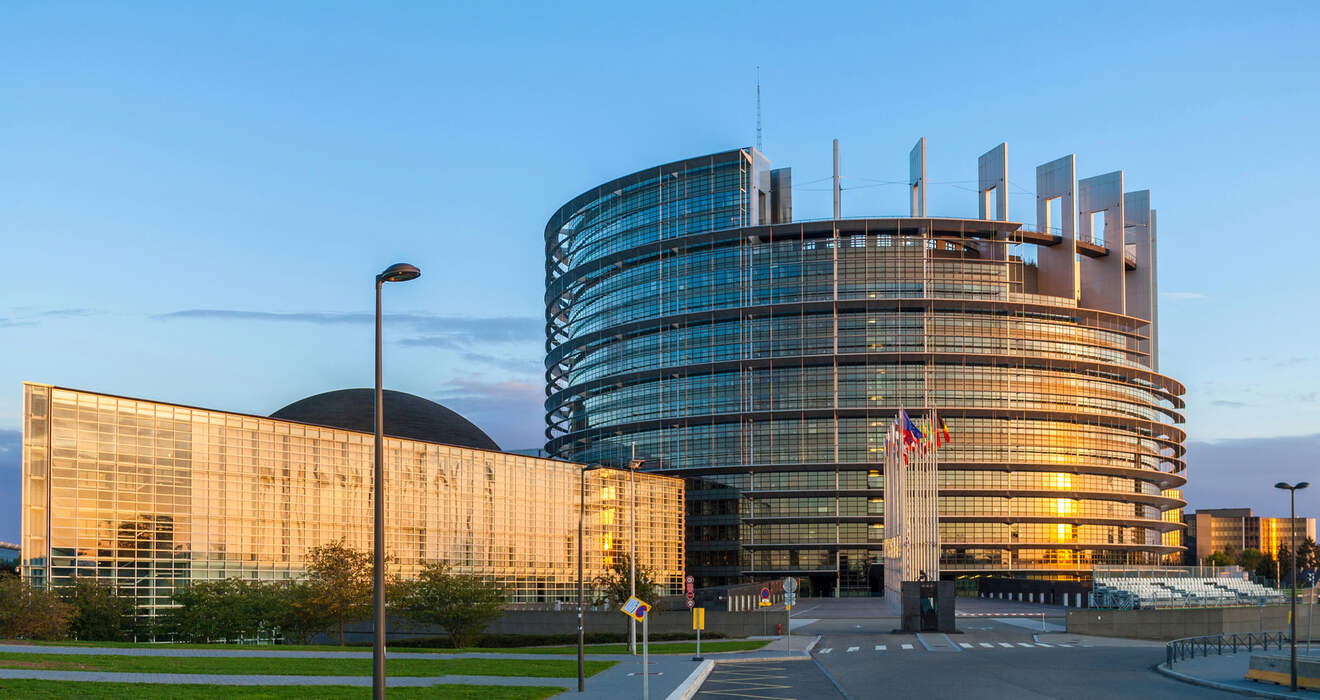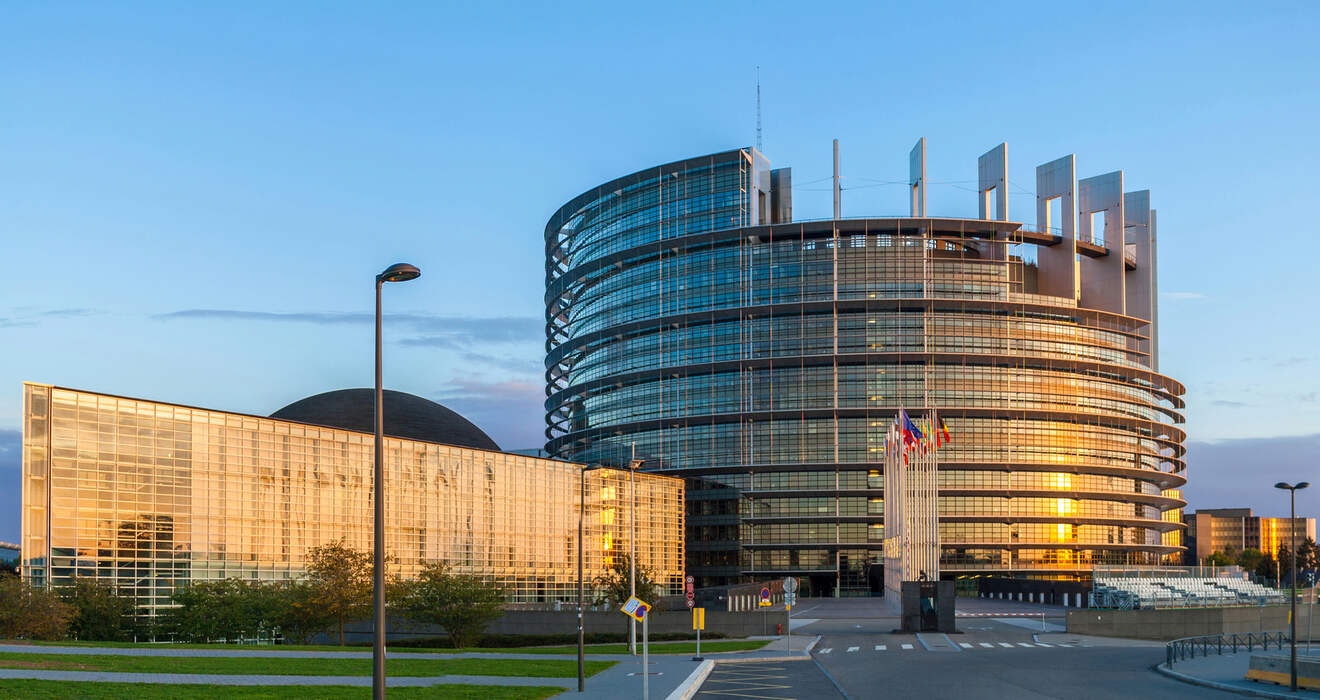 If you're looking for a quiet location not too far from Strasbourg City Centre, then have a look at this one.
Named the European Quarter (because it is home to some European institutions like the European Parliament and the European Court), this district is located 2 miles (3 km) away from the main train station.
It offers a chill vibe and lots of green areas where you can enjoy some fresh air, like Parc de L'Orangerie. The European Quarter is a great place to stay in the city for anyone who's coming here on business trips.
There are also many hotels here, as well as restaurants and wine bars. Unlike the Old Town and Le Petite France, this neighborhood is less crowded, and not so packed with tourists.
Now let's check out the best hotels here:
Luxury hotel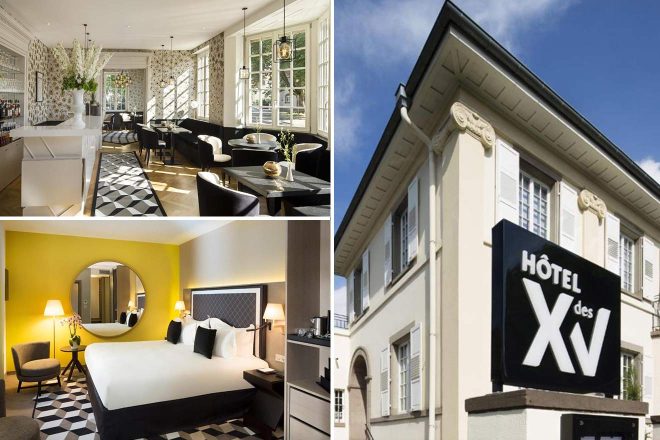 Whether you're coming for a business trip or to relax, you'll love this chic hotel that offers everything you need including private parking! It has contemporary rooms with comfortable beds and wooden beams. You can start your morning with a delicious breakfast either in your room or downstairs.
Other options in the European Quarter
Mid-Range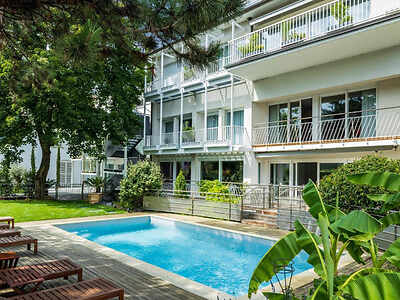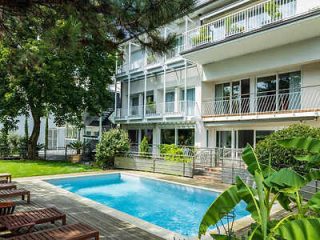 A fabulous hotel that offers 2 swimming pools, spacious rooms, a spa center and a sun terrace
Airbnb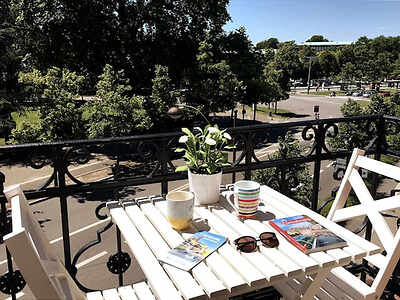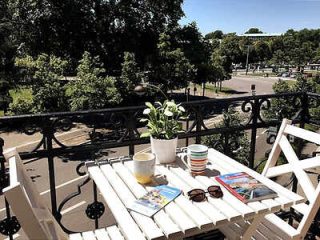 Feel at home in this cozy apartment that has the cutest balcony, a kitchen and a courtyard view
Things to do in the European Quarter
Enjoy a walk in Parc de L'Orangerie
Admire the architecture of the Synagogue de la Paix
Visit the Parc du Contades
Grab dinner at Arnaud & co
4. Krutenau – best place to stay in Strasbourg for nightlife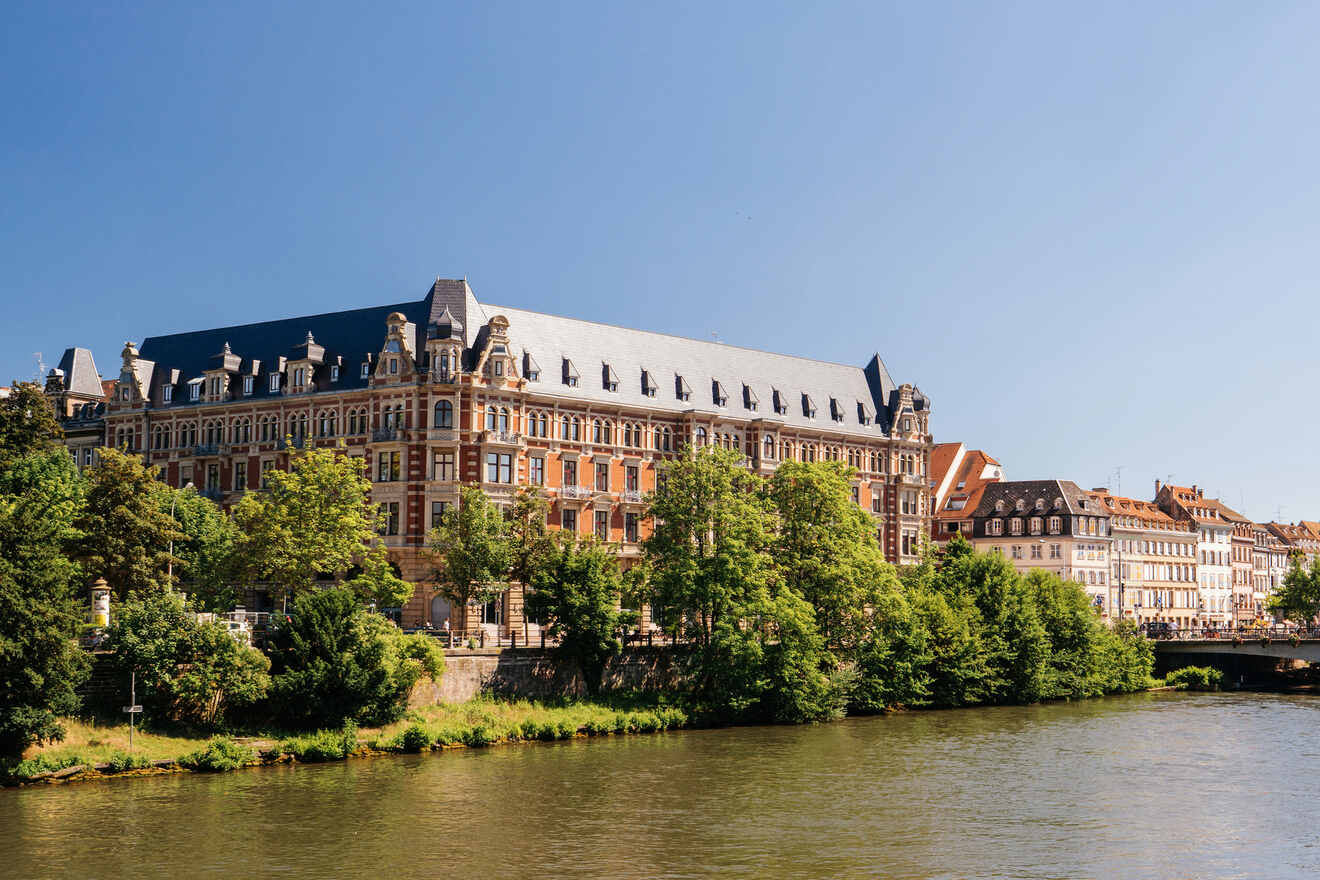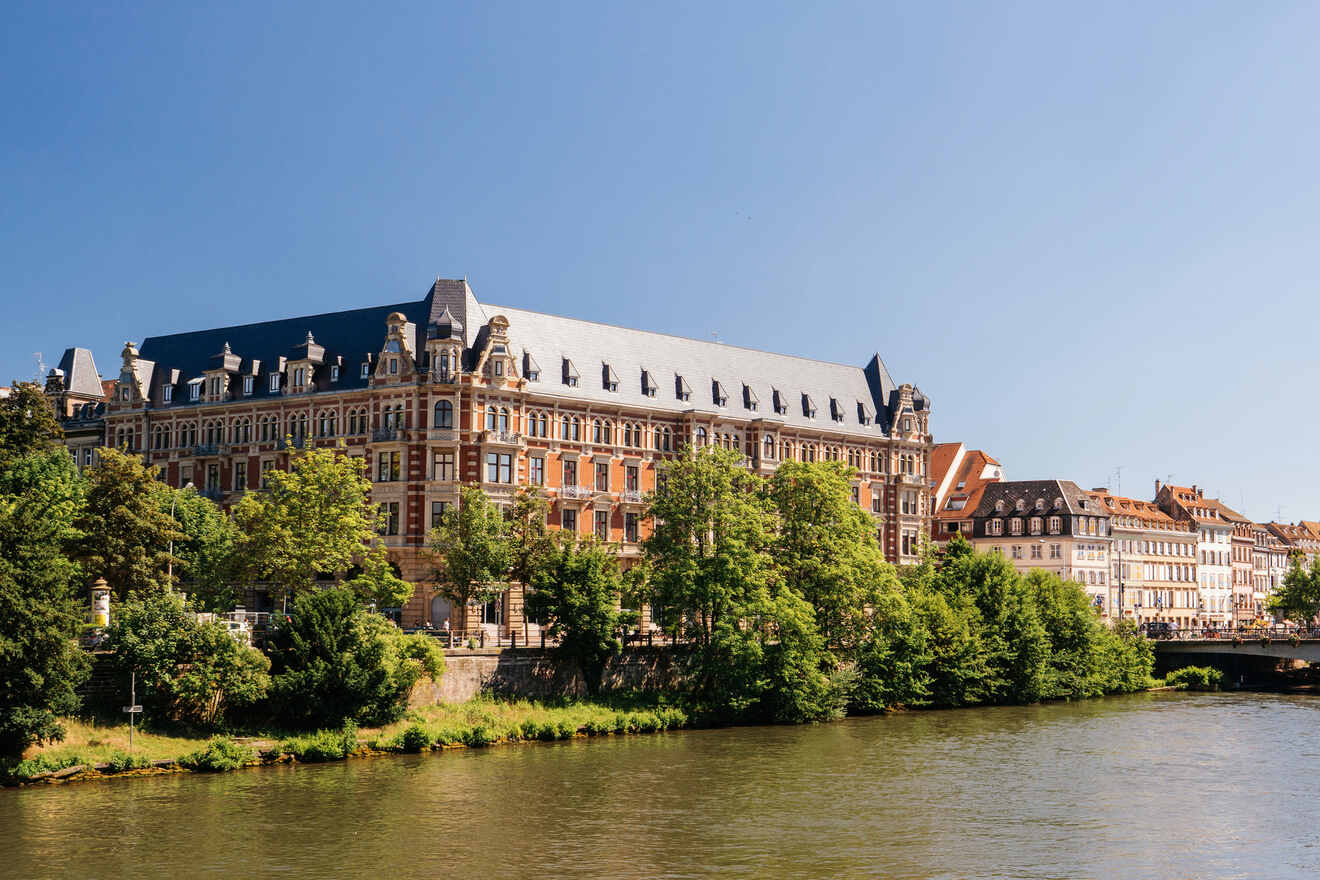 Right next to La Petite France you'll find another fabulous area to stay in Strasbourg! This lively district is also near the University, and it's where everyone goes to have a drink and party (also it's filled with tourists).
So if you're looking to have some fun on this holiday and do other things besides exploring the historic city centre, you know where to go!
Also known as Le Krut among the locals, this district has lots of bars and nightlife venues plus a wide range of restaurants, because let's face it, there's nothing like a good meal when you're hungover.
Some other important sites like the Central Train Station and La Petite France are set within walking distance so you can easily get there.
Luxury hotel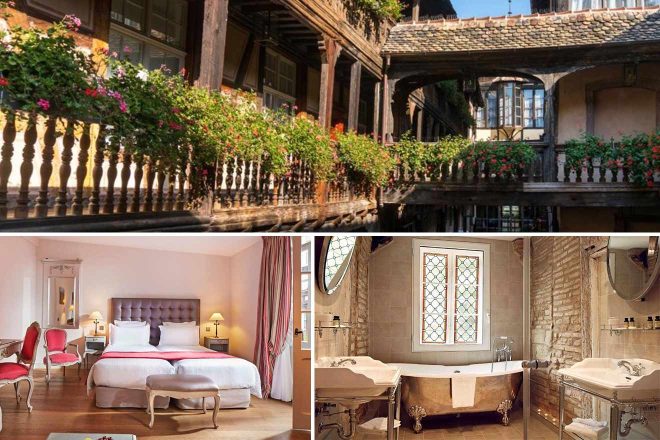 Set in a 16th-century building, this hotel offers comfortable rooms with Louis XV-inspired furniture (some even come with courtyard views). In the morning you can enjoy your breakfast on the terrace and then head out to explore the city.
Other accommodation options in Krutenau
Mid-Range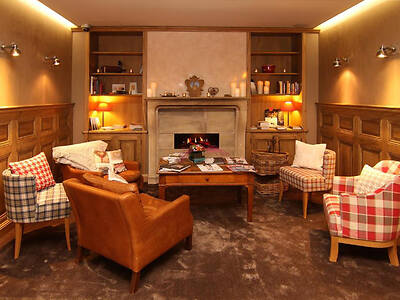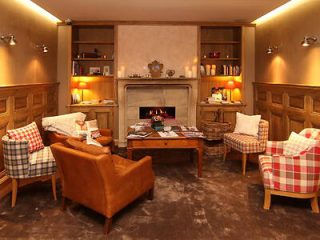 A beautifully-decorated hotel that has spacious rooms with a whirlpool bath, a terrace and free wifi
Budget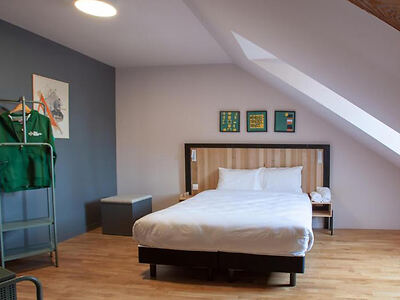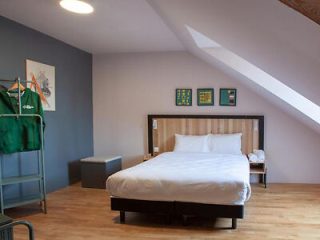 This well-equipped hotel has an industrial design, rooms with lots of space, a restaurant and a bar
Airbnb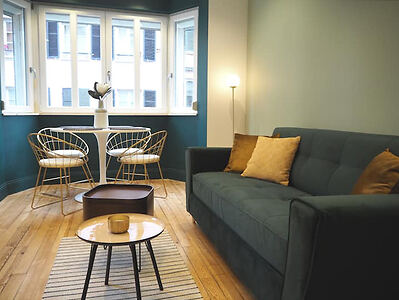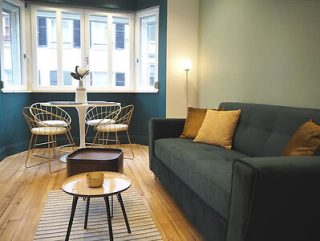 You'll love this apartment! It has the coolest design, so much space, a kitchen and a balcony
Things to do in Krutenau
Grab a drink at Sacrilège
Spend a fun day at The Little Red Door Escape Game
Visit the Botanical Gardens of Strasbourg University
Enjoy the music at Wawa Food & Music
FAQs about hotels in Strasbourg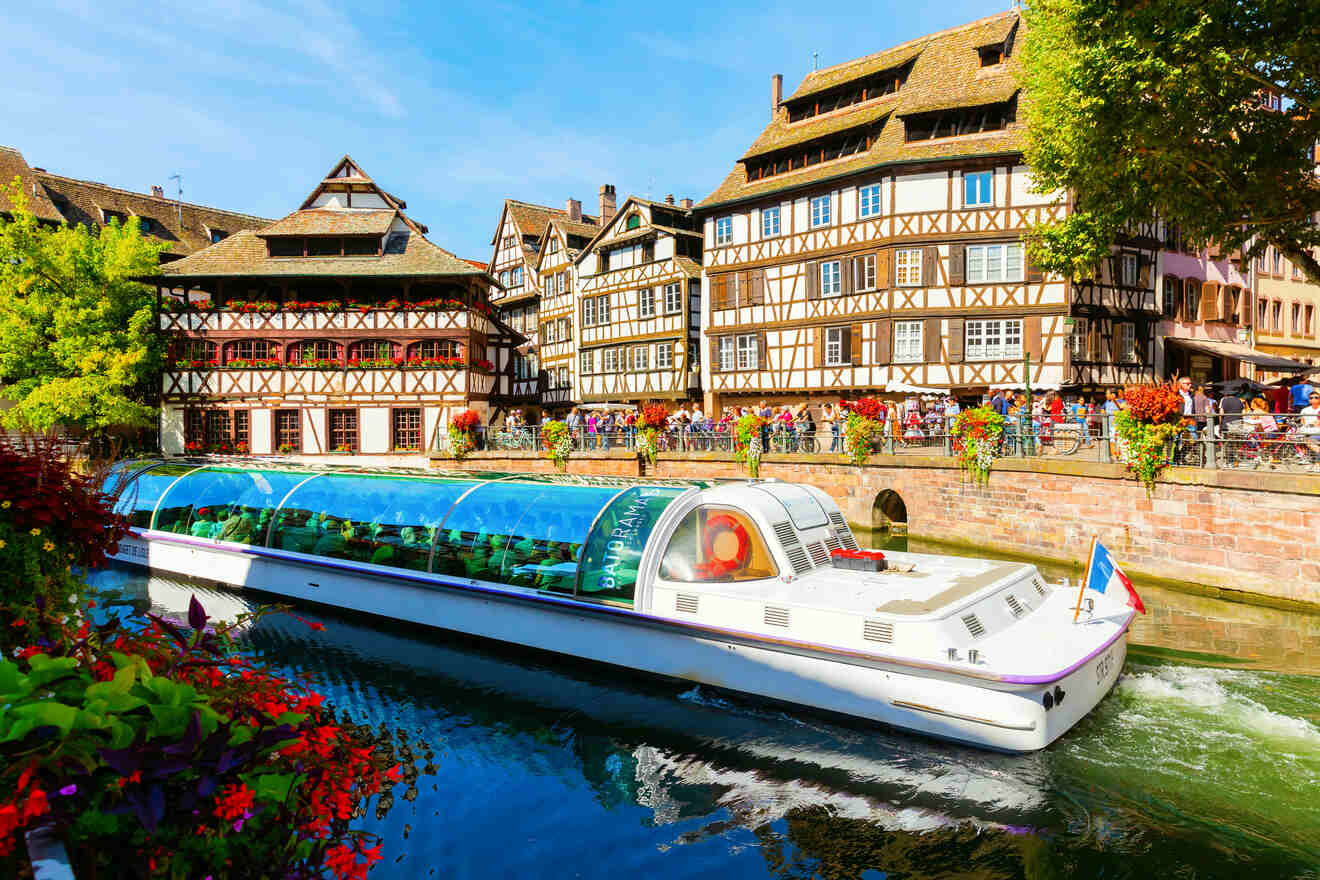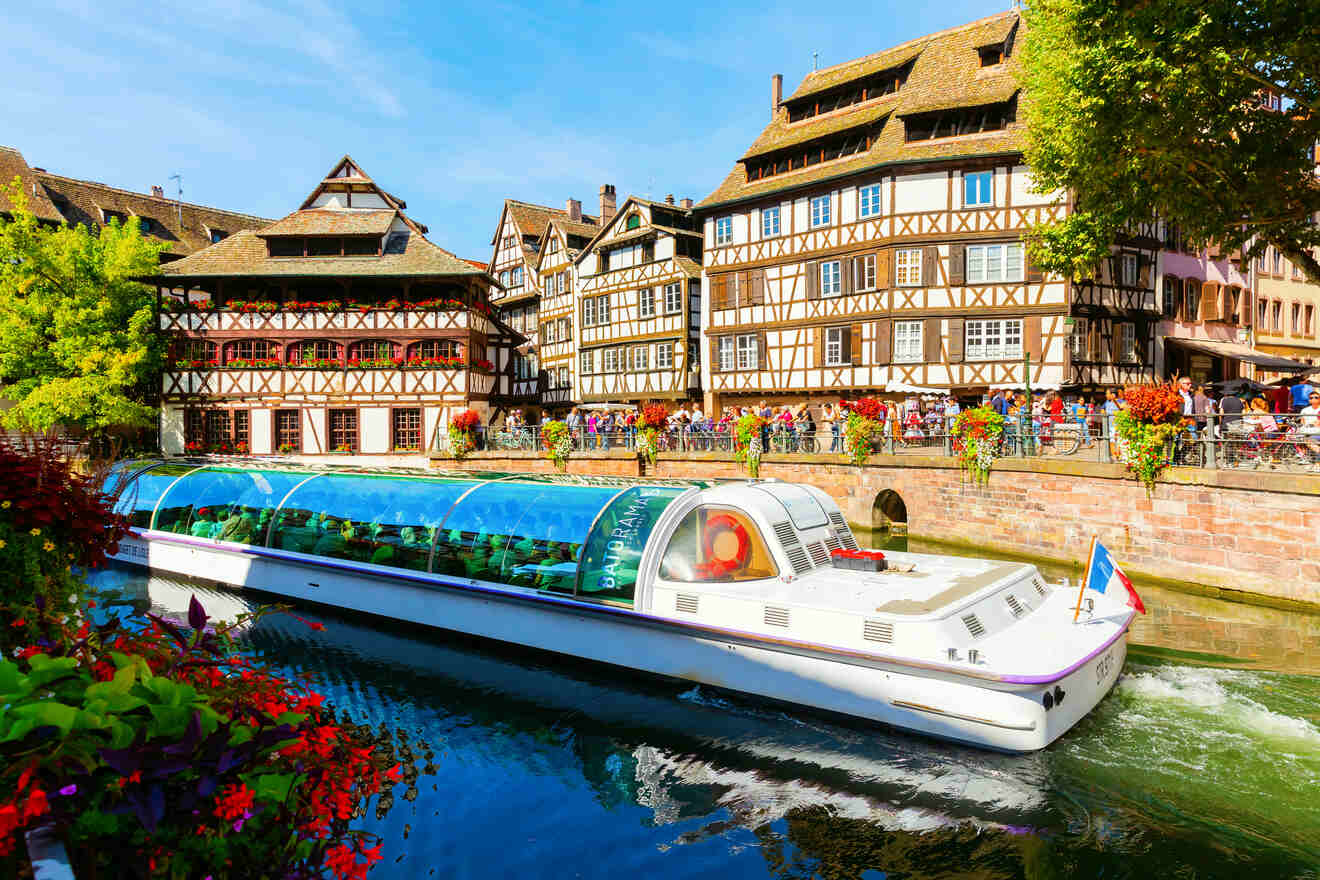 🤩 What is the best area to stay in Strasbourg?
Old Town is the best area where to stay in Strasbourg. Here you'll find all the big attractions, the Christmas markets, and some of the best hotels like Maison Rouge Strasbourg Hotel & Spa. 
👨‍👩‍👧‍👦 Which hotels in Strasbourg are good for families?
🎄Where to stay in Strasbourg for the Christmas Market?
The Christmas Markets are held in the Old Town, so look for hotels there if you want to be as close as possible. Hotel Suisse is a great option. 
🤔 How many days do you need in Strasbourg, France?
I recommend spending between 3 to 4 days in Strasbourg (especially if you're coming when they have the Christmas Markets), that way you can explore all the important attractions! 
Conclusion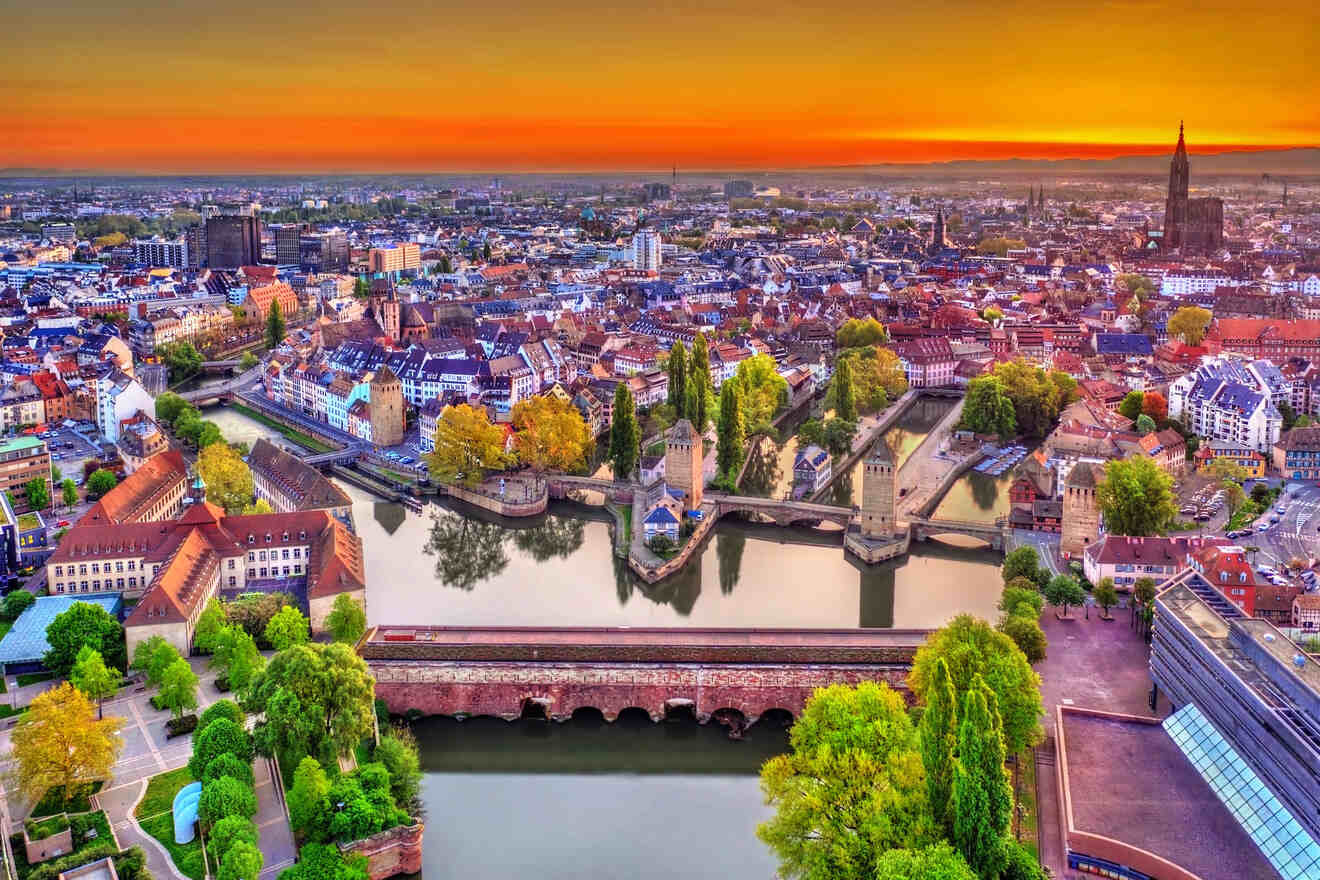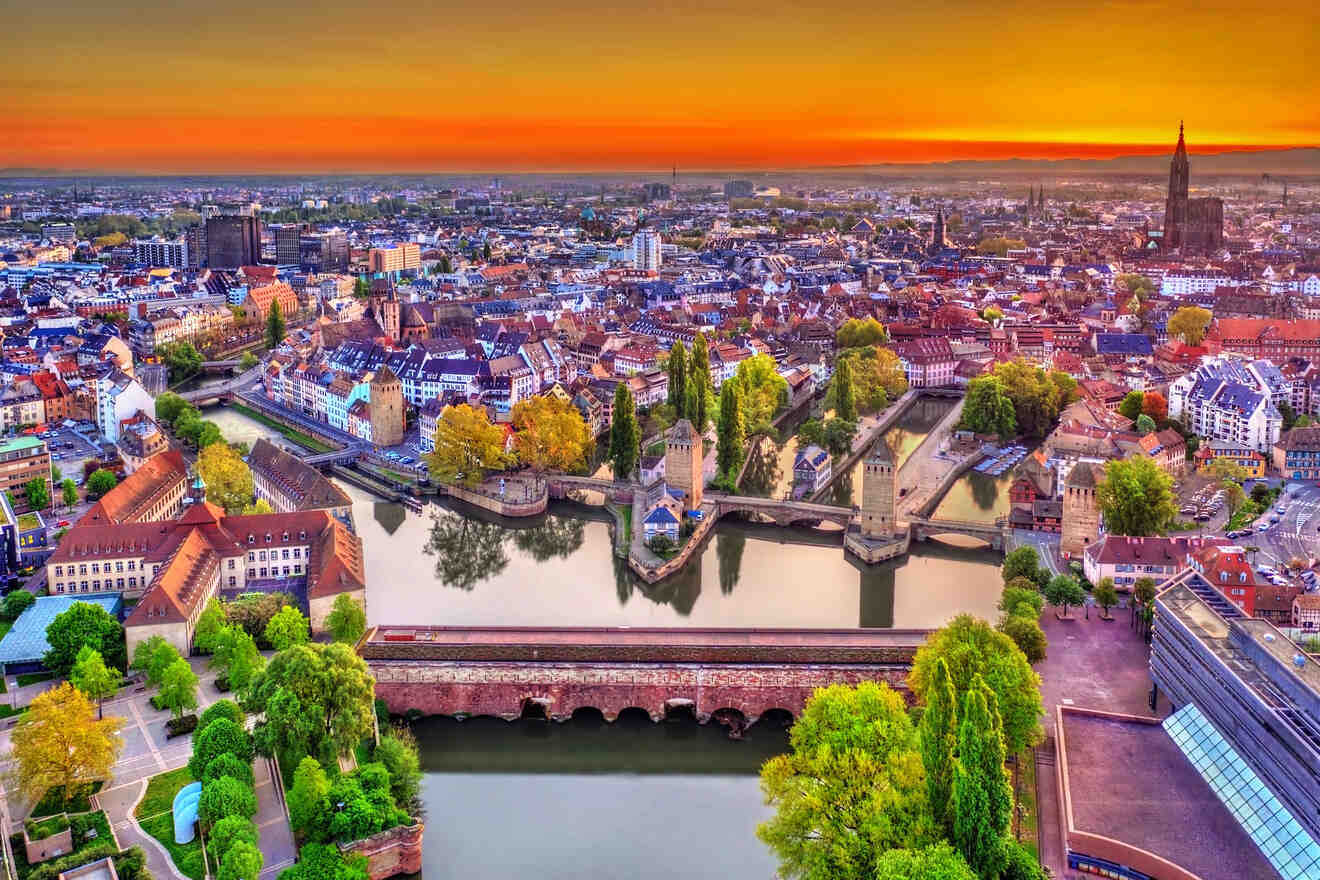 Who wants to eat pastries all day and walk along the narrow-cobbled streets of Strasbourg? After reading this post on where to stay in Strasbourg, I'm sure the answer is everyone!
What a fun virtual trip this was but I think it's time for a quick recap to refresh your memory! This post has a list of the top areas in Strasbourg, listed by interest plus hotels for each category. That way you can decide quickly which area or hotel you want.
Still, I know it's difficult to pick just one (I spend hours trying to choose when I travel) so if you need a bit of help, check out my favorite 2 Strasbourg hotels, below:
You can be sure that all the Strasbourg hotels on the list have the best reviews. That's why I always recommend booking early. Most of them will sell out super fast, because let's face it, everyone wants to stay in a great hotel.
Well, this is all I had to say for today! But don't worry, you can always reach me through a comment in the section below. I know I've covered everything but I'm sure some of you may have other questions! Until then, enjoy the French wine and food in Strasbourg, there's nothing like it!
Happy Exploring,
Victoria
---
Pin it for later!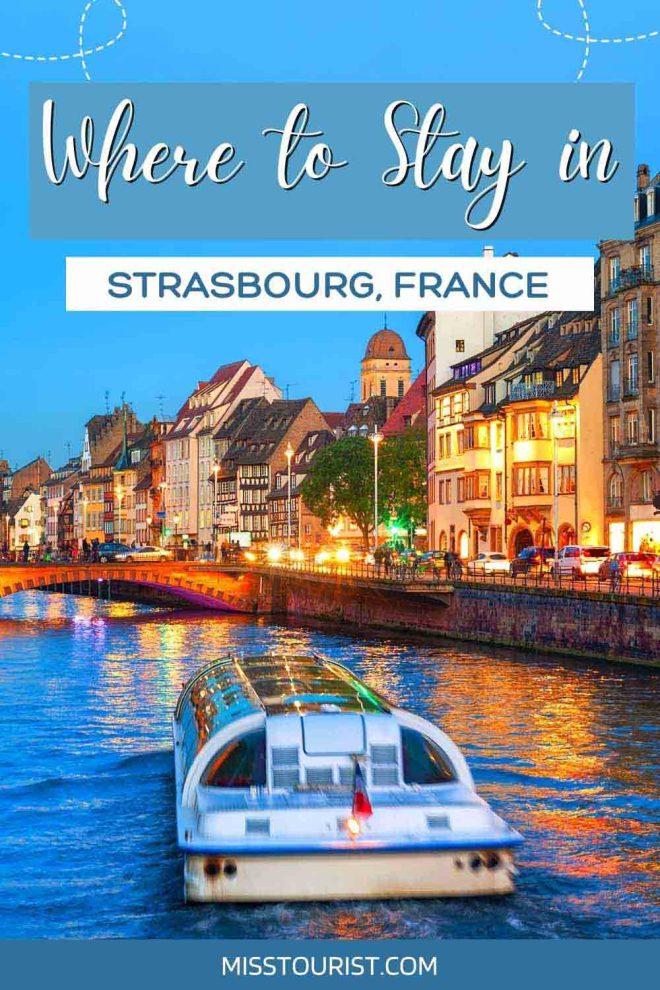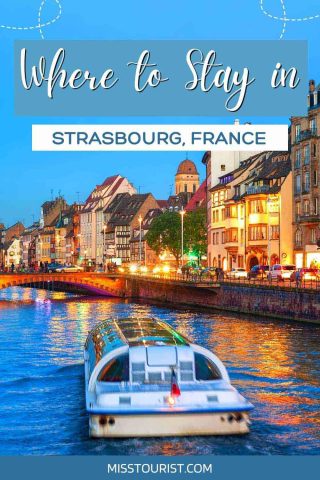 Pin it for later!