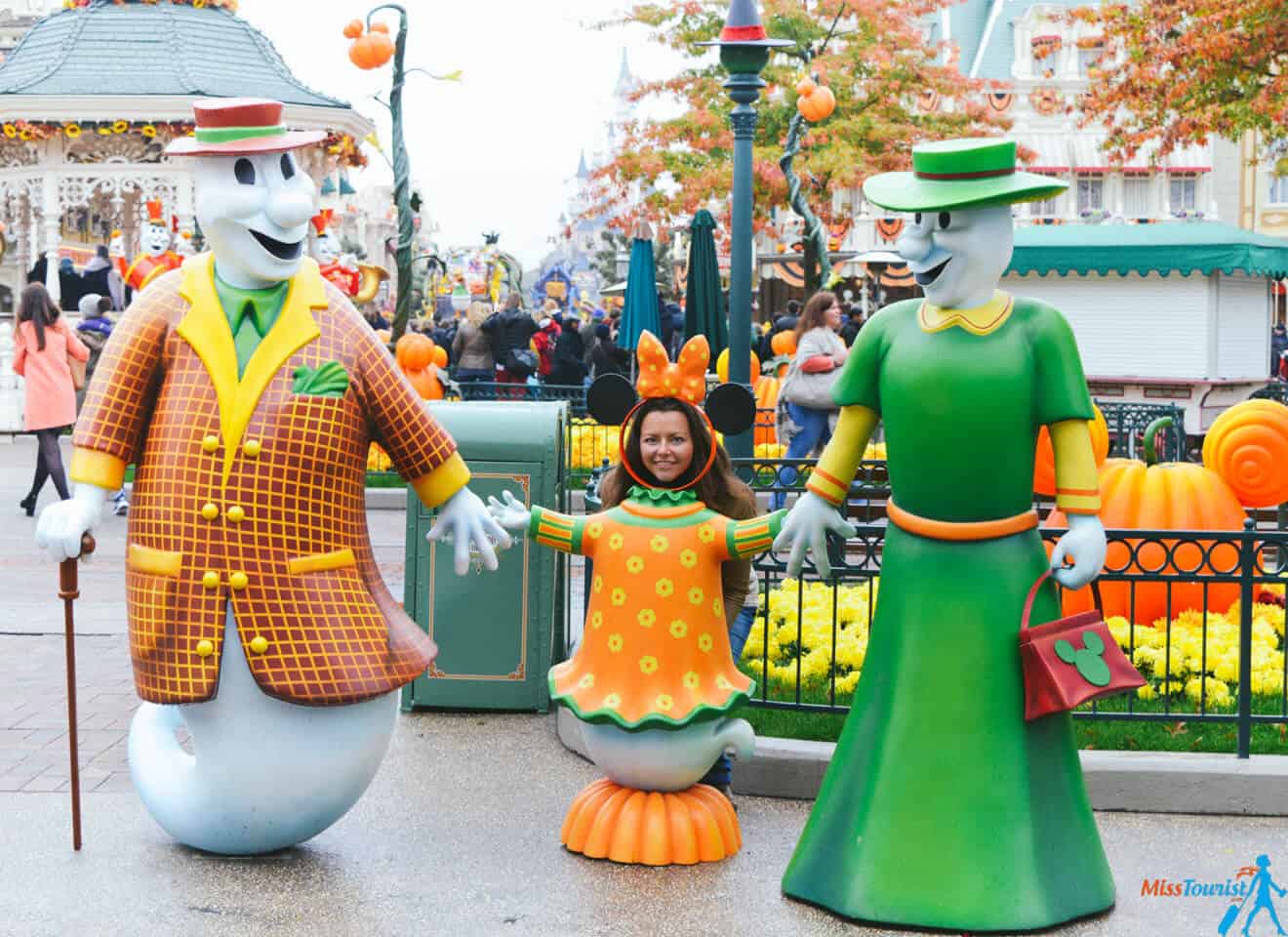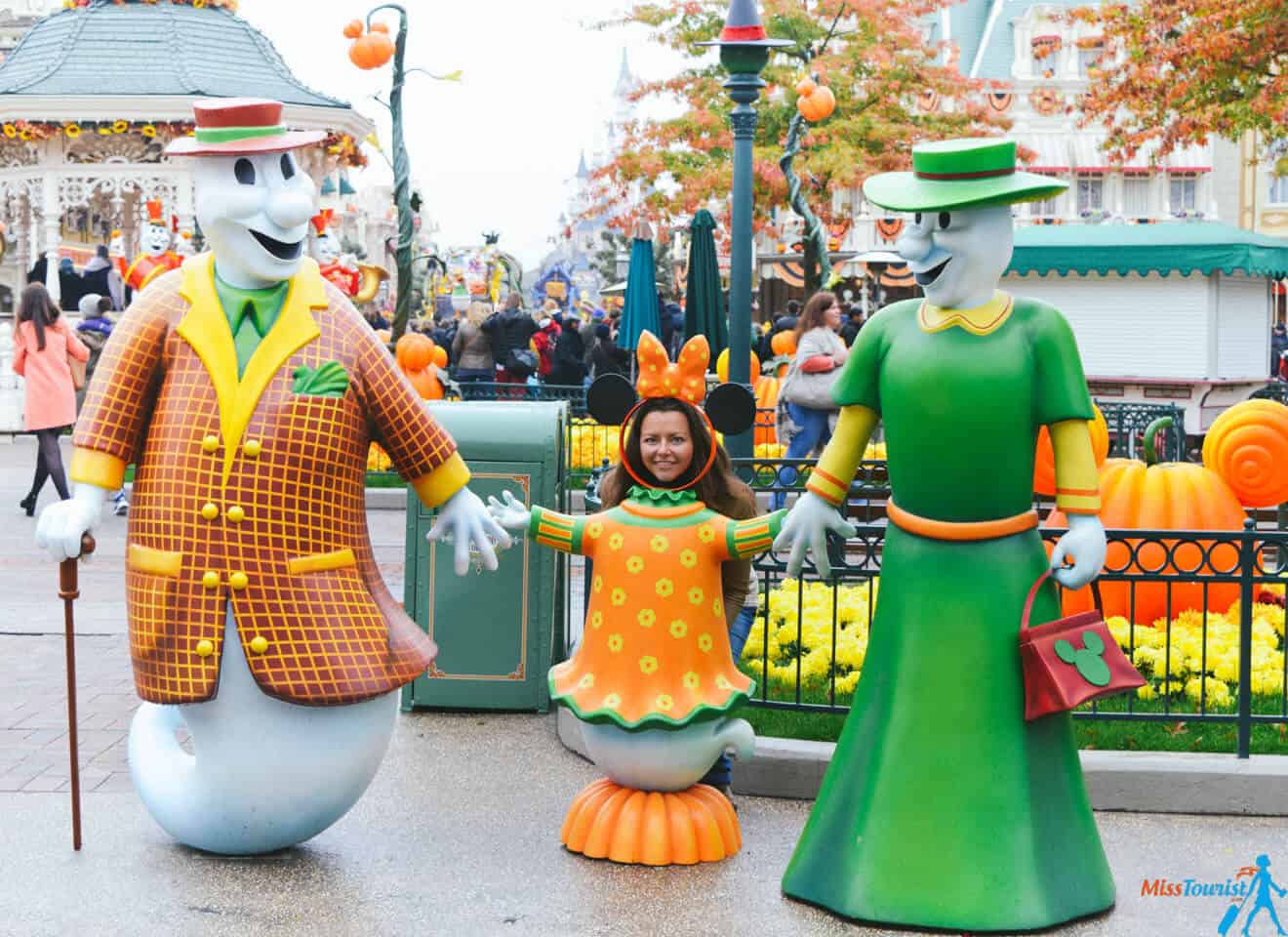 UPDATED: October 2020
In this step-by-step guide I will show you exactly how to buy a Disneyland Paris ticket on a website that on average, will save you 20 EUR, but the savings could be even more!
So that you know all the alternatives, I am going to describe 4 different ways to buy tickets to Disneyland in France including the one where you save at least €20 from the price on the official website.
NOTE: I am only comparing the prices for 1 day/2 parks tickets for the cheapest price category – Green (work days, no holidays) – I will explain the color coding that Disney uses below. In case you only have one day to visit Disneyland Paris, I strongly recommend you buy the ticket for both parks any way! I also will do my calculation in GBP since that's the default currency of Disney's official website.
1. AT THE GATE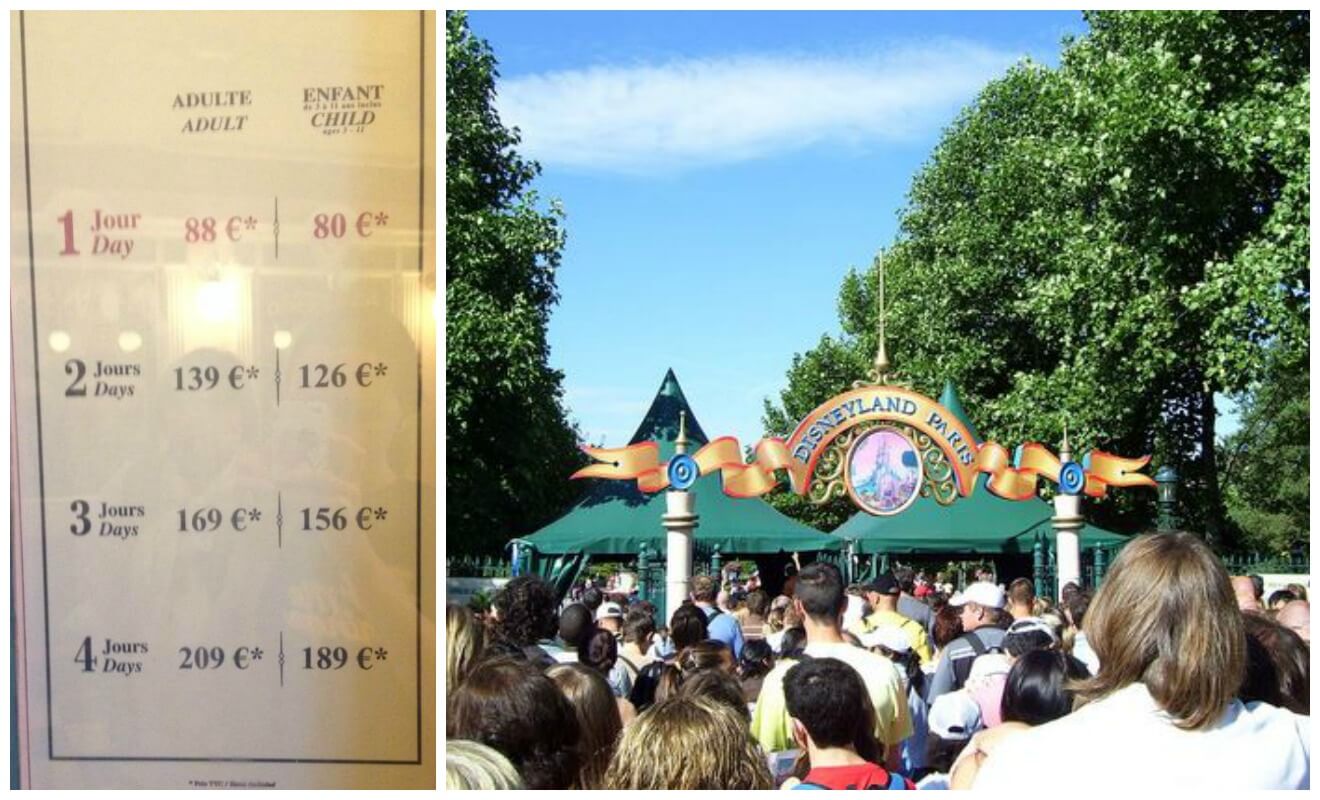 The first and the most obvious option is buying your Disneyland ticket at the gate. Currently, the price of this ticket is 93£ per person for 1 day, 2 parks adult ticket.
– Is it expensive?

– Well, if you ask me, yes!
| | | |
| --- | --- | --- |
| TICKET TYPE | ADULT | CHILD |
| 1 day, 1 park | 76£ | 70£ |
| 1 day, 2 parks | 93£ | 87£ |
| 2 days, 2 parks | 147£ | 136£ |
| 3 days, 2 parks | 184£ | 170£ |
| 4 days, 2 parks | 217£ | 200£ |
Each time I visited Disney, I felt sorry for people waiting in line to be honest – not only it is more expensive than buying online, the lines are usually really long too!
Why would they do that? Lack of information and preparation I guess.
ATTENTION: If you think you can just buy tickets online when you are in the line, DO NOT do this, – according to Disneyland new tariffs, your online ticket will have the highest possible rate (think, Christmas rates). So, even though buying online will still probably be cheaper than the gate option, the difference in price can be up to 25GBP vs if you buy it even 1 day in advance.
2. ON THE DISNEY WEBSITE

Buying tickets on the official website is very straightforward and can also be the cheapest sometimes. The site if fully in English and the interface is quite intuitive.
Here is how to buy it –
Go to the official website ->
Choose the number of days (1 day or Multi days) Update: they also have a flex ticket now, this one is much more expensive, I recommend deciding on the exact date to save money ->
Choose how many Adults and Kids (3-11 y.o) are going ->
Choose your date, you will see that the price depends on the color of the particular date: GREEN (during working days), BLUE (normal non-holiday weekend days), or PURPLE (all vacation and pre-vacation days including Halloween, Christmas, Easter etc.). At the moment, you can buy your tickets 4 month in advance the earliest
If you go for 1 day, I recommend choosing the "1 day 2 parks" option because you are missing out a lot by only visiting 1 park! ->
Press "Add to Cart" and then "Continue" ->
Enter your contact information, pay with your credit card, and you will receive your ticket with a special QR-code by email, hooray!
That is it, just go directly at the gates with these tickets, no need to queue in the cash register!
NOTE: At the moment when this article is last updated (October 2020), the price is 70.31 GBP (vs 93 GBP if you buy it at the gate) for 1 adult for a 1 day/2 parks GREEN ticket for the December, 1st 2020 (see print screen below):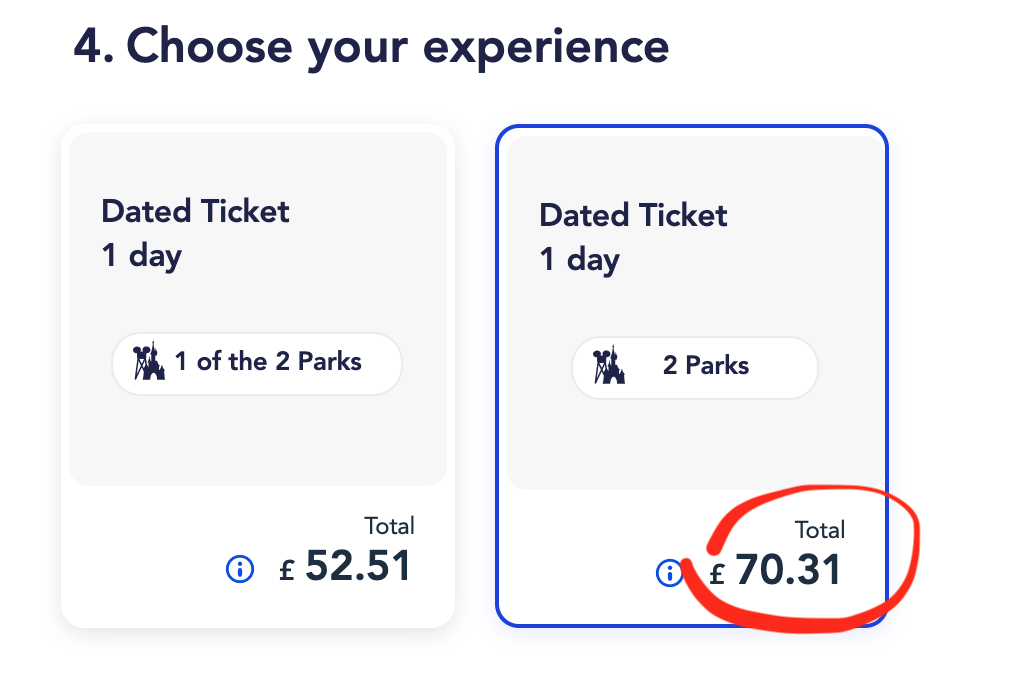 P.S. The price is in GBP, but you can pay in any currency, your bank will automatically convert the currency to your local one.
TIP: Check Disneyland Offers and Packages – sometimes Disneyland in Paris throws crazy promos that are even cheaper than on the website I am going to recommend below!
What if you want to cancel these tickets?
In case you bough your tickets through the official website, you can get your money back if you cancel at least 3 days in advance:
"1-Day Dated Tickets can be cancelled and refunded up to 3 days before your chosen date. To cancel your ticket, you must send your names, 8-digit booking reference, visit date, a photo of your tickets (with the barcode clearly visible) or your PDF ticket, to the following address: [email protected]. We will refund your tickets as soon as possible, via the same payment method used at the moment of booking. If you would like to change your visit date, you must cancel your existing tickets and purchase new tickets for a different visit date (subject to availability when booking). It is not possible to change your visit date by e-mail."
3. ON ISANGO WEBSITE
Isango is a global website selling all kinds of tickets for many destinations and activities. You can buy tickets to almost everything through their website, including Disneyland in Paris.
Here is how much the 1 day/2 parks ticket costs on Isango for our example date, December 1st, 2020: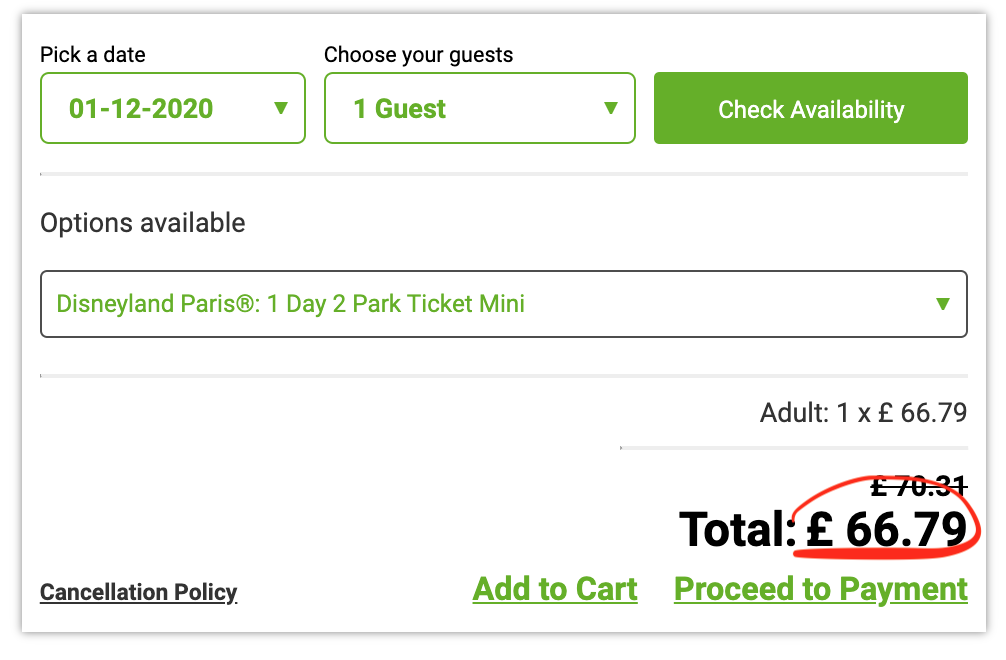 NOTE: Please note that the One-day tickets have instant processing, but for the multi-day tickets you may have to wait to receive your e-mail ticket for 1 or 2 days during peak season as there are many people buying from Isango. Do not worry, your ticket will arrive but keep in mind – do not buy it last minute!
Here is how to buy cheap Disneyland Paris tickets through Isango:
Go to Isango and type 'Disneyland Paris' in the search box: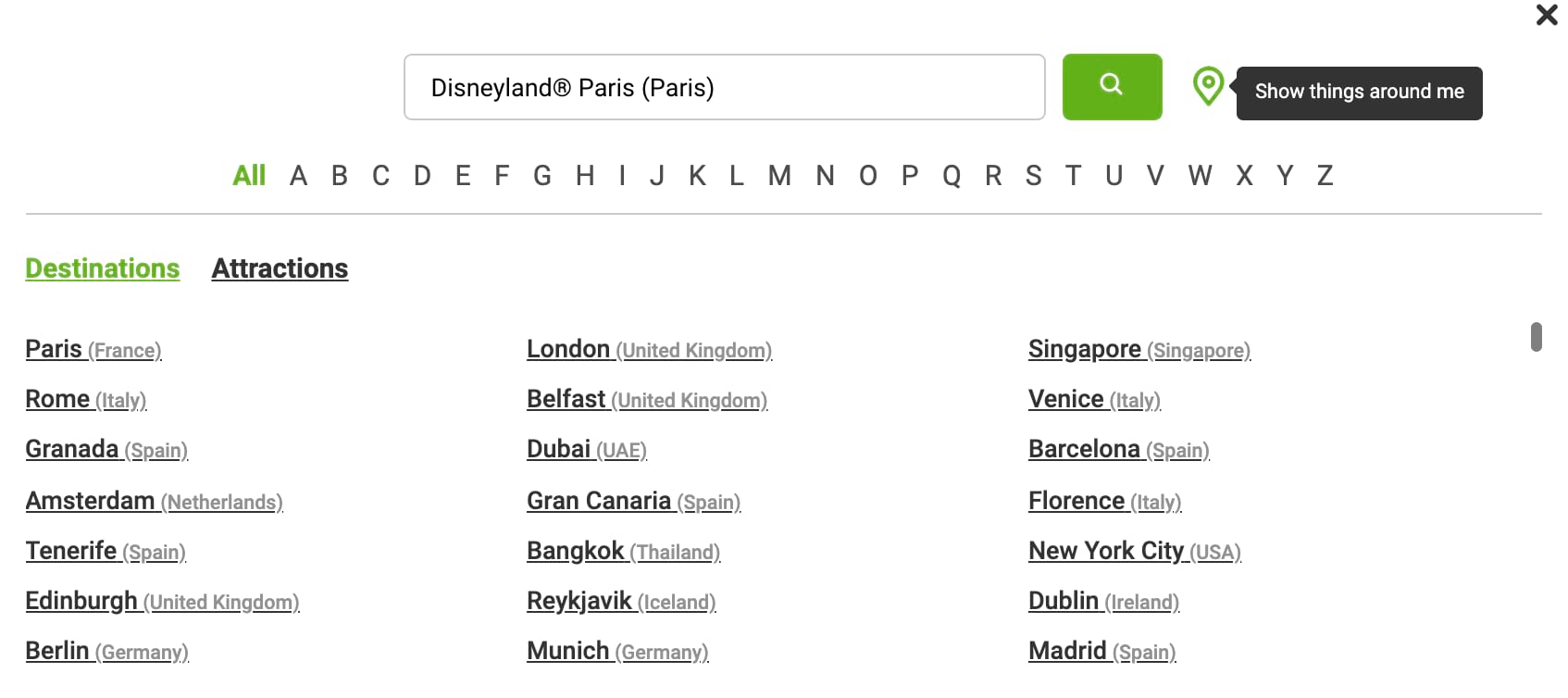 -> Scroll down and choose the preferred option. For our example, we will choose 1 Day or 1 day/2 Parks ticket. Click "More Details"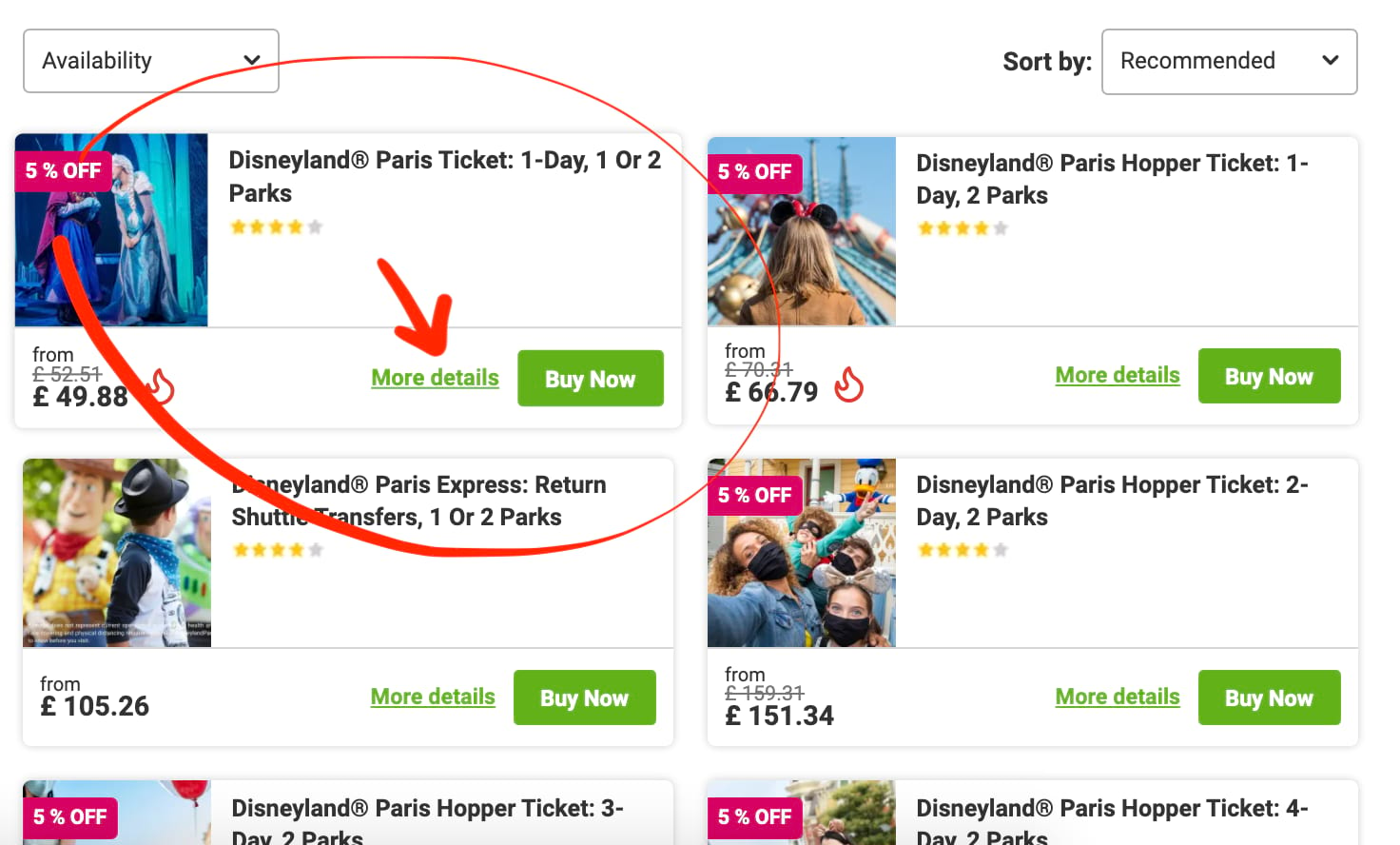 -> Select the date and number of guests and click on 'check availability'

-> Here comes the super confusing part, bare with me while I try to explain. You now will need to choose from different options – MINI, MAGIC and SUPER-MAGIC. What the hell is that? – you might ask and you will be absolutely right. These are the codes they Disneyland used before, they now changed it to color code. For the life of me, I don't understand why people need to choose this since they already set the dates, but OK, here is how to choose the correct one. MINI is GREEN, MAGIC is BLUE and SUPER-MAGIC is PURPLE. You will need to match the color in Disney calendar (in the official website) for your given date with one of these – Mini/Magic/Super Magic names. (In our case, 1st of December is Green so it is a "Mini"). Sorry about this quest, I hope they will make it simpler soon!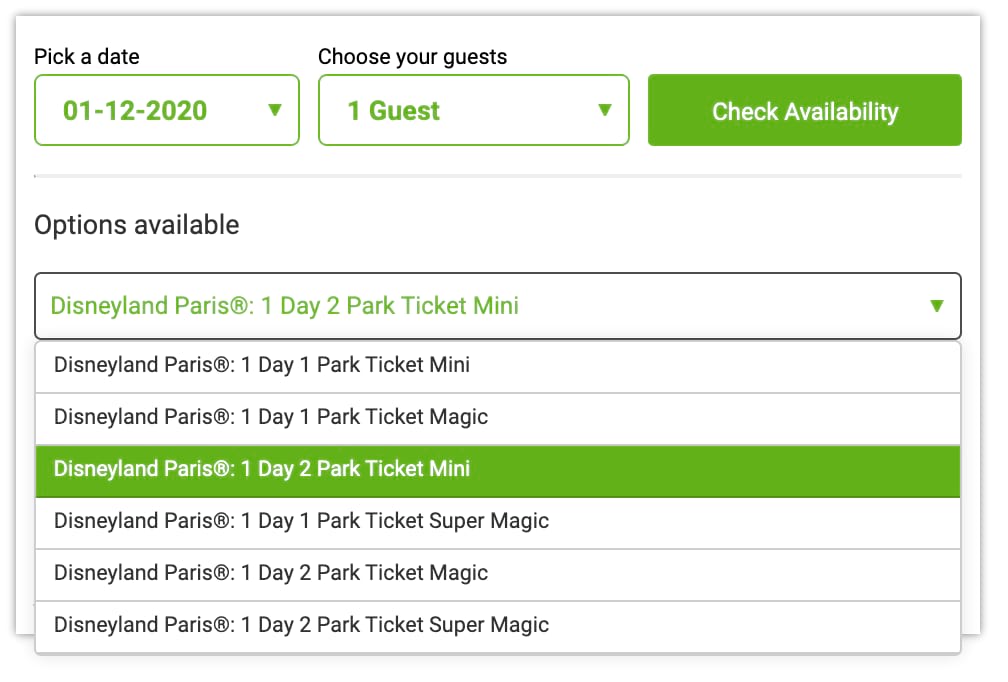 -> Click 'Proceed to payment'
-> You can either register or choose "Continue as a Guest"
-> Check that the dates are correct, fill in your info and click on 'Confirm booking'

-> Congratz, you got your tickets!
P. S. As a nice bonus, Isango is also giving its customers a 20% discount on merchandise, food and soft drinks at Planet Hollywood and a 15% discount on food and drinks at Earl of Sandwich!
P.S.S. Your tickets are non-refundable, but I assume you can change the date (please inquire on the site directly if you need to do it)
3. ON KLOOK
Klook is another big website that usually has a lot of great offers for tours in Asia, but it serves our purpose in this case – they offer good rates for EuroDisney too!
Here is how to get it and the pricing that you should expect:
Go to Klook.com ->
Type "Disneyland Paris" in the search field (there is also Shanghai and Hong Kong, so do not mix it up!) ->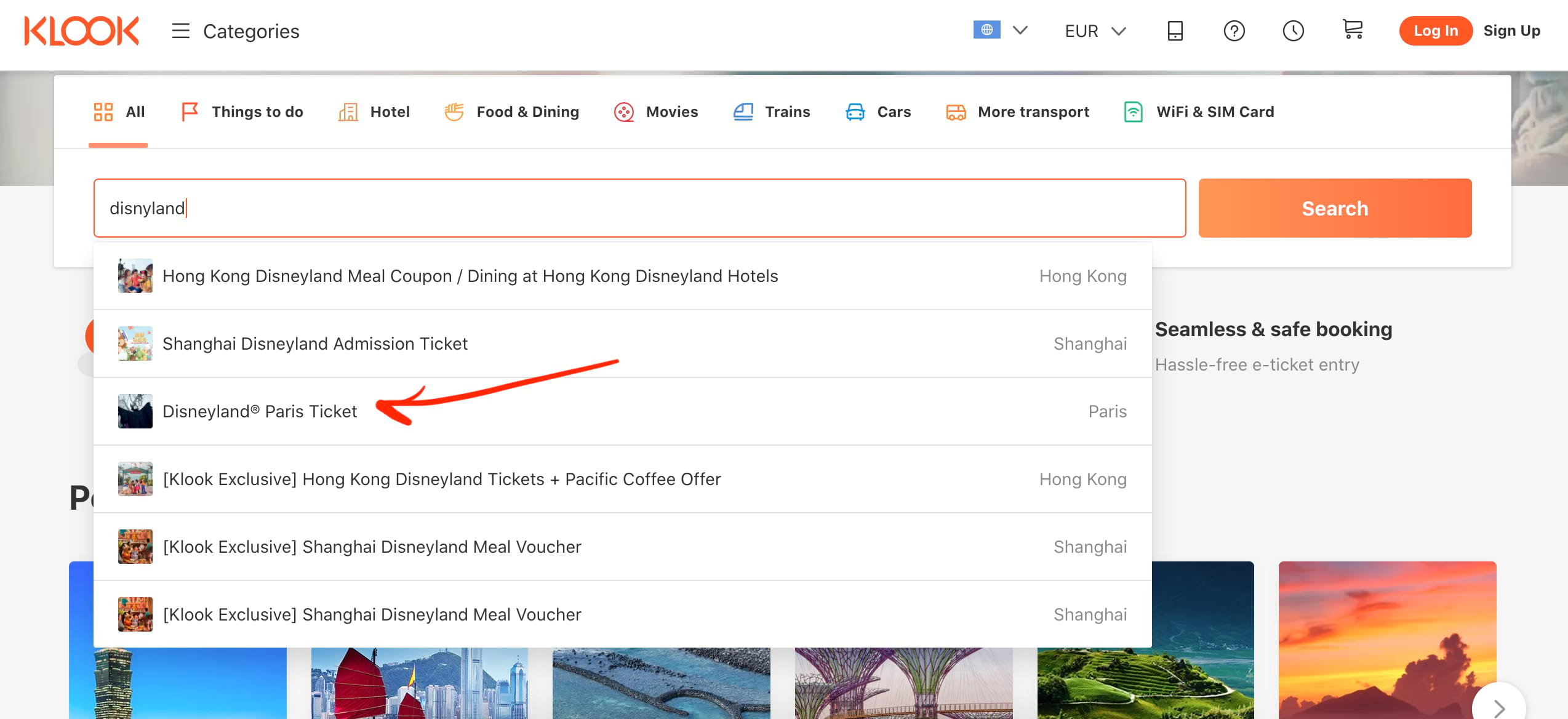 Click "Select Options" (please note that currently you can only buy tickets 2 days in advance the latest) – >

Choose your dates and the option you prefer (1 Day 2 Parks for our example as usual), Click "Check Availability" ->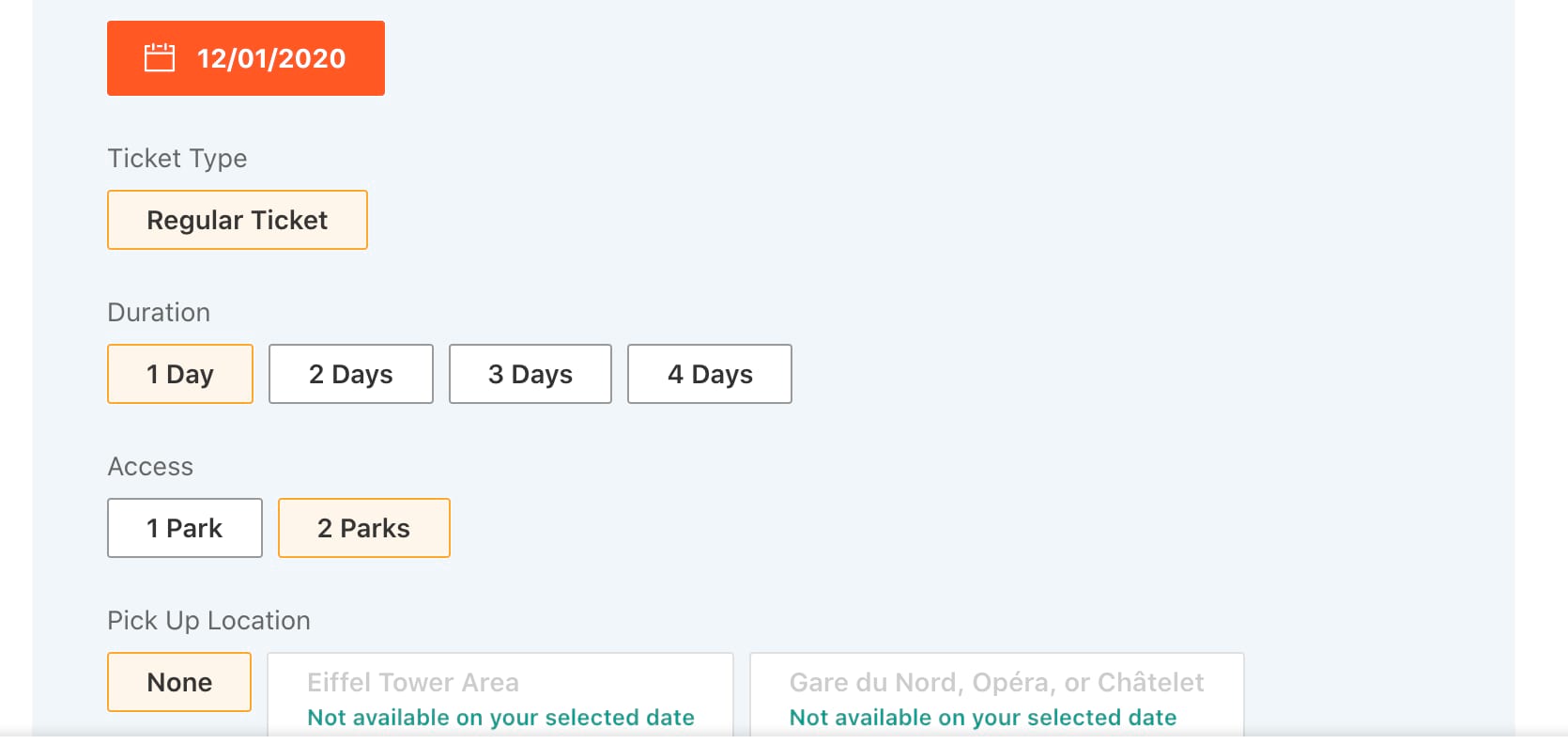 Select the amount of Adults and Kids visiting and click "Book Now" – >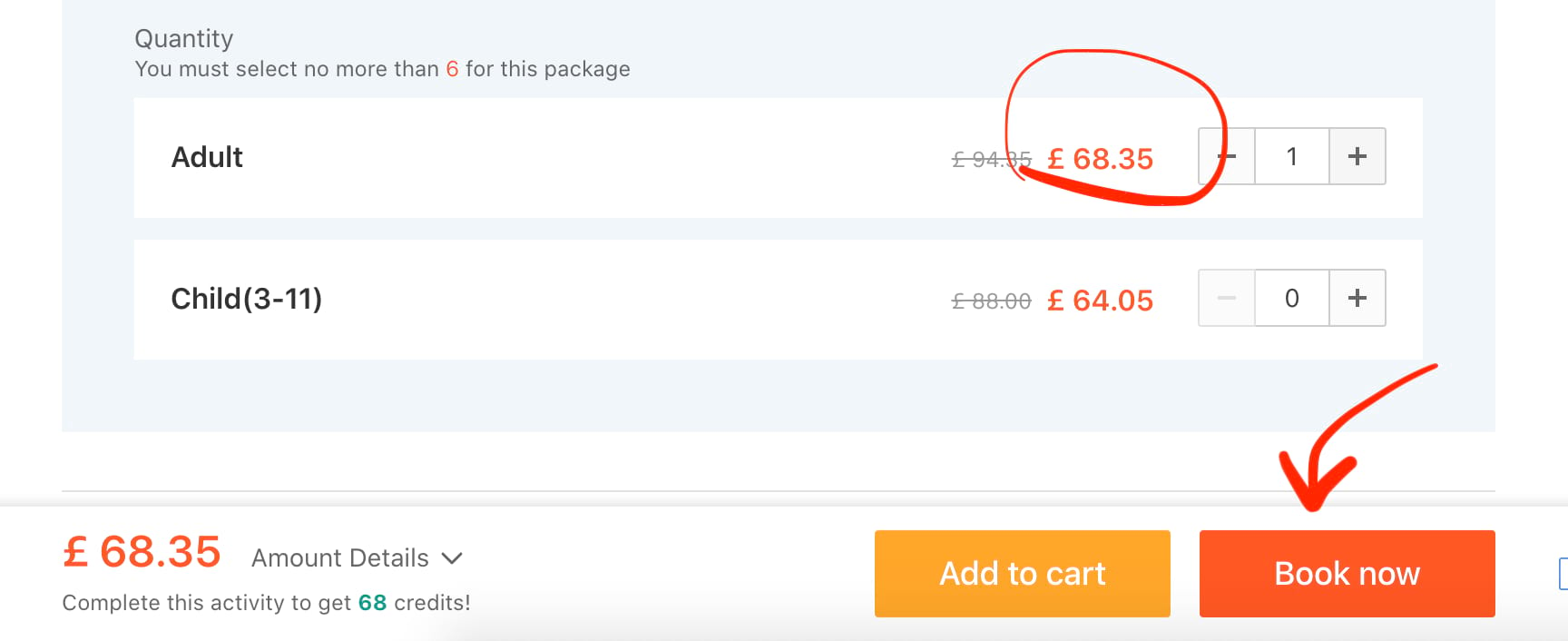 Sign Up or Log in ->
Fill in your info and the Payment details ->

All set, you will receive your ticket by email!
P.S. Please note that your ticket is non-refundable and the date cannot be changed asa well
SO, WHICH TICKET WEBSITE IS CHEAPER IN THE END?
In order to show you which website is cheaper, in the print screens I have compared the prices for the 1 day/2 parks for December 1st, 2020
For a better overview, I have also made the calculations for other dates that are in other price ranges (We have 3 – Green, Blue and Purple, remember?). See the table below: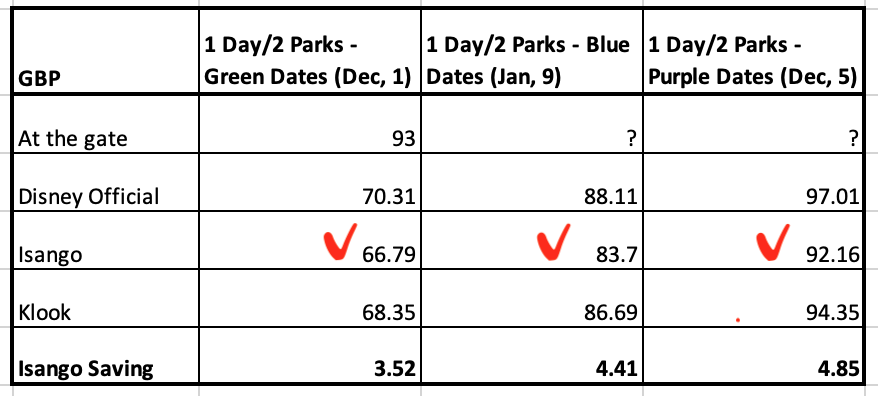 At the time of this update (October 2020), the Green Dates ticket is cheaper on Isango – £66.79 compared to £70.31 (you save 3.5£) on the official website. The Blue and the Purple tickets are also cheaper on Isango – 83.7£ and 92.16£ compared to 88.11£ or 97.01£ (you save 4.4£ or 4.8£) on the official website.
So, in conclusion, Isango has better prices than the official website at the moment and it gives you some discount for a couple of restaurants too, BUT if you are not 100% sure about your dates I would probably go for the official website because they seem to have the best cancellations policy today (and nowadays, with all the borders closing and opening, this is actually pretty important).
If you are going for a couple of days, I strongly recommend checking out the Promos section of the Disneyland website, they throw some pretty cool promos from time to time for when you get the accommodation with one of their partner properties.

NOTE: At the times of previous updates, it was indeed possible to save as much as 20€ on your Disneyland tickets, but because of the pricing policies and current promotions, the situation has changed a bit. But still, it is from 4 to 6 USD saving per person, which can add up to a nice sum for a group/family that you can use in a gift shop or anything you like!
NOTE 2: In case you want to buy the Fastpass as well, you do not need to queue at the entrance of the park – you can buy it once you get inside!
---
| | |
| --- | --- |
| 🎢1 day 2 parks price: | from €84 |
| 🎠Ticket at the gate: | from €88 (+ the lines) |
| 🤫Secret site deal: | ~5-15% off |
| 🚄How to get from Paris: | Train |
| 🕐Time from Paris: | ~40 min |
BONUS – WHERE TO STAY IN DISNEYLAND, PARIS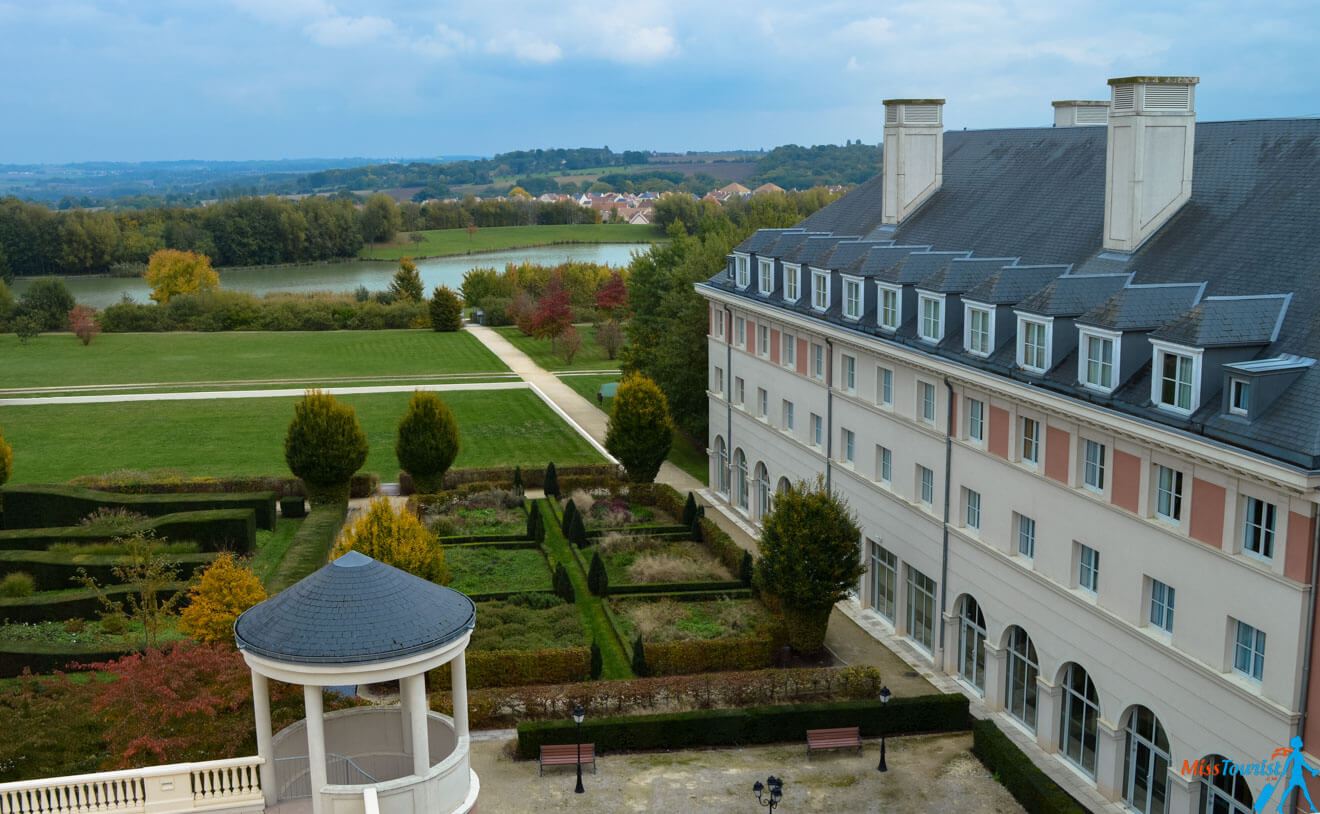 Now as you bought a good ticket for your Disneyland adventure, why don't you get a hotel in the area overnight?
Luxury hotel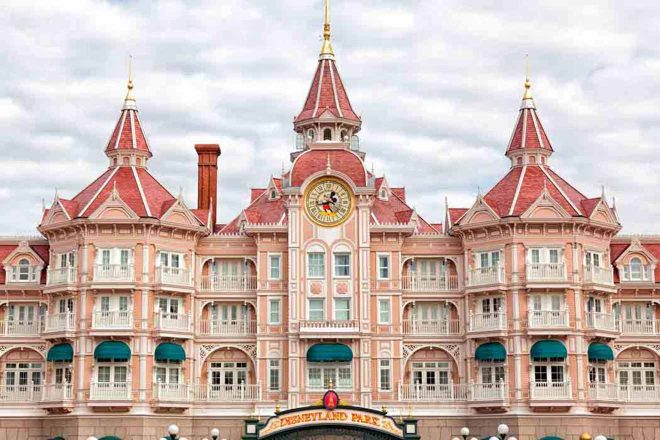 This hotel, located right at the entrance, is the most representative for Disneyland and, needless to say, it is also amongst the most luxurious and expensive ones out there – but there is no doubt you will feel like royalty!
Luxury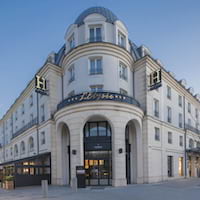 Amazing accommodation with a free shuttle to the park
mid-range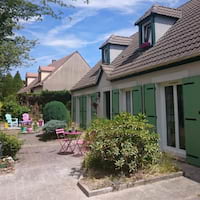 Nice and cozy B&B with gorgeous terrace, clean rooms and friendly staff
Budget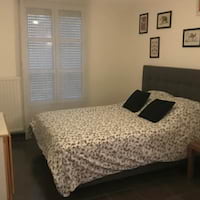 A great airbnb just 15 mins walking or 5 mins by bus!
In case you want to see more options of accommodations located close to EuroDisney, I have just the article for you, click on the link below to see it:
---
UPDATE: BUYING 2 DAYS/2 PARKS VS BUYING 1 DAY/1 PARK TWICE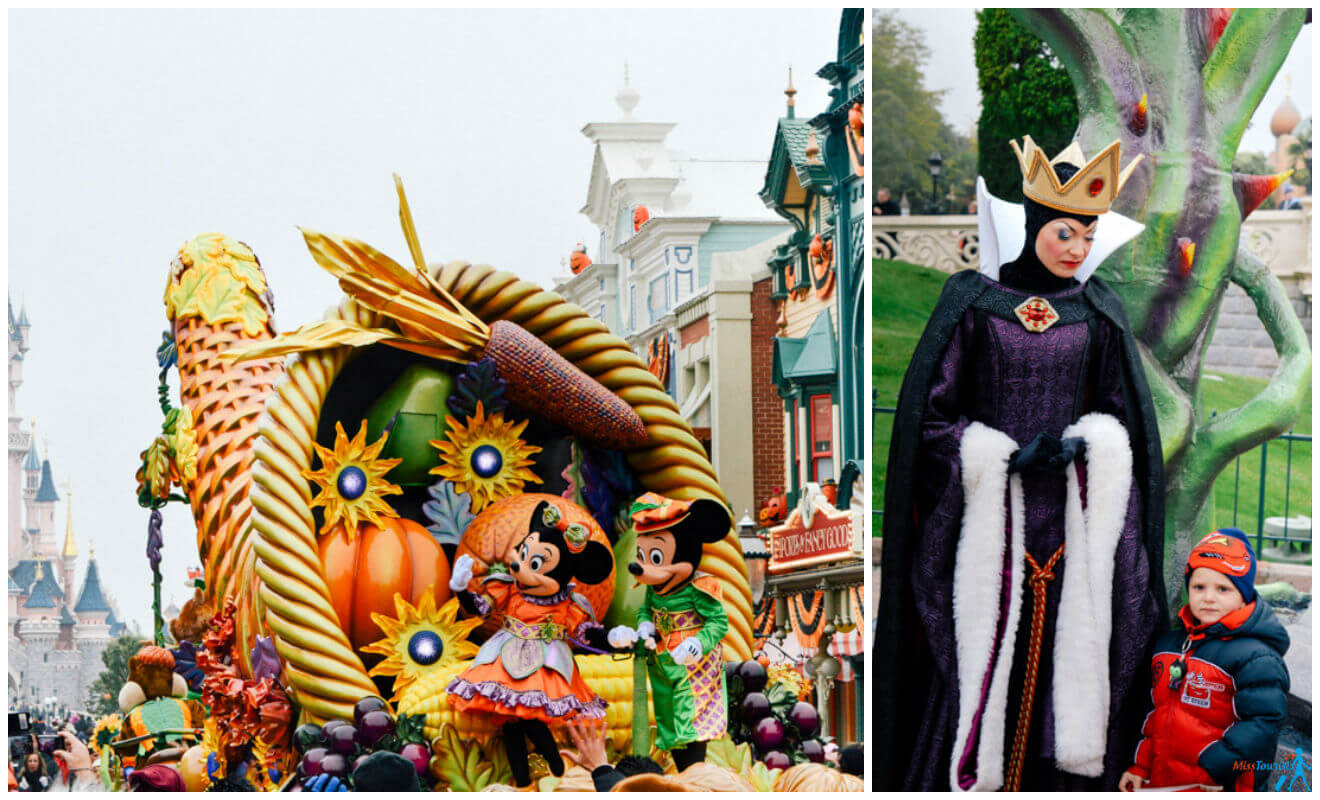 Some of the readers who were going to visit Disney for 2 days asked me if it is better to buy 1 day/1 park tickets twice because it is cheaper this way. While it is indeed cheaper to get individual tickets for each day instead of the 2 days – 2 parks ticket, you will not actually trick the system.
Here is why: The main Disneyland Park is huge (you can count it as 1.5 parks), so you will definitely need more than one day to enjoy it properly, while Walt Disney Studios is smaller and can be easily done in half a day (so we can count it as 0.5 parks) aaaand it closes way earlier than its big brother – at about 6 pm.
In my opinion, it is way better to buy the 2 days – 2 parks ticket and continue to the main Disney Park after you finish with the Disney Studios park on the same day. Buying individual tickets makes sense if you don't have 2 full days anyway (only 1 and a half maybe) or if you have small kids, as Walt Disney Studios has simpler rides fit for infants so you might want to spend a full day there.
---
Conclusion
I want to thank you for taking the time to read this guide. I hope the information shared will be useful to you!
As usual, if you have any questions, do not hesitate to ask me in the comment section below!
Bonnes vacances! 🙂
Yulia
---
---
Pin it for later: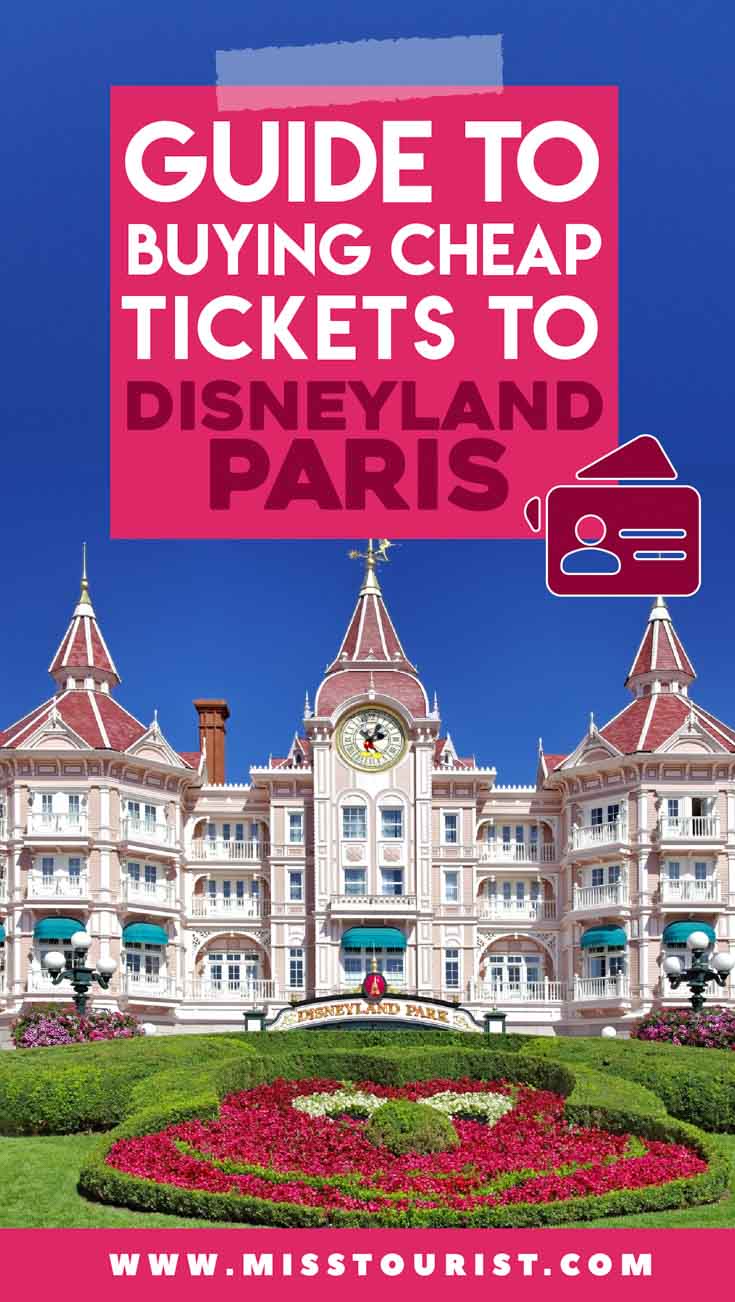 Pin it for later: