UPDATED: JUNE 2019
In this step-by-step guide, I will show you exactly how to buy the ticket on a website that on average, will save you 20 EUR, but it can be even more!
So that you know all the alternatives, I am going to describe 4 different ways to buy tickets to Disneyland, France including the one where you save at least 20 euros from the price on the official website.
NOTE: I am only comparing the prices for 1 day/2 parks MAGIC tickets for simplification reasons (I will explain what 'Magic' means below). In case you only have one day to visit Disneyland Paris, I strongly recommend you to buy the ticket for both parks in any way!
Click one of the buttons to skip other sections:
1. At the gate
The first and the most obvious one is buying your Disneyland ticket at the gate. Currently, the price of such ticket is 107€ per person for 1 day, 2 parks.
– Is it expensive?

– Well, if you ask me, yes!
UPDATE JUNE 2019: The gate prices have increased starting with 2019. Here are the updated ones (unfortunately I don't have a new picture):
| | | |
| --- | --- | --- |
| TICKET TYPE | ADULT | CHILD |
| 1 day, 1 park | 87€ | 80€ |
| 1 day, 2 parks | 107€ | 100€ |
| 2 days, 2 parks | 169€ | 156€ |
| 3 days, 2 parks | 211€ | 195€ |
| 4 days, 2 parks | 249€ | 229€ |
And even if you can afford it, why not be a smart traveler and save about 20€ per ticket to Disneyland? Read on to see how!
When I was there passing by the crowd, I felt pity for people queuing at the entrance ready to buy very overpriced tickets.
Why would they do it? Lack of information I guess.
Just a bit of surfing the internet (like my website, huh!) and you will be able to save around 20€ per person and at least 1 hour in the queue.
As you might know, I hate queues, and I am quite efficient in avoiding them. Read my all time popular post 6 places in Paris with the longest queues, and how to avoid them, you will understand what I am talking about!
2. On Disney website
Buying tickets on the official website. This option is very straight forward and it can also be the cheapest sometimes. Everything is in English and the interface is quite intuitive.
Here is how you do it –
Go to the official website ->
Choose the number of days (1 day or multi days) ->
If you go for one day, I recommend choosing "1 day 2 parks" option, you are missing out a lot by only visiting 1 park! ->
Choose your preferred type: MINI (buy during working days), MAGIC (all week except holidays), or SUPER MAGIC (all year long including Christmas, New Years, Halloween etc.) Scroll down for the detailed description of what is MINI, MAGIC and SUPERMAGIC ->
Press "Book here" ->
Choose the number of people (kids have a discount), the type you chose. The price is in pounds because it is a GB website, you can pay in any currency, it will convert automatically ->
Press "Add to cart" and then "Continue" ->
Enter your contact information, pay with your credit card, you will receive your ticket by email, hooray!
That is it, just go directly to the gates with these tickets, no need to queue in the cash register!
NOTE: At the moment when the article is last updated (June 2019), the price is 82.67 GBP for 1 adult 1 day/2 parks MAGIC ticket for 1st of July 2019 (see print screen below):
TIP: Check Disneyland Offers and Packages – sometimes Disneyland in Paris throws crazy promos that are even cheaper than on the website I am going to recommend below!
Which type of ticket to choose – Mini, Magic or Supermagic?
Now, what the hell is all that? Just give me my ticket!
Let me explain, as it might be a bit confusing at first.
The MINI ticket is a ticket to Disneyland on working days (usually, the cheapest), MAGIC is for weekends and SUPERMAGIC is for major holidays like Christmas, Easter, Halloween (the most expensive).
That means that if you have a SUPERMAGIC ticket, you can go anytime, also during a normal working day, but in order to save money, it is best you plan in advance more or less when you will be heading to Disneyland.
Got it? Let me know in the comments if you have more questions!
You do not have to know exactly when you will be going to Disneyland, which is very convenient, but you should have an idea whether it will be during the work week or a weekend.
Here is the calendar of tickets until the end of 2019 (green = MINI, blue = MAGIC, purple = SUPERMAGIC):
Now let's find out how you can save some money on your Disneyland Paris tickets!
Reminder: I will be comparing the prices for the same ticket (1 day 2 parks, MAGIC on July 1st, 2019) on all websites:
3. On Voyagin website
Voyagin is a website where you can buy tons of different tickets and activities all around the world. It is a verified website, so I guarantee you will not have any problems with your tickets at the entrance!
NOTE: I noticed that Voyagin offers the best prices for MAGIC and SUPER MAGIC tickets, while MINI option is usually cheaper on Piqnic (more on this site below).
NOTE 2: Voyagin is based in Singapore and Japan, so the name of one of these countries will be written on the e-ticket you receive, along with some Asian text. Do not get confused, this is the design established by Disneyland for them because they are based in Asia, but as long as it says "Disneyland Paris" in the pictures, you got the right ticket! 🙂
Here is how much the 1 day/2 parks Magic ticket is on Voyagin for 1st of July 2019:
The prices you will find for your dates depend, of course, on the current promotions run by the website and on the season. This is why I recommend checking all the 3 websites I am talking about (official website, Picniq, and Voyagin) and carefully making the calculations yourself in order to find the best price for your trip!
Here is how you can buy your ticket on Voyagin:
-> Go on the website here
-> Click on 'See options'
-> Select '1 day 2 park ticket'
-> Insert the number of people and the dates and click 'Add to cart'
-> Click on 'Go to cart'
-> Double check that you selected the right tickets for your dates and number of people that are going. Go to 'Checkout'
-> In order to buy tickets on Voyagin, you need to have an account on the website. You can create your account now. Make sure to insert a valid e-mail address because that will be the address where you will receive your Disneyland tickets after the purchase!
-> After you have created your account, log in, insert your payment details and that's it!
You will receive your tickets on your e-mail, no printing required. You can just show the ticket on your phone!
4. On Picniq website
Picniq is a UK chain selling all kinds of tickets for many destinations and activities. You can buy tickets to almost everything through their website, including Disneyland. Moreover, they have won the Disneyland Paris partner awards for 2 years already!
NOTE: Even though Picniq is a UK-based website, anyone can buy tickets from them with absolutely no problem. Disneyland Paris tickets can be bought regardless of the country you are currently in, you do not have to be in/from the United Kingdom.
Do not worry, this website is absolutely official, I have bought my ticket to Disneyland through the site 3 times for myself and many more for my friends!
Here is how much the 1 day/2 parks Magic ticket costs on Picniq for the 1st of July 2019:
Tickets are cheaper there sometimes, not all the times. It depends on the season and current promotions. I recommend checking all 3 websites before buying your tickets. Compare and see which one is cheaper.
NOTE: Please note that you have to print the tickets yourself before going and present them at the gate, you can't show them on your phone (yet). One-day tickets have instant processing, but for the multi-day tickets you may have to wait for your e-mail ticket for 1 or 2 days in peak season, as there are many people buying from Picniq. Do not worry, your ticket will arrive but keep in mind to not buy it last minute!
Here is how to buy Picniq tickets for Disneyland:
Go to Picniq, scroll down on 'Our Top Offers' category and click Disneyland Paris. This is more or less what you will see: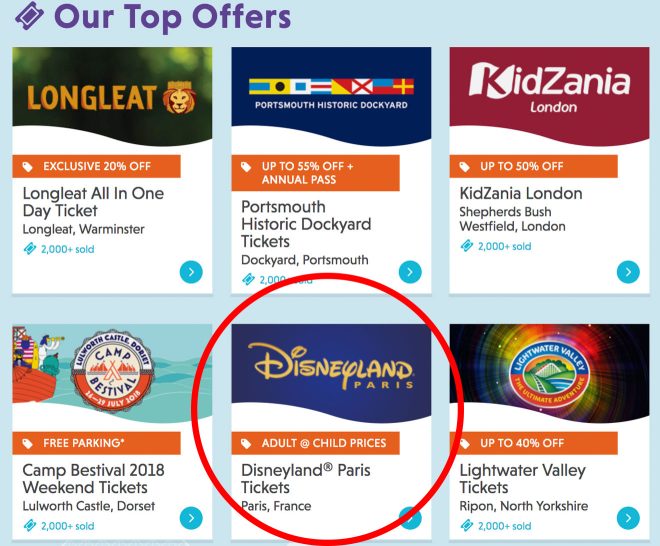 -> Choose 1 Day/1 parks or 1 Day/2 parks.
As I said above, I recommend visiting both parks. The Disney Studio park is small, but it is SUPER cool, it has some amazing rides and entertainments!
-> Click "+ View" and then "Get Prices"
Note: As you can see, with this ticket you will get some nice discounts for merchandise and food. This is a very cool thing because you can save some cash on food (you will need to eat in any way as you will spend one full day in the park)!
Note2: This ticket includes a 'Fastpass' and it says it will let you jump the queue. You should note that this is not the classical option where you go whenever you want and just enter without standing in the huge line. The Fastpass is a way of reserving certain times when you want to go to certain rides. After reserving your time slot, you will just go at the entrance of your ride at your fixed hour and enter with little to no wait.
-> Select the date when you want to go to Disneyland (in this example I selected 28th of June 2019).

Select the number of adult and child tickets you wish to buy. Your kid younger than 3 years old enters free of charge, 3 – 11 years old qualifies as a child ticket, your child of 12 or older needs an adult ticket.
ATTENTION: At the time of this last update (June 2019), it would make more sense to buy the MINI ticket from Picniq, as the price is 61£, comparing to 64£ on the official website for the same date, but the prices can change any time.
Double check again that the type of ticket you chose corresponds with the date you are planning to visit Disneyland.
-> Insert your email address where your confirmation should be delivered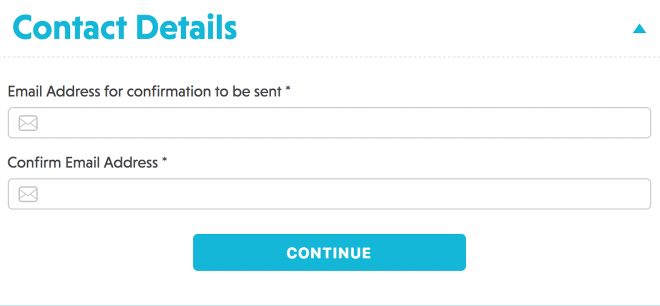 -> Complete the billing details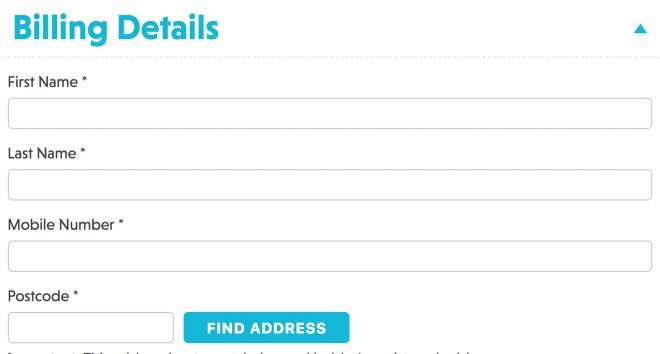 -> Complete the holder's name for each ticket.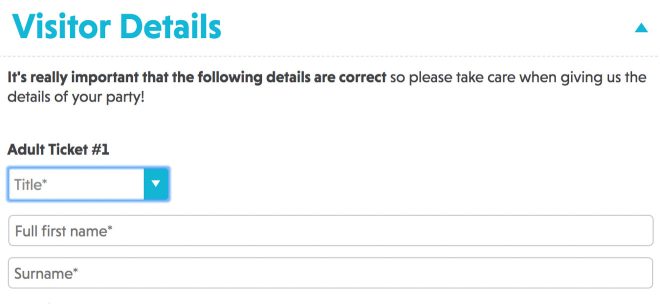 -> That's it, this is the last time you can check to see your tickets are correct. Afterward, the procedure is really simple –  you need to pay with your card and then you will receive the tickets by e-mail. For the 1-day tickets the processing is instant, no waiting! If you are buying a multi-day ticket, in peak season you might have to wait for up to 48 hours for the processing. Do not worry, you will receive it! Afterward, you just need to print it before the visit.
-> Congratz, you got your tickets!
So, which ticket website is cheaper in the end?
In order to show you which website is cheaper, in the print screens I have compared the prices for the 1 day/2 parks MAGIC ticket for 1 adult on the 1st of July 2019.
For a better overview, I have also made the calculations for Magic and Super Magic on all 3 websites and at the gate. See the table below:
| | | | | |
| --- | --- | --- | --- | --- |
| GBP £ | At the gate | Disney official website | Picniq | Voyagin |
| 1 day 2 parks MINI (June 28th) | 95.2 | 64 | 61 | 68 |
| 1 day 2 parks MAGIC (July 1st) | 95.2 | 82.6 | 74 | 68.37 |
| 1 day 2 parks SUPERMAGIC (August 15th) | 95.2 | 95 | 84.4 | 68 |
At the time of this update (June 2019), the Mini tickets for 1 day 2 parks are cheaper on Picniq – 61£ comparing to 64£ on the official website and the Magic and Supermagic tickets are cheaper on Voyagin – 68£ for each of them comparing to 83£ or 95£ on the official website.
So, in conclusion, if you need MINI tickets, Picniq usually has better prices than the official website. If you want to buy MAGIC or SUPERMAGIC tickets instead, then try on Voyagin, chances are you will find a much better deal! But sometimes Disneyland Paris throws great promos on their official website as well, where they offer cool perks (such as free lunch in a restaurant), so I recommend checking the Promos section of Disneyland as well!
All in all, it is more time-consuming to check all 3 websites, but you will be able to save about 15€ on average (even more than that for SUPER MAGIC tickets) per person, so I would say it is worth 5 extra minutes of your time! 🙂
NOTE: Sometimes these money-saving websites I am recommending have better prices, but not all the time! You will need to make the calculations yourself for your specific dates and see which one has the best offer.
NOTE 2: At the times of previous updates, it was indeed possible to save as much as 20€ on your Disneyland tickets, but because of the pricing policies and current promotions, the situation changed a bit. You can still save quite some money, though if you buy your tickets in advance and if you research on all 3 websites I am talking about.
NOTE 3: Updated as readers asked me in the comments about buying 1 day/1 park tickets 2 times because it is cheaper this way. While it is cheaper to get individual tickets for each day instead of the 2 days – 2 parks ticket, you will not actually trick the system. Here is why: The main Disneyland Park is huge (you can count it as 1,5 parks), so you will definitely need more than one day to enjoy it properly, while Walt Disney Studios is smaller and can be easily done in half a day (so we can count it as 0,5 parks). In my opinion, it is way better to by the 2 days – 2 parks ticket and continue to the main Disney Park after you finish with Disney Studios park on the same day. Buying individual tickets makes sense if you don't have 2 full days anyway (only 1 and a half maybe) or if you have small kids, as Walt Disney Studios has simpler rides fit for infants so you might want to spend a full day there.
NOTE 4: In case you want to buy the Fastpass as well, you do not need to queue at the entrance of the park – you can buy it once you get inside!
I hope you will travel smart, my friends!
Got a good deal for Disneyland?
---
BONUS –  Where to stay in Disneyland, Paris
Now as we bought a good ticket for your Disneyland adventure, why don't you get a hotel in the area overnight?
It can be a great option for those:
who want to stay till the closing show and don't want to come back to Paris late at night;
people who bought ticket access to the park for 2 days or more.
I Have stayed in Dream Castle Hotel and can definitely recommend it!
This first-class hotel is located very close to the entrance of Disneyland in Marne-la-Vallée
Dream Castle hotel is a 17th-century chateau with decoration focused on the Three Musketeers theme.
From the moment you enter you will feel yourself in the magical atmosphere. Everything evokes that feeling – a concierge dressed in a circus uniform, brightly colored horse sculptures, decoration of your room and all the other details.
As it is a hotel for families, there was a bunk bed for kids in my room. The bunk bed is gently separated from the parents' bed with a curtain.
For kids:
There is a gorgeous carousel for kids, a green setting around the hotel to play outdoor, plenty of space and settings to play indoors as well. There is a great show for kids every evening, even an illustrator that will color your kids in all possible colors! There are children menus for breakfast and dinners.
You can send your little ones on an exciting scavenger hunt! A special surprise gift will wait for them at the end of the hunt after they stamp their personal passport given by the hotel.
It will truly make your kids' eyes sparkle!
For you:
There is a beautiful running path around the hotel if you feel like doing some sports in the morning. If the weather is bad, there is a gym waiting for you indoors. Magic circus hotel offers a variety of Spa services to relax after the day full of adventures. A bar with the selection of spirits and innovative cocktails is at your disposal as well.
I especially liked L'Occitane body care products that are available to use in your bathroom.
Other perks:
Car parking is provided at the hotel, a heated indoor swimming pool, fitness room, Free Wi-Fi, a free Shuttle bus to the Disney theme park and the TGV Station.
Of course, you can buy your EuroDisney ticket from the front desk, no need to stay in the queue. If you want to save significantly and buy your ticket online,  I explained how to do it above.
This 4-star hotel that has all the facilities needed to enjoy your Disney vacation for you and your kids, if you have any! 🙂
HOW TO GET THERE: There is a free shuttle bus (10 mins) that will take you to the Chessy-Marne-la-Vallee station (TGV, RER A, etc.)
PRICE: Low season can be 100€ per night (breakfast included) or 125€ if you want to stay with up to 2 kids. 180€ (and 200€ with kids) if you want to stay during Christmas.
Book your stay with Dream Castle Hotel here!
Other great hotels close to Disneyland Paris
Luxury (100€ and up): L'ELysée Val d'Europe is an amazing accommodation located super close to the park (less than 2km away!). It has an on-site restaurant that serves French cuisine dishes, a terrace, a bar, free Wi-Fi and more! My other recommendation for luxury travelers is Hôtel Le Cheval Blanc – a 4-star hotel with 18th-century vibes, gorgeous rooms and other great facilities. Moreover, guests staying there can use a free shuttle to get to the park each day!
Middle-priced (from 50€ to 100€): Residence Alassa is a great apartment-type accommodation located almost 3km away from the park. Some of the perks of staying there include the existence of a beautiful garden, free Wi-Fi, free on-site parking and more! Chambre Disney is another great option – this nice and cozy B&B is located at the same distance to Disneyland (3km) and it awaits you with free Wi-Fi, a gorgeous terrace, clean rooms and a friendly staff!
Budget (up to 50€): Eric Lau is located around 2km away from Disneyland Paris and it is a great B&B for budget travelers. You will be close to the park and also have access to free Wi-Fi, a shared lounge and a delicious breakfast at the accommodation!
UPDATE: I have written a blogpost where you can find all best places to stay in Disneyland and also sorted it by budget. Click here to read more!
What to get with you at Disneyland?
---
Conclusion
I want to thank you for taking the time reading this guide. I hope the information here will be useful for you!
As usual, if you have any questions, do not hesitate to ask me in the comment section below!
If you want to go to some other amusement park near Paris, check out Parc Asterix. I have been there and described my opinion if it is worth a visit here. 
Bonnes vacances! 🙂
Yulia
---
RELATED ARTICLES:
---
Pin for later: