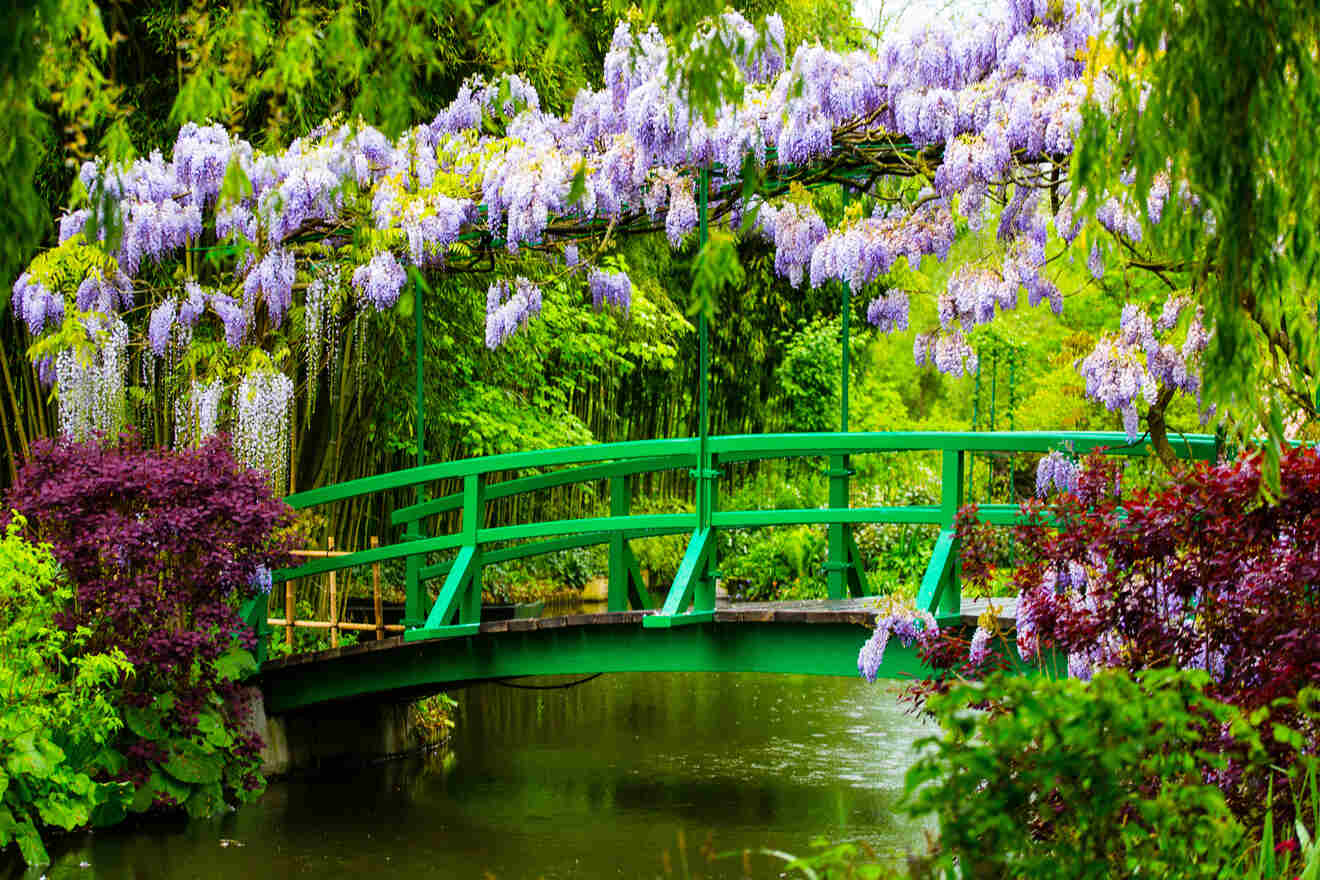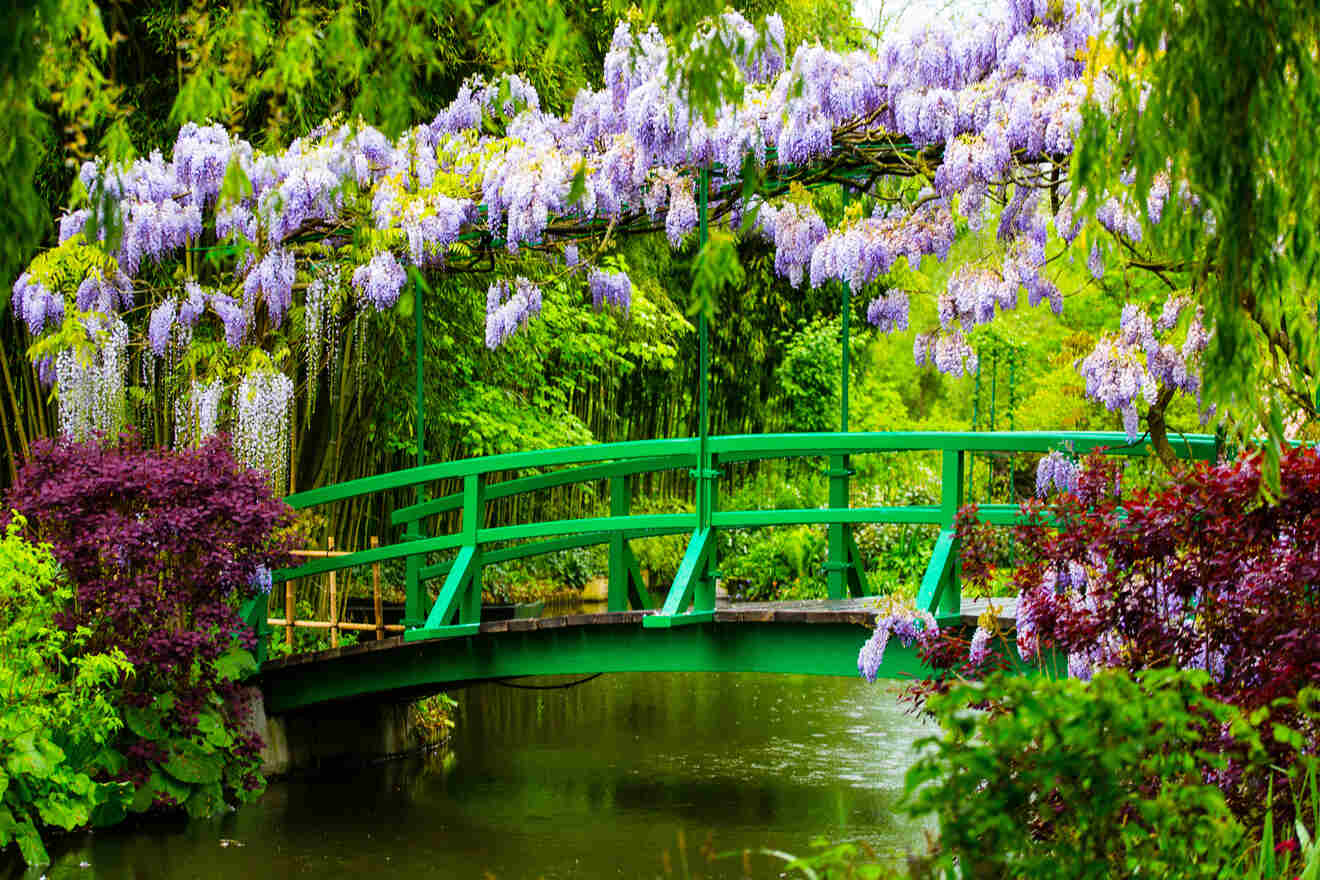 Are you looking for tickets to the Giverny House & Gardens, located in the charming village only 2 hours' drive from Paris?
Well, there are actually several options through which you can visit this famous attraction: either by yourself, with a guided tour, with an organized full-day trip, or a combo tour from Paris… which one fits more your travel plans?
To help you discover that, I made this guide with all the best tickets to Giverny, including tickets to the nearby Museum of Impressionism attraction, and useful information about how to get there, opening hours, where to stay in Giverny, what to bring and much more!
Are you ready to explore everything with me?
Let's go!
If you are in a hurry
If you are here just to get your tickets, here are the best links to do so:
Normal ticket – €11.50 (Official website)
Tour from Paris – €85 on GetYourGuide
Student ticket – €7 for students (bring your ID with you)
Disabled ticket – €6 for people with disabilities (you need to go to the counter),
Free ticket – for children under 7
| | | | | | |
| --- | --- | --- | --- | --- | --- |
| | Adult Entrance | Kids Entrance | Tour from Paris | Cancelation Policy | |
| Official Website | €11.50 | €7 | – | Non refundable | Book tickets |
| GetYourGuide | – | – | €85 | >24 hours in advance | Book tickets |
| Viator | – | – | €86 | >24 hours in advance | Book tickets |
| Headout | – | – | €85 | >24 hours in advance | Book tickets |
Get your tickets to Giverny House and Gardens
Why buy in advance?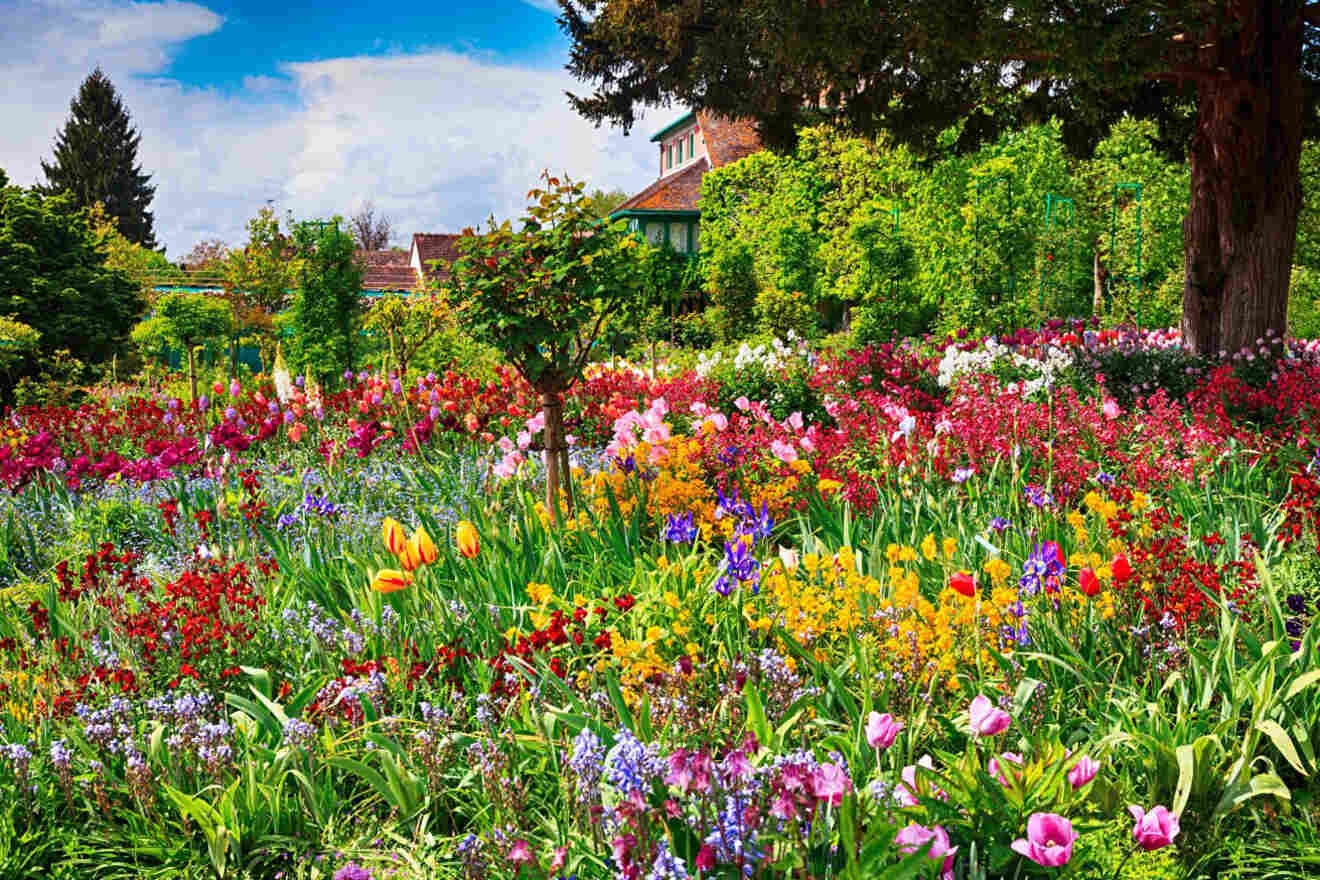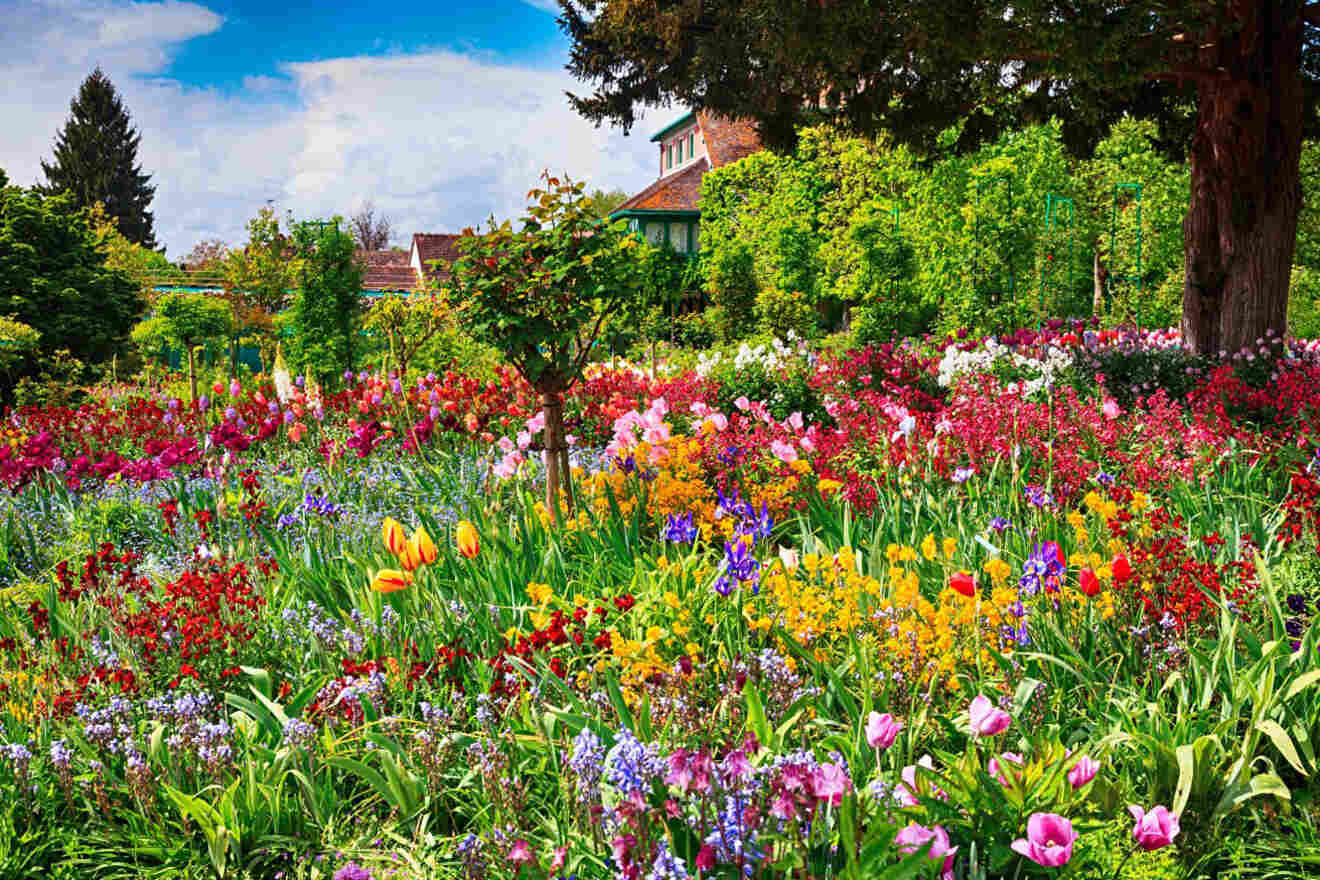 Buying tickets to the Monet House & Giverny gardens is super important if you want to avoid the very long lines on-site (especially if you visit it during summer months!) and save some precious time.
In fact, the attraction is open only 8 months per year and is the second most popular attraction in Normandy, so it receives tourists from all over the world every day!
DID YOU KNOW that the Giverny gardens attract half a million people each year?
The best way of saving time and energy to visit the attraction is definitely through a guided tour from Paris. With this option, everything is already organized (transport, tickets and a guide) and the only thing you need to do is book online, which will take you a few minutes!
Book Your Guided Tour from Paris!
1. Different types of tickets
The charming Giverny village is only 2 hours from Paris and hosts two main tourist attractions: Monet House and Gardens, and the Museum of Impressionists, located a very short walk from each other, so I would definitely take the occasion to visit them both!
In fact, the museum is a good complement to the Gardens if you want to have a deeper understanding of the world, the history, and the significance of Impressionism and its symbiotic relationship with Giverny.
Let's check out the tickets for both of them:
1.1 House and Gardens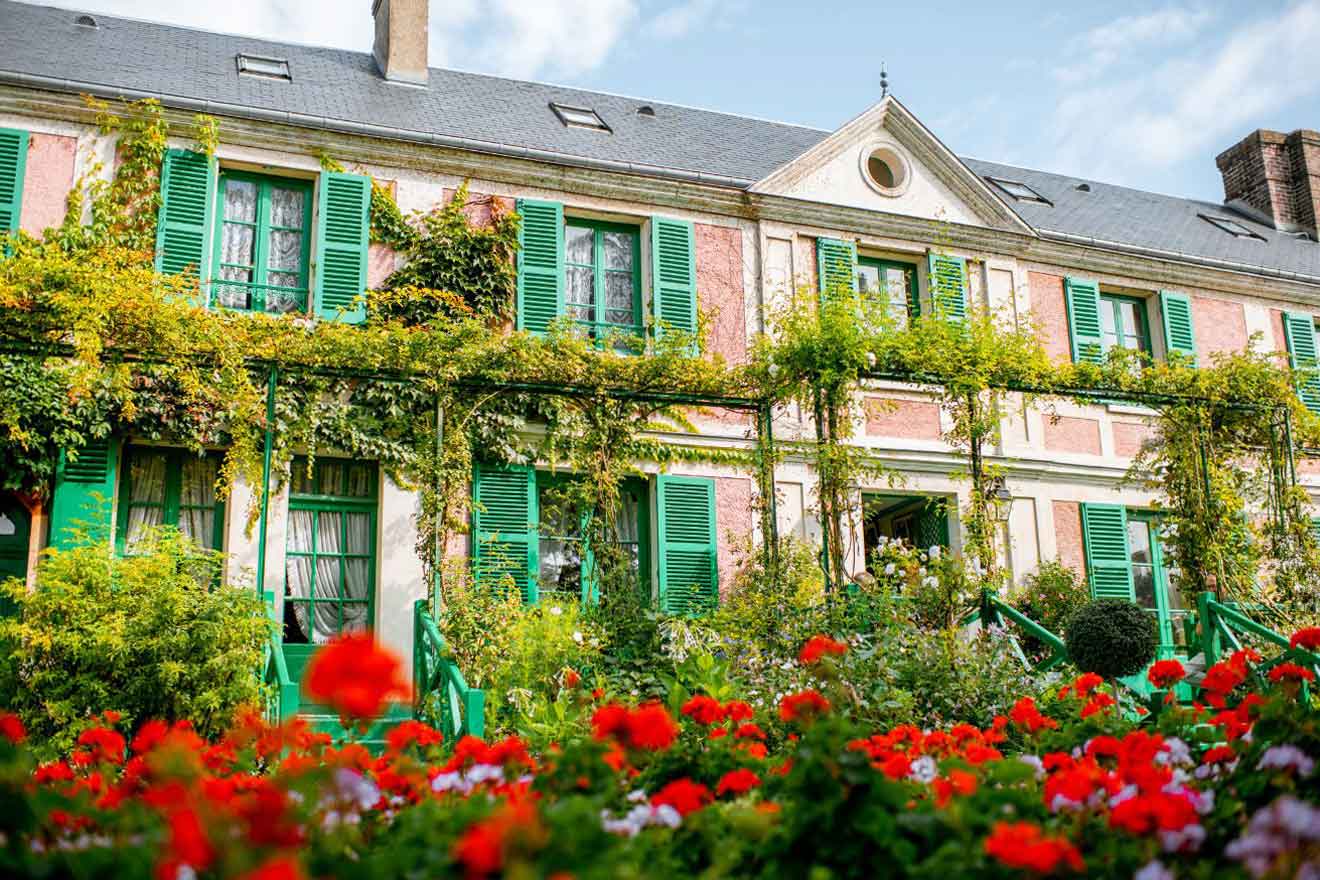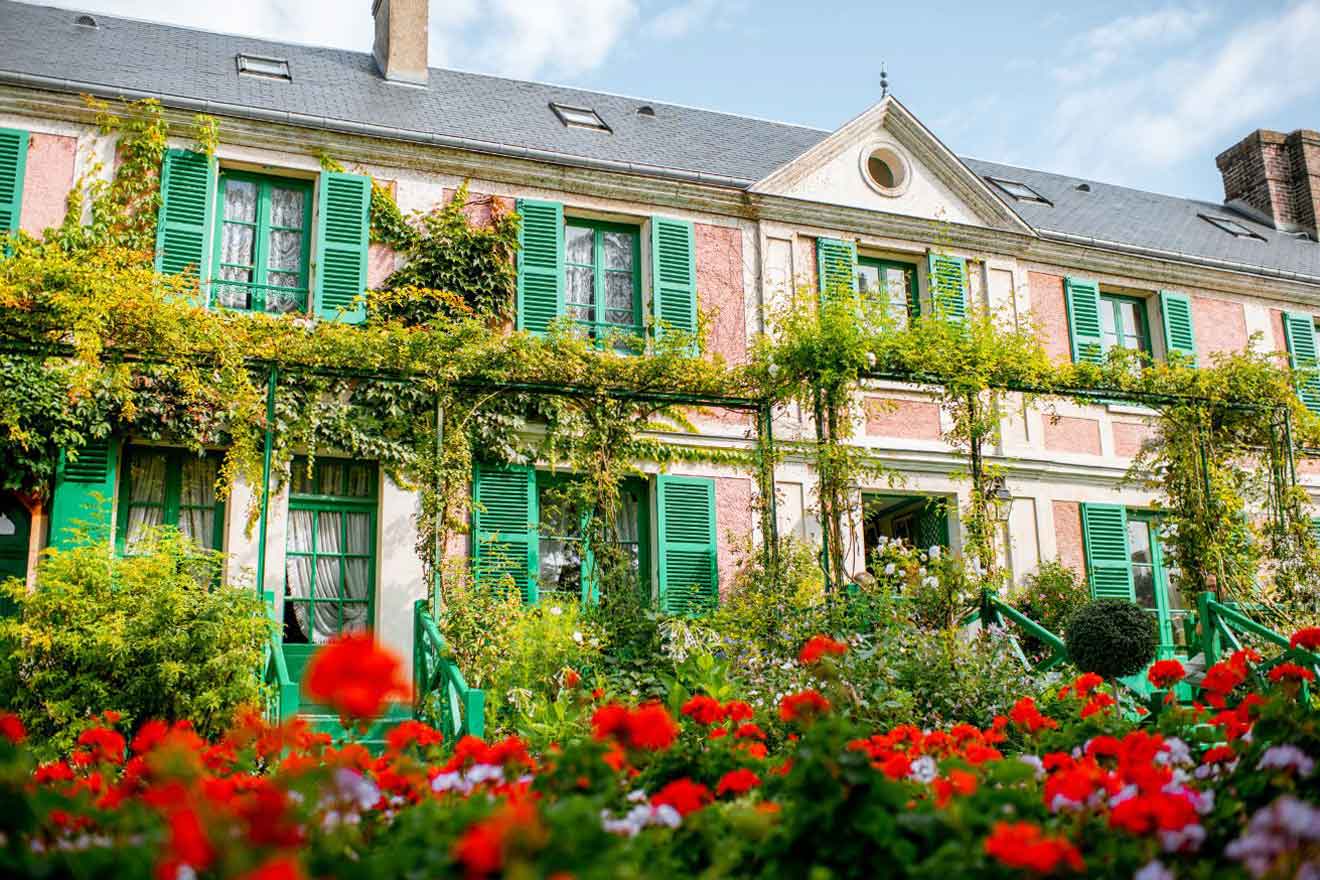 The pastel-colored Monet house is where the famous artist lived for the later period of its life. Surrounded by a beautiful garden, this house is the protagonist of many of Monet's paintings (the most famous one is The Water Lily Pond, with the Japanese bridge in the backdrop), so it's no surprise that this is the most popular attraction in Giverny!
FUN FACT: Monet bought this house in order to create the gardens that he would paint for the rest of his life. He personally wrote daily instructions to the gardeners to realize his vision!
So when you visit the attraction, you'll be walking in the same places that inspired Monet and literally feel like you are walking inside his paintings!
The Monet House and Gardens are open everyday from the 1st of April to the 1st of November, from 9:30 am to 6:00 pm, with the last admission at 5:30 pm. TImes and dates can slightly change depending on the year, so double check on the official website.
If you want to avoid the super long queues at the entrance (you could stay in line for about 1 hour), you should definitely book your ticket online in advance. It will cost you €11.50 (only 50 cents more than if you book it at the entrance) but you'll access the attraction through a special entrance reserved for ticket holders!
Take into consideration that E-tickets are valid only for the date and time you have selected, and you should arrive half an hour before this at the gate because you'll still have to pass through security checks.
The overall visit will take you around 2-3 hours, which is enough time to visit the house and walk around the gardens and over the Japanese Bridge with the water lily pond. NOTE: Once you exit the gardens, you cannot enter again!
Ticket conditions:
Tickets are neither refundable nor exchangeable.
You can print your Giverny Tickets or use the electronic version on your phone or tablet
During Heritage Days (September 17 and 18) it is not possible to book tickets online, you'll need to purchase them directly on-site (for a reduced price).
Entrance for skip-the-line and e-ticket is located at Sente Leroy, door n°1.
PRICE: €11.50
NOTE: If you don't find tickets for your dates on the official website, book a tour on GetYourGuide, Viator, or Headout as they will often have additional availability.
1.2 The Museum of Impressionism
Located a few steps from the Monet House and Gardens, the Impressionism Museum introduces you to the Impressionism movement and allows you to explore its origins through active exhibitions and events (concerts, workshops, conferences, and guided tours).
DID YOU KNOW? Monet and other artists (among which Renoir, Manet, Degas and Cézanne), whose works were always rejected at the conservative Salon de Paris, formed the Anonymous Society of Painters in 1874: the first Impressionist movement!
Unlike the Monet house and Gardens, this attraction is open all year from 10 am to 6 pm (with the last entry at 5:30 pm), excluding 25th of December and 1st of January.
During each season of the year, the museum hosts different exhibitions, so entry prices can slightly change depending on the exhibition of that moment, but they usually range around €10. Check out the official website to stay up to date.
You also have the option of adding a 1-hour audio guide (available in English or French) to your ticket for an extra cost of €3.
But don't think that this is all going to be an indoor experience, the museum also has a contemporary garden with over 22,000 plants, a water pond, rose bushes, and more, perfect for enjoying some peace and relaxation! To access the garden, you'll need to pay an extra €2, but it is absolutely worth it, especially if you go there from April through to October, when it is particularly colorful.
A visit to the museum will take you about 2 hours, up to 3 if you also visit its gardens.
You can purchase your tickets online (prices are slightly higher due to the processing fee and they are non-refundable) or onsite. But it is definitely better to book it in advance to skip the lines at the entrance!
Prices:
Exhibition: from €9
Museum garden: €2
NOTE: If you don't find availability on the official website, you can book this private tour from Paris, which also includes a visit to the Monet gardens.
Book Tickets for the Impressionists Museum
2. Take a guided tour of Giverny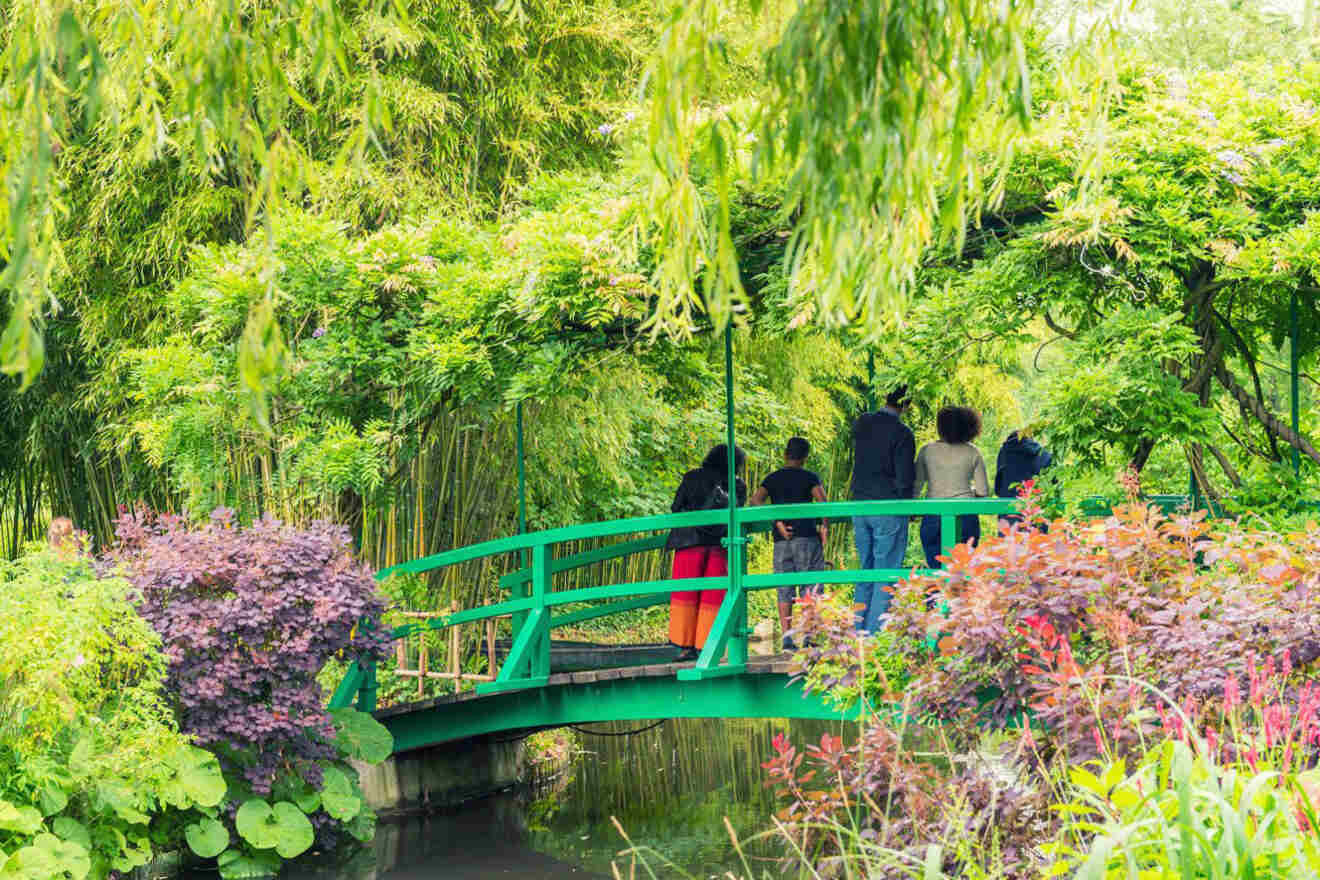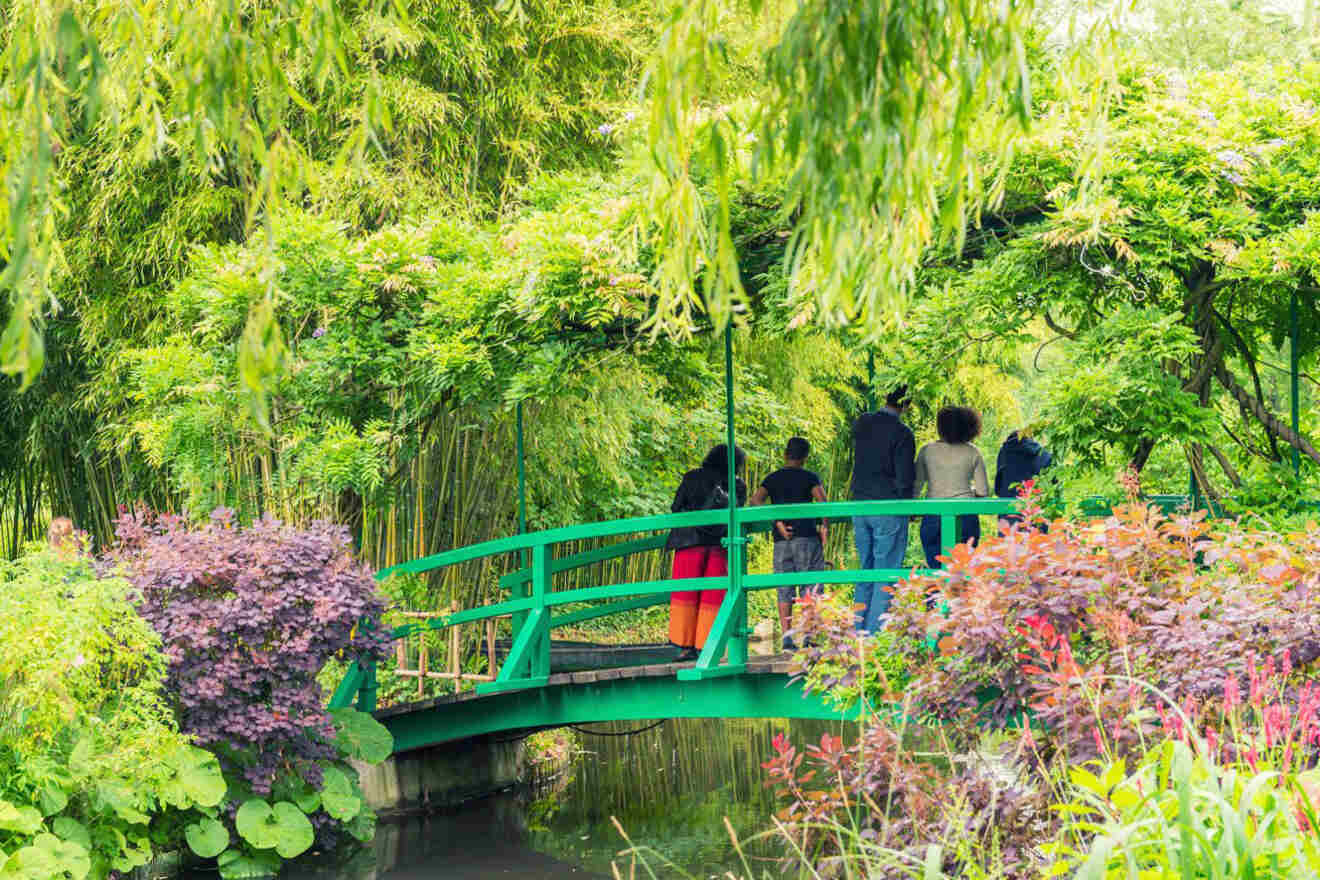 If you are interested in getting to know Monet's life, secrets and discovering the history of the place, I definitely recommend booking a guided tour, either from Giverny or from Paris (we will go into more details about tours from Paris in the section right after this one).
With this 1.5 hour guided tour, you will meet your guide outside Les Nympheas restaurant (right opposite Monet's House), and visit the water gardens and his home, while learning about Monet's life and why he became the master of impressionism.
And at the end of the tour, you can stay longer to have a stroll on your own or check out the gift shop, located right before you exit. All this for €58 per person.
This option is perfect if you want to get to Giverny by yourself but still have a guide in the gardens. Plus it is super easy to book, you just need to click here and choose your dates!
There is actually also a way to have an official guided tour provided by the Monet House and Gardens, but you will need to go through a whole list of guides and contact them directly for more info (which would be hard if you don't have a French/European sim), so it is way harder and time-consuming!
PRICE: €58
Take a Guided Tour of Giverny House & Gardens
3. Guided day trips to Giverny from Paris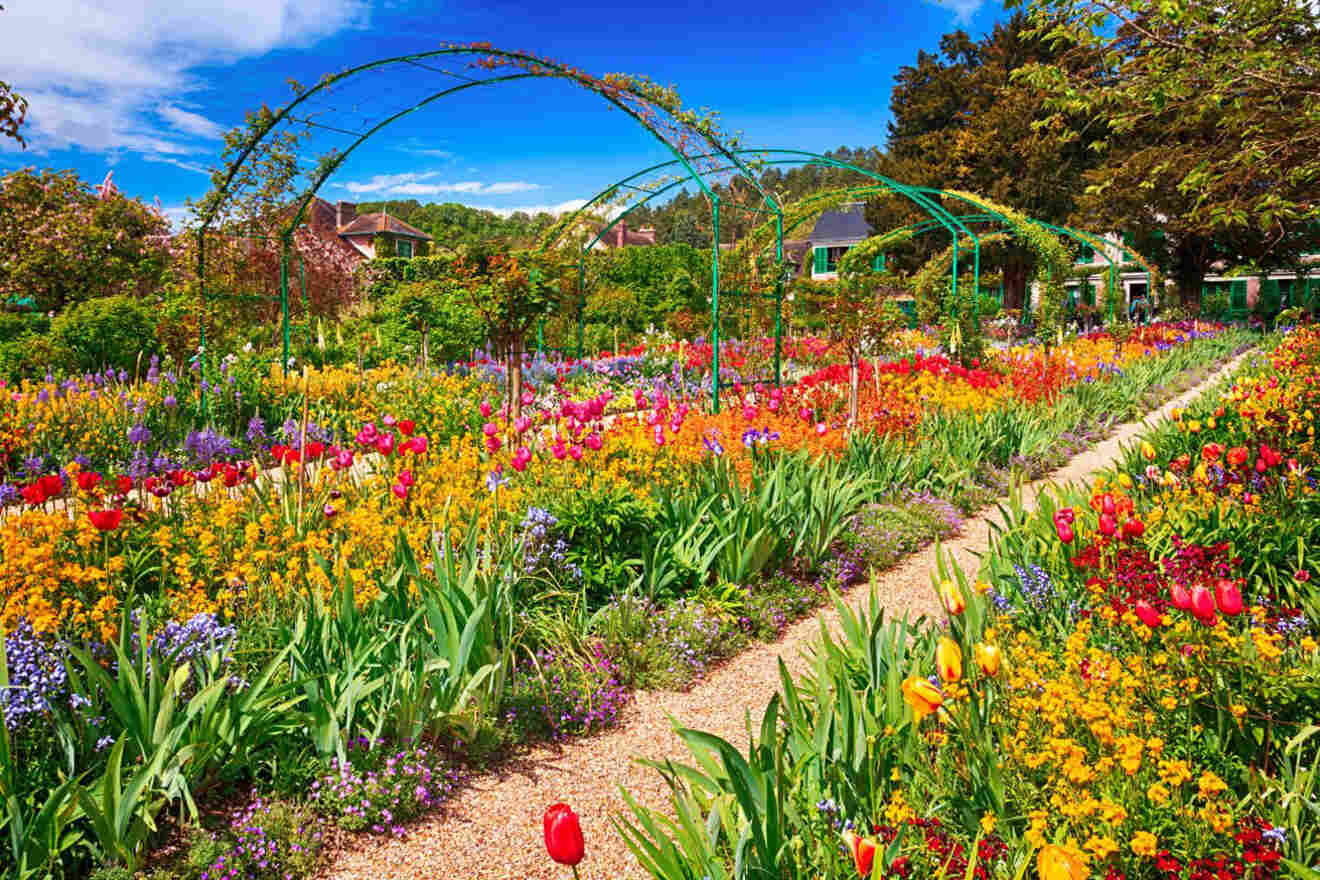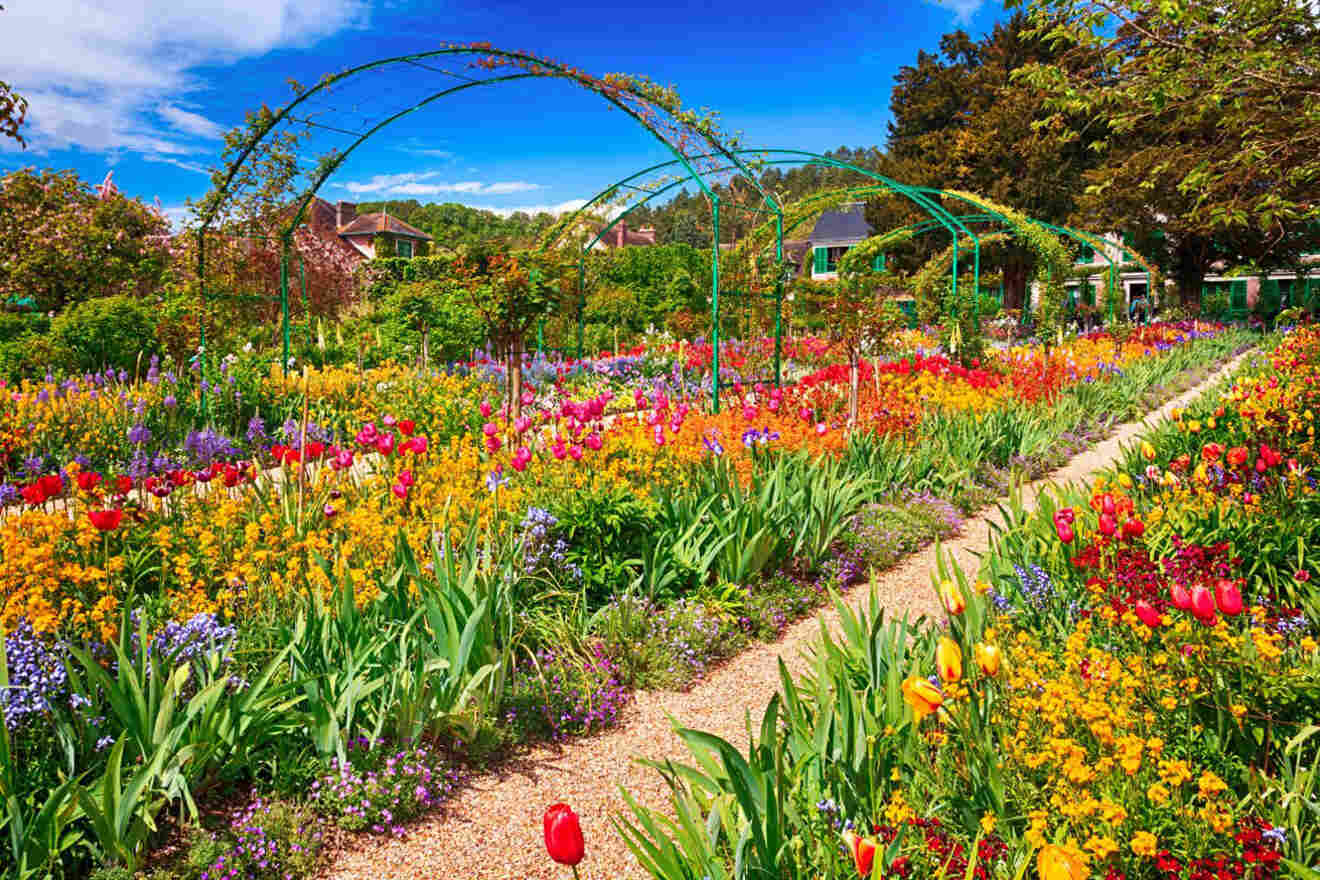 The best and most common way to visit the Monet House and Gardens is definitely through a guided tour from Paris. Located only 2 hours driving from Giverny, it is a super easy day trip to take when everything is organized for you!
Considering the cheapest way to get from Paris to Giverny (by public transport) costs €30 per person (with many changes), when you add this to your entrance ticket, the guided day trip is really great value.
In this way, you won't have to worry about round-trip transportation, and you also get a live guide and fast entrance access to the attraction, so it definitely offers the best value for the price!
Let's check the best tours from Paris available out there:
Giverny Day Trip with Audio Guide or Live Guide: Go on a half-day tour to the Monet's House and gardens with a live or audio guide, and enjoy a round-trip scenic drive through the green fields and wooded plateaus of Normandy for €85 (price with a real guide).
Private Tour: Check out this amazing private half-day tour to the former home of the Impressionist master Claude Monet, the Gardens, and also the Museum of Impressionism. The trip includes an explanation of the 2 attractions from a live guide and round-trip transportation for €680 per group of up to 8 people.
Small-Group Tour to Giverny and Van Gogh's Room: Visit the home and gardens of Claude Monet, see his tomb and resting place, and head to the town of Auvers-Sur-Oise, to explore the troubled life of the Post-Impressionist artist, Vincent Van Gogh. This day trip costs €170 per person.
4. Giverny + Versailles combo tours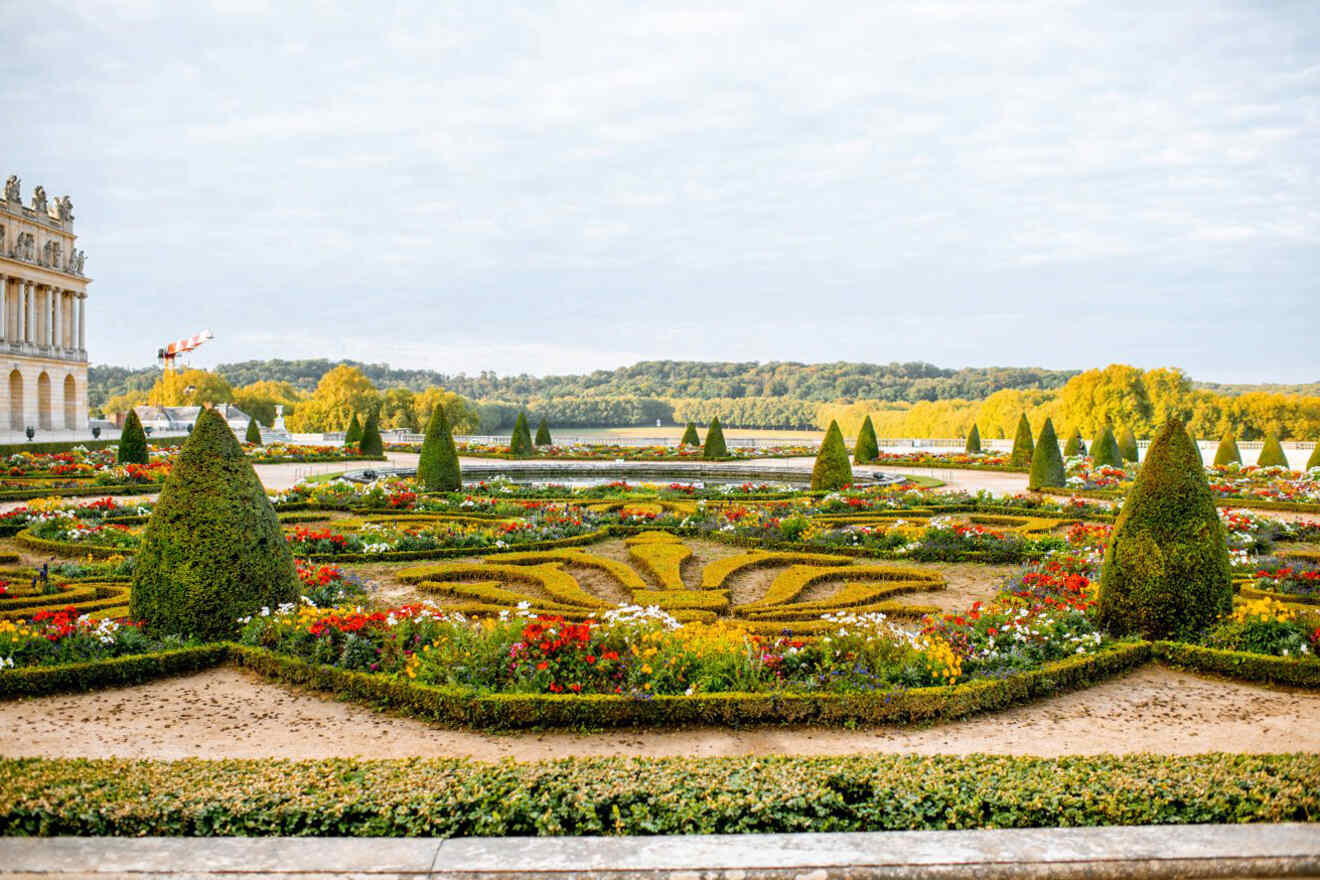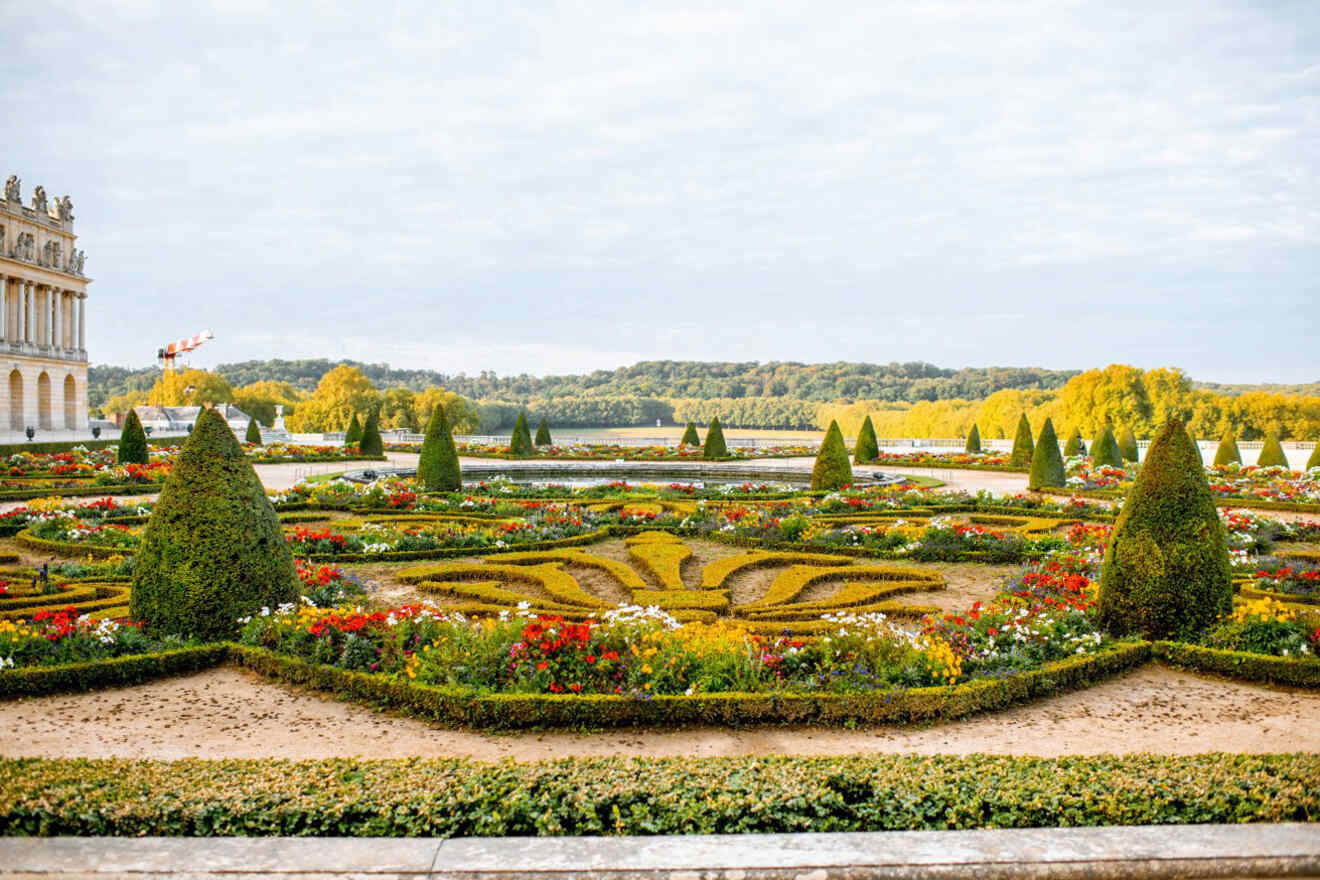 There are many cool day trips from Paris, so why not combine two of them on the same day? I found many good combos to visit both the Giverny gardens and the stunning Palace of Versailles, one of the most popular and loved attractions in France. (We also have a whole post on tickets to Versailles if you want to know more).
This is also a great way to optimize your time if you are going only for a short holiday to Paris, and it offers great value for the money. For this reason, I have collected here below the best combo tours from Paris… you will just need to choose your dates and book!
Versailles and Giverny Full-Day Trip – Explore King Louis' Palace and outstanding French Gardens in Versailles, then head to Giverny to visit the artistic gardens of Claude Monet. This full-day trip costs €210 per person, including round-trip transportation.
Private Day Trip – Visit Versailles and Giverny at your own pace with this private tour of up to 8 people, including skip-the-line admission tickets to both attractions and round-trip transport with hotel pickup and drop-off. Prices start from €450 for 2 people.
Versailles-Giverny Tour with Lunch – Visit Claude Monet's house and gardens, enjoy a complimentary 3-course lunch with wine at the renowned Moulin de Forges, and discover the stunning Versailles on this day tour from Paris, costing €975 for 8 people.
Book a Giverny + Versailles combo tour
5. Buying tickets at the entrance (not recommended)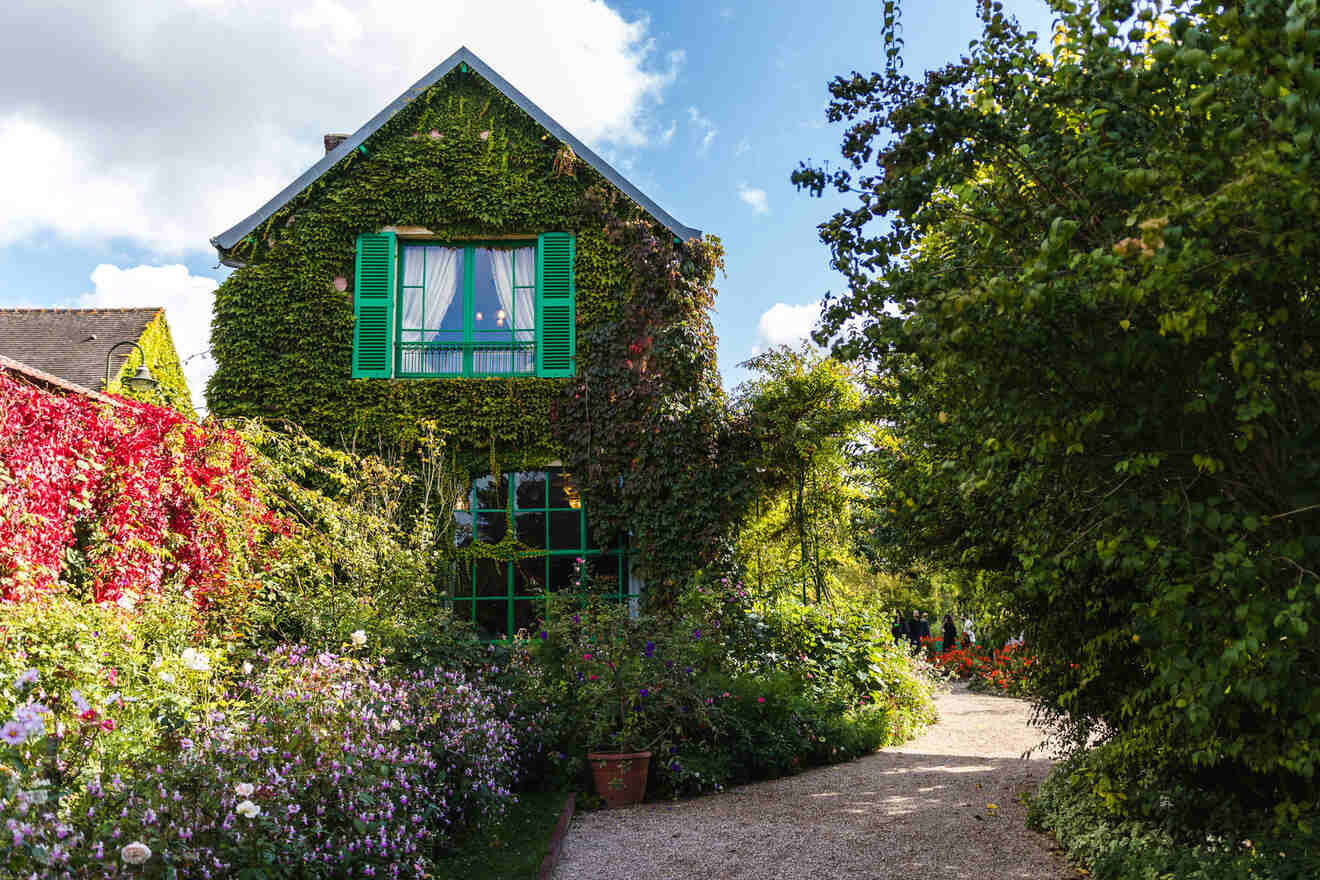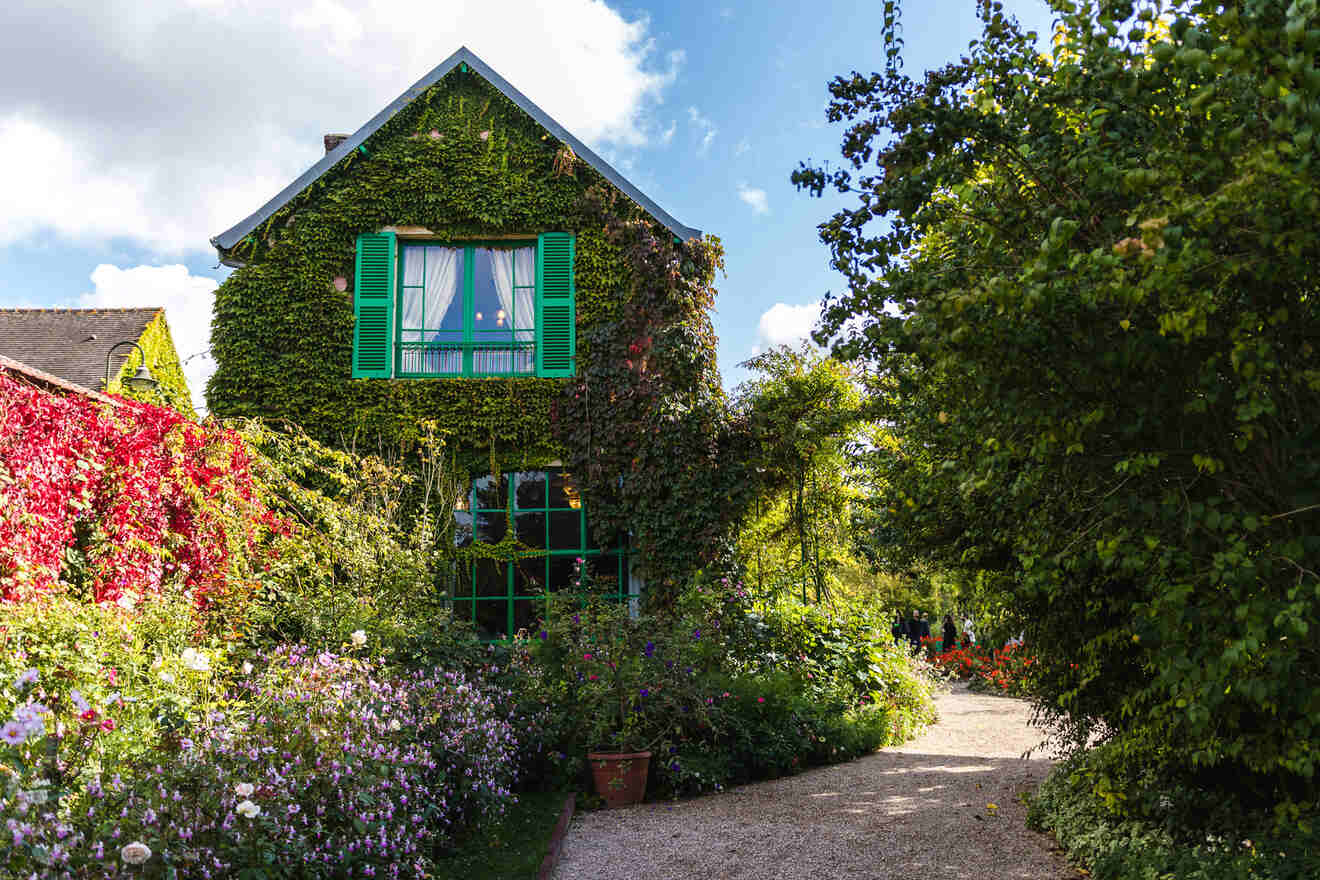 Buying tickets at the entrance for the Monet house and gardens is slightly cheaper (only 50 cents less) but is definitely not worth it. On-site there are always super long queues, especially if you go there during summer months when lines last up to 1 hour!
For this reason, I really recommend buying them online in advance on the official website, or an even better option is to book a guided tour from Paris, so you won't have to think about transportation, and you'll have prioritized access to the attractions.
6. How to visit the Impressionist Museum for free
There are no real ways to visit the Giverny House and Gardens for free. You can see the Monet House on a virtual visit from your computer, but it is definitely not an actual alternative to a true visit, and it doesn't include the garden, the most beautiful part of the attraction!
What you can actually visit for free is the Impressionism Museum, but you need to be flexible with your dates. In fact, the attraction offers free entrance on each 1st Sunday of the month (except for July, August, and September)… Take advantage of it if you're there in these periods of the year but remember it's almost guaranteed to be very busy with tourists all wanting to get the same great deal!
Important things to know about Giverny tickets
1. How far in advance do you need to buy your tickets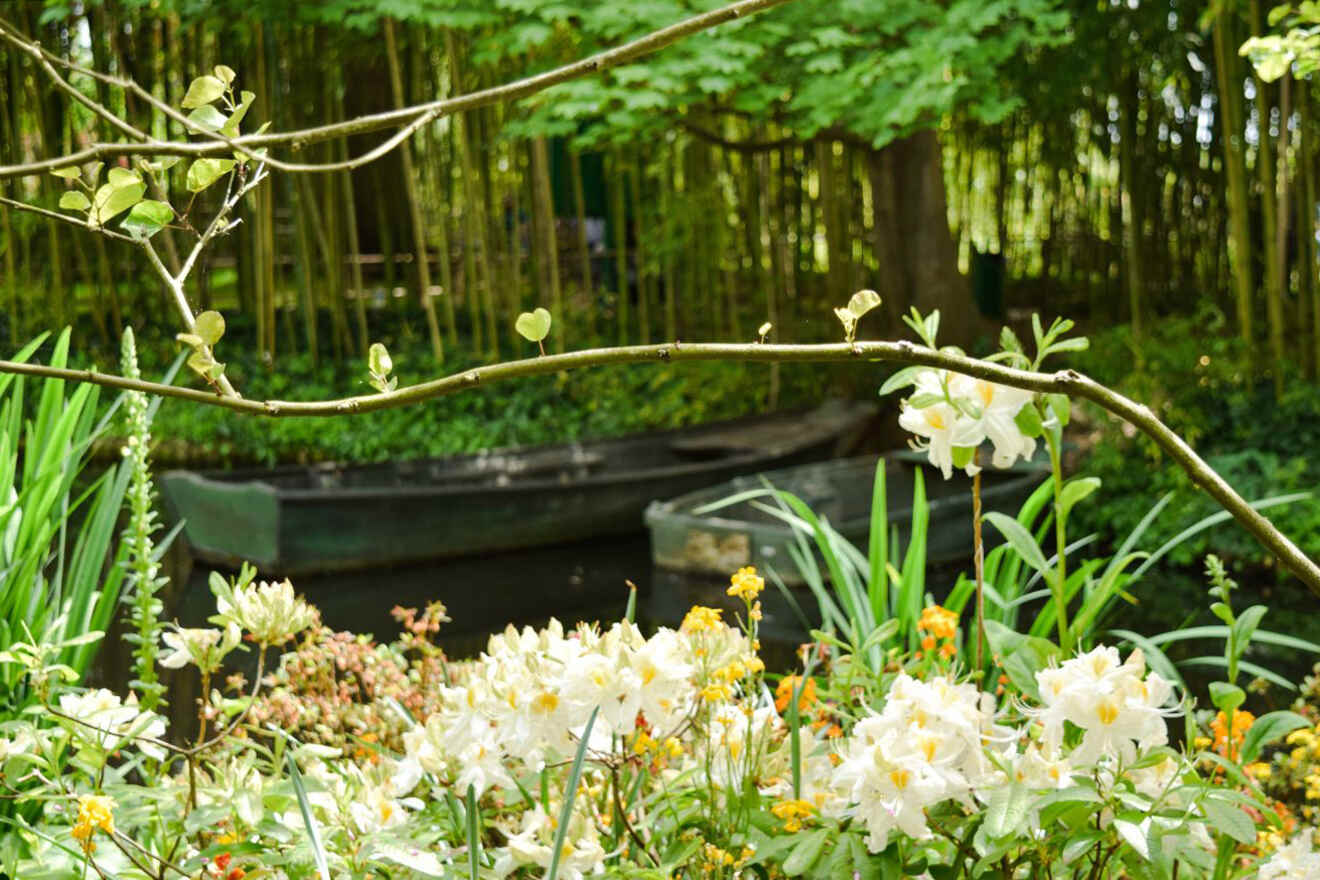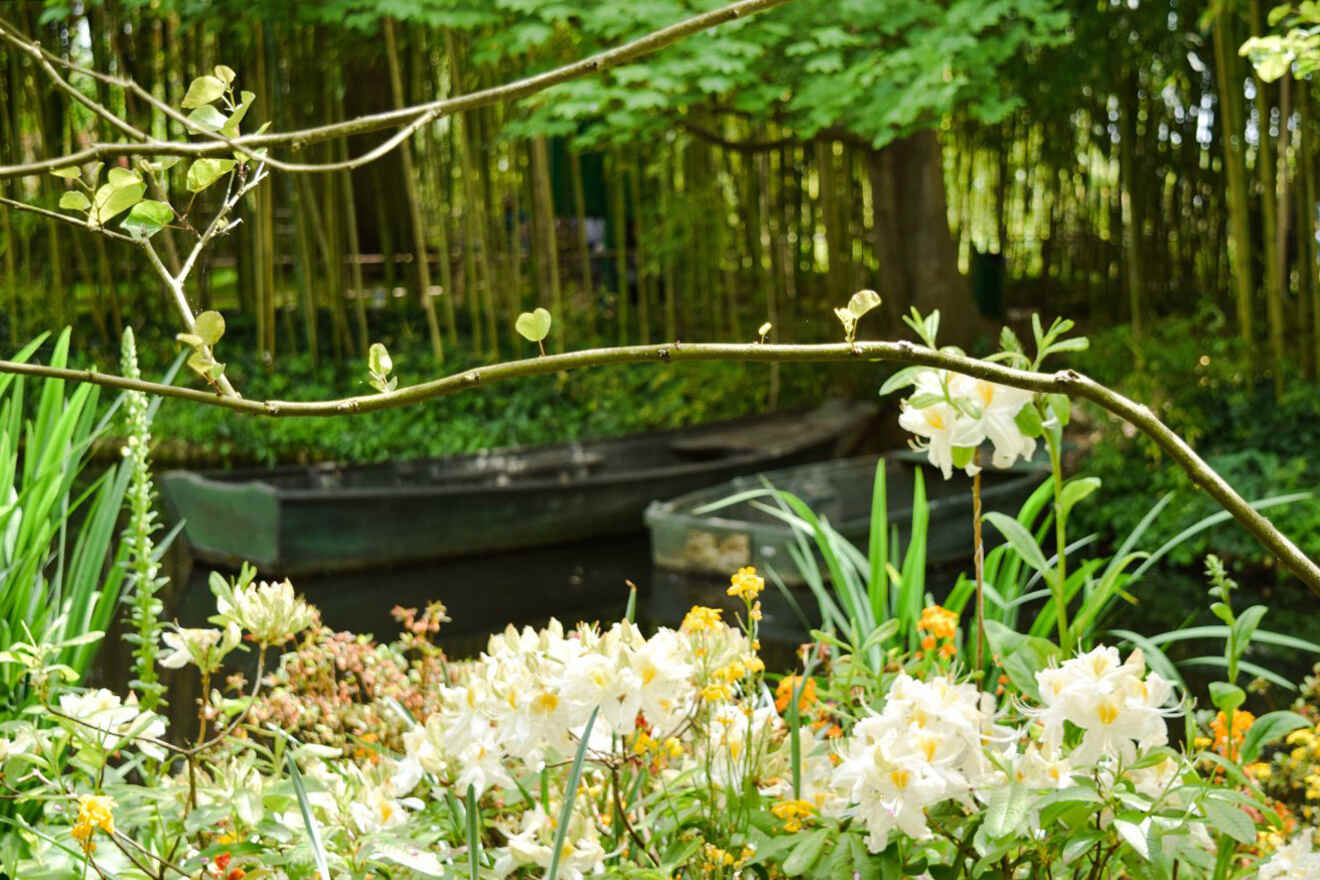 Tickets for Giverny house and gardens are available only 8 months a year, usually from April to November, and many people visit the attraction every day during this period of time.
To be sure you find a spot in your desired time slot, make sure you book your ticket around 1 week in advance, and if you don't find availability on the official website, check out the guided tours on GetYourGuide, Viator or Headout.
2. Opening hours / best time to visit
The Monet House, and Gardens are open every day from 9.30 am to 6 pm, (with the last admission at 5:30 pm), usually from April 1st to the 1st of November, but dates can slightly change depending on the year so check out the official website for updates!
The best time to visit the Giverny Gardens is from April to June, when the garden's plants and flowers explode in full bloom. During this time and up until August (the summer months) is the peak period, so it will also be more crowded.
If you cannot stand crowds, avoid visiting the gardens both during this period and in general on weekends, but go during Autumn (September, October, November), when the garden colors turn red, yellow and orange… a real spectacle!
By the way, if you're passionate about plants and flowers, check out the flowering calendar (unfortunately it is only in French), maybe it will help you decide when to visit the gardens!
PRO TIP: If you are staying in Giverny (check out section 9 for some amazing accommodations in town) another trick to avoid crowds is to get there very early in the morning (at 9am, right before it opens), when tours still haven't arrived.
3. How to get to Giverny from Paris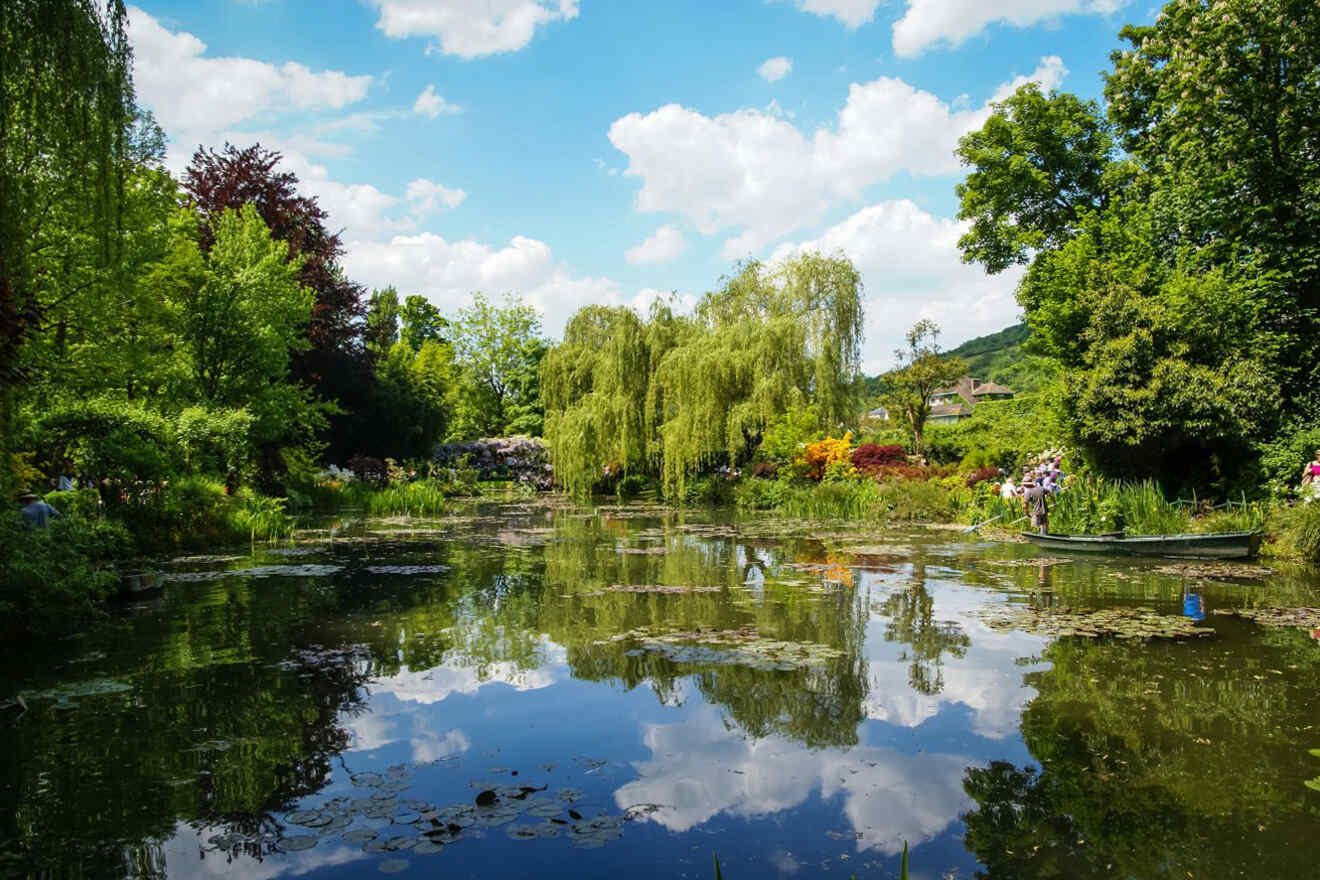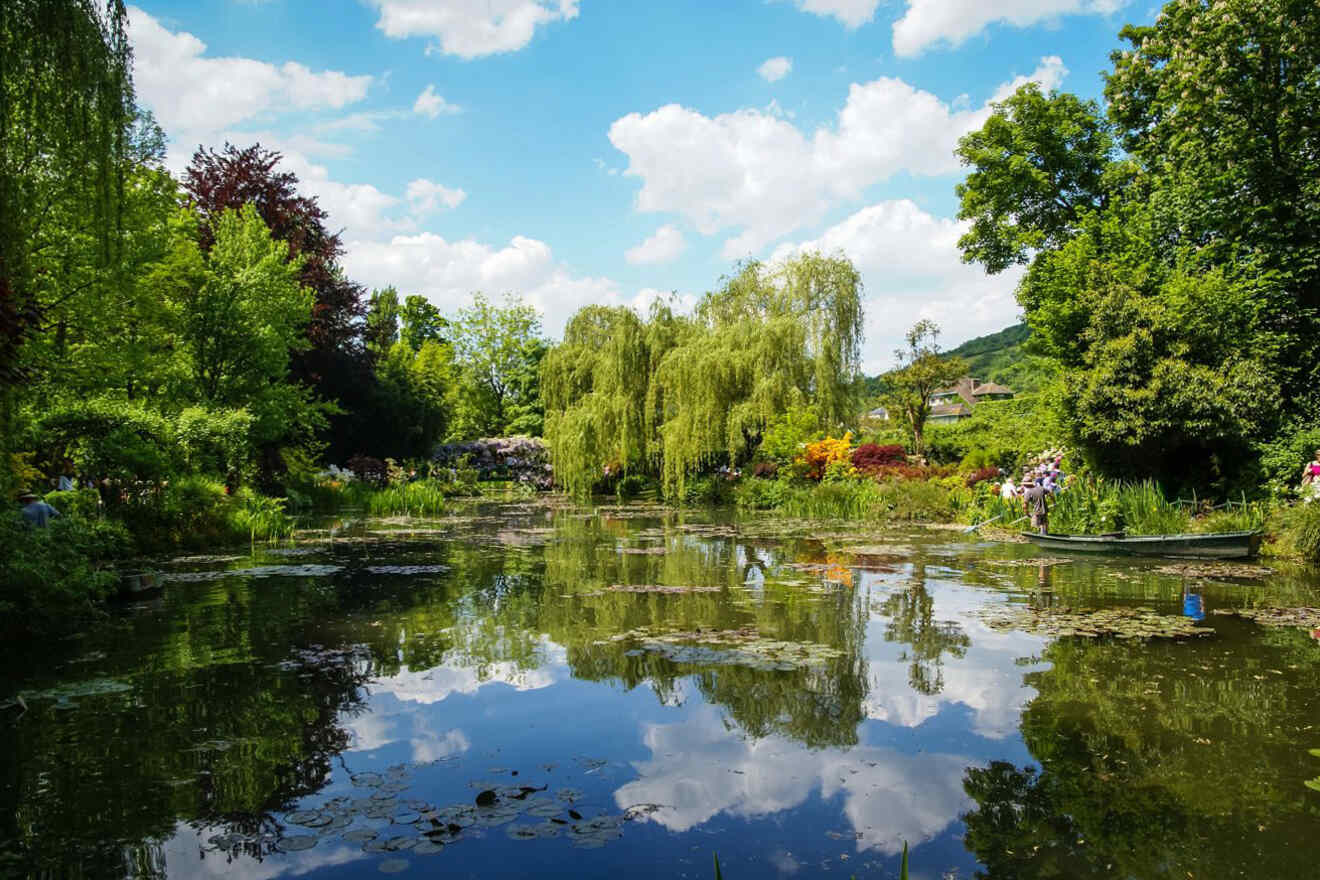 Both the Monet House and Gardens and the Museum of Impressionists are set in the Giverny village, located in the region of Normandy in the North-West of France, only 2 hours from Paris.
The best way to get to Giverny and visit its attractions is with a guided tour from Paris, so you don't have to worry about transportation, and you get a guided tour plus privileged entrance… definitely the best value for the money!
But if you want to go there by yourself, there are several transportation options… let's check them out altogether:
By train
After the guided tour, the best way to get to the Monet House and gardens is by train. Since Giverny is a very small village (hosting around 500 residents), it doesn't have a direct train from Paris, but that won't be a problem.
To get there, you will need to take the train from Paris's Gare Saint-Lazare to Vernon, a larger town located only 5 km (3 miles) from Giverny, and get off at the Vernon-Giverny station. A one-way trip will cost you €9 and take you around 1 hour.
PRO TIP: If you have a Navigo weekly or monthly pass, the train ride will cost you only €4!
From the Vernon-Giverny station to Giverny, you have the following options:
Shuttle bus (navette): A shuttle bus ride from the station to the Giverny Gardens will cost you €5 one way and take you 15 minutes. The shuttle bus departs 20 minutes after each train arrival from Paris and arrives at the Vernon-Giverny station 20 minutes before trains go back to Paris (check out the schedule here). You can buy the ticket onsite or in advance through the free M-Ticket Atoumod app.
Taxi: You will see many taxis just outside the station, so they are very easy to get. A one-way trip will cost you €15 – €20 for up to 3 people and about 10 minutes.
On foot or by bike: If you're more of an active person, you can walk or bike from the station, you'll only need to follow the sign "museum of Giverny- pedestrian and cyclists" for 7km. It will take you around 1 hour by foot. NOTE: You can rent a bike or an electric scooter at the bike rental right in front of Vernon-Giverny station, for about €12 per day.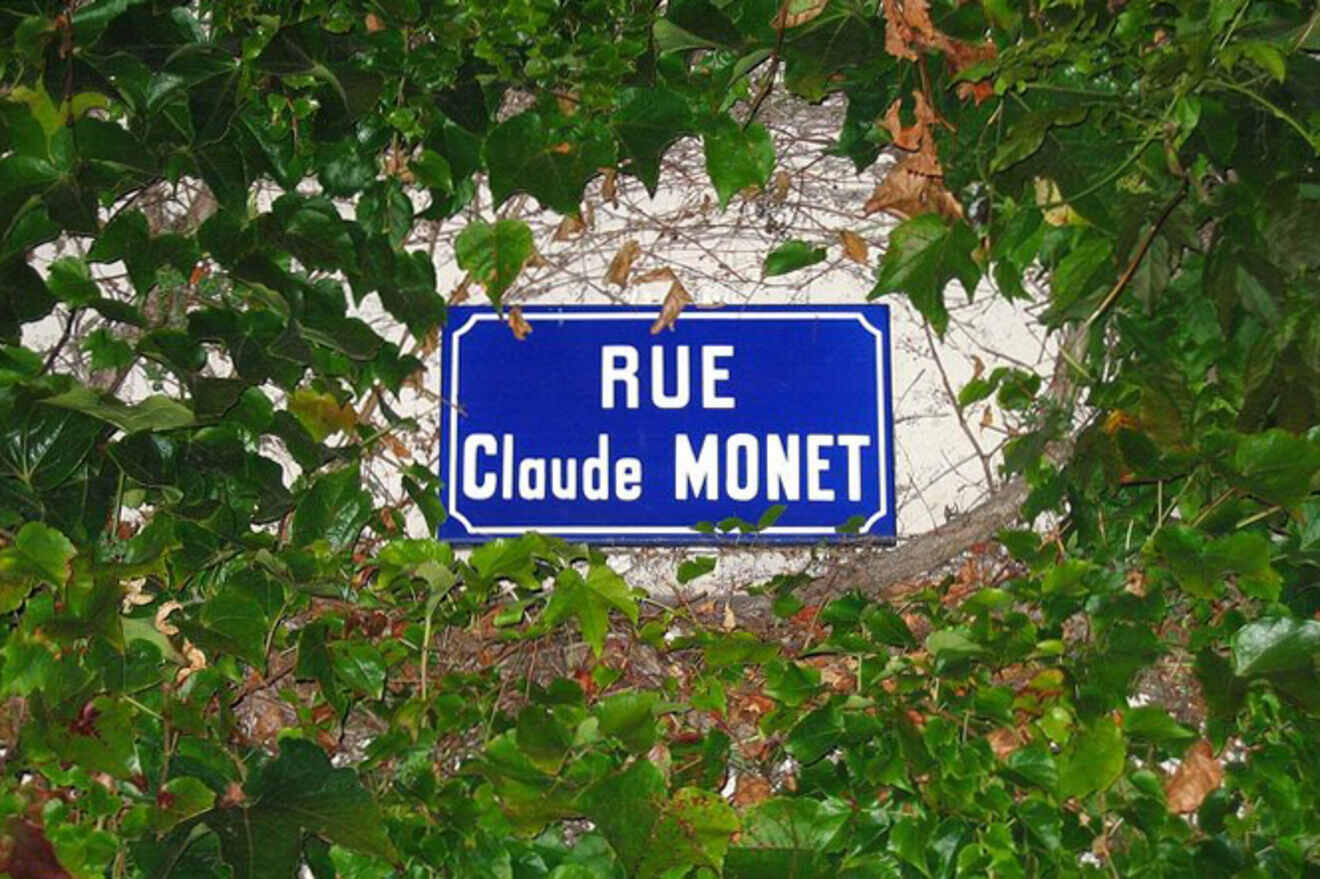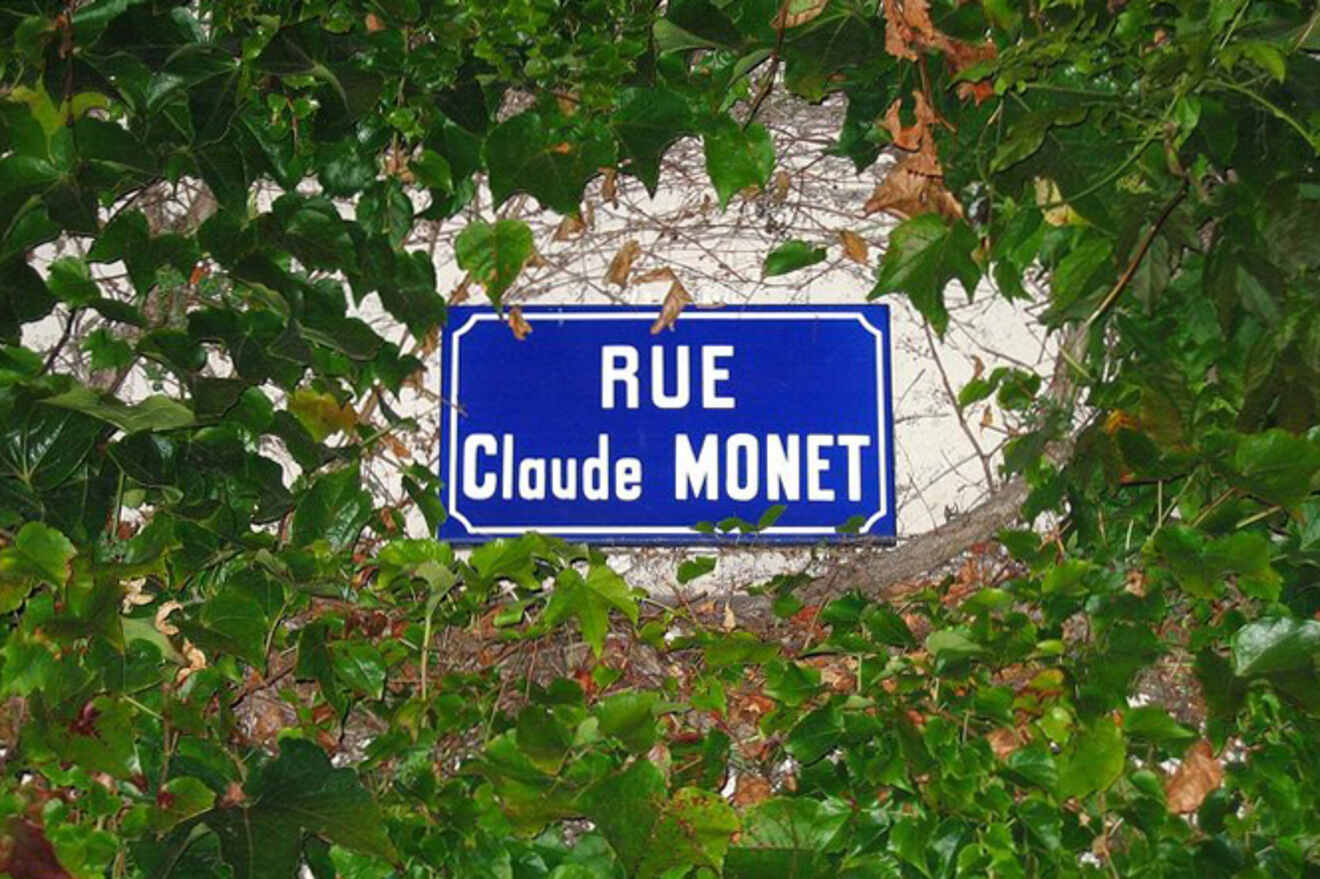 By car
The fastest way to get to Giverny by car is taking the E5 highway, but it will be pretty expensive. The toll for only one-way will cost you €21 (plus the cost of the rented car and the fuel it will end up being more than €100) and will take you around 2 h.
Once you get to Giverny, you can park the car in the free parking right next to the garden's main entrance, or if you don't find space, in this free parking lot located only 10 minutes walk from the gardens.
The car is a good option if you want to spend the night in Giverny and explore the surrounding countryside in your own space, otherwise, I don't recommend it!
4. What to bring and not to bring to Giverny
BRING:
✅ Tickets (either printed or on your phone)
✅ ID
✅ A picnic: you CANNOT have it in the Monet gardens, but both in the surrounding countryside (if you travel by car), or in the village itself there are many picturesque spots for a picnic lunch!
✅ Pair of good walking shoes
✅ Camera
✅ Bottle of water
DON'T BRING:
❌ Large bags and suitcases: Only carry-on baggage (55cmx35cmx20cm) are allowed, but must be carried by hand or on your back. Take this into consideration because they do systematic checks of the bags/luggage at the entrance!
❌ Pets
❌ Food: it is not permitted to eat inside the gardens, but there is a nice restaurant and bar just nearby
5. What to expect from Giverny House and gardens
Once you enter the Monet House and Gardens, how will your visit be structured, and what can you expect to see in each section of the Garden and the house?
This map gives you a mental image of the whole attraction, but let's check out the 2 parts of it in more detail.
Gardens
The gardens, also called the "Clos Normand" are the first section of the Fondation Monet.
As soon as you enter the attraction you will follow a way through colorful flowers of many different types until an underground passage will bring you to the famous water lily pond area (unfortunately this part is always super crowded).
FUN FACT: Monet had gardeners going out on a boat and cleaning his lily pads every day before starting painting!
Here you will understand why Monet used this landscape as the main protagonist of most of his paintings, and you'll even get great views of the Monet house!
Following the way back to the first section of the garden and the house, you'll pass by the famous Japanese bridge that Monet painted during different seasons and times of the day to show the changing lights and colors.
DID YOU KNOW? Monet actually painted the same landscape with water lilies 250 times to catch all the possible colors!
And right before the entrance of the house, you will walk through a wide path lined with cypress, fragrant roses, and flowerbeds… a truly magical experience.
Monet House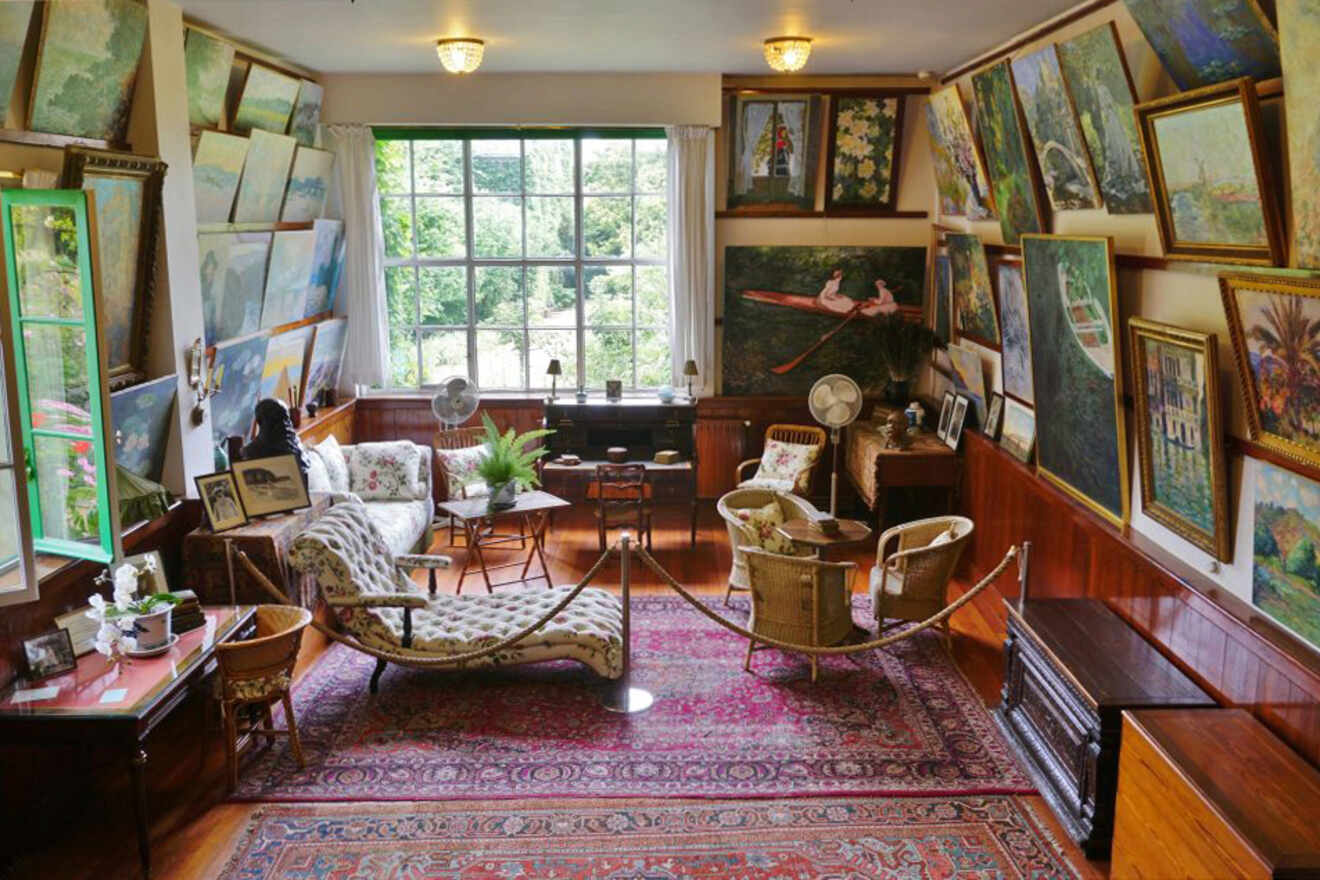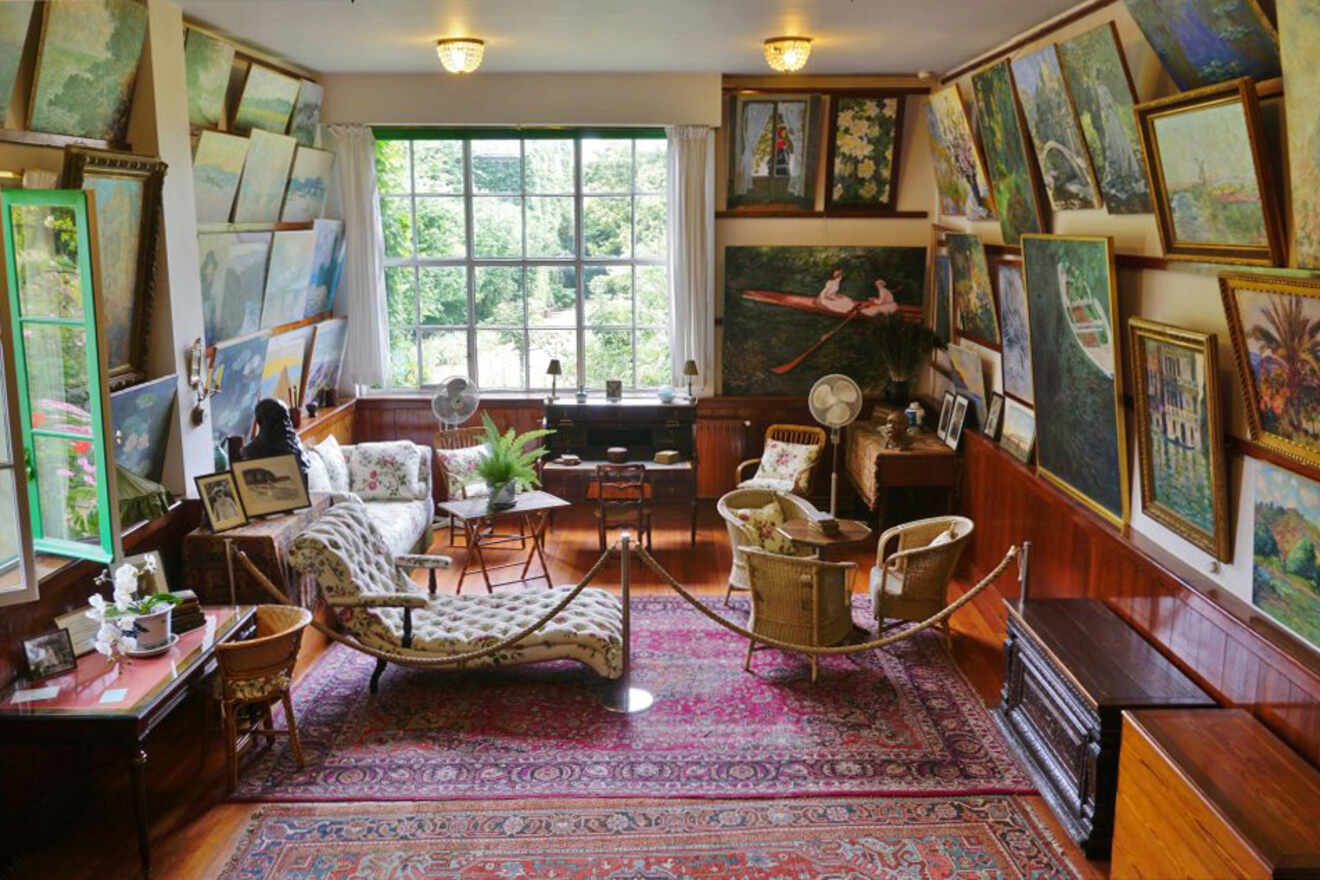 The Monet house, where he lived with his wife and 8 children, is so beautiful and unique. Painted with pastel colors both outside and inside (take a virtual tour to get an idea of it), the house has 2 floors:
The ground floor: This floor hosts the "blue room", the kitchen and dining room, "the grocery store" with tea, spices, olive oil, and eggs stored in cabinets, the living room-workshop, featuring paintings with familiar scenes.
The first floor: Here you will find the private rooms, among which Monet's room (the real highlight of the house) with its personal objects and pictorial works and a gorgeous view of the gardens from the bedroom windows.
FUN FACT: When the French statesman Clémenceau saw the black shroud on Monet's coffin, he exclaimed "No black for Monet!" and replaced it with a colorful floral cloth!
6. How much time is sufficient to spend at Giverny?
To visit the Monet House and Gardens you will need around 2-3 hours, and an extra 2 hours if you want to also check out the Impressionism Museum.
But the picturesque town of Giverny is also worth a visit, with its cute shops, bars, restaurants, art galleries and historical landmarks, like the church where Monet is buried. If you want to explore all this as well, it would add at least another 2 hours.
In other words, Giverny is perfect for a full-day trip, and 6 hours in total is a good amount of time to allow if you want to see absolutely everything! Check out this tour from Paris, with round-trip transport included for the perfect itinerary.
7. Audio guides
There are no audio guides for the house and gardens of Claude Monet, but there are for the Impressionism Museum, in case you're planning on visiting it.
You can buy the audio guide on-site for an extra cost of €3. It is available either in English or French and lasts 1 hour, taking you through the current exhibition of your chosen dates!
8. Facilities inside/nearby Giverny House & Gardens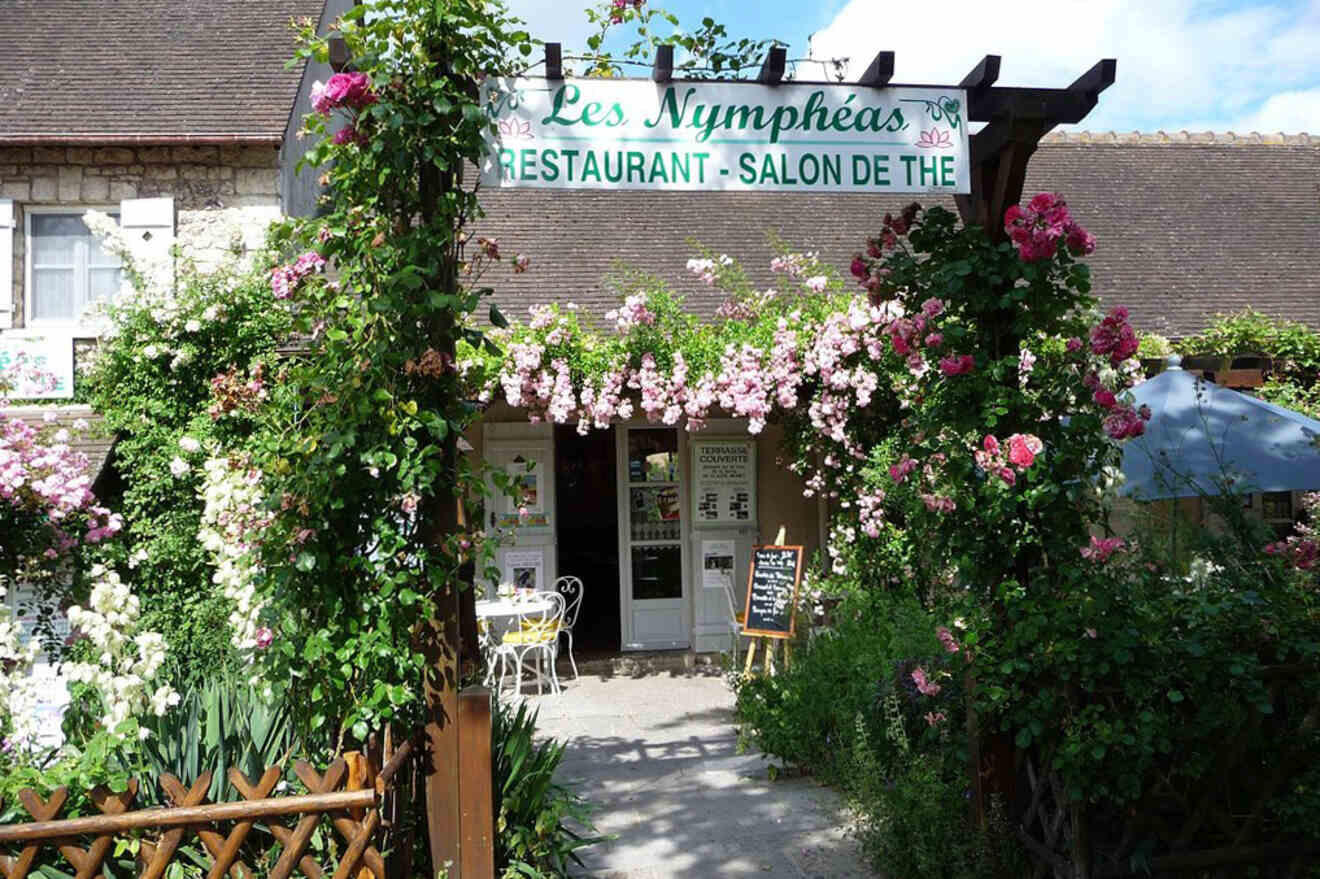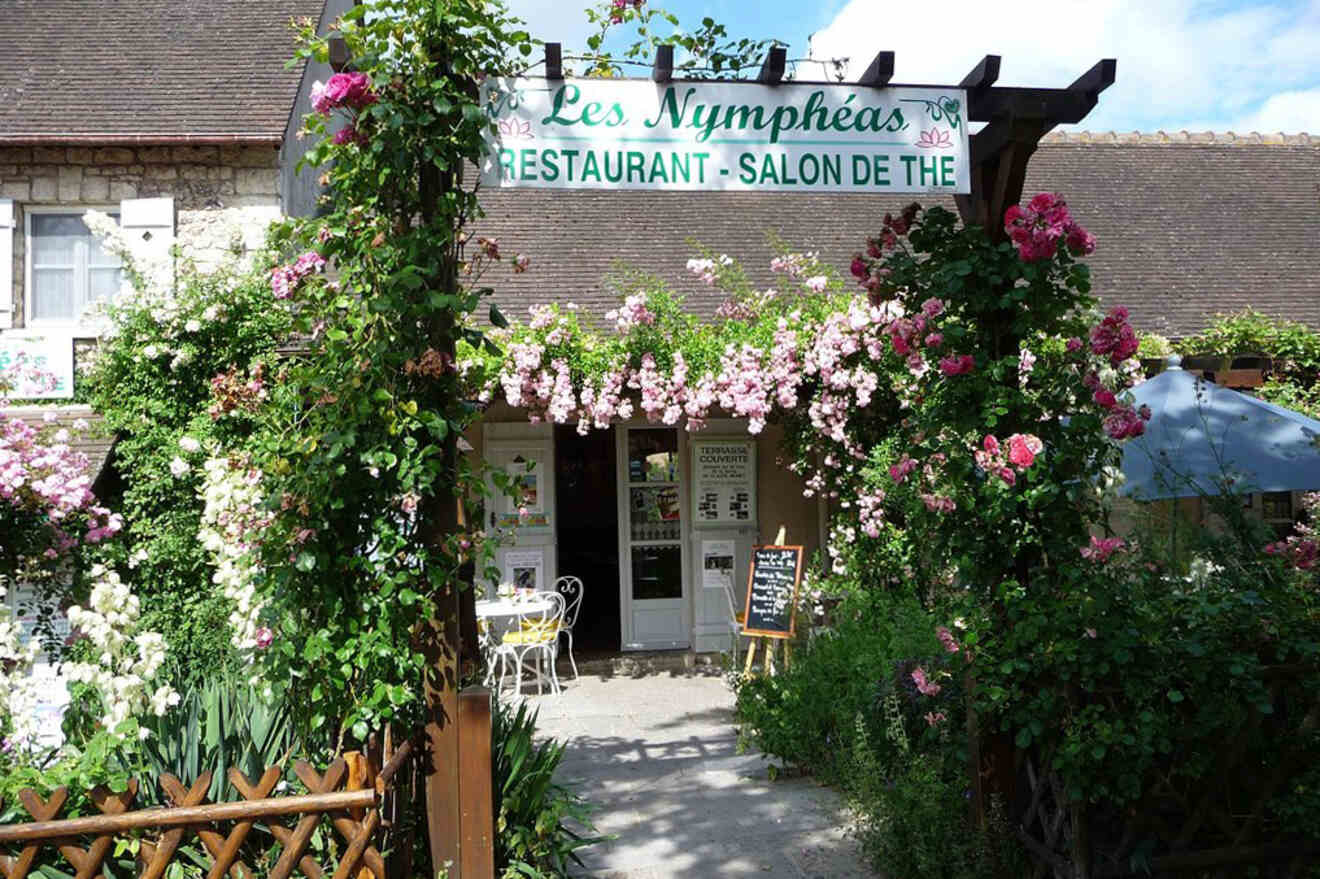 Toilets: From the bus stop/car park to the gardens there are public restrooms, NOT inside
Disabled accessible entrance
Souvenir shop (Water Lilies workshop): there is a large gift shop located right before the exit, check out what they sell online!
Free parking: a 10 minutes walk from the gardens
Restaurant: located right outside the Monet House and Gardens entrance, there is a gourmet restaurant with a picturesque terrace and garden, where you can have lunch or delicious pastries. Otherwise, in the Giverny Village you'll find countless cafes and restaurants.
No luggage lockers
9. Where to stay in Giverny
If you have enough time during your holiday in France and want to fully enjoy the charming Giverny town without being in a rush, you should consider spending the night there!
The village hosts many hotel options and holiday homes, so I gathered the best one for you here below and divided them for price range, so there's something for any budget. Check them out:
By the way, check out other amazing towns and areas where to stay in France for your vacation!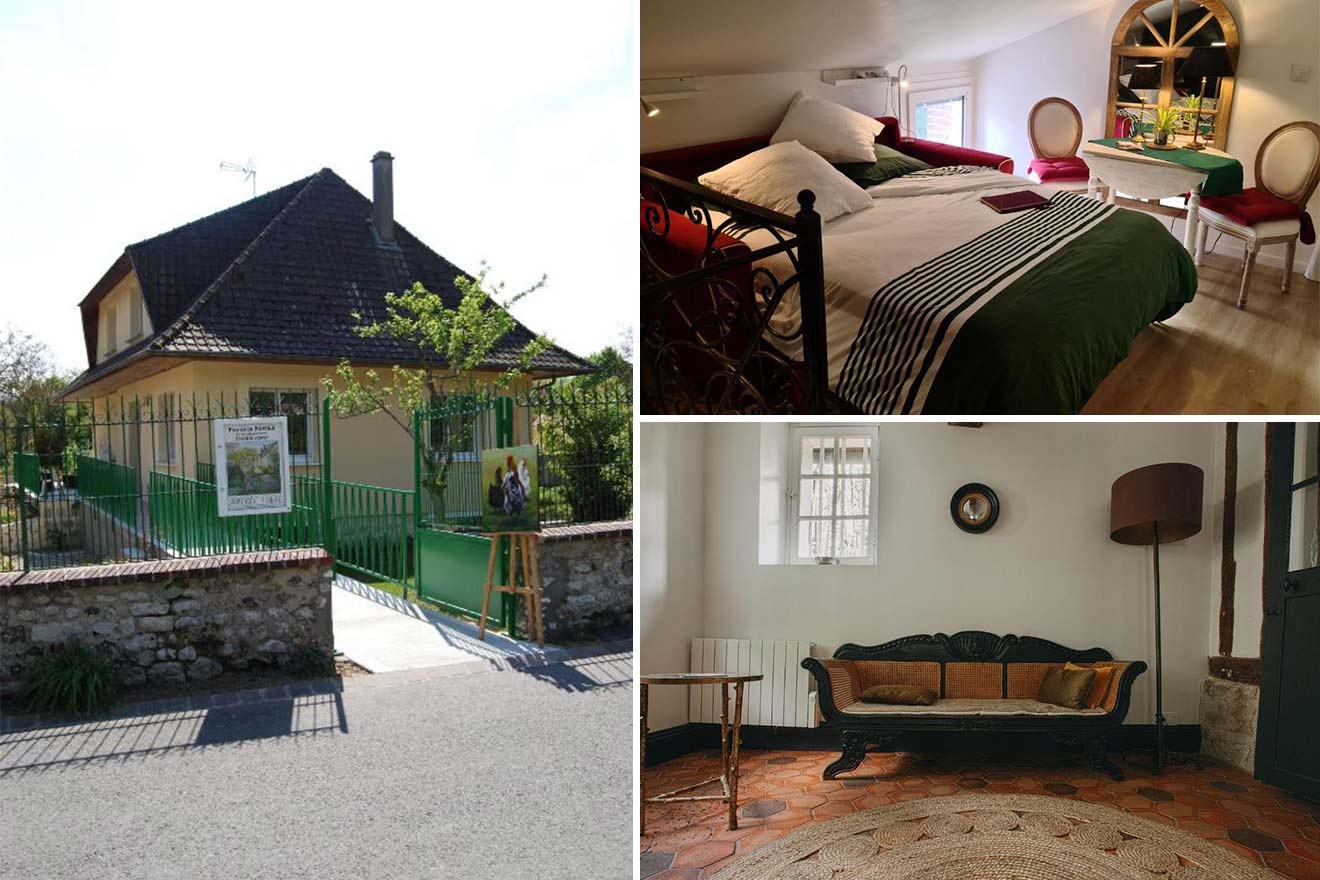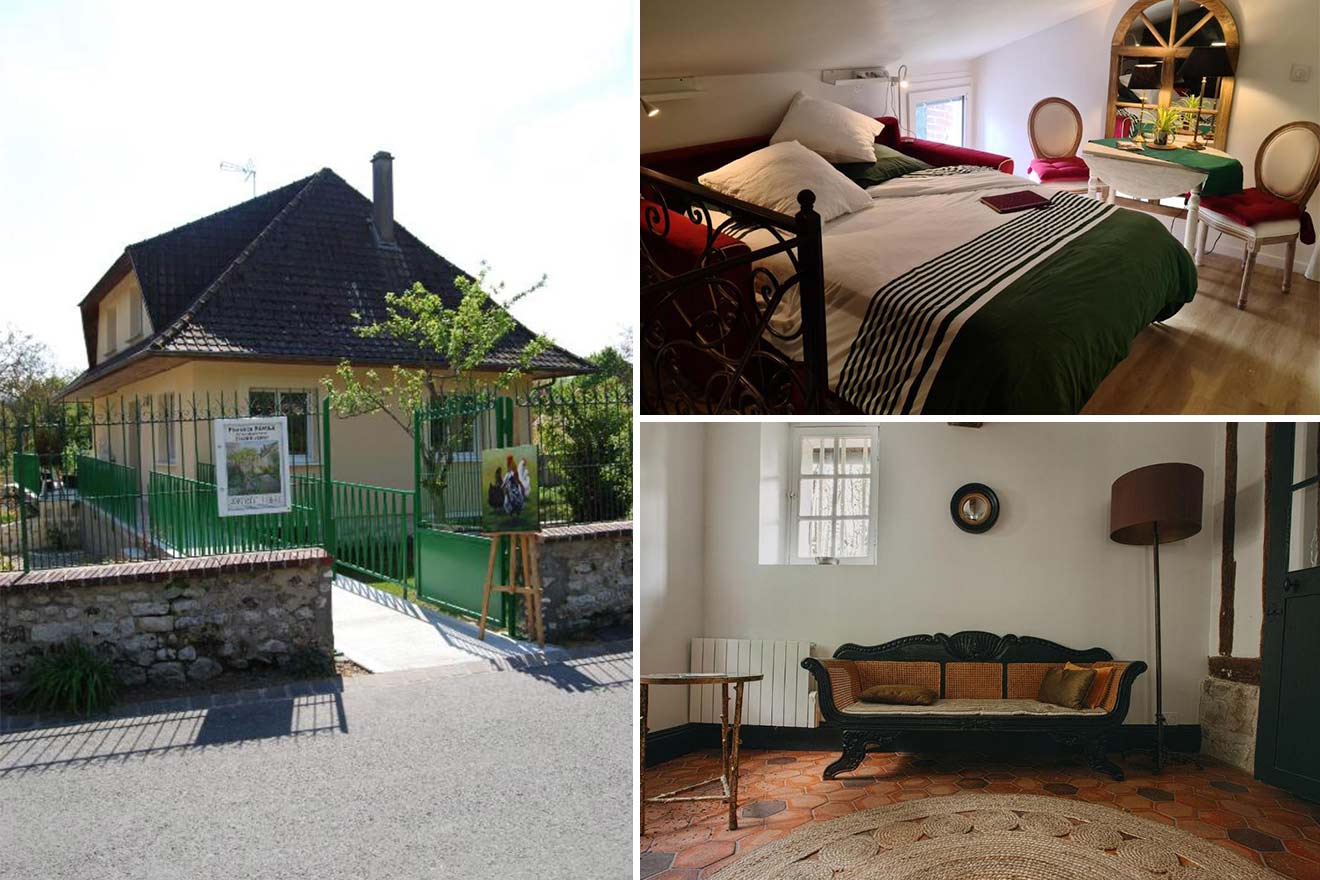 Luxury (€230 and up): La Dime de Giverny – Located a short walk from Monet House in a renovated, 13th-century house, this luxury B&B is surrounded by a 1-hectare garden and offers elegant rooms with a private bathroom and a view… check it out!
Mid-range(€130 – €230): Ramier – Check out this holiday house hosting up to 4 people, located a stone's throw away from the Giverny Gardens. Here you will have access to a barbecue to cook dinners with your beloved ones and free private parking so you can explore the surrounding area.
Budget (up to €120): Le Petit Nid d'Aigle – This lovely 1 bedroom apartment is located at a 10-minute walk from the Museum of Impressionism, and has a terrace with garden views, free WiFi, and a fully equipped kitchen… you will feel immediately at home!
FAQs about Giverny tickets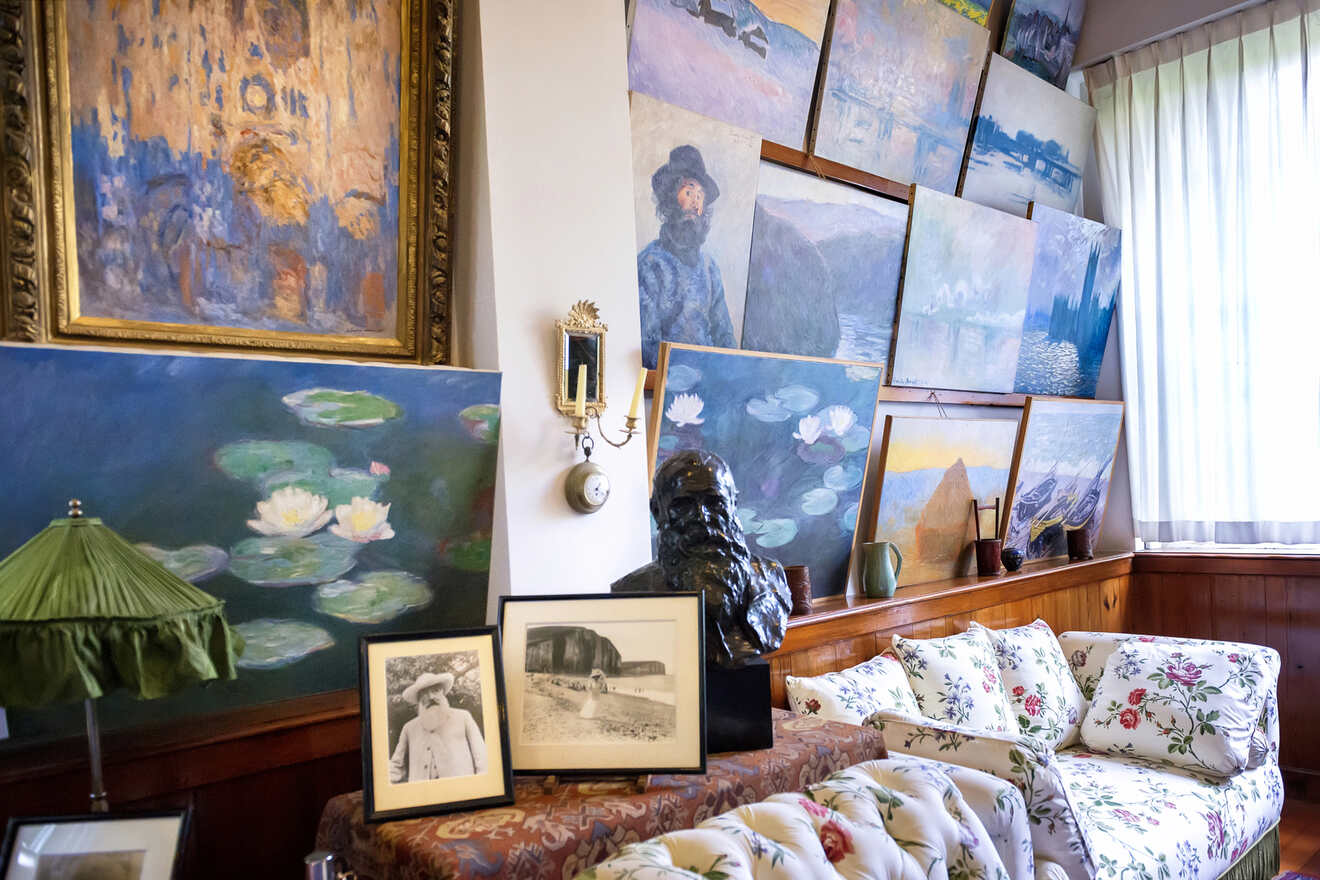 Conclusion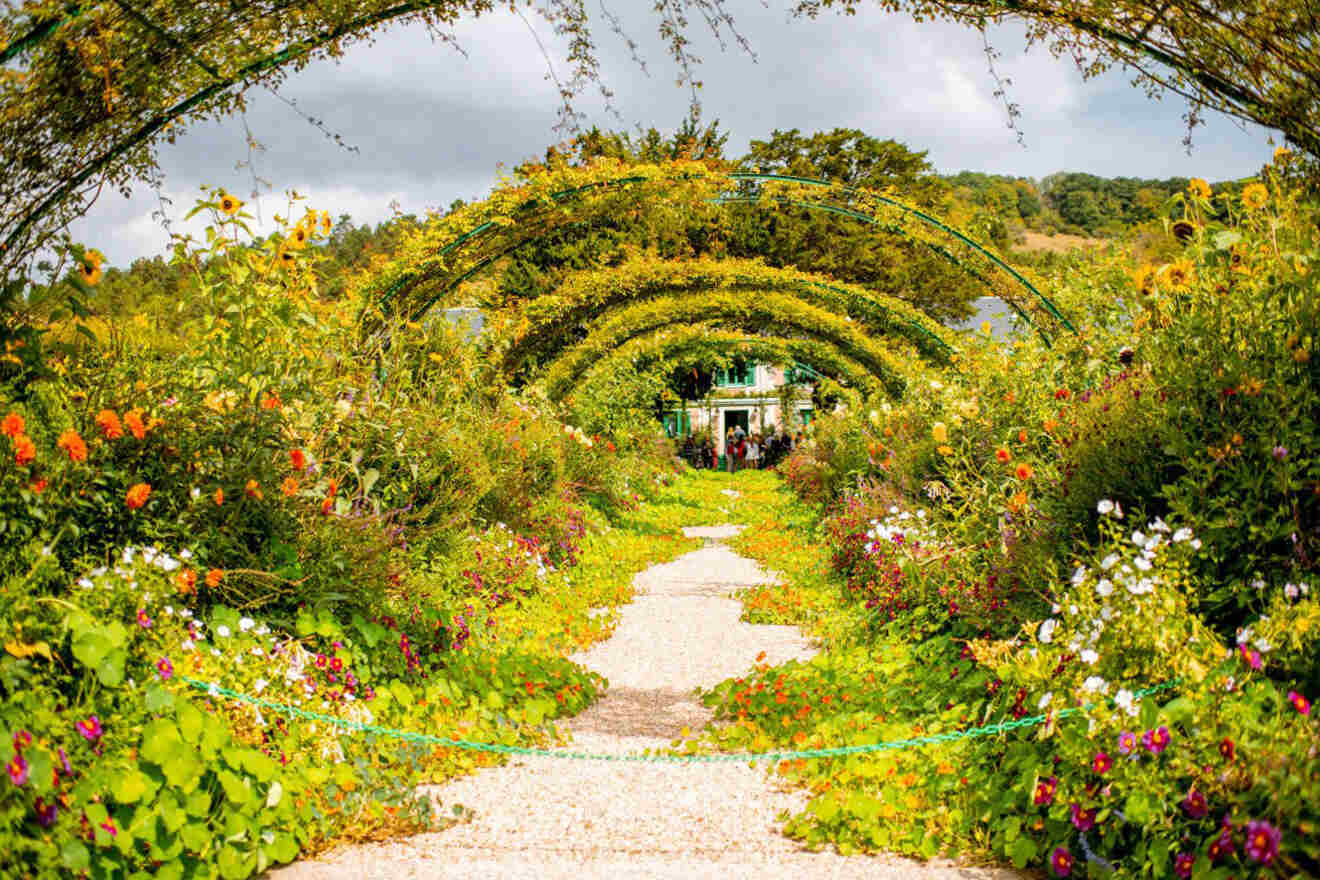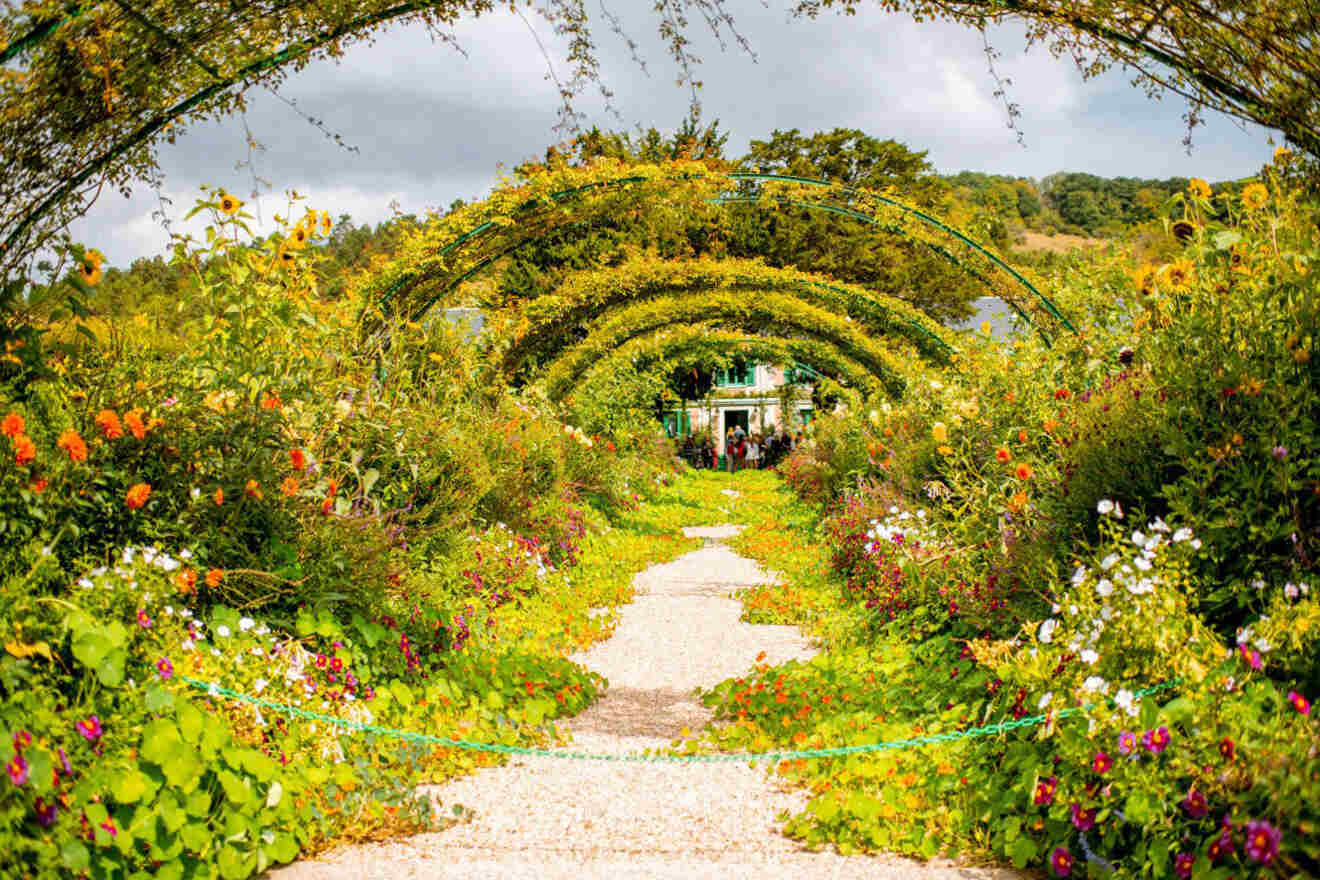 Here we are at the end of this extensive guide about all the ticket options to visit the Giverny house and gardens.
You can buy tickets on the official website or guided tours from GetYourGuide, but the best way to visit this charming attraction is definitely a day trip from Paris, so you won't have to think about transportation and you'll get your own guide.
By the way, if you're going to stay quite some time in the French capital, check out this other cool day trip from Paris!
We also saw tickets to the famous attraction Museum of Impressionism, always located in Giverny, and useful information about how to get there, opening hours, where to stay in Giverny, what to bring and more… so everything you need is here!
But if I have missed something or you have any questions for me, please share them in the comments below, and I will answer you as soon as possible.
Have a great holiday!
Elena
---
Pin it for later!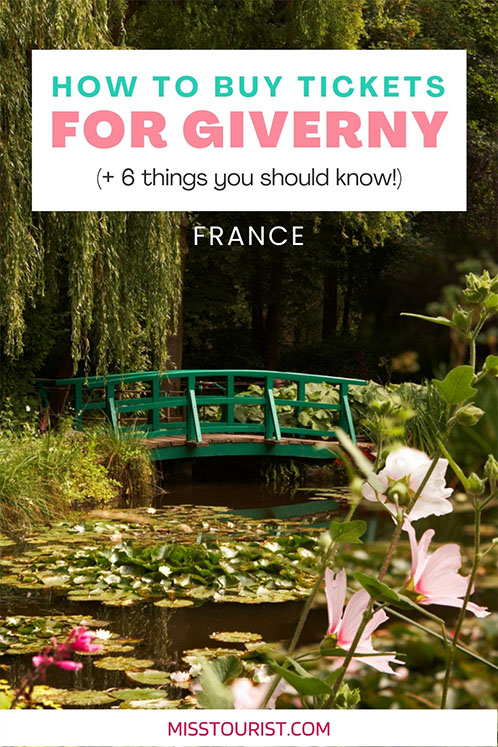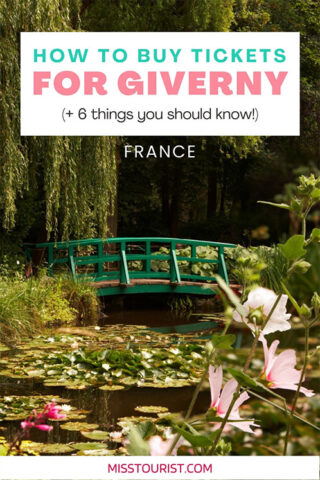 Pin it for later!