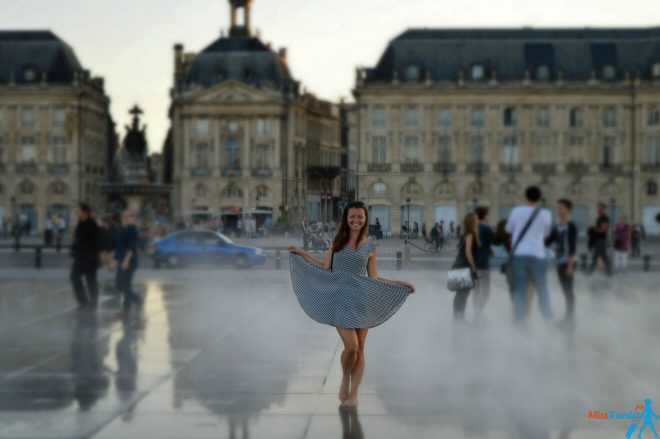 A weekend in Bordeaux! What on Earth can be better?
After living for a while in Paris, I got hungry to discover other big cities in France and, Bordeaux was always one of the first in the list.
While I had 3 days in the city, you could stay for 2 if you are in a rush to see more of France, or 4 if you prefer a slow type of travel.
Let me tell you a little bit about the top things to do in the city of wine:
What to see and do in Bordeaux, France – the ultimate guide
When to visit Bordeaux

There is no touristic season in Bordeaux, the number of tourists is pretty stable throughout the year. Only December is lighter with tourists as I have heard.
So what attracts the mass of tourists there around the year? Do you think it's the good weather?
Do you know anything about Bordeaux?
It's all about wine, admit it! Well, that's what I knew before I visited it too, so no shame in saying it out loud. Bordeaux is most famous for its wine, and for good reason!
Before I get to amazingly descriptive details about the wine experience, let me tell you, there are plenty of other things to see and do in Bordeaux. Still, I'll start with…
Where to drink wine in Bordeaux?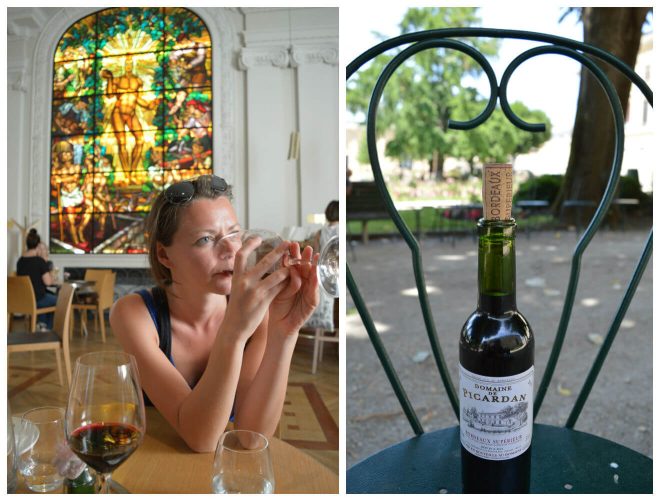 Everywhere, duh!
There are tons of wine bars in Bordeaux. And I'd like to suggest Maison du Vin. The prices are ranging between 2 and 8 euros for a glass of wine. The cheese plates are quite generous and I suggest you combine them with a few glasses of Bordeaux wine, as they will for sure enrich your tasting experience.
It was really hard to find their working hours on the internet, so I will tell you – they work from 2 p.m. to 11 p.m.
If you have more time, you can book a tour for wineries around the city. There are tons of them with prices between 38 and 200 euros. The best place to find the best tour for yourself is the official tourism center which is just across from the Maison du Vin bar. Even if you want to use any other tour, I recommend just to stop by their office and take a vineyards map from there. This is one of the most organized tourism offices I have seen, you will get a lot of info from them.

A little story how I saved 2 euros by being a travel blogger
It is not a secret that as a travel blogger, I get invited to some nice hotels from time to time (but my opinion is always honest and I disclaim it in the post), but sometimes funny situations like this happen:
I really wanted to book a wine tour and I was ok paying a full price, no problem. I went downstairs to the front desk of my hotel (more about Yndo hotel below) to book the tour over the phone. The nice receptionist suggested she asks for discount for me, as I am a travel blogger. I am usually super shy to ask questions like this (and I never really do ask that), but she insisted ''Why not? You are going to write about them in any way, right?'', so I agreed.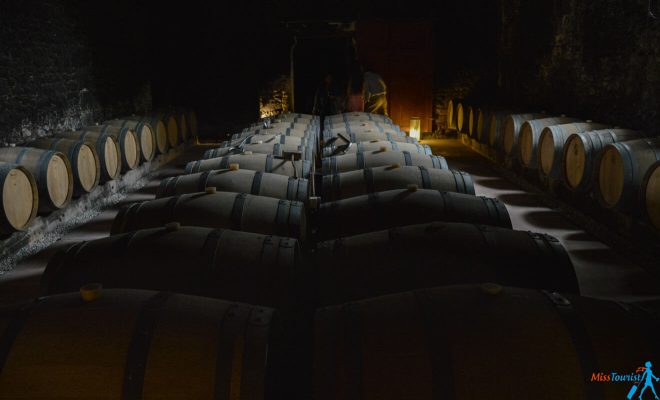 The response was positive, they would give me a discount. I was supposed to go to a specific lady and tell her that we spoke over the phone and she will put me on the tour. I was very excited and happy – it is so easy, why didn't I do it before?
I arrived to the tourism office very happy, introduced myself, the lady said that they will put me on a nice tour with a discounted price, I will have to pay only 36 euros. The price was fine in anyway, we were about to proceed, but then I decided to double check which is exactly the tour I was going to take (for the blog, you know). She pointed it out in the book, the full price was 38 euro.
Seriously? For all my work which I was offering them, they were about to give me a 2 euro discount!? How generous!
I asked the woman to double check if they can give me you know… a better deal!? She said she has to make a call. And after 10 (very humiliating) minutes of waiting, she came back to me and said that is the best they can do.
When I was booking the tour from my hotel, I was ready to pay the full price for that exact tour, and I didn't really feel like being rude and slaming the door etc. I just took that tour with my travel blogger's discount and tried to enjoy it despite the unpleasant experience.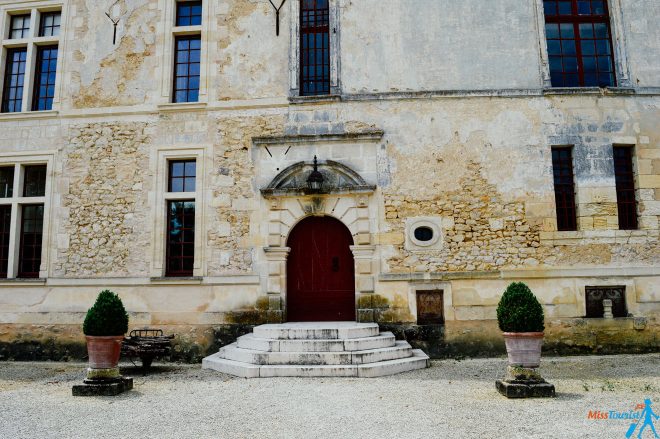 And, while I do recommend checking out the tours organized by Tourism Office, that was just a strange incident, I still don't understand what they were trying to say by it.
Anyway, let me describe the actual wine tour, I have to work for the huge discount now, right? 🙂
The wine tour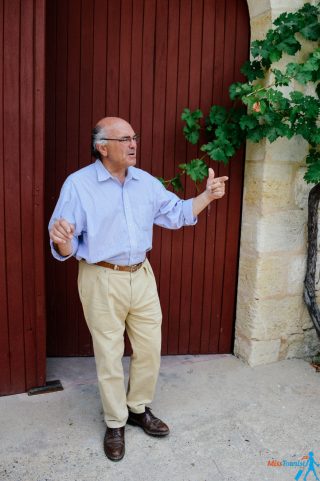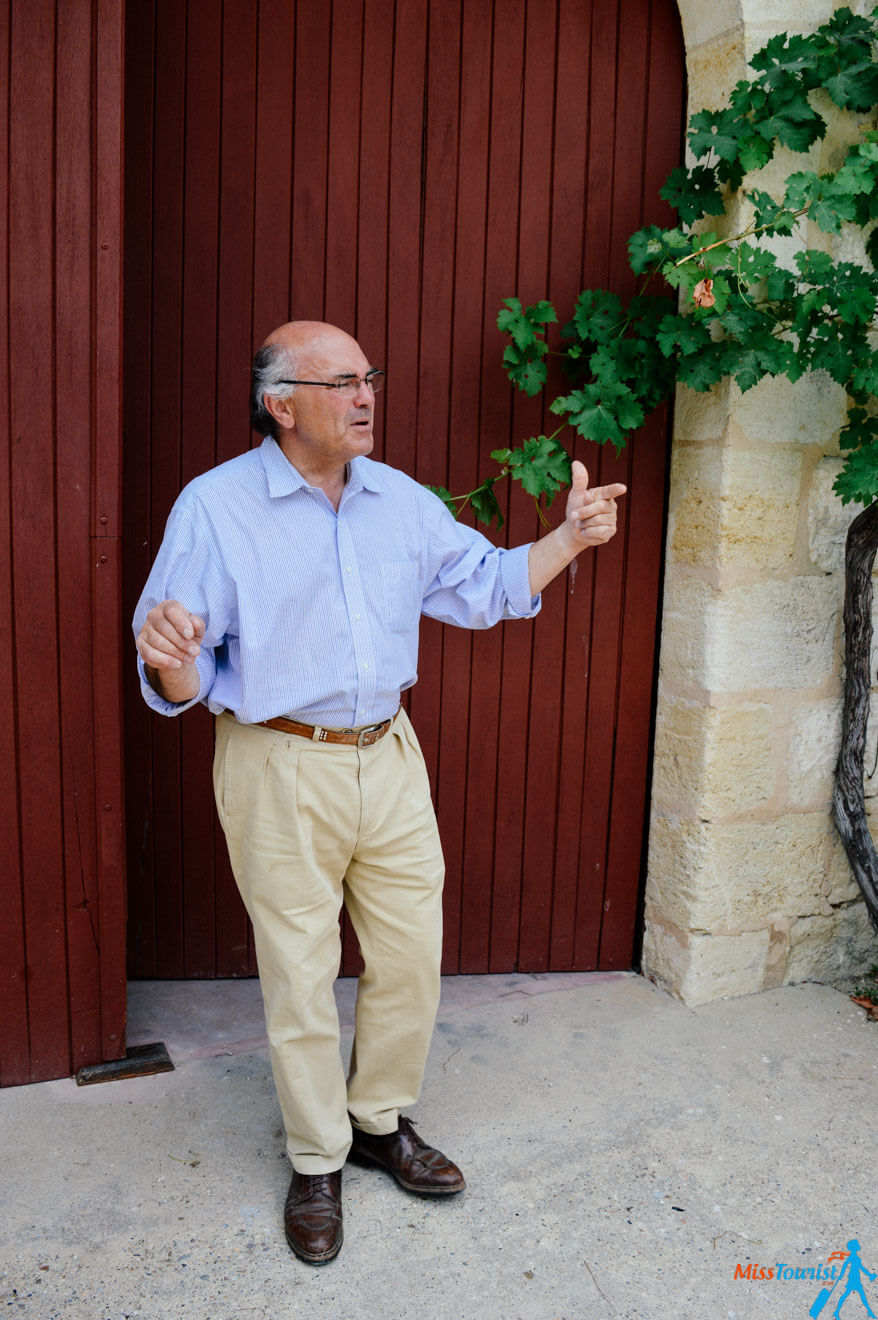 I took this tour because I only had half a day left, but I definitely recommend going for something longer if you have more time.
We managed to visit 2 chateaux (I don't name mine, as there are so many chateaux around Bordeaux, the wineries in the tour vary from week to week). We were shown and explained a lot about the wine production in the area, and, of course, tasted some wine! Everyone in tourism speaks good English, but you have to be ready for some strong French accent. I guess that just adds up to the atmosphere.
Here is the map of the Bordeaux wine region, I recommend checking out Medoc and Saint Emilion, they both are considered to have some of the best wineries in France (Medoc is my personal favorite!).
If you want to go for a Medoc private tour, some of the best wine tour I can recommend is this full-day tour.
If you choose St. Emilion this wine tasting tour will take you to some breathtaking chateaux!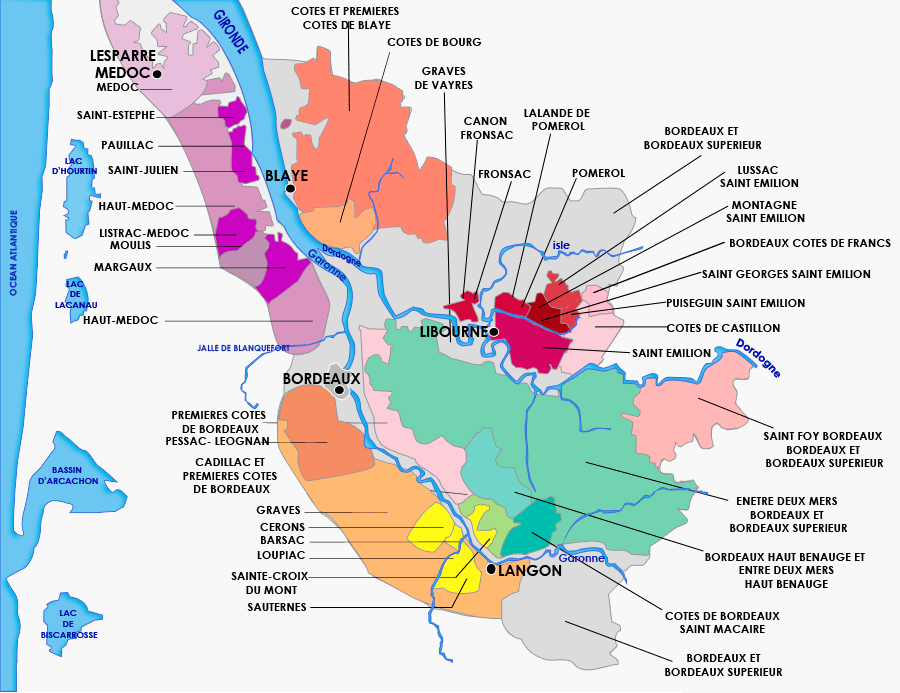 In case you have a time to visit only 1 region, I would say go to Saint Emilion. You will see more or less the same in terms of the wine production, but much more in terms of sceneries.
Where to stay in Bordeaux
Bordeaux does not have a lack of accommodation and there is something for everyone. The choice is yours, however since Bordeaux is pretty big, I suggest being in walking distance of the old center.
I was fortunate to be invited to stay in an elegant hotel called Yndo, a unique establishment that perfectly combined elegance and coziness under its roof.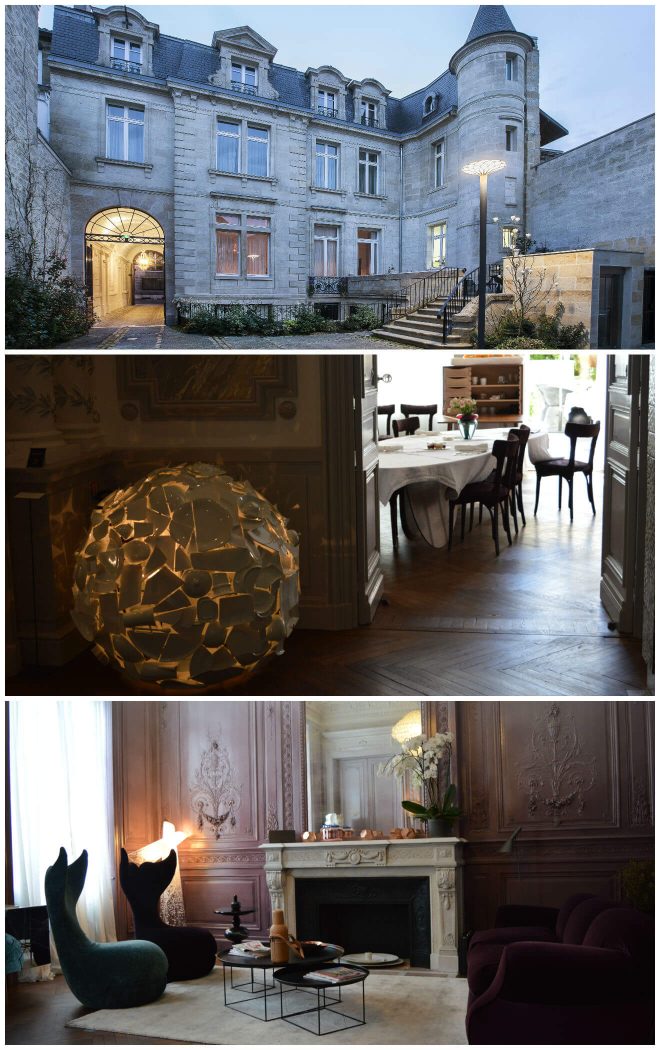 Yndo is located in a building from the beginning of the 19th century that look like a castle. The decorations and even the painting were done by the owner, a charming lady called Agnes, with much passion and attention to every little detail!
My rooms was called a Crazy room. 🙂  Decorated in truly French chic manner, it had everything you would ever wanted – from iPad to Hermes and Bvlgari toiletries.
I absolutely loved the huge bath tab right in the room, beautiful glass roof (the perks of having the top floor) and the automatic curtains that you can close if it is too sunny, or open to enjoy the sky!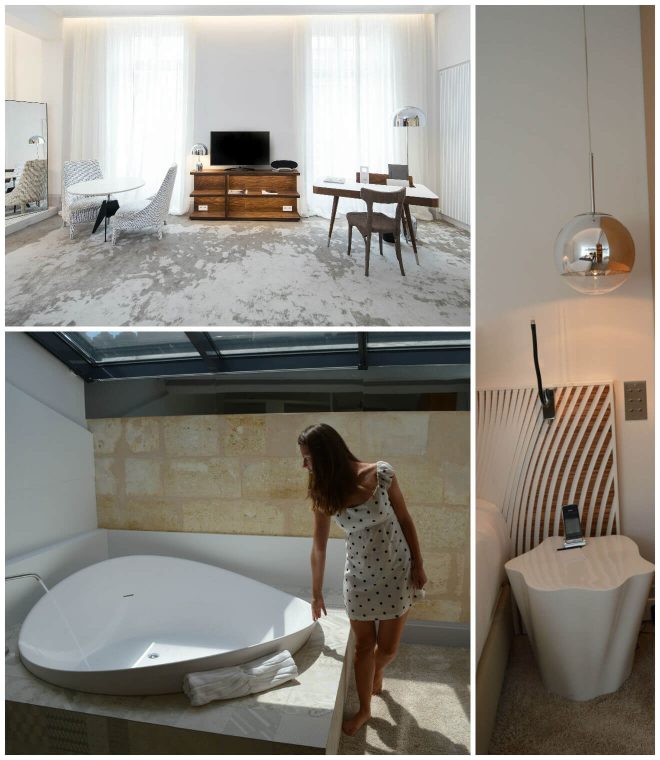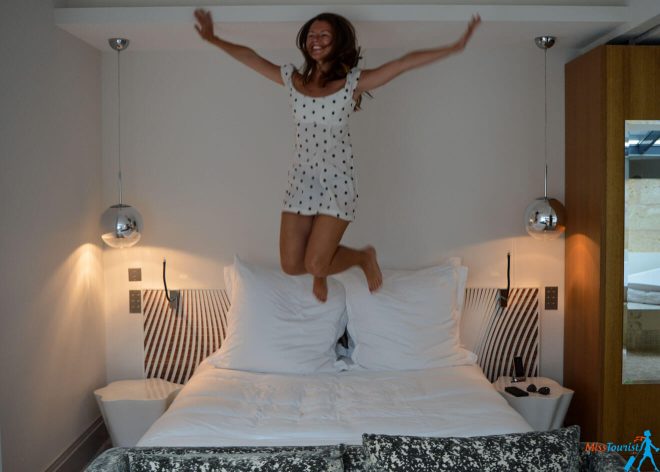 Oh, how much I enjoyed those custom-made breakfasts on the sunny terrace! They could basically cook anything you want, you name it! Really, name it, as the staff speaks perfect English. Everything home-made fresh from Bretagne right to your table!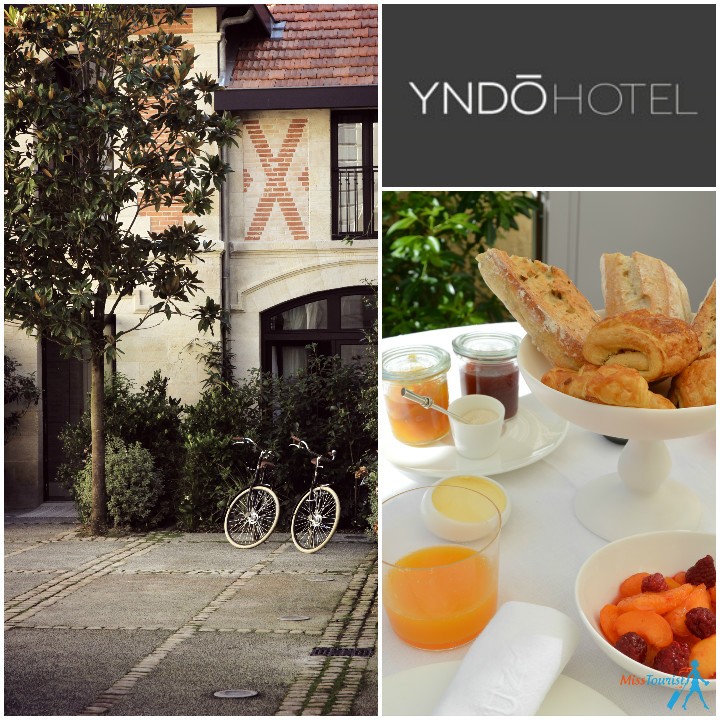 In short, Yndo hotel is a great choice for both business and leisure or a special occasion. It combines top notch service of a prestigious establishment with the friendliness and care of a family ran business!
Check rates/ Book your stay with YNDO hotel here!
Other accommodation options to stay in Bordeaux, France:
Depending on your budget, I have some alternative great hotels and apartments for rent in Bordeaux to recommend to you:
Luxury stay: Yndo hotel – the wonderful hotel where I have stayed, please see the photos& description above; Le Clos d'Emile – an exceptional hotel that gets sold out really fast probably for its love to decor and attention to guests;
Great value/money hotels: La Maison Des Vignes – if you hurry up, you can get their King's suit for less than US$100, which is just fantastic!; Chambres à Bord'O – located in the city center, this places is a mix of contemporary and classic decor, your breakfast will be served in a beautiful courtyard;
Budget stay: Honestly, it is not that easy to find a budget accommodation in Bordeaux. There are a couple of places that are less than US$50 per night and have good reviews. Let me know if you find something cheaper/better in the comments!
Premiere Classe Bordeaux Nord – Lac  – this affordable accommodation is located near Gare Saint-Jean as well, free Wi-Fi access, private bathroom, air conditioning and satellite TV is included in the price of the room.
Other must-see attractions in Bordeaux

To get a great feeling of the city I suggest you hop on a bike and go through its many pedestrian streets. All the sighs are really not far from each other if you bike. Otherwise there are bike paths mostly everywhere where they are needed.
Things to actually visit in Bordeaux when you are not drinking wine, although the two actions are not mutually exclusive:
Place de la Bourse (Miroir d'Eau) – Personally I loved this place. I thought it is just a fountain but they made a great attraction which looks absolutely stunning!

Jardin Publique de Bordeaux – A lovely garden and a good place to drink the wine you have with you!
Place de la Victorie (Victory Square) – is one of the busiest area with bars, restaurants, cafes, a chic tramway, and beautiful architecture. There's always a crowd in the Victory square, and events, parties and concerts are often organized there.
Musée d'Aquitaine – It's the museum to see in Bordeaux. It features historical collections from within the region (all the way since prehistory) but also from far away lands since the age of great discoveries. It's closed on Mondays, so see how you schedule it !
Tour Pey-Berland – the monument is the best spot to see the panoramic view of the city. It's also lovely to look at from down below!
How to get to Bordeaux from Paris
Easy- peasy – by train! If you plan well enough in advance, it will be quite cheap (I got my ticket for 40 euros round trip from SNCF the official railway site). Alternatively, if you are not a good planner (like me) and prefer to go last minute, I always recommend BlaBlaCar.Even if you decide today that you want to go tomorrow, the price for the rideshare from Paris to Bordeaux (600km) will cost you 30 euros one way.
Isn't it just fantastic? One day I will write a whole article about it. Let's just say, if not for BlaBlaCar, I would visit way less French cities than I did.
Fete de la musique in Bordeaux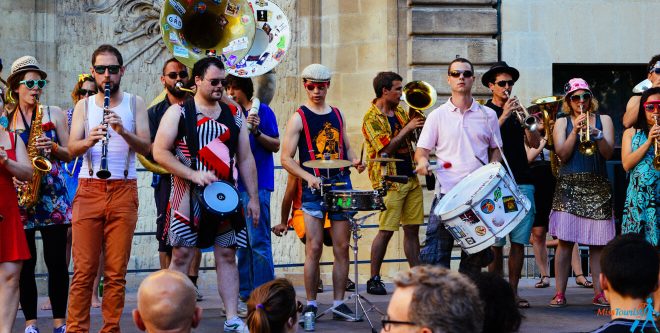 Ok, fete de la musique happens in most cities of France. It's a weekend of celebration of music and sun. And sun? Yes! Since it happens around the summer solstice, the weather is brilliant and the days are the longest in the year. And there's the music. So much music! Some time ago, one of the mayors of Paris launched this initiative, to have a weekend when loud music is allowed to be played for the whole weekend everywhere in the city.
As good things are contagious, the fete de la musique spread throughout the cities of France. Last year I saw it in Paris and it was brilliant: bands were playing outside almost all the bars, terraces or restaurants. There were concerts all over the cities, some organized, some more or less spontaneous. Thousands of artists were on the streets performing. DJs were mixing at every corner and sometimes, people would just play loud music from their balcony.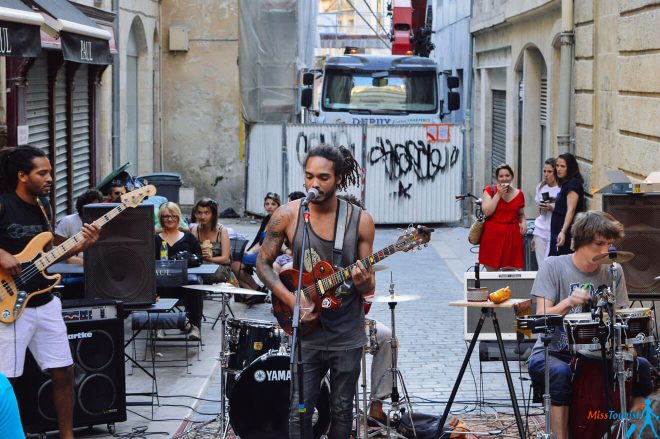 This year I went to Bordeaux exactly that weekend, and I really enjoyed the party here too. There were quite a number of marching bands around the city. On every street there was a contest between at least two bands, or DJs to get the attention of the crowd. There were kids playing, old people playing, teenagers, students, moms and dads. There were instruments everywhere. Most of the party happens in the old center area but there are venues in all neighborhoods as well.
You can either stay and hear a whole concert or move along after a couple of songs to check out other bands, hanging out over a glass of wine while enjoying the music. Either way, each musician gets a lot of attention from the ever-changing crowd public and that is really encouraging for them. Who knows, maybe I saw some next rock stars within the local bands.
What should be in your packing list for Bordeaux
Bordeaux is a sunny destination, here's what I think you should not miss fom your backpack while visiting this city:
Before I let you wonder
Bikes through the city, wine glasses of deep red colors, the great architecture in the old town, the vineyards around the city, that wonderful mirror fountain and all the music and happy people. That was Bordeaux for me, and I wish you go there as soon as you can and add experiences to this list while you make your own adventure. However if you discover something amazing, do let me know in a comment below!
A bientôt!
Please share this article if you liked it!
Yulia
---
Read more:
6 places in Paris with the longest queues, and how to avoid them
A weekend in Saint-Tropez: 5 things to do
---
Liked the article? Why not to save it on your Pinterest board?