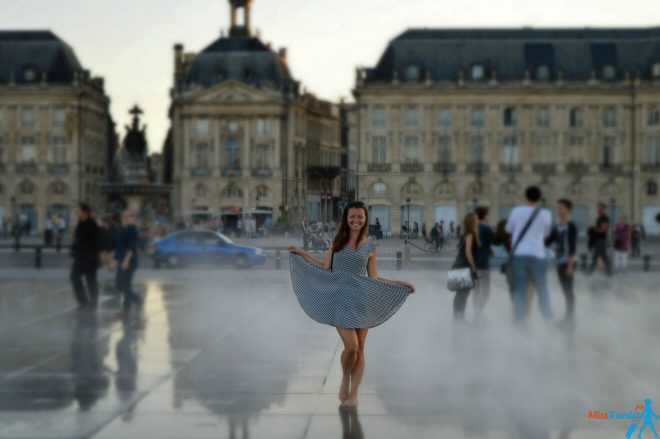 A weekend in Bordeaux! What on Earth can be better?
After living for a while in Paris, I got hungry to discover other big cities in France and, Bordeaux was always one of the first in the list.
While I had 3 days in the city, you could stay for 2 if you are in a rush to see more of France, or 4 if you prefer a slow type of travel.
Let me tell you a little bit about the top things to do in the city of wine:
What to see and do in Bordeaux, France – the ultimate guide
When to visit Bordeaux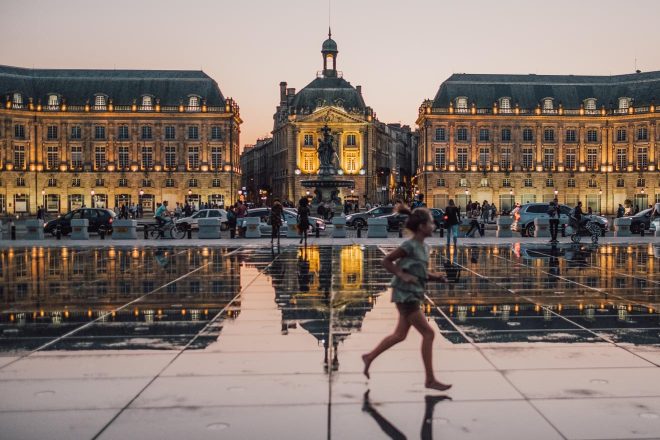 There is no touristic season in Bordeaux, the number of tourists is pretty stable throughout the year. Only December is lighter with tourists as I have heard.
So what attracts the mass of tourists there around the year? Do you think it's the good weather?
Do you know anything about Bordeaux?
It's all about wine, admit it! Well, that's what I knew before I visited it too, so no shame in saying it out loud. Bordeaux is most famous for its wine, and for good reason!
Before I get to amazingly descriptive details about the wine experience, let me tell you, there are plenty of other things to see and do in Bordeaux. Still, I'll start with…
Where to drink wine in Bordeaux?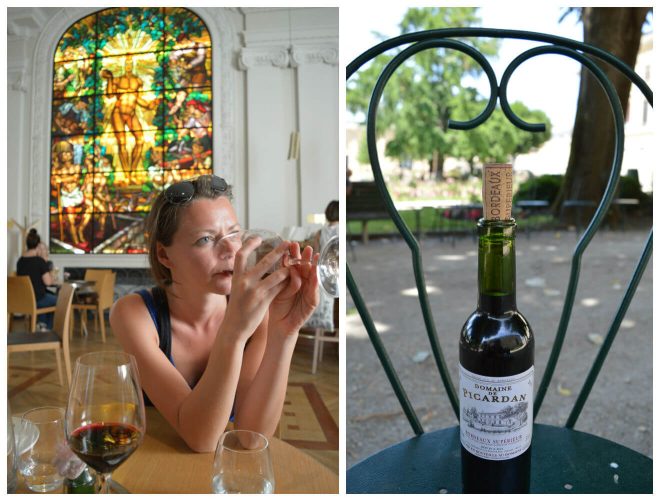 Everywhere, duh!
There are tons of wine bars in Bordeaux. And I'd like to suggest Maison du Vin as the place where you can find one of the best wine tours in Bordeaux. The prices are ranging between 2 and 8 euros for a glass of wine. The cheese plates are quite generous and I suggest you combine them with a few glasses of Bordeaux wine, as they will for sure enrich your tasting experience.
It was really hard to find their working hours on the internet, so I will tell you – they work from 2 p.m. to 11 p.m.

If you have more time, you can book a tour for wineries around the city. There are tons of them with prices between 38 and 200 euros. The best place to find the best tour for yourself is the official tourism center which is just across from the Maison du Vin bar. Even if you want to use any other tour, I recommend just to stop by their office and take a vineyards map from there. This is one of the most organized tourism offices I have seen, you will get a lot of info from them.
The wine tour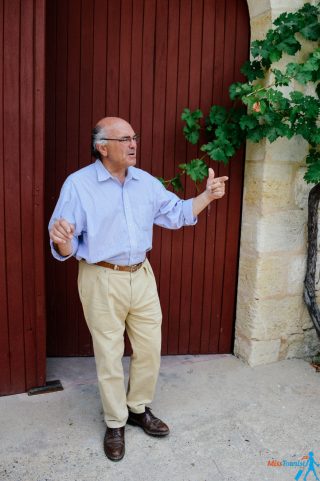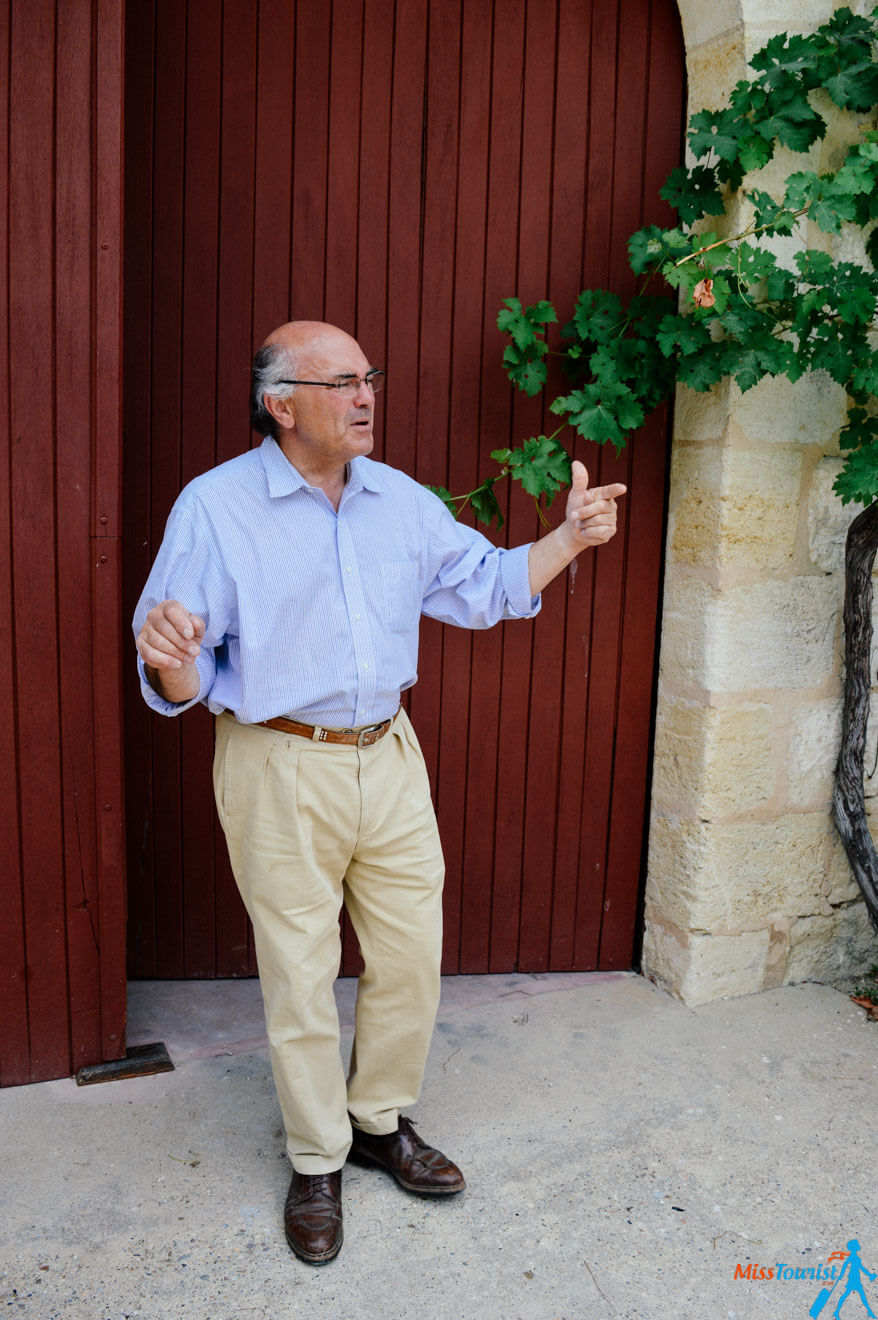 I took this tour because I only had half a day left, but I definitely recommend going for something longer if you have more time.
We managed to visit 2 chateaux (I don't name mine, as there are so many chateaux around Bordeaux, the wineries in the tour vary from week to week). We were shown and explained a lot about the wine production in the area, and, of course, tasted some wine! Everyone in tourism speaks good English, but you have to be ready for some strong French accent. I guess that just adds up to the atmosphere.
Here is the map of the Bordeaux wine region, I recommend checking out Medoc and Saint Emilion, they both are considered to have some of the best wineries in France (Medoc is my personal favorite!).
If you want to go for a Medoc private tour, some of the best wine tour I can recommend is this full-day tour.
If you choose St. Emilion this wine tasting tour will take you to some breathtaking chateaux!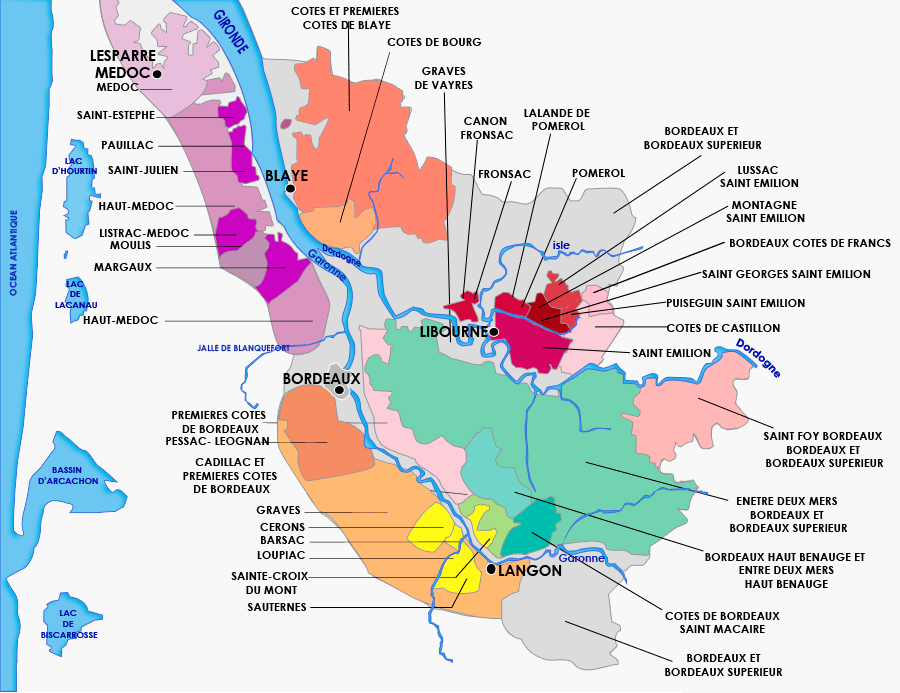 In case you have a time to visit only 1 region, I would say go to Saint Emilion. You will see more or less the same in terms of the wine production, but much more in terms of sceneries.
Enjoy the best wine in Bordeaux and don't forget to take pictures!
OTHER MUST-SEE ATTRACTIONS IN BORDEAUX
Other than wine tours, let's see what are the best things to do in Bordeaux, France. To get a great feeling of the city I suggest you hop on a bike and go through its many pedestrian streets. All the sights are really not far from each other if you bike. Otherwise there are bike paths mostly everywhere where they are needed.
Bordeaux is a very special city which any history lover would appreciate, so while you're biking through Quais de Bordeaux, a splendid place near Garonne's waterfront, you should continue your journey by bike through these places too:
Place de la Bourse (Miroir d'Eau)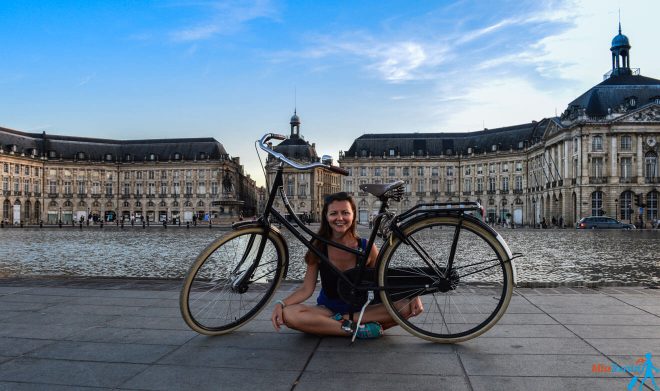 This the most well-known square in Bordeaux and a perfect spot to relax after a day of visiting. Place de la Bourse is famous for its Water Mirror, but they actually created a great attraction out of it and it's worth to spend a couple of hours there. The Water Mirror is actually the largest reflecting pool in the world and a UNESCO World Heritage Site. It's only 2 cm deep and it creates a mesmerizing mirroring effect that reflects Place de la Bourse and all the other beautiful buildings around. The water is programmed to have 3 sequences – fog, mirror and pool, so if you would like to spend at least 20 minutes there you can see it shifting from a mirror to a misty fog and so on!
Price: Free
Jardin Publique de Bordeaux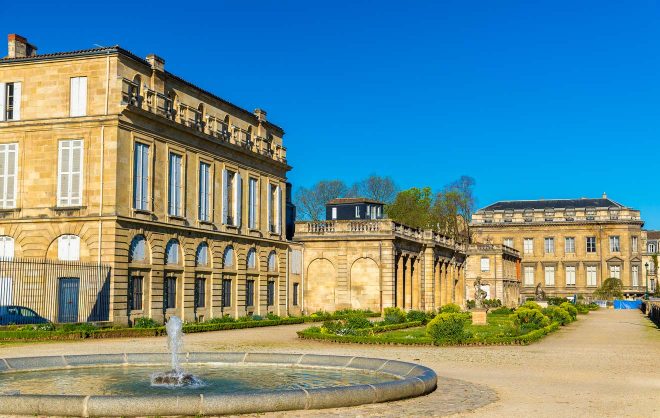 This beautiful park dates from 1746, when it was created in order to offer the rich people of Bordeaux a nice place where they could relax. This English-style park is wonderful even today and I recommend you go there go gaze at the historic statues, bridges and fountains. This is a sophisticated place where you can enjoy a picnic, some good books and coffee in Bordeaux or the wine you have with you and get a glimpse of the 18th Century Bordeaux.
Price: Free
Place de la Victoire (Victory Square)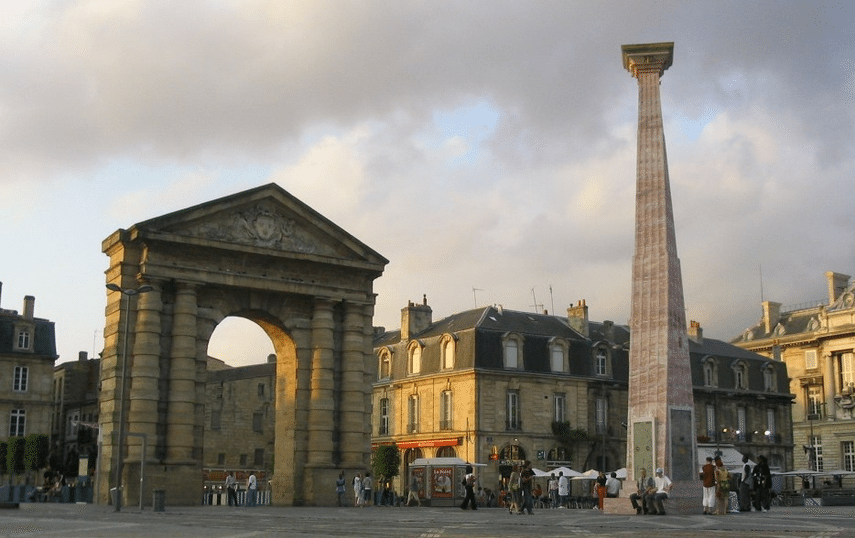 Place de la Victoire is another pretty square in Bordeaux that's worth adding to your list of must-see attractions. It's true that it's a rather busy place, full of bars, restaurants and pretty cafes, so I suggest you go there to relax while sipping some wine, but also to admire the gorgeous architecture. You can go there to find some of the best places to eat in Bordeaux. In the middle of the square you will see a piece of public art made by the Czech sculptor Ivan Theimer. This is a marble column and it was installed in 2005 in order to celebrate the famous Bordeaux viticulture. There are also plenty of parties, concerts and events organized there, so you will be greeted with good music and good people!
Price: Free
Musée d'Aquitaine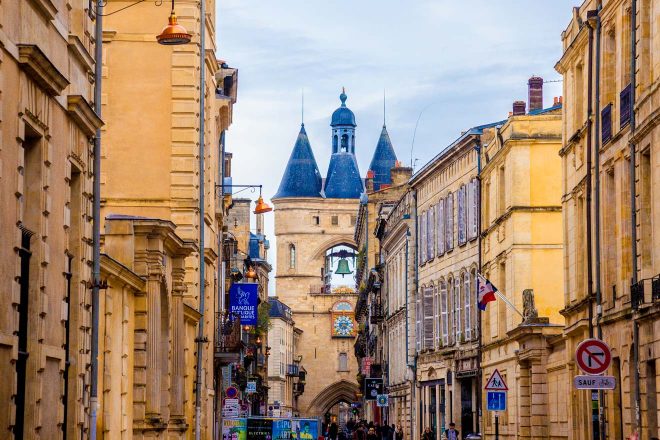 If you're only going to see one museum in Bordeaux, then Musée d'Aquitaine is the one you should pick!
It features historical collections from all around the Aquitaine region, so go there for a taste of history and tradition dating back to prehistory. You will also find there some collections from far away lands, since the age of great discoveries. If you're a history lover, then this is the place to be while in Bordeaux!
Note: The museum is closed on Monday, so see how you can schedule it to suit your itinerary!
Price: 5€ full rate, 3€ reduced rate (for students, groups of at least 10 people etc). Access to the museum is free for all visitors on the first Sunday of each month (except July and August). Check the updated prices here.
La Cité du Vin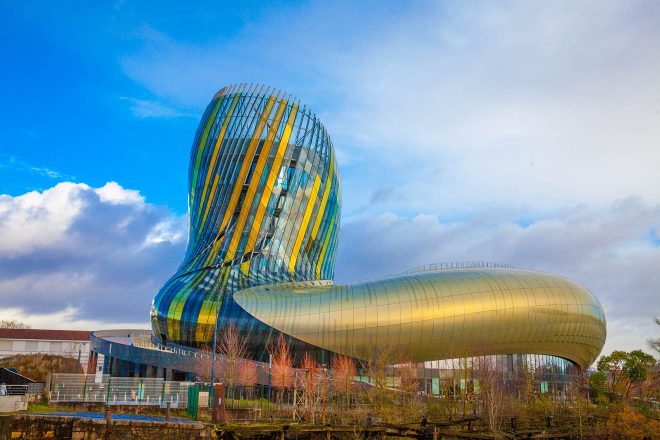 You can enjoy the wine and wineries in Bordeaux, but your tour won't be complete without going to La Cité du Vin.
This is a super-modern, futuristic cultural center that will teach you everything about wine production all around the world. If you're a wine aficionado, you can easily spend an entire day there, soaking up information and listening to the comprehensive audio guide. At the end of the tour you can go up to the 55-metre tower and enjoy a glass of wine in their amazing bar.
Price: 20€ for the skip-the-line ticket and wine tasting.
Rue Saint-Catherine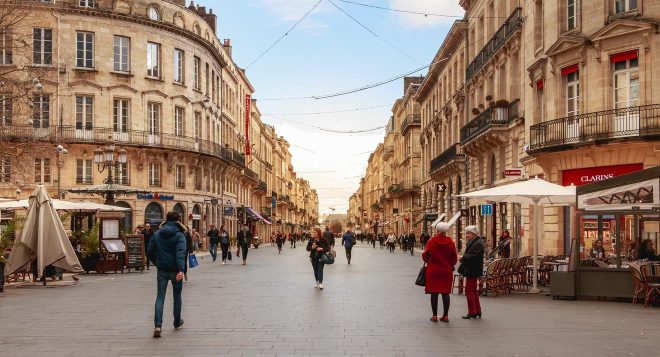 If you're a shopping lover, this is the place to be in Bordeaux!
Rue Saint-Catherine is actually the longest pedestrian shopping street in Europe, as it's 1.2 kilometers long! This famous street is always full with people wandering through its dozens of cafes and many shops. In case you're on a shopping spree, I'm pretty sure you will find countless of brands here in more than 250 stores or you can at least relax while sipping on a coffee or a glass of wine and admire the tourists!
Esplanade des Quinconces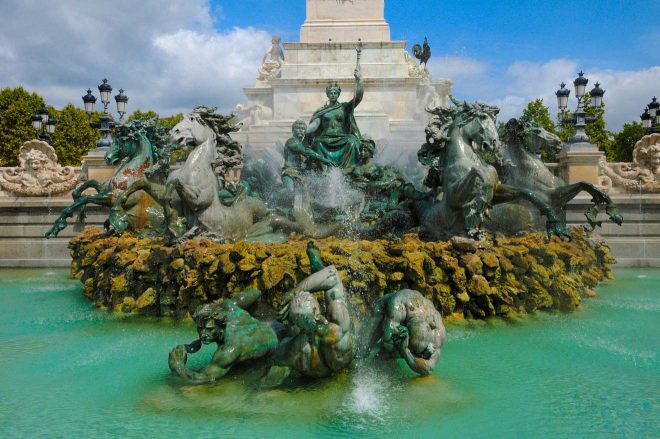 How does a 12-hectare open public space where all important events and concerts take place sound to you?
This is a very popular and nice place where you can come for leisure, but also to have a taste of history, especially regarding the French Revolution. Esplanade des Quinconces is one of the most beautiful things to see in Bordeaux and I recommend you do not miss it! This is actually the largest public square in France where you can see the Monument aux Girondins (Girondist Monument) – a historical column dating from 1902 and one of the landmarks of this city. It is 54 meters high and you can find the beautiful Fontaine des Girondins (Girondist Fountain) with majestic bronze horses at its base. The entire monument was built in order to celebrate the influence that the Gironde political group has had in the French Revolution.
You can go to Esplanade des Quinconces for a nice walk and to take pictures!
Price: free
Tour Pey-Berland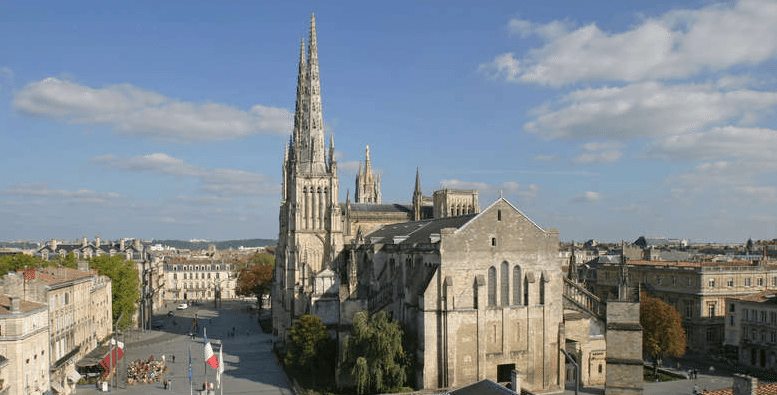 Complete your Bordeaux experience by going up the monument and enjoying the panoramic view of the city! Even though it's lovely to look at it from down below, you will get to see a whole new world when you're up there. Even though you'll have to climb the 229 stairs, the view is definitely worth it!
Price: 6€ per adult. You can check the prices and the schedule here to see if the monument is open on your chosen date.
Some other suggestions to keep in mind
Grand Théâtre de Bordeaux – I recommend you go to one of the representations of Bordeaux National Opera if you can. This way you'll get to see this beautiful building on the inside too and enjoy some good classical music!
Pont Jacques Chaban-Delmas – the tallest vertical lift bridge in Europe and one of Bordeaux's most recent landmarks. The best time to admire it is at night, when beautiful lights can be seen all over its columns.
CITY PASS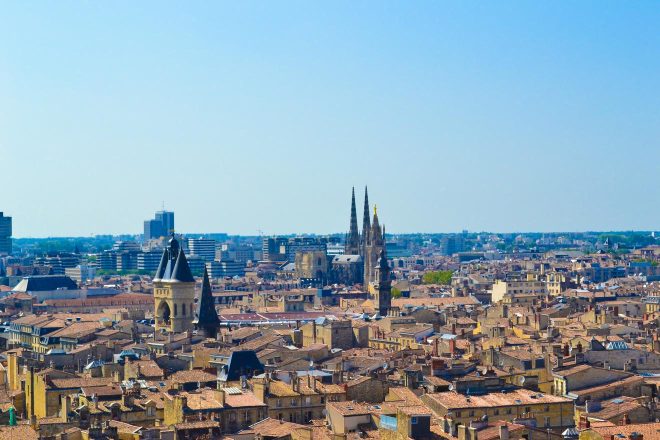 Most of the attractions that I mentioned above are free to enter if you have the Bordeaux Metropole City Pass You have three options that you can choose from: for 24, 48 or 72 hours and, besides free access to plenty of monuments and cultural attractions, you will get unlimited access to Bordeaux's public transportation system for your selected period of time (tramway, bus and river shuttle). You will also get discounts for some selected wine tours, lunch or dinner cruises. The 3-days pass will offer you a free guided tour in underground Saint-Emilion and more! Once you have your Bordeaux city pass, you can book your tours at Bordeaux Tourist Office. You can check all the details and discounts here.
Price: 29€ for 24 hours, 39€ for 48 hours and 46€ for 72 hours.
DAY TOURS FROM BORDEAUX
In case you have more time to spend in the area and you wish to see more than just Bordeaux's wine chateaux, I have two day tours to recommend:
Arcachon & Pyla Dune Tour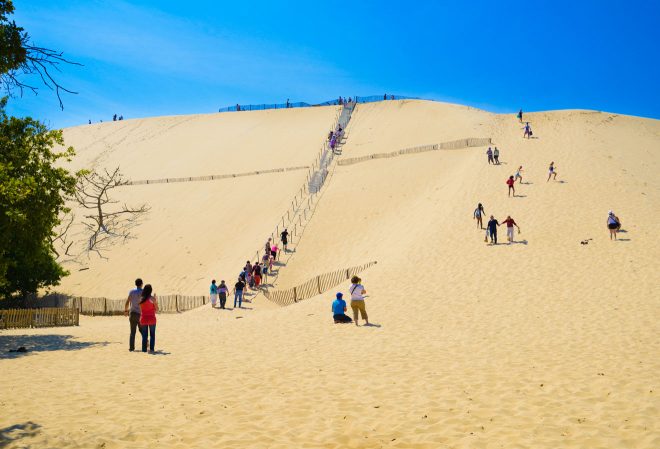 If you're passionate about nature and bio diversity, then a day trip to Arcachon might be the highlight of your trip!
Arcachon is a famous swimming destination located 55 kilometers away from Bordeaux. It is basically a beautiful bay surrounded by sand dunes and the Landes Forest. One of its most famous sand dunes is Pilat (Pyla) Dune which offers a great view over the entire natural reserve and you can observe how the enormous sand dunes have moved in time and how they are swallowing up the Lande Pine Forest. You will be able to admire Arguin Bank, which was a lagoon long time ago that is now used for oyster farming.
With this day tour you will get to visit the area and the sand dunes, you will see the 19th century houses, admire the panoramic view from Pilat Dune and get to taste some delicious seafood and Arguin Banc oysters (a local delicacy).
Price: 200€
Basque Country Tour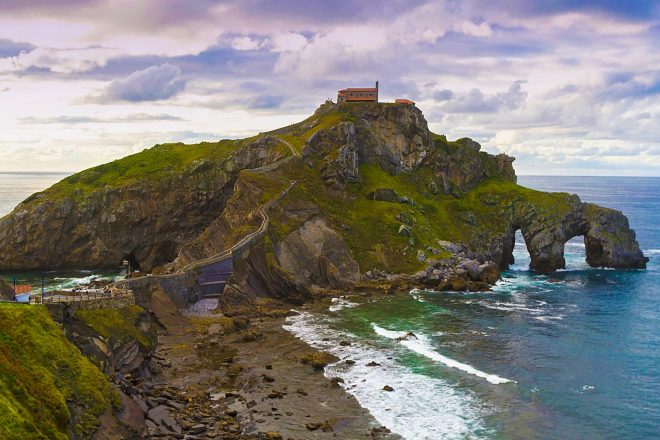 Basque Country is an autonomous community situated in northern Spain, between the Pyrenees Mountains and the Atlantic Ocean, 4 hours away from Bordeaux. On this day trip you will get on the route from Bordeaux to Basque Country and you will stop along the way to see some beautiful, authentic 15th century farms, the foothills of the Pyrenees, the famous Grottes de Sare (Sare Caves) –  prehistoric salt caves dating from 2 million years ago, Mendiguren Citadel and more! You will also go to Biarritz market where you will get to see a lot of Basque specialties (spices, ham, Basque-style cake), all of them local-made in Basque Country!
Price: 220€
Where to stay in Bordeaux
Bordeaux does not have a lack of accommodation and there is something for everyone. The choice is yours, however since Bordeaux is pretty big, I suggest being in walking distance of the old center.
I was fortunate to be invited to stay in an elegant hotel called Yndo, a unique establishment that perfectly combined elegance and coziness under its roof.
This is a gorgeous 5-star hotel in Bordeaux!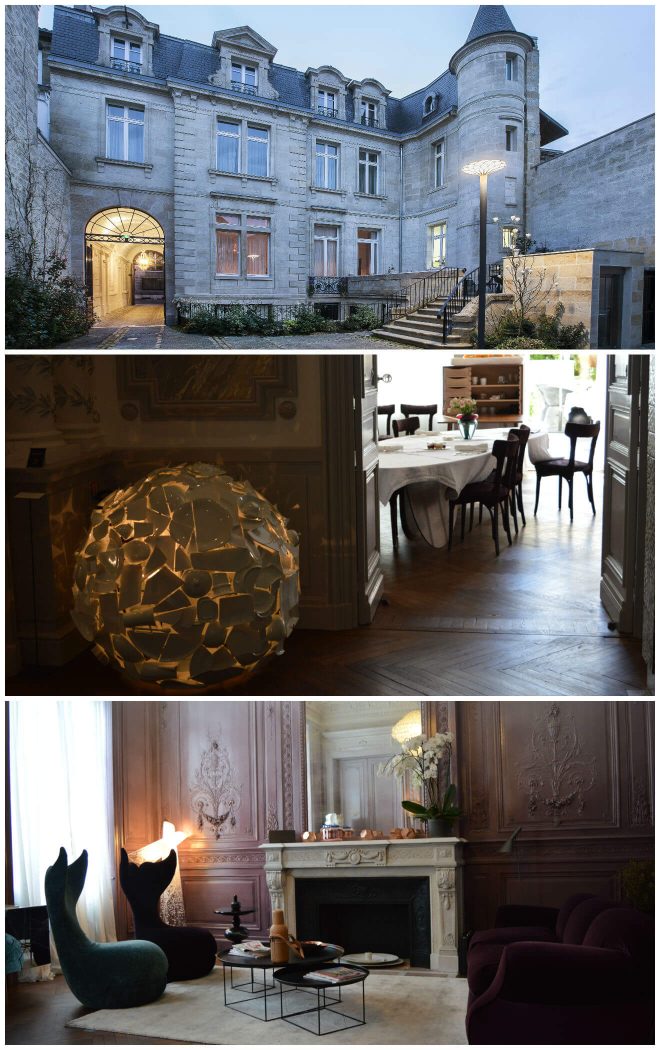 Yndo is located in a building from the beginning of the 19th century that look like a castle. The decorations and even the painting were done by the owner, a charming lady called Agnes, with much passion and attention to every little detail!
My rooms was called a Crazy room. 🙂  Decorated in truly French chic manner, it had everything you would ever wanted – from iPad to Hermes and Bvlgari toiletries.
I absolutely loved the huge bath tab right in the room, beautiful glass roof (the perks of having the top floor) and the automatic curtains that you can close if it is too sunny, or open to enjoy the sky!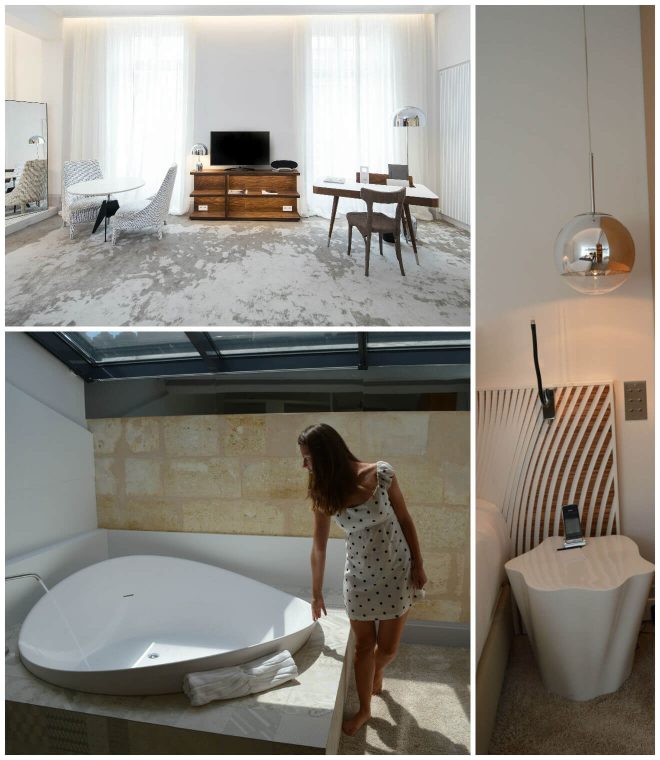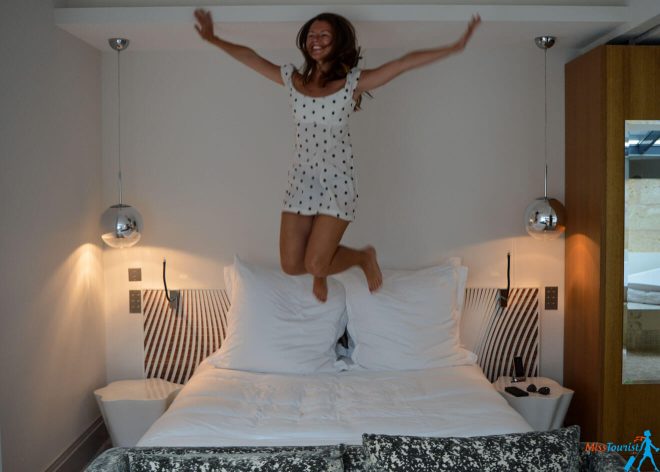 Oh, how much I enjoyed those custom-made breakfasts on the sunny terrace! They could basically cook anything you want, you name it! Really, name it, as the staff speaks perfect English. Everything home-made fresh from Bretagne right to your table!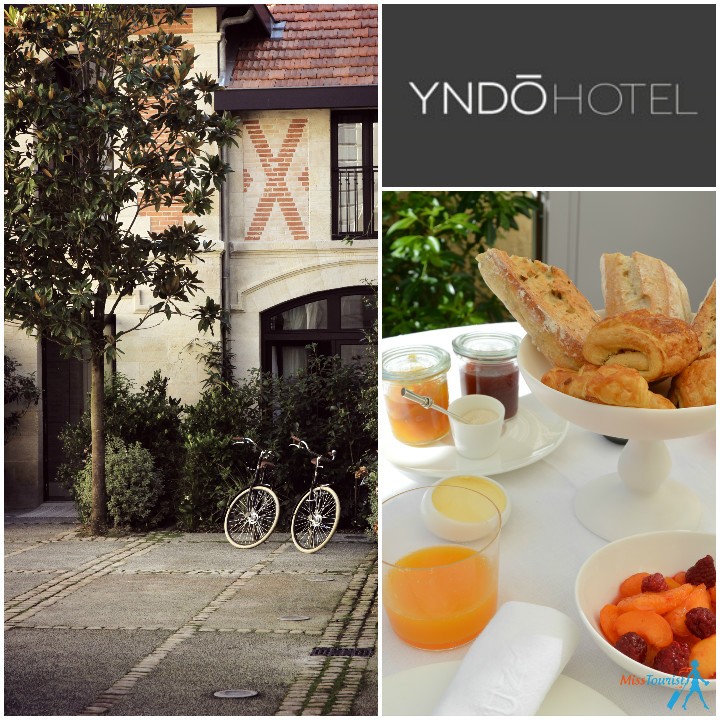 In short, Yndo hotel is one of the best 5-star hotels in Bordeaux and a great choice for both business and leisure or a special occasion. It combines top notch service of a prestigious establishment with the friendliness and care of a family ran business!
Check rates/ Book your stay with YNDO hotel here!
Other accommodation options to stay in Bordeaux, France:
Depending on your budget, I have some alternative great hotels and apartments for rent in Bordeaux to recommend to you:
Luxury stay: Yndo hotel – the wonderful hotel where I have stayed, please see the photos& description above; Le Clos d'Emile – an exceptional hotel that gets sold out really fast probably for its love to decor and attention to guests;
Great value/money hotels: La Maison Des Vignes – if you hurry up, you can get their King's suit for less than US$100, which is just fantastic!; Chambres à Bord'O – located in the city center, this places is a mix of contemporary and classic decor, your breakfast will be served in a beautiful courtyard;
Budget stay: Honestly, it is not that easy to find a budget accommodation here and I wasn't able to find many recommendations for a bed and breakfast in Bordeaux. There are a couple of places that are less than US$50 per night and have good reviews. Let me know if you find something cheaper/better in the comments!
Premiere Classe Bordeaux Nord – Lac  – this affordable accommodation is located near Gare Saint-Jean as well, free Wi-Fi access, private bathroom, air conditioning and satellite TV is included in the price of the room.
How to get to Bordeaux from Paris
Easy- peasy – by train! If you plan well enough in advance, it will be quite cheap (I got my ticket for 40 euros round trip from SNCF the official railway site). Alternatively, if you are not a good planner (like me) and prefer to go last minute, I always recommend BlaBlaCar.Even if you decide today that you want to go tomorrow, the price for the rideshare from Paris to Bordeaux (600km) will cost you 30 euros one way.
Isn't it just fantastic? One day I will write a whole article about it. Let's just say, if not for BlaBlaCar, I would visit way less French cities than I did.
What should be in your packing list for Bordeaux
Bordeaux is a sunny destination, here's what I think you should not miss fom your backpack while visiting this city:
BEFORE I LET YOU WANDER
Bikes through the city, wine glasses of deep red colors, the great architecture in the old town, the vineyards around the city, that wonderful mirror fountain and all the music and happy people. That was Bordeaux for me, and I wish you go there as soon as you can and add experiences to this list while you make your own adventure. However, if you discover something amazing, do let me know in a comment below!
A bientôt!
Please share this article if you liked it!
Yulia
---
Read more:
6 places in Paris with the longest queues, and how to avoid them
A weekend in Saint-Tropez: 5 things to do
---
Liked the article? Why not to save it on your Pinterest board?