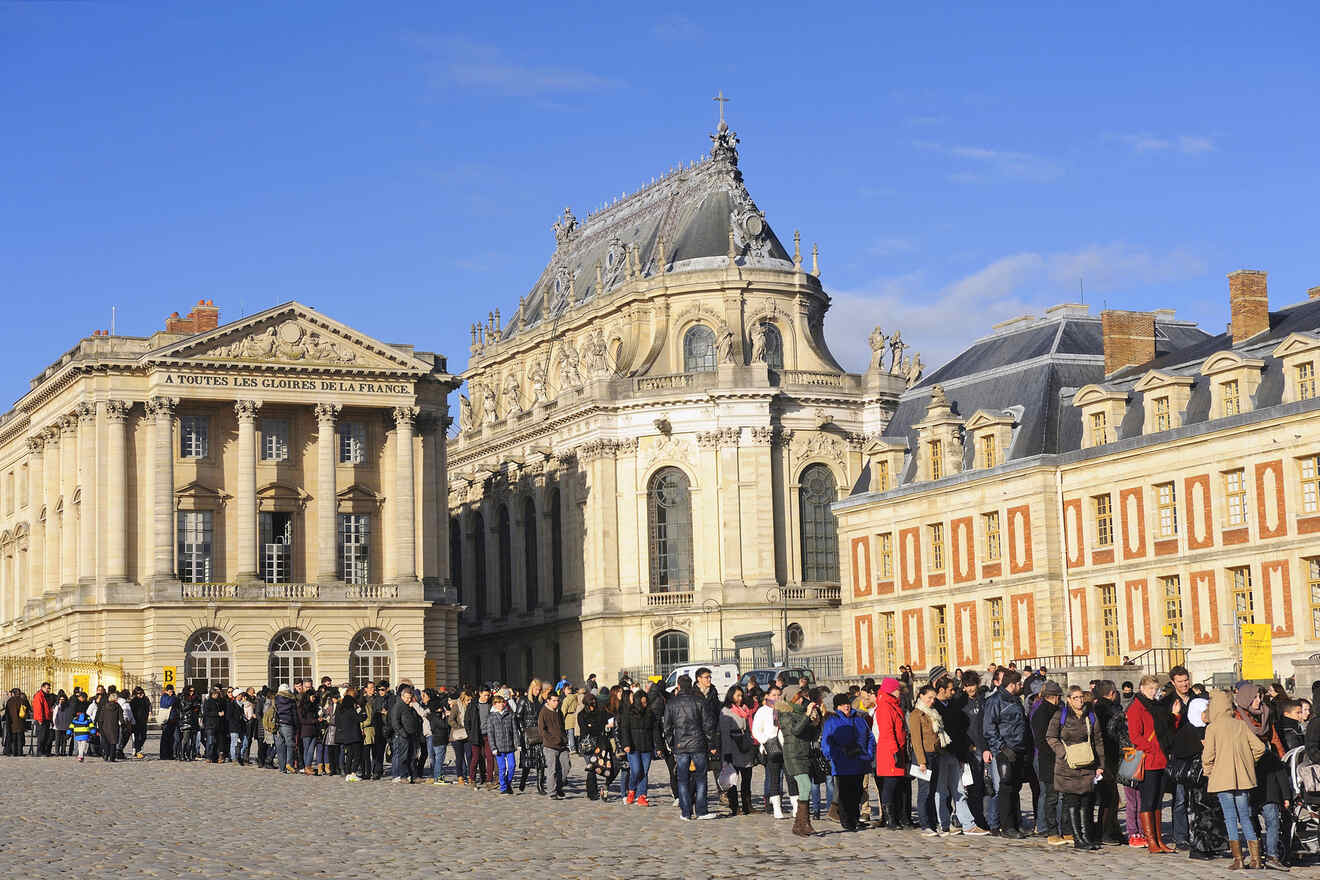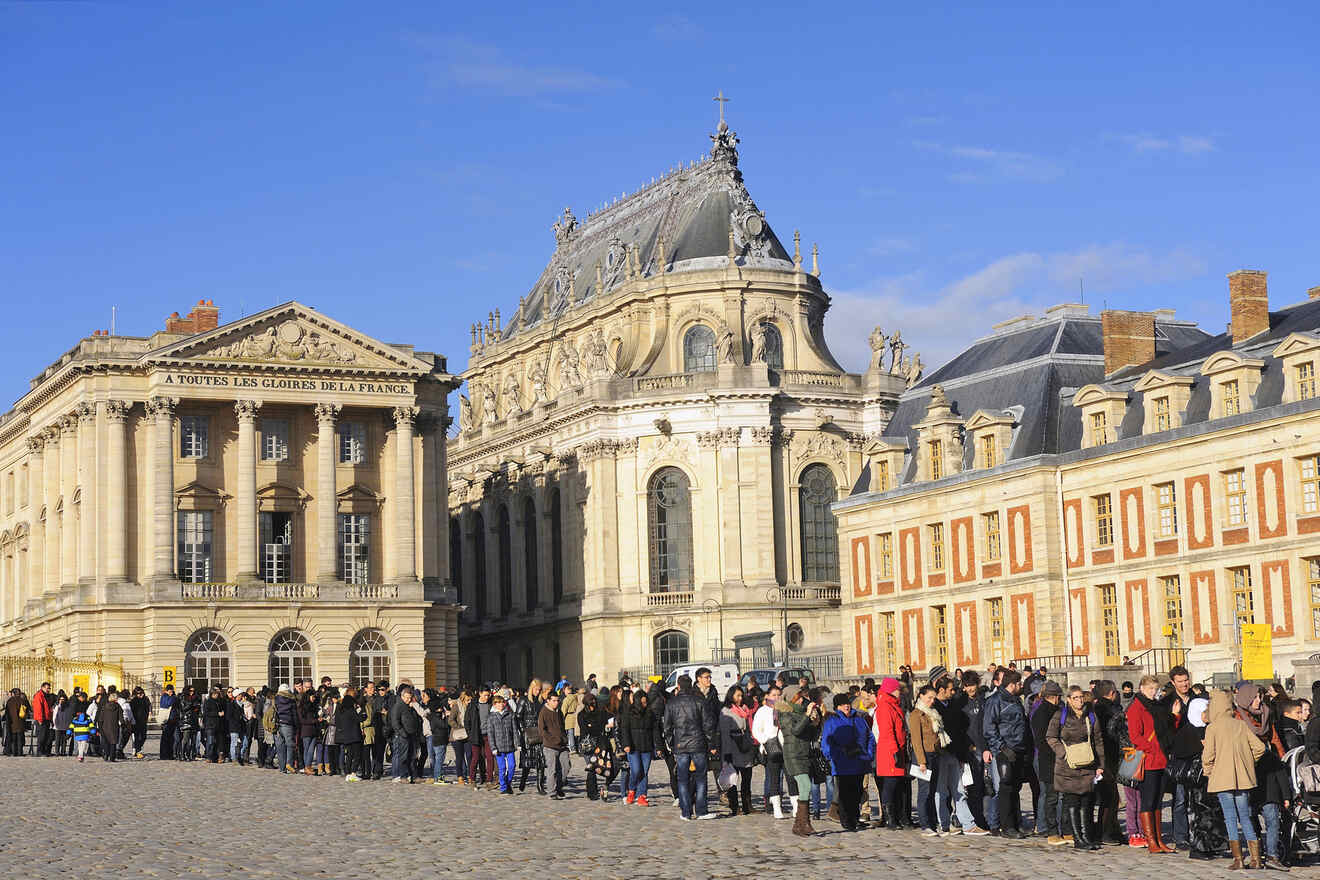 Versailles remains until this day, one of the biggest landmarks in the country of France. Visiting this palace is truly an adventure that you'll never forget, and so it's the process of buying your tickets.
Stick around and you'll find out which are the most convenient Versailles tickets! Since it's such a big estate there are many different places to see inside beside the main palace, and I'm here to give you all the details you need.
I've looked on the web for hours and found multiple ways to get your tickets! Plus so much information and tips that all visitors should know in order to make their visit super fun and not waste time!
There's definitely a lot to digest but trust me, it's worth knowing all this. And definitely book your tickets in advance for this attraction because oh my, these tickets sell out so fast!
Ready? Let's go!
If you are in a hurry
If you are here just to get your tickets, here are the best links to do so:
| | | | | | | |
| --- | --- | --- | --- | --- | --- | --- |
| | Adult Palace Entrance | Kids Palace Entrance | Passport Ticket | Guided Tour | Cancelation Policy | |
| Official Website | €18 | Free | €22 | €32 | >2 weeks in advance | Book tickets |
| GetYourGuide | €22 | Free | €22 | €55 | >24h free cancellation | Book tickets |
| Klook | €18 | Free | – | €60 | No Refund | Book tickets |
Why buy in advance?
I could write a very long list! But the main thing that you should know is that Versailles tickets usually sell out especially during peak season (April to October).
Yes, let's say you risk it and go directly there without buying your ticket. You'll have to wait in a really long line to get in, which accompanied with the time you spend traveling will leave you with not so much time to explore the grounds which are pretty extensive.
So if you want to visit the estate properly (which is absolutely huge) I'd recommend minimizing as much time as you can on buying tickets, travel or other things which aren't exploring the palace and gardens.
Get your tickets to Palace of Versailles
1. Different types of tickets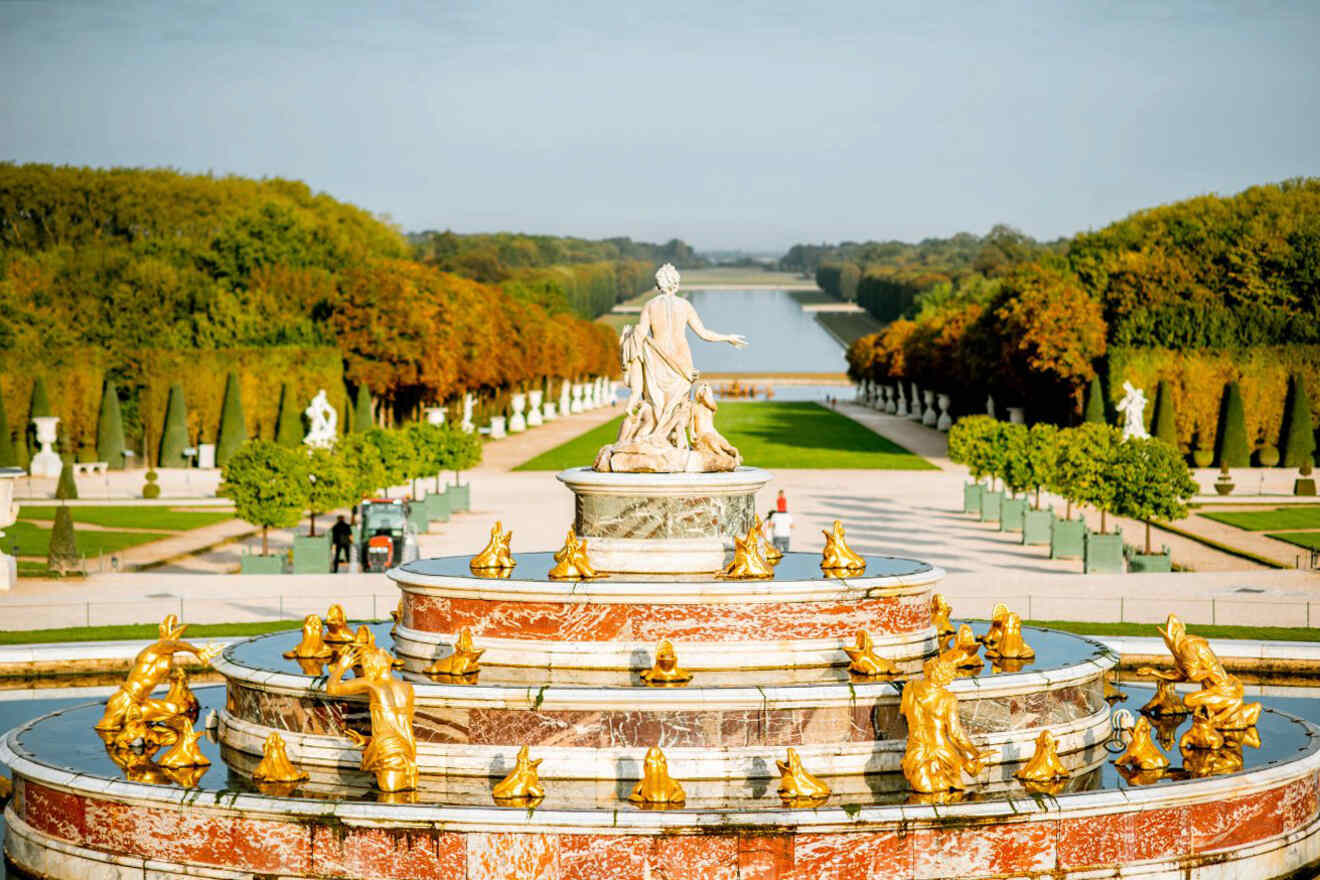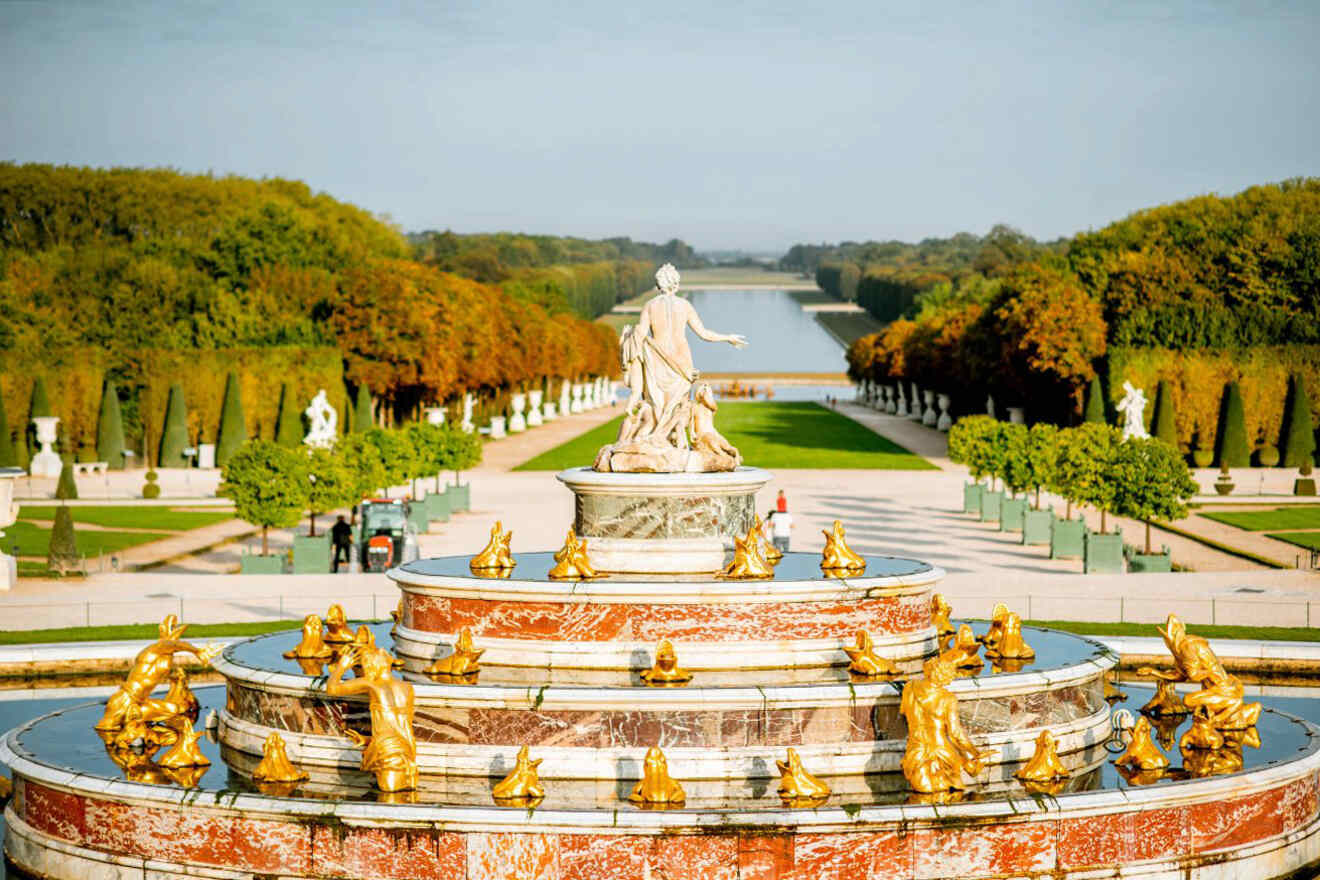 You can buy different types of tickets for the Versailles estate, depending on whether you want to see the whole site, just the Palace, or the other Estates in addition. So below I've added all the possible options so you have a clear overview of your options.
NOTE: If you're a European citizen under 26 or if you're from somewhere outside of Europe and you're under 18, you can visit for free! However you still have to book a time-slot to enter so make sure you do that!
Passport ticket
This tickets is great for people who want to see the whole estate of Versailles and it includes:
The Palace (with timed entry)
The Estate of Trianon
The temporary exhibitions
The Gallery of Coaches (every weekend)
The Gardens of the Palace
The Park
Musical Fountains Shows or the Musical Gardens
NOTE: In order to offer plenty of time to everyone who wants to spend as much time as possible at Versailles, the Gardens are open from 8 AM, the Estate of Trianon from 12 PM, and the Gallery of Coaches from 12:30 PM.
Fun Fact: Hundreds of thousands of plants and trees were planted over the centuries in the gardens, and in the 17th century their fragrance was so strong that people couldn't stay there!
As with most tickets, you'll have to pick the date and time of your visit when booking your spot. The timeslots start from 9:00 AM – 4:30 PM and they run either every half an hour or every hour (depending on the day).
Once you've decided on the time and date, you can also add an audio guide for €5 extra. The audio guide is available in 12 languages (Chinese, English, French, German, Italian, Japanese, Korean, Polish, Portuguese, Russian, Spanish and Ukrainian).
You can buy this ticket from the official website, however when bought directly, you can only get a refund up to 2 weeks in advance, meaning it is not very flexible in case the weather is bad or your plans change. Alternatively, you can also purchase a Passport Ticket for the same price from GetYourGuide. The main perk of buying through GetYourGuide is that you can cancel your visit up to 24 hours in advance and still get a full-refund. The only downside is that you don't get access to the Fountain Shows with this one.
PRICE: €22
Passport ticket add-ons
In addition to everything you get with the normal Passport Ticket, there are a few additional add-ons you can purchase in conjunction with your ticket. Let's take a look at all the options.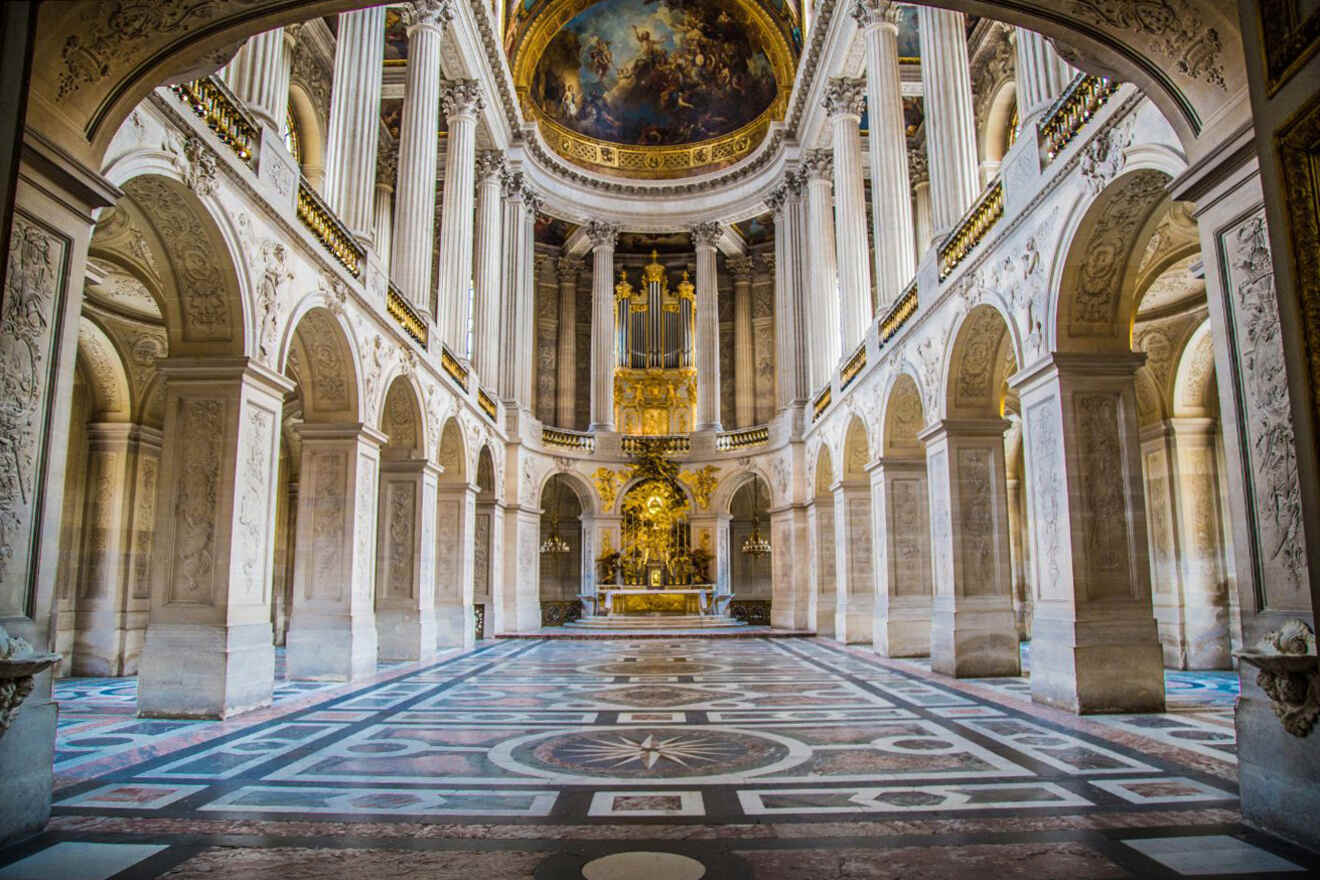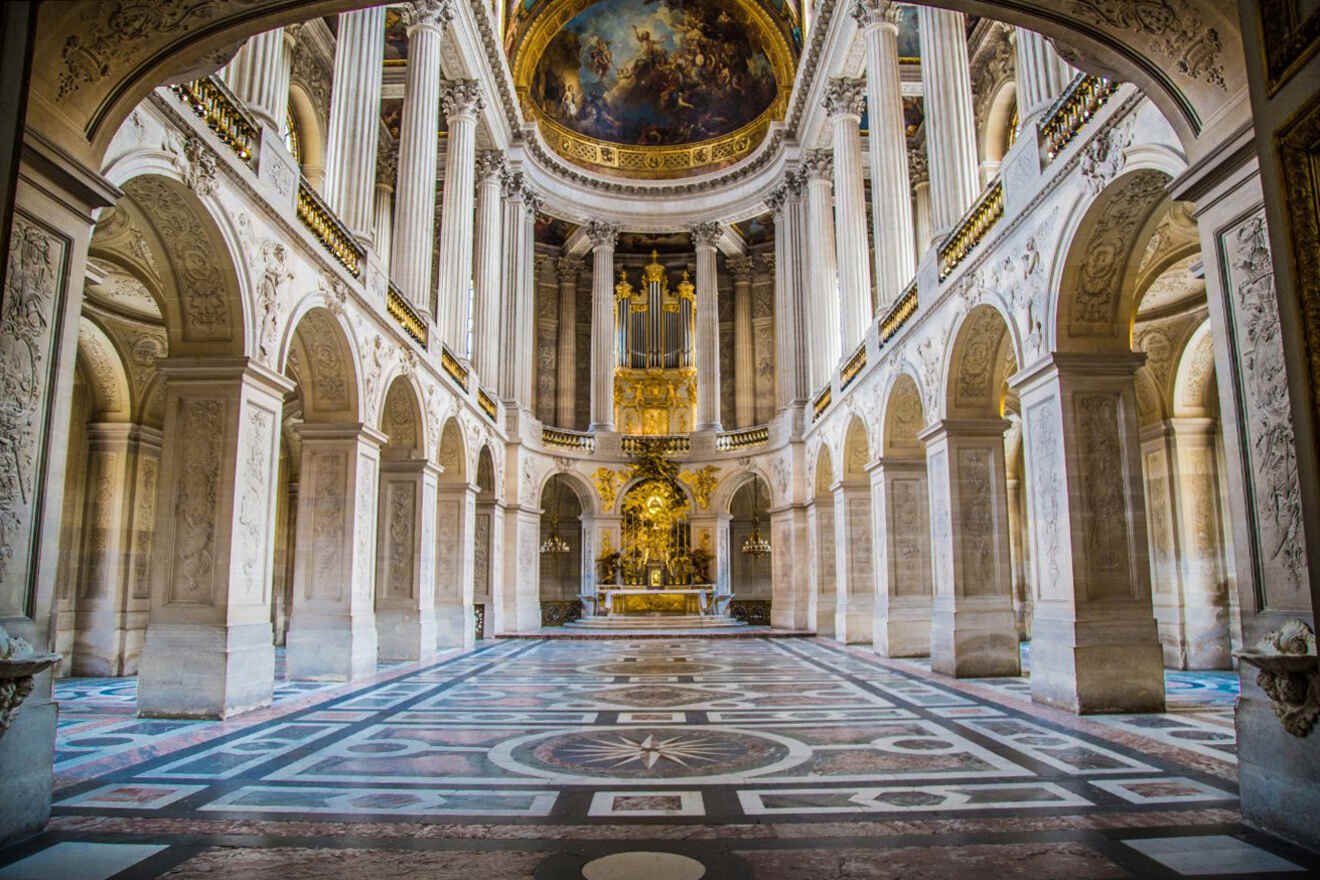 Passport + Gourmet Break
If you want to enjoy a fancy lunch at la Petite Venise restaurant while visiting the Palace, then check out this option. It's the same Passport ticket as the one above, except you'll also get a lunch for 2 people, at 12:00 PM or 12:30 PM depending on your preferences.
The lunch is a la carte and includes either a starter & main course, or main course, dessert & coffee and costs €110 for adults (free for kids).
Fun Fact: King Louis XV was a major fan of hot chocolate so naturally the whole court started to drink hot chocolate too!
NOTE: If you're vegan or vegetarian I recommend calling before you book your ticket and ask them if they offer anything in the menu that's vegetarian or vegan. I've just chatted with them and they weren't really sure, so they told me that it's better for each person to call in advance and ask specifically regarding the current menu.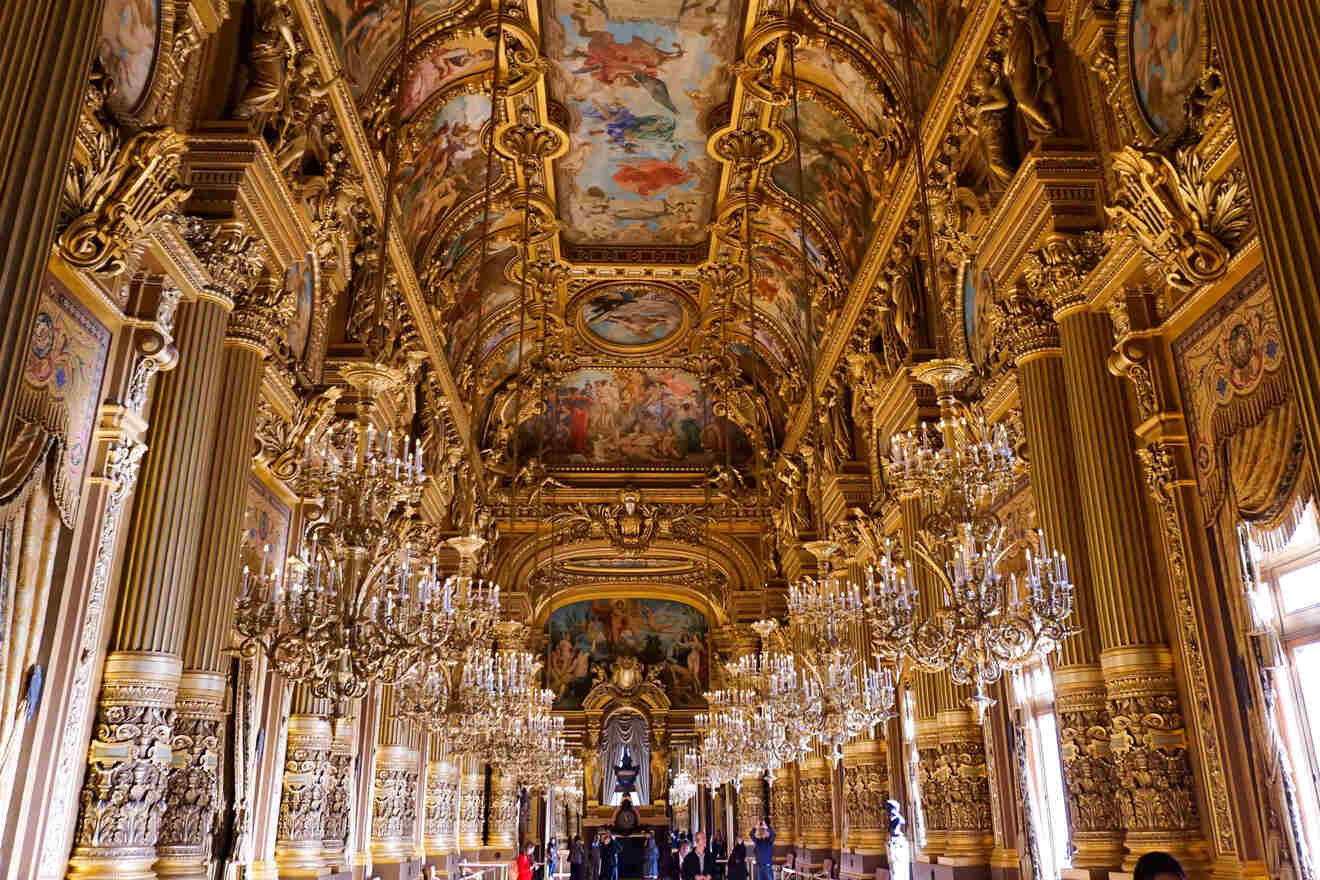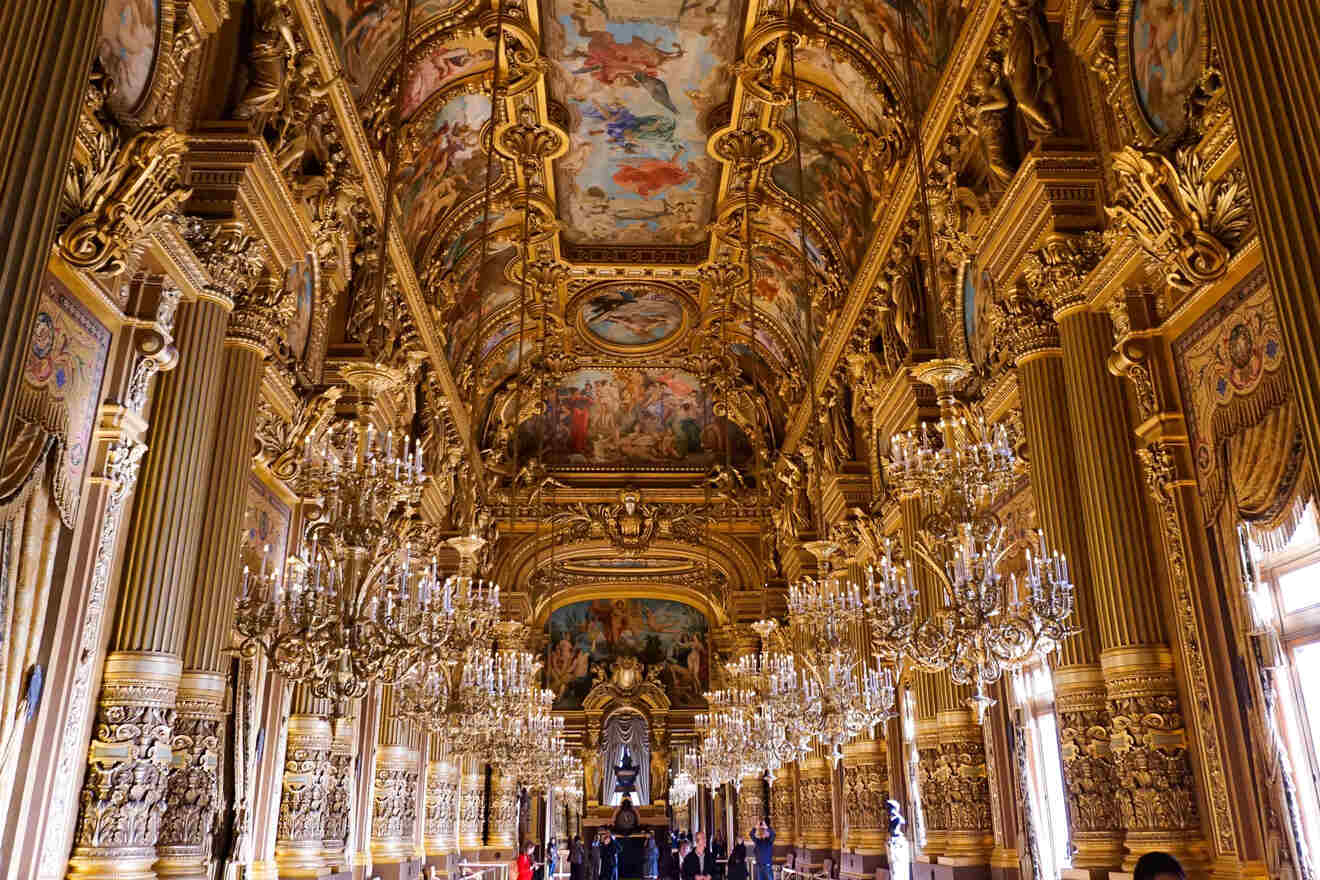 Passport + the official palace guide
This ticket costs €31 and includes a book called "the official guide" which you can pick up from the Librairie des Princes bookshop which you can access South Ministers' Wing, on the left as you enter the Main Courtyard.
Passport + round trip on the little train
Now this may be something that kids will love! This Passport ticket includes everything I mentioned at first plus a trip around the estates on the Versailles little train!
During the ride you'll get to see the estate's hidden corners and also learn more about its history with the help of the audio guide which is included in the price. (Download the audio guide via a QR code on all the display panels at Versailles or from the Palace's mobile application.)
The trains run every 10 – 20 minutes depending on the season but you can check more information on their website and see all the timetables. Check out this map to find the train! Tickets cost €35 for adults (over 26), €16 for youth (18 to 25 years old)
PRO TIP: If you want to buy a different ticket not the Passport one, you can still get the little train ride separately. The tickets cost €9 for adults and €7 for kids under 11, and free for kids younger than 11. You can get your tickets kiosk on the Palace's North Terrace, or at other stops with the driver
2 Day Passport + Equestrian show


Who wants 2 full days at the Versailles estate? Since you've got to see so many things from the Palace, the gardens and all the exhibitions, having 2 consecutive days may be a great idea if you want to take your time.
Fun Fact: Back when they were building the Hall of Mirrors, Venice had a monopoly on mirror making. But the French managed to lure the Venetian mirror makers to Versailles so that they could create something special for the Palace. This led the Venetian government to keep an eye on the craftsmen and threaten their lives if they left the city and gave away their secrets to foreign countries.
This ticket includes the same things as the normal Passport one, plus an equestrian show at 6 PM, performed by the Academy of Versailles.
NOTE: This ticket is available only on Saturdays at 9:30 PM (to visit the palace) and see the equestrian show. Then of course you'll also have Sunday to explore the rest of the estates!
PRICE: €45
Palace ticket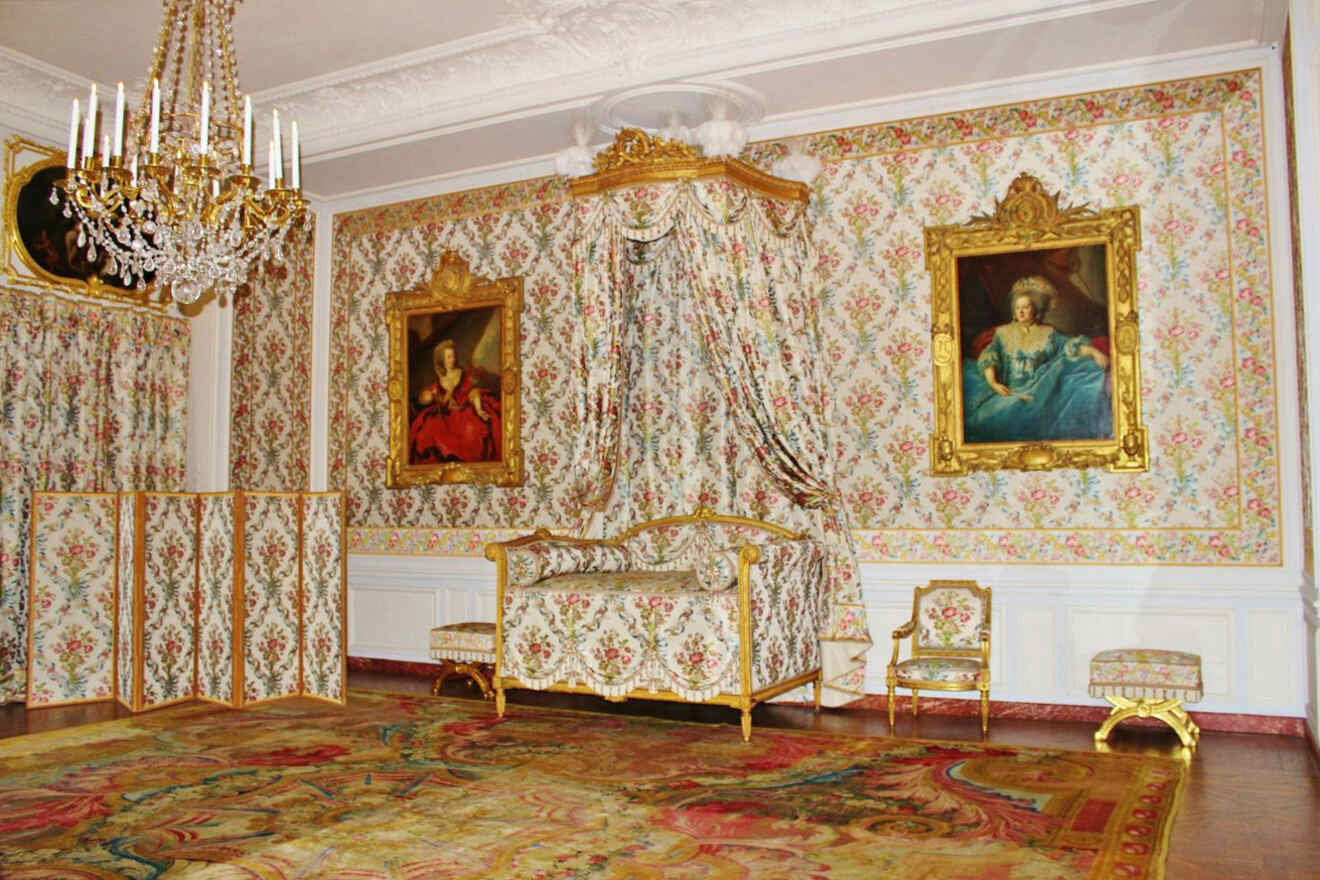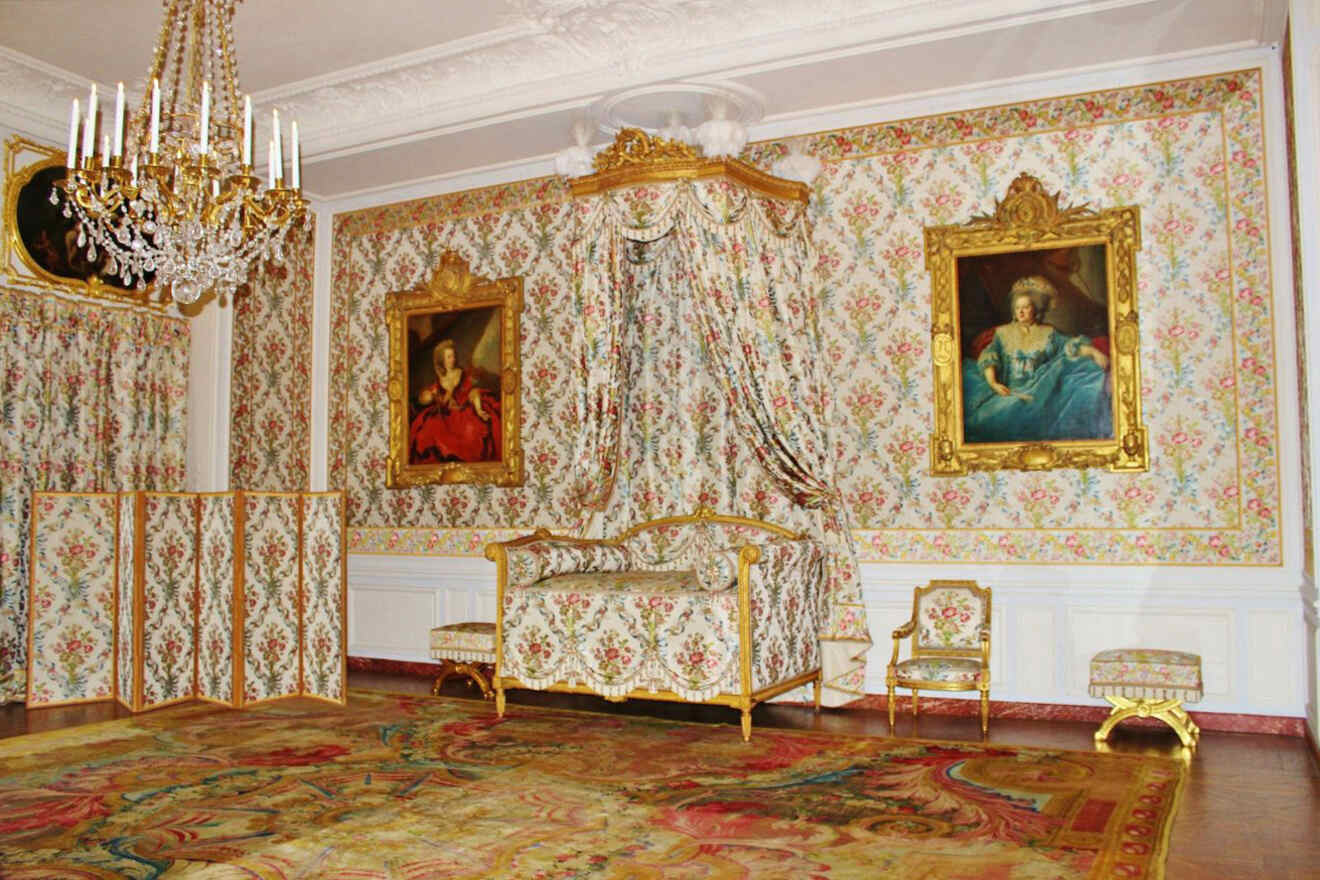 This ticket offers access to the following places:
The Palace (with timed entry)
The temporary exhibitions
The Gallery of Coaches (every weekend)
The Gardens of the Palace
The Park
So if you bought this ticket rather than the Passport ticket, you would miss out on the Trianon Estate, the Musical Fountains Shows and the Musical Gardens.
Trianon Estate is a chateau located within the palace grounds, this is where you will find the musical gardens.
Fun Fact: Before it became this big Palace, Versailles was only a small hunting lodge!
But if you don't want to see that, the cheapest place to buy this ticket is on Klook which sells it for €18 which is a bit cheaper than the official website. However I do have to say that the cancellation policy on the official website is better because they still offer that window of cancellation up to 2 weeks before your visit, unlike Klook where if you cancel you won't get what you've paid for.
PRICE: €18
Trianon Estate Ticket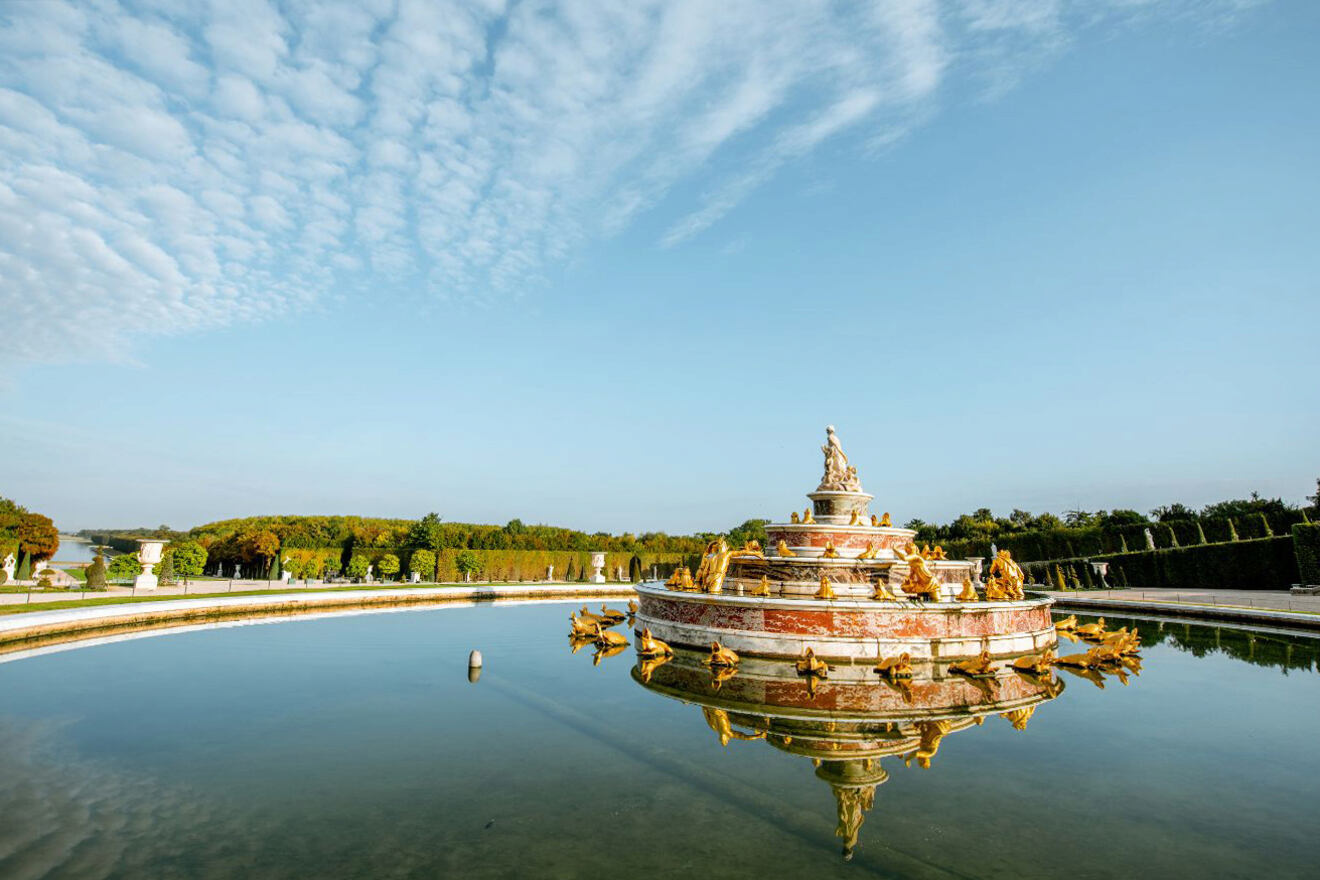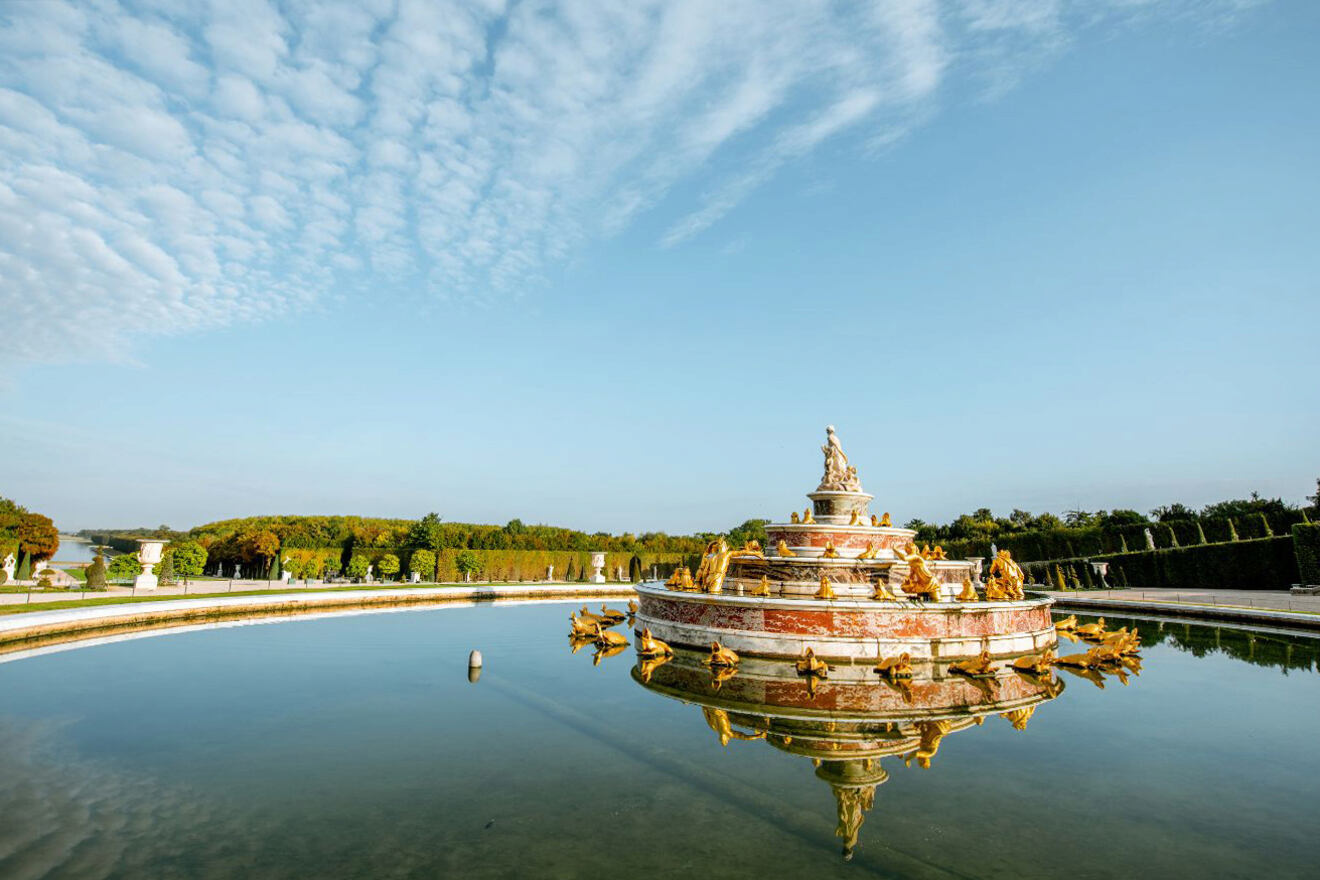 On the contrary, if you wish to visit only the Trianon Estate that I've talked about above, then this ticket is for you!
For anyone who doesn't know, the Trianon Estate is a Neoclassical château located on the grounds of the Palace of Versailles. The landmark is usually associated with Queen Marie-Antoinette who spent a lot of time here and also designed the gardens.
The Trianon Estate ticket offers access to:
The estate of Trianon (which includes Grand Trianon, Petit Trianon, Queen's Hamlet and their gardens)
The temporary exhibitions there
The Gallery of Coaches (every weekend)
The Gardens of the Palace (except on Musical Fountain Shows or Musical Gardens days)
The Park
These tickets have only 1 time slot at 12:00 PM and they don't have an audio guide.
PRICE: €12
If the tickets are sold on these websites you can also try Tiqets, Headout and Viator.
2. Versailles tickets + transport from Paris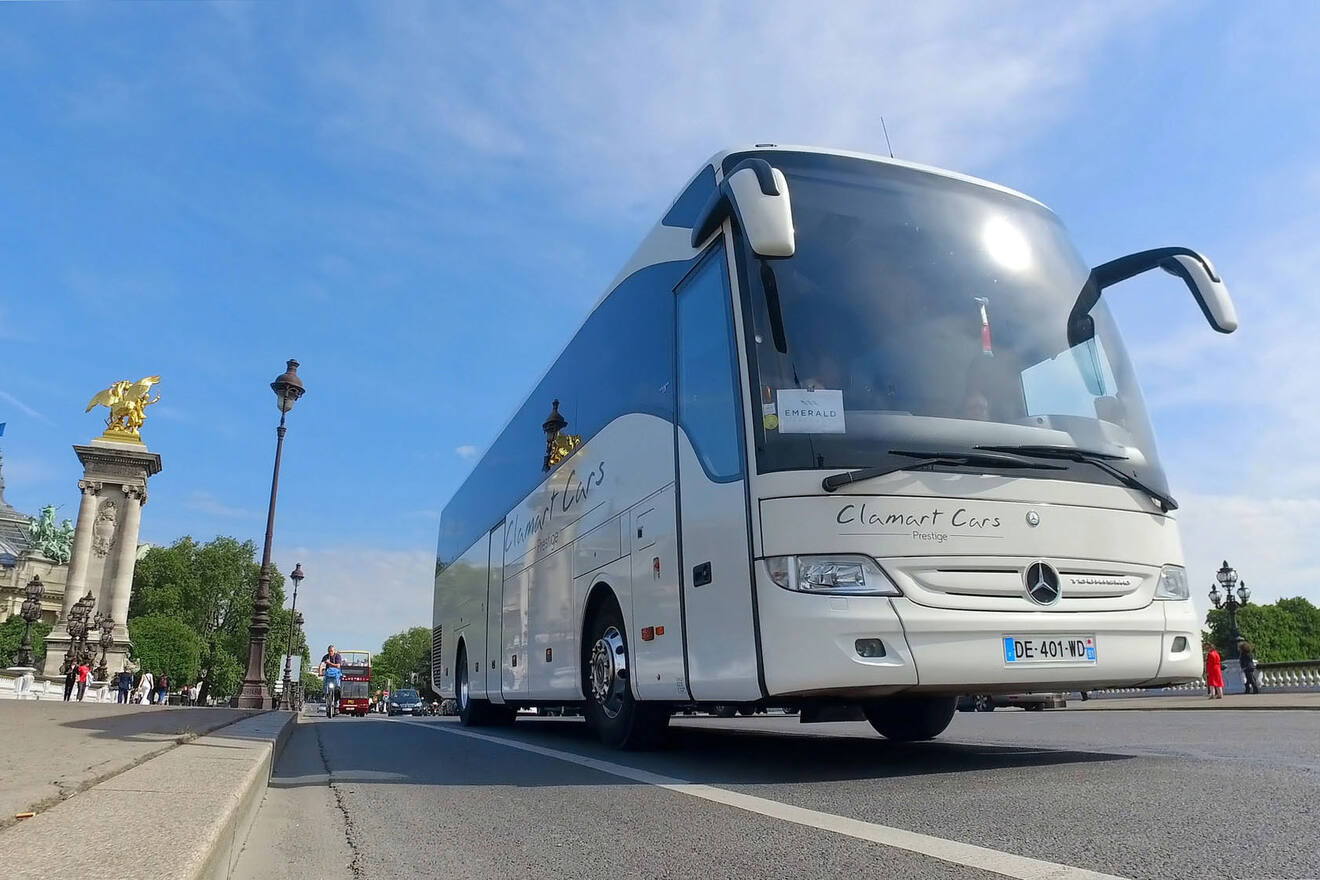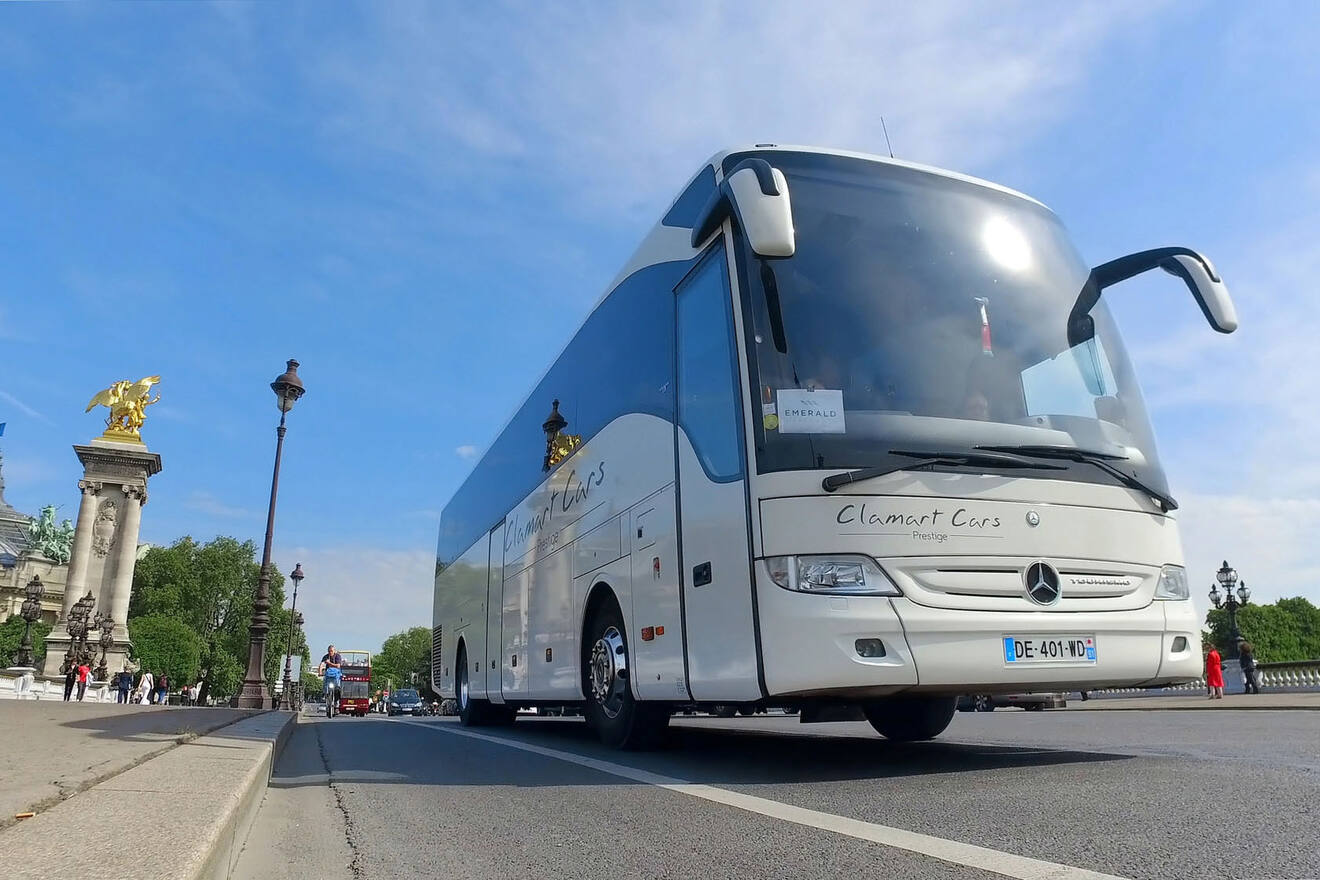 It takes around 1h to get to Versailles from central Paris, so you'll have to figure out on your own how to get there, and probably change a few buses and metros. However, if you don't really want to be bothered by all that, I've found the best solution for you!
You can buy tickets to the Versailles that also include direct round trip transportation from Paris to the Palace and either a live or audio guide. Meaning you don't have to worry on how you can get to Versailles, you just hop on the bus and you're there!
Entry ticket + audio guide + transportation
This ticket includes direct transport from Paris, entry to the Palace, the gardens and an audio guide (available in Spanish, Chinese, English, French, German, Italian, Japanese, Polish, Portuguese, Russian).
NOTE: During April and October this ticket also includes access to the Musical Gardens and Fountain Show, however the price may be higher so make sure you double check when booking.
The whole tour lasts 7h and that also includes transportation, meaning you'll probably have around 5h at your disposal to explore the grounds!
PRICE: €79 for Adults, €55 for Kids
Book tickets & transfer with an audio guide
Entry ticket + guided tour + transportation
This amazing option includes a round trip from Paris as well, the entry ticket to the Palace, plus a guided tour around the Palace and the gardens!
NOTE: The ticket includes access to the Fountain Show during April and October but it will cost an extra €5 during those months.
The whole day trip tour lasts 5h, along with the round trip from and to Paris. Once you've finished the tour you'll also get some free time to explore the gardens on your own
PRICE: €99 for Adults, €89 for Kids
Book transport, tickets & tour
3. Take a guided tour of Versailles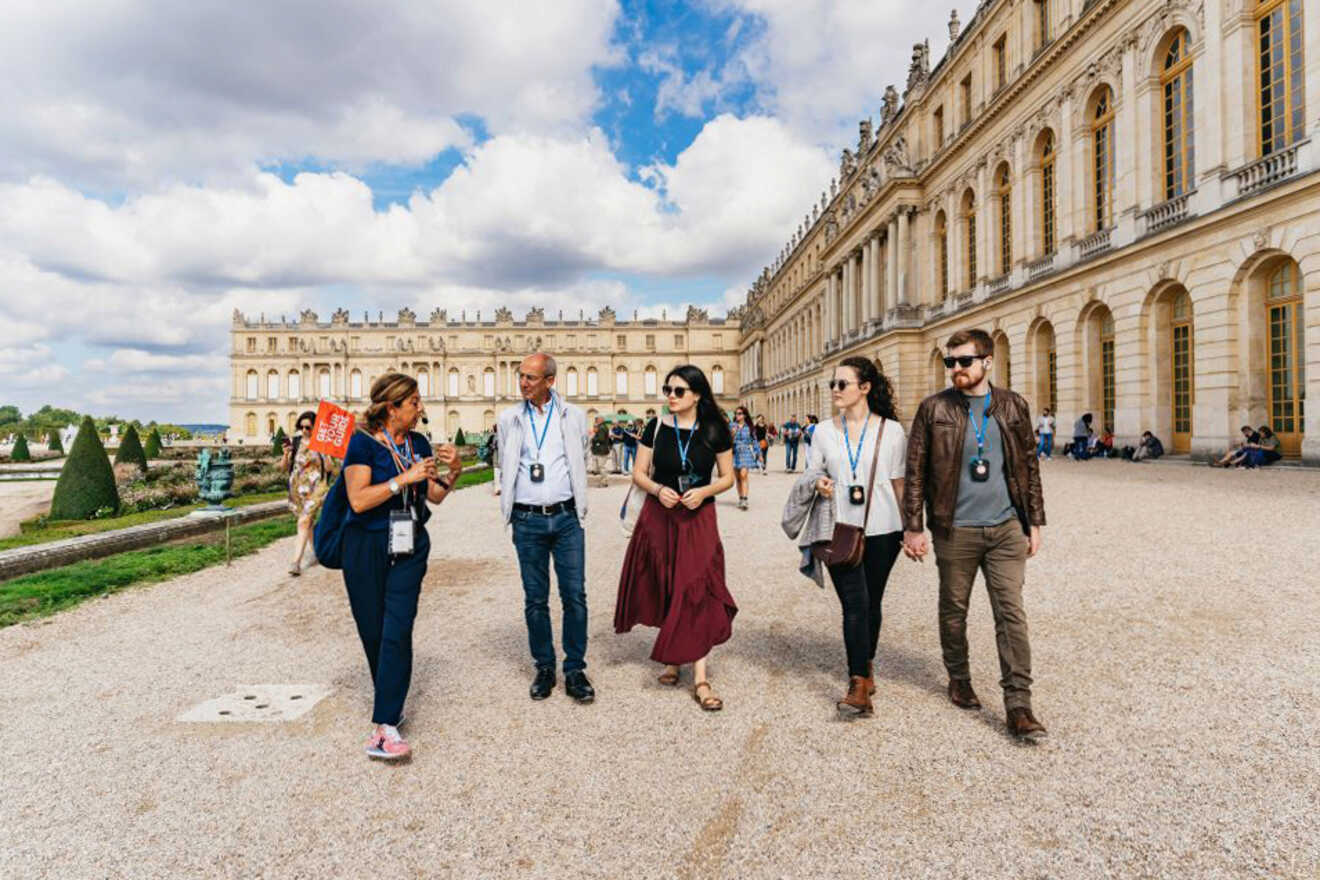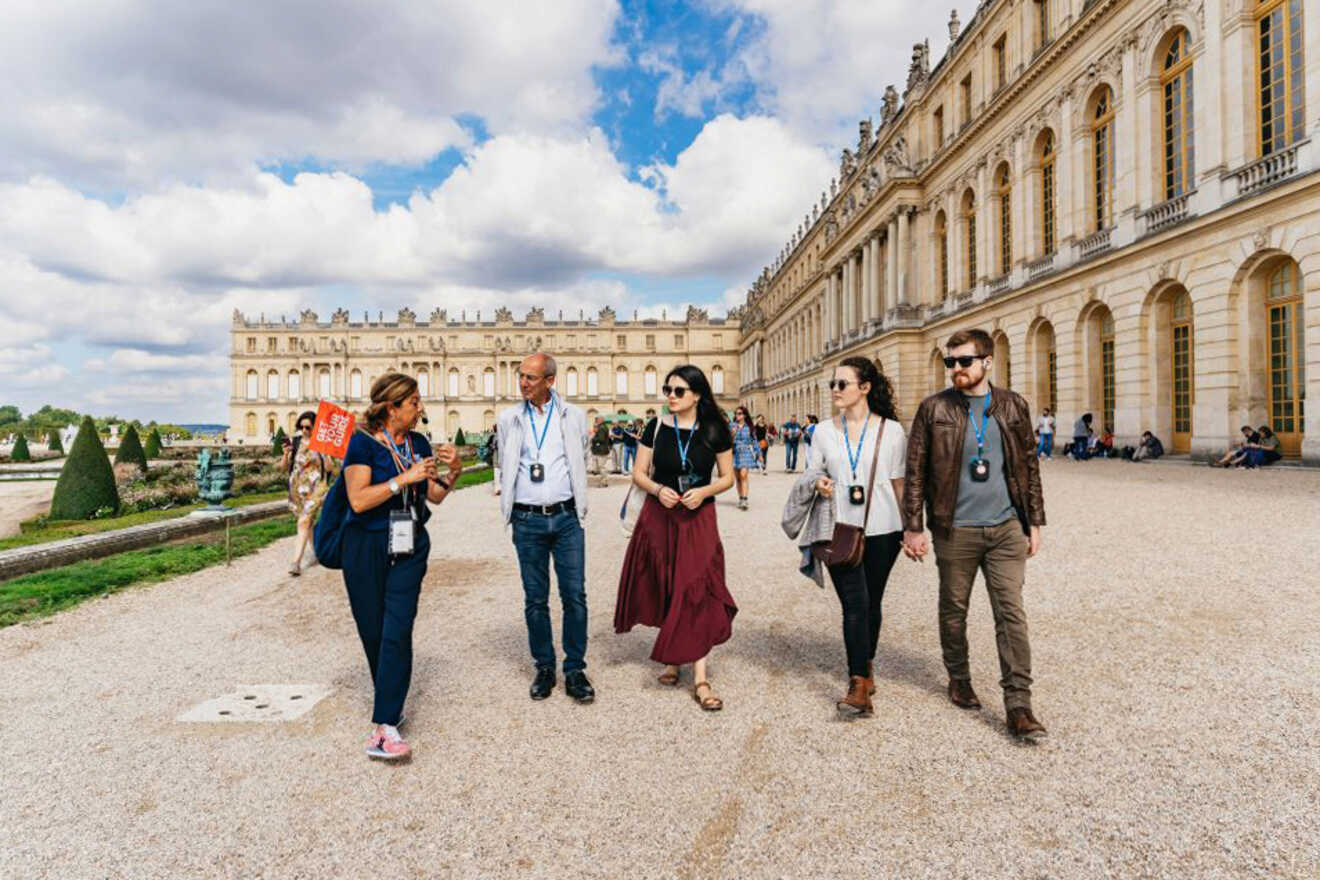 Want to make this visit to Versailles super special? Then there's nothing like a guided tour where you can learn super interesting stuff from a professional guide. I've gathered a list of some great guided tours which I think you'll love so let's check them out:
4. Combo tickets to Versailles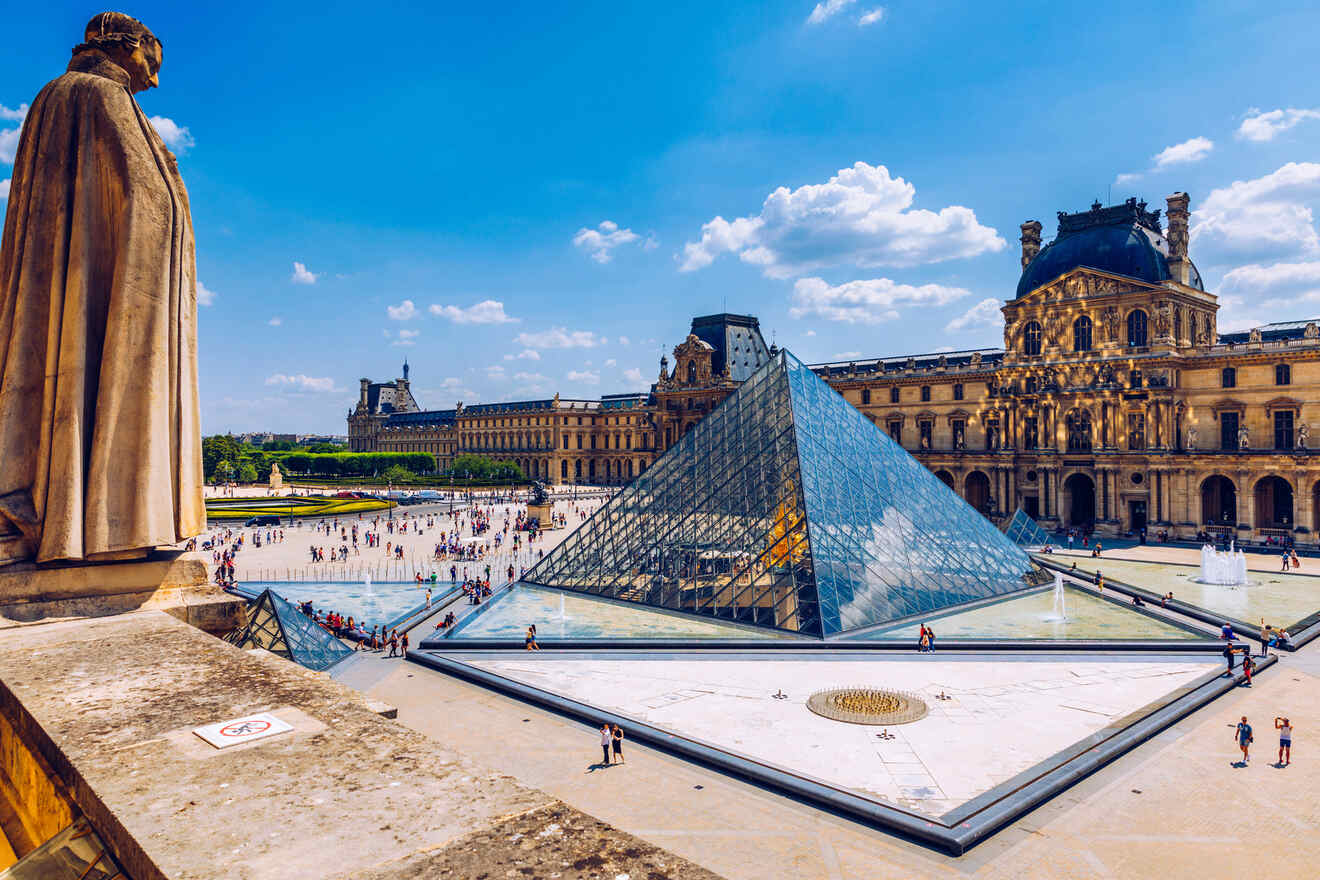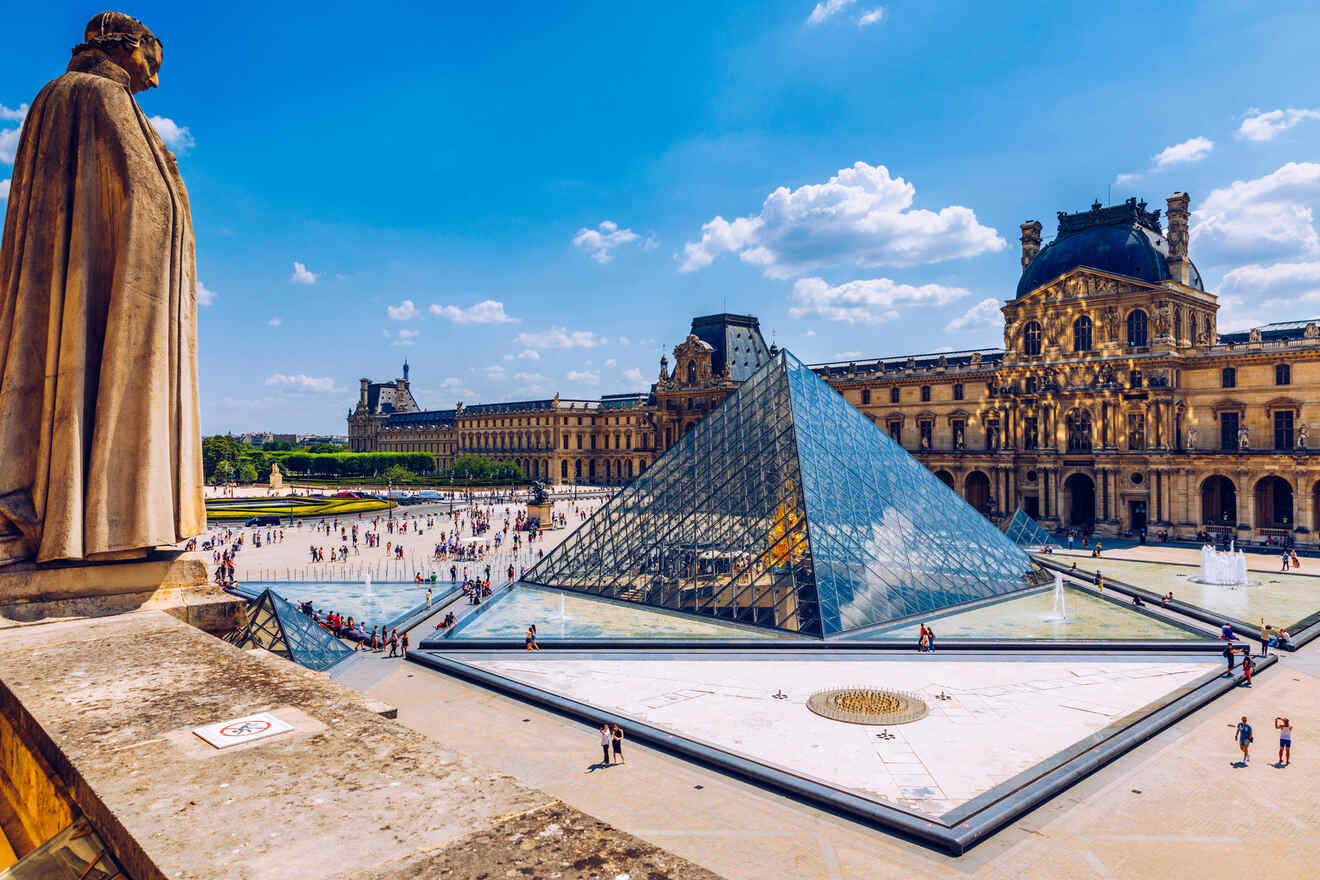 I'm sure you'll want to visit as many attractions as possible while you're staying in Paris, and if you don't want to go through the process of booking each one individually, then check out these combo tickets. With just a click you can get 2 or 3 attractions, and voila, you're done!
So let's check out some of the coolest ones I found:
5. Paris City Pass – is it worth it?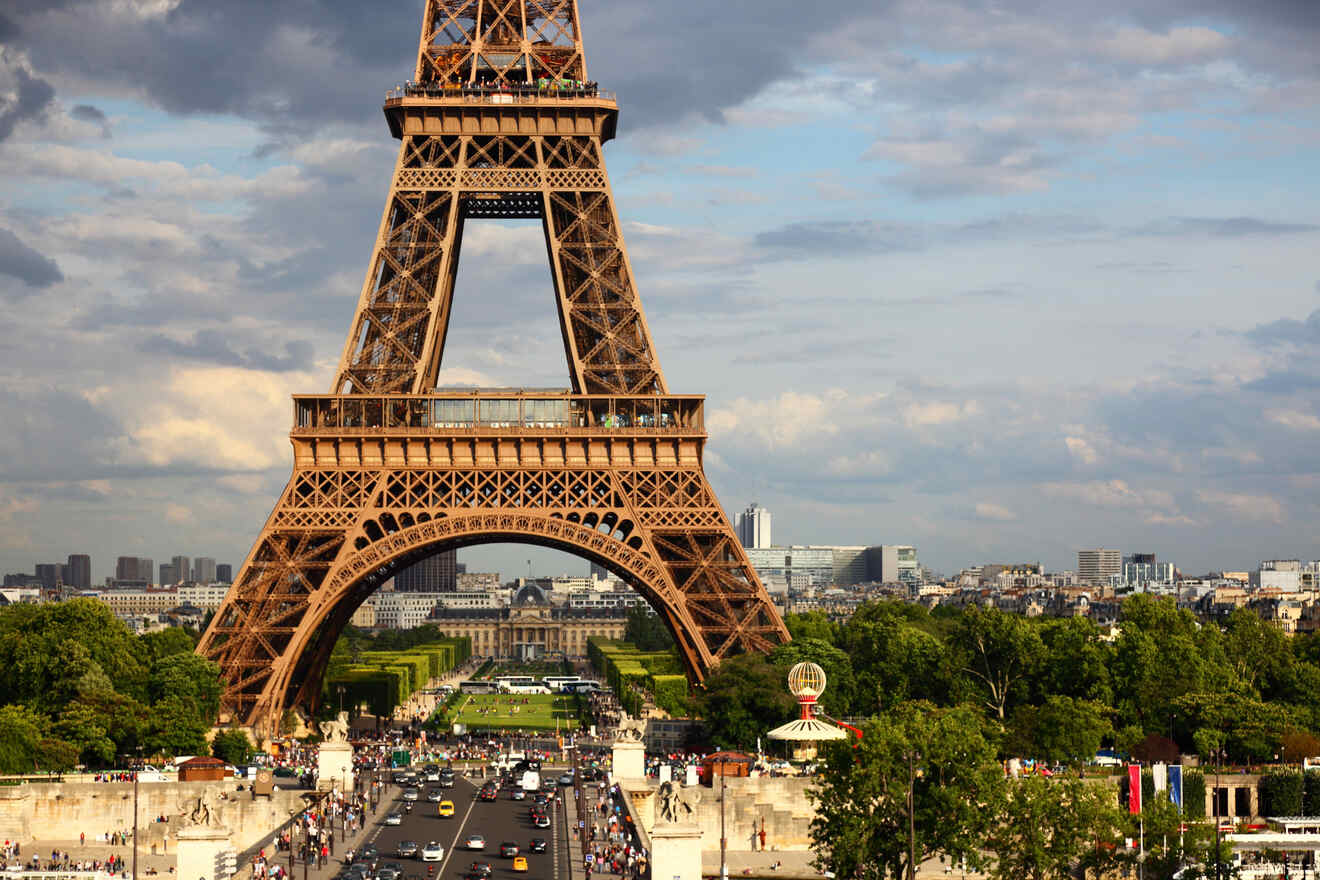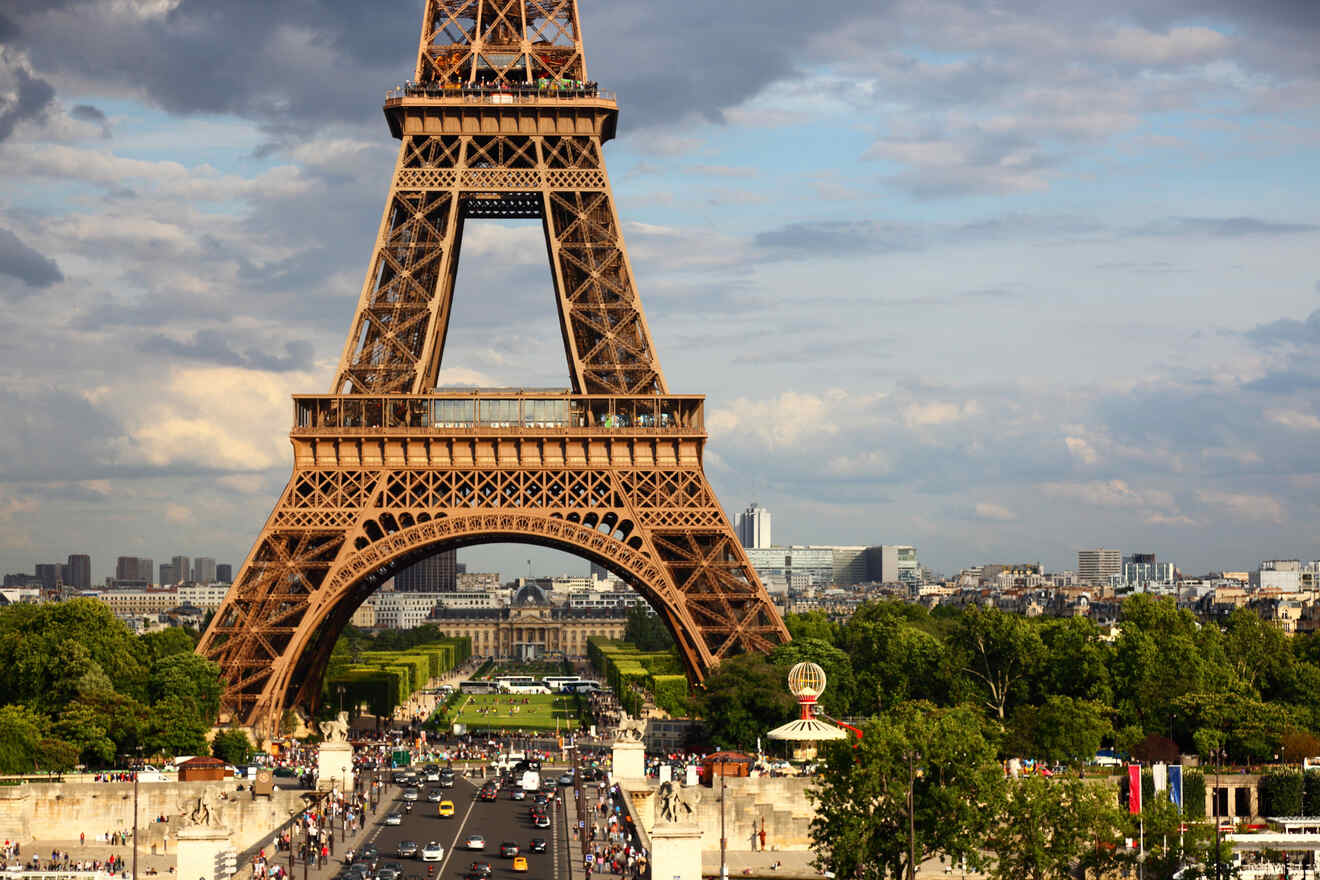 City Passes are becoming more and more popular. That's because it's really convenient for tourists to use just one pass to visit all the attractions in a city.
That's basically what a city pass is in a nutshell. You can use it to visit most of the main attractions in that town. However before you go ahead and buy it, you should always check if it's actually worth your money. Because sometimes, it's easy to fall in a tourist trap and pay extra for a pass.
Luckily, today, I'm going to help you with that and find out if the Paris City pass is worth it so let's start…
You can buy passes for 2,3,4 or 6 days of validity for different prices depending on how much time you have:
2 Days: Adult €89
3 Days: Adult €119
4 Days: Adult €199
6 Days: Adult €229
IMPORTANT: The Palace of Versailles is only included in the 4 and 6 days city passes. So if you get the 2 or 3 days passes you won't be able to see this attraction.
This pass includes a total of 86 attractions. However they're not just museums and palaces. You can also pick food tours, river cruises, and other fun things. But let's face it, doing 86 things on a short trip is pretty impossible. So to help you out a bit I picked the most popular attractions, which I'll add below in a list with their individual prices: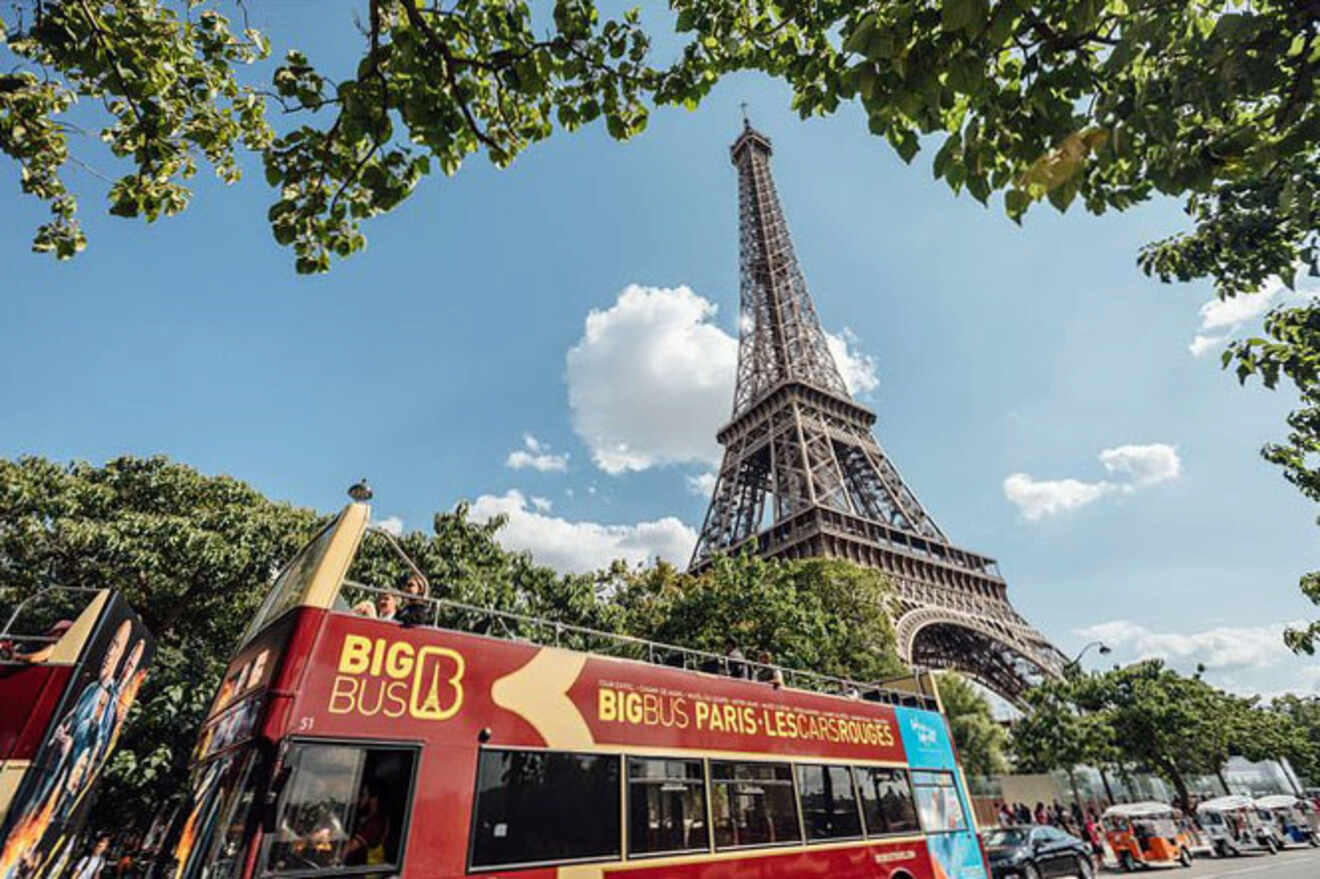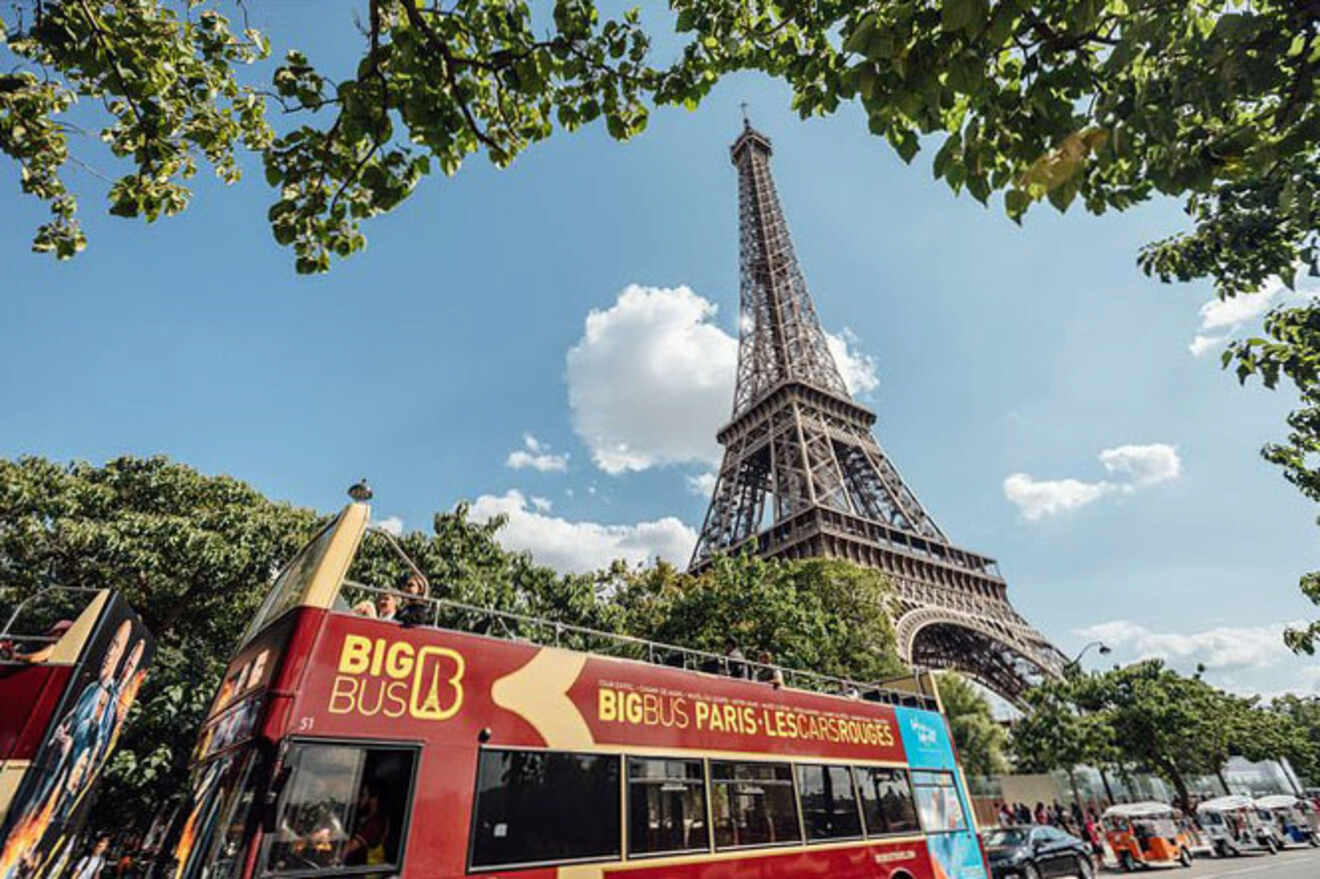 By my calculations in order for the pass to be worth it, I'd recommend getting the 4 day one. That way you won't be rushed to get to each place.
Here's how I calculated everything:
Versailles (€22) + Louvre Museum (€17) Arc de Triomphe (€13) Eiffel Tower Guided Climb + (€34) Grevin Paris Wax Museum (€20) + Orsay Museum (€17) + Seine River Cruise (€16) + 1 Day Big Bus Hop-On Hop-Off Tour (€38) + Cheese Tasting Tour (€20) + Champagne Gourmand in Montmartre (€18) + French Sweet Crepes at Bistro Marbeuf (€18)
22 + 17 +13 + 34 + 20 + 17 + 16 + 38 + 20 + 18 + 18 = 233
You save €34 (233 – 199 = 34)
Since the 4 day pass is €199 you would need around 11 attractions to make it worth it. But remember that it also includes some meals and tours so you can get great value out of it.
6. Last-minute tickets (how to find tickets if it's sold out)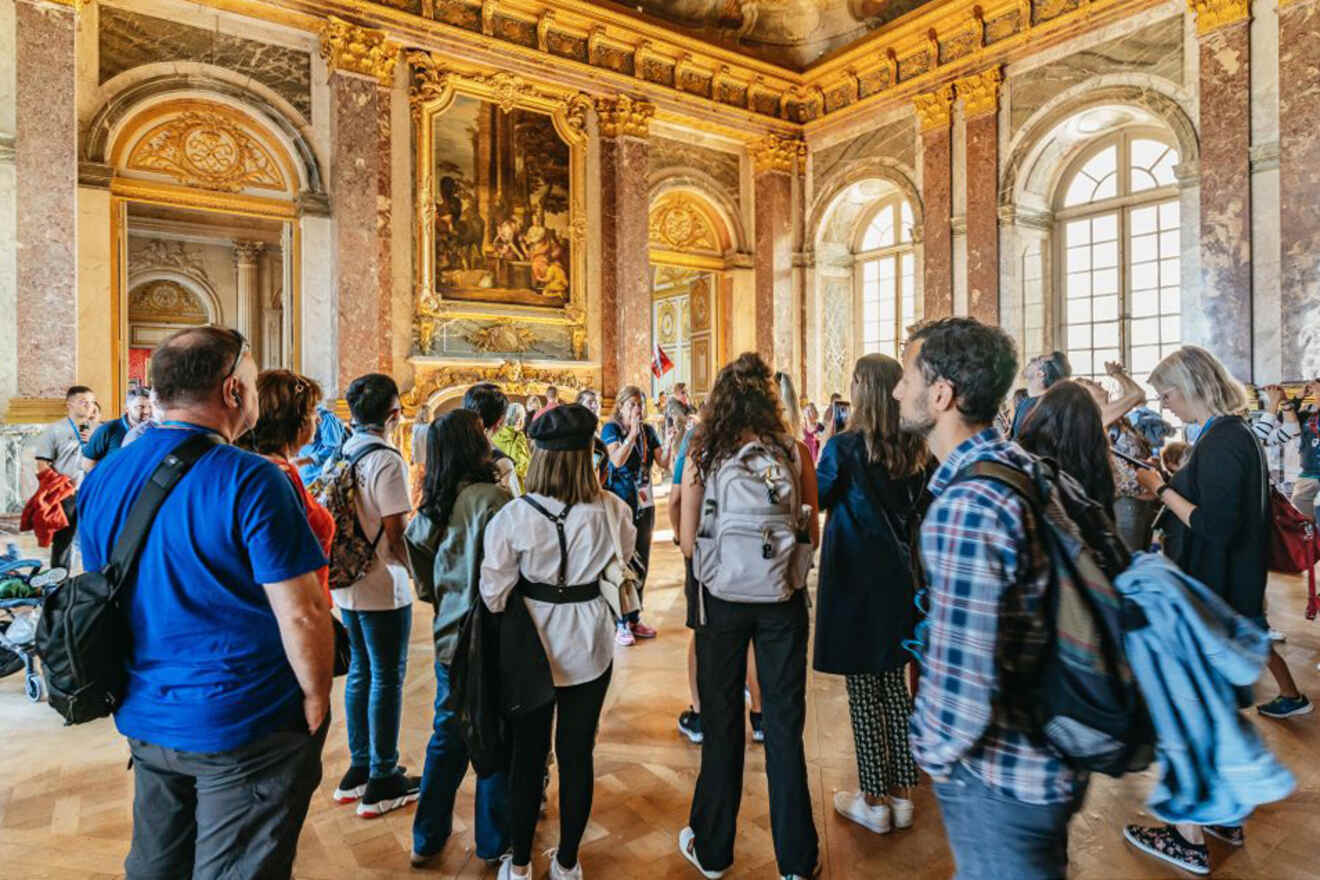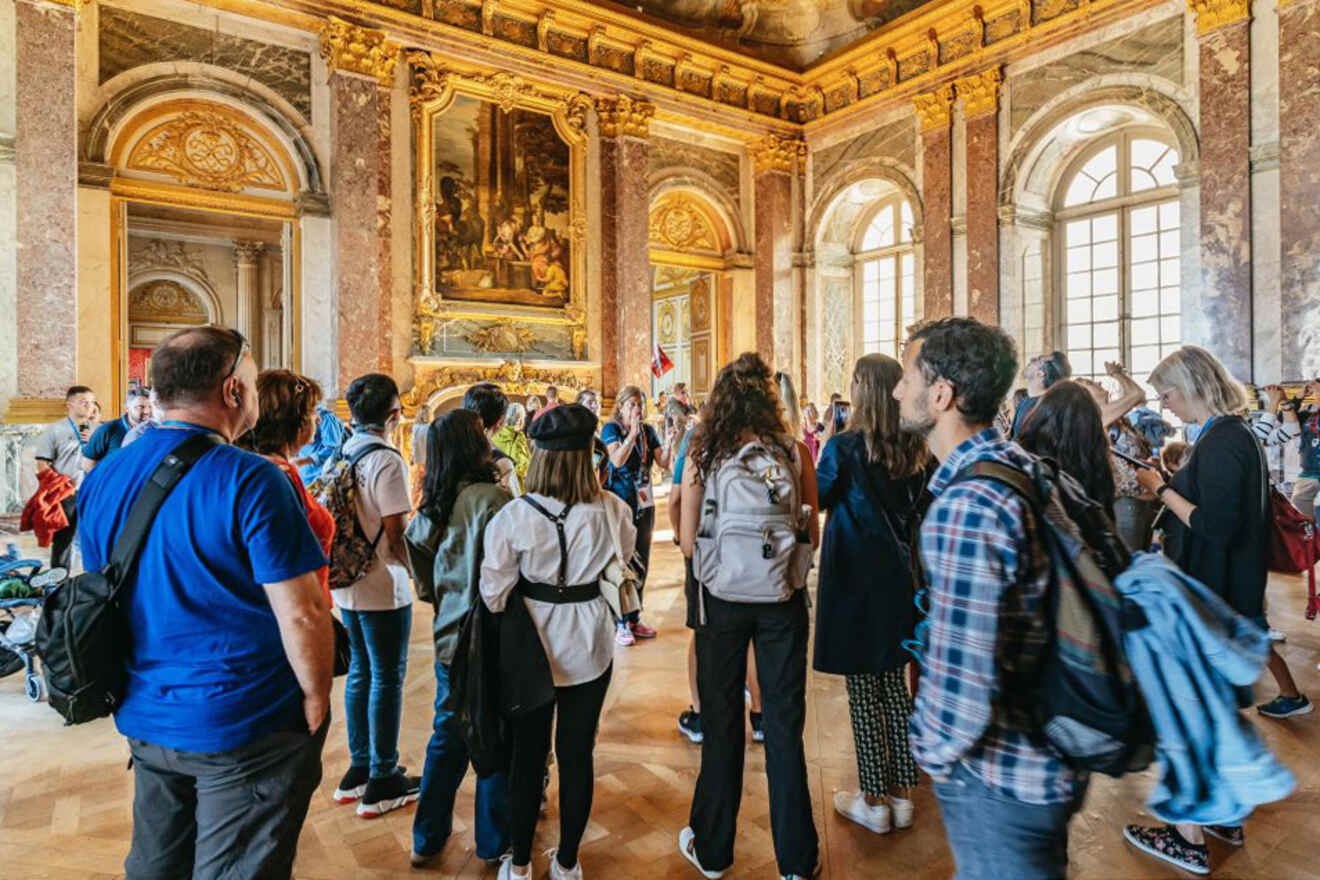 Versailles is such an important landmark, that tickets sell out pretty fast here especially during peak season (April to early October). That's why it's recommended to buy your tickets super early.
Fun Fact: Lots of movies were filmed at Versailles including Sofia Coppola's Marie-Antoinette and Midnight in Paris by Woody Allen.
However if that's not possible or if this trip was completely spontaneous, there are always other places where you can find tickets if they're sold out on the official website.
Depending on which type of ticket you want to get, I'd recommend GetYourGuide or Klook.
GetYourGuide sells the Passport ticket at the same price as the official website but without access to the Fountain Shows. However the perk is that they've got a much better cancellation policy where you can still get a full-refund if you cancel at least 24h before your visit.
From Klook you can buy the Palace ticket which doesn't offer access to the Trianon Estate, and to the Musical Fountains Shows and the Musical Gardens. This ticket is actually cheaper than what you'd find on the official website, and it costs €18.
If even these tickets are sold out for your date, you can check guided tours from Paris which include entry as there may be some left available!
7. How to visit Versailles for free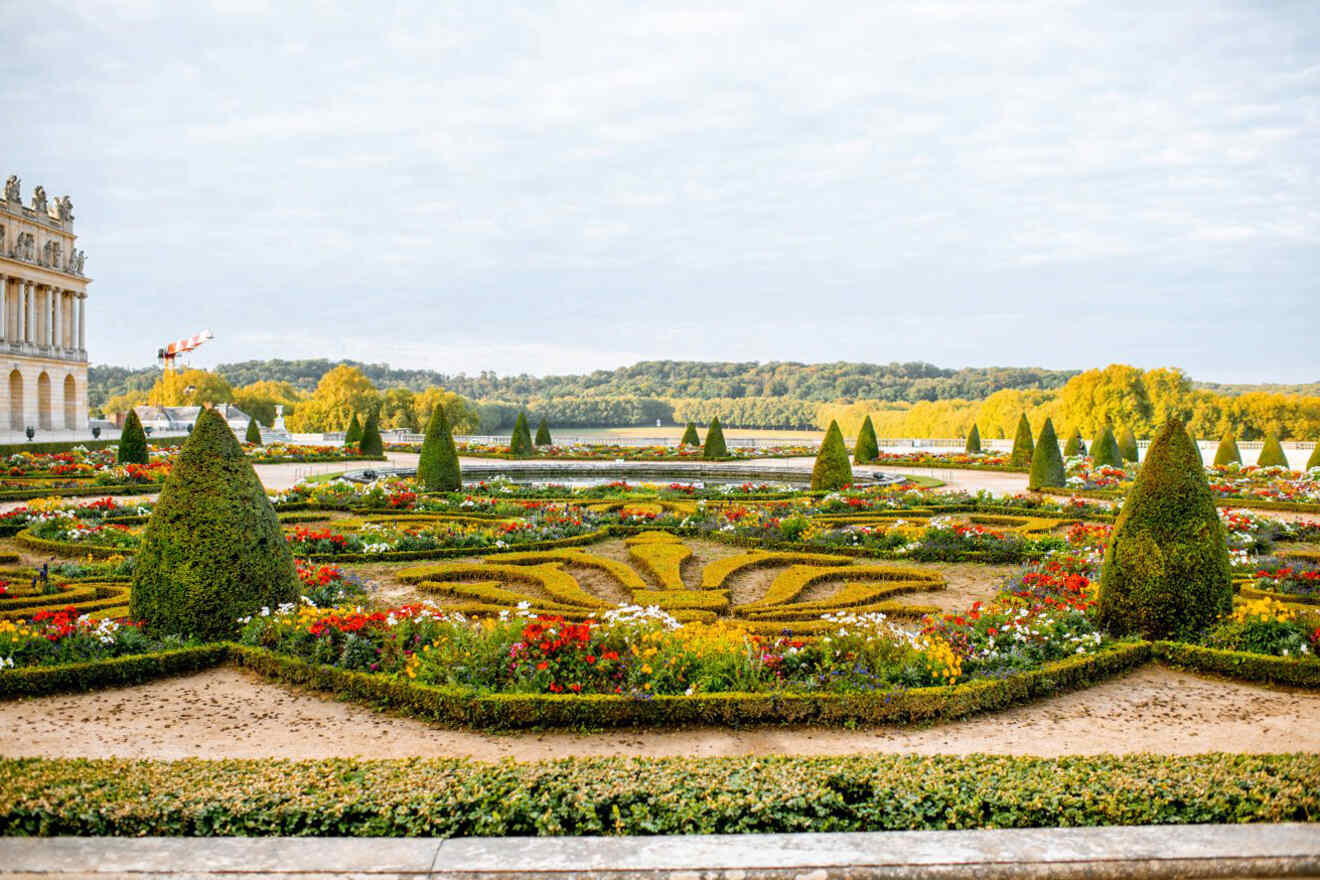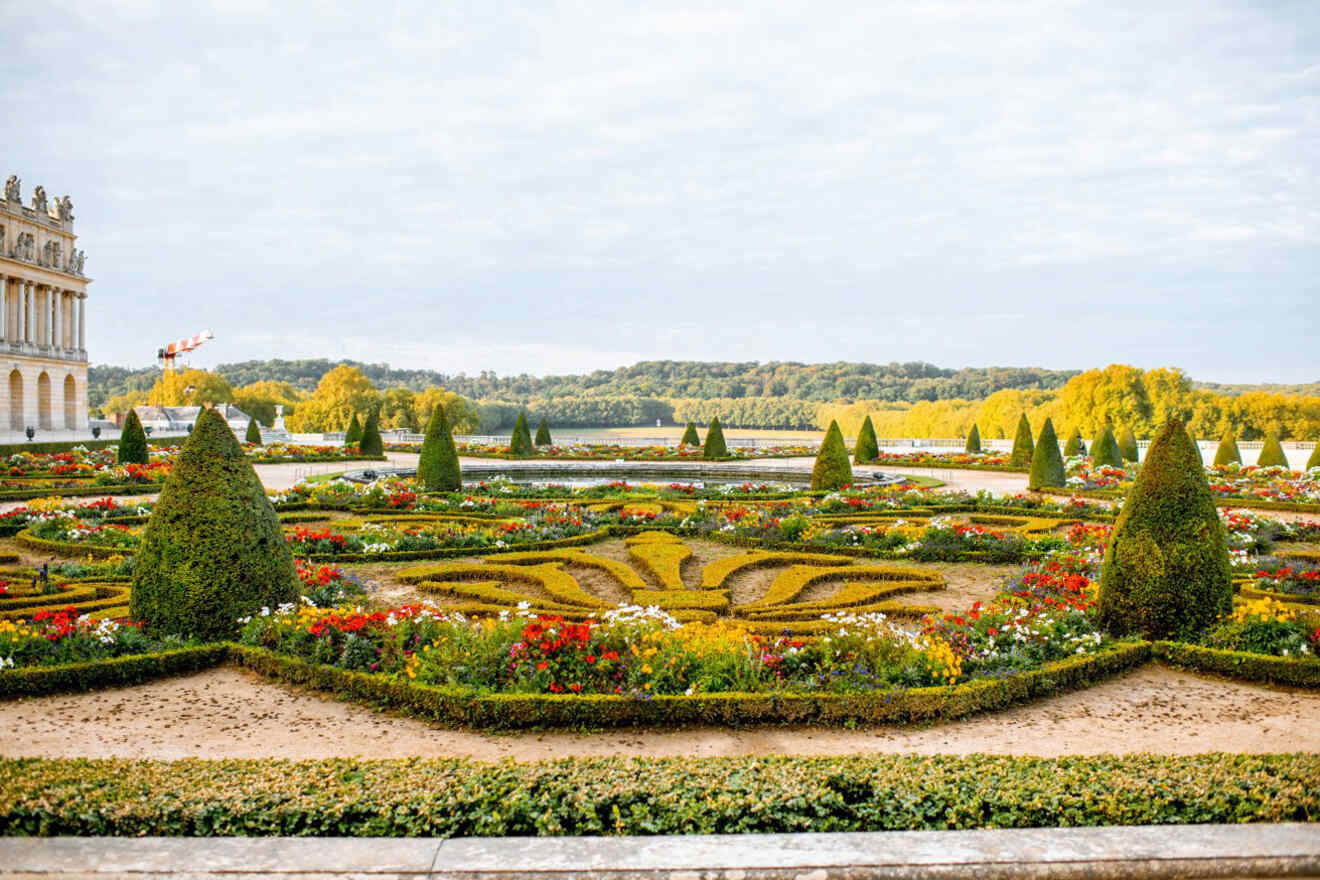 I've got some amazing news for you! If you're traveling to Paris between November to March, you can visit the Versailles estate, including the Estate of Trianon, for free on the first Sunday of the month!
NOTE: There is 1 exception though, on the first Sunday of the year (in January), the palace won't be open for free
You will still have to book a time slot, even for free Sundays, so make sure you do that if you're going then and also get there in time. If you miss your time-slot, you will have to go back to the information desk and ask if there's any remaining spots later on, and usually there isn't as it's packed on these days.
Oh yes, on free Sundays the museum is packed and the lines are super long. So brace yourselves because you may have to wait a while to get in!
Important things to know about Versailles Palace tickets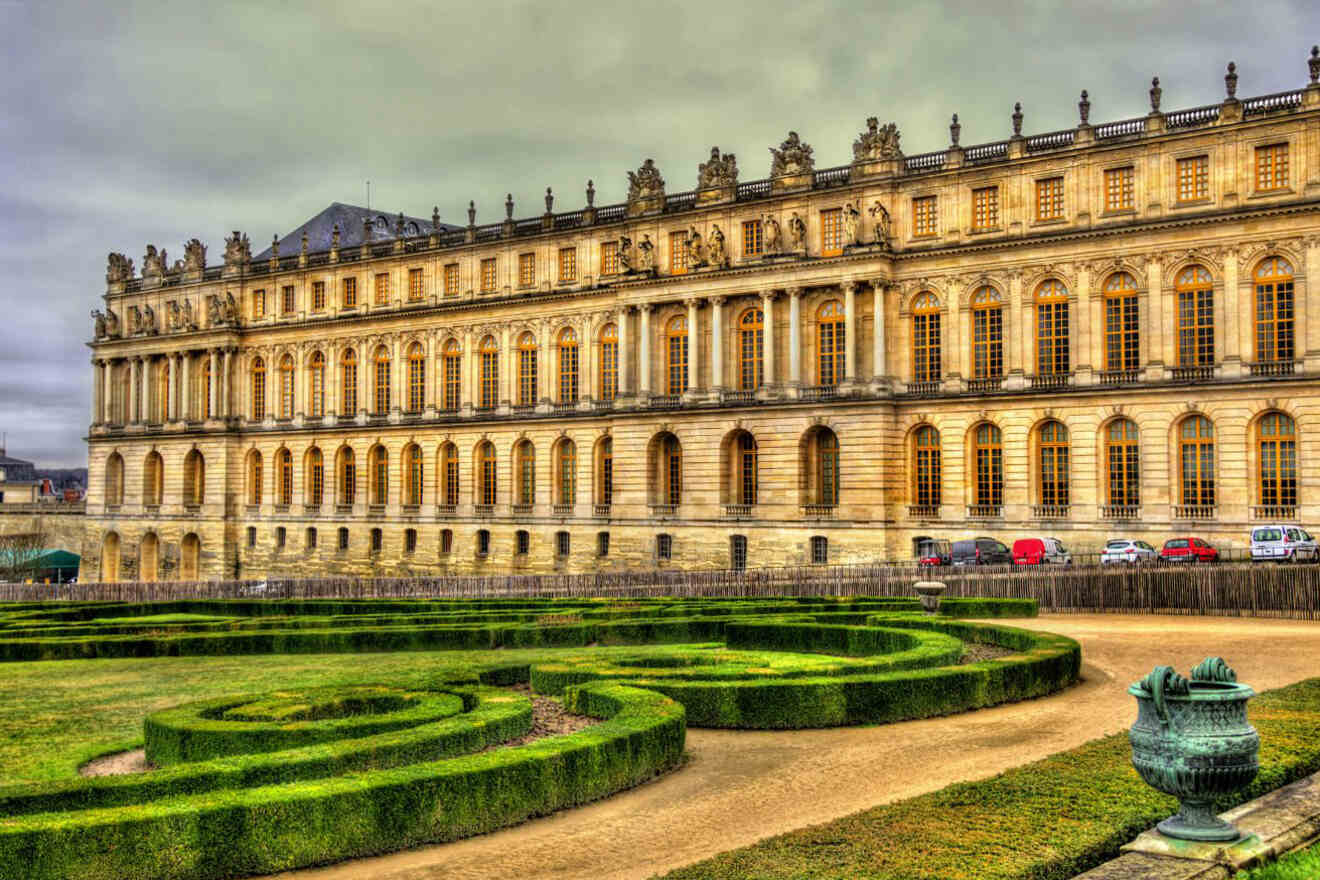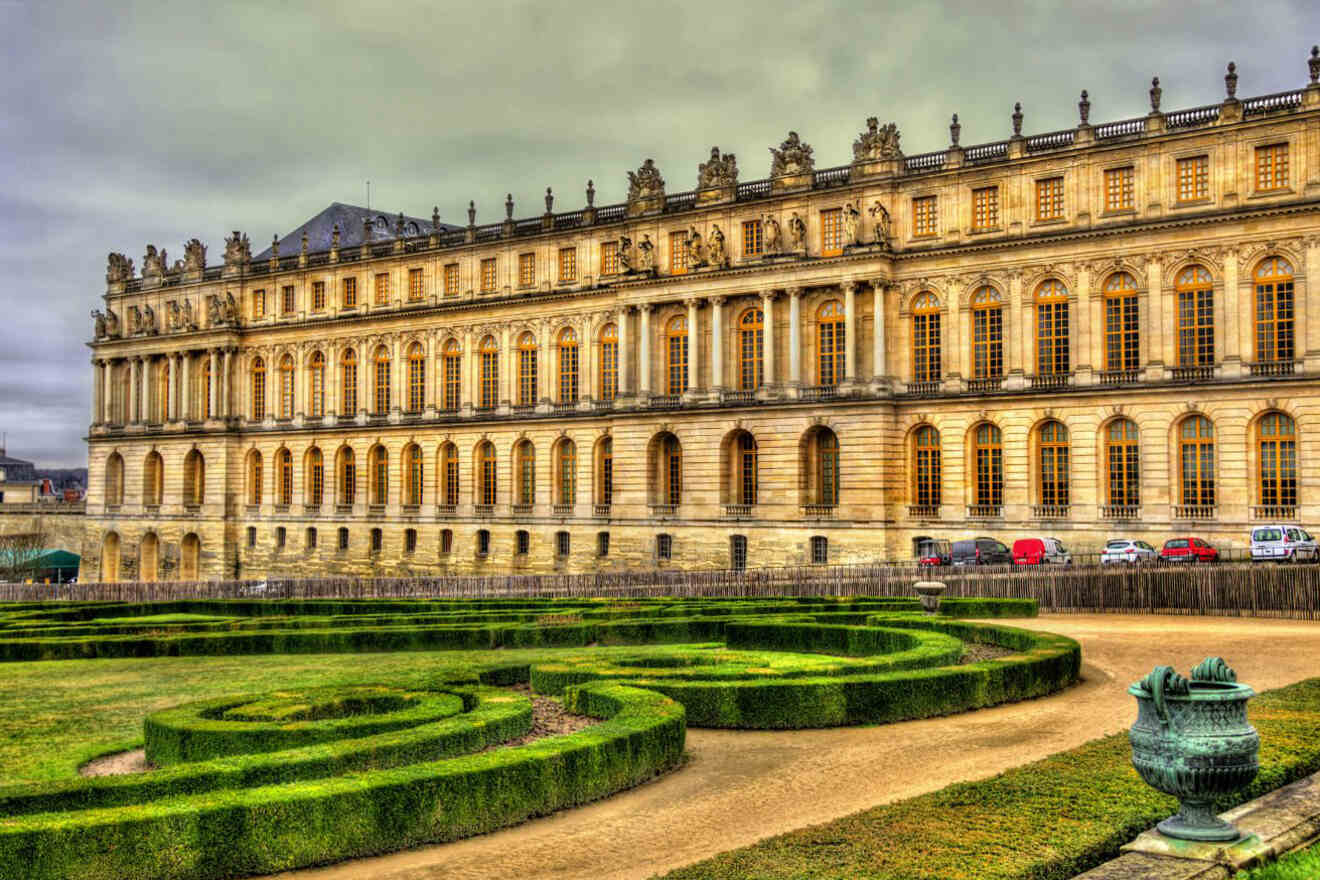 1. How far in advance do you need to buy your tickets
As early as you can, especially during the peak season (April to October). As a general rule I'd recommend 2 weeks before during peak season and a few days before during low season (November to March).
2. Opening hours & the best time to visit
The first thing you should know is that the estate is closed on Mondays. And since there are different sites inside the estate with different opening times I'll add the details for each of them below:
The Palace – from 9 AM to 5:30 PM (last admission is at 5:30 PM)
The Gardens – from 8 AM to 6 PM
The Estate of Trianon – from 12 PM to 5:30 PM (last admission is at 5 PM)
The Park – from 8 AM to 6:00 PM (last admission is at 5:30 PM)
The best time to visit the estate is during the low season (November to March). That's because there aren't a lot of tourists around that time and you can explore the estate much more peacefully.
But I know most of us travel during the warm months, so if you are coming during peak season (April to October) then I recommend coming super early when the palace opens at 9AM.
3. How to get to Versailles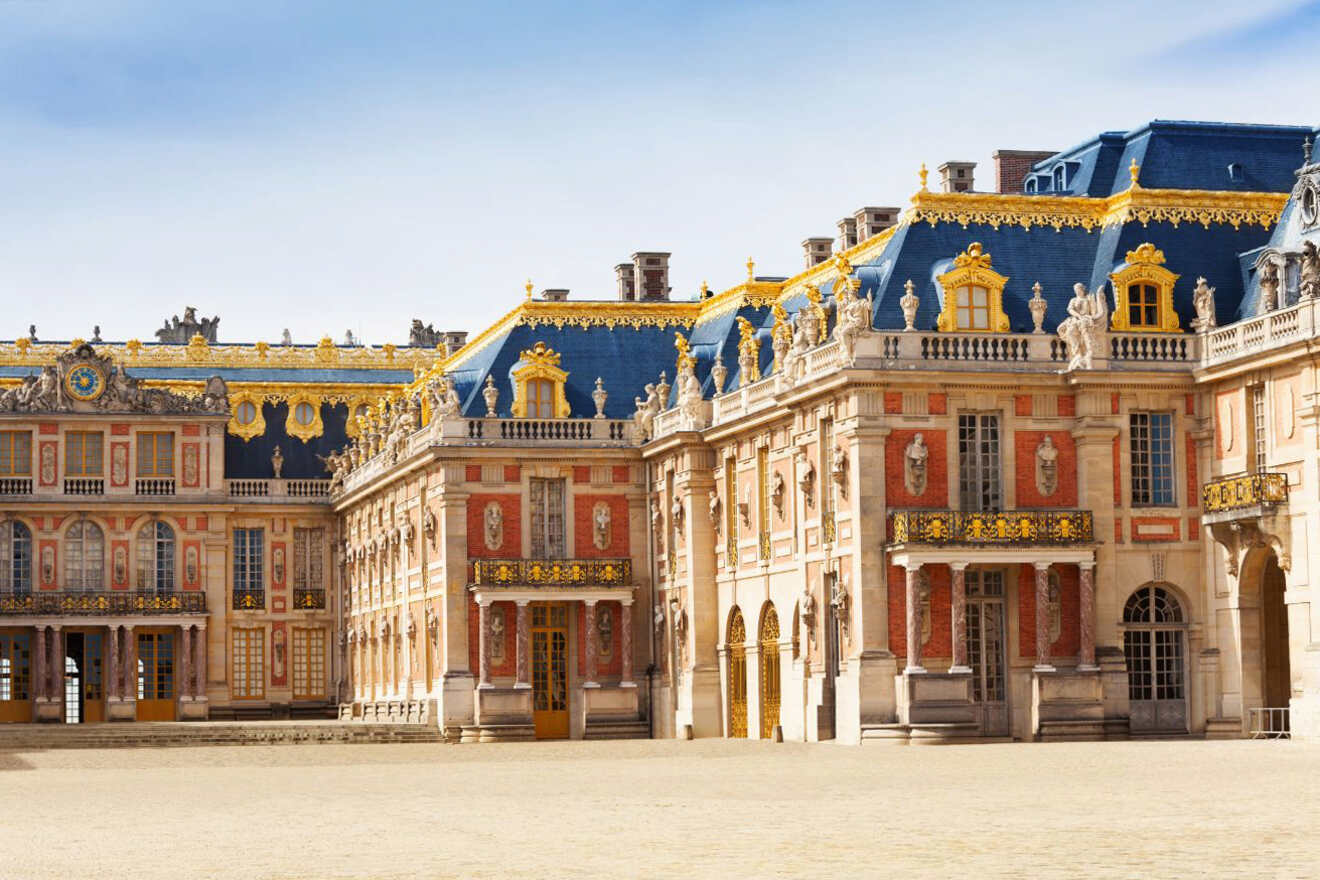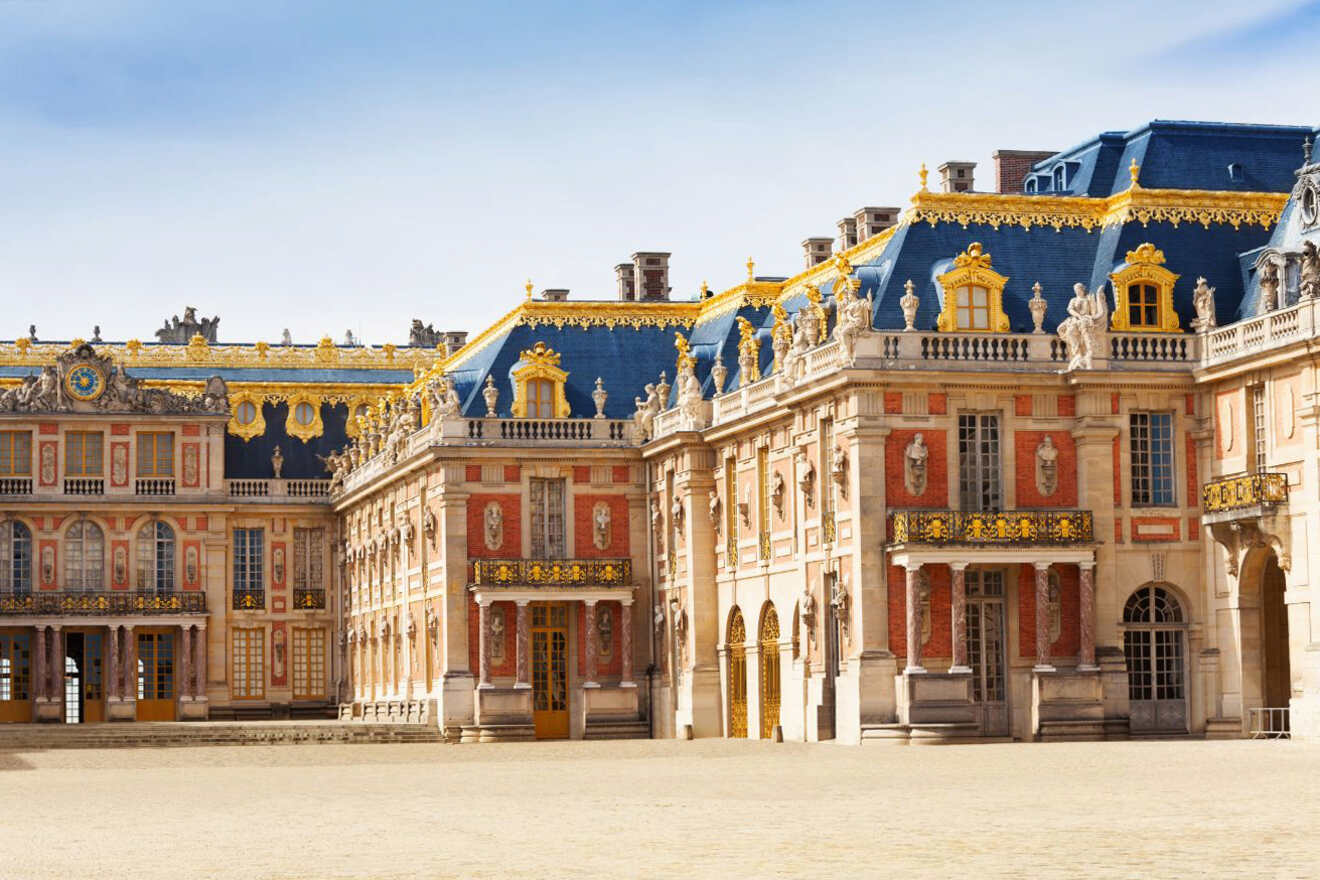 Since Versailles is 1h away from central Paris there different way to get there and I'll help you find the most convenient one for you so let's start:
By public transport – Take the line C tram from Austerlitz, Paris to Versailles Château Rive Gauche (for 45 min) and then walk for 14 min and you'll reach the Palace, in total the journey will take 1h
By car – The drive from Paris to Versailles will take around 50 min. There are a few parking lots at the palace like Place d'Armes, North Ministers' Wing, Petit Trianon and you can check all the rates here
4. Versailles Estate entrances
There are different entrances to the Palaces, Garden, Trianon Palaces and the Park. I'll talk about each below, but you should know that the tickets you buy online have a specific time of your visit and also the entrance that you have to use according to the type of ticket you bought. So make sure to check with your ticket!
But for now let's get you acquainted with all the entrances:
Palace Entrances: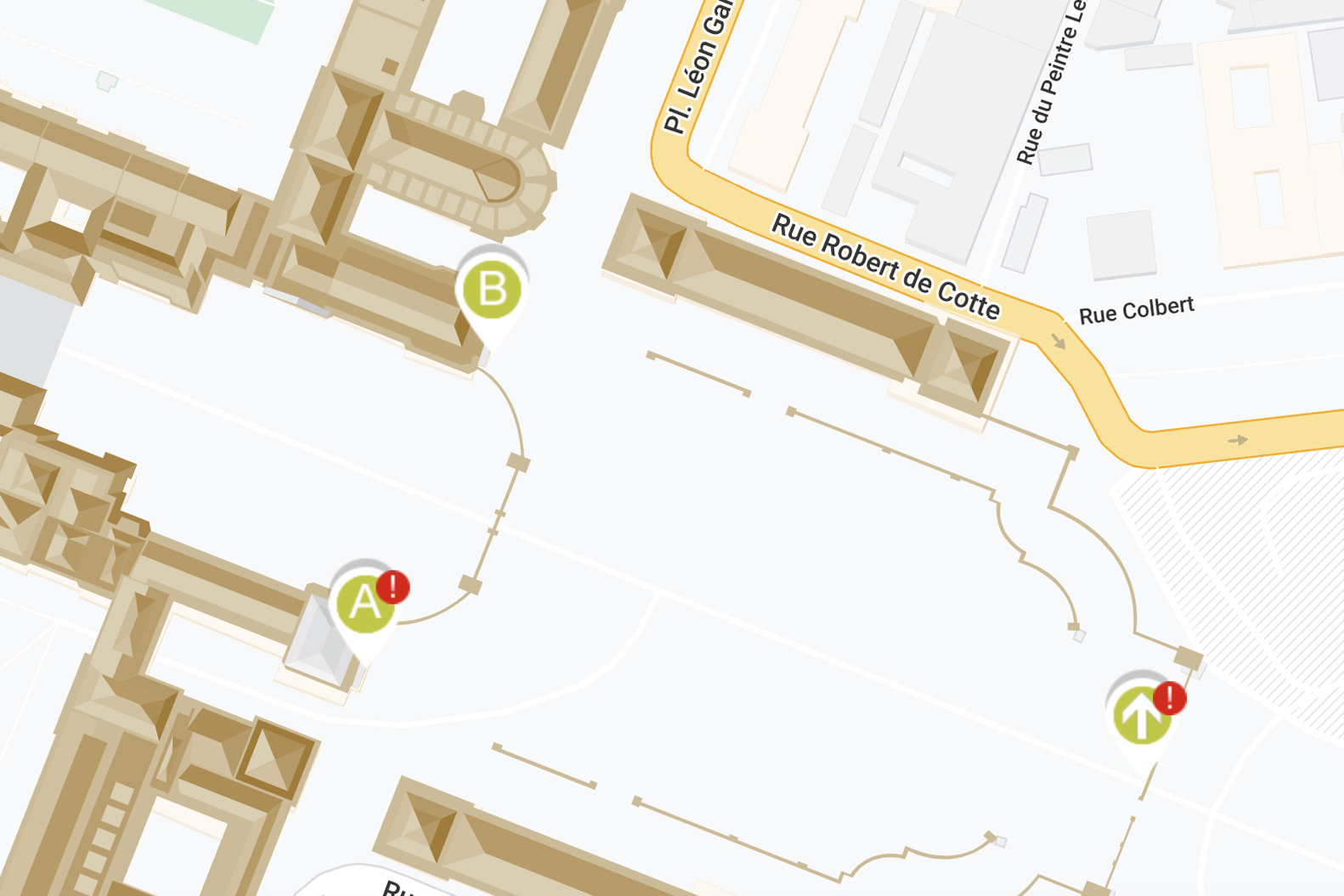 Cour d'Honneur – the main entrance
Entrance A – reserved for visitors with tickets
Entrance B (to the right at the top of the Cour d'Honneur) – is reserved for groups that have booked their visit
Gardens Entrances: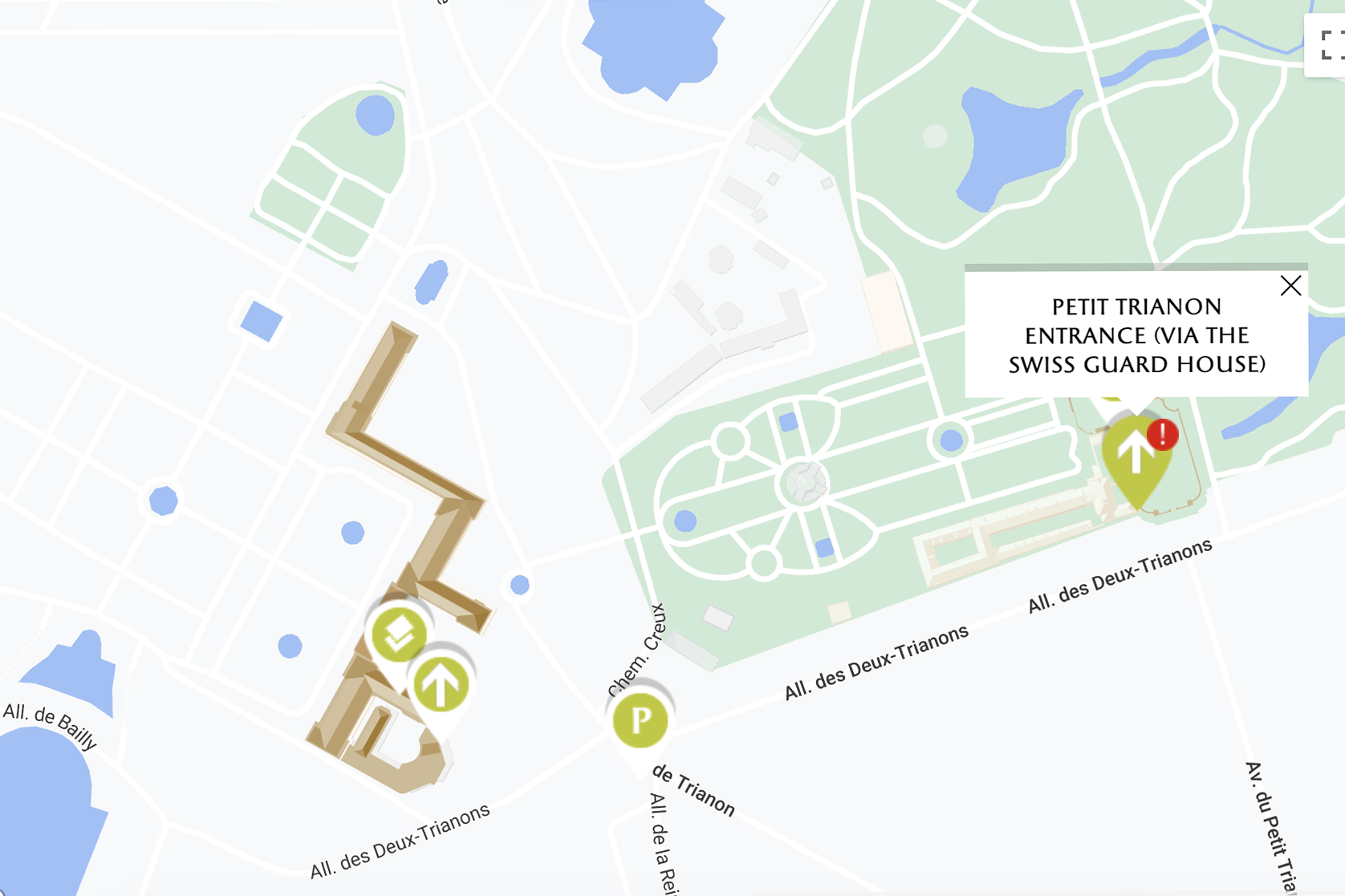 To access the garden, head to the left at the top of the Courtyard of Honour and the access is through the courtyard of the Princes, at the left-side of entrance A
Trianon Estate Entrances: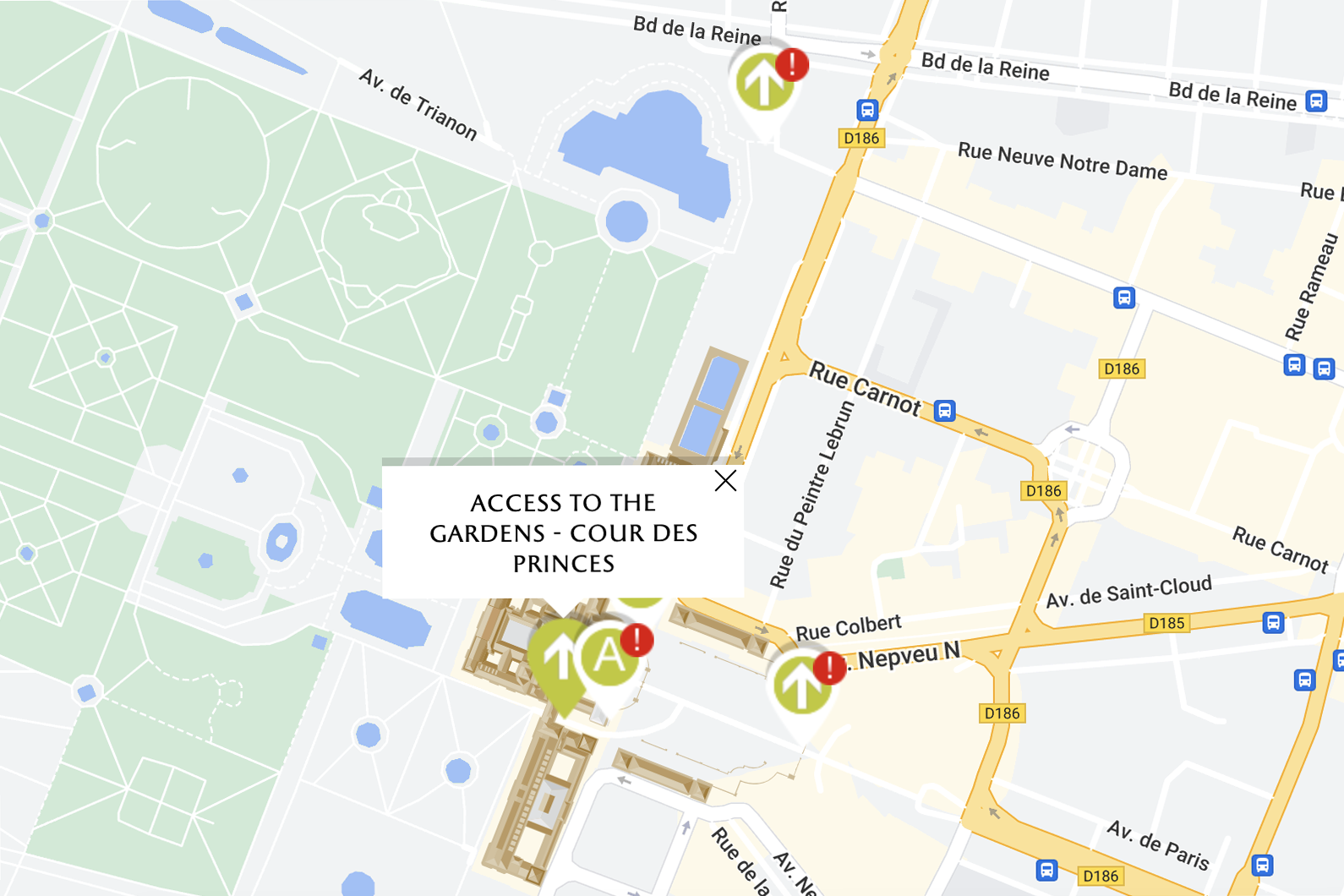 Petit Trianon Entrance – the entrance is on the left of the Petit Trianon gate
Grand Trianon Entrance – the entrance to the Grand Trianon is on the left as you face the building
5. What to bring (and not bring) to Versailles
With your mind preoccupied with the other 100 things you have to bring on this trip, you can easily forget other small details like what you can and can't have on you when visiting the attractions.
So, if you need a bit of help, check out this short list before you hit the road:
✅Tickets – You can print out the tickets or show them on your phone, either way is fine
✅Camera – Pictures without flash are allowed inside the Palace, tripods are not allowed
✅Food & drinks – You can bring food and drinks inside the estate but not any inside of the Palace
❌No Large Items – No bags larger than the maximum size (55cm x 35cm x 20cm) are allowed
❌Selfie Stick or tripod – You can't bring a selfie stick inside the palace
6. Facilities inside the Versailles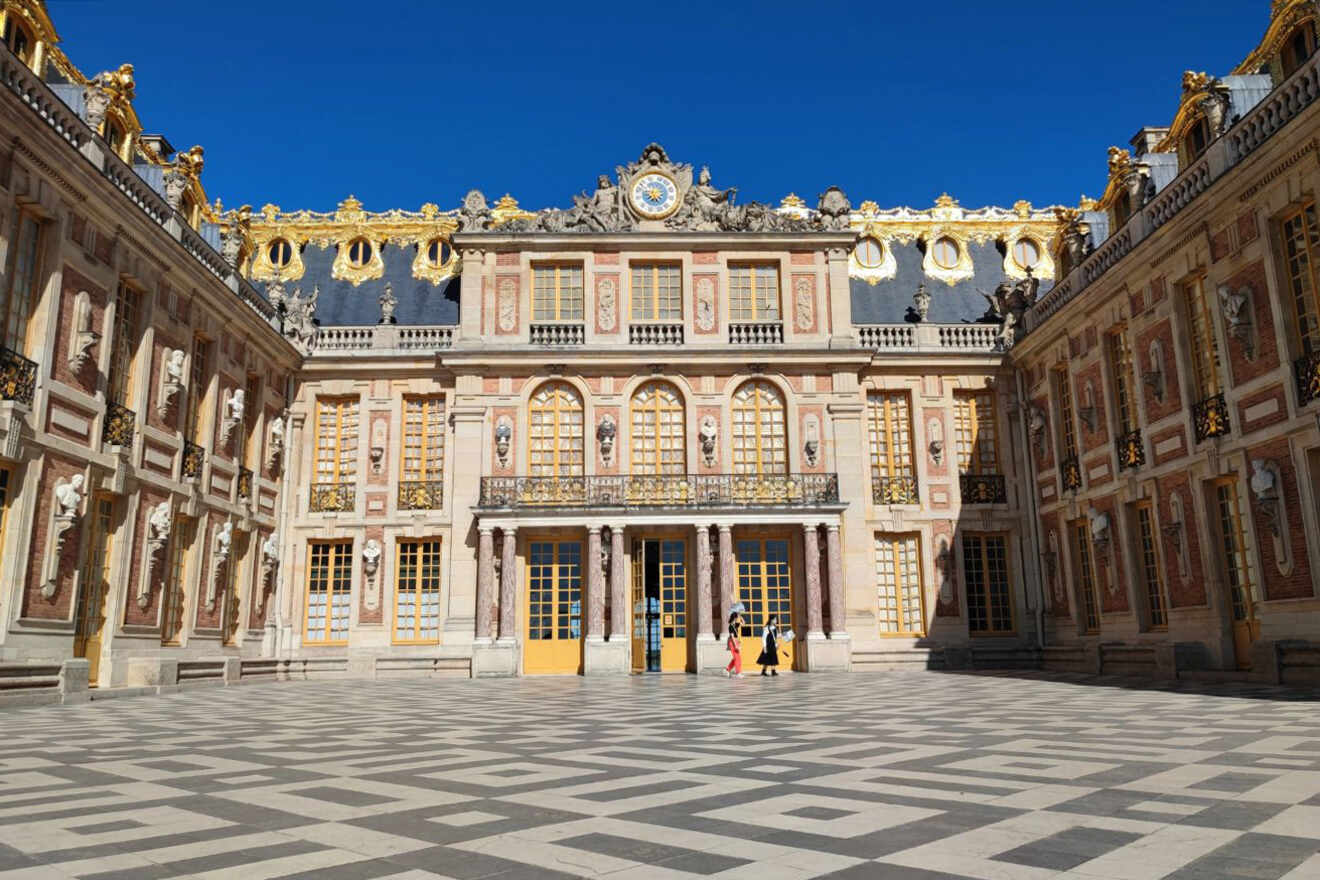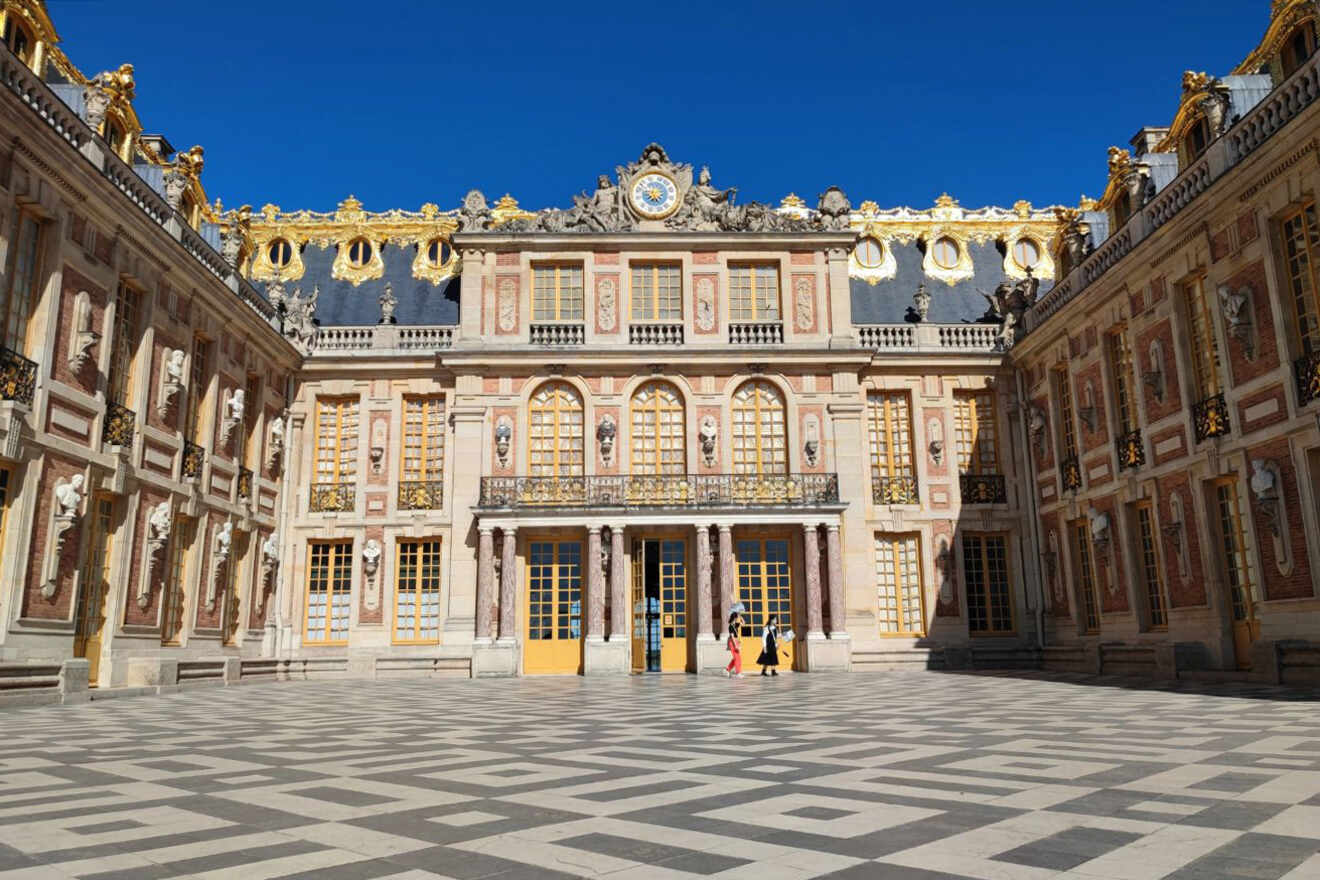 To help you find your way around inside Versailles, I decided to add a list of some important places you may be looking for during your visit.
Fun Fact: The construction of the gardens took over 40 years
Toilets – in the Palace, there are toilets and changing tables before the ticket checks in the South Ministers' Wing and after the ticket checks in the basement of the Dufour Pavilion (Entrance A). Other toilets are located in the basement of the Gabriel Pavilion (Entrance B) and at the end of the History Gallery. You can check all the locations right here
Accessibility – The estate is accessible for people using wheelchairs or those with reduced mobility as there are lifts for all levels of the Palace of Versailles
Wi-Fi – There is free Wi-Fi inside the Palace for tourists
Cloakroom – Their cloakrooms are not available at the moment but there are automatic lockers available in different information points
Gift Shop – You'll find different gift shops throughout the estate like Librairie des Princes and King's Cabinet of Medals, Pavillon Dufour shop, Boutique Cour de Marbre, Comptoir de la Chapelle, The Grand Trianon shop, Gardens shop
Cafes & Restaurants:
| | |
| --- | --- |
| 👩‍ Adult price: | €18 |
| 👧 Kids price: | Free |
| 💲Cheapest tickets: | Klook |
| 🎟️ Passport ticket: | €22 |
| 🎤 Guided tour: | Official Website |
| 🕖 Best time to visit: | 9 AM |
| 🤫 Quietest entrance: | Entrance A |
FAQs about Versailles tickets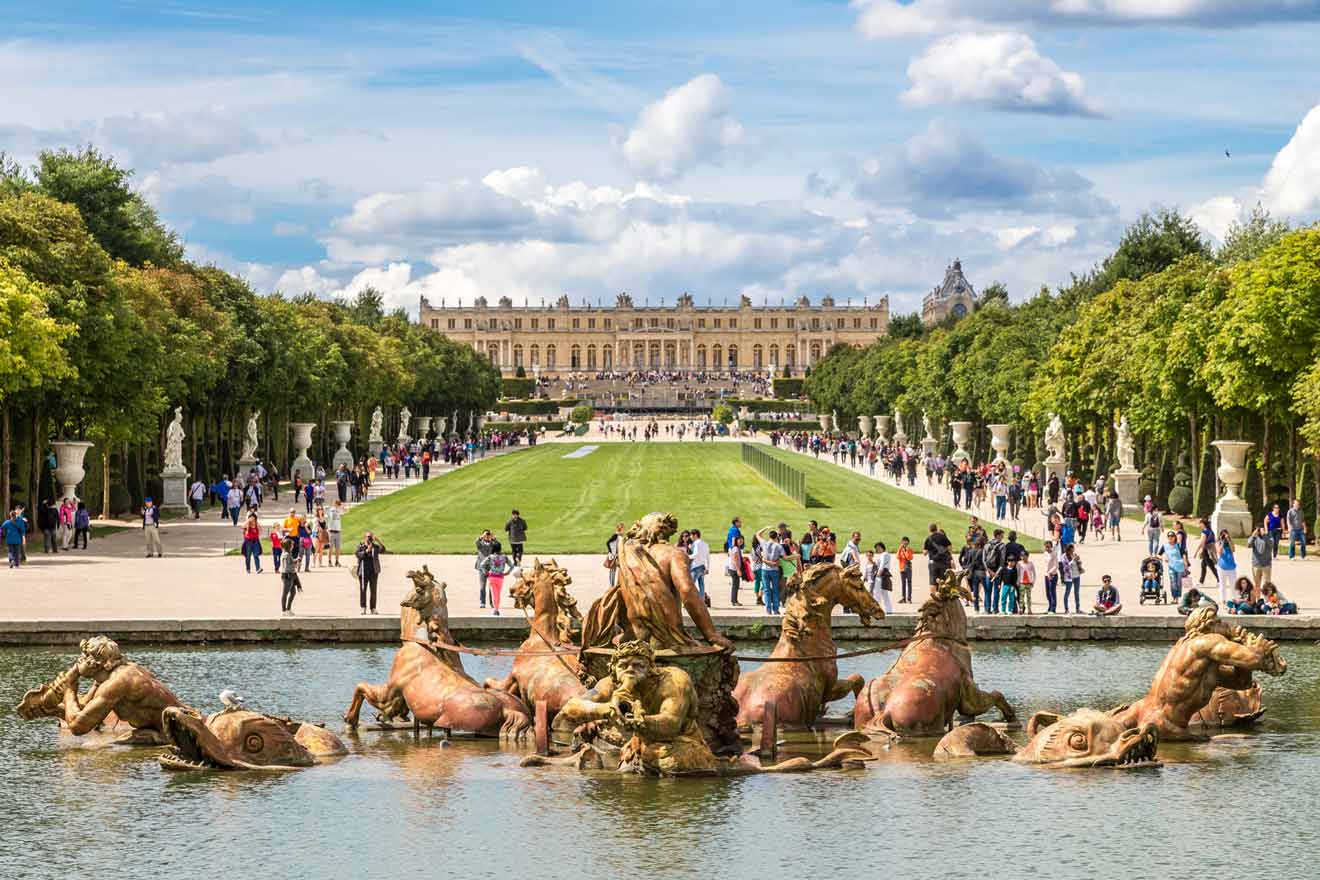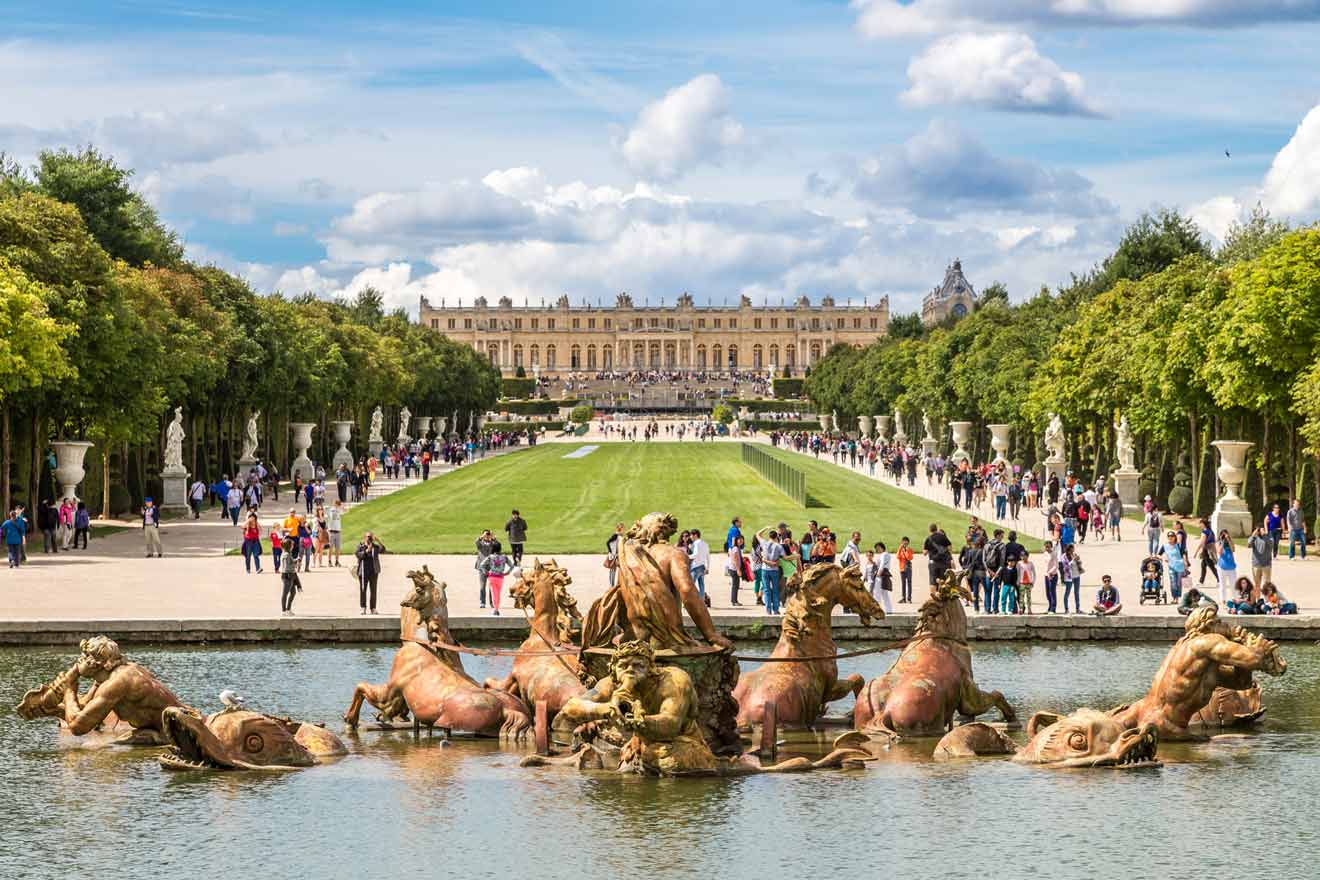 🎟️ What tickets should I buy for Versailles?
🤔 Do Versailles tickets sell out?
Yes, Versailles tickets sell out, especially during the peak season (April to October) so make sure you book early.
🕖 How many hours do you need at Versailles?
If you want to see the whole estate I would say you'd need a whole day since you have the Palace, the gardens and the Trianon Estates.
💰 Is it free to enter the Palace of Versailles?
European citizens under 26 and people under 18 from outside of Europe can visit the Palace for free.
Conclusion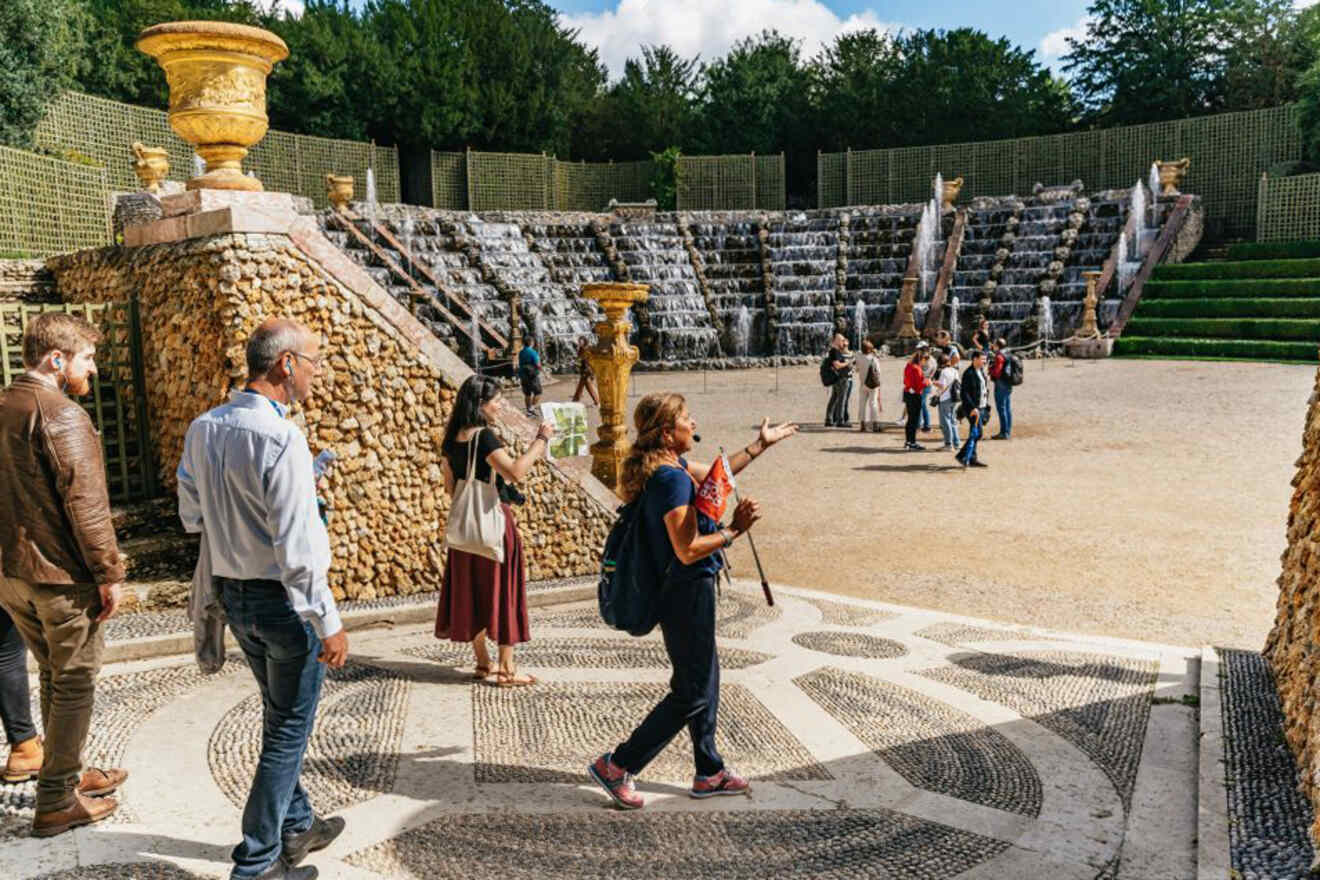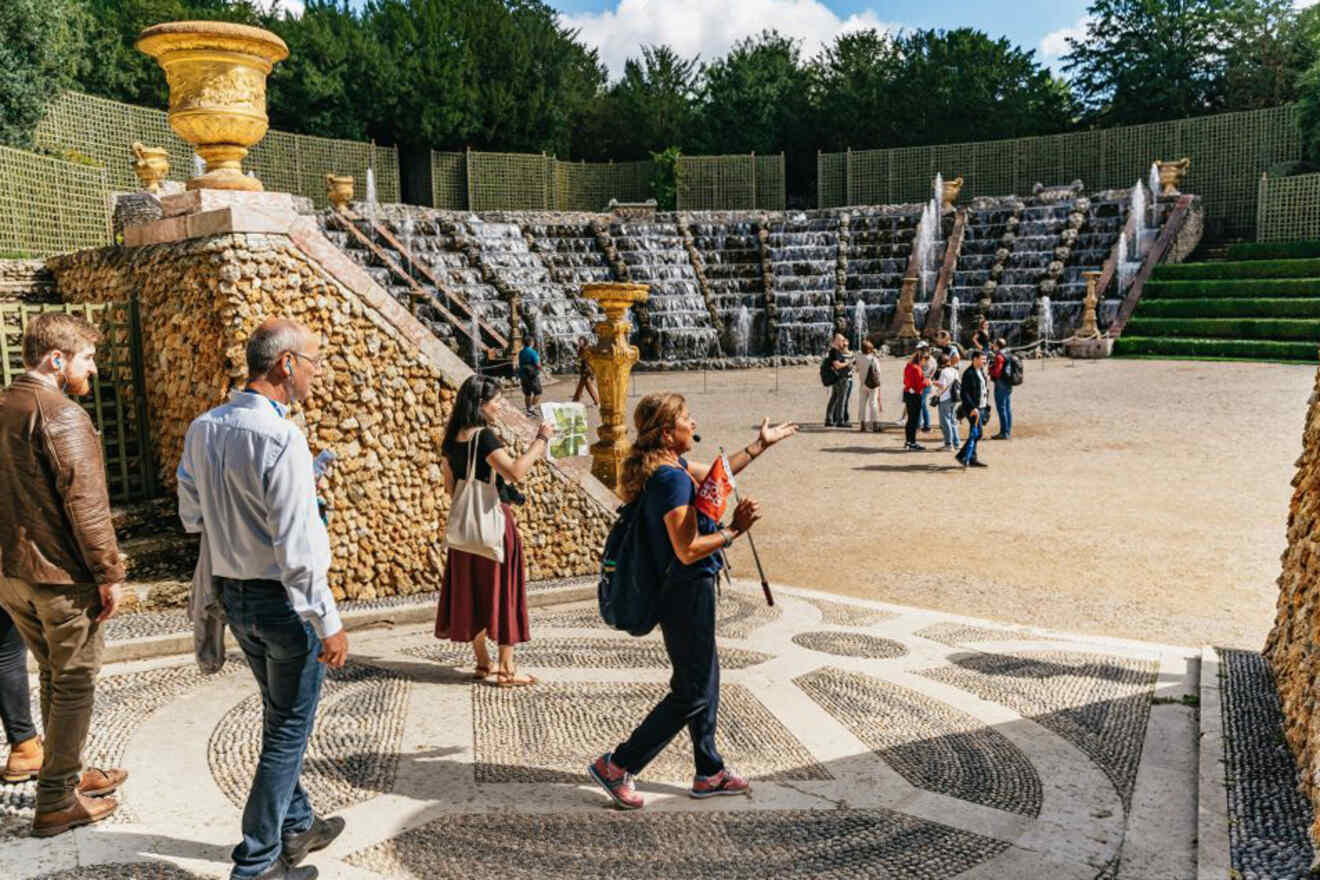 What an iconic place, and who knew there were so many ways to buy your Versailles tickets? Now you're probably a pro at that and you can even teach your friends as well.
Since we're reaching the end of the post I think a short recap is necessary, just so we can refresh our minds.
The main types of tickets for Versailles are the Passport tickets which include access to the whole estate (which you can find on the official website and GetYourGuide but those ones don't include the fountain shows) and the Palace tickets, which you can use to visit only the palace and the gardens (and these ones you can find them at the cheapest price on Klook).
You also have the option of Trianon Estate tickets which allow access only to this estate and the gardens (found on the official website). And last but not least the entry tickets + transportation from Paris which you can get from GetYourGuide.
I know it can get a bit confusing, but don't forget you can always leave me a comment if there's something you don't understand and I'll gladly help you!
But until then, enjoy planning this fabulous Parisian trip!
Au revoir,
Victoria
---
Pin it for later!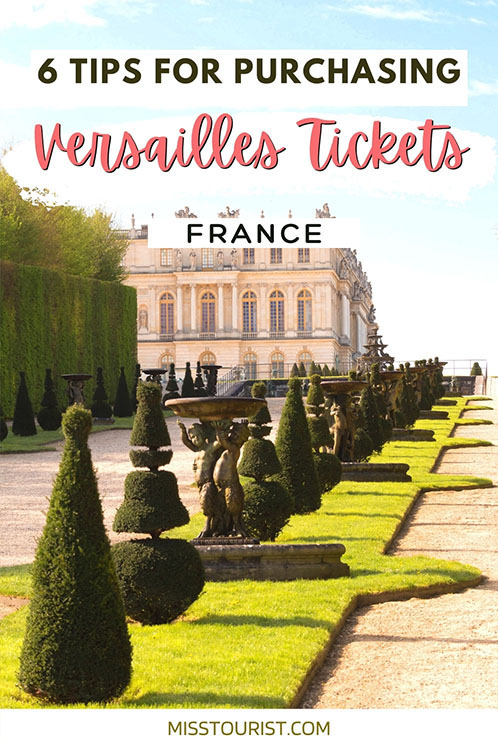 Pin it for later!