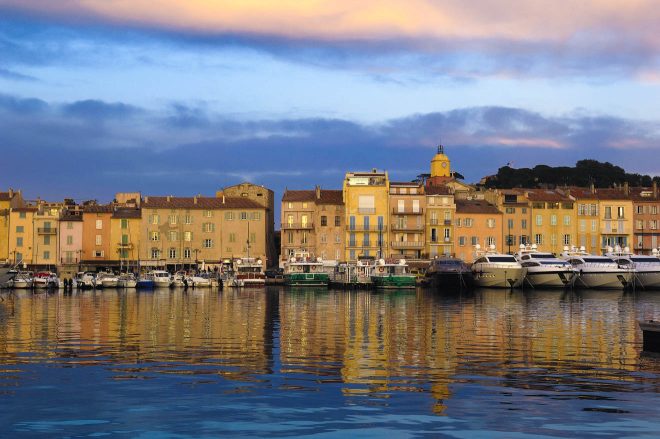 What comes first to your mind when you hear about Saint Tropez?
You are probably thinking of celebrities, glamour, and yachts, exclusive clubs, etc. Don't worry. I thought the same! And it is true: the city has it all. But which are the best things to do in Saint Tropez? Let's find out!
Saint Tropez was different from all the other places I visited in Cote D'Azur: while Nice or Marseille are bigger, the wondrous little town of Saint Tropez is located inside the shoreline, which makes it a very secluded destination!
It does not matter if you are looking for a luxurious, tranquil getaway or you want to dance the night away with celebrities in one of the local famous clubs – Saint Tropez is a great place to check out for a weekend!
With a population of less than 5000 people (!), Saint Tropez can be hardly called a town, it is more like a village. But not just any village – but a deluxe, fancy one.
Here is a map with St. Tropez so you can see where it is located exactly: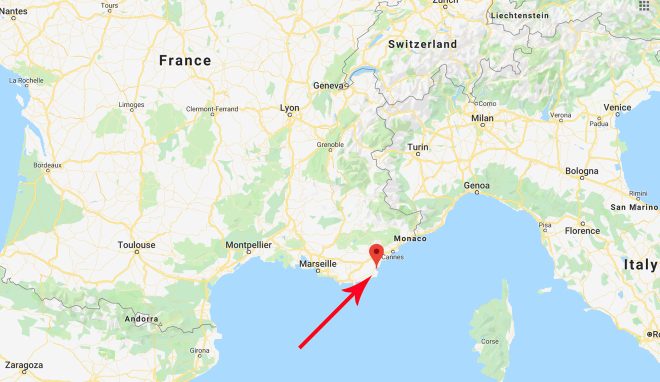 In the old times, Saint Tropez was just a simple fishing village, but over the years it has become a world-renowned seaside resort, a sophisticated destination for the wealthy and famous.
In this article, I want to tell you more about the best things to do in St. Tropez over a weekend! Regardless if you are going during the weekend or not, I'd say that 2 days are enough to see more or less everything in Saint Tropez!
You can take a look at this video so you can get the vibe of the city:
1. Walk down the promenade of the Old Port
The Vieux Port is basically the city center, the heart of the town and one of the most popular Saint Tropez attractions! The port of Saint Tropez is full of tiny fishing boats, yachts, colorful houses and, of course, many chic cafés, so it is definitely worth visiting it.
Sitting in one of the cafes at Saint Tropez harbor and simply people-watch can be quite an experience! You can take a walk on the streets and admire the paintings made by artists to soak up the atmosphere of the city.
If you like to wake up early in the morning, you can go to Place aux Herbes at St. Tropez port, which is a market square where you can feel like a real French while buying flowers, fruits or veggies! Or you can see how the locals and restaurant owners buy fresh fish at Halle aux Poissons!
2. Relax on the beach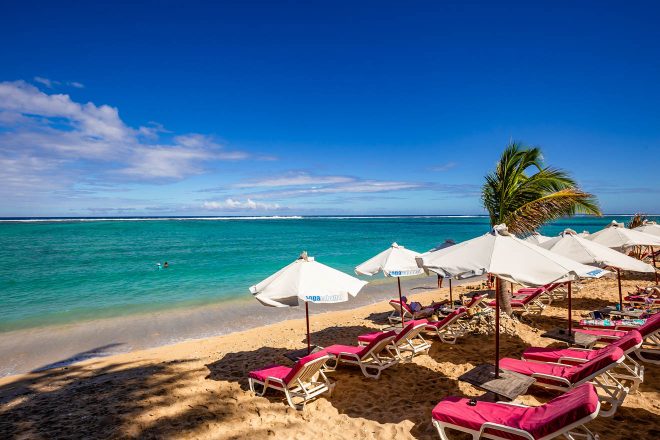 This is definitely one of the most famous St. Tropez activities, of course!
The beaches in St. Tropez are marvelous and the water has a wonderful turquoise color!
Here are the best beaches I can recommend (they were recommended to me by the wonderful staff in my hotel):
NOTE: Please note that you can get to most of the beaches in Saint Tropez by car. For this, you might want to consider renting a car while in the city!
If you want a beach that can be reached by foot, you try Plage de la Bouillabaisse, it is a public beach (not private, as most Saint Tropez beaches are), located right outside the harbor! Another close option is Plage des Graniers, which has both sand and pebbles.
3. Take a boat tour or hire a boat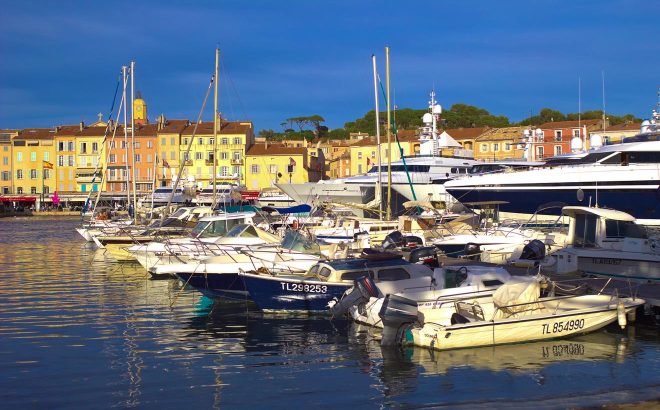 In case you don't own a beautiful boat parked on some of the piers of Saint Tropez, no worries, you can actually rent one for a day!
Even though this activity is quite pricey, it is definitely worth it if you are a huge fan of yachts – and St. Tropez is the best place to do it!
If you are interested, you can find the price list for boat rental in St. Tropez here and here.
Or you can take a 1-hour guided Saint Tropez boat tour around the area and you will be told about all the popular tourist sites: the Maritime museum, the Citadelle, the Baie de Canebiers and some celebrities' villas!
In case you are a big group of people (up to 8 people), this private tour on the Gulf of Saint Tropez might be a great idea!
If you are already in France and want to visit Saint Tropez by boat during one day, there are multiple tours that you can take from Nice or Cannes! More details about it below.z
4. Enjoy the view while sipping on a cocktail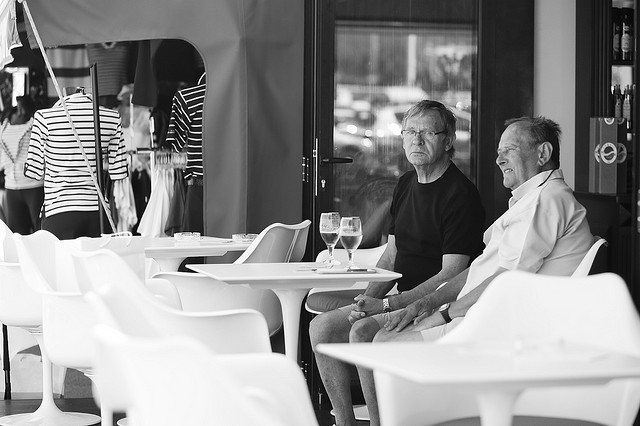 Spending some time in the beautiful cafes and bars is one of the best things to do in St. Tropez! You can gawk at the yachts in the Old Port's cafes or enjoy the magnificent bird-eye view from Ermitage Hotel while sipping on a drink (an apéro, as the French call the drinks before dinner). Or maybe have a delicious dinner in Le Dit Vin restaurant? The choices are endless!
While you are there, don't forget to enjoy your Dolce Vita lifestyle and look around – you might actually meet some celebrities!
5. Check out Musee de l'Annonciade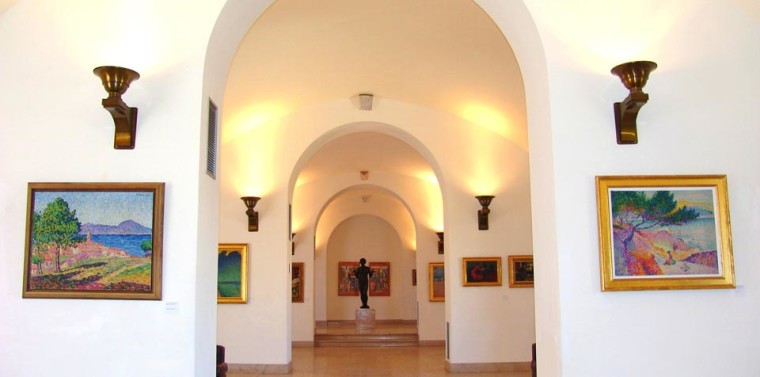 What to do in St. Tropez if you are already bored of laying on the beach? I recommend you visit Musee de l'Annonciade!
The building (the old Chapelle Notre-Dame de l'Annonciade that was converted into a museum) dates back to the 16th century and the museum stores a rich collection of post-impressionist paintings. If you are an art-lover, please note that the collection includes Matisse (six works), Signac and Bonnard and many other artists that were living in Saint-Tropez at the end of the 18th century!
In addition to that, you can enjoy a magnificent view of the port from the museum!
PRICE: The entrance fee is 6€.
6. Go up the Citadel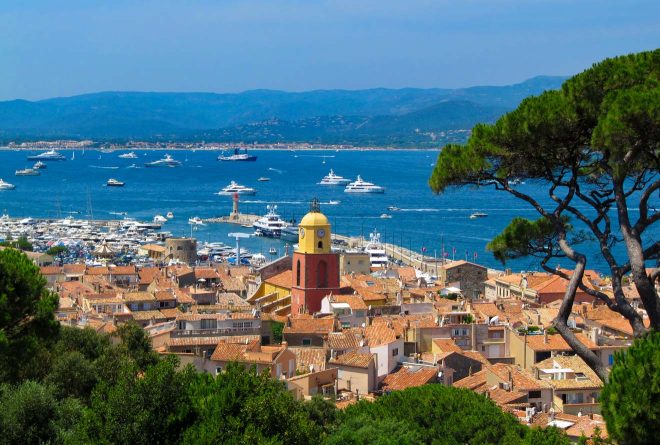 Saint Tropez Citadel has a very interesting hexagonal shape and guards the entire city from above! Its walls were built at the beginning of the 17th century and it is one of the best spots for Saint Tropez sightseeing!
While you are there, you might also want to visit Musée d'Histoire Maritime, where you can learn stories about the maritime past of this beautiful city.
7. Take a walk at Place des Lices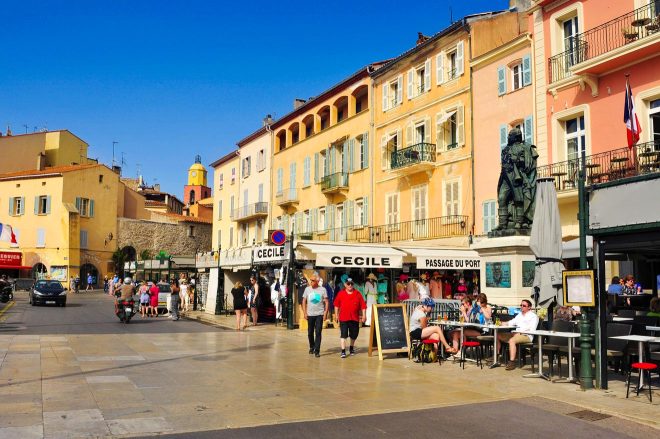 Place des Lices (also known as Place Carnot) is the place to go if you want to escape the luxury atmosphere and feel the old charm of Saint-Tropez instead!
This is a city square located very close to the Vieux Port. If you have been to France before, you might be familiar with their famous game of pétanque (a ball game similar to boules). Well, this is the spot where Saint-Tropez locals gather to play pétanque and relax at Café des Arts!
Every Tuesday and Saturday morning there is also a market here – Marché de Saint-Tropez.
Bonus Things To Do In Saint Tropez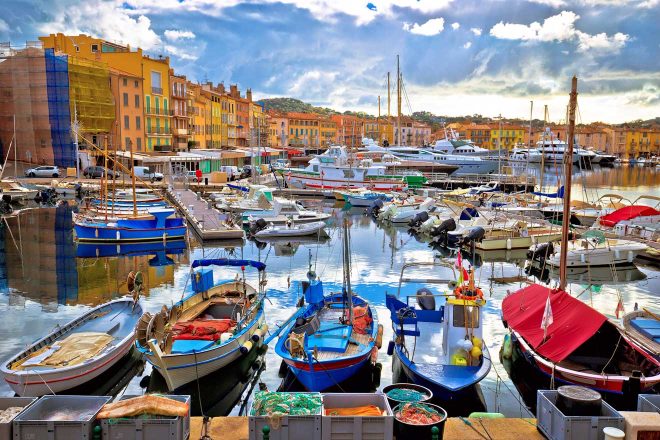 If you still have some time and you don't want to spend it on the beach anymore, here you can find some extra, fun things to do in Saint-Tropez!
La Ponche / The Old Town – the old town of Saint-Tropez is one of the most beautiful walking spots in the city! Take a stroll on the narrow streets full of charming shops, cozy cafes and traditional restaurants! You can begin discovering the area by walking the Rue de la Citadelle, which will get you right to the heart of the old center. This one is definitely in top 10 things to do in Saint Tropez!
Maison des Papillons – Wondering what to visit in Saint Tropez with kids? The city has a great Butterfly Museum where you will get to see more than 35.000 colorful specimens, even very rare, exotic and extinct ones! The entrance fee is 2€.
Musée de la Gendarmerie et du Cinéma – It is well-known that Saint Tropez has a rich cinema history because many old-school movies were filmed here (starting with "And God Created Woman" with Brigitte Bardot in the 50s). Jean Girault, the director of the Gendarme series of films also used Saint Tropez as a film set and the police station's façade in the city became very popular after that! It may sound boring, but the museum hosts interactive works and objects from movies, so it is worth visiting it! The entrance fee is 4€.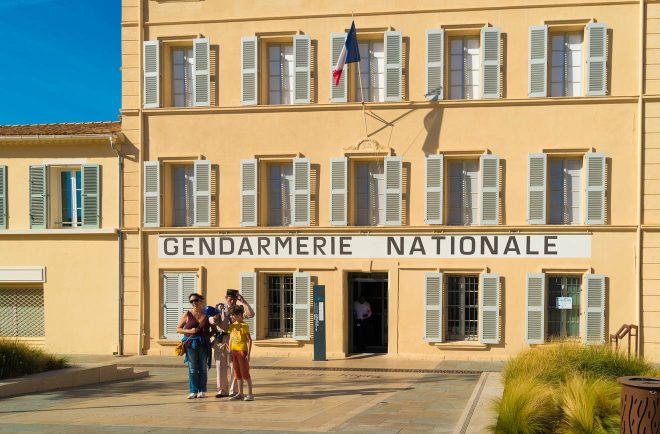 Visiting Saint Tropez on a day trip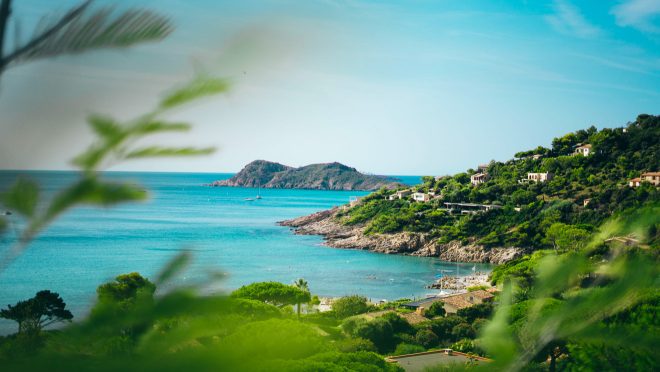 Just imagine a relaxing Sunday in St. Tropez, while you are laying on the beach and sipping from a cocktail! If you do not want to spend a weekend (or more) in Saint Tropez, no worries! There is also the possibility to visit the city on a day trip from other well-known cities in France. There are many options and well-thought tours out there!
Unfortunately, Saint Tropez doesn't have any train stations and there are hardly any direct buses. So, one option would be to discover the area with a rented car, which gives you infinite freedom and flexibility and which I definitely recommend, especially in France, where the roads are breath-taking!
Another option would be to use BlaBla Car, which is a carpooling app that is very popular in France!
If you do not want or cannot do this, no problem! Here are the organized tours I can recommend:
From Nice to St. Tropez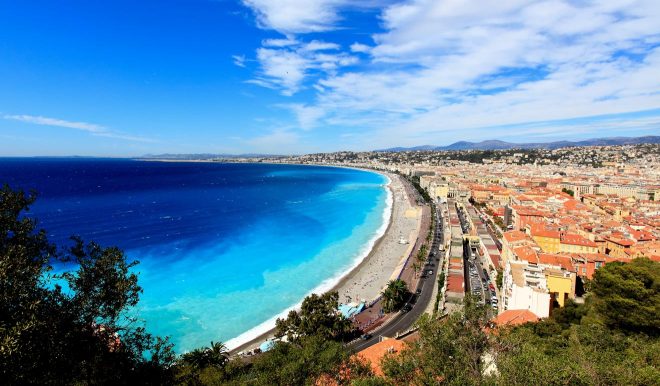 The city of Nice is located 110 km away from Saint-Tropez, so it makes for a convenient day trip!
A popular airport near St. Tropez, France is Nice-Côte d'Azur Airport, located only 90 minutes away. If you are searching for a private airport transfer from Nice Airport to Saint-Tropez, here is a good one.
You can visit Saint Tropez together with Port Grimaud and Massif de l'Esterel if you book this tour by boat or this one which offers hotel pick-up.
If you would prefer a private Saint Tropez tour instead, here is a great option.
In case you only want to pay for the boat from Nice to St. Tropez and not for an organized tour, this round-trip transportation is for you. This will only get you to the city and back to Nice and then you will have the freedom to explore at your own pace.
If you want to get there by yourself, not using a ferry/yacht or a rented car, there is the option of getting a BlaBla Car or taking a train (1h) from Nice to Saint-Raphael, and then take bus no. 7601 (1h30') from Saint-Raphael to Saint-Tropez bus station. Here you can check the schedule and prices for the train and here for the bus.
From Cannes to Saint Tropez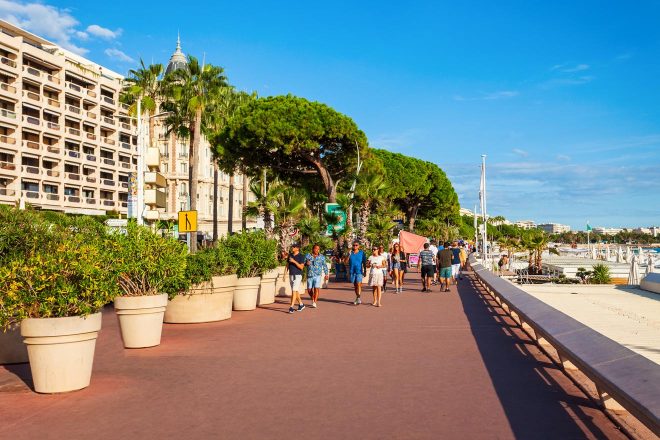 Cannes is located a bit closer to Saint Tropez than Nice – around 85 km away.
If you wish to visit Saint Tropez from Cannes as a 1-day roundtrip, this tour by boat might be the perfect solution! You will get to Saint Tropez in 1h and 15 minutes and then you will have the opportunity to visit the most important sights of the city!
If you would prefer an exclusive, private tour of Saint-Tropez and Saint Maxim altogether instead, you can try this one.
In case you are in another part of France or you simply want a private tour where you can decide your departure point, this French Riviera private half-day tour could be ideal for you!
If you want to get from Cannes to Saint-Tropez by yourself without a tour or a rented car, you can either take a BlaBla Car or you can take a train from Cannes to Saint-Raphael (25 min), and then bus no. 7601 (1h30') from Saint-Raphael to Saint-Tropez bus station. Here you can check the schedule and prices for the train and here for the bus.
From Marseille to Saint Tropez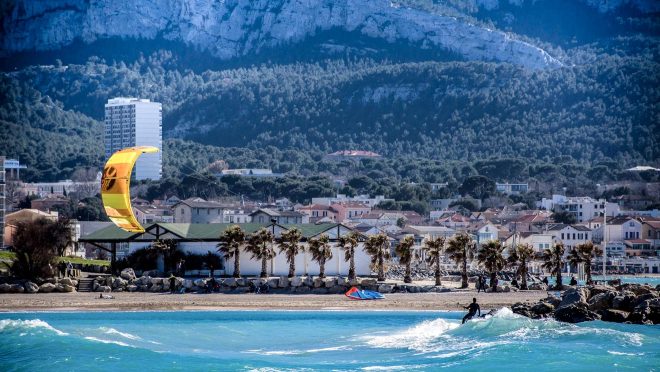 There is also the possibility to take a private tour to Saint Tropez from Marseille. The driver will take you from any address in Marseille and then you will be off exploring the beautiful city and learn about the history of St. Tropez!
Getting from Marseille to Saint-Tropez using public transport requires the same transfer: you need to take a train from Marseille to Saint-Raphael (1h45'), and then bus no. 7601 from Saint-Raphael to Saint-Tropez. Here you can check the schedule and prices for the train and here for the bus. Alternatively, you can take a BlaBla Car.
Day Trips From Saint Tropez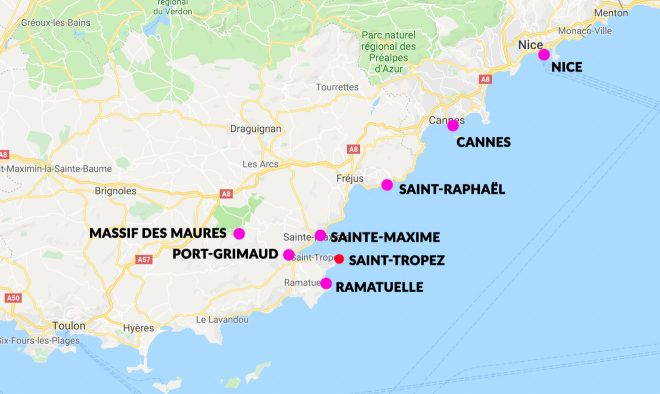 If you would like to discover more of the beautiful Côte d'Azur area in France, why not explore the surrounding area – it is just as beautiful! Here are some great cities and things to do near St. Tropez:
Port-Grimaud – many people say this charming city resembles Venice, as it is full of walking streets and tiny bridges! Port-Grimaud to Saint Tropez is only 8 km by car, so there is no reason not to visit it!
Cannes – a beautiful and popular destination for everyone visiting Côte d'Azur! If you visit it during the month of May, you might even catch Festival de Cannes.
Nice – one of the most beautiful seaside cities in France. If you go there, make sure to take a walk on Promenade des Angles – the most famous part of the city!
Saint-Raphaël – if you are aiming for a lesser-known destination, this city located only 50 km away is the perfect option!
Massif des Maures – this is a gorgeous mountain range with many gorgeous sightseeing spots. I'd totally recommend Corniche des Maures – an area of cliffs, forests, and bays
Ramatuelle – a charming, medieval city located on a hilltop, only 10 km away from Saint-Tropez
Sainte-Maxime – also very close to Saint-Tropez, Sainte-Maxime can be reached after a 26 km-drive and you can even do parasailing there!
If you want to read more about France, here you can find all my articles about the country.
Where To Stay In St. Tropez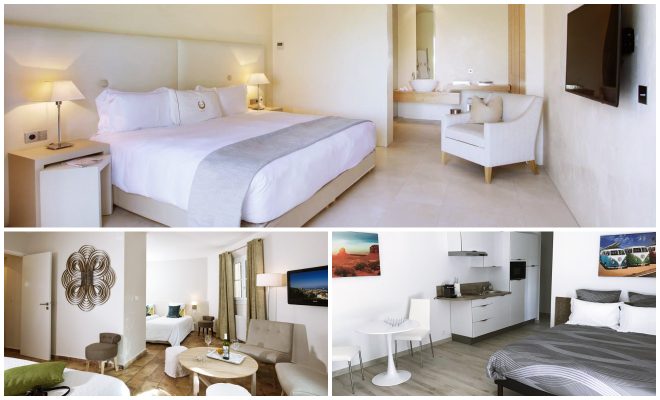 St. Tropez is known as a luxury destination, so you will not have any problems in finding your own piece of luxury Heaven there! And do not worry, there are hotels for every budget there. Here are my recommendations for St. Tropez hotels:
Luxury (200€ and up): If you are going for a splurge experience, St. Tropez is the perfect place to do it, as the amount of posh hotel per square meter is so high, it will be hard to choose! I can recommend Muse Saint Tropez / Ramatuelle – it is one of the best hotels in St. Tropez! It has 5-stars, a spa, a swimming pool, and very nice décor! Hôtel de Paris Saint-Tropez is another great St. Tropez resort, located only 300m from the city center! Plus, the décor is inspired by the '60s and '70s and it's simply colorful and gorgeous!
Middle-priced (from 100€ to 200€): Hotel des Lices is located in the very heart of the city offering lovely rooms, a heated outdoor pool, and a restaurant. What more can you wish for? If you don't mind walking/have a car, choose Domaine Les Mésanges – this hotel in St. Tropez is located a bit more far that the first one, but it has perfect reviews for its elegantly decorated rooms and delicious breakfasts!
Budget (up to 100€): It is no easy job to find something for less than 100€ in the luxurious Saint Tropez. But don't worry – even if you are on a tight budget, there are still solutions! You can stay about 10 km away from St. Tropez and get around with a rented car! For example, Windward is a great aparthotel perfect for 2 people and it is located in Saint-Tropez! Another great option is Le Petit Prince, which is located in Sainte-Maxime, which is around 20 minutes away from Saint-Tropez!
Best restaurants and cafés in Saint Tropez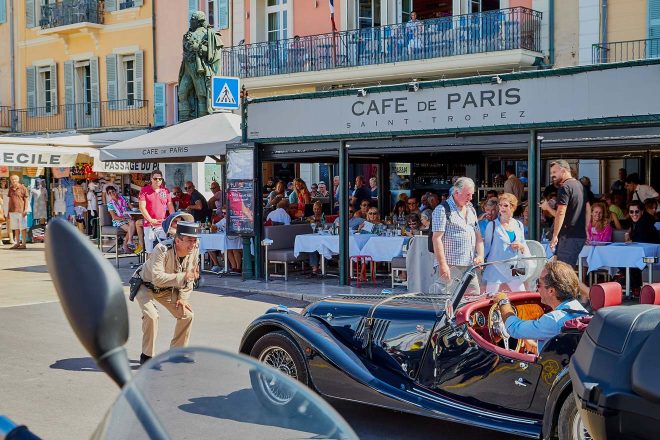 Saint Tropez is the place where it will be so hard to choose between all the great cafes, restaurants and bars, especially in the Old Port area! But don't worry, I am here to help! Here are my recommendations for the best restaurants in St. Tropez, France for an authentic day or night out: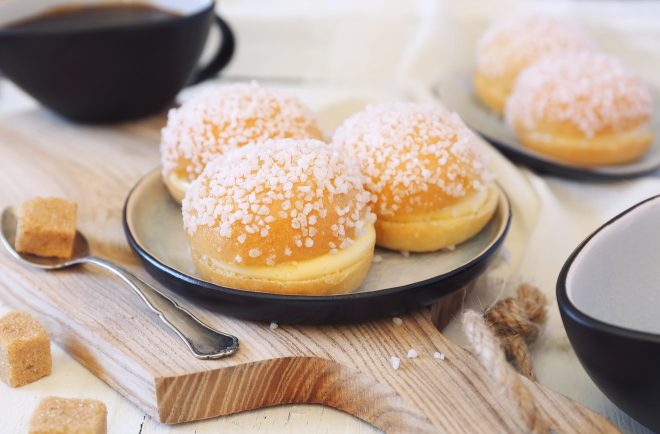 Oh, and while you are in the city you MUST try their traditional dessert – Tarte Tropézienne! It is basically a French brioche with whipped cream and vanilla cream and it is so delicious! This dessert was created in the 50s at a bakery (named La Tarte Tropézienne) in the heart of the city. The story says that, while she was filming on Pampelonne beach, Brigitte Bardot tasted this unique tart and she loved it so much that she wanted to choose its name! Afterward, Tarte Tropézienne became insanely famous. Of course, it goes so well with a glass of French wine, so don't miss the opportunity to taste these while you are in Saint-Tropez!
Conclusion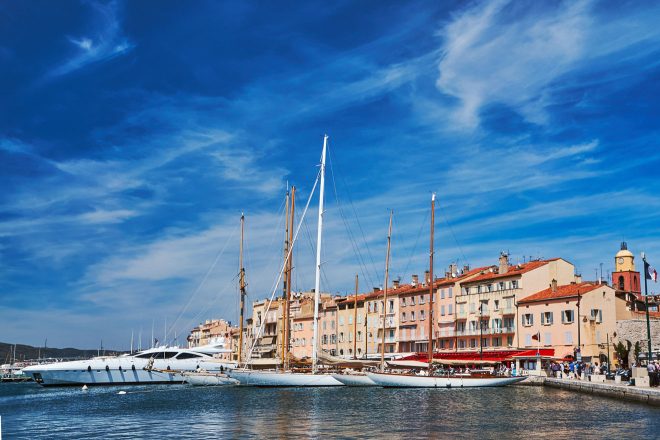 I hope I convinced you that Saint Tropez has its own special charm and I truly believe it is a place that you cannot miss!
St. Tropez makes for a great, relaxing vacation with its beautiful beaches and turquoise water, but there are some other fun things to do in the city as well!
In this article we went through some of the best things to do in Saint Tropez, how you can go to the city on a day trip and other useful information such as hotels and how to get there – everything you need to know for your St. Tropez holidays!
Have you been to Saint Tropez? What would you add to the list?
If you have any further questions, don't hesitate and leave them below! I am happy to answer!
Yulia
---
Pin it for later:
Pin it for later: