What comes to your mind first when you hear about Saint Tropez?
Right! It was the same for me: celebrities and luxury, glamour and yachts, exclusive clubs etc. This place has it all.
Although, Saint Tropez was different from all the other places I visited in Cote D'Azur: on the contrary with bigger southern cities such as Nice or Marseille, the wondrous little town is located inside the shoreline, which makes it a very secluded destination.
It does not matter if you are looking for a luxurious tranquil getaway or want to dance the night away with celebrities in local famous clubs, Saint Tropez is your place!
With the population of only 5000 people (!), it can be hardly called a town, more like a village. But a deluxe, fancy village.
Saint Tropez was just a simple fishing village before, but over the years it has become an internationally known seaside resort, a sophisticated destination for the wealthy and famous.
I will tell you more about what to do in the town over a weekend and my experience staying in a hotel there.
Weather it is a weekend or not, I'd say 2 days are enough to see more or less everything in the charming town.
Here is how to spend a great weekend in Saint Tropez:
– 1. Walk down the promenade of the old port –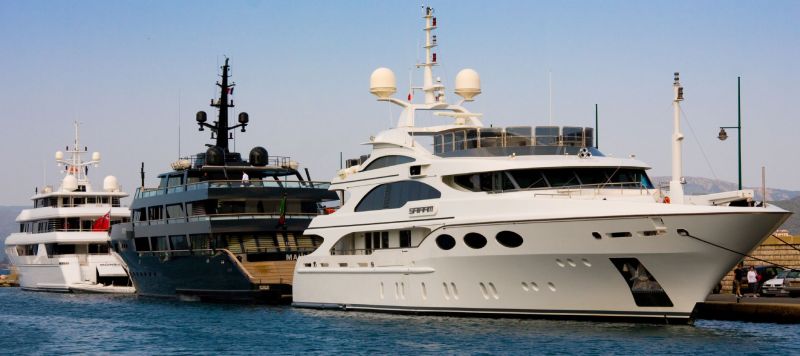 Soak up the atmosphere of posh dinners and dresses walking around the waterfront.
The Vieux Port is basically the city center of Saint Tropez, the heart of the town and a very particular place.
Even sitting in the harbor in one of its (overpriced) cafes and simply people-watching can be quite an experience!
 – 2. Relax on the beach – 
The best beaches recommended to me by the wonderful staff in my hotel (more about it below) were: Tahiti, Bora Bora, Moorea and Le Club 55. However, you can get there only by car.
The beaches in St. Tropez are marvelous, have turquoise waters and simply less touristy!
If you want to walk to something slightly closer, try Plage de la Bouillabaisse, it is located in the proximity.
– 3. Take a boat tour or hire a boat – 
In case you don't own a beautiful boat parked on some of the piers of Saint Tropez, no worries, you can actually rent one for a day! Though it is quite pricy, if you are a huge fan of yachts, St. Tropez is the place to do it (you can find the pricelist here and here)
Or take a boat excursion around the area that will show you all the tourist sites around the area:  the Maritime museum, the Citadelle, the Bay of Canebiers and some celebrities' villas
 – 4. Enjoy the view sipping a cocktail – 
Gawk at the yachts in Old Port's cafes or enjoy the bird fly view from Ermitage hotel sipping a drink, or have a delicious dinner in Le Dit Vin restaurant – the choices are plenty!
Just don't forget to enjoy your Dolce vita life style and look around –  you might meet some celebrities!
 – 5. Check out the Musee de l'Annonciade –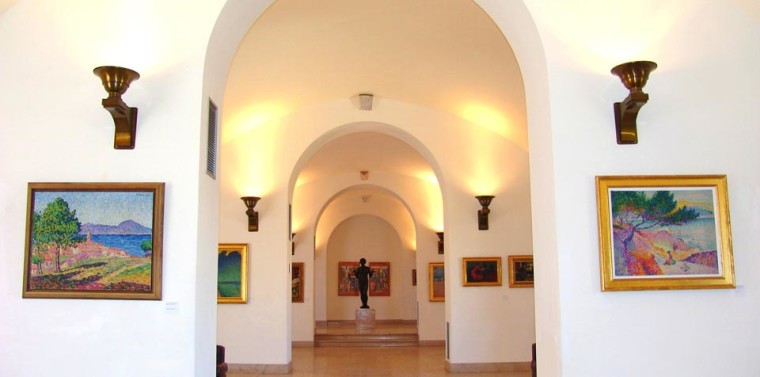 If you are already bored of laying on the beach, visit the Musee de l'Annonciade. The building dates back to 16th century and stores a rich collection of post impressionists paintings, the collection includes Matisse. In addition to that, you can enjoy a magnificent view over the port!
---
My hotel in Saint Tropez
If you are still deciding on where to stay in Saint Tropez, let me tell you about my amazing experience in Benkirai Hotel:
After the crazy tiredness of a big tip that I made in just one day – Marseille, Avignon and Saint Tropez, I checked-in in Benkirai hotel and immediately wished it is was for more than one night!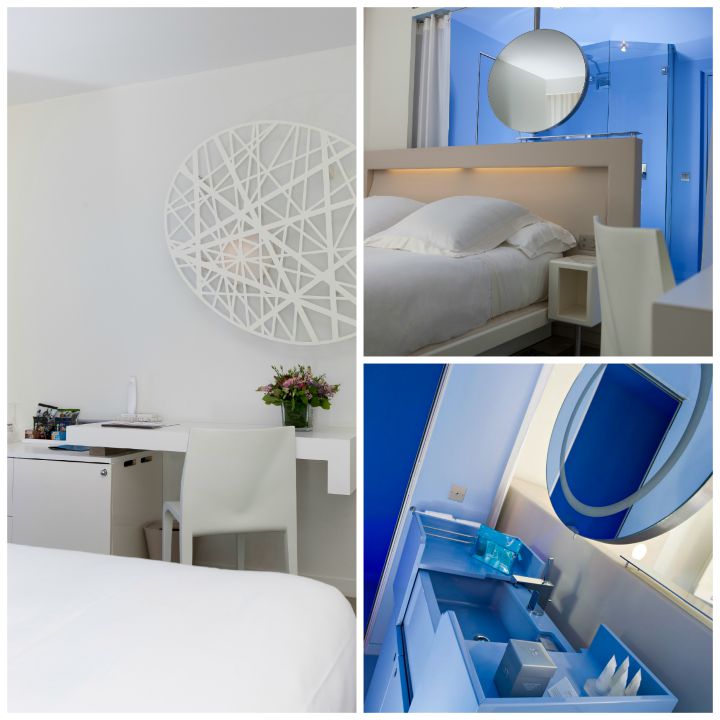 This place was my personal paradise, a retreat after exhausting traveling!
I was greeted with a beautiful fruit plate, hand written note of tomorrow's weather forecast (amazing 31 C), a bottle of mineral water and some handmade sweets.
The hotel is located in magnificent surroundings of Saint Tropez hills. The scenery around is so beautiful, I urgently wanted to become a painter and draw it, seriously!
Benkirai is just 5 minutes riding both to the harbor and from beautiful white sand beaches.
Being a bit outside of the center is actually more of an advantage in my opinion: this way you feel like you have the resort only for yourself. And, if you want to go to the harbor for a dinner/drink, no problem! 2 minutes, and voilà! –  you will be taken free of charge to the town/beach by a hotel driver anytime you would like.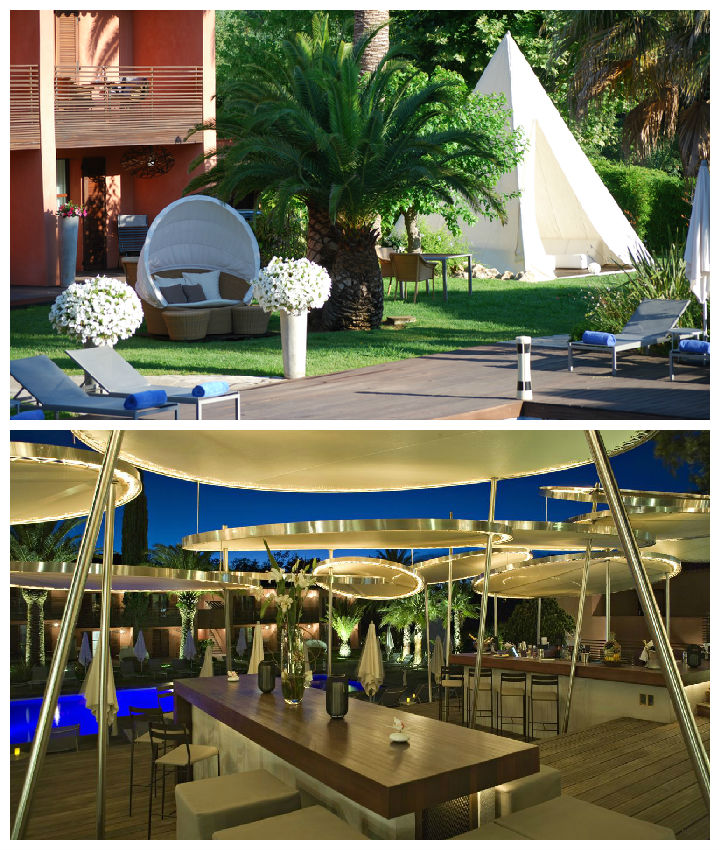 Talking about the staff: employees of the hotel made sure they paid the greatest attention to details that I have seen anywhere else (and I have stayed in some great hotels).
Pillow menu, seriously? The pillows I had were amazing in anyway, but I was pleasantly surprised you can be picky enough and change your pillow according to your preferences, wow!
Breakfast was gorgeous as well: along with regular stuff like freshly baked croissants (oh man, living in Paris made freshly baked croissants became regular stuff for me, I am so spoiled 🙂 ), homemade yogurts and squeezed juice, I was even offered a fresh detox juice shot and amazing desserts, yum!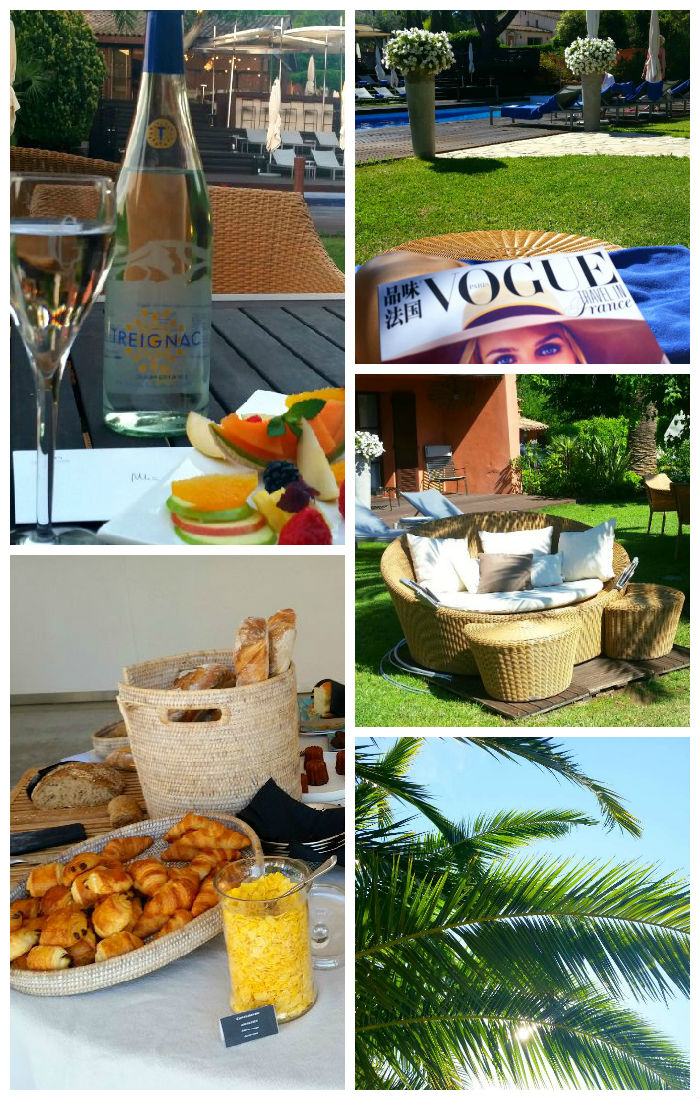 The second day I have just stayed in the hotel and then was off to the beach. The staff took care of everything I might have needed – "Oh, you go to the beach and have no water bottle? Here you go!", "Checked out already, but want to have a shower? No problem, mademoiselle!"
If not the best, Benkirai was one of the most amazing hotels I have stayed in. I felt so welcomed and pampered that I can't wait to come back here again one day!
Сheck rates/Book your stay in Benkirai hotel here!
Where else to stay in Saint-Tropez:
Luxury stay – (more than 200€) if you are going for a splurge experience, St.-Tropez is exactly the place, the amount of posh hotel for square meter is so high, it is hard to choose. If Benkirai hotel is full (it is an amazing hotel, book in advance, it can be cheaper than 200), go for Muse Saint Tropez / Ramatuelle or Hotel La Résidence de La Pinède. Both are high quality 5* hotels that offer spacious elegantly decorated rooms with swimming pool and luxury spa.
Middle priced – (100-200€) Hotel des Lices is located in the very heart of the city offering lovely rooms, a heated outdoor pool and a restaurant. If you don't mind walking/have a car, choose Domaine Les Mésanges, it has perfect reviews of elegantly decorated rooms and suite and delicious breakfasts.
Budget – (up to 100€) it is not an easy job to find something for less than 100€ for Saint Tropez. If you are on a tight budget, you can stay about 10 km away from St.- Tropez, for example Bed N Go in La Croix-Valmer, but you will need your own car to get to the place obviously. The most economic (but verrry nice) room for 2 will cost you around 100€ – book Lion Blanc in advance to get the best price!
---
Note: If you are going to visit Saint Tropez in October, don't miss the chance of witnessing the event of the year – the racing regatta. It is called Les Voiles de Saint-Tropez and it is an important contest gathering many people held for almost 35 years. During the regatta, the bay is full of colorful large sails and you can enjoy a fantastic view!
Saint Tropez has its special charm, it is a place not to miss, absolutely!
Have you been to Saint Tropez? What would you add to the list?
If you liked this post, please share it!
Yulia
---
Pin it for later: