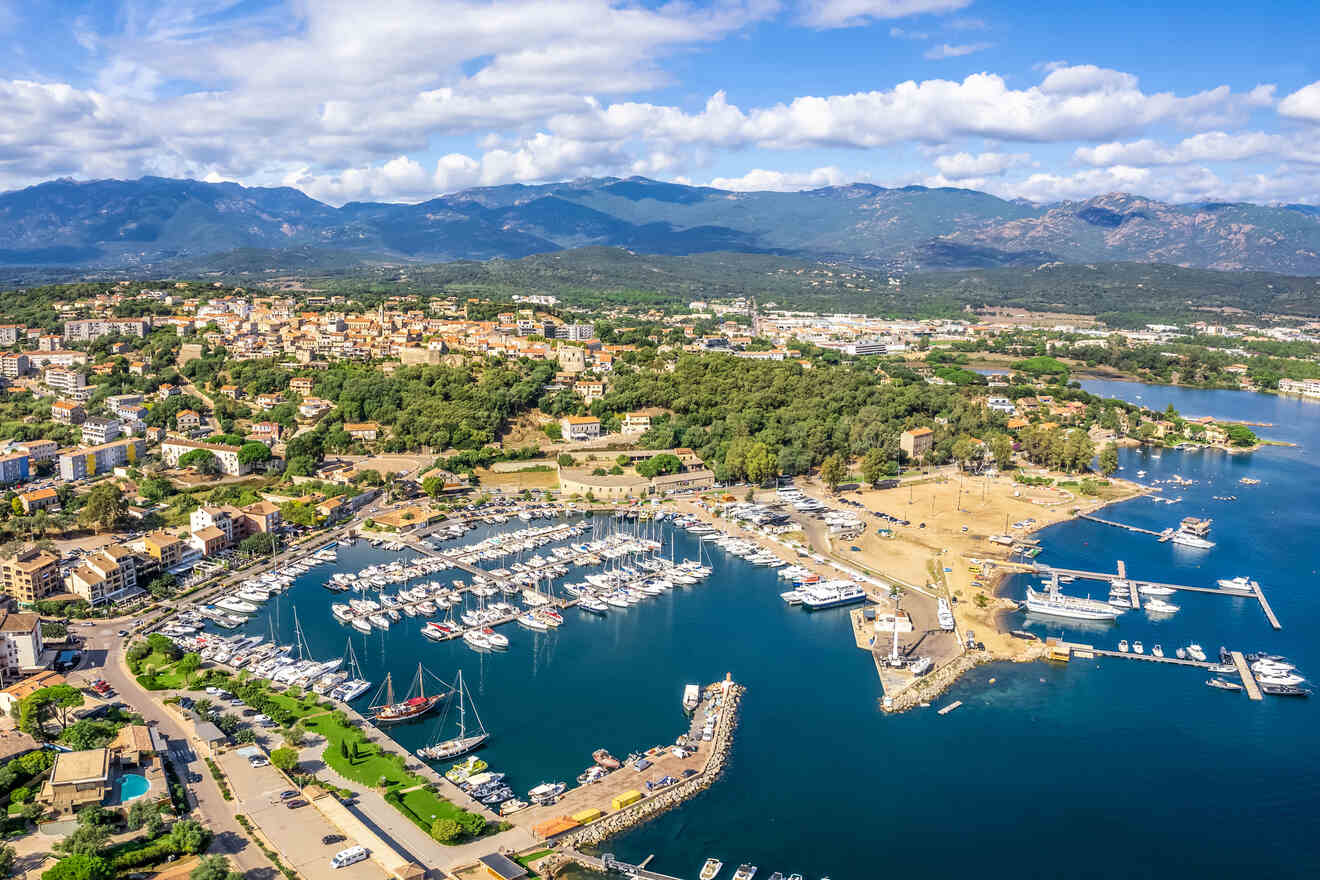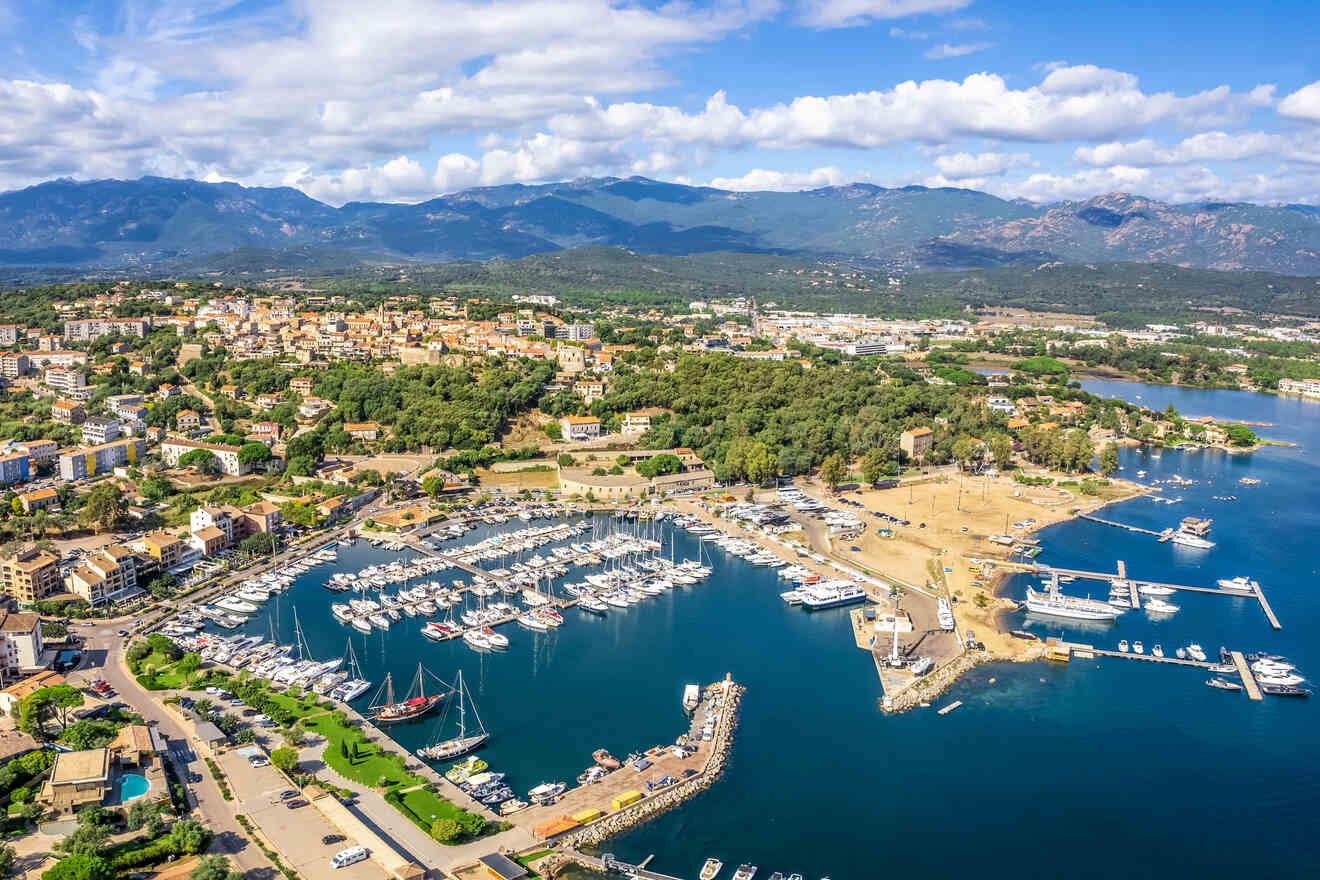 Oh… there's nothing like a holiday in the Mediterranean to make you feel like a whole new person! This time we're going to the French island of Corsica (also known as Corse). A place is famous for its incredible beaches, good food, and beautiful landscapes. Don't worry, mountain lovers. There's something for you here as well!
Also known as the "Island of Beauty," Corsica has a rich history, and you'll probably notice that once you start exploring the towns, the narrow cobbled streets, and the citadels. You will feel like you've traveled back in time!
Let's face it, it's hard to pick 1 good location when you visit a place like Corsica and that's why I recommend renting a car for your stay. There are so many factors to consider when picking which area to stay but that's why I'm here! I've made a carefully curated list of the best towns and hotels to stay in Corsica. Hurry though, we all know how fast these places in the Mediterranean sell, so definitely book yours in advance.
Grab a seat, because we've got lots to see!
If you are in a hurry
If you want to book now, there's no reason to wait! Check out this list of the best hotels, all located in Porto-Vecchio.
Here's a map of all the areas where to stay in Corsica that I will be talking about in this post:
1. Porto-Vecchio – where to stay in Corsica for the first time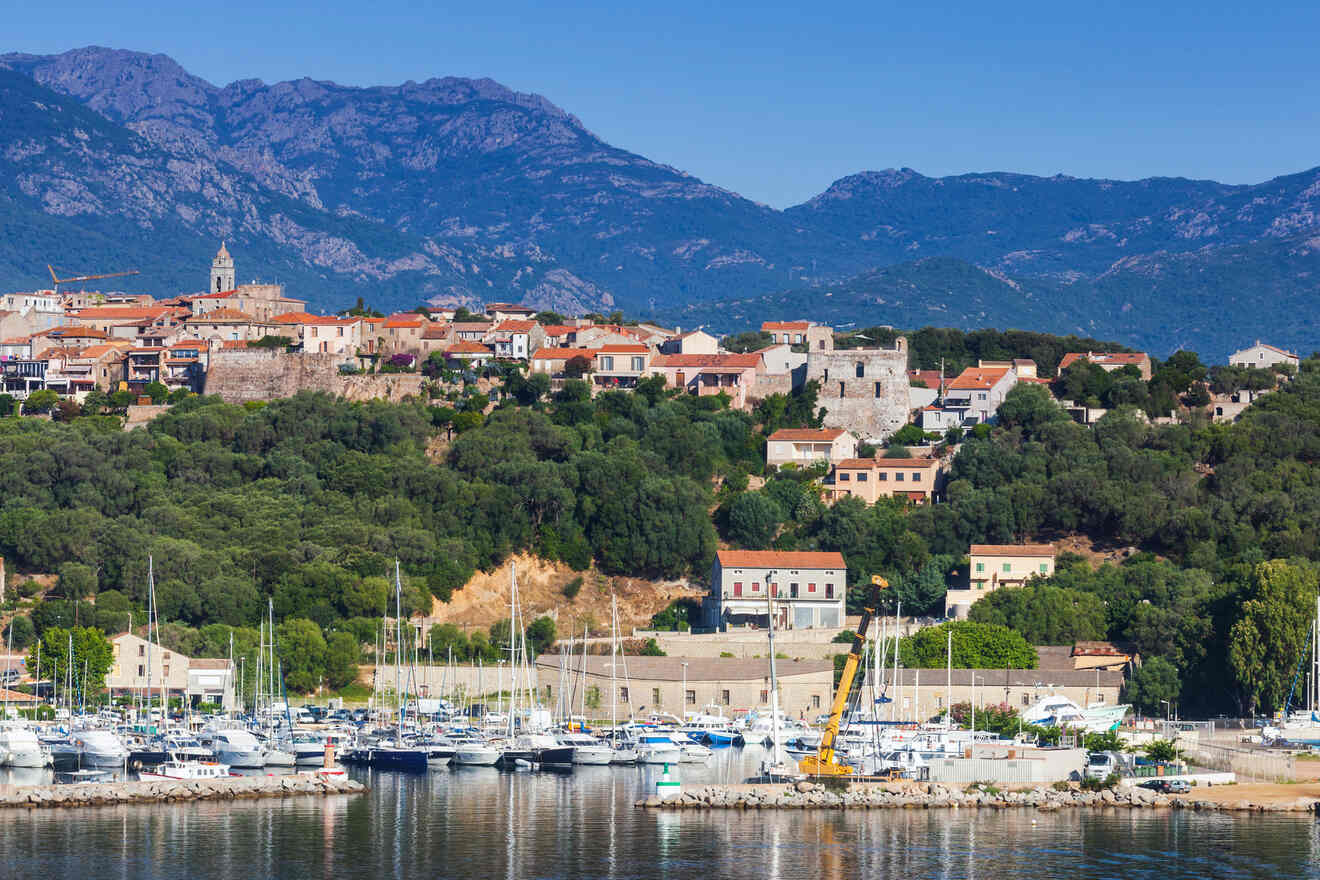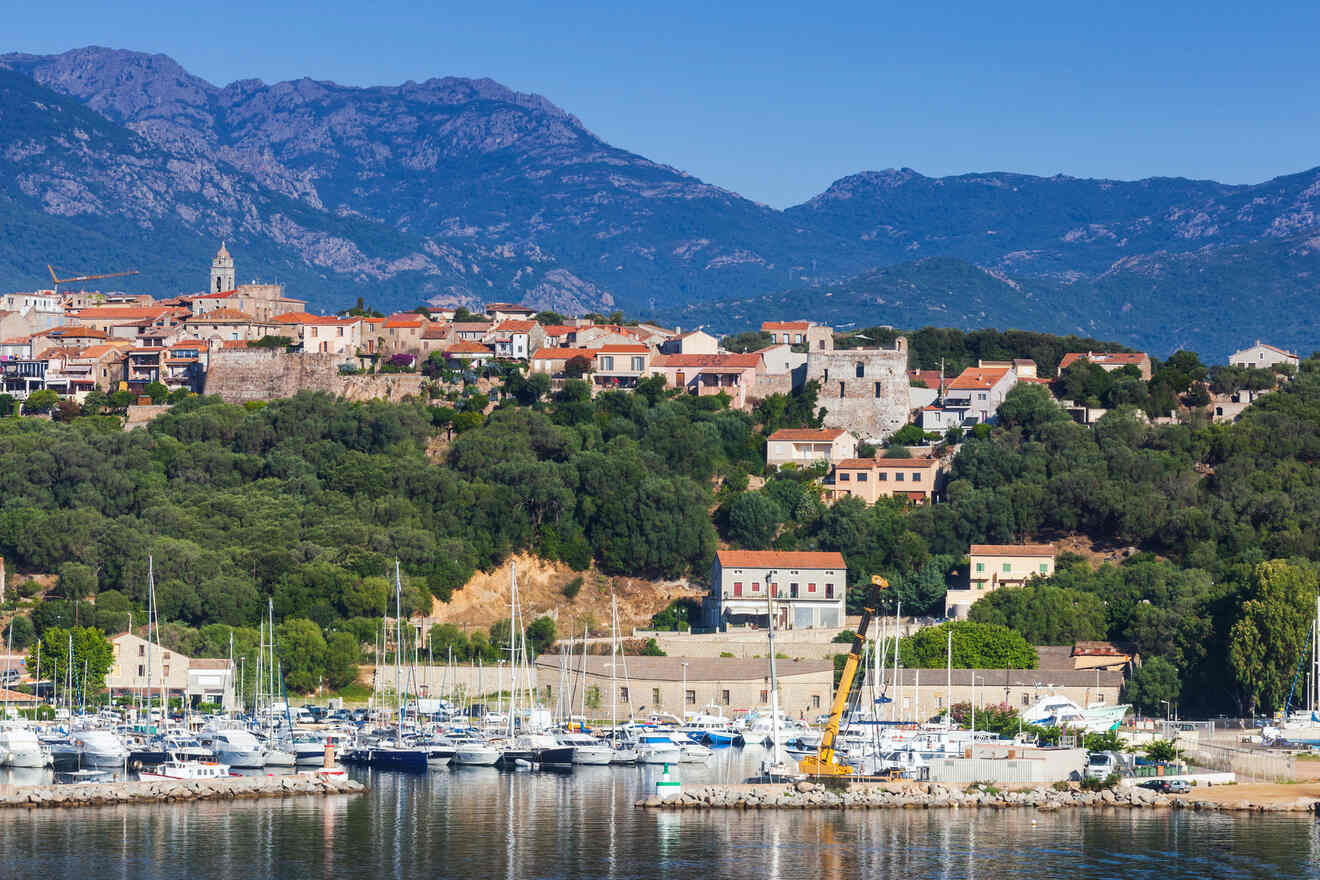 Oh, the island life… I can't ever get enough of it and the salty air, the ocean breeze, and the beautiful beaches! You'll find all that plus some incredible views in Porto-Vecchio, Southern Corsica. This harbor town hosts a vibrant marina and a port that dates back to Roman times and if you love islands like this as much as I do, I think Sardinia should be on your bucket list as well!
Porto-Vecchio is a town filled with historical buildings, panoramic views, and stunning beaches! So make your way along the coast, check out the beautiful Palombaggia beach and stop by the citadel, also known as Bastione Della Marina, which overlooks the whole city and offers unique sights of the harbor.
The Old Town of Porto-Vecchio is a magical spot where you can spend hours exploring the maze-like narrow streets and admiring the stone houses. Don't be surprised if you think for a second that you've traveled back in time!
Fear not, the busy cafes, restaurants, and boutique shops will bring you back to reality! That's the charm of Porto-Vecchio though, you never know what's just around the corner! And in the old town, you'll stumble across some incredible attractions such as the Saint Jean-Baptiste Church and the Citadel.
Vecchio-Porto is one of the most popular towns in Corsica, so I highly recommend booking your hotels in advance to get your hand on the best deals here.
Other accommodation options in Porto-Vecchio
Things to do in Porto-Vecchio
Visit the Porto-Vecchio Citadel and admire the incredible views
Swim at Punta di Colombara or at Palombaggia beach
Spend a fun day at Parc Aventure de Porto-Vecchio
Explore the local Archeological Site of Ceccia
See the Saint Jean-Baptiste Church
Go hiking around the Départ Mare à Mare Sud area
Sunbathe all day long on the white sand beach of Tamaricciu
2. Calvi – the best place to stay in Corsica for beaches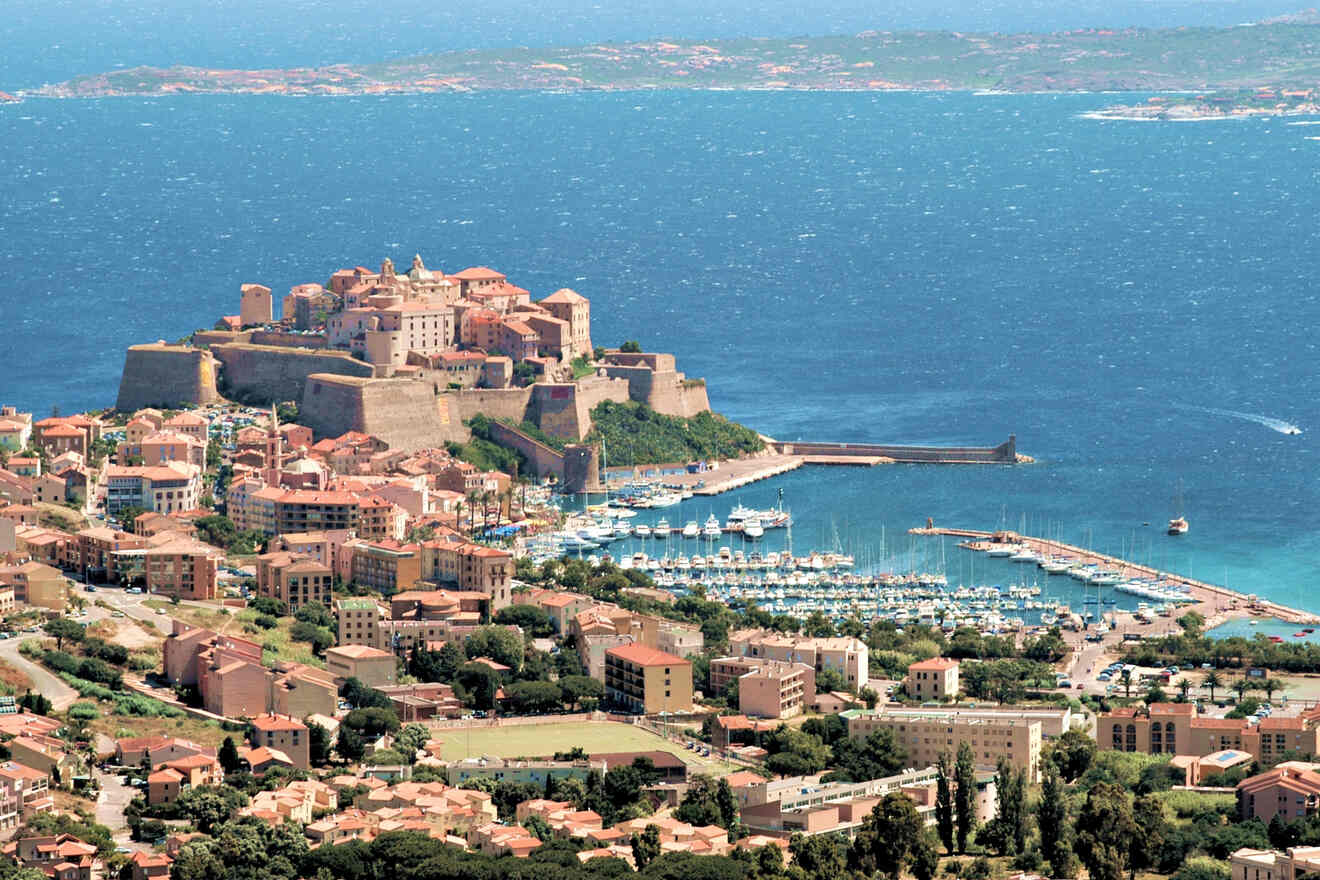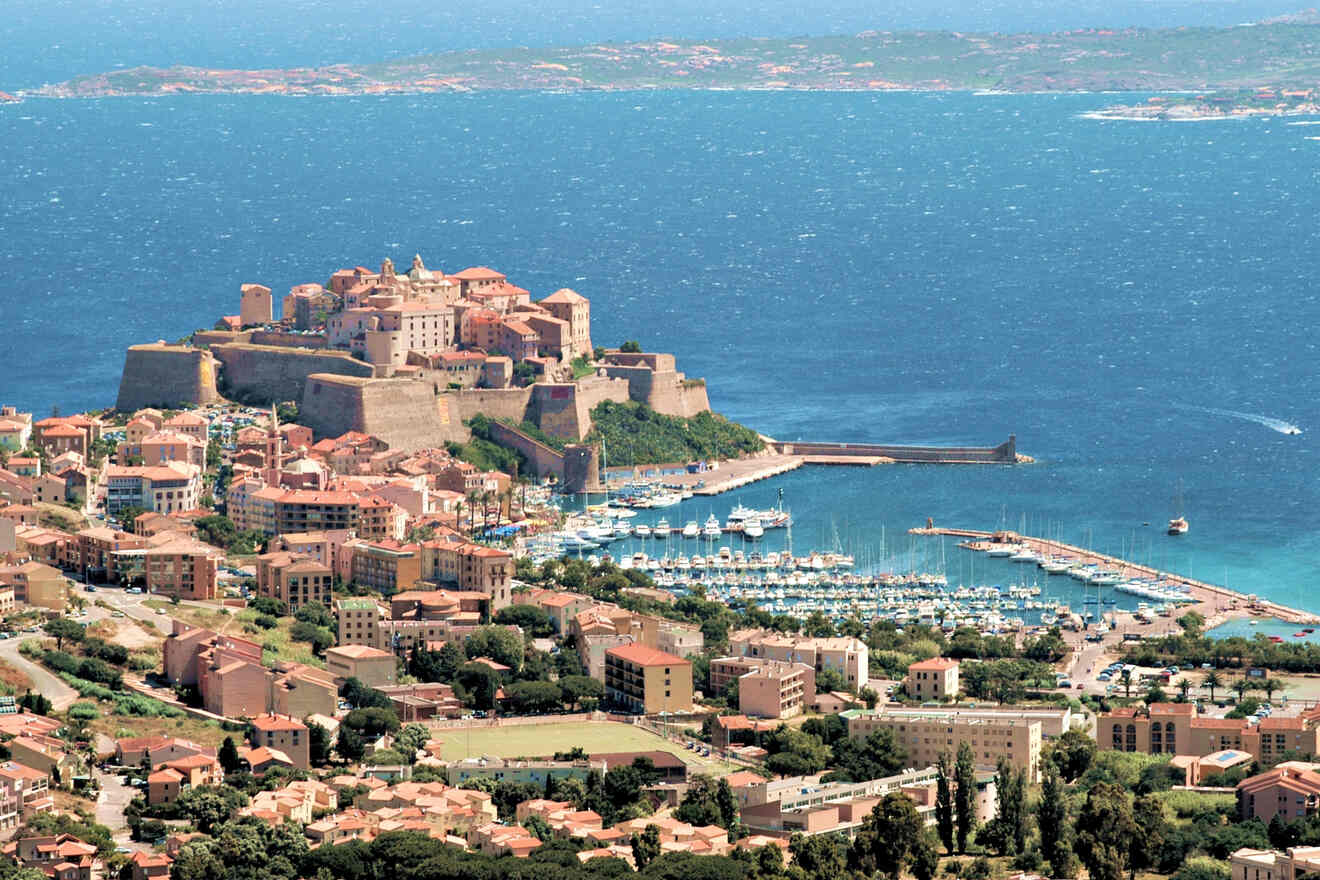 Surrounded by the Mediterranean Sea and located in northern Corsica, 200 km (125 miles) from Porto-Vecchio, this stunning town is perfect for those planning a holiday on the island of Corsica and want to spend most of the time at the beach!
I'm sure many of you know that this island is the birthplace of Napoleon Bonaparte, but many local people say that Columbus was also born here, although it's common knowledge that he is from Genoa!
I guess we might never know the truth, but we do know that this island town is a stunning place for any type of traveler.
White sand beaches, rocky beaches, sea caves, you'll find all this and more in Calvi. The area is famous for its picturesque sea views! The Veaux Marins Sea Cave has to be one of my favorites, and the best way to explore is by taking boat trips.
When you're not on the beach enjoying the island life and finding new exciting places every minute, you'll probably go to visit the central town area. That's where you'll find the Citadel and the port area. Both places have a wide range of restaurants where you can indulge in local food and drink lots of cocktails! We should always properly celebrate our holidays!
Speaking of celebrating, if you are looking for more unique beach destinations then I think you would love to visit Sicily! But now, let's look at the best hotels in Calvi:
Other accommodation options in Calvi
Things to do in Calvi
Swim all day long in the sea at Calvi beach
Take a picture of the picturesque lighthouse at La Revellata
Go on a trip from Calvi to the Scandola nature reserve
Explore the hiking paths around the Capu Di à Veta peak
Learn more about the town's history at Calvi Citadel
Sunbathe and swim in the clear blue water at L'Alga beach
Take boat trips to visit the Veaux Marins Sea Cave
Enjoy the views of the mountains at the Bay of Calvi
3. Corte – best place to stay in Corsica for couples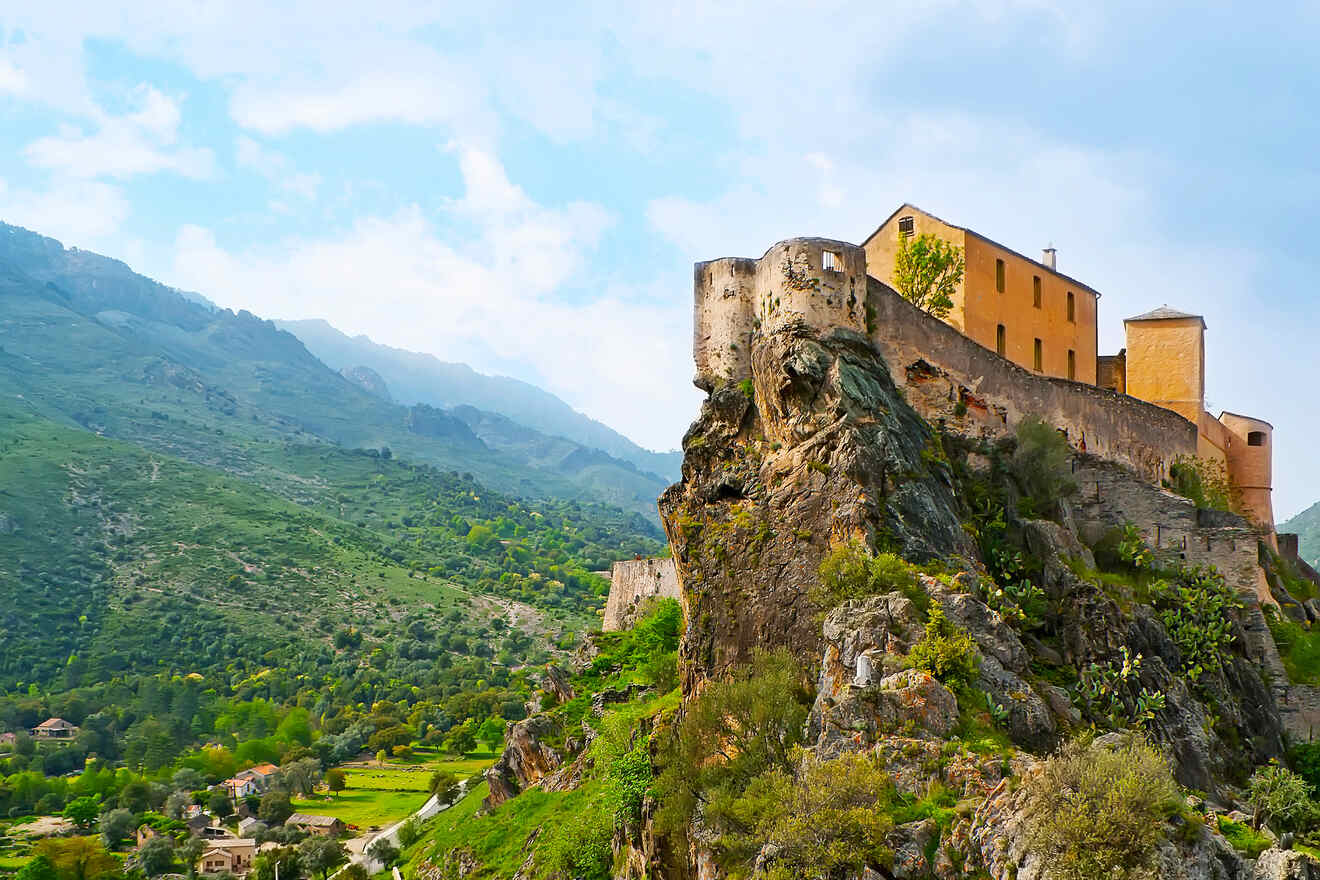 The fact that Corsica is an island guarantee that you'll get to see some picturesque scenery here, but for those of you who are big fans of finding the most incredible spots from where you can admire the views, I recommend booking your hotel in Corte.
Located 120 km (75 miles) north of Porto-Vecchio, this island town may be the winner of the best views award, at least according to me! But I'm sure that once you get there, you'll be happy to agree.
Corte is surrounded by mountains and lakes, meaning hikers and nature lovers will feel in their element. But don't expect to see as many people as you would see in Calvi or Porto-Vecchio, this area is more tranquil, and it's one of the best places to stay in Corsica if you're not a fan of the crowds.
Besides all the hiking and exploring that you'll be doing in the mountains of this French island, there are also some other different types of attractions that you should check out. Such as the citadel, a stunning piece of architecture on a hill that is now a museum.
Yep, this island town is full of surprises! Now let's see which are the top hotels to stay in Corsica, Corte.
Other accommodation options in Corte
Things to do in Corte
Learn new things about the island at the Corsica Museum
Chill by the lake near the Gorges de la Restonica
Go for a hike around Monte Cinto, the highest mountain in Corsica
Visit the Regional Natural Park of Corsica
Admire the views of the mountains near Melu Lake
Explore the hiking trails near Rotondo Mountain
4. Bastia – the best place to stay in Corsica for nightlife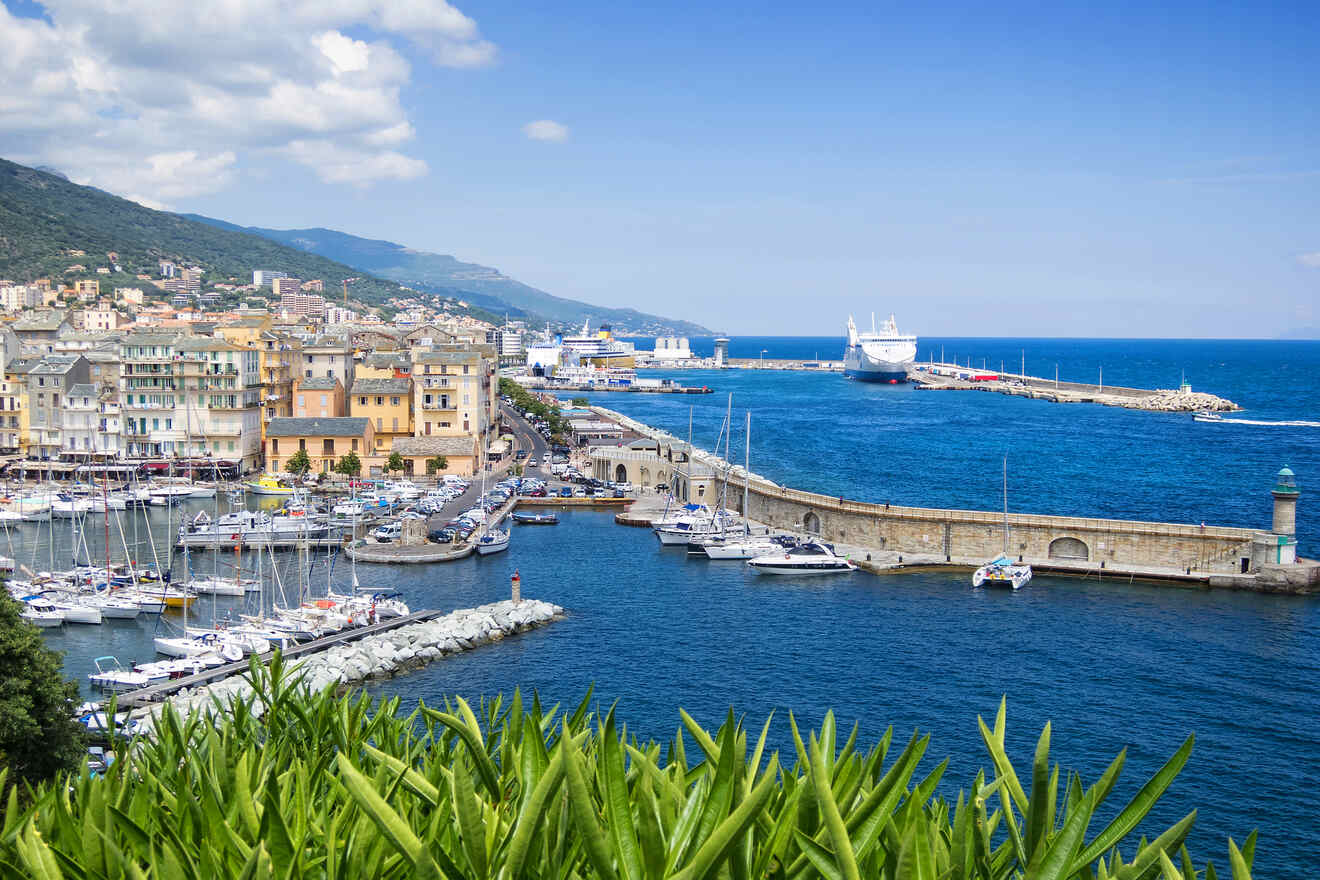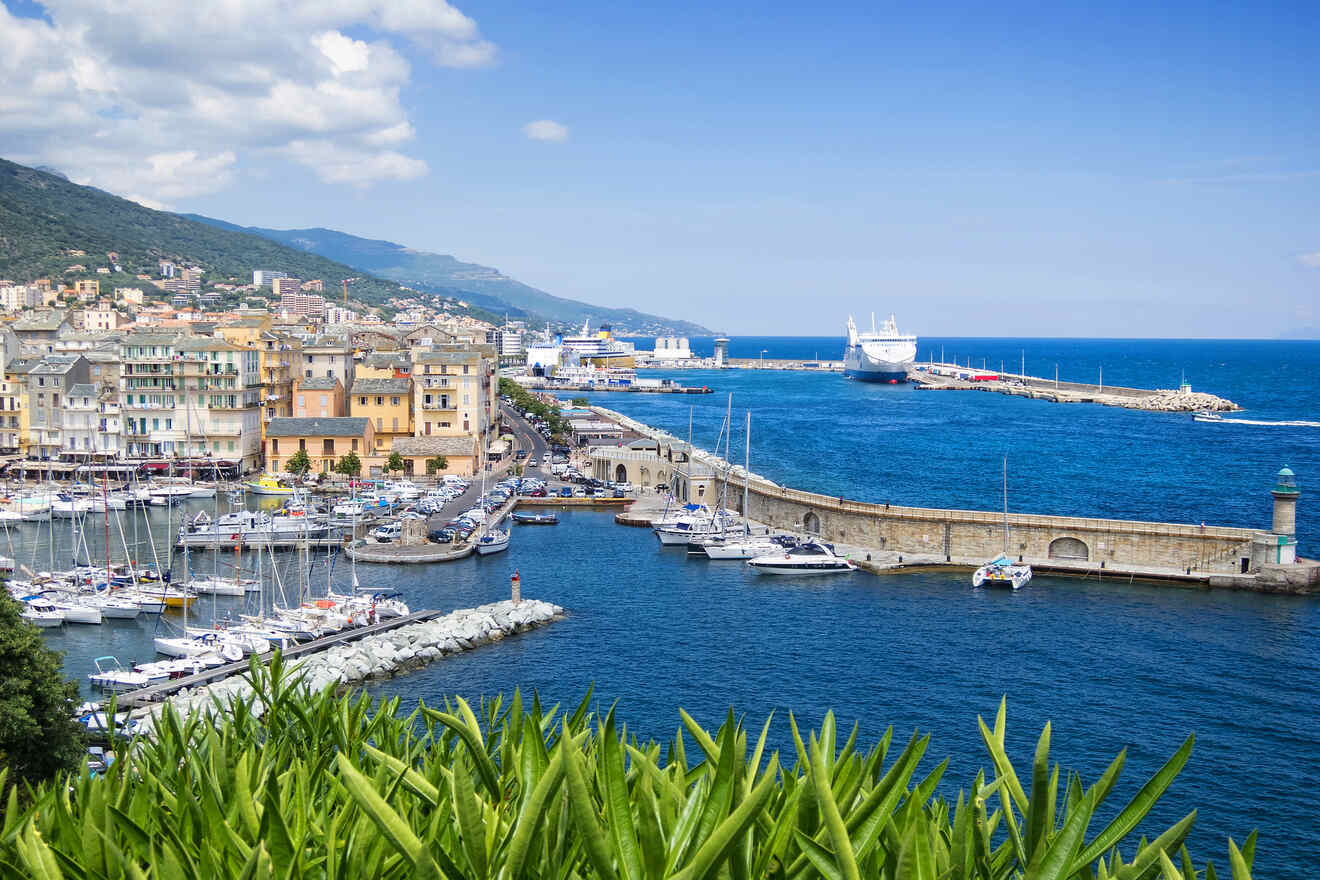 Located 140 km (85 miles) north of Porto-Vecchio, this stunning town has a dynamic atmosphere. It is perfect for history enthusiasts and those looking for a place to stay in Corsica where you can have a good cocktail and listen to some music at night.
Bastia is home to a wide range of local bars, restaurants, and cafes, and although they're not the type of places where you can dance until the early hours, they sure offer some amazing drinks and sometimes even live music.
Just imagine yourself on a terrace in Bastia, ordering lots of wine, feeling that ocean breeze, and smelling the salty air! There's nothing like a night out on the island to help you forget all about your problems.
But go easy on the mojitos, because you'll also have many attractions to see in town during the day. Terra Nova, the high-wall citadel of Bastia, is one of the biggest attractions here and oldest. And if you want to learn more about the island's history, you can visit the Bastia Museum.
The Vieux Port area is perfect for sunset strolls, make sure to take your phone or camera with you to snap some pictures for memories!
Other accommodation options in Bastia
Things to do in Bastia
Have a drink and enjoy the atmosphere at Citadel Bar
Learn new things about the town's history at Bastia Museum
Explore the Saint Nicolas Plaza
Relax after a day of sightseeing with a wine glass at La Rhumerie Bar
Visit the Terra Nova, the high-wall citadel of Bastia
Take a stroll at sunset around the Bastia marina
Admire the sea views at Romieu Garden
5. Ajaccio – where to stay in Corsica for budget travelers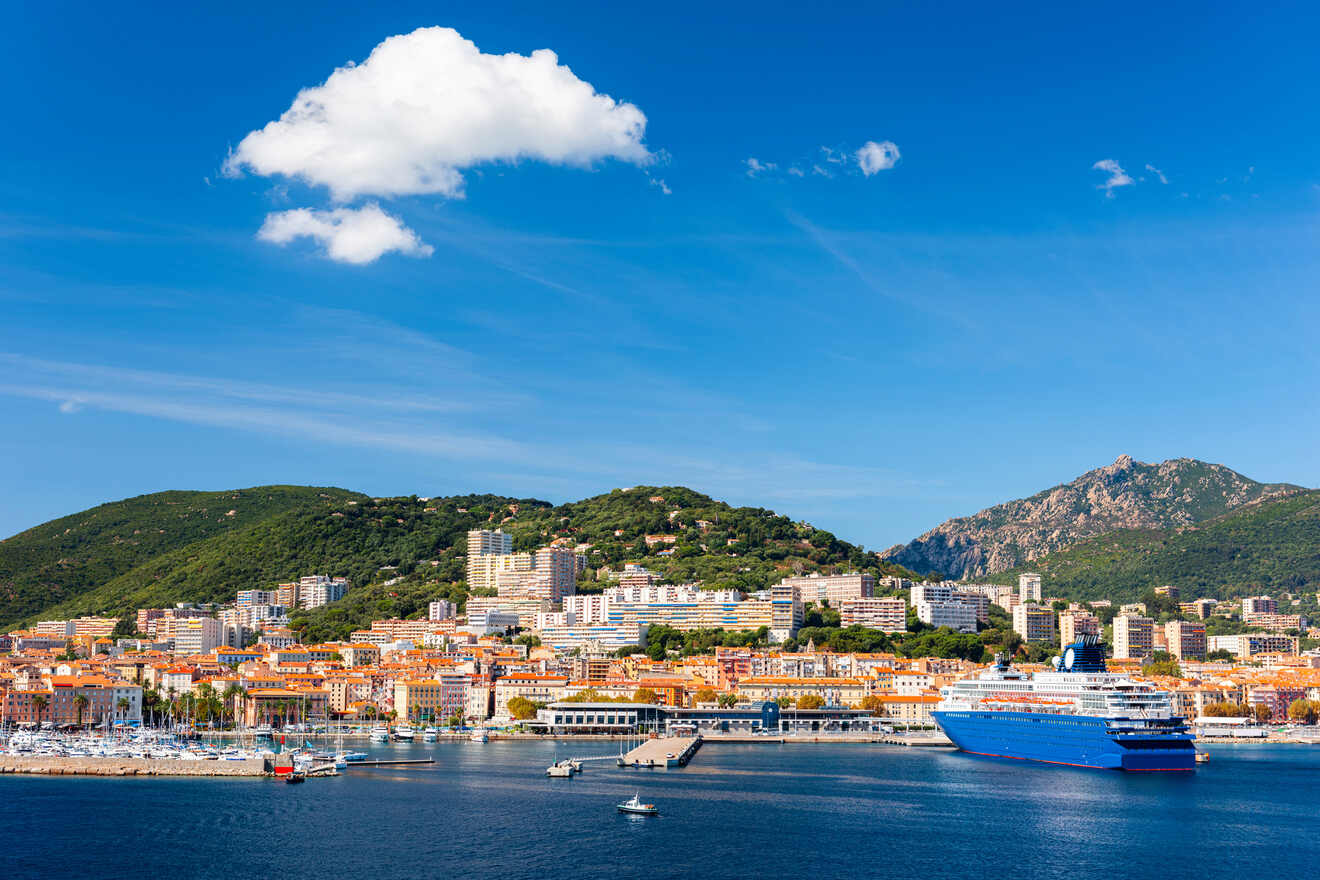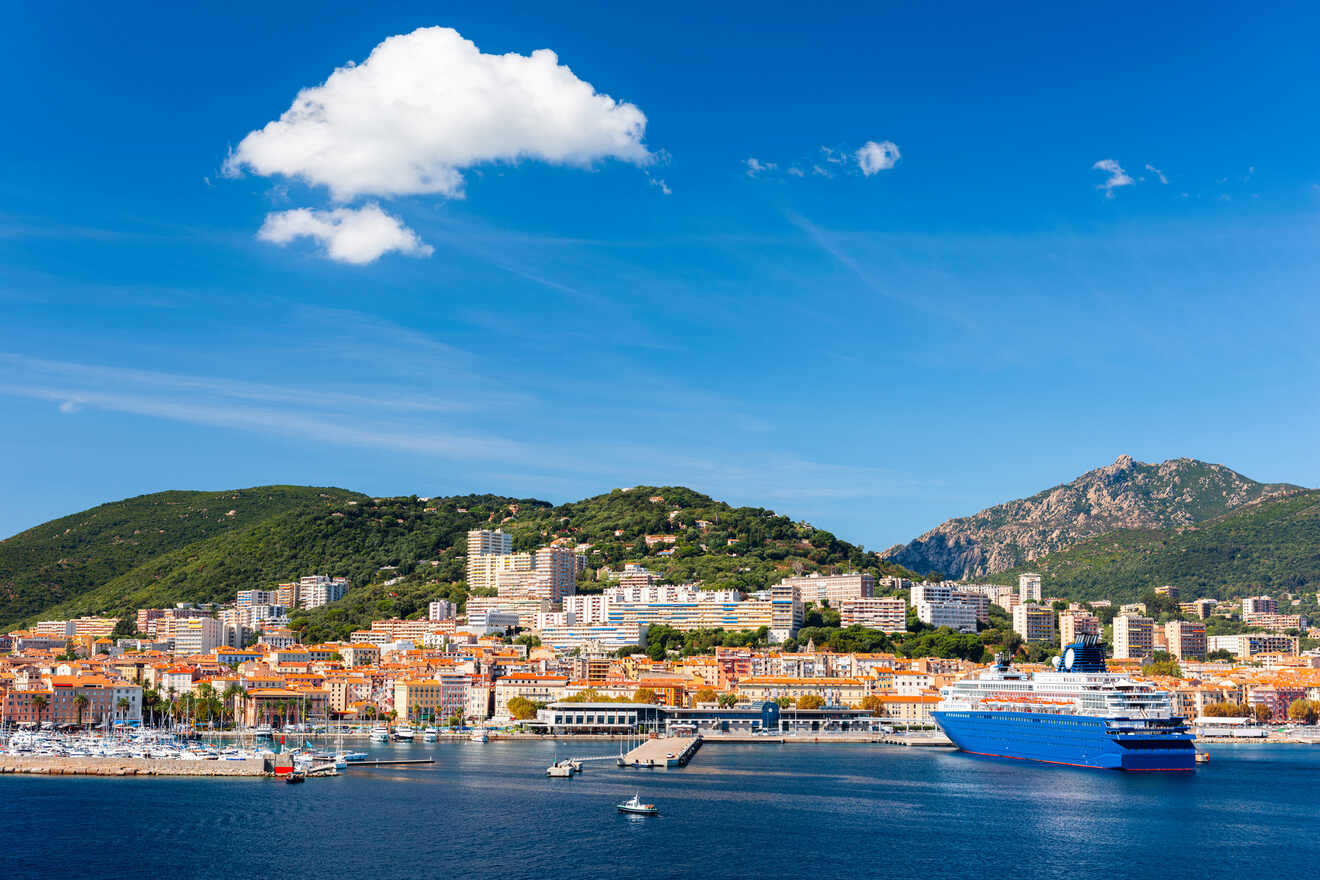 Welcome to Corsica's capital city! This town is famous for different reasons, and the most important one is that Ajaccio is the birthplace of Napoleon Bonaparte. There are a few things around the area that you can visit if you're into history!
Located 90 miles (140 km) northwest of Porto-Vecchio, this stunning town is a great place to stay in Corsica for people who are traveling on a budget. Compared to the other cities on the island, Ajaccio offers a great mixture of budget and mid-range accommodations.
As you explore the town, you'll notice many elements like statues and squares that remind tourists that one of the most famous French rulers was born here.
There are many interesting attractions in Ajaccio such as the citadel and the Cathedral of Our Lady of the Assumption of Ajaccio but don't forget you're on an island so take advantage of all the beaches that you can find here! Terre Sacrée beach and Marinella beach are probably my favorite ones, and both have the dreamiest blue color!
Other accommodation options in Ajaccio
Things to do in Ajaccio
Check out the art at Fesch Museum
Learn about Napoleon Bonaparte at Maison Bonaparte
Go for a stroll around Plaza Foch
Admire the sea views at Parata Tower
Visit the Cathedral of Our Lady of the Assumption of Ajaccio
Sunbathe under the sun at Sacrée beach and Marinella beach
See the Ajaccio citadel
6. Bonifacio – the best place to stay in Corsica for luxury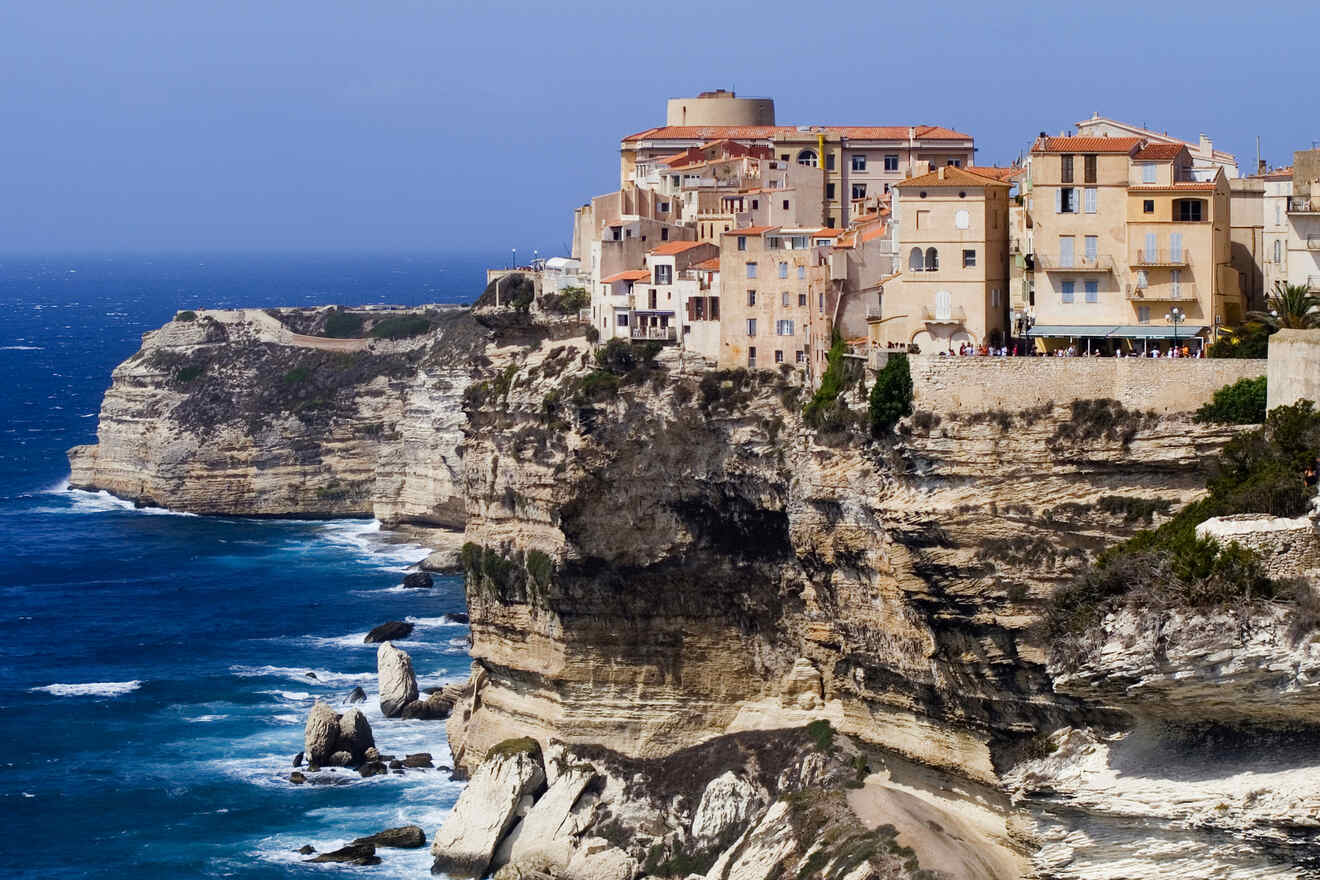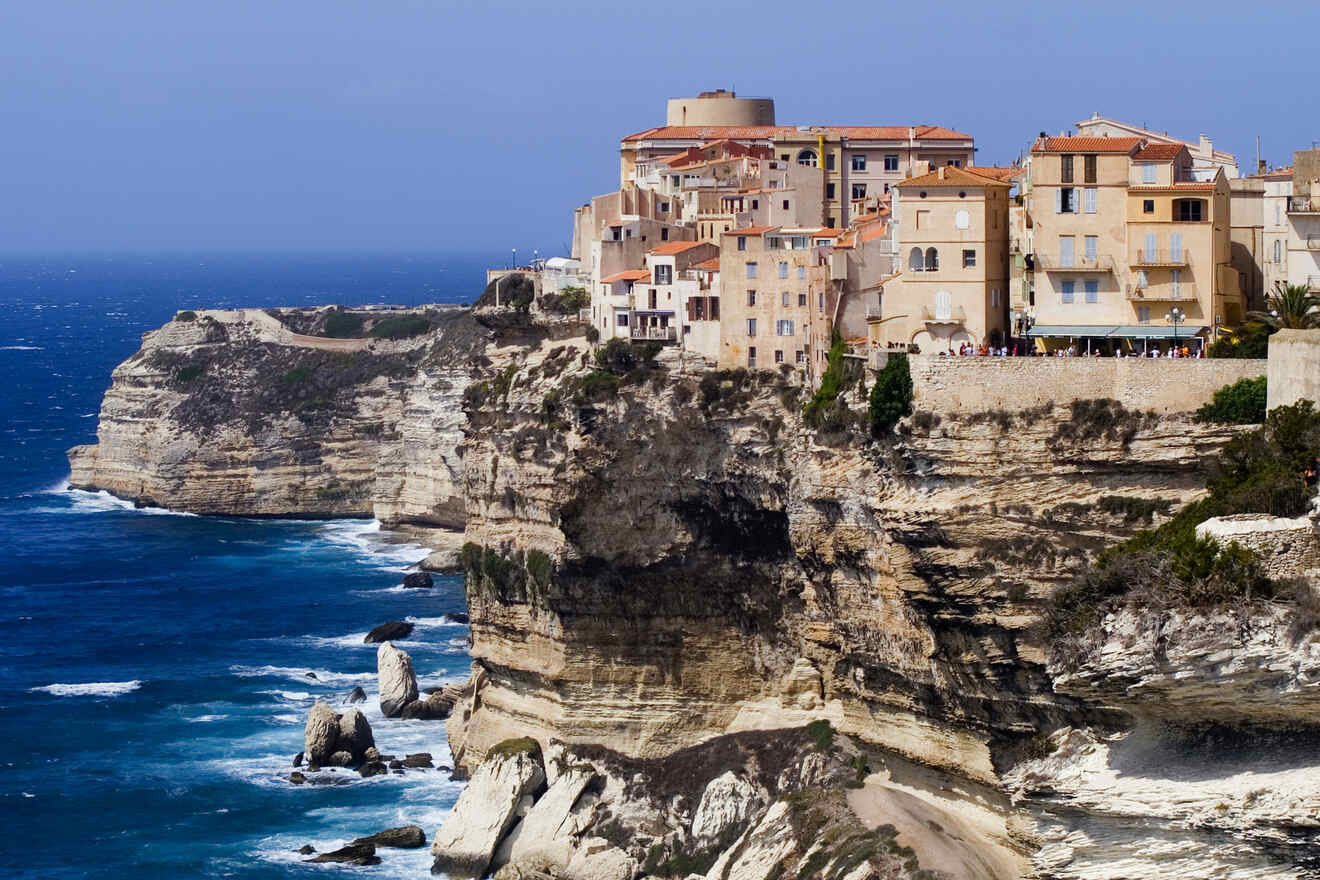 This town is located just a 35-minute drive south of Porto-Vecchio, and it's for sure one of my favorite places in Corsica. I mean, just look at the sight of those old houses sitting on the big rocks! Such a stunning view that you don't get to see every day!
Bonifacio is located on the southern tip of the island, not too far from Sardinia, which can only mean that you'll get to experience that exclusive Italian atmosphere while you're here. No wonder hotel and restaurant prices are higher in this town. It's one of the best places to stay in Corsica for people who prefer luxurious trips.
Yes, you really can't go wrong with Bonifacio! The town offers a wide range of activities and attractions for tourists. If you're a yacht lover, then I suggest spending some time by the marina, that's where you'll also find the pricey restaurant. Grab a chair, order a drink and a meal and take in those views!
But don't miss a climb up to check the stunning citadel and the old town. It's such a pleasure to wander around the small alleys and streets full of history!
Other accommodation options in Bonifacio
Things to do in Bonifacio
Explore the old town and citadel of Bonifacio
Head to the marina to check out all the yachts
Admire the Sainte-Marie-Majeure de Bonifacio church
Have a fancy dinner at Ciccio restaurant
Play some gold with the best sea views at Golf de Sperone
Relax on the white sand beach of Piantarella
Catch a sunset near the Fanale di Pertusatu lighthouse
Head to Bonifacio National Park and go on a boat trip to visit the Lavezzi Archipelago
7. Propriano – where to stay in Corsica for outdoor activities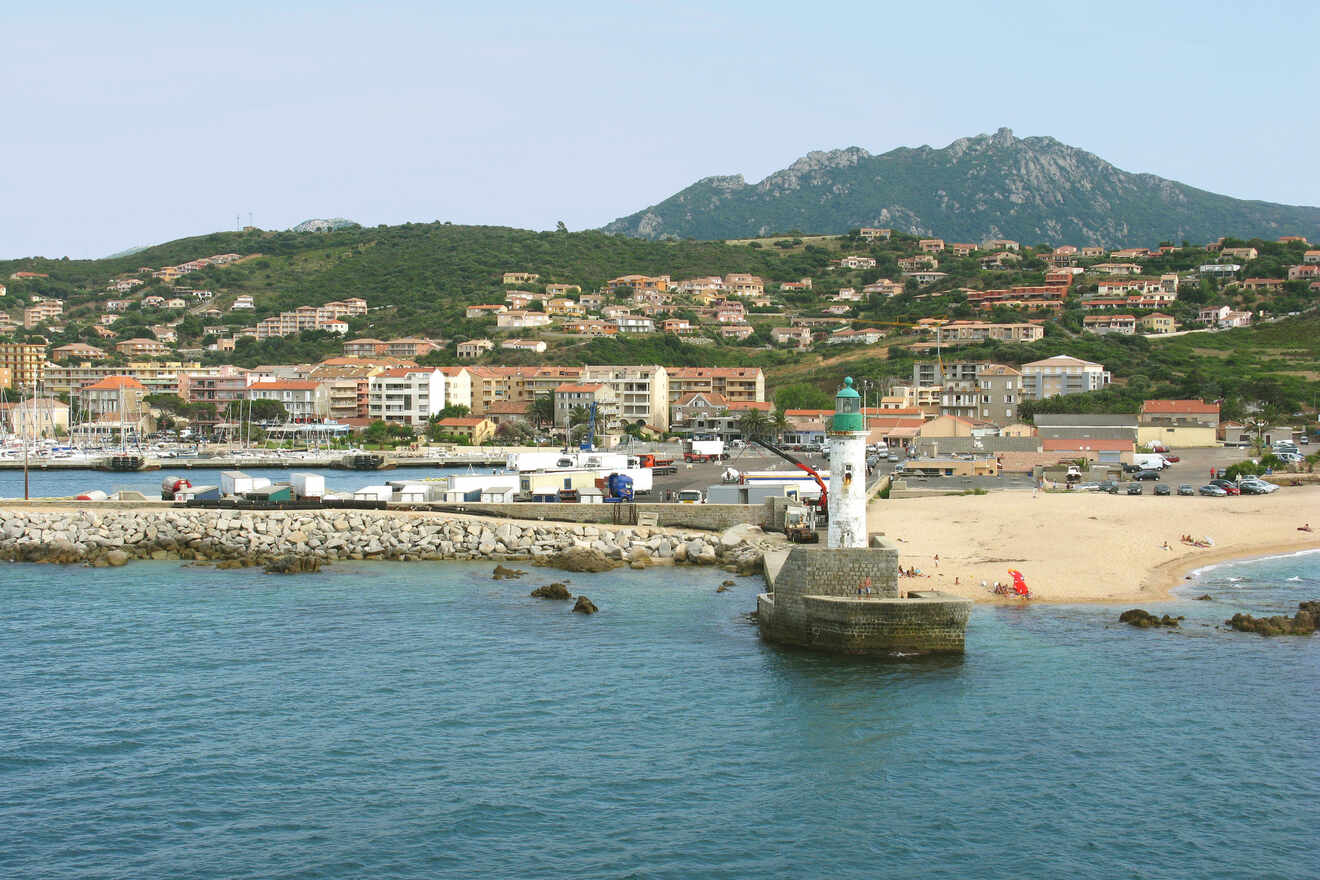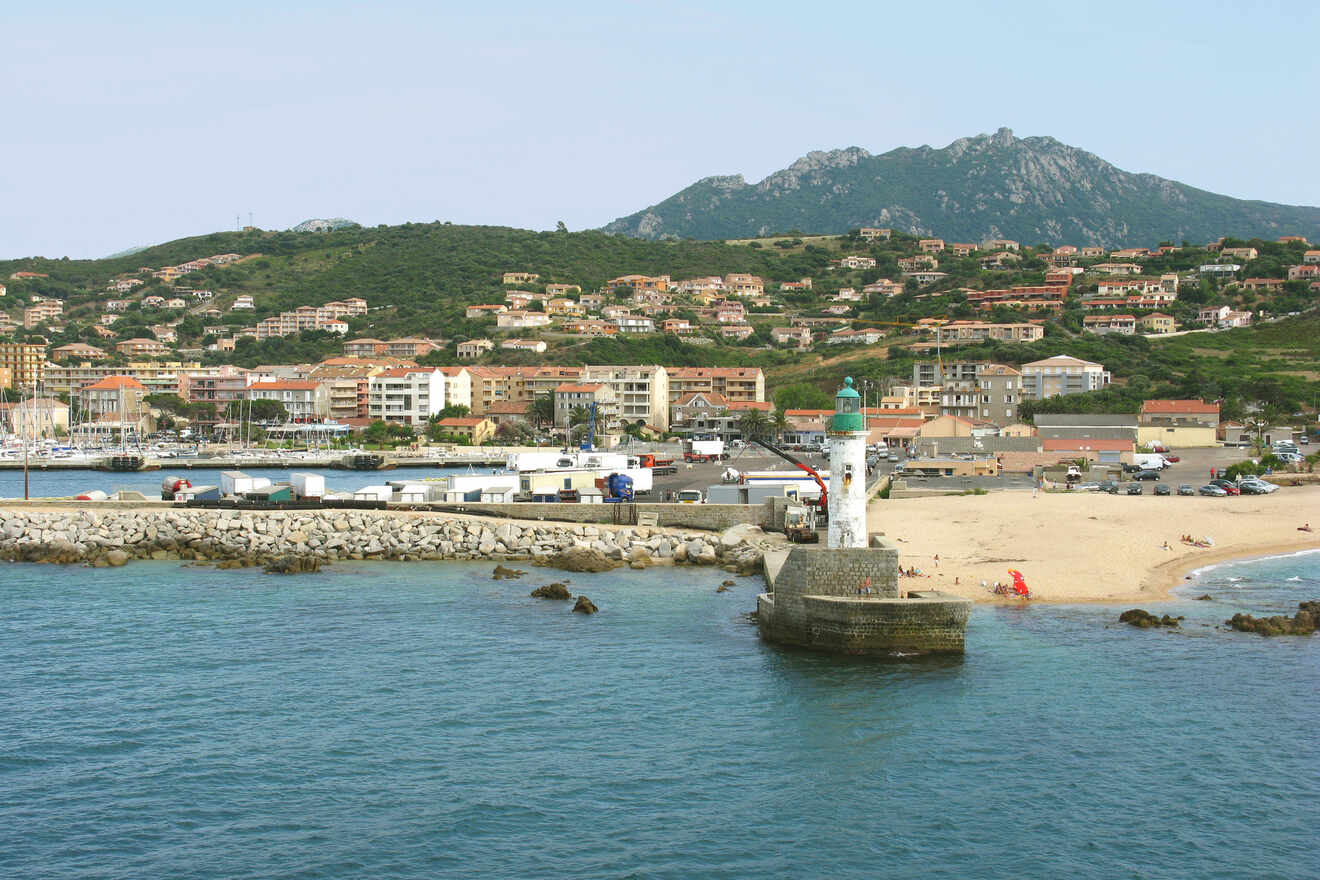 Just 70 km (40 miles) northwest of Porto-Vecchio sits Propriano, another beautiful coastal town filled with beaches, historical places, and many places where you can engage in different types of outdoor activities.
Yep, Propriano is the best place to stay in Corsica for those of you who love learning and trying new sports when you're on holiday. Besides fishing and boat trips, you can also try skydiving and quad biking in the area!
There's no chance to get bored in Propriano! If you're not out there on a boat in the sea or learning how to skydive you can try some "down to earth" activities, like sunbathing on the nearby beaches and relaxing.
Interestingly, pirates destroyed most of the original town which traced back to Roman times in the 1700s so most of what you're seeing now was built in the early 1800s. However, the port area is still pretty fascinating, so I wouldn't miss a chance to explore it.
Other accommodation options in Propriano
Things to do in Propriano
Enjoy the mountain views and relax on Capu Laurosu beach
Learn how to skydive in Propriano
Visit the Notre Dame de la Miséricorde Church
Have fun with the kids at the Loisirs Valinco Parc
Go on a fishing trip or on a boat trip
Try quad biking in Propriano
8. St. Florent – best place to stay in Corsica to relax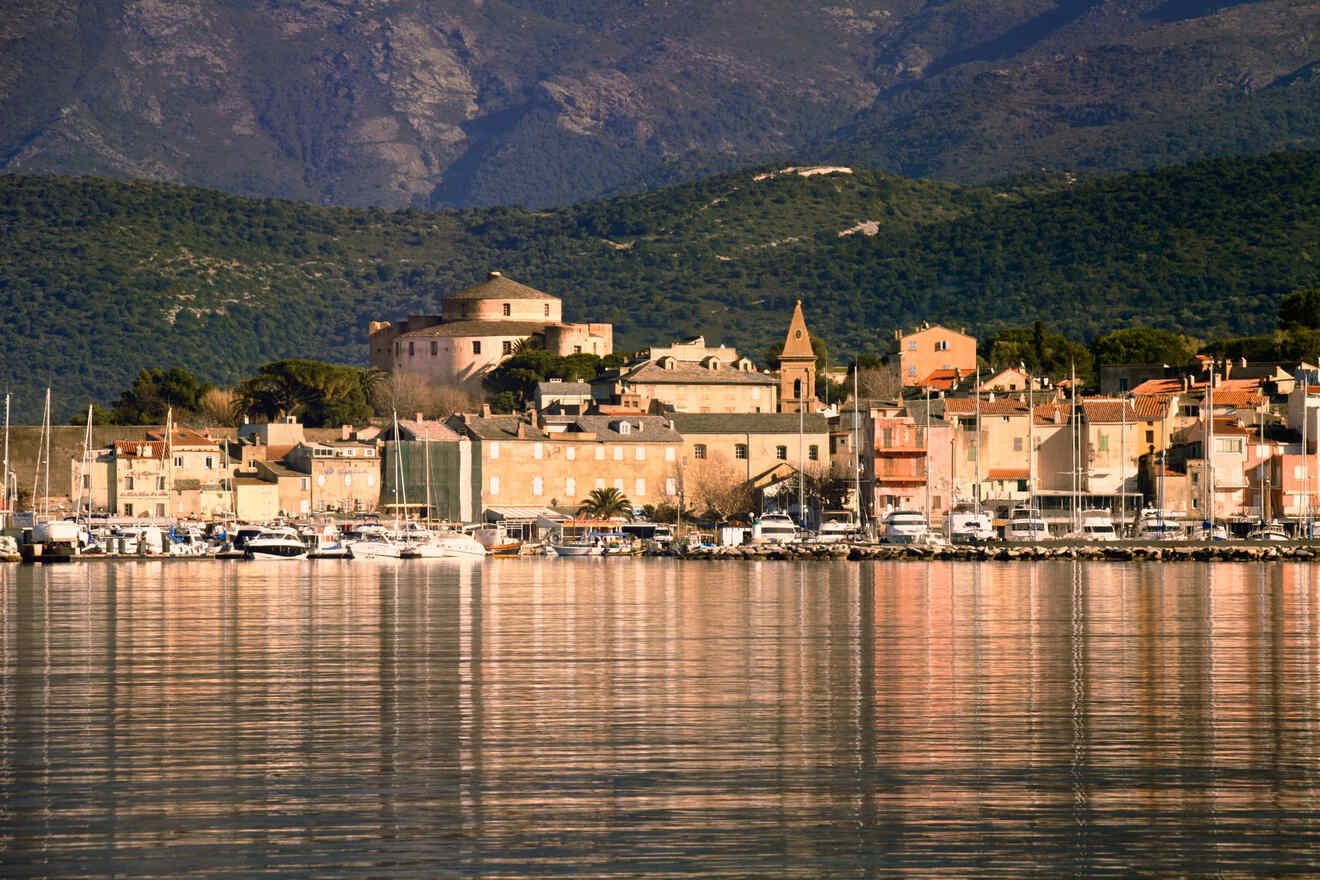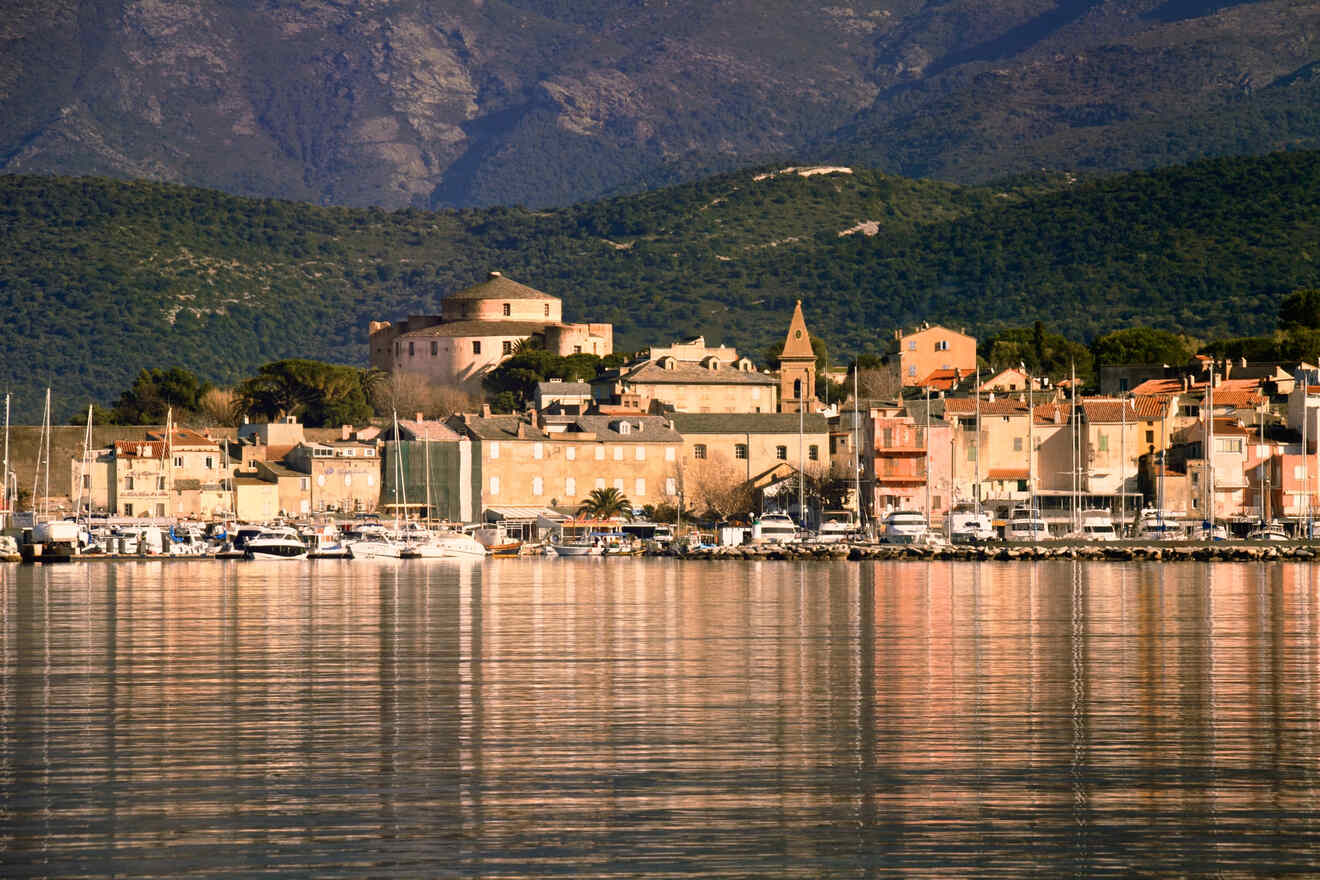 Located a 2 hour and 40-minute drive away north of Porto Vecchio, this town is situated at the bottom part of the Cap Corse peninsula, and it's a great place to stay in Corsiva if you enjoy visiting small island towns.
Also, if you don't plan on doing anything else but relaxing, going with the flow, and spending lots of time on the beach, then Saint Florent is the perfect town for you!
I don't know about you, but I love these small towns where there aren't so many attractions but where you can get to enjoy the local atmosphere. Of course, the fact that it's located on an island guarantees a harbor area that you can explore. Plus, we're in Corsica, every town, or at least most of them have a citadel!
St. Florent is no exception to that rule, so make sure you check out their citadel, especially if you want to learn more about the town's past! The nearby beaches are also great places that you shouldn't miss. Some of them offer some incredible views of the mountains!
You don't need too much time to explore the central area of St. Florent, but you might want to stop at one of the cafes in Plaza Porte and enjoy the atmosphere, maybe mingle with some local people. I'm sure they have great stories to tell you about their hometown!
Other accommodation options in St. Florent
Things to do in St. Florent
Learn more about the town's history at St. Florent Citadel
Explore the harbor area in the city
Sunbathe on the nearby Roya beach in Cap Corse
Visit the Genoese tower and check out the great sea views from the top
Have a delicious dinner at the local La Tablée de Mamo restaurant
BONUS: Best hotels for families in Corsica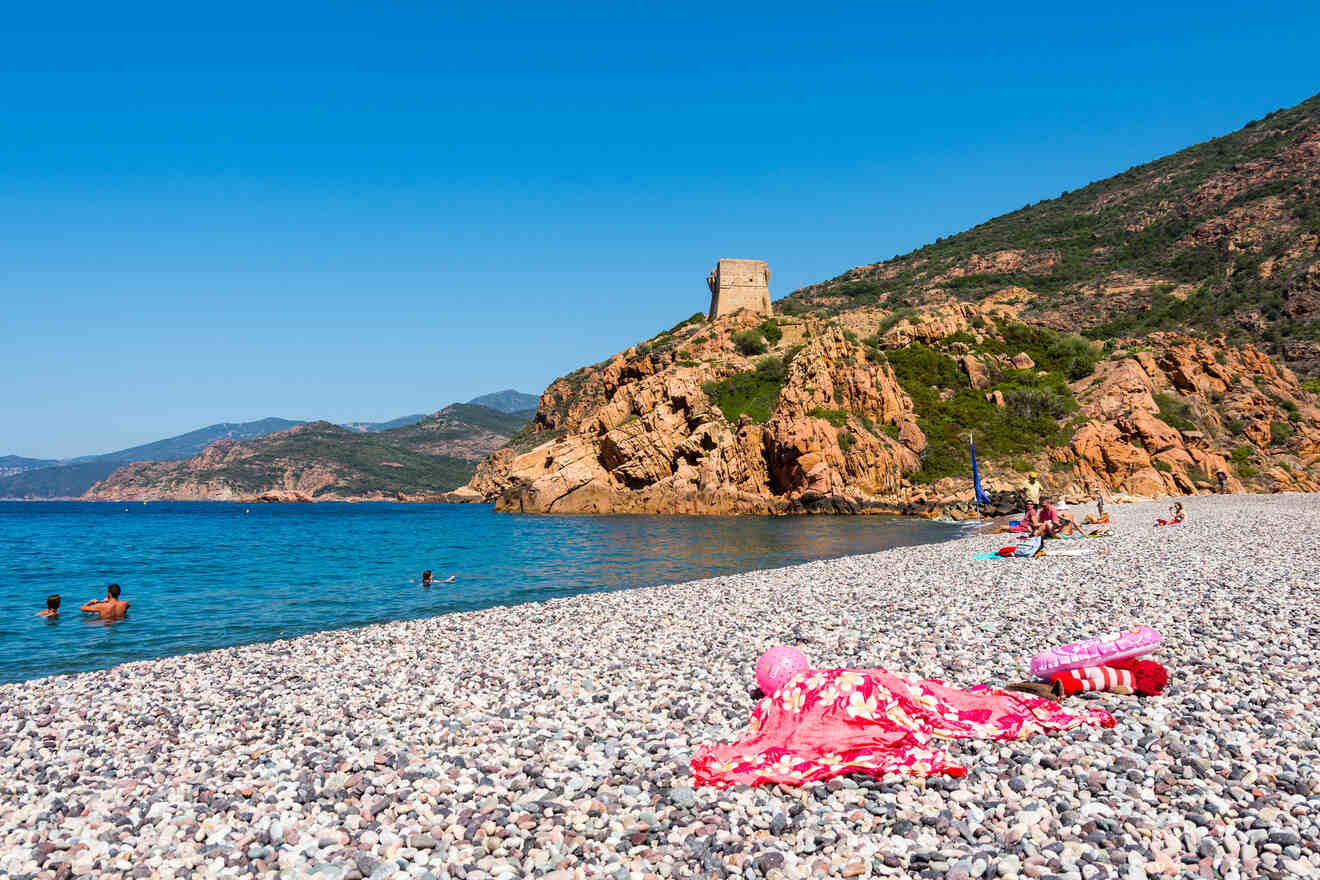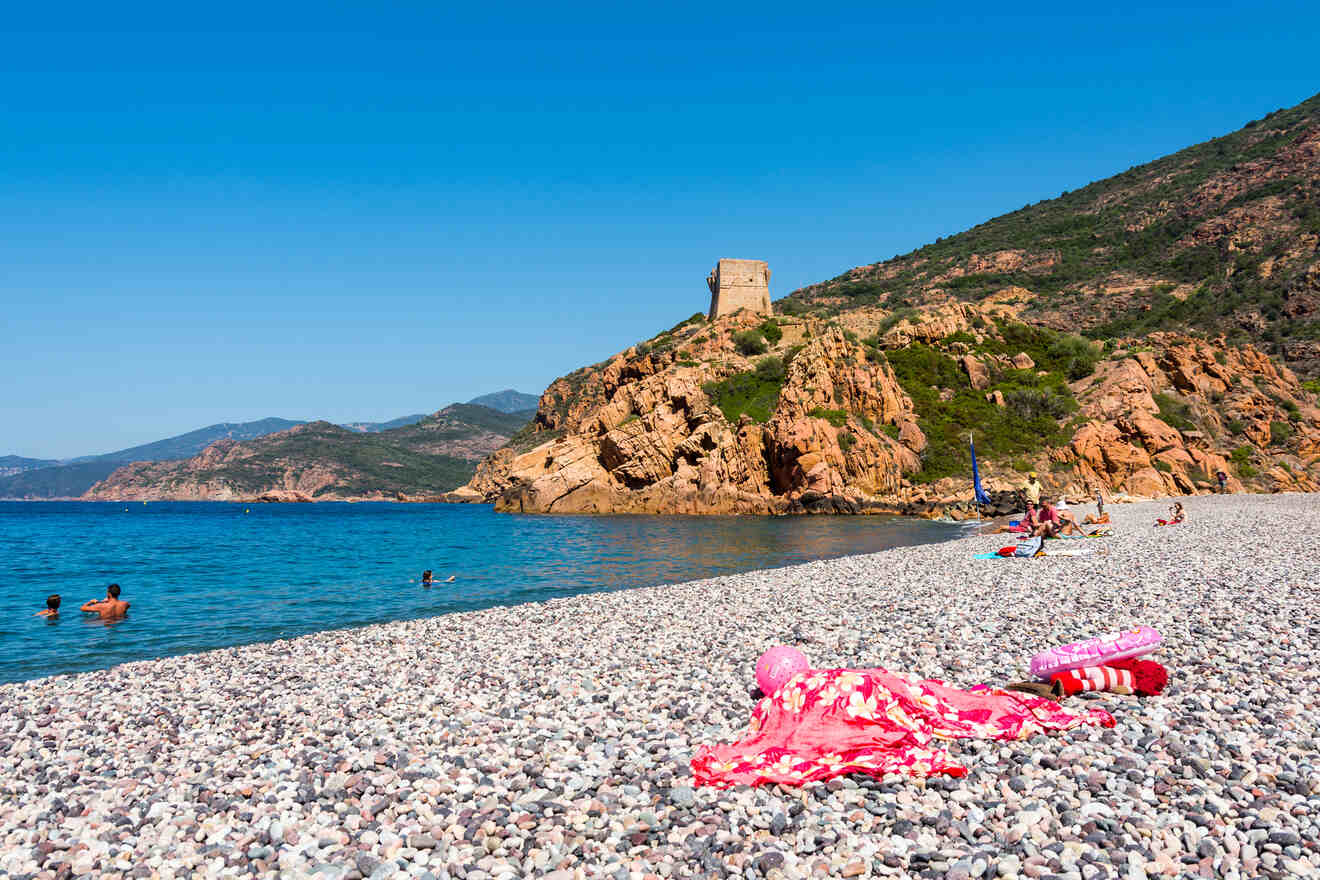 Are you looking for the perfect accommodation to base yourself with your family that's located nearby the beaches? Anything to make you and the kids feel as comfortable as you'd like during your trip to Corsica.
Luckily I'm here to help you with that. I've found the best family hotels to stay on the island, all equipped with all the facilities you and your crew will need. So let's see which ones you'll pick!
Luxury (€200 and up)
Oro Biancu – I love the decor of this luxurious beachfront villa! It goes perfectly with the location. The accommodation is super spacious and it's equipped with family rooms and a kitchen. You guys can relax in the garden or on the terrace and ask about the activities they offer off-site. The list includes diving, horseback riding, and bike tours. There's never a dull moment at Oro Biancu in Lucianna town! And they also offer babysitting services for an additional charge.
Le Domaine De Marie – This villa has everything you guys need during your holiday in Corsica! There's a beach nearby so you can go swimming and exploring. But you might want to relax and enjoy some private time at the accommodation. It has 3 swimming pools, so there's room for everybody, a kitchen, and a garden. The accommodation also offers different activities like walking tours and movie nights off-site.
Mid Range (€150 – €190)
Residences La Tonnara – Enjoy a family breakfast on the terrace of this beachfront hotel located in Bonifacio. The sea views are incredible here. It's like you get the whole ocean for yourself! The accommodation has family rooms, and it offers water sport activities on-site for an additional charge. There's also a flat-screen tv, so when you guys don't feel like going out to the beach, you can have a fun family night!
Residence Casa Toga – Swim all day in the pool with your kids at this great accommodation with family rooms that's located in Galeria. There are even barbecue facilities, so if you don't feel like going out to the local restaurant to have dinner, make a delicious home-cooked meal and enjoy it on the terrace!
Budget (up to €100)
Villa Aquarelle – I love the homie feeling of this villa that's located in Biguglia, Corsica. The garden is so beautiful and colorful, and of course, there's a swimming pool where you guys can have fun all day long. The family rooms are equipped with private bathrooms, and the villa has a kitchen and barbecue facilities.
A fata di L'ortolio – A beautiful villa that is equipped with all the amenities you guys need. The accommodation is located in Sartene and it offers a spacious garden where the kids can play, barbecue facilities, and a terrace perfect for dinners and relaxing. Of course, you'll have access to family rooms and a kitchen!
Frequently asked questions about Corsica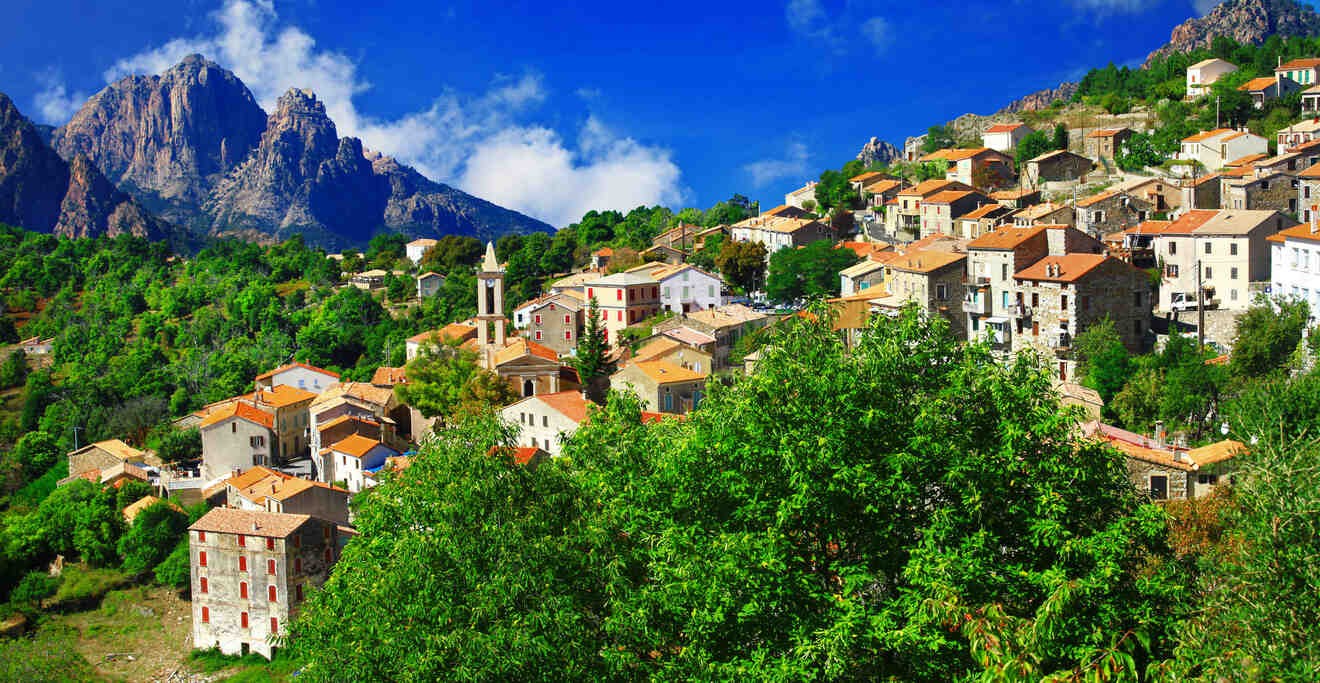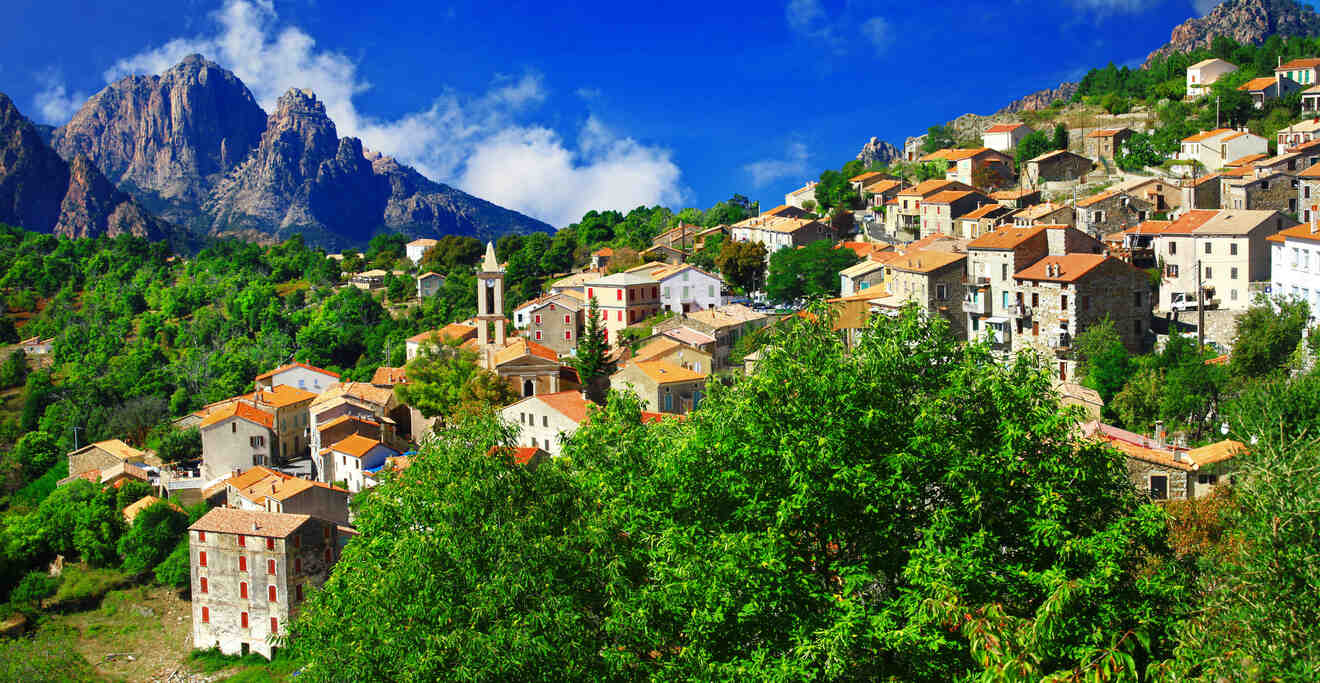 Conclusion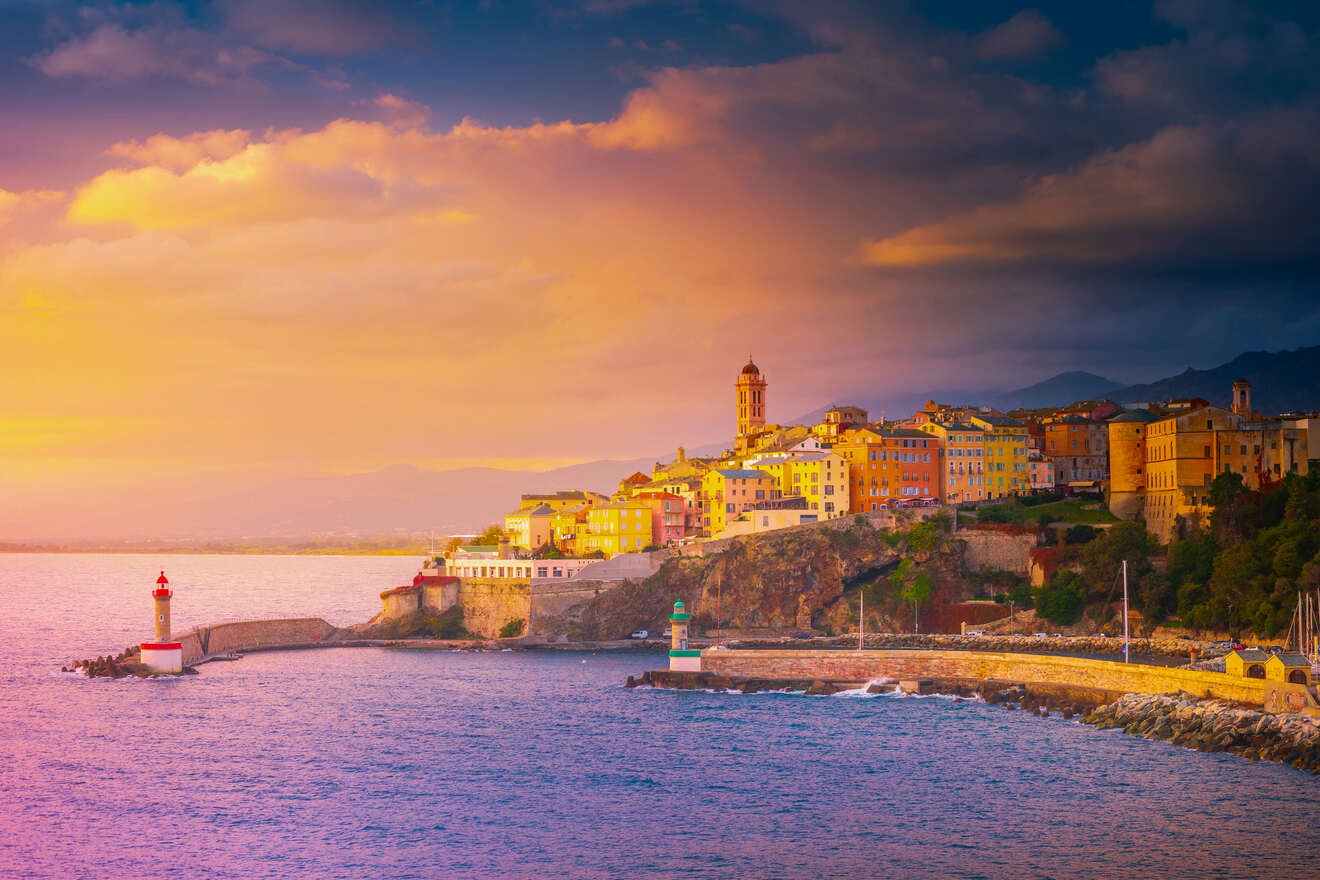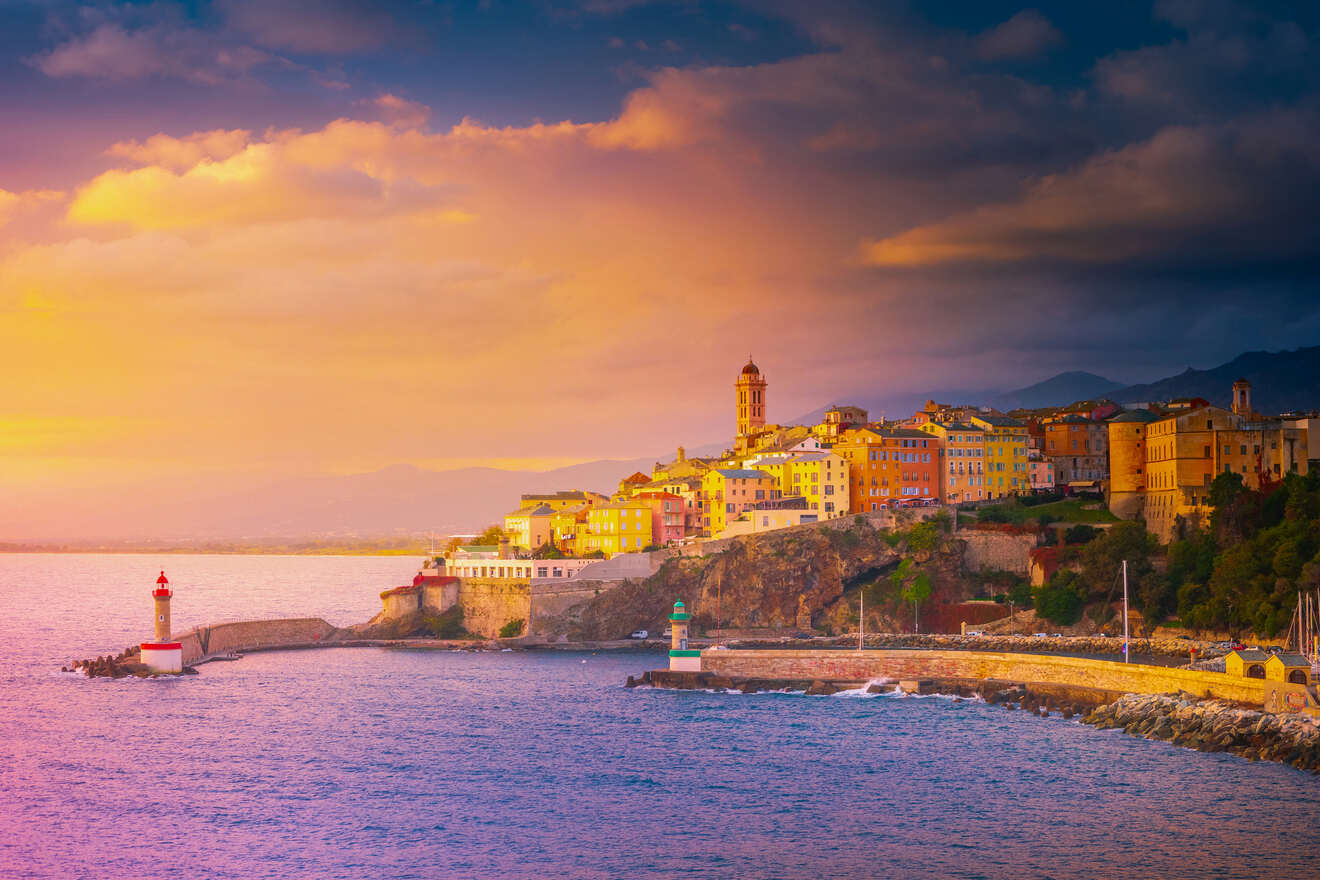 What a stunning location! I hope this post helped you decide where to stay in Corsica and which hotel to book.
I know there are so many amazing hotel options here, so if it's hard to decide, here are my top 2 favorite hotels, both located in Porto-Vecchio.
Casadelmar – A great hotel with a private beach area and an infinity pool
Le Balamina – This hotel has a great restaurant and a pool for an affordable price
Don't forget that all the accommodations sell out super fast in these types of locations, especially during high season, so I highly recommend booking yours in advance.
Enjoy all the cool activities in Corsica! Visit a nature reserve, chill on the beach in the Lavezzi Archipelago or go hiking. The possibilities are infinite! You won't want to leave this place! Let me know in the comments your opinions about this stunning island. I'm super curious!
Safe Travels,
Victoria