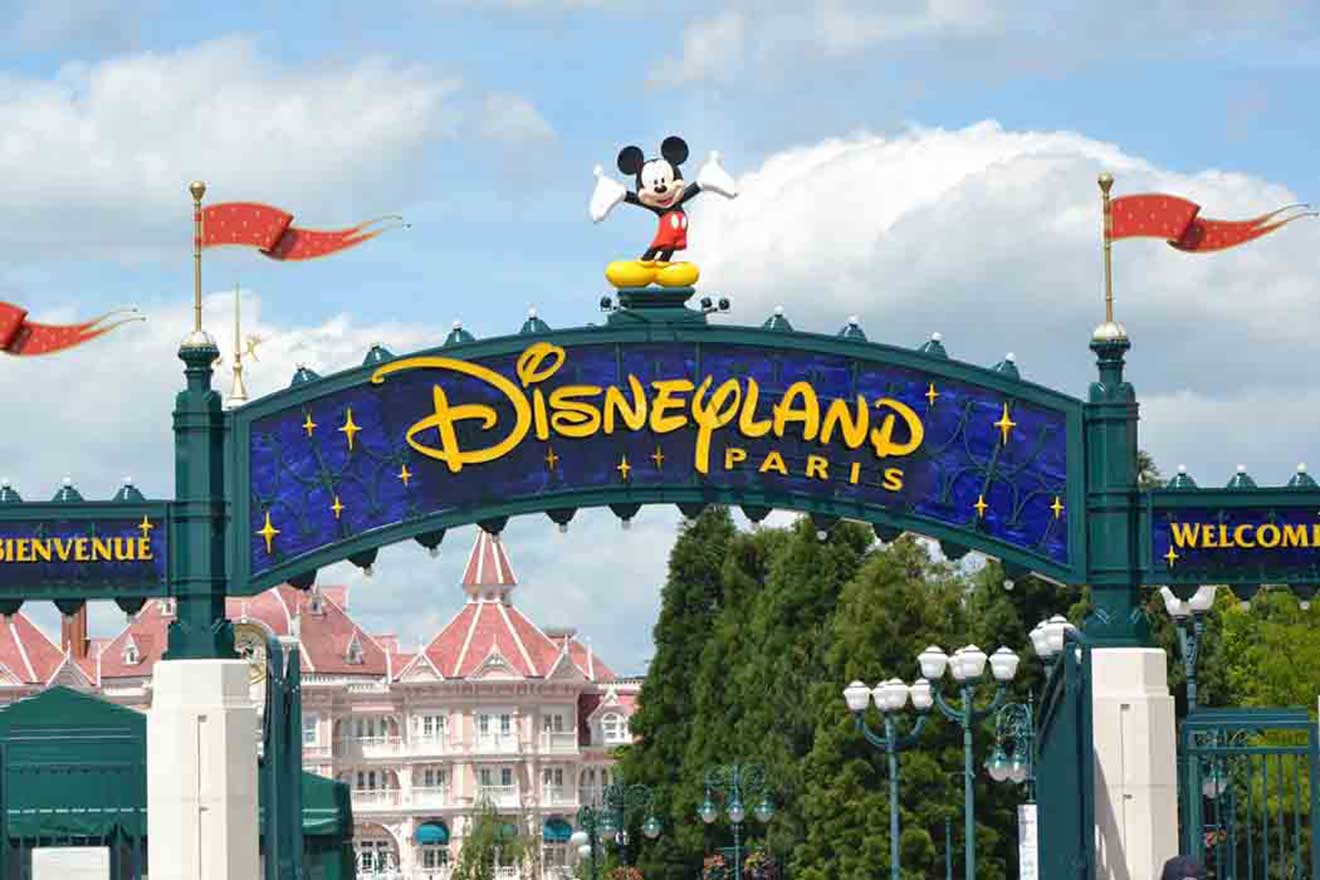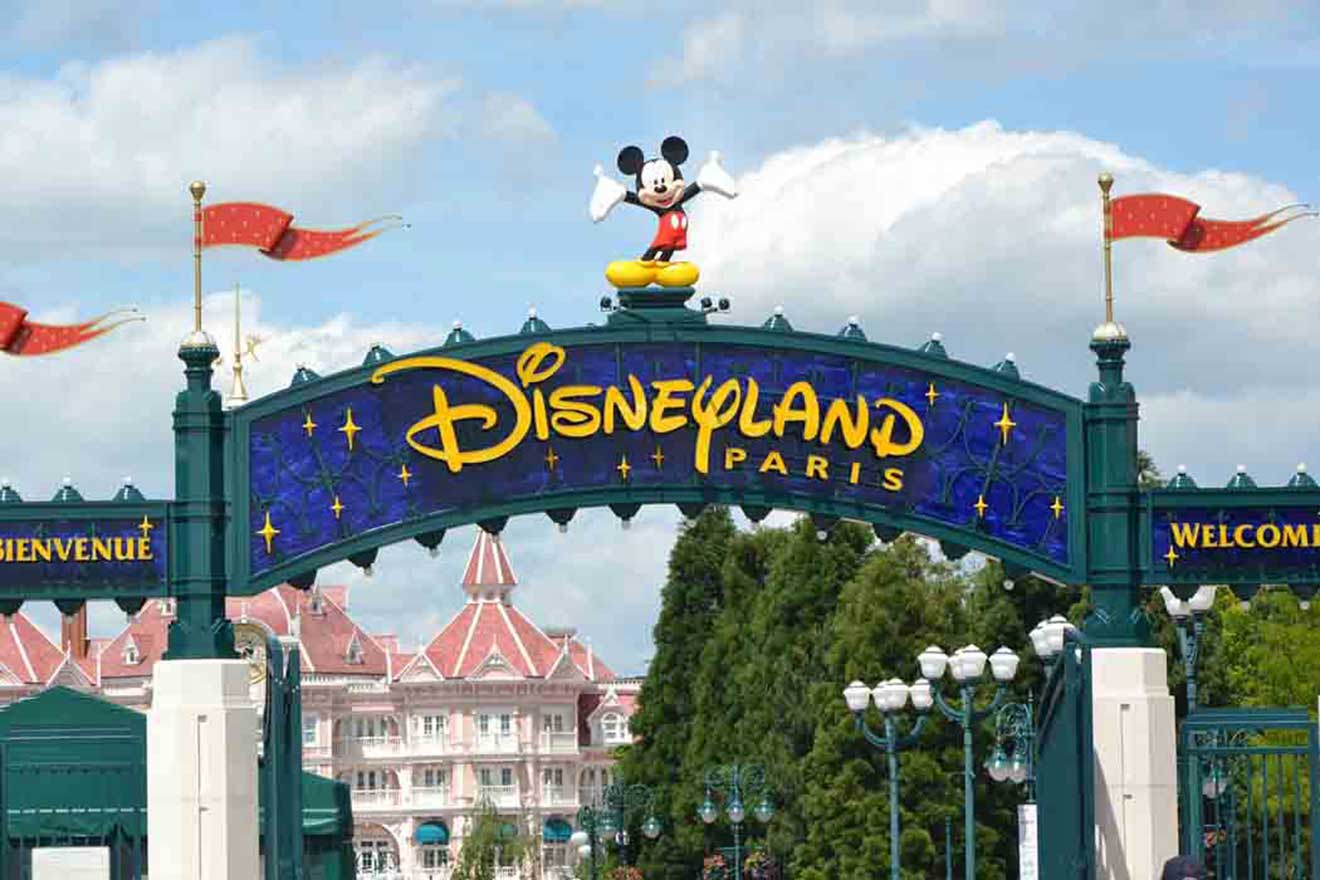 Who does not love Disney, their movies, and their theme parks? If you have never been to one of their parks and you are in Europe, Disneyland Paris is the place for you! In my opinion, Eurodisney Paris is an excellent destination for friends and family fun! 🙂
In this post, I will tell you everything you need to know about the best hotels in Disneyland Paris, if they're worth it or not, and I'll also give you my hand-picked recommendations for hotels, apartments, and affordable accommodation nearby as well.
By the way, If you still haven't read my post about great tricks on saving up to 20€ per person on tickets to the park, be sure to check it out!
If you are in a hurry
Disneyland Paris is big and there are several cities around d it, but to help you make an quick, informed decision, here are some best hotels and apartments you can choose from close to the park: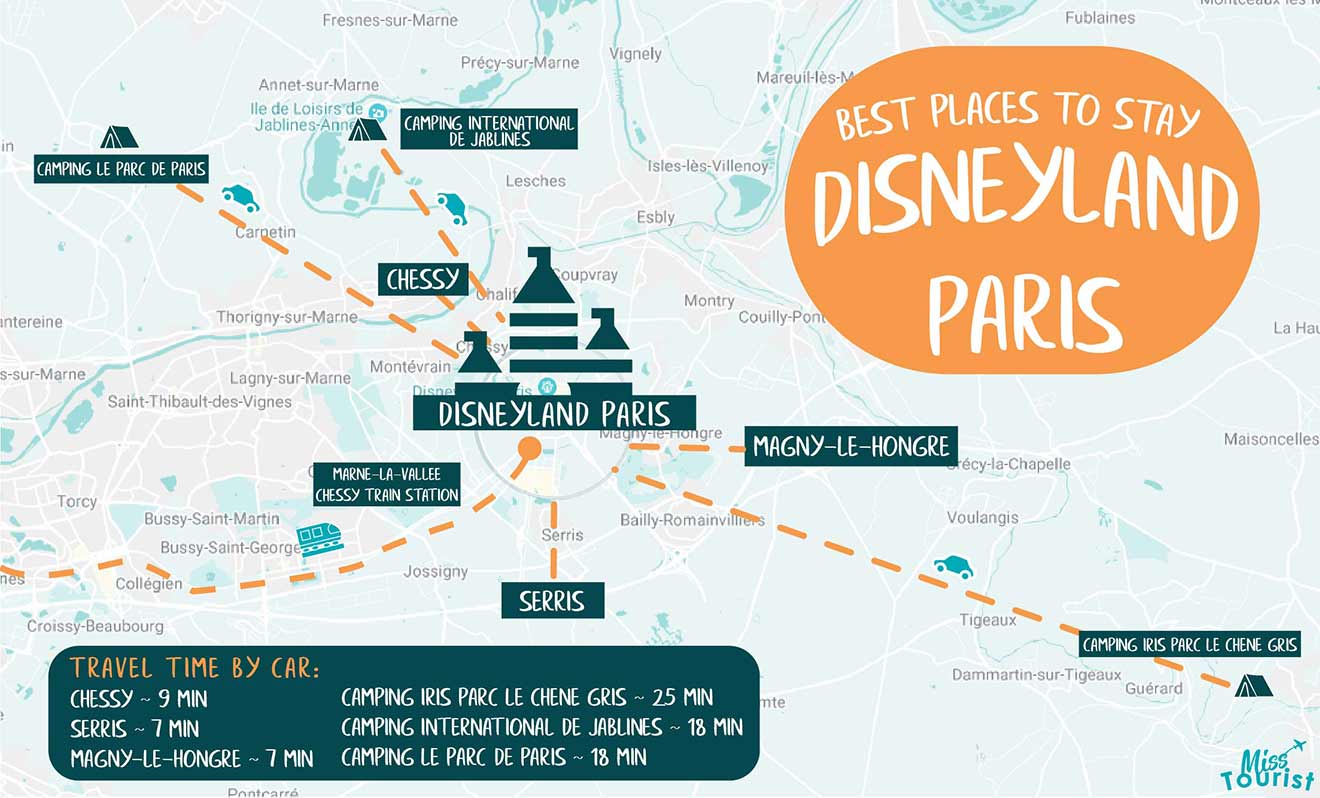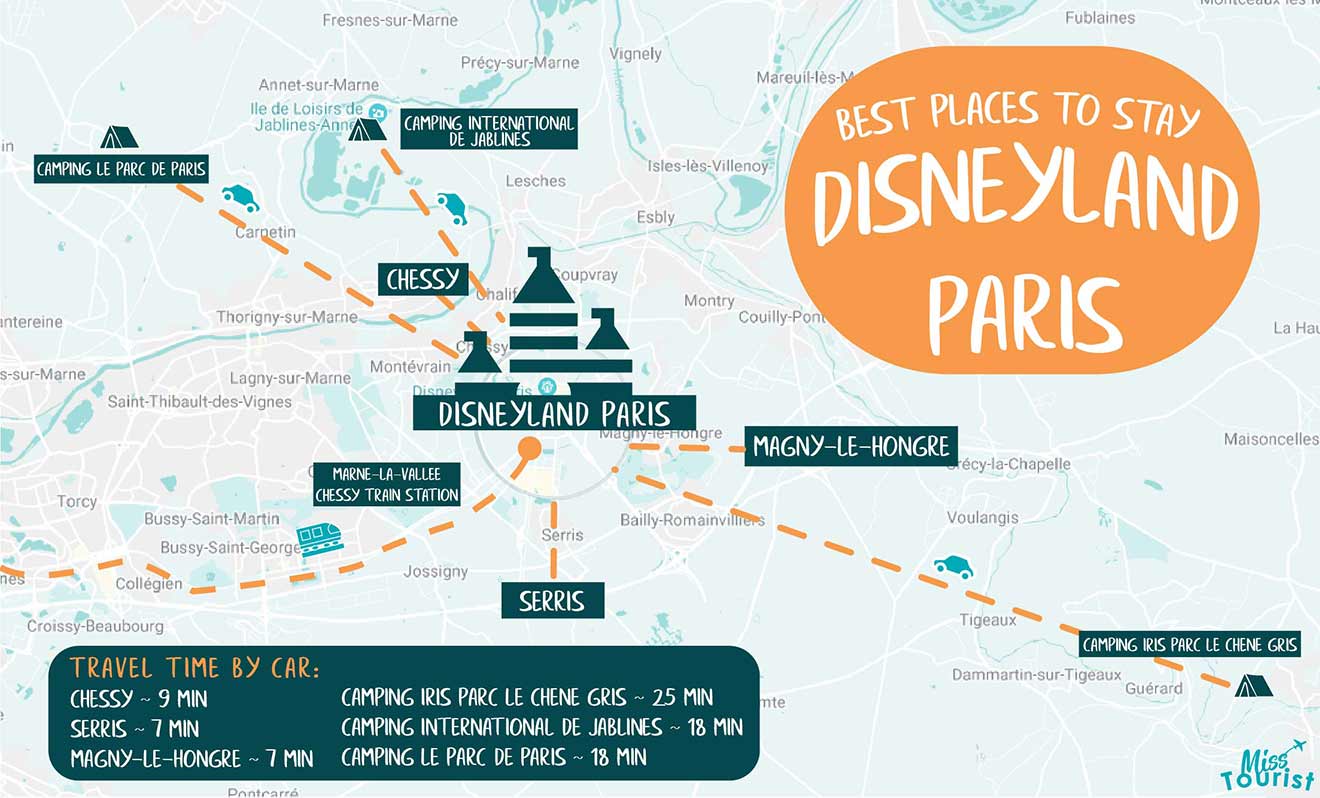 Here's my complete guide created exclusively for you with the best deals and packages for hotels near Disneyland. I made them simple to book and sorted them all by price for your convenience!
By the way, Disneyland Paris has two parks – Disneyland and Walt Disney Studios and both of them are located in Chessy, France, very close to Marne la Vallee train station. You can check out the map above to see the best areas where you can look for accommodation near Disney parks.
Okay, let's go:
1. Staying inside Disneyland Paris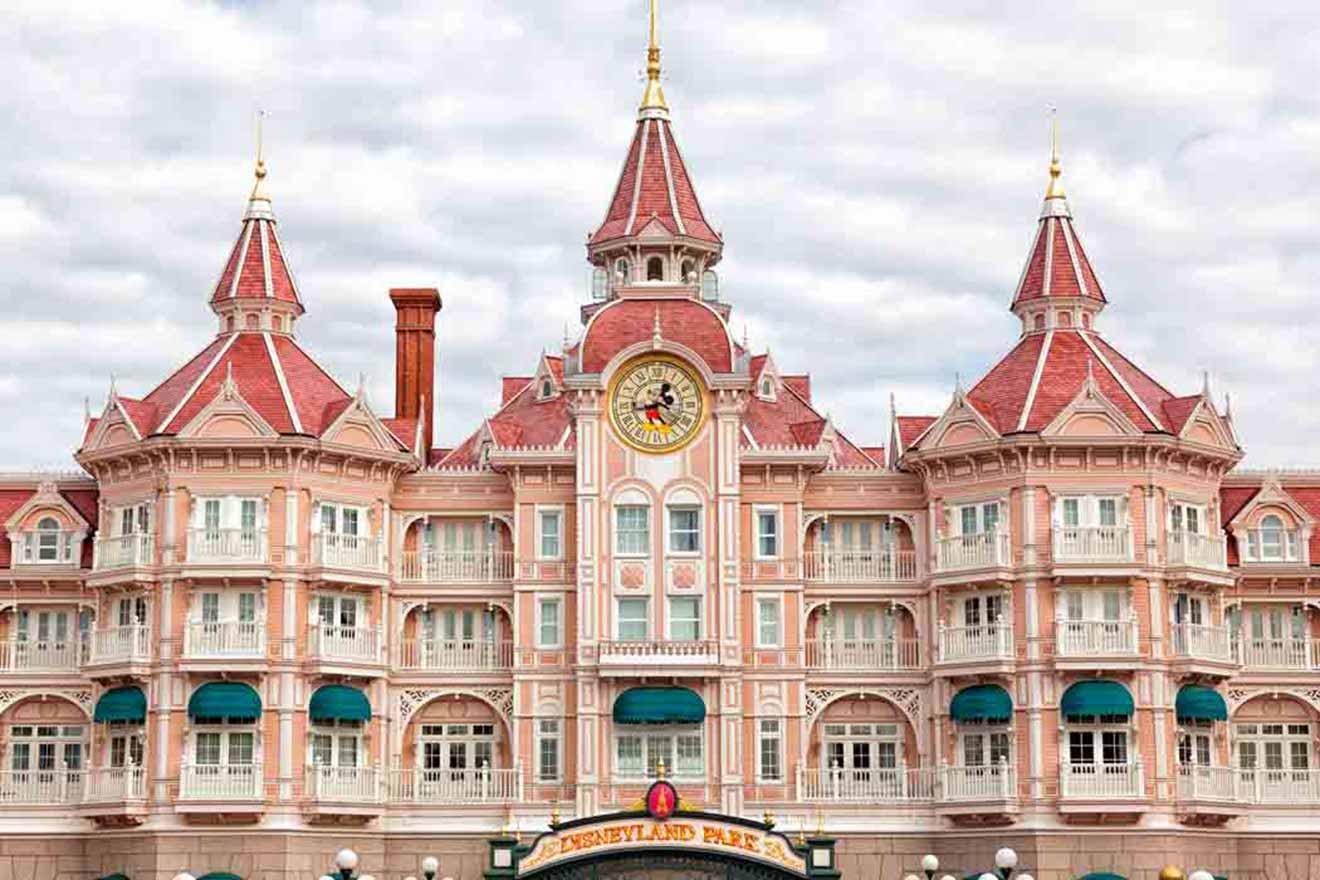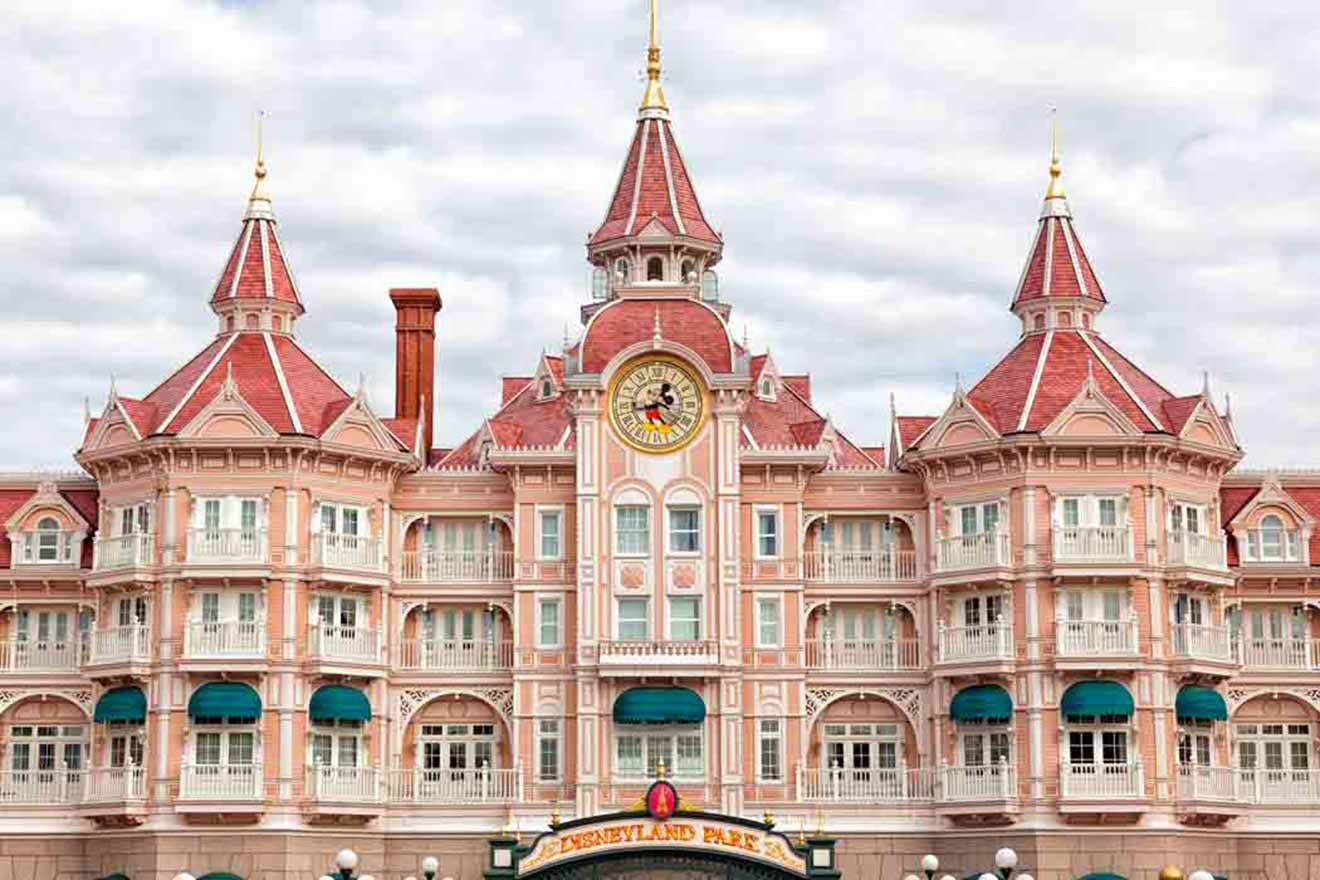 Now, let me tell you right from the start that the only hotel located actually INSIDE the park is Disneyland Hotel. So, if you want to stay minutes away from all the awesome attractions and rides in the park, you should go for it!
This hotel, located right at the entrance, is the most representative of Disneyland. Needless to say, it is also amongst the most luxurious and expensive ones out there – but there is no doubt you will feel like royalty!
What other advantages can I get from a Disneyland hotel booking?
You can enter both Disney parks (if you have the tickets for both, of course) and get to use the rides one hour and a half before everyone else.
Meeting the characters during breakfast at your hotel.
Extra Magic extended theme park hours inside the Disney village.
2. Best hotels near Disneyland Paris
If you don't want to pay a hefty price for staying inside Disneyland Paris itself, here are some of the best hotels very close to the park.
The best hotels near Disneyland Paris are the ones that sell out REALLY fast or raise their prices when the travel dates are closer, so the more in advance you book your hotel, the better!
If you are looking for other official Disneyland hotels and resorts, I'm going to talk about that in the next section!
Luxury (€170 and up)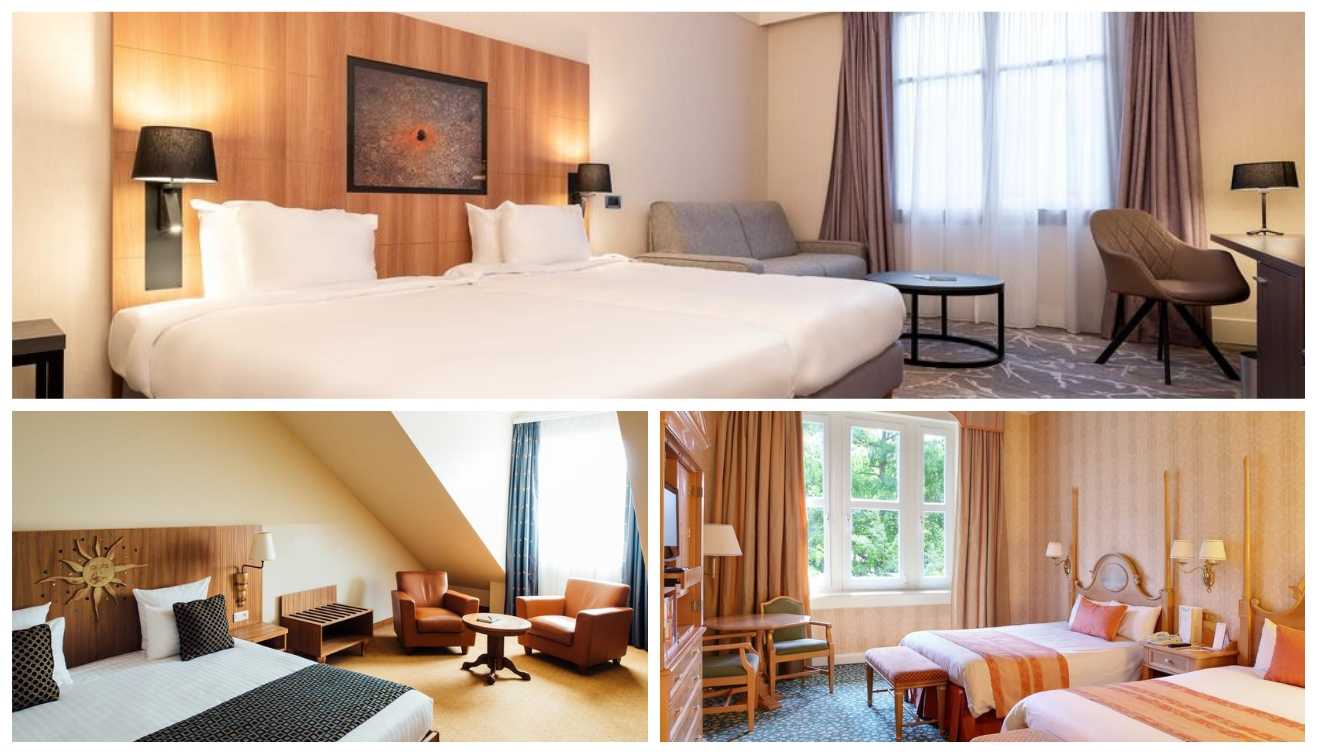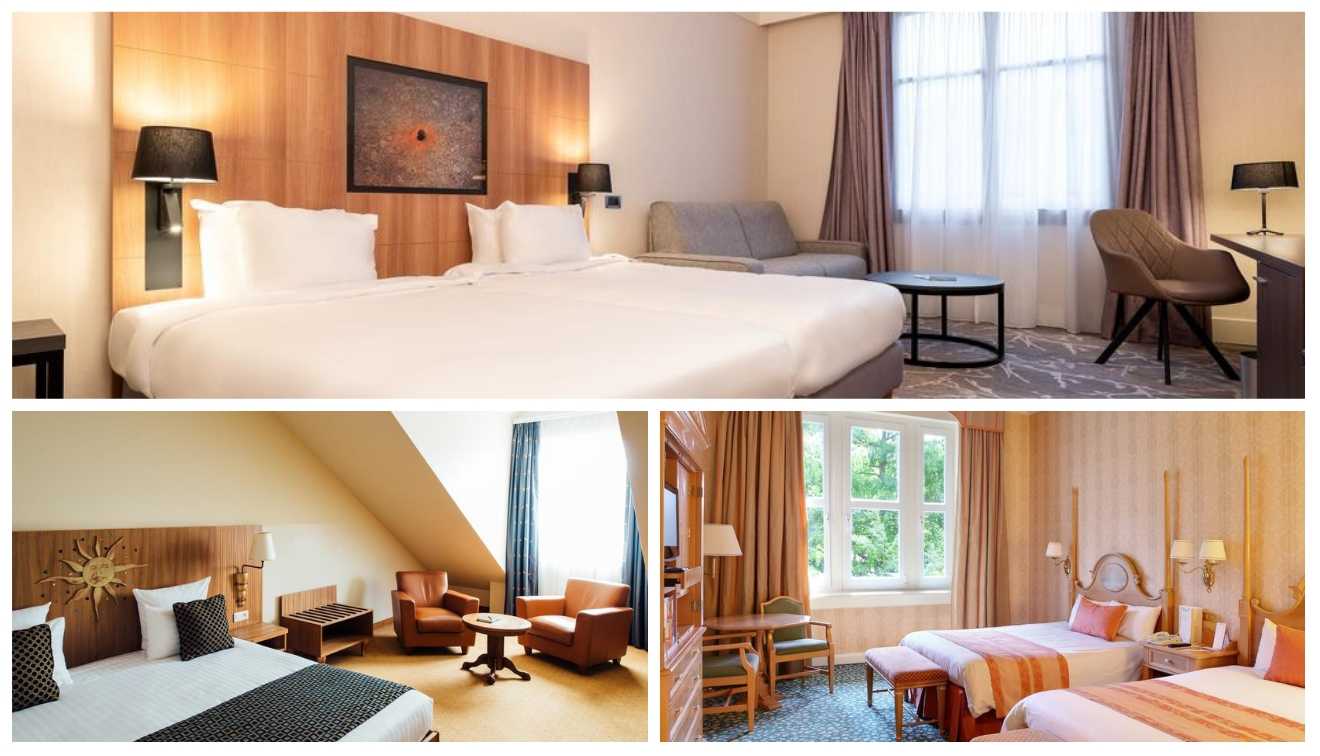 L'Elysée Val d'Europe – This is one of the top hotels near Disneyland Paris with a great location, less than 2 km away from Disneyland and you can even catch a complimentary shuttle bus. You get modern furniture, cozy rooms with flat-screen TV and satellite channels. There is a really nice shopping center and a subway nearby to discover Paris!
Relais Spa Chessy Val d'Europe – This 4-star hotel is located in Chessy, right next to the Val d'Europe RER Station and only a few minute drive from Disneyland Paris. The stylish rooms (some with a balcony!), the excellent fitness center, and the indoor will make you enjoy a luxurious hotel for a comfortable price!
Middle-priced (from €90 to €170)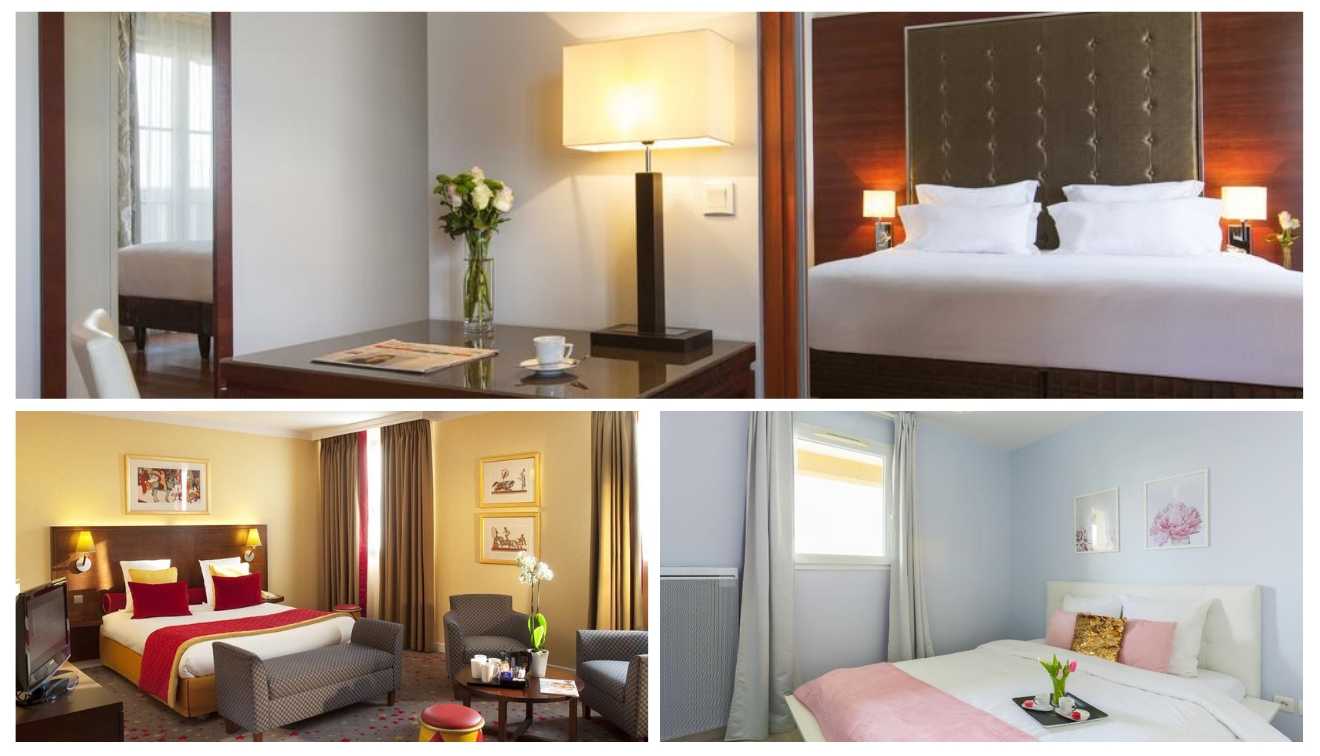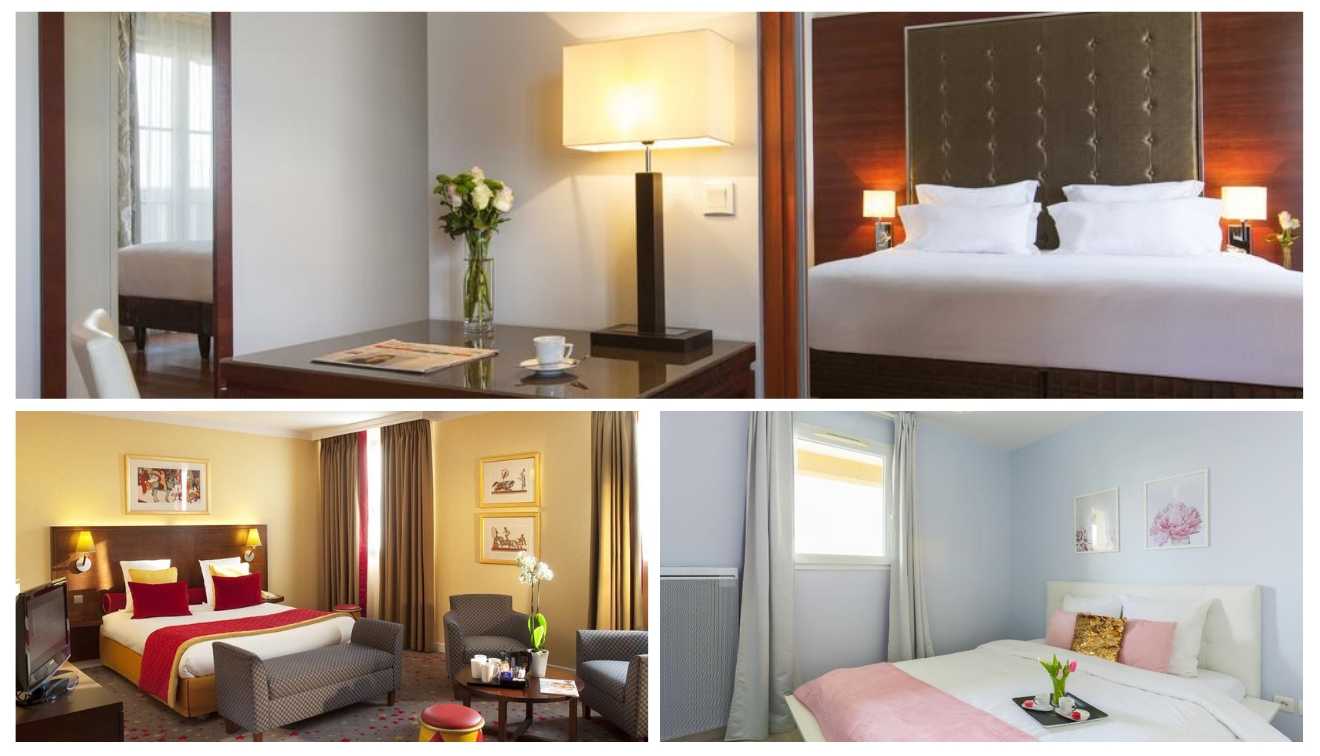 Le Clos de la Pomponnette – This is a small property fit for couples or a small family, located about 20 minutes by car from Disneyland. They offer free WiFi, and the rooms have a clean and modern decoration which gives it an elegant touch. You'll also find a relaxing garden and a bar to have a chat before or after exploring the park. Lastly, it's only 22km from Paris airport, which is a great plus!
Chambres d'Hôtes Nature et Bois –

Only 15 minutes from Disneyland, this small property is only 7km from Val d'Europe shopping mall. The rooms are clean and modern, and some even have a garden view. You'll find a flat-screen TV as well as a breakfast buffet in the morning.
Budget (up to €90)
I know Disney will tell you that it is best to stay in one of their partner properties, and it is true, they are amazing, but there are quite a few options available for those on a tighter budget. These cheap hotels near Eurodisney in Paris sell even faster than the ones above, so I recommend booking your place as soon as you know your dates for sure!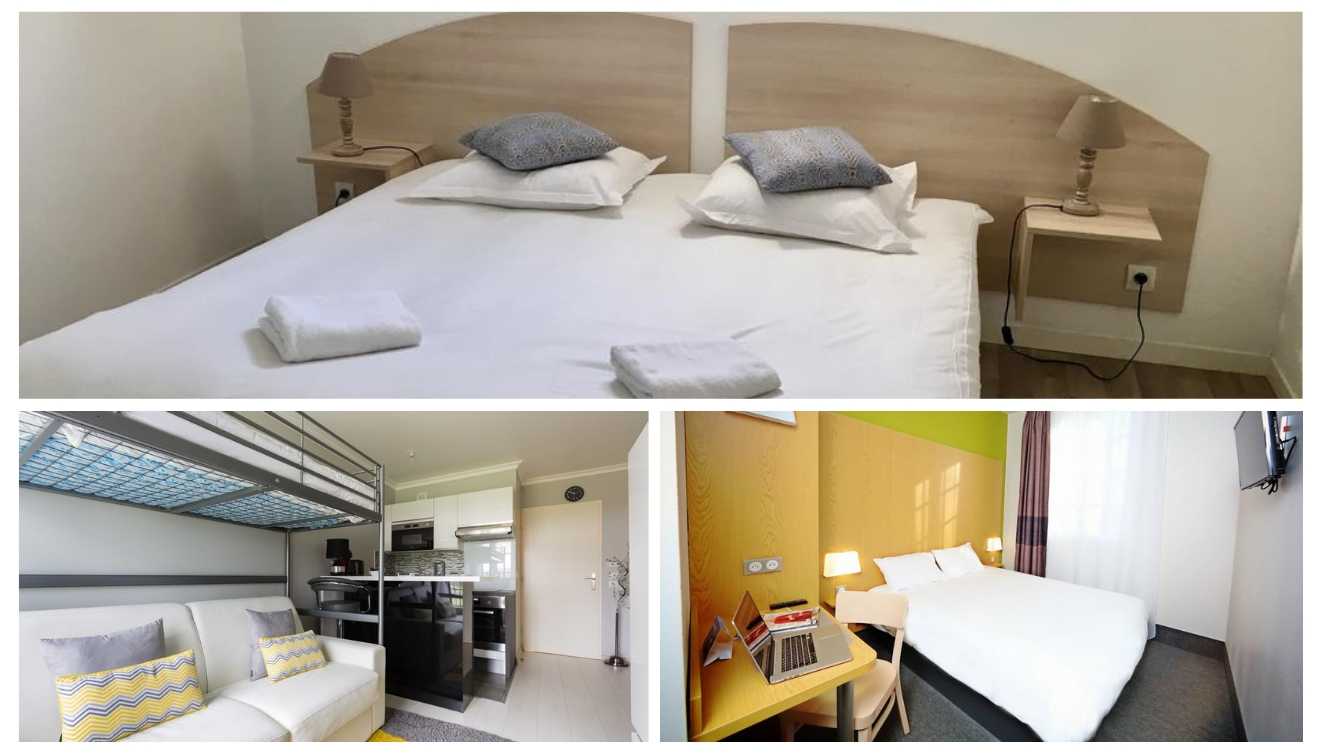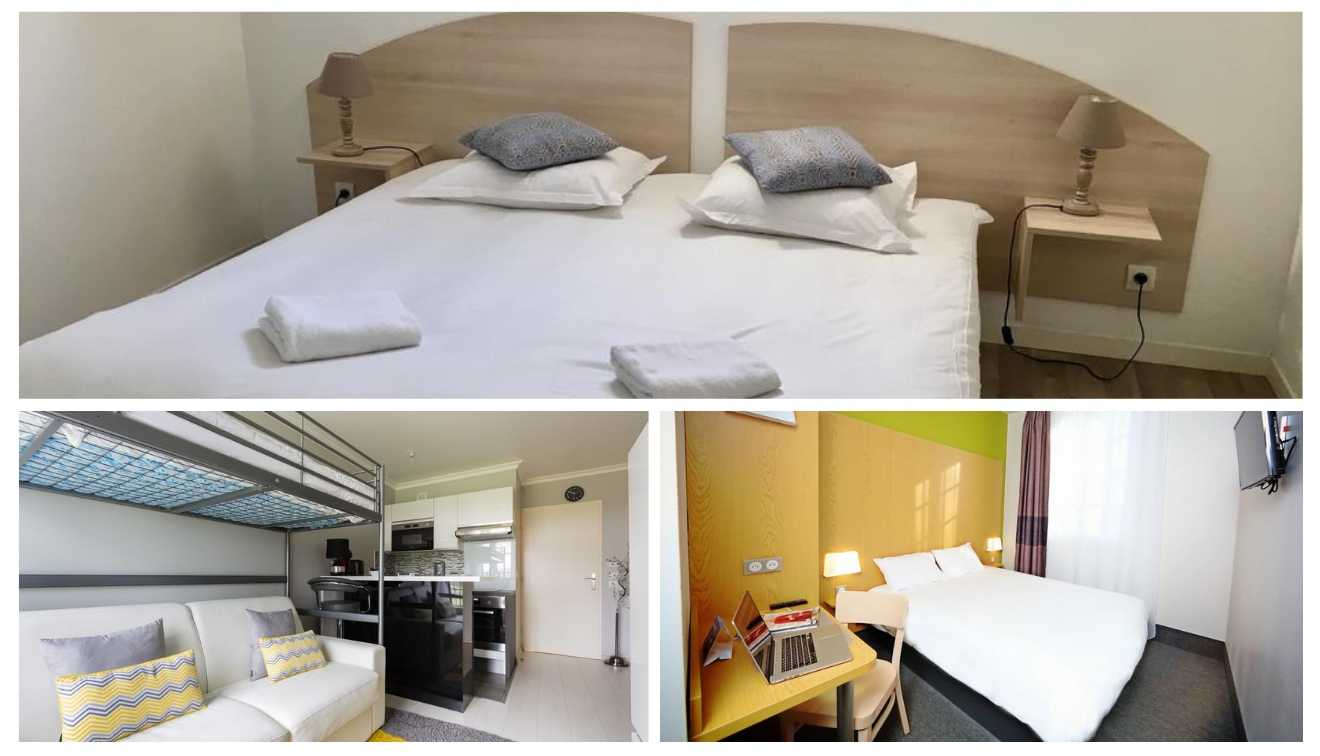 Here are my recommendations:
B&B Hotel at Disneyland Paris – This B&B Disneyland accommodation located in Ile-de-France. It is a great 2-star hotel with spacious and clean rooms with bunk beds for children in a quiet area, ideal for relaxing after a day at the park.
Maison Tobias – This lovely house is located just 6km from Disneyland and 3km from Val d'Europe RER station, so the host may even take you for a small fee! It has clean and comfy double rooms and even family rooms to stay with kids. Did I mention the charming garden and fantastic service?
3. Official Disneyland Paris Hotels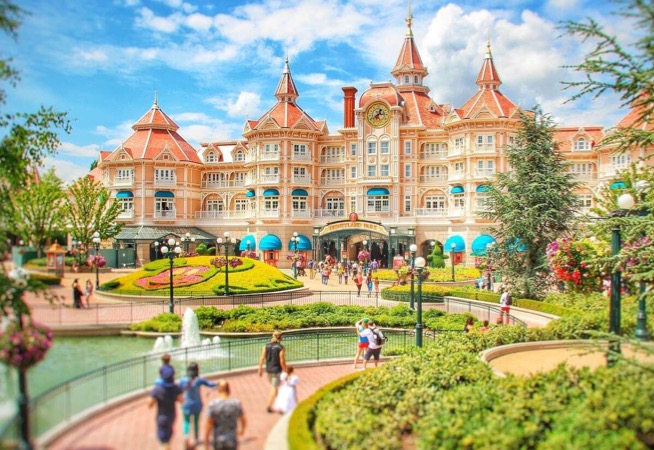 Are you looking to feel like part of a fairytale and meet all your favorite characters? Then, you might want to check out these official Disney hotels that are not only walking distance from the theme park but are part of the main park partners as well!
When booking your stay in these options, you will see some Disneyland hotel discounts and packages including EuroDisney tickets.
The packages include:
Disney character encounters in your hotel.
Extra Magic Time, which means getting into the parks before the rest of the crowd
Complimentary parking at the hotel and parks if you go there by car.
Free shuttle bus to the parks.
Everything is Disney-themed, from decorations to toiletries.
You can make restaurant reservations at the congierce.
Some other nice perks such as delivering the bags back to your hotel whenever you buy something from any Disneyland Paris shops
The doors open at 10 AM for the public, but you can go in at 8.30AM just by booking your stay in the above hotels!
NOTE: The convenience comes with a price – the rates are much higher in the official Disney hotels than when staying outside. You may also want to pay attention to the ratings as some of the Disney hotels have much better ratings than others.
NOTE 2: Please note that Disney Park tickets are not always included in the price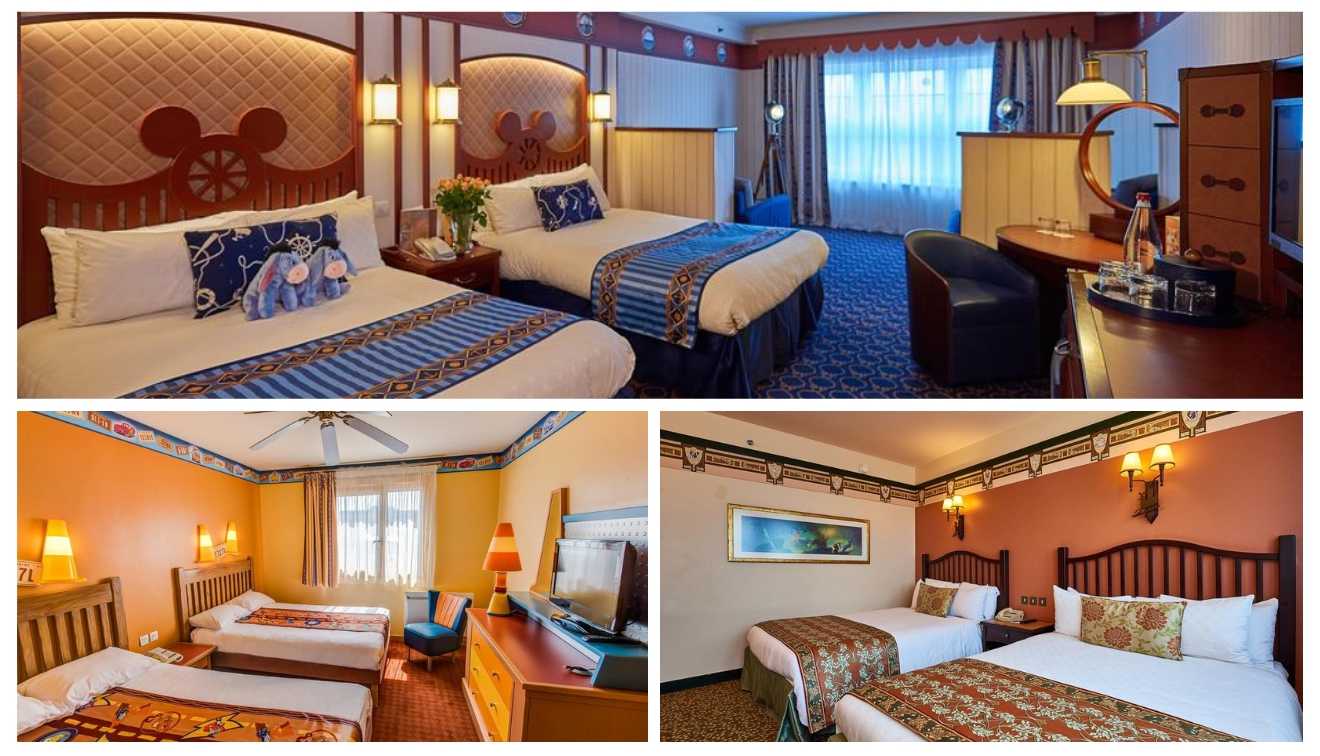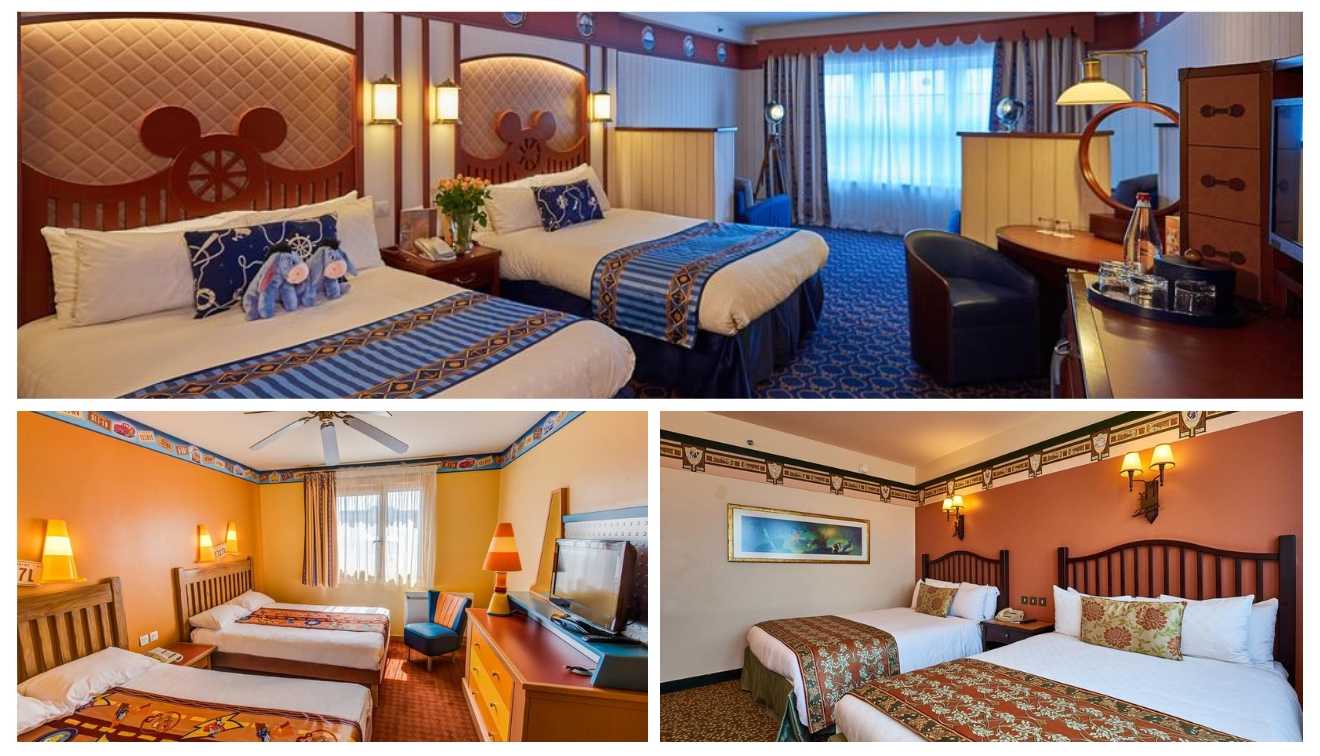 Disneyland Hotel – I already talked about it in the beginning of the article because it is the only hotel IN Disneyland Paris. This amazing accommodation has everything you might need to feel spoiled during your stay, while also enjoying a complete Disneyland universe! Make sure to check the availability for your dates, as this one tends to book fast!
Disney's Newport Bay Club –

Disney's Newport Bay Club is a lovely 4-star maritime-style hotel that takes you through the atmosphere and setting of a luxury seaside resort. The hotel offers a gym, complimentary shuttle, a swimming pool, and more than likely will let you meet your favorite characters! All of this is done with their 1900s coastal mansion found on the shores of Disney Lake.


Distance to the park

: 15-minute walk / 8 min by shuttle (1km)
Disney's Sequoia Lodge – Enjoy your stay in one of the best hotels closest to Disneyland – this cozy and Bambi-themed Disneyland accommodation is surrounded by nature. Shuttle offered at Disney's Sequoia Lodge as well!
Distance to the park

: 15-minute walk / 8 min by shuttle (0.9km)
Disney's Hotel Santa Fe – This Santa Fe-themed hotel is comfortable and filled with very friendly and attentive hotel staff, based on Route 66.
Distance to Park

: 20-minute walk / 8 min by shuttle (1.2km)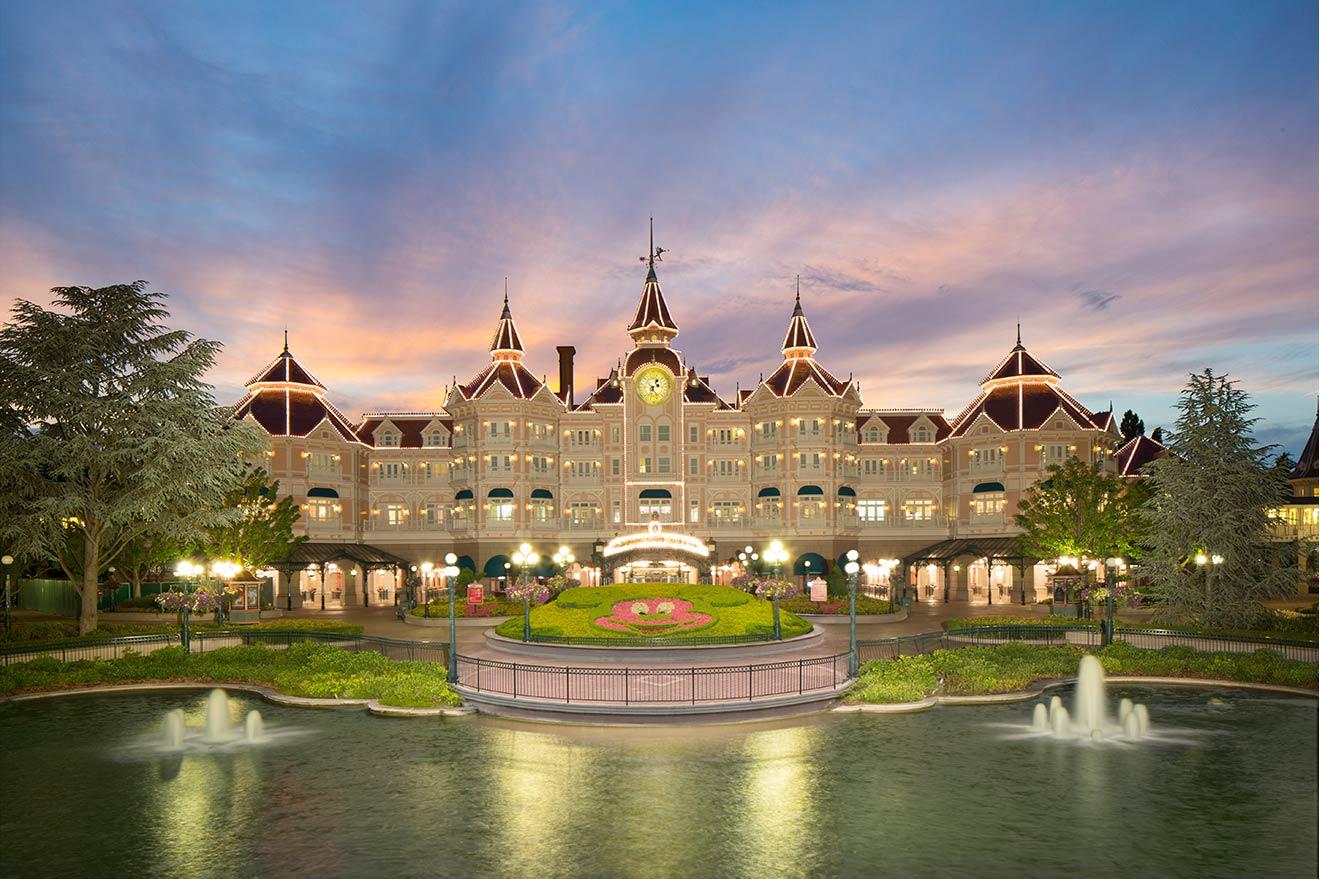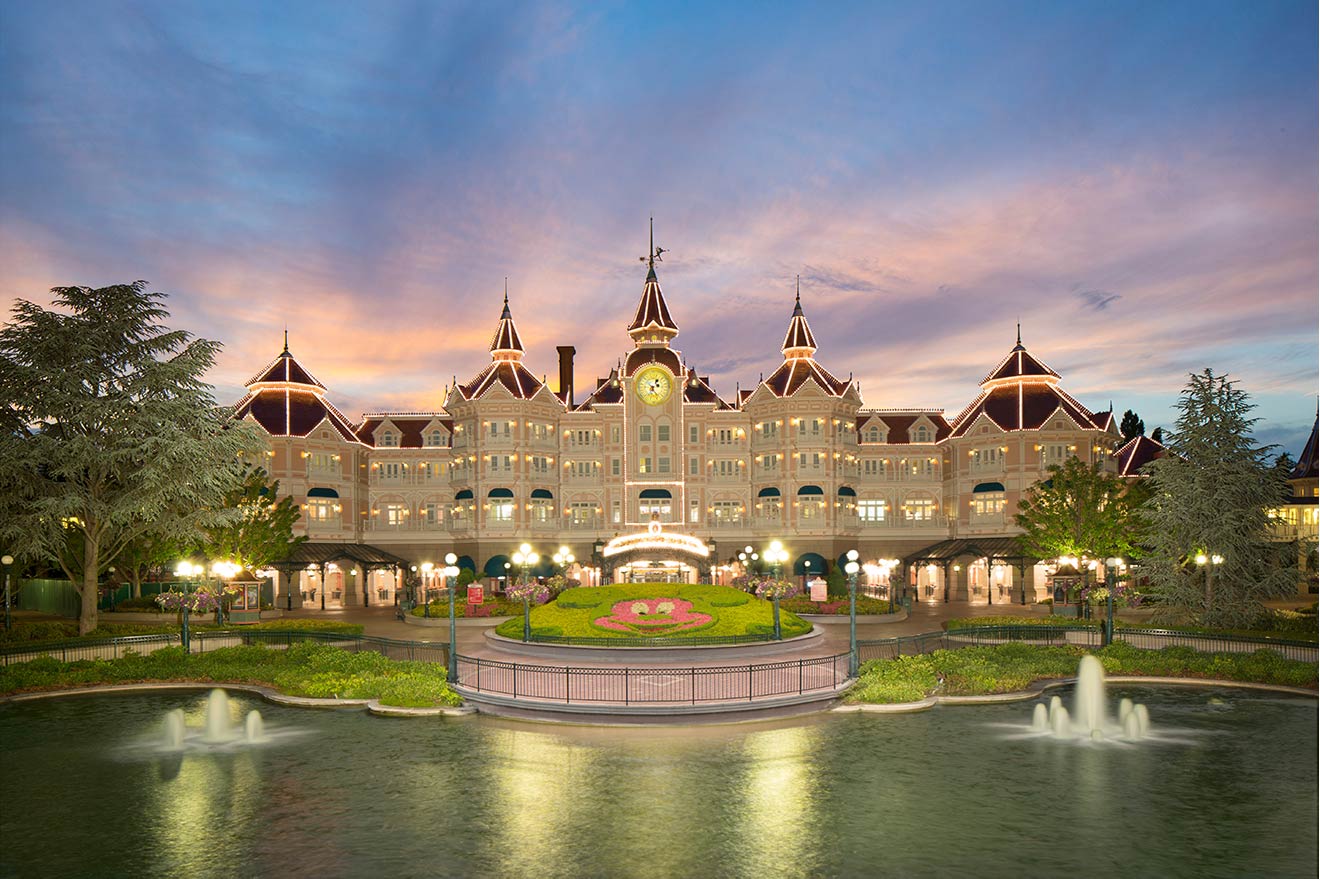 Disney's Hotel Cheyenne – This Old West-style hotel has nailed the vibe of the frontier town, especially in their saloon and restaurant, and it's super fun for visitors of all ages!
Distance to Park

: 20-minute walk / 8 min by shuttle (1km)

Disney's Hotel New York® – The Art of Marvel – The Disney's Hotel New York combines Art Deco and contemporary urban designs while still having Disney-themed rooms and shared areas. Let me just add that the remodeled version will have a Marvel theme!
Distance to Park

: a 10-minute walk
Disney's Davy Crockett Ranch – This hotel is a unique place for a quiet stay in the countryside while having the Disney theme everywhere. It has a swimming pool and a tennis court. Disney's Davy Crockett Ranch has multiple onsite restaurants and a spotless self catering cabin!
Distance to Park

: 15 minutes by car (5km)

Villages Nature Paris at Disneyland Paris – This resort offers good apartments or cottages as part of their village nature theme, and they all have a bathroom, fully equipped kitchen, and a big living room.
Distance to Park

: 15 minutes by car / 25 min by paid public shuttle (6km)
4. Apartments close to Disneyland Paris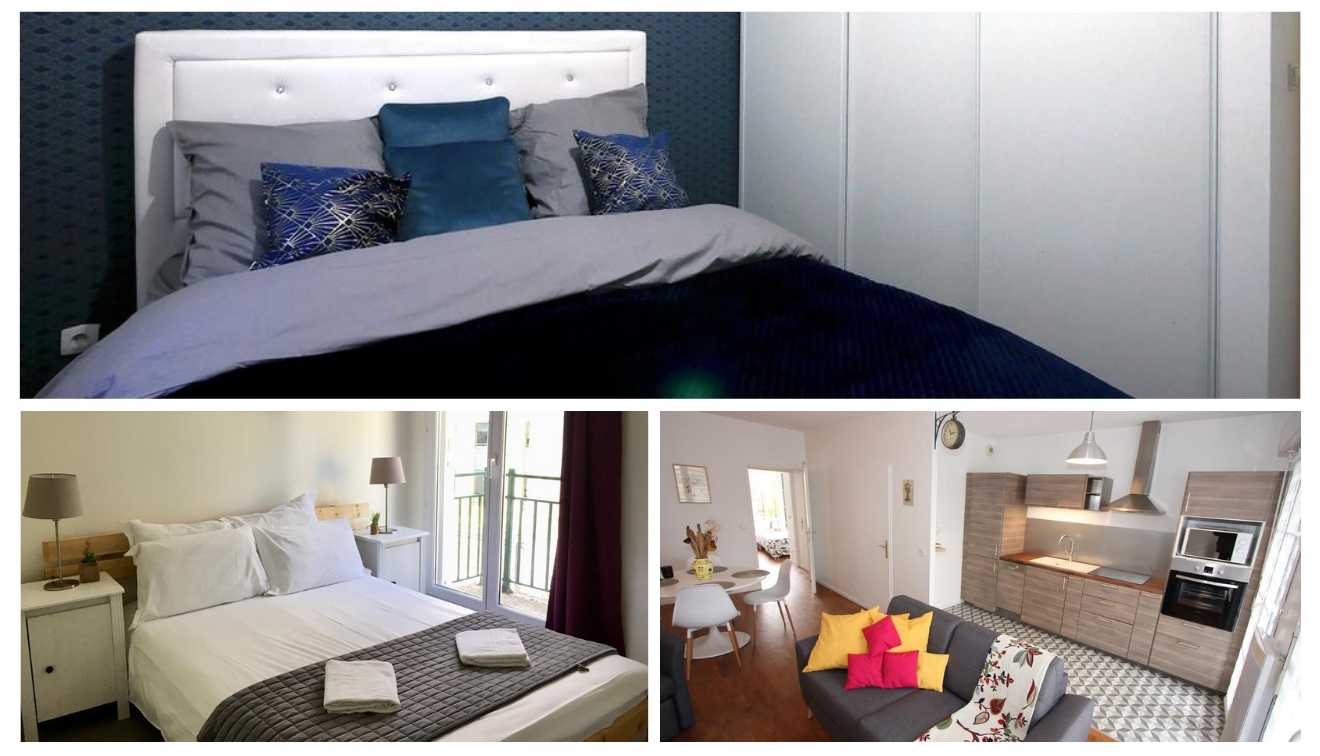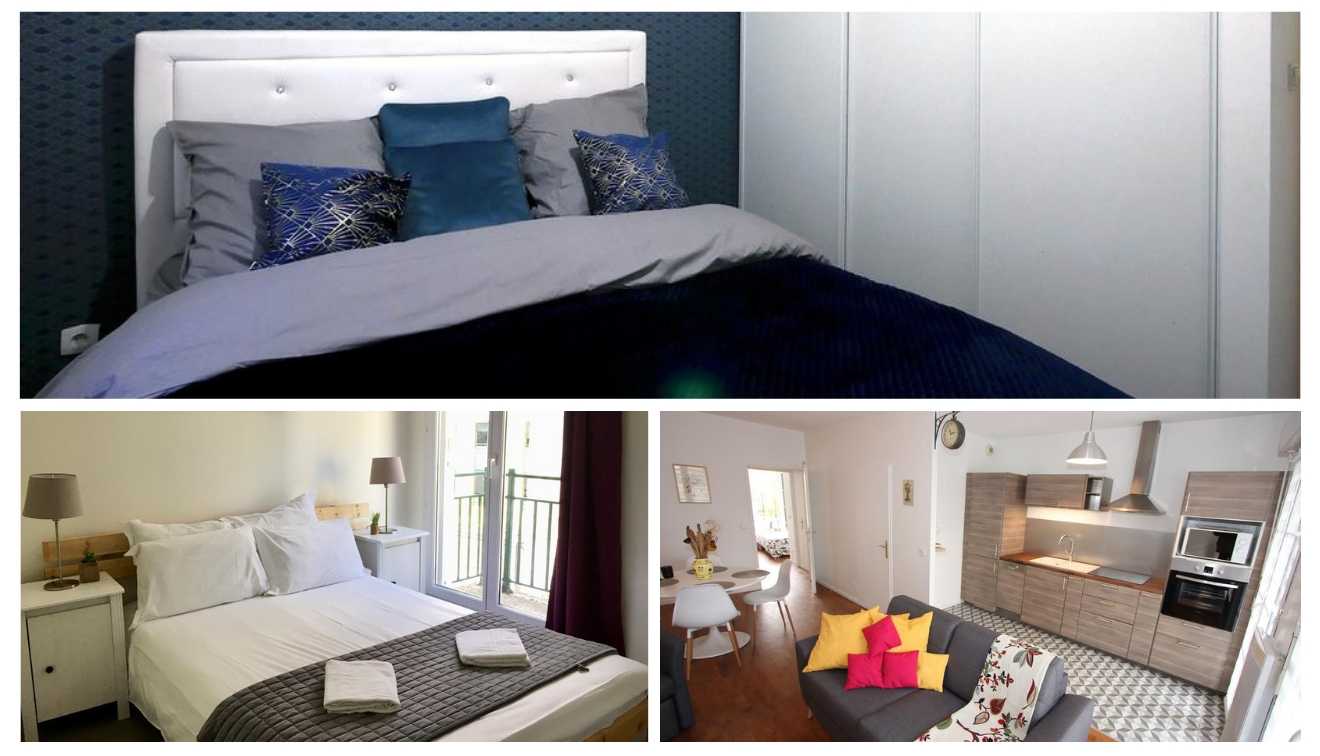 Most of the previously mentioned accommodations are within walking distance to the park entrance or offer shuttle service.
The most popular hotels next to Disneyland Paris are, naturally, the Disney partners which I already recommended above, but I also found these amazing apartments that are less than a 5-minute ride with the bus or less than a 30-minute walk, which is very close!
(Luxury) Staycity Aparthotels Paris Marne La Vallée – This apart-hotel is a convenient luxury option only a 10-minute drive to Euro Disney! You can enjoy the fitness center and the outdoor pool. You can take the shuttle bus for free.
(Middle-priced) Disneyland cosy Apartment – This 1-bedroom apartment is a great middle-priced, cozy, and clean option with great value, located very close to Disney, or you can drive, and you'll get there in 10 minutes.
(Budget) Thorigny-sur-Marne Studio chez Camille – This is one of my budget-priced options for your stay near Euro Disney. It is located in the area of Chessy, it is small but well-equipped, and it can fit up to 2 people. You can also benefit from the free parking onsite, making the place perfect for a couple visiting Disney village!
BONUS 1: Great hotel deals, a little further from Disneyland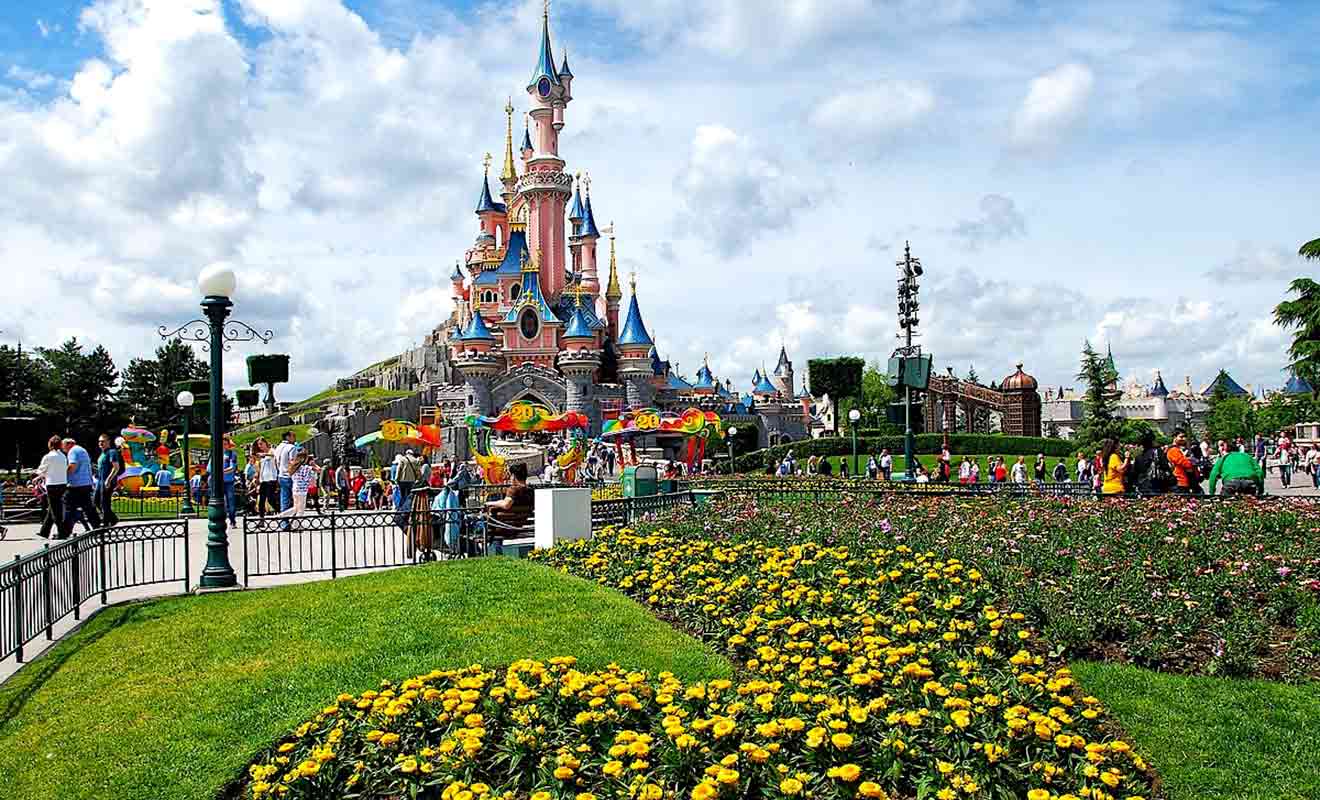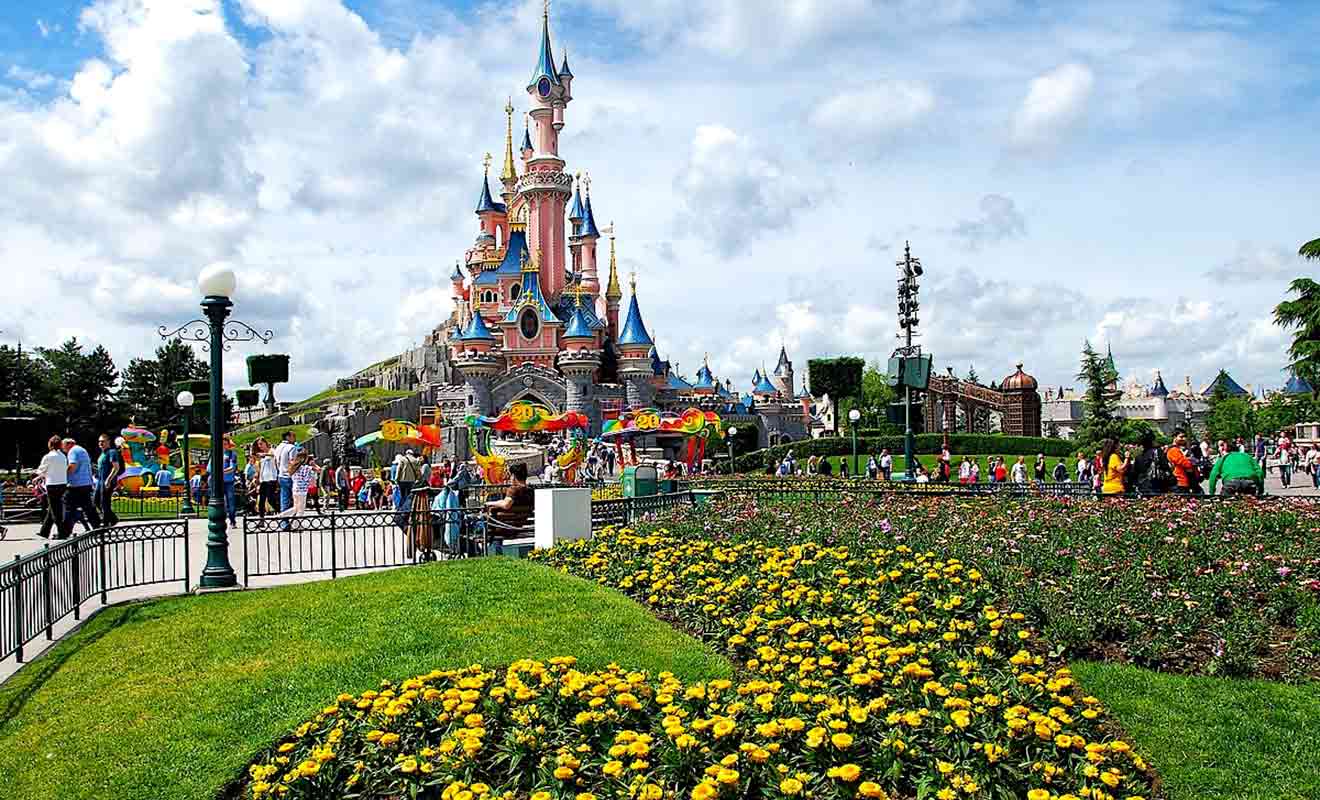 In terms of money, these hotels around Disneyland Paris are some of the cheapest options for each accommodation category because they are more than 5 km away from the park.
Despite not having a free shuttle service, you can still find a train station or a bus stop nearby each of them, so you can catch public transportation towards the park if you have not rented a car.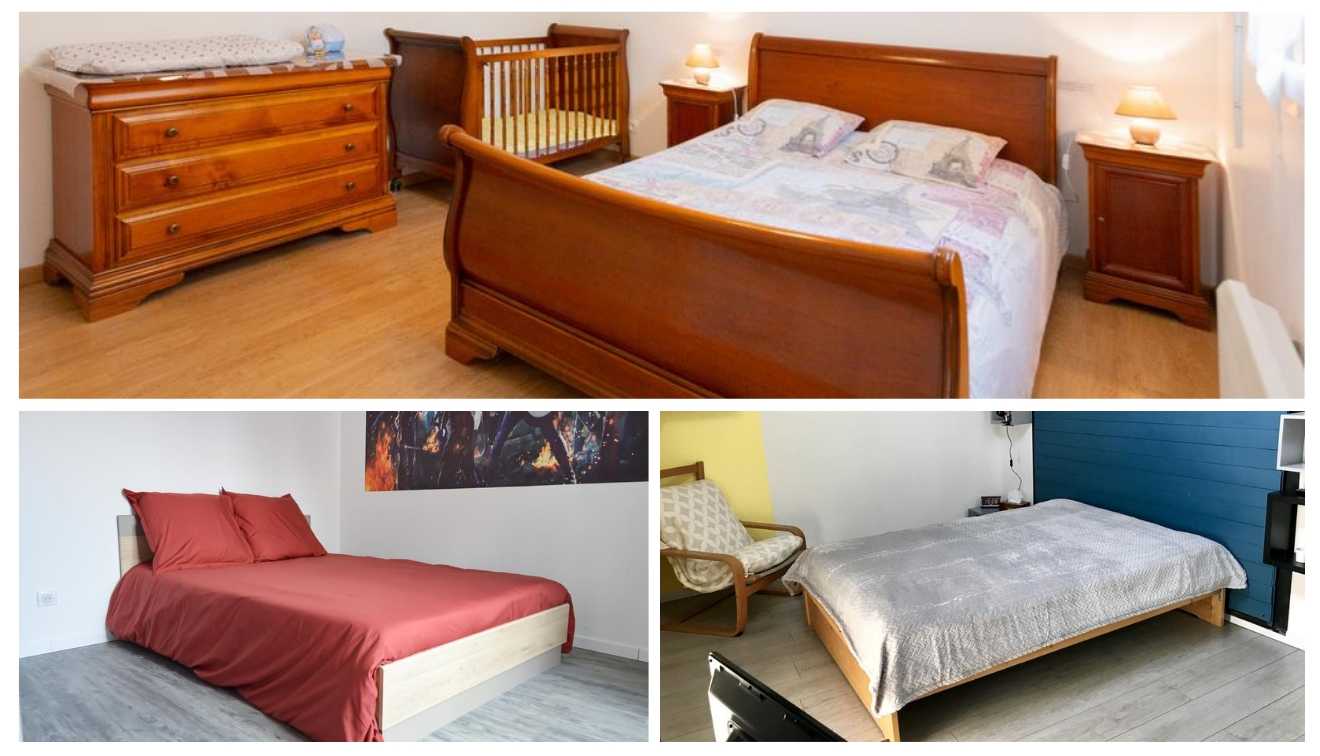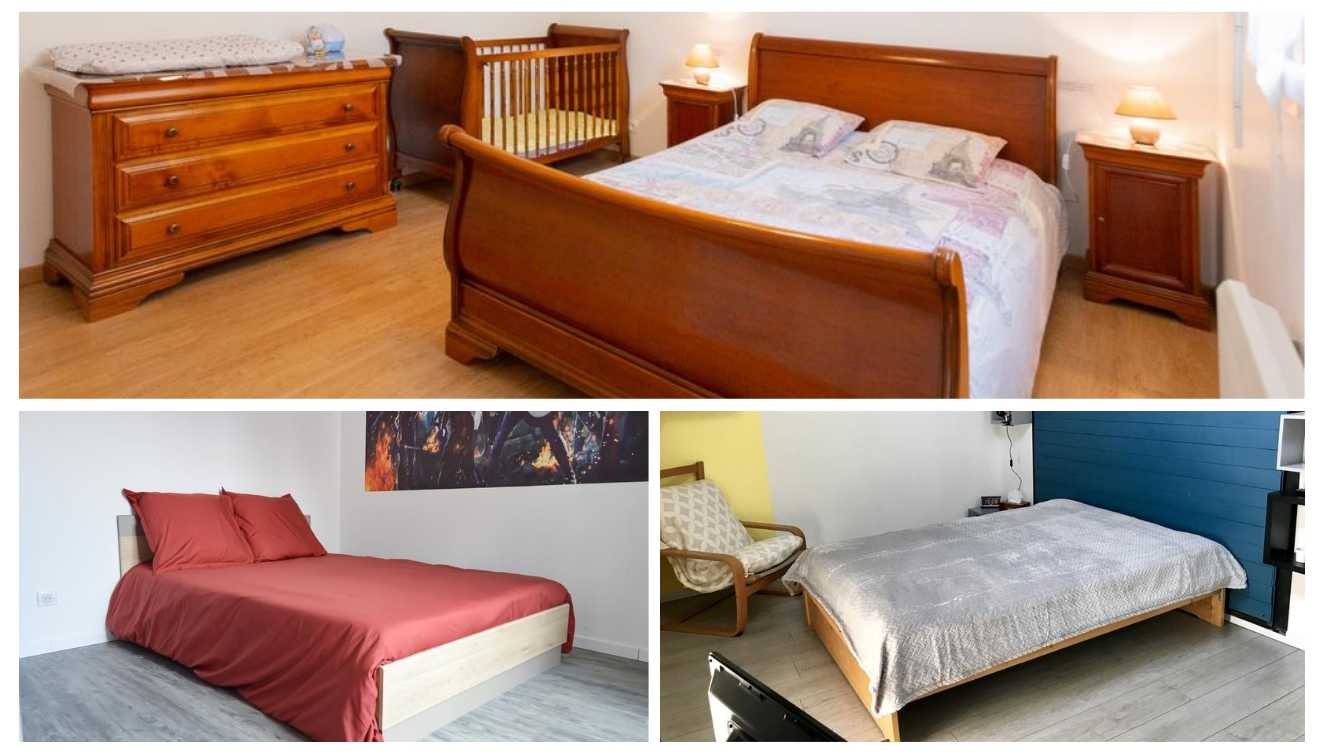 (Luxury) Appartement Villiers sur Morin proche de Disneyland – These are some great apartments for six or eight people over at Villiers-sur-Morin, about 9 km from the park. Each apartment is spacious and decorated in a relaxed, home-style way while offering all the amenities you might need. They don't offer a free shuttle for the airport, but you can pay for the ride.
(Mid-range) Angels Inn – This is a little cottage holiday home located in Coutevroult, slightly far from the park compared to other hotels close to Disneyland. No free shuttle, but you can take one for a fee. By the way, this one is located 7 kms from Val d'Europe.
(Budget) Le Vieux Puits – This comfortable house near Disneyland for four people found in Noisy-le-Grand is about 20 minutes away from the park, so you will need to drive over to the park or get a taxi. Still, it's the perfect budget accommodation for a family!
Staying near Disneyland vs staying in Paris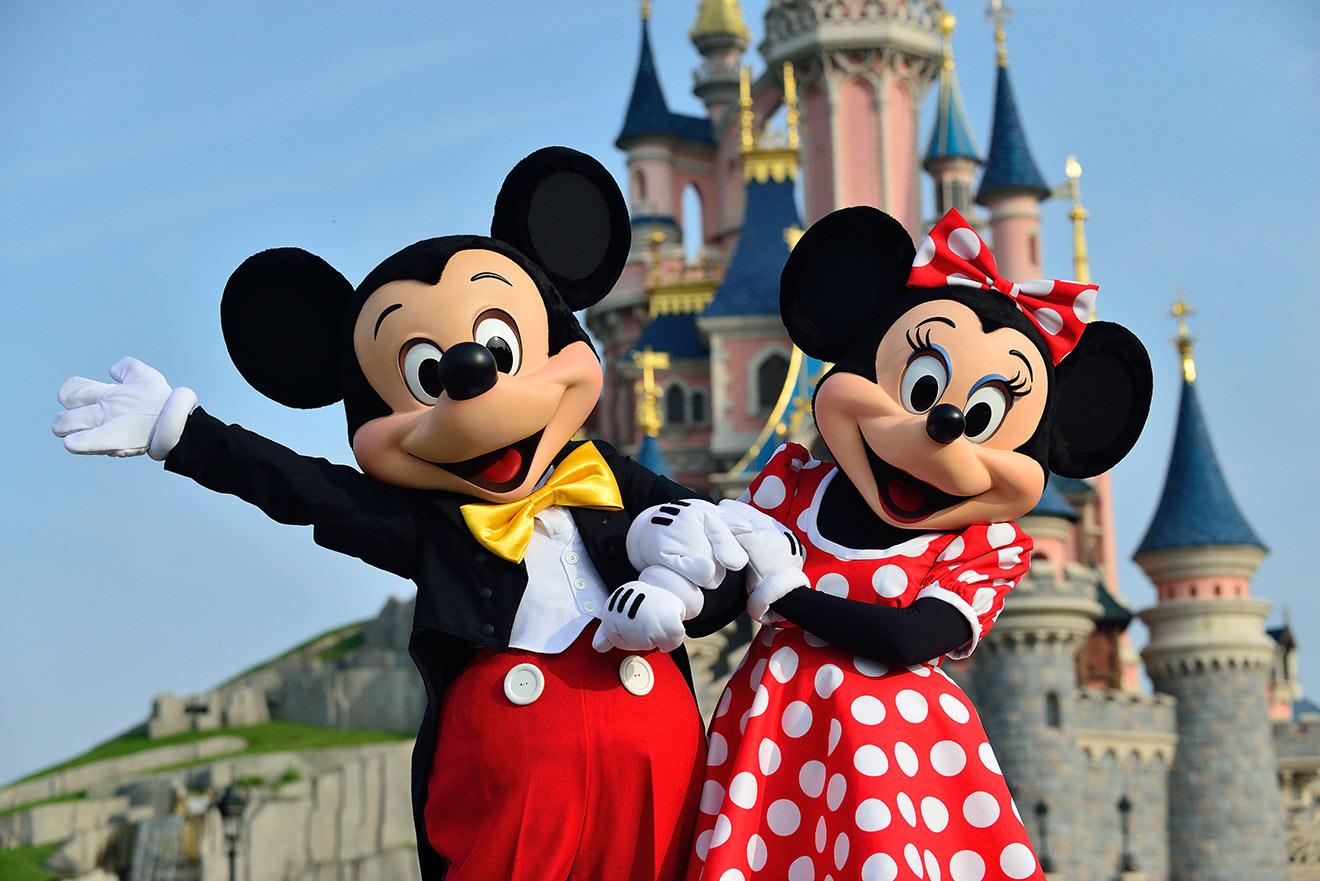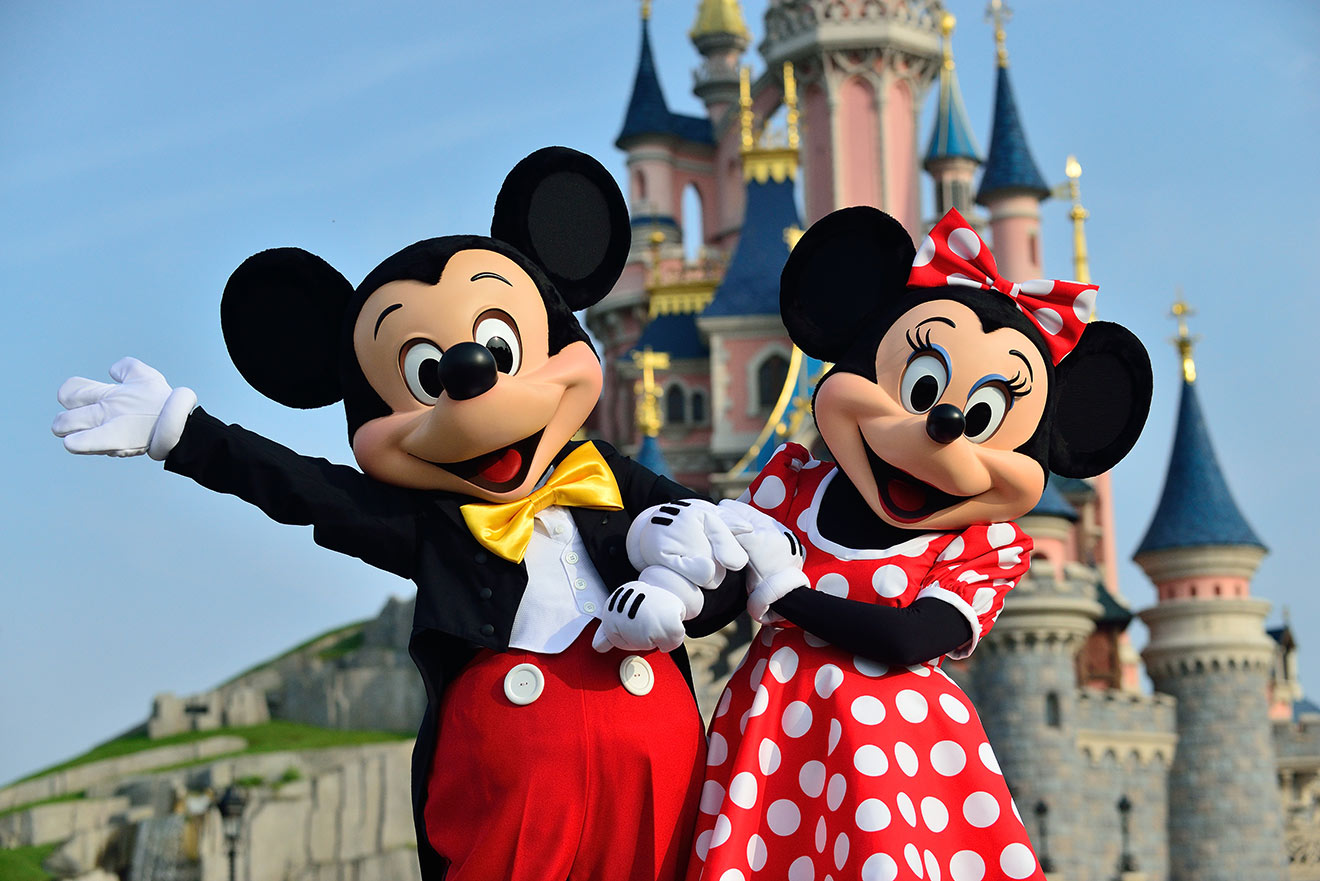 That's right, why stay near Disneyland Paris when you can head over to Paris first?
First of all, if you stay in Paris, the accommodation will be much pricier, and you will need to spend around 1 hour and 30' one-way for transportation each day! I personally see no reason for doing it if your plan is to spend a couple of beautiful days in the park and feel its magic!
Staying near Disneyland Paris will not only allow you to feel the Disney magic, but you will not have to deal with the hundreds of people taking the ride back during peak hours!
In terms of savings, the cheapest option you can find in the city center can be matched to budget hotels near Disneyland Paris, and you get to save on transportation and probably even park tickets.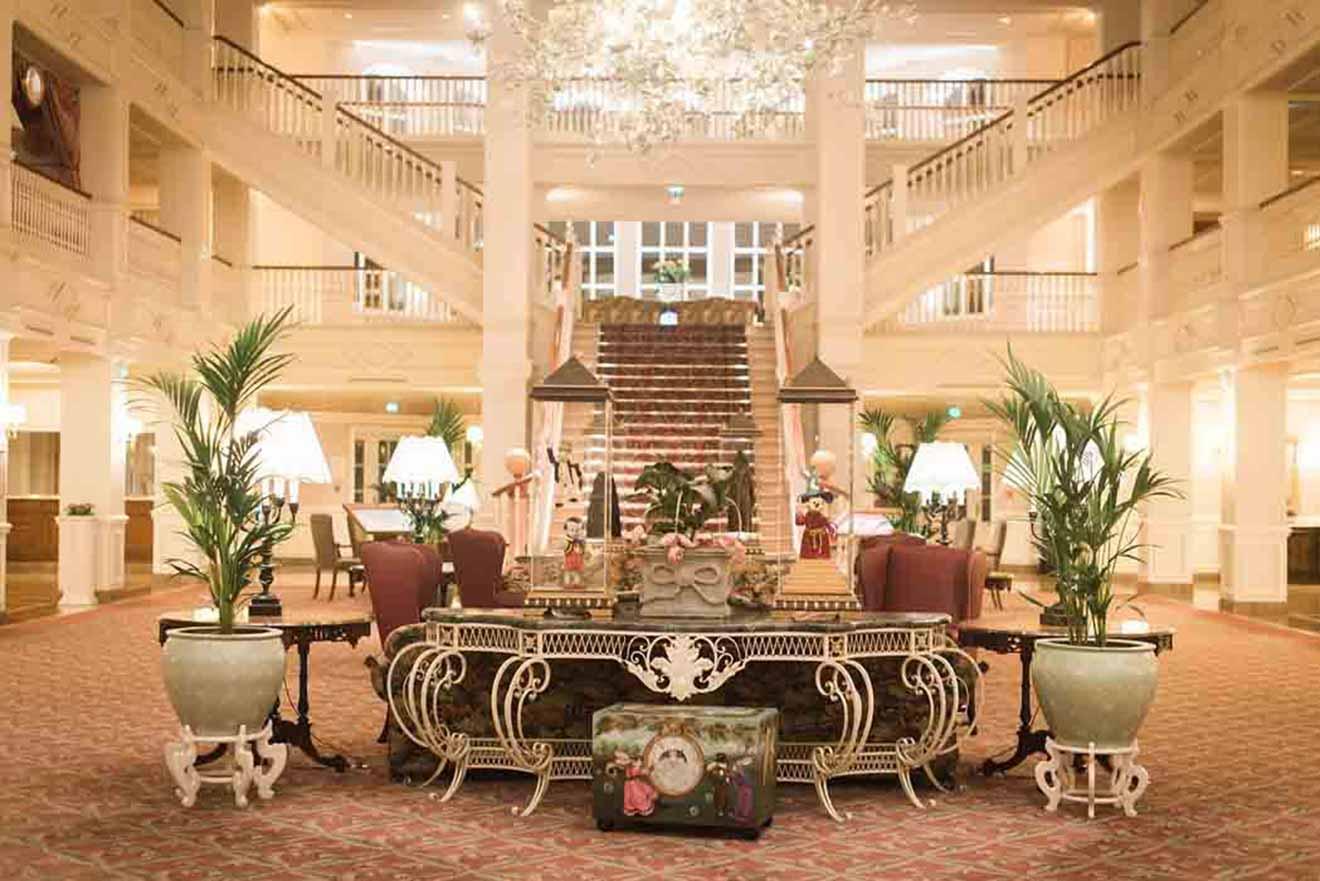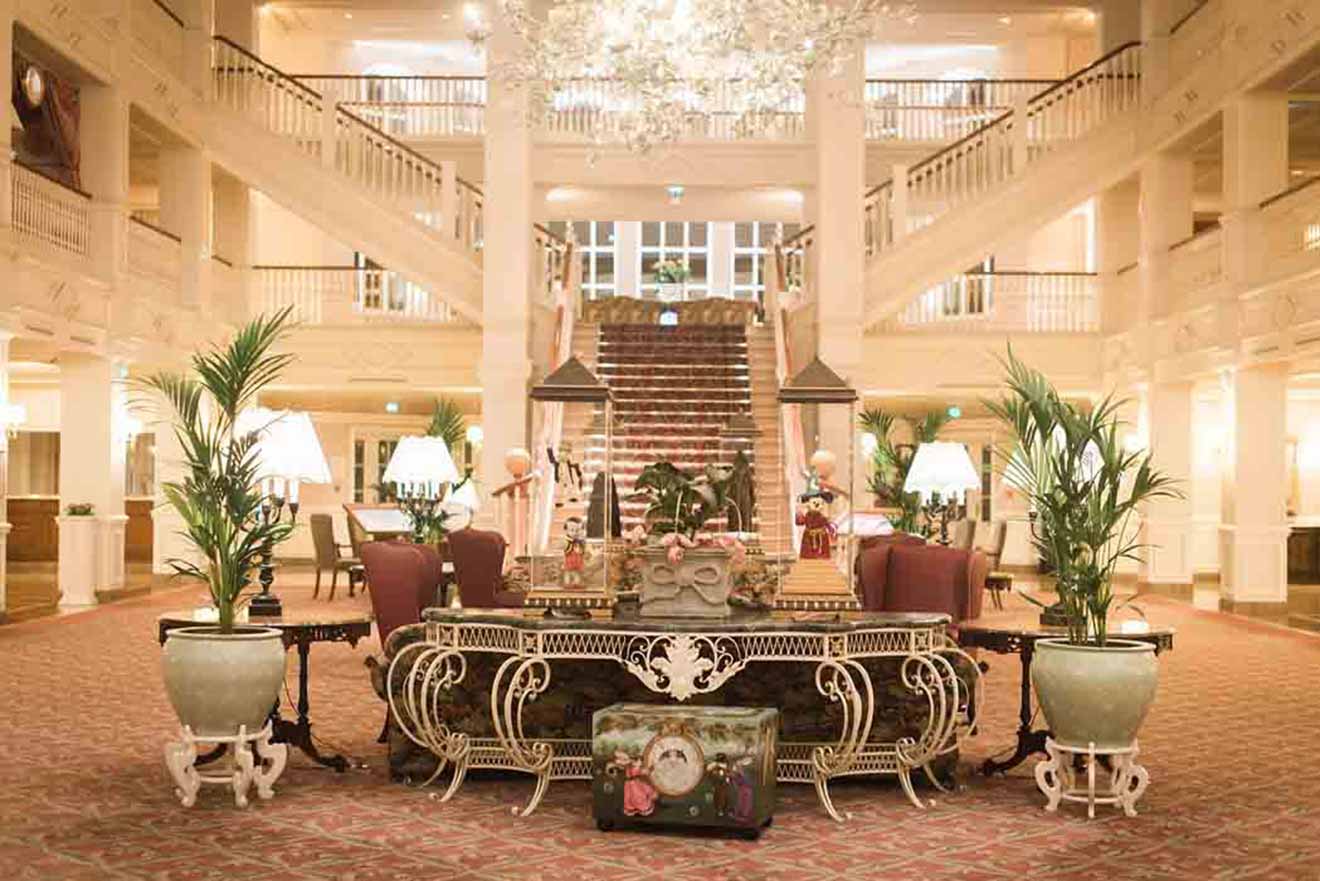 The reality is that staying close to Euro Disney is the best option for you to take advantage of your limited vacation time! Regardless if you decide to stay at any of the Walt Disney World hotels that are official partners or not, I think they are located in the best area for you to enjoy the closeness to the park and, of course, the attractions!
The main difference between partner or non-partner hotels are the prices and some nice perks such as the free shuttle but, in the end, both options are still better than staying in Paris, as you will avoid getting back to the city late at night and then coming back in the morning!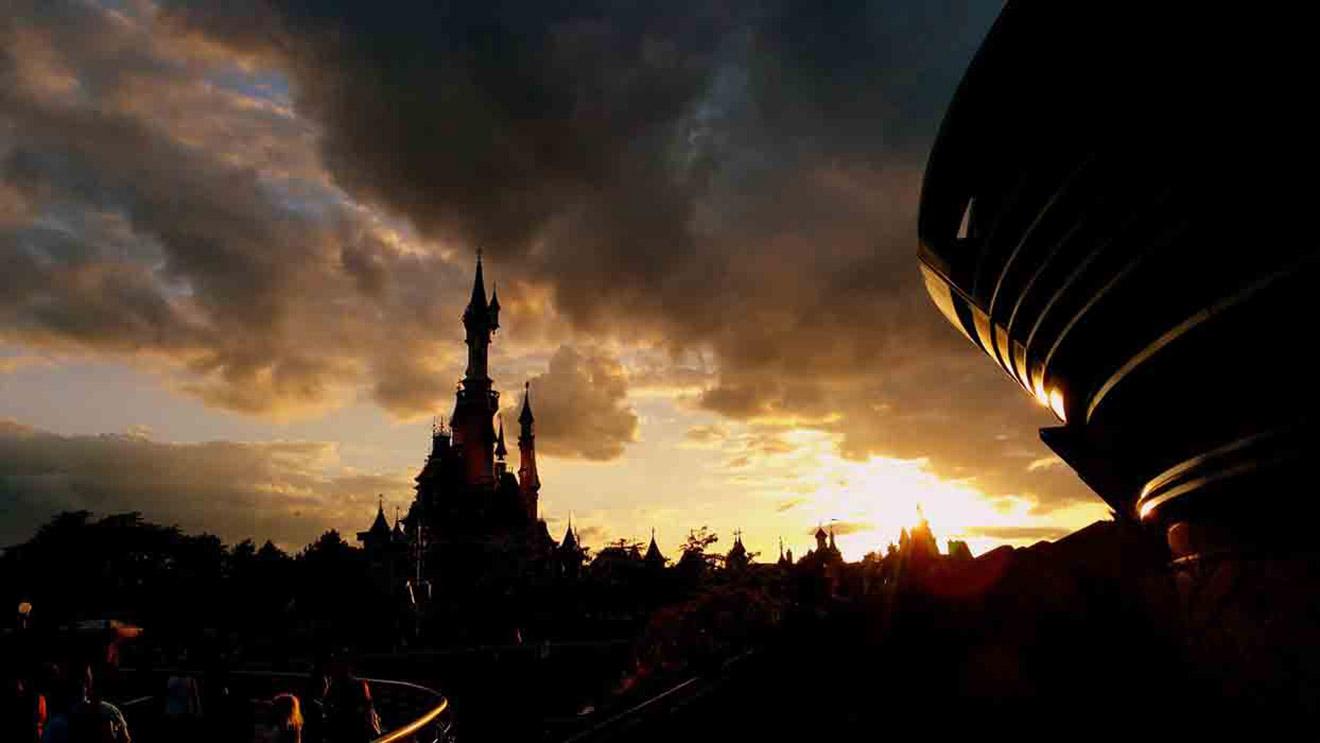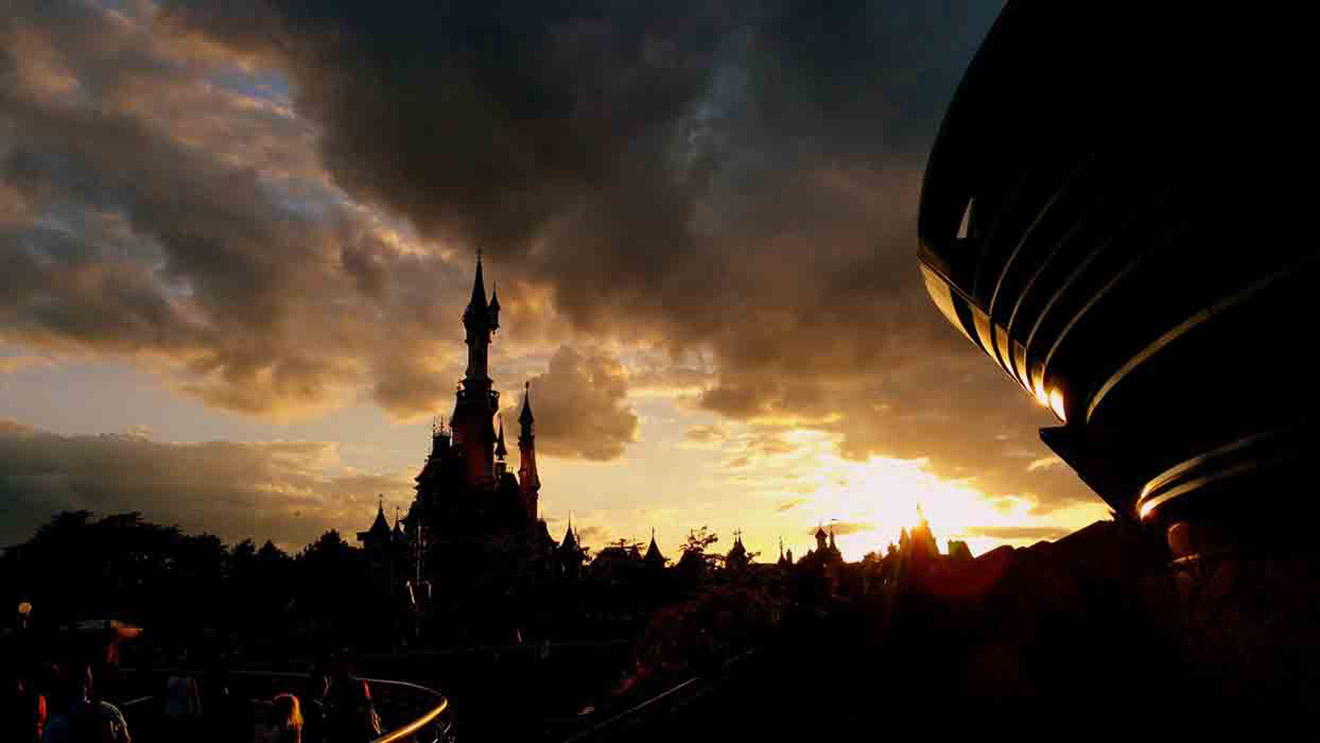 I also recommend staying for at least two days, so you get cheaper tickets and the chance to enter the park one hour and a half before the rest of the visitors if you are at any of the Disney hotels.
Plus, most Disney partner hotels offer a free shuttle service from the accommodation to the park, and most of the non-partners offer the same or for a small fee.
All in all, except for the convenience of transportation, the main advantage of staying in a hotel near the park is that you can extend your stay in the Disney universe a little bit more! 🙂
BONUS 2: Practical information about your visit to Disneyland Paris
Other than the best hotels in Disneyland Paris and around, there are a few other elements to consider. It goes without saying that coming to Eurodisney is a once-in-a-lifetime experience and you'll want to be as prepared as possible.
Let's go through everything you have to know before traveling and booking your hotel!
2.1 How many days should you spend to visit both Disney parks?
I suggest two full days. The main reason is that this way you will not have to go crazy and run around the entire park to get to all the attractions, but you can enjoy it all at your own pace instead.
My main suggestion is to visit both Disney parks in Disneyland Paris. Let's see how are they different:
Disneyland Park has unforgettable rides throughout the enchanted lands of Adventureland, Frontierland, Discoveryland, Fantasyland, and the Main Street.
Walt Disney Studios Park takes you through the world of movies and animation.
The ticket prices get better if they are for more than one day! You can find some valuable information on how to get tickets for both Disneyland and Walt Disney Park in this article.
2.2 How to get a vacation package for Disneyland Paris
Head over to the Disneyland website for updated vacation packages available for you. These Disneyland Paris deals include a stay in some of the Disney accommodations and tickets for the parks. Some of the free perks include parking options, extra magic time at the attractions, and FastPass tickets.
Frequently Asked Questions about Disneyland Paris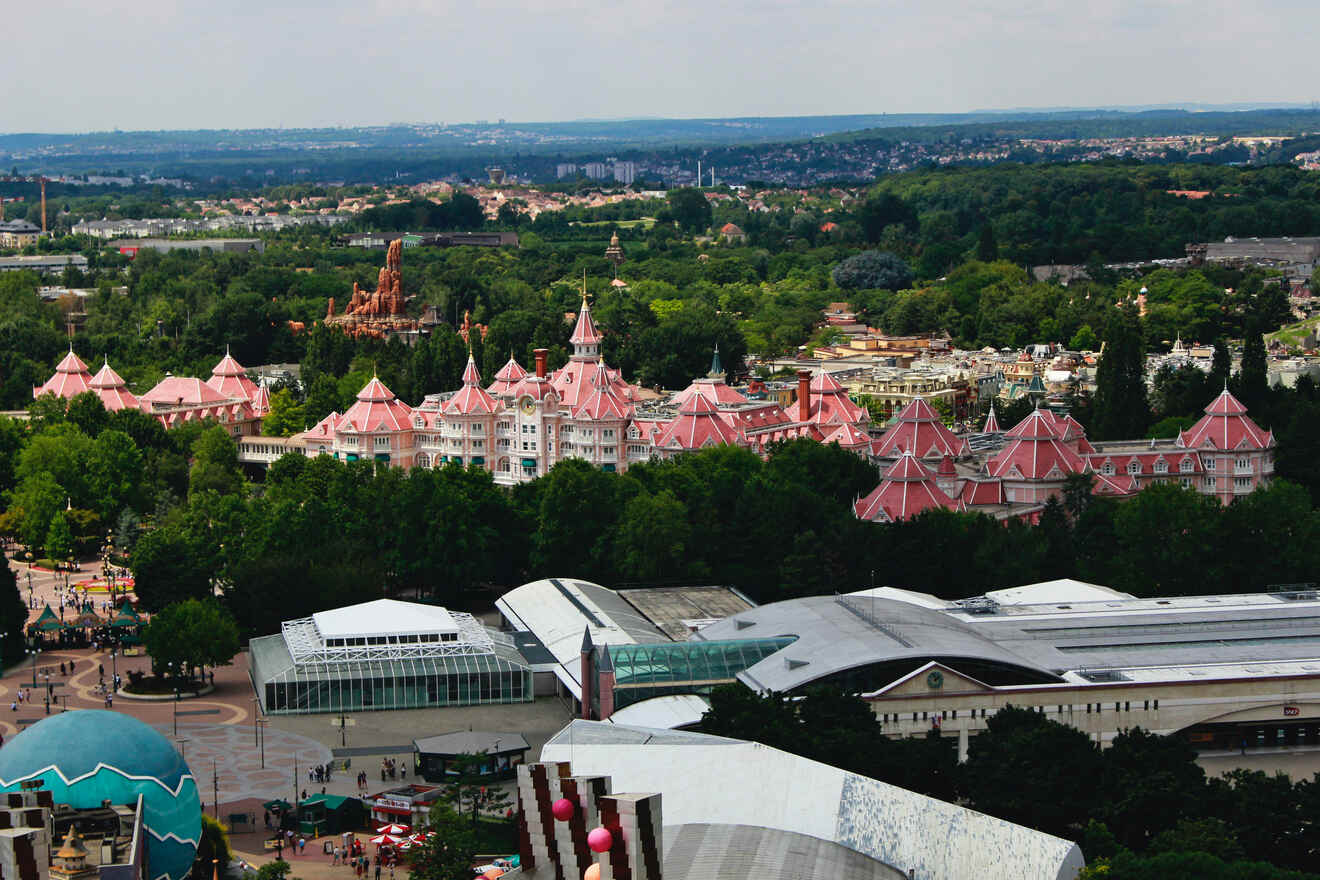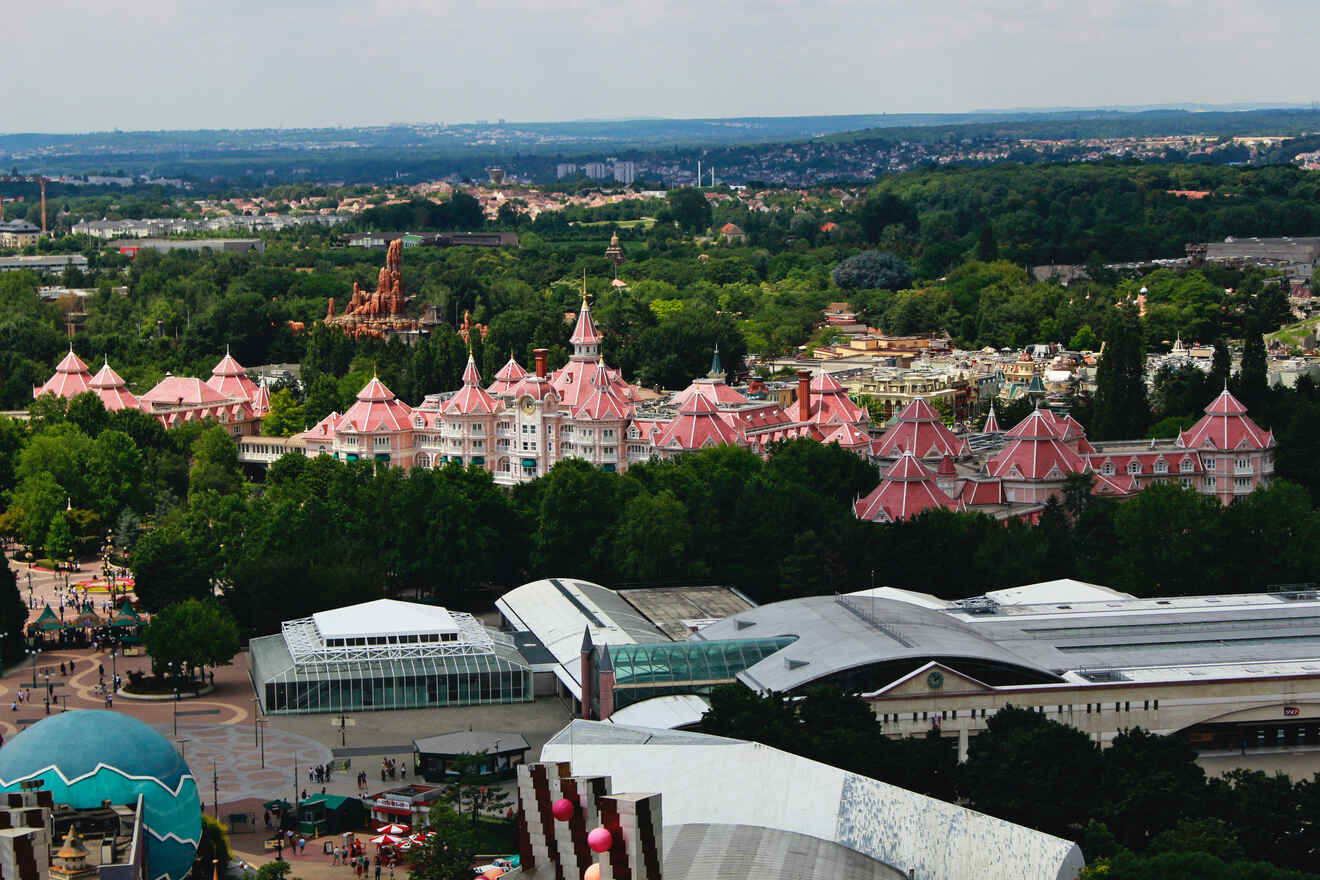 🏨 Does Disneyland Paris have hotels?
💰 Is the Disneyland Paris Hotel worth it?
If you're ready to spend more than your average budget, then Disneyland Hotel is indeed worth it. You'll find premium facilities, Disney-themed rooms, and interior decor straight out of a fairy tale.
☀️ What is the best month to visit Disneyland Paris?
Despite the cold weather, the best months to visit Disneyland Paris are between January and March when there aren't many crowds. Alternatively, September is also a good month to come.
✈️ How long should you stay in Disneyland Paris?
The Disney Village and parks are massive, and it will take days to fully explore the area, especially considering the long queues at the attractions. I recommend staying 2 to 3 full days to enjoy everything the park has to offer.
Conclusion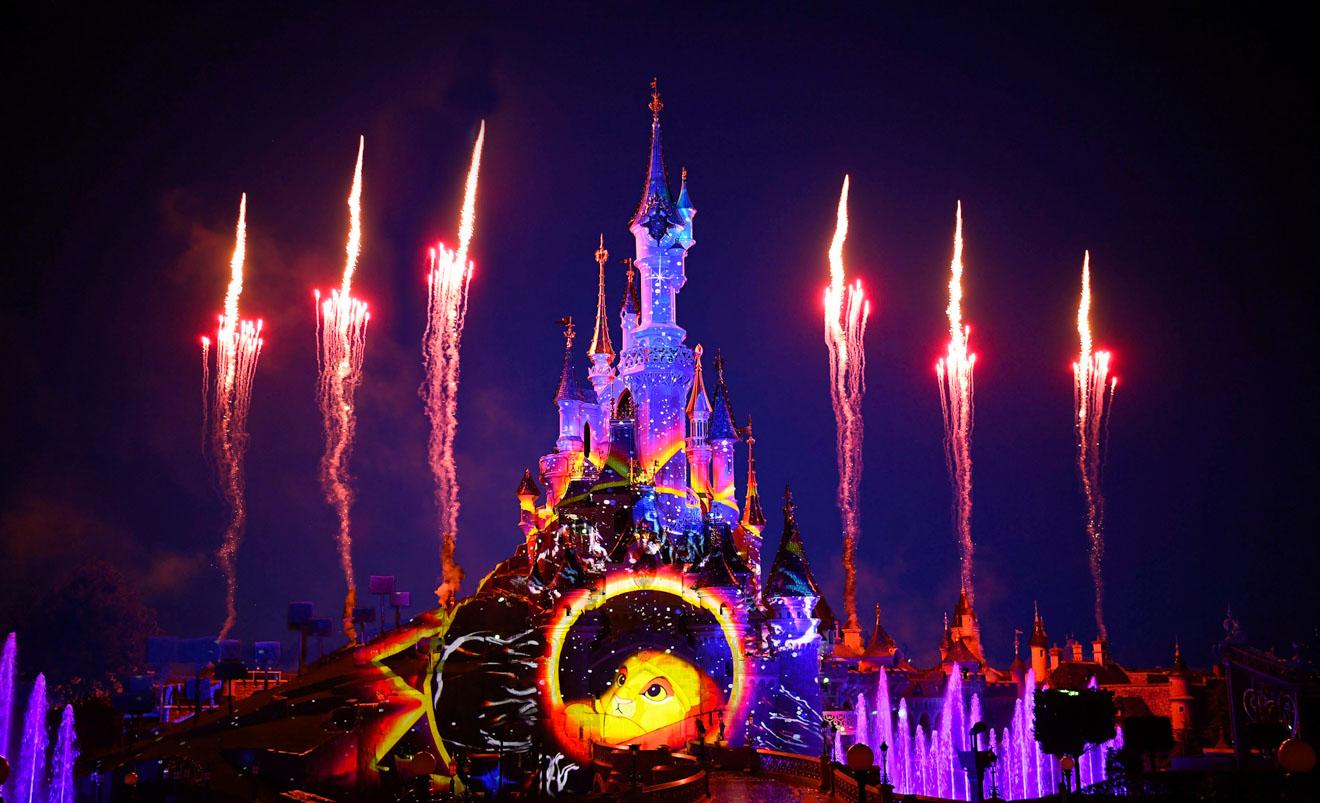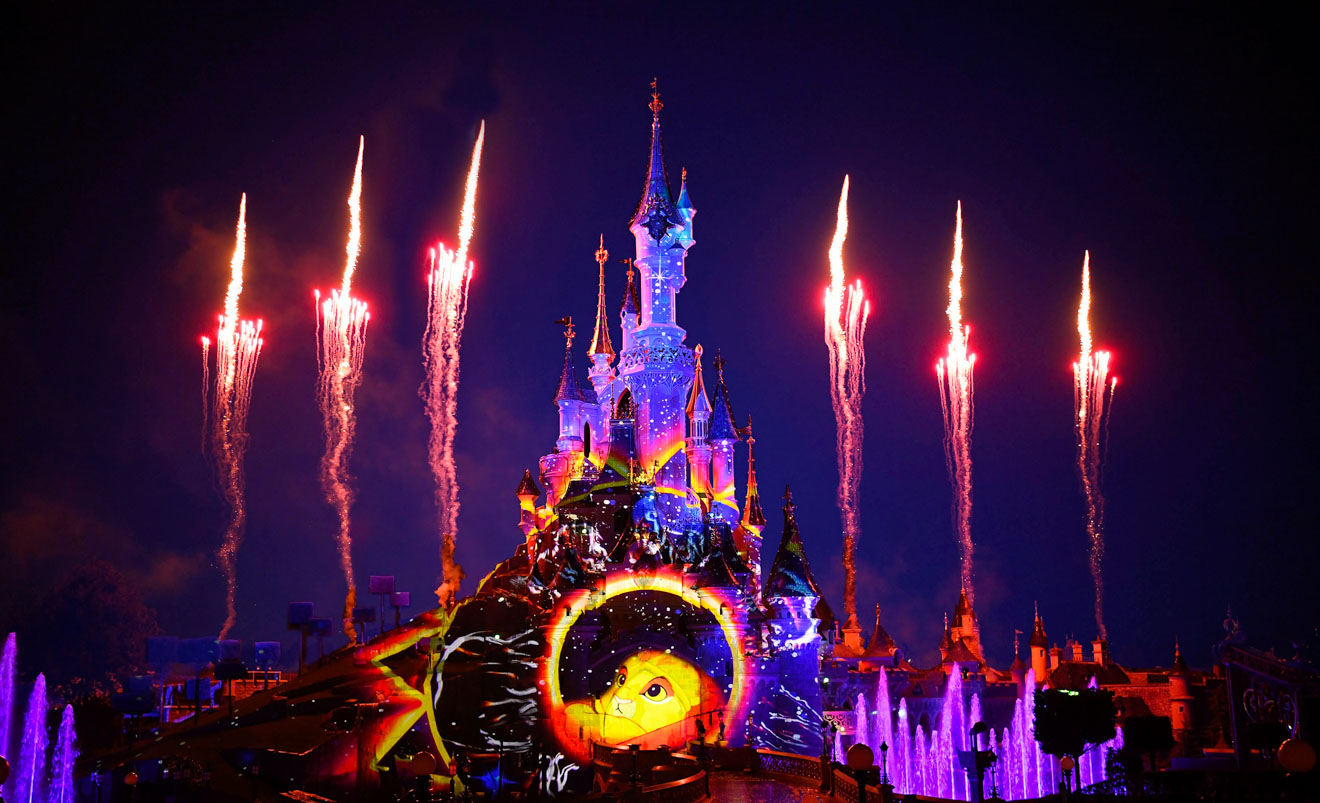 I hope I helped you make the best choice for you between all the best Disney hotels and that you will find the perfect hotel to stay near the happiest place on Earth! 🙂
As you can see, there are different options for all budgets near Disneyland Paris, so your choice will depend on your style of travel and how close you want to be to the Disney parks.
Apart from Disney's Davy Crockett Ranch and its self-catering cabin, which has a unique style made of wood, I recommend the 2 hotels below on your trip to Disneyland Paris:
If you are planning to extend your stay in the city as well, I recommend checking my list of useful tips for skipping the line to the most crowded attractions in Paris – it will help you save HOURS of your precious vacation time, I promise!
I hope you found this article useful and helpful to organize your next trip to Disneyland Paris. I wish you a great time there!
If you have any questions, please leave me a comment below, I will be more than happy to answer!
Yulia
---
---
Pin it for later!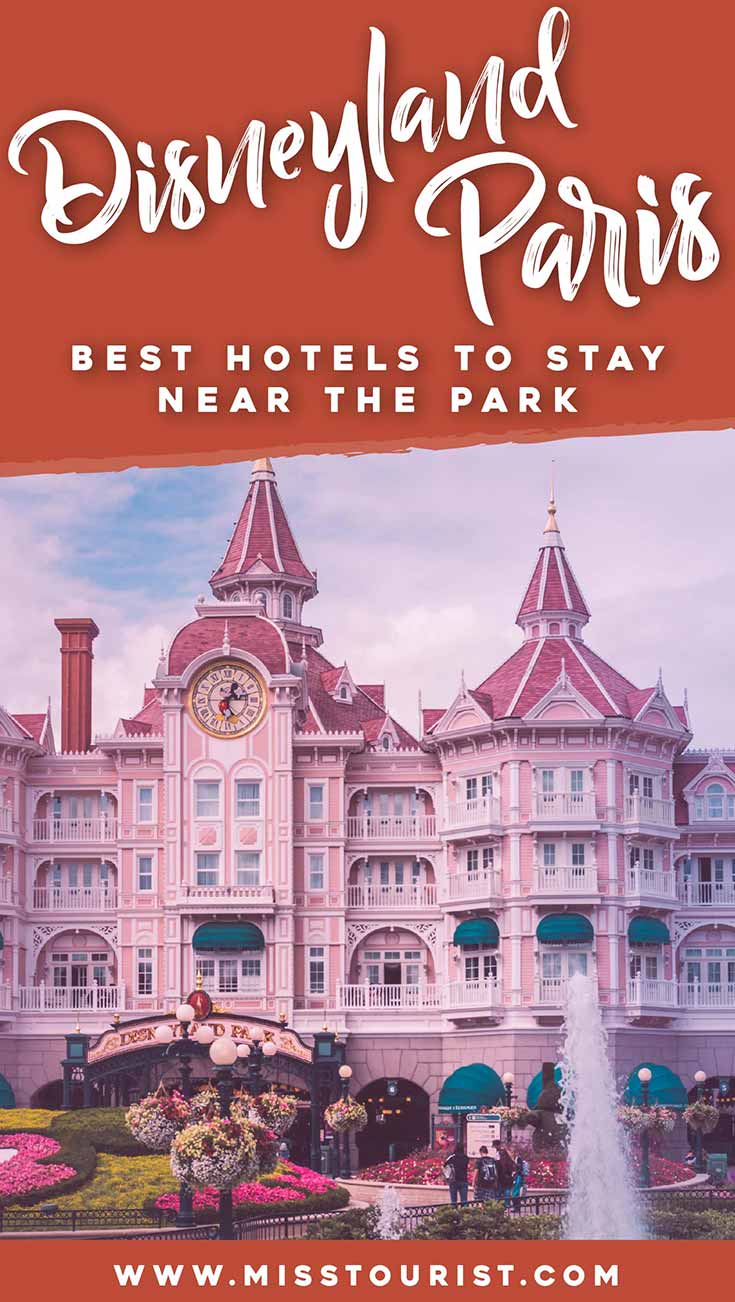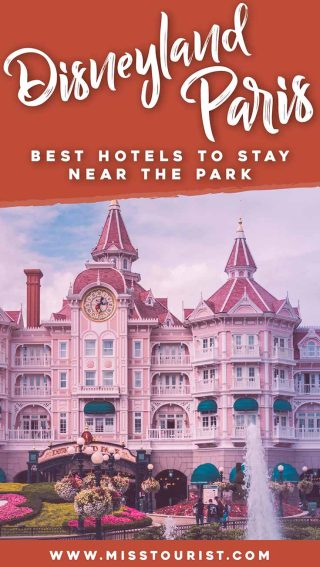 Pin it for later!