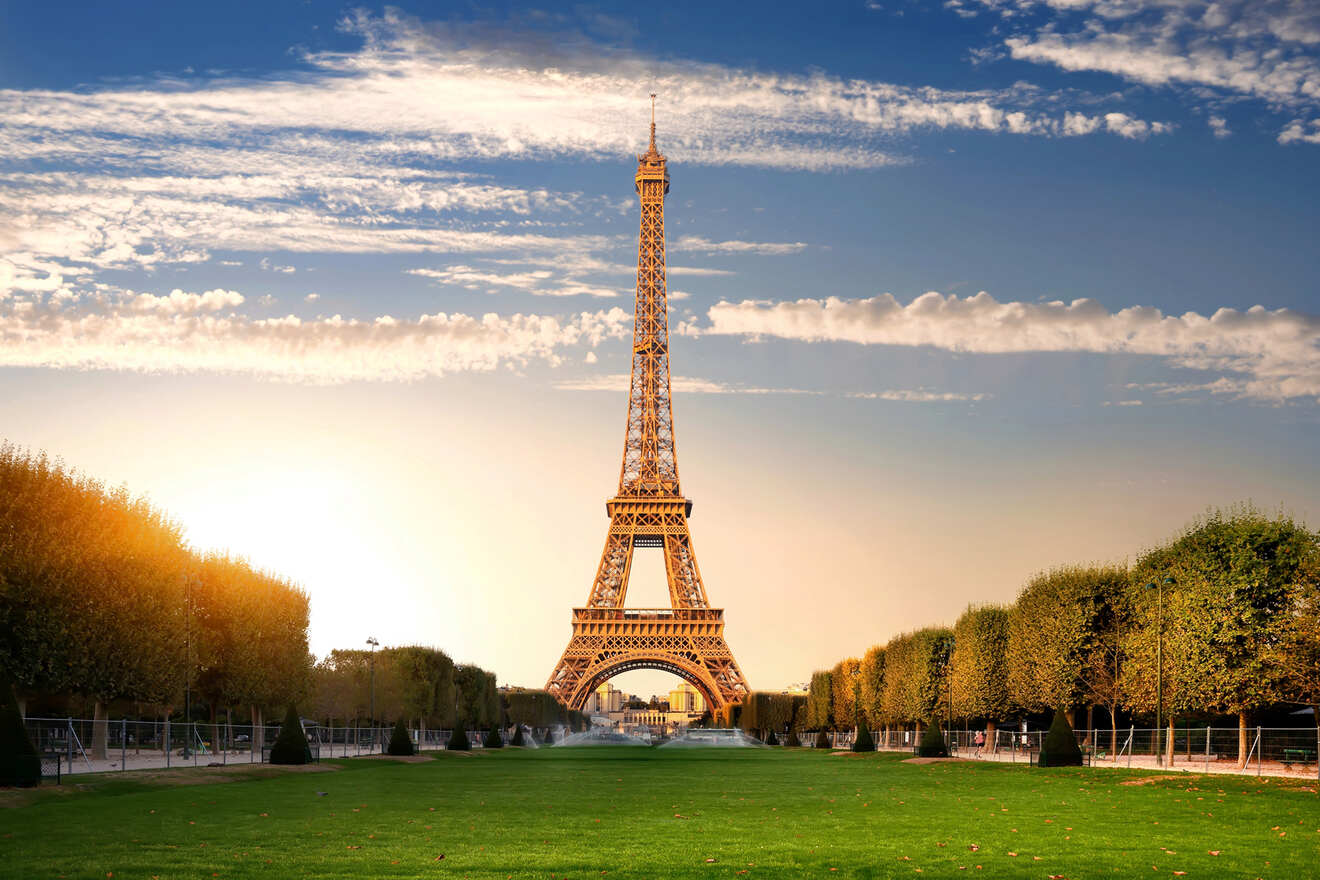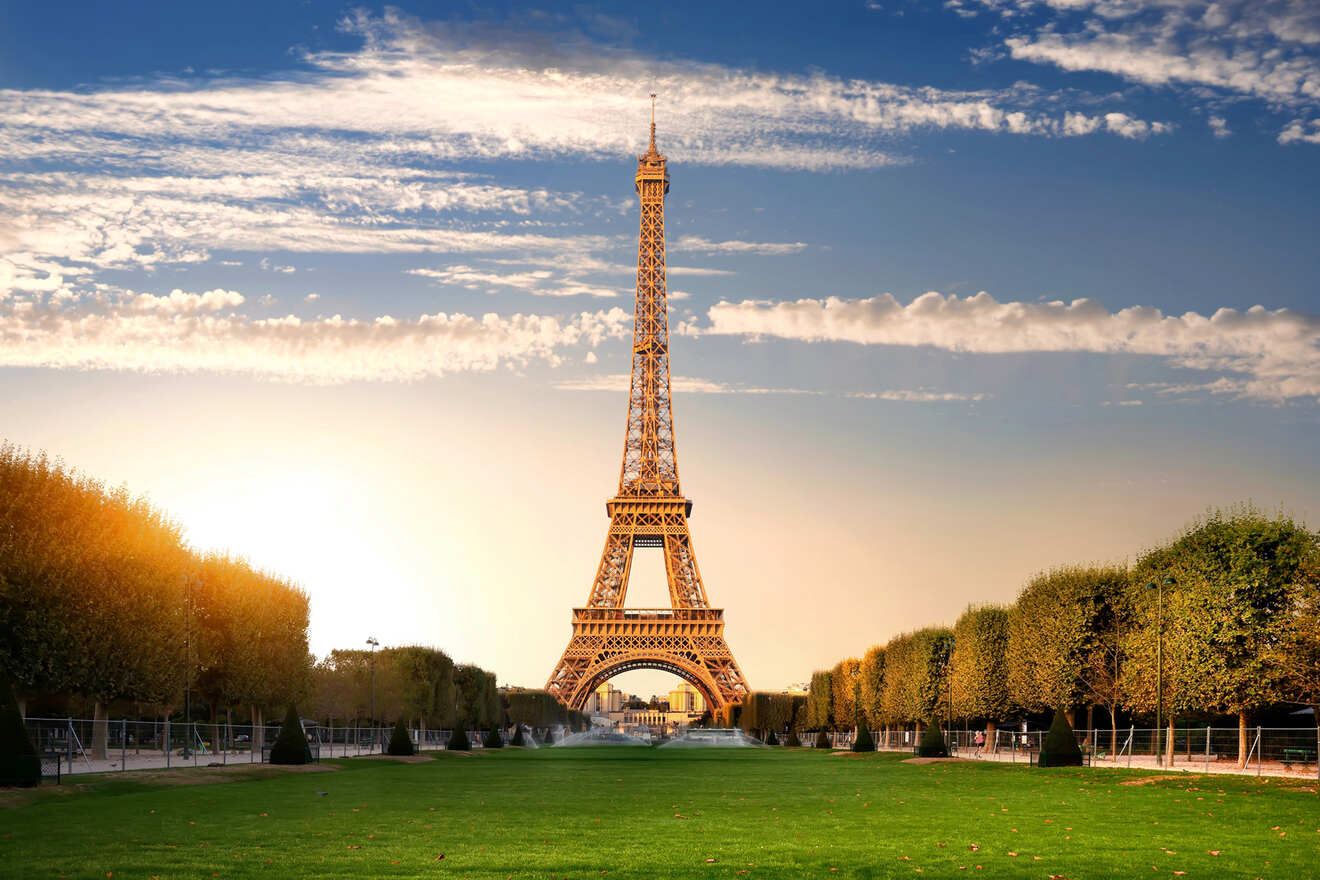 Bonjour dear travelers! Planning a trip around France anytime soon? Then you'll need a guide to the best cities where to stay in France!
The best place to stay in France is Paris as it has all the iconic tourist attractions and a typical French atmosphere. But many other cities are waiting for you too! In this post, you'll find 11 more places besides the capital, like Nice, Bordeaux, Lyon, Corsica, Marseille, Cannes, and many others I categorized by interest, so you can easily pick which ones to visit during your trip!
I've been to France a few times, and I can say that no matter where you want to go, the hotels sell out so fast. I've looked through many lists to find the best ones so you can easily make your reservations super early because these places won't be available too long!
Should we get this show on the road?
Let's start!
If you are in a hurry
Eager to book the best hotel for your trip to France right now? Then check out the list below it has the top accommodations in Paris:
Before we get started, check out the map below! It will help you visualize all the areas where to stay in France that I'll talk about in this post:
1. Paris – where to stay in France for the first time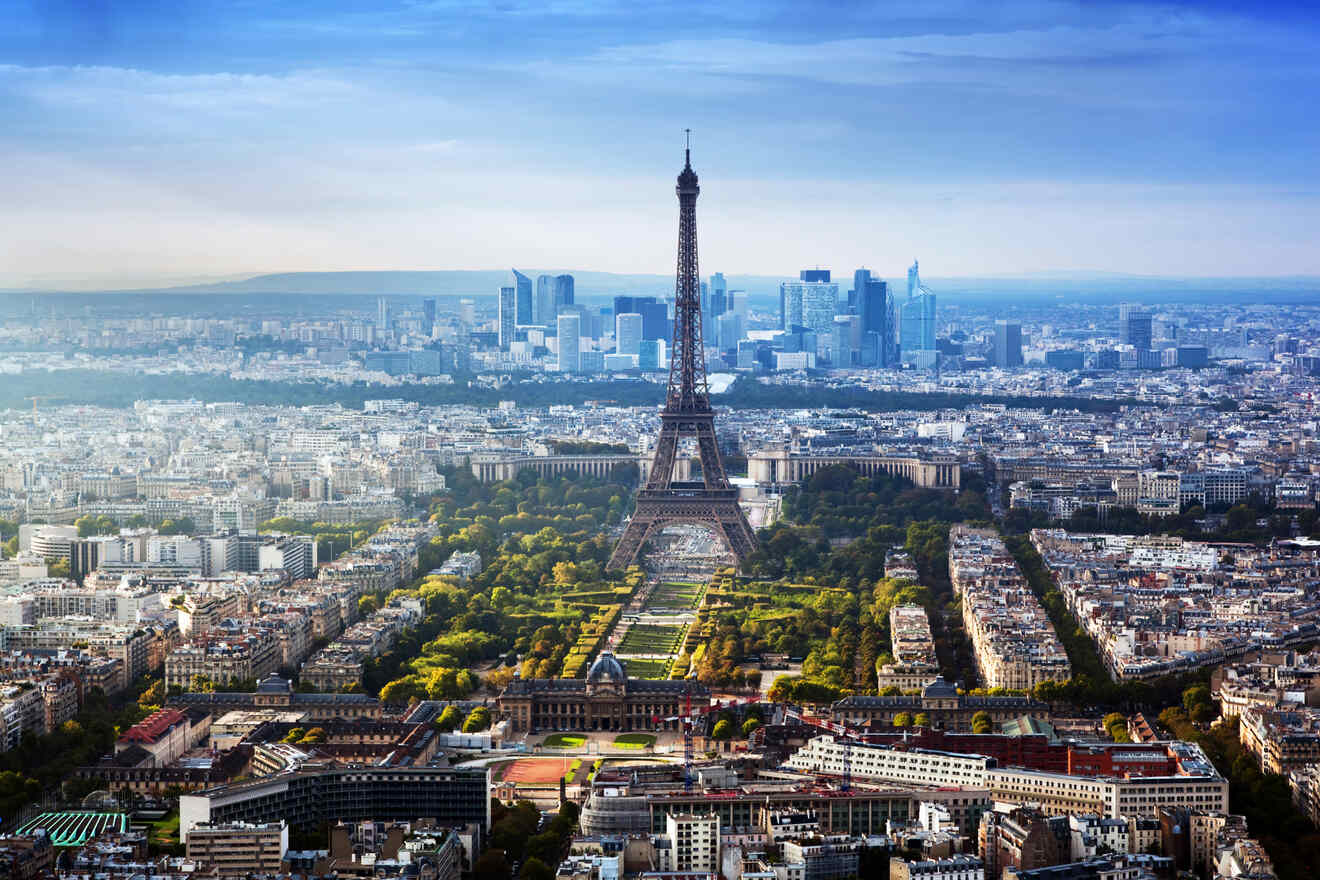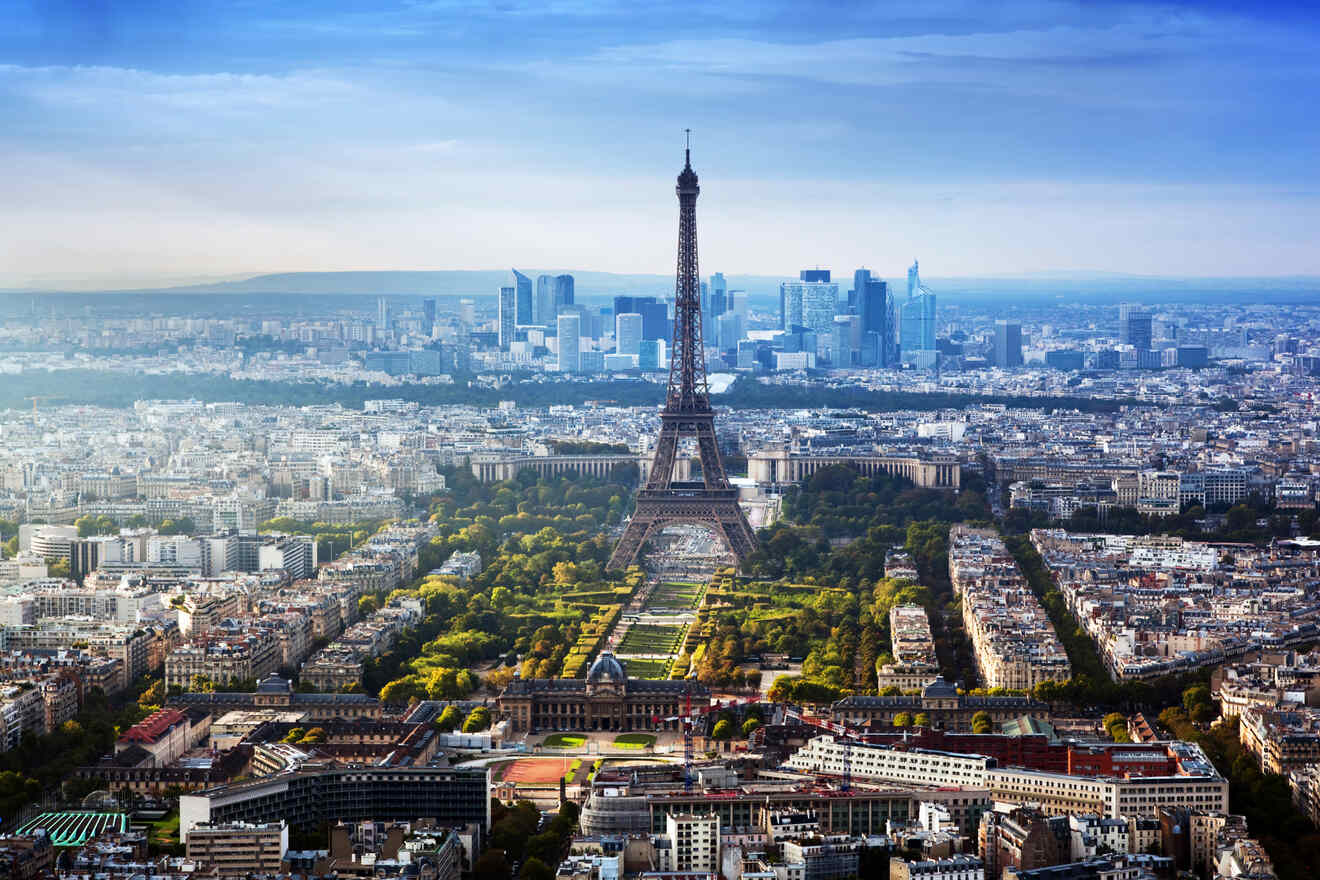 One never forgets their first time in Paris! I certainly did not, and as I went back I fell even more in love with this city, as I'm sure you will too!
Paris is like a love poem, so romantic and so incredibly sweet (it's probably from all their delicious desserts)!
Some of the best areas to stay in Paris are located centrally, but in total, the city has 20 different neighborhoods called "arrondissements", including famous areas like Le Marais, and those around the city's main attractions like the Eiffel Tower, Louvre Museum, and Musee D'Orsay are usually where many tourists prefer to stay.
Of course, there are budget-friendly areas in Paris for anyone who wants to save money, but hey, if you can afford it, I would definitely go for a hotel with Eiffel Tower views!
It's true, Paris has many hotels, but since it's such a popular destination and tourists from all around the world come here, I recommend making your reservations super in advance as the best ones always sell out fast, and this city isn't exactly cheap!
I'm sure you'll have an unforgettable experience visiting all the cultural attractions, walking along the historic streets of Montmartre and eating excellent food!
Other accommodation options in Paris
Things to do in Paris
2. Nice – best place to stay in France during the summer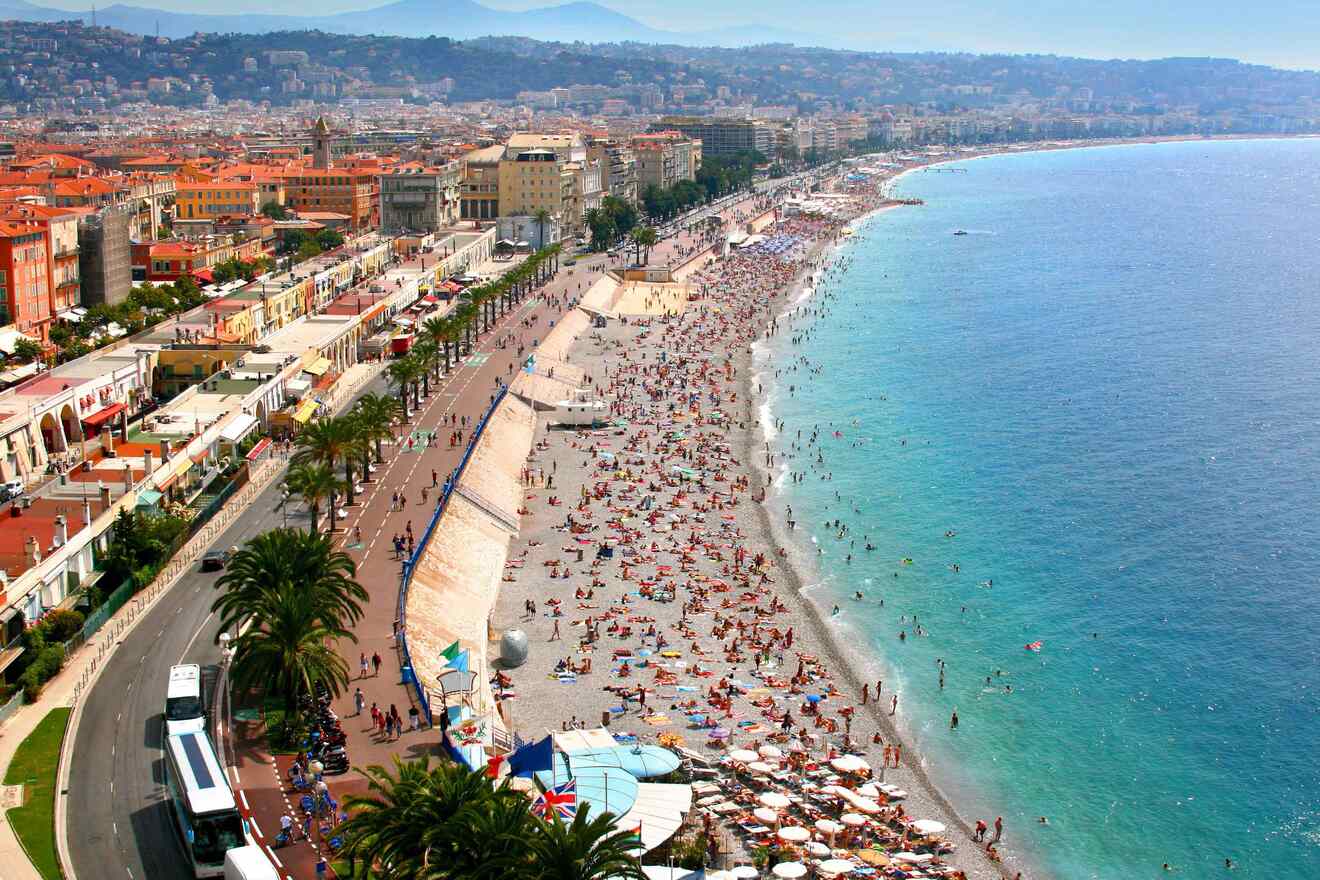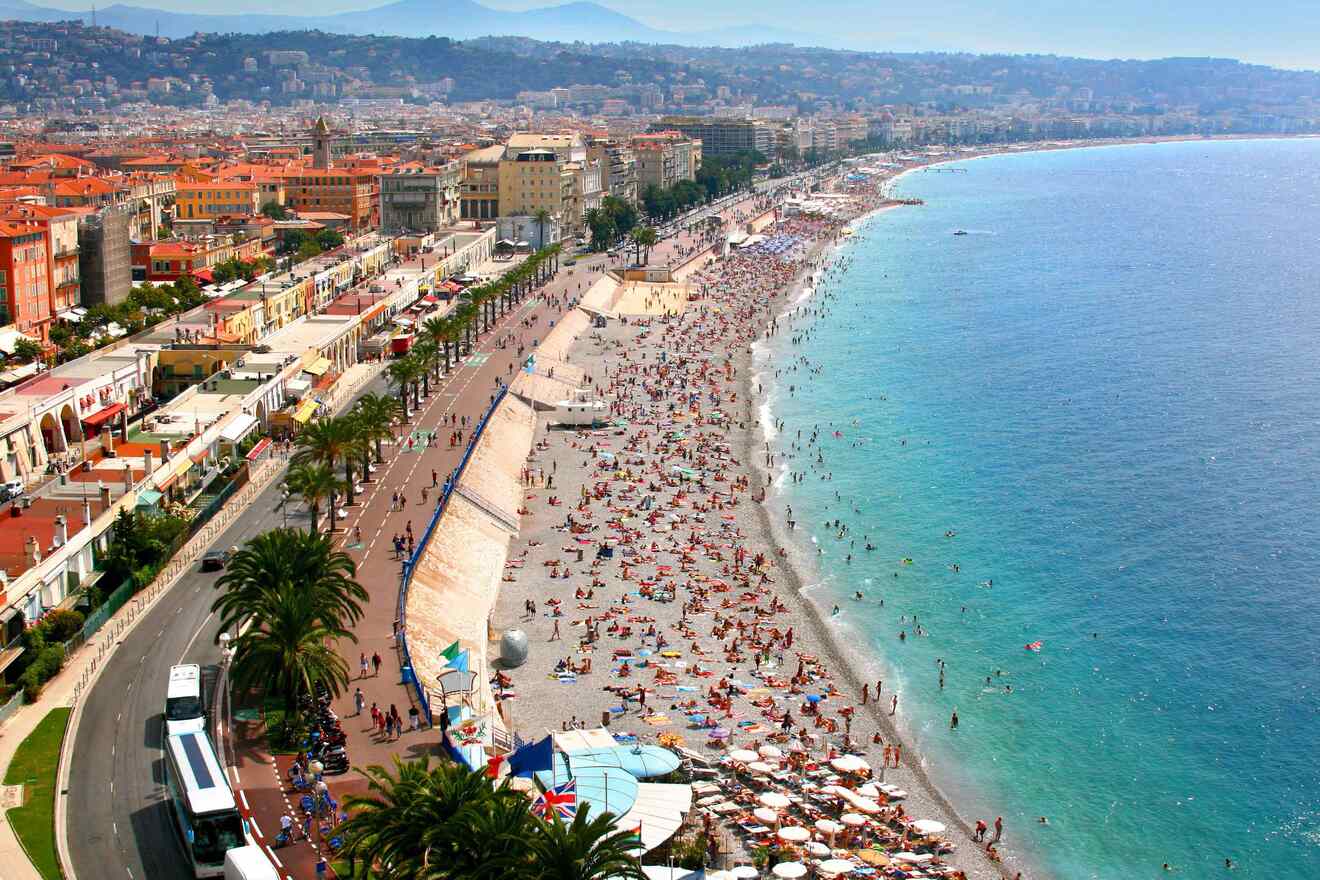 Planning a trip to France during the summer? Well, there's no better place to spend your holiday than the French Riviera!
Nice is the 5th largest town in the country and a central cultural hub with the largest number of museums in France (that will for sure keep you pretty busy).
But let's not forget the incredible seaside! You'll want to run to the beach and cool off in the blue waters during those hot summer days.
Something I love about this city is that it is so culturally diverse. You'll probably notice the Italian, English, and even pre-Roman influences here!
Especially when you start exploring all the amazing areas in Nice and the winding streets! Every neighborhood has a unique character, and I would start with the Old Town.
Although Nice is thought to be this super exclusive place to stay in France, trust me, there are ways to come here on a budget, from getting an affordable hotel to staying in a budget-friendly area.
Just like many other cities in France, Nice can't be missed, so let's look at the best hotels:
Other accommodation options in Nice
Things to do in Nice
3. Bordeaux – where to stay in France for wine lovers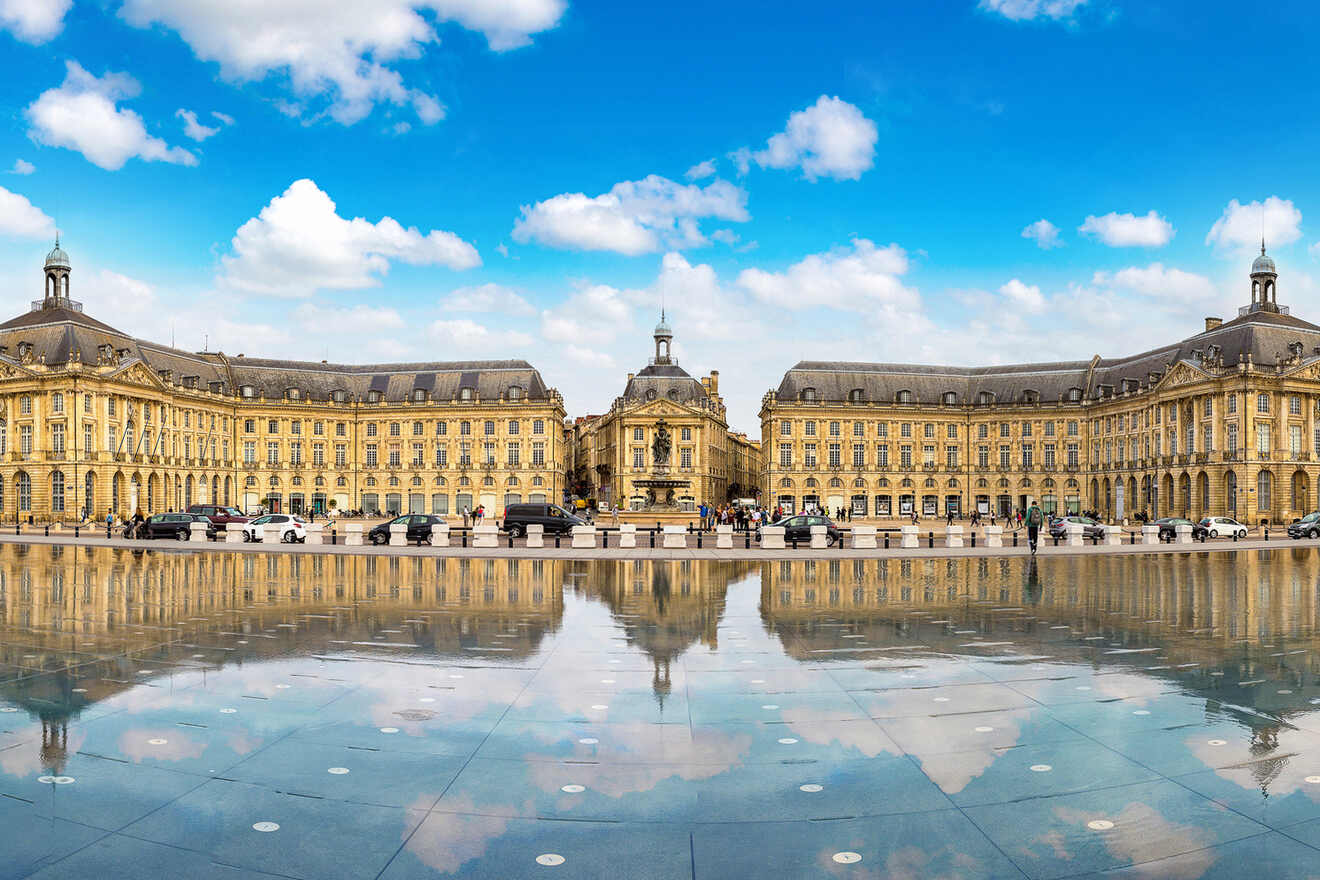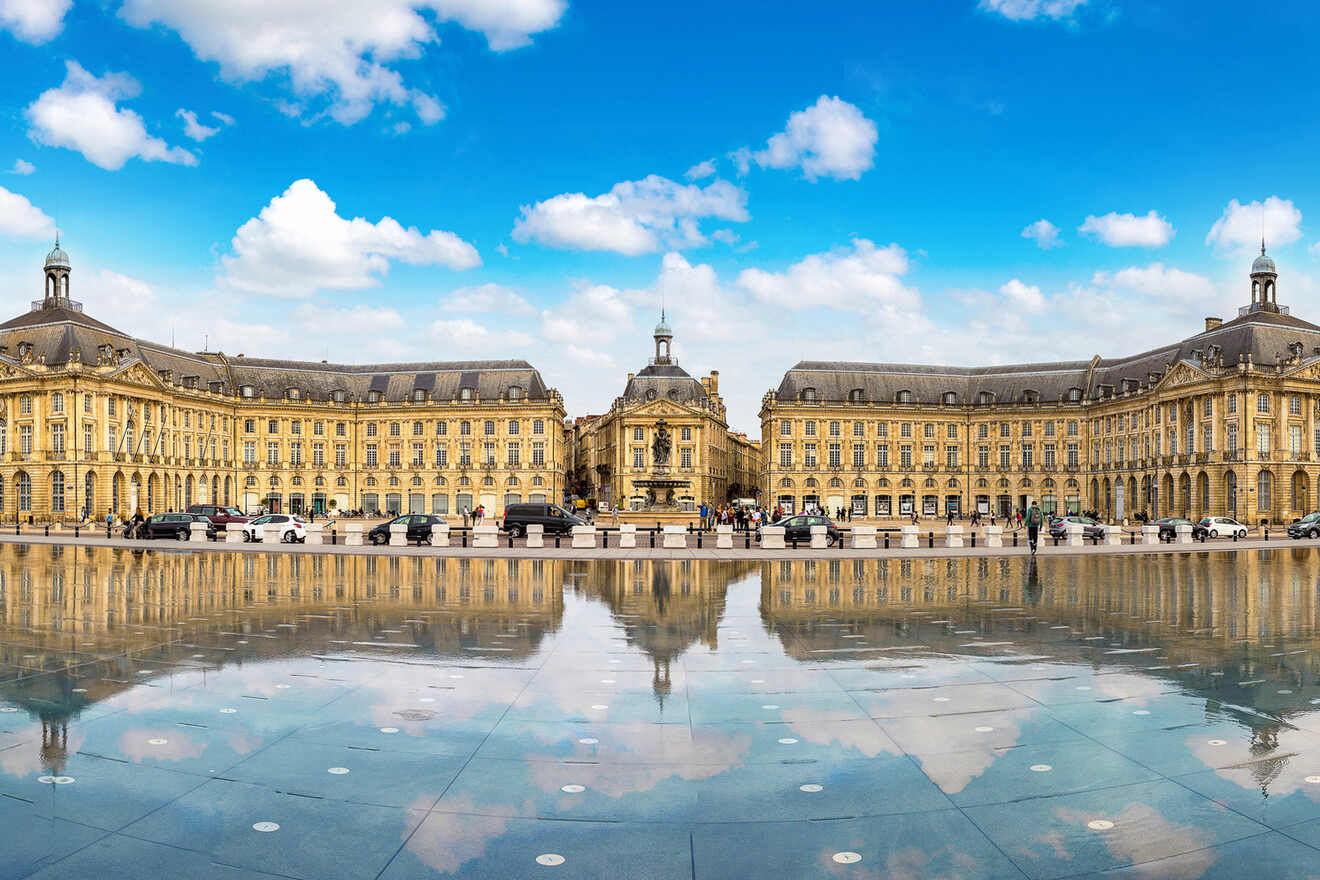 Red, white, sparkling, you name it! When it comes to French wine, I'd always go with the oldest ones!
Bordeaux is one of the country's major viticulture spots! So there's no better place to go if you are looking to enjoy your holiday with a glass in hand.
I could go on and on about this, but let's see which are the best places to stay in Bordeaux! Depending on what you want to see or do while you're visiting the town you could stay in the city center where all the attractions are, or somewhere a little outside the city near all the wineries.
Of course, you could do both and rent a car to travel from one place to another or go on day trip tours to the wineries during your stay in France. But even if you only have time for a short trip, there are many wine bars inside the city, so you don't have to visit the wineries to try the special Bordeaux wines.
Like other cities in France, this fun place is filled with cultural attractions, museums, and beautiful architecture. There are many things to do in Bordeaux, as the city is pretty big. But if you want a full experience, then I'd recommend starting from the city center, and exploring all the attractions here!
Other accommodation options in Bordeaux
Things to do in Bordeaux
Catch an exhibition at La Ciudad del Vino
Explore the Place de la Bourse
Visit the Bordeaux Cathedral
Discover the wineries on a day trip
Go for a walk in the Jardin Public
Learn new things about French history at Musée d'Aquitaine
4. Lyon – best place to stay in France for foodies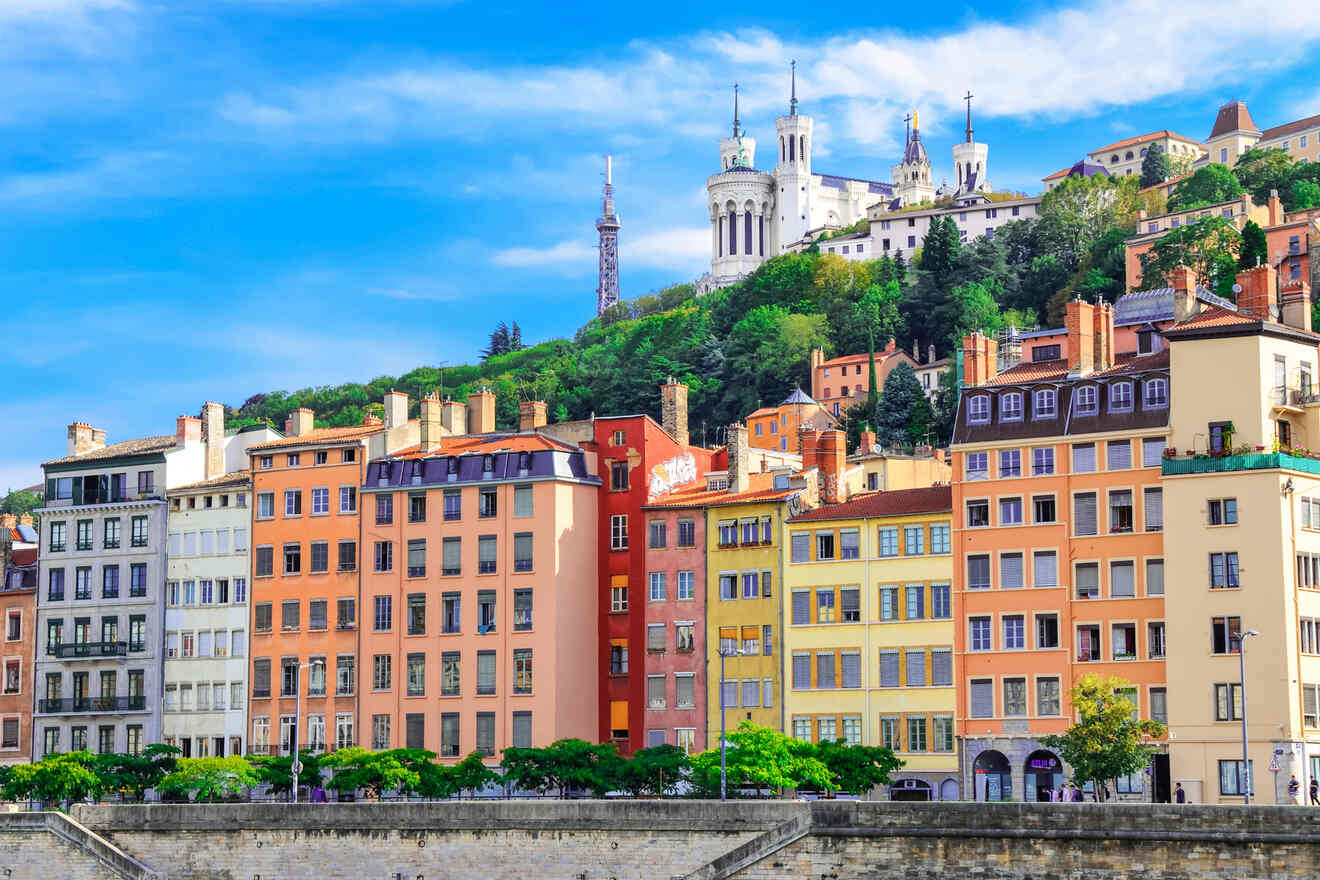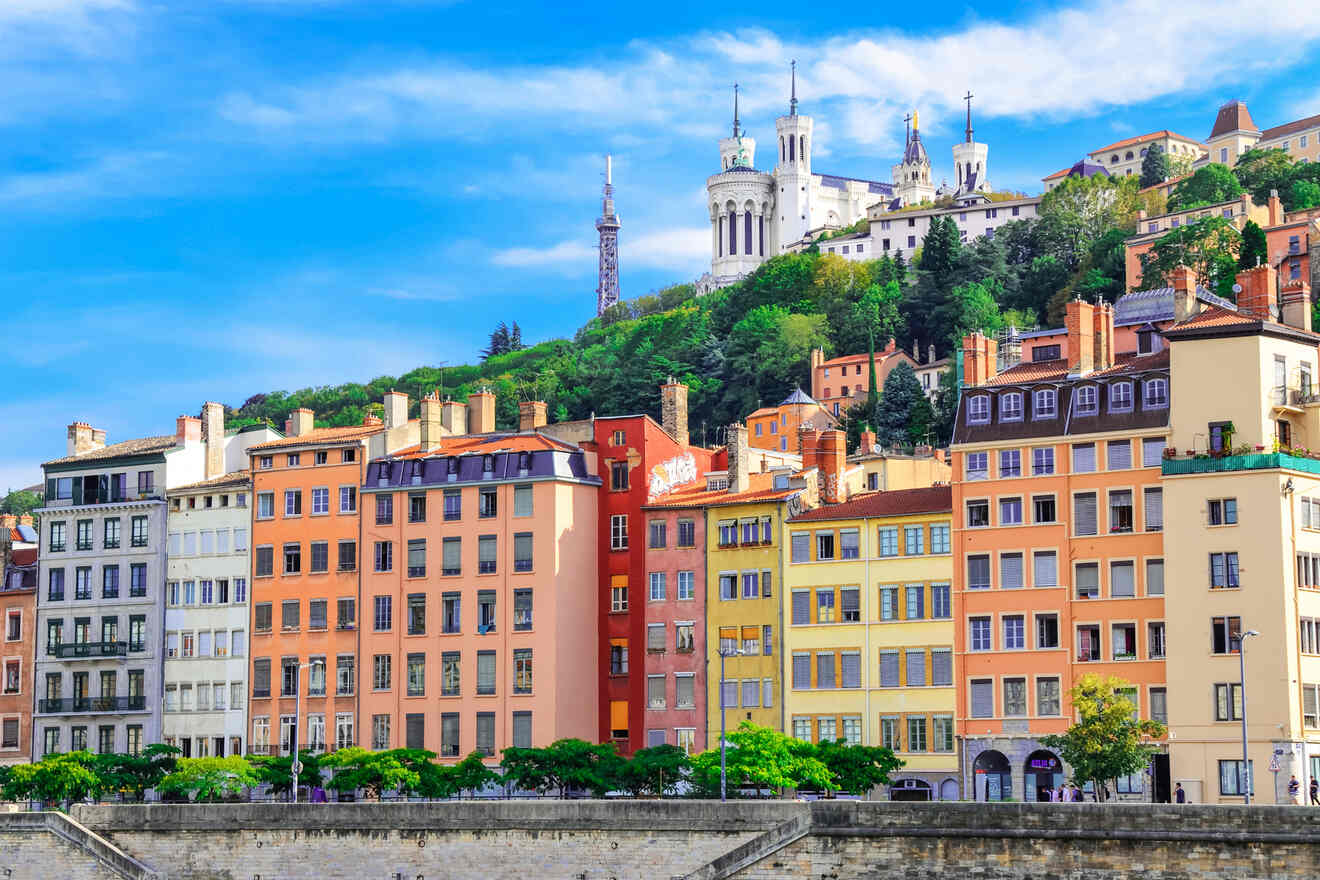 We've talked about wine, and I think it's only natural to move to the next chapter: French food!
So let's take a trip to Lyon, the French capital of gastronomy and truly one of the most beautiful cities to stay in France. Located in the Auvergne-Rhône-Alpes, this town is blessed with a diverse range of food.
Lyon is also the birthplace of Paul Bocuse, one of the country's most famous chefs!
There are around 4000 restaurants in this city! Yep, you read that well, and you should definitely check out the Bouchons Lyonnais, which are the specific bistros of Lyon!
While I could talk endlessly about this topic, I think I should introduce you to other aspects of the city as well, like its history and attractions.
You'll find many unique places to stay in Lyon that cater to all sorts of interests, from culture to foodies! Plus some spots for families and budget travelers as well.
Known as a "mini-Paris", Lyon is filled with different attractions, but it's not as crowded as Paris is! Life has a much slower pace here, and it's an excellent place for people who want a tranquil trip.
Other accommodation options in Lyon
Things to do in Lyon
Admire the La Basilique Notre Dame de Fourvière
Learn about anthropology at Musée des Confluences
Visit the old Cathédrale Saint-Jean-Baptiste
Enjoy the views in Place Bellecour
Eat delicious food on a food tour
Take a trip to the Alsace region
5. Corsica – one of the coolest places to stay in France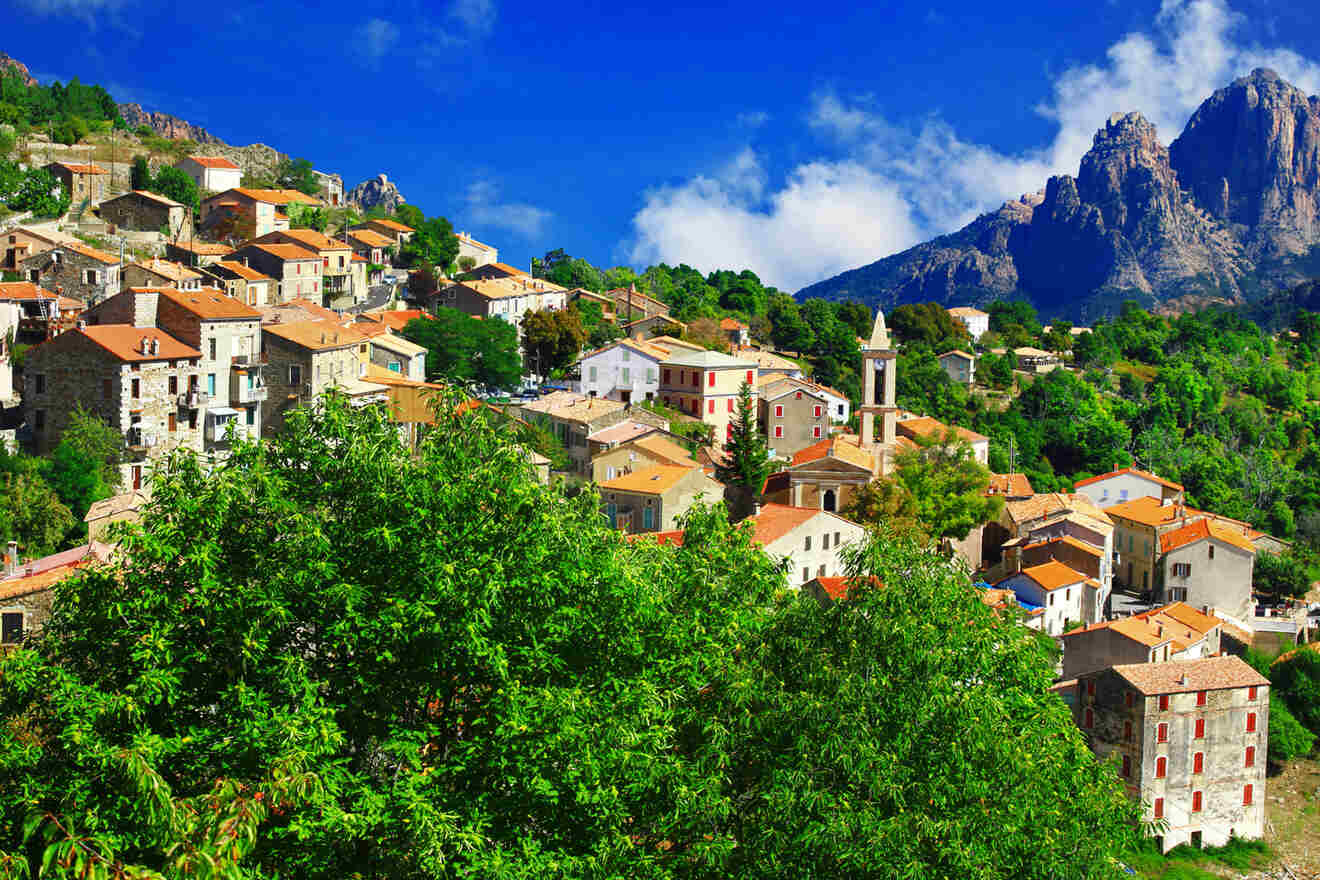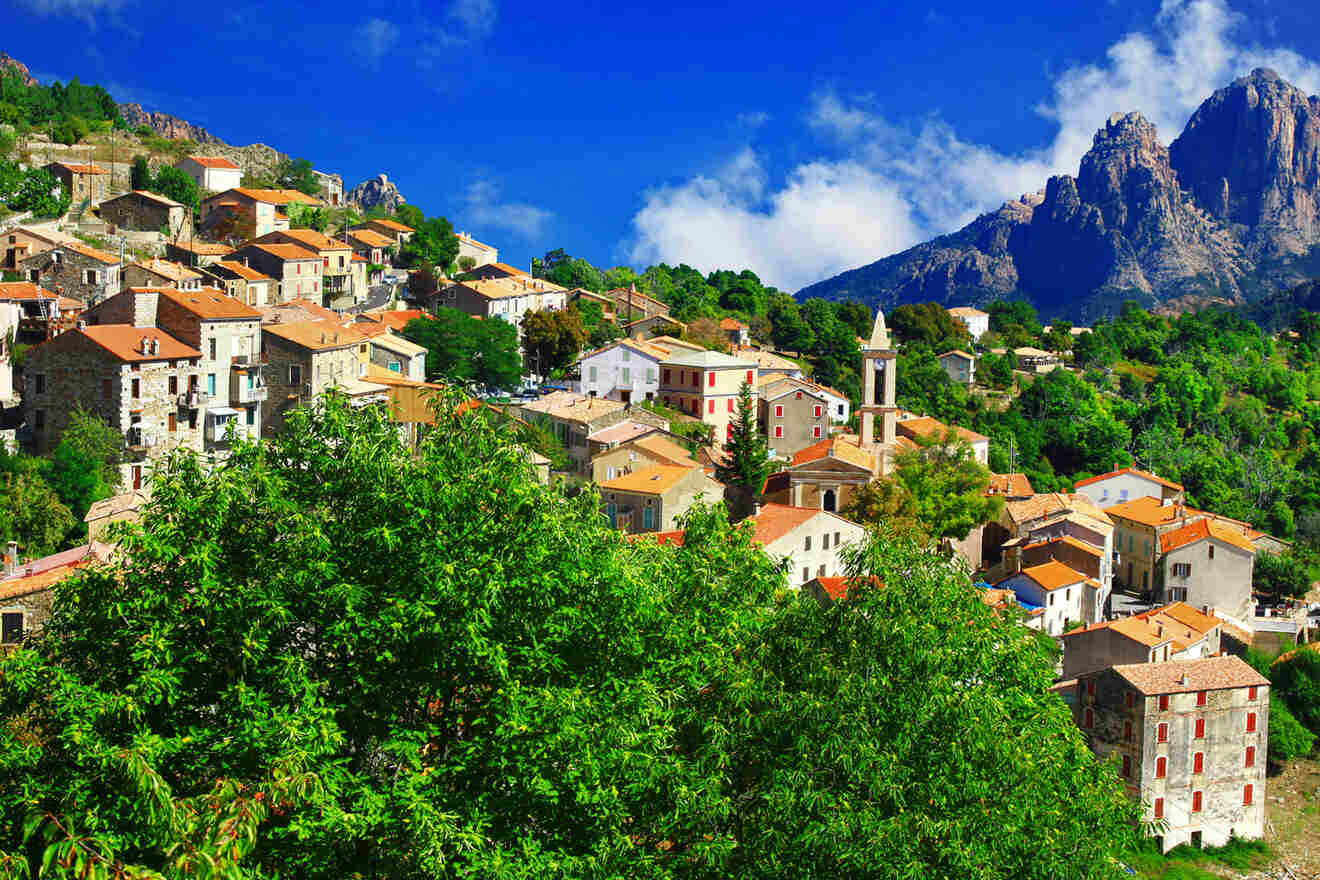 There's no second guessing, Corsica will have your heart the minute you step on its magical lands!
You'd think it's hard to name the coolest place to stay in France since the whole country is beautiful, but once you see this island you'll understand why I made this decision!
Famous for its beaches, blue water, and mountain views, Corsica (also known as Corse or Island of Beauty), offers the perfect fusion of history, nature, and delicious food!
There are many towns where to stay in Corsica, and it depends on you if you want to make camp in a town and stay there for the entire trip or rent a car and visit the smaller towns.
I'd recommend the second option if you're looking for an unforgettable experience! But that's not to say that you won't enjoy it just as much if you stay put in one place. There are always tours that can take you around the island.
Plus, the world-class restaurants, incredible hotels, and panoramic views will leave you in awe of all the beauty! Life on this French island sure is good, and if I were you, I wouldn't miss the chance of having a taste of it!
Other accommodation options in Corsica
Things to do in Corsica
Visit the Maison Bonaparte
Have fun on a boat tour
Go for a swim at Palombaggia beach
Explore Place Saint Nicolas
Admire the views of the Calanques de Piana cliffs
Enjoy a day of hiking in the Gorges de la Restonica
Sunbathe on the soft sand at Plage du petit Sperone
6. Marseille – best place to stay in France for budget travelers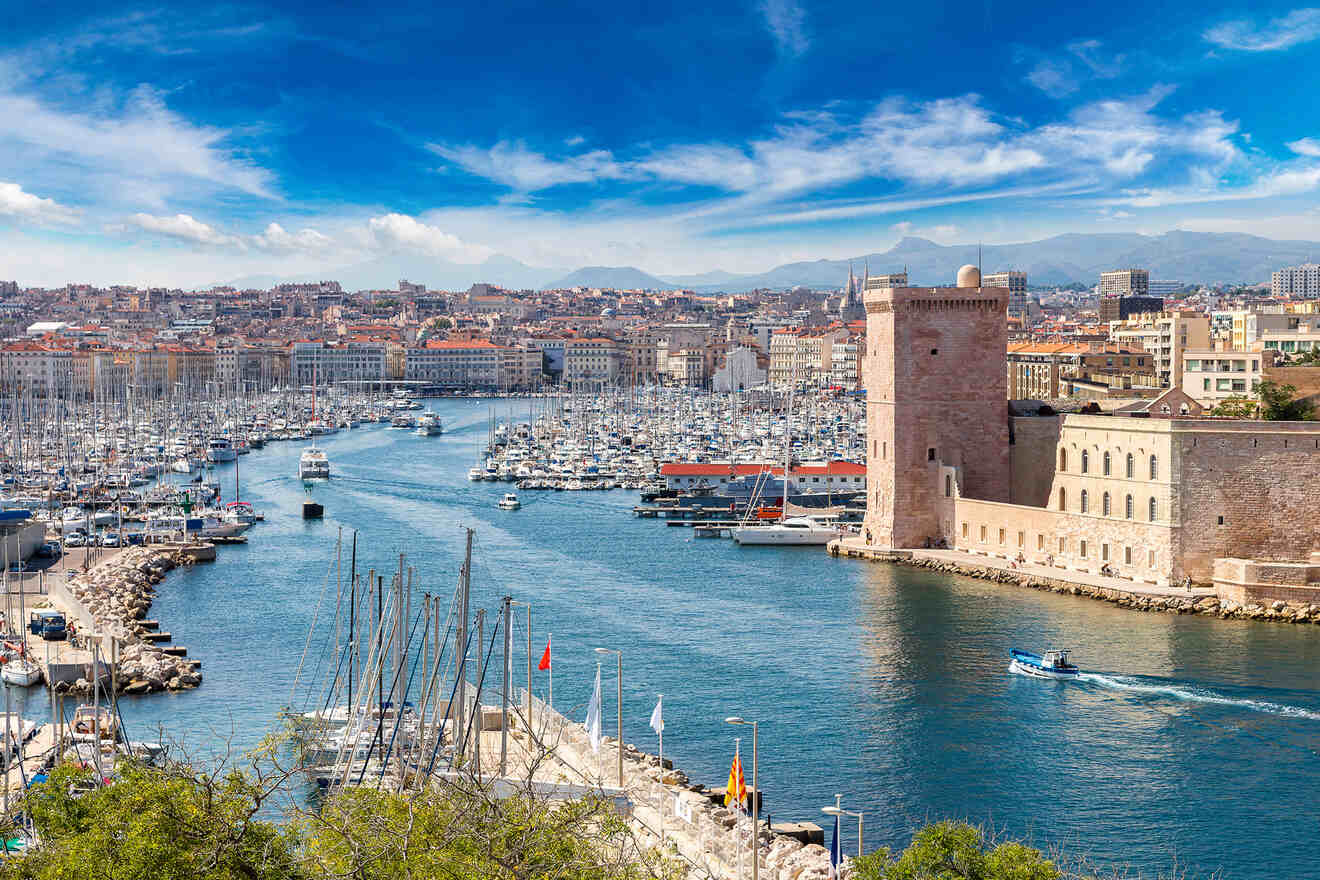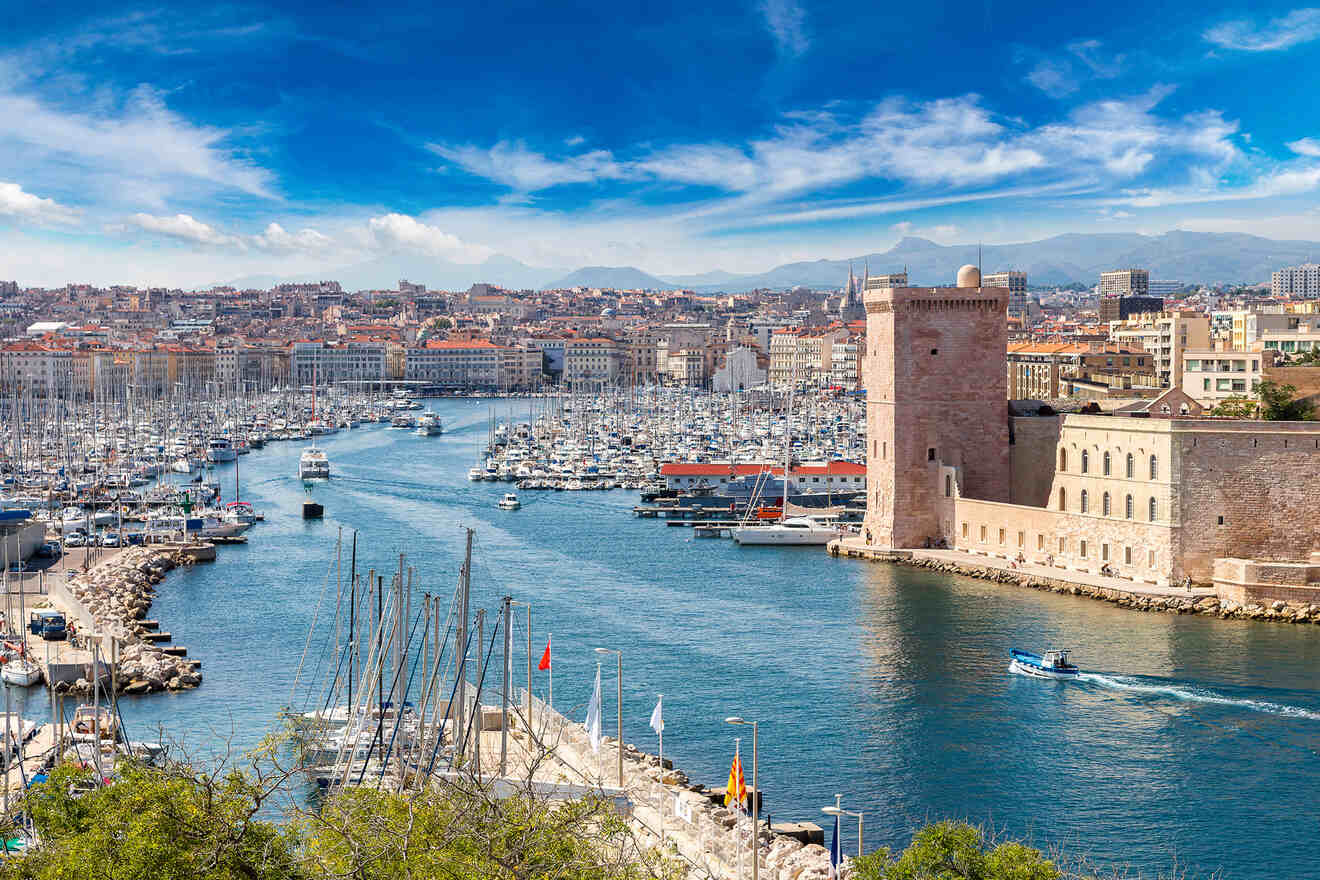 Taking a trip to the South of France may sound impossible for someone traveling on a budget, but I'm here to help you make your dreams come true!
While holidays in places like Cannes and St. Tropez come at an extra cost, there are also cities in this area which you can visit even if you're on a tight budget, and one of these places is Marseille!
There are many amazing areas to stay in Marseille, and each has its charm! Of course, its proximity to the Mediterranean Sea makes the town a dream location for any tourist, but this old port city has more to offer than its scenic shores.
Its winding streets and historical sites will make you want to add a few more days to your trip, not to mention the bars and nightclubs where you can drink, dance, and make new friends!
That's what I love about Marseille, it caters to all interests and has that old French city vibe that will make you feel so alive while at the same time also feel like you've traveled back in time! Plus, it's super close to other fabulous places in Provence area like Aix En Provence!
Other accommodation options in Marseille
Things to do in Marseille
Visit Mucem Museum
Learn some history at Fort Saint-Jean
Enjoy the sun on a cruise
Cool off by the fountains in Parc Borély
Snap a pic of the Palais Longchamp monument
Go for a swim at Plage des Catalans
Try some great seafood in the Vieux Port area
7. Loire Valley – where to stay in France for history lovers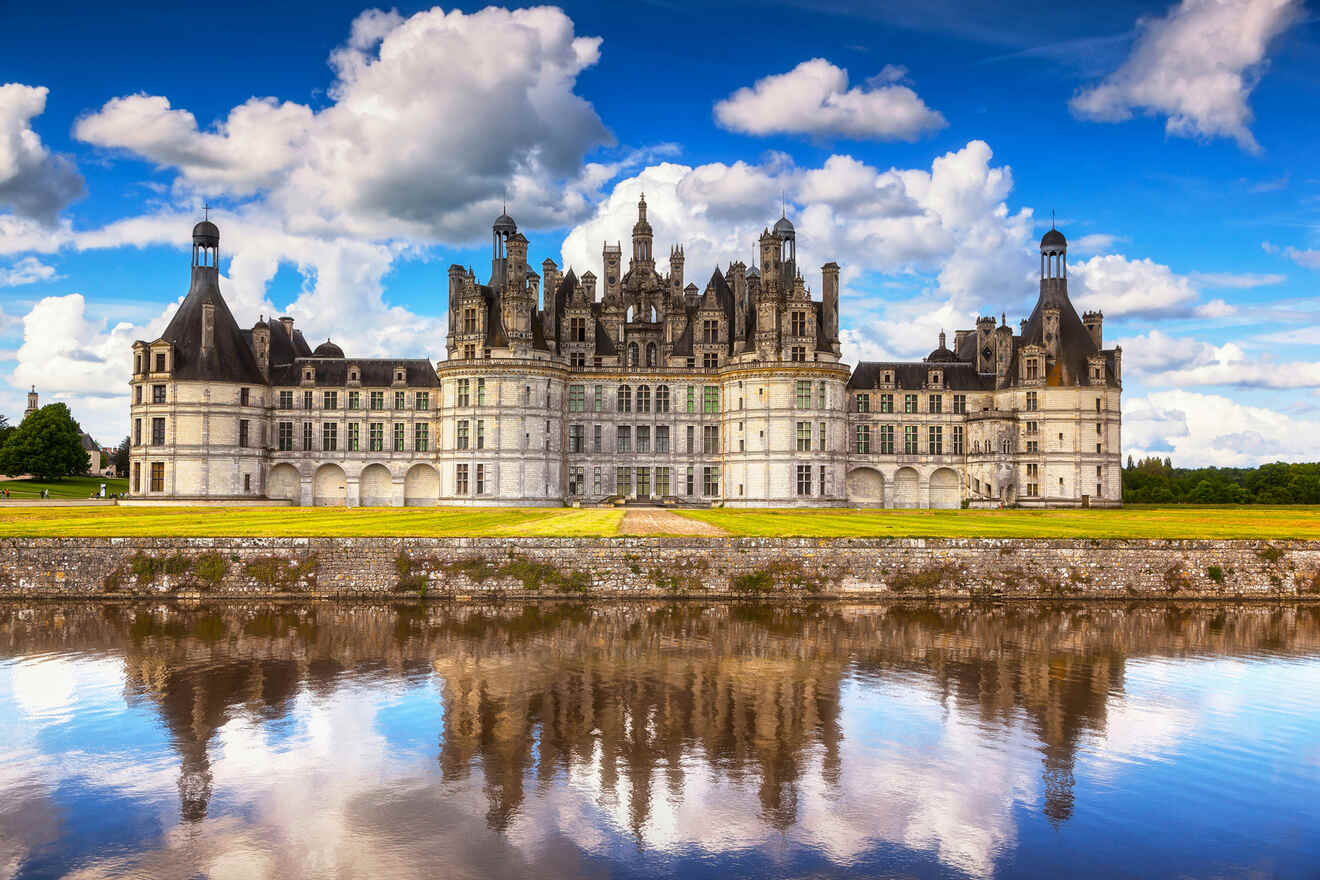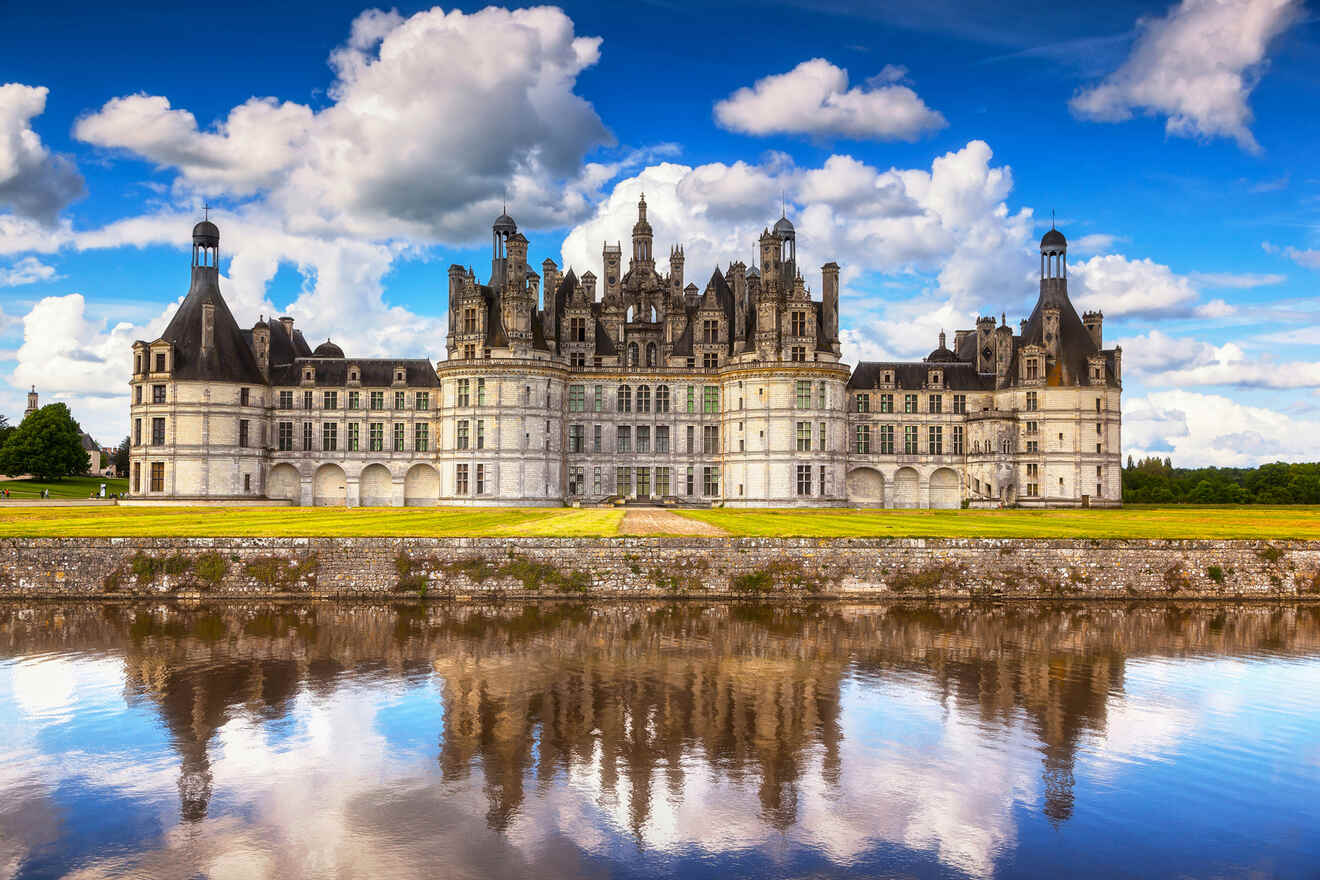 We've reached the crown jewel of the country (and one of my favorite places ever), the beautiful Loire Valley!
Also known as the "Garden of France" this region is set only a 2h drive away from Paris, which makes it the perfect day trip location if you're based in the capital!
Loire Valley is home to around 300 castles, beautiful vineyards, and breathtaking landscapes!
There are many unique towns where to stay in Loire Valley, and all of them truly are a paradise for history lovers! Most of them are UNESCO World Heritage Sites and filled with historical places, gourmet bistros, and renaissance architecture.
Once you step foot in this place, you'll feel like you're in a whole other world, one where knights and damsels in distress still exist!
The main activities include visiting all the vineyards and castles, but that's not it! You can actually sleep in one of the Loire Valley chateaux hotels! These ancient, iconic castle opened their 500-year-old doors to us! And it's not only for rich people. There are lots of affordable castles for your to rent out a room!
Other accommodation options in Loire Valley
Things to do in Loire Valley
Visit the stunning Saint-Gatien Cathedral
Check out the wine cellar at Caves Louis de Grenelle
Take a trip to the Alsace region
Explore the grounds of Château de Tours
See Leonardo Da Vinci's last home, the Château of Clos Lucé
Go on a bike tour and visit the wineries in Saumur
8. Cannes – best place to stay in France for movie enthusiasts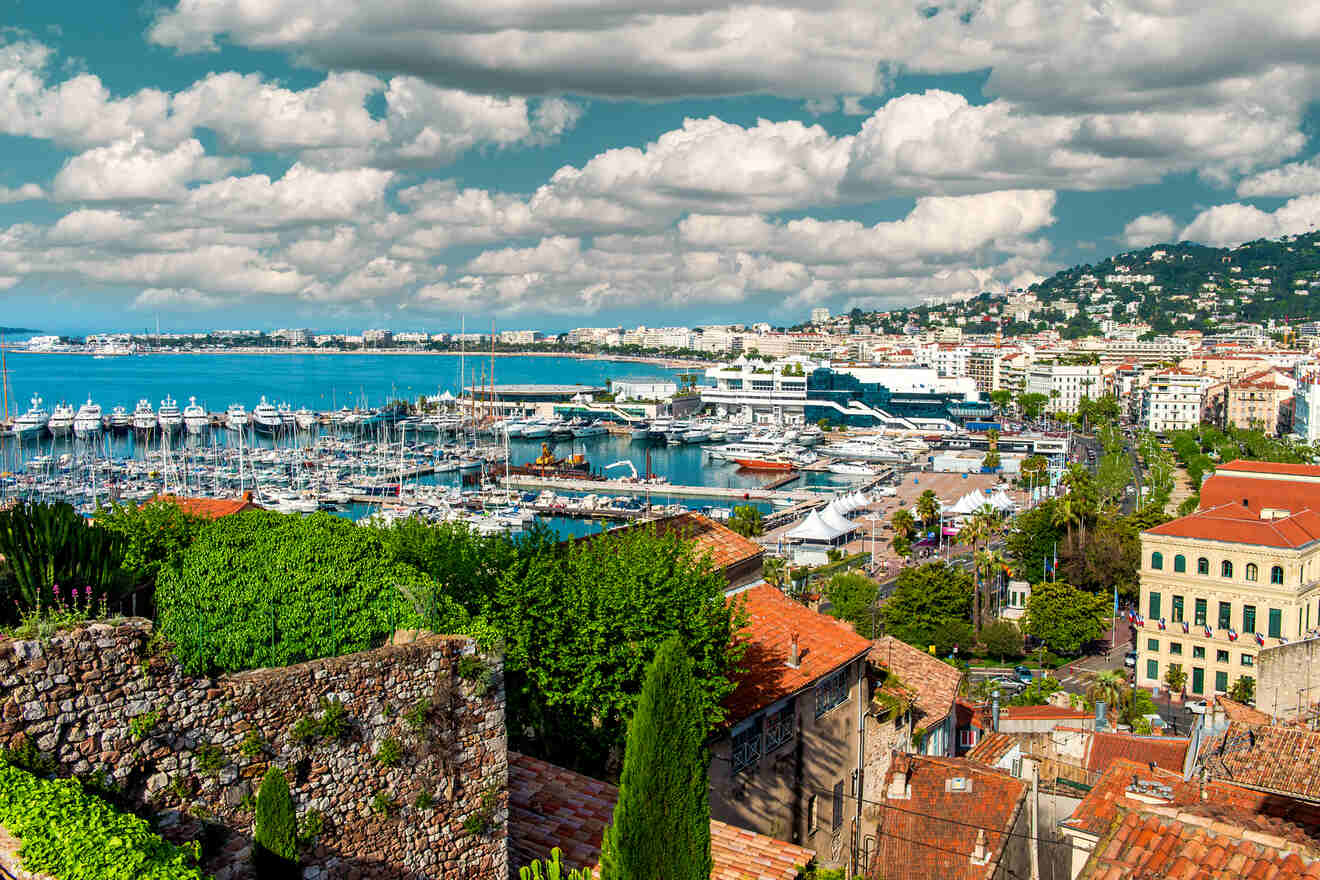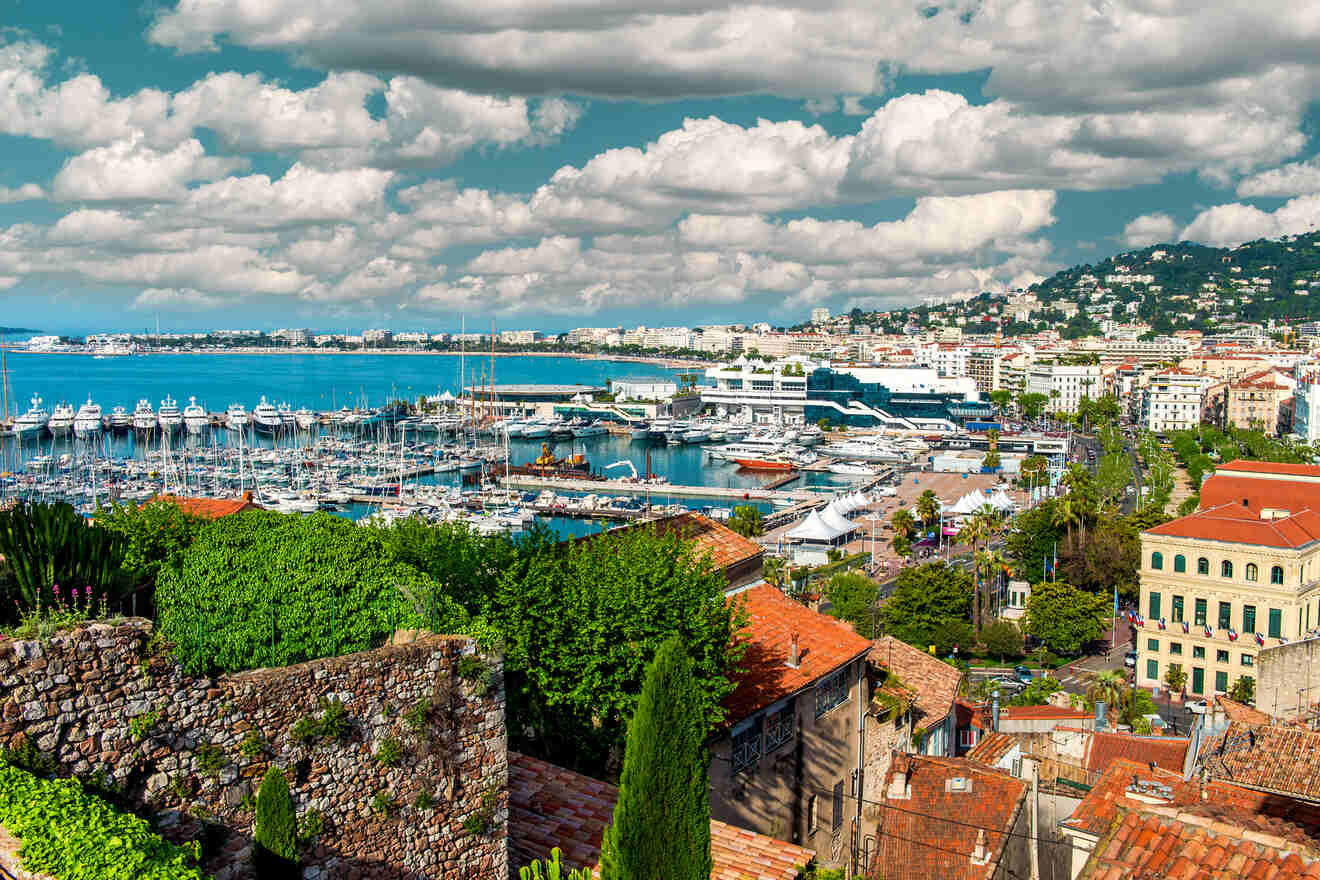 Welcome to one of the most famous towns in the world!
Set in the dreamy French Riviera, Cannes has a rich history and as you probably know, it's the home of the famous Cannes Film Festival, which takes place each year at the end of May.
As with most locations in the French Riviera, this resort town is filled with exclusive hotels, restaurants, and high-end shops. Still, that doesn't mean you can't visit this location at least once in your life, even if you're on a budget.
Although the resort town has become more popular since the Festival began, its history goes way back! And you can notice that while exploring the Old Town (Le Suquet) plus all the areas where to stay in Cannes.
Let's not forget that we've got a beach here! Oh yes, Croisette beach is the perfect place to enjoy the luxuriant way of living on the French Riviera. Cocktails at noon, wine in the evening, and great seafood in between, can it get any better?
Well, if you're traveling at the end of May when the film festival takes place, I'm sure it can!
P.S.: Let me know in the comments if you spot any celebrities!
Other accommodation options in Cannes
Things to do in Cannes
Visit the Notre Dame d'Esperance church
Shop until you drop in the Marché Forville market
Check out the famous Palais des Festivals
Spend a fun night at Casino De La Pointe
Take an evening walk along the Promenade de la Croisette
9. St. Tropez – where to stay in France for luxury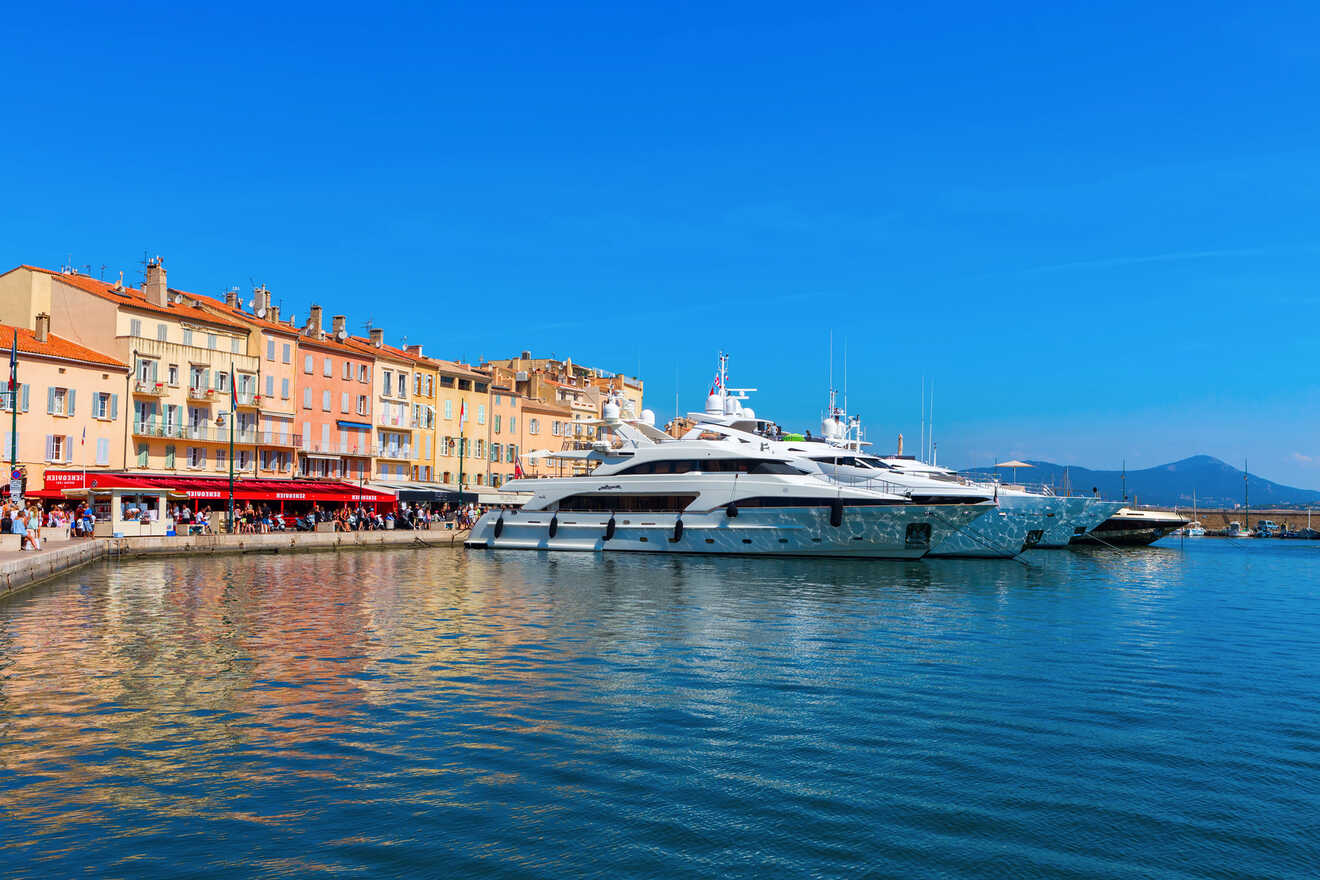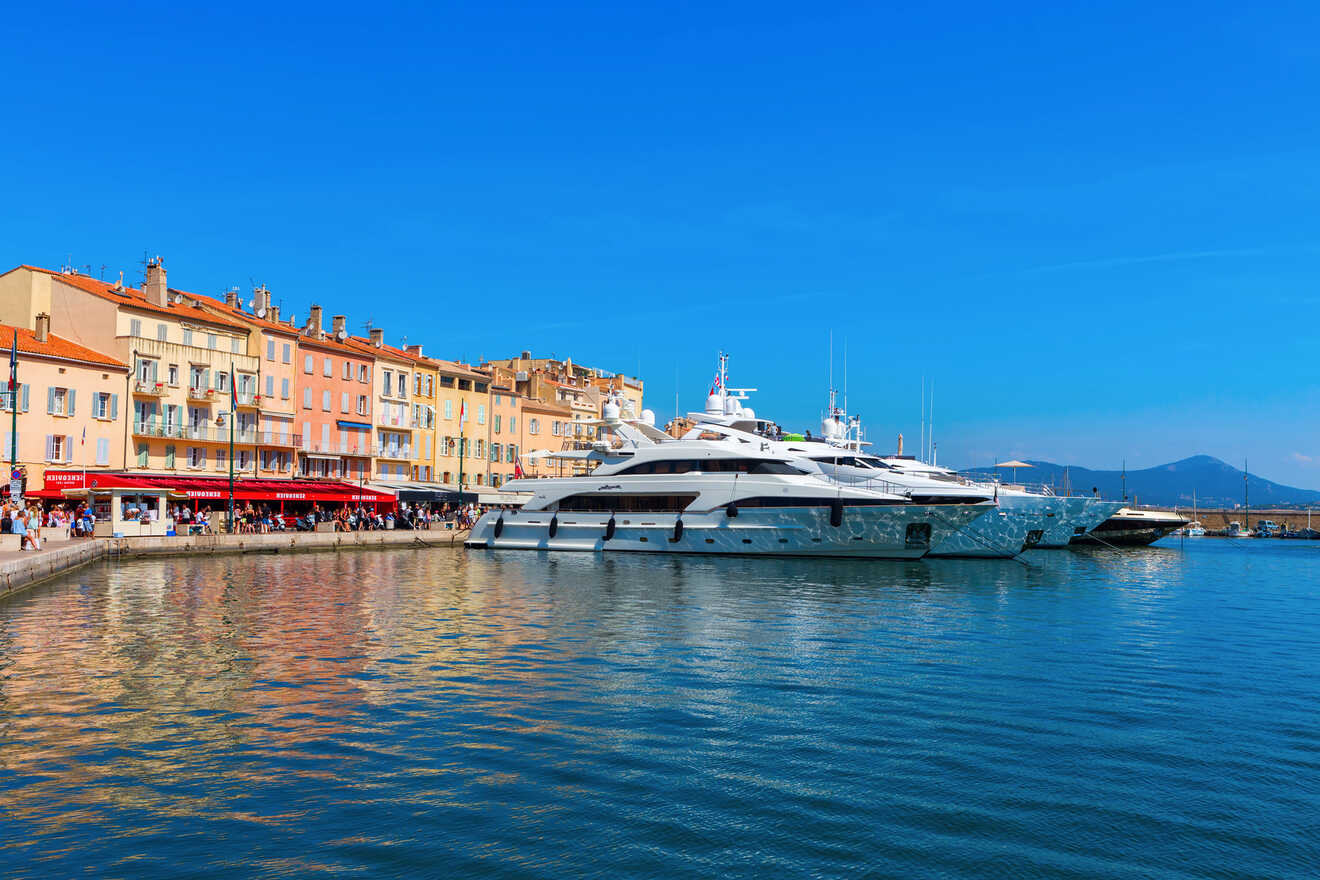 Travel in style like Beyonce and Jay-Z in one of the most exclusivist locations in the world!
St.Tropez is set in the French Riviera, and although a long time ago it was nothing more than a small fishing village, the tables have turned, and now the resort town has become the favorite holiday spot for celebrities like Bono and Leonardo Dicaprio!
There are lots of things to do in St. Tropez, so taking a few days to enjoy everything in your own rhythm is something I'd recommend!
We'll soon talk about the best hotels to stay in St. Tropez as well but before we move to that (I'm always getting ahead of myself) let's see what you should expect from your trip to this fantastic resort town.
Boat and yacht trips are also a must, and let's not forget about all the exclusivist parties that happen in St. Tropez (which are usually also on a yacht). Sounds like a pretty good life, right?
Other accommodation options in St. Tropez
Things to do in St. Tropez
Explore the Old Port area
Chill on Tahiti Beach
Join a wine tour in St. Tropez
Visit the Musee de l'Annonciade
Admire the views from the St. Tropez Citadel
10. Lille – best place to stay in France for families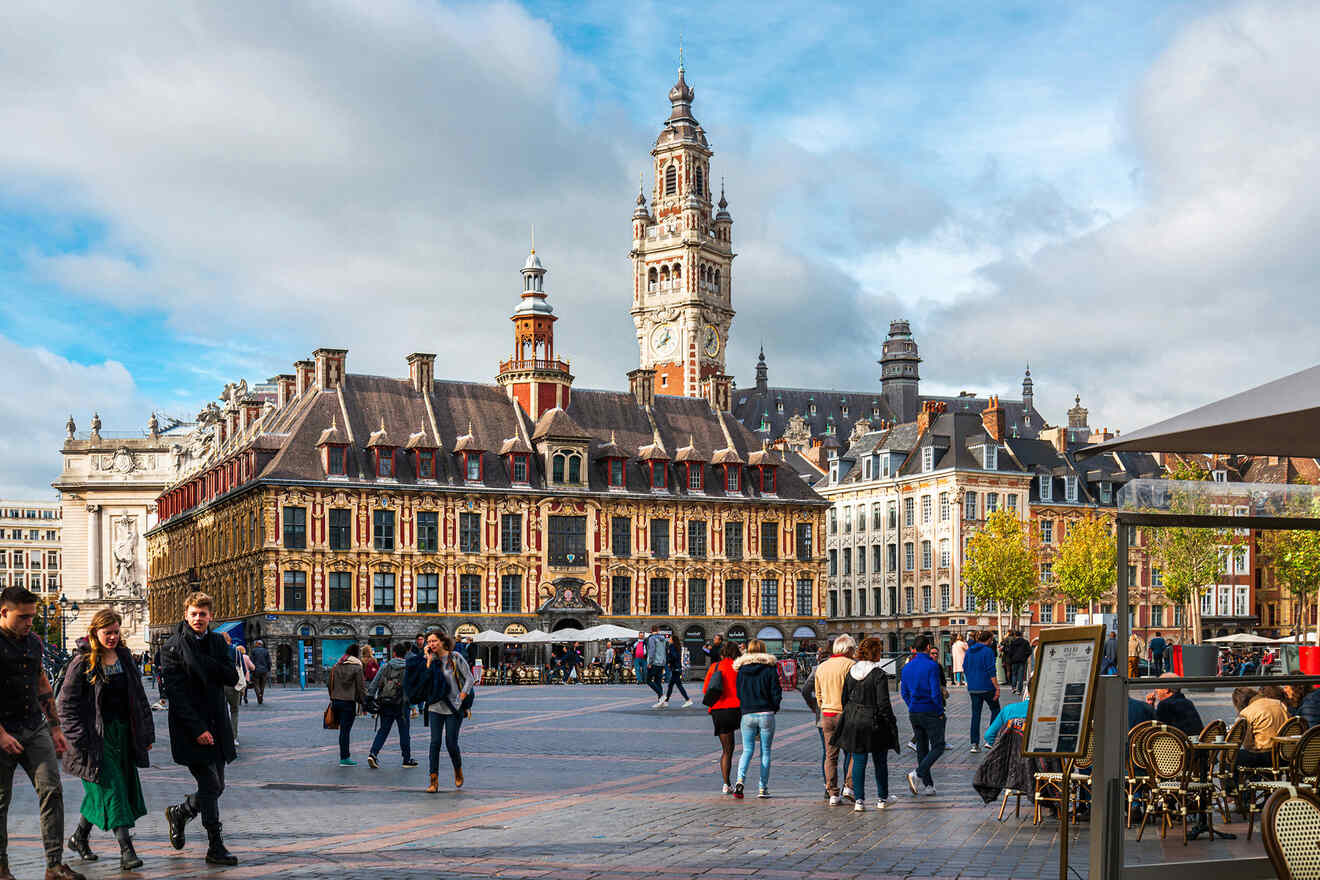 Planning a trip to France with the little ones? While the first stop may be at Disneyland in Paris, if you're looking for a town that isn't super crowded and offers kid-friendly activities, then I'd recommend Lille!
This beautiful town is one of the best places where to stay in France for families, and I'll tell you why… Firstly, Lille has unique museums, a zoo, and stunning architecture that will have you taking pictures every 5 minutes! Plus all the excellent food (I'm sure that's important for all family members)!
Before you ask, the answer is oui! There are many amazing hotels in Lille, which are perfect for you and the little ones
Some really amazing ones are set in the city centre, where you'll also most attractions like the Palais des Beaux-Arts (one of the largest art museums in France) and Notre Dame de la Treille!
Other accommodation options in Lile
Things to do in Lille
Admire the art at Palais des Beaux-Arts
Visit Notre Dame de la Treille
Take a picture of the Old Stock Exchange building
Buy souvenirs from Place du Général de Gaulle
Take the kids to the Zoo de Lille
11. Mont Saint-Michel – most unique place to stay in France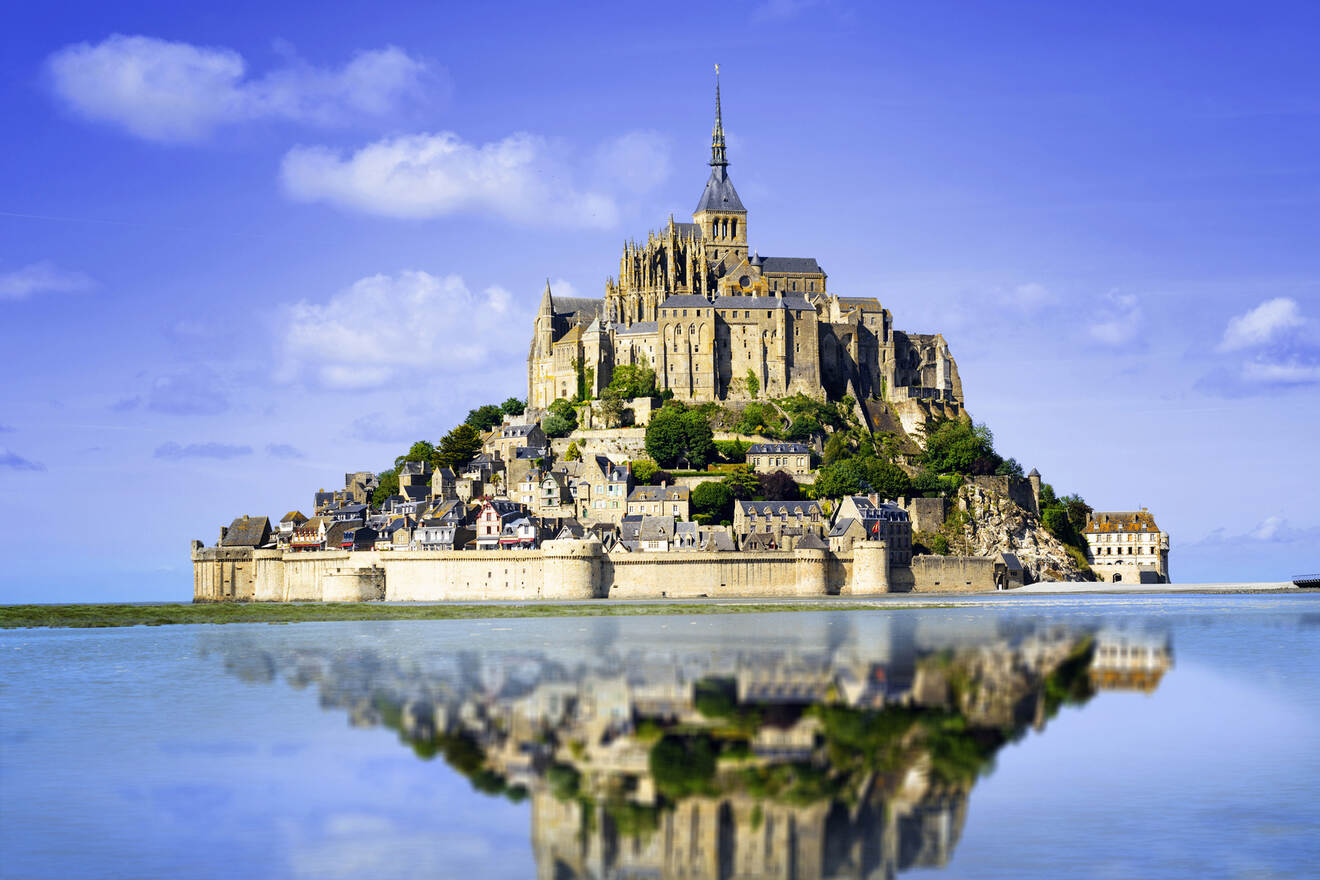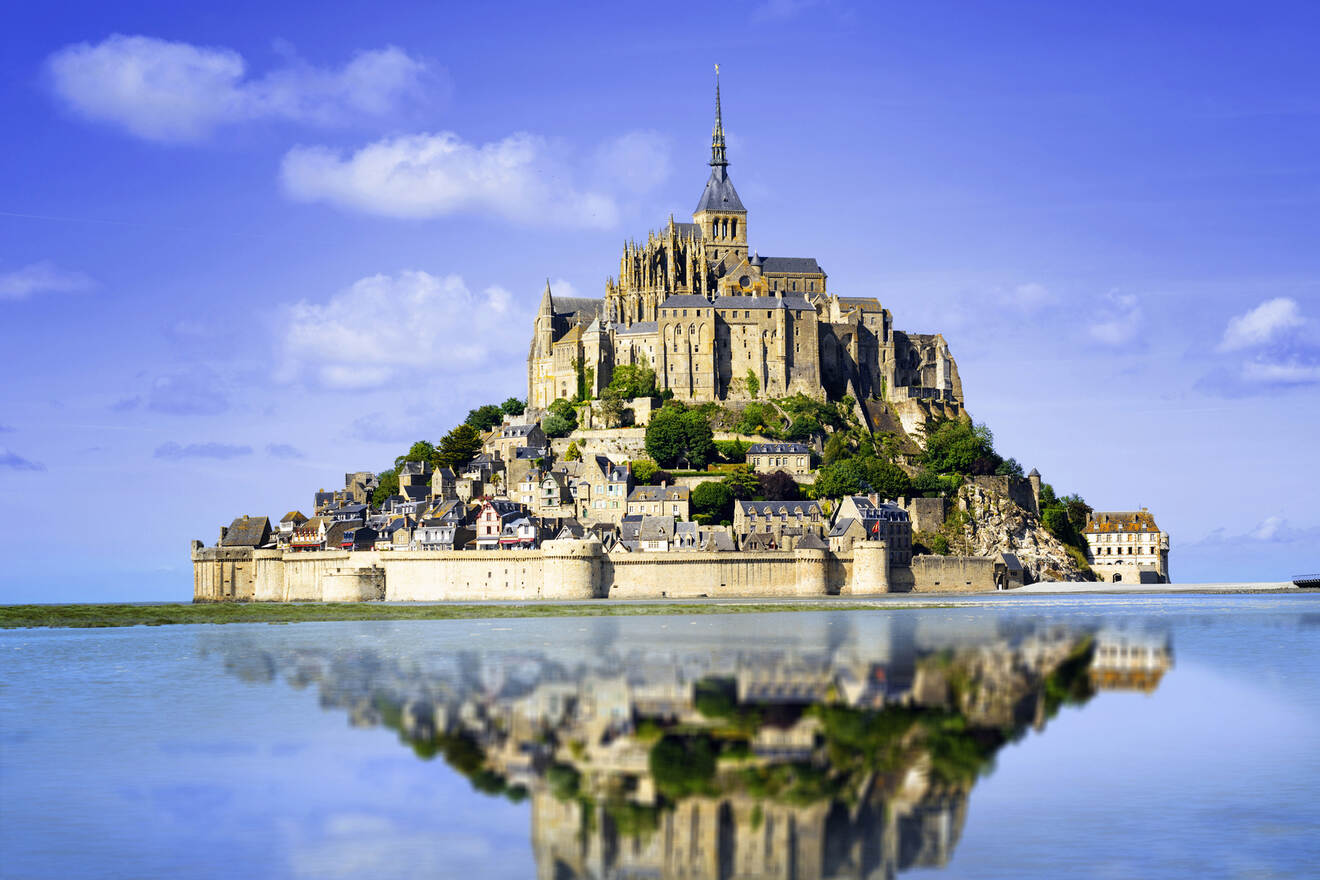 I wanted to wrap up this post with some really unique places to visit in France that you shouldn't miss!
Mont Saint-Michel is one of my favorite sites, and indeed it offers some of the most amazing views! It's also a super touristy spot, so make sure you book your accommodations in advance.
This tiny village was designated a UNESCO World Heritage Site, and for centuries it was one of Europe's major pilgrimage destinations!
FUN FACT: Legends say that Archbishop Aubert of Avranches founded an abbey back in 708 after he had a vision of Archangel Michael telling him to lay the foundations of this holy place.
Although the place is frequented by many tourists, you can still feel the local vibe in the surrounding area here. Plus, the location is so iconic that undoubtedly you'll get the chills while exploring it!
NOTE: The hotels you'll see below are actually located near the famous island. Unfortunately, there are no great hotels inside Mont Saint-Michel, but I've made sure to choose the closest ones.
Other accommodation options in Mont Saint-Michel
Things to do in Mont Saint-Michel
Visit the Abbaye du Mont Saint-Michel
Admire the views from Tour du Nord
Explore Maison de l'Artichaut
Learn about Mont Saint-Michel's history at Musée Historique
12. French Alps – where to stay in France in winter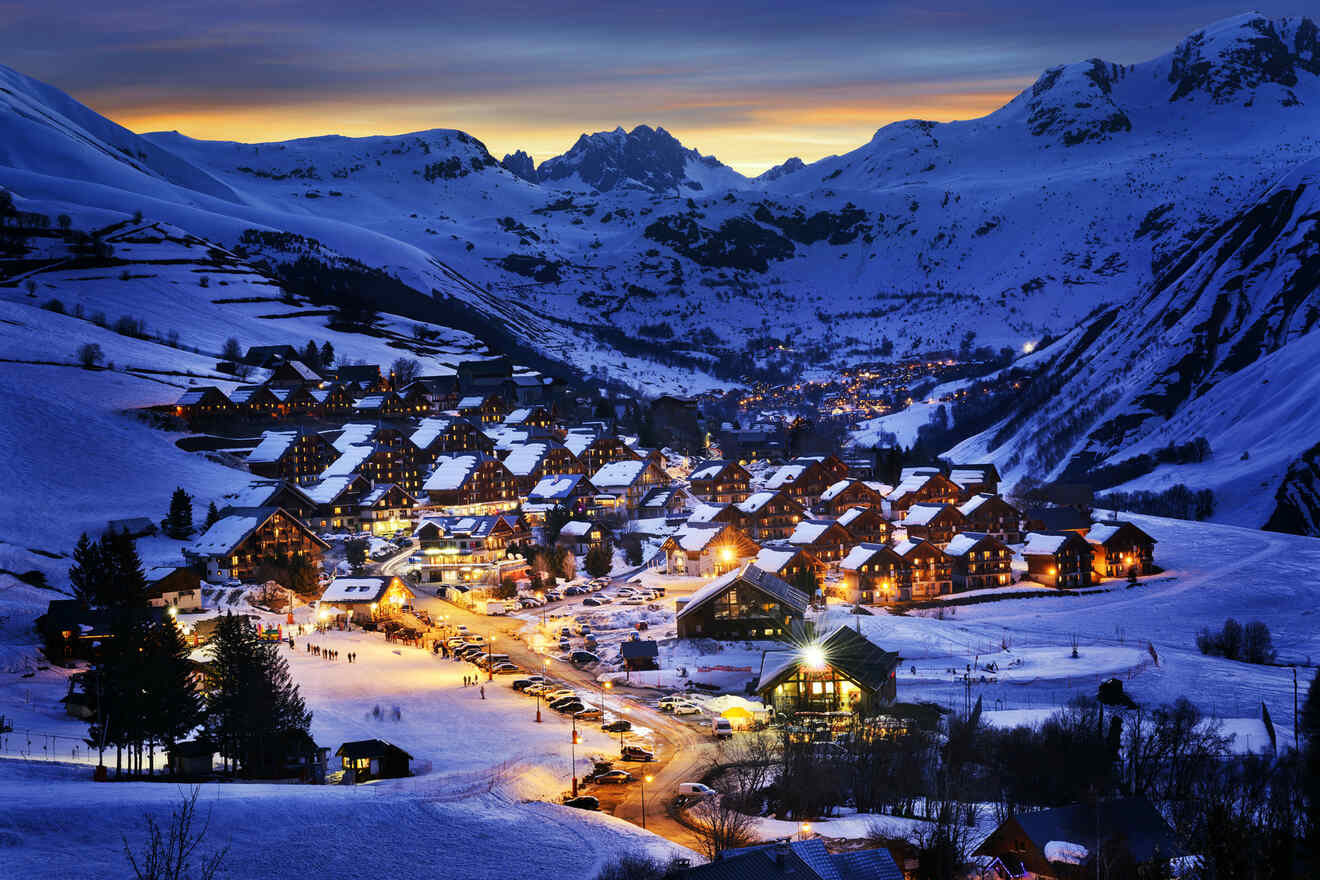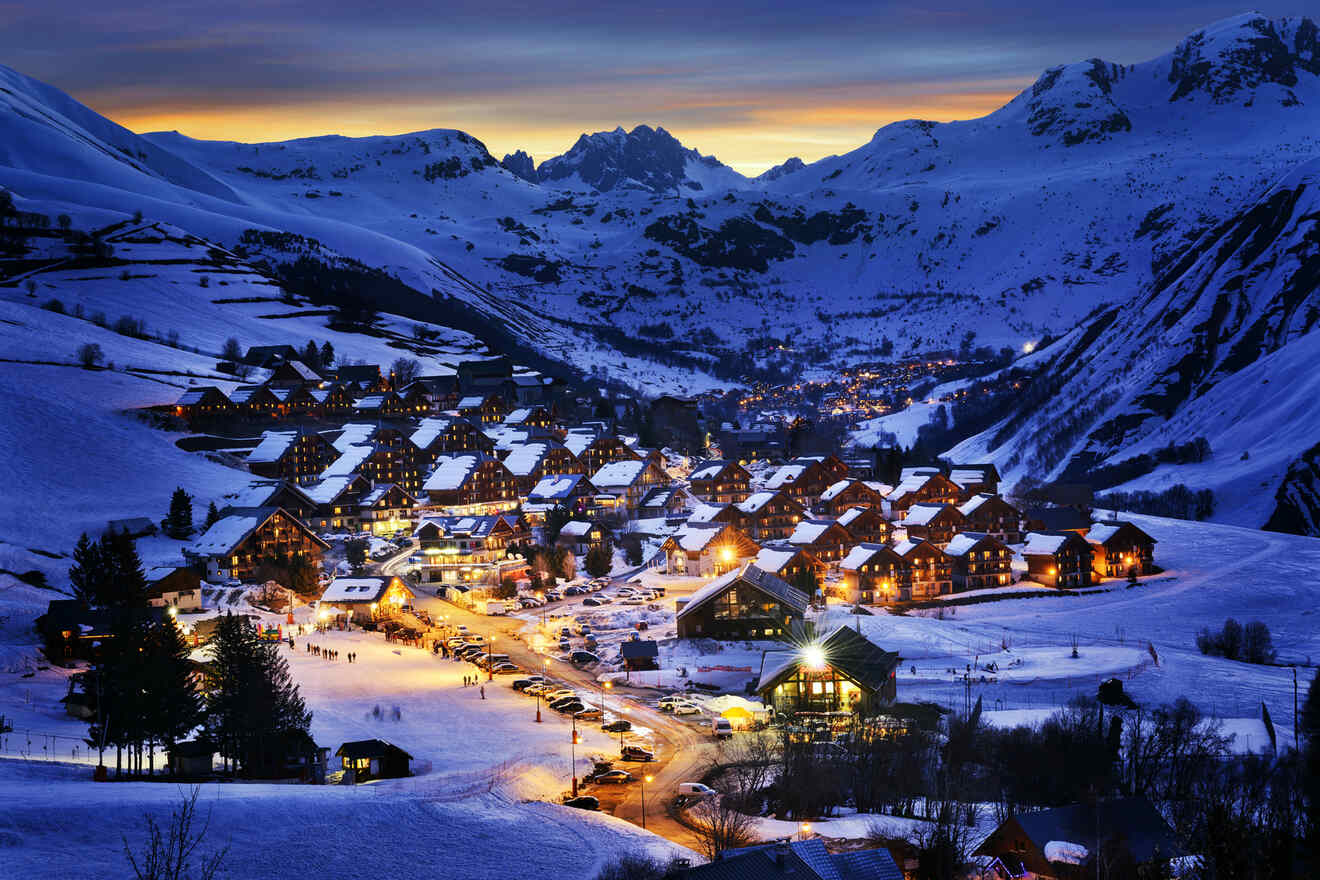 Let's finish this post with a bang!
Welcome to the French Alps, home to the highest mountains in Western Europe and truly a dream destination for outdoor enthusiasts! Although you can visit the French Alps during the summer for some incredible hiking and climbing, I think their beauty is highlighted best when the snow sticks to the ground.
The French Alps are packed with snow sports. After all, they hosted the first ever Winter Olympics here in Chamonix!
It's not only all the activities that bring people here, the landscapes are simply breathtaking. Their crystal clear lakes, pristine forests, and majestic mountains will have you fall in love with the place and want to move here (in fact, one of our team members did just that)!
Still, let's not forget that we're in France, so you'll still see some grand castles overlooking the beautiful mountains.
Another thing that brings tourists from all over the world to visit the French Alps is the tranquil atmosphere. The fresh air, spa centers, and peaceful sites are just some of the perks that you'll encounter here!
Other accommodation options in the French Alpes
Things to do in the French Alps
Visit Chamonix to go skiing
Spot Mont Blanc
Explore the beautiful old town in Annecy
Go hiking in the Vercors Regional Natural Park
Admire the art at Musée de l'Ancien Évêché in Grenoble
Take the Aiguille du Midi cable car to 3,842m
Relax in the famous resort town Aix-les-Bains
FAQs about hotels in France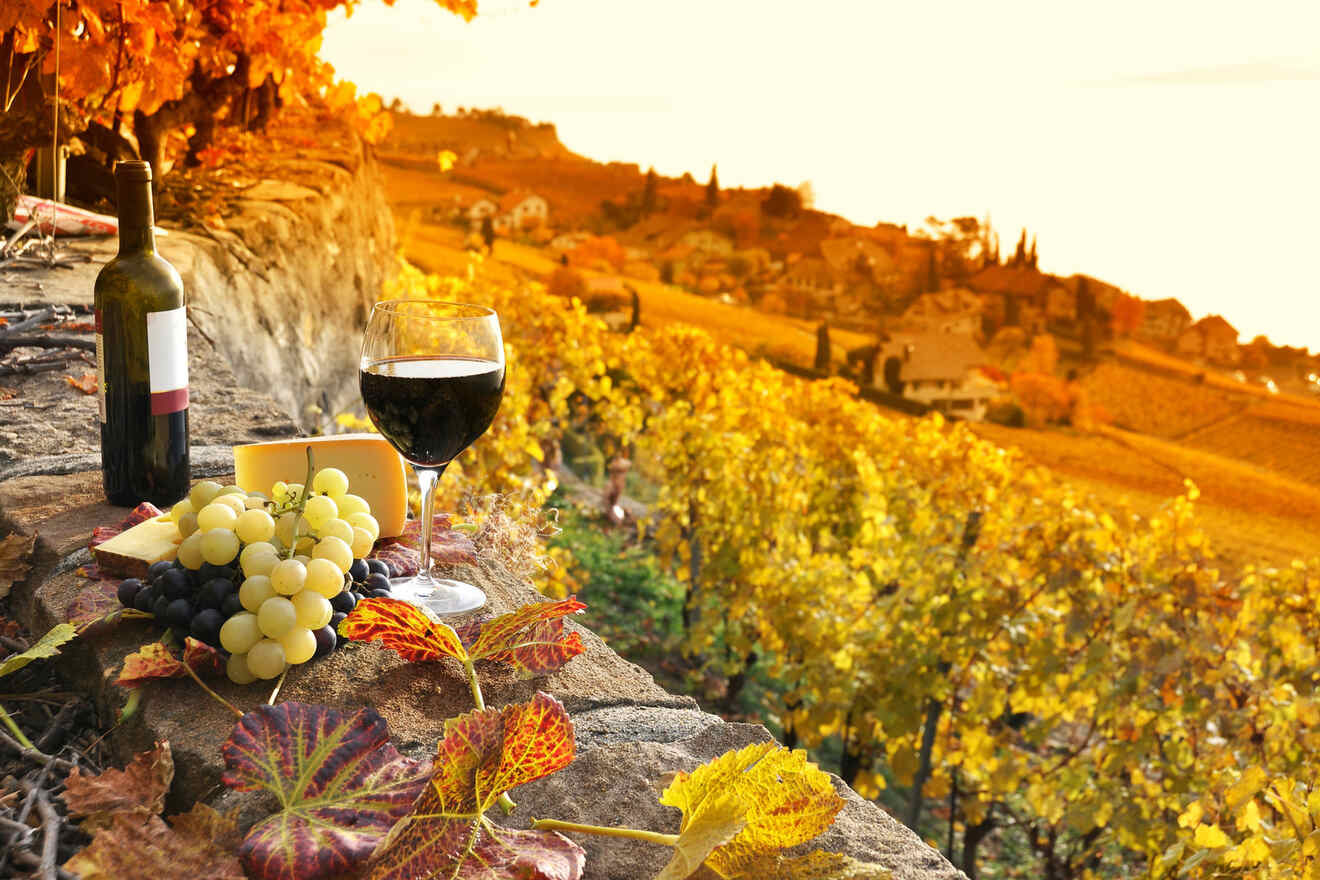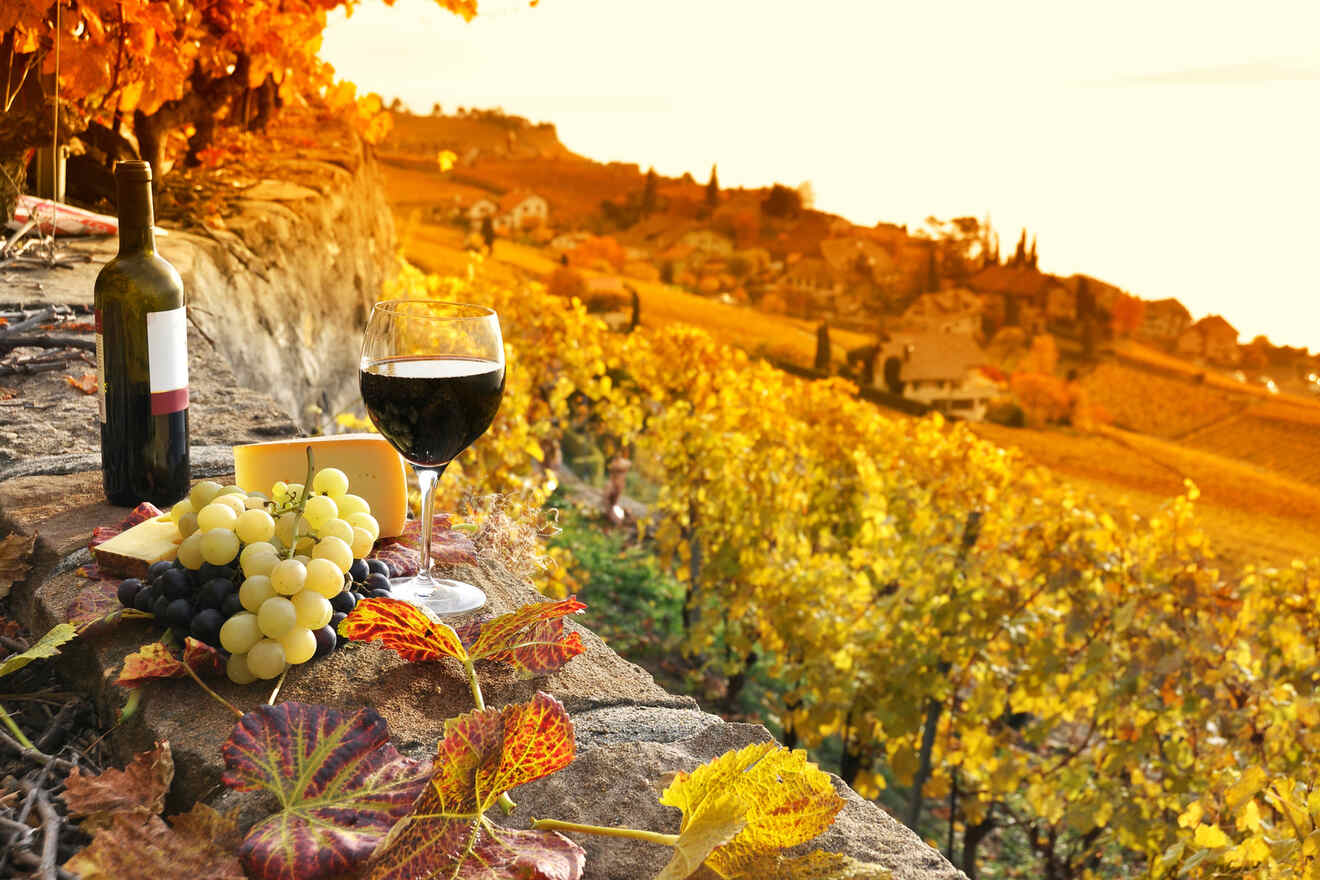 Conclusion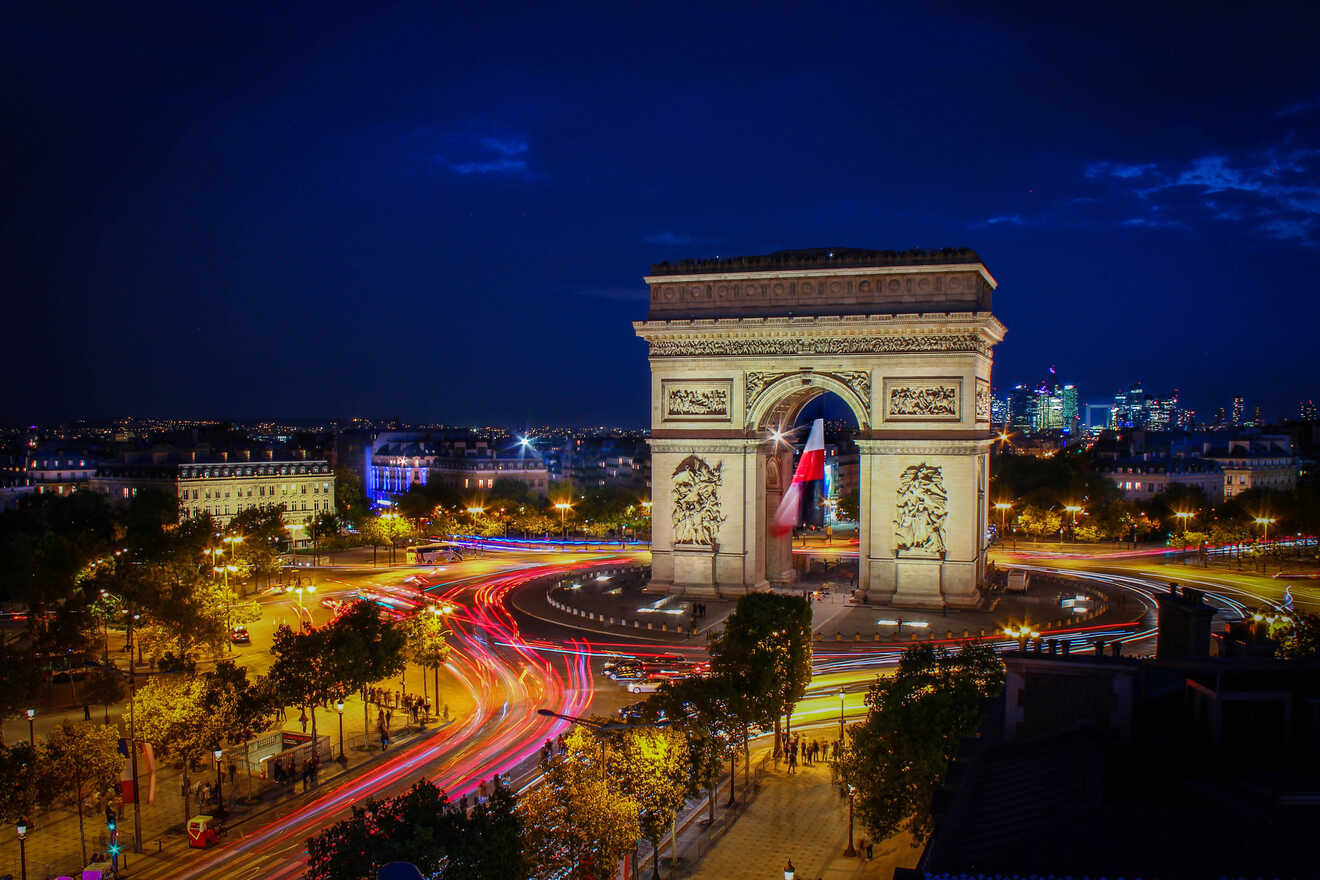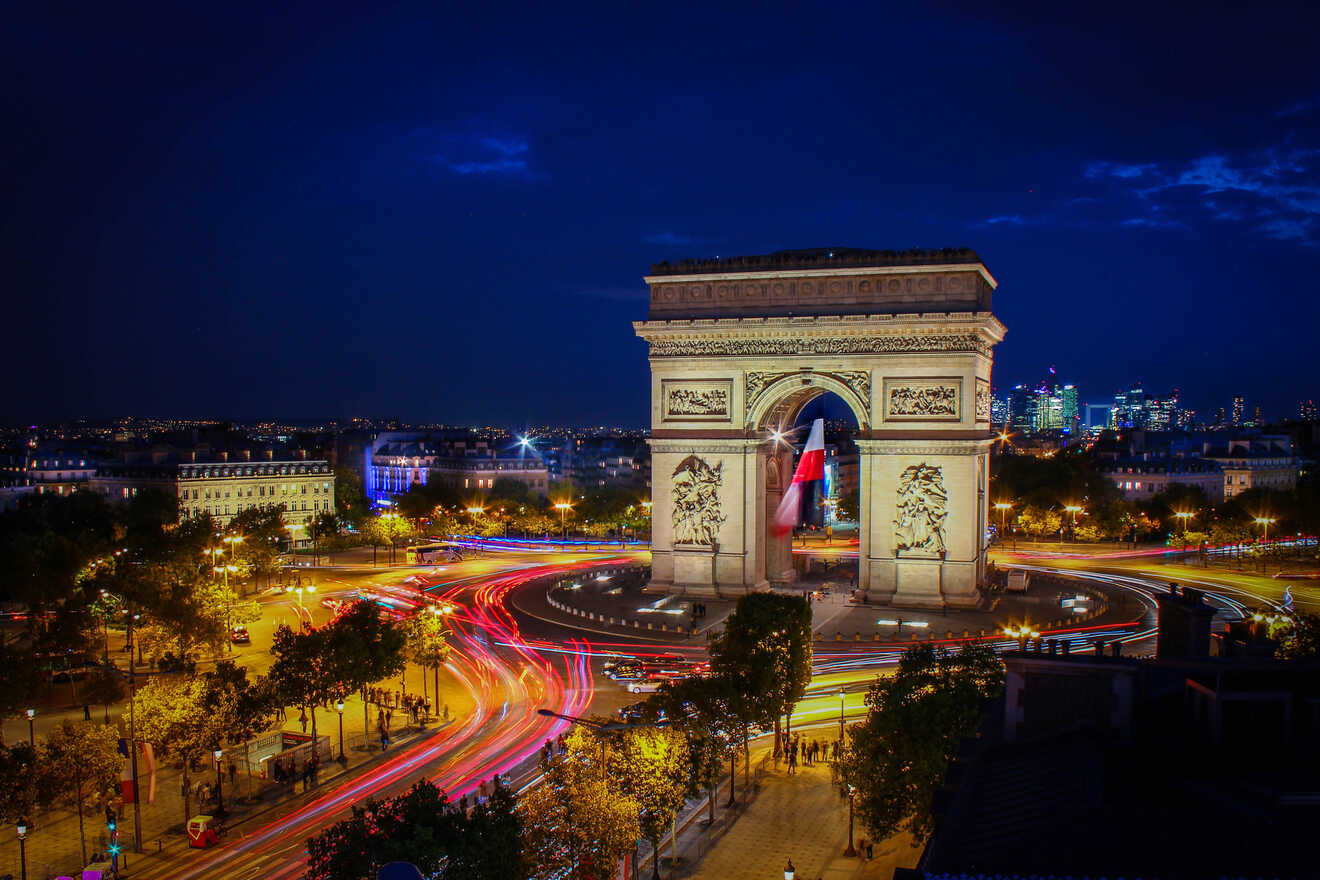 Already decided which cities you'll stay in France? Well, I was sure that after reading this post, you'll know exactly what to do!
Now we've gone through all the best cities where to stay in France, plus a list of hotels in each place!
With so many things to choose from, I'm sure that picking the best hotel won't be easy, but fear not, I'm here to help you as much as I can. So here are my 2 favorite options, both located in central Paris:
Shangri-La Paris – This fabulous hotel features elegantly-decorated rooms with Eiffel Tower views, an outdoor pool, and a Michelin-star restaurant
B Montmartre – With a charming design and a great location (with metro connections) this hotel offers room service and a bar
As I mentioned, these are the most popular cities to stay in France. Book your hotels as soon as you can, because this country gets so many tourists from all around the world!
Voila! We've reached the end of our guide with the best places to stay in France! That was so much fun, but if I missed something, pop a comment below, and I'll answer as soon as I can!
Safe travels,
Victoria
---