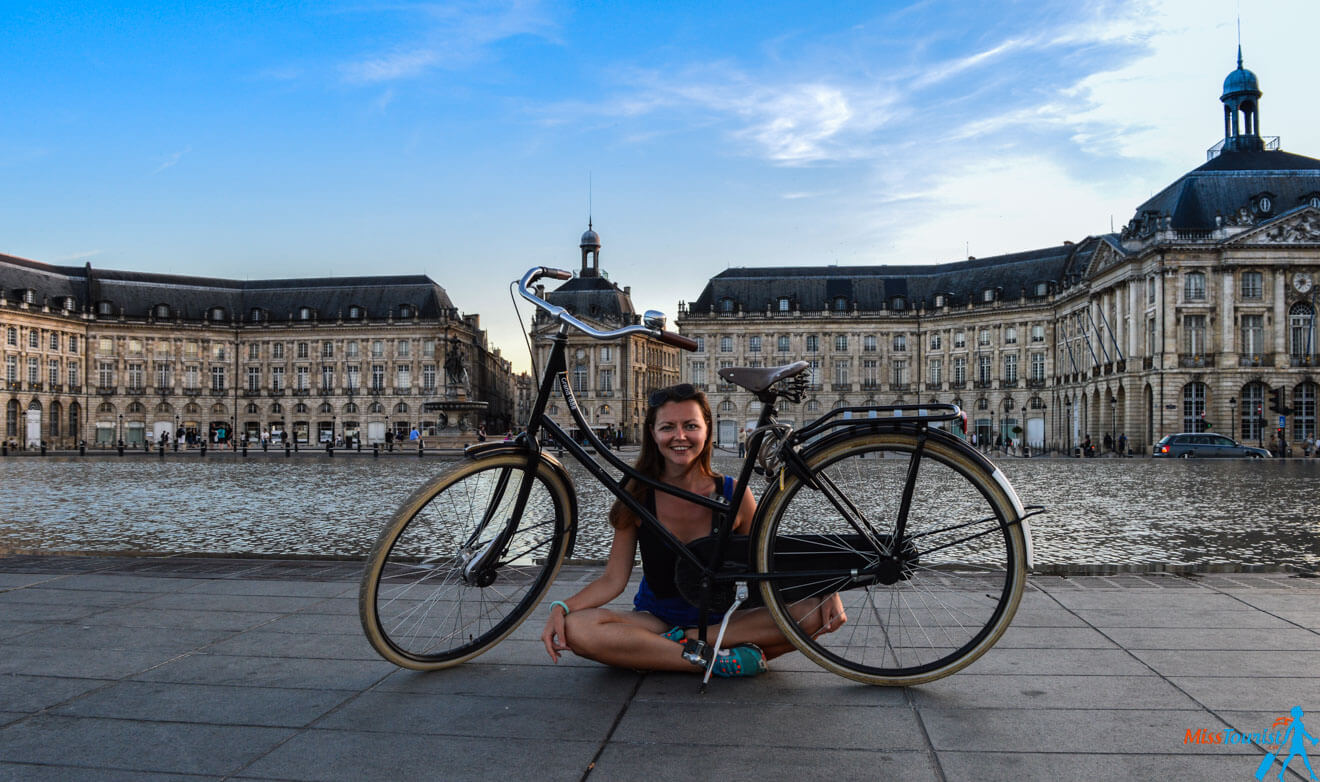 Bordeaux sits on the Garonne river and is an excellent place for all travelers and of course…wine lovers. It is a great destination but finding where to stay in Bordeaux is crucial to make this experience an unforgettable one!
Luckily for you, I'm here to help you find where to stay in Bordeaux! In this post I will talk about the best 6 neighborhoods in the city; Chartrons, Gare Saint-Jean and Saint Michel, Bastide, Bordeaux-Lac, and Bassins à Flot. They all have their own charm and some of them are very close to the city center, I'm sure you will find something perfect for your needs and budget!
Overall, the best neighborhood to stay in Bordeaux is Bordeaux Historic District where you will find historic buildings, major sights, and an excellent base location to explore the whole Bordeaux wine region!
If that does not convince you, I also added a few bonus sections where you will find the best hotels for families, where to stay near the airport, and my favorite: the best winery hotels. I couldn't leave the wine aficionados behind!
It is truly an incredible place, and of course where many people want to stay, so I recommend booking your favorite place as soon as you find it!
Okay, okay… I will start with juicy information about the best hotels. Let's go!
If you are in a hurry…
Are you ready to visit spots like La Cité du Vin, the Botanical Gardens, and the Grand Théâtre, or you are ready to discover that this city is more than just wine, here are the best hotels in the city:
Here is a map to better visualize the best areas to stay in Bordeaux:
1. Bordeaux Historic District – where to stay for first timers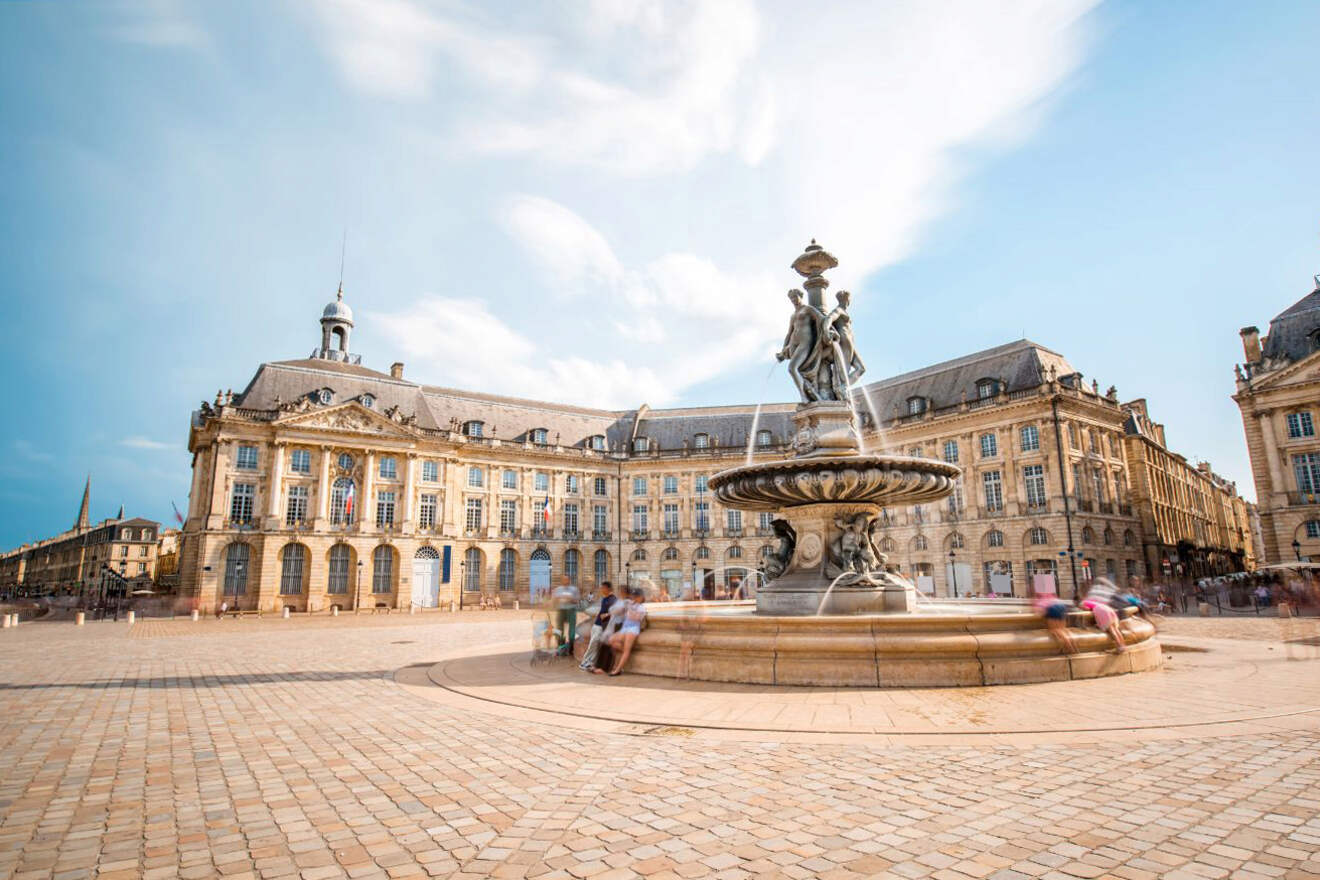 Known as the heart of the city, Bordeaux Historic District (commonly referred to as Vieux Bordeaux), is a mix of vibrant, lively squares and many famous tourist attractions and historic monuments, making it the perfect place to stay for the majority of tourists.
But don't think that is all! If you are looking for incredible options to grab a bite, the historic center is also full of top restaurants, cocktail bars, and cafés. Since I don't want you to wander around and lose precious time you could use exploring the city, let me tell you where the good places are…
You have to visit Place Fernand Lafargue, especially rue Saint James where you will find many options for an evening out! Do you prefer a little bit more fun? Then I recommend rue Parlement Saint Pierre and Parlement Sainte Catherine street; the best bars are here! But be careful; I don't want you to lose the following day curing your hangover 😉
Okay, I know a night out is not for everyone so here you can also visit Bordeaux Cathedral or the Town Hall, have a pleasant stroll on the promenade of the Garonne River (you might feel you are in an episode of Bridgeton) – and finish your day with a shopping spree on rue Sainte Catherine, the longest pedestrian shopping street in Europe or at the world's largest reflecting pool, Miroir d'Eau!
These are just some of the best things to do in Bordeaux but let's not waste any more time, you need to pick a hotel from below!
Other options in Bordeaux Historic Center
2. Chartrons – top area in Bordeaux for luxury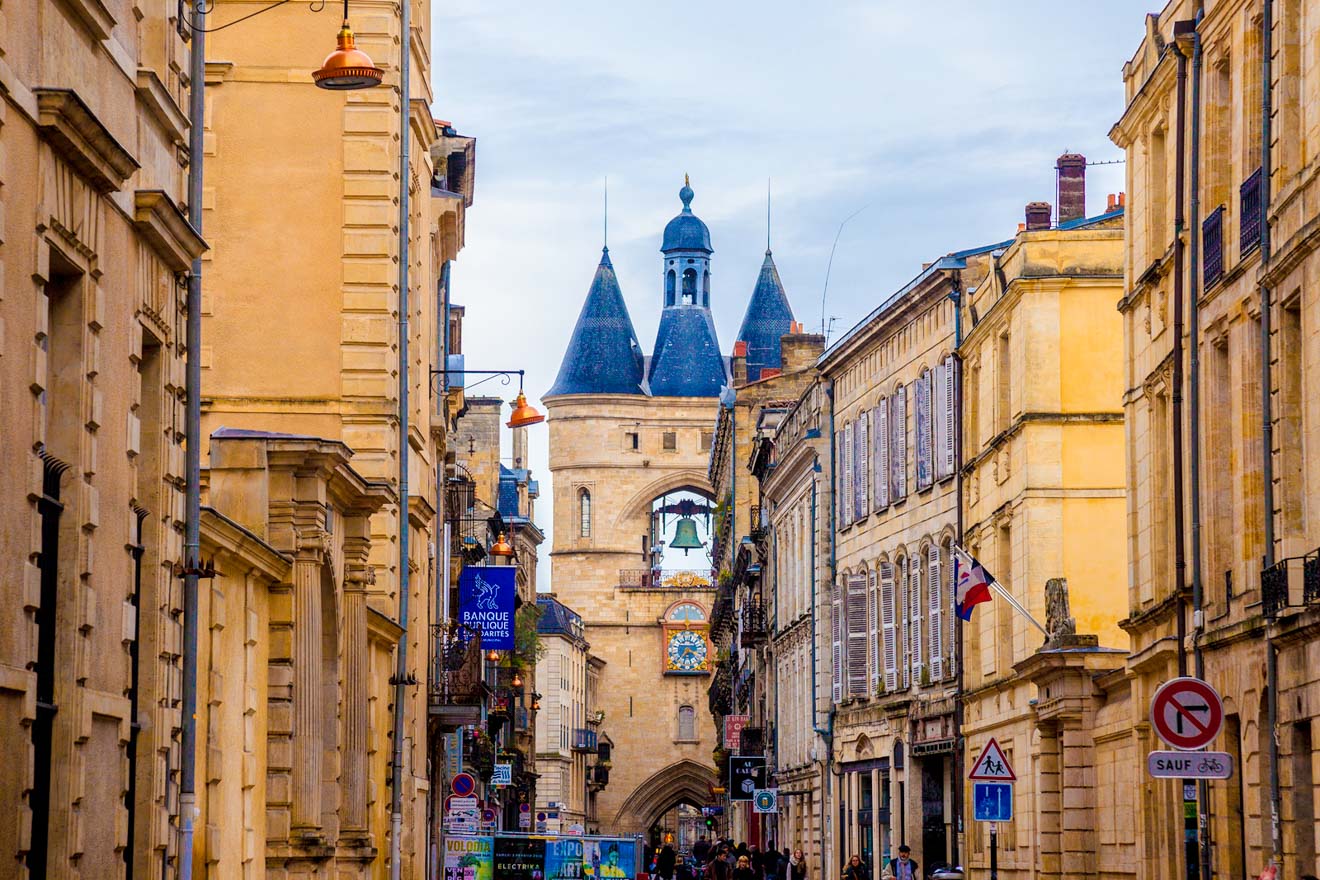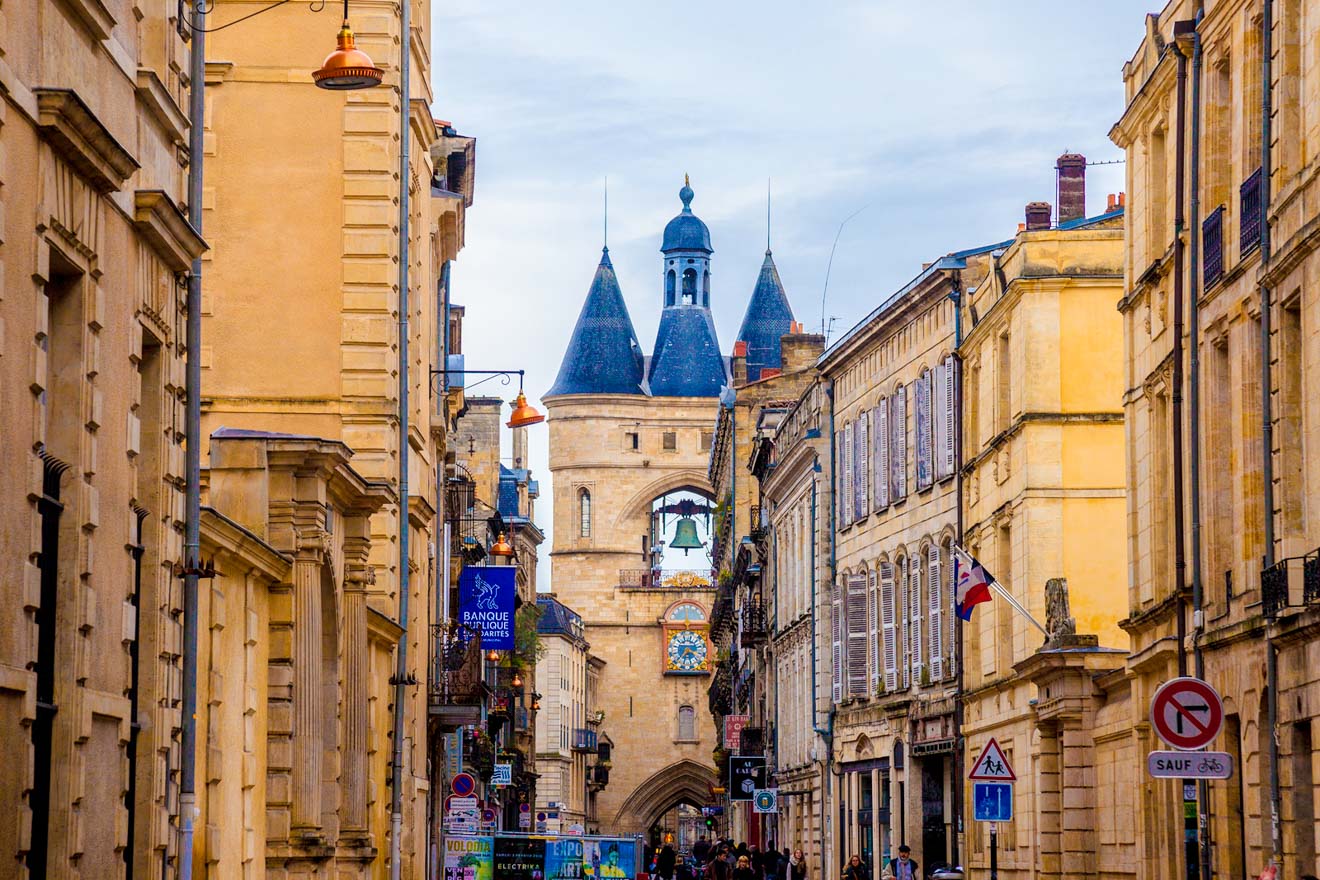 The Chartrons district is quite extensive and is known to be a unique and chic neighborhood, different from all the areas in Bordeaux.
Located right next to the riverfront and around the rue Notre Dame, one of Bordeaux's elegant streets, you might not even know that this area was once an area full of warehouses. But, luckily for us, it was turned into this super upscale neighborhood with a charming and relaxed vibe.
If you happen to stay here on a weekend, on Sundays a big market takes place on Quai des Chartrons. This is such a highlight even for both tourists and locals alike, I highly recommend you go along and buy yourself some delicious local cheese and wine!
Do you think this is the neighborhood you want to stay in Bordeaux? Here is the list of the best hotels in the area:
Other accommodation options in Chartrons
3. Gare Saint-Jean & Saint Michel – near the train station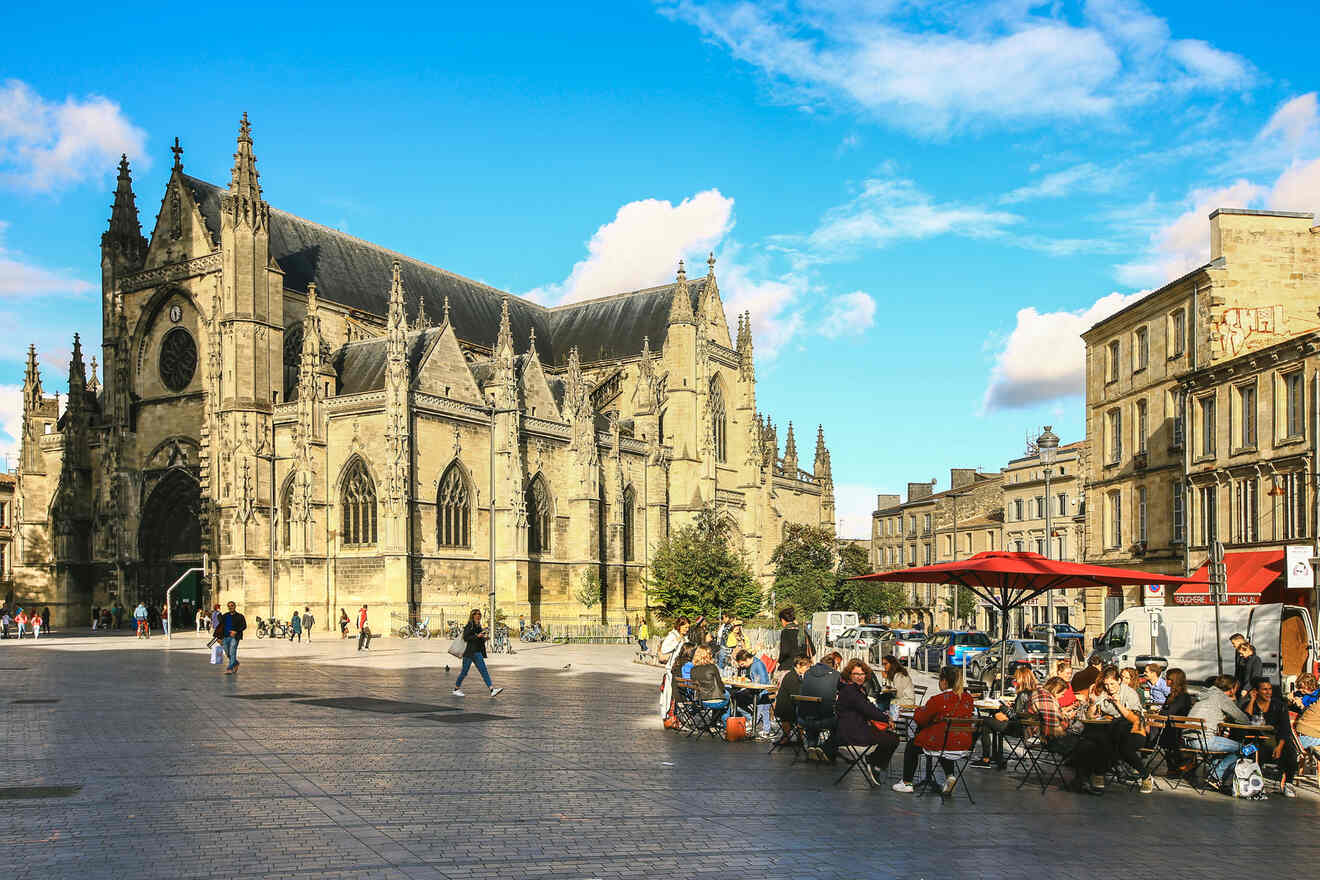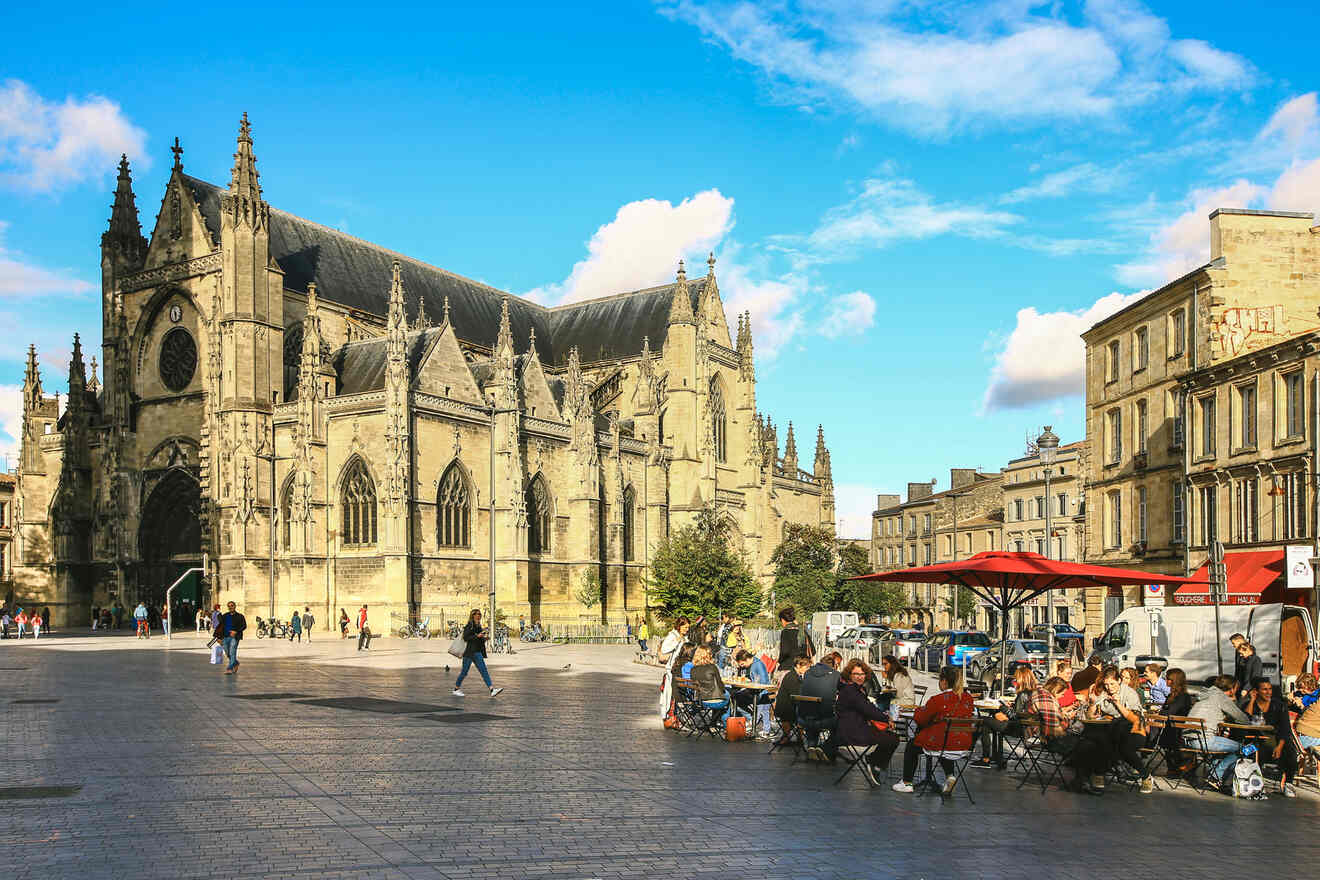 Catching a train in the early morning to go off and explore the rest of France? This is the best area to stay in near the train station in Bordeaux! But not only is Gare Saint-Jean a practical neighborhood since the train station is located here, but it is also much more affordable than downtown Bordeaux.
As time passes by, this area is becoming more and more popular. Quai des Paludate is known to be home to some of Bordeaux's nightclubs and to the new Boca food market, so don't worry, you will have a lot of fun options here!
Next to Gare Saint-Jean, you can find Saint Michel! This is the perfect spot if you are looking for a local vibe and a place to relax. How contradictory, right? Well… this is what you will find in this area: calm and noisy, traditional and modern – how cool!
The Saint-Michel area is where the Saint Michel Basilica and Saint Michel Spire are! When you see the incredible architecture, you will understand why this city is now a UNESCO World Heritage site! After that, you can also visit the Musée des Beaux-Arts!
Other options in Gare Saint-Jean & Saint Michel
4. Bastide – where to stay in Bordeaux for relaxation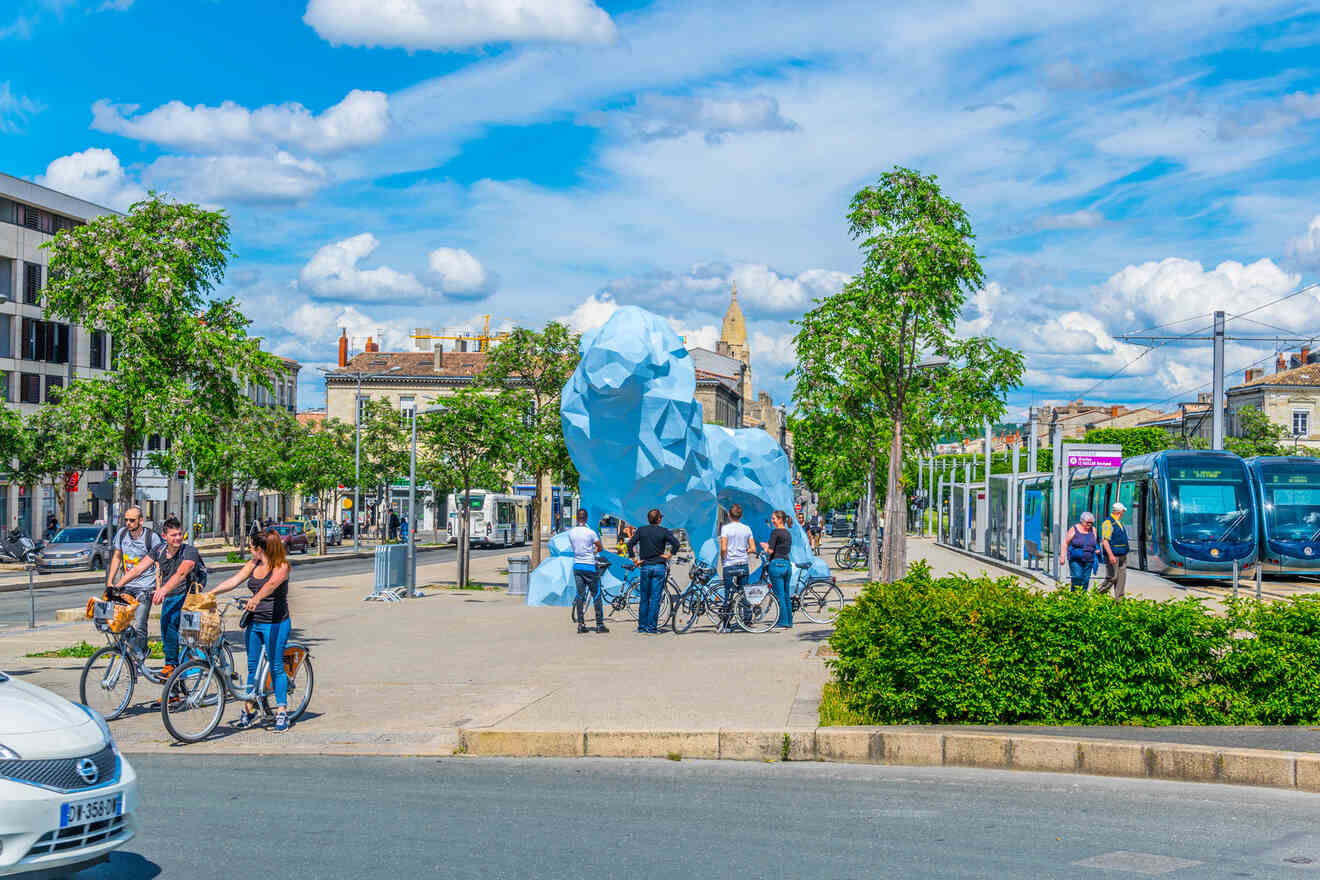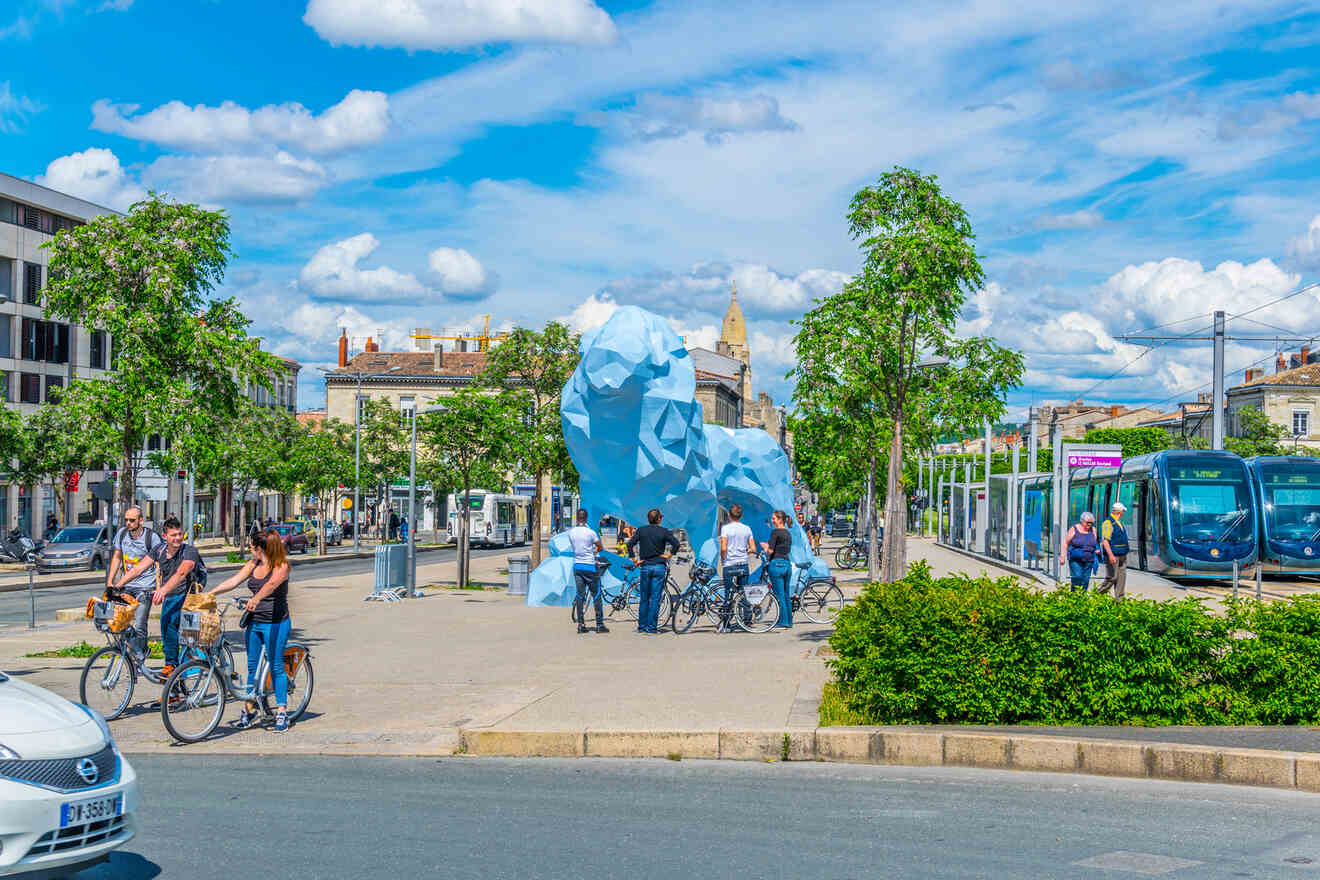 You might think all the attractions are on the West side (Rive Gauche) of the Garonne, and you are right! BUT, truth be told, Rive Droite, where Bastide is located, still has its own charm, and in recent years it has transformed into a hip area where many tourists and locals love to spend a relaxing weekend.
Although this is always a charming neighborhood, I mostly recommend this neighborhood from May to October since this is when it becomes a vast green patio, and all summer bars and restaurants on the riverfront are open.
Another great perk of staying in Bastide is that the accommodation options are way cheaper than in the rest of the city, but do not worry, you can still easily get to the city center on Tram A.
If you like what you are reading, here are the best hotel options in the area:
Other accommodation options in Bastide
5. Bordeaux-Lac – best place to stay for families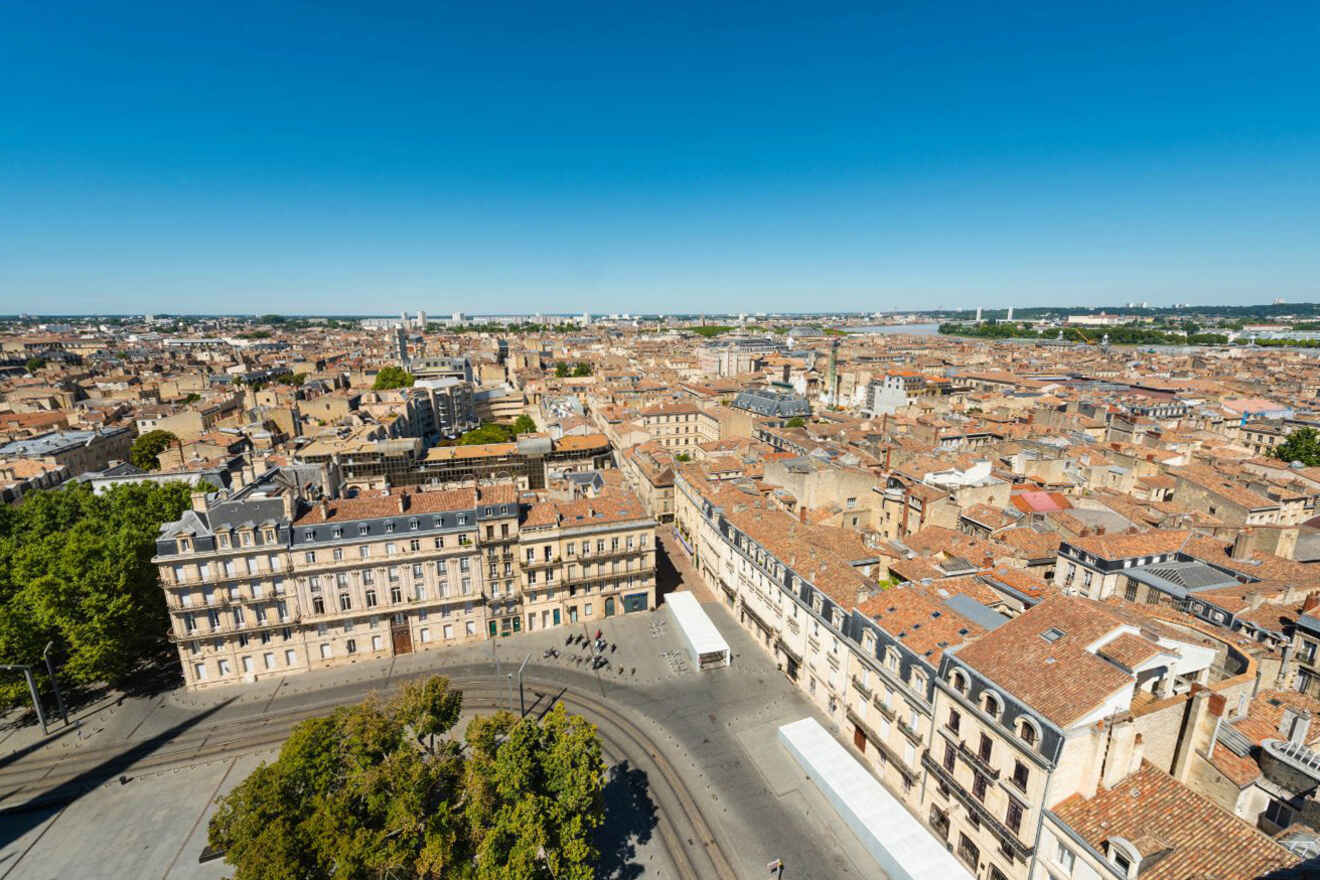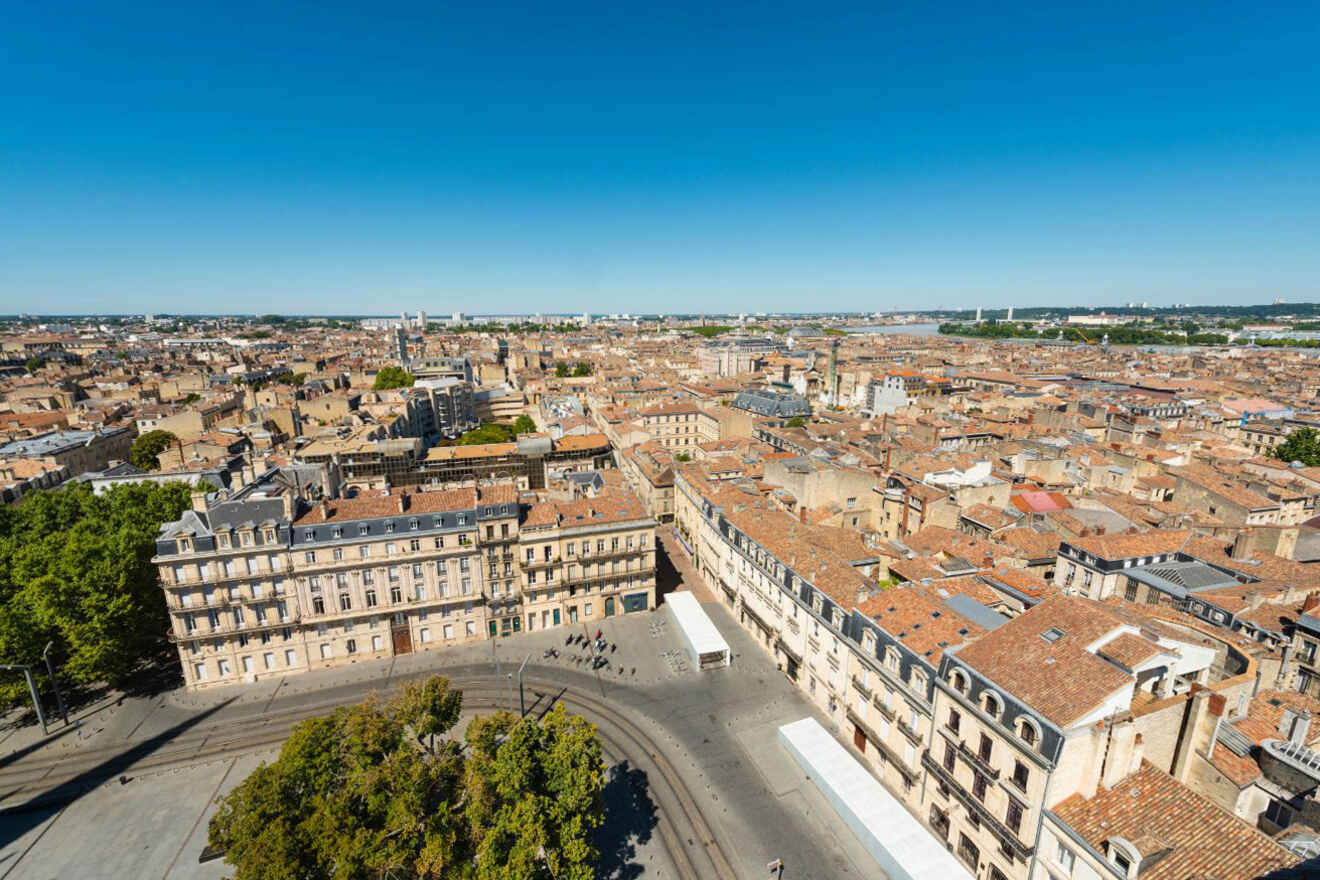 Located in the northern part of Bordeaux, this area is known for Parc Des Expositions, where many of Bordeaux's fairs take place!
As its name suggests, Bordeaux-Lac has a big lake with a beach open to the public during summer! So pack your swimsuit and get ready to dive before exploring this city's incredible places or take a break from all the city's hectic activities!
I think it's pretty clear why this is an incredible neighborhood for families visiting Bordeaux!
But that is not it, if you have more energy to keep shopping, Bordeaux-Lac has one of the biggest shopping centers in the region too!
Other accommodation options in Bordeaux-Lac
6. Bassins à Flot – best area in Bordeaux for a trendy vibe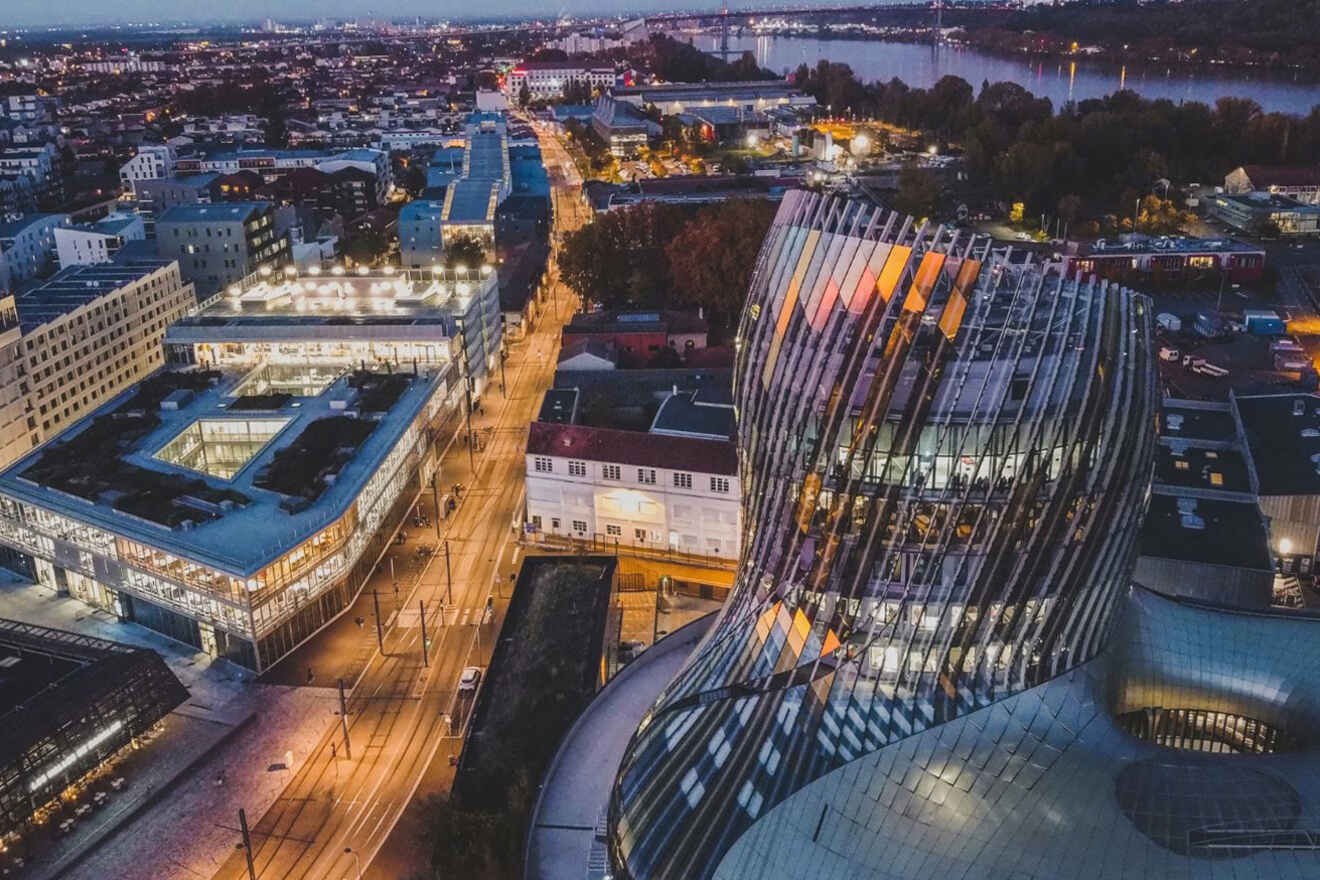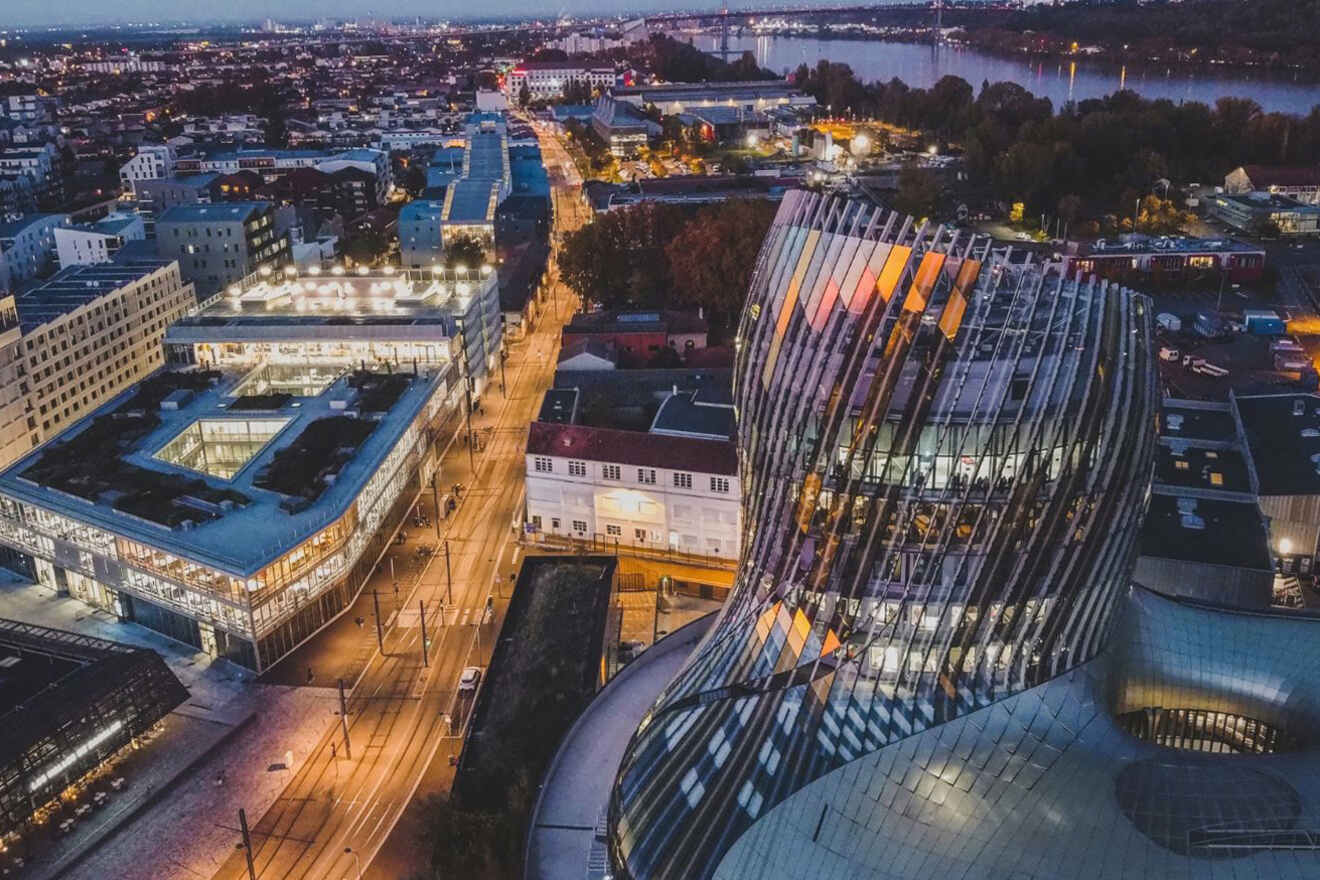 Known for its maritime vibe, Bassins à Flot was an area that welcomed all the sailors in the world and the biggest ships, making it a significant industrial hub! This historic site has kept the old vibe, making it stand out from the rest of Bordeaux.
One place that makes this area one of a kind is the river, which gives this neighborhood a unique character. But what I think makes this place so trendy is the fact that the neighborhood is undergoing vast transformations, becoming a diverse area that combines heritage and the future portrayed in its architecture.
If you visit this neighborhood, I recommend going on a stroll through the paths, and you'll see what I'm talking about. The area's architectural heritage and the maritime past, like cranes, barges, rails, and silos add such a unique twist on what you thought Bordeaux was all about.
Other accommodation options in Bassins à Flot
BONUS 1: best accommodation for families in Bordeaux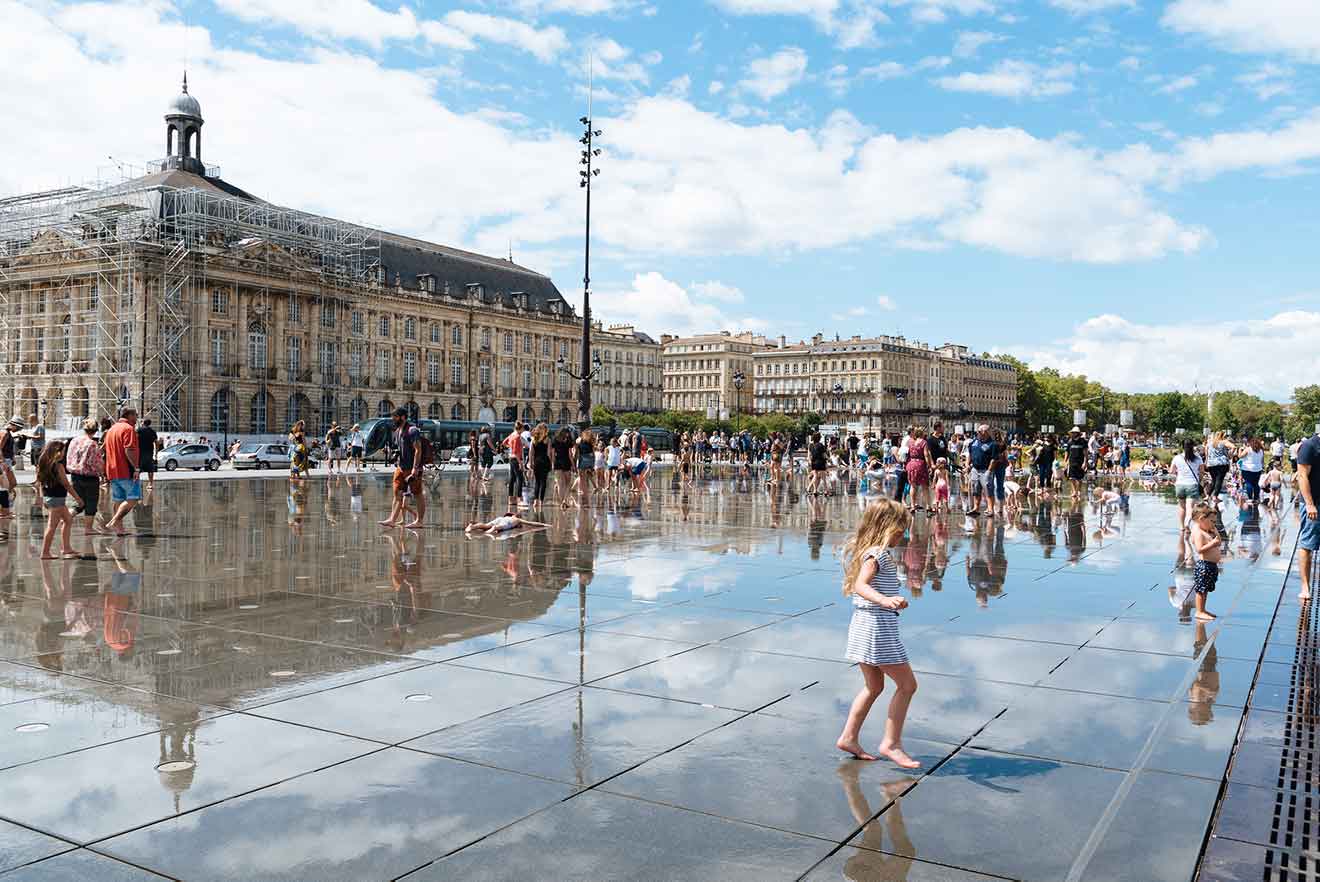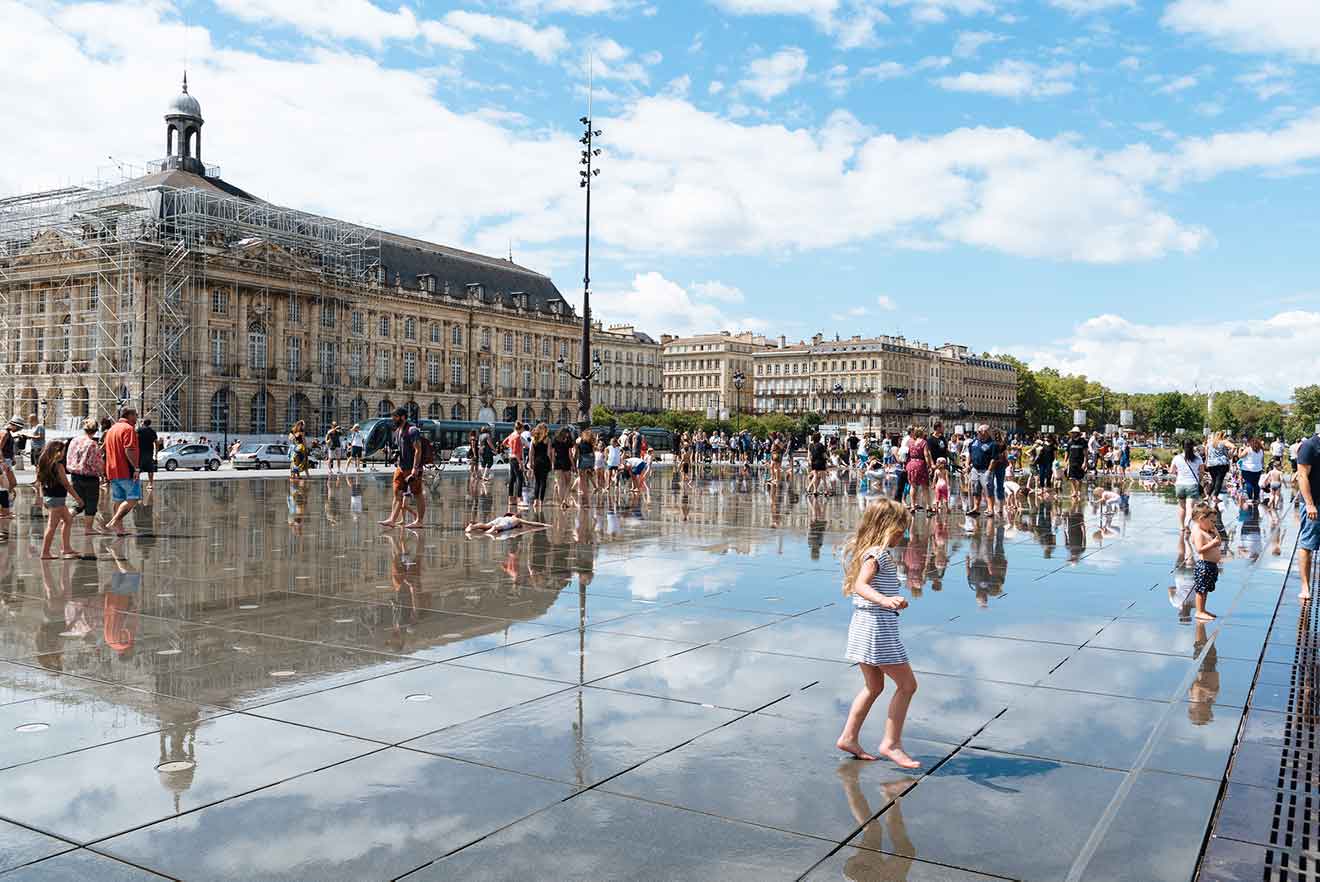 Are you planning on traveling with your family to Bordeaux? No problem! Let me share with you some amazing Bordeaux family accommodations with all the needed facilities and amenities you could think of. And, of course, all of them are located in the city center for your convenience!
I've chosen one for each budget, check them out below and pick your favorite:
Luxury: InterContinental Le Grand Hotel Bordeaux – This accommodation is a top boutique hotel in Bordeaux located right in the historic area of Bordeaux. This 5-star hotel provides luxury facilities, a unique contemporary room design, and great service. Book your room at the Grand Hotel if you want to enjoy beautiful rooms and the top service during your travel vacation!
Mid Range: B&B La Maison Galiène – This bed and breakfast is ideally located in the city center near antique shops, wine bars, and restaurants, so I'm sure you won't get bored! Other perks of staying in this boutique hotel include the airport shuttle, free parking, and, if the WHOLE family is traveling (including your pets), this property welcomes pets!
Budget: Gabylou – When writing the description of this hotel, I was confused about whether I was describing a luxury hotel or a cheap one! This apartment offers excellent family rooms, a fully equipped kitchen, a dining area, and even board games for the little ones. Plus, there is a fishing site nearby!
Check the rates for Bordeaux here
BONUS 2: Best winery hotels in Bordeaux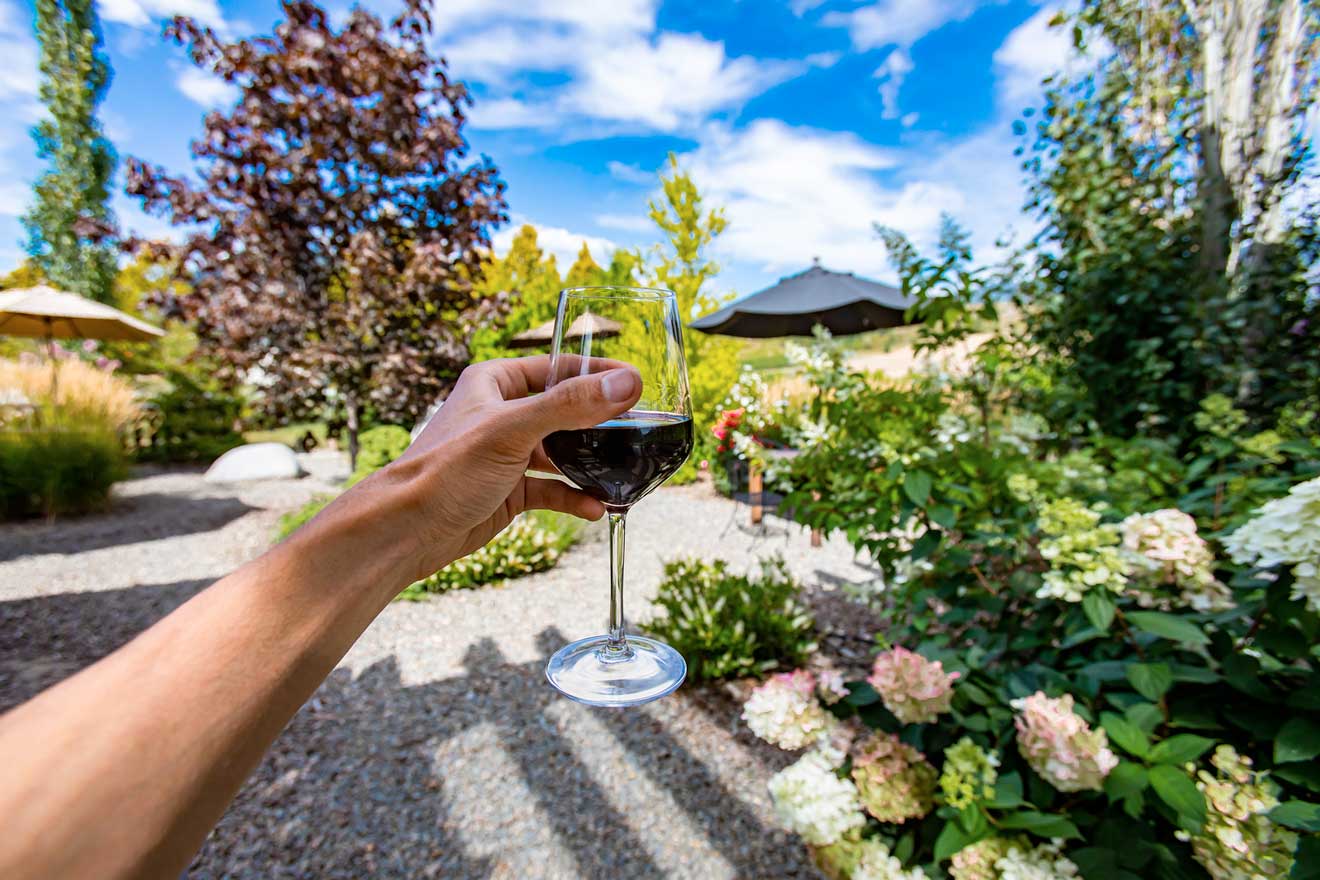 There are many reasons for visiting Bordeaux, but if you want to enjoy some authentic Bordeaux wine during your stay in France, then an excellent idea would be to get out of the city and stay in accommodation in the Bordeaux region, very close to the wineries and the best wine châteaux! Luckily for you, there are many awesome options for wine tasting!
Please note that these accommodations are NOT in the center or even the city of Bordeaux, so I recommend them to people looking for places to stay for the ultimate Bordeaux wine experience! These are also great if you rent a car during your vacation, as you'll be around 30 minutes to 1 hour from Bordeaux city!
Here are your top choices:
Les Sources des Caudalie – This beautiful 5-star chateau is excellent if you want to be 20 minutes from Bordeaux by car! It has superb rooms and is also one of the top options for enjoying some wine tasting in style!
La Closerie de Fronsac – This beautiful 17th-century mansion is located 75 km from Bordeaux, and it's a superb option if you want to be close to the vineyards and enjoy some delicious wine! You can stay here for years and just won't get bored!
Château du Tertre – Here's another superb château located 25 km from Bordeaux, and I recommend it to anyone that wants to enjoy some wine while exploring this beautiful region! Trust me, the rooms here are quite superb!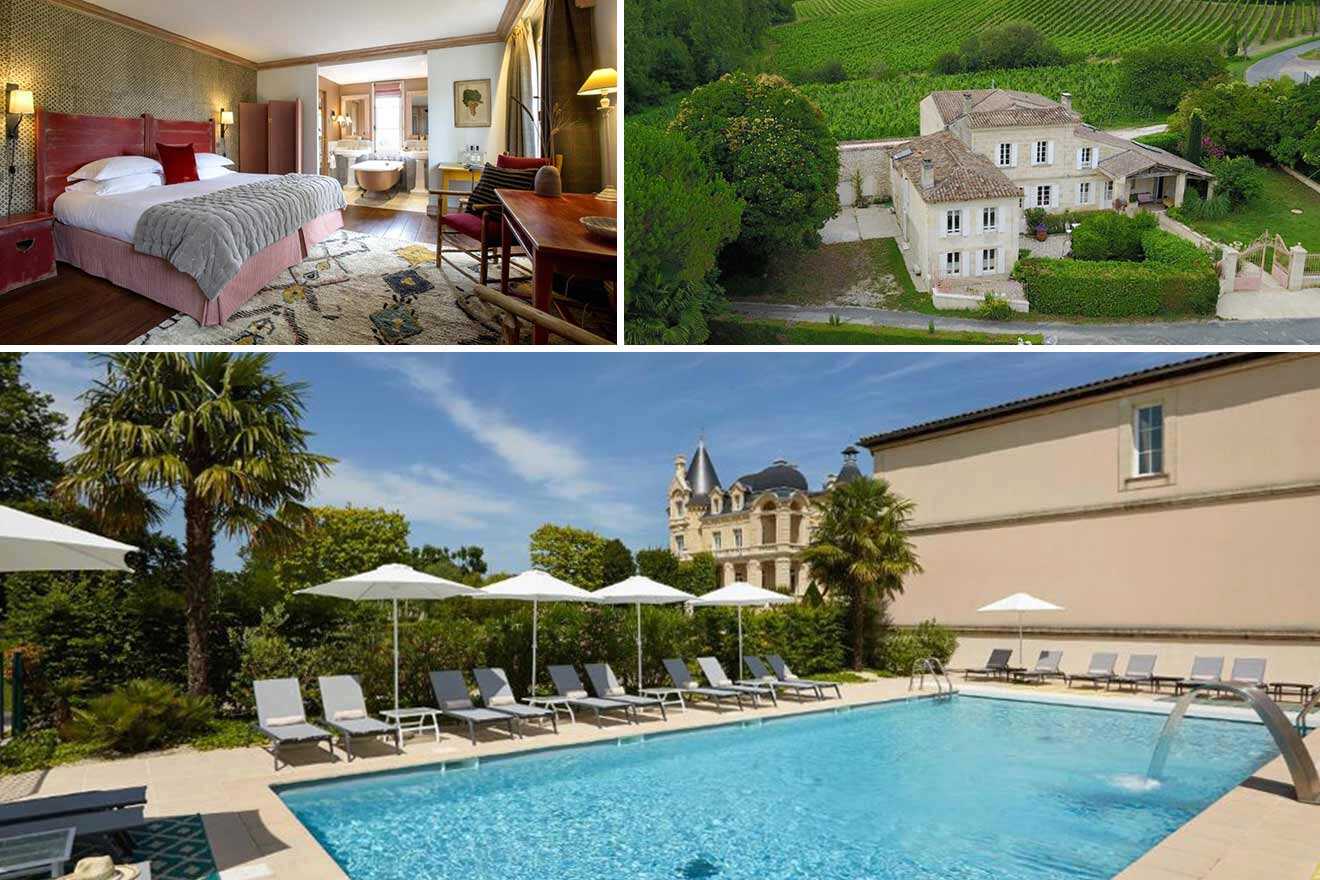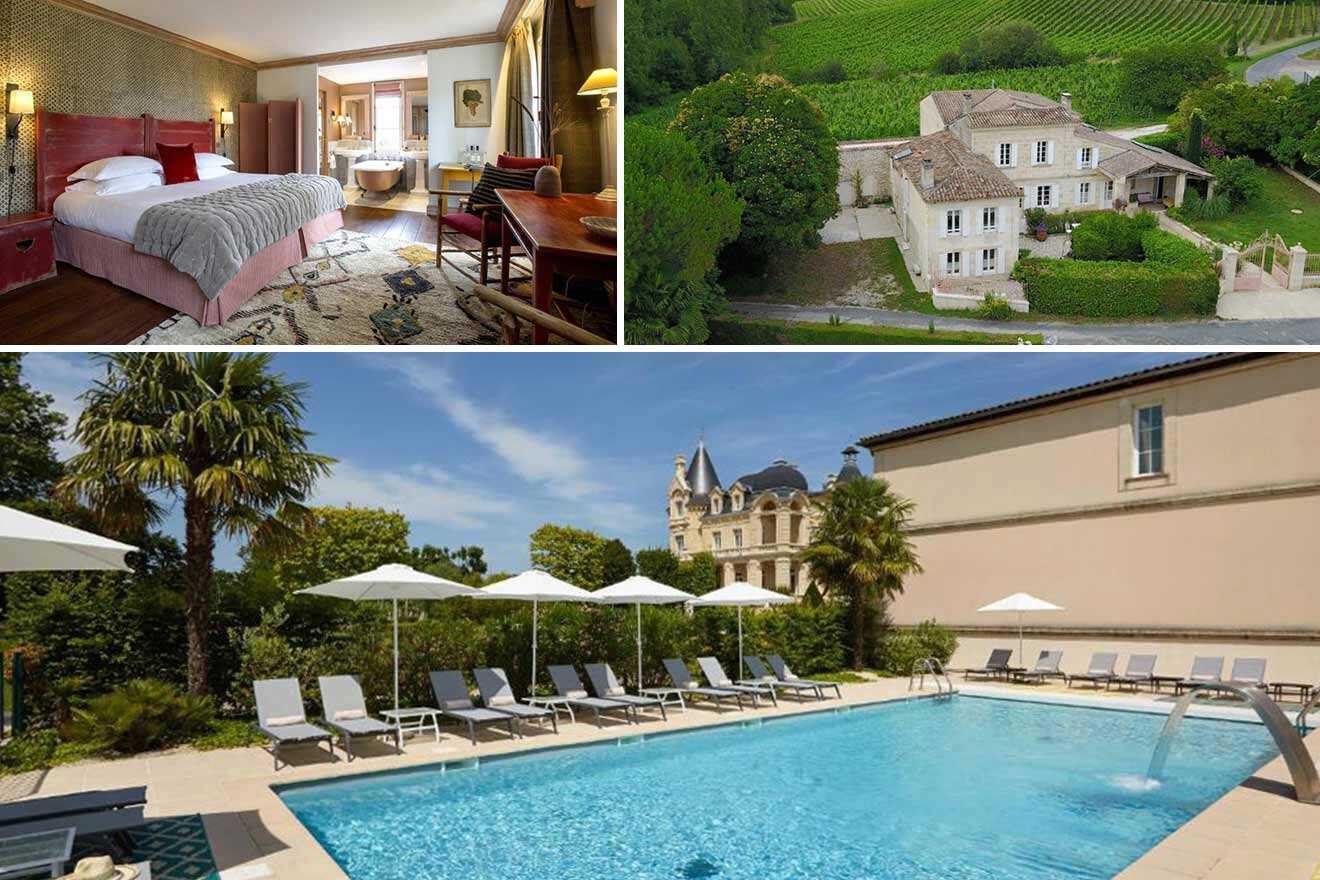 Château Hôtel Grand Barrail – If you're looking for a magnificent 5-star 19th-century chateau located 3 km from Saint Emilion, this one's for you! During your stay here, you can sip on wine, relax in the beautiful rooms in the village and try some yummy dishes!
Chateau Cordeillan-Bages – This 4-star mansion is a CASTLE! It is located in some former wine stores, 45 km from Bordeaux. The rooms are superb, and the service is impeccable! Just a quick note, this Chateaux closed during the winter.
Château Pape Clément – This superb 26th-century mansion is surrounded by no less than 60 hectares of vineyards and is located only 7 km from Bordeaux center! Book your stay here to enjoy beautiful rooms and delicious wine!
BONUS 3: Where to stay near Bordeaux Airport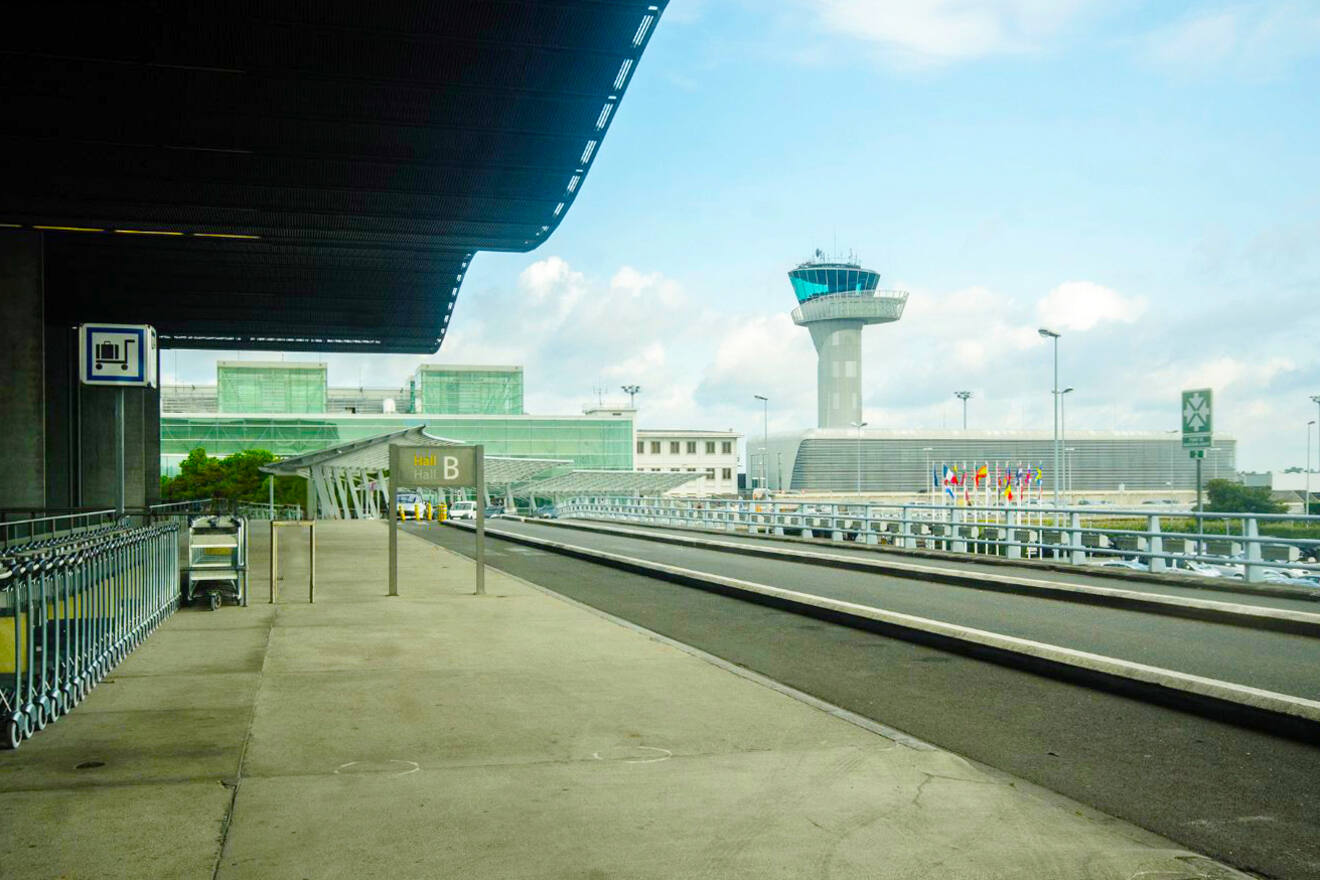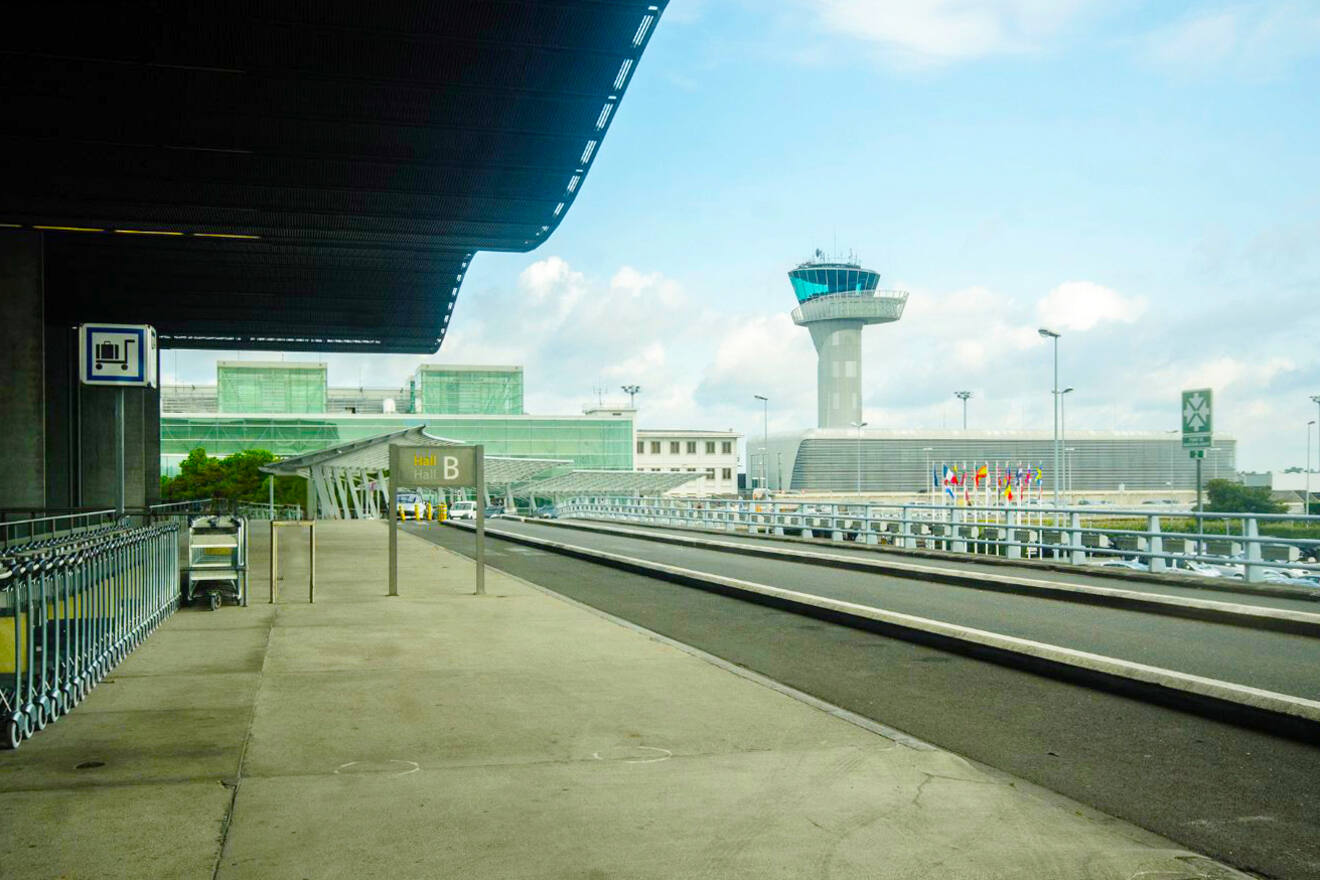 Maybe you are not completely convinced of the idea of staying in the city center or you have to catch an early morning flight. If this is the case, a very good idea might be for you to stay nearby the airport!
Bordeaux Airport (BOD) is around 20 km from the center, which means around 25 minutes by car with no traffic.
Let me share with you some hotels near Bordeaux airport, which are located in the Mérignac area. All of the options below have great facilities and reviews:
Luxury: Holiday Inn – With an indoor/outdoor pool open all year round, a fitness center and an onsite restaurant just 3km from the airport, this perfect 4-star hotel is a great place to stay to prepare or rejuvenate after a long flight before taking on the city.
Mid-range: Kyriad Prestige Bordeaux Aeroport – This awesome 4-star hotel is located 4.2 km from the airport and it offers an airport shuttle that you can use – so great! Some great facilities here include a swimming pool, an on-site bar, a restaurant, and more for very reasonable prices.
Budget: Green hotel Bordeaux – Just 800m from the airport this budget hotel is so close you could practically walk! But despite the cheap prices, you still have access to an onsite bar and restaurant, free parking, and beautifully decorated rooms.
Book your stay near Mérignac Airport here
FAQs about Bordeaux hotels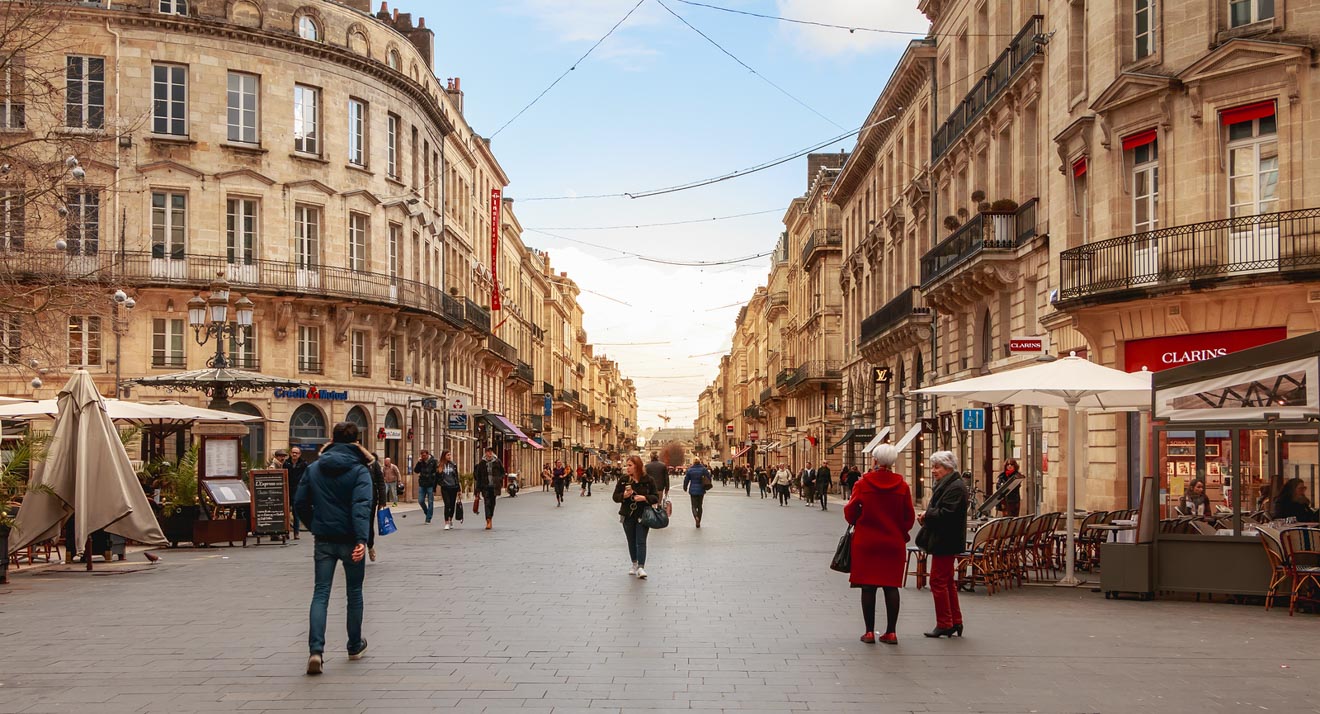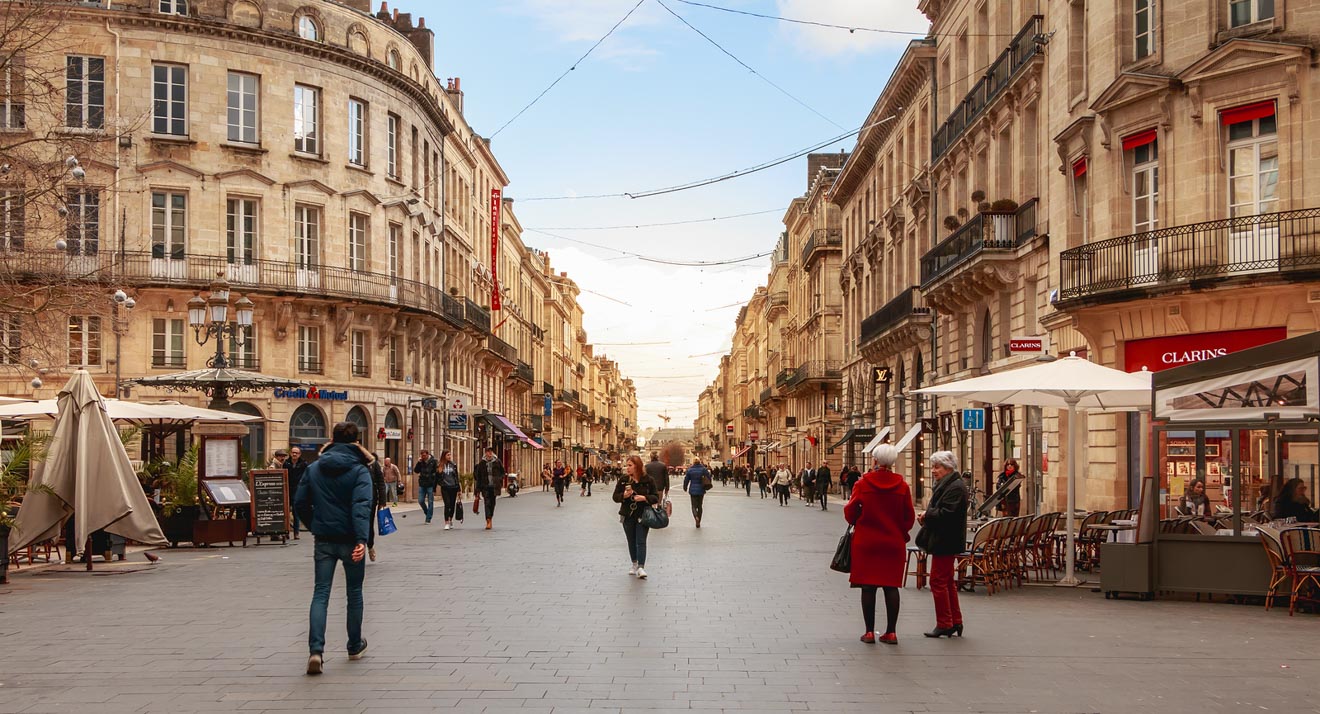 Conclusion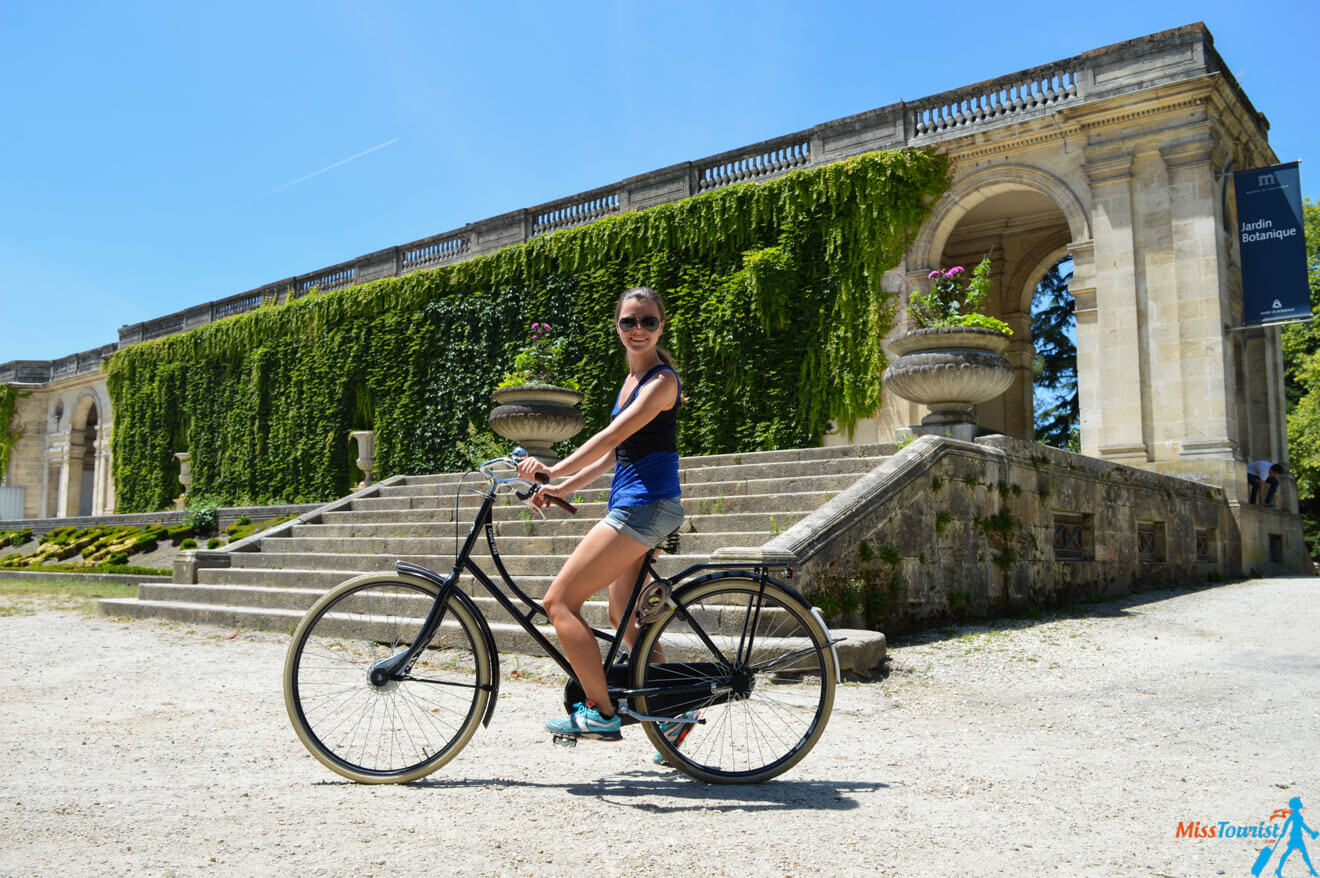 I hope now it will be easier for you to choose from the best places to stay in Bordeaux for your visit! The choice is yours, but I can assure you that your visit and stay in this city is entirely worth the time and money invested.
I hope I gave you some valuable advice in this article and you will use it the next time you travel to Bordeaux! If you need more travel inspiration for this wonderful city, I recommend you also check out my post on things to do in Bordeaux to complete your itinerary.
In case you still have some doubts about the best hotels to stay in Bordeaux, here are my top choices, but let me remind you that the best way to enjoy your trip is by booking in advance!
Chateau Grattequina Hotel – This luxury castle hotel will make you feel like a prince or princess during your stay!
La Petite Annick – I love unique places to stay and not much can top staying on a boat on the river!
If you have any further questions, please leave them below. I am more than happy to answer and help out!
I hope you have a great time in Bordeaux!
Yulia
---