If you like history and wine, Bordeaux is a great option for you!
If you have decided to go there, congrats! You will now need some great accommodation ideas for sure! In this article, I want to share with you my recommendations on the best hotels in Bordeaux.
Since the city is considerably big, I suggest choosing one of the hotels in Bordeaux city center, so you are a walking distance away from the old town and all the important local attractions!
Wondering how many days are worth spending on your visit? It really depends on what you are planning to do in the city. In order to get some inspiration for this, I suggest you check out my article about the top things to do in Bordeaux, based on my previous experience and the delighting trip I had there!
As for the perfect Bordeaux accommodation for your trip, let me help you narrow down your options. I have hand-picked the best options with fabulous reviews, facilities and sorted them by price so you can have a good view of the benefits:
Best Hotels in Bordeaux, France
I will share with you my best options for Bordeaux hotels, B&Bs, apartments, and hostels so you can see which is the best fit for you. But first, know that the best hotels in Bordeaux, France are the first ones to get sold out! I recommend that you book your accommodation as soon as you know your holiday dates!
Here are my recommendations on where to stay in Bordeaux:
Luxury (€180 and up)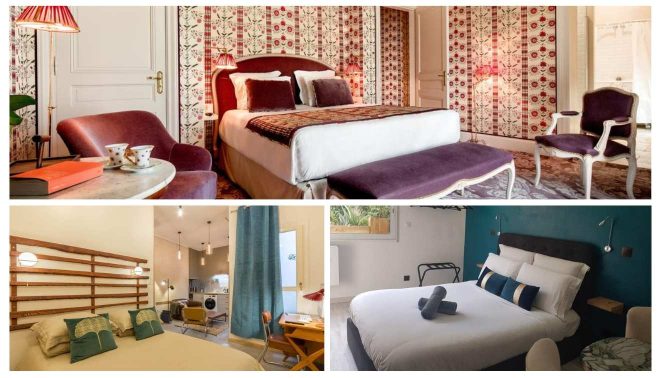 Let's start with a selection of luxury hotels and boutique-styled accommodations which will make you feel like part of a fairy tale:
Middle-priced (from €90 to €180)
Budget (up to €90)
You already know that there are many different accommodation styles based on travelers' budgets and the amenities they offer. If there is anything that might be a bit confusing on places to stay in Bordeaux is the difference between a hostel and a budget hotel, this is why I share with you the best of both categories, so you can decide which one is better for your way of travel!
Best apartments in Bordeaux
When searching for places to stay when traveling, I share your feeling of being overwhelmed by so many options, which is why I am categorizing the Bordeaux accommodations for easy selection!
How about choosing a private, small studio apartment or a big apartment for your whole group? Apartments or even Bordeaux holiday rentals do not only give you more flexibility for cooking and using more room to spread your shopping bags, but might even be cheaper to some extent compared to hotels! Let's see which are some of the best Bordeaux apartments out there: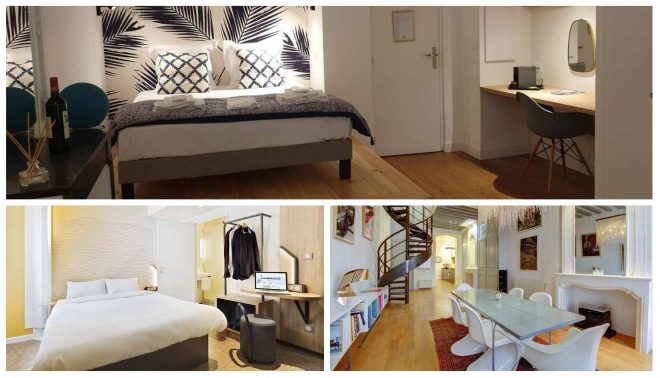 Luxury (€180 and up)
Divine – This is probably the best of Bordeaux apartments, located in the center and offers great city views, while also being close to Saint-André Cathedral for great picture opportunities.The only inconvenience with this property is that they require you book a stay of at least three nights.
La Maison Fernand – This bed & breakfast captivates the guests with its city views and terrace, located right in the city center. Although the property requires you to book a minimum stay of 2 nights, it is perfectly located to enjoy all the famous attractions, while also having enough time to do some shopping at Rue Sainte-Catherine!
Le Clos d'Emile – I recommend staying in this Bordeaux bed and breakfast for their impeccable decorations and friendly staff always ready to help the guests out. The elegance of the location can let you believe it is a boutique hotel! You will love the rooms as well as their location on a quiet street next to the Public Gardens!
Middle-priced (from €90 to €180)
Gabylou – This apartment offers a small one-bedroom apartment for two people as well as a bigger apartment with two bedrooms that fit four people. The interior rooms are simple, clean, and lovely decorated to combine with the furniture. The units are within 700 m from Saint-André Cathedral and Great Bell Bordeaux among the few attractions you must visit.
La Maison Odeia Bordeaux Centre – Most bedrooms in the Maison Odeia are fit for two people; you can select between the size of the bed and the chance to have a balcony or not. Go for a nice stroll near the B&B and find the Natural History Museum, Esplanade des Quinconces, and other interesting attractions, all less than a kilometer away.
Bordeaux St Pierre – This apartment is found on the ground floor and comes equipped with everything you may need during your stay! Go out for a nice day in town and then head back to this awesome and comfy apartment surrounded by peace and calm, perfect for a good night's sleep!
Budget (up to €90)
Beau studio center ville – The apartment studio is small, but it has anything you could imagine needing for a short trip to Bordeaux. Most local attractions are found less than 2 km from the property, but you're also very close to a tram stop, so if needed you can move around easily.
B&B Hôtel Bordeaux Centre Gare Saint-Jean – If you are looking for some great, cheap hotels in Bordeaux, France, this one is a great choice! It is a 3-star hotel inspired by the B&B concept, located a 5-minute walk from both a train and a tram station, which means it will be super easy to get around! This B&B in Bordeaux is a great solution for a quality budget experience, while also having a private bathroom and even a desk if you need to work.
Le 104 – This is a small apartment found in Talence, right across from a tram stop. It has a fully equipped kitchenette and a private entrance, which is a big plus! Only consider that reaching the bed implies climbing a bunk-bed style stairway.
Best hotels for families in Bordeaux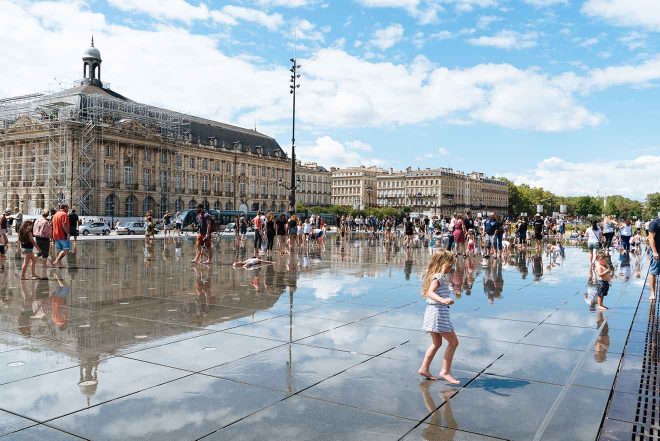 Are you planning on traveling with your family to Bordeaux? No problem! Let me share with you some amazing Bordeaux family hotels with all the needed facilities and amenities you could think of. And, of course, all of them are located in the city center for your convenience!
Luxury (€180 and up)
Villa Reale – This is an impeccably clean and beautifully decorated apartment in the Bordeaux city center which offers three accommodation options that can hold between two and six people if you travel with a group. This style of hotel is perfect when traveling with more people, also because of the fact that it might be somehow more affordable for everyone, while still being classy!
Le Boutique Hotel Bordeaux Centre – This accommodation is among the lovely boutique hotels in Bordeaux and is an 18th-century townhouse surrounded by a green courtyard. This 4-star hotel provides luxury facilities and an amazing contemporary design and great service as well. You can also have breakfast at their lovely 1507 ft2 terrace shaded by a 100-year-old chestnut tree!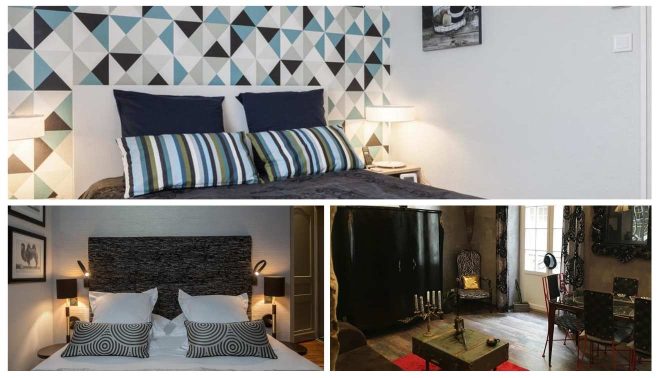 Middle-priced (from €95 to €180)
Duplex Saint-Jean – SuperBordeaux – This accommodation has enough room and beds for up to seven people. The best feature of this hotel is probably that you can head up to the terrace to enjoy the city view with a glass of good wine! The city center is a 10-minute tram ride away, while you can also get there by walking.
Golden Tulip Bordeaux Euratlantique – This is a great 4-star hotel in Bordeaux with reasonable prices, a fabulous breakfast, while also being conveniently located less than one kilometer away from a train station and tram stop. After a long day, be sure you are heading to a nice, quiet area to rest and enjoy the city view from the rooms or the hotel terrace!
Budget (up to €95)
Residhotel Galerie Tatry – This hotel is an actual combination of apartments with modern décor. They all have a kitchenette, microwave, and fridge ideal for four people. For the adventurers out there, there is a rock climbing place very close to the residency!
Cosy Apartment Hypercentre – This is a great apartment with a baroque style decoration and unique furniture. The accommodation has a fully equipped kitchen including an oven, and spacious common areas. It is less than 1 km away from the main local attractions and public transportation stops.
Best hotels near Bordeaux Airport
Maybe you are not completely convinced of the idea of staying in the city center or you have to catch an early morning flight. If this is the case, you might want to stay nearby the airport!
Let me share with you some hotels near Bordeaux airport, which are located in the Mérignac area. All of the options below have great facilities and reviews:
Type in your dates below to find the best rates:
---
Conclusion
I hope now it will be easier for you to choose from the best places to stay in Bordeaux for your vacation! The choice is yours, but I can assure you that your visit and stay in this city is entirely worth the time and money invested. There is no best or worst option, only a different level of comfort and distance from the main city attractions.
I hope I gave you some valuable advice in this article and you will use it for your next Bordeaux holidays! Remember to also check out my post on things to do in the city to complete your itinerary.
If you have any further questions, don't hesitate to leave them below. I am more than happy to answer and help out!
Yulia
Pin it for later!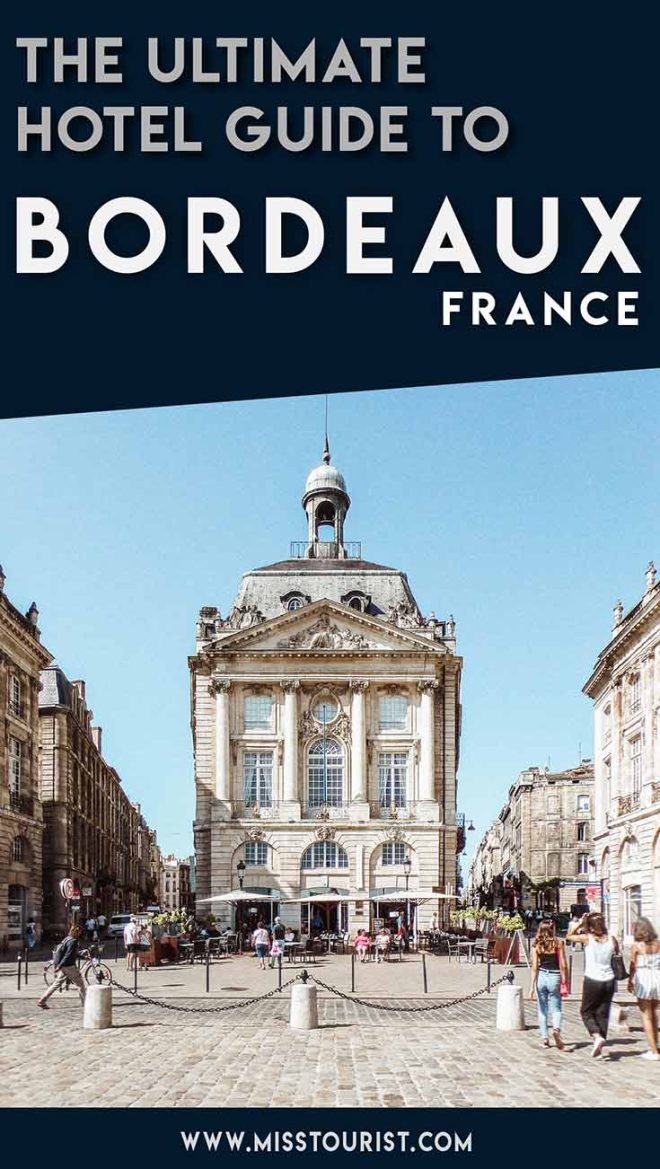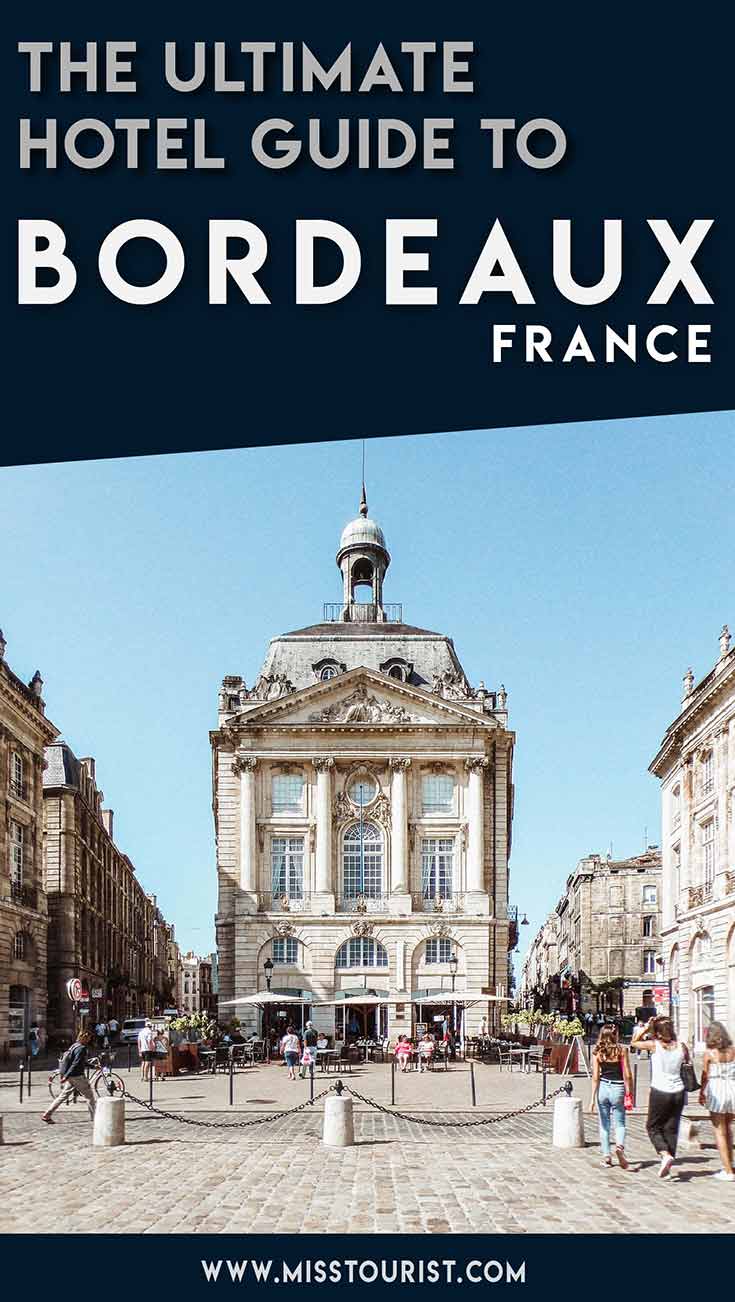 Pin it for later!