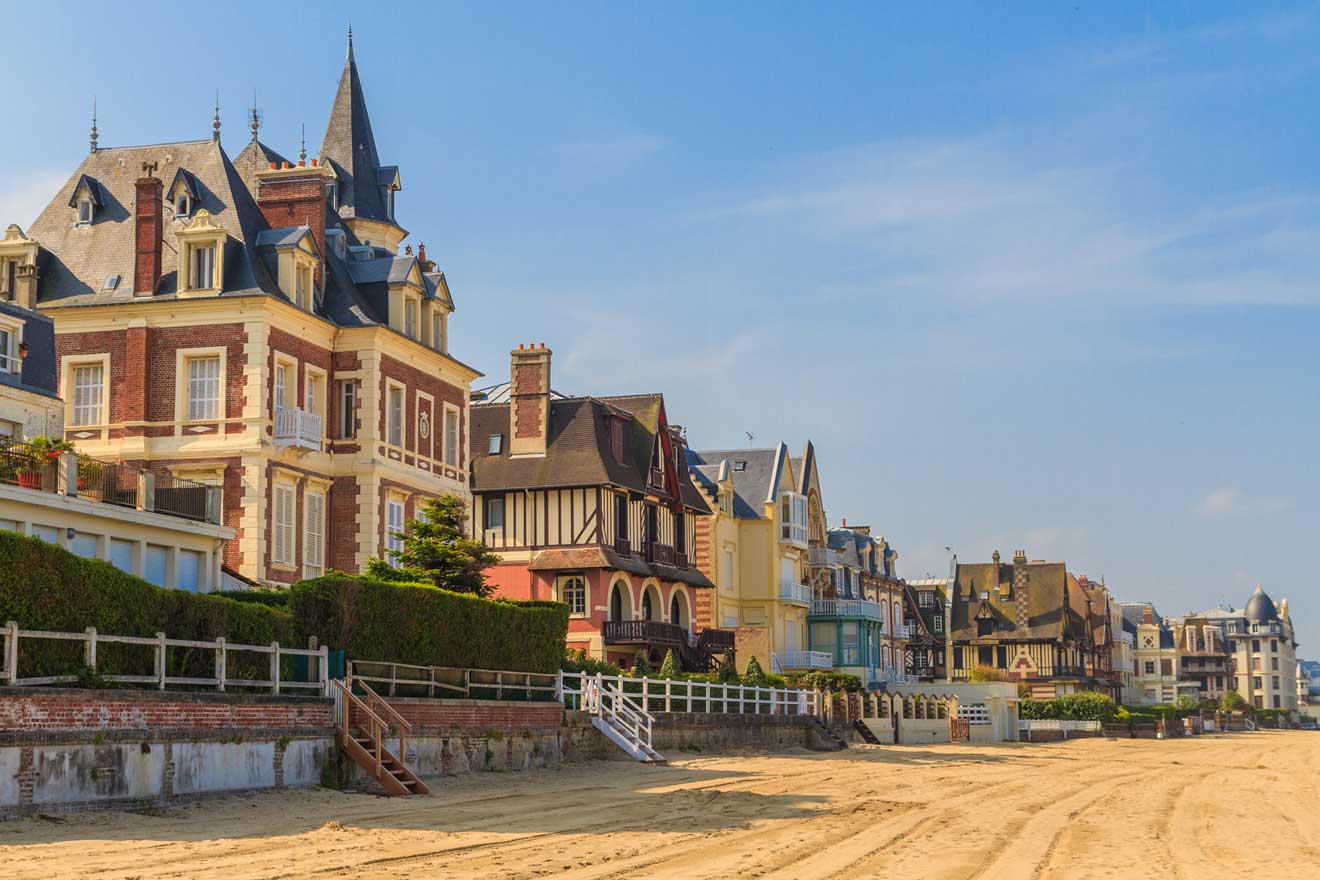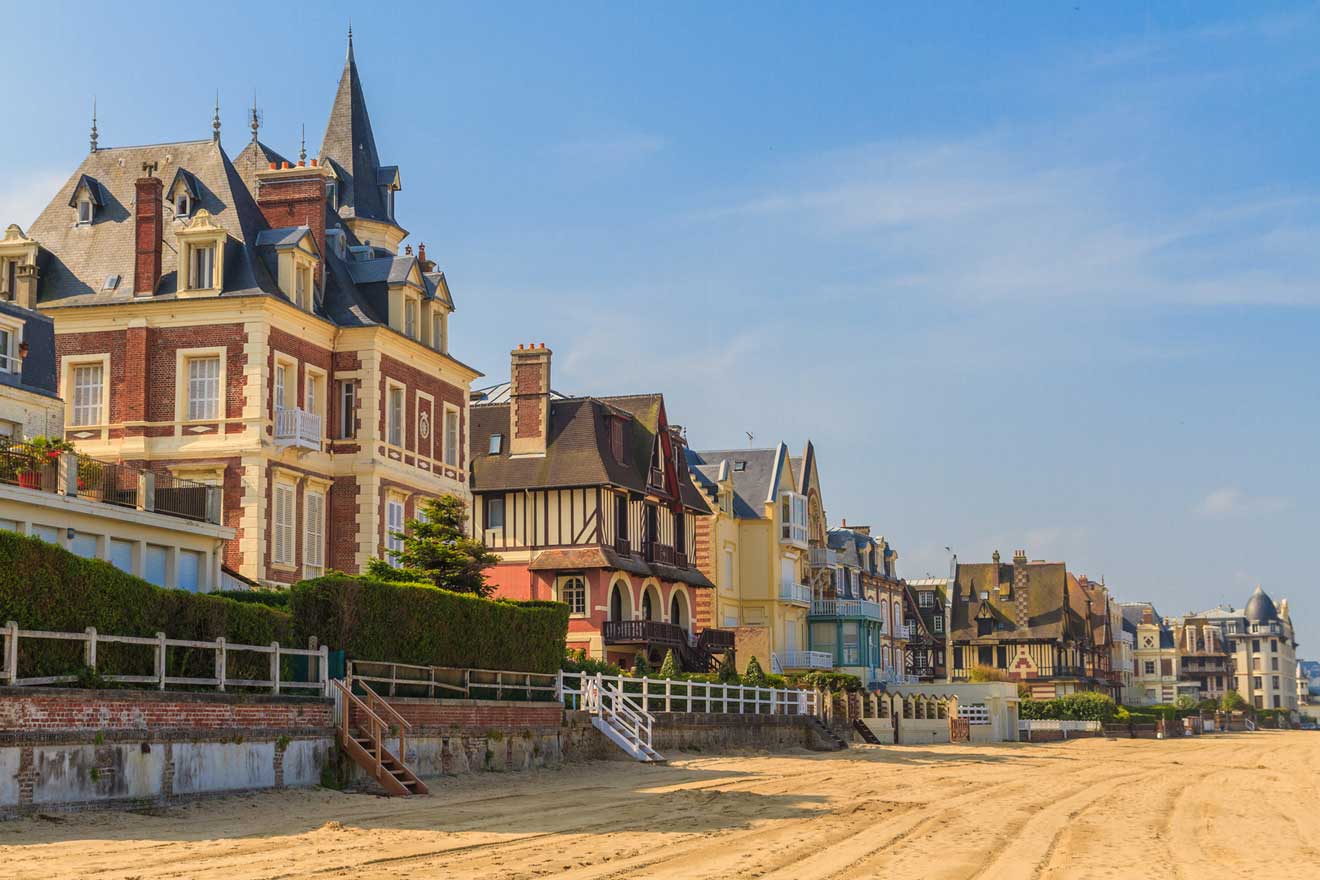 Deauville is a glamorous seaside town in Normandy, a jewel of style and culture, and famed as the place where Coco Chanel opened her very first Chanel boutique. Plus, Deauville's annual art and music festivals bring people here from all over the world!
If you're thinking of spending your next vacay in Deauville, I've got you covered! I've gathered all the very best hotels in Deauville, so rest assured these are the top-rated establishments in town.
I'll also go through an exciting bonus section where I'll list all the best VRBOs in Deauville for those who prefer having their own place and full privacy when they're on vacation. And trust me, some of these will blow you away!
As a final note, these hotels range from around €190 to €370 a night, and I'll talk about them in descending order. Just make sure to book early, especially if you're going in the summer when it's festival season!
Stay tuned while I cover all the details 🙂
If you are in a hurry
If you're booking a last-minute trip or you're just here for a quick grab-n-go, here are the best Deauville hotels!
1. Hôtel Barrière Le Royal Deauville – best luxury hotel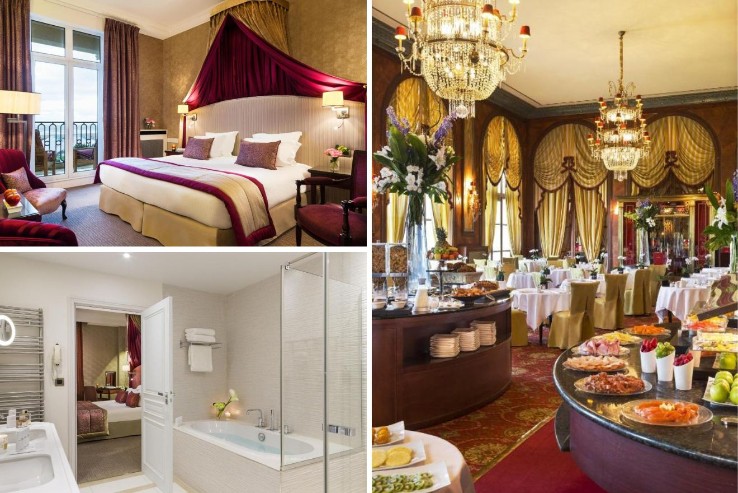 This one is just out of this world, and yet in the heart of Deauville! It may burn a hole in your pocket, but what's life without a little extravagance? The rooms are elegant and stylish and each comes with its own gilded balcony, and their Diane Barrière spa and wellness center is the perfect escape.
Since Normandy tends to get a little chilly, their heated outdoor swimming pool will provide the perfect respite! You can rent out bikes, spend time in their theatrical lounge, have a pilates class, use their tennis courts, or walk just 4 minutes and go spend your hard-earned money in Deauville casino!
Nothing is impossible at Le Royal, so if you fancy feeling a bit special, this is a once-in-a-lifetime hotel!
NOTE: Bear in mind that this dashing hotel closes over the winter between November and April.
2. Hôtel Barrière Le Normandy – best celebrity hangout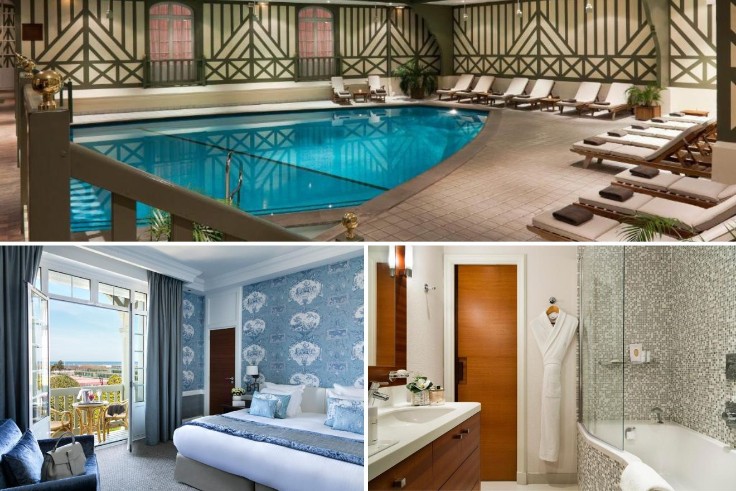 If you want to hang out with the elites, this is the place to go! This hotel is actually an offshoot of Le Royal, but you'll be happy to hear that it's much cheaper!
Just a couple of minutes away from Promenade des Planches, this Norman-style hotel is super romantic and full of incredible facilities like an indoor swimming pool and spa, a fitness room, and even a private beach! And if you pick the room with the terrace, you won't be disappointed – it's like your own private haven 🙂
3. Résidence Pierre & Vacances – best for families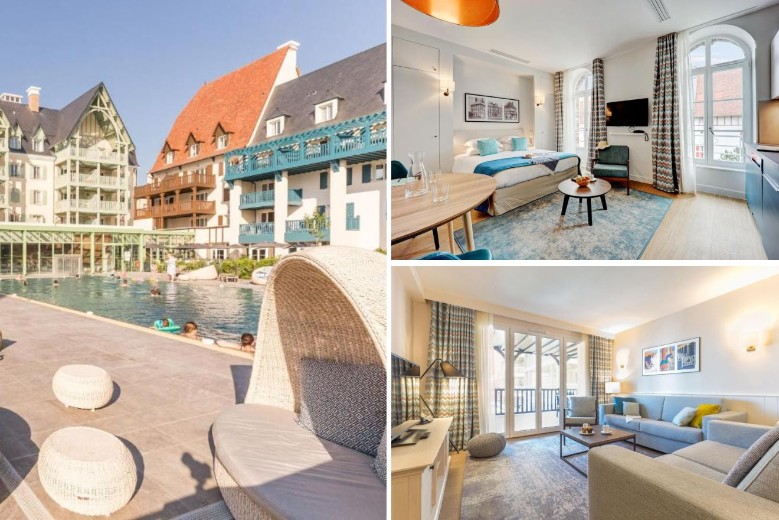 Résidence Pierre & Vacances Premium Presqu'Ile de la Touques (I know, mouthful right) is the perfect family hotel! An indoor AND outdoor pool, a spa and fitness center, bike rental, and pets are even allowed, so you can bring the whole family along. They have plenty of amenities for kids and adults alike so you probably won't want to leave!
It's just a few minutes from Deauville train station so you can easily go on day trips, and you get an entire suite for your stay, with a terrace, living room, kitchen with a coffee machine, and bedrooms! Plus, they even have free private parking!
4. Les Manoirs de Tourgéville – luxury country manor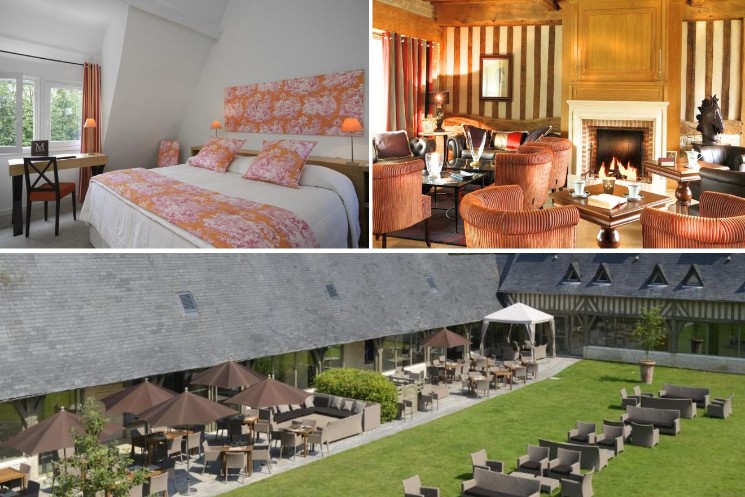 For all my countryside lovers out there, you'll absolutely LOVE this place. A palace-like structure surrounded by lush greenery just 10 minutes drive from Deauville beach, they have all the facilities you could ever wish for like a tennis court, a spa, and they even have a tiny movie theater for their guests!
One of the best things about this fairytale hotel is its amazing bistro restaurant. You'll be served cozy, traditional Normandy food served throughout the ages, with a little modern-day twist – the perfect way to end your day full of shopping!
5. Manoir des Lions de Tourgéville – traditional French retreat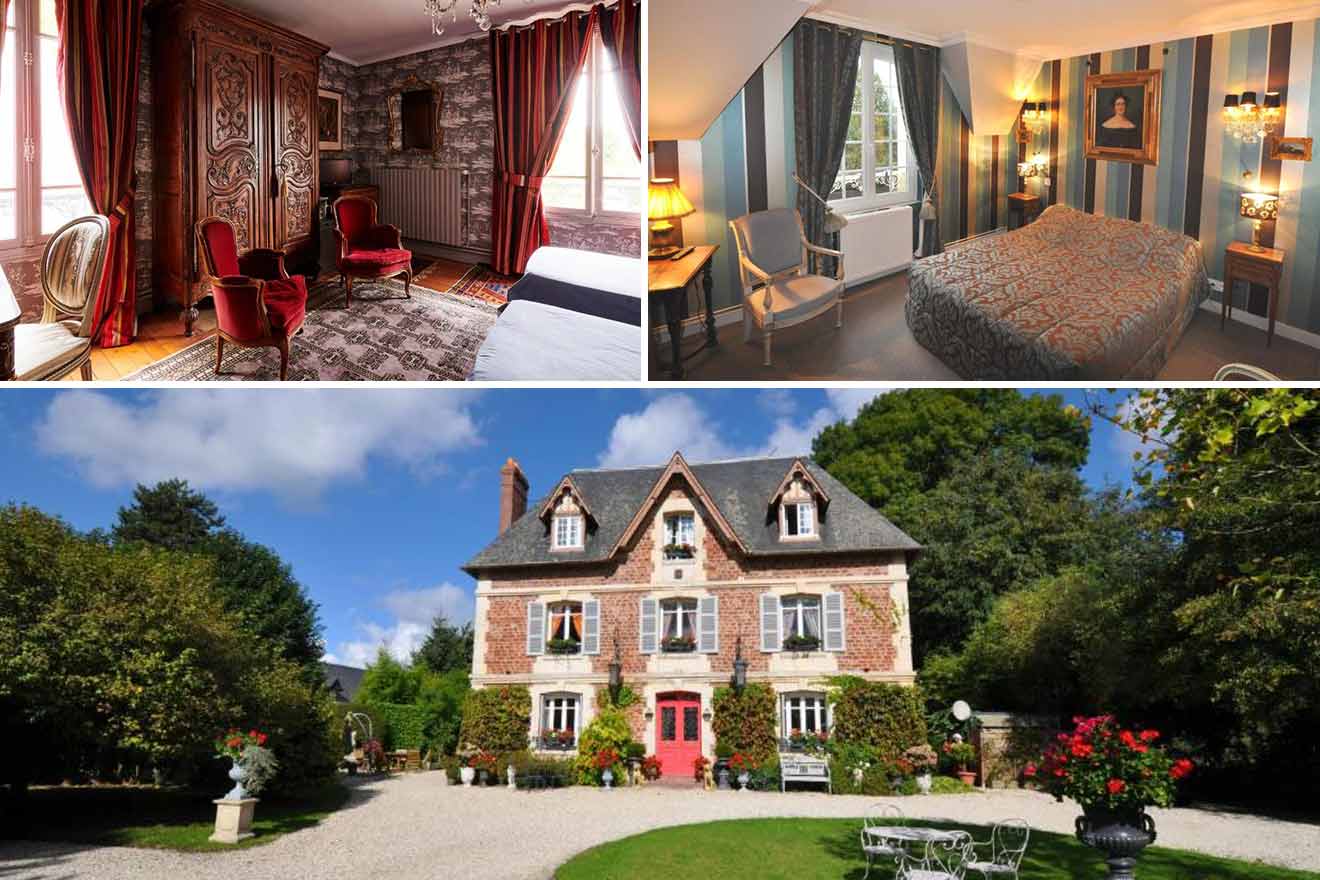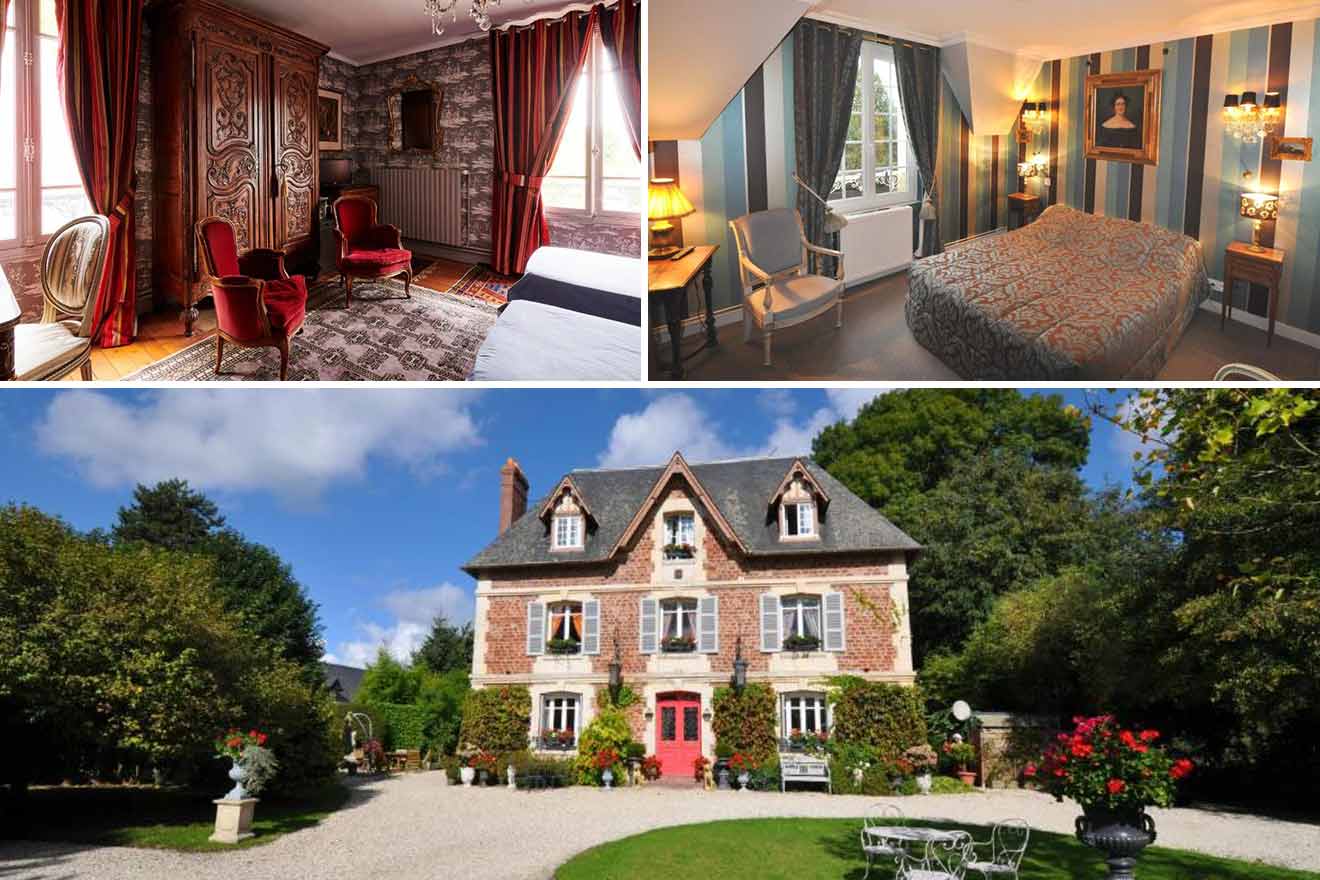 This hotel was designed with love, for sure. It looks like your dream country mansion, with superb preened gardens and a cozy interior for ultimate comfort. Inspired by centuries gone by, you'll be surrounded by antique furniture and personalized service.
So, if you fancy feeling like royalty for a few days, you'll love it here! It's less than 10 minutes from the beach but far enough away that you'll feel like you're in your own little cocoon. The best thing about this place is the buffet breakfast – salted meats, fresh juices, pastries, homemade condiments, local cheeses, and eggs any way you like – doesn't that sound divine?
6. Hôtel Le Chantilly – for a charming central getaway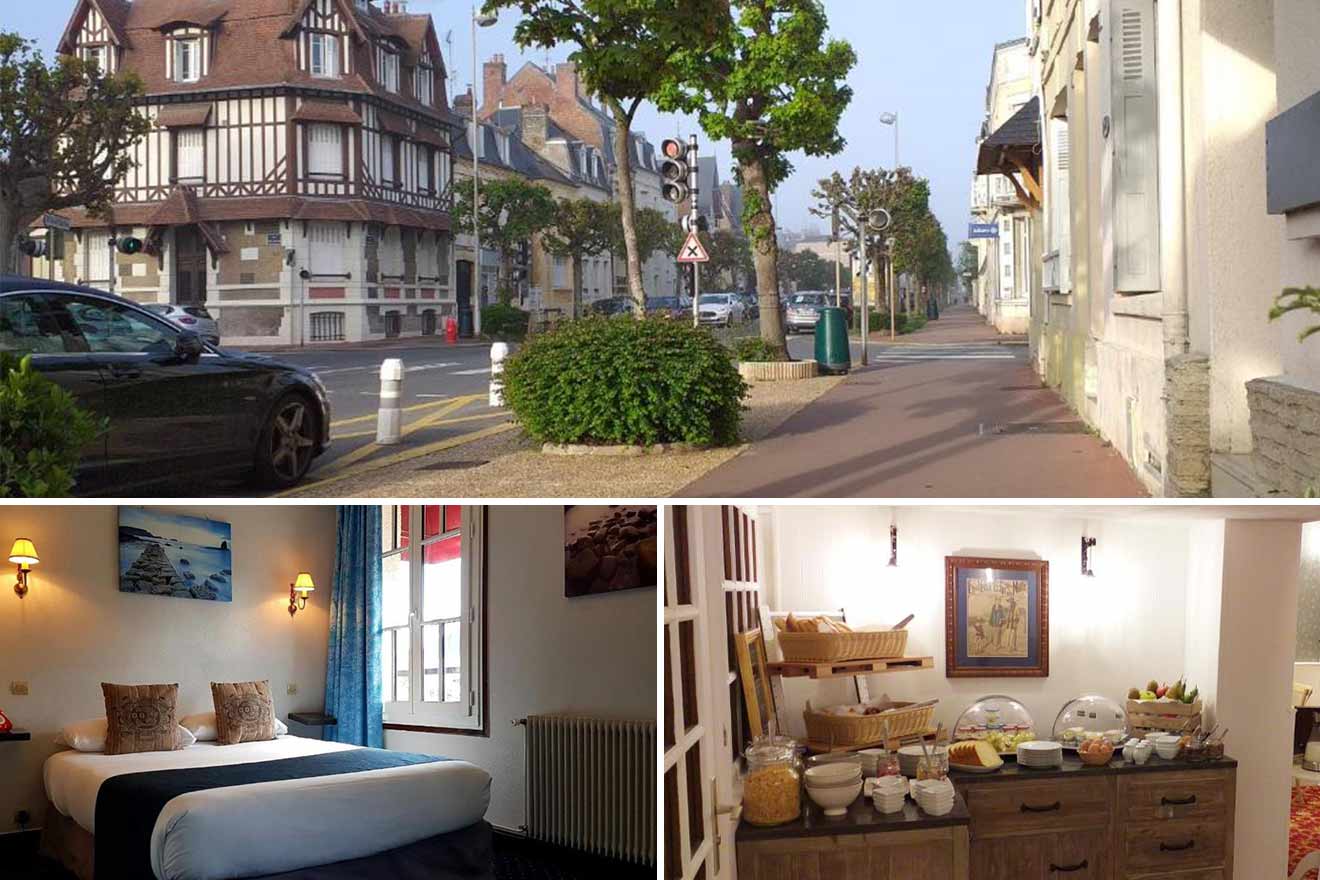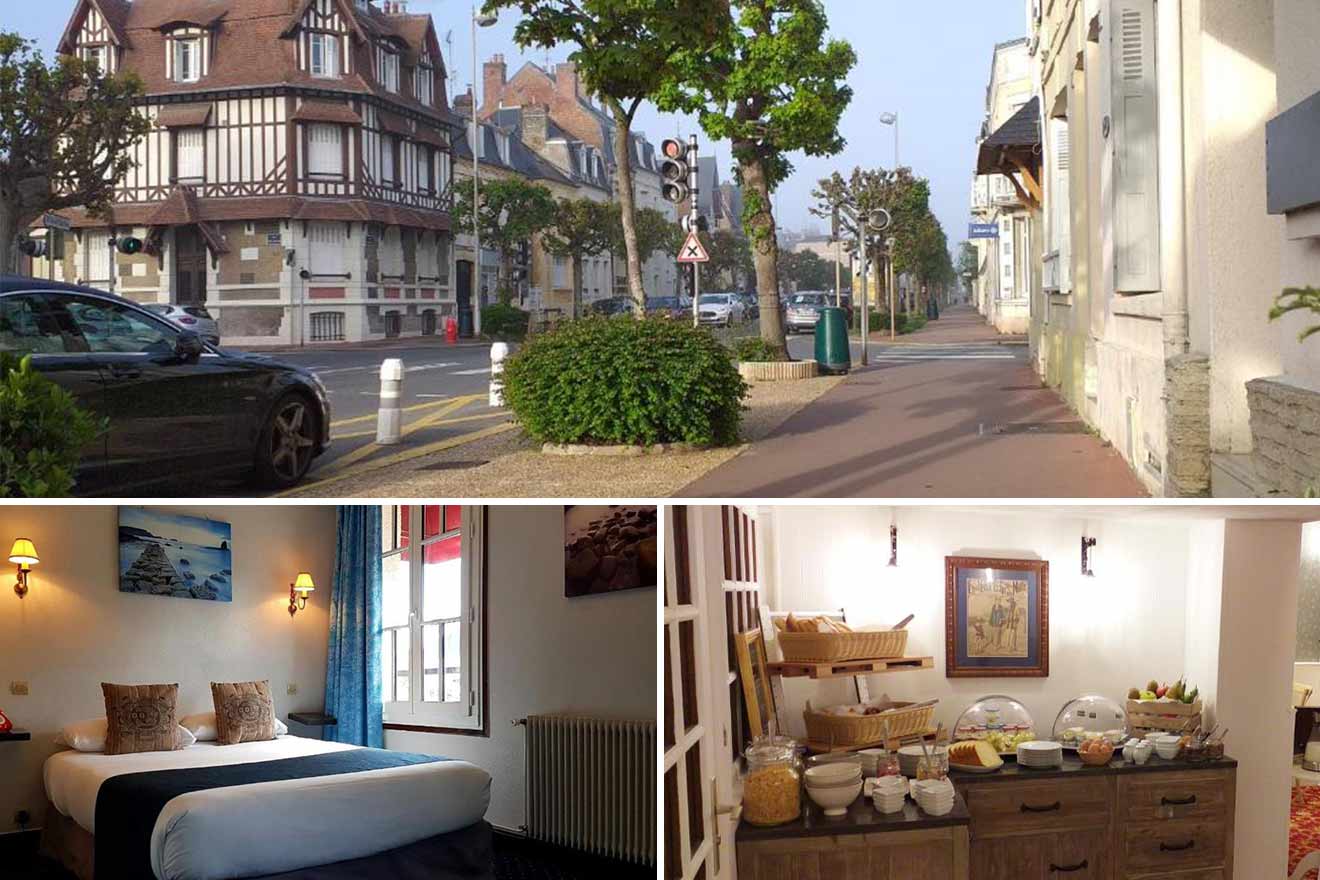 If you prefer to be right in the middle of all the action, Hôtel Le Chantilly is ideal. The staff is super helpful, and even though it's in the center of Deauville, the rooms are super quiet and intimate.
The one thing I know you'll love at this hotel is their "Moment of Relaxation." This is a daily ritual that takes place every evening where you can enjoy a gorgeous tasting menu of local products like cheese, cider, and fresh juices made in the region!
NOTE: This place is unfortunately not wheelchair-accessible since it's an old building.
7. Novotel Deauville Plage – for a seaside vacation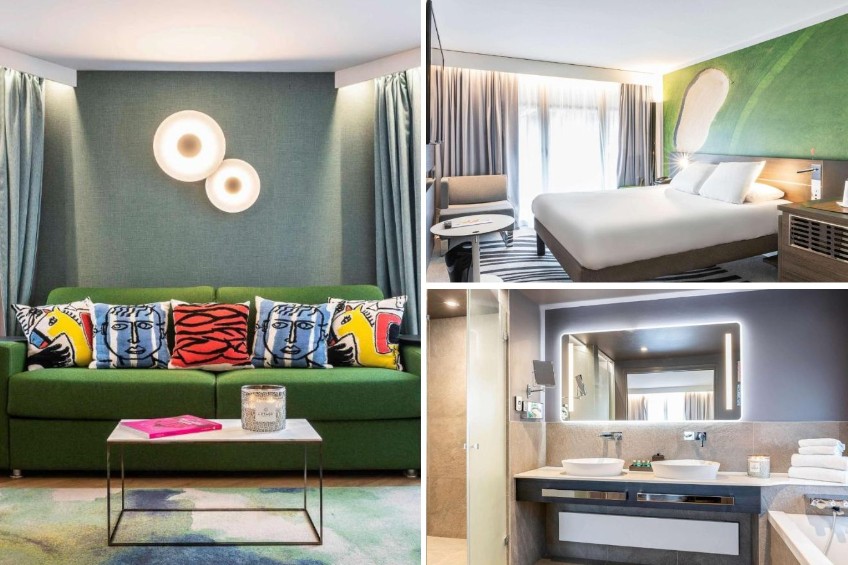 Just moments away from the beach, Novotel Deauville has a panoramic gourmet restaurant providing a continental breakfast with a terrace overlooking the sea – perfect for those sunset nights with your loved ones. There's a play area if you're bringing your kids along and a game room as well!
The modern rooms are lovely and provide fantastic views across the English Channel. You'll also have access to underground parking (which is great since parking in central Deauville can get expensive), a gym, an indoor pool, and a sauna – the best thing ever after a day at the beach!
8. Magnifique Deux Pièces au Calme – for a quiet retreat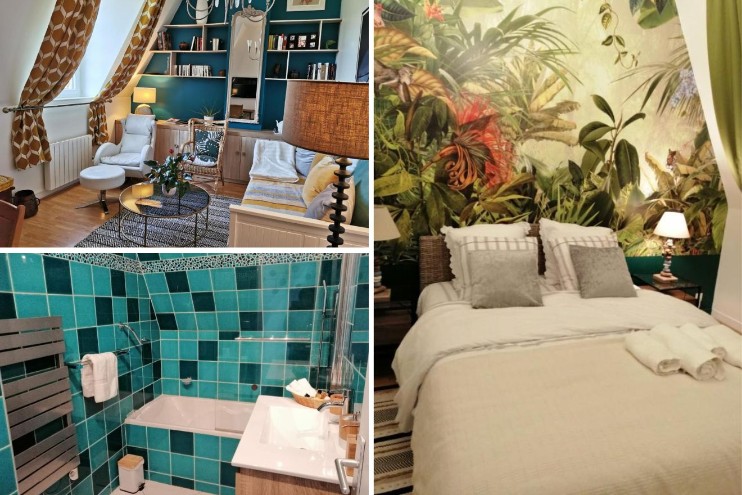 This one-bedroom apartment is ideally located in a literal French chateau – you won't want to miss this one! You have everything you need here: a fully-stocked kitchen, bathroom, bedroom, reading room, and gardens to explore – a veritable home away from home.
The apartment is just a few minutes drive from the beach but has its own little peaceful haven, and there's even a cute little duck pond! You can go for romantic walks down La Rivière Morte and enjoy the incredible scenery around Deauville.
NOTE: This place has a minimum stay of 2 nights, so make sure you bear that in mind when booking.
9. Hotel le Patio – best hotel for couples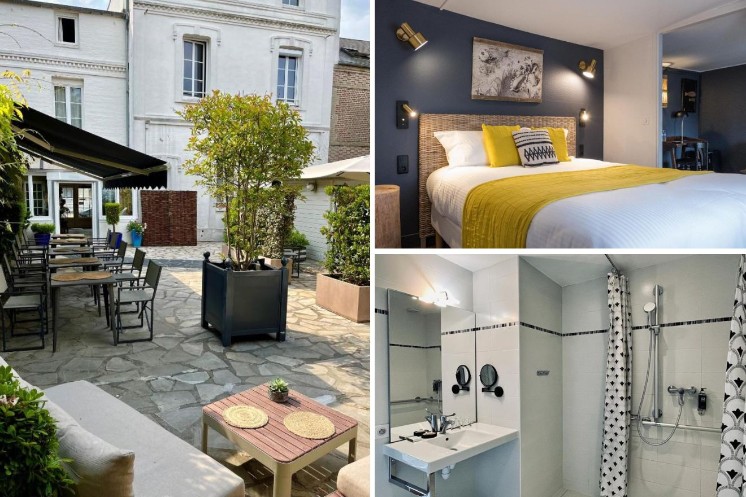 This charming hotel screams boho-chic, and it's such a cute option if you want to stay in one of the most romantic hotels in central Deauville! Surrounded by boutique shops and close to everything you need, its intimate atmosphere will provide a calm sanctuary for your seaside getaway.
They have air-conditioned rooms and a lovely, quiet patio area (hence the name) where you can relax and unwind with your loved one! You'll feel right at home at this boutiquey haven.
10. YOU Are Deauville – for a fun, quirky stay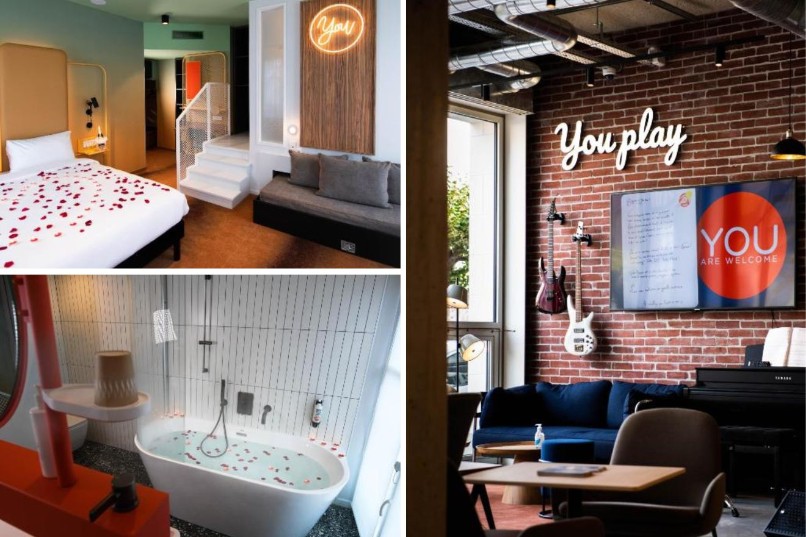 Set in a lovely urban townhouse, YOU Are Deauville is the place for you if you love a bit of fun! Just 4 minute's walk from Trouville Sur Mer SNCF Railway Station, they have lovely spacious rooms each with a private bathroom and you can even connect your Netflix account to the smart satellite flat-screen TV!
They have a mixture of shared and private individually decorated rooms, so you can decide what suits you best. I must say, their private room with a sunbathing terrace would be the one for me, but their shared suites also give you an opportunity to meet other like-minded travelers and make your stay super memorable!
BONUS: Best VRBOs in Deauville
I know some of you prefer ultimate privacy and would prefer to rent out your own place when you're on vacay! In that case, here are the best VRBOs in Deauville that I think you'll love – and you'll probably have a hard time choosing between them all!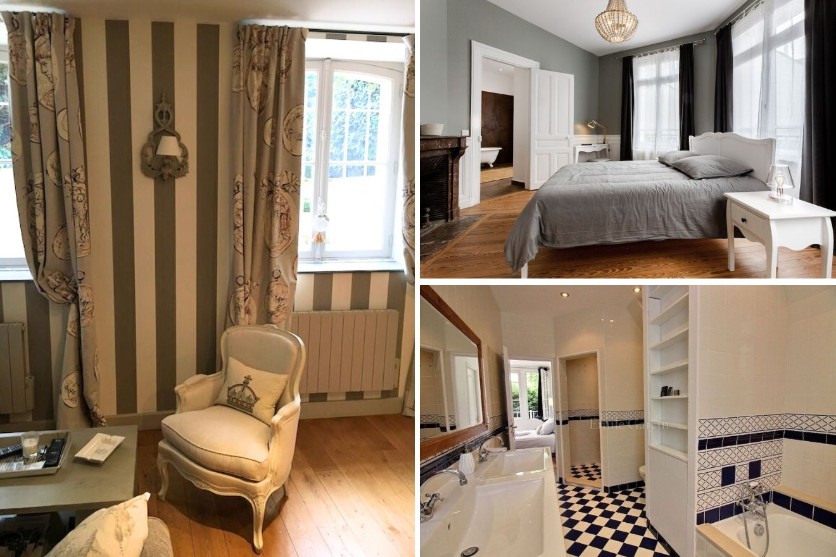 NOTE: This place has a 2-night minimum stay.
FAQs about hotels in Deauville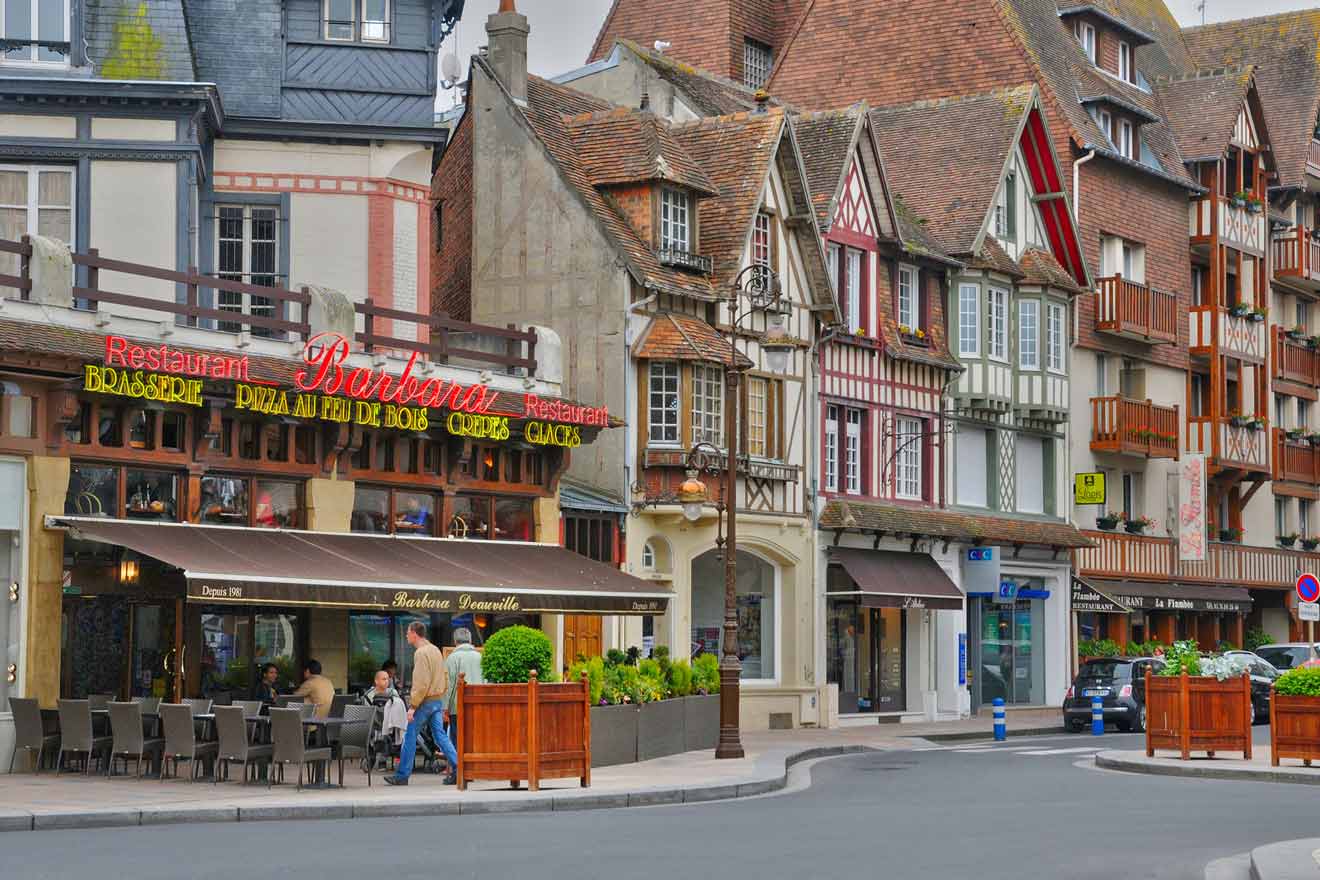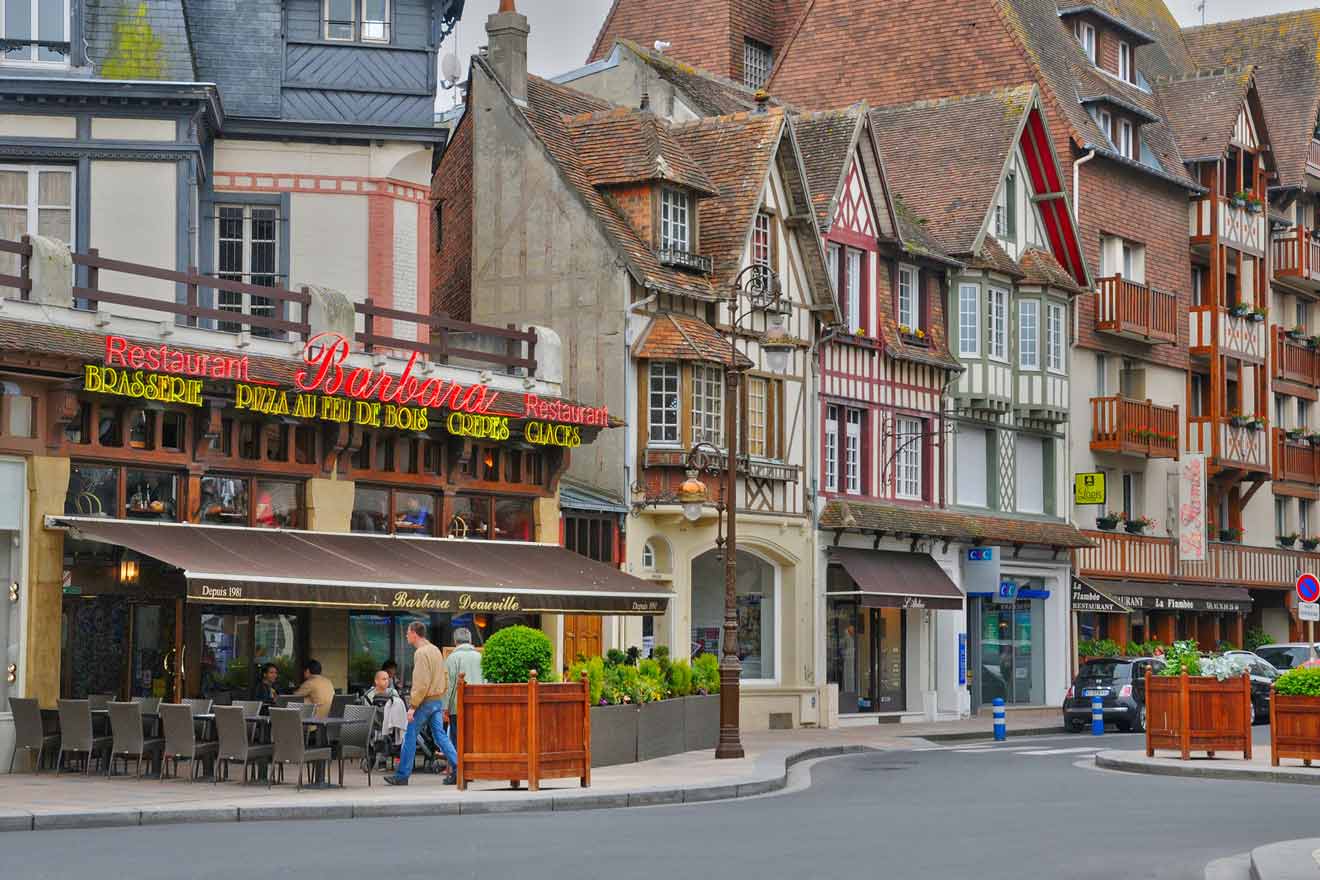 Conclusion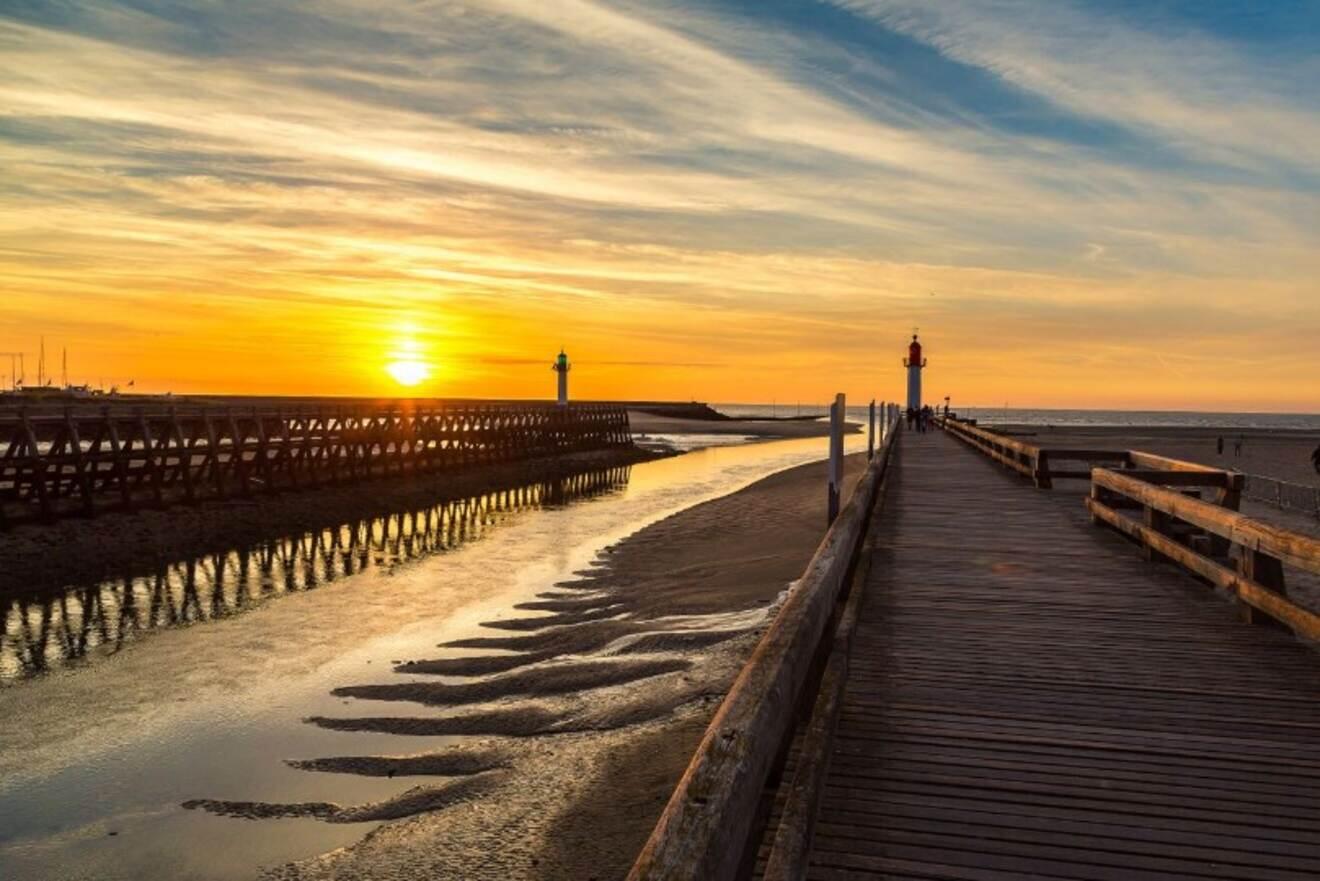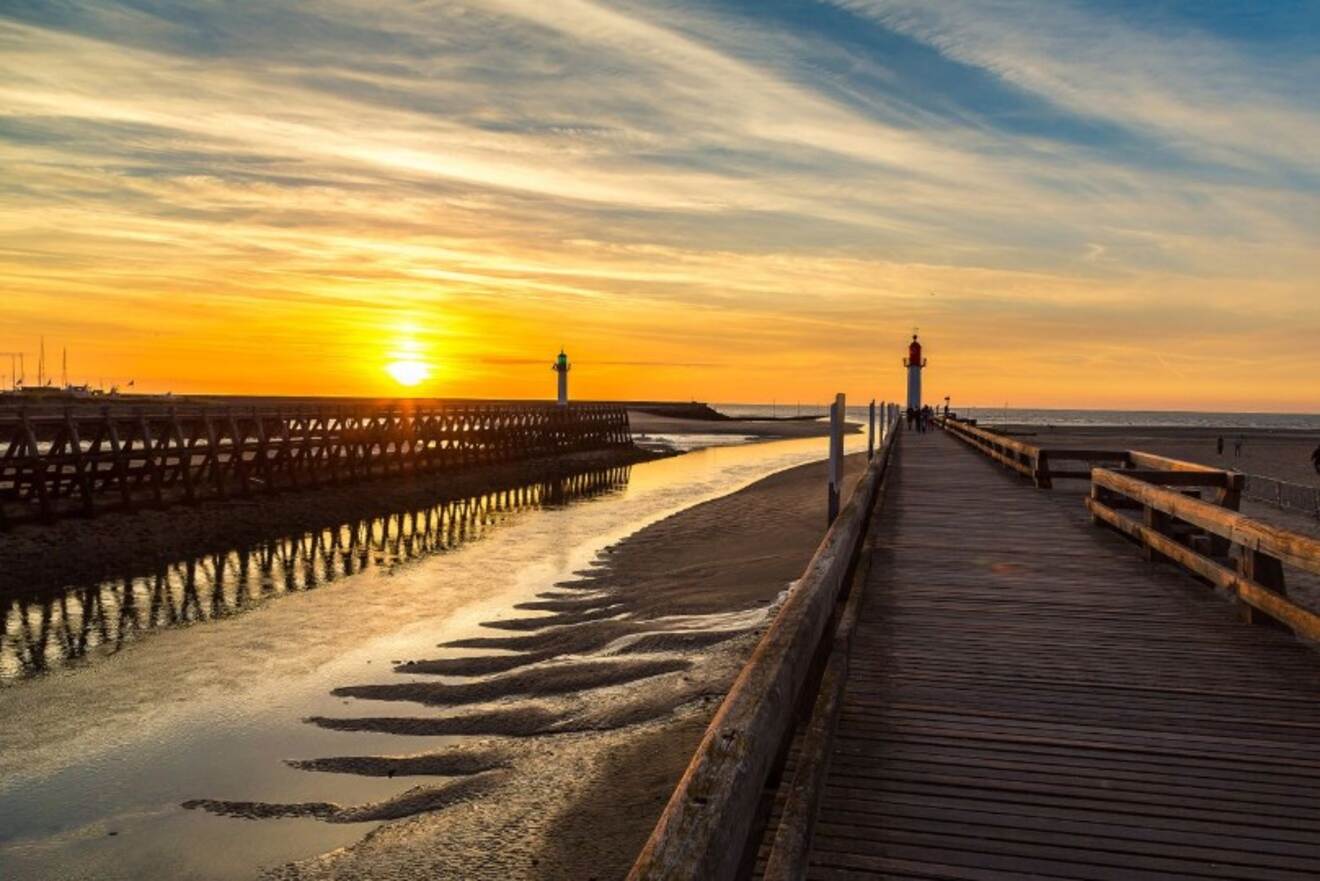 So that about sums it up! I've gone through all the best hotels in Deauville for your next vacation, and there are so many amazing options to choose from!
I've also covered the best VRBOs in Deauville just in case you prefer a private rental, so if you're finding it difficult to choose one let me help! Here are two that I think are the absolute best:
Deauville gets super busy (especially during the summer period when it's festival season) so make sure you book everything in advance! I hope you have an AMAZING trip, and if there's anything else you need help with just drop me a line in the comments and I'll be happy to help out 🙂
Bon voyage
Lizzie
---
Pin it for later!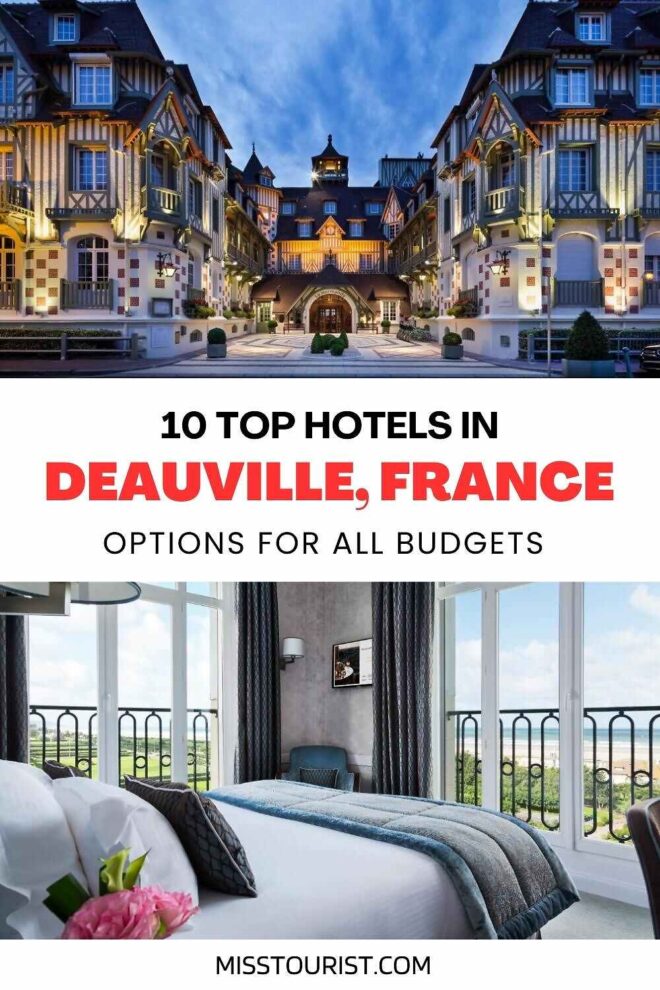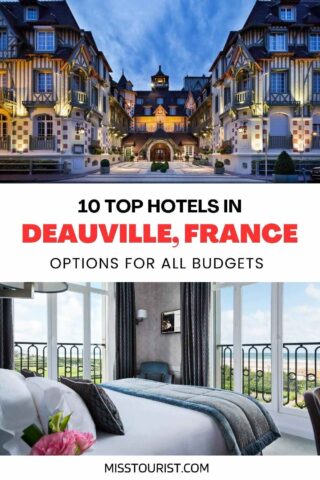 Pin it for later!