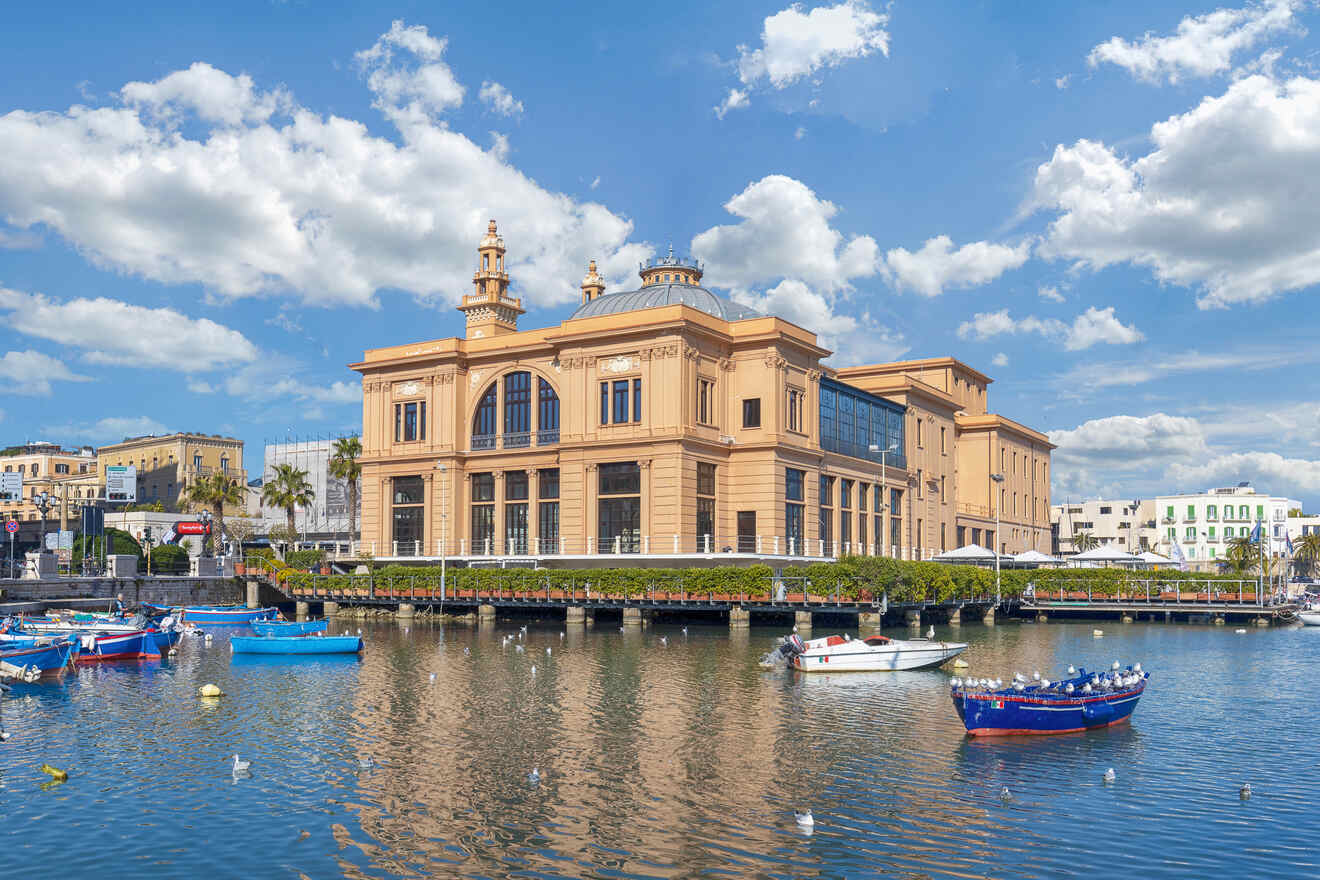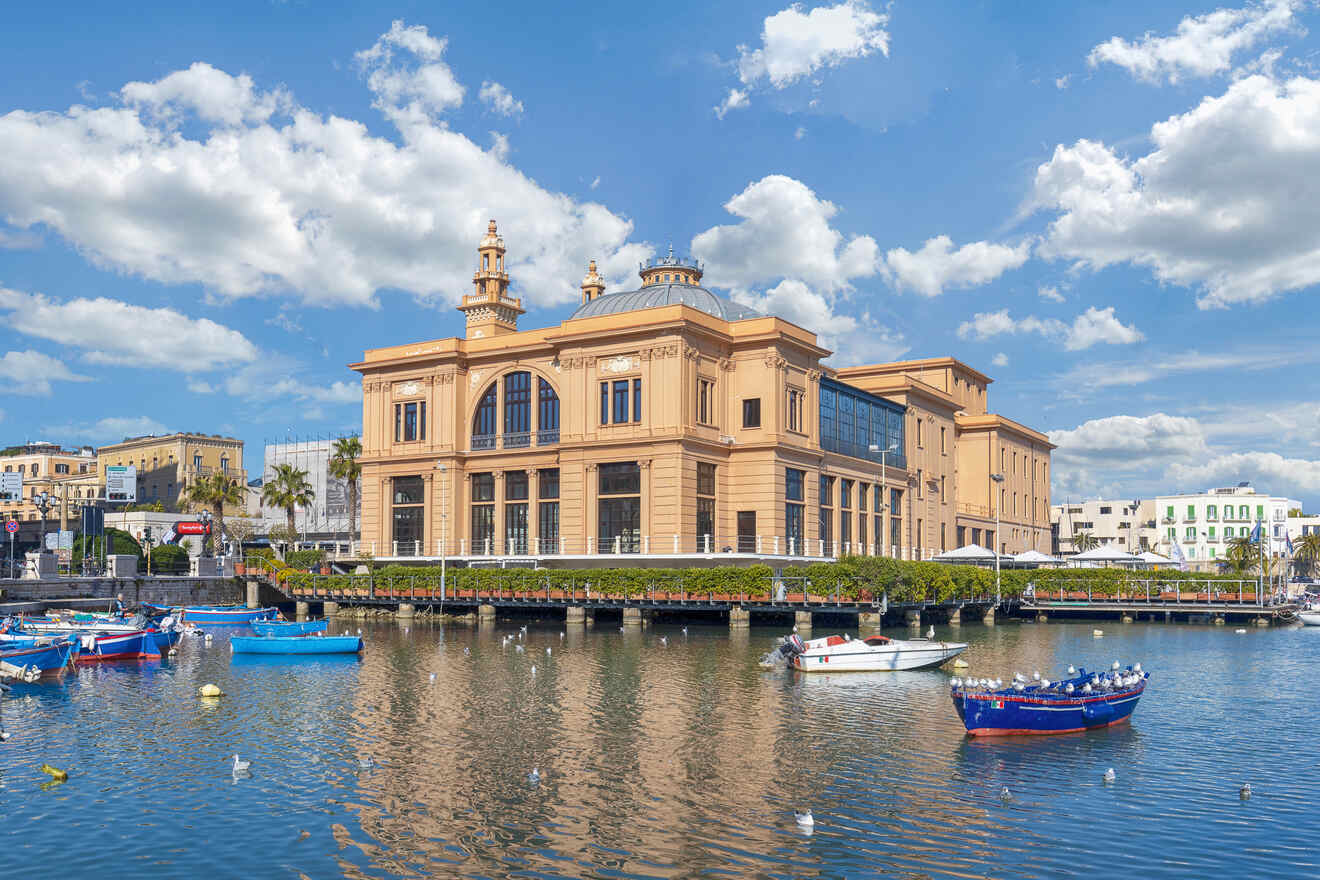 Welcome to Bari, one of the most precious hidden secrets of my beautiful country, Italy, where I had the luck to spend an unforgettable summer weekend! To discover this historical gem, you have to go all the way south along the Adriatic Sea, until the Puglia region, also known as the "heel of the boot".
Even if overlooked by tourists, this beautiful city is the second most important in southern Italy after Naples and it offers the perfect mix of history, architecture, culture, and nature… that makes it a "must" on my checklist! Bari preserves the relaxed and sunny character typical of coastal cities and it makes life at night with its charming galleries, restaurants, and bars!
The things I remember the most about the city are the huge Bari Cathedral, the majestic Basilica, and its charming Harbour, from where all the ferries and cruises leave to bring tourists to Greece, Croatia, and Albania.
Walking around its small streets you can end up in one of the traditional piazzas (squares), or tasting some delicious food at one of the local taverns… in this medieval old town you'll experience the real "dolce vita"! What do you need more? Well, at this point you just need accommodation!
But no need to worry about it, I've been looking through hundreds of hotels to help you choose where to stay in Bari based on your needs and interests. Once you find the perfect option to make your vacation unforgettable, make sure you book it immediately! More and more people are discovering this treasure and spots book out fast.
Let's go check them out!
If you are in a hurry
If you need to take a quick decision for your stay in Bari I gathered here the best accommodation options in Bari's central area sorted by price:
Here's the map with the 4 best areas to stay in Bari that I will be talking about in this post, so you can visualize them: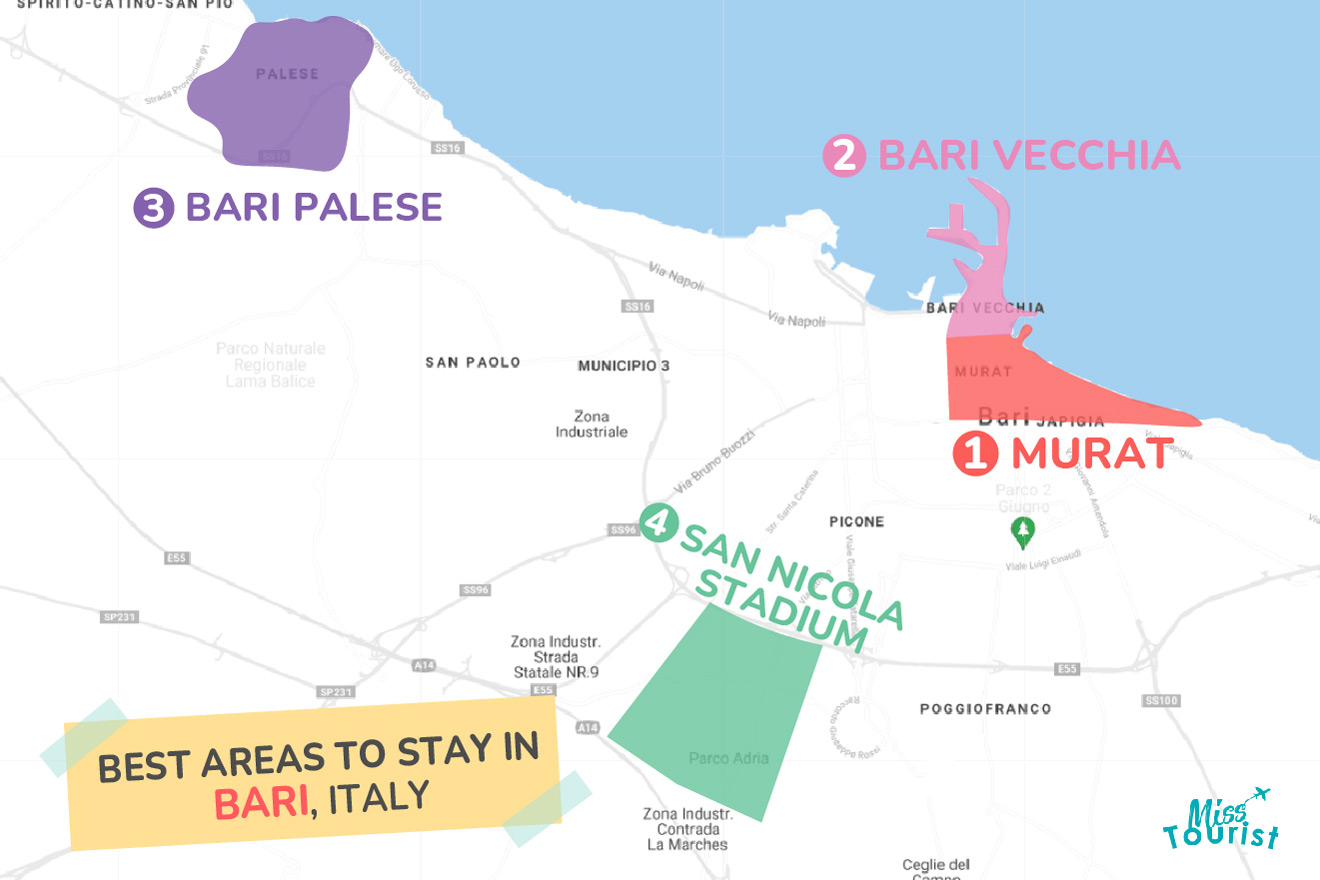 1. Murat – where to stay in Bari for first-time visitors!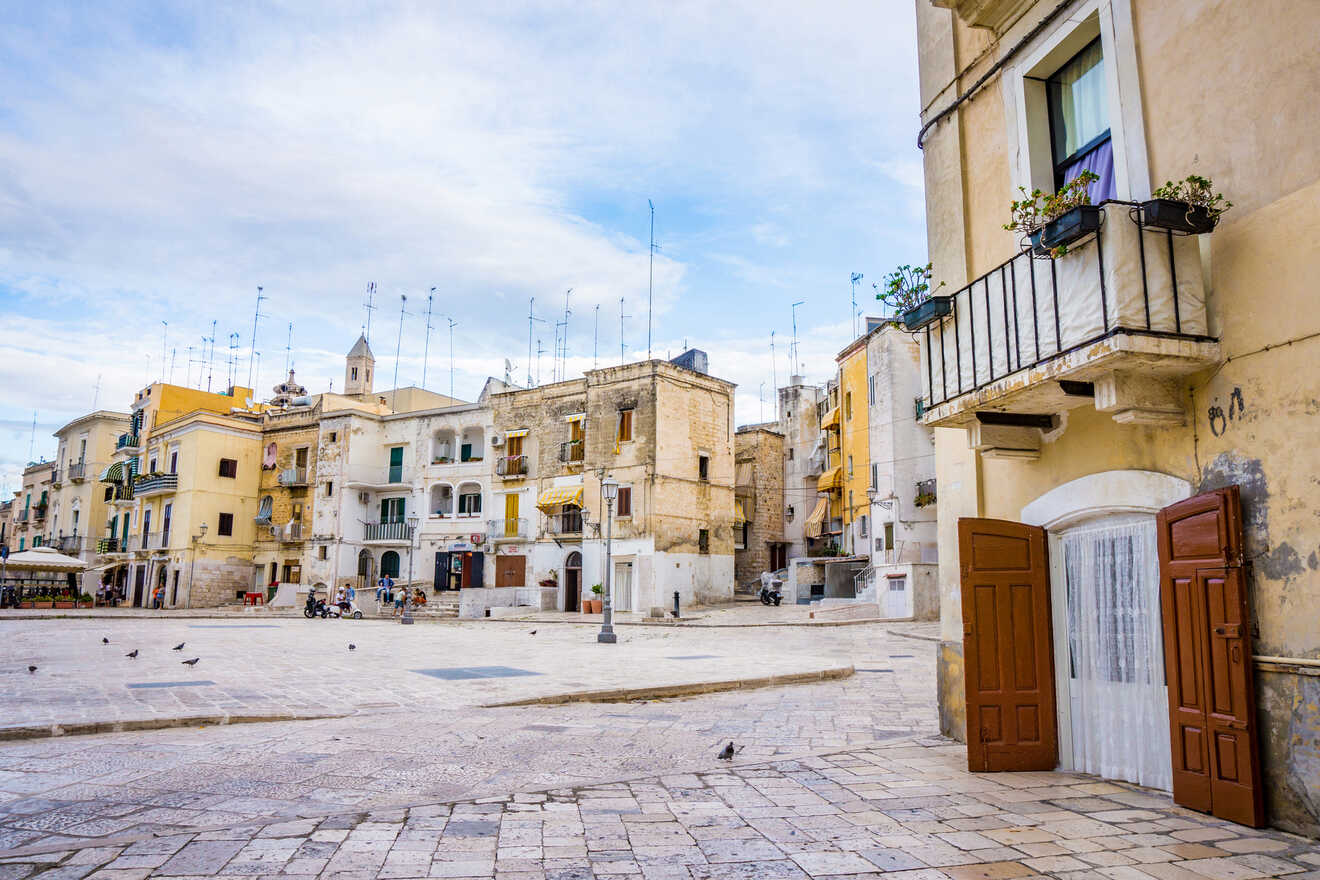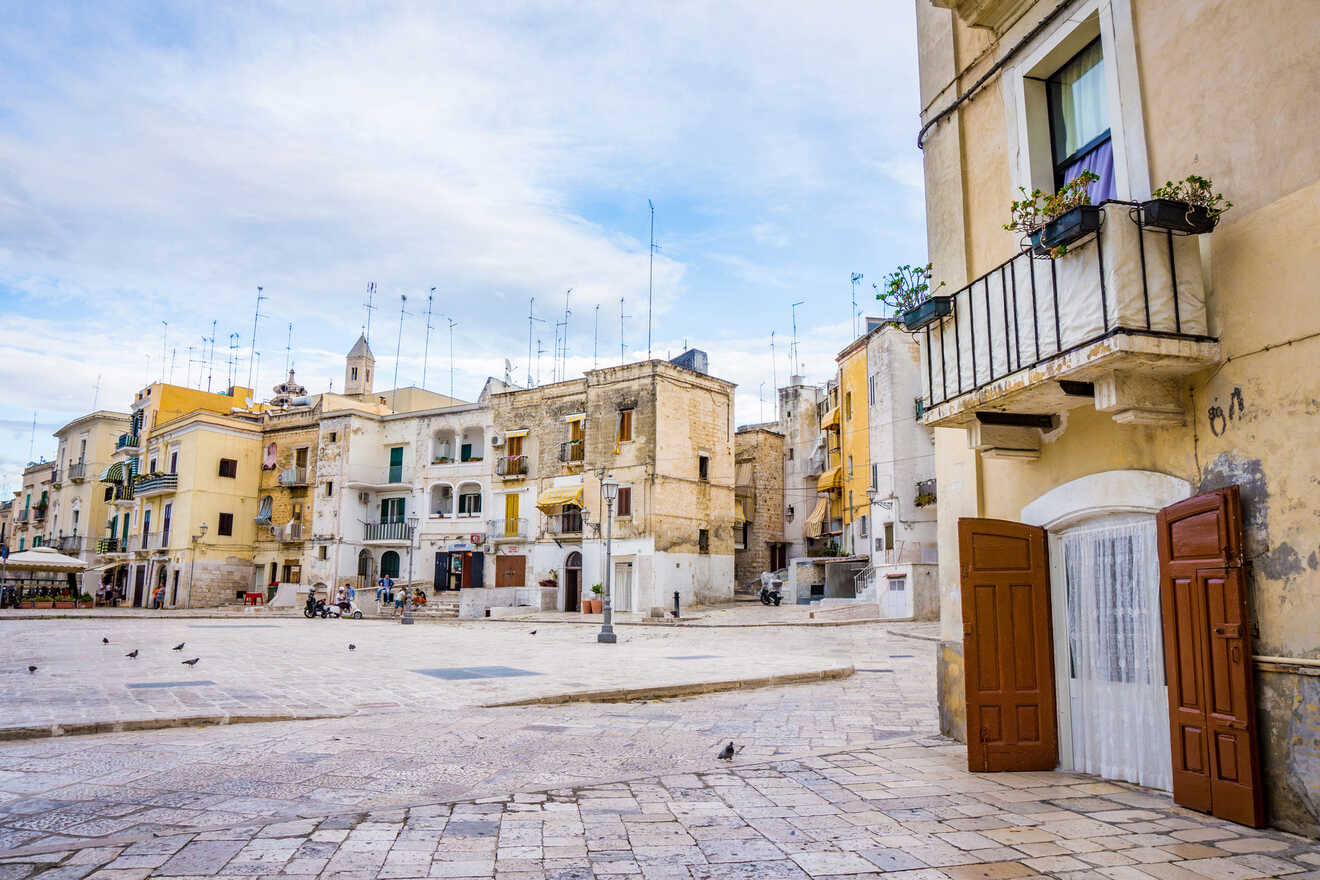 Murat is the most vibrant and vital area of Puglia's capital city, set right in between the railroad track and the so-called "Lungomare", the town's sea promenade. This is the modern district of the city meaning it's more orderly than Bari Vecchia (the old town) with wider checkerboard streets and regal buildings.
Here you'll find the most popular and cultural centers of Bari, like Palazzo del Comune (the municipal palace) and the Margherita Theatre, both facing the big avenue Corso Vittorio Emanuele II, which is also great for shopping! Immerse yourself in the local life by strolling in the famous Piazza Ferrarese and visiting the beautiful building of the University.
Being right at the south of Bari Vecchia (the old town) and very close to Bari Centrale train station, this area is perfectly connected to all the other parts of the city and other surrounding towns! If you're in town for a longer period, take the train and go visit the closeby Rome or Sorrento, they're definitely worth it!
Luxury hotel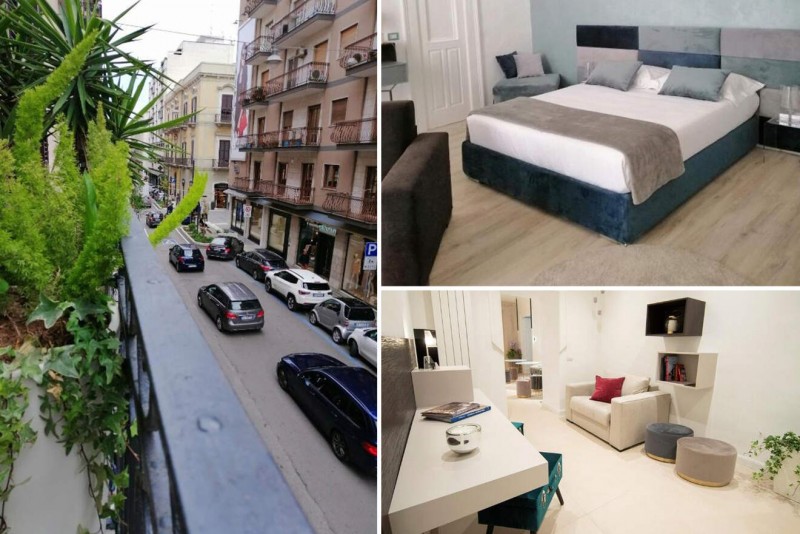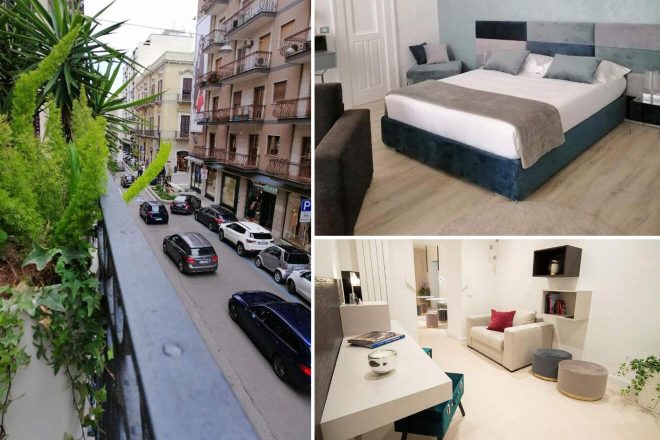 The Italian taste for design and modern style meets comfort and coziness in this beautiful B&B. Its perfect location in between Pane e Pomodoro Beach and the most popular attractions like Bari Cathedral and Basilica San Nicola makes it the perfect place to start your holiday. Don't forget to try its exquisite breakfast during your stay in Bari!
Other accommodation options in Murat
Mid-Range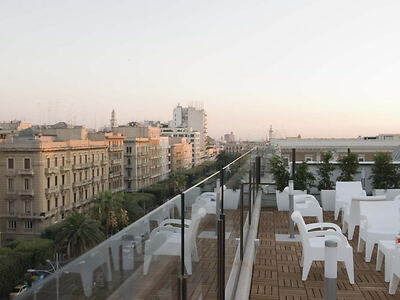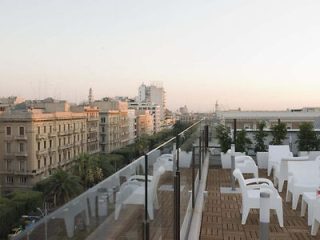 Enjoy the stunning panoramic view over Bari from this 20th-century building, right in central bari!
Budget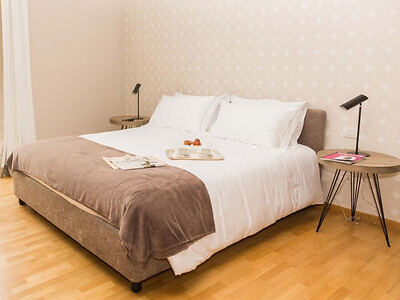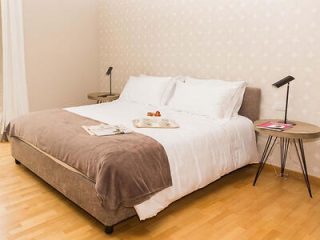 Treat yourself to the comfort of the spacious rooms and roof garden of this cozy Airbnb!
Airbnb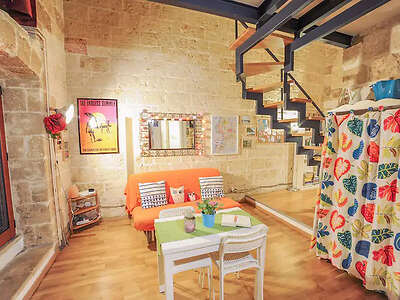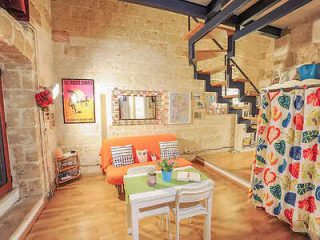 A unique, colorful, and bright loft with a wonderful outside patio for your city break!
Things to do in Murat
2. Bari Vecchia (the Old Town) – the ancient neighborhood!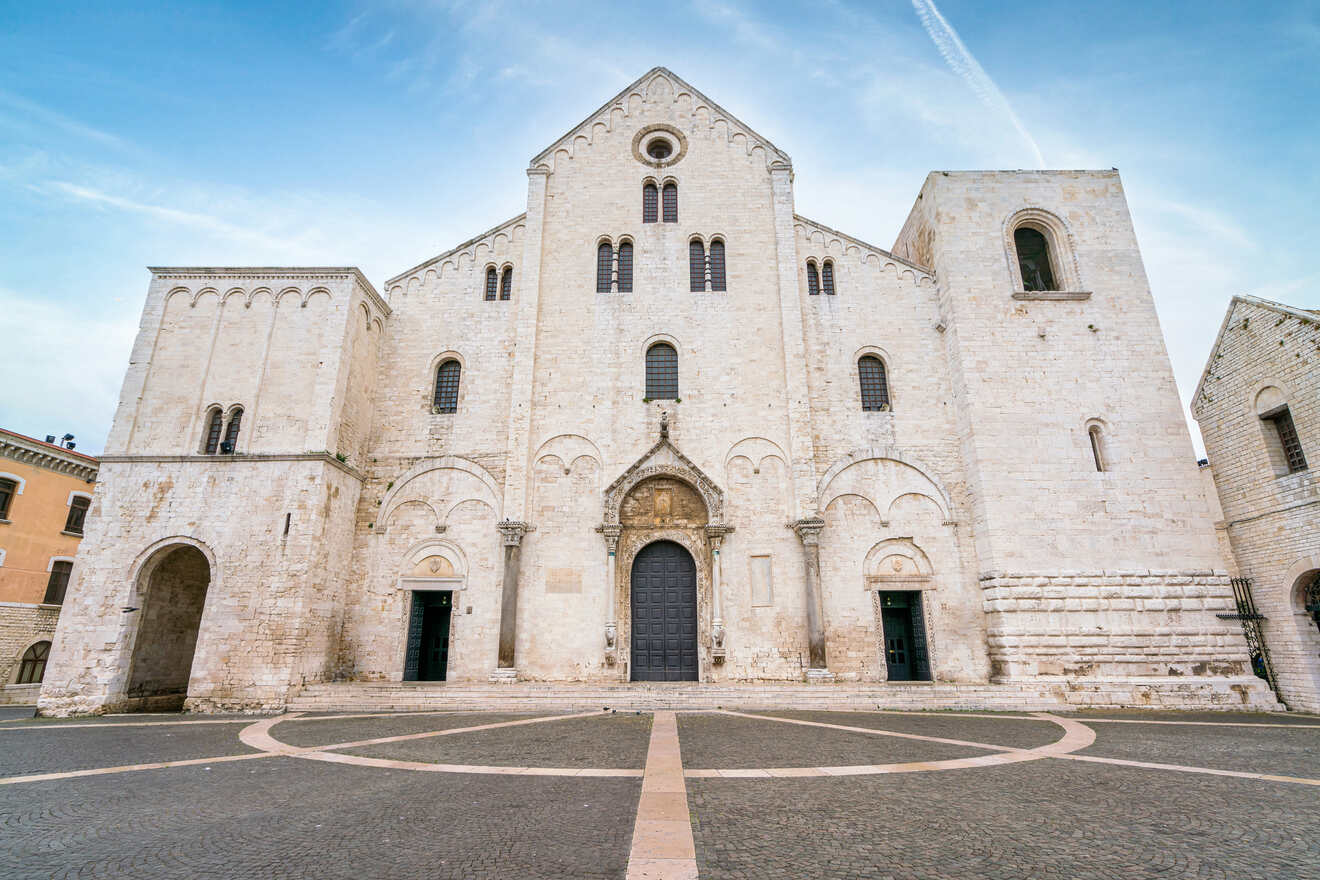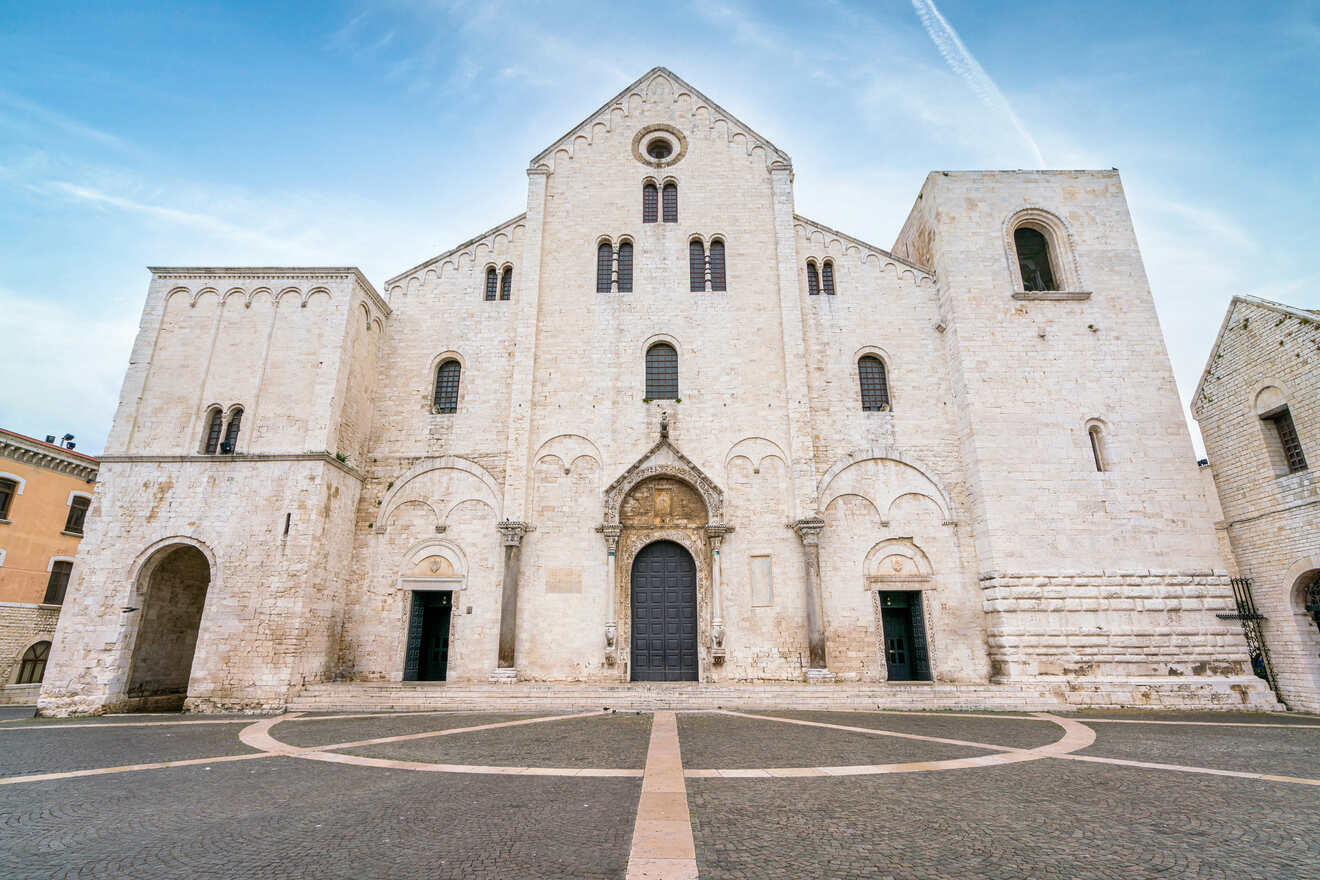 Bari Vecchia, which in Italian stands for "Old Bari", is the medieval city center, located within ancient walls it is one of Bari's most charming areas. This is the part of the city where I stayed and that made me fall in love with Bari!
Through the labyrinth of its narrow streets, the local people, and the delicious aromas that come out from the houses, I could feel the soul of the city and the authenticity of its traditions. Not to mention the amazing food I tried there: the typical focaccia, the homemade street food "scagliozze" and seafood pasta… you better not come here on a diet!
The several historical buildings like Bari's medieval castle will immediately bring you back to the past! If you want to have a taste of the typical Italian history, culture, architecture, and lifestyle, this is the place to be as it represents the folkloric neighborhood of the city where many traditions are still alive today.
From religious centers like the Cathedral of San Sabino and the Basilica di San Nicola to excellent and cheap gastronomy and alternative bars (my perfect combo), you won't know where to start! The best thing? You're within walking distance of everything you need during your stay in Bari!
Luxury hotel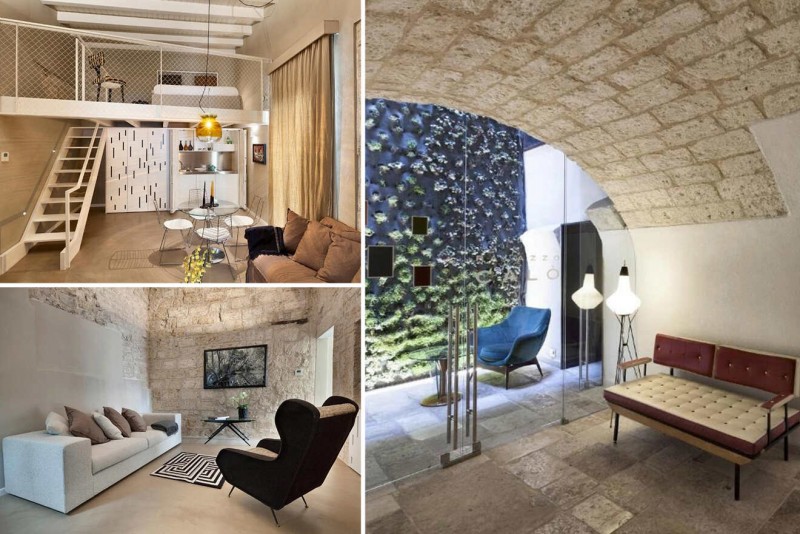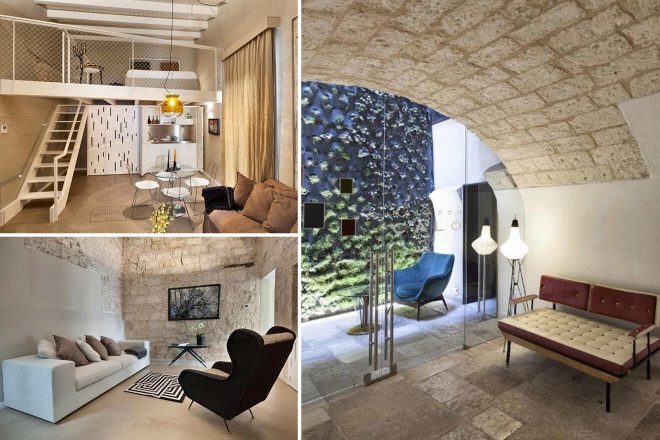 Perfectly located between the city's shopping and historic districts, this luxurious hotel is 5 min walk from all the best attractions. Start your day with a typical Italian breakfast and finish it with a drink on the rooftop terrace from where you can enjoy stunning views of the city center of Bari!
Other accommodation options in Bari Vecchia
Mid-range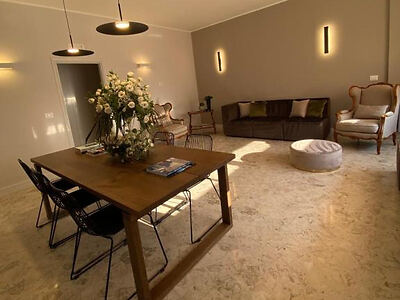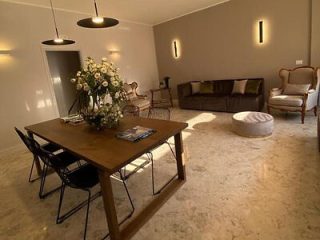 Enjoy the view of the palazzo Mincuzzi from these modern and beautiful rooms!
budget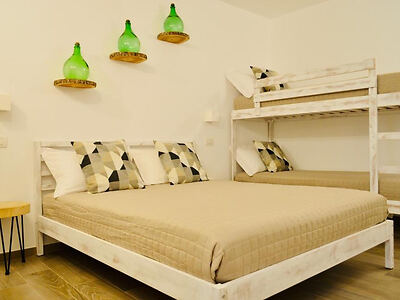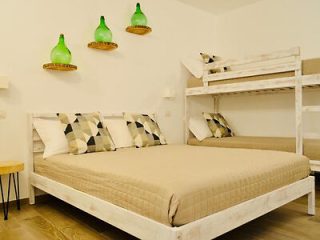 Have a traditional experience in this cozy B&B with free wi-fi and Italian breakfast
airbnb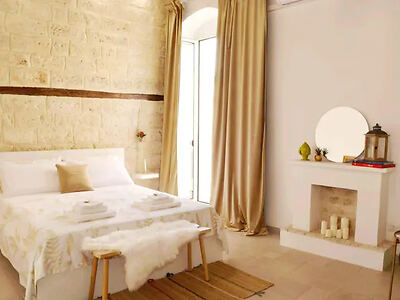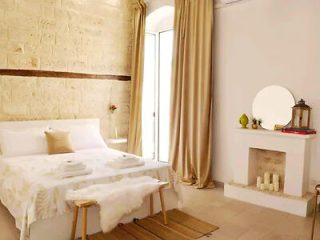 Immerse yourself in the sounds and folklore of the old town of Bari!
Things to do in Bari Vecchia
3. Bari Palese – the closest neighborhood to the airport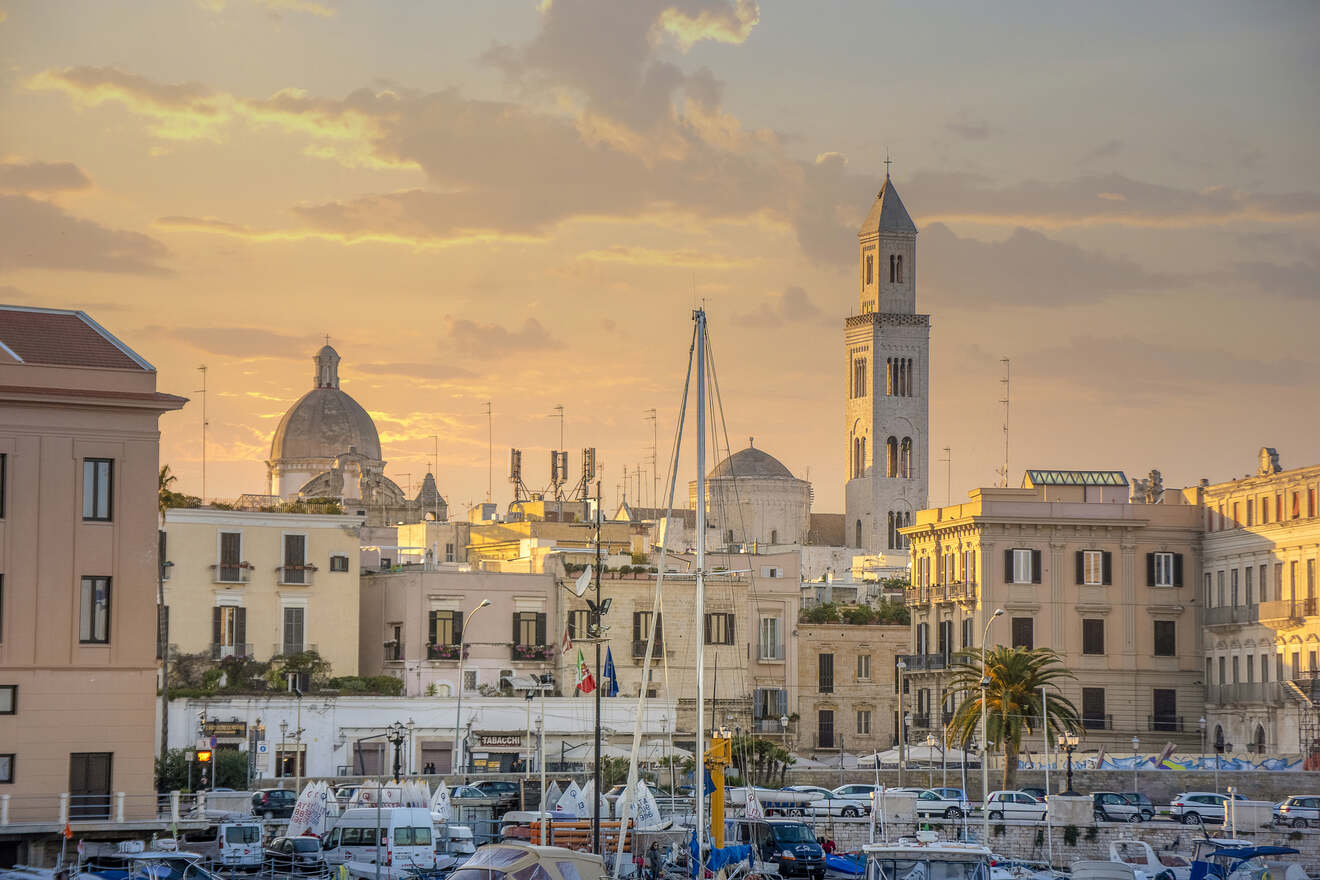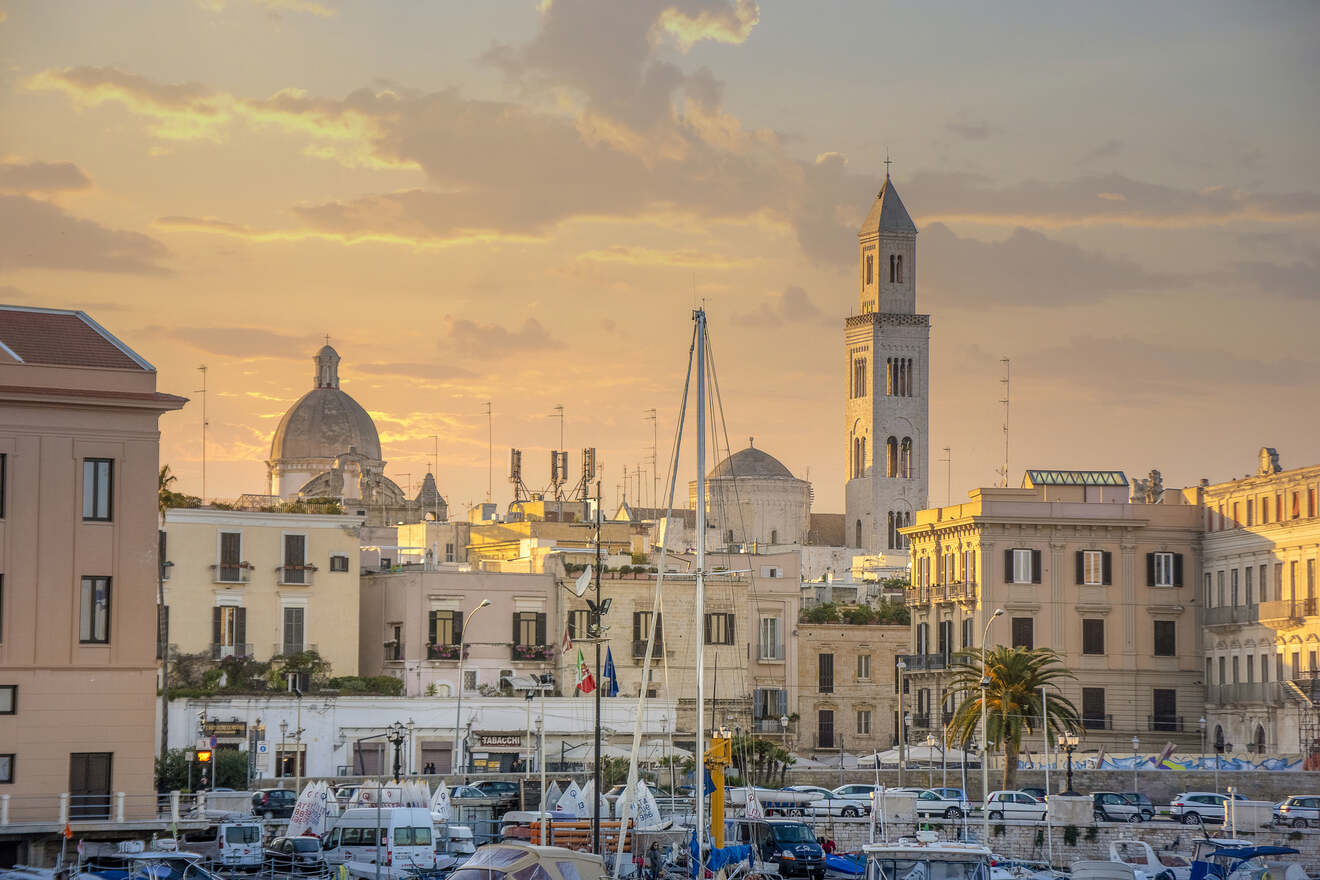 If you are on a layover or you just prefer to stay in a quieter neighborhood, then Bari Palese in the Airport Area is what you're looking for! Palese lies in the west of Bari, 8km (5 miles) from Bari's historic center. This area becomes very handy if you don't wanna miss your flight at the Karol Wojtyla airport – the city's international airport and Puglia's main air terminal.
But that doesn't mean there's nothing else to do here during your stay in Bari, especially if you're the type of traveler who enjoys more local spots rather than touristic and crowded ones. The bars, restaurants, and shops of this neighborhood will transmit you a more authentic feel!
Are you a sea kind of person? No problem! The area also offers some lidos (seaside swimming pools) and beaches, from where you can gaze at the stunning views of the Adriatic coast.
Luxury hotel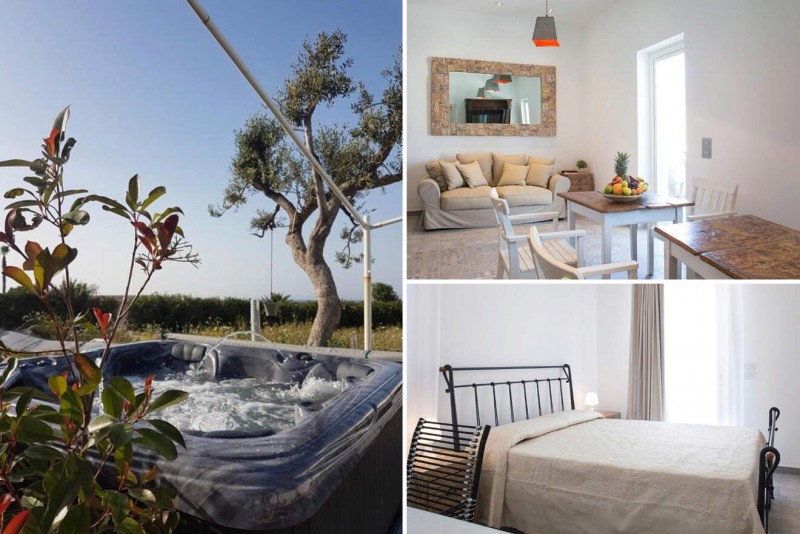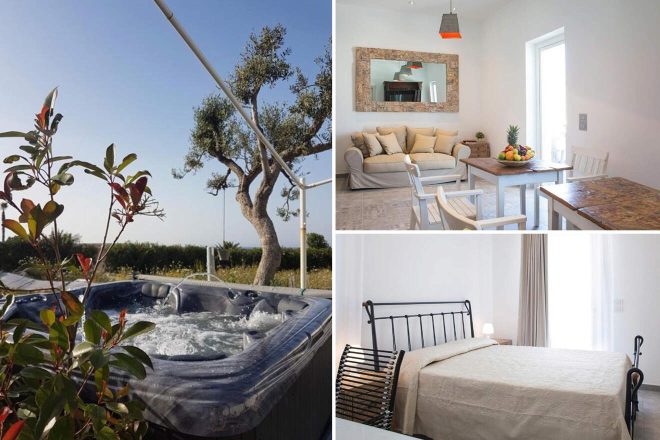 This precious B&B is the perfect solution to explore the city and enjoy at the same time all the comforts of the accommodation with a barbecue, a garden, and a roof terrace where you can take some sun! With its ideal location, you'll be able to easily access both the beautiful beach Spiaggia Bianca and Bari airport, only 5 km (3 miles) away.
Other accommodation options in Bari Palese
Mid-Range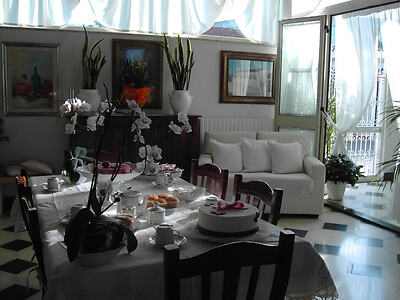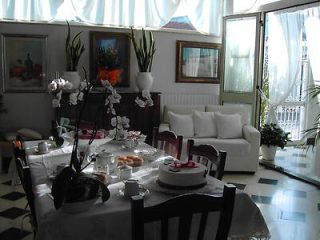 Classic furniture and beautiful paintings in this Villa that is only 5 min from the airport
Budget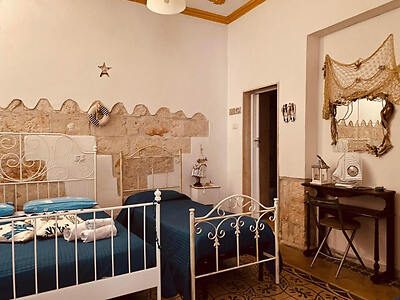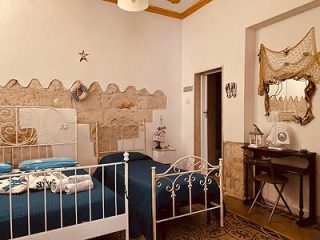 Enjoy free wifi, air conditioning, and typical Italian breakfast in this cozy Airbnb
Airbnb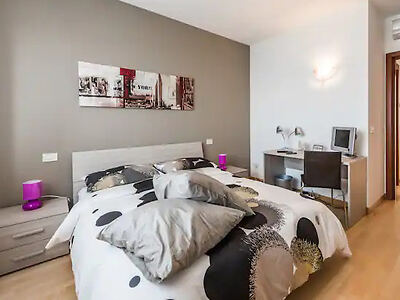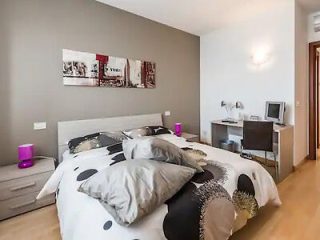 Feel at home during your stay in Bari in this comfortable and fully furnished apartment!
Things to do in Bari Palese
4. San Nicola Stadium – where to stay in Bari for great events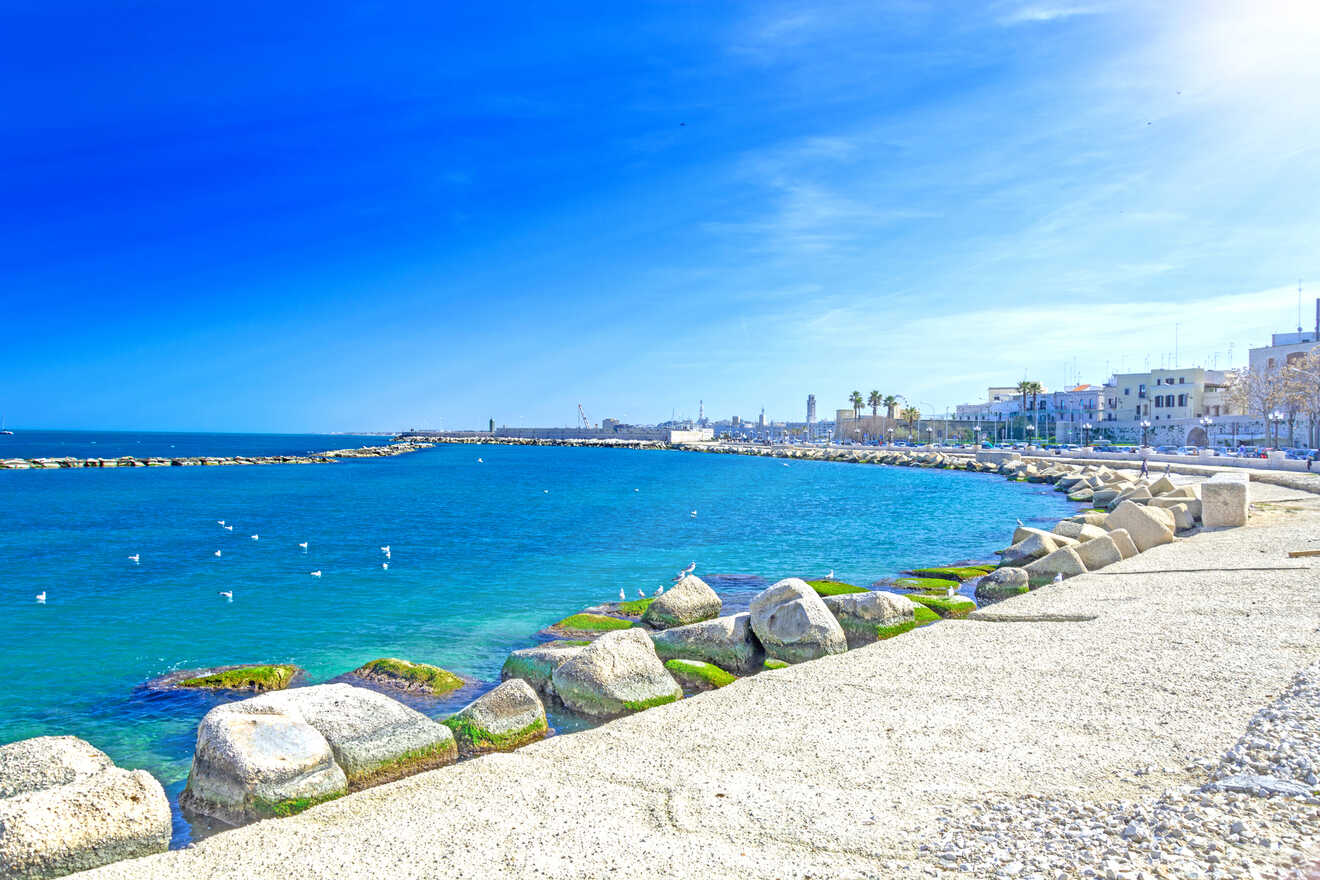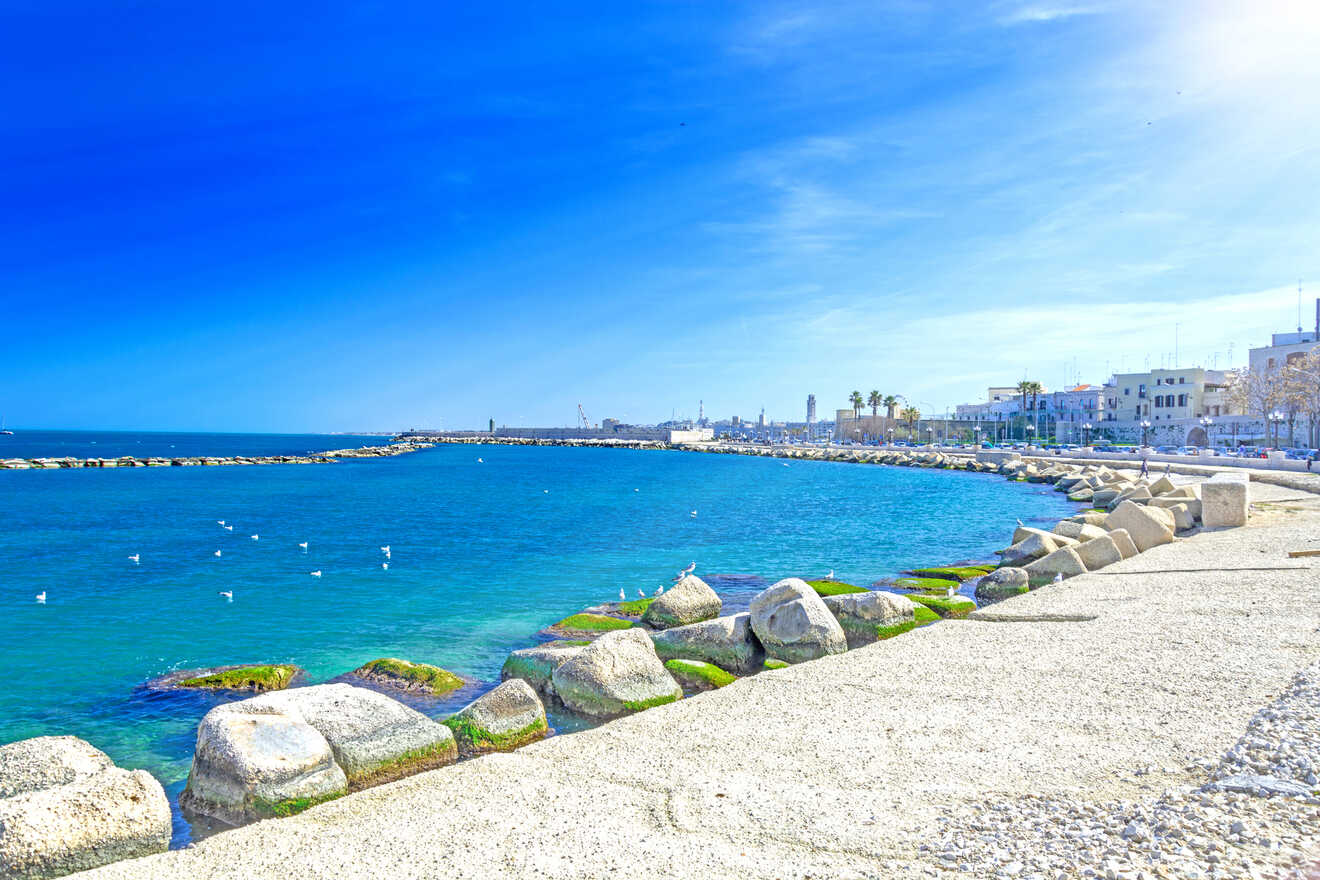 The San Nicola Stadium area in the southwestern suburbs of the city obviously takes the name from its famous stadium, home of the Bari sports association, a national football team.
Being the 2nd largest stadium in Italy, this arena has a capacity of 58,000 people and hosts the most diverse events, but is mainly known for football matches (in fact, it was originally built for the 1990 World Cup!).
The surroundings of the stadium are characterized by a modern type of architecture and is residential and quiet. It is populated mostly by locals so you will get an authentic feel of the city here. This neighborhood is the ideal choice because it offers lower costs for accommodations and extensive connectivity with public transport to Bari and other surrounding cities!
Luxury hotel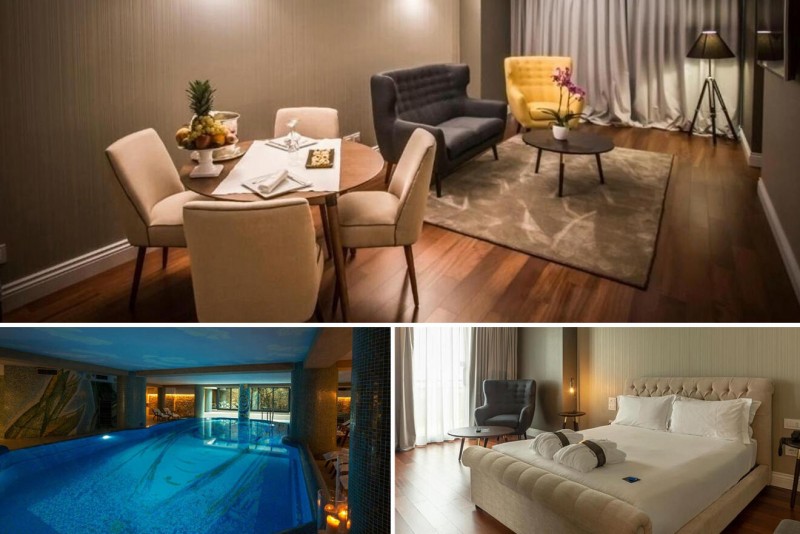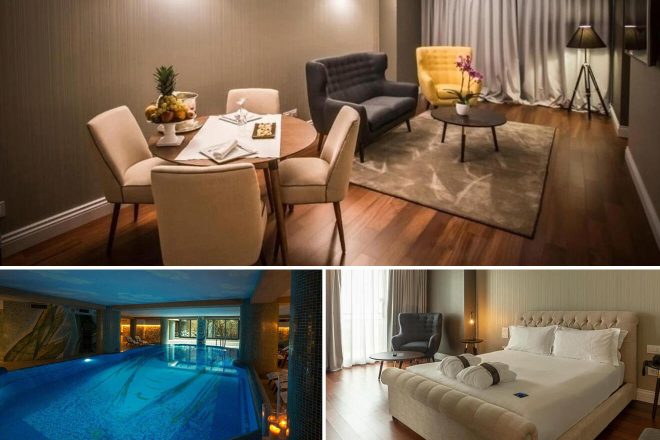 Mixing style and comfort, this sophisticated 4-star hotel will make your stay in Bari a timeless experience! Take a break from the busy everyday life, discover the flavors of Puglia in the traditional restaurant and get special treatment in the relaxing spa.
Other accommodation options in San Nicola Stadium
Mid-Range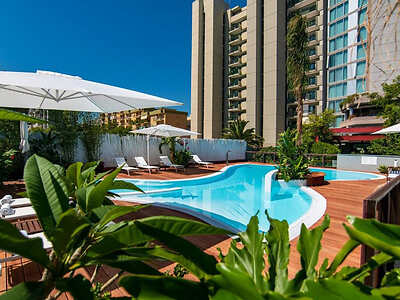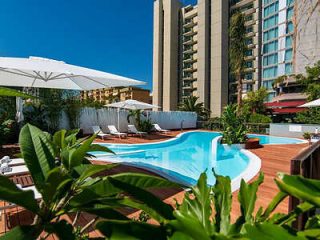 Refresh yourself in the amazing outdoor pool of this elegant stay in Bari!
Budget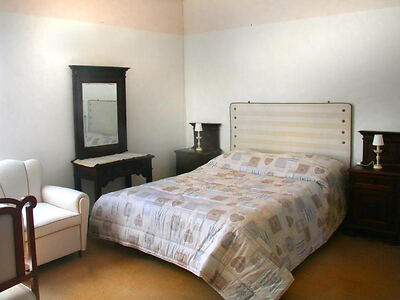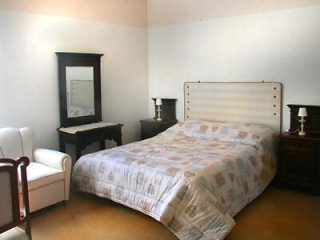 Great food and location in a traditional villa with private parking and air conditioning
Airbnb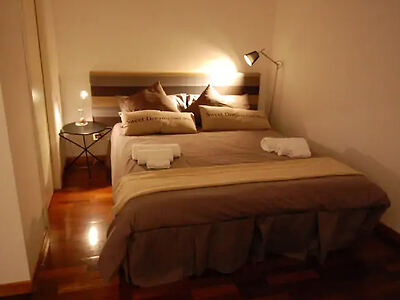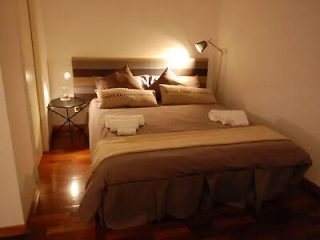 Comfy and spacious room in a quiet area, perfect for short stays
Things to do in San Nicola Stadium
| | |
| --- | --- |
| 👑 Luxury price: | €180 |
| 💵 Mid Range: | €130 |
| 🛏️ Budget: | €50 |
| 🏠 Airbnb: | €70 |
| 💰Accommodation prices: | Medium |
| 📍Best area: | Murat |
| 🏛️Best area for history: | Bari Vecchia |
| 🛎️ Best luxury hotel: | The Nicolaus Hotel |
| 🧳 Best mid-range hotel: | iH Hotels Bari Oriente |
| 👛 Best budget hotel: | Atipico B&B |
Frequently asked questions about Bari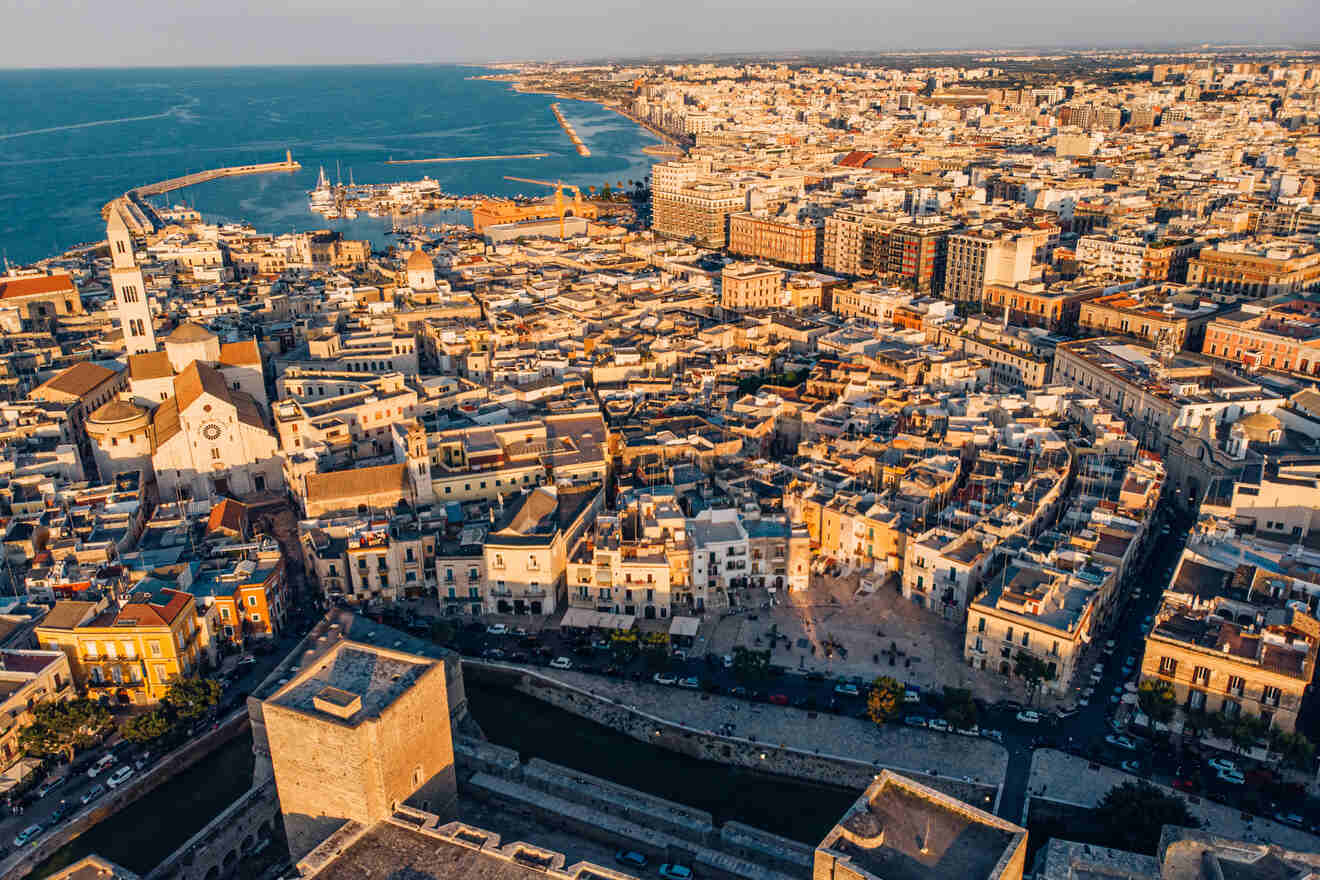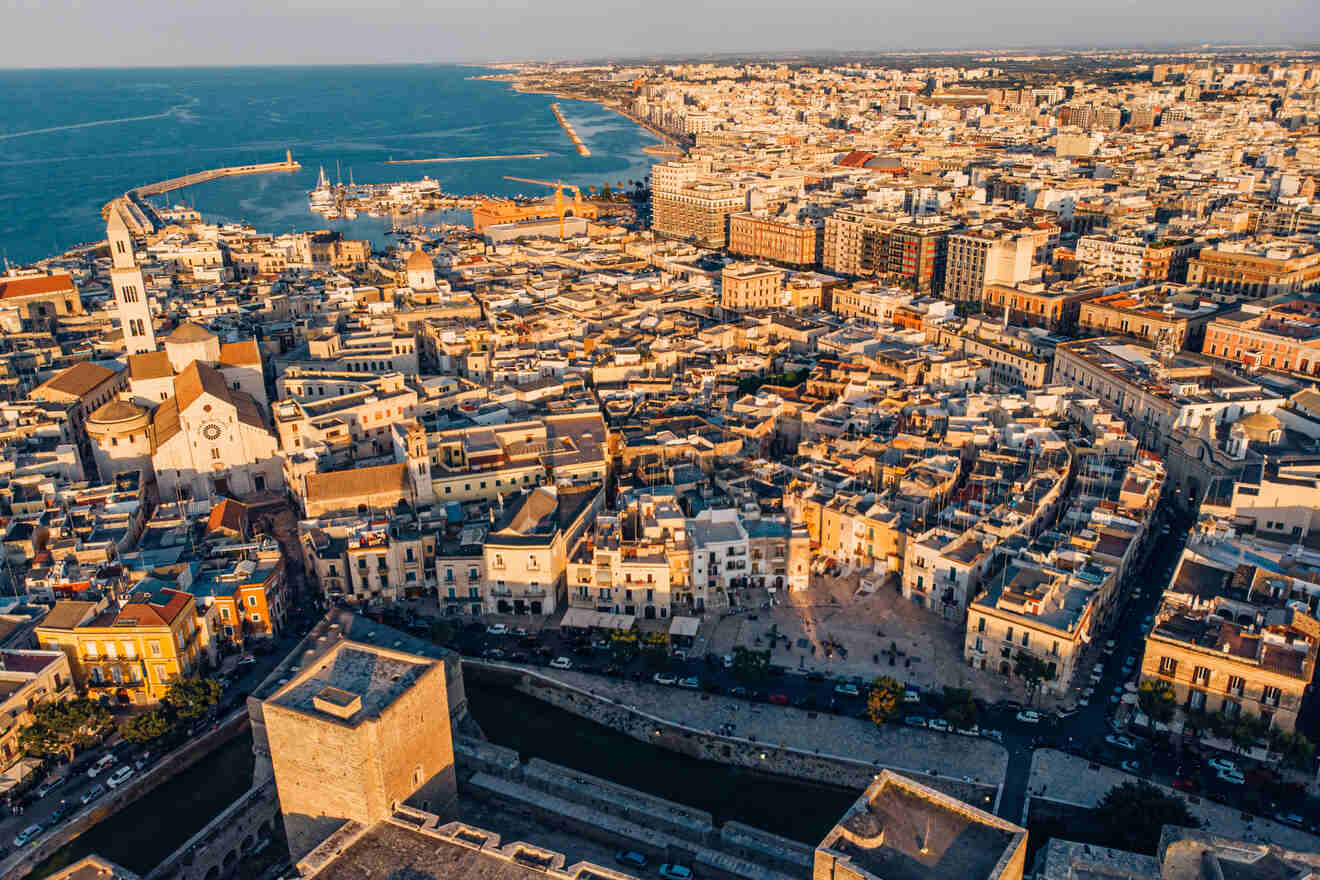 🌆 Which is the best area where to stay in Bari, Puglia?
Bari old town-area Murat is close to all the main historical monuments, to the town's sea promenade and is perfectly connected with public transport to other areas. Check Bari 102 hotel for a luxurious stay in Bari or the Atipico B&B if you're on a budget!
👨‍👩‍👦 Is bari safe for tourists? 
Bari nowadays is a totally safe city, there aren't any dangerous neighborhoods where tourists stay in Bari. However, watch out if you go to Bari train station, pickpocketing happens very often here!
📷 What is bari best known for?
Bari is a port city known for its tremendous history, culture, and architecture. Its best attractions are, the Basilica San Nicola, Piazza Umberto, Petruzzelli Theatre, the Opera House, and the mercantile square.
🏖️ Is Bari good for a beach holiday?
Yes, Bari has some beautiful beaches! The most known is Pane e Pomodoro, but close to the old town, there are also some Lidos with their private beach area, like Lido Sun Beach and Lido San Francesco alla Rena.
Conclusion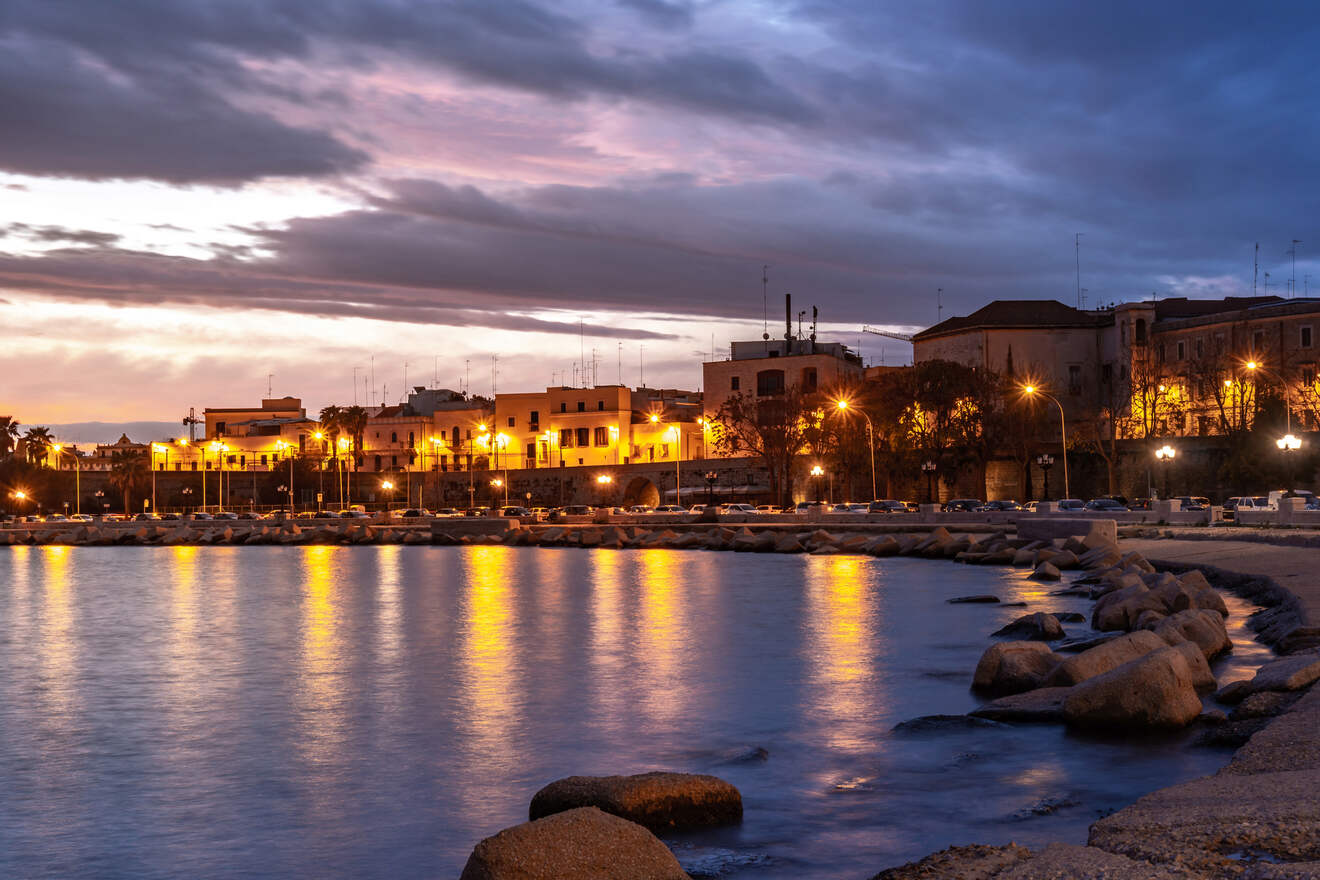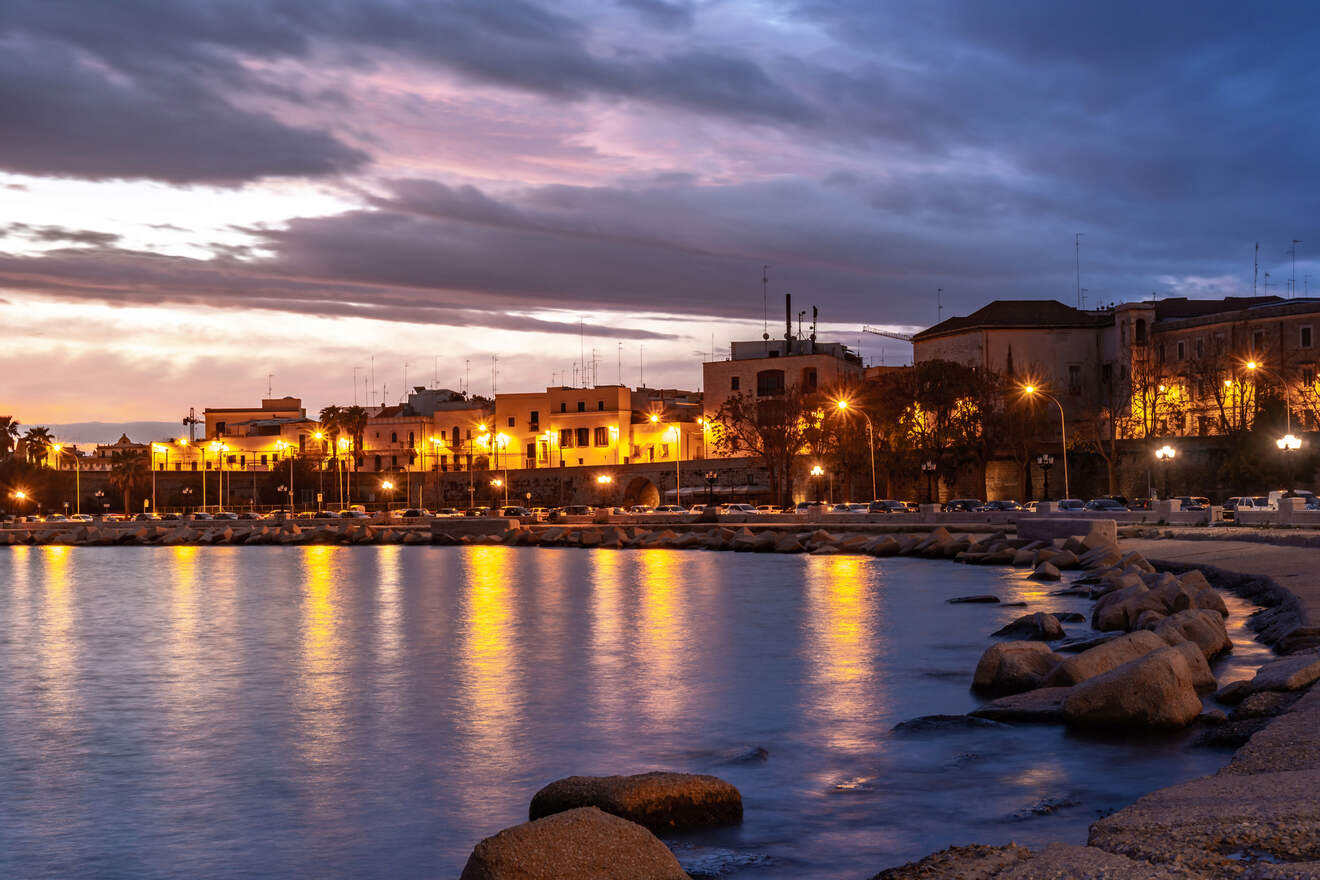 Here we are at the end of this adventure among the best neighborhoods of Bari, one of my favorite cities in southern Italy, my beloved country! The historic area, the central hub, the local neighborhood, and the outskirts close to the airport… Where are you going to spend your dreamy vacation?
I went through a lot of great options for different budgets, so I know this could be a hard choice where to stay in Bari. I would like to suggest to you my favorite ones, in the beautiful ancient city center. I am sure you will love them:
I hope this guide will help you book the perfect accommodation, but I highly recommend you do so in advance, as they sell out super quickly!
Please feel free to leave a comment below if you have any other suggestions or questions about visiting Bari, I will be very happy to answer you!
Have a wonderful trip!
Elena
---
Pin it for later!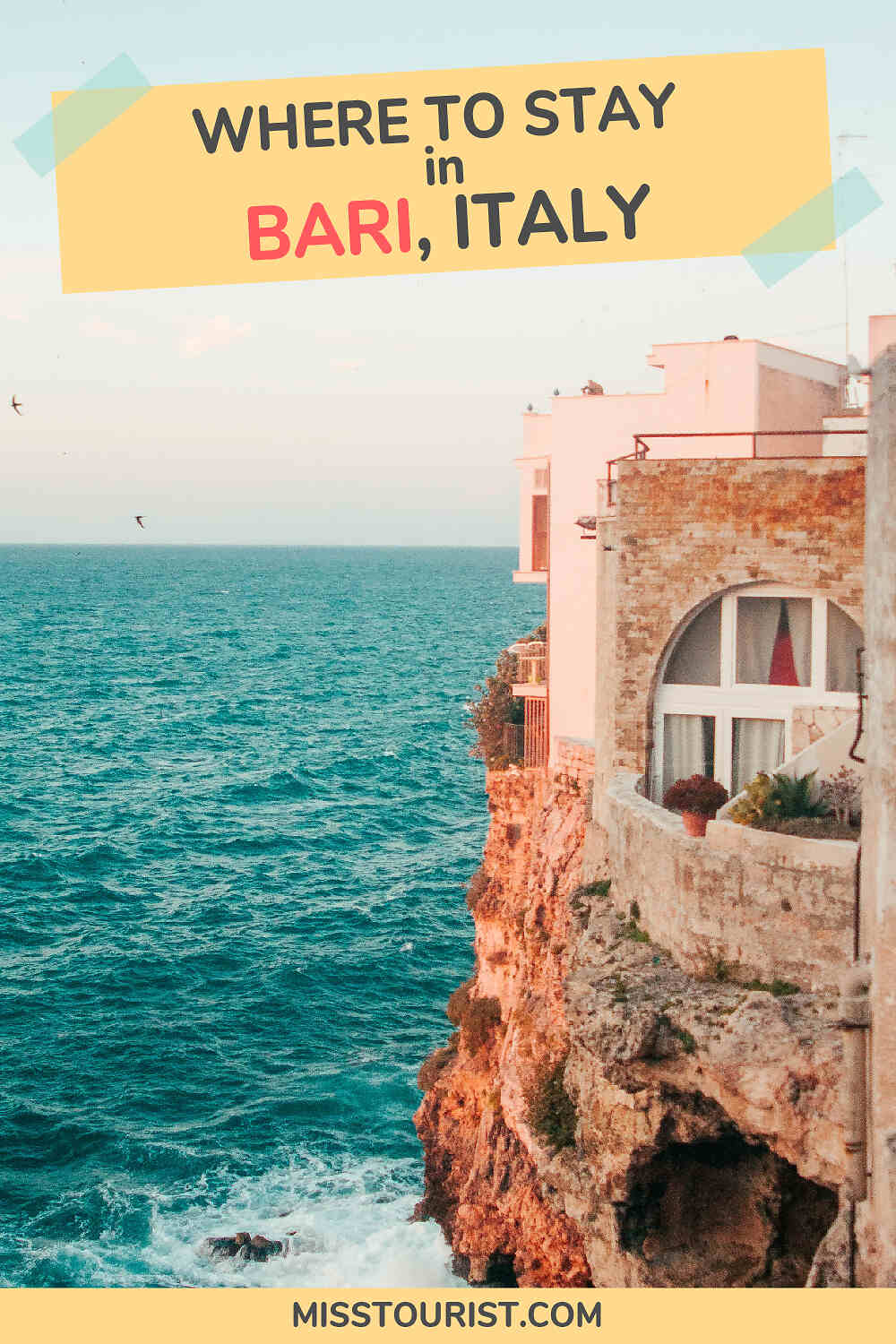 Pin it for later!