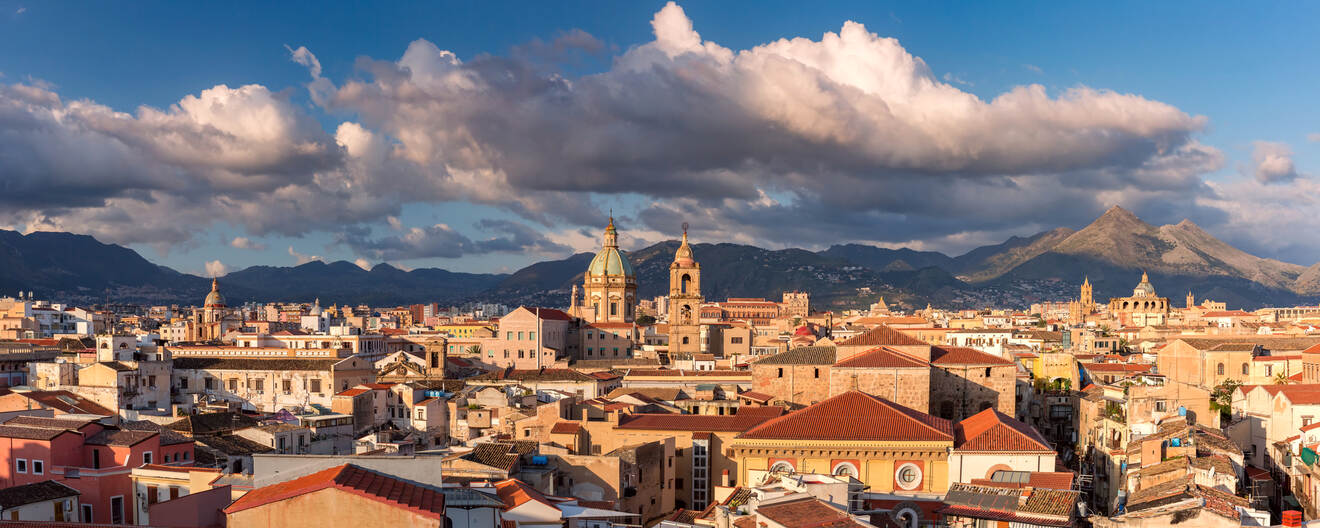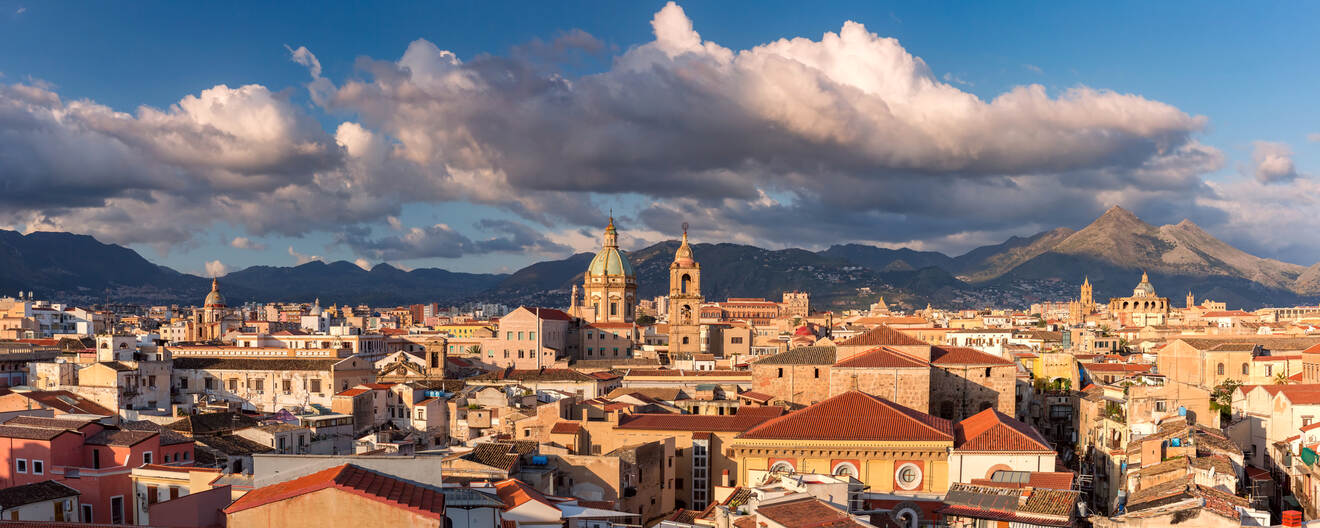 Located in the northern side of Sicily Island, one Italy's most precious gems, Palermo is a historic town that will enchant you with its colors, flavors, strong culture and, I would add, affordable prices!
Even if it's a small city, with a population of 650,000 inhabitants, it has 25 neighborhoods (a lot!) So if you have never been there before, it can be quite hard to choose the best place to stay in Palermo.
Each one has its own vibe, attractions, and accommodation for different budgets… There are also some areas that should be avoided because of their crime rate, but I am here exactly to help you with that!
Now let's stop talking and start exploring them: your holiday is not waiting for you, and neither are the accommodations, so I strongly suggest you book them as much in advance as you can if you don't want to lose the spot! Ready?
Let's go!
If you are in a hurry
If you need to take a quick decision and book your hotel immediately, I got your back, check this list with the best accommodations located in central Palermo:
Here's a map to help you have a mental image of all the areas that I will be talking about in this post: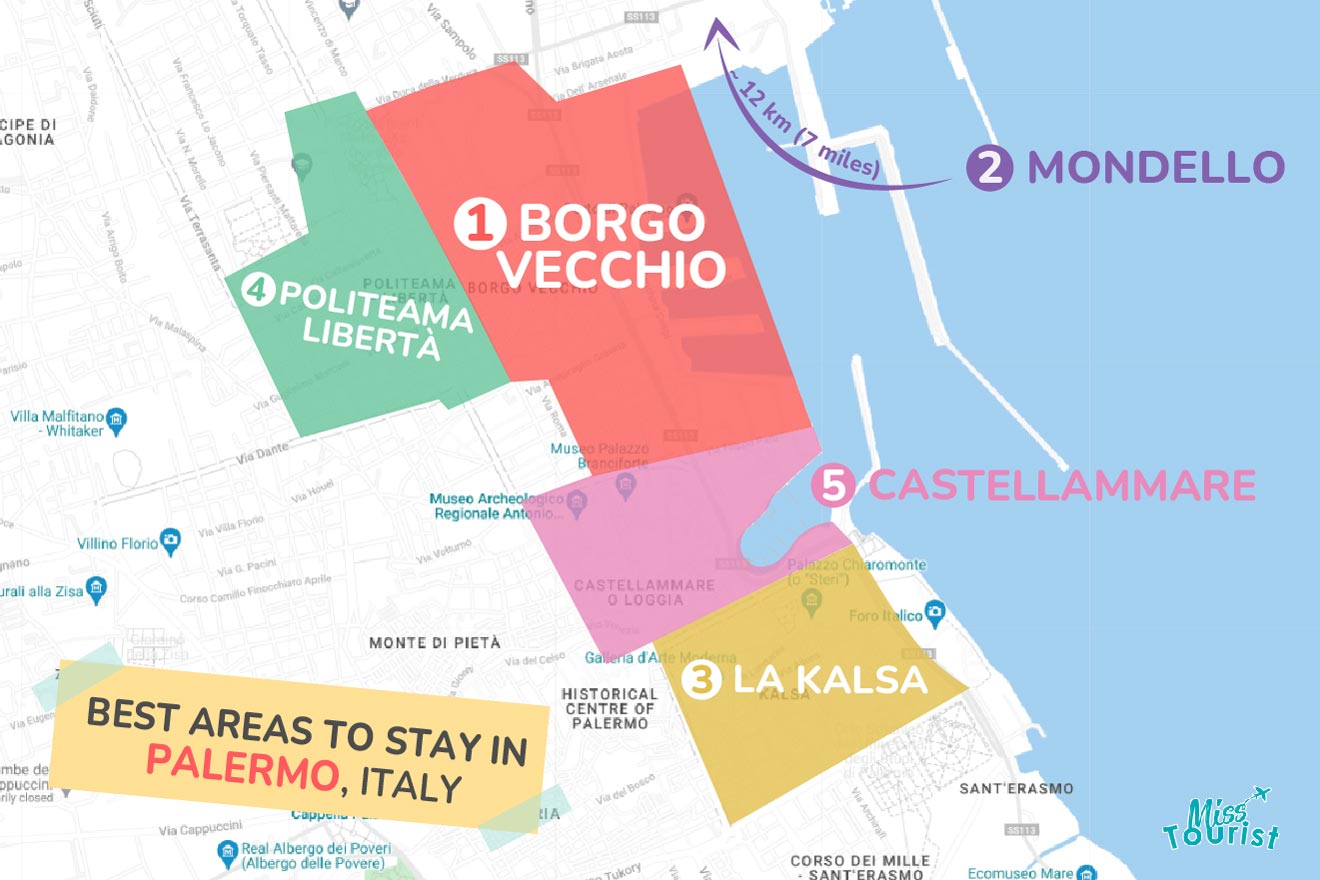 1. Borgo Vecchio – where to stay in Palermo for your first time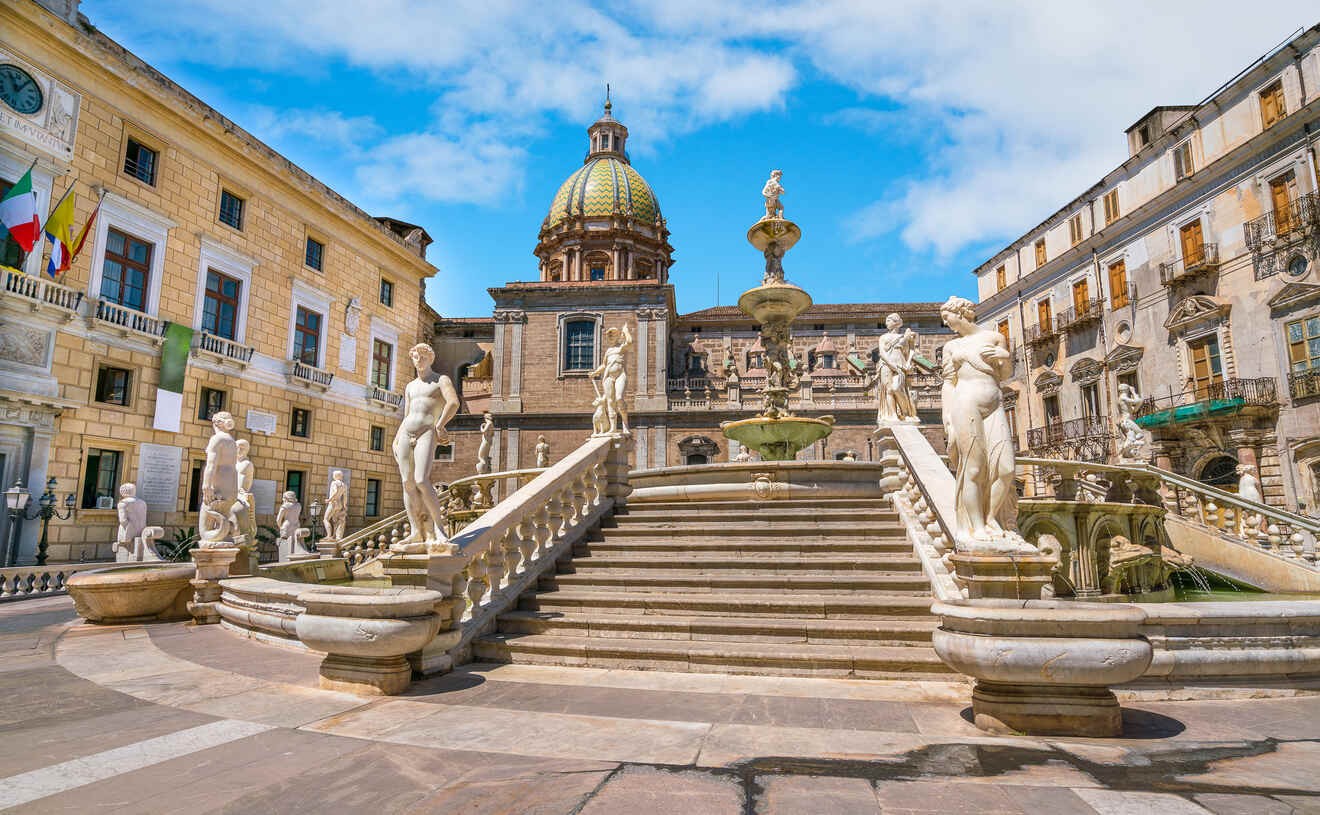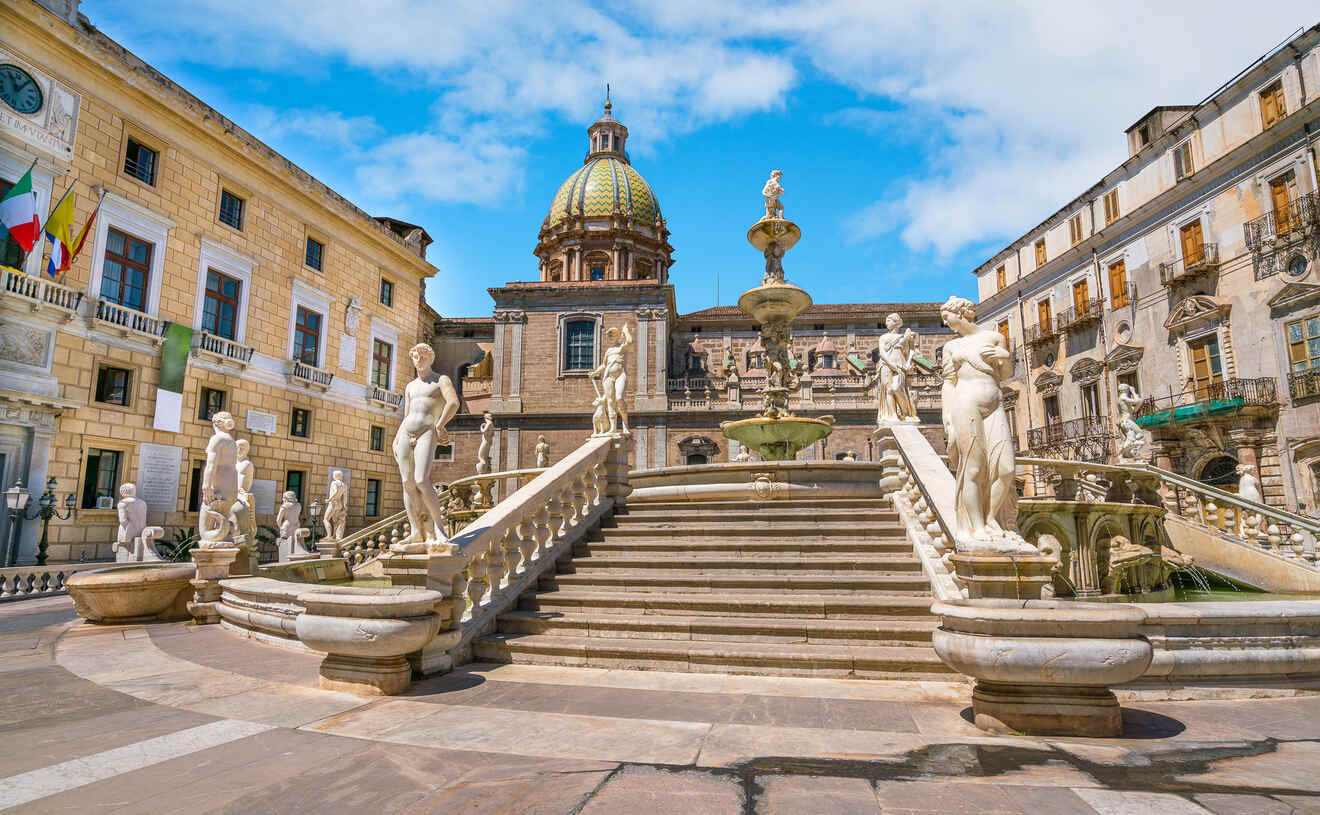 Welcome to Palermo historical city center, Centro Storico, one of the most important areas of the city where you'll find all the main attractions, major monuments, and a colorful lively vibe, offering everything a first-time visitor is looking for!
This neighborhood is just perfect if you are interested in absorbing the history and culture of the city, from the stunning Pretoria fountain to the architectural wonder Palermo Cathedral, or
The Palazzo Riso Art Museum is a great showcase of modern Italian artwork!
But there are countless advantages Borgo Vecchio will bring you, first of all, the delicious Sicilian local food. From the arancini, that is fried risotto and cheese-stuffed balls (yes you heard it right!), the typical italian pizza "sfincione", the famous cannoli… don't make me think about it!
Other than that, Borgo Vecchio is also where to stay in Palermo if you want to enjoy some amazing nightlife surrounded by locals, featuring many cool clubs, bars, and restaurants!
And if you want to be close to Palermo's airport, you'll be happy to know that you can have easy access to it by shuttle bus or train, it takes about 40 minutes! Well… what more do I have to say? This area has all you need and beyond! So check out the main hotels, and make sure you book them some months in advance!
Luxury hotel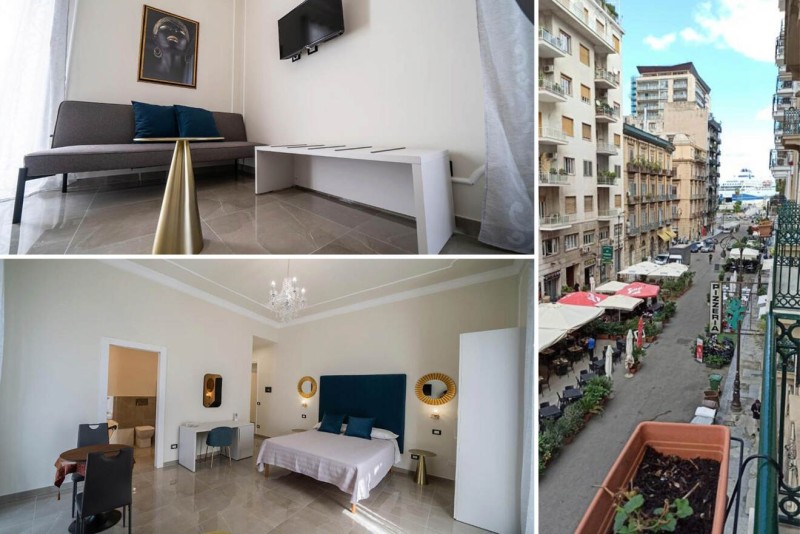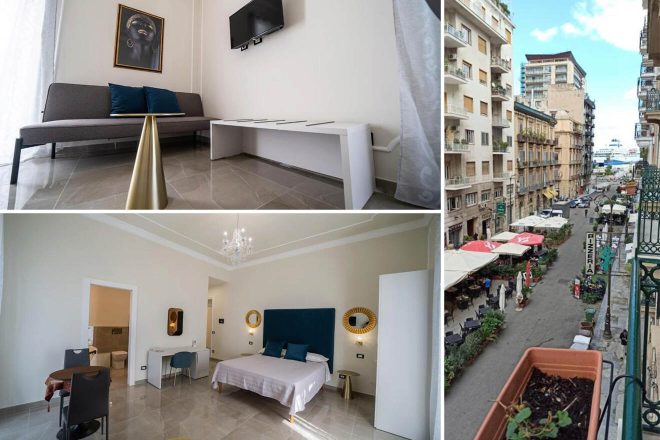 If you want to feel like an Italian aristocrat, this bed and breakfast is definitely for you! Located in the heart of Palermo city center and a short walk from Palermo's best attractions, it will give you access to everything you need. The air-conditioned rooms are just beautiful, and they offer a hot tub, a private balcony with a street view, where you can watch the real daily life in Italy!
Other accommodation options in Borgo Vecchio
Mid-Range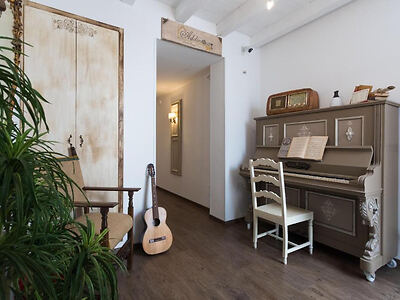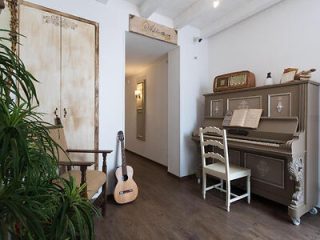 Charming bed and breakfast with super convenient parking available and a delicious breakfast on the terrace!
Budget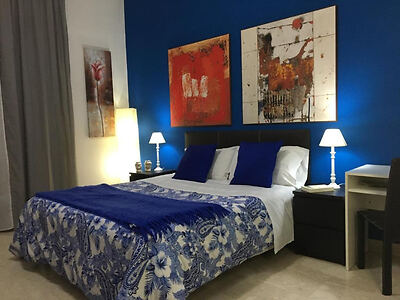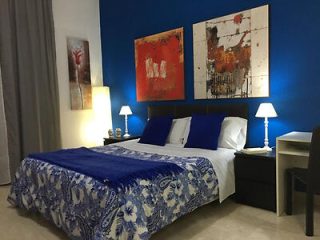 This bed and breakfast has the best quality and is located right between the old town and new Palermo.
Airbnb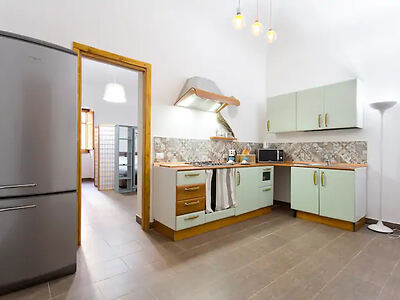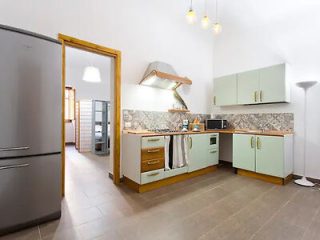 Big apartment in Palermo old town: the ideal place for a couple, a family, or a small group of friends!
Things to do in Borgo Vecchio
Gaze at the Palazzo Pretorio Vecchio
Go on a delicious street food walking tour in the centre!
Walk around Quattro Canti, a beautiful Baroque square in the centre
Wander around Via Maqueda and Via Vittorio Emanuele
Do a bar crawl with your friends!
Check out the 9th century Norman Palace
Try some street food at the colorful Ballaro Market!
Visit Monte Etna, Taormina, and Castelmola on this tour around Sicily!
2. Mondello – where to stay in Palermo for the beach!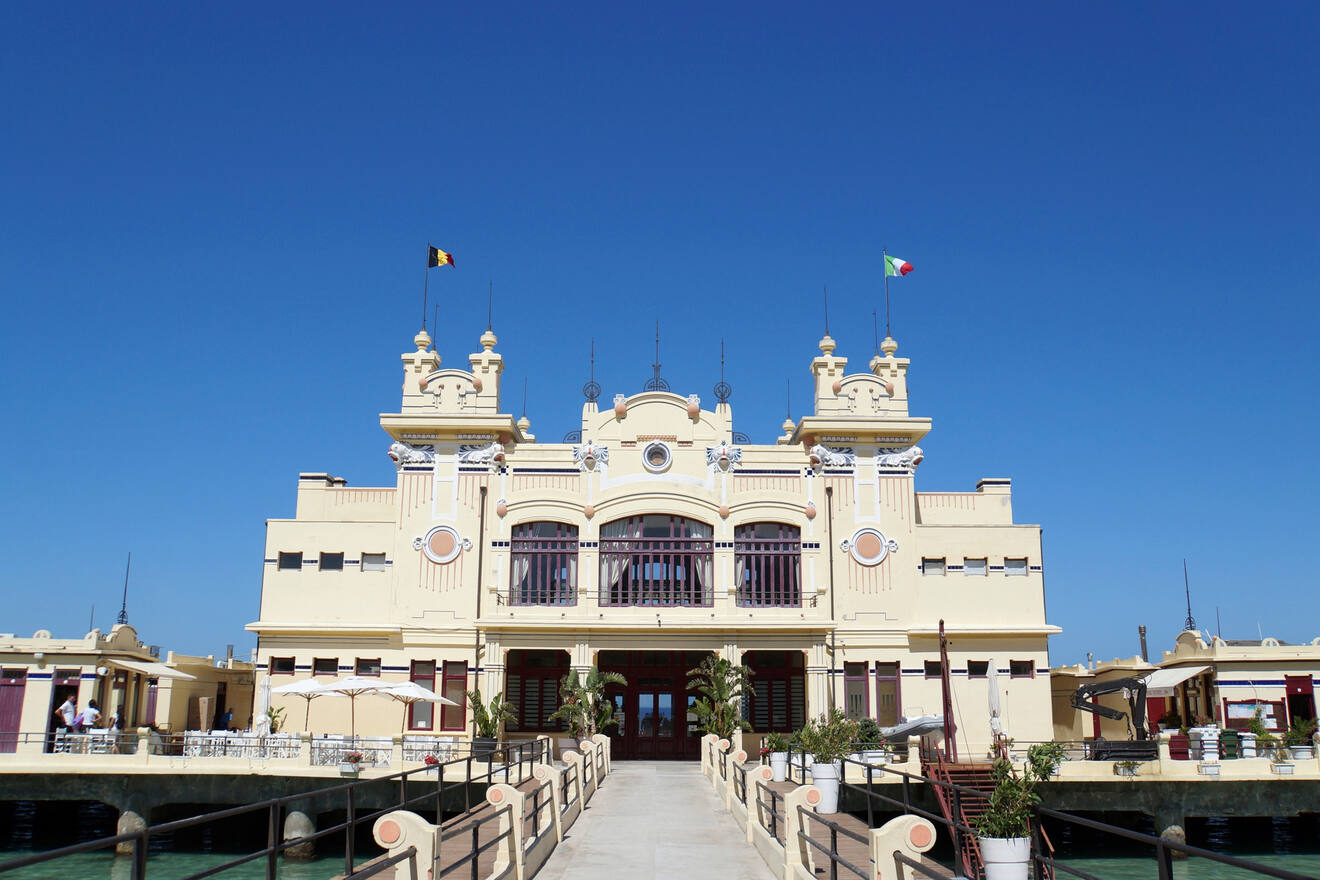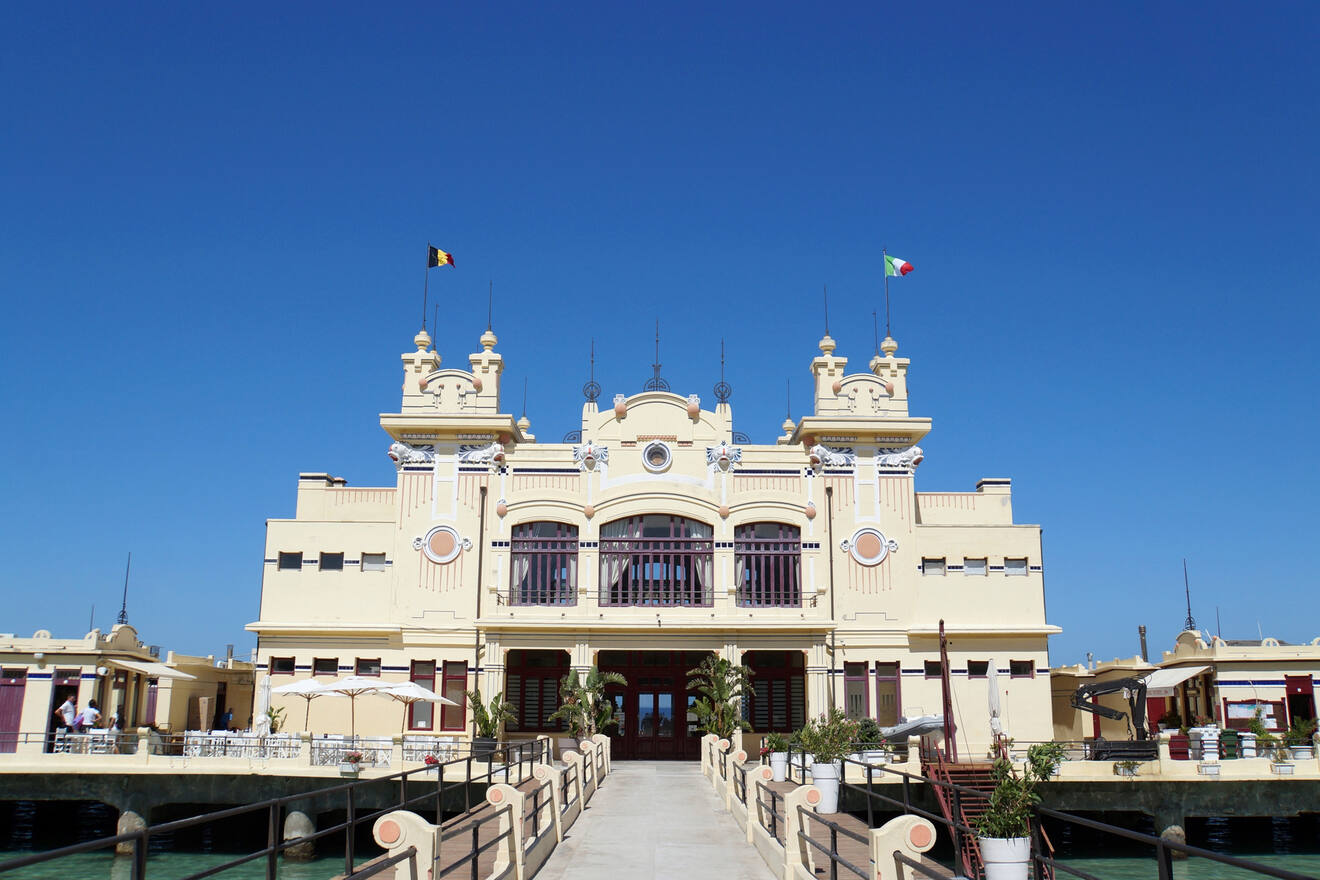 Mondello, located north of the Borgo Vecchio area, is an upscale residential neighborhood, once a fishing village, and home to Palermo's largest and most beautiful sandy beach with crystal waters.
Mondello Beach stretches for 1.5 kilometers between the two cliffs Monte del Gallo and Monte Pellegrino, other amazing natural wonders!
If you are coming to Palermo to enjoy some sun and sand, swimming in Sicily's transparent waters and Seaview Italian bars and restaurants, this is the place to be… the waters actually remind me of the ones in the beautiful Sardinia!
In fact, it is not by chance that it is one of the local's favorites, who all come in crowds, especially during the warmer months! And as a respectable beach destination, Palermo Mondello has a more relaxed and laid-back vibe than Palermo city center… which makes it just perfect!
For its location a little further away from the center (precisely 10 km), here you'll also find hotels and Airbnb's at way cheaper prices, but you will need to rent a car if you want also to get around (or to get used to the Sicilian public transport… which is also an experience!).
Let's check them out together:
Luxury hotel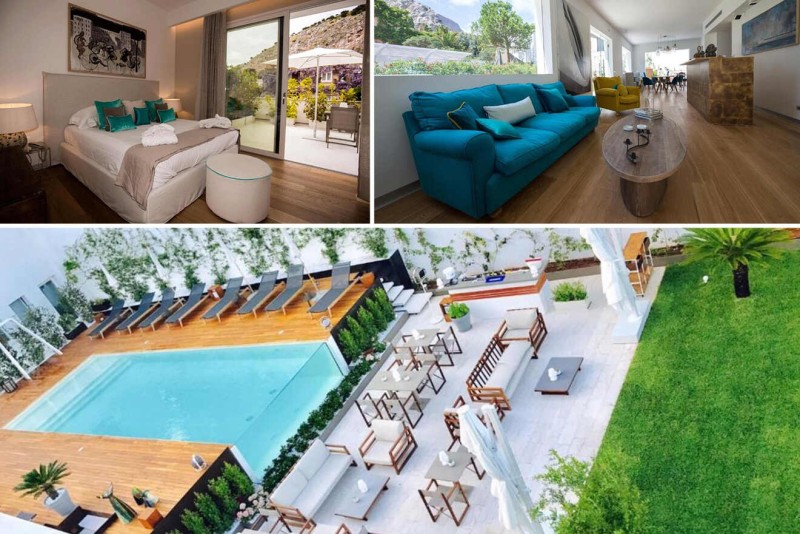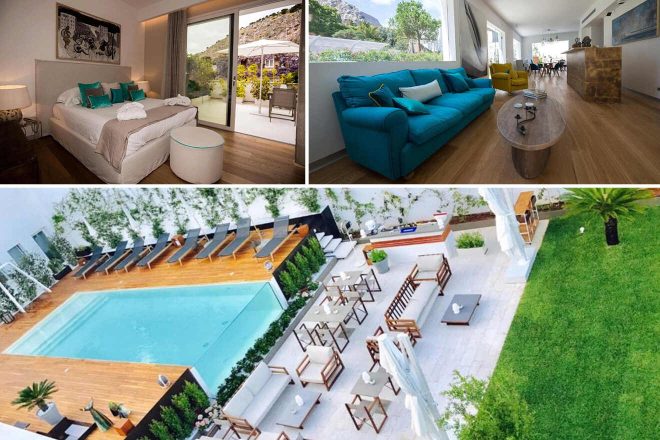 You will absolutely love this 4 stars boutique hotel located right on Mondello beach! Here you can try the tastes of Italy every morning with the delicious continental breakfast, relax in the infinity pool set in the garden, or even in the hydromassage pool on the terrace. And if you have a car to get around Mondello, the hotel has free private parking available!
Other accommodation options in Mondello
Mid-Range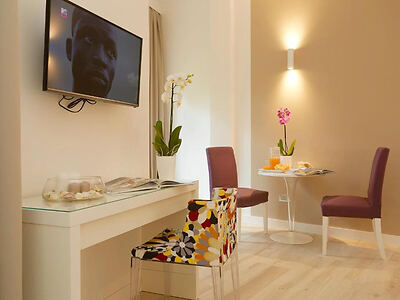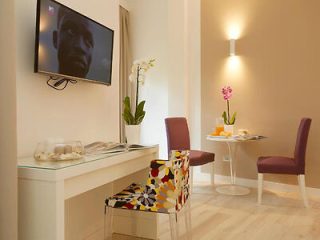 This B&B has one of the best locations in Mondello, within walking distance from Monte Pellegrino!
Budget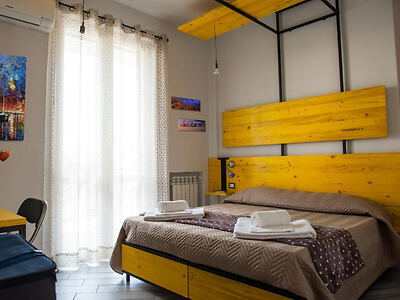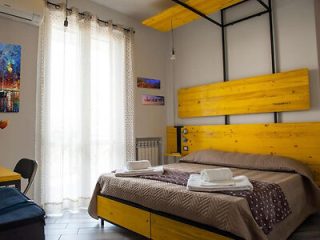 In this hotel, you will find the BEST buffet breakfast in Mondello (if not in the whole of Italy) and very good value!
Airbnb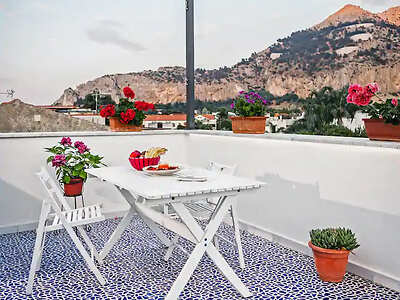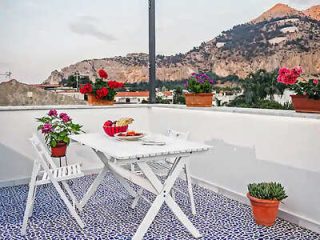 Looking for luxury for budget prices? This apartment has it, plus it's located super close to Mondello beach!
Things to do in Mondello
Bring the family to Toy Park Beach, with splash pools and water slides!
Relax, swim and splash in Mondello Beach
Enjoy Mondello's famous beachside nightlife!
Hike up Monte del Gallo for the best panoramic views!
Discover the macabre Capuchin Catacombs
Try delicious Sicilian seafood dishes at Le Antiche Mura restaurant
Check out the cute Sferracavallo village, just nearby!
Try to find the caveman paintings in the rocks of Addaura Caves
3. Kalsa – best for staying in Palermo on a budget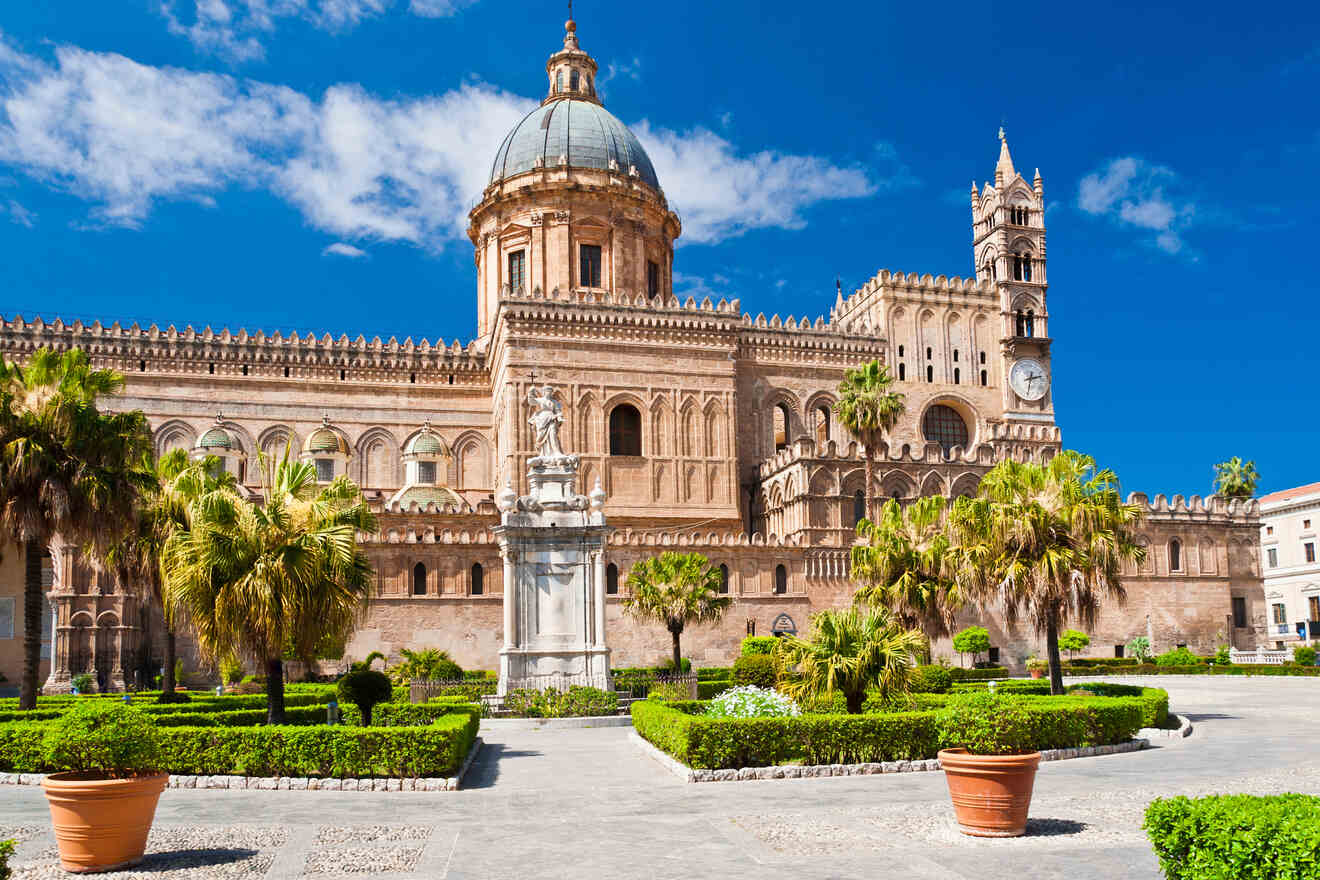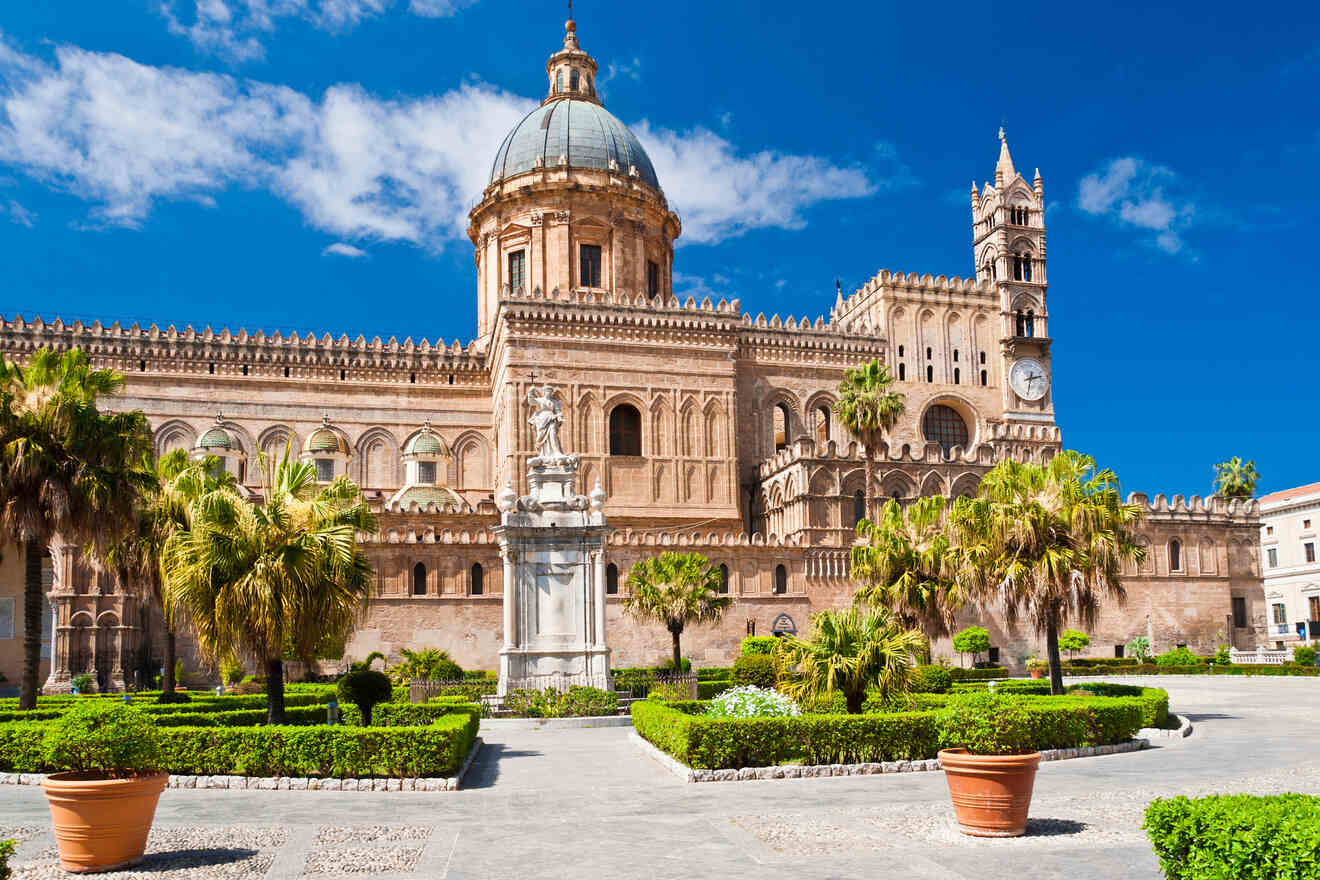 The large Sicilian Arabic quarter called La Kalsa is located south of Borgo Vecchio and near the port and is the most extensive neighborhood in Palermo due to its fusion with the Tribunales area (the reason why people also call it "I Tribunali").
This area is part of Palermo old center, and it will just strike you with its authentic and picturesque vibe, coming from the crazy mix of cultures and influences that you will notice from its churches, medieval buildings, and antique shops.
20 years ago it was considered to be an unsafe neighborhood, now quite the opposite, so don't be afraid to get lost in its charming street… you will find something cool on every corner!
Other than its great abundance of history and culture, la Kalsa offers also some natural wonders, like the breathtaking views of the Mediterranean Sea or the giant Ficus Macrophylla, over 100 years old!
And you will love it, even more, thanks to its super cheap prices… including the ones for accommodation: Kalsa is definitely the best place in Palermo if you want to stay on a budget!
Luxury hotel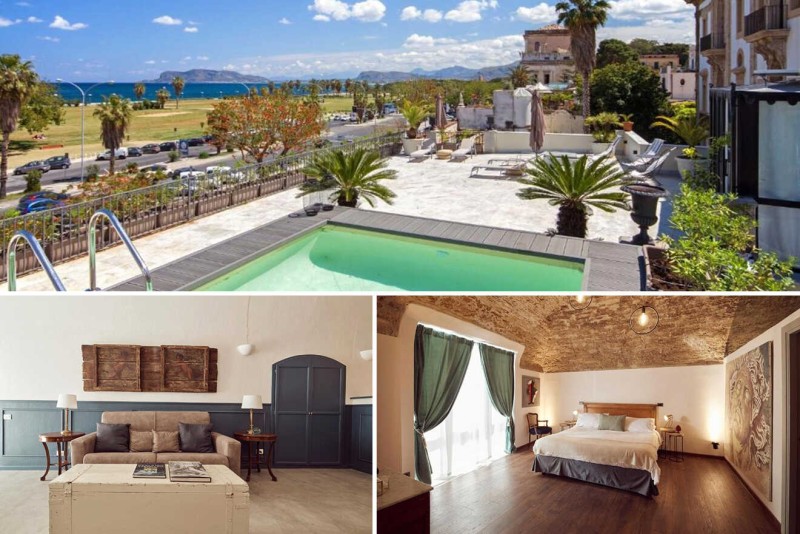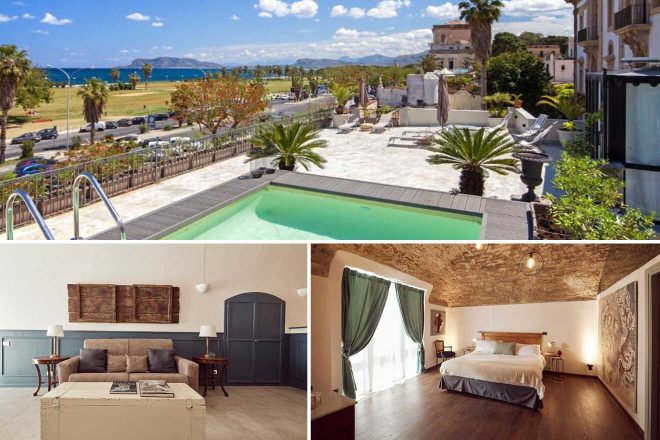 This is an amazing luxury hotel in the Palermo Kalsa area. Homey, beautiful, and elegant, it definitely has its own personality! The big air-conditioned rooms have access to a rooftop sea-view terrace and an outdoor pool. Another plus? The staff is extremely nice, helpful and pleasant!
Other accommodation options in Kalsa
Mid-Range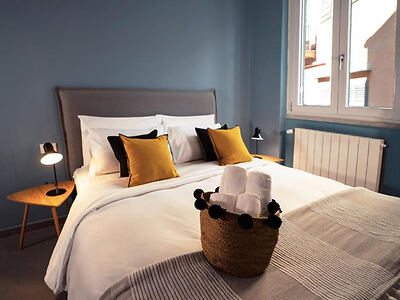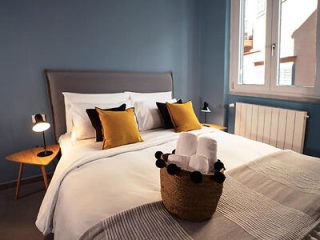 Find an excellent location in Kalsa old town and big air-conditioned rooms in this hotel in Palermo!
Budget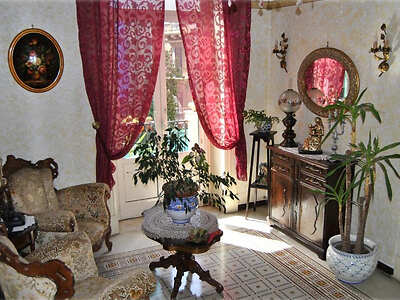 Great budget accommodation in Kalsa old town, just a short walk from public transport and some good bars!
Airbnb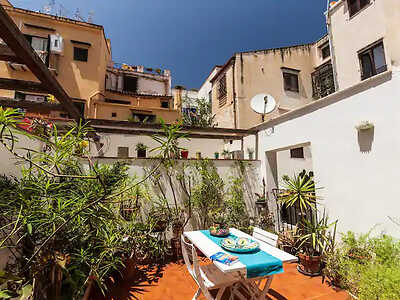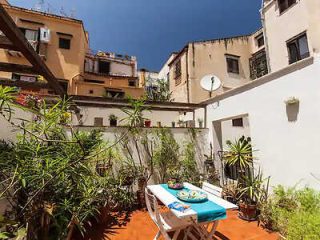 Amazing apartment in Kalsa old town with free parking and high-speed wifi… ideal for remote working!
Things to do in Kalsa
Visit the suggestive Santa Maria dello Spasimo Church
Walk around the beautiful Giardino Garibaldi
Check out the historic Palazzo Chiaramonte, home to the Philippine Prisons
Give a hug to Ficus Macrophylla, the biggest tree in Palermo!
Learn something new at the International Puppet Museum
Gaze at the architecture of the ancient Museo Palazzo Mitro House
Hop on a bike and visit the unknown side of Palermo old town!
Visit the Palazzo Butera Museum
4. Politeama Libertà – where to stay in Palermo with the family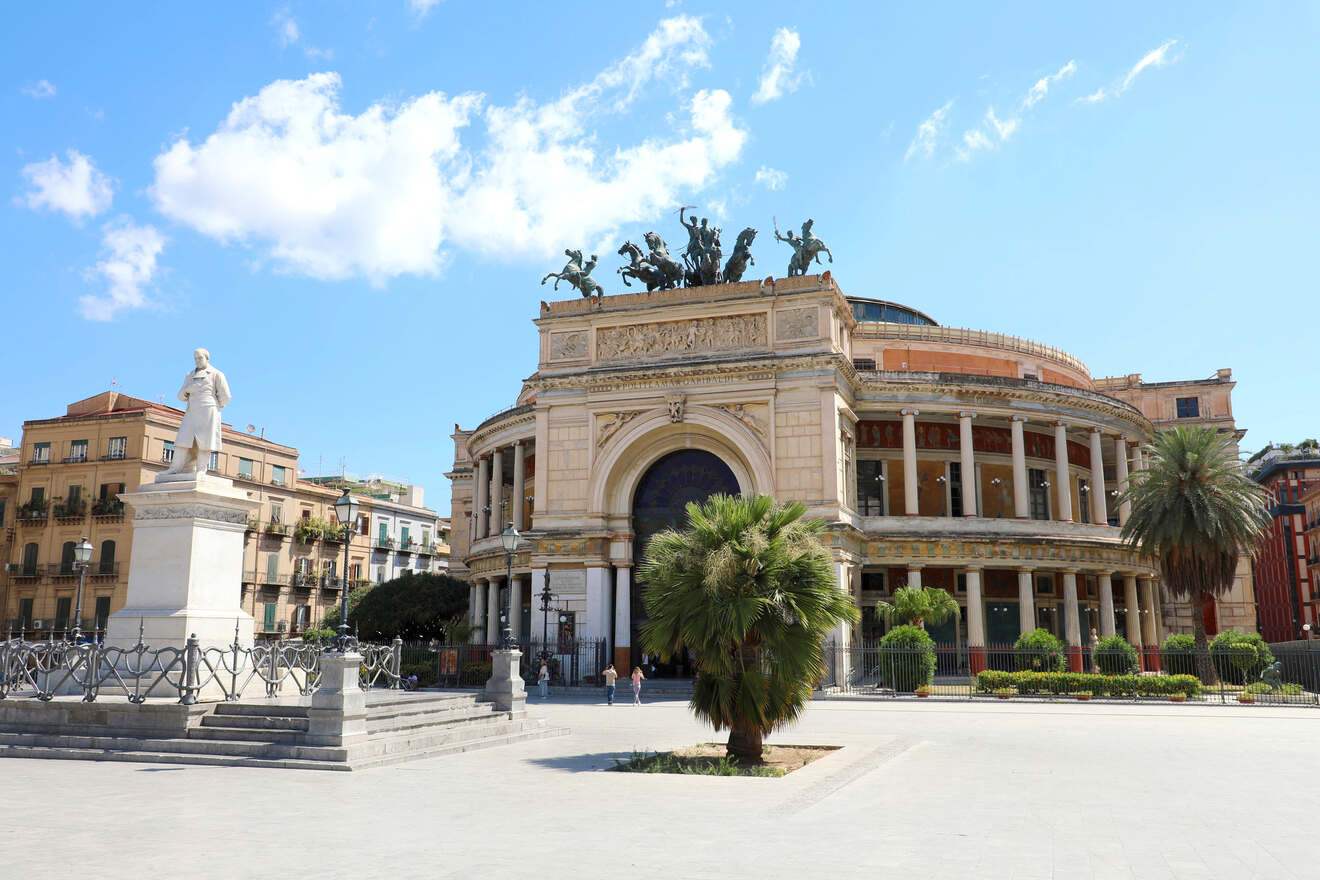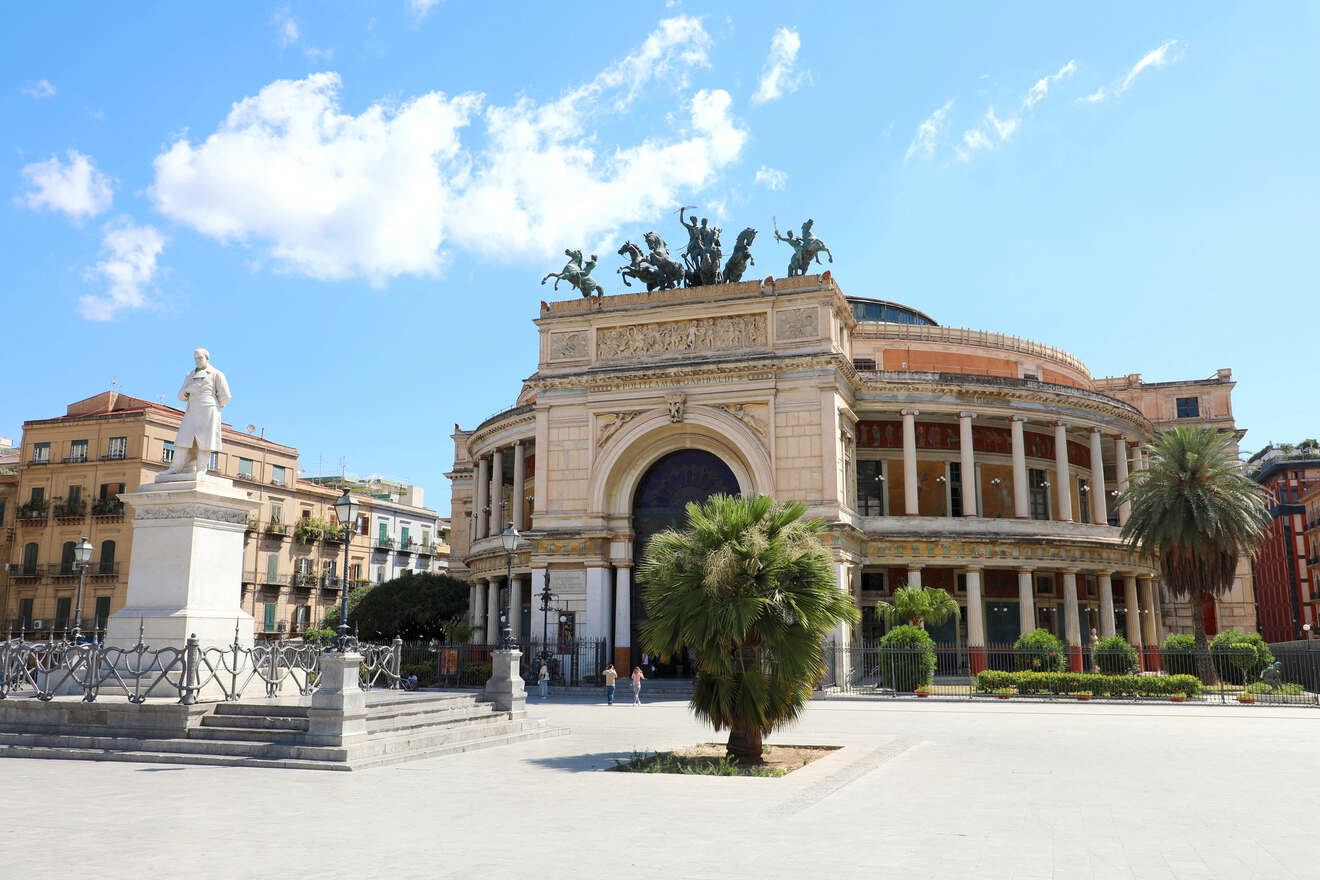 Politeama Libertà is the newest part of the city center… you can consider it Palermo's downtown area. This district is within walking distance to Old Town's best attractions and one of the safest and more quiet areas, making it a great place to stay in central Palermo if you're coming with the family.
With fewer crowds, here the chances of finding pickpockets are very rare, which can be a big plus if you're traveling with kids!
The area is also home to the best shopping in town, featuring countless store options, from the most popular (and accessible ones) like Zara to high fashion brands like Prada.
You will notice that Politeama is also one of the most upscale areas of the city, featuring high-end houses, posh bars, and restaurants… great for enjoying the night in Palermo without having to worry about walking back home!
Like Borgo Vecchio, Politeama Libertà is also a very convenient place if you want to stay close to the airport, offering shuttle buses and shared taxis from the main square Piazza Castelnuovo.
Luxury hotel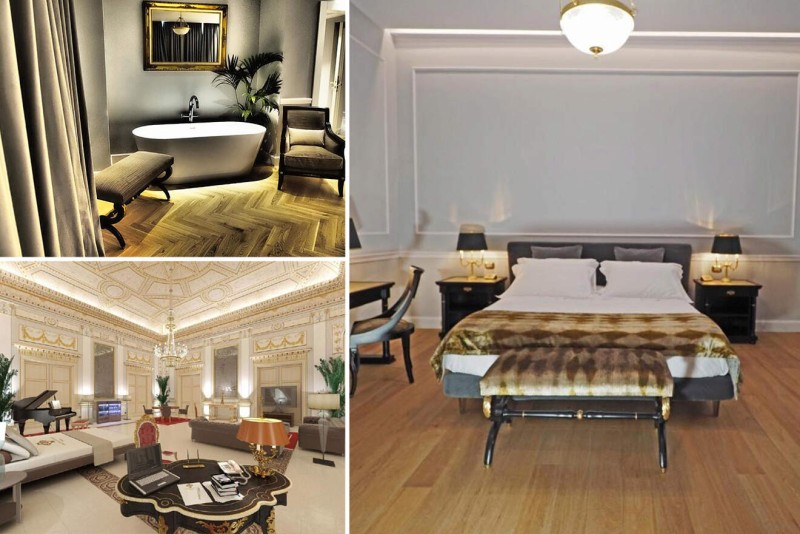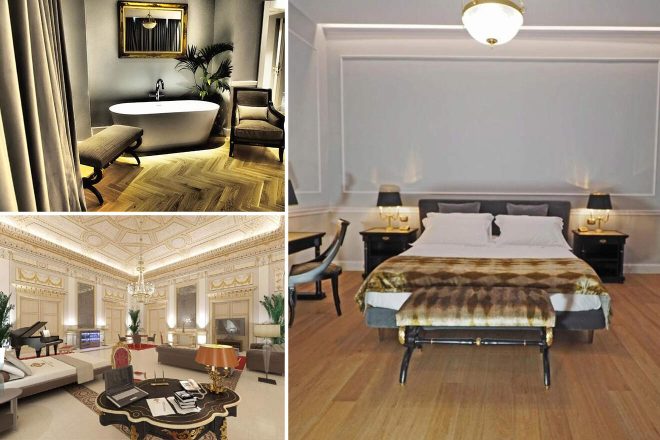 Looking for a great luxury hotel in Palermo's new center? Well, this is THE most luxurious place to stay in Palermo city, with fantastic fitness facilities and brilliant staff! Your room will offer you beautiful traditional furniture, access to a super cool bar where to have the best aperitifs, and a delicious breakfast to start the morning in the right way!
Other accommodation options in Politeama Libertà
Mid-Range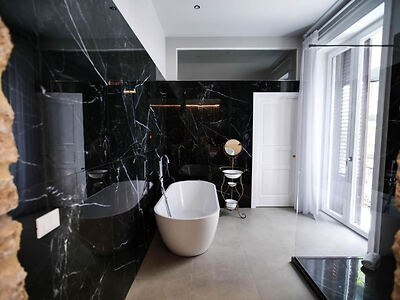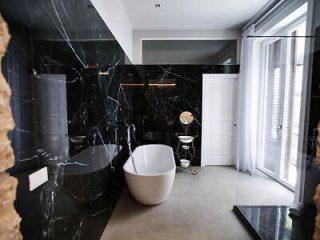 Great hotel to stay in Palermo offering air-conditioned rooms with a private balcony and a Nespresso coffee machine!
Budget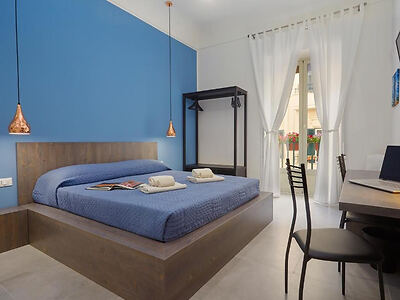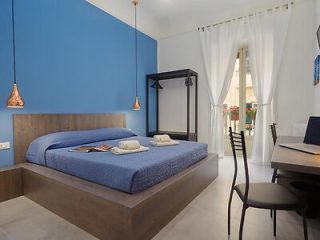 Elegant, nice and tidy hotel located close to Palermo old town and some of the best restaurants in the city!
Airbnb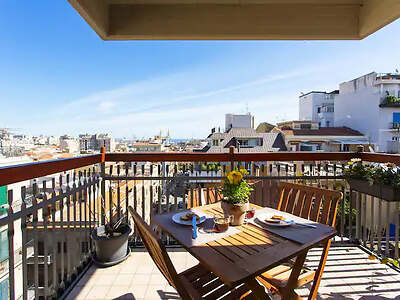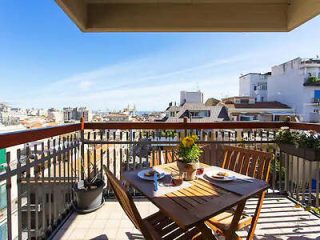 Quiet and cozy apartment in the middle of Palermo city, in a very central area close to many bars!
In case you're looking for a luxury option in the area which doesn't cost quite as much as the Grand Hotel Et Des Palmes, here is another great choice for an incredible stay!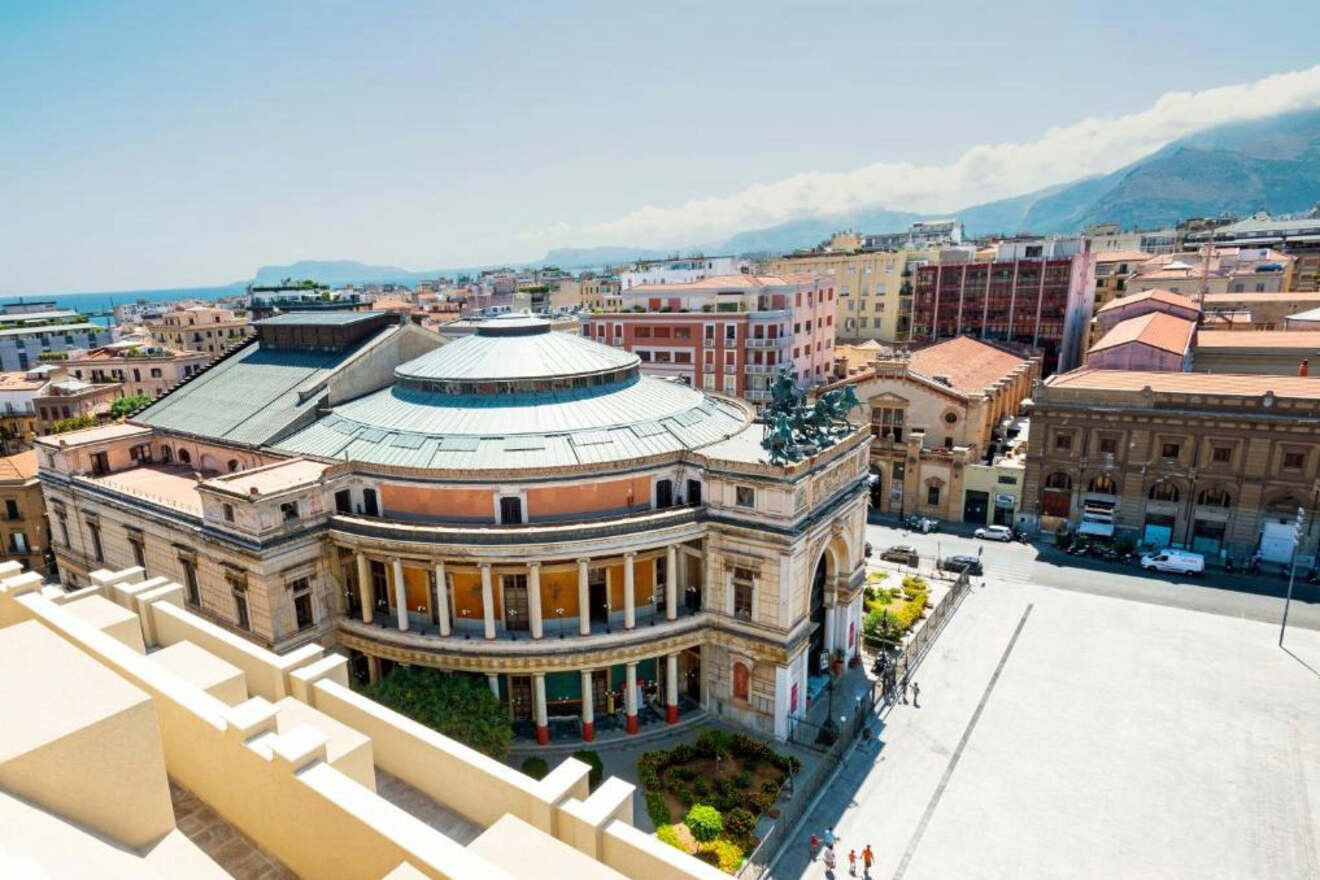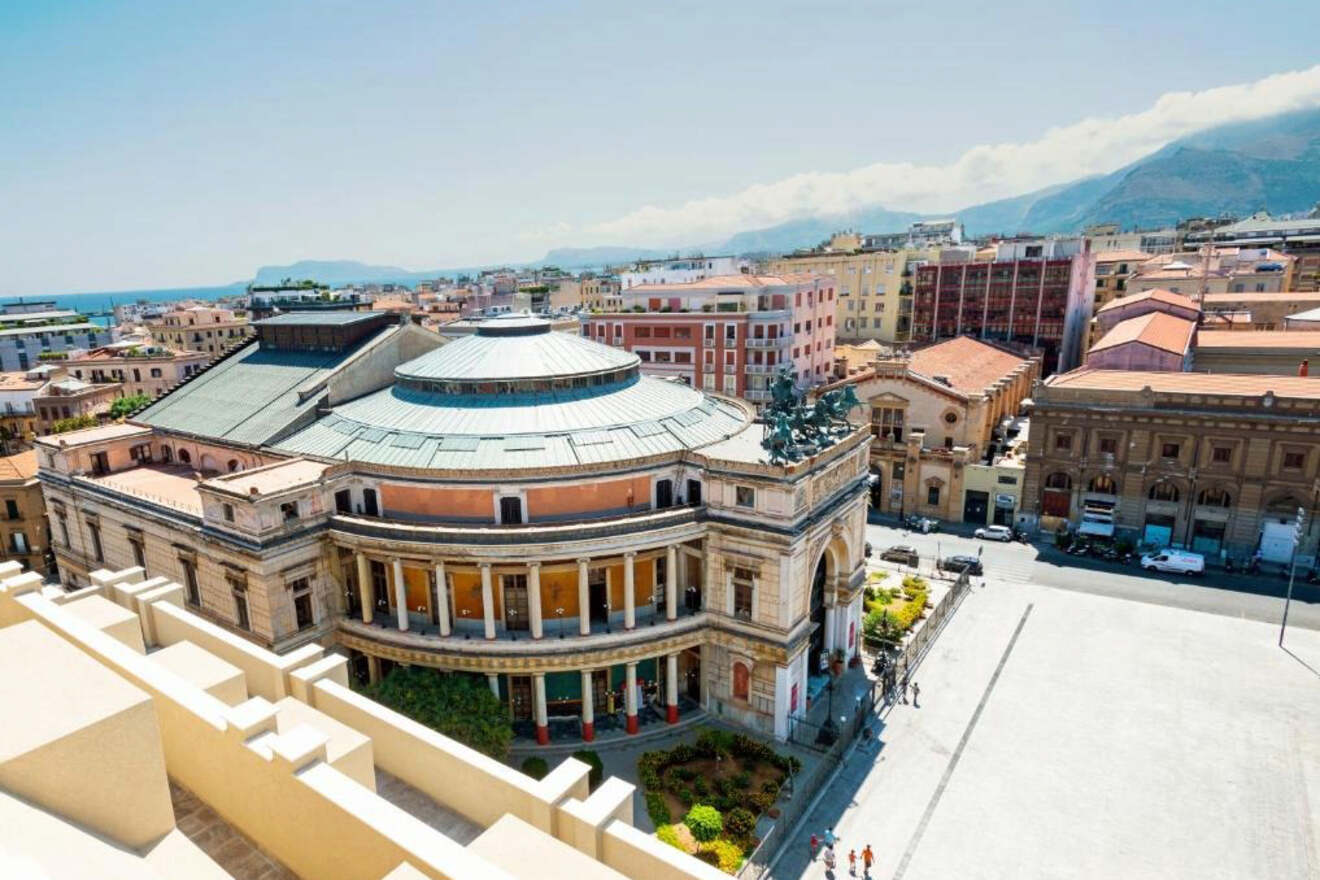 Another great hotel if you're looking for luxury in one of the best areas of Palermo city! Situated on one of the most admired streets in Palermo's historical city center, this stylish hotel has easy access to public transport that will bring you straight to the beach of Mondello. Other great advantages are the air-conditioned rooms, free wifi and free parking!
Things to do in Politeama Libertà
Do some shopping at Via Libertà!
Wander around Via Ruggero Settimo, one of Palermo's main streets!
Have a romantic night walk in the beautiful Piazza Castelnuovo
Enjoy delicious wine and history on this countryside excursion!
Check out the lovely boutique shops of the area!
Catch a show at the Politeama Garibaldi Theater
Get some peace at the quiet and lovely English Gardens!
5. Castellammare – the most charming area in Palermo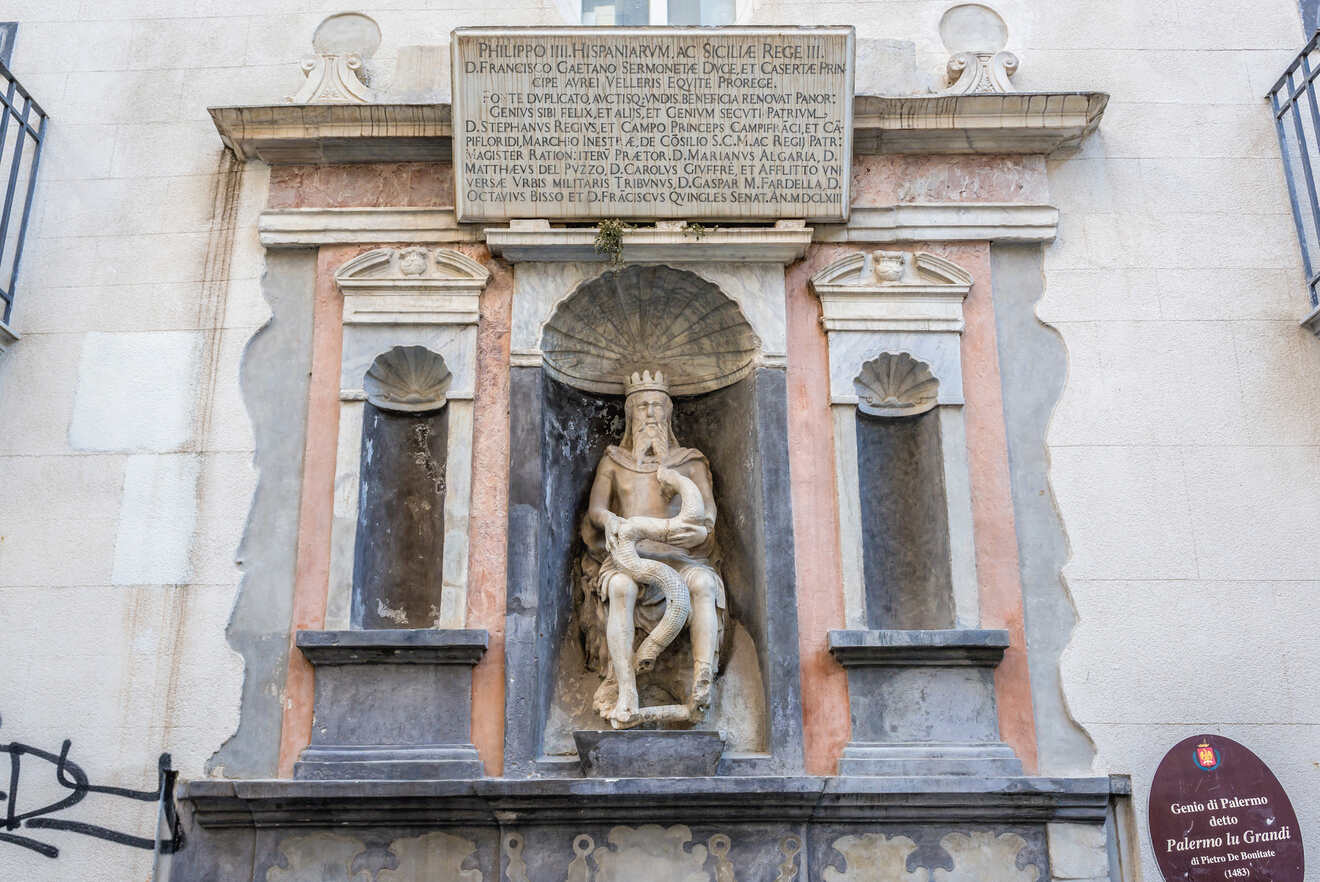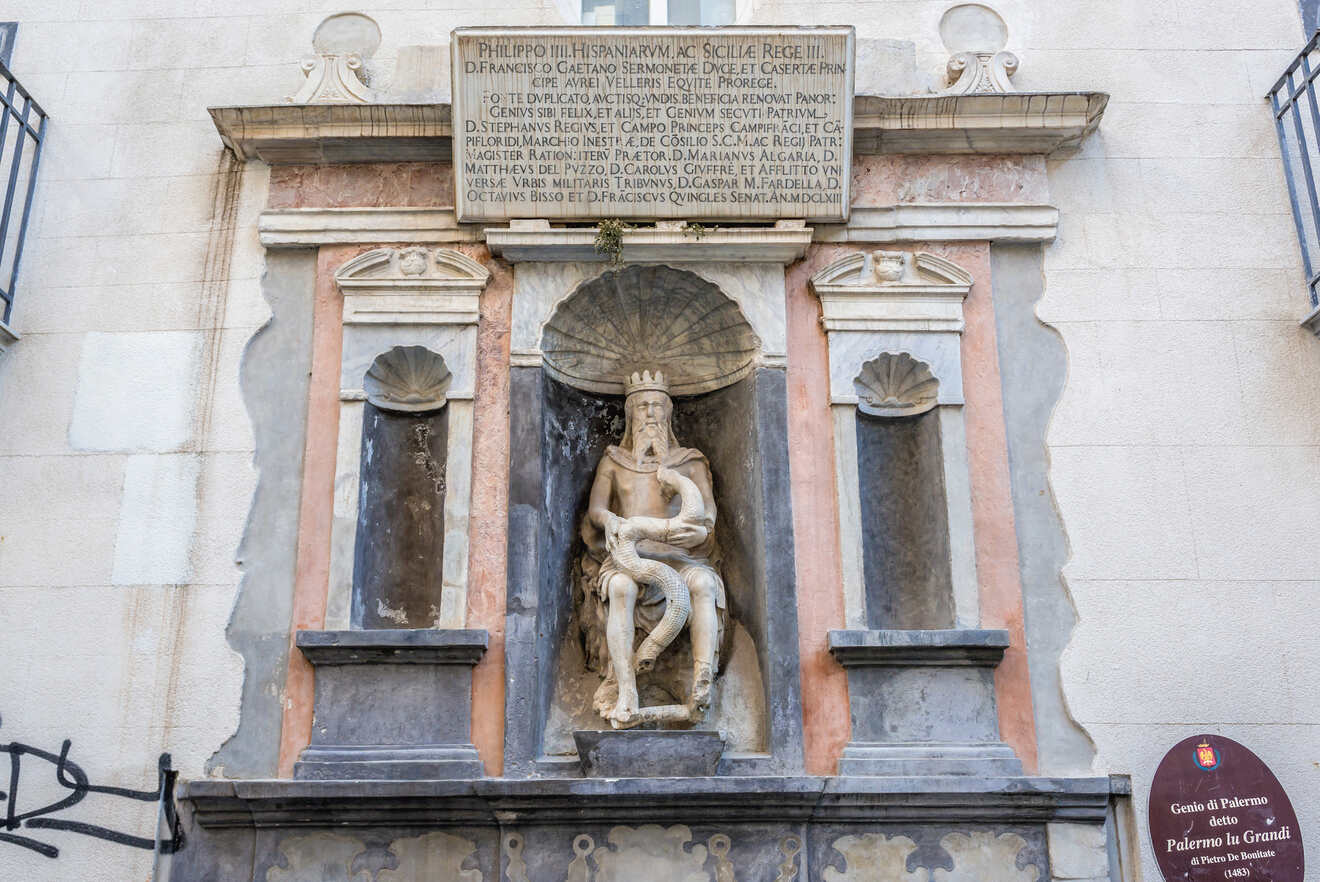 Castellammare, literally "castle by the sea" is an area characterized by a stunning coastal fortress (once the beacon of the neighborhood), a beautiful harbor, and a pleasant beach where to relax. Here you will discover the ancient heart of Palermo, with its white houses facing the sea.
In Castellammare artisans and traders from all around Italy have their homes since the XII century, so you will gaze at the architecture of maany extremely beautiful buildings, like Palazzo Mazzarino, or the Gravina Filangeri Palace.
Located adjacent to Kalsa and bordering Borgo Vecchio, this area has just the best location, offering access to all their historical monuments and attractions!
But in my opinion, the most charming part of Castellammare is the Vucciria outdoor Market with its old-fashioned vibe, where all the locals (and tourists) buy meat and local goods or they grab a drink in the evening… make sure you check it out!
Luxury hotel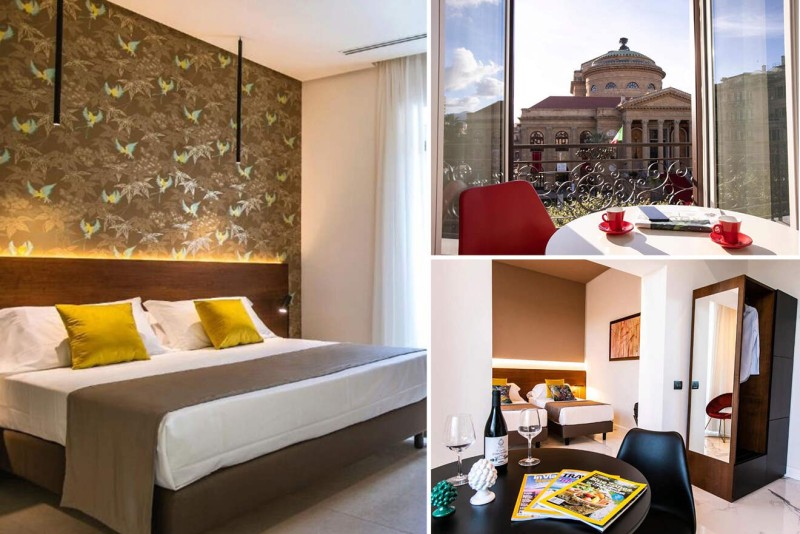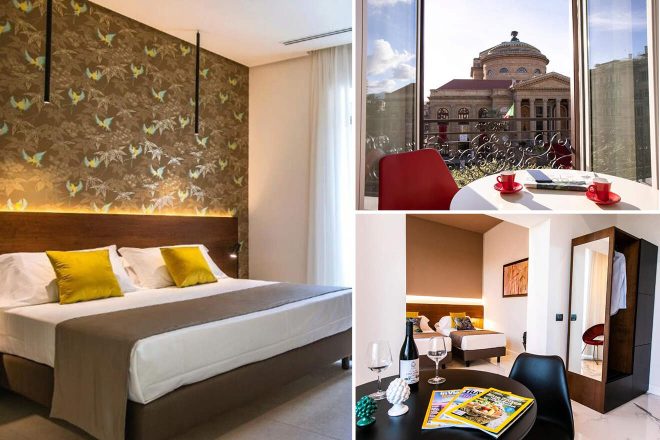 I highly recommend this luxurious hotel in the very centre of Palermo city, right in front of the Teatro Massimo. The building is historical, elegant and full of character and the rooms are spacious with a very comfortable bed and a private balcony offering city views! The stunning Monte Pellegrino is only 2 miles away!
Other accommodation options in Castellammare
Mid-Range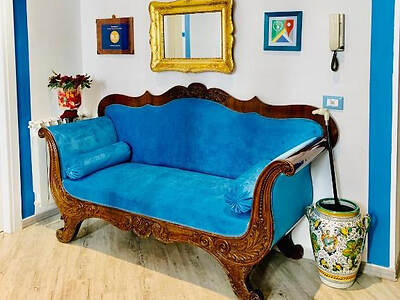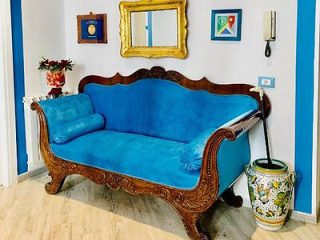 You will love the room with free wifi, private balcony and amazing views on Palermo in this hotel!
Budget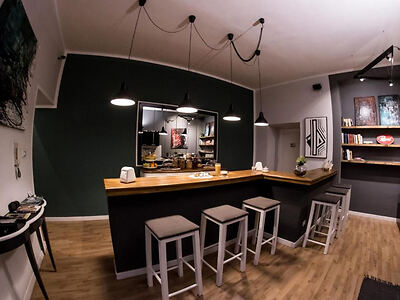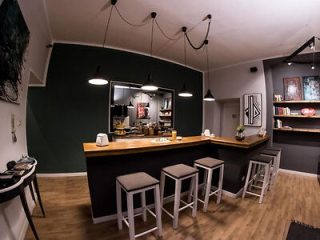 Great budget hotel with excellent location walking distance to everywhere in Castellammare
Airbnb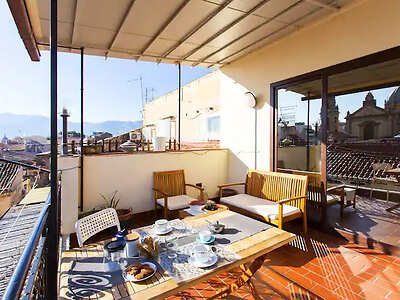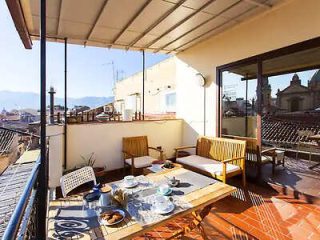 This apartment has an amazing location in downtown Palermo, close to lots of restaurants and cafes
Even more cool hotels in Castellammare:
Castellammare is a great and charming area to stay in Palermo and maybe that's why during my research I found so many great accommodations here! For this reason, I decided to share them with you and give you a few more options to make the right decision… let 's check them out: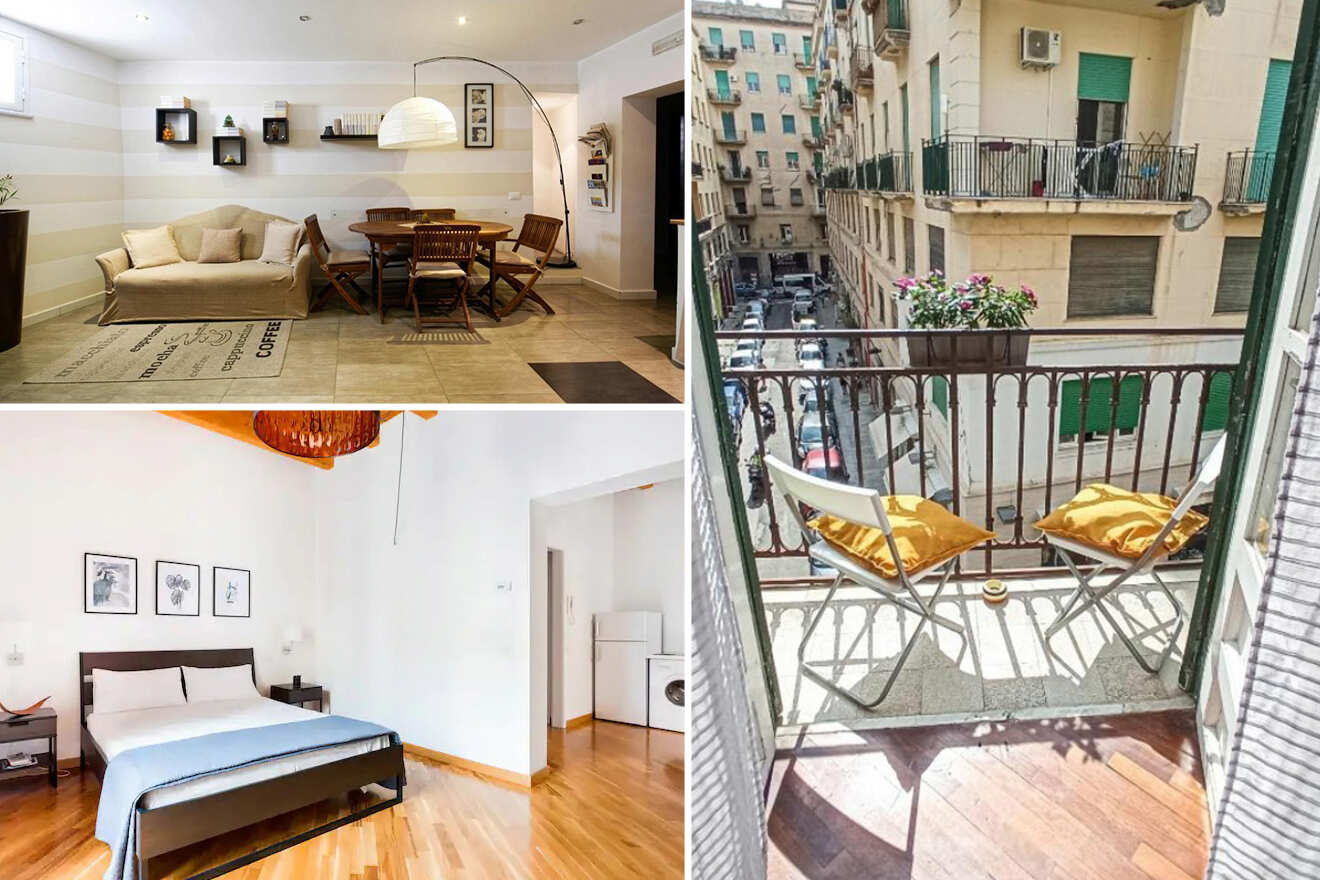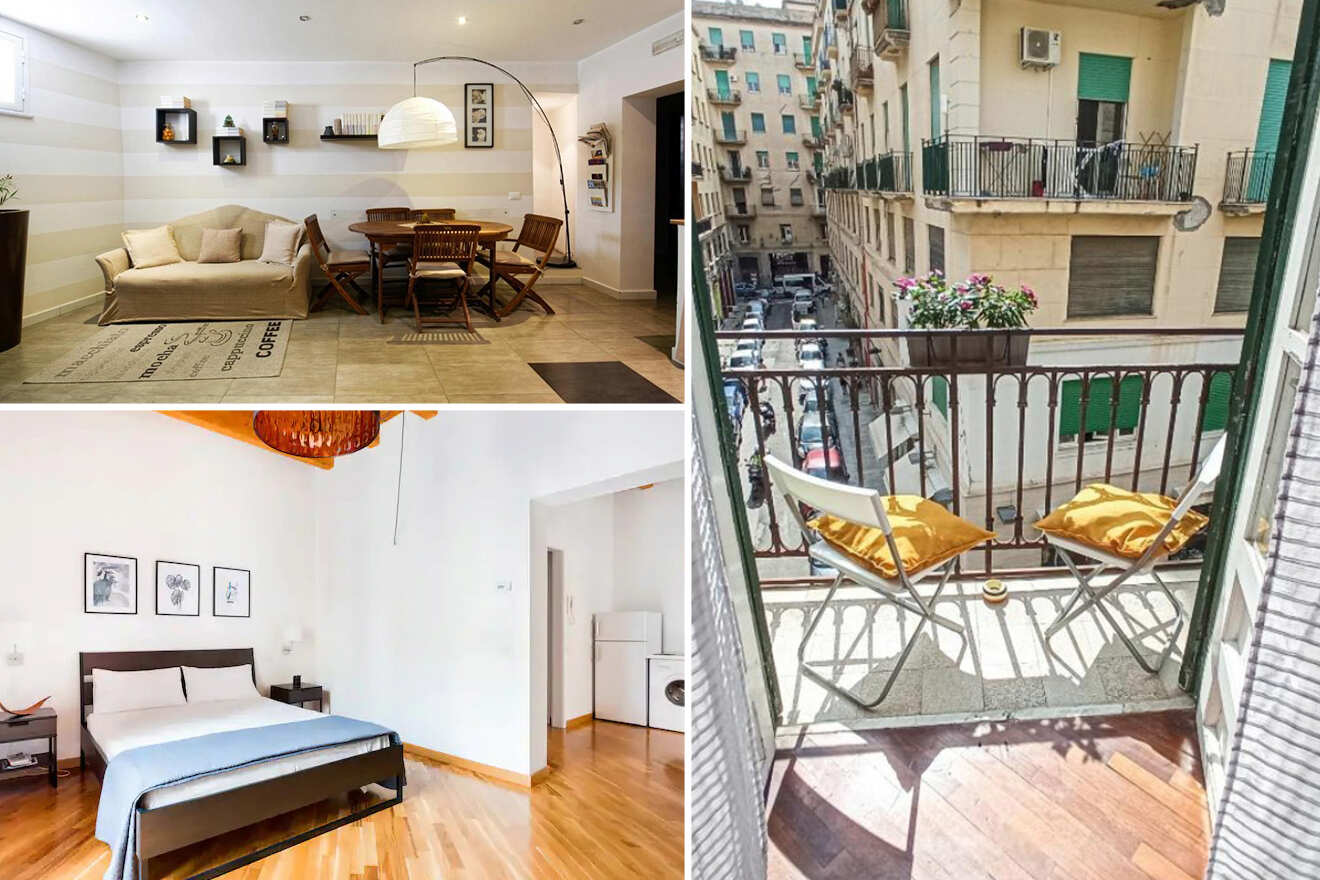 Luxury: Palazzo del Poeta – Dimora Contemporanea is a charming, beautifully renovated 17th century former convent, now one of the best luxury hotels in Palermo, which draws inspiration from poetry, literature and contemporary design!
Mid-range: B&B Bandiera 77 – If you're looking for great value for money, you just found it! This cozy hotel offers spacious rooms with a balcony and perfect location right in the middle of the old city.
One of the best places to stay if you want to be close to everything! Guests particularly love the very kind and helpful hosts.
Budget: Marilù – This lovely B&B with free wifi is set in the best area to stay in Castellammare, close to the charming Vucciria market (where to try delicious street food and buy cool souvenirs)! Here you'll get a delicious breakfast, great service and spacious rooms for budget prices!
Airbnb: Loft in old town – Set in the heart of Palermo's historic city center, this apartment is great to explore the Vucciria Market and absorb the tradition of flavors and the typical culture of Palermo! You'll be right in-between two main roads loaded with shops, cafes, and restaurants.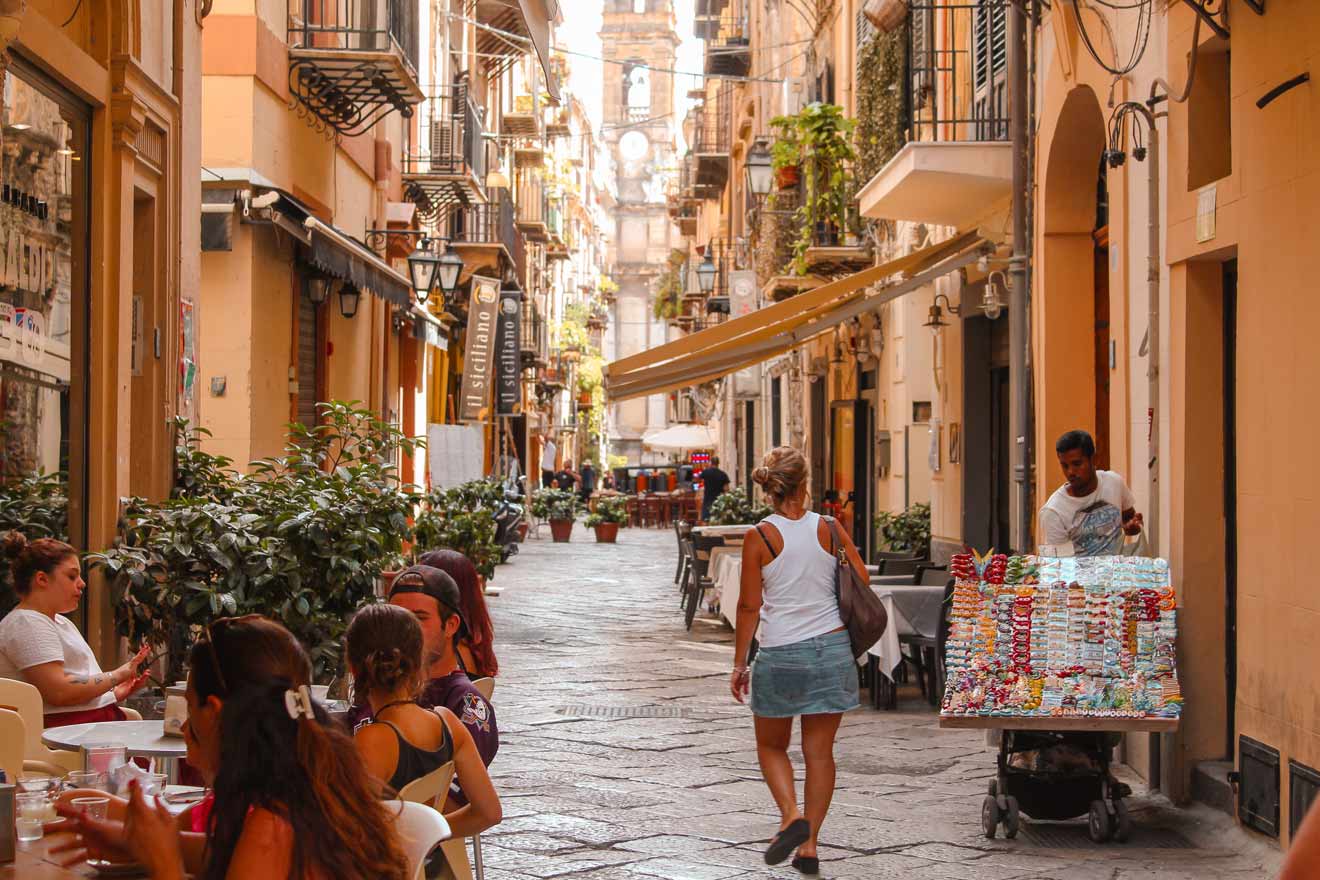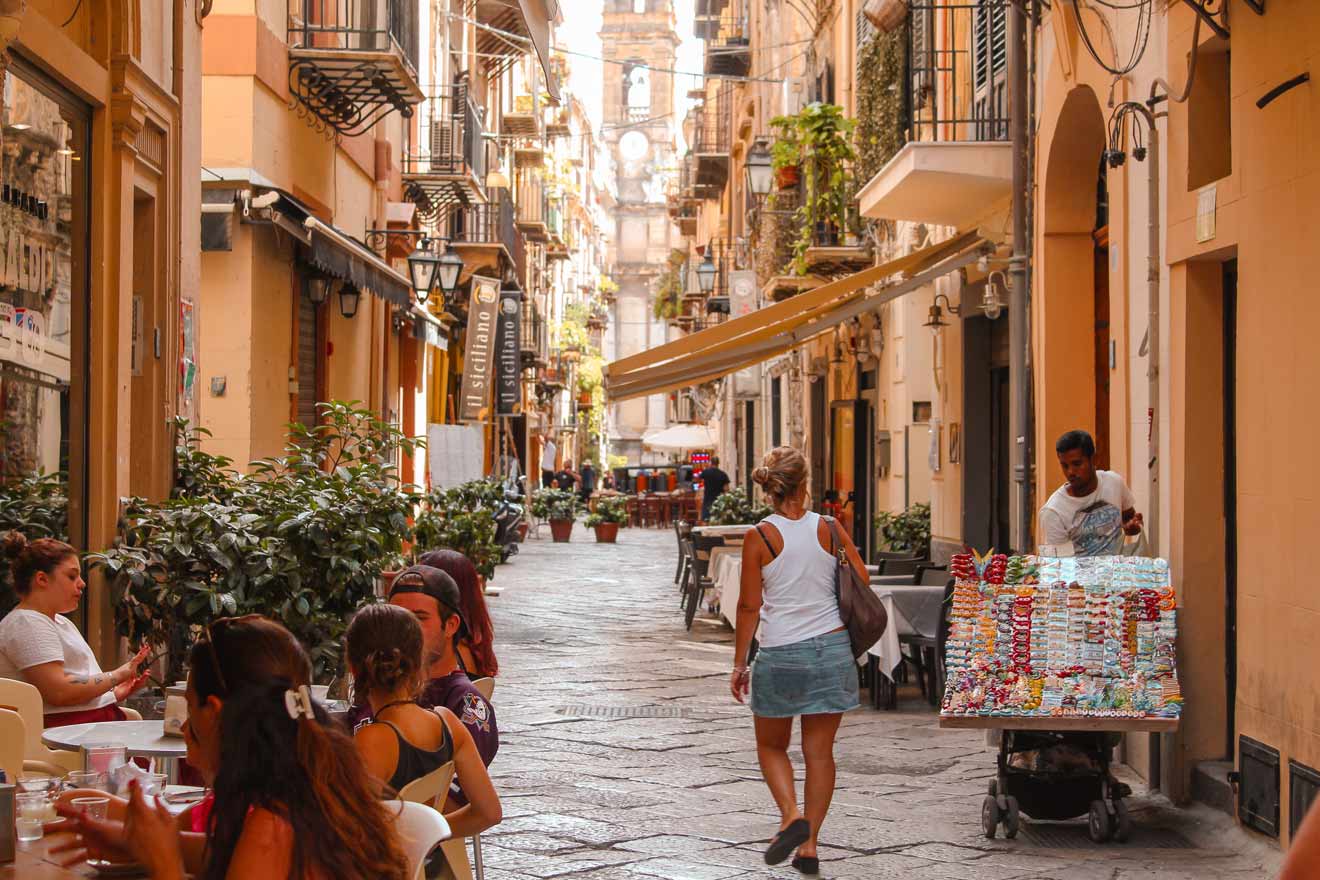 Things to do in Castellammare
Have some great cocktails at "Il Bar" in Piazza S. Domenico!
Dance the night away at Roxanne nightclub!
Gaze at Chiesa di S. Domenico, Castellammare most impressive church
Visit Castello a Mare Archeological Park!
Try the amazing street food of the Vucciria Market
Review your purchases from Vucciria Market over a beer at the watering hole next door, Taverna Azzurra.
Enjoy cocktails overlooking the sea at the restaurant La Cala
Live the night at Roxanne Bar & Club
BONUS: Areas to avoid in Palermo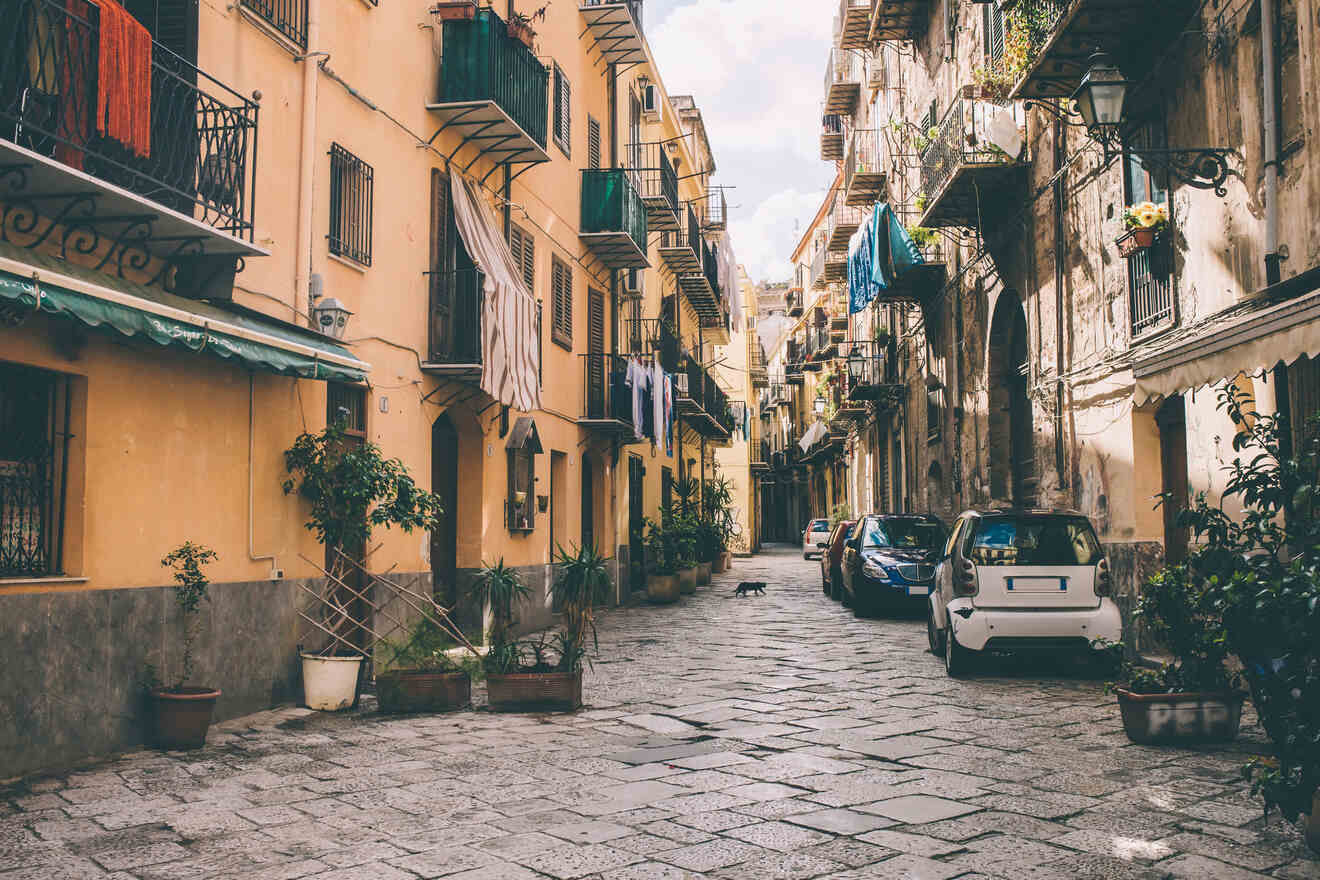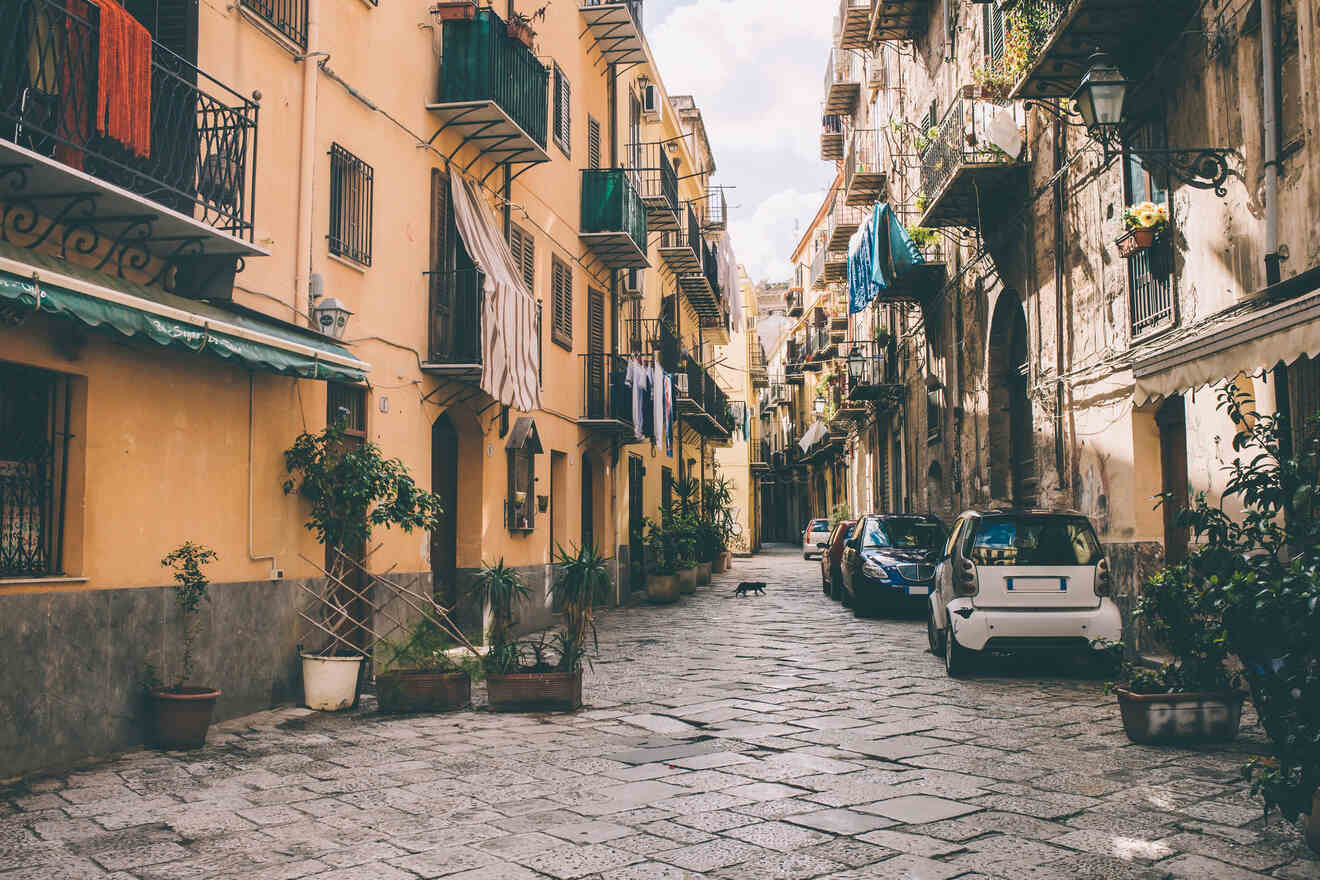 Palermo has grown a reputation for not being a super safe city in Italy or Europe, but it is actually a safe destination for tourists! Of course, it always depends on what you are comparing it with and what you mean by dangerous.
On the Numbeo ranking of the 158 most criminal cities in Europe, Palermo is considered to have a higher crime rate than Milan but still remains less dangerous than some capitals such as Rome or London.
With that said, the dangers you can encounter in Palermo are limited to theft of jewelry/cell phones, pickpockets, scams etc…
Don't imagine shooting between mafia gangs or anything like that (if there is a Mafia, you will never see it!).
However, we still want to avoid all of the above, right?
There are for sure some better neighborhoods to stay in Palermo in total safety and other areas or streets where small crimes are more likely to happen… I created a list below to help you avoid them. Let's see it together:
The ZEN district/ Zona Espansione North – located in the north of Palermo, is a very poor district, so chances to be robbed here can be higher. For this reason and its position quite far from the historic sites of the capital of Sicily, this is definitely not the best area to stay in Palermo.
Brancaccio district – Set only 5 kilometers from the historic center, this area has the reputation of being dangerous and also under the control of the Mafiosi.
Villagrazia Falsomiele – Located on the southern outskirts of Palermo, this is not a good area to explore Palermo in total tranquility!
Ballaro – You will find this area in the center of Palermo and it has actually a great atmosphere during the day, thanks to its huge market, beautiful architecture and old churches… just avoid it at night!
Frequently asked questions about Palermo Italy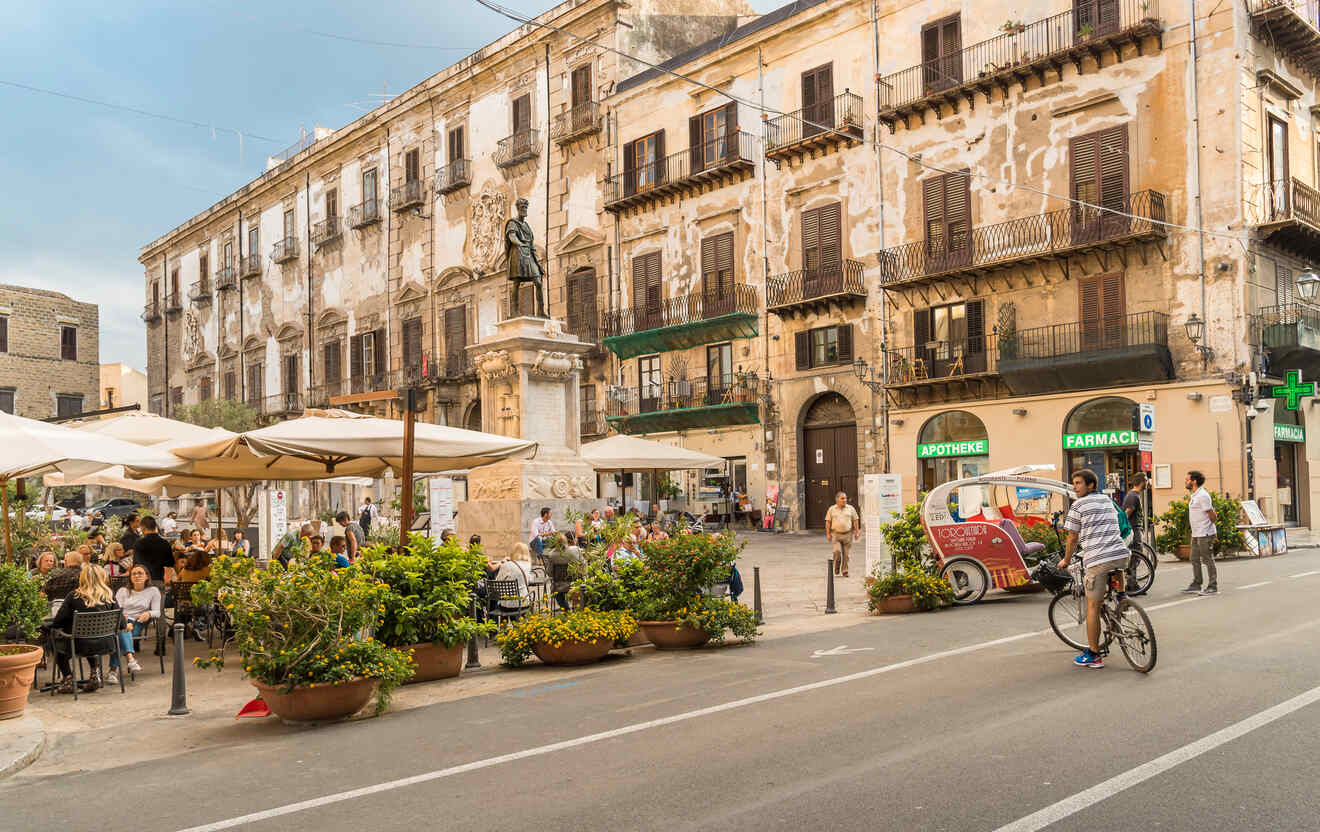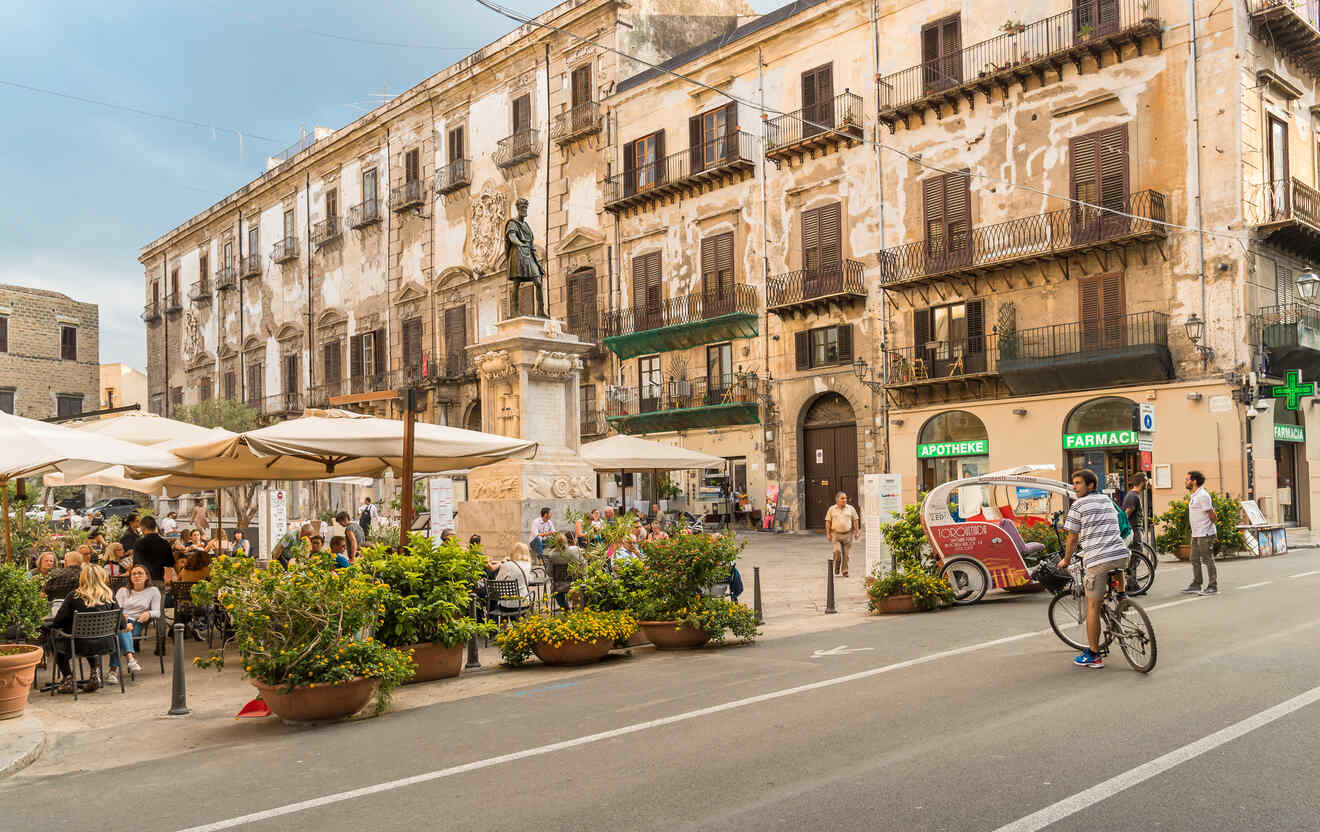 📍Which is the best area to stay in Palermo?
🟢 Is it safe to stay in Palermo?
Yes, staying in Palermo is safe for tourists, but there are some areas to avoid if you don't want to have the risk of being pickpocketed. These are Zona Espansione North or Brancaccio district. Instead, Mondello or Kalsa (considered unsafe 20 years ago) are very safe.
💃🏻 Where to stay in Palermo for nightlife?
The best areas to stay in Palermo to enjoy some of the best nightlife in Sicily are Borgo Vecchio, Mondello or Politeama Libertà, all of them offering great restaurants and bars! 
💵 Where to stay in Palermo on a budget?
The best place to stay in Palermo on a budget is La Kalsa, one of the best areas for its central position, perfect to explore Palermo local attractions. Choose the luxurious hotel L' Hôtellerie Easy Suites or the mid range option Zefiro Suites.
👪 Where to stay in Palermo, Italy with the family?
The best hotel to stay in Palermo with the family is Grand Hotel Et Des Palmes if you're looking for luxury, Better & Better if you want to stay in Palermo on a budget, both located in the Politeama Libertà neighborhood.
Conclusion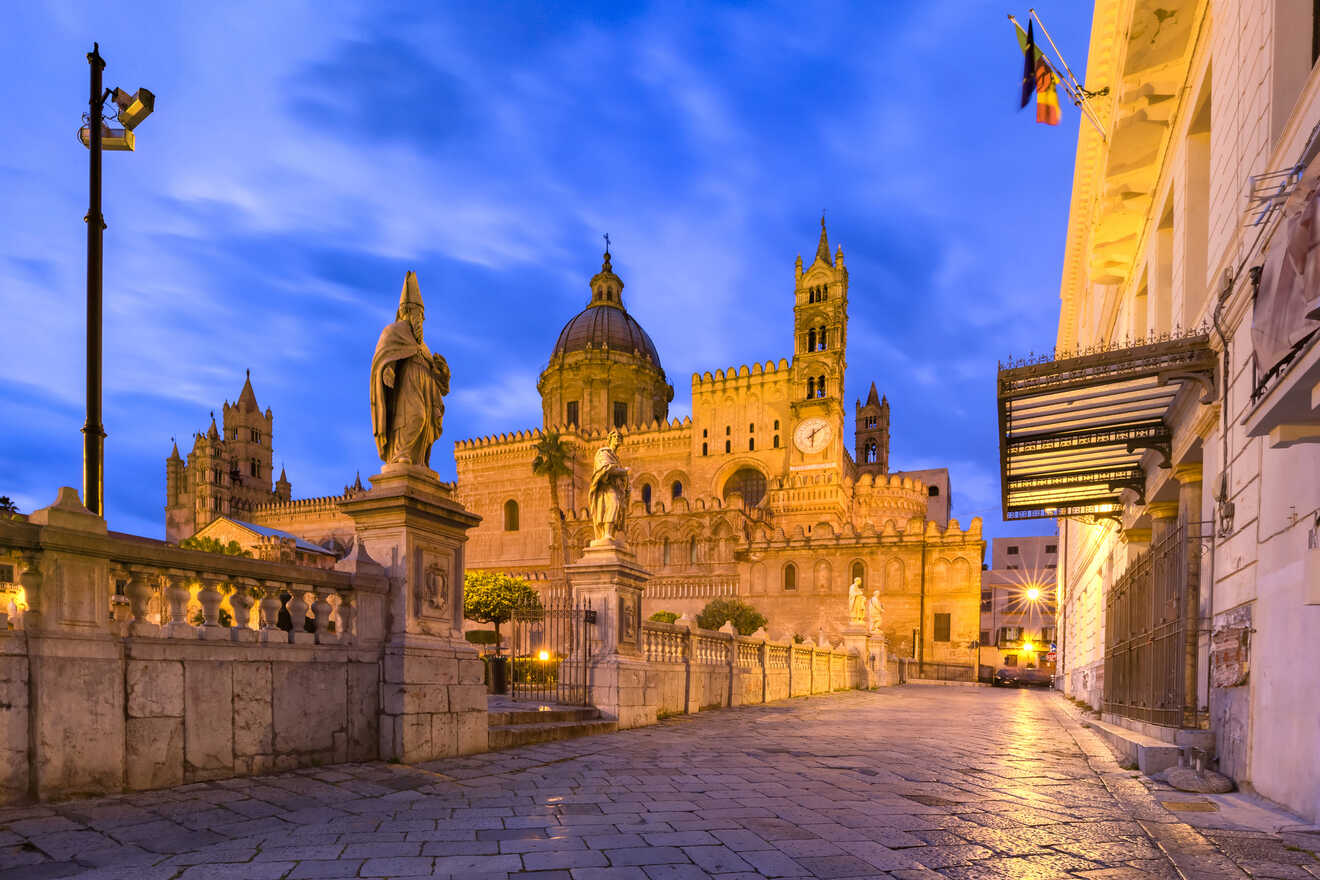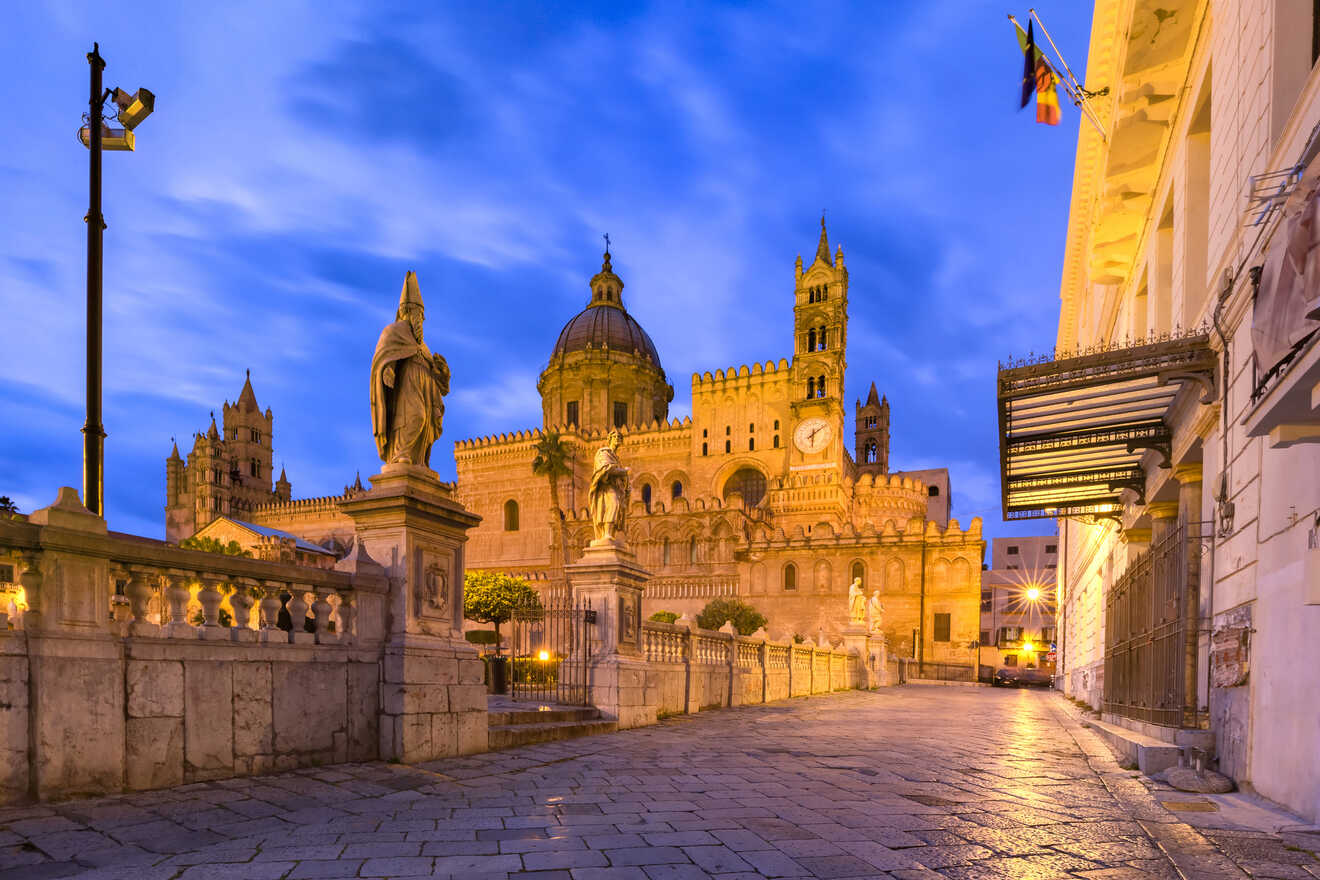 I know, it has been a long trip among the best areas and streets of the beautiful capital of Sicily, Palermo. From the sandy beaches of Mondello to the history of Borgo Vecchio and the mix of cultures of the central La Kalsa, you have a lot to explore here!
But by now, you should have also decided which is the best hotel where to stay in Palermo for your interest and budget: we went through so many options, either close to the center, the nightlife or the main shopping streets.
Still not sure about where to spend your amazing holiday in Palermo? I cannot blame you! So I will give you my best choices with a central location and great quality:
Hotel Politeama – luxurious hotel with a central location in Palermo old town: definitely one of the best places to stay in the centre!
Zefiro Suites – find the best quality in this mid range hotel in Palermo with a central location in the Kalsa neighborhood!
I hope this neighborhood guide was helpful and I am sure you will find a great hotel to enjoy this unique city at its fullest! Just make sure to book them as in advance as you can if you want to secure yourself a spot!
If you have been in Palermo and you want to share your personal experience or you simply have some doubts, please share them in the comments below… I'll be very happy to answer you!
Have an amazing trip!
Elena
---
Pin it for later!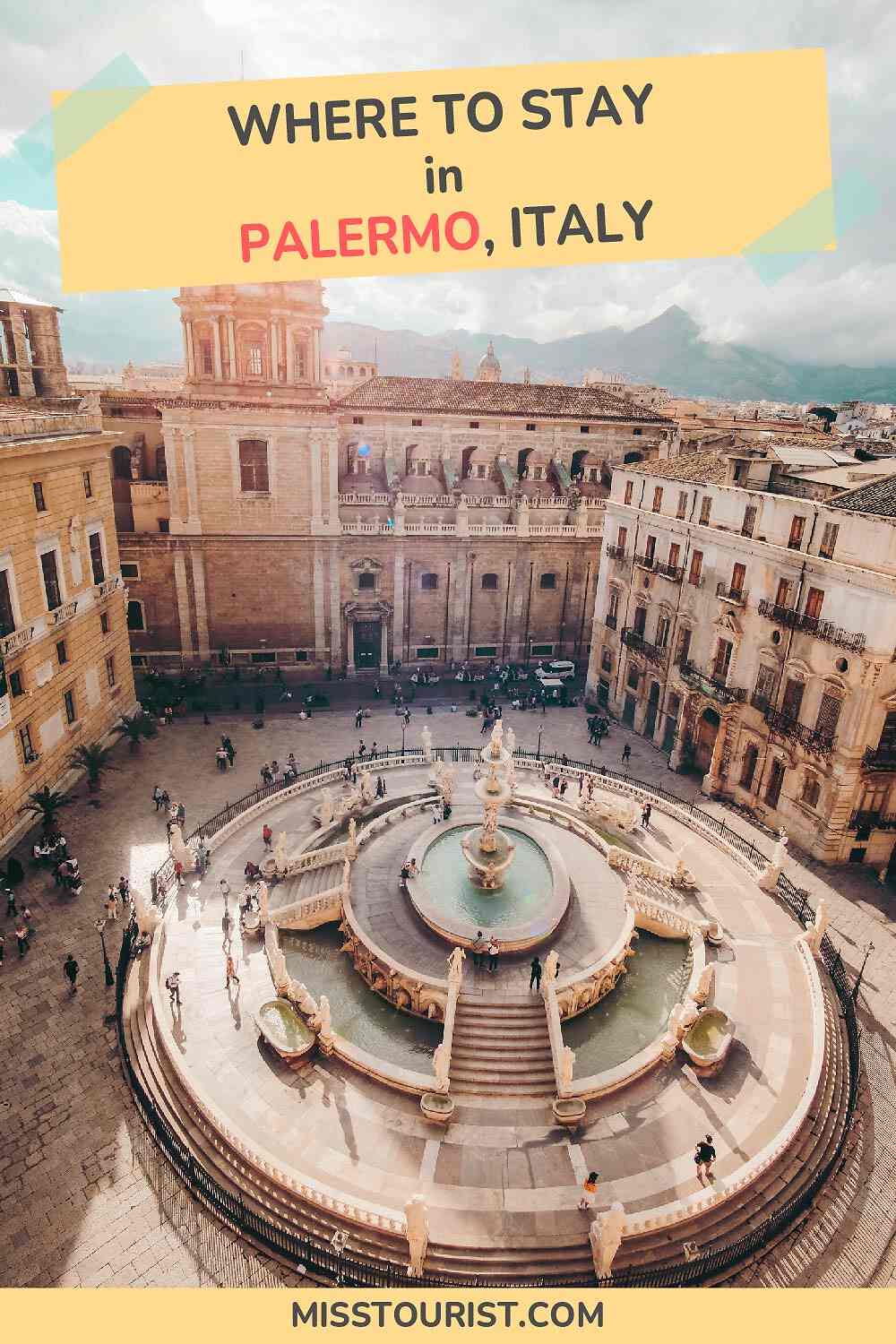 Pin it for later!