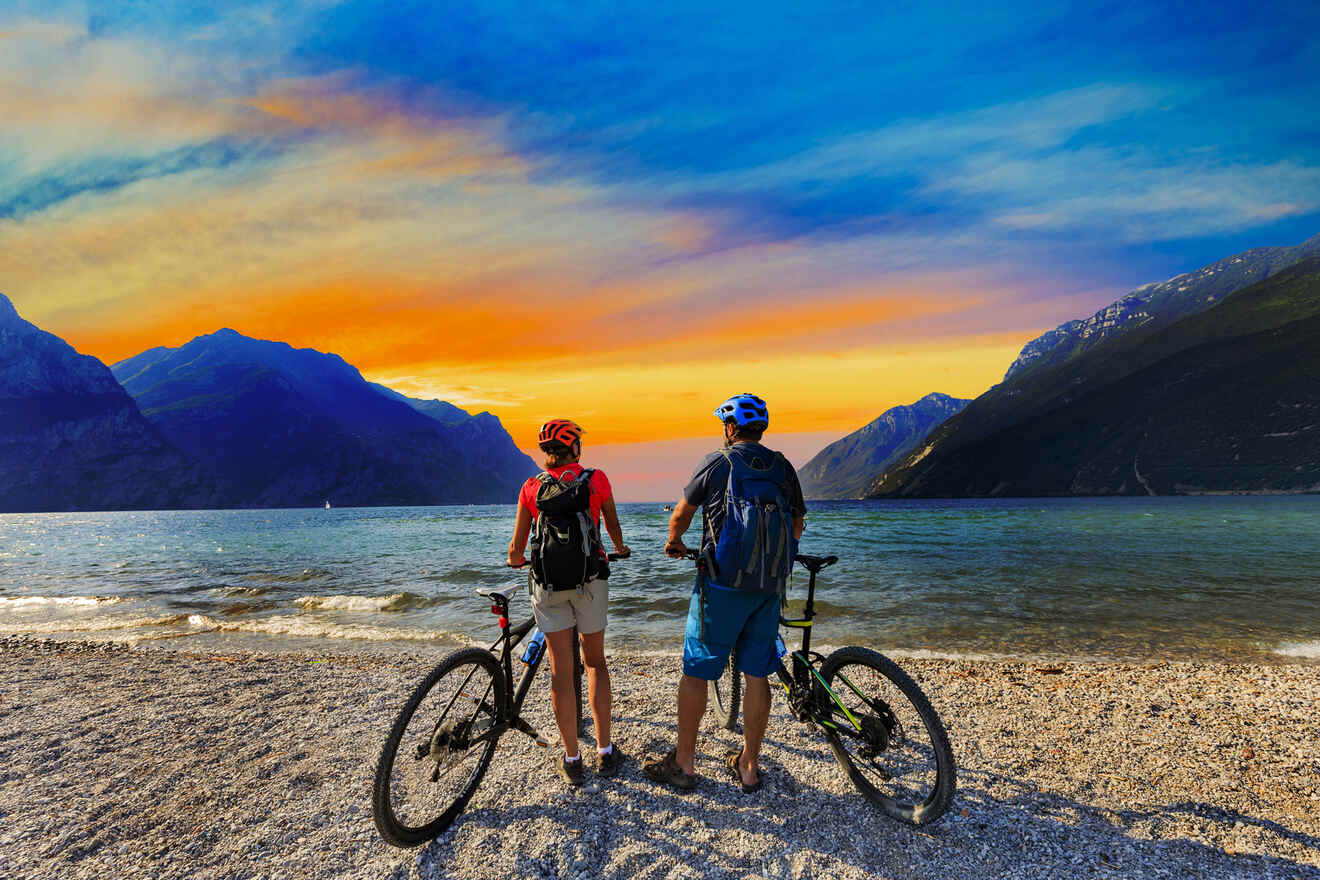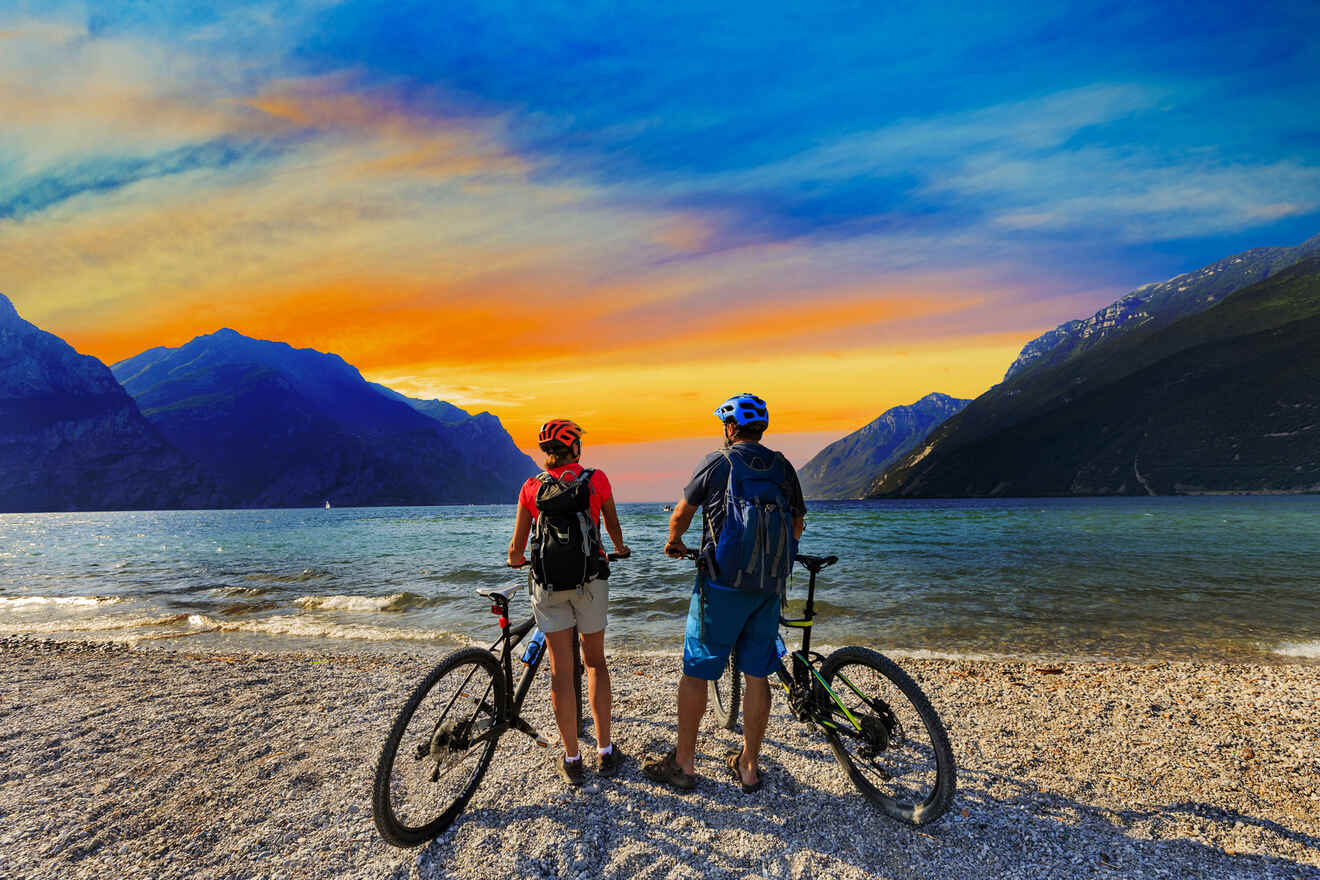 Lake Garda (Lago di Garda) is the biggest lake in Italy and one of the most beautiful and loved destinations in my home country. I've spent almost all the summers of my life there, and I never get tired of it!
Covering three Italian regions – Veneto, Lombardy, and Trentino-Alto Adige, the lake offers so many things, activities, and attractions that it is hard to decide what to focus on, especially if you don't have much time for your holidays.
That's why I've written this super helpful guide with the TOP things to do in Lake Garda, covering everything from little picturesque towns, kid-friendly theme parks, stunning landscapes, exciting hikes, relaxing beaches, a day trip to the surrounding cities, and much more!
Whether you are traveling with friends, family, your special one, or alone, you will fall in love with this place in northern Italy!
So take your notebook and get ready to visit Lake Garda with me… are you ready?
Let's go!
Since Lake Garda is quite big and home to many different towns, here is a map to help you understand where each of them is so you can more easily plan your trip!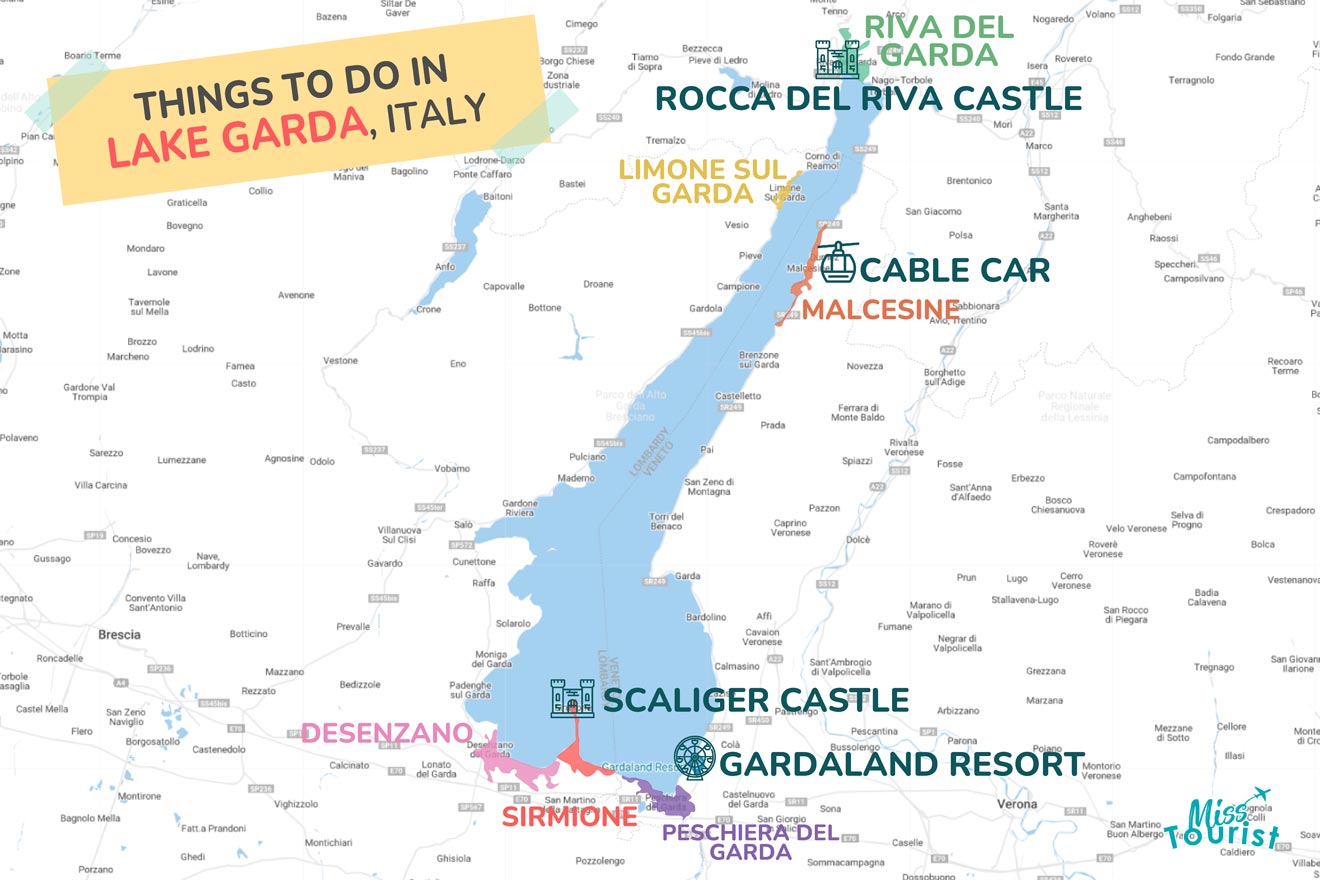 1. Visit the beautiful Sirmione
Sirmione is the most popular destination on the lake, located on the southern shore (on the Lombardy side). This Garda Town has a very strategic position, easily accessible from many surrounding cities like Verona, Venice, or Milan, being right in the middle of all of them!
This is one of the most picturesque towns in Lake Garda, and it offers literally anything from history to culture and beautiful beaches.
See the Sirmione Scaliger Castle & the historic center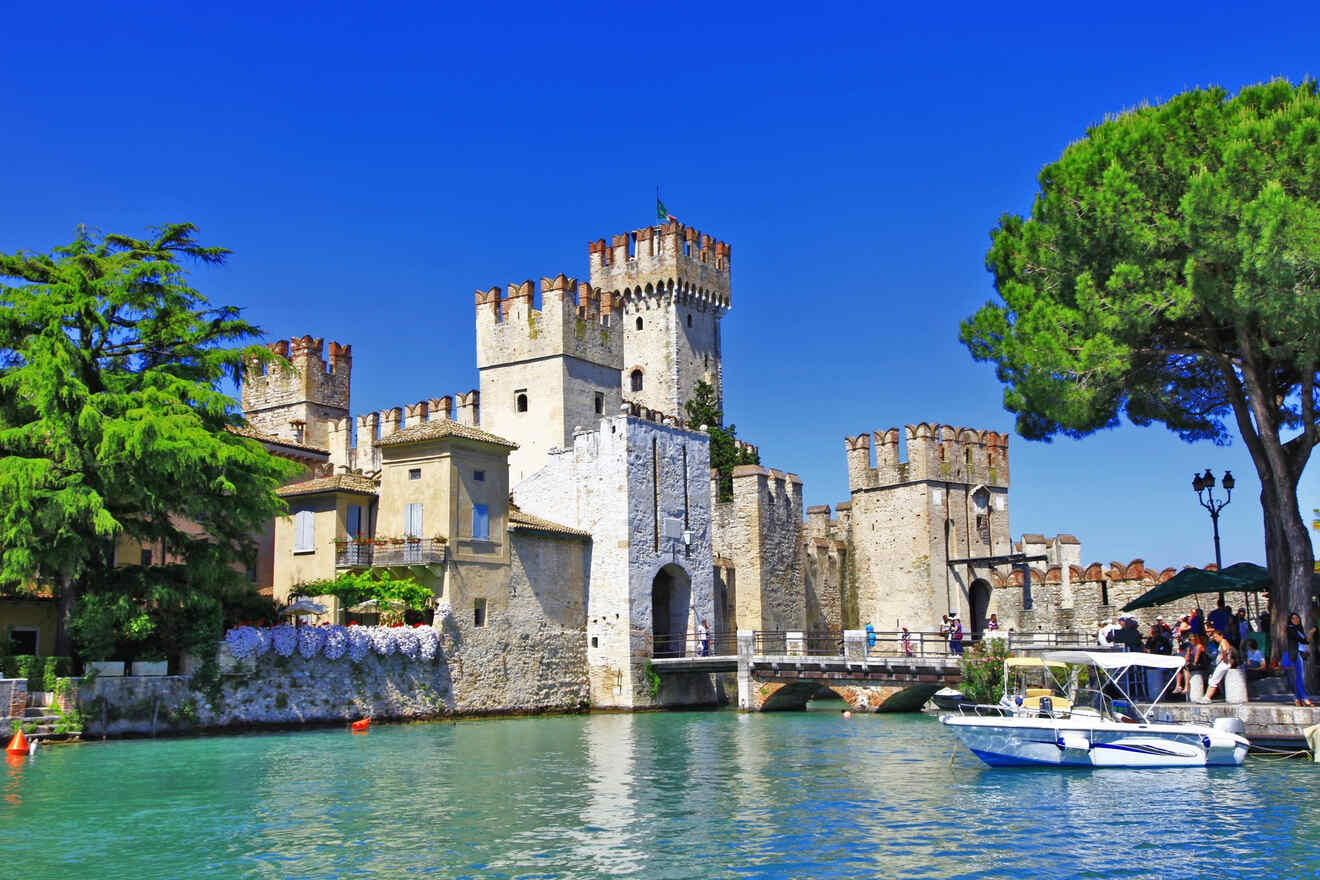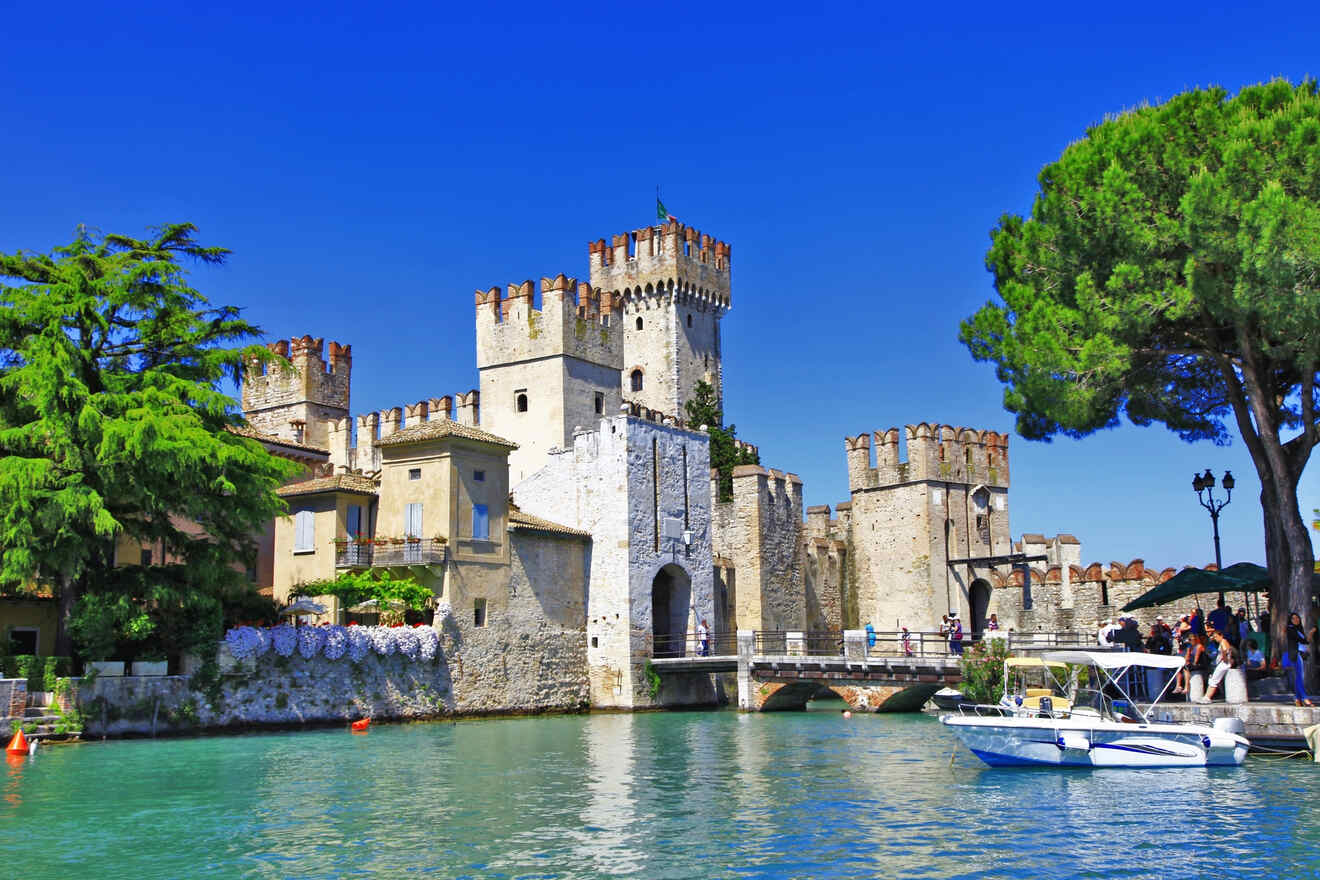 Starting from history, right on the lakeside, you'll find The Scaliger Castle in Sirmione, a beautiful medieval castle from the 13th century. You can easily visit it in 5 – 10 minutes since it's pretty small!
I suggest you do that really early if you want to avoid the big crowds and take some beautiful pictures without any other tourists, and you can go have a delicious Italian breakfast with a coffee straight after!
PRO TIP: Head to the drawbridge to have panoramic views of this whole Garda town!
The historic center of Sirmione itself is worth a visit, featuring charming small streets, cute little stores for some souvenir shopping, and many many restaurants, gelato places, and cafes.
PRICE: €6
Relax on Jamaica beach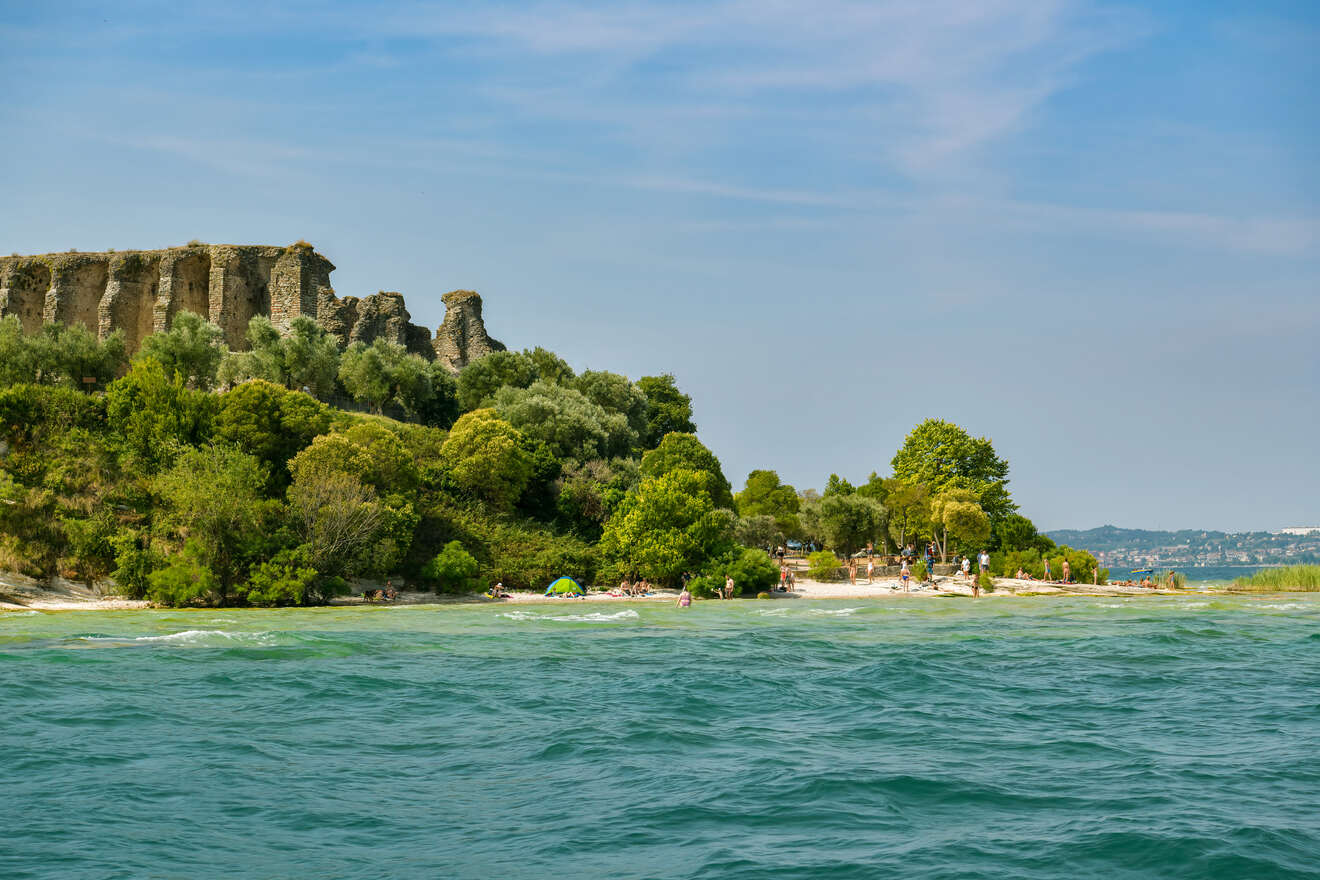 If you just want to enjoy some sun and relax on the beach, the beautiful and secluded Jamaica Beach is waiting for you, with smooth white rocks and crystal clear waters
The beach is located right on the northern tip of the peninsula, and it's quite a hike to get there:
First, you have to walk around 1 km on a paved road and then you'll walk down to get to the beach itself, but it's totally worth it!
If you don't feel like walking, another option is taking the train that takes you right in front of the beach entrance or to the Grotte di Catullo. The cost of the train ticket is 1.20 euros per person.
Jamaica Beach is partly free and partly equipped with sunbeds for hire and has some bars with music where you can grab a bite or a drink.
The only downside is that it is one of the most loved spots on the shores of Lake Garda, so get ready to find some crowds in the summertime!
Sirmione is also the starting point of many boat tours to other lakeside towns like Bardolino and sightseeing cruises around the lake, so if you're here you should definitely take the opportunity to explore Garda Lake from another perspective! (I will talk more about these later on so keep reading!)
2. Have the best lake views in Malcesine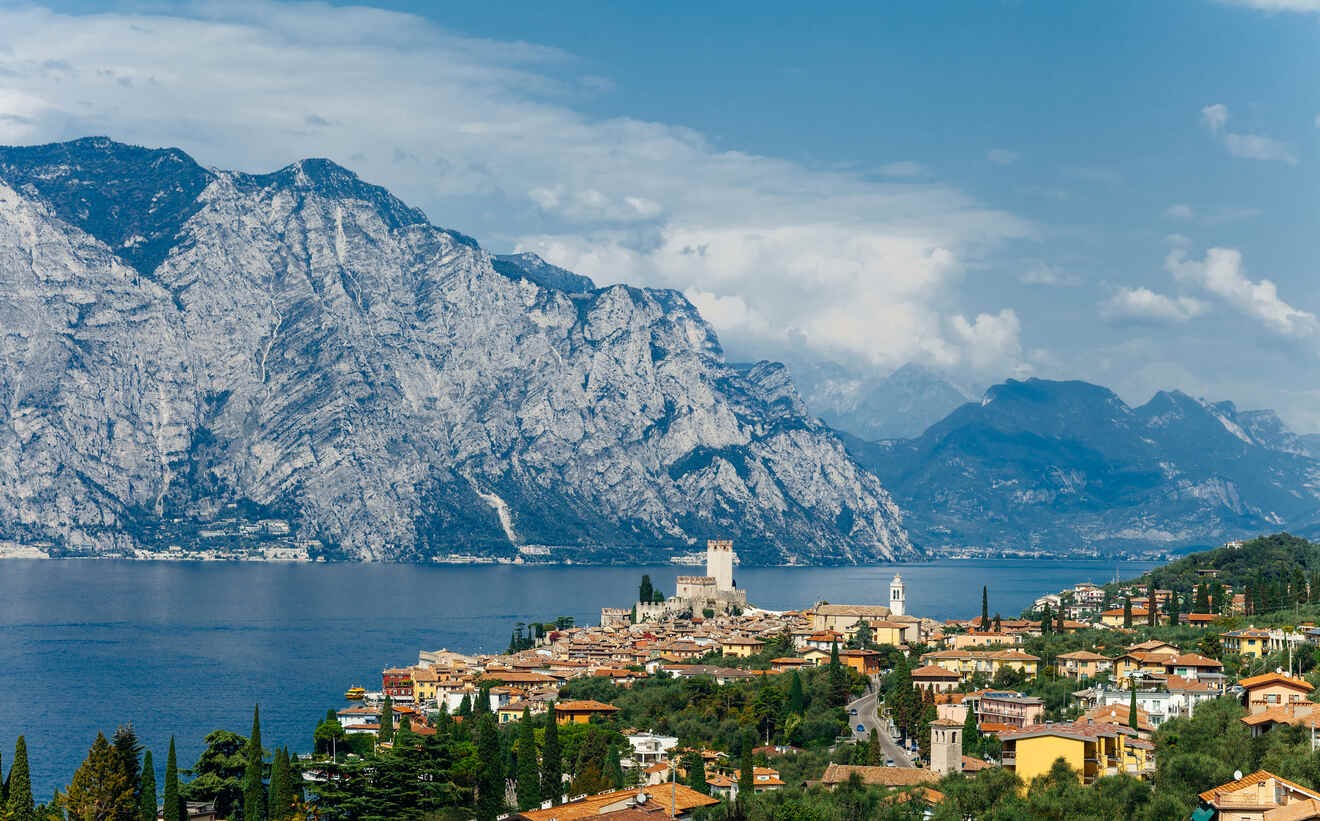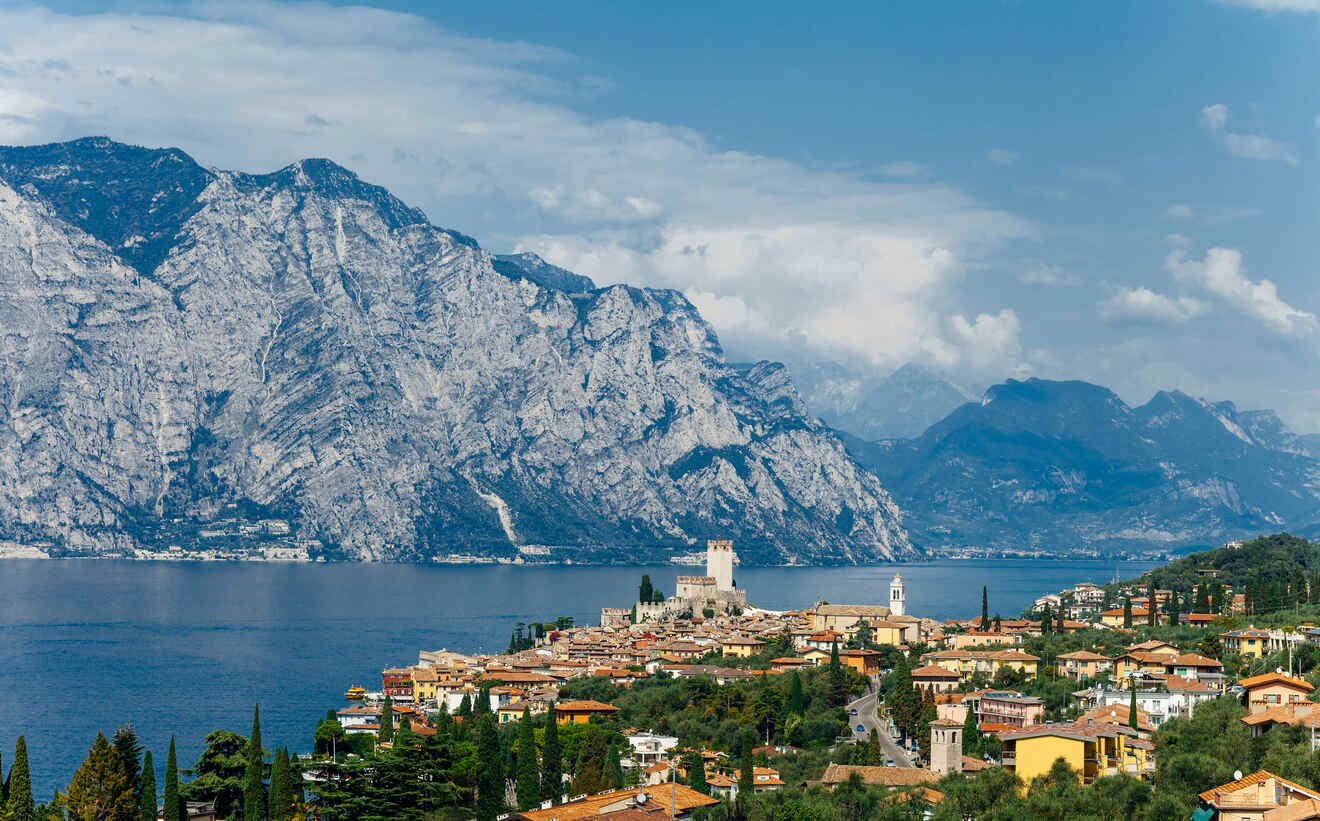 Another incredible jewel among Lake Garda's towns is the beautiful Malcesine, which is actually my favorite, for its historic and enchanting charm hard to find anywhere else! Its located on the northern shores of the Lake, in the Veneto region (about 1.5 hrs from Verona)
Visit the Malcesine Scaliger Castle & Natural History Museum
This old town stands out for its 13th-century castle – another Scaliger Castle, famous for the high cliff jumps you can take from there, straight into the lake (the highest point is 24 meters!).
Malcesine Castle is pretty big, so it will take you around one or two hours if you want to visit it, offering many bits to climb and interesting rooms and artifacts!
If you are not into the "high jumps" kind of adrenaline, you can visit the recently-renewed Natural History Museum inside the Malcesine Scaliger Castle.
The Natural History Museum of Mount Baldo and of Lake Garda displays an impressive collection of plants, photos, and descriptions of plants specific to the region of Lake Garda and Mount Baldo and even some famous paintings of Goethe showing Lake Garda from sundry perspectives.
In the museum, you can visit nine rooms, four of which are dedicated to the lake, while the other five rooms focus on the landscape and the mountains! The fee for entering the castle includes the visit to the museum, so it will be the same.
PRICE: €6 – adults, €3 – kids under 7
Ride the cable car to the top of Monte Baldo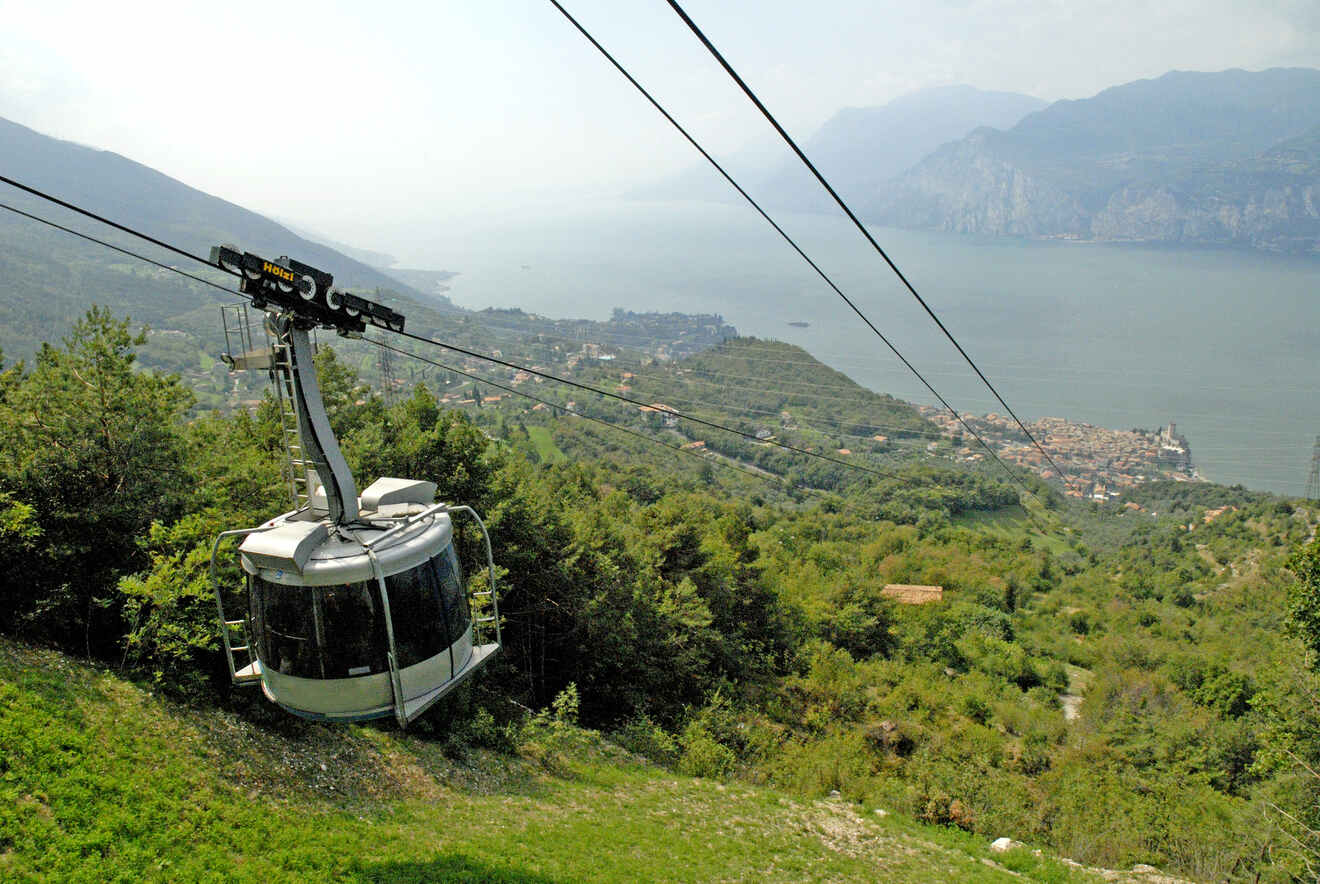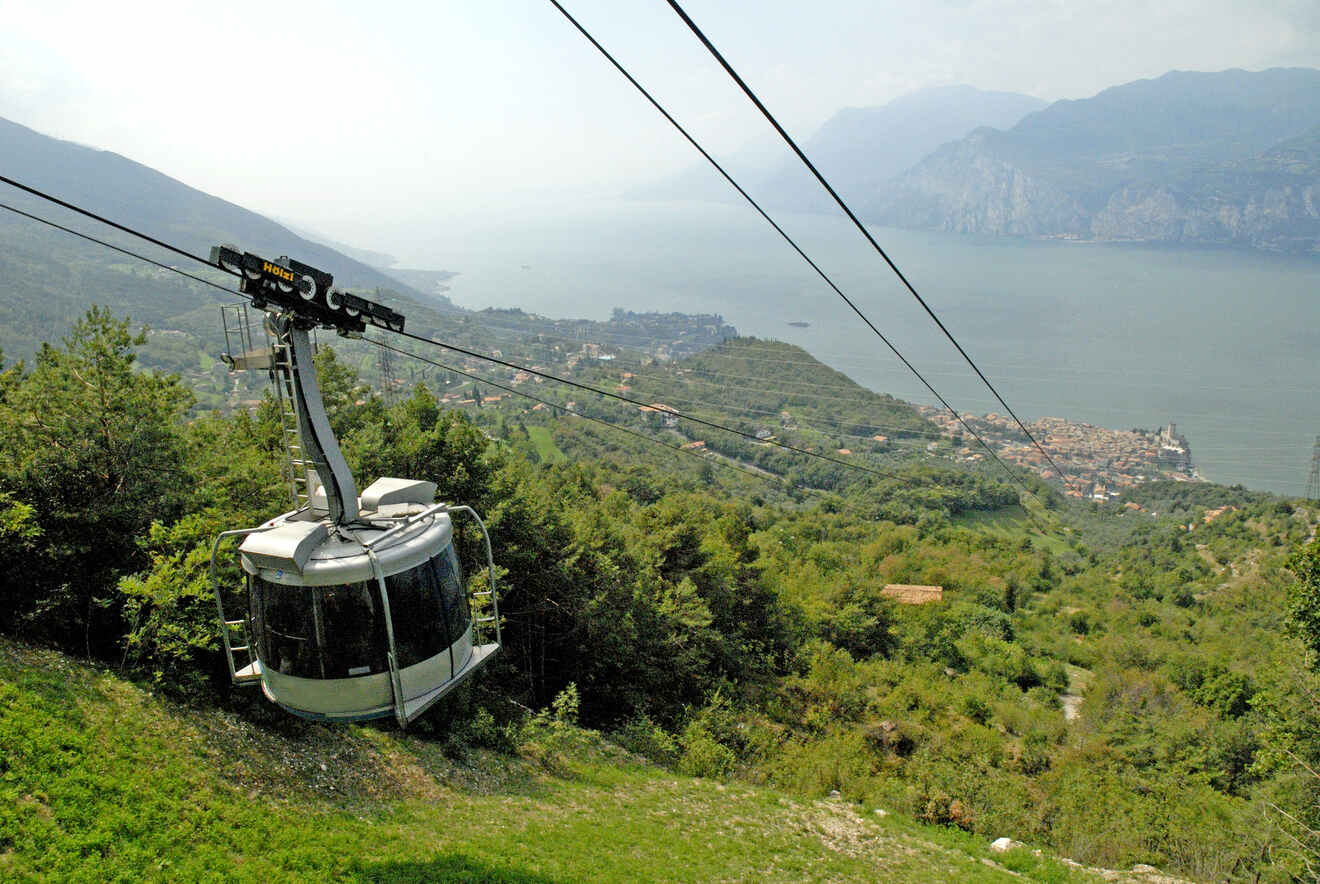 Another way to get some of the best views of the area is the panoramic cable car starting from Malcesine (open from March to November) that will bring you in just 20 minutes to the top of Monte Baldo peak!
The second part of the cable car actually slowly rotates 360 degrees while ascending so you really do get an unbeatable view of the lake and surrounding mountains!
Monte Baldo, part of the Italian Alps, is the tallest mountain around Lake Garda, and is called "the Garden of Europe" for the incredible variety of botanical species that grow here, so once there, go to take a hike through the mountain's incredible landscapes!
PRICE: €6,00 one way / €10,00 return
3. Go on amazing hikes around Lake Garda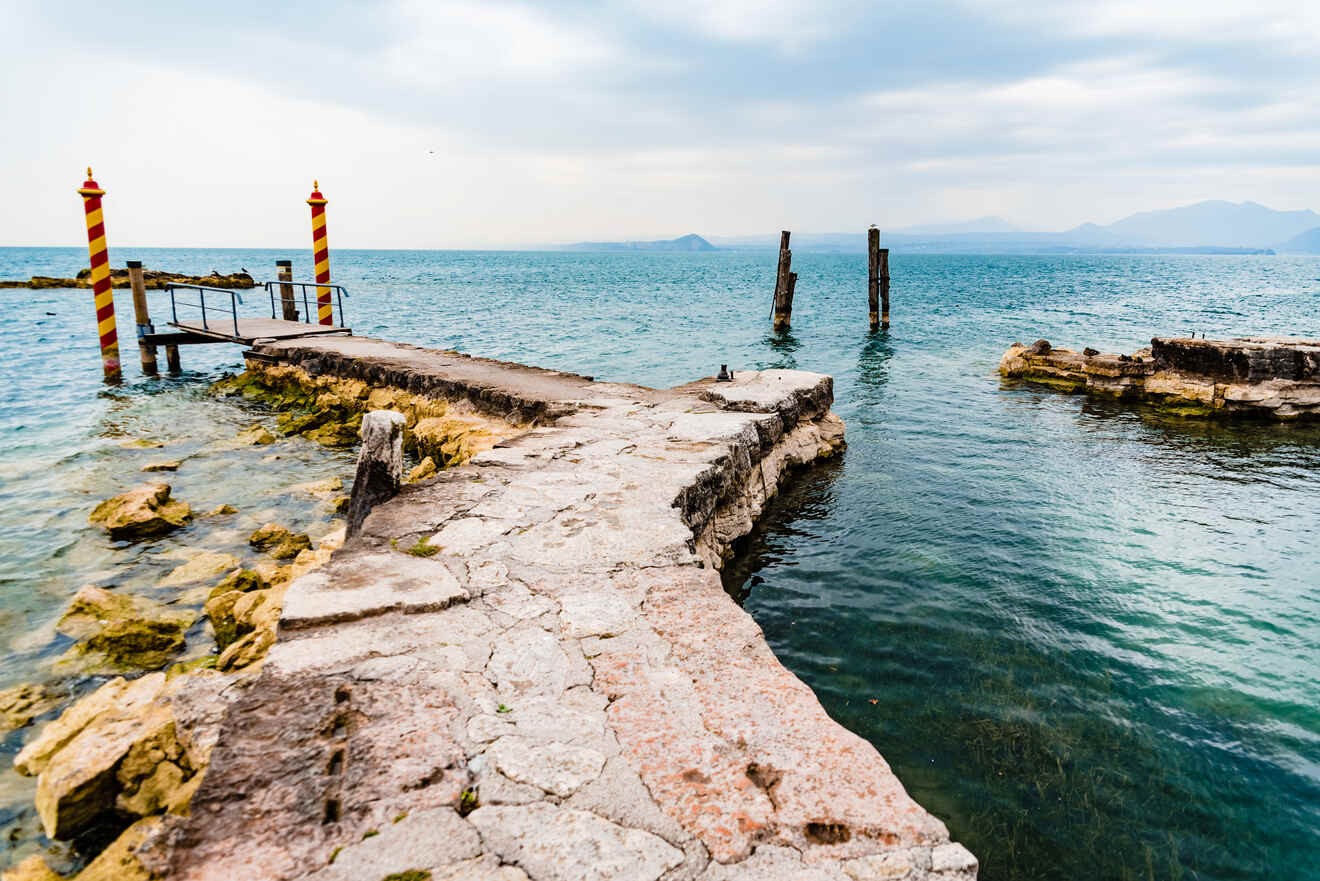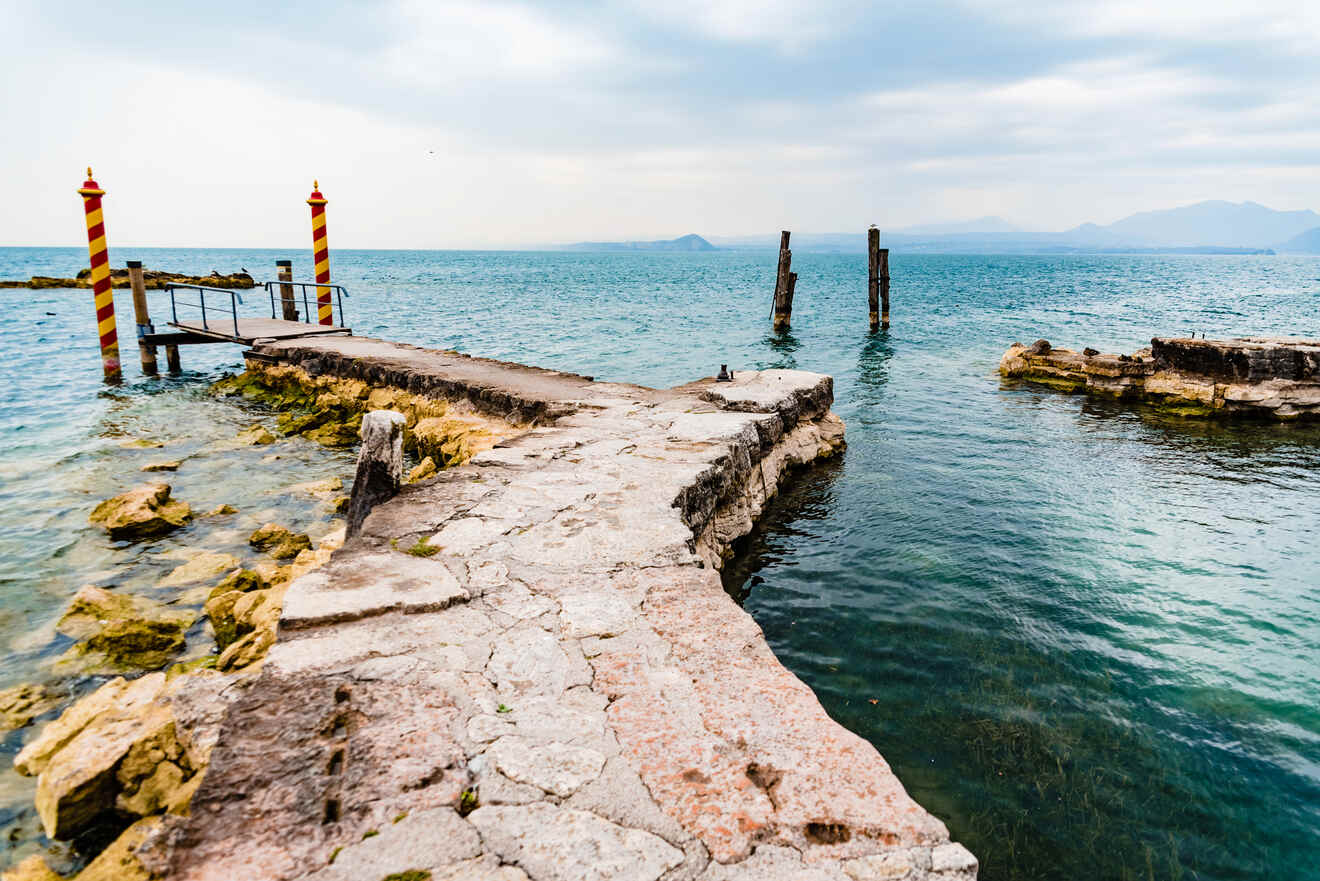 The Lake Garda surroundings are full of panoramic hikes in the middle of green landscapes and offer, of course, breathtaking views of blue lake waters and the mountains or hills of the opposite coast!
You can imagine that the hiking option in such a vast territory is infinite, so I gathered here a list of my favorite ones:
Lake Garda's Tibetan bridge – This hike is my favorite one ever (I've done it at least 10 times) because it brings you up to a suspended bridge -the Tibetan bridge- right above the canyon of Val Valzana, cutting through the western slopes of Monte Baldo.

Reaching the bridge is an adventure itself: there is no tarmacked road leading to it, so you will have to drive to either Crero or Pai – two small hillside villages – and then hike through the olive groves and green forest from there.

The hike is a little challenging but is definitely worth the effort: the bridge is 34,70 m long, it's above a 42 m deep abyss, and crossing it will give you lovely views over Lake Garda on one side and Val Zana's canyon on the other one!

TIME (RETURN): 1 – 1.5 hours.
Punta di San Vigilio – If you feel like doing an easy walk with stunning views, the stroll heading to Punta di San Vigilio, just past Garda Town, is what you are looking for!

This walk leads you through a long promontory with a beautiful beach, olive groves, and a picturesque cypress-lined alley. The best thing is that during the low season you'll find almost anyone here, so it's perfect to enjoy some quiet and leisure time with the family, friends or couple!

TIME (RETURN): 1 hour
Sentiero Busatte-Tempesta – this is an incredible hike close to Torbole town, and definitely one of the best things to do in Lake Garda! This path, even if only 5 km long, lasts about 2 hours because of the hard descent part of the hike, steep, rocky, and slippery (while the beginning is fairly flat).

If you follow the sentiero (path) you will gradually go towards many metal stairs, then continuing uphill until the viewpoint at the top, in a peaceful spot where you'll have unreal views over the lake and the surrounding mountains (in total silence)!

TIME (RETURN): 2 hours

PRO TIP: You can find maps and more detailed descriptions for the Lake Garda hikes on the Komoot website.
4. Explore the beautiful Limone sul Garda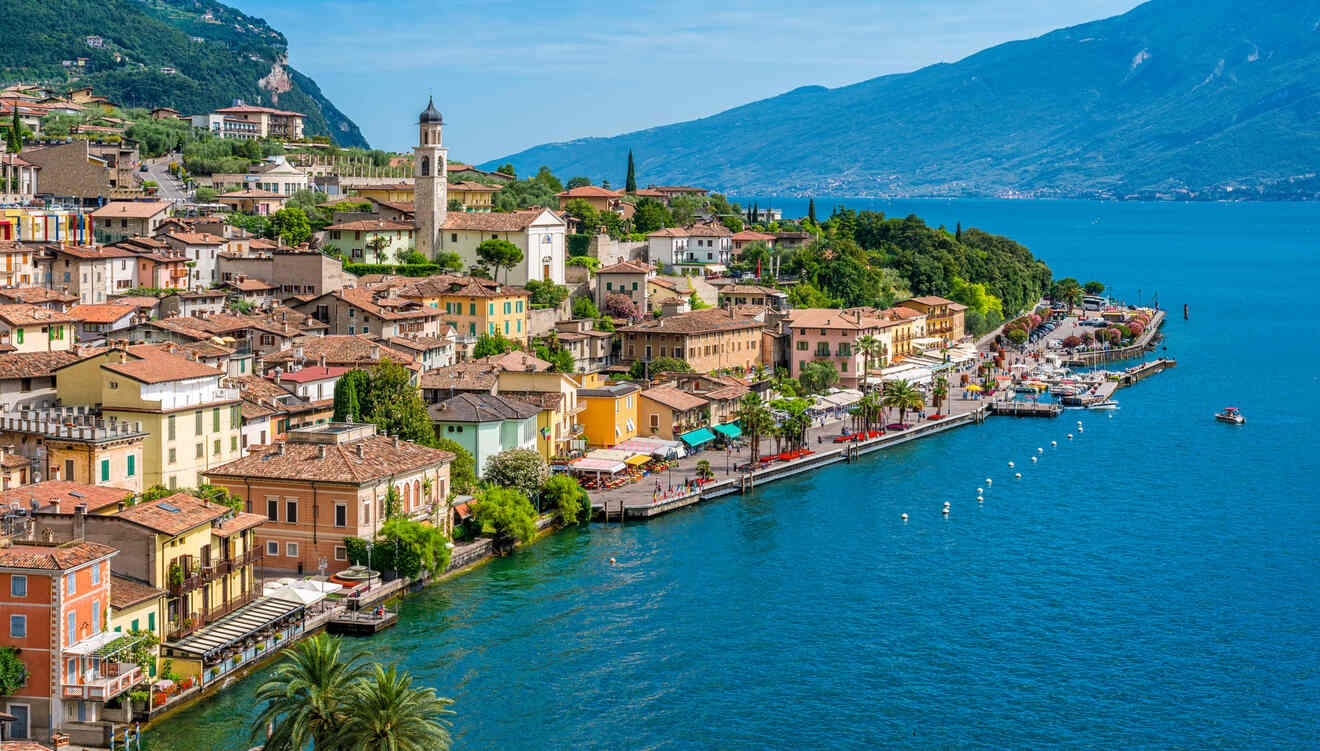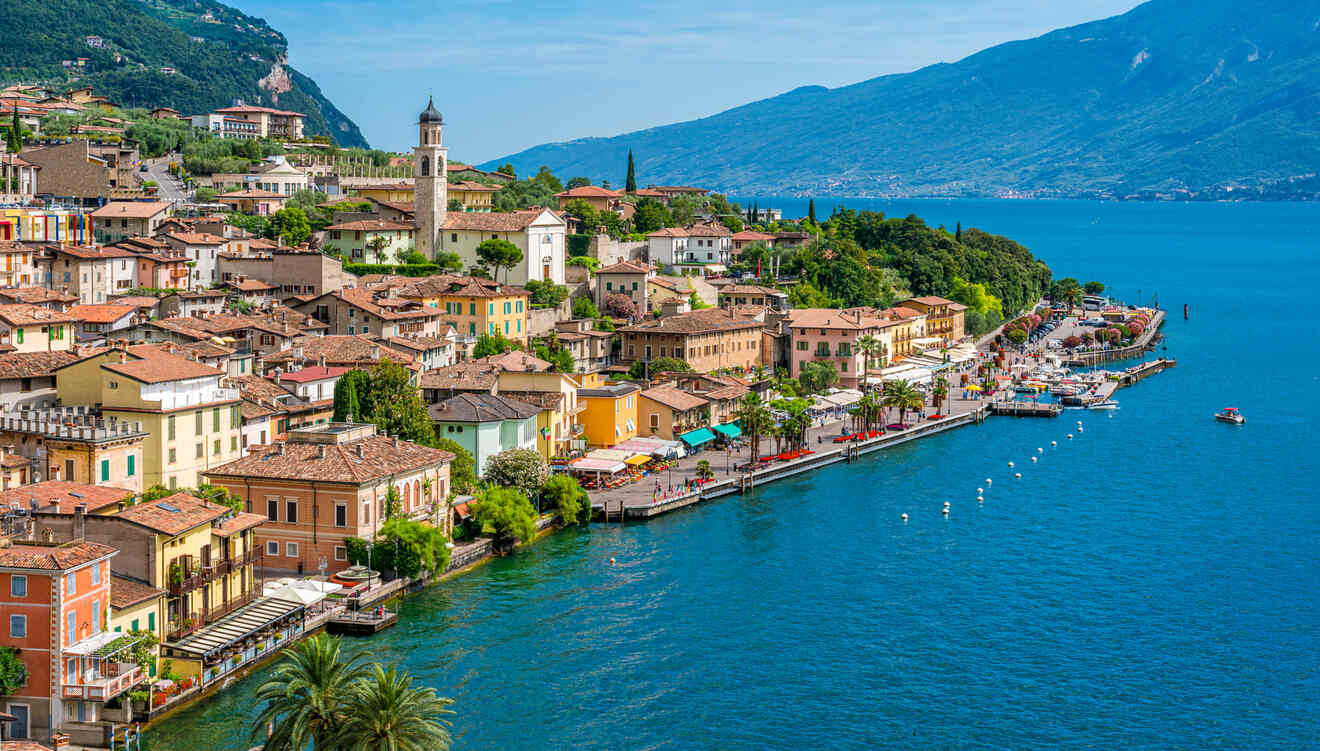 Limone is a hidden secret in the northern part of Lake Garda, on the western shore, whose name literally means "Lemon". In fact, thanks to the mild climate of the area, the town is surrounded by many lemon trees, so you can imagine how charming it can be!
Cycle by the lake & explore the historic center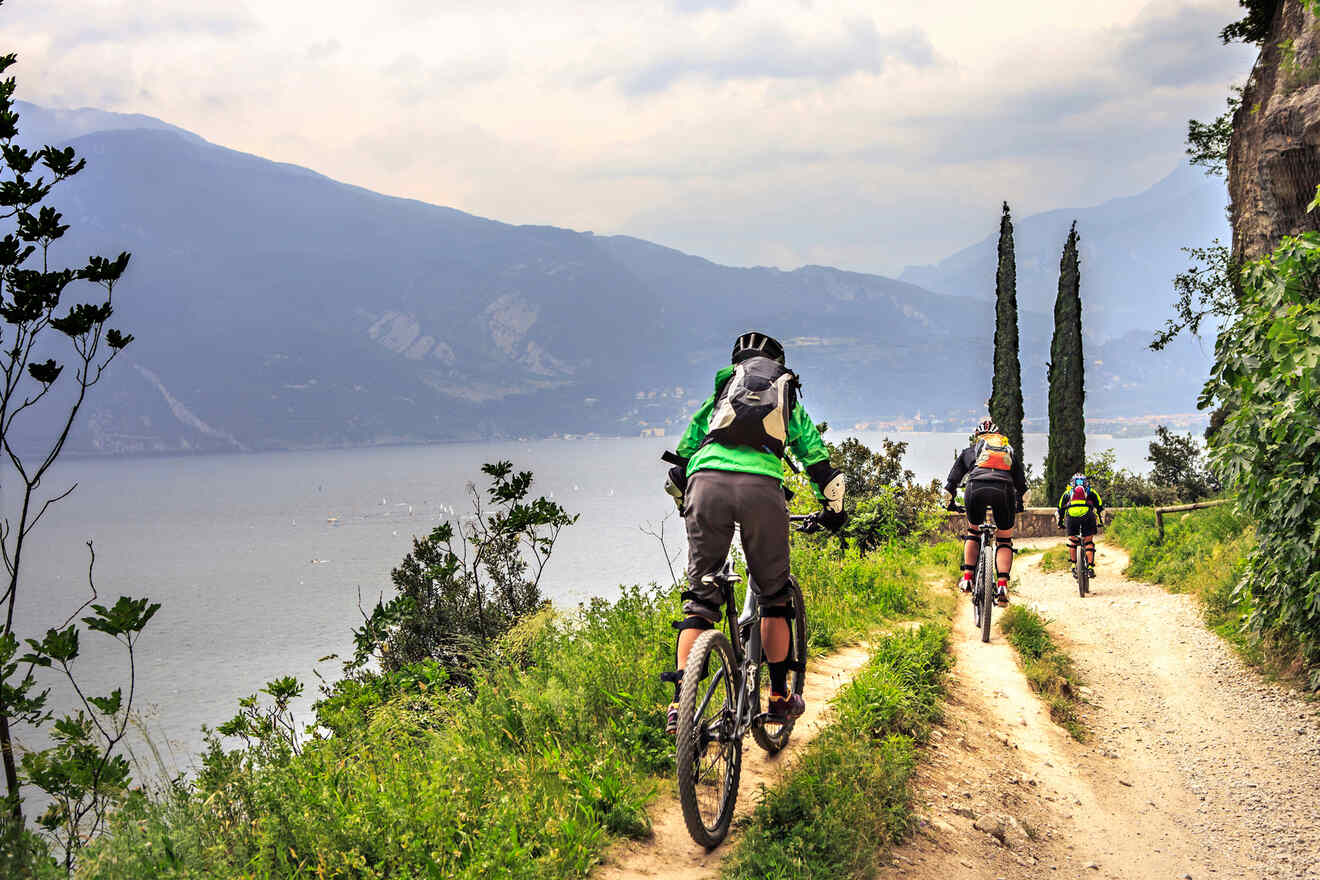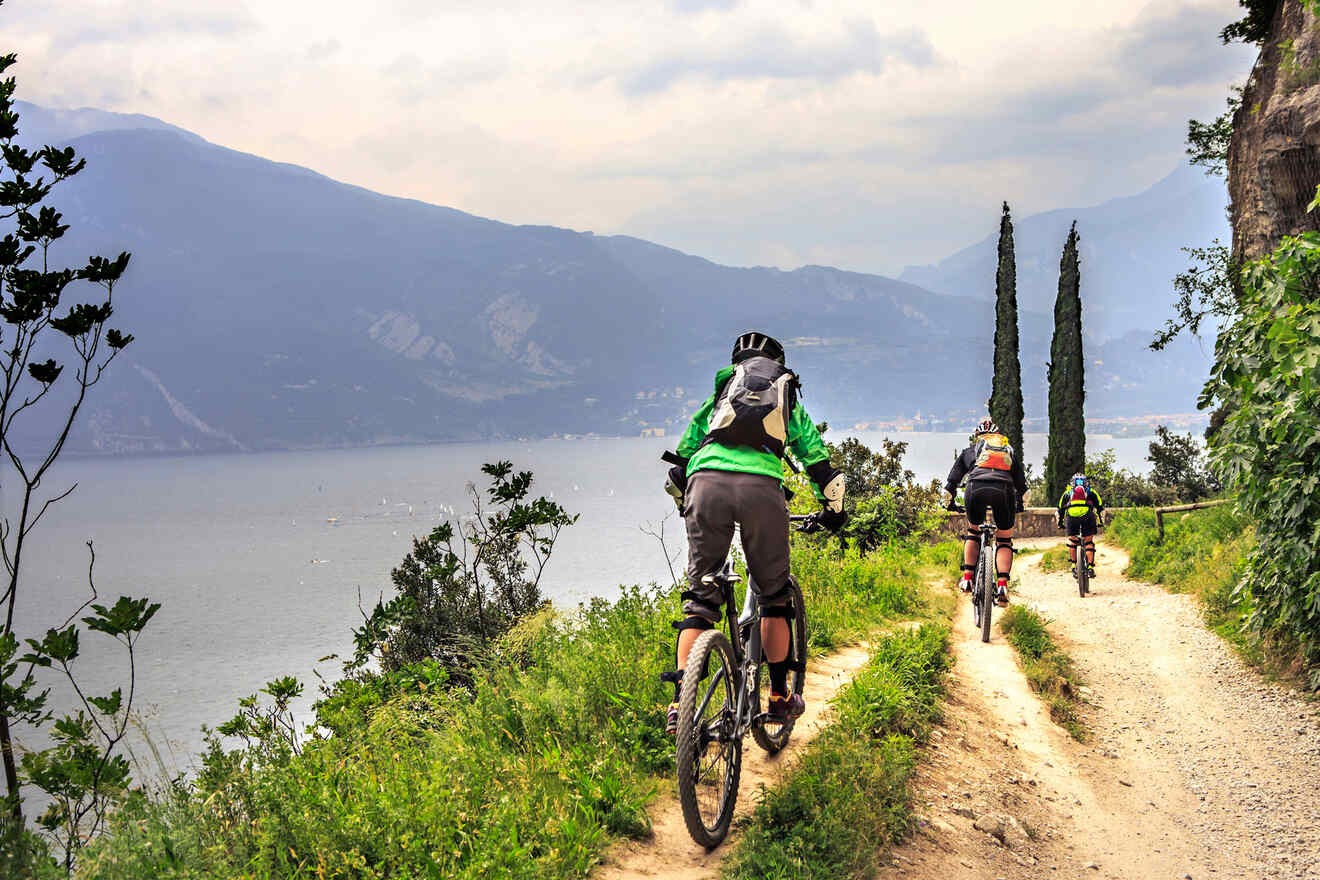 What makes Limone sul Garda unique is its scenic new cycle path facing Garda Lake, perfect if you want to have a panoramic ride (or walk) with some incredible views.
The path is almost suspended on a terraced "bridge" following part of the West Side of Lake Garda.
The route's starts from the waterfront in Limone and extends for about 4 kilometers (2.5 miles) back and forth, the perfect length to enjoy it without getting too tired. It gets particularly beautiful when you find yourself literally suspended between sky and lake!
I imagine that you won't come to Lake Garda with your own bike, but don't worry: In Limone sul Garda or near the cycle path you will find a bicycle or e-bike rental service, to be used exclusively for this route.
BIKE RENTAL PRICE:  €20 – half a day /  €30 – full day. 
Check out the beautiful old Vittoriale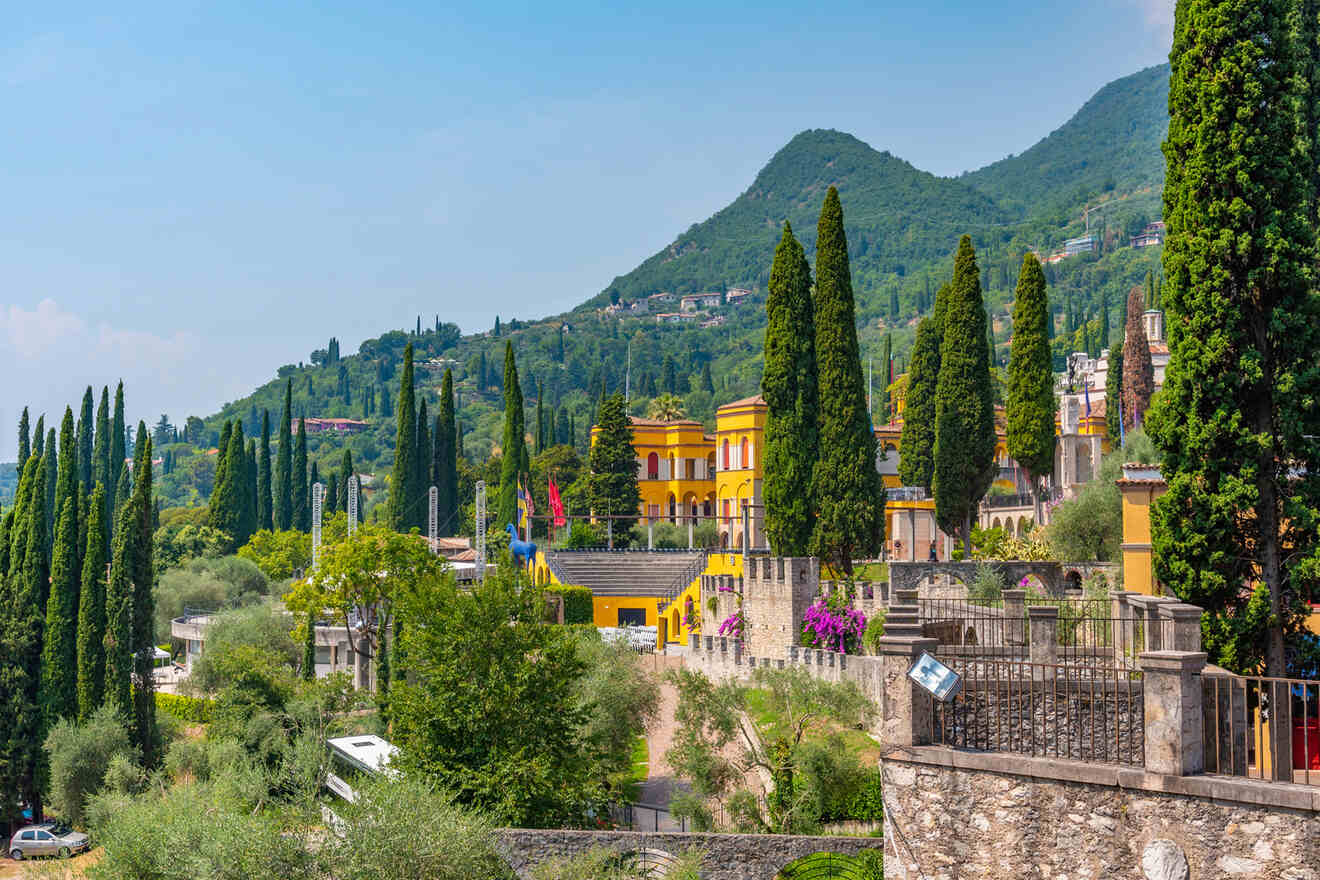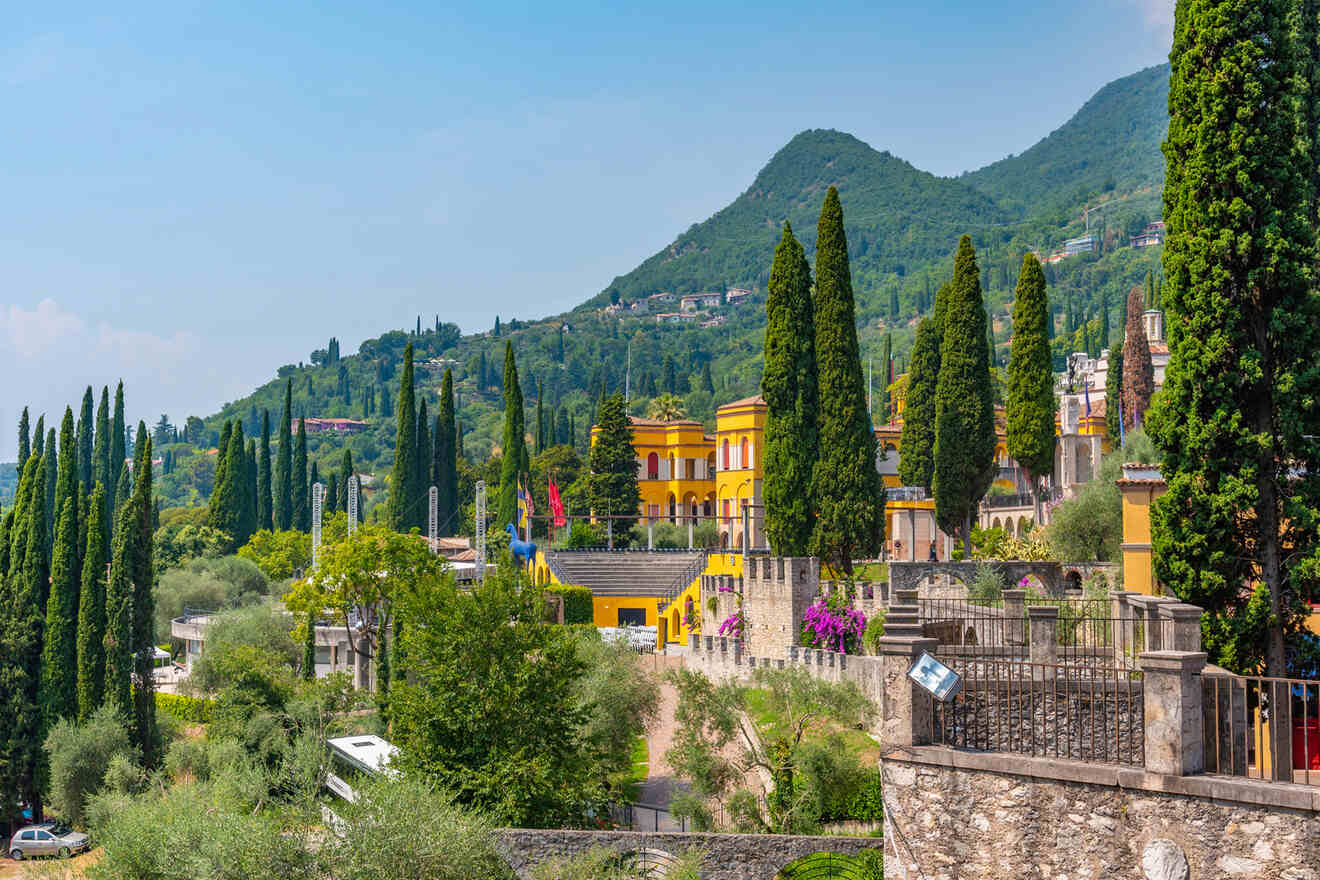 One thing you cannot miss here is the Vittoriale, the former home to Gabriele D'Annunzio, a famous Italian poet. He was known for his eccentric tastes which you will notice from the crazy decorations and garden designs around the home… This is an attraction that literally anyone will love, even your kids!
Inside the Vittoriale itself you can actually visit different types of attractions and museums:
Museum "D'Annunzio the hero": one of the three museums of the Vittoriale; built to celebrate the poet and Italian soldiers heroism during World War I. You'll find historical memorabilia, flags and autographs from d'Annunzio!
Monumental Park: the park of D'Annunzio house is a beautiful place to just relax and enjoy the waterways, paths, lemon groves, and statues or to admire the lake from the terrace.
The D'Annunzio Segreto Museum: collects everything that until now was unknown to the public (because it was closed in the closets and drawers of the Priory), like the Vate's clothes, shoes and boots, linens, desk objects, tableware, jewelry, and much more!
L'Automobile è femmina: in the old parking lot at the entrance of the Vittoriale, you will find a museum of the automobile, testifying to the love of the Poet for cars through a collection of his own cars and related objects like car glasses, hat, trophy, etc!
La Prioria: this is the last home of Gabriele d'Annunzio, furnished and decorated according to his crazy taste, where you'll find rooms with their own character and theme (like the music room, the room for his lovers, etc) and many personal belongings!
The ticket prices to visit Vittoriale vary depending on what you actually want to see. There are three different types of visits:
Full Route – €18: includes a visit to the Monumental Park, Museo D'Annunzio Segreto, Museo D'Annunzio Eroe, Museo L'automobile è femmina, Guided tour Casa (Propria).
Park Route – €12: includes a visit to the Monumental Park, Museo D'Annunzio Segreto, Museo L'automobile è femmina.
Park And Museums + Hero €15: which includes a visit to Monumental Park, D'Annunzio Hero Museo, D'Annunzio Segreto Museum, L'automobile è femmina Museum.
5. Have fun with the kids in the many theme parks!
If you're traveling in Lake Garda with kids and you are afraid you won't find anything to entertain them, you cannot be more wrong!
In the close surroundings of the lake there are some cool theme parks (actually the largest ones in Italy), perfect to take a break from all the history and have some fun with the family… let's check them out:
5.1 Gardaland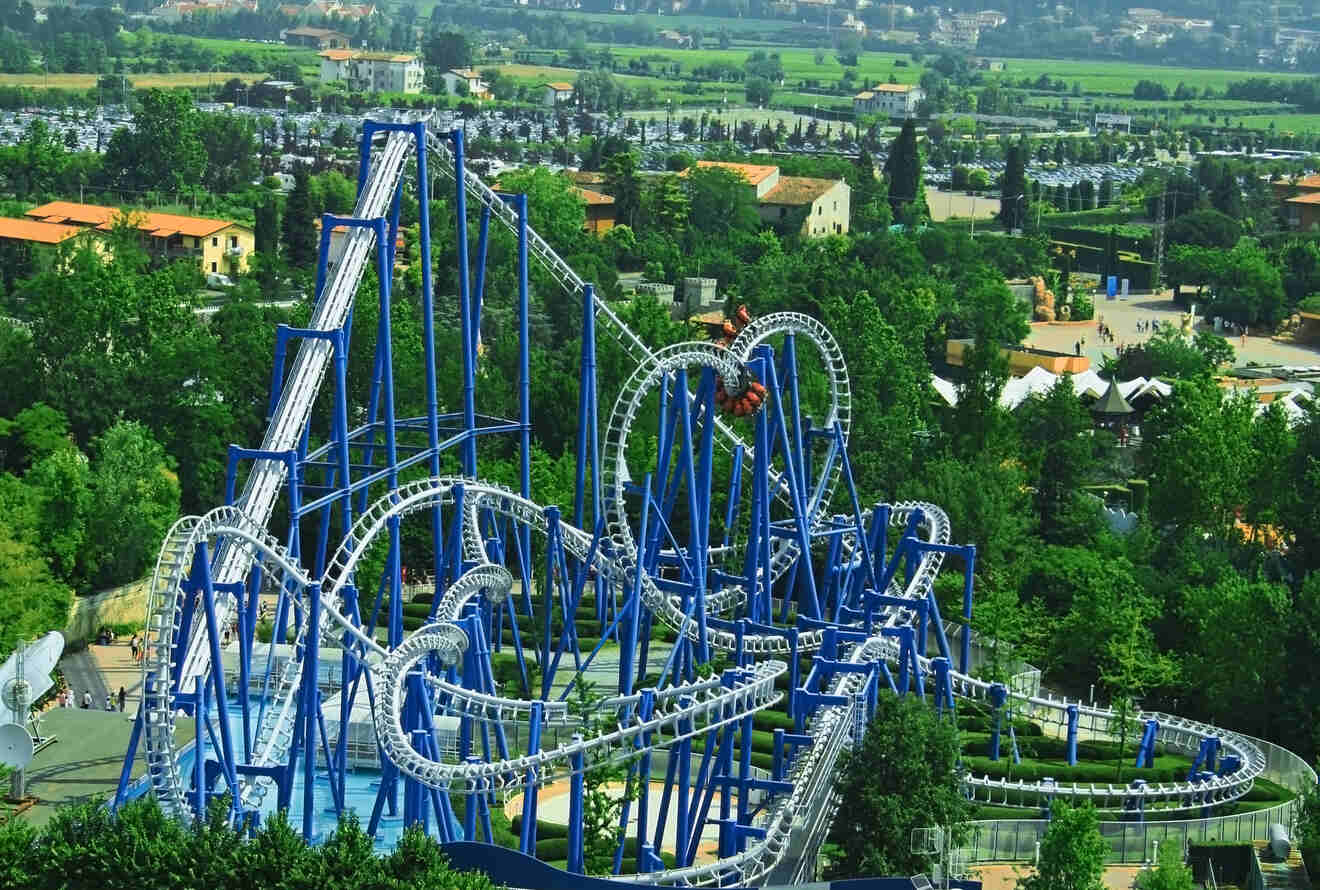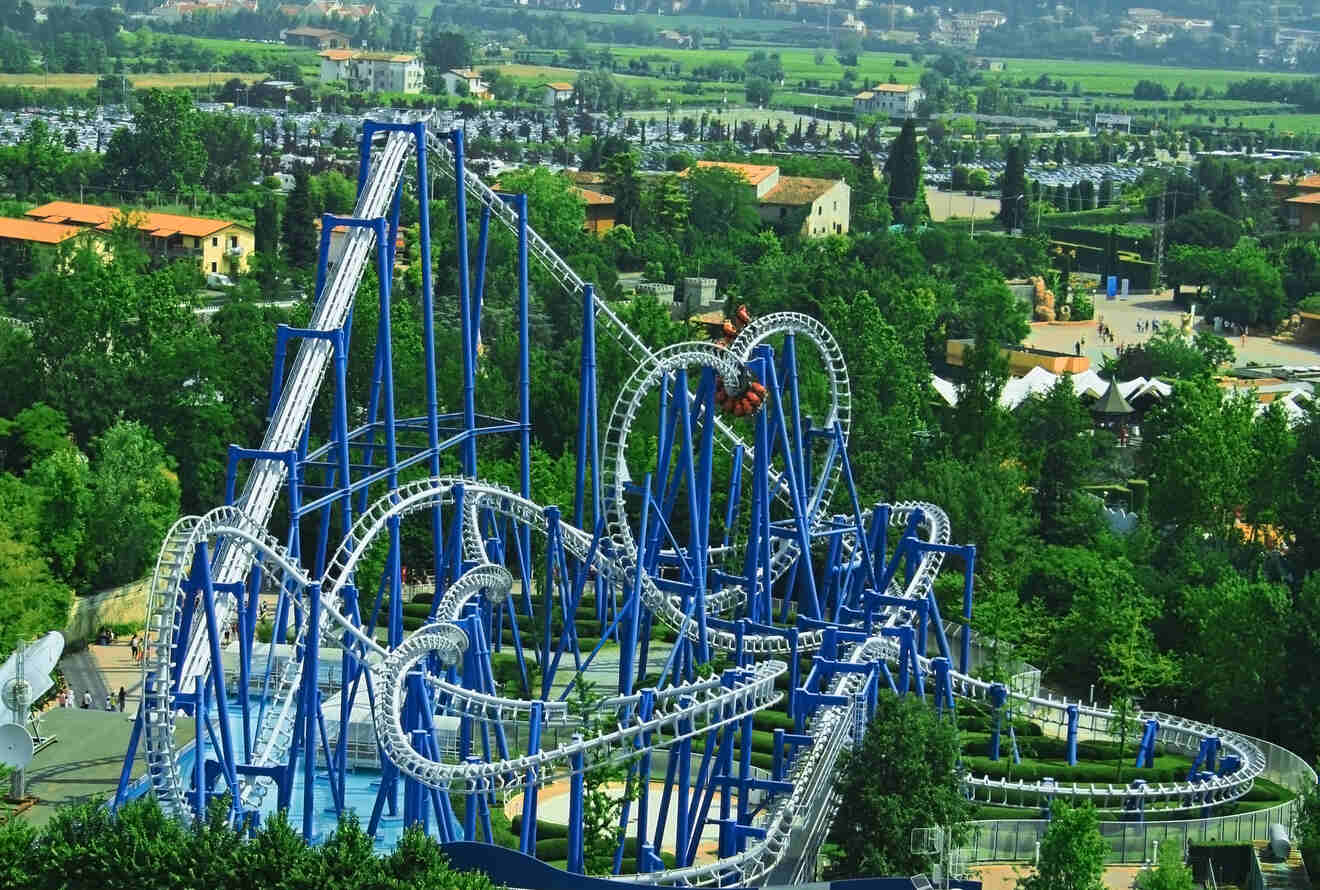 The huge amusement park of Gardaland it's a great place to get some adrenaline and a lot of fun with your family or friends! Featuring exhilarating rides, cartoon parades, and a Sealife Centrum with dolphins shows, you could even spend a couple of days here and still not be able to do everything!
The Sealife Centrum access can be included in the ticket fee or not, depending on the ticket you'll buy (see prices below).
NOTE: If you're not in a rush and you already love this park, you can stay in the adjacent Gardaland Resort featuring three thematic family hotels – Gardaland Hotel, Gardaland Adventure Hotel, and Gardaland Magic Hotel – plus many restaurants and activities!
PRO TIP: If you want to save some money (and sweat if you're visiting in the summer), you can buy the night ticket which lasts from 6 p.m to 11 p.m. Going there at night you will avoid long lines and the heat of summer days, so you will still be able to do most of the rides!
PRICES:
Full day entry for adults: € 41.00
Full day entry for kids: € 35.00
Combo offer Gardaland park + Sea Life Aquarium: € 45.00
Night ticket: € 22.00
5.2 Movieland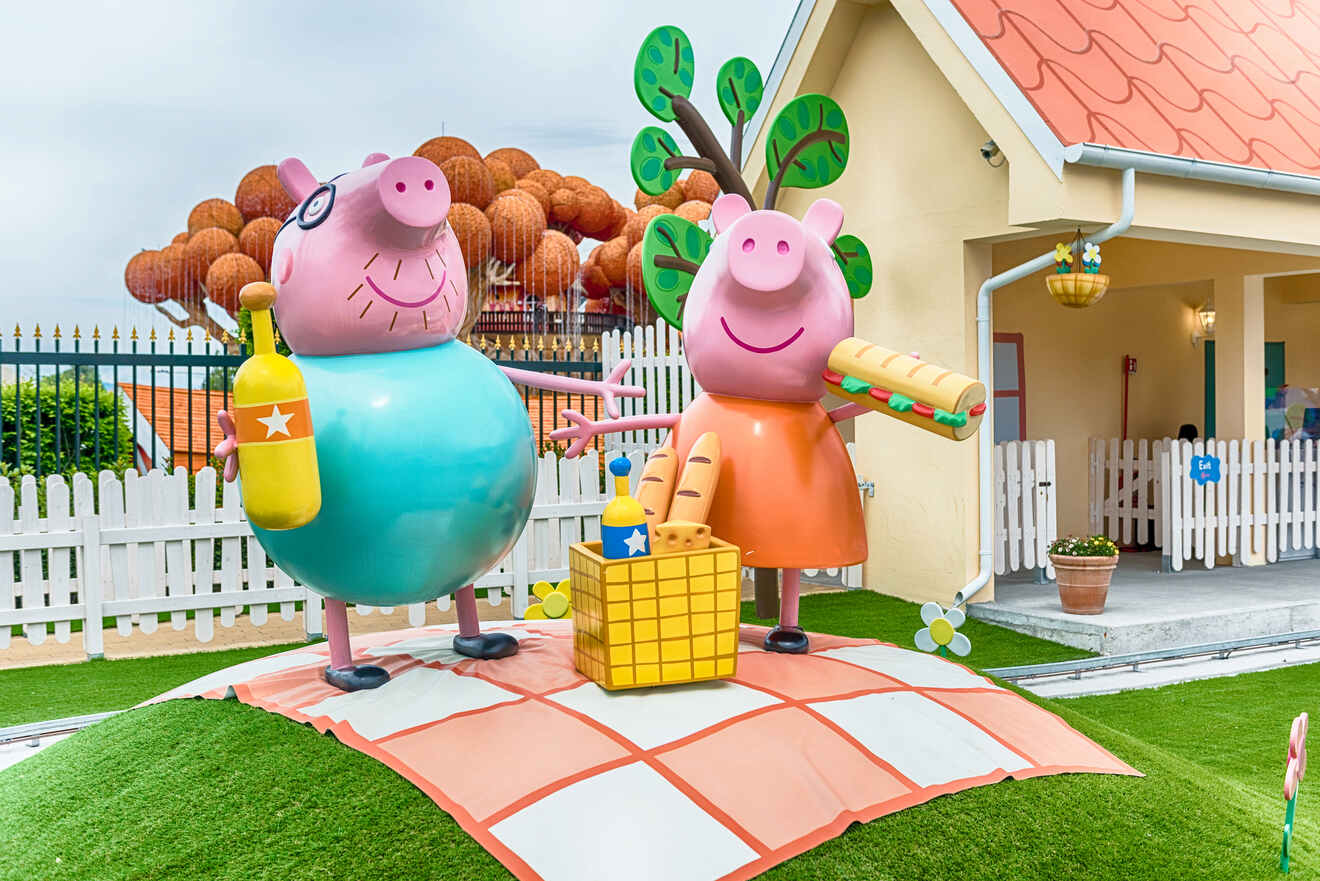 Movieland Studios is another family-friendly theme park that looks like a movie studio, where you can watch any kind of show, from cool 3D movies to magic shows and Wild West movies.
But Movieland is not just a big cinema: the park also offers many cool attractions to have fun with, like the Kitj Superjet which will take you on a wild boat ride, or fun activities like taking part in a live movie shoot!
And, needless to say, if you get hungry there are many themed restaurants serving delicious Italian food!
PRICES:
(Just in case you'll wonder if I am serious or not: yes, the price is based on your height)
Adult (>140cm): €30
Reduced (>100cm – <140cm): €25
Free entrance under 100cm
5.3 Canevaworld
Other than the beautiful waters of Lake Garda, there is another place where you can refresh but also have a lot of fun: the water park Canevaworld!
Located close to Gardaland, this is another amusement park offering countless water rides, from the ones for small kids like a lazy river to more adrenaline slides you can cruise down. Here there is something matching everyone's tastes!
And if you just want to relax while your kids are running around the park, there's Playa de Coco, a quiet "tropical beach" (or at least, very similar to a real one) where you can soak up some sun and the Relaxing Geiser featuring many Jacuzzis where you can just relax!
PRICE: €30 for adults, €25 for kids up to 7 years old
6. Get enchanted by Riva del Garda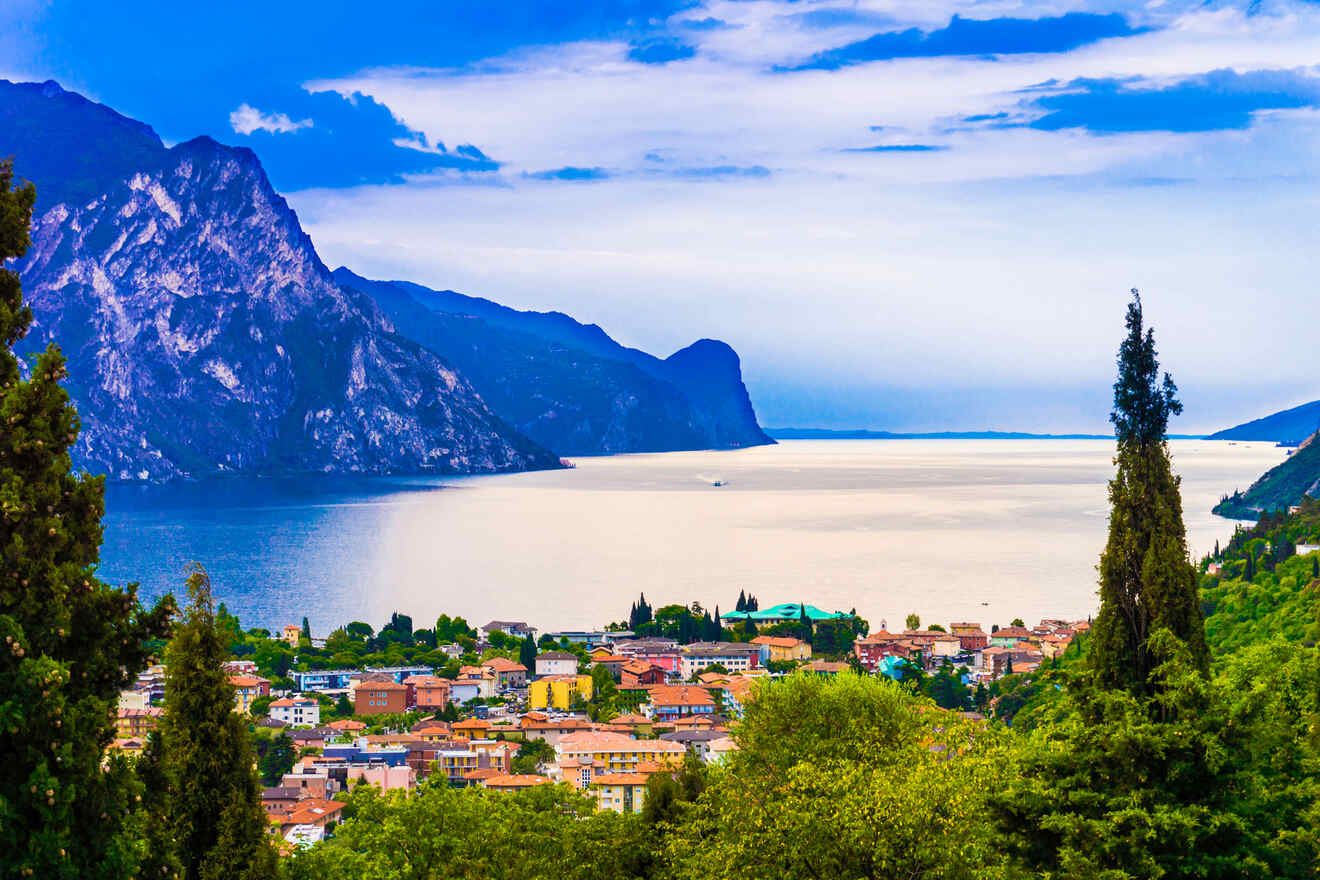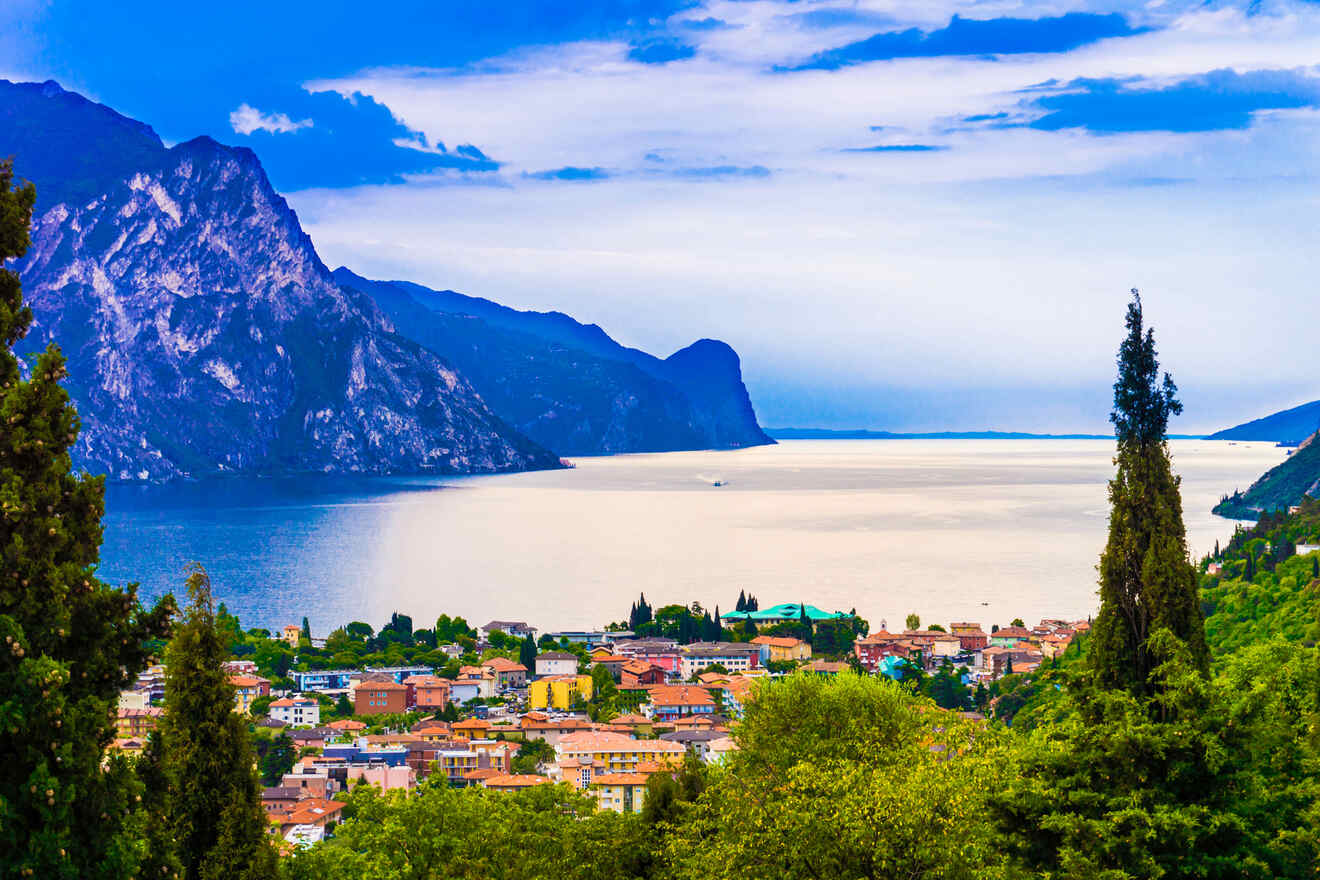 Riva del Garda's old town sits on the northern edge of Lake Garda, between the mountains and the water, particularly charming for its characteristic medieval old streets.
Offering countless dining and shopping options, Riva del Garda is the right place to just sit in a cafe right on the shore of Lake Garda and take in the stunning views while you're sipping your aperitif.
See the Rocca Del Riva Castle & Museo Civico
Right to the east of Riva del Garda you'll find the old moated Rocca del Riva, (guess what? another castle of the Scaligeri), which hosts an excellent Museum (Museo Civico), displaying prehistoric and later artifacts if you are interested in the town's history.
If you want to visit the Museum and Castle it will take you about 2 hours: the place is huge and it features great exhibitions of art, photographs, archaeology, and, the best part, a great rooftop panorama!
PRICE: €5
Try some water sports on Torbole Beach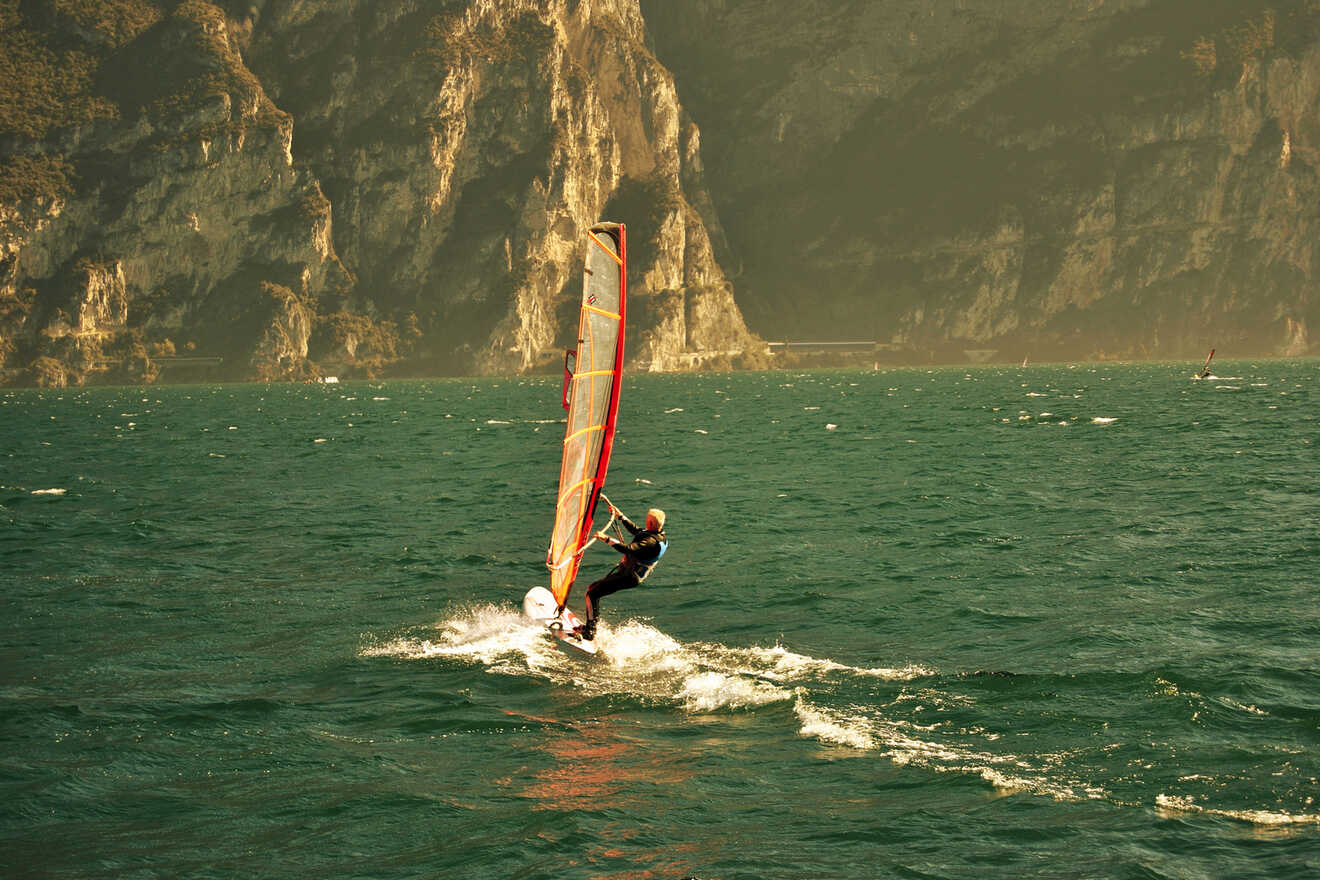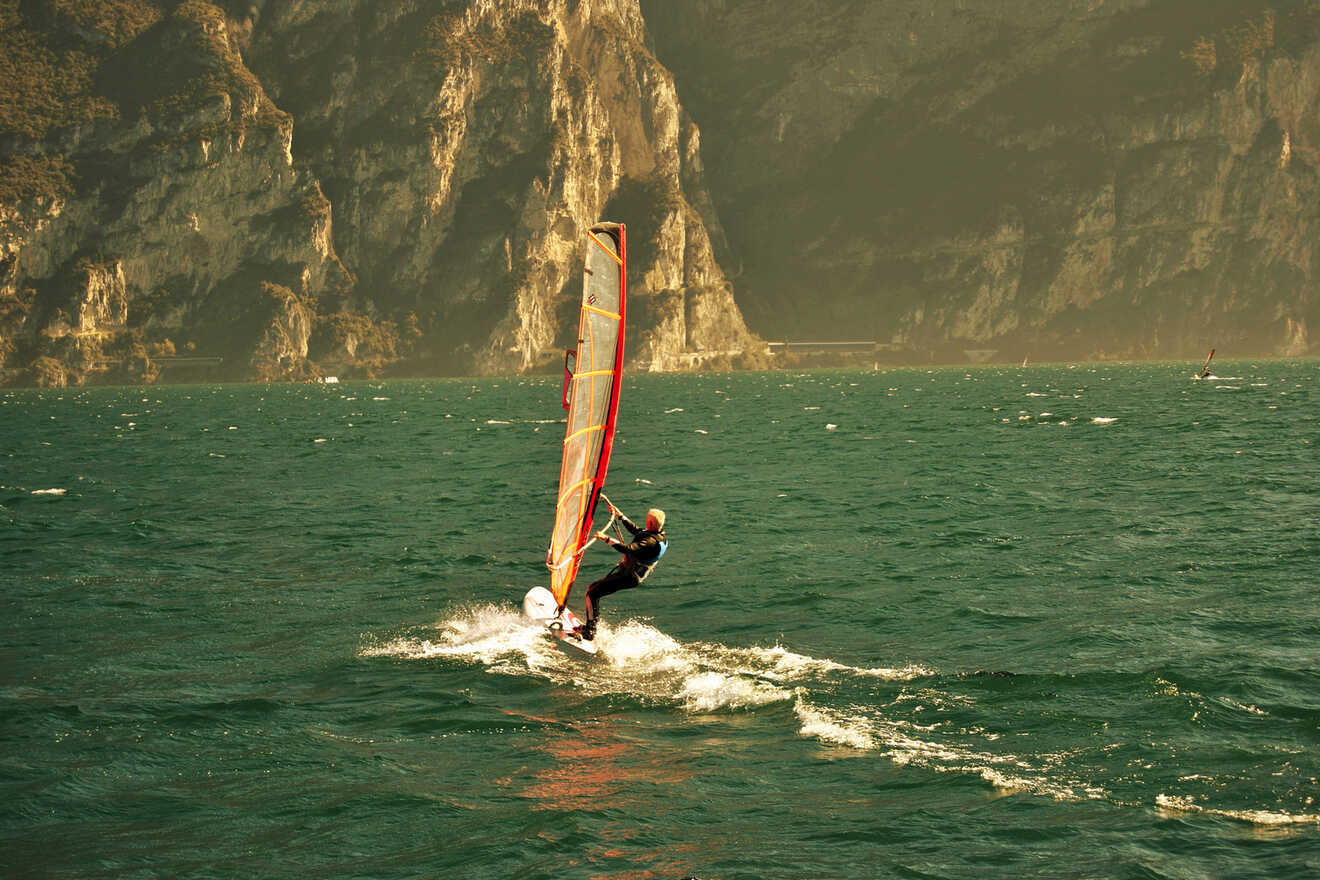 If you pass by Riva del Garda, you absolutely have to check out the nearby Torbole, which is a beautiful pebble beach completely surrounded by mountains. Not only is it idyllic but it is a premier spot for watersports like windsurfing or kitesurfing due to high-wind conditions at the northern end of the lake.
If you want to try one of these sports, this is definitely the right spot, offering many rental places and schools!
Normally, the prices for a lesson are around € 190 for a 1 theory + 1 water kitesurf lesson and €80 for windsurfing! While if you are already experienced, the rentals for both are definitely more affordable.
Of course, all around the beach, you will find many restaurants and beach bars where you can take a break from the sun and enjoy a delicious Italian snack or lunch!
7. The best boat tours on Lake Garda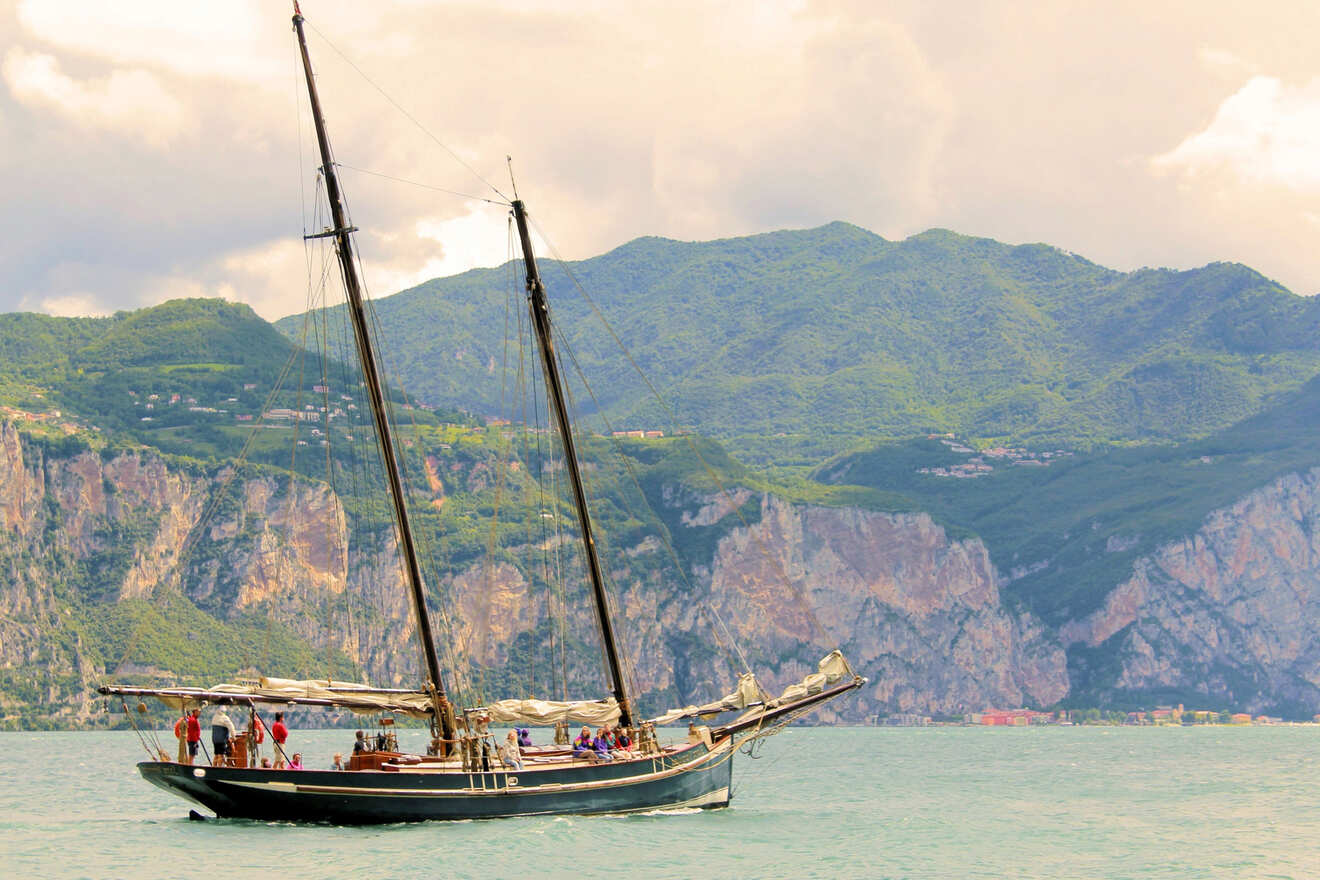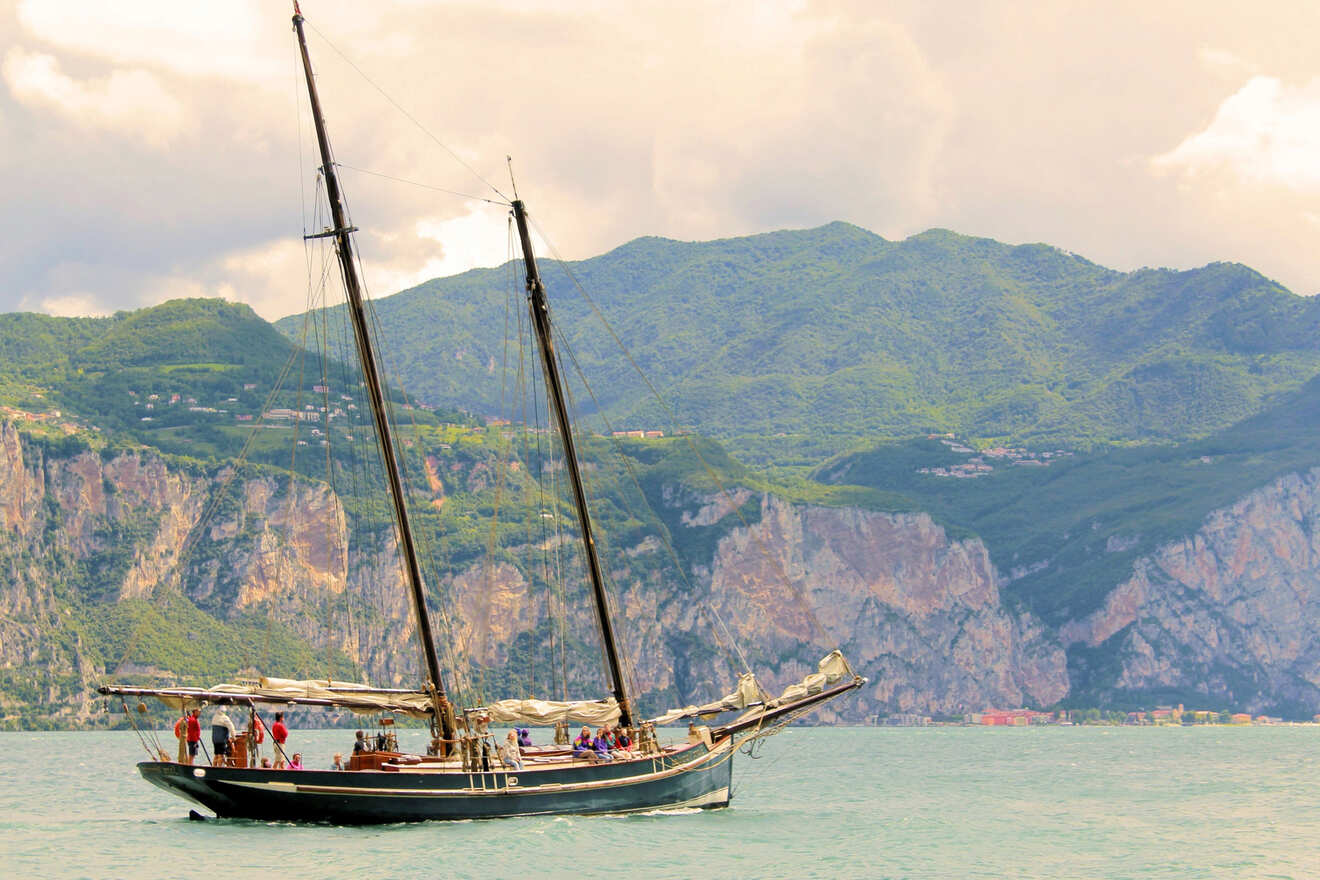 Traveling Lake Garda from the water is one of the best ways to see its incredible landscapes. Luckily for you, in Lake Garda you can find many boat tours: either private or shared with other people, to a specific town or around the whole lake. Yep, there are so many amazing ways to explore the region!
The majority of boat tours depart from towns in the south of the lake like Peschiera, Sirmione, or Bardolino, but there are varying lengths and destinations of tours so you can easily find something to suit your preferences.
Here are a few of the best boat tours on Lake Garda:
8. Buy some souvenirs at the many Markets in Lake Garda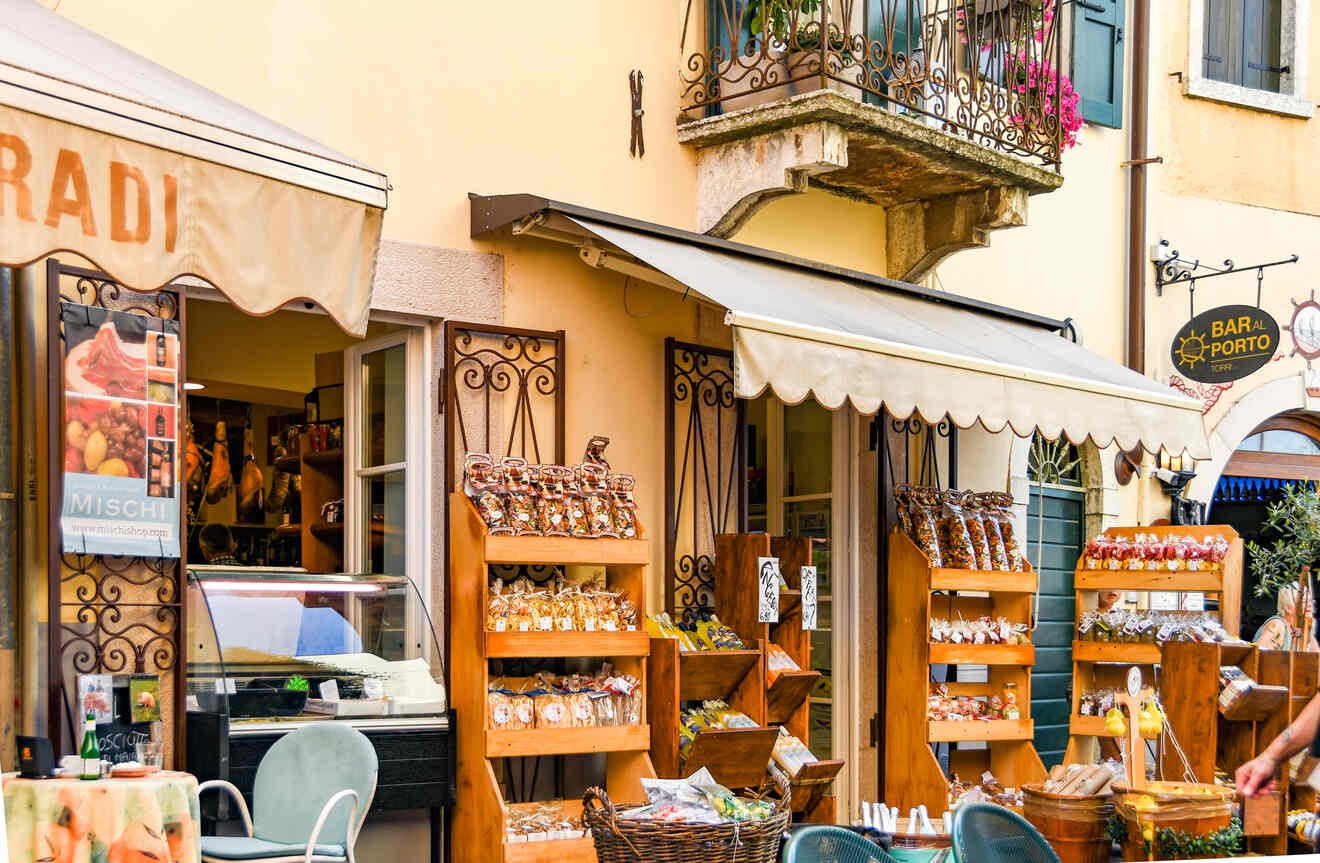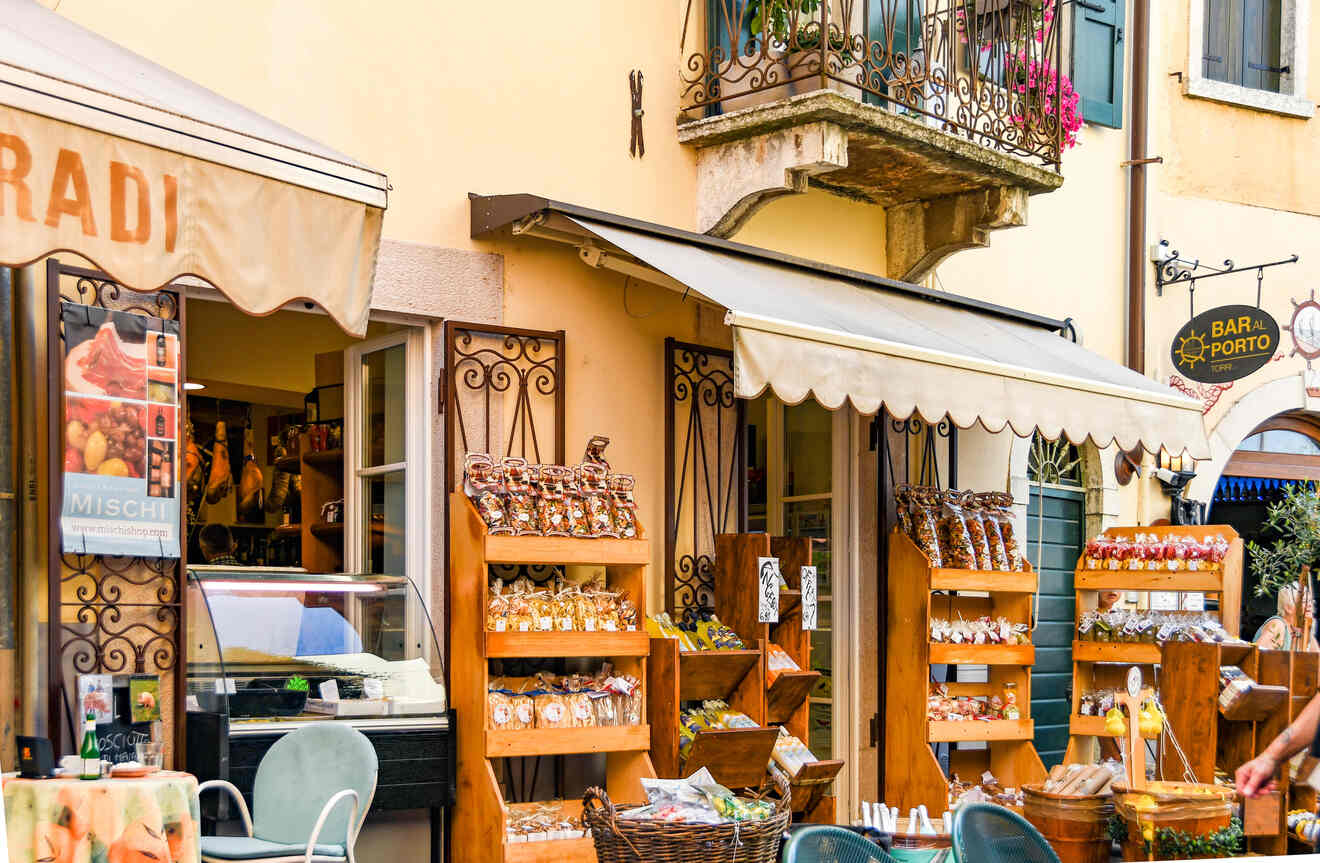 One of the things I love doing the most in Lake Garda is visiting its weekly markets selling everything from fresh local produce, food, cute clothing, leather products, shoes, and many other souvenirs.
Going around the many stands, smelling the perfumes, and seeing the lake views at the same time, is one of the best things to do in Lake Garda!
The markets generally take place in the morning, from 7 am to lunchtime, so after your intense shopping, you can go straight to have a delicious pizza or pasta!
Check out the best street markets in Lake Garda:
Limone sul Garda: the market in Limone sul Garda happens every 1st and 3rd Tuesday of the month, and offers the most various products, from typical food specialties to fresh fruit and veggies from the nearby lands.
Lazise: this wide market goes on Wednesdays from 8 a.m to 2 p.m, and is a great place to shop Garda wine, olive oil, leather goods, and much more… you will find it on the port and in the old town.
Torri del Benaco: This lovely market happens every Monday and it lasts all morning until 2 p.m. Here you'll find vintage/cheap clothing, artifacts from olive groves, and typical Italian products like cheeses, bread, and ham.
Riva del Garda: a typical Italian market in the beautiful historic center of Riva del Garda, selling artisanal products, a wide choice of delicious cheeses, clothing, and souvenirs. It happens every 2nd and 4th Wednesday of the month, until 2 pm.
Desenzano del Garda: this is a huge market happening every Tuesday from 8 a.m to 1 p.m. on the lakeside promenade of Desenzano del Garda, with stands selling literally ANY kind of product!
9. Go wine tasting in Lake Garda's best towns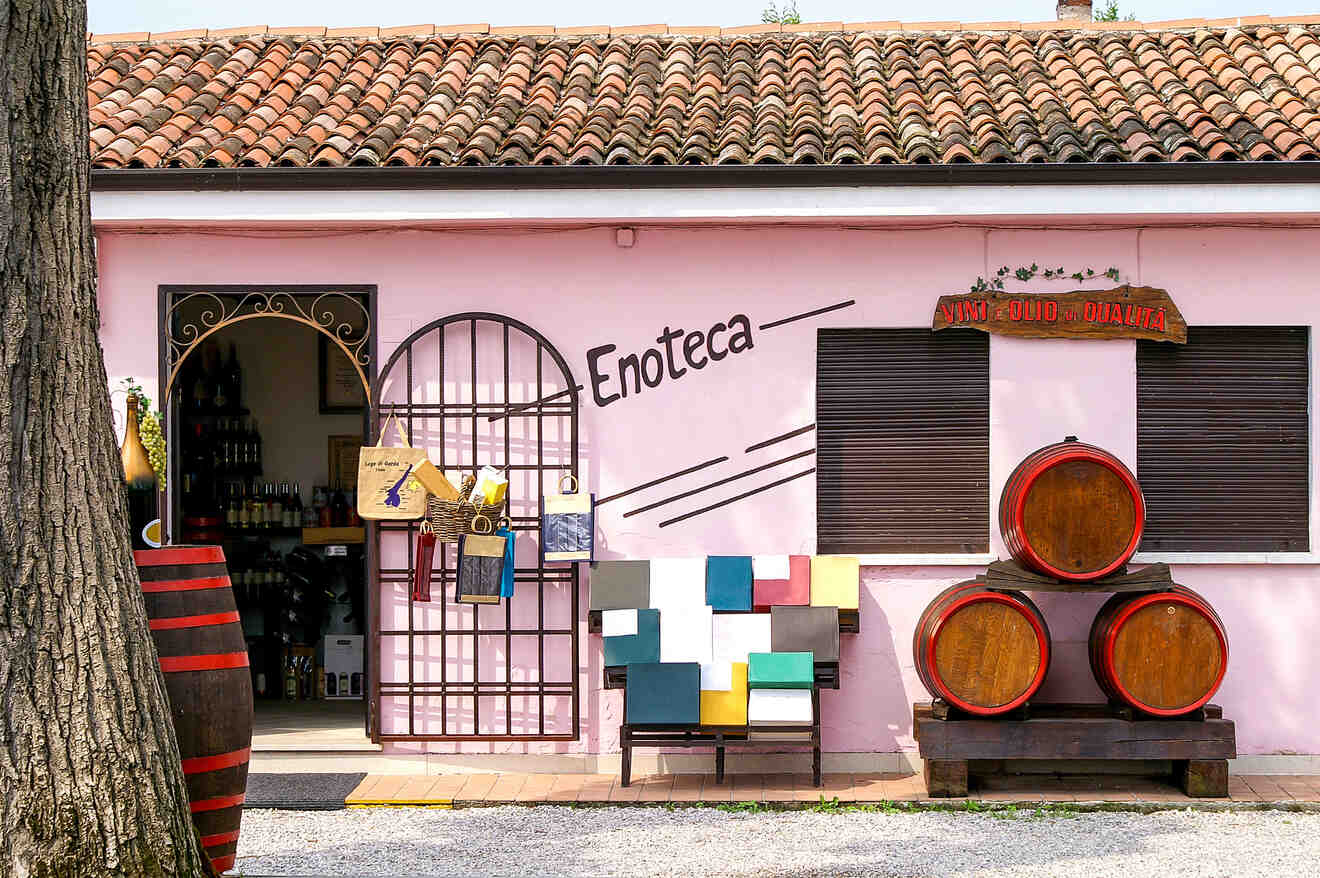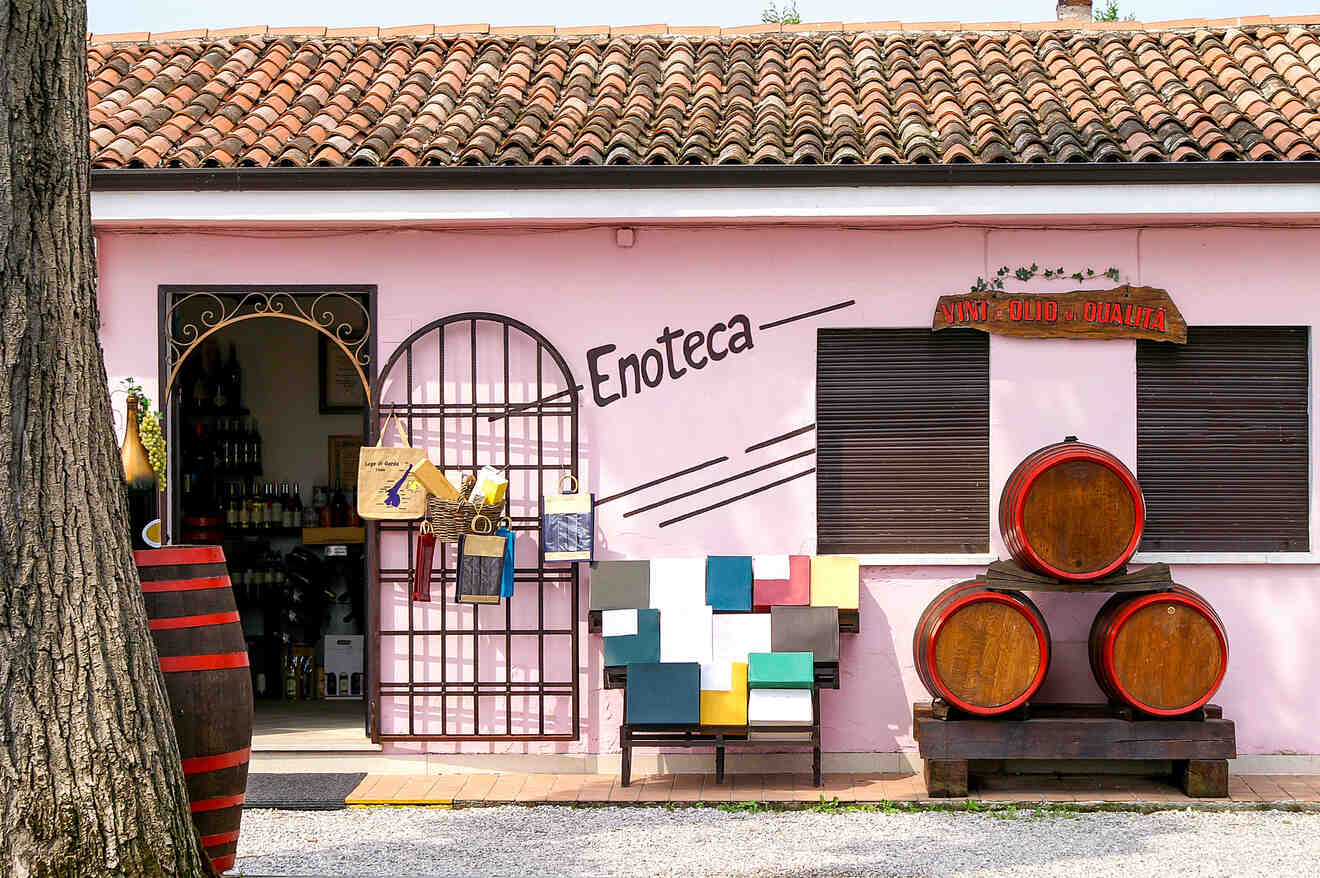 Apart from the olive groves that characterize the lake landscape, there are countless vineyards in the Lake Garda surroundings. So you simply cannot leave the Lake without doing a wine-tasting tour!
If you're a die-hard wine lover like me, what is better than exploring incredible natural landscapes while trying some of the best wine in Italy and learn also about the wine-making process?
In the Veneto side of Lake Garda, where I am from, they produce some of the best wine in the whole of Italy, like the famous Prosecco or Bardolino, the signature wine of the Garda region.
The tour I personally recommend the most is this winery tour in the Valpolicella area, the stunning and hilly landscape between Lake Garda and Verona: this is THE ultimate viticultural zone in northern Italy, known for the production of amazing wines.
You'll have a tasting experience with a professional sommelier and an introduction to the history of wine and winemaking methods. Get ready to try the best of the best red wines, typical of the Veneto region, like Valpolicella Classico & Superior, and Amarone.
PS: If you're in Lake Garda during late September/early October, you HAVE to go to the yearly 'Festa dell'Uva' harvest festival or the 'Palio del Chiaretto' in Bardolino town, dedicated to rosé wine. Apart from countless wine stands right on the lakeshore, you'll enjoy live music, street food, firework, and a super lively atmosphere!
10. Have some leisure time in Peschiera del Garda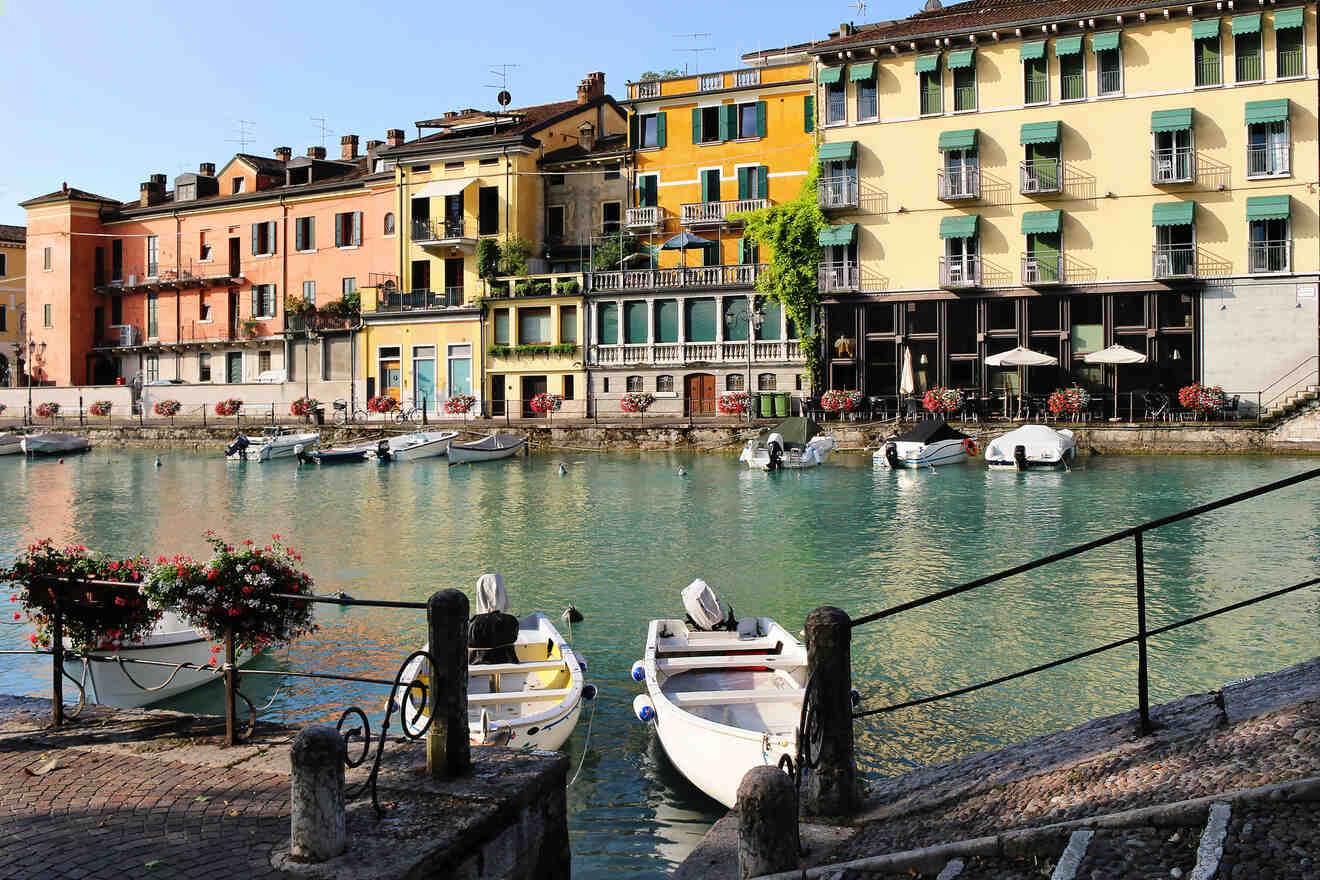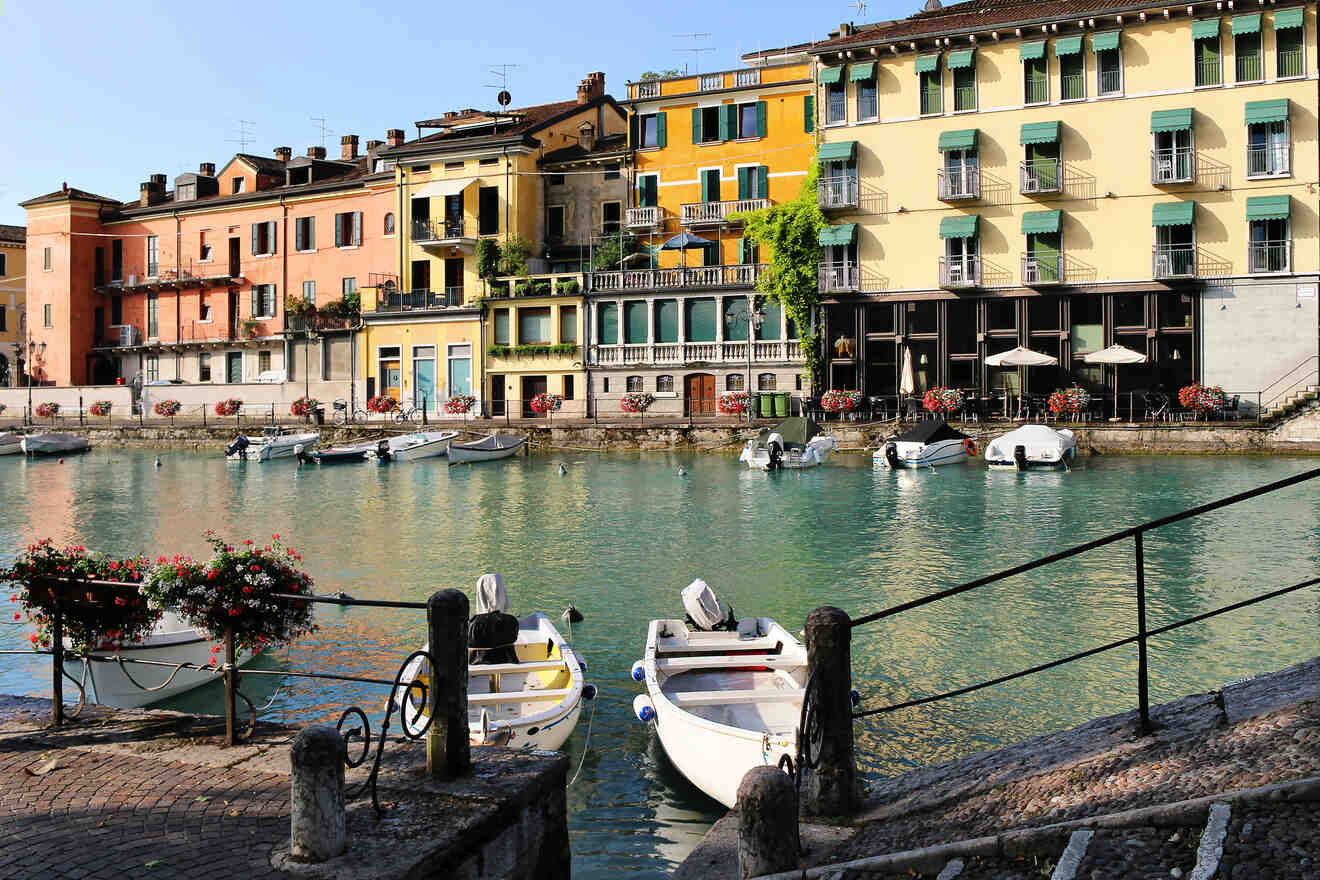 Peschiera del Garda is the biggest town on the Veneto side of Lake Garda, precisely in the southern part. It is also the main transport hub in the area thanks to its railway station and motorway, making it perfect to reach it from other towns if you're not traveling in a car!
Visit the UNESCO Heritage Site
The historic center of Peschiera del Garda is just beautiful, surrounded by the huge walls of the Fortress, from where you can reach the rest of the city by a pedestrian bridge.
The defensive pentagon-shaped walls of the fortress are a UNESCO Heritage Site, and they come just straight out of the water, so it's a must-see!
In Peschiera del Garda's old town you'll find soo many dining options, from pizza places to delicious seafood restaurants, so food lovers will be happy here!
Have fun at the dog-friendly Braccobaldo Bau Beach
If you just want to have some chill time on the beach and swim in the aquamarine waters, there are some wonderful beaches like Braccobaldo Bau, one of the few dog-friendly beaches of Lake Garda.
This pebble beach is very clean and well equipped with full support for dogs (dog bed, shower, dog bowls) at a reasonable price of €7.
The beach is also close to some bars and restaurants, so if you like some cold drinks, ice cream or other food, in just 5 minutes of walking you can find several places to choose from.
Last but not least, as I already mentioned, Peschiera del Garda is one of the main starting points of many boat tours exploring ANY corner of Lake Garda, including towns like Riva del Garda, Desenzano, Salò, Sirmione, and Lazise.
11. Enjoy culture and nightlife at Desenzano del Garda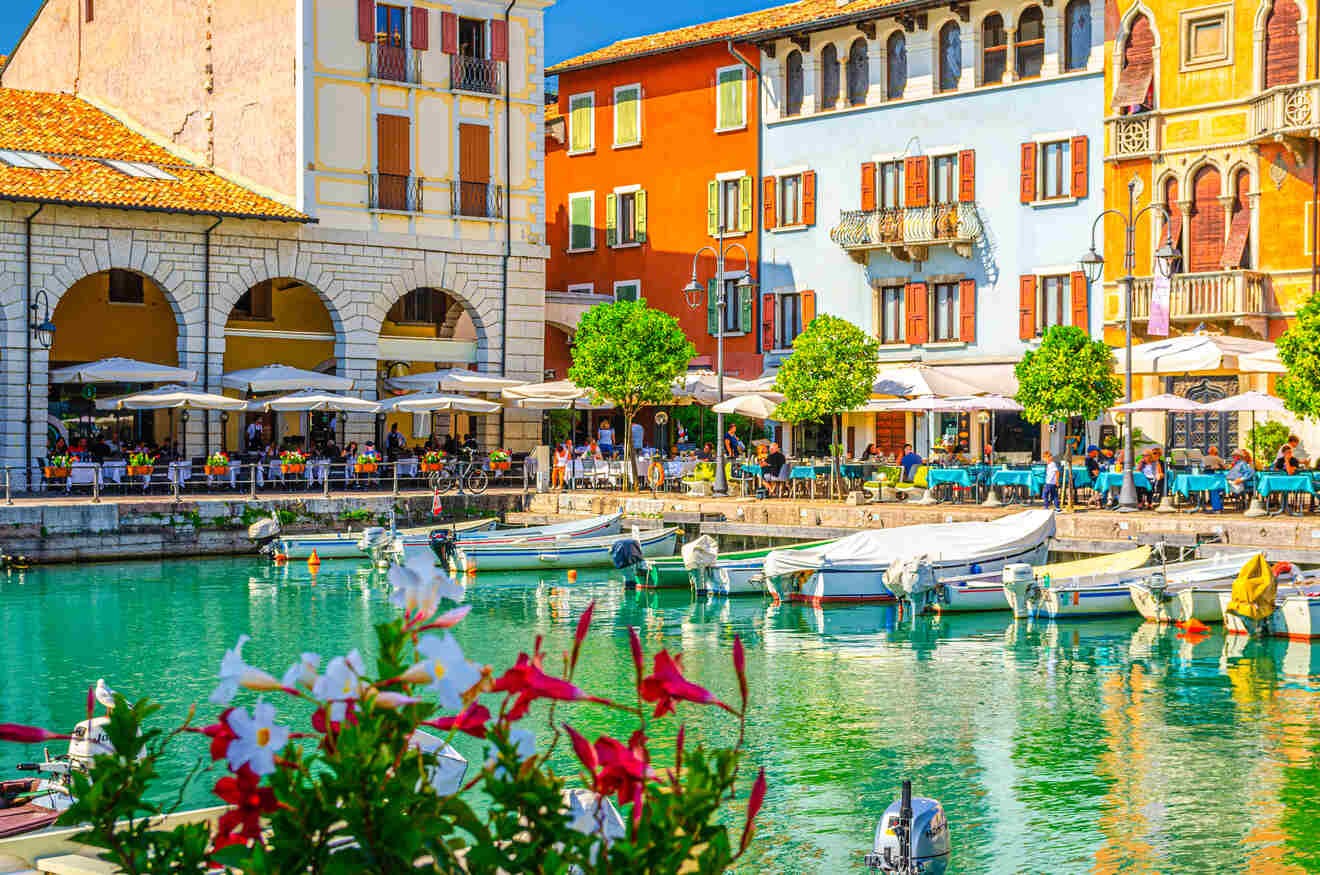 Located just west of Sirmione and on the southern shore of Lake Garda, Desenzano del Garda is a lively small town centered around a marina basin, offering lots of history and culture to explore!
11.1 The Roman Villa
This is definitely the main attraction in Desenzano, a massive villa (just nearby the old town) known today as the most important evidence of the Late Antiquity mansions in the north of Italy.
From this building, you'll enjoy some of the most beautiful surroundings along the southern shore of Lake Garda.
The cool thing about this villa is that it was completely designed based on the lake: the rooms are distributed in a way that would offer the most views of the water and, at the same time, the building as a whole was constructed to be seen from the lake.
What makes the Roman ruins so special are its beautiful mosaic floors, super colorful and elaborated: a true spectacle. If you look attentively, you'll see hunting scenes, boats, fishes, and… well, the rest you will discover it with your eyes!
The villa is open all day (and every day except for Monday) from 9 a.m to 7.30 p.m and it takes around 1.30 hours to visit it.
PRICE: €4
11.2 Museo Civico Archeologico Giovanni Rambotti
This is a nice small archeological museum housing an extensive collection of Bronze Age artifacts (the main attraction is the 'world's oldest plow'), a must for history lovers and metal detectorists. Visiting the museum will take you around 1h.
PRICE: €4
11.3 Enjoy the Italian nightlife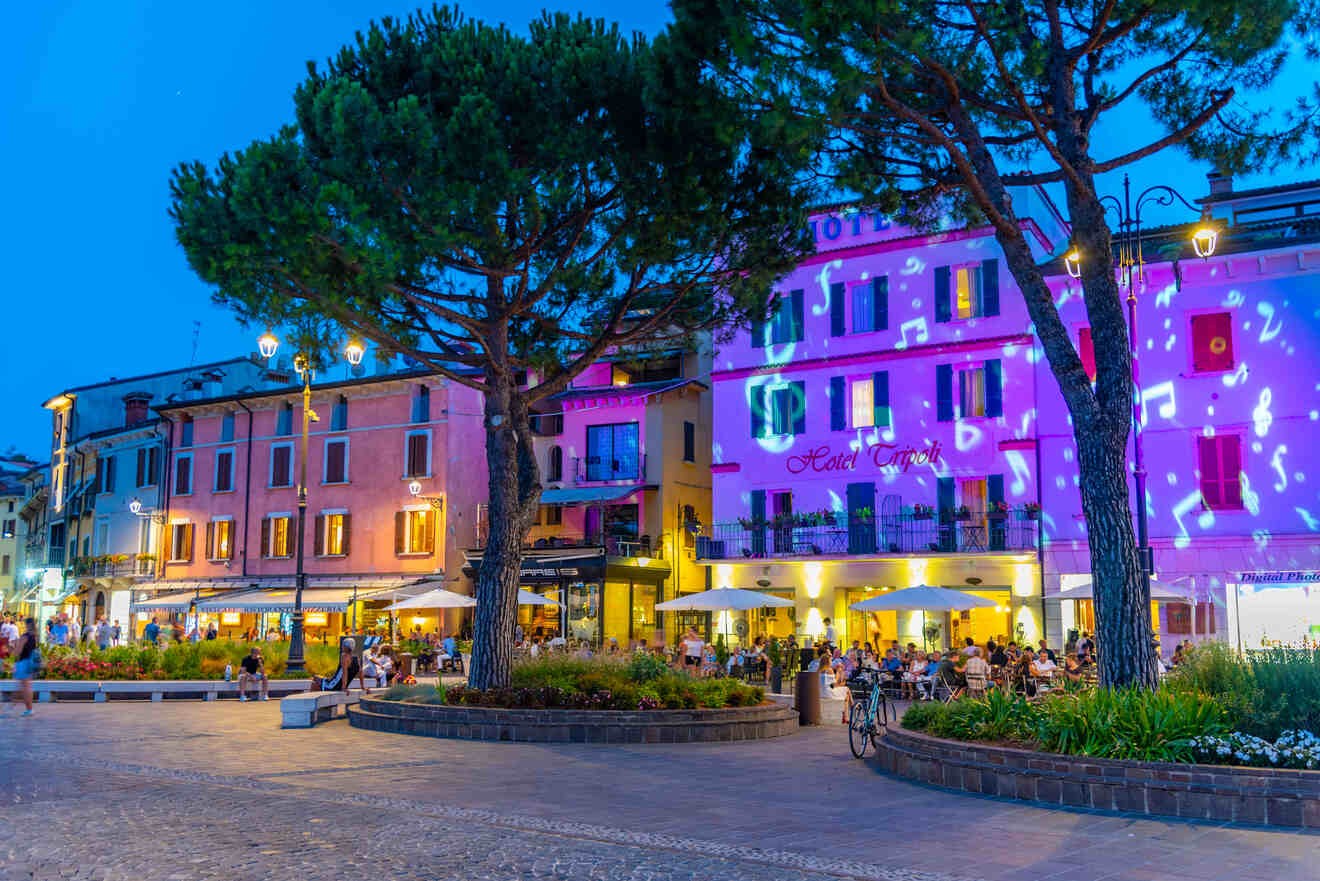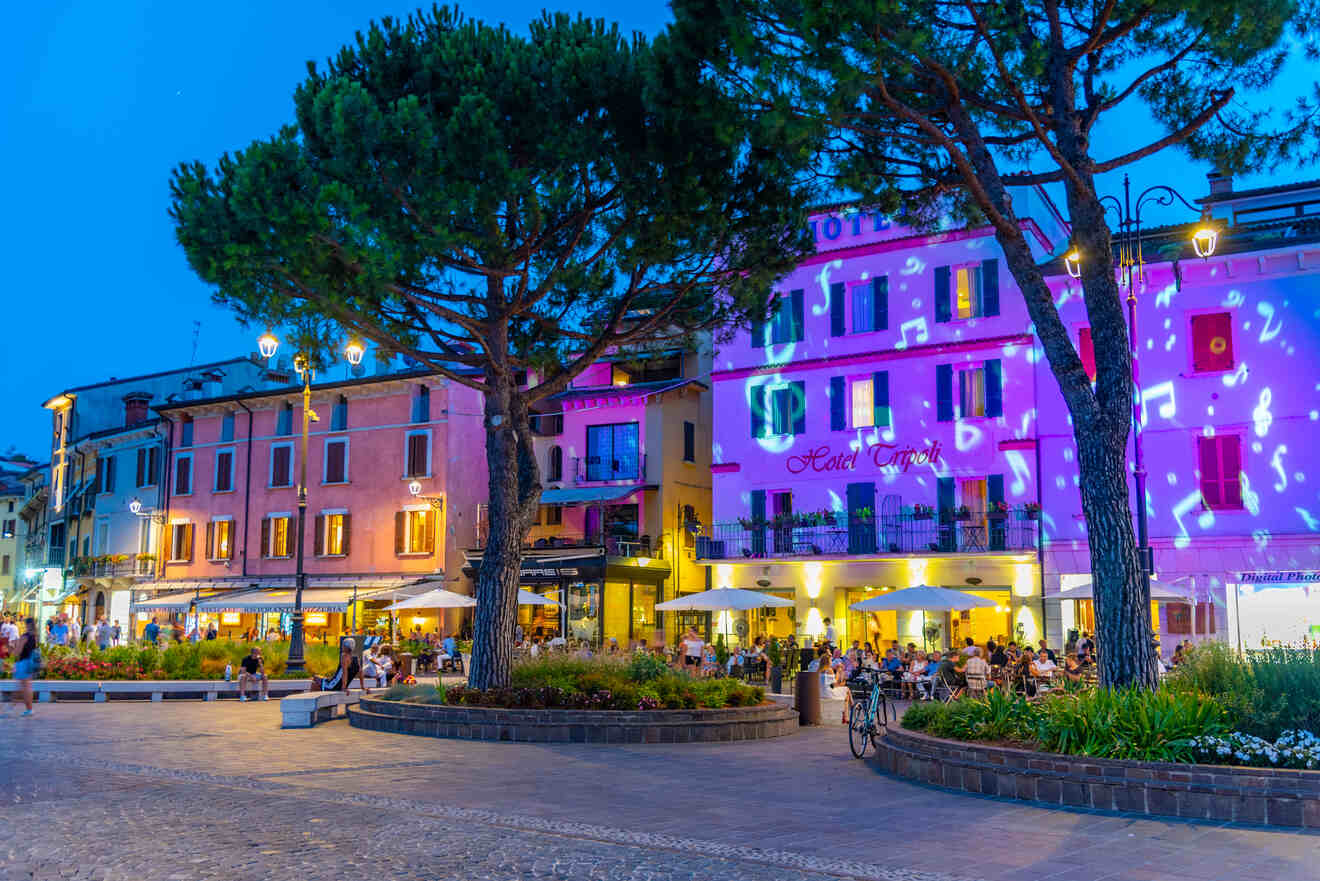 Tired of roman-times castles and culture? Well, then you'll be happy to know that Desenzano has also great nightlife, with some of the best clubs in the area being just nearby!
My favorite ones are:
Coco Beach Club: a great bar where to enjoy some great happy hours with music right on the lakeshore, that becomes a club when the sun goes down
Sesto Senso Club: fancy club hosting different DJs and music genres, the right place to dance the night away in Desenzano!
Biblo Club: if you love Latin music like me, this is definitely where you should go enjoying your weekend in Desenzano. I suggest you go during the summer when they have an open-air dancefloor
| | |
| --- | --- |
| 🤩 Range of activities: | Large |
| ✈️Cost of traveling: | Medium |
| 👪 Family-friendly score: | High |
| 👧 Best attraction for kids: | Gardaland |
| 🥟 Must try food: | Seafood Pasta |
| 📅 How many days: | 1 week |
| 🏛️ Best museum: | Il Vittoriale |
Practical Information about Lake Garda
Now that you have your itinerary sorted, here is some practical information that can be useful while visiting Lake Garda, Italy. From the best accommodations to good restaurants and the most practical way to get around, I have you covered!
Where to stay in Lake Garda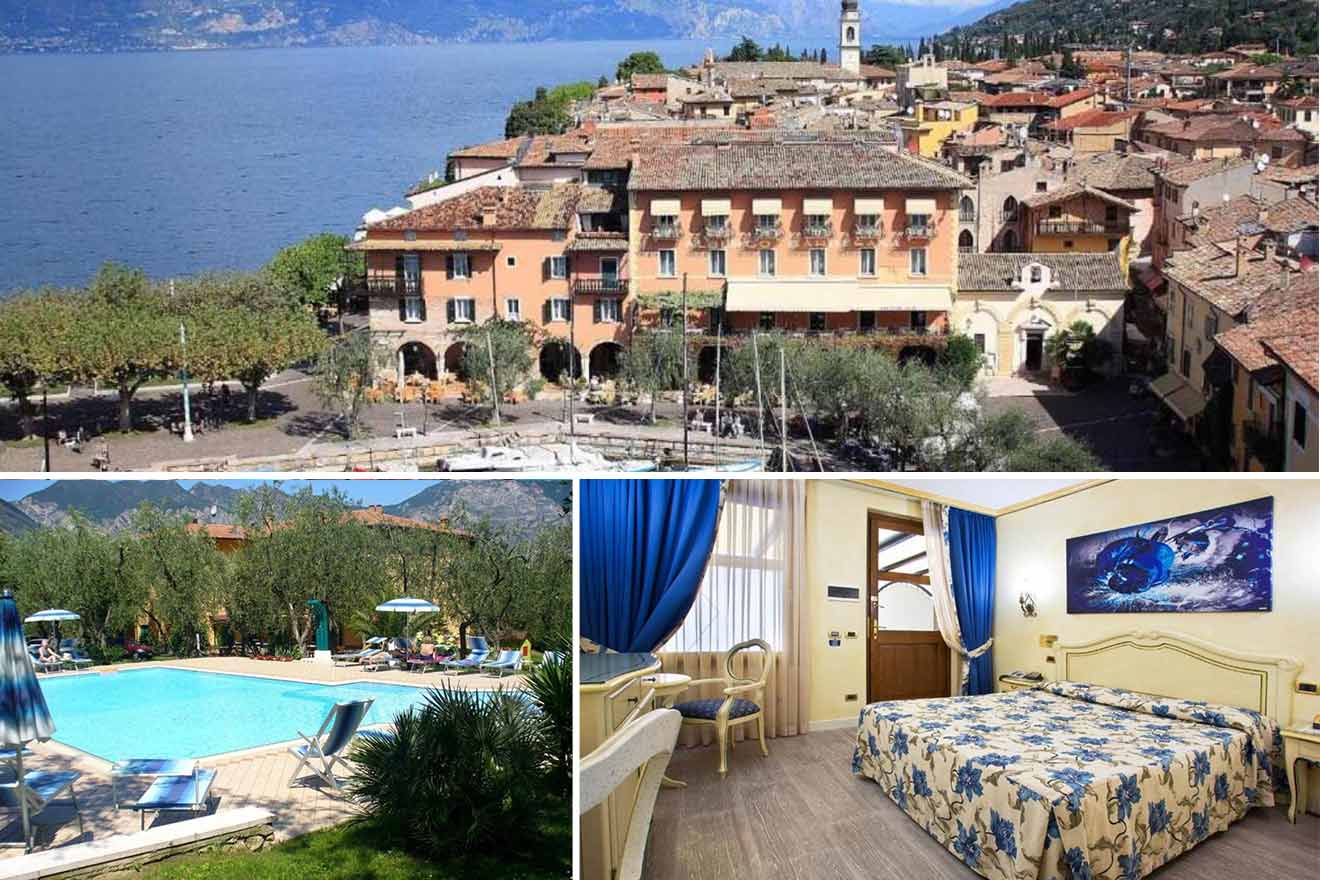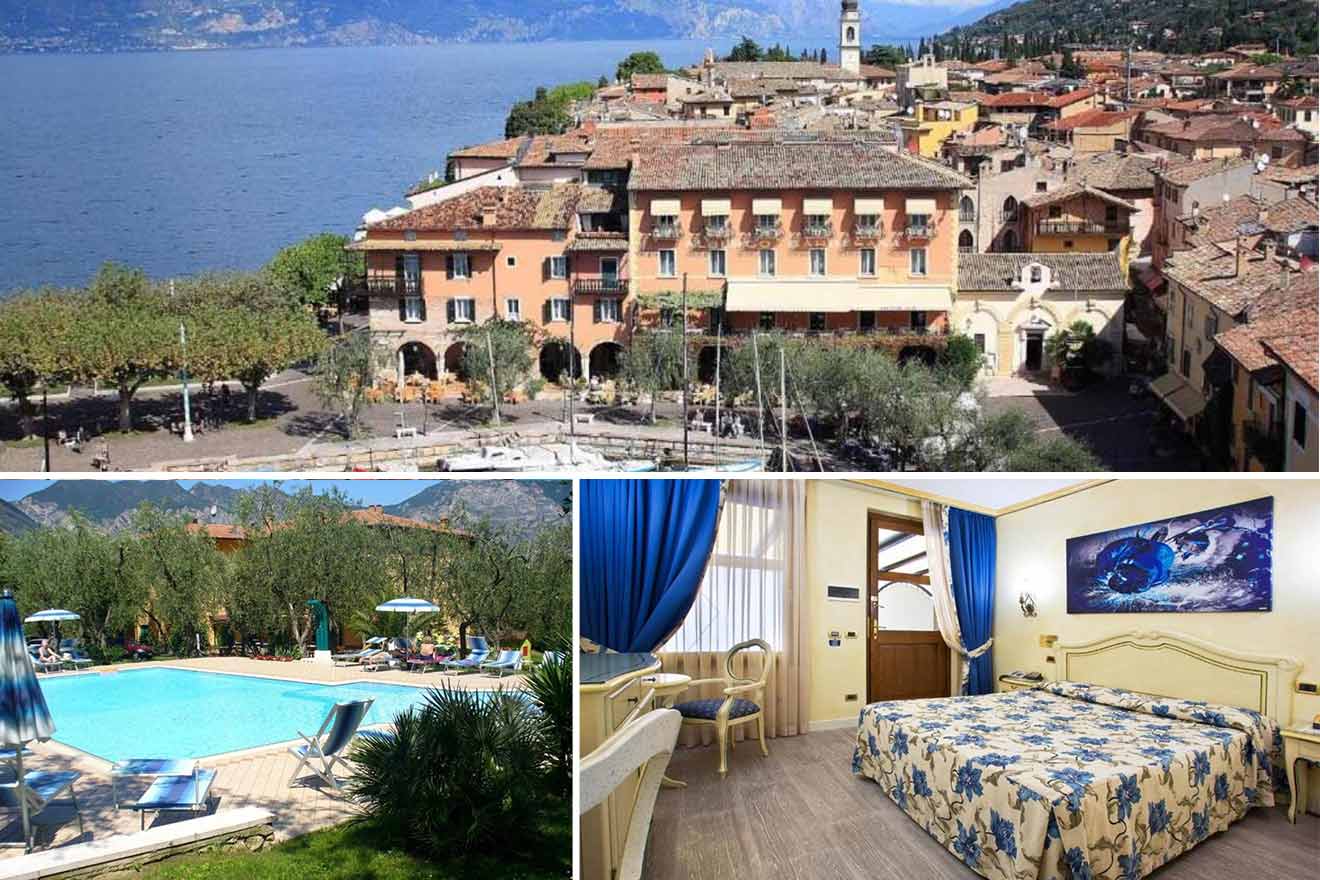 Since we are talking about Italy's largest lake, you can imagine that there are infinite hotels on the shores of Lake Garda.
It's important to choose a good base with a convenient position to explore Lake Garda, so I gathered here the best accommodation options in the whole lake, divided by price.
If instead, you want to check out some other options, Sirmione of the best towns where to stay in Lake Garda.
Let's check them out:
Luxury
Vip's Motel – If you want to spoil yourself with all the comforts during your trip around Lake Garda, this 4-star luxury hotel is the right choice for you, just a 10-minute drive away from Desenzano del Garda! It offers a large garden with a swimming pool, spacious rooms with air conditioning, and free parking, perfect if you visit Lake Garda with a car. It even has a sauna and a range of massages and wellness treatments to fully relax!
Mid Range
Albergo Ristorante Gardesana – This hotel has the best value for price in Lake Garda, Italy, located in the beautiful Torri del Benaco, just a stone's throw away from the beach. Right on the shores of Lake Garda, the hotel offers family rooms with panoramic lake views, access to a delicious restaurant, and a lounge bar overlooking the medieval castle.
Budget
Hotel Casa Chincarini – If you want to save some money while getting around Lake Garda, you've just found your perfect spot with a central location in Malcesine. These amazing apartments are at only 11 minutes walk from the beach and have access to a seasonal outdoor swimming pool, free private parking, and the BEST lake views!
How to get around Lake Garda
Car rental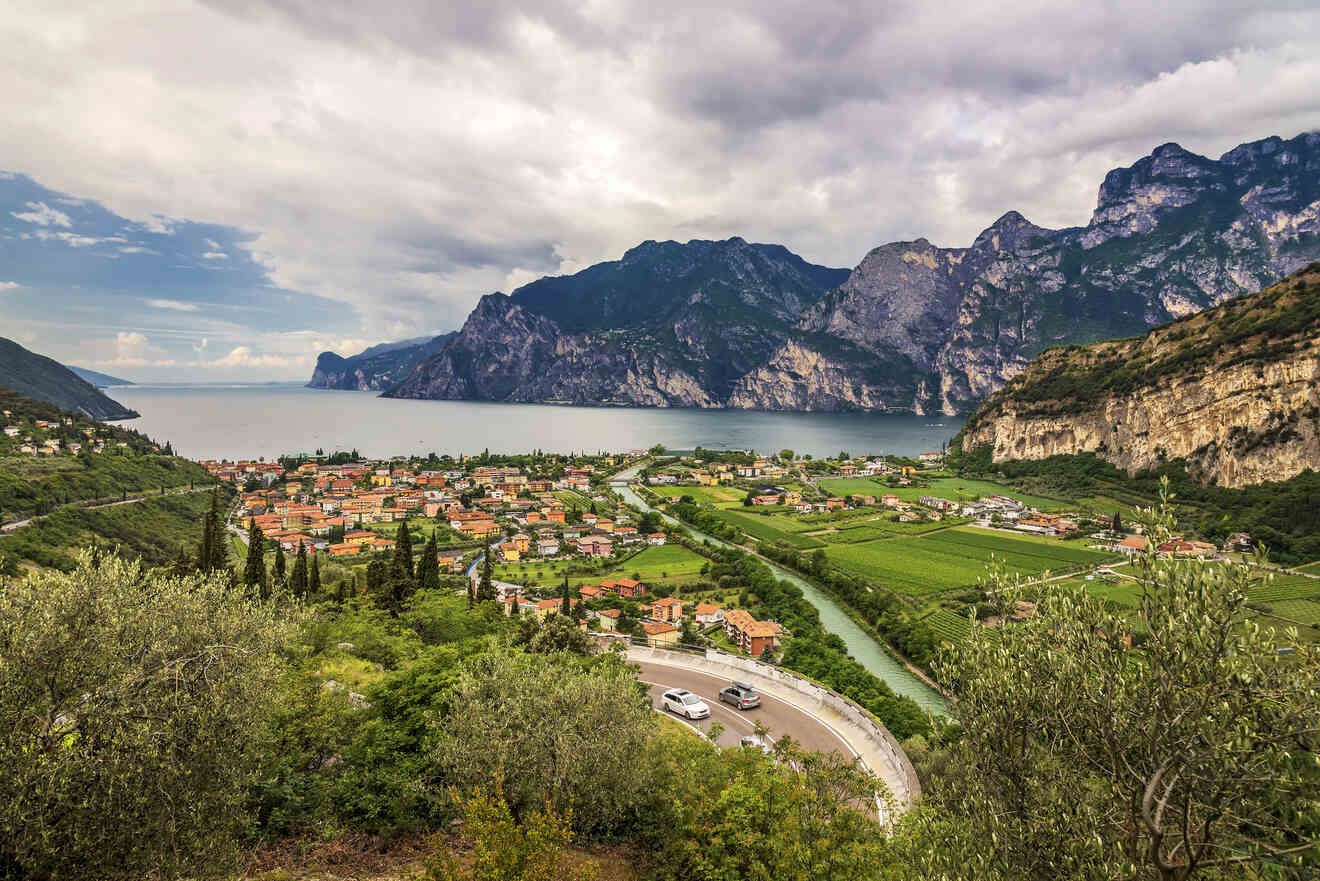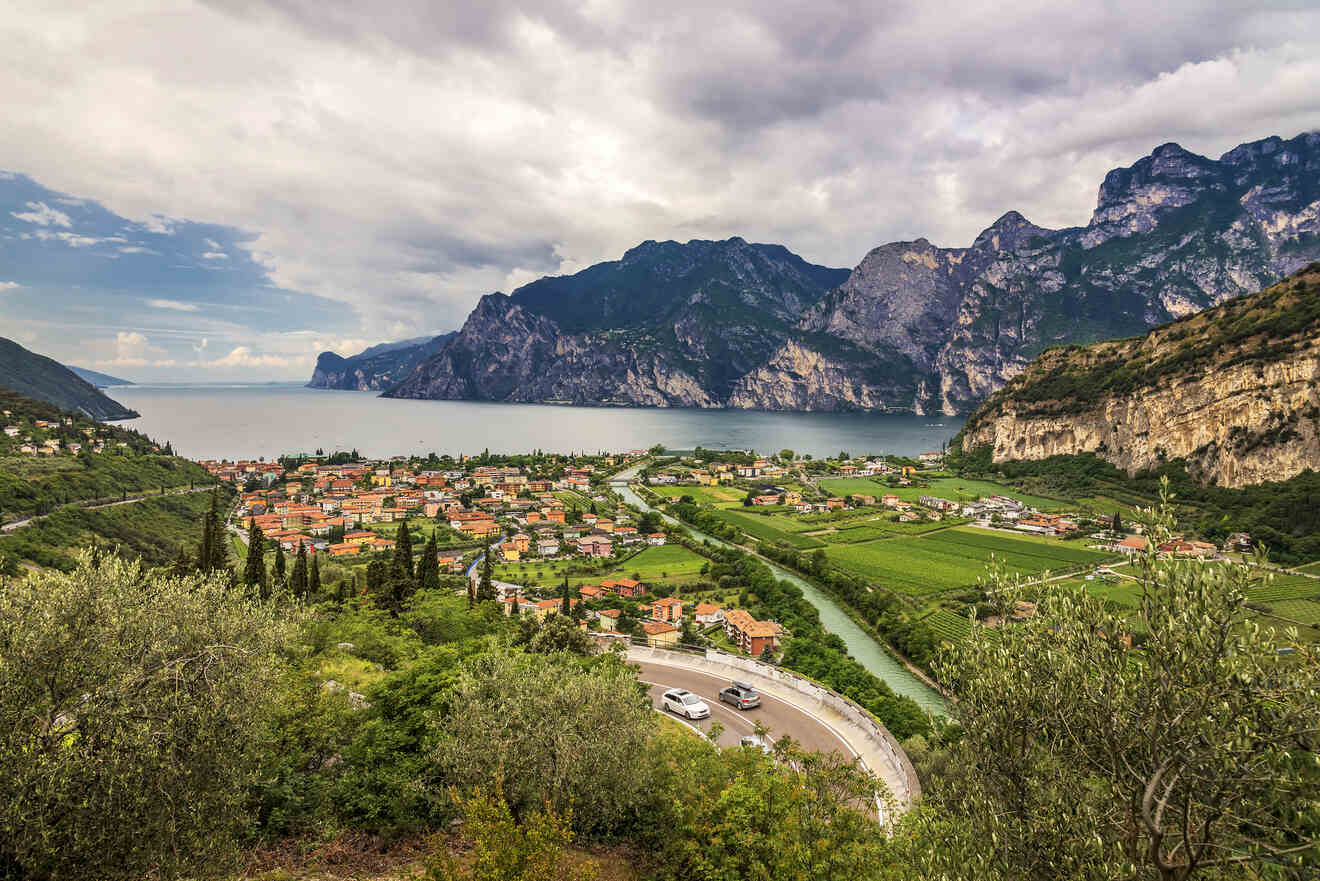 There are many ways to visit Lake Garda but the best one is for sure to rent a car… remember that Lake Garda has a circumference of around 160 km and it covers three different regions!
Renting a car in Lake Garda will cost you around €70 euros per day, and you can do that in many cities like Desenzano del Garda, Garda, Riva del Garda, Malcesine or Peschiera del Garda.
So if you want to have the freedom to explore its beautiful spots, you have to think that they could be quite far from each other so the car is definitely the easiest way to reach the countless picturesque towns, medieval villages, secret sights, pebbly beaches, large attraction parks, and so on.
But there are also some downsides if you decide to rent a car in Lake Garda: first of all, it's quite hard to find parking here (especially during high season), so you may need to park on the outskirts of a town and then walk from there. The best way to avoid that is to find a hotel with free parking included (check out the previous options).
The other problem you could encounter is the endless lines of traffic on the two main lakeside roads – Strada Gardesana Orientale and Strada Gardesana Occidentale. Here the traffic is super slow, especially during summer days.
PRO TIP: Try to avoid peak hours (late morning and late afternoon) and weekend days to move around… it will save you a lot of time!
Public Transport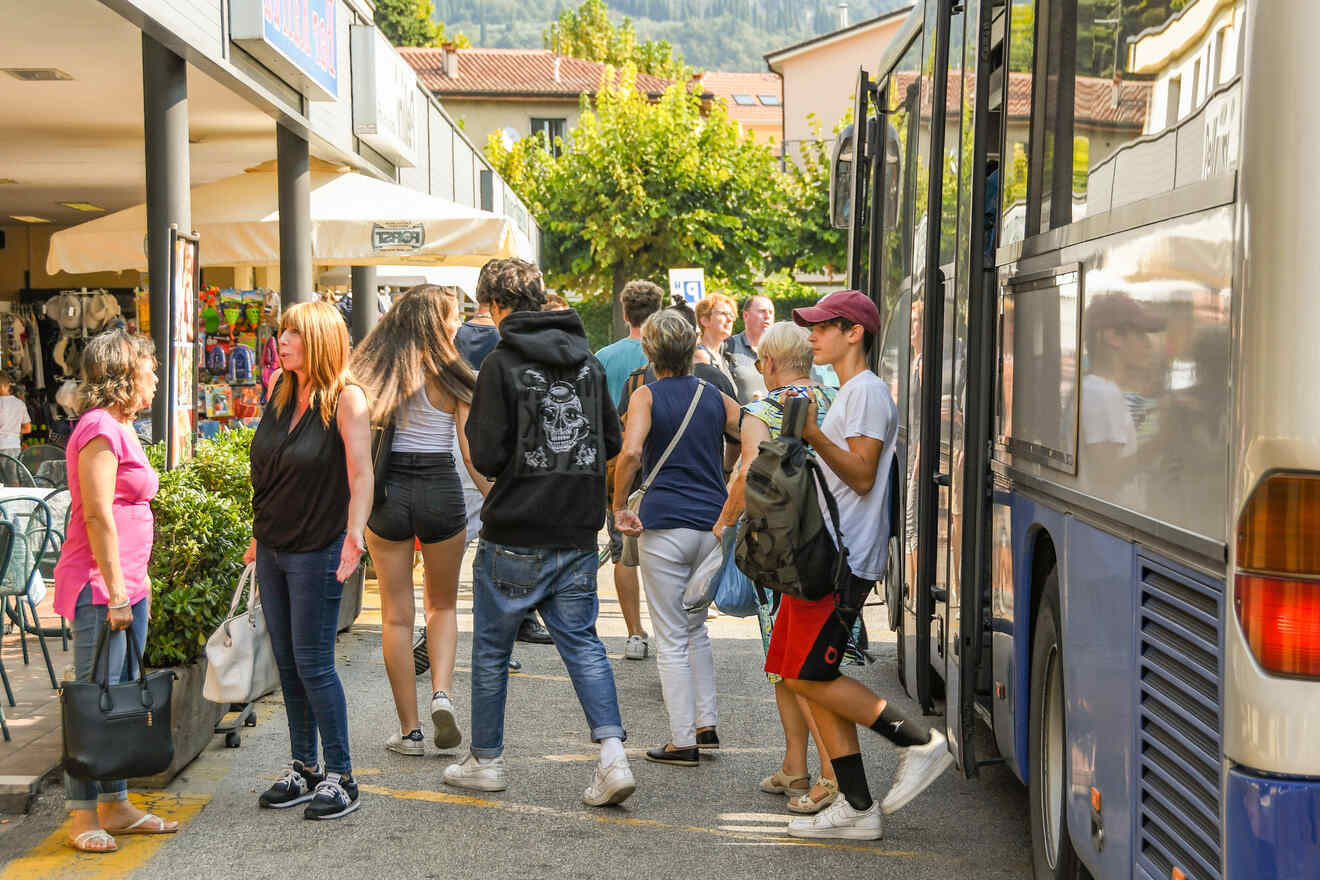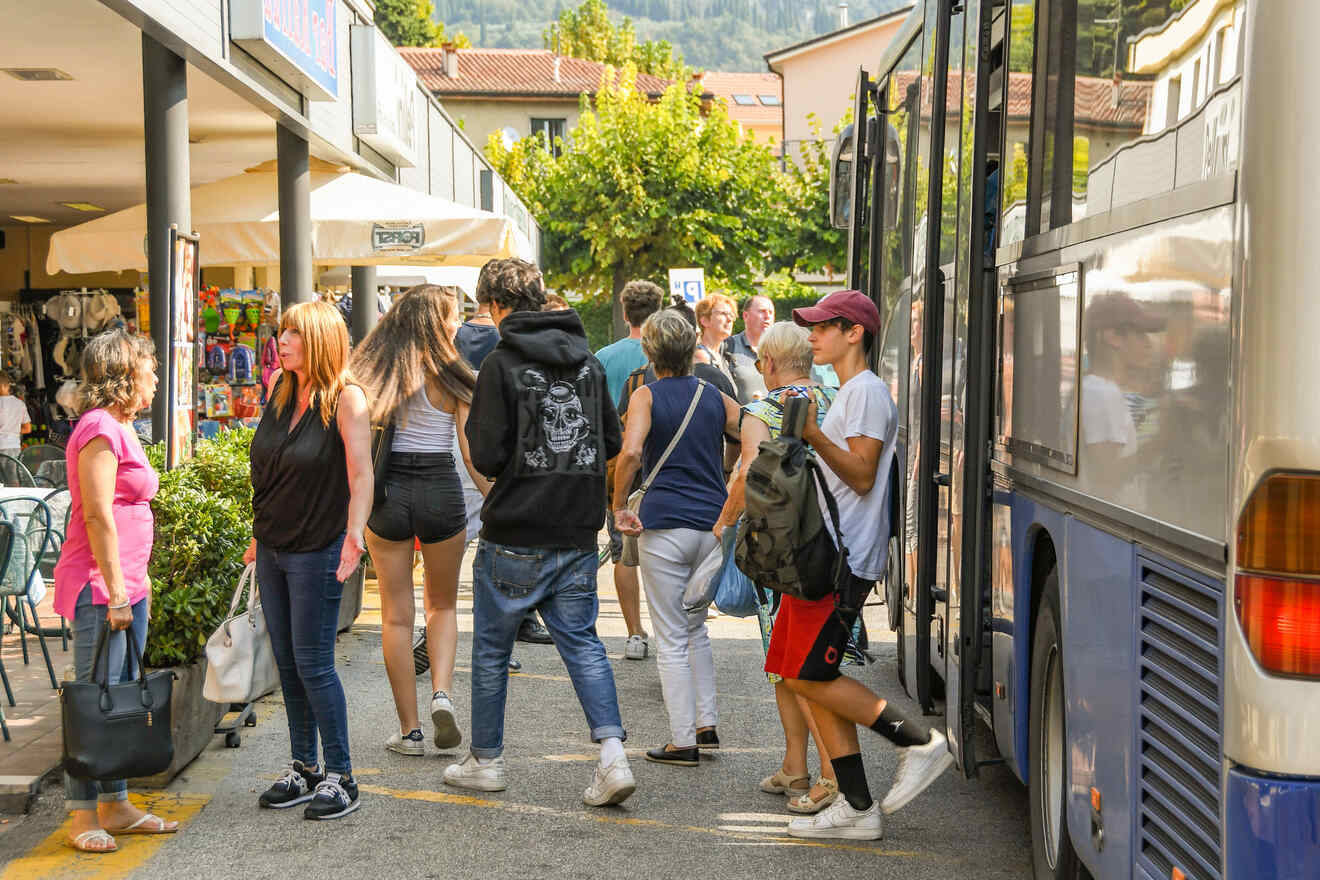 If renting a car is not in your plans, there are some public transport options you can choose from… let's check them out:

Trains – there are only two train stations in Lake Garda, one in Desenzano del Garda and Peschiera del Garda. Aside from this, there is only one lakeside road that runs around the whole lake without train access.

So I would actually suggest only using trains to reach (or leave) the lake, and from there taking one of the many buses!

Tickets cost around €5 euros for a 30-minute ride.
Buses – Bus lines are actually a good option to travel around Lake Garda, connecting the different lakeside towns but also taking you to many nearby large Italian cities like Verona or Brescia. But if traffic is a problem with the car, imagine how slow it can be if you're on a bus… with all the stops they have to do in different places!

Still, taking the bus to Lake Garda is a very convenient and affordable option (tickets costs from €2 – 5 depending on the length of your trip), and you can combine it with the ferries that crisscross the lake or the trains connecting Desenzano del Garda and Peschiera del Garda with lots of Italian cities!
Ferries – Crisscrossing Lake Garda on the board or ferry is one of the most picturesque ways to visit Italy's largest lake and easily pass from its southern shores to the northern shores (or from the eastern shore to the western shore) avoiding lines and traffic.

In my opinion, everything is always better from the water: you will see all the beautiful towns ringed by steep alpine foothills while enjoying the fresh air, panoramic views, aquamarine waters, and the blue skies above.

The ferries run all day from 9 am to 7.30 pm, but depending on where you have to go you will probably need to combine it with other ways of transport once you arrive at the destination, like buses or trains!

Another downside is that ferries are not the most affordable means of transport, with a one-way ticket costing around €10.
The best restaurants in Lake Garda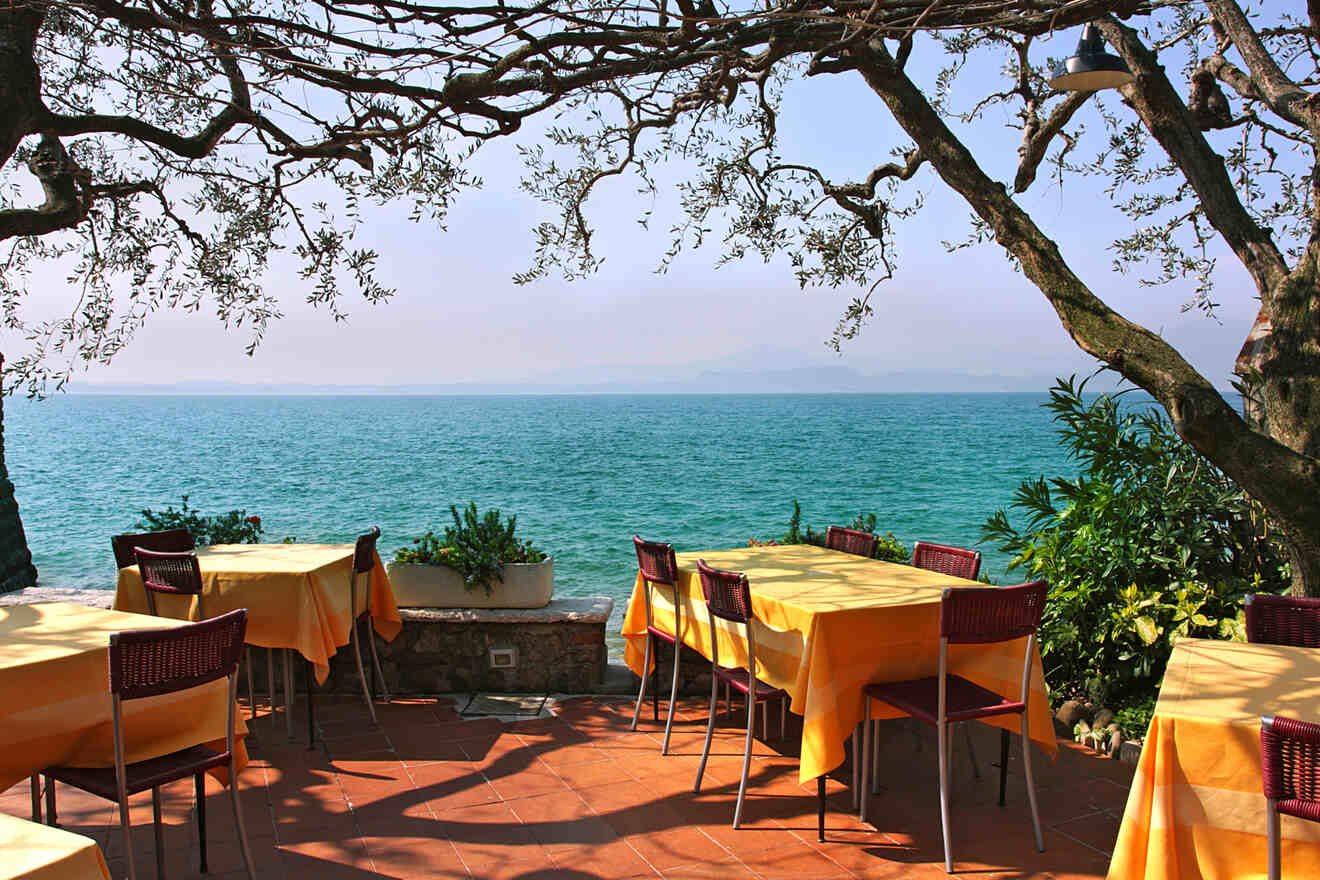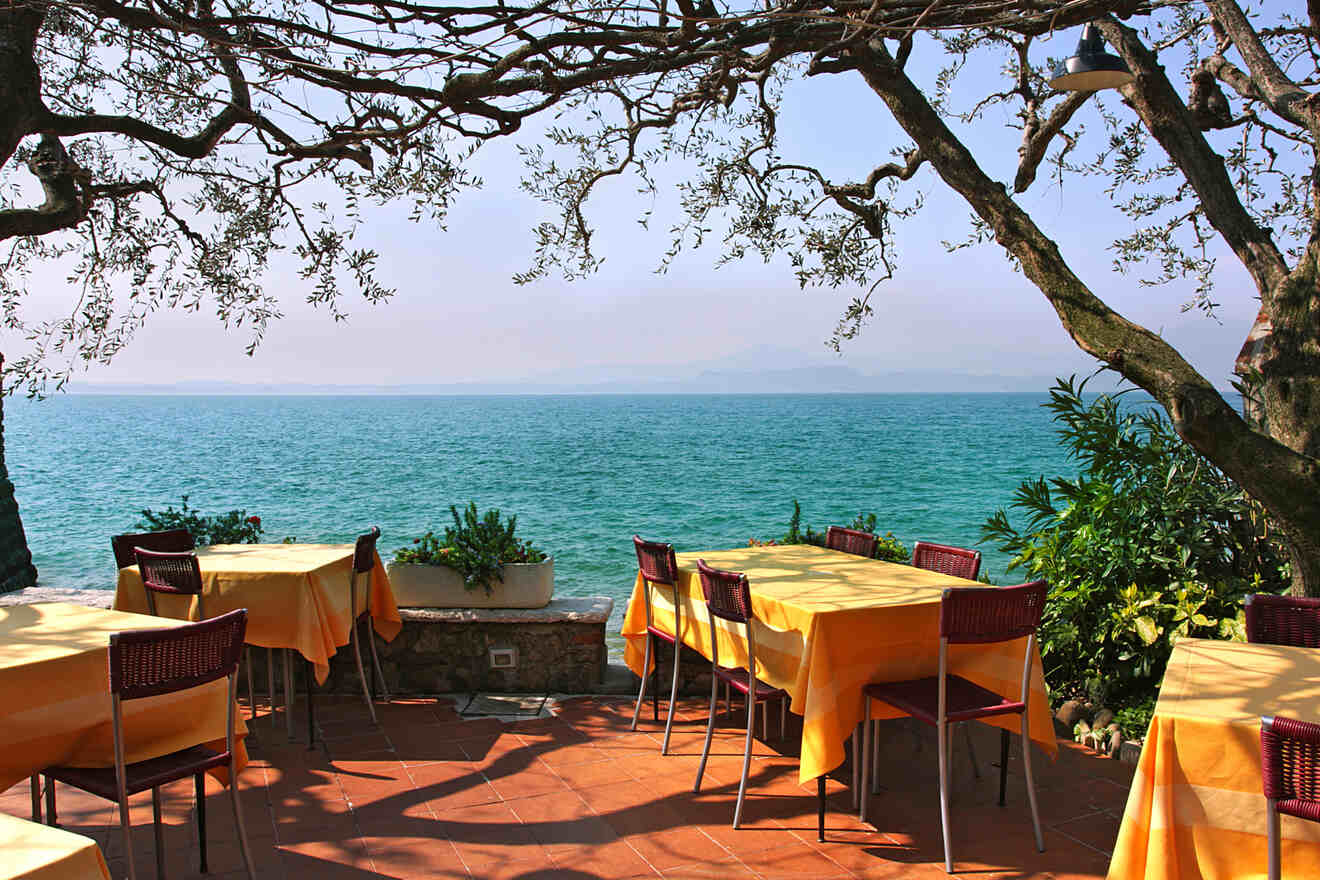 Lake Garda offers many super good restaurants where you can taste delicious Italian dishes like seafood pasta, traditional pizzas, and fish straight from the lake, combined with local fruit and vegetables.
Most of them have amazing views of the Lake Garda waters (of course), or they're just located in the heart of Lake Garda's beautiful towns. I gathered here my favorite ones, perfect for either a romantic dinner or a lunch with the family:
Alla Grotta – this is one of the best restaurants on Lake Garda, located in Lazise (on the southeast shore), both for the food quality and service. It can be a little expensive, but it offers the best fresh fish dishes ever, from lobster salad to prawns and raw tuna, and even better wine (try the Valpolicella!).

PRO TIP: My advice is not to order from the menu but to choose one of the specials of the day, and it is better to book a table in advance!
Restaurant Vecchia Malcesine – Another great fish restaurant, but this time in Malcesine with amazing lake views! The restaurant offers different tasting menus with a great variety, so you can taste a little bit of everything.

The restaurant itself is beautiful, and it has just a few tables which makes it more intimate and special, perfect for a romantic dinner with your special one!
Ago e Rita – Here's my favorite restaurant ever, not really for the food quality but for the super cool and casual atmosphere! Don't get me wrong, they serve delicious "Tigelle", regional tigelle flatbreads, and fried bread with cold cuts (veggies, hams, and cheeses, house wine, and homemade limoncello.

But what makes this place special is that after dinner, they play typical Italian songs and everyone (including the owner) dances on the table and sings! It has such a happy and friendly vibe, perfect for big groups and bachelor parties!
Frequently asked questions about Lake Garda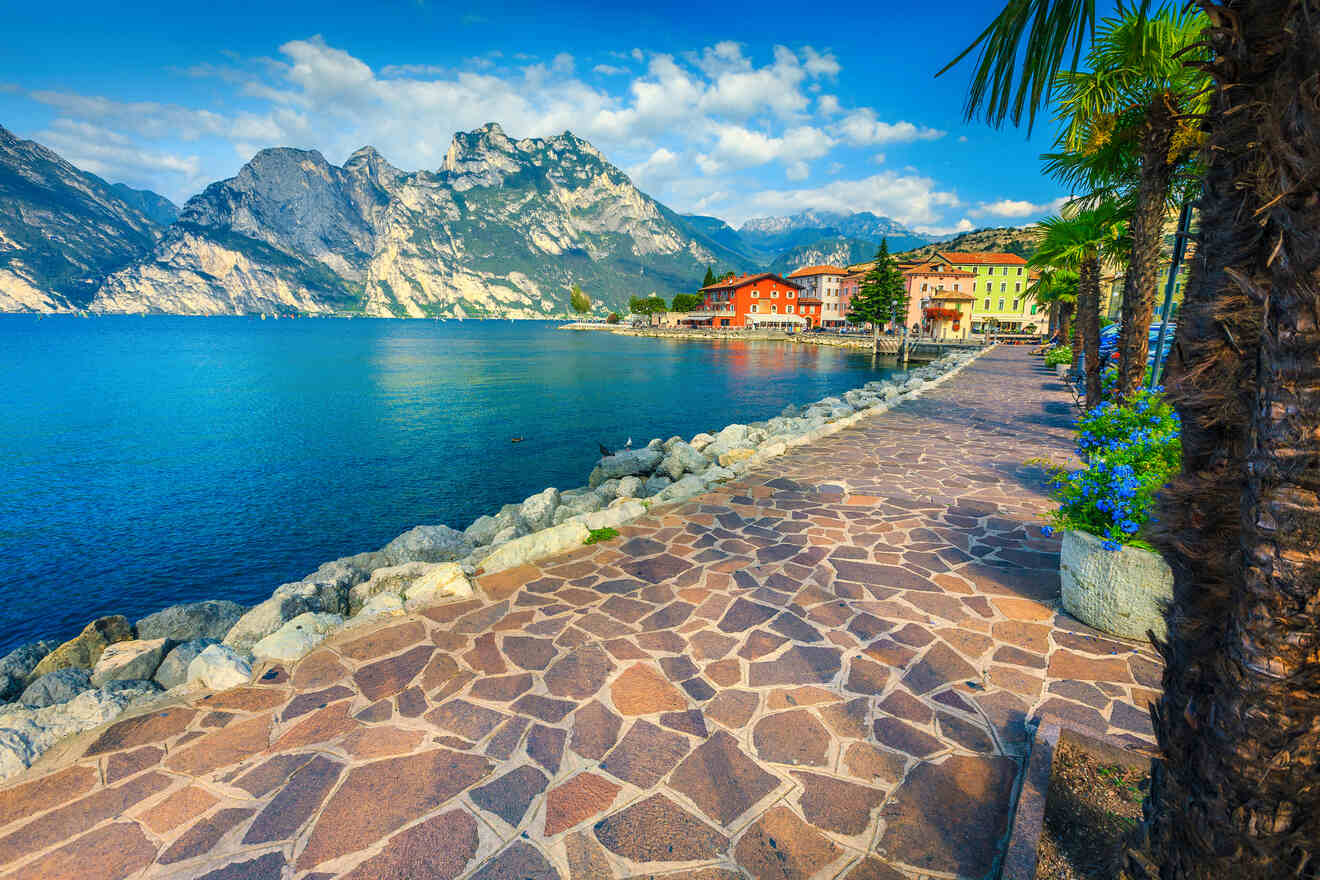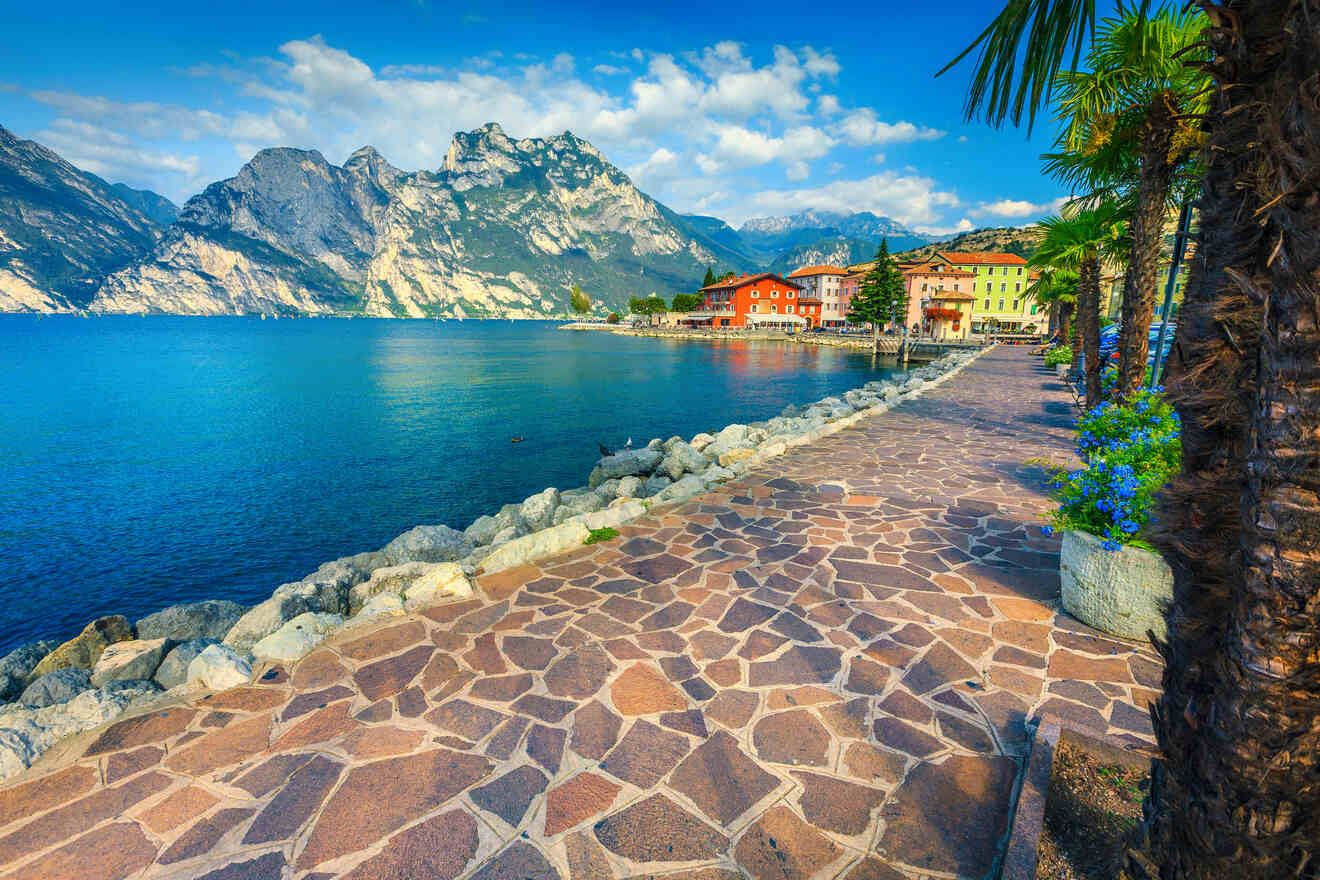 🌅 What are the best things to do in Lake Garda, Italy?
The best things to do in Lake Garda Riva del Garda are: 
● visiting Lake Garda towns like Limone on the Lombardy shore
● exploring the Lake Garda beaches 
● Take a boat tour of Isola del Garda, the biggest island on the island!
👪 What are the best family-friendly activities in Lake Garda?
The best things to do in Lake Garda with the family are going to Monte Baldo by cable car, having fun in the nearby theme parks, mountain biking in the surrounding mountains, or engaging in water sports on the northern shore of Lake Garda!
🏛️ What is the best day trip from Lake Garda?
The best day trip from Lake Garda is the one to Verona, home to Roman ruins of a Roman villa. Here you'll find art galleries, museums, and historic sights
🤩 What are the best things to do in Lake Garda for couples?
The best things to do in Lake Garda for couples are to take a boat trip to the best towns like Desenzano with its Roman Villa, take a tour of Isola del Garda (Lake Garda's biggest island), or enjoy a romantic dinner in any of the quaint cobblestoned old towns!
Conclusion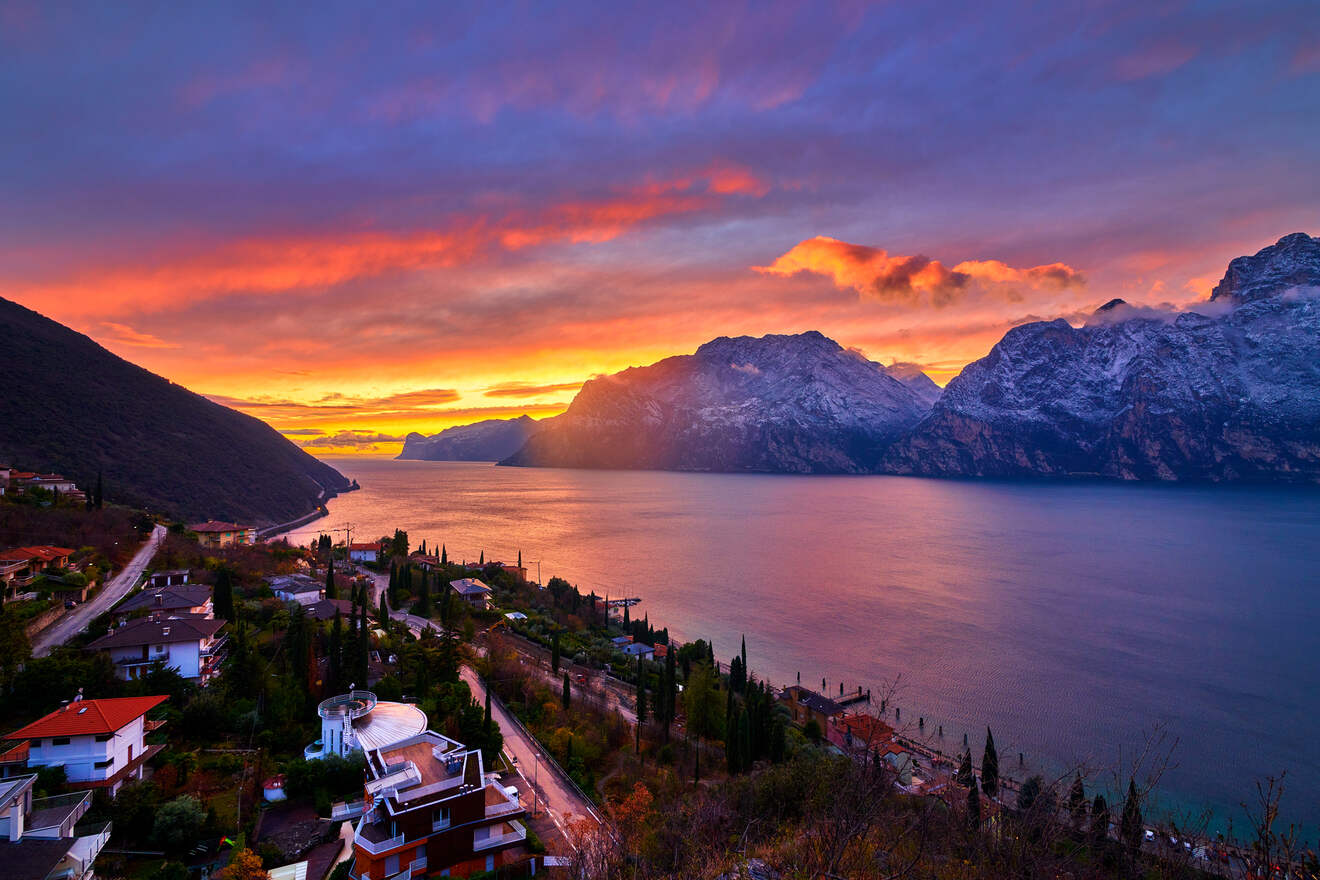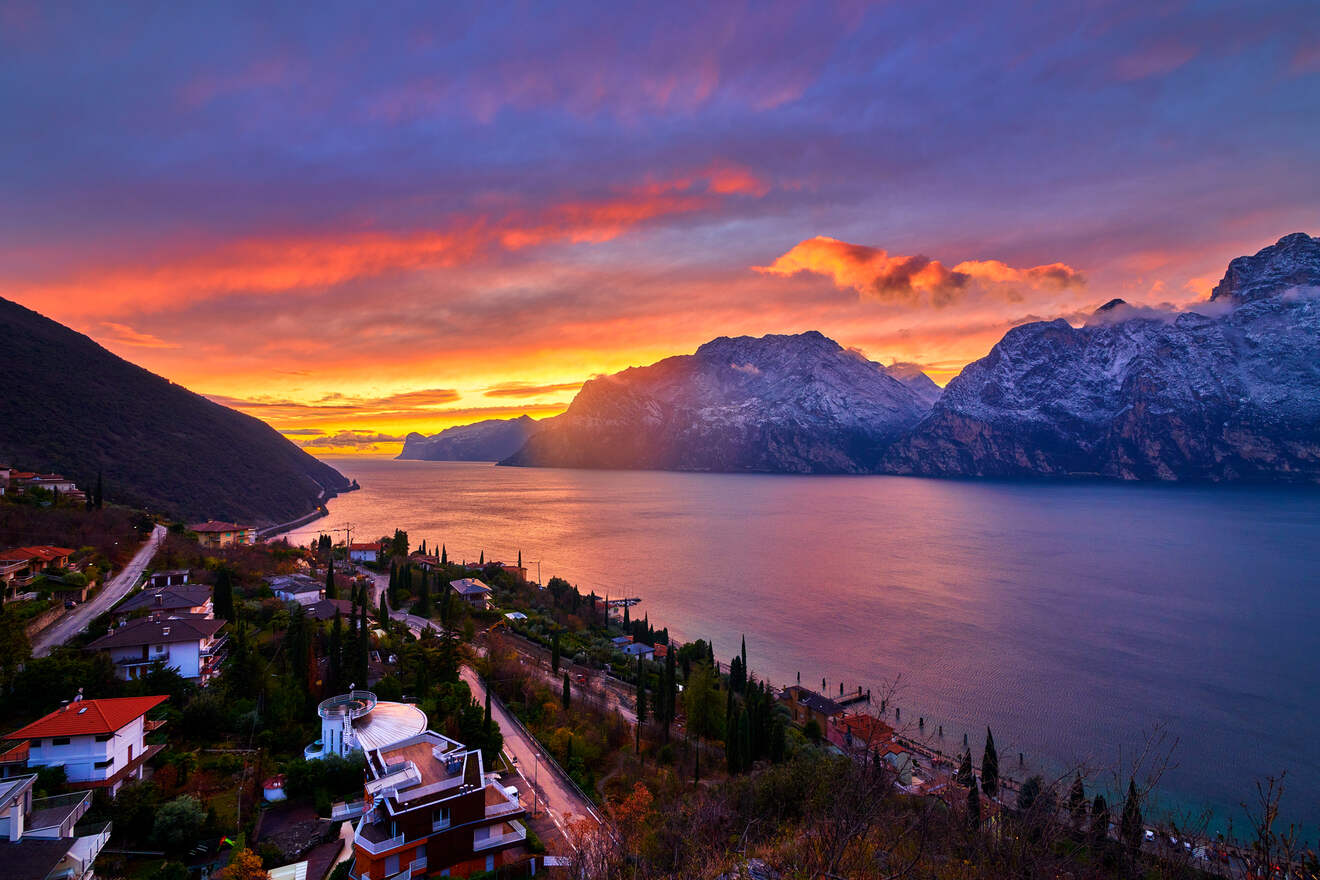 We finally came to the end of this very extensive guide with the best things to do in Lake Garda, one of the most popular tourist destinations in Italy!
We've been through all the possible different activities and attractions while visiting Lake Garda, from the beautiful beaches to take a boat trip through the best towns, engaging in water sports, doing a day trip, eating in waterfront restaurants, and having fun in a cool amusement park for families.
Let's be honest: there's no reason why you won't love Lake Garda, whether you visit the northern part, the southern part, or just one town!
Here there's literally something to do, see and enjoy for any kind of person and taste, and I hope I've covered everything you were looking for! If not, please leave a comment with your questions and doubts… I am looking forward to answering you!
Have the best trip!
Elena
---
---
Pin it for later!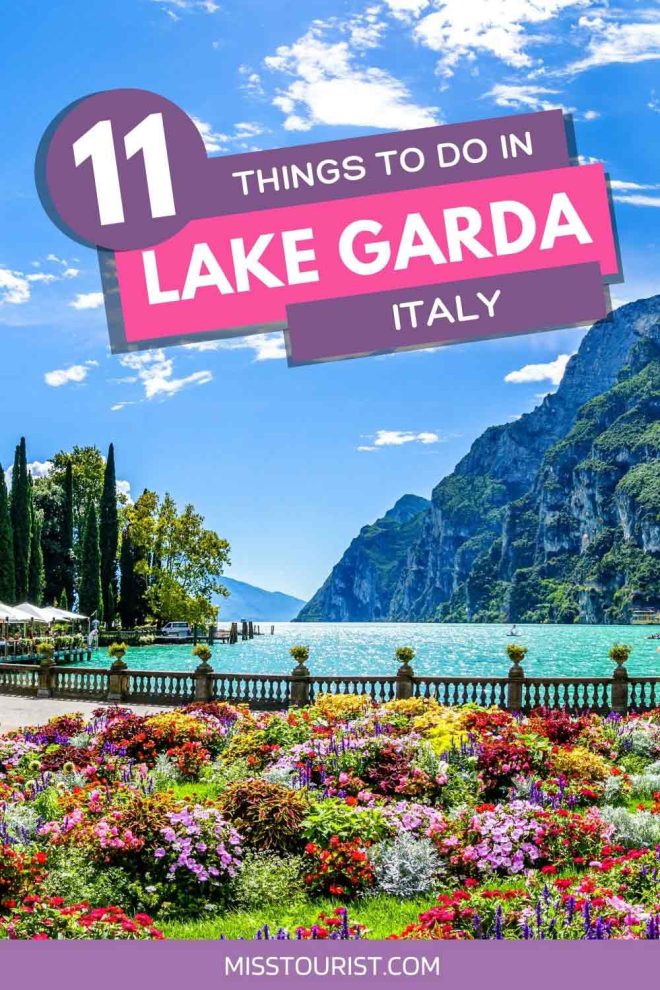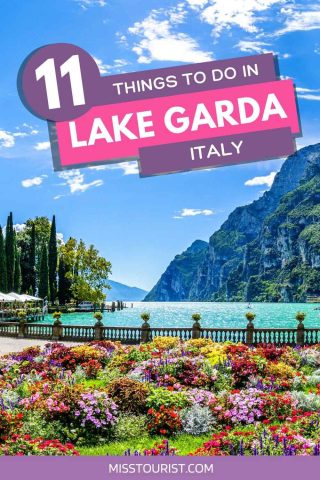 Pin it for later!