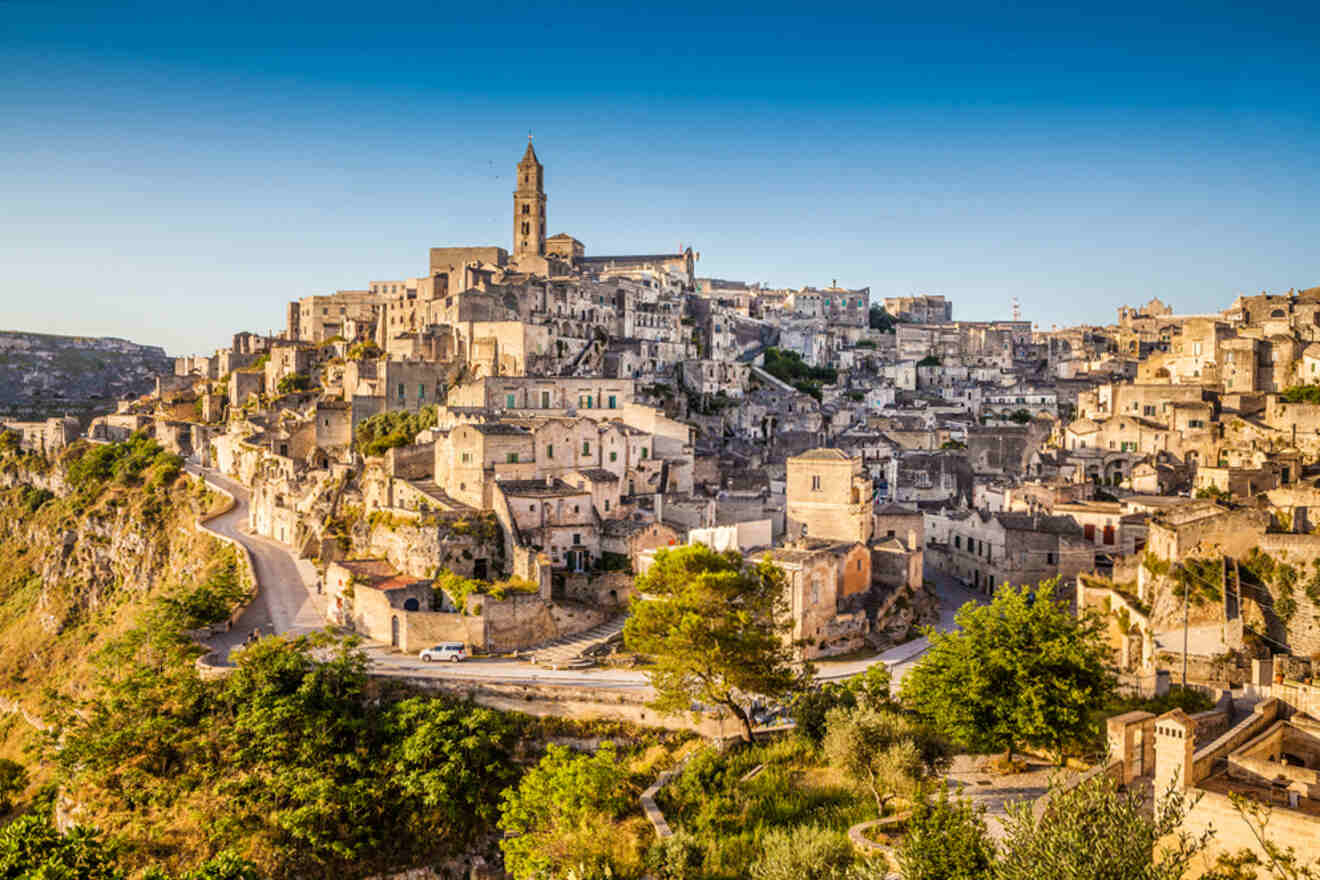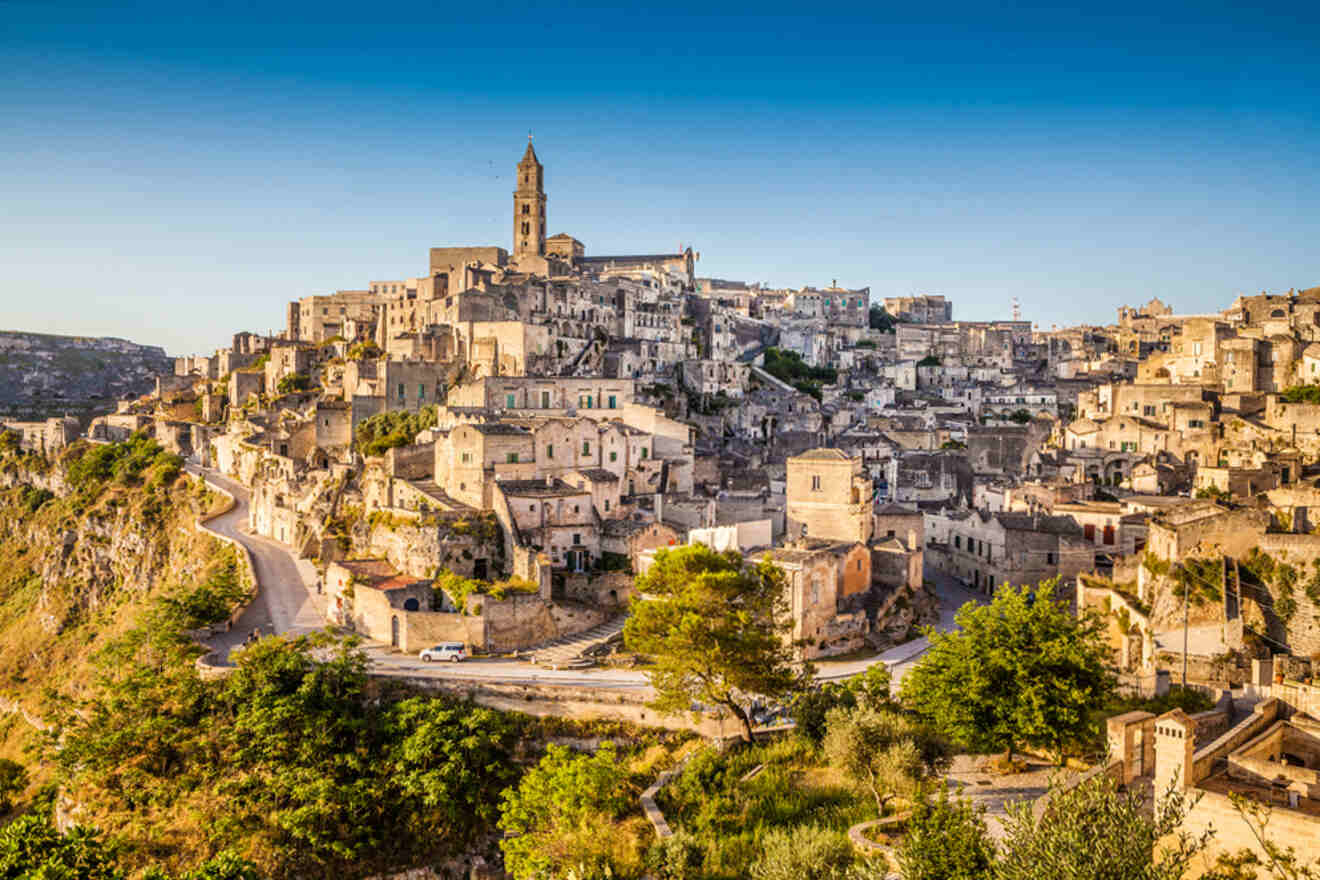 Ancient rock churches and caves, cobbled streets filled with so much history and panoramic views that will get imprinted forever in your heart! Matera is like a living-old poem that survived the test of time!
I had such a wonderful time there, and now I'm ready to help you plan your trip with this super-well-researched Matera guide! In this post, you'll find all the important details you need for planning your trip, like how to get there, the best attractions, where to stay in Matera, and other super useful tips!
Get ready to wander the streets for hours while feeling as if you've entered another universe, to eat yummy Italian food and admire old and modern art!
Just a reminder before we start – Matera is one of the most popular cities in this region so I definitely recommend booking any hotels or tours in advance, especially if you're coming during the summer season (June, July, and August).
Andiamo, everyone, I know you're eager to start!
If you are in a hurry
Don't worry if you can't make it through the whole post, just have a look below, and you'll find the main things to book in advance:
And here are the best hotels: Sextantio Le Grotte Della Civita (luxury), Corte San Pietro (mid-range), Hydria Rooms (budget)
Where is Matera, and how to get there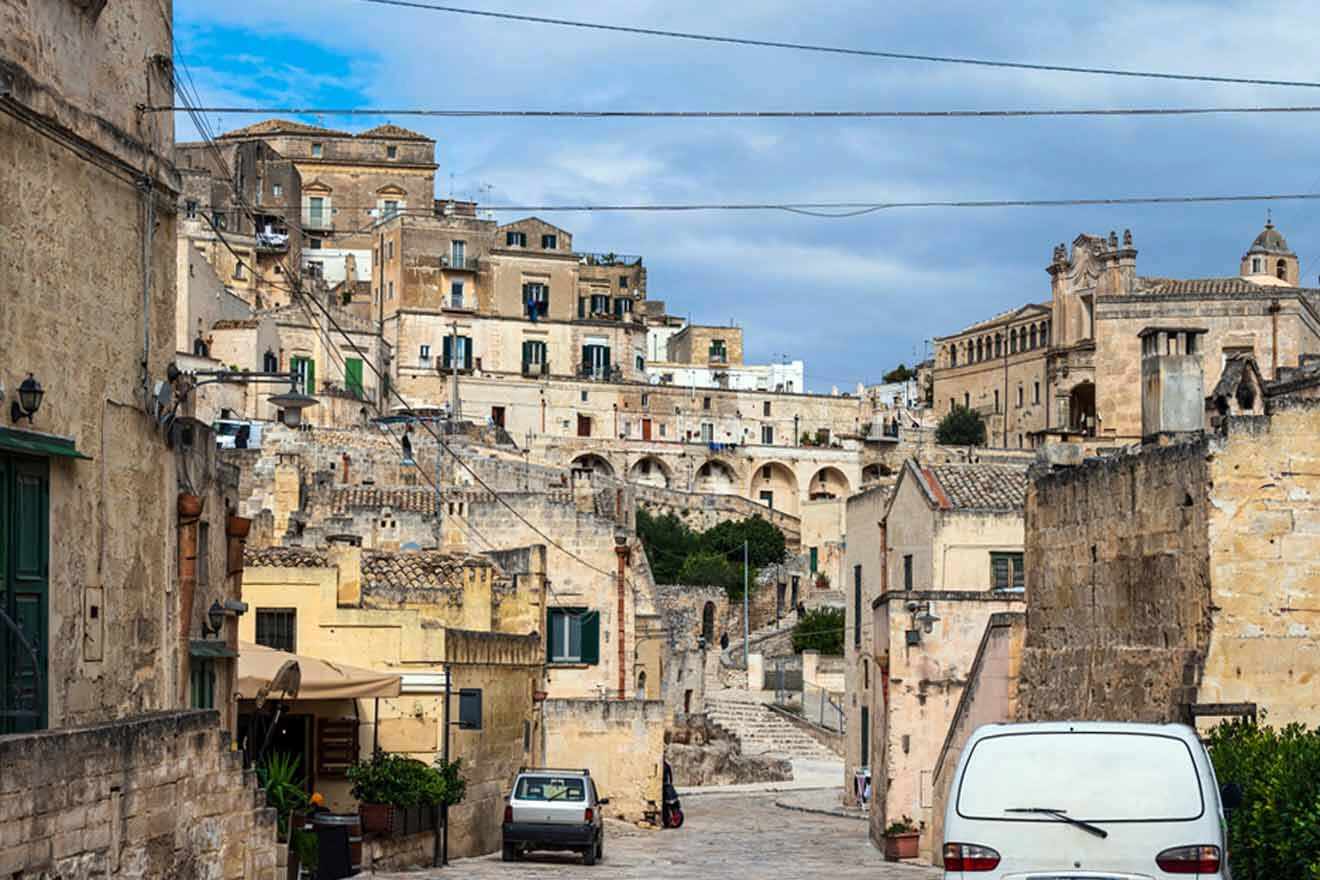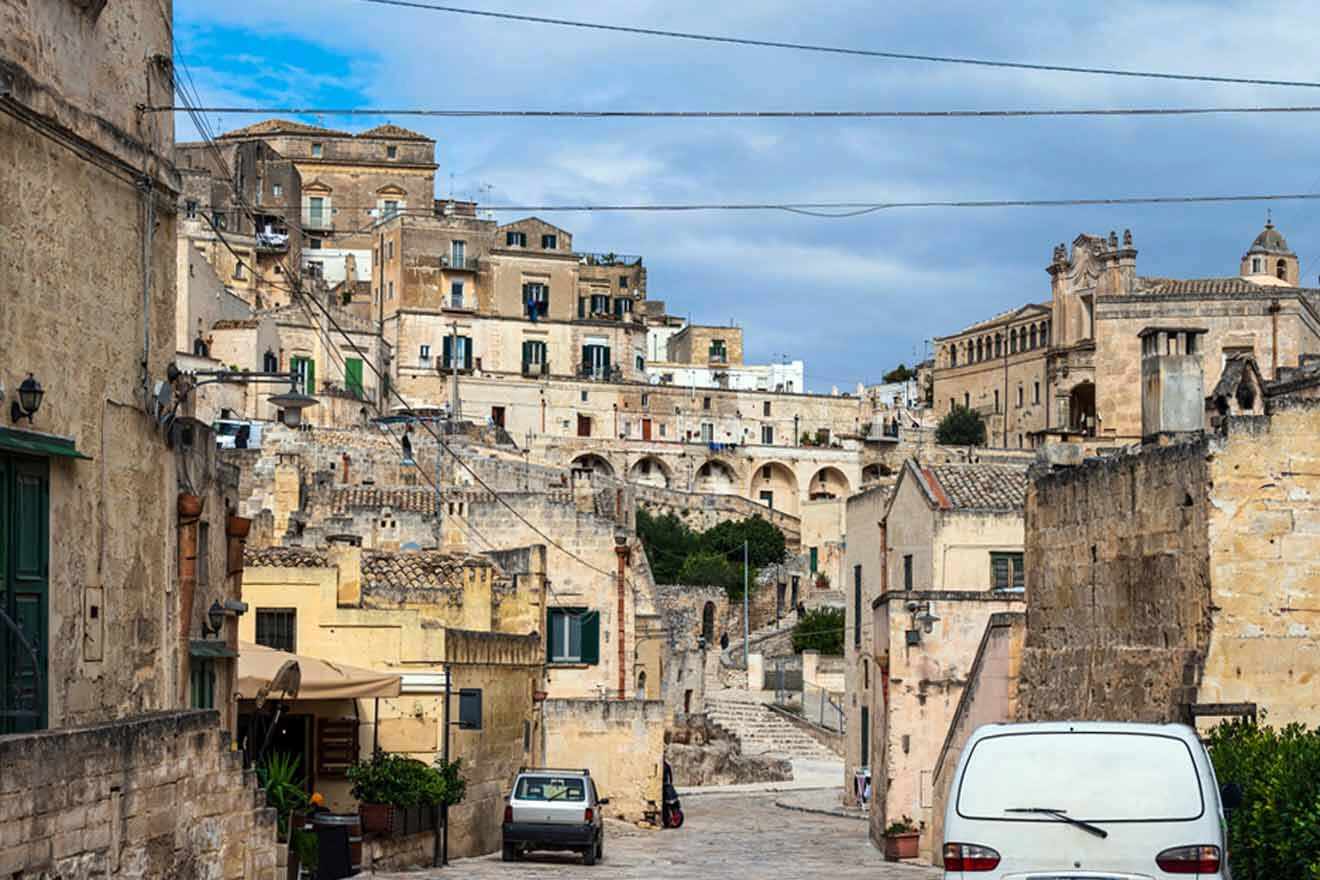 Prepare yourselves! Matera is a place that you won't forget easily! Set in Southern Italy in the Basilicata region, this ancient city will definitely earn a big spot in your heart!
I've recently visited Matera, and I've come back with so many fun tips that I want to share with you, and one of the most important ones is how to get there!
It really depends on where you're coming from and whether you're renting a car or not! Usually, the most convenient city to travel from is Bari which is the capital of the whole region!
But of course, if you're renting a car, you should get to Matera easily from pretty much any part of Puglia in Italy!
When I came here, I didn't rent a car but just took a bus from Bari. That was super fast (we got there in 1h) and pretty affordable!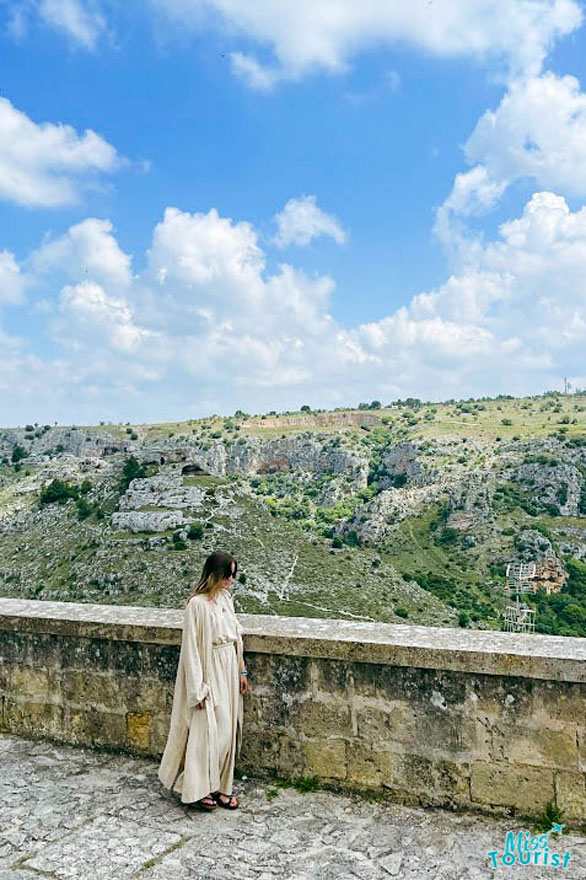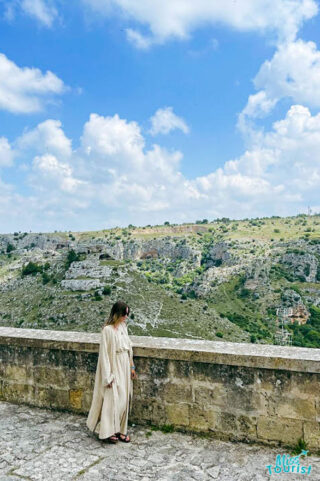 The company we used was Bus Miccolis, where a ticket from Bary to Matera costs around €10 (US$10) for a single and €9 (US$10) with a return, but the prices depend on the day. You can buy your tickets online, but also on the spot from Dea Cafe, that's also where the bus leaves from, so you can just arrive earlier and get your ticket. This bus also departs from Bari Airport.
PRO TIP: If you're headed to Matera just for 1 day, definitely get the earliest bus which leaves at 7:30 AM, so that you can have a whole day there. After that one, they've got 2 more at 4 PM and 6 PM, which you can't really take if you're going for a day trip as there's no point.
NOTE: One thing that was a bit annoying about this option is that they left us in Matera but somewhere pretty far from the historic part of the town. We had to walk for around 30 to 40 min to get there, but other than that, it was all good.
You could also take a train from Bari to Matera Centrale, but in my opinion, the bus is more convenient as it takes you straight there, whereas if you take the train, you'll have to transfer a few times.
Things to do in Matera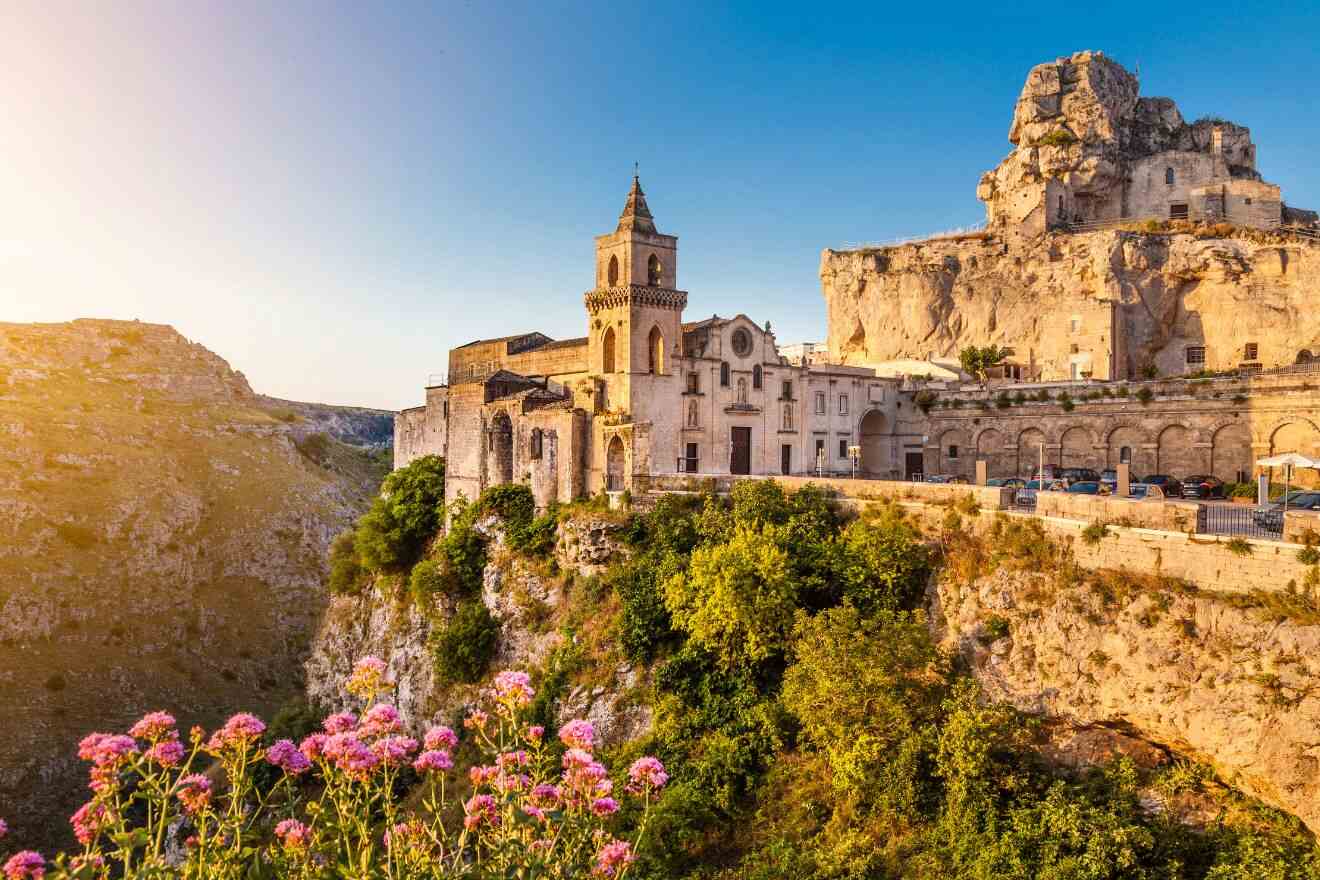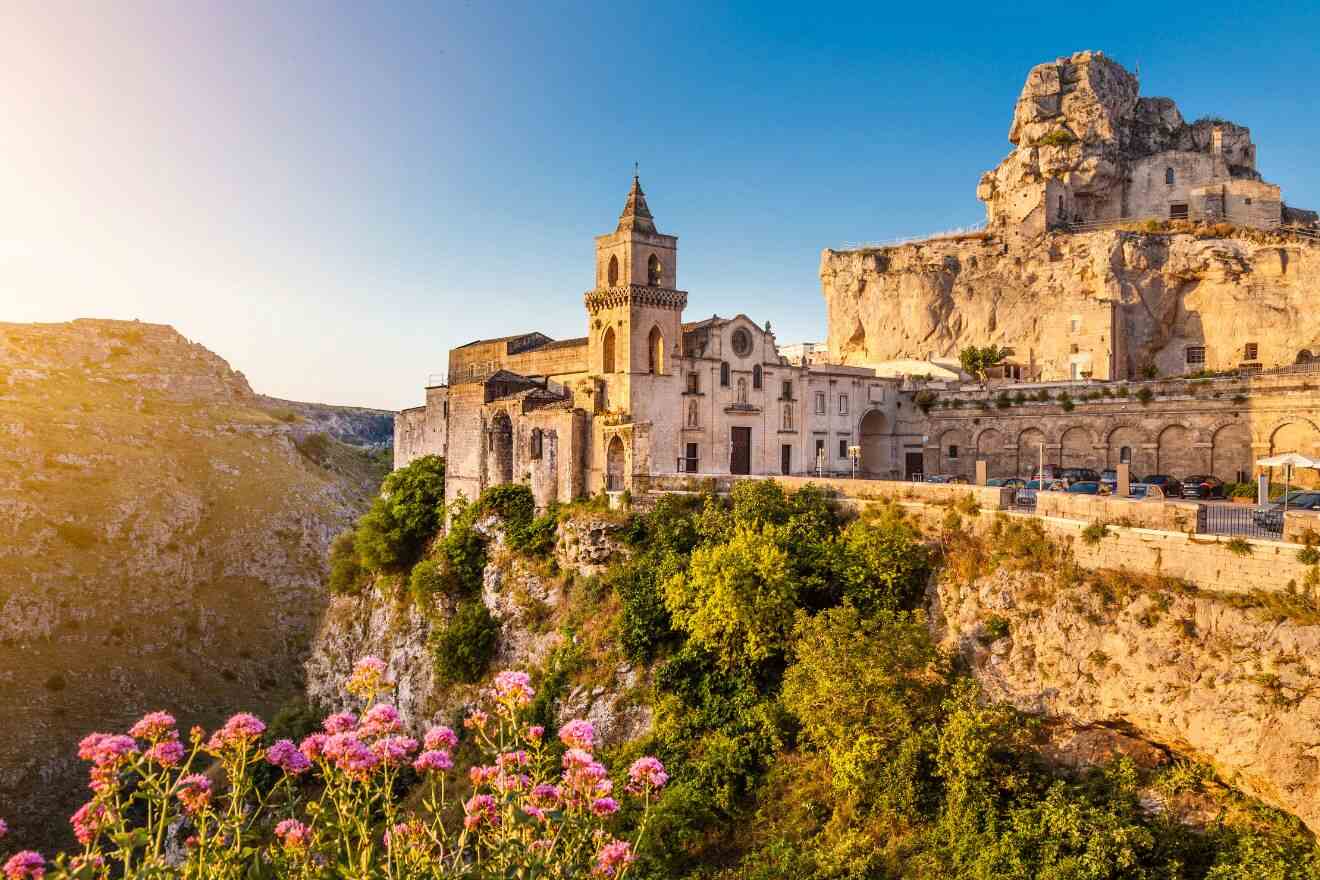 Now that we've seen the most convenient way to get to Matera, I think we're ready to begin the second part of this post, which is all about the funniest things to do in this magical city!
One of the best ways to check out all the Matera attractions is to just walk around the historic centre. That's what I did and to be honest, I saw most of the things although I stayed there just for a few hours. While exploring, you can stop at a café, grab a refreshing drink and then continue!
Alright, let's see what you shouldn't miss while you're here!
1. Join a guided tour of Matera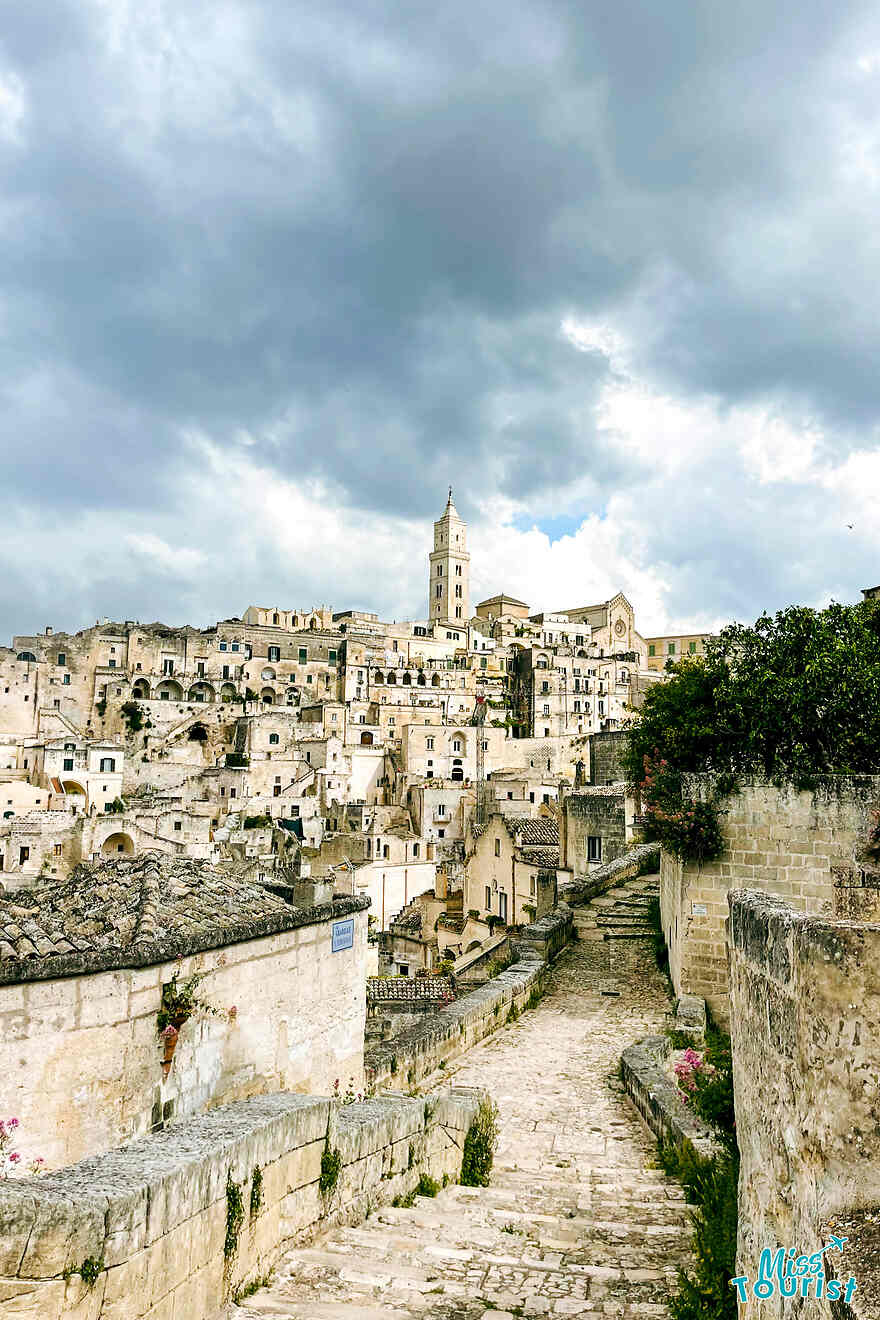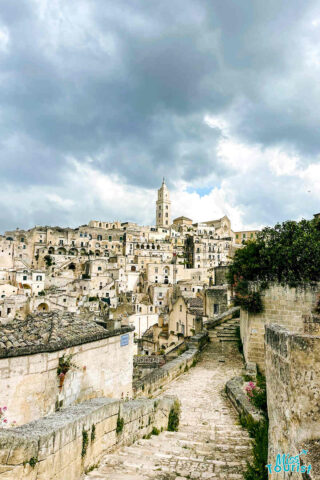 Joining a guided tour of this historic city is a great way to learn super interesting facts about Matera! This place has such an interesting past, and the way the rock buildings were preserved over the years is just wow!

I found this incredible tour that lasts around 2.5 hours and costs €45 (US$50). During the tour, you'll learn all about Matera's fascinating history from your knowledgeable guide, see the cave houses and some of the cave churches and immerse completely into the city's culture!

This is a great way to get to know this UNESCO World Heritage Site, especially if you're headed to Matera just for a day like I was!

PRICE: from €45 per person

2. Admire the church of Santa Maria de Idris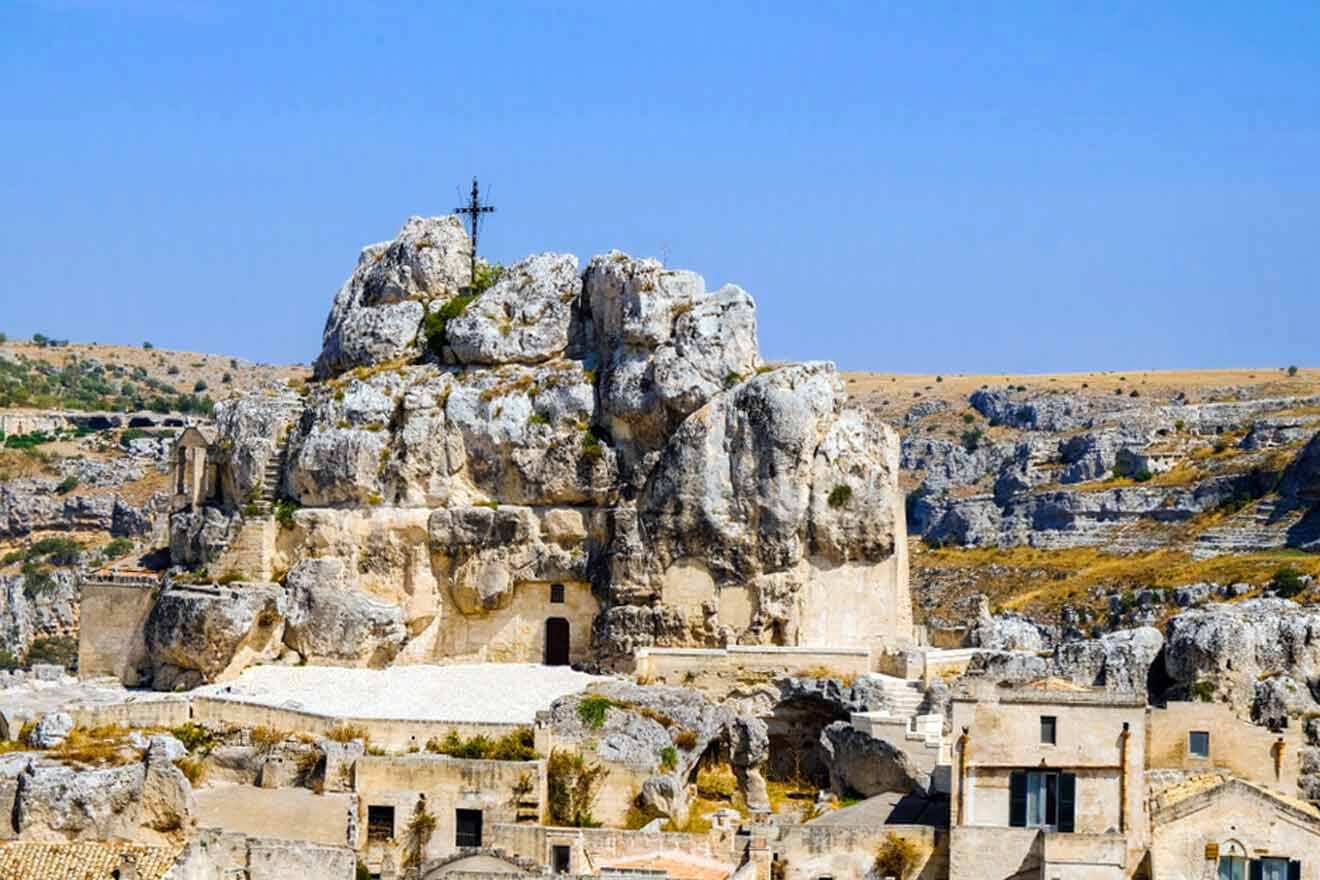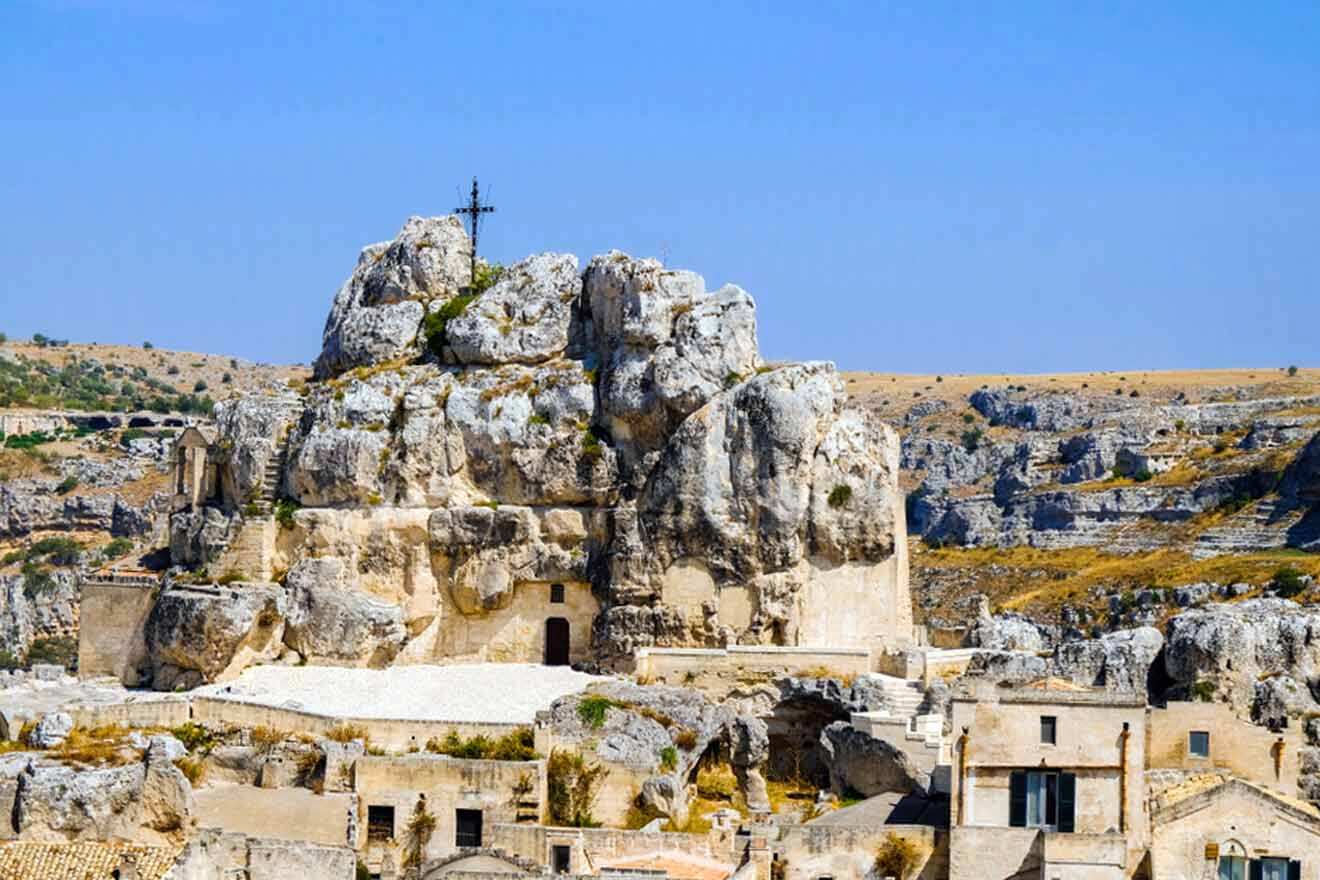 This is by far one of the most spectacular of the Rupestrian churches (which, for anyone who doesn't know, are churches carved out of a rock).
Set atop a rock and made entirely out of Matera rock, this breathtaking place looks as if it was taken out of a fantasy book! The fact that it's still standing still surprises me!
We had to climb some stairs to get to the top since it's set pretty high. You'll get to admire this church even from afar from various viewpoints around Matera, but once you get inside, there are just 2 or 3 rooms to discover – definitely take a minute to check out the exteriors of the church of Santa Maria di Idris.
Inside there are still some ancient frescoes that date back to the 12th and 17th centuries!
NOTE: I would also check out Santa Lucia alle Malve Church, Chiesa del Purgatorio, San Pietro Caveoso, and Santa Maria de Armenis (which is closed, but you can admire its exteriors) while you're here as they're not too far from each other.
P.S. If you're coming in July, check out the dates of the town's main event, Festa della Bruna, when the locals celebrate the patron saint of Matera
PRICE: €4 per person
3. Vist the beautiful Matera Cathedral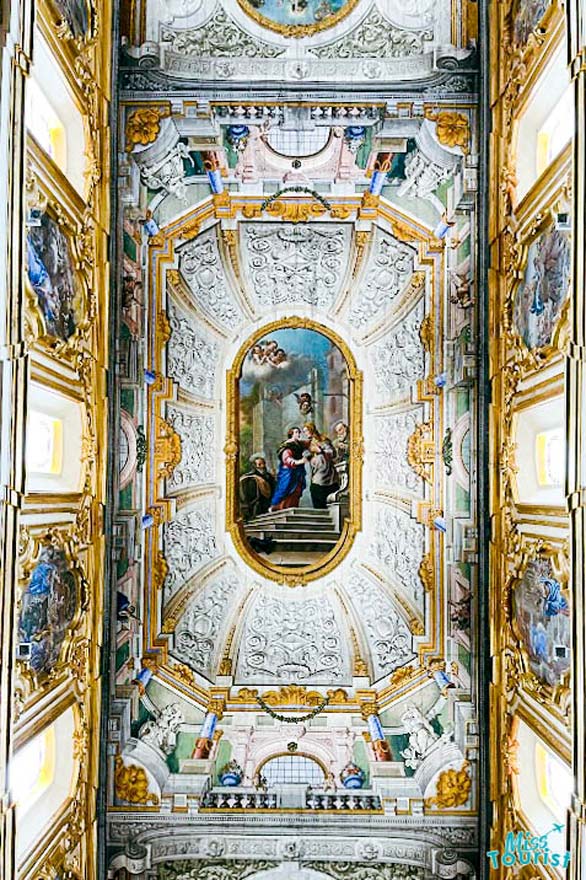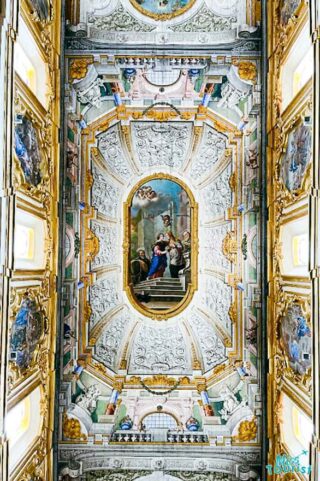 I guess you've probably realized by now that there are so many churches and religious spots in Matera, each with its own intricate past and history!

When I arrived, I stopped first at the cathedral, which is set atop Civitas Hill, and it's also known as the Cattedrale di Maria Santissima della Bruna e Sant'Eustachio!

The cathedral is very different from all the stone churches, and it has so many paintings with tons of symbolism, icons, as well as an incredible architecture!


PRICE: around €1 per person
4. Explore the cobblestone streets in the Sassi area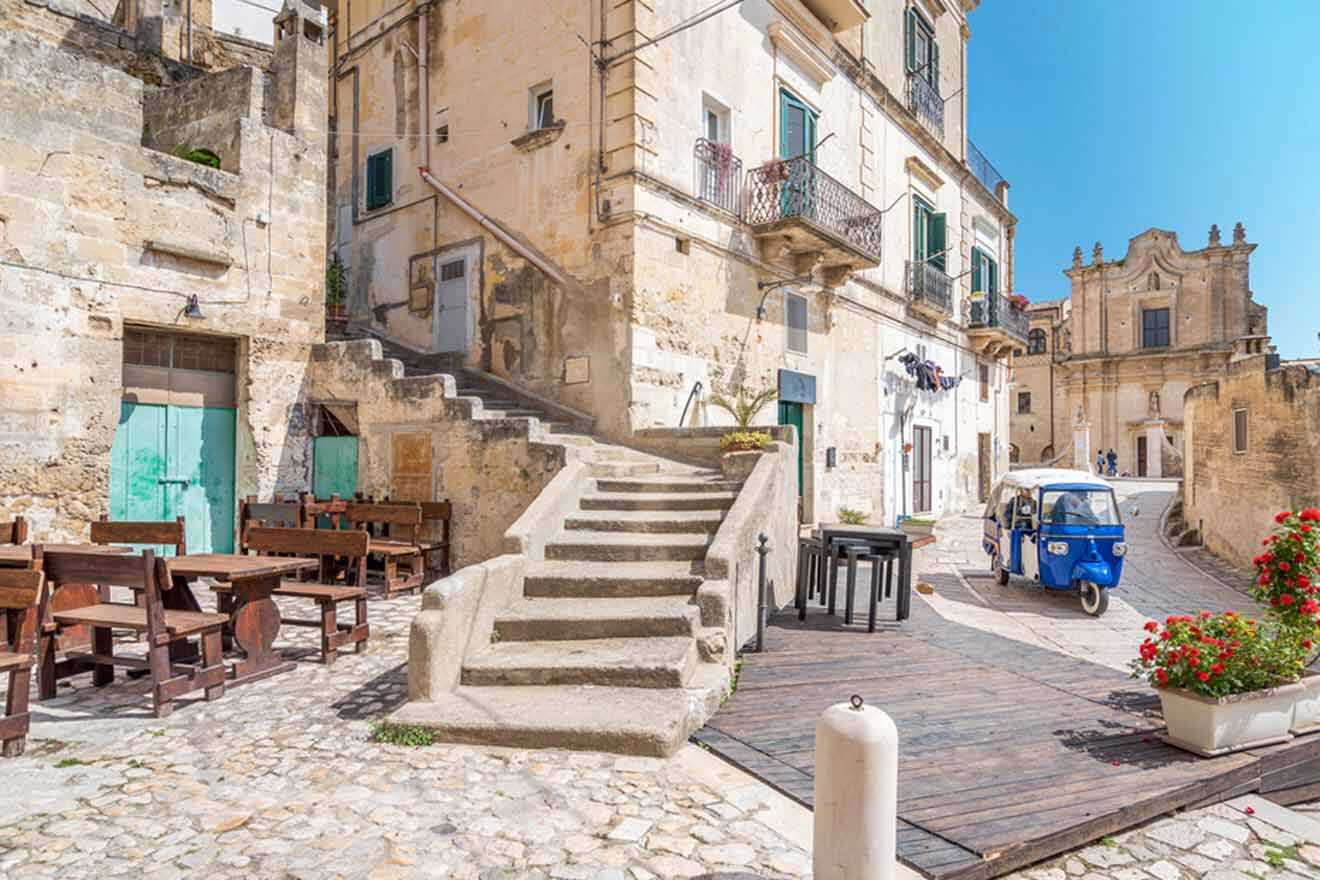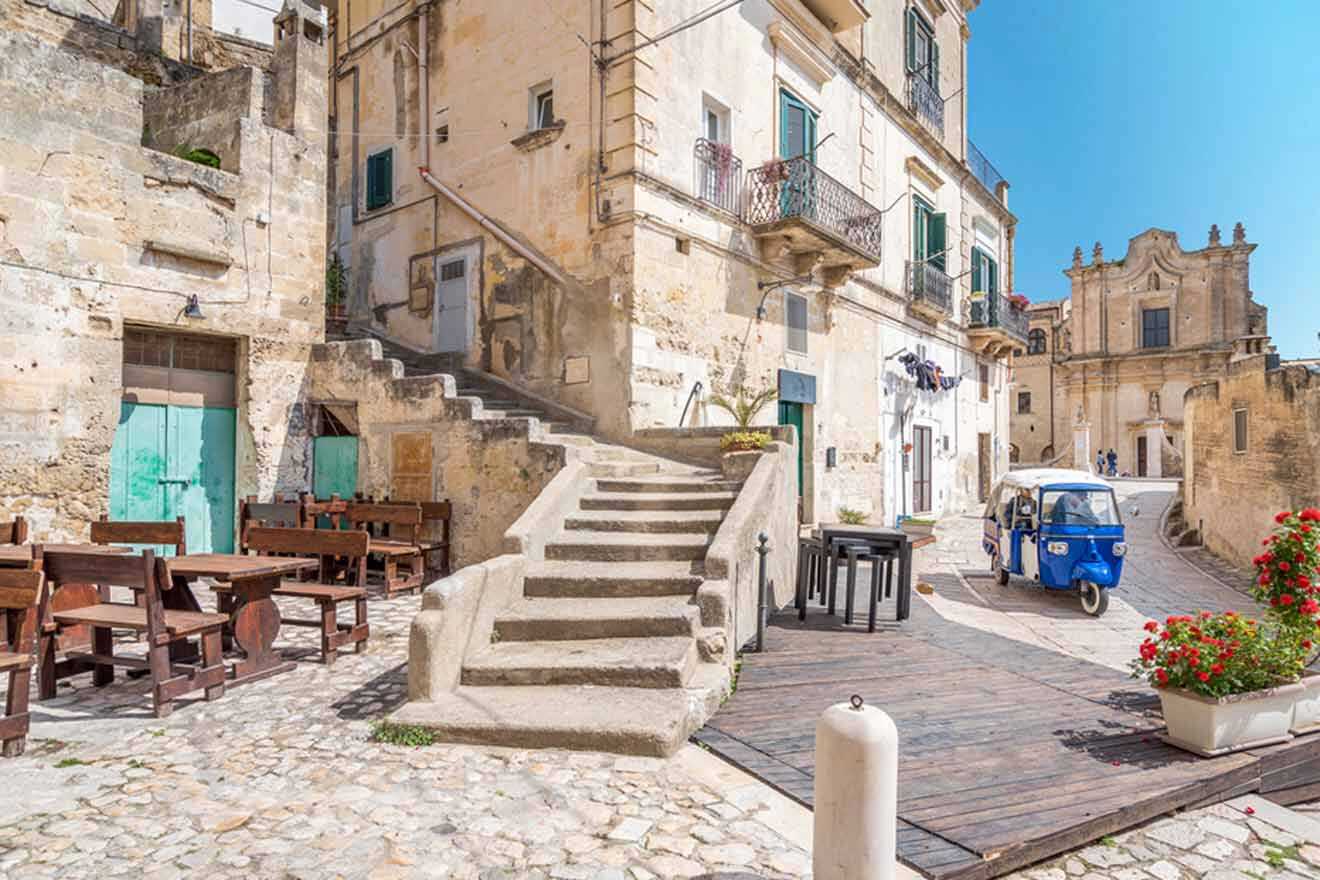 While visiting Matera, you'll probably hear a lot about the famous "Sassi di Matera," which are basically areas with houses, churches, and monasteries that are built in the original Matera stone.
There are 2 main Sassi districts that you'll probably walk around during your trip, Sasso Caveoso and Sasso Barisano.
Sasso Caveoso is great for tourists who want to get a taste of the raw, uninhabited part of Matera. Many of the cave dwellings in this area are empty nowadays, so you can really see how people lived here all those years back.
And in the Sasso Barisano area, you'll find many traditional houses and even some super fancy palazzi which are made entirely out of rock and look incredible!
Both districts are so charming and definitely worth exploring if you've got the time!
5. Hike to the Belvedere Murgia Timone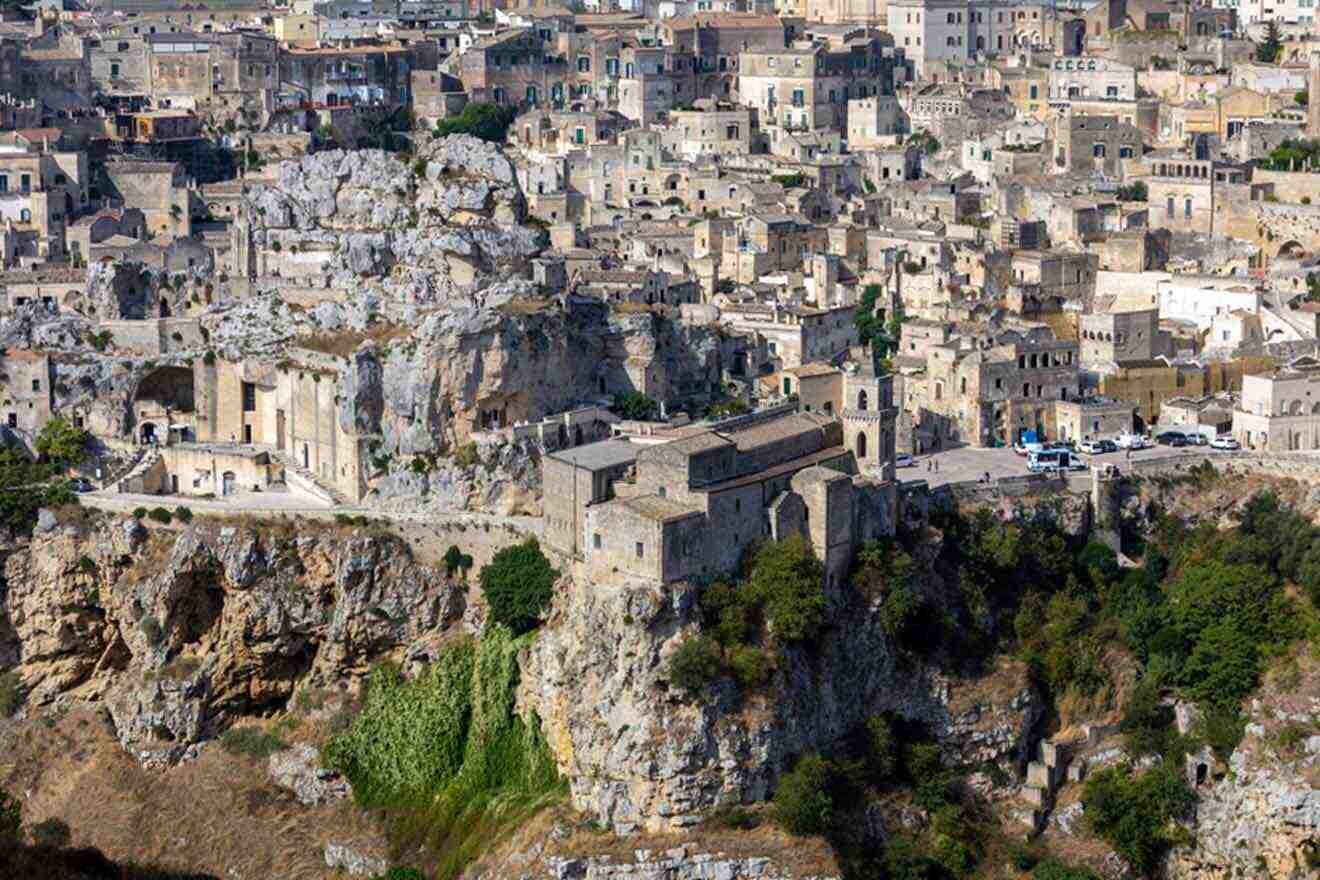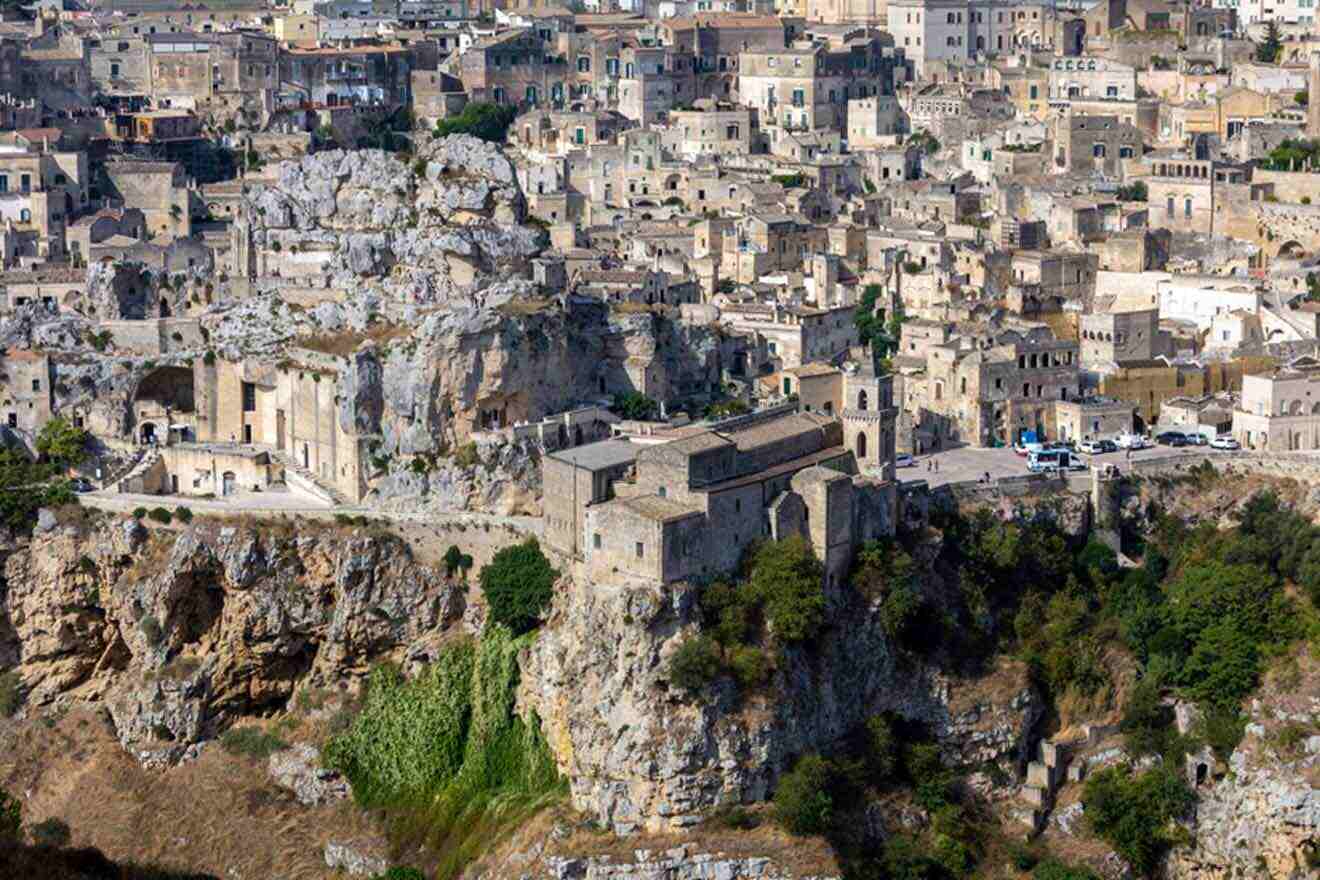 If you have more than 1 day in town, then pack your hiking shoes or at least some super comfy ones and get ready for an unforgettable hike to the Murgia Materana Park.
The famous movie Passion of the Christ actually filmed the crucifixion scene in this area of Matera! Many areas in Matera look like settlements found in the Holy Land.
When you look from afar, the park offers such a beautiful contrast with its small green hills and many Rupestrian Churches (around 100 or more). The churches are actually carved out in the hillside, and it's super fascinating to see how they were built and how people lived in the Early Middle Ages!
To reach the park, you'll have to hike the Belvedere Murgia Timone Trail, which begins at Porta Pistola on the edge of Matera, then goes down to the Gravina River Canyon, and then it's a climb up again to the Park of Rupestrian Churches on the opposite side.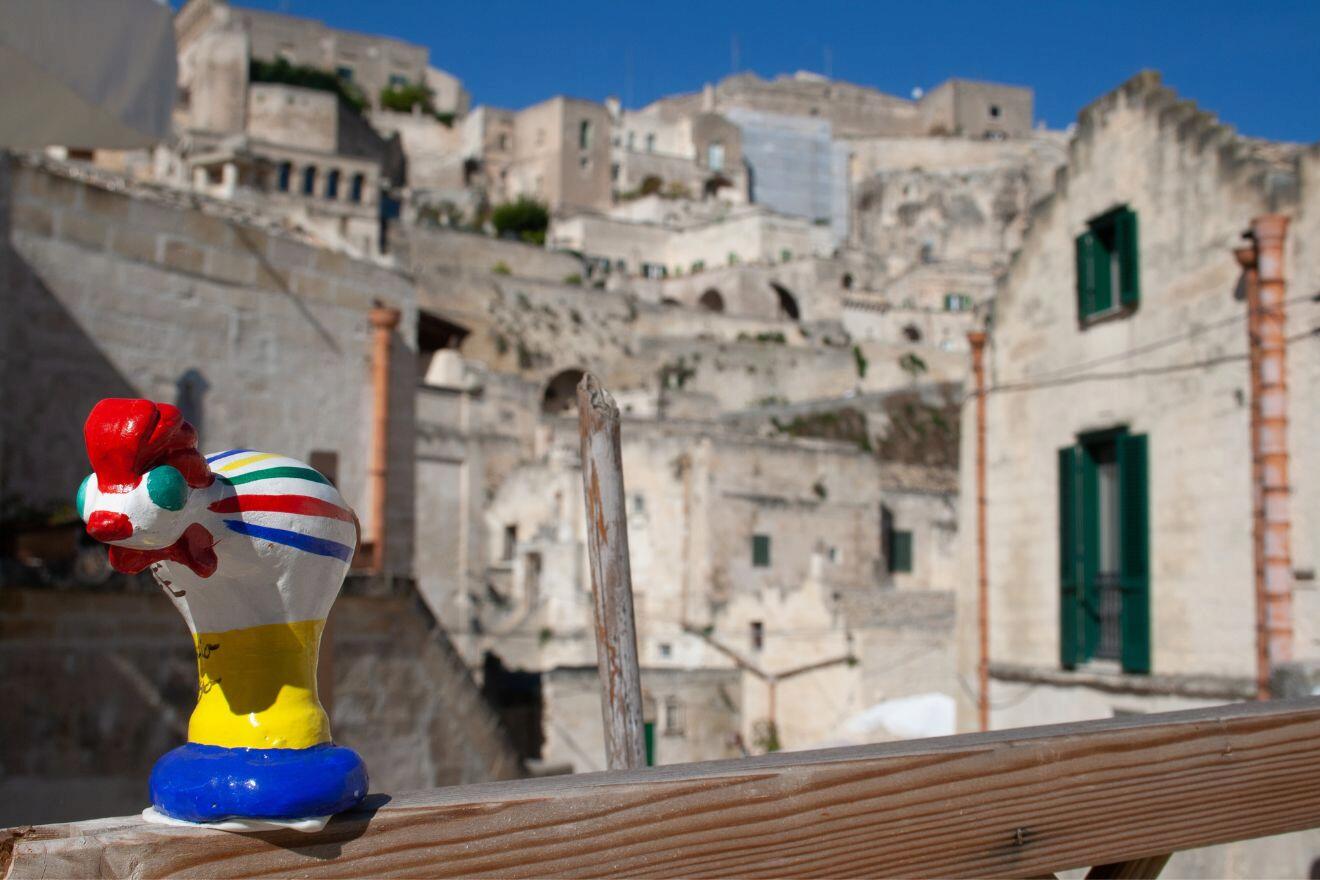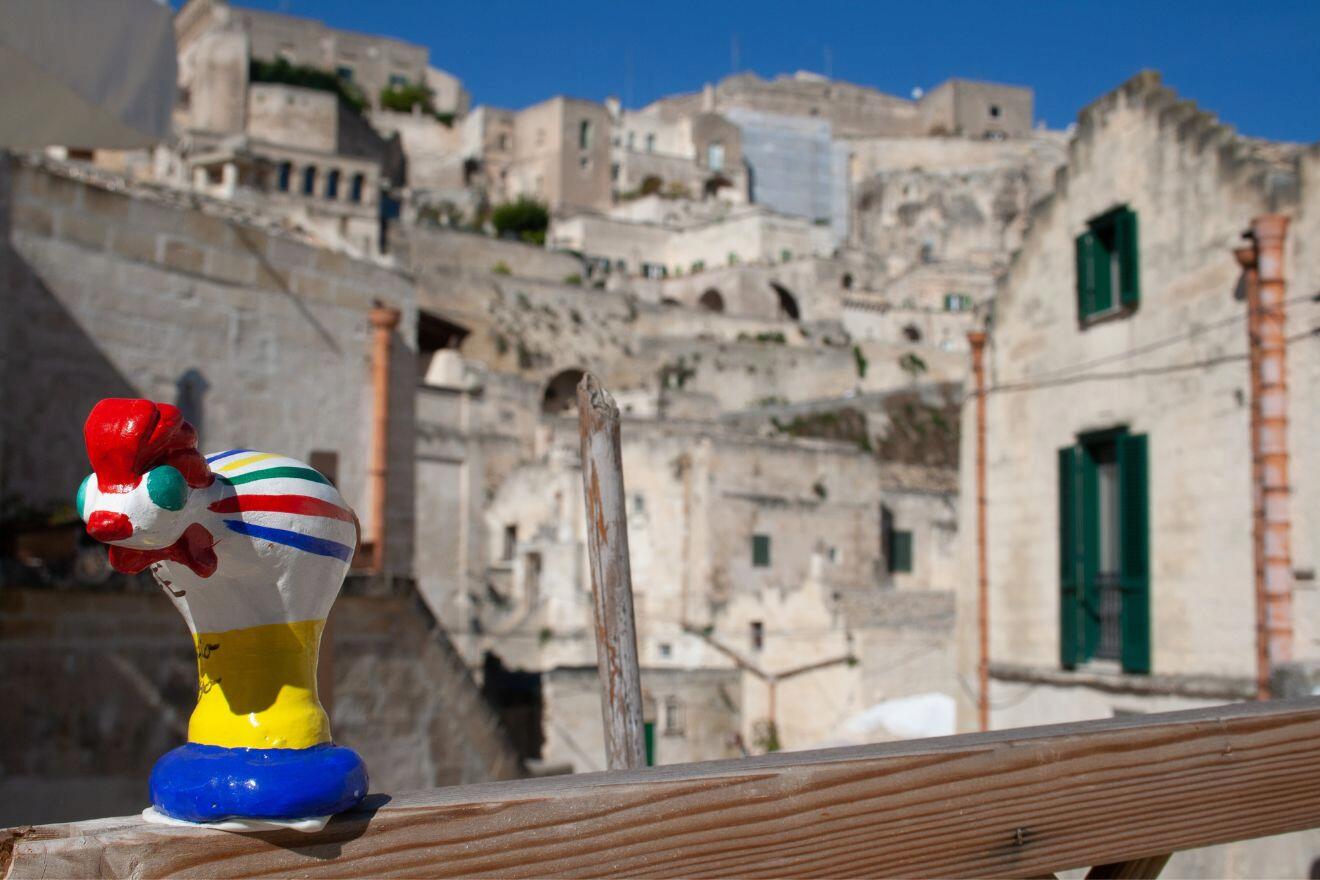 Once you get to the other side, pass the rock bridges opposite Matera, stop for a moment, and admire the city! The views are so incredible from the Murgia Materana Park!
What I would recommend for this hike, besides dressing appropriately for the weather and conditions, is to leave early in the morning as you might get a chance to avoid the crowds (especially during the summer months).
You can also join this tour, which lasts 2h and costs €55 (US$60), which will take you to the park!
TOUR PRICE: from €55 per person
Visit Murgia Materana Park on a Tour
6. Catch a scenic sunset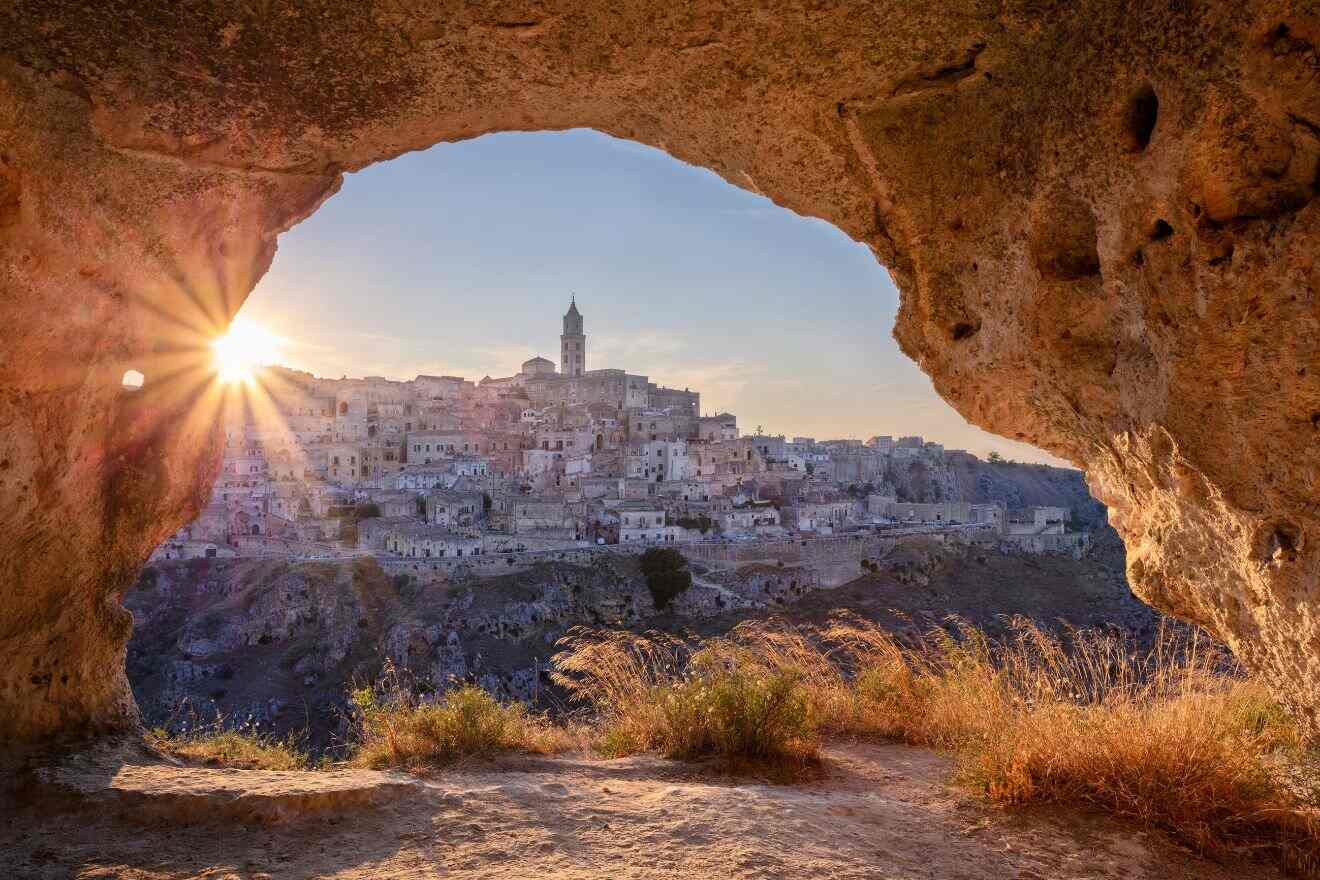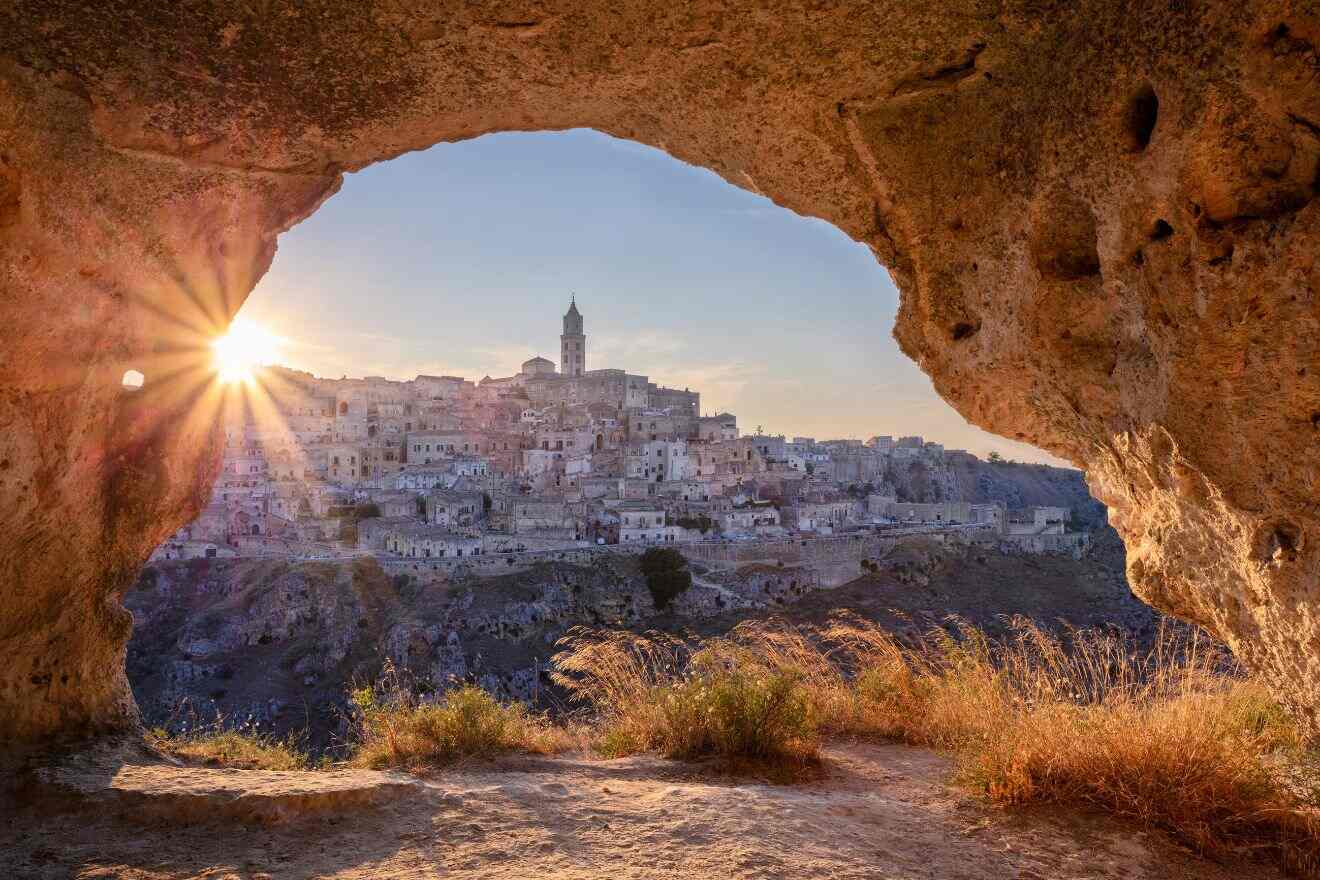 This wonderful city that's also known as the European Capital of Culture (since 2019) has such a unique allure that you'll find yourself wanting to explore its cobblestone streets and paleolithic caves for hours!
Although now, Matera is super famous, in the 50s, it was known as "Italy's shame" after Carlo Levi. He was a writer who was exiled to a town close to Matera after he saw the level of poverty that the locals were enduring while living in these cave houses in the 1930s, and he wrote a book about it that became really popular at the time!
If you do have the time to stay until sunset, then I definitely recommend choosing a viewpoint somewhere in one of the Sassi, from where you can see part of the town or even the Murgia Materana Park, and watching the sunset!
I'm telling you, the colors hit you so differently in a place like this one! All the contrasts between the color of the rock houses and churches and that golden hour will make you feel as if you're in an alternate reality!
7. Stop by the Church of San Pietro e Paolo al Caveoso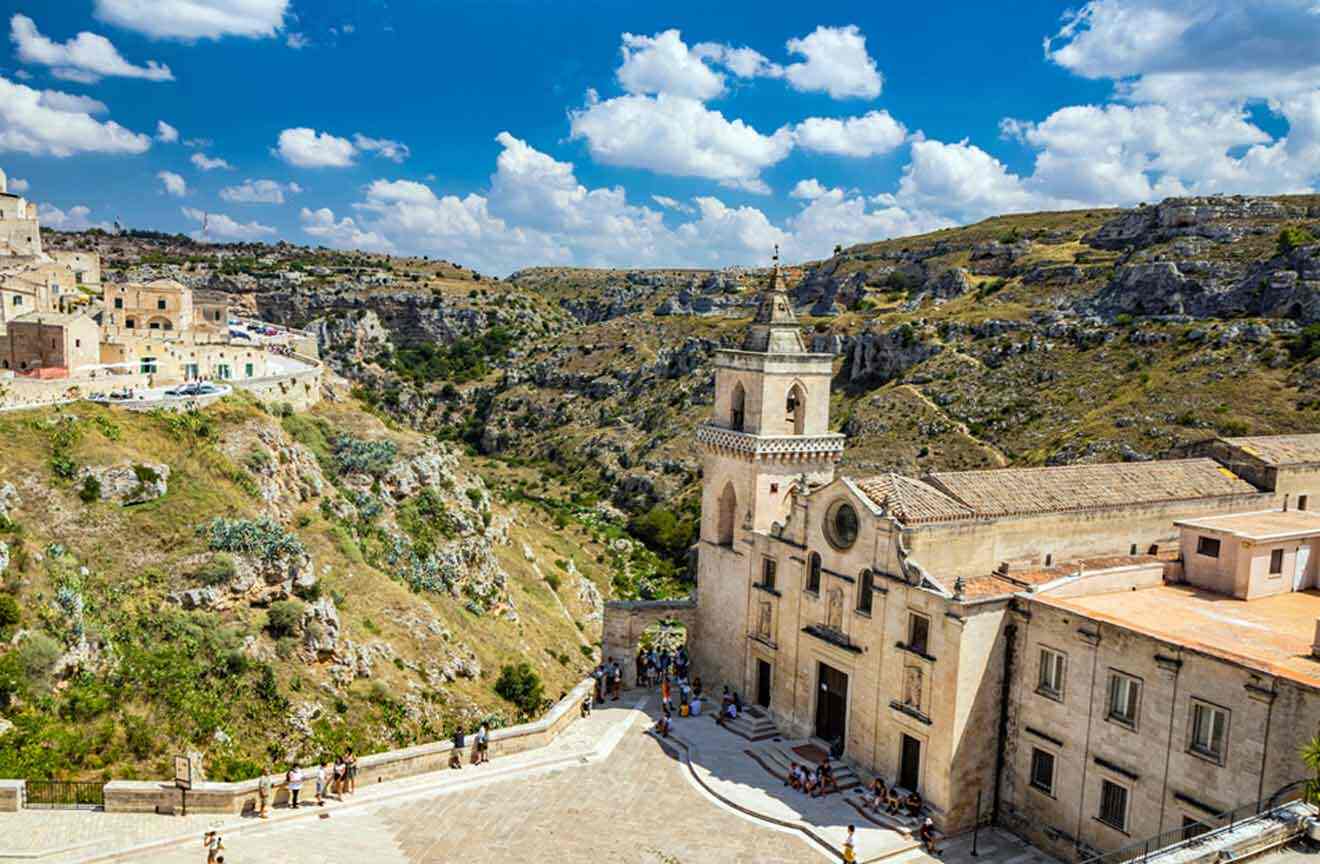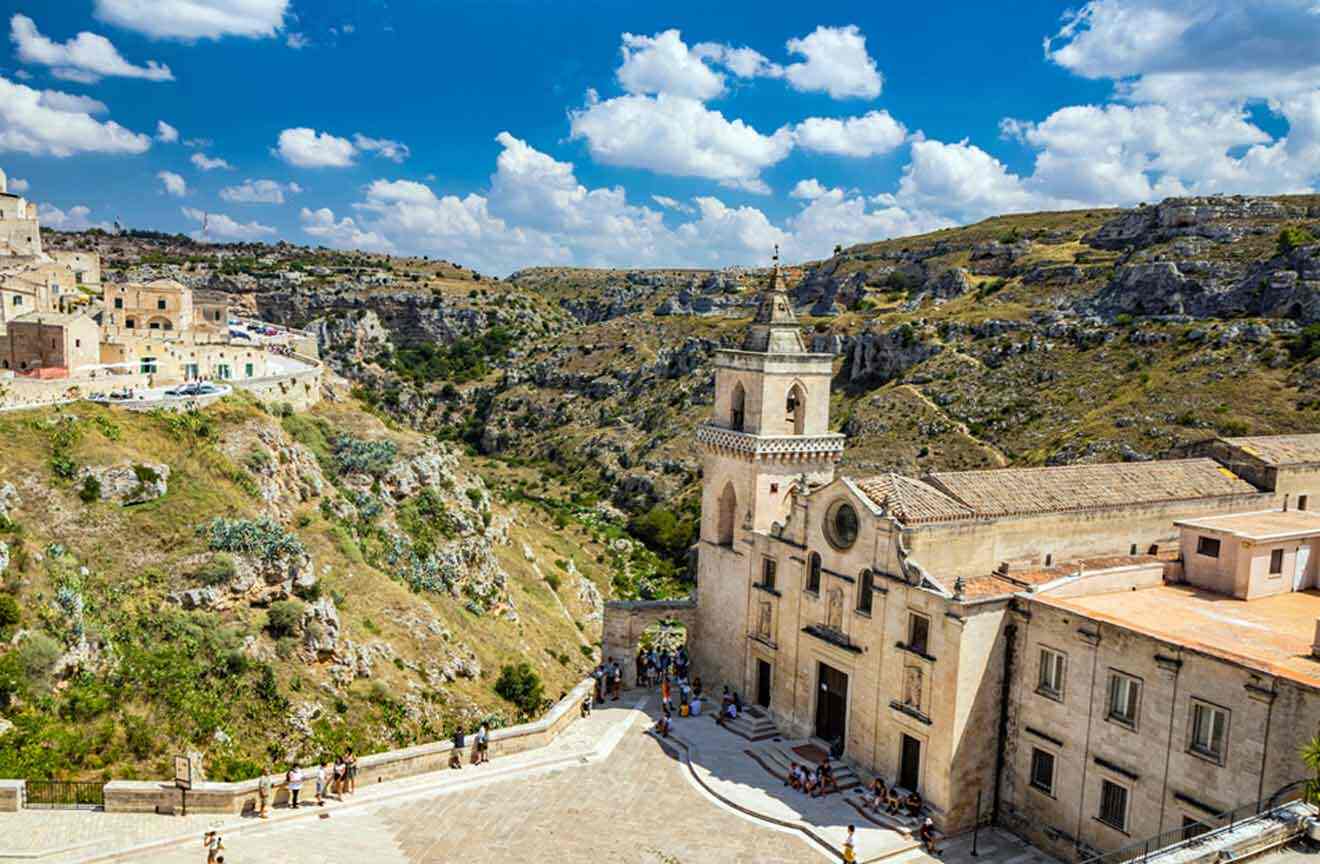 Here's another beautiful church you should check out during your Matera visit (I warned you, this city is filled with religious sites)!
But this one is not a cave church. It dates back to the 13th century and has an incredible location that overlooks the Murgia Materana Park.
Inside there are still some surviving icons, chapels, and catacombs, which you can visit if you're brave enough!
PRO TIP: If you've got the time, you can also come here at night. Usually, they light up the facade, which creates this mystical, special atmosphere!
8. Learn more about Matera at Casa Noha
History lovers, I know you'll love to visit Casa Noha!
Casa Noha is set in a historic building and showcases a 30 min movie on Matera's history! Yes, the movie is in Italian, but you will get an audioguide which is available in English and a few other languages.
What's really interesting is that the movie is split into sections which are shown in different rooms in the house, so you'll basically walk around the see the whole thing.
PRICE: €6 per person
9. Buy souvenirs from the local artisans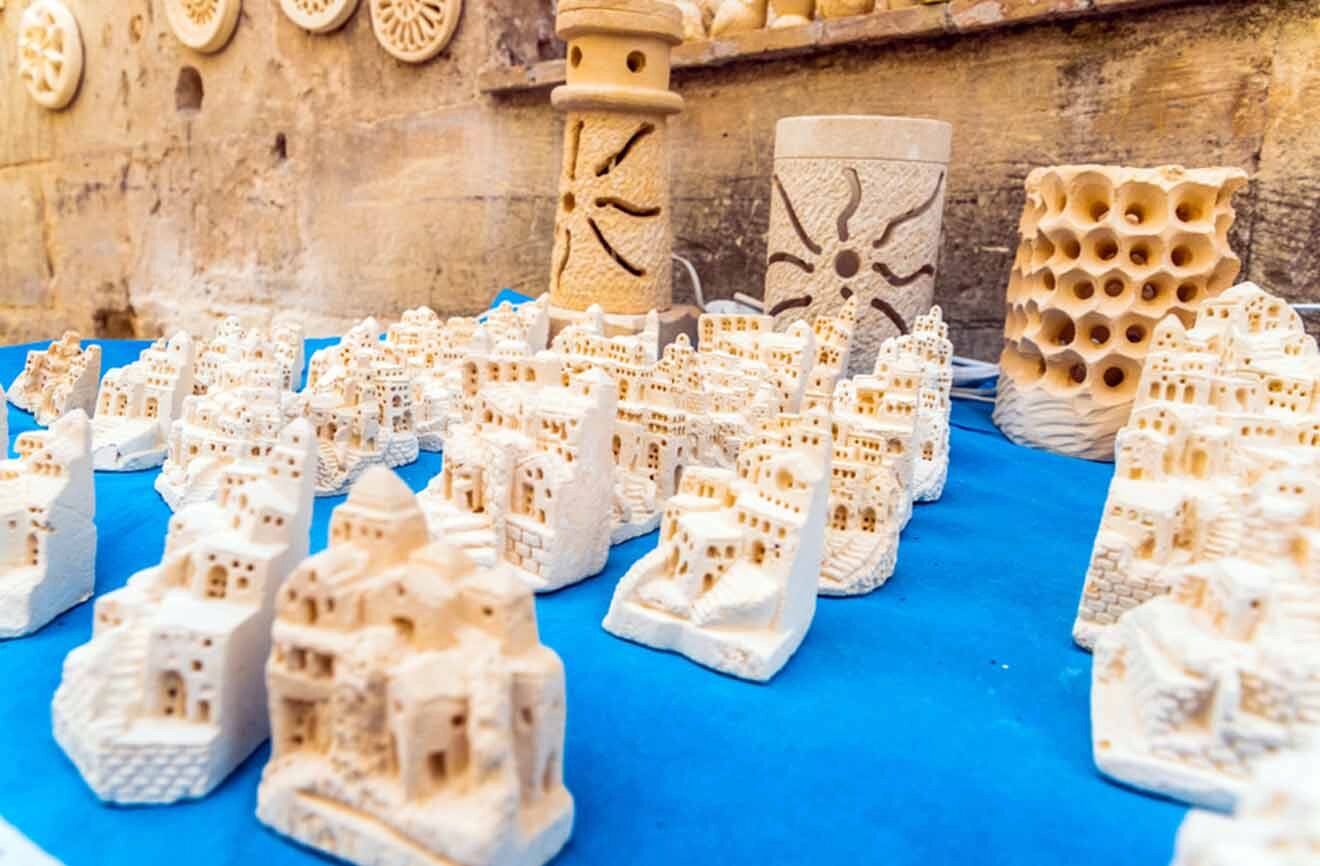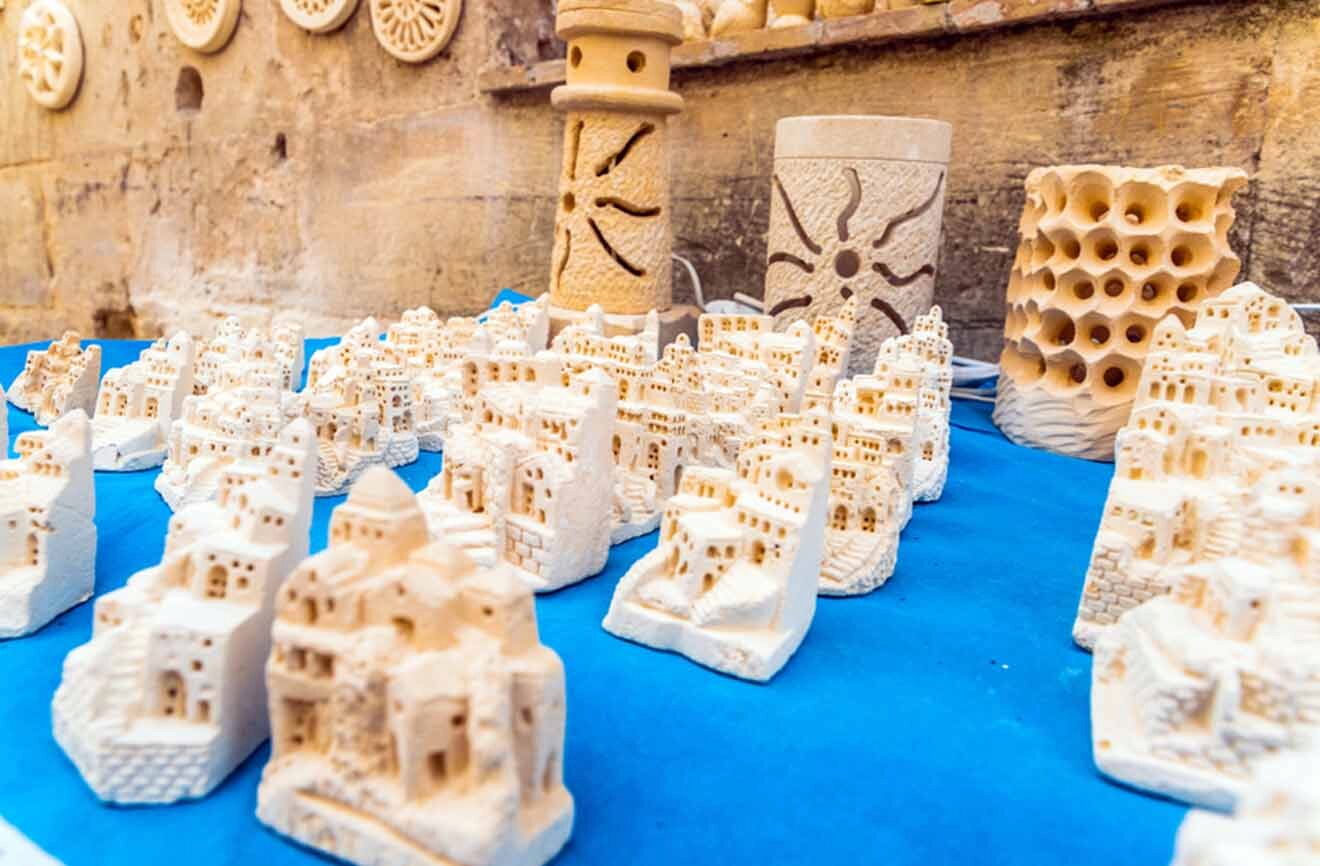 Oh my, this was by far one of my favorite things to do in Matera!
There are so many small shops with souvenirs made by local artisans and to be honest, you don't even have to go looking for them, as you'll find one at every corner! We also saw people crafting stuff on the street!
PRO TIP: Make sure you bring some cash with you won't be able to pay everywhere with your card on this Matera trip.
I had a blast discovering all the stores by myself, and I definitely recommend doing that! Still, if you need a bit of guidance, here are some of my favorite ones:
TAU – Libri e Articoli Religiosi – A gorgeous shop that sells small statues of saints, little angels, and many other cute things that would make a great souvenir or gift for someone at home.
Preziosi Moda Gemstones – If you like jewelry, definitely check out this one, as they have some really amazing ones made with beautiful stones and crystals.
Dacia Capriotti – This amazing pottery store has such unique designs, and I'm sure you'll find something here.
10. Step into a time capsule at Casa Grotta di Vico Solitario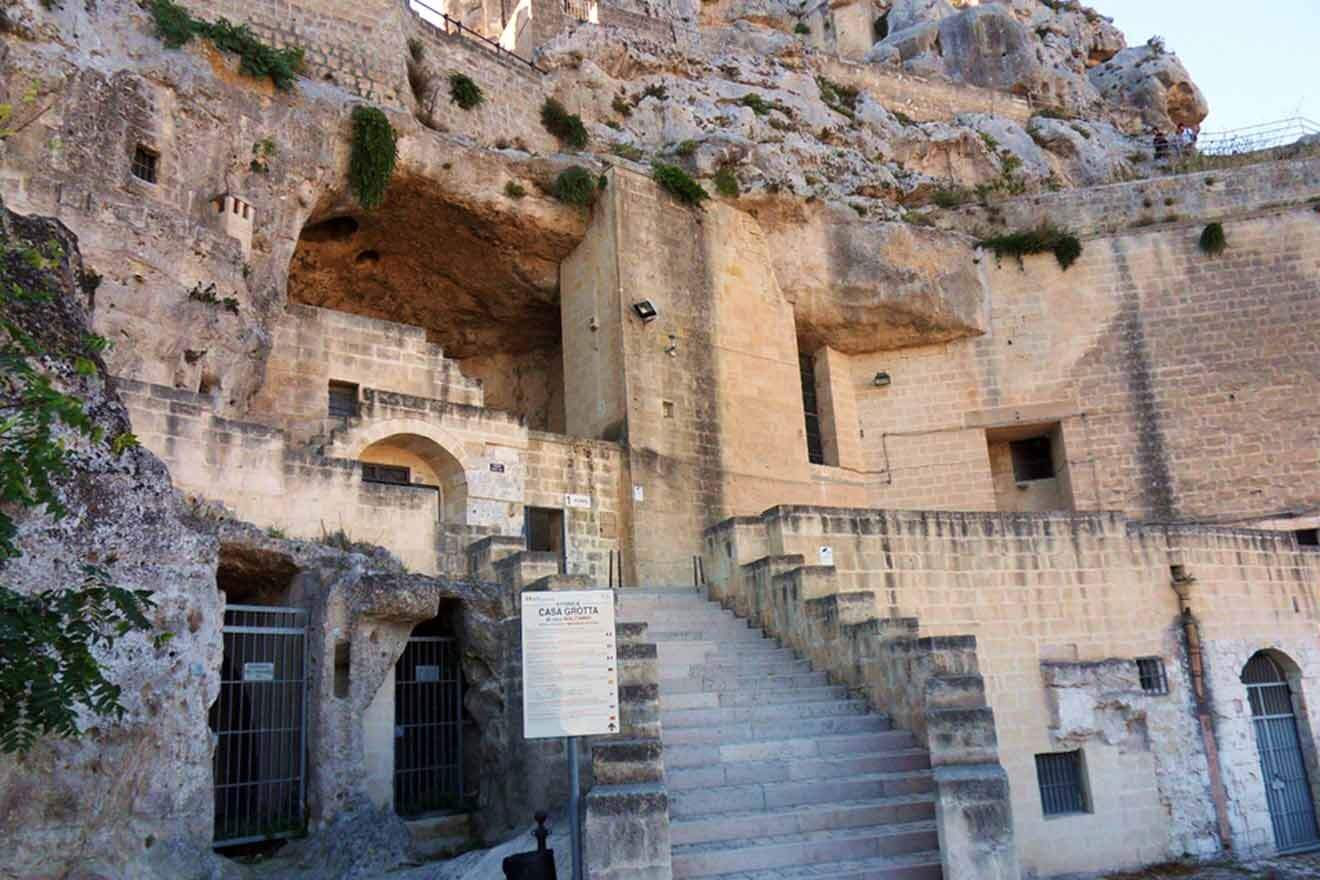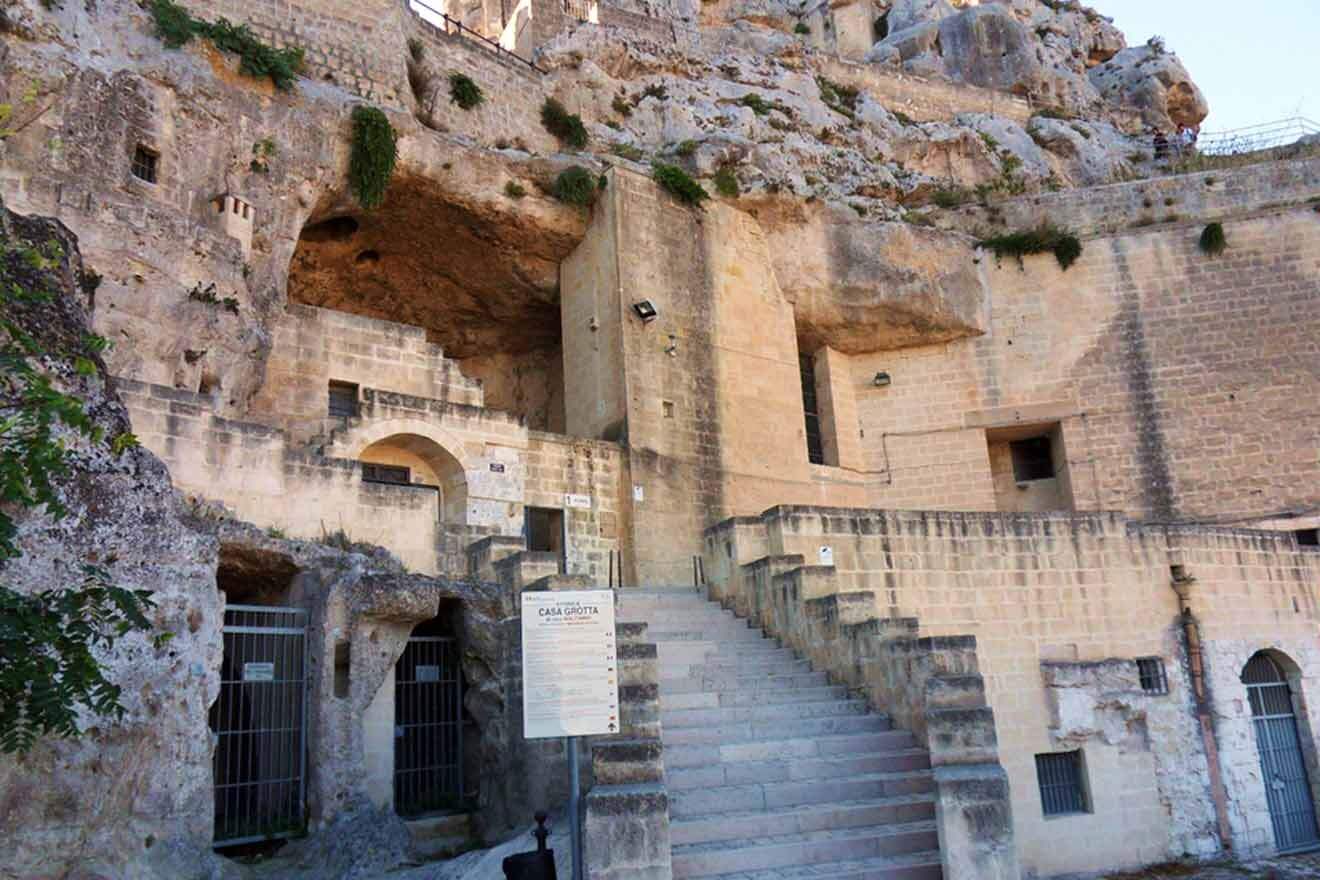 Set near the cave church Santa Maria di Idris in Sasso Caveoso, this really cool cave house offers visitors a peek into how life looked like for people who used to live in a cave room!
Families used to live here along with some of their animals! The cave dwelling is furnished and has a design specific to that period so that you'll really feel as if you've stepped into a time capsule!
NOTE: If this place is too crowded, you can also check the other cave dwellings like Casa Grotta del Casalnuovo or Casa Grotta C'era Una Volta
PRICE: €3 per person
Where to stay in Matera
Want to spend a couple of days in Matera? That's a great idea, as I feel like I would've needed 2 days more to explore the city! Luckily now that you're reading this guide to Matera, you know you'd probably need more than 1 day!
The cave hotels look so incredible that it's definitely worth spending a night in Matera, Italy! I've made a bit of research and found the best hotel option for each price range: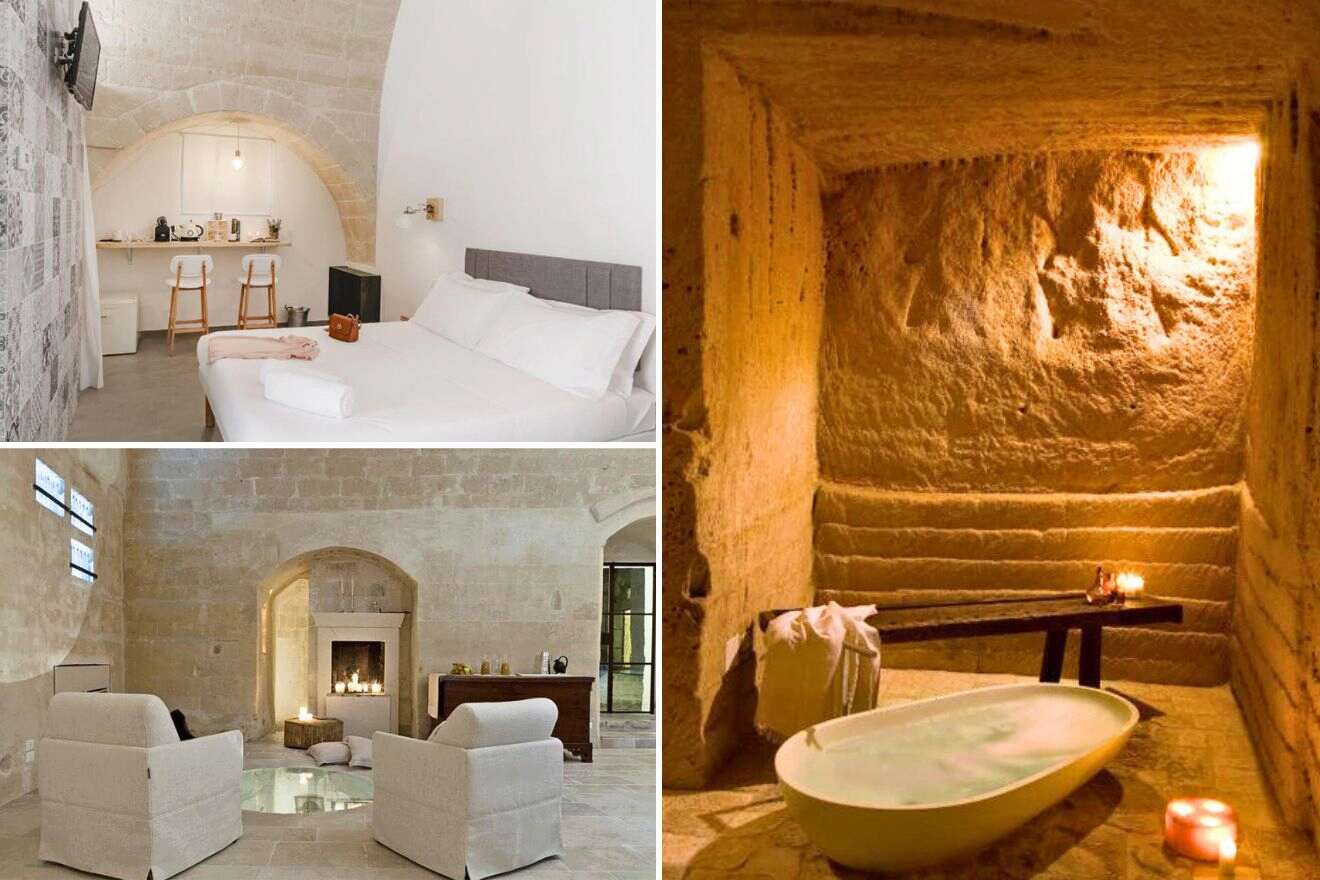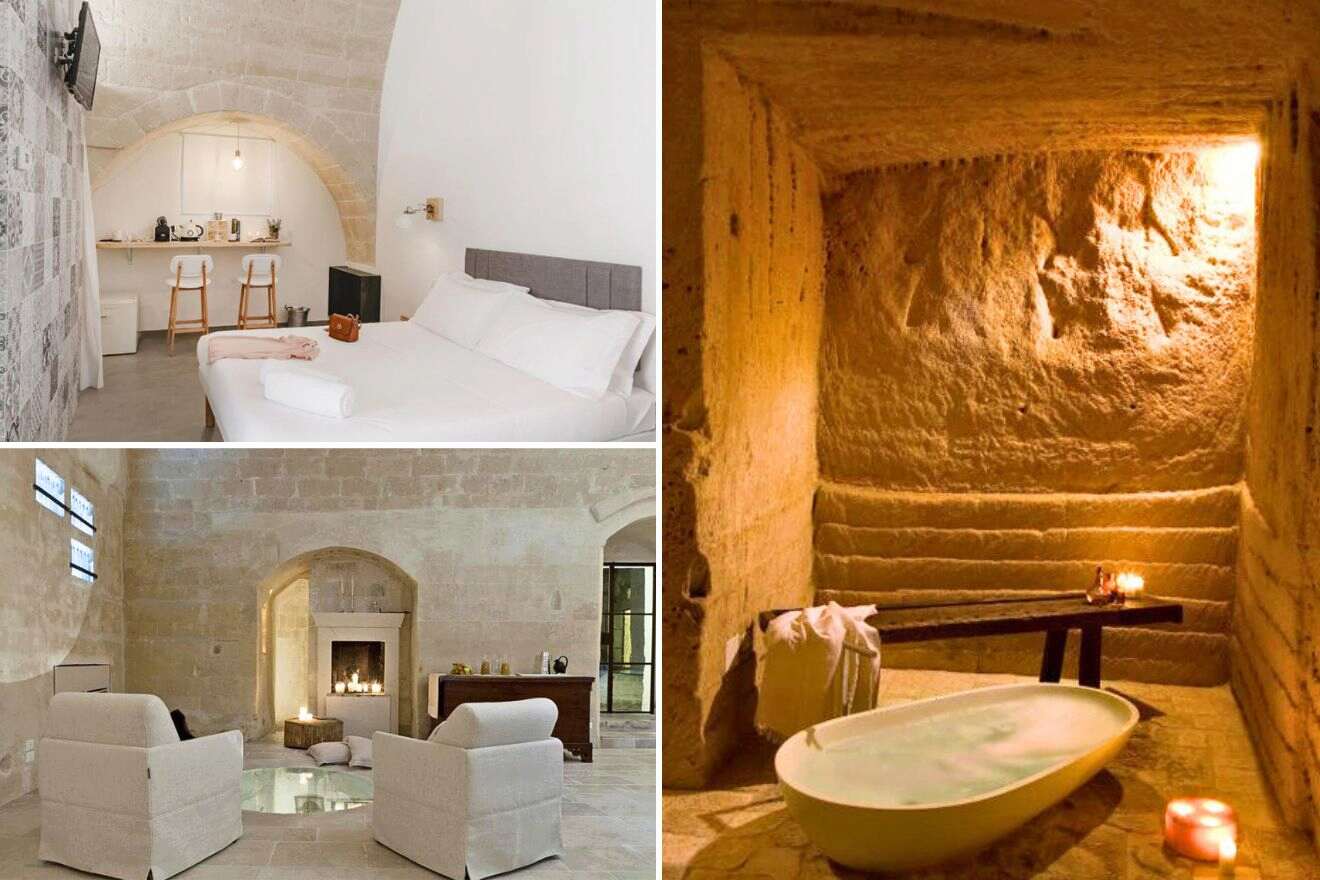 Luxury
Sextantio Le Grotte Della Civita – One of the best luxury hotels and cave hotels! Set in Matera's Sassi area, the accommodation offers rooms with vintage furnishings, a restaurant that's set in the property's former church, and a terrace with panoramic views!
Mid-Range
Corte San Pietro – Another gorgeous cave hotel in the Old Town that offers such a nice ambiance! The rooms feature hand-wood-carved furnishings and a private bathroom. Each morning you can begin your day with a yummy breakfast that is included in the price.
Budget
Hydria Rooms – A more affordable but just as cool hotel that's set in a restored Tuff-stone building. The accommodation has modern amenities, including a coffee machine and a kitchen.
Best places to eat in Matera
Now that we've dealt with the serious stuff like how to get to Matera, what to visit, and where to stay, I think we're ready to move to the fun bit and see some wonderful restaurants where you can indulge in some yummy Italian food!
Trattoria del Caveoso – If you like Italian meat, pasta, and yummy desserts, definitely come here as they serve some incredible dishes.
La Lopa – Perfect for a nice dinner out in the town, this restaurant has a varied menu that includes local specialties like Matera bread and outstanding wine.
L'Antica Credenza – Set near the Chiesa San Francesco di Assisi, this small but super cute sandwich shop is perfect for those times when you need a quick bite! I really liked their food and the ingredients as well!
Important things you should know about Matera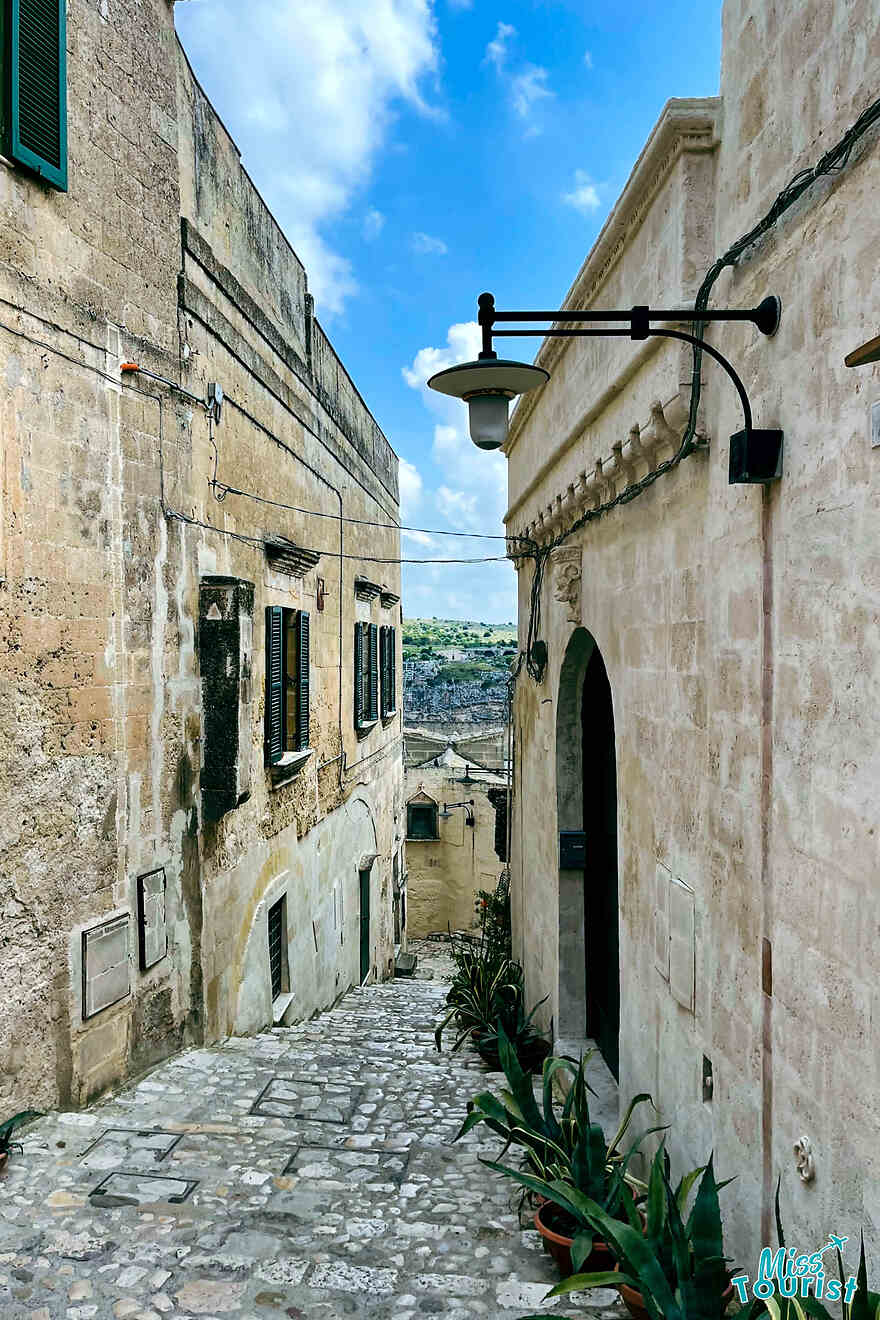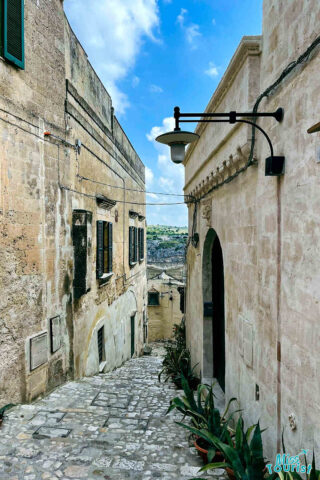 Okay, I know we've said we're done with the serious stuff, but I wanted to end this post with some important things you should know before going to Matera, Italy!
These are just some guidelines that will help you plan and be prepared when visiting Matera, so let's check them out:
Pack lightly, if possible, especially if you're staying in the Sassi area when you visit Matera, as there are many stairs and narrow cobblestone streets.
Bring comfortable shoes and something to wear on your head if you're coming during the summer (June, July, August).
Spend at least 2 or 3 days, if you have the possibility, to see the whole town, catch sunsets and try some restaurants.
If you're coming by car, you can find parking lots outside the main Sassi area, either on the street or in the specially-designed area.
You can't use strollers in the Sassi area as there are many steps and steep roads.
FAQs about your Matera guide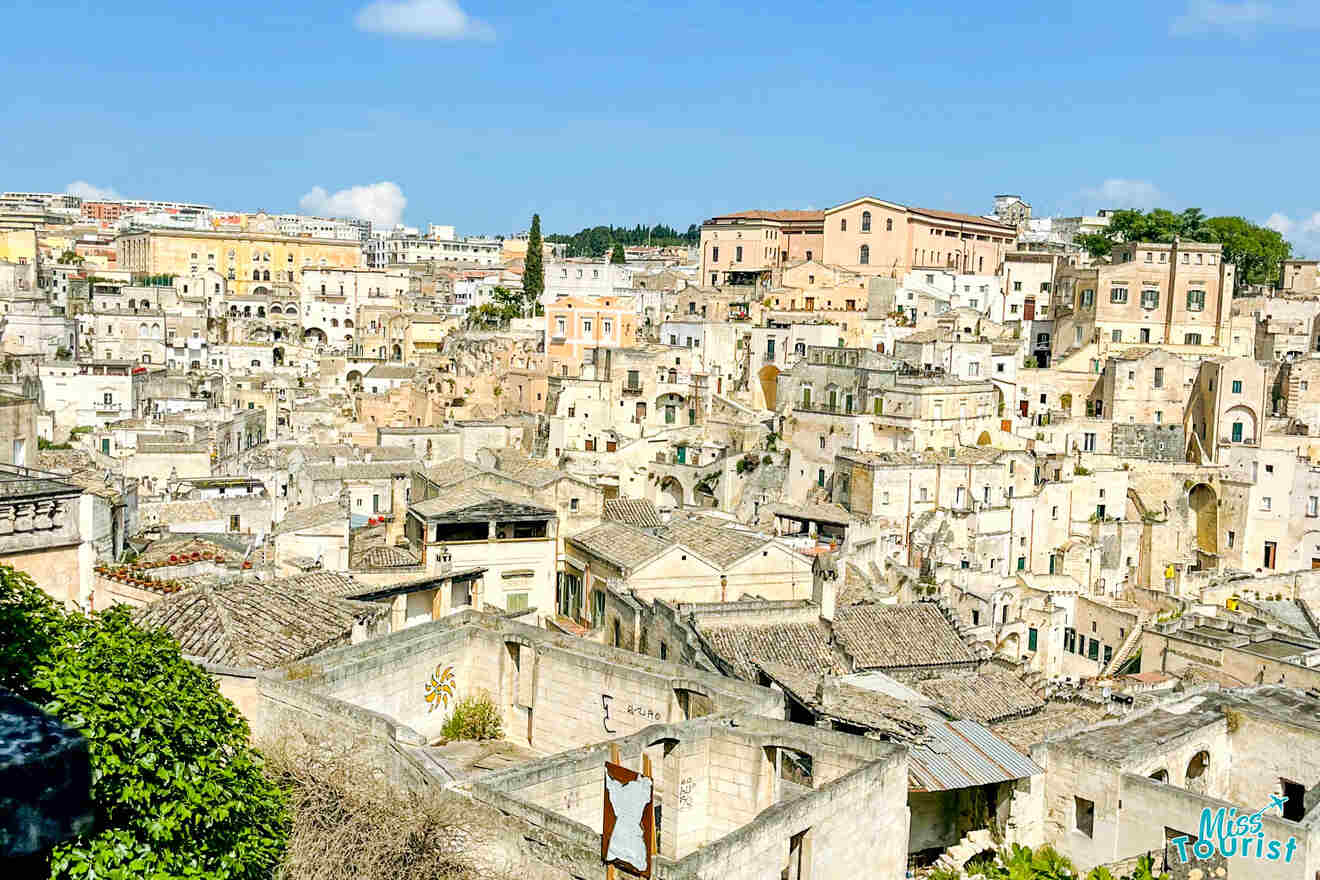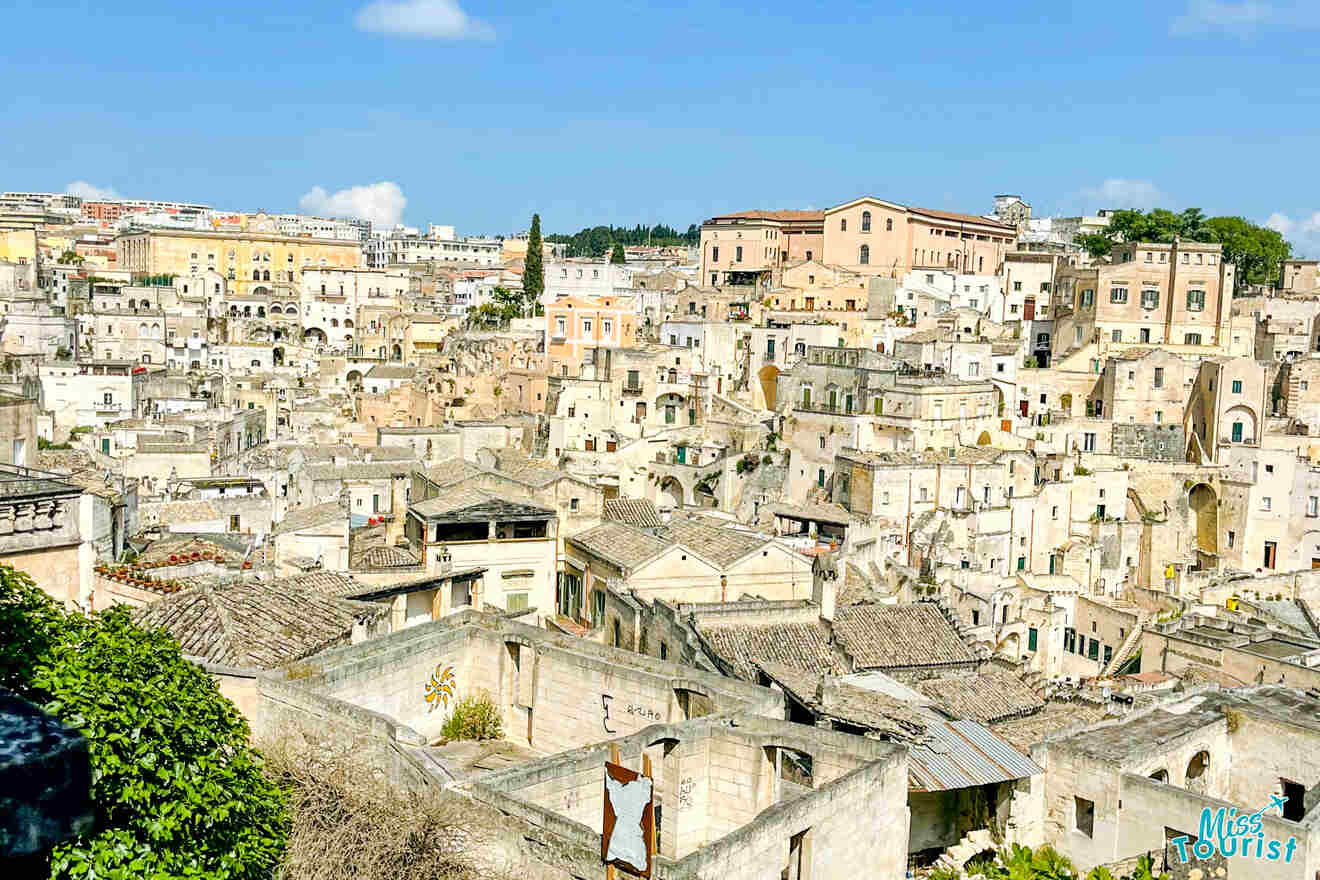 🕒 How long should you spend in Matera?
I recommend spending 2 to 3 days in Matera in Southern Italy! That way you'll get to explore the whole town, see the famous Matera caves and how the local families used to live, shop for souvenirs and eat delicious food!
🚶‍♀️ Is Matera difficult to walk?
It's not super difficult, but you'll need to be careful when climbing up to see the cave churches or when walking on very steep roads. Wearing appropriate shoes will definitely help out!
⛪ How do I spend my day in Matera?
You can start with some coffee and then head to see the Cathedral, explore the Sassi areas, visit a rock church or more if you've got the time, and eat somewhere super nice!
📸 Is Matera too touristy?
Matera is a pretty touristic city, but it really depends on when you're visiting. During the summer months, it is super crowded, so you might consider coming in spring or autumn!
Conclusion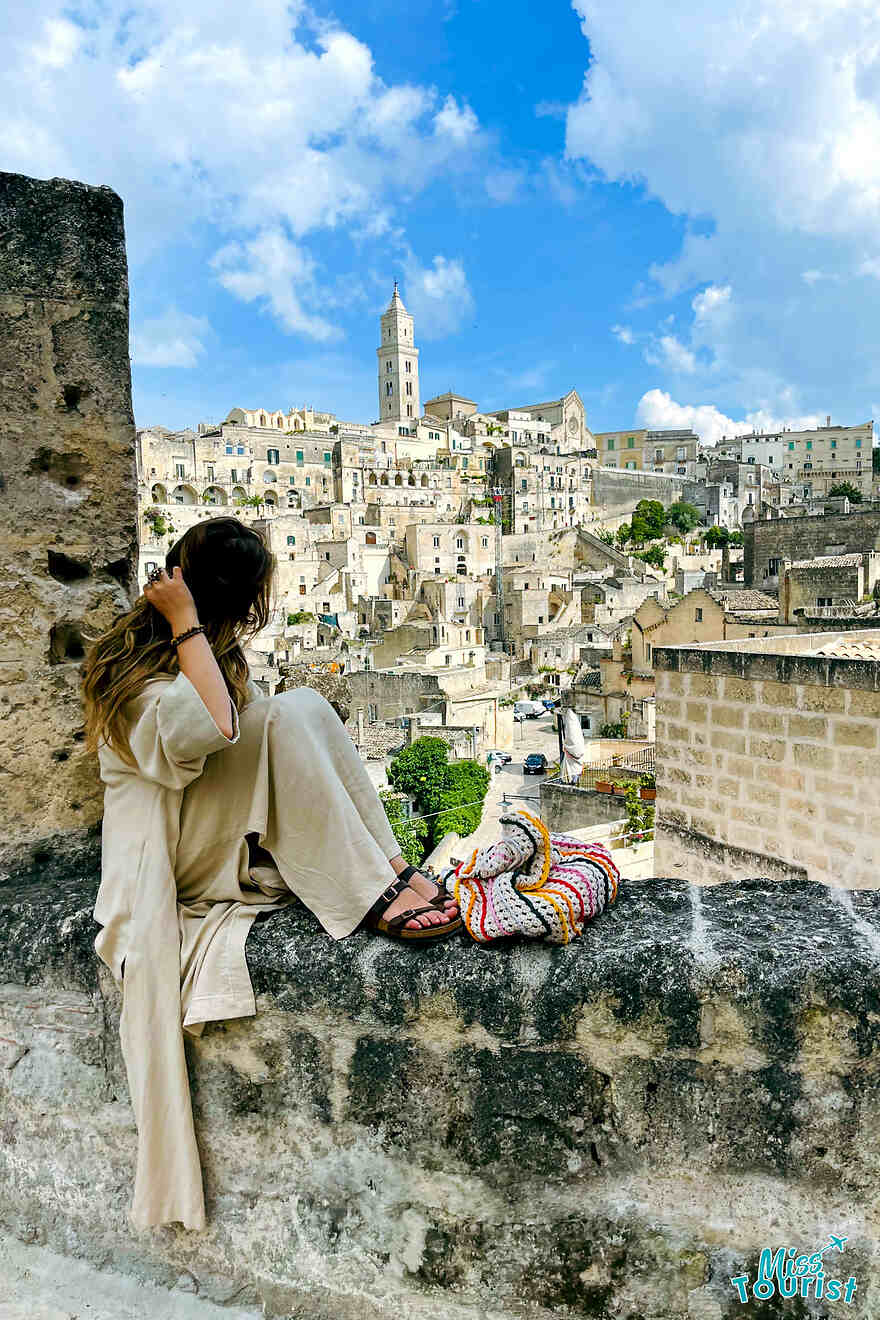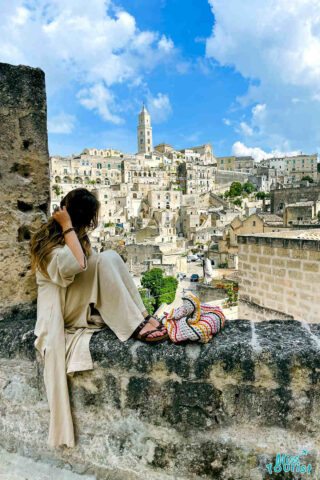 This town is such a cultural hub, and it really offers a peek into the life of people in the past!

I hope that this Matera guide helped you plan your trip! Whether you're taking day trips around the region to get there or you want to stay for a while, you'll find all the details you need in this post.

Remember that it's important to book your hotels and tours in advance, as Matera is a super popular town that gets many visitors!

I know I mentioned lots of things to do here and some tours, so if you need a bit of help deciding which ones to join, here are my top 2 favorite tours in Matera:
Enjoy your trip to Matera, everyone! I'm sure you'll come back as mesmerized as I was after visiting the city!
I know planning comes in stages, so if along the way you still need some tips, just drop me a comment below, and I'll be happy to help!
Safe travels,
Victoria
---
Pin it for later!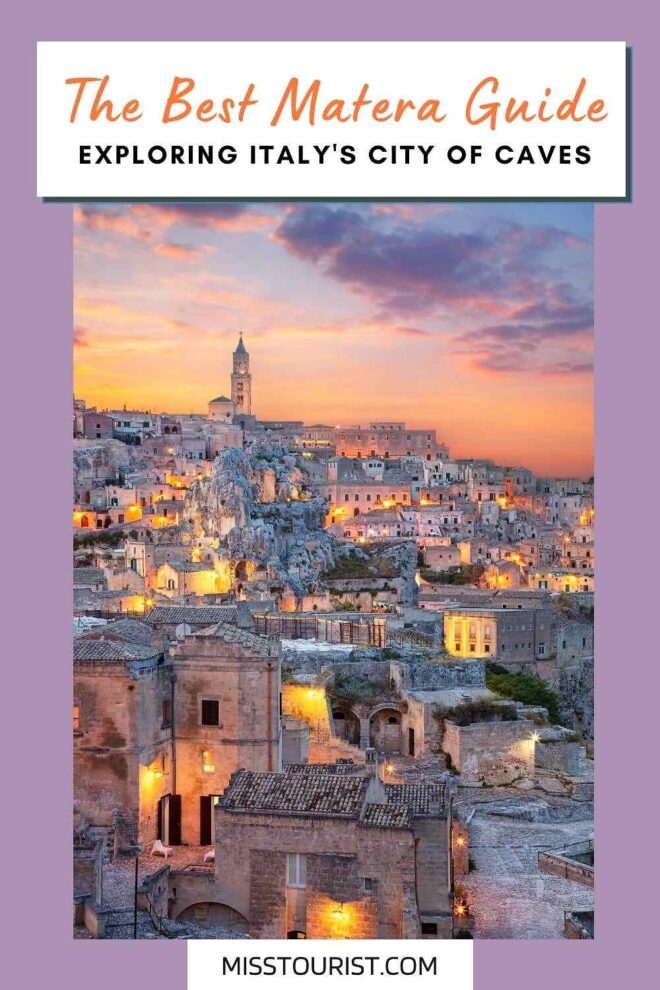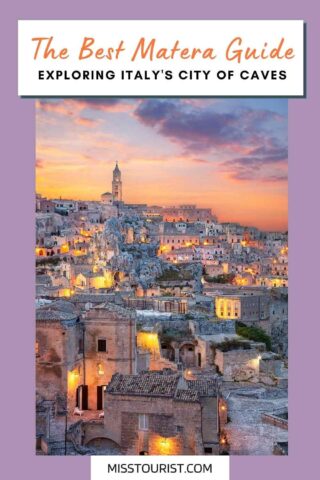 Pin it for later!