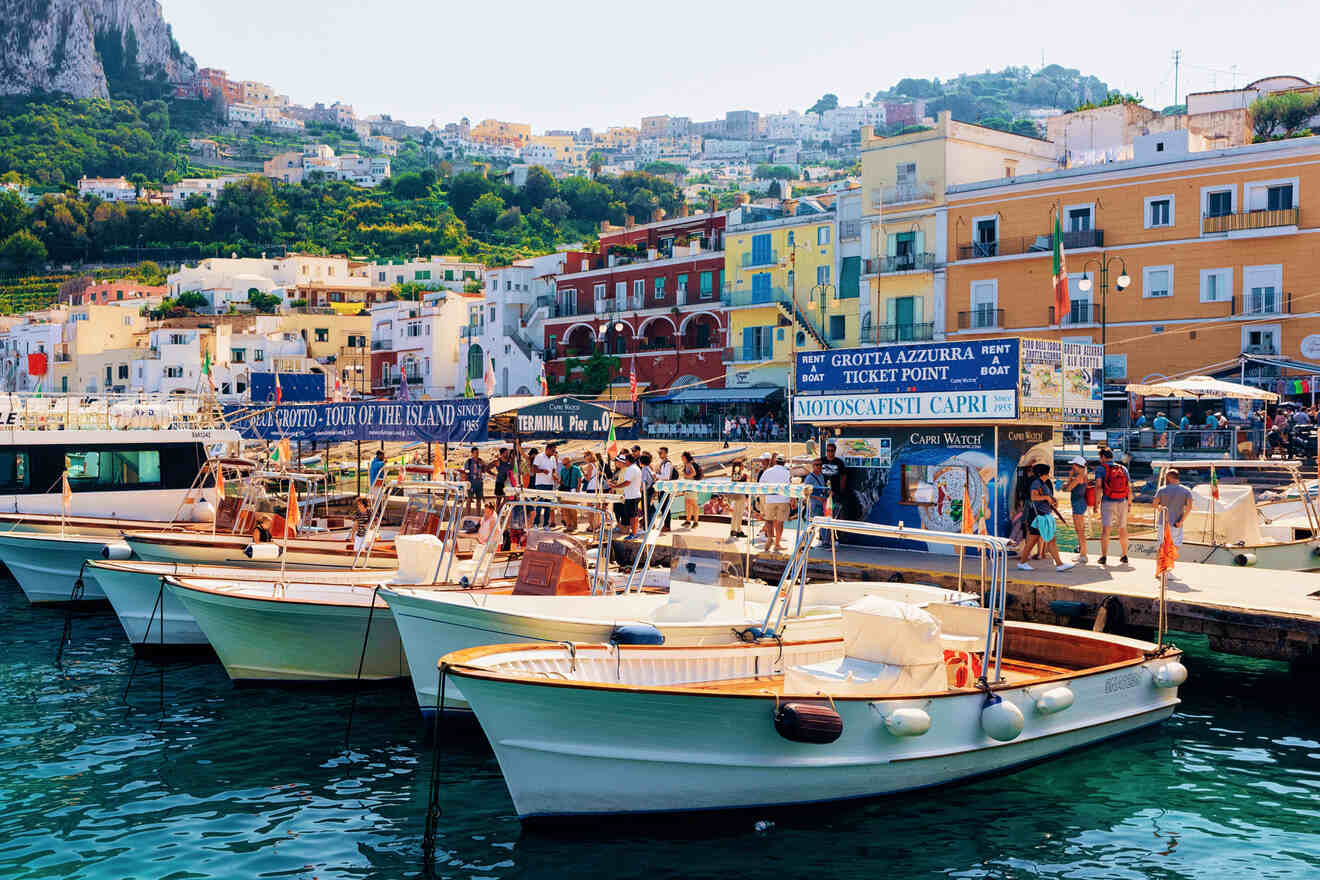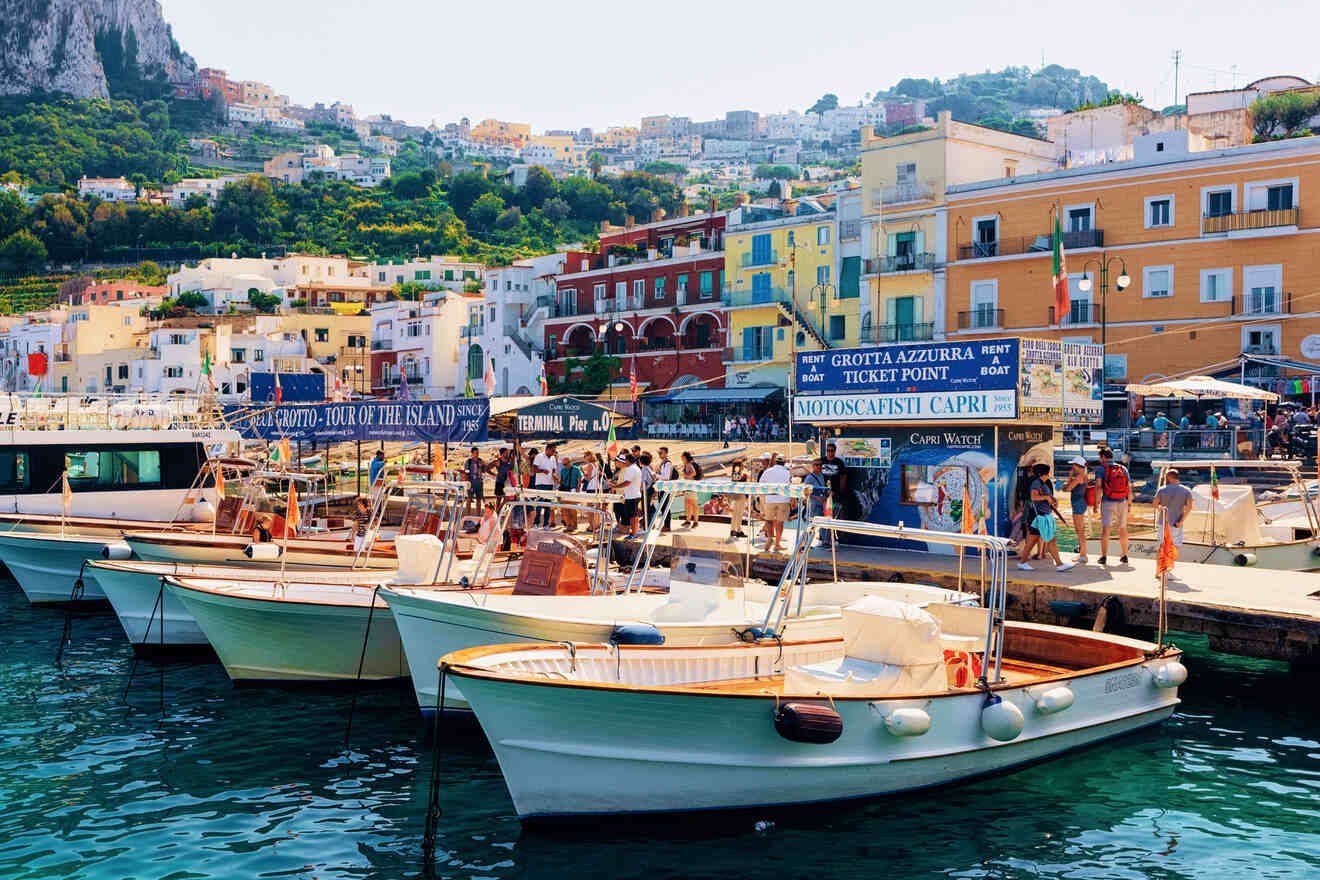 Italian islands have a charm and class that you don't usually encounter in other places! Capri is a dream destination for any tourist who loves beauty, chic beaches, and luxury hotels with the most beautiful Mediterranean style!
Below, you'll find a detailed guide to the best areas where to stay in Capri, plus a list of the top hotels from most to least expensive. Capri Town is my number one pick for the best area to stay as it has numerous attractions and accommodations.
But if you prefer something more for relaxation, budget travelers, families, or luxury, I will also go through the neighborhoods of Anacapri, South Anacapri, Marina Grande, and Marina Piccola in this post!.
But I can't let you start planning your trip just with that! So I've thrown in 2 more bonus sections with some fantastic hotels that offer incredible views and accommodations perfect for honeymoons or romantic trips!
Although Capri isn't as visited as other parts of Italy, the hotels tend to sell out quickly and early (you can see why as they are all so dreamy)! Book your room in advance and trust me, you'll save a lot of money and time wasted on finding the perfect place last minute.
Ready to drink Aperol somewhere on a rooftop garden? Bring your Capri pants and andiamo!
If you are in a hurry
Eager to book your accommodation as soon as possible? Then have a look at the list below. It has the best hotels on the island, all located in Capri Town:
If you want to visualize all the areas where to stay in Capri, have a look at the map below: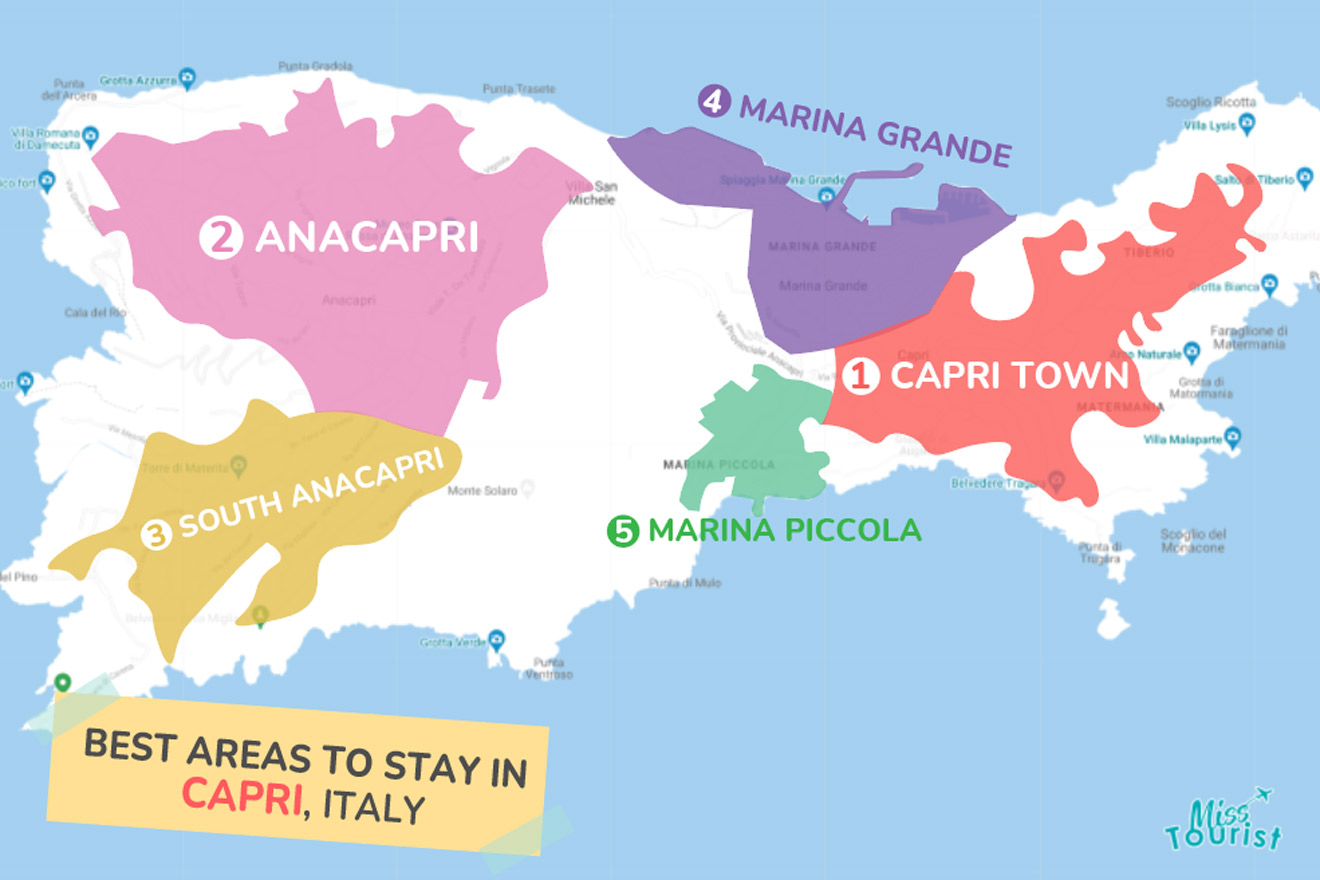 1. Capri Town – where to stay in Capri for the first time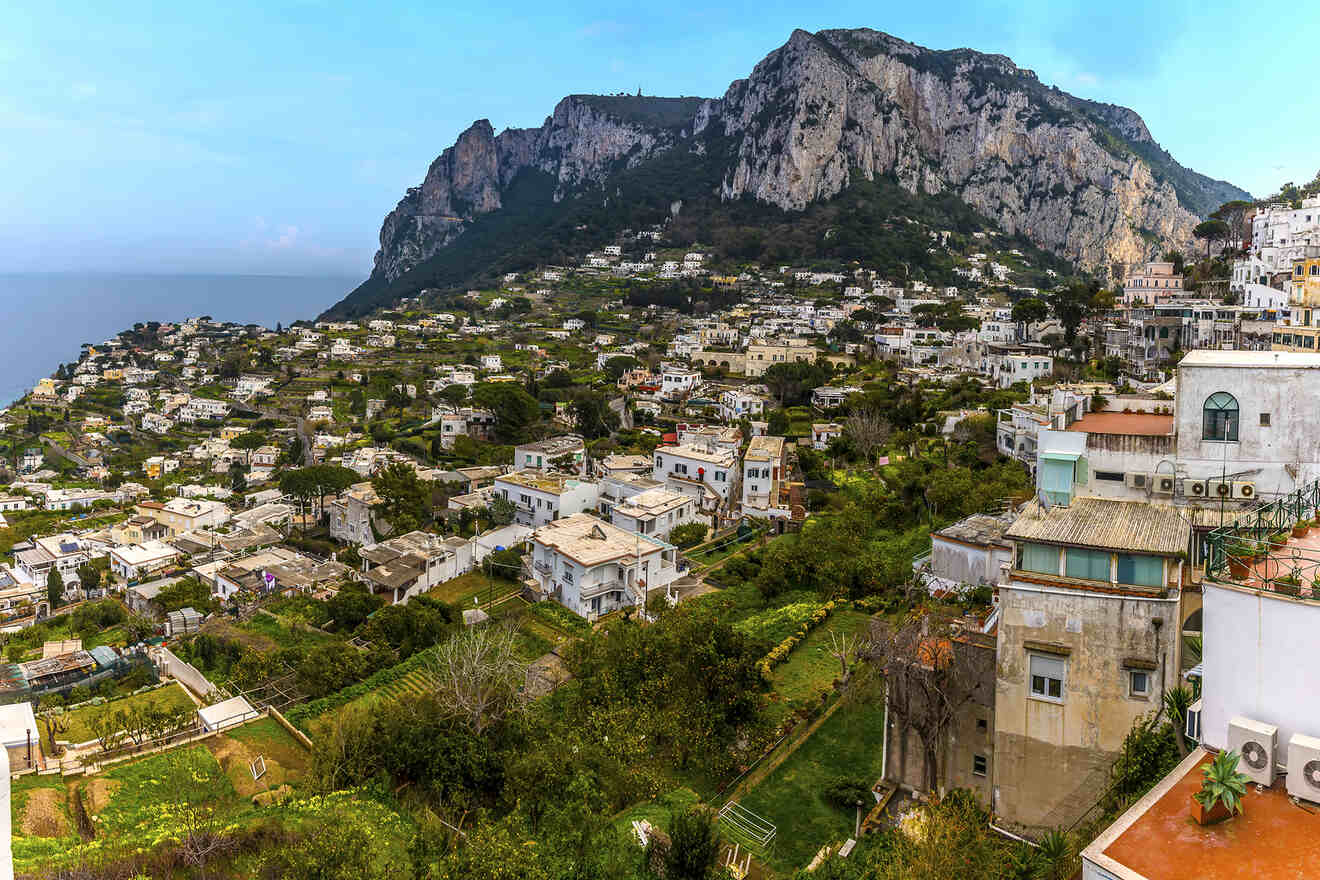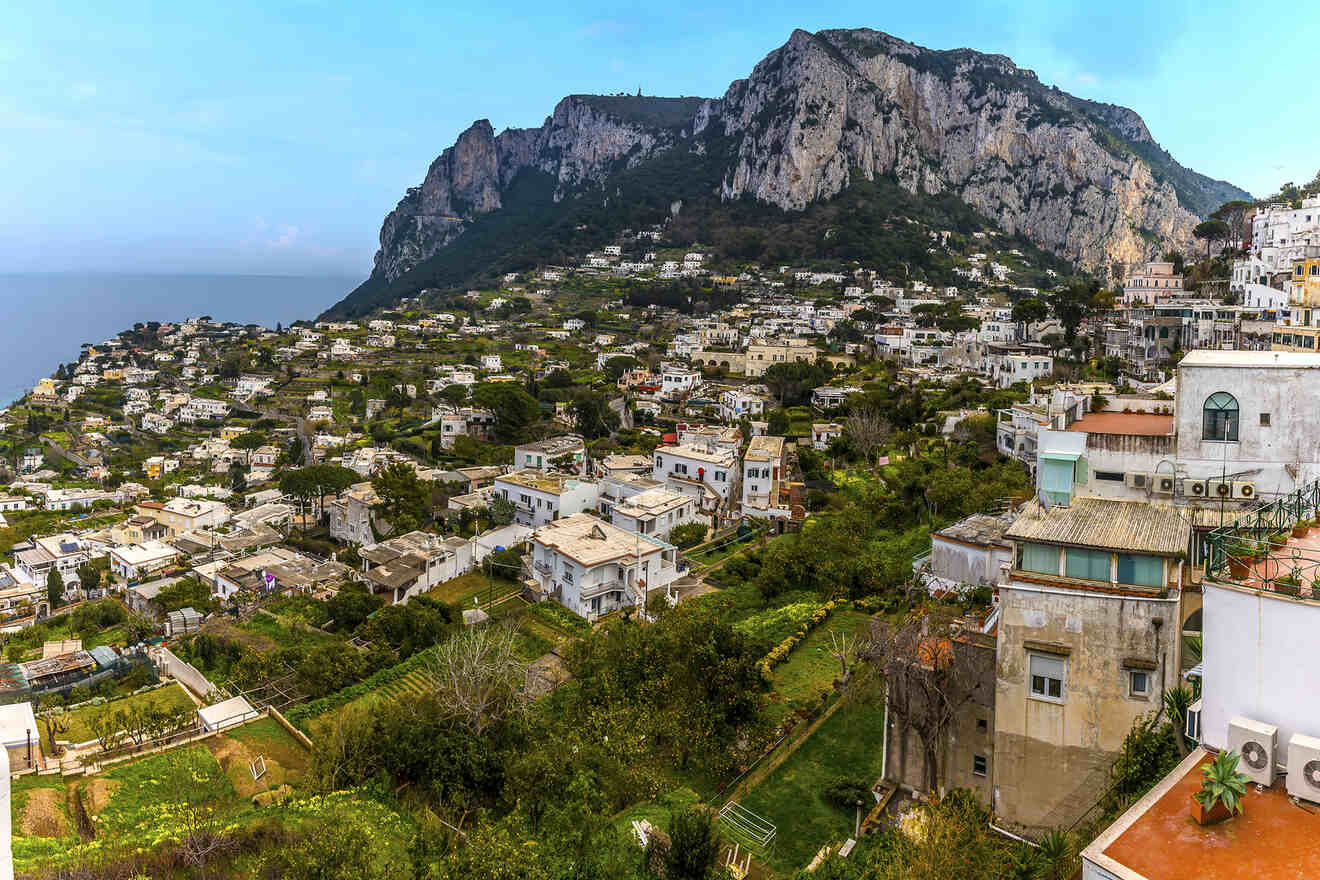 When I think of Capri, I think of spectacular sea views, peculiarly-shaped rocks, and celebrities sipping their cocktails in a fancy terrace restaurant!
It's true, you don't have to be loaded to book a trip here (read section #3 to learn more about that), but you will find plenty of people who are in Capri Town, the largest area on the island.
You'll always find something to do here! Especially if you're a fan of high-end shopping. Via Camerelle is one of the most famous roads in Capri Town and is lined up with luxury shops like Louis Vuitton and Chanel.
It's not only the shopping that attracts tourists to this part of Capri Island. The nightlife is pretty iconic here as well. Not to mention all the bars and restaurants where you can drink Aperols and eat pasta, all day long! You'll find most of them in Piazzetta di Capri, also known as Piazza Umberto.
Of course, there are plenty of historic sites here as well. And as you'll explore the coastal area, you'll stumble across those cool rocks and caves I mentioned before, like Grotta Bianca.
And if you love luxurious places like Capri, check out Positano, another dreamy destination on the Amalfi Coast.
But remember, the best hotels always sell quickly, and although Capri is not that easy to reach, many tourists come here, so I recommend booking your room in advance!
Luxury hotel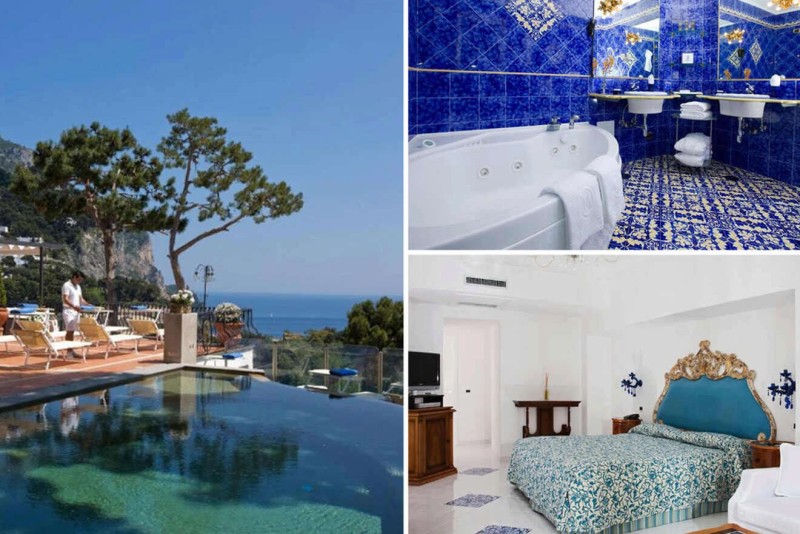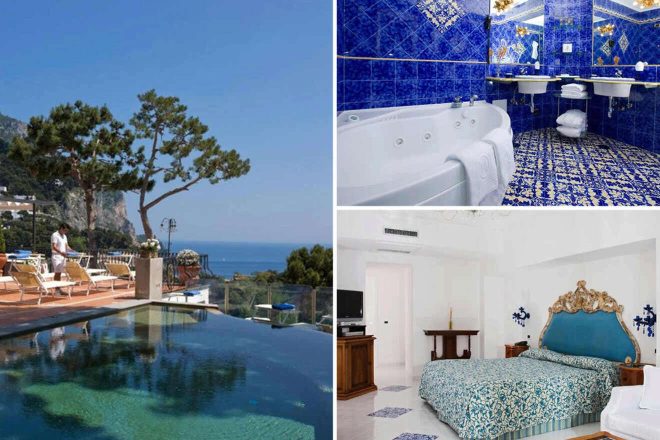 I love the vintage-modern fusion decor of this luxury hotel just a short walk away from Piazzetta di Capri. The elegant rooms come with a balcony from where you can admire the fantastic views. After a delicious Italian breakfast at the sea-view restaurant, head over to the infinity pool for a quick dip!
Other accommodation options in Capri Town
Mid-Range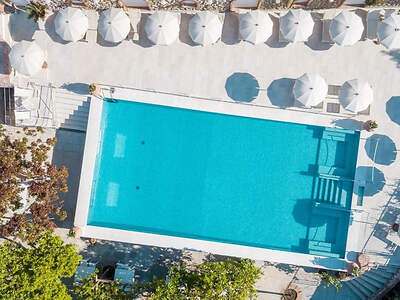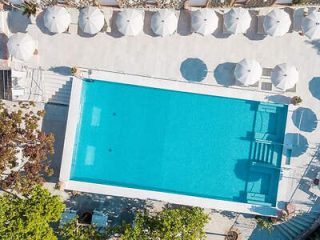 Fabulous and comfortable hotel with amazing amenities like an outdoor pool, lush gardens, and a restaurant
Budget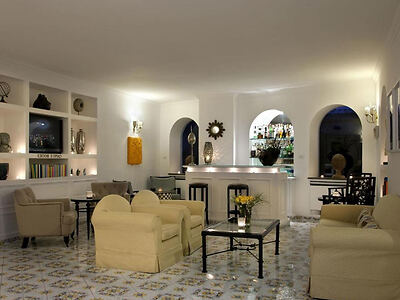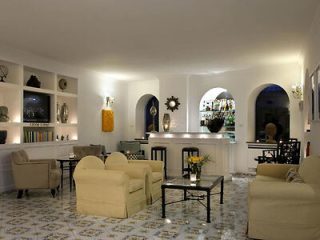 A hotel with spacious rooms that are beautifully decorated, a central location, and an outdoor swimming pool
Airbnb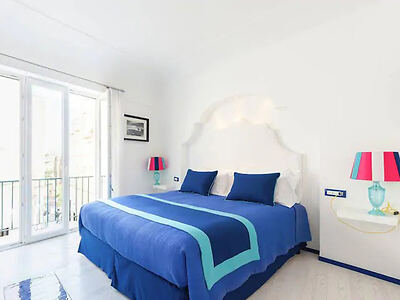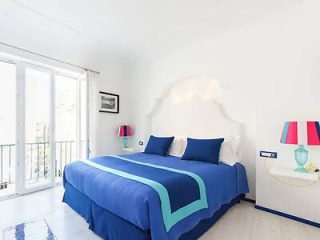 This apartment is close to the town center and it offers lots of space, a balcony, and free wifi
As I mentioned before, Capri Town is super famous, and because of that so many hotels are located in this part of the island. I know you have 4 unique options above, but I wanted to give you 2 more as they're so nice, and you shouldn't miss out on them!
Luxury: Capri Wine Hotel – I think we can all agree that Italian food tastes better in Italy, right? At this hotel, you'll eat super delicious fruits and vegetables from their organic garden and enjoy them on the terrace overlooking the sea. The accommodation also has a bar and rooms with a private balcony.!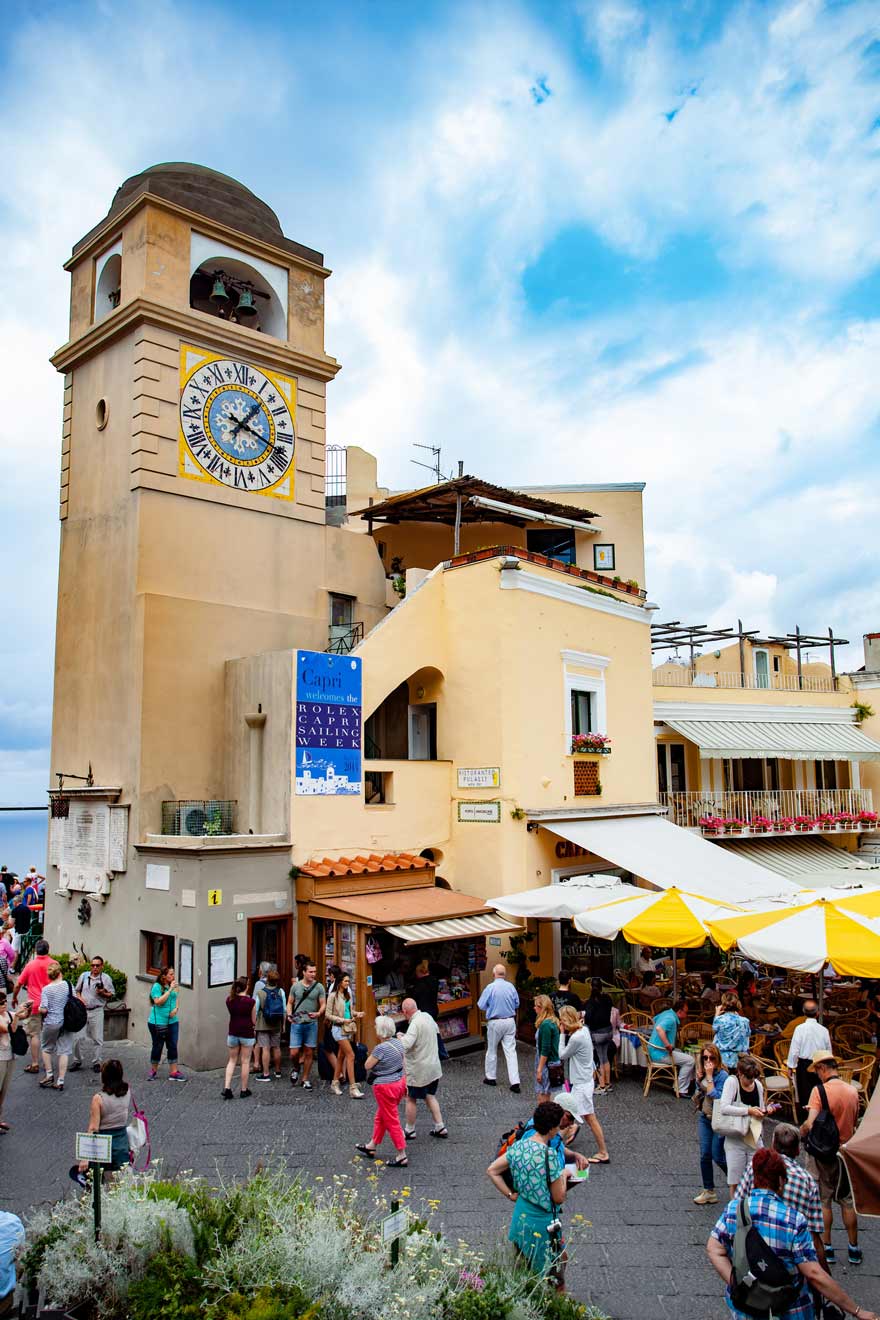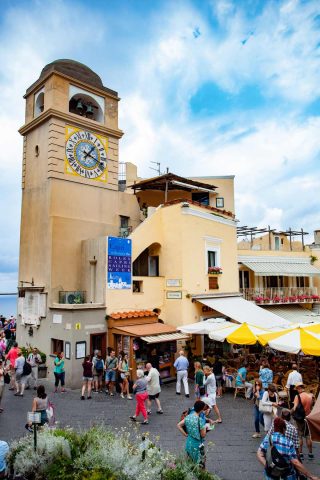 Mid Range: Hotel La Tosca – A beautiful hotel where to stay in Capri that comes with rooms with simple yet chic decor and sea views. Attractions like Marina Piccola Bay and Villa San Michele are not too far, but don't leave the accommodation before eating a delicious breakfast on the terrace that offers spectacular scenery!
Things to do in Capri Town
Take a stroll in Giardini di Augusto
Visit the Church Santo Stefano
Shop until you drop on Via Camerelle
Grab an espresso in Piazzetta di Capri
Go on a private boat tour of Capri
Explore the beautiful Saint James' Charterhouse
Snap a picture at Arco Naturale
Admire the stunning sea views from Belvedere di Punta Cannone
2. Anacapri – best place to stay in Capri for relaxation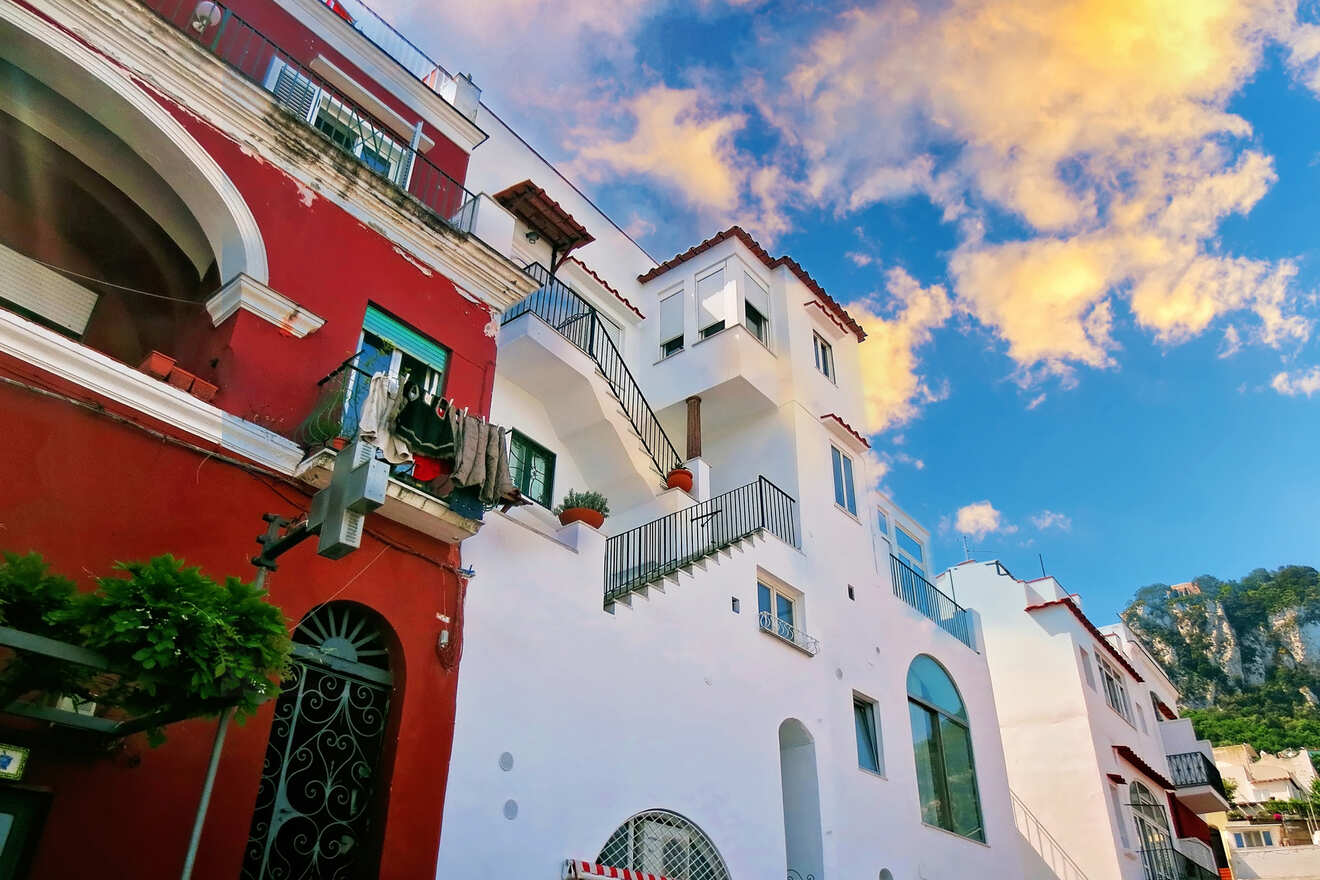 Generally, when people talk about the island of Capri, they mention the 2 main areas, Capri Town (which we talked about in section #1) and Anacapri.
This area is cheaper than Capri Town, and it's not so posh or filled with super luxurious sites, but it's just as charming and beautiful.
The atmosphere is more laid back in Anacapri, and although you'll find tourists, this area still has that small Italian town vibe that we all love! Plus Capri's natural beauty will follow you, no matter where you go.
You'll find plenty of small boutique shops, most likely not as fancy as the ones in Capri Town, but super charming! And some nice attractions like the beautiful Blue Grotto and the Roman Villa of Damecuta.
Another bonus? From Anacapri you can take a chairlift up to the top of Monte Solaro, the highest mountain on the island, which basically sits in South Anacapri (another fantastic area that I'll talk about in section #3).
Luxury hotel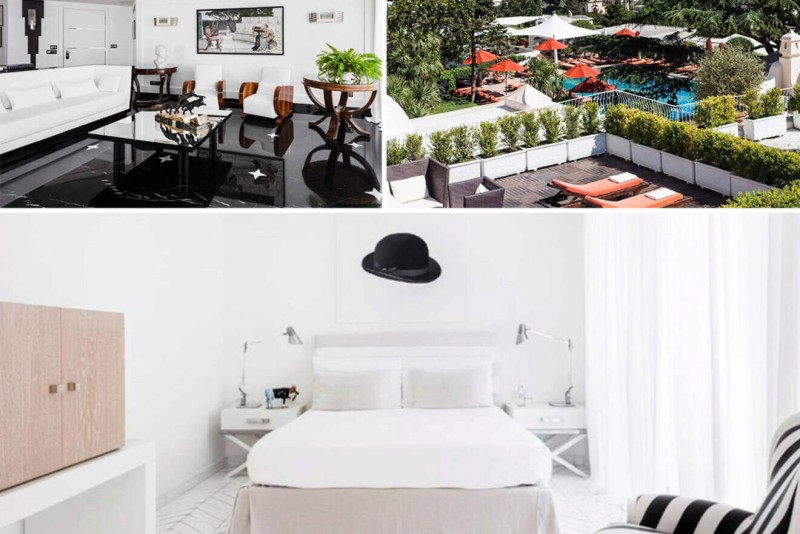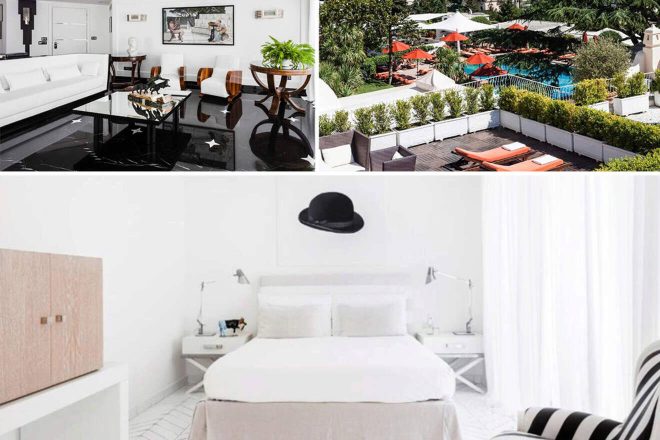 When I picture the best hotel in Capri, this one comes to my mind! Stunning all-white decor, a panoramic sun terrace, and a lovely garden are just a few of the amenities here. The beach is within walking distance but I'm sure you'll also want to hang by the outdoor mosaic swimming pool or enjoy wine tasting on-site!
Other accommodation options in Anacapri
Mid-Range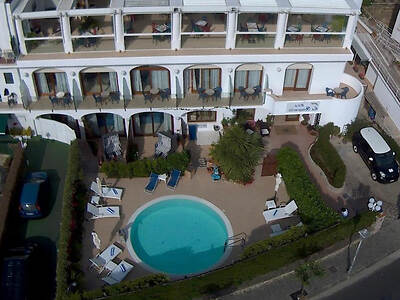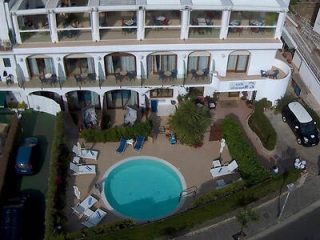 This comfy hotel comes with an outdoor fireplace, comfortable rooms with air conditioning and a flat-screen tv
Budget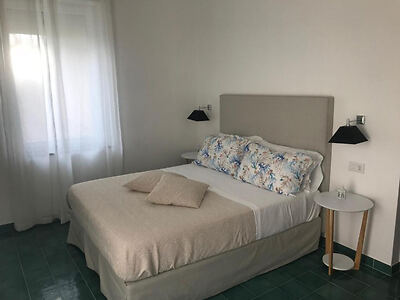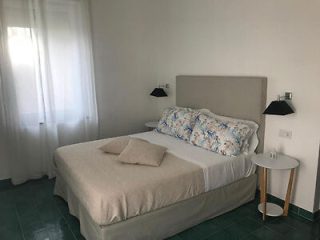 An affordable yet modern villa close to the beach that has a beautiful garden and family rooms with air-conditioning
Things to do in Anacapri
Visit the Roman Villa of Damecuta
Relax at one of the cafes in Piazza Vittoria
Take the chair lift to Monte Solaro
See the amazing views from Castello Barbarossa
Take a stroll in the beautiful garden of Villa San Michele
Admire the architecture of the Church of Saint Sophia
3. South Anacapri – where to stay in Capri on a budget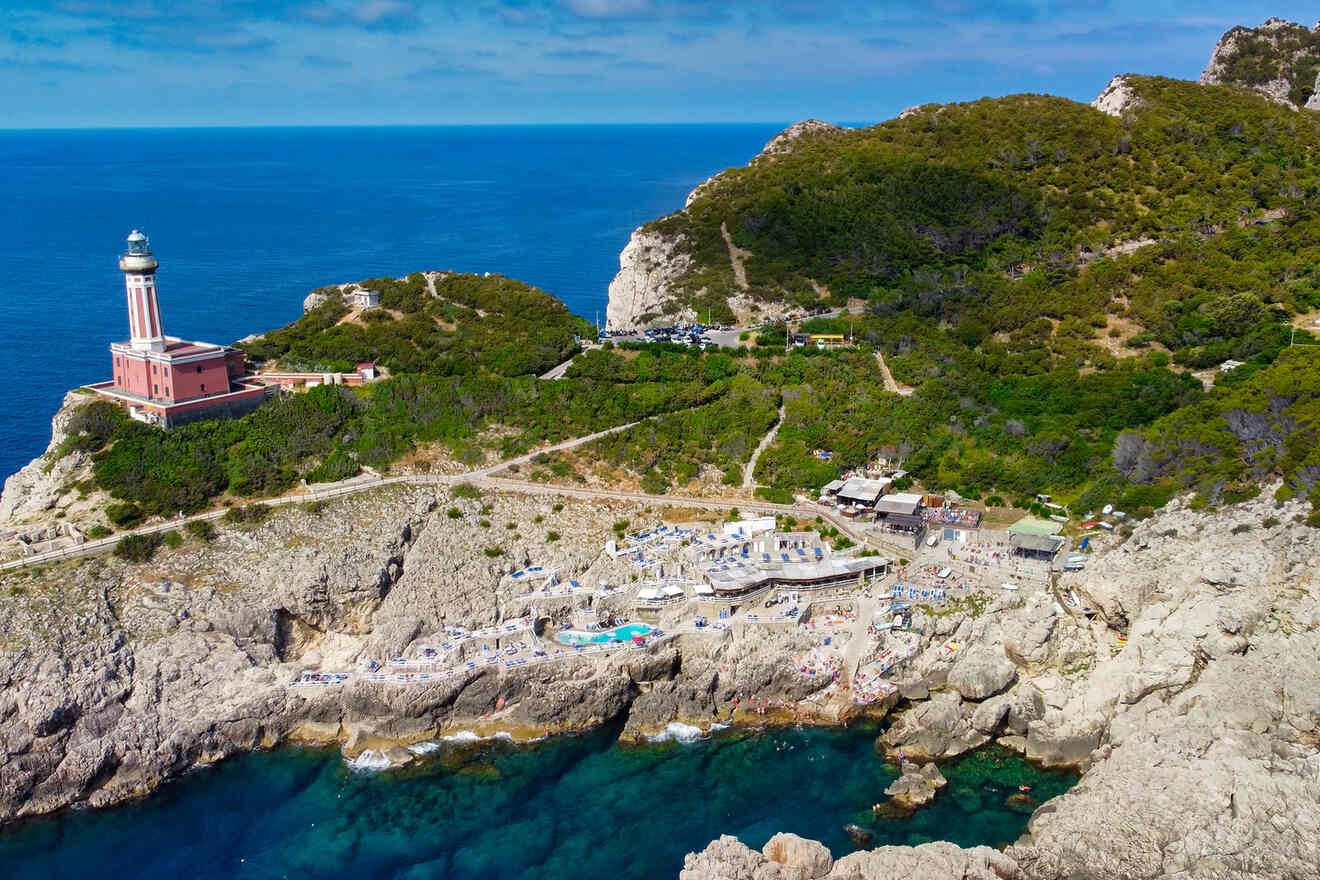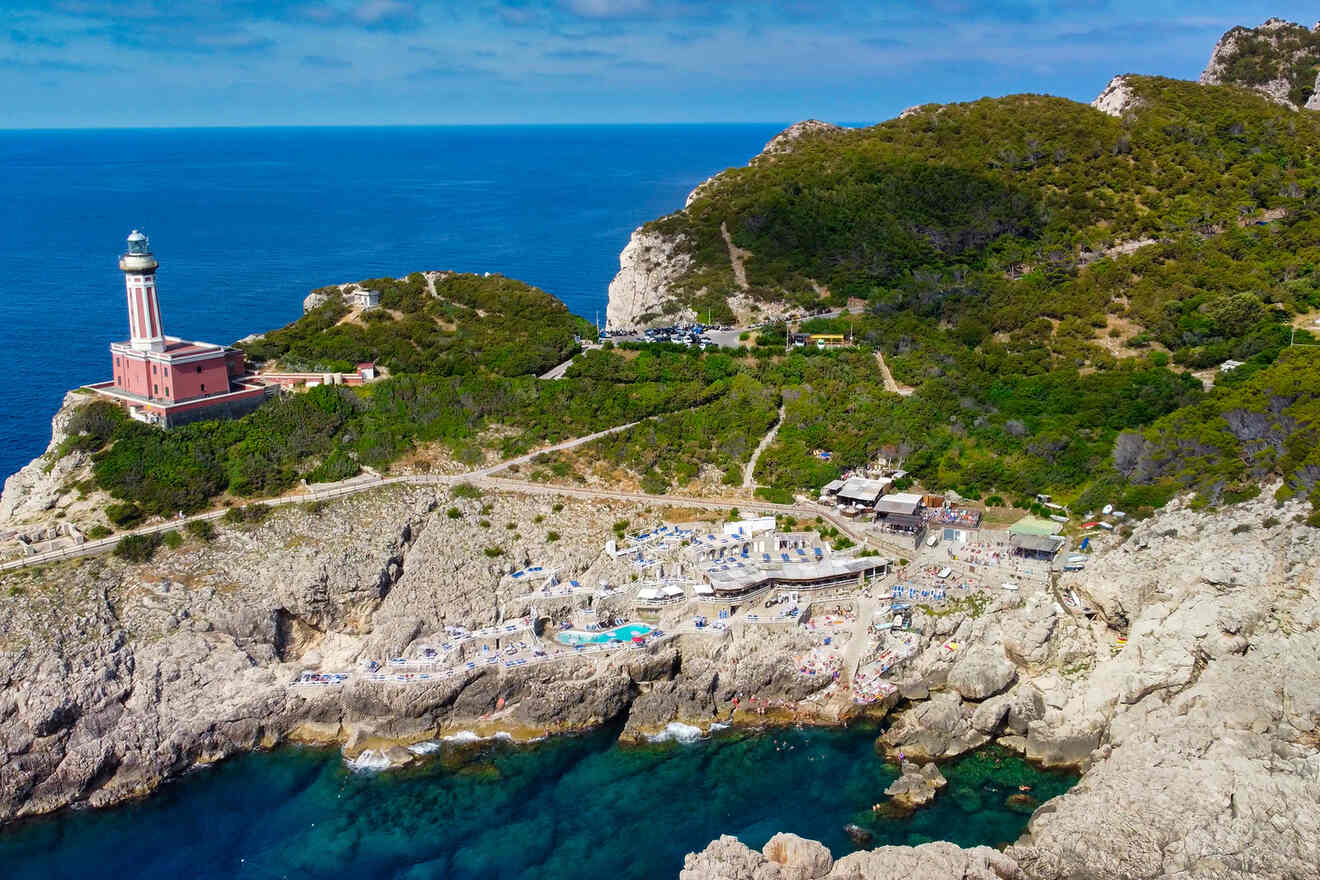 Set on the south-west part of the island, not too far from Capri Town, this area is known as the perfect budget-friendly place where to stay in Capri.
As a general rule, the westernmost you go on the island, you'll find more affordable accommodation options.
But don't think that means less interesting attractions! Leave it to the Italians to show tourists how to have a good time no matter the budget. If you don't believe me, check out Sorrento, another iconic place close to Capri.
If you're into outdoor activities and want to discover the island's incredible scenery, you can hike from here to the top of Monte Solaro or head to Anacapri and take the chair lift if you don't feel like walking.
That's only the cherry on top of the cake. This area has so much to offer that you'll never guess it's cheaper. Here you'll find the famous Grotta Verde and perfect sites for hiking like Sentiero dei Fortini Borbonici or swimming like Lido del Faro.
There are no luxury villas in South Anacapri as the best hotels here are mid-range and budget, but if you've set your heart on a more expensive place, check out Capri Palace Jumeirah hotel in Anacapri, as it's super close.
Other accommodation options in South Anacapri
Budget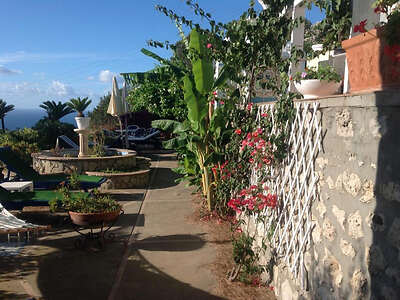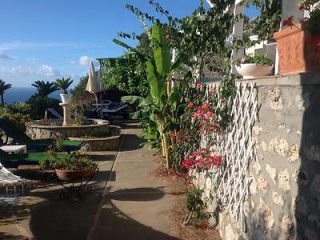 A budget guest house that features spectacular sea views, a sun terrace, and rooms with air conditioning
Budget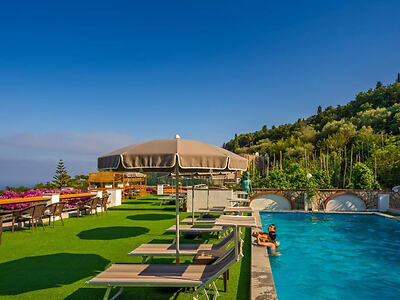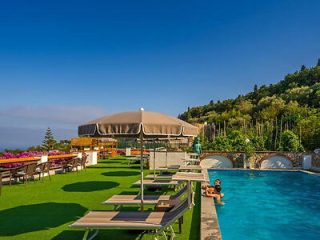 This modern budget hotel comes with a great location, a colorful garden, and a swimming pool
Airbnb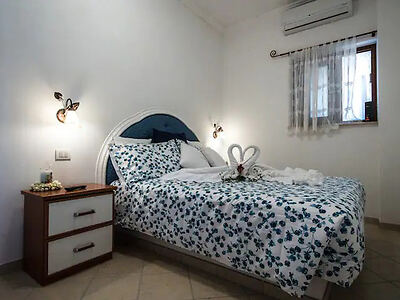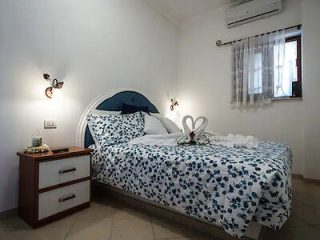 Perfect place for 3 guests that has a backyard, spacious rooms with air-conditioning and a kitchen
Things to do in South Anacapri
Go for a hike at Sentiero dei Fortini Borbonici
Catch a sunset near Faro di Capri
Explore the Capri Philosophical Park
Admire the views while hiking Monte Solaro
Discover the Green Grotto during a boat trip
Spend a few hours in the Torre di Materita medieval town
4. Marina Grande – best place to stay in Capri for families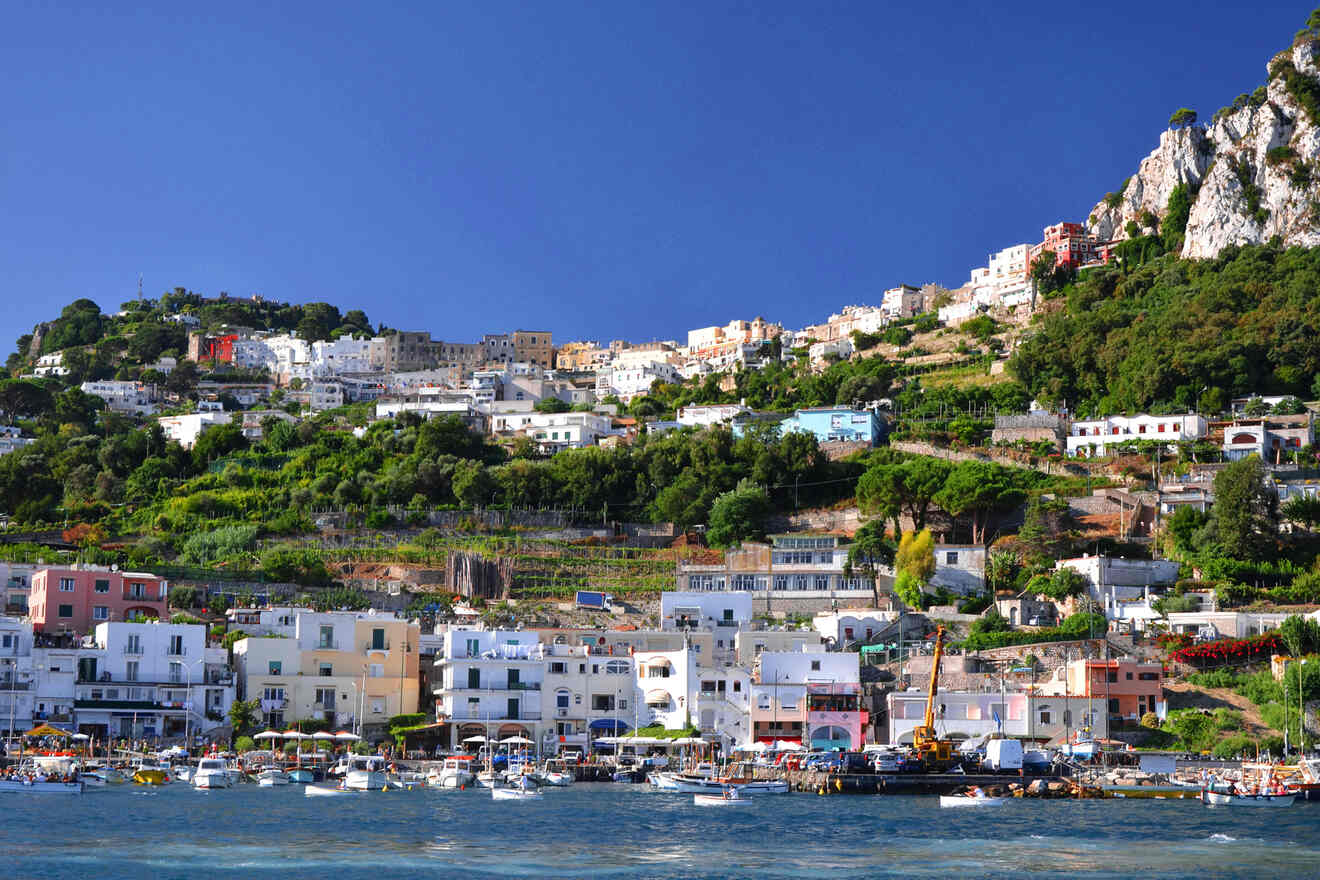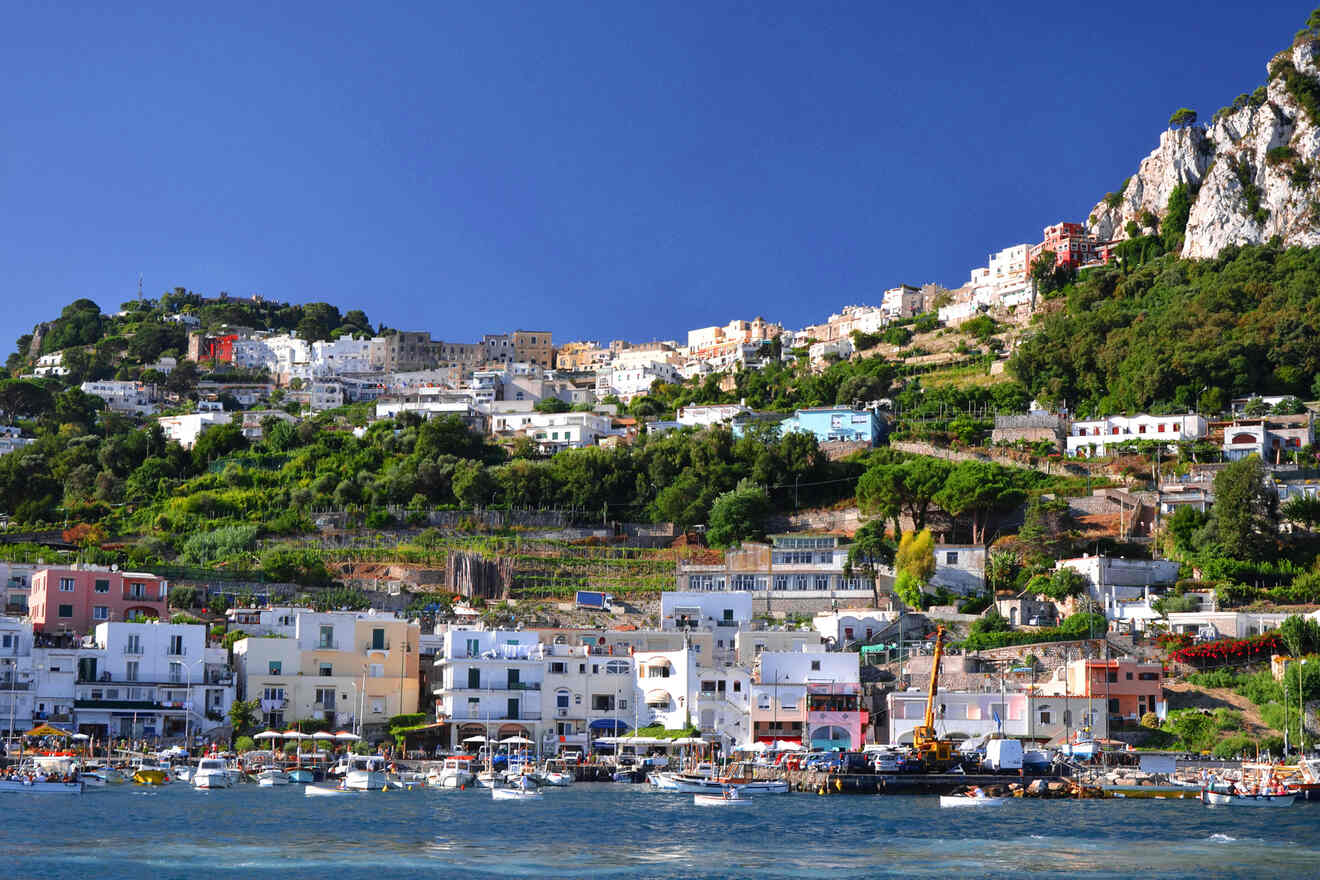 Welcome to the largest port area on the island!
If you're looking for a nice place where to stay in Capri with the kids, you've come to the right place! Marina Grande is the landing point for most tourists who arrive on the island, but this area doesn't end there.
It's filled with fantastic restaurants like Bagno di Tiberi Beach Club, private villas, and the main attraction, the largest beach in Capri, which has the same name and is equipped with plenty of sun loungers and umbrellas.
There's also Spiaggia Bagni di Tiberio beach, which is super popular with families as the waters are relatively shallow, but you'll need to take a boat to get there for this one.
Marina Grande is great for families as it has a few beaches that I'm sure the little ones will love, plus it's super well-connected in case you want to visit other places without much effort.
The area around the port may get a bit crowded at times as the tourists arrive by ferry on the island, but other than that, you should be fine in the different parts of Marina Grande, like the beaches.
Luxury hotel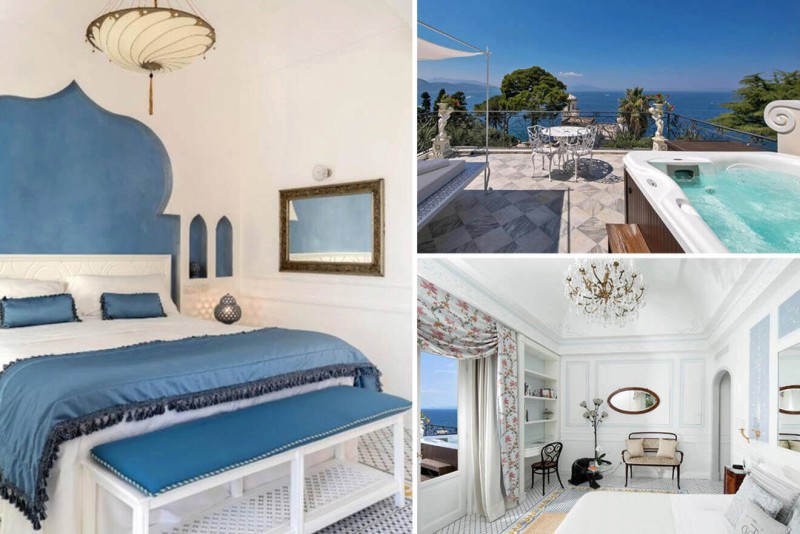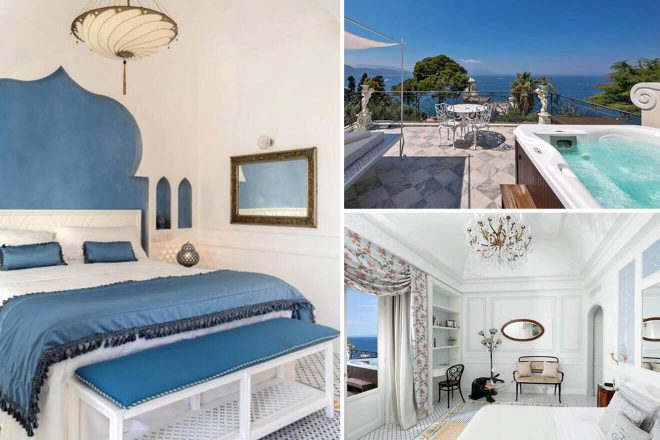 This villa offers the luxury and comfort you deserve! Each family room is carefully decorated with vintage furniture, colorful wall prints and has a private terrace. Some terraces even come with a hot tub! So relax in the jacuzzi and then enjoy a delicious meal at the on-site restaurant. The hotel also conveniently offers a free shuttle to the famous Piazzetta!
Other accommodation options in Marina Grande
Budget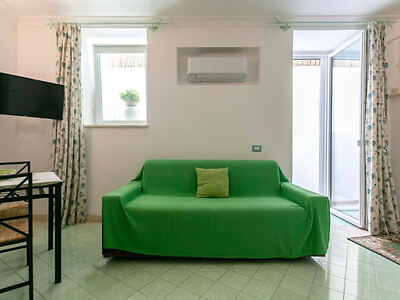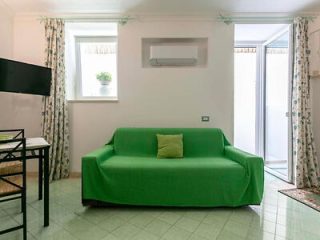 A perfect guest house near the beach for families that has spacious rooms with a flat-screen tv and free wi-fi
Airbnb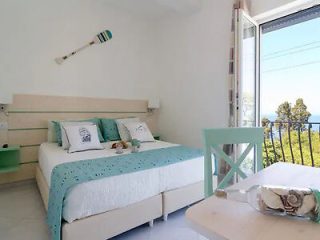 Enjoy your stay in Capri in this apartment that has room for 4 people, air conditioning and a baby crib
Things to do in Marina Grande
Enjoy a fun day with the family at the beach
Grab lunch at Bagno di Tiberi Beach Club
Visit the San Costanzo Di Capri Stadium
Go for a swim at Cala Grande Beach
Admire the boats at Marina Grande Port
Climb down the Scala Fenicia and admire the views
Take the boat to Spiaggia Bagni di Tiberio beach
5. Marina Piccola – where to stay in Capri for luxury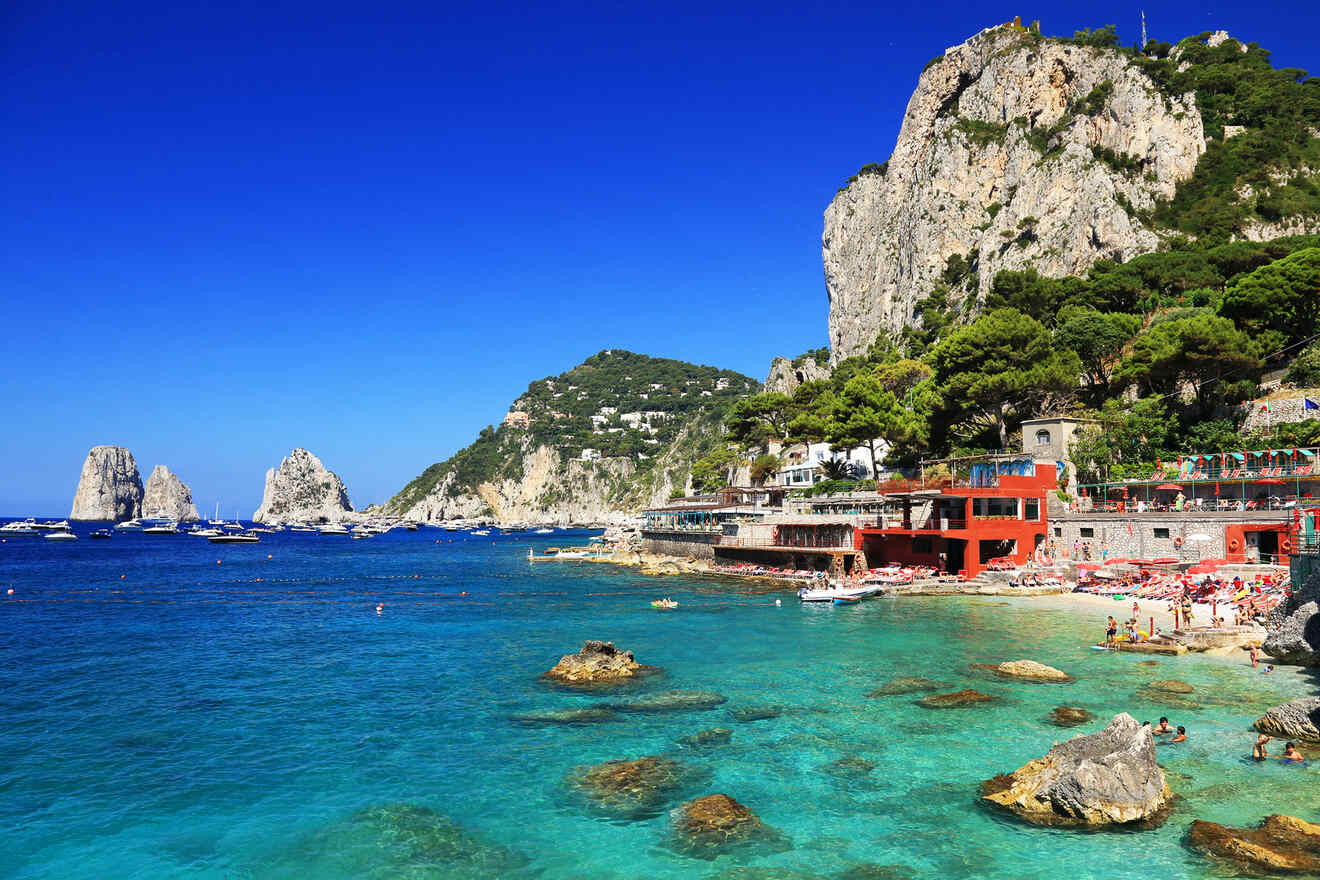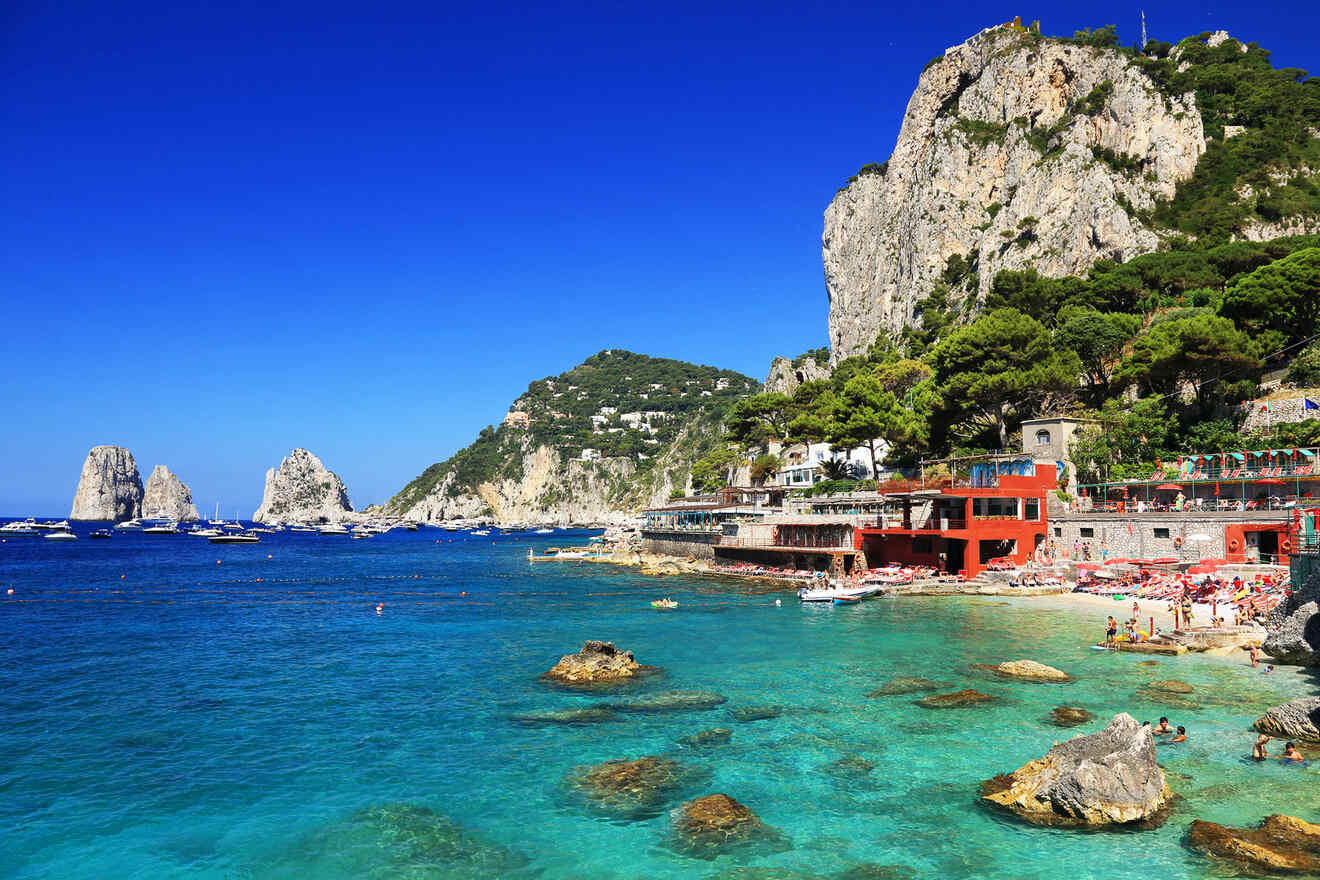 Wondering where all the celebrities stay when they visit Capri?
Well, now you'll get your answer!
Marina Piccola is another port area, set southwest of Capri Town and smaller than Marina Grande as the name entails. This is the place where the private celebrity yachts arrive.
It's not only the celebrities that make Marina Piccola famous. Homer, the well-known poet, used Marina Piccola as the sirens' home in The Oddysey.
As the area is super frequented by the rich and famous prices tend to be higher here so if you're looking to splurge during this holiday Marina Piccola is for you. And there are numerous beaches where you can do that!
The small and chic beaches offer the best swimming conditions as the water is calm and warm. The views aren't too shabby either. From here, you can admire the natural beauty of the Faraglioni rocks.
You can also go on private boat tours or yachts to admire the island while on the sea.
Now let's talk about the best hotels in Capri, Marina Piccola! Rumor has it that these places offer the best views as they have a great location on the island.
Luxury hotel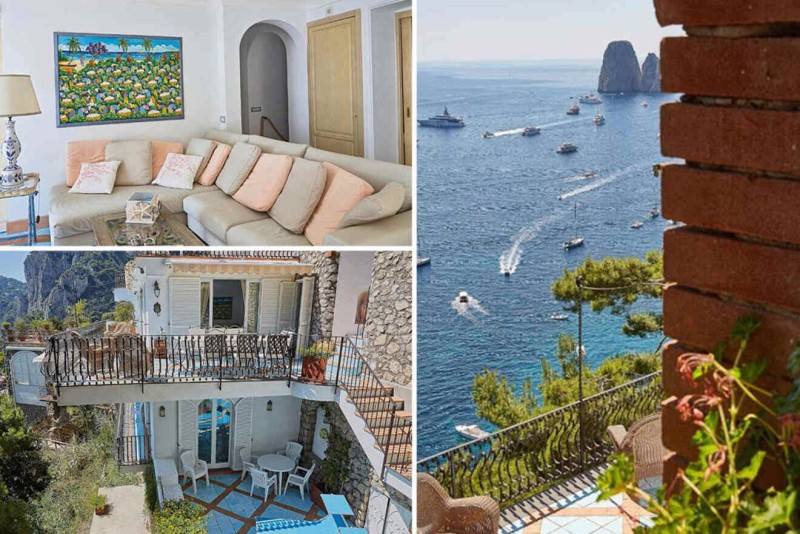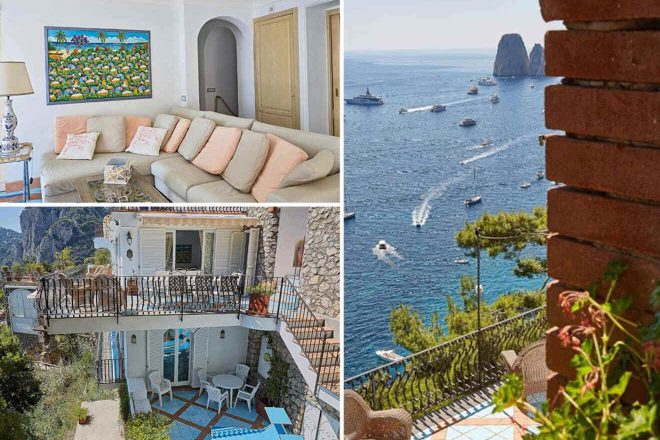 Enjoy your morning espresso on the private balcony of your spacious room at this luxurious holiday home near the beach. The sea and rocks views are incredible, and each suite comes with air-conditioning and a flat-screen tv.
Other accommodation options in Marina Piccola
Mid-Range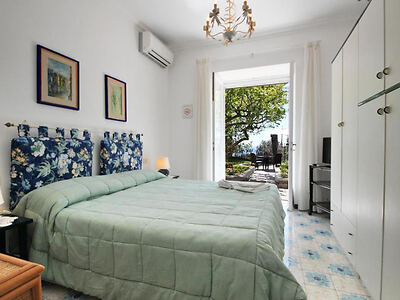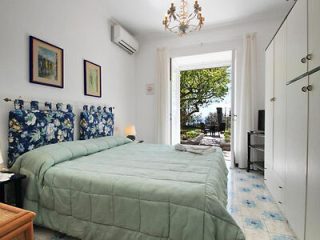 A tranquil place in Capri with a colorful garden, family rooms with air conditioning, and an outdoor dining area
Budget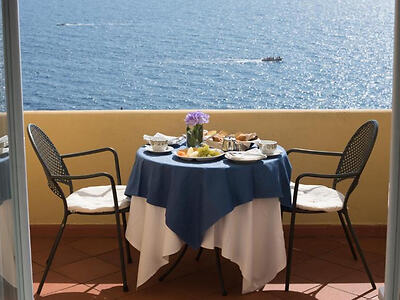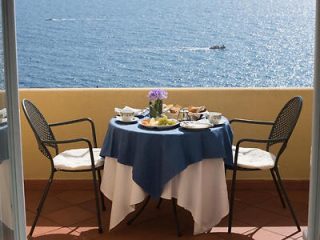 This affordable yet stylish hotel is near the beach and it has a swimming pool and a restaurant
Airbnb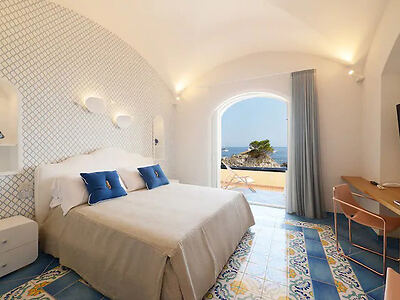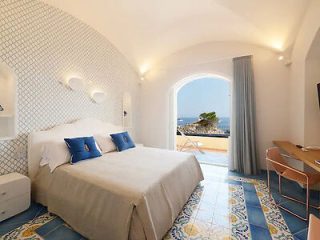 Catch the sunset on the scenic balcony of this great place that offers beach access and has air-conditioning
Things to do in Marina Piccola
Sunbathe on Marina Piccola Beach
Grab a bite from the El Merendero Snack Bar
Go on a private yacht tour of Capri
Chill on the sun loungers at Bagni Internazionali Capri beach
Admire the views from Spiaggia Torre Saracena
| | |
| --- | --- |
| 👑 Luxury price: | €350 |
| 💵 Mid Range: | €200 |
| 🛏️ Budget: | €150 |
| 🏠 Airbnb: | €280 |
| 💰 Accommodation prices: | High |
| 📍 Best area: | Capri Town |
| 👪 Best area for families: | Marina Grande |
| 🛎️ Best luxury hotel: | Casa Morgano |
| 💵 Best mid-range hotel: | Hotel Syrene |
| 👛 Best budget hotel: | Hotel Canasta |
BONUS: The top 6 Capri hotels with a view
Capri's panoramic views of the sea are super famous! And you can't wonder why, since they're so unique!
Usually, the best hotels in Capri offer rooms overlooking the fabulous scenery, but finding them isn't easy. Luckily I'm here to help you with that, and I've come prepared with 6 amazing options that you'll absolutely love!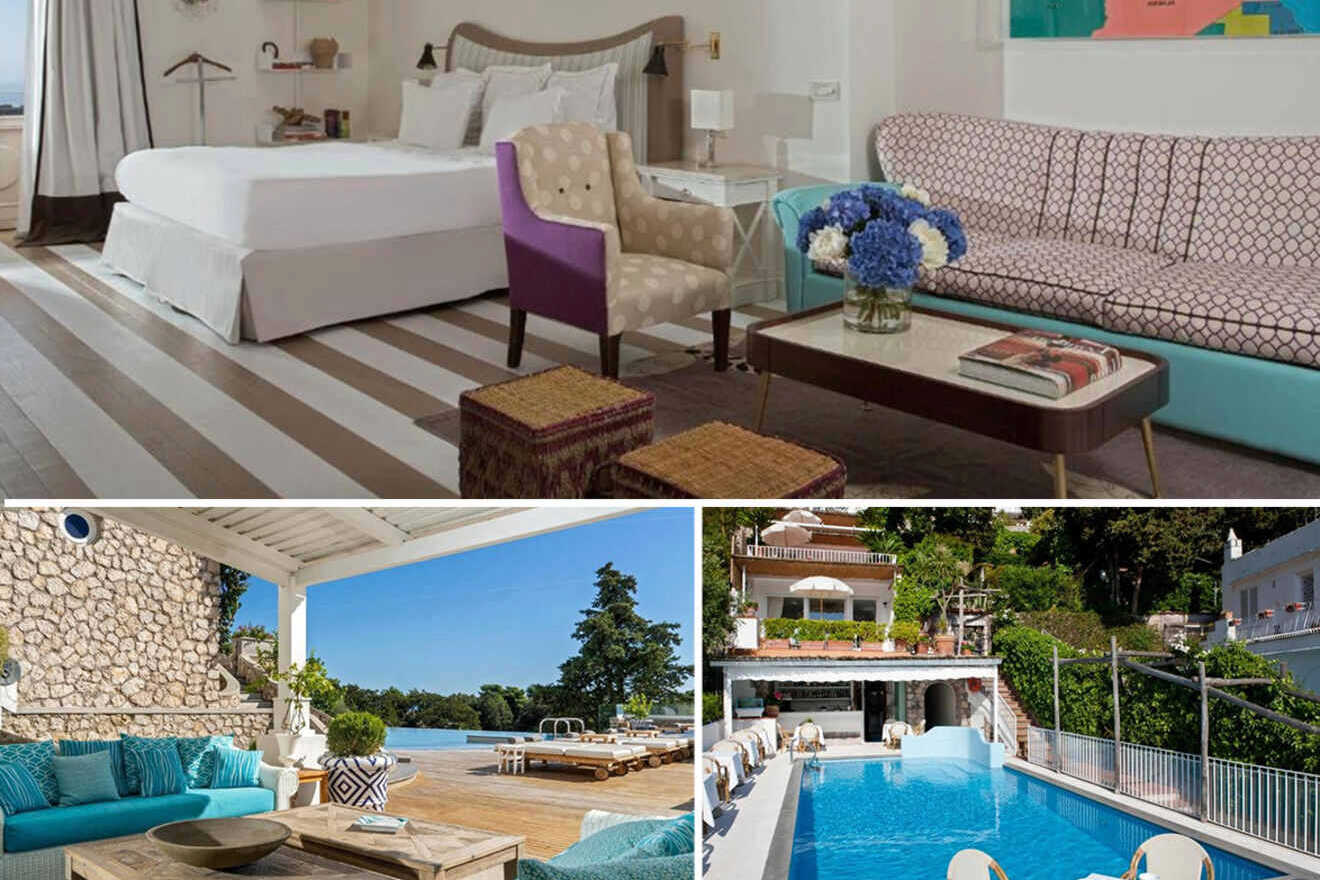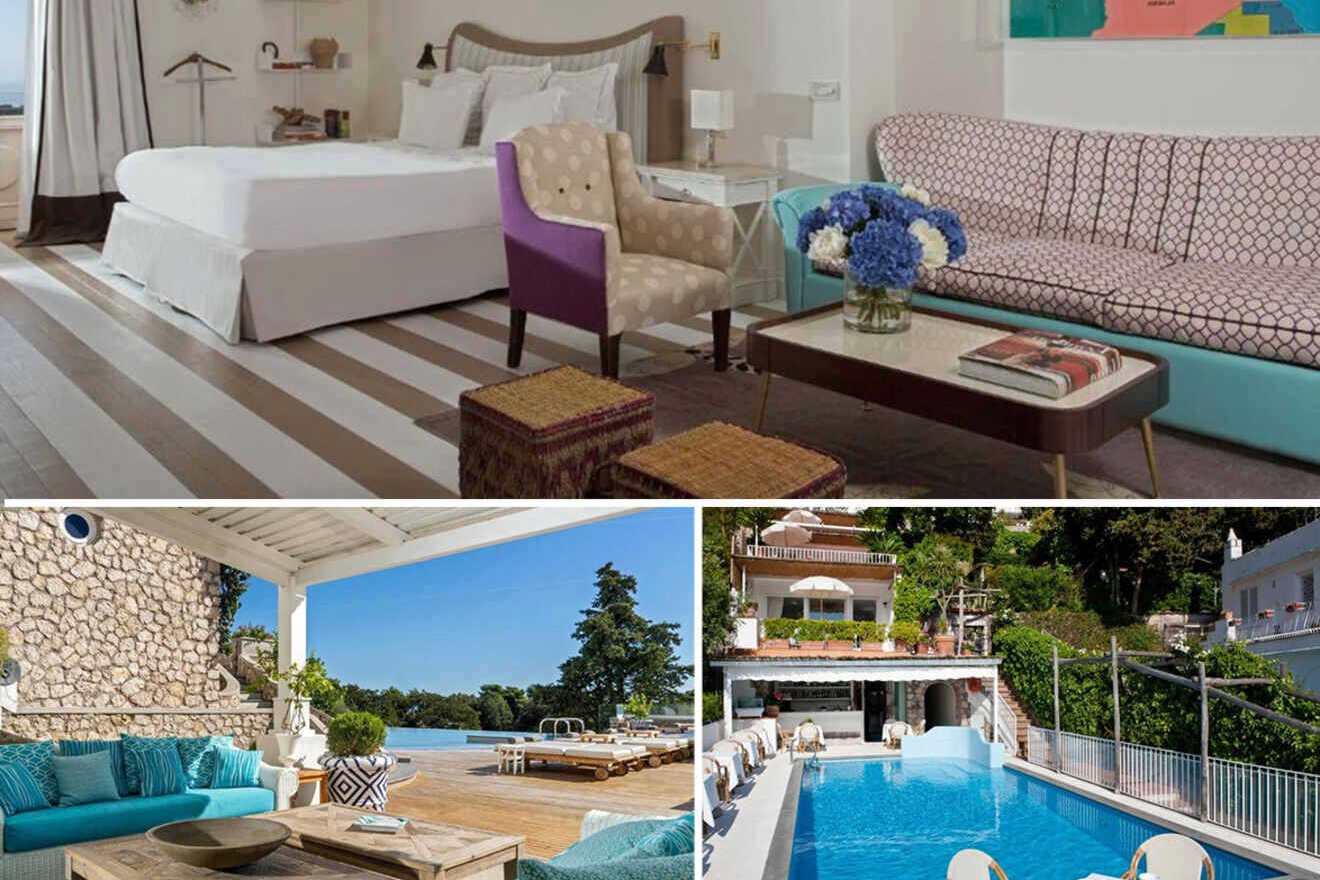 Luxury (€350 and up)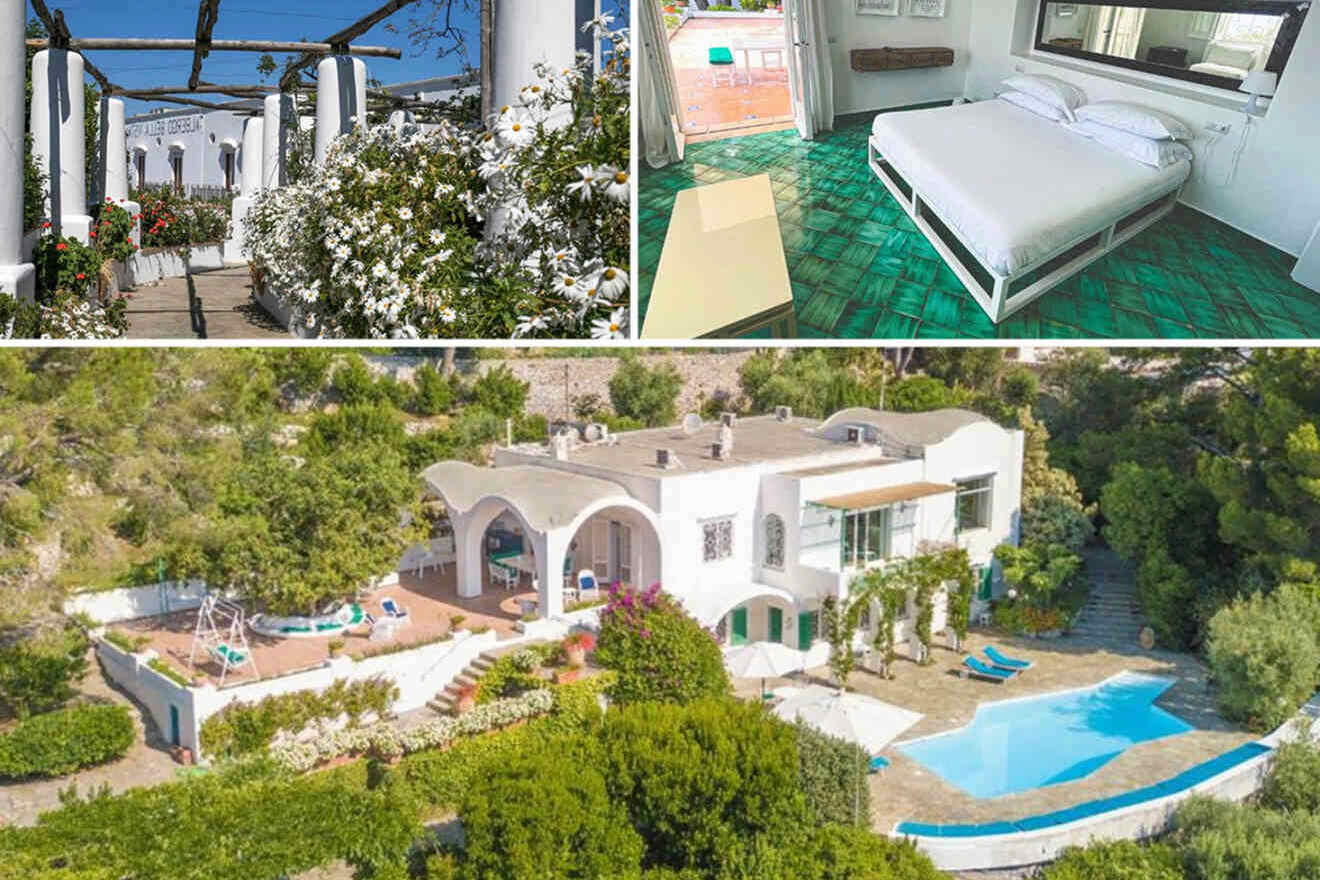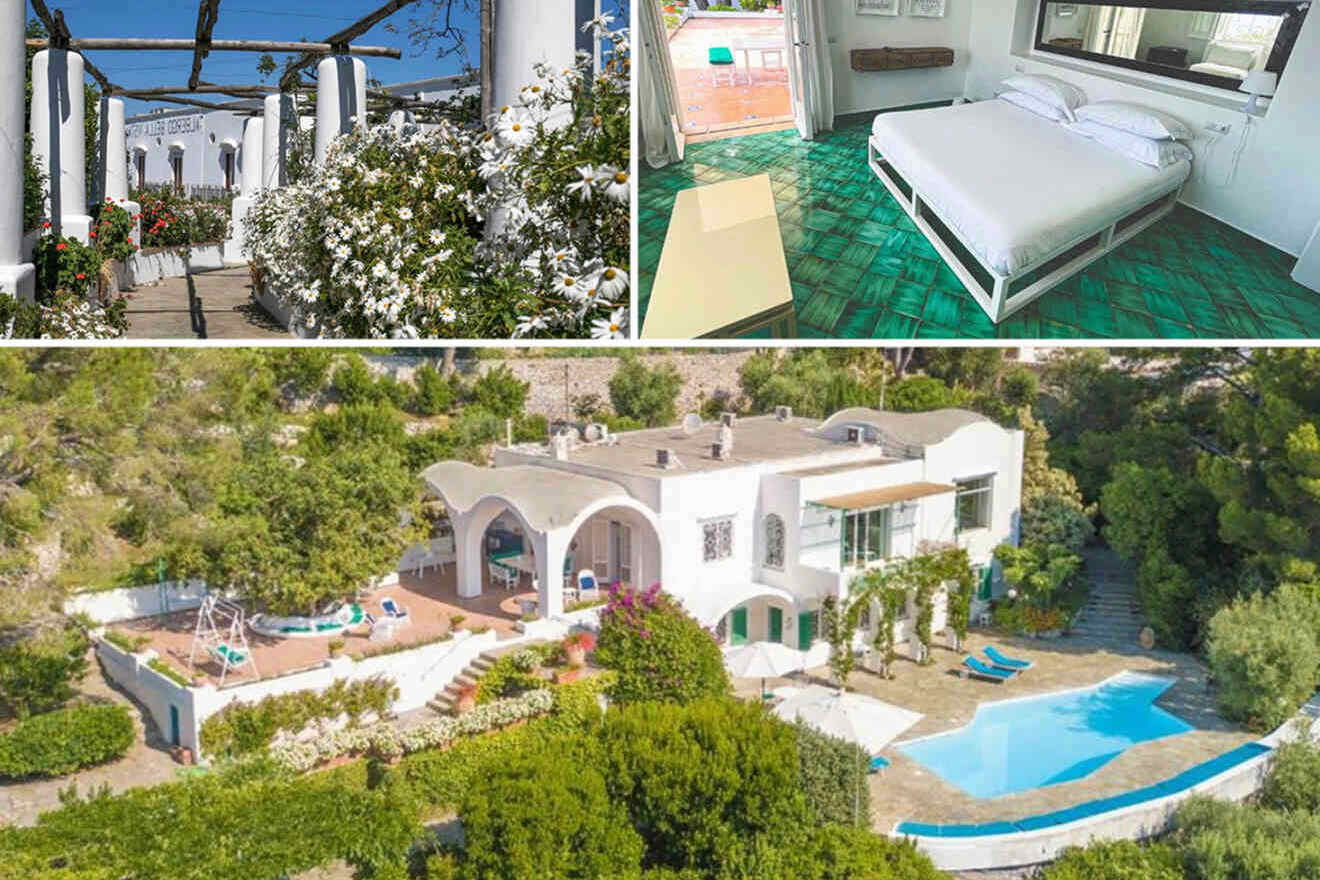 Mid Range (€150 – €200)
Il Carrubo Capri – This family villa looks so cool that you'll want to move up here for a few weeks! Set in a tranquil area, the accIl Carrubo Capriommodation offers excellent views from the garden and terrace. It's so charming, and you'll love spending your time in the outdoor lounge area or eating your breakfast there!
Budget (Up to €150)
Hotel Bellavista – Fancy staying in one of the oldest hotels in Capri? The design and architecture are impeccable (oldie but goldie), and the views of the Gulf of Naples are so incredible! Surrounded by a dreamy garden filled with colorful flowers, the hotel has spacious rooms with balconies and a seating area.
BONUS 2: The 6 most romantic hotels in Capri
Planning the ultimate trip with your partner? Well, Capri sure is a location suited for couples! The atmosphere, the views, and the history of this place scream romance!
There are many hotels that offer a great setting for couples, but I've wanted to make a list that will top all the other ones and help you find the hotel of your dreams with things like hot tubs and landscaped gardens, where you can enjoy all the privacy you'll need.
Luxury (€350 and up)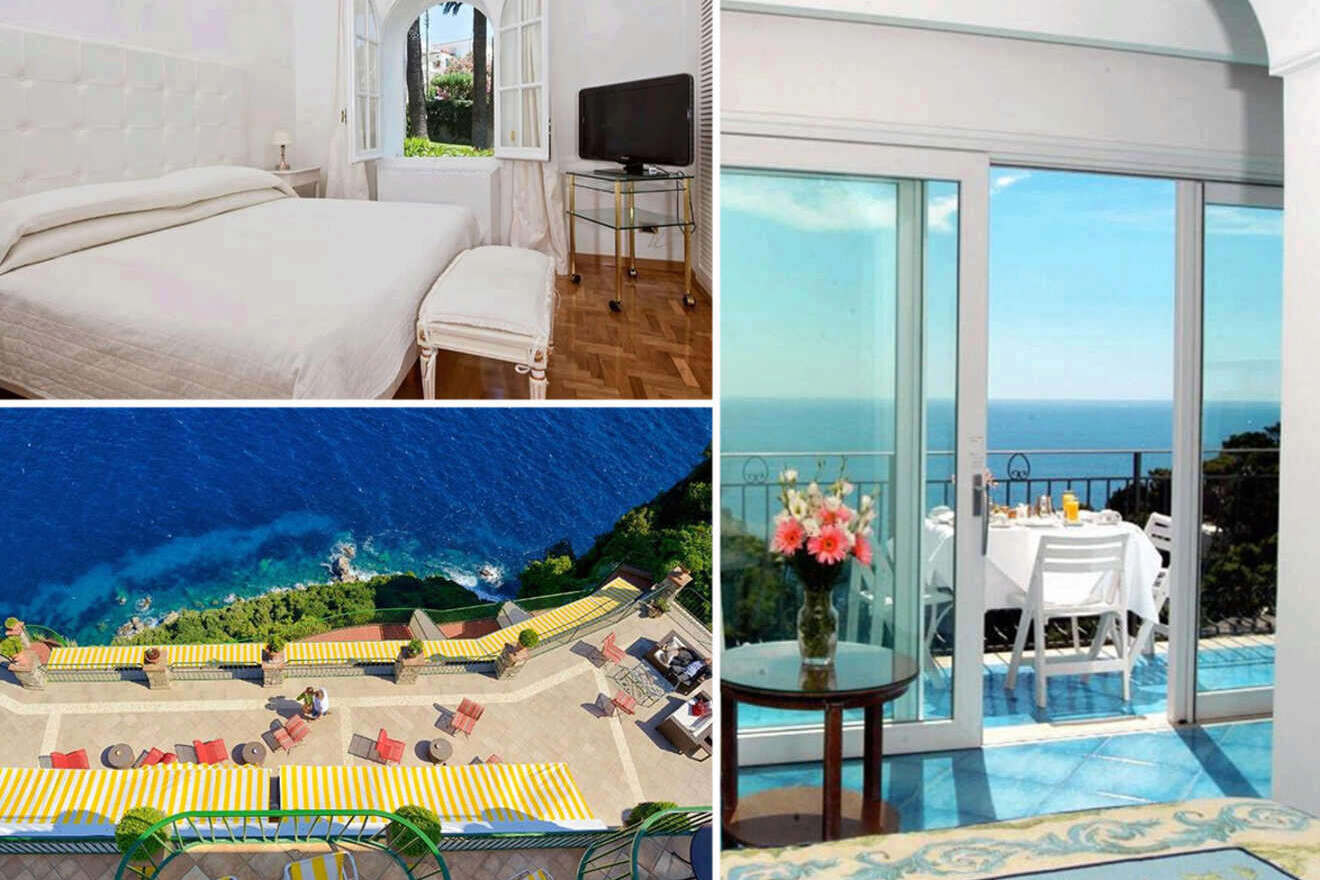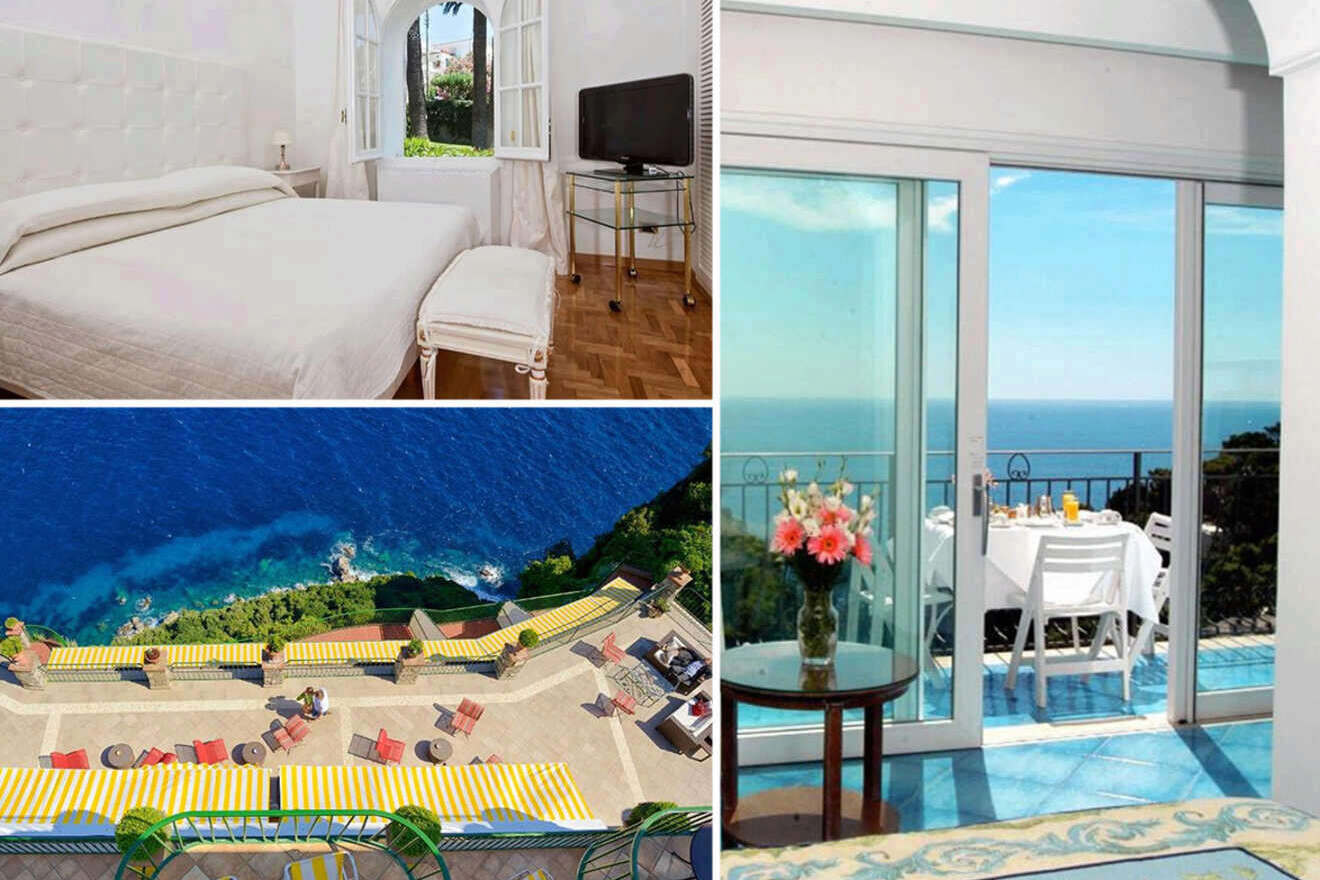 Grand Hotel Quisisana – Offering a decor perfectly suited for royalty, this fancy hotel has a stunning all-white design and unique decor. Enjoy long walks in the garden with your partner and all the privacy you need in your room that comes with vintage furniture, a seating area, and a generous balcony. During the day, you can hang out by the swimming pool or at the spa for a massage and some sauna time.
Hotel Caesar Augustus – Infinity pools at a Capri hotel? Hold my purse! This place lives up to its name! The grandeur and beautiful decor are impressive. The rooms are bright, and they come with large windows, a private balcony, and a hydromassage bathtub. Enjoy a candlelight dinner after sunset and then take a romantic walk through the garden or try out the spa center.
Hotel La Floridiana – Fancy a romantic dinner with a view of the sea on the balcony of your room? Me too! You can also move to the restaurant area if you'd like more space (the scenery is just as good). The rooms have a unique decor but it's the area around the swimming pool that sold me. I love the gardens around, they give me old Roman vibes!
Mid Range (€150 – €200)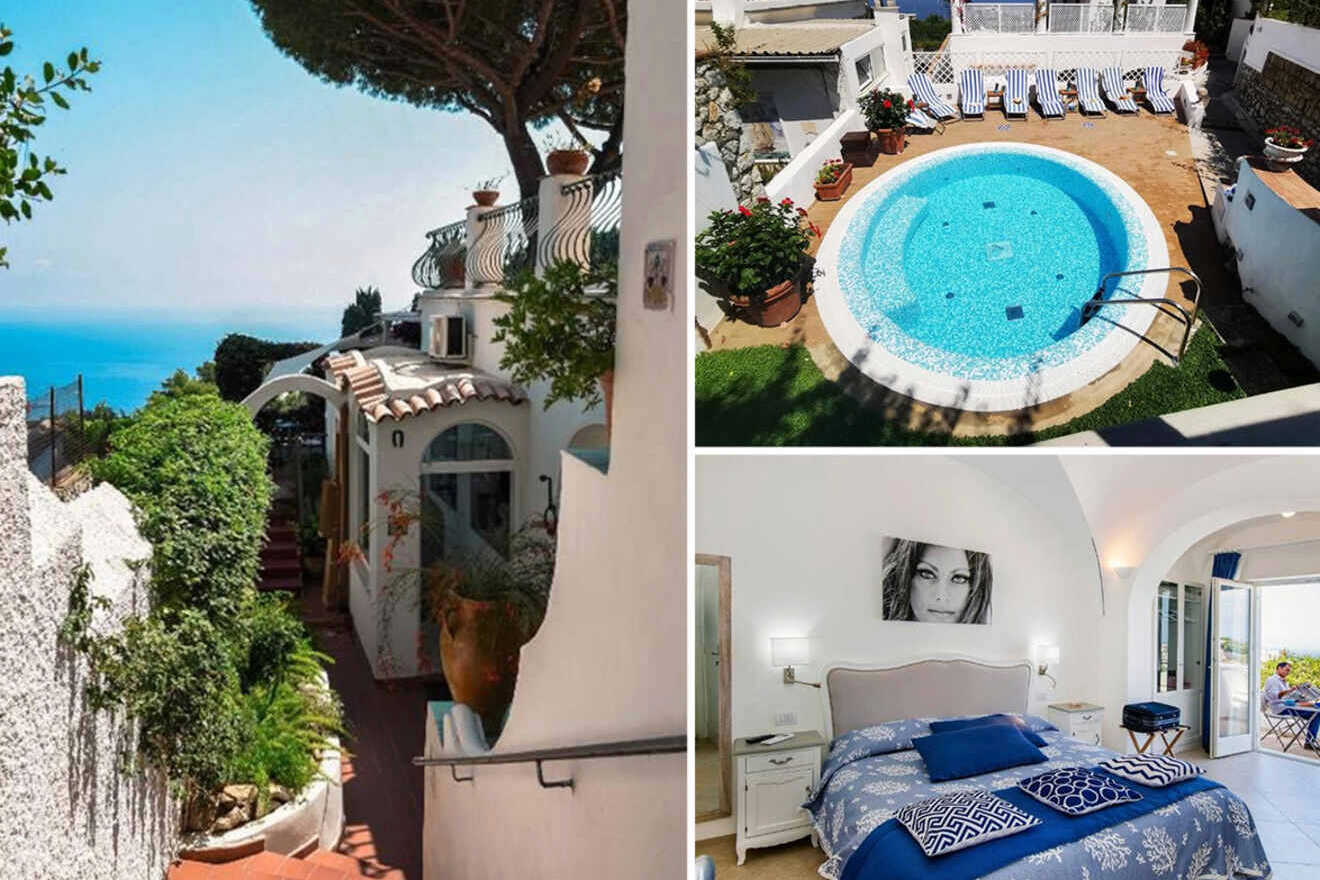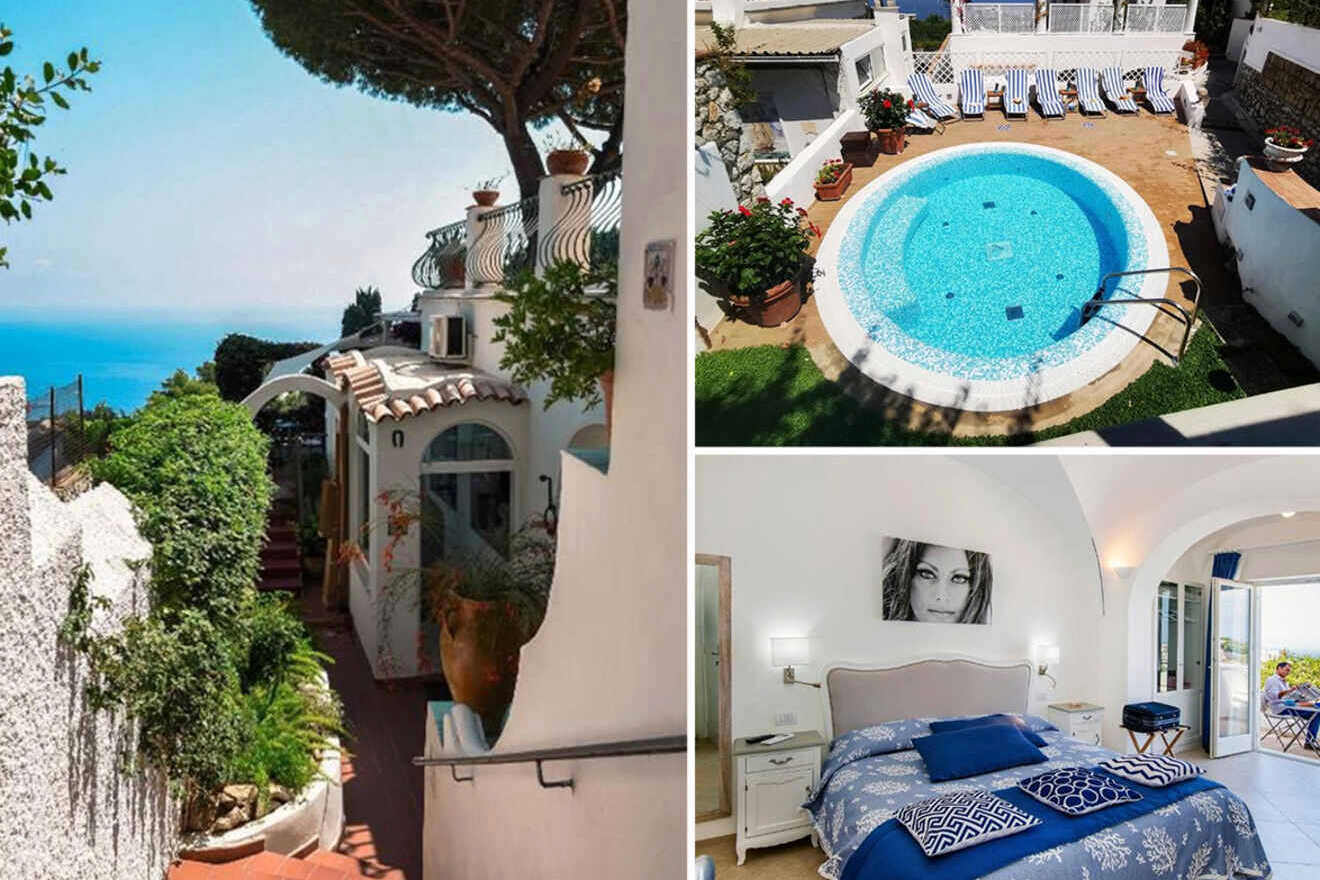 La Giuliva Charming Rooms – Pop a bottle of champagne and catch the golden hour on the terrace of this hotel with your loved one! Enjoy the sunny days under the lemon trees and by the swimming pool or relax in the outdoor lounge area. The accommodation has a restaurant, and each room comes with Mediterranean-style furnishings and balconies overlooking the sea.
Villa Patrizi – I like how each room has a big picture of celebrities! Relax with your partner in the hot tub after a day of exploring beautiful Capri. This hotel is only a 5-minute walk away from the beach. Definitely book a room with a patio so you can enjoy some privacy! The accommodation has a happy hour so make sure you don't miss that!
Budget (up to €150)
La Reginella Capri – Your little corner of heaven! If you're not big fans of loud noises and crowded places? The hotel la Reginella is set on a hillside in a pedestrian-only area and is in a very central location. Start your morning with a strong espresso and a delicious breakfast on the terrace or on your private balcony. The rooms are super comfortable and have a balcony overlooking the sea!
Frequently asked questions about hotels in Capri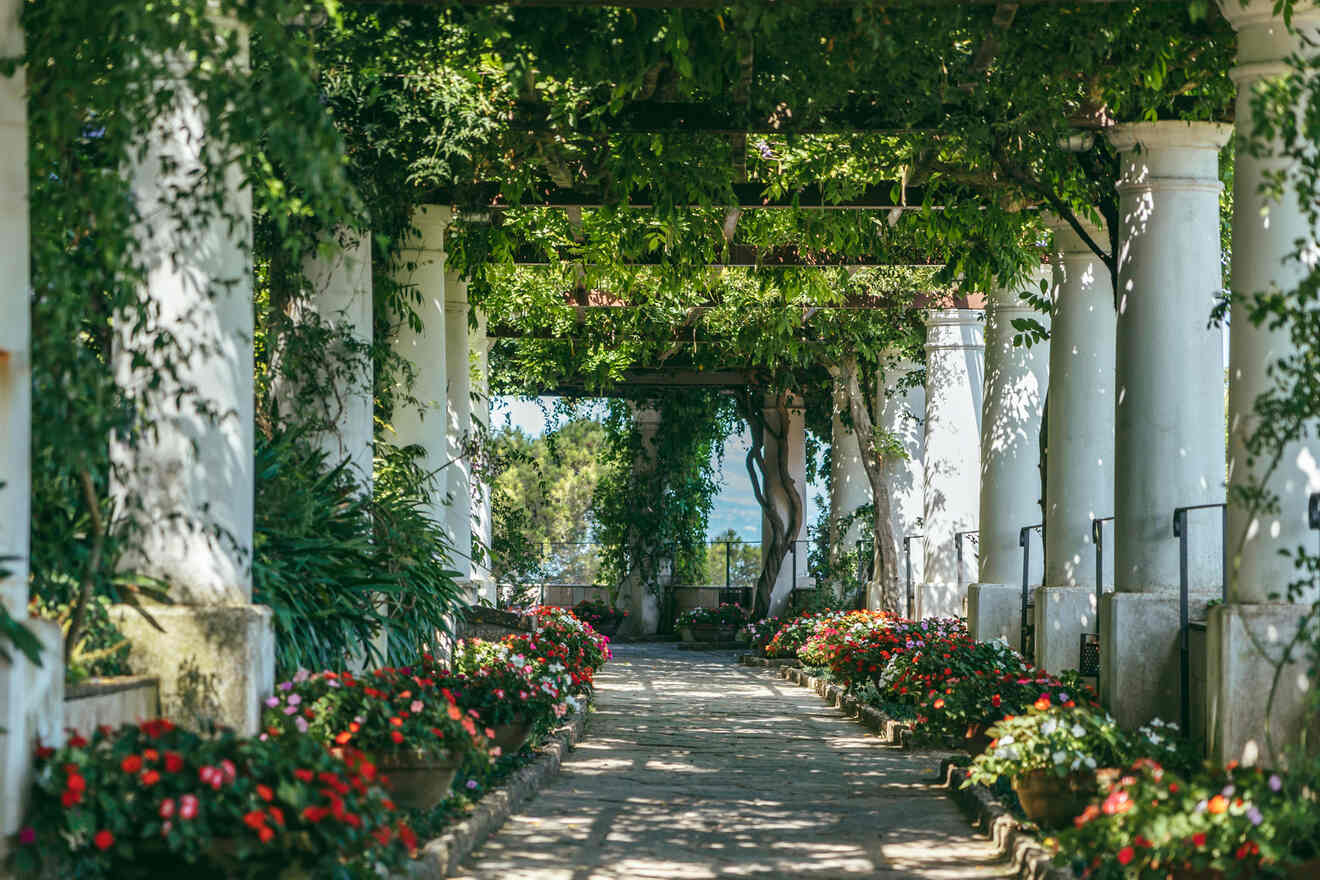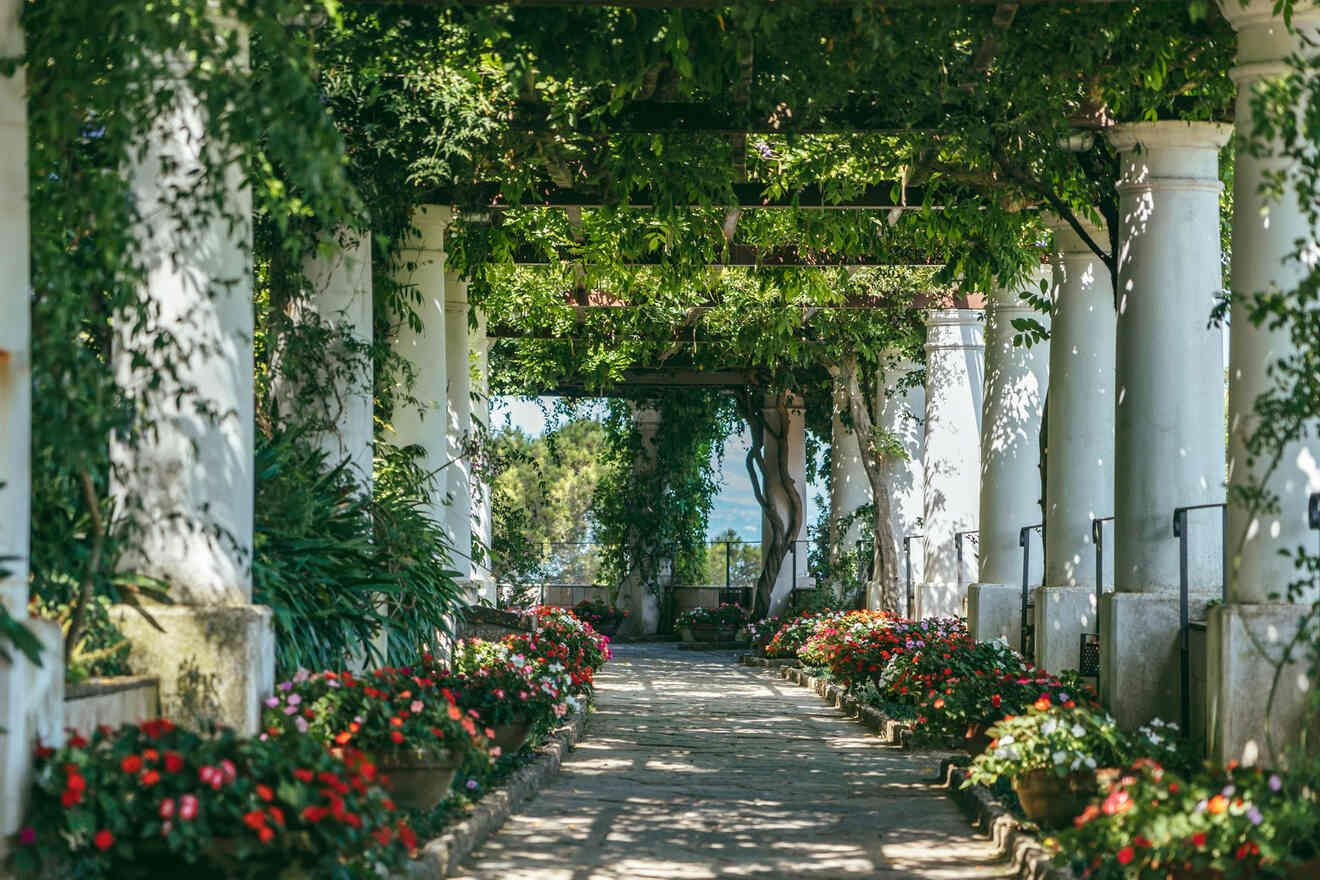 🇮🇹 What part of Capri is best to stay?
Capri Town is the best area where to stay in Capri! It's set on the central side of the island, and here you'll find the main attractions and the best hotels, such as Casa Morgano.
🤔 Is it better to stay in Capri or Anacapri?
It depends on your preferences. Capri (Capri Town, Marina Piccola, and Marina Grande) is more expensive and has more beaches and attractions, while Anacapri is super affordable and great for outdoor activities like hiking.
💑 Which are the best hotels in Capri for couples?
Hotel Quisisana and Hotel Caesar Augustus are the best hotels in Capri for honeymoons or romantic trips. Both places offer amazing views and facilities like spa services and swimming pools. 
📸 Where do celebs stay in Capri?
Usually, celebrities book their hotels in Marina Piccola. The area has a small port area where all the private yachts and boats arrive and also great luxurious hotels like Residence Leonardo.
📅 How many days do you need in Capri?
If you want to relax and enjoy every moment in Capri without running from attraction to attraction, I recommend spending 4 or 5 days. 
🌇 Where is the main town in Capri?
Capri Town is the main area in Capri. Most tourists find accommodations here, as it's well connected and it hosts many of the main attractions.
Conclusion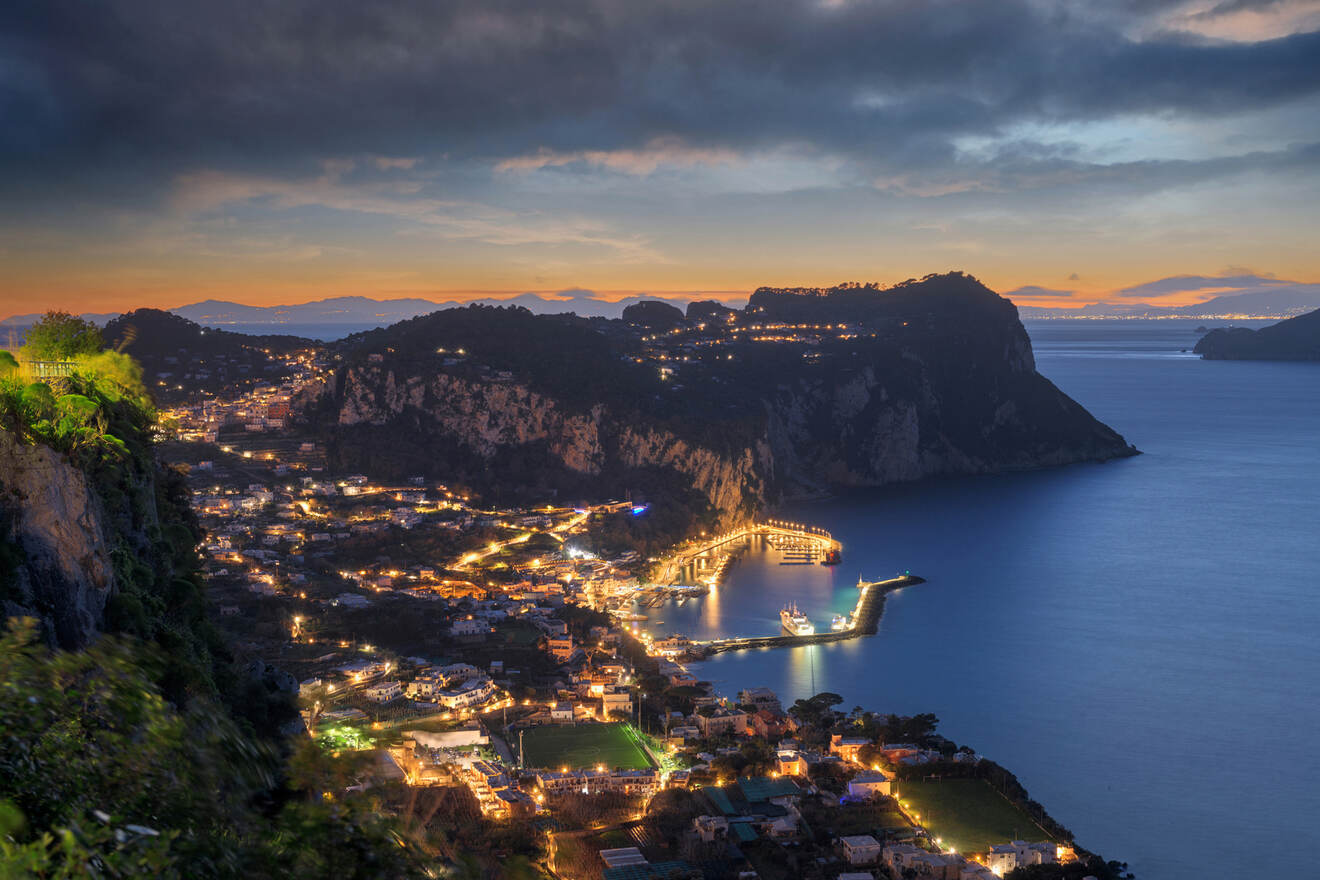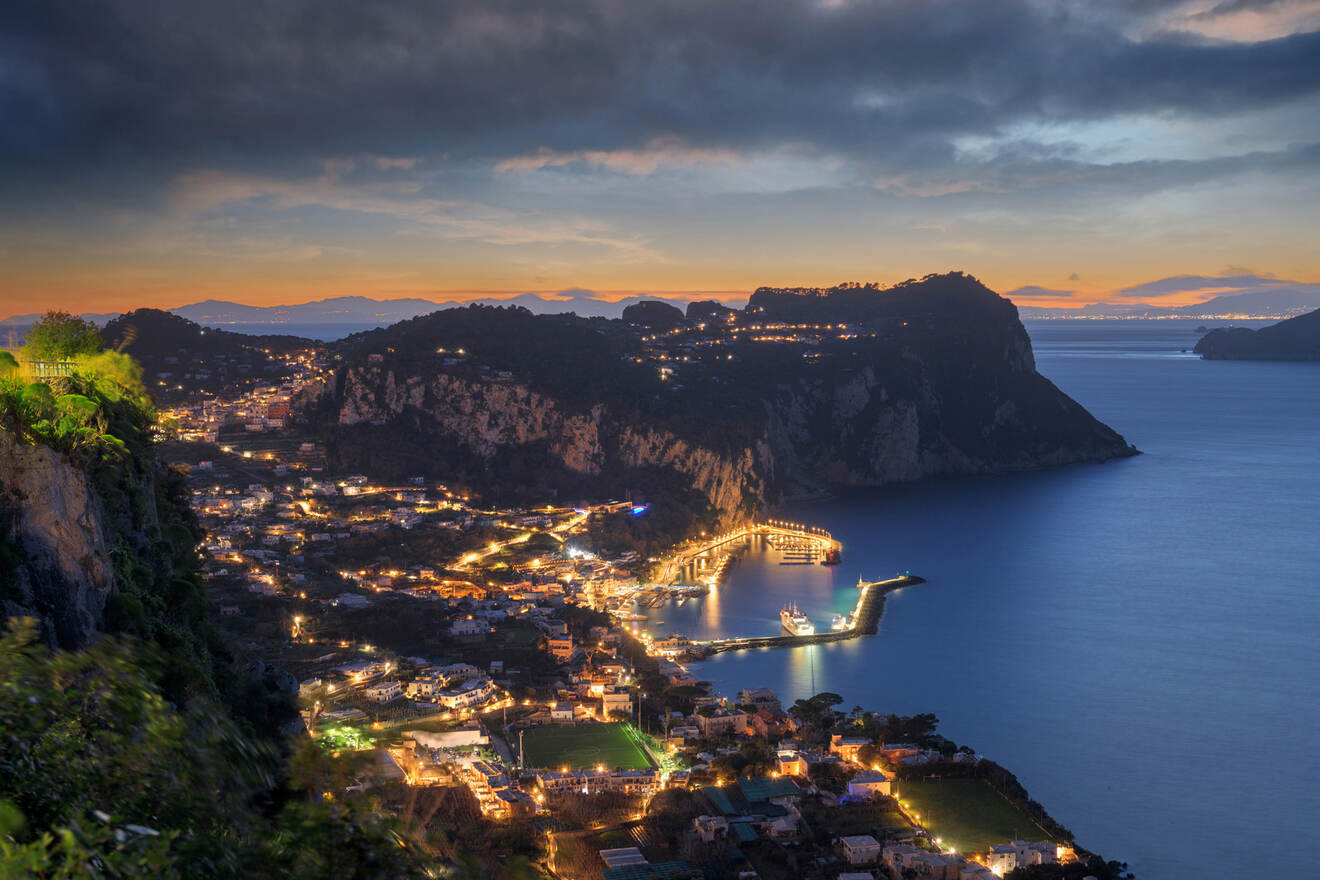 Already booking your flight ticket? Capri has that effect on people! It makes you want to sell everything and move there! But for now, we're happy to just go on a long trip on the island!
Let's do a quick recap in case anyone has missed any parts. In this post, you'll find the main 5 areas where to stay in Capri, with hotels from most to least expensive.
Afterward, there are 2 bonus sections with great hotels that offer amazing views and some perfect accommodations for honeymooners or couples going on a trip to Capri.
Don't get too overwhelmed by all the options. You'll see that they're all listed by interest and budget to help you make the best decision. Still, if you're having a hard time, here are my top 2 favorite options, both located in Capri Town:
Casa Morgano – A beautifully decorated hotel in Capri that has luxurious rooms with a private balcony and an infinity swimming pool
Hotel Syrene – The perfect mid-range option that has an all-white theme, a hot tub and rooms with sea views
As I mentioned, this island is a super popular holiday destination, the luxury hotels and even the cheaper ones will sell out super early. That's why I recommend booking your hotel in Capri in advance.
For now, our trip ends here, have a wonderful trip to Capri and enjoy the dolce far niente lifestyle!
If you have any questions about this destination, leave me a comment below, and I'll make sure to answer it as quickly as possible!
Arrivederci,
Victoria