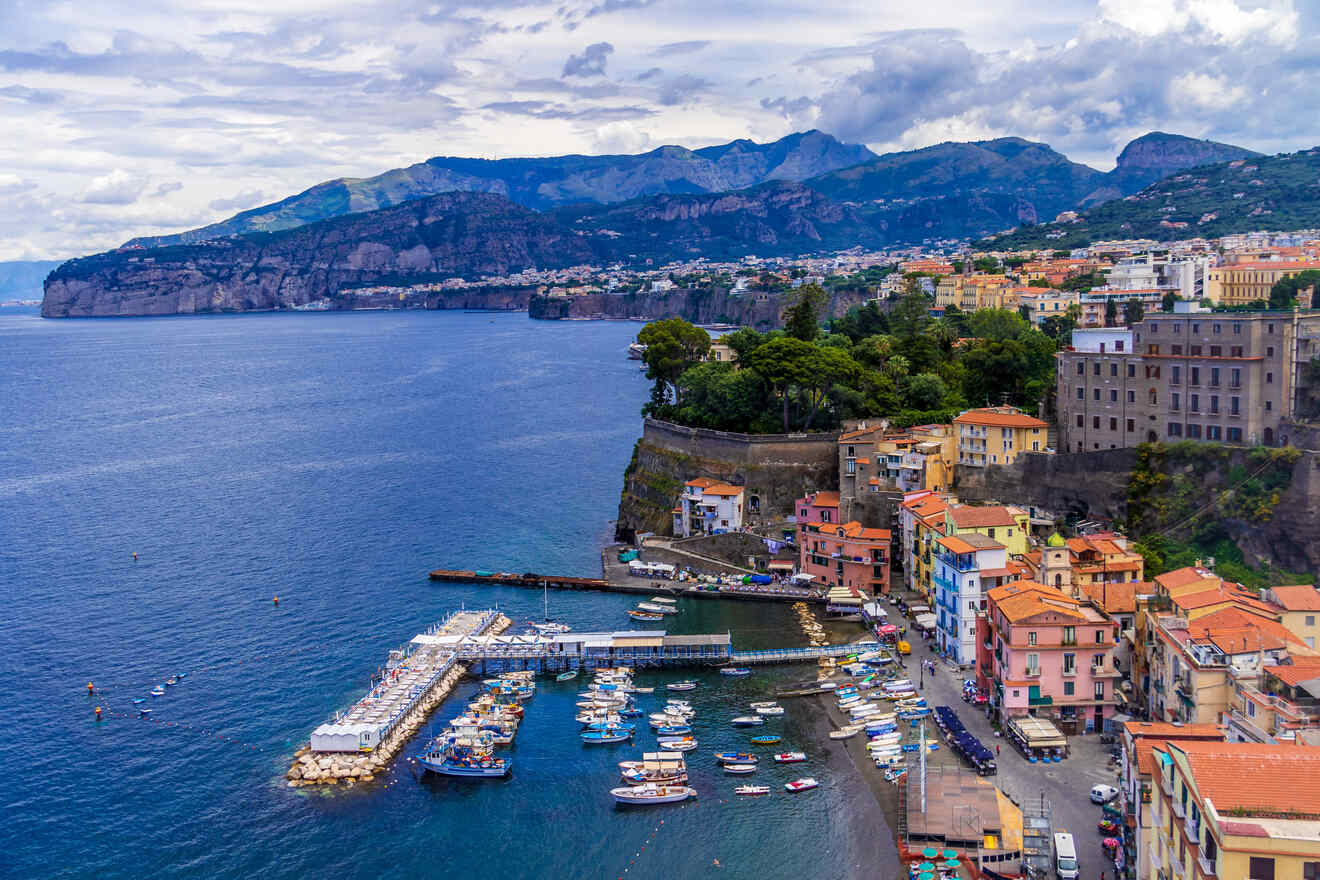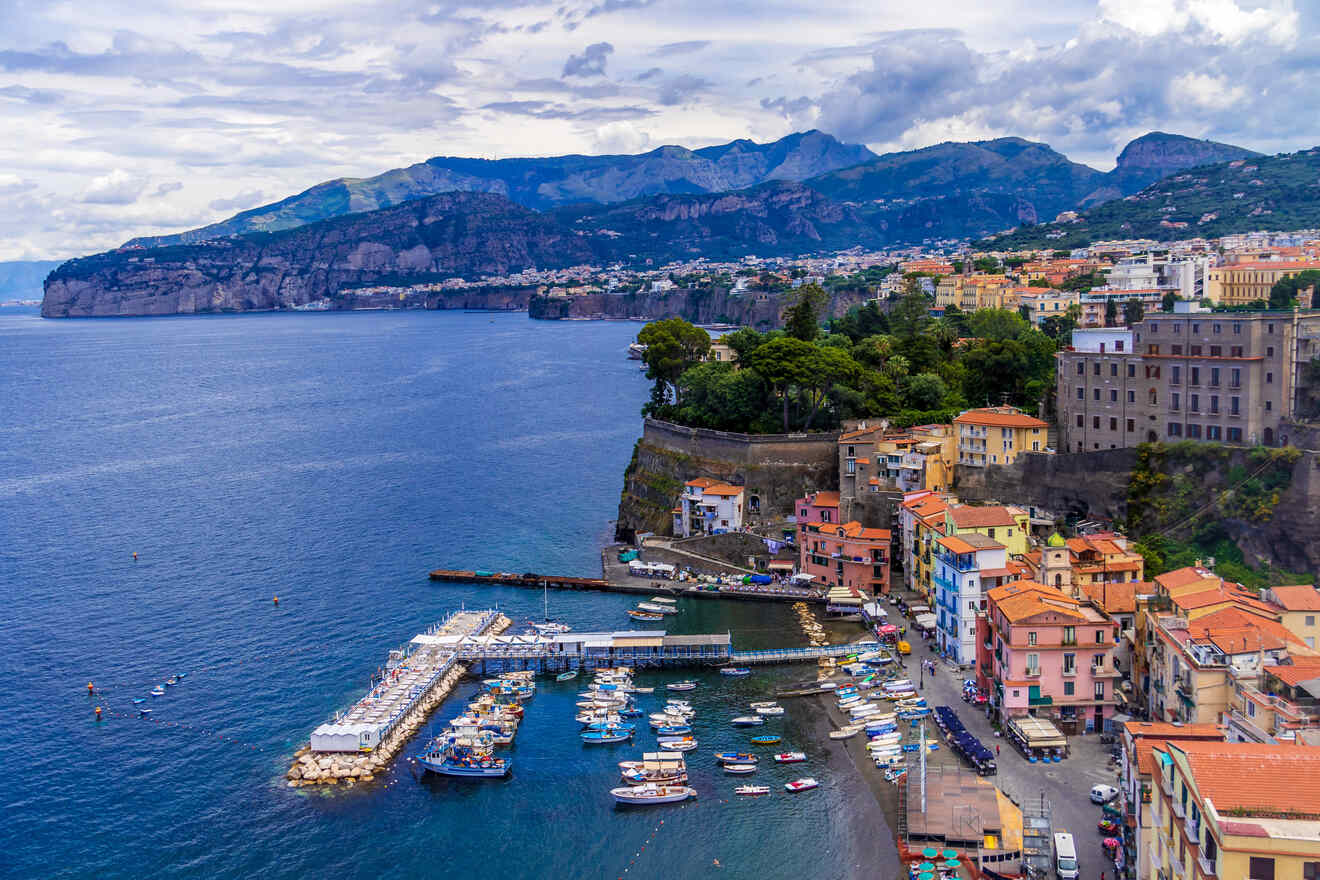 Tucked away somewhere between the cliffs, the coastal town of Sorrento is located in the southwestern part of Italy. Good food, the best views of Naples Bay, and amazing hotels are just a few things that make Sorrento one of the best places to visit on the Peninsula.
But let's not forget about the drinks, after all this town is the birthplace of limoncello, that sweet citrus-based drink that tastes even better on a hot summer's day! What's more, while all the cities in Italy are famous, Sorrento may have won the popularity prize when Sophia Loren appeared in a movie named "Scandal in Sorrento".
If you're already wondering where to stay in Sorrento, then you'll be happy to find out that I've made one of the best, sorry, I meant the BEST neighborhood guide that will help you find Sorrento's top hotels.
I've looked through many lists and only choose what I would book for myself. That's why I feel obliged to tell you that you have to book ASAP, just when I was looking on the website an amazing five-star hotel sold out in a few minutes!
So let's go, we've got tons of limoncello glasses to drink!
If you are in a hurry
If you want to book now, wait no more and quickly check this list for the best hotels where to stay in Sorrento:
Here's a map that will help you visualize all the areas along the coast where to stay in Sorrento that I will be talking about in this post all located close to the main Piazza Tasso:
1. Historical Center – where to stay in Sorrento for the first time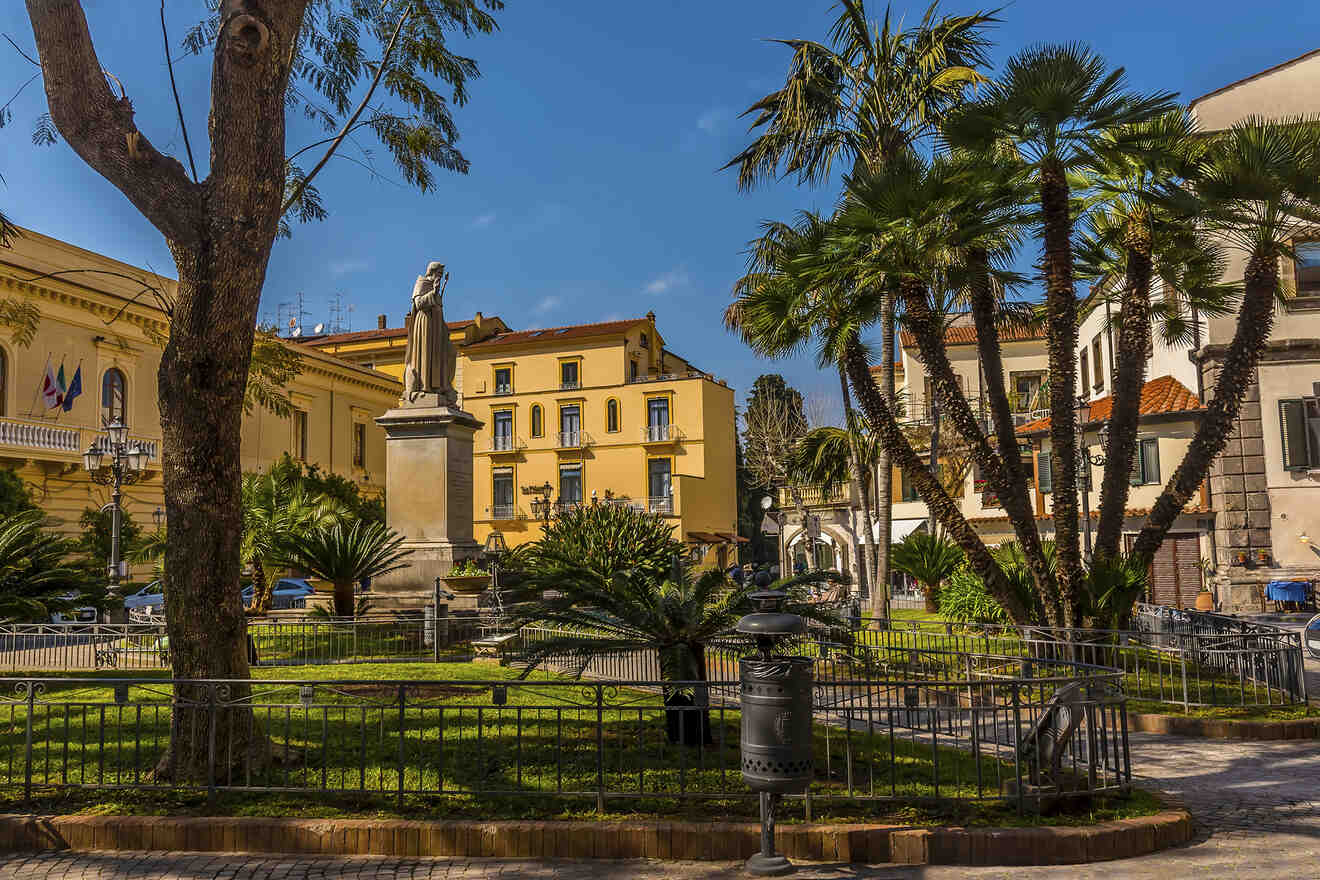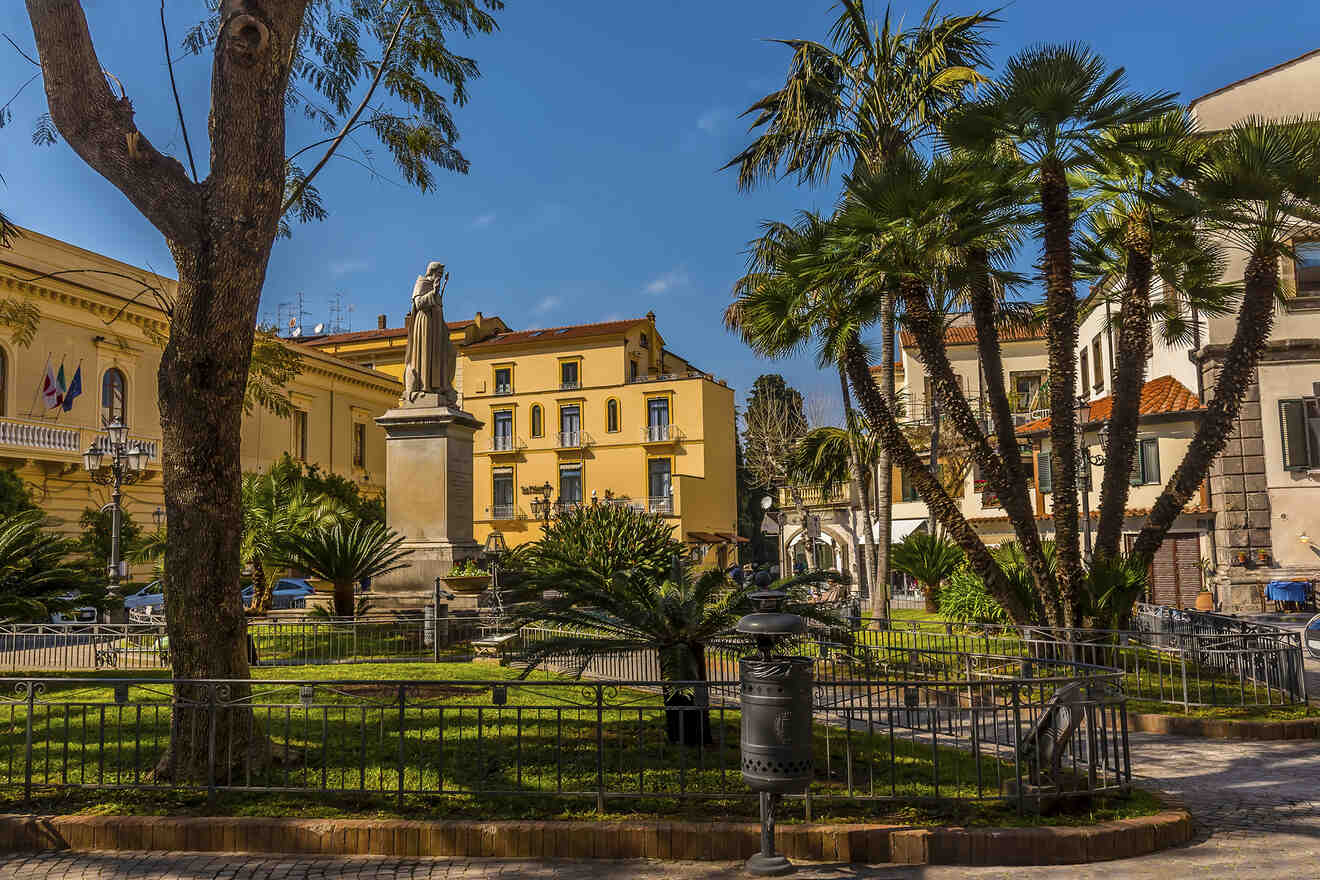 Benvenuto! Are you ready to explore the charming heart of Sorrento? Because I'm going all-in with this one! I can't help myself not to rave about this gorgeous neighborhood which is one of the best places to stay in town if you're visiting for the first time!
It's your classical Italian spot for a holiday, with amazing architecture, culture, history and let's not forget about the delicious traditional food. Trust me, you'll want to eat pizza, pasta & bruschetta all day long! While you're here you have to visit the Amalfi Coast, if a day trip from Sorrento just doesn't do it for you then check out this post with the best areas and hotels in Amalfi.
Superb narrow streets filled with chic boutique shops from where you can get the best souvenirs in Italy, and old historical villas that will make you want to move here ASAP! And why not, have you seen the Under The Tuscan Sun movie? If she did it, who says we can't?
The focal point of the area is Piazza Tasso, where you'll find tons of terrace restaurants, statues, and old churches. You can walk around the Historical Center, grab an Italian espresso (or gelato if it's too hot outside), and watch the stylish people of Sorrento. This is one of my favorite things to do while I'm on holiday, I feel like I can learn so much about their culture when I'm just observing!
If the gelato didn't do its job and the sun is unbearable, take the short walk to the Marina Piccola located in the north part of the centre of Sorrento and sit by the water! Or better yet, jump on a ferry for a cooling trip to Marina Grande to relax on a beach in Capri. Perfecto!
Other accommodation options in Historical Center
Things to do in Historical Center
Walk around the beautiful Piazza Tasso and eat in the best restaurants
Visit the ancient and picturesque Vallone Dei Mulini Park
Admire the architecture of the Cattedrale dei Santi Filippo e Giacomo
Catch views of the Bay of Naples at Villa Comunale di Sorrento
Enjoy the romantic atmosphere at Chiostro di San Francesco
Cool off during a hot summer day at the Marina Piccola
Go on an adventure and take the ferry to Marina Grande in Capri
Taste Limoncello and chocolate at Limonoro Fabbrica Liquori Di D'Esposito Ciro
2. Sant'Agnello – where to stay in Sorrento for the best views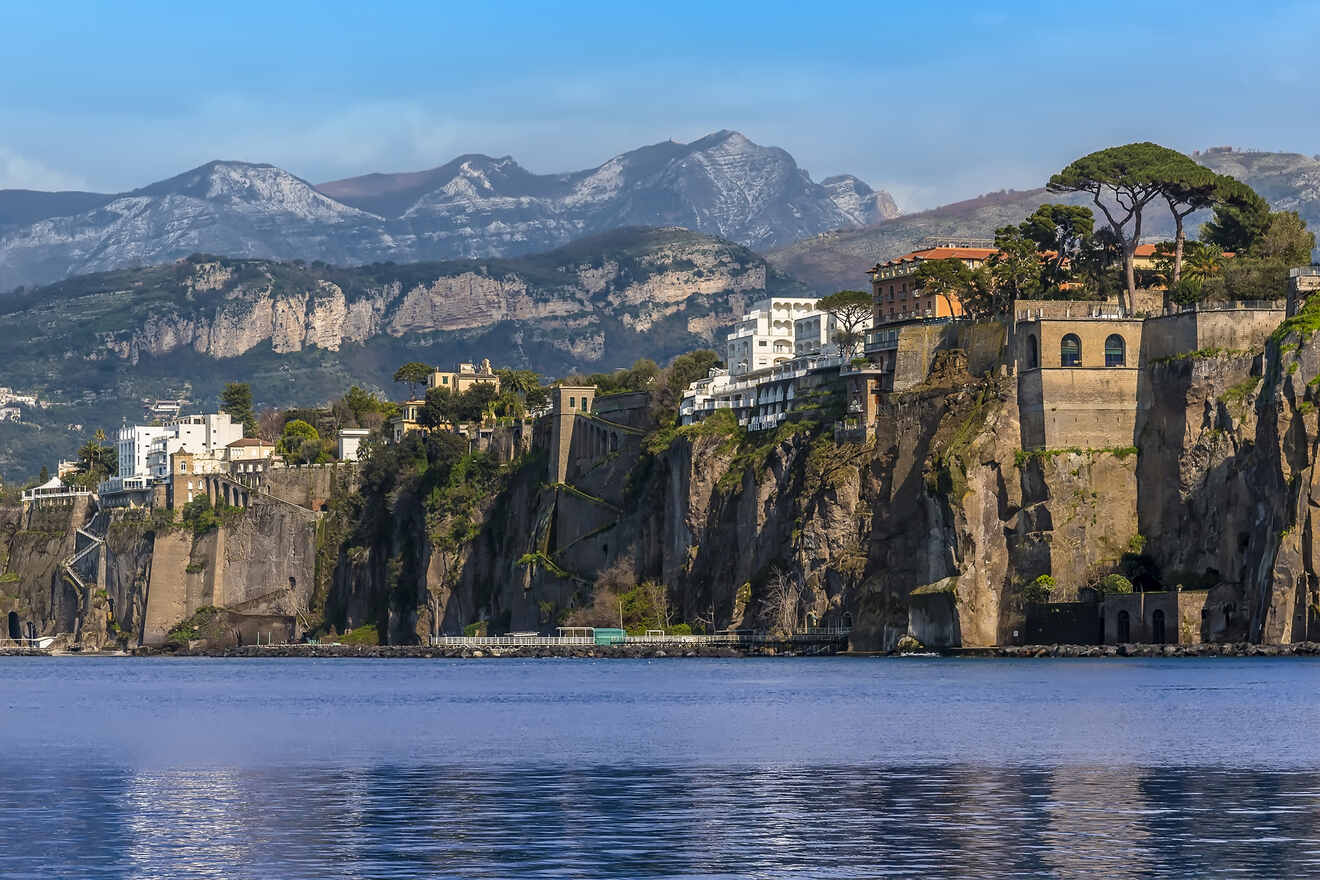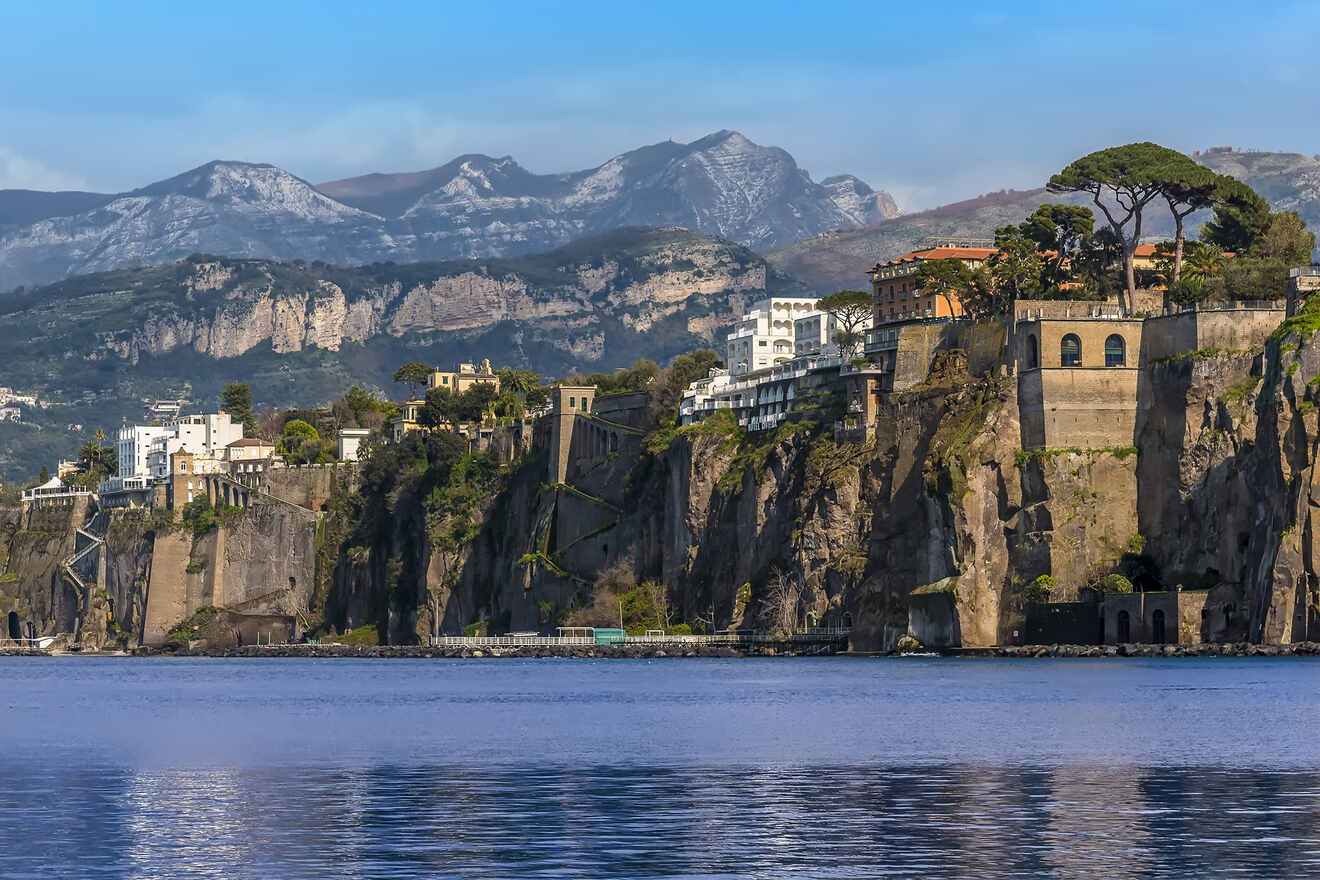 You can't really talk about the coast of Italy without mentioning the amazing cliffside views! Located east of Sorrento's Historical Centre, Sant'Agnello wins the prize for the best place to stay in town if you're a fan of beautiful views of the Mediterranean sea! If you're ready for more fun under the Italian sun then don't buy a return plane ticket just yet, go visit Pompeii and Naples nearby!
Colorful vintage villas tucked away on the old cliffs whose age we can't really know, but I definitely can assure you that they've seen one or two eruptions from Mount Vesuvius. The hotels on this side of the coast are some of the best places to stay in Sorrento but as you know nothing good lasts long, so if you want to get a good deal on the best five-star hotel, then definitely book this location in advance!
Although it's pretty close to Piazza Tasso, just a 30-minute walk to get there, I'm sure it will be hard to leave beautiful Sant'Agnello. Plus here you have not one but two Piazzas, Matteotti and Sant'Agnello. Both are perfect for your sunset walks, when the bright golden light sets over the neighborhood it's like everything turns to gold. It really is one of the most picturesque views
that you'll get to experience during your stay in Sorrento!
The authenticity of Sant'Agnello doesn't go unnoticed, especially after you attend an olive oil tasting. A traditional Italian custom that you can try at the Frantoio Gargiulo farm, which is located nearby. I know where my first stop in Sorrento would be!
Other accommodation options in Sant'Agnello
Things to do in Sant'Agnello
Walk across the Matteotti and Sant'Agnello Piazzas at sunset
Go for an olive tasting at the local Frantoio Gargiulo farm
Visit the Piazza Tasso in the Historical Center of Sorrento
Admire the architecture of the Villa Fondi De Sangro and the views of the bay
Visit the historical Basilica di San Michele Arcangelo
Go for a relaxing walk in the Oasi In Città Park
3. Piano di Sorrento – where to stay in Sorrento for families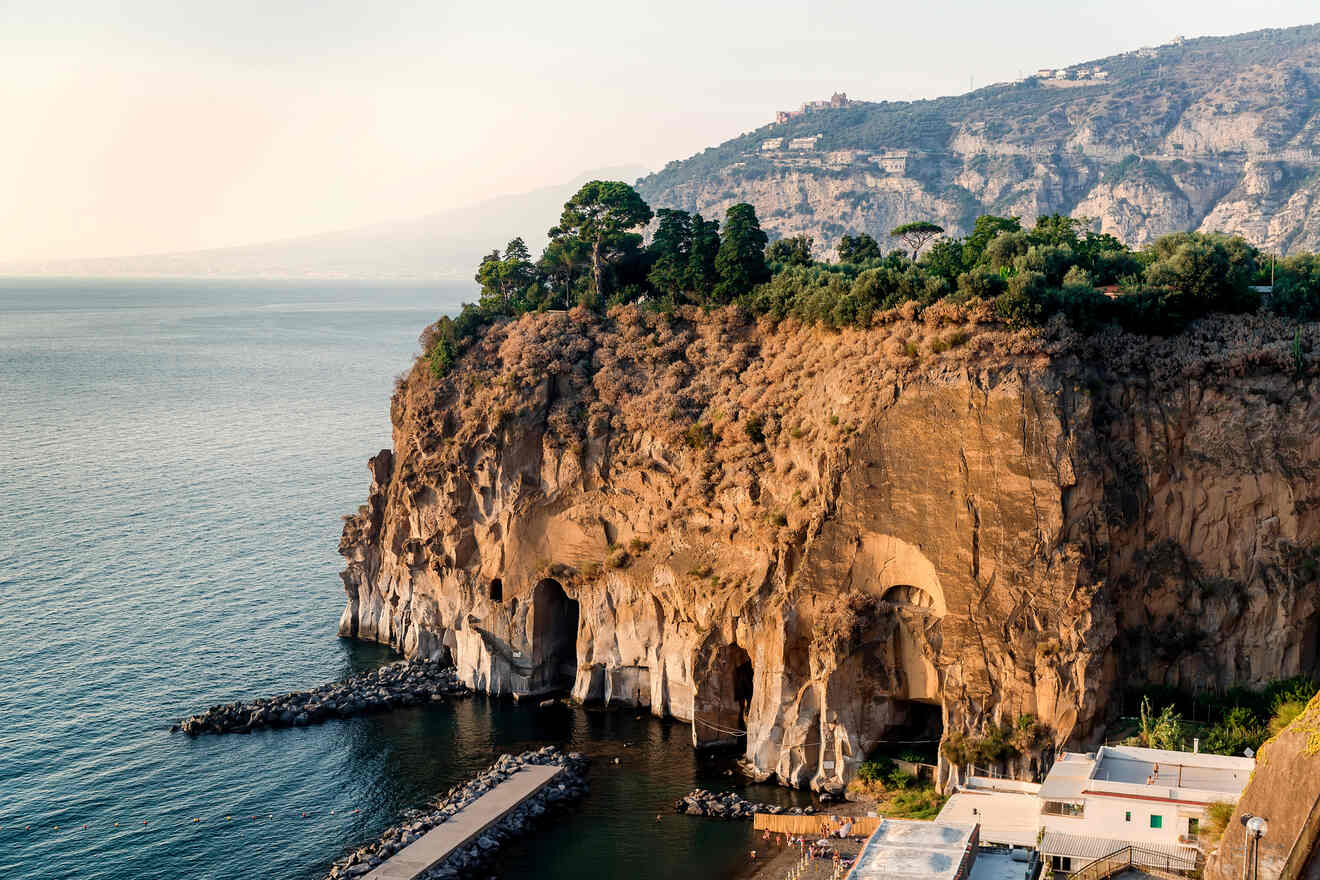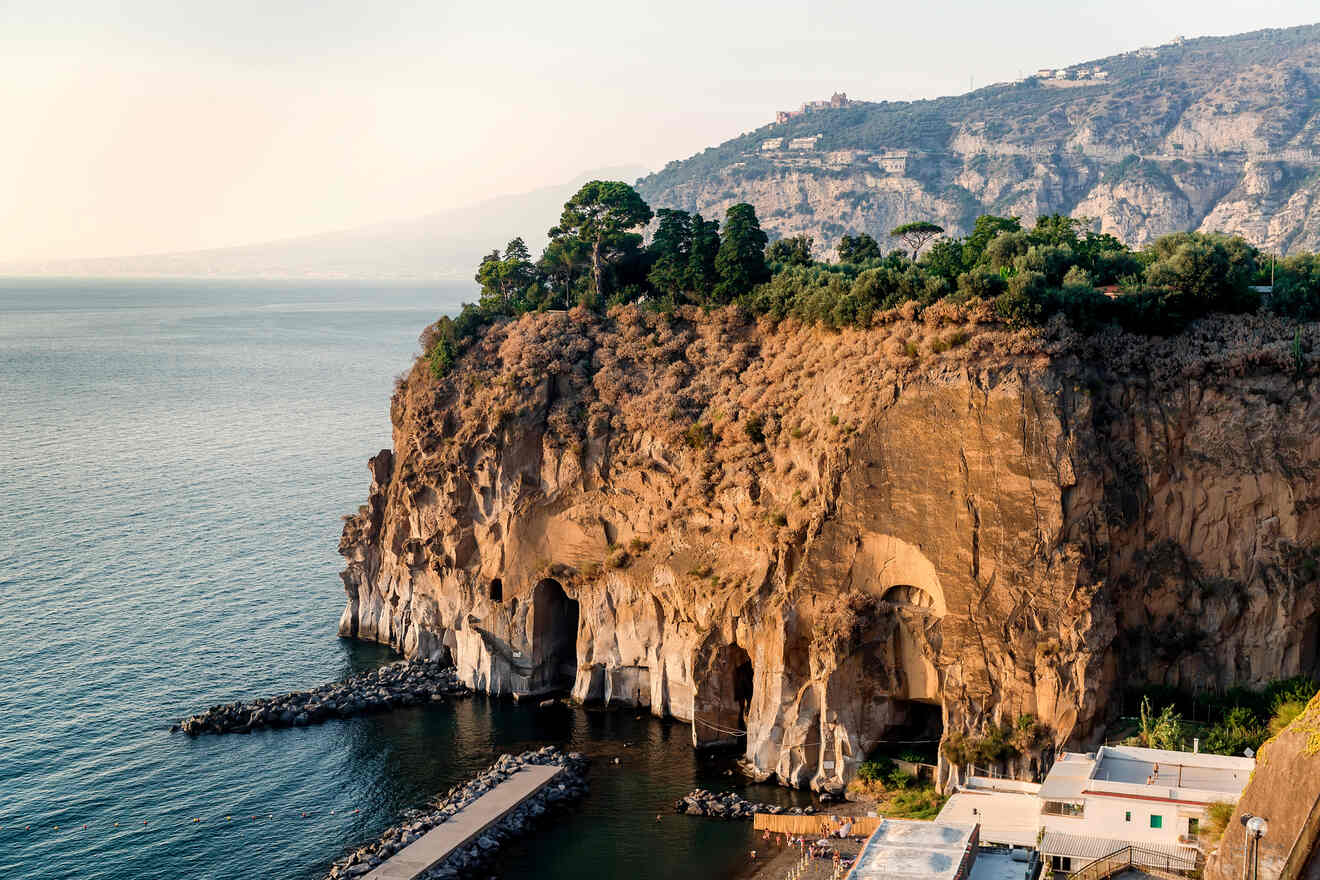 Located right next to Sant'Agnello, east of the Centre of Sorrento, Piano is another beautiful cliffside area. It's perfect for anyone who is traveling to Italy with kids and is looking for a quiet neighborhood that offers the same amazing experience as the other ones.
Piano di Sorrento is smaller so you don't have to worry too much about public transport, most attractions are located just a short walk away. You can even walk to the Historical Center if you're in the mood to shop in the Piazza Tasso.
Explore the city and take the kids to eat at the best local restaurants. I'm sure they will love the Italian gelato! A beautiful spot that you can't miss in this neighborhood is the Marina di Cassano, you will get the best views of Piano di Sorrento plus the Gulf of Naples look beautiful from this side of the city.
There are boat trips that you can take around the Gulf, and I'm sure the kids will never forget this cool adventure in Italy! Near the Marina, there's a small park, perfect for some family fun, and where the kids can run and play in peace. I recommend you organize a small picnic here before heading on your boat adventure!
Other accommodation options in Piano di Sorrento
Things to do in Piano di Sorrento
4. Meta – best place to stay in Sorrento for the beach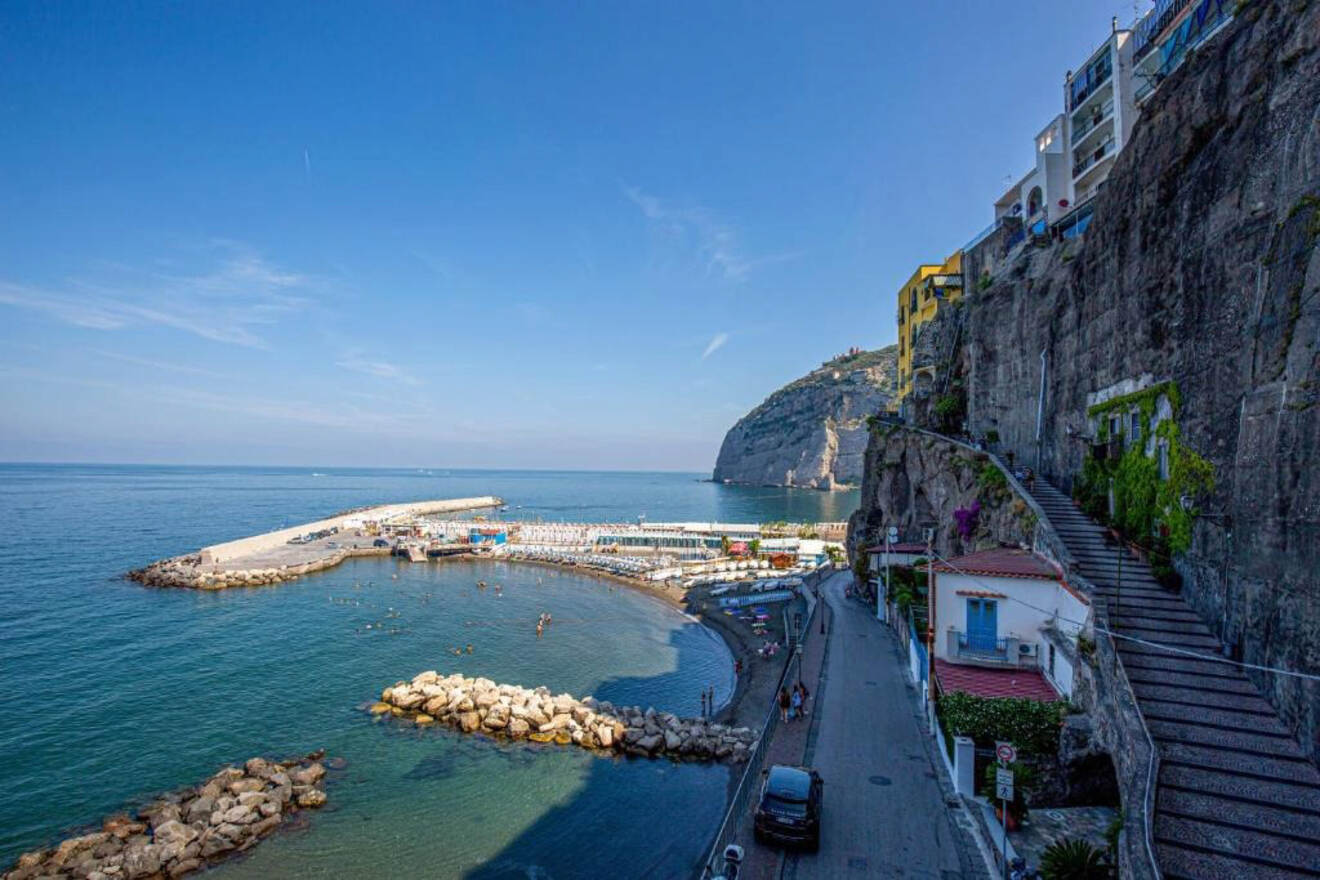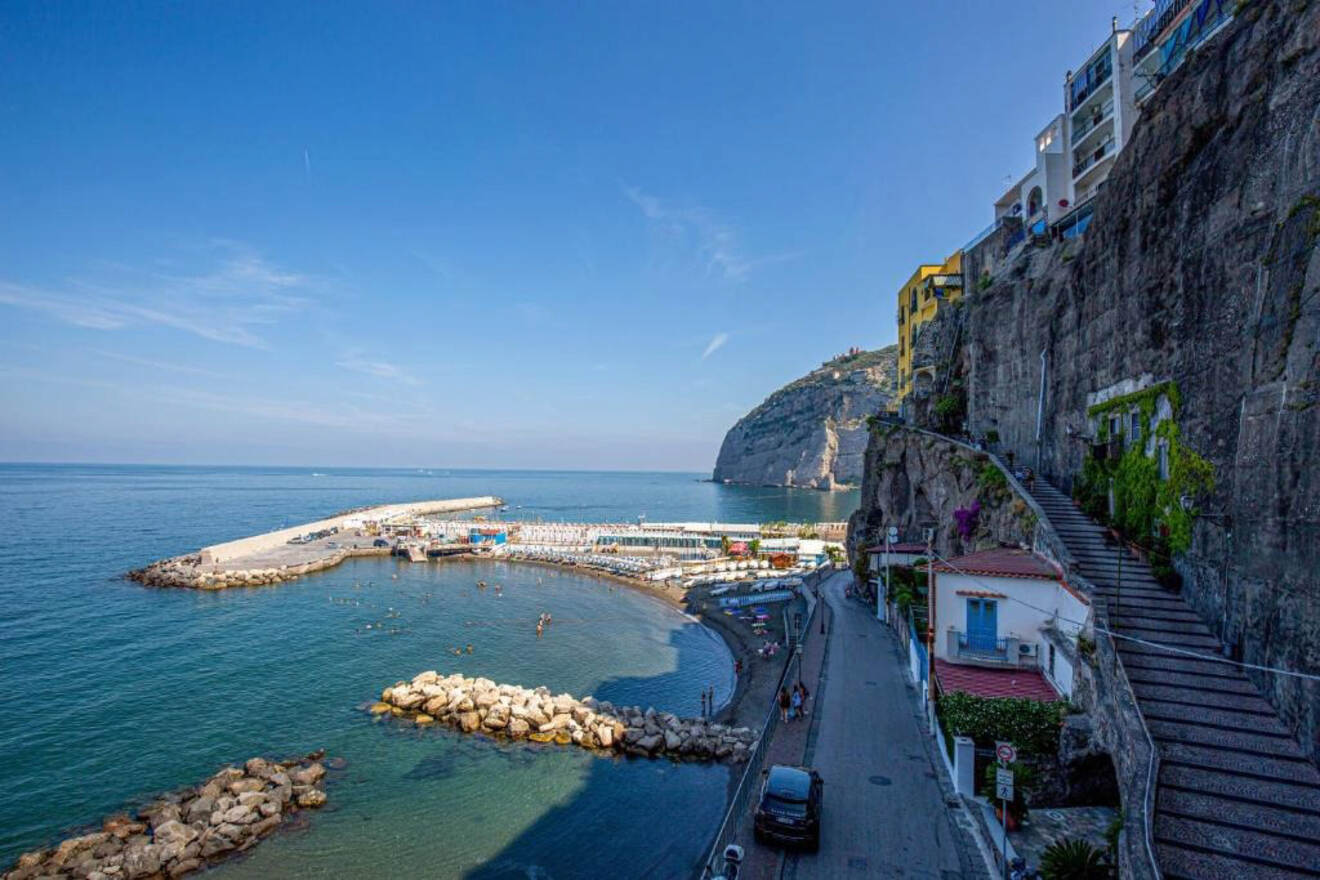 Located right near Piano di Sorrento, and east of the Historical Centre, Meta is a great area to stay on the coast if you love spending most of your holiday time at the beach. Even if it's just one beach, there's plenty of room for everyone to sit under the cute little umbrellas and swim in the sea.
The town itself is situated on the cliffs and in order to access the beach you have to climb down a bit, so get some comfy shoes! But it will be so worth it when you see the views of the whole town and the sea. Please take me there right now!
Although the beach is the main attraction here, Meta has an interesting historical background. If you're looking for where to stay in Sorrento to enrich your culture then you've come to the right place.
The focal point of the neighborhood used to be a superb temple that was built to honor the goddess Minerva. It was later turned into a Christian church, and in the 18th century, the ruins of the church were transformed into a Basilica, dedicated to Madonna del Lauro, which is now the symbol of Meta. How cool!
Other accommodation options in Meta
Things to do in Meta
5. Priora – where to stay in Sorrento for budget travelers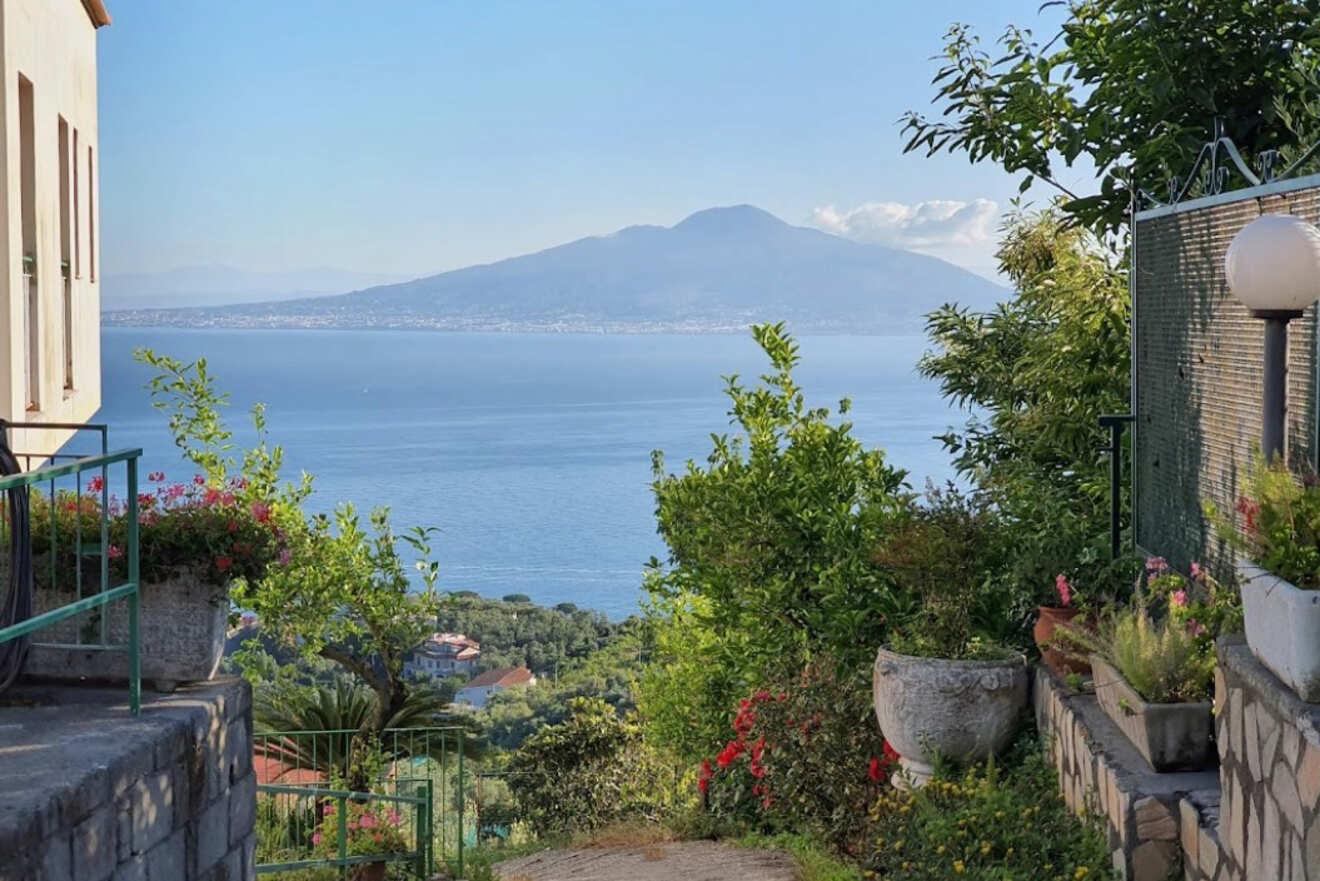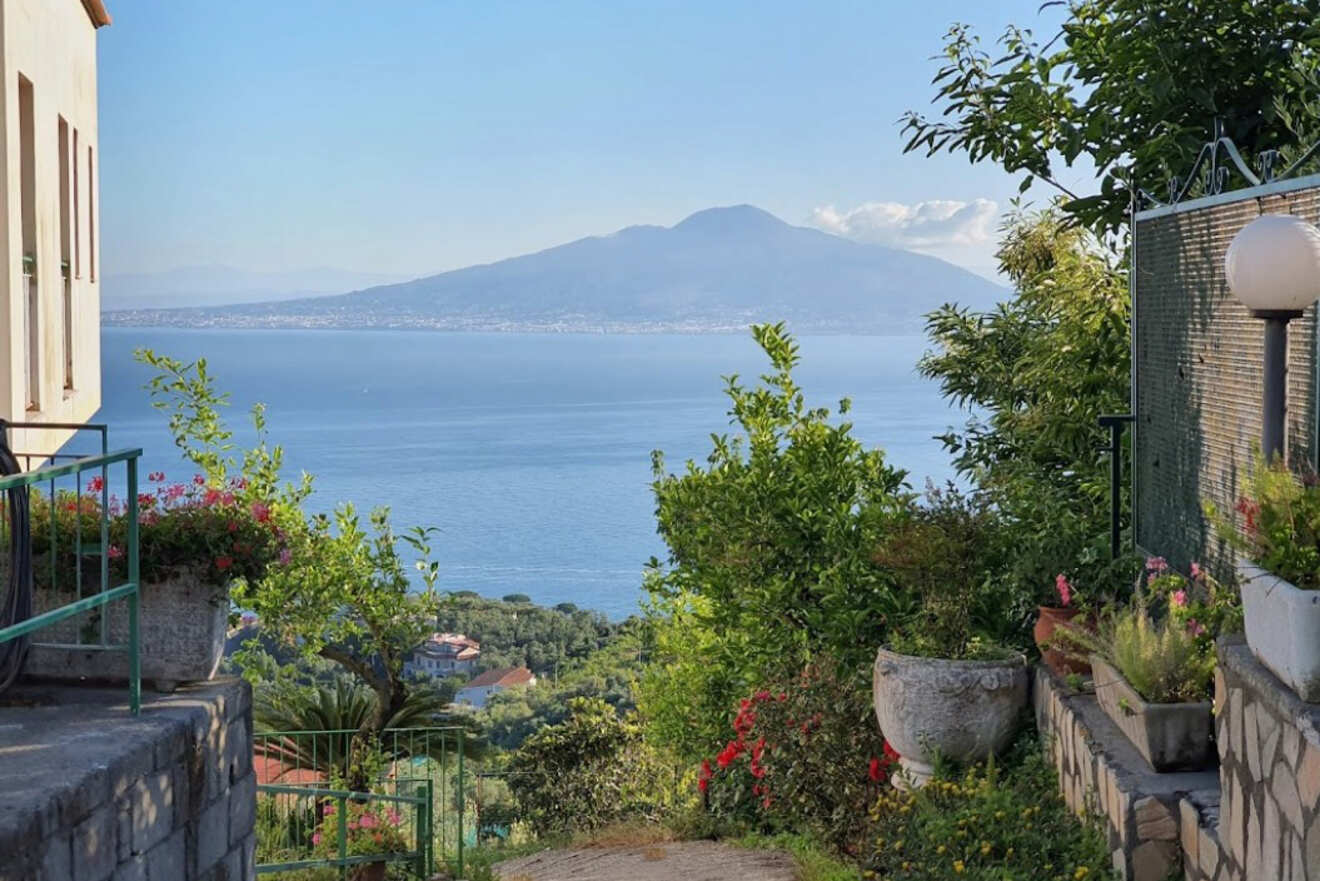 Located in the southwest part of the coast, Priora has that small village charm and it's not as crowded as the other central areas, which means you'll get to experience an authentic vibe of Sorrento Italy!
Although the central part of the town is just a 20 minutes walk away, or accessible by bus if you feel too tired, Priora's location makes it a convenient place to stay for budget travelers as the prices of the hotels and restaurants are not as high as in the Historical Centre or Sant'Angelo yet you're still really close to Massa Lubrense.
Priora has tons of cute authentic places to explore like the Marina Grande, which has kept its old charm and if you go there in the morning you can see the fishermen bringing in the catch of the day! I recommend going at sunrise and seeing this, there's something so special about that time of the day when the world is still waking up and there's a complete calm over the whole town.
The Massa Lubrense is a commune in the Sorrento Peninsula that is famous for its olive groves and lemon trees! Its proximity to Priora makes it possible to get a sniff of that amazing natural smell of olives! Can it get more Italian than that?
Other accommodation options in Priora
Things to do in Priora
Catch the best views of the coast from the hills in Priora
See the fishermen bringing the day's catch at Marina Grande
Eat delicious seafood in the best restaurants in Priora
Visit the border of Priora with Massa Lubrense and smell the fresh olives and lemons
6. Corso Italia – best place to stay in Sorrento for nightlife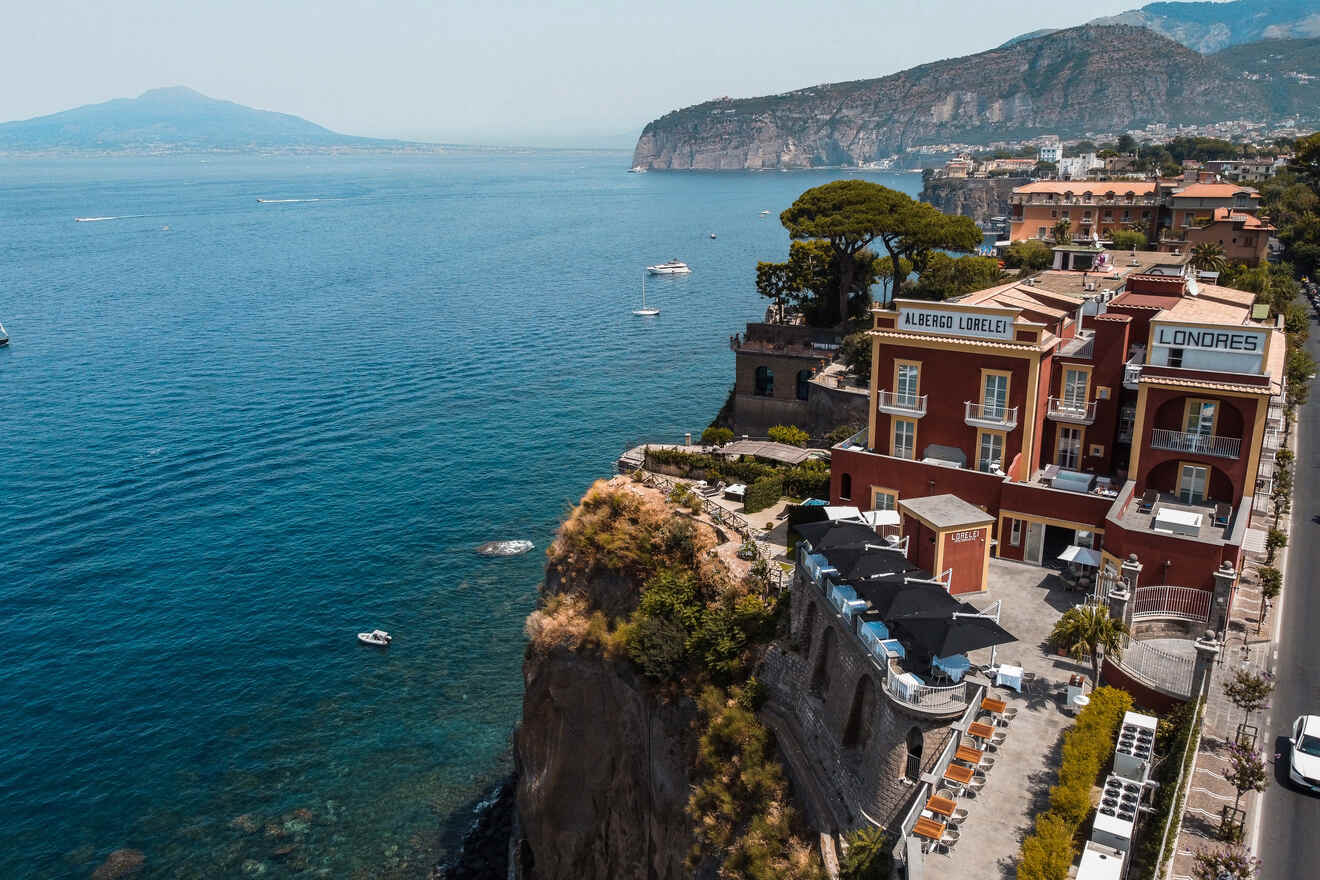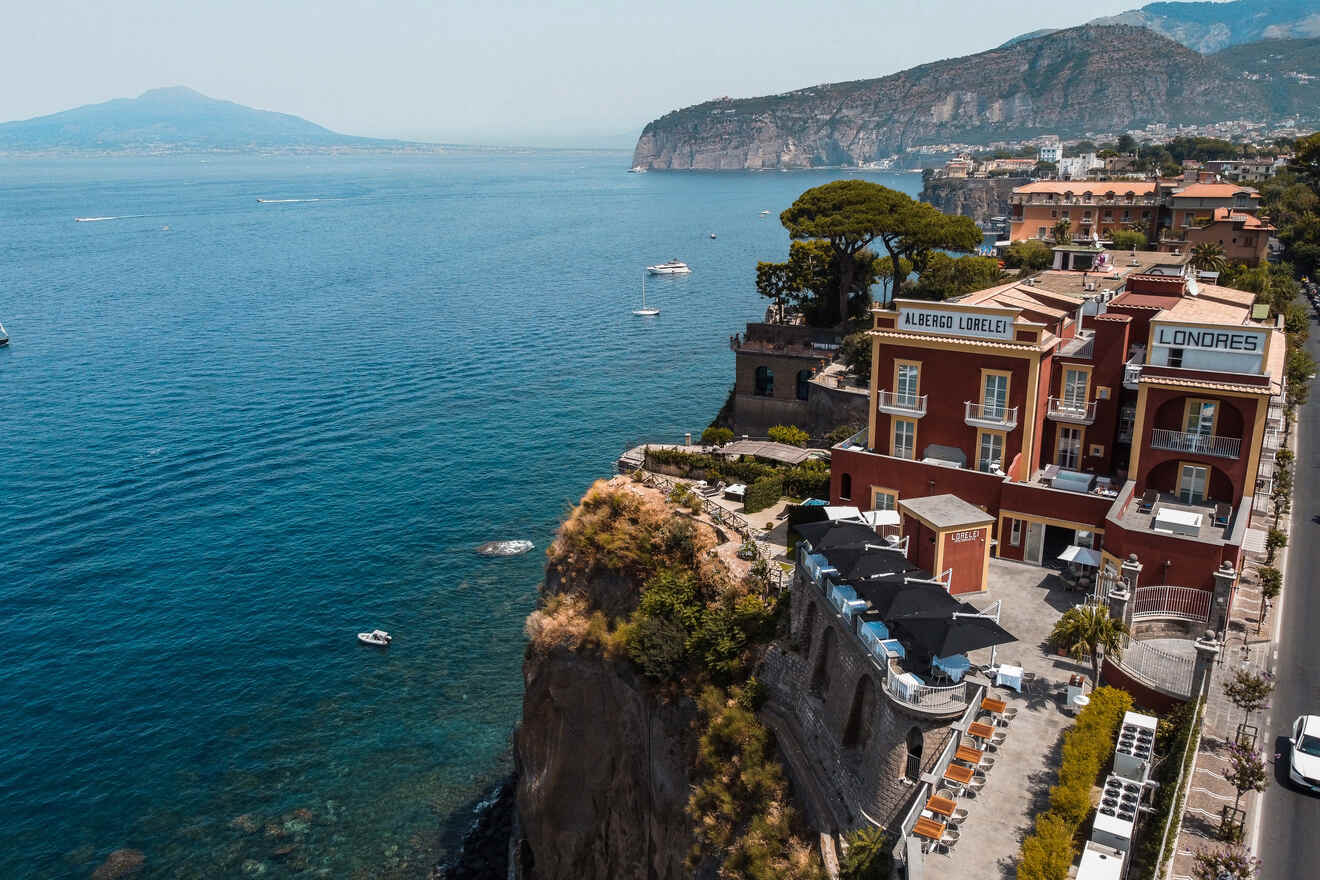 You can't really say you've been to Sorrento if you haven't experienced its lively nightlife! And my friend, you better pull out the big guns and dress to impress! The bars and restaurants in Corso Italia look very fancy and I'm sure you'll want to take tons of pics here.
This area is also the main road of the town which runs through all the neighborhoods except Priora, ending at the Piazza Tasso in the central historic area. This makes it the perfect place to stay if you just can't decide between all the awesome neighborhoods!
Although the area is an amazing shopping street during the day, when the night comes it transforms into an even more vibrant neighborhood filled with people and tourists ready to have fun and drink lots of wine and limoncello!
Go bar hopping all the way along the street, if you're a cocktail fan and love all those quirky mixtures then Insolito Bar might be the place for you, you'll find a drink with most colors of the rainbow here. Fauno Notte Club is a great place to end your adventure, its central location makes it a favorite spot for most tourists and generally pretty easy to find your way home!
Other accommodation options in Corso Italia
Things to do in Corso Italia
Enjoy the amazing nightlife of central Sorrento
Dance the night away at the Fauno Notte Club
Drink the best local cocktails at Insolito Bar
Visit the Piazza Tasso in the Historical Center of Sorrento
Spend a fun night at Daniele's Karaoke Club
Eat at the best restaurants in town
Go shopping for local products at the Rionale Market
Frequently asked questions about Sorrento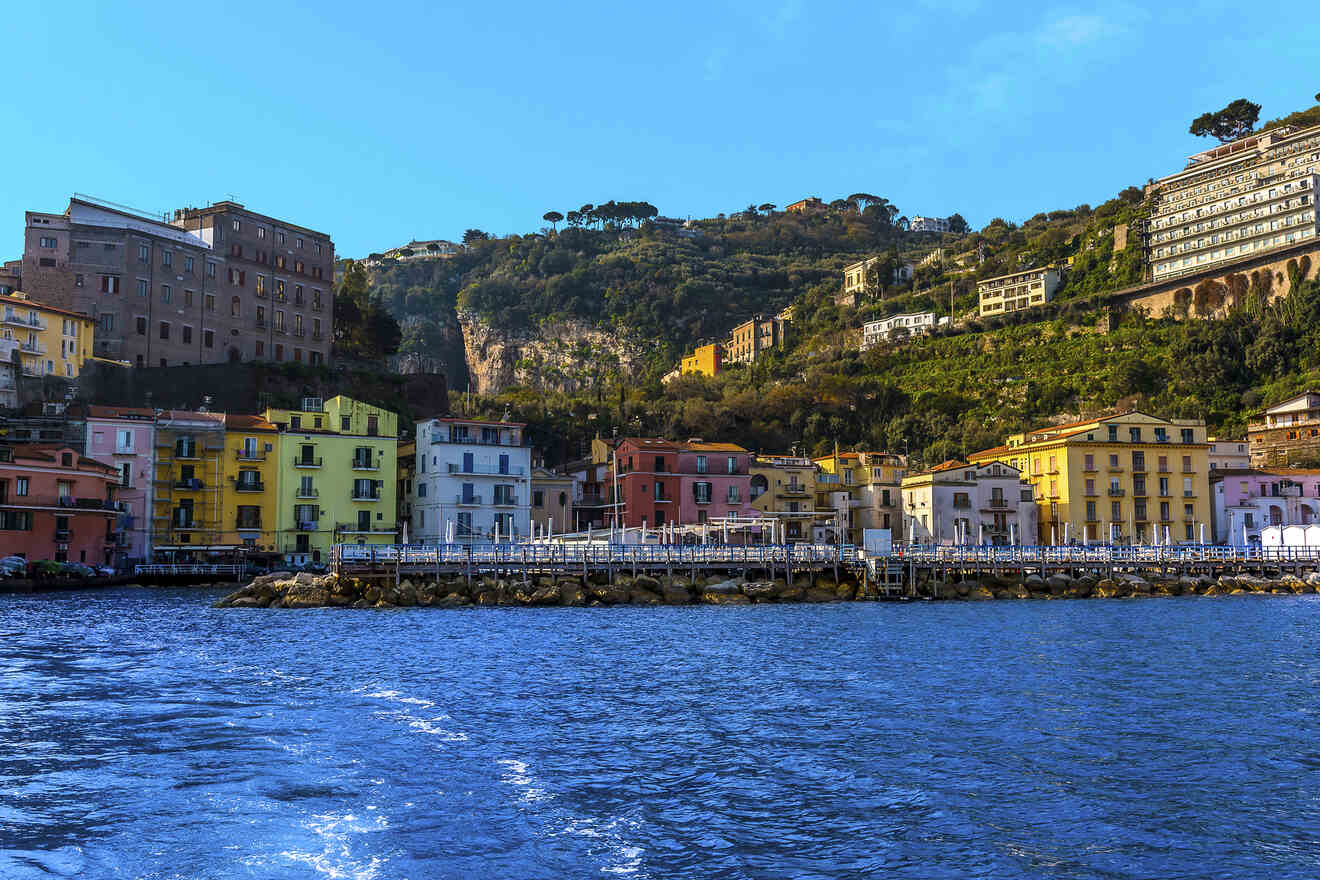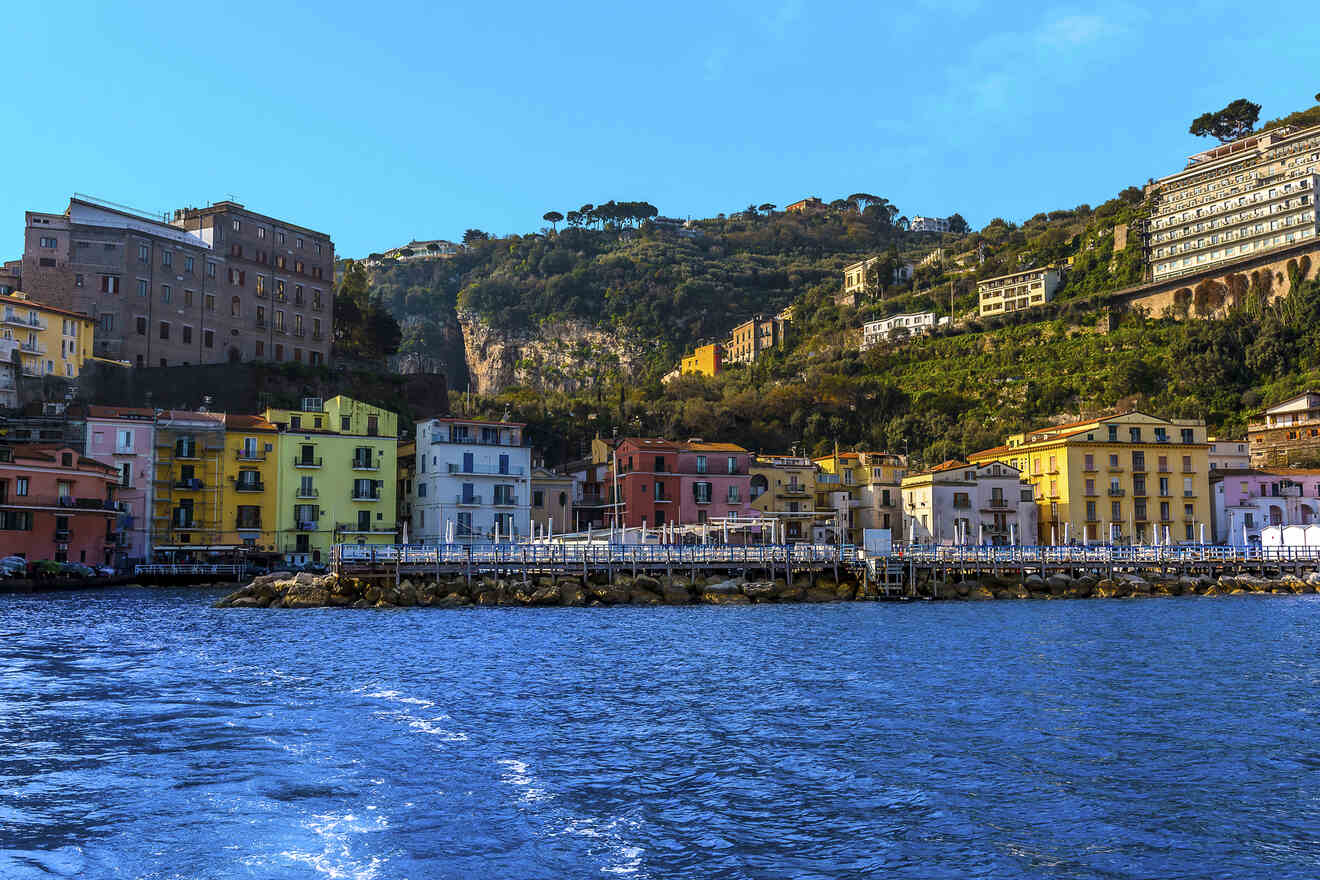 Conclusion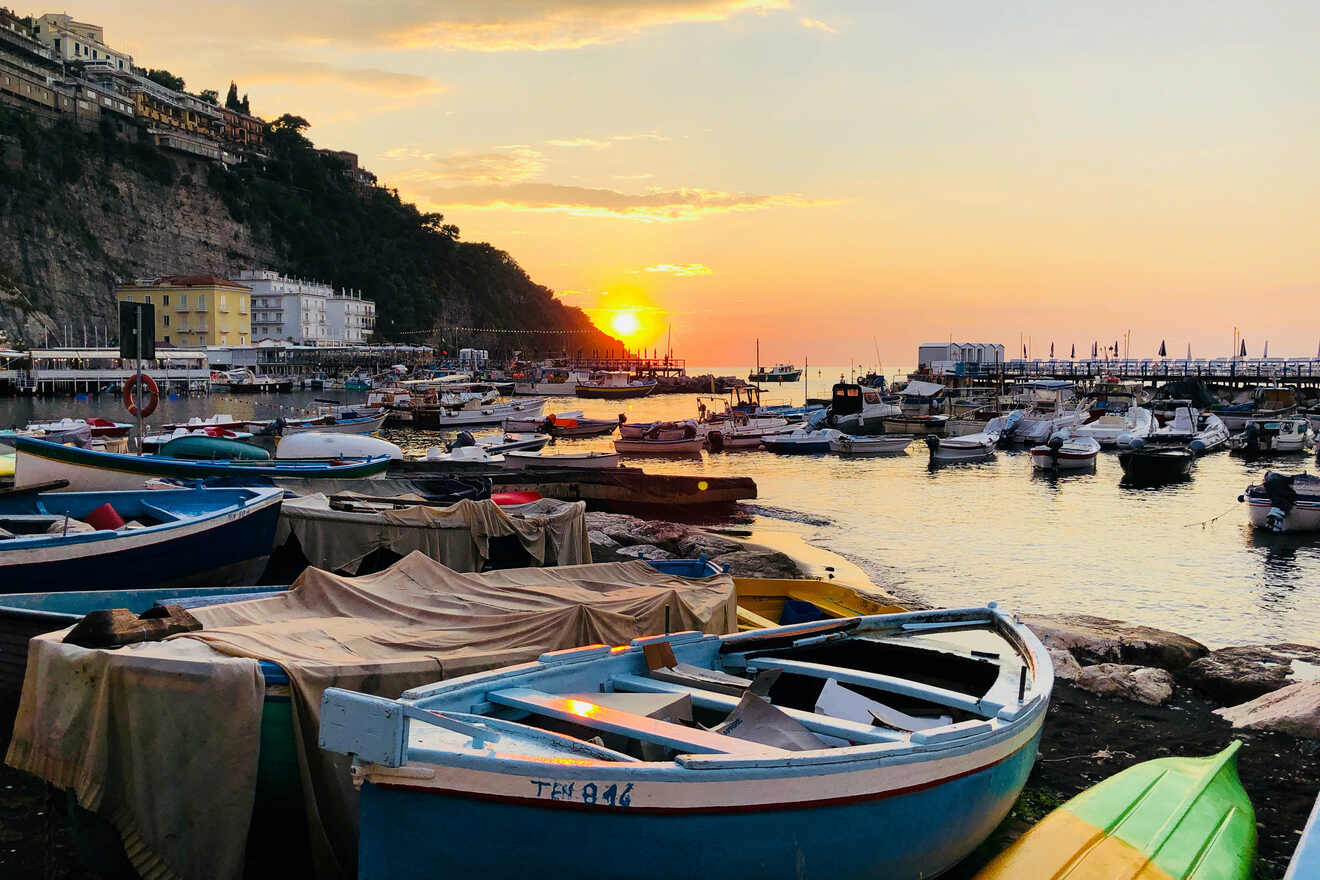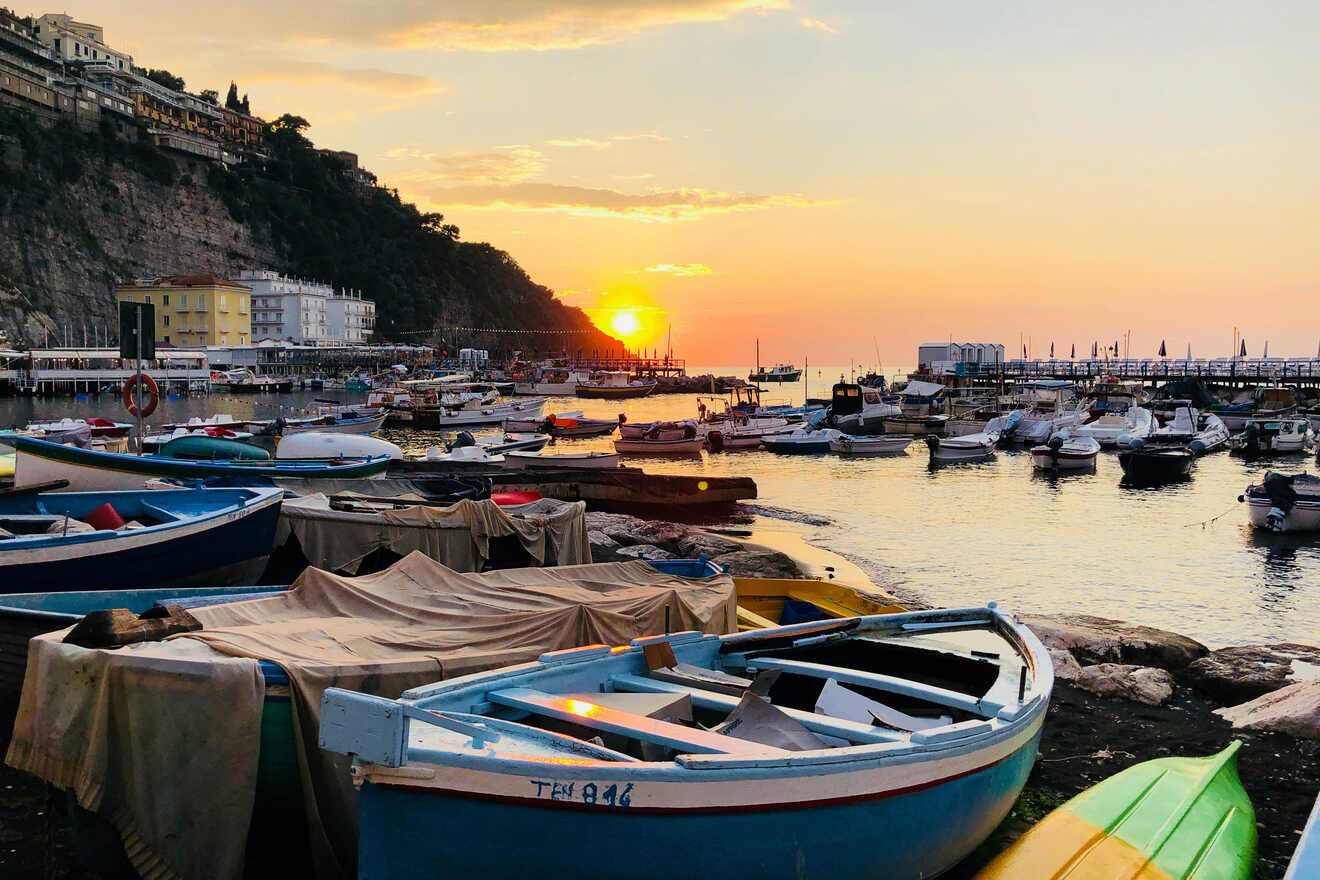 This is where I say my goodbye! Don't be sad, we'll meet soon enough! Who knows, maybe somewhere in Italy! I hope this post helped you decide where to stay in Sorrento, which hotel to book and which restaurant to hit first in Piazza Tasso.
I know I've given you tons of hotel options but here are my top two favorites both located in the Historical Centre, near Piazza Tasso. Make sure to book in advance so you don't miss out on these incredible places!
Have fun in this amazing coastal town of Sorrento – where to stay here might be hard to decide but I know my list will help you find the right choice in the center! Feel free to leave me a comment if you have any questions, I look forward to answering them!
Arrivederci,
Victoria
---
---