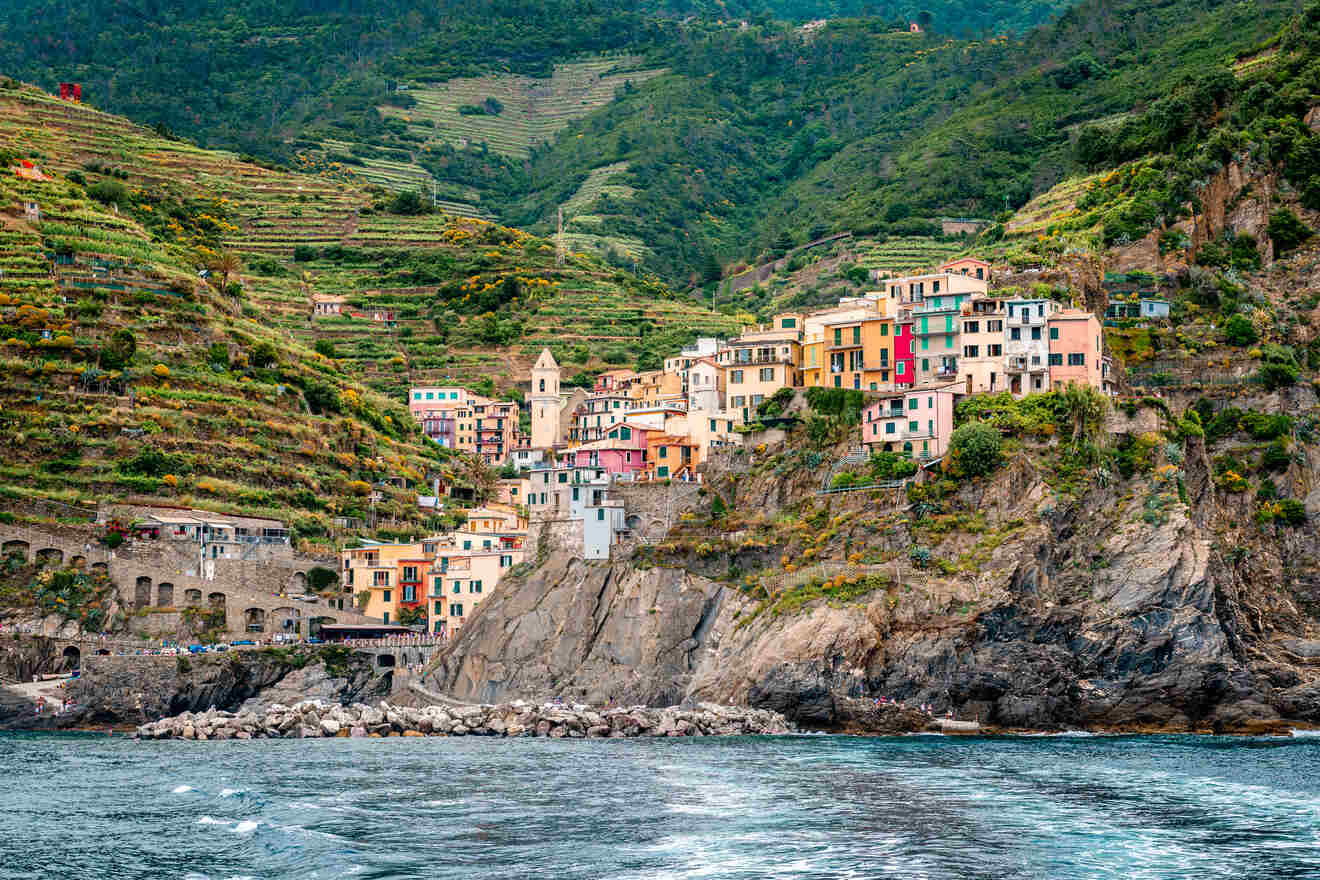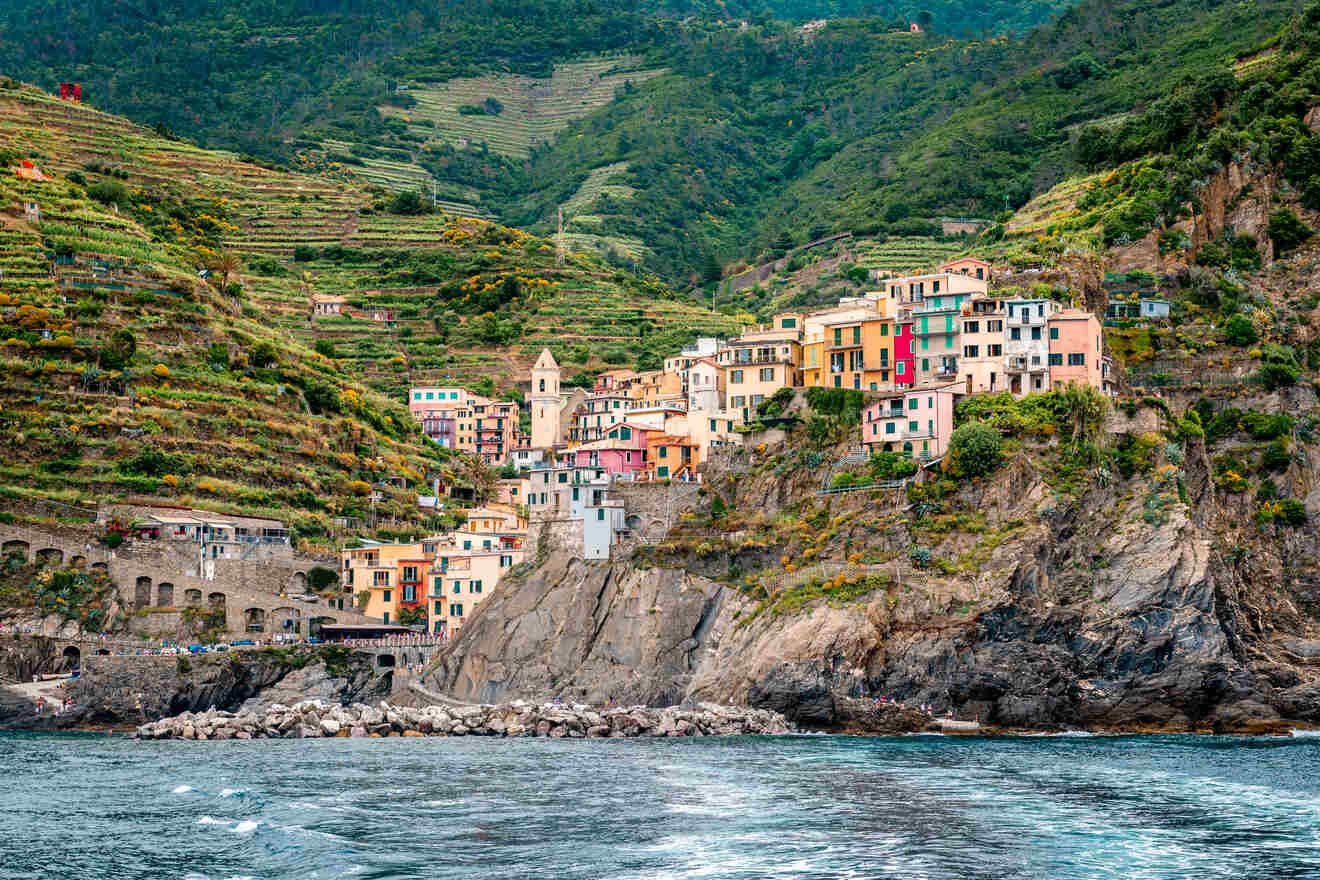 Mamma Mia! Here we go again, and this time we're traveling to a beautiful part of Italy, located on the western part of the country on the Ligurian coast; Cinque Terre is our destination and is one of the best places to stay if you want to visit this beautiful country. A UNESCO heritage site, the region is a group of 5 villages ("cinque terre" literally means "5 lands" in Italian). To reach the towns, you have to take the train from La Spezia, as cars are not allowed in the villages.
The "lands" are all located on the same train line, and the order of stops is as follows:
Riomaggiore,
Manarola,
Corniglia,
Vernazza,
Monterosso,
and the last stop is Levanto.
If you're looking for where to stay in Cinque Terre you'll be happy to know that this part of the Italian Riviera will offer you the most authentic experience, from visiting vineyards to admiring the medieval architecture and spending your days hiking to the most amazing hilltops. In case you get tired, don't worry, you can head to the train station and take a train back to any town.
In this article, I'll present the best Cinque Terre hotels and areas for each type of traveler. From luxury hotels to on-budget Airbnbs, I have made a list of some of the best places that you can find here. You should book these in advance as the best properties ALWAYS get booked out first!
Andiamo!
If you are in a hurry
Below you can find some luxury hotels and cool accommodation options for your next trip, all located in Vernazza, my fav village in Cinque Terre:
This map of Cinque Terre and surrounding area will give you some visual guidance and you'll see all the areas from Cinque Terre that I'm going to talk about: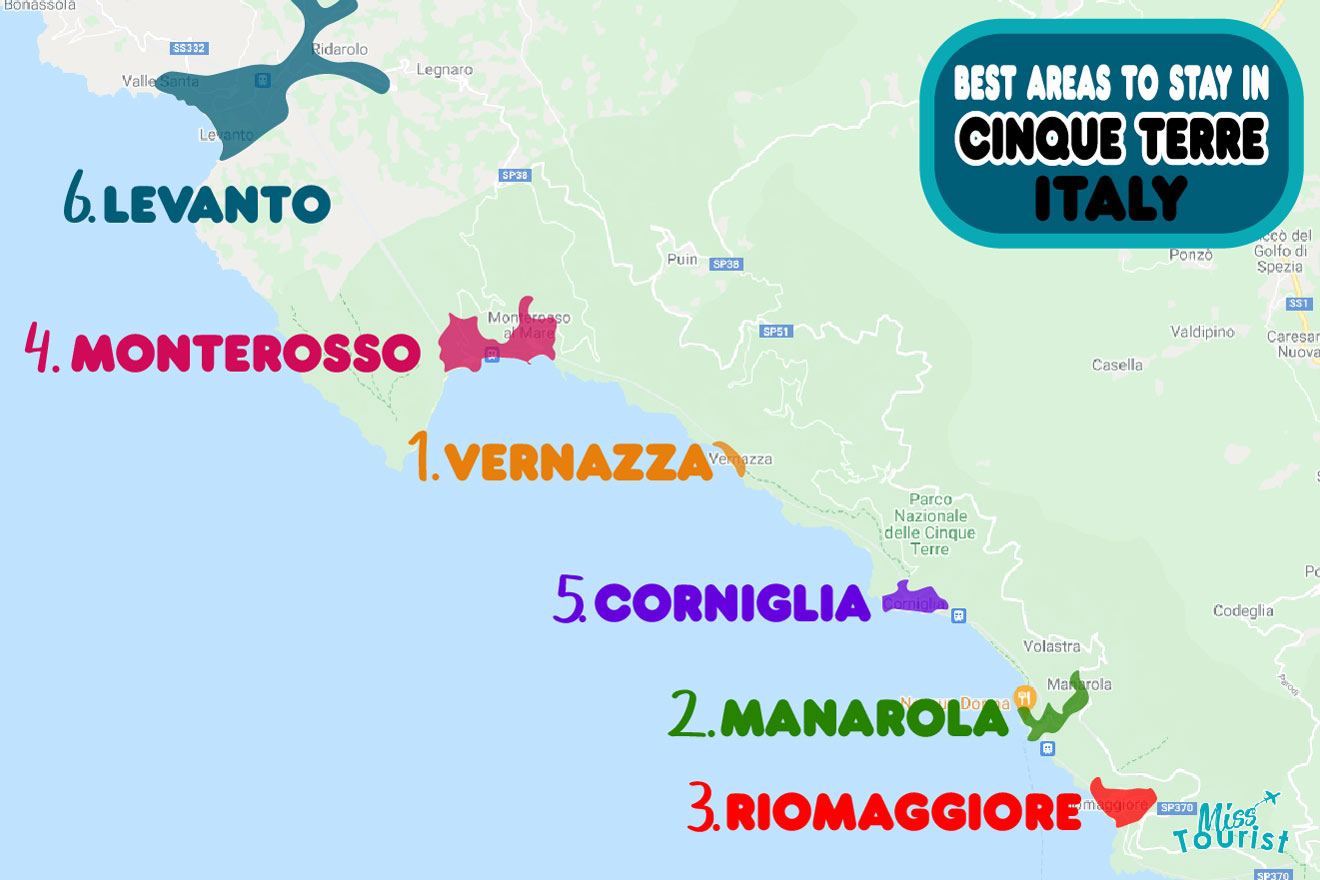 1. Vernazza – where to stay in Cinque Terre for the first time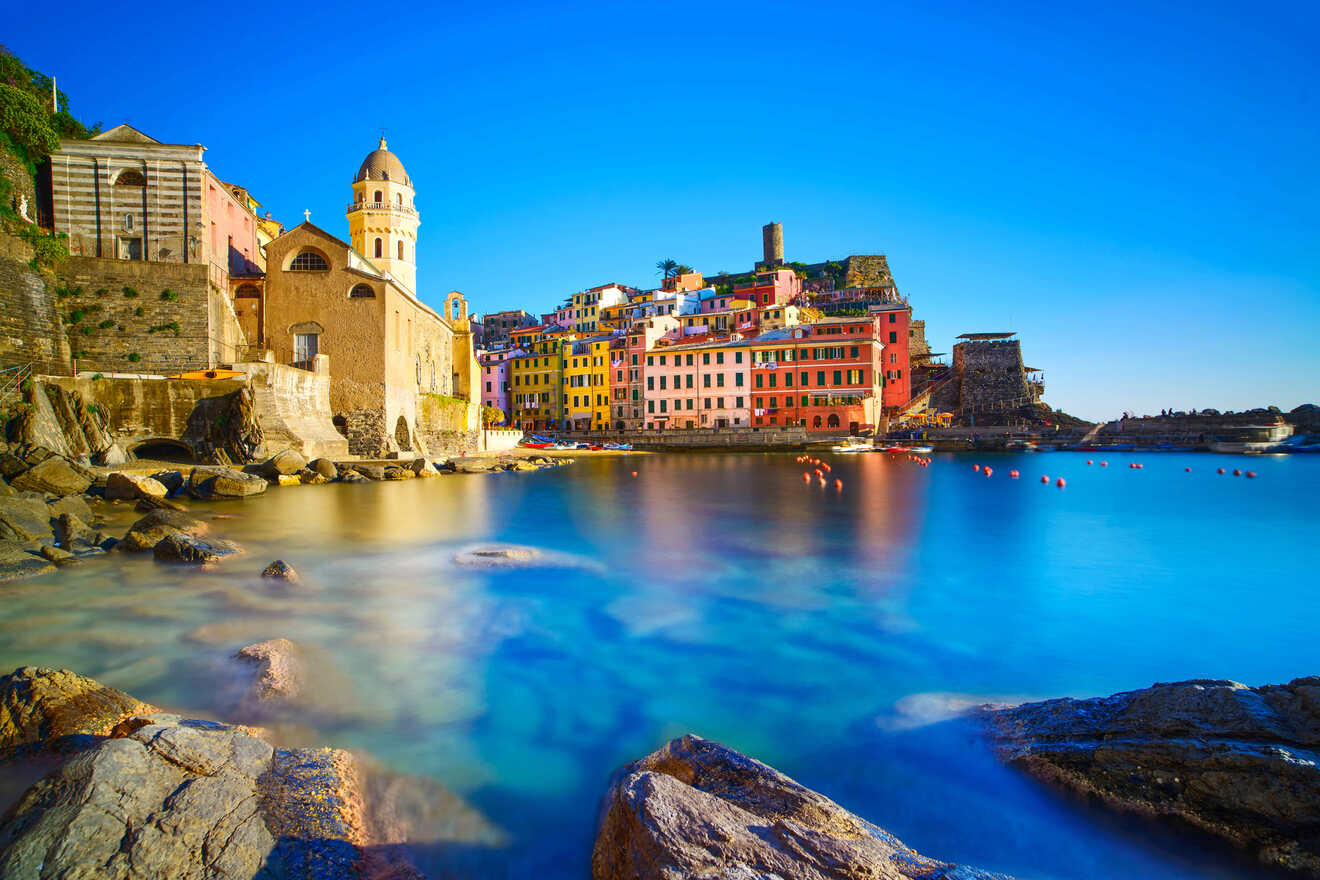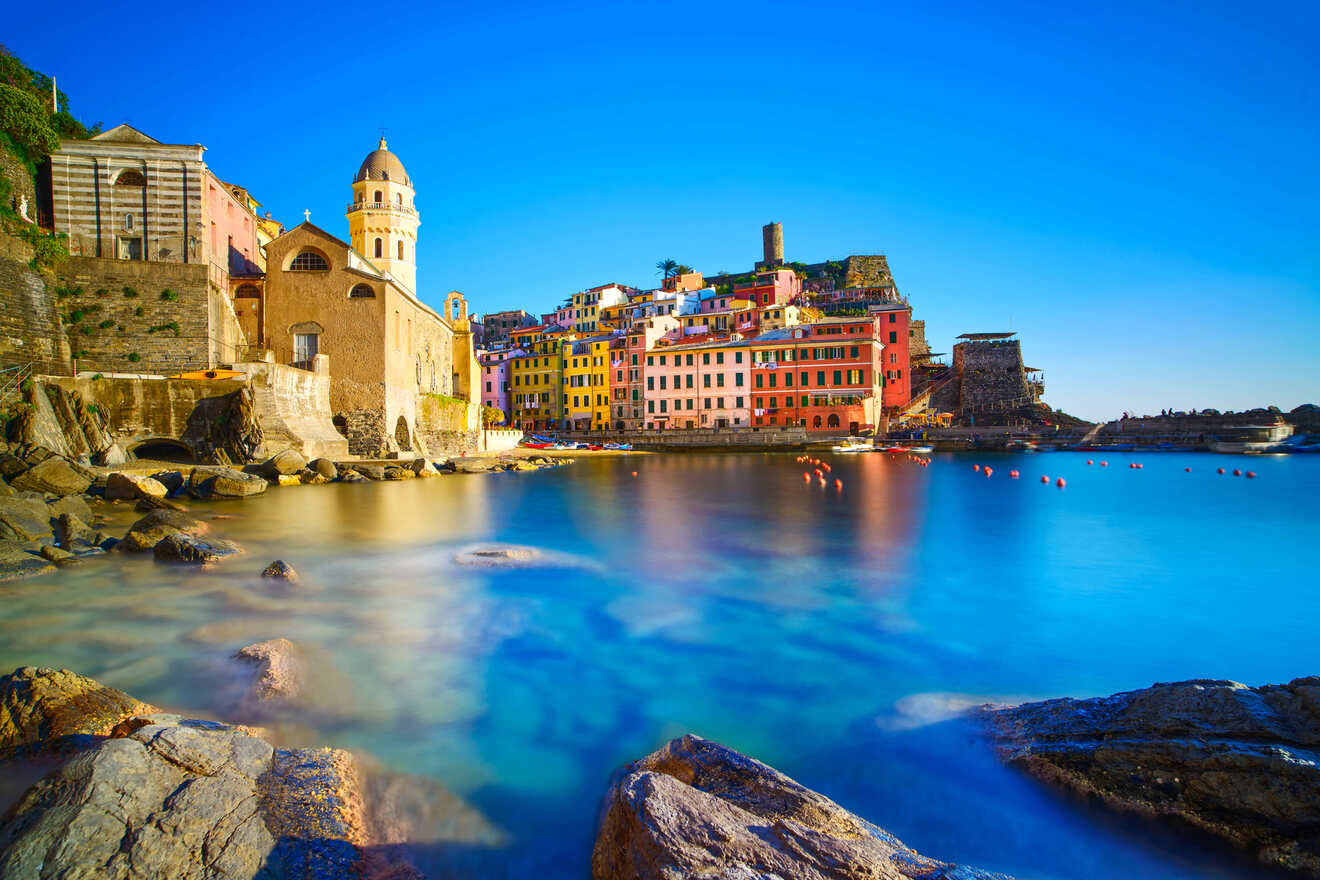 This is one of the best Cinque Terre Villages, located in Liguria region. It's the fourth train stop from La Spezia (~20 min away). It has the best coastal views and the bluest water. It's no wonder it was named one of the most beautiful towns in Italy and that says something! From afar, Vernazza looks so happy! It might be because of the cliff-tops colored houses painted in pink, yellow, terracotta, or it might be because all the villagers and travelers fill this town with so much good humor!
This is a great place to stay in Cinque Terre for the first time; you can easily see most things by walking around. It will be beautiful to admire the architecture of the 1080s; that's how old some structures are in Vernazza! In this charming, picturesque Italian town, you can find the only natural port in Cinque Terre, so you'll see tons of little boats just floating on the sea.
In case you didn't know, the territory of the five towns is designed as a National Park, which is a protected area that was included as a UNESCO World Heritage site in 1997. You'll need a day pass to hike between Monterosso to Corniglia, but the first half from Riomaggiore to Manarola and to Corniglia is free. Make sure you book the hotels here in advance as this city's popularity has peaked lately.
In gorgeous Vernazza, you will see beautiful historical buildings resembling Florence, like the Church of Santa Margherita d'Antiochia, a famous Italian landmark. Still, there are also some great hiking hills and beaches. This town has it all! Don't worry about not finding a place to stay in Cinque Terre Vernazza that doesn't have great views; most hotels in this town overlook the lagoon and city!
If you want to enjoy the vibes of this little village, make sure you take a day off from walking around and just sit in the piazza with a drink in your hand and just relax!
Luxury hotel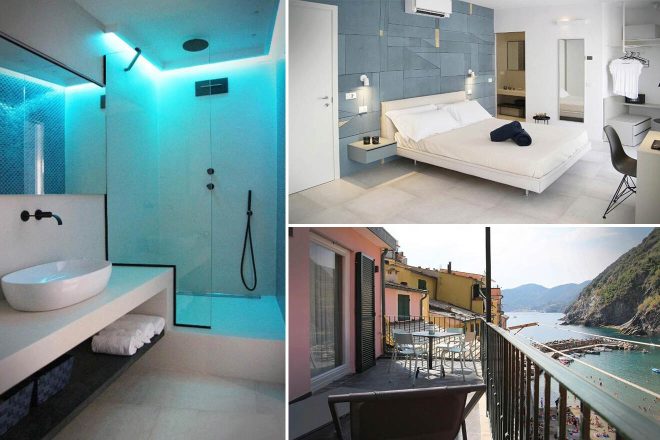 Haven't you always dreamt of staying in one of those colored buildings in Italy that you only saw in a postcard? This Vernazza hotel has the cutest balcony with an overview of the coast. Just imagine waking up and having your coffee on the terrace while you enjoy the beautiful sea view. One of the best places to stay in Cinque Terre that has family rooms and a cool modern design. There's only a 3-minute walk to the beach.
Other accommodation options in Vernazza
mid-range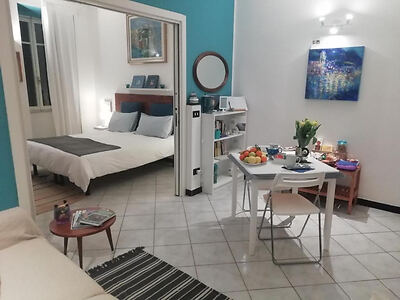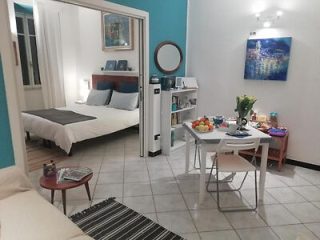 A Vernazza hotel near the harbor that offers double rooms, free wifi and breakfast is included
budget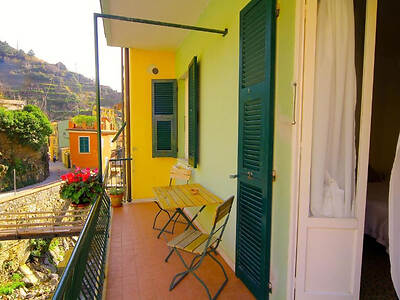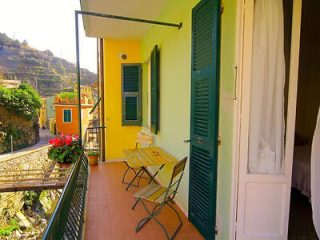 A budget-friendly colorful hotel that has a lovely terrace with nice views and air conditioning
airbnb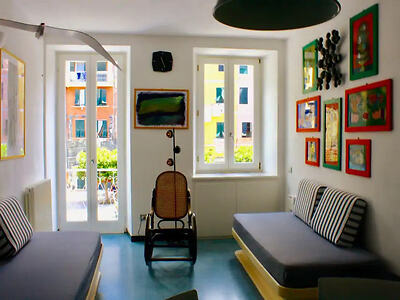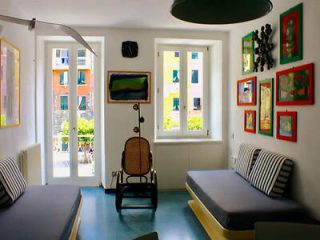 A great self-catering apartment located in the heart of Vernazza with a terrace, free wifi, and sea views
Things to do in Vernazza
2. Manarola – the best views in Cinque Terre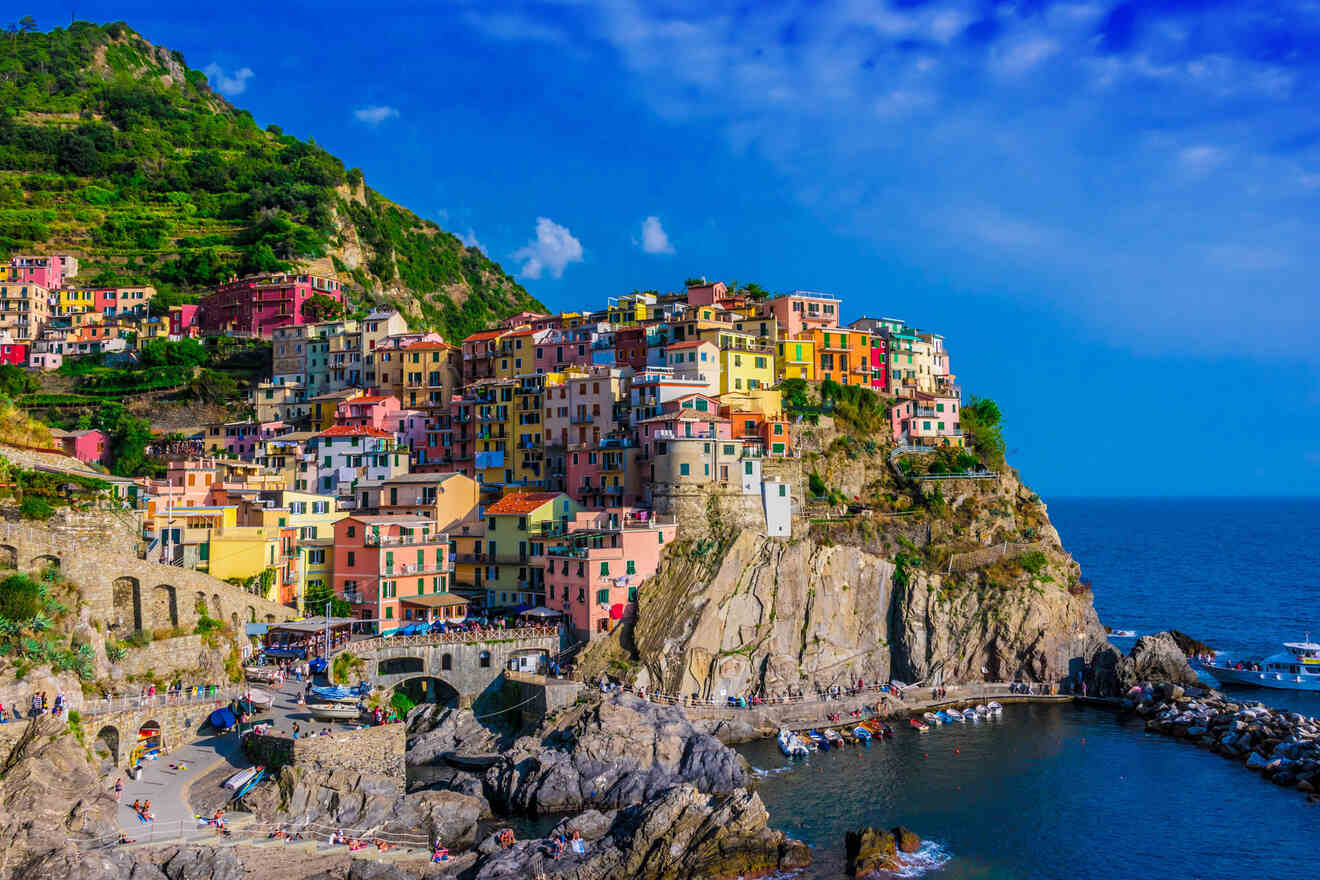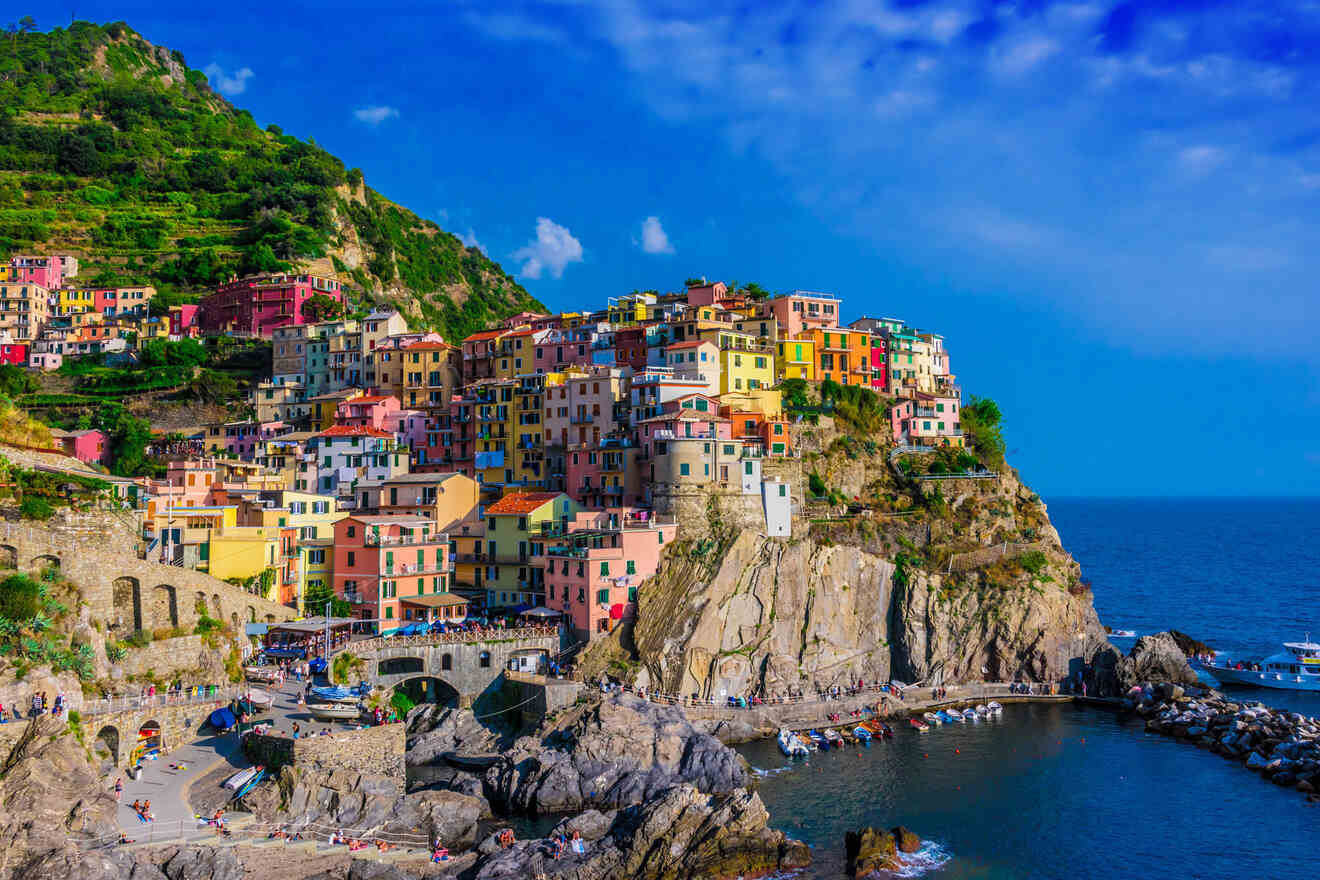 Manarola is located right on the cliffs, and the pastel houses will make you want to move in one and spend the rest of your days on the balconies, drinking wine. This is the second train stop from La Spezia, and the journey will last 10 minutes. You'll find some of the best hotels here and most places are located within walking distance.
Tourists who like walking around or hiking will be impressed with all the routes that you can take from Manarola. Although they don't have any beaches, adventure enthusiasts will be pleased to know that you can try cliff-jumping or just tanning if you're not so much into this, but either way, you can spend a lot of your time swimming in the blue water of this vintage village.
If you want to visit other towns and maybe go on a trip somewhere, you can take the train that goes on the coast so the views will be so unique! I just love it when I hop on the train and admire the beautiful panoramic views of the sea just outside my window! This makes up for the fact that you can't drive here, a great idea if you ask me; it just keeps the historical side untouched!
If you are looking for a place to stay in Cinque Terre and drink delicious Italian wine then Manarola can be a great choice as it is well known for its wine production!
Plus, definitely try the pesto, it's the besto! 😉
Luxury hotel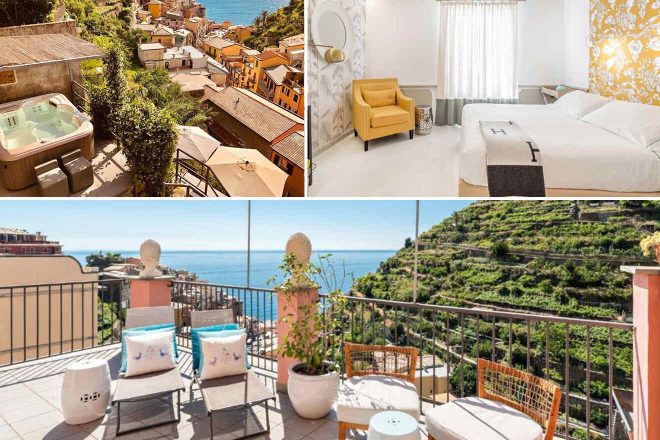 Amici miei, I have found you one of the best luxury hotels from Cinque Terre! Imagine this, you spending a night in a hot tub with a glass of Italian wine in your hand, and the best view of the Ligurian Sea. This hotel in Manarola is set in a converted medieval tower, talk about relieving the history! The rooms are modern and the terraces and balconies are the perfect spots for your morning coffee.
Other accommodation options in Manarola
mid-range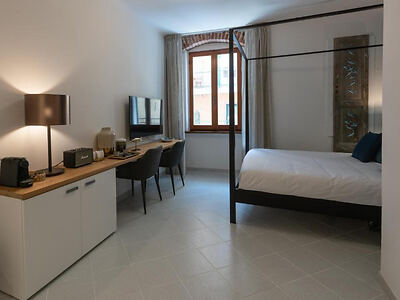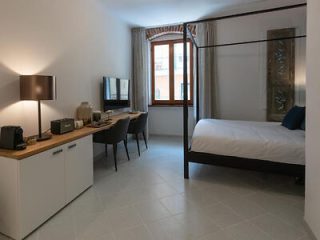 Elegant rooms in Manarola that have city views, free wifi, and air conditioning
budget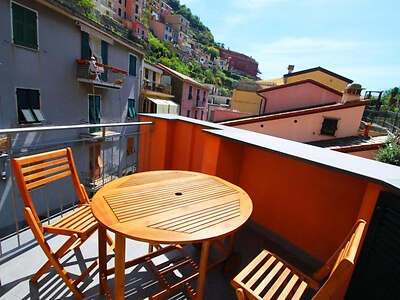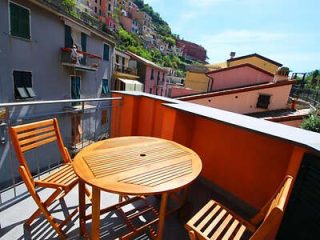 A great Cinque Terre apartment that has a cute balcony and double rooms
airbnb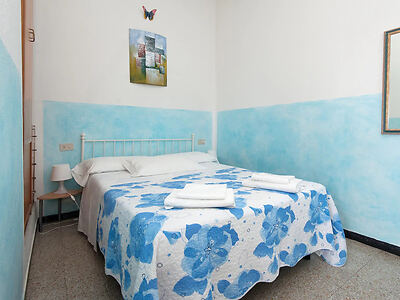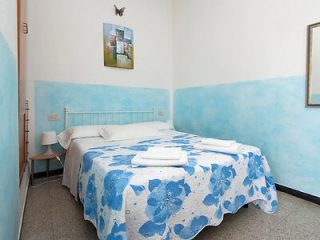 A great budget-friendly apartment with great views of the Ligurian Sea from the terrace
Things to do in Manarola
3. Riomaggiore – where to stay for water sports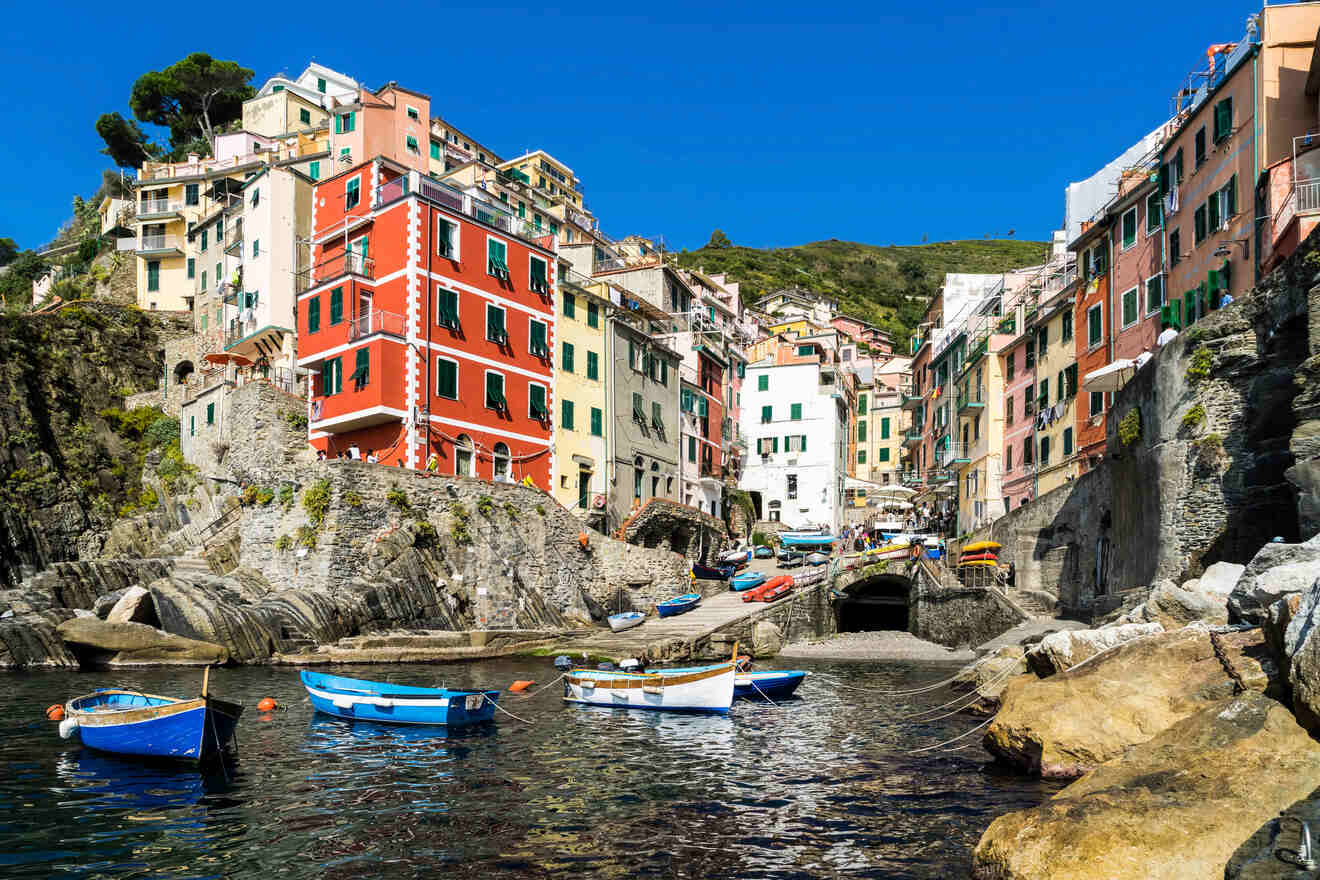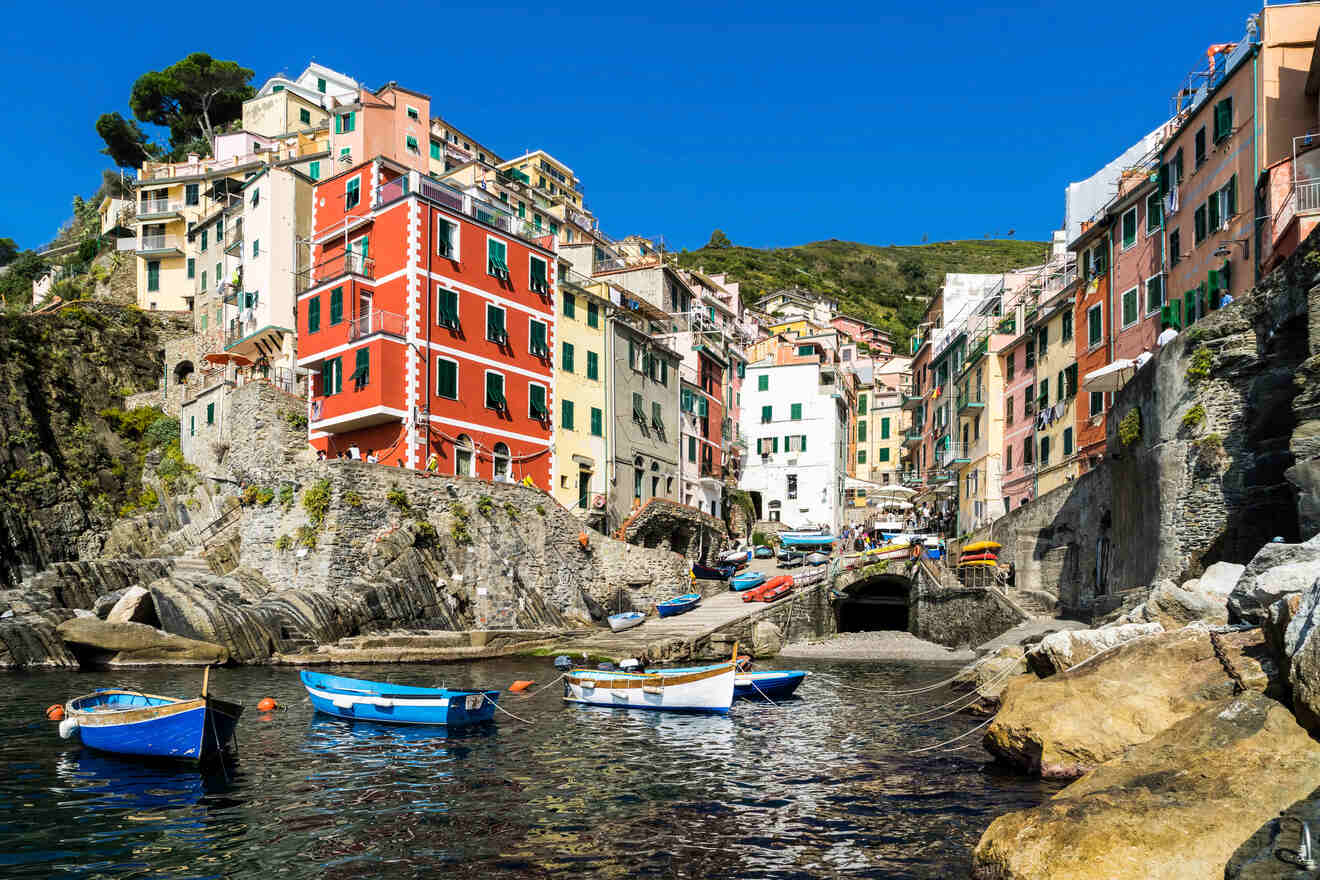 Come live your Italian dream in Riomaggiore, this town located in the southern part of the region has it all! The first train stop from La Spezia, you will reach your destination in less than 10 minutes. Hotels are overlooking the sea, it has some of the best restaurants and it's easy to get around!
Ragazzi e ragazze (boys and girls) this village has to be your next vacation spot! It's the starting point of the famous coastal pathway called Via dell'Amore (Lover's Lane) that will take you to Manarola, so even if you are based in a hotel here, you can take a short walk to visit the town next door! Or go to the train station and get a ticket for the whole coast if you're not in the mood to walk.
Another great place for hiking! In Riomaggiore you can take the famous 2.18 miles trail that leads up to the Sanctuary di Nostra Signora di Montenero church, a beautiful Italian 11th-century building, that is not always opened for travelers but if you make it up to this point you won't even care since you'll have the most stunning view of the coast.
The main street is full of restaurants in Riomaggiore and cafes where you can sit and have a strong Italian espresso in the morning or a glass of wine in the afternoon. So even if you don't feel like hiking or diving, this is the perfect spot for some lazy day people watching.
Luxury hotel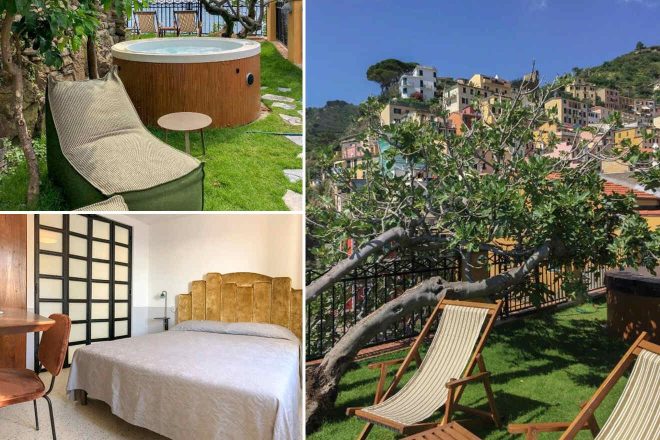 One of the best places to stay in Riomaggiore, this beautiful hotel has some unique sea views and nice rooms. Enjoy la dolce vitta from the beautiful terrace that has lots of plants, little trees, and a cool pool overlooking the colorful villas! Pour yourself a glass of limoncello, take a chair, and admire Cinque Terre.
Other accommodation options in Riomaggiore
Mid-range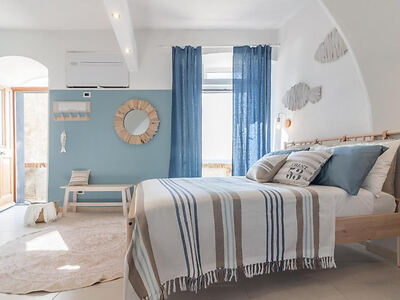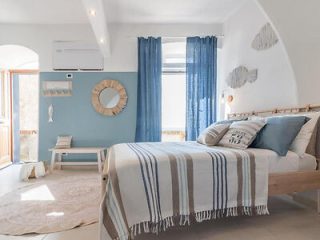 A great Riomaggiore hotel with sea views a balcony and a shared terrace
budget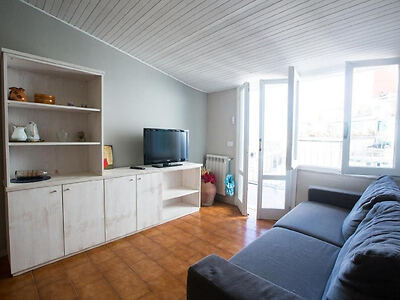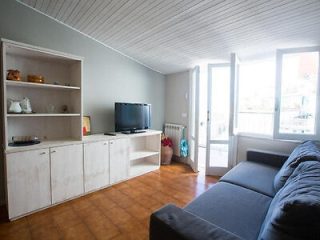 Family-run hotel set in a renovated 13th-century building in Riomaggiore with sea views
airbnb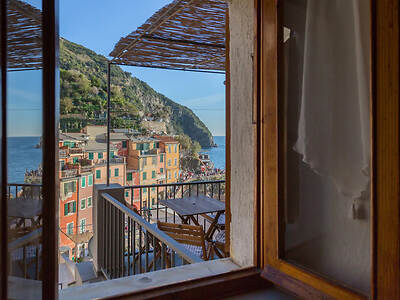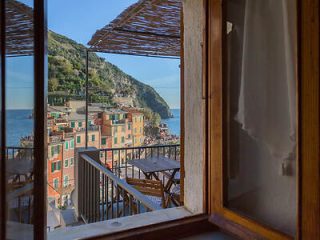 An affordable self-catering apartment with a great terrace that has views of the harbor and sea
Things to do in Riomaggiore
4. Monterosso Al Mare – the best beaches in Cinque Terre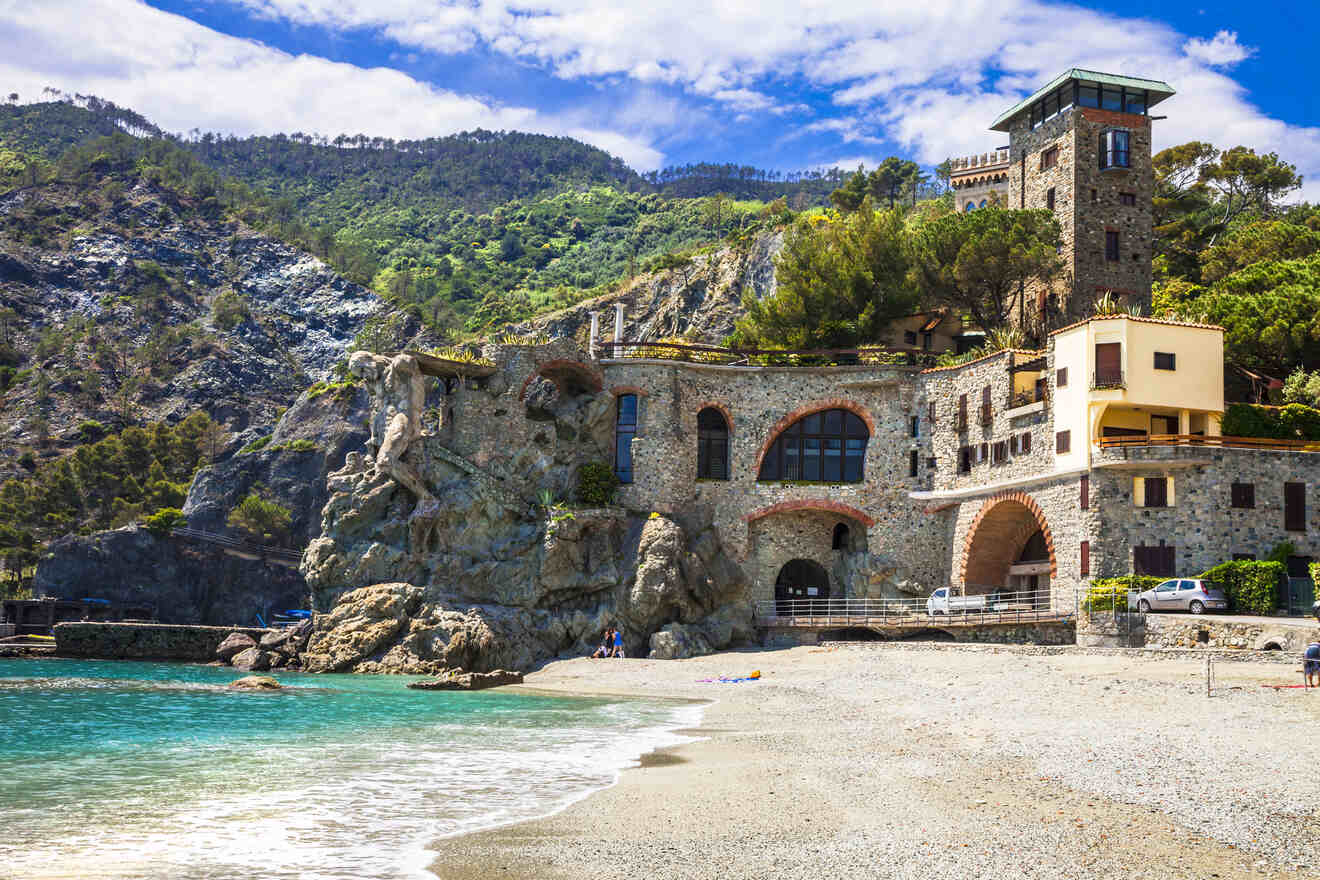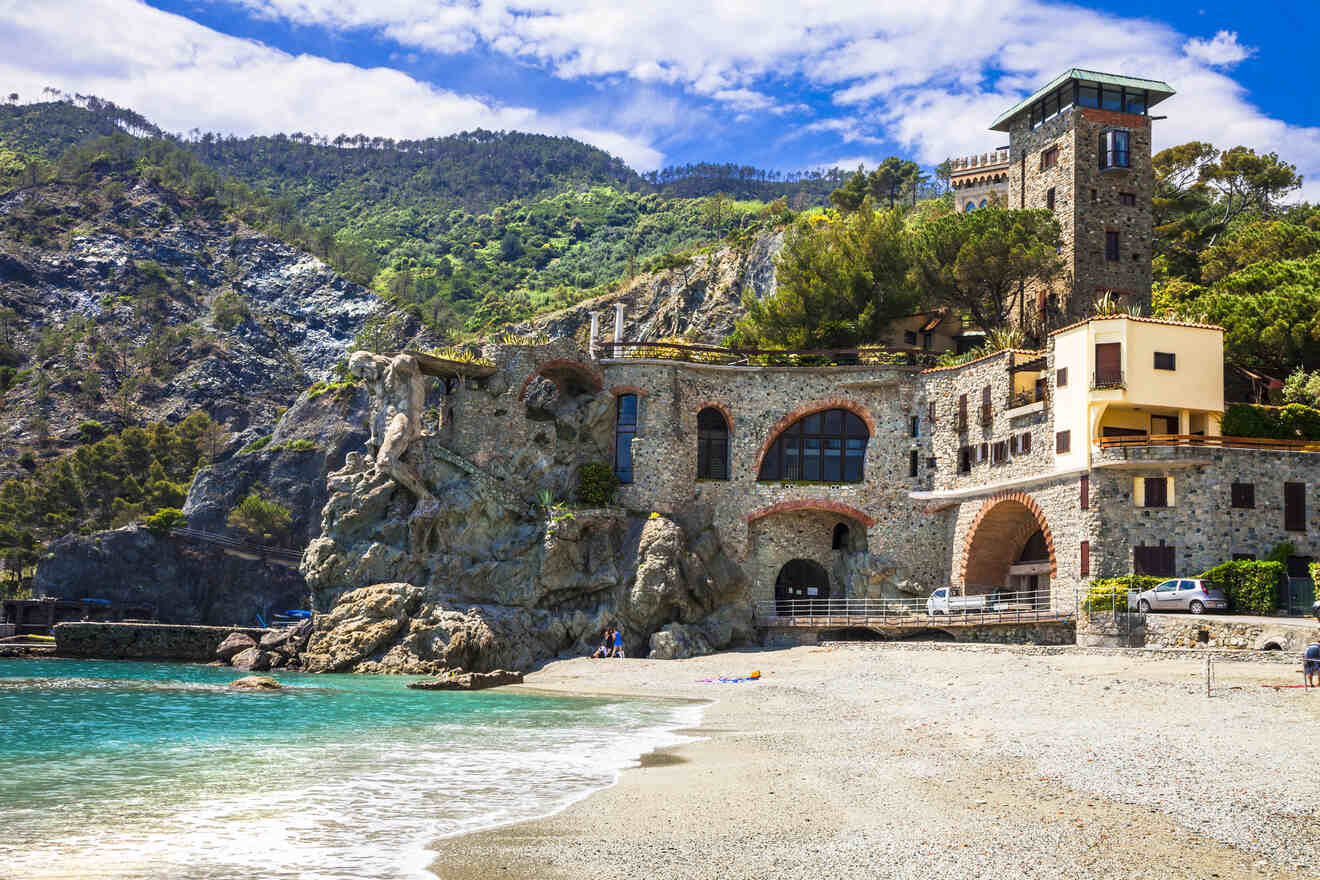 Located in the northern part of the area, this town is the fifth train stop from La Spezia. Your journey will take just over 20 minutes. Monterosso Al Mare is an ideal choice for you if you want to stay somewhere near the beaches, they are all situated within a walking distance. Monterosso Al Mare is actually the largest out of the five villages and the gateway for the Cinque Terre National Park.
The two main beaches that you'll find in Monterosso Al Mare are the Fegina beach which is a great spot for families and the other one carries the same name as the village. This little town alone could rival the Amalfi Coast! Whether you relax on the sand or bring some local pastry and have a picnic, this town is great if you love some good old beach fun. Cinque Terre, Monterosso Al Mare has the most beautiful statue of all time.
Right near Fegina beach, there is a huge rock carving of the Neptune God, which is also known as "The Giant", who looks as if he is actually holding the cliffs above him. An amazing spot to take some artsy pictures at sunset!
Just like the other Cinque Terre towns this village dates back from the Middle Ages and has many buildings that were used to defend the city from pirate attacks. This stunning place is divided into two districts The Old Town which is perfect for history lovers, where you can find the Fiechi Castle and Aurora Tower. The other district is the modern Fegina that starts from San Cristoforo promontory to Punta Mesco and the area where you'll find the beach.
During your stay in Cinque Terre the train it's going to be your best friend, even though you want to settle in one of the towns, at a hotel, you should take advantage of the fact that they are really close and take day trips.
Luxury hotel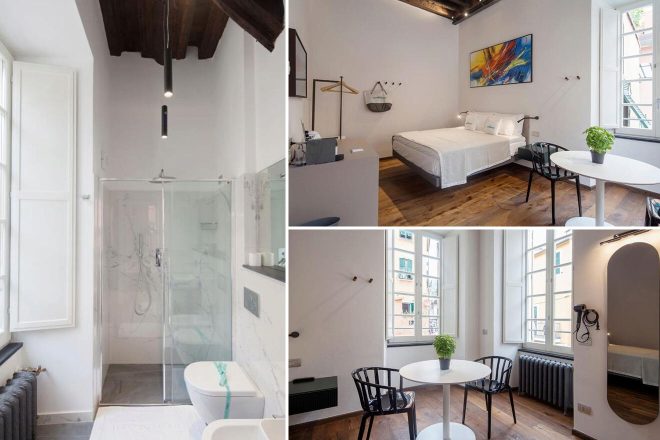 I don't know if you'll find the little prince in this Monterosso Al Mare luxury hotel but you'll definitely love the romantic vibe of the rooms. The place is very modern and perfect for couples as it has a tub in the room. With wooden accents and an artistic design, this hotel in Cinque Terre will steal your heart and there's just a 20-minute walk to the beach.
Other accommodation options in Monterosso Al Mare
mid-range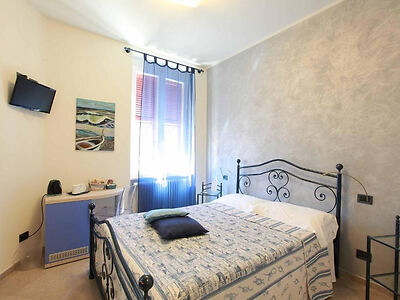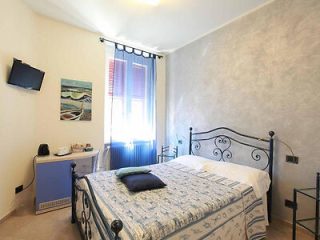 A perfect Cinque Terre Monterosso Al Mare hotel that has free wifi and some rooms with balconies
budget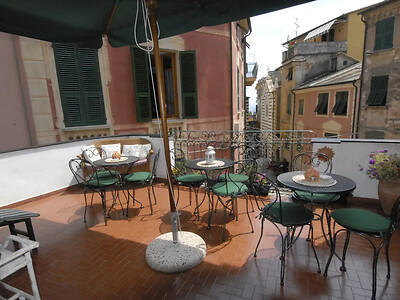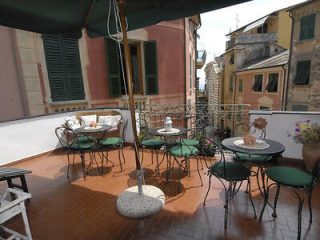 A room located in a historical building that has a beautiful terrace and it's equipped with air conditioning
airbnb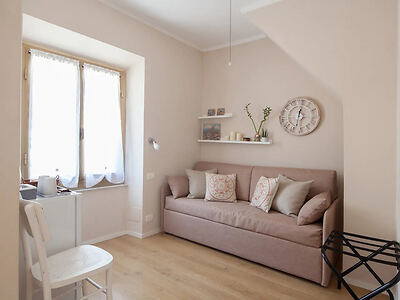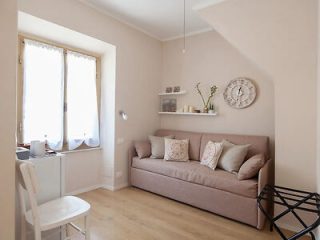 Spacious rooms with beautiful sea views in Monterosso Al Mare and a train station nearby
Things to do in Monterosso Al Mare
5. Corniglia – best place to stay in Cinque Terre for tranquility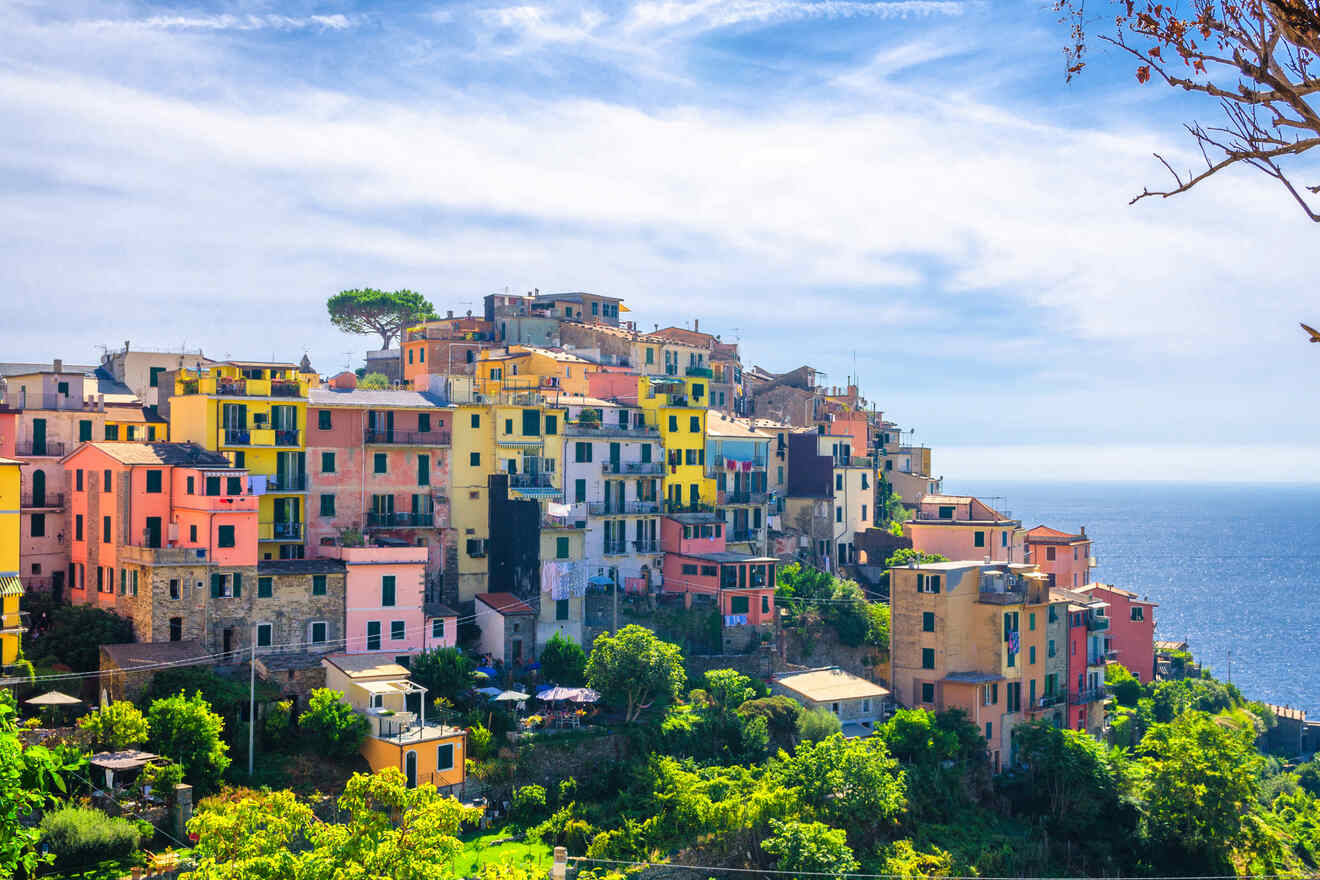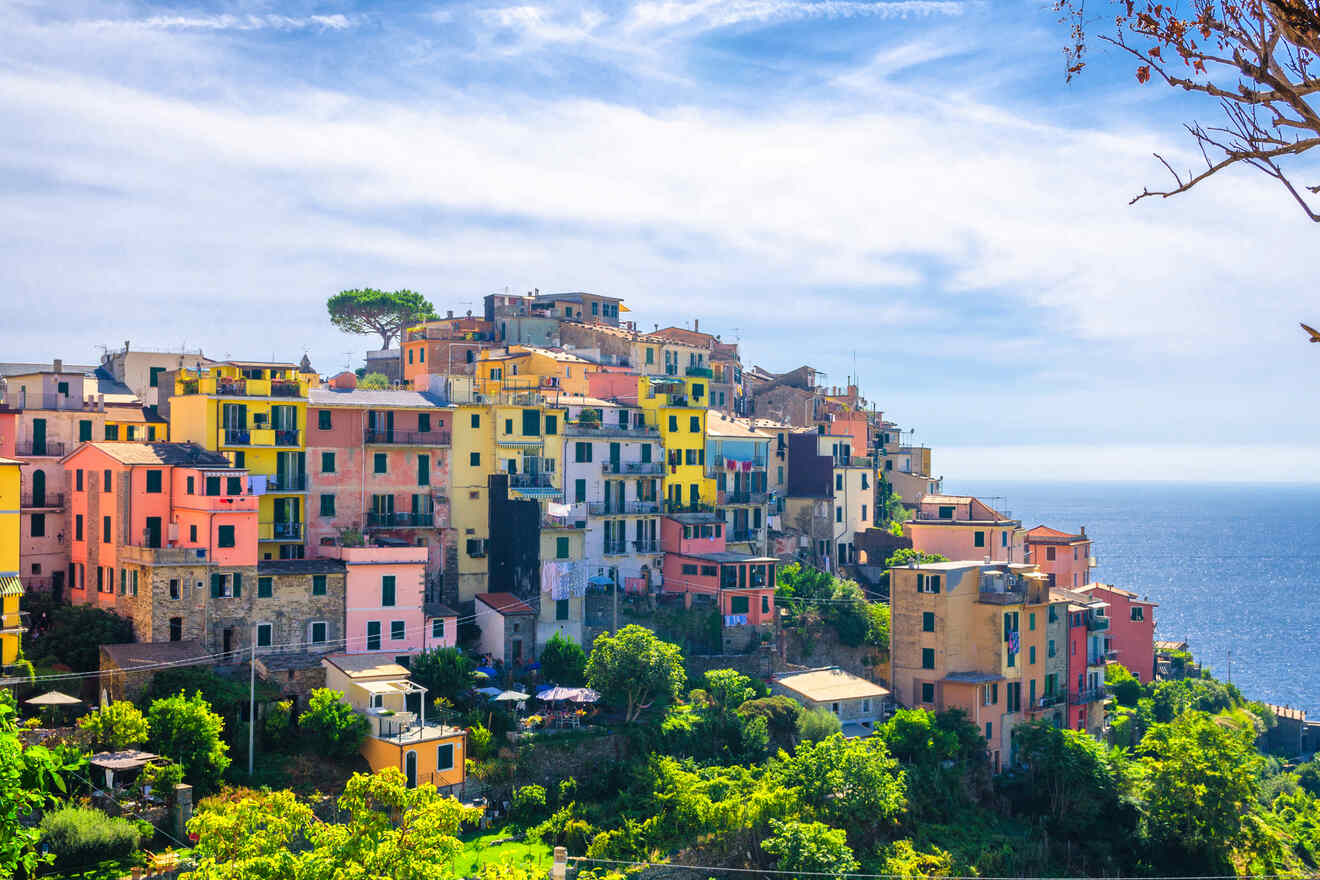 The oldest out of all the villages, Corniglia is the third train stop from La Spezia with a journey of 15 minutes. This place dates back to the Roman Age, this Italian hidden gem is often overlooked by tourists but if you're looking for a place to stay in Cinque Terre that isn't packed with the crowds then make sure you book your ticket to this town in advance as all the best hotels sell quickly! Corniglia is located in the province of La Spezia, Liguria, northern Italy.
You can enjoy some peace and quiet somewhere in the town while eating delicious food. However, suppose you're in the mood to mingle. In that case, Vernazza is situated within a walking distance from Corniglia so you can take a trip there anytime or go to the train station and get a ticket to any other village!
Experience all that this little picturesque town has to offer and enjoy the best views. From Corniglia, you can see all the Cinque Terre villages! However, in order to access the train station, you have to climb down 382 steps, in case you wanted to do some exercise during your vacation then I've got you covered!
Ah, dolce far niente! This Italian phrase is the best way to describe the vibe of the friendly town. Choose a spot from the many terraces, order a cup of coffee or limoncello, and indulge in the best local dishes! Pasta, seafood, or tiramisu, it all sounds too yummy!
Luxury hotel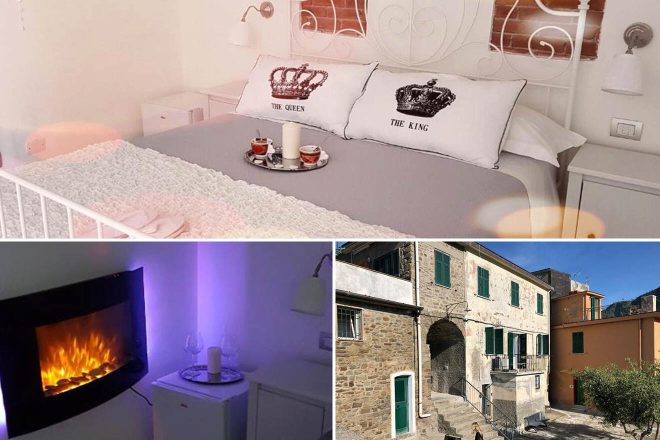 A beautiful Corniglia hotel that looks so modern on the inside but outside, you wouldn't say it's from this century! This place in Cinque Terre has family rooms as well and a unique terrace overlooking the sea so you'll have a place to stay up at night and stargaze! In addition, you can have some fun days at Vernazza beach which is 1.5km (1 mi) away.
Other accommodation options in Corniglia
mid-range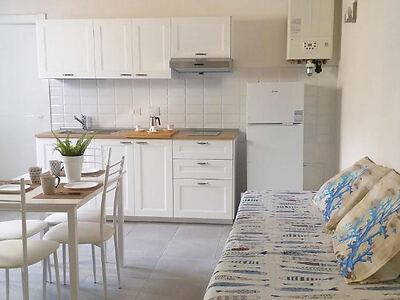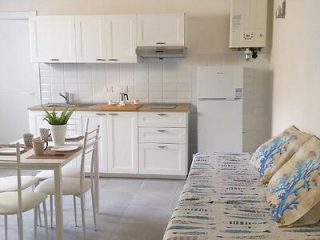 Perfect rooms in the village that have air conditioning and a kitchen
budget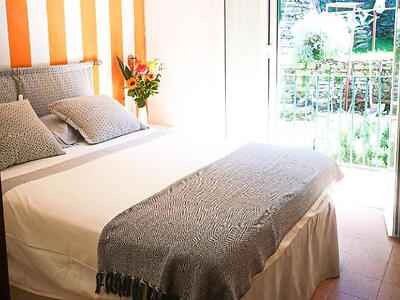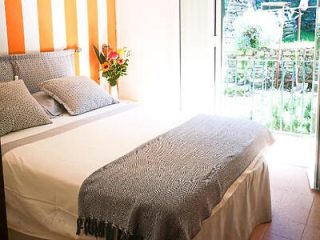 Some great on budget rooms in Corniglia that have a balcony and free wifi
airbnb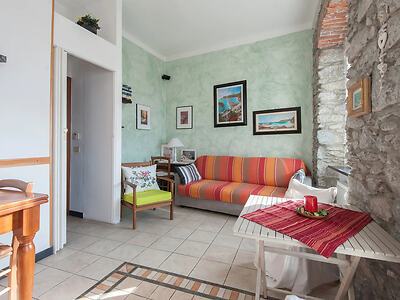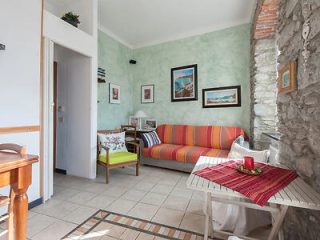 An apartment with Italian design and a beautiful balcony with village views
Things to do in Corniglia
6. Levanto – where to stay in Cinque Terre for bicycling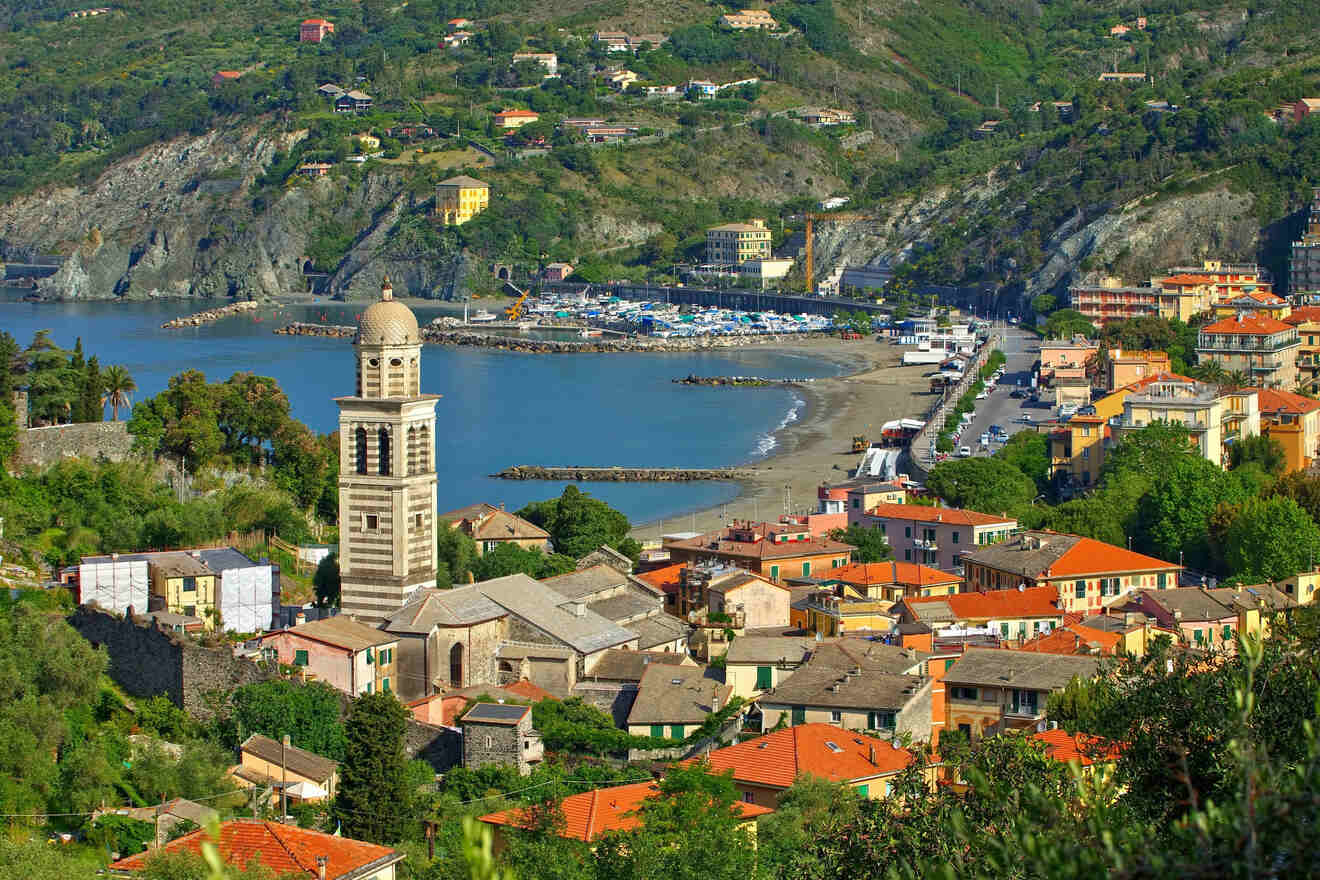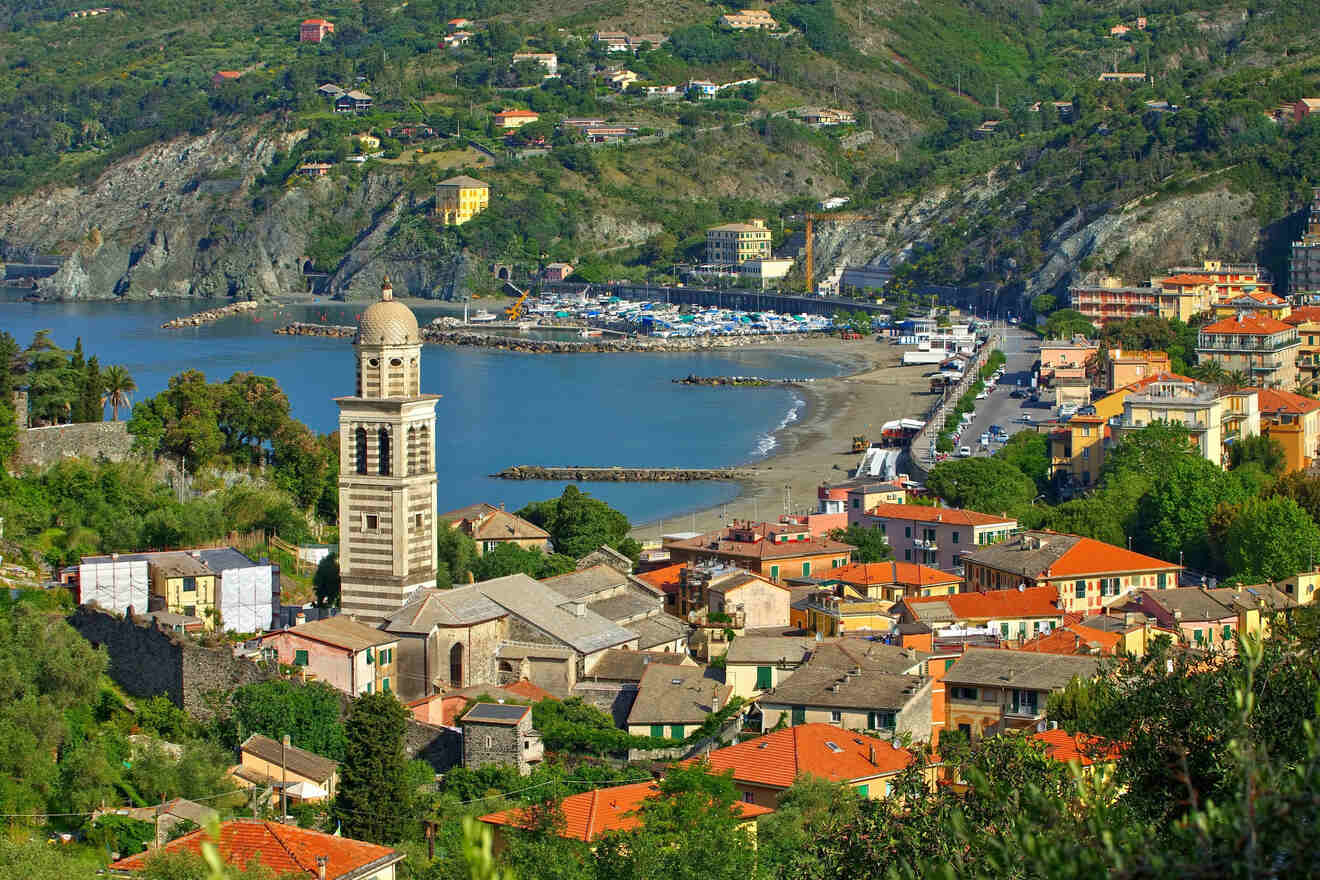 You might've guessed by now that Levanto isn't part of the towns that compose the Cinque Terre but it's really close to them and you can consider it one of "their towns" since it has everything from the looks to the beaches! Levanto has more than one hill covered in olive and pine trees and is located 20 km (10 miles) northwest of La Spezia, the last stop on your train and just 10 mins by train from Monterosso.
In Levanto Valley there are 22 tiny villages that belong to the town. They really are small though and mainly consist of a few houses, a church, and a hill overlooking the places. So if you want to explore around this gorgeous historical place rent a bicycle because it's what the locals do and the best way to start your Italian adventure!
The architecture is one of the best out of the Cinque Terre villages and the hotels are really nice and affordable. Very close to Monterosso, you can take a 2-hour hike up the hill, and on the other side, you'll see the neighboring town.
You'll find the atmosphere in the town center very friendly and there are many restaurants, little shops, and a market if you want to buy local souvenirs. Another place in Cinque Terre that dates back to Roman times, you'll find lots of estates and villas with gardens.
Luxury hotel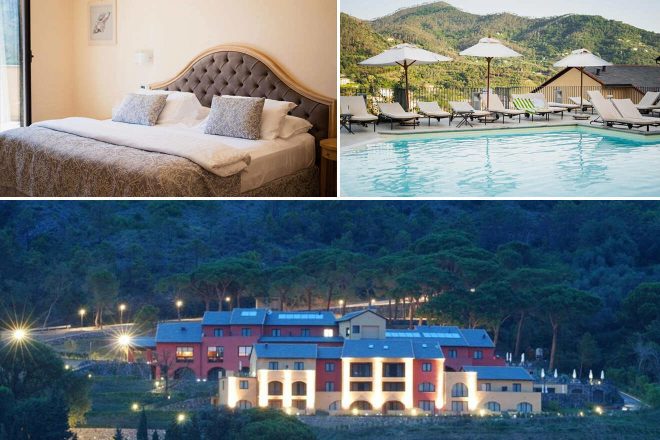 One of the best hotels that you'll find in Cinque Terre with modern rooms, which basically has it all! You can relax in the free spa & wellness center or in the outdoor hydromassage pool which is located on the terrace of the hotel and has a panoramic view, so you can have your glass of limoncello in the pool and watch how the sun sets over beautiful Italy! 
Other accommodation options in Levanto
mid-range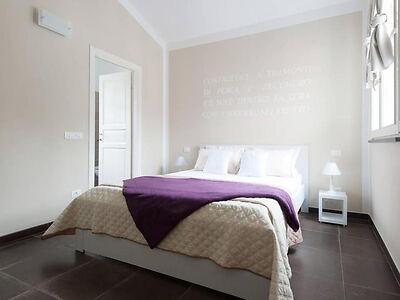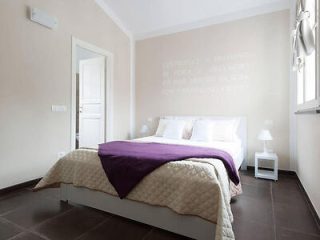 A romantic B&B in the village with cozy rooms located near the beach ideal for couples
budget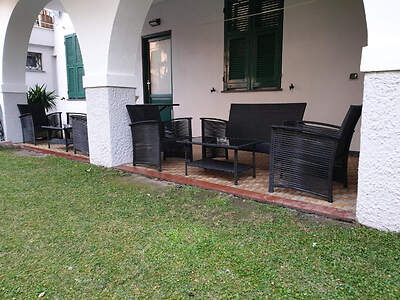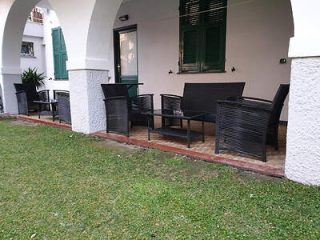 An affordable hotel with pretty rooms where you have an Italian breakfast included
airbnb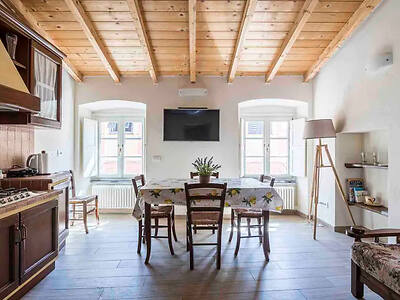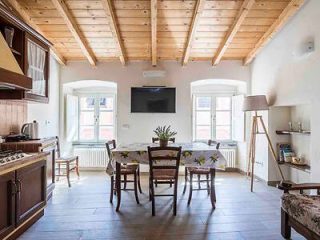 A budget apartment with double rooms, wood decorations, and beach access
Things to do in Levanto
| | |
| --- | --- |
| 👑 Luxury price: | €150 |
| 💵 Mid-range hotel: | €90 |
| 🛏️ Budget: | €40 |
| 🏠 Airbnb: | €110 |
| 💰 Accommodation prices: | Low |
| 📍 Best Area: | Vernazza |
| 🛎️ Best luxury hotel: | MADA Charm |
| 👛 Best budget hotel: | Camere Fontanavecchia |
BONUS: 6 foods you must try in Cinque Terre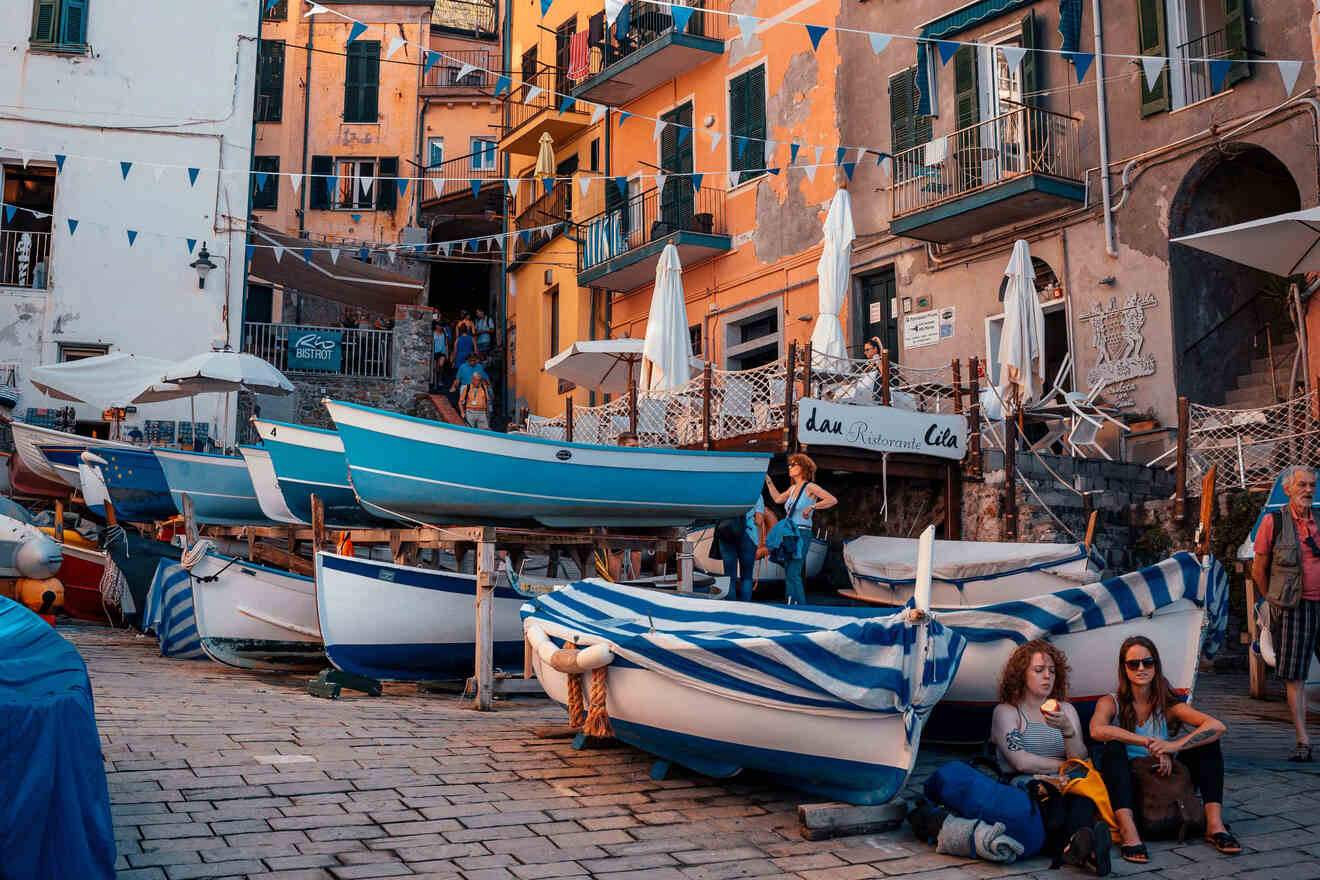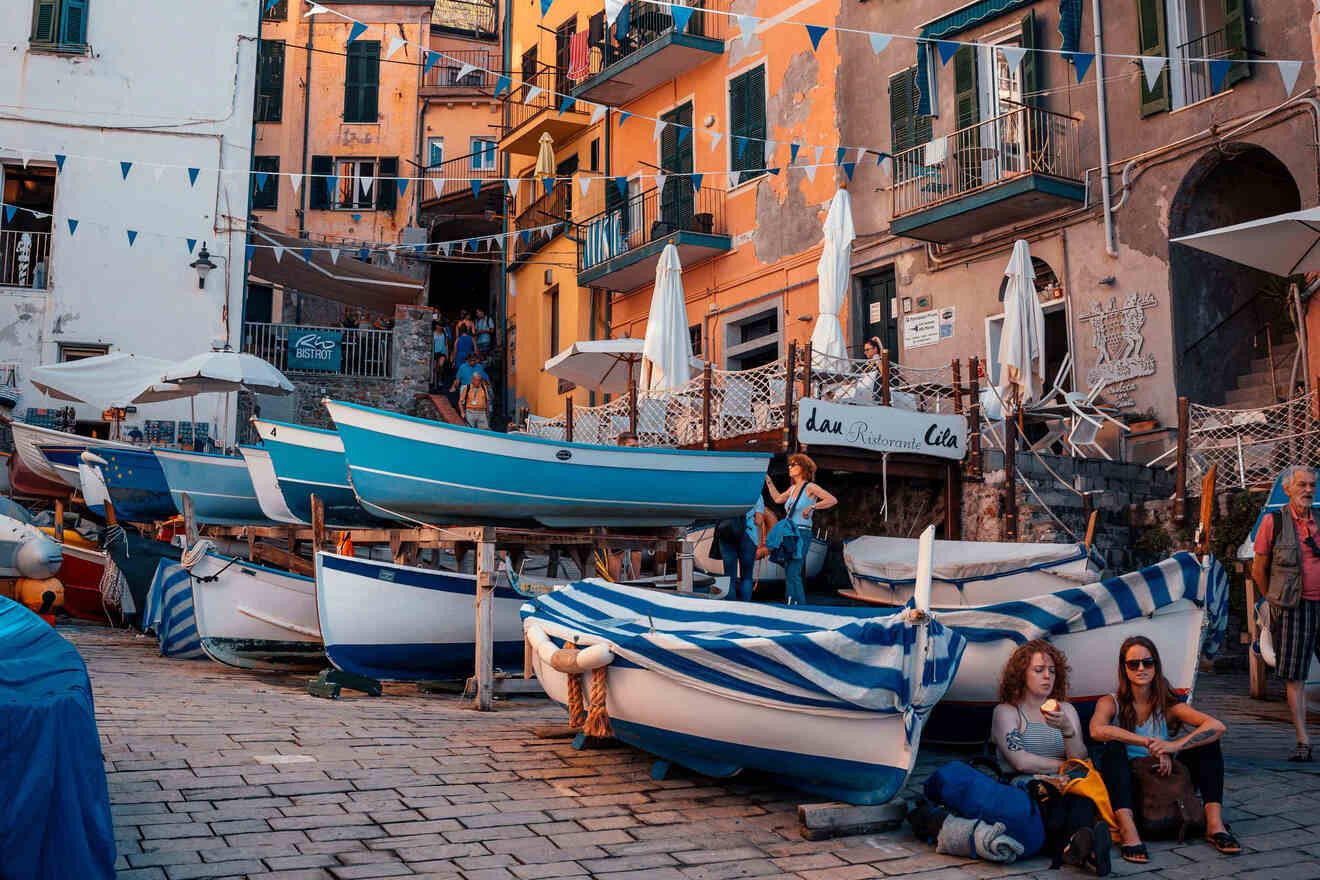 Let's face it, Italy has one of the best cuisines in the world, if not the best one but I might be saying that because I simply adore it! Pizza, pasta, pesto, bruschetta and not to mention the gelato! People all over the world eat these but they sure taste different when you try them in their home country!
Although we may not see the difference, the traditional foods in Italy differ from area to area. Every time I go to a new village it takes me so long to learn about all the local food options. That is why I decided to help you discover the best dishes you can try in Cinque Terre specific to this part of the country.
1. Fresh seafood
All the five towns are fishing villages, so here you'll have the chance to eat the freshest seafood ever! Plus before all the modern jobs appeared, most people used to work as fishermen so they all know their business very well!
The "pesce azzurro" fish with oil it's how people eat it in Cinque Terre, but if you want something more consistent, you can try seafood pasta or octopus and mussels along with a glass of wine from one of the vineyards, mamma mia! You can find great seafood in any of the restaurants that line the streets or ask the staff from your hotel if they serve it.
2. Anchovies
Yes, I know it's still fish but if you visit Cinque Terre you'll discover that the anchovies found in the waters of these villages are the best out of all of the Italian regions. The sea is very salty here, that's why the anchovies taste differently.
One thing that I learned from the local people that have their family-run business, is that they take some anchovies and keep them in salt for 40 to 60 days and then they wash them and eat with olive oil, garlic, and oregano on top! Okay, now I'm hungry!
Acciughe, as the Italians call them, are so important in Cinque Terre that they actually put on a festival in Monterosso al Mare to celebrate this delicious dish and here you'll find a restaurant that serves the best anchovies ever!
3. Focaccia & Farinata
One is for people who eat all types of bread, and the other is for gluten-free products. You've probably had focaccia in most restaurants that you've been to, but you can't just go to Cinque Terre and not eat this. I know it's just bread, but in Cinque Terre, you can find so many flavors, from olive oil to fresh tomatoes; you can grab one of these in the morning, and you're good to go! They're the perfect breakfast choice if you're on a budget.
Now, farinata is great for those who want to eat focaccia but don't like gluten, it's made with chickpea flour, olive oil of course, and water. Yum, might try this one at home!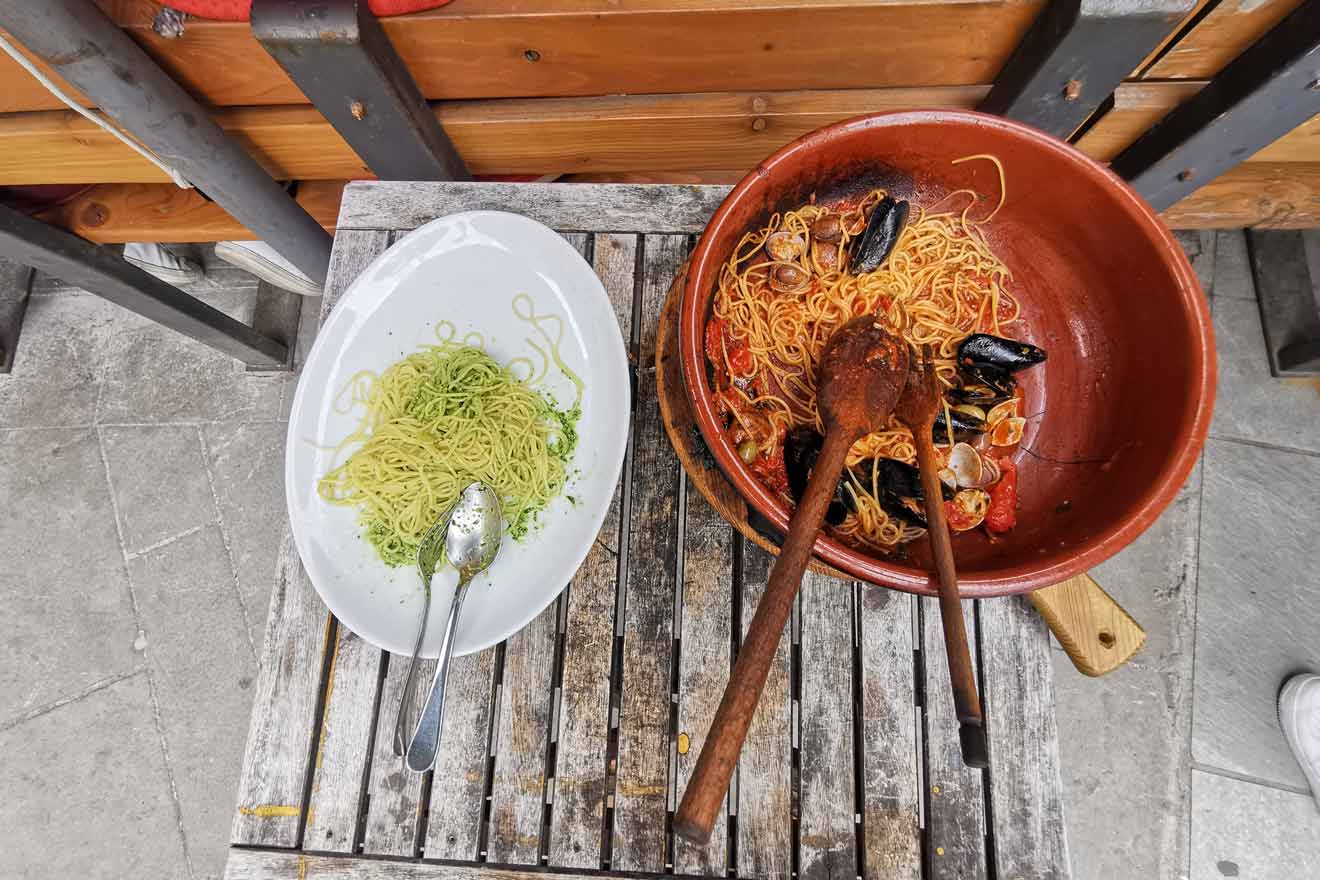 4. Pesto
As I told you, in Cinque Terre, the pesto is the besto!

Guys, I tried to make this one at home and it might be more affordable but it just doesn't have the same aroma! Which makes sense since the basil leaves that Italians use are grown on a seaside hill somewhere with lots of sunshine plus the unique parmesan cheese and amazing pine nuts!
On top of that, of course, they don't use a blender because who had that in the 1900s, they make the pesto with a mortar and pestle, you might want to get this one as a souvenir from the Five Lands!
Whether you eat it with focaccia or trofie, which is their local pasta, pesto is a must thing to try in this region of Italy and can be found in nearly every single restaurant in the area!
5. Pansotti
Since we're on the "pasta chapter" let's pause here for a bit so I can tell you all about Pansotti, a famous dish that you can find on the Italian Riviera, it's ravioli filled with ricotta cheese and greens. They usually serve it with a traditional walnut sauce and have it for lunch! You can try these at Gastronomia San Martino; they serve one of the best recipes!
6. Torta Monterossina
You didn't think I was going to leave you without any dessert, right? Although it's quite simple to make this traditional cake, it's so delicious. It's like a pie with crusty pastry and inside it has 4 layers, sponge cake, custard cream, apricot jam, and chocolate pudding. It sounds so yummy! You can try this at Pasticceria Laura; they have been serving this cake since 1966!
Frequently asked questions about Cinque Terre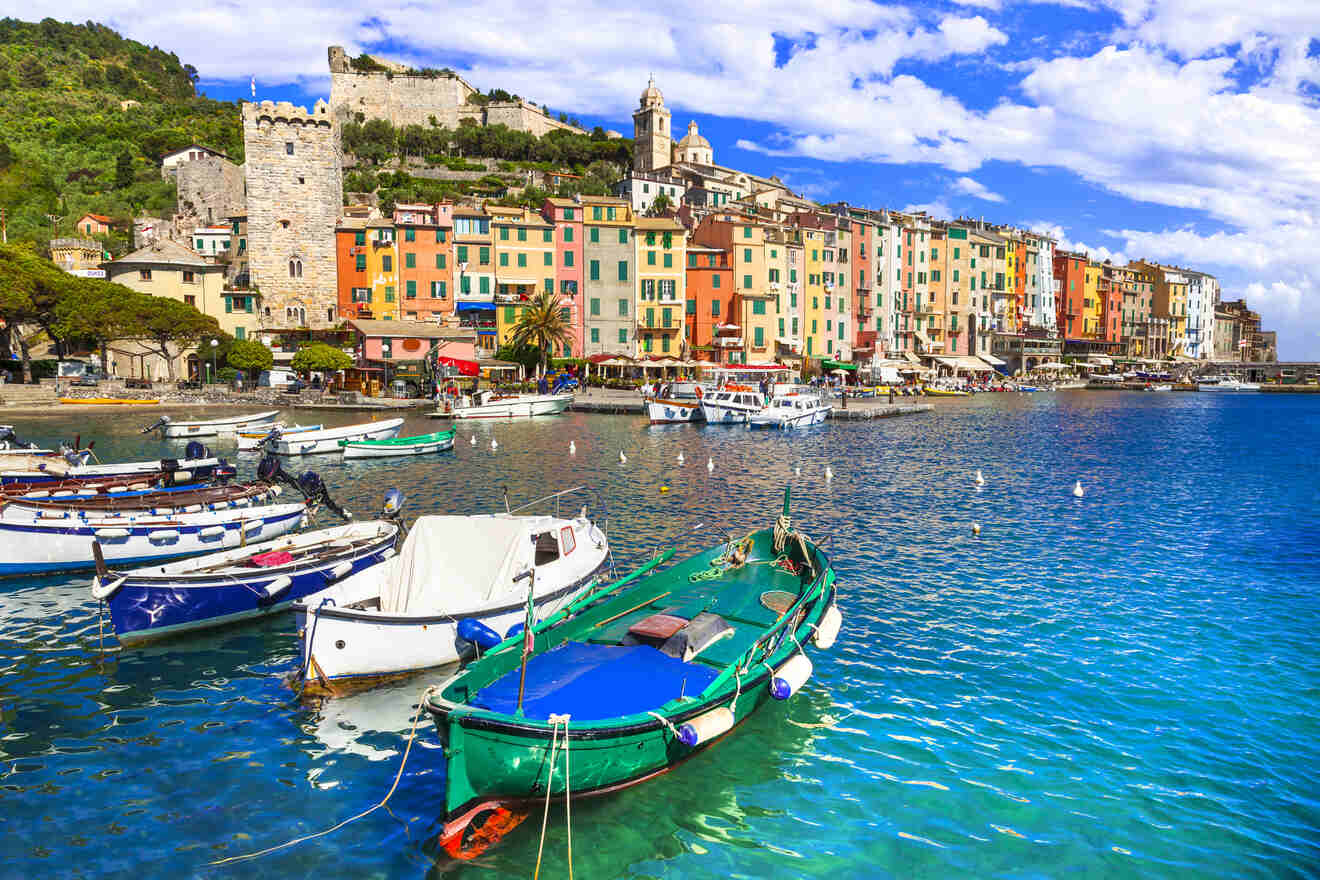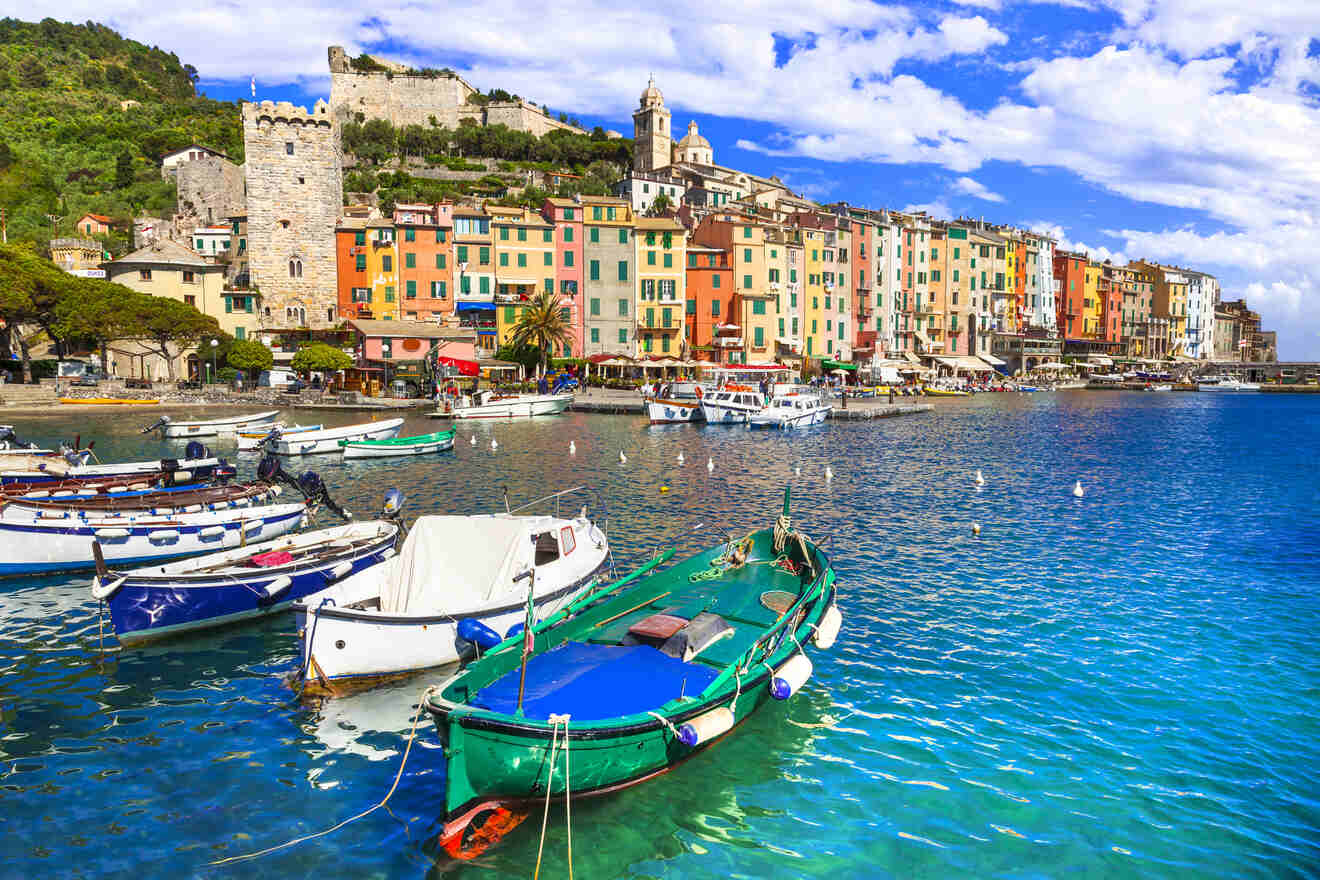 ⛵ What's the best town to stay in Cinque Terre?
Vernazza is the best village to stay in Cinque Terre, this beautifulpicturesque town has the best views and luxury hotels, not to mention that Italian romantic charm and here you'll find the only natural port in the Five Lands and beautiful architecture. 
🇮🇹 Where is Cinque Terre?
Located on the western coast of Italy in Liguria, the five little villages situated within a national park are set just above Tuscany.
🥾 Where to stay when hiking Cinque Terre? 
The best area to stay in if you want to hike between the villages is either Riomaggiore, the first town, or the last one, which is Monterosso Al Mare.
🏖️ Which Cinque Terre town has the best beach?
The Monterroso beach is the best one in Cinque Terre, it's quite long and great if you want easy access. Families love this beach as the water isn't too deep.
Conclusion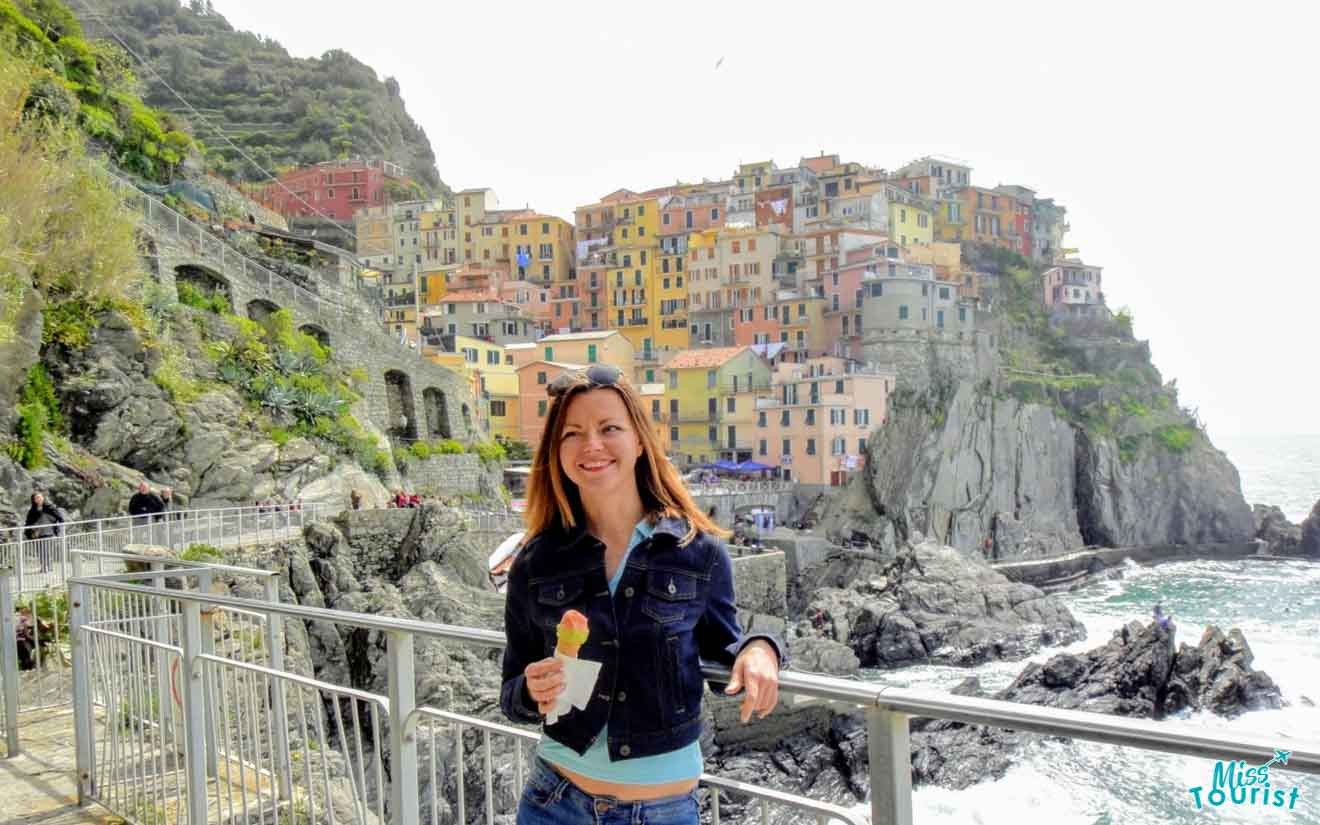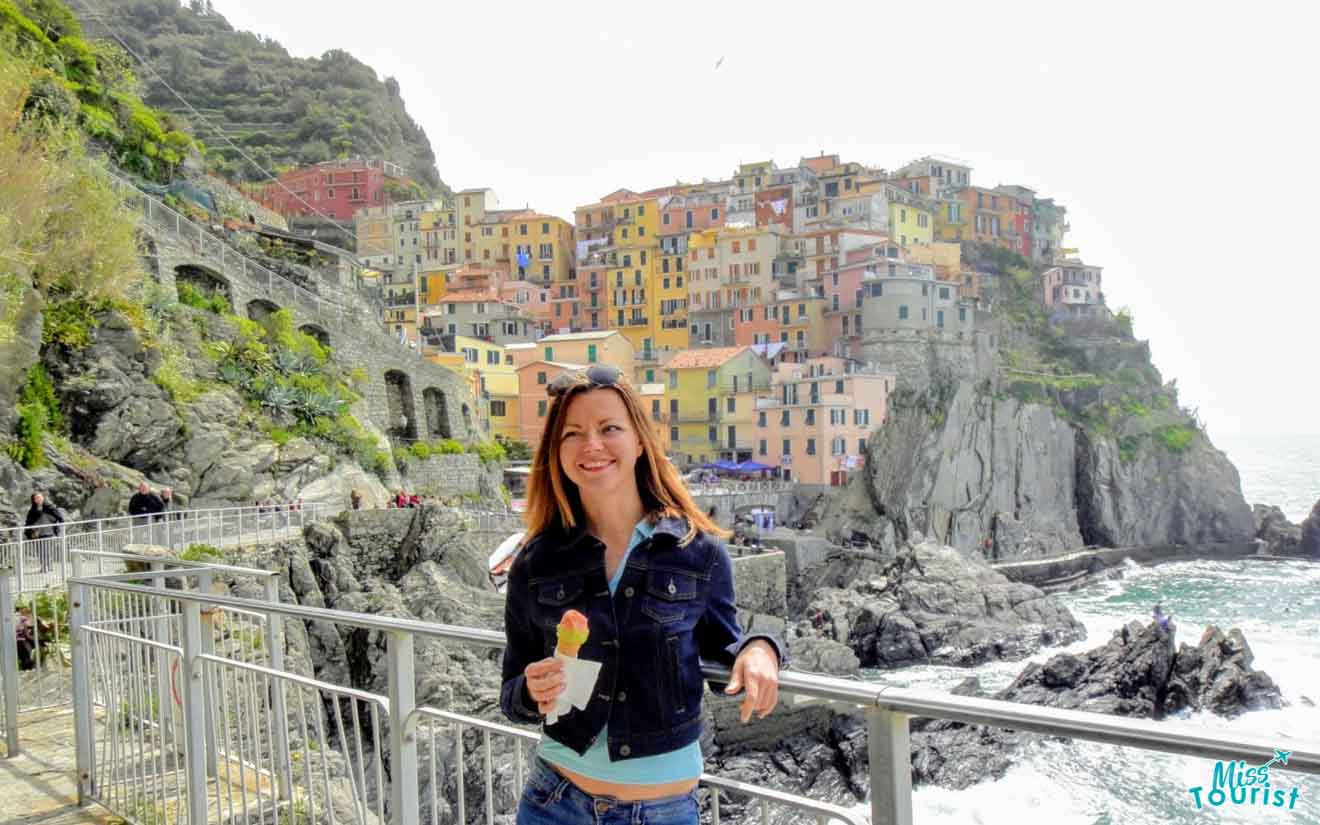 I'm so happy I got to tell you all about the famous towns on the Ligurian coast, I hope this article helped you decide where to stay in Cinque Terre Italy and which hotel is ideal for you. Make sure you book in advance as they sell out quickly!
I'm sure the hotels on the list are more than enough to help you make up your mind about where to stay in Cinque Terre but here are my top two favorites:
If you want to stay in Cinque Terre get ready for some serious hiking, lots of wine drinking, and full days spent on terraces doing mostly nothing but just enjoying la dolce vita! Swimming should be fantastic in these blue clear waters. I'm already gelous! Please send a postcard!
If you have any questions about the hotels in Cinque Terre or anything else leave a comment below.
Ciao ragazzi,
Victoria
---
Pin it for later!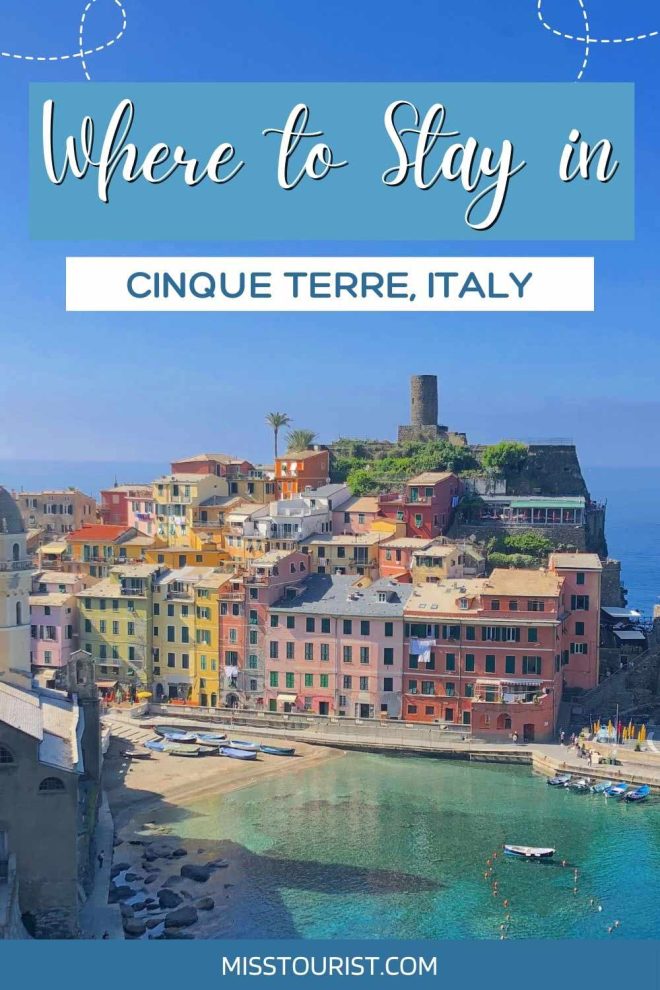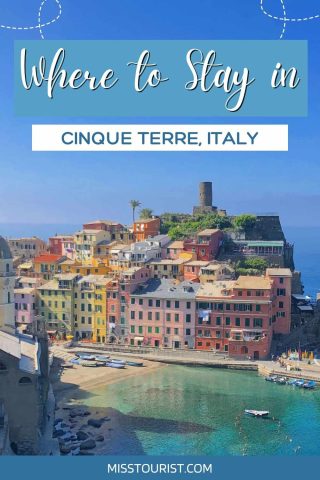 Pin it for later!