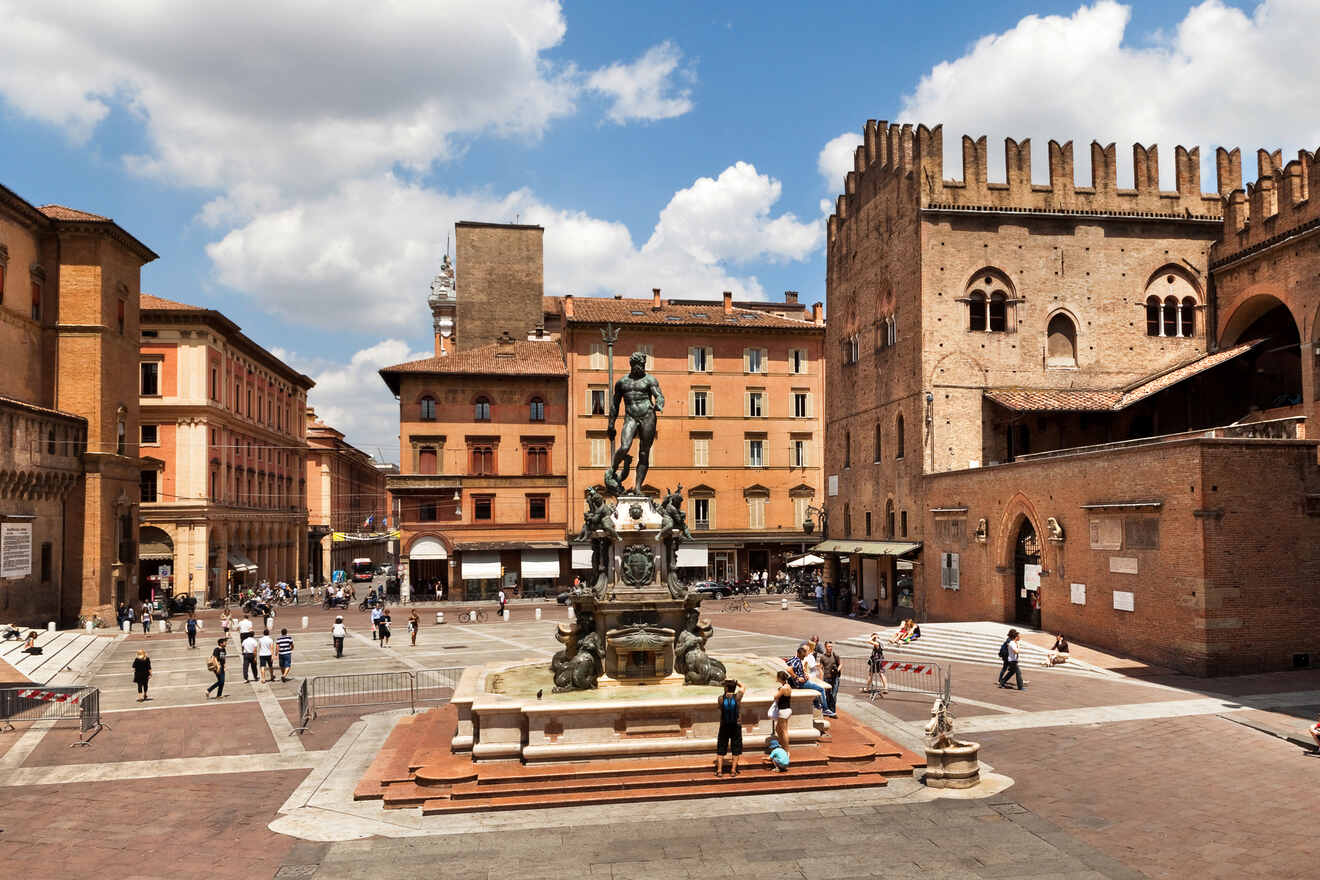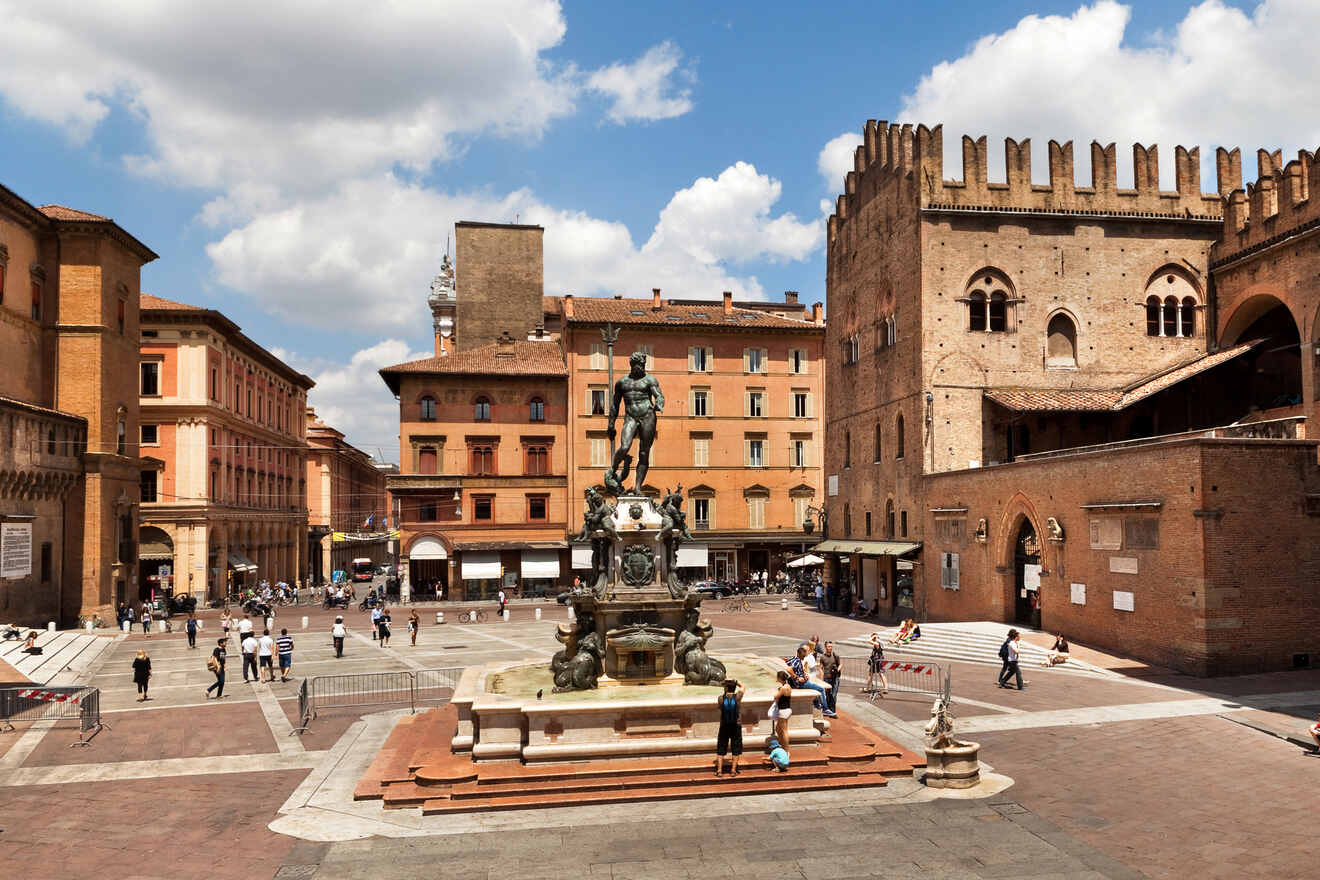 Bologna is a city with unique architecture, culture, and an amazing food scene. If you are heading off on a trip to Northern Italy, Bologna must be on your travel itinerary for sure!
Bologna is the largest city in the Emilia Romagna region and is famous for its beautiful historic town, having one of the oldest universities in the western world, and it's epic restaurants offering gourmet Italian foods. It is no surprise that this beautiful city famous for its 16th-century architecture is also popular for food tours. So, foodies, get excited! 🙂
In this post on where to stay in Bologna, Italy, I will talk about the 4 best areas to stay in with the best hotels in each neighborhood for all budgets and give you an idea about their atmosphere so you can choose the best area to stay for your taste. I went through all the hotels in Bologna and picked the best ones for you so all you have to do is to easily choose your ideal hotel.
As Bologna is a small city and famous for its international fairs, hotels in Bologna can fill up quicker than you think. That's why you shouldn't forget to make a booking in advance. By making an early reservation, you will also be able to get better deals and many of the hotels have a free cancelation, so don't worry if you change your mind!
Let's get started to discover the streets of Bologna!
If you are in a hurry
Here are the best places where to stay in Bologna, with hotels from luxury to budget. They all have great reviews and great locations!
Here is a map about where to stay in Bologna with all the 4 best towns I will be talking about in this travel guide so you can easily visualize them:
1. Centro Storico (Old Town) – where to stay in Bologna for the first time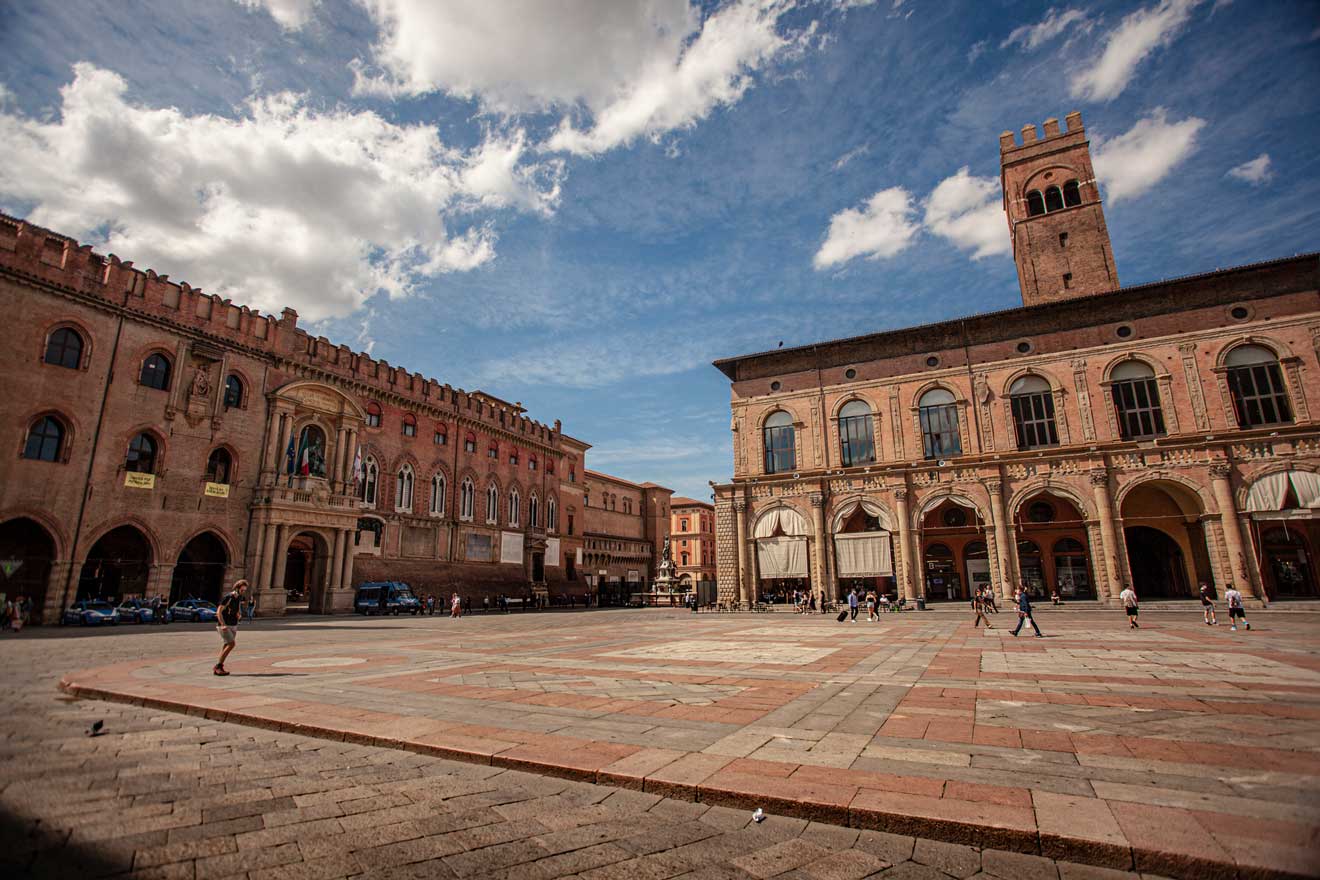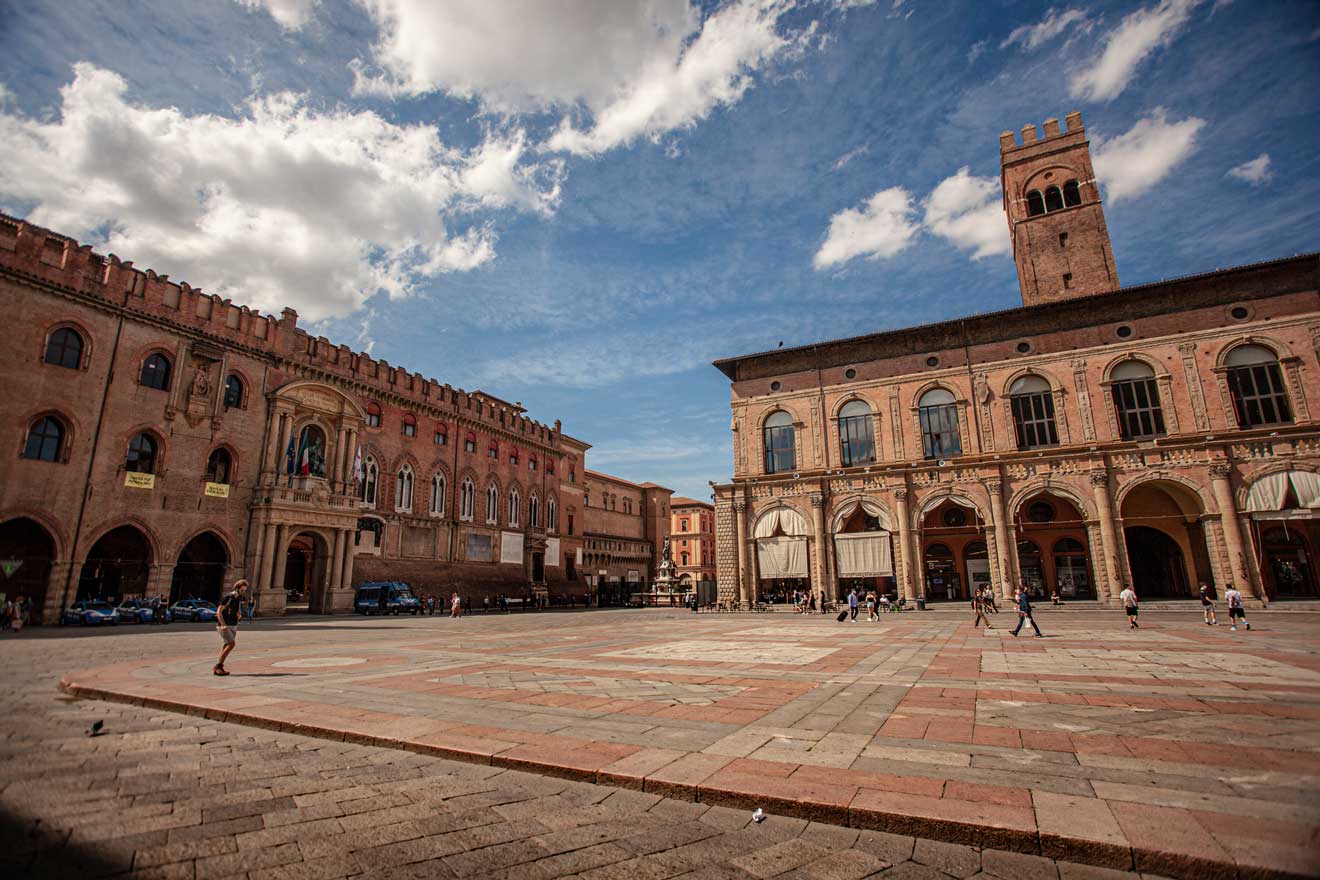 Centro Storico is the historic centre of Bologna and where you will find most of the major attractions. This area is definitely my best answer to where to stay in Bologna for the first time because of its convenient location and authentic feeling.
The best way to explore Centro Storico is to simply get lost in the historic streets on foot. Start your day heading in the direction of Piazza Maggiore to see the most important buildings in the town like City Hall, the market hall, and the Basilica of San Petronio.
Once you are impressed enough at the historic centre, it is time to go shopping at The Via dell'Indipendenza. Fashionistas will go crazy here with all the Italian designer shops lining the streets!
Of course, foodies I haven't forgotten about you! You don't want to skip the food scene in Centro Storico. You will be able to find plenty of amazing local restaurants, so make sure to have enough space for a lot of pasta and Italian wines!
In Centro Storico, you will be able to find a great selection of hotels for all budgets. I just want to remind you to make your booking in advance so as to not miss these beautiful hotels I picked for you. Since these are absolutely the best ones, they can be filled up too fast.
Whilst you're at it, if you are planning to continue your trip through Italy and looking for another charming historic city, I highly recommend you check out the best places to stay in Venice.
Let's see the best hotels for where to stay in Bologna Centro Storico.
Other accommodation in Centro Storico (Old Town)
Things to do in Centro Storico (Old Town)
2. Fiera di Bologna – the best area for budget travelers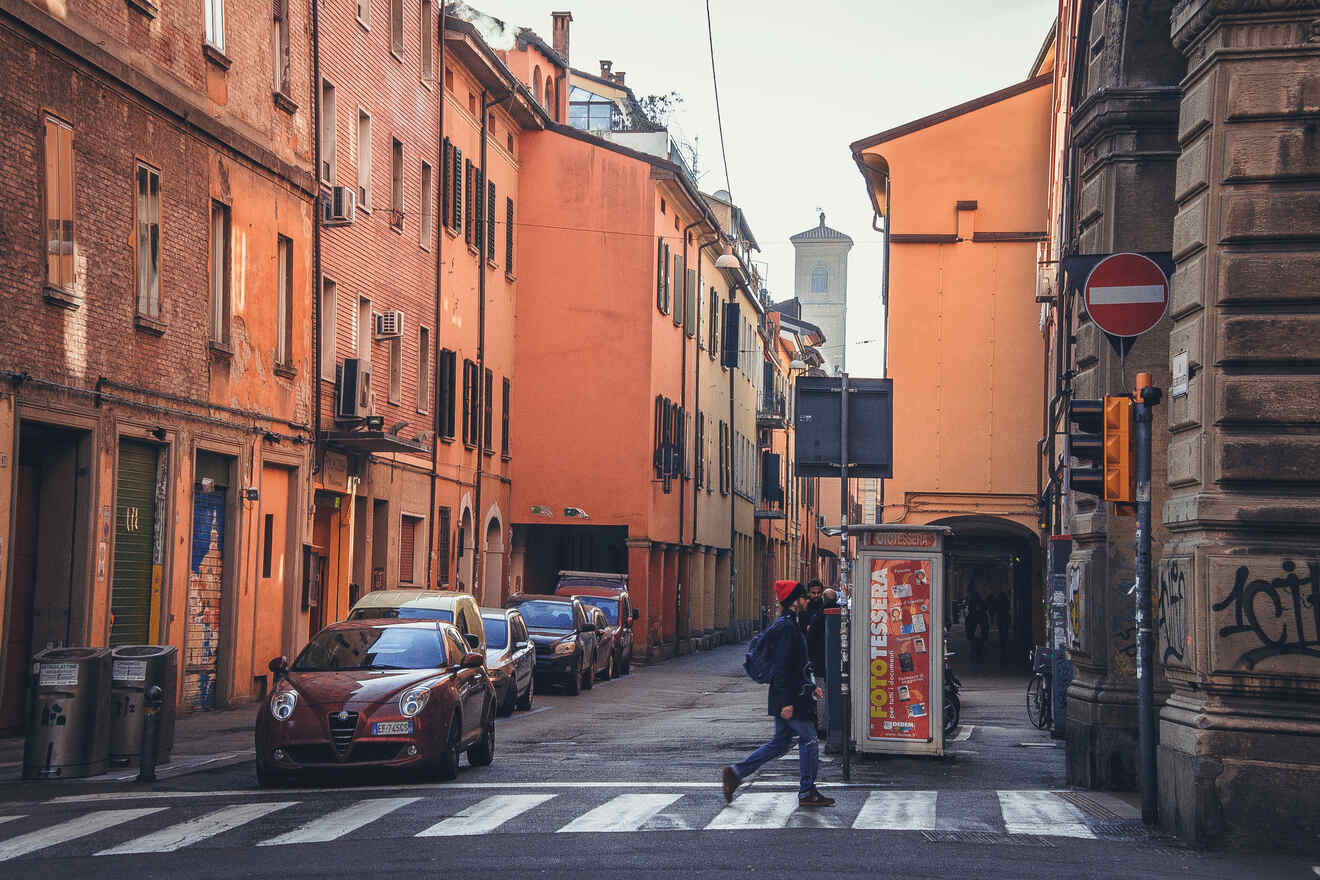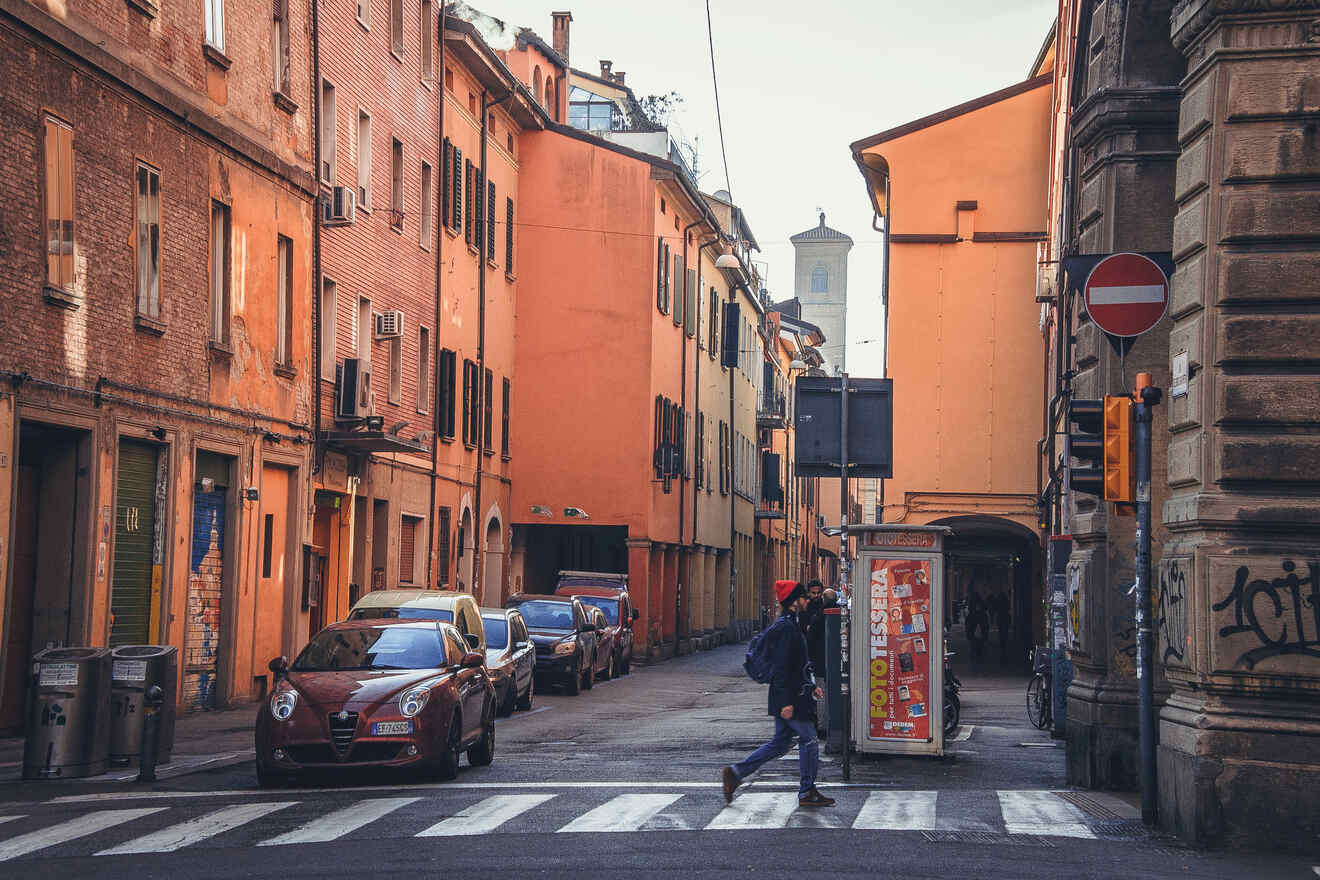 Fiera di Bologna is located in the north part of the city and is 4 km (2 miles) from the historic centre. It is a business district offering more modern and budget-friendly accommodation options but becomes the center of the action when large festivals and events come to town as they are often hosted at the events center here. So this is also the best place to stay in Bologna if you are visiting for a particular event!
Bologna Fiera has very good public transportation connections to the city centre, and the Piazza Maggiore is within 30 minutes walking distance or 15 minutes by car. So it is a good district to stay on a budget and still be able to easily discover the main attractions of Bologna.
Since it is a local business district you can find many nice restaurants and cafes in Fiera di Bologna. In particular, you can find more than 45 restaurants at FICO World Eataly so have a feast with all the amazing Italian dishes!
While you are in the area I recommend you check out some of the other beautiful cities in Italy. From Bologna Fiera you could easily head to Cinque Terre simply by hopping on a train!
Other accommodation options in Fiera di Bologna
Things to do in Fiera di Bologna
3. Bolognina – where to stay in Bologna for local experiences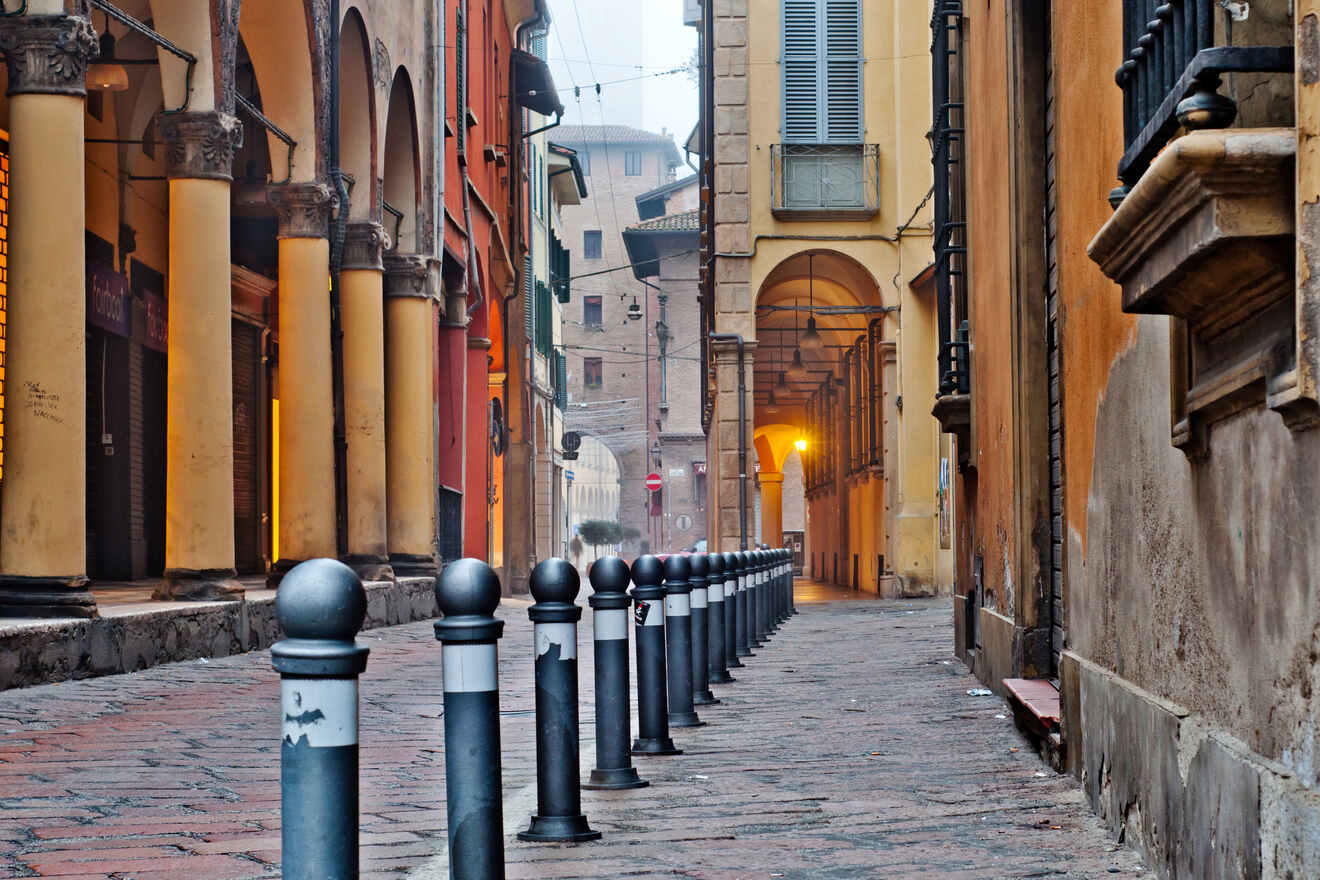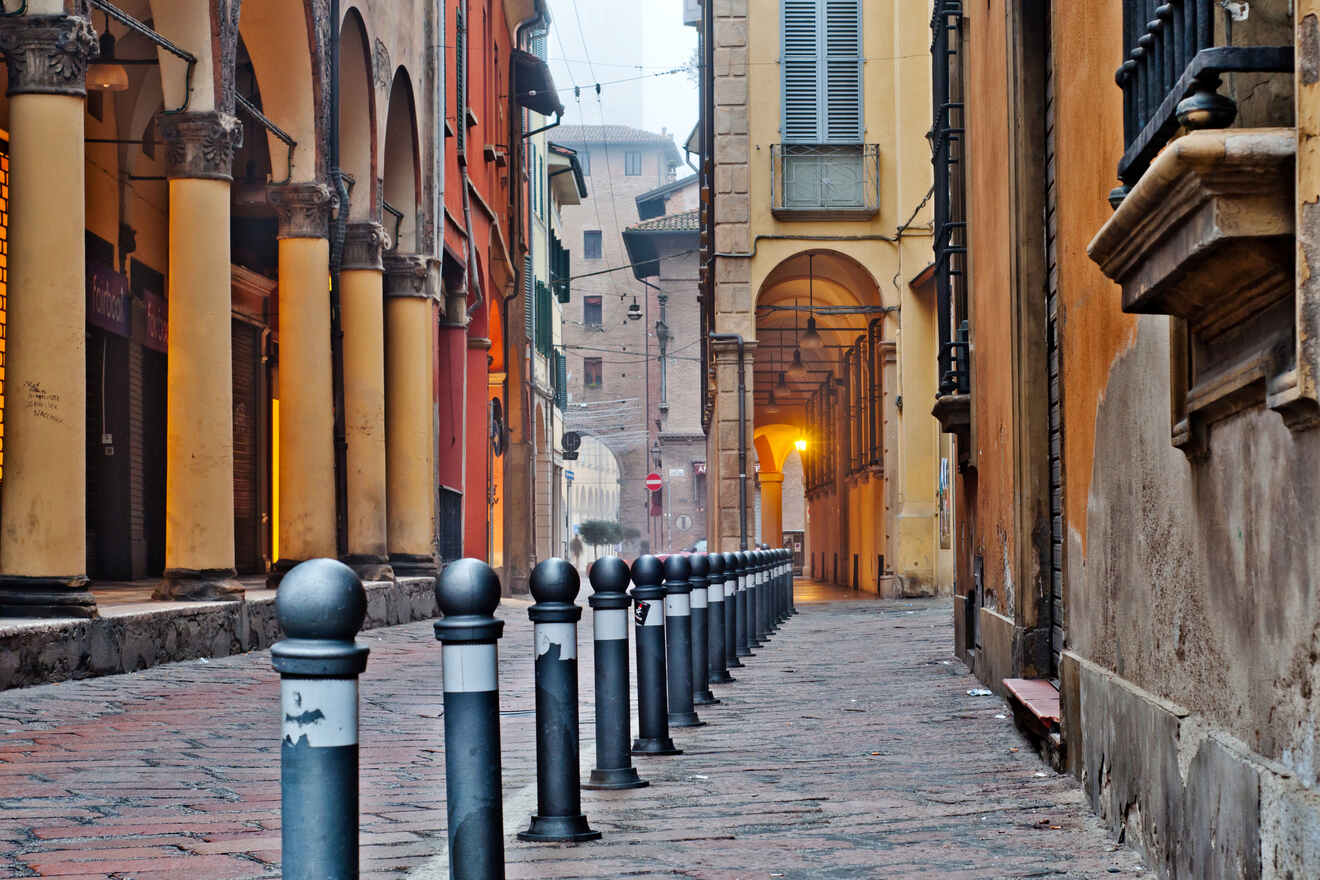 Bolognina (pronounced as "Boloñeena") is located on the north east side of the city and 4km (2 mi) away from the historic centre. Bolognina means "little Bologna" and in this district, you will be able to find a little of everything the city has to offer as well as a more local atmosphere. If you want to stay in a less touristy area and want to live like the locals you will love Bolognina!
In Bolognina you will be able to find great local restaurants as well as nice street food options. The area is also known for its beautiful street art and international atmosphere, make sure to take your camera and head to the area around the fruit market to snap some cool photos of the graffiti art.
Here you will also find lively nightlife with many clubs and bars so for those who want to stay in a district to experience the traditional Italian lifestyle, here are the best places to stay in Bolognina:
Other accommodation options in Bolognina
Things to do in Bolognina
4. Ghetto Ebraico – the coolest district to stay in Bologna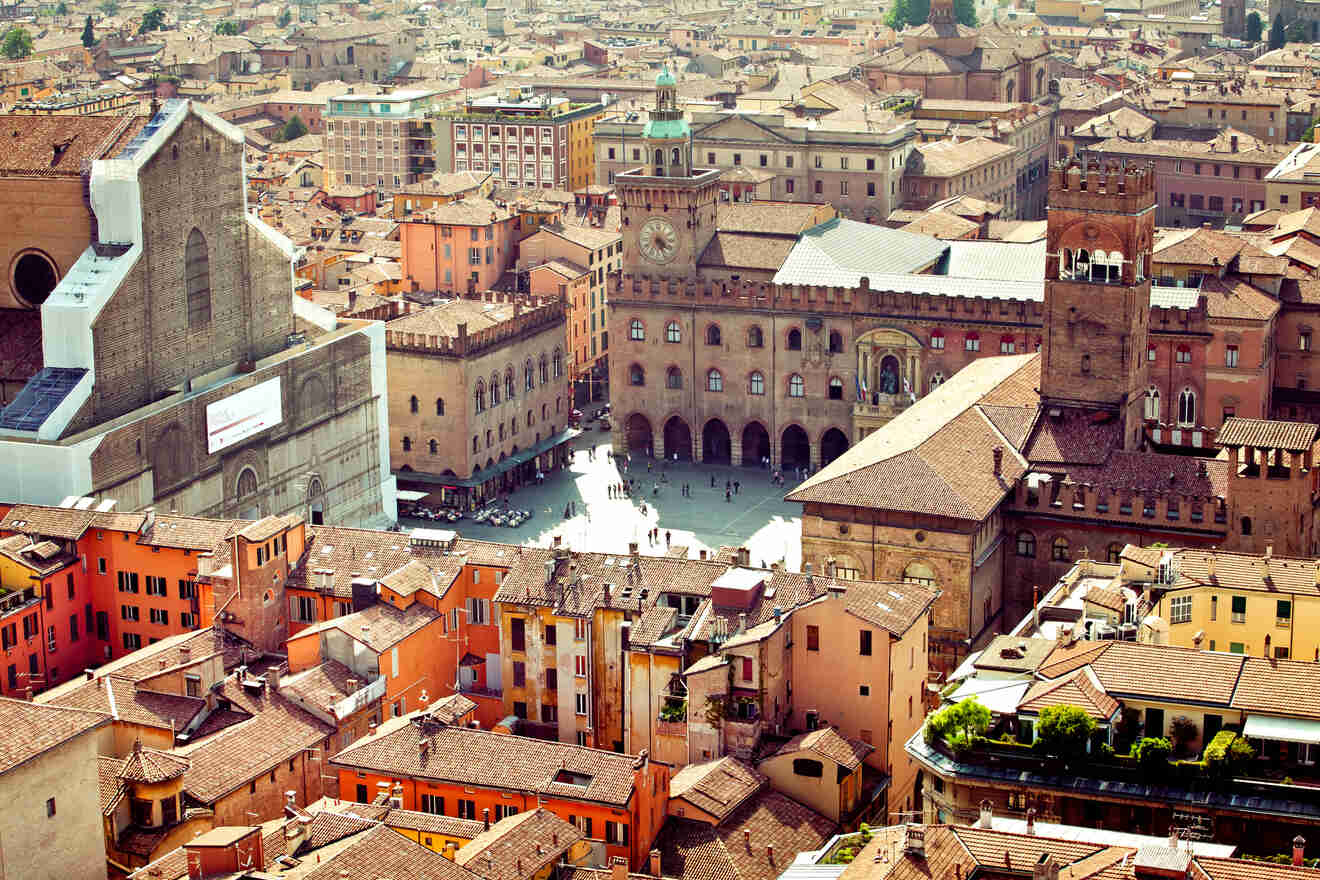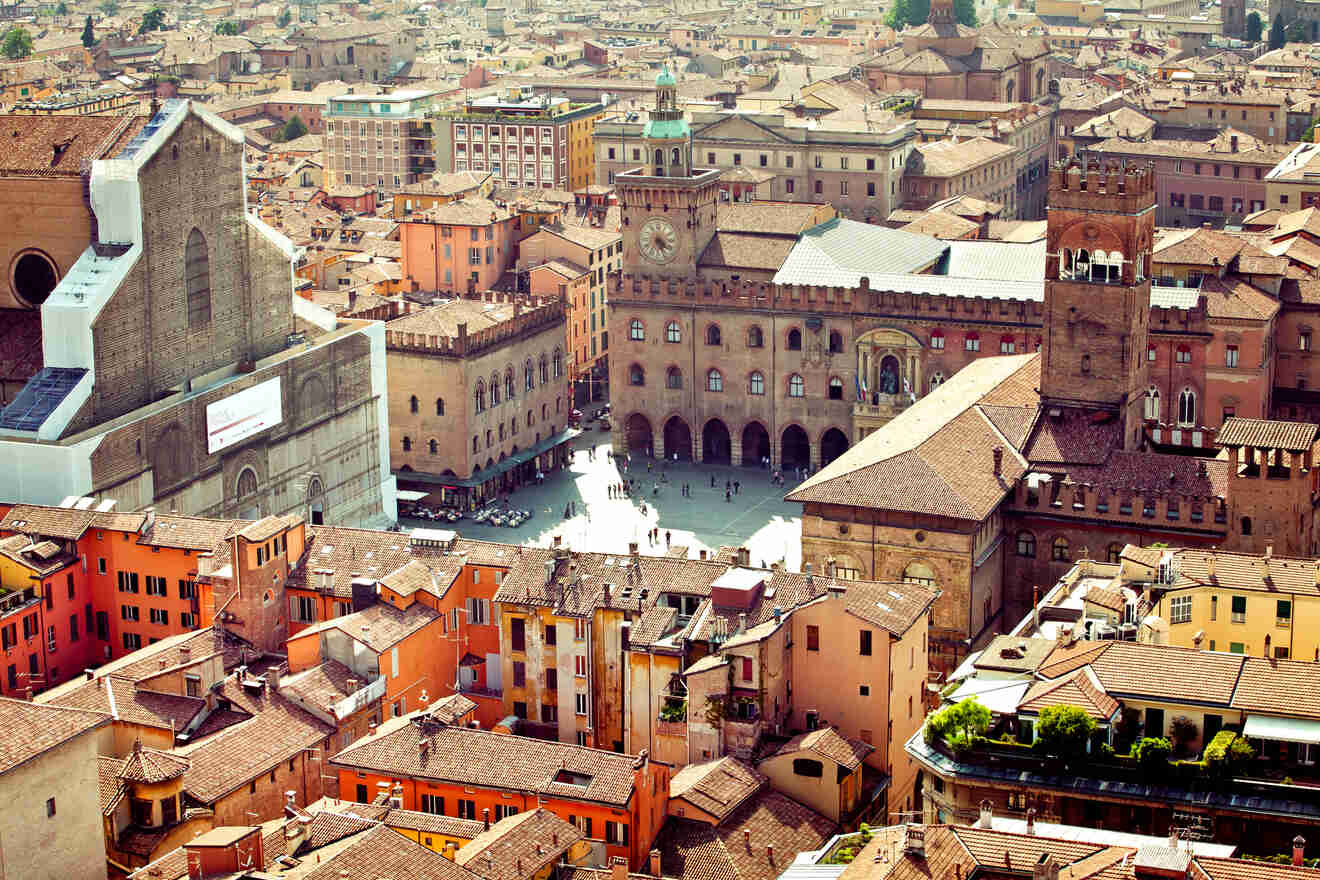 Ghetto Ebraico, also called the Jewish ghetto, is located in the east part of the city and is just a 10-minute walk from the historic centre. Don't let the name scare you off, here, you will find Bologna's coolest shops, bars and restaurants, street art, and very picturesque narrow streets.
If you follow the road from Ghetto Ebraico to Piazza Maggiore you will see a tonne of very beautiful historic buildings, secret canals, and trendy cafes so go off and explore to discover the unique charm of this area.
Ghetto Ebraico has a very convenient location to reach the major attractions of Bologna and offers a very cool atmosphere in its own right. I've always liked this kind of neighborhood combining historic and trendy vibe so if you are a person like me, here are the best places to stay in Ghetto Ebraico, handpicked especially for you:
Other accommodation options in Ghetto Ebraico
Things to do in Ghetto Ebraico
Frequently asked questions about Bologna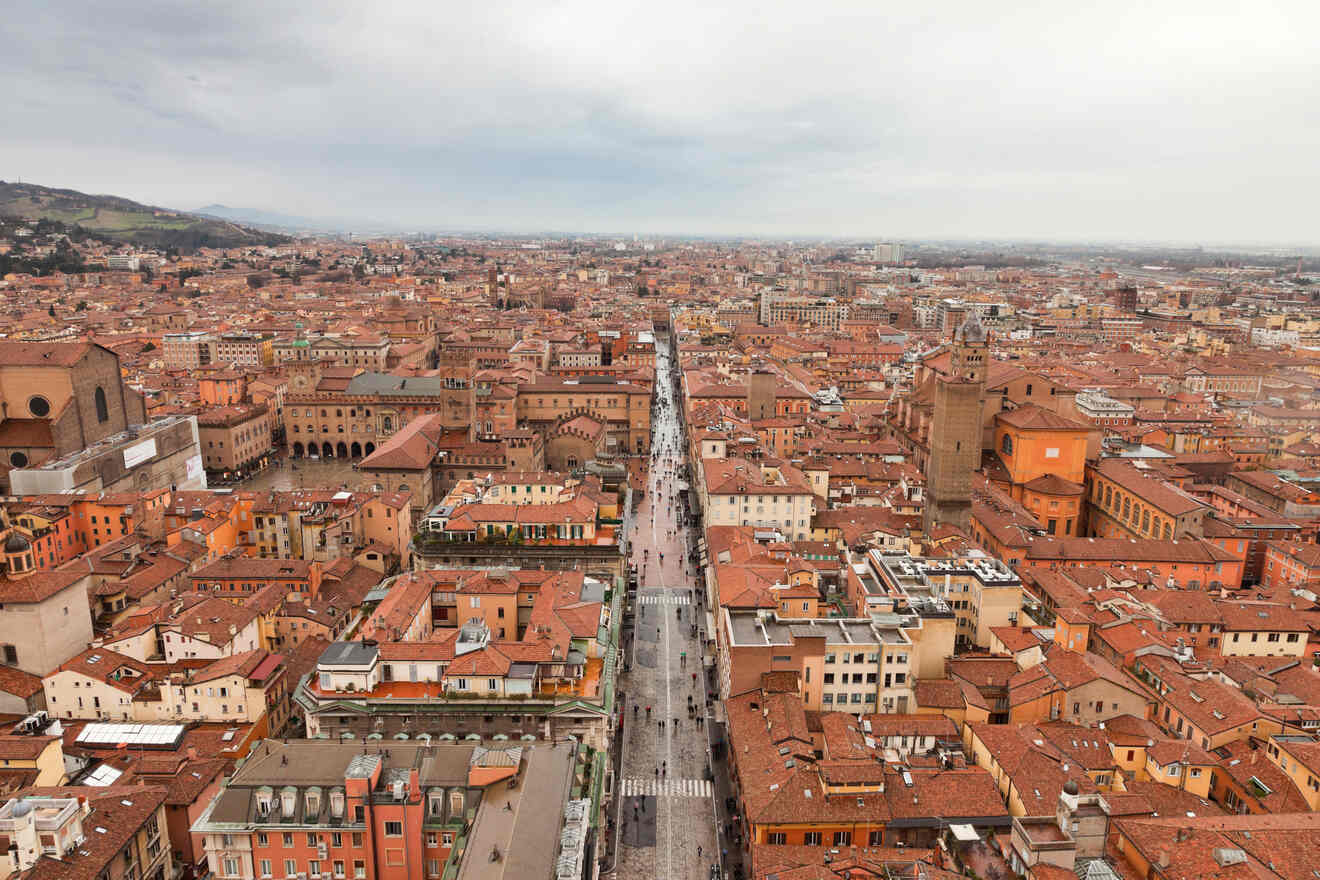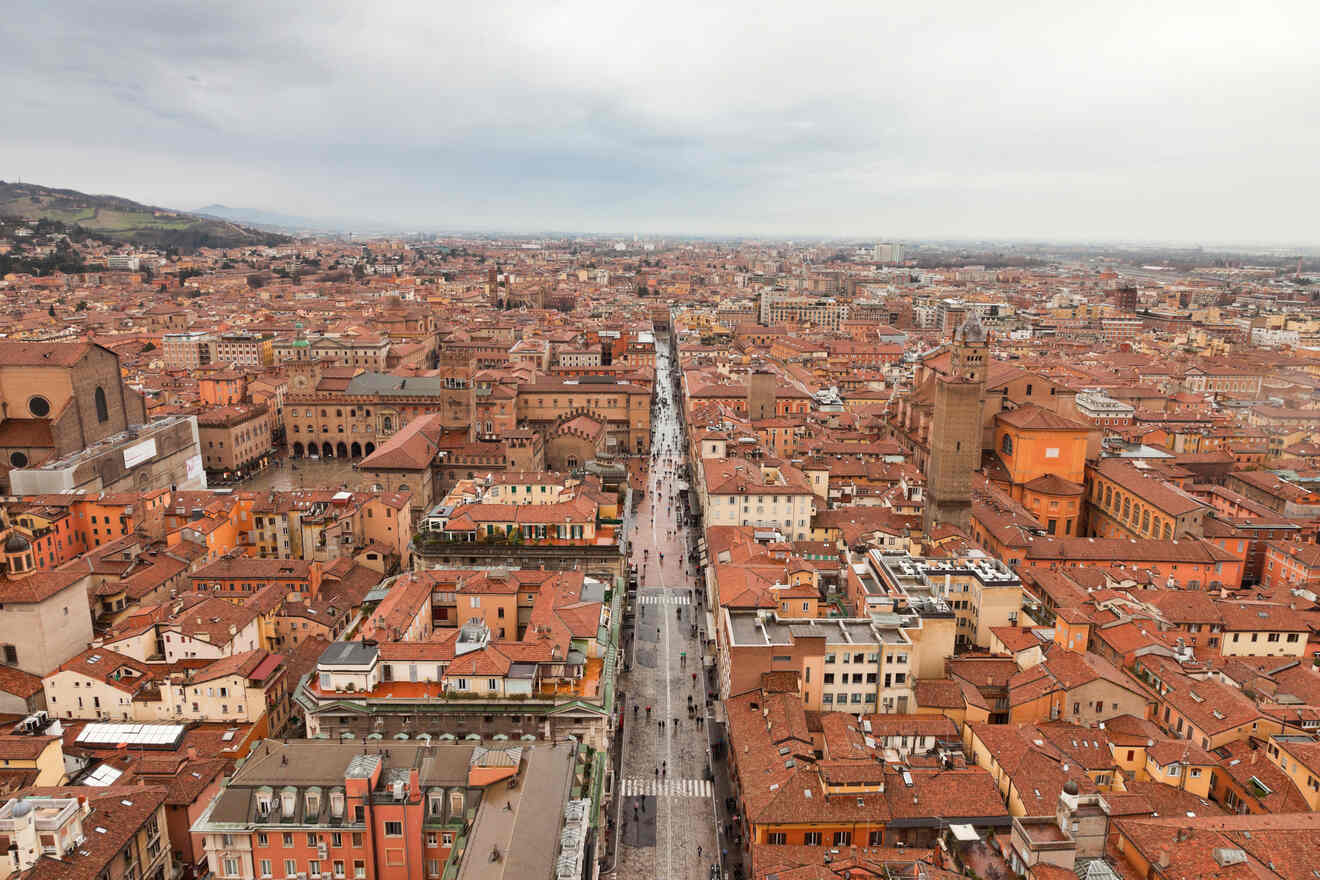 Conclusion
Here we came to the end of our virtual city tour. I hope you enjoyed this journey in Bologna streets and that this blog post helped you understand the best areas and your ideal hotel!
In this blog post on where to stay in Bologna, I covered the best places to stay in Bologna Italy and mentioned the top hotels as well as Airbnbs in each town from luxury to budget. As I said earlier, Centro Storica is the best district to stay in for first-timers but, as Bologna is a small city you can choose your favorite area and easily walk around the different neighborhoods.
I would also like to remind you of the importance of making a booking in advance for hotels as this will help you to get better deals on the best hotels and guarantee to stay in your favorite place.
To sum up, here are the best 2 places to stay in Bologna Italy with a great location as well as good reviews. I definitely recommend you to stay in one of these if you can't decide between the awesome options in this list!
If you have any other suggestions or questions about the Bologna and Emilia Romagna region in Italy please do not hesitate to leave a comment below. I'll be happy to leave a reply to them!
Enjoy your time in Bologna Italy
Eylul