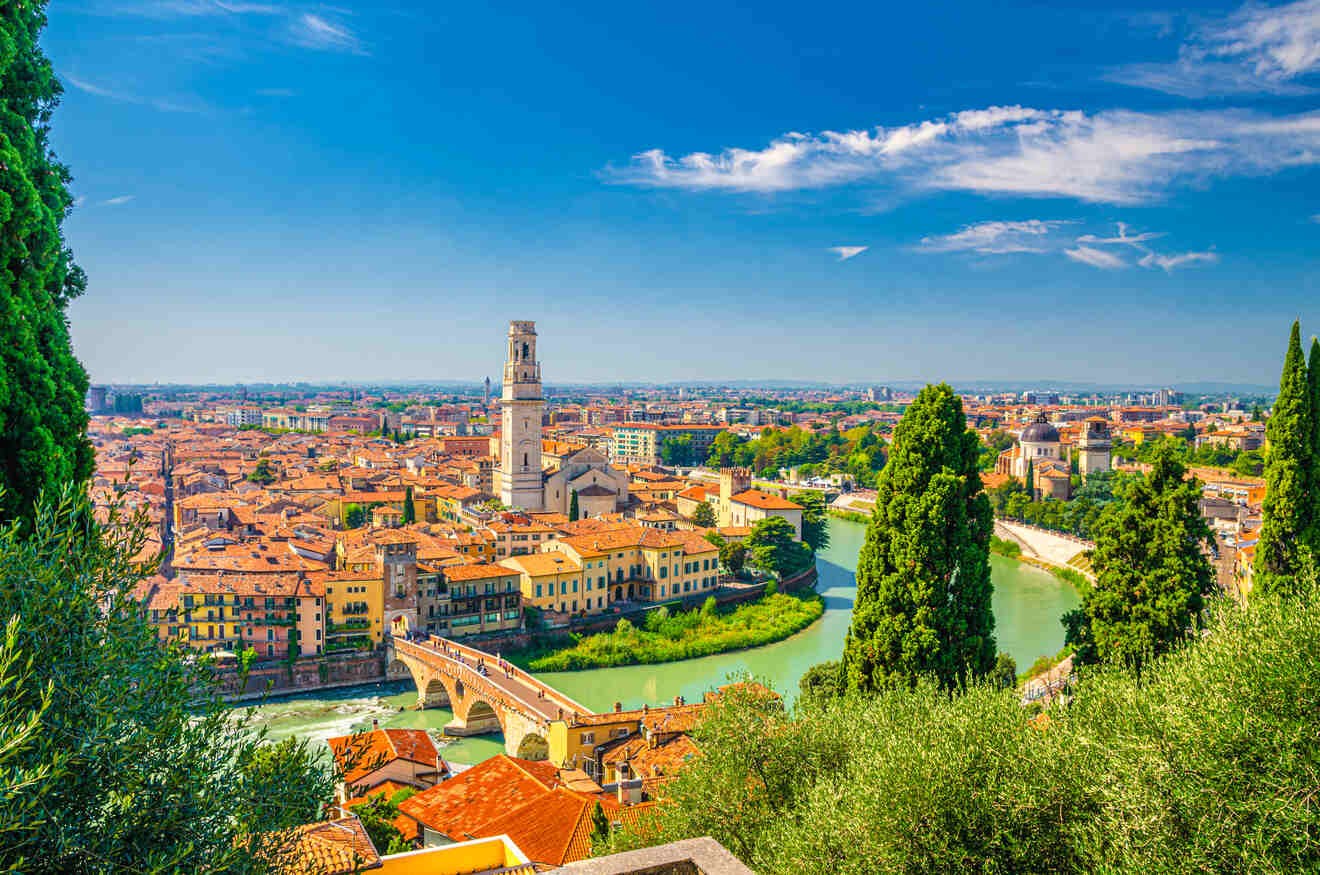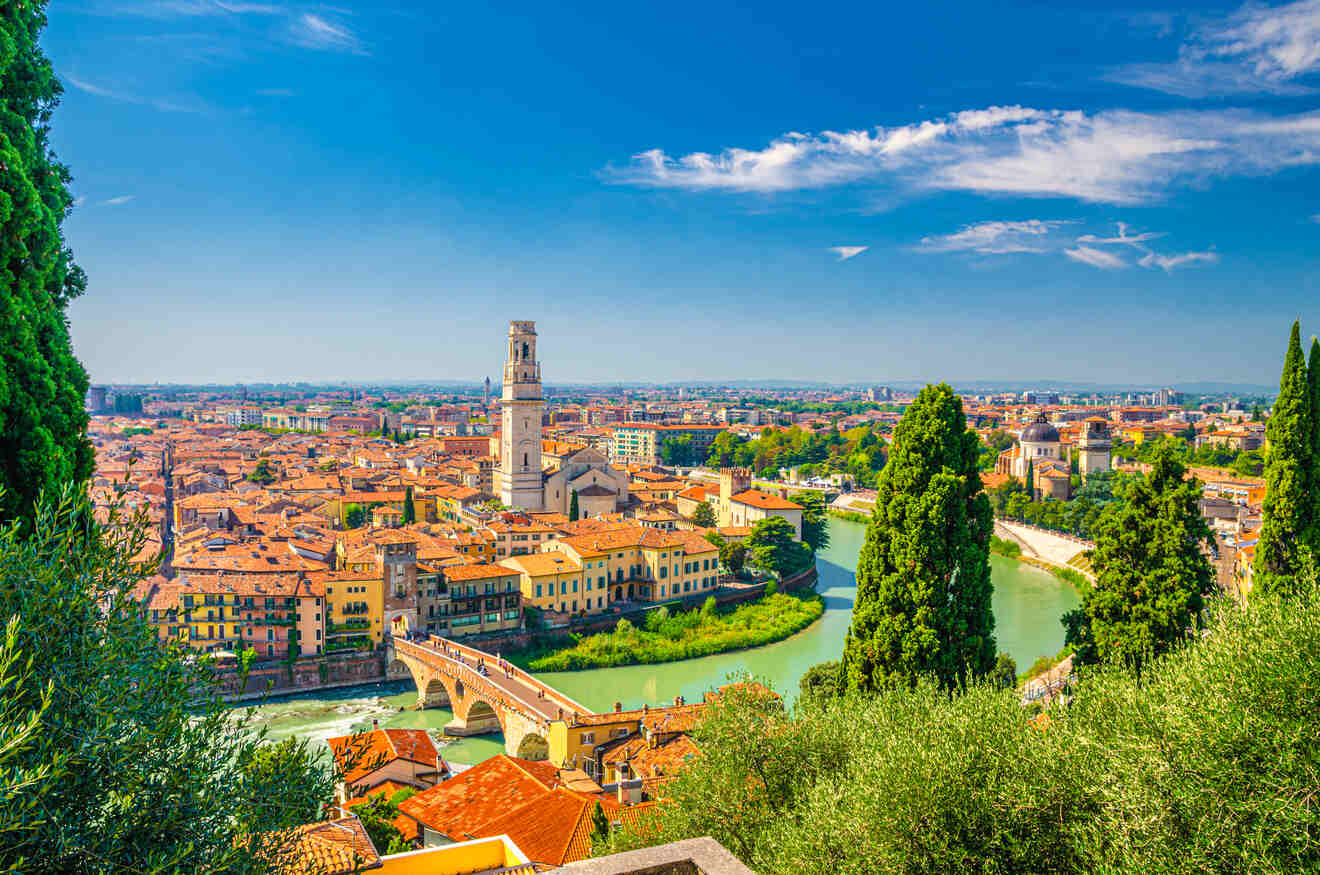 Welcome to the city of love, the beautiful Verona! The city that owns my heart since it is my hometown and the city that surely will also steal yours! Mostly known as the setting of the Romeo and Juliet romantic (and tragic) story by Shakespeare, the Roman city of Verona is located in Veneto, a region in northern Italy.
Either for its proximity to the more famous Venice or for its small dimensions, Verona is definitely underrated but, trust me, is worth your attention!
In fact, most of the tourists visiting the North of Italy stop here just for a few hours or one day and then realize how precious and charming it is (you have no idea how many times I heard that), and especially how many things it has to offer!
I want to help you avoid the mistake of skipping Verona in your Italy travel itinerary, so I decided to make this guide with the best things to do in Verona, including some practical information that I am sure you will find useful. So, are you ready?
Let's start!
1. Walk around the Centro Storico (historic center)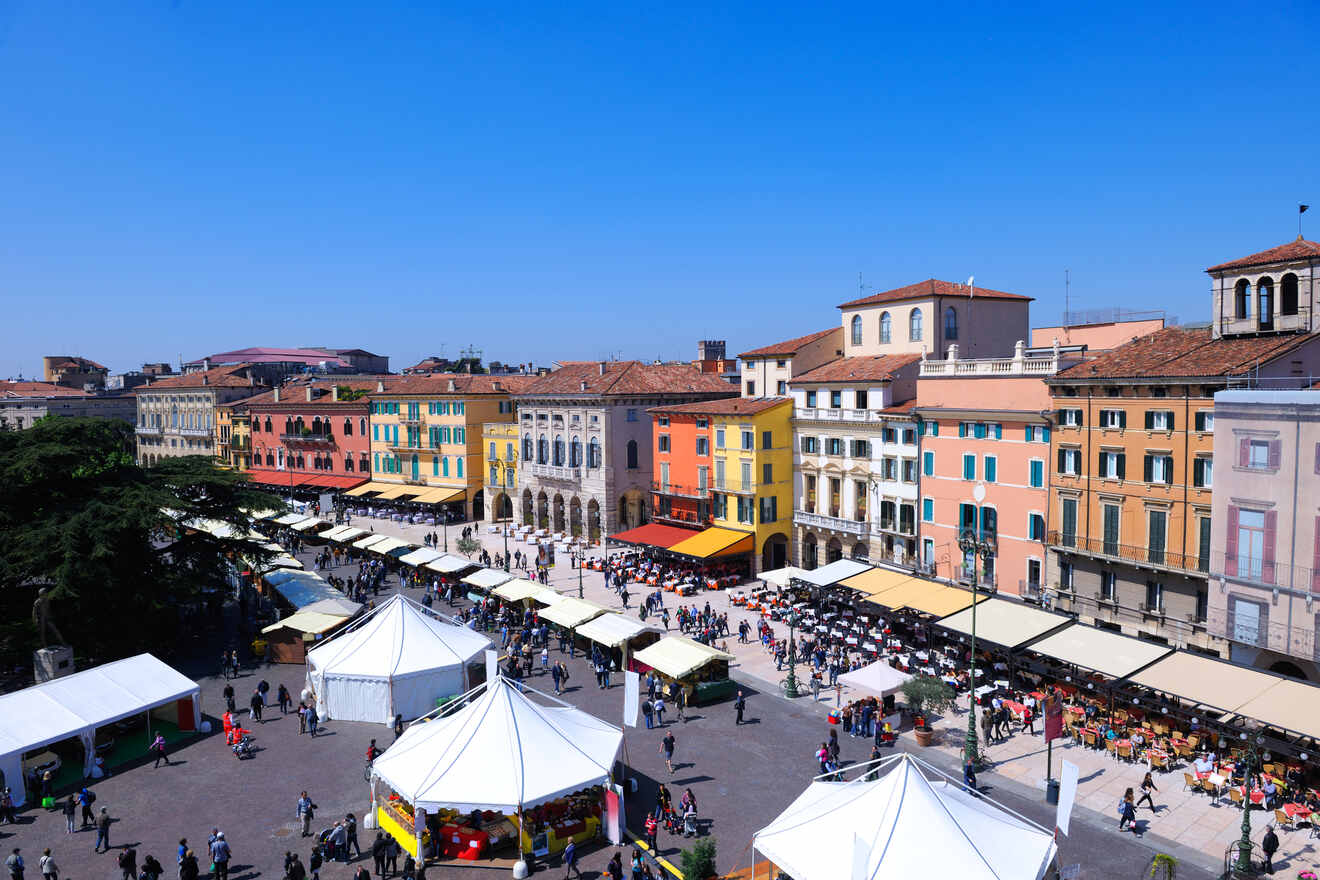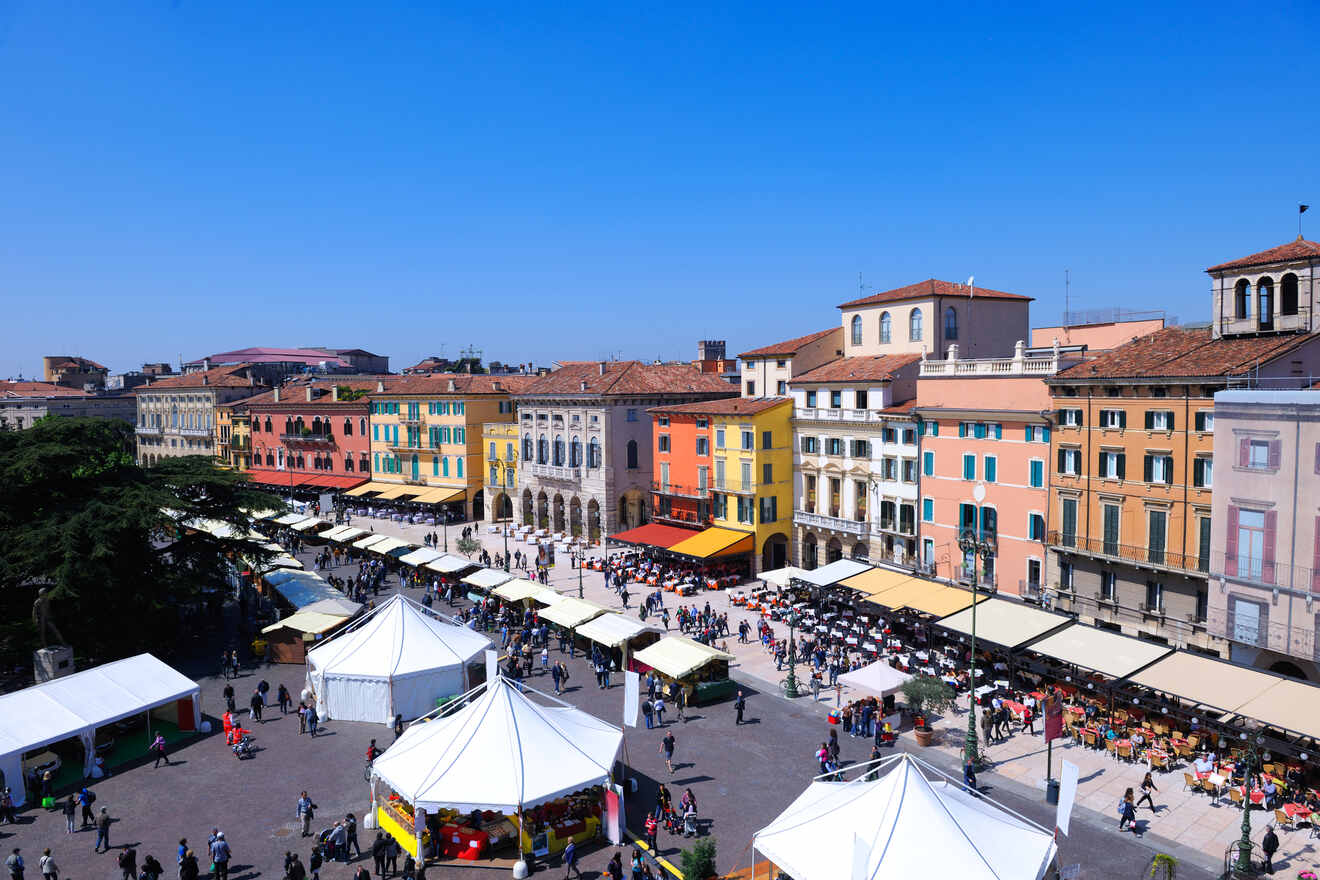 If you really want to have a feeling of the city, of its culture and laid back vibe, you should start by walking in the beautiful historic city center, where all the best historic sites and attractions are.
The historical center is made of two main squares, linked by the main shopping street (via Mazzini), Piazza Bra, and Piazza delle Erbe. Piazza Bra is where lies the famous Arena di Verona, the Roman amphitheater that will remind you of the Colosseum, as well as many tourist restaurants and bars.
Piazza delle Erbe, the former town's Roman forum, is THE place if you want to try the typical Italian aperitif surrounded by locals (I'll go more in detail further on in the post) or to buy some souvenirs in the daily market. This square is easily recognizable for its ancient fountain built with a Roman statue called Madonna Verona, right in the center of it.
Piazza delle Erbe is a strategic spot to reach any other worthy attraction in the center, like the nearby Piazza dei Signori (also called Piazza Dante) because of a monument of Dante Alighieri, the Divine Comedy author. Another thing you cannot miss is the important Portoni Borsari, a Roman city gate built in the first century AD, one of the symbols of Verona!
In between these two squares, I suggest you just lose yourself and enjoy the picturesque views of the Adige river, bordering Verona in an S-curve. But if you don't feel like walking, you can also explore the historic center with the Hop-on Hop-off Tour.
PRO TIP ABOUT CARS: The Centro Storico is all pedestrian-friendly, you cannot get in most of it by car unless you have specific permits or during specific night hours. If you have a car, you can park it just outside and then reach the center by a short walk. Otherwise, you can easily get in there by bus, no worries!
2. Cross the medieval Castelvecchio Bridge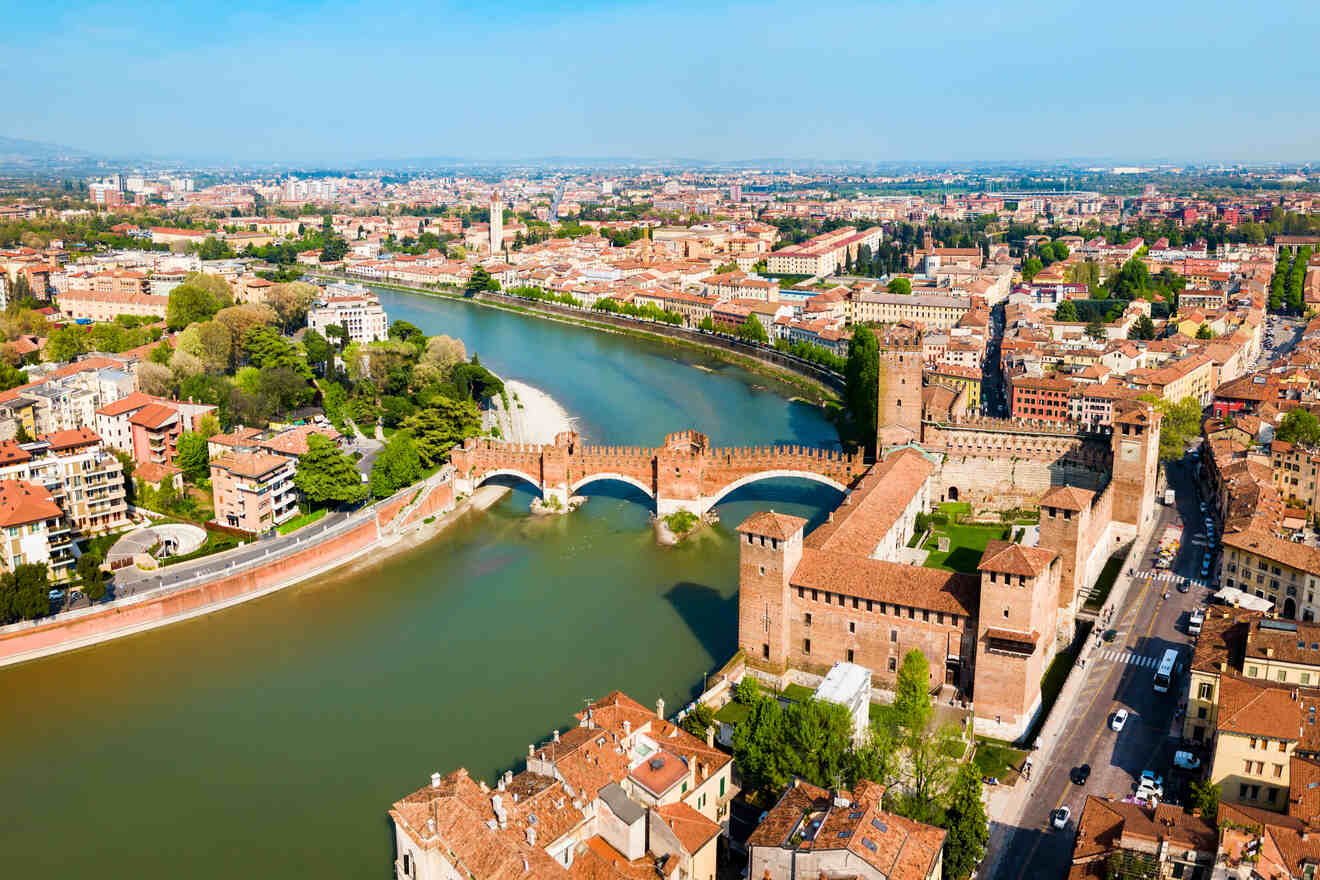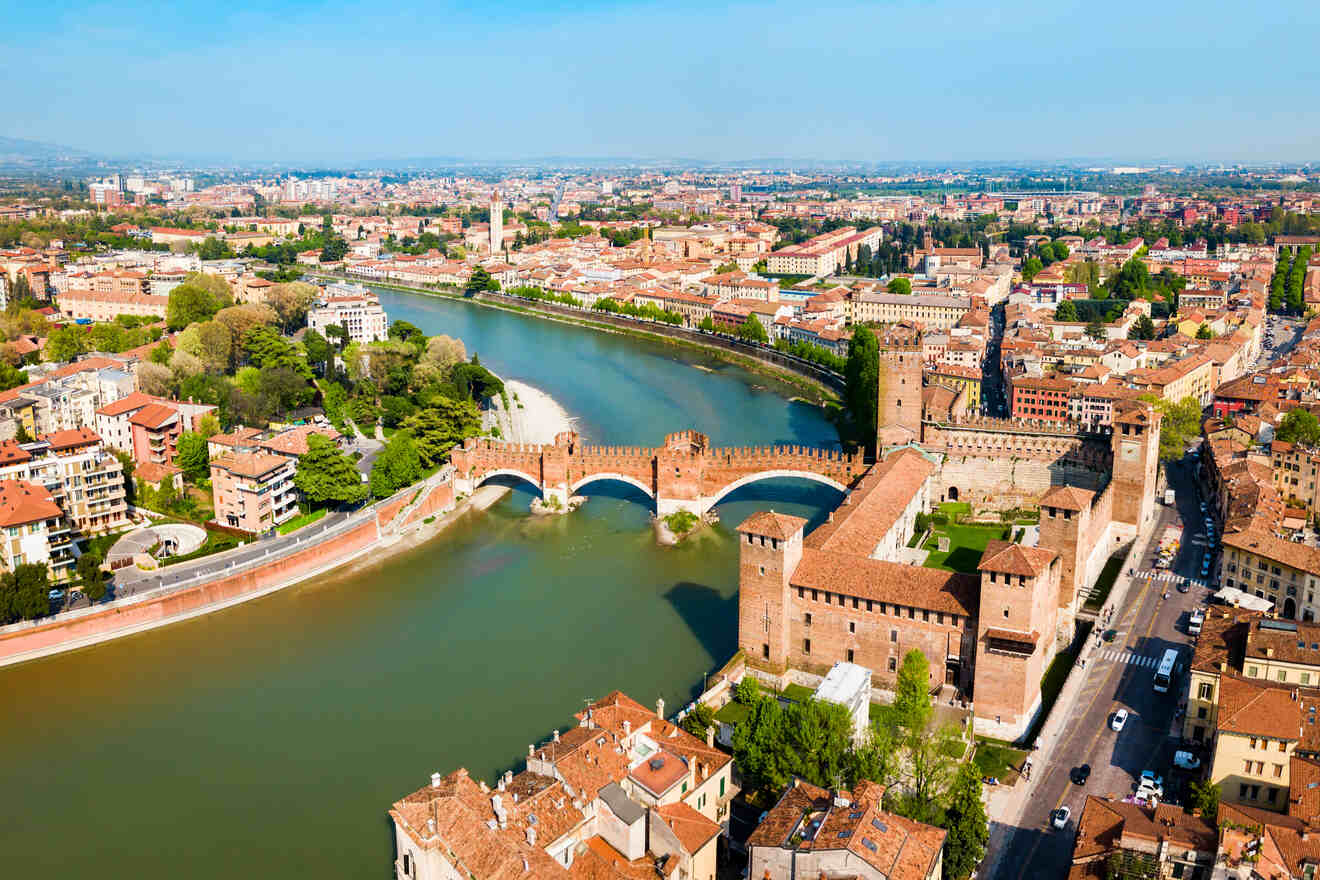 One of my absolute favorite things in my hometown Verona is the medieval Castel Vecchio Bridge, part of the Castelvecchio defensive castle built by the Scaligeri in 1354-55, as a reminder of the power of the Scaliger dynasty.
The beautiful castellated bridge Ponte Scaligero is traffic-free and by crossing it you will be immediately brought back in time, but at the same time, it will give you one of the most romantic city views, from both sides of it!
I've crossed this bridge thousands of times in my life, but I always include it in my daily walk and take some time to stop right in the middle of it, where there are some small picturesque windows that give you a "framed" view of the city and the Adige River (just perfect for a picture!).
If you're also interested in knowing the history of Castelvecchio, you can visit its museum for 6€ located in the castle interior, open every day except for Monday from 10 to 6 pm!
3. Visit Romeo and Juliet's house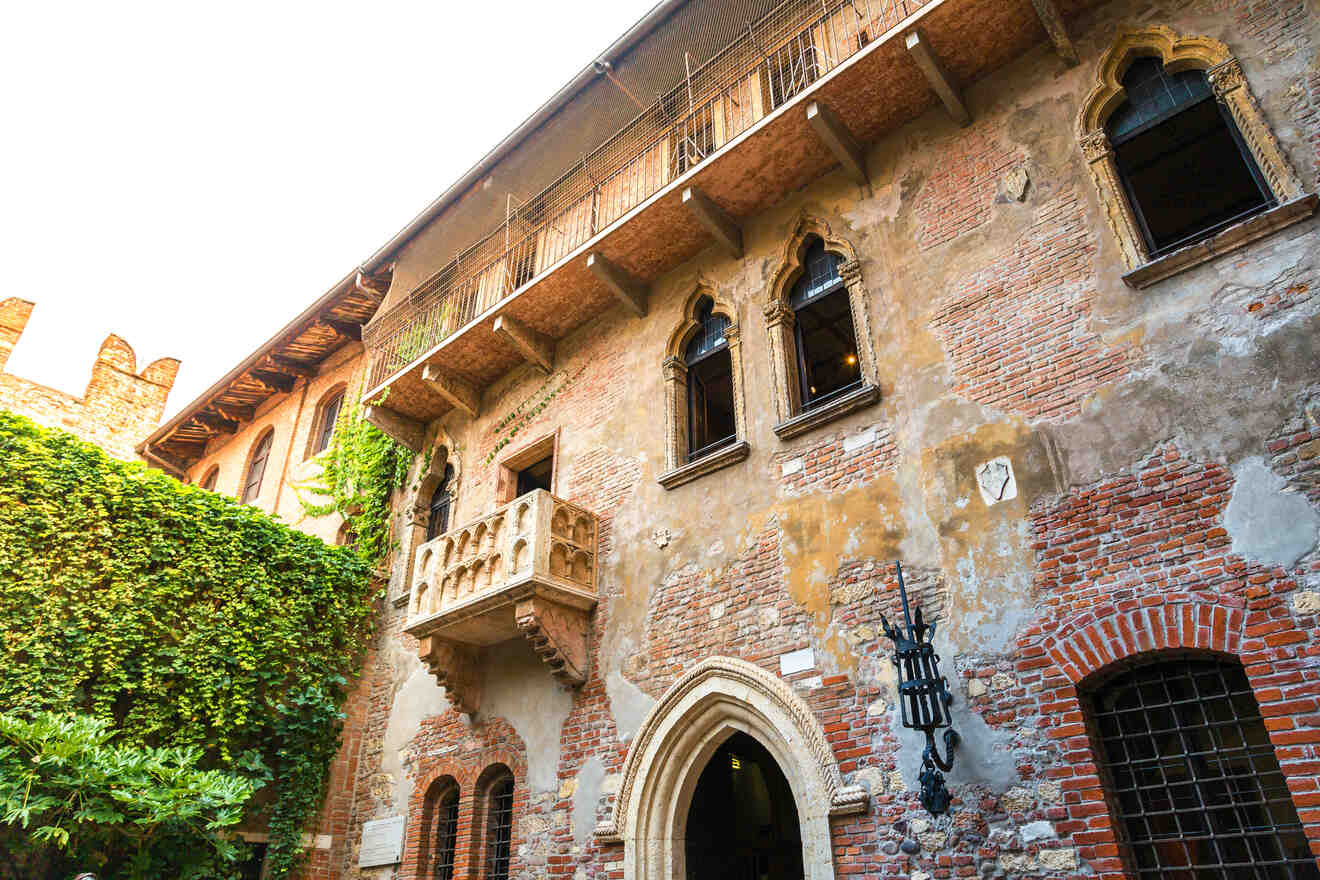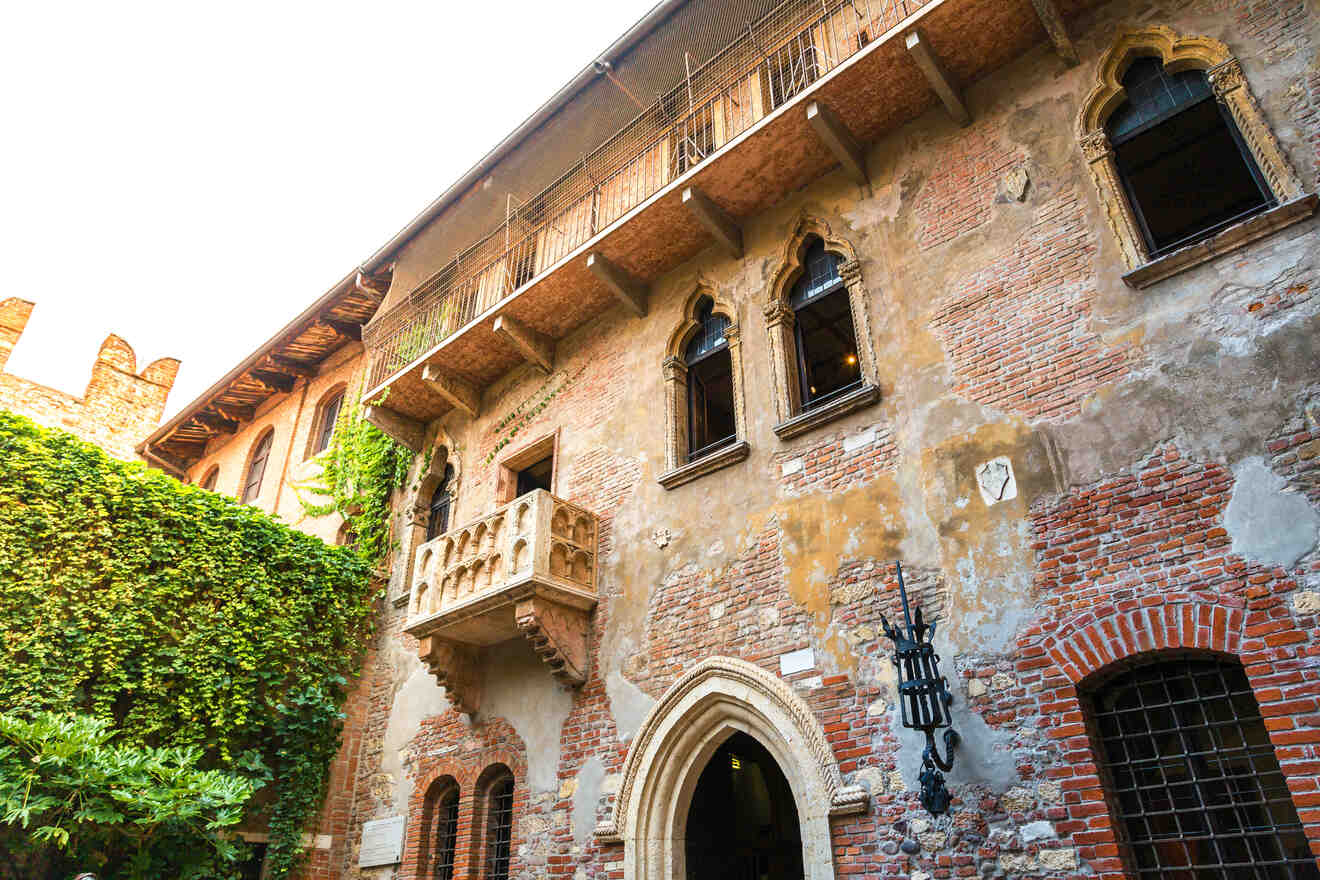 If you know Verona, it is probably for Shakespeare's legendary love tragedy between the star-crossed lovers Romeo and Juliet, and I bet one of the things you're more interested in is visiting the house where they lived, right?
Well, the story is purely fiction so the actual place doesn't exist, but since in Verona, we are romantic people we added a small medieval house just nearby Piazza delle Erbe, which became the setting of Shakespeare's romantic plot.
The lovely house has a small courtyard with a Juliet bronze statue and the famous balcony overlooking the courtyard, where the two lovers were supposed to secretly meet, and where tourists love to be photographed. But the most photographed thing here is the breast of Juliet… why?
The legend says that rubbing Juliet's left breast brings luck, in particular, if you're a woman you will receive happiness, eternal love, and fertility… why not try, right? I did (still waiting for eternal love though! 🙂 )
The only downside is that the line to reach the courtyard is usually pretty long, but then it will make you pass through a gallery whose walls welcome all the graffiti (hearts, dates, dedications from couples) left by visitors as a sign of love towards their special ones. Romantic, right?
NOTE: If you decide to go up to the balcony, for a few euros you'll also be able to see a small collection of costumes and furniture from the famous Romeo and Juliet movie with Leonardo di Caprio.
4. Attend a cool event in the Arena di Verona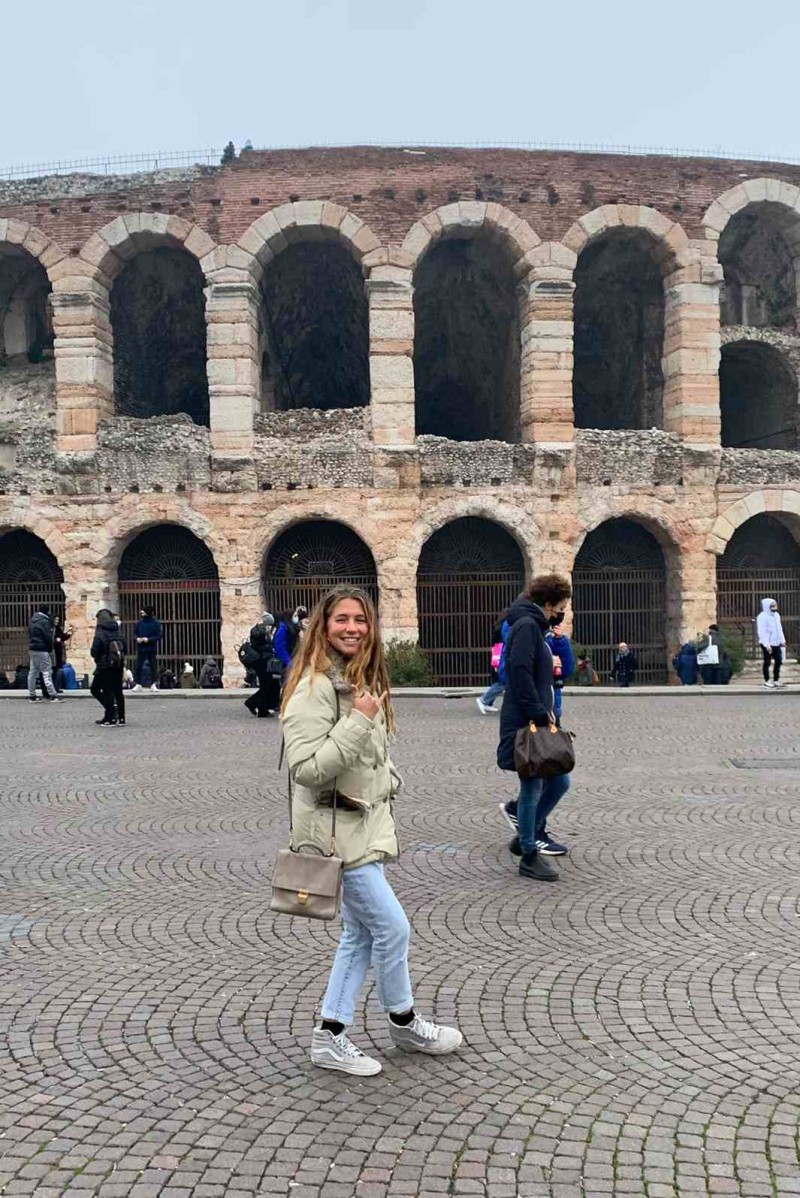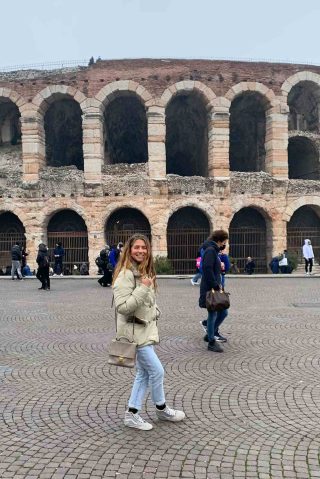 If there's an attraction in Verona as popular (but way more interesting, I would add) as the Romeo and Juliet house, it is the Arena di Verona, located in Piazza Bra and built in 30 AD.!
You could think of it as a small version of the Colosseum in Rome, but it has the same charm and historical importance.
In fact, the Verona Arena is one of the most well-preserved Roman amphitheaters in the whole world, and it still hosts many events like lyric operas and national/international concerts during the summer.
Imagine how cool it can be to watch a show in such a historical setting… the building can seat up to 30,000 spectators! Just check the Verona Arena's official website to see which concert excites you the most.
But if you're in the city during the off-opera season or you're not interested in any event, you can just get inside for a few euros, gaze at its architecture and imagine the ancient gladiator games that in the past were hosted in the Arena di Verona!
5. Have an aperitif in Piazza delle Erbe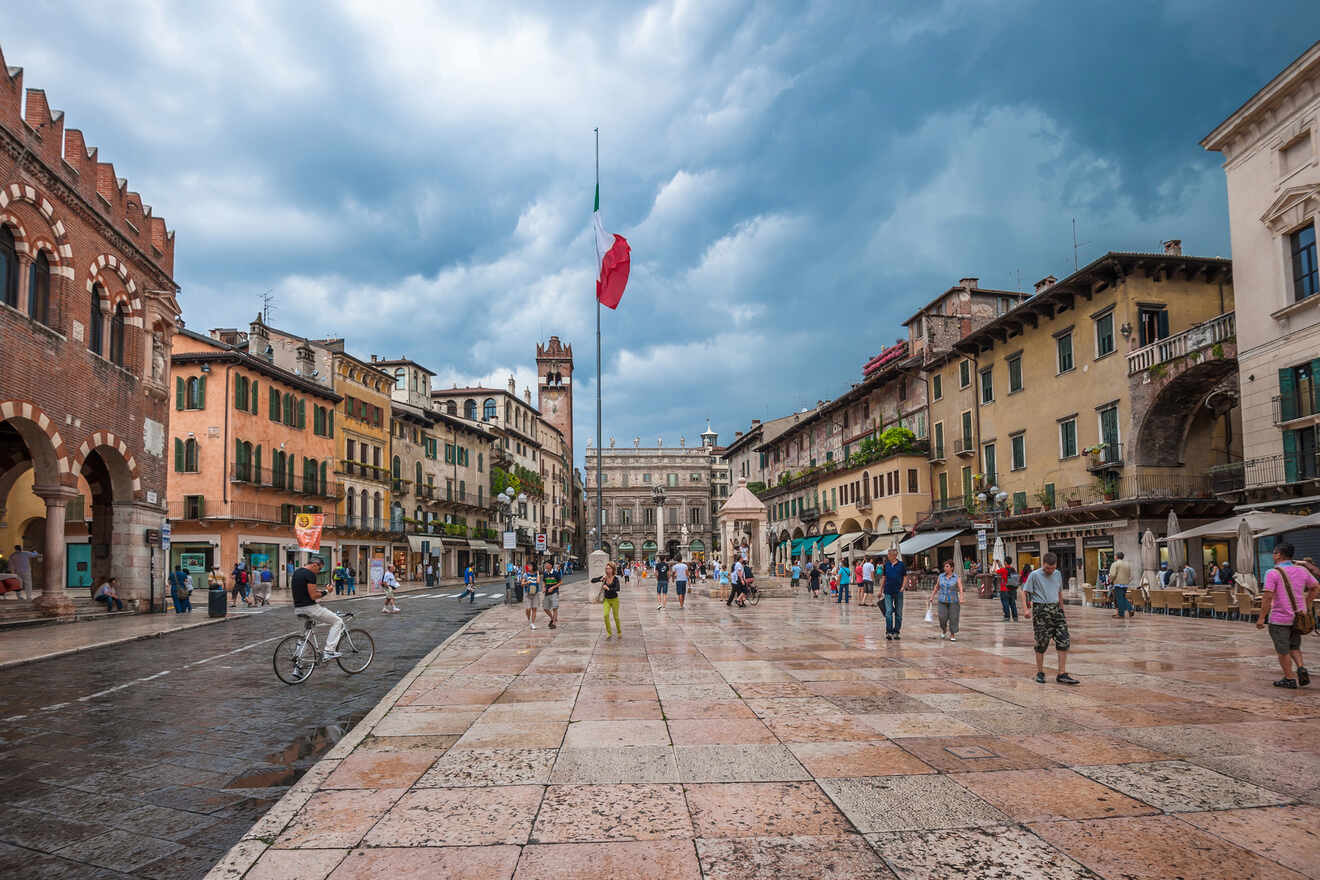 Let's talk about one of the biggest traditions in Italy: the aperitif, a "light" alcoholic beverage that you take just before dinner, so usually between 6 pm (when people finish working) to 8 p.m.
The most typical one is the Aperol (sweet) or Campari (bitter) spritz, otherwise, it can also be a wine or a non-alcoholic drink, but if you're here it's a must-try. In fact, the spritz is originally from Venice, super close to Verona, and has become very typical in the whole Veneto region.
Even if literally any bar or cafeteria in Verona will serve you an aperitif during this time of the day (or even before lunch), the most popular place where locals go for an aperitif in the center is Piazza delle Erbe, featuring countless bars one after the other, facing the beautiful square and old buildings facades.
Prices here are definitely higher than what you can find in less touristic spots (you will pay an Aperol spritz around 5€), but the view and the general mood are definitely worth the money.
You will feel like a local around so many Italians of all ages: just choose your favorite bar, sit, order your Aperol spritz and relax while you're gazing at roman architecture or people watching. And if you feel romantic, you can buy your special one a red rose from the many street vendors, don't worry… they will come to you!
6. Eat all the yummy food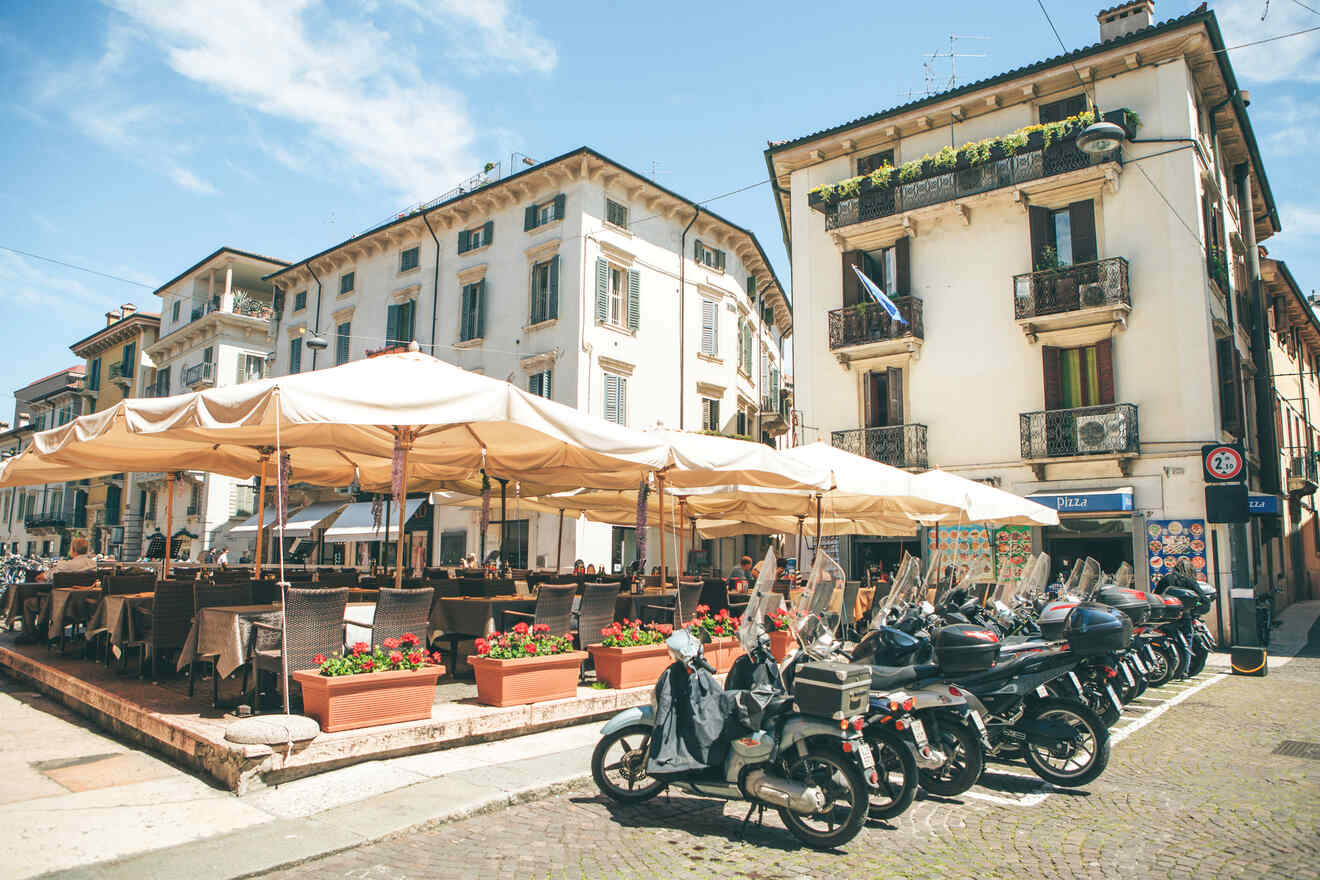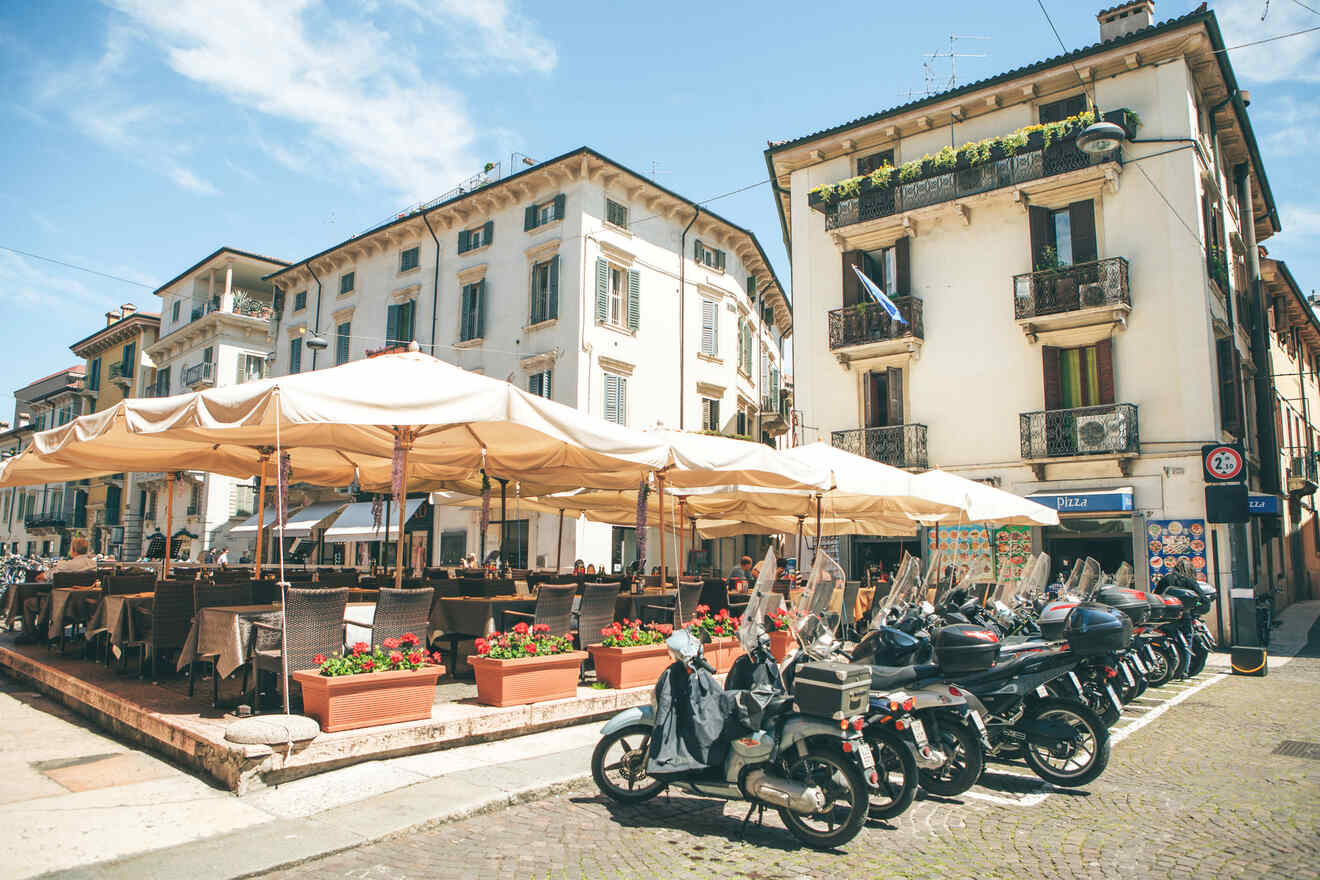 Needless to say, if you're in Italy you are expecting to try some good food and Verona won't let you down if you don't fall into the typical tourist traps, where you pay more and you get less quality. Luckily for you, here I am to suggest some good spots where to try some typical delicious dishes and snacks:
Traditional places
If you want to try the typical Verona cuisine, like the Risotto cooked with the Amarone wine or with tastasal (a sausage), there are some "osterias" (traditional restaurants) in the center where you eat very good food for reasonable prices.
One of these is Il Torcolo, where I suggest you try the Veronese "I bolliti con la pearà", in other words, boiled meat with a special sauce made from bread, or the delicious pasta dishes. Another one, even more, affordable and still very good, is La Molinara, one of my favorites for its cozy atmosphere, good wine, and friendly staff!
Pizza
Can't leave the city without tasting a real Italian pizza? If you love the Neapolitan style one, you have to go to Peperino, located just behind Piazza Bra. And if you want to take some pizza to go and eat it outside, maybe on a bench facing the Adige river, go to Dal Grano, right in the heart of the Centro Storico, where the pizza is made of fresh Italian ingredients and mother yeast… just amazing!
Gelato
Who loves gelato? Or better said… who doesn't? Well, you'll be happy to know that Verona brims with gelaterias, there is literally one every step you make, but some of them are definitely better!
If you want to try some special tastes other than the usual ones, the Gelateria La Romana is one of the best ones in town, and you will notice that by the long queue of people always waiting outside!
Otherwise, in the Centro Storico there is Savoia, perfect if you feel like refreshing yourself at late hours in summer, or La Boutique del Gelato, just outside the center, if you feel like trying some gourmet gelato!
Spots with a view
Now I'd like to share with you some secret spots where you can have a nice aperitif, coffee or a delicious meal with the best views of Verona, ideal especially if you're here with your special one!
La Terrazza is a lovely bar where they also serve food, featuring a cozy terrace where you'll have an incredible view of the Adige River, the Ponte Pietra bridge, and the Verona hills! The only downside is that the terrace is very small (that's also what makes it so special) so you have to be lucky to find a spot!
In the Verona hills, super close to the city center, there are some great spots where you'll have the best views of the city and the surrounding areas!
My 2 favorites are Ca Toresele, a bar/restaurant featuring a huge garden with olive trees and a stunning panorama, perfect for an aperitif, a drink, or a fish dinner. Just take into consideration that to get there you need a car, and it's good only for spring or summer! Otherwise, right where Castel San Pietro is, you will find Re Teodorico, perfect for a romantic dinner date!
7. Have the best city views from Castel San Pietro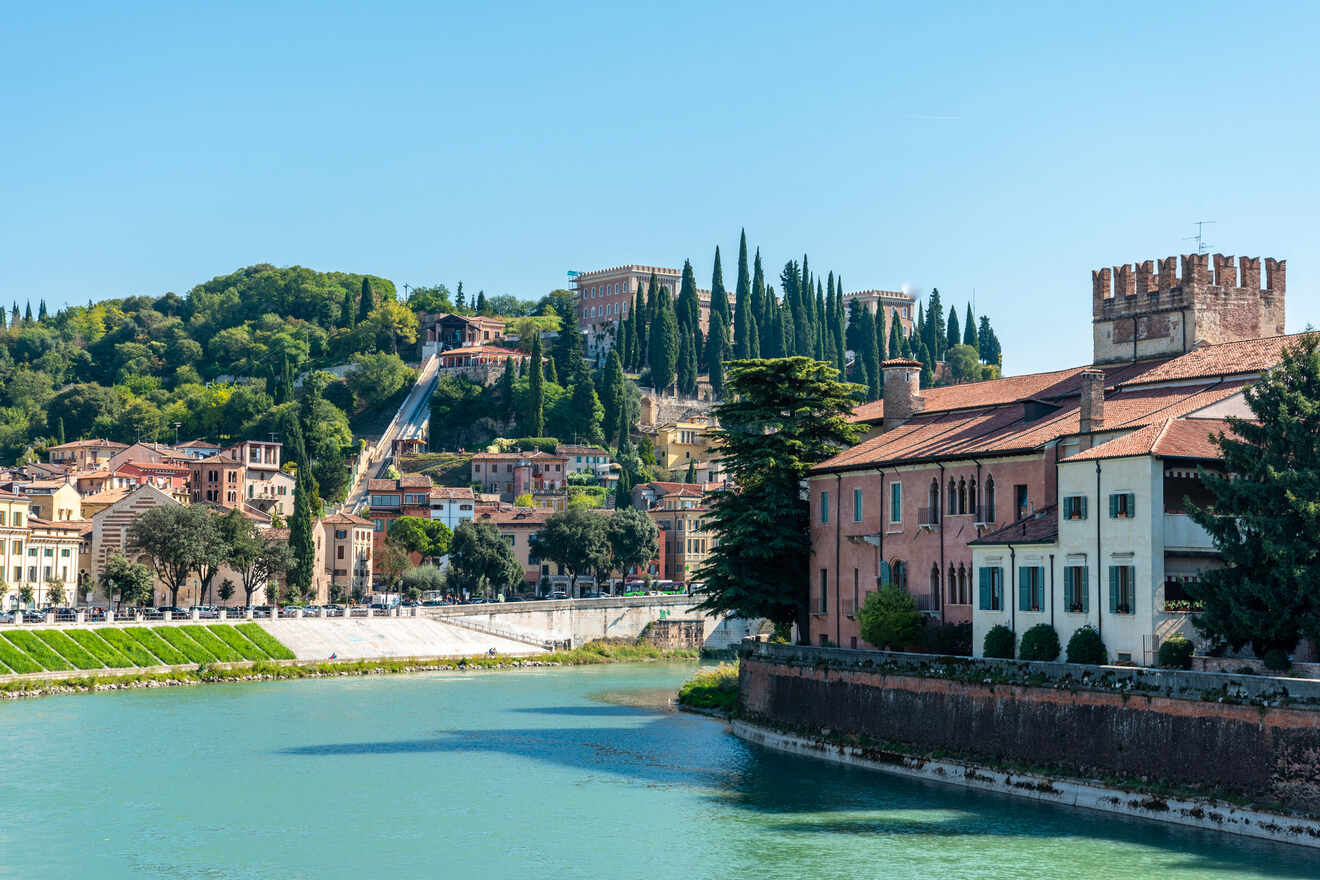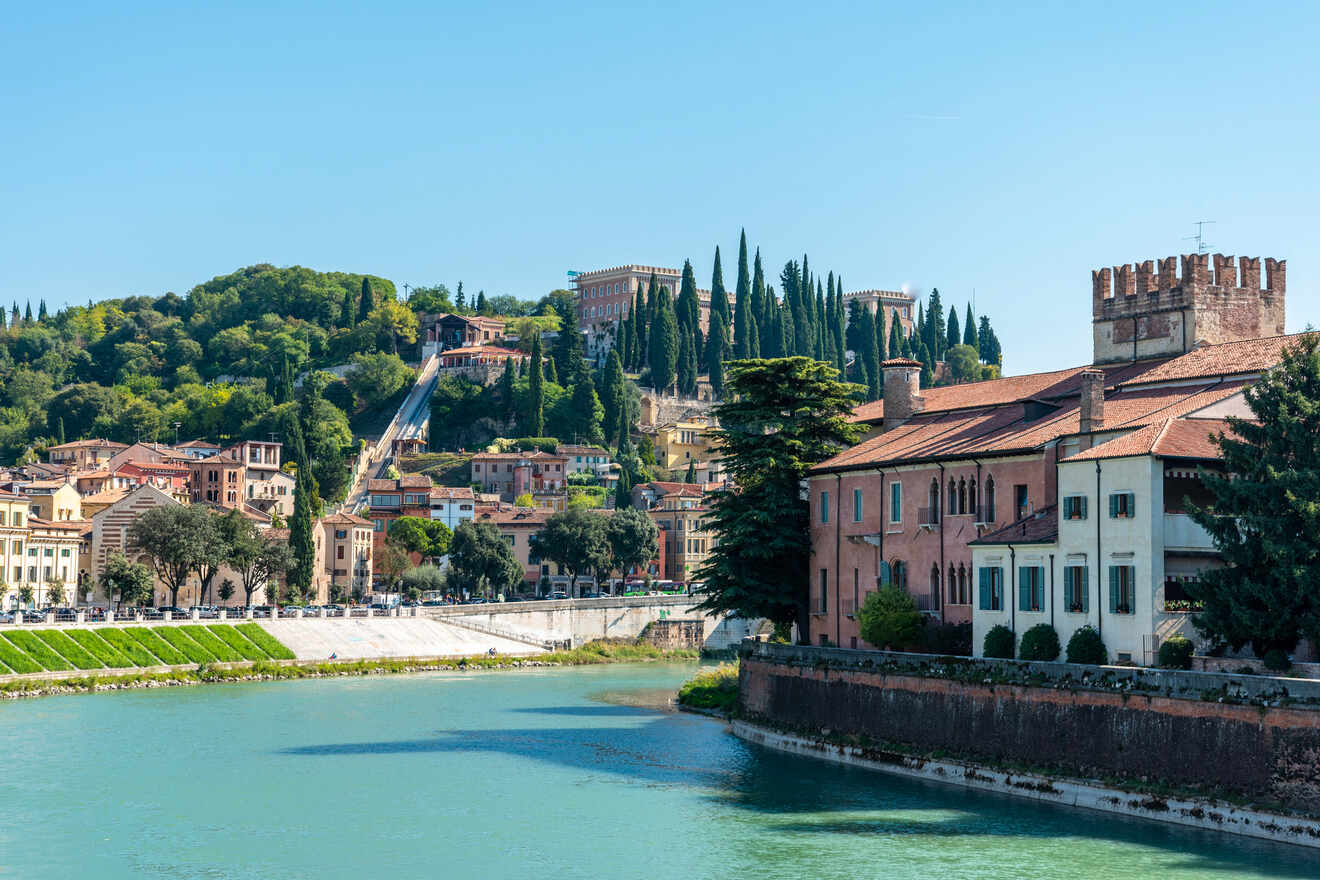 Here's another spot of my city that I will never get tired of: the beautiful castle Castel San Pietro, located on the Verona hills that are just walking distance from the city center… you just have to cross the picturesque stone bridge Ponte Pietra!
The main attraction here is not the castle itself, which is no longer open to the public, but the fantastic views of the historic center of Verona, in my opinion, the best ones you can have! And apparently, I am not the only one thinking like that: this spot is always full of locals, couples, and tourists, either taking some great pics or just enjoying the moment!
HOW TO GET THERE: you have two choices – 1)if you feel active you can walk there, you will sweat a little bit but it takes literally 10 minutes and the way is super picturesque! 2) For the lazy or older ones, there is a comfy funicular, that for only 2.5€ will take you there and back!
By the way, Castel San Pietro lies super close to the Roman Theater, hosting a very interesting archeological museum and outdoor incredible performances of theater, dance, and music during summer!
8. Visit all the ancient churches
If you are fond of old Medieval and Roman churches, Verona will be a playground for you! The Christian religion here is still very important, so other than gazing at the churches' stunning architecture you can also attend a mass: the two things combined together create a very special atmosphere!
The most important ones are located in the historical center (here you will often hear the suggestive bell tower ring) or just outside of it, let's take a look together:
8.1 Duomo di Santa Maria Matricolare Cathedral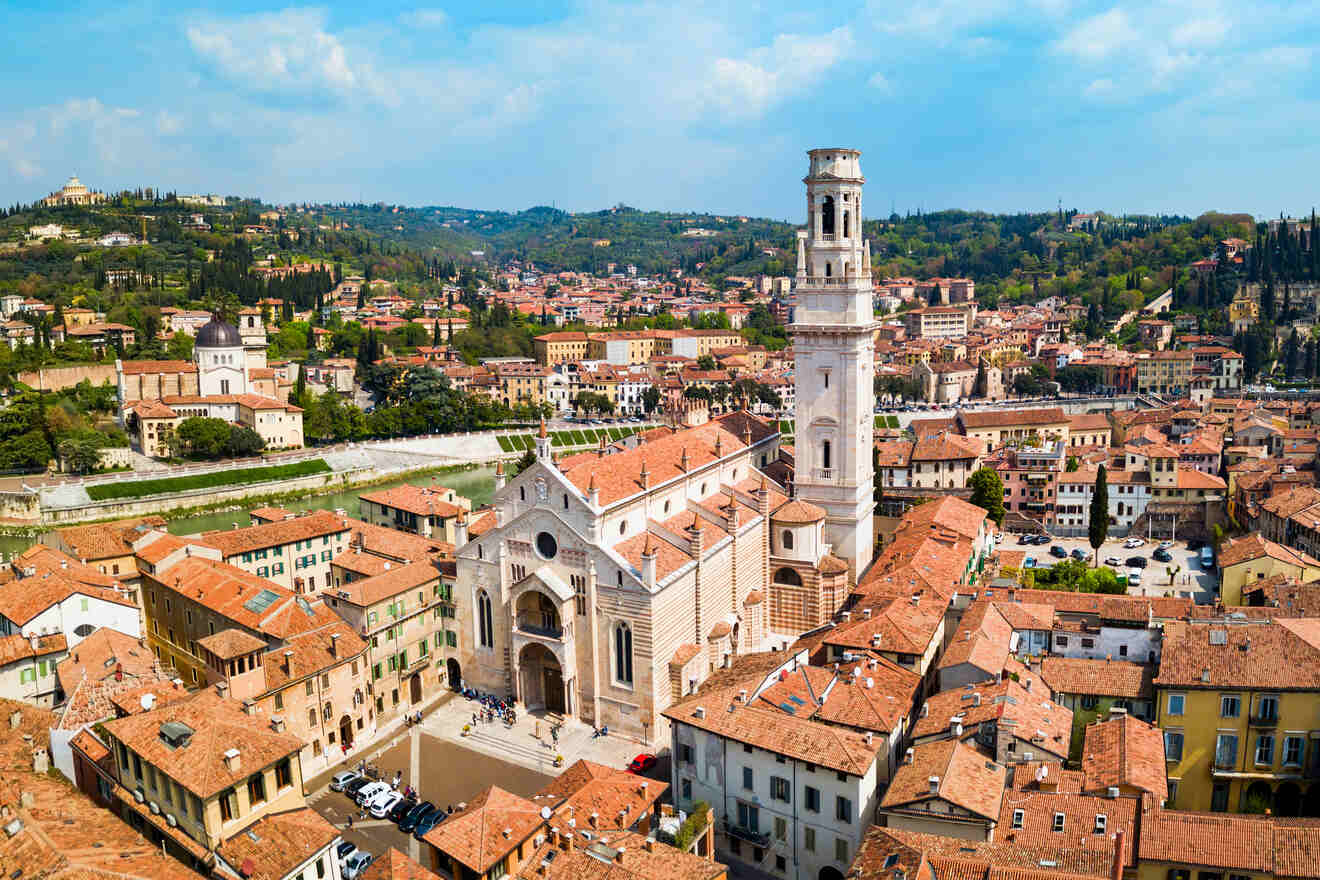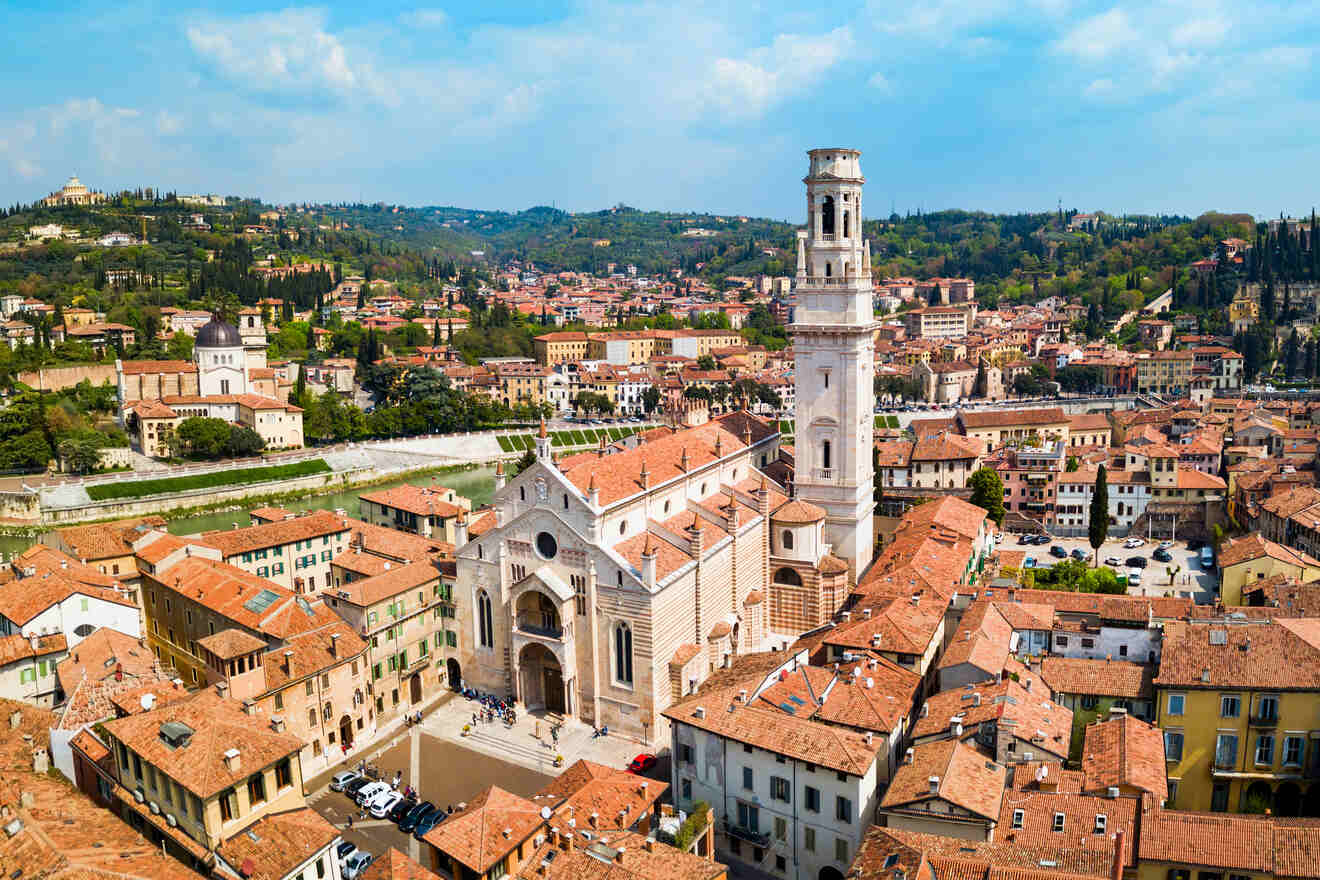 This huge Verona cathedral is a Roman Basilica from the 12th-century featuring gothic architecture, and is just stunning! Located in the beautiful Duomo Square in the city center, the church hosts many frescoes, a Gothic tomb of St. Agatha, and beautiful Christian mosaic floors.
You will recognize it from the two "grifoni" (mythological creatures) statues right before entering the door!
8.2 Sant'Anastasia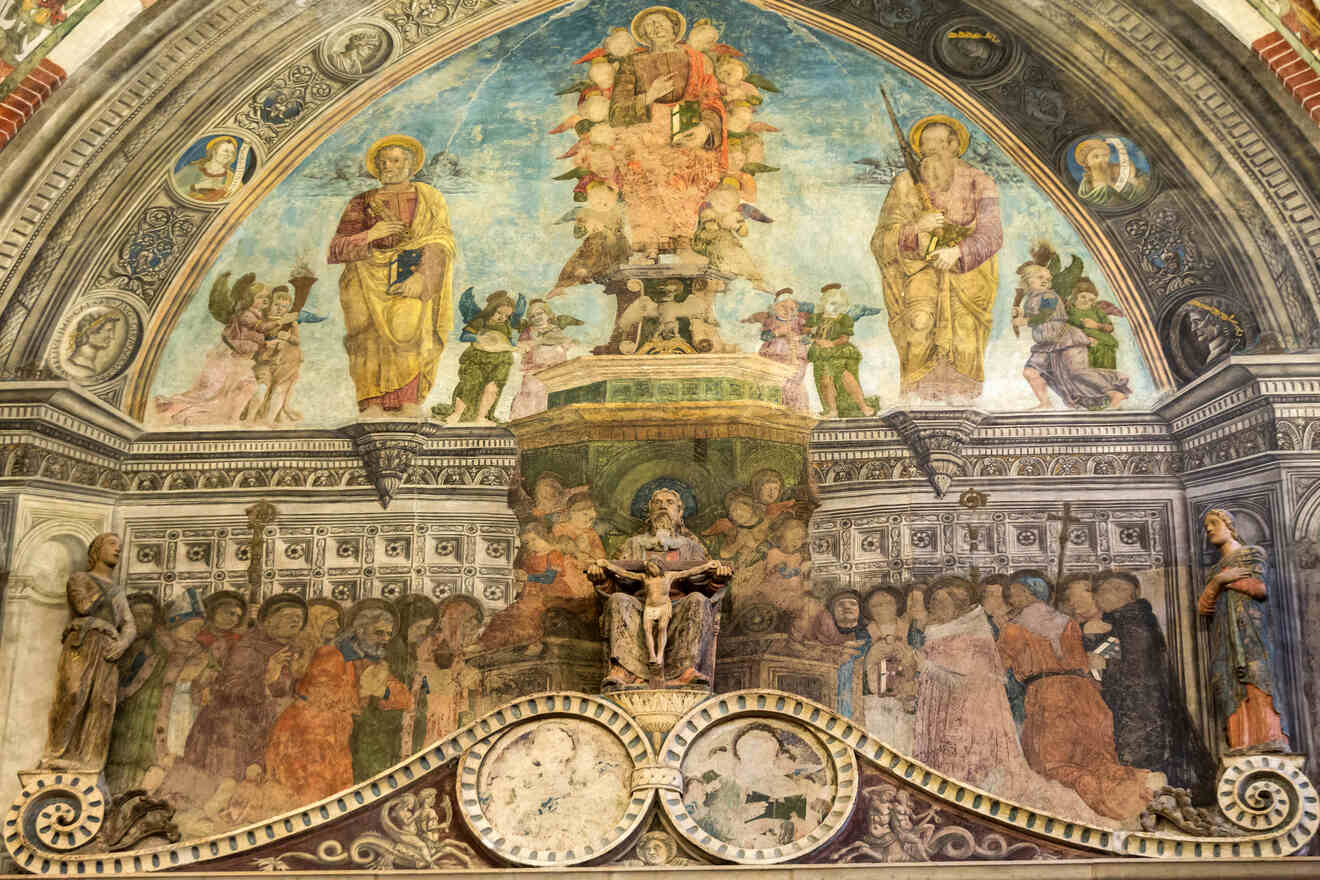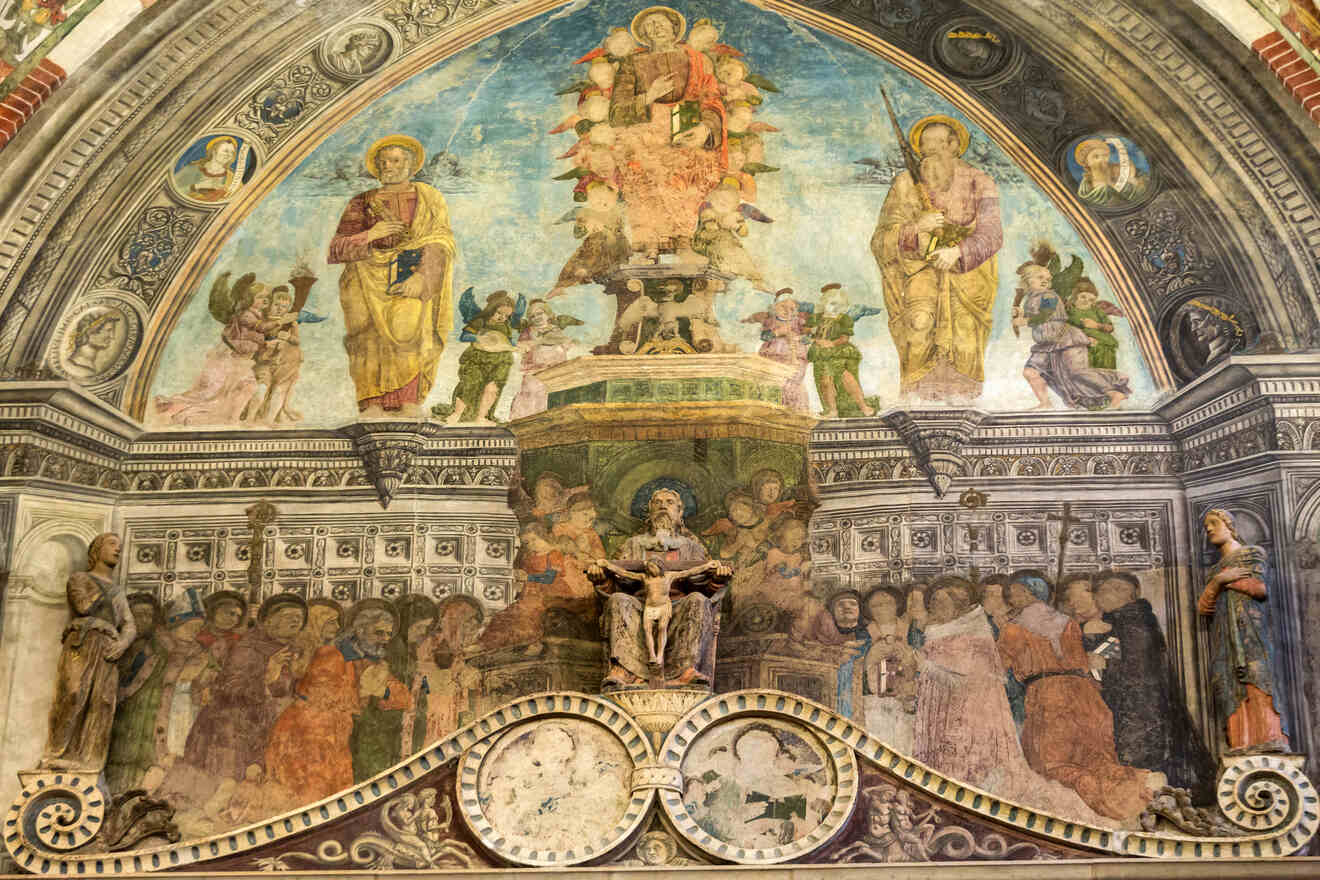 Located in the heart of the city in a very small square, super close to Piazza delle Erbe, Sant'Anastasia is a brick Verona Cathedral from the late 13th century, and the best place if you want to gaze at some Gothic architecture.
The church has a particular slender bell tower, known for its nine bells that rang in a traditional style: the Veronese bellringing.
Sounds crazy, I know, but this is actually an art invented in the Campanaria Verona school based right in S.Anastasia, an academy of bellringers!
8.3 San Zeno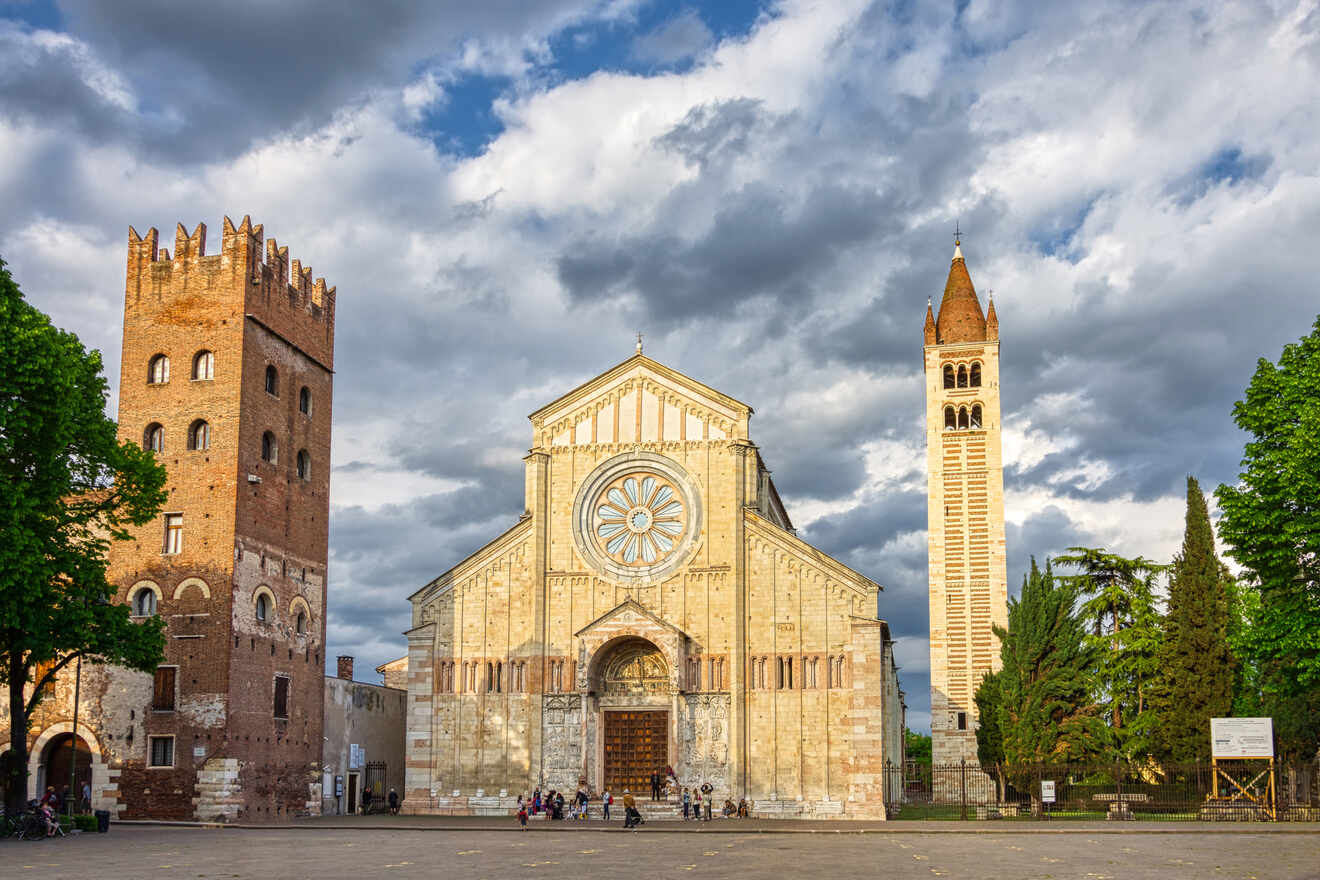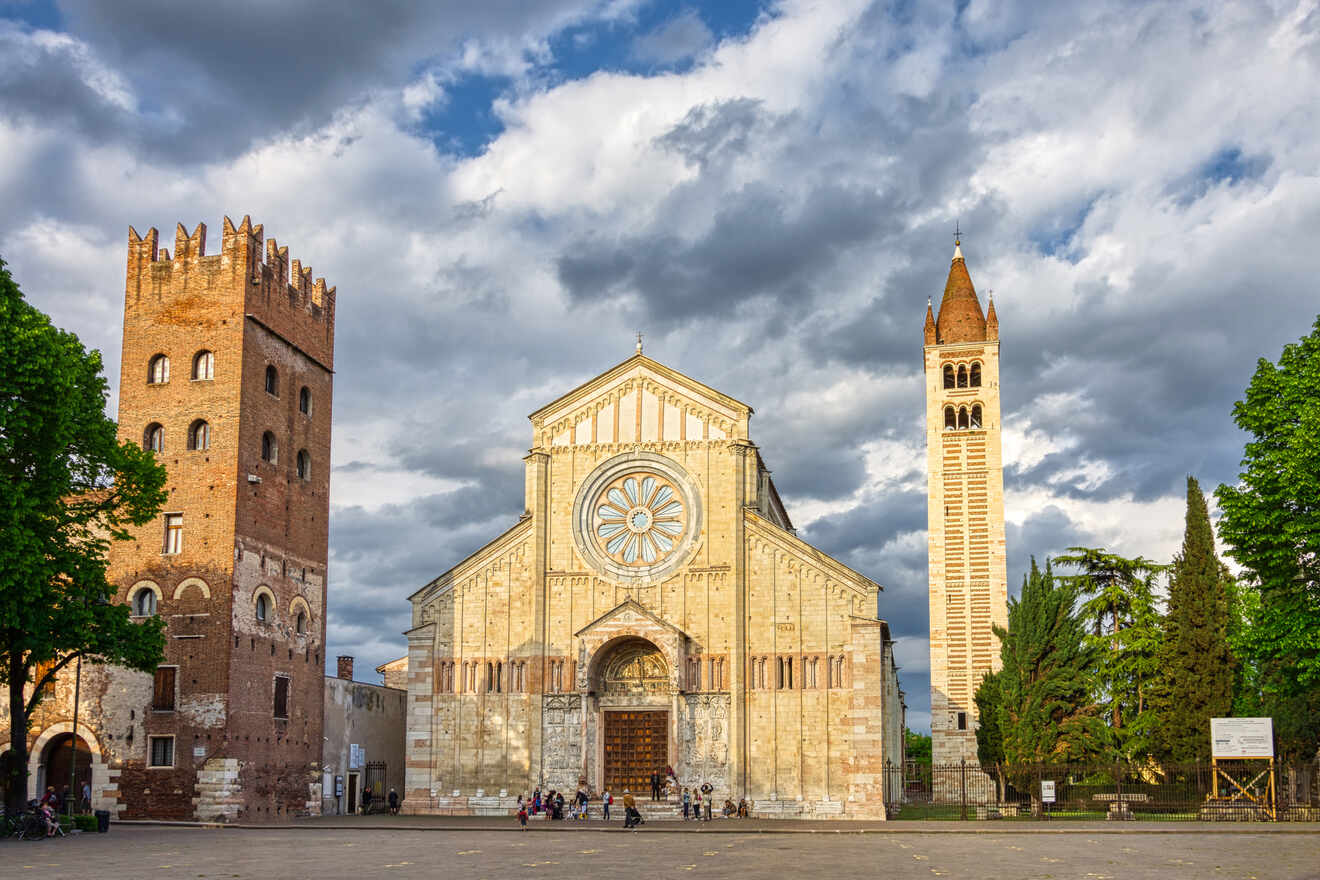 Welcome to the huge Basilica of San Zeno Maggiore, located in my favorite square ever: San Zeno Square, hosting also a vintage market every 1st Sunday of the month. This Verona Cathedral is the finest Romanesque building in northern Italy and it will strike you with the warm colors of its façade and bronze doors!
9. Gaze at the architecture of Piazza dei Signori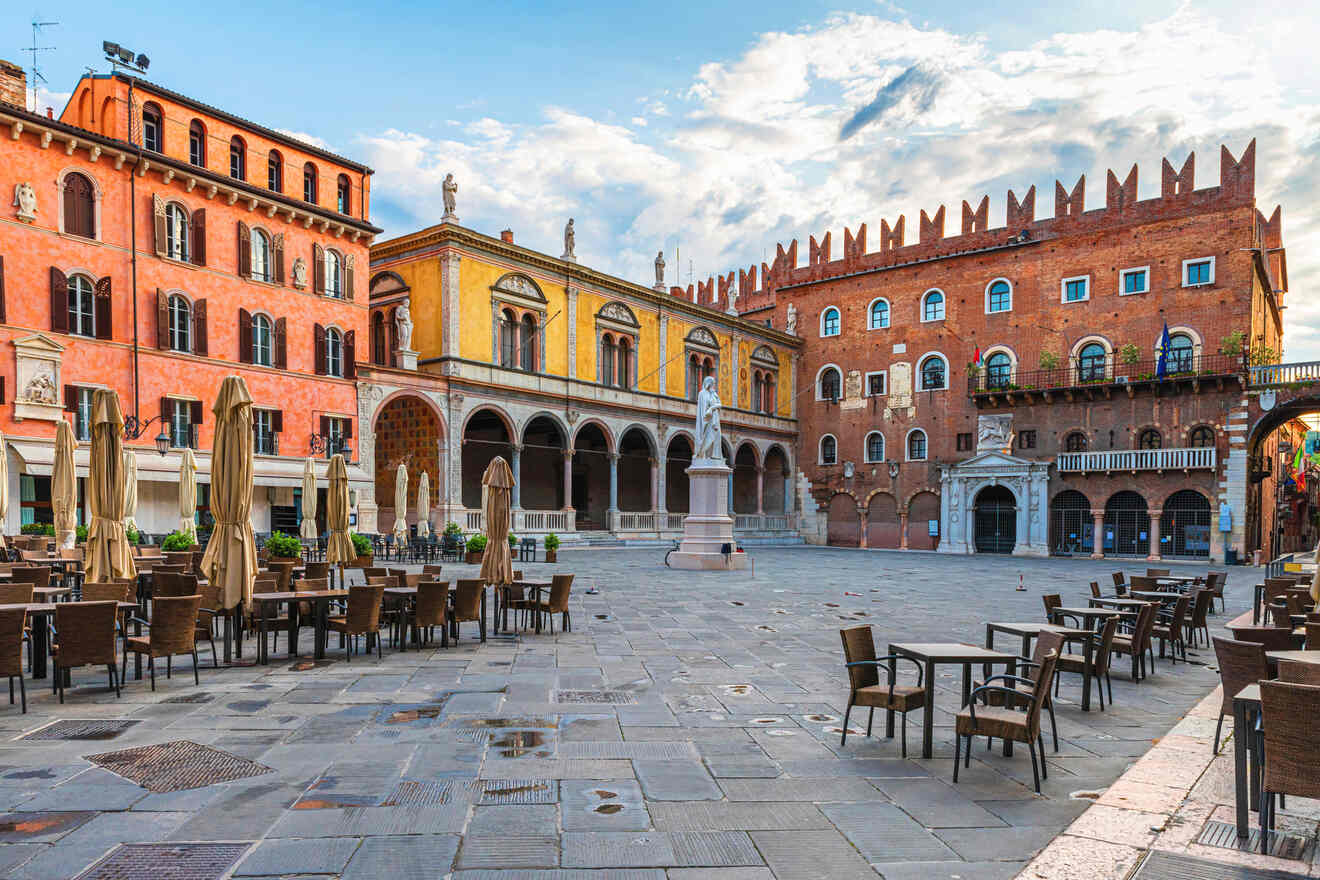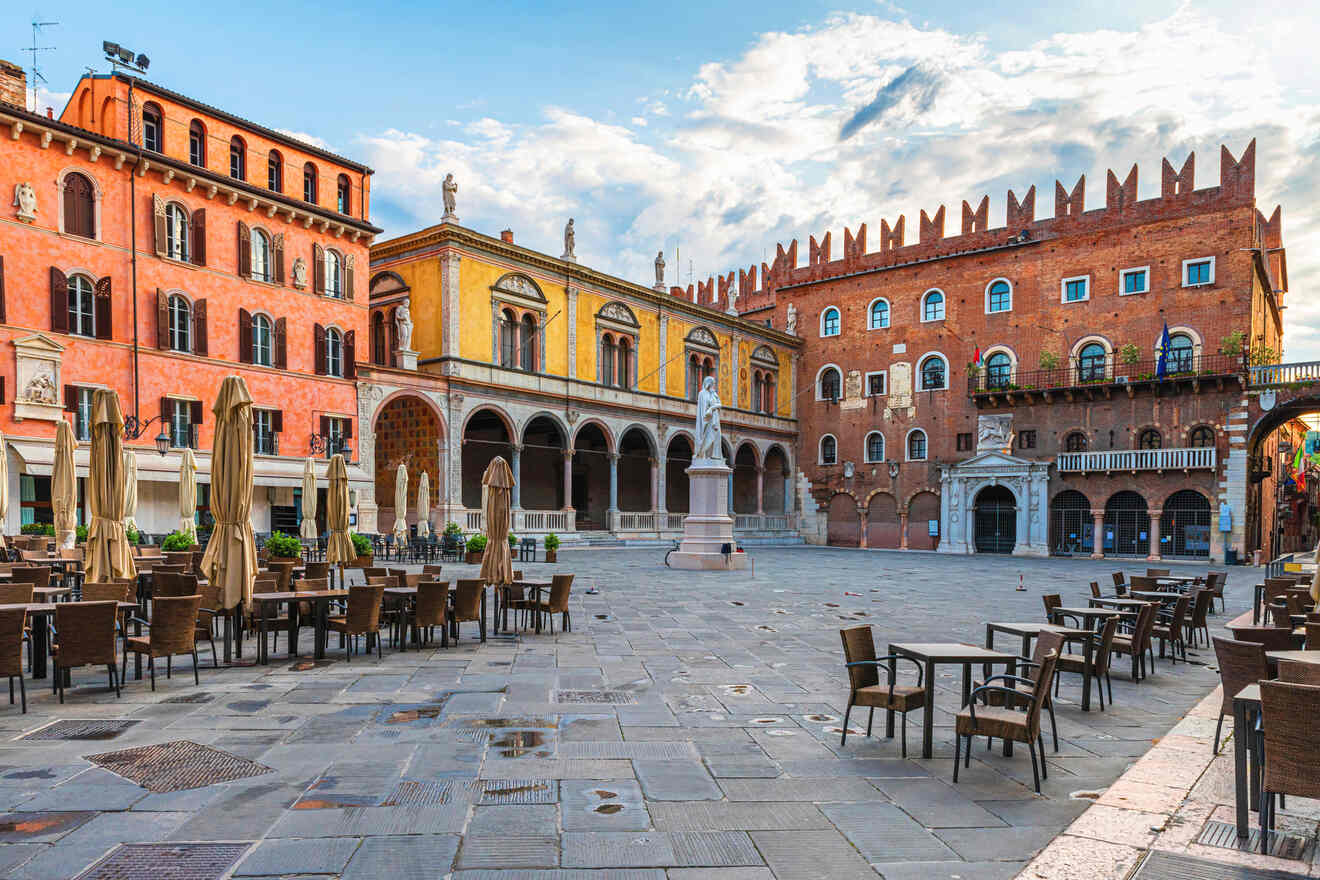 Piazza dei Signori is another must-see square in the city center, just a few steps from Piazza delle Erbe, hosting some good restaurants and the best seasonal markets (if you're in town in December, you cannot miss the Christmas one!).
Just go in the middle of the square and gaze at the beautiful architecture of the surrounding palaces, or at the famous monument built for Dante Alighieri, the Divine Comedy author.
From Piazza dei Signori you'll also have easy access to another cool attraction of Verona, the Torre dei Lamberti tower, that if you climb up to the top it will give you a breathtaking (and dizzy) view!
And if you want to know a little more about Verona's history, I suggest you visit the nearby Scaliger Tombs, gothic funerary monuments dedicated to the Scaliger family, a dynasty that ruled over the city for 125 years!
10. Take a day trip to Lake Garda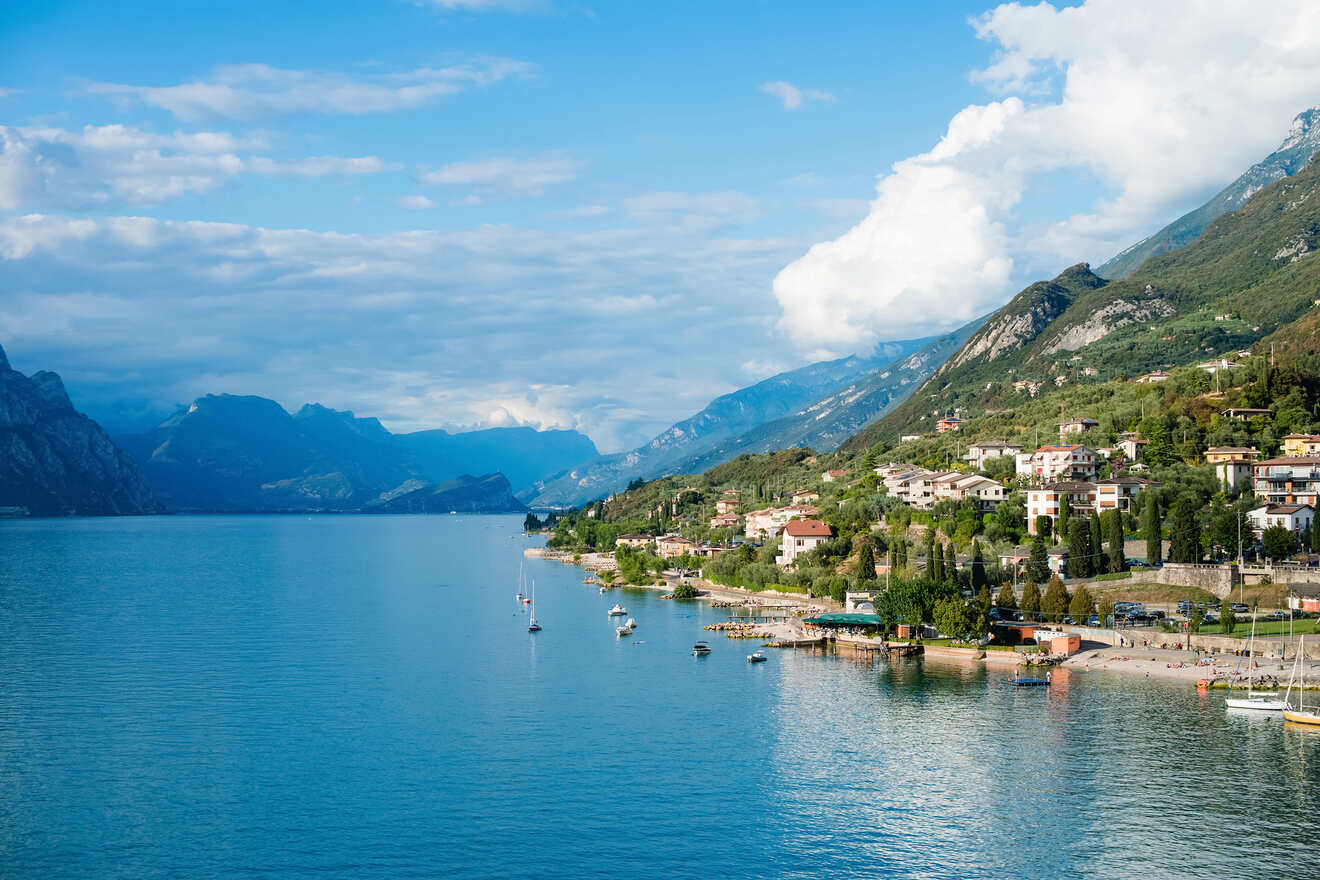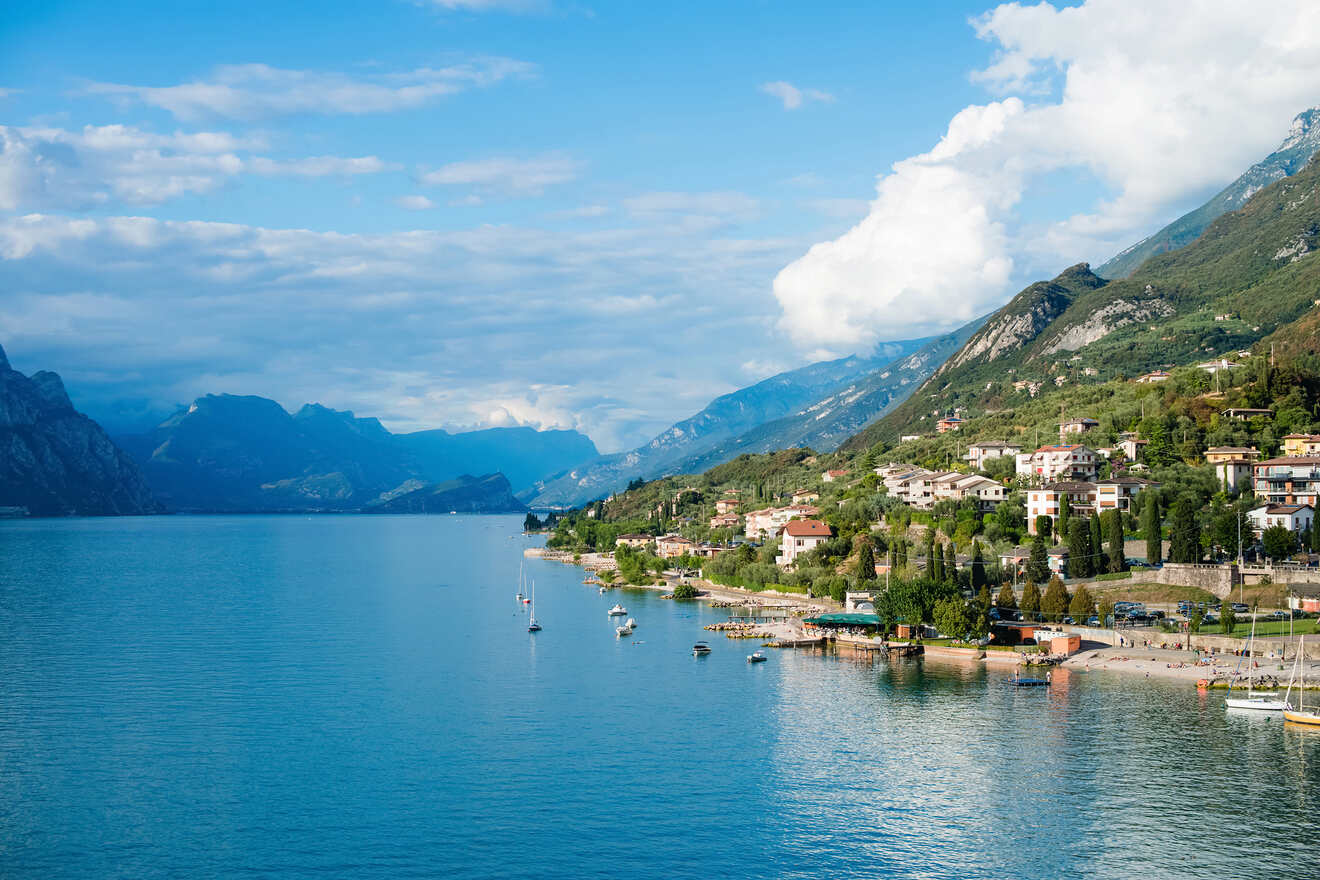 At about 30-40 minutes from Verona, there is the famous Lake Garda, with its light blue waters, home to many picturesque towns where to stroll around, gaze at panoramic views, and even swim in the lake during summertime!
If you have an extra day in Verona, this is the ideal destination for a day trip, for relaxing, doing some activities in touch with nature, or having some fun. Let's see them together:
Sirmione – Sirmione is definitely one of the most beautiful cities on the lake: you will enter the town across a bridge, to reach the historic Rocca Scaligera, a historic castle built by Verona's ruling Scaligeri family.
You can definitely spend a day here, shopping in the charming souvenir shops of Sirmione historic center, joining a panoramic cruise, or having romantic strolls on the lakeside!
Malcesine – This is my favorite city in the whole of Lake Garda for its charming Medieval narrow streets! Its harbor and the famous Malcesine Castle, from where people take dips in the lake (the highest point is from 24 meters…would you dare?) are also simply amazing! In Malcesine there's also a cable car that will bring you to the top of Monte Baldo peak, where you'll have the best views of the area!
Gardaland – If you're in Verona with the family, you have to take your kids to have some fun at Gardaland amusement park, featuring rides for all ages, cartoon parades, a sealife centrum and shows… They will love it! Just a tip: if you hate crowds, avoid visiting during school holidays, so from June to September!
Caneva Aquapark – Here you have the Gardaland brother, just with water: the Caneva Aquapark! With crazy rides, pool floats, and rubber mats, this park is the perfect place to take a break from the city's heat in the summer and relax a little while your kids get some adrenaline!
| | |
| --- | --- |
| 🤩 Range of activities: | Large |
| ✈️ Cost of traveling: | Medium |
| 🏛️ Best monument: | Arena di Verona |
| 👧 Best attraction for kids: | Gardaland |
| 🥟 Must try food: | Risotto all'amarone |
| 📅 How many days: | 1-2 |
| 📍 Best neighborhood: | Centro Storico |
Practical Information About Verona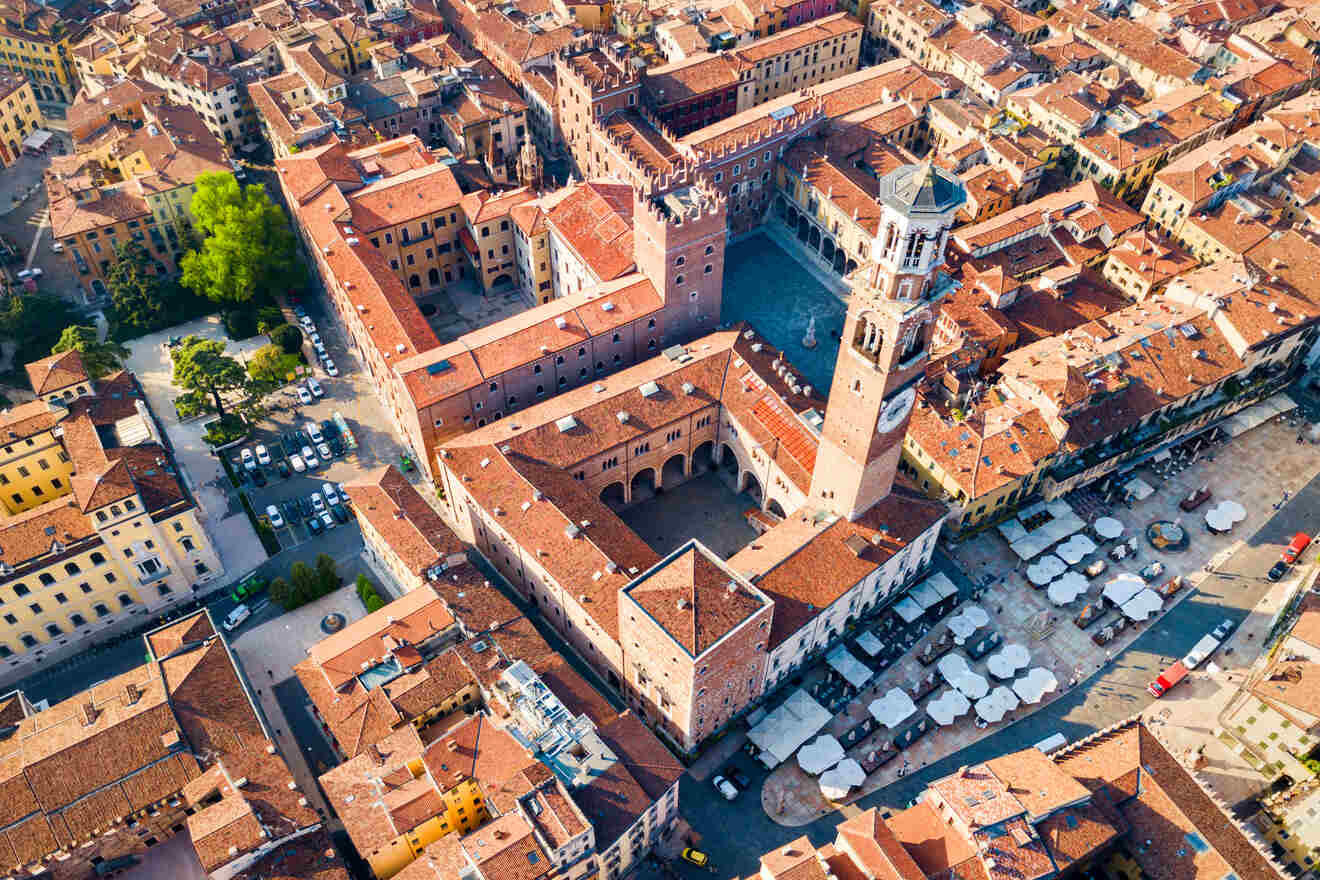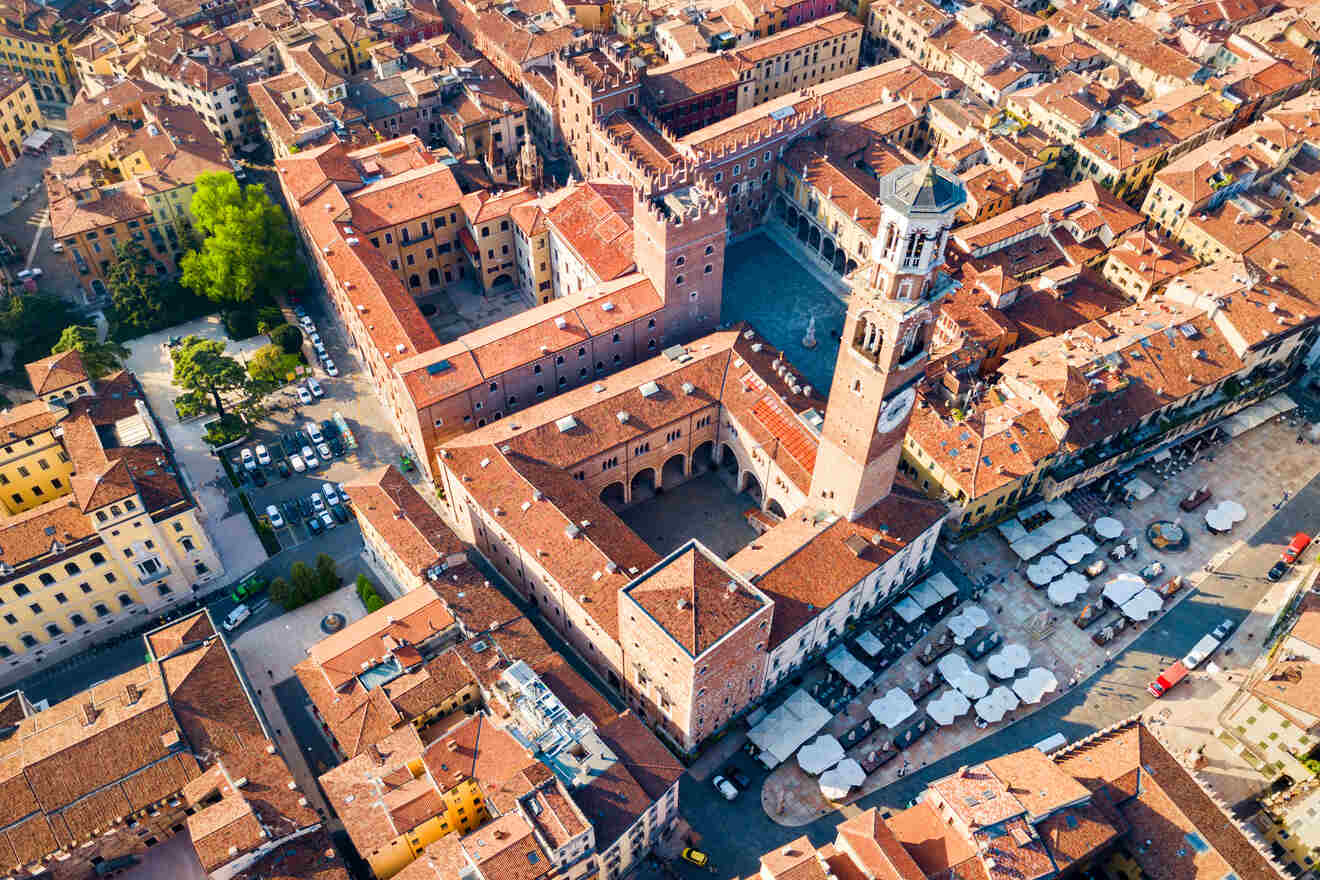 How long to stay in Verona
Verona is quite a small city, with most of the attractions concentrated in the tiny city center, so if you have a tight itinerary schedule you could see them all even in one day! Anyways, I suggest you stay at least 1 night and 2 days if you really want to enjoy the city and feel its vibe!
In this way, you can also have the time to enjoy lazy walks in the center or in the hills (these ones are less lazy), go on a tour to the nearby spots like Lake Garda and Borghetto, or attend an event either in the Verona Arena or the Roman Theater.
Where to stay in Verona
The best place to stay in Verona if you want to be at an easy walking distance from all the attractions is definitely the city center!
I gathered here 3 very good options for any kind of budget, from luxury to more affordable hotels or if you need more options, we have a whole post on where to stay in Verona, check it out!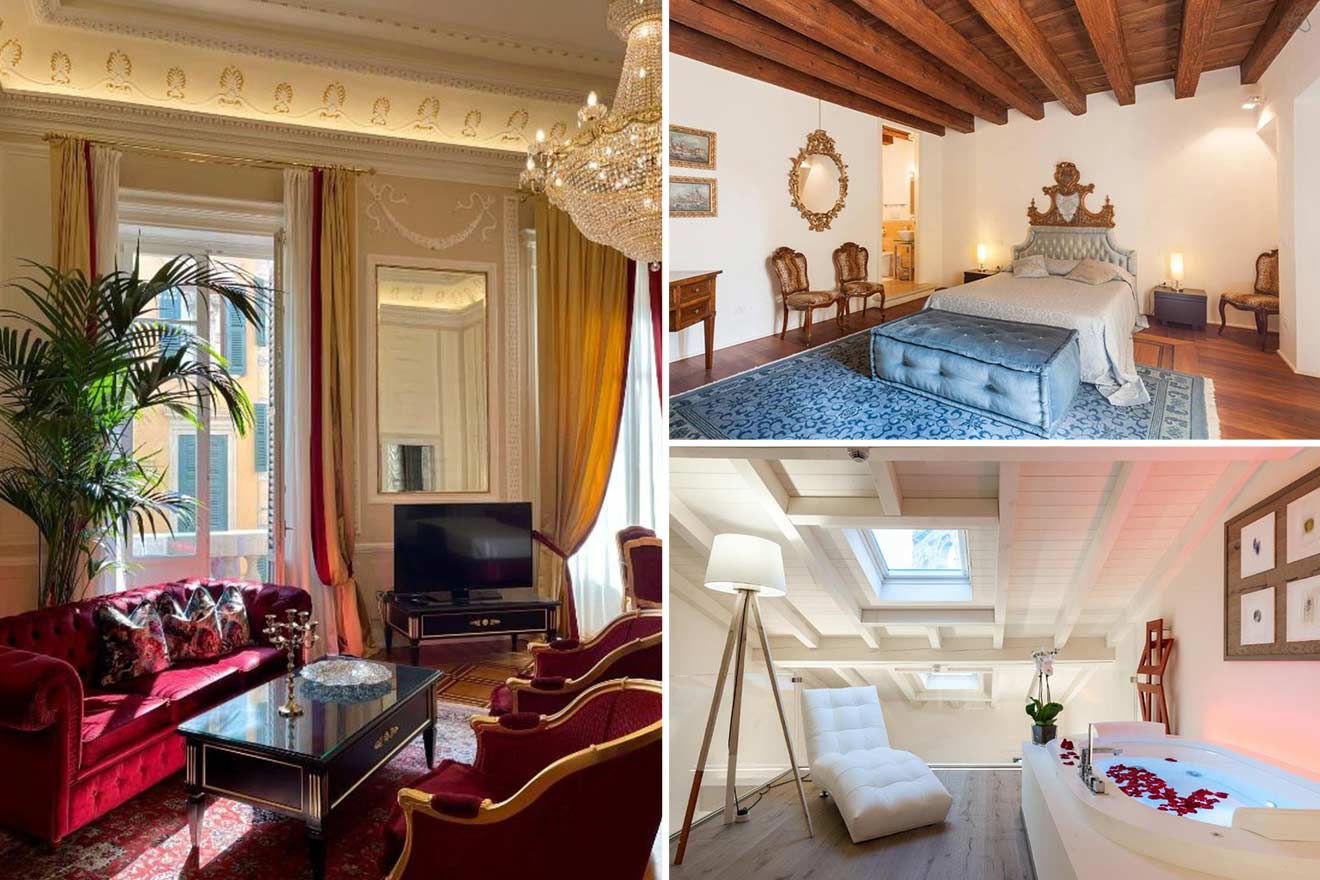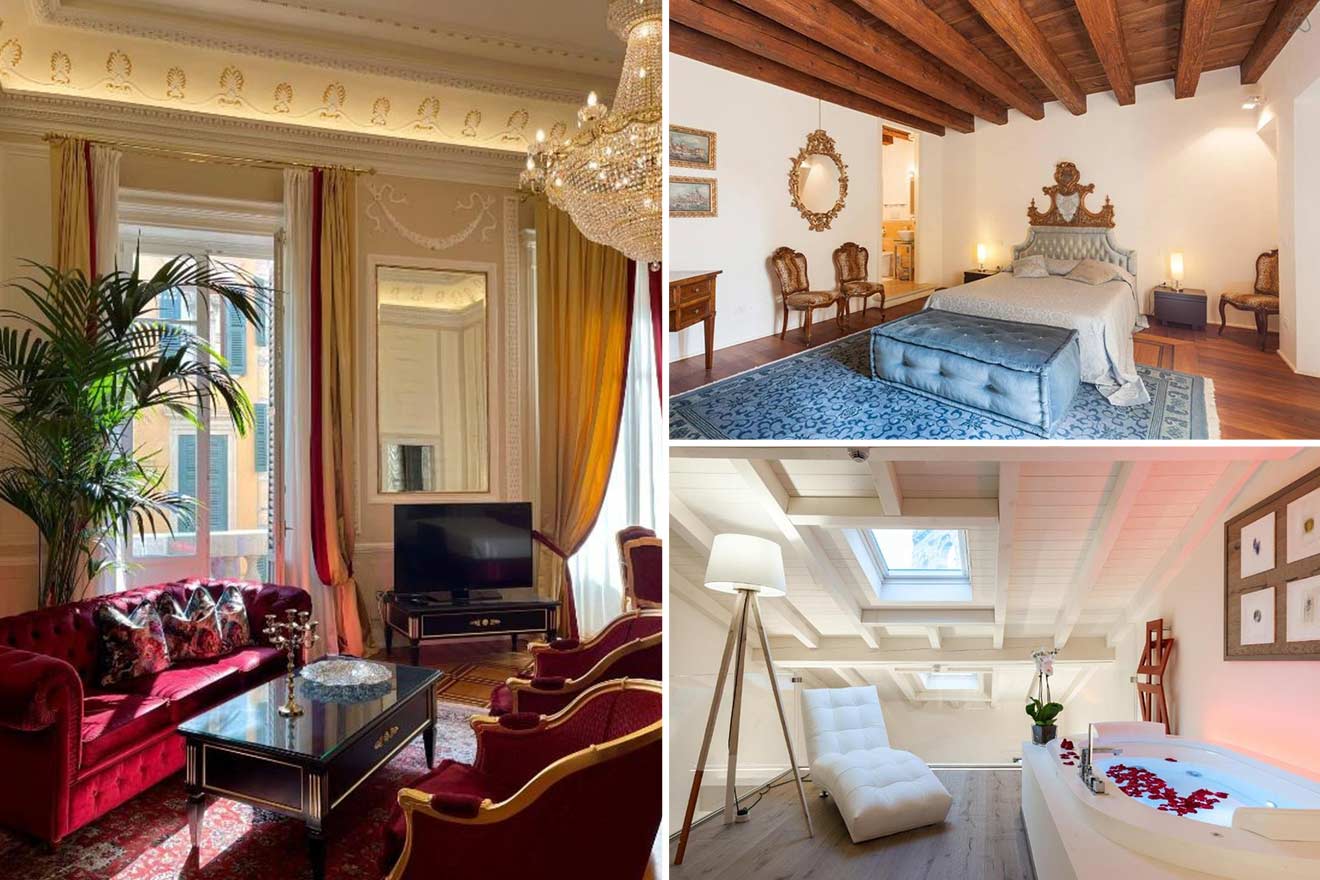 Palazzo Monga Boutique – You will feel like an Italian royalty in this luxurious hotel to stay in Verona! I just love the traditional wallpaper in the spacious rooms and the large windows! You can relax in the spa center or order a delicious breakfast in your room: the perfect way to recharge your batteries before exploring the heart of Verona!
Verona Suites – Located in the heart of the city, on the opposite side of the Verona Arena, this self-catering accommodation has a lovely modern design, a hot tub, and free WiFi! Its location is very strategic, just a 5 minute drive from Porta Nuova Train Station and 10 km from the airport.
Truly Verona – One of the best budget hotels in Verona, just steps away from the Arena Roman amphitheater and plenty of restaurants, shops and cafés. Check out the elegant self-catering apartments and studios with great modern design!
Should you buy the Verona Card?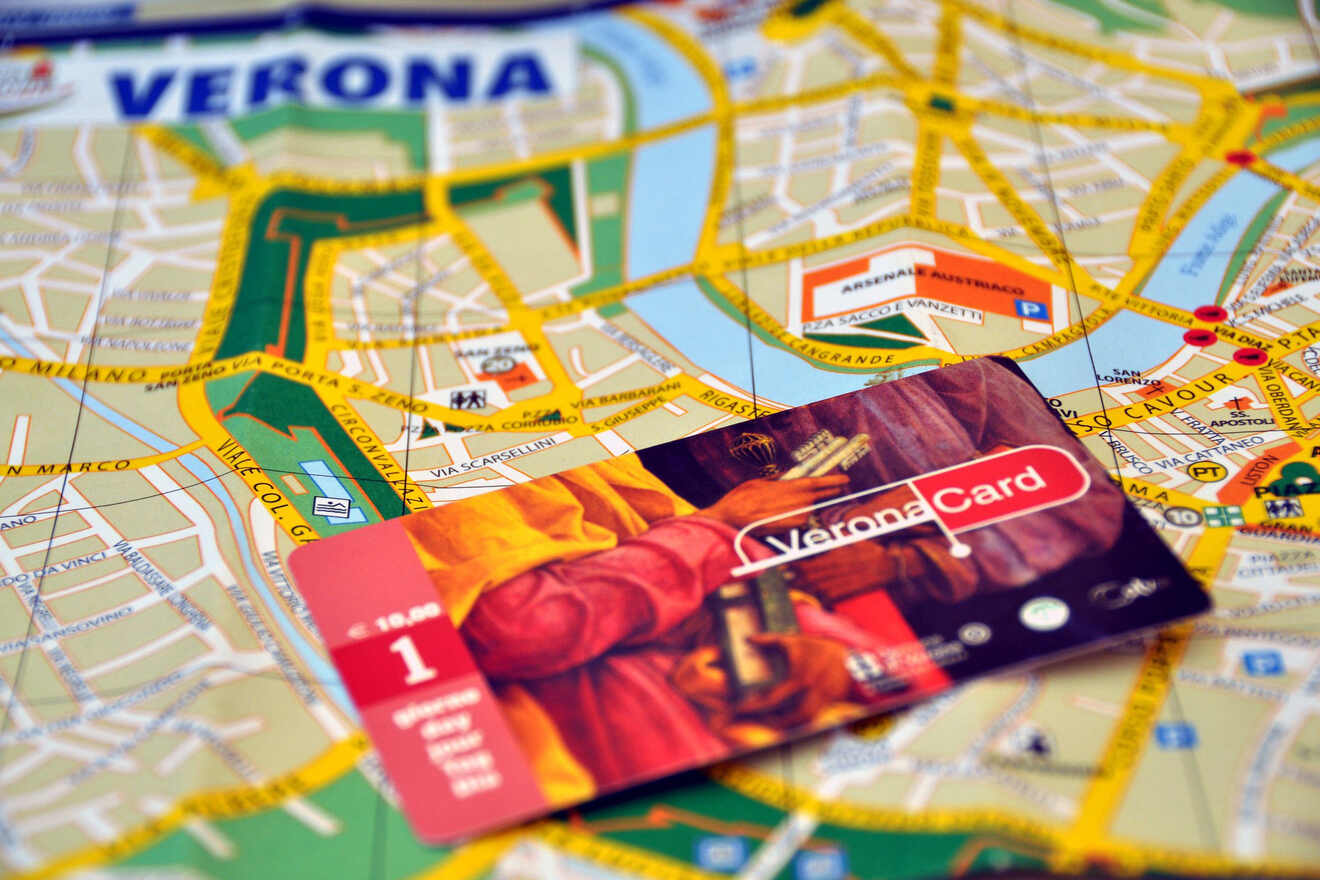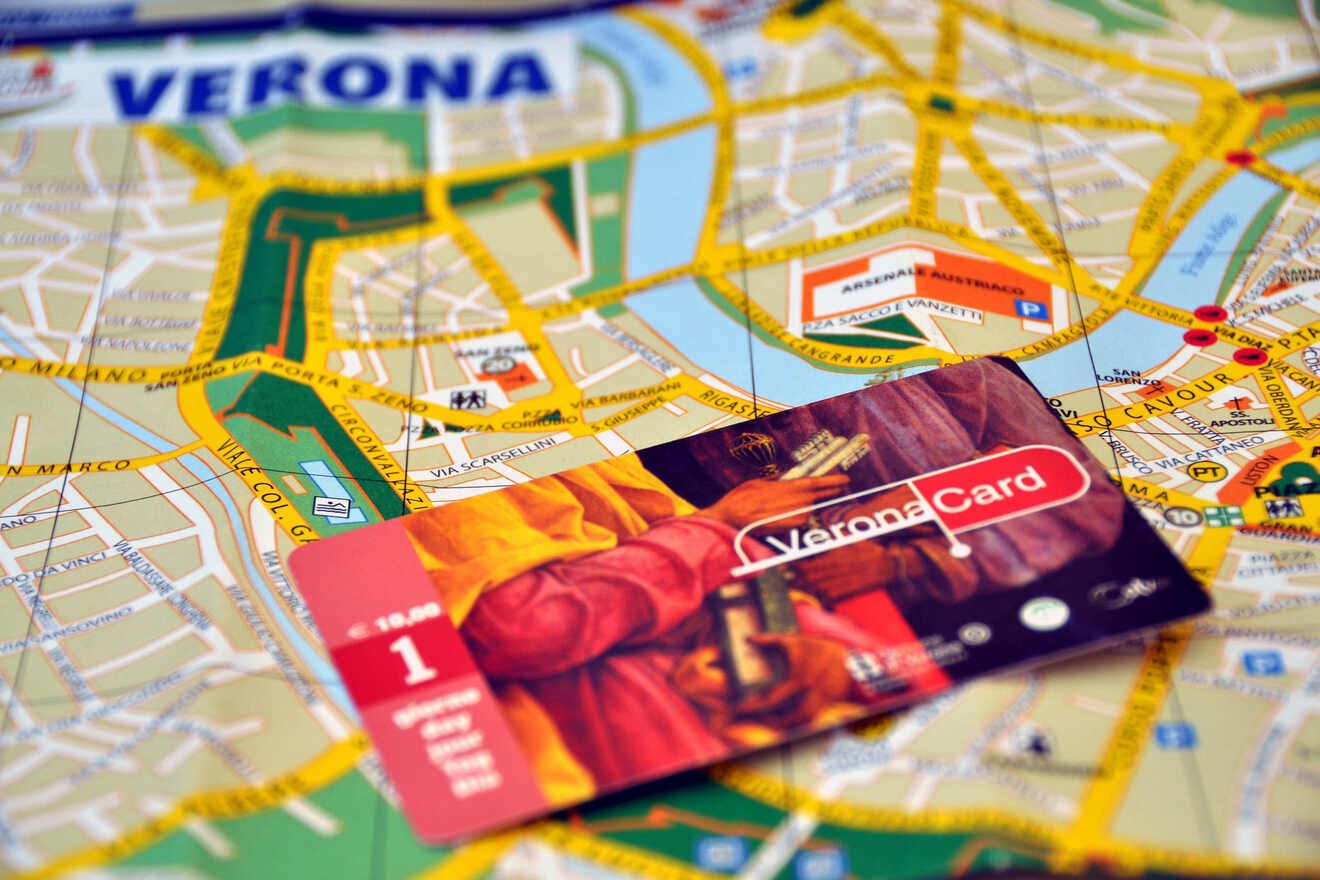 Yes, I personally recommend you to buy the Verona Card, which covers the entrance to most of Verona's top attractions (like the Juliet House, the Torre dei Lamberti, the Arena and many more), several discounts and free access to public transport, and it's super convenient!
You can buy the Verona Card for 1 day (20 euros) or 2 (25 euros) either in all the places where they accept it, online or even in some hotels.
Here are the 7 attractions included in the Verona card with the costs: Arena di Verona (€10), Castelvecchio Museum (€6), Lamberti Tower (€8), Juliet's House (€6), Juliet's tomb (€4.5), Basilica di Santa Anastasia (€3), Cathedral Complex (€3). If you visit all the attractions included in the Verona Card (which is definitely doable in 1 day), you'll save up to 20 euros, so it's definitely worth it!
10 + 6 + 8 + 6 + 4.5 + 3 + 3 = 40€
YOU SAVE: 40€ – 20€ = 20€
Frequently asked questions about Verona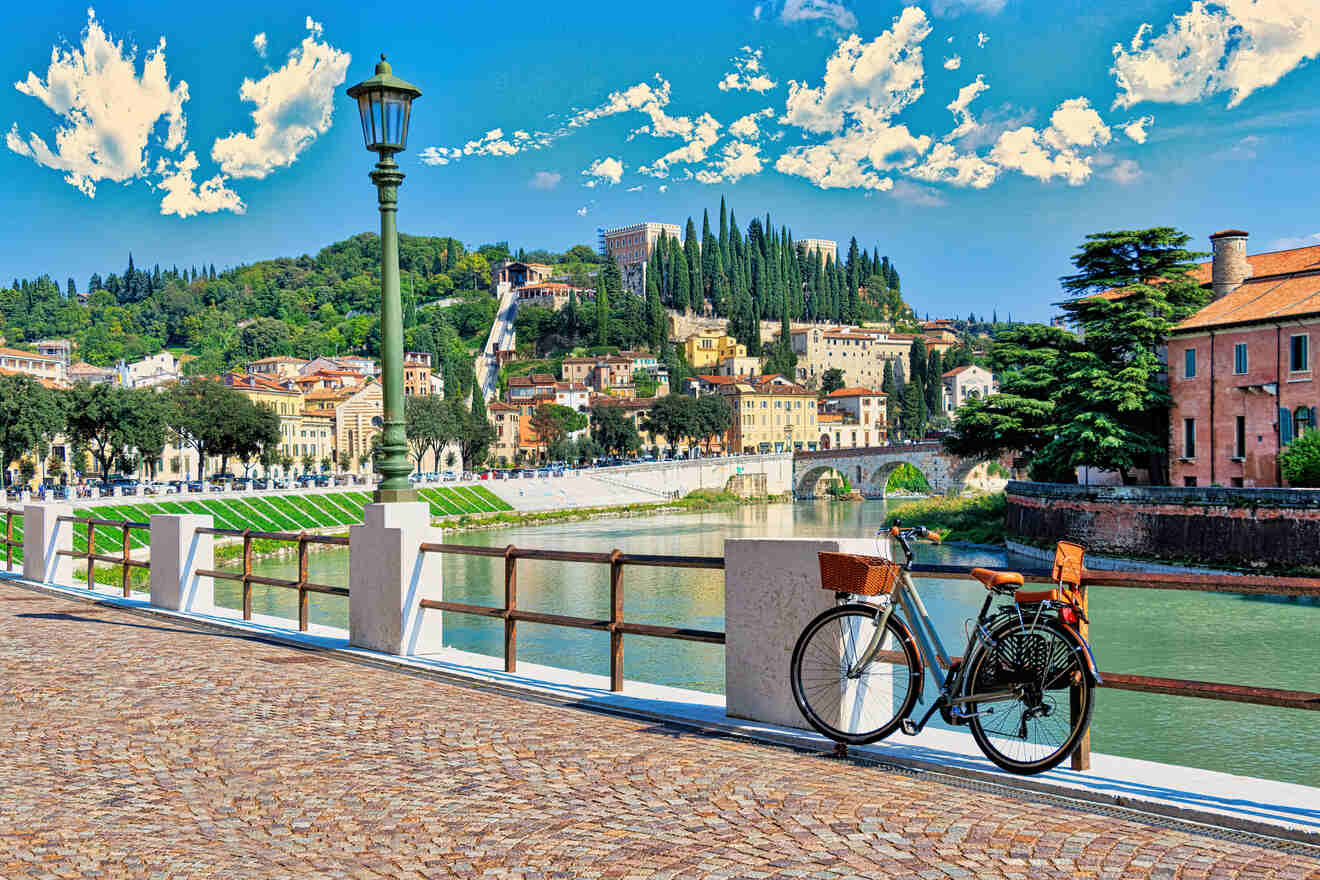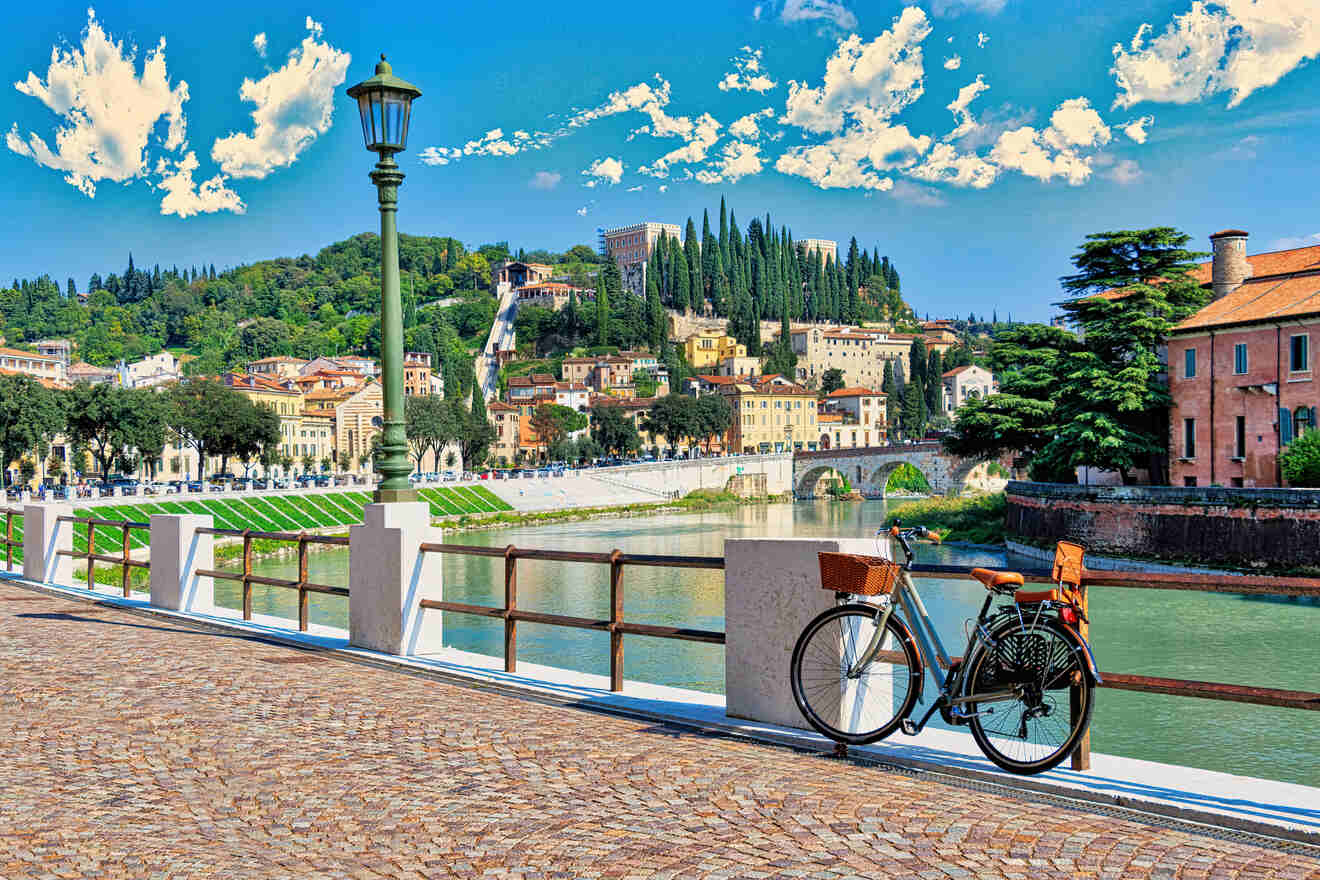 🇮🇹 Is it worth visiting Verona?
Yes, Verona is a beautiful city and definitely worth visiting, having many historical attractions to offer, great food, river views, and a romantic atmosphere!
📅 How many days do you need in Verona?
You can visit Verona even in just one day! Anyways, I suggest you stay at 1 night and 2 days if you really want to enjoy the city and do a day trip to one of the nearby beautiful spots!
🏛️ What are the best things to do in Verona?
The best things to do in Verona are watching an opera in the Verona Arena, climbing up to San Pietro Castle for an amazing city view, having an aperitif in Piazza delle Erbe, and walking in the Renaissance gardens of Giardini Giusti.
☀️ What to do in Verona in one day?
If you stay in Verona one day, you should visit the Arena di Verona, the Juliet House, and gaze at the view from Torre dei Lamberti, all of them accessible with the Verona Card!
Conclusion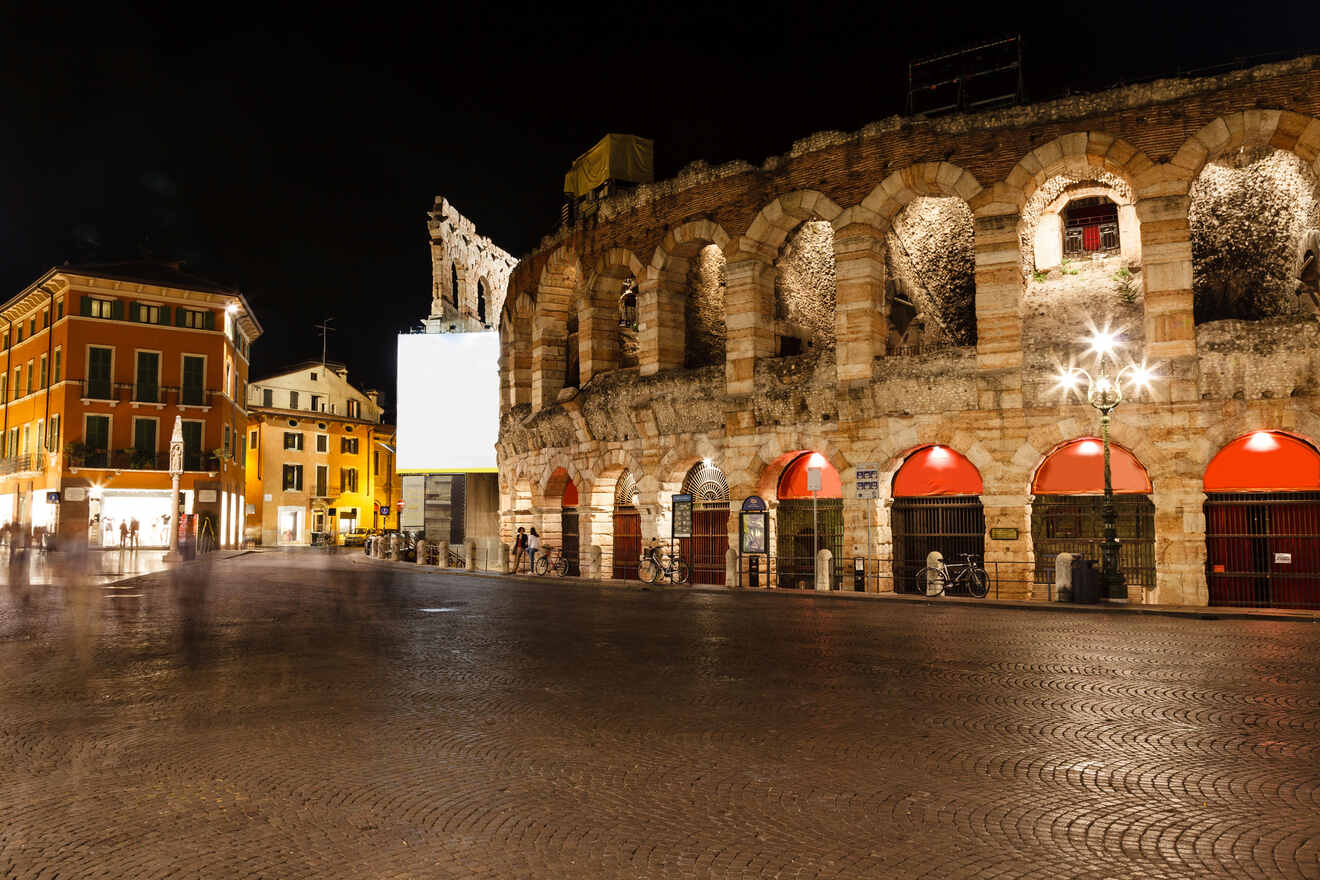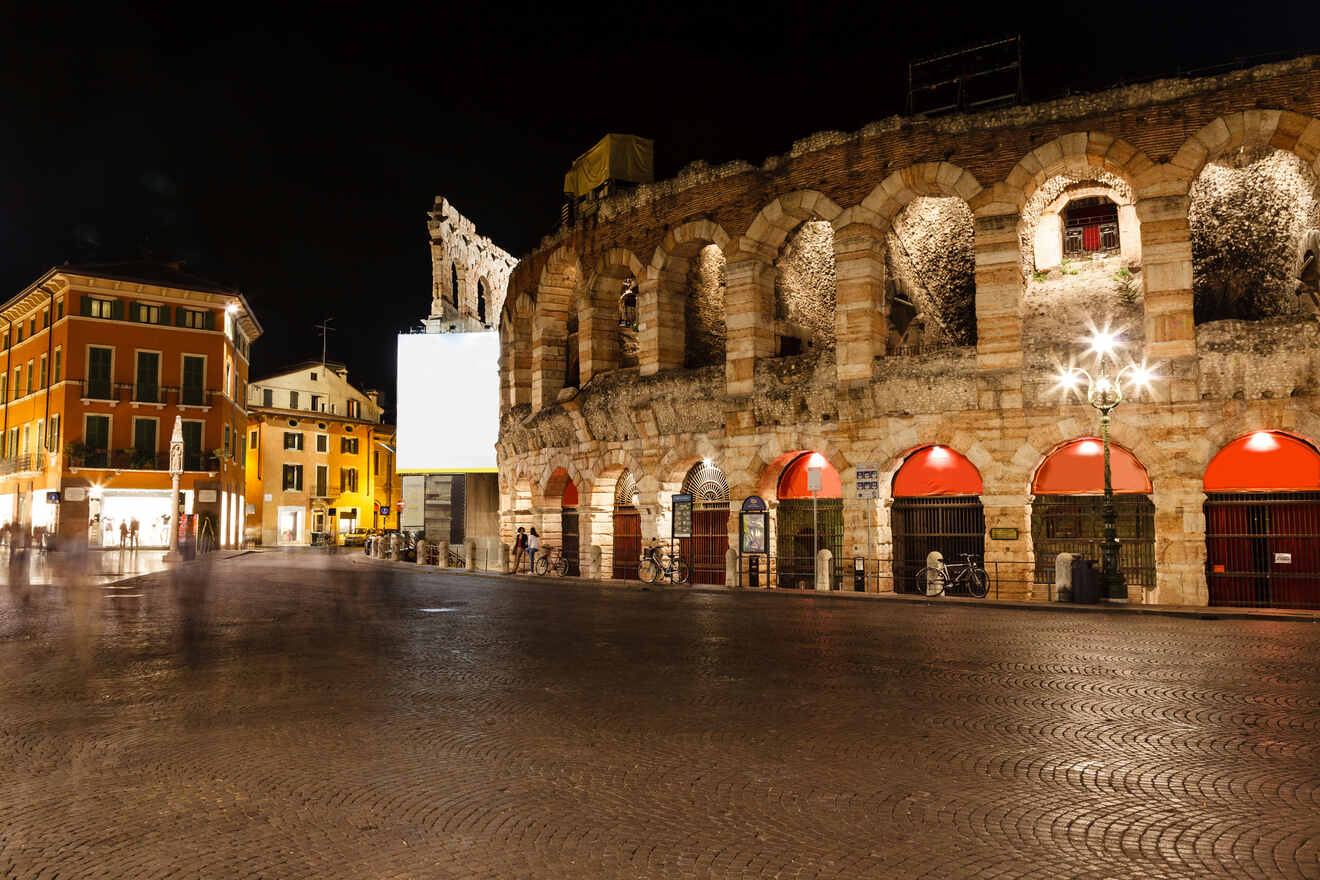 If you made it to the end, I am proud of you! I am absolutely in love with my hometown Verona, so I might have given some extra details but I hope now you see it as the great city it is!
Even if small, this beautiful old town has so much to offer and so many things to do, and we saw them all, so now is just time to get ready to visit great historical monuments, eat delicious Italian food, and have romantic strolls in the center!
I hope you found my guide helpful and please feel free to leave me a comment if you have any doubt or you want to know more!
Have an amazing holiday!
Elena
---
Pin it for later!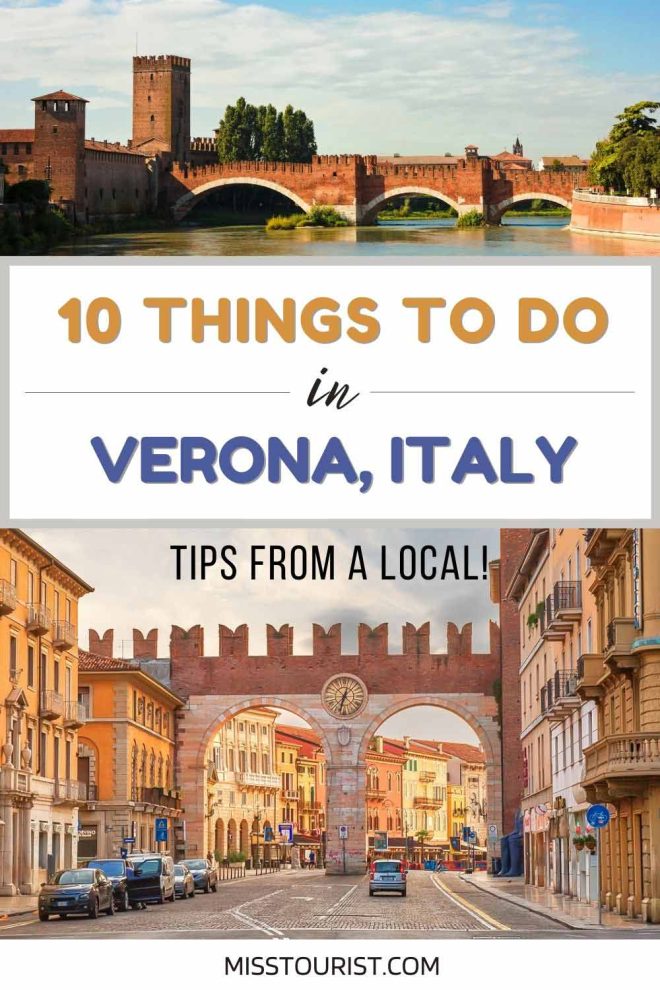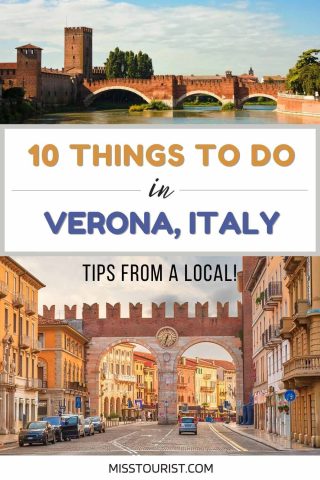 Pin it for later!