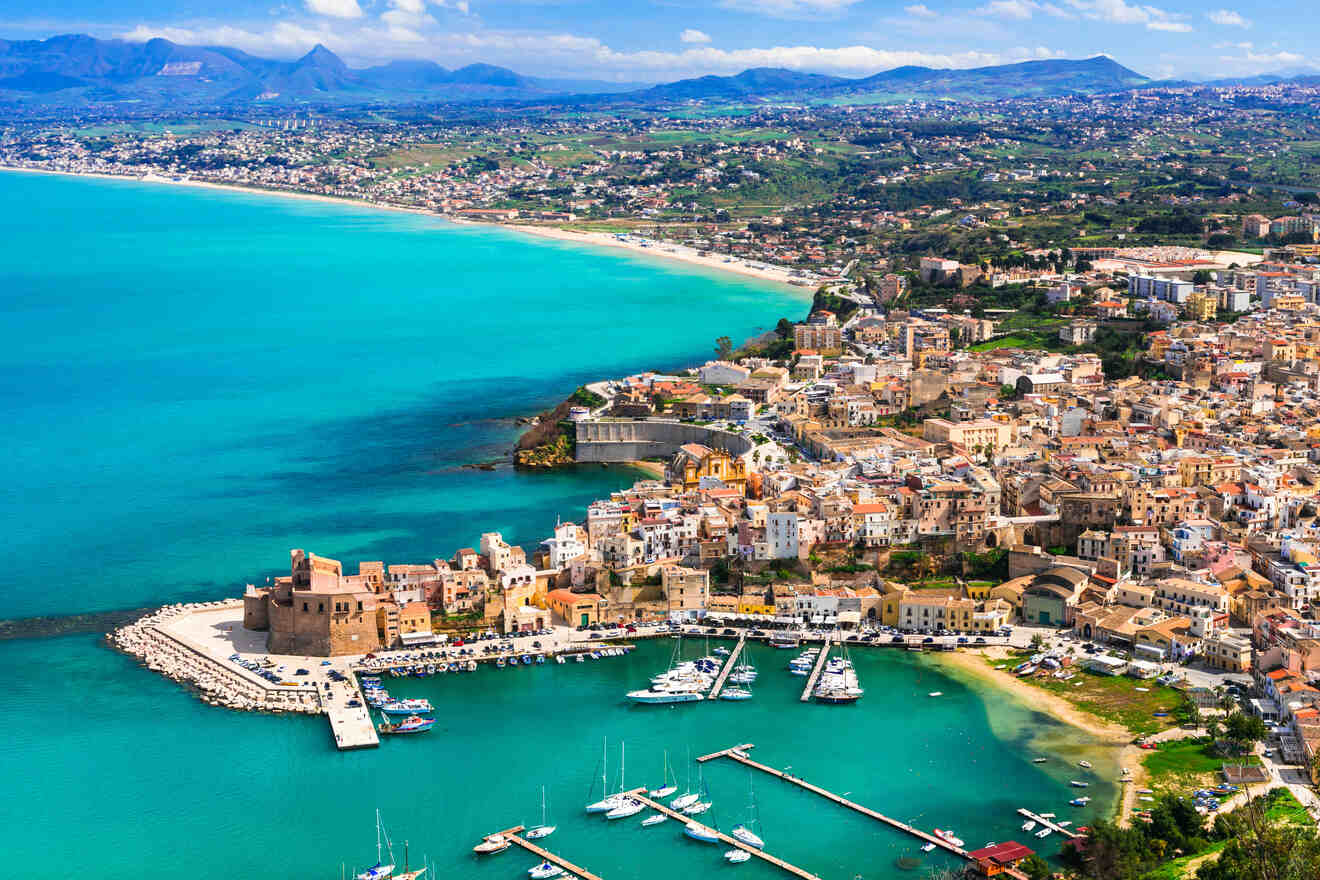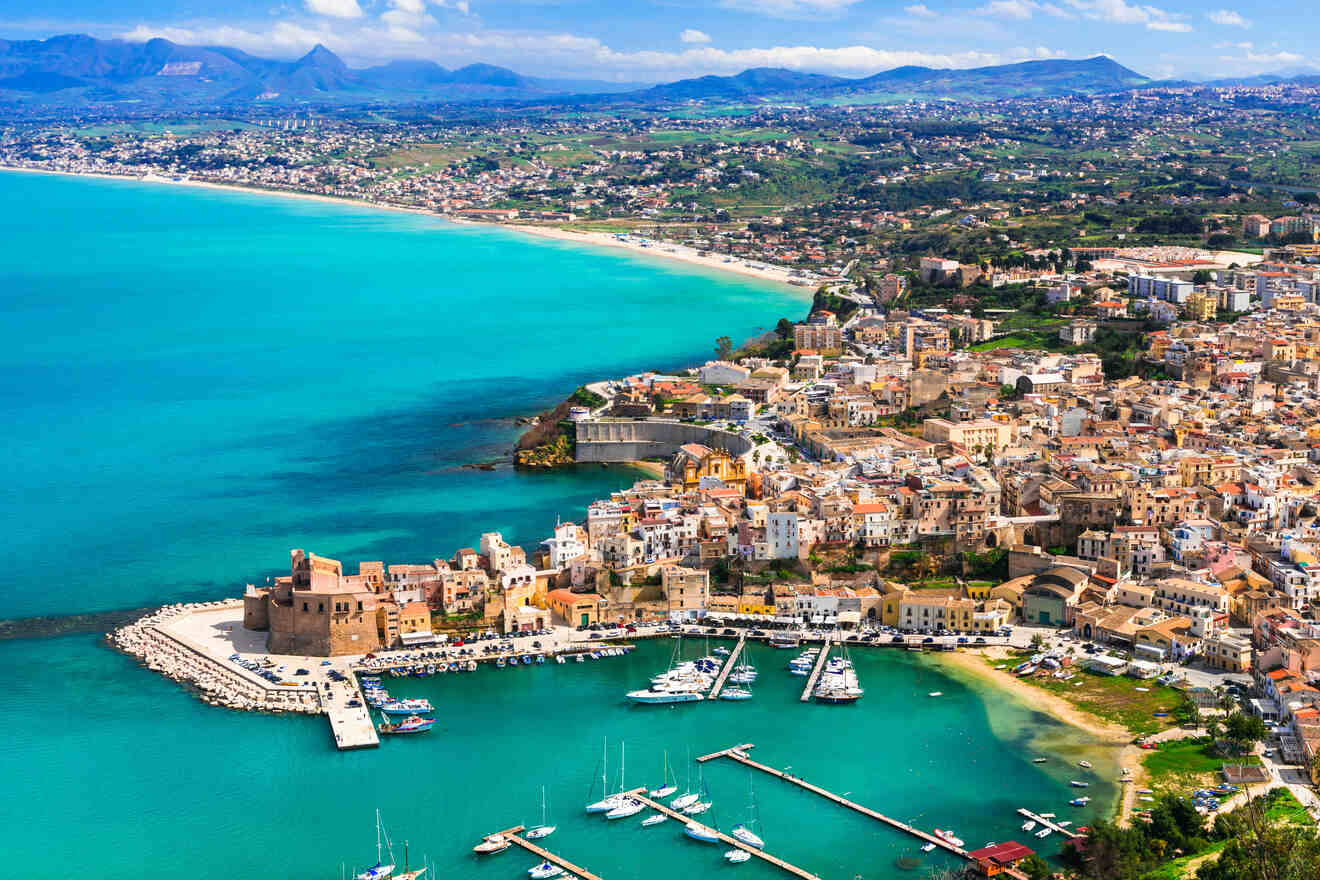 A trip to Italy is always a good idea, visiting an island is even better! Sicily will greet you with its friendly and welcoming atmosphere so get ready to eat delicious food, discover Baroque architecture and amazing beaches!
Sicily is one of the most popular islands in Italy and has so much to offer to travelers in terms of history, culture, and entertainment. You will definitely be impressed with its incredible architecture and cultural heritage but apart from being a very picturesque island, you will also find amazing restaurants, stunning beaches, and vibrant nightlife. I know for sure that there is a lot to discover for every type of traveler in Sicily!
Sicily is one of the biggest islands in Italy and every part of the island has its own unique vibe. I highly recommend you to rent a car on the island because it will help you to get around more easily and you can even take some nice day trips to other great places.
There are so many places to stay in Sicily but as it is a touristy destination, make sure to book your place in advance to make sure you don't miss out on your perfect accommodation. Most of the hotels have a free cancellation policy, so do not worry if you change your mind. It is also a good idea to split your holiday between the south and north coast and spend a few days in different cities. Luckily for you I will give you some great, hand picked options for both!
Let's get started to discover this beautiful island and find an answer to where to stay in Sicily!
If you are in a hurry
Here are some of the best places to stay in Sicily sorted by price, all of them have fabulous reviews and great location too!:
Here is a map about where to stay in Sicily with all the 6 neighborhoods I will be talking about in this post, so you can easily visualize them:
1. Palermo – where to stay in Sicily for the first time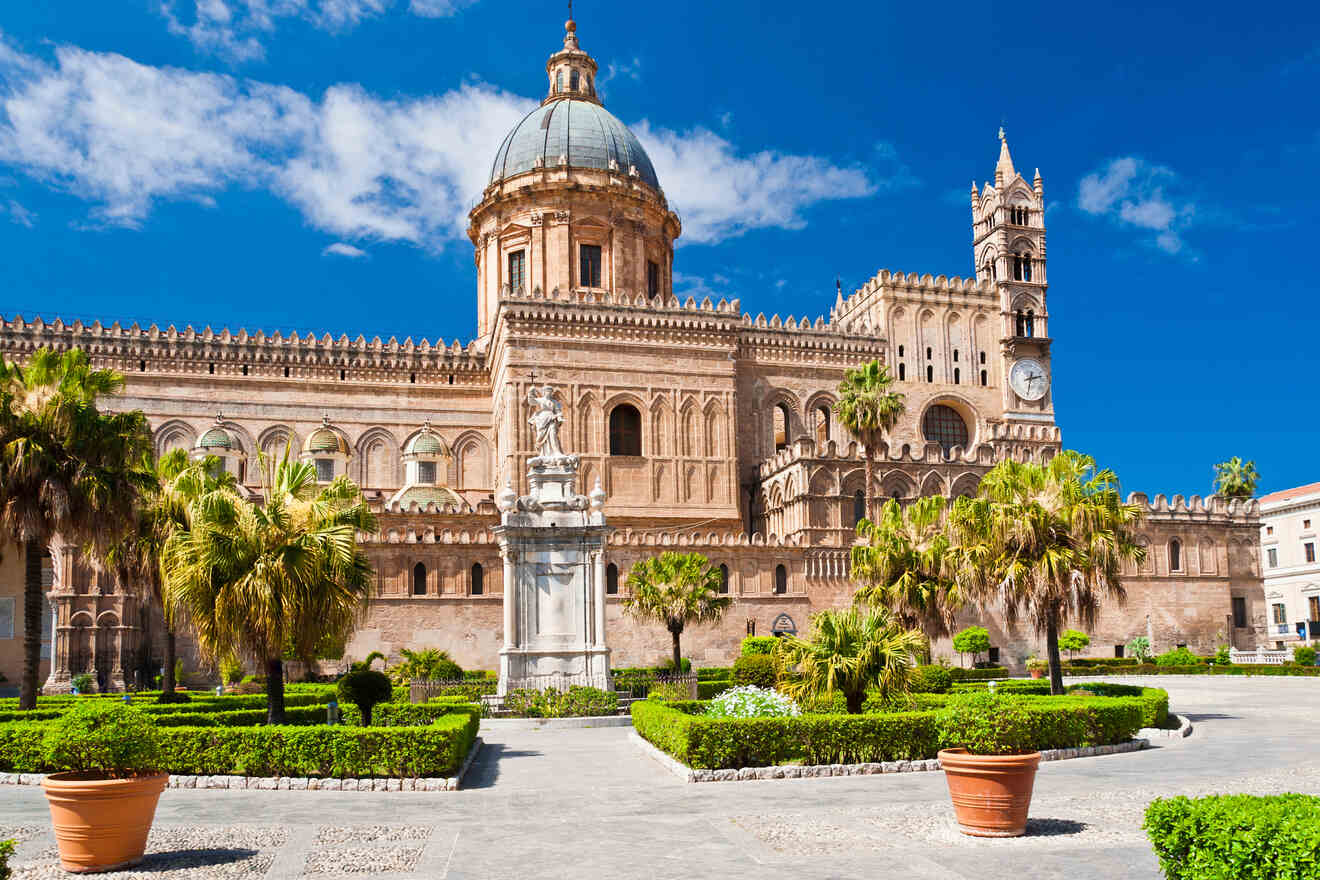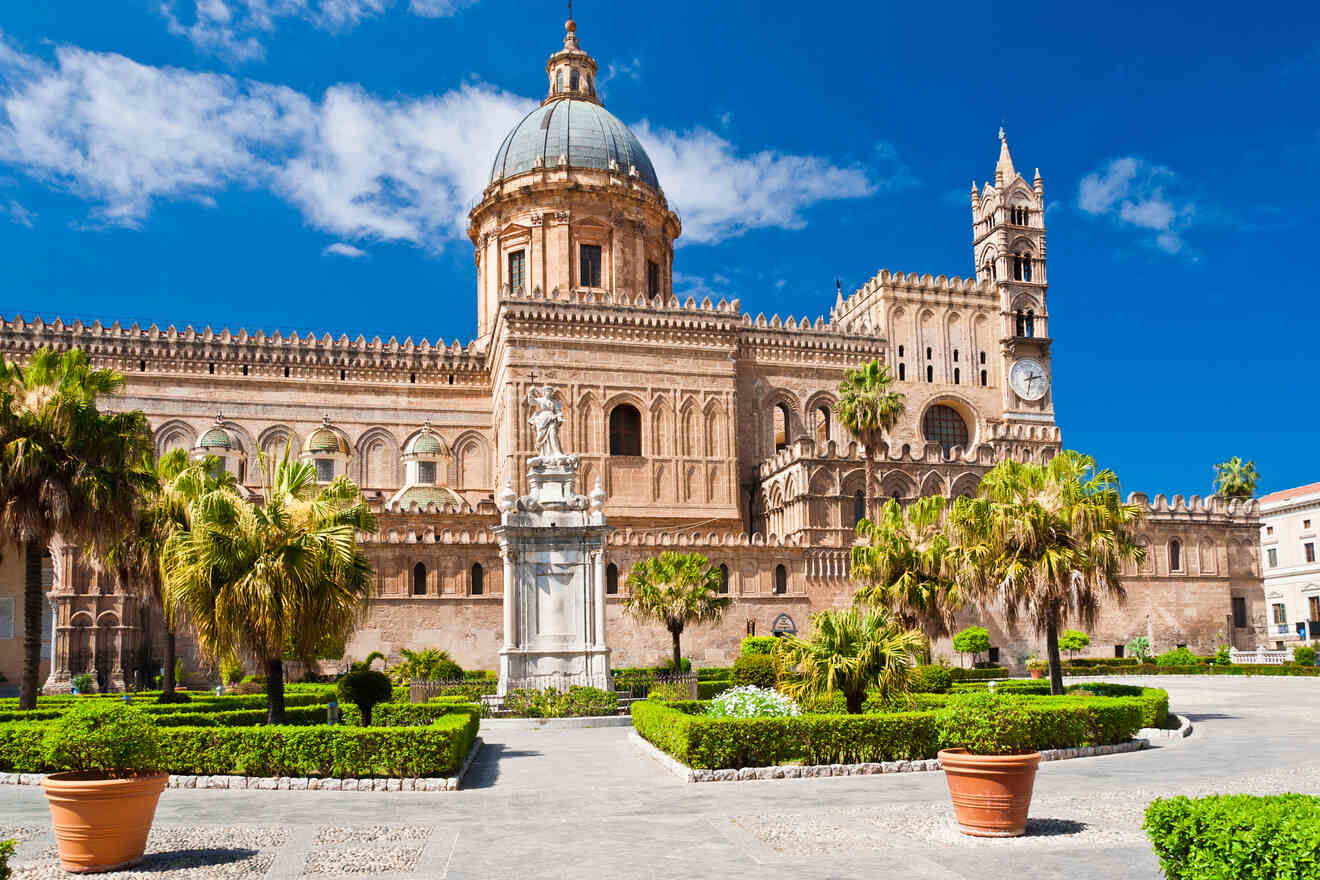 Located in the northwest part of the island, Palermo is the capital of Sicily and it is the best place to stay if you are visiting for the first time. Here you will discover amazing baroque buildings built by kings, historical churches, charming palaces, museums, and art galleries. You can easily explore the main landmarks in the old town on foot so if you love history, Palermo has a lot to offer to you!
Even if you're not that much into history, you can also enjoy views of the impressive streets from a number of very nice local restaurants, bars, and trendy nightlife. After a long sightseeing day just pick a quirky cafe and enjoy the view while having a nice wine and a delicious Sicilian meal. I'm already jealous of your future holiday!
There are so many hotels in Palermo from luxury to budget. Before talking about them I would like to remind you of the importance of making a booking in advance for this super popular city. As this is a very touristy area, hotels can fill up so quickly, so it is better to be safe than sorry! Whilst you're planning your Italian getaway, I can highly recommend these hotels in Rome and the Amalfi Coast if you have more time!
Let's find a nice place to stay in Palermo:
Other accommodation options in Palermo
Things to do in Palermo
2. Cefalu – if you love spending time at the beach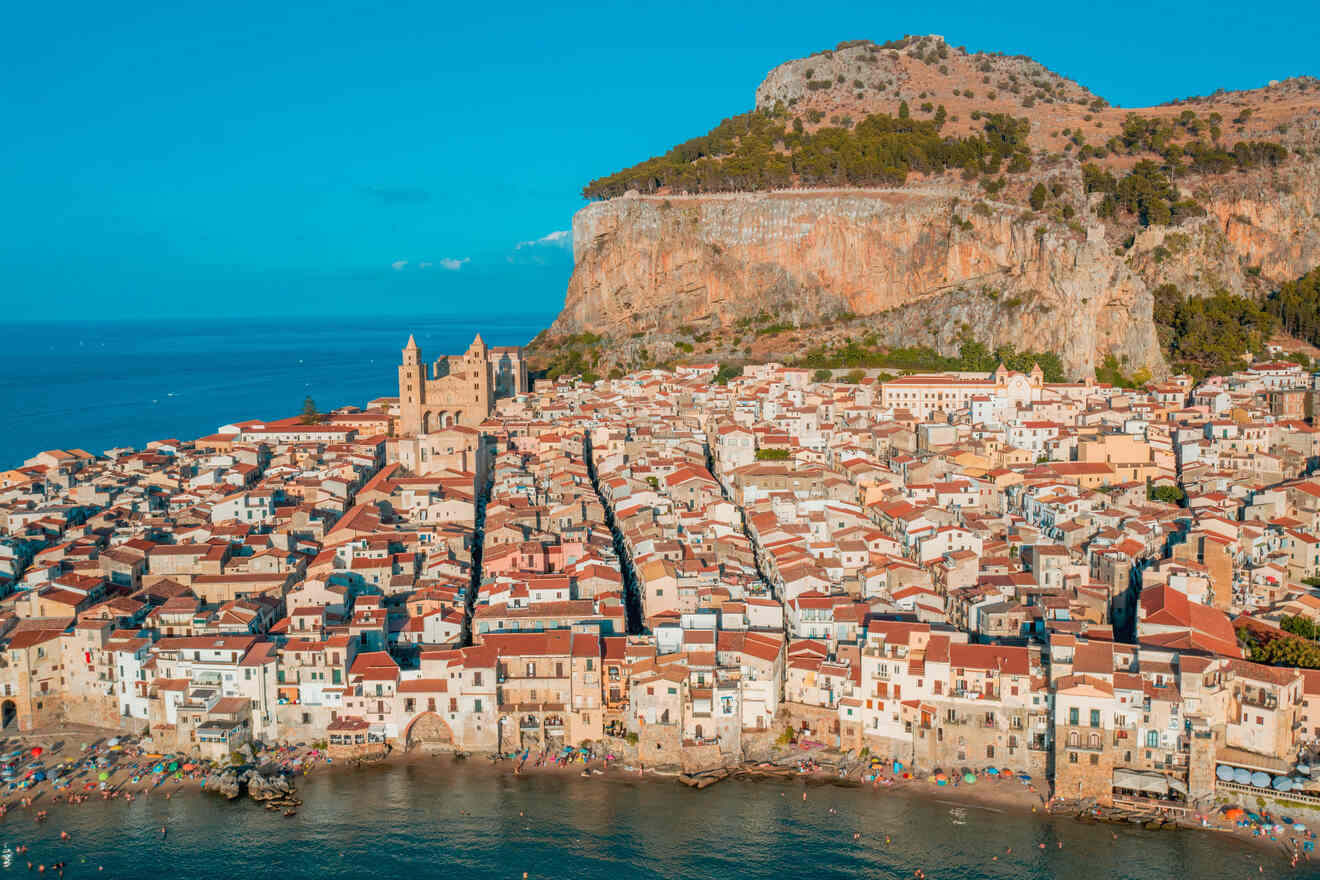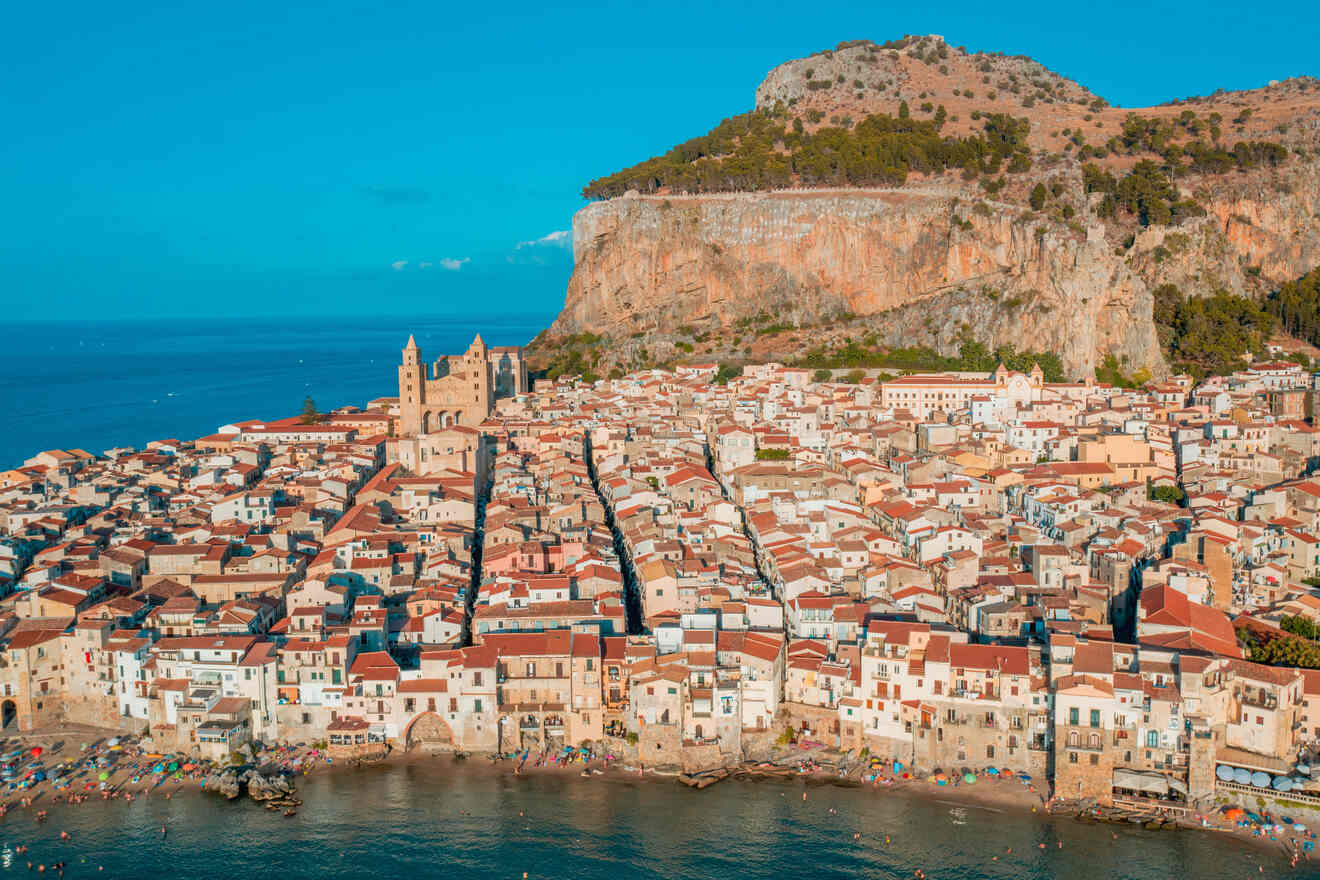 Cefalu is located 60km (40 miles) east of Palermo. It is a very charming town by the sea and the prettiest place in Sicily if you want to be close to the beaches. Cefalu has a very laid back vibe with pristine sandy beaches. Take your towel, pick a nice place on the beach and enjoy swimming in crystal clear water!
In this cute fishing town, you will find very good local seafood restaurants, coffee shops, and bars. At the center of the Cefalu, you will see a historic church and you can easily discover the surroundings on foot. If you want to spend most of your trip by the beaches having lazy days with a laid back vibe, Cefalu is one of the best places to stay in Sicily and is sometimes compared to the incredible landscapes of Malta!
Here you will find limited hotels so don't forget to make your booking in advance once you find your ideal place!
Other accommodation options in Cefalu
Things to do in Cefalu
3. Taormina – where to stay in Sicily for nightlife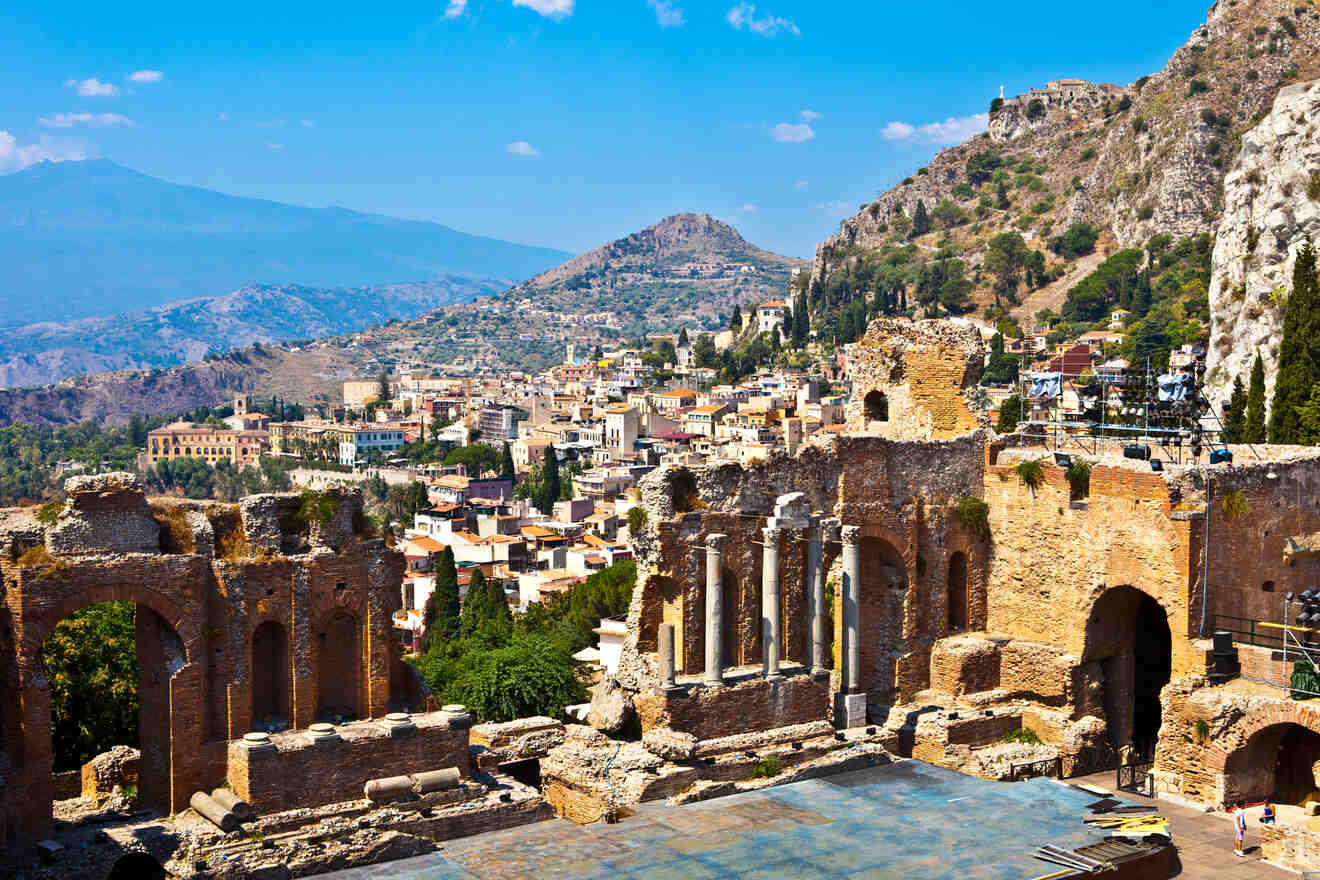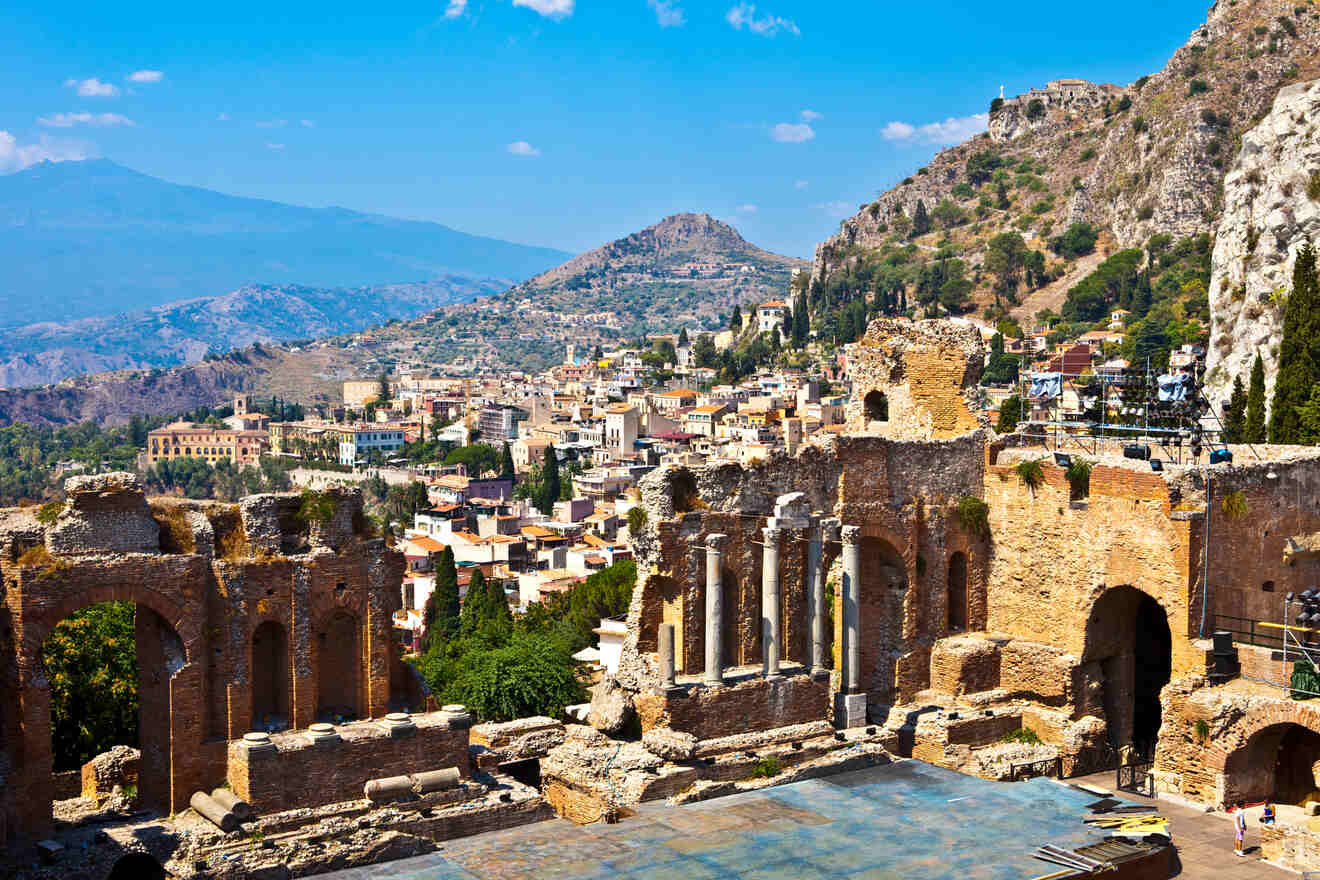 Taormina is located on the east coast of the island and is a 1-hour drive from Catania Airport. It is a very picturesque town with beautiful buildings covered with flowers, medieval castles, and a nice beach. Here you will find a bit of everything but I recommend going to the hilly part of Taormina by cable car and enjoy amazing beach views from there – they are incredible!
In Taormina, there are so many nice restaurants, trendy bars, and cafes, meaning nightlife is very vibrant in this part of the island. That is why this area is one of the best places in Sicily for young couples.
After discovering the beauties of the area you can pick a nice Sicilian restaurant to have a delicious meal then check out the night scene. Make sure to have a look out for some fun beach parties too! If you are looking for a place to stay in Sicily with vibrant nightlife, you will love Taormina.
Here are the best hotels in this area:
Other accommodation options in Taormina
Things to do in Taormina
4. Syracuse – the coolest town in Sicily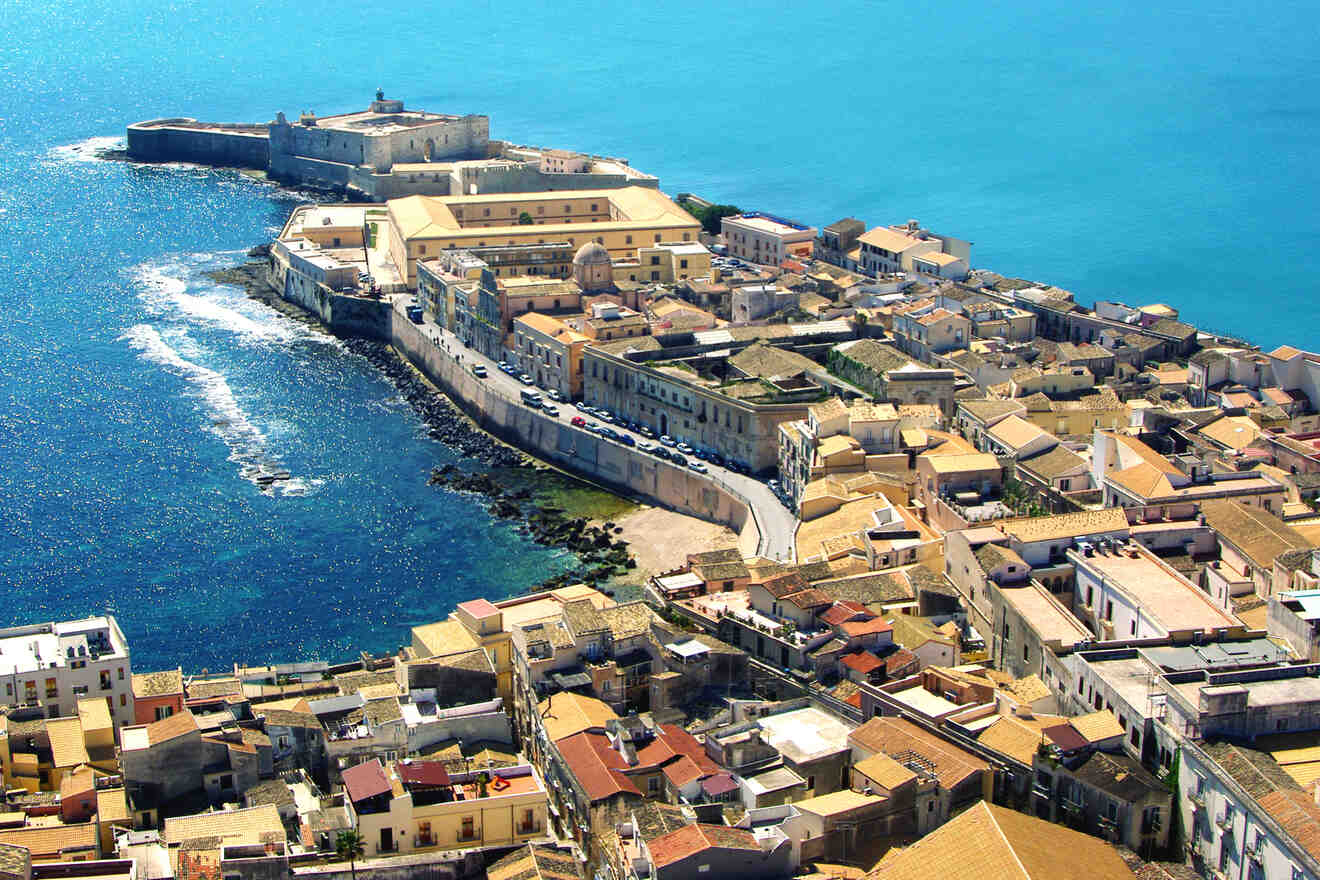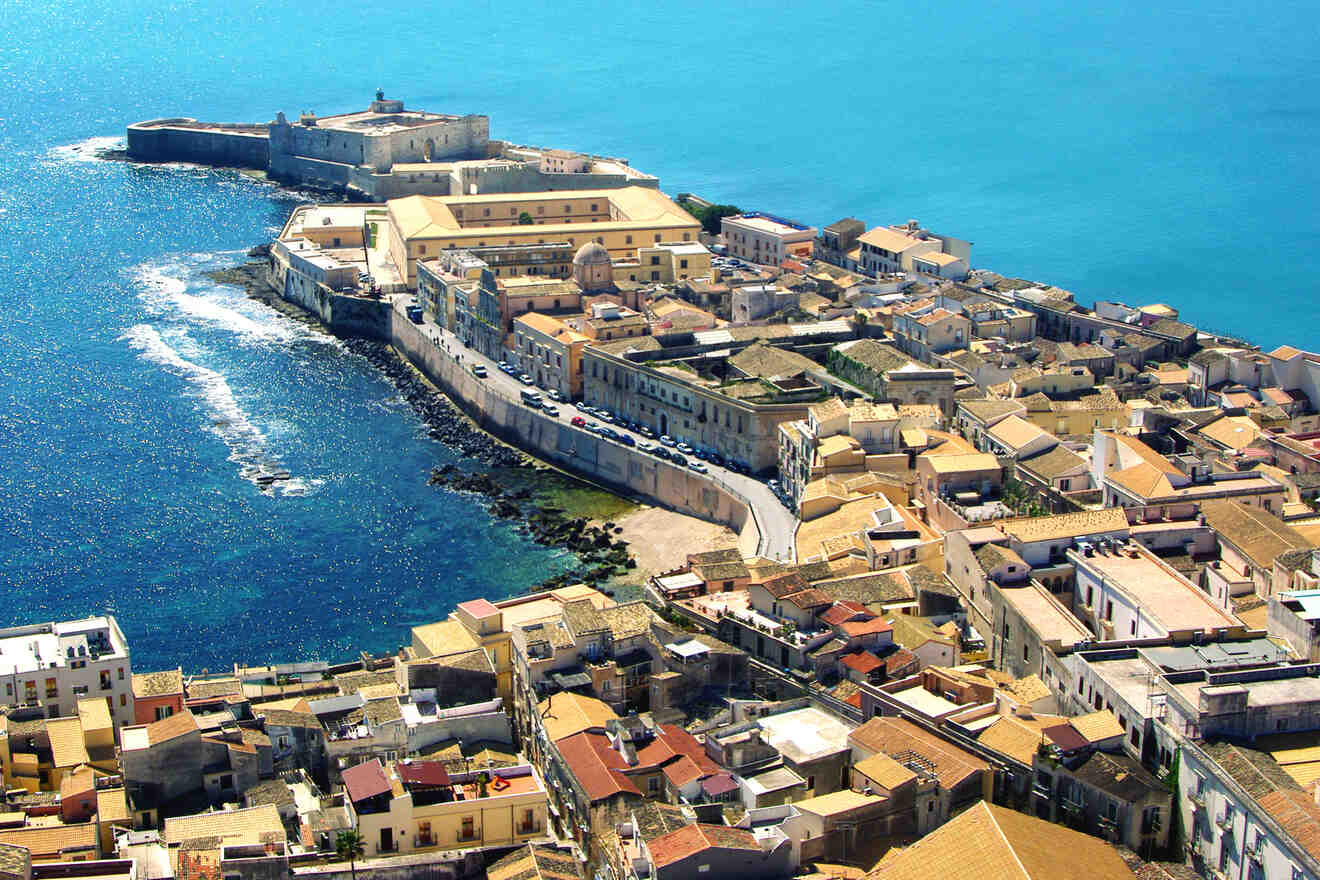 Located on the east coast, Syracuse is 1-hour drive from Catania Airport and ~3 hours away from Palermo by car. It is a very nice historic town which is also listed as a UNESCO World Heritage Site, as well as one of the safest places in Sicily.
The best way to discover this area is simply having a walk along the medieval streets, checking amazing buildings, and spending some time in nice cafes on the cobbled streets. You will be amazed by the historic atmosphere of this town full of baroque architecture!
In Syracuse, you will find many cool shops, restaurants, and bars. It is also a great base to discover the east coast of the island. Here you will feel like you are traveling back in time while you will also have access to modern facilities and to the beach. Can it get any more perfect? So get your camera ready because this one is full of amazing instagrammable locations!
Other accommodation options in Syracuse
Things to do in Syracuse
5. Agrigento – where to stay in Sicily for history lovers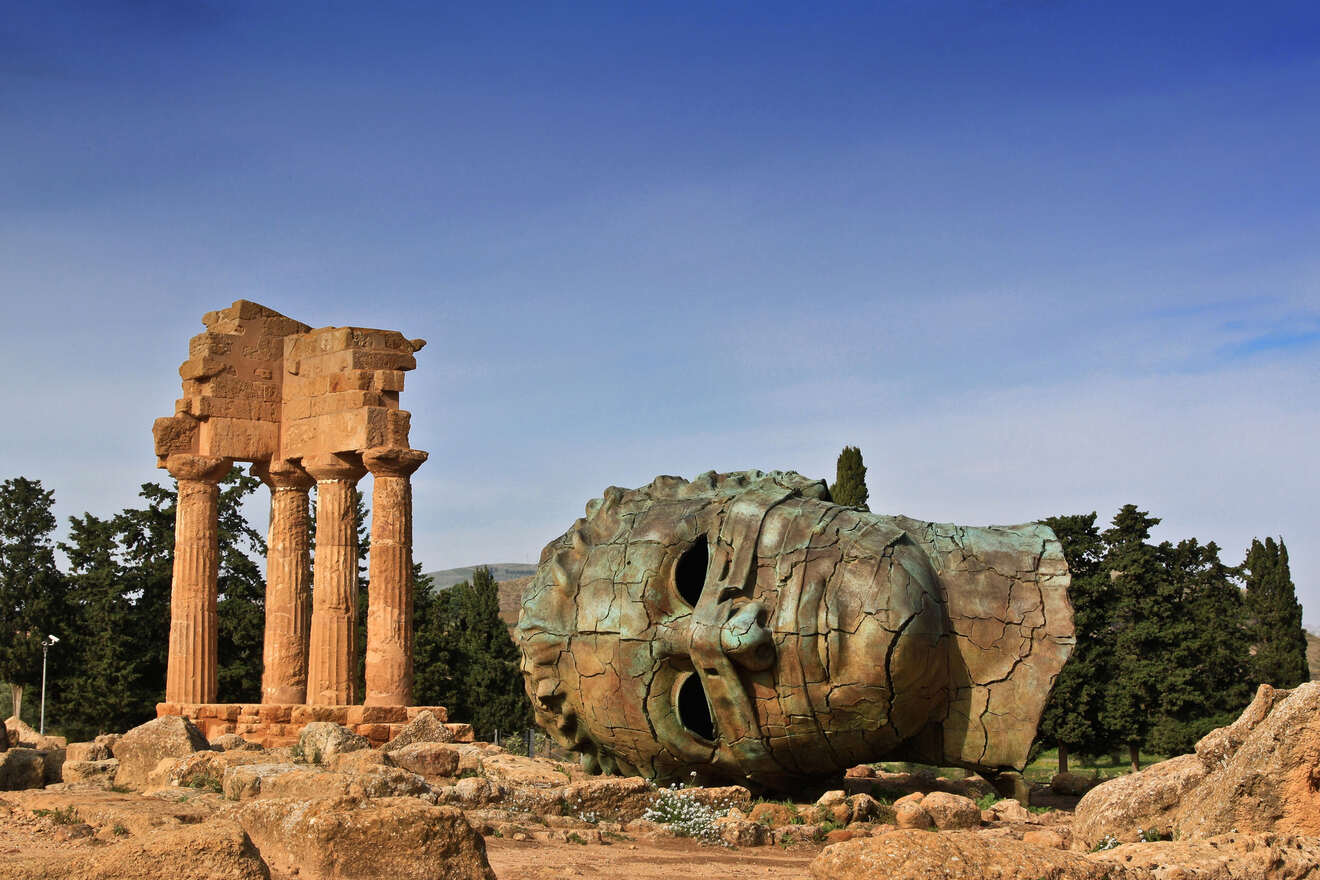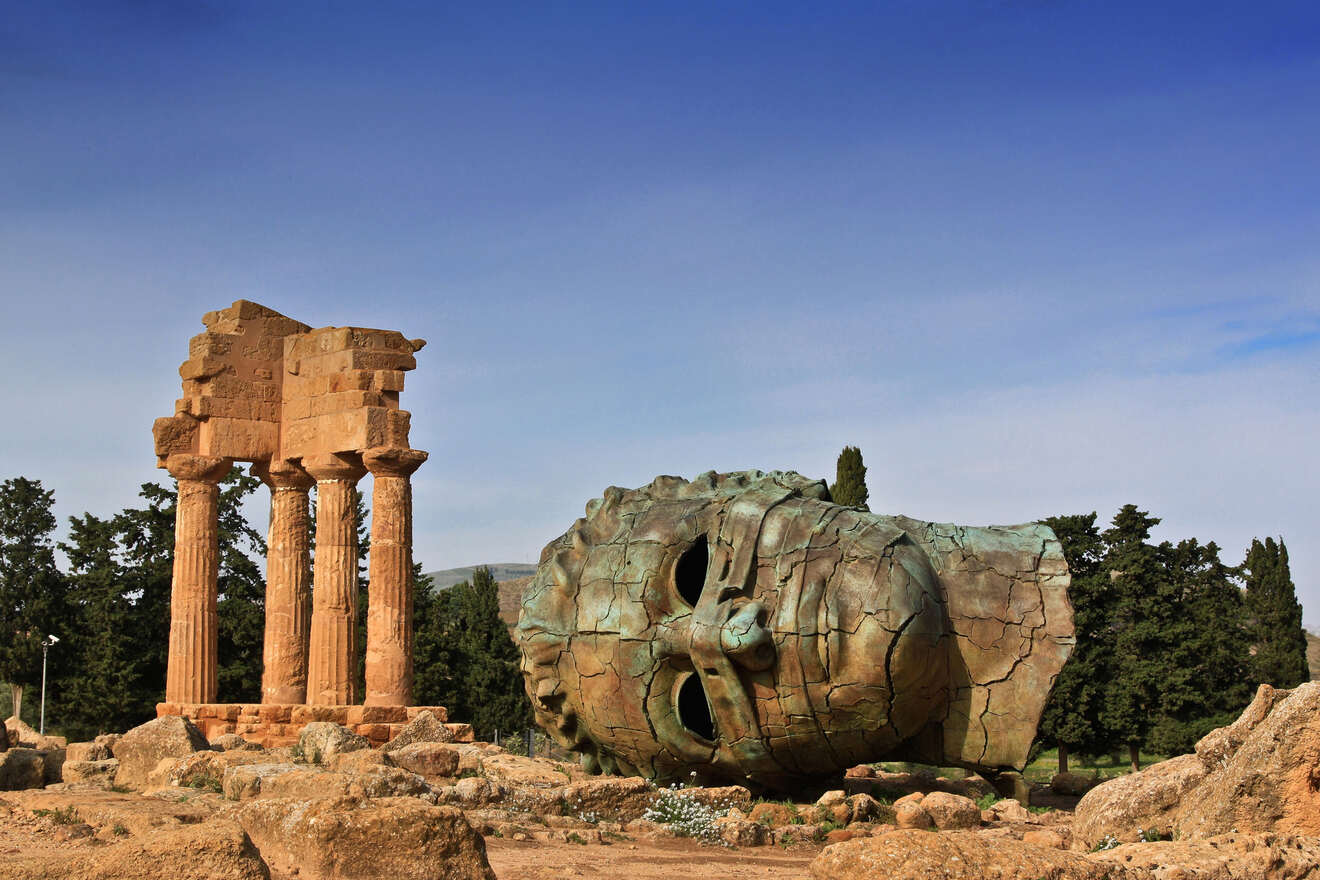 Agrigento is located on the south east coast of Sicily and 2 hours drive from Palermo. It is an archeological area and home to the most popular tourist attraction in Sicily – the Valley of the Temples. Here you will find ruins from 3000 years ago with Hellenistic and Roman ancient settlements, temples, as well as archaeological museums.
If you are into history you will absolutely love your time here discovering these ancient sites! Don't forget your camera – there are also a number of cool statues and sculptures scattered throughout the area!
As these historic sites are very popular, Agrigento is visited by tourists all year round. That's why in this area you will be able to find more than enough restaurants, cafes, and bars. There are also very nice accommodation options in Agrigento so here are some of the best hotels to stay in Sicily:
Other accommodation options in Agrigento
Things to do in Agrigento
6. Catania – where to stay in Sicily if you're on a budget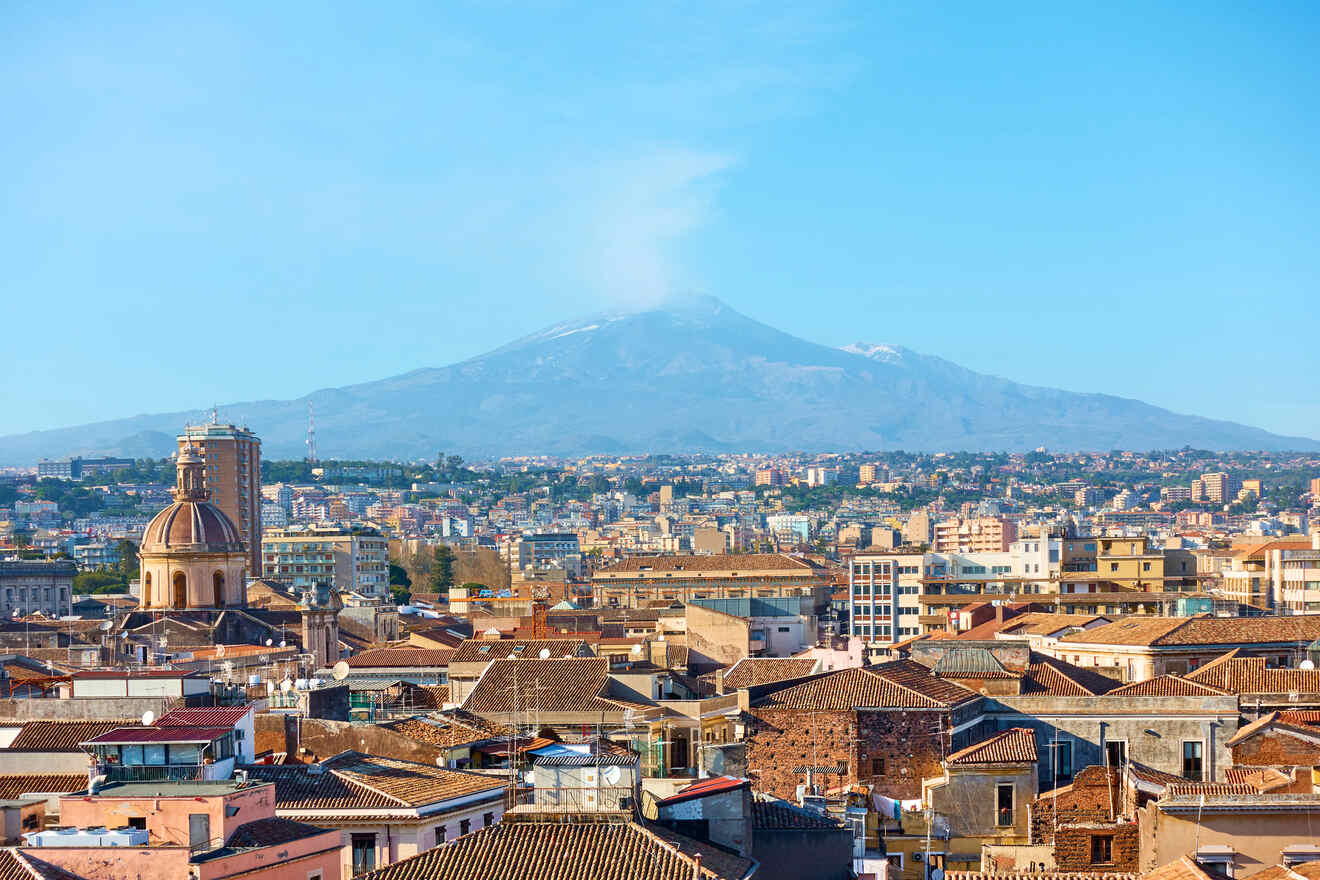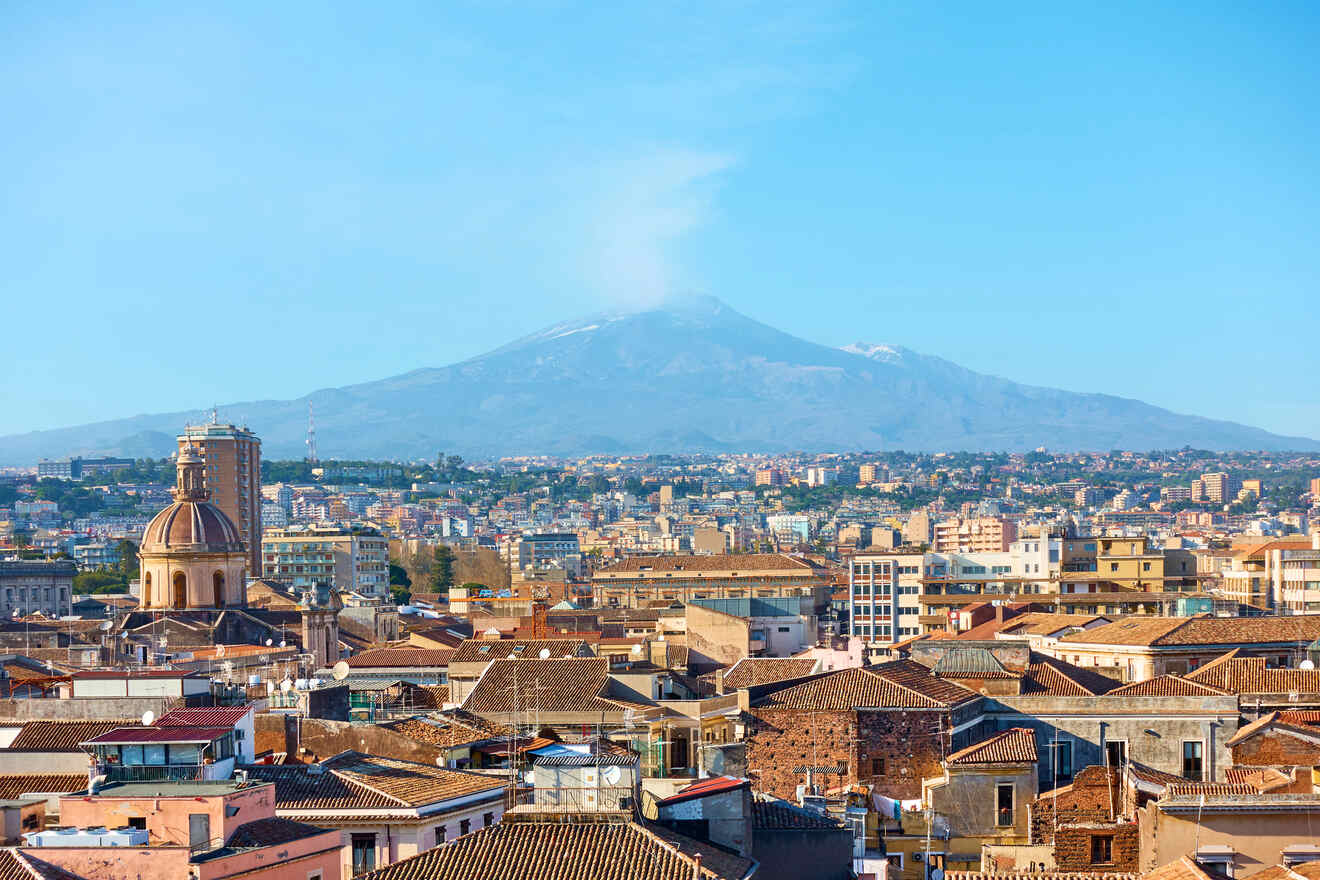 Catania is the second-largest city of Sicily and the best option of where to stay in Eastern Sicily. Catania Airport is just 7km (5 mi) from here. In this city, you will be able to see the famous volcano Mount Etna. Etna is the most active volcano in the world which increases its popularity among tourists and every year many travelers come just to hike to the volcano. How cool is that!? You should experience this nice hike during your Sicily trip as the sights from the top are definitely well worth it!
In the center of the city you will find many ancient Roman and Greek sites. You can easily explore these historic places on foot. Being a popular city, Catania offers a great number of nice restaurants, coffee shops, and wine bars and has vibrant nightlife too! So even if you just like history a little bit, you will still find plenty of other ways to fill your days.
In this city, there are more accommodation options compared to other parts of the island. That's why here you will be able to find cheap places to stay in Sicily. Also, thanks to the many different attractions, Catania is a nice area to stay for families where you can find more space for your money.
Here are the top 4 hotels that I picked for you in this area:
Other accommodation options in Catania
Things to do in Catania
BONUS 1: 3 amazing day trips from Palermo
In Sicily, many beautiful attractions are spread around the island and all of them are worth including in your vacation itinerary as day trips. The easiest way to discover these places is to rent a car. No matter where you stay in Sicily, I highly recommend you spare a couple of days to check out some of these incredible day trips. Whilst it's possible to do any of these day trips from either side of the island (if you're willing to have a long day), I am going to assume you would stay in Palermo, the capital.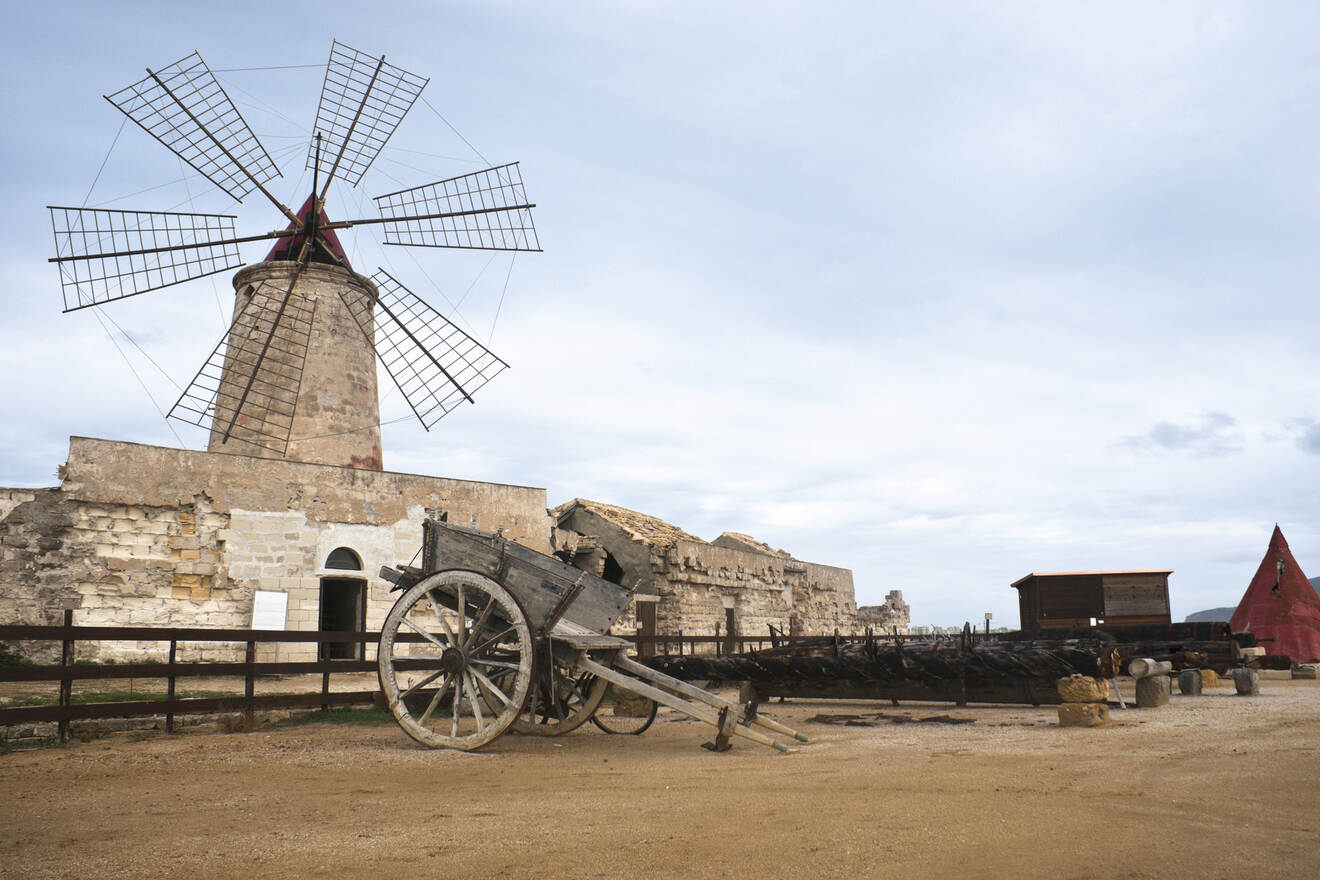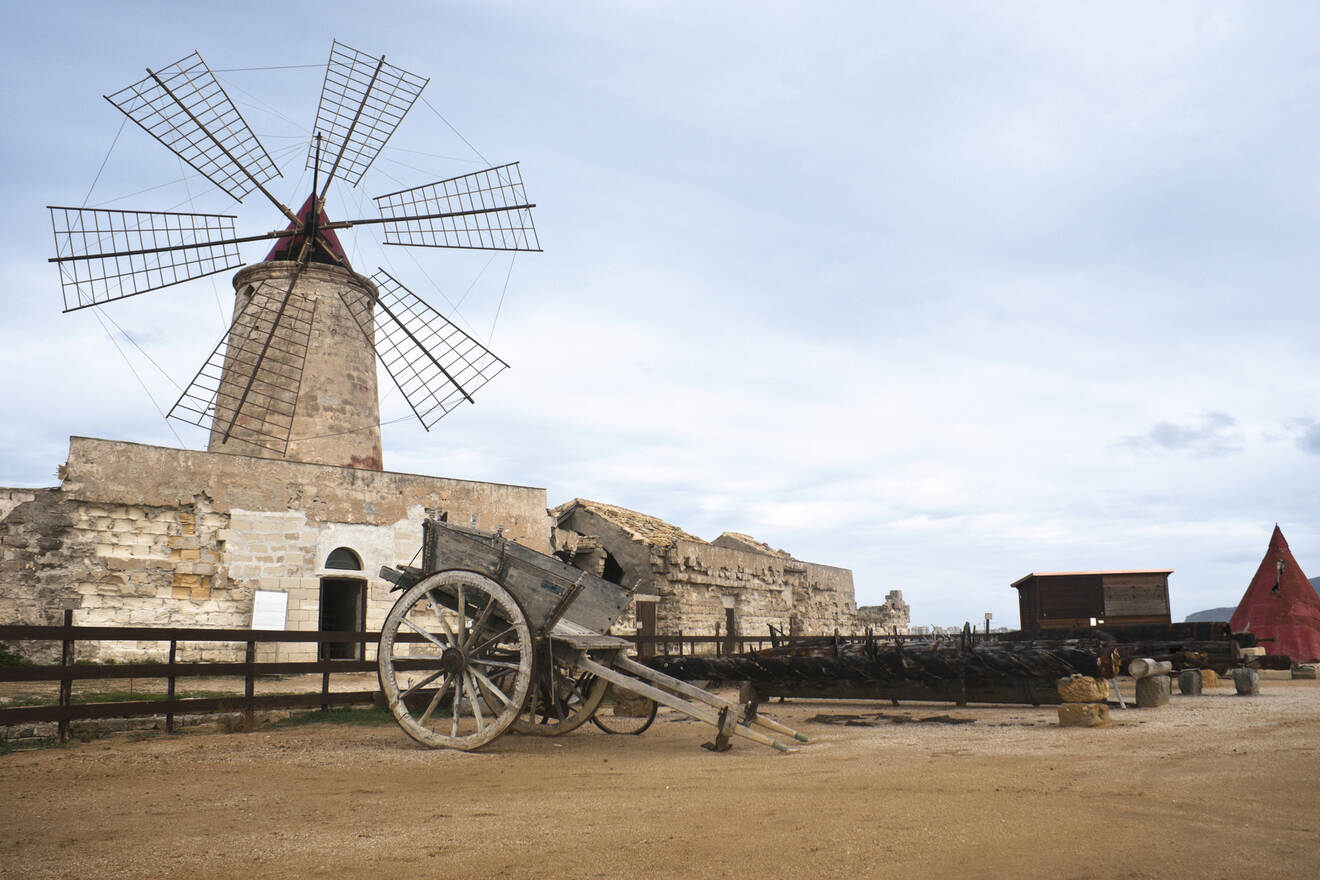 Each of these day trips are within a couple hours drive from Palermo in the northern part of Sicily.
1. San Vito Lo Capo
San Vito Lo Capo is situated in the north western part of Sicily and around 1 and a half an hour drive from Palermo. Here you will find one of the best sand beaches in Sicily! In summer time you can even do boat tours to enjoy the beautiful coast.
Here you will also see the gorgeous Monte Monaca which is a popular hiking destination. If you want to have a break from sightseeing and spend some time swimming in the crystal clear water and enjoying nature, you should definitely make a day trip to San Vito Lo Capo.
2. Trapani
Located at the north west edge of the island and about 1 and a half an hour drive from Palermo, Trapani is one of the most romantic towns in Sicily. Imagine strolling through the cute historic buildings by the seaside which offer a spectacular view with your partner.
There is also a very nice beach in Trapani just next to the historic town making this the perfect romantic escape. If you have time, I recommend you take a cruise in Trapani to discover the surroundings of this stunning coast!
The beauty of Trapani is you can both enjoy beach time and also go sightseeing in the medieval city center on the same day. Then, finish off the evening by watching the sunset with a glass of wine in one of the seaside restaurants in Trapani. I don't know if you can beat enjoying Sicilian food with a beautiful view! If you stay in Palermo Trapani is one of the nicest day trip options you should do in Sicily.
3. Parco delle Madonie
For those of you who love the outdoors, this one's for you! In just under 2 hours driving east you will reach Parco delle Madonie where you will find expansive protected land, perfect for hiking. The park is home to the Madonie mountain range which boasts some of the highest peaks in Sicily so don't forget your camera! You might even get to spot some of the island's adorable animals on the ancient rocks here.
This is also a great place to see what rural life is like in Sicily as there are many traditional farms and old castles in the area. There is no public transport available to the park so you will need to rent a car or take a bus to Cefalù to join a tour.
BONUS 2: How to get around in Sicily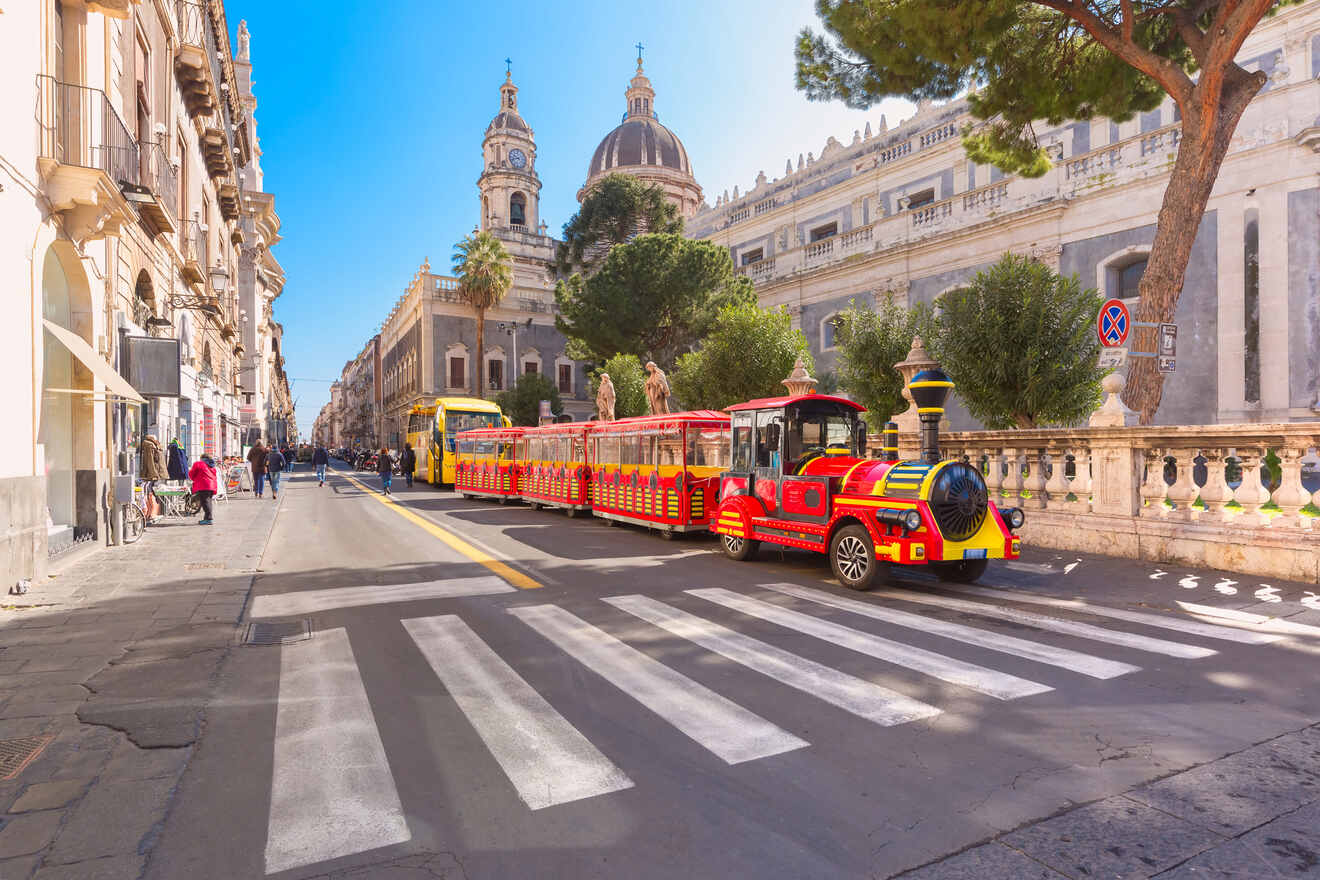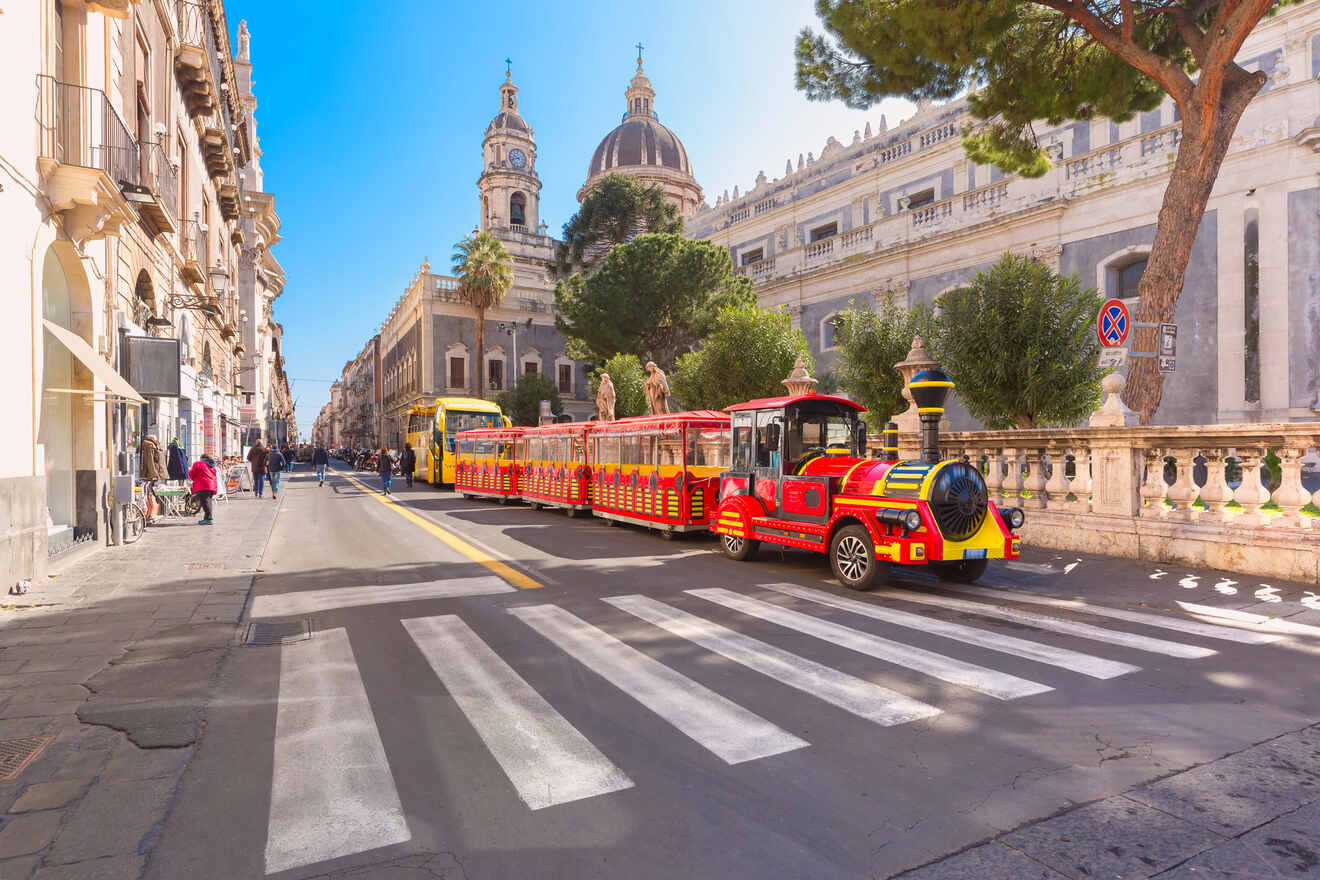 In Sicily, distances can be long between cities. That's why renting a car is the best option to get around on the island. It will also give you the freedom to visit more remote areas. However, If you don't want to drive a car here, there are some other transportation options that will help you to get around in Sicily.
Driving in Sicily
The most convenient way to get around on the island is renting a car, especially if you are planning to stay a long time and make stops in different towns. It is easy to drive in Sicily among major cities but keep in mind that you might get caught in traffic jams in some areas. In order to avoid that, choose early hours in the morning or the middle of the day to hit the road.
By train
All main cities in Sicily such as Palermo, Catania, Messina, Syracuse, Agrigento, Taormina, and Trapani have good train connections. There are 2 train operators in Italy, Trenitalia (or Ferrovie Dello Stato FS) and InterCity, you can check timetables on their website. I recommend booking train tickets in advance as the price sometimes goes up the closer you get to the date.
By bus
Bus fares are generally less than train tickets and are even cheaper when you buy a round trip. The biggest bus company on the island with the largest network is AST and Interbus. You can check the routes and timetables on their website and buy the tickets online.
FAQs about lodging in Sicily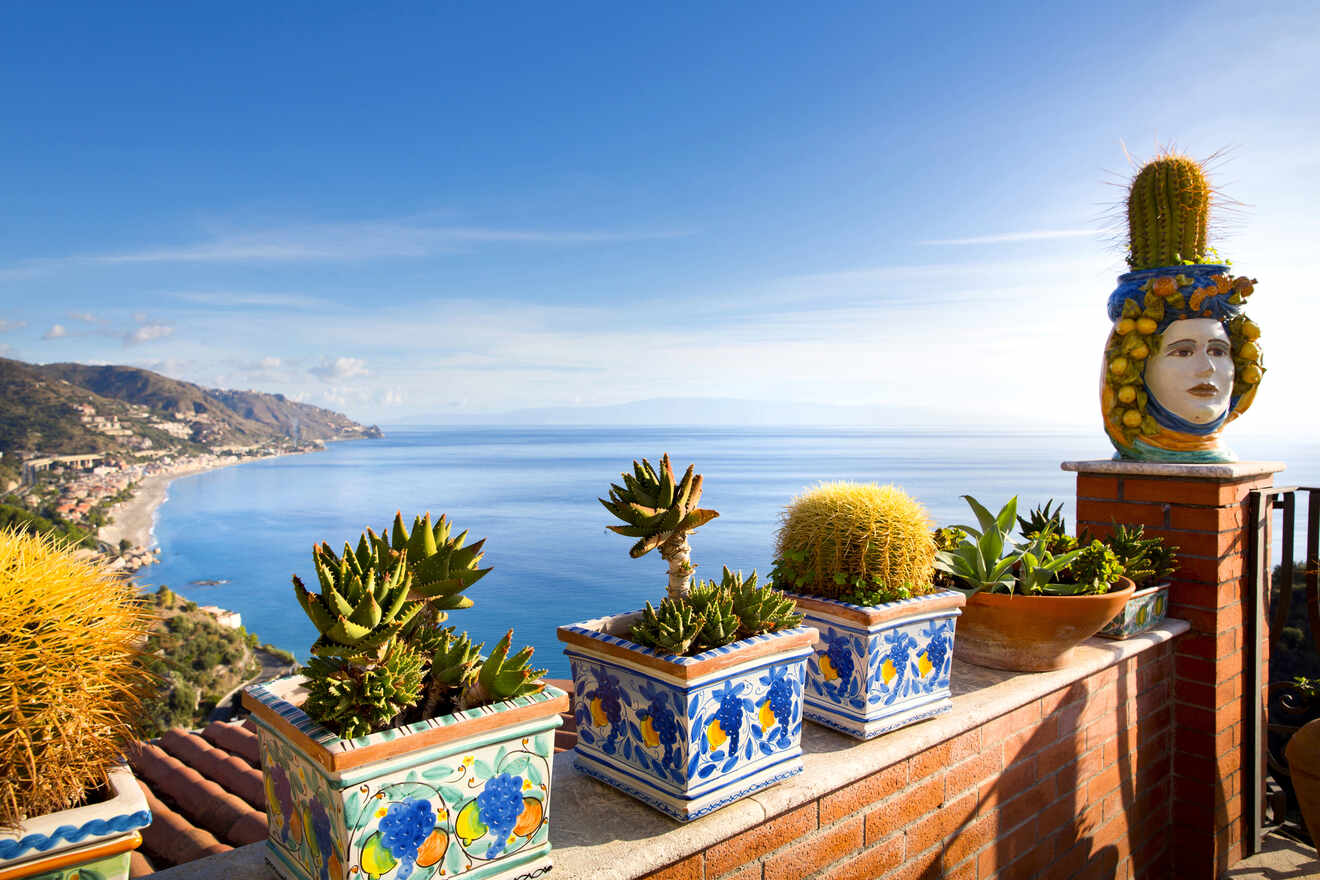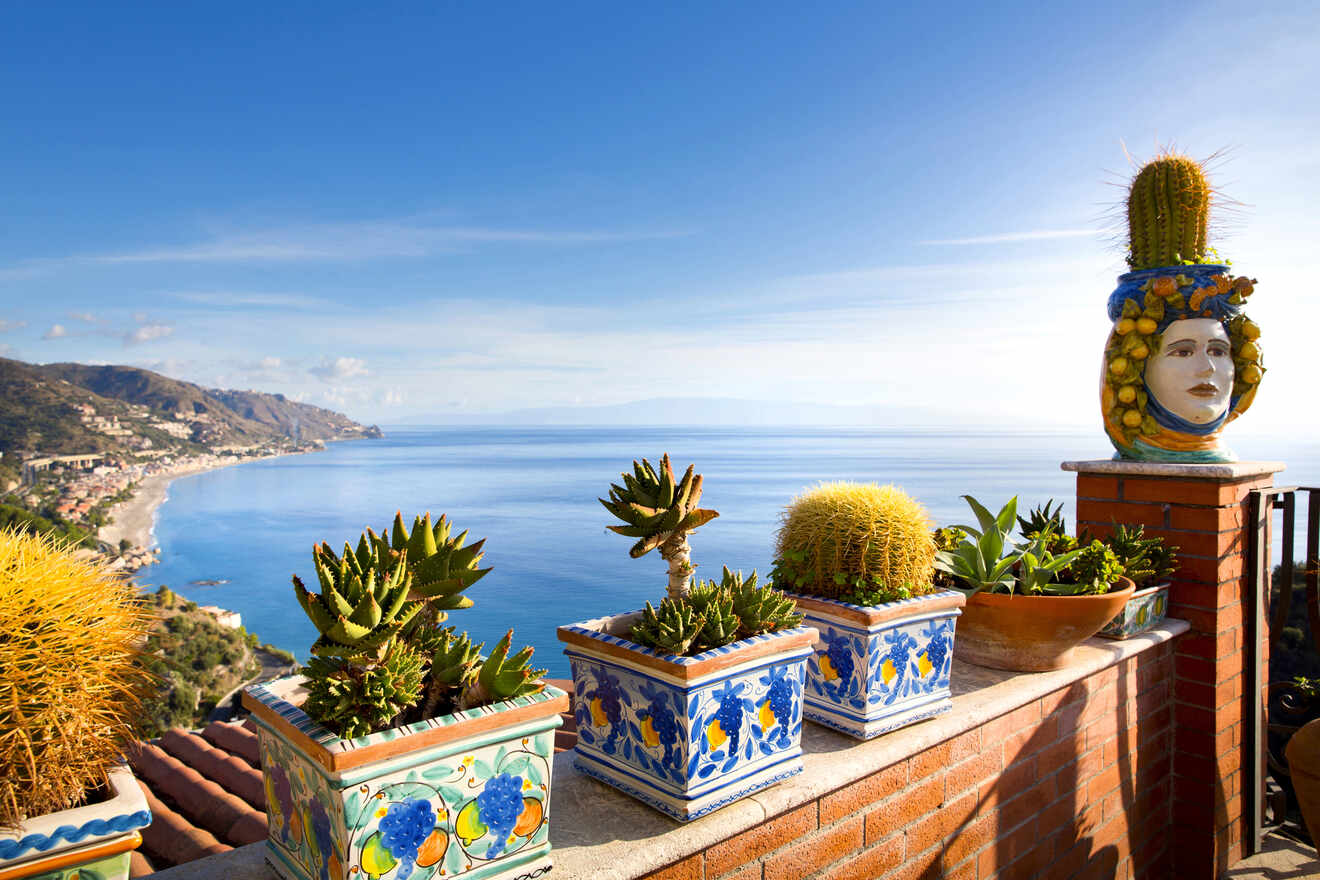 Conclusion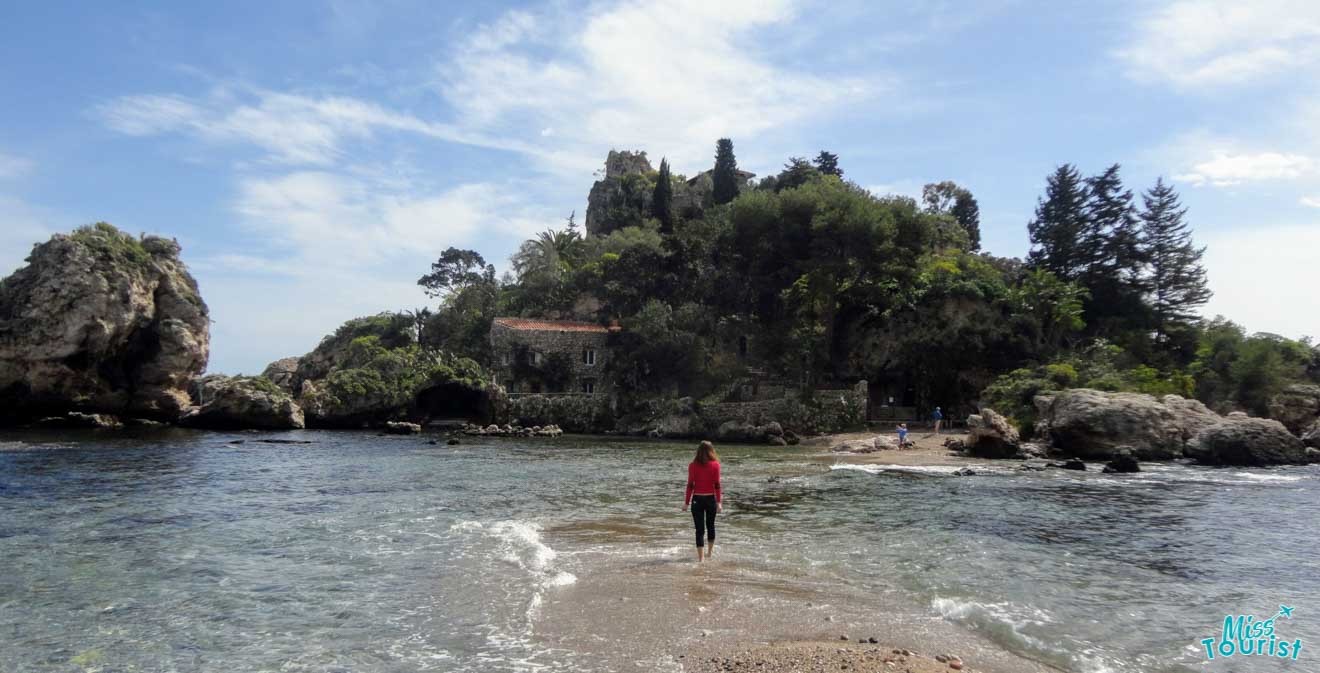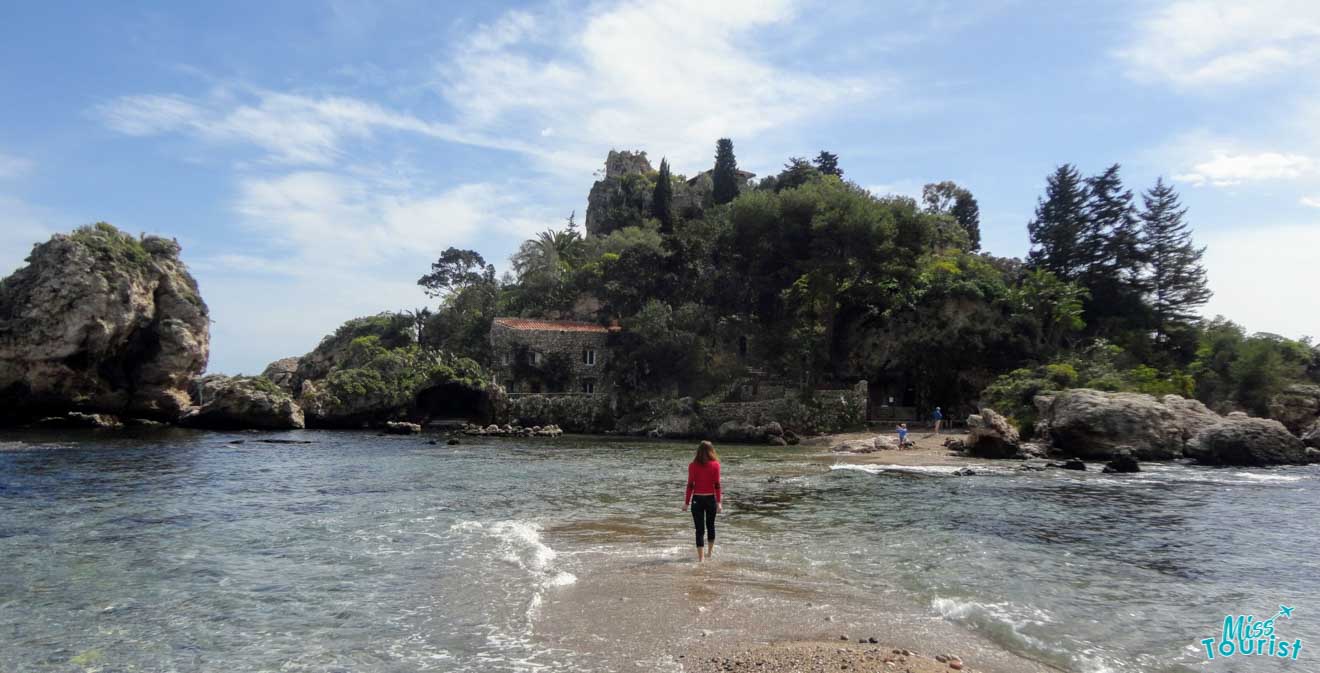 Sicily is one of the best islands in Italy so I am sure you will have an amazing time during your trip. I hope this blog post helped you understand the best areas and you already found a nice hotel.
In this post, I covered the best places to stay in Sicily and mentioned the top hotels as well as Airbnbs in each area. Sicily is visited all year round by travelers so I highly recommend you make a reservation now if you have already found your ideal home away from home.
As it is a big island it might be difficult to make a choice among the many best areas. If that is the case I would suggest you rent a car and spend a few days in different cities to experience different parts of the island and discover different attractions and beaches.
To sum up, here are the best hotels to stay in Sicily in the nicest areas where I would definitely recommend you to stay. They both have good locations and great reviews too!
I am curious to know about your experiences in Sicily, so don't forget to leave a comment below if you have any other suggestions or questions about Sicily or Italy! I'll be happy to leave a reply!
Have a nice holiday,
Eylul
---