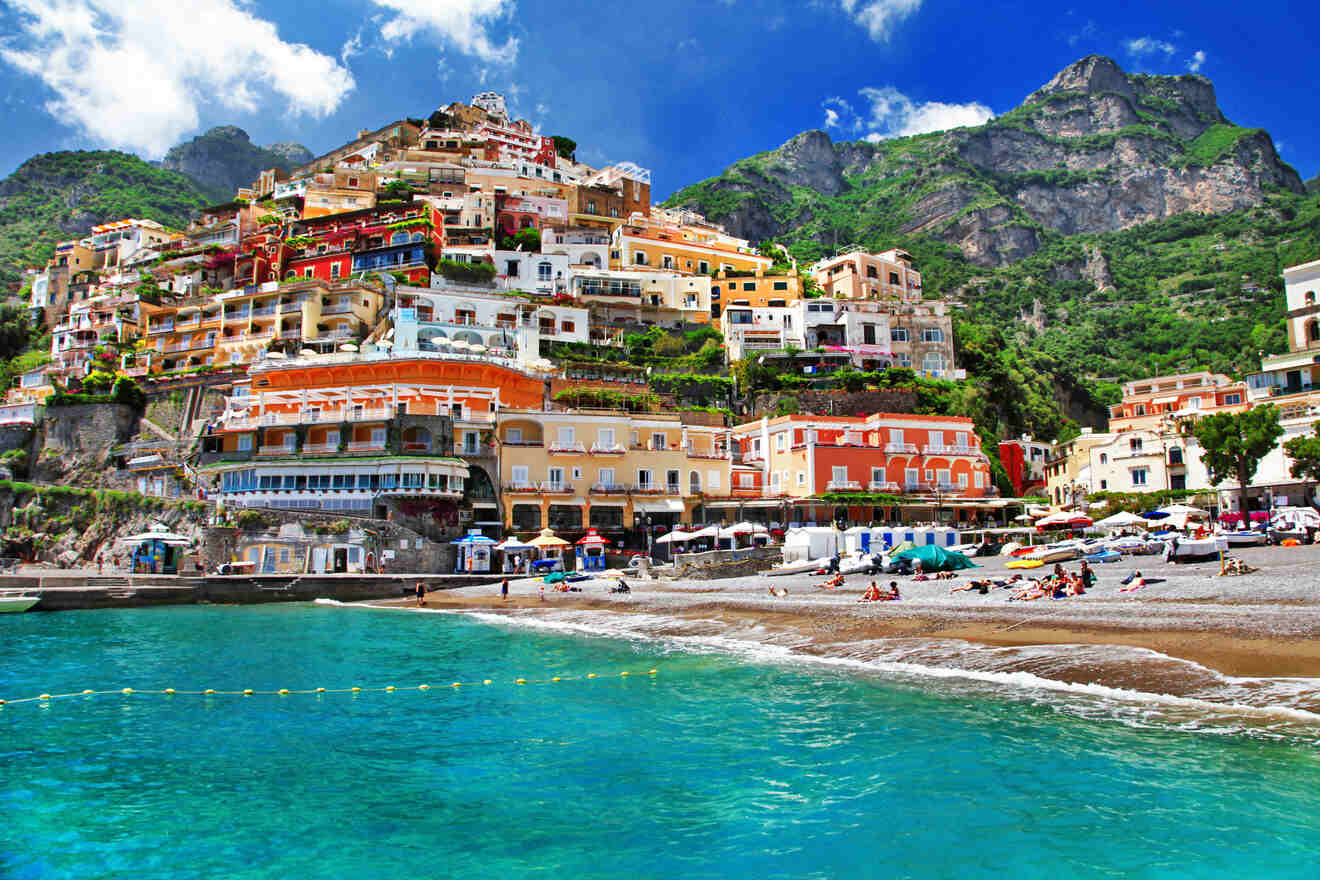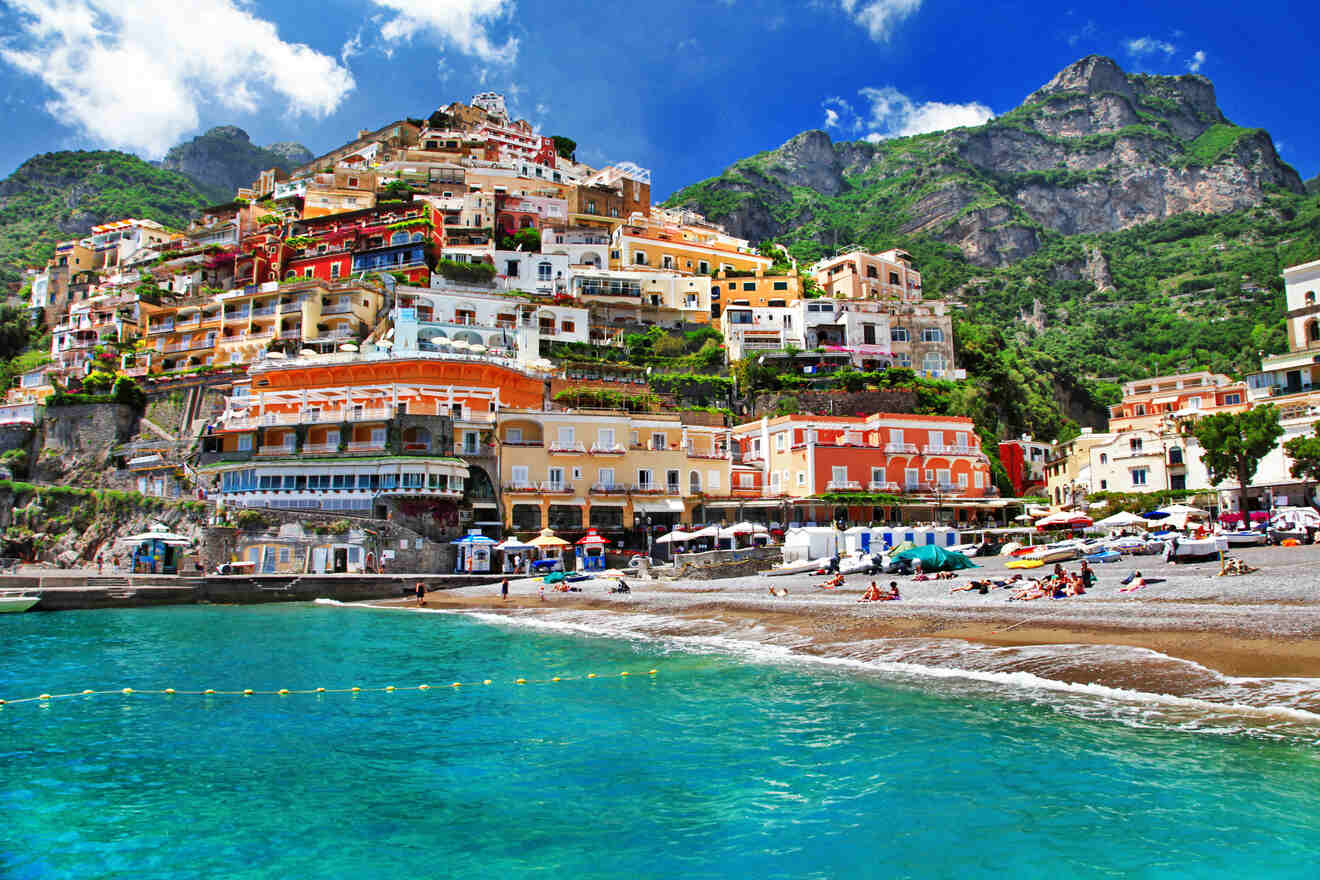 It's no wonder that all the celebrities run to Positano every time they get the chance. It is, after all, one of the most famous locations on the Amalfi Coast, and it has been the topic of movies over the years as well as a place where artists find their inspiration during their holidays!
Indeed, Positano possesses a charm and magic that you won't see in many places, and the delicious food, wine, and Aperol just makes the whole experience so much better!
But let's get to why we gathered here today: to find you the best Positano luxury hotels! The prices range depending on the facilities from US$150 – $1000 per night for these luxury hotels in Positano. I've put together an easy list of the most amazing hotels from most to least expensive.
Whether set on a cliff or with a private beach or an infinity pool, I'm sure you'll find your perfect holiday spot here, but I highly recommend booking it in advance. All the luxury hotels in Positano sell out super fast!
I can already smell the delicious food, Andiamo!
If you are in a hurry
If you want to book now, quickly browse this list with the best Positano luxury hotels:
Here's a map that will help you visualize all the Positano luxury hotels that I will be talking about in this post:
1. Le Sirenuse – featured in the movie "Only You" with Robert Downey Jr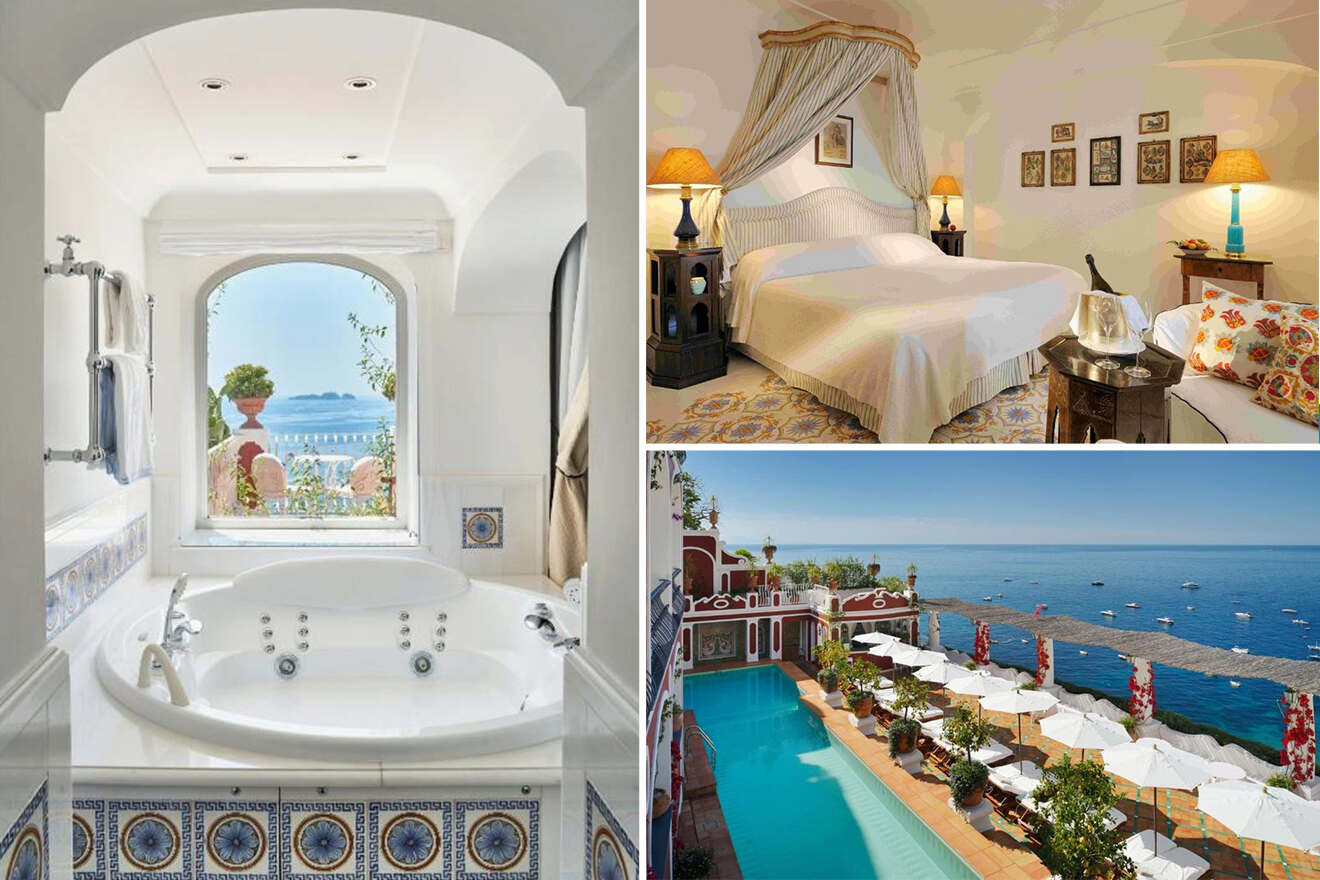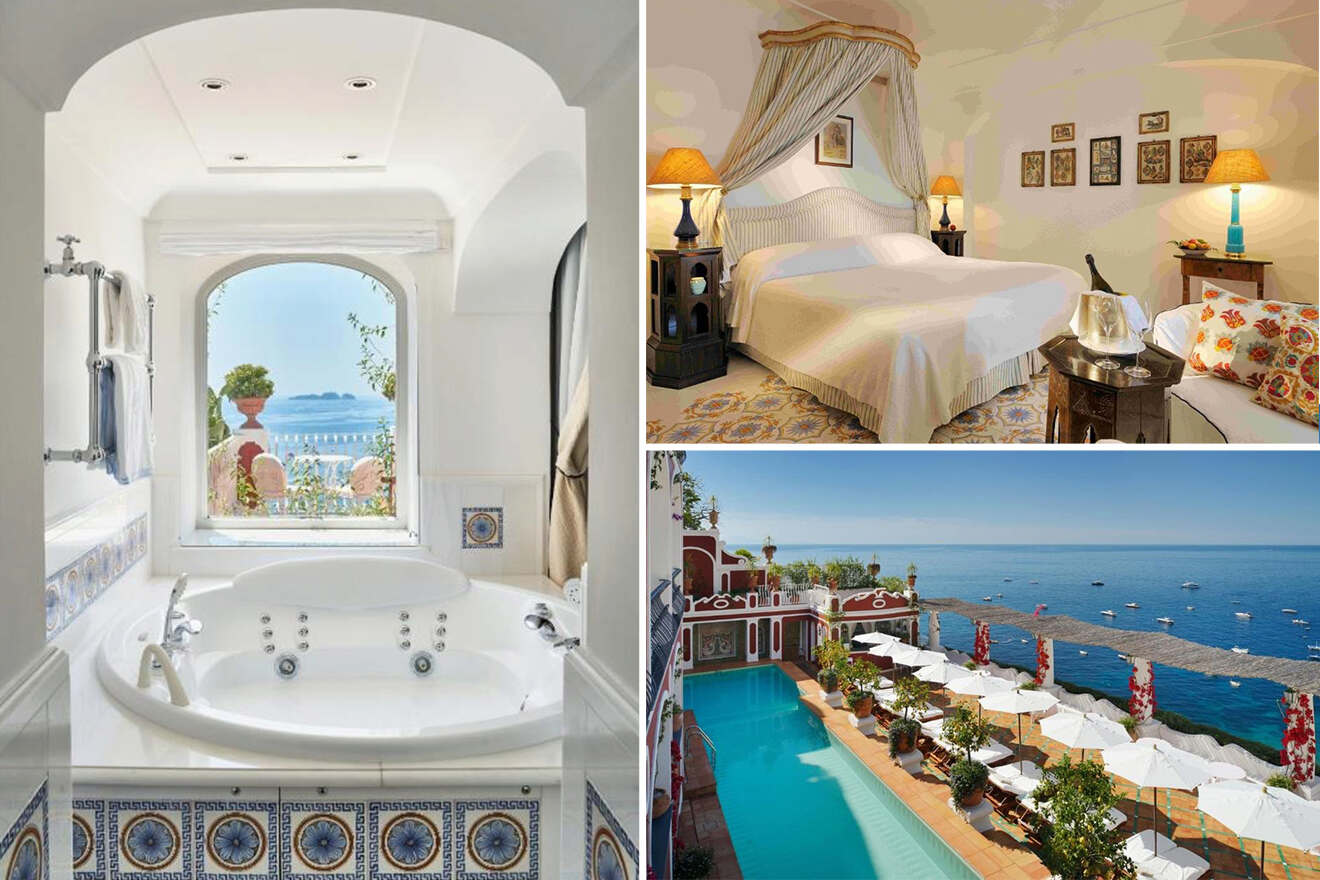 Ever dreamed of staying in one of the best luxury hotels in Positano that not only has stunning views of the sea but has also appeared in a movie with Robert Downey Jr. and Marisa Tomei? Le Sirenuse is centrally located, nearby the beautiful beaches, and its dream location will make you fall in love with it! That's why I highly recommend booking the hotels in Positano in advance, this is a top holiday spot for most tourists.
The rooms and suites have all-white decor going on and air conditioning! Eat a delicious breakfast on the terrace of the Michelin starred restaurant and then head to the swimming pool for a dip in the water and to enjoy the spectacular views! The charming atmosphere of this luxurious hotel is like no other!
2. Il San Pietro di Positano – with a Michelin starred restaurant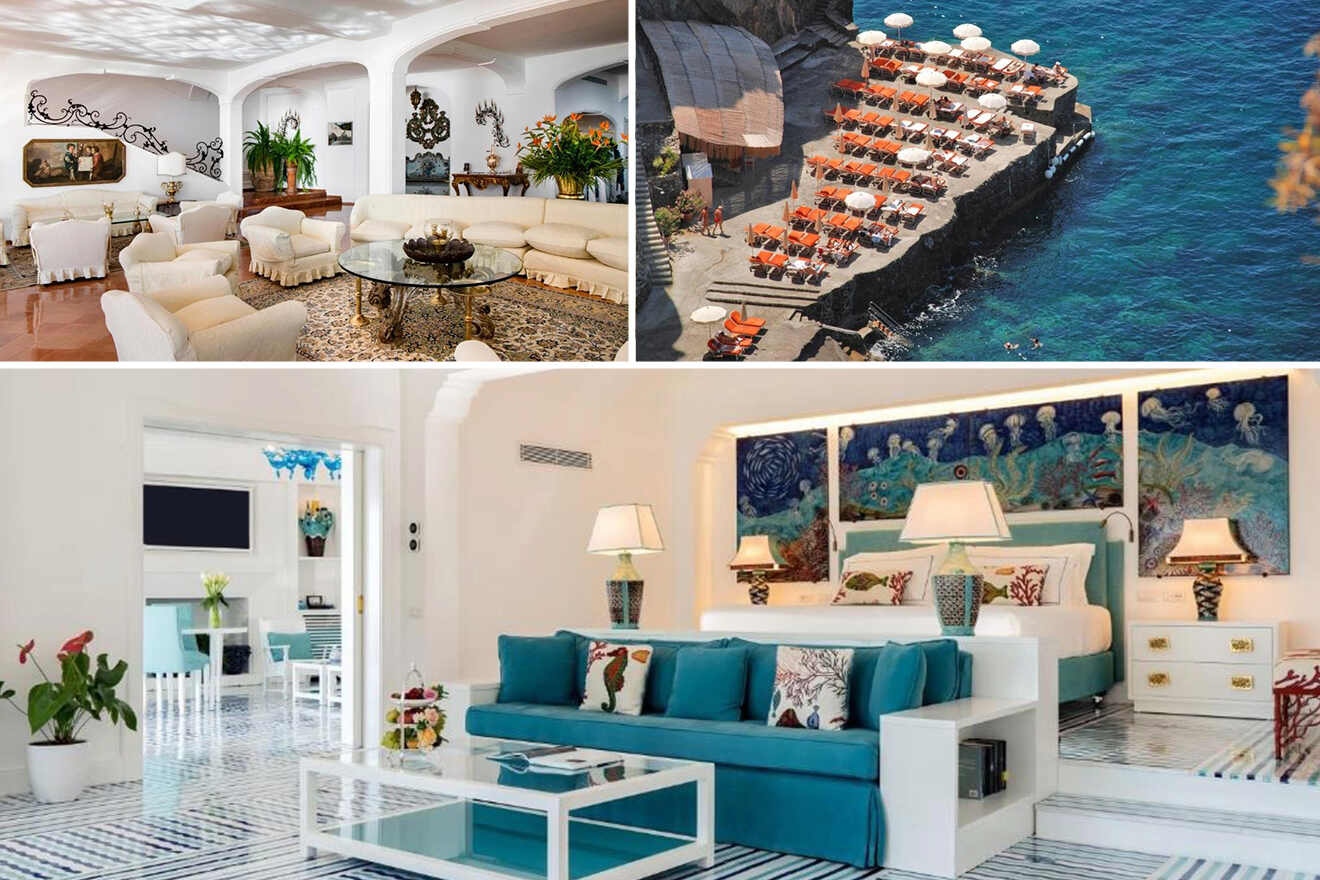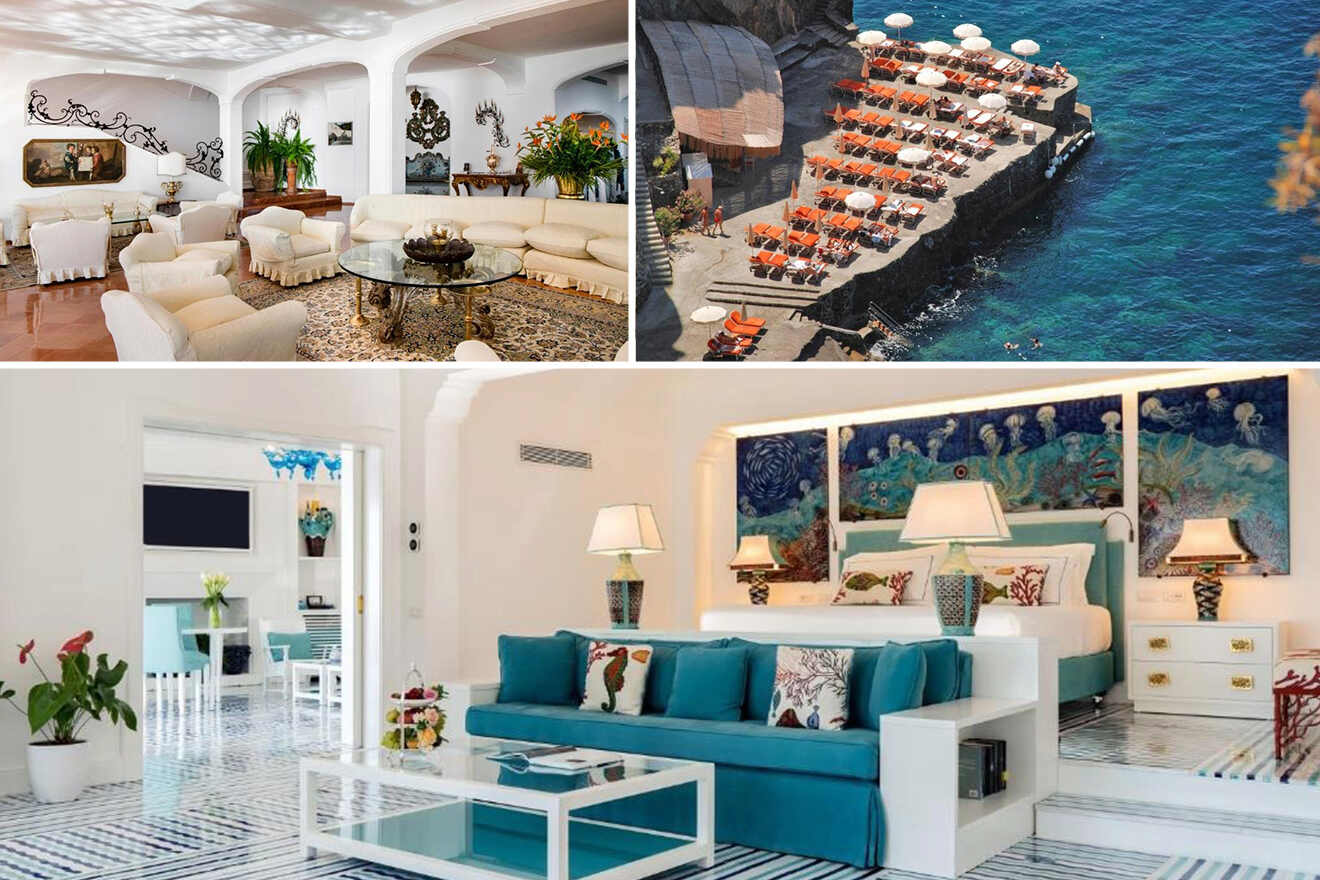 There's something so romantic about Positano and the whole Amalfi Coast! And we can't be surprised since the legend is that Poseidon created this town to show his love for the goddess Pasithea! This luxurious five-star hotel is perfect for a couple's getaway to Italy!
Enjoy a romantic Italian dinner at the Michelin starred restaurant and then head to the terrace for an Aperol spritz and admire the breathtaking views of the Mediterranean sea.
The rooms have a special design and private balconies, where you can have your coffee and breakfast in the morning! Then I would spend a lazy afternoon by the free outdoor pool. Oh…la dolce vita! And if you're in the mood for a road trip, Sorrento, another mesmerizing coastal town, is just 6 miles away from Positano!
3. Hotel Villa Franca – featuring a rooftop pool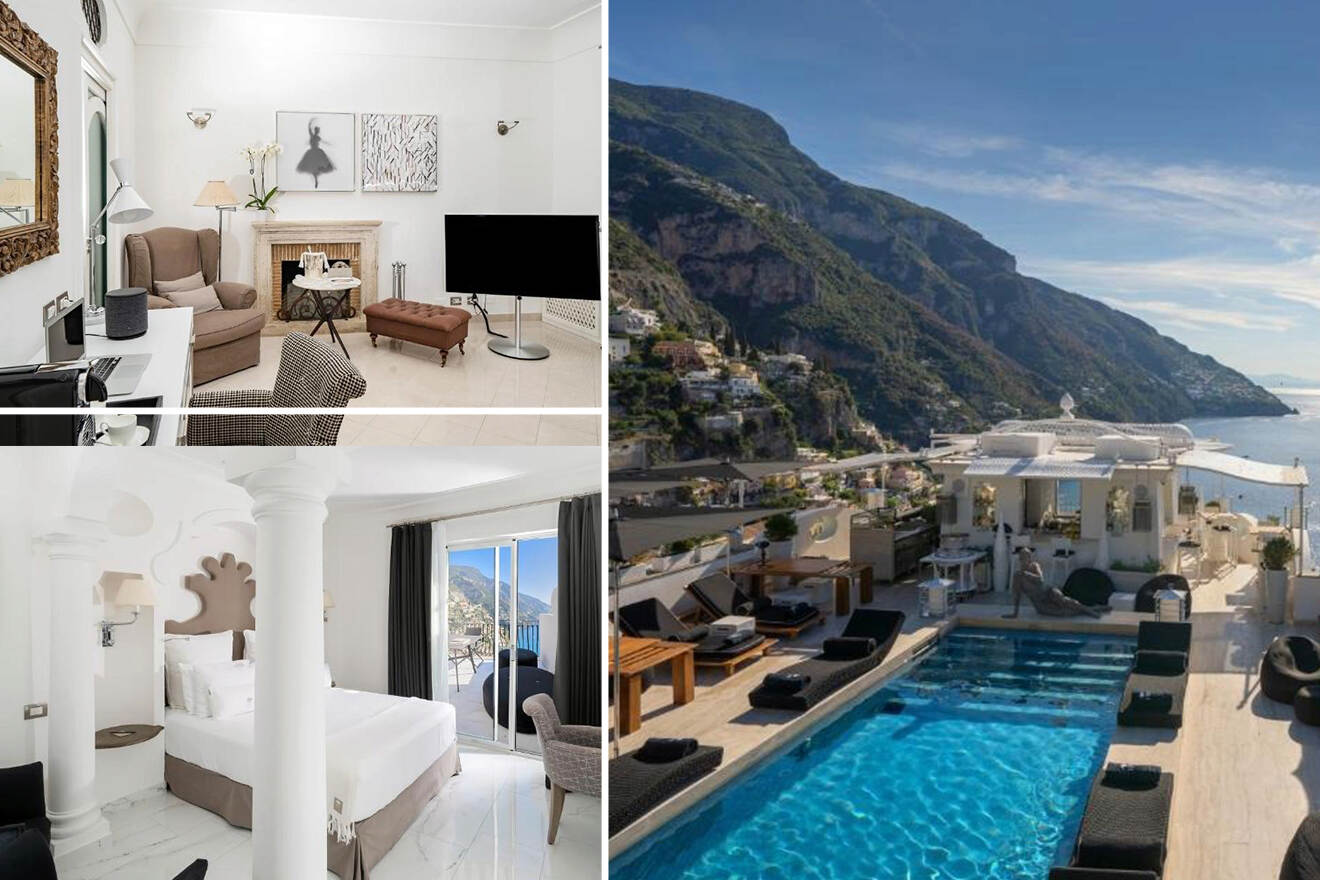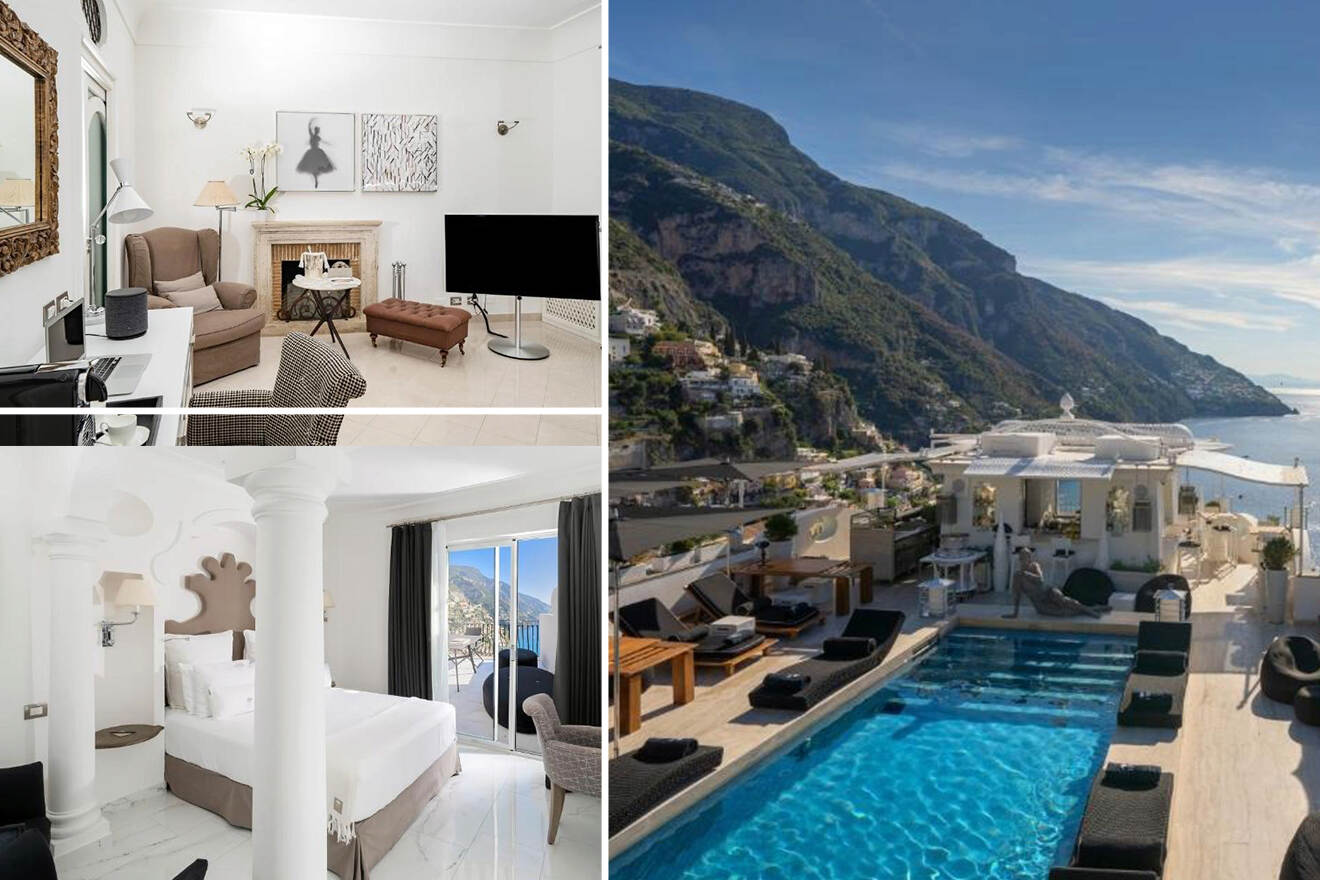 No wonder so many artists like Mick Jagger and Keith Richards from The Rolling Stones and Patricia Highsmith, writer of the famous novel, The Talented Mr. Ripley, found inspiration for their works in Positano! This location is so magical with its panoramic views, delicious food, and unique hotels.
Villa Franca's outdoor pool looks exactly like in the movies, place an actor like George Clooney there, and you've got the perfect setup for the next big hit! And trust me, once the night falls, the views get even better! Indulge in the exquisite dishes and seafood at the on-site restaurant and relax with a massage at the spa center. The hotel also offers free shuttle rides to the town center.
4. Hotel Montemare – an amazing family-run hotel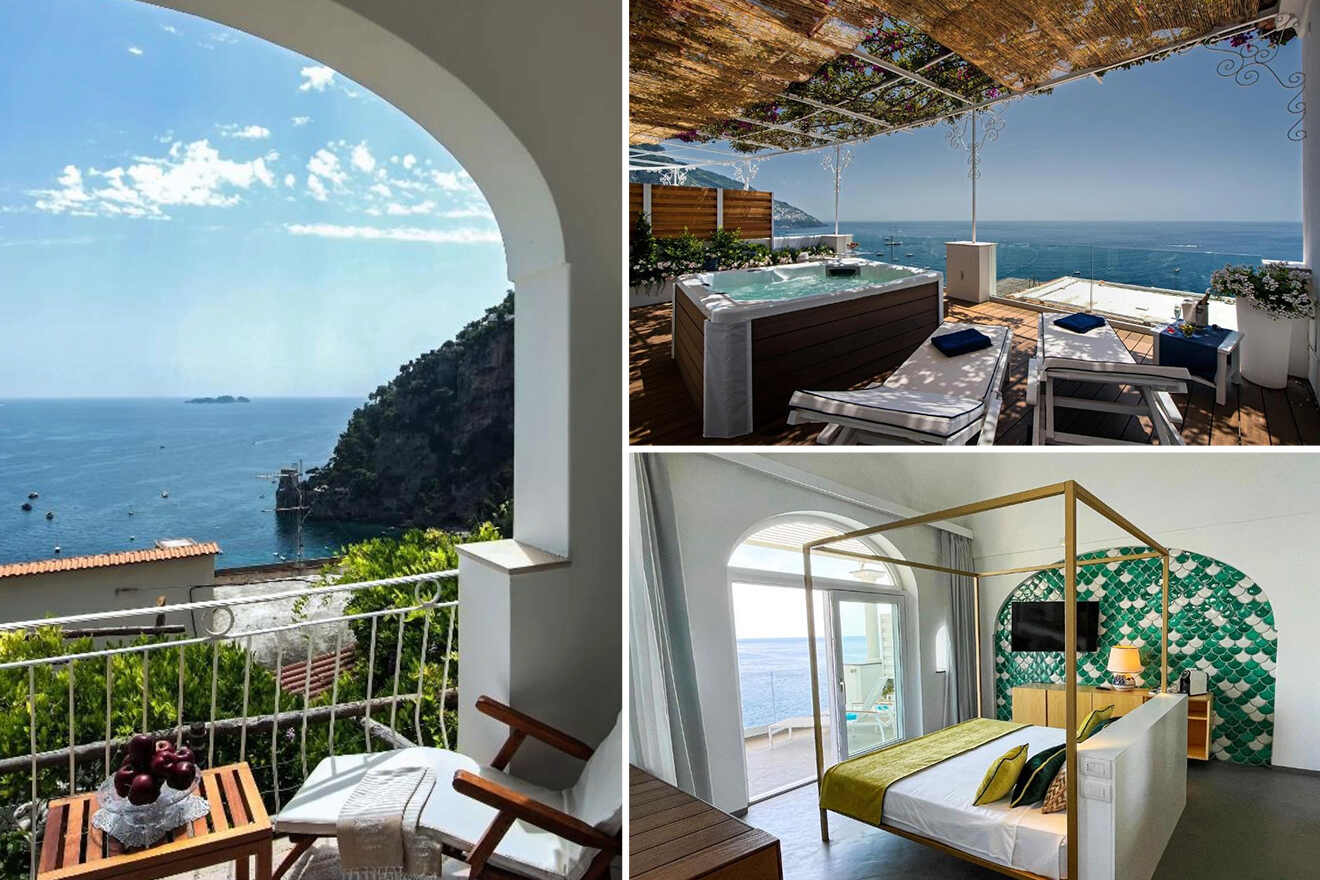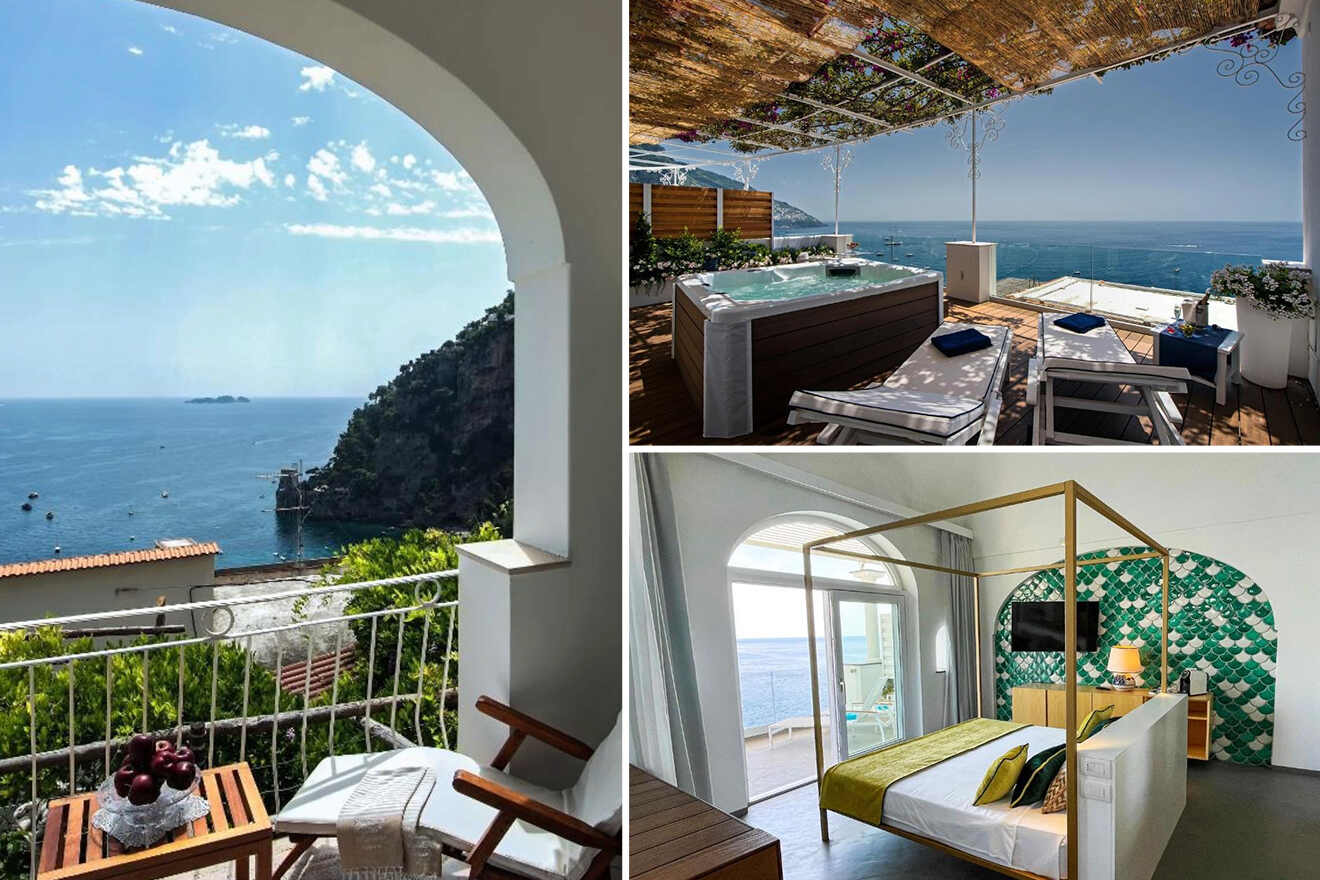 Hop straight from your bed into the hot tub on the balcony of your room and admire those spectacular views of the Mediterranean Sea! This luxurious property is set in a quiet location where you listen to the sound of the waves crashing on the shores.
The family-run hotel has a restaurant on-site where you can try all kinds of different traditional foods. After that, I recommend ordering a glass of wine from the bar and heading to the terrace to catch the sun setting over the Amalfi Coast! Among the nearby attractions close by this Positano hotel, you'll find the Roman Archeological Museum and the Church of Santa Maria Assunta.
5. Hotel Le Agavi – luxury hotel with great views of the sea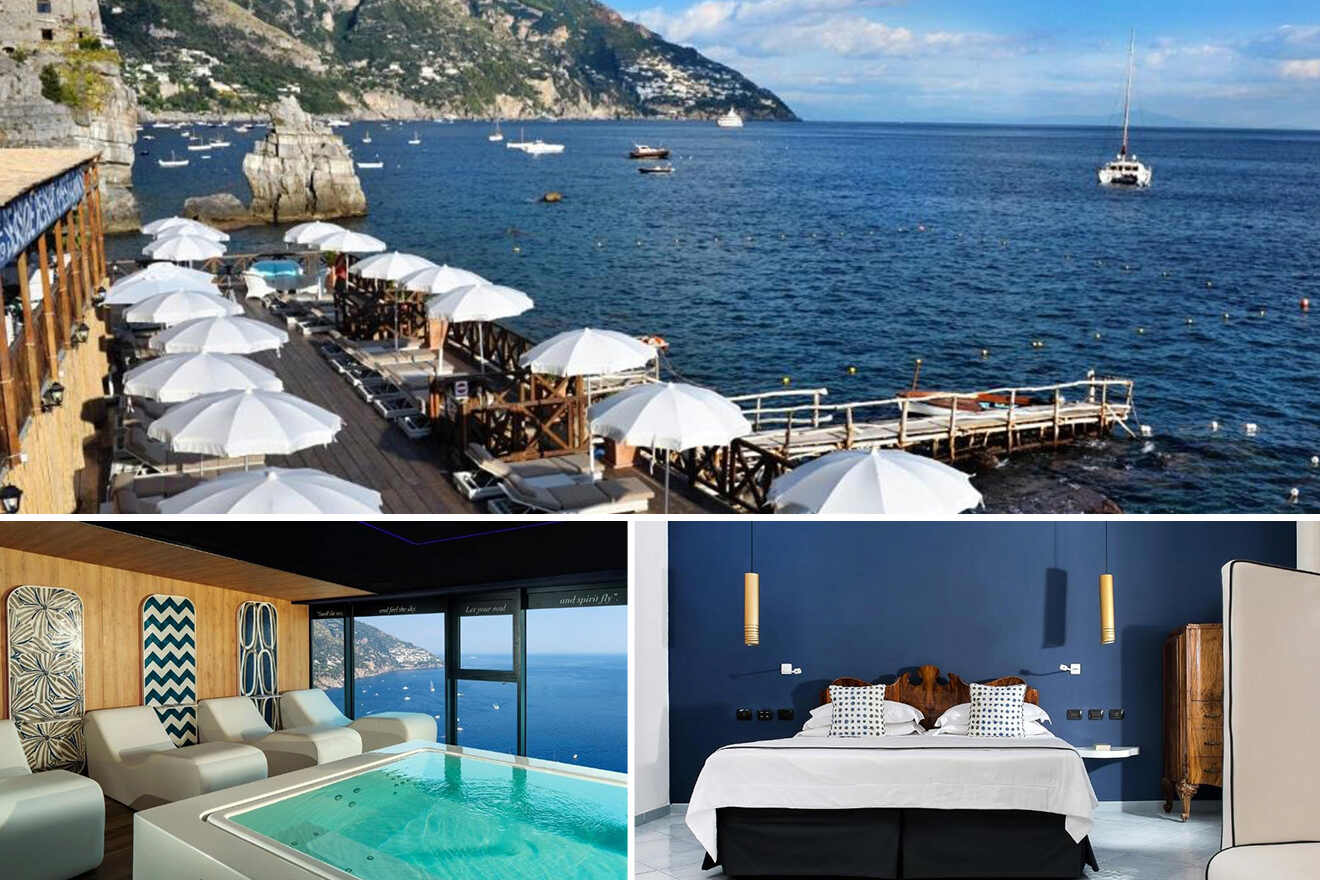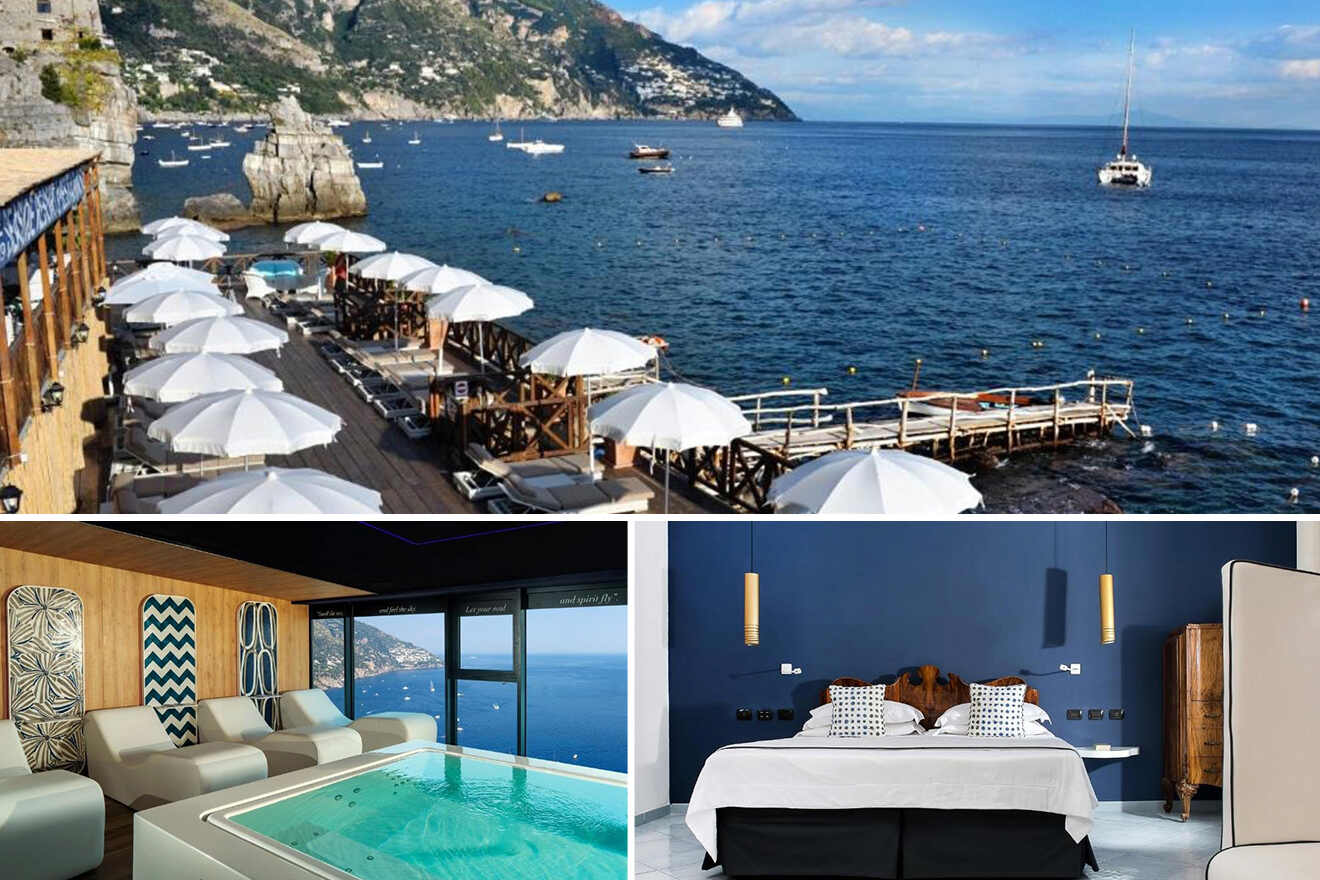 I don't know if you've heard, but in Positano, everything is done with a view: you work out with a view, have dinner with a view, and get a massage with a view! And you can't wonder why, since every corner of the Amalfi Coast looks stunning!
At this property, you've got all of the above plus a free private beach area! Get your swimsuit on and relax in the outdoor swimming pool all day long, or if you don't feel like leaving the rooms, don't worry! You can book a room that has a hot tub and enjoy all the comfort! Have a long lunch and then take the free shuttle to visit the town center!
6. Covo Dei Saraceni – beachfront hotel with a pool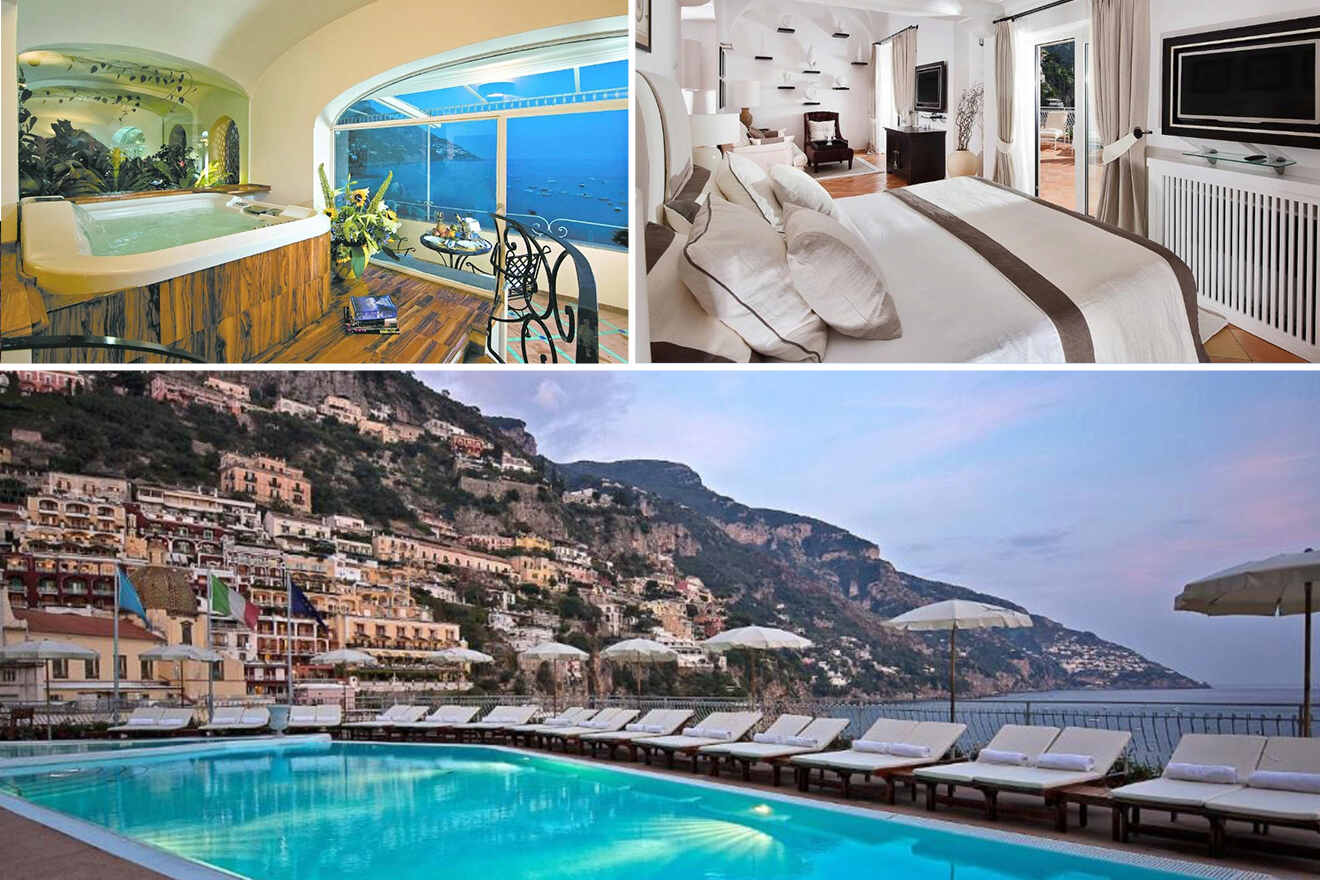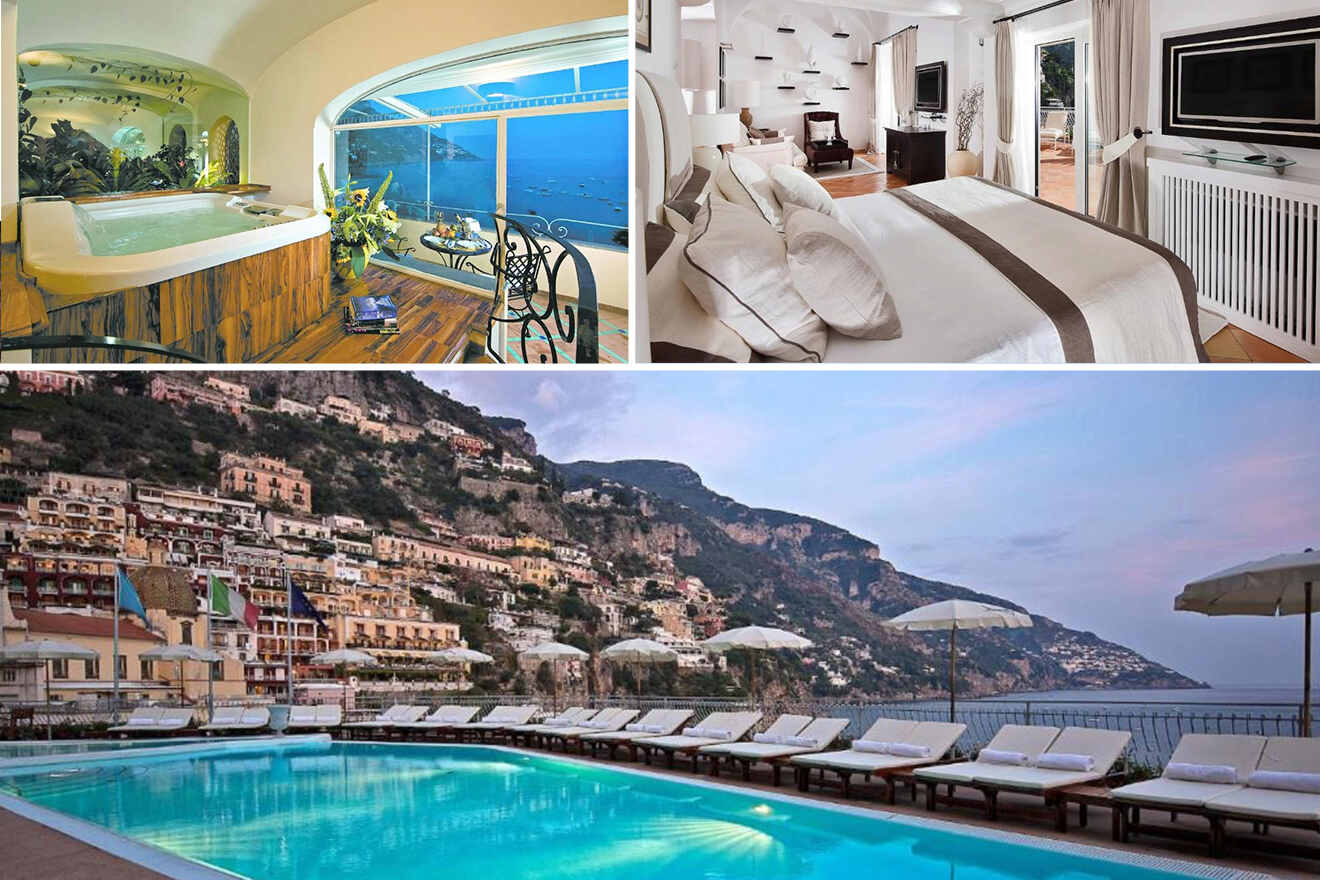 I love the vintage furniture in the rooms of this Positano hotel! Just add a balcony overlooking the Mediterranean sea, and you've got yourself the perfect luxury hotel for your holiday. The property offers some spa services, so I would take a day after my flight just to relax.
Then you can wake up with new forces, ready to explore around, and if you're looking for more places to visit, check out this post with the best places to stay on the Amalfi Coast.
After a whole day out, there's nothing better than having a delicious dinner at the hotel's restaurant, then head for a night swim in the pool while admiring the panoramic sea views.
7. Villa Pietra Santa – the best terrace with sea views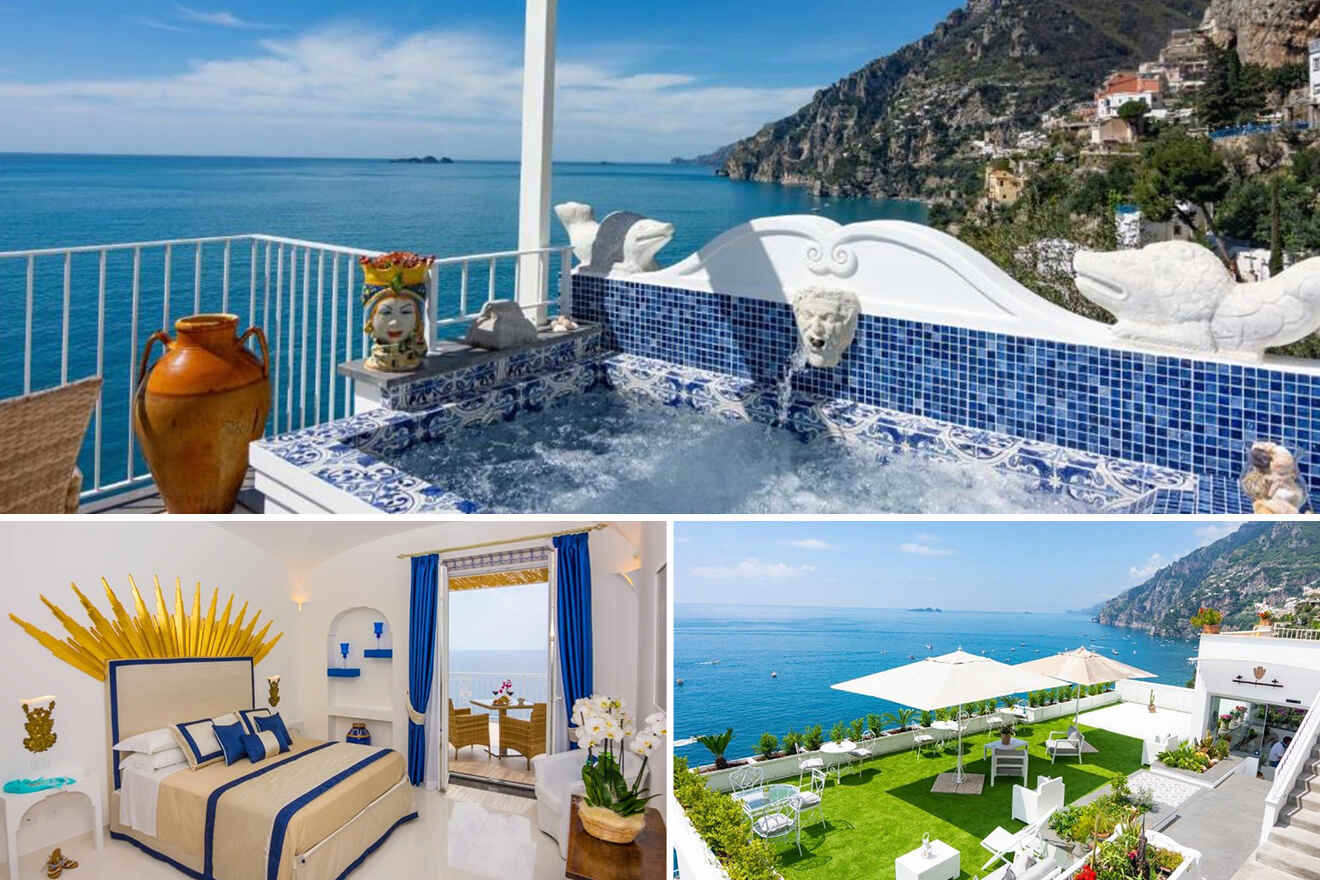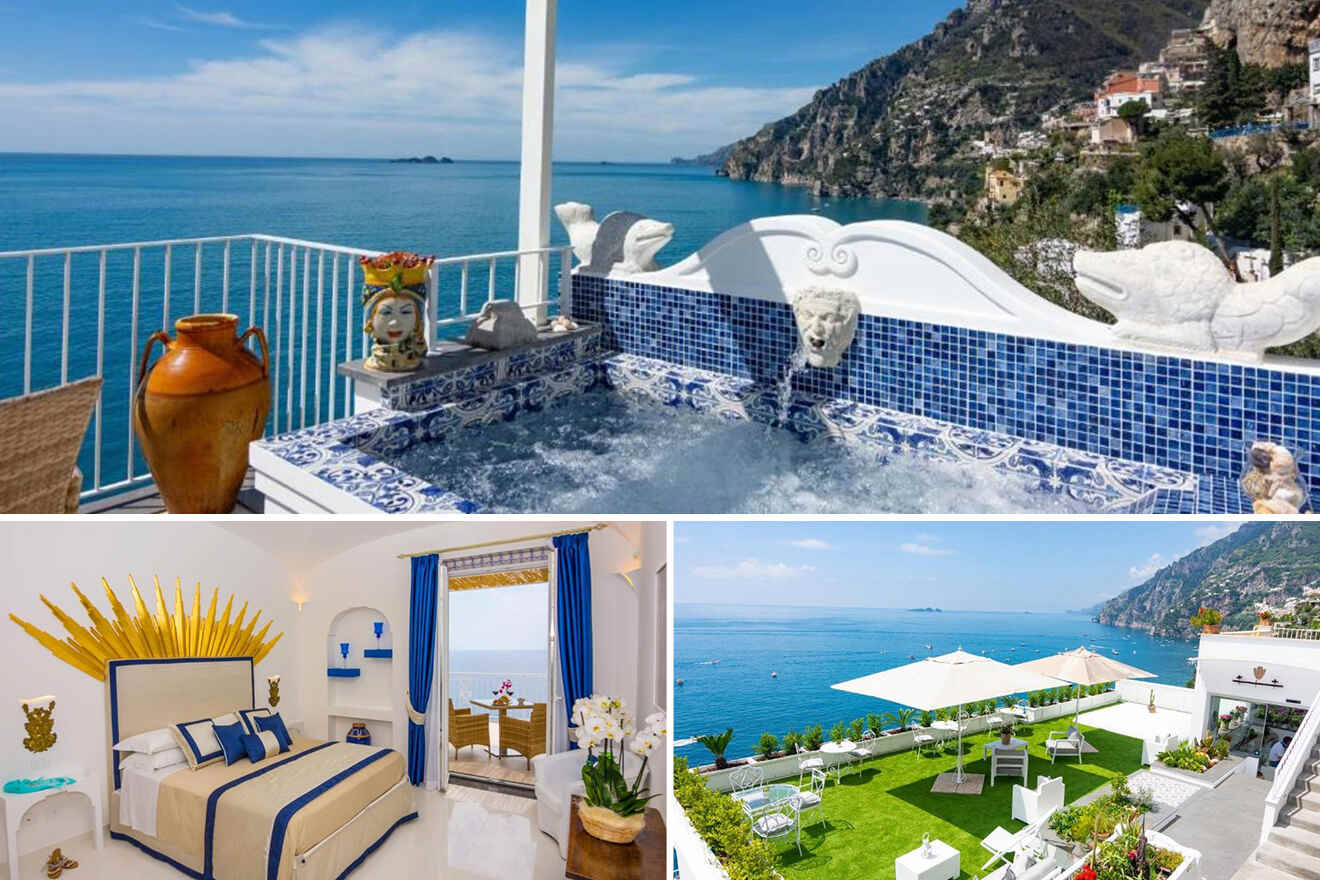 With a great location near all the amazing beaches, this property is perfect for your getaway to Positano! Enjoy the ocean breeze and an espresso on the sun terrace or in the garden of the hotel.
There's nothing like admiring the panoramic coastal views from a hot tub on the balcony with a glass of wine in your hand! That's what I call the good life! All the guest rooms have a private bathroom plus you'll find many restaurants and attractions nearby like the Church of Santa Maria Assunta and the Roman Archeological Museum.
8. Hotel Eden Roc Suites – featuring Turkish baths & spa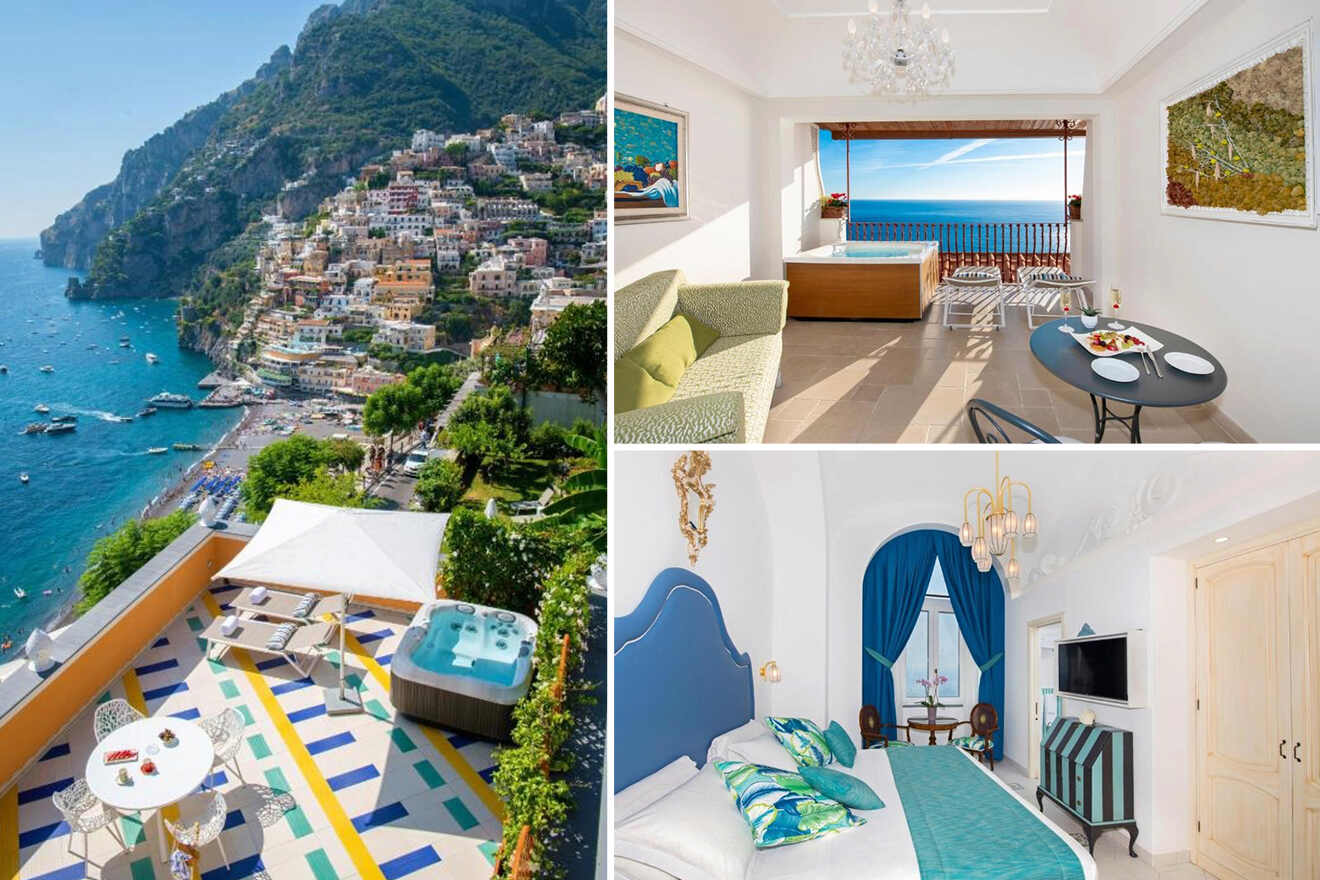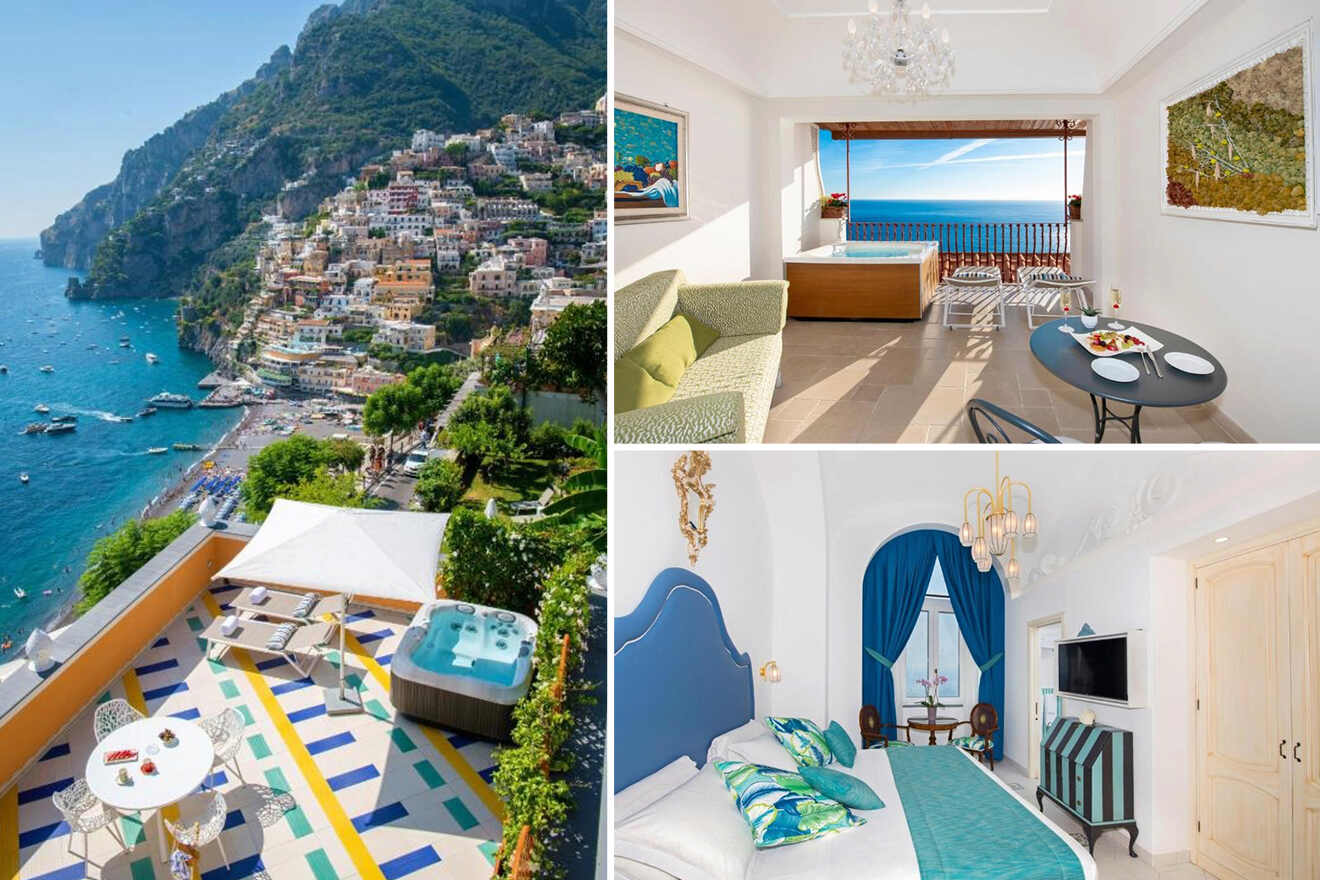 I love how each room in this hotel has a different decor, plus a great terrace which offers amazing sea views! And don't worry, if you've had a long flight and you feel super tired, you can unwind with a Turkish bath or spend some time in the hot tub.
The property offers other spa services as well but I'm sure that once you've had a delicious breakfast at the on-site restaurant, you'll feel as good as new! So get a good book, put on some sunscreen, and enjoy the Italian sun on the balcony of your room!
9. Hotel Poseidon – perfectly decorated for unique photos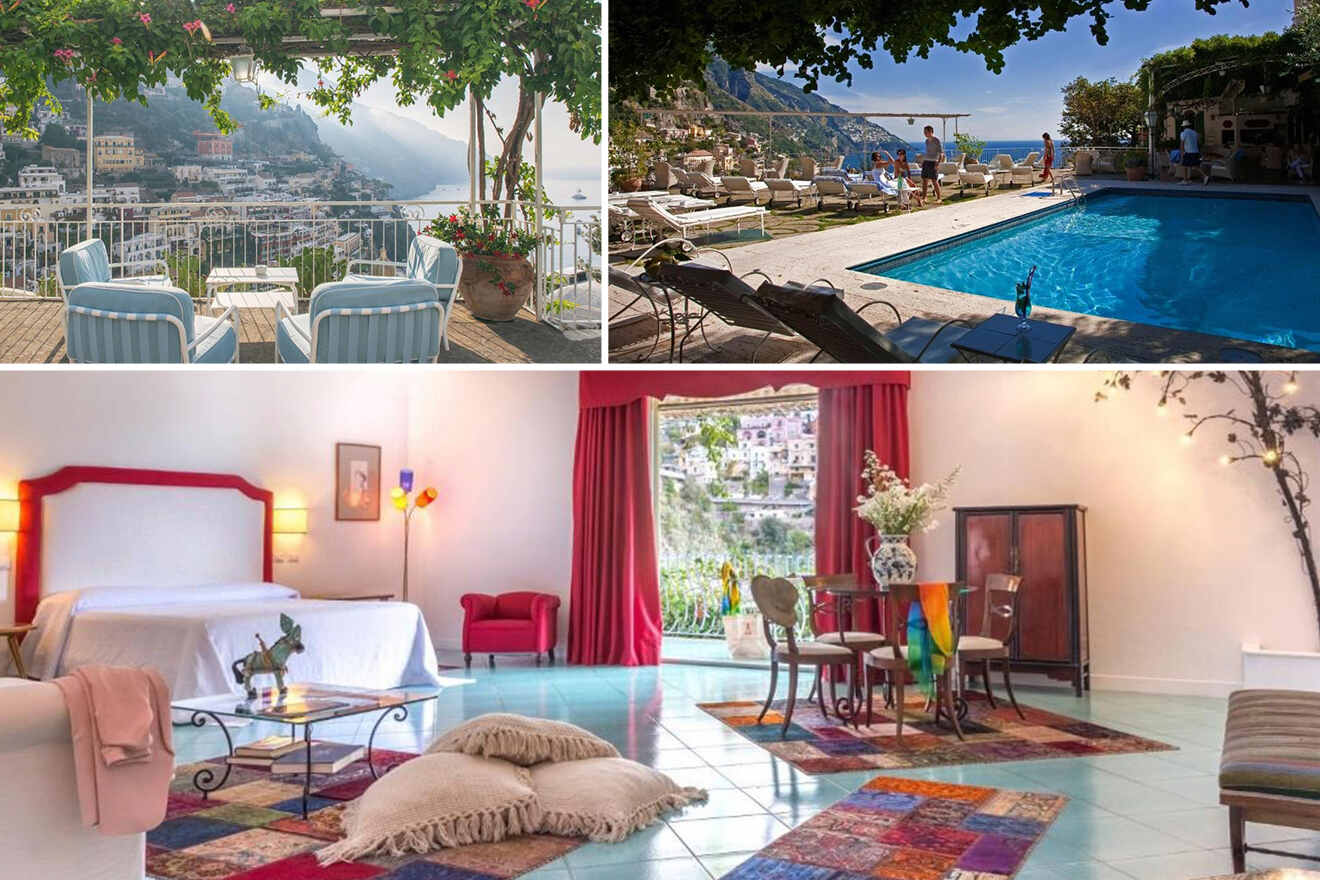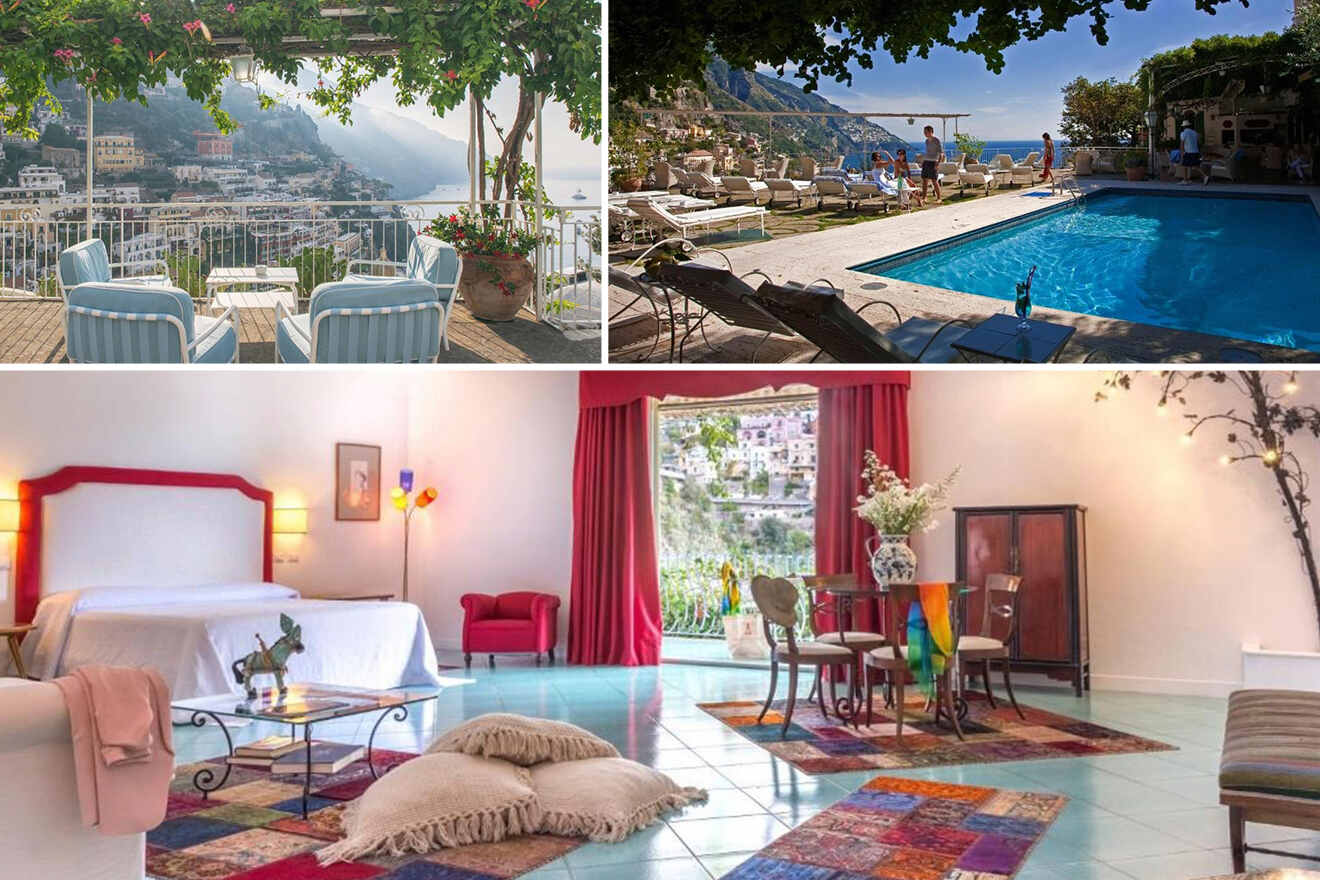 Does anyone ever want to leave Positano once they get here? Good food, amazing weather, and the ocean, what more would one need for a perfect time? Named after the great god Poseidon, this luxury hotel has one of the largest terraces I've ever seen!
The rooms are decorated in the classical Mediterranean style, and what can I say? They're perfect for those holiday Instagram pictures. Go and treat yourself with some vitamin D, near the accommodation's swimming pool or maybe with a Turkish bath. What's more, Positano's historic centre and the beach are located within walking distance of the property.
10. Casa Caprile Postinano – deluxe b&b with sea views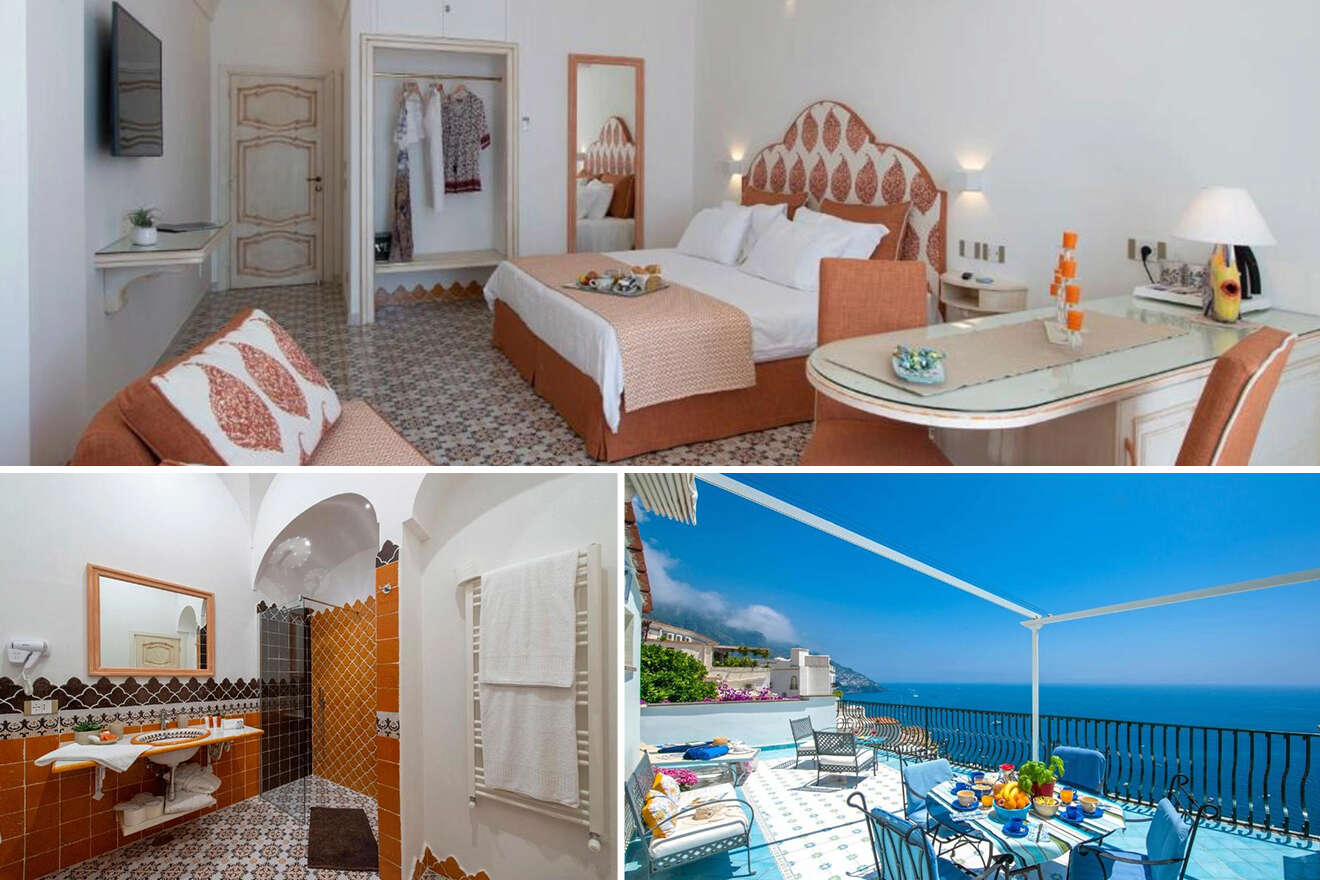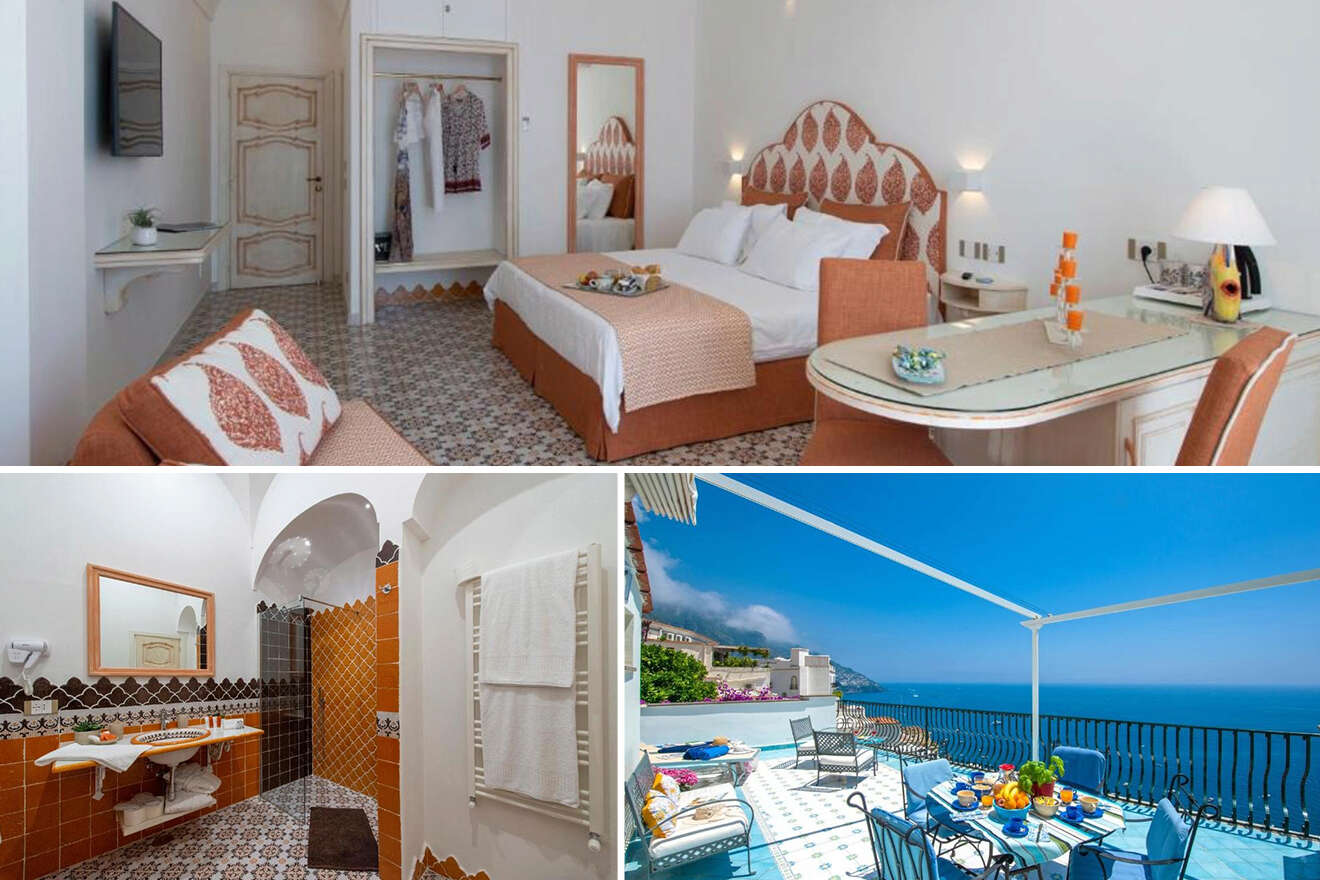 If you're not that much into history, don't worry, because once you visit this town and stay at some of the best luxury hotels in Positano, you'll want to learn all about it!
This great B&B is the perfect place from where you can start your Italian adventure in the heart of Positano. Wake up to the smell of the ocean and enjoy a delicious breakfast. Just as the sun goes down, I recommend getting a glass of wine and watching the sunset on the balcony of your room.
11. Hotel Savoia – a charming hotel great for families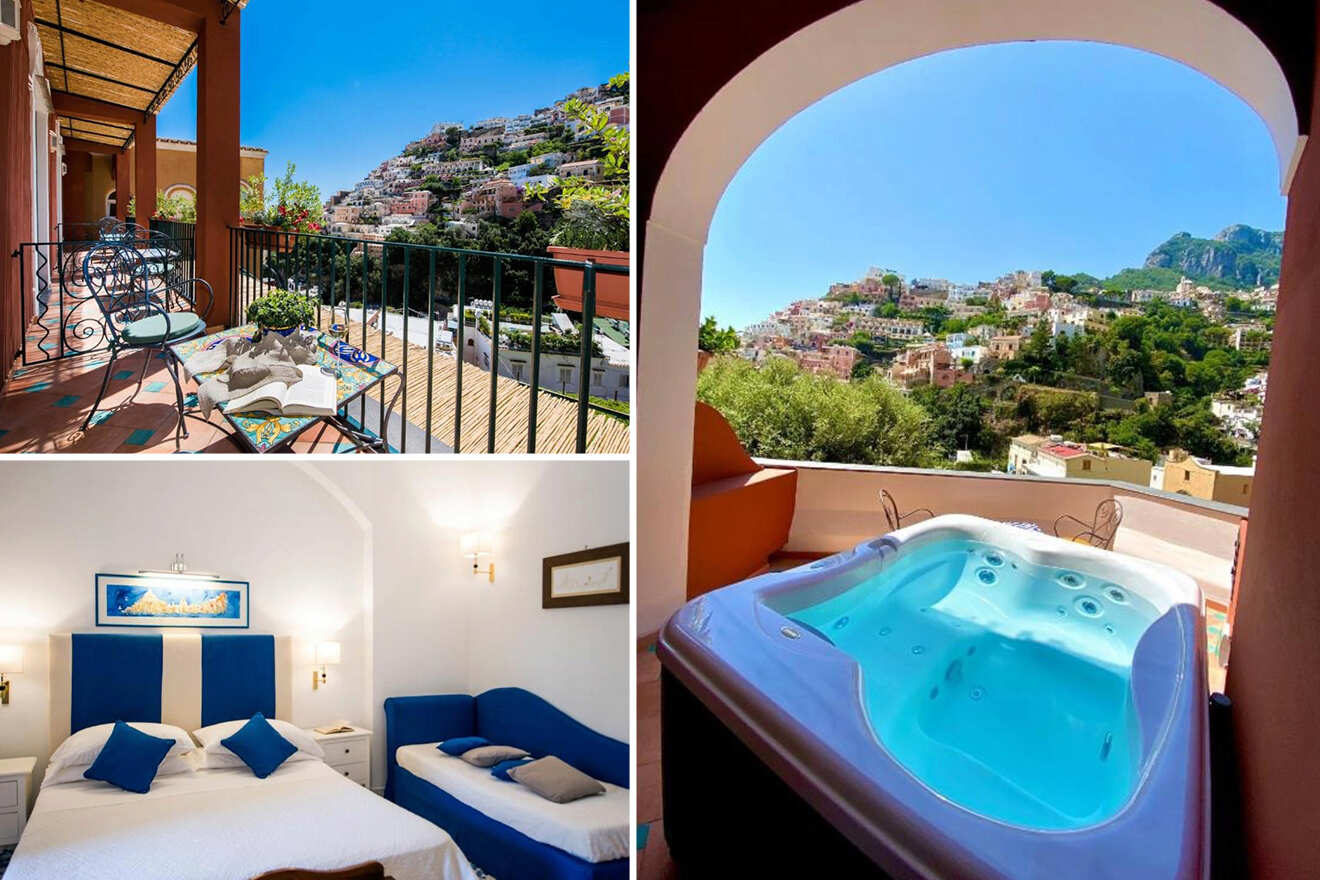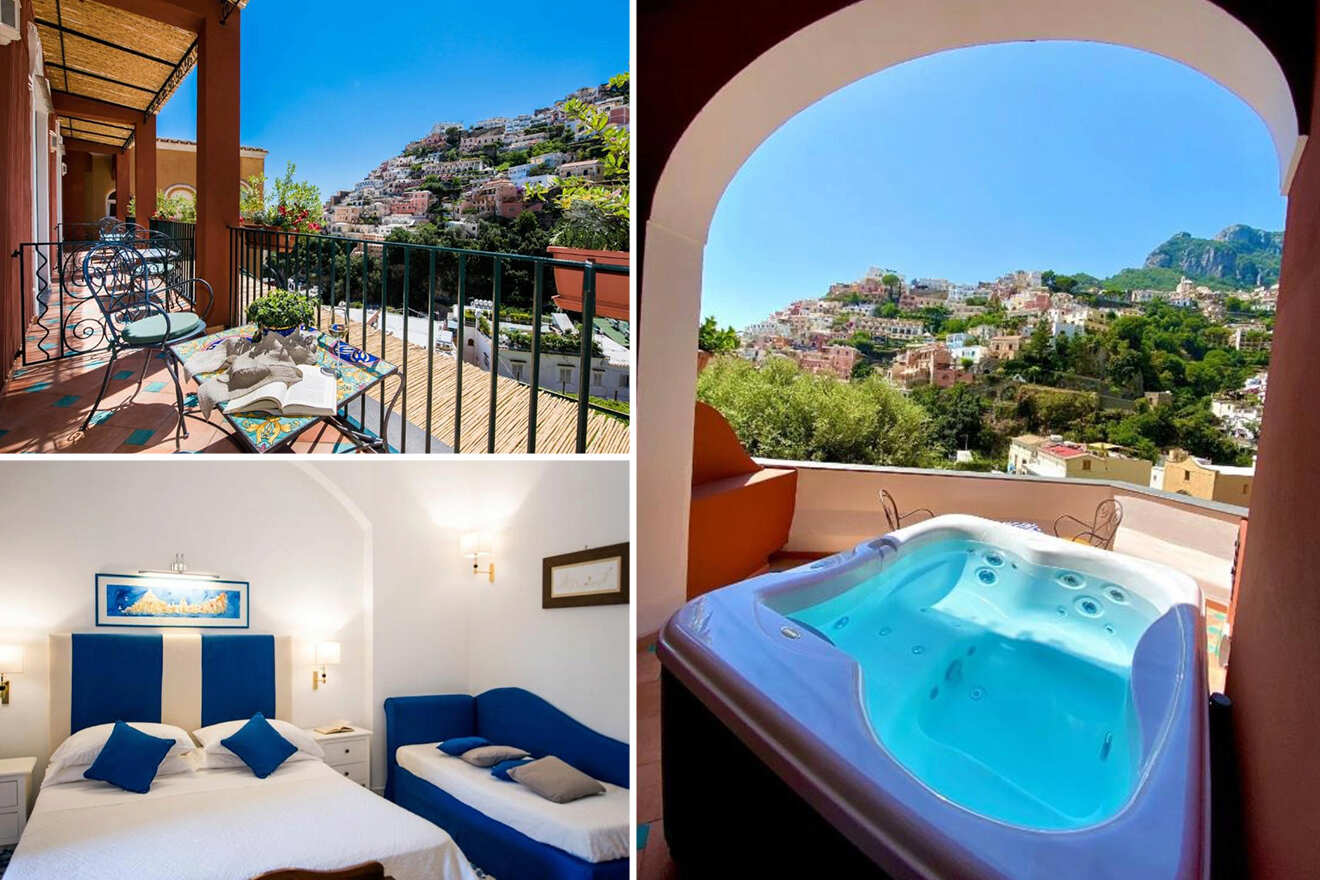 I'm sure I'm not the only one who loves family-owned business, and this property has been in the hands of this family for 3 generations now! Enjoy their Italian hospitality and drink lots of their traditional cocktails at the bar.
The rooms are spacious, and they have a French balcony and free wifi available. You've got some popular attractions nearby like Mulini Square and the beach as well, but if you want to ditch all that and just relax and get in the hot tub, then be my guest. You're on holiday in one of the most beautiful places in Italy, celebrate that!
12. Alcione Residence – sunbath on a beautiful panoramic terrace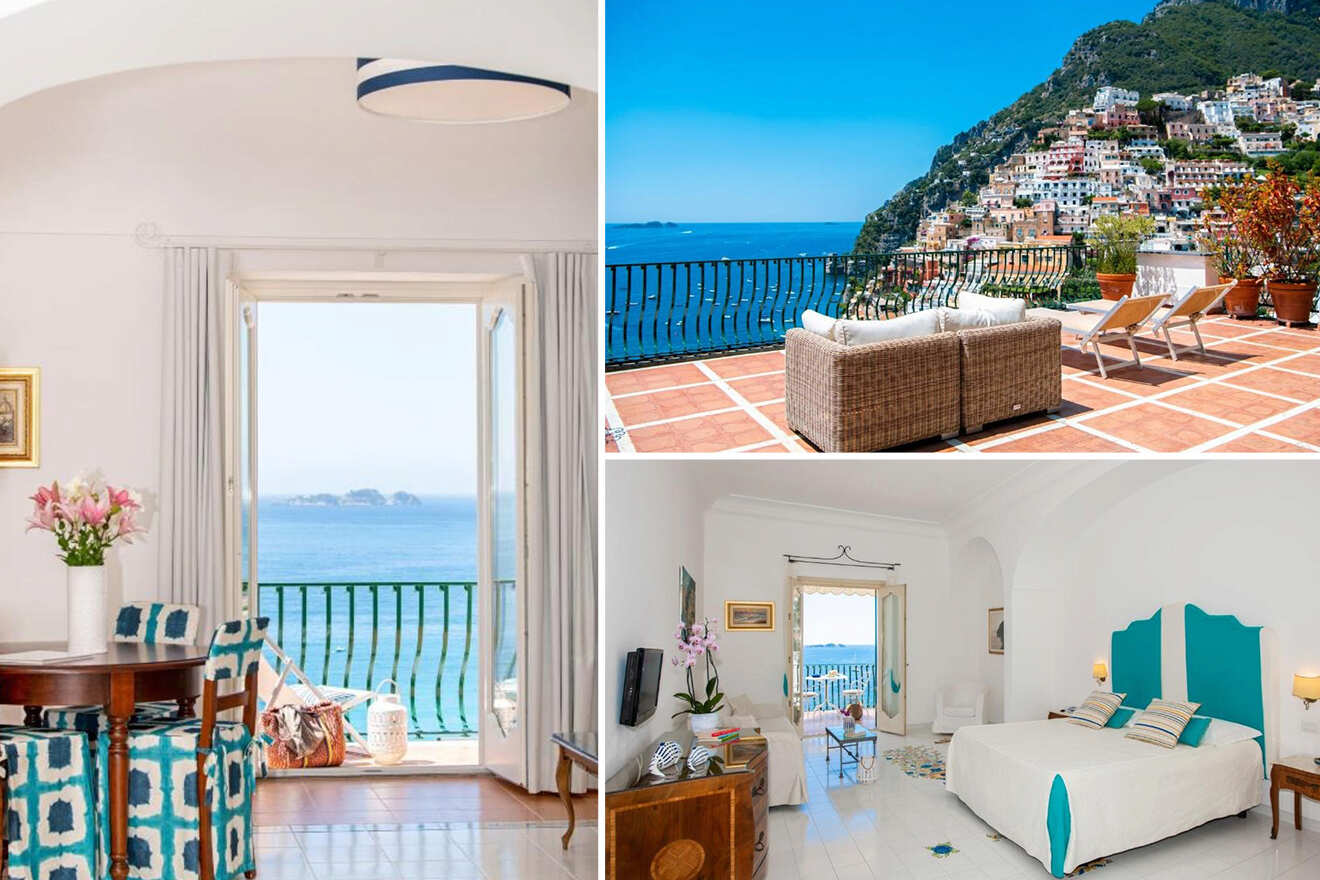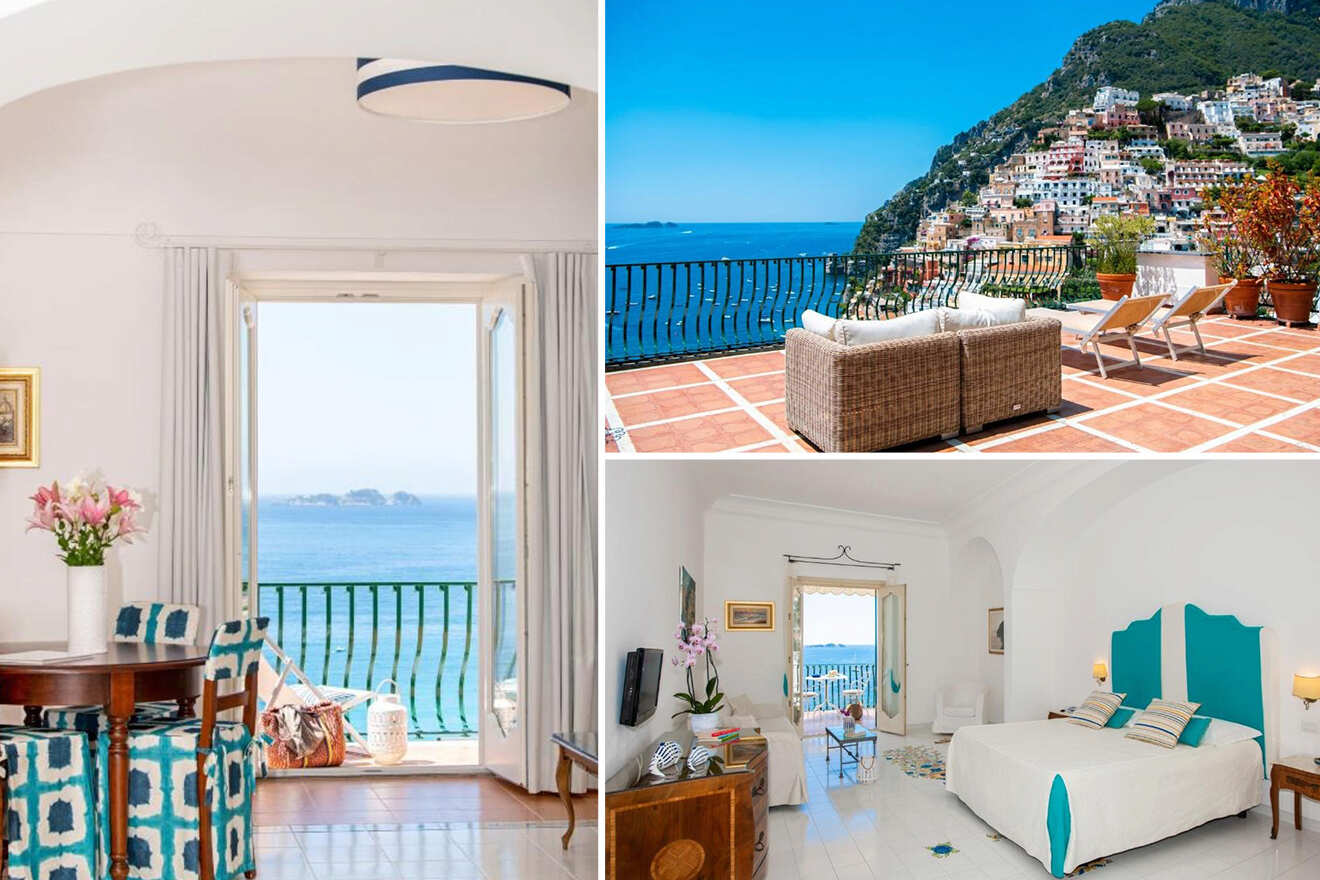 Located right above the Tyrrhenian Sea and not too far from the beach, this accommodation offers super spacious rooms with free wifi. If you're tired after all the exploring that you've been doing around town, then I highly recommend spending a lazy morning on the terrace of the hotel.
Get yourself a good book, or just sunbathe for a while and enjoy the views of the colorful little houses that can be seen from afar. That's one of the iconic Positano sights that you don't want to miss!
13. Villa Yiara – located in an 18th-century building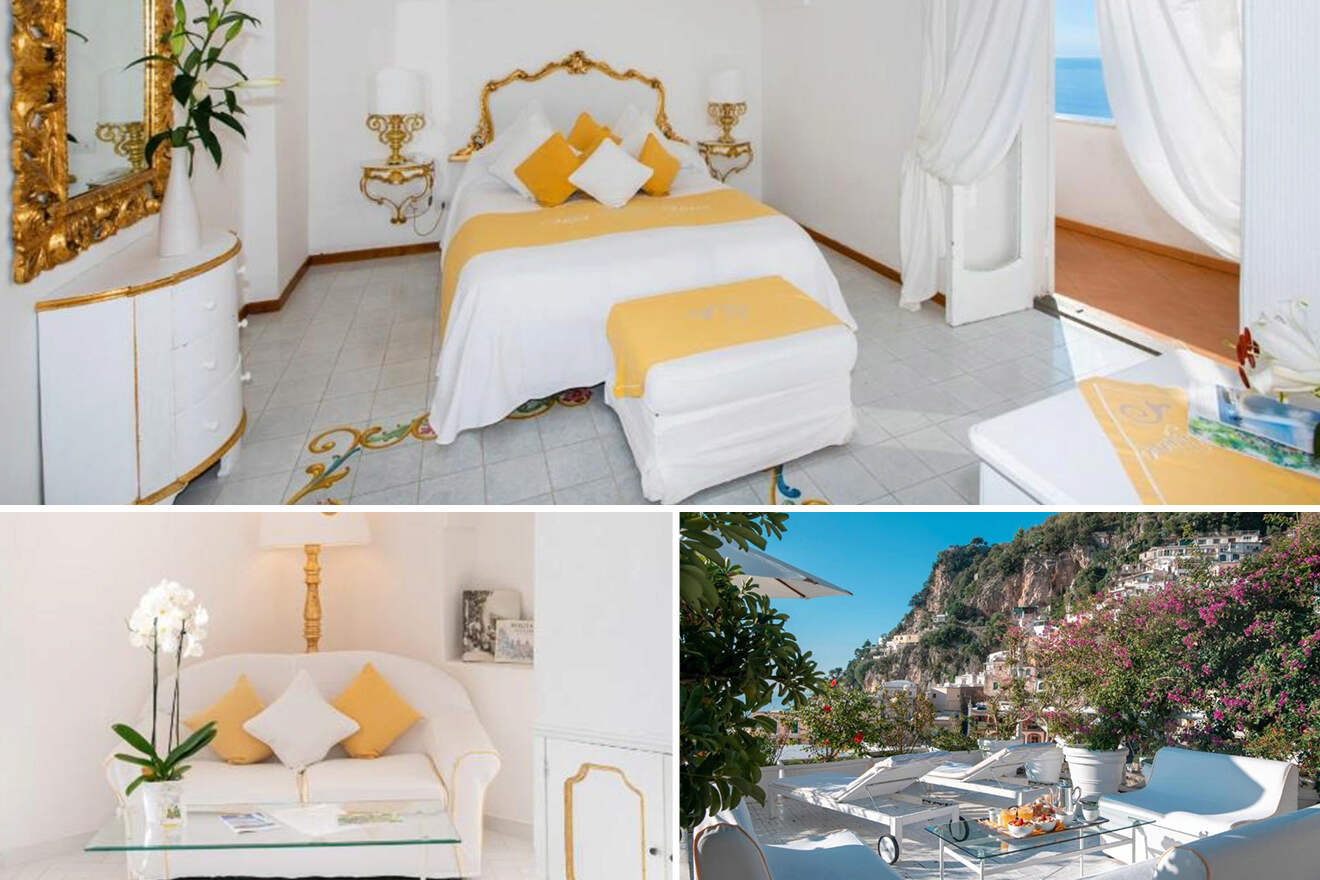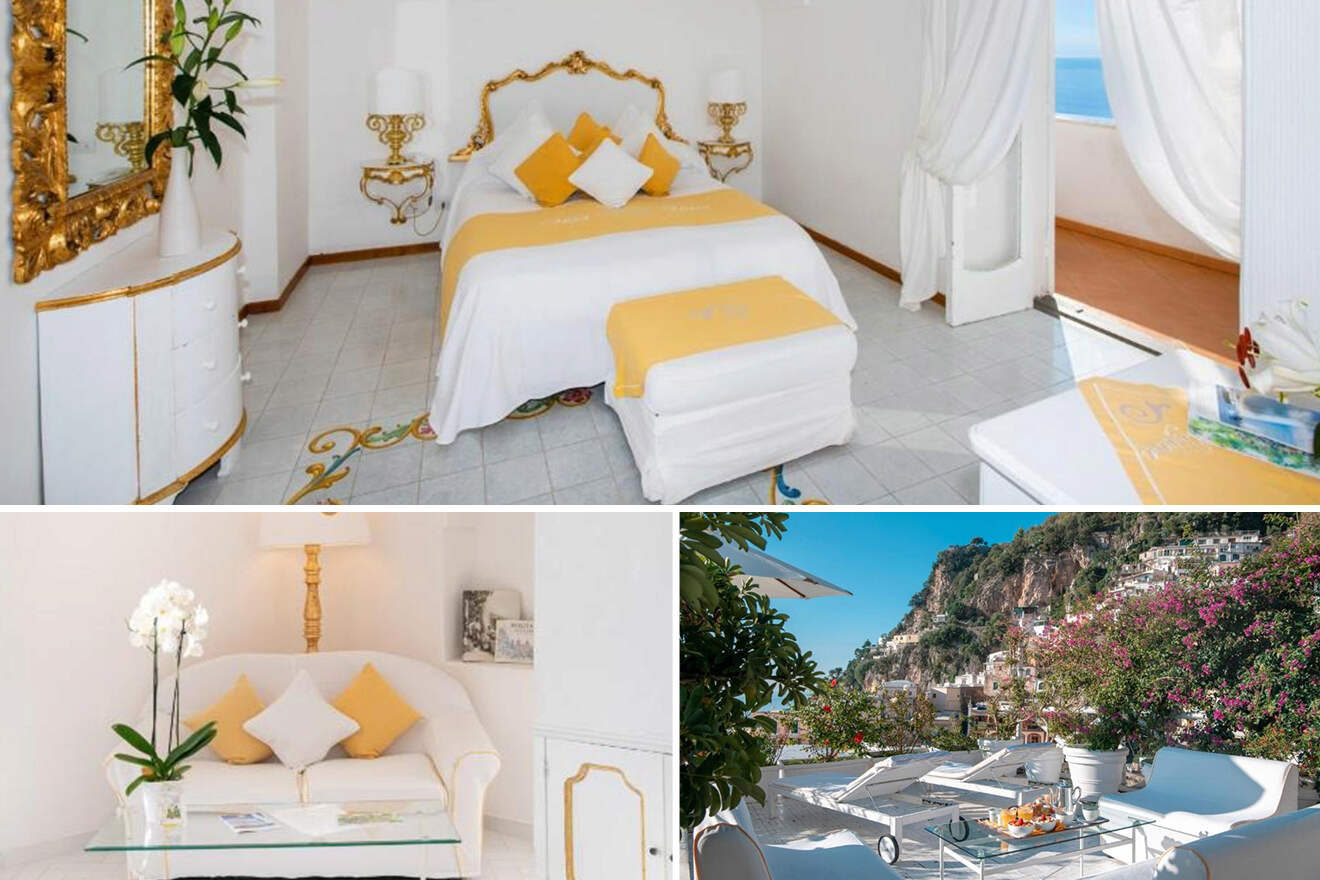 Surrounded by beautiful flowers and Positano Bay, this hotel is located in an 18th-century building just a short walk away from the beach. The all-white decor and the chandeliers will make you feel as if you're staying in an old Italian Palace!
The rooms have a balcony from where you can admire the views and they are equipped with a private bathroom, free wifi and some of them even have a spa bath! Just as the sun rises, order a cup of coffee and some breakfast and enjoy that morning tranquility before everyone starts their busy holiday schedules!
14. Hotel Villa Gabrisa – perfect for a romantic getaway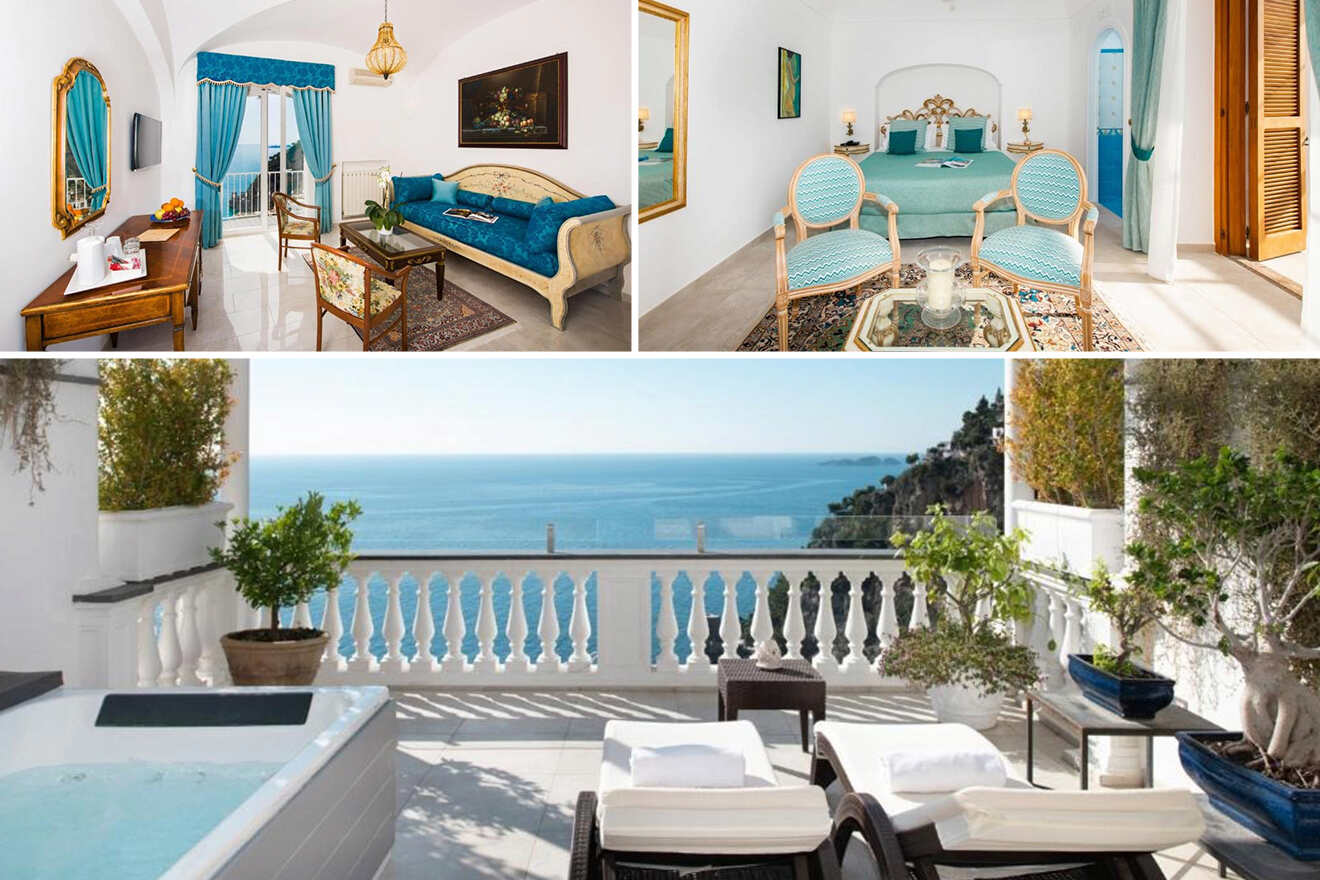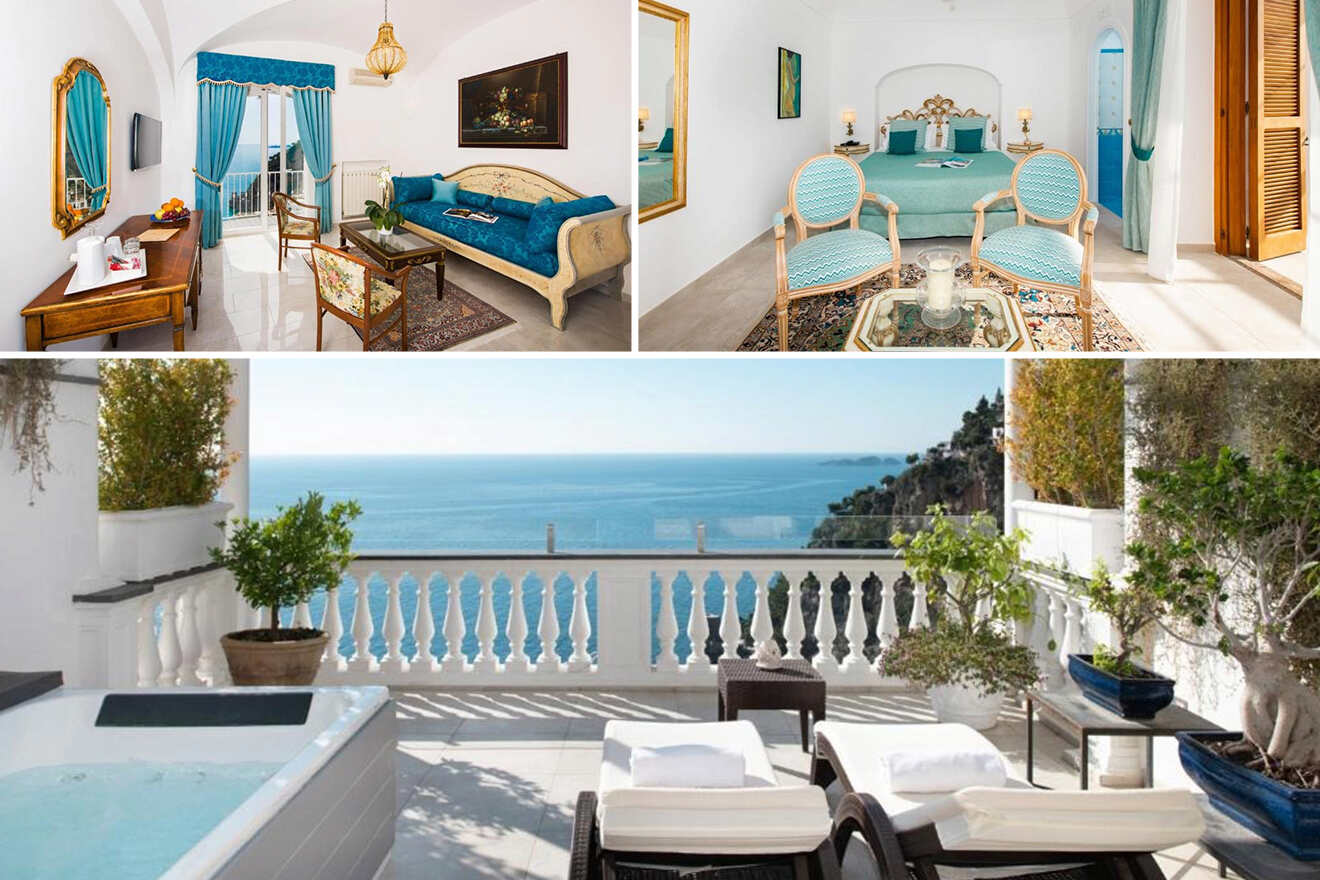 This villa is perfect for anyone who is not such a big fan of the crowds. With only 12 guest rooms, Villa Gabrisa is perfect for your tranquil holiday to Positano. Although the food in Italy is delicious no matter what, trust me when I tell you that it will taste different when you have it on the terrace that overlooks the sea and the coast, add a glass of wine, a candle and you've yourself a romantic set-up for you and your partner!
Frequently asked questions about Positano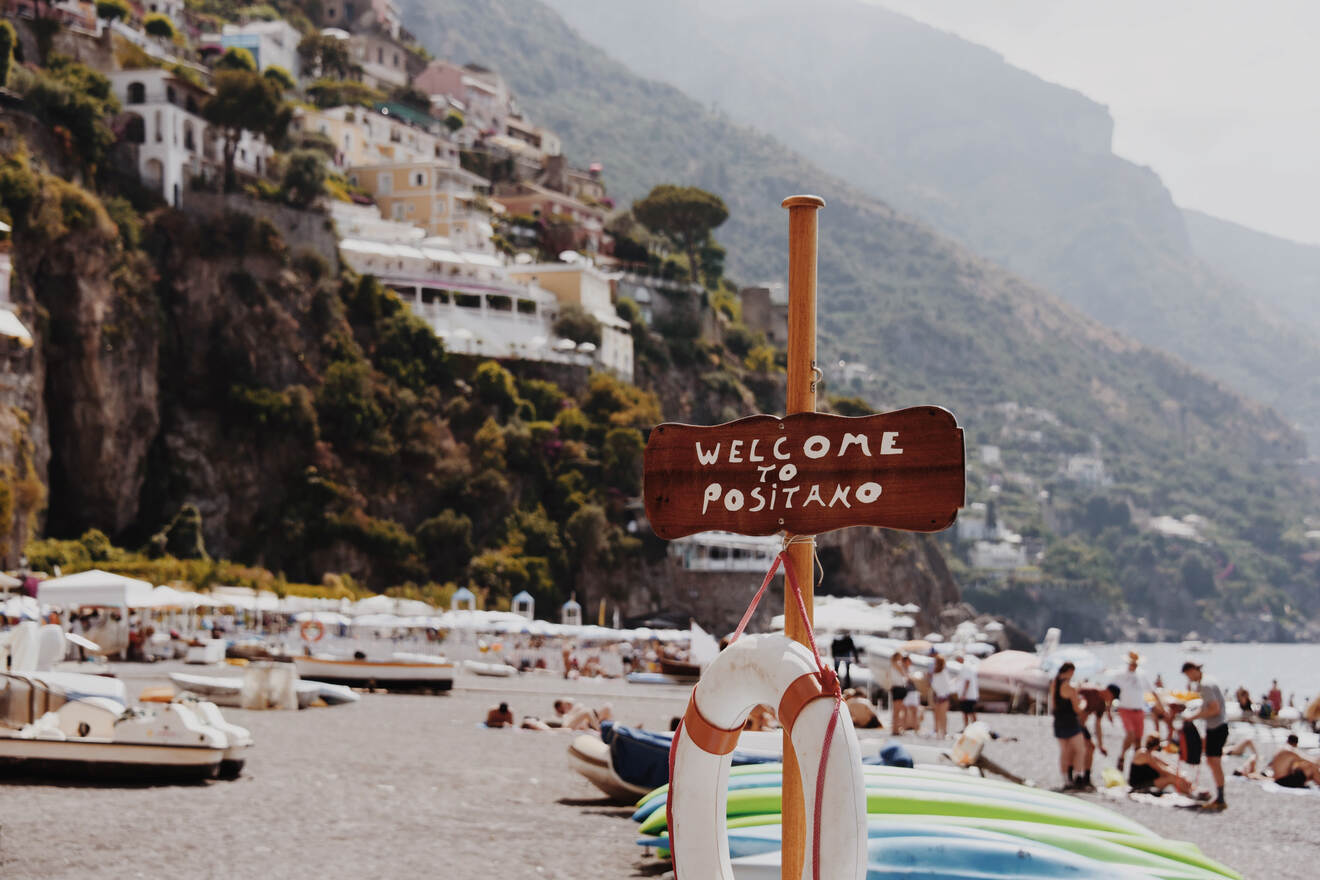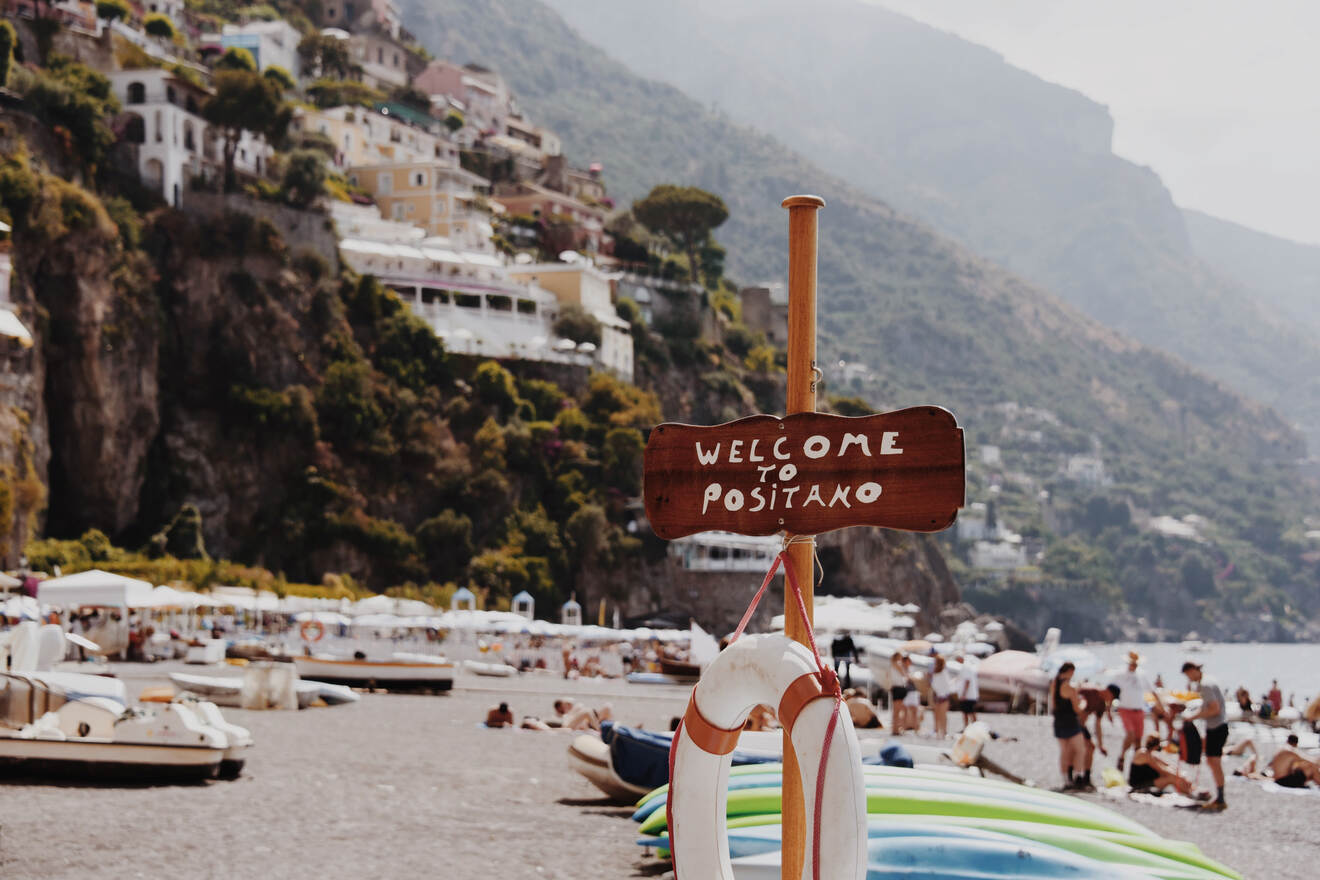 🌊 What is the best neighborhood to stay in when visiting Positano?
Lower Positano is the best neighborhood to stay in when visiting Positano as you'll be close to the beach and to the center of the town. 
📸 Where do celebrities stay in Positano?
Le Sirenuse is one of the best luxury hotels in Positano and where all the celebrities like Reese Witherspoon, Kylie Jenner, and many others stay.
💰 Is it expensive to stay in Positano?
Yes, the holidays in Positano usually tend to be quite expensive as the area is super exclusive and celebrities frequent it.
🏨What is the most expensive hotel in Positano?
Le Sirenuse is the most expensive hotel in Positano, the famous accommodation has opened its doors for many celebrities and it has amazing facilities including an oyster bar and a fancy restaurant. 
Conclusion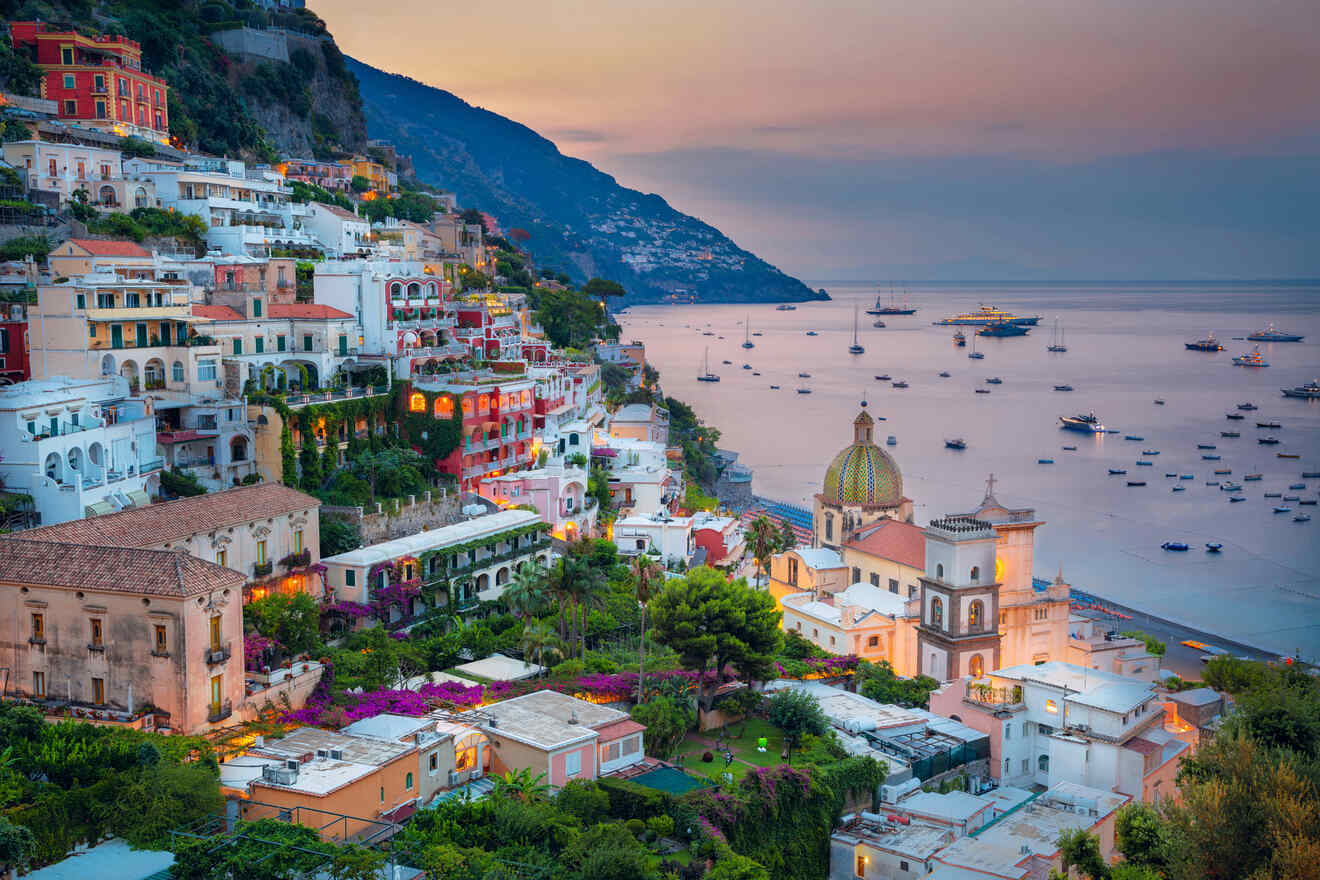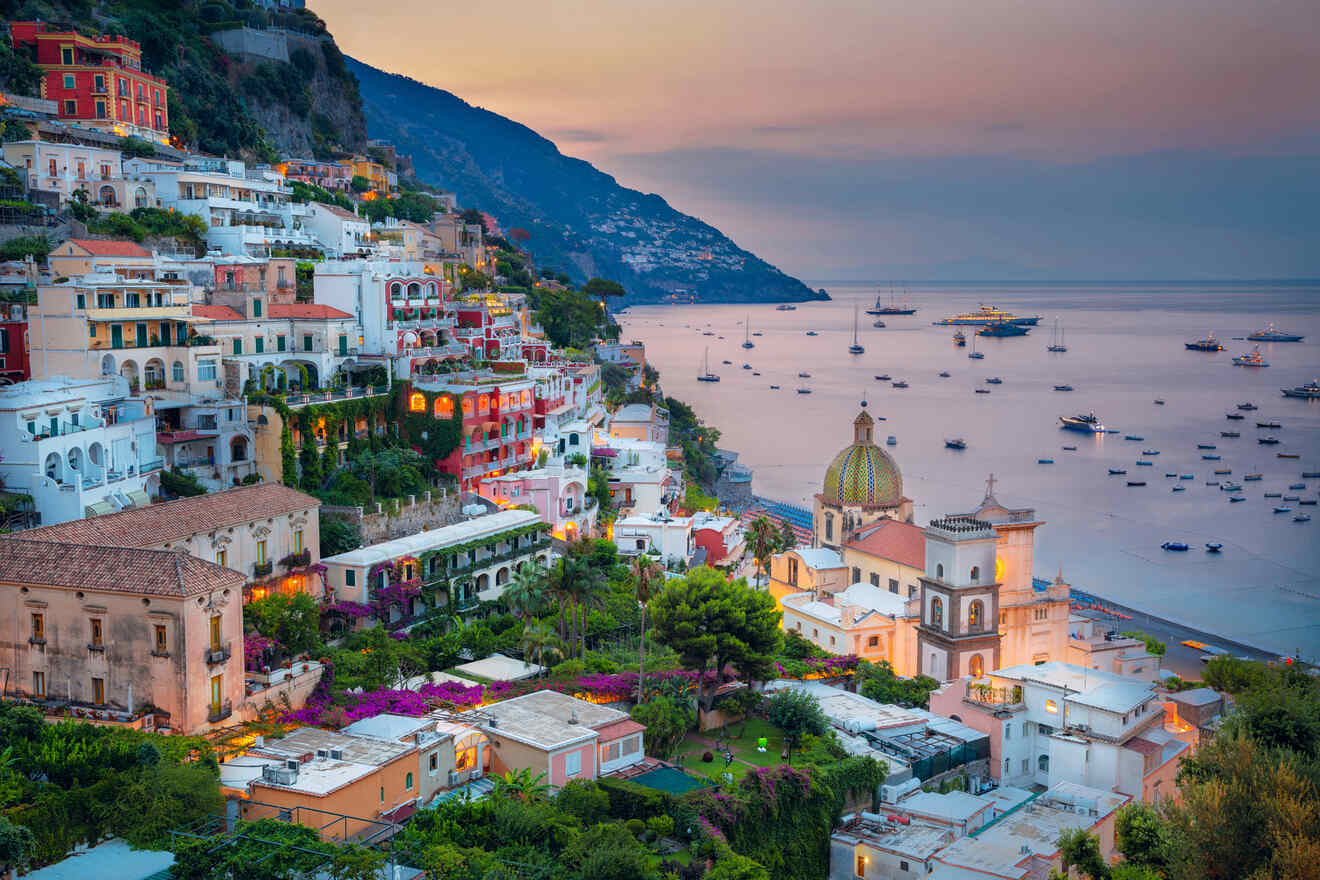 What a beautiful place! I hope this post helped you decide which are the best Positano luxury hotels for you.
There are so many amazing options here and it can be hard to decide so here are my top 2 favorite ones:
One thing to keep in mind is that the hotels here sell out in a second, especially during the high season, so I highly recommend booking in advance to get your hand on your favorite one!
Enjoy your Italian adventure, go on boat rides, relax in the garden of your boutique hotel and eat as much of their delicious food as you can at a lovely restaurant set on a cliff above the Tyrrhenian sea. I love Italy and I want to hear all about your trip to the Amalfi Coast, so leave me a comment below and I'll make sure to answer it!
Safe Travels,
Victoria
---
Pin it for later!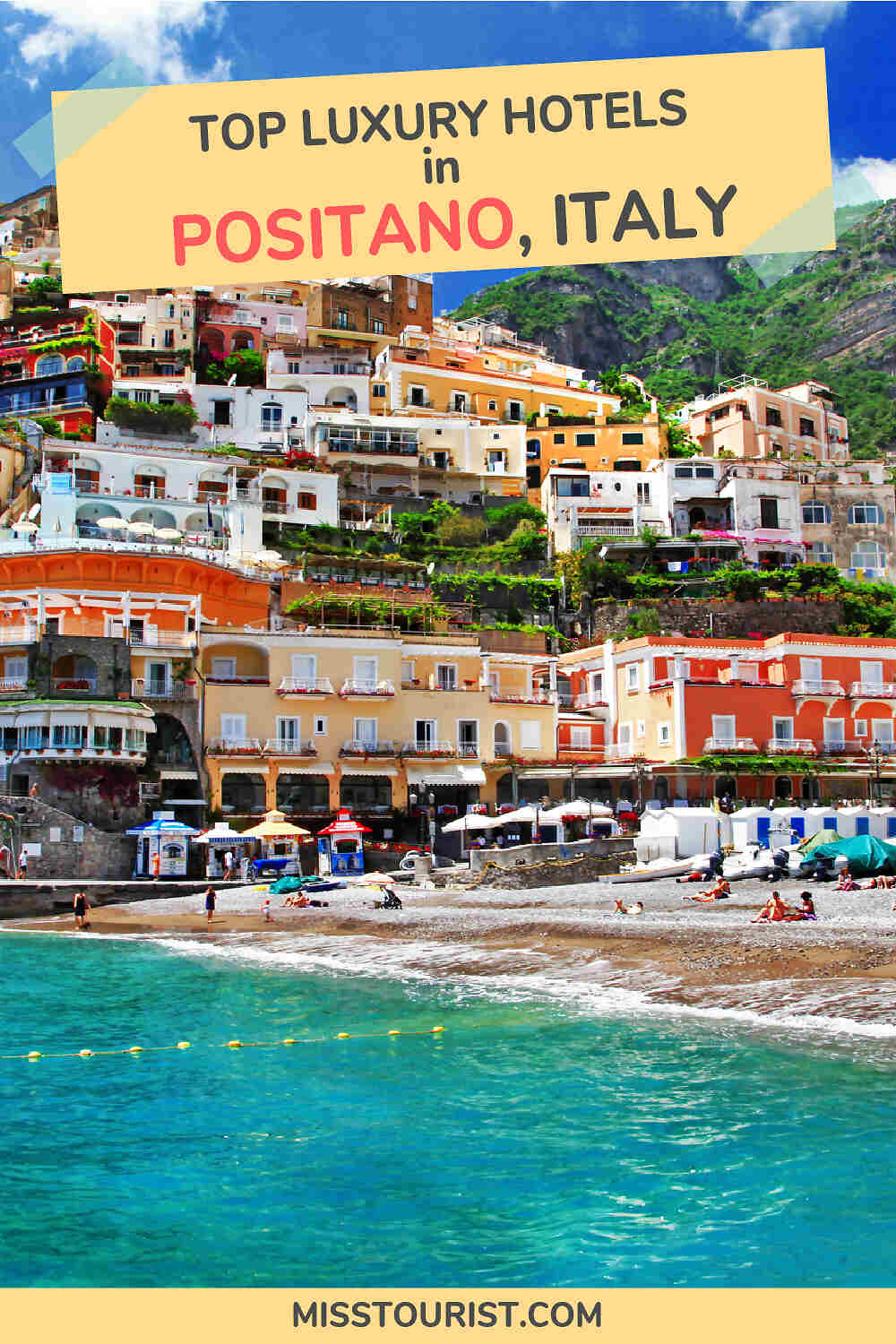 Pin it for later!