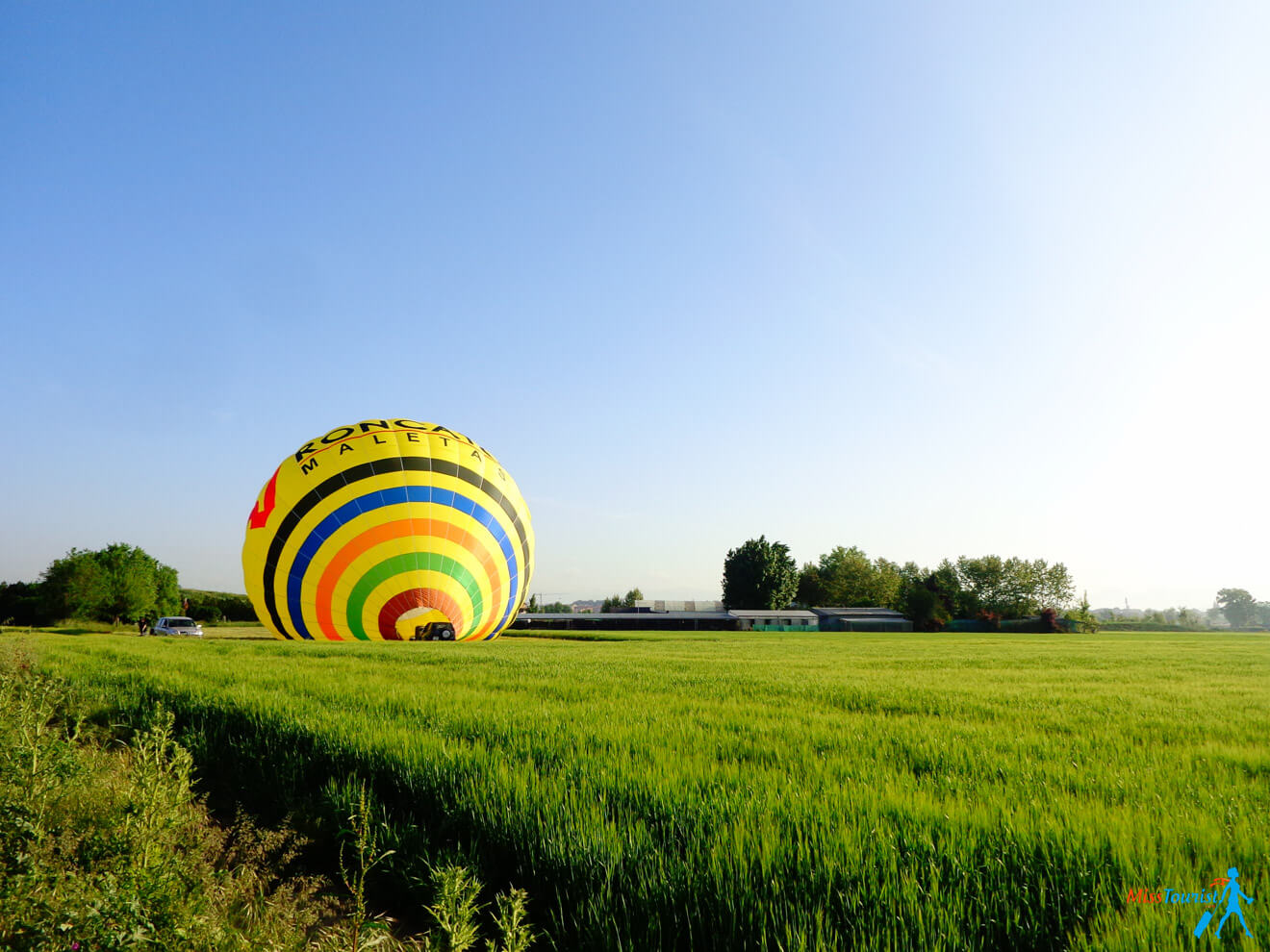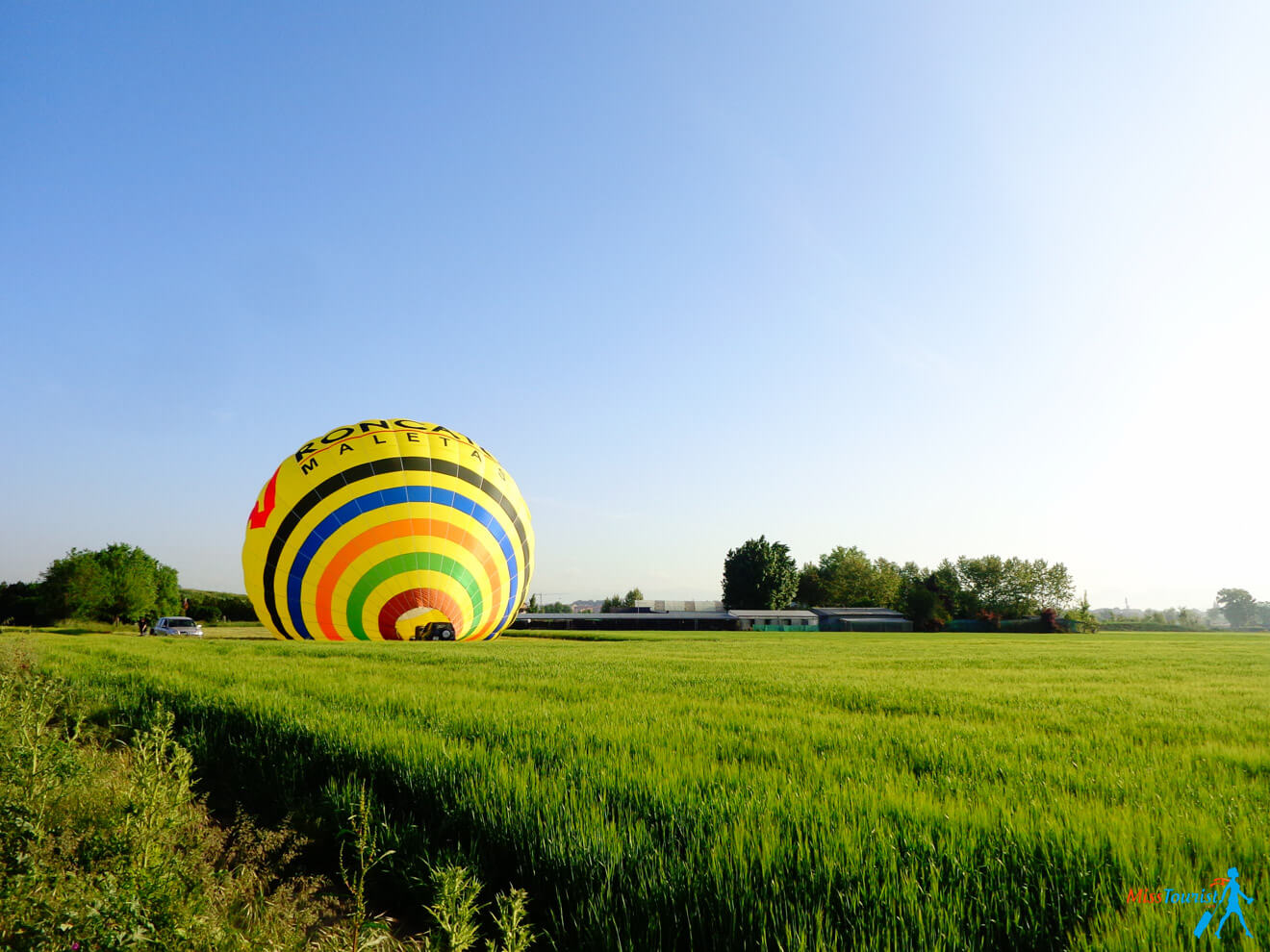 If you have visited all the main attractions in Barcelona already, it's time to hit the road and go explore other areas with the best day trips from Barcelona, Spain!
What if I tell you there are some equally awesome things outside of Barcelona?
After spending several months in the city and its surroundings, I must confess, you should spend at least a day or two doing a day trip from Barcelona to the great attractions outside of it and get away from the hustle and bustle of the big city! You won't regret it a bit!
Some extremely beautiful cities close to Barcelona are Figueres, Sitges, Lloret de Mar and more, which you will discover in the article below!
The awesome attractions I am going to talk about are close enough to Barcelona to make it a day tour and none of them are crowded. Ok, except one of them, but I will share some excellent tips on skipping the line there, too!
Shall we begin? Here are the 8 best day trips from Barcelona, Spain:
First of all, here is a map showing all of the places I am recommending: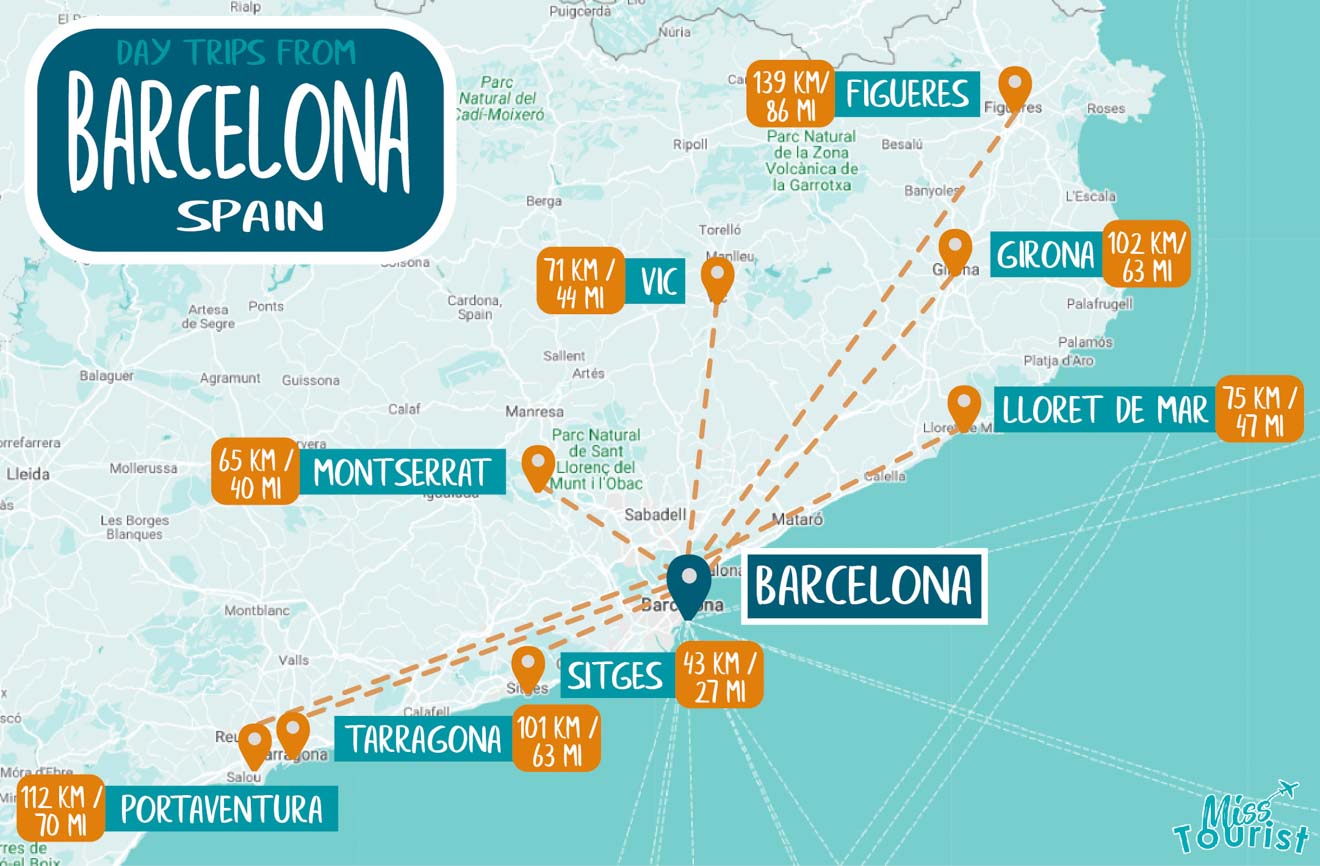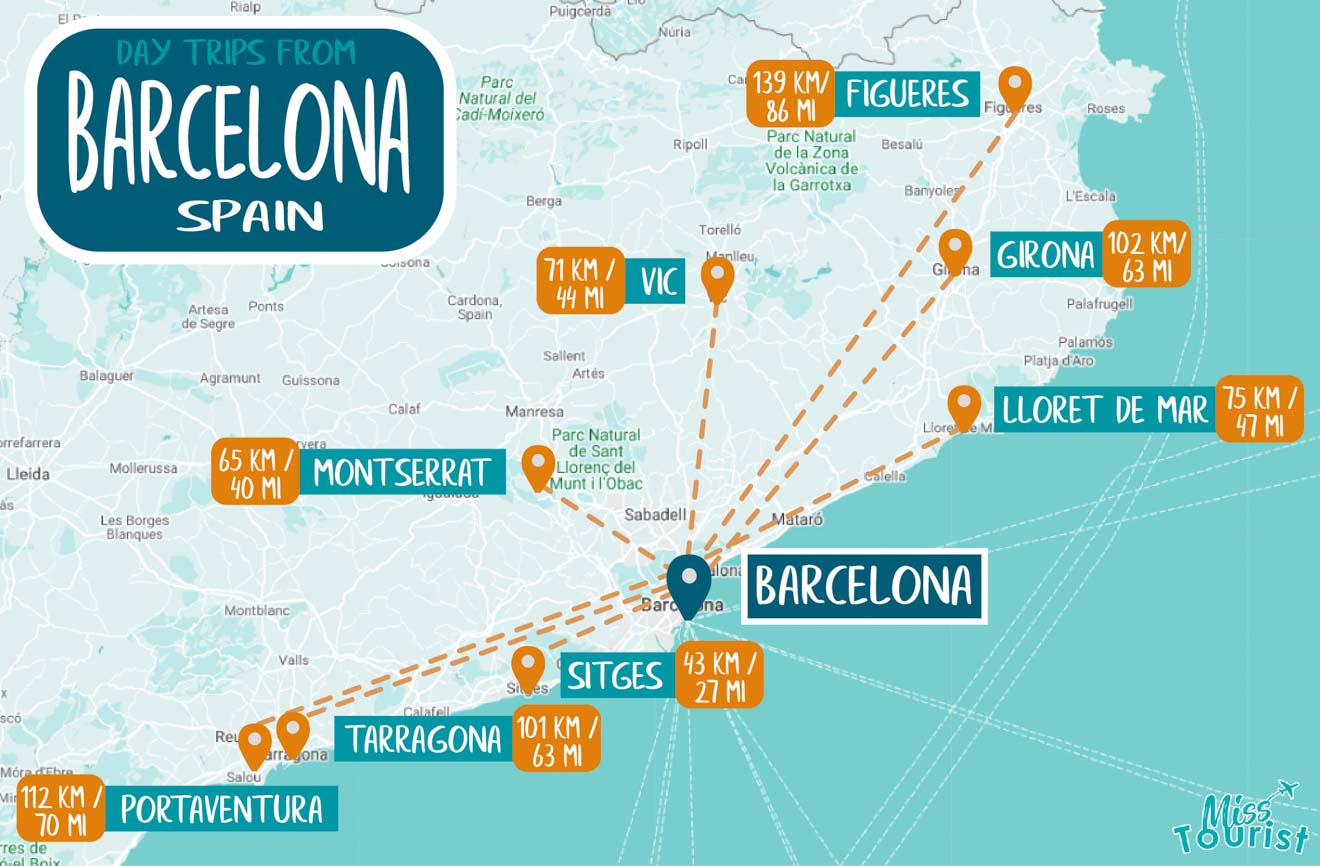 1. Montserrat
Montserrat Mountain is a one-of-a-kind mountain and its "personality" is defined by its serrated rows of peaks that resemble rounded needles or fingers. Montserrat is great if you're looking for short day trips from Barcelona! If you don't have time to see the Pyrenees, this is the next best thing!
It is unique not only because of its geology but also because of the ancient Montserrat monastery that is nestled at the base of the mountain. (The literal translation of Montserrat is "serrated mountain"). In the monastery, you can see the shrine and the Black Madonna or listen to the boys' choir singing the Virolai (held daily at 1:00 PM).
How to get to Montserrat from Barcelona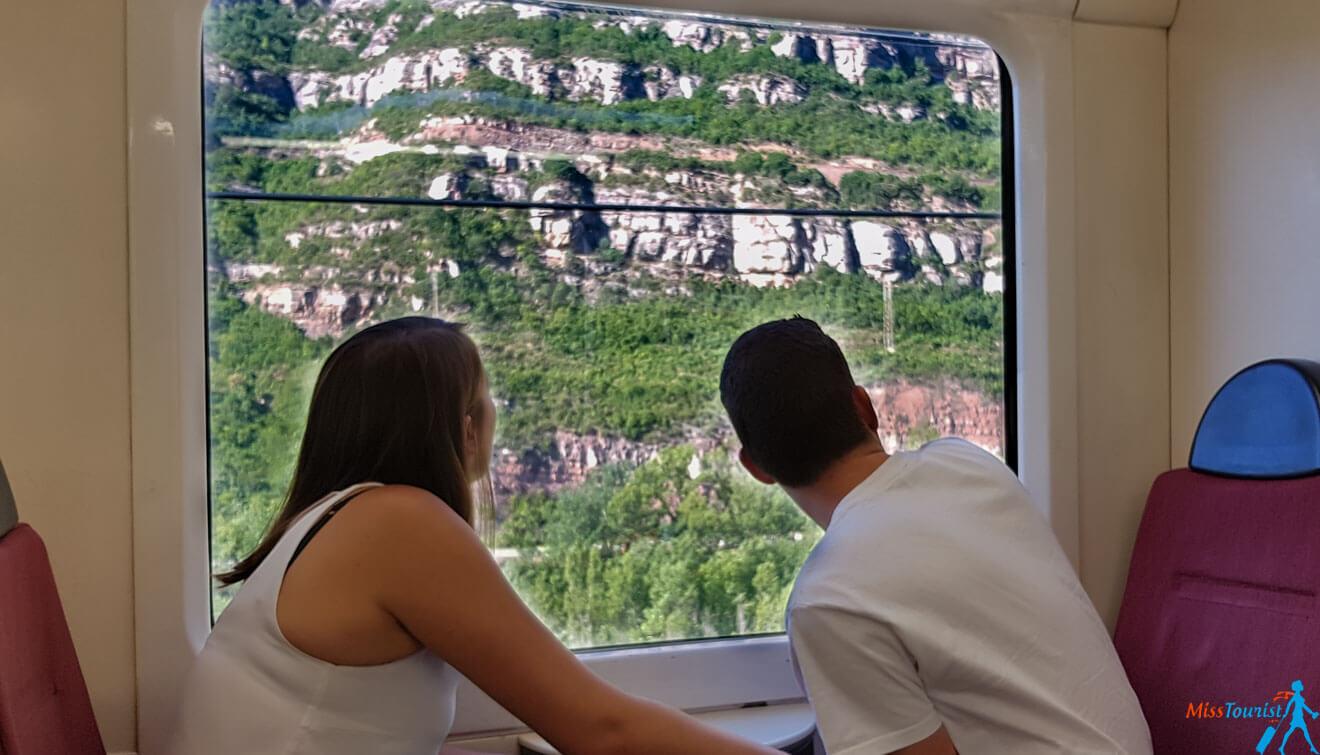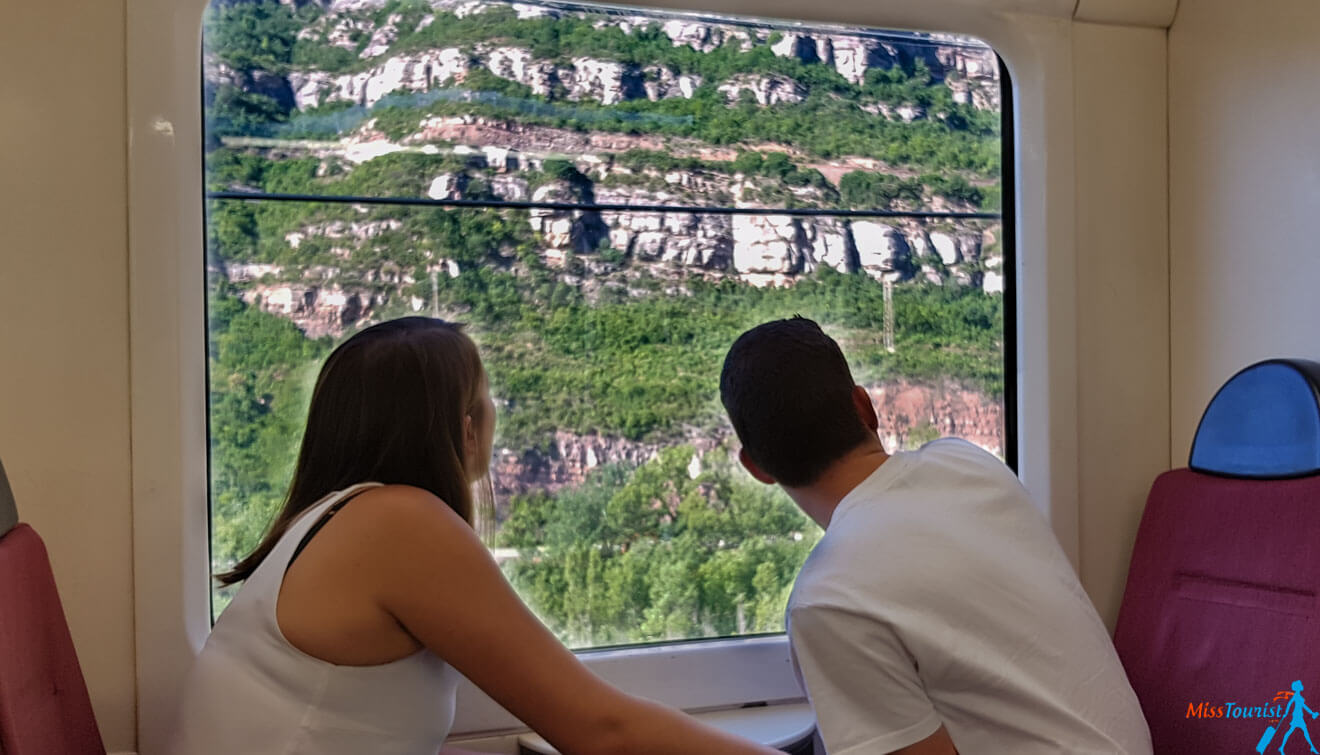 Getting from Barcelona to Montserrat is easy and fast, but it can be quite confusing for tourists at first because there are three ticket options. In addition to transportation, the ticket options include the following:
| | | |
| --- | --- | --- |
| Trans Montserrat ticket | Tot Montserrat ticket | Montserrat Express |
| Roundtrip metro ride | Roundtrip metro ride | Roundtrip train to Montserrat |
| Roundtrip Train from Barcelona to Montserrat | Roundtrip train to Montserrat | An audio guide in 8 languages |
| Roundtrip ticket for Cremallera/Aeri | Roundtrip ticket for Cremallera/Aeri | A backpack with carquinyolis – typical biscuits |
| Unlimited use of the funiculars | Unlimited use of the funiculars | Discount codes for the amenities on the site |
| Entrance to the audiovisual exhibit "Montserrat behind closed doors" | Entrance to the audiovisual exhibit "Montserrat behind closed doors" | Liqueur tasting |
| | entrance to Montserrat museum | |
| | all-you-can-eat-lunch at the self-service restaurant in Montserrat | |
| 33,50€ | 52,90€ | 36,90€ |
Choose your preferred ticket and buy it at the train station at Placa Espanya (or you can buy it online in advance following the links above).
NOTE: If you decide on buying your ticket at the station, please come 20 minutes or so before your train departure; the availability is not an issue as tickets do not have assigned seats.
You can check the updated schedule of trains from Barcelona to Aieri de Montserrat in advance here. The trains come about every hour. There is a ticket counter and a ticket machine to choose from to buy your tickets and credit cards are accepted too!
By the way, the return metro ride between any metro station and Plaça Espanya is free of charge if you chose "Trans" or "Tot". Choose which type of train you want to take to Montserrat, either cable car OR rack railway to go up the mountain (I will explain the difference below). Once you've reached your destination, you can take unlimited rides on funiculars there!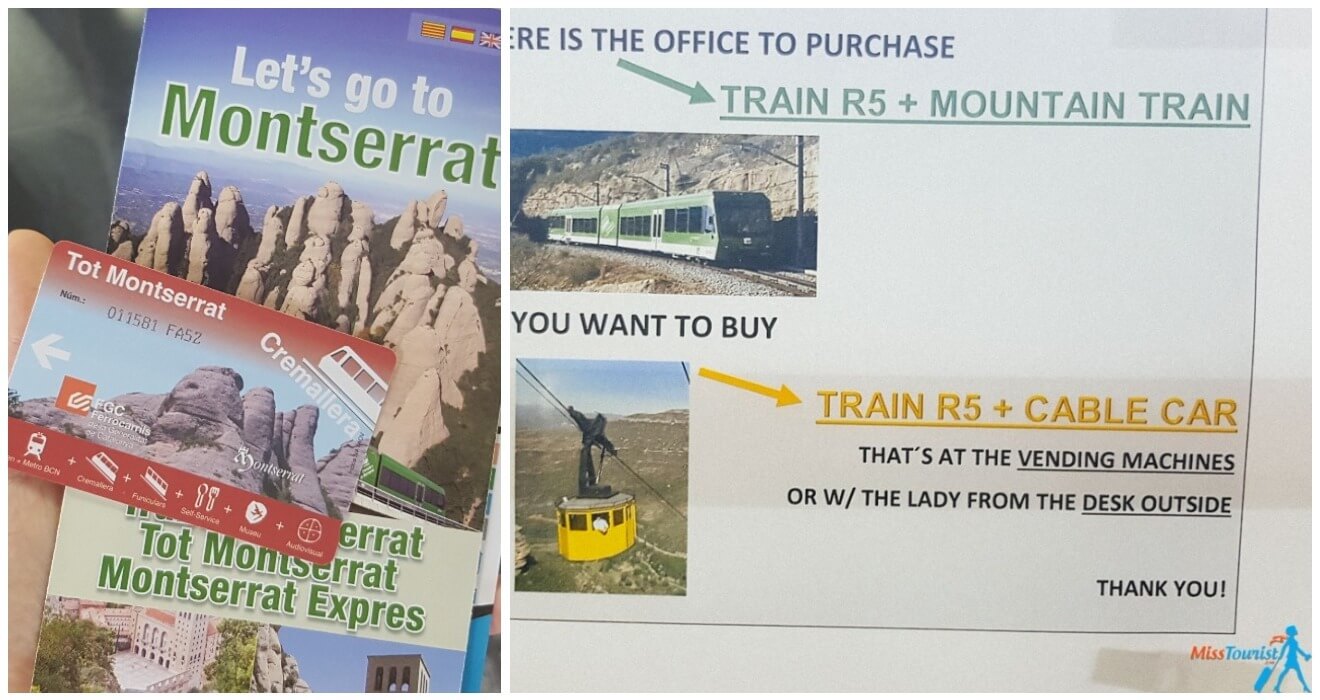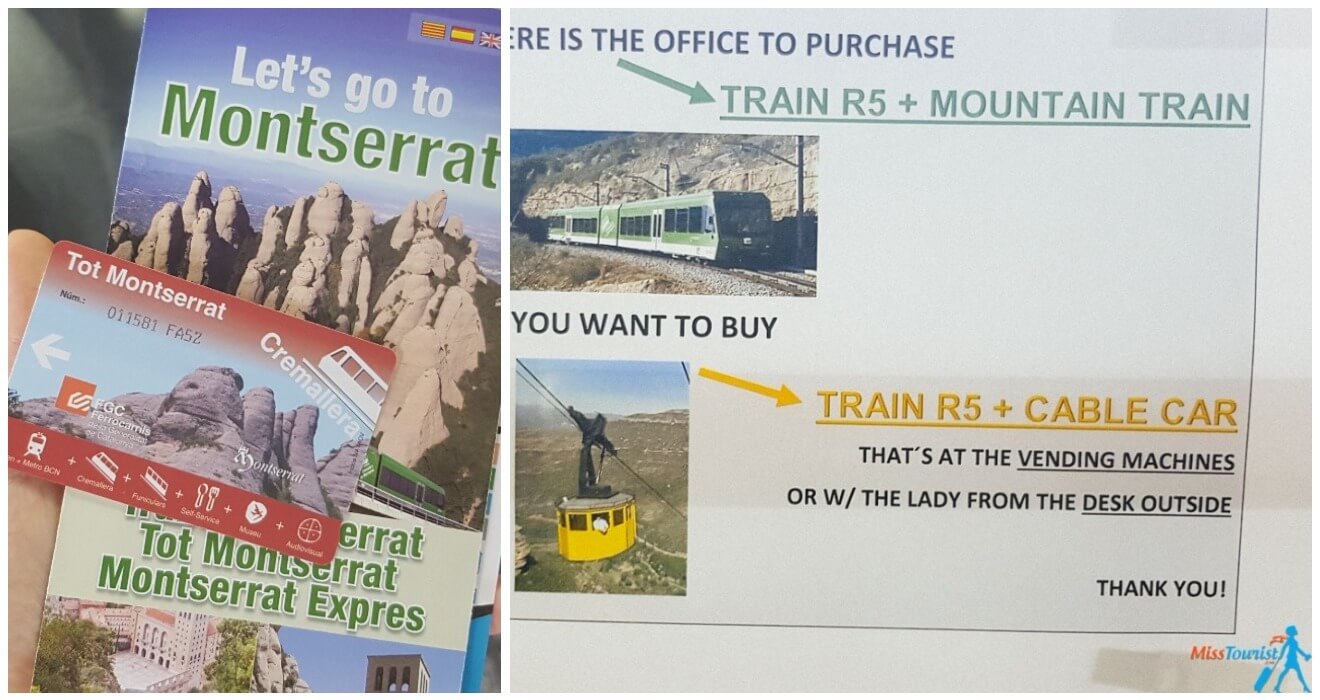 MY EXPERIENCE: I chose TOT Montserrat (TOT means "All" in Spanish), and I can say it is definitely worth the extra 18€ – the lunch buffet was delicious and unlimited (you will get hungry during the day, trust me!) and the museum was fantastic too!
Tot and Trans tickets are good for any day; there is no specific date on your ticket when you purchase it. This is good as you can change your mind and go a day earlier or later if it is raining, for example.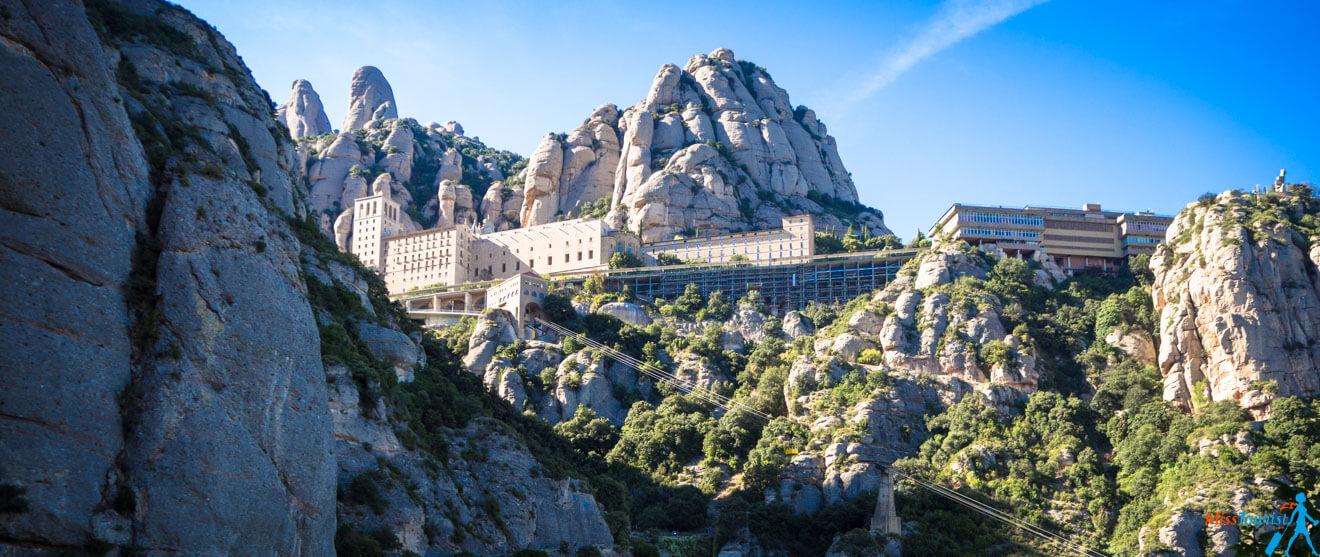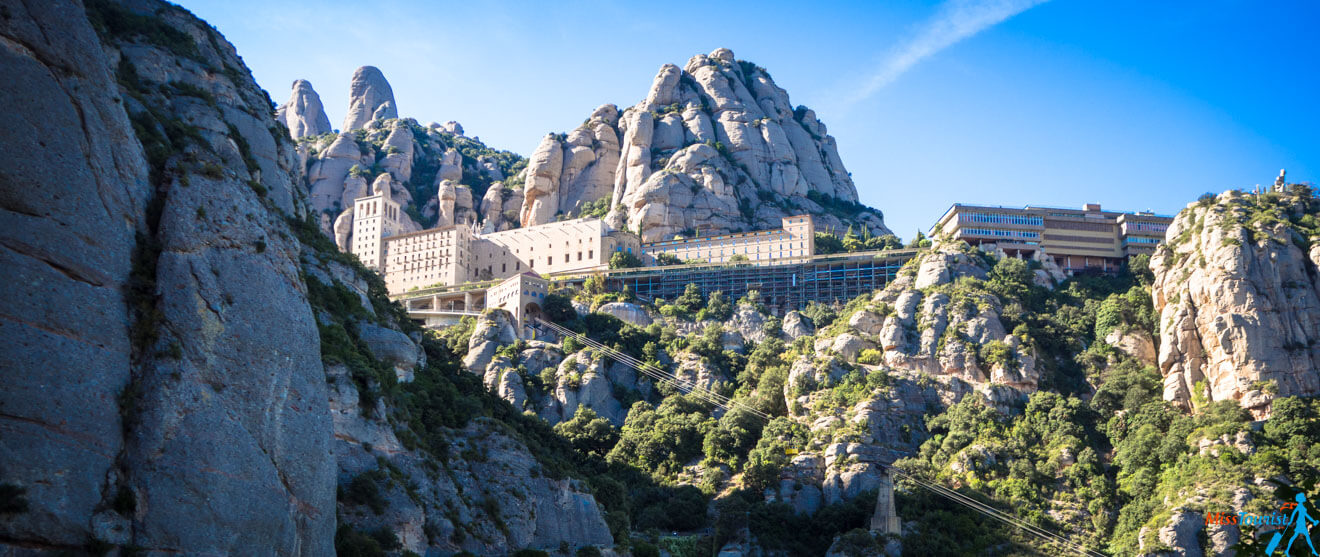 Now, let me tell you about choosing the type of train that I mentioned earlier:
Cable car or Rack railway (Cremallera)?
Do not repeat my mistake, read this part very carefully and you will save yourself some money!
When you board the Montserrat train at Placa Espanya, there is just 1 train that goes to Montserrat, so everything should be clear until then.
But in order to get up to the mountain, you need to get off the train at some point and then take either the cable car or rack railway. Here is the schedule for both of them just in case (but you will probably not need it as the schedule of the cable cars is aligned to the arrival time of the train from Barcelona).
Depending on what you choose, you will need to get off at different stations.
Montserrat Aeri stop for cable car (first stop of the train)
Monistrol de Montserrat stop for rack railway (second stop of the train)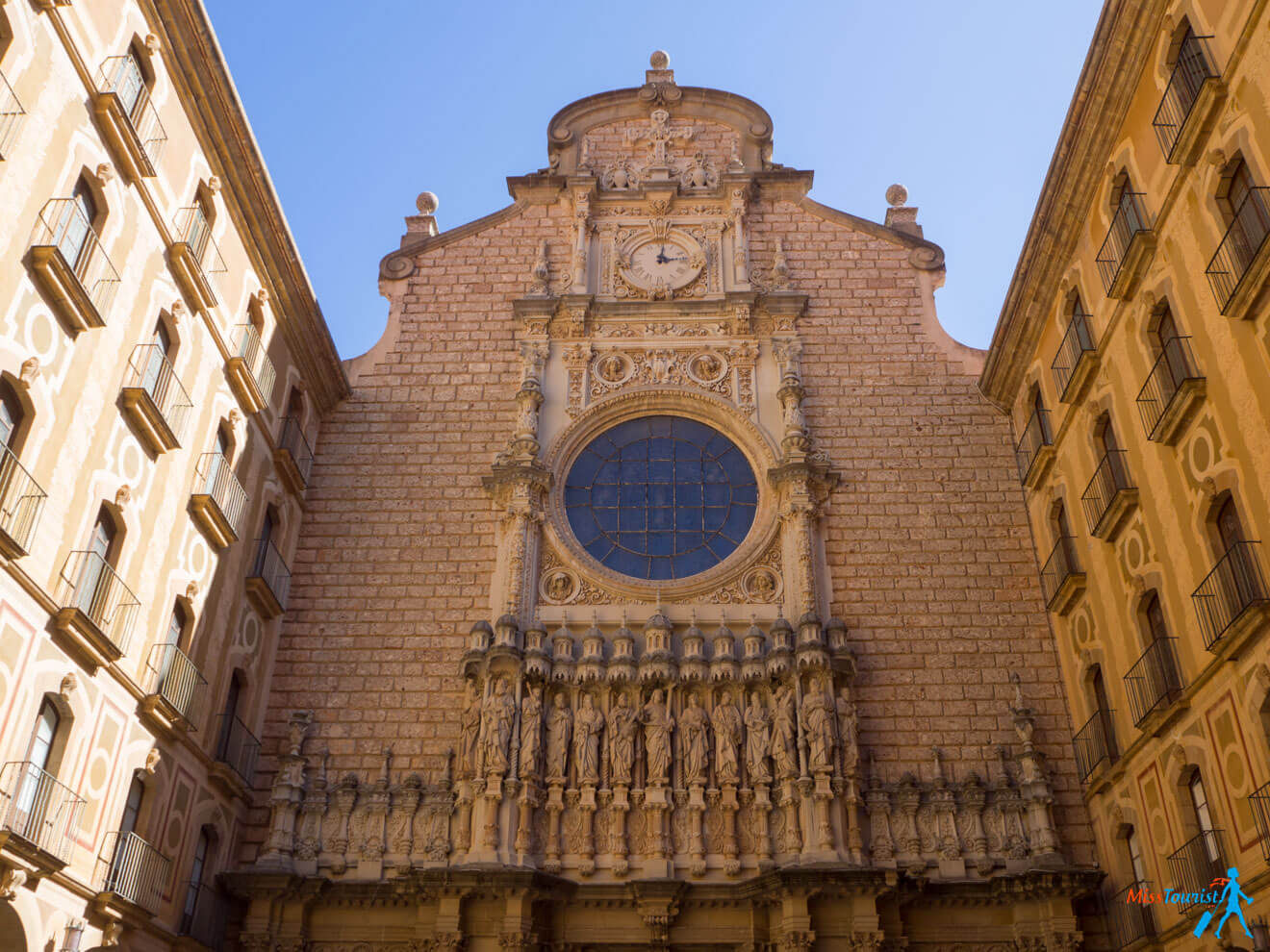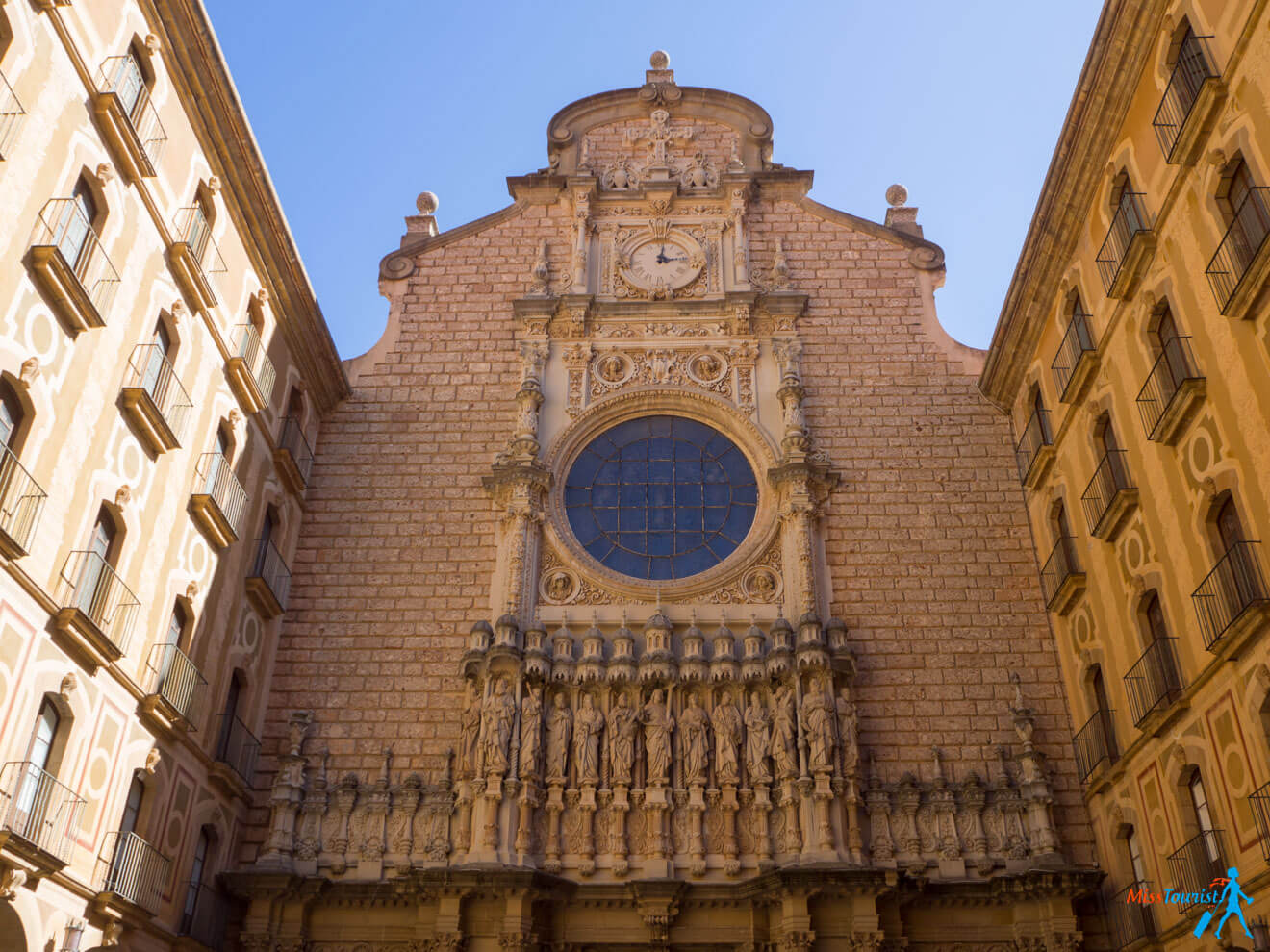 Because the companies that provide the service of bringing you up to the monastery are 2 different private companies, they don't really care if you got off one station earlier/later by mistake. If you bought a Rack Railway ticket you can only take it from Monistrol Montserrat stop, they can't provide the service if you mixed up the stops.
If you made a mistake and you got off Montserrat Aeri, not Monistrol Montserrat (I know, the name is so similar) with your Rack Railway ticket, you will either need to pay extra for the Cable Car ticket (around 7€ per person one-way), or wait for the next train ride (in 1 hour) from Barcelona to ride one extra stop to Monistrol de Montserrat.
I found this part very frustrating – I (and many other travelers) got off at the first stop by mistake, but our ticket said we chose Rack Railway. We could not waste 1 hour waiting for the train, so we had to pay the extra 7€ per person for the cable car ticket.
So, which one to choose in the end? Having tried both of them, I can say that Rack Railway (Cremallera) is better as it is more comfortable and you can sit down.
IMPORTANT: It is also good to choose Rack Railway because on the way back you will board the train back to Barcelona first (those who chose the cable car option will join the train 1 stop later). Most of them will probably not find an empty seat anymore, while you will be able to enjoy your seat for the whole duration of the ride.
NOTE: If you purchase the TOT Montserrat ticket, make sure to visit Museu de Montserrat. The museum features some of the great works of Dali, Monet, Picasso etc. The audio guide is 2,2€ and I recommend renting it.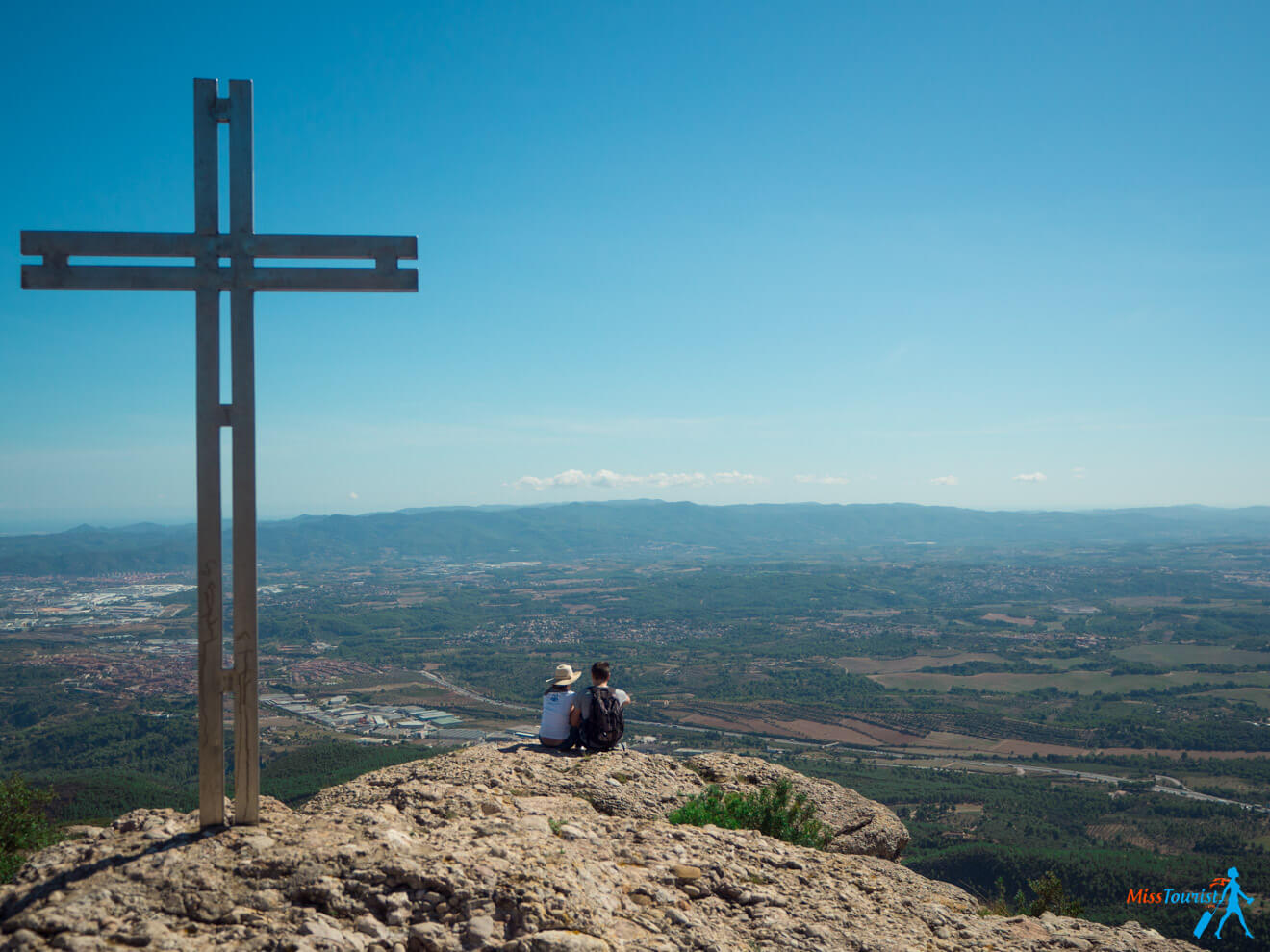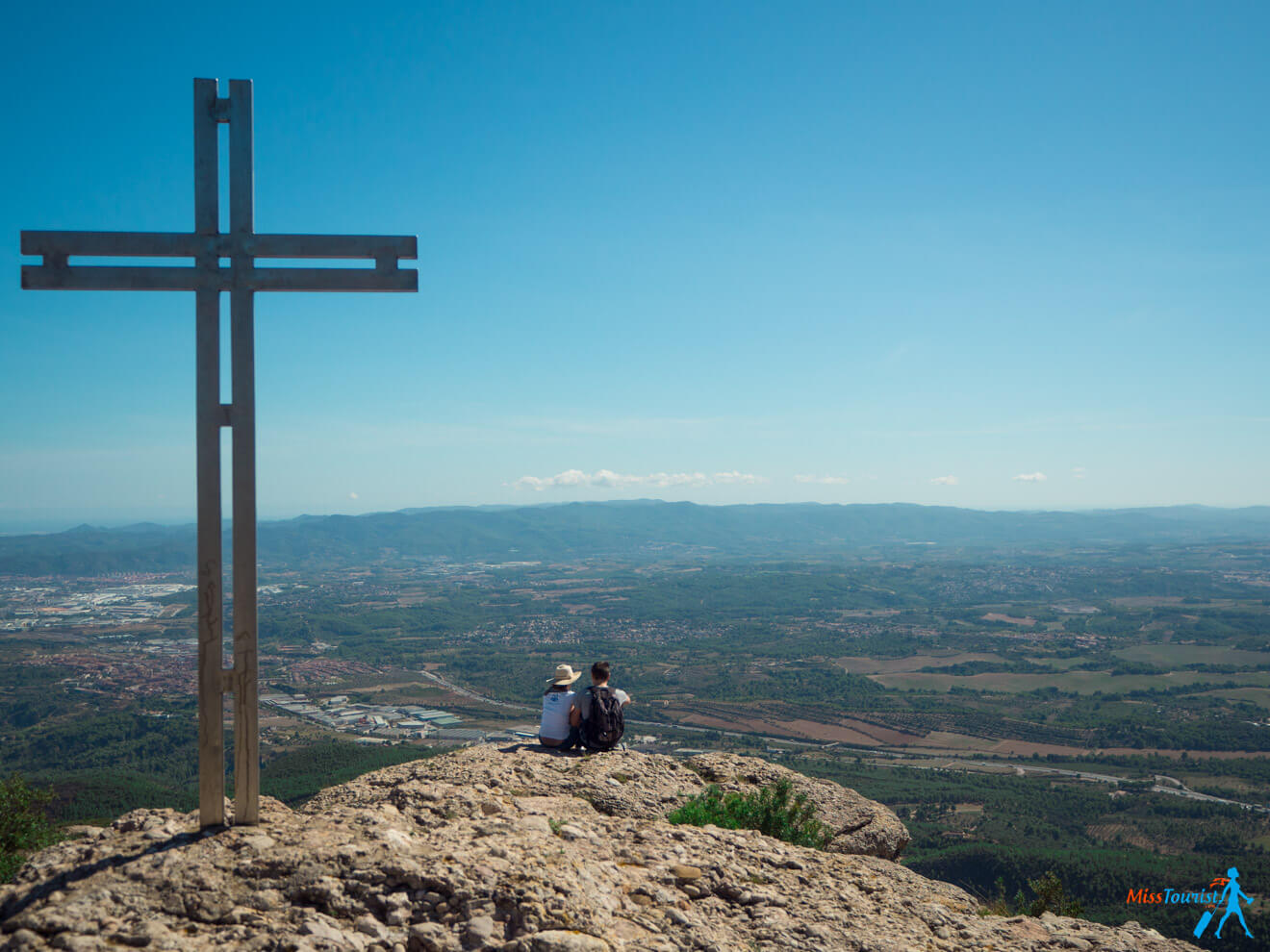 Food in Montserrat – There are restaurants where you can order food or snacks. If you purchase TOT tickets, an all-you-can-eat lunch with a great variety of food will be included with your Montserrat trip. If you do not want to buy the TOT Montserrat option, you can buy lunch separately – it is 15€ per person.
Transportation inside Montserrat – If you decide to take a Montserrat from Barcelona tour, be aware that there are two funiculars to take from the monastery, one going up, the other going down. When you take the funicular up, I recommend going back down by foot as it is a charming hike of about 50 mins – 1 hour that you will most definitely enjoy!
Hotels in Montserrat – You can stay in Montserrat overnight, there is a hotel called Abbat Cisneros, but it is booked months in advance. Book your stay here!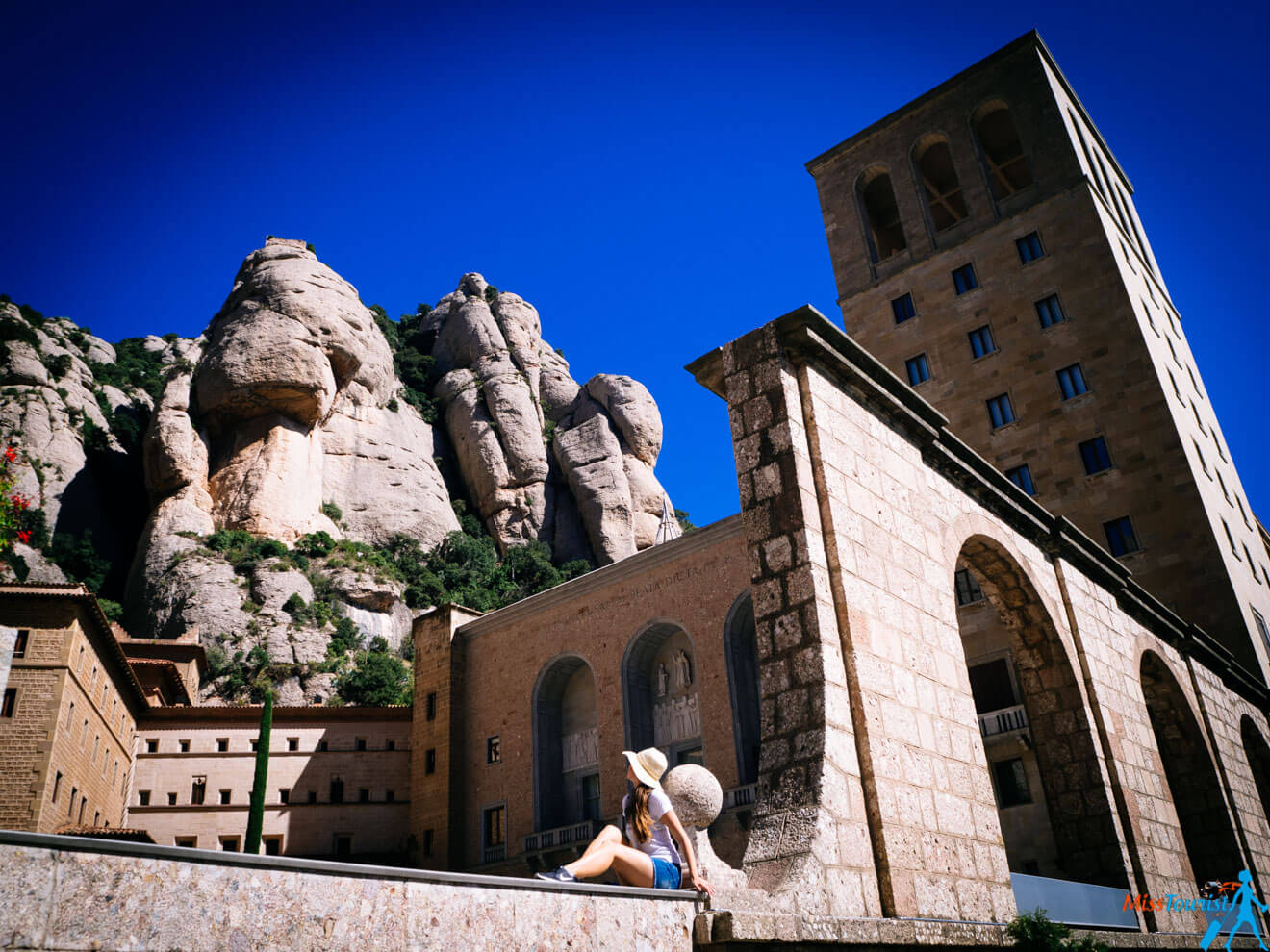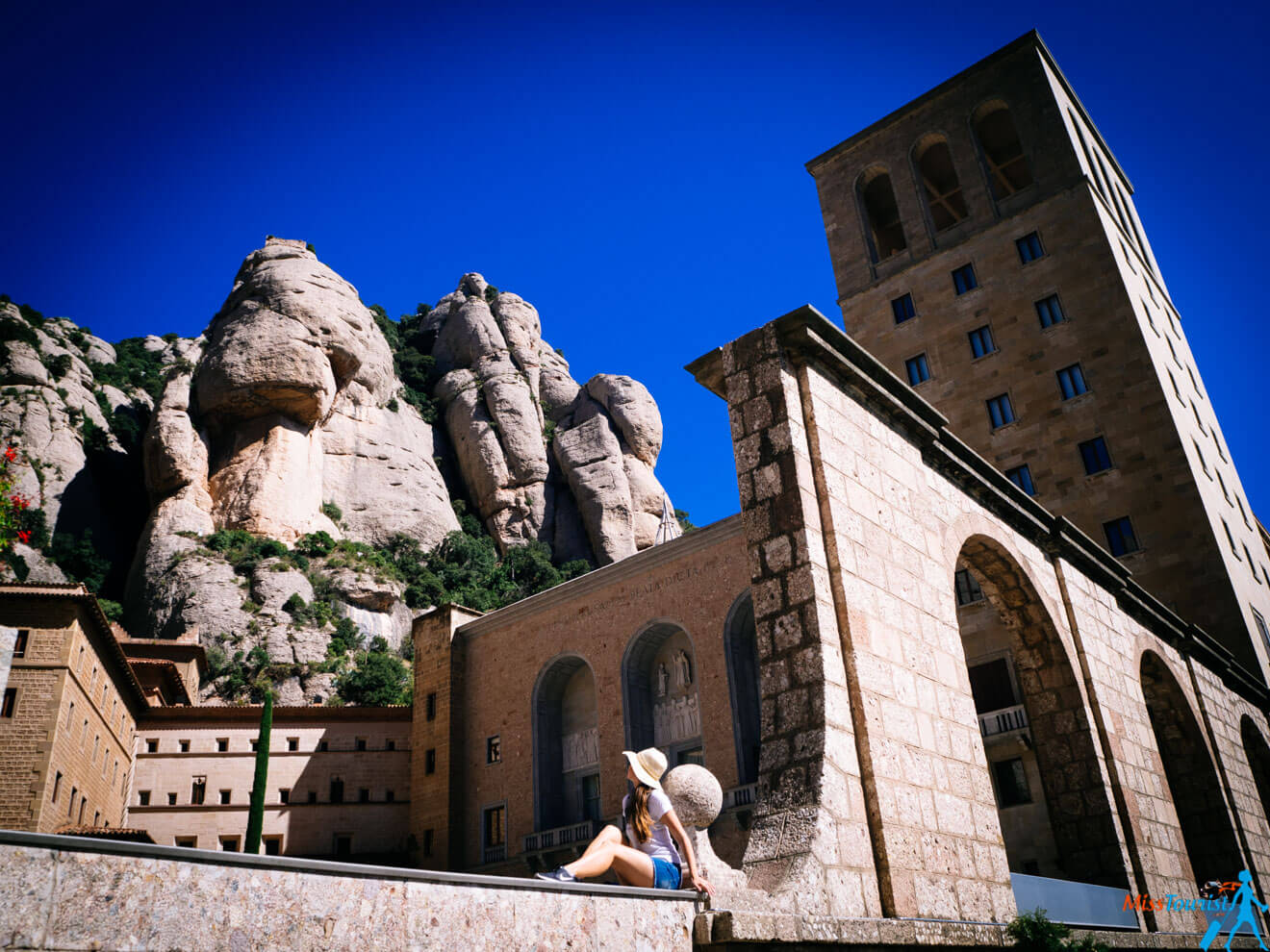 PRO TIP ON SKIPPING THE LINES IN MONTSERRAT
There are some awesome organized tours that will help you see Montserrat before everyone else:
2. Figueres, Dali Museum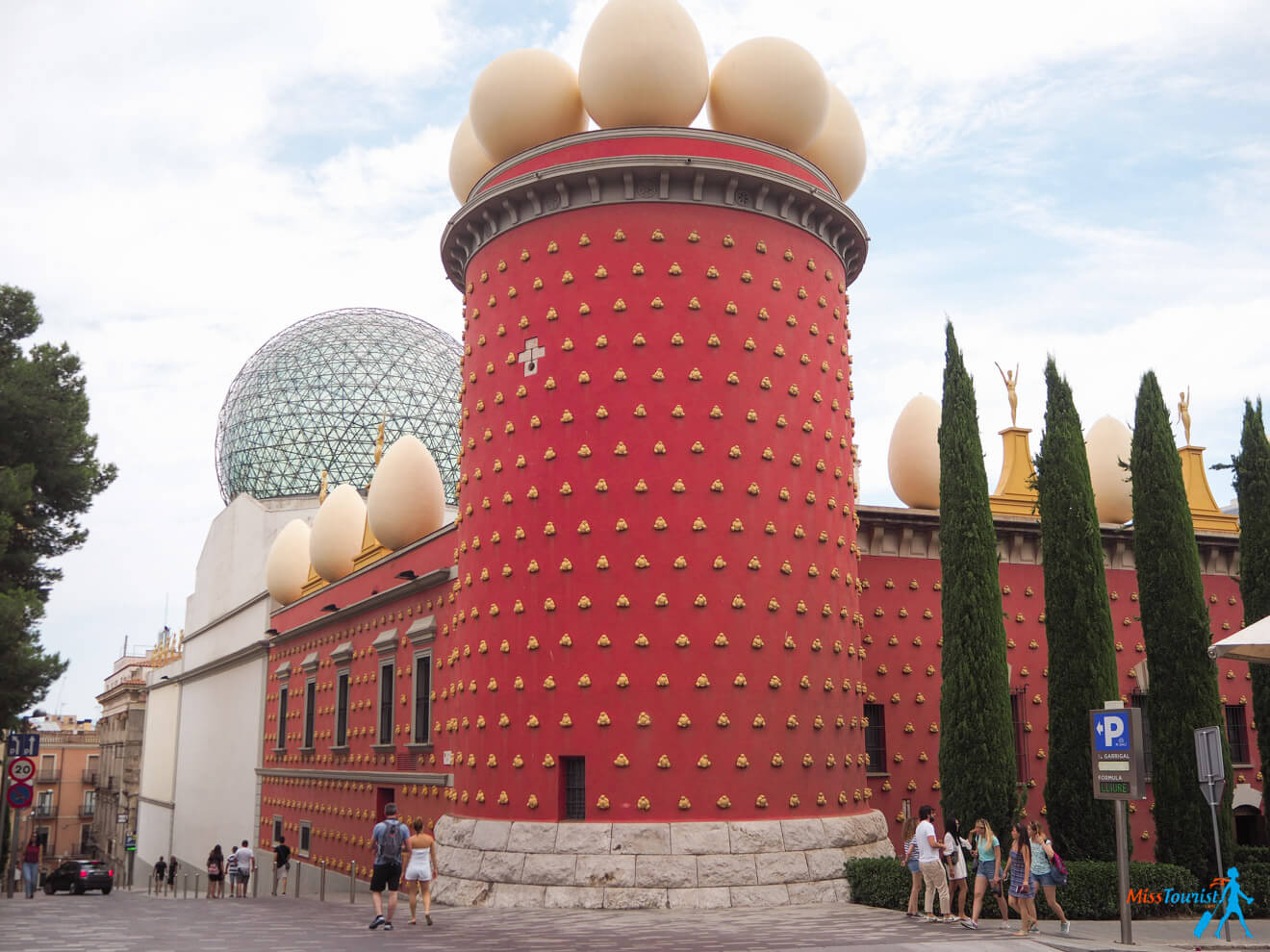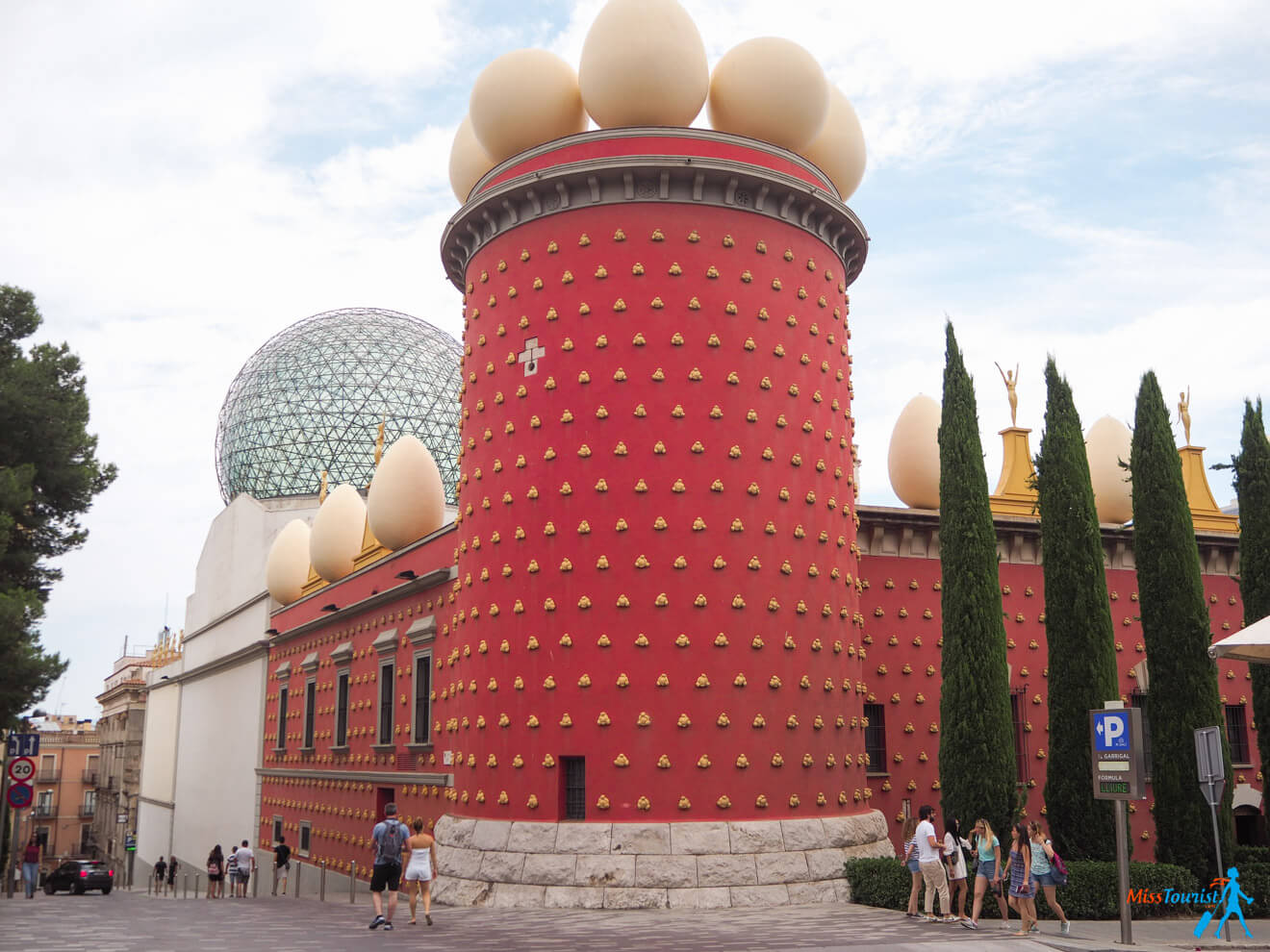 If you are a Salvador Dalí fan searching for interesting day tours from Barcelona, this is one of the best options out there!
The Dali Theatre-Museum in the town of Figueres attracts thousands of visitors daily and it is the second most visited museum in Spain after Prado in Madrid! It's no wonder – Figueres is the birthplace of Dali as well as the place where he was buried, too. This makes it one of the best ideas for art-inspired day trips from Barcelona!
Museo Dali is actually the largest surrealistic object in the world!
Everything in the museum was designed by the artist himself and, thus, everything really needs some explanation for simple, non-artsy people (read – me). 🙂 For this reason, I highly recommend booking a guide in advance. After all, if you are going to those cool places near Barcelona, you wouldn't want to miss out on any important information, right?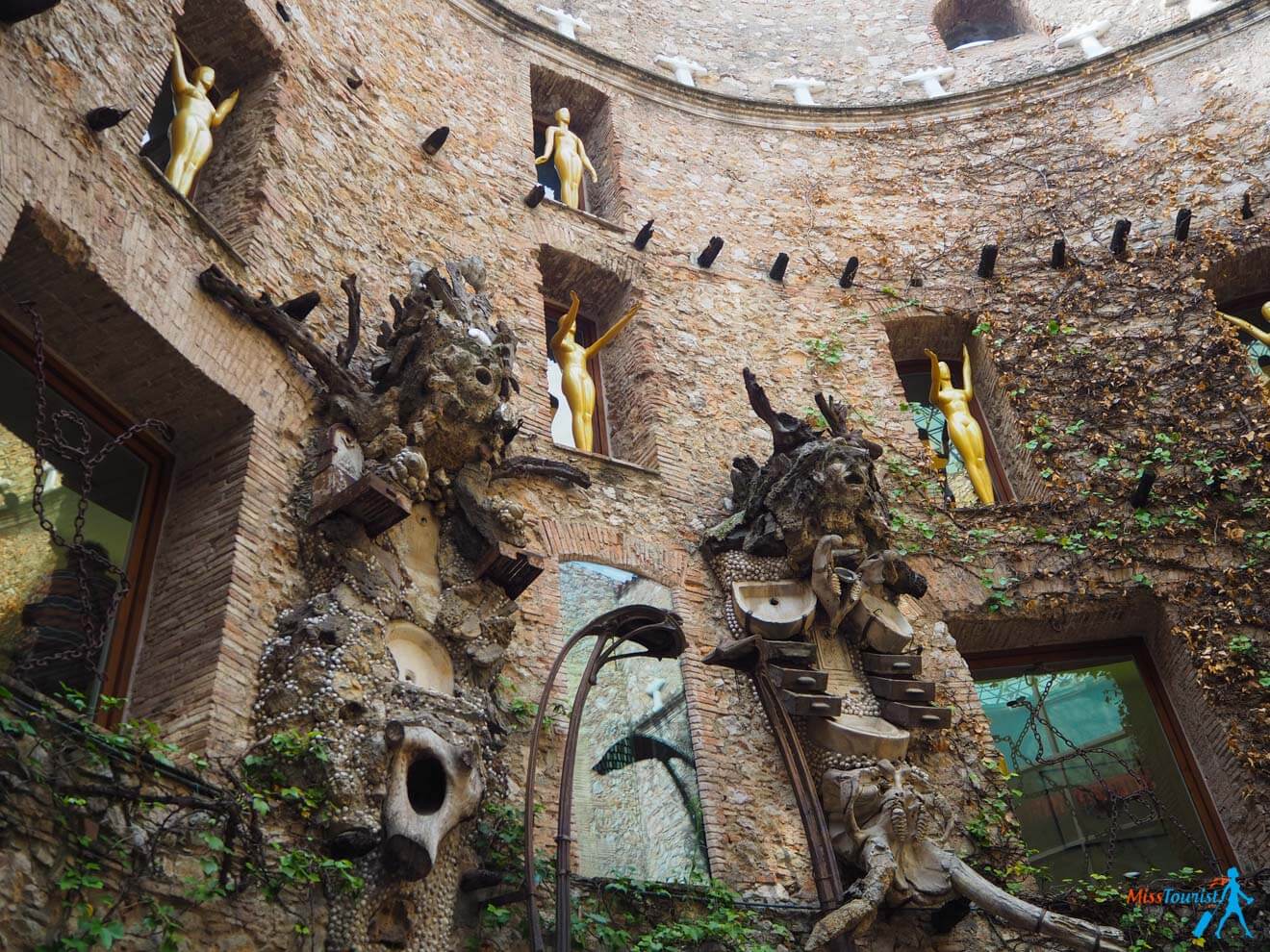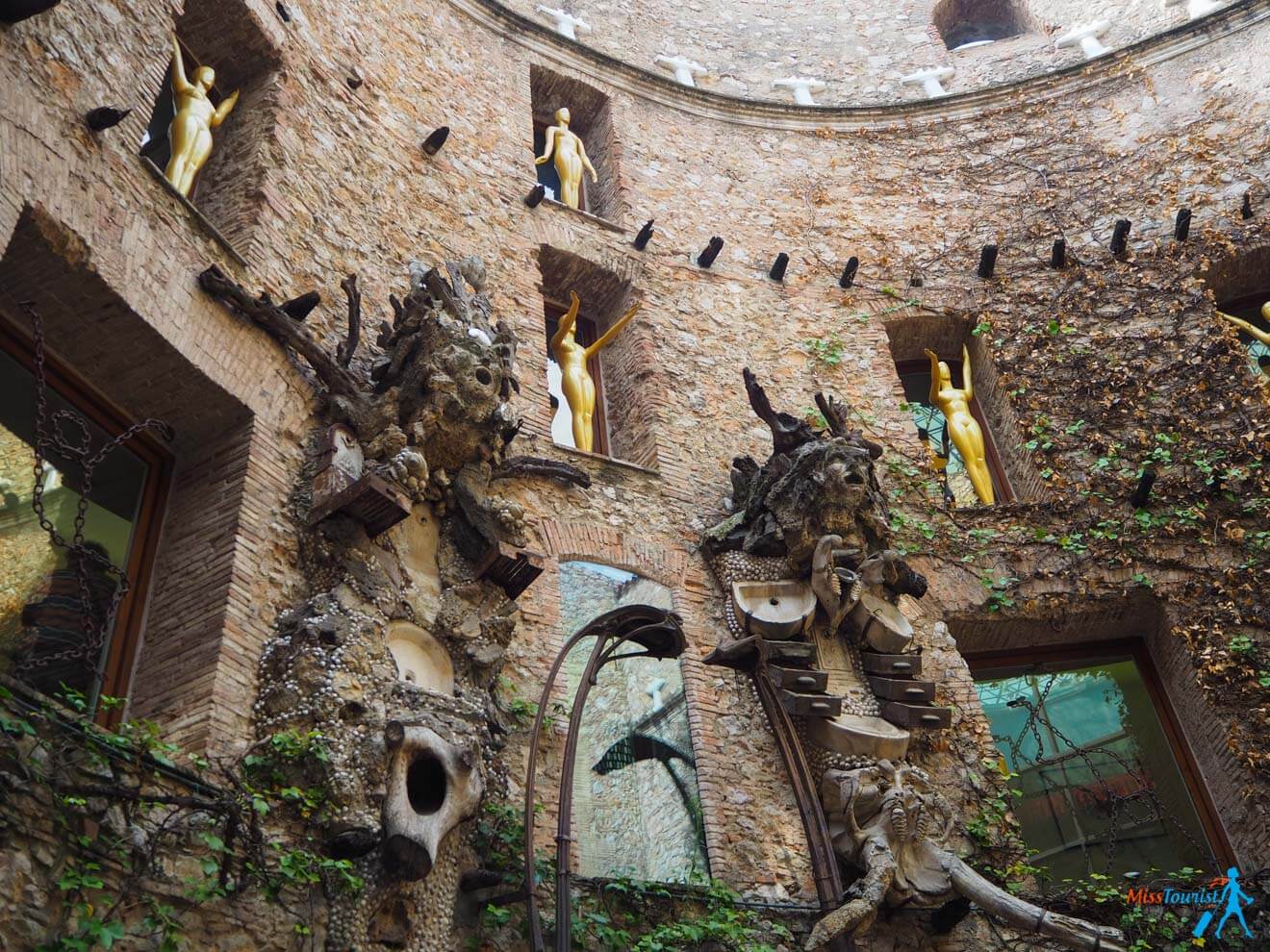 Unfortunately, there are no live guides that can be hired at the museum, nor audio guides to rent. I was really disappointed when I realized this because you really do miss out on a lot of interesting information if you just look at all the bizarre things!
I overheard some information by sneaking in a guided group and in 3 minutes I learned so many interesting facts, that I can only imagine how much I'd now know if I had taken the tour. For example, I learned that Salvador Dalí married a Russian woman, Gala, who gave him his inspiration. I also learned the meaning of hanging huge condoms in the hall and many more things that I would never understand by myself.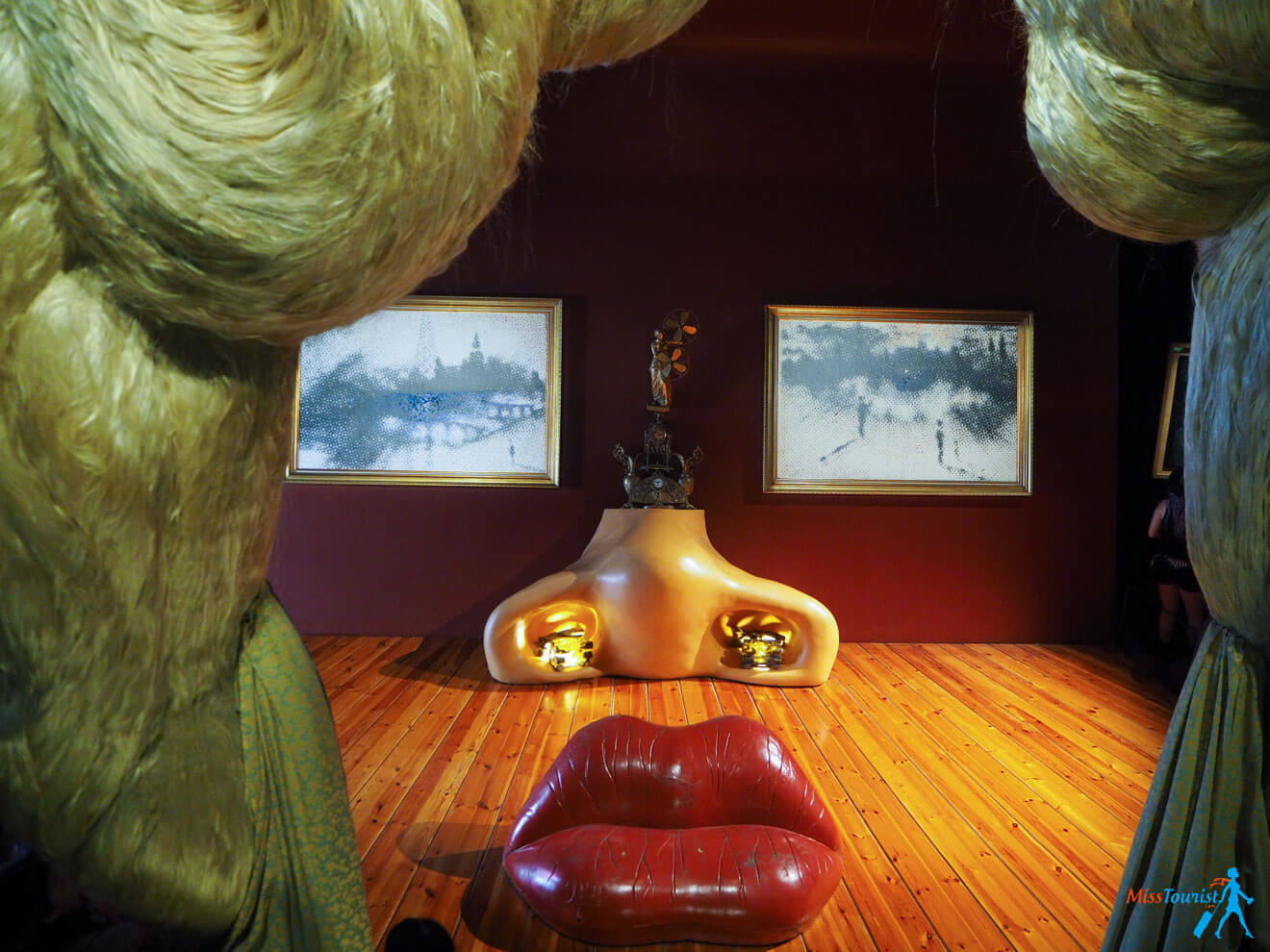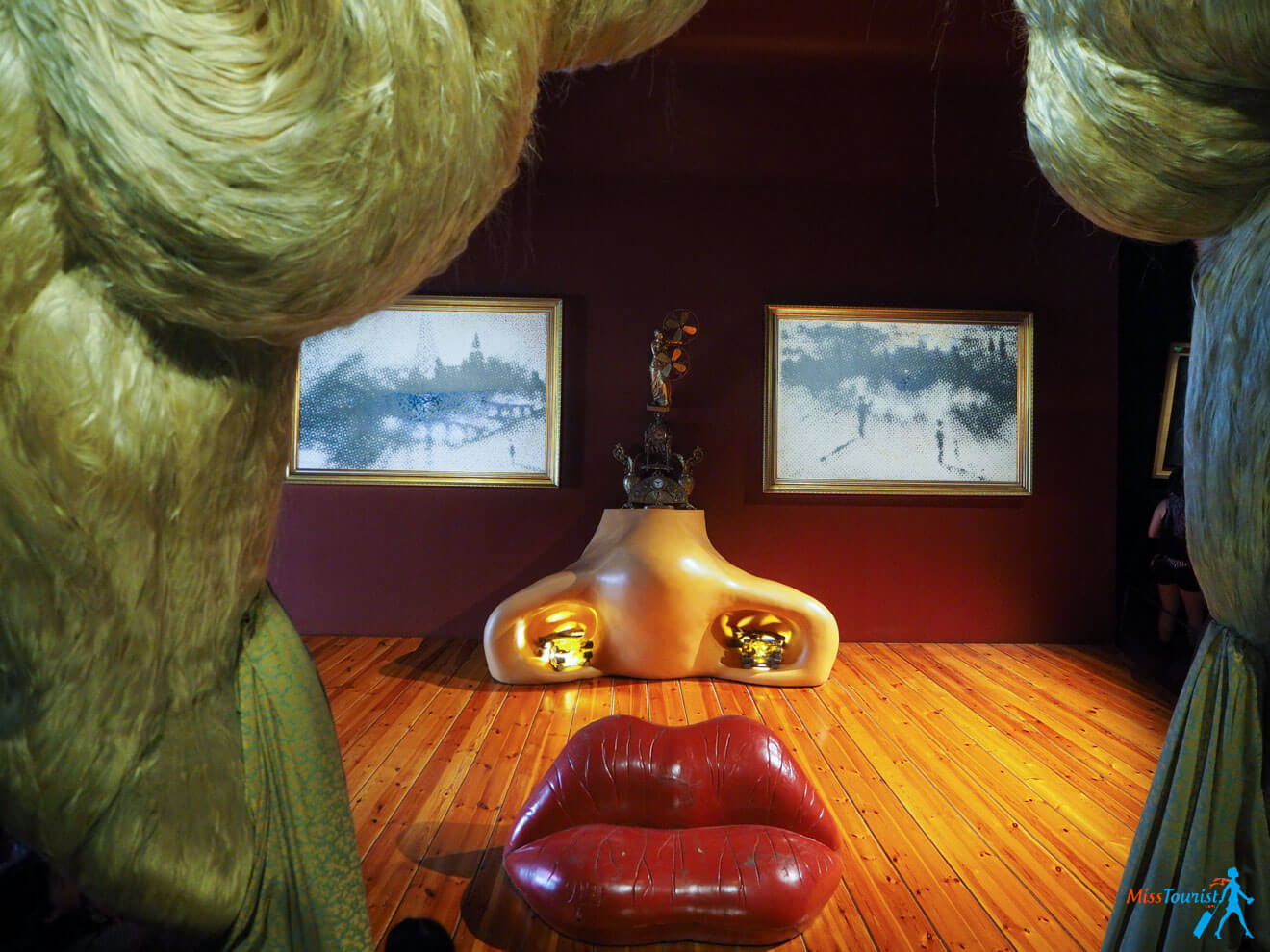 Another big advantage of taking a tour – you will be picked up from your hotel, so you do not need to worry about transportation. So convenient, right?
NOTE: There are some day tours that offer guided tours, but they actually only provide a guide for the outside of the museum, which loses the whole point of having a guide in my opinion. So read the reviews carefully before booking your tour. The ones I mentioned above definitely have a live guide.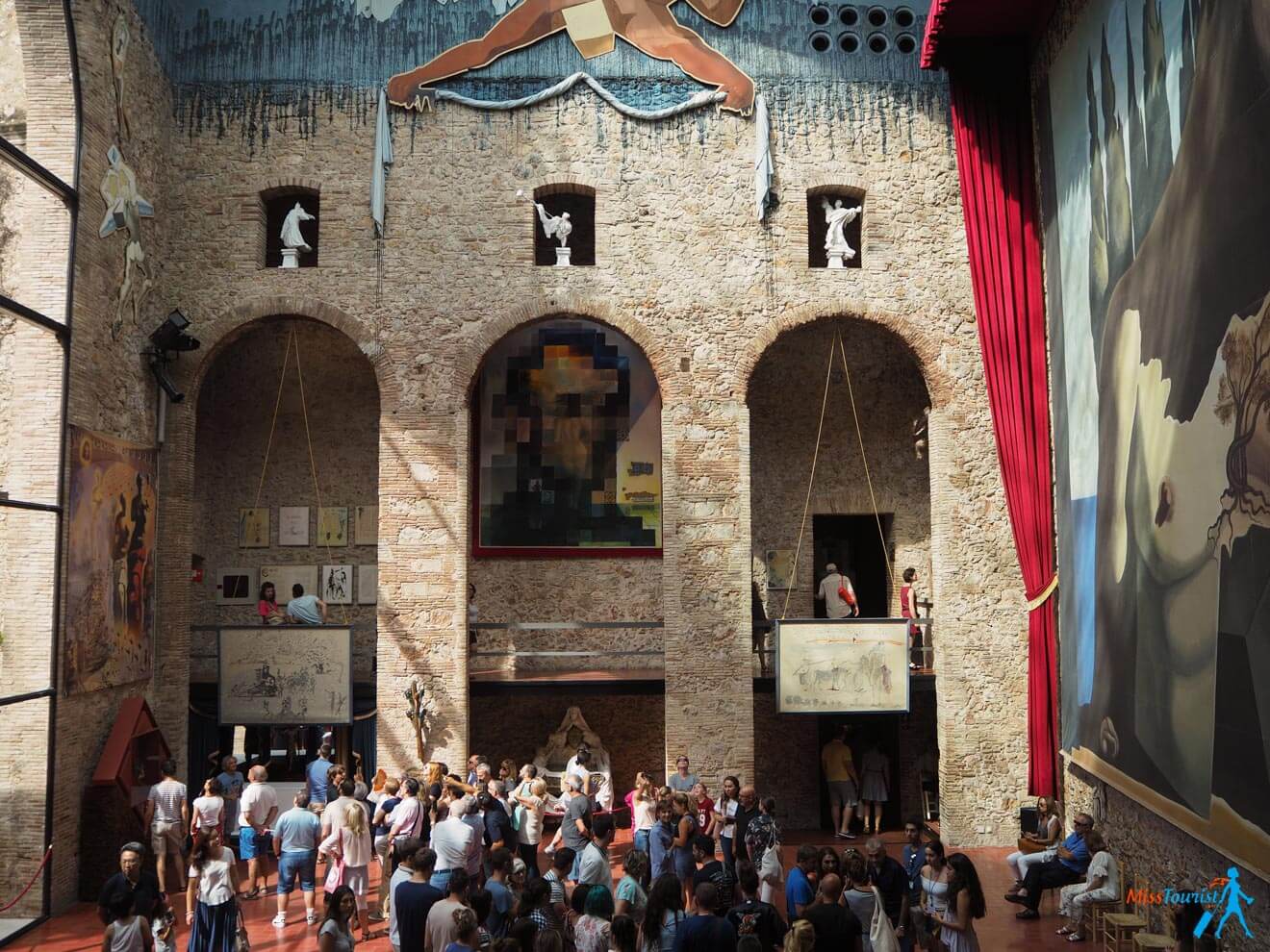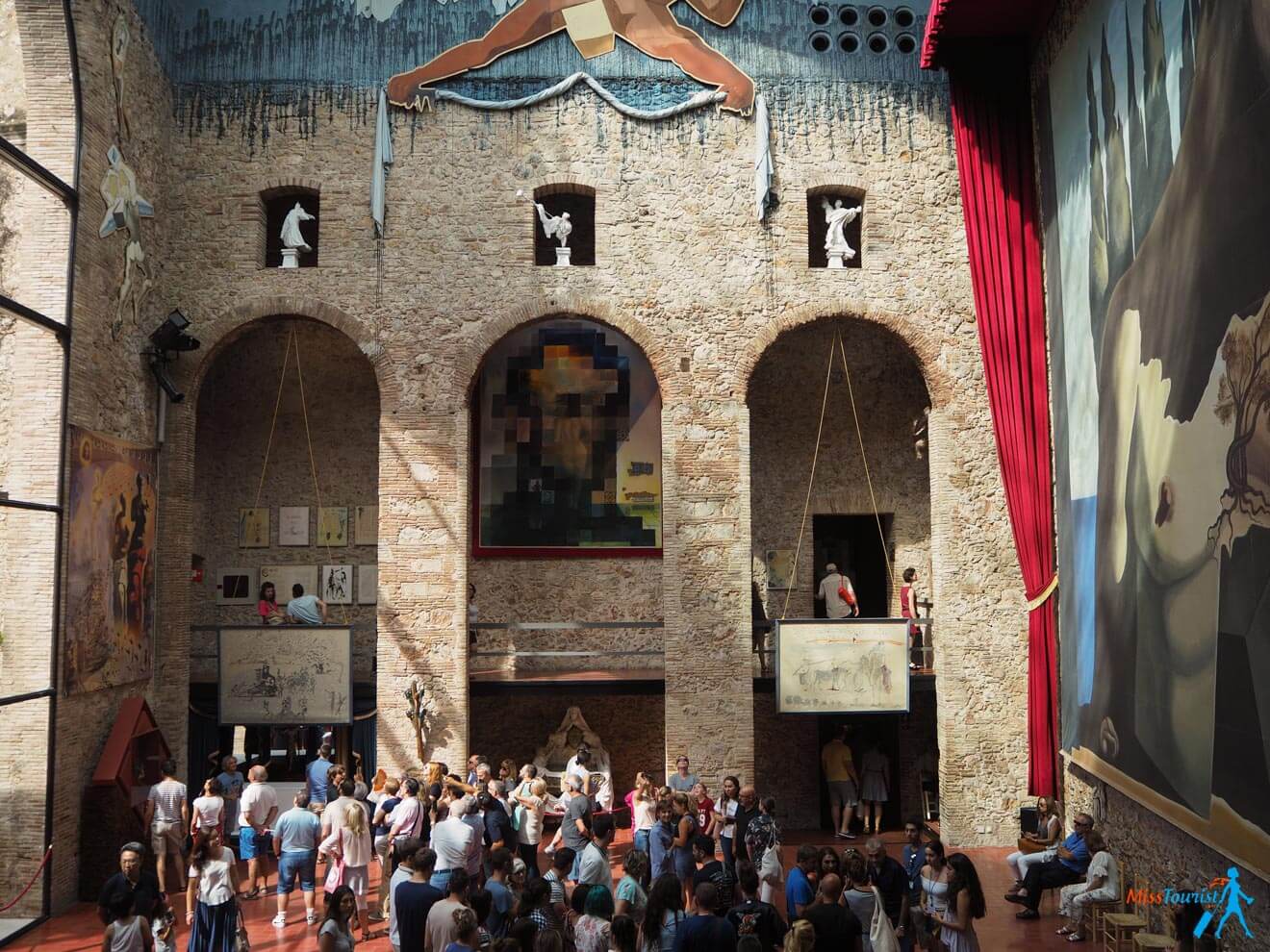 The whole visit can be done in a single day, but even half a day should be enough if you are in a rush.
How to get to Figueres from Barcelona by yourself
If you do not want to take an organized day trip, here are your options:
By train
You can take a high-speed AVE train (Alta Velocidad in Spanish) from Barcelona to Figueres (50 minutes; about 35€. Here is the website where you can find the schedule and prices.
There is also a normal, non-high-speed train; the price is usually 16€ and it takes 1 hour and 40 minutes, so 2 hours all together with walking to the museum. You can also take a local bus from the train station and it will take you directly to the museum for 1,25€.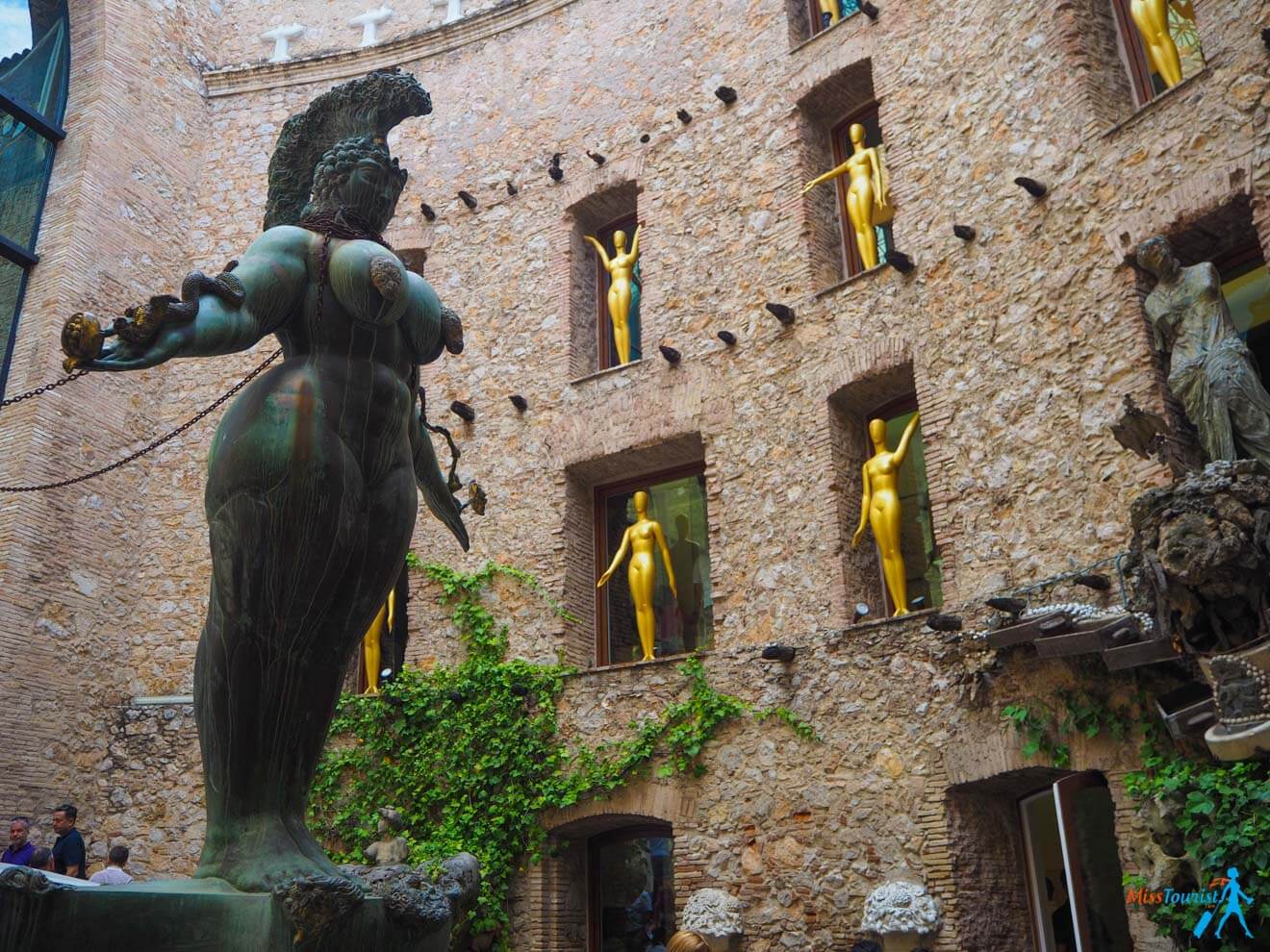 By bus
There is a bus from Barcelona to Figueres. The good thing about taking the bus is that it stops right in front of the museum, but I would not recommend this option as taking the bus appears to be more expensive and takes longer than a train. Check your dates on the official website, but it will cost around 20€ and it will take 3 hours.
By car
Renting a car can actually be quite a cheap option so I recommend you check the prices here! The journey is 140 km long.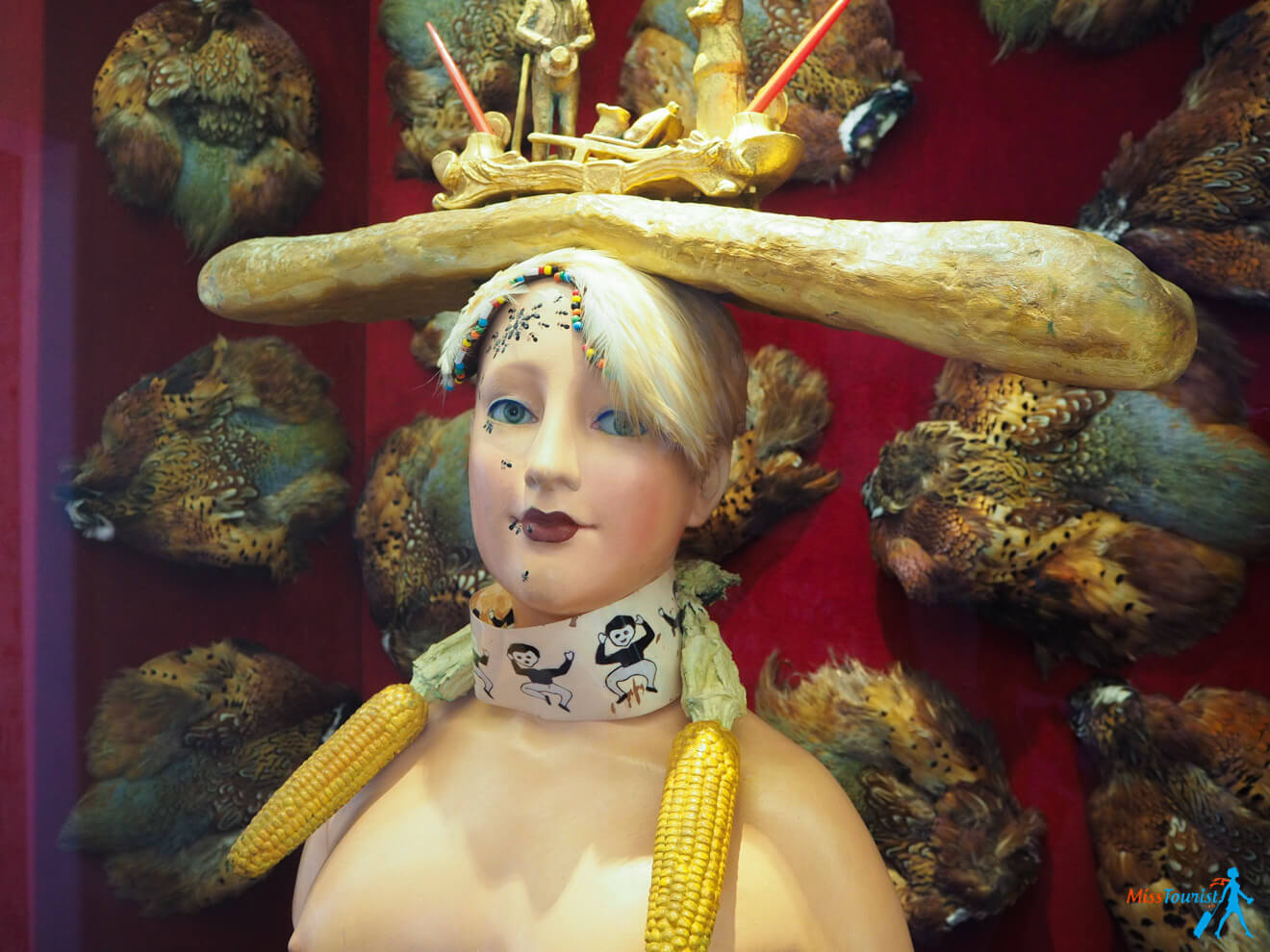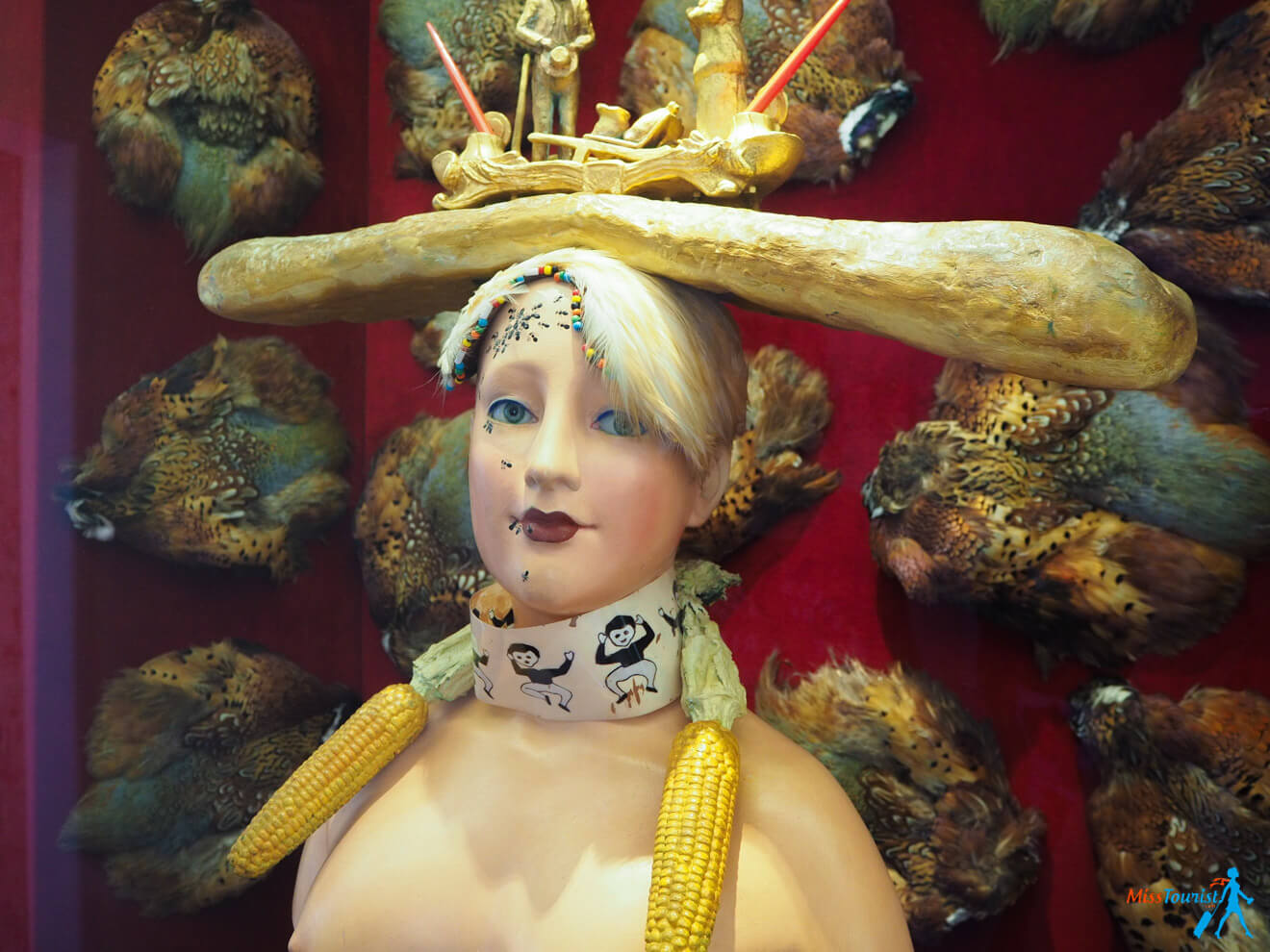 Price for Dali museum
The entrance to the museum is 15€ for adults.
Do not miss the Dali Jewels Museum located just after Dali Museum; the entrance is included in your ticket! Also, go around the building to see the surreal façade with giant eggs on top!
PRO TIP: If you get a Barcelona City Pass (which gives you Skip-the-Lines access to Sagrada Familia and Park Guell), you will also get a 20% discount to Figueres museum.
3. PortAventura and Ferrari Park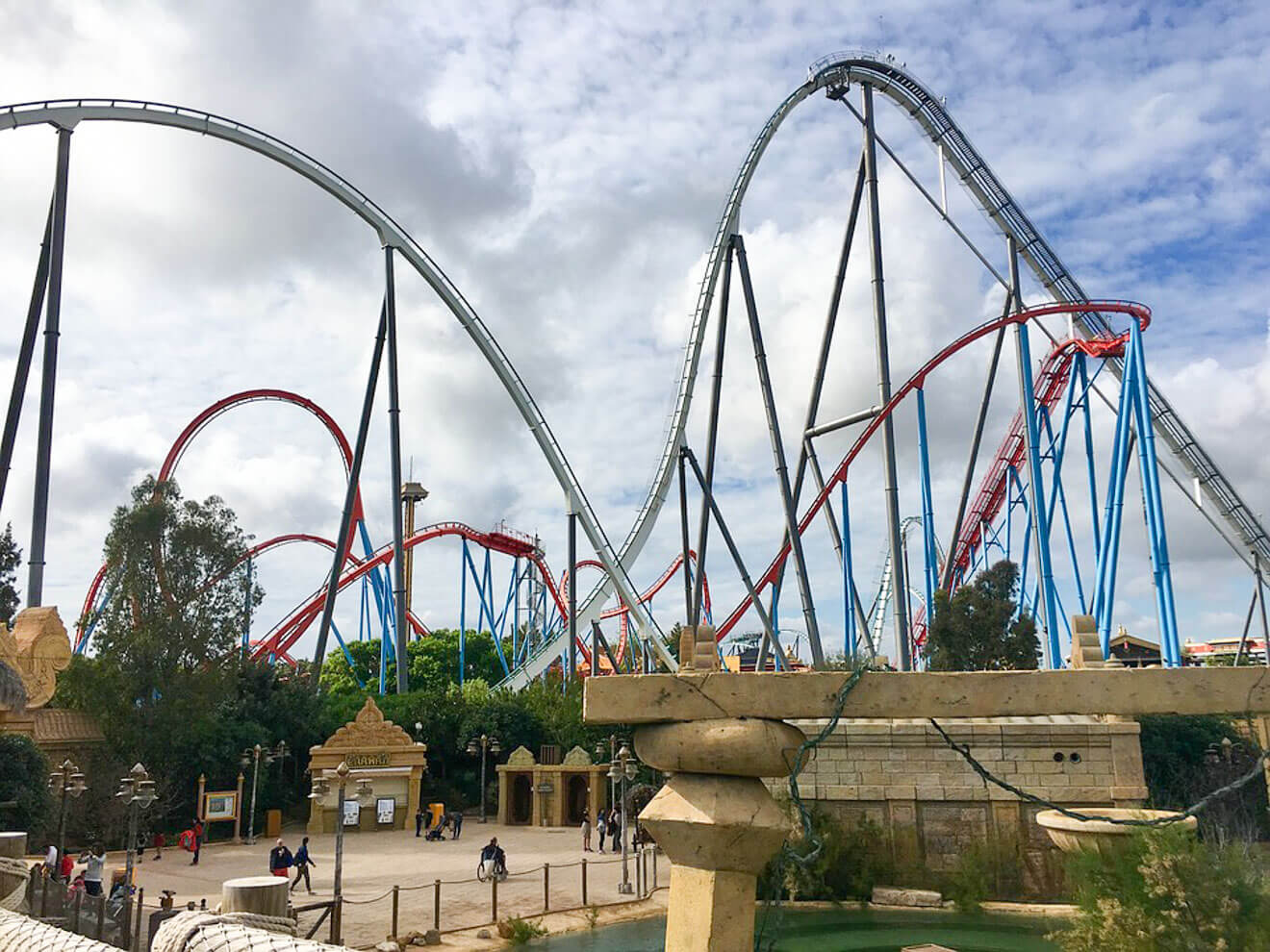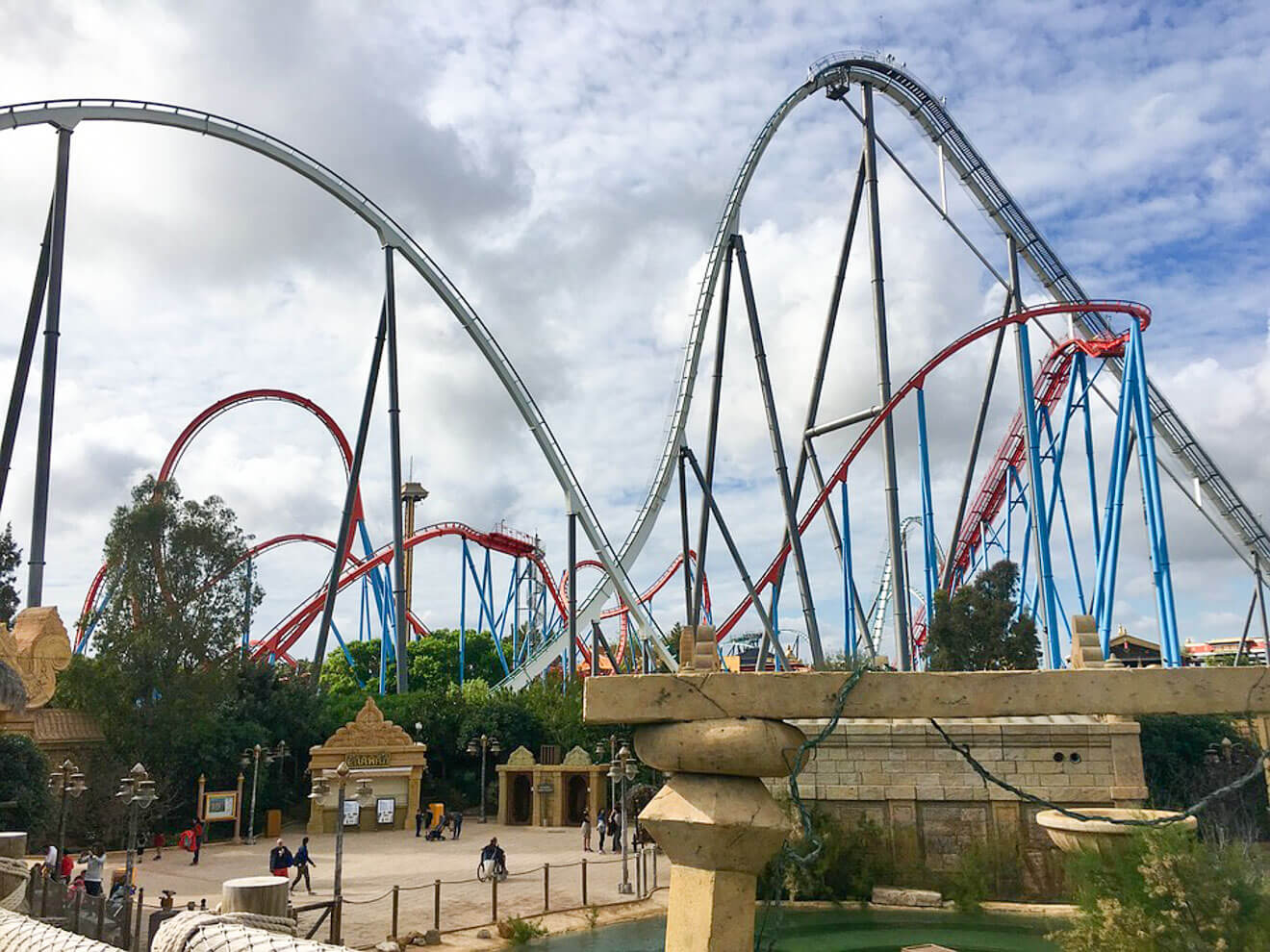 If you are tired of Barcelona sightseeing and want something more exciting for your vacation, maybe a full day to PortAventura theme Park would be a great idea, especially if you are traveling with kids!
PortAventura Park is a great place in Europe for both travelers with kids and groups of adults and it is actually among the best day tours from Barcelona that you can do! There are rides for all ages and thrill-tolerance levels for all ages, so it is definitely worth it to add it to your itinerary as well!
How to buy cheap PortAventura tickets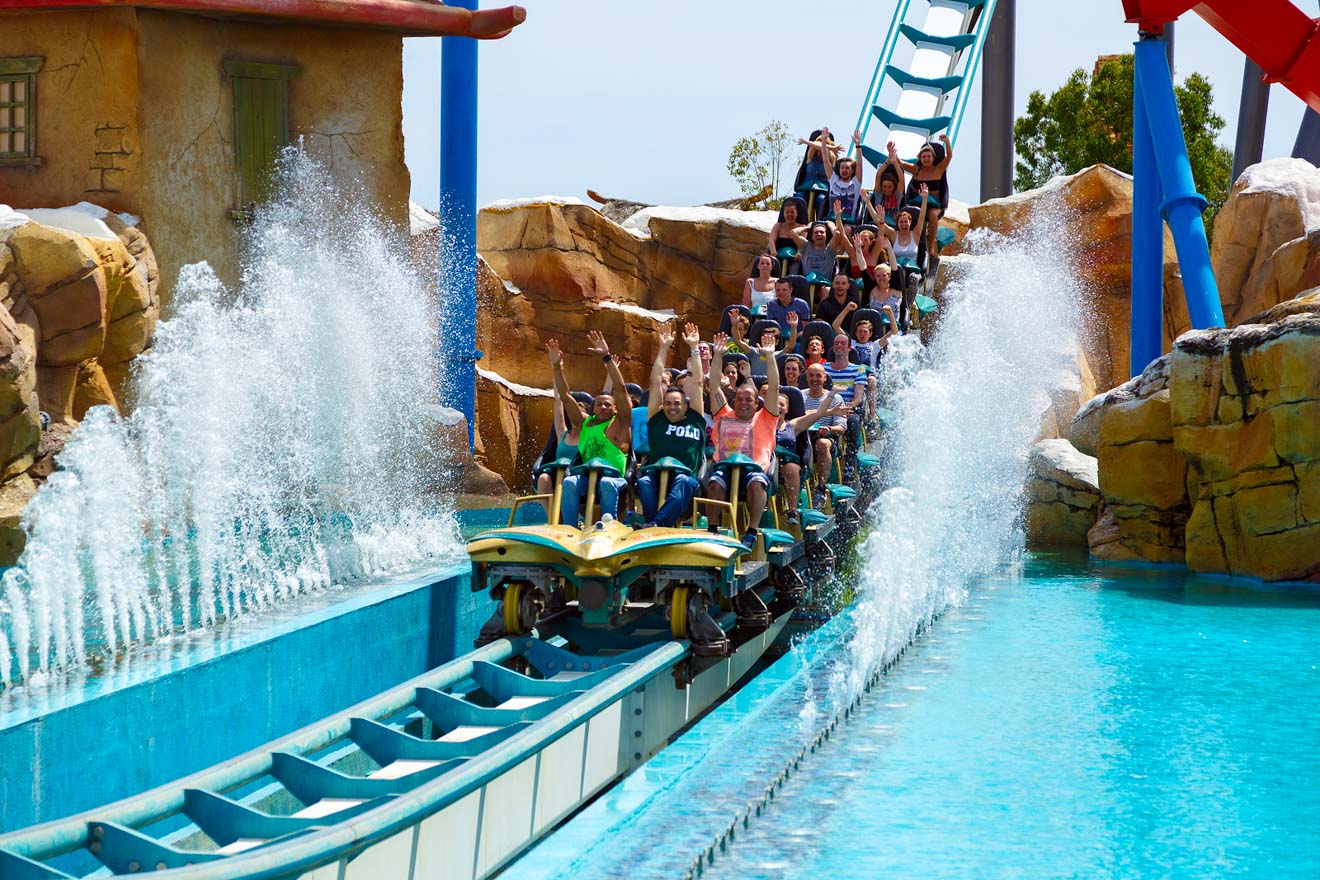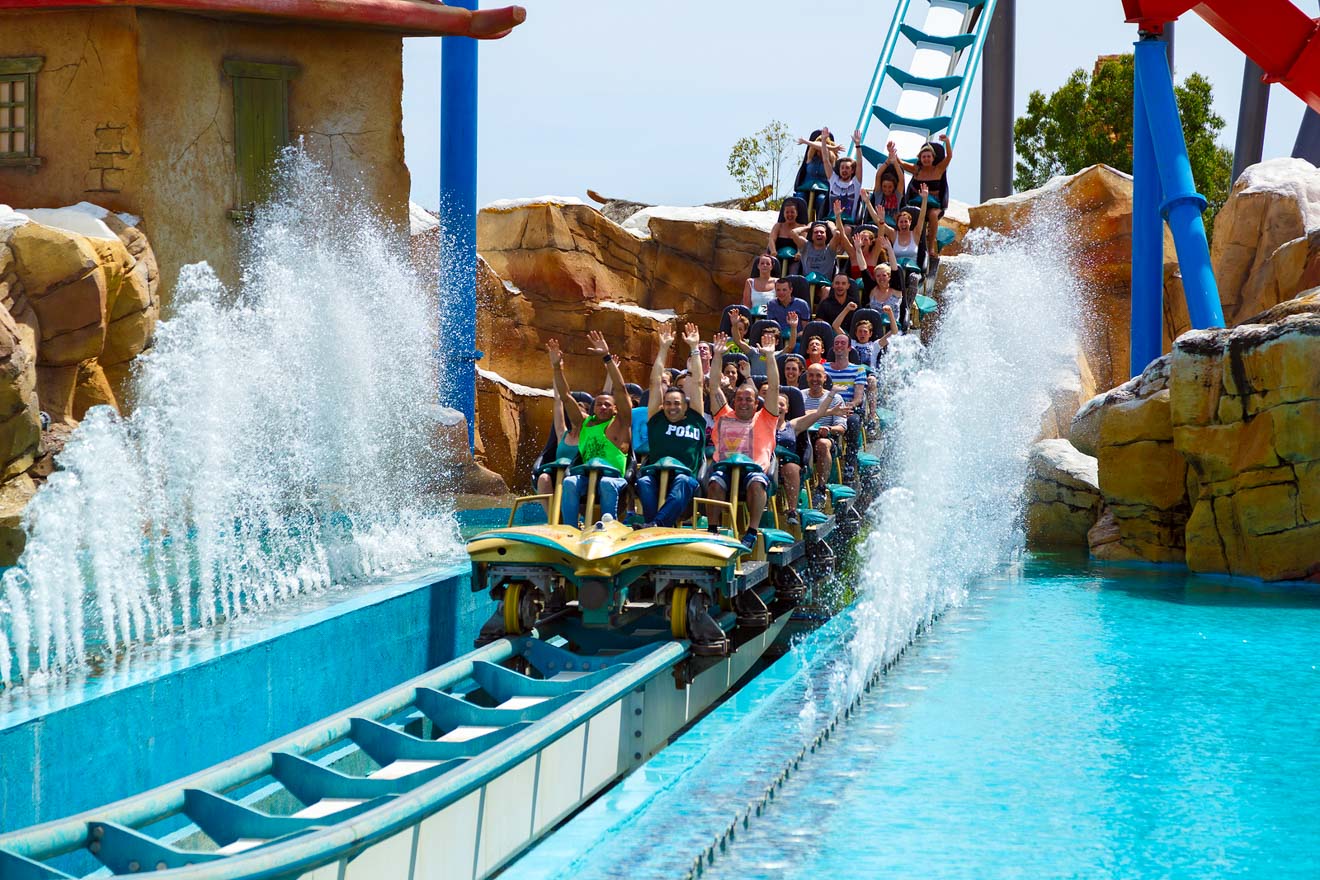 Do you want to know the secret of buying tickets to PortAventura cheaper than on the official website?
The price of a single ticket to PortAventura only is 51€ on the official website and the ticket for 1 day, 2 park pass is 56€.
At the time when I was writing this article, I found cheaper tickets on the GetYourGuide website for 48€ (instead of 51€) for 1 day/one park. If you want to go to Ferrari Land too, you should buy tickets INSIDE Port Aventura, as there it will be 15€ instead of 20€ (with no lines!), so the total would be 63€ (48+15).
This way you will save 8€ per person if you go to both parks and 3€ per person if you only go to the main park. The offers change constantly, so you can check if there are any current discounted options here.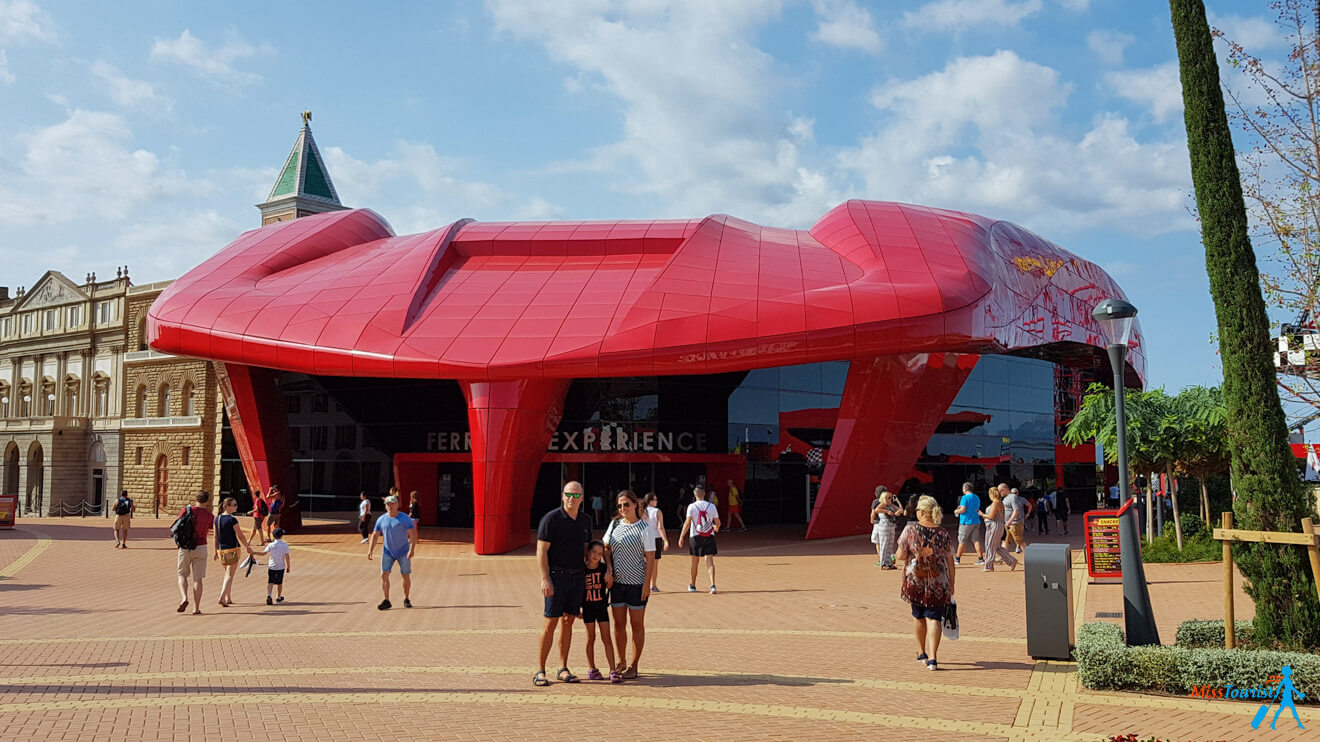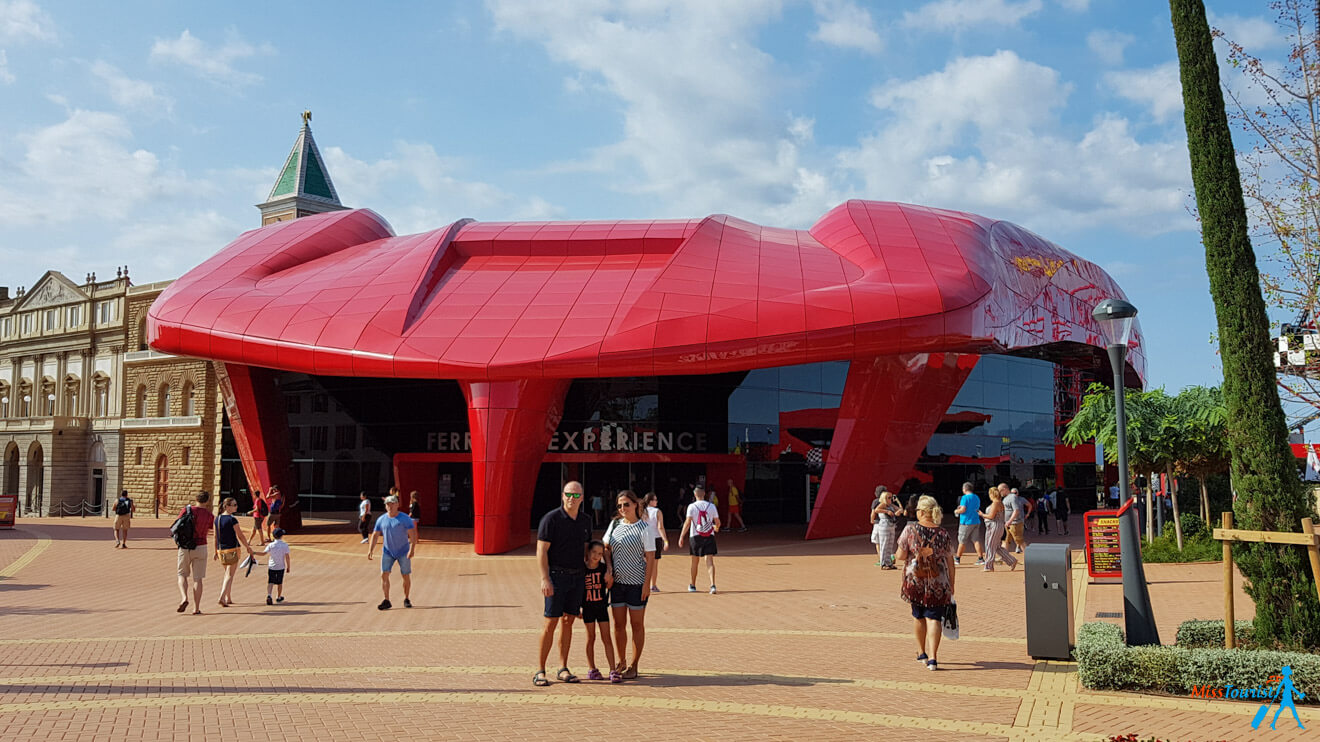 NOTE: I DO NOT advise buying tickets at the gates because the lines are usually horrifically long!
UPDATE: You can get a 20% discount (which means about 11€ saving per person) with your Barcelona City Pass (that will also give you free skip-the-line admission to Sagrada Familia, Park Guell, and many other perks)!
Fast pass Port Aventura: It costs an additional 25€ to skip the line to each ride once or 35€ for unlimited rides. You can also pay an additional 5€ to be the first in the queue for Express pass holders. I bought the 35€ option and I found it to be enough and I was really happy we decided on this extra investment as it was definitely worth the money! The queues for Fast Pass holders are really not that long, so no need to pay the additional 5€. I visited the park in the beginning of September, but the crowds might be worse on weekends or during Barcelona holidays in the summer.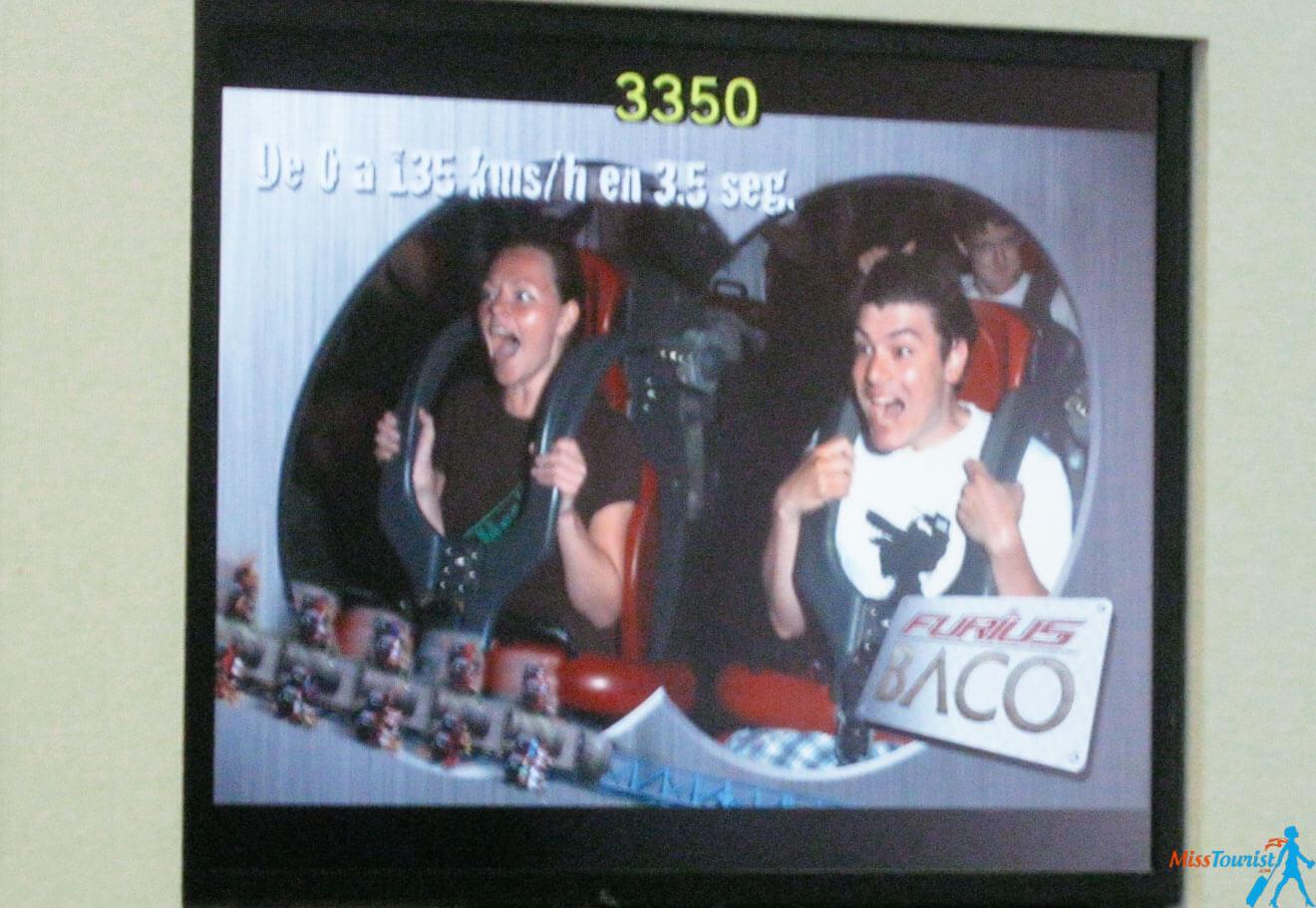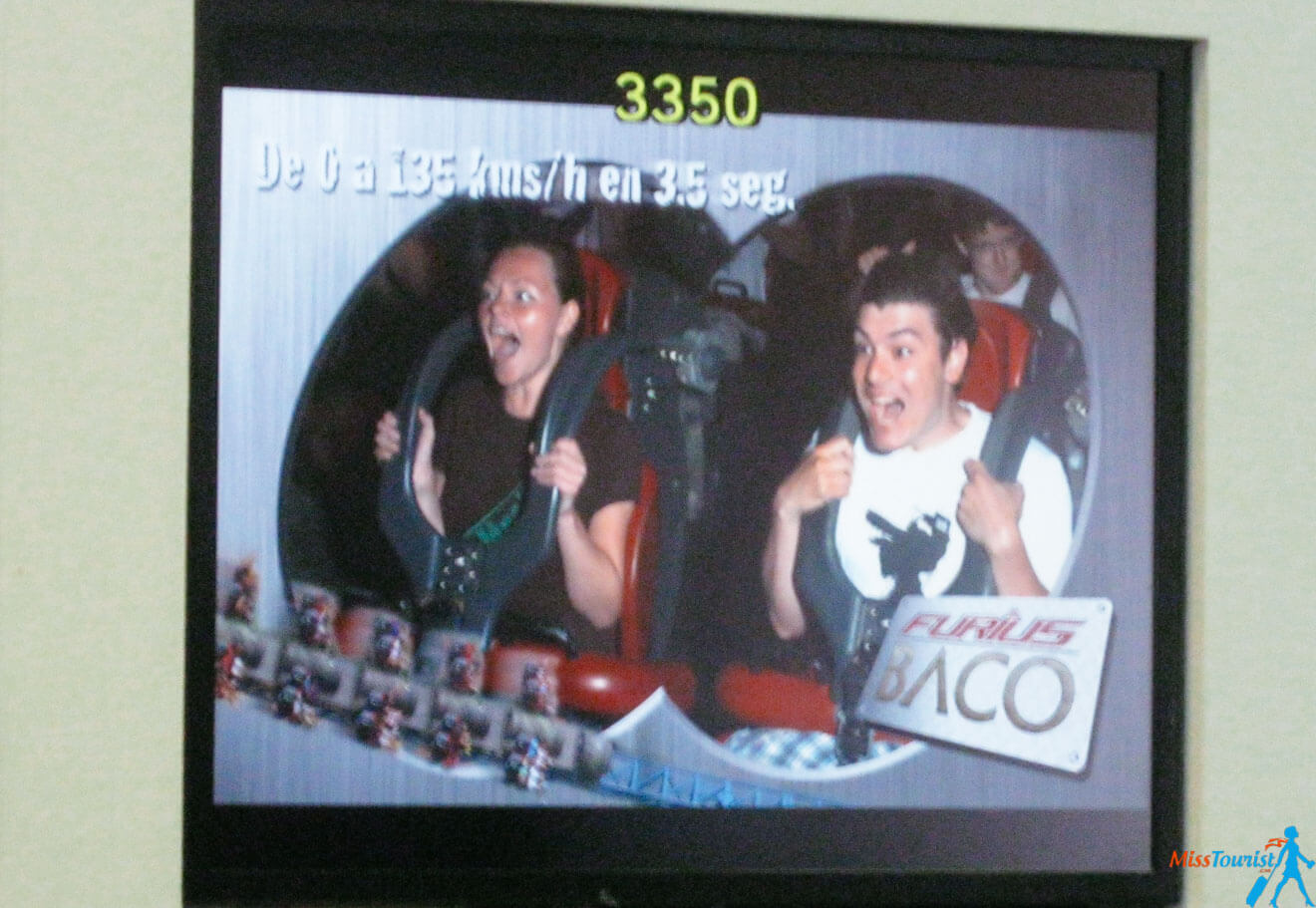 Ferrari Land Park – is it worth it?
Just like Disney Studio in Paris, PortAventura has a smaller neighboring theme park called Ferrari Land (obviously dedicated to the masterpiece of Enzo Ferrari) with some newer types of ride experiences.
I would say it is definitely worth visiting the Ferrari theme park as well and you definitely cannot miss the Ferrari World roller coaster that is 112 meters high!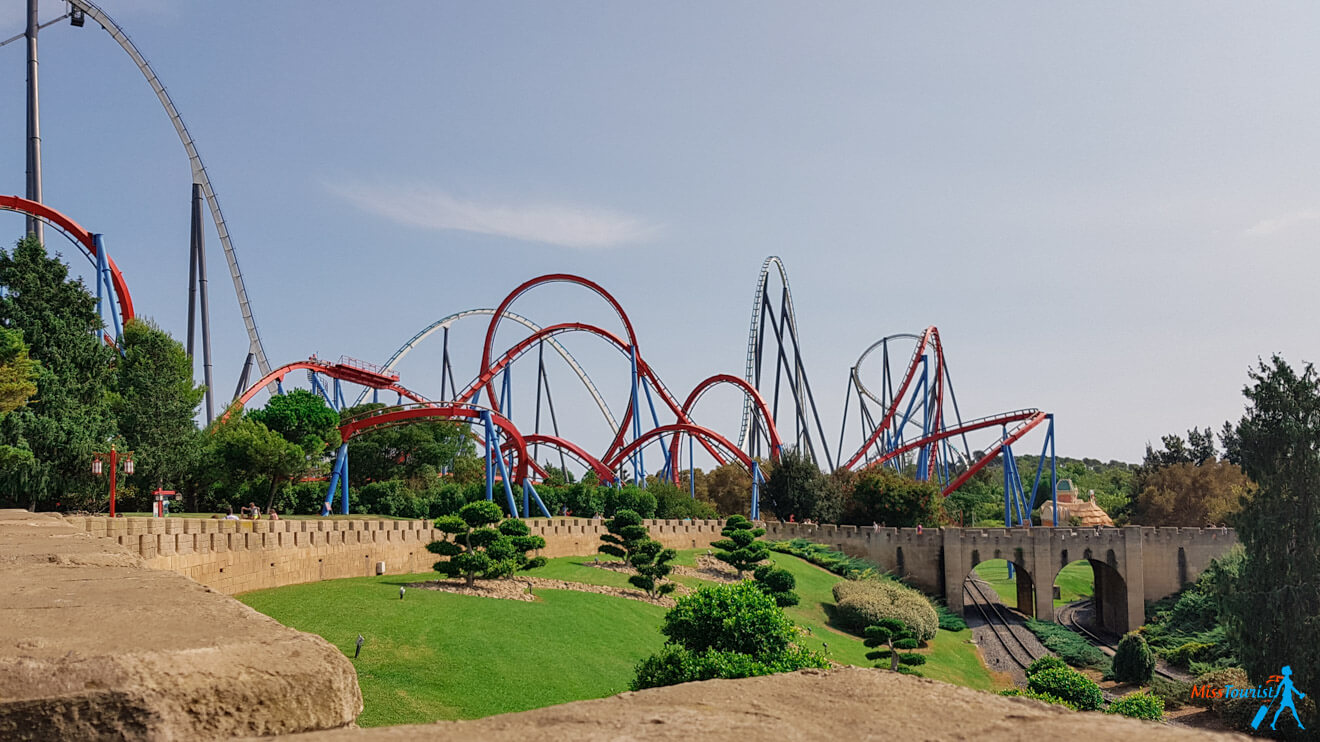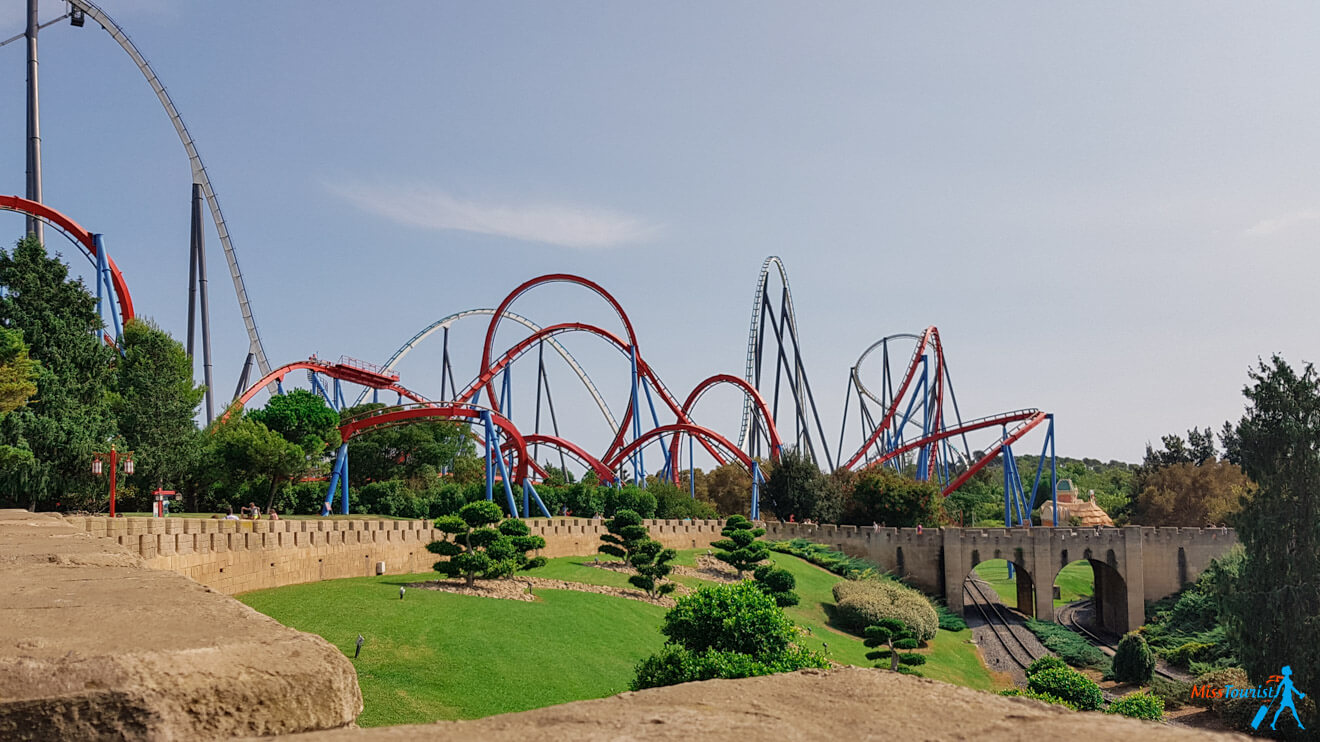 PRO TIP: If you buy tickets to Ferrari Land inside PortAventura park, the price will be 15€ instead of 20€, which is a nice saving!
Fast Pass Ferrari Land: Fast Pass for Ferrari Land is 20€ and yes, the lines can be long! We bought it and we had no regrets!
How to get to PortAventura from Barcelona
PortAventura is located 100 km away from Barcelona city center.
By train
I, for instance, took a train and I think it is the best way to get there. The trains leave from Barcelona Sans station. It takes about 1 hour and 20 minutes to get to your destination and it is free seating. The price can be anywhere between 9€ to 13€ for a one-way trip. Thus, the final price for your PortAventura 2 park ticket will be about 76€ per person depending on which train ticket you buy.
By bus
This might be an option only if you go to the adventure park straight from the airport. You can see the schedule here, but I have to warn you that the buses depart every 2 hours and the price is 30€ roundtrip.
By car
Renting a car is always a great option if you drive. Check out this link to see the current offers!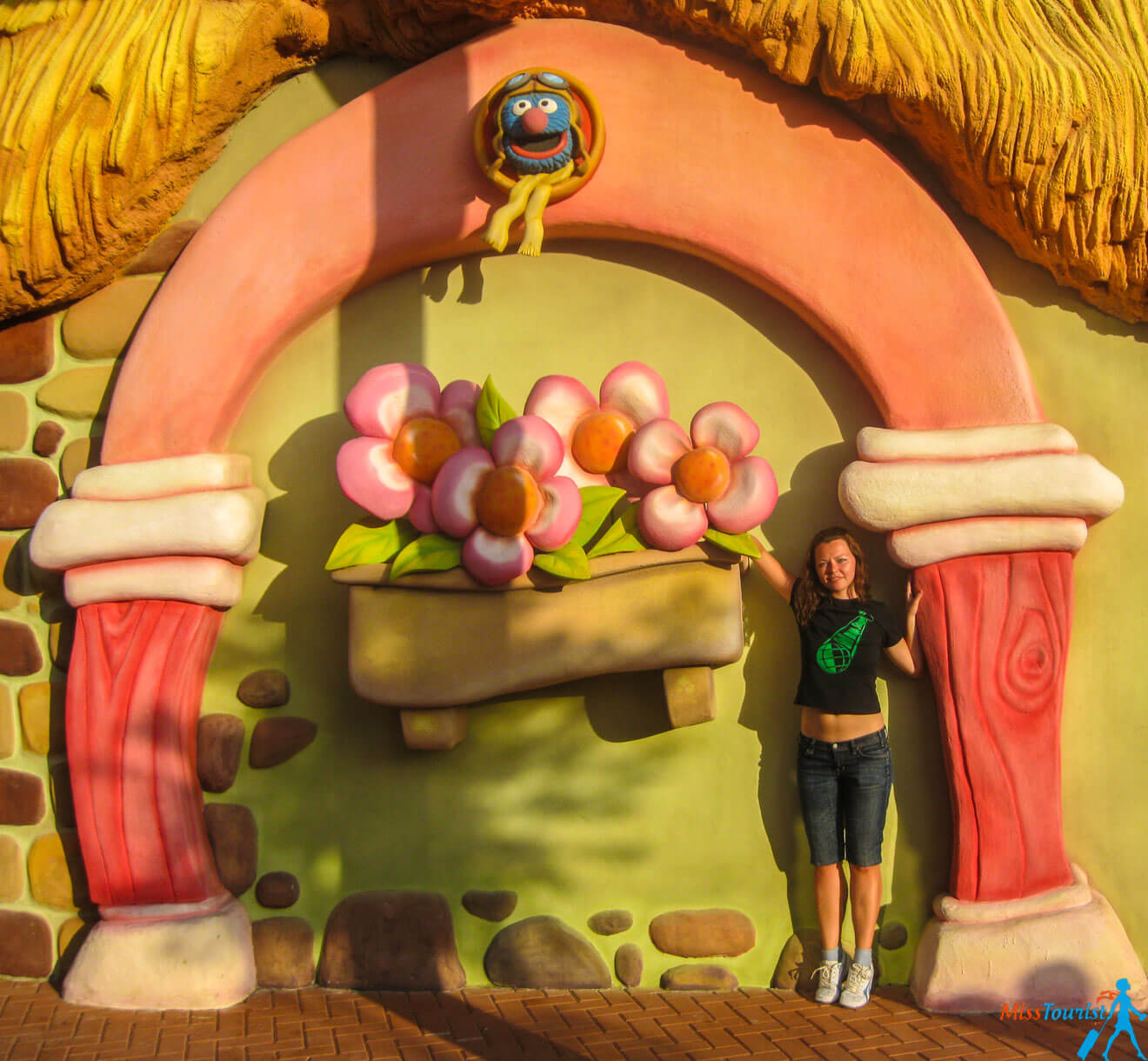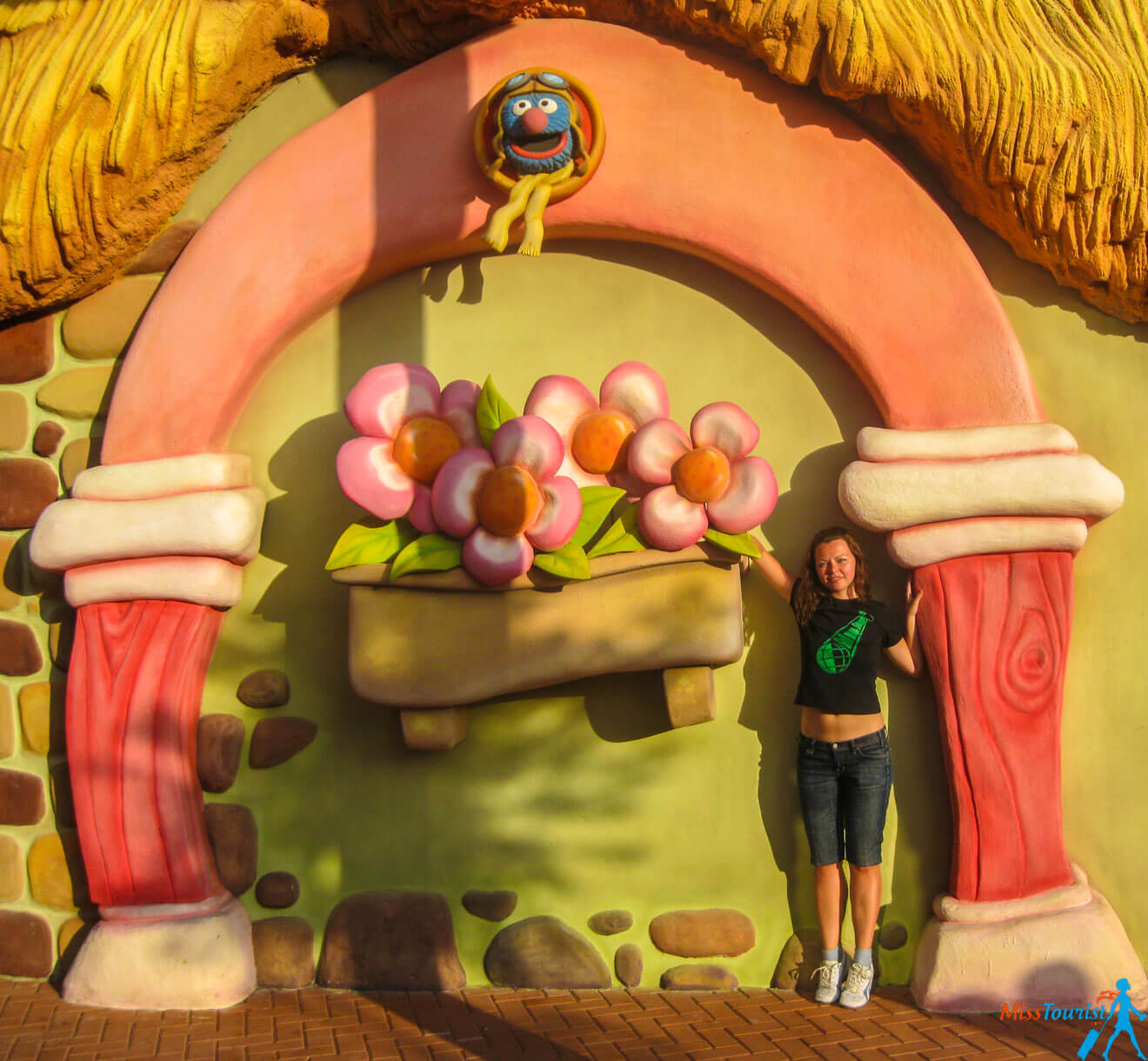 PRO TIP: Take some food and water with you. This will probably not be enough for the whole day, but it will save you some money. Don't forget your sunscreen as well! You can download the PortAventura App to make sure you do not miss a single ride!
PRO TIP 2: You can combine the visit of Tarragona with the adventure park, as they are located very close to each other.
4. Tarragona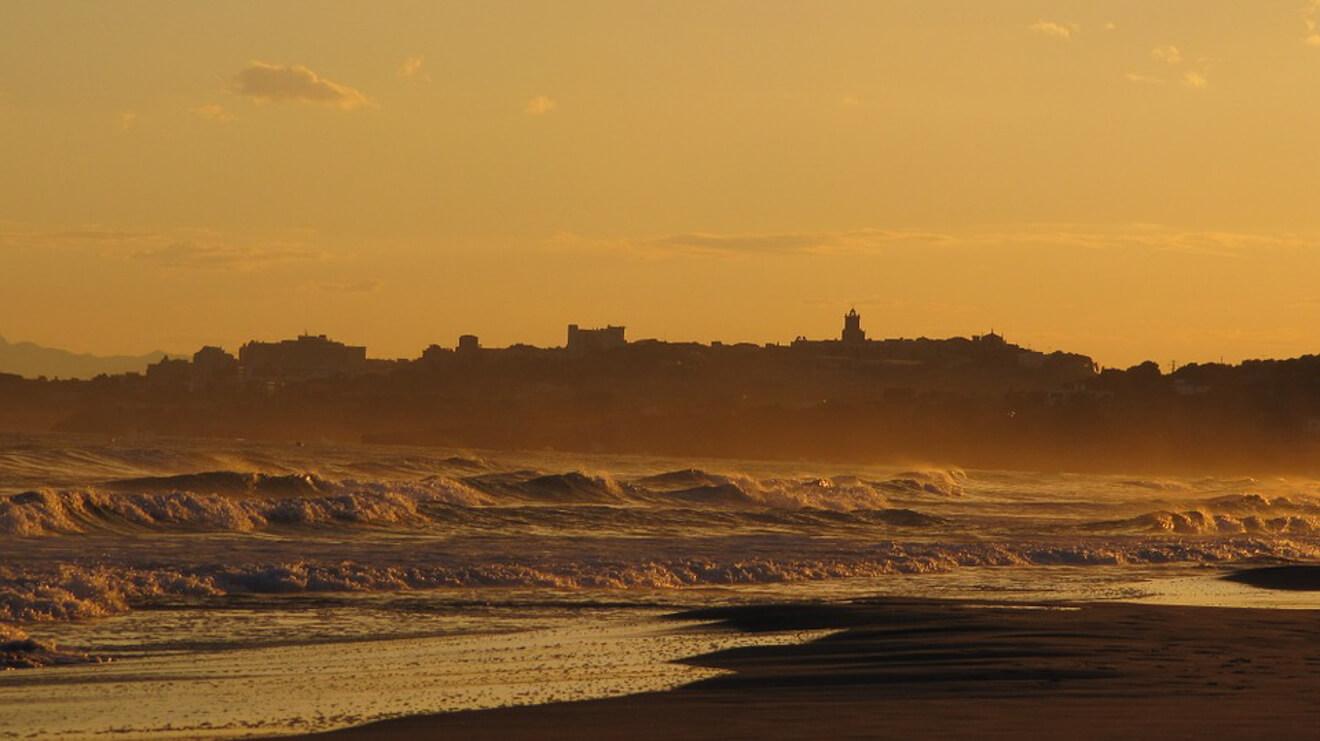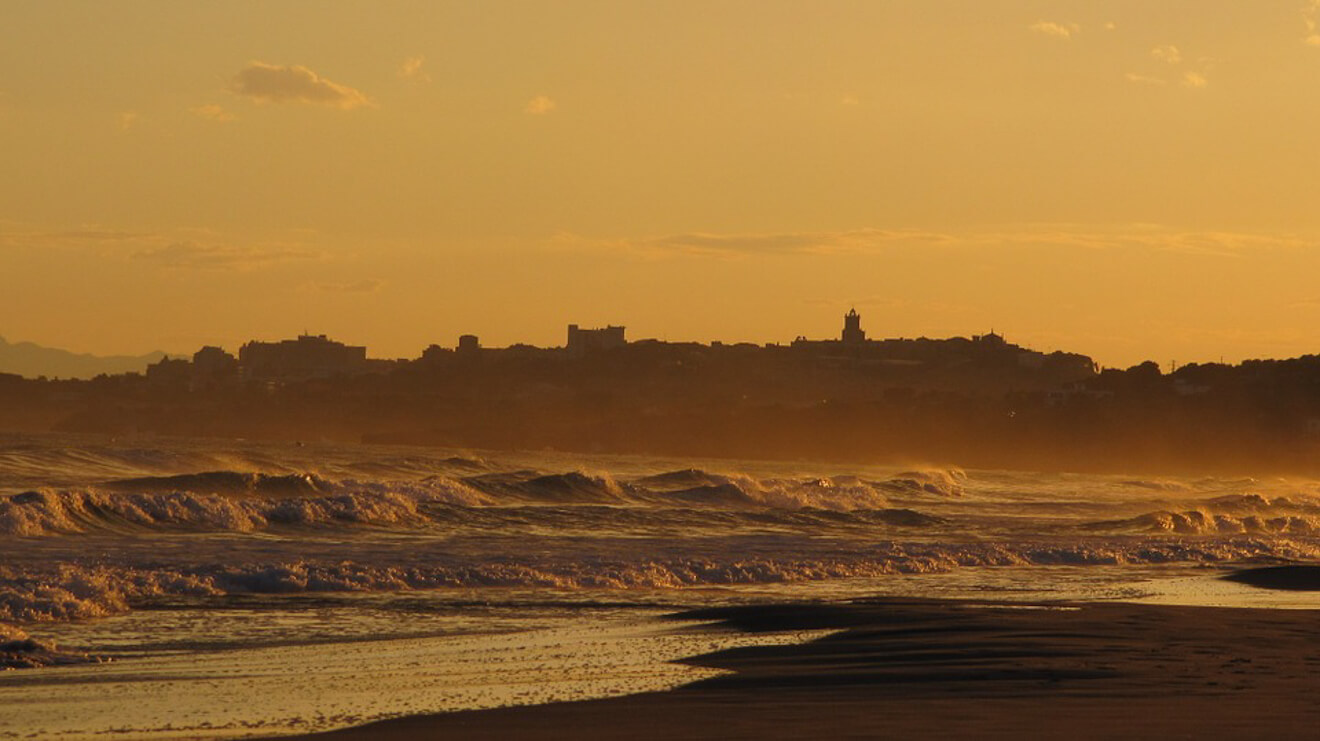 Known as the capital town of the Catalonia region, Tarragona is among the most best and popular destinations in Spain, especially for people who are looking for breathtaking historical and archaeological sites to delve into.
Here are the best things to do during your Tarragona day trip:
Ramble around Tarragona Rambla – I would highly recommend that you ramble around Tarragona Rambla or La Rambla Nova in the Old Town. While you visit Tarragona, be sure to also appreciate the absence of street entertainers, the array of street arts, the many historical monuments, and the chance to sip on some good coffee in one of its well-kept cafes.
Enter into the time machine of Tarraco ruins. Like many ancient sites, the ruins of Tarraco are uninhabited, but a lot of tourists and locals alike go there because its archaeological remains are "one of the largest archaeological sites of Roman Hispania" that is still preserved in Spain up to this day.
Chew on some food – Your tour in Tarragona won't be complete if you don't get to taste some food as well! The city is rich in seafood, Catalan cuisine, eel dishes, pig trotters, frogs legs, and huge fruits and vegetables! There are many places to eat at but I suggest you to try La Capital, La Andaluza LC de la Part Alta, Txantxangorri, La Fàbrica, Koop, Ithaca, and El Complet.
How to get to Tarragona
You can take a train from Barcelona (1 hour, fare ranges from 8€ to 30€. For train schedules, click here. You can also take a bus; travel time will be around 1 hour and a half and the price is around 10€.
5. Sitges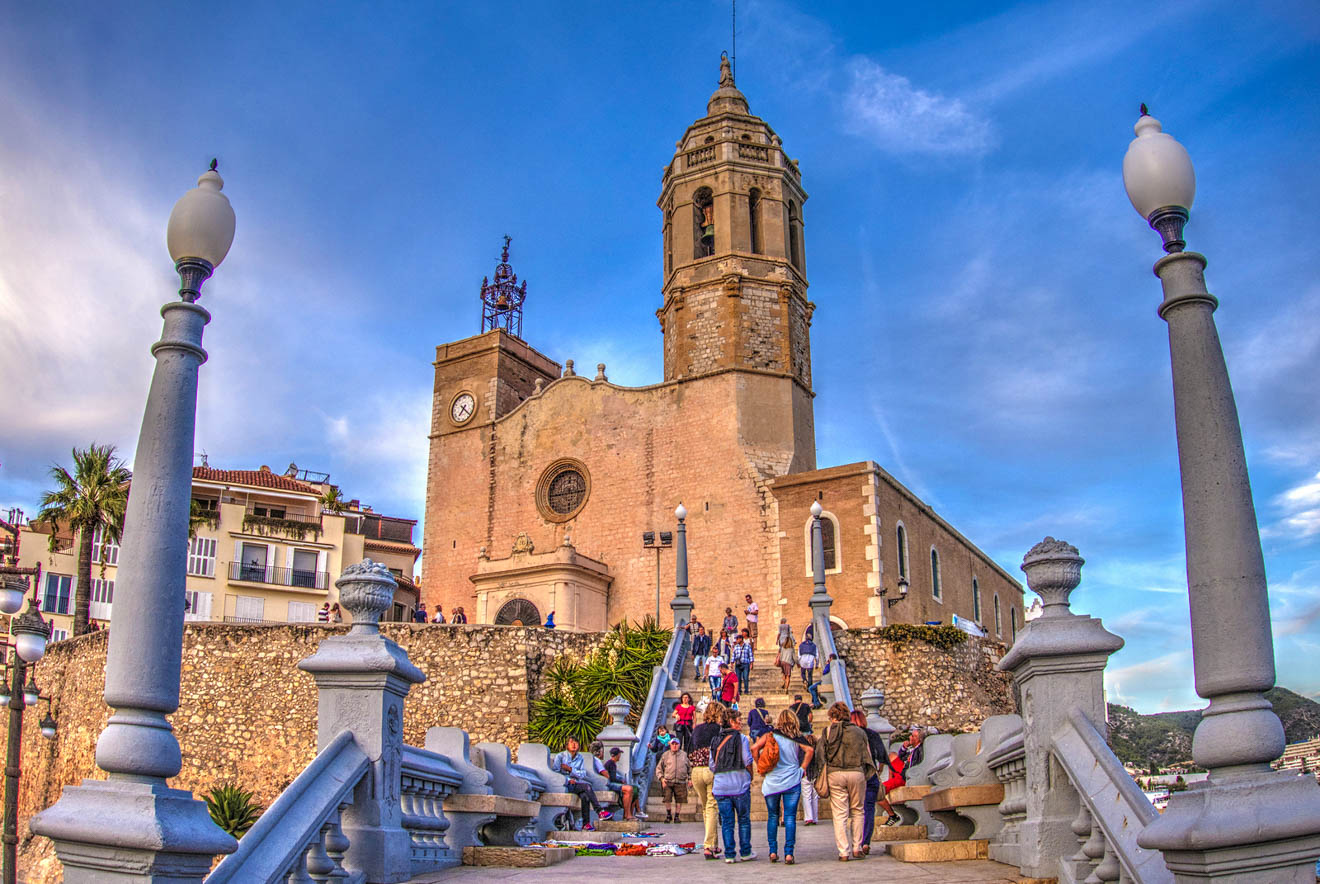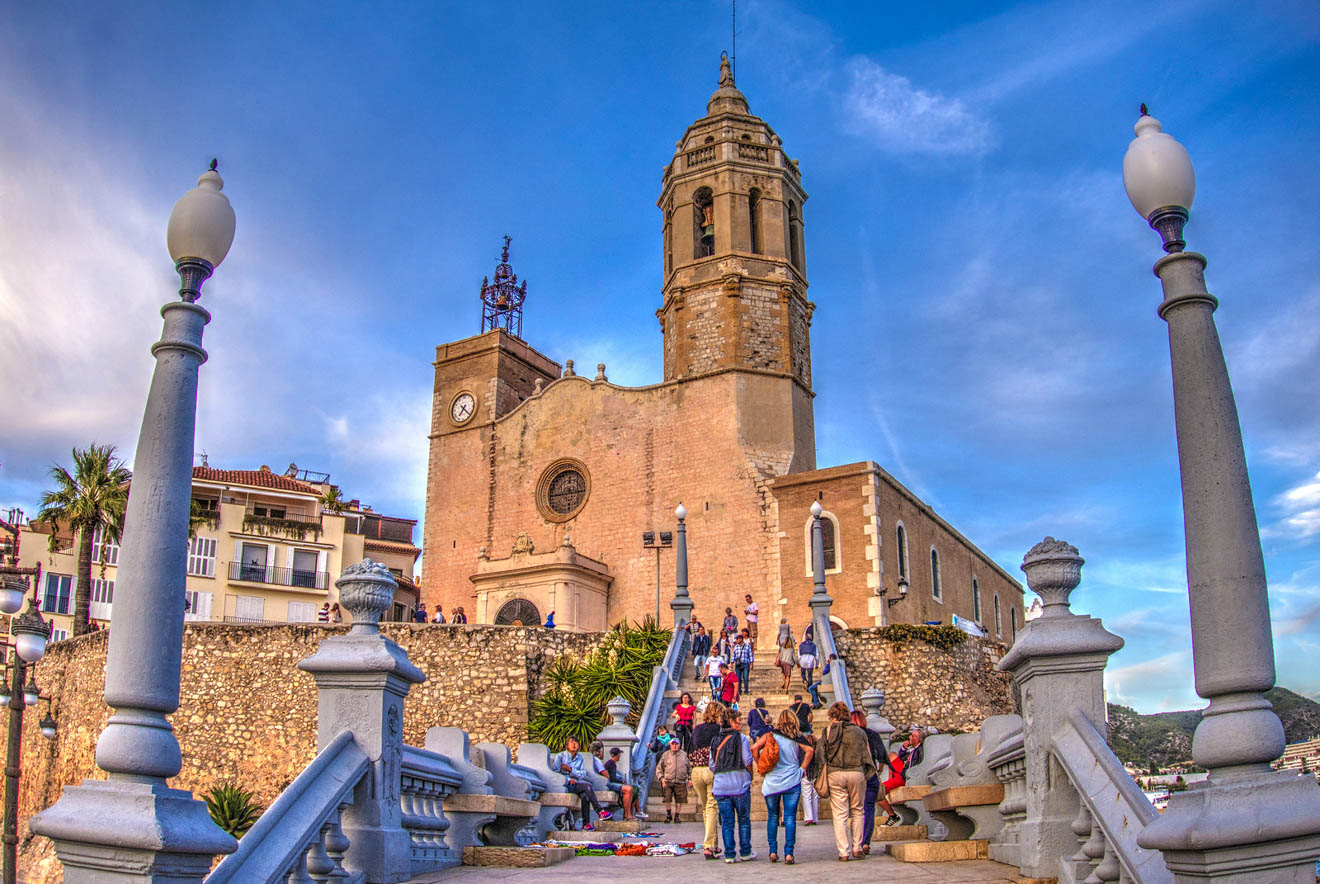 Are you searching for some of the most beautiful beaches near Barcelona? The province of Sitges on the southwest side of Barcelona is your perfect answer!
Sitges is blessed with a number of beaches that families, couples, and tourists flock to, to have some fun under the sun, to keep their children entertained, and to relax from all their workloads! It makes sense why so many people choose to take a one day trip from Barcelona to Sitges!
Some prominent beaches in Sitges, Spain include Platja de Sant Sebastià, Platja de la Fragata, and Platja de les Anquines.
Here are the best things to do there for a great day full of exploration:
Join the vintage car rally – if your feet happen to take you on a Sitges day trip in March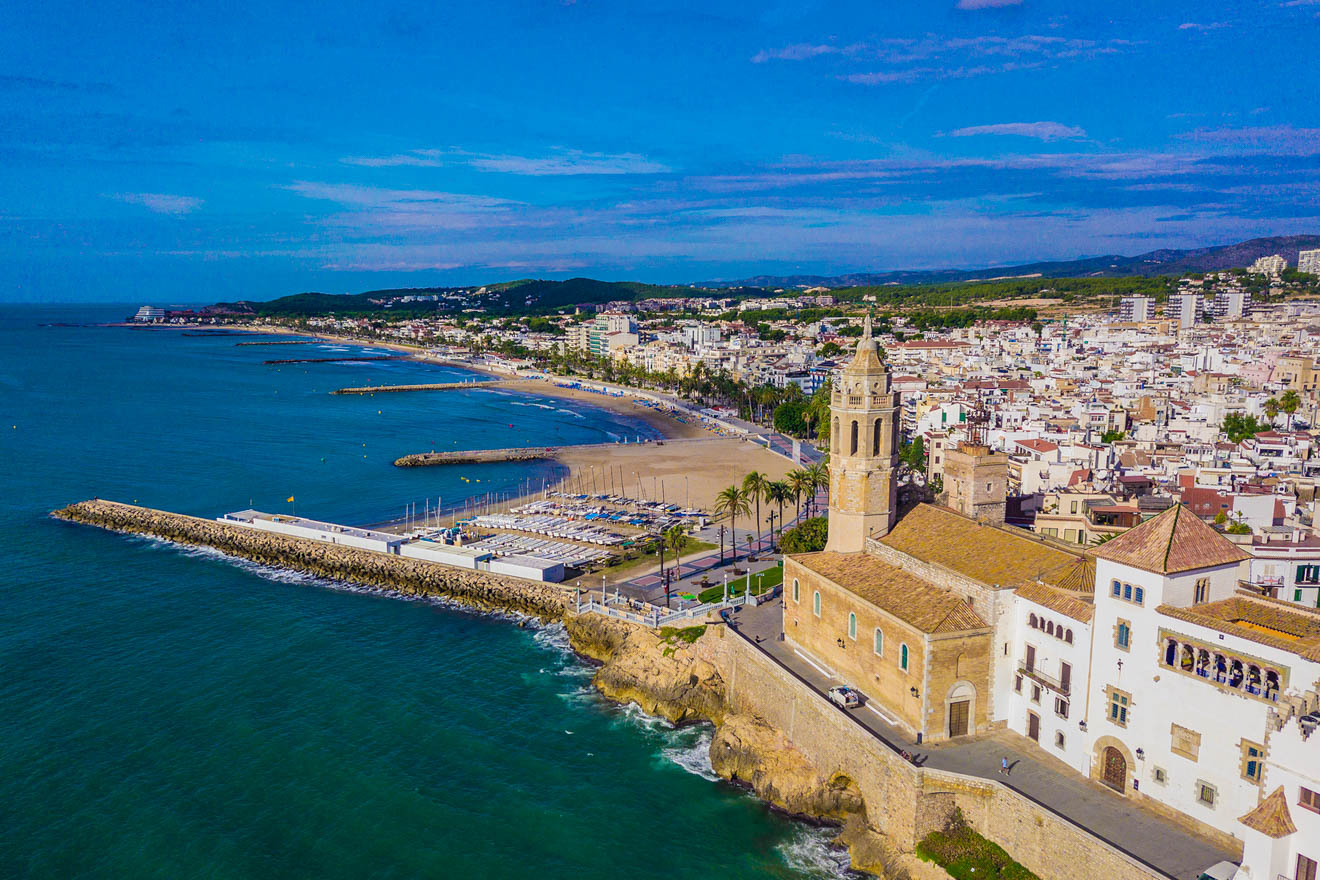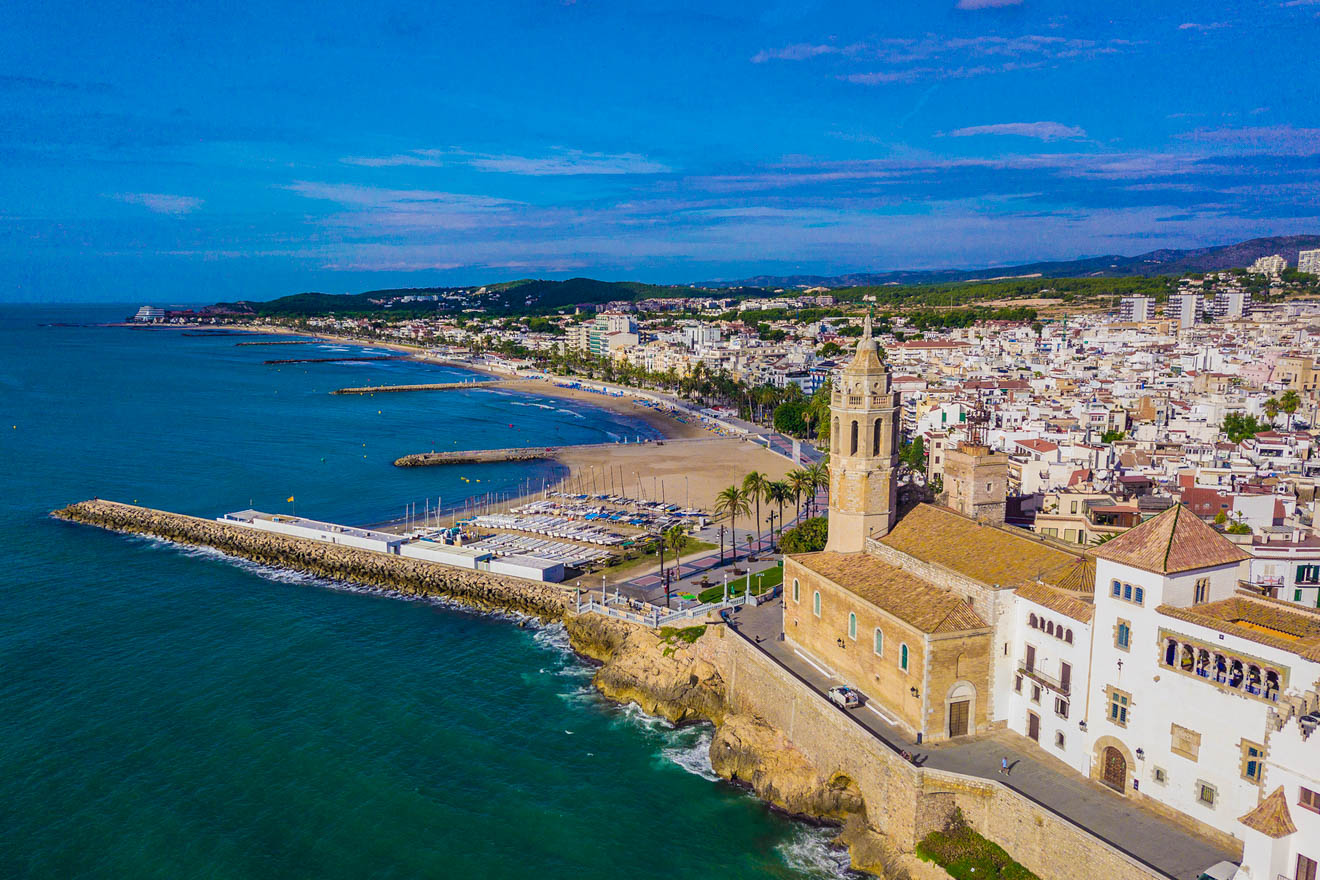 Gulp down some Bacardi. Yup, the maker of the world-renowned drink came from this humble province. While you're here, visit Facundo Bacardí Massó's house and learn about his origins, how rum is distilled, how to make your own mojitos, and a lot more! For more details, click here.
If you don't want to just lay on the best beaches near Barcelona, you can also discover Sitges with a live guide and this private 5-hour tour from Barcelona is a great idea!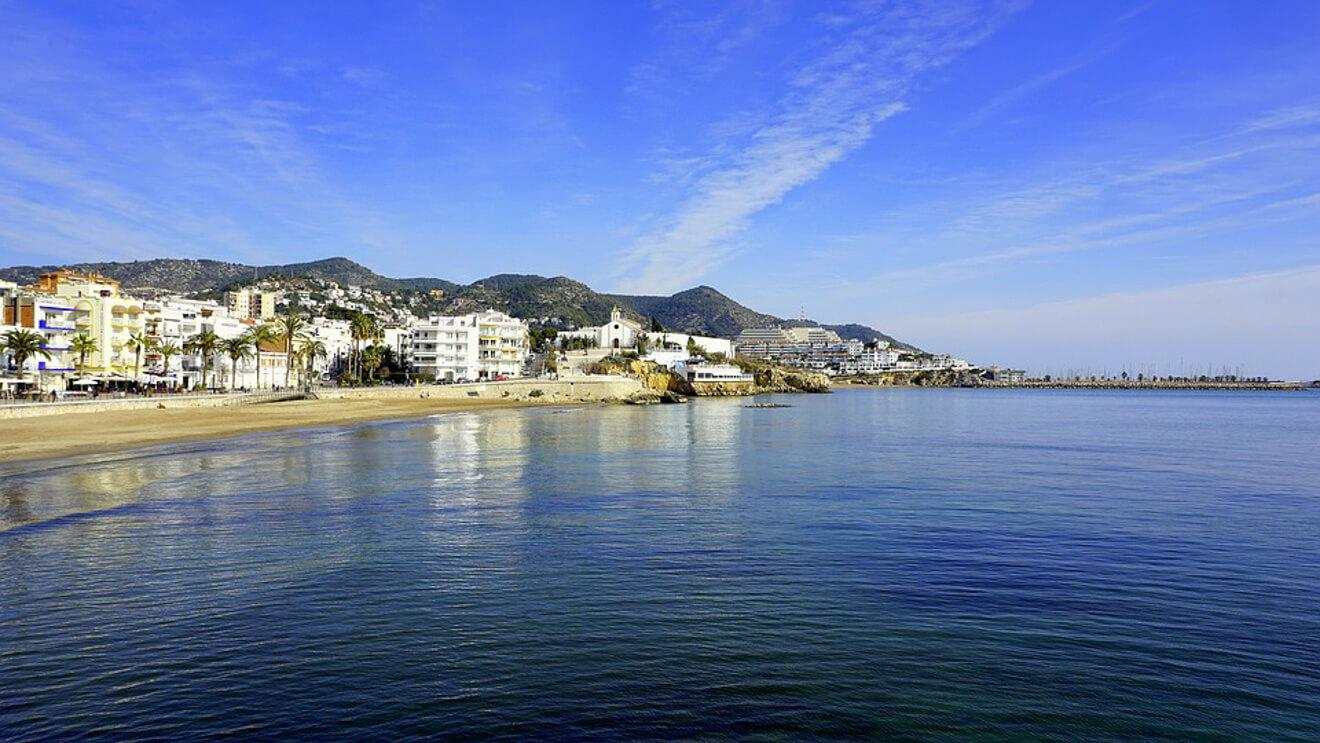 How to get from Barcelona to Sitges
By bus
You can either hail a MonBus in Plaza Espanya or in Ronda Universitat during the day time. Travel time is from 45 minutes to 1 hour. Ride buses with numbers N30, N31 or N32 in Plaza Catalunya at night time. Travel time is about 35 minutes. Single-journey fare starts from €4. For bus schedules, click here.
By train
You can take a train from Estacio de França, Passeig de Gracia and Estacio Sants. Get off in either Vilanova i la Geltru or St. Vincenç de Calders. Single-journey fare starts from €4.10. Travel time is about 40 to 50 minutes. For train schedules, click here.
6. Lloret de Mar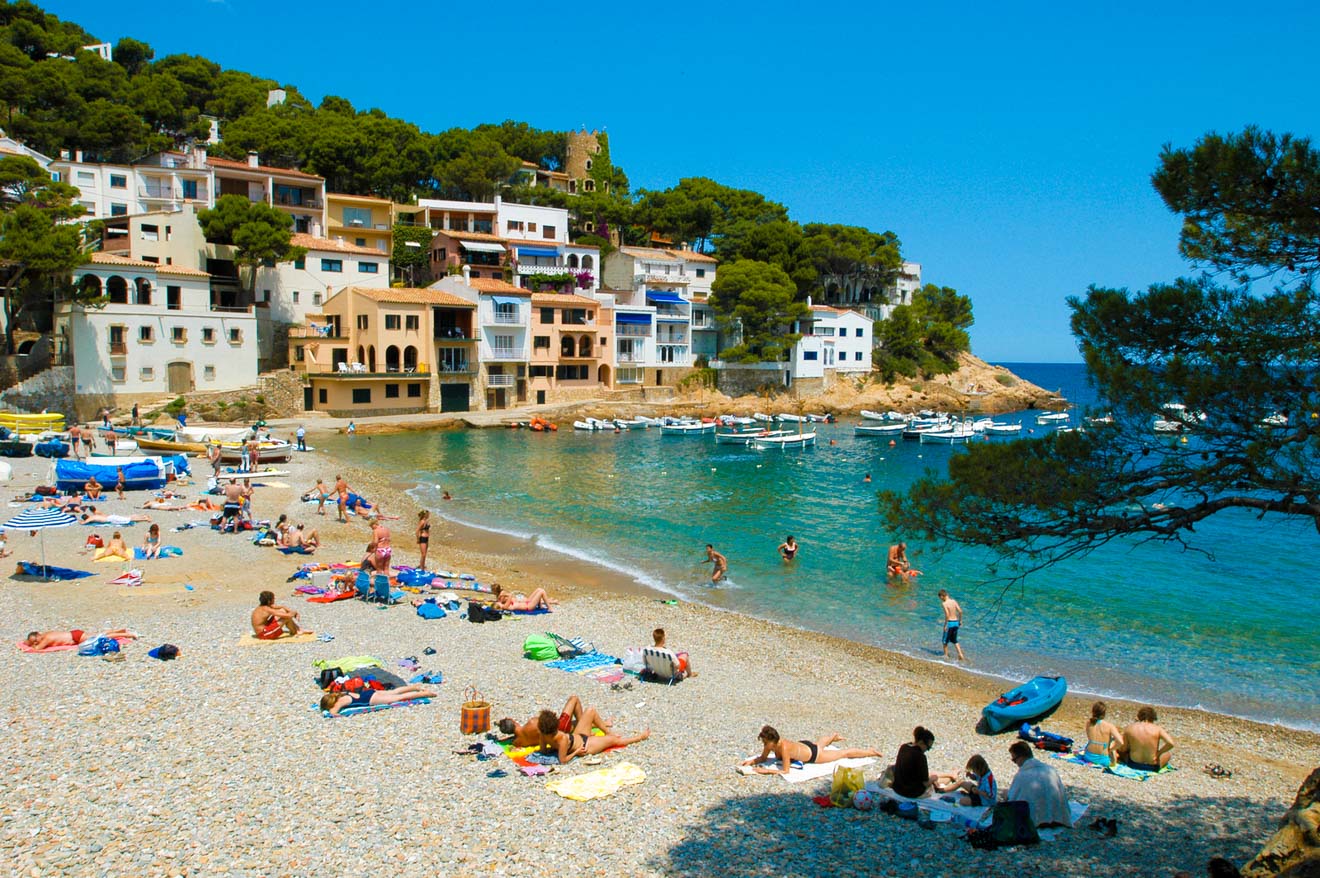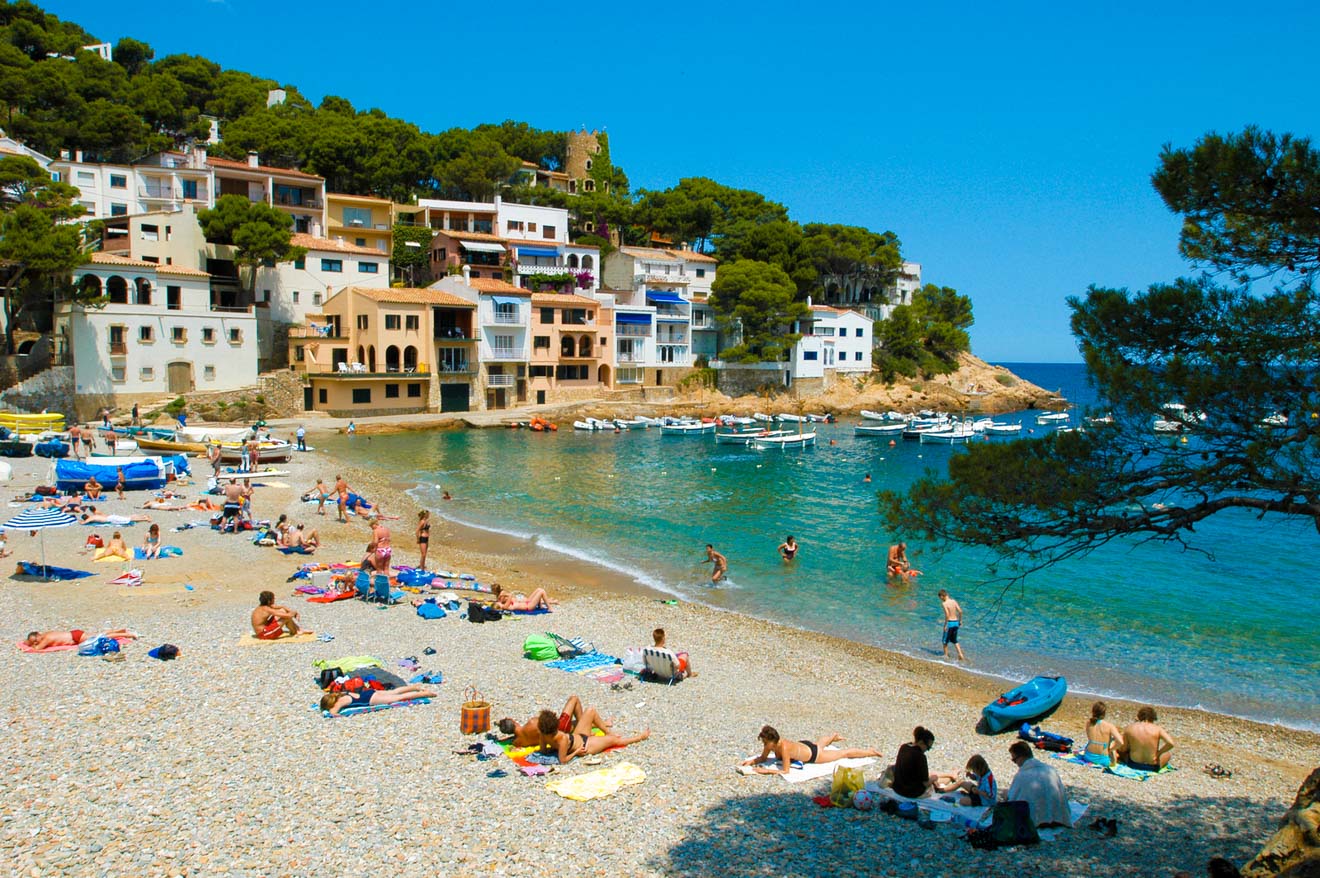 Lloret de Mar is a gorgeous town in Costa Brava, but I will not say much about it in this post, as I already have a dedicated article on this beautiful town! I will just say that it is very underrated. It is considered a destination for party animals, but it doesn't have to be so!
I have spent 4 days there and I really liked some of the hidden gems of this coastal town!
TIP: If you want to visit Lloret de Mar in a more extensive tour, I suggest you take this Costa Brava half-day tour from Barcelona!
7. Girona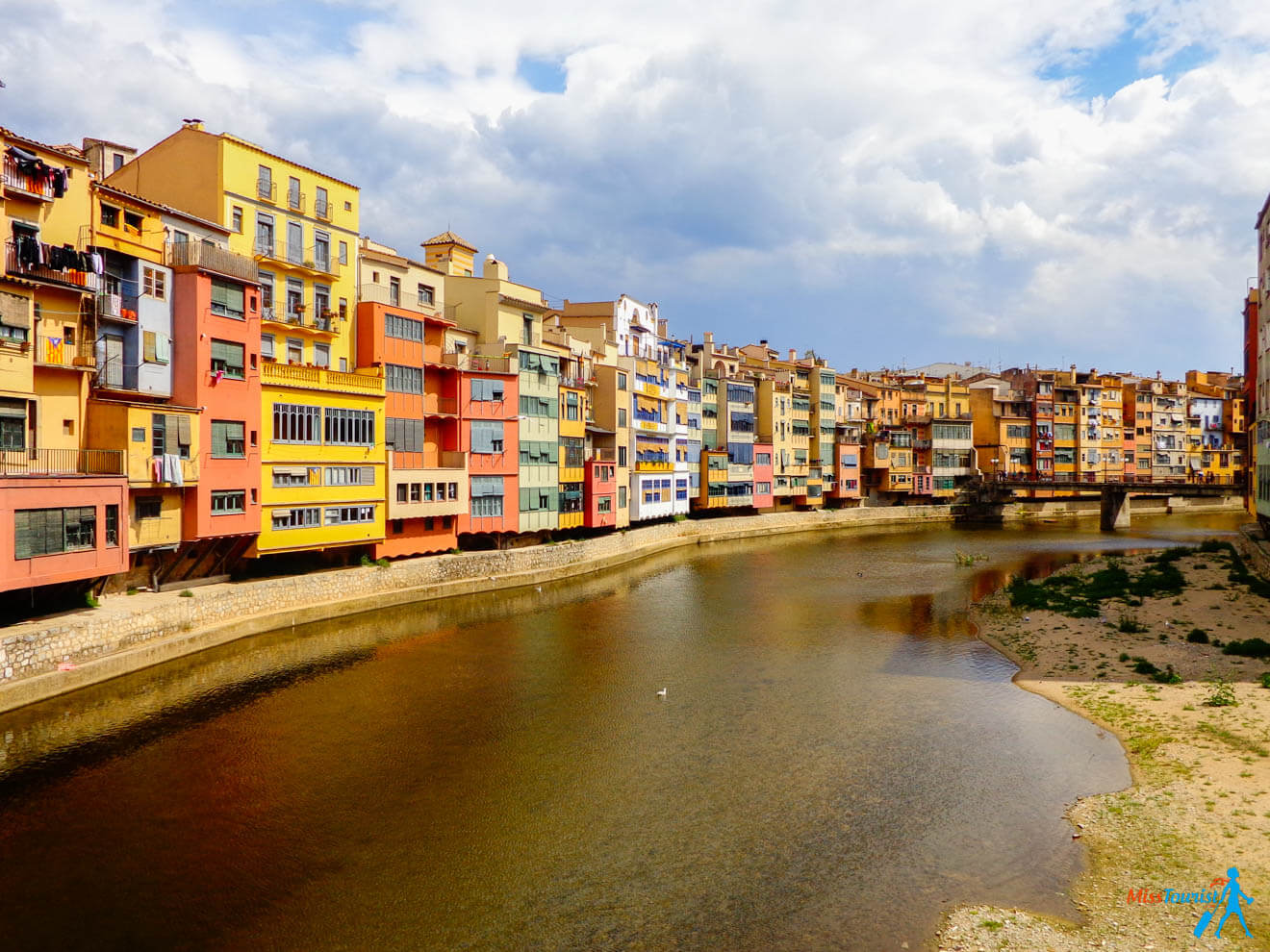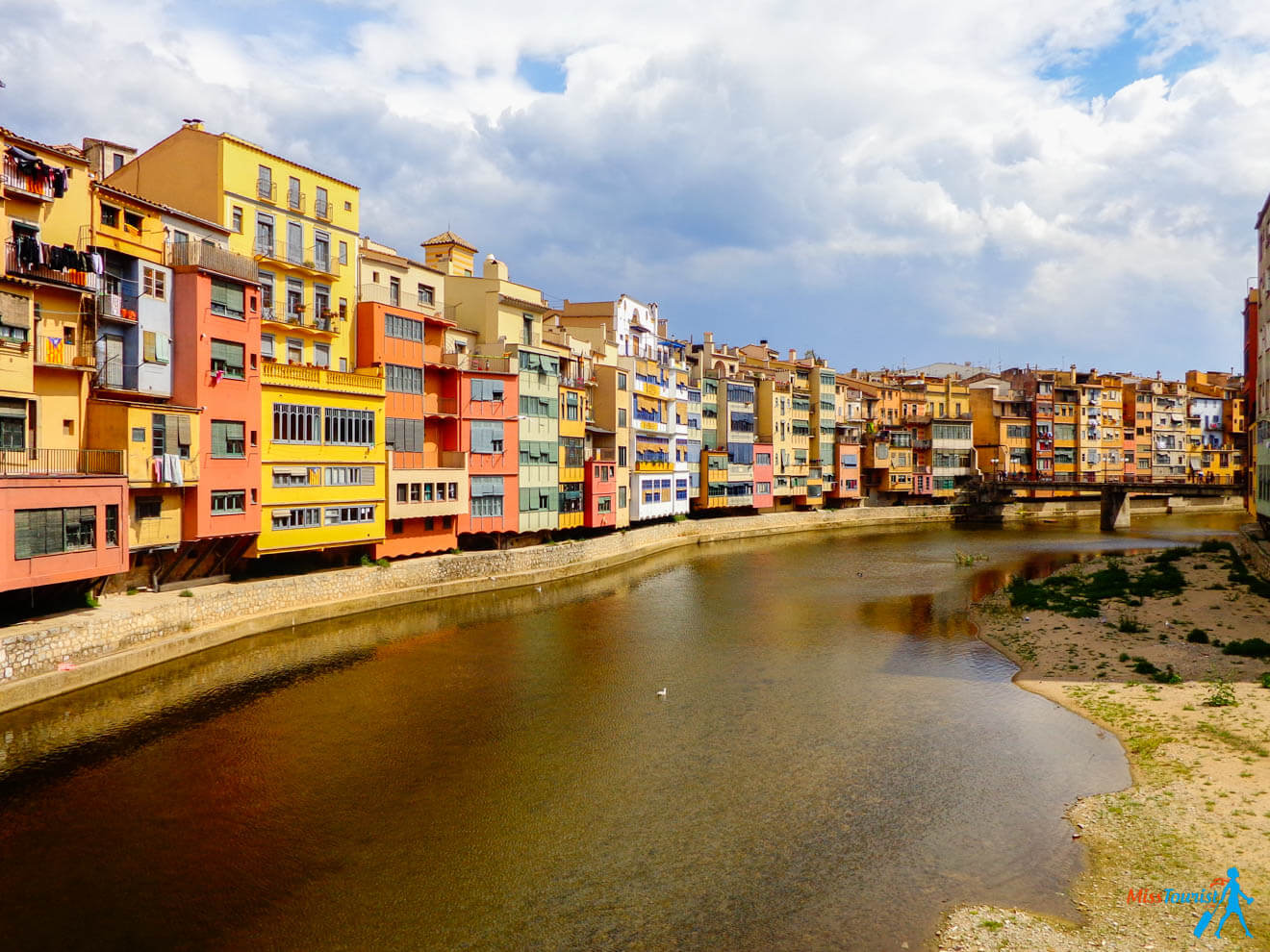 Girona is a city on the northeastern side of Barcelona that has faced 25 sieges and been captured seven times. But hey, it has stood the test of time and is now one of the most famous Catalan cities that you should definitely include in your adventure to the outskirts of Barcelona!
Here are just a few of the reasons why you should definitely visit Girona: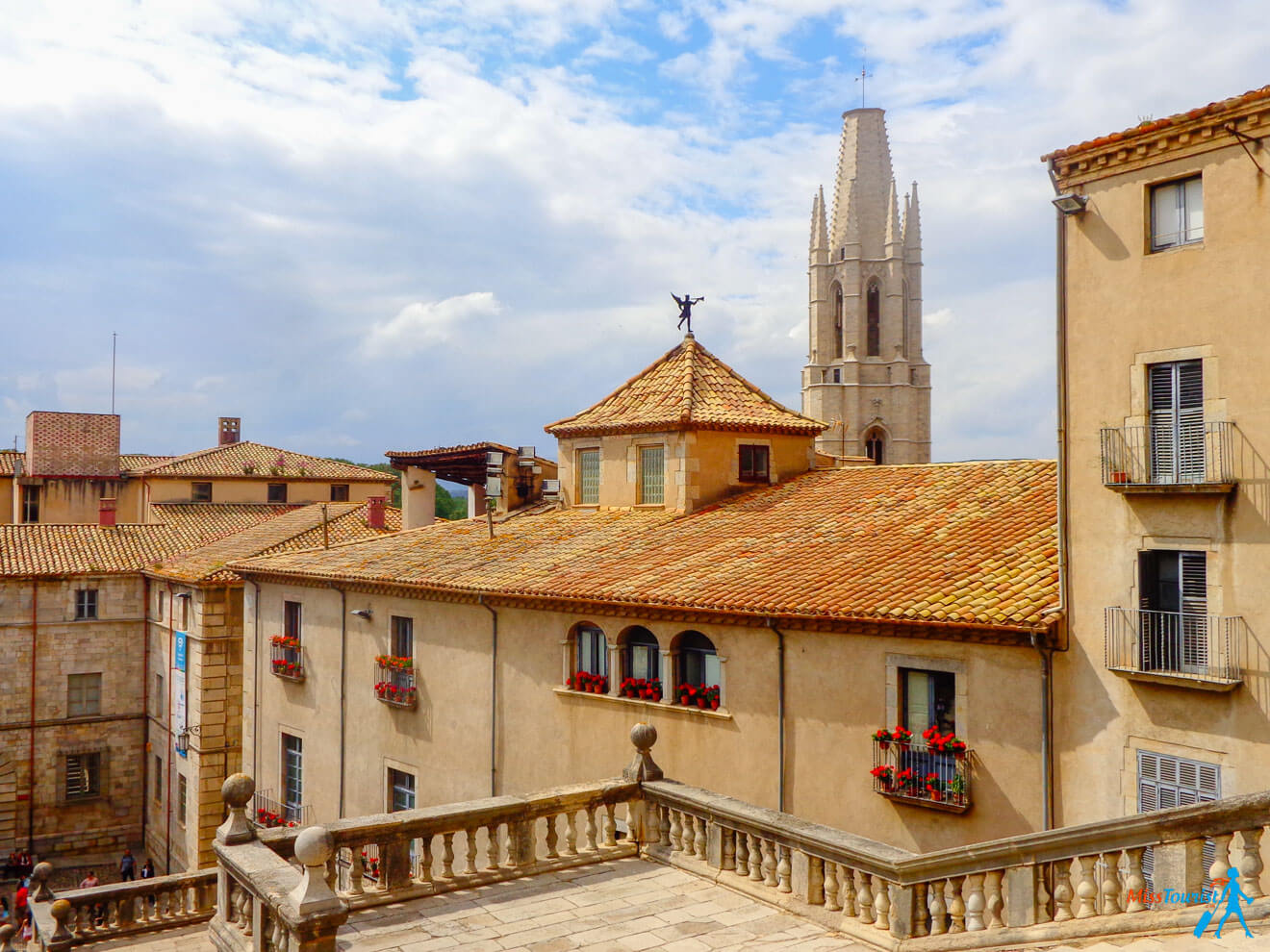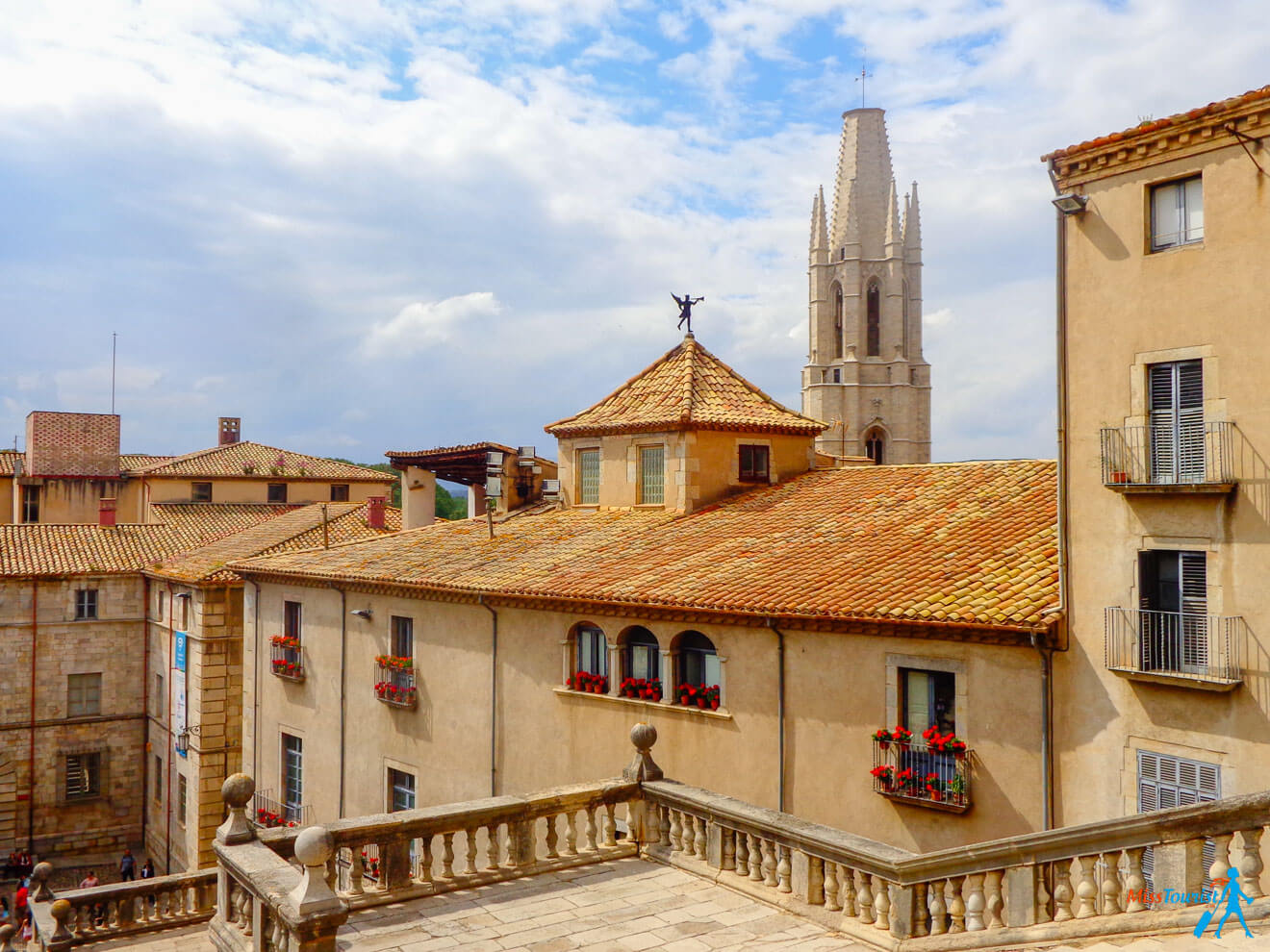 Have a feast at a Michelin-starred restaurant. Girona is home to El Celler de Can Roca, rated the second-best restaurant in the world in 2016.
Marvel inside the glorious Girona Cathedral. This one is cluttered with tourists because of its nave, said to be the widest Gothic nave in the world, so it's an unmissable activity!
Take a Game of Thrones tour – if you are a Game of Thrones fan and you really want to get the most out of your Girona experience;
PRO TIP: There is also a Girona and Costa Brava city tour from Barcelona that you might enjoy!
How to get to Girona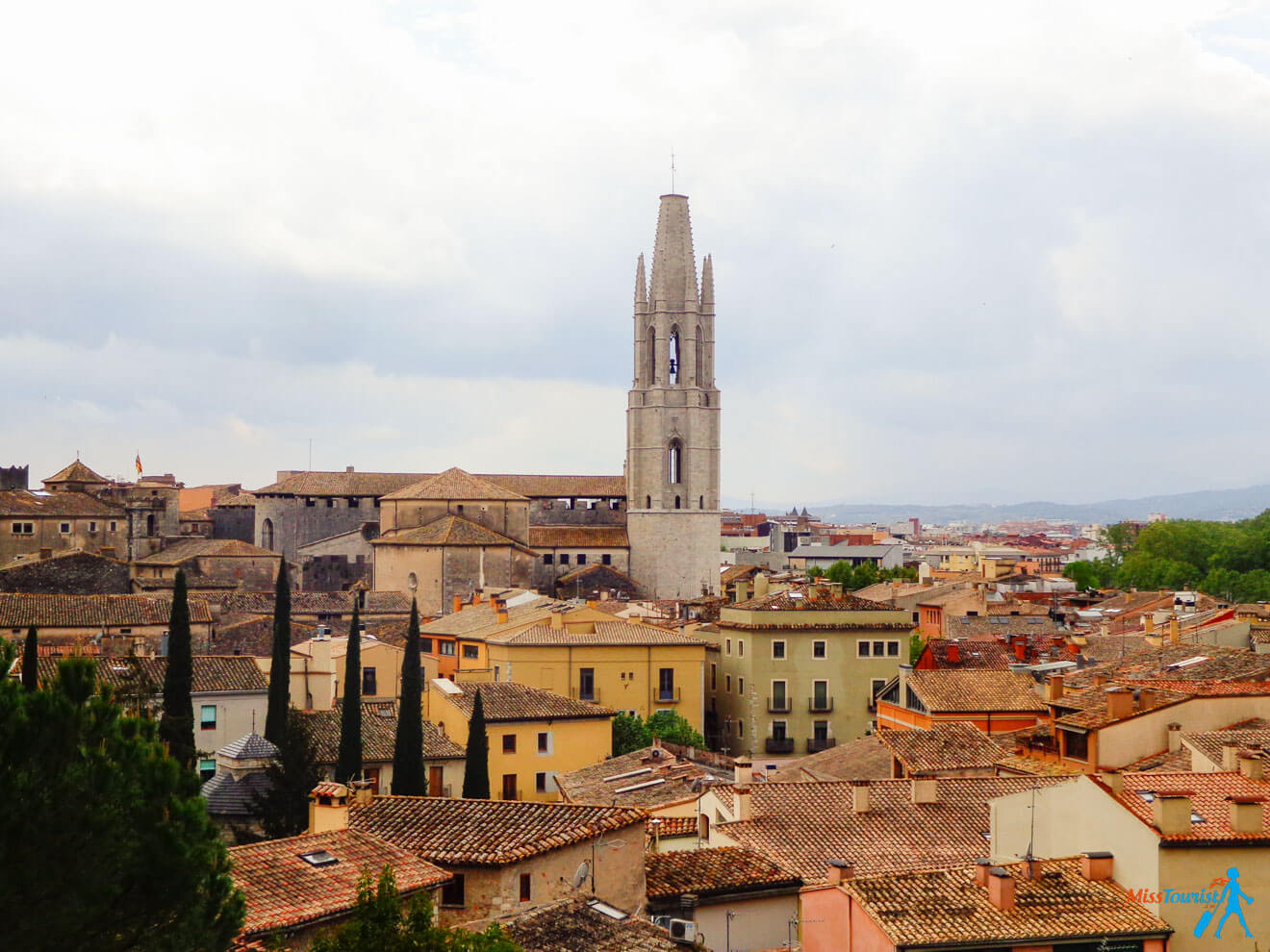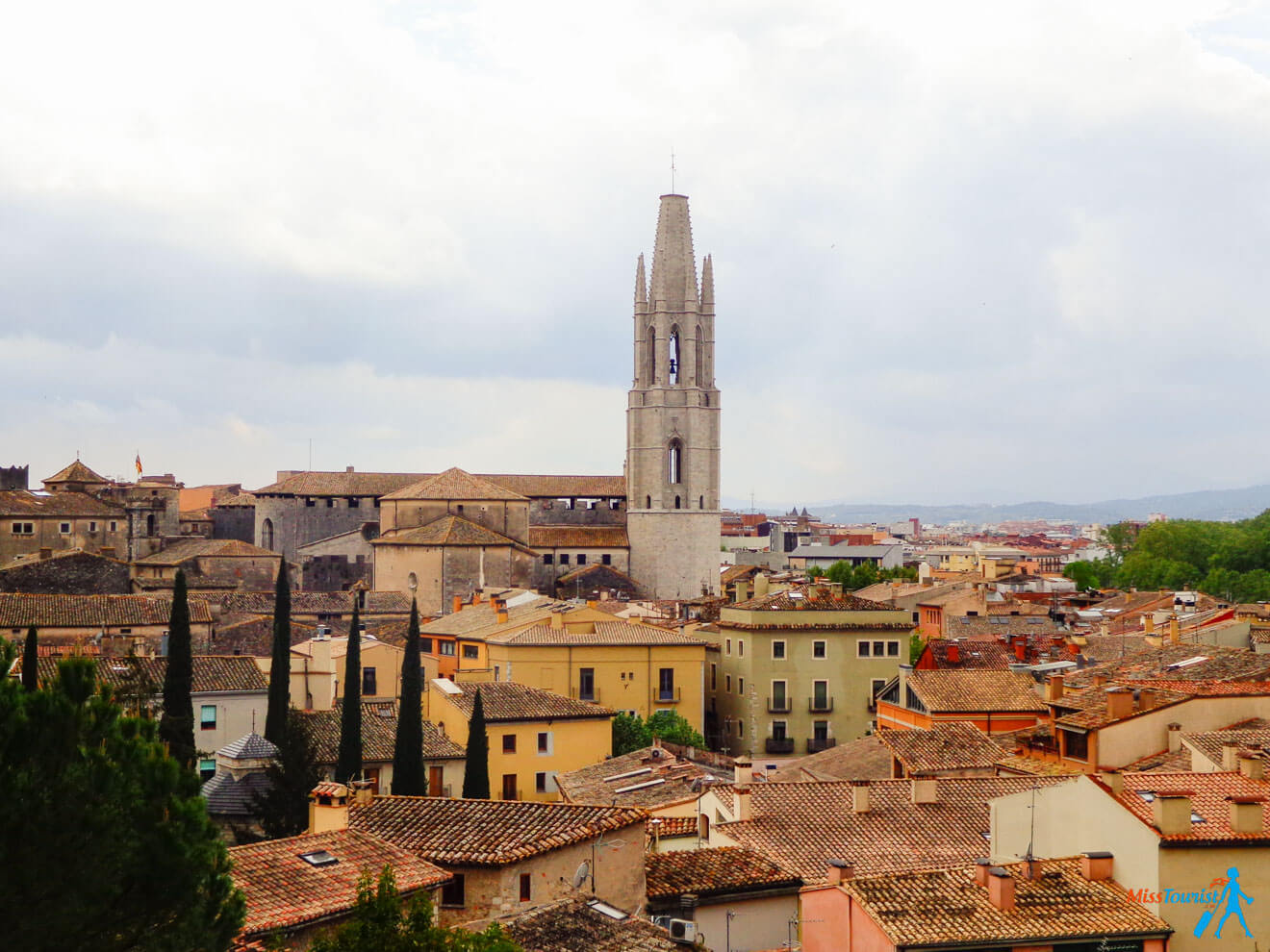 Take a ride on the non-stop trains from Barcelona to Girona that depart from Barcelona Sants station (40 minutes, fares range from 9.50€ to 31€. For train schedules, click here. There is also a morning train that departs from Barcelona to Girona at around 7.30 AM. You can check the exact schedule and book your ticket here.
8. Vic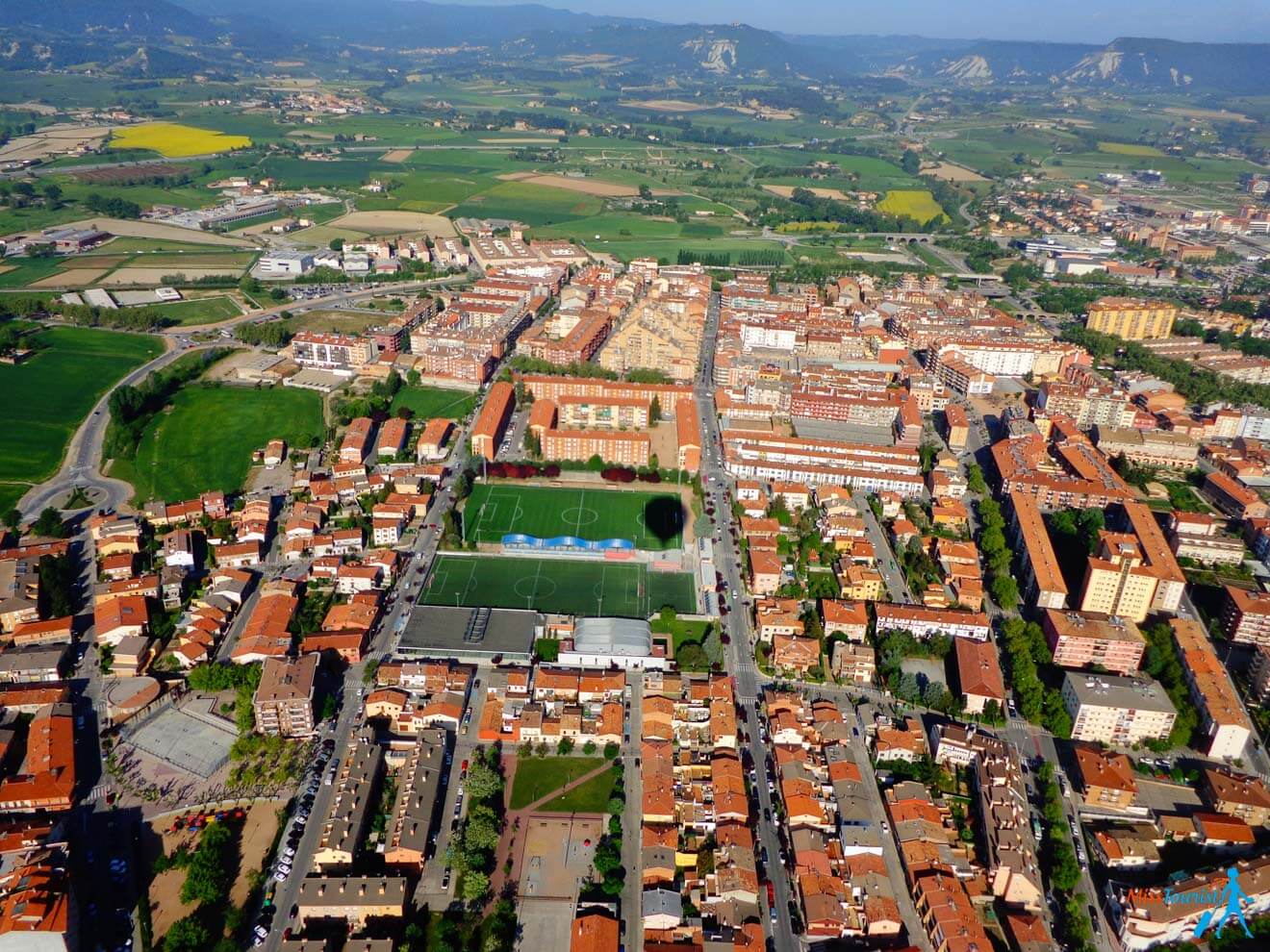 Vic is a welcoming town near Barcelona where contemporary coexists with history.
How does it sound to take a hot air balloon flight over a medieval town? I bet none of your friends have pictures and memories like this from Spain, do they? The balloon flight was a magical experience for me with tons of wonderful views! I described the prices and how to get to Vic here.
How to get to Vic
The town is quite close, about 40 mins if you take the train from Barcelona!
| | |
| --- | --- |
| 🤩 Range of activities: | Large |
| 🎡 Best kids activity: | PortAventura |
| 🏛️ Best museum: | Dali Theatre-Museum |
| 🎢 Best for history: | Tarragona |
| 🏖️ Best free activity: | Beaches in Lloret de Mar |
| 🌳 Best for outdoors: | Montserrat Mountain |
| 🚕 Car rental price/day: | €40 |
| ✈️ Cost of traveling: | Medium |
BONUS: Other day trips suggestions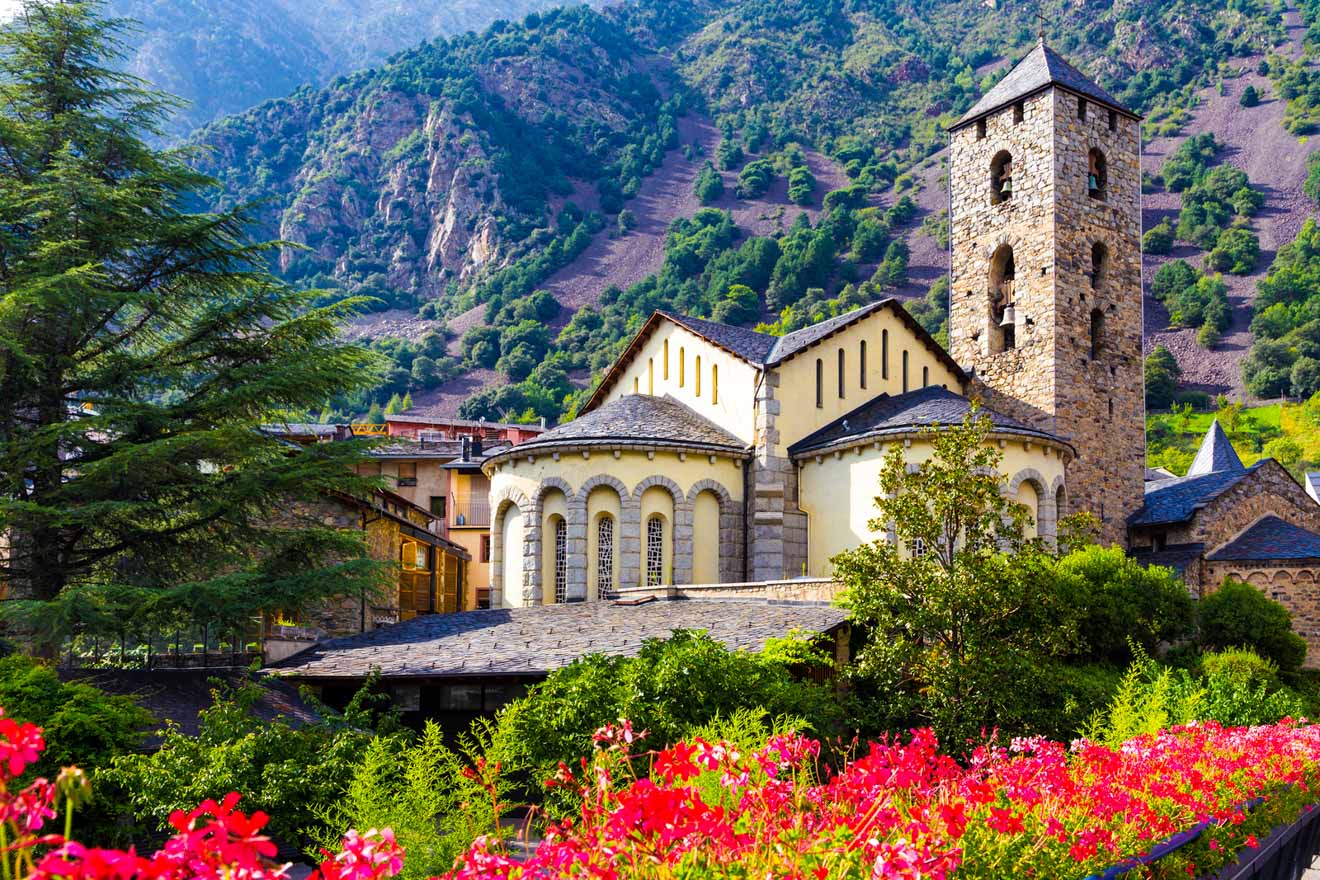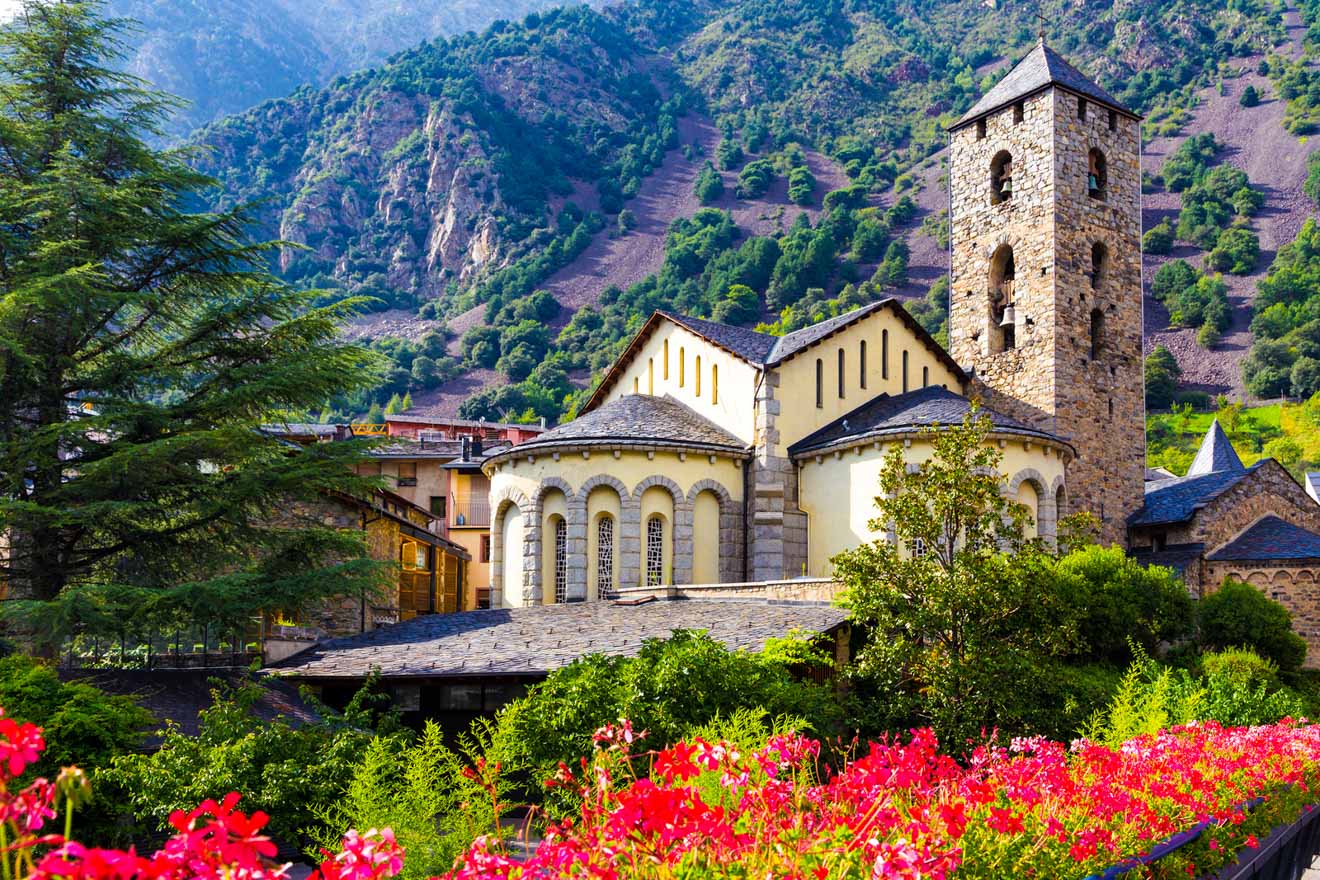 If you have some more time and you are searching for some other ideas for great Barcelona day tours, here are some bonus suggestions:
Andorra – can also be done in a day trip from Barcelona if you really want to, but you will hardly be able to enjoy it – you will spend most of the day rushing around on the road. I would not recommend doing it. Instead, you could rent a car and enjoy one of your best 2-3 day weekend getaways from Barcelona in Andorra la Vella, stopping on the road to admire the beauty. Andorra is worth a bit more time than one day if you ask me!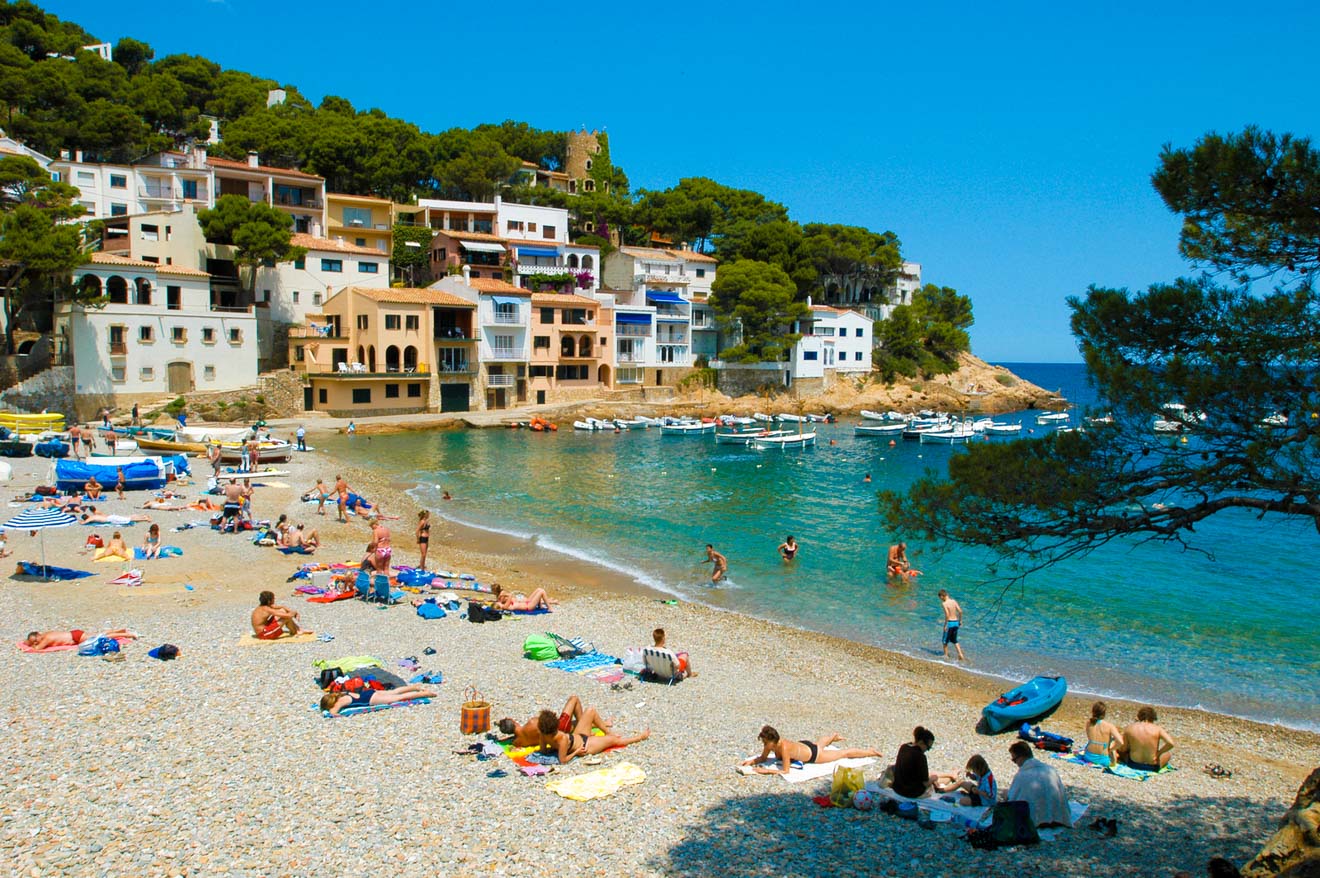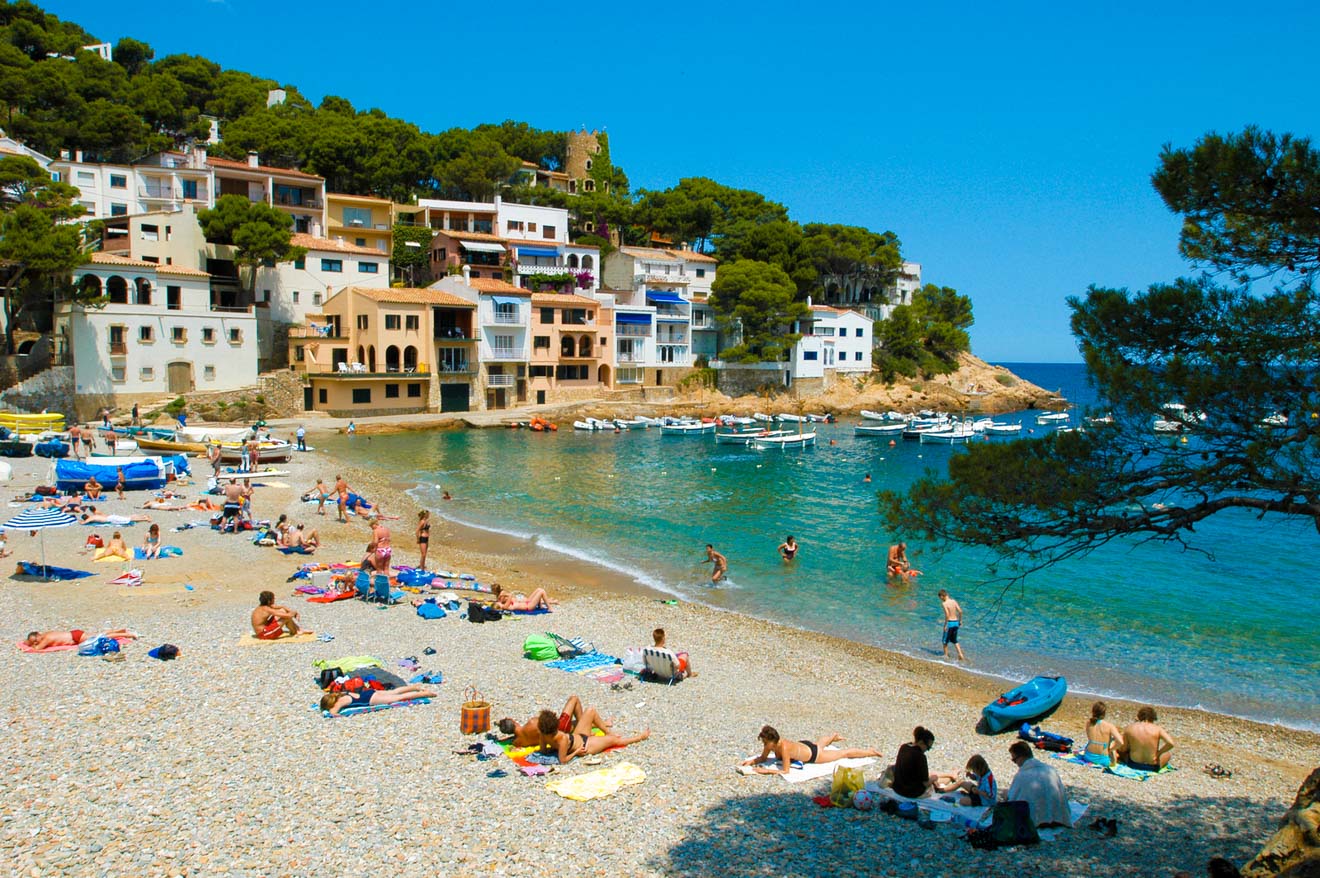 Begur – another super nice idea along Costa Brava if you are wondering what to do around Barcelona and would like to have a destination all to yourself, especially if you prefer a fishing village! Plus, this tiny city has some unique Cuban vibes, with beautiful colonial houses If you want to check it out! Again, the best way would be to rent a car and explore the entire area!
Tossa de Mar – another beautiful city along the Costa Brava coast and a former fishing village. Going to Tossa de Mar will be one of those unforgettable trips in Costa Brava because it is a wonderful destination if you love golden sand beaches, cobbled streets and ancient castles! If you would like to visit Tossa de Mar during an organized tour, you may do so if you book this Costa Brava half-day tour from Barcelona – it's one of the best choices.
Cava Vineyards – If you are a wine fan, then you have to include an excursion to the Cava Vineyards. Cava is a special type of Spanish sparkling wine that you should taste during your Spain vacation. A great place to do this is Alella and I recommend taking this wine tour by electric bike from Barcelona. If you would like a longer tour, I recommend this 5-hour wine & cava tasting in Catalonia from Barcelona.
---
Conclusion
Even if the city of Barcelona is stuck in your mind, there are so many amazing things to see and tours around Barcelona, that you MUST leave at least a day or two to do some day trips!
Barcelona makes a great base to explore the surrounding area and I hope my tips made it easy for you to find a place to match your interests, be it Girona, Tarragona, Sitges, or any other place that I recommended above! Regardless of which day trips from Barcelona day trips you will choose for yourself, I am sure you will have a great time!
I hope my list of the best day trips from Barcelona will help you make your vacation better and I also hope my tips will make it easier for you to get to your favorite place and enjoy your time there!
Would you add anything to this list? What do you want to visit out of these 8 options?
By the way, if you need more travel inspiration for your vacation in Spain, here you can find all my posts about this wonderful country!
As usual, if you need any additional info or just want to say "Hi", leave a comment below!
Yulia
---
---
Pin it for later!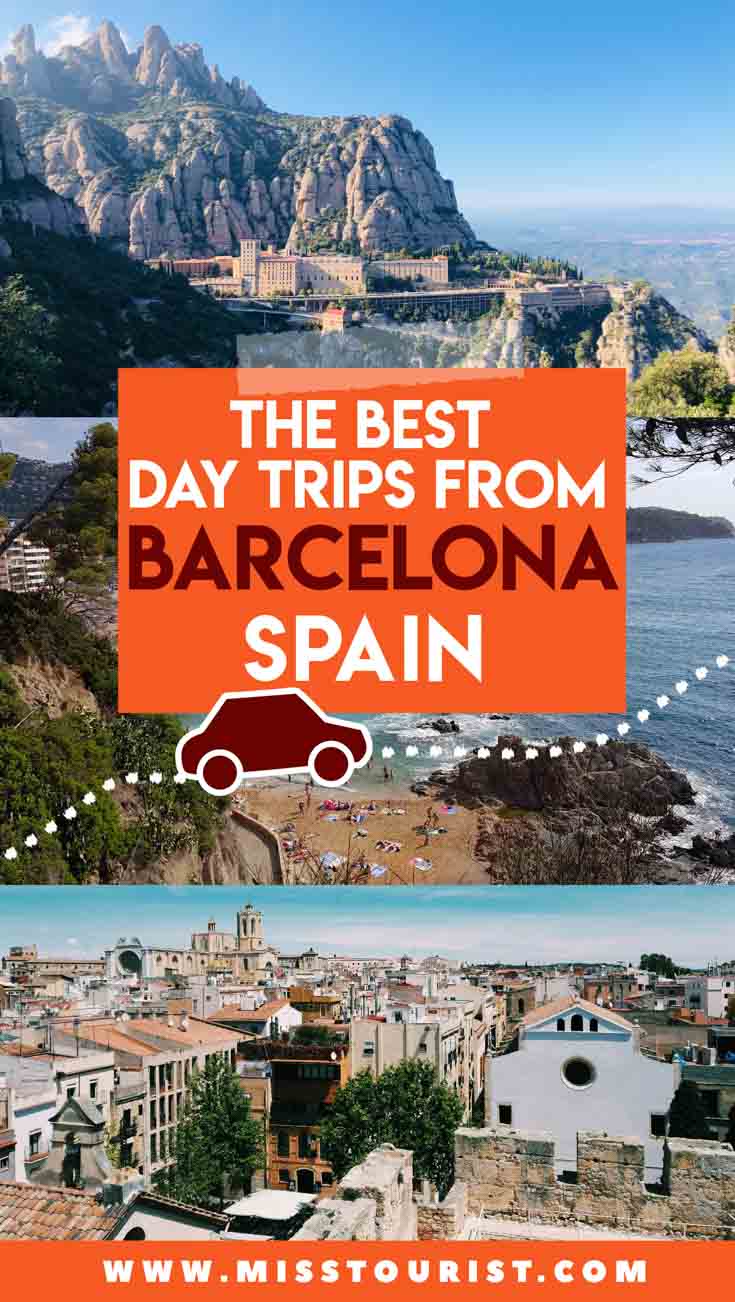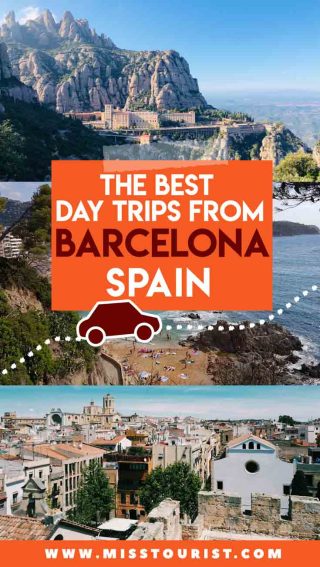 Pin it for later!